Can you believe it's March already? It's crazy how quickly this year is passing already. If you're here then the chances are you are looking for a Printable March 2021 Calendar.
You might have a full calendar already but you want to change it up to match your decor or maybe you want something that embodies Spring.
Whatever the reason, we have 68 March 2021 calendar pages suitable for everyone.
So sit down, get scrolling and find the perfect March calendar for you!
Download your free Printable March 2021 Calendar today
This beautiful march calendar features beautiful rings with pretty silhouette flowers.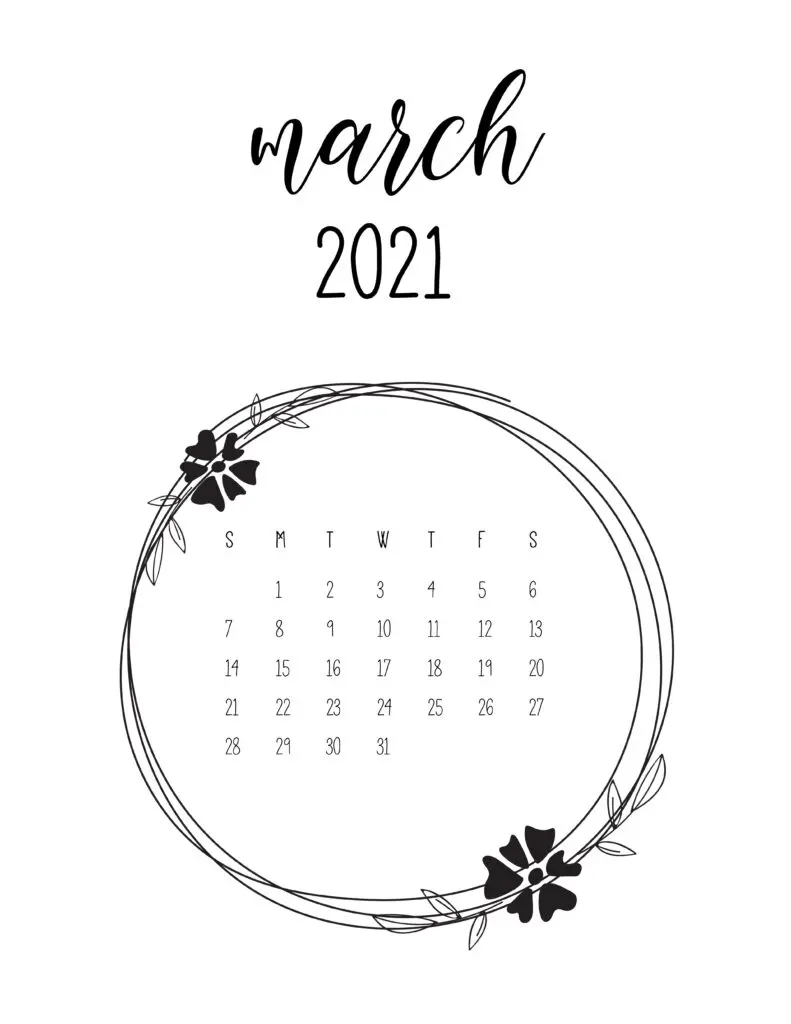 Simple and functional. This is the perfect no frills March Calendar.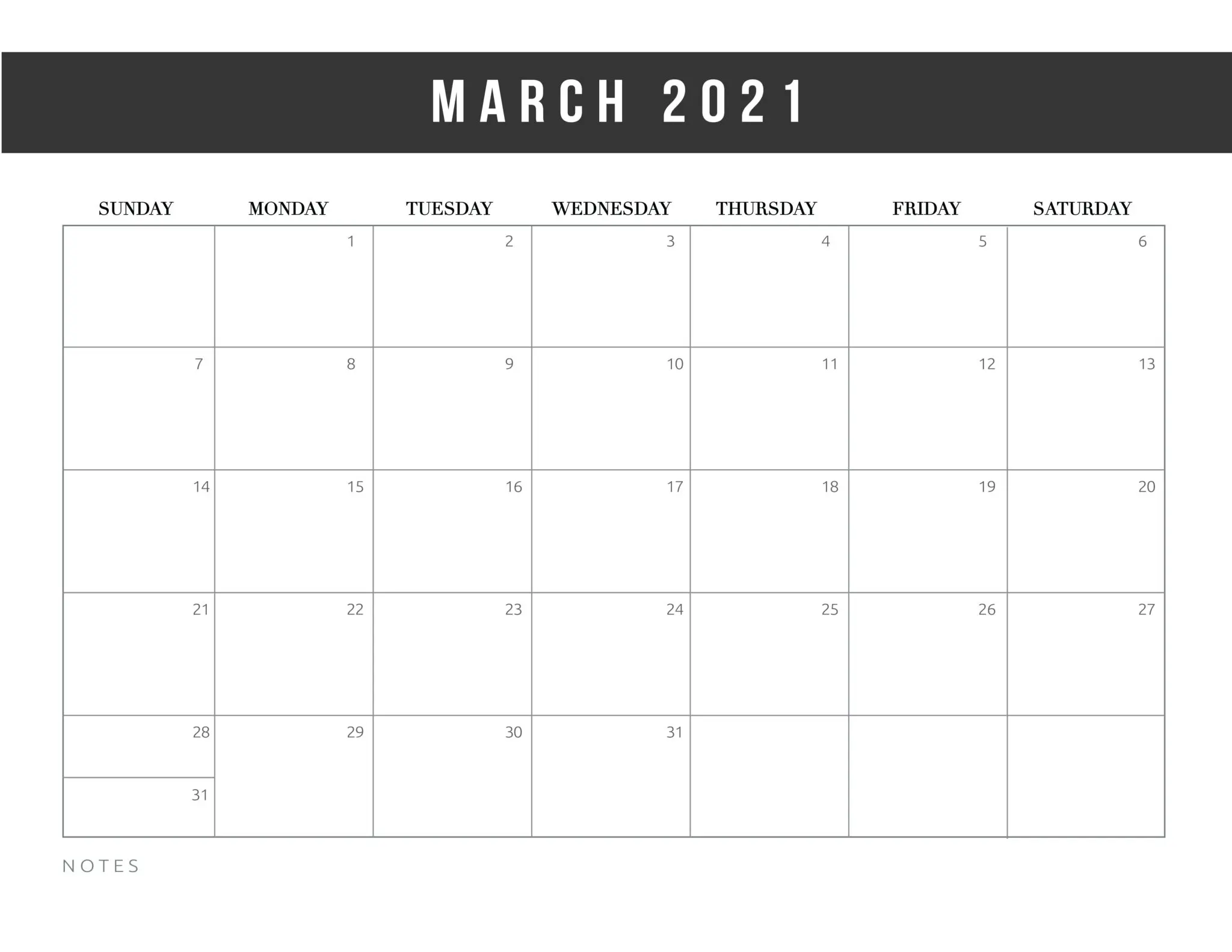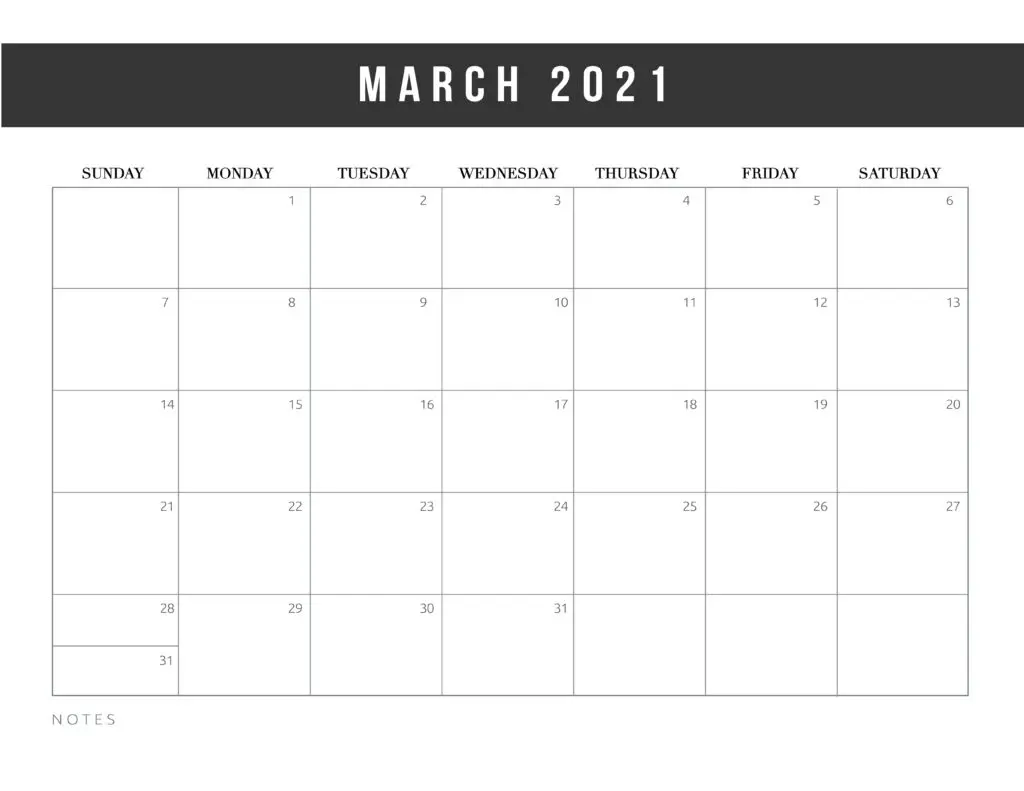 A lovely silhouette botanical March calendar, perfect for those who like to keep things simple.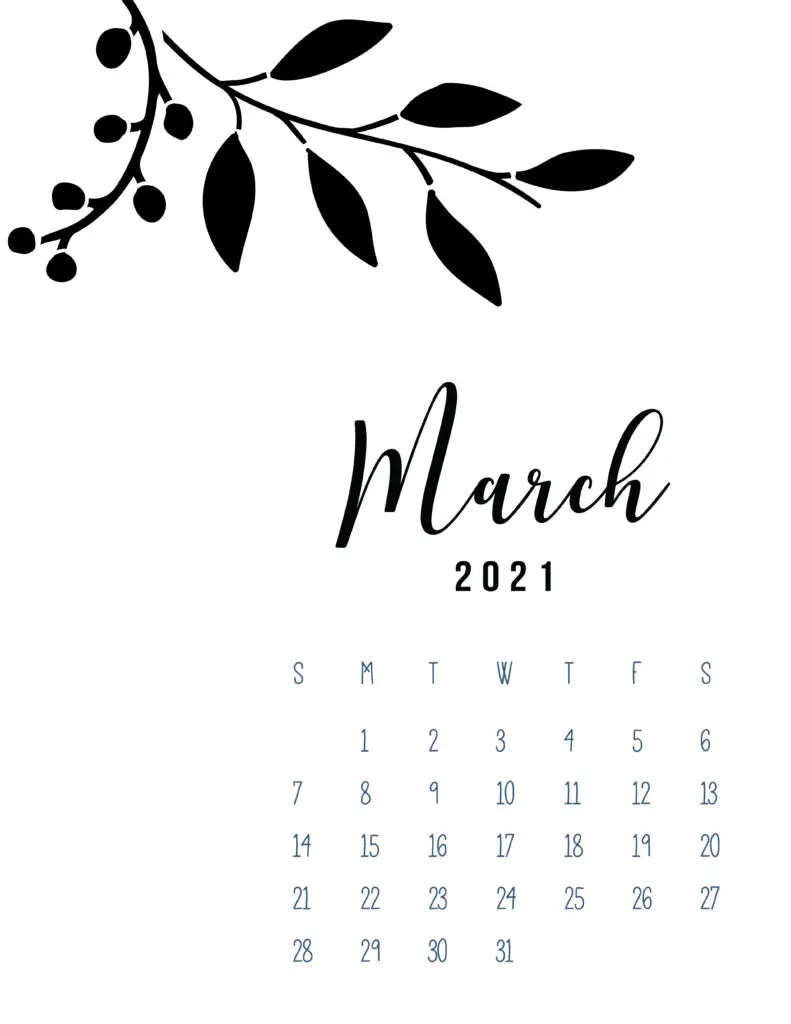 This lovely botanical calendar features unique and pretty green and blue colors.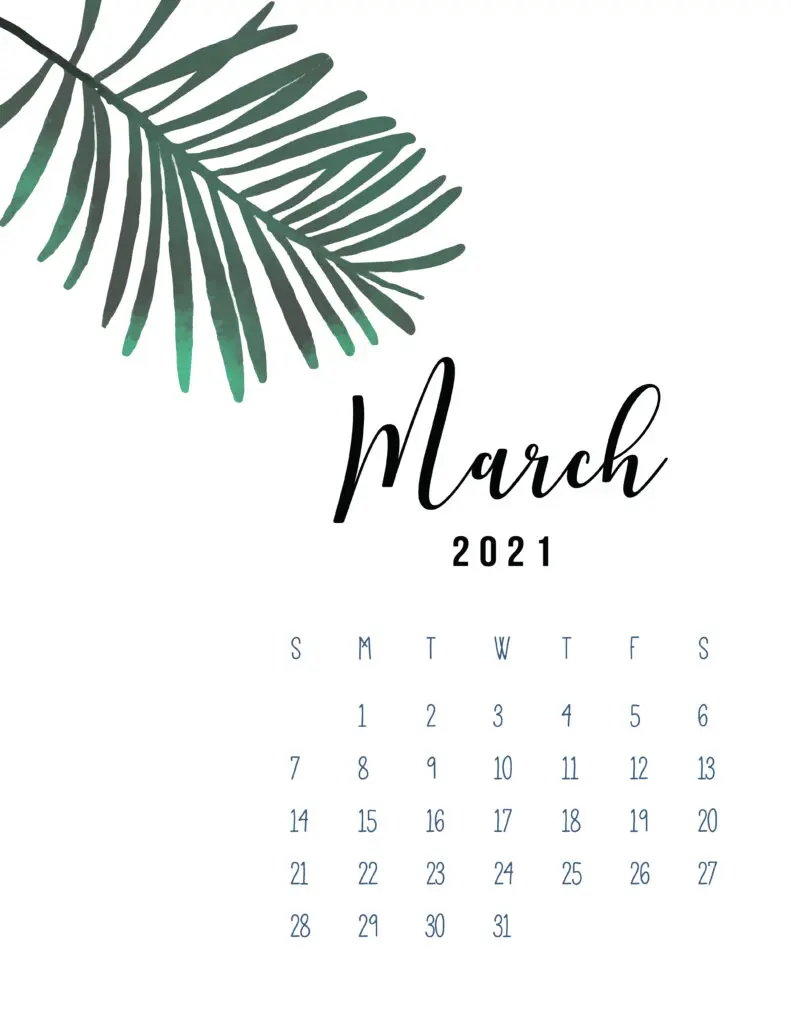 A simple floral calendar perfect for those who want something unique but basic.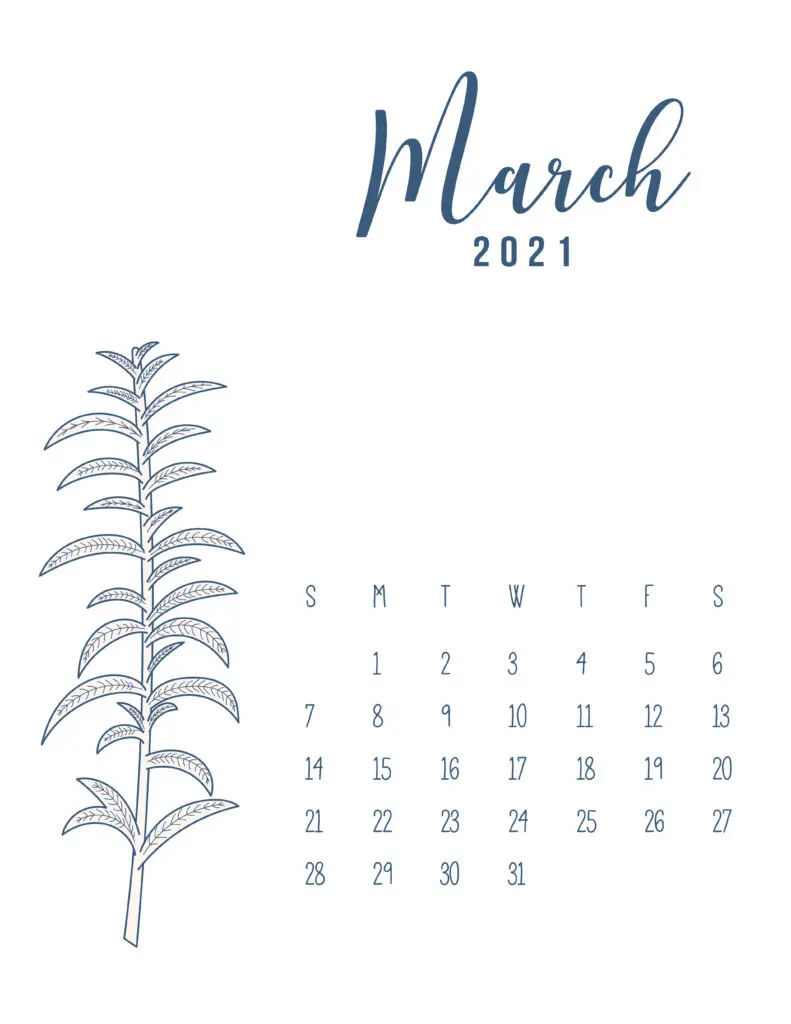 This stunning delicate floral calendar features gorgeous hand-drawn flowers.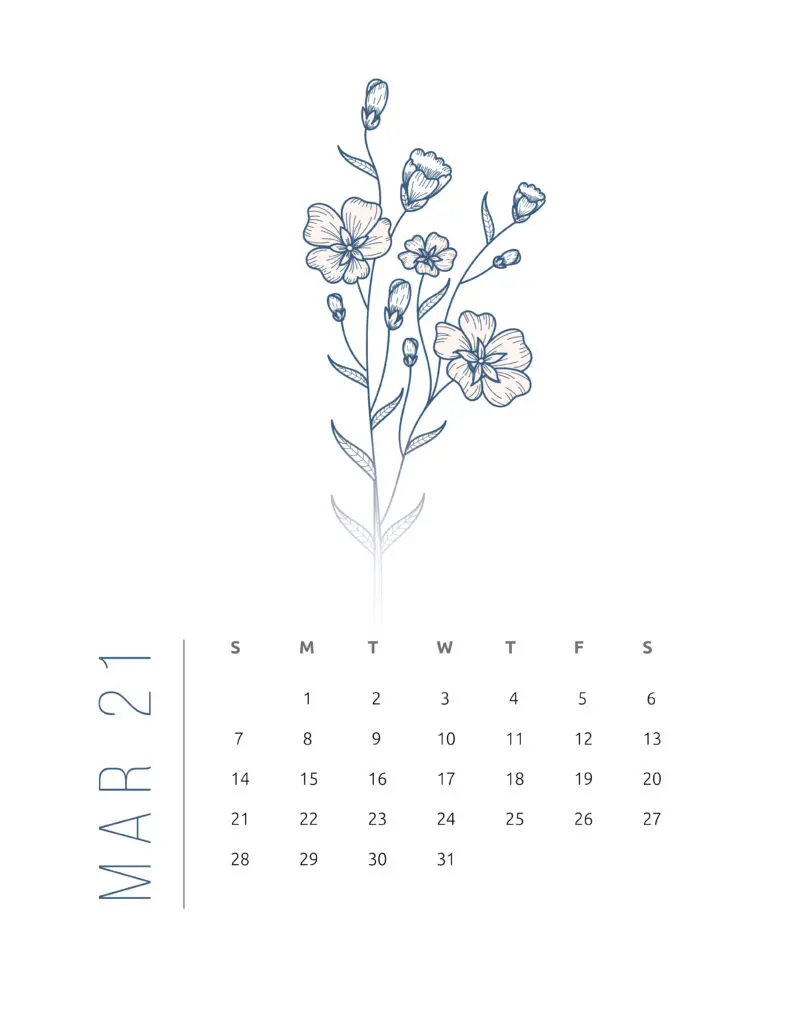 This beautiful silvery blue botanical wreath makes this calendar stand out.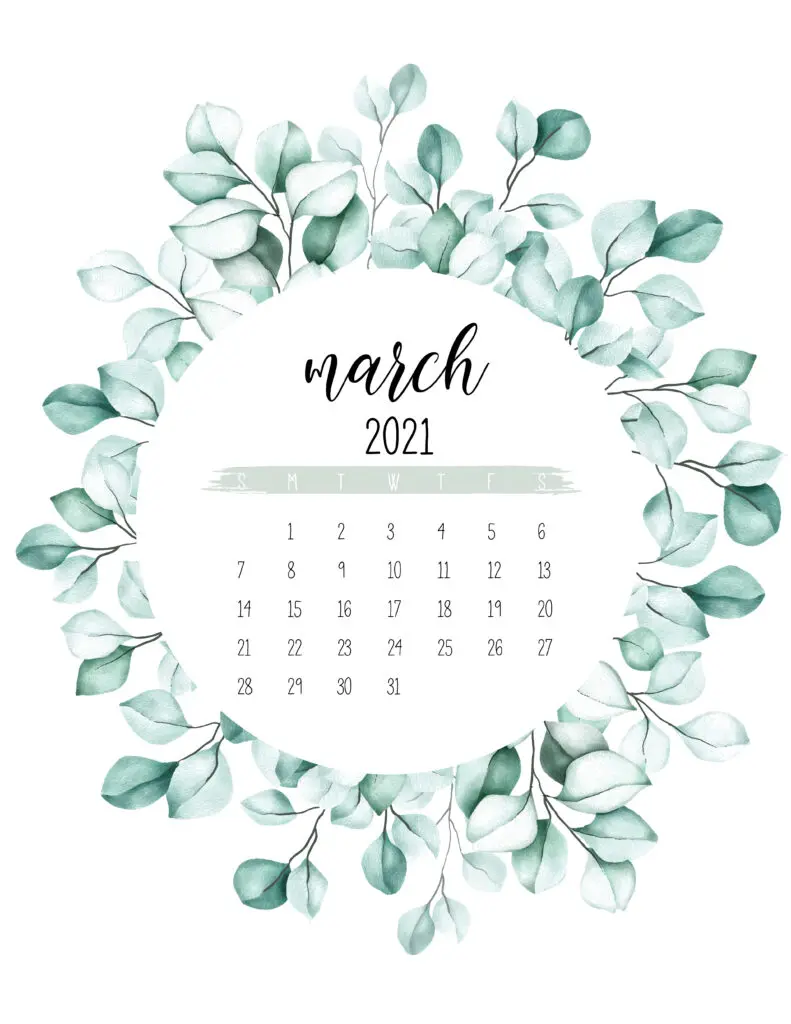 This calendar feautres a frame of soft flowers with beautiful colors.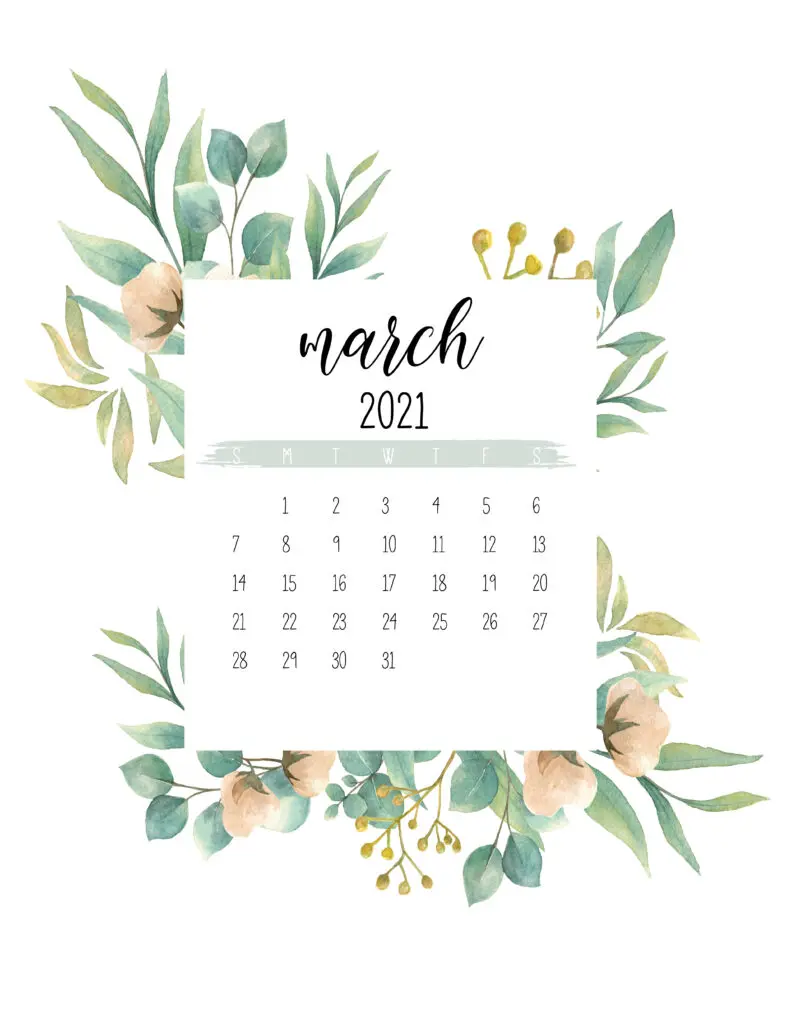 A unique Terracotta botanical March calendar is a perfect option for any home.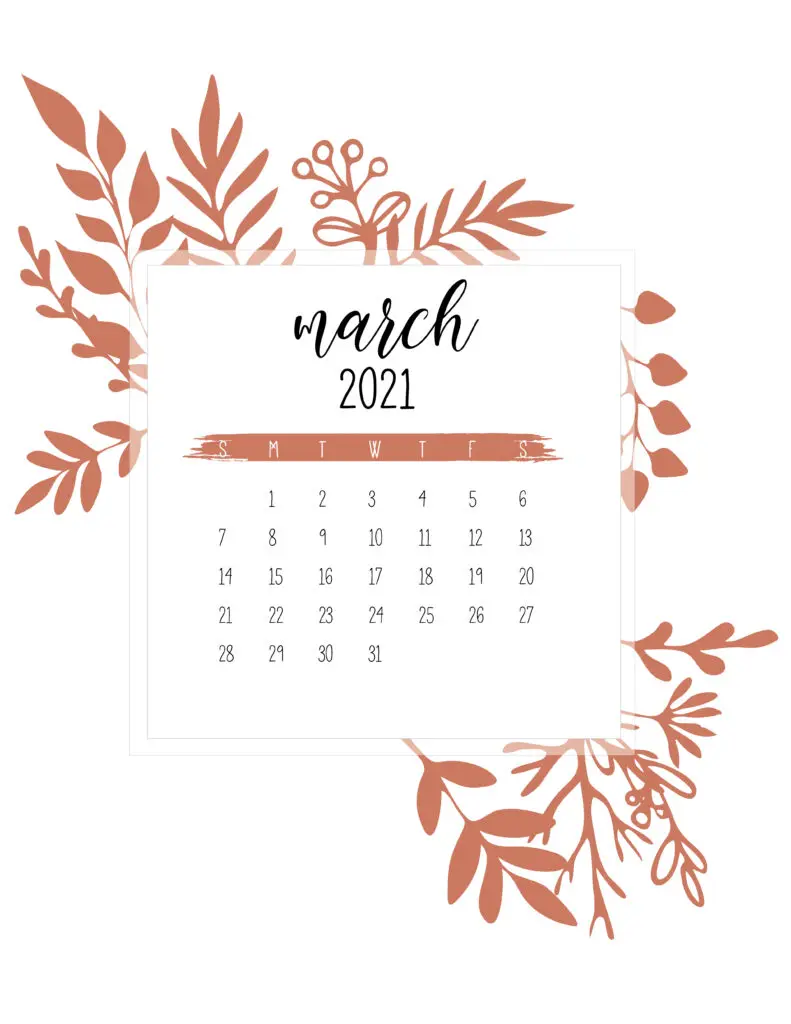 Keep this beautiful floral calendar in black and white or color it in to suit your decor.
A beautiful starry calendar with the constellation. This would look great in a planner or bullet journal.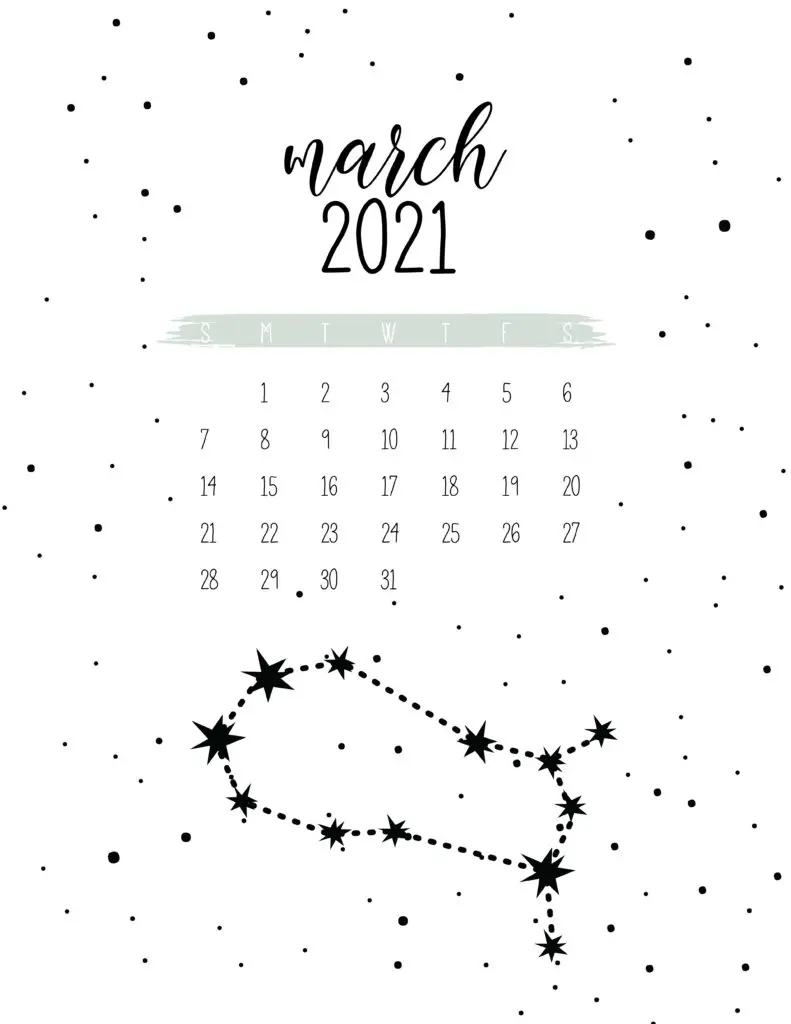 A printable March calendar perfect for the kitchen.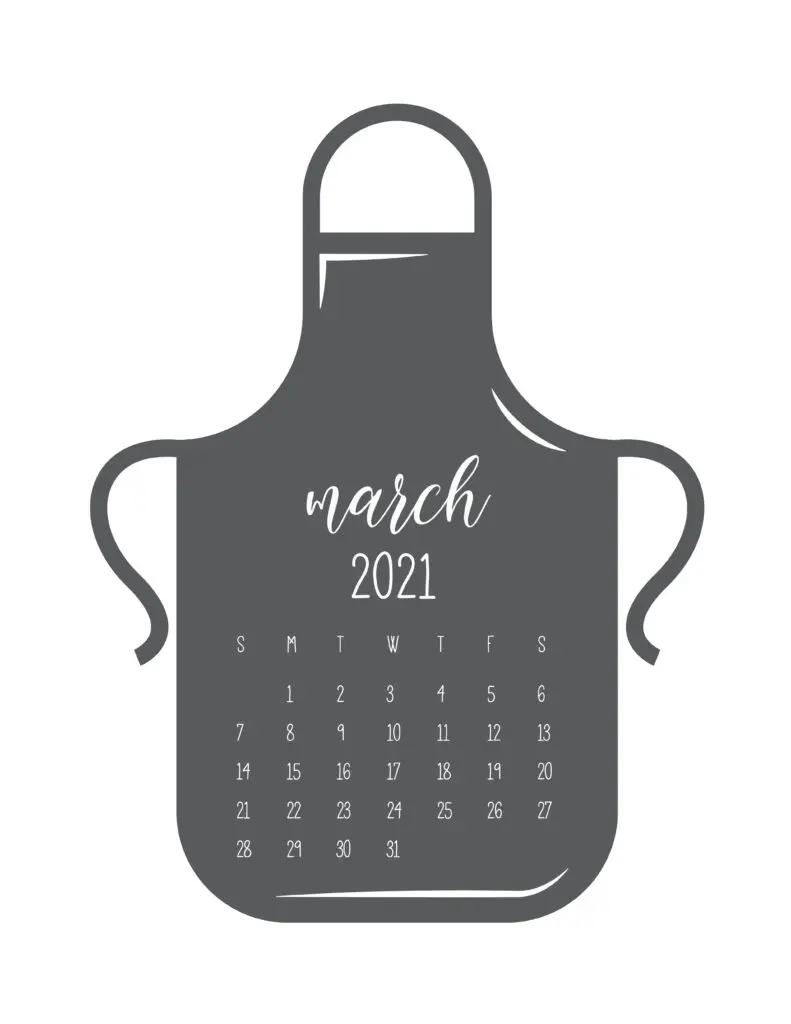 These cute kittens make the perfect calendar for any girl!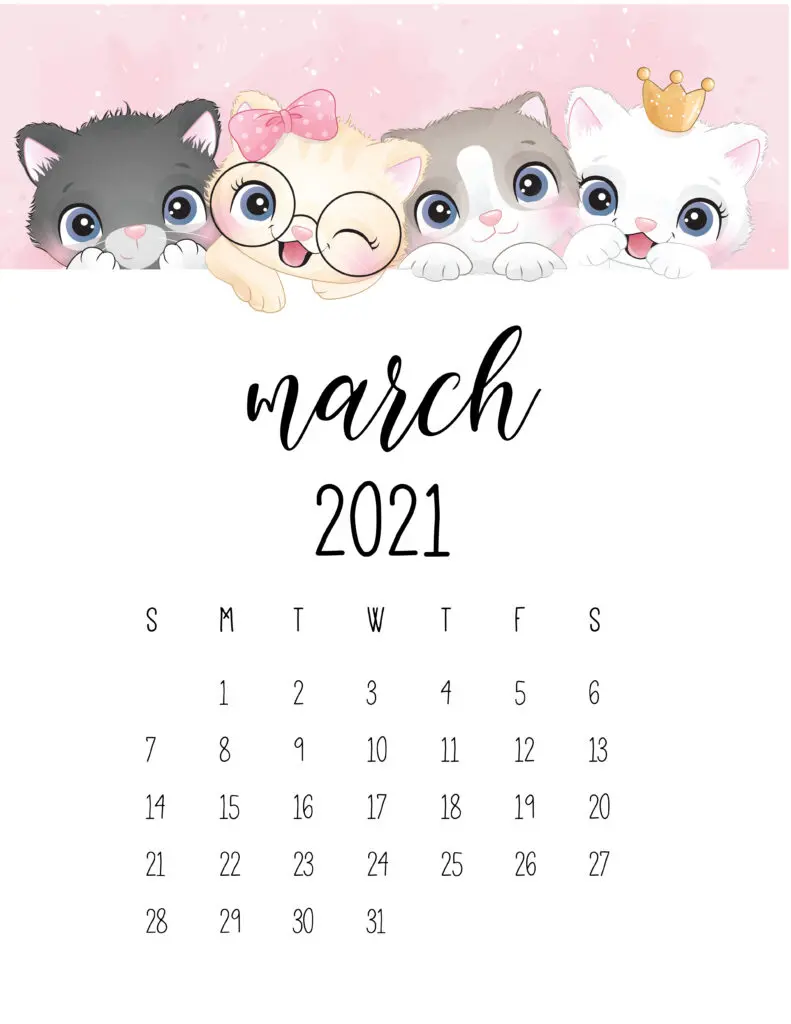 Got a dinosaur loving child? Surprise them with this cute dinosaur calendar.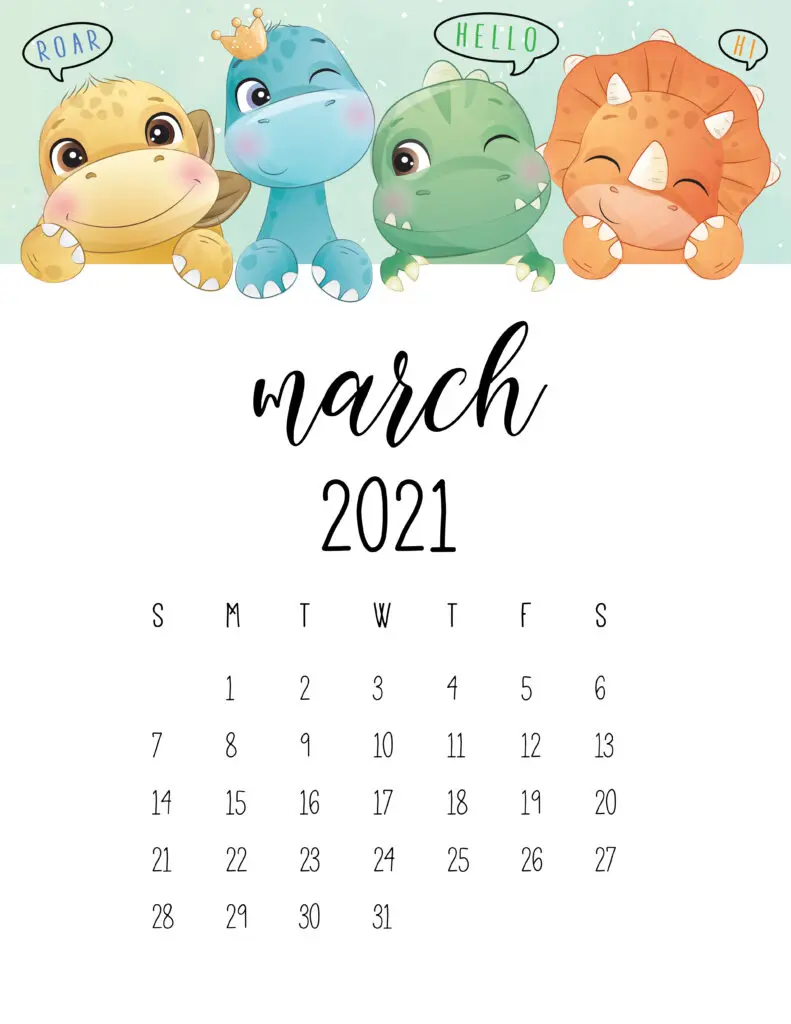 This little fox is all about the cool vibes! Enjoy this cheeky fox in your home.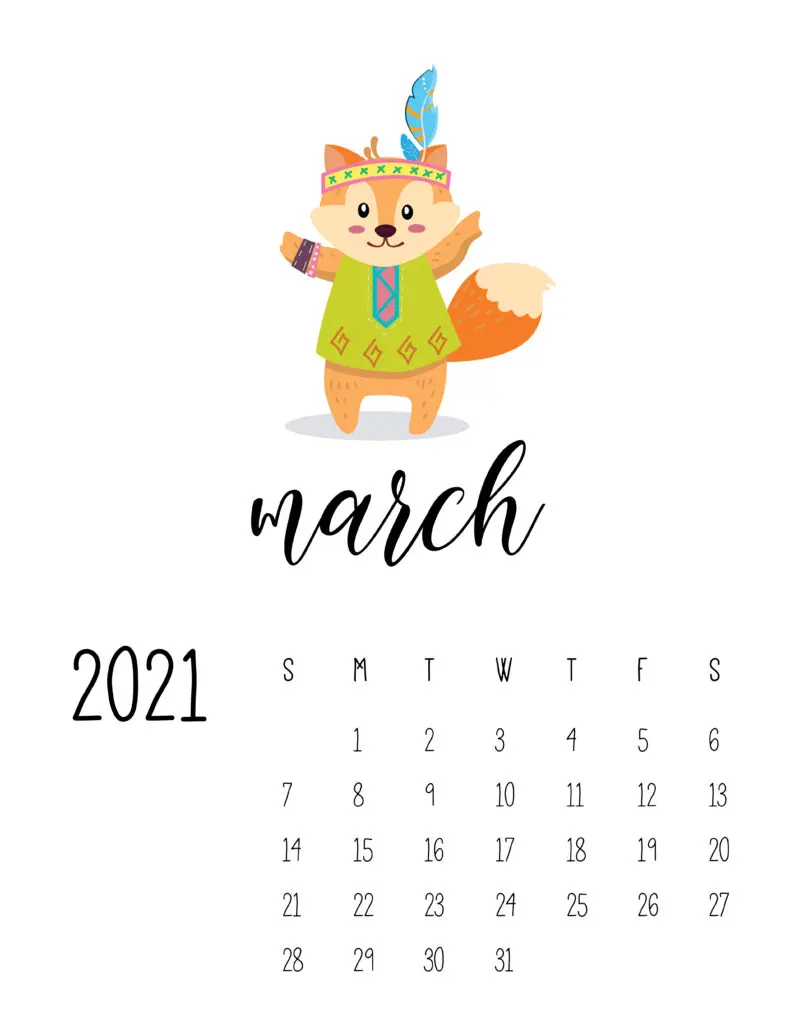 How about a little pocket Zebra to add some cuteness to your day?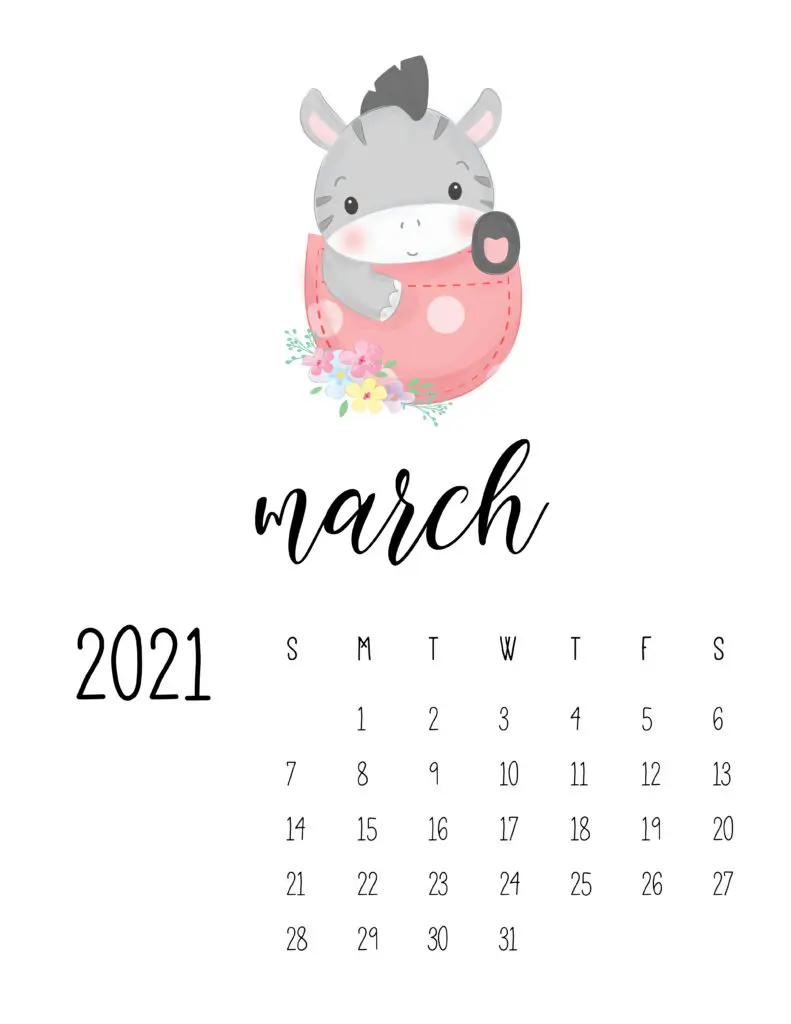 Cute bears hanging around on the washing line make this a great calendar for the laundry room. Circle the days with different colors to represent the laundry loads.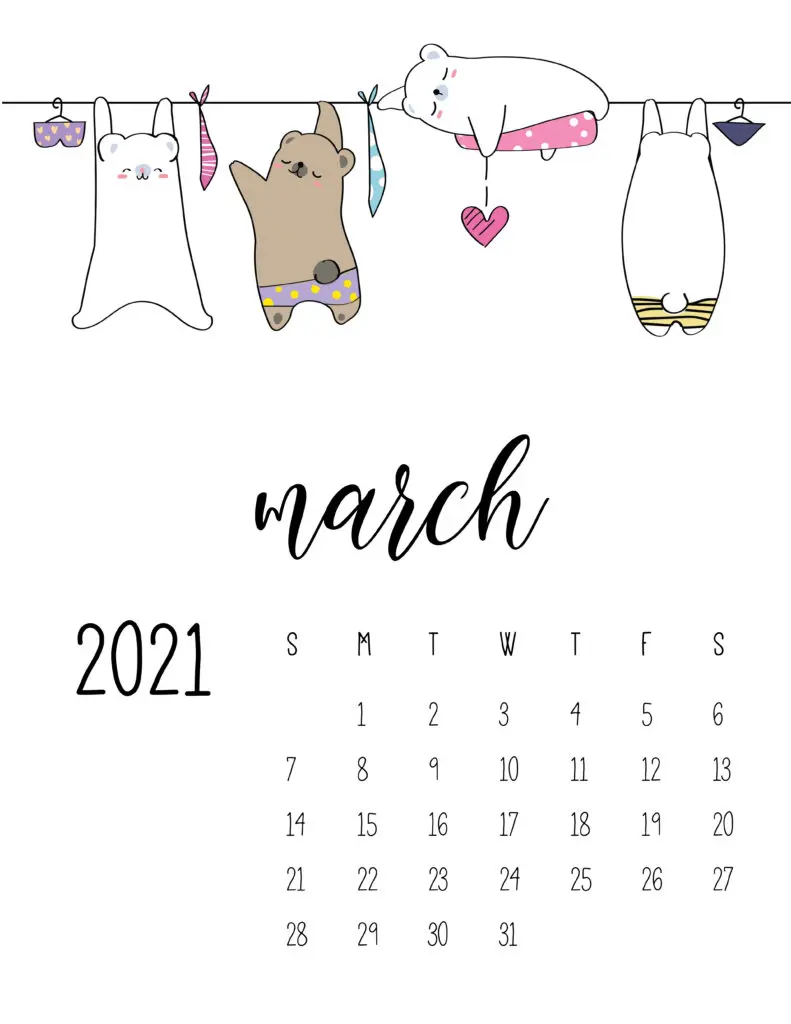 Cheeky cats make a perfect calendar for a cheeky cat lover!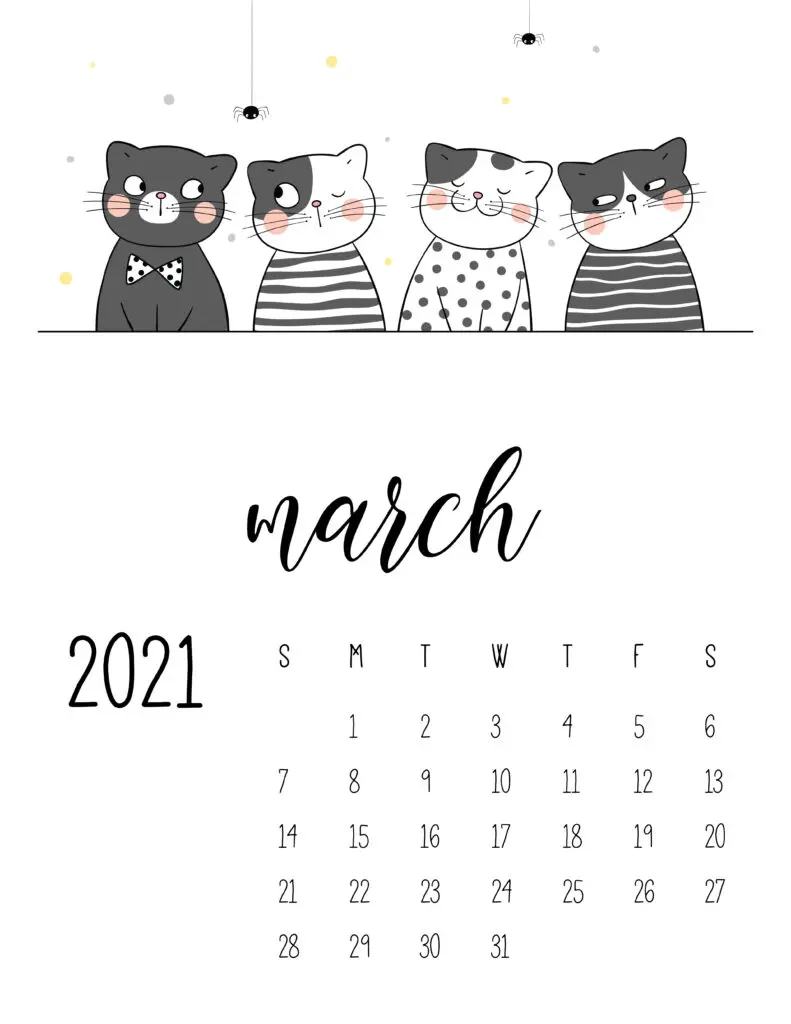 This cute kitty completes this gorgeous, fun watercolor calendar.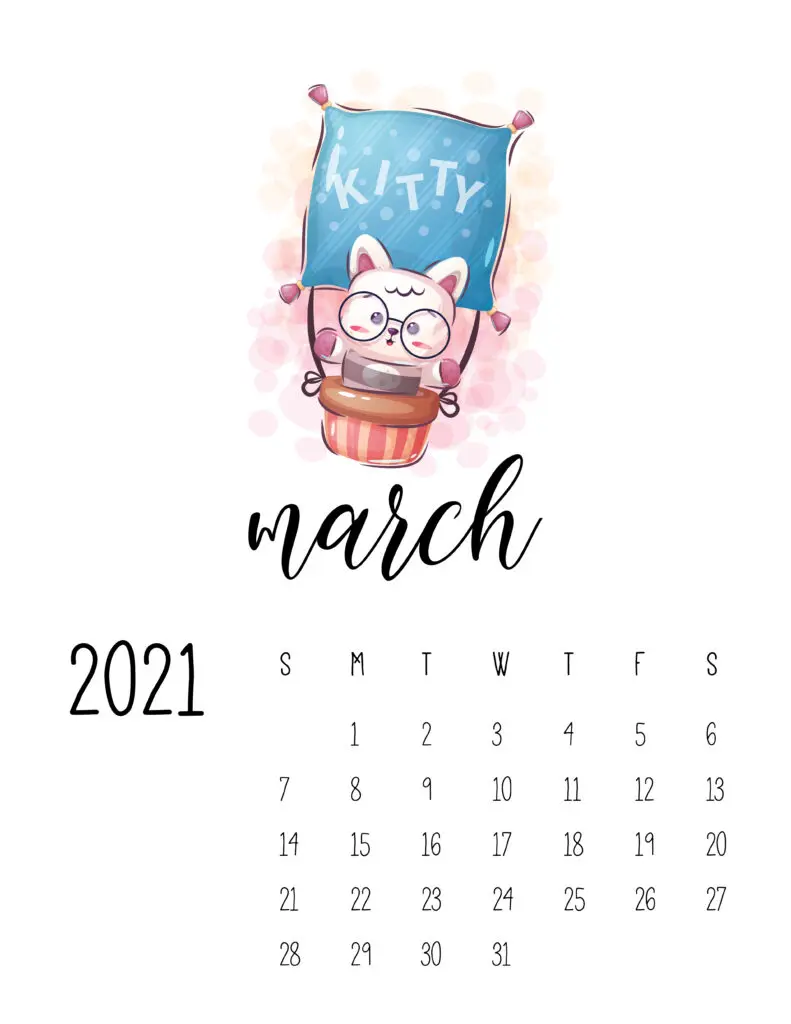 Enjoy this cute coffee calendar this March.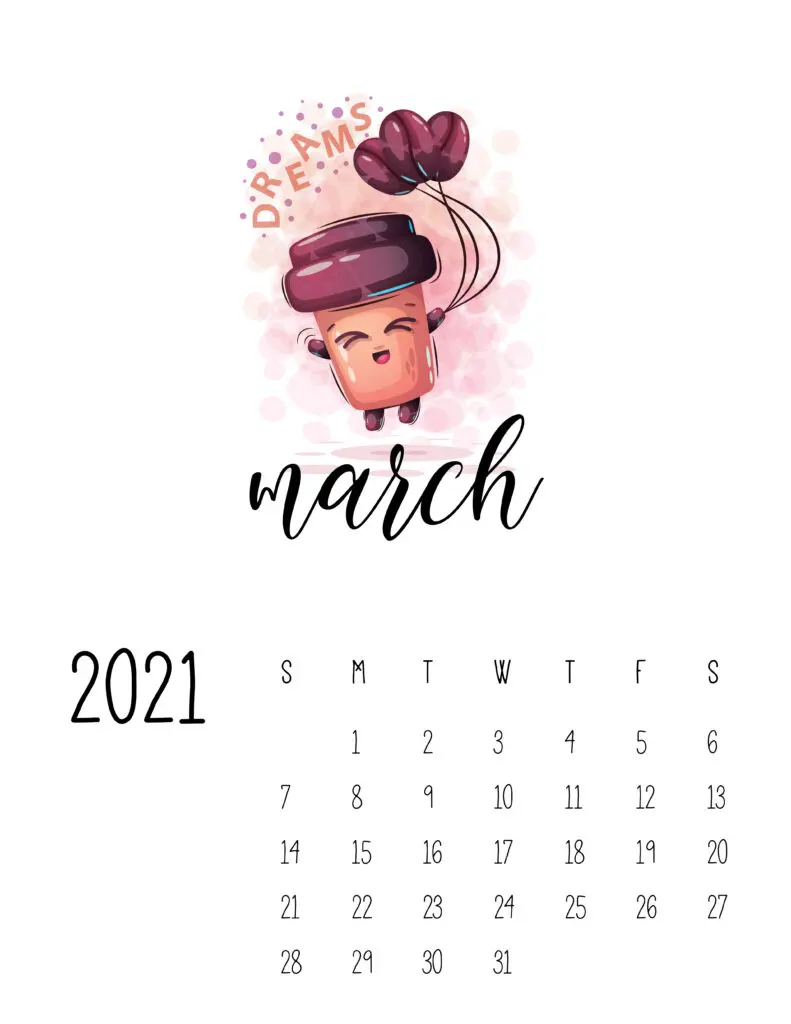 This beautiful calendar is a popular floral option.
Enjoy this simple color block calendar! It's perfect for any home.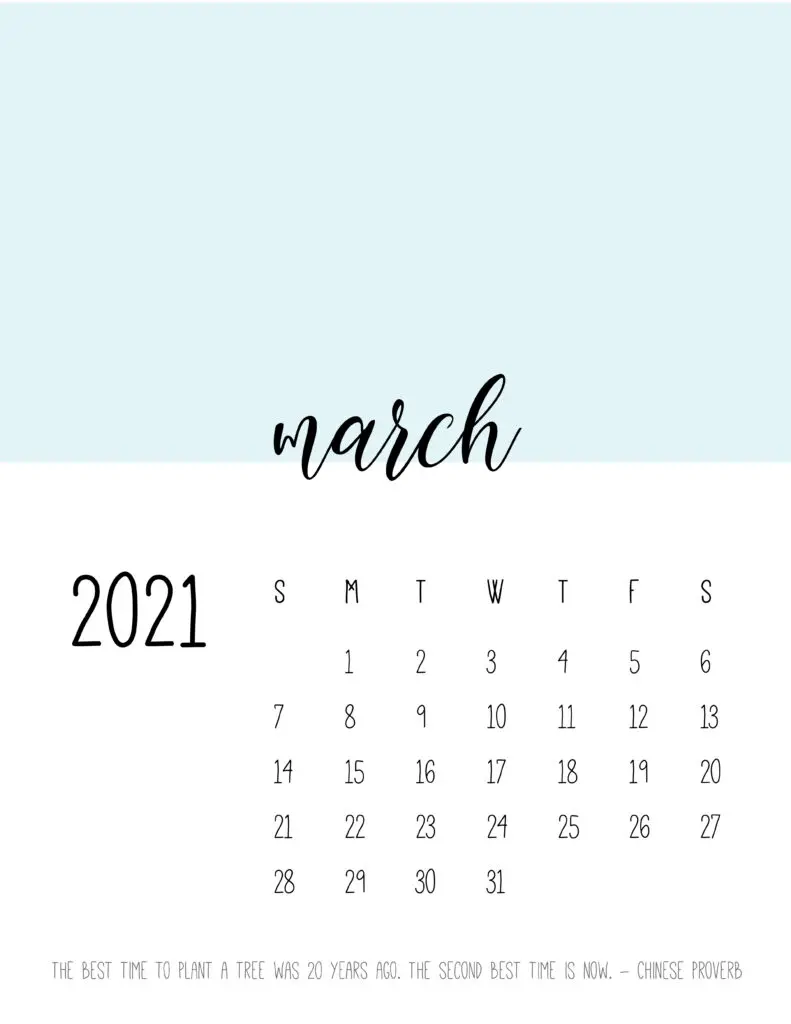 Sometimes you just need a cute little hedgehog to bring joy into your life.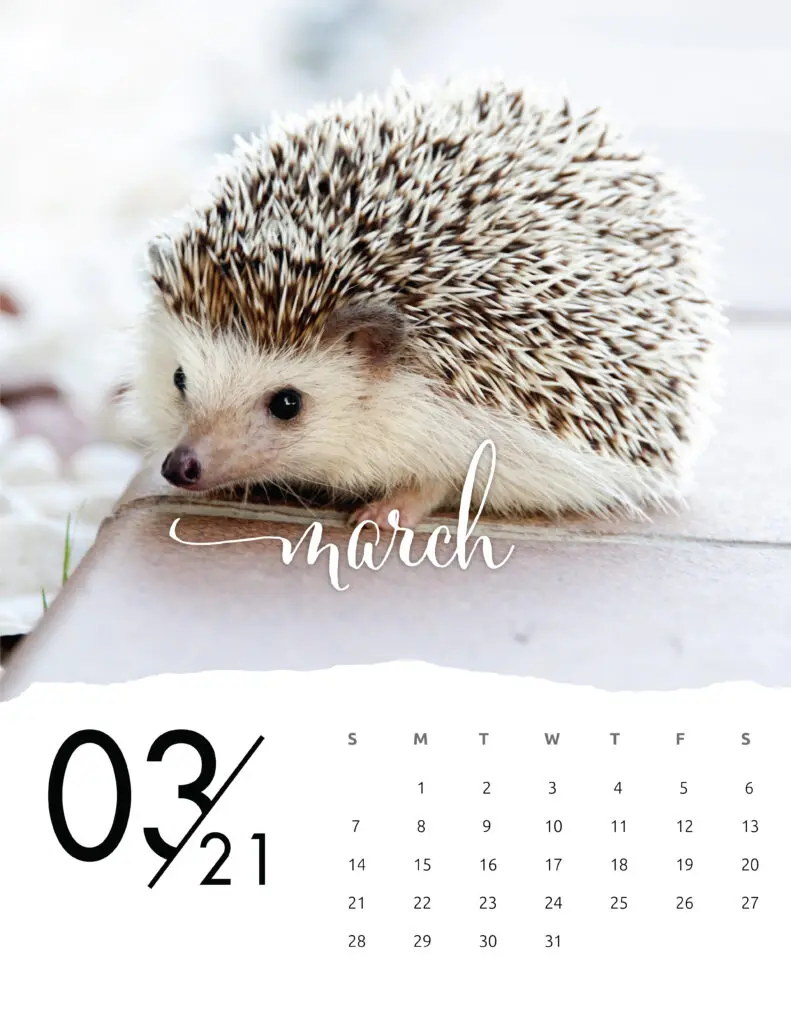 An inspirational quote to get you through March.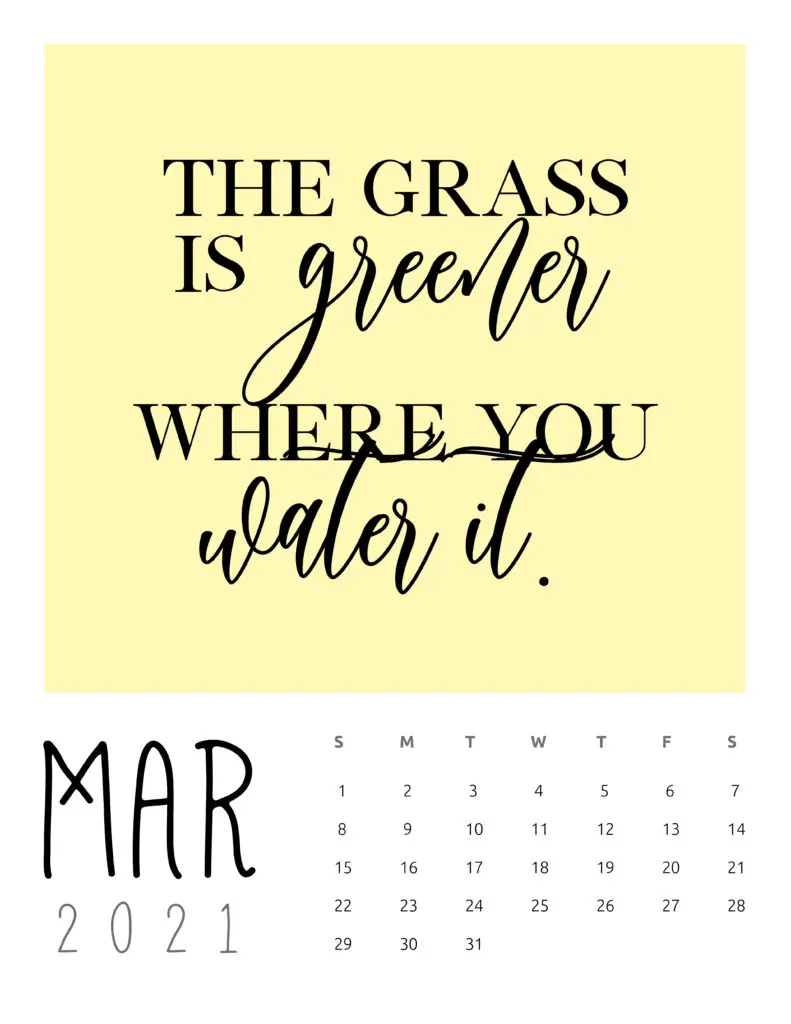 A lovely monochrome pattern calendar.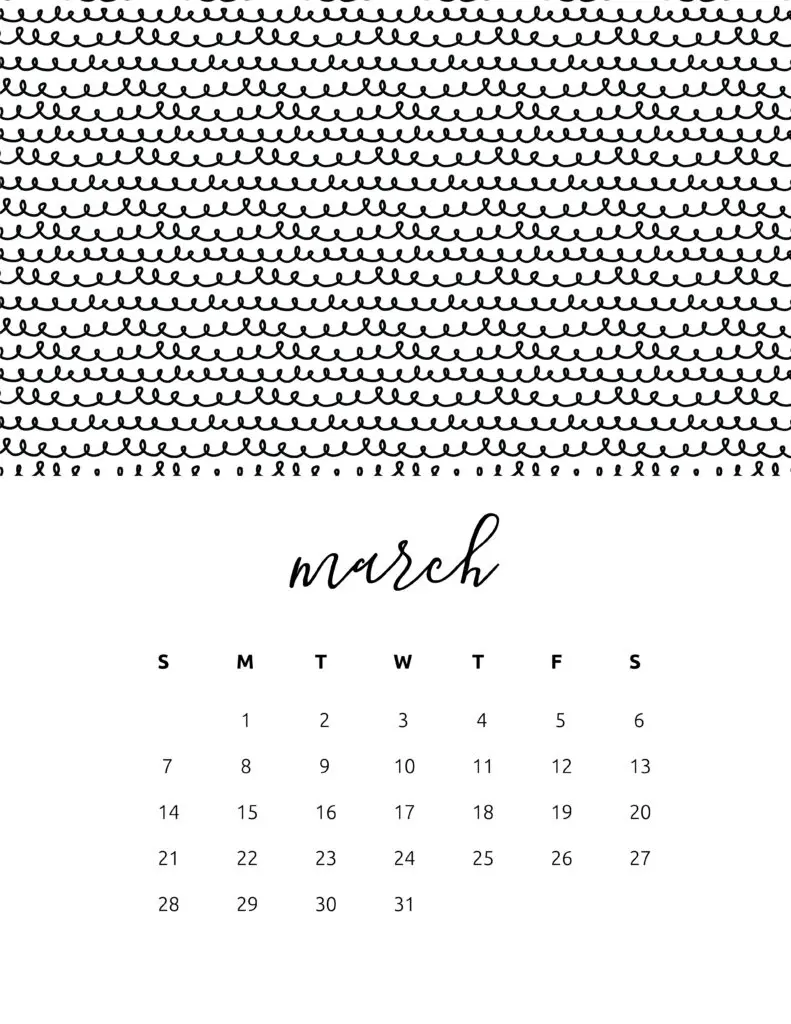 A beautiful minimalist calendar with space for priorities and notes.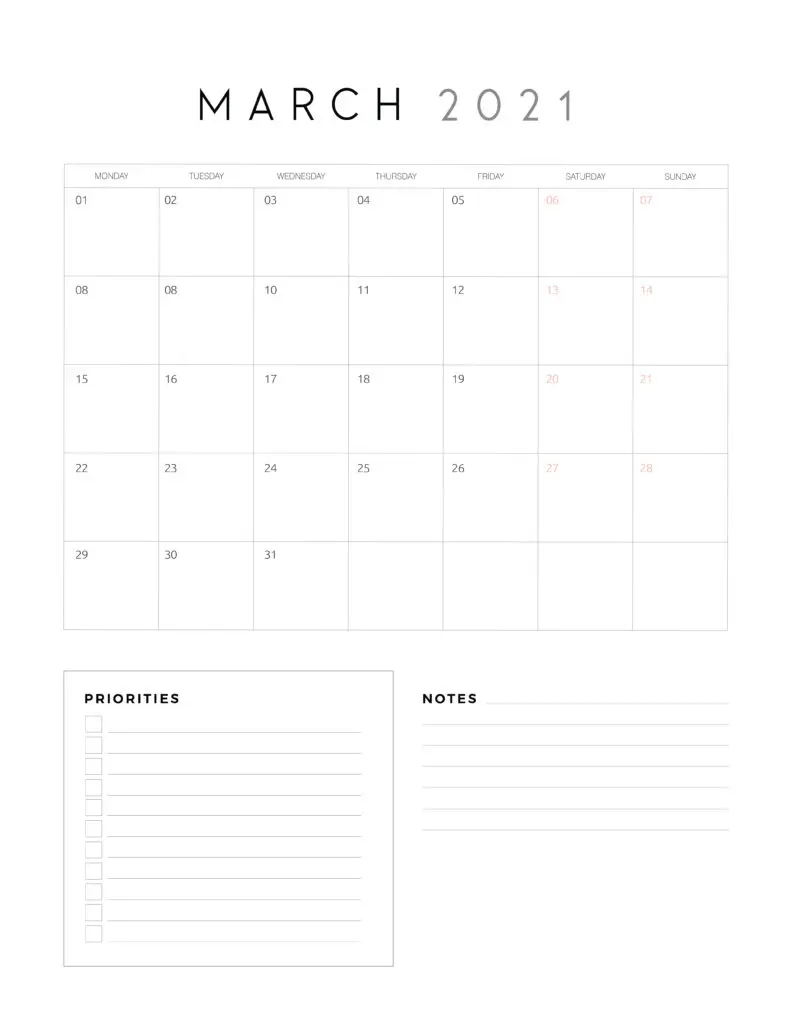 Minimalist but bold stunning March calendar. This is perfect for your office.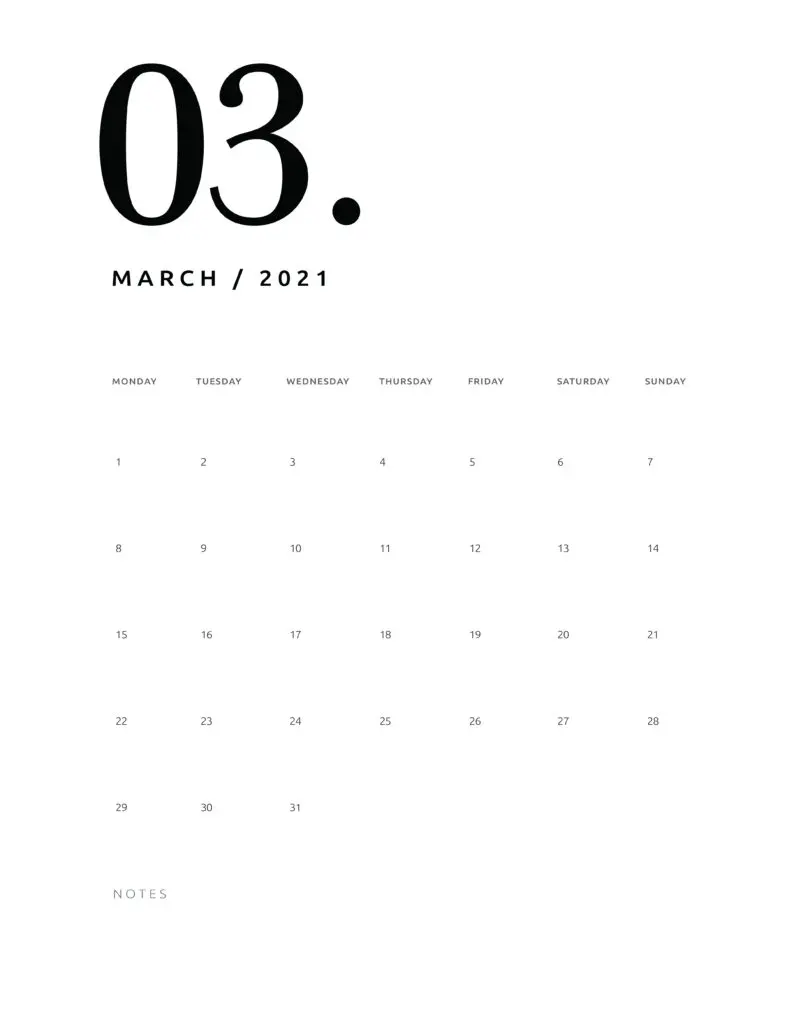 A stunning duo font march calendar perfect for stylish people!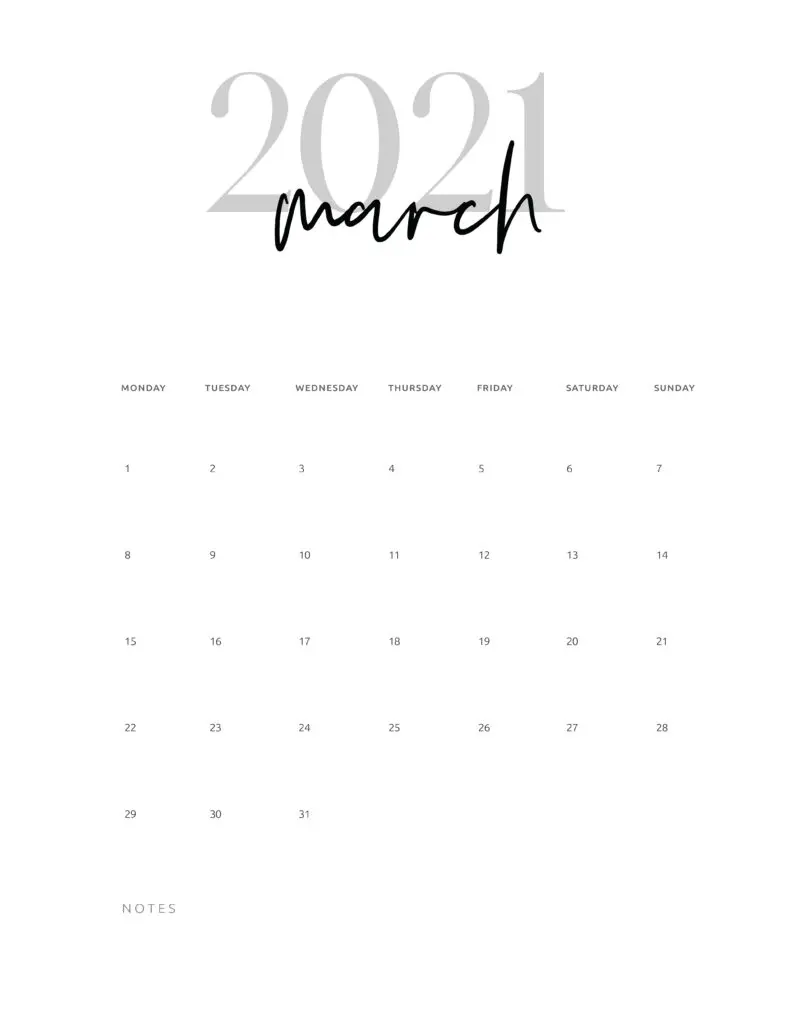 A simple but pretty brush lettered calendar.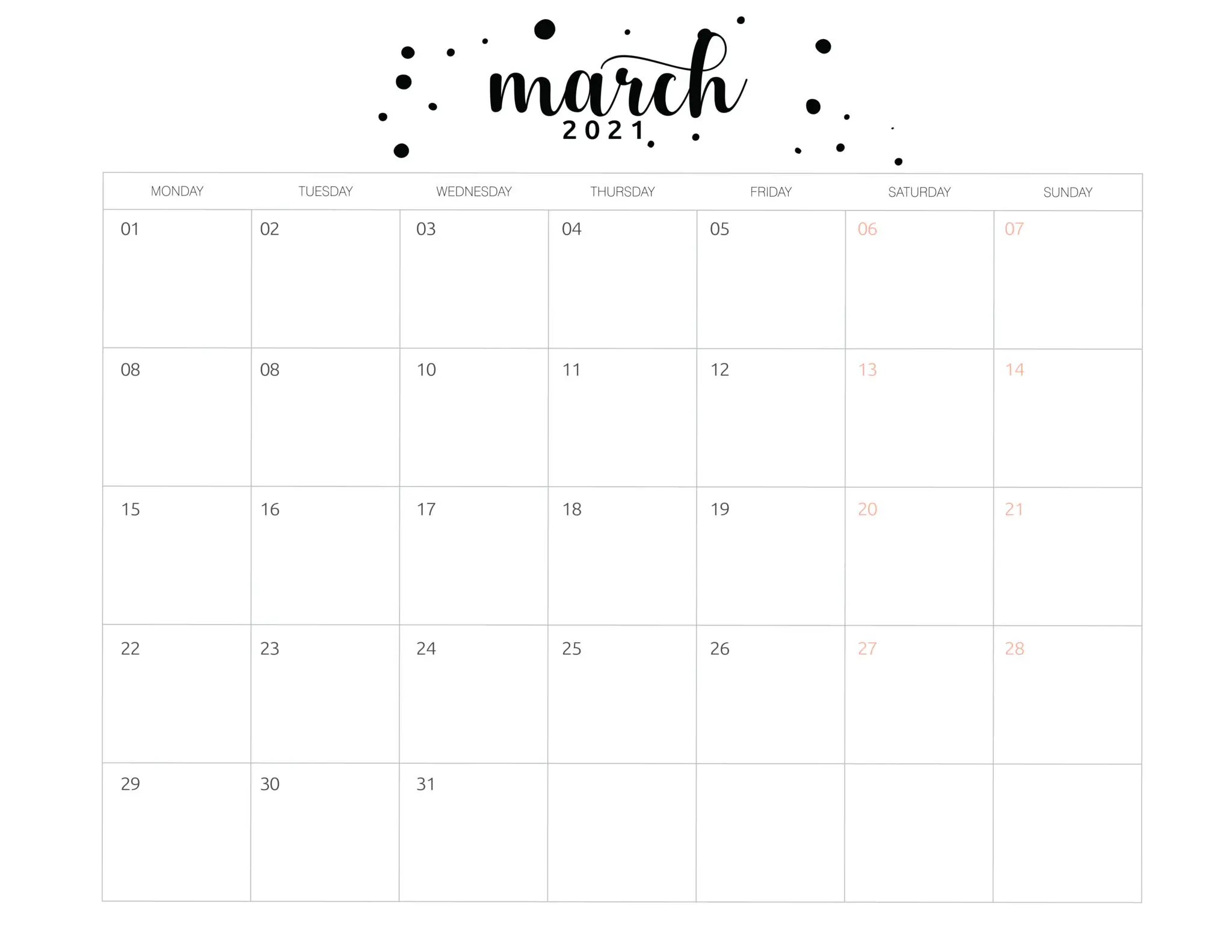 A pretty gold framed botanical March calendar.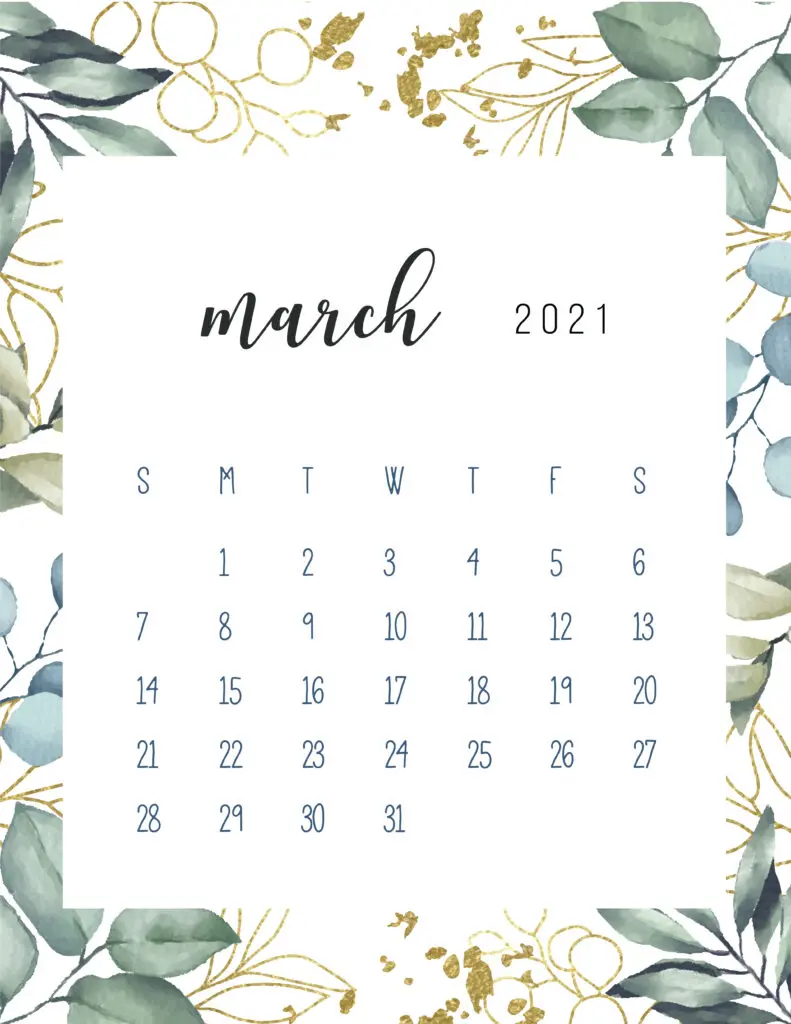 This March calendar features a simple monochrome botanical frame.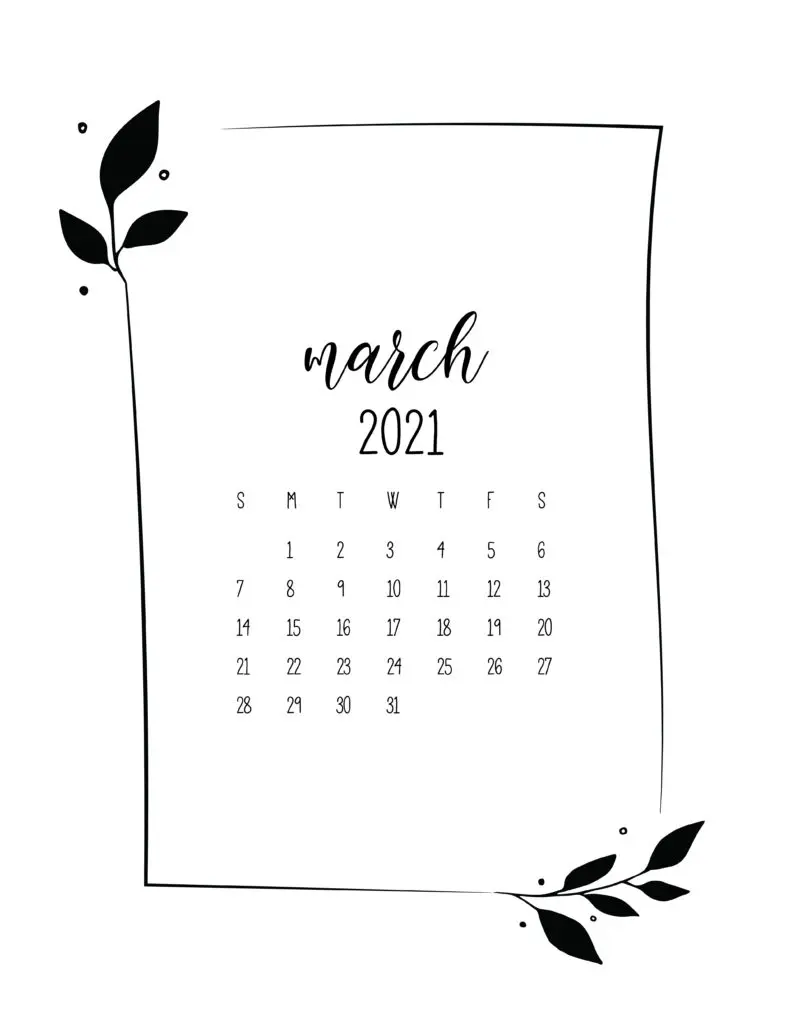 Enjoy this cute floppy bunny for your March calendar.
Say hello to these cute cats this March.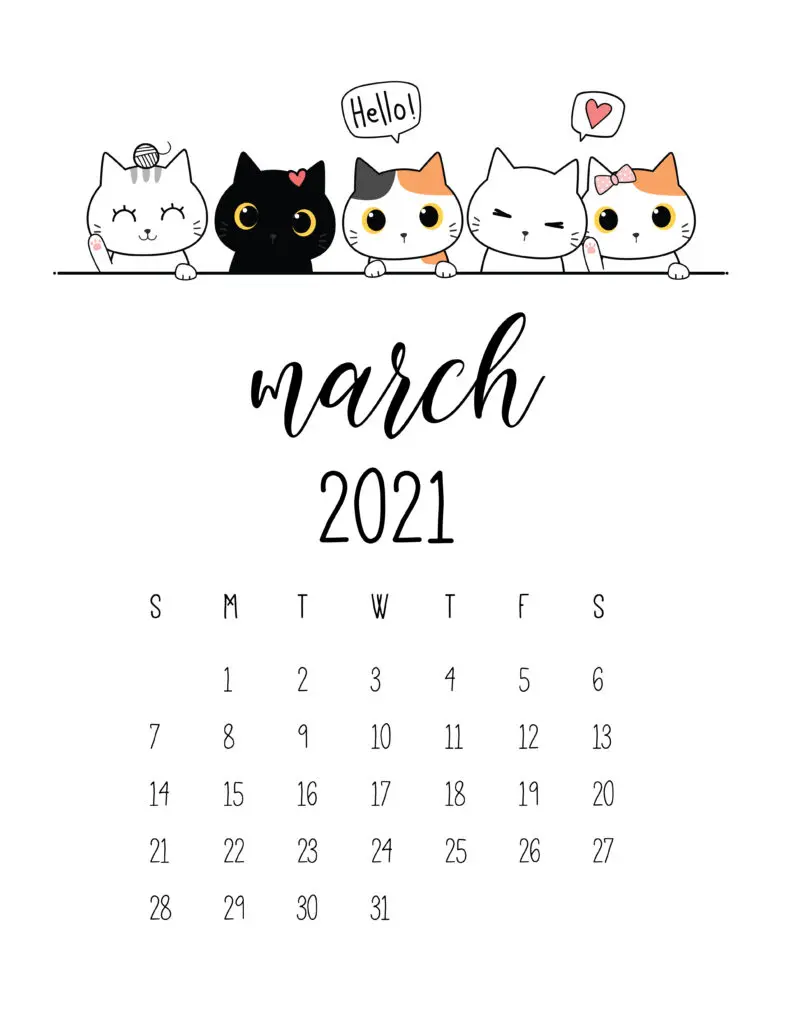 A beautiful mobile calendar perfect for a baby's nursery.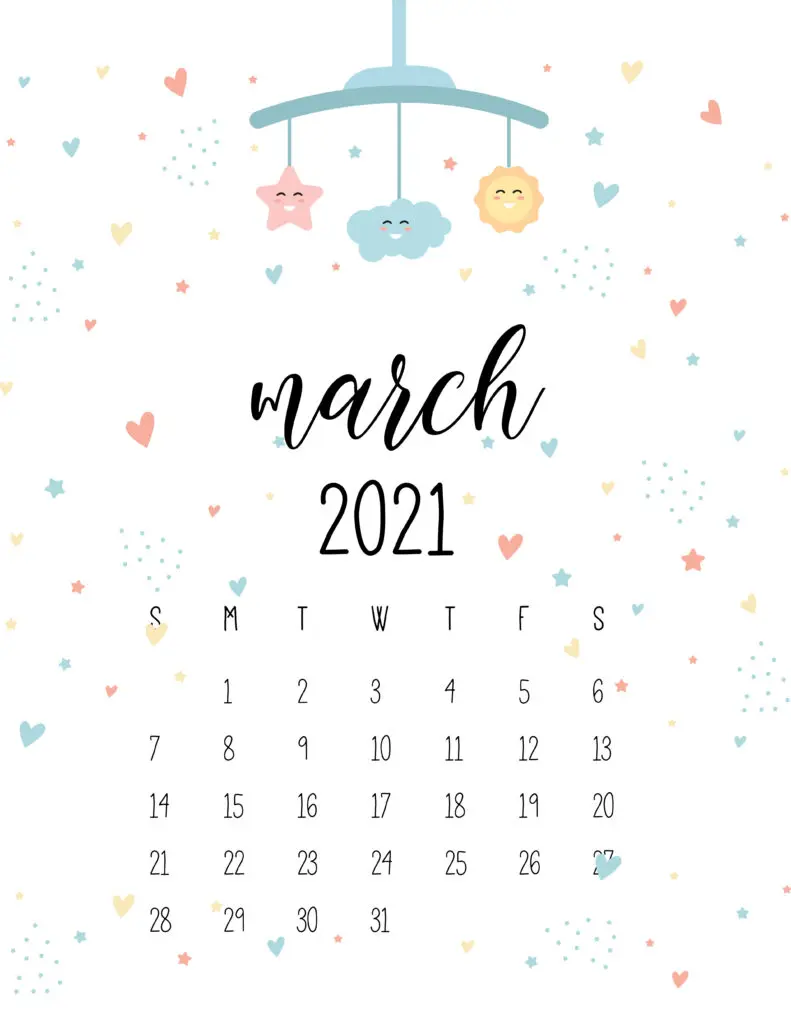 Beautiful blossoming flowers make this calendar stand out!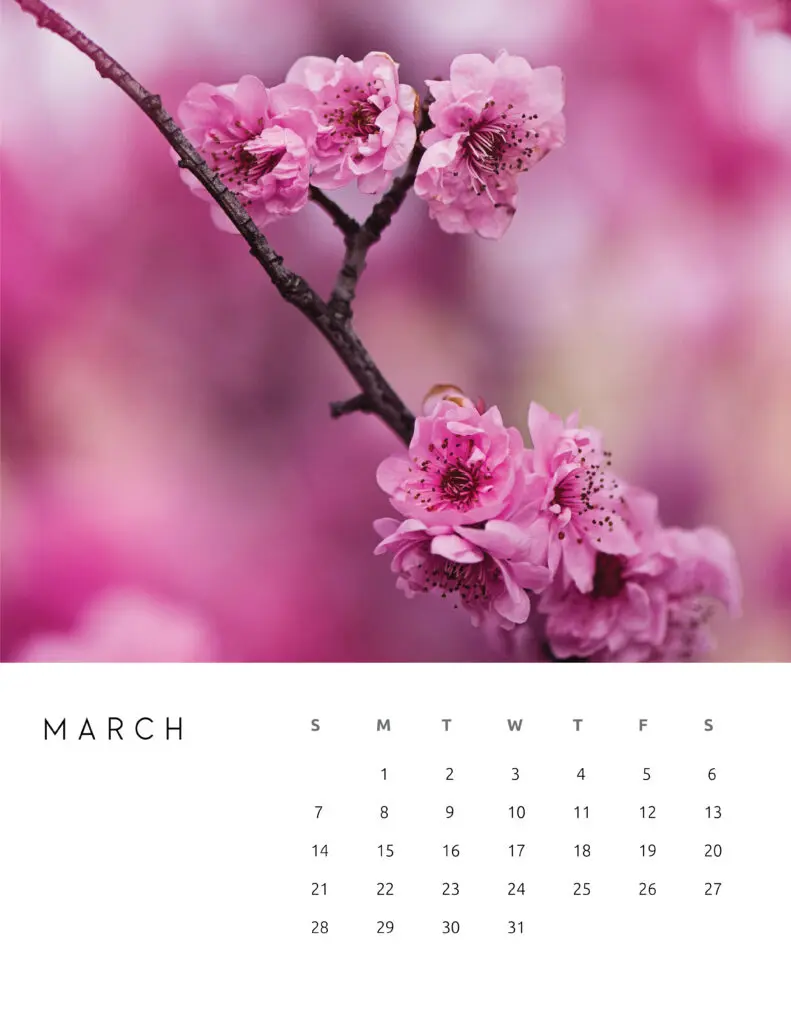 A small delicate flower is the focal point of this pretty calendar.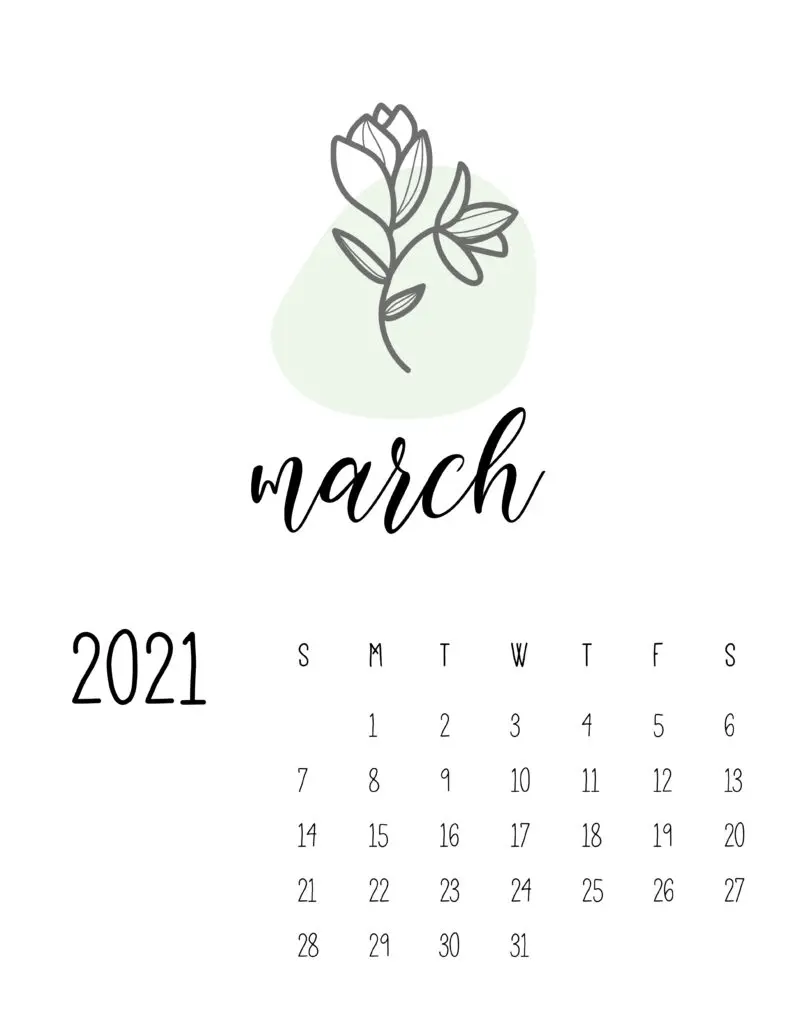 A simple and effective calendar!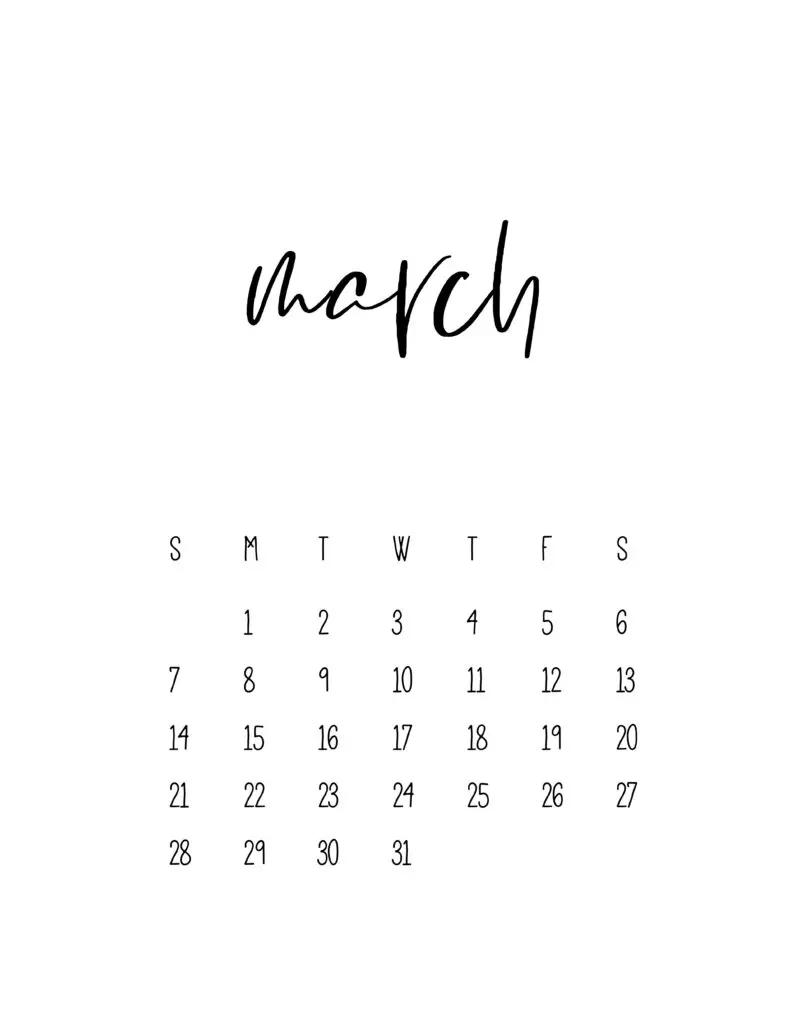 A cute stag is peeking out at you in this March calendar.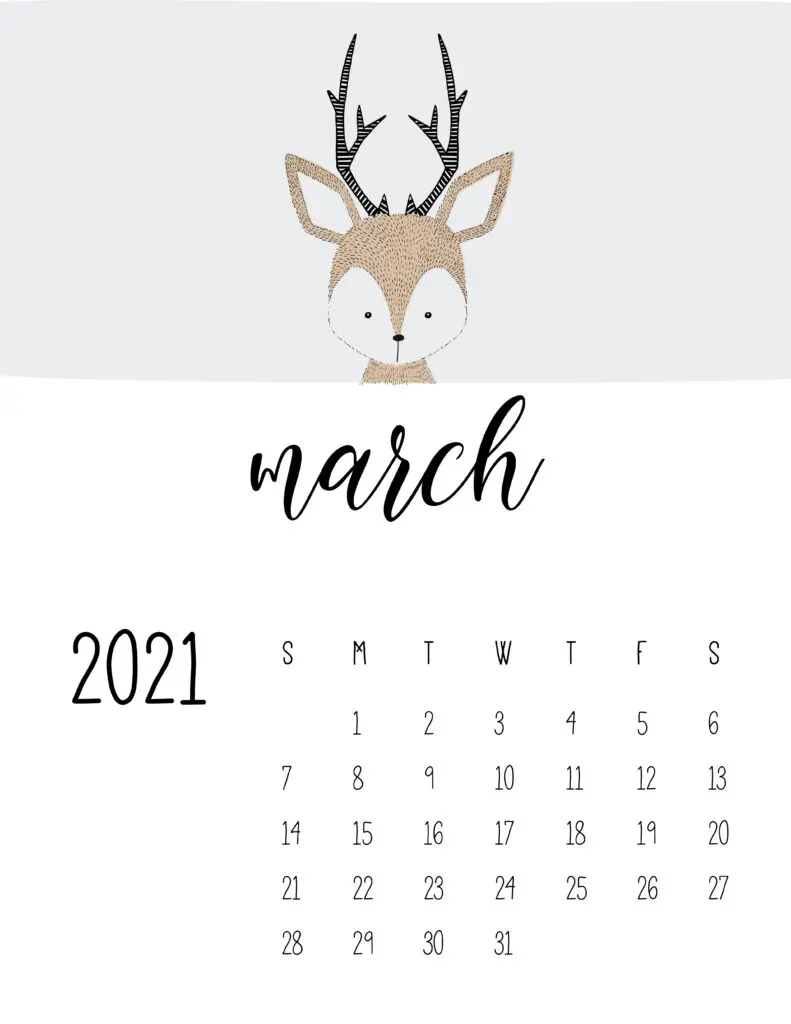 A simple and functional landscape March calendar.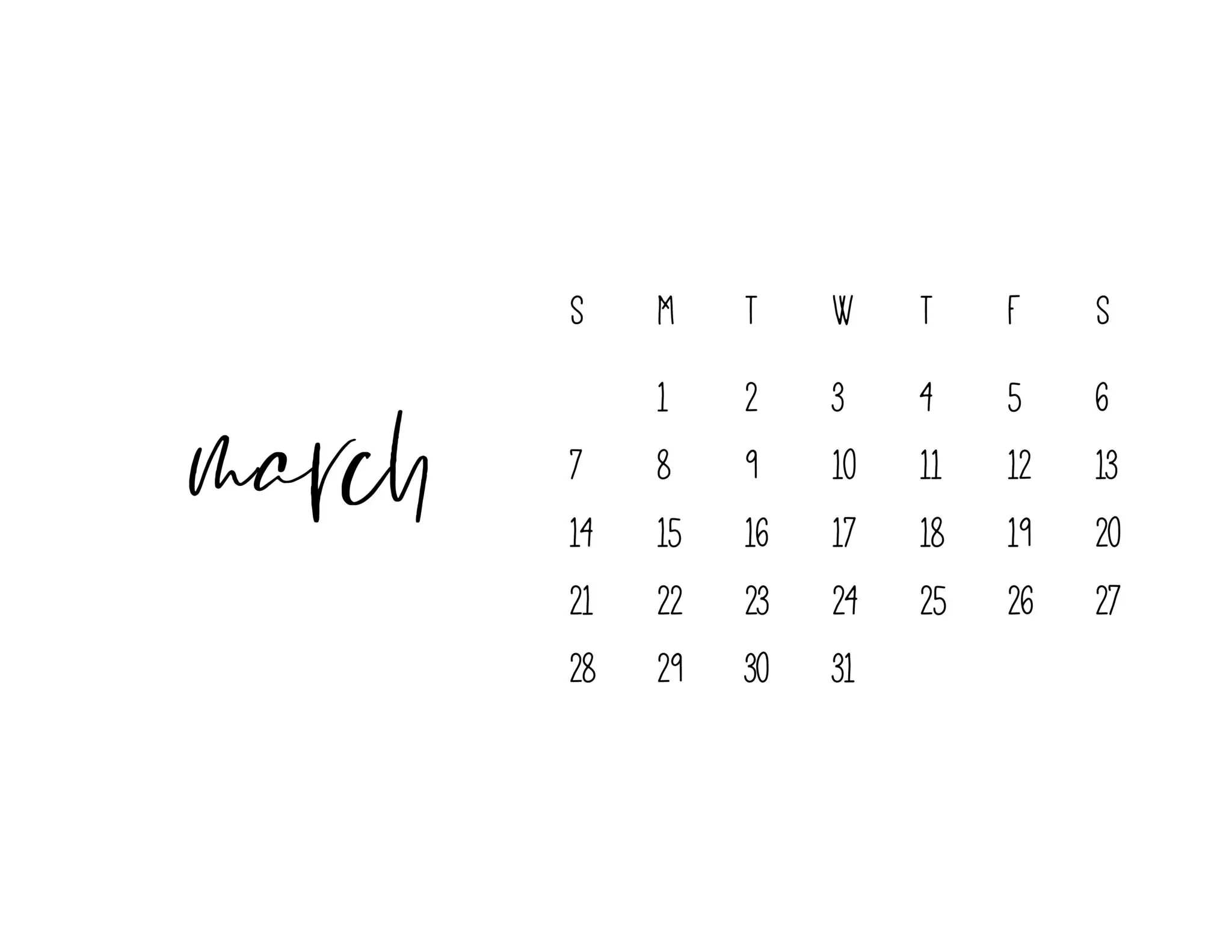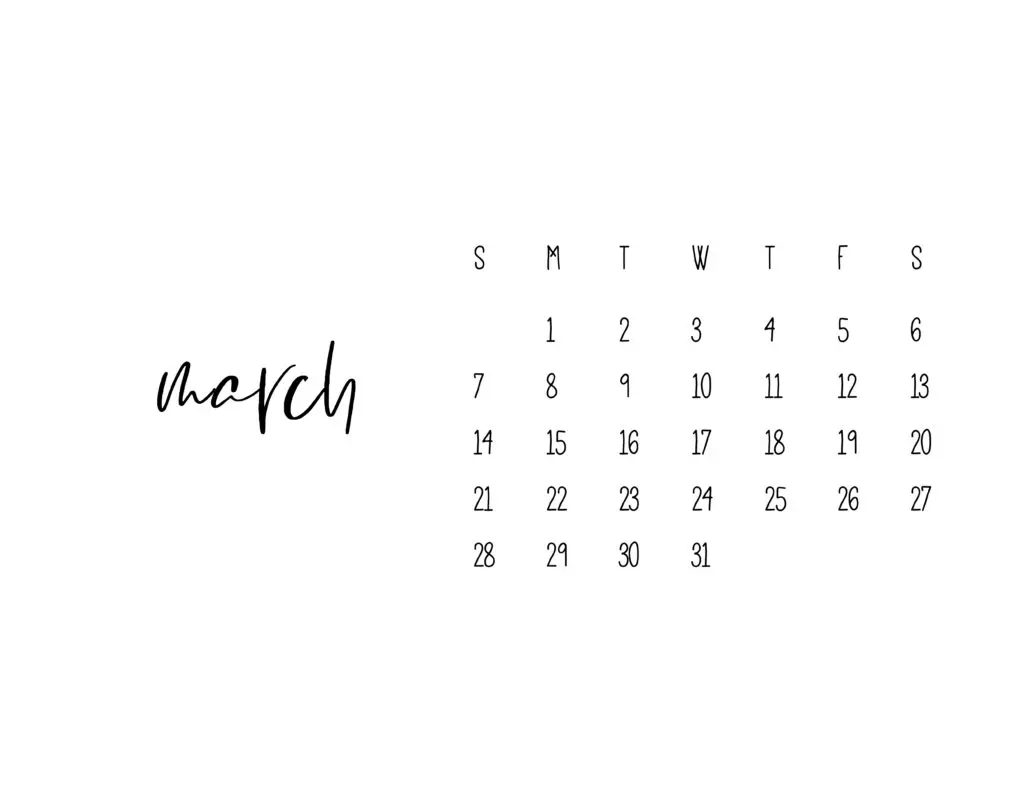 A stunning March calendar featuring beautiful botanicals.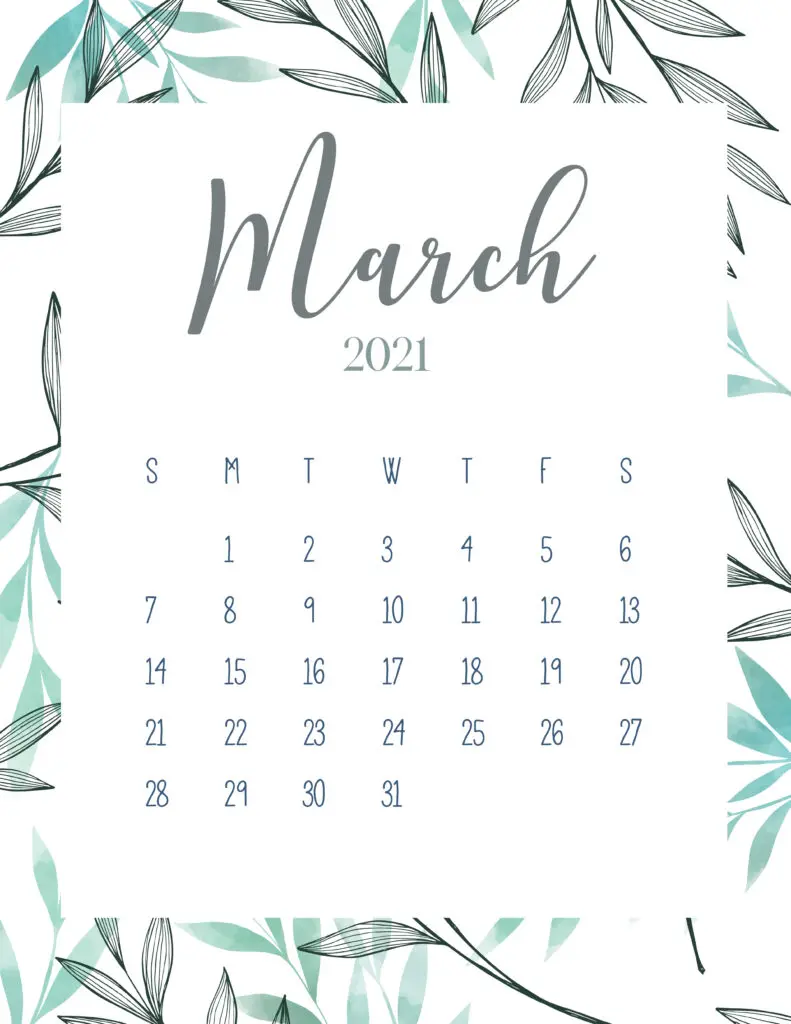 A perfect minimalist yet classy calendar.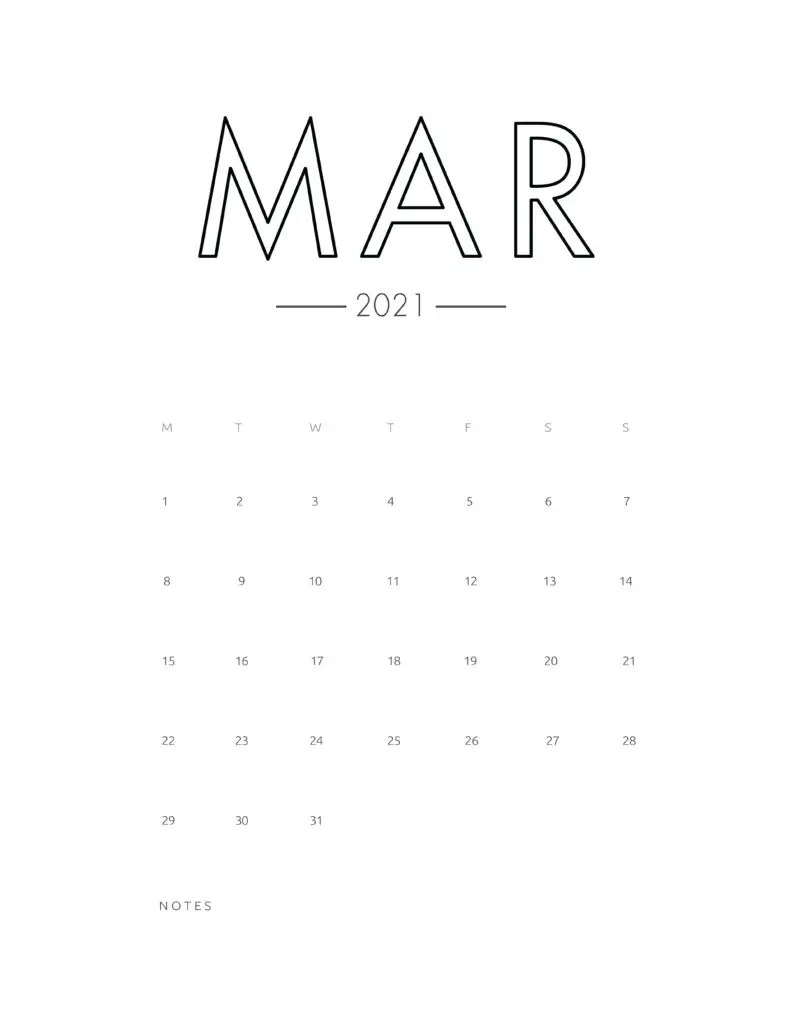 A pretty calendar with soft watercolor touches.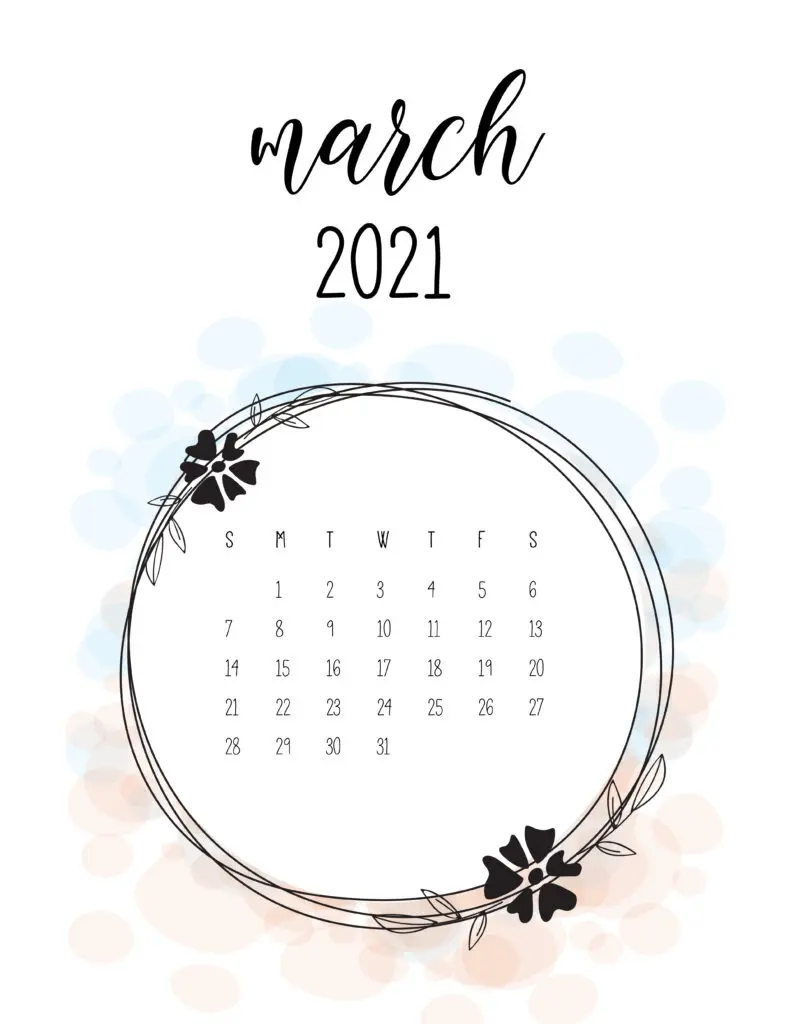 Beautiful hand designed rainbows make for a pretty calendar.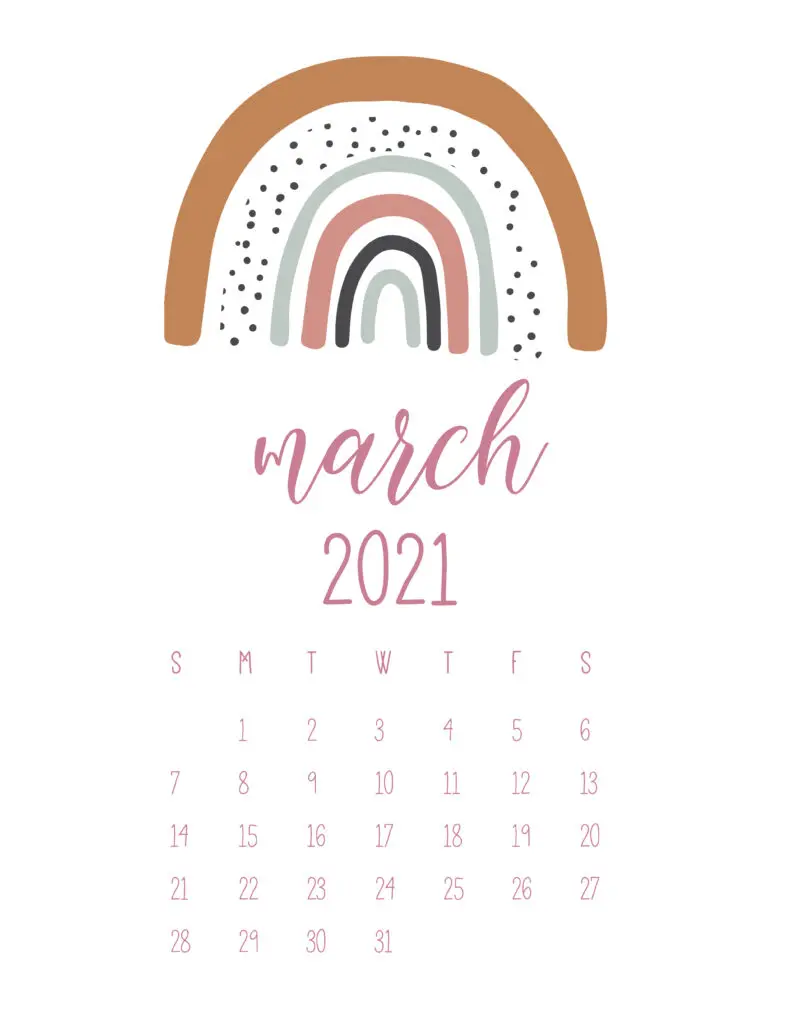 A simple and effective calendar with pretty writing.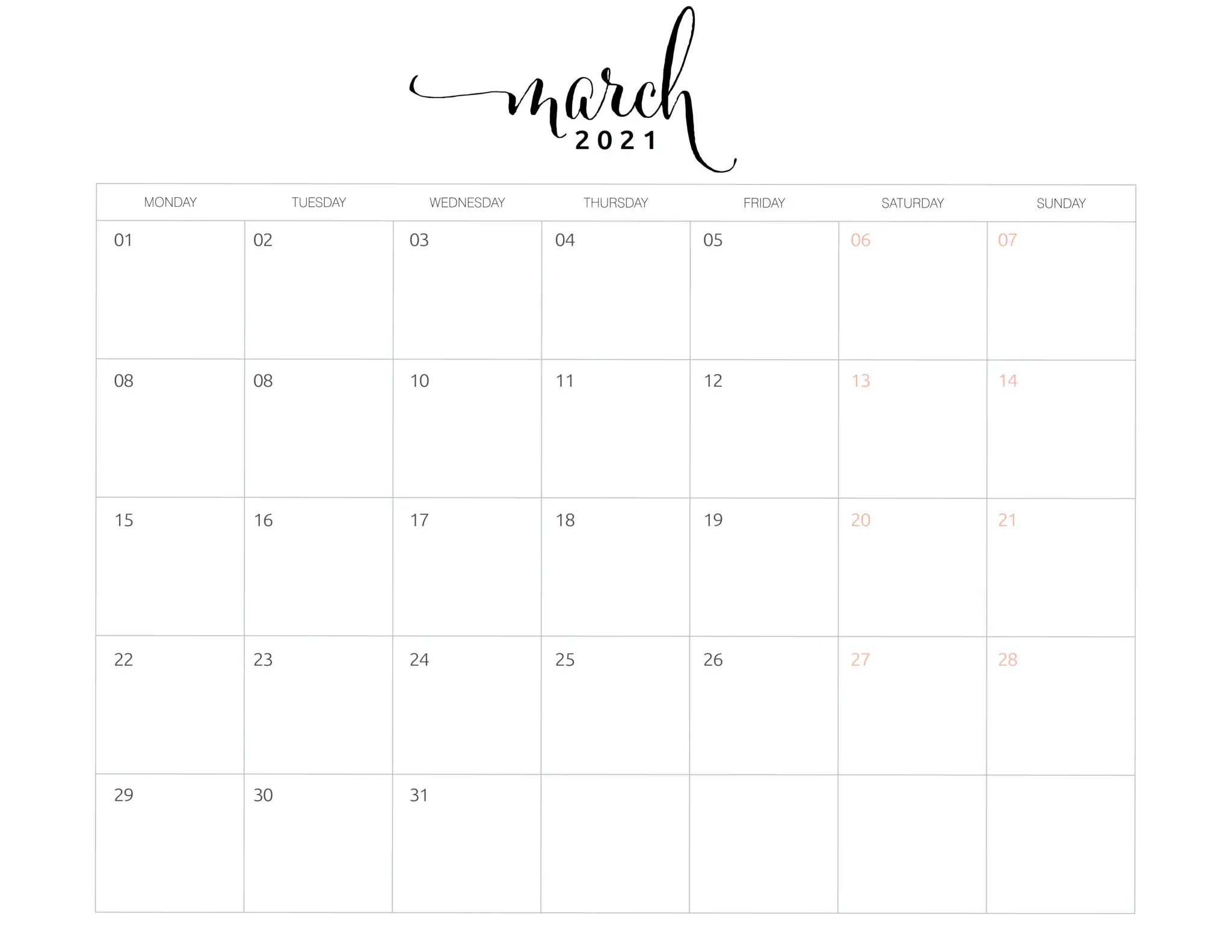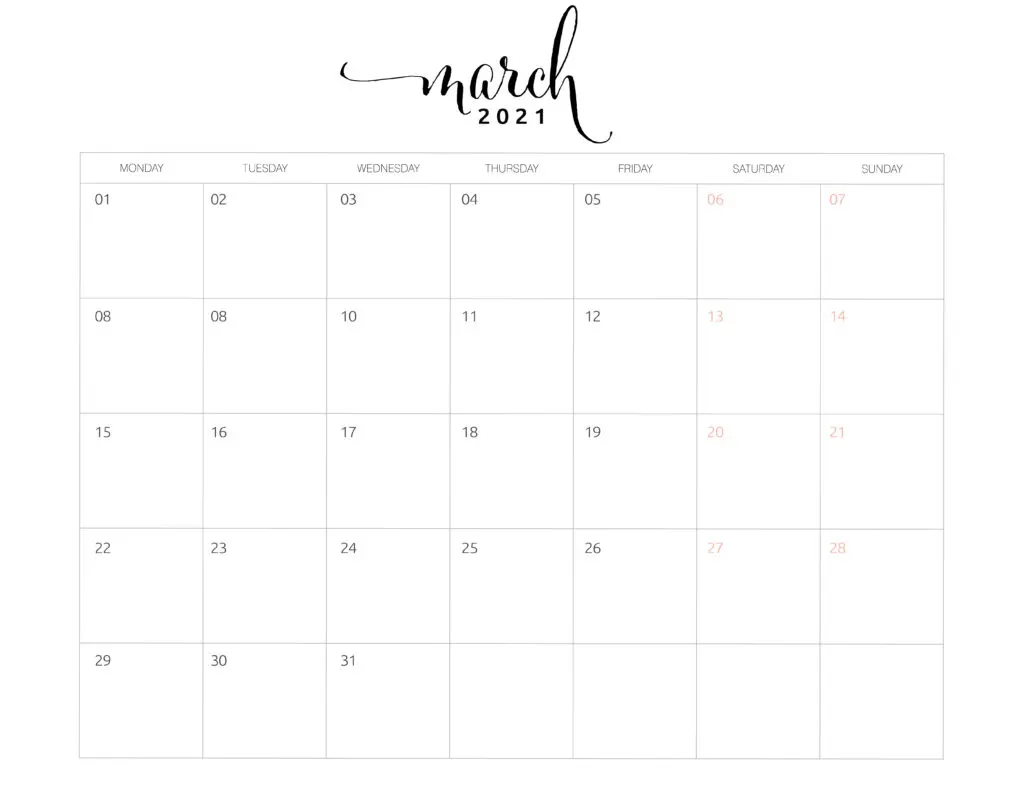 A cute bear says hello this March.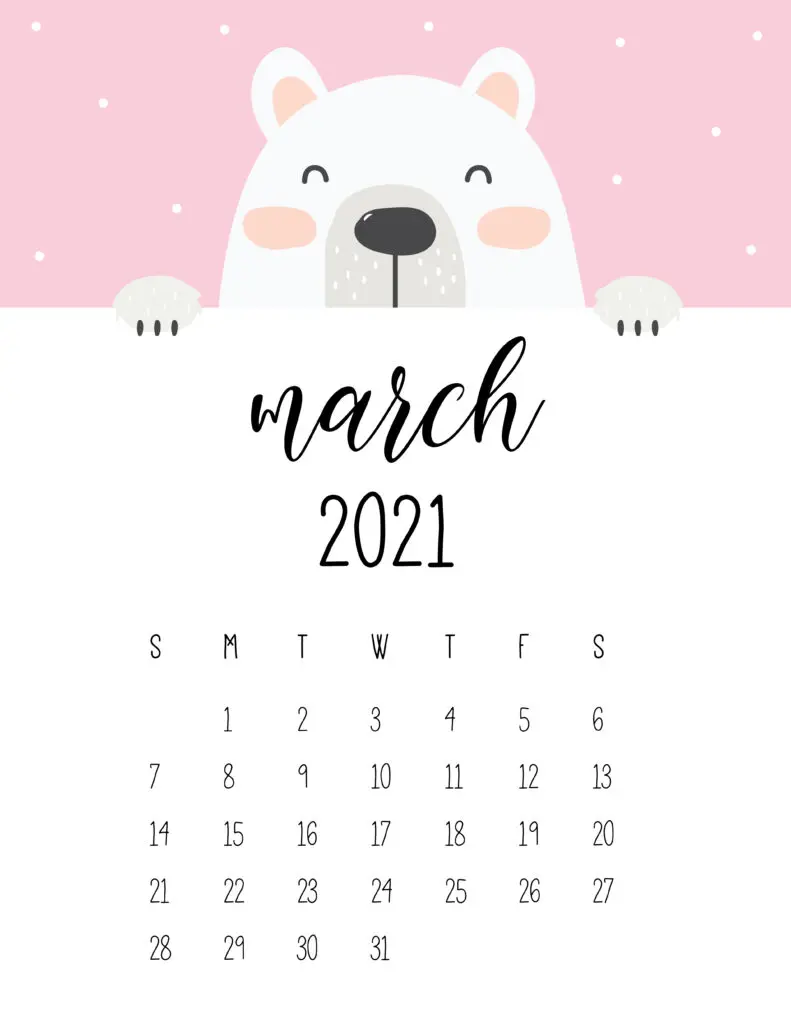 A very popular botanical March calendar.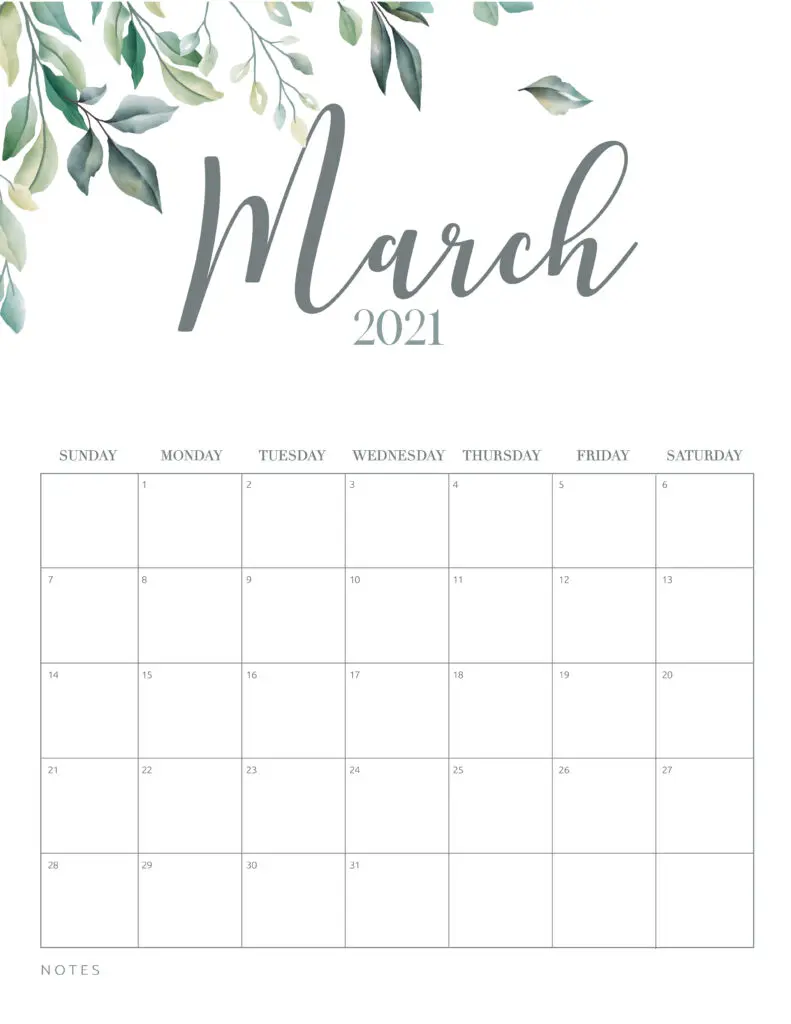 This March calendar features a soft floral design.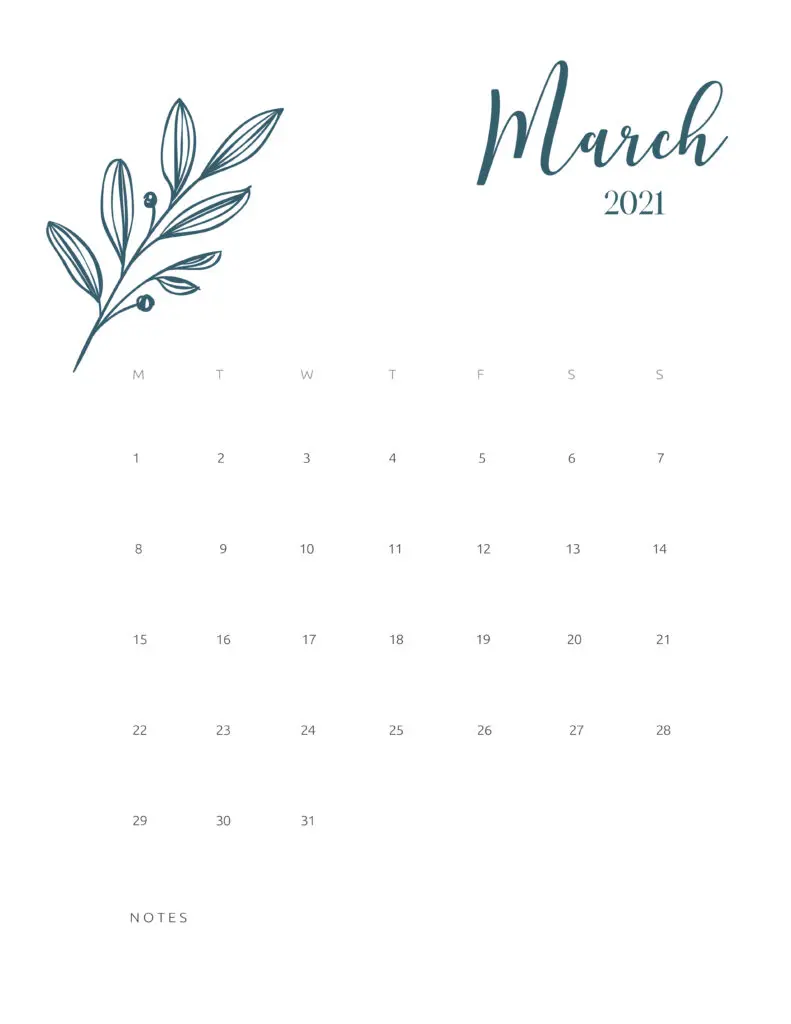 A beautiful gold frame adds a touch of class to this botanical calendar.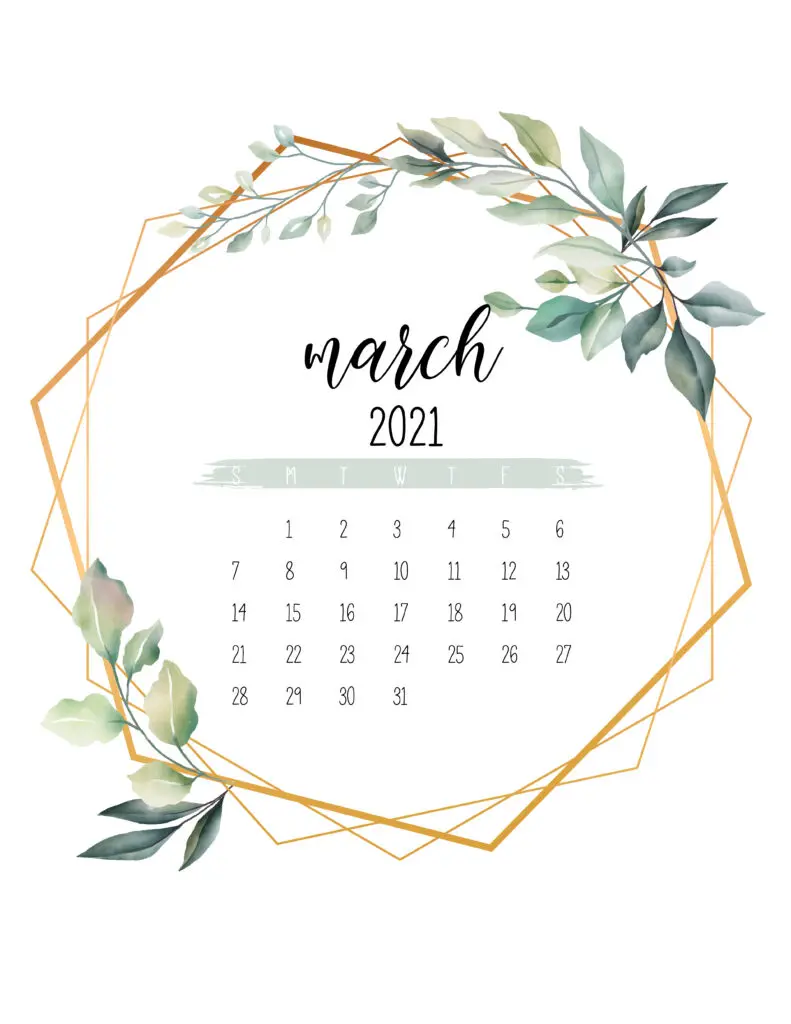 Colorful rainbows are the main feature of this stunning calendar.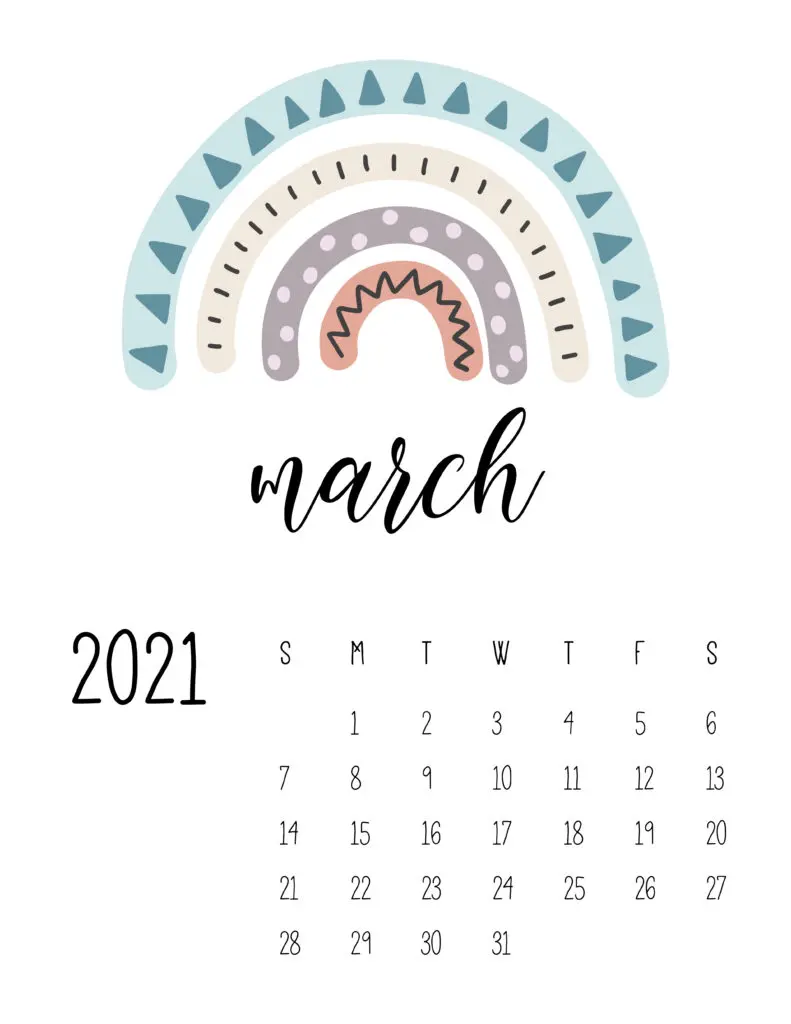 This beautiful calendar features a single dainty flower making it elegant and stylish.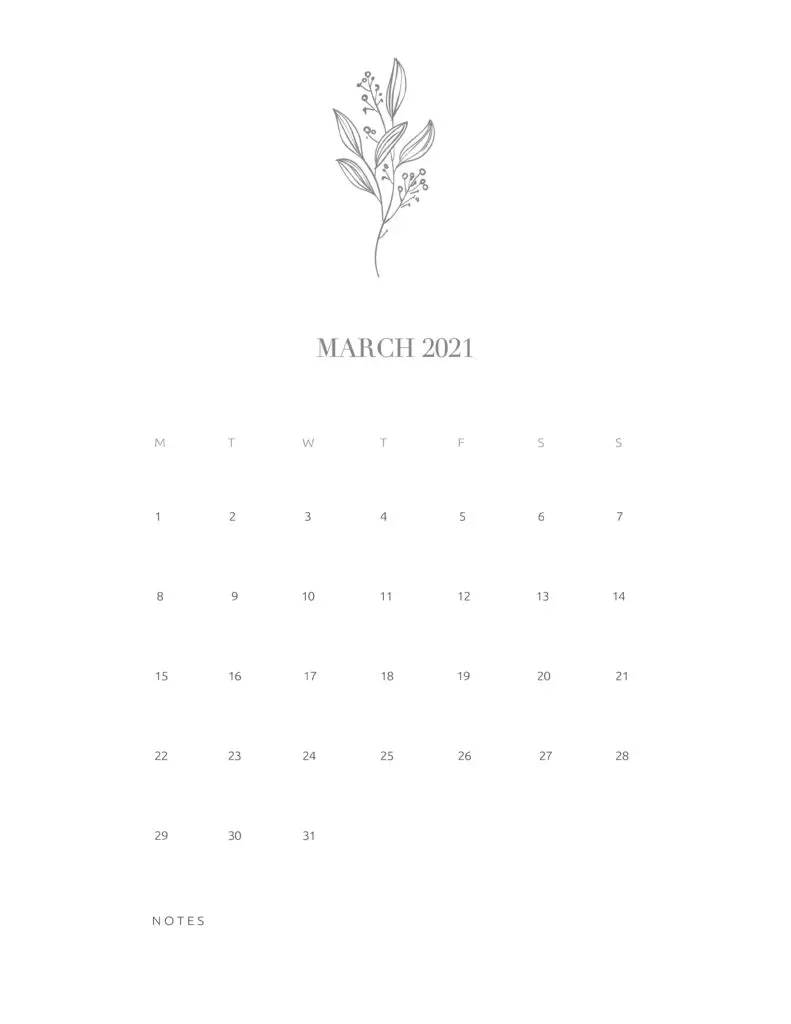 This March calendar enjoys a snuggly polar bear in a hat and jumper – cute!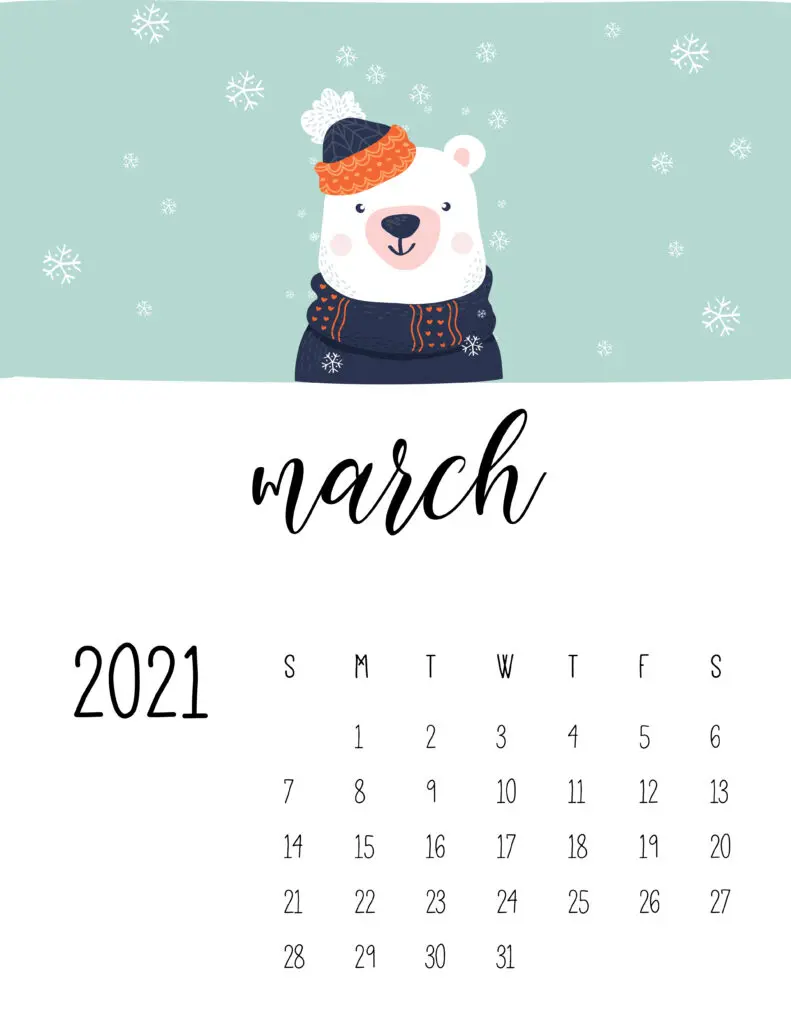 A beautiful duo font design keeps this March calendar minimalist and stylish.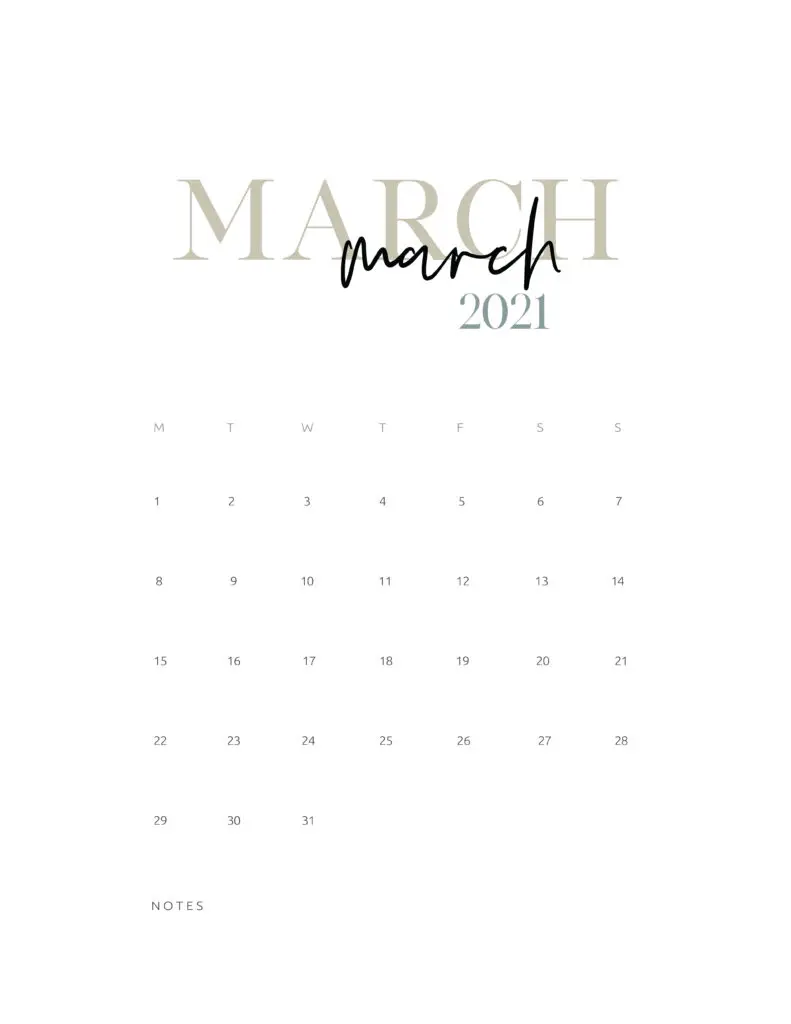 Striking monochrome city photography is the focus of this March calendar.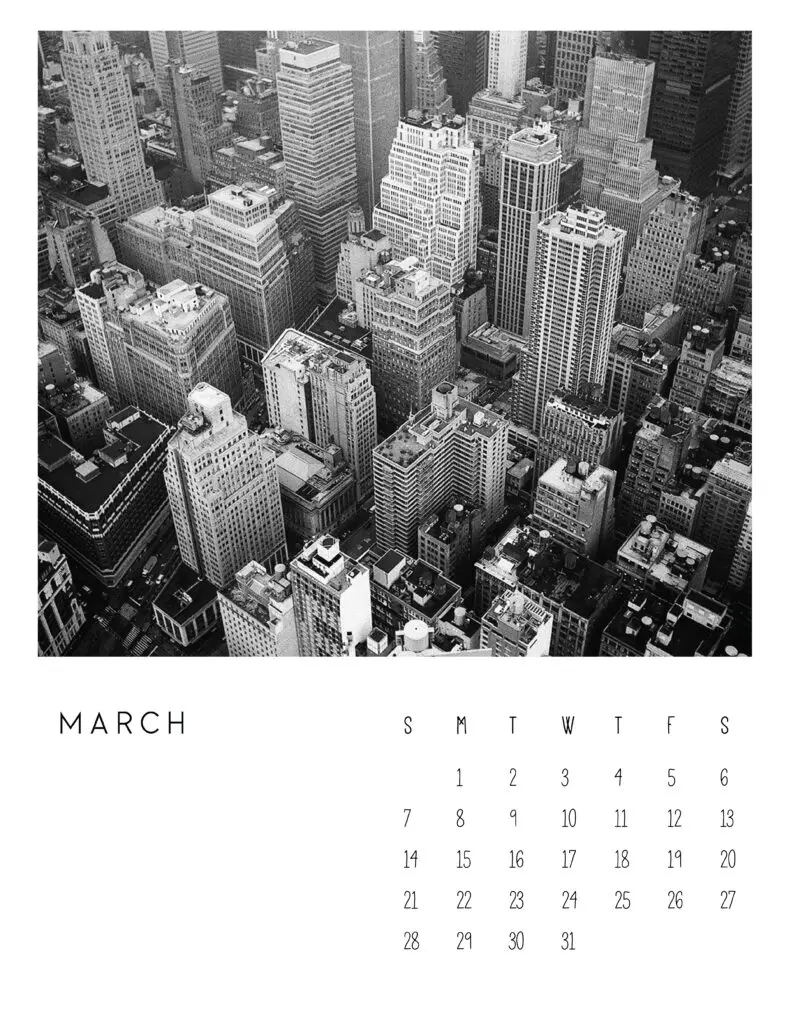 A gorgeous colorful spray makes this calendar fun and lively!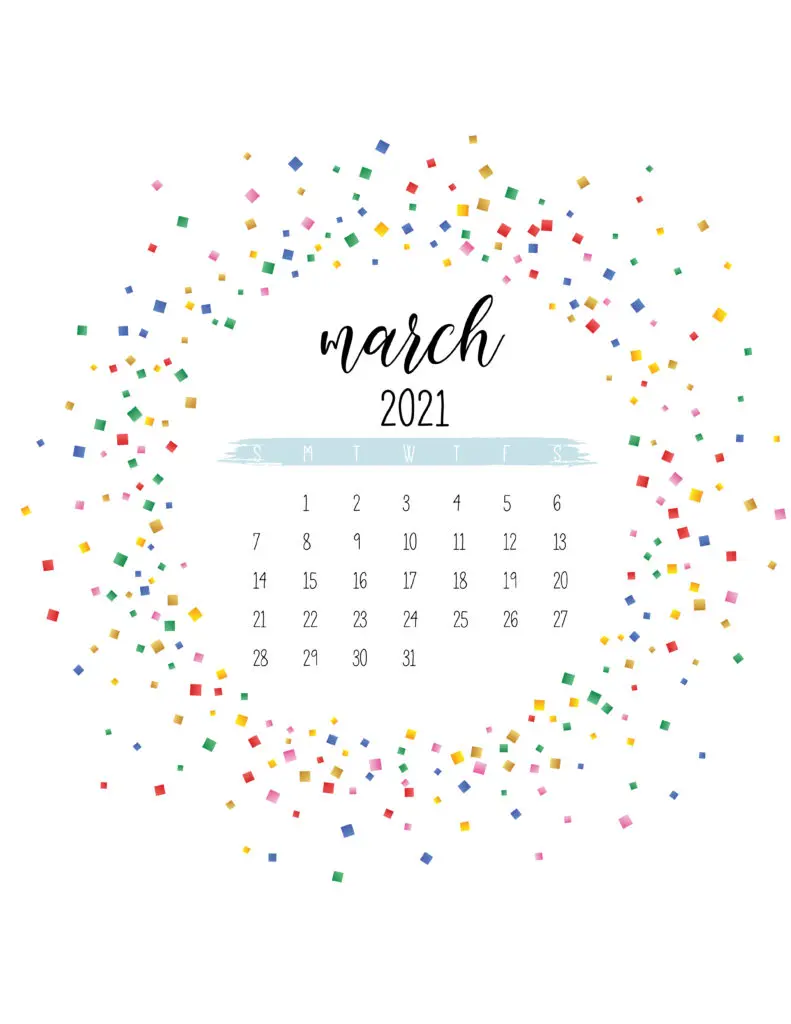 This dreamy calendar features soft rabbits and colorful rainbows!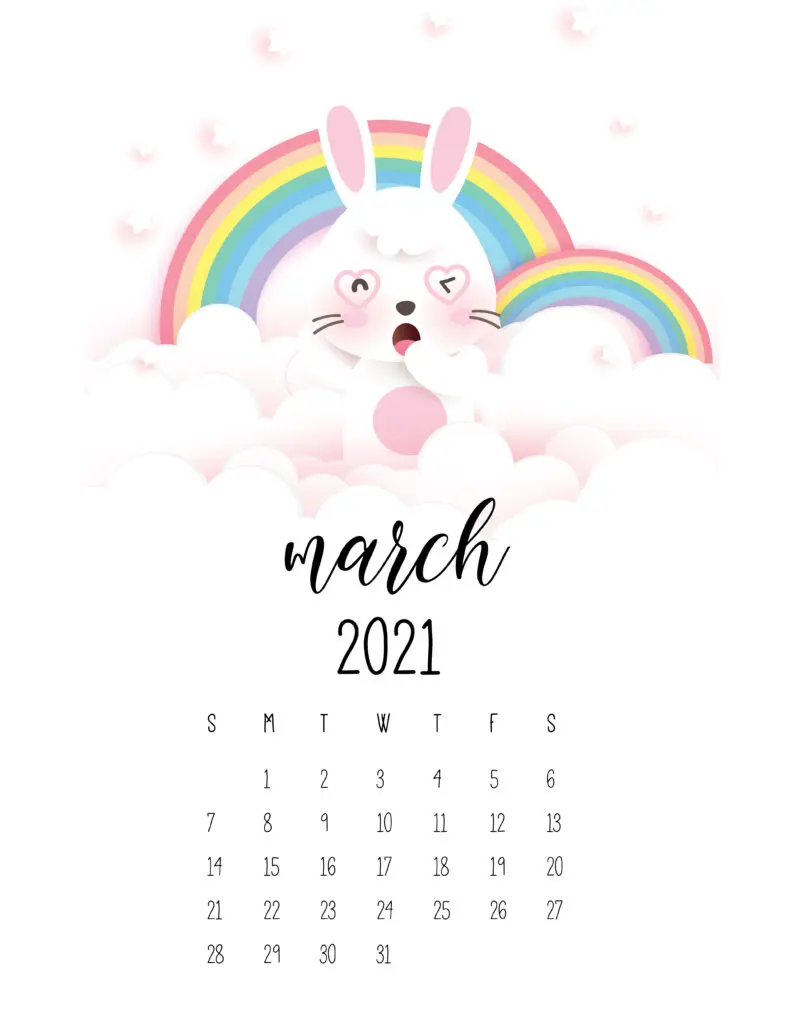 Let this calendar inspire you to get your gardening on!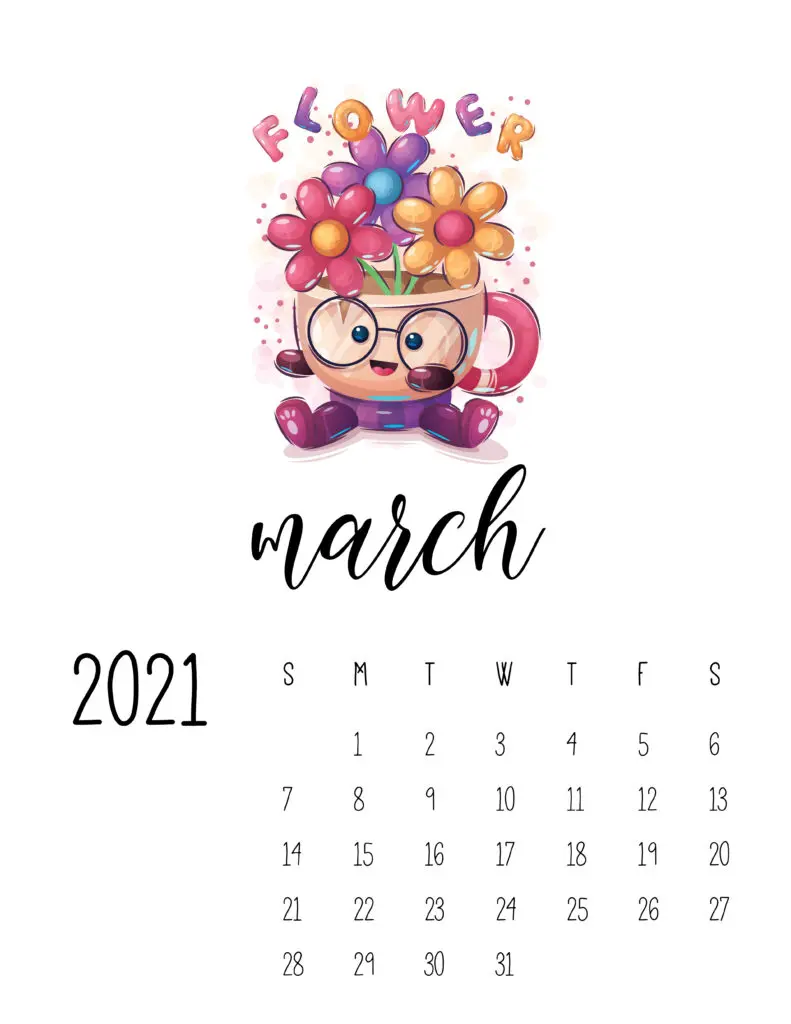 Minimalist and stunning.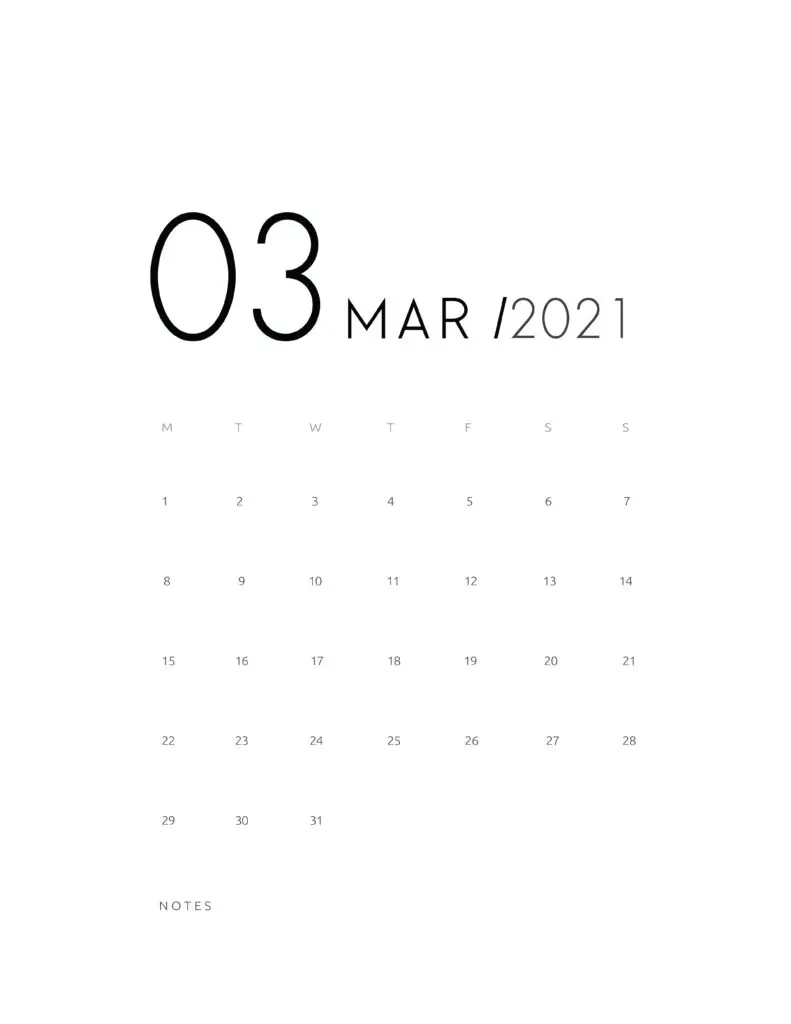 A highly functional march calendar perfect for the office.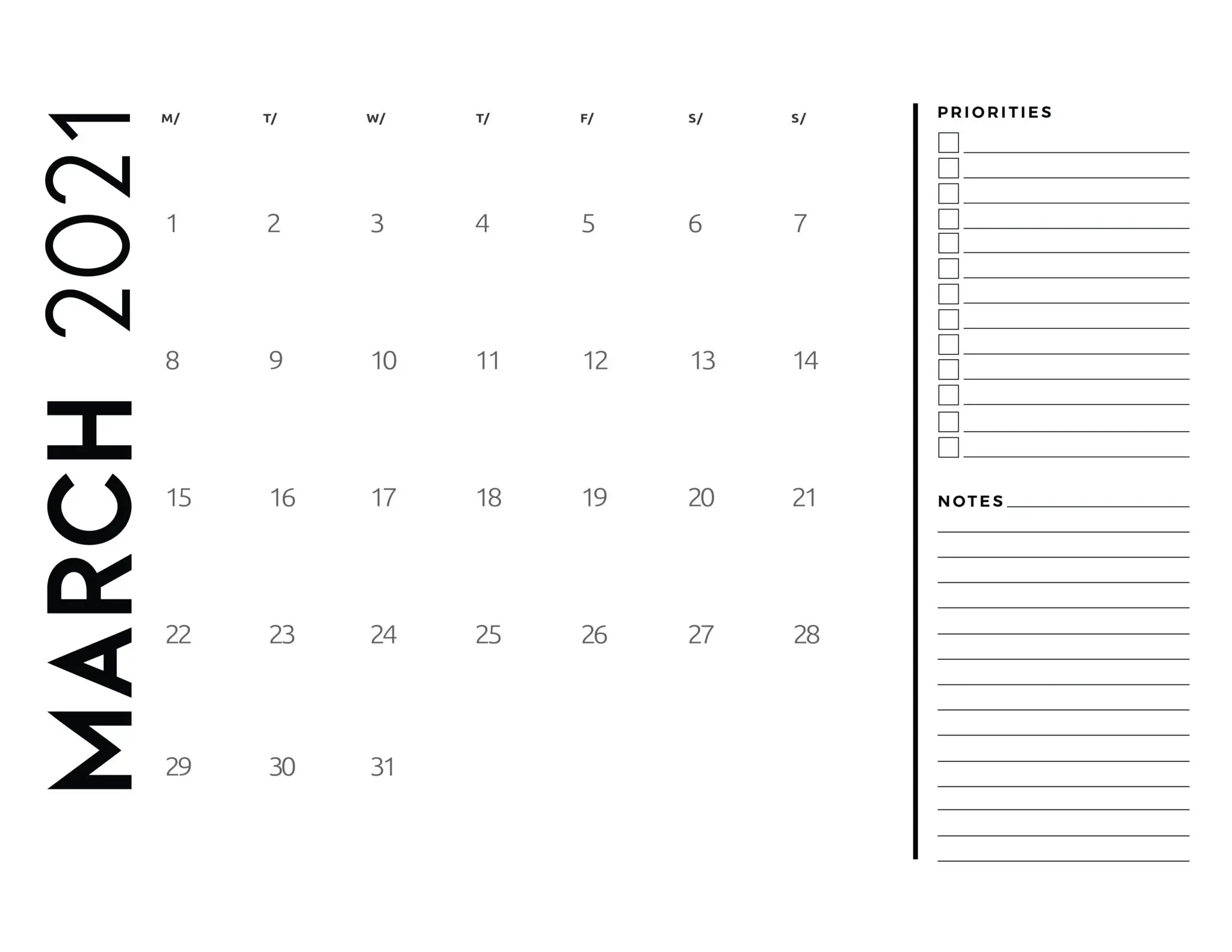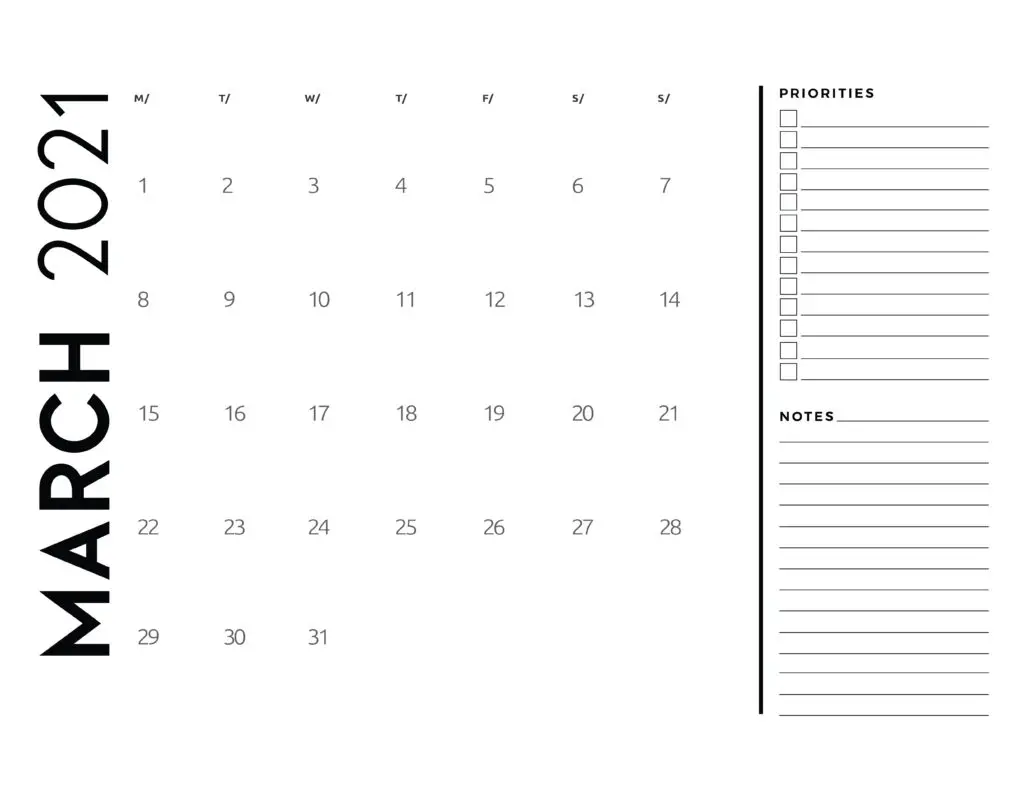 Simple and effective march calendar with plenty of space.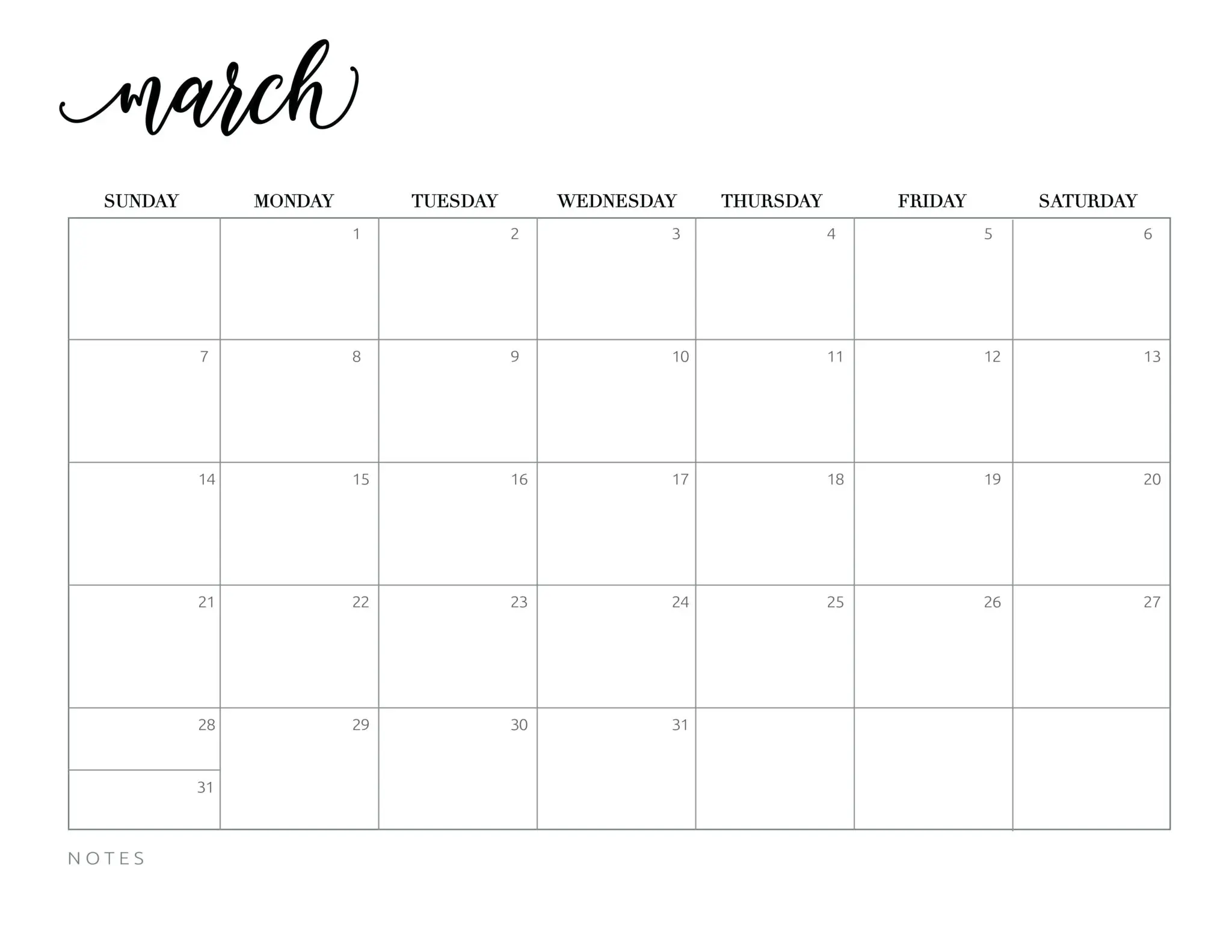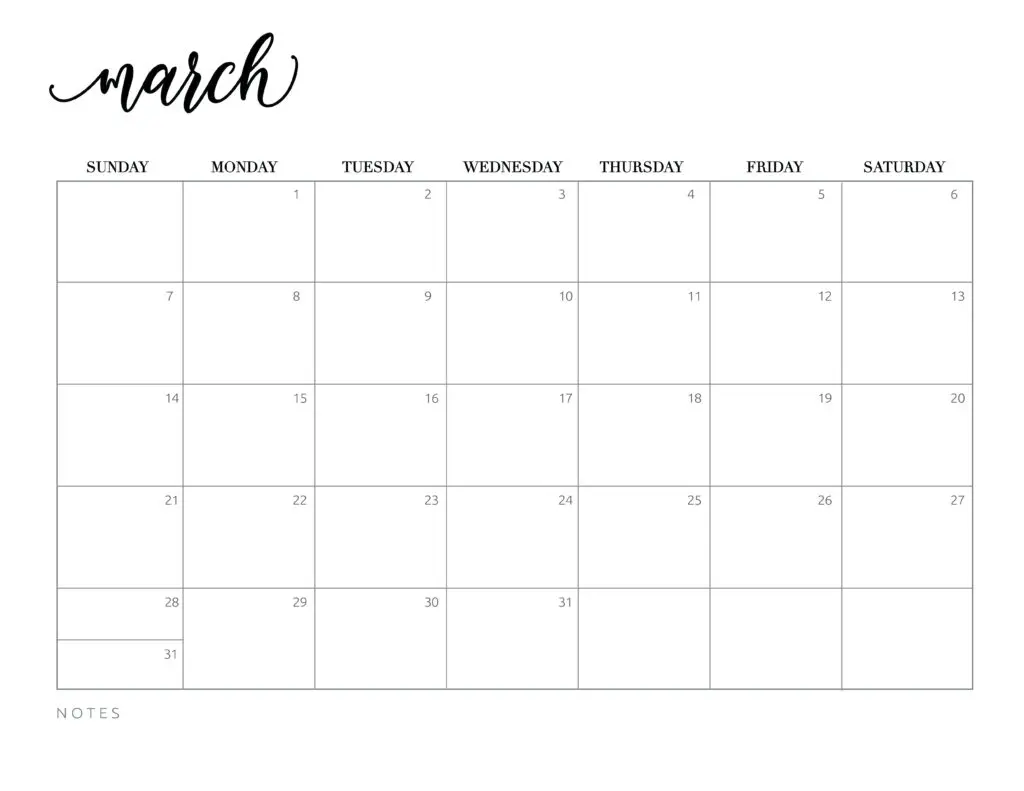 Enjoy this beautiful city view for March!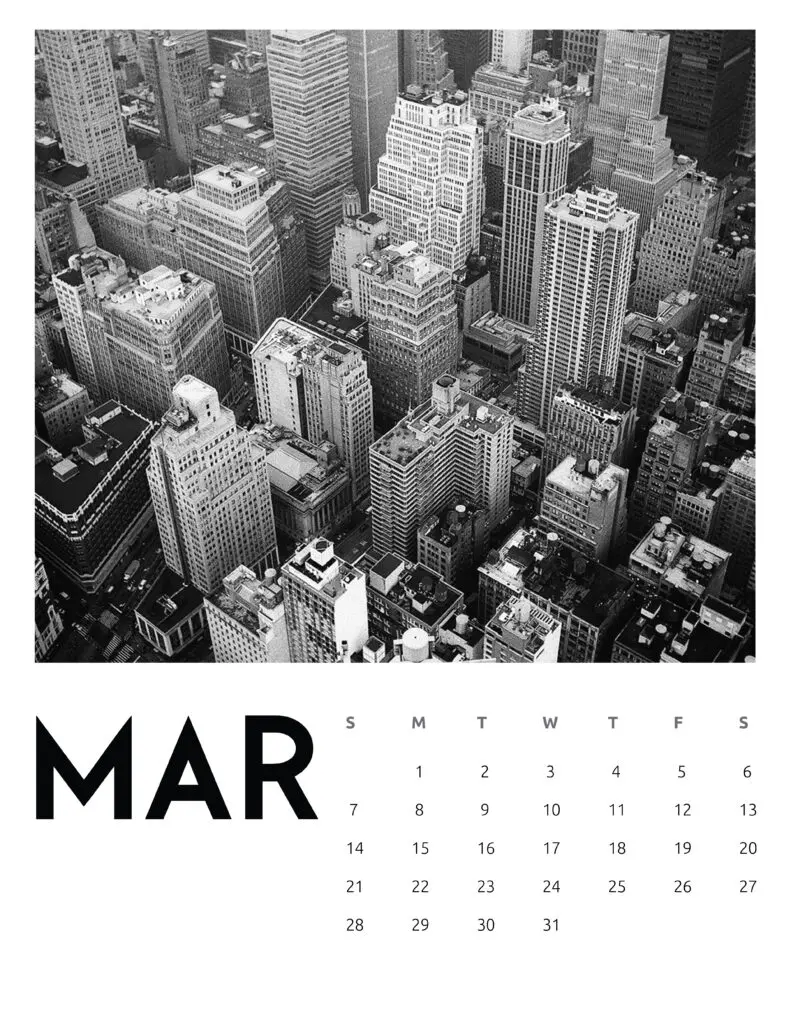 Two cheeky kittens playing in a teacup!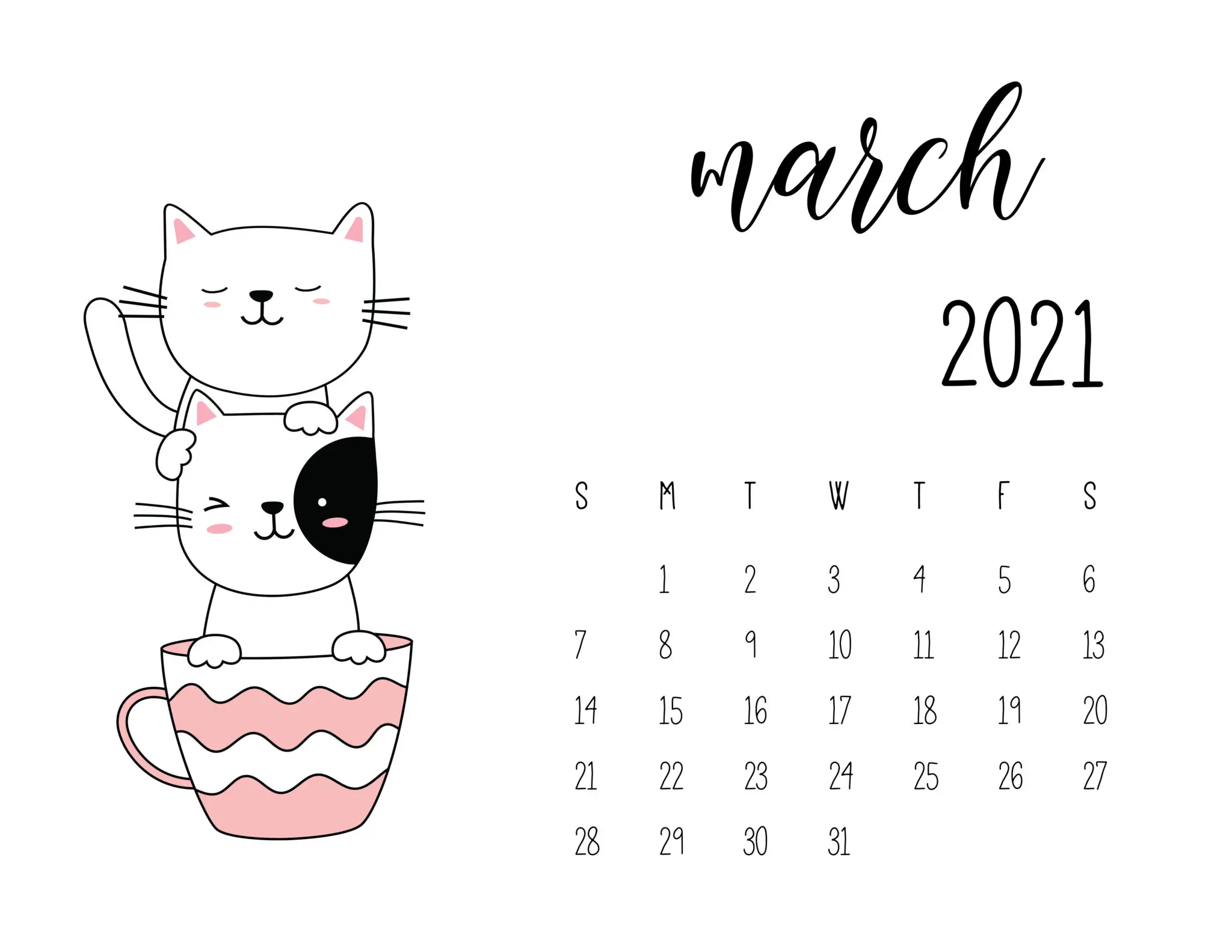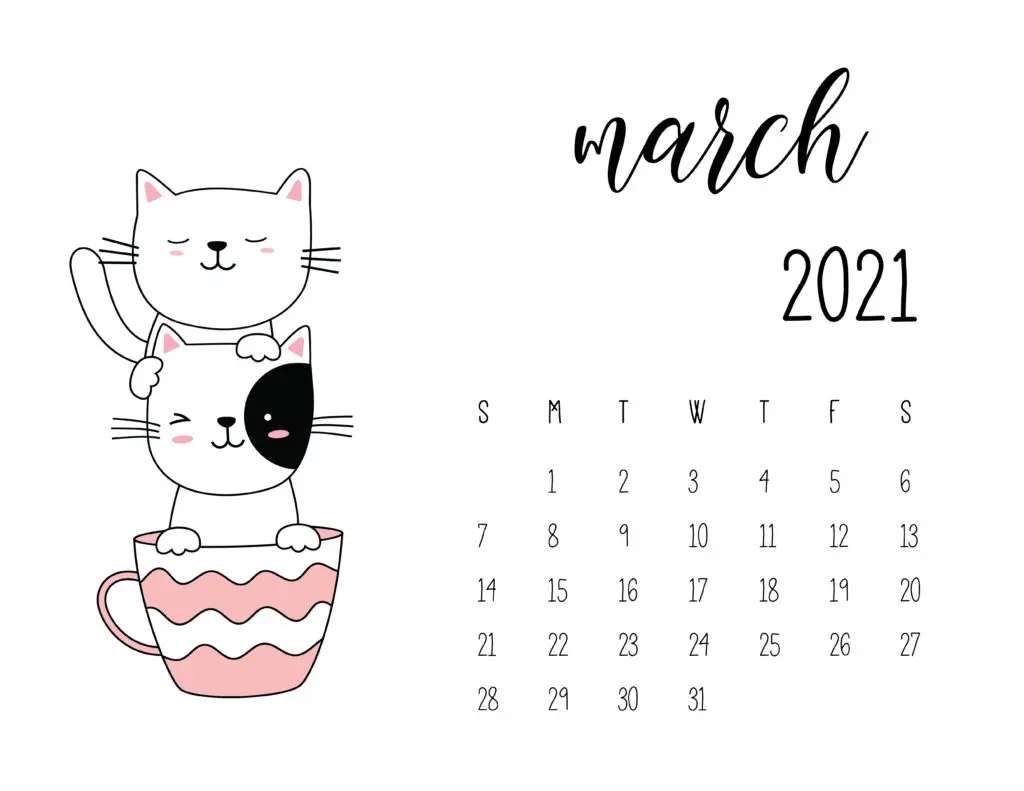 This beautiful scenic calendar is gentle and relaxing.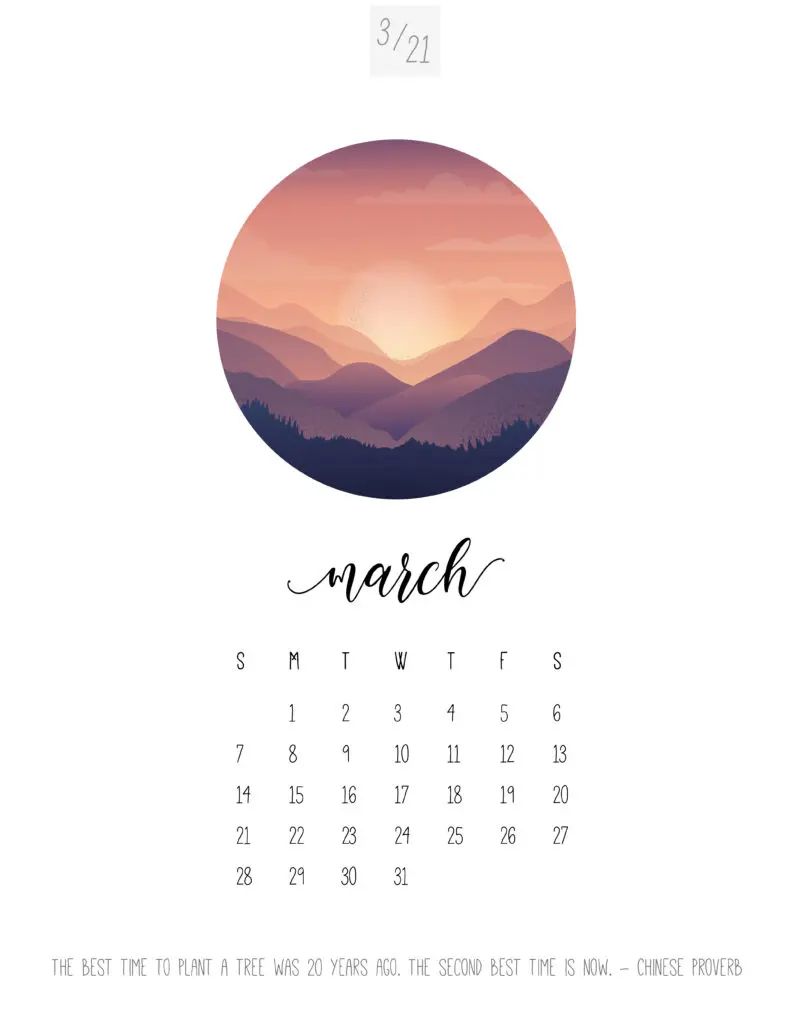 This modern calendar is the perfect design for any minimalist!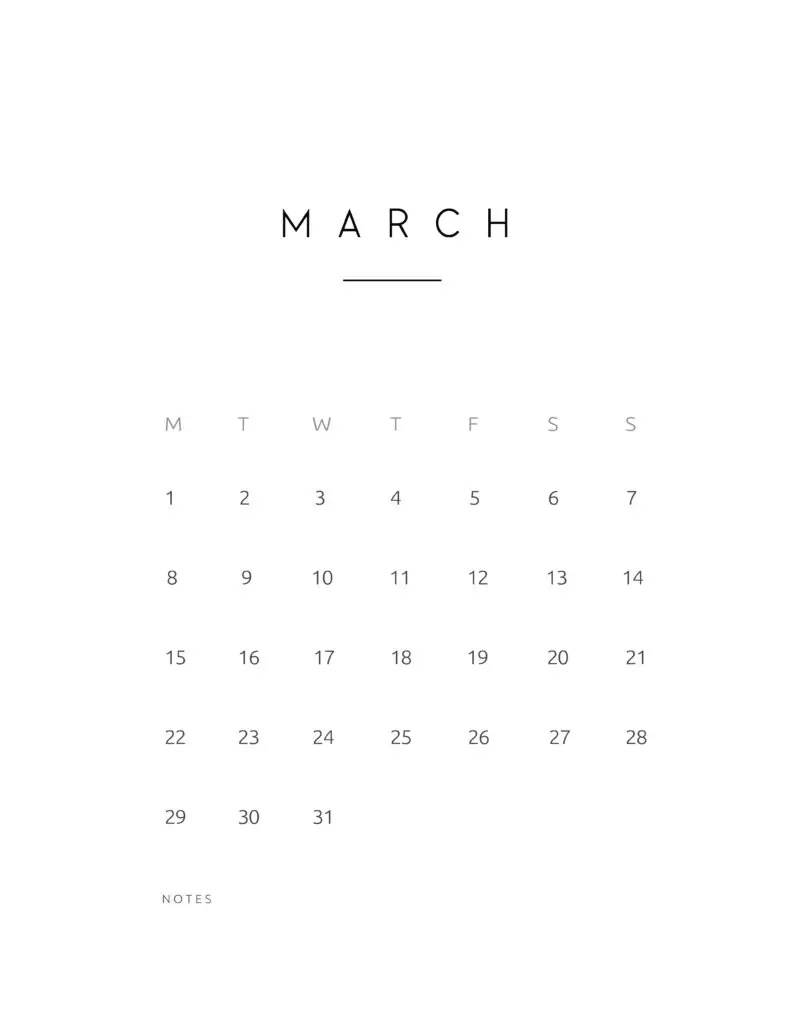 Small woodland animals are so cute and this hedgehog makes a perfect March calendar.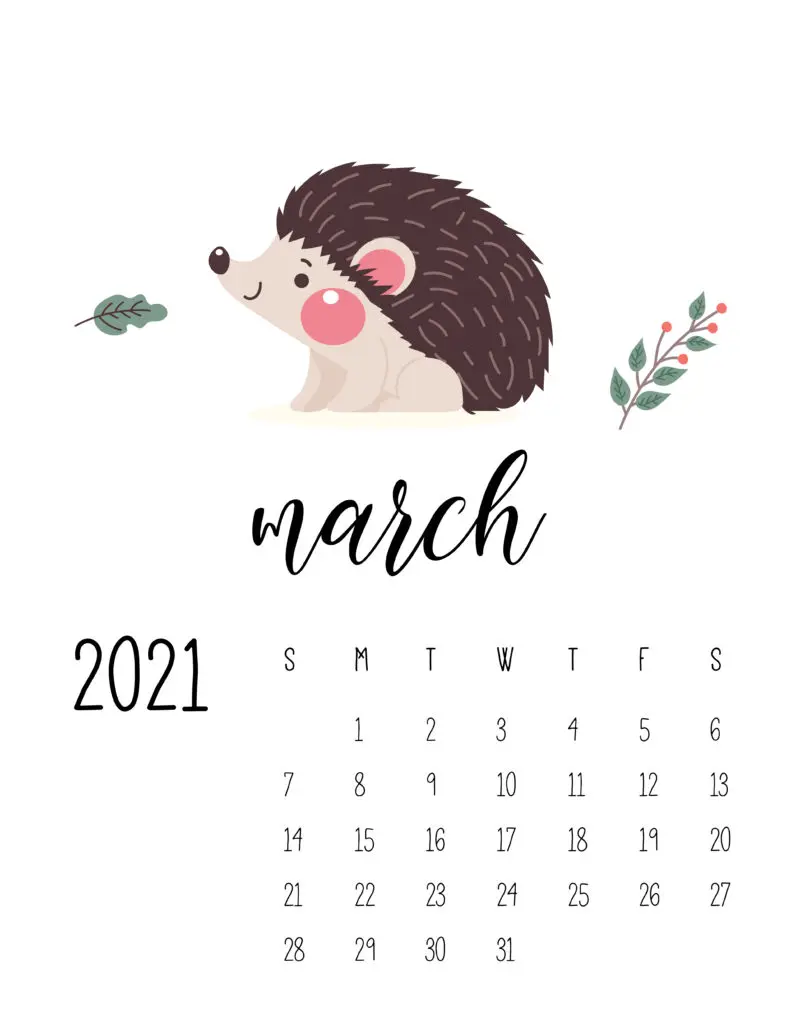 Bold and minimalist is the aim of this calendar and it works!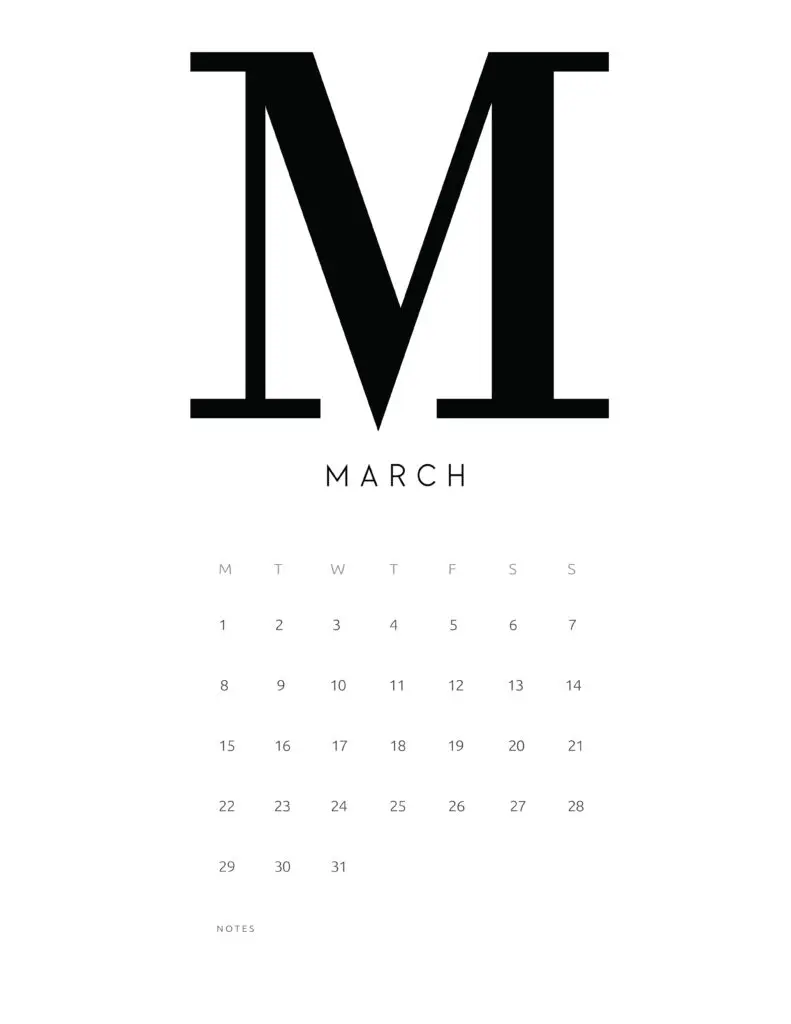 A popular and beautiful floral calendar perfect for any home.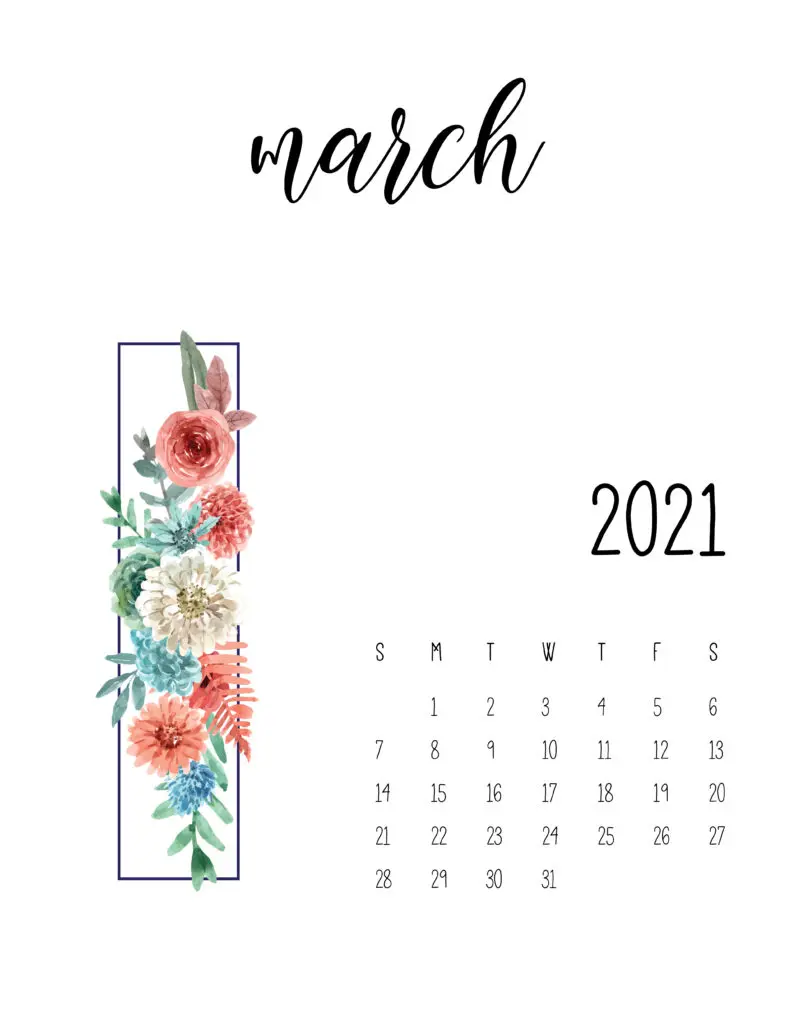 Simply the best free March 2021 Calendars
We hope you liked our compilation of the best March 2021 calendars.
If you do decide to download one, please follow us as it really helps us out and we'll be able to continue making more free printables for you to enjoy in the future.
You can also download and print any of our 2021 year calendar templates so that you can see your year at a glance rather than the monthly calendars that you see here.
If you like our designs, remember to sign up for our newsletter, where we keep our readers notified from time to time of our latest and best free printables.
Also, remember to follow us on Pinterest or Instagram and show your support. Better yet, if you use any of our printables then take a picture and tag us in it, we love to see what people do with our designs!