About the July calendar templates
Our free printable July Calendars are perfect for helping your stay organized and on track this month.
You can use our free printable July 2023 Calendar templates for your home, office, desk, or planner and they are free to get for personal use.
Once you get your free printable July 2023 calendar, you can save it and print it as often as needed.
You can use it for many different things such as a calendar, a schedule, or a tracker.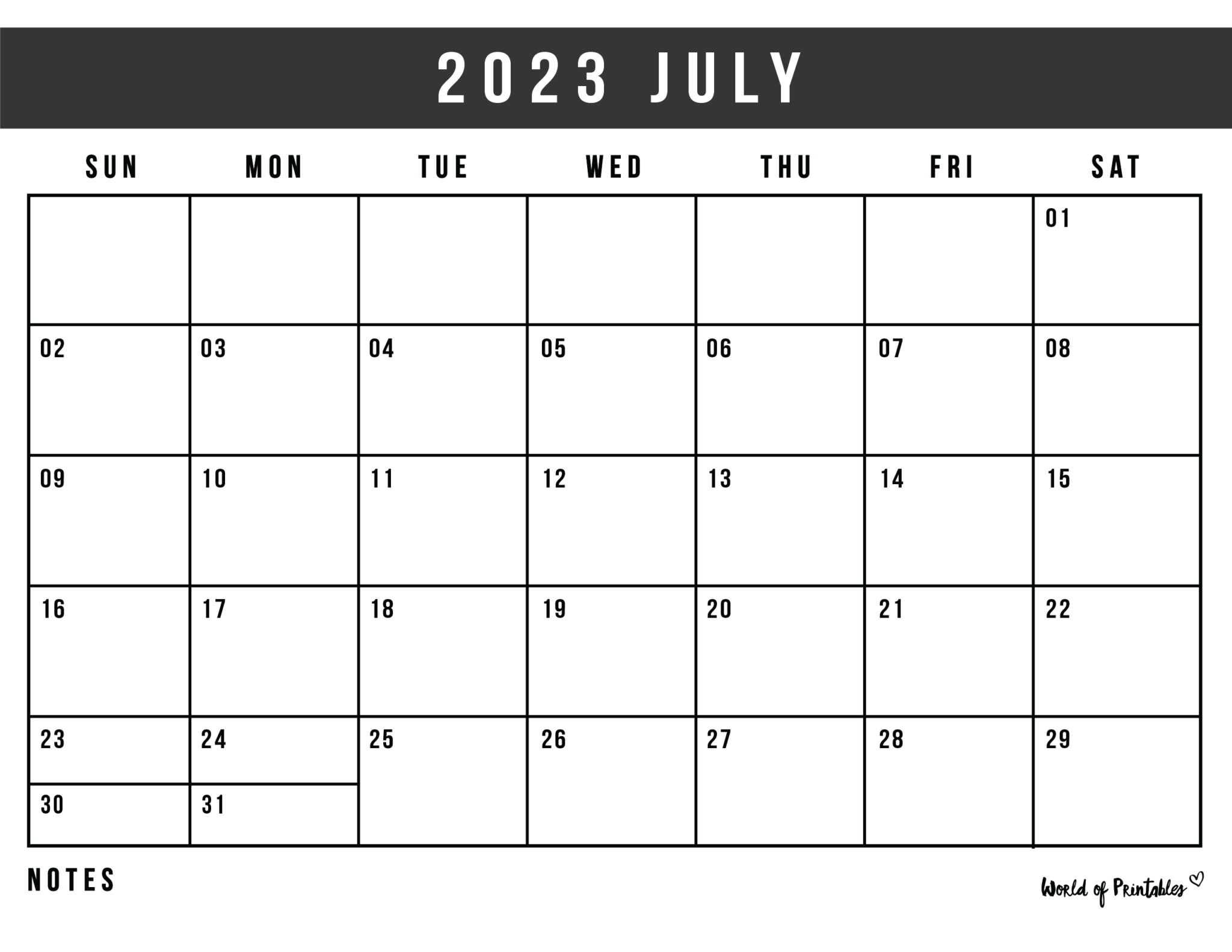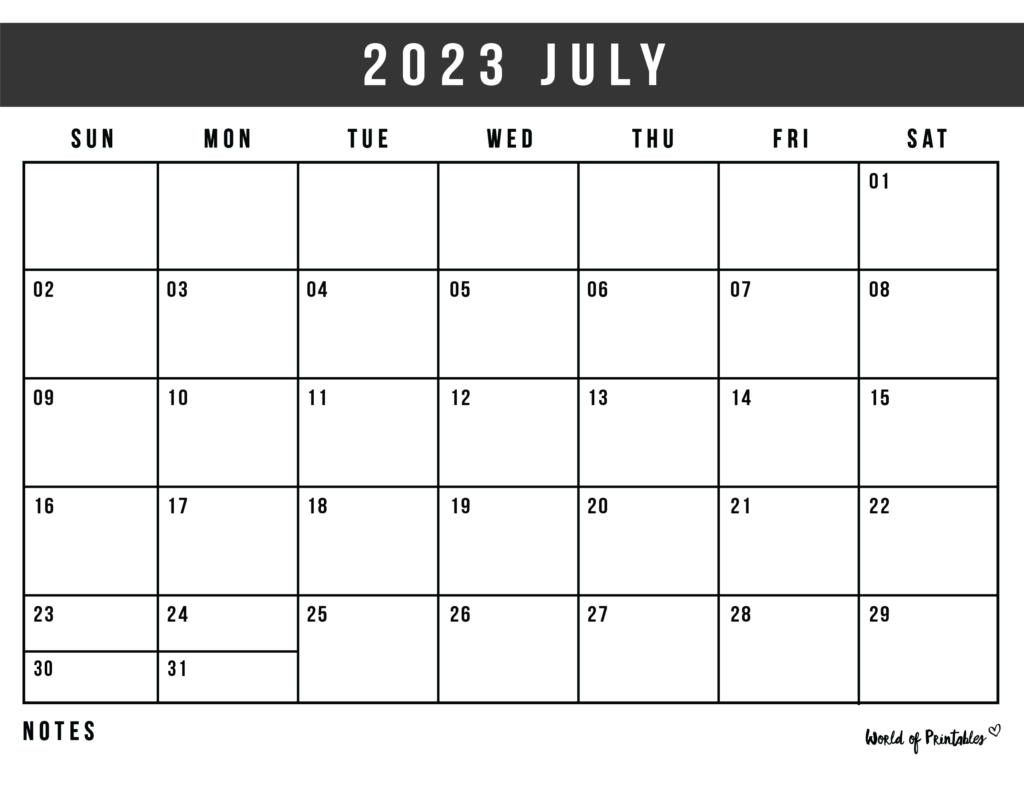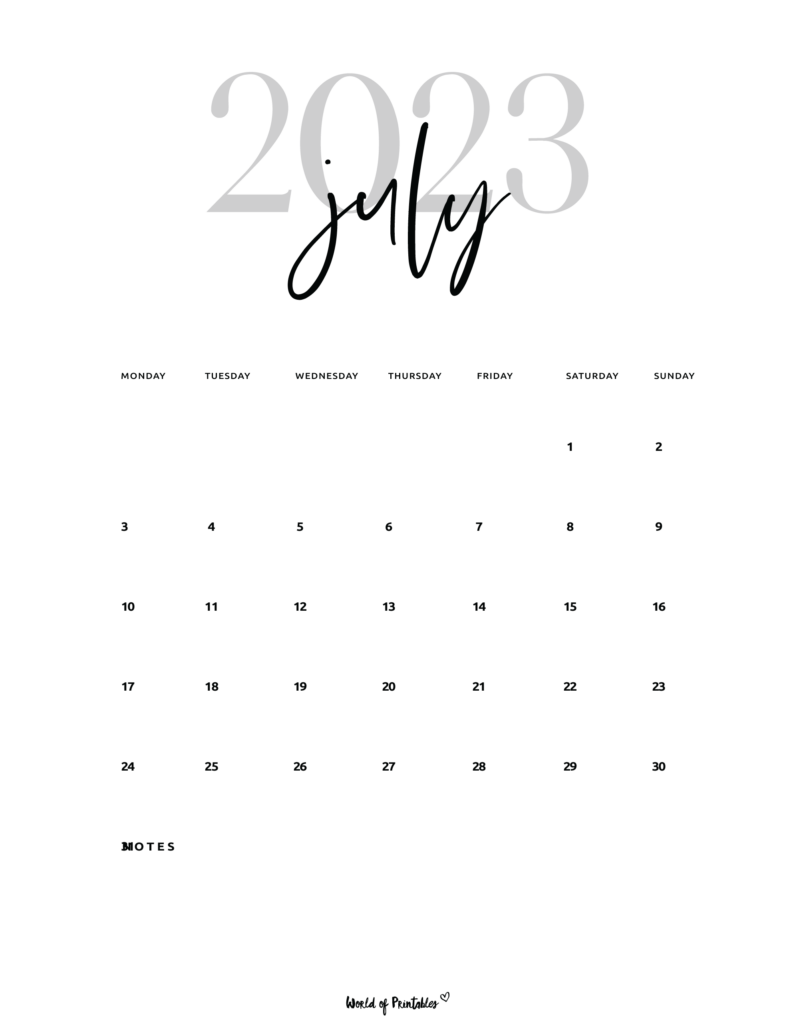 As you look through our website you will see that we have so many amazing calendars for every month of the year covering a range of beautiful styles from floral and botanical to minimalist.
All of our calendars are ready to print in US Letter size (8.5 x 11") but they can be easily resized to fit your needs. You can learn how to image resize any image in this guide.
Select any calendar to open a full-size image that can be saved and printed. If you want our full-year calendars in any of the styles below, these calendars are available in pdf format which will require Adobe reader or similar.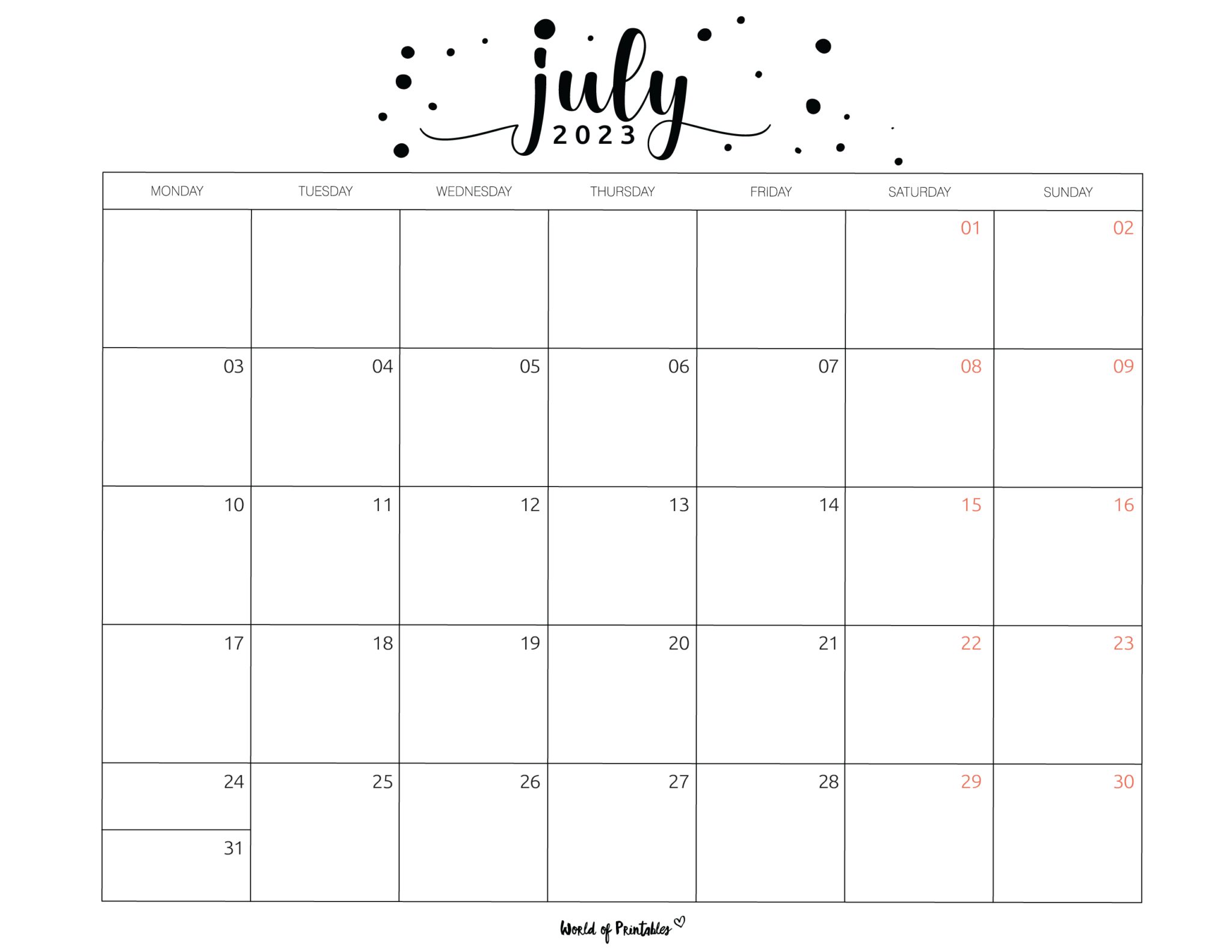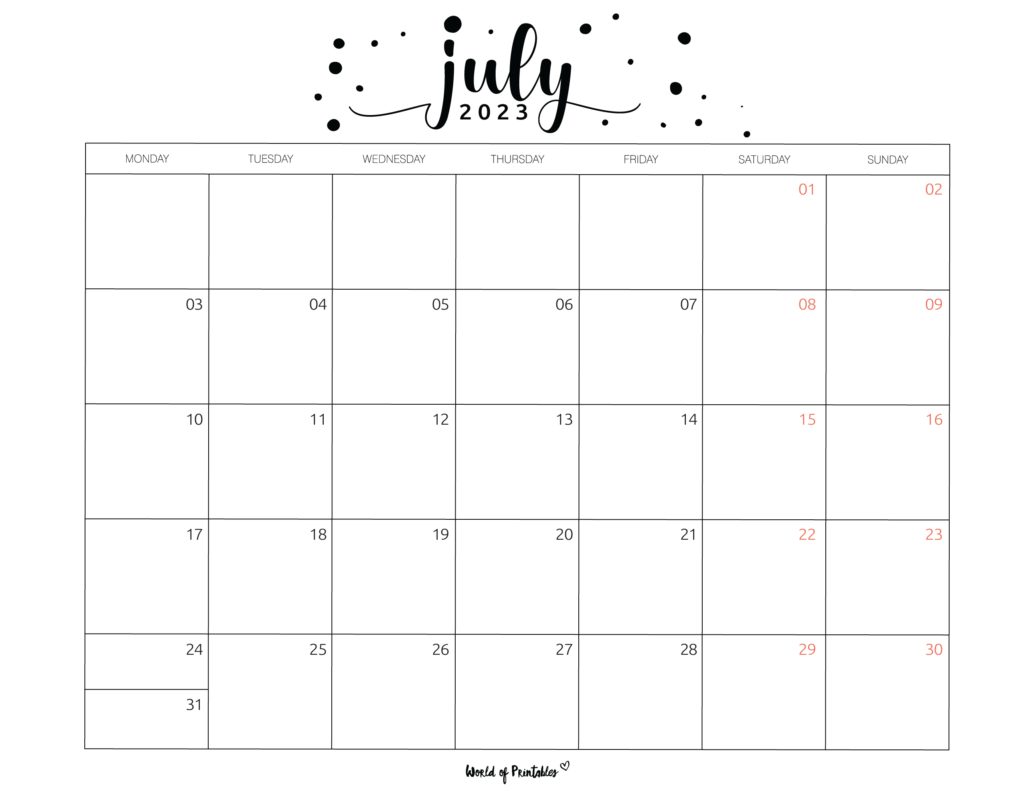 If you are looking for a calendar for 2023 then be sure to check out our huge range of free printable 2023 calendar templates.
You can also get our free printable blank calendar templates if you want something quick and easy that you can print at any time with minimal fuss.
You can also get our free printable 2023 Calendar with holidays templates.
If you want a full year one page 2023 calendar then we also have a selection of them available.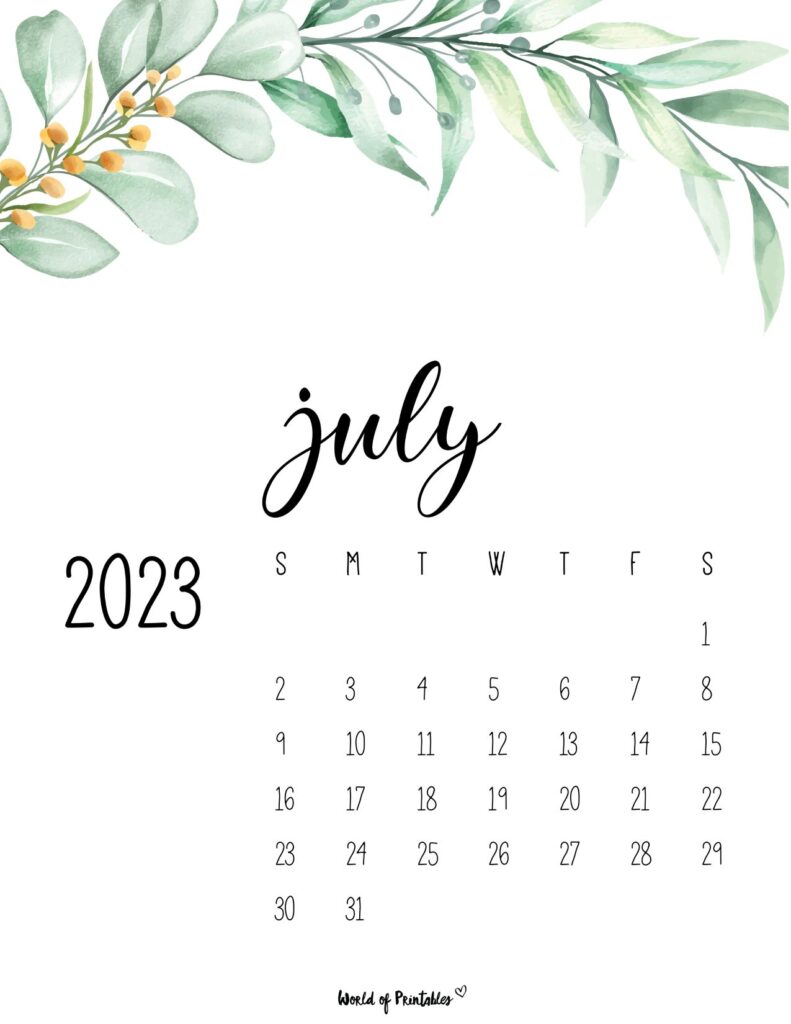 What is the July month meaning?
July was named for Julius Caesar after his passing. July was originally named Quintilis and is the birth month of Julius Caesar.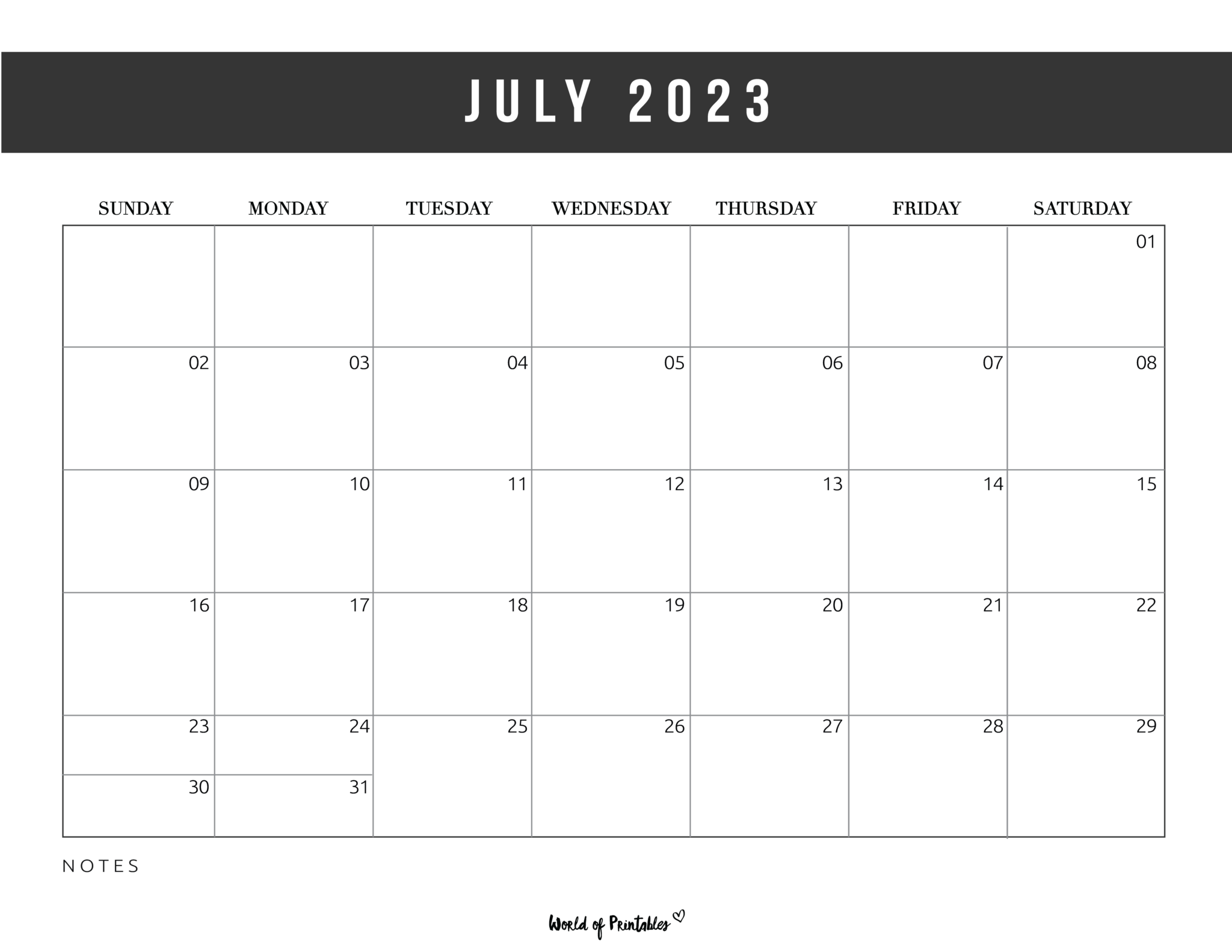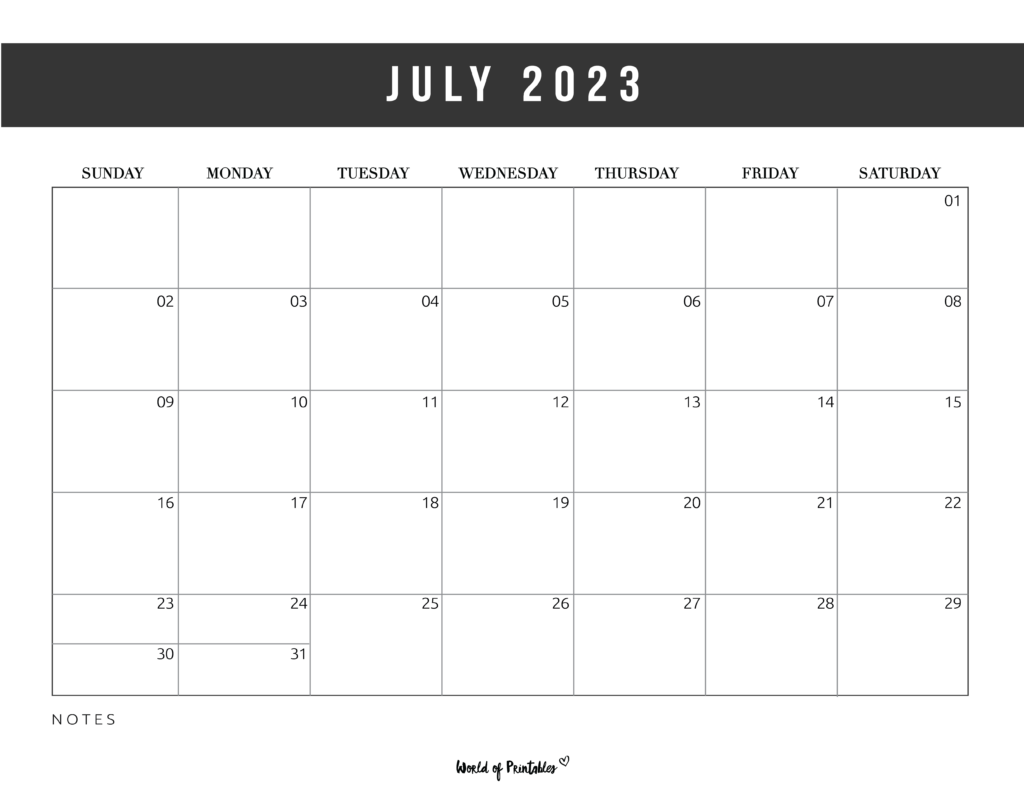 What is the July birthstone?
Ruby is the birthstone of July. It is a gorgeous deep red gem that is known to represent love, wisdom, and health.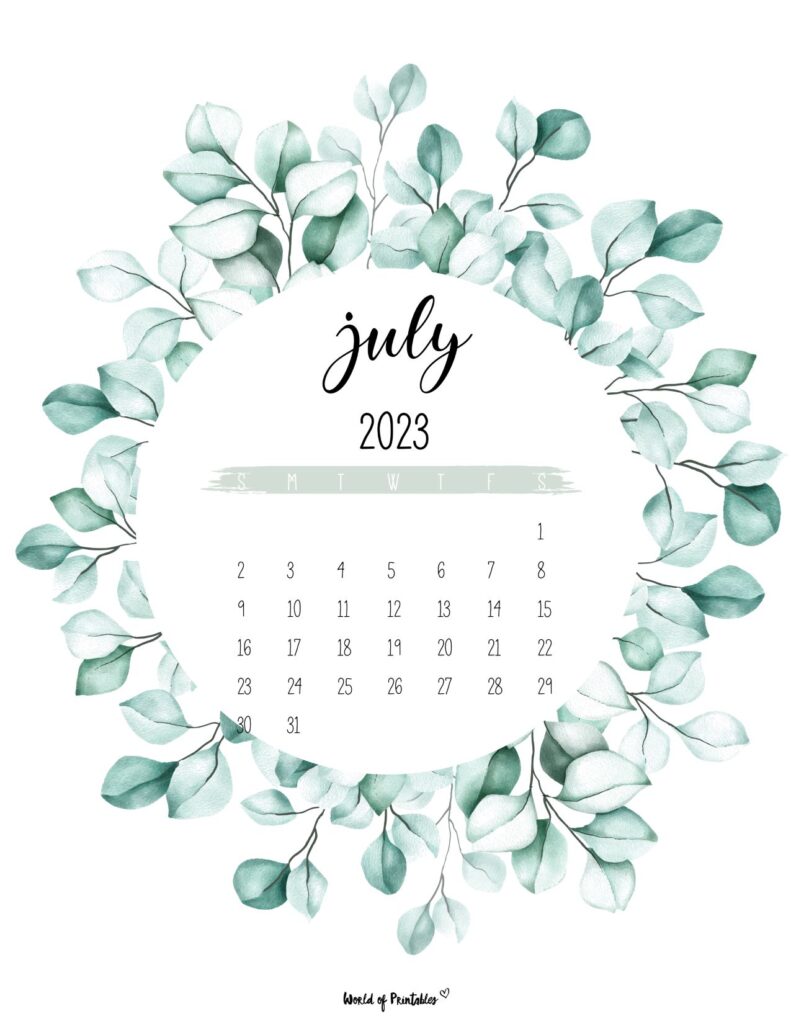 What is the July zodiac sign?
There are two zodiac signs for people whose birthday falls in July. Depending on the date you were born you will be either a Cancer (Crab) or a Leo (Lion). A Cancer's birthday falls between June 21st and July 22nd and a Leo's birthday falls between July 23rd and August 22nd.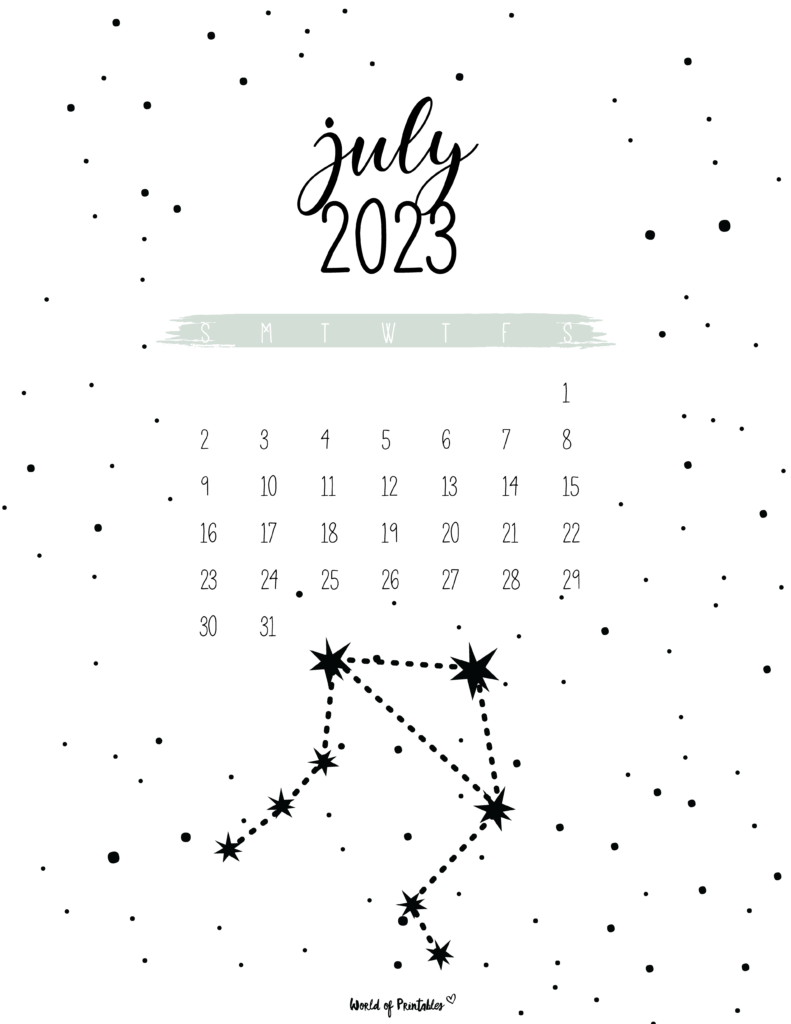 How many days are in July?
There are 31 days in July.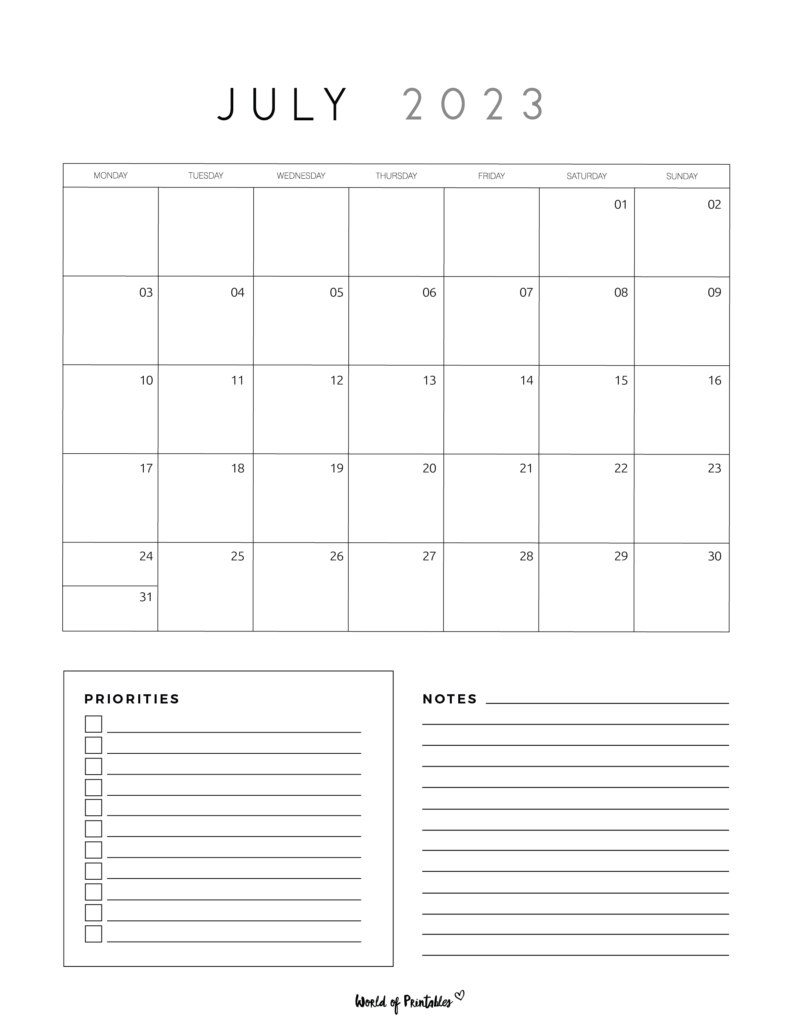 What day does July start in 2023, 2024, and 2025?
Want to know what day July starts this year? Below you will find the July start days for the next three years:
2023 – Saturday July 1st
2024 – Monday July 1st
2025 – Tuesday July 1st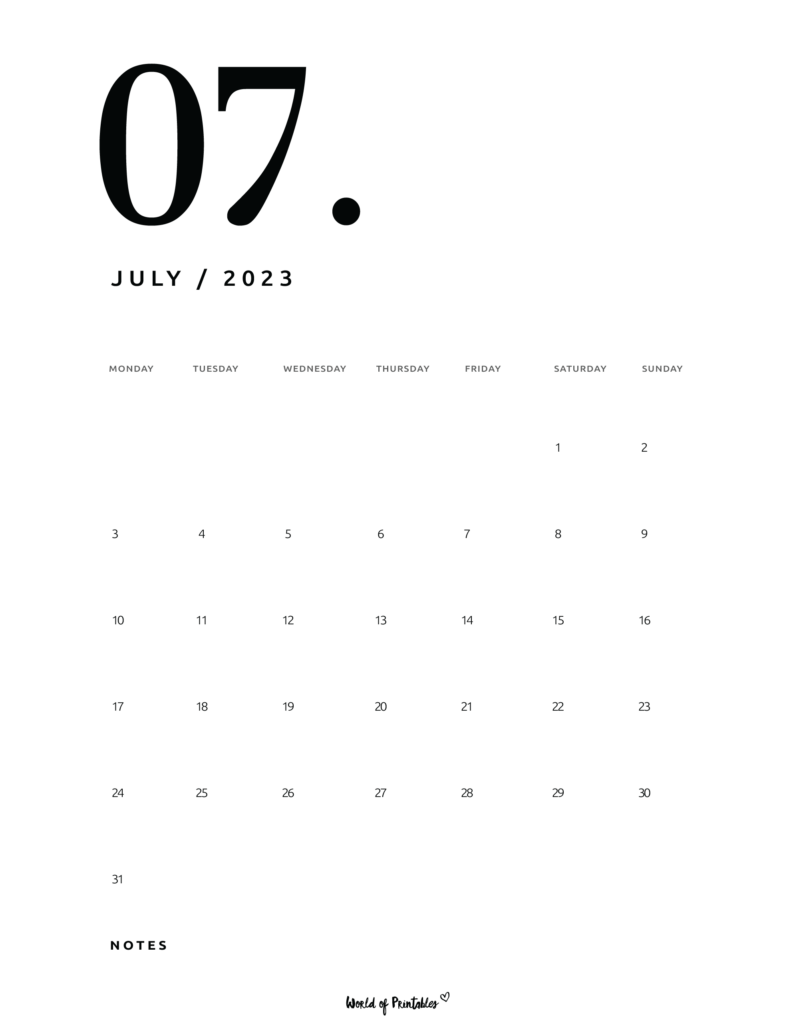 What are the July holidays?
Let's take a look at some of the amazing July holidays you can look forward to celebrating!
These holidays are listed as Federal Holidays:
July 4th – Independence Day
Independence Day is one of the most celebrated holidays in the United States due to its historical importance.
Have fun with some other official and unofficial holidays this July! Here is a collection of ideas for holidays to celebrate and notice.
What is celebrated in July on the following dates:
July 1
Early Bird Day
Blink 182 Day
International Joke Day
July 2
Freedom From Fear of Speaking Day
Special Recreation for the Disabled Day
World UFO Day
July 3
American Redneck Day
National Childhood Obesity Week
July 4
National Caesar Salad Day
Sidewalk Egg Frying Day
July 5
National Apple Turnover Day
Pet Remembrance Day
July 6
International Kissing Day
Thirsty Thursday
July 7
Global Forgiveness Day
World Chocolate Day
July 8
Be a Kid Again Day
National Love Your Skin Day
Oneofusismissing Day
July 9
National Sugar Cookie Day
July 10
Don't Step On A Bee Day
National Kitten Day
National Piña Colada Day
Teddy Bear Picnic Day
July 11
Cheer Up the Lonely Day
Cow Appreciation Day
National State Fair Food Day
July 12
MALALA DAY
National Pecan Pie Day
July 13
July 14
Kebab Day
National Mac and Cheese Day
Shark Awareness Day
July 15
National Give Something Away Day
World Youth Skills Day
July 16
Guinea Pig Appreciation Day
National Ice Cream Day
World Snake Day
National Parenting Gifted Children Week
July 17
Global Hug Your Kids Day
National Lottery Day
National Tattoo Day
Coral Reef Awareness Week
July 18
Nelson Mandela International Day
World Listening Day
July 19
National Football Day
National Hot Dog Day
National Urban Beekeeping Day
July 20
International Chess Day
World Jump Day
July 21
Comic-Con
Racial Harmony Day
July 22
National Day of the Cowboy
World Brain Day
July 23
National Gorgeous Grandma Day
Peanut Butter and Chocolate Day
July 24
July 25
International Red Shoe Day
July 26
Auntie's Day
National Coffee Milkshake Day
July 27
National Intern Day
National Love is Kind Day
July 28
National Milk Chocolate Day
National Soccer Day
July 29
National Chicken Wing Day
July 30
National Father-in-Law Day
World Snorkeling Day
July 31
July 2023 Calendars
Here you will find a large selection of over 100 July 2023 calendars. Each one of these calendars is printable, simply choose your favorite.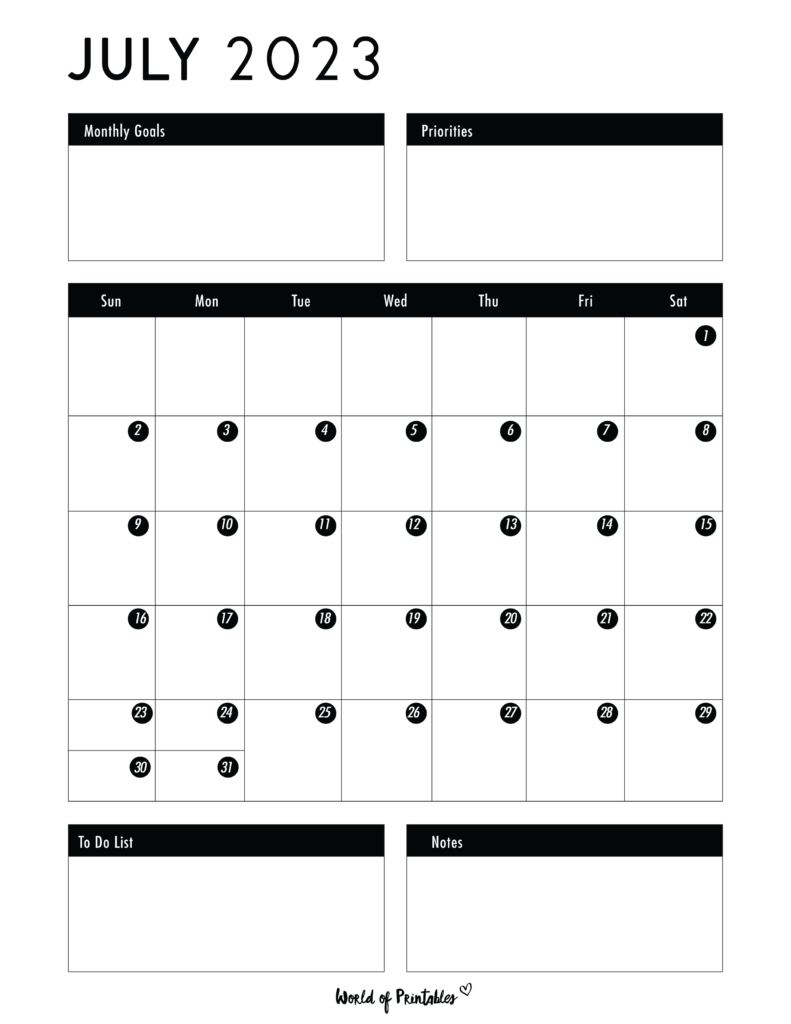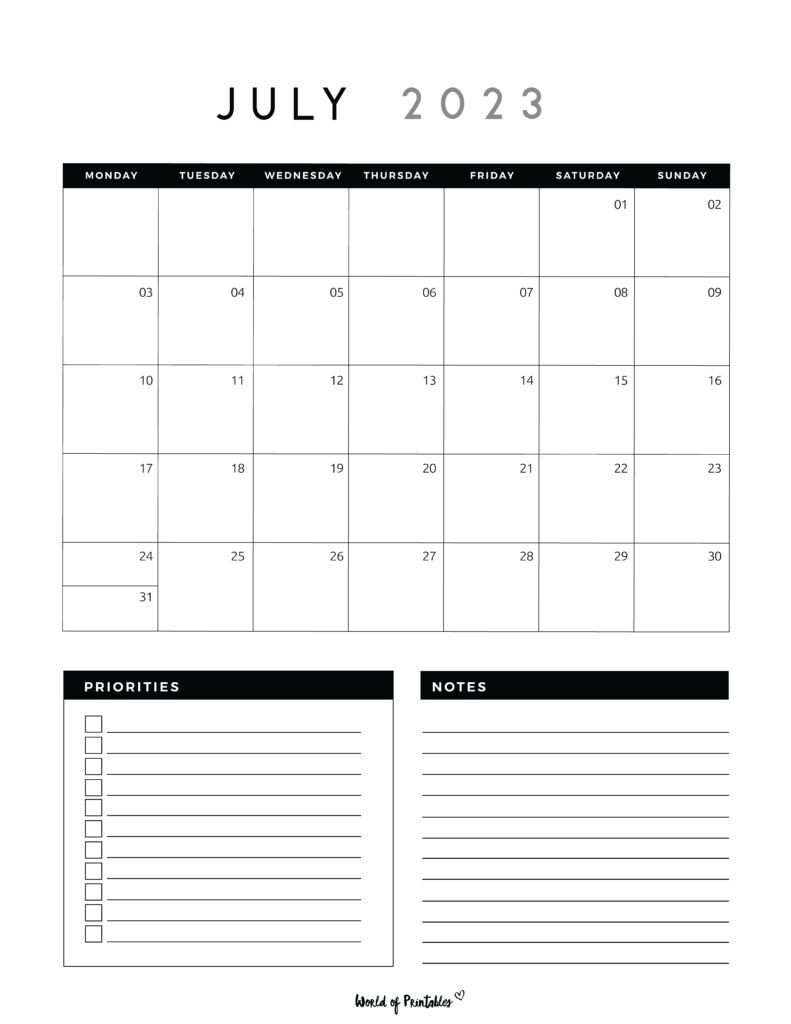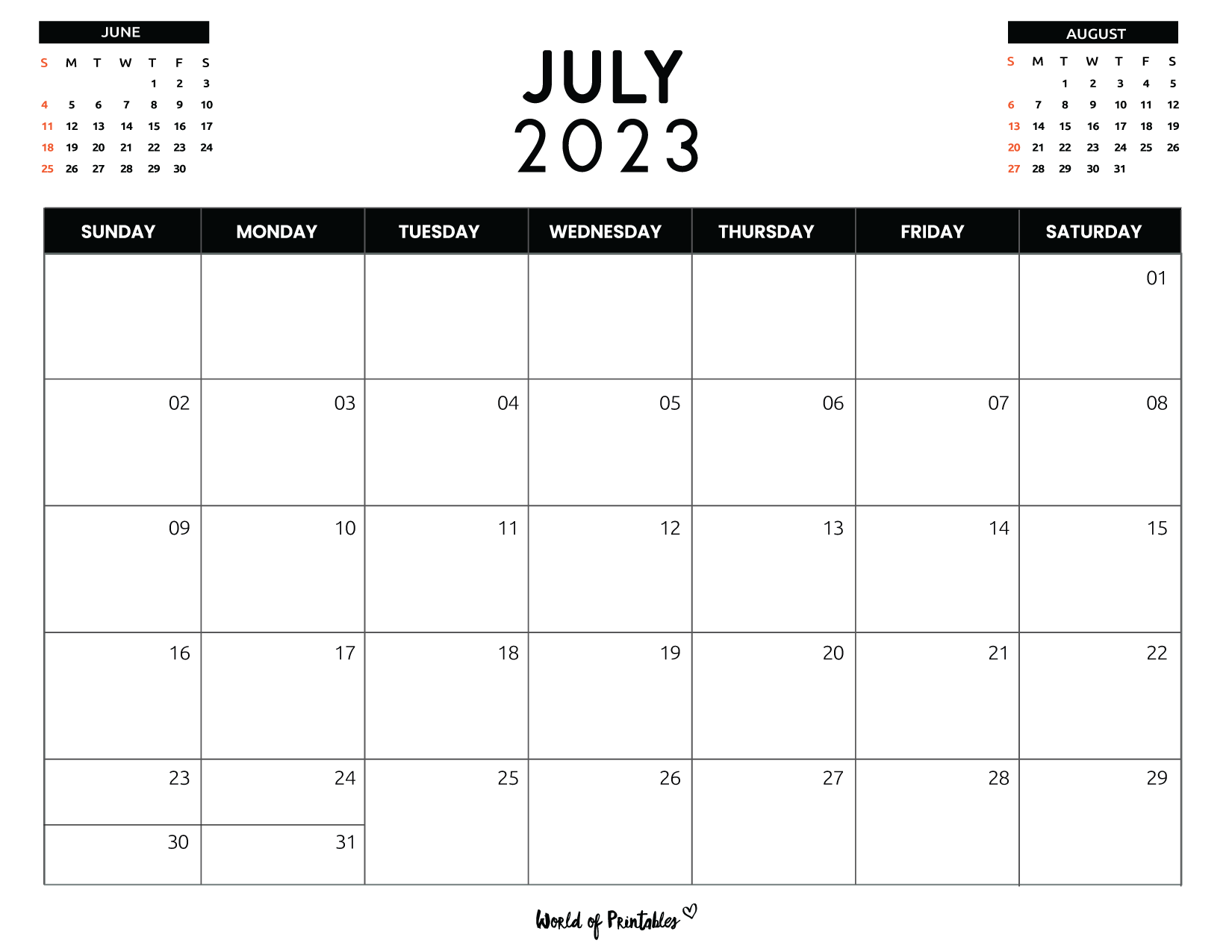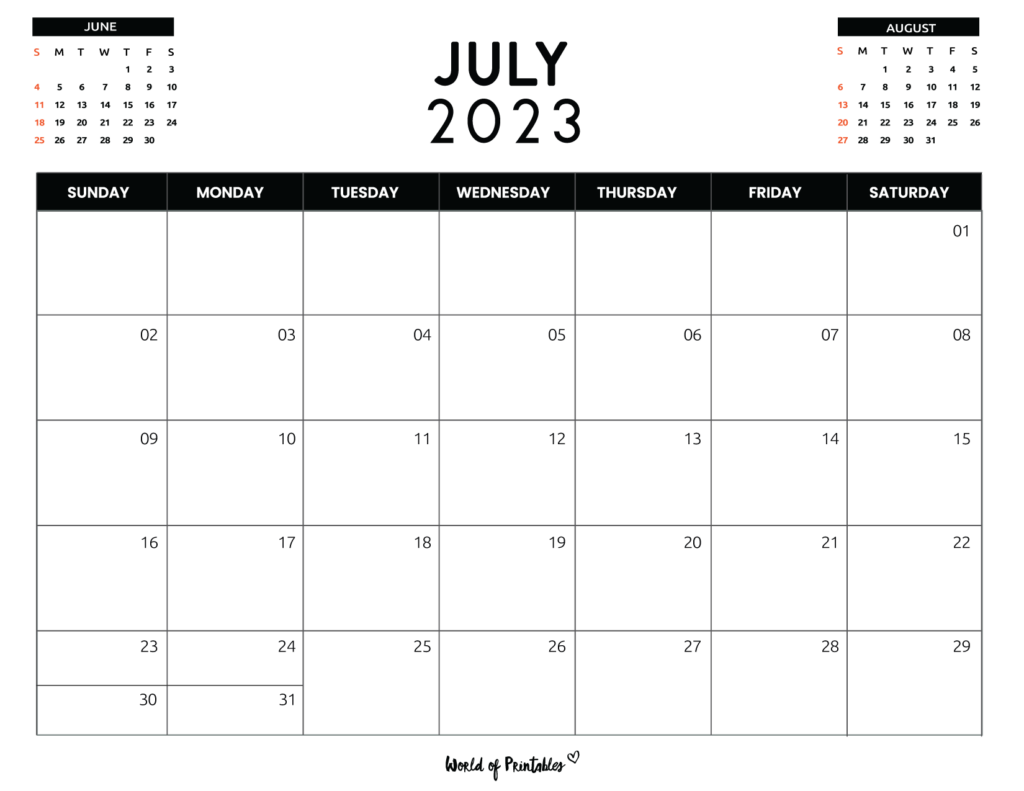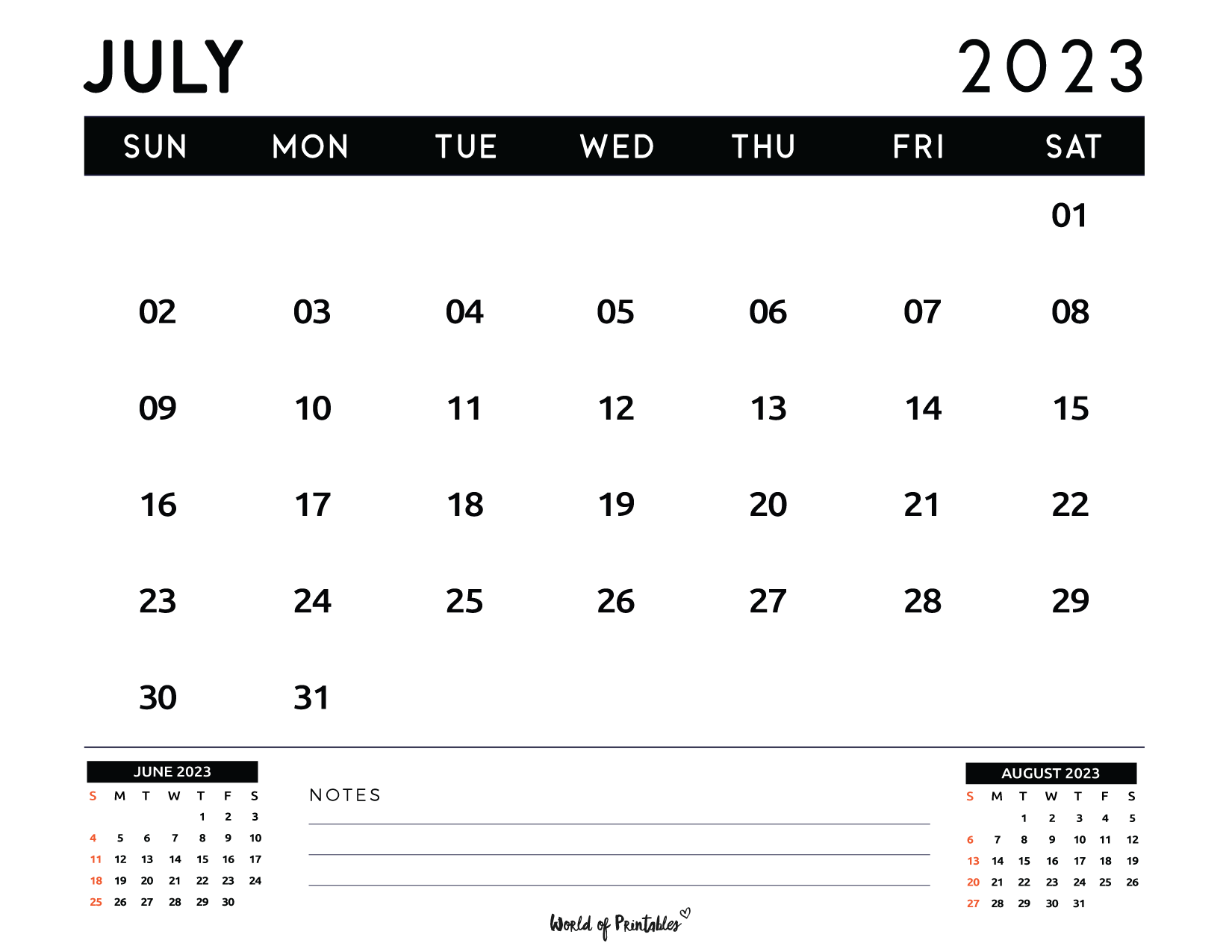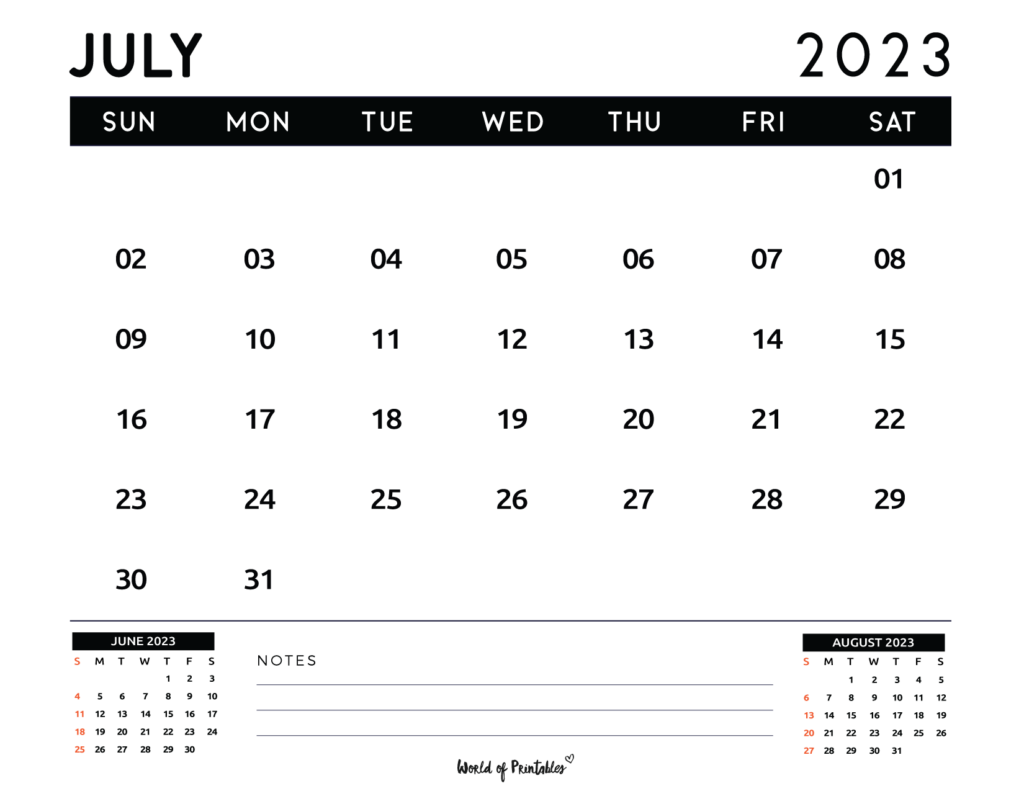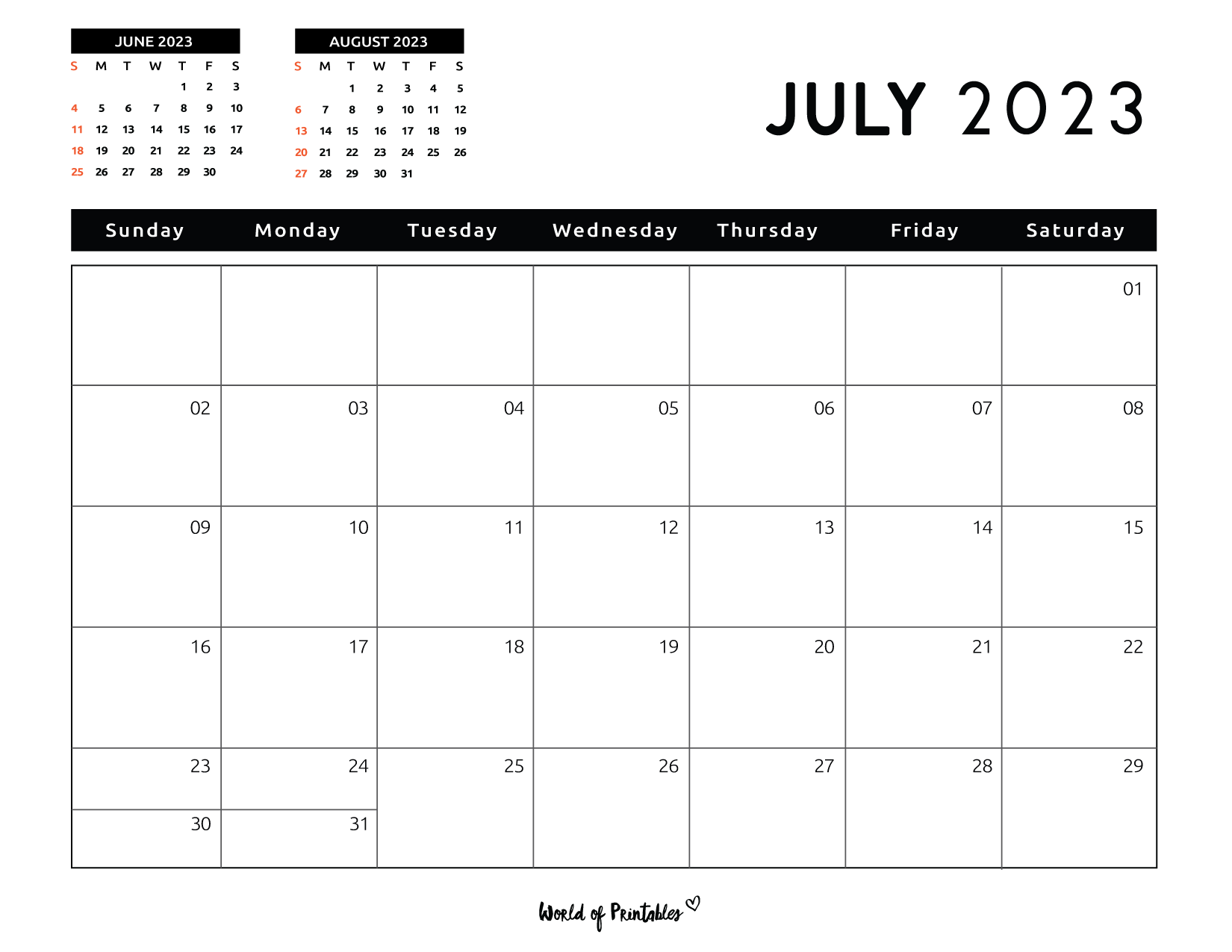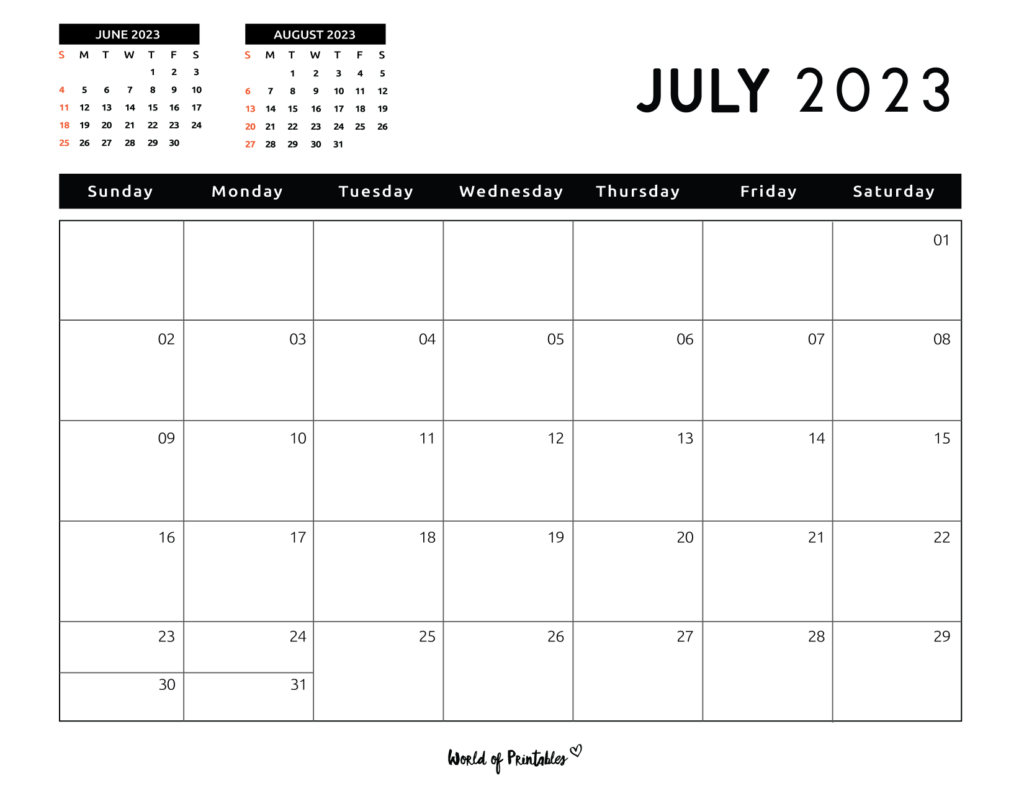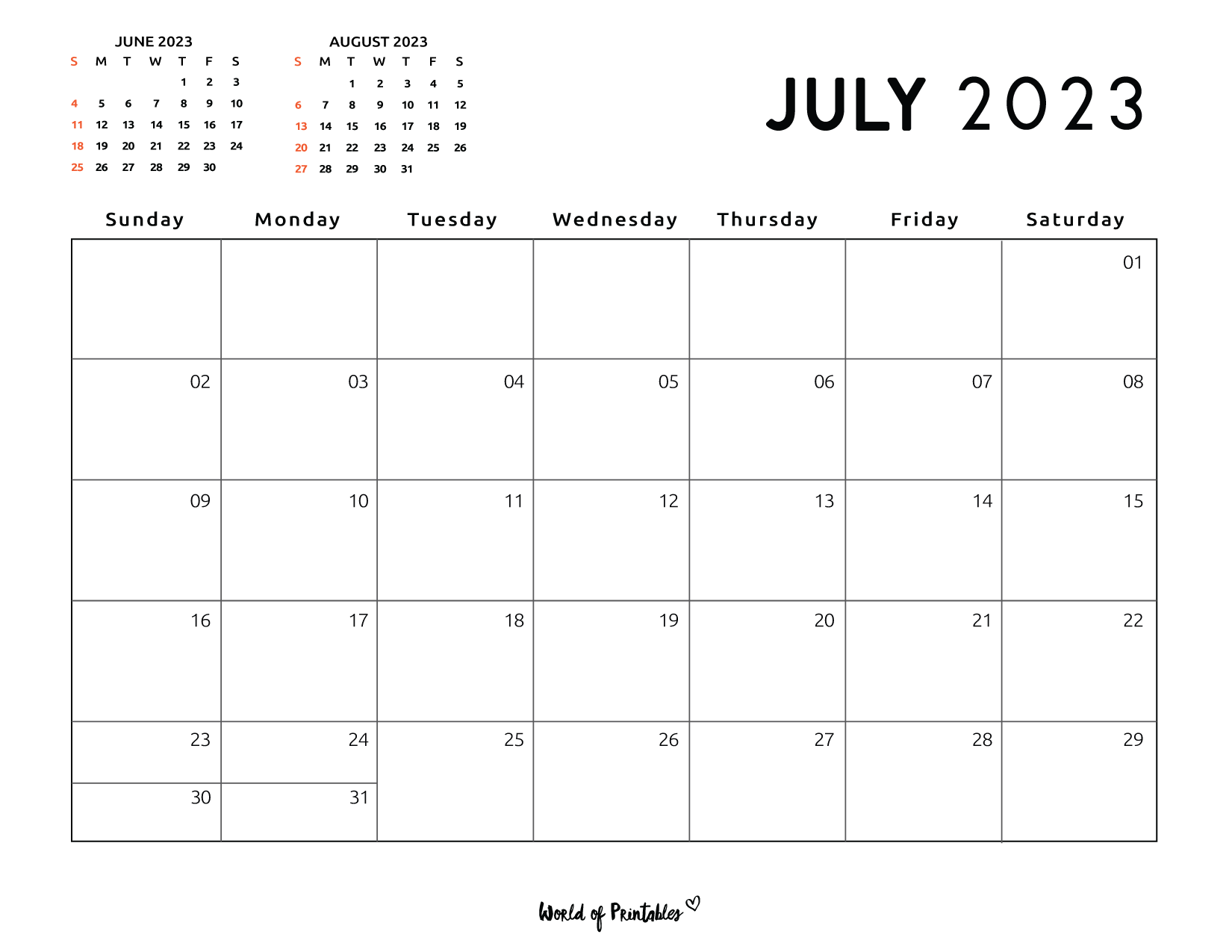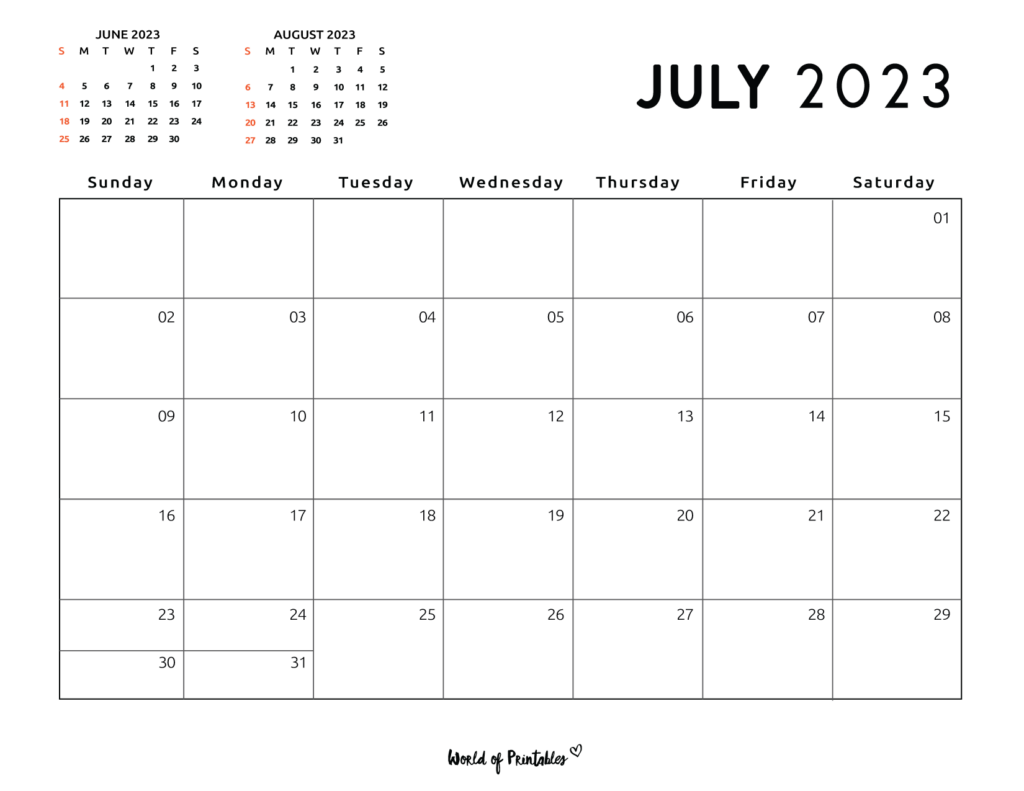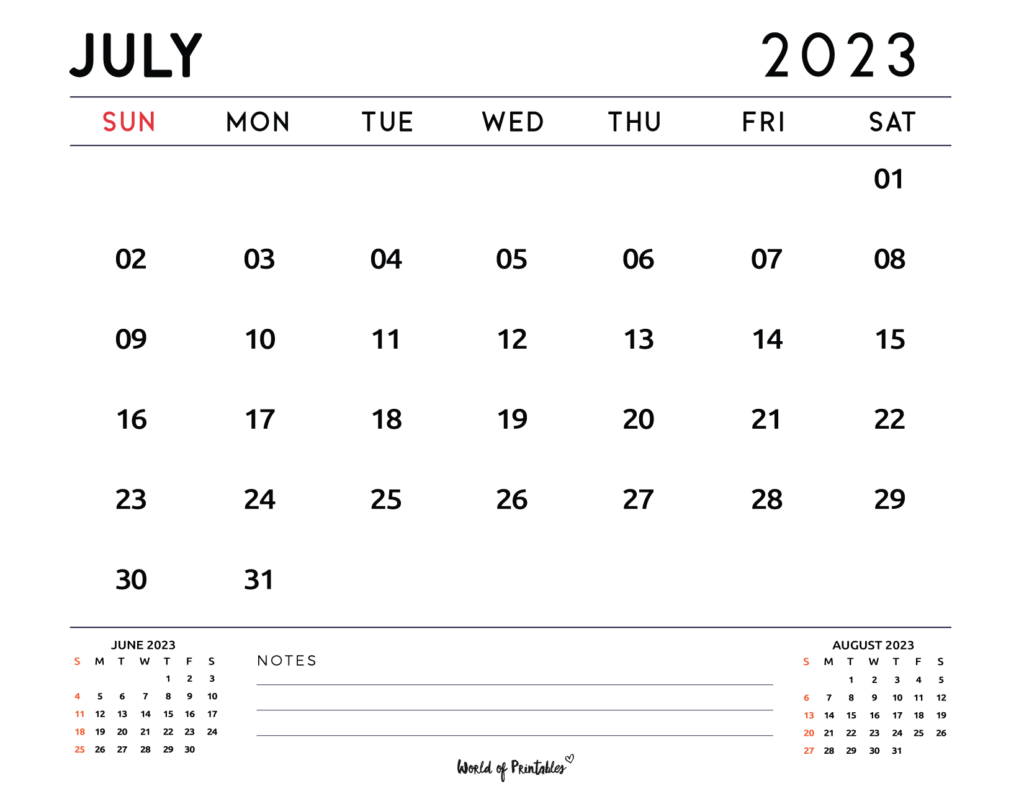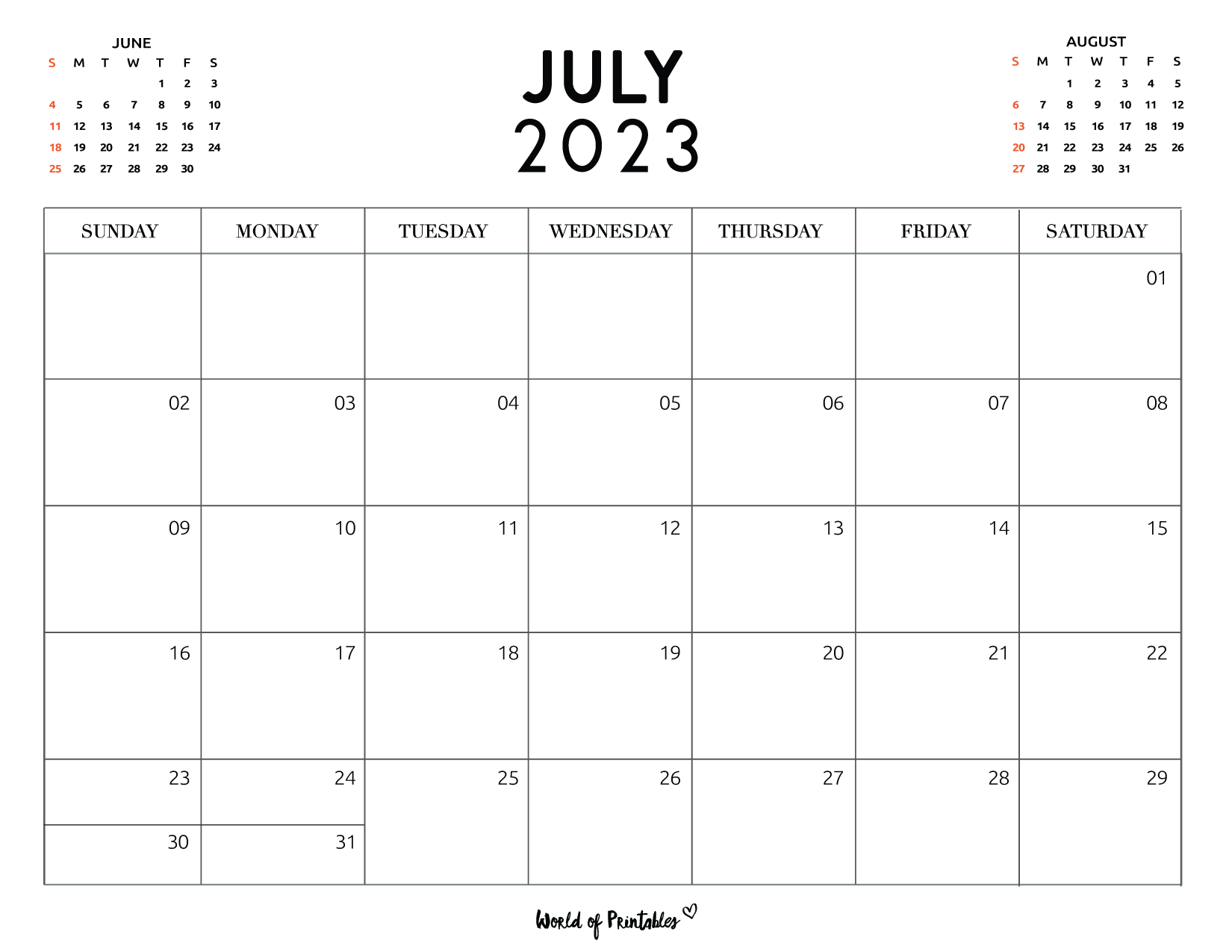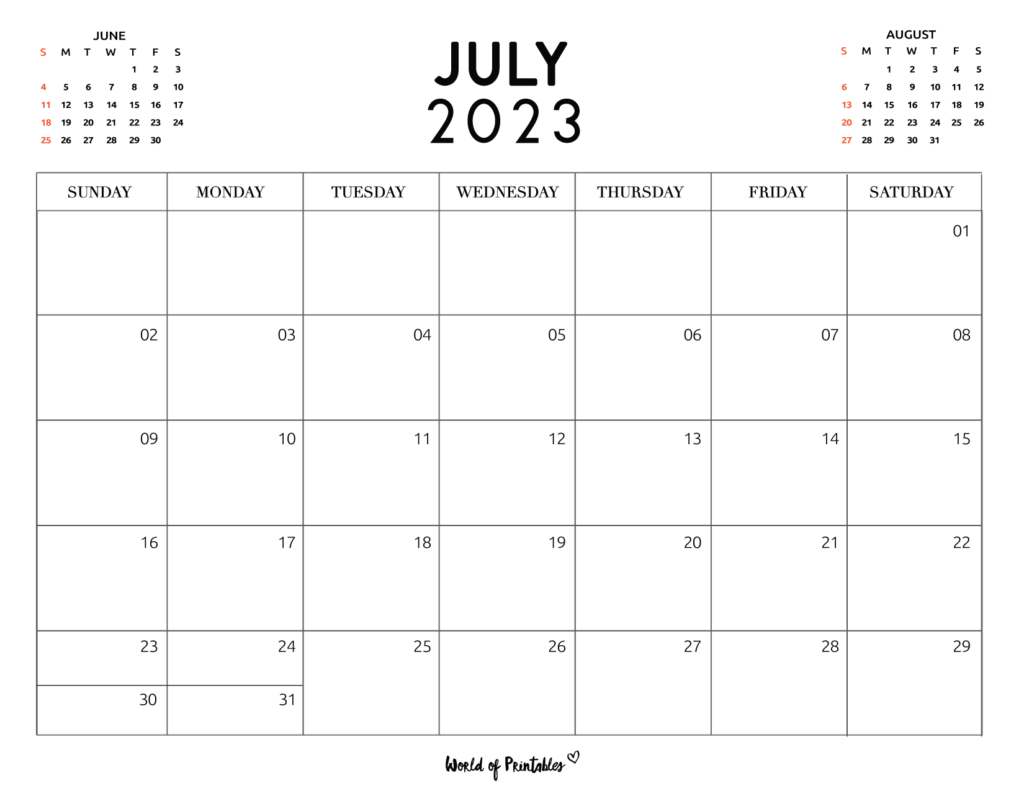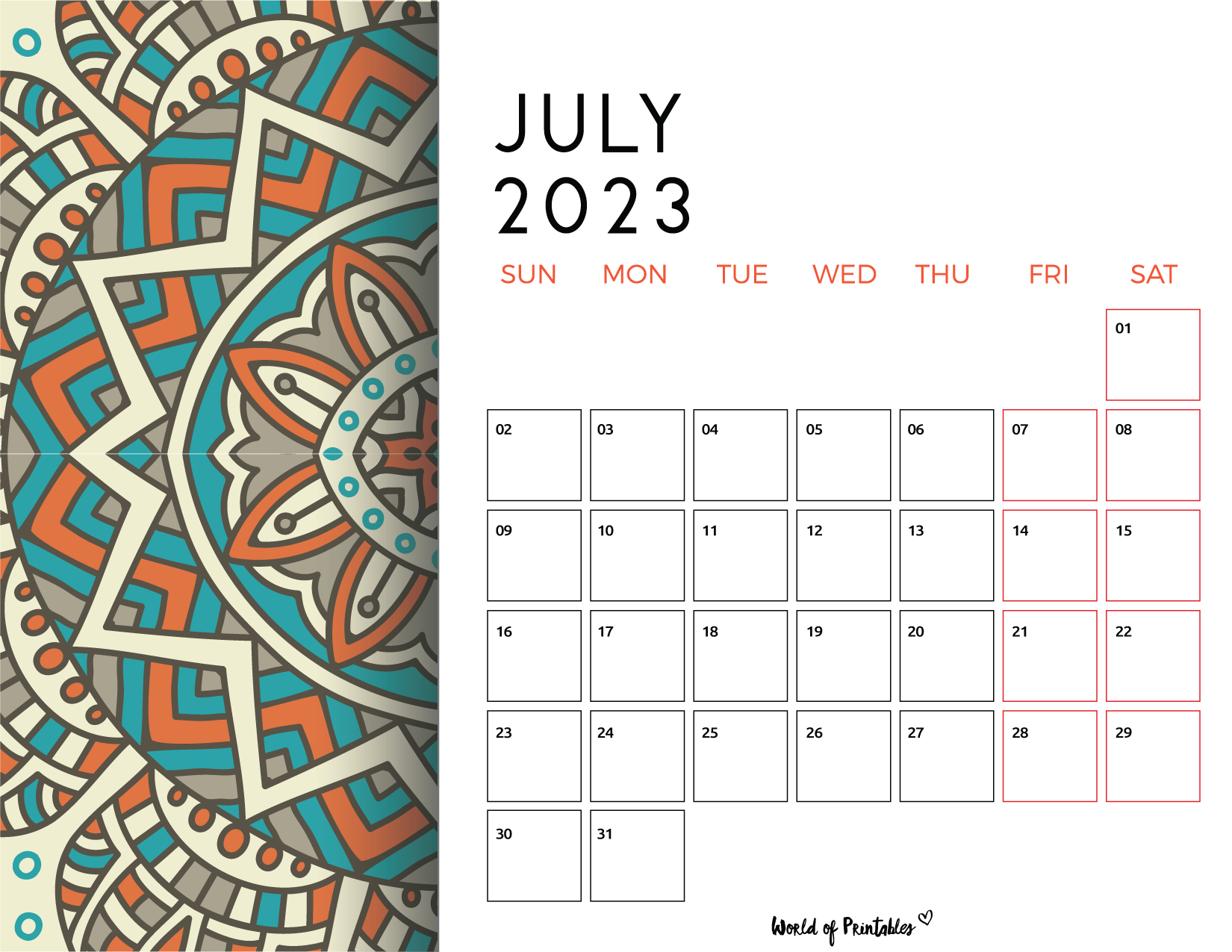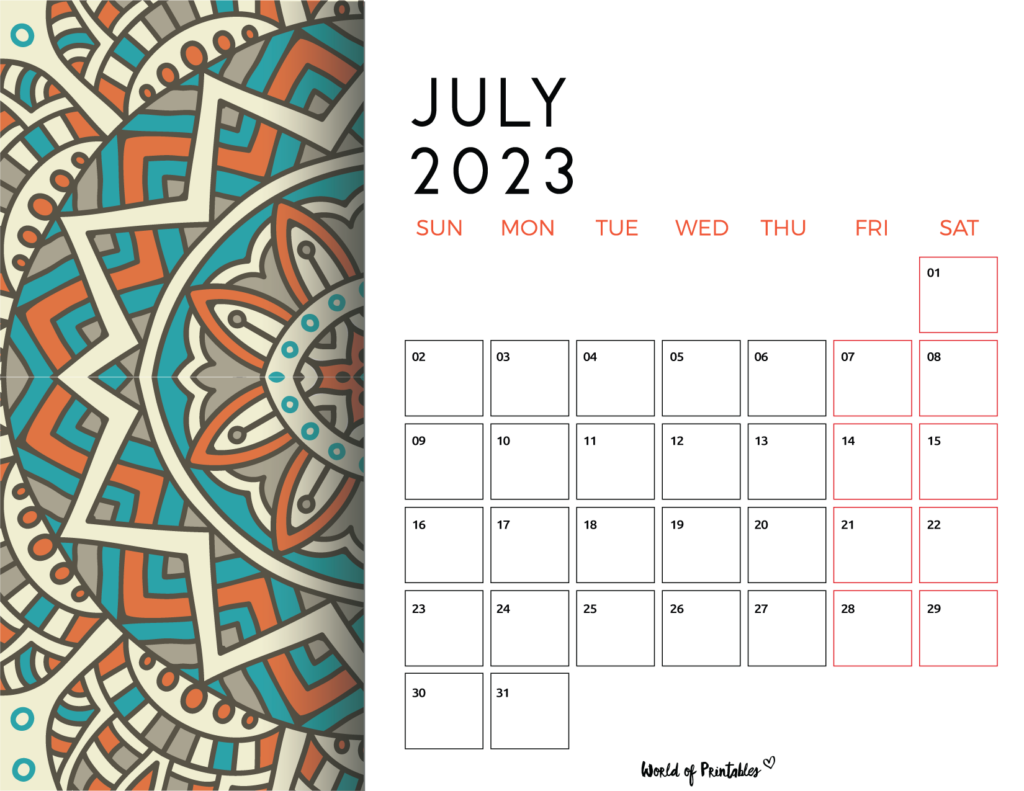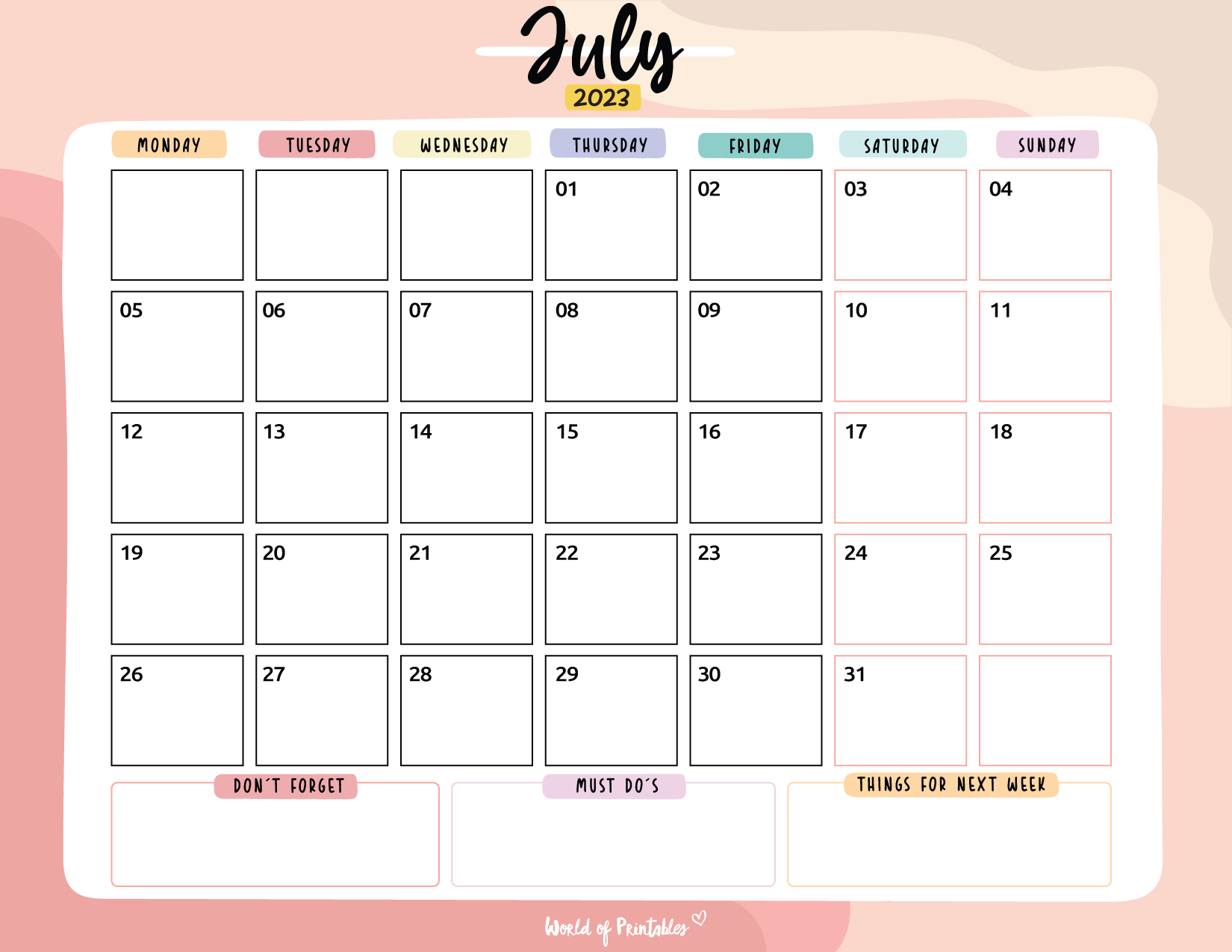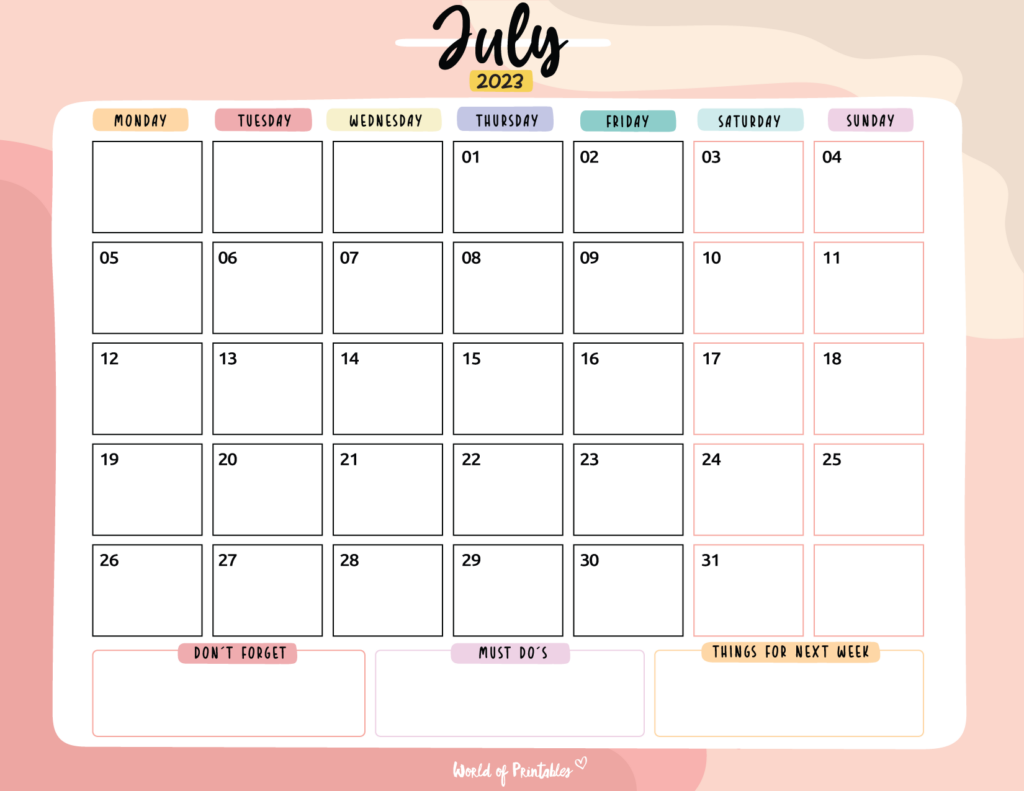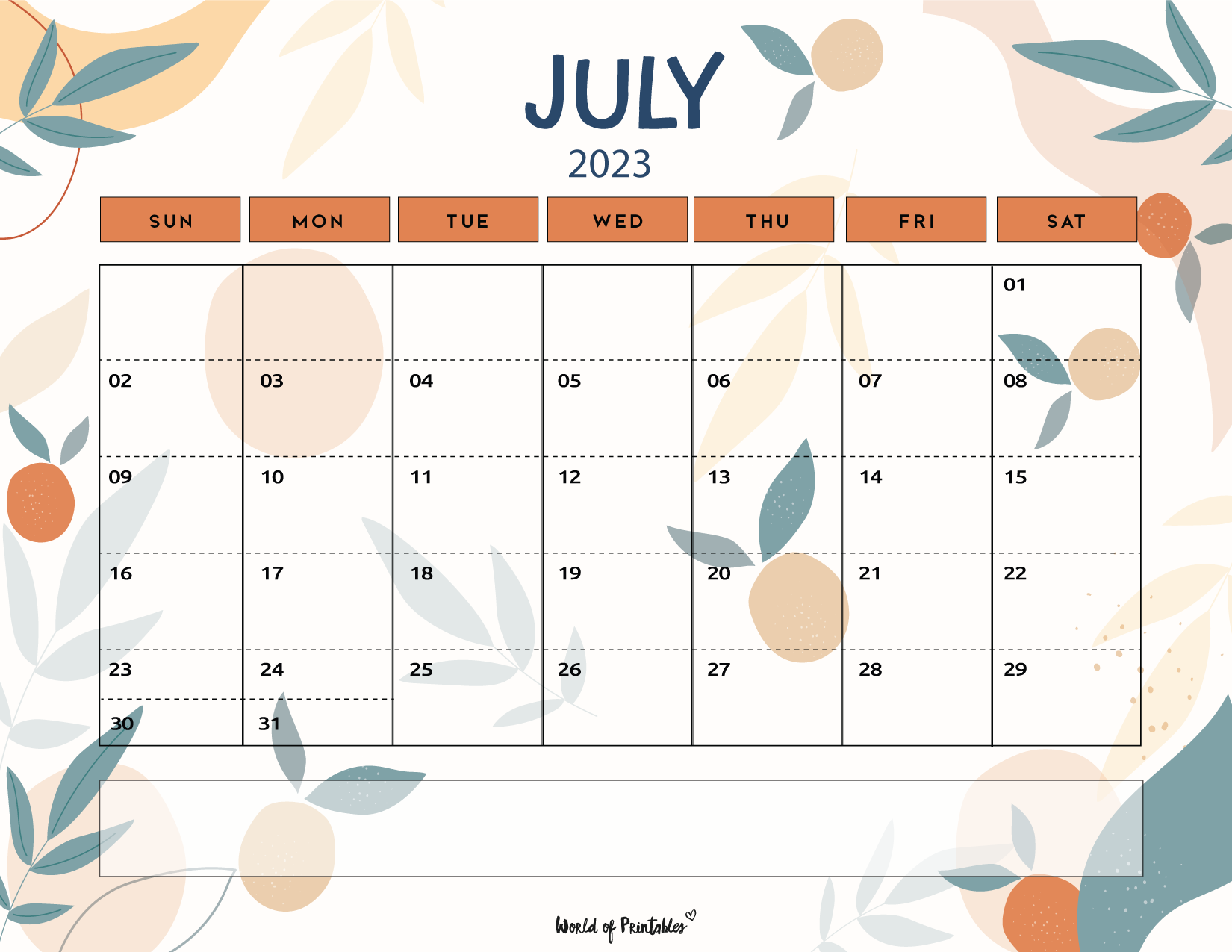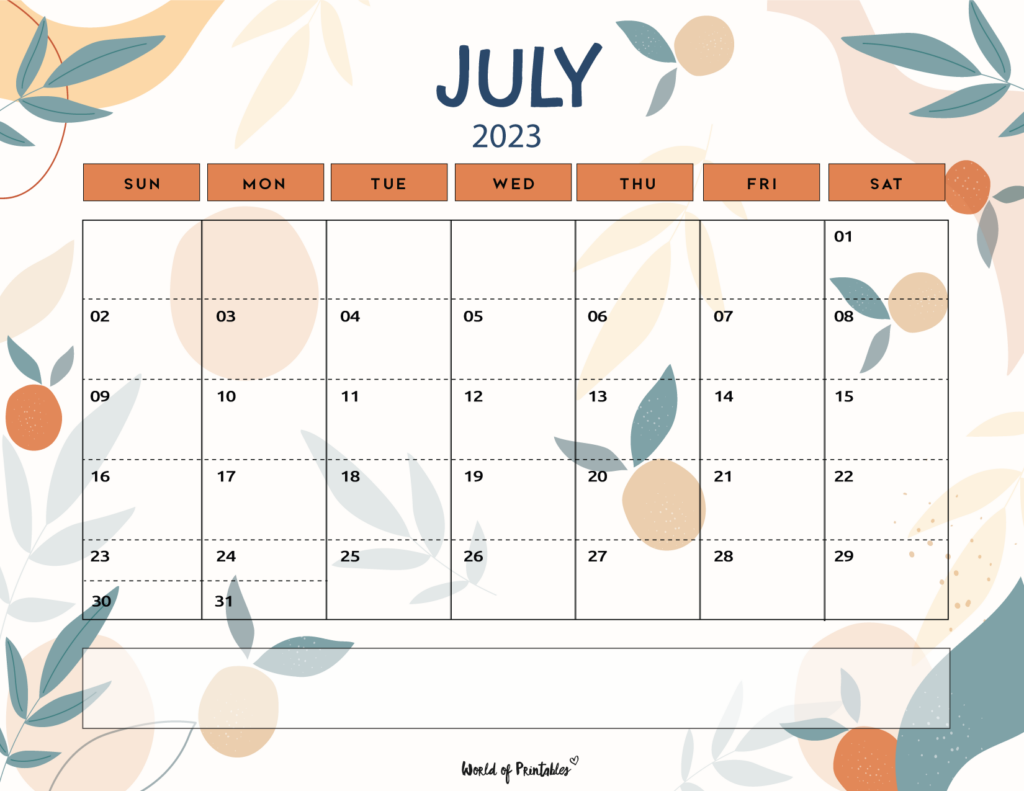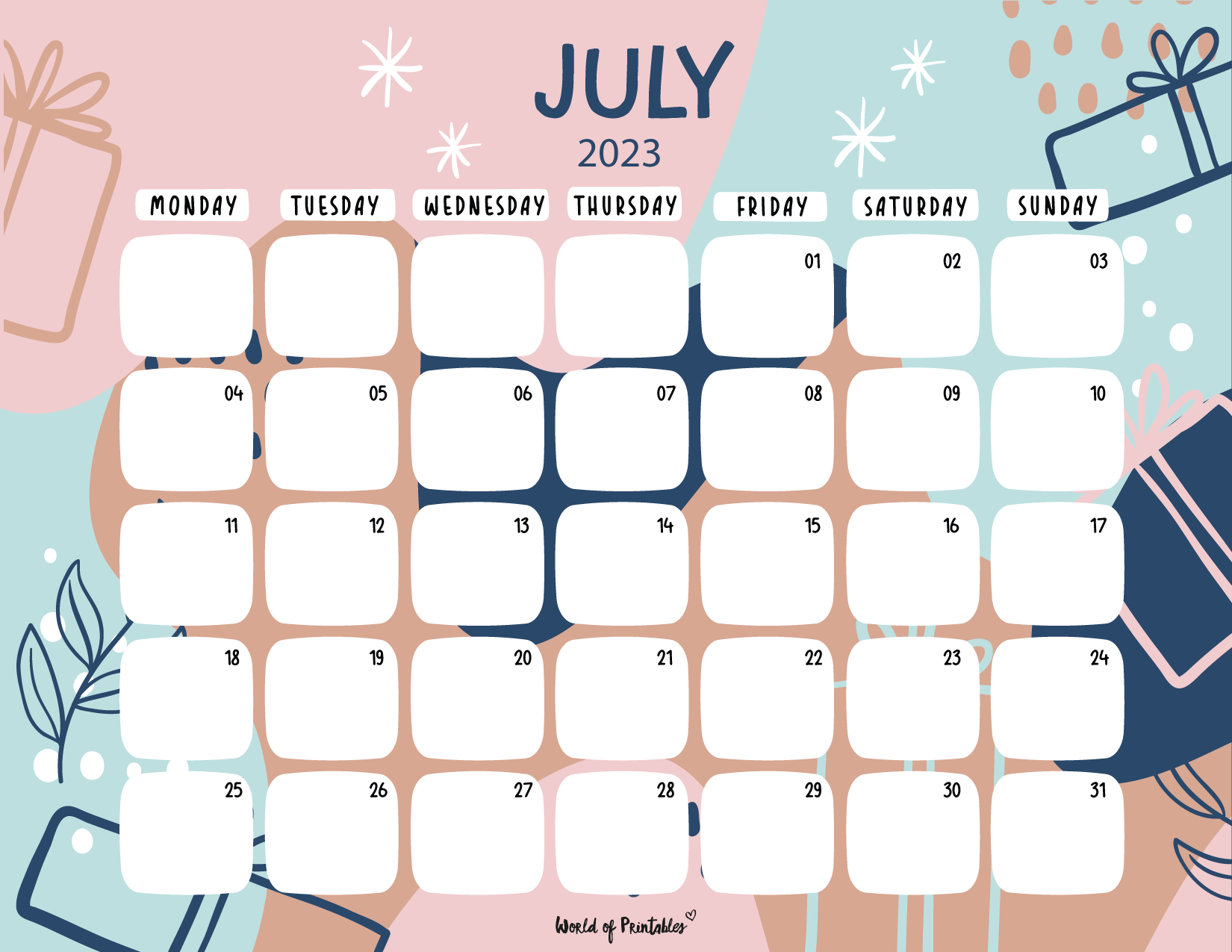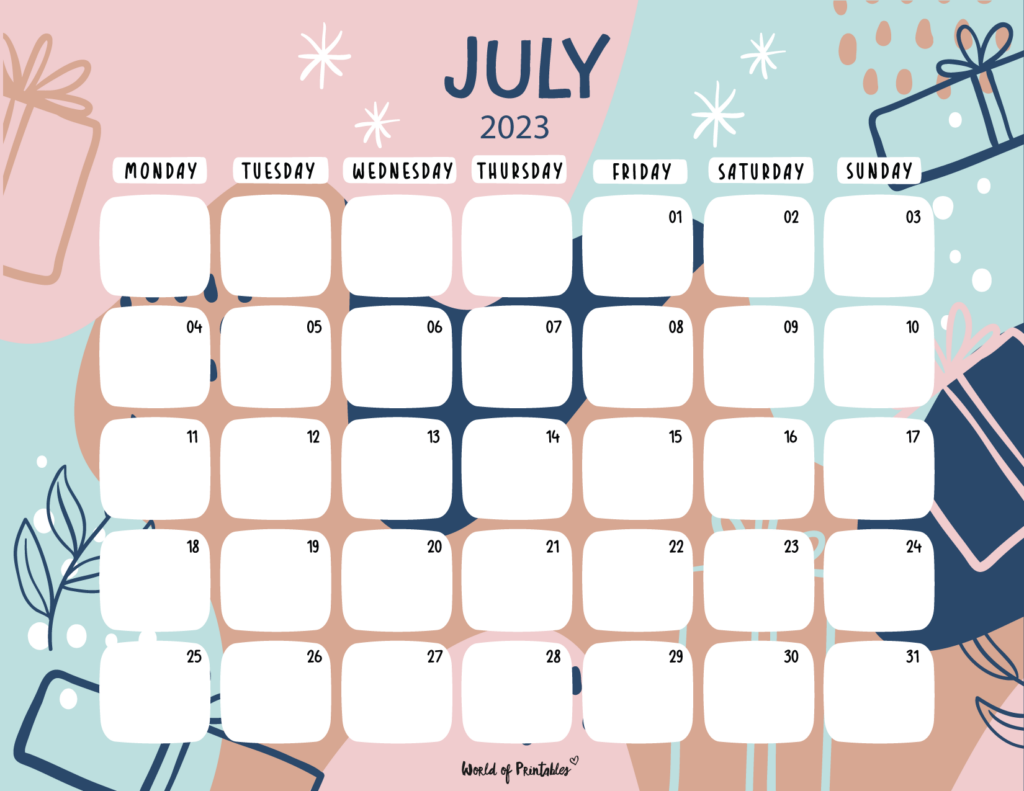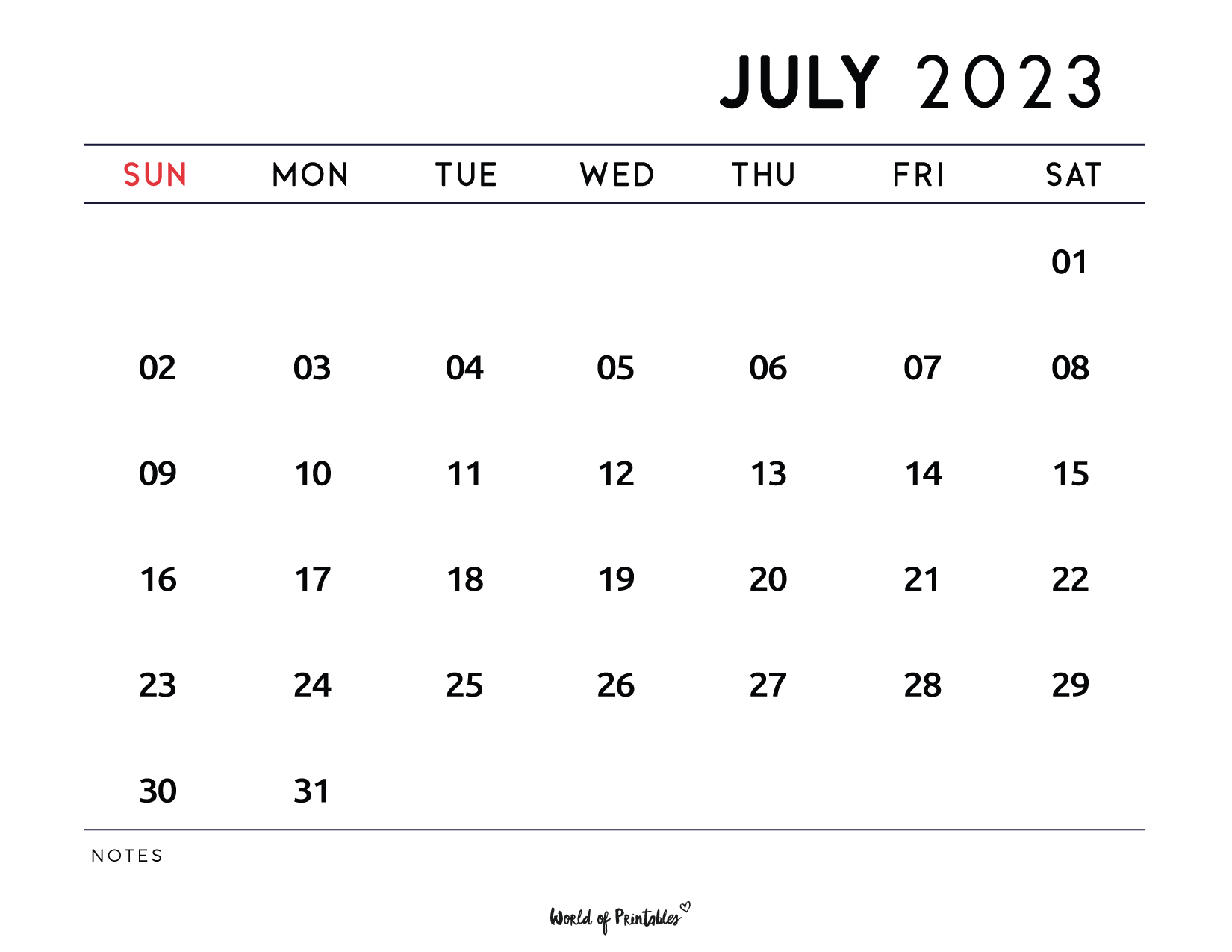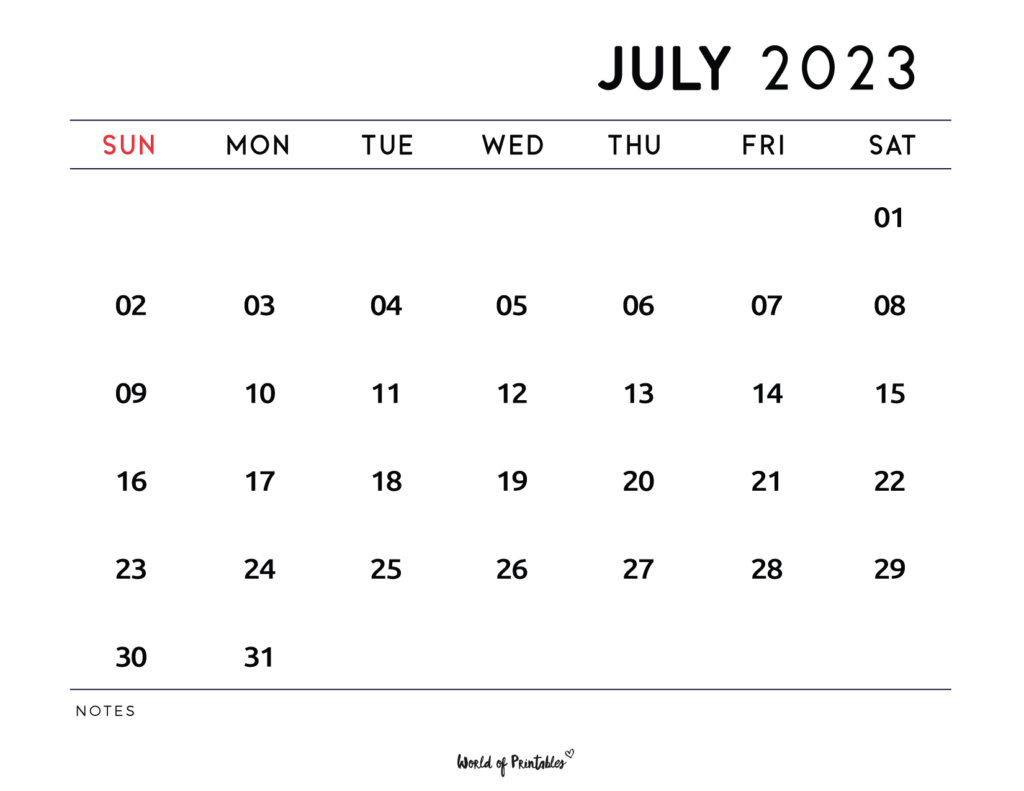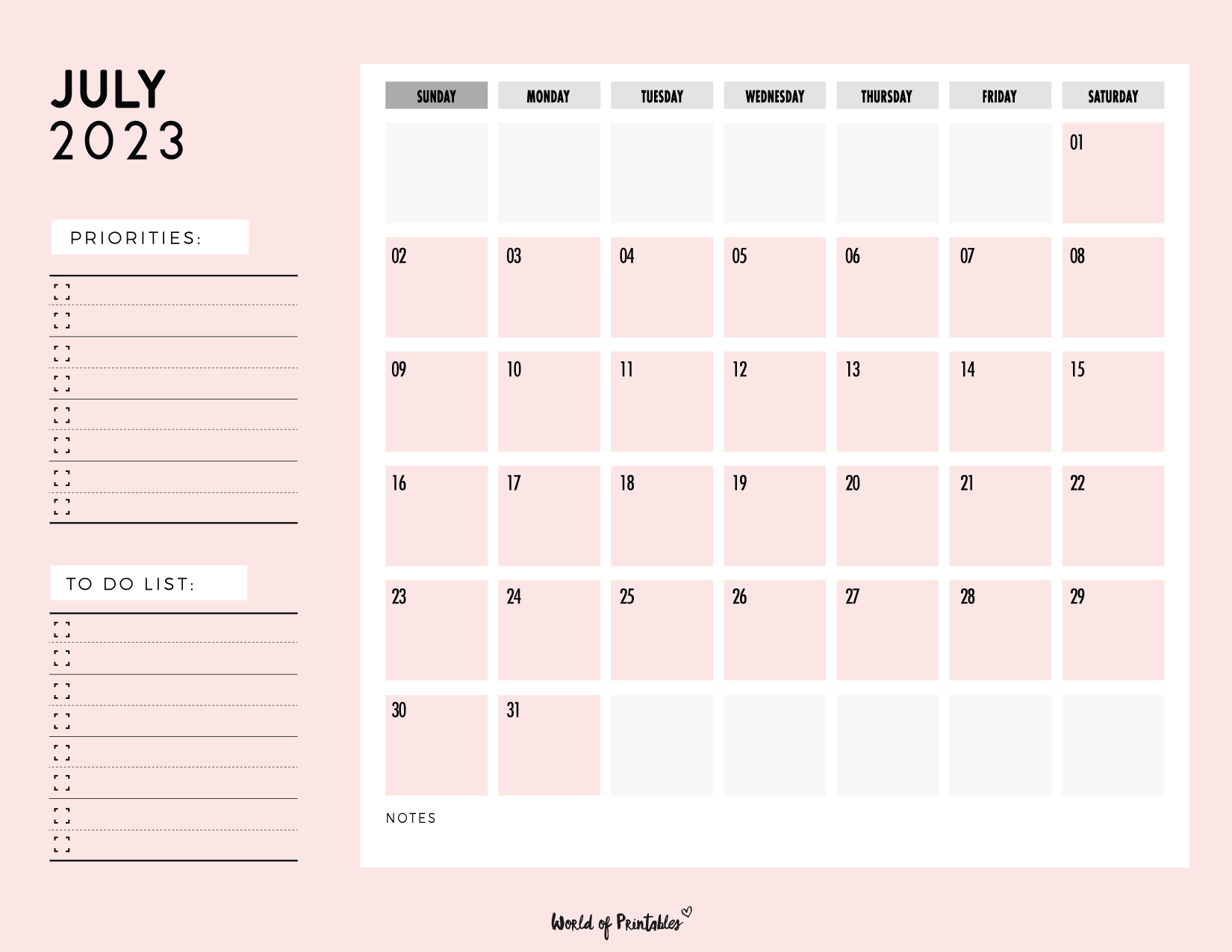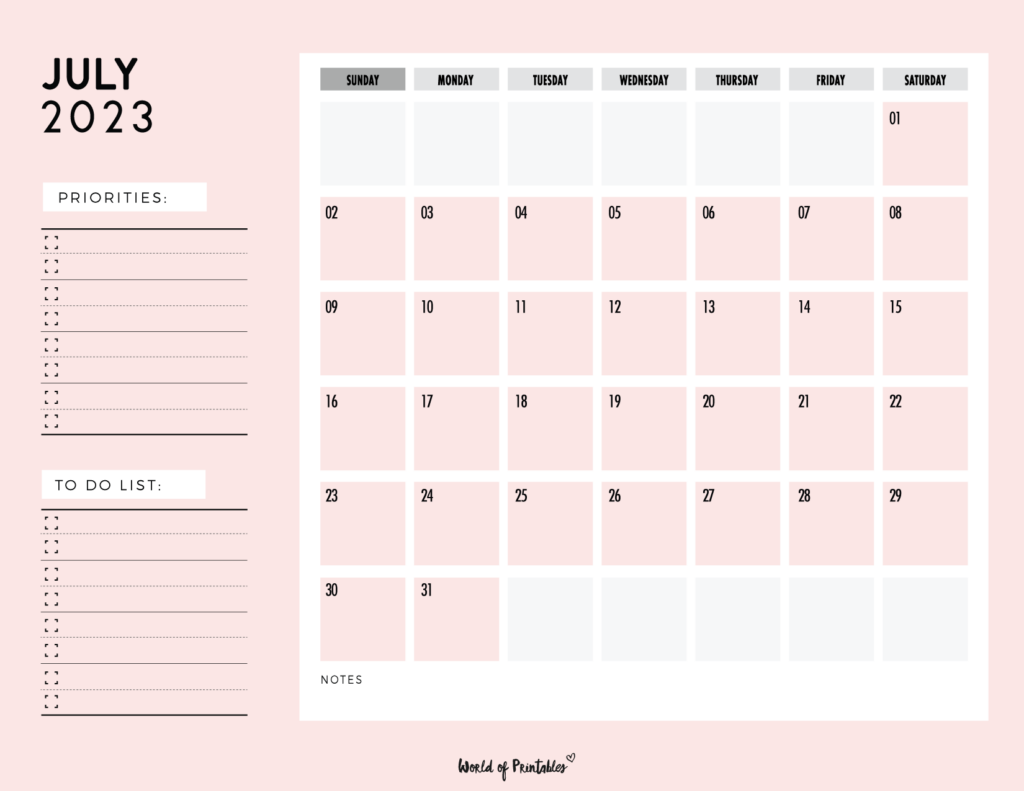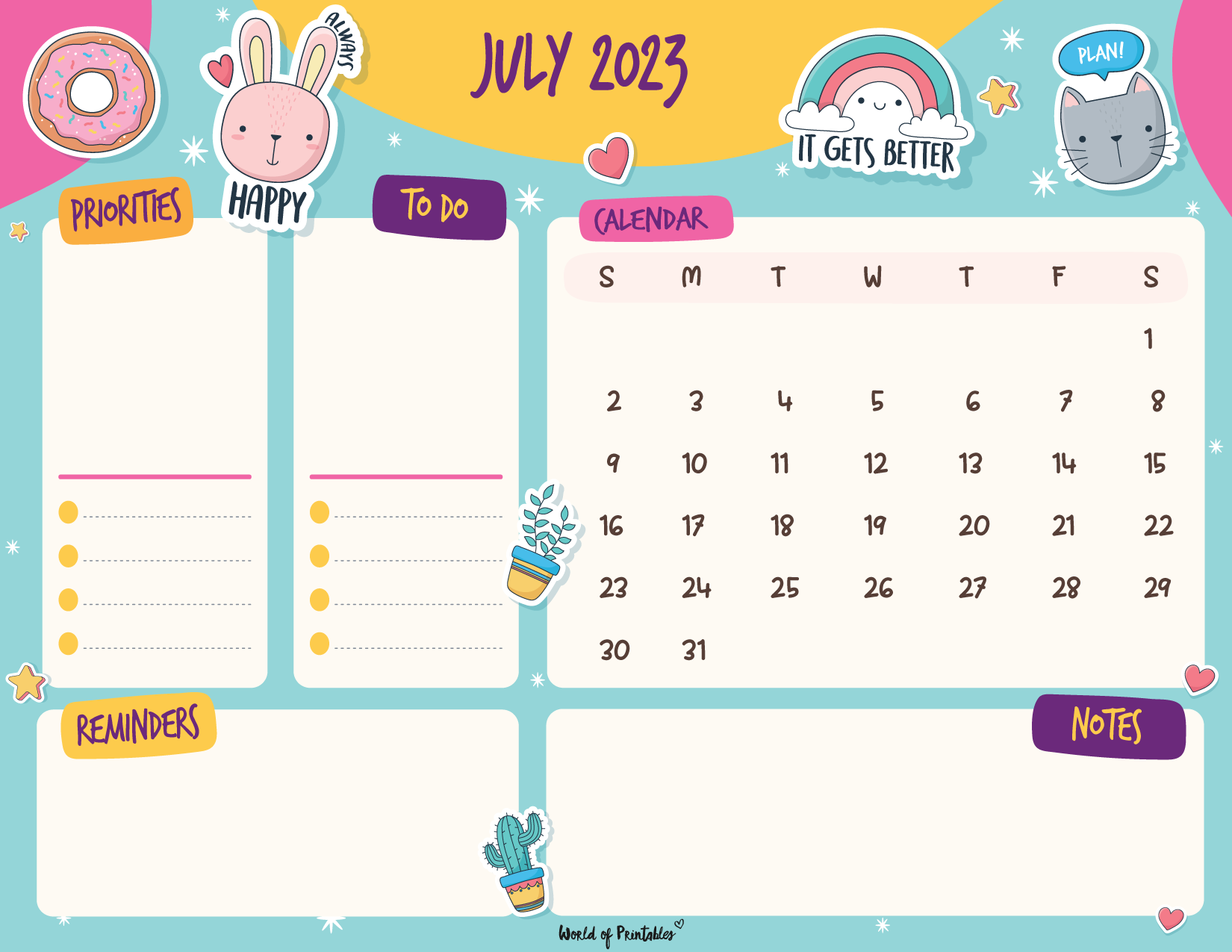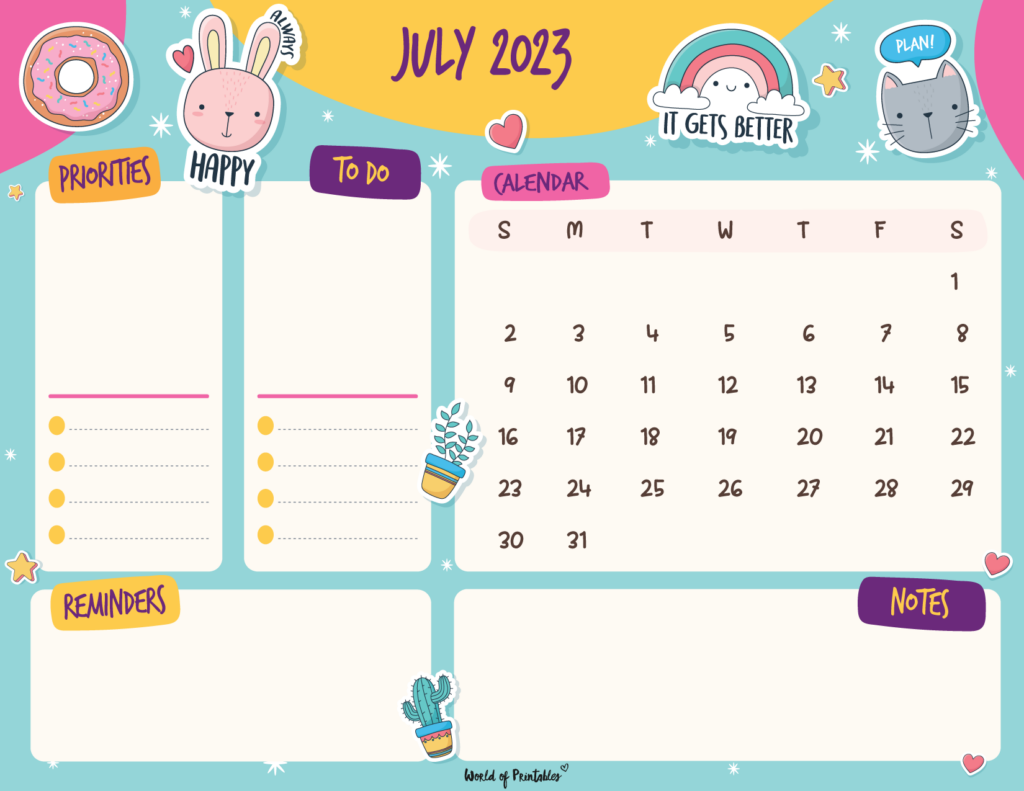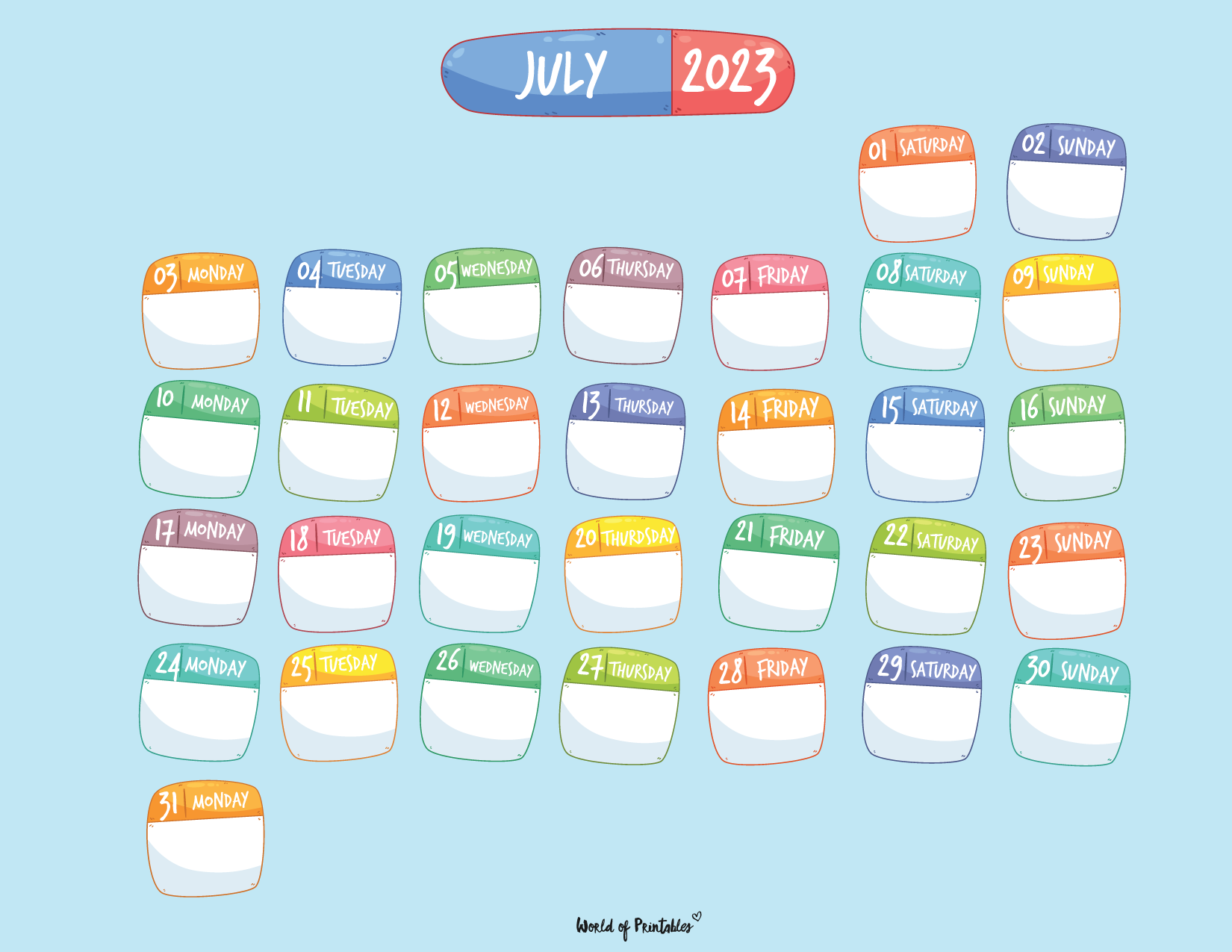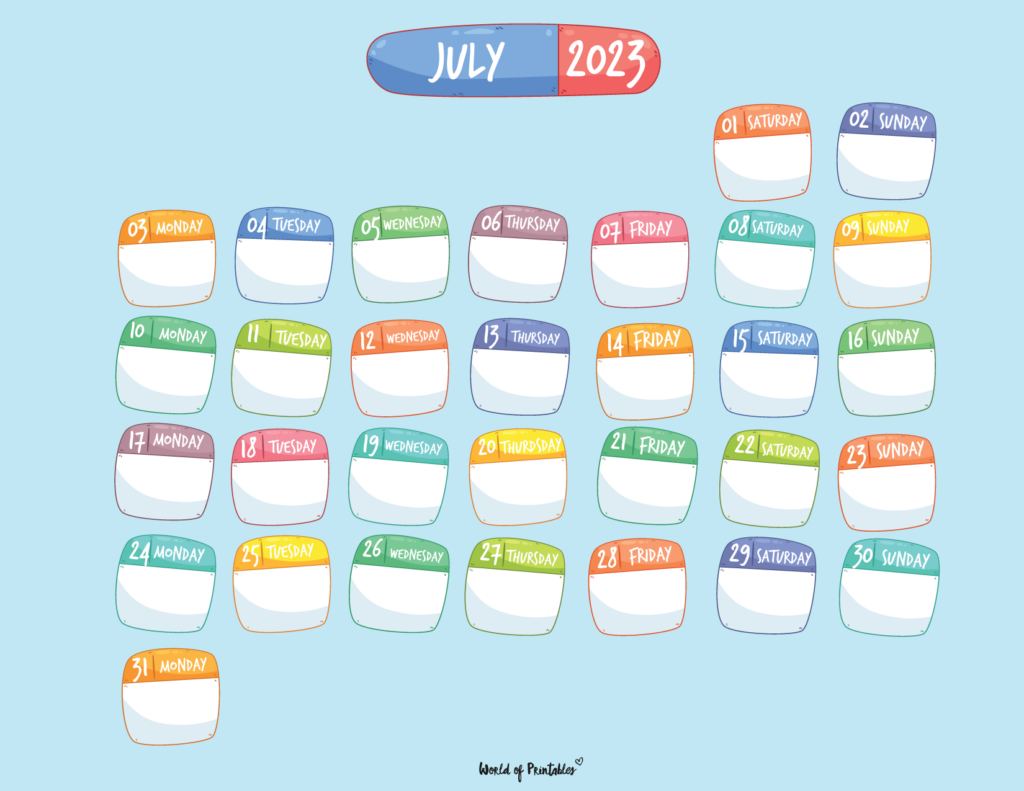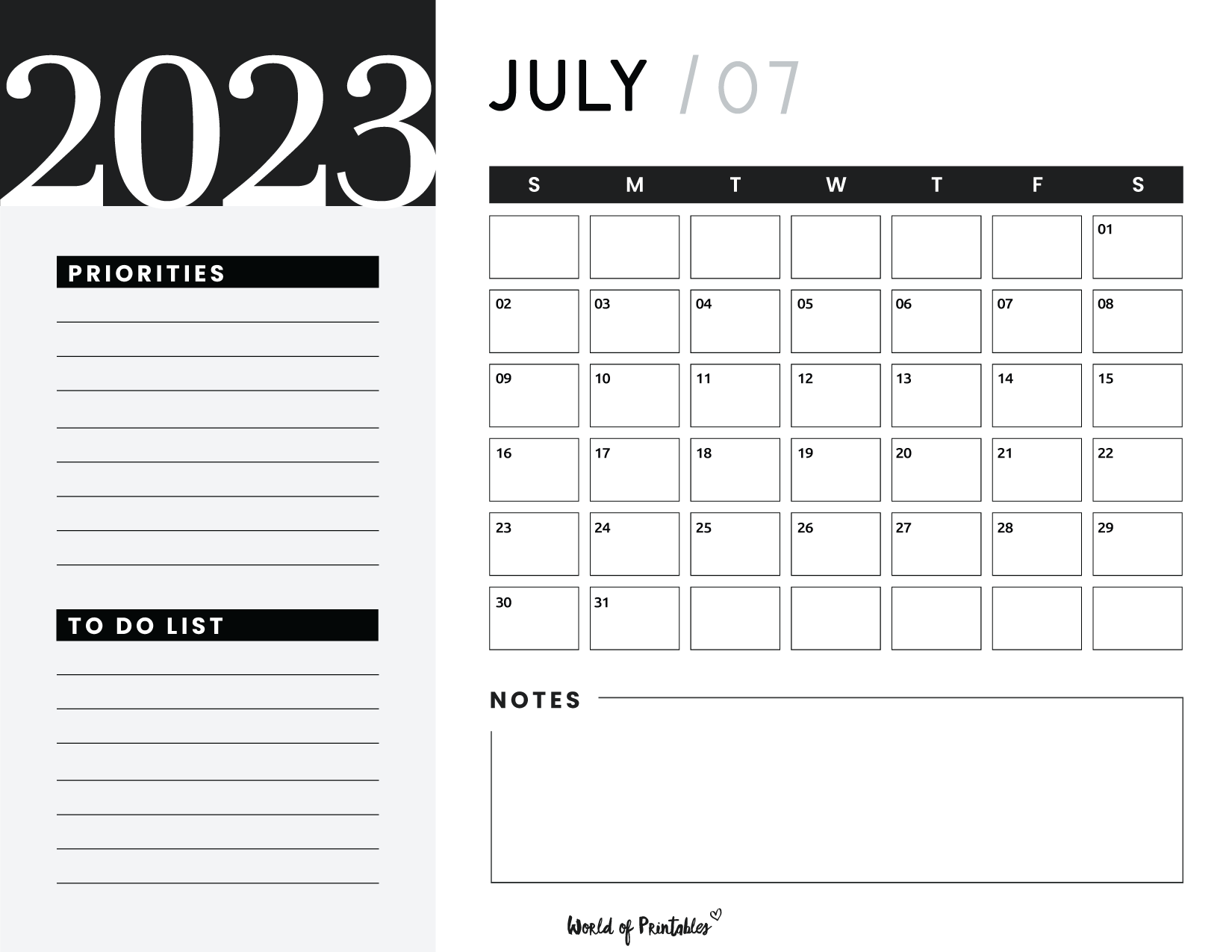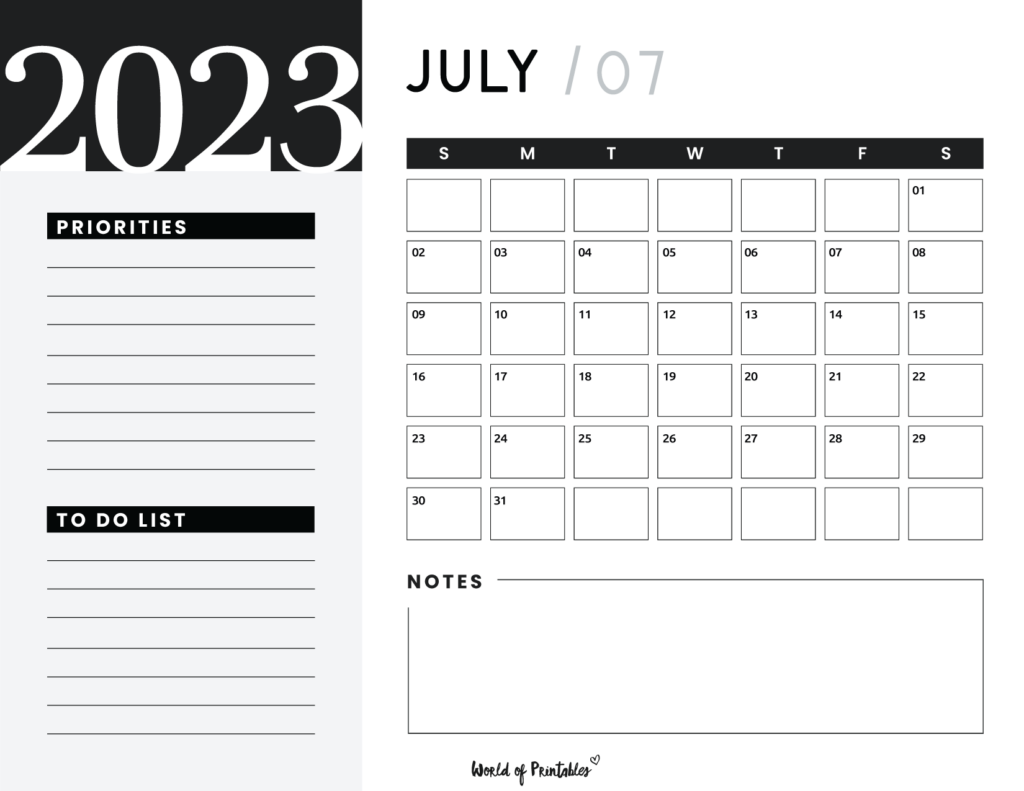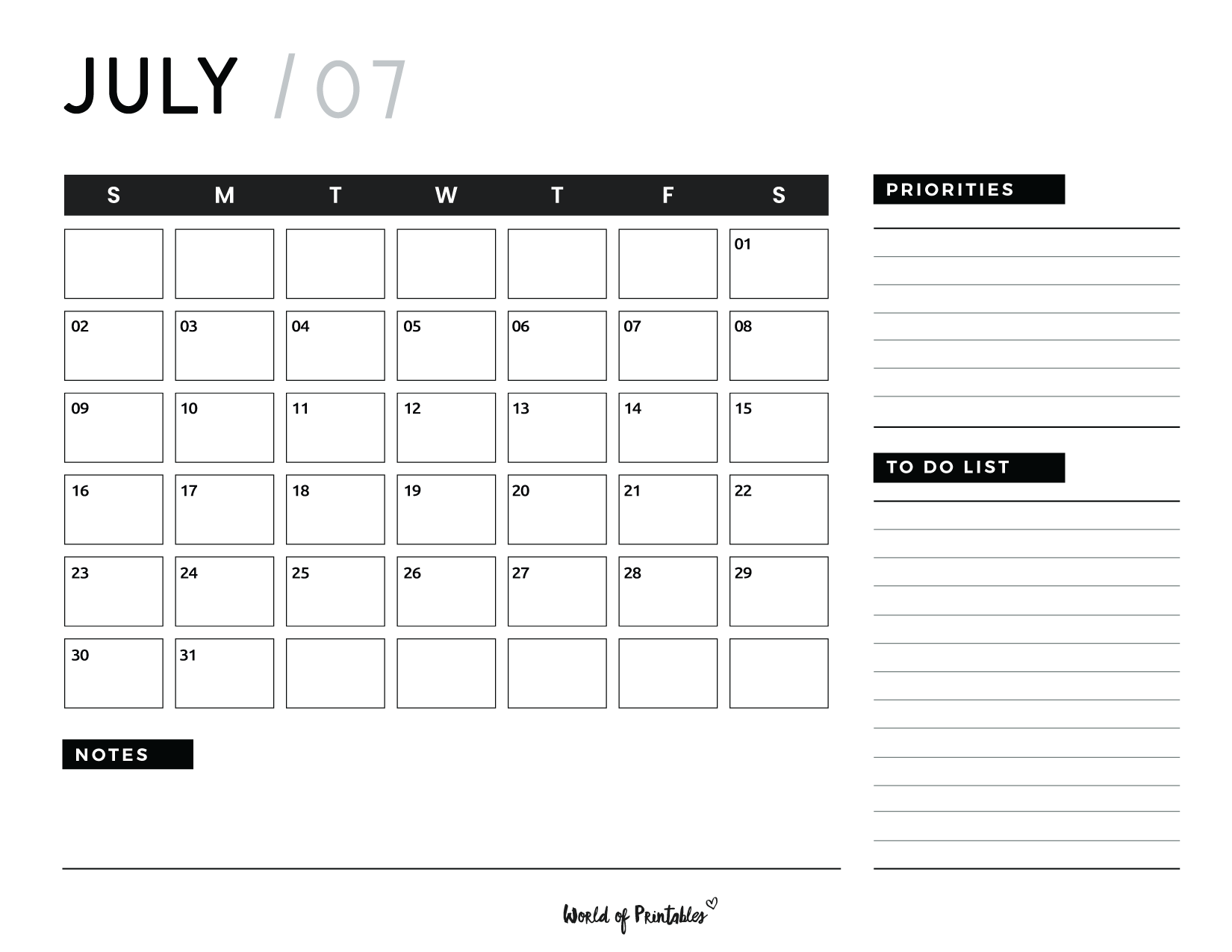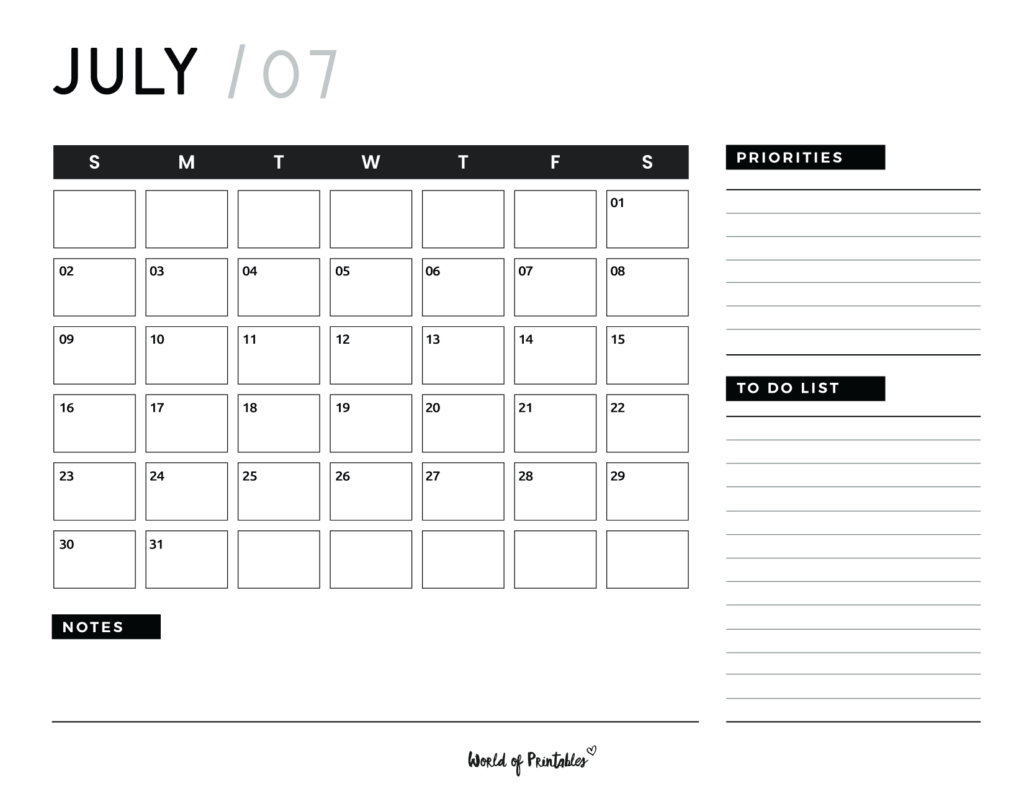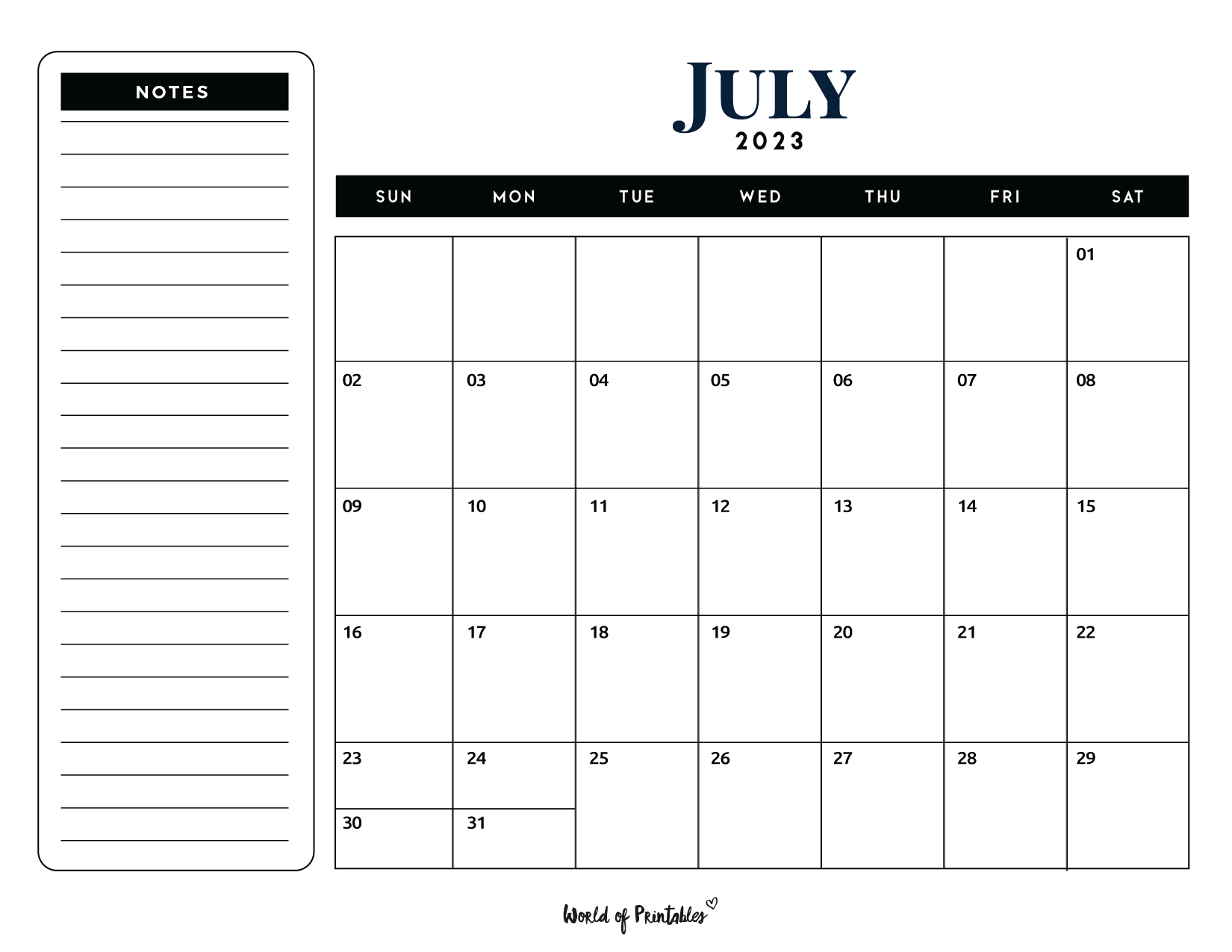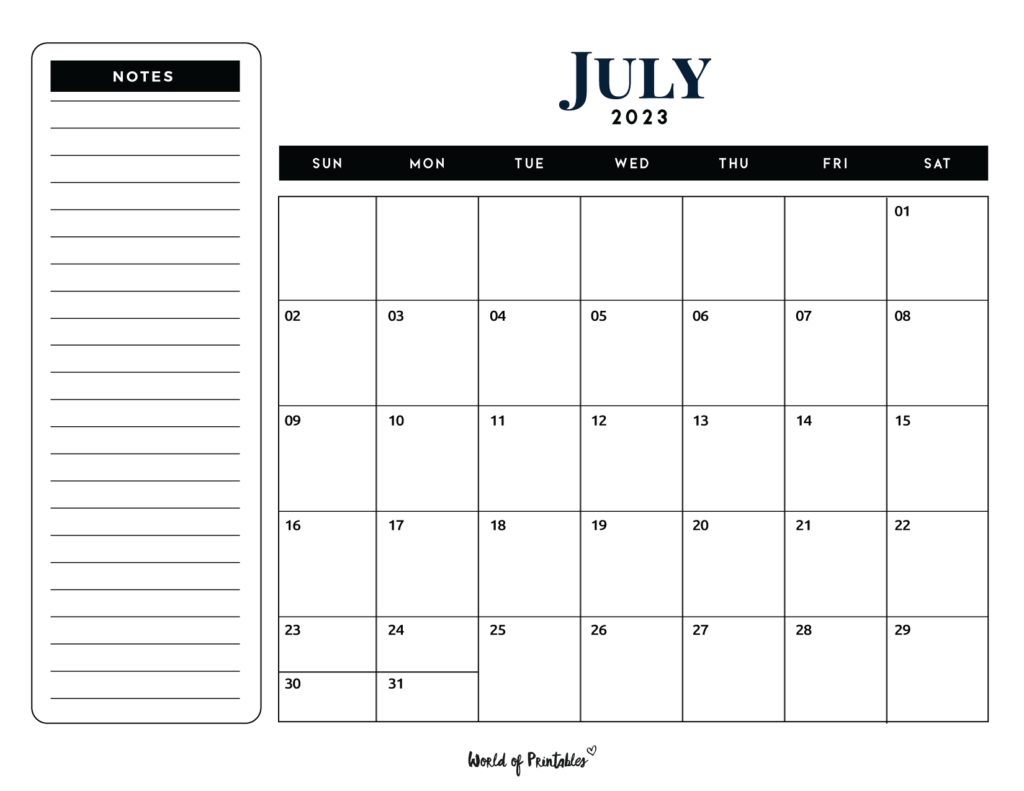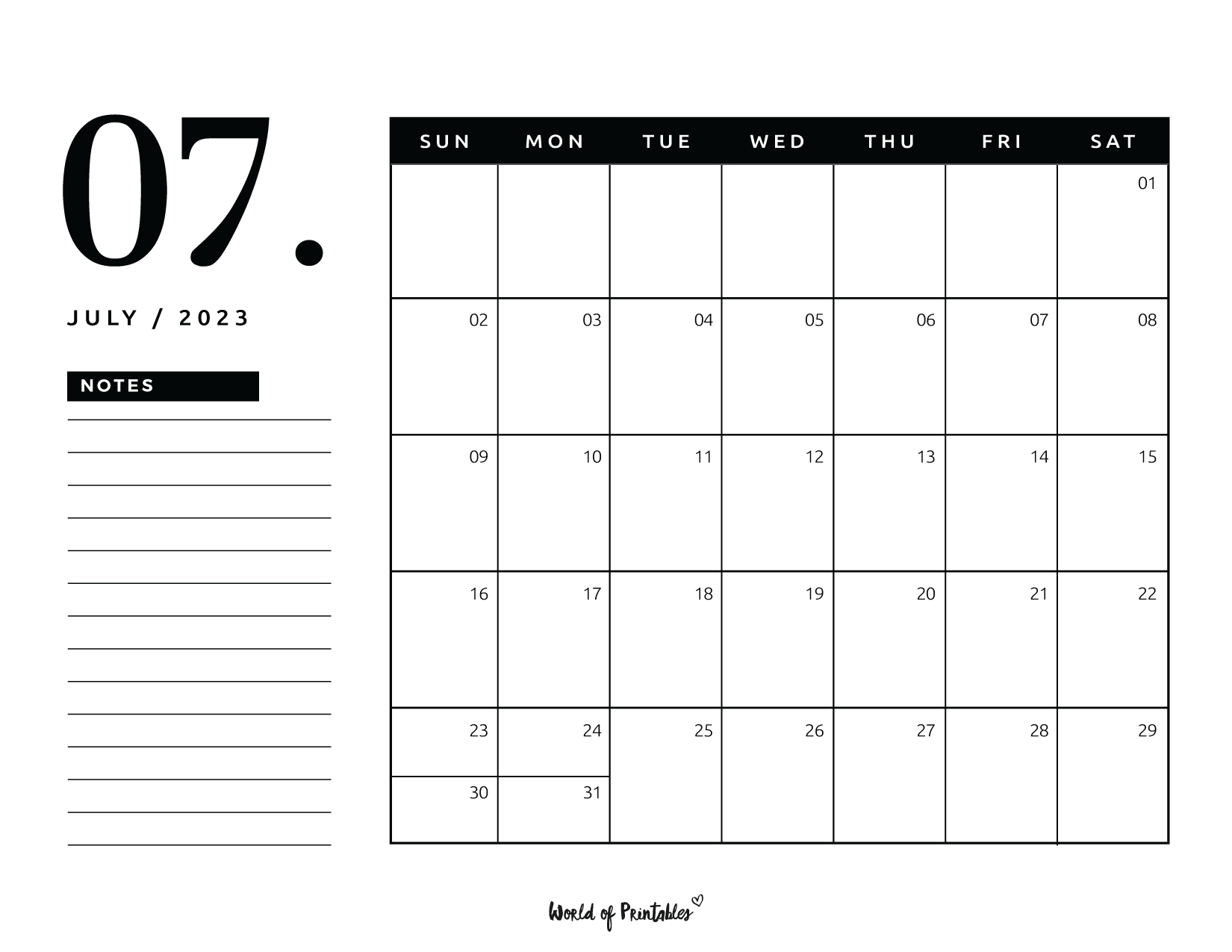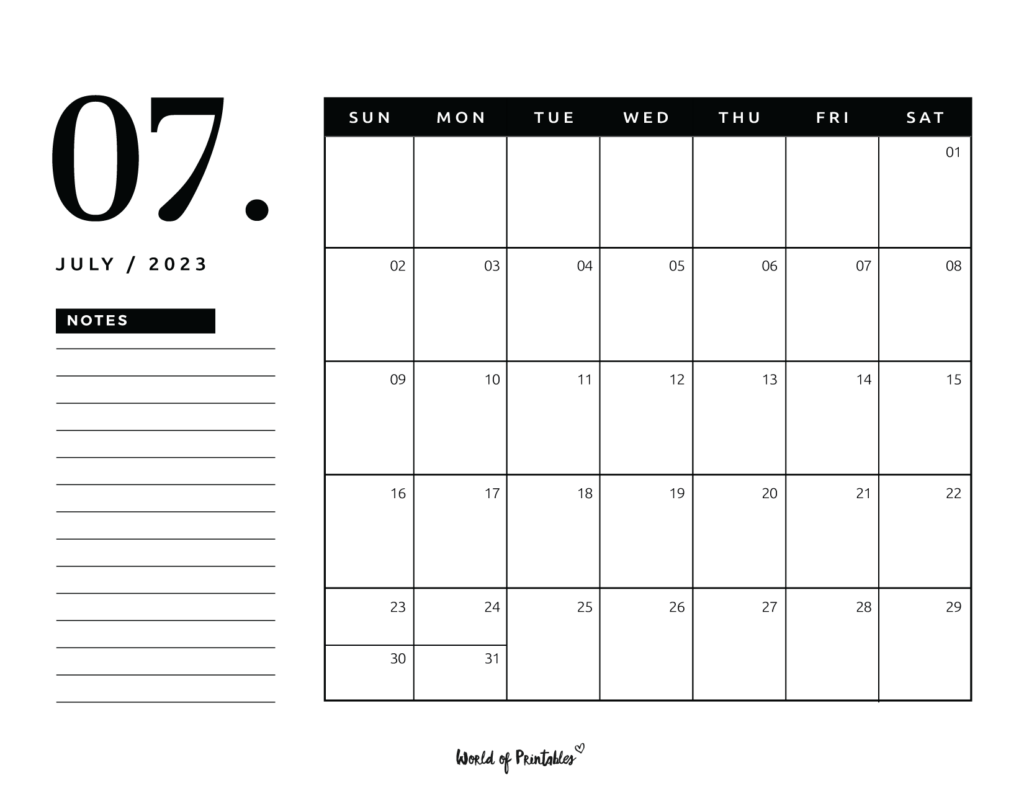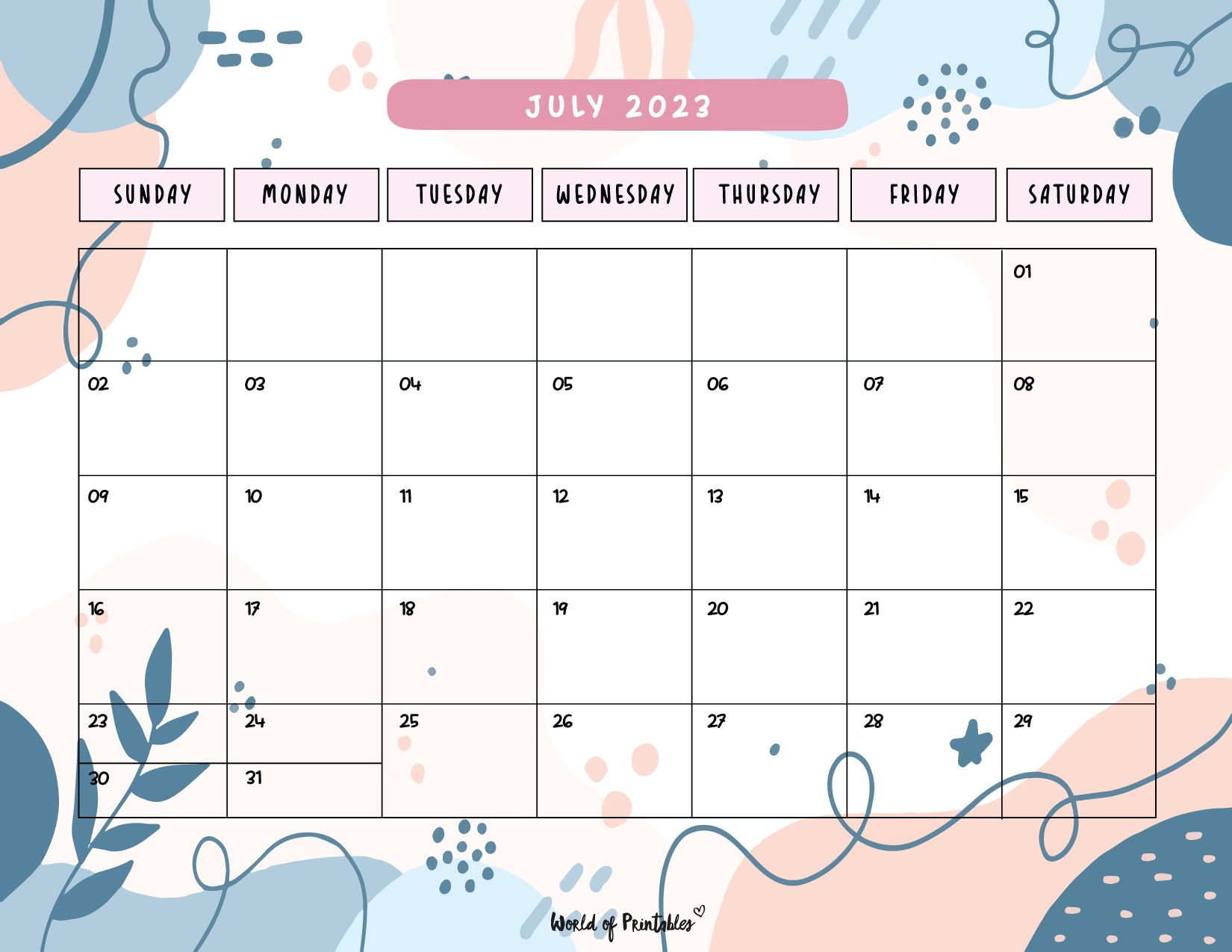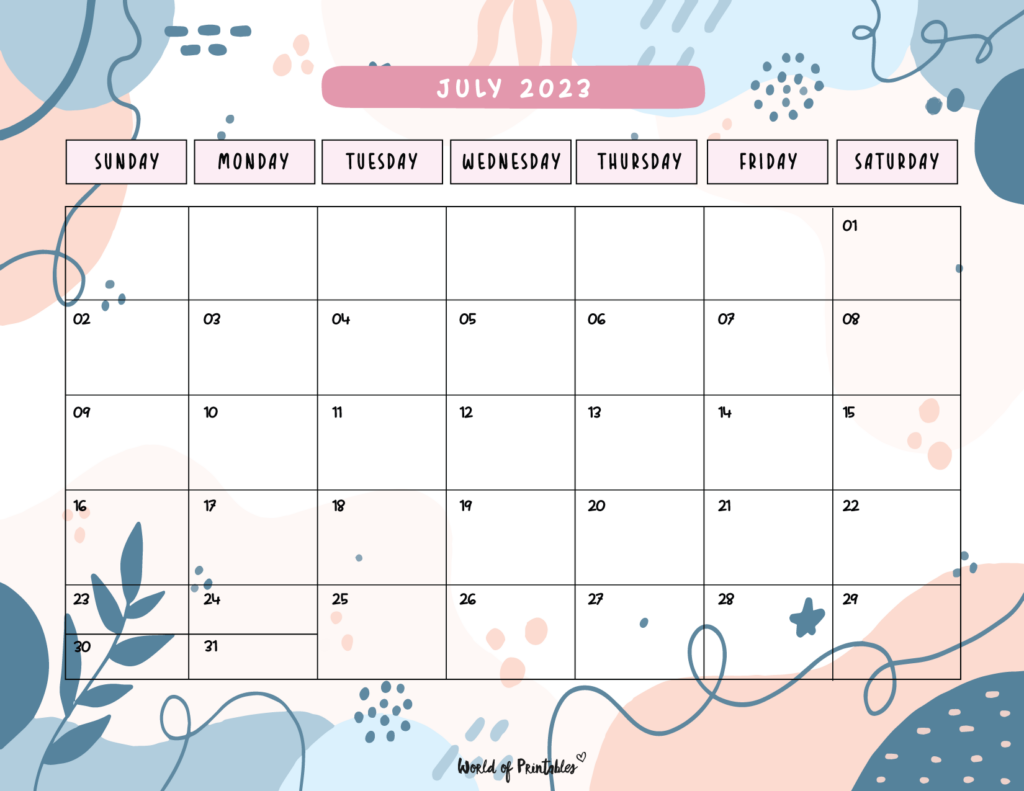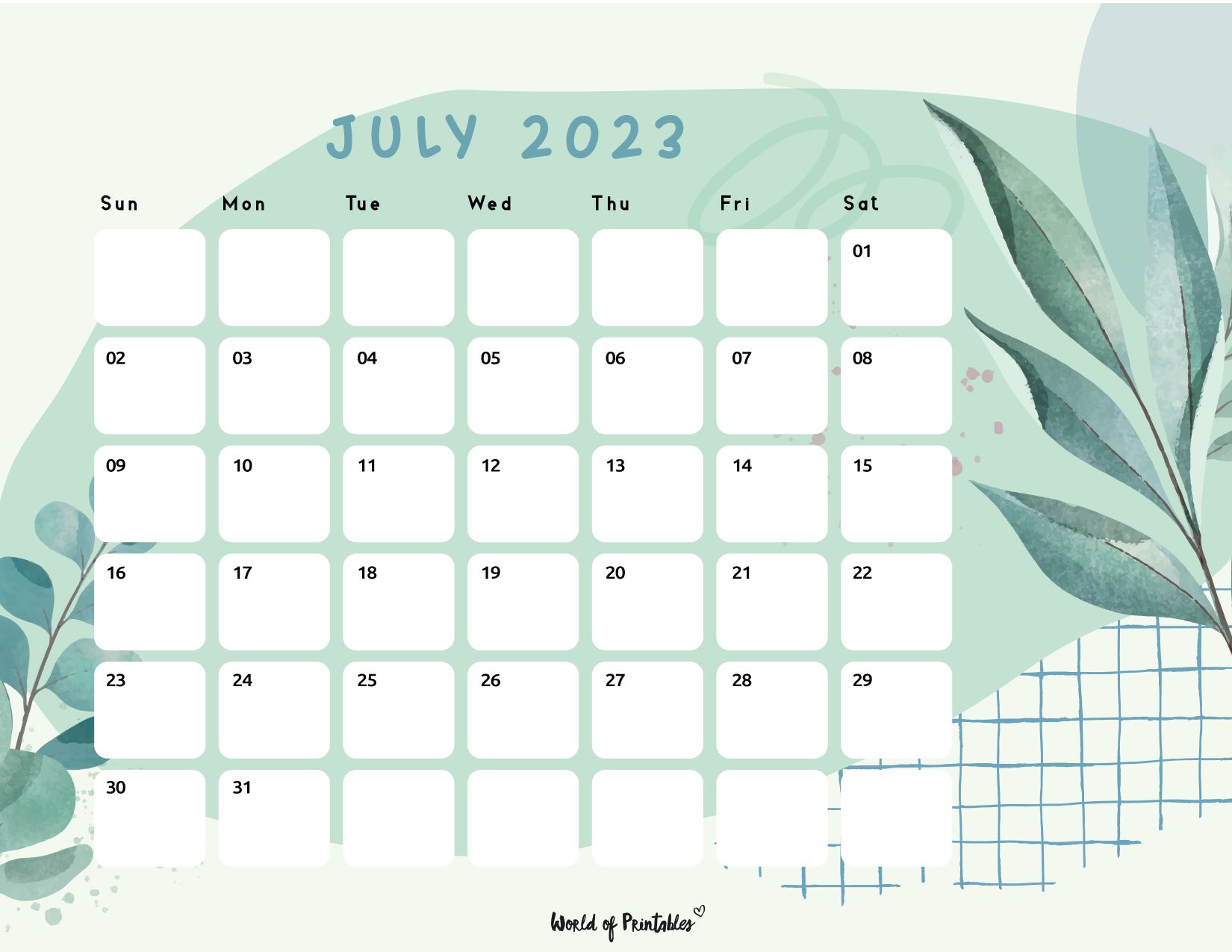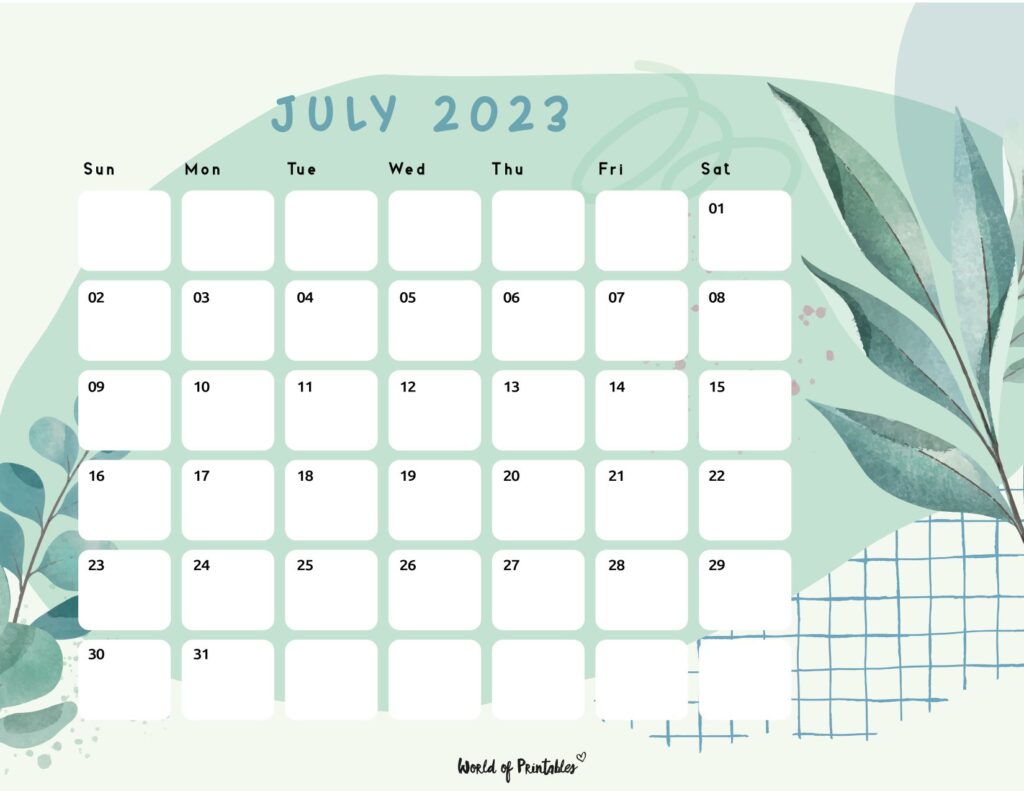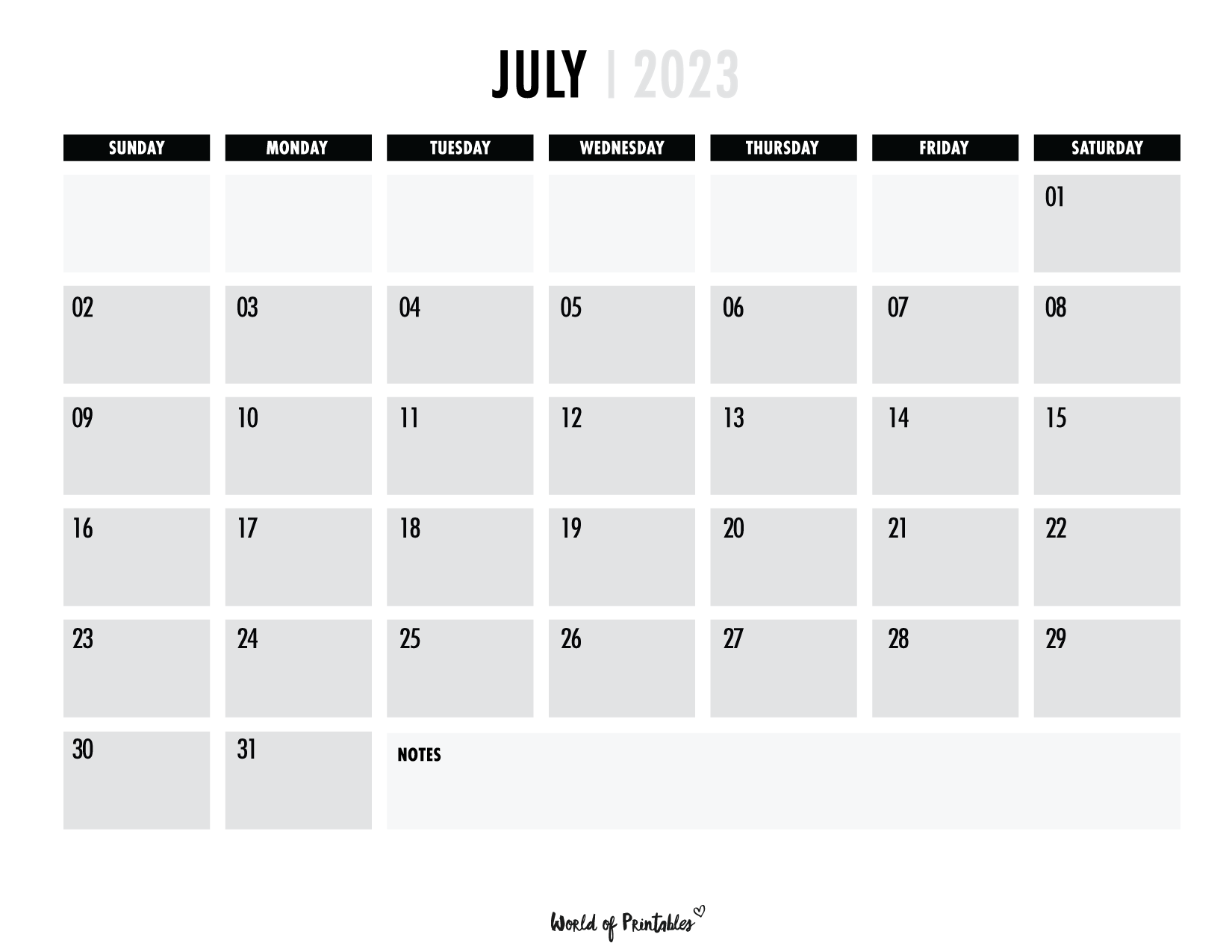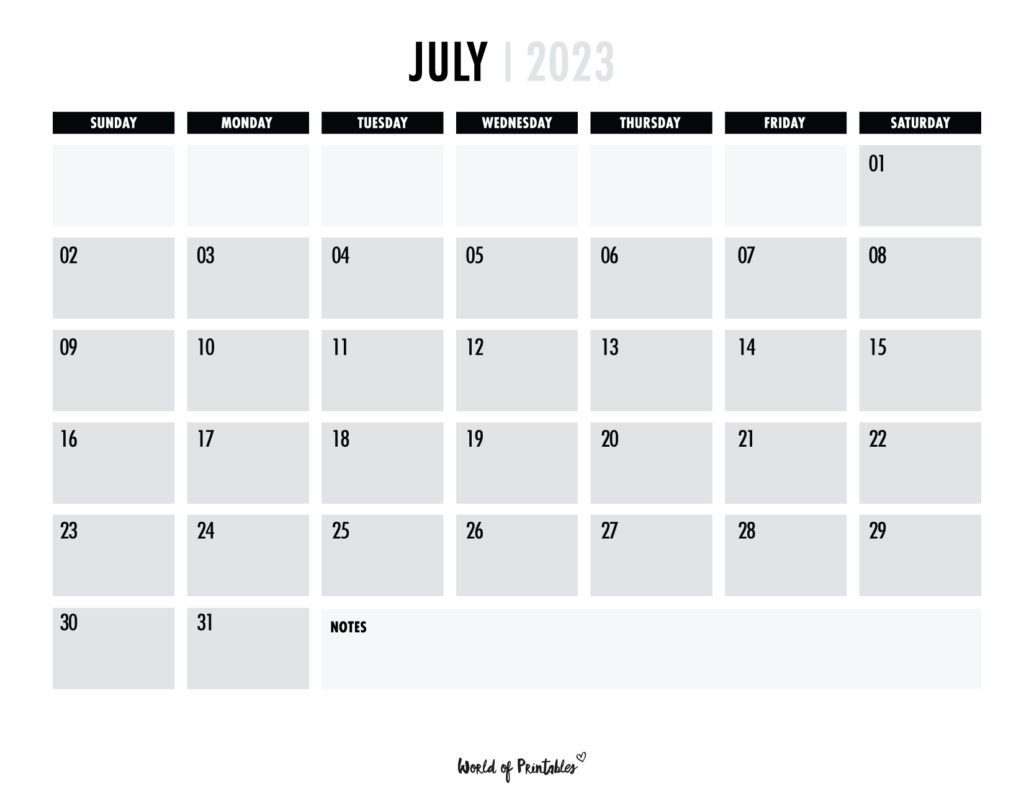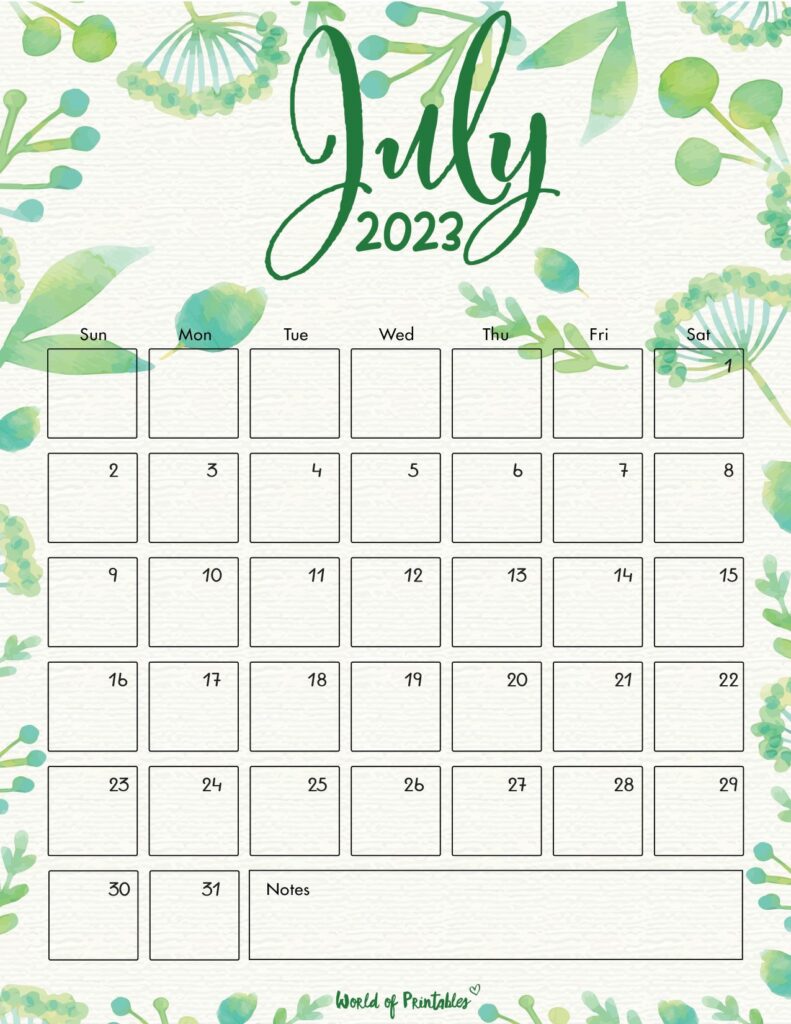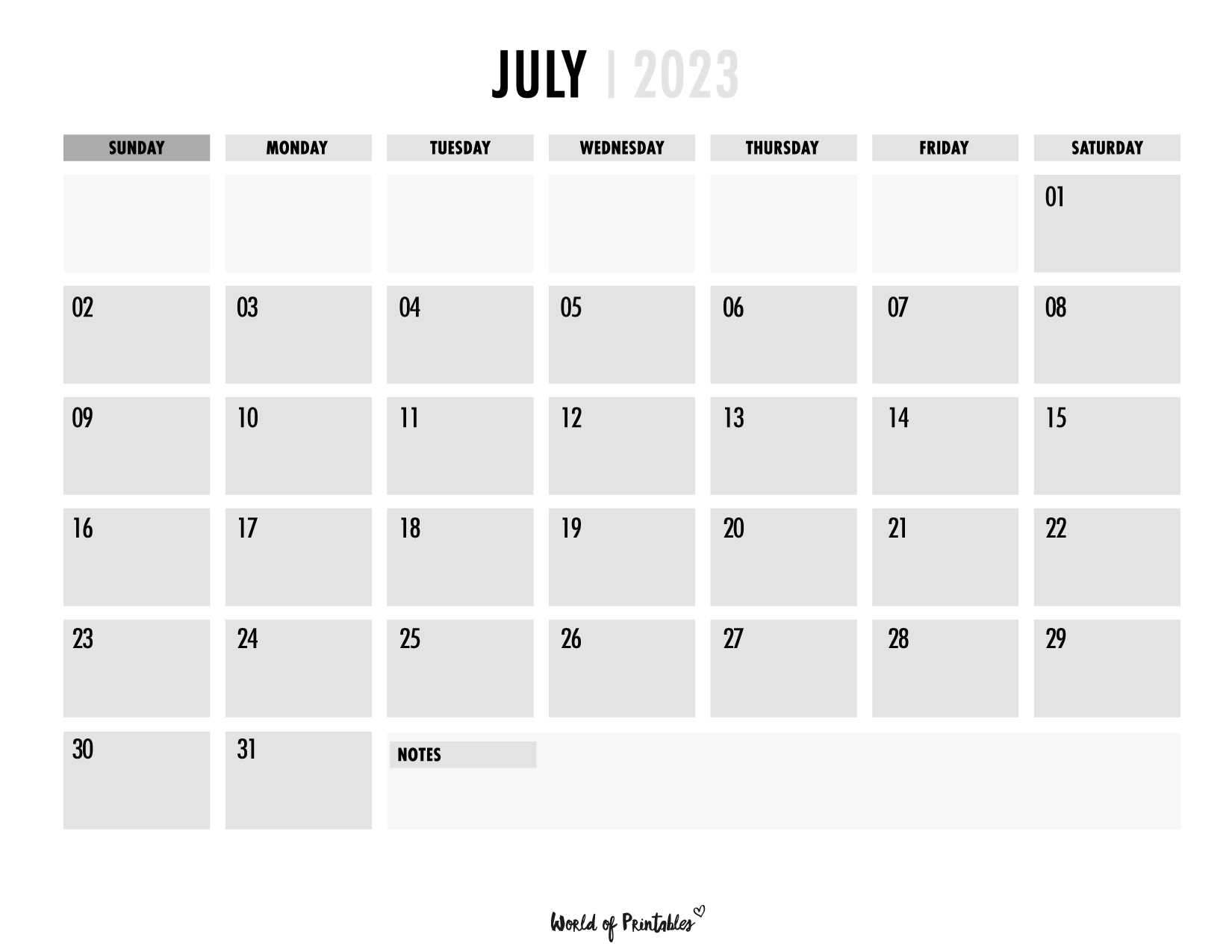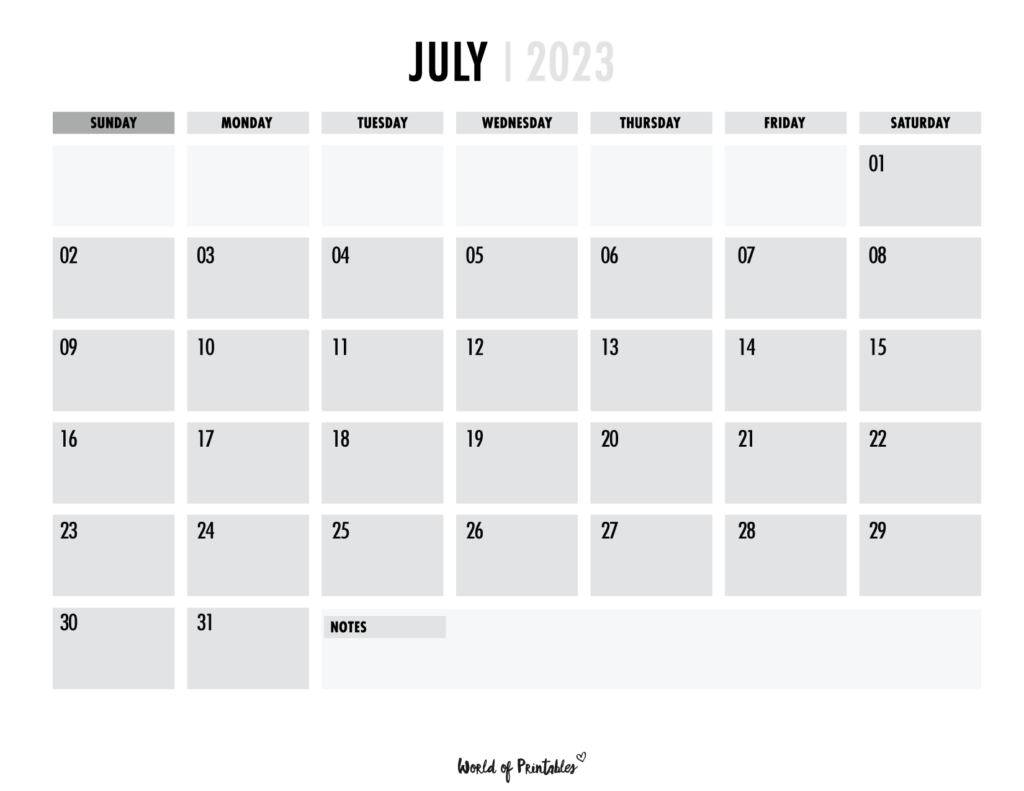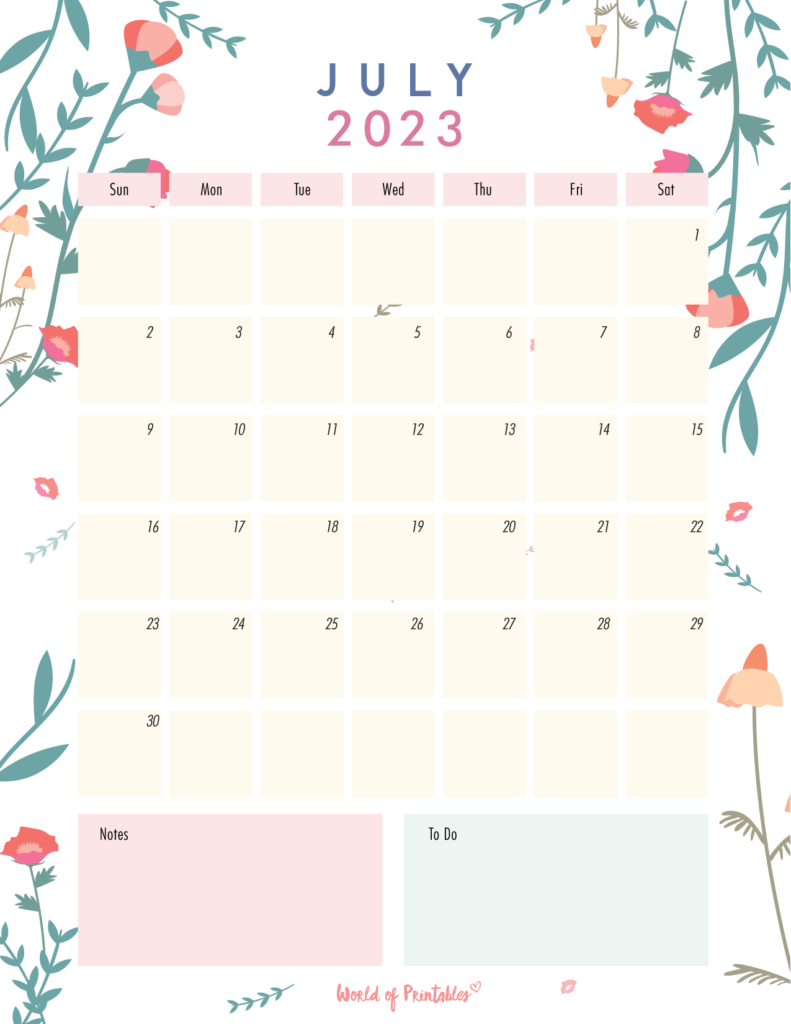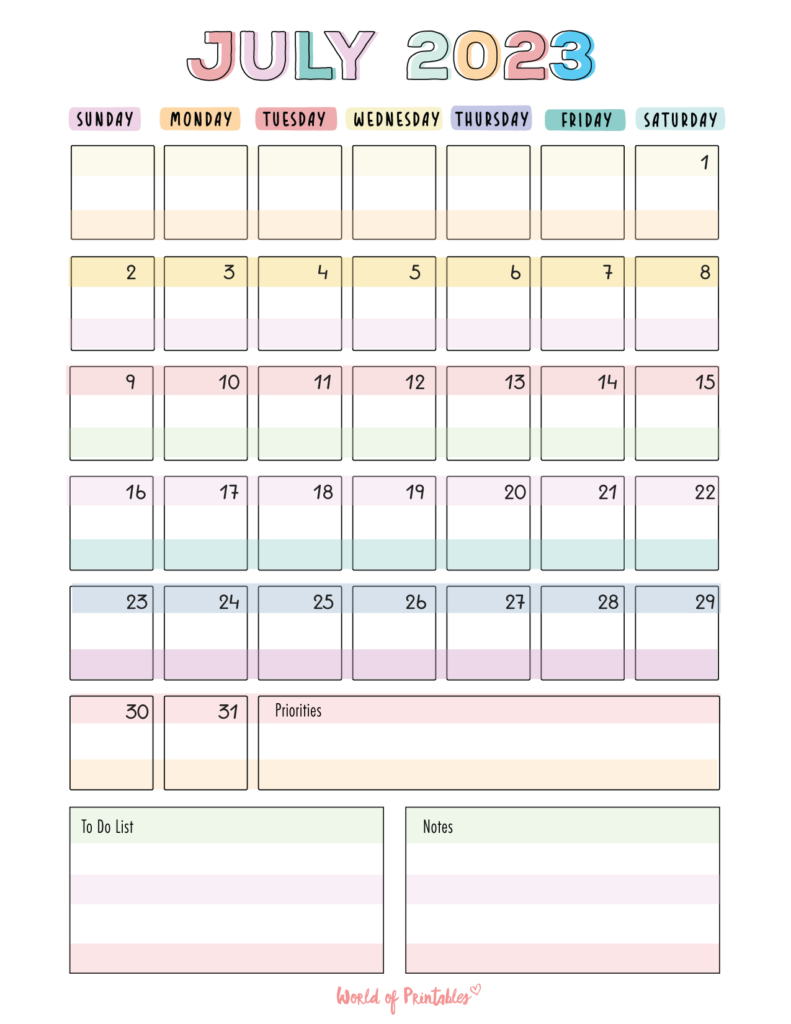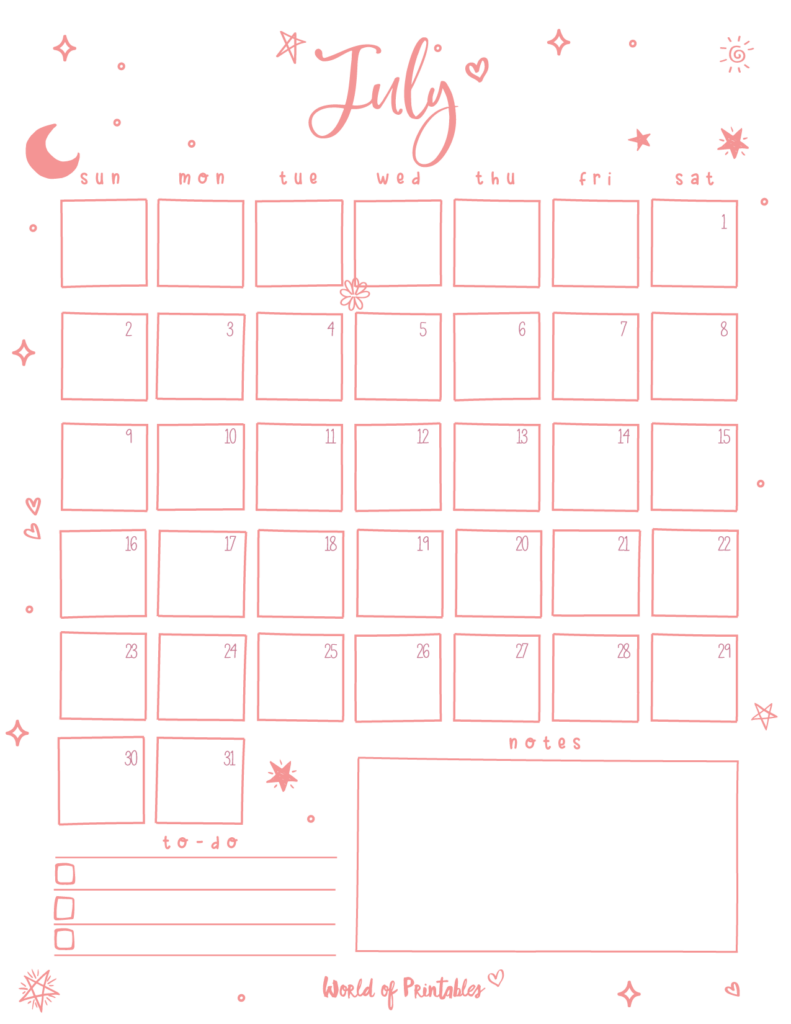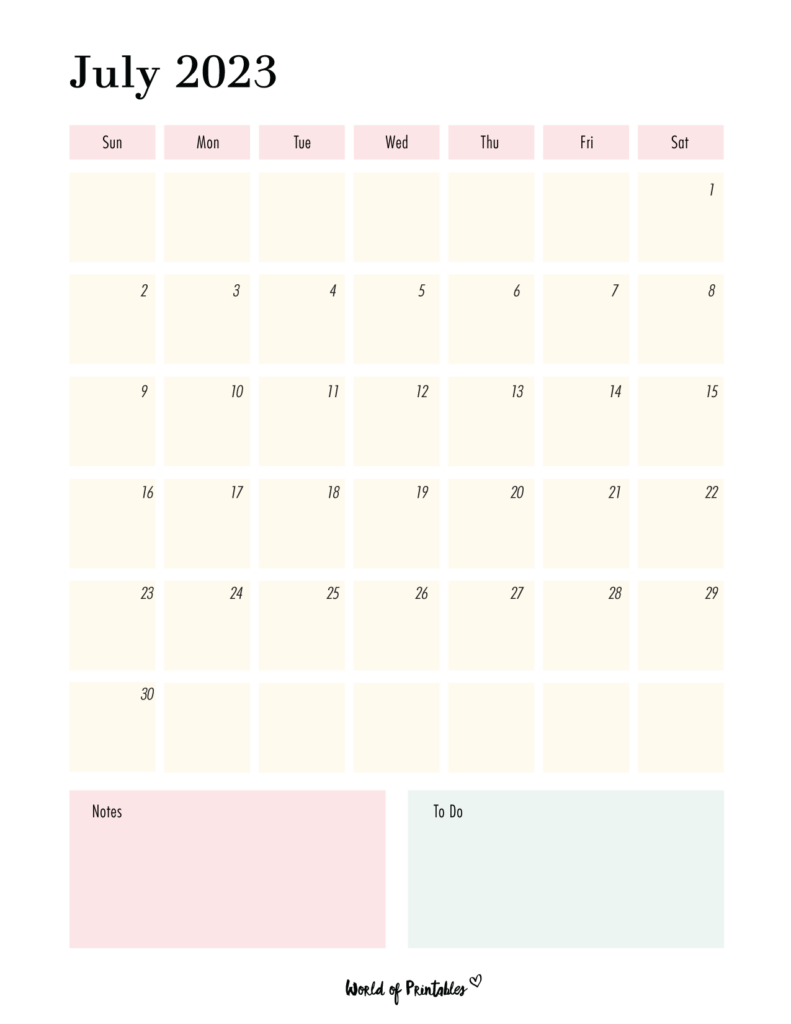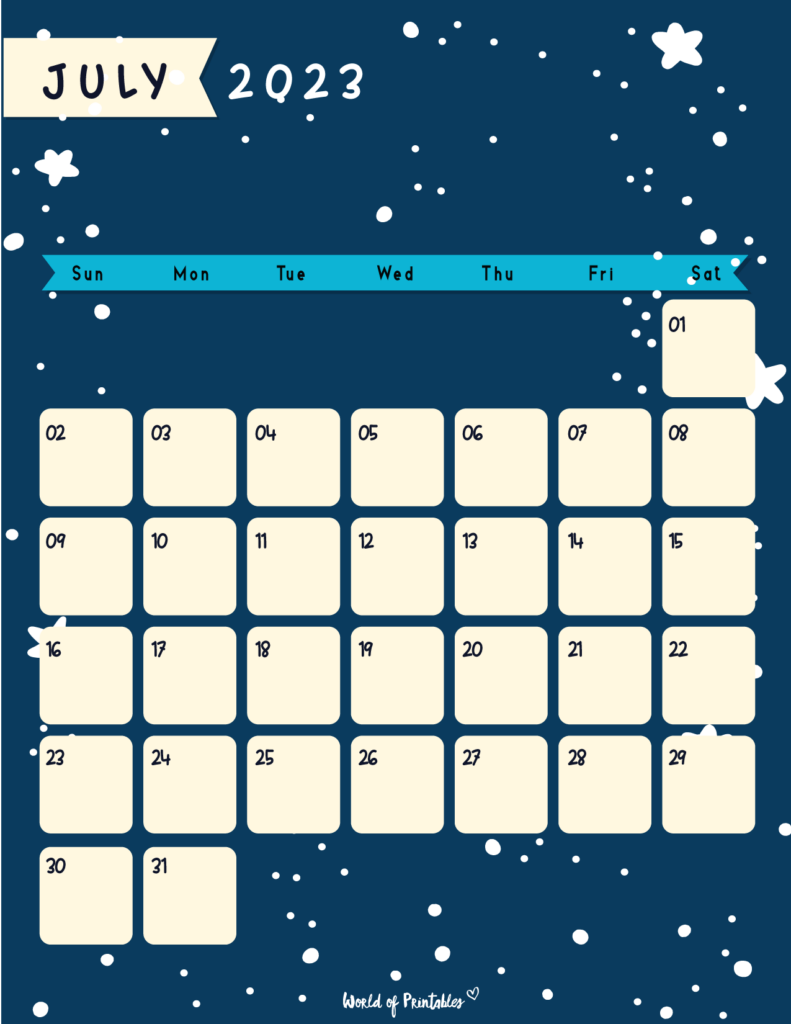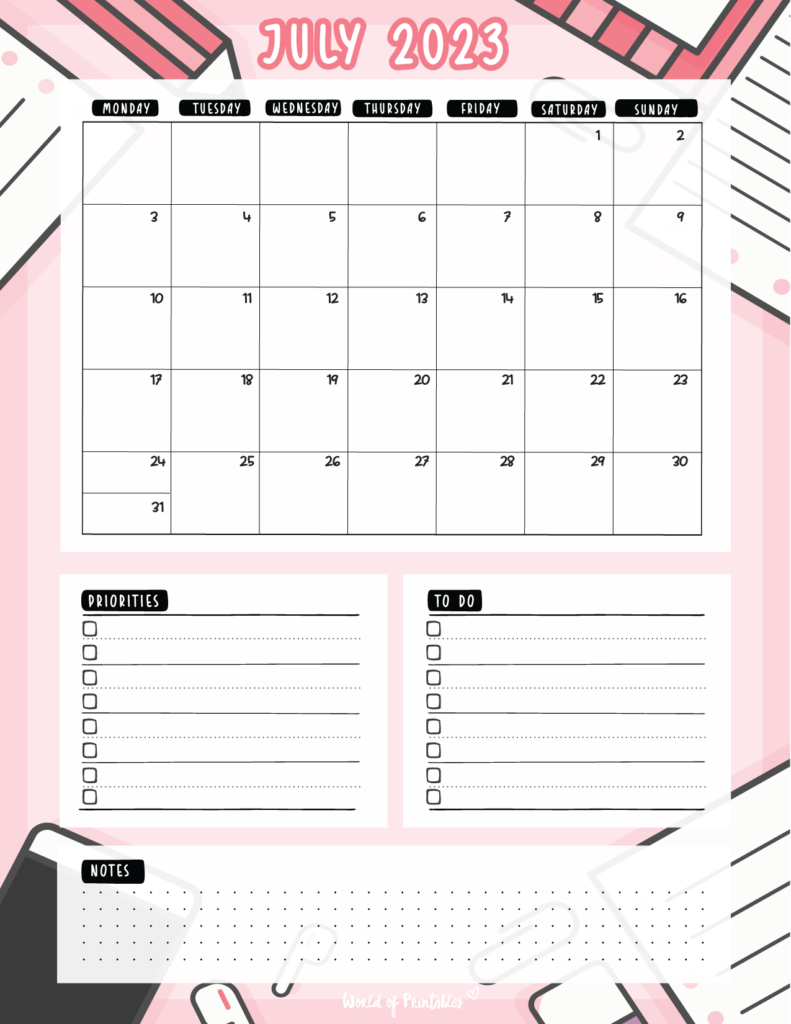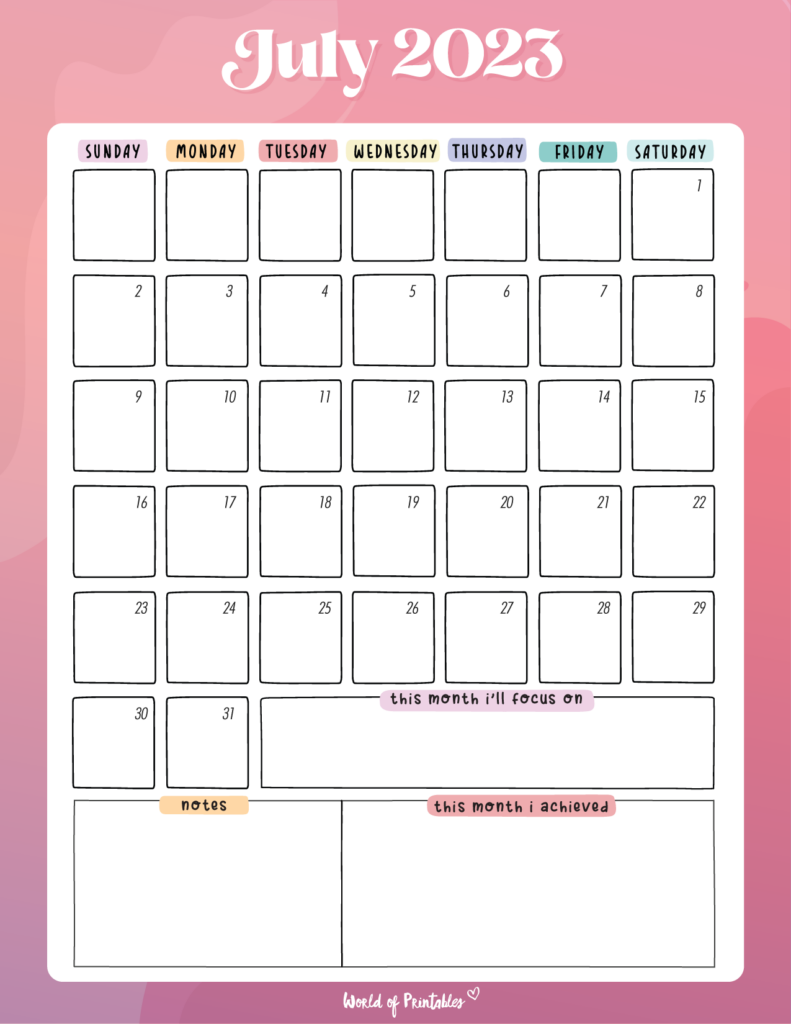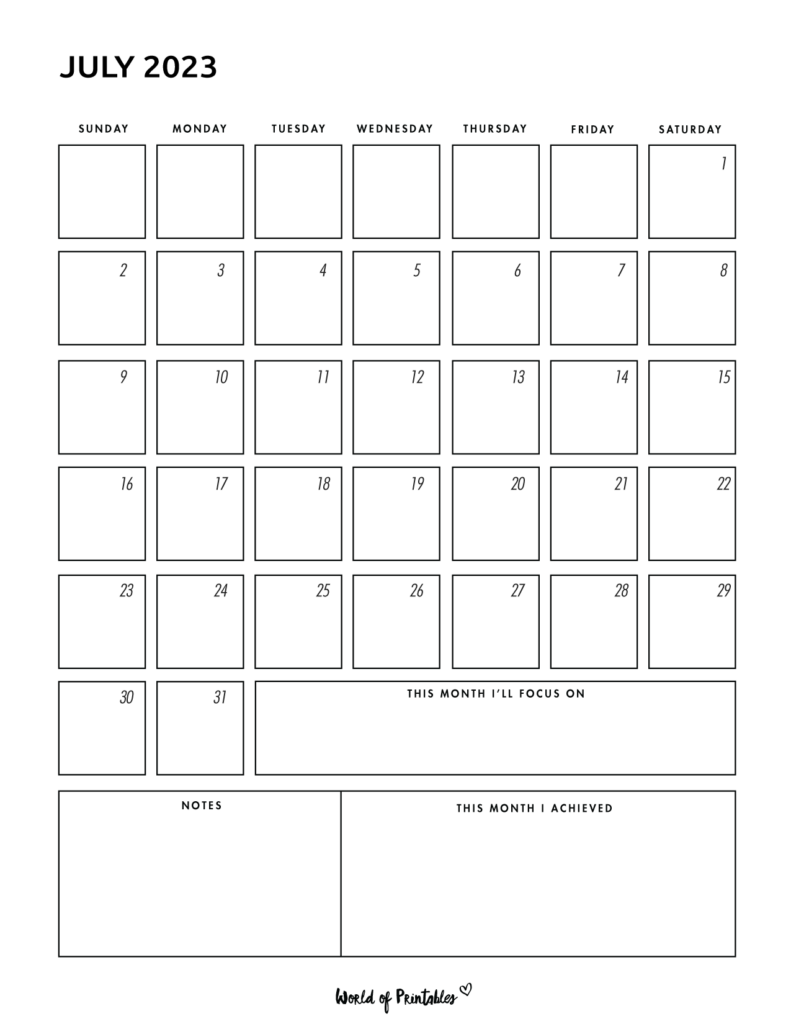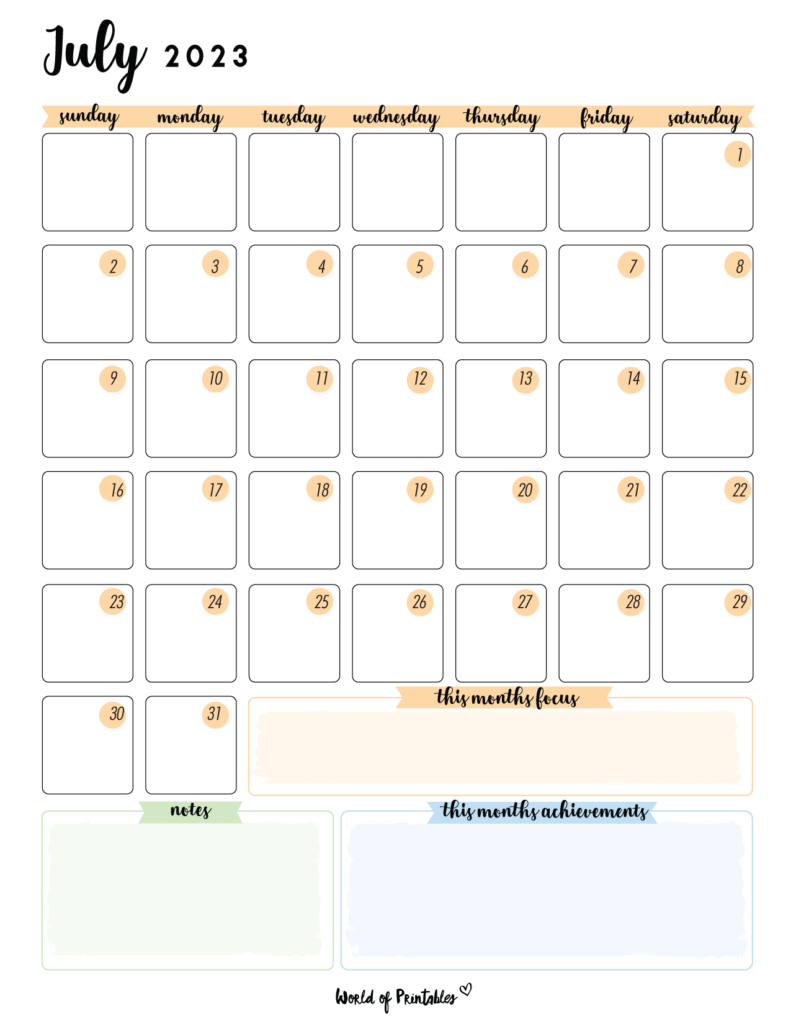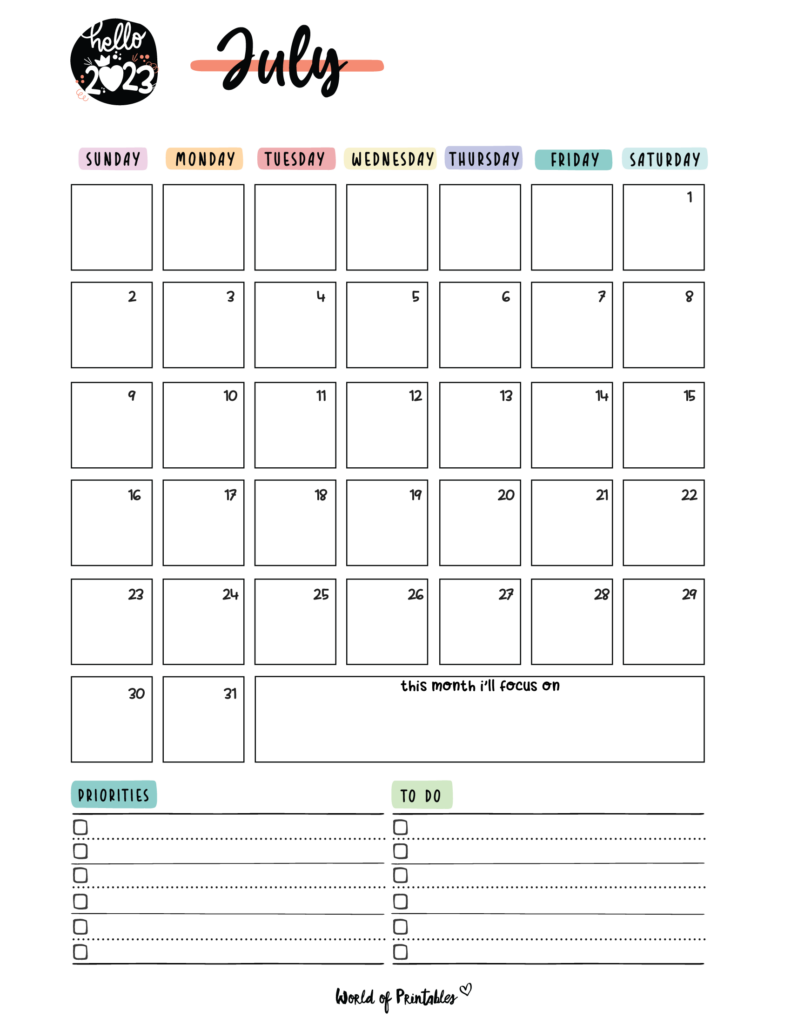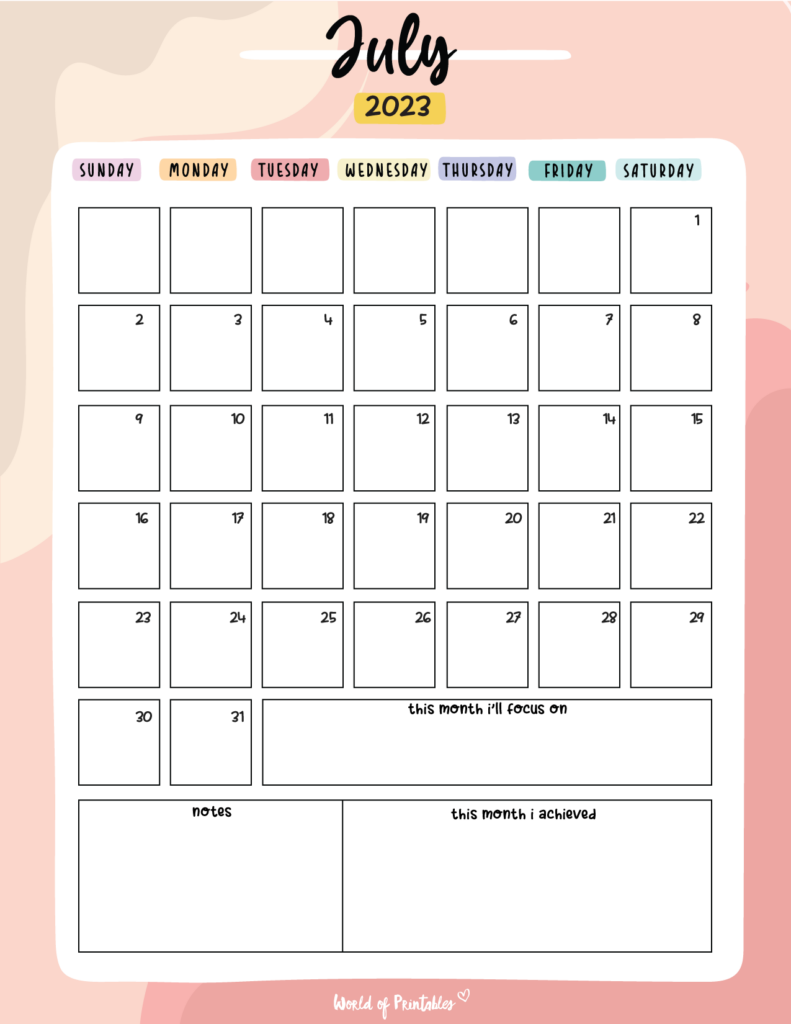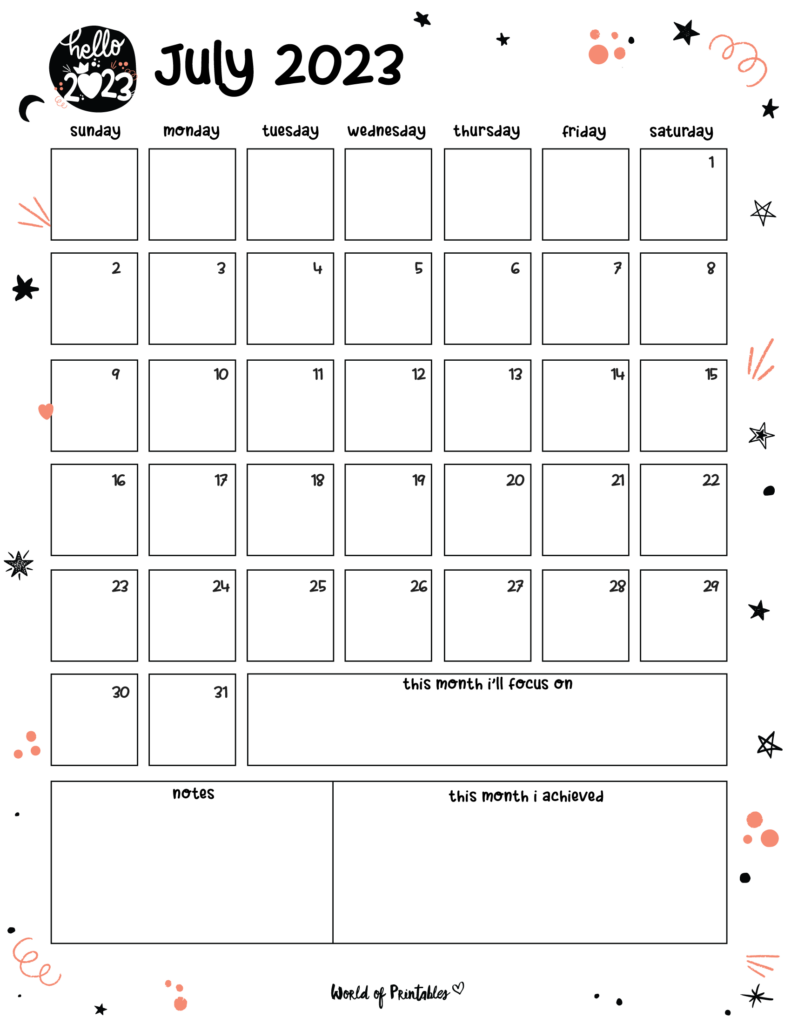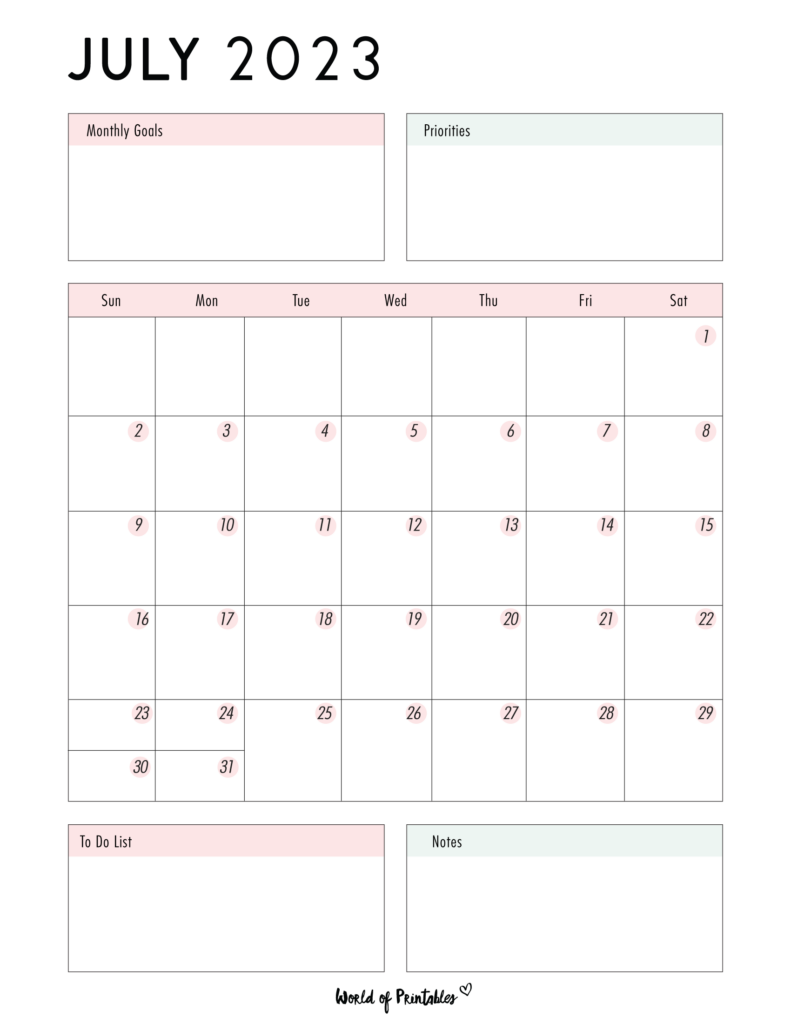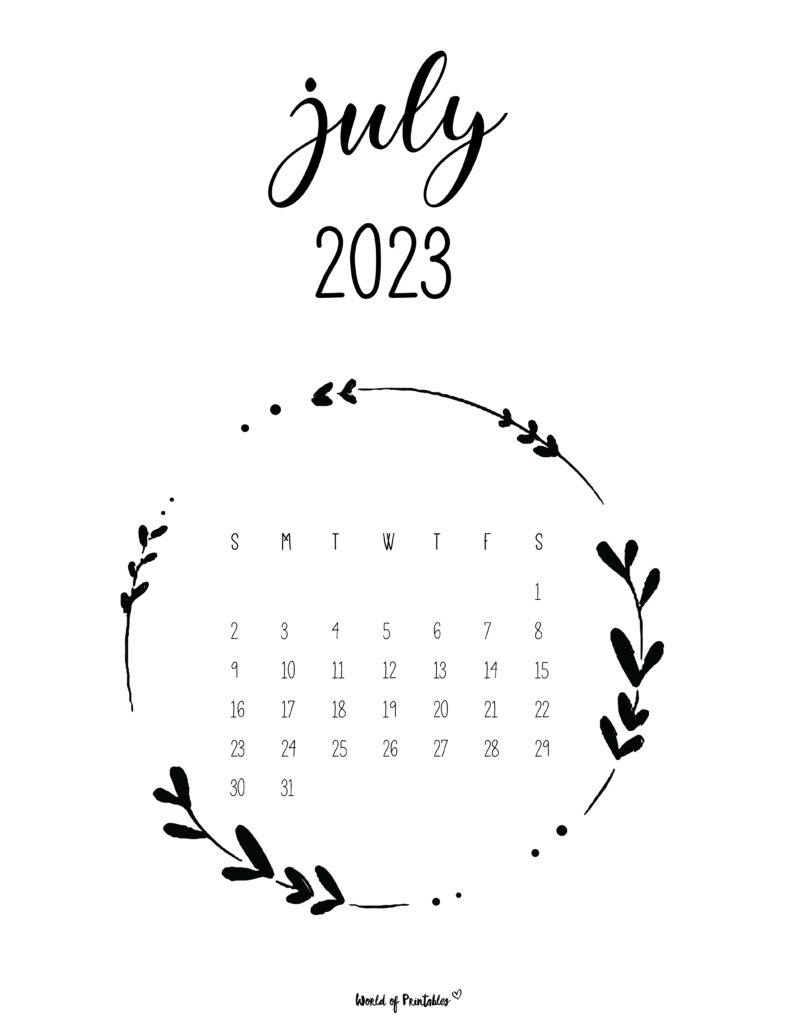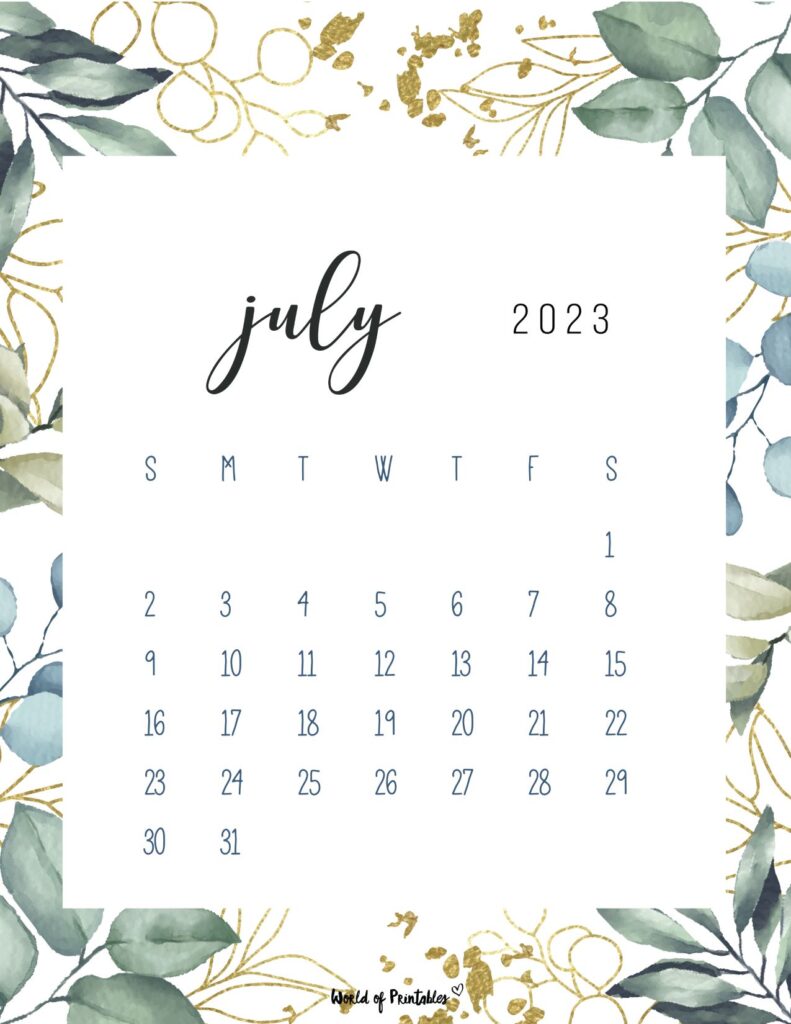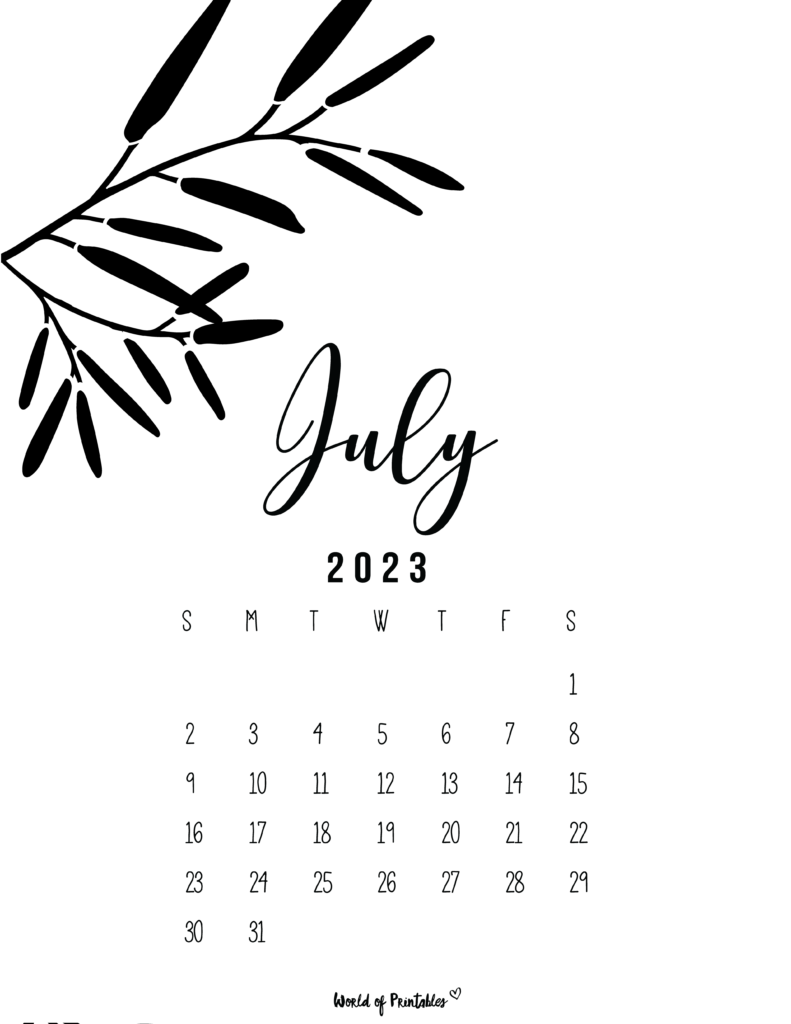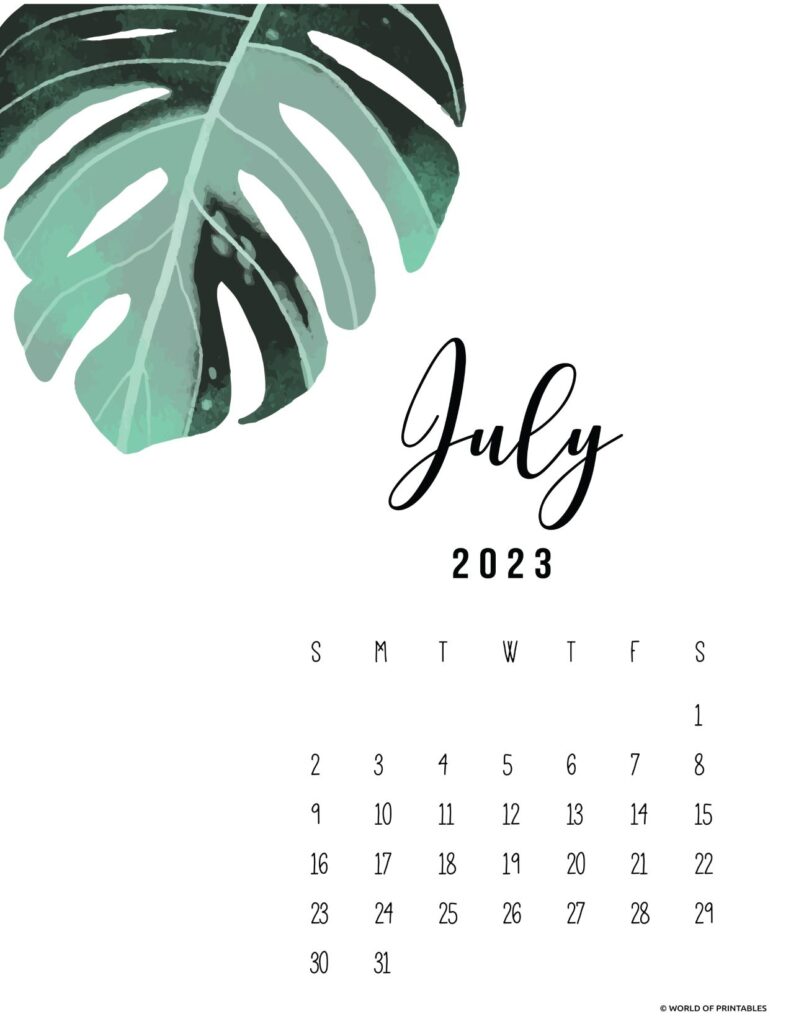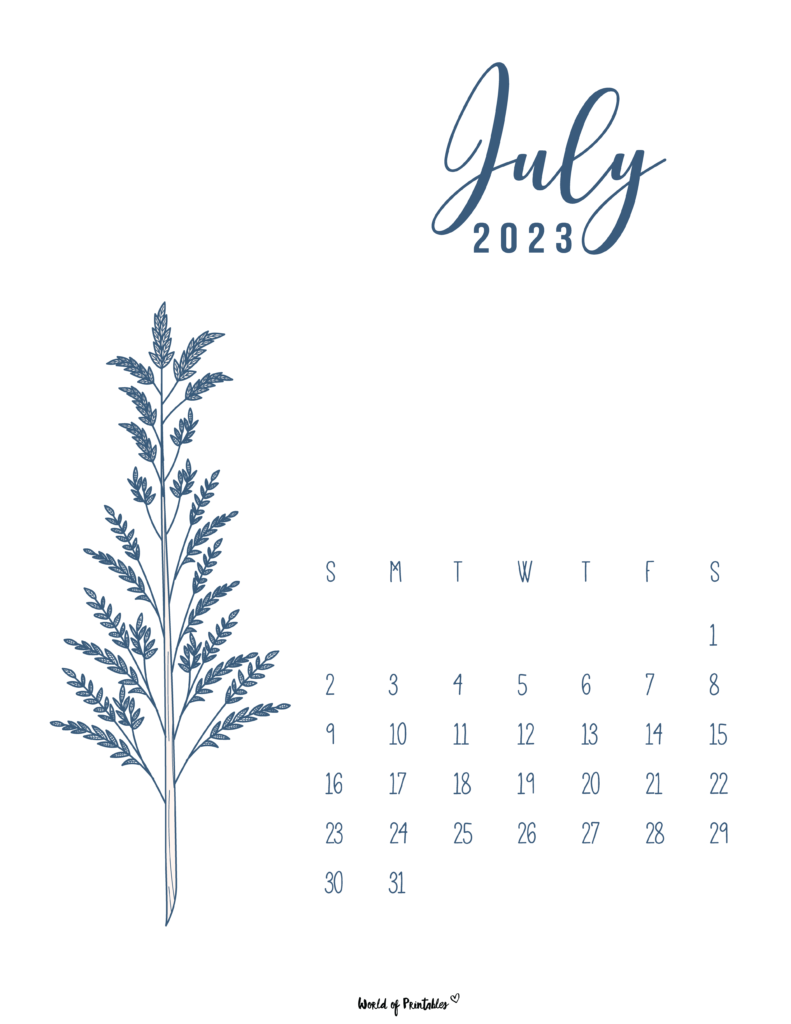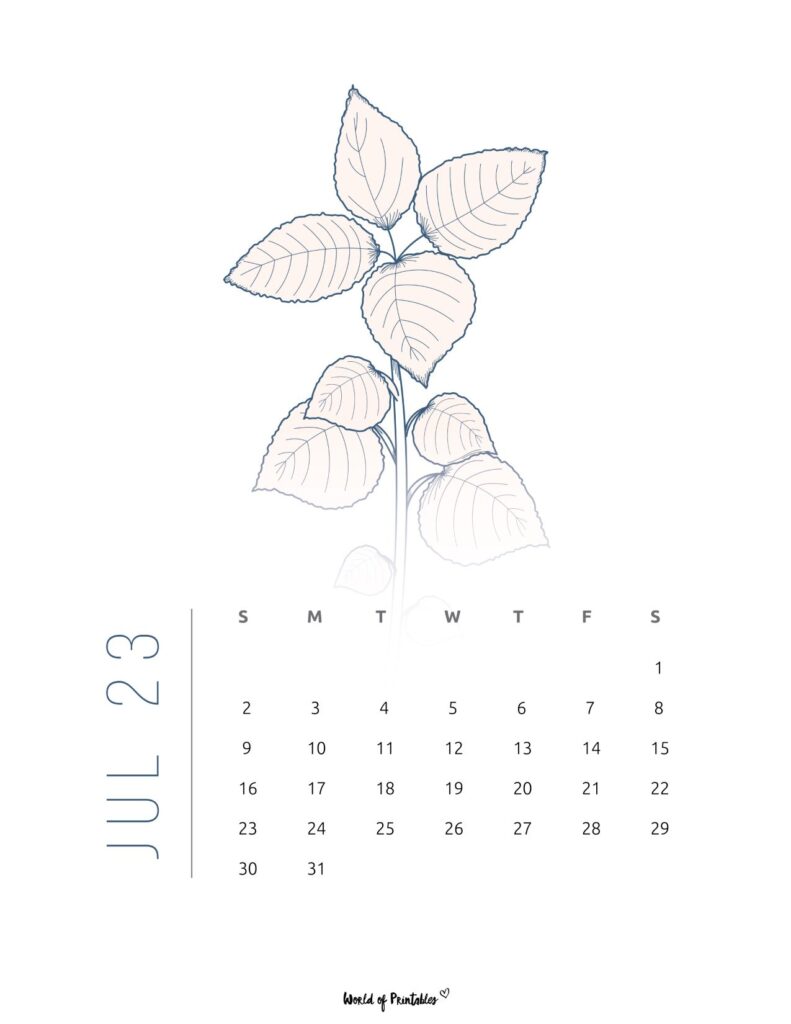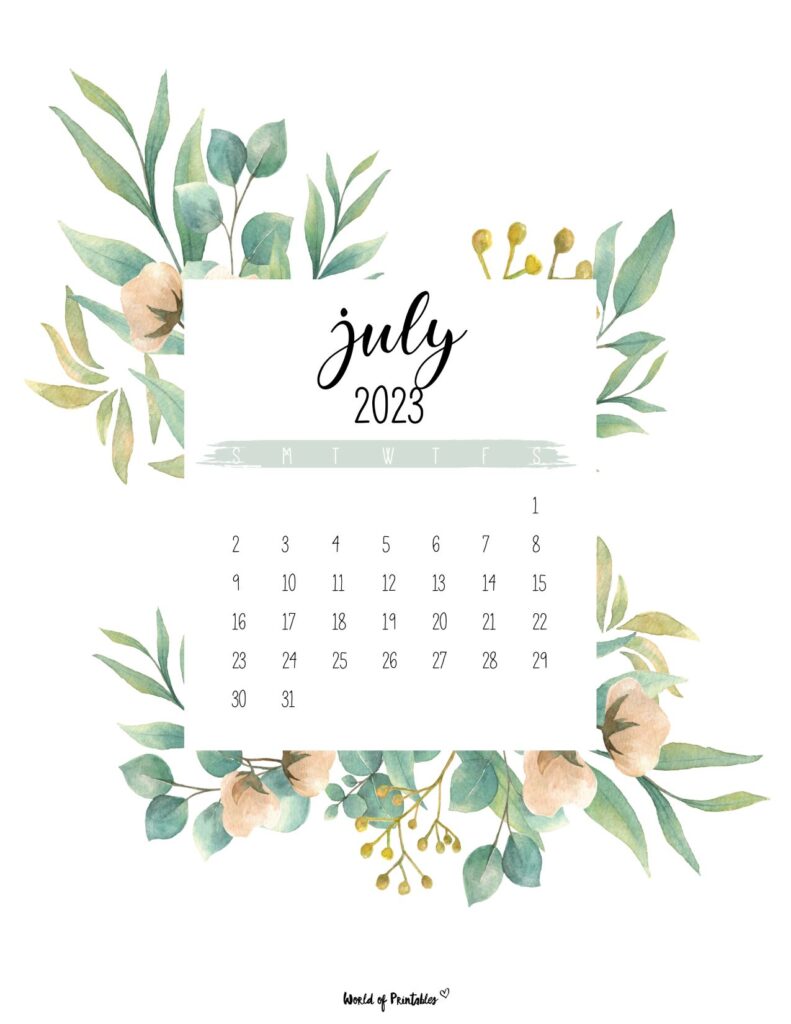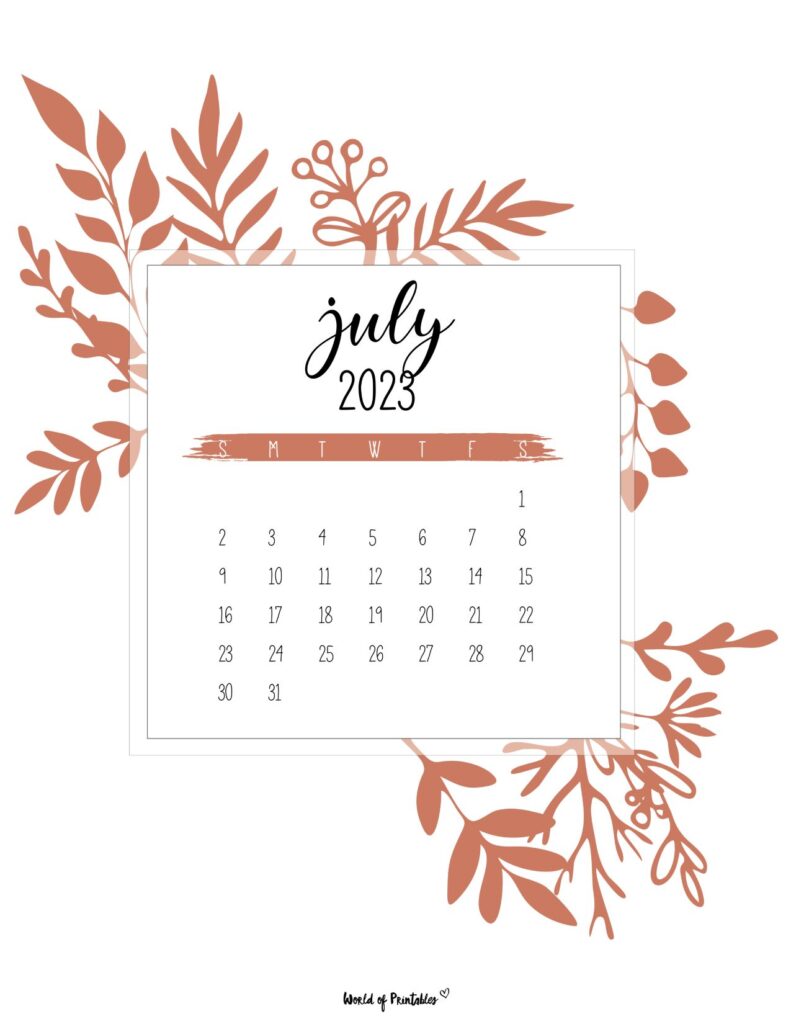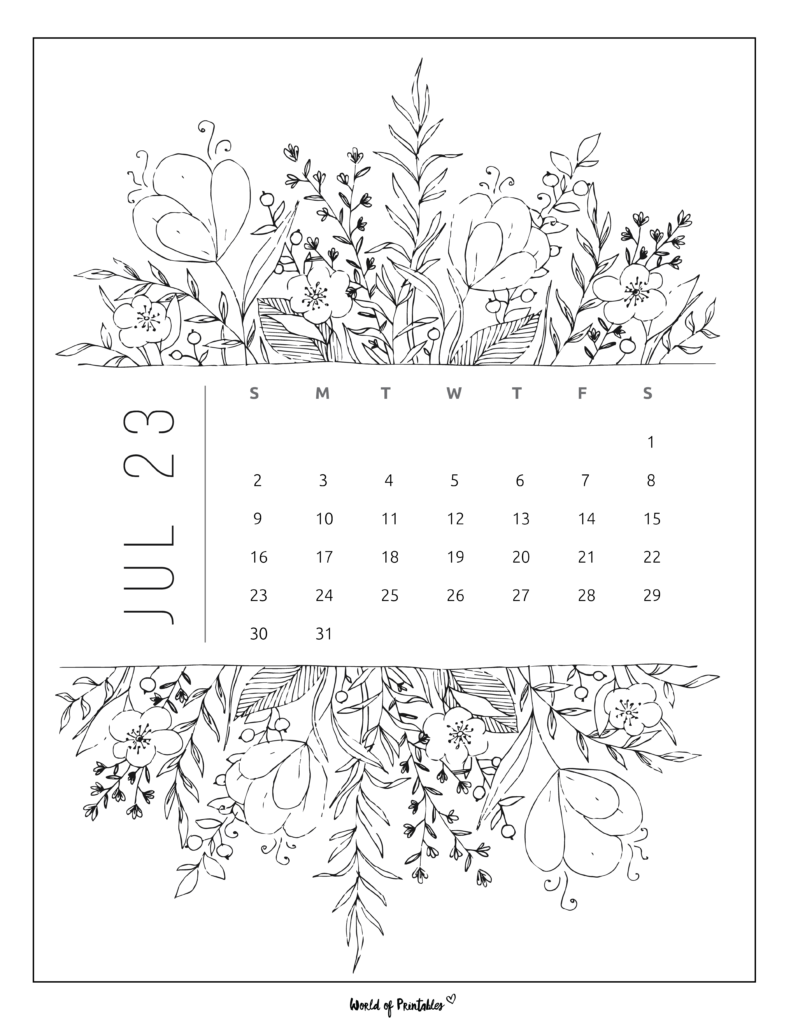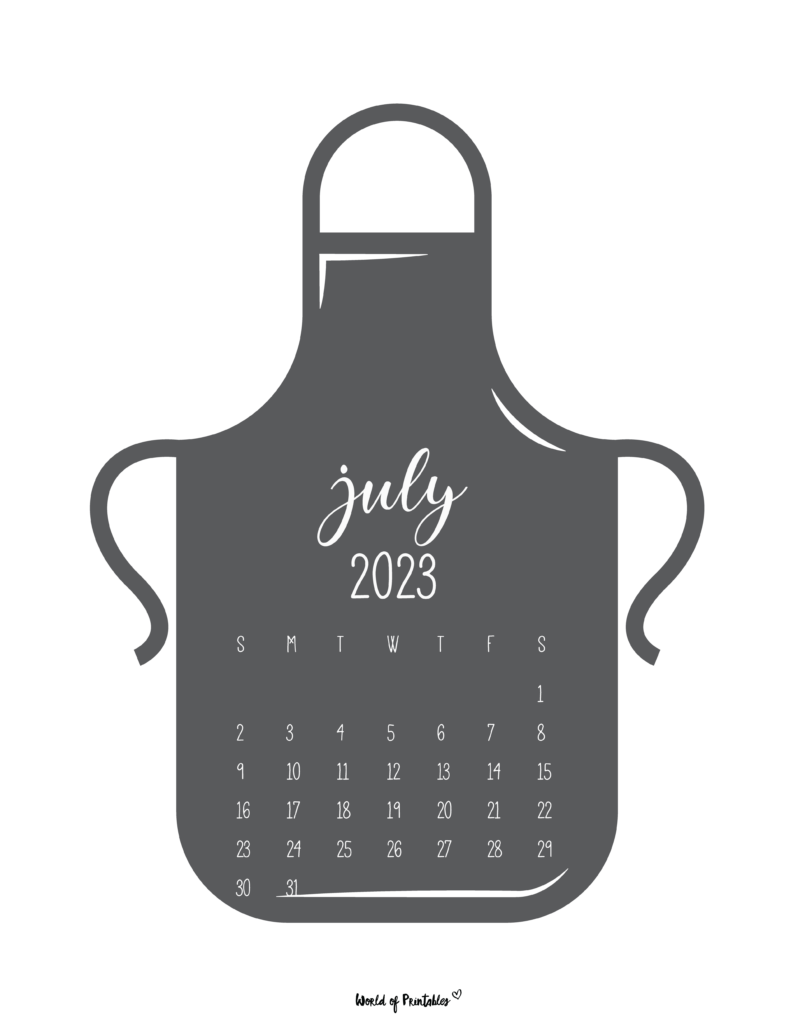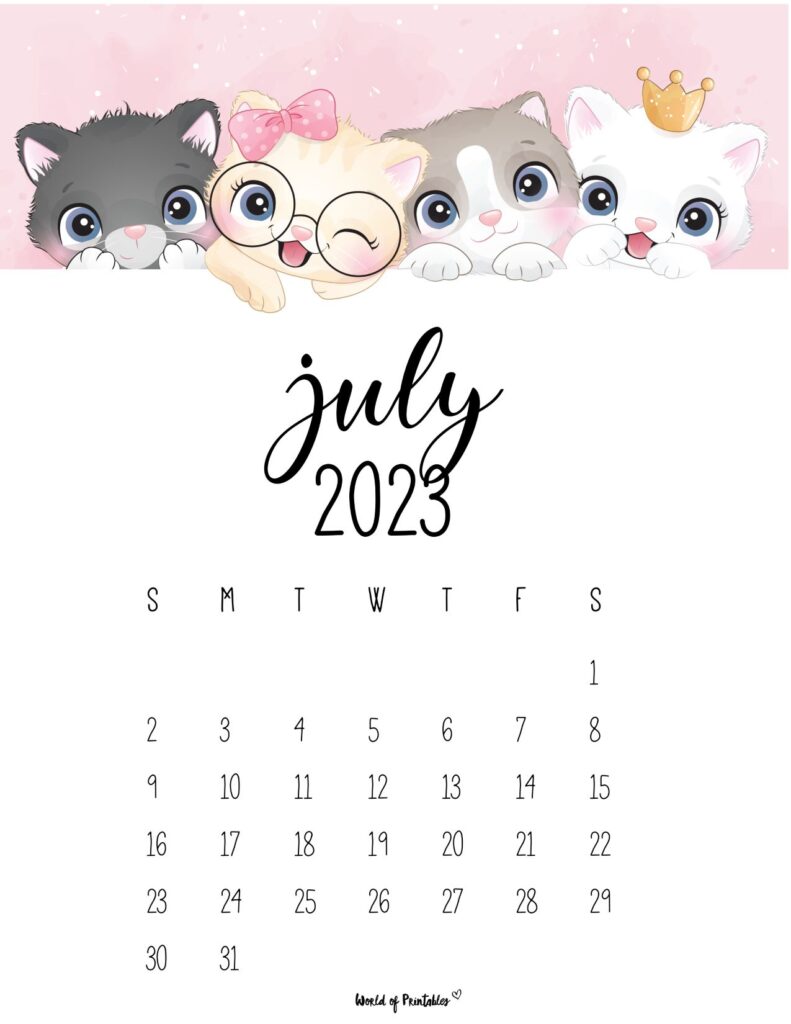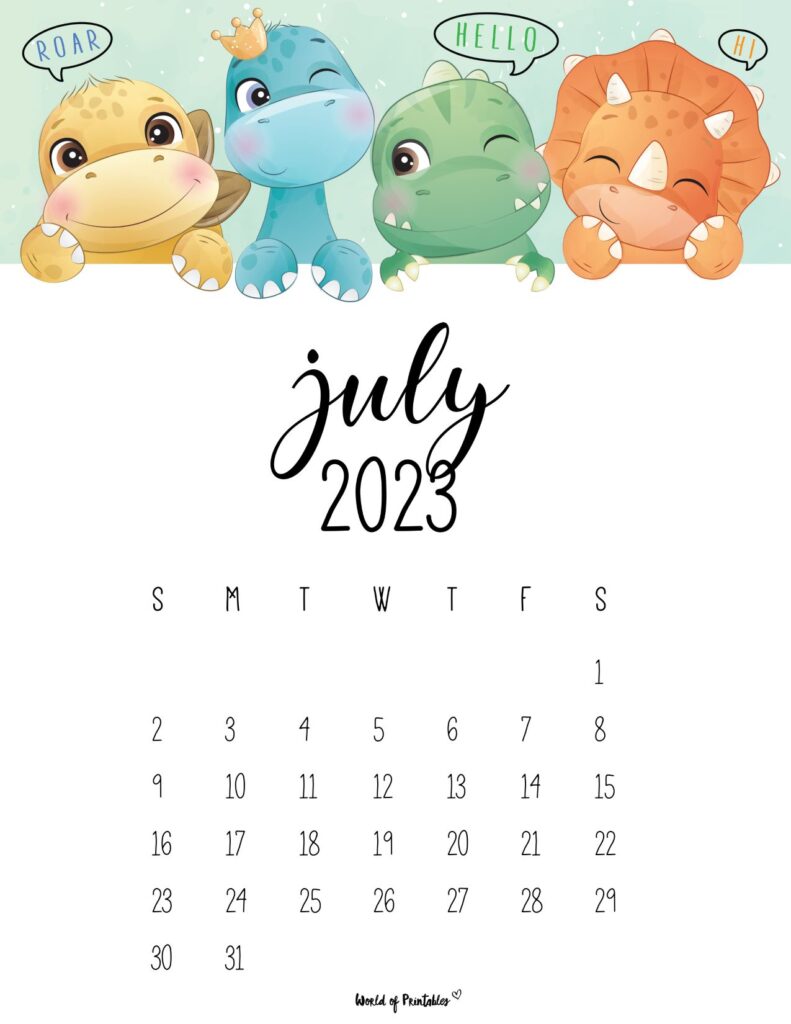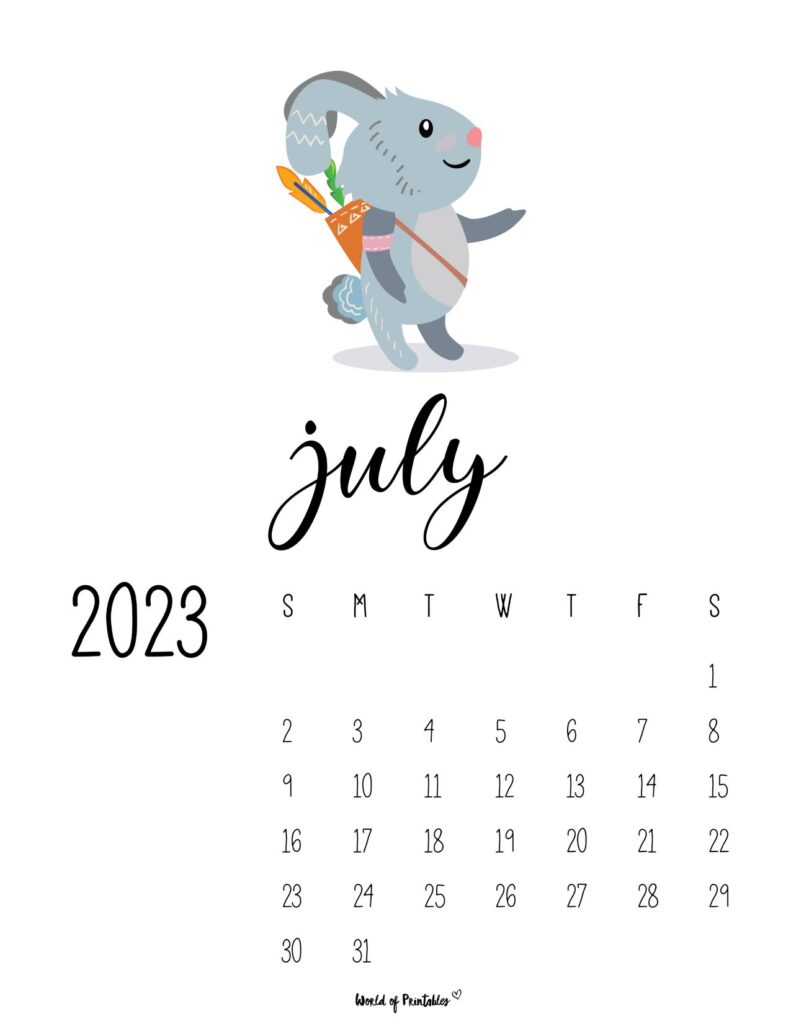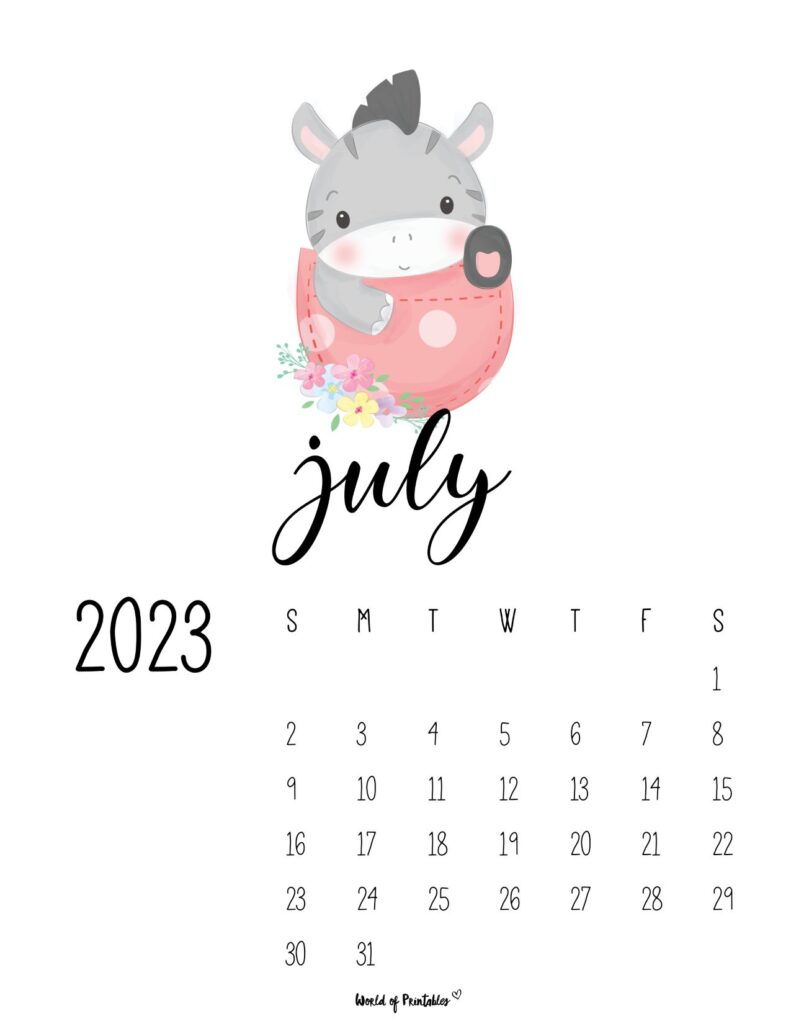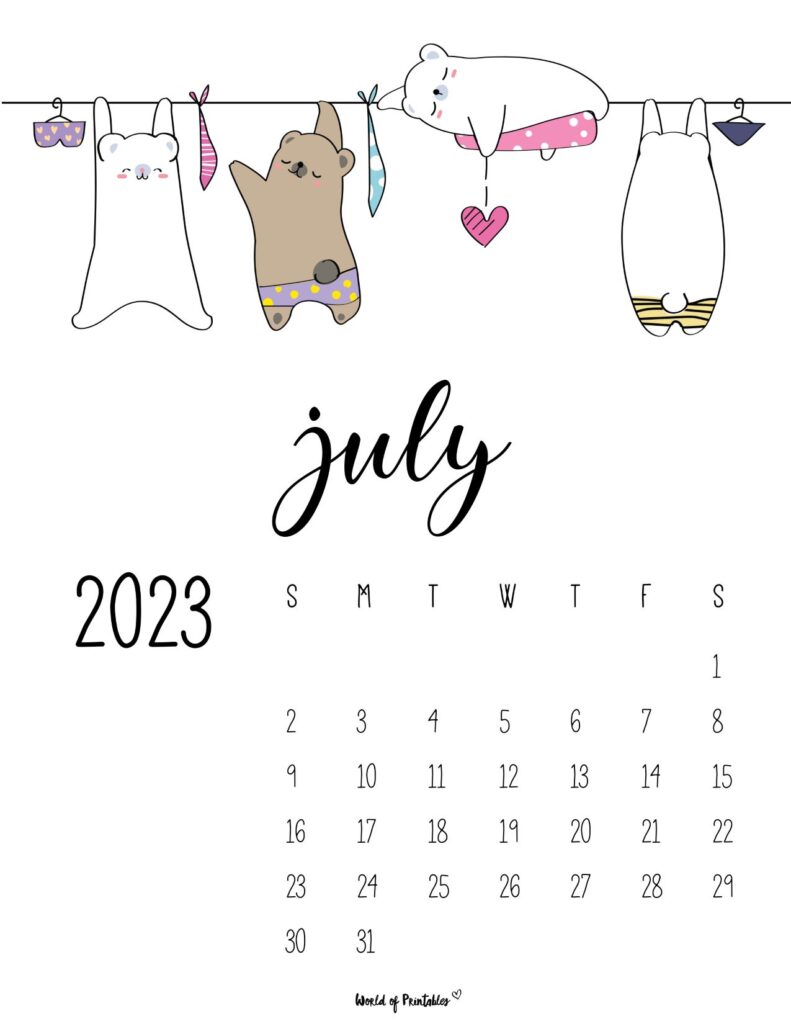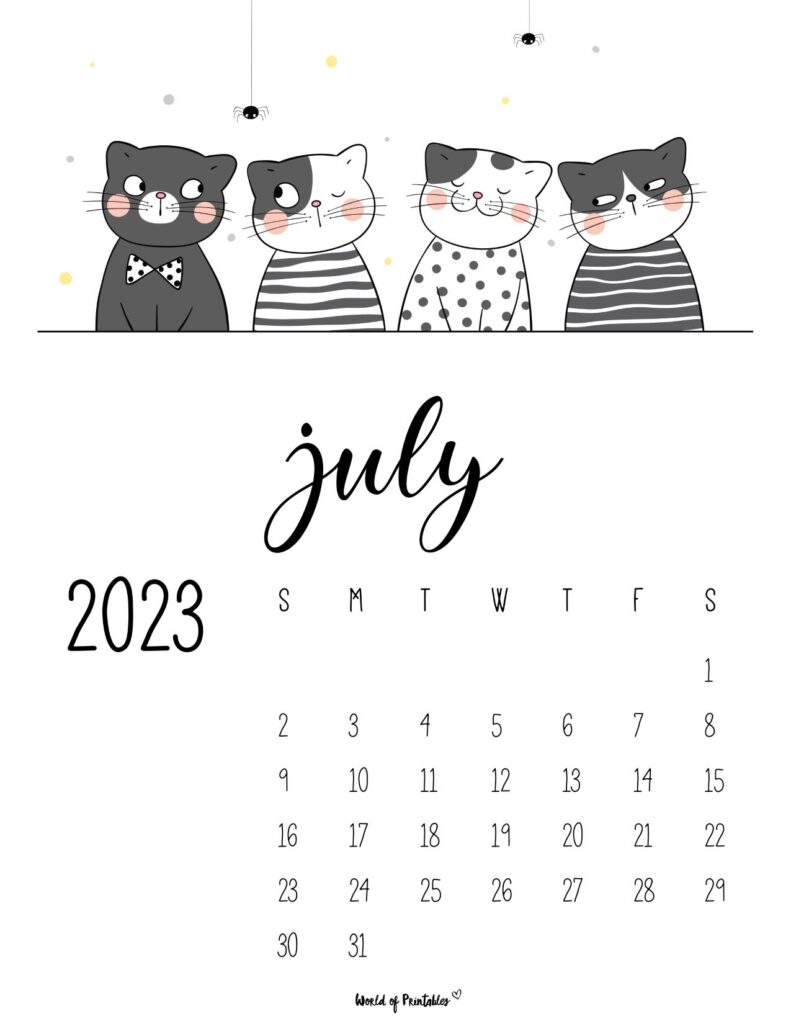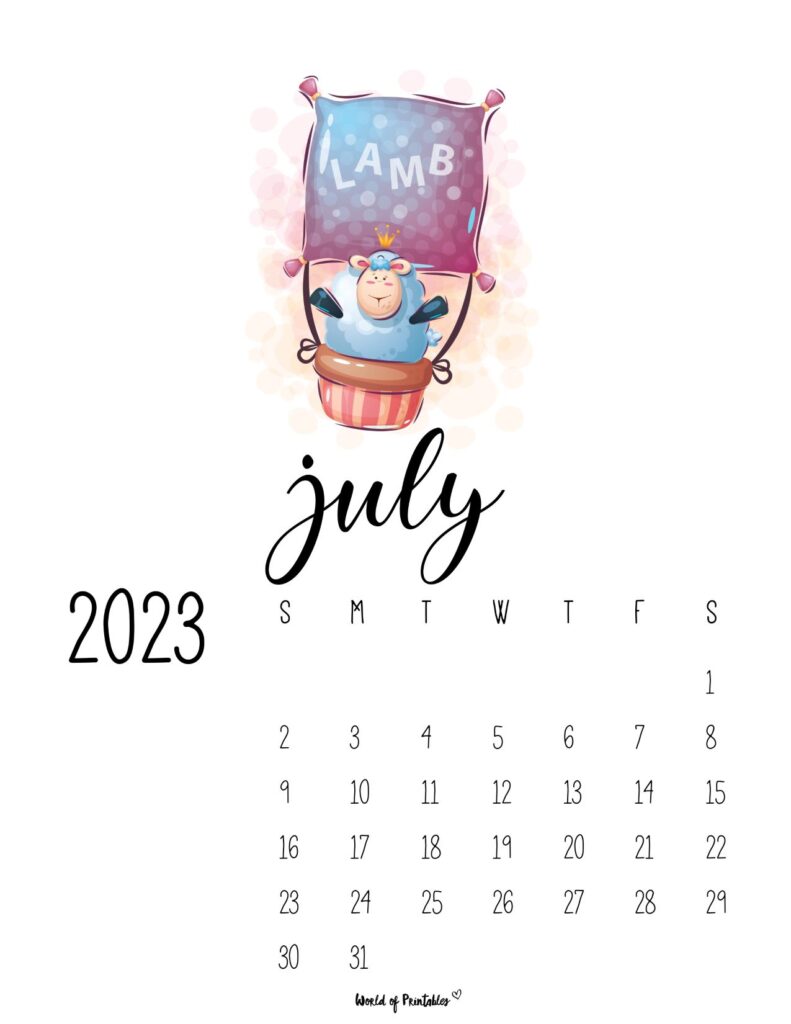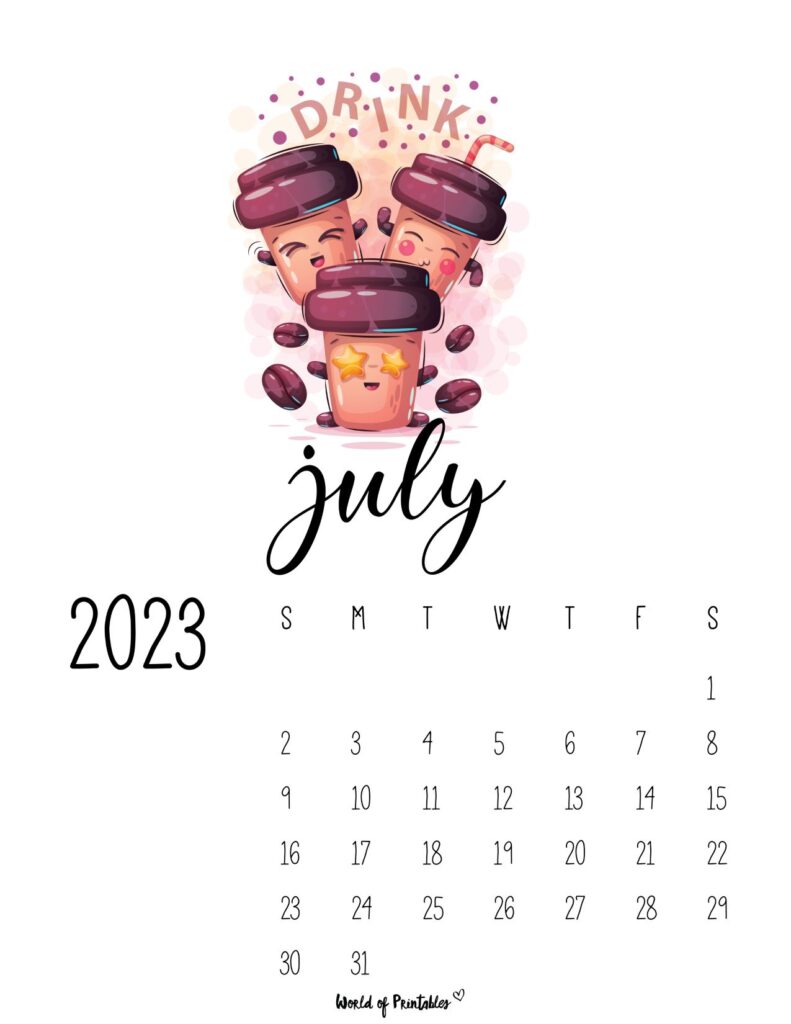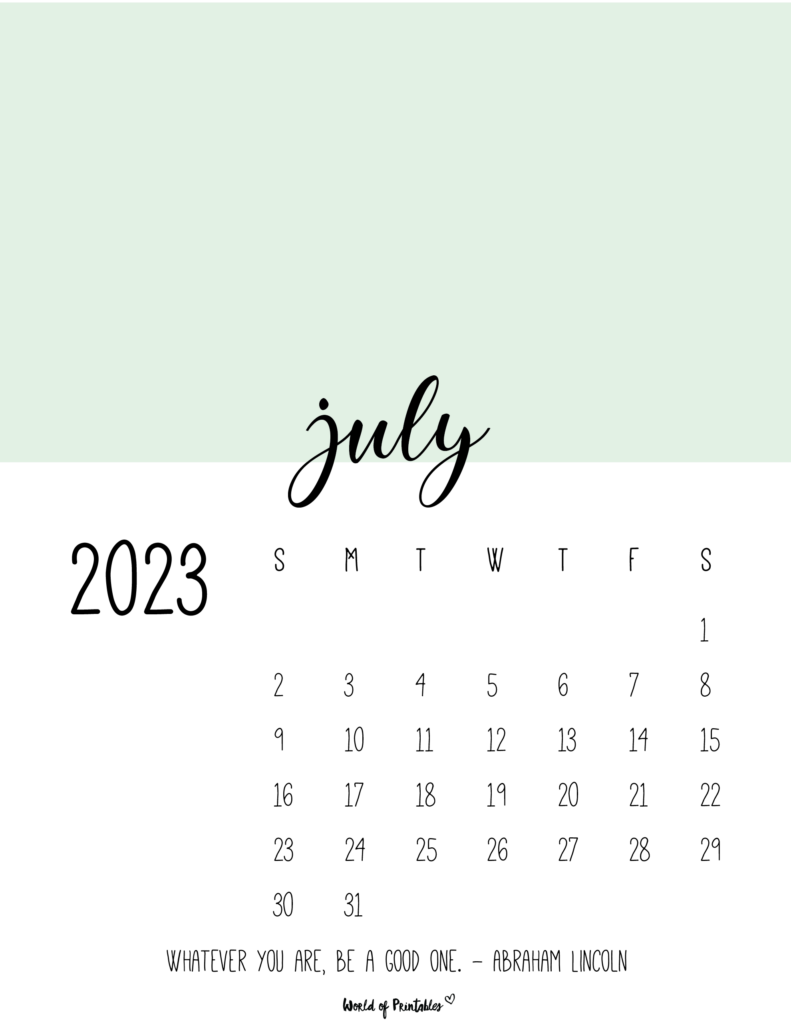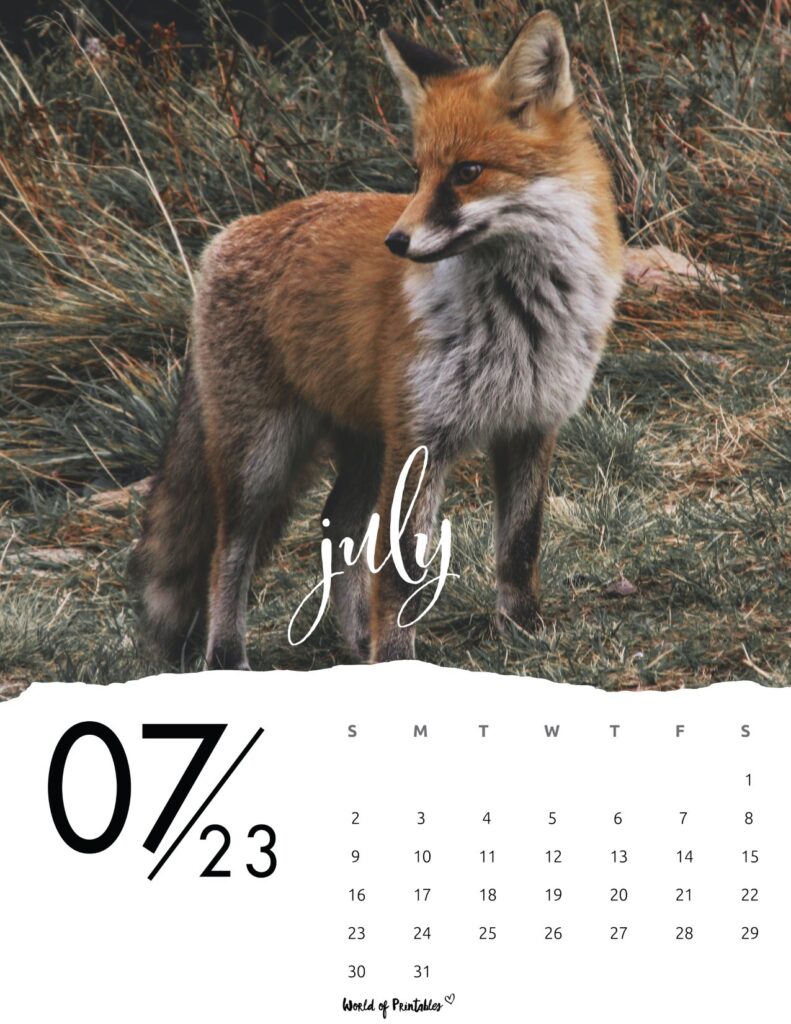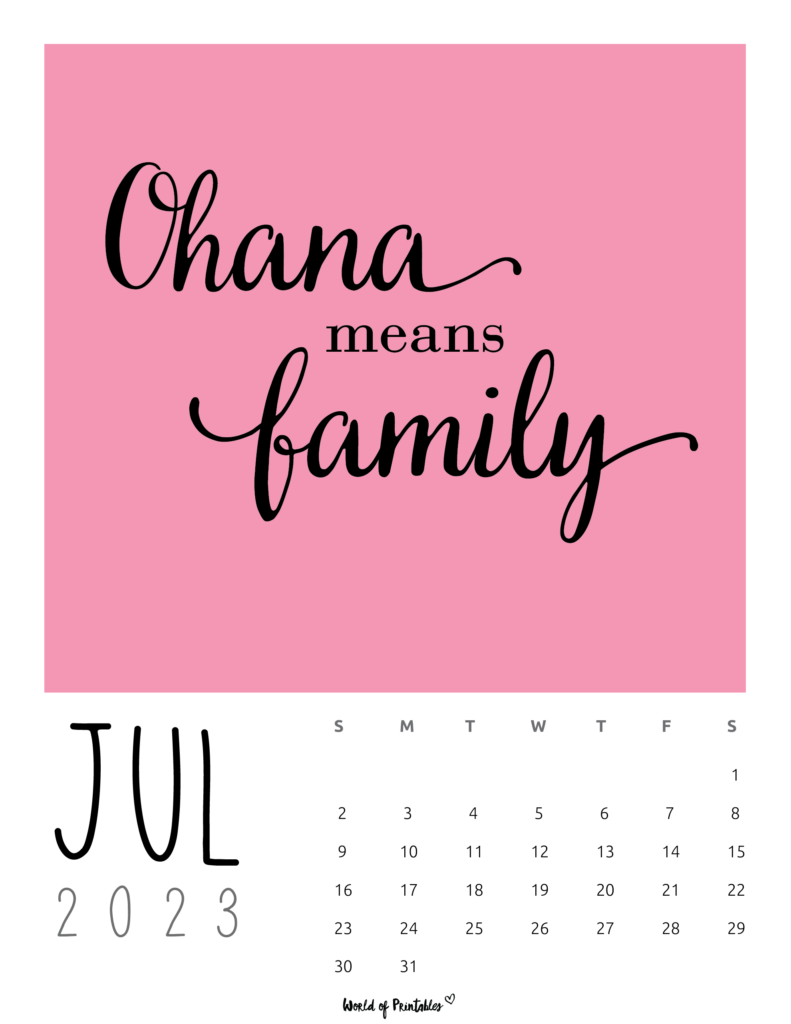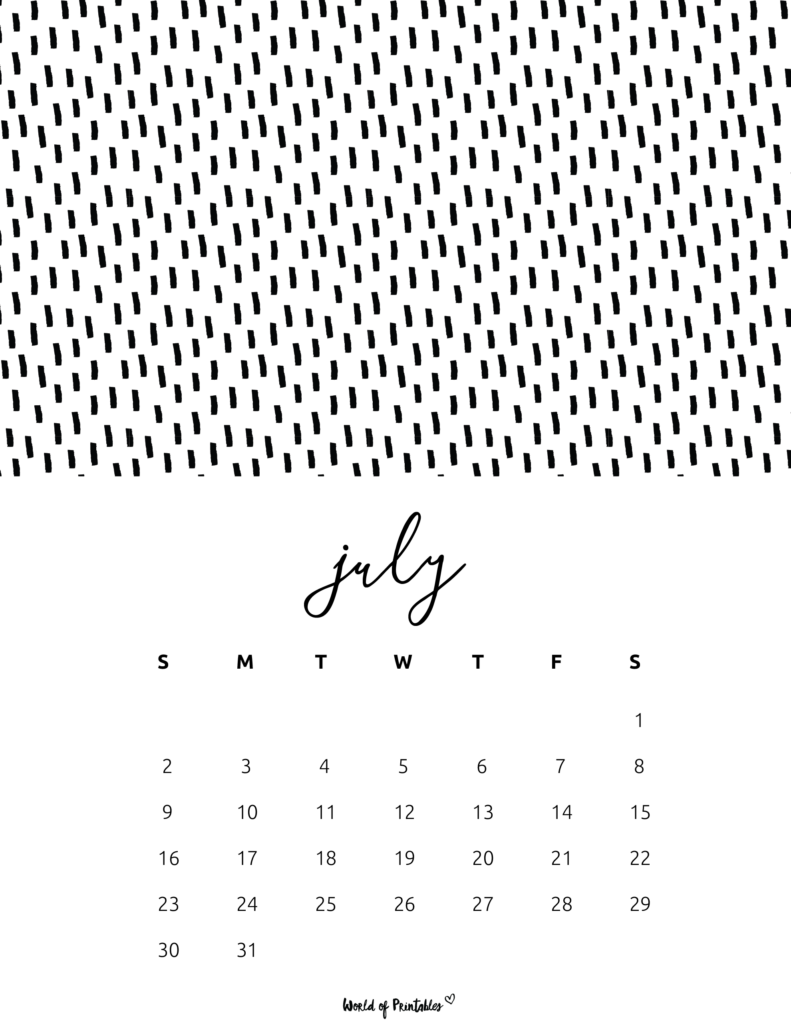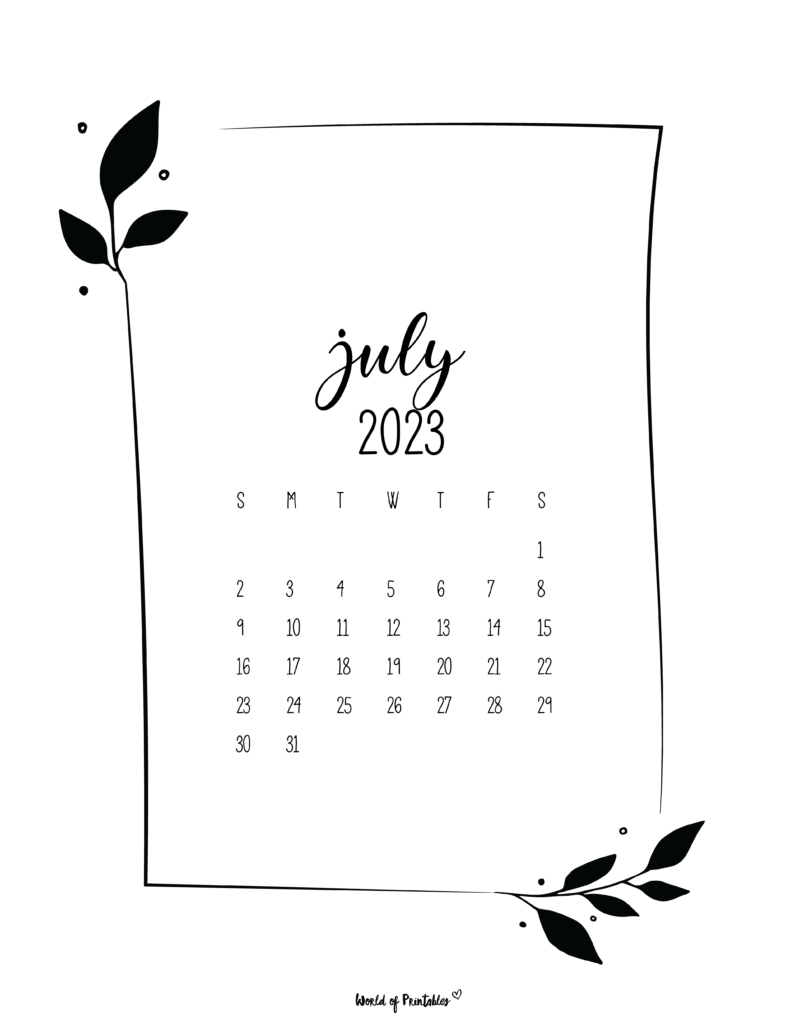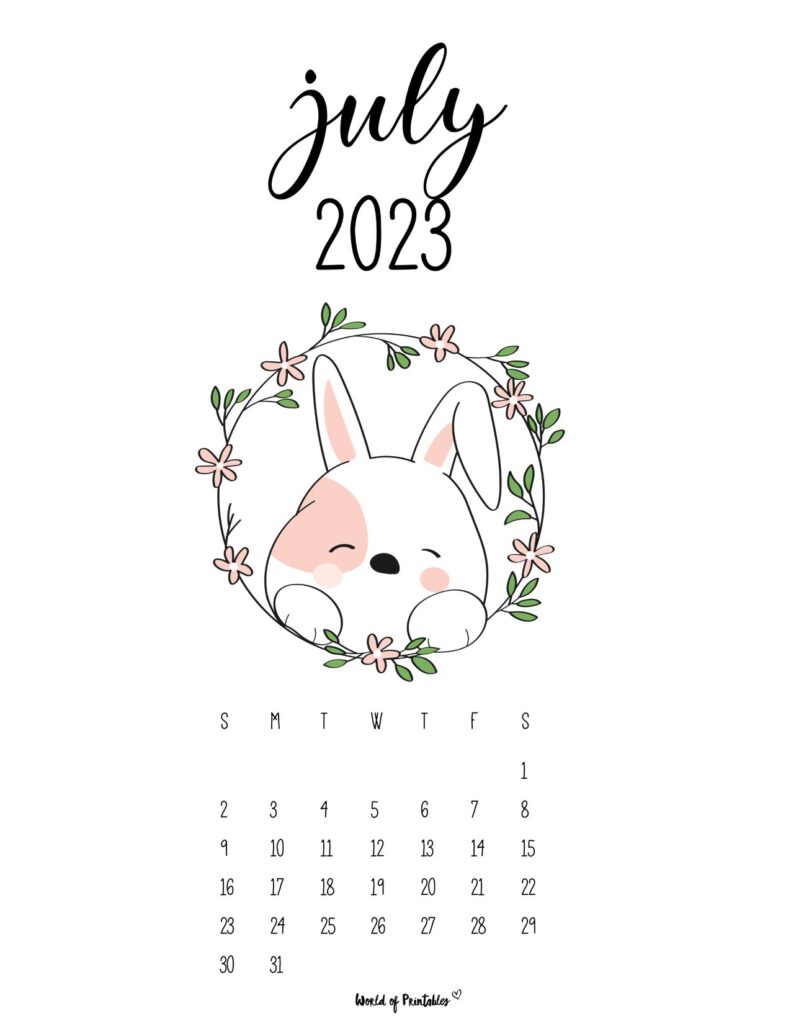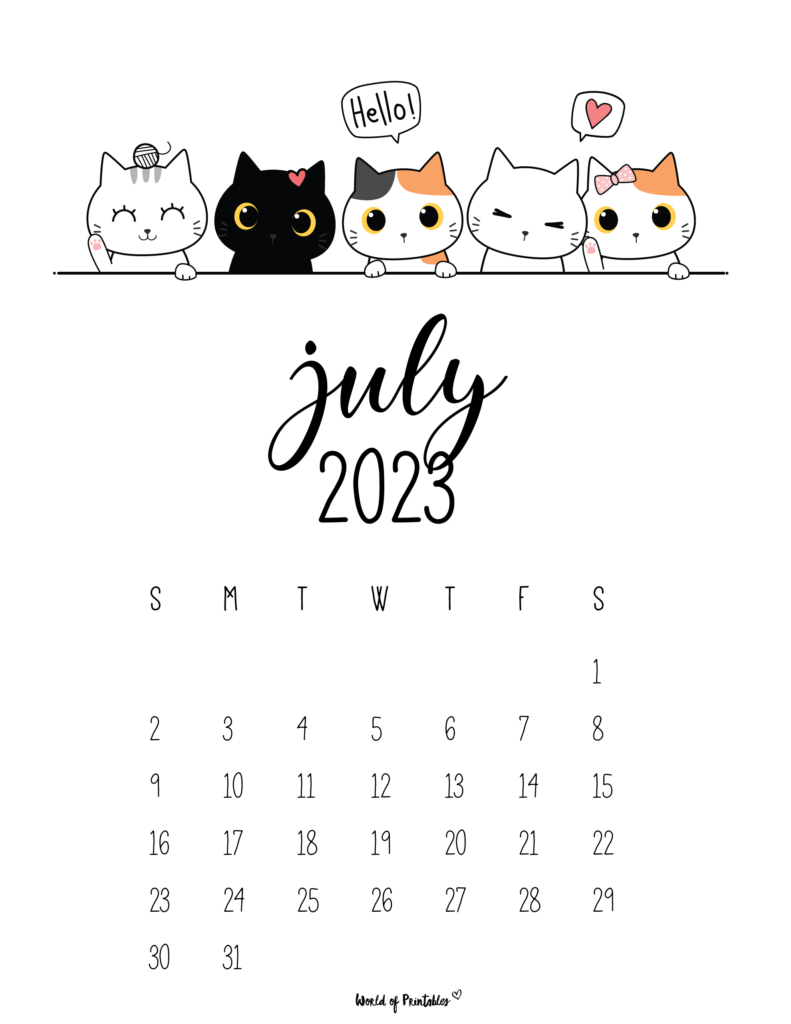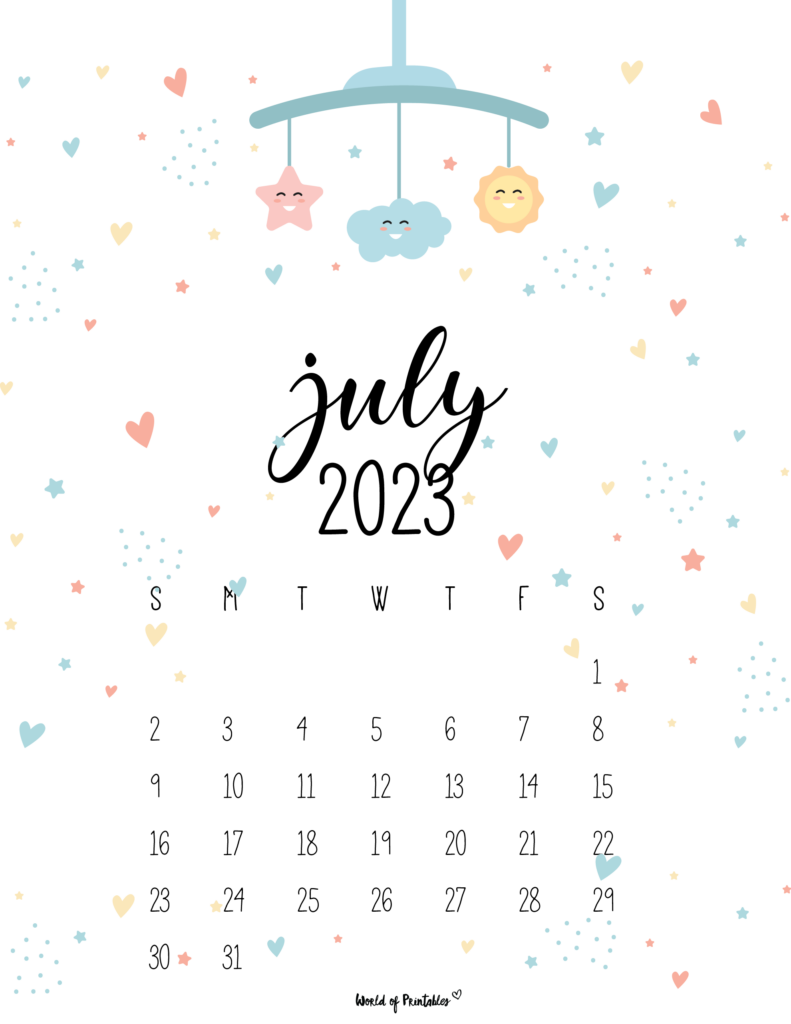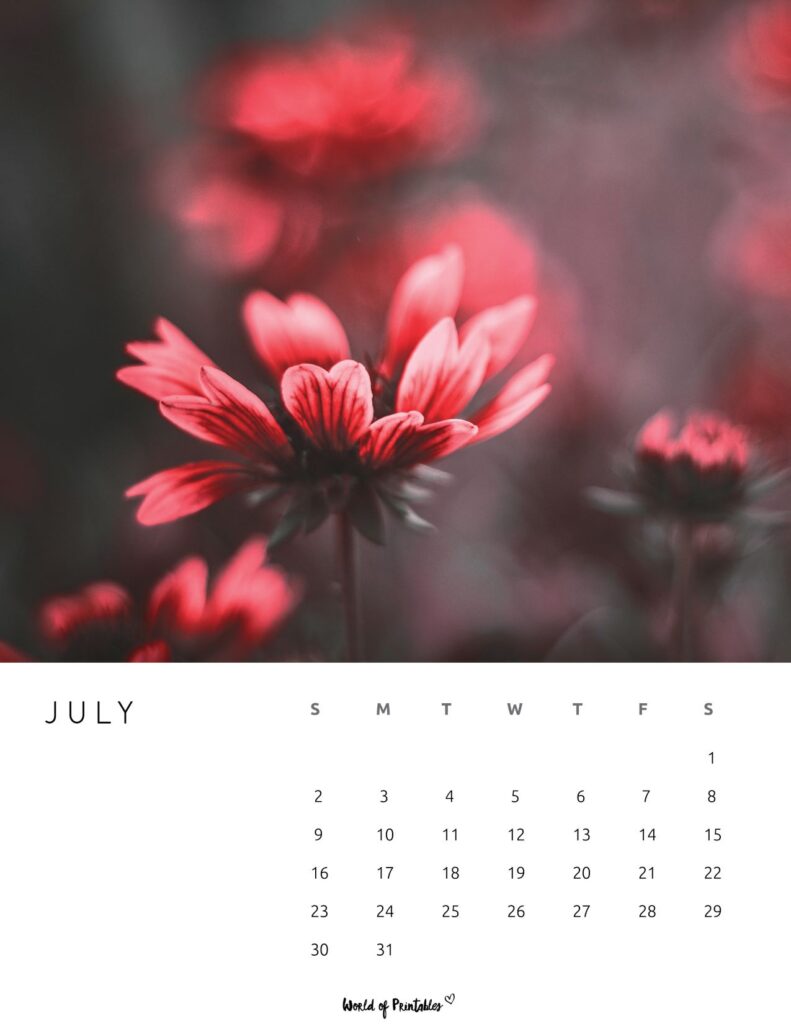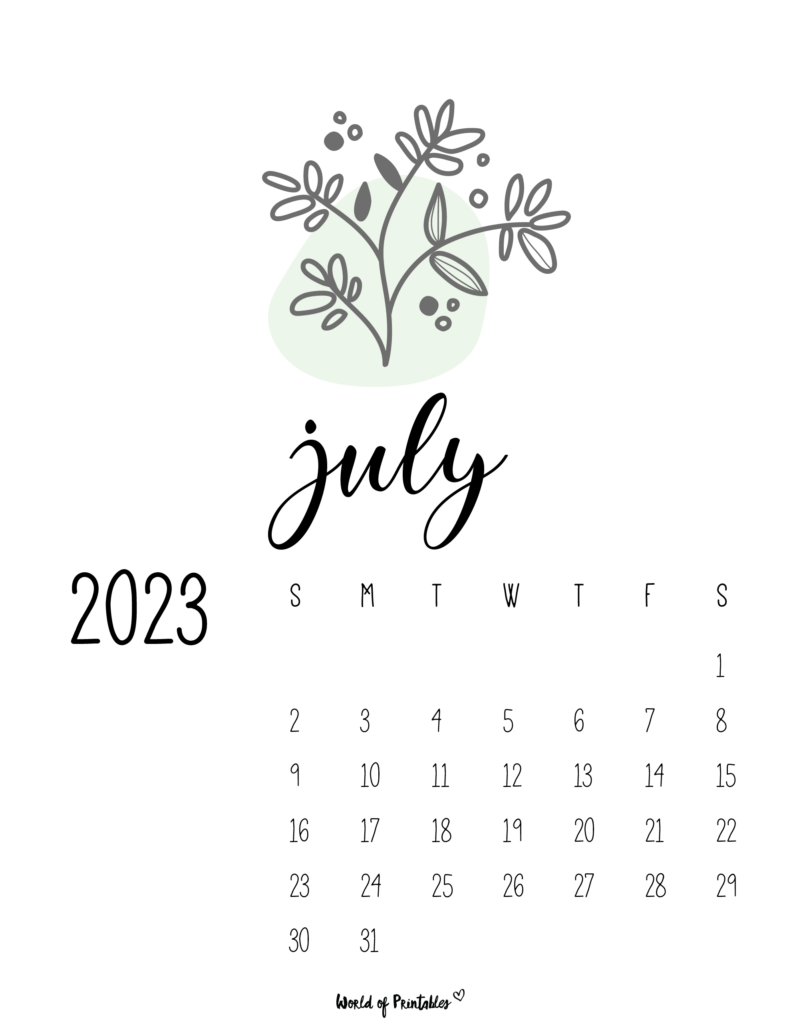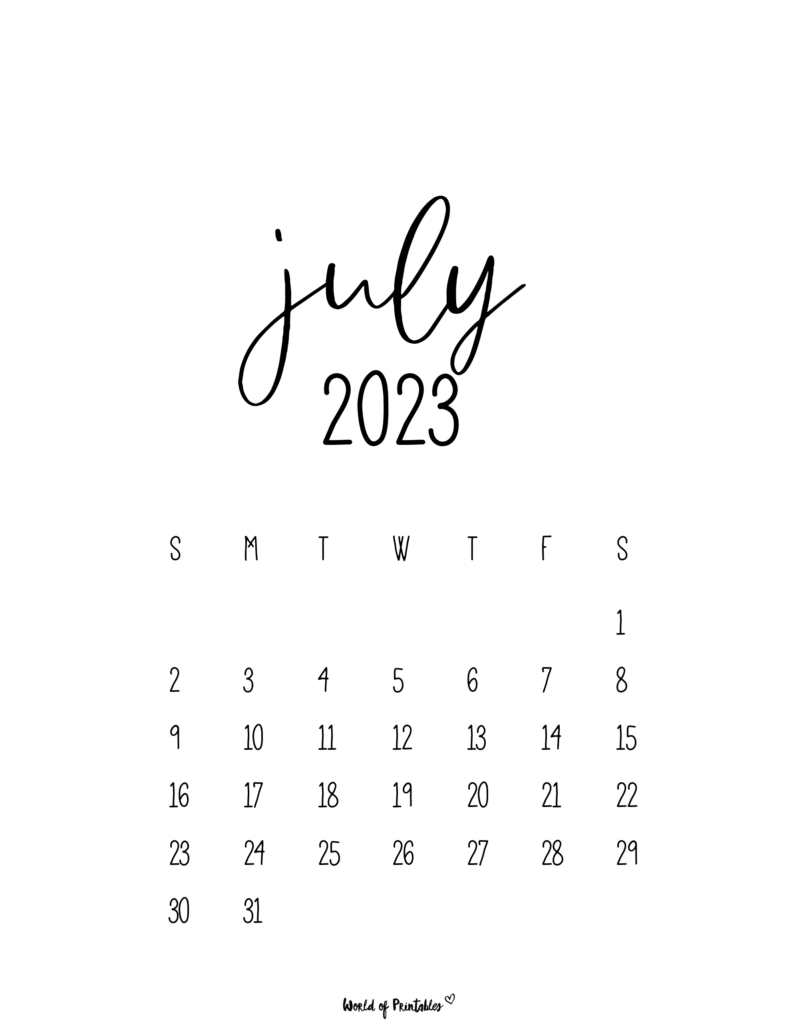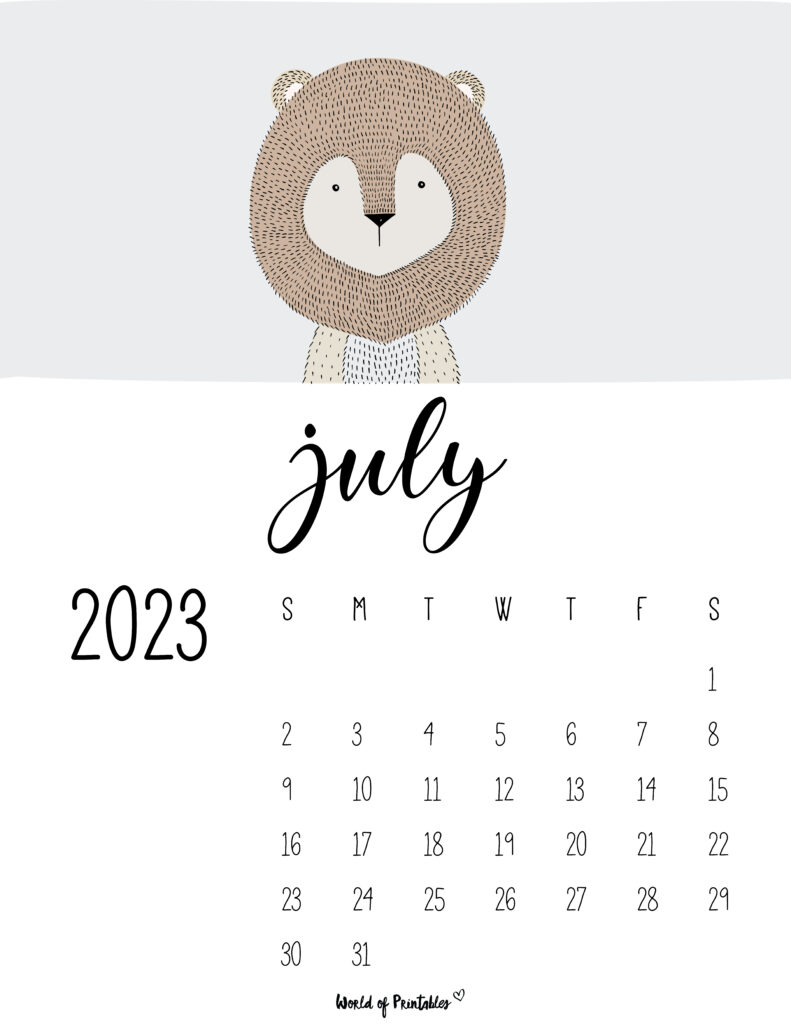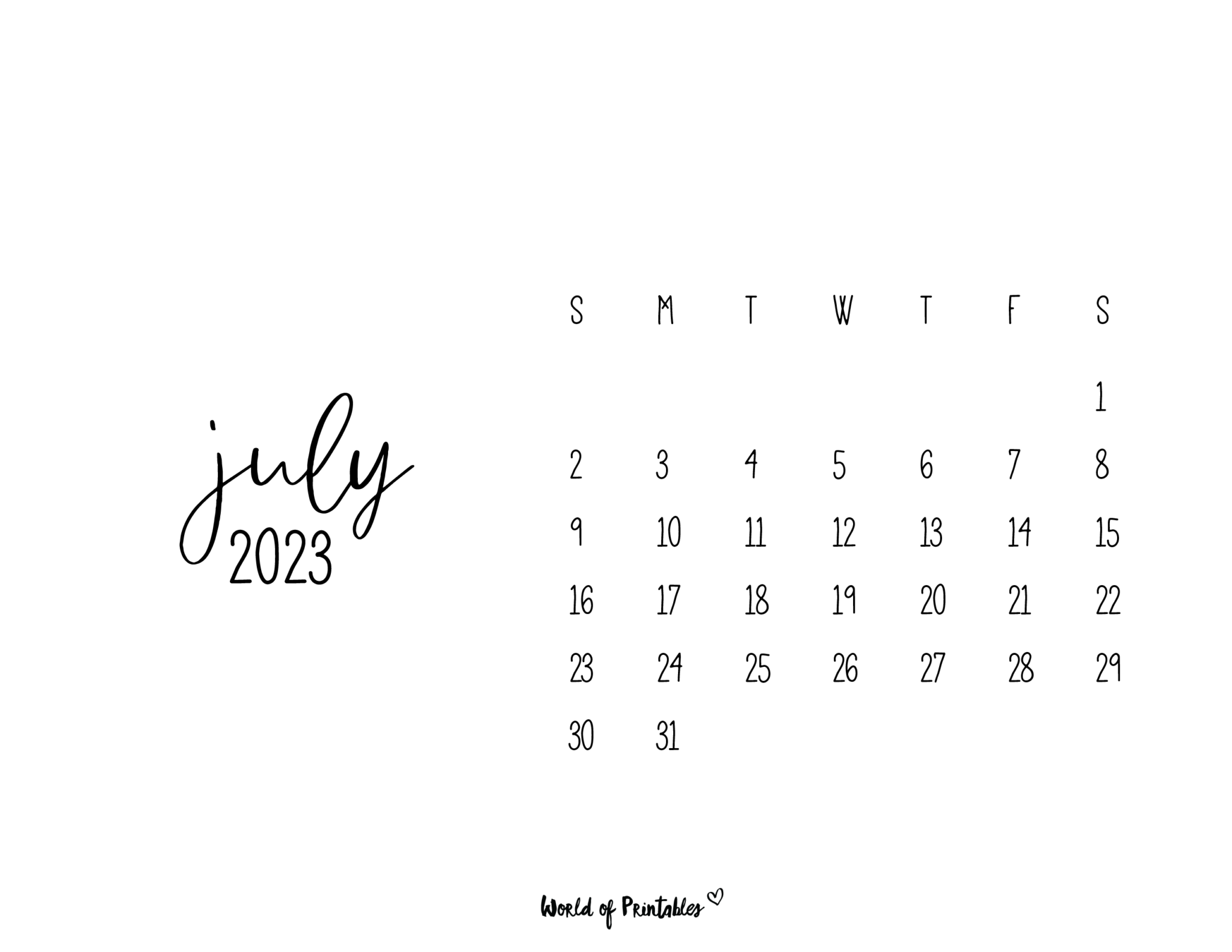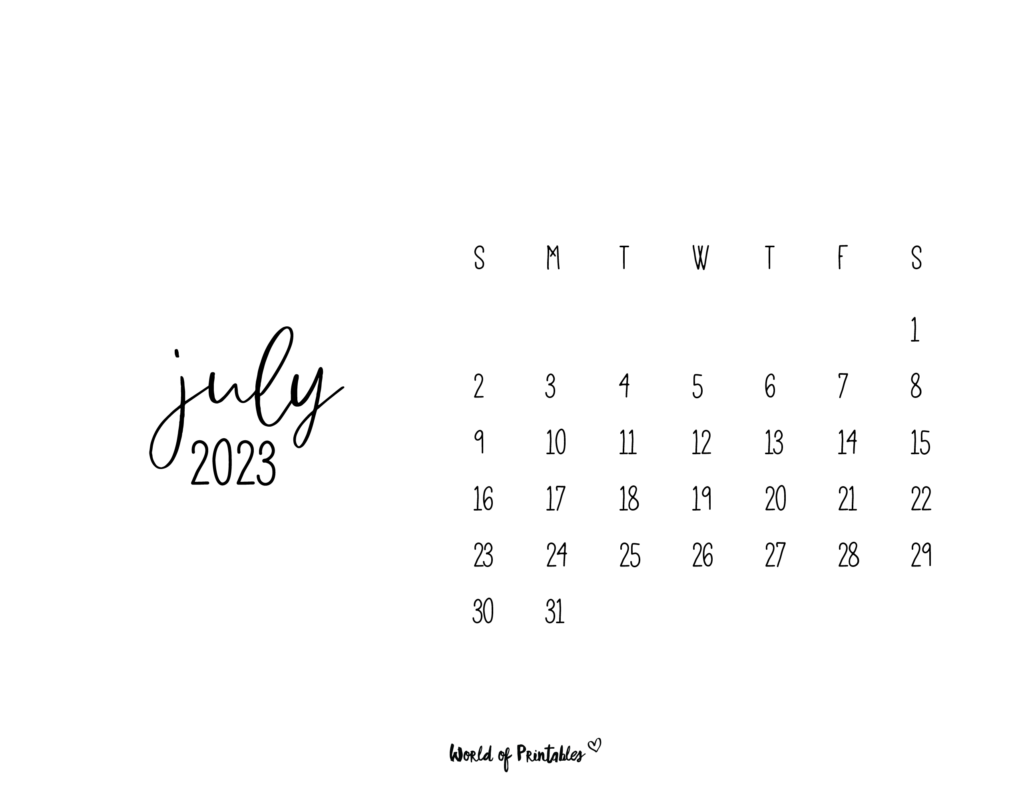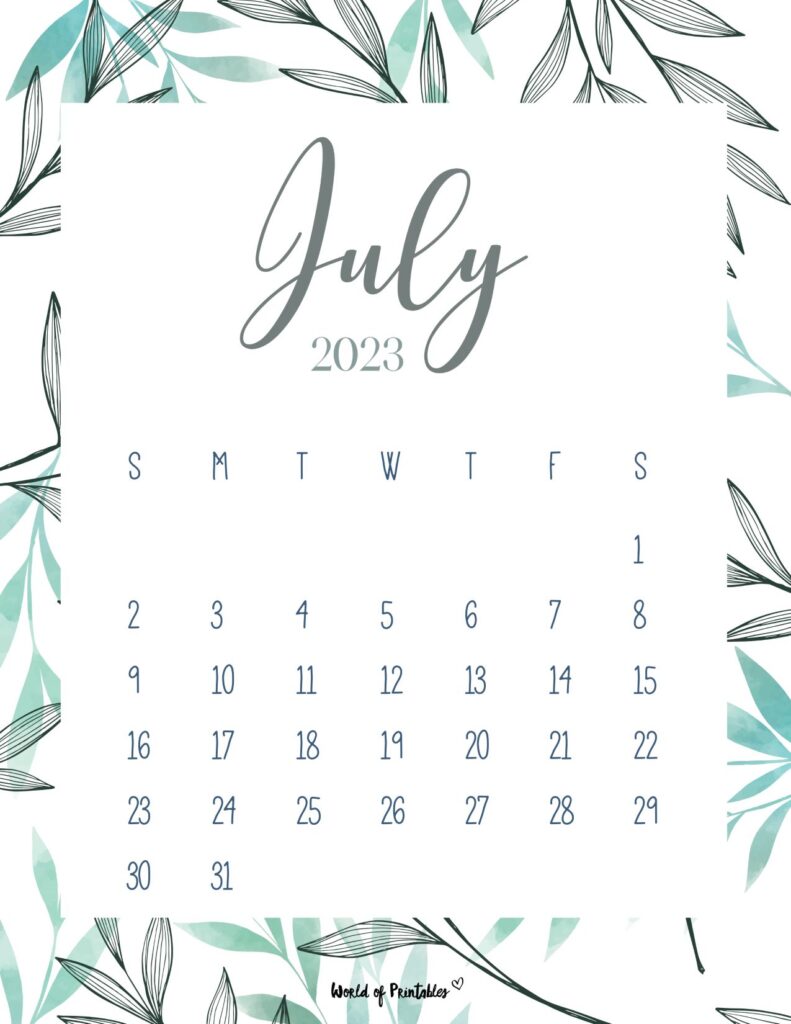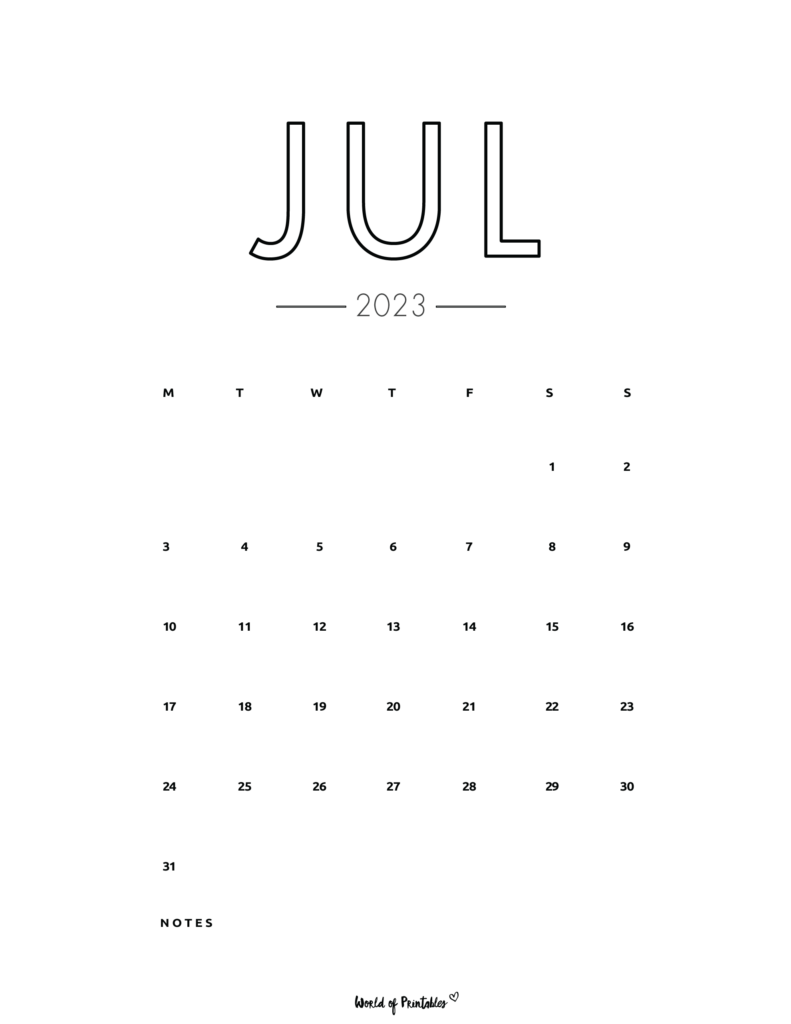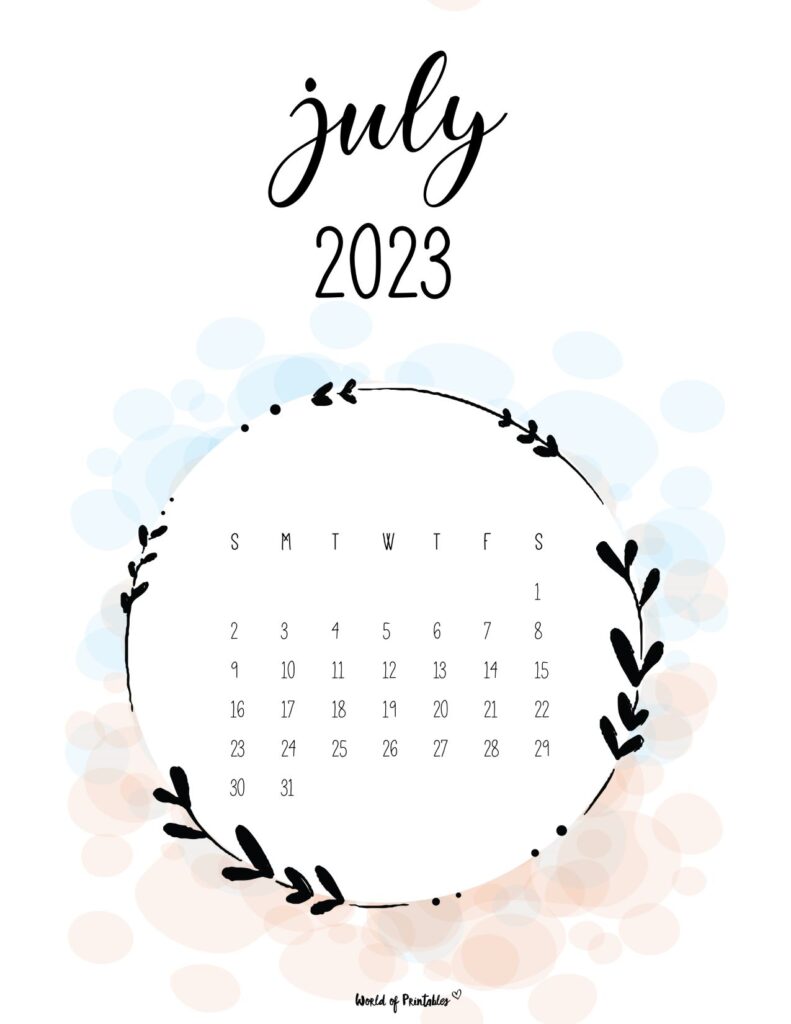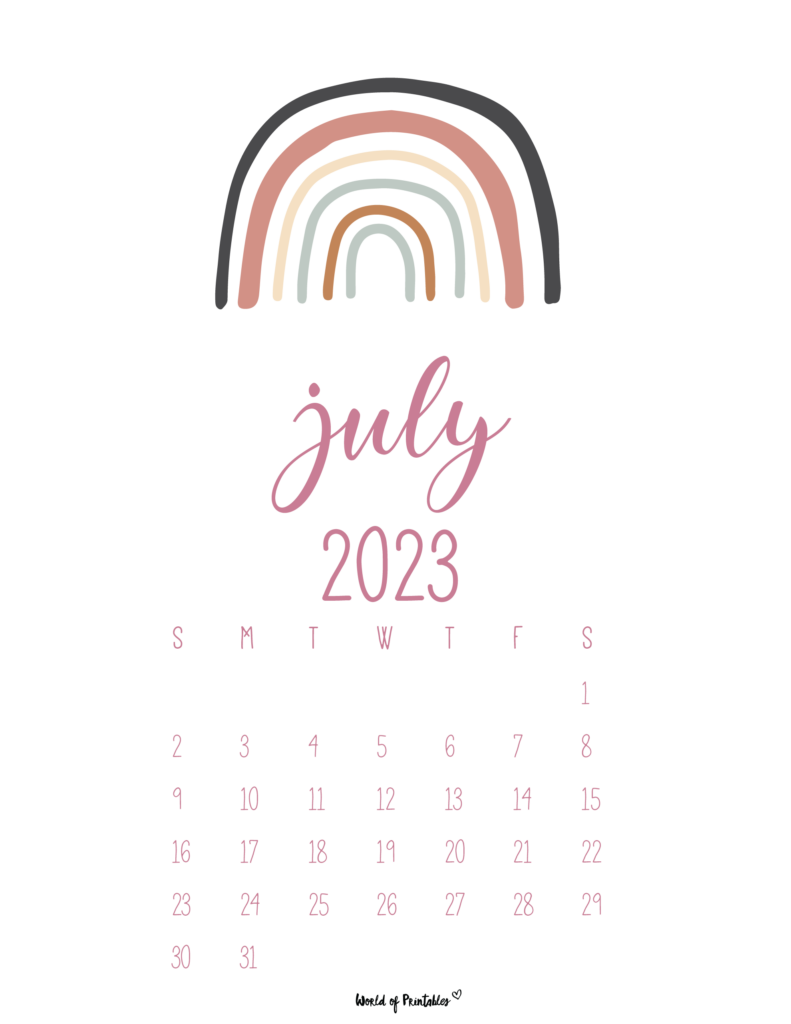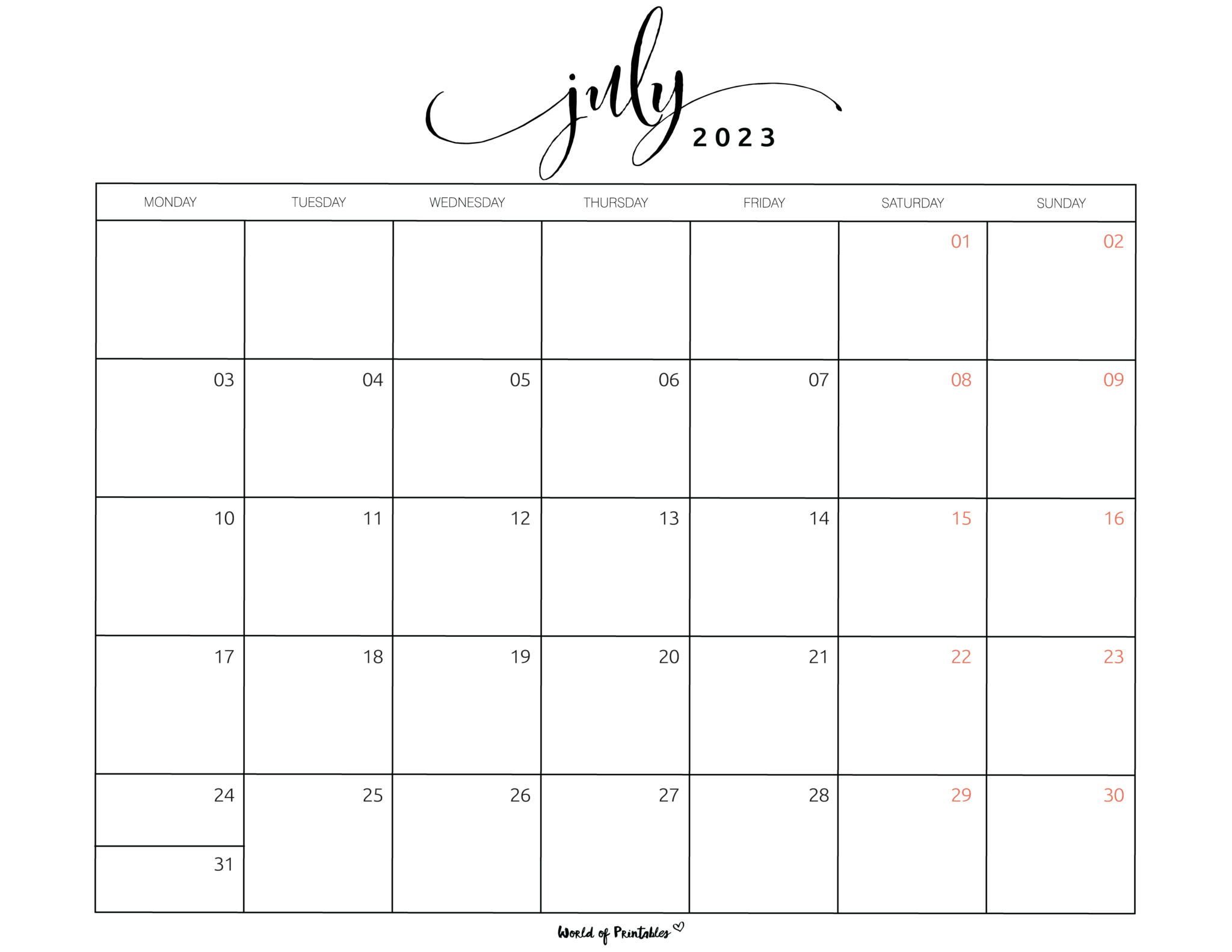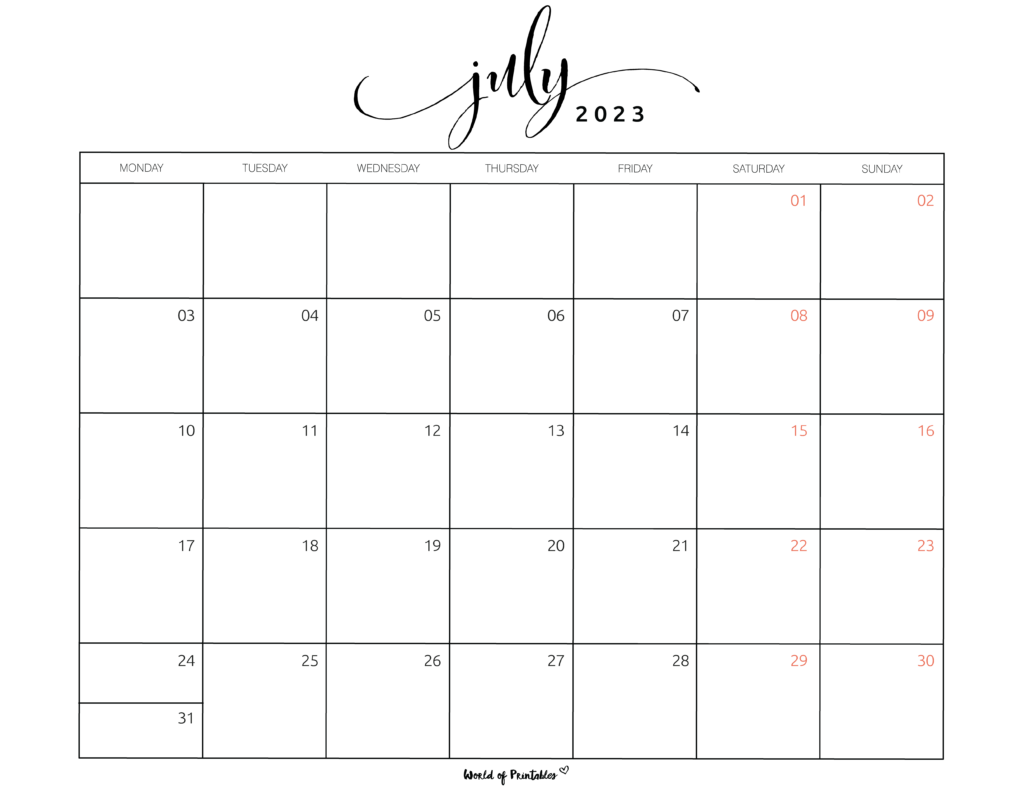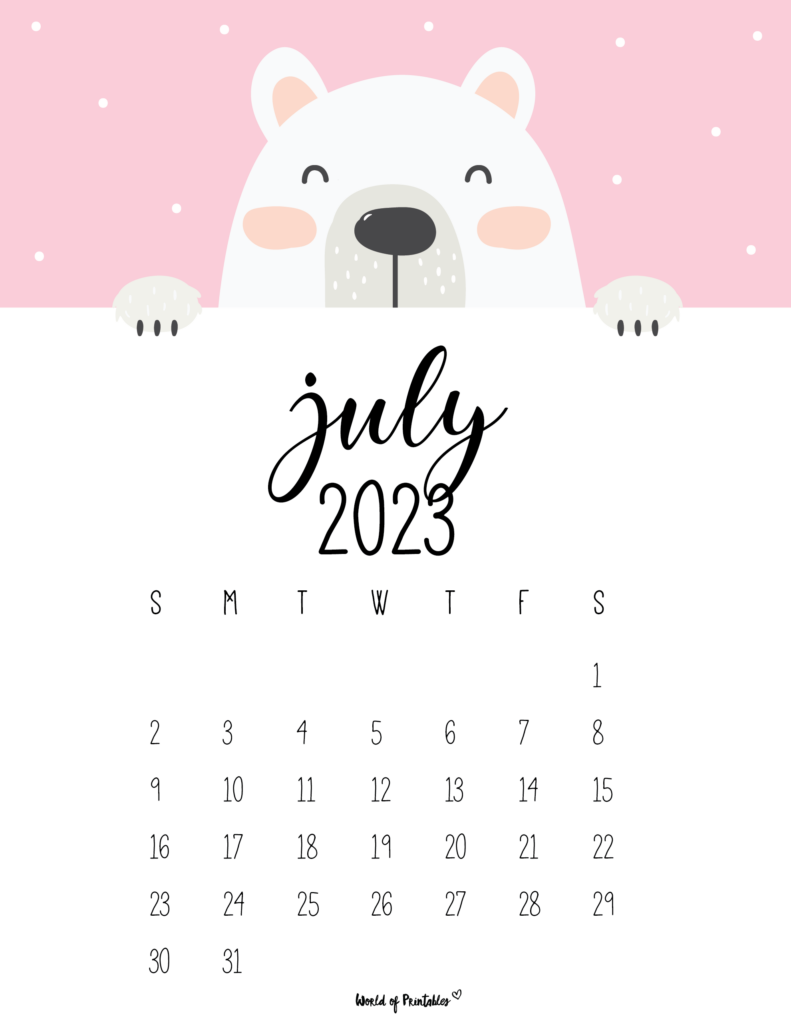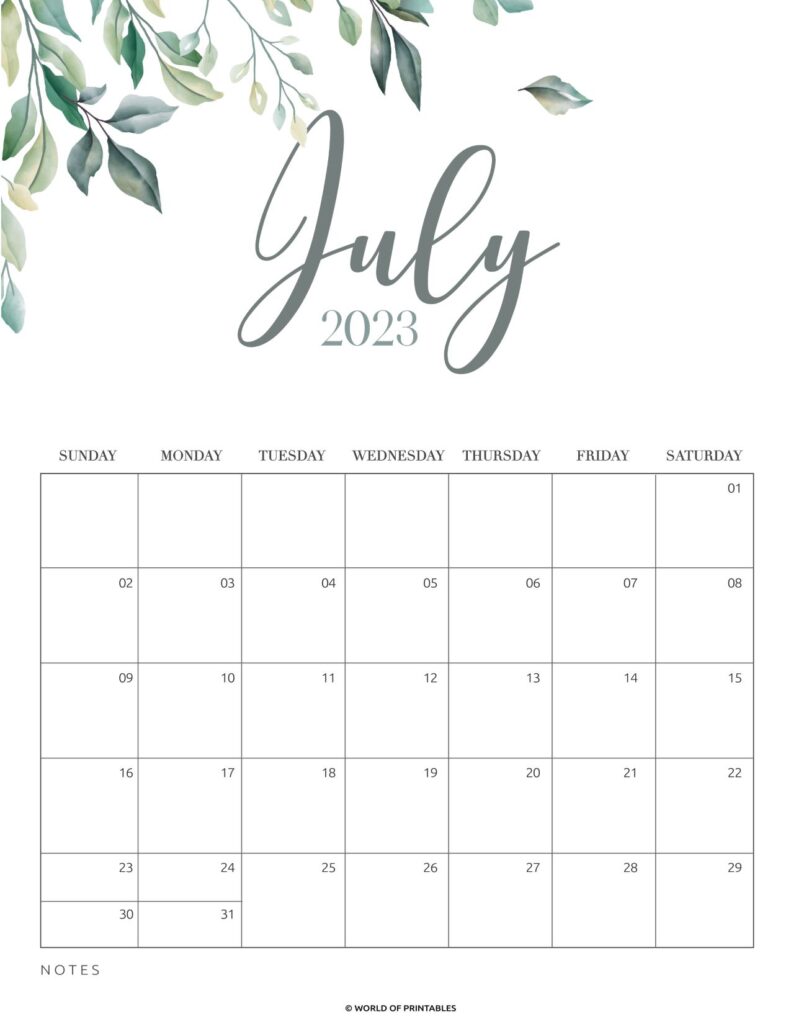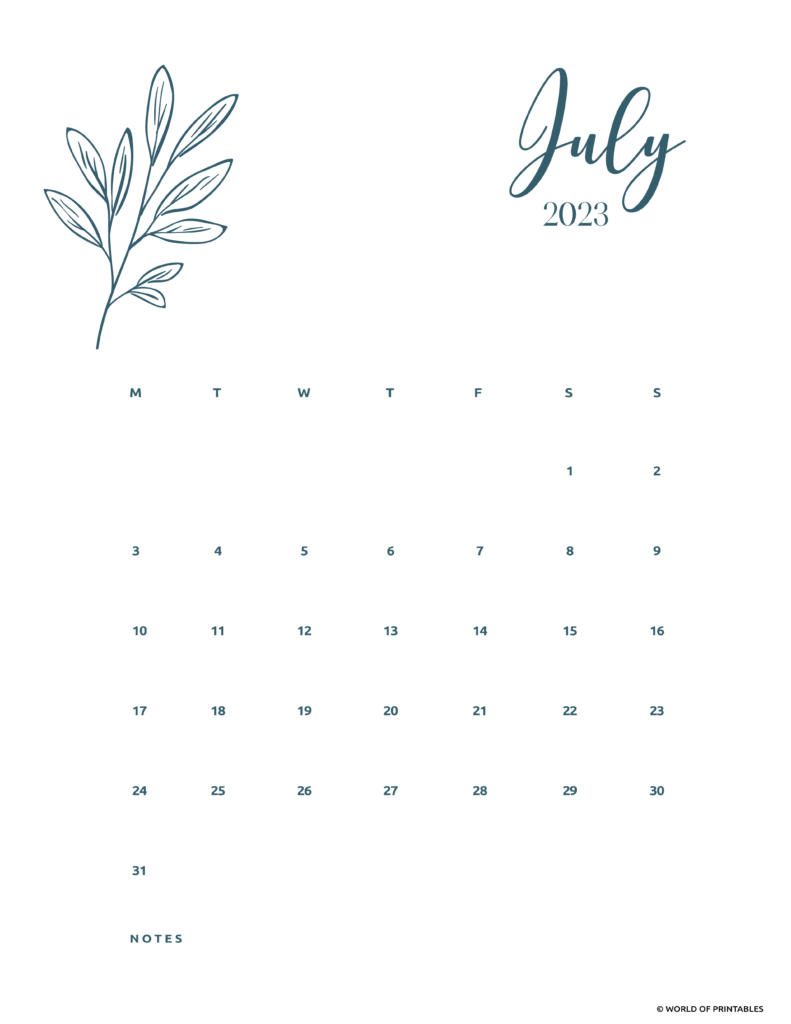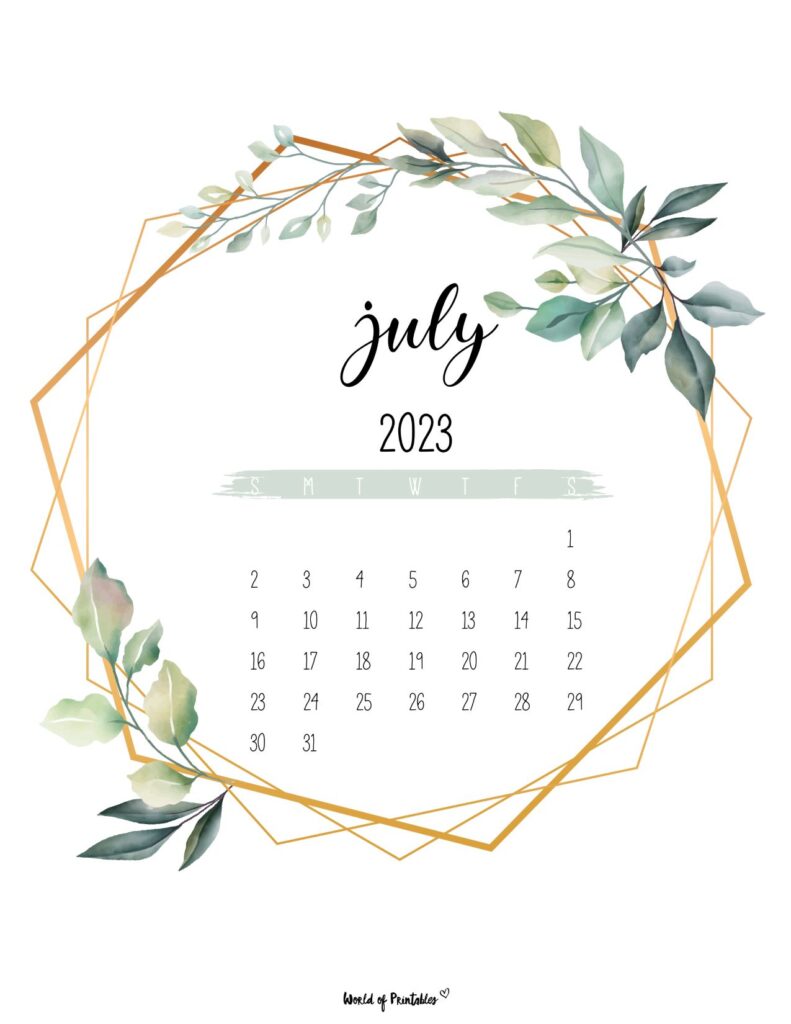 If you like these floral calendars, then check out our full range of floral calendar templates and print the one you need.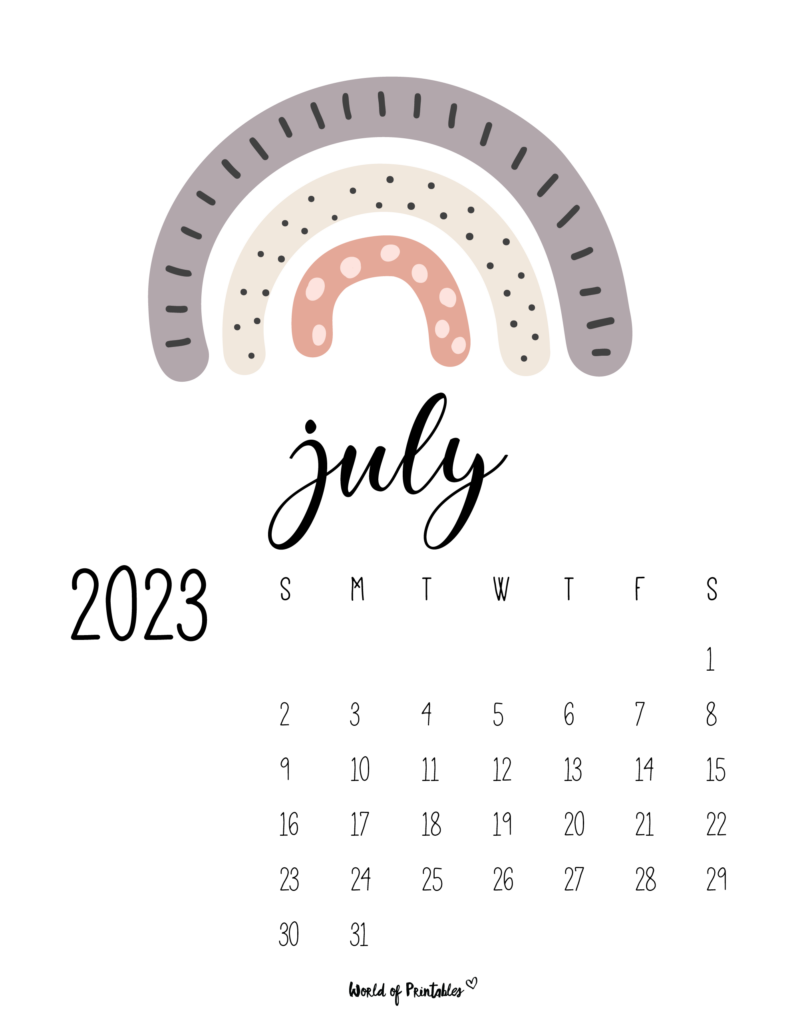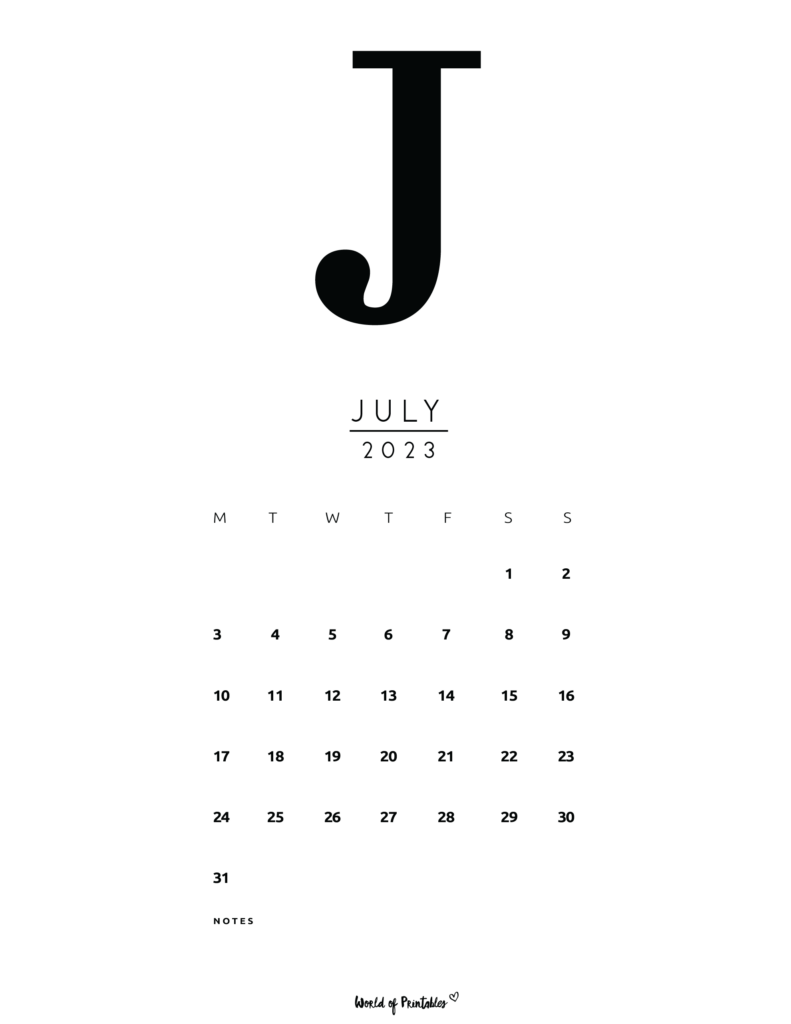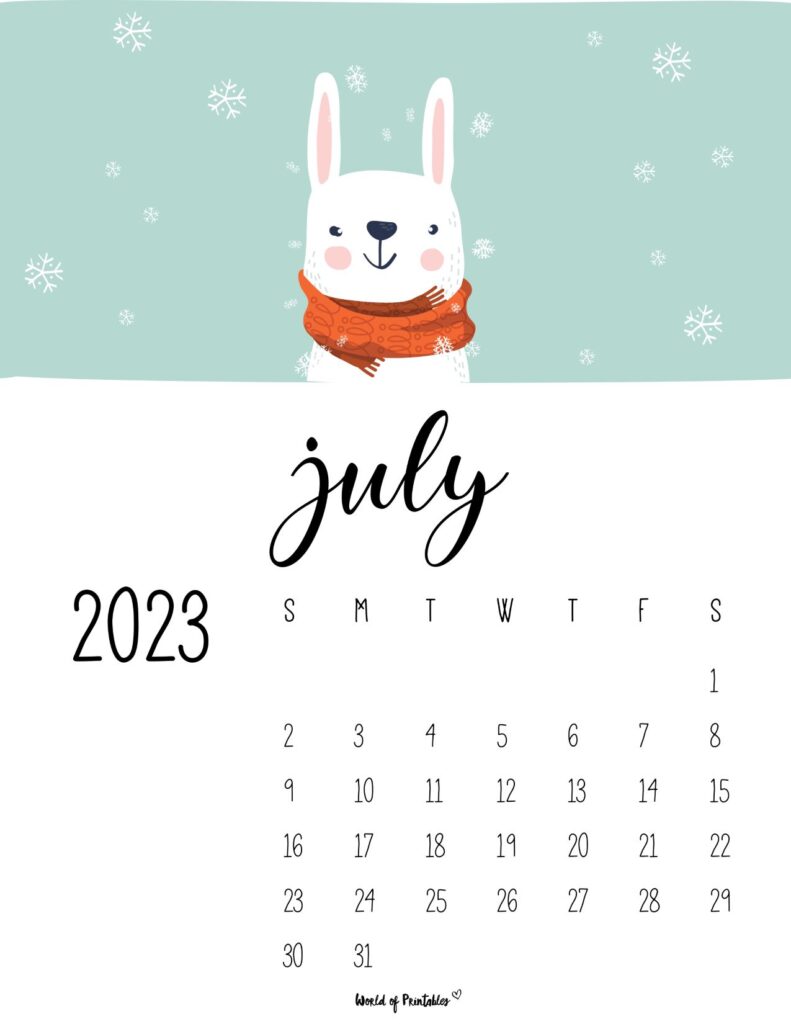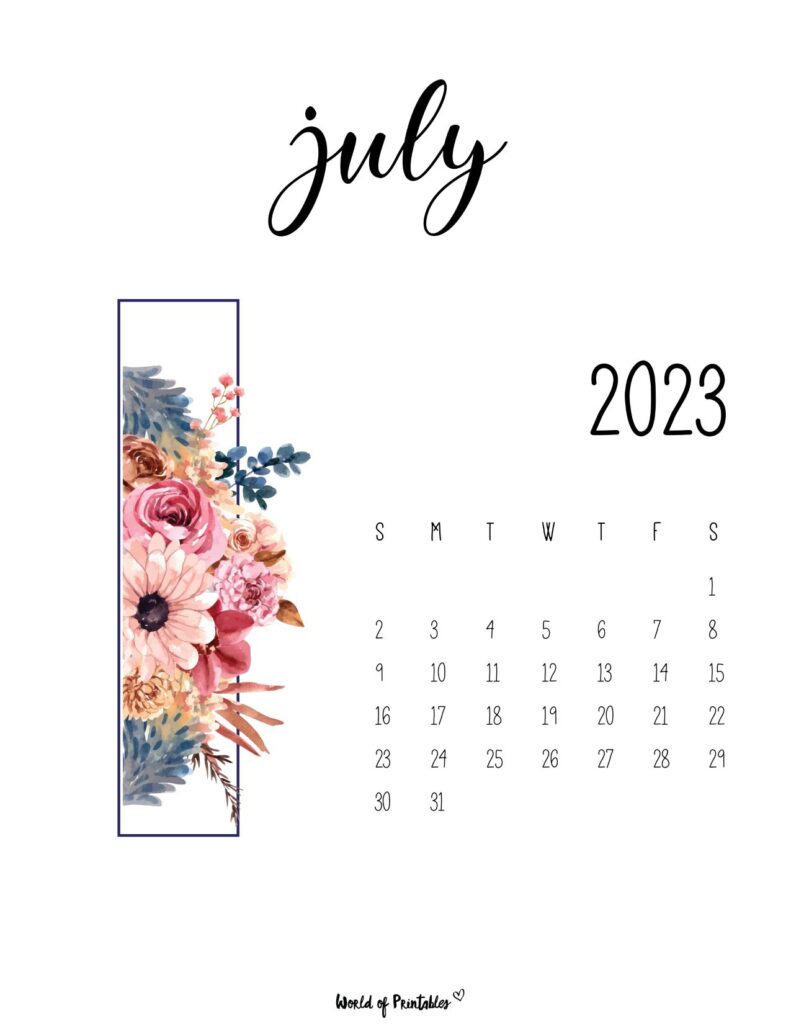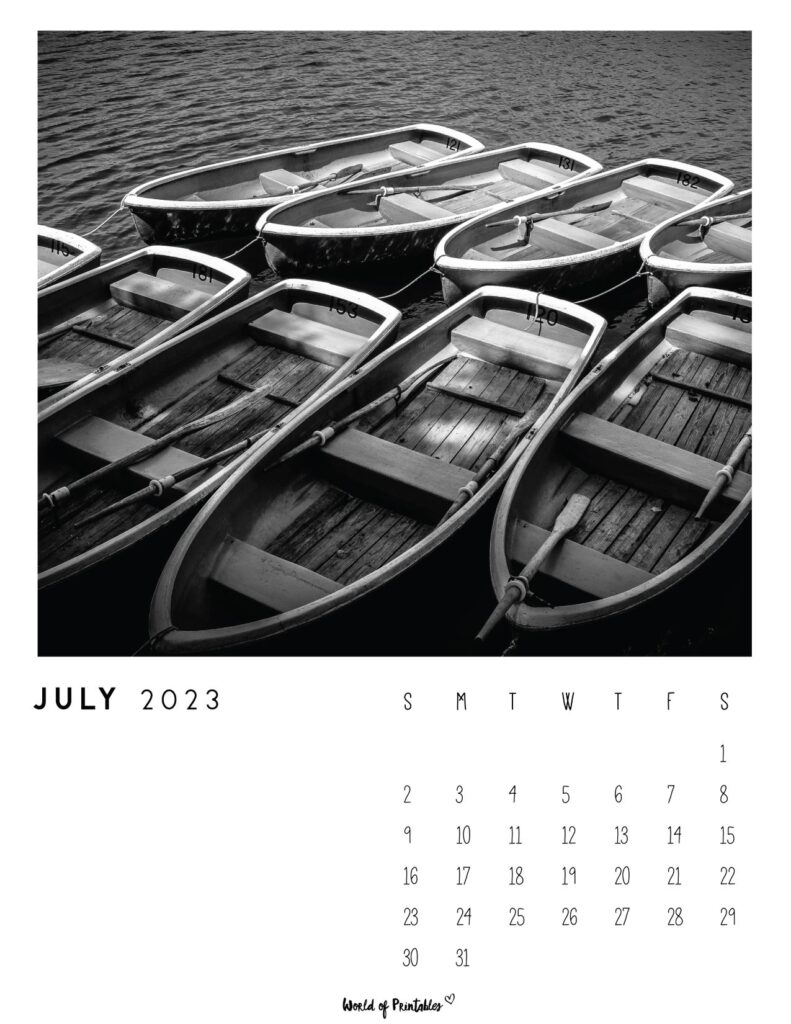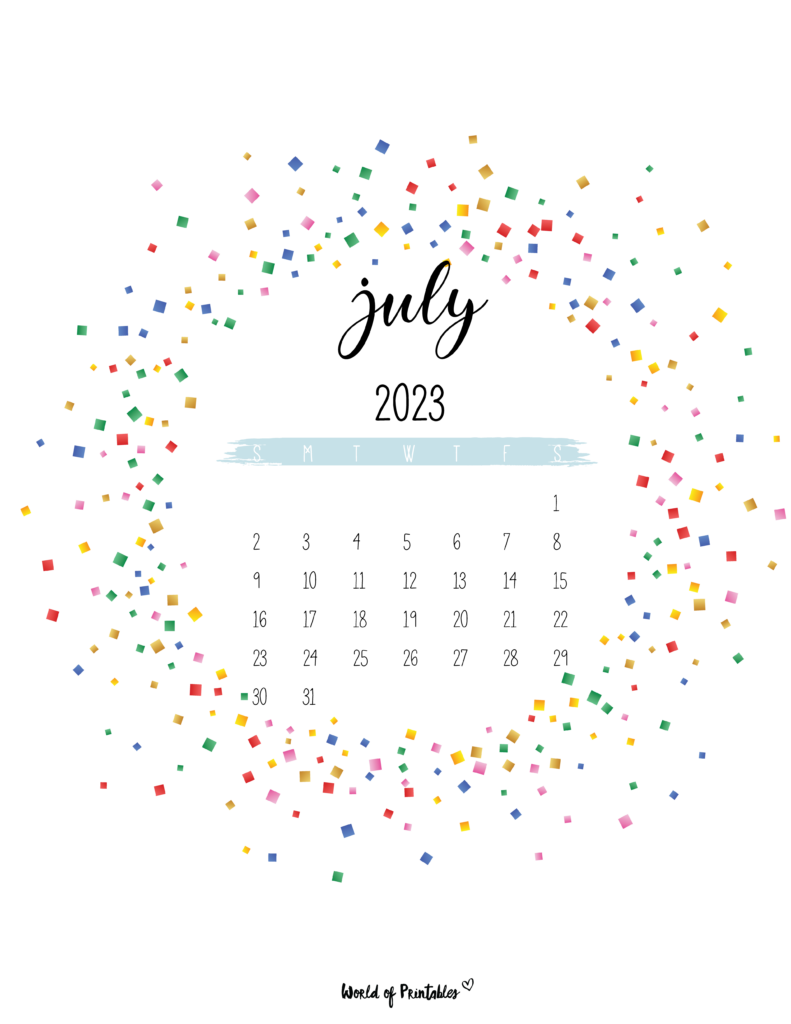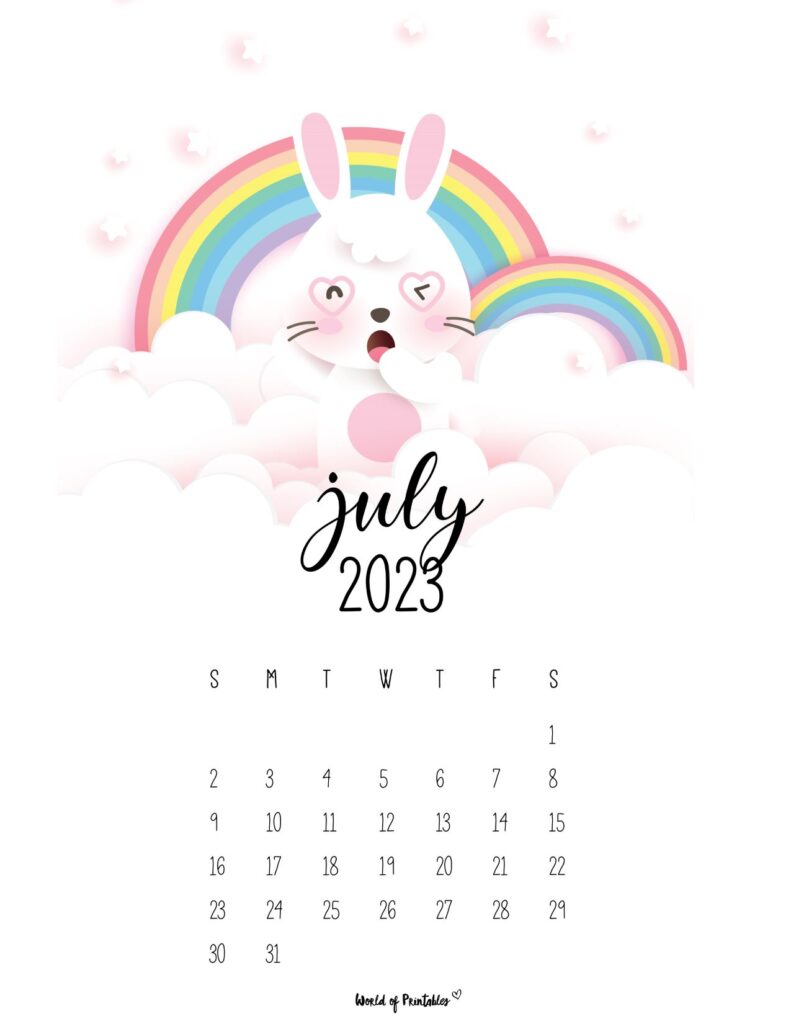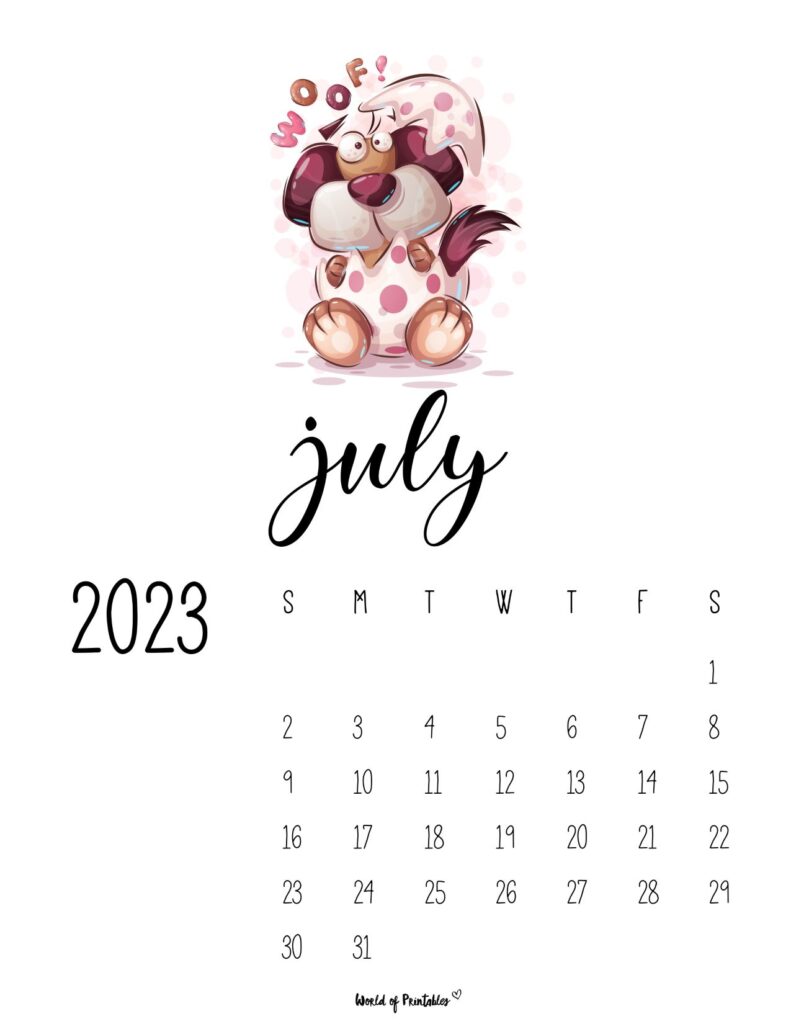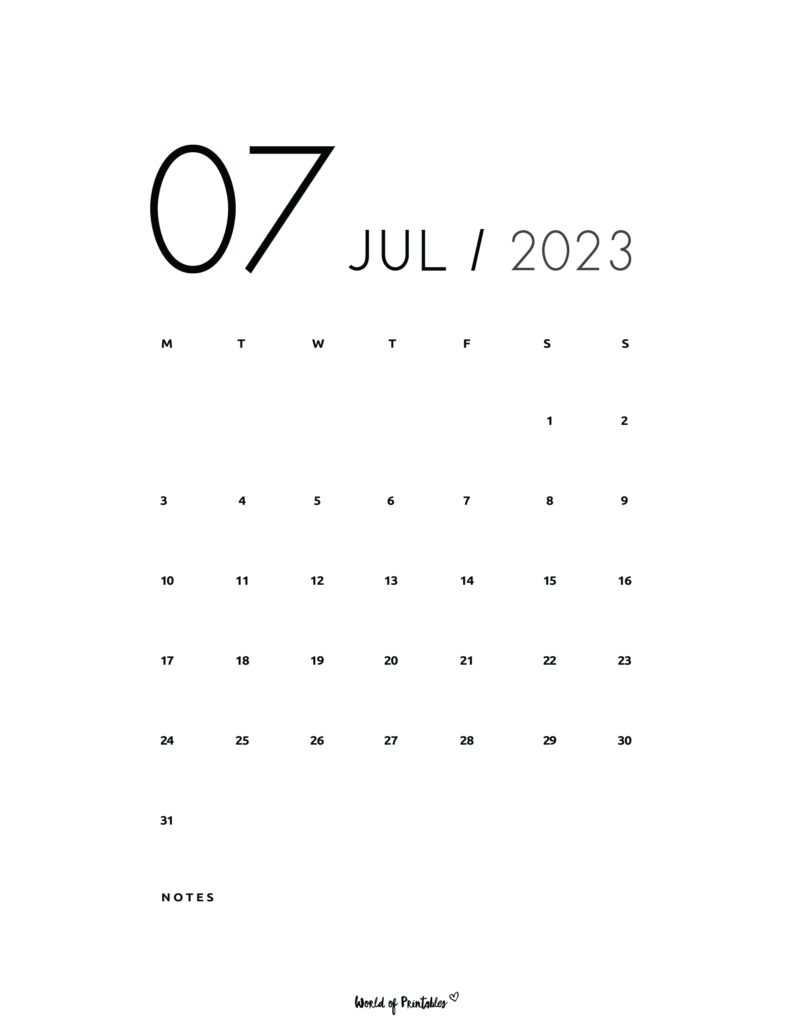 I really like simple, classic style calendars, which is why we've designed a range of free simple calendar templates for you.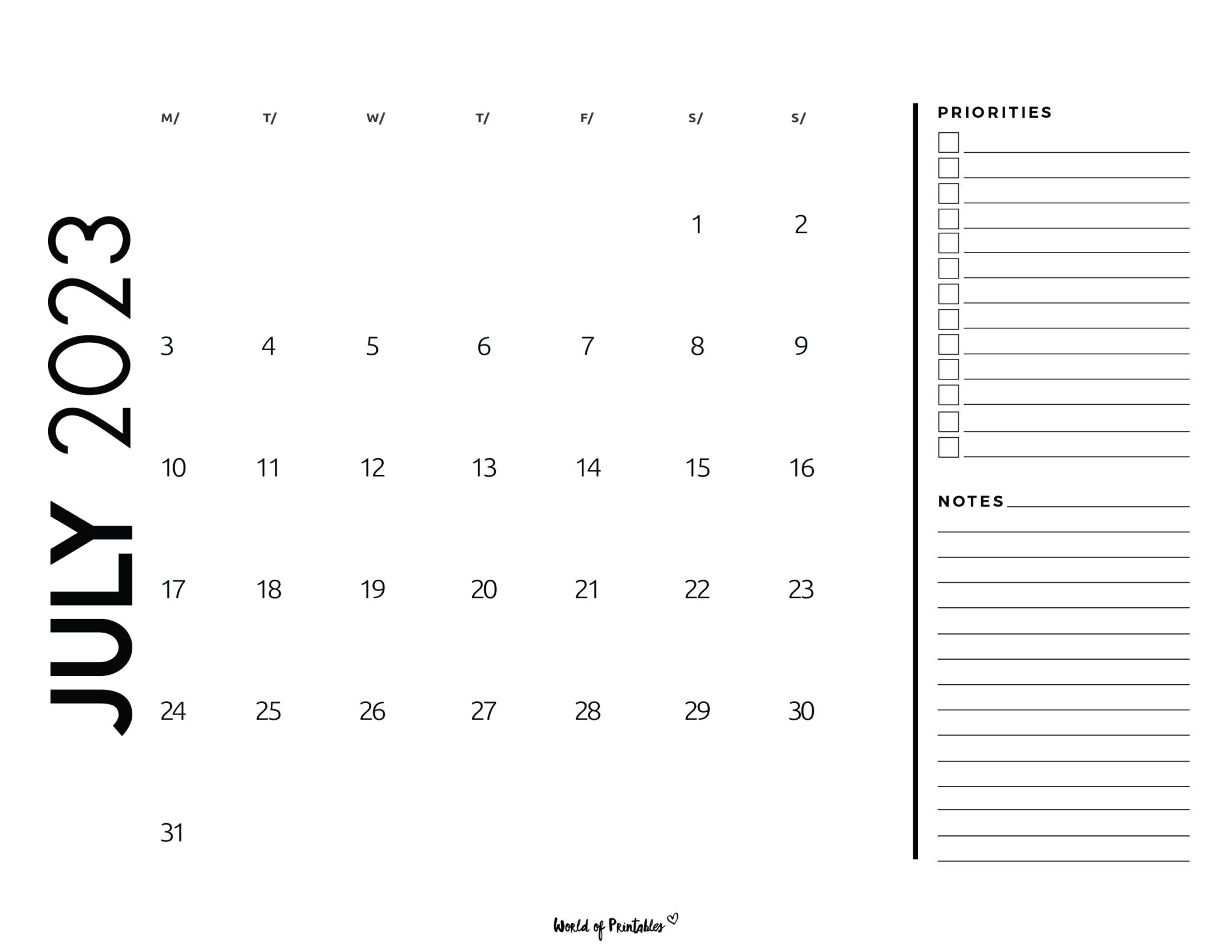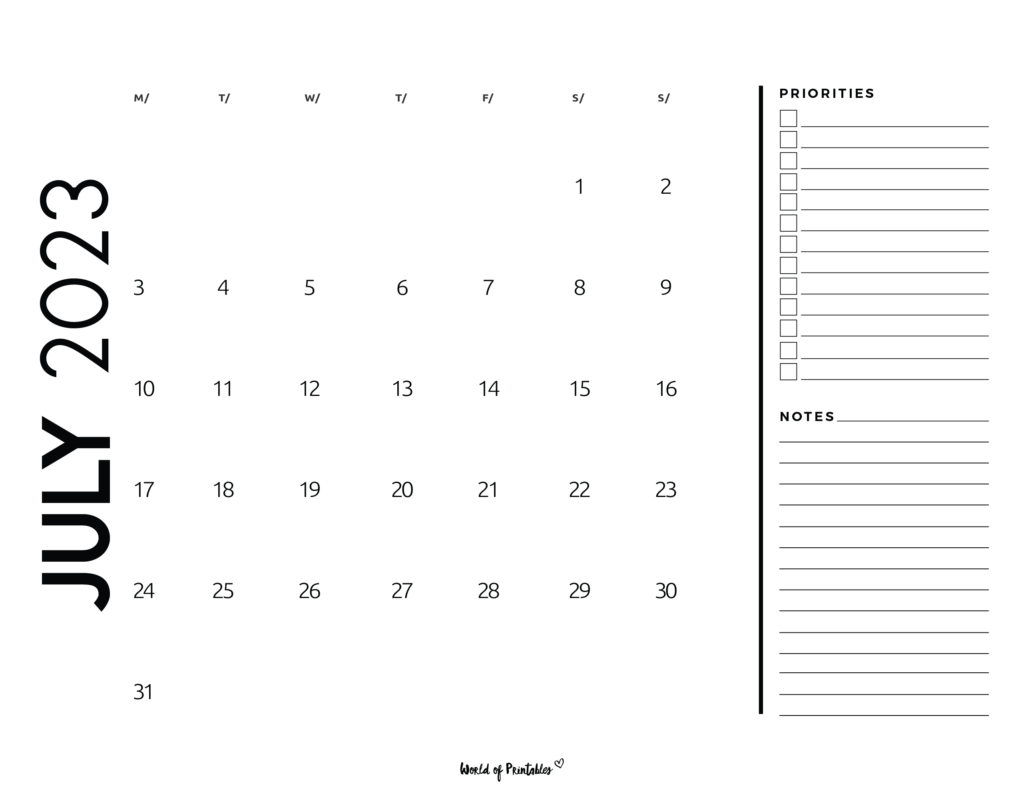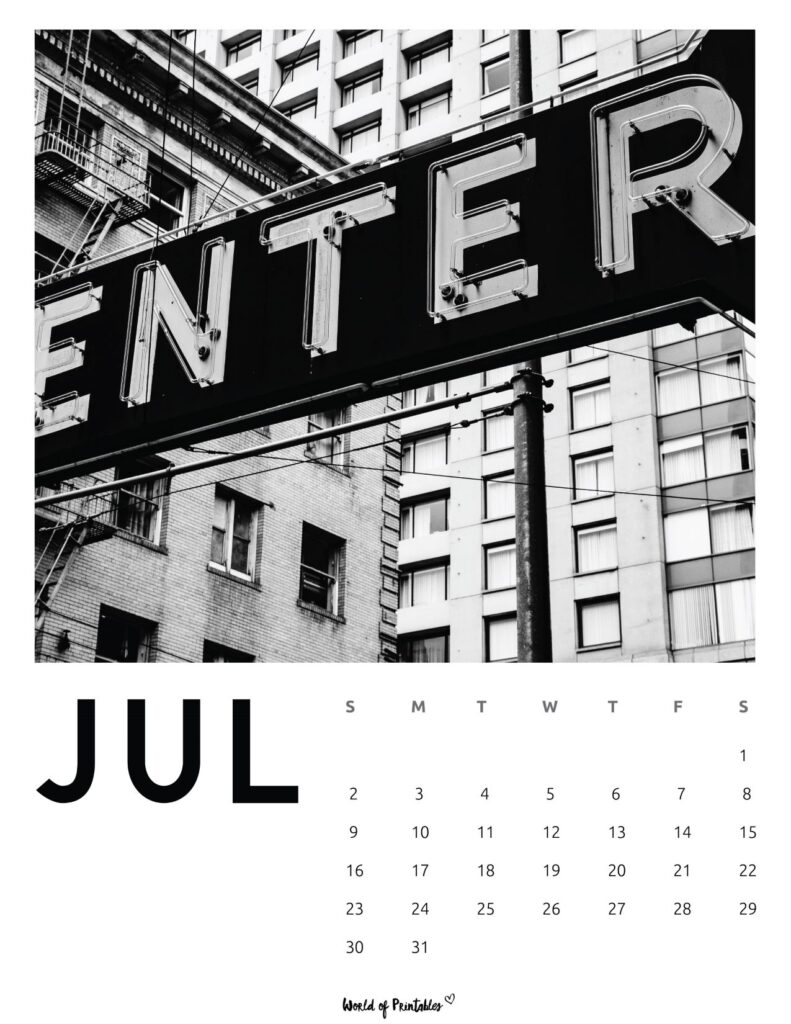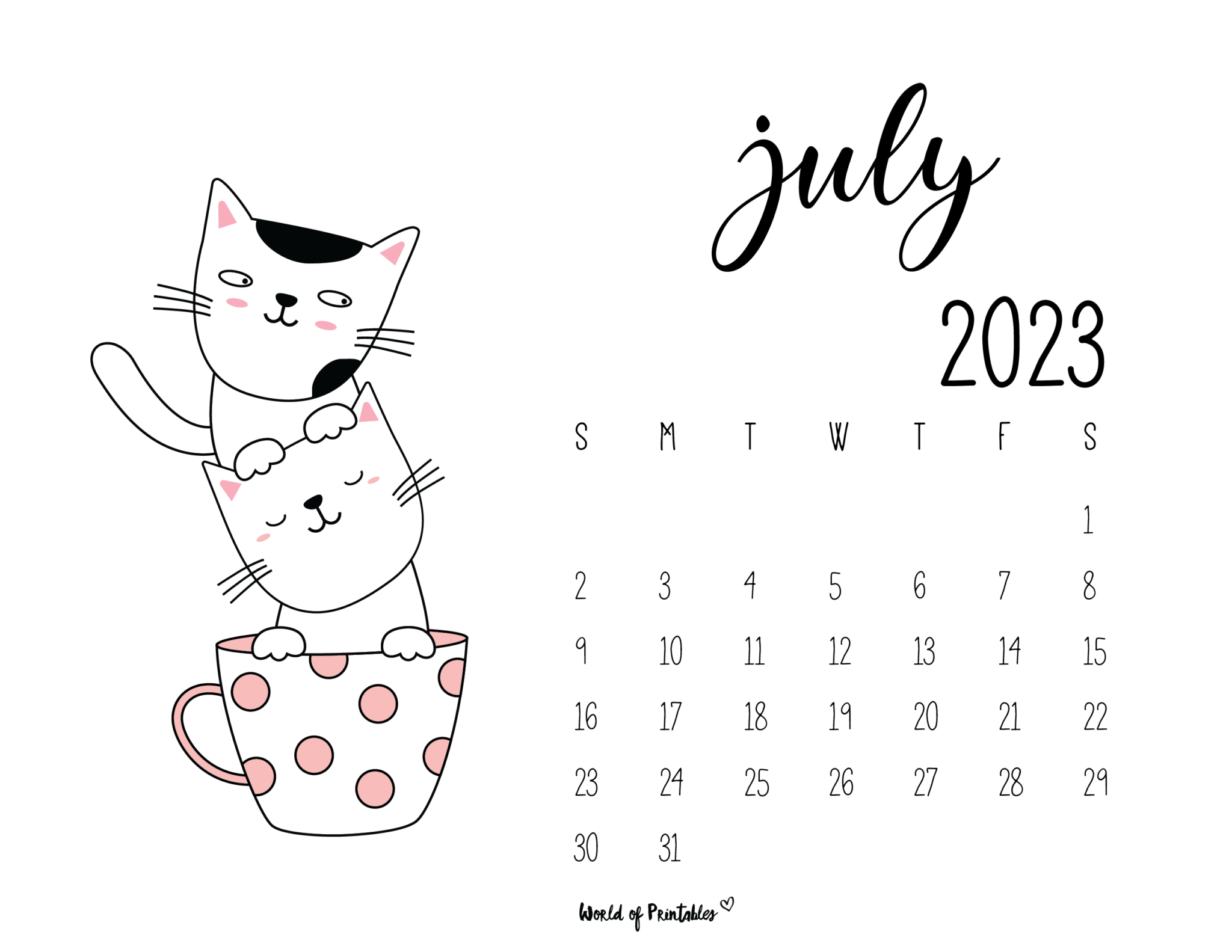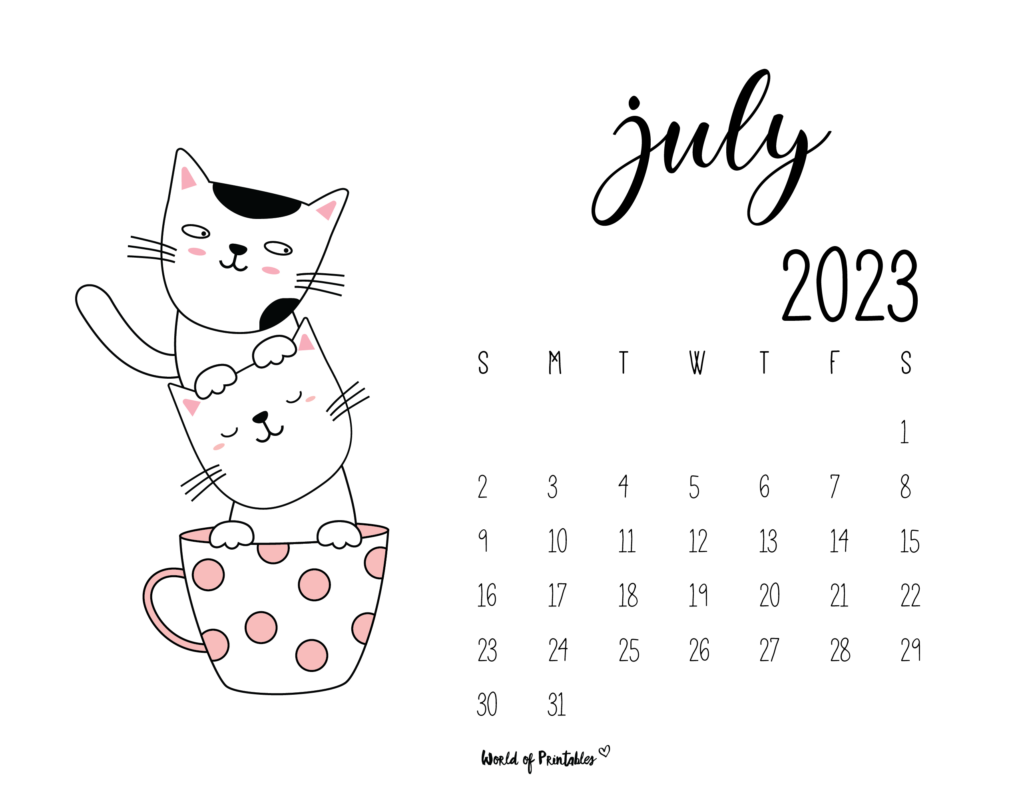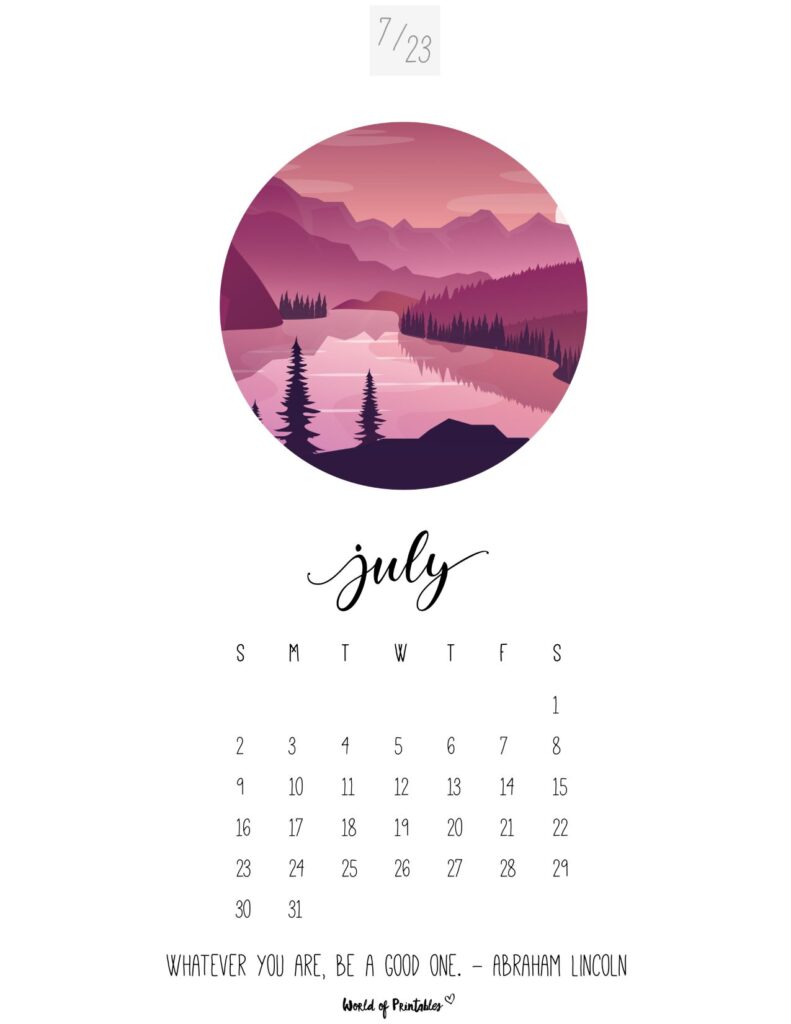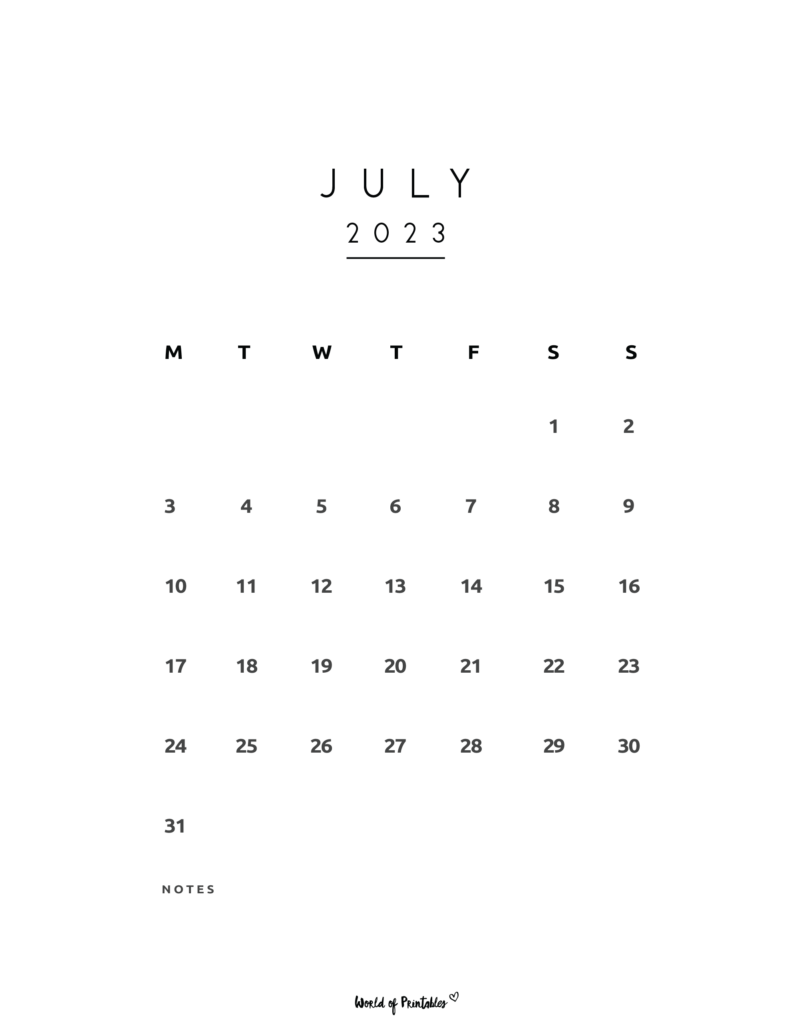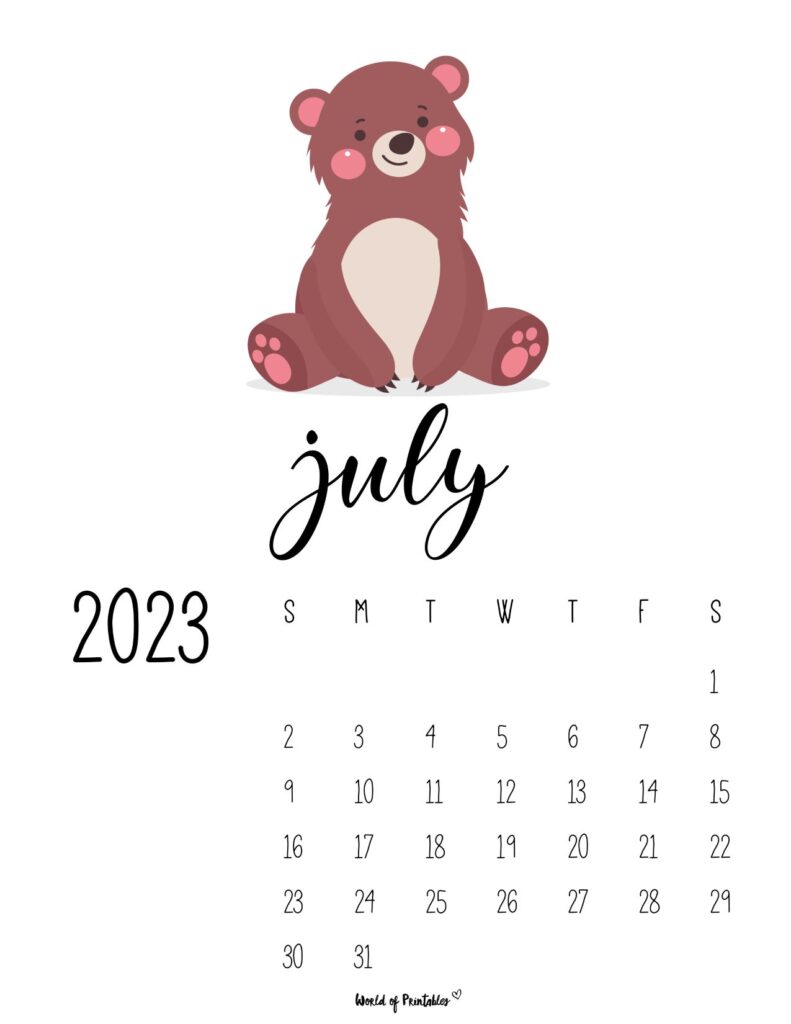 We think you will like these!
More free printable 2023 calendars
Our recent printable calendars are available for you to print for free.
If you liked these July calendars, please follow us on Pinterest or Instagram and sign up for our free newsletter to get the news of our latest printables direct to your inbox.
How to make printable calendars look stunning
Print it! – Our calendars look so good when printed on this bright paper.
The paper is a good weight and works great with inkjet and laser printers, making the ink look crisp and clear. If you want something a little more heavy-duty then this card stock is a great option that's used a lot in the printable community.
Add some style!
Resize it – Resize our calendars easily, make them bigger or smaller to fit into your planner, frame or hanger – find out how here.
Style it – Style your calendar! Add them to showcase frames for a stunning display, poster hangers for a boho look, or even bind up your own for a shop-bought look! See more ideas on how to style printable calendar templates to match your home decor!
Snap it – Take a photo of your calendar and tag us on Instagram! We love to see how you use our calendars and may even feature your photo on our blog!