About the January calendar template
If you're looking for a free printable January 2024 calendar then you've come to the right place. Below you will find a huge amount of January Calendar printables that you can print on any printer.
If you are looking for a calendar for 2024 then why not see our huge range of free printable calendar templates?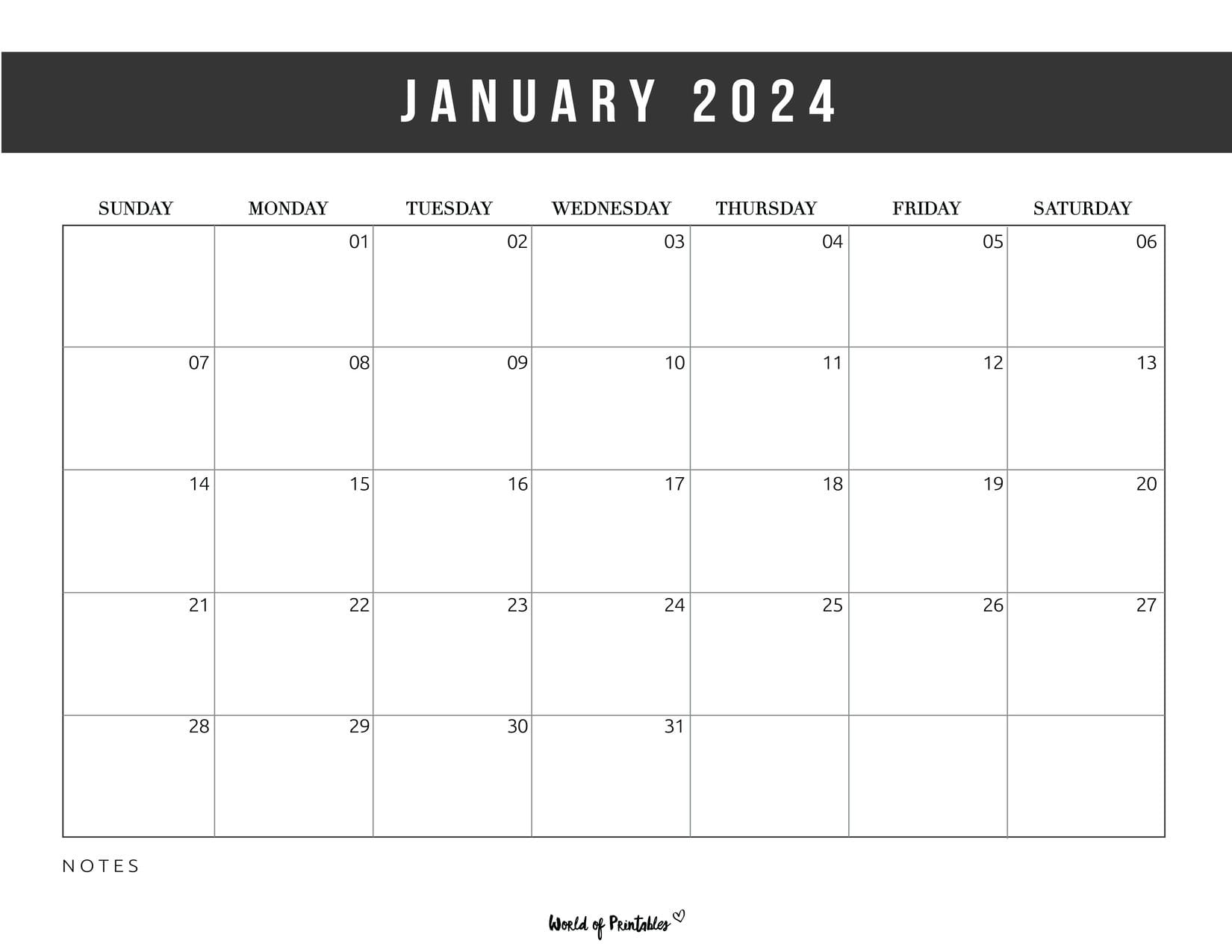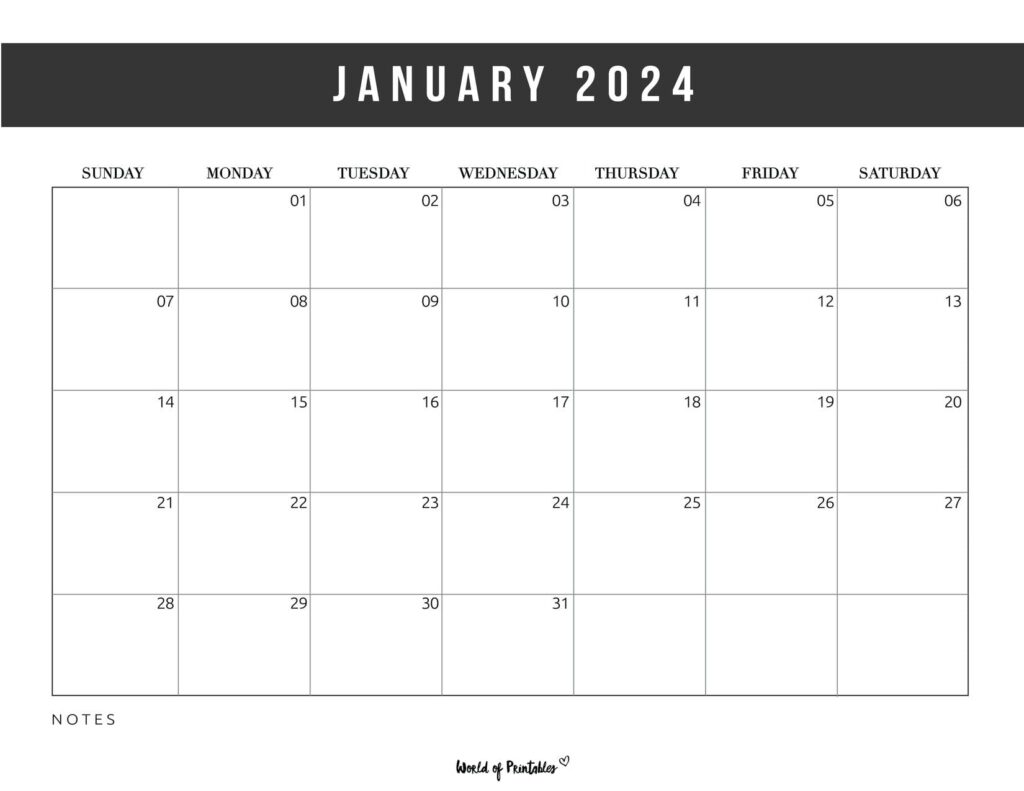 We have an amazing collection of free printable January 2024 calendars in all different styles to suit every need.
Our January 2024 calendars are perfect for your home, office, desk, or planner and they are free to download for personal use.
Once you download your free calendar, you can save it and print it as often as needed. Most of our calendars are in image or pdf format so if you have Adobe reader or similar you'll be able to print these calendars easily.
January 2024 Calendars
You'll find 125 January 2024 calendars to choose from. Simply pick your favorite to print and start planning January in style.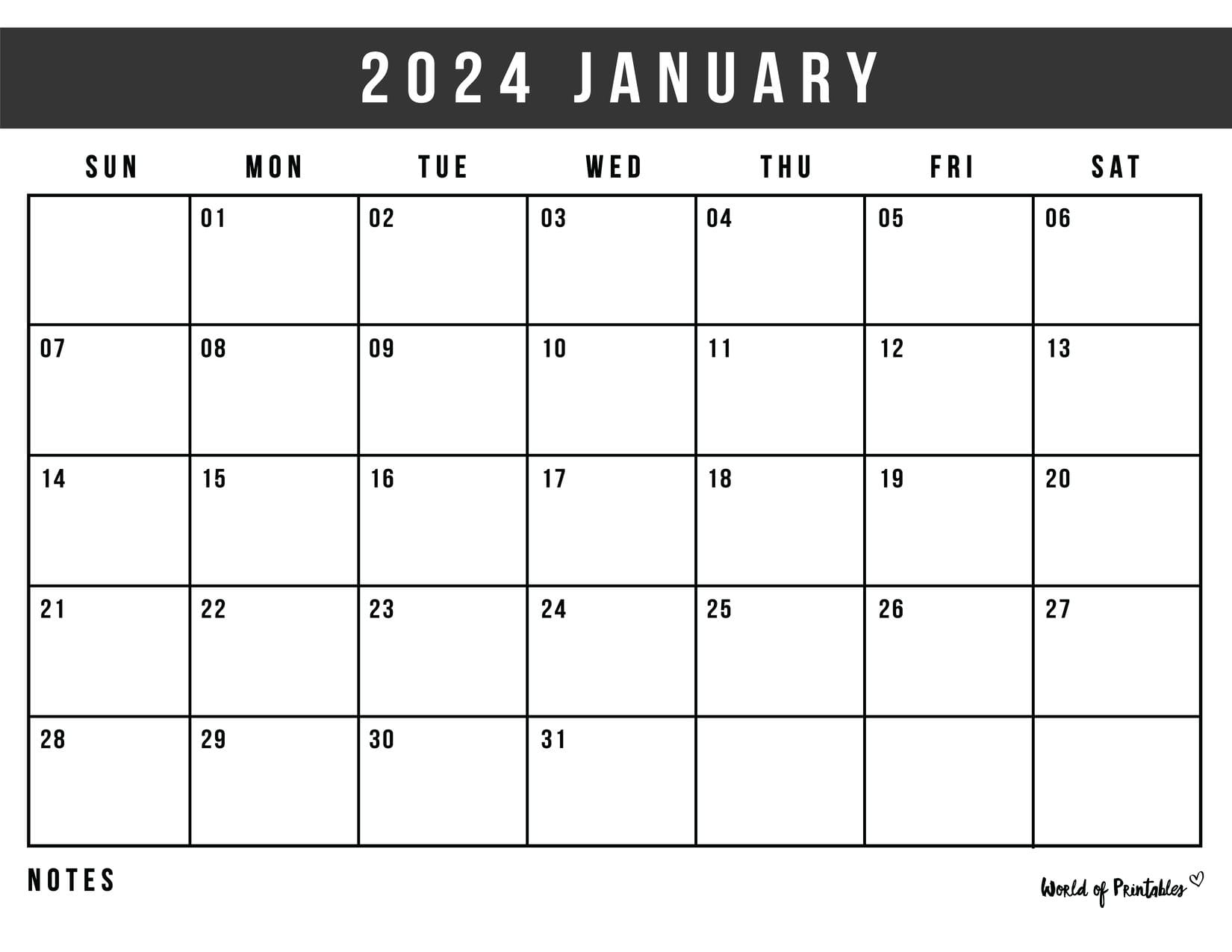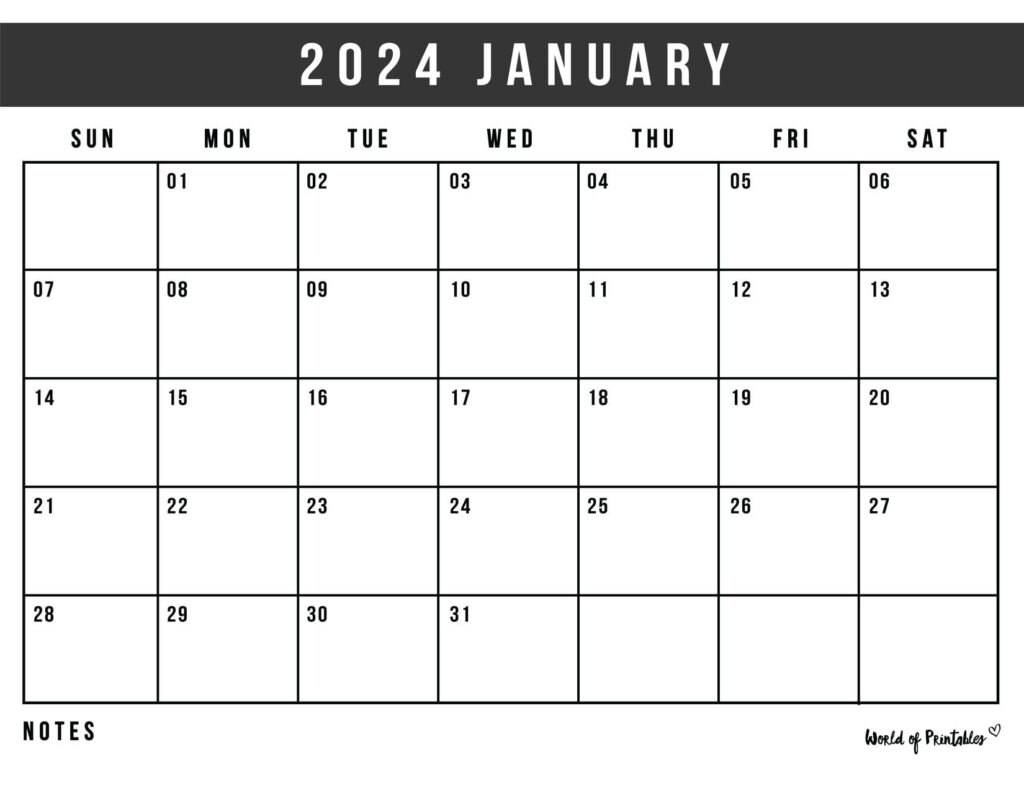 What better way to kickstart your 2024 than with a beautifully designed calendar to keep you organized and inspired throughout January? Here you will find a stunning collection of 125 stylish January 2024 calendars, all free to print. Whether you're a minimalist, an art enthusiast, or someone who loves a touch of whimsy, you'll find a calendar that perfectly suits your taste.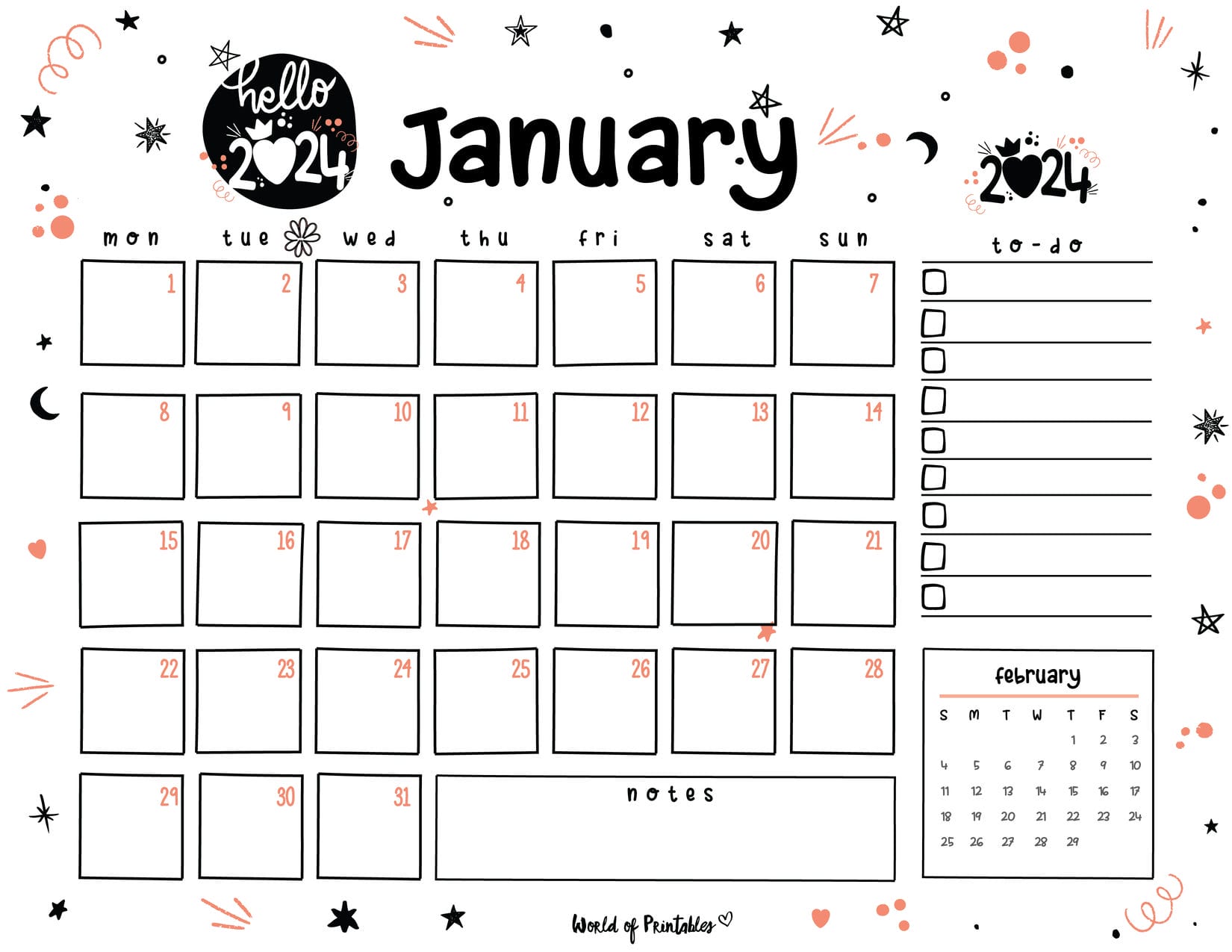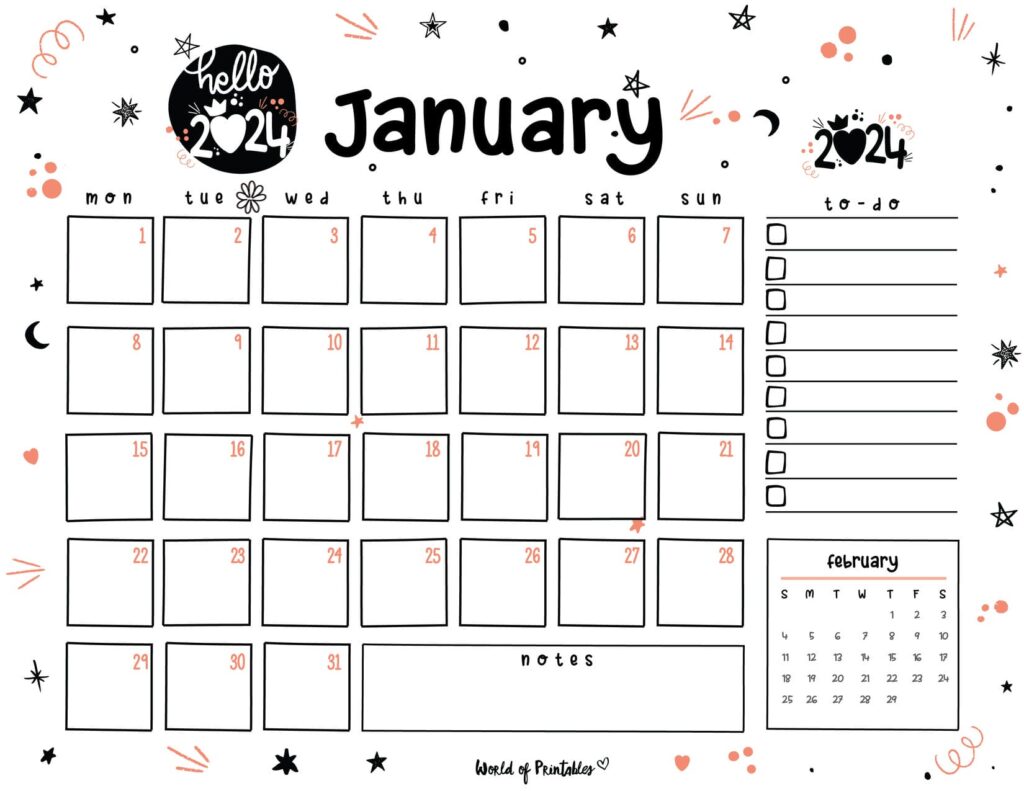 Cute January 2024 Calendar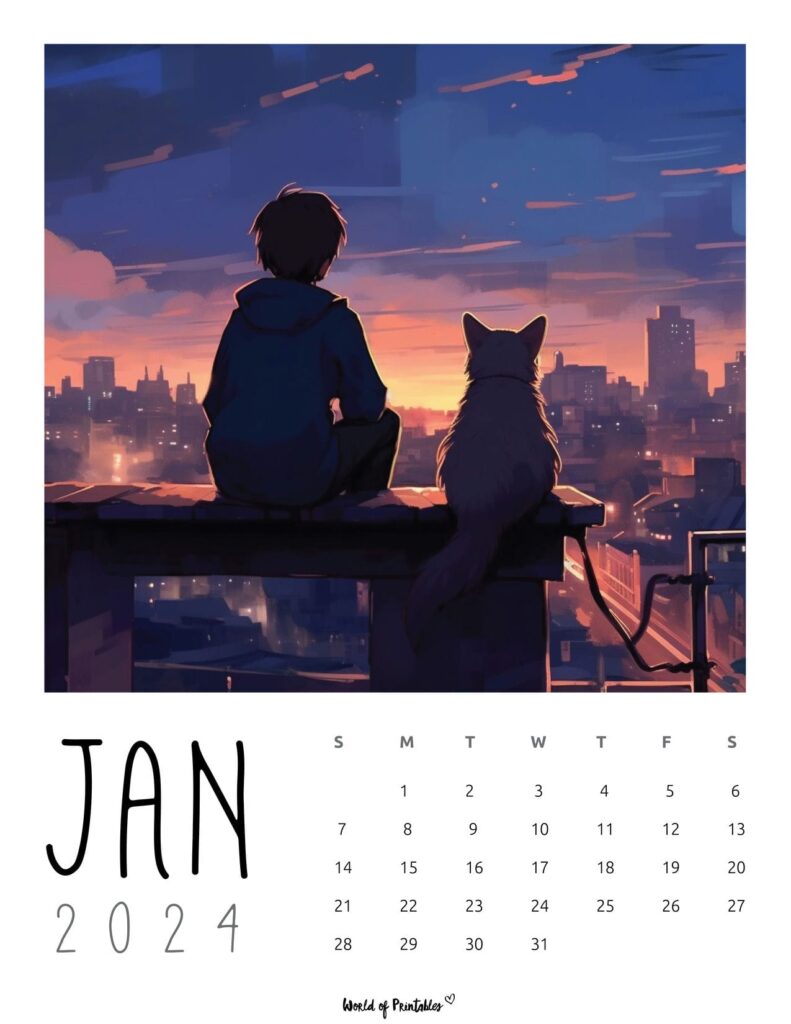 Lofi January 2024 Calendar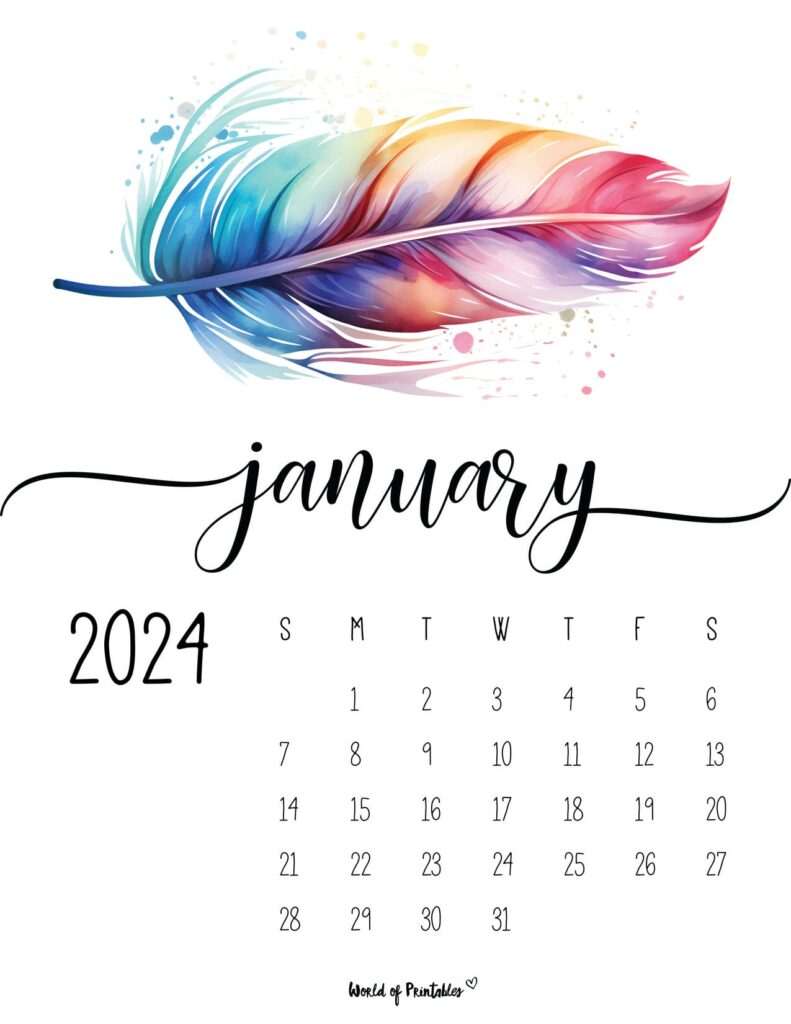 Watercolor January 2024 Calendar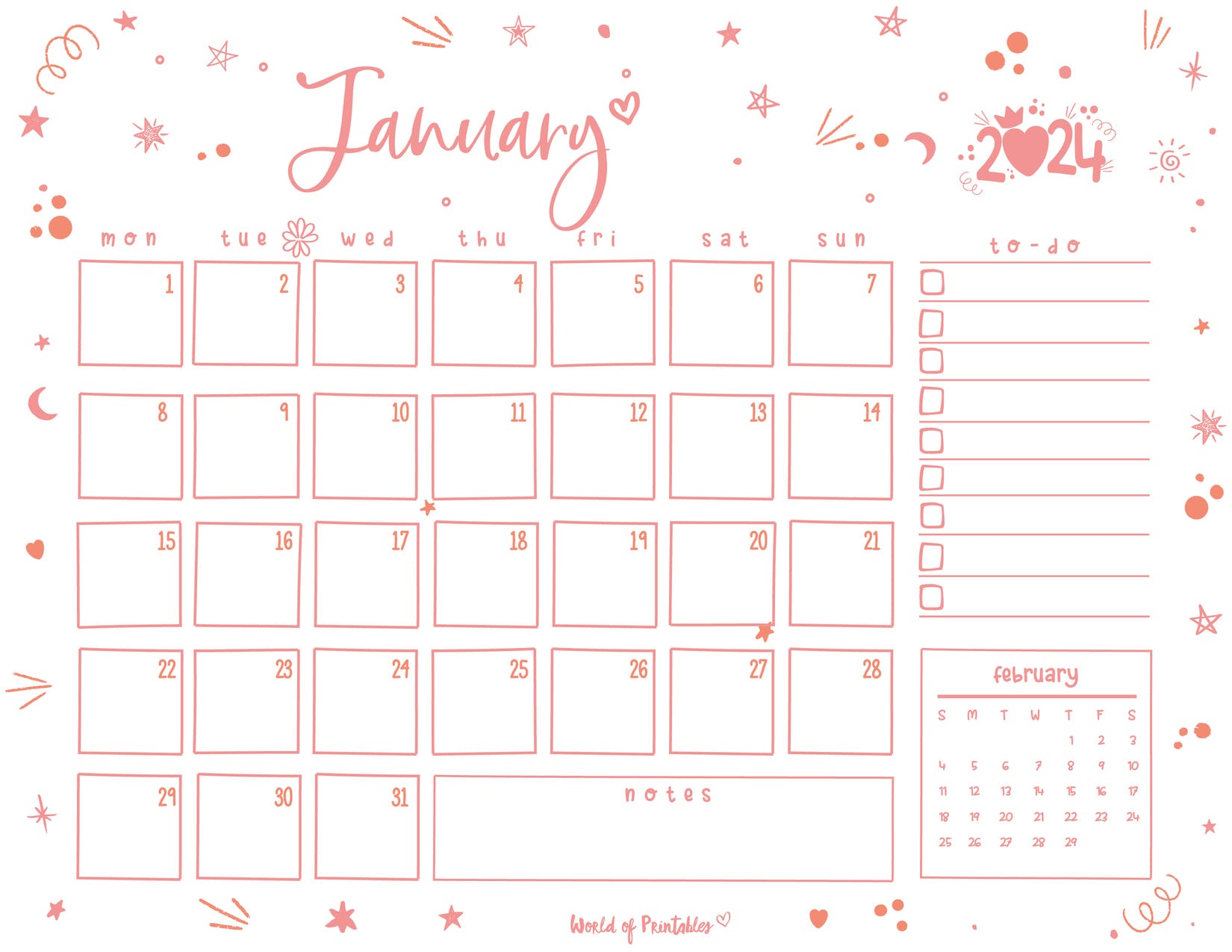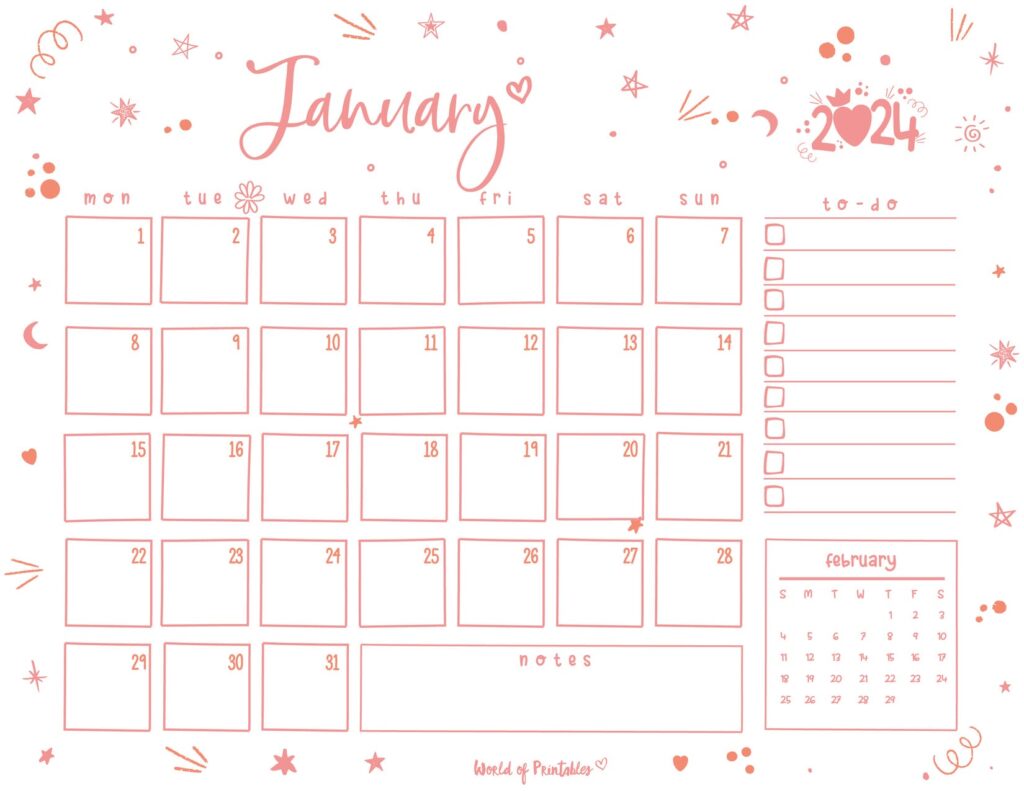 Cute January 2024 Calendar Landscape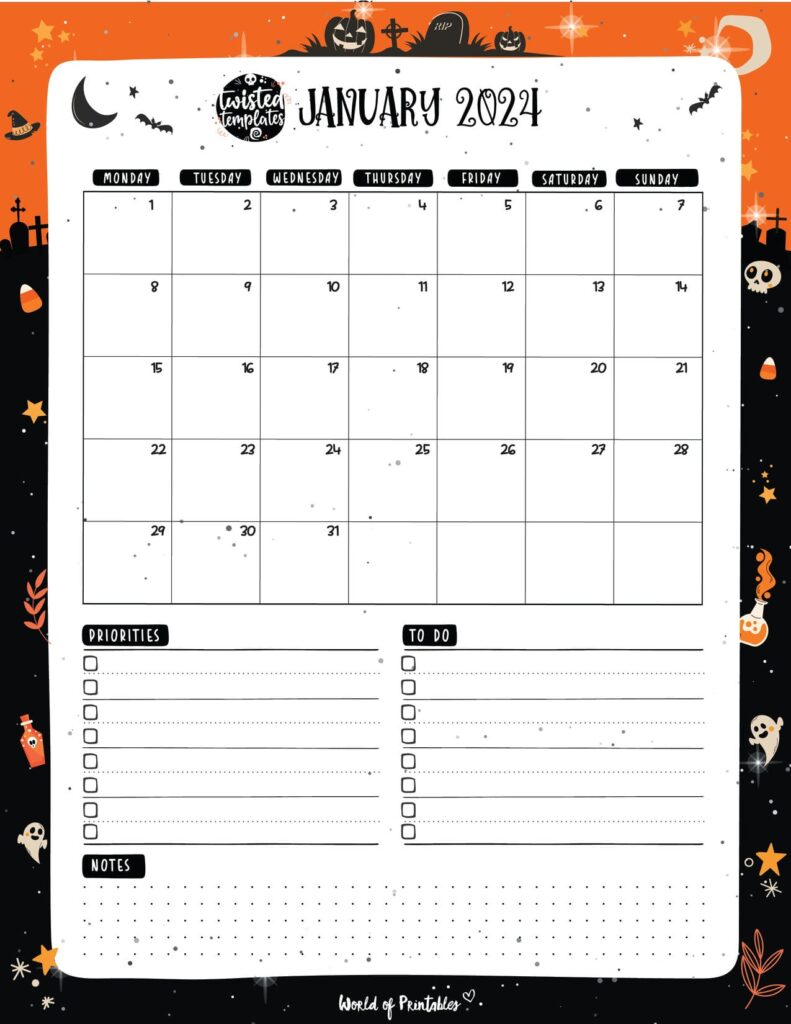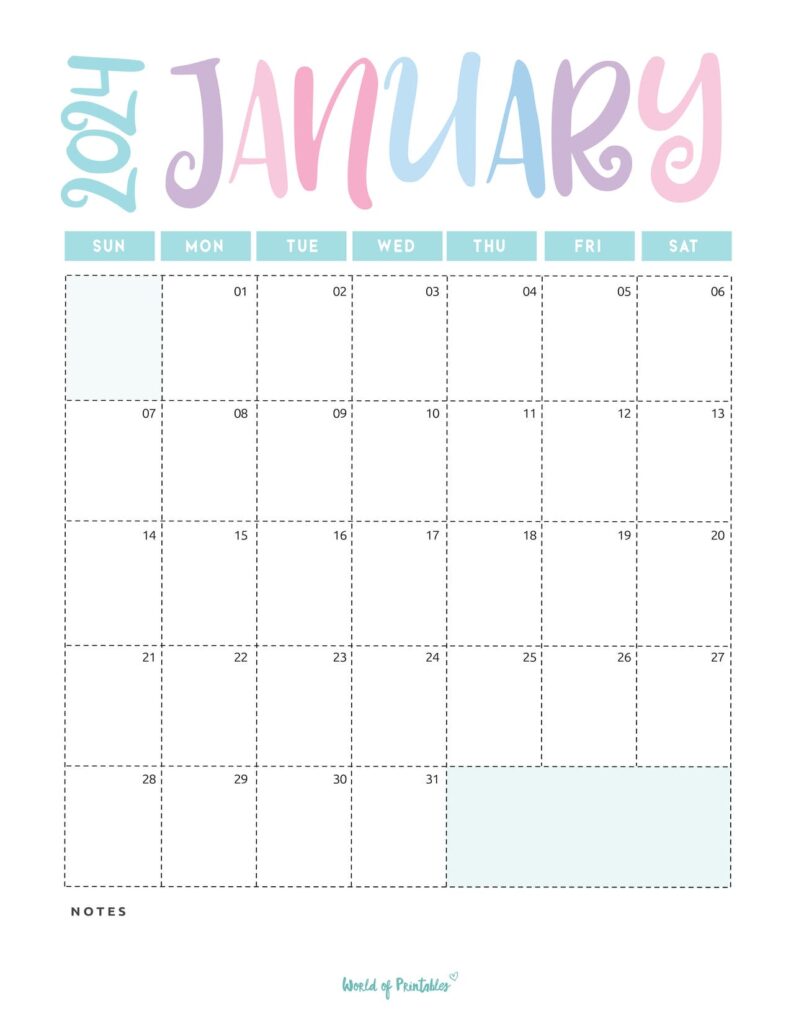 Pastel January 2024 Calendar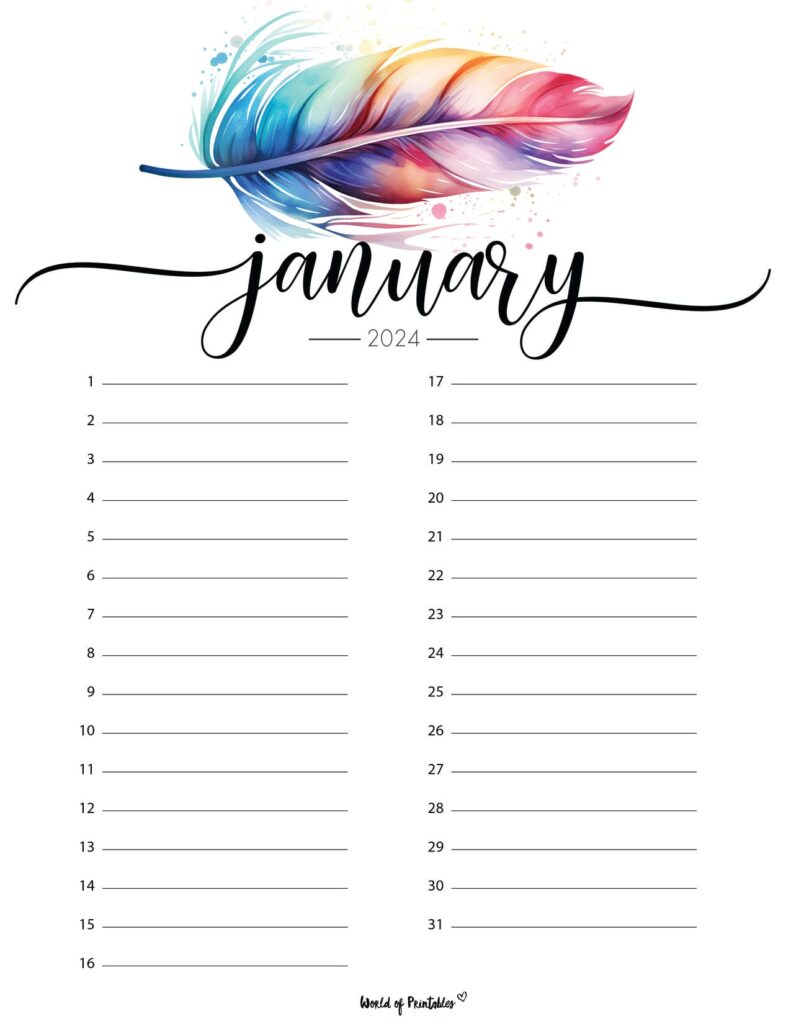 January 2024 Calendar List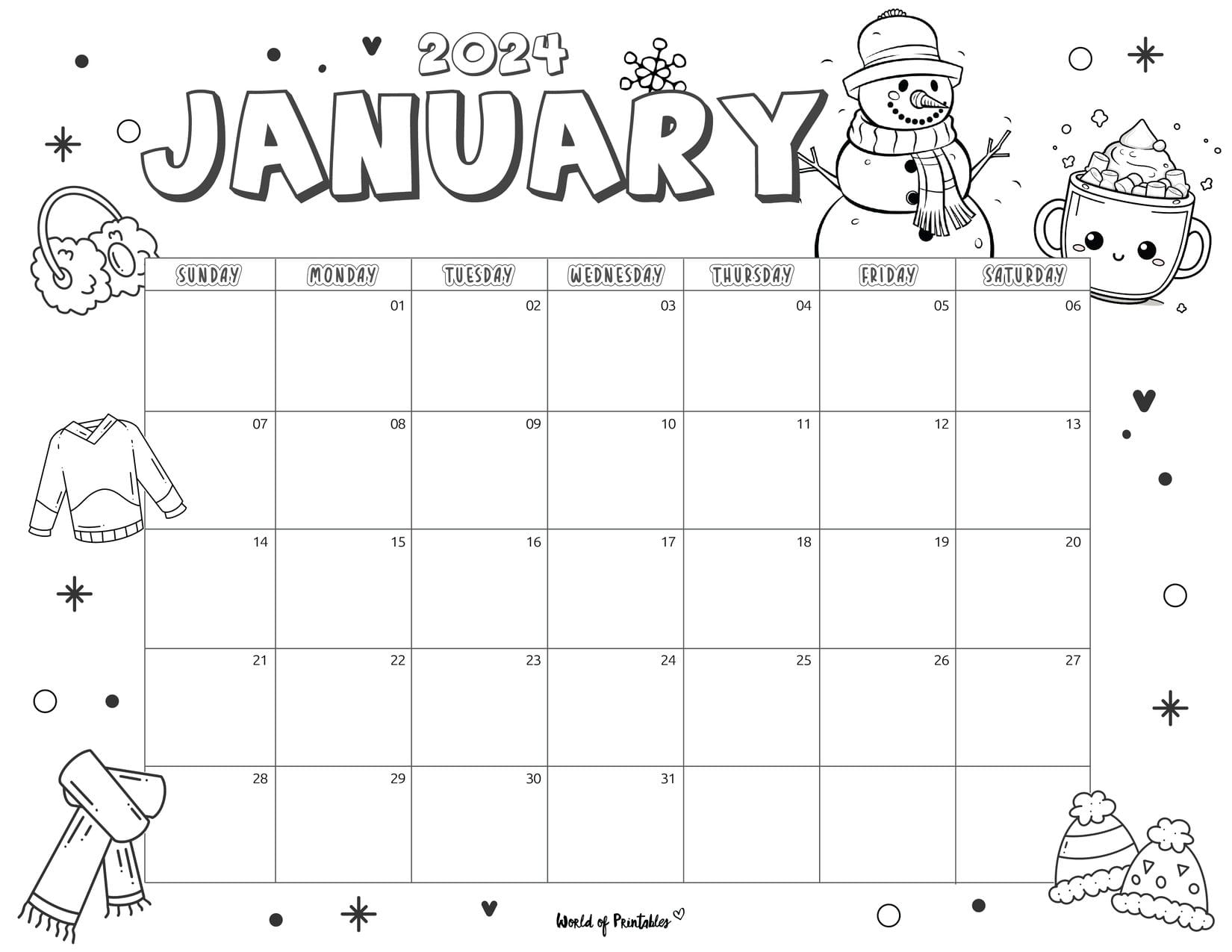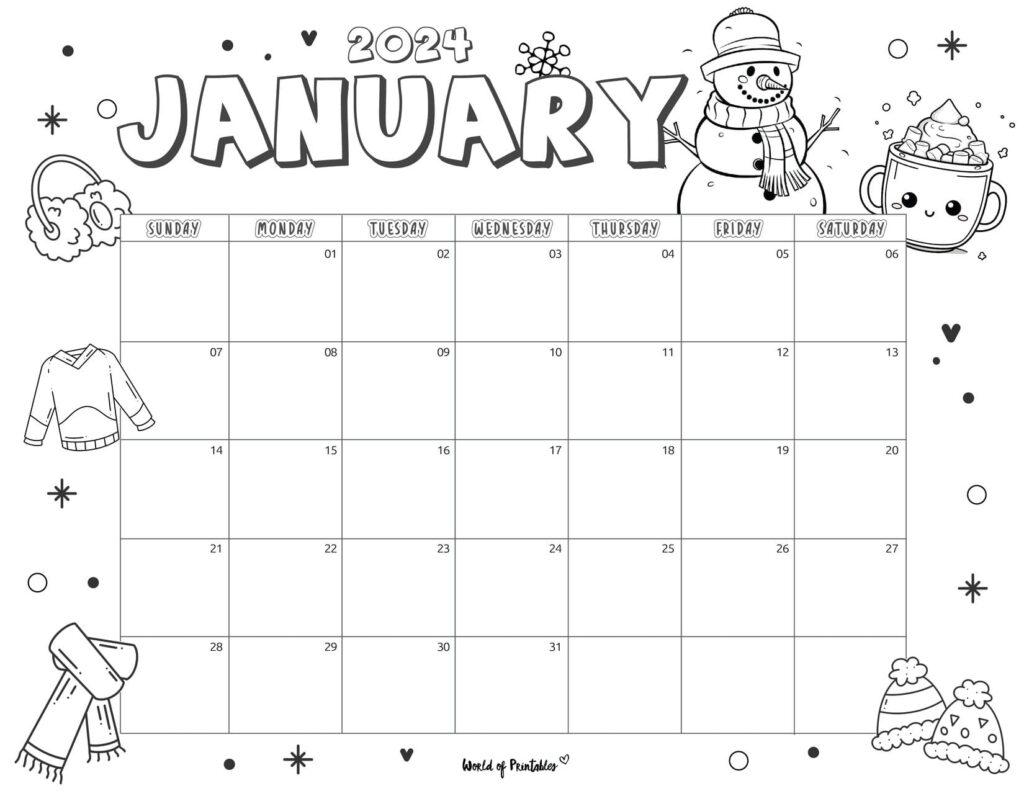 January 2024 Calendar Coloring Page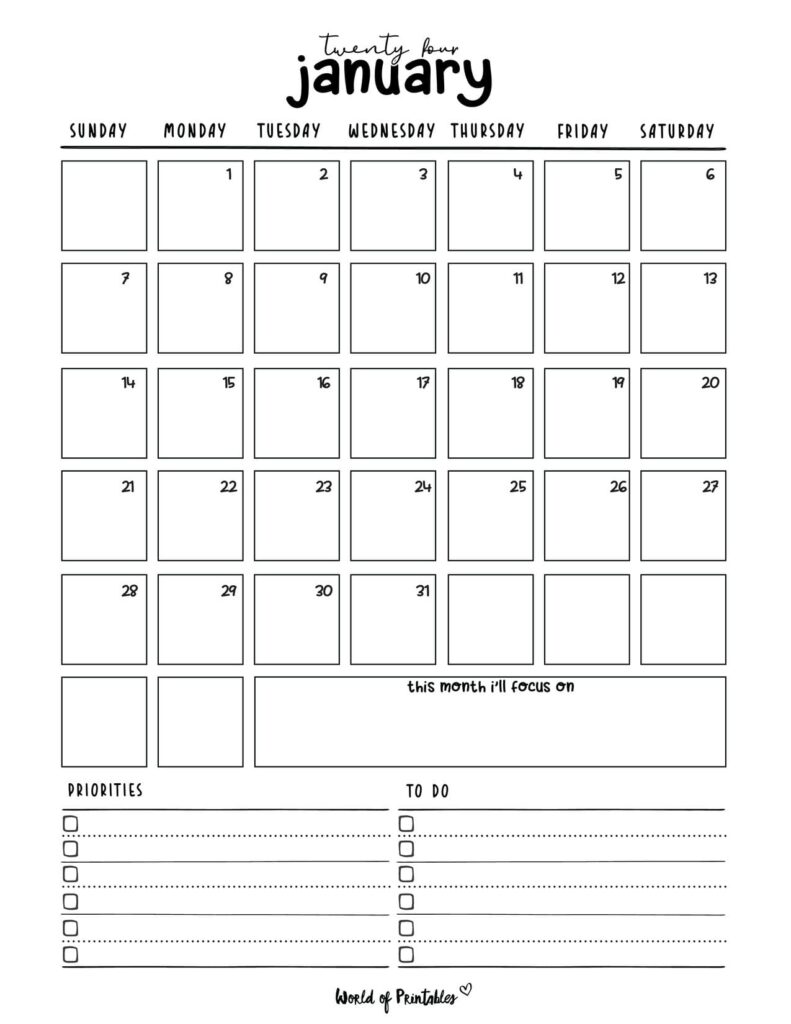 January 2024 Calendar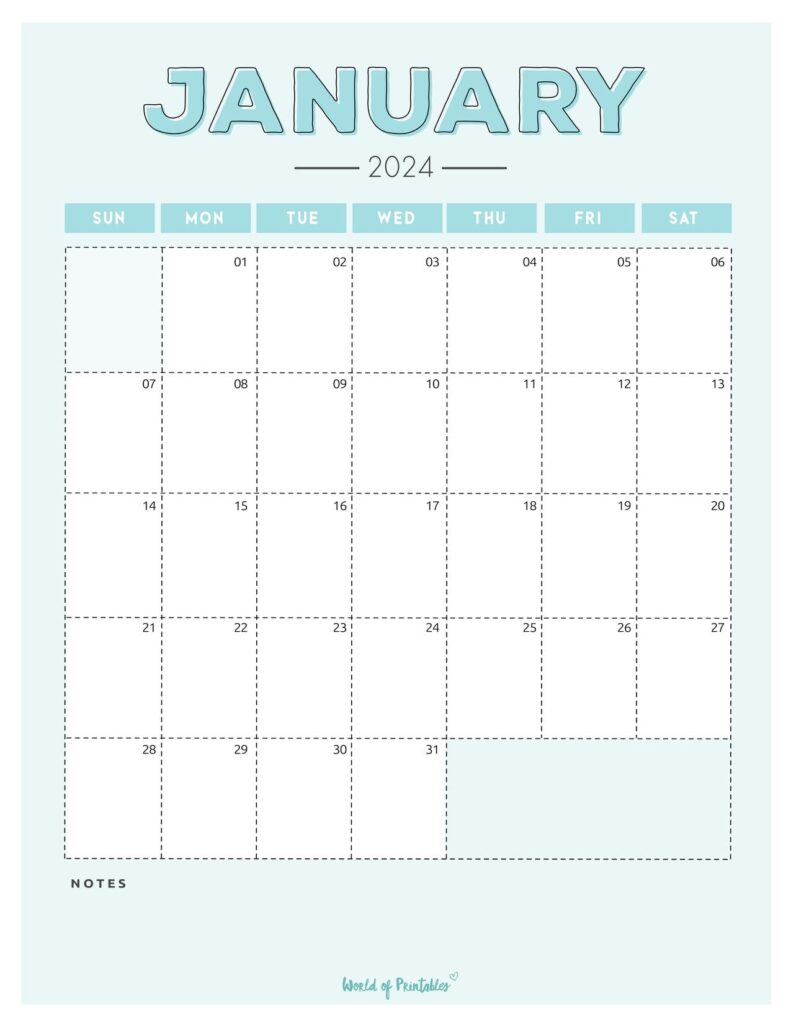 Aqua Blue January 2024 Calendar Portrait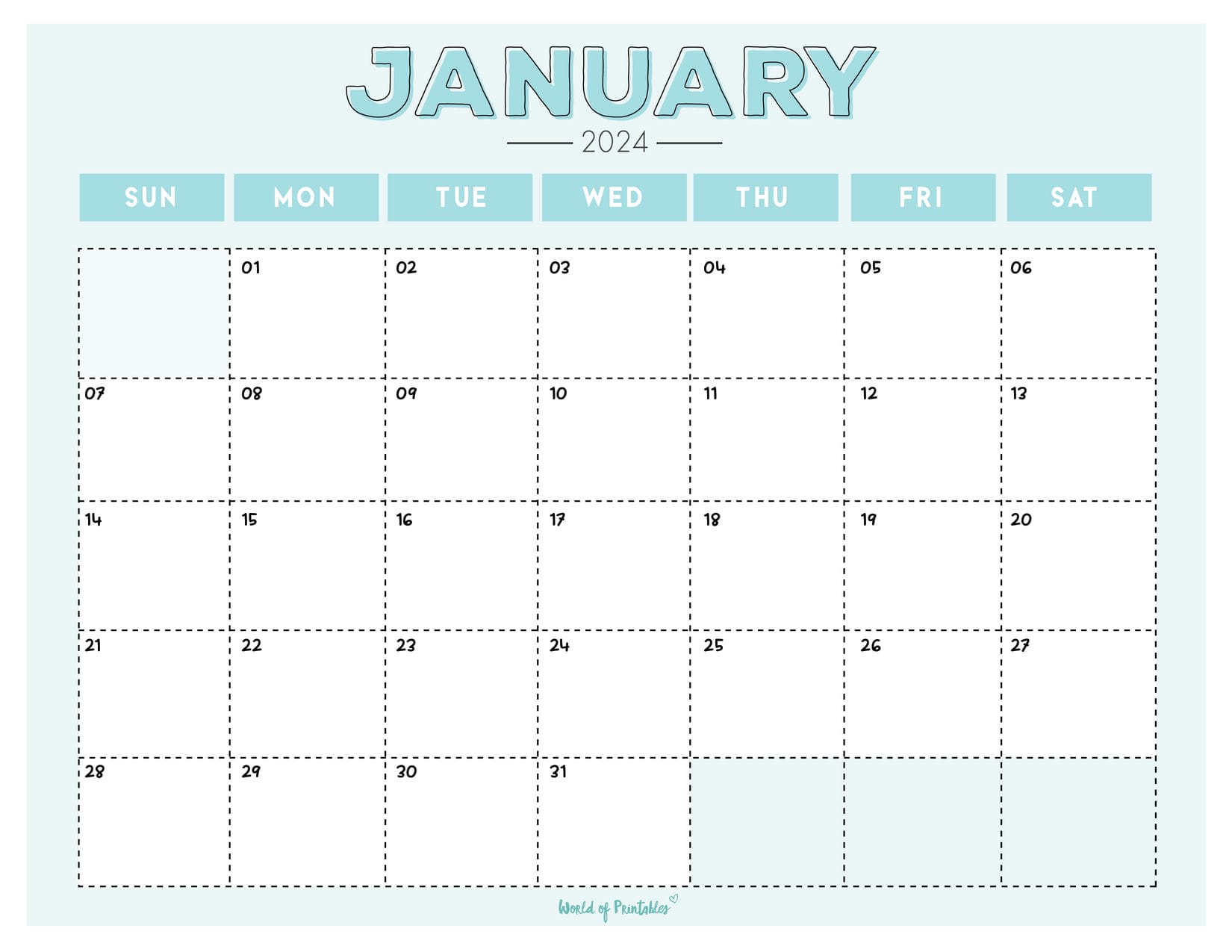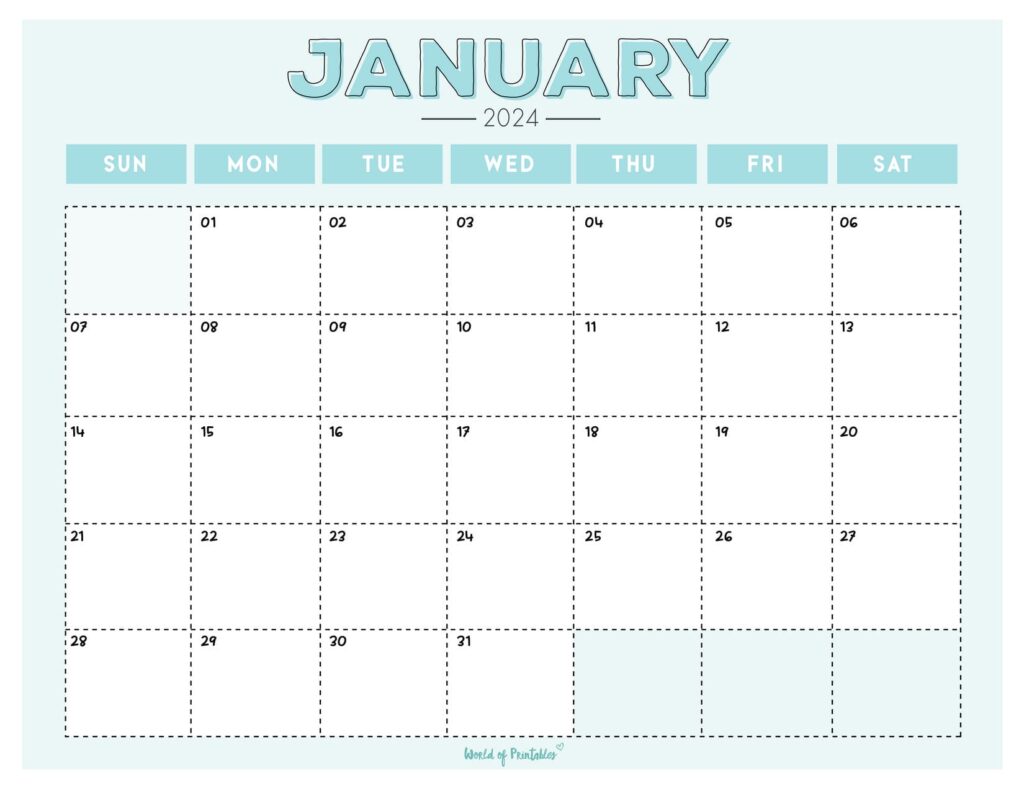 Aqua Blue January 2024 Calendar Landscape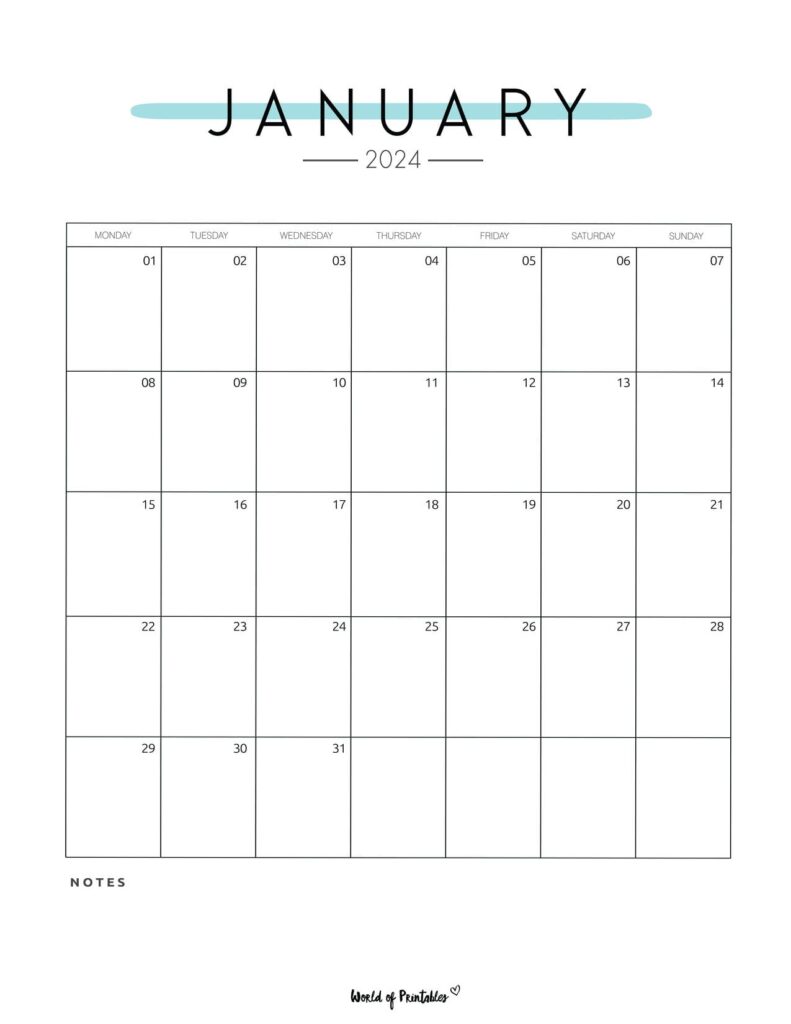 January 2024 Calendar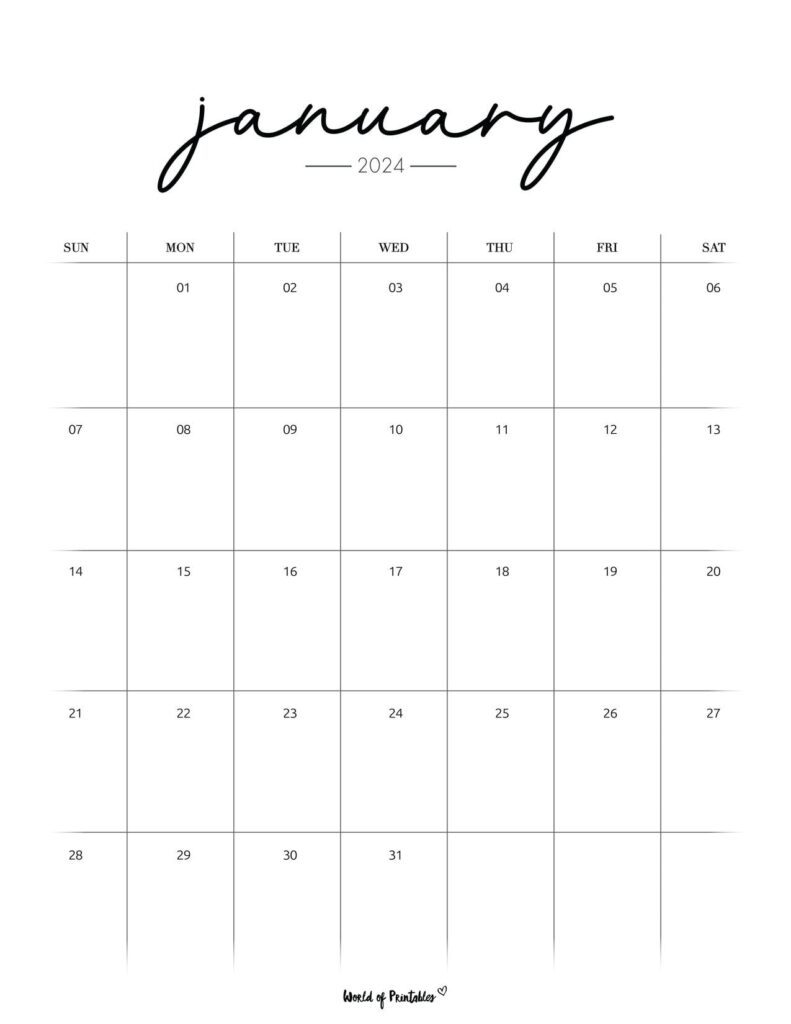 Cursive January 2024 Calendar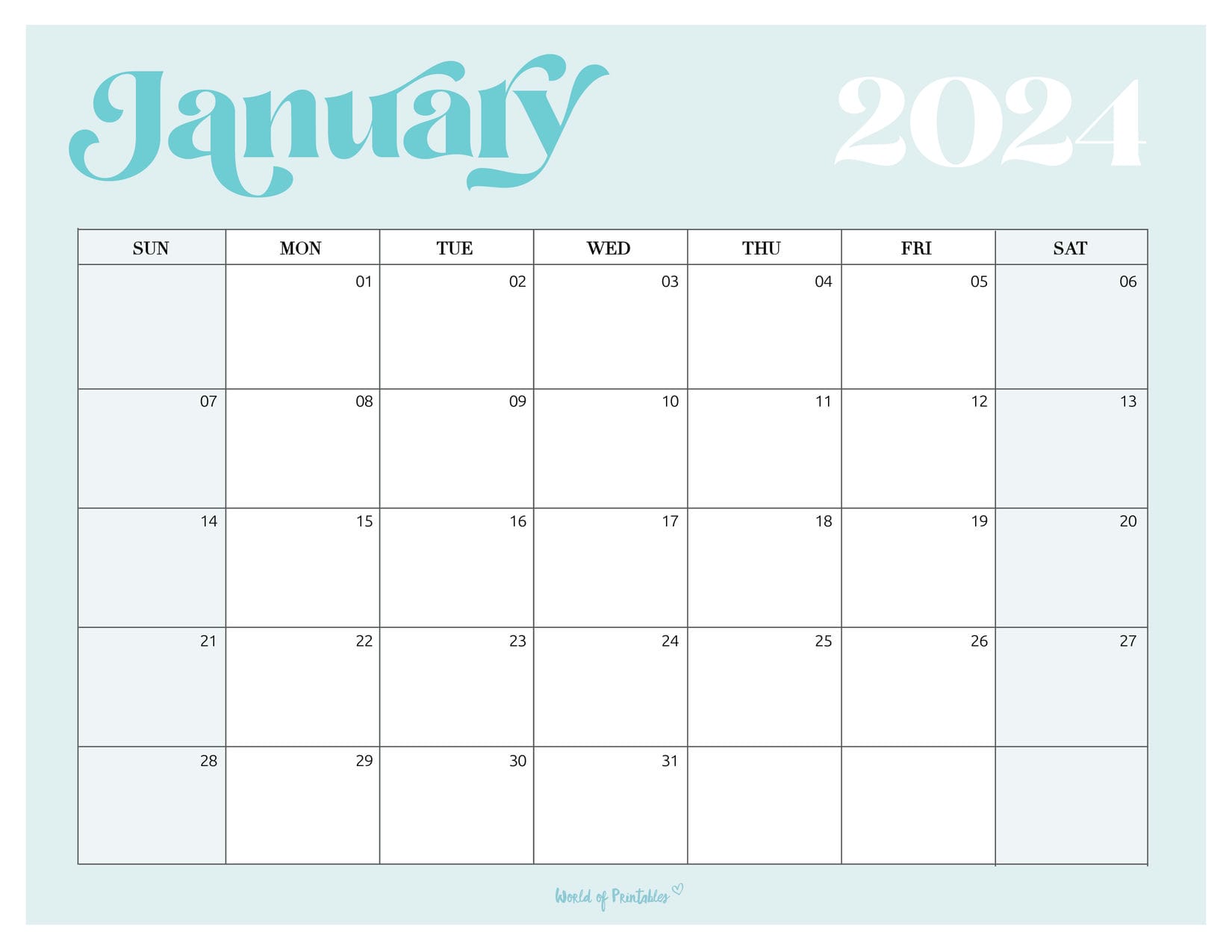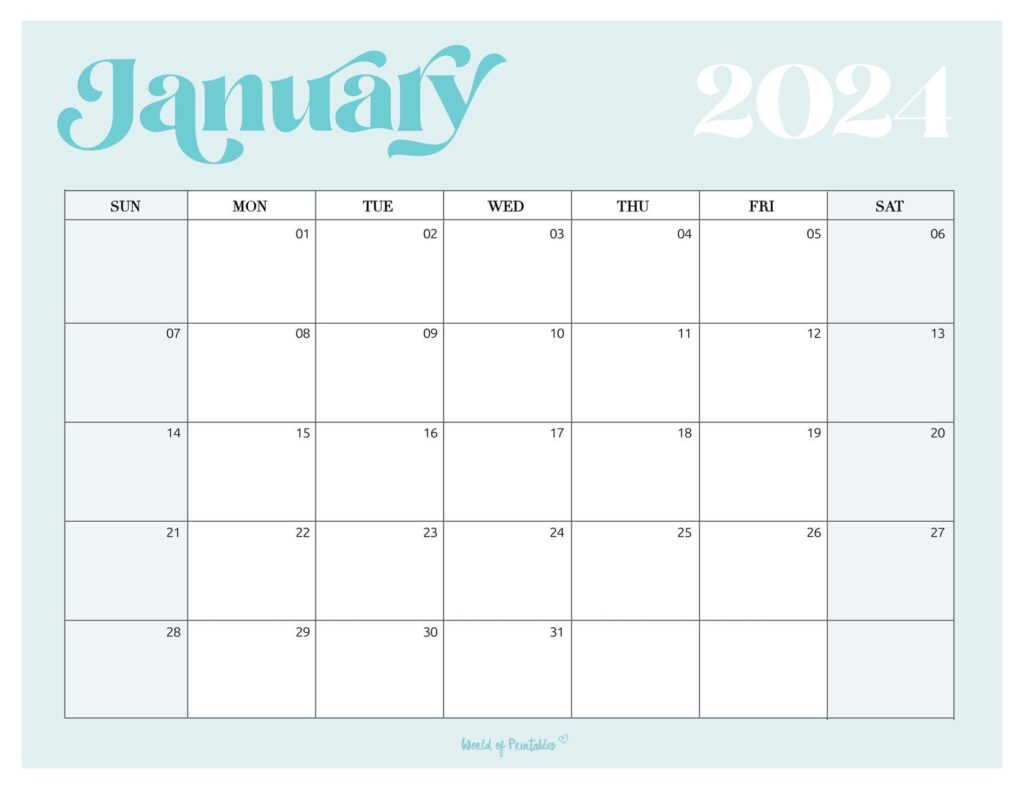 Pretty January 2024 Calendar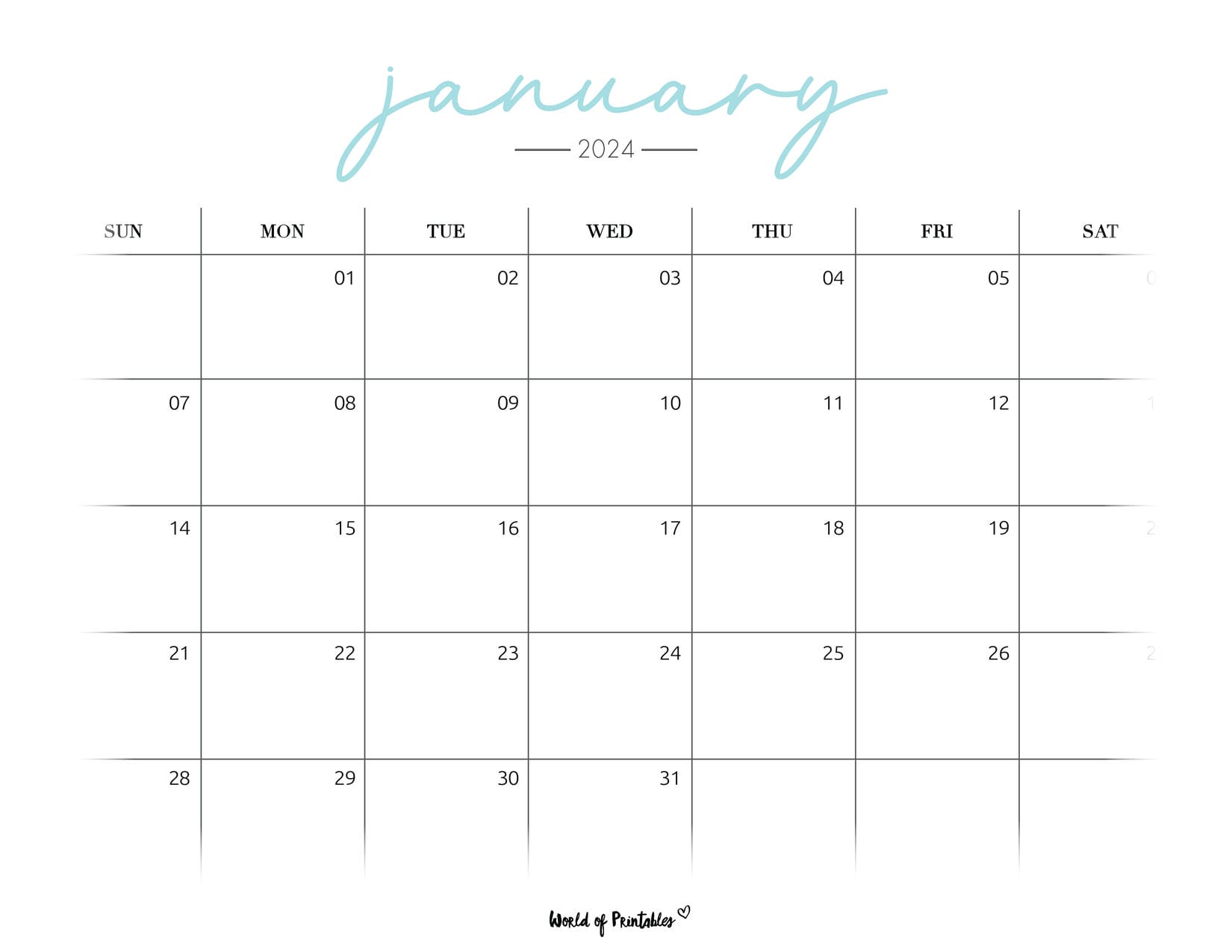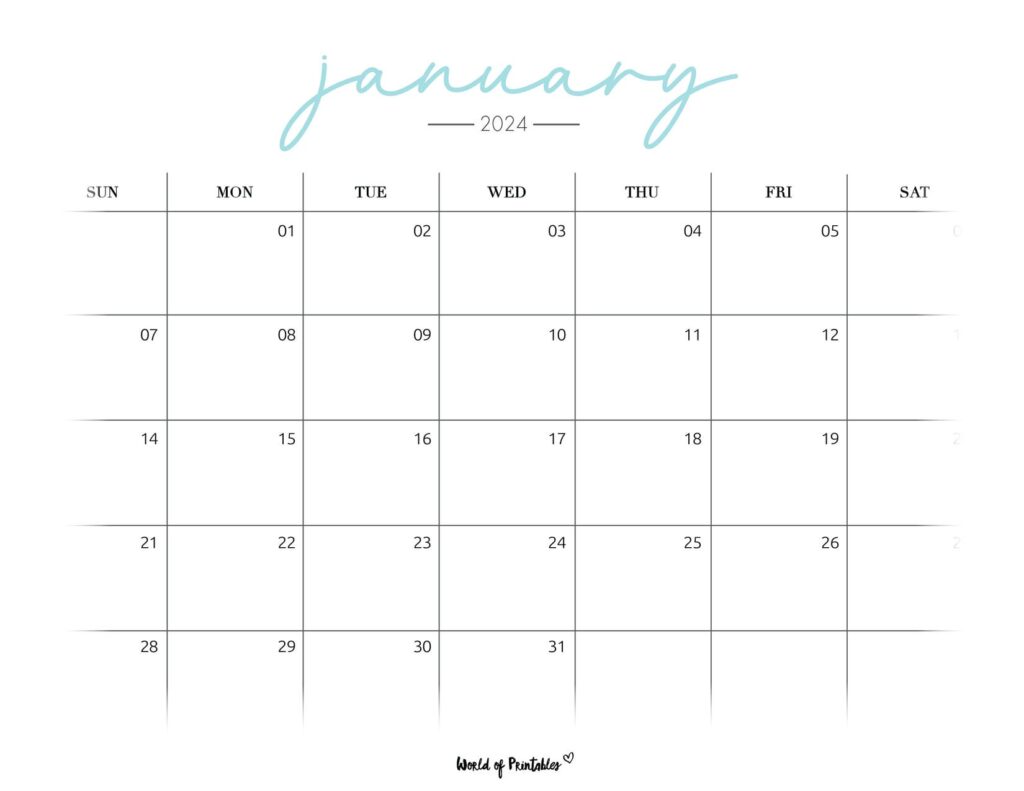 January 2024 Calendar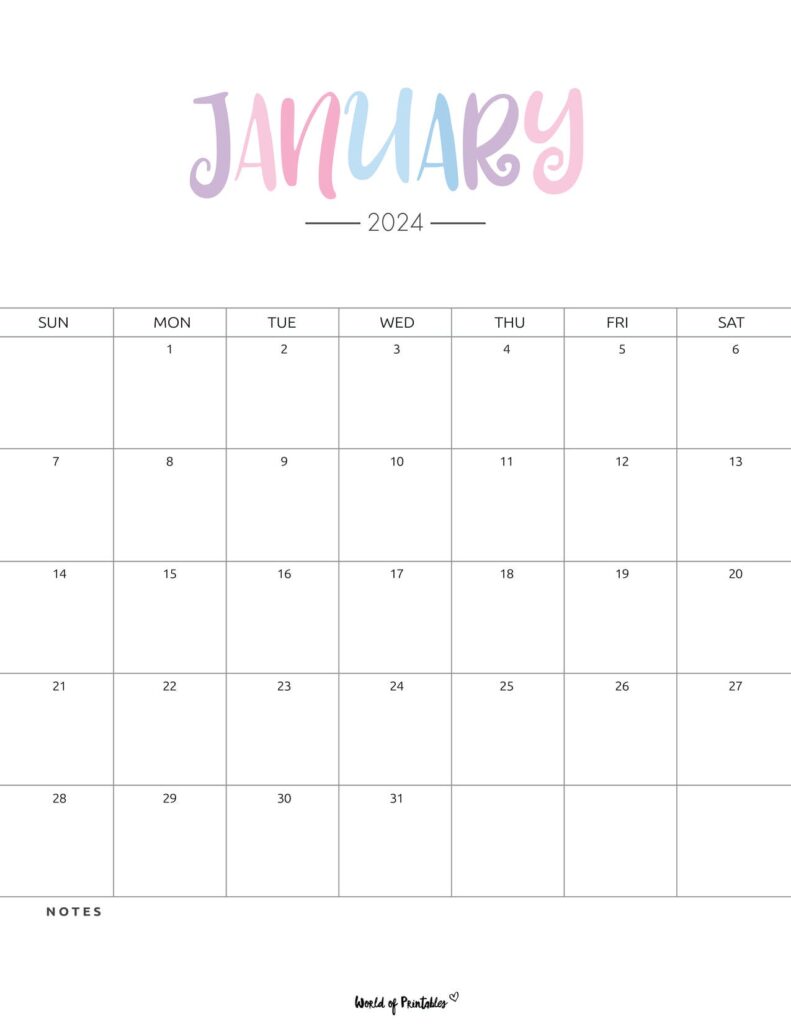 Pastel Colors January 2024 Calendar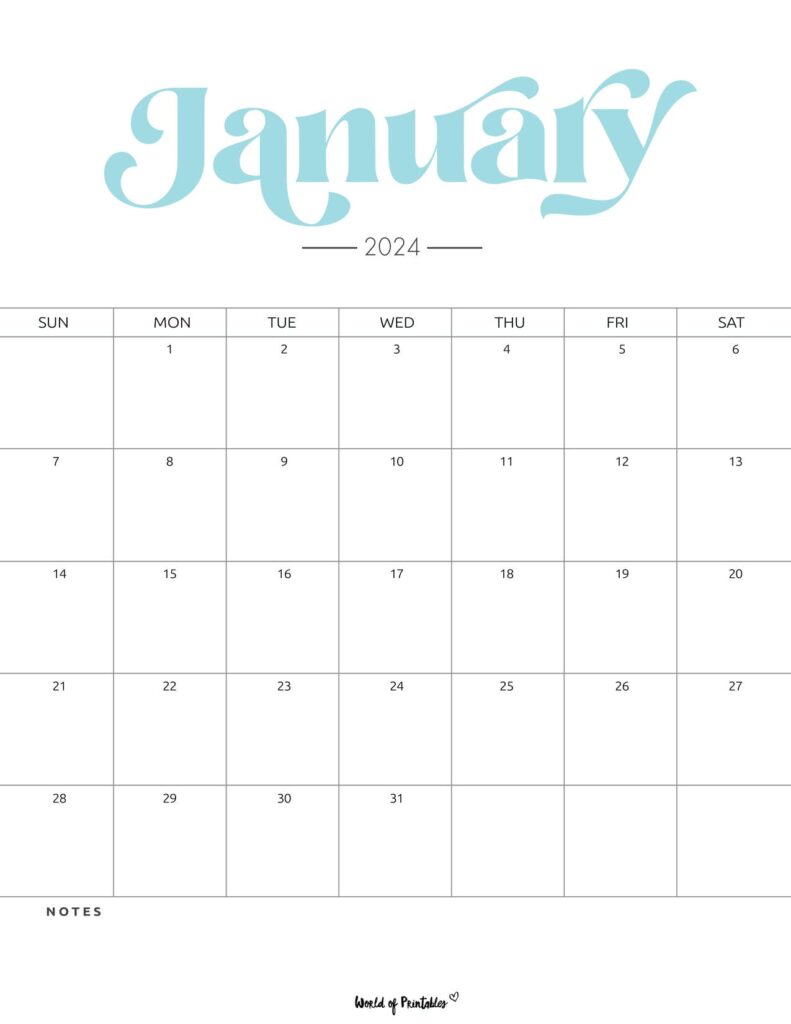 January 2024 Calendar Boho
January 2024 Calendar Aesthetic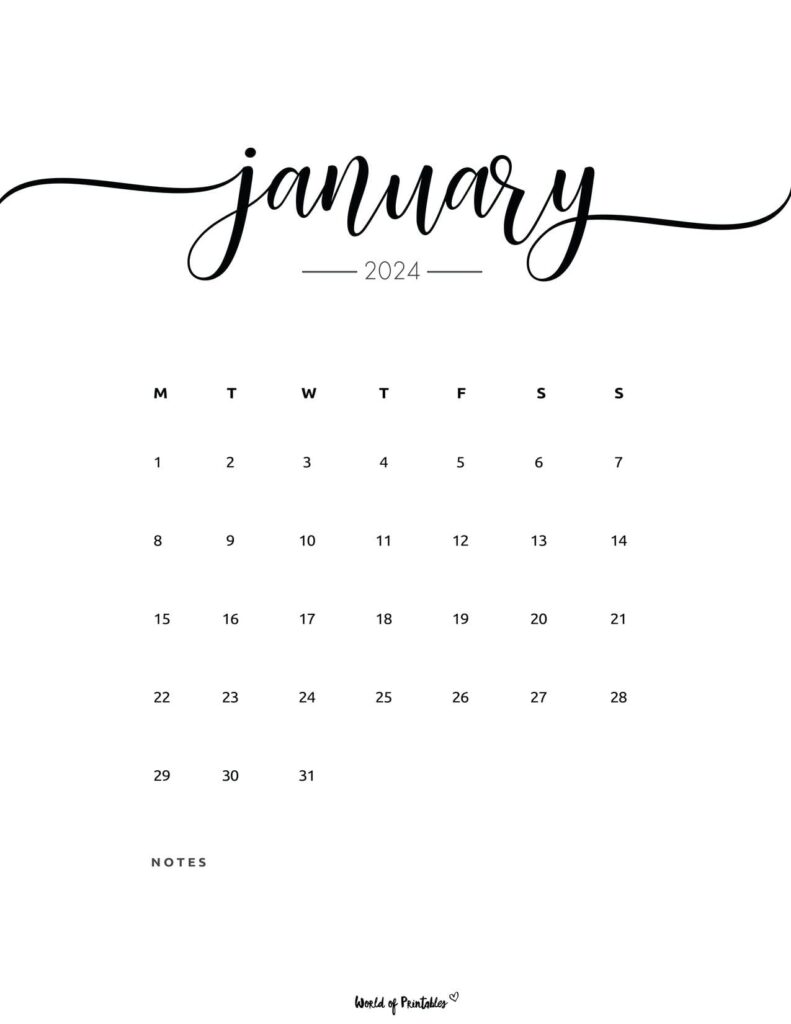 Stylish January 2024 Calendar
Each calendar not only helps you stay on top of your important dates and appointments but also adds a touch of elegance to your workspace or home.
If you want a full year one page 2024 year calendar then we also have a selection of them available.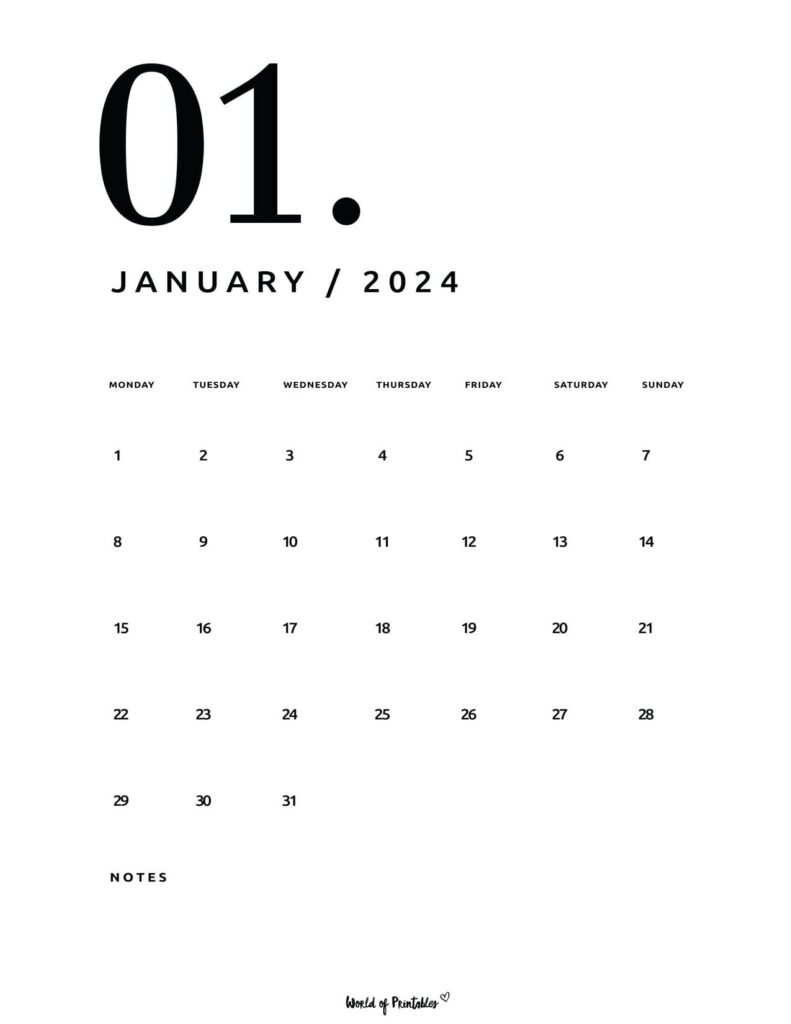 You can also download our free printable blank calendar templates if you want something quick and easy that you can print at any time with minimal fuss.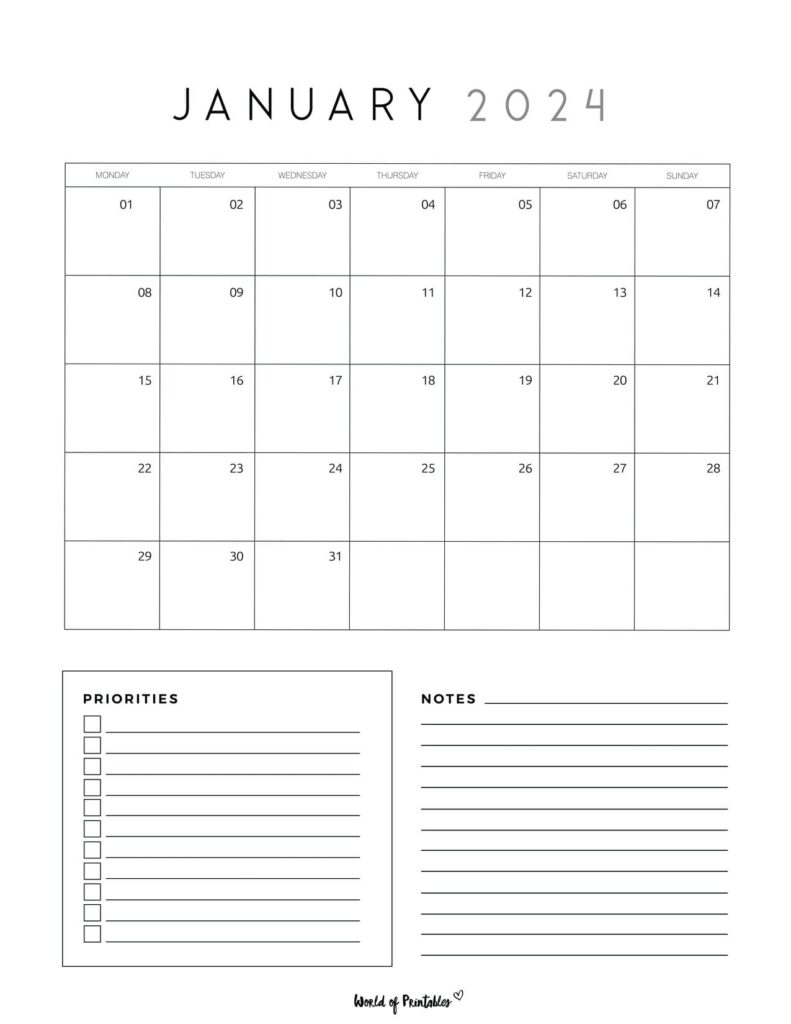 January Month Meaning
January is said to have been named for Janus, an ancient Roman god of beginnings, transitions, and endings, and is depicted as having two faces.
It would make sense that January would be the start of a new beginning closing the door to the past year.
Well, when we think of January we think about the start of the year right? Well did you know that January didn't always represent the start of a new year?
In fact, traditionally, January wasn't even in the calendar! January first became a part of the calendar around 713BC along with February but sat at the end of the month in the Roman Calendar.
It still wasn't recognized as the first month of the year until around 45 BC when it replaced March as the first month.
What is the January birthstone?
The January birthstone is known as a Garnet.
This is a beautiful stone that is more commonly found in deep red shades, however, there have been some blue garnets reported but these are rare.
What is the January zodiac sign?
There are two zodiac signs for people whose birthday falls in January. Depending on the date you were born you will be either a Capricorn (Goat) or an Aquarius (Water Bearer).
A Capricorn's birthday falls between December 22nd and January 19th whereas Aquarius' birthday falls between January 20th and February 18th.
How many days are in January?
There are 31 days in January but that hasn't always been the case. Up until 45 BC January only had 29 days!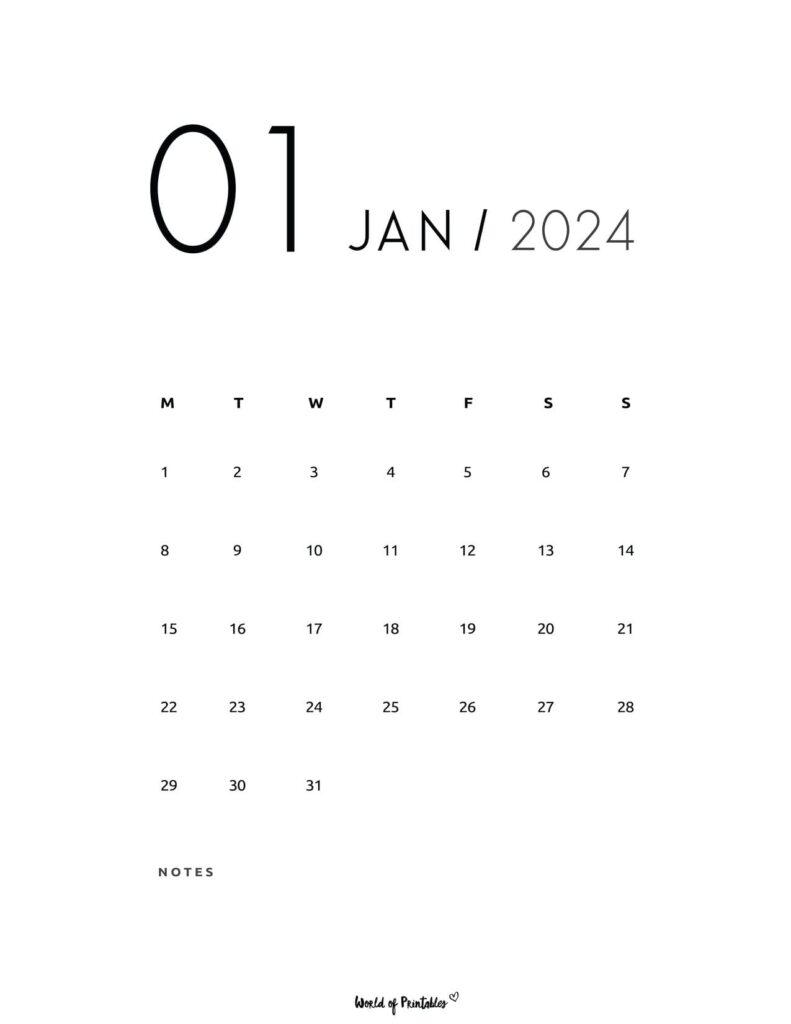 Why settle for a dull, uninspiring calendar when you can have one that complements your style and brightens up your space? With our free printable January 2024 calendars, you can start the year off on the right foot. Explore our collection, pick your favorites, and get ready to embrace a well-organized and stylish January 2024! Download and print your chosen calendars today and make 2024 a year to remember.
What day does January start in 2024, 2025, and 2026?
It's always good to look to the future, that's why we are looking to the next three years to see what day January starts on.
2024 – Monday January 1st
2025 – Wednesday January 1st
2026 – Thursday January 1st
You might notice that every year the date changes by one.
What are the January holidays?
Let's take a look at some of the amazing January holidays you can look forward to celebrating!
These holidays are listed as Federal Holidays:
January 1 – New Year's Day
January 15 – Martin Luther King Jr. Day
Apart from New Year's Day, Martin Luther King Jr. Day is the only federal holiday in January.
You can also download our free printable 2024 Calendar with holidays templates.
Let's take a look at some weird and wonderful holidays! These holidays are for enjoying as you please!
There is literally a day for everything imaginable so I will pick a few to mention.
Whether these holidays are worth celebrating or not, they definitely offer you some great ideas for things to do!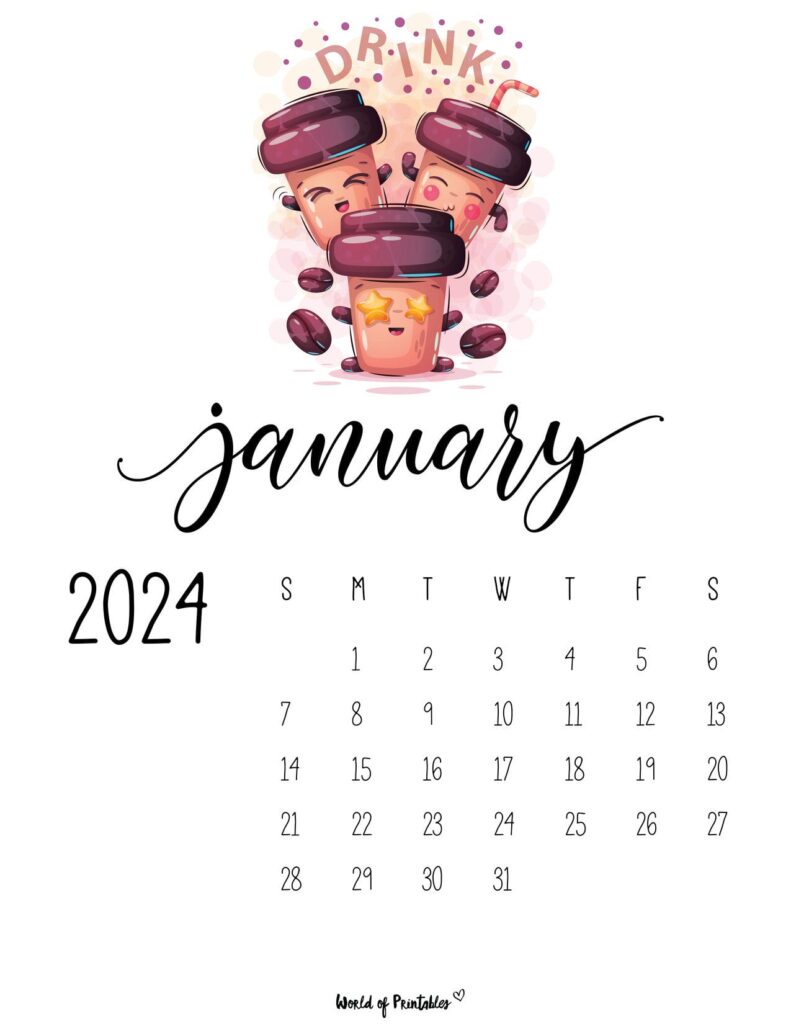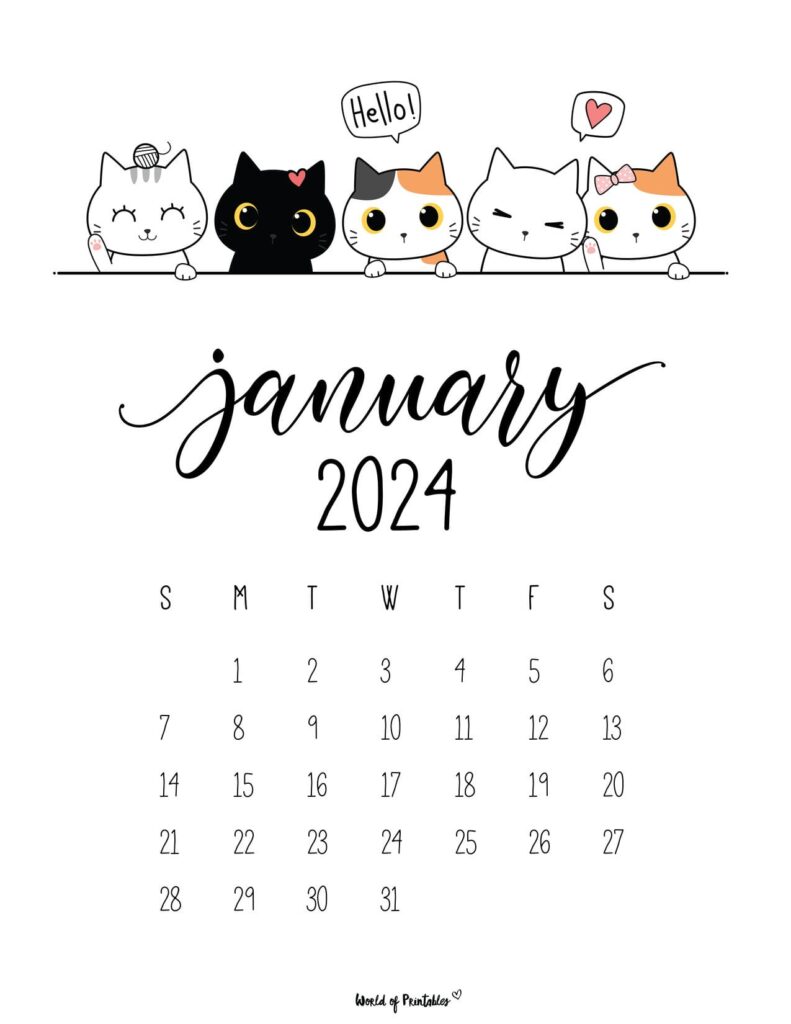 Printable January 2024 Calendar Templates
Here is a complete list of January 2024 Calendar templates that you can print right now. Just click one that you like and download and print on your printer. If you like a particular style of calendar then you'll be able to get the complete year in the same style here on our website.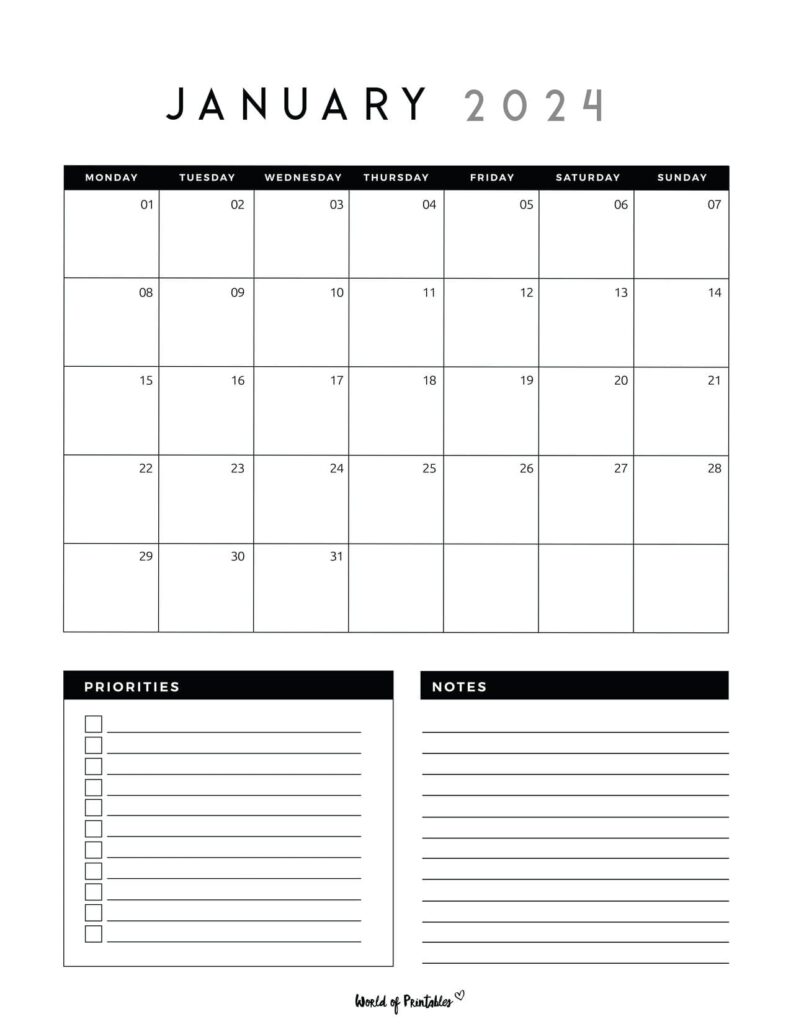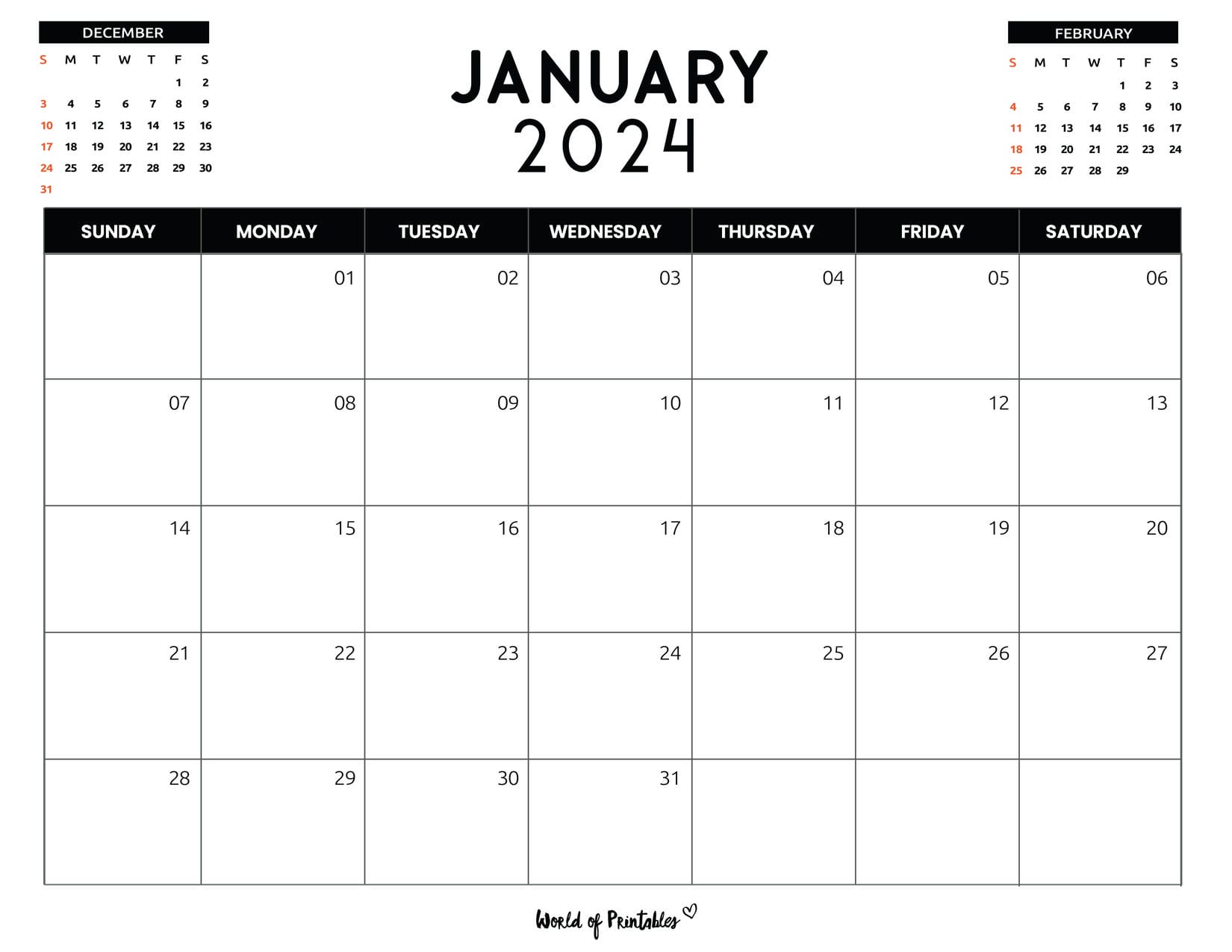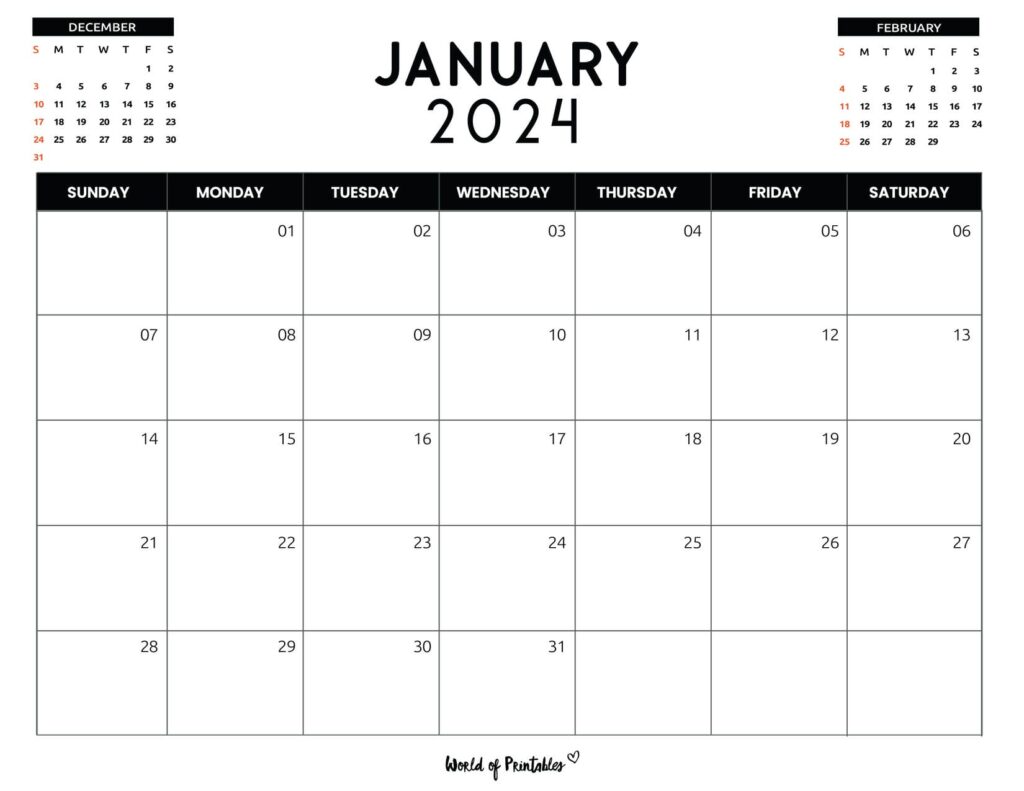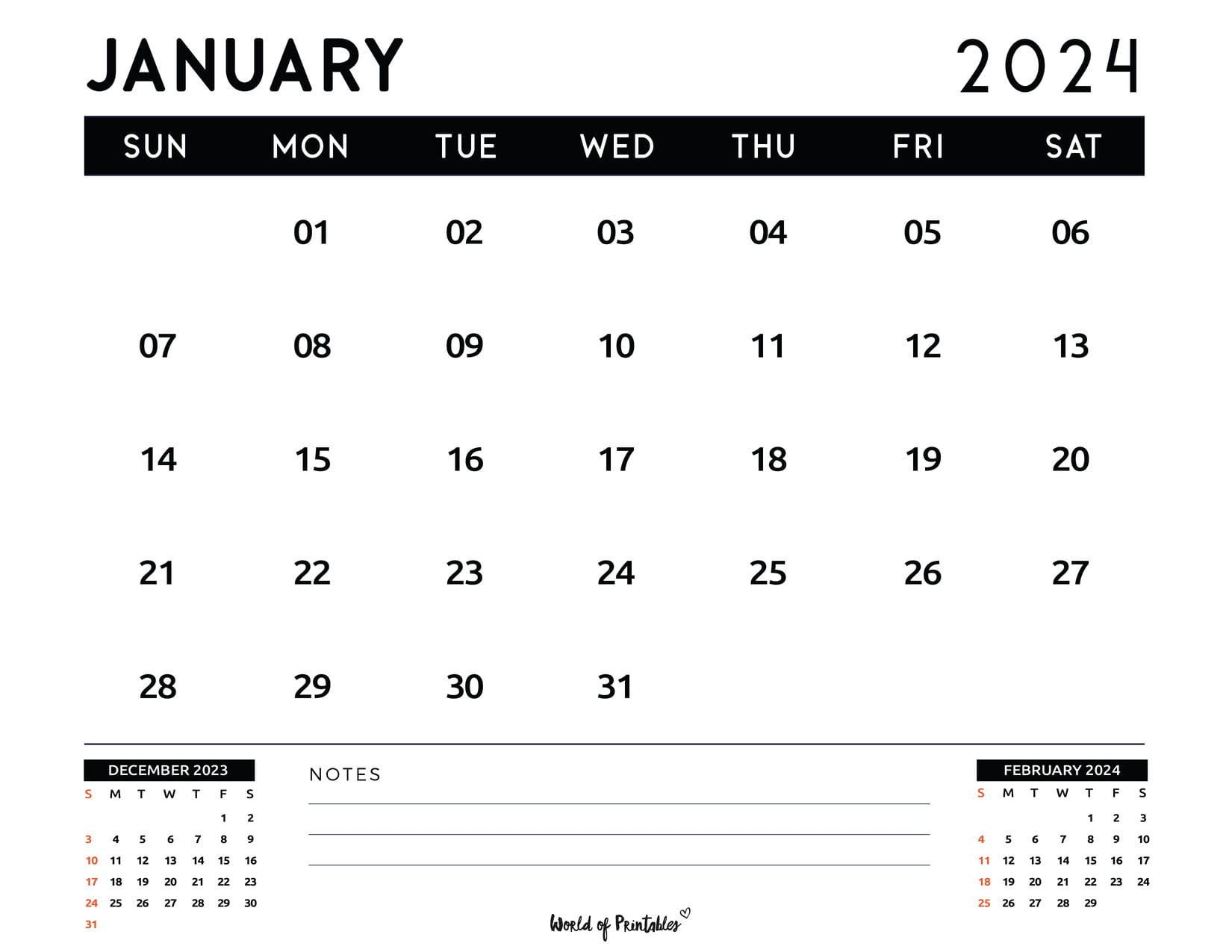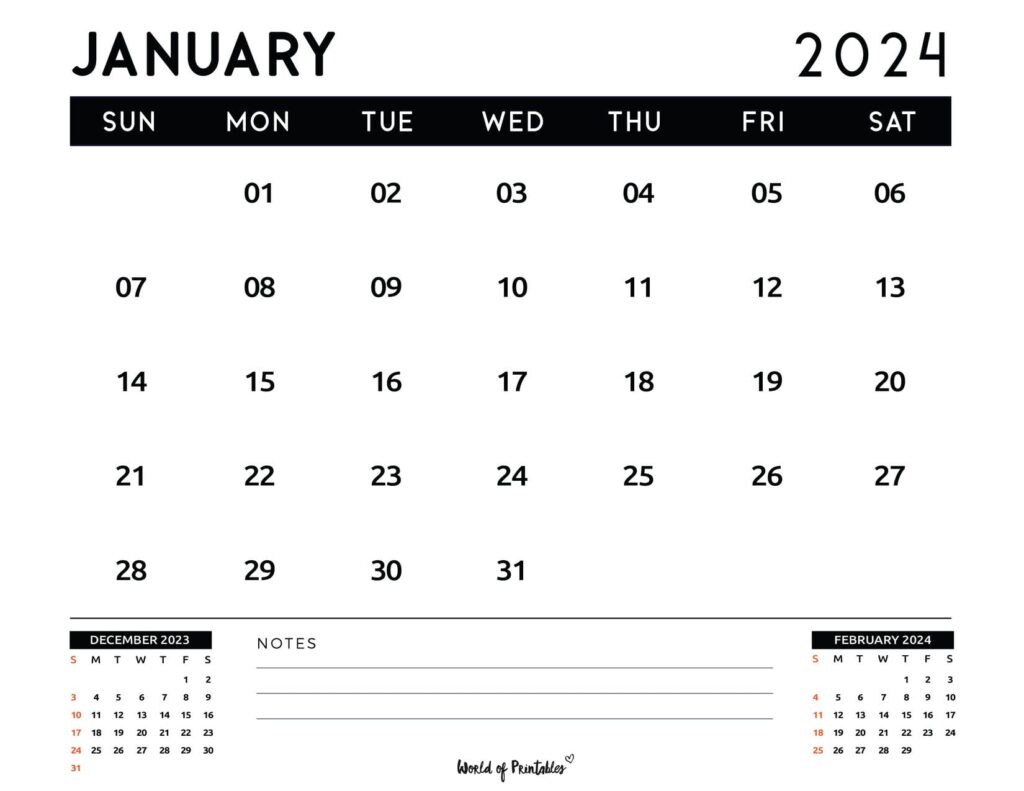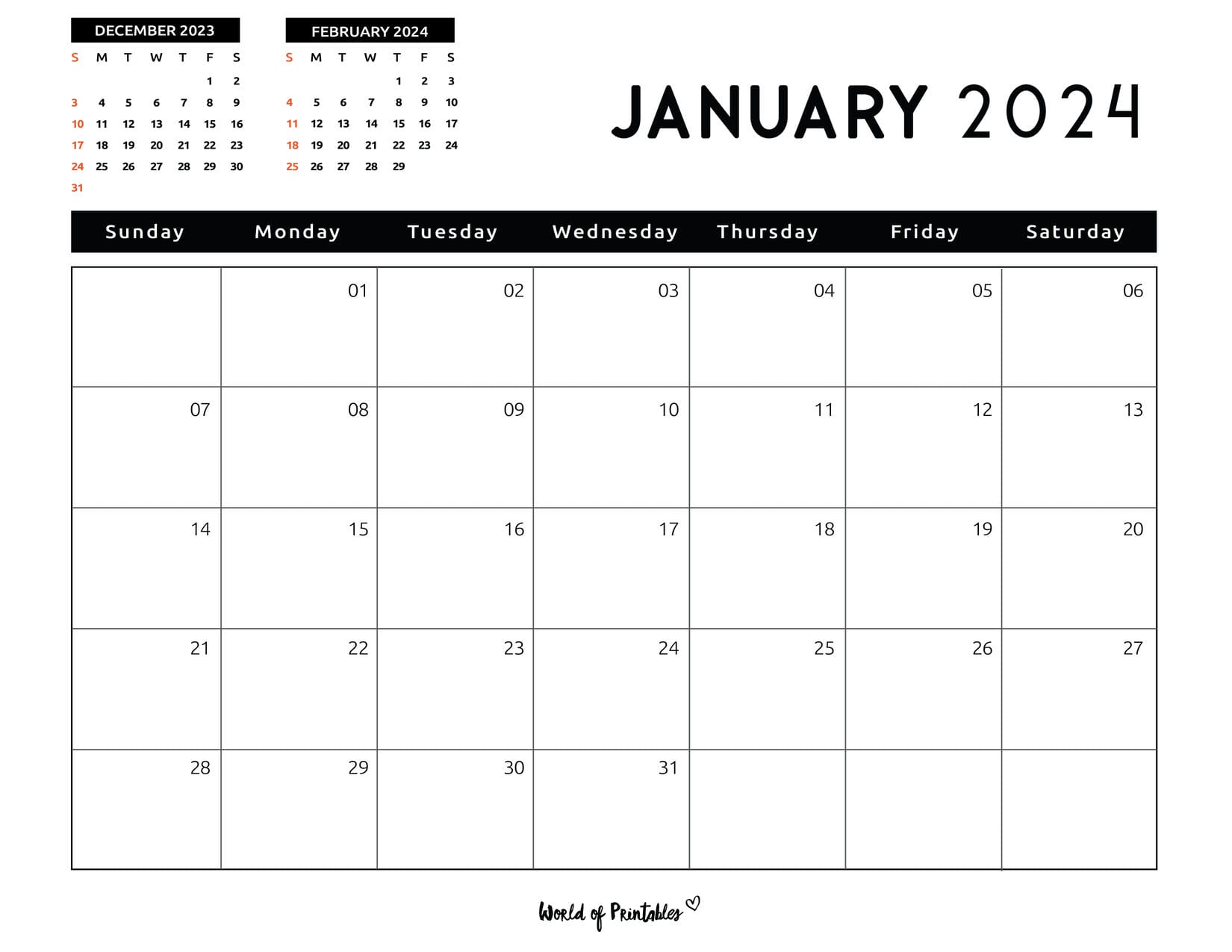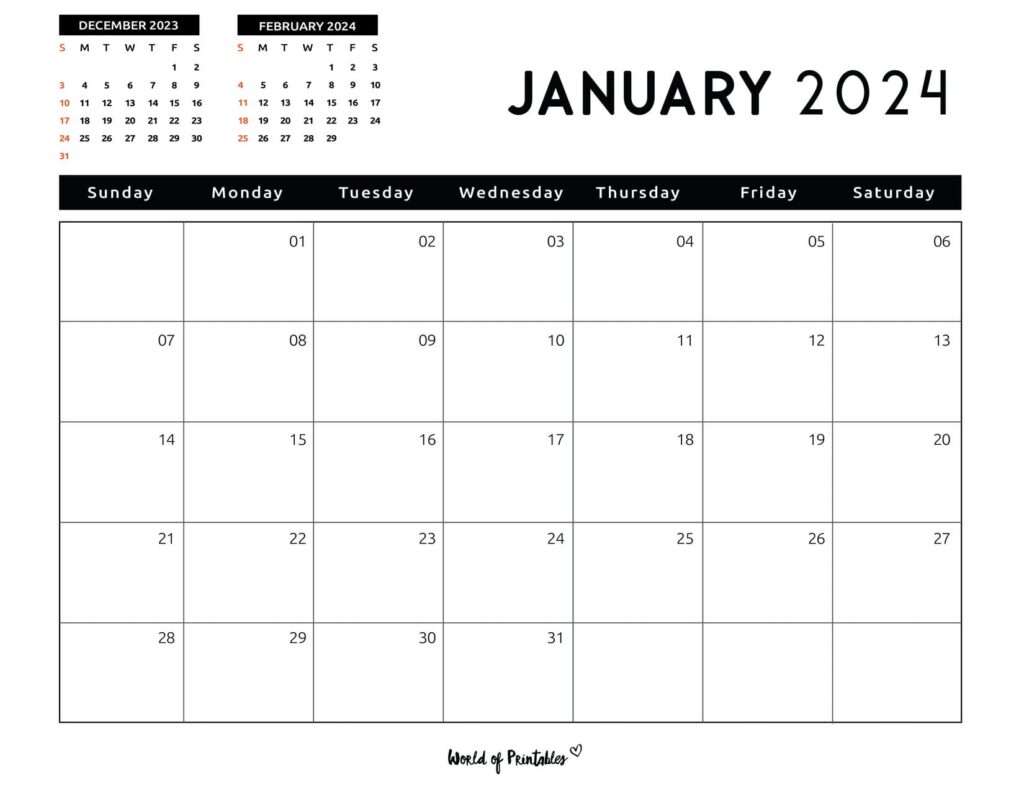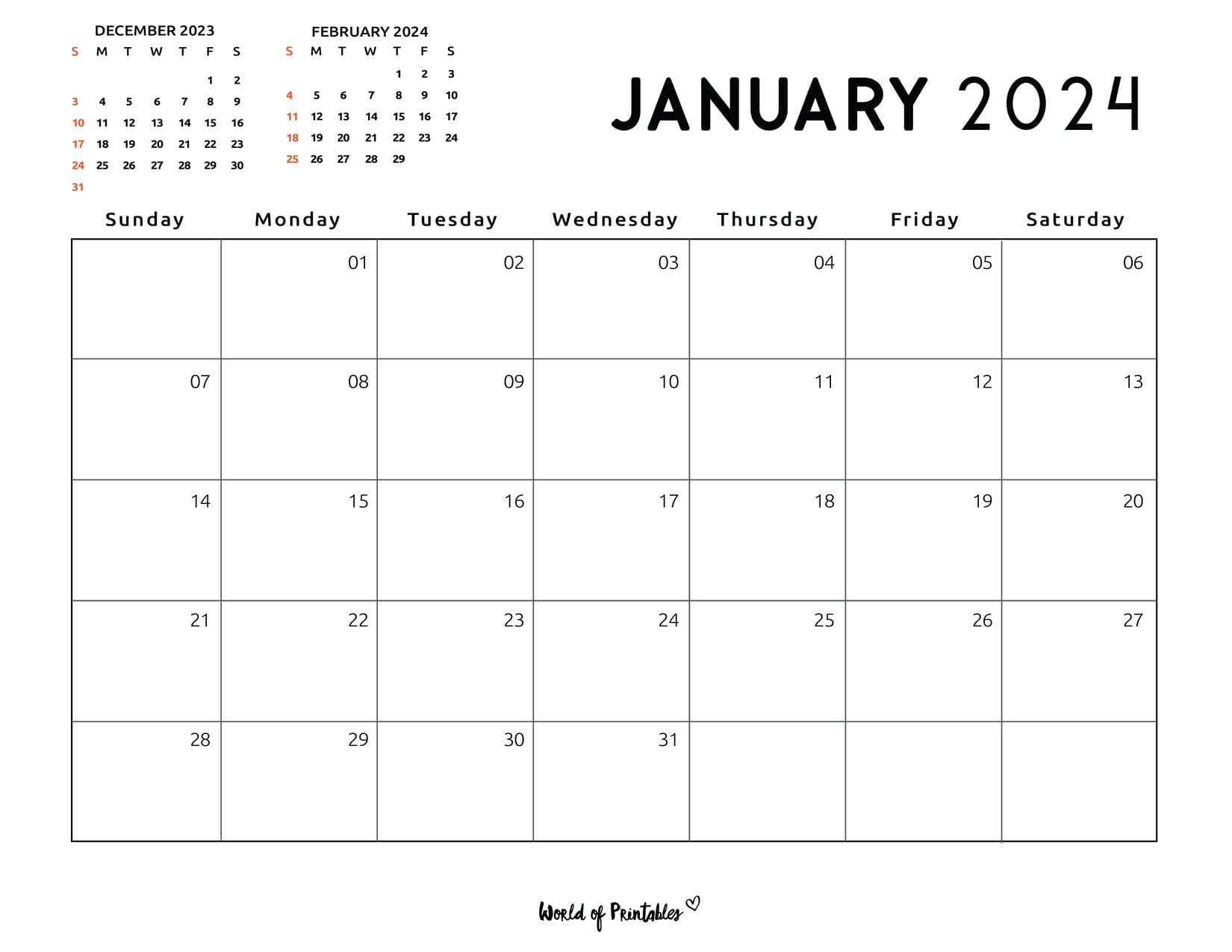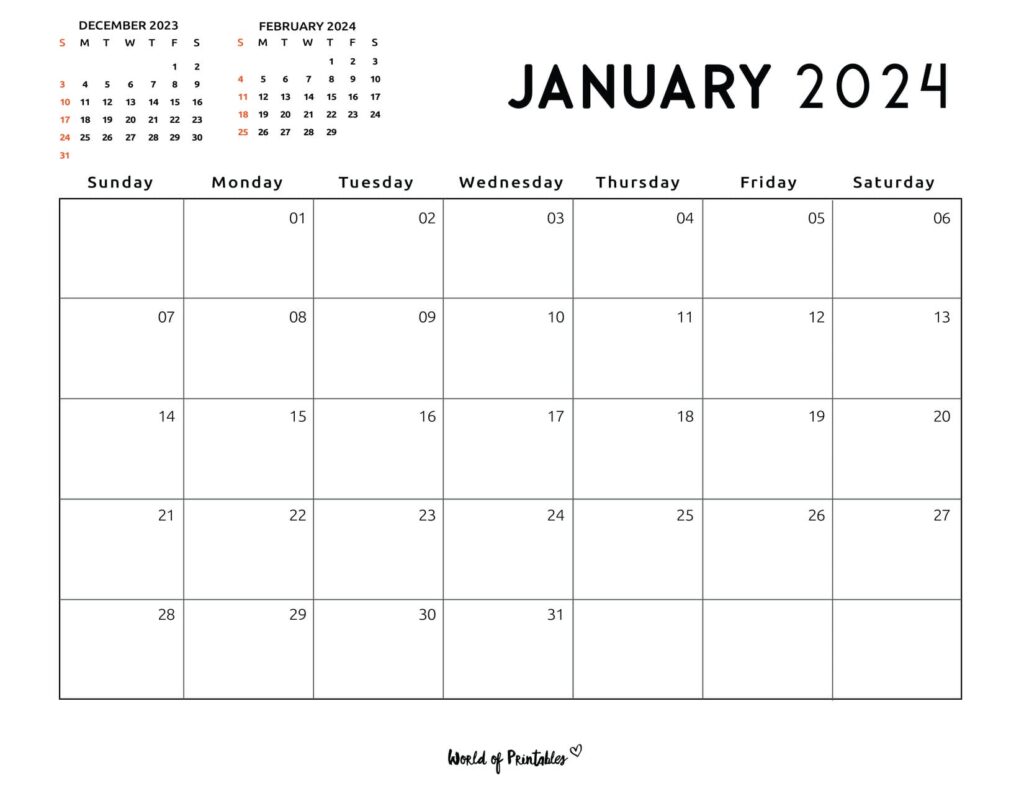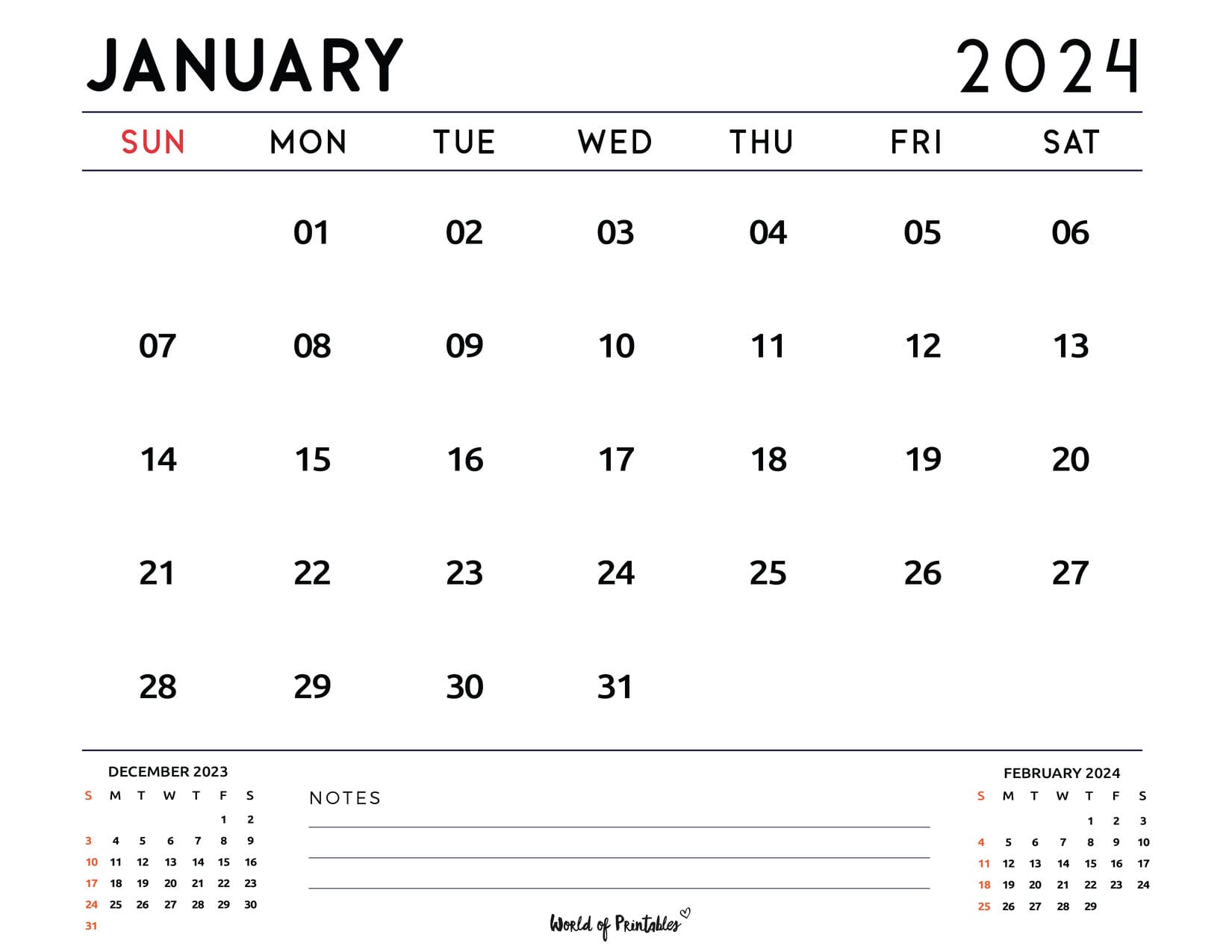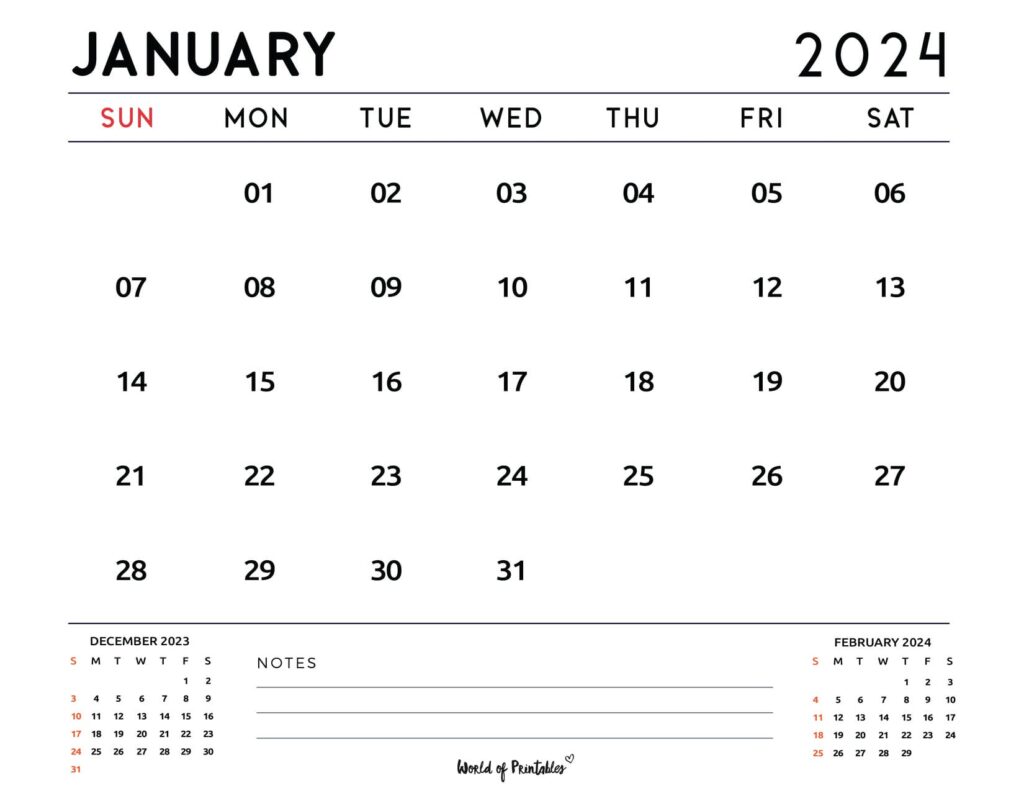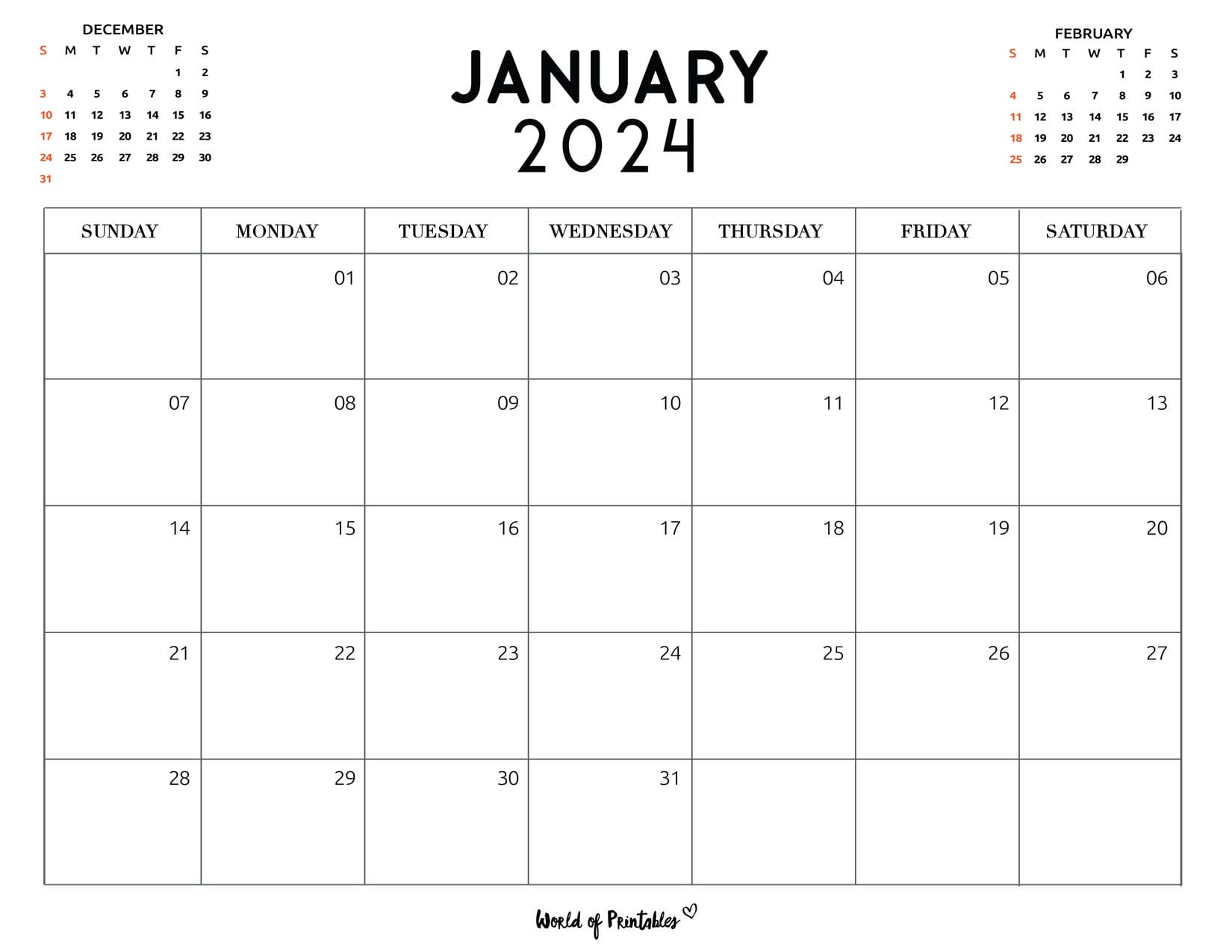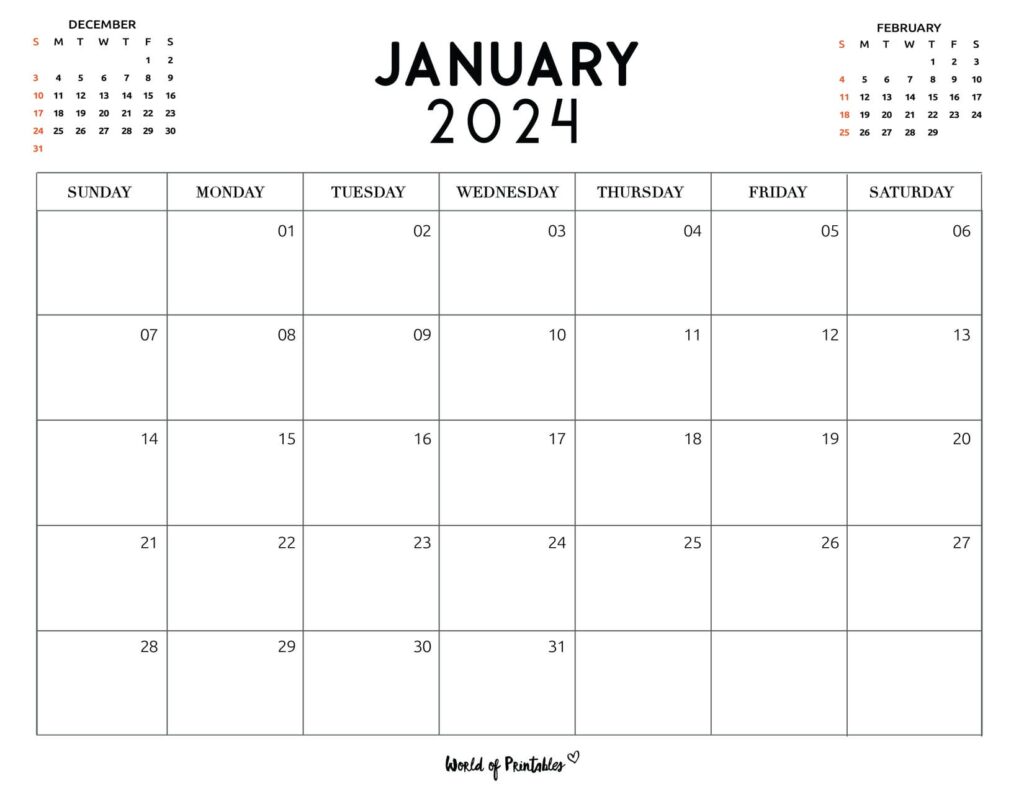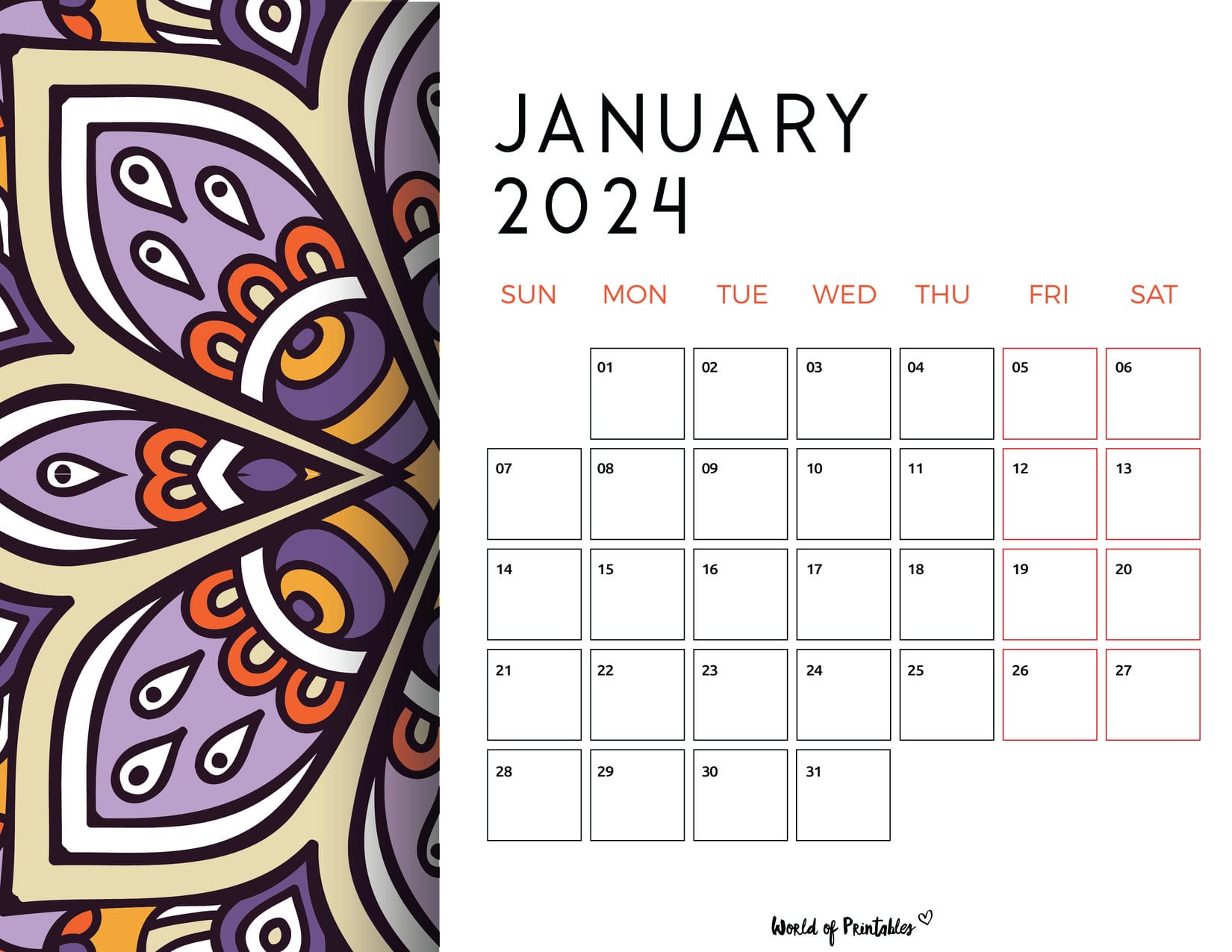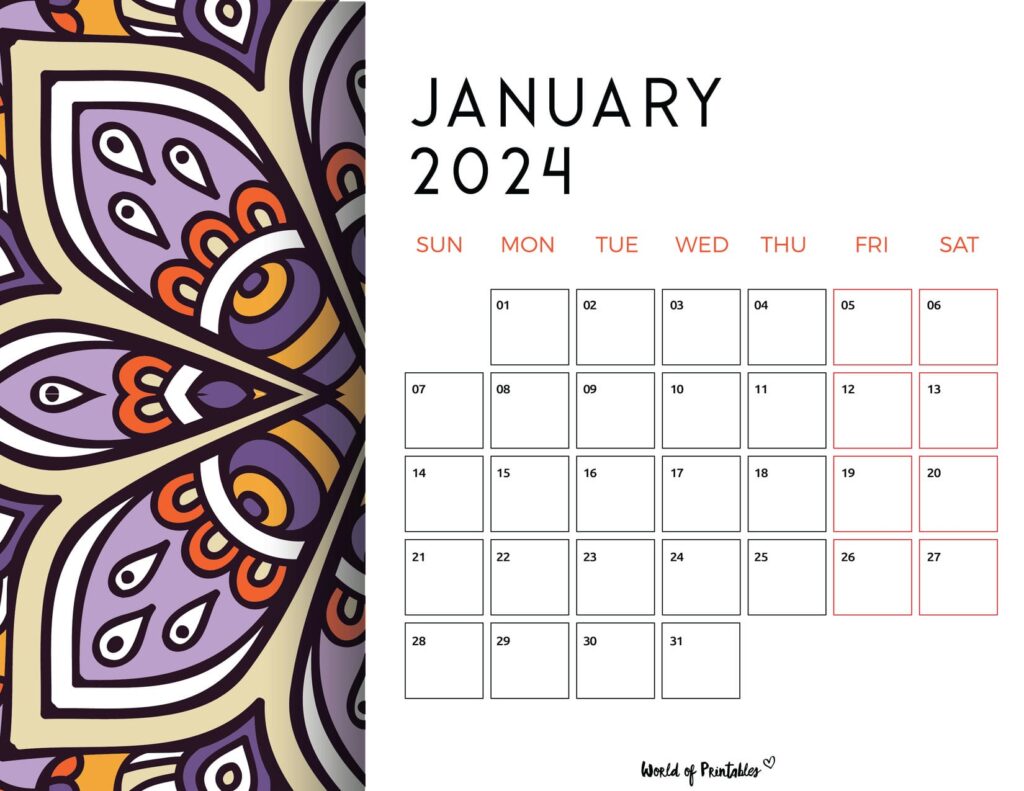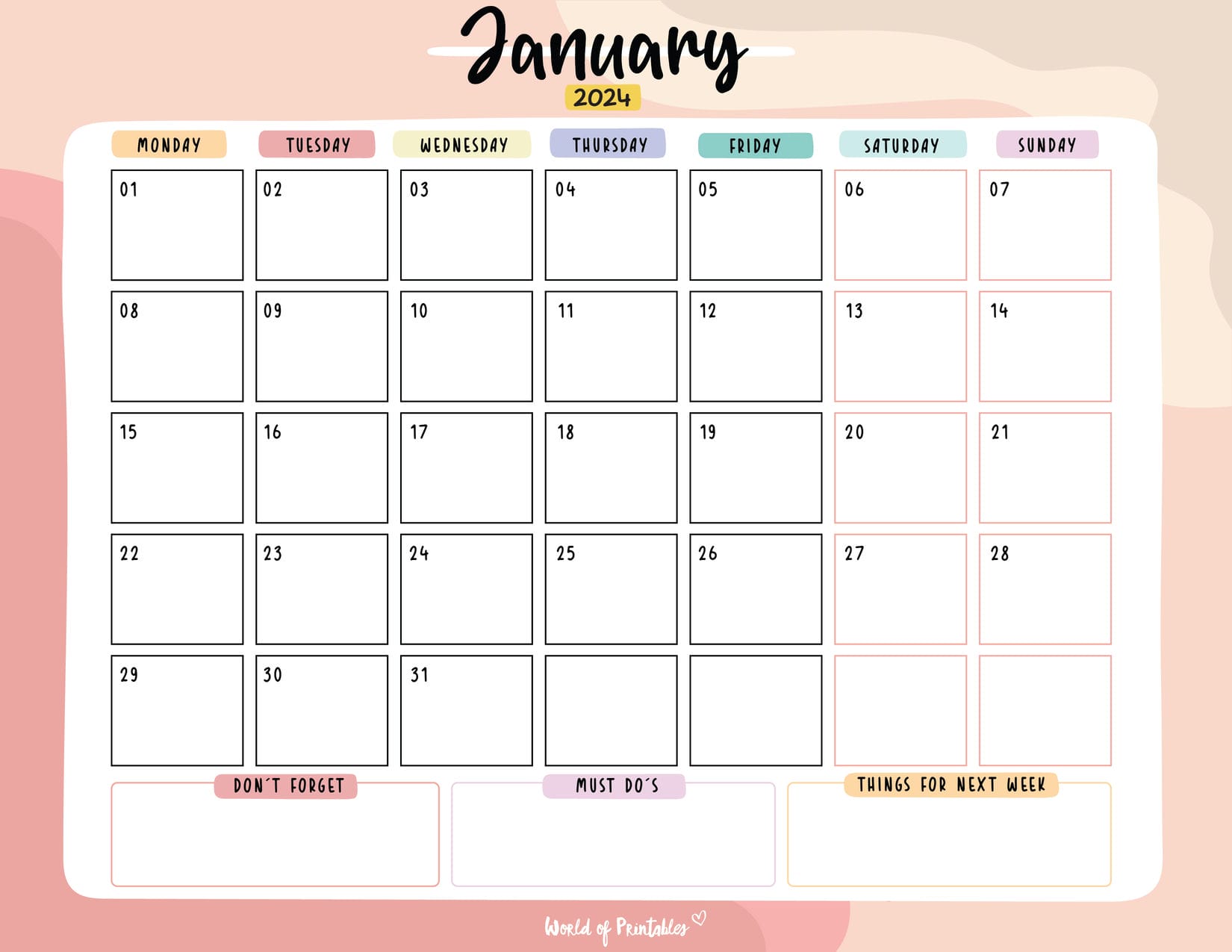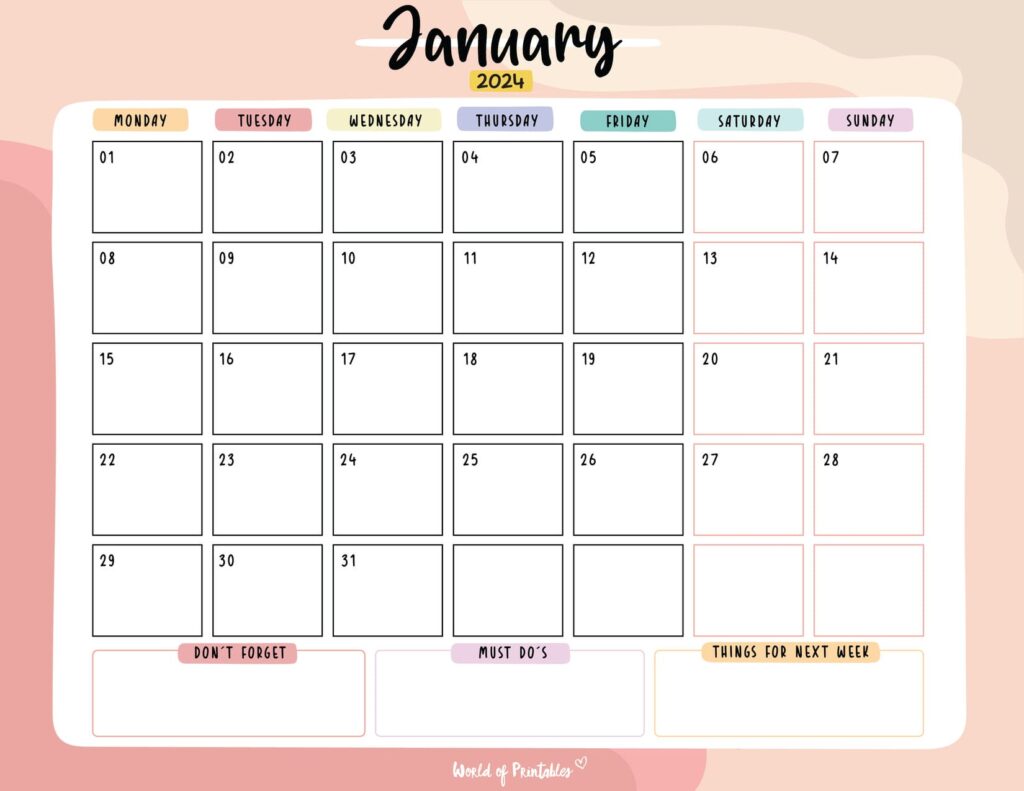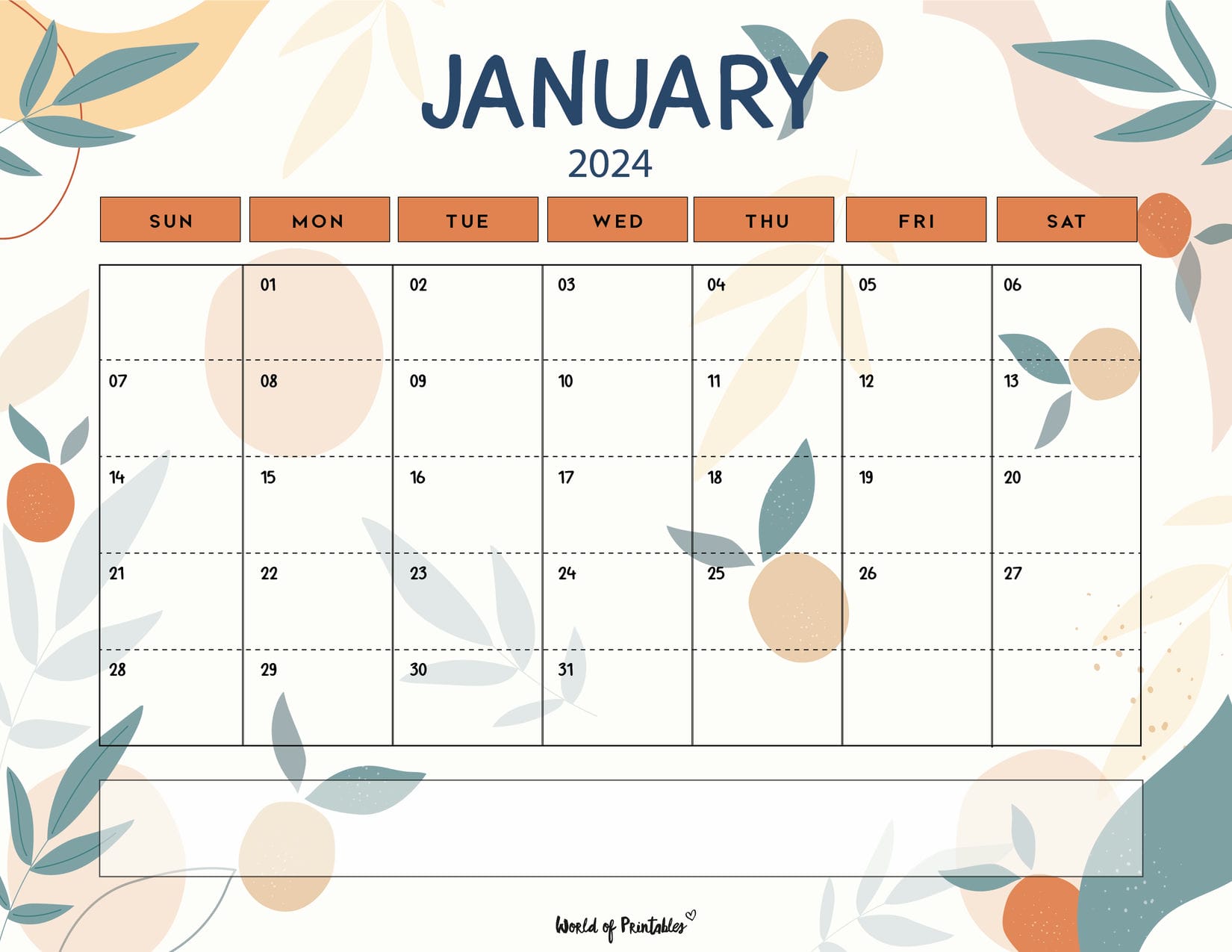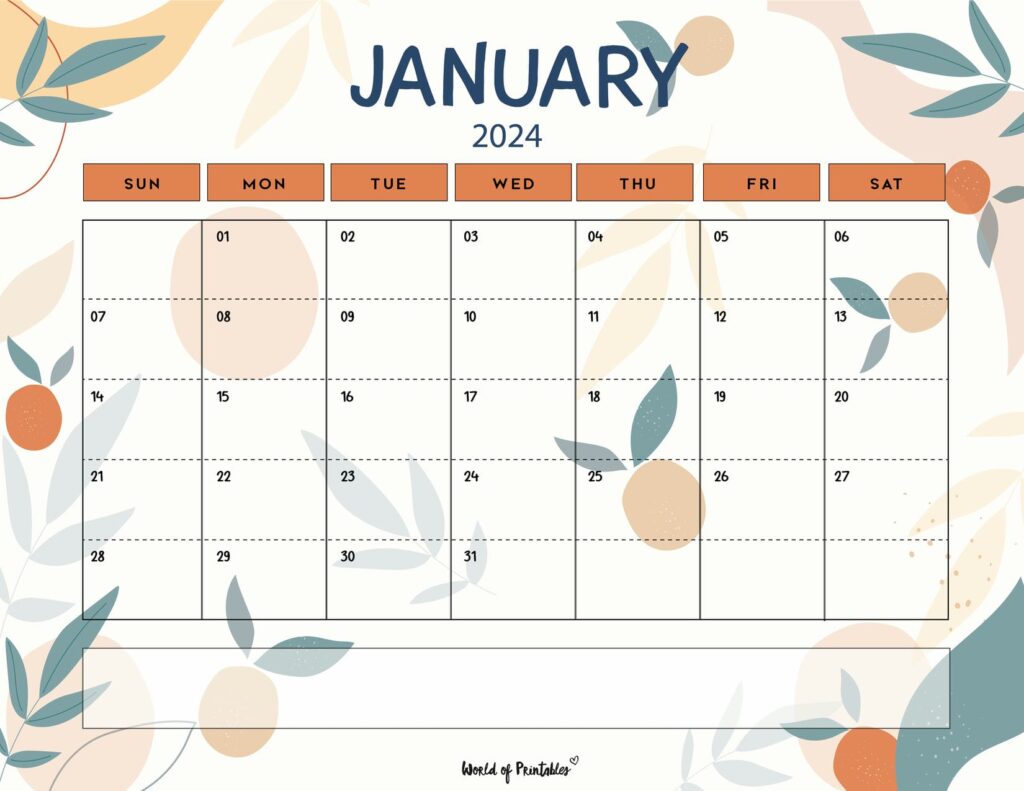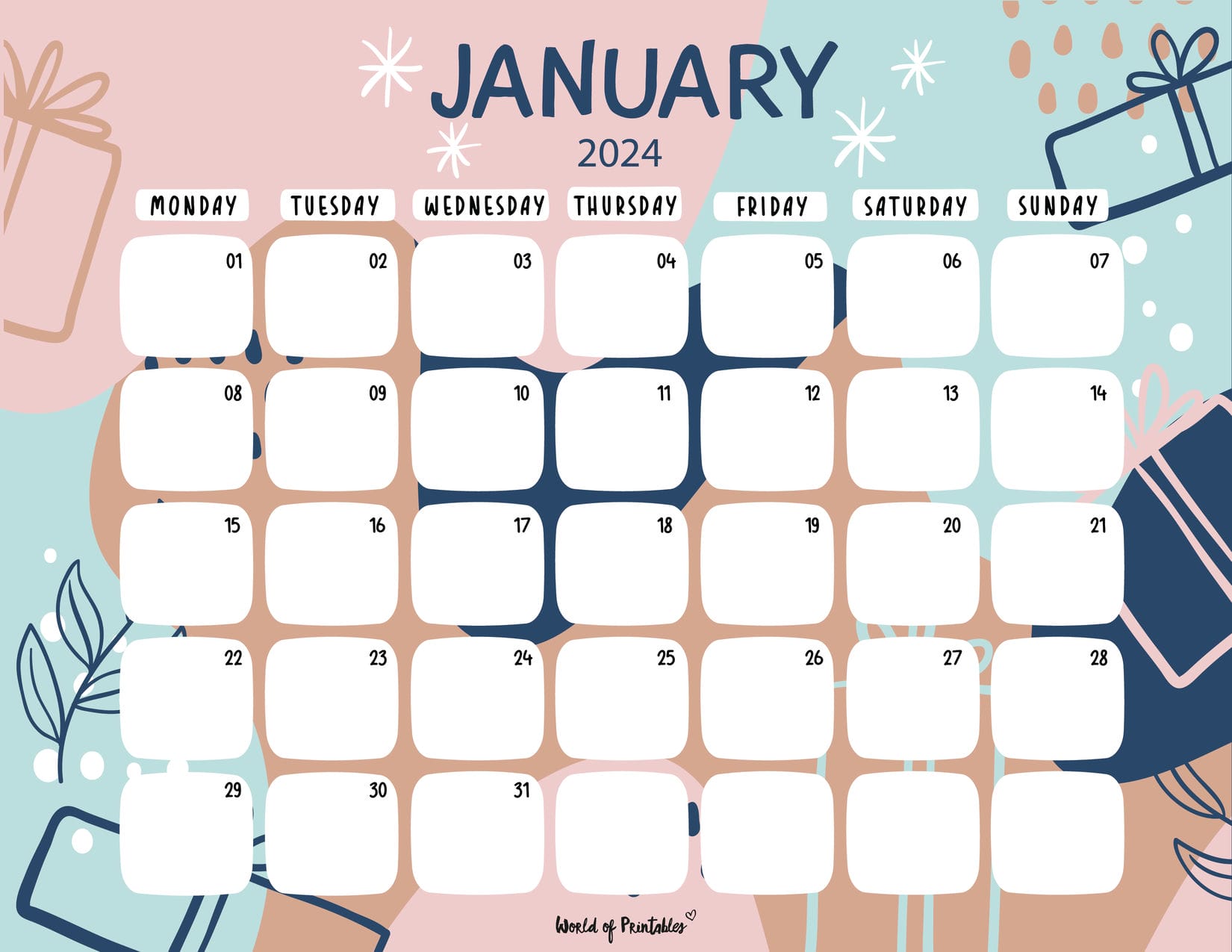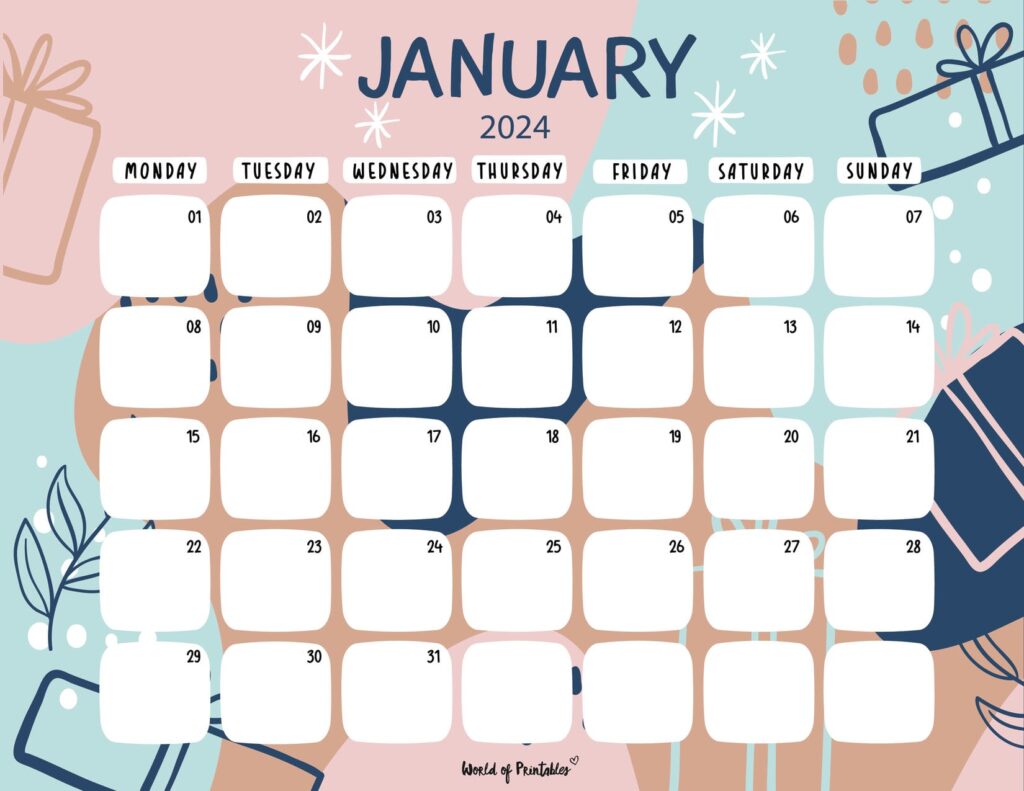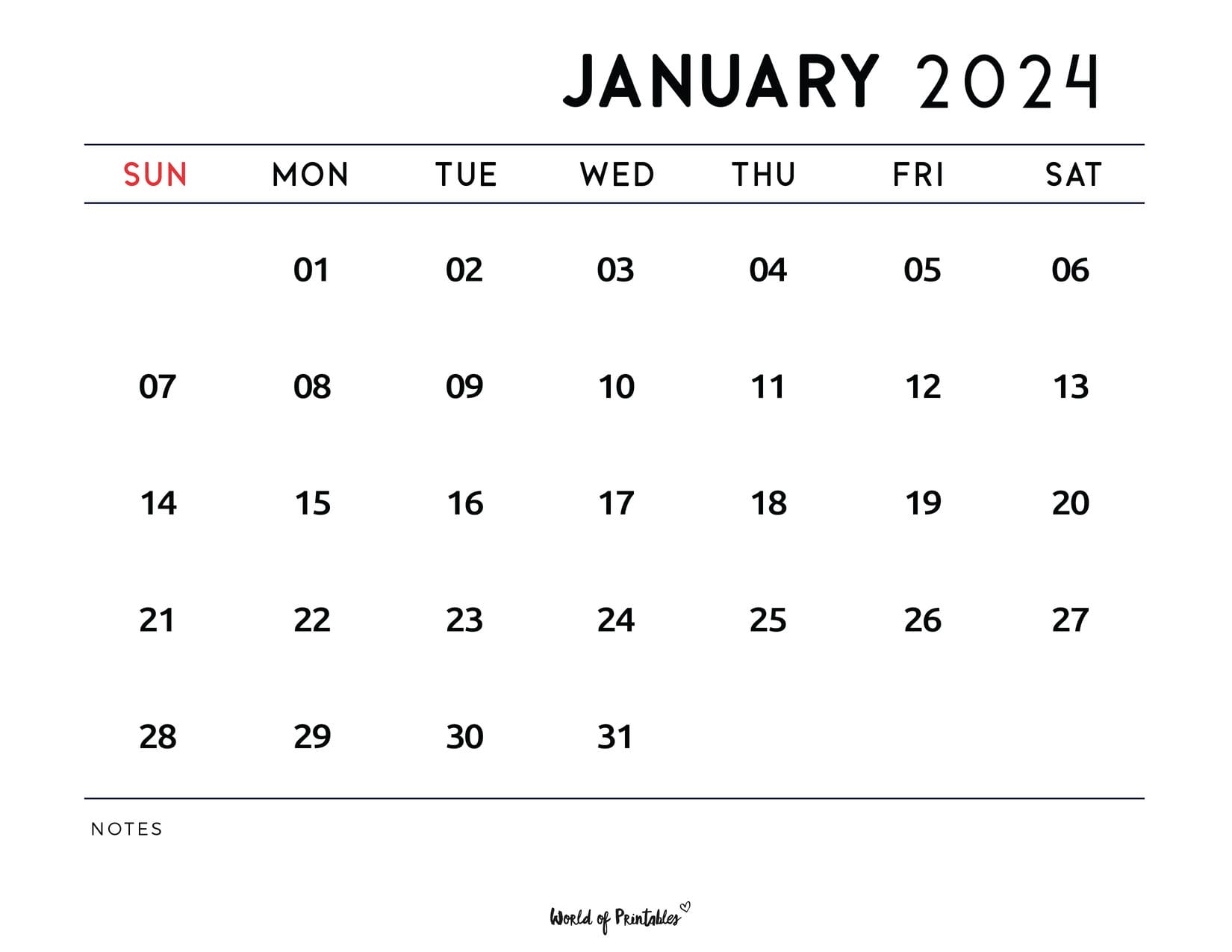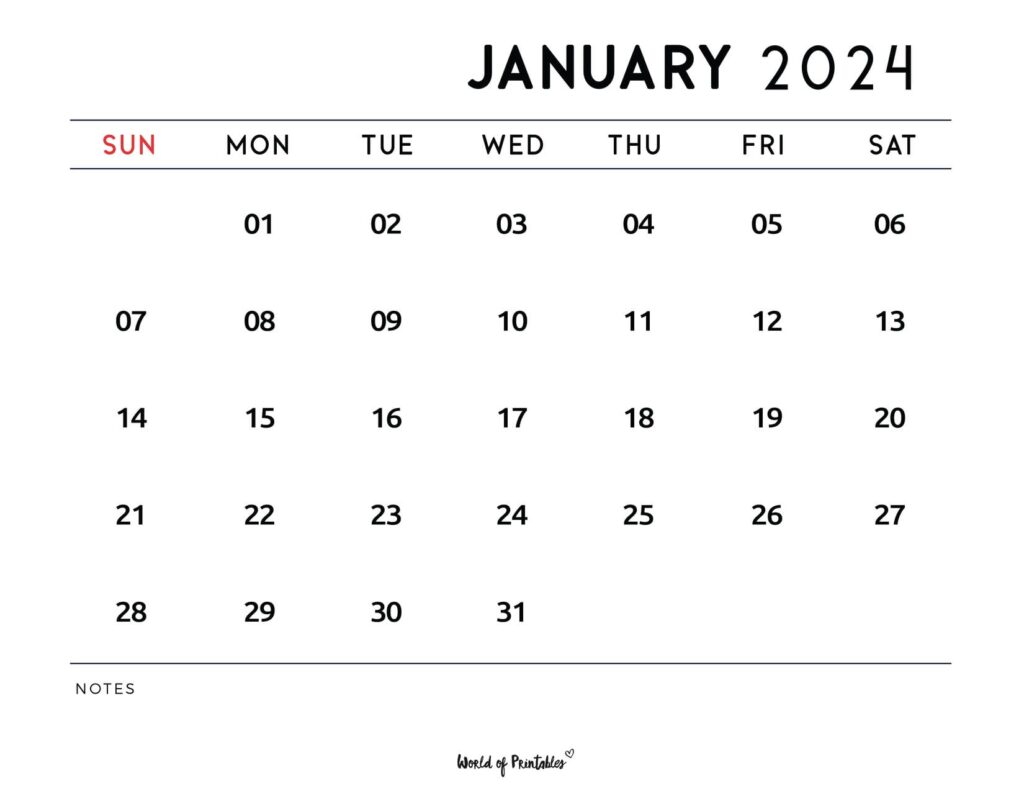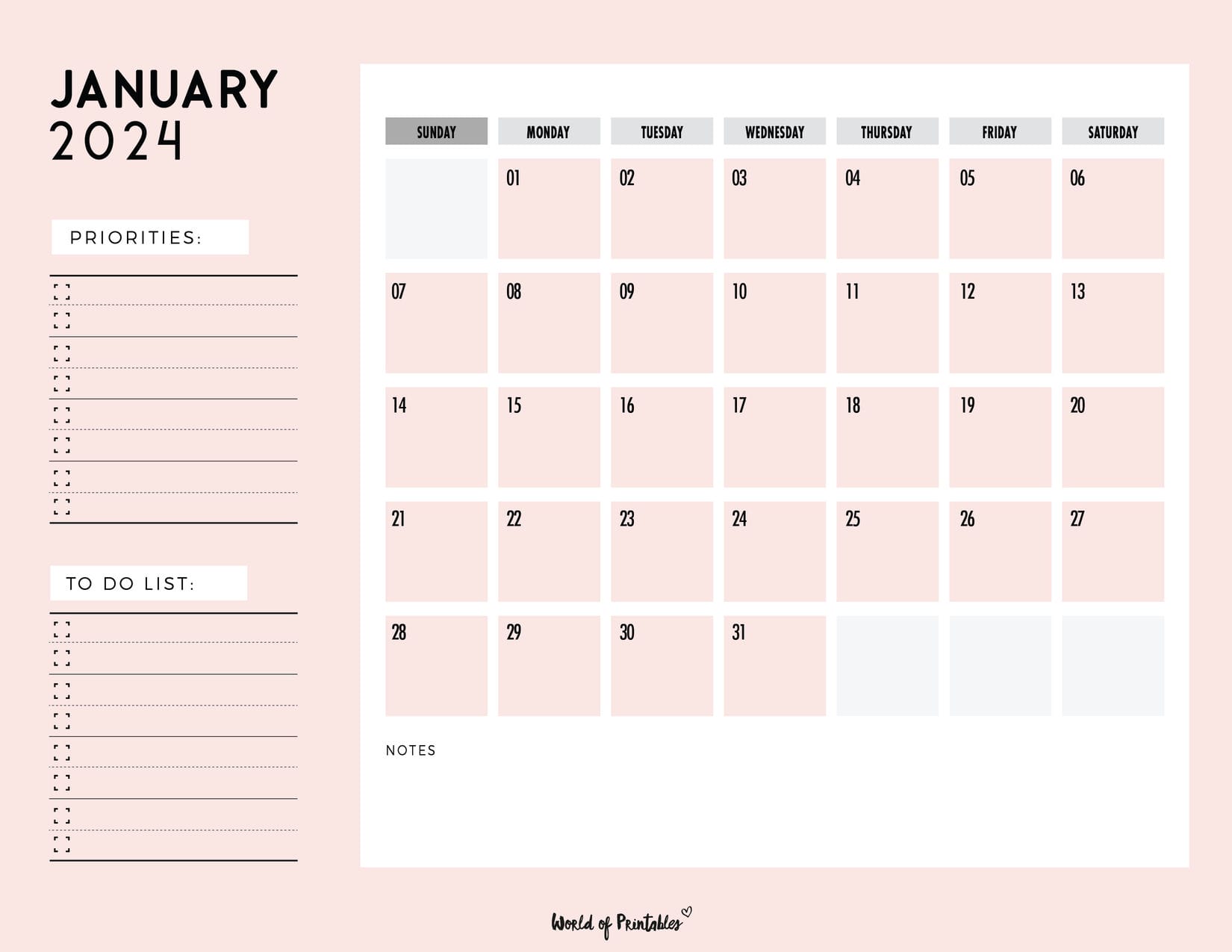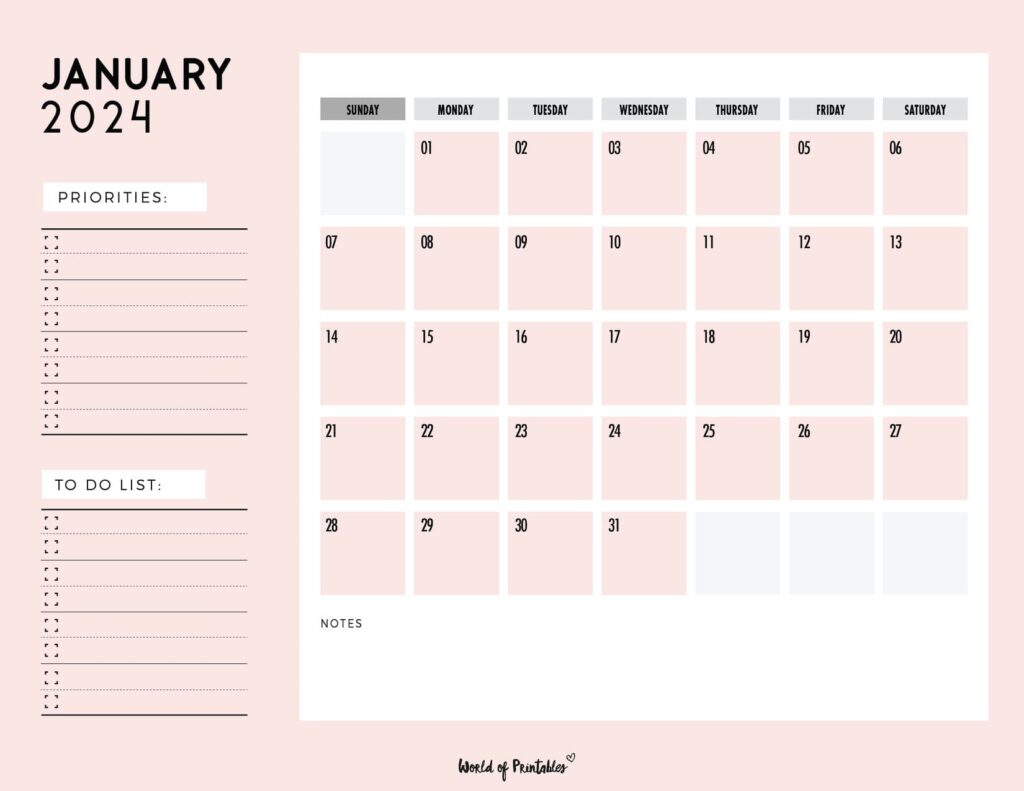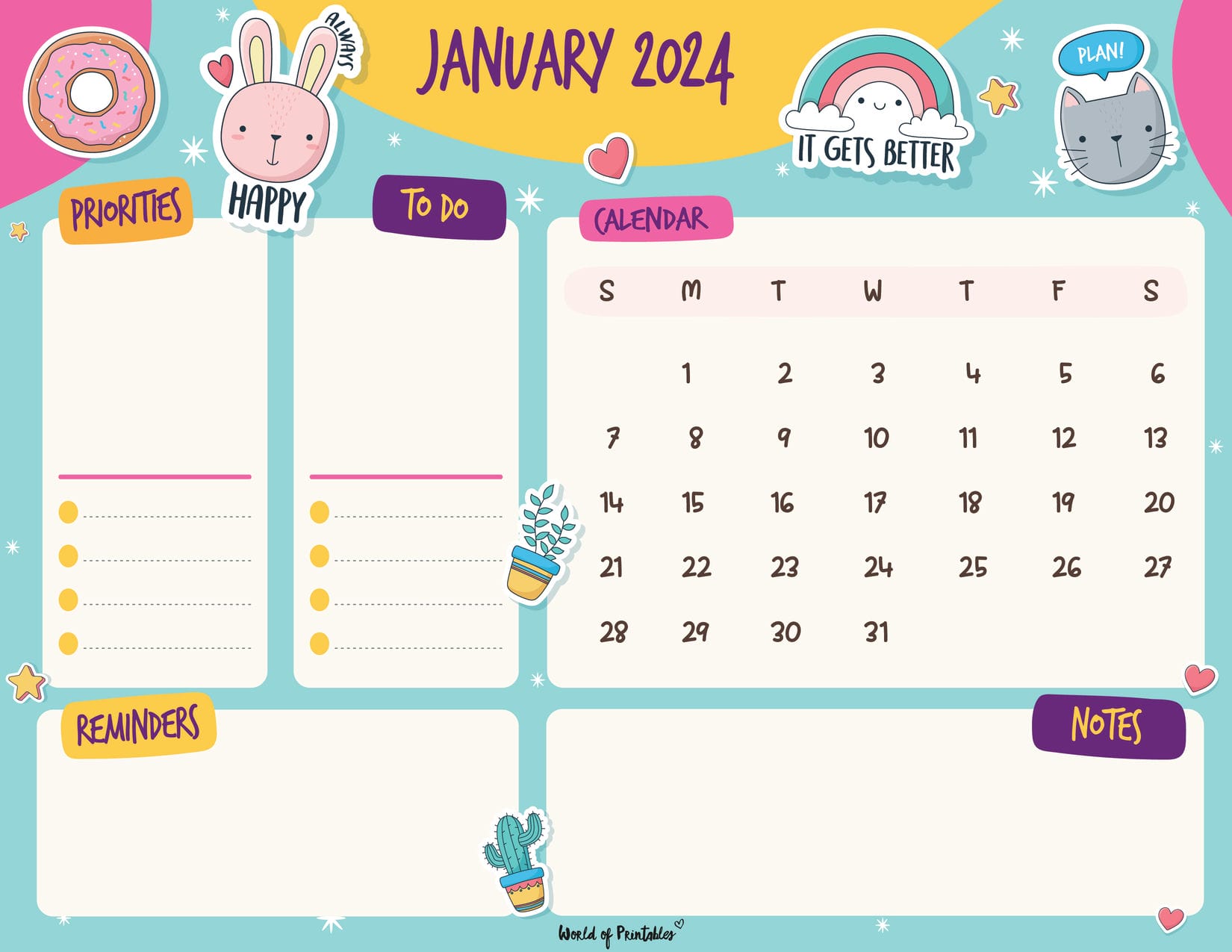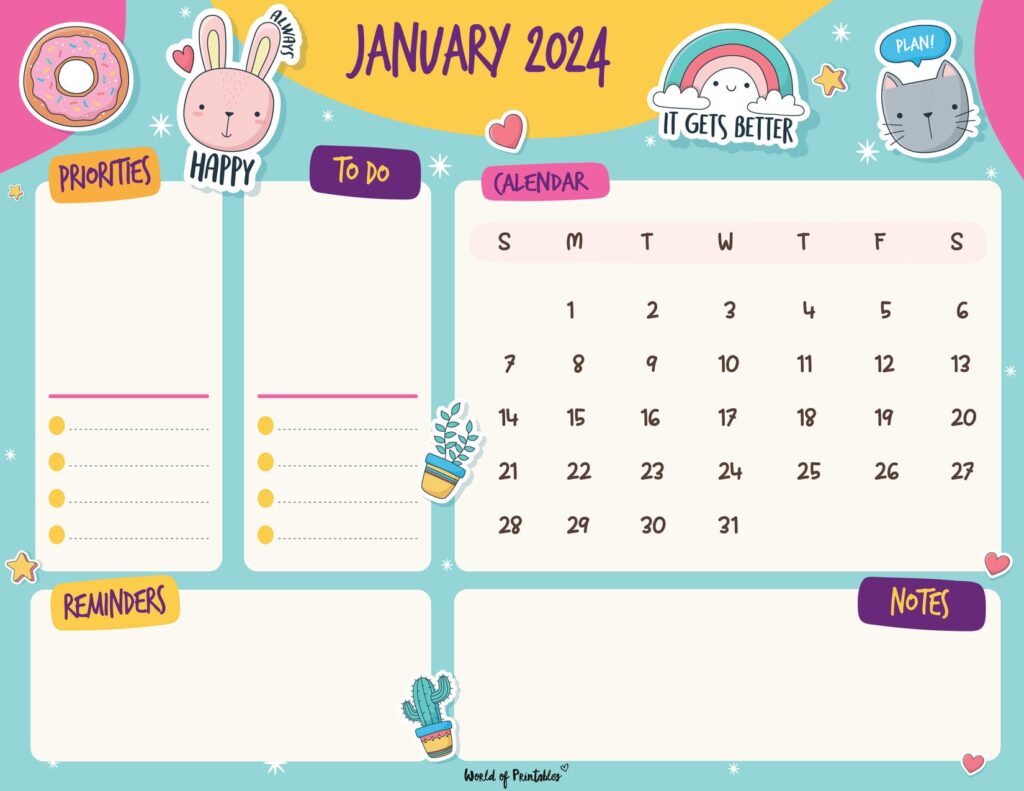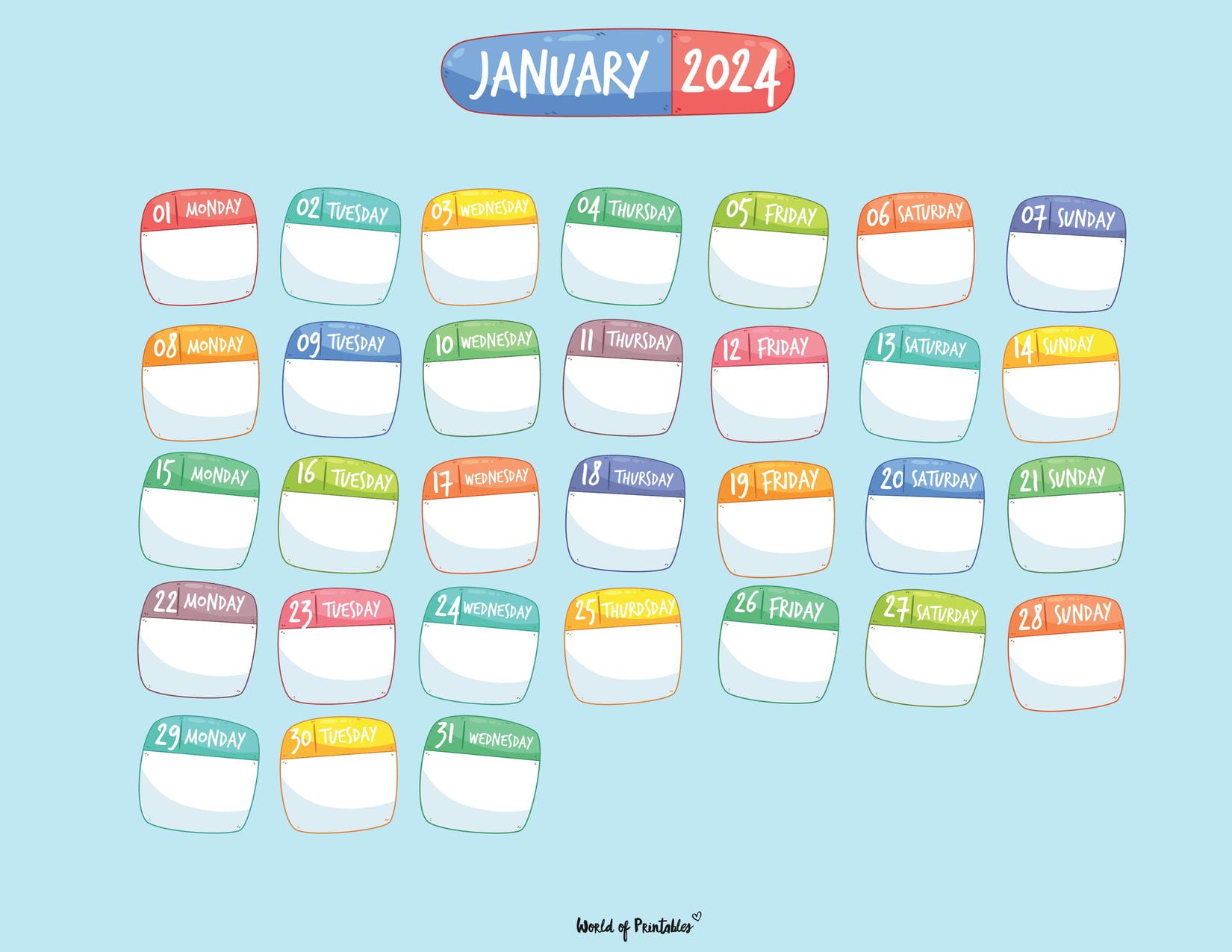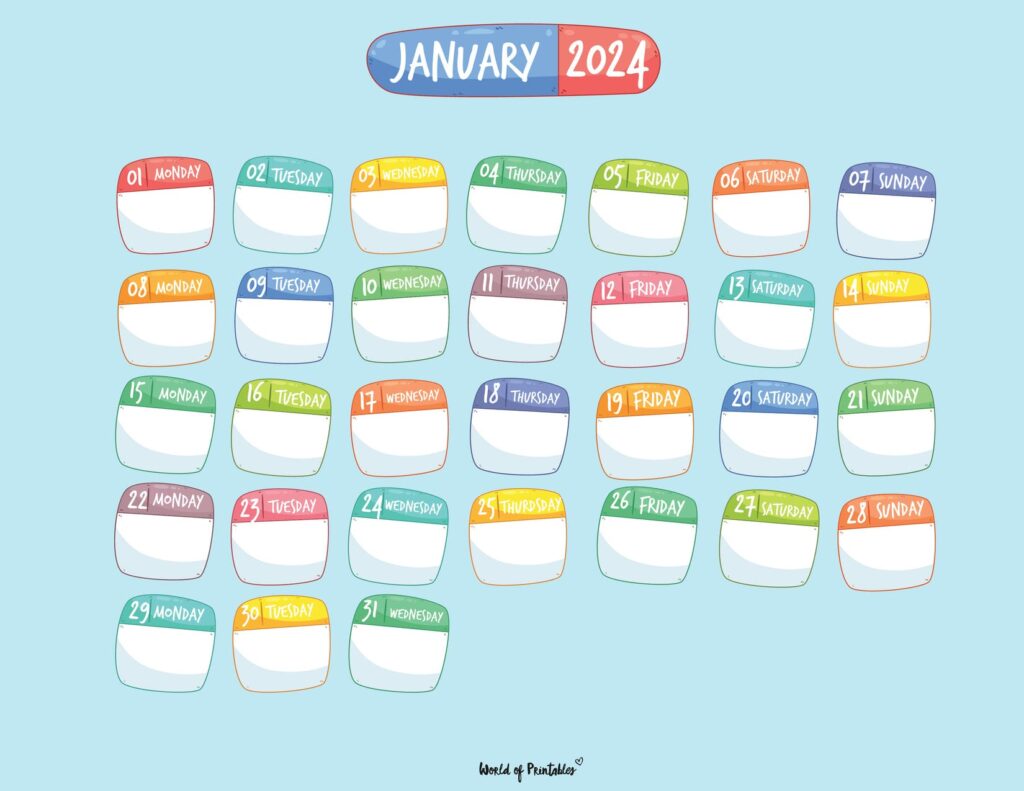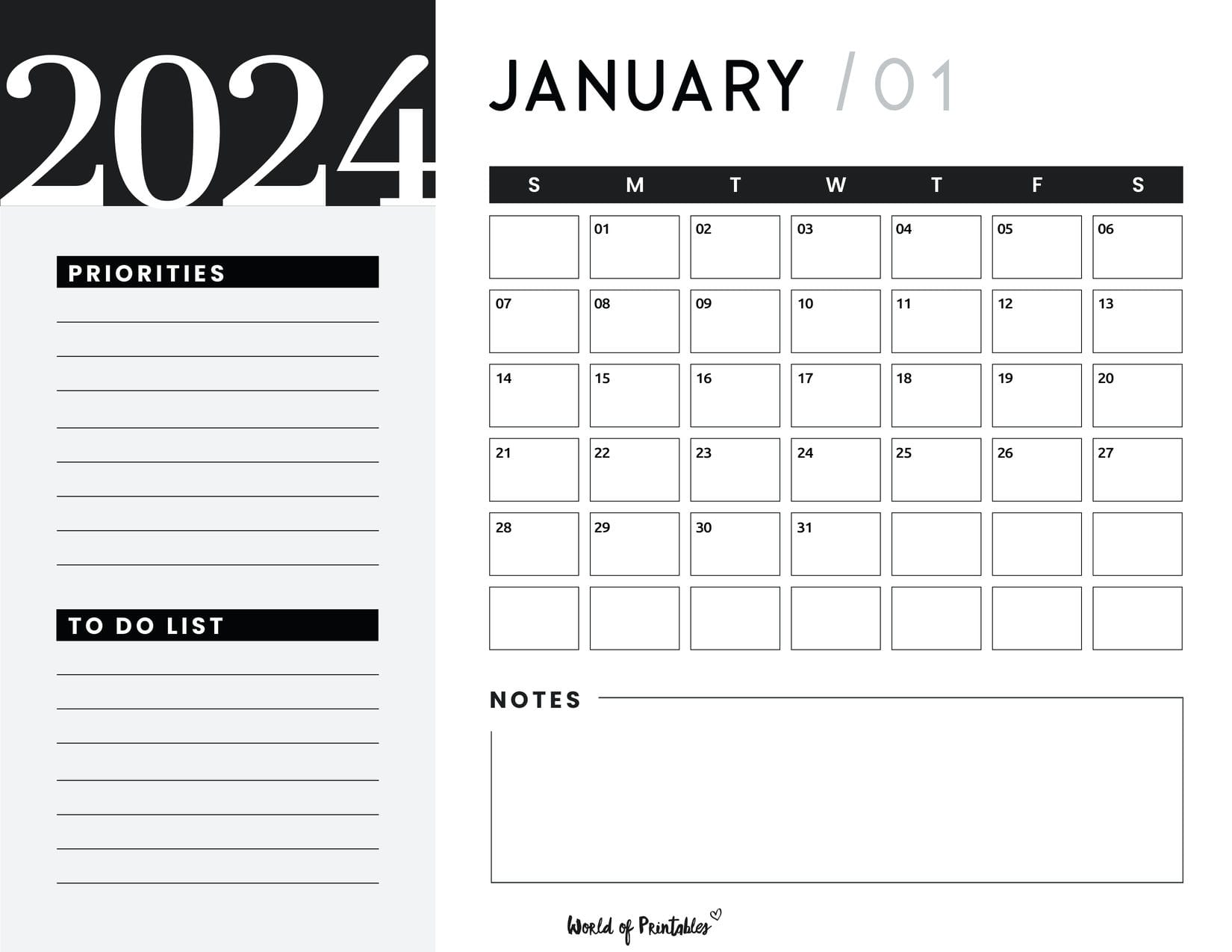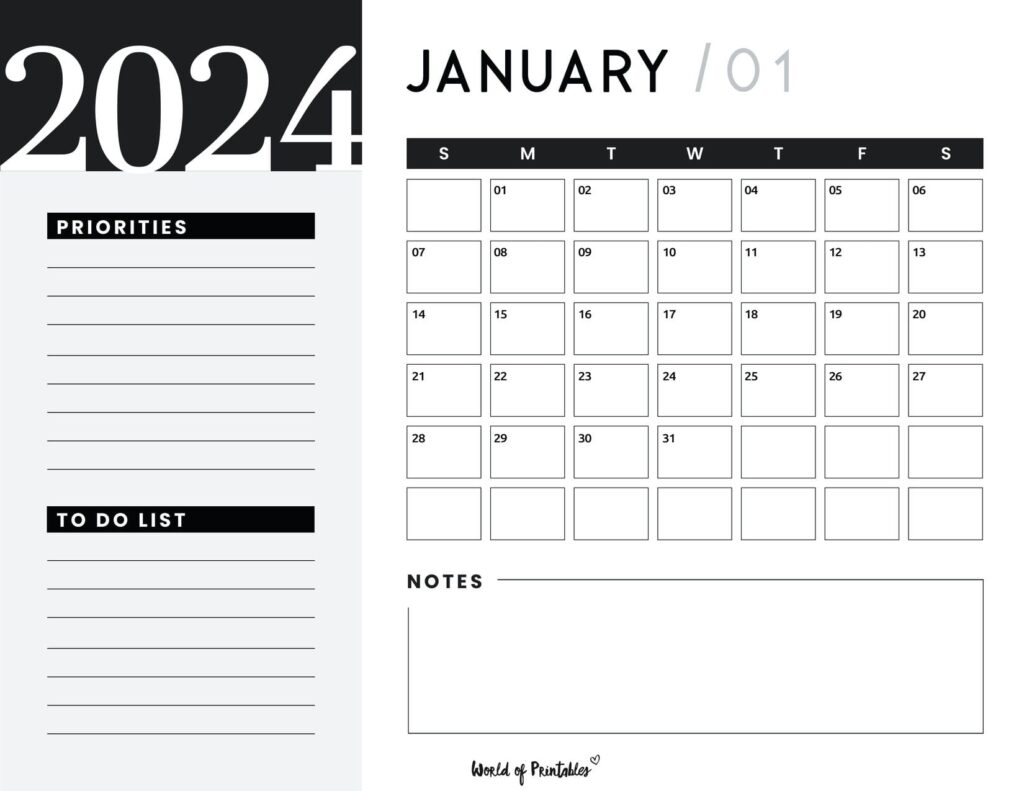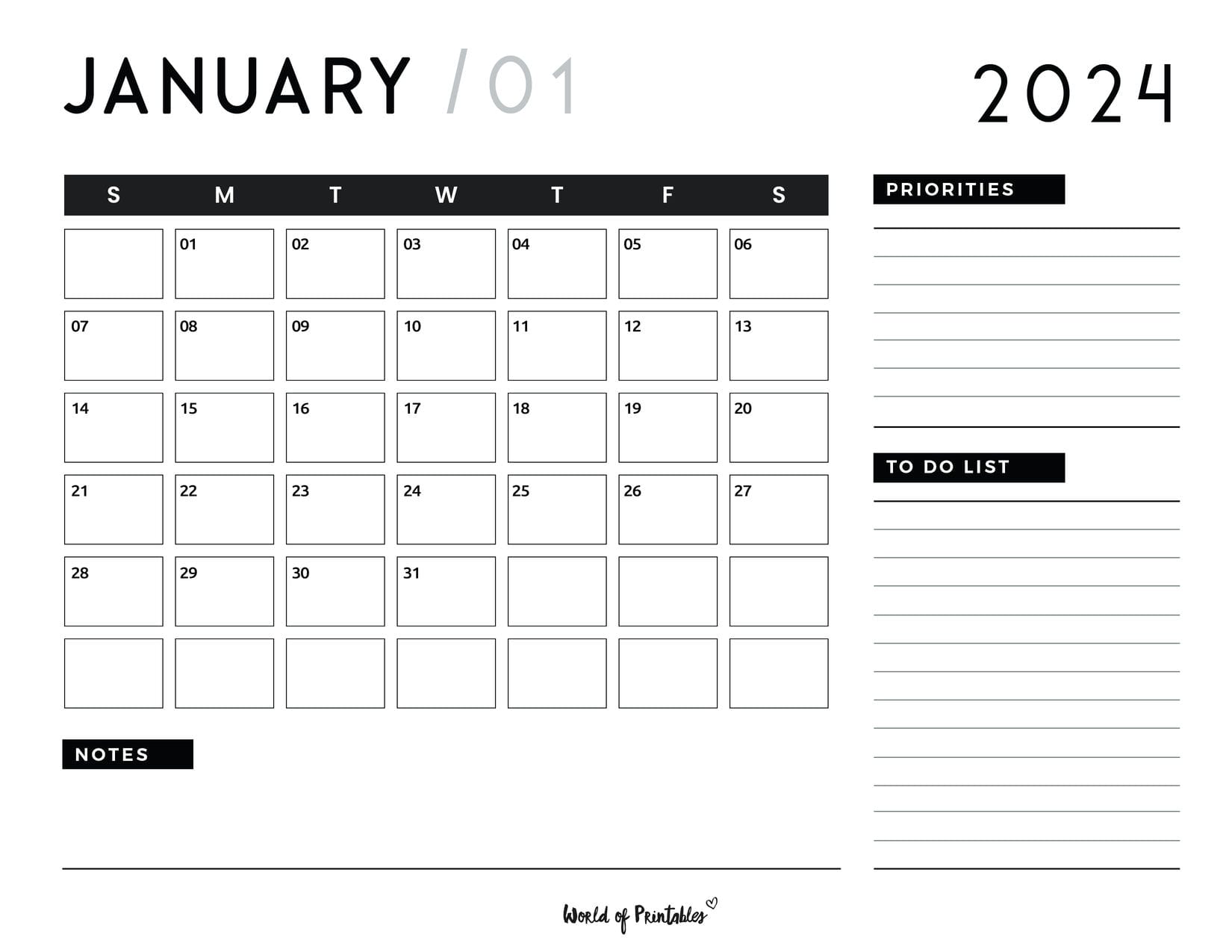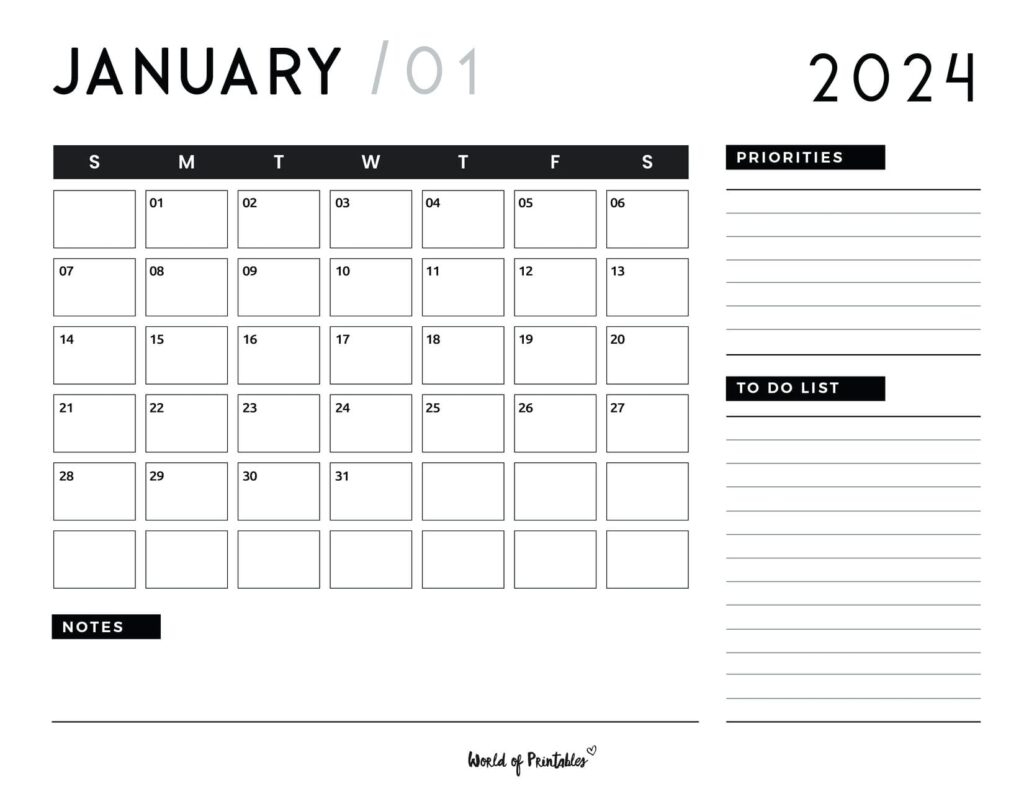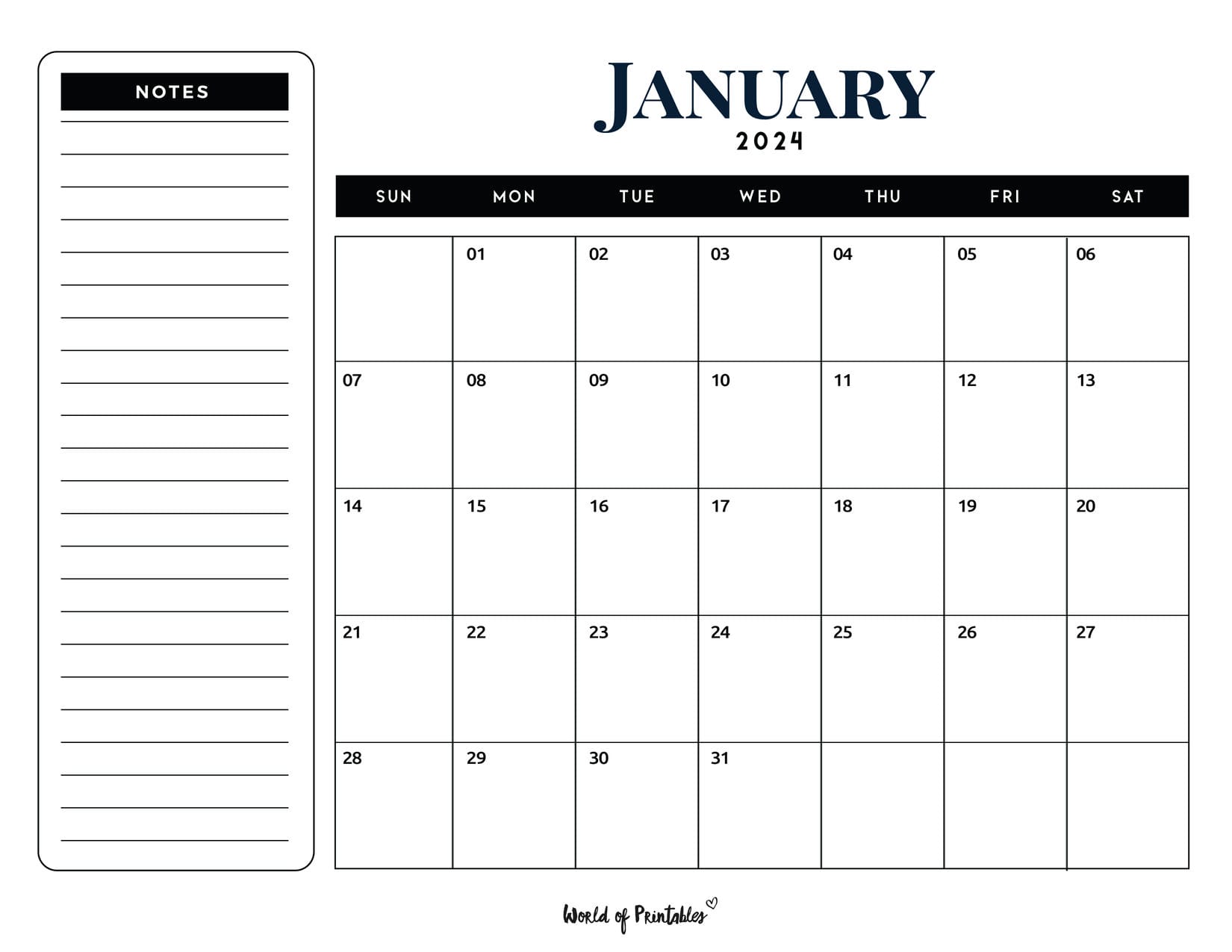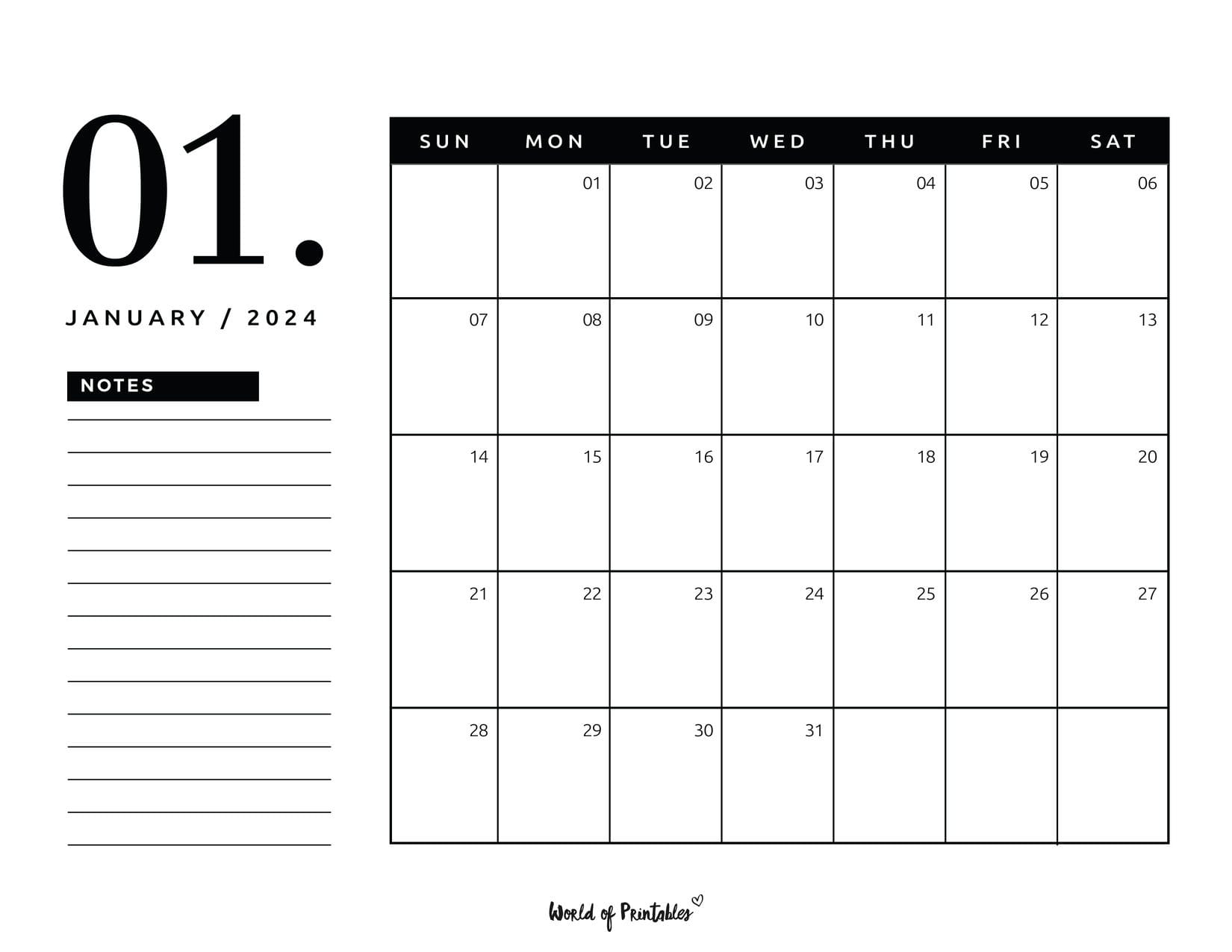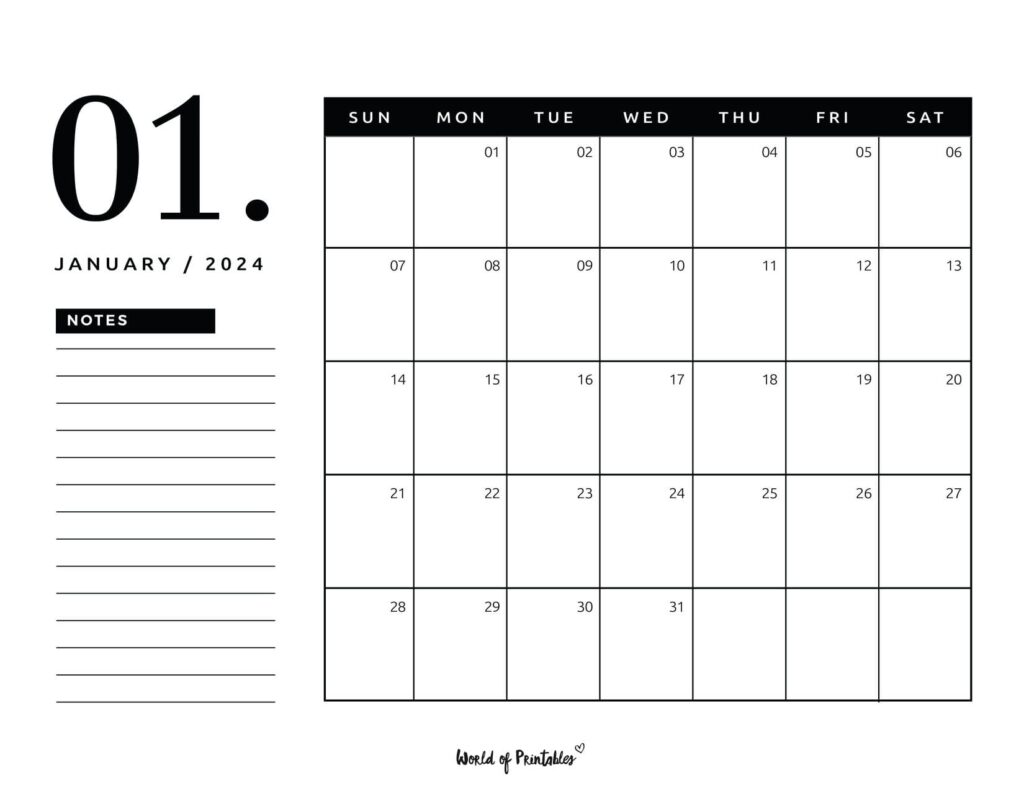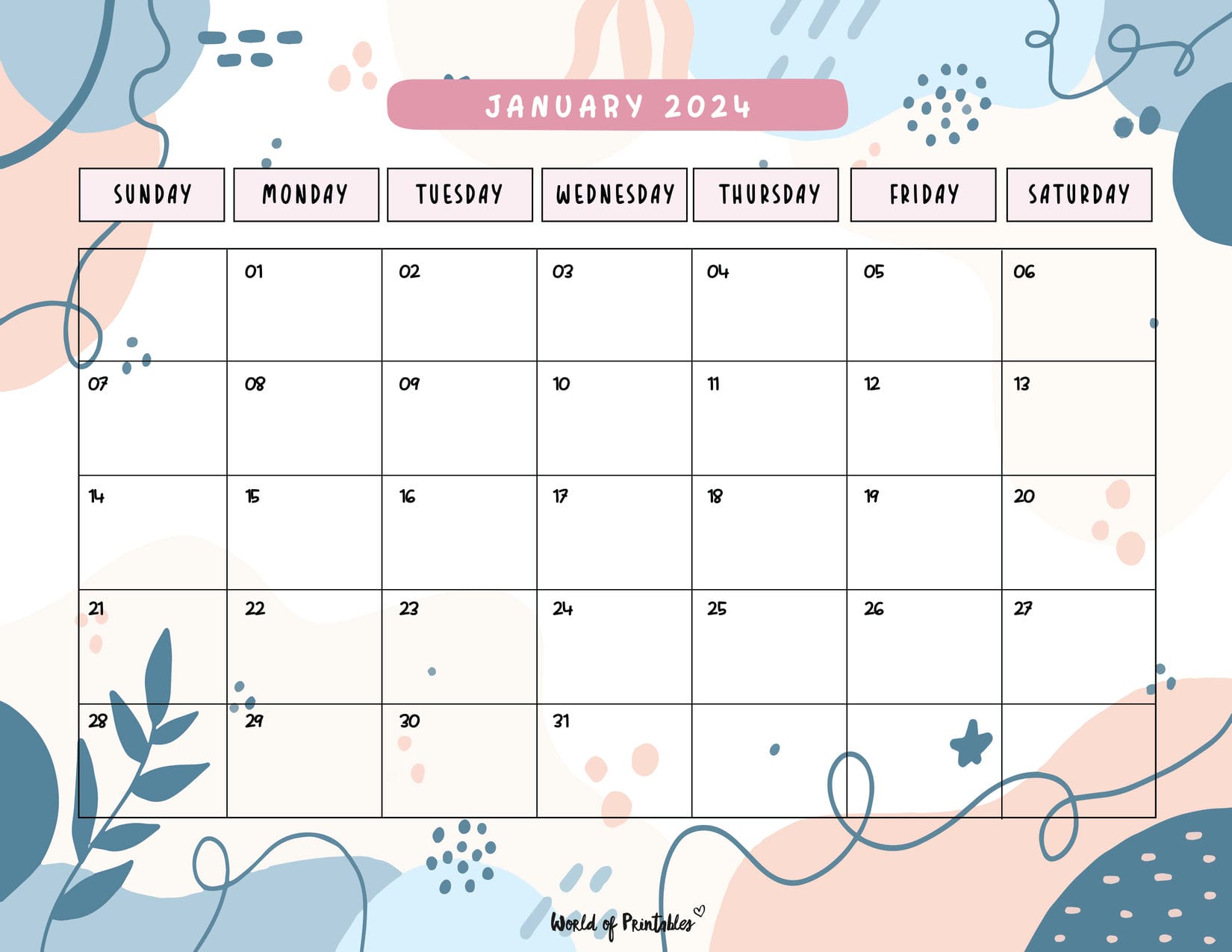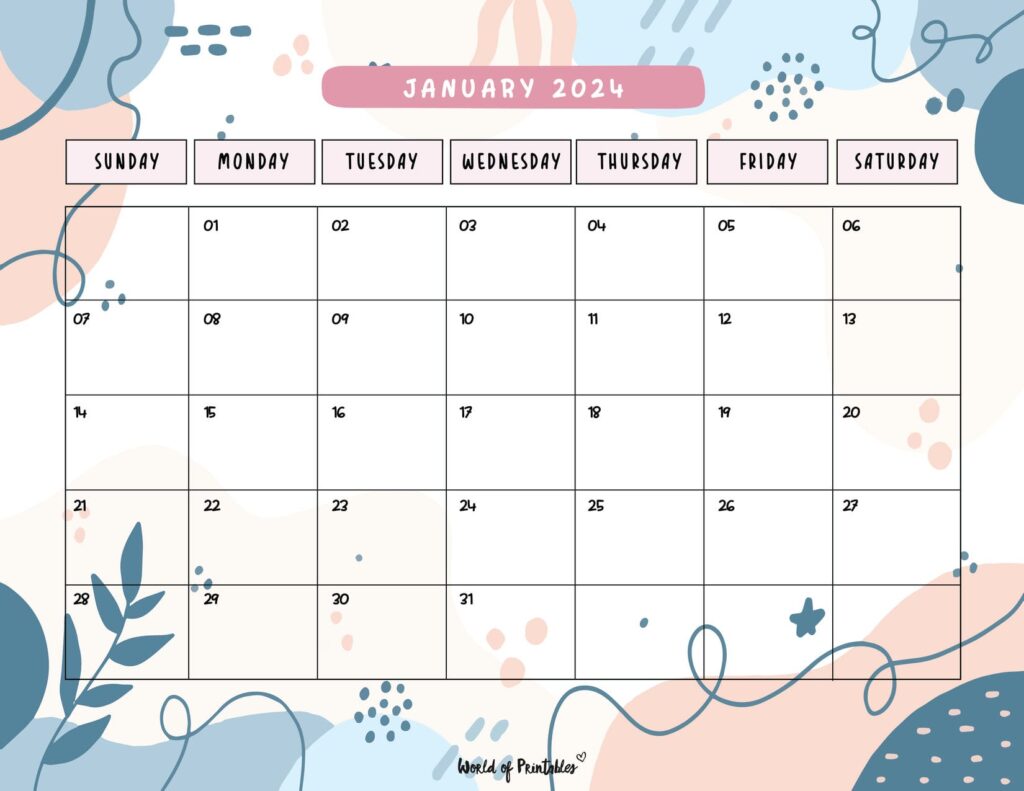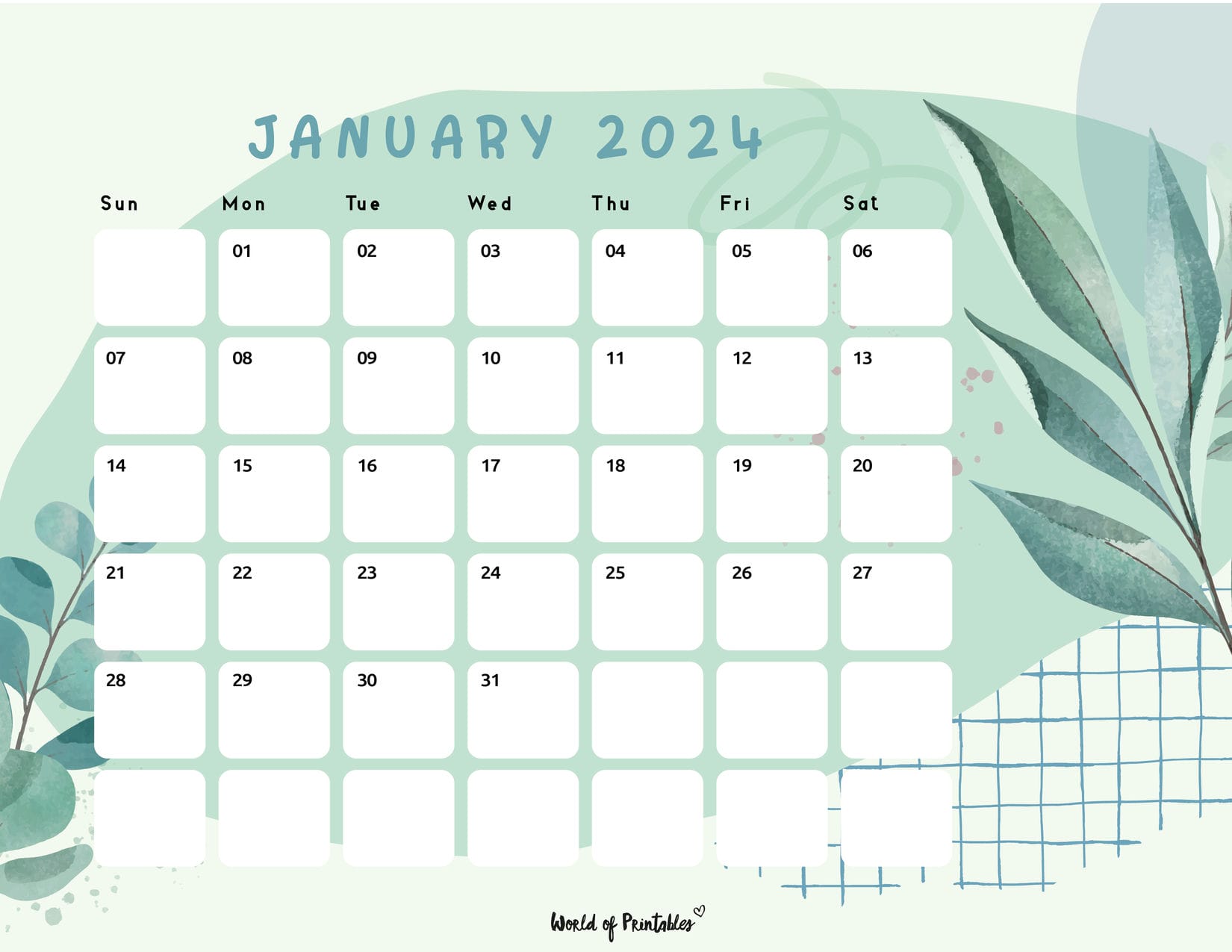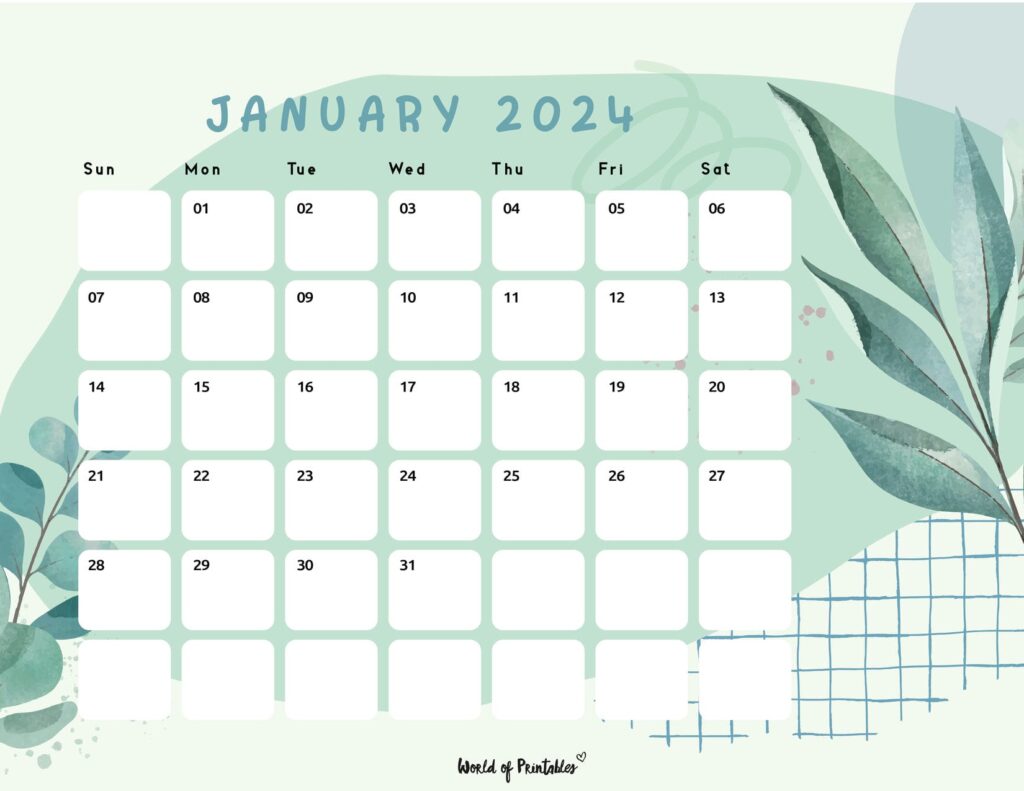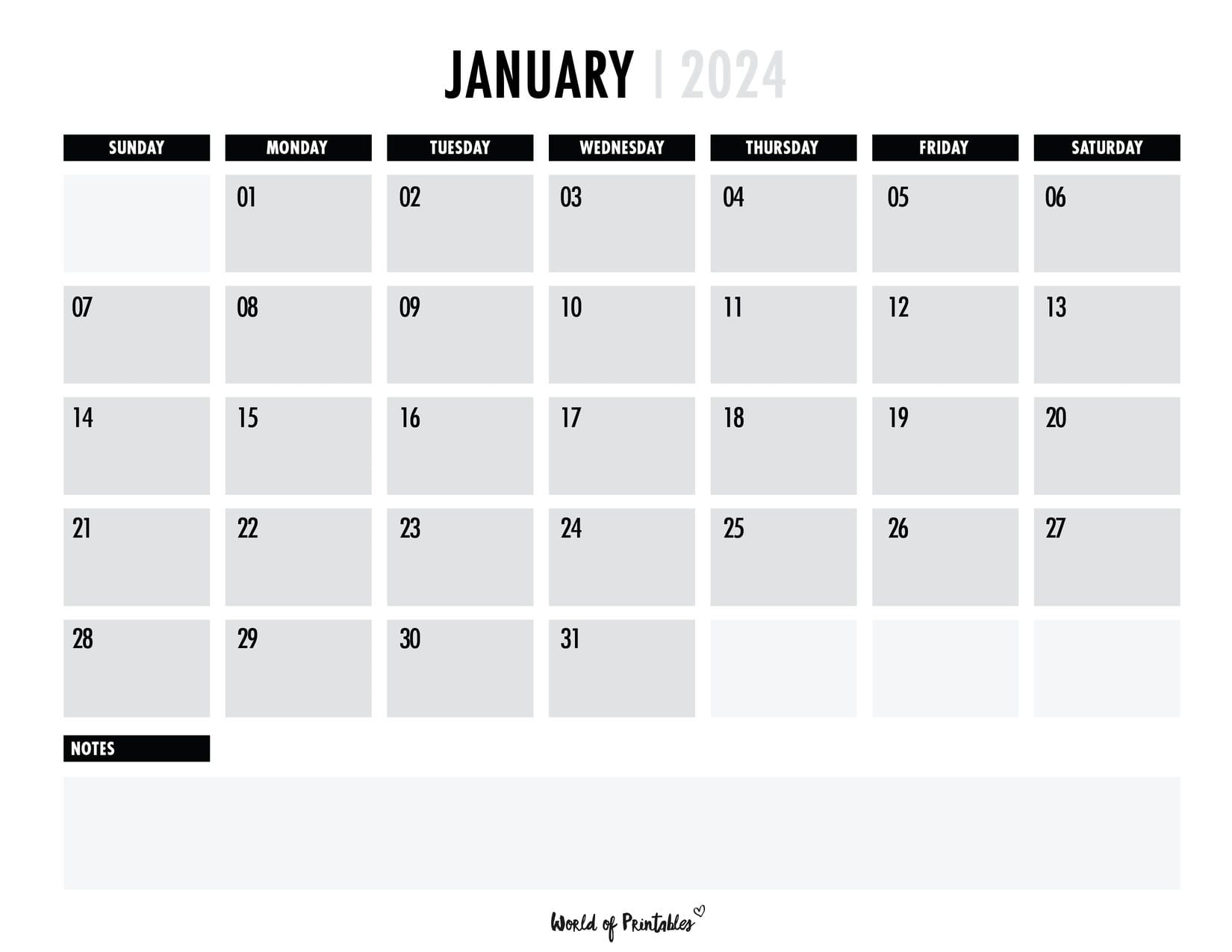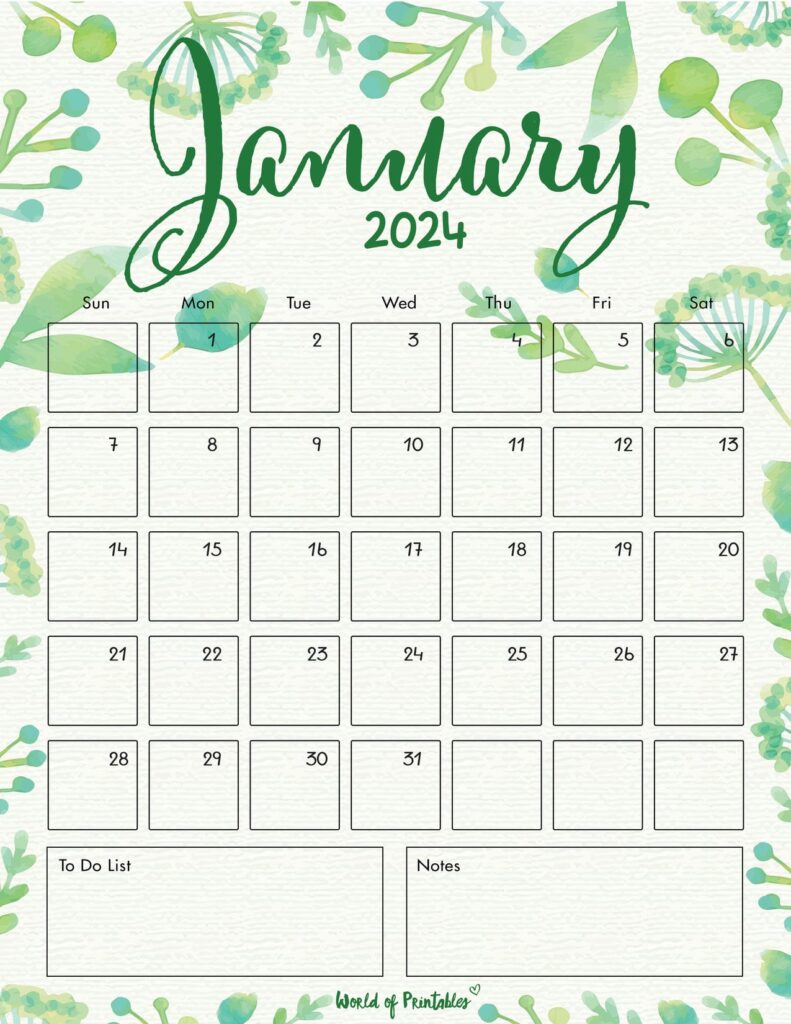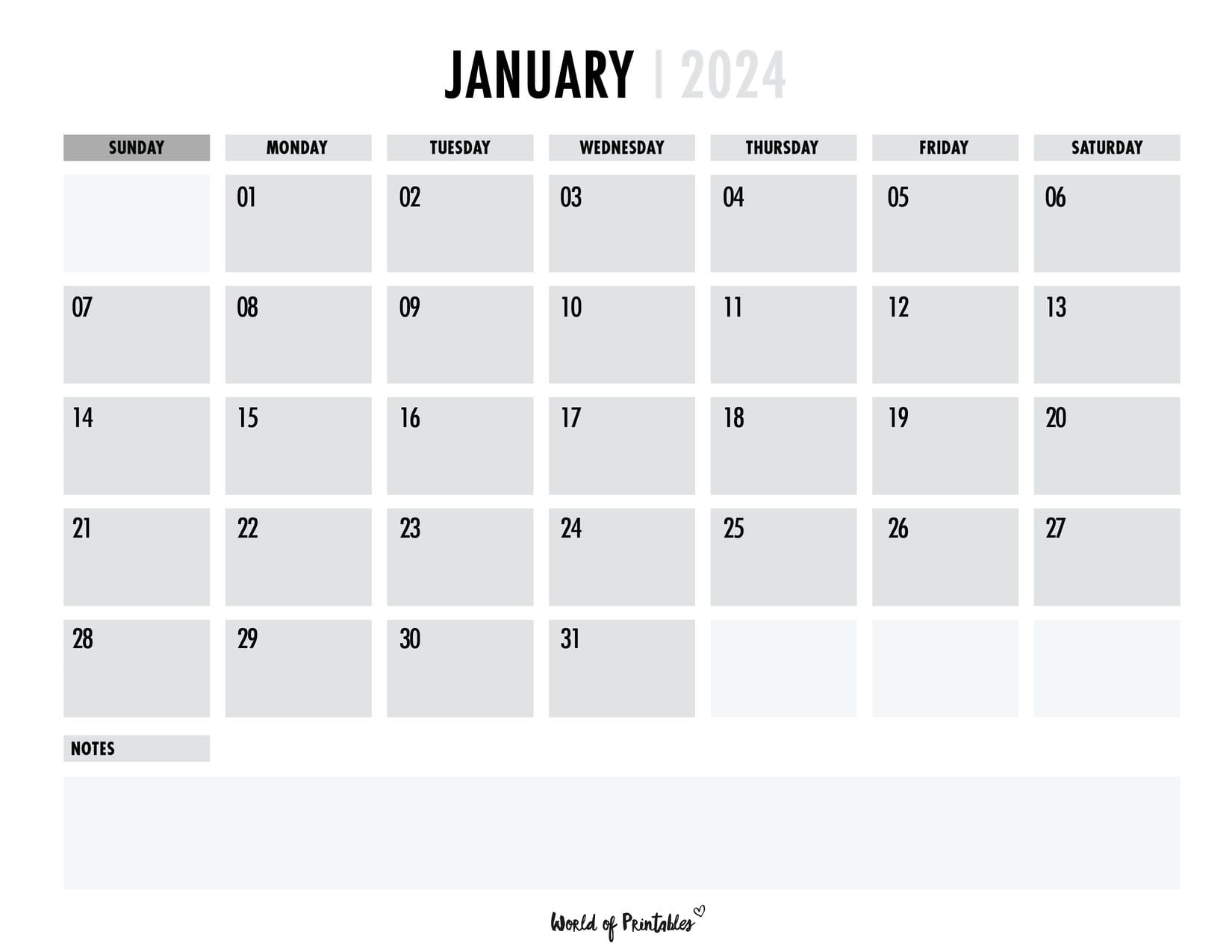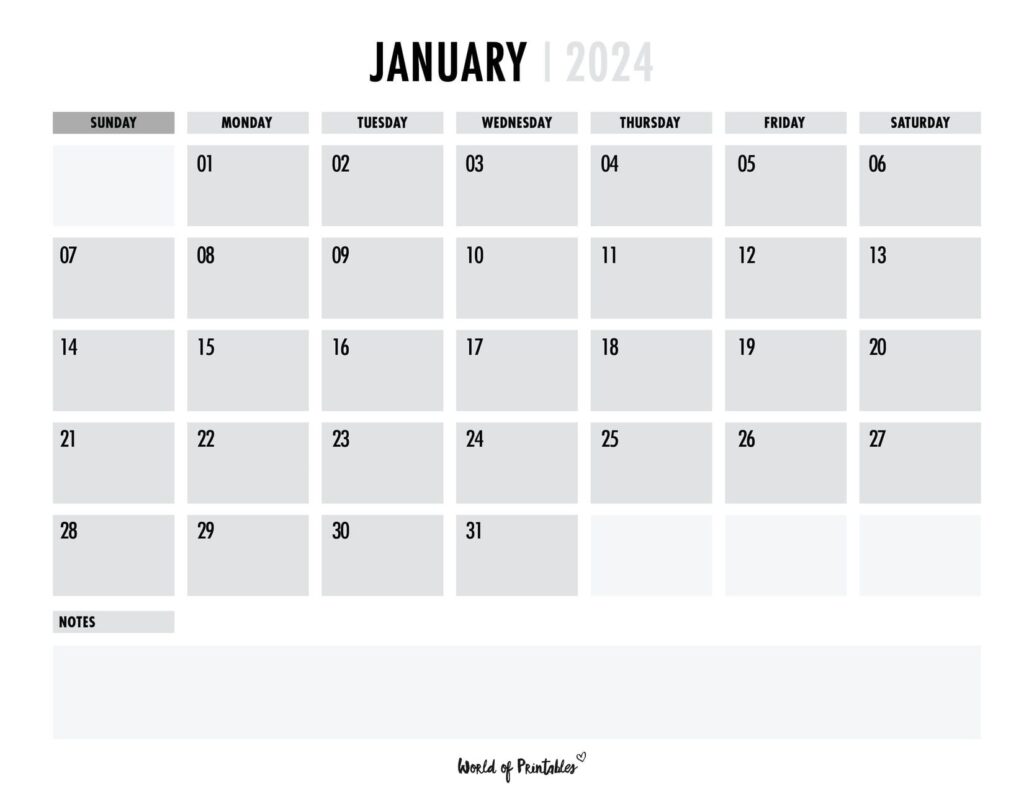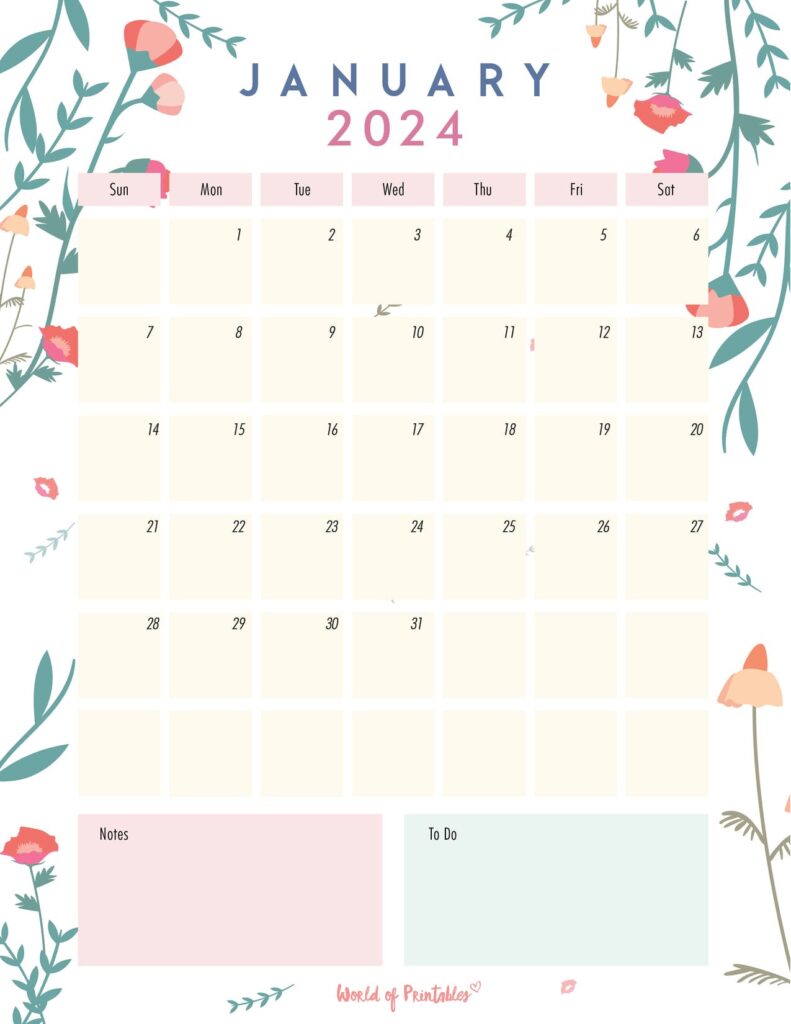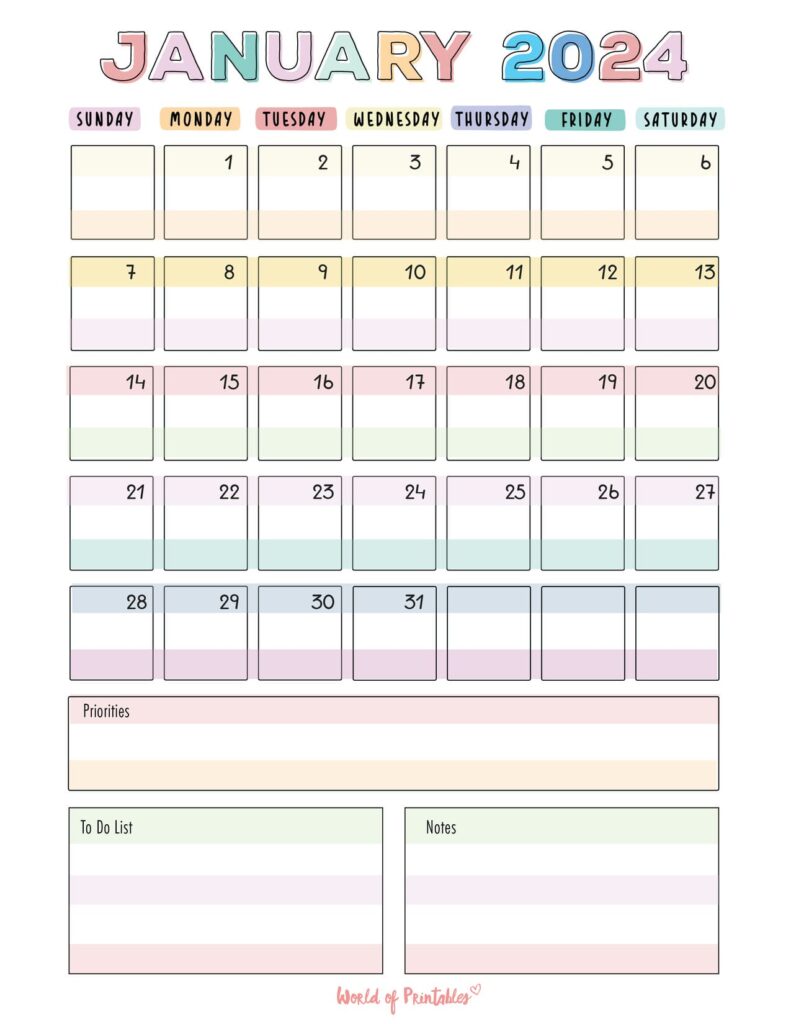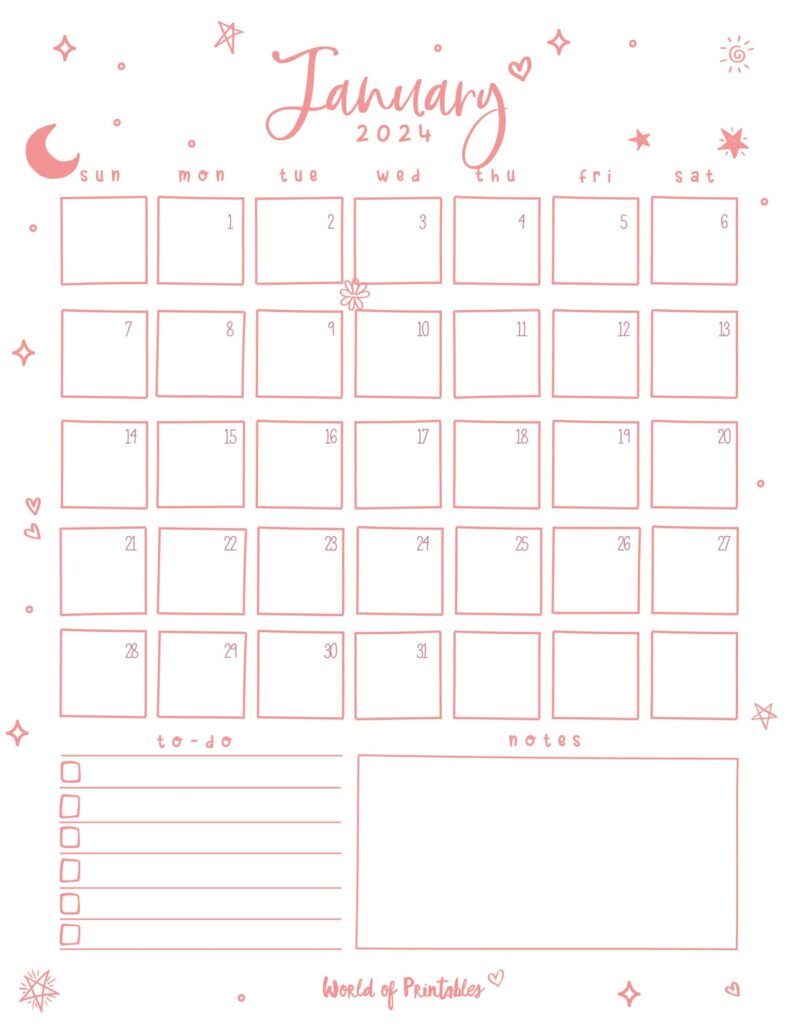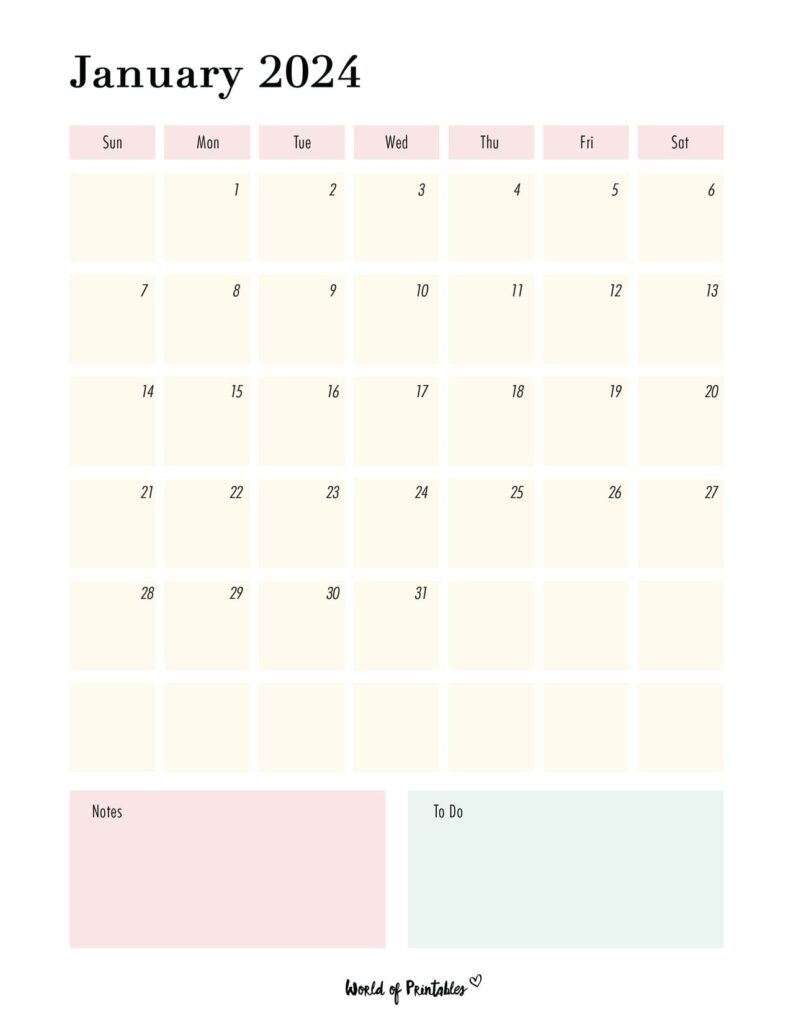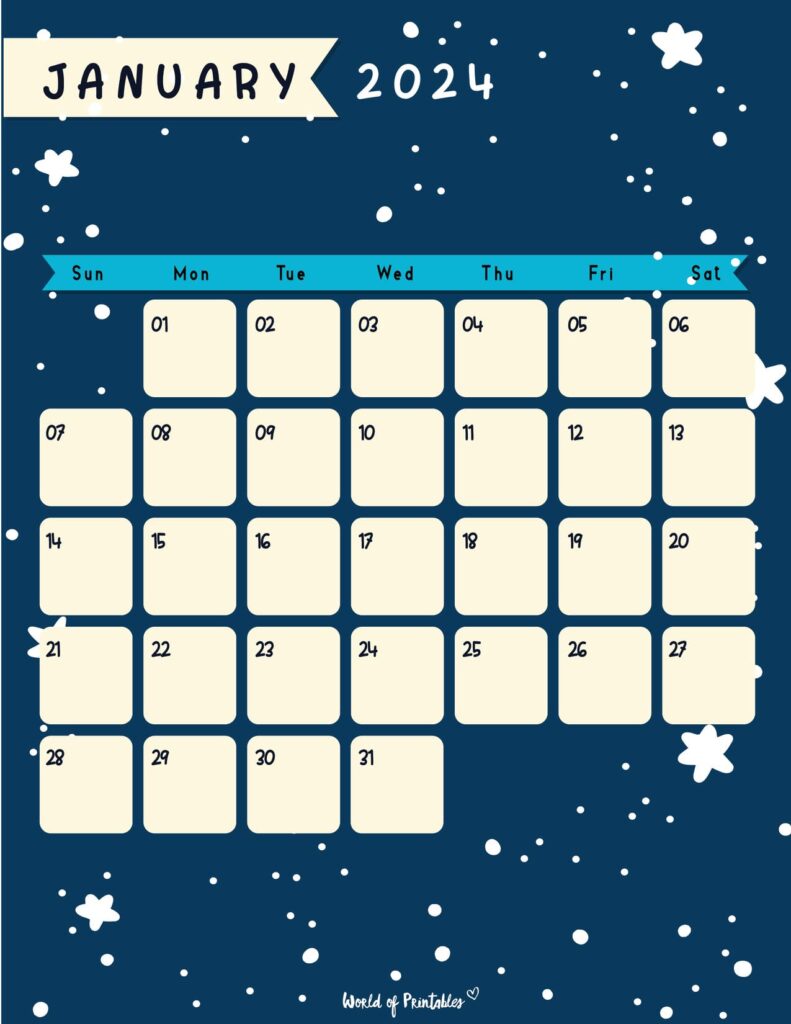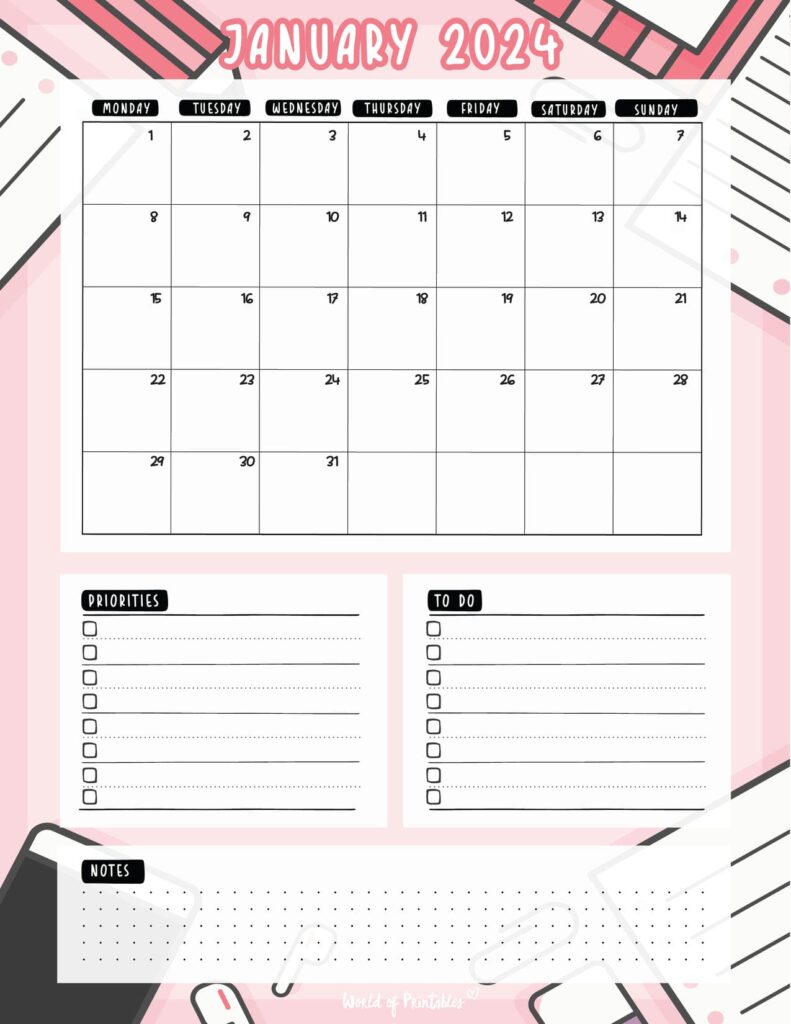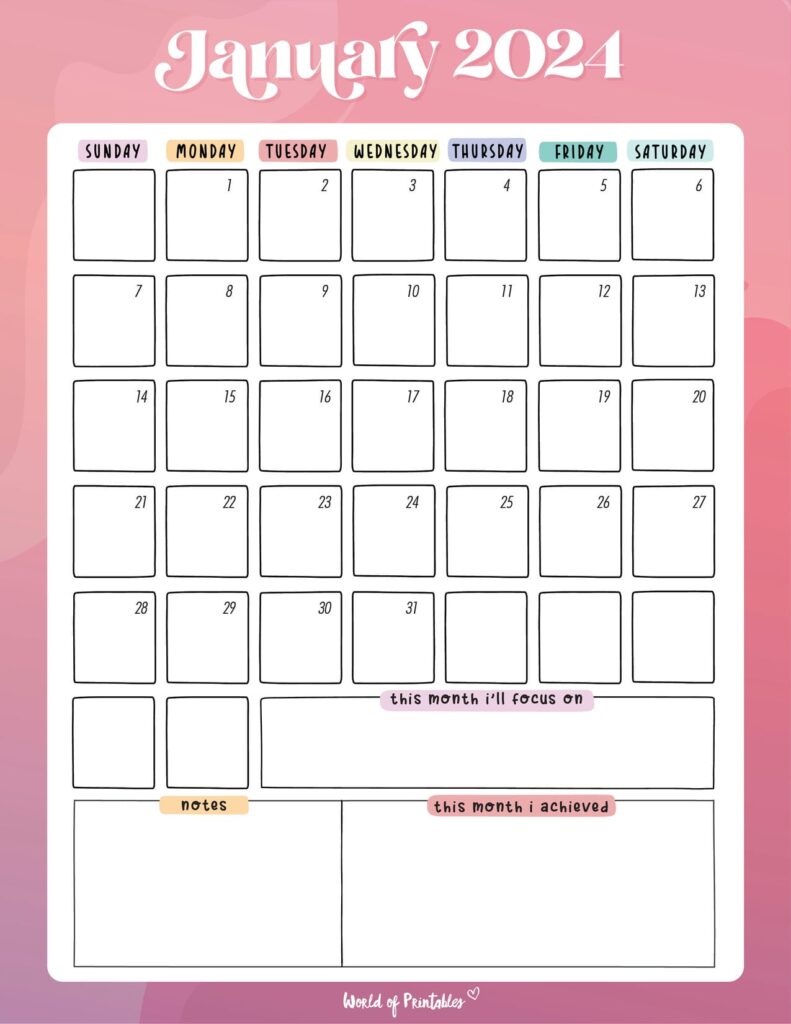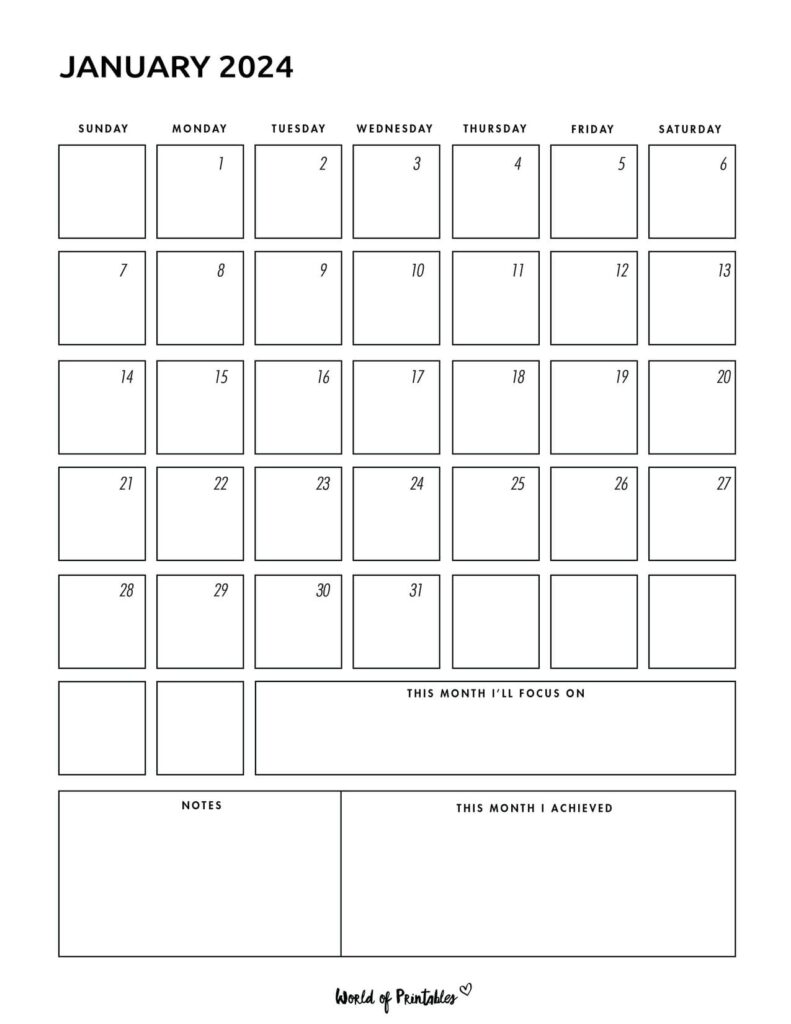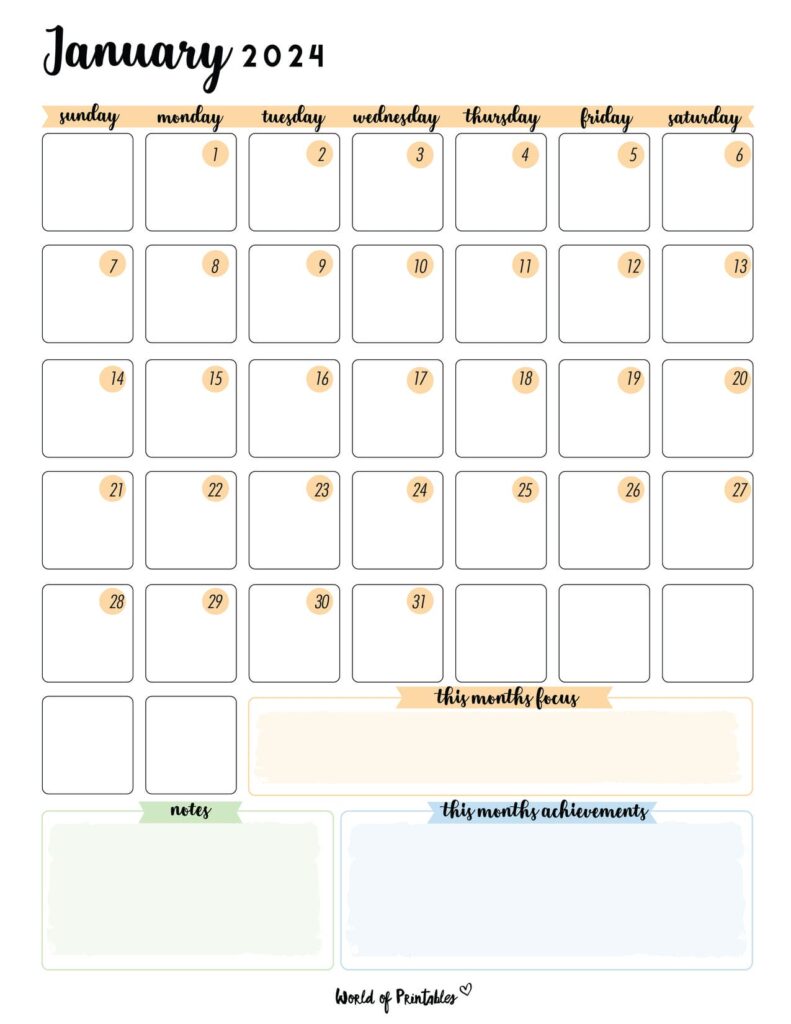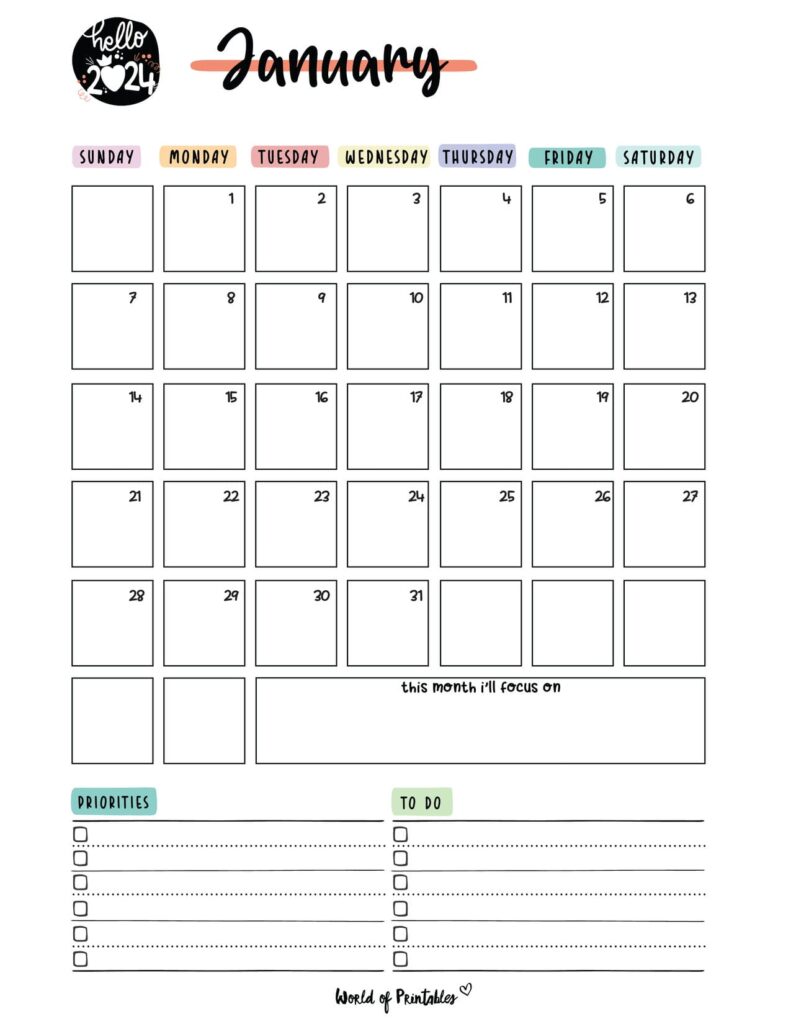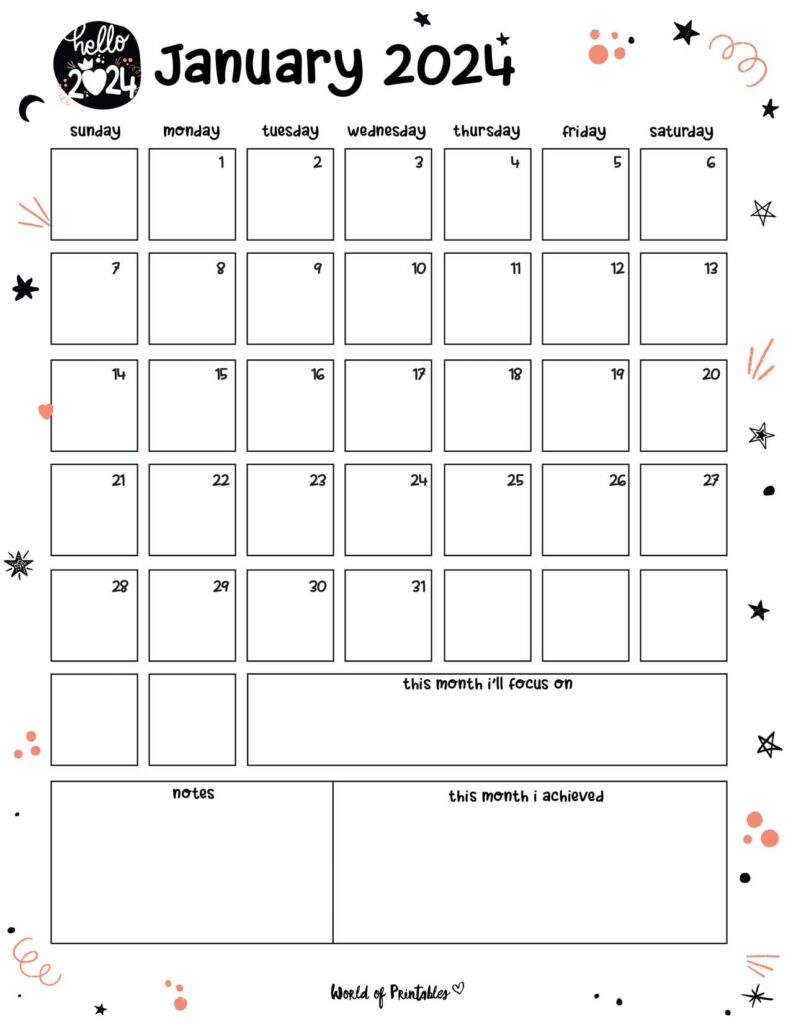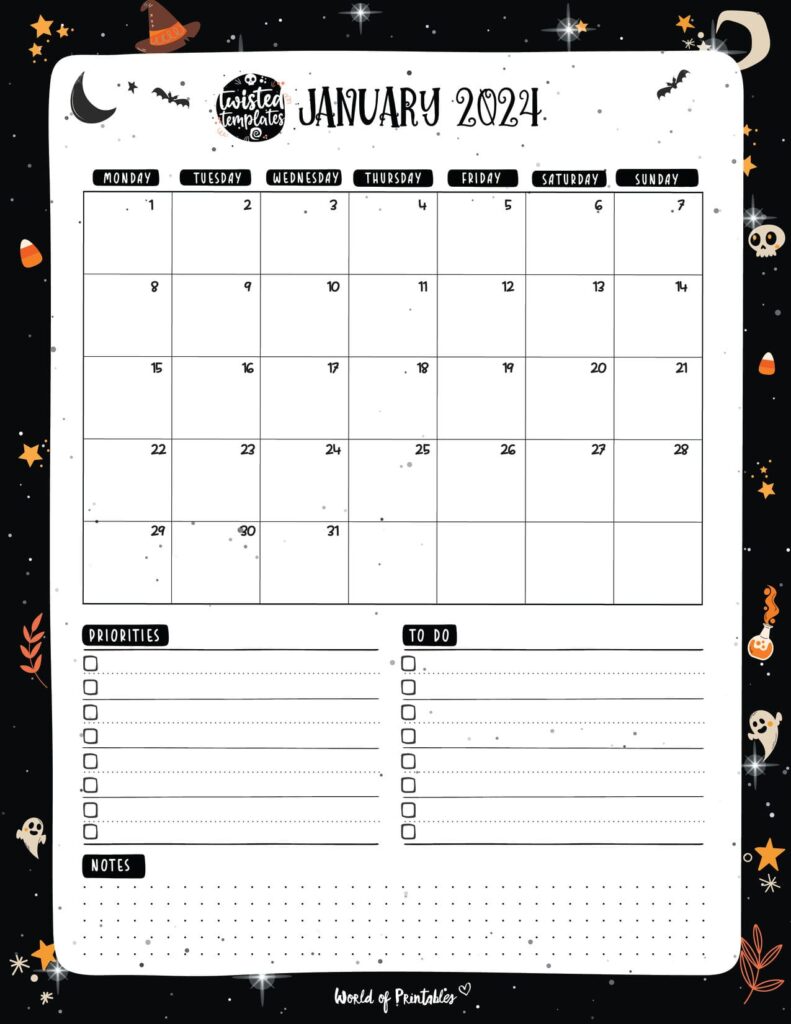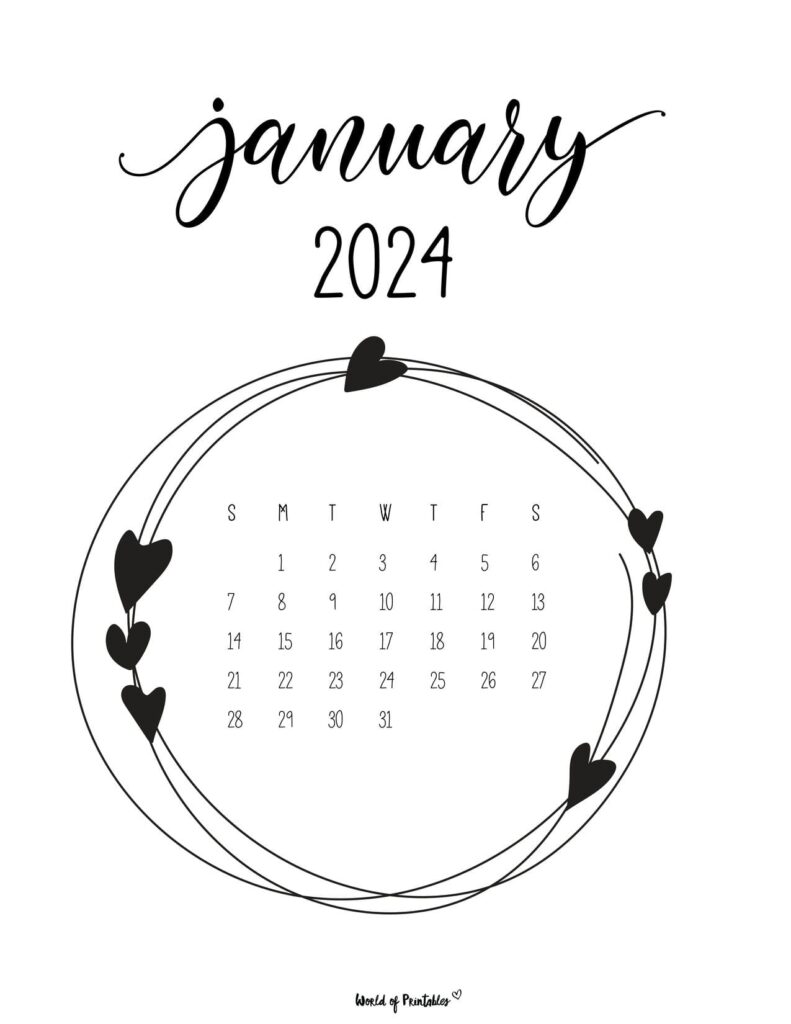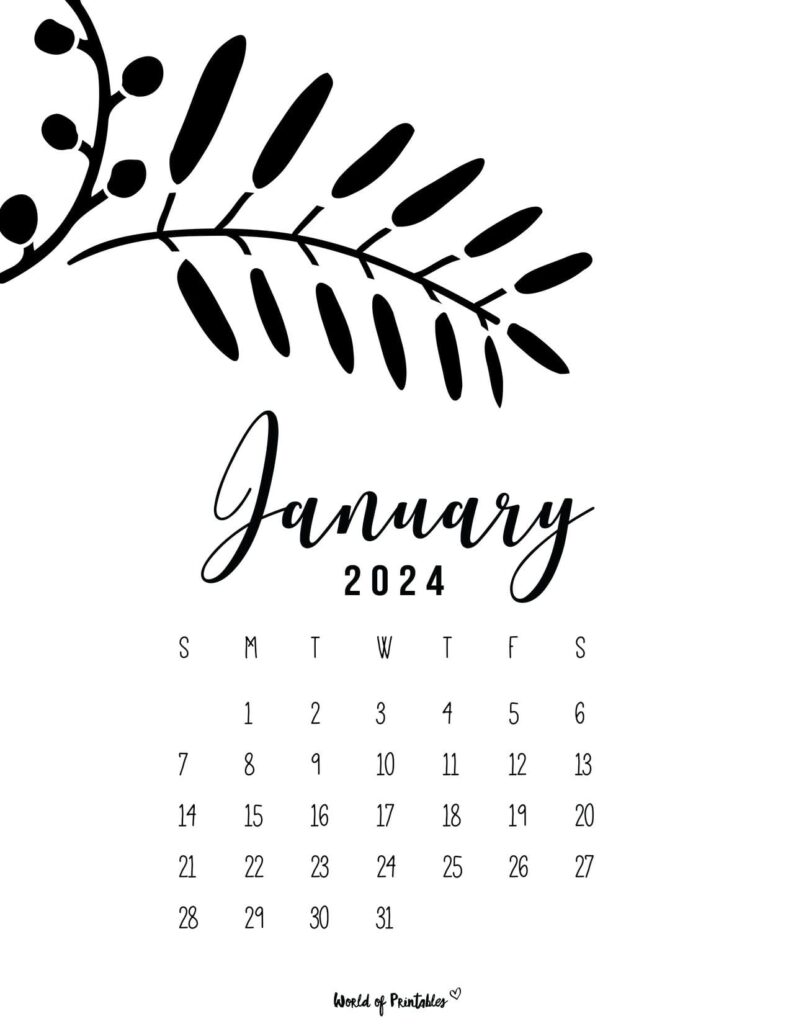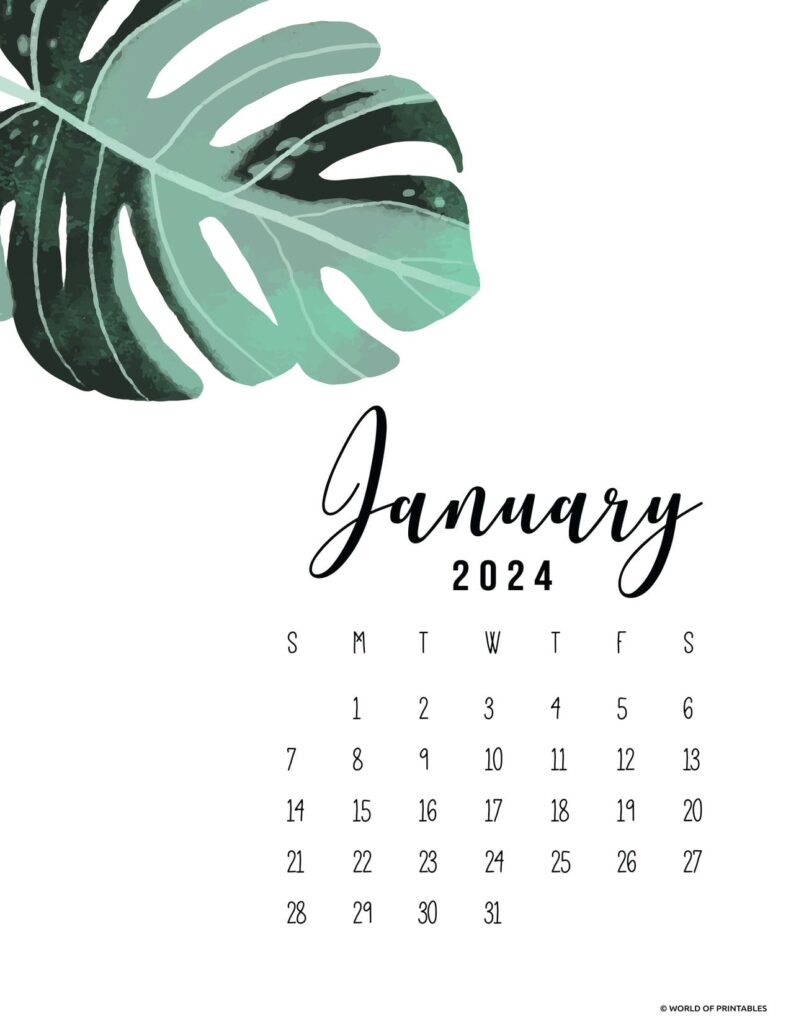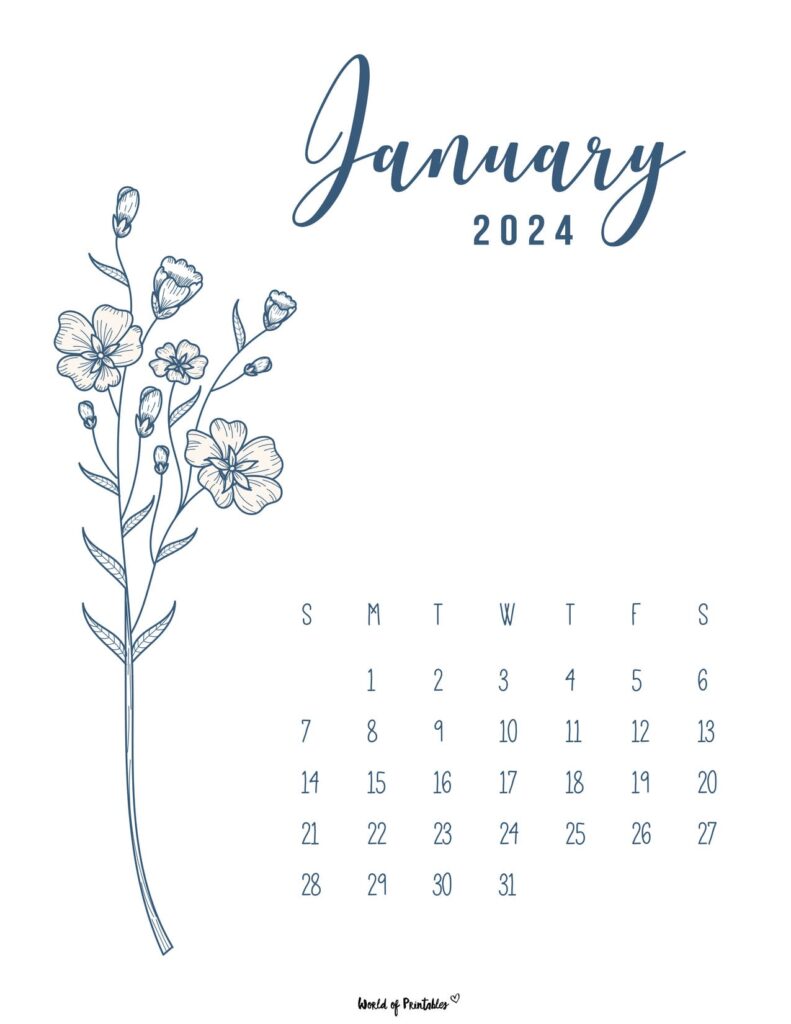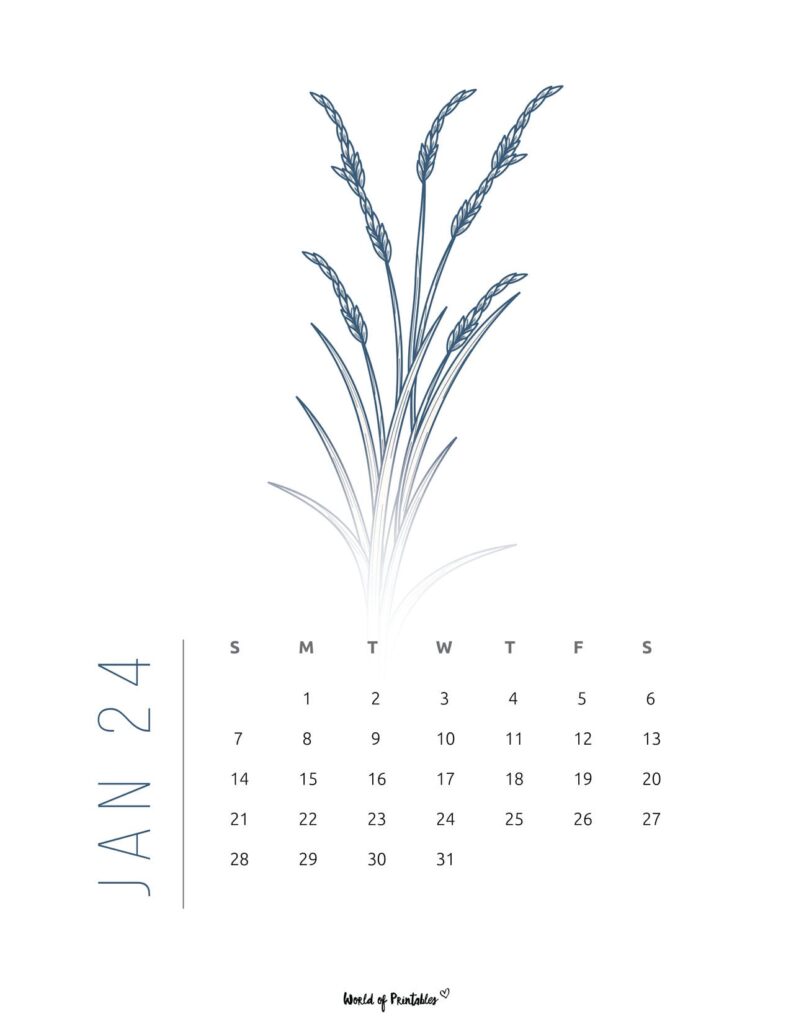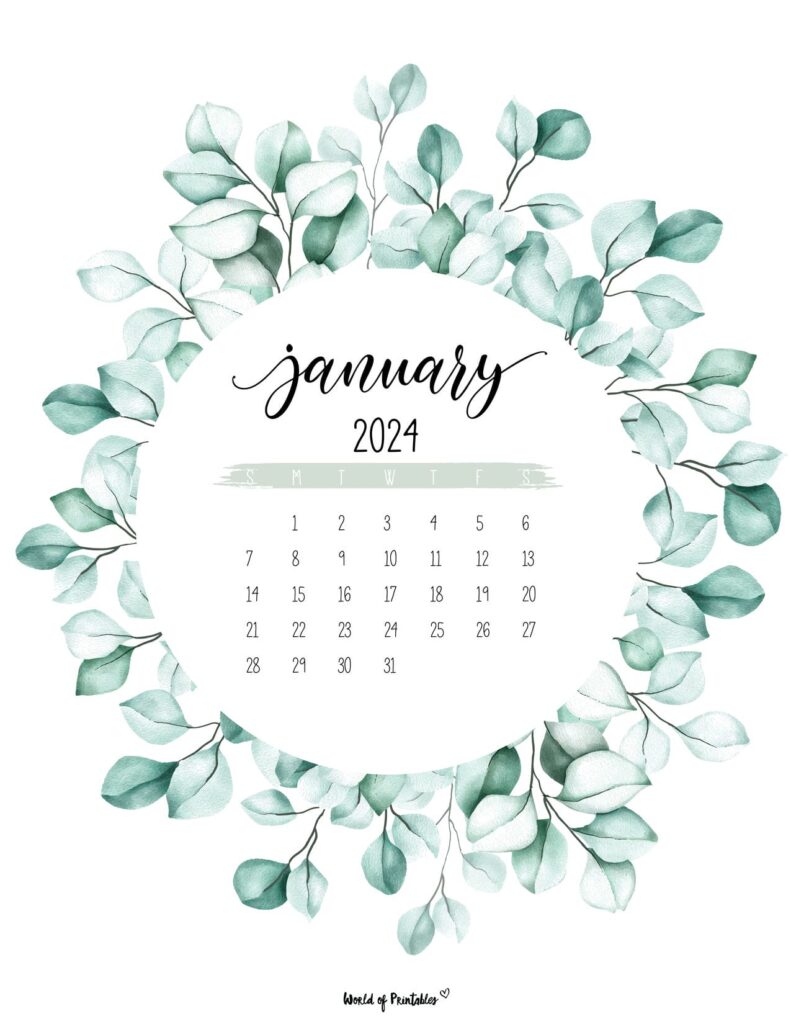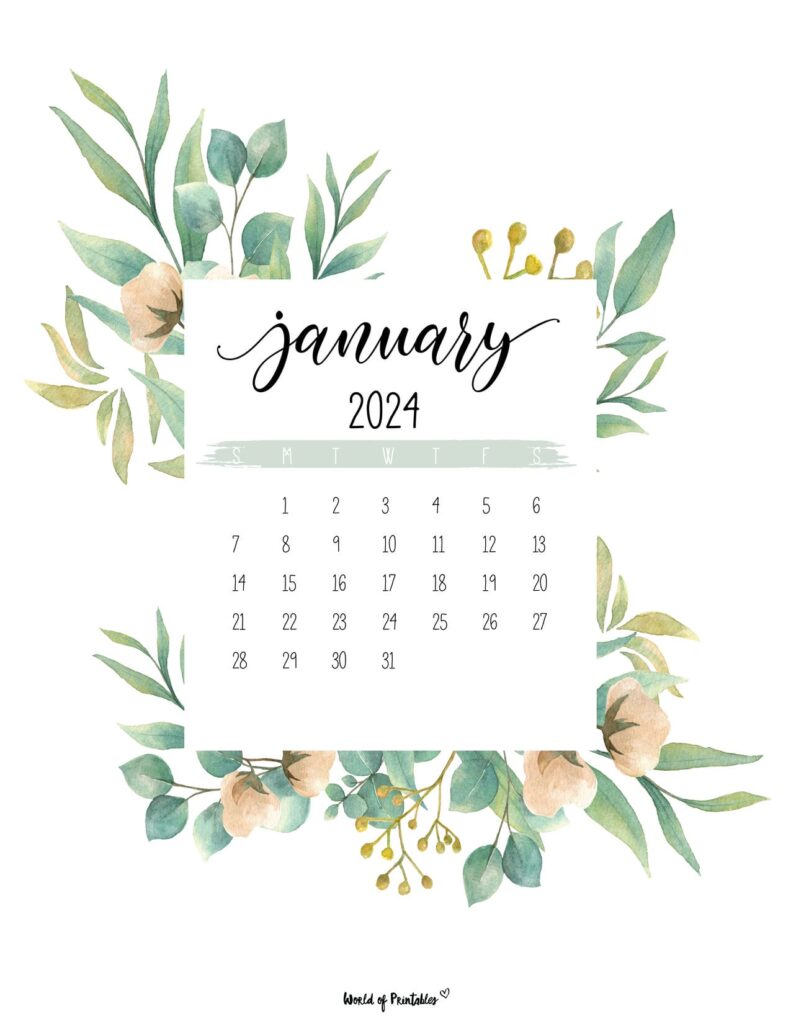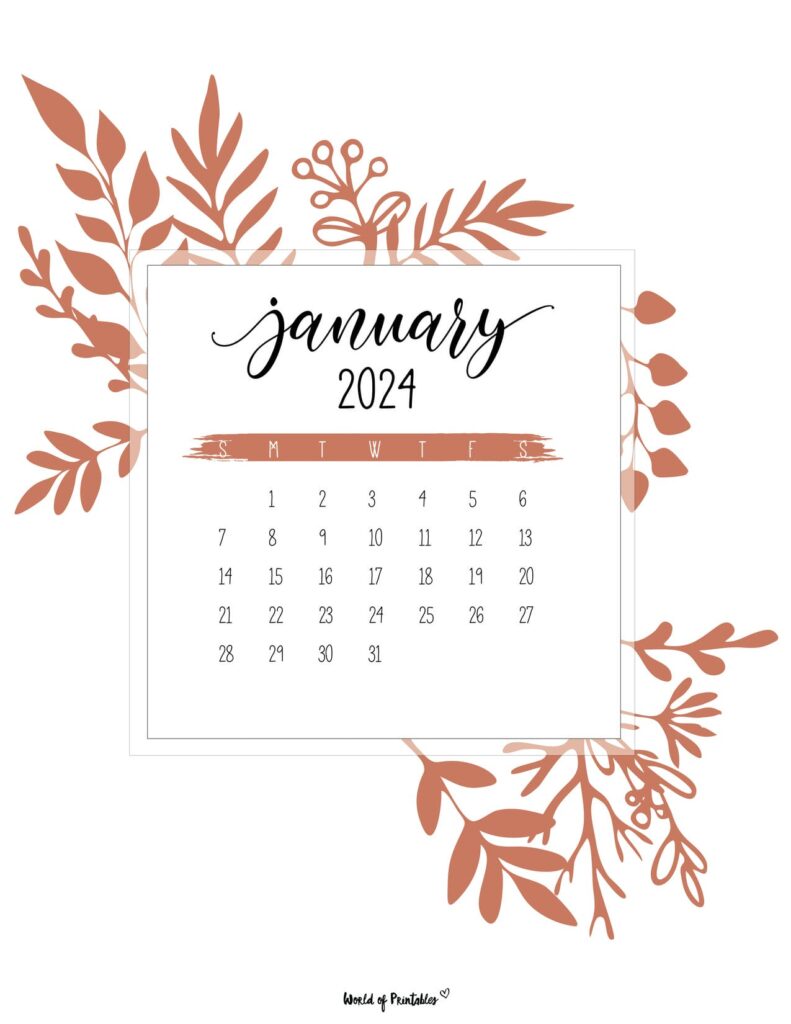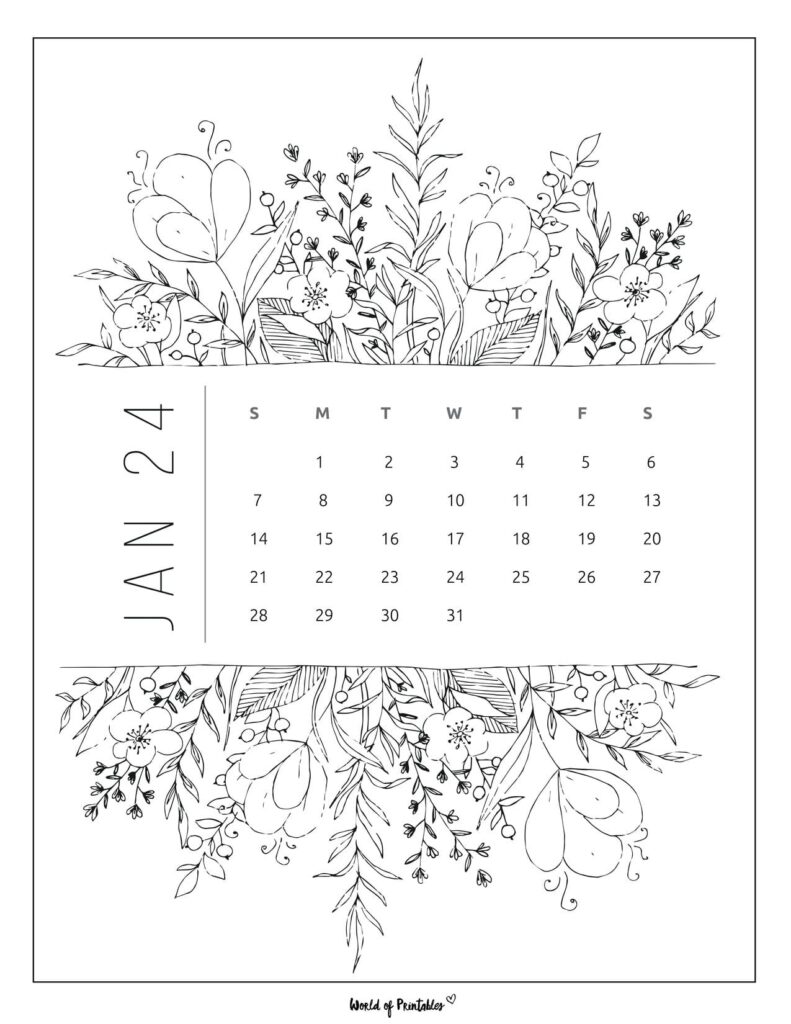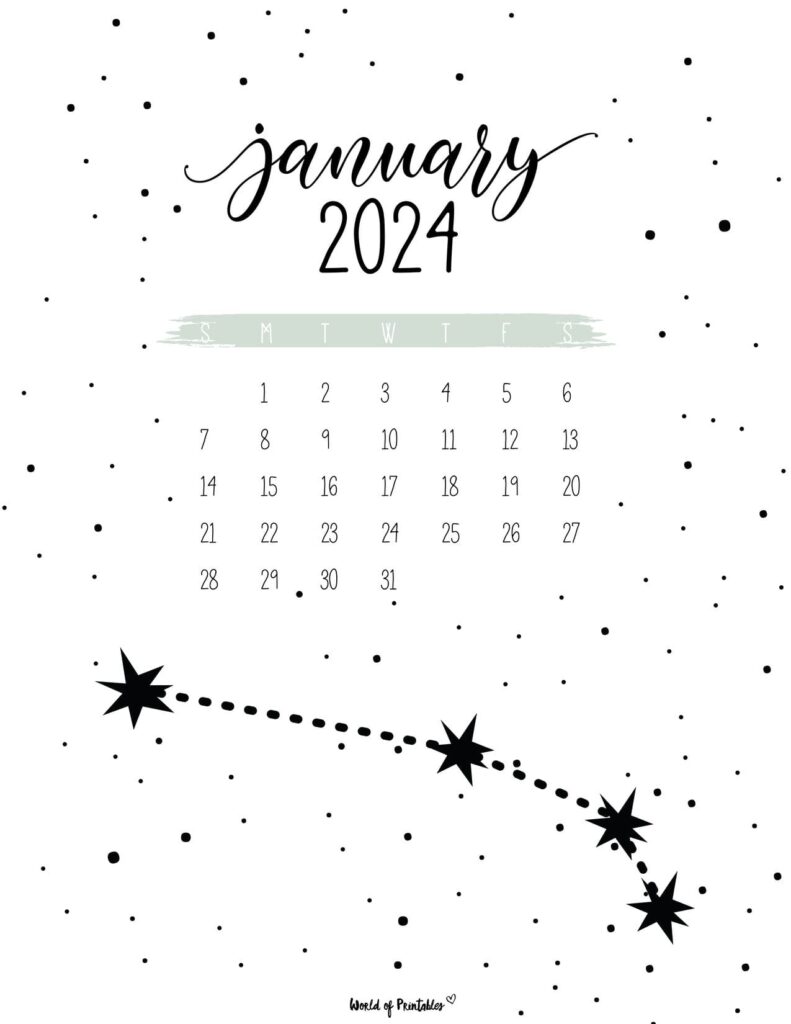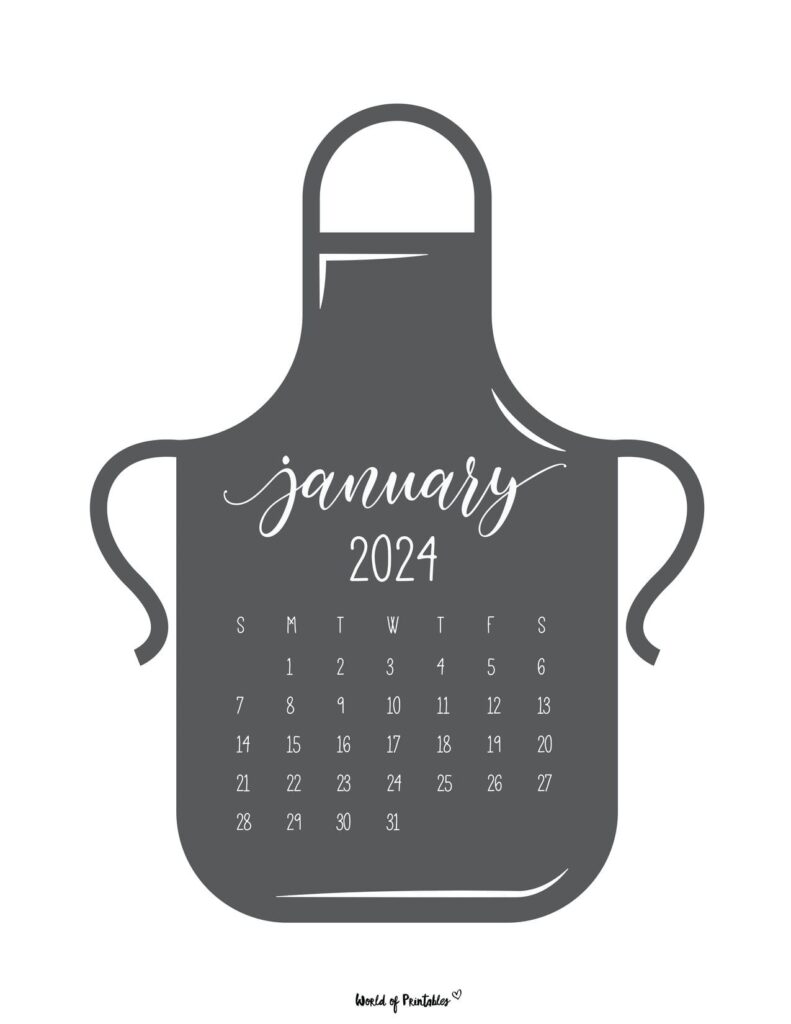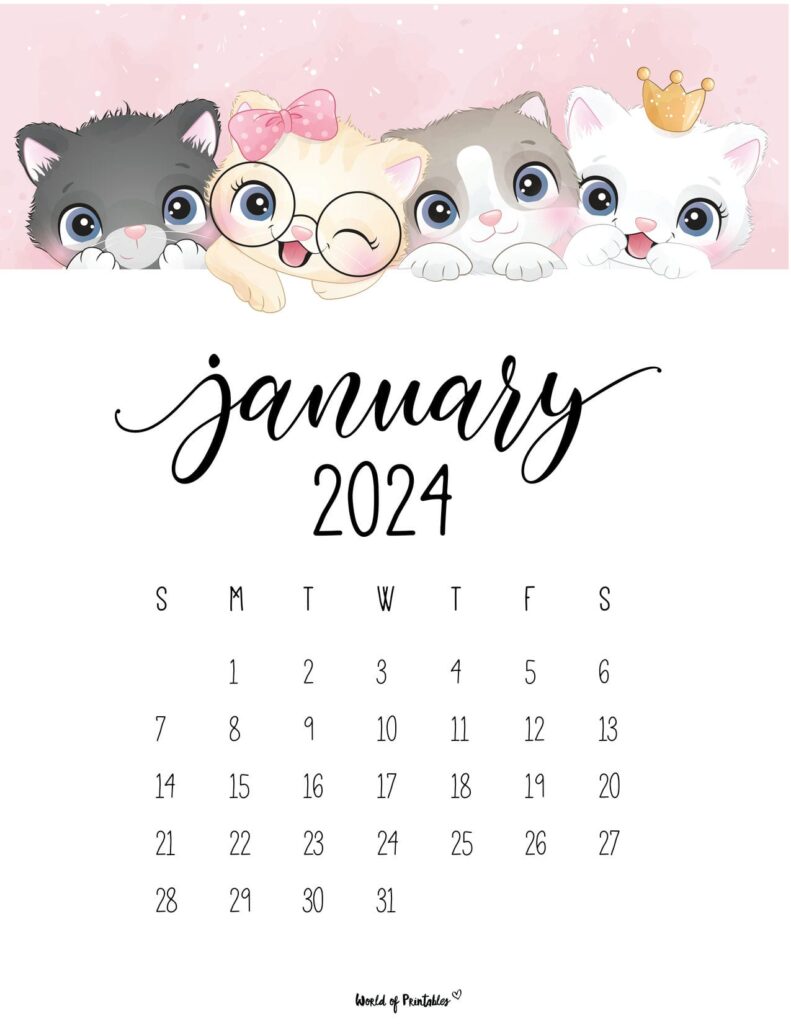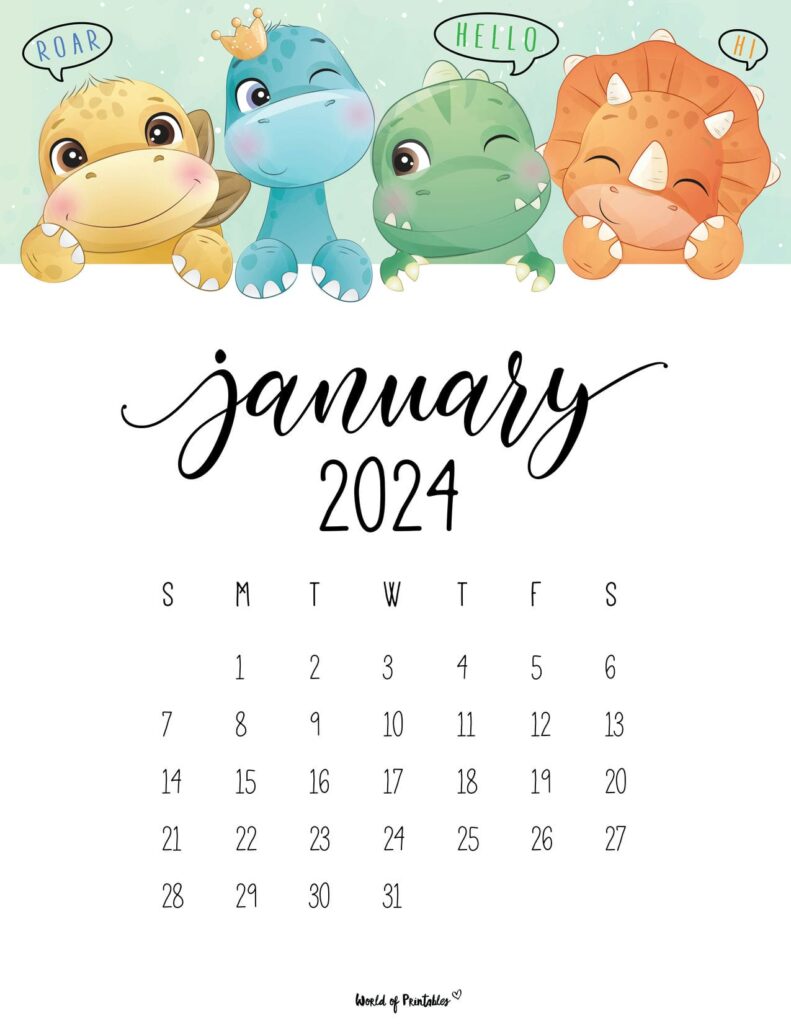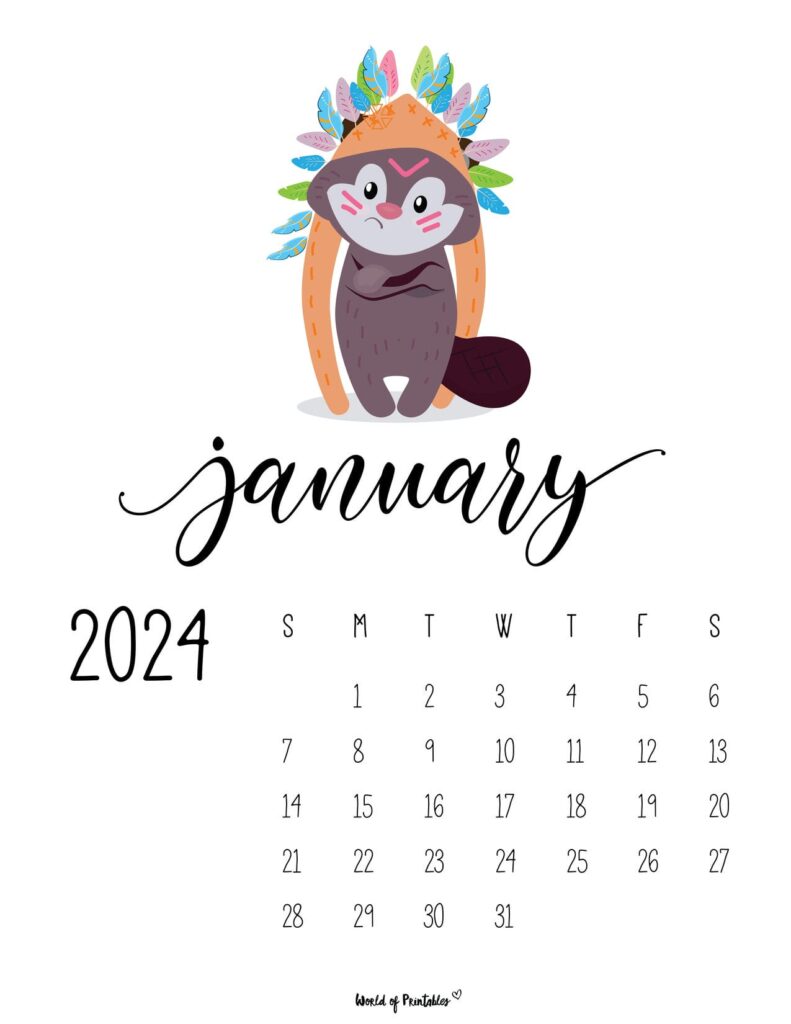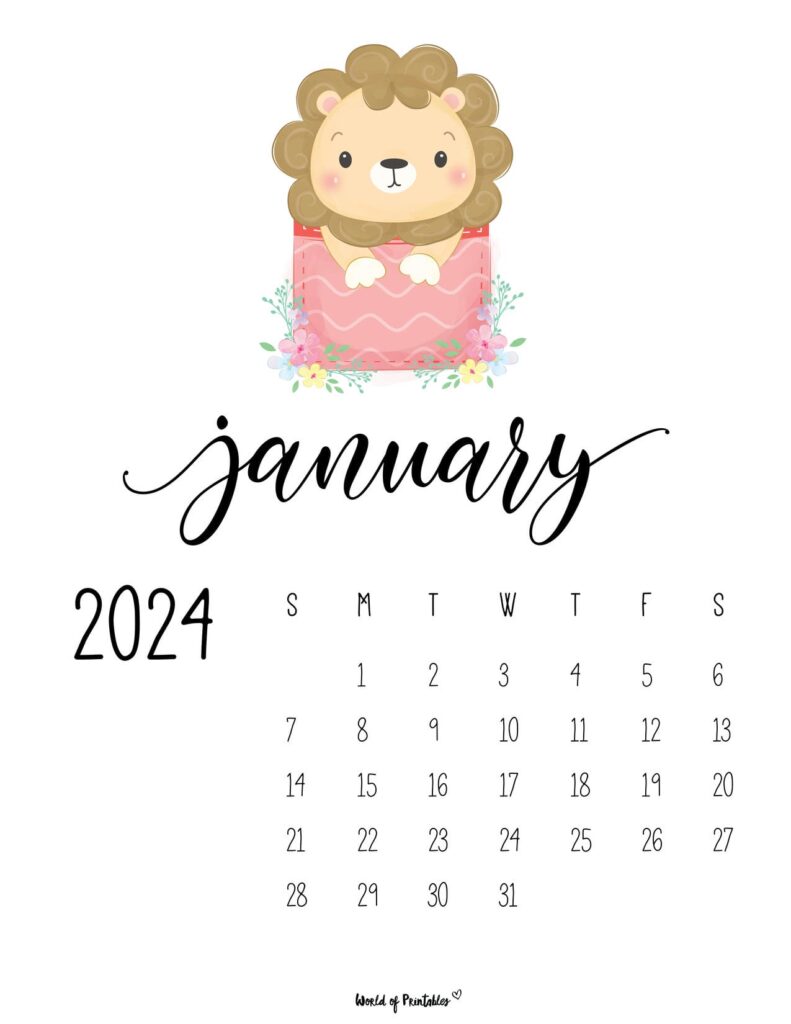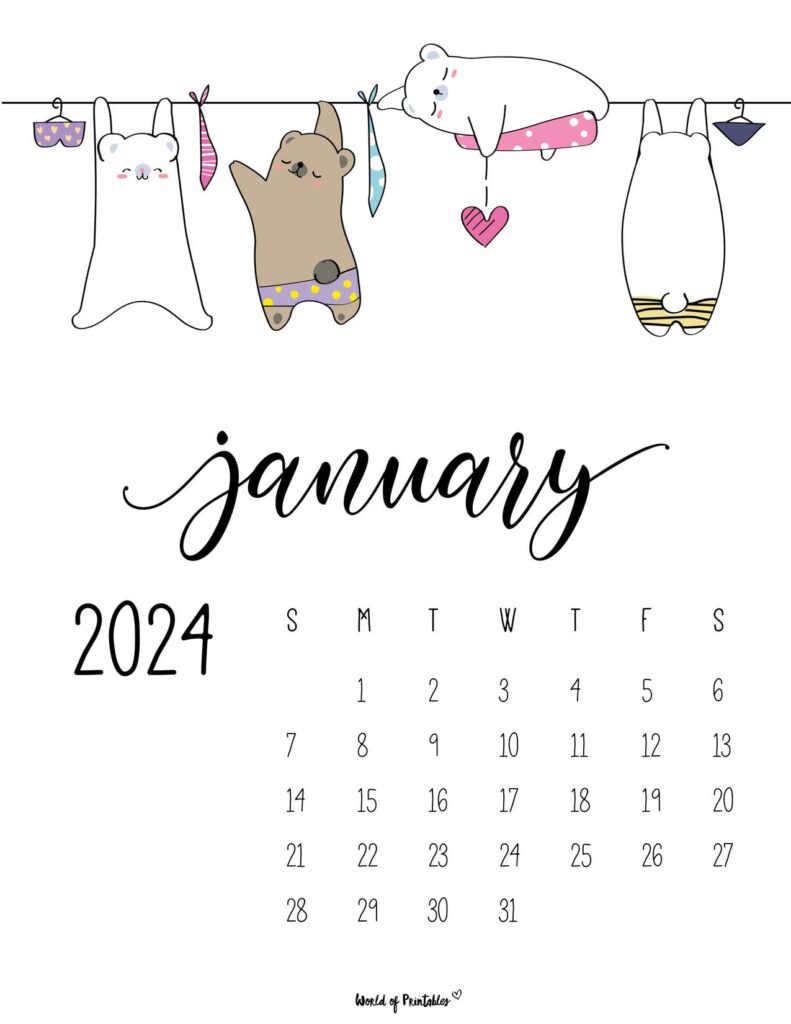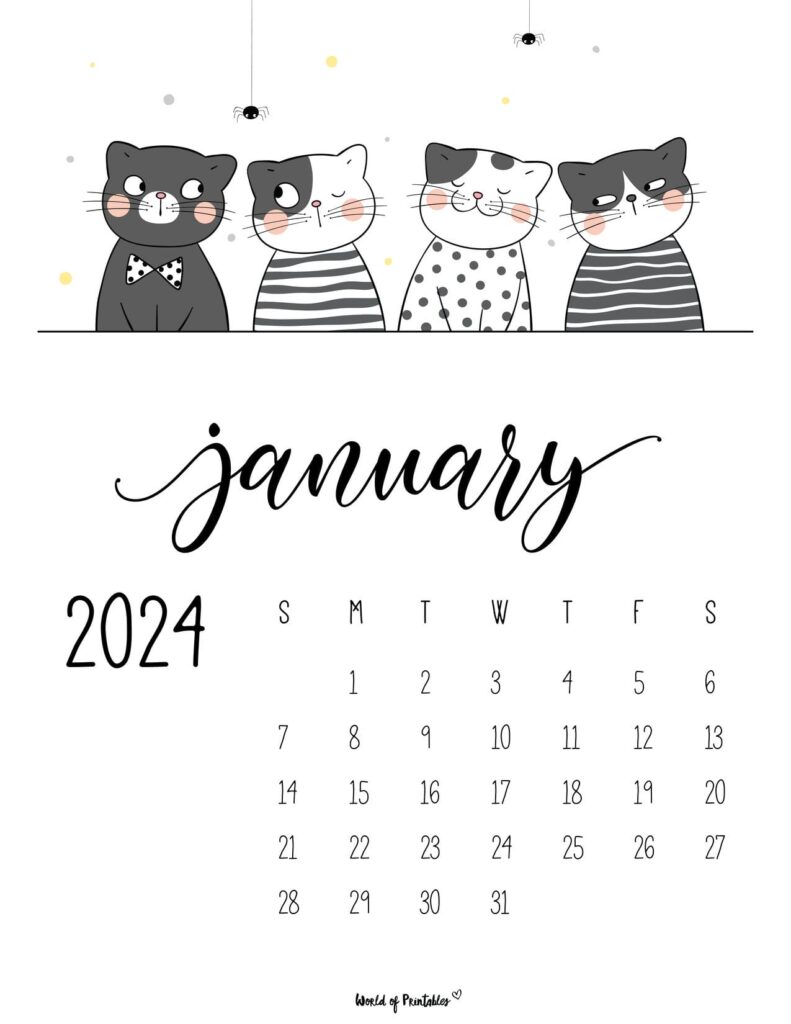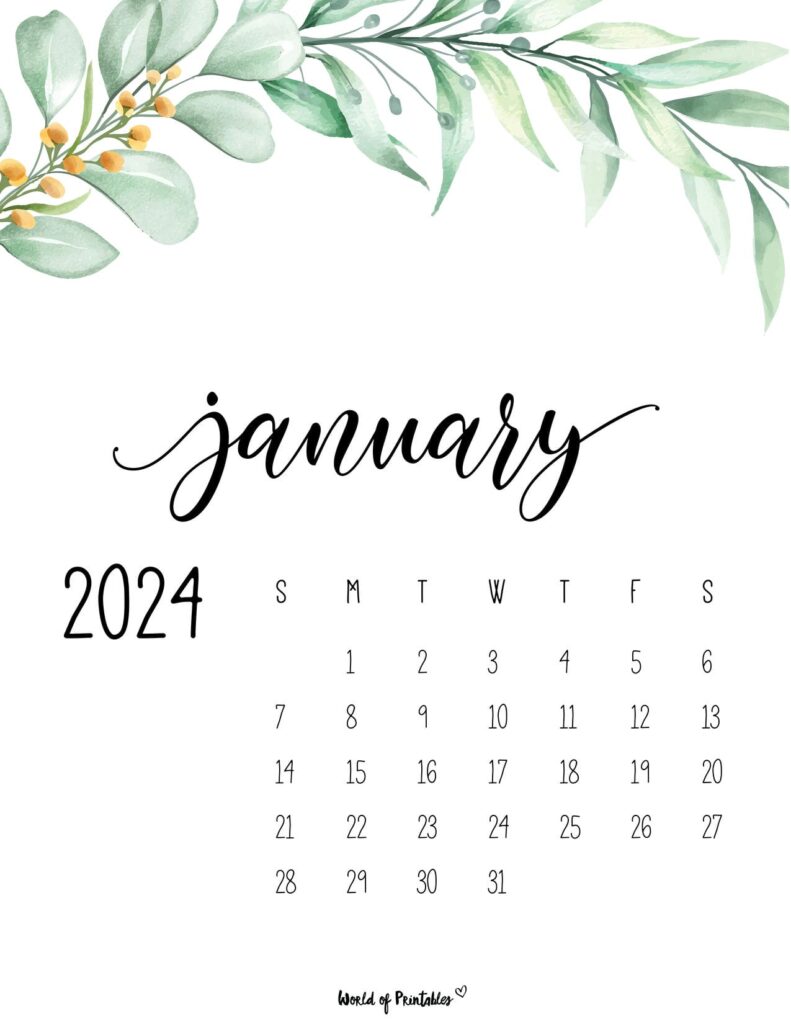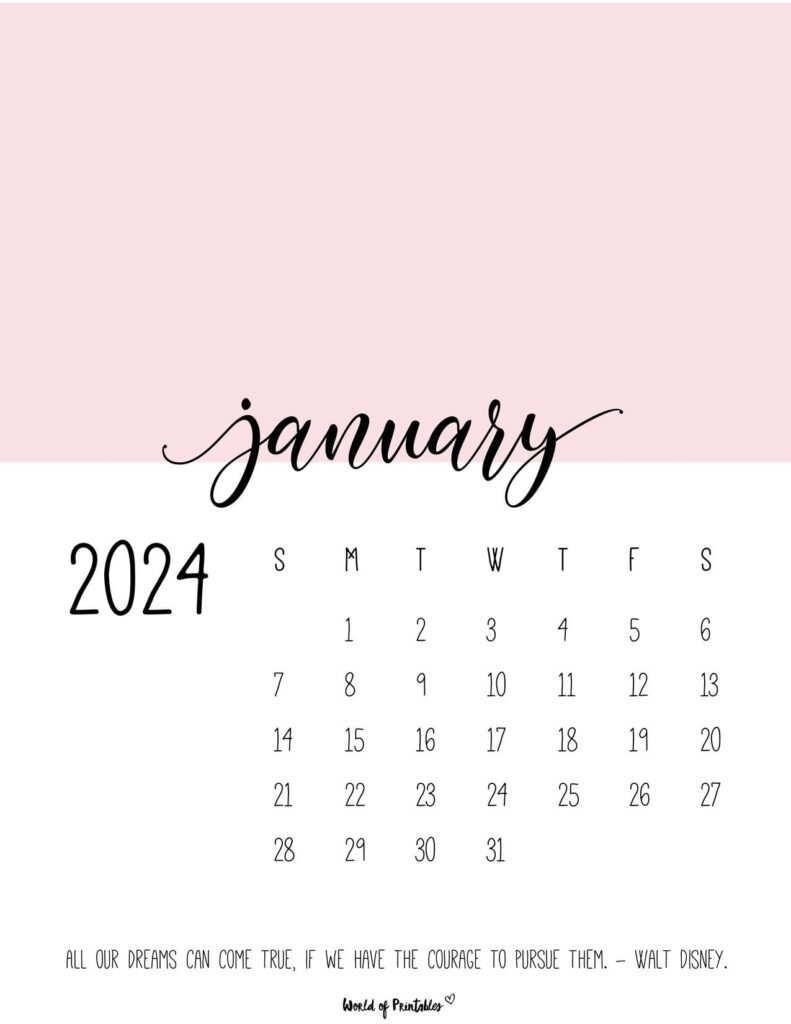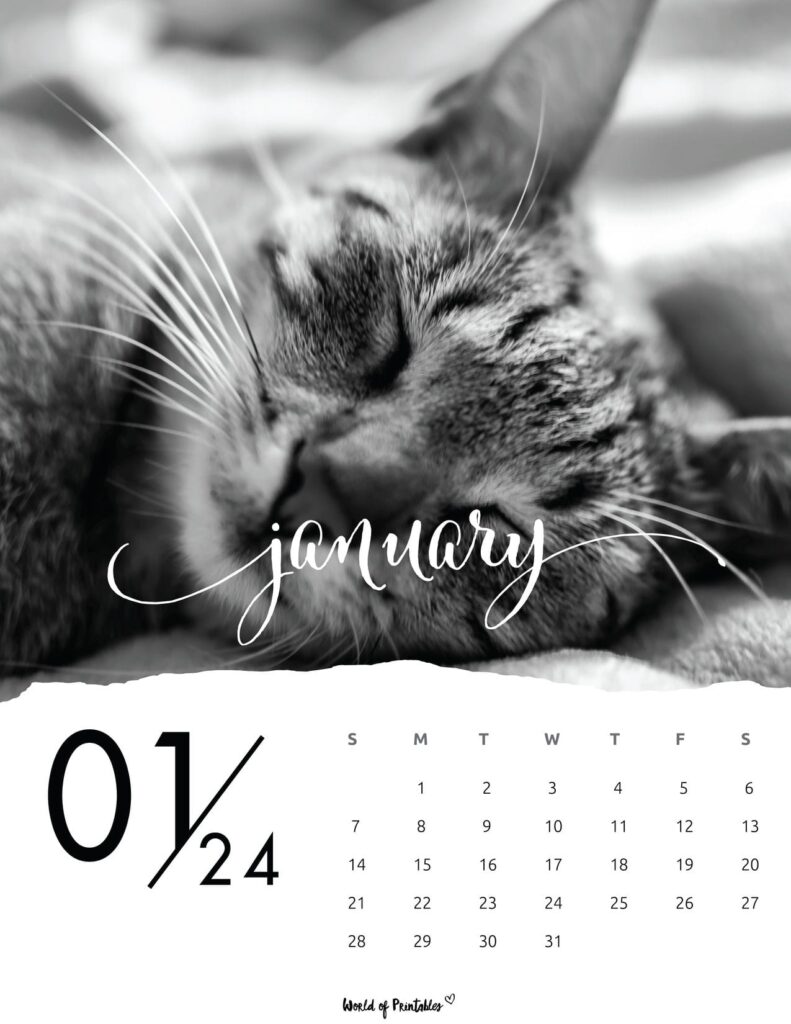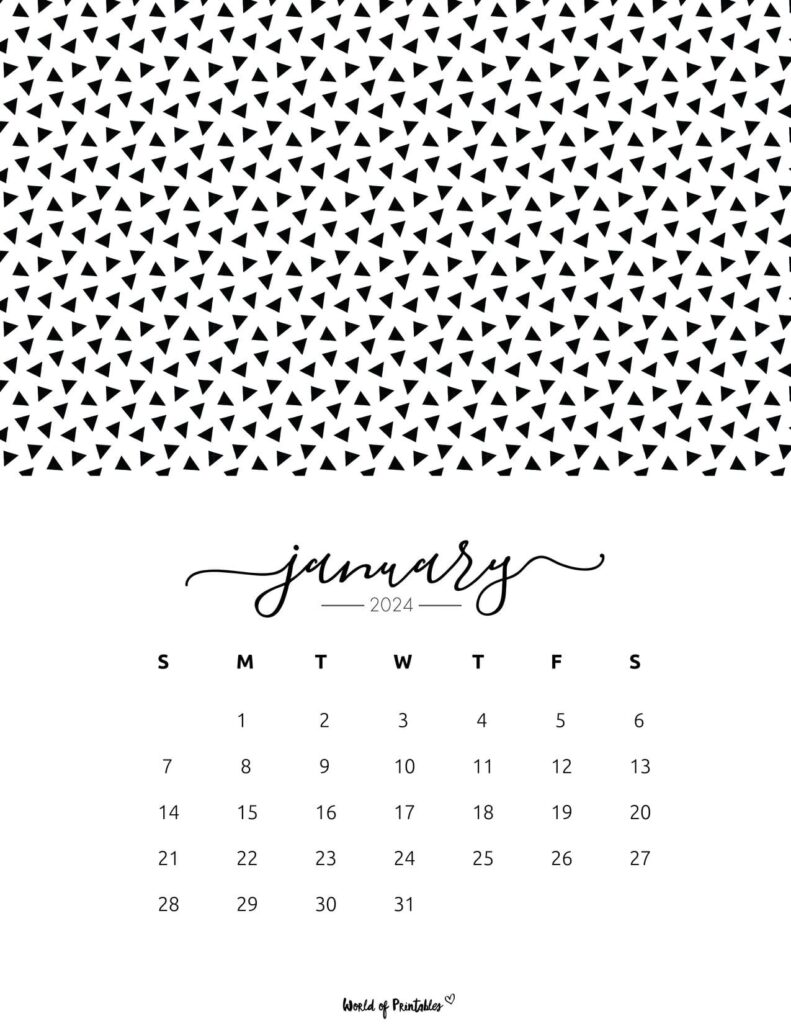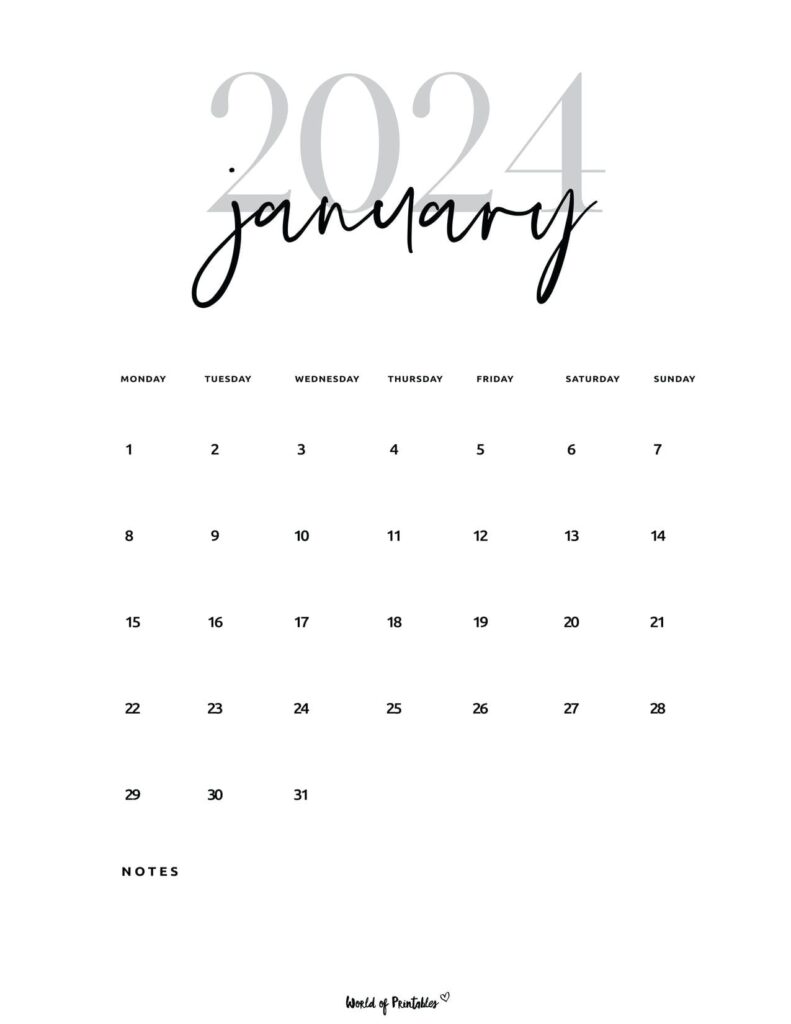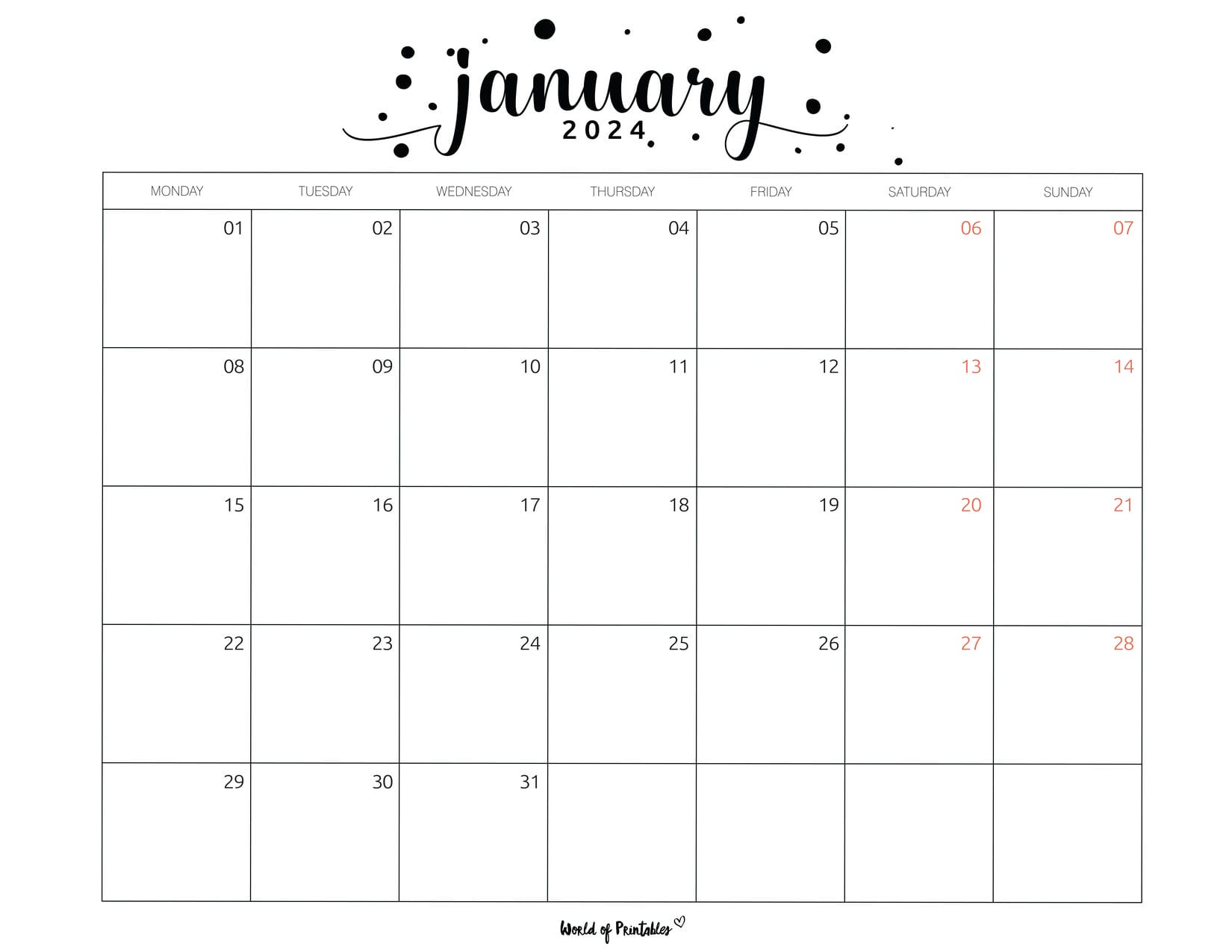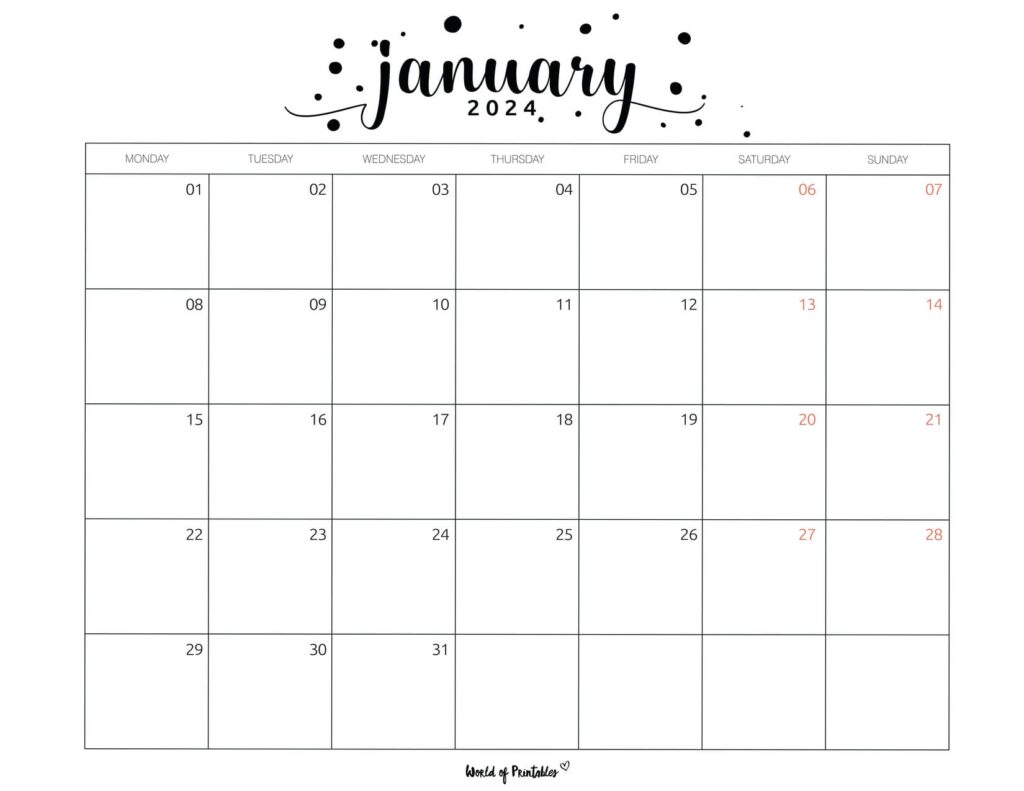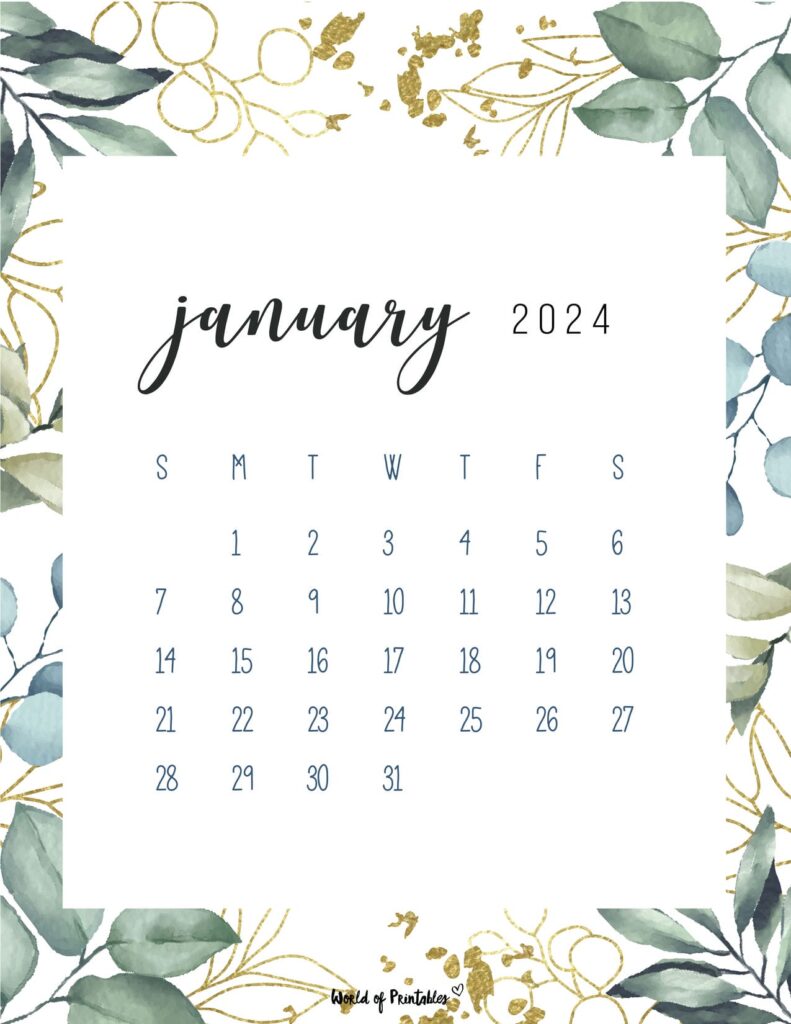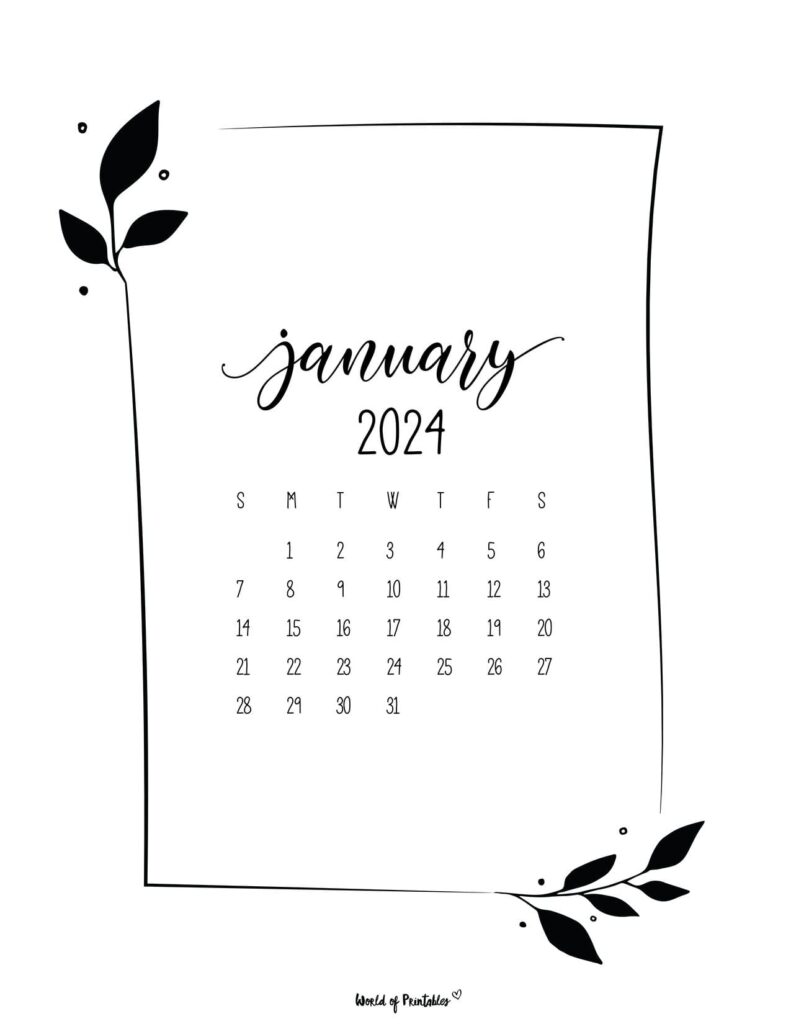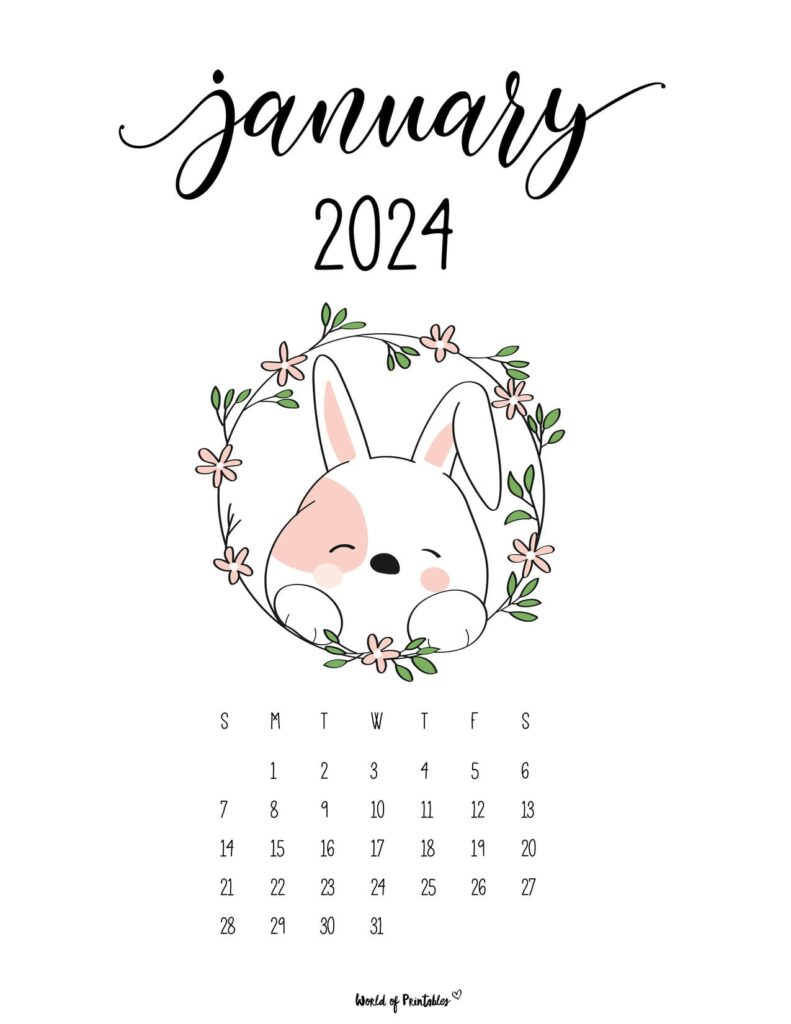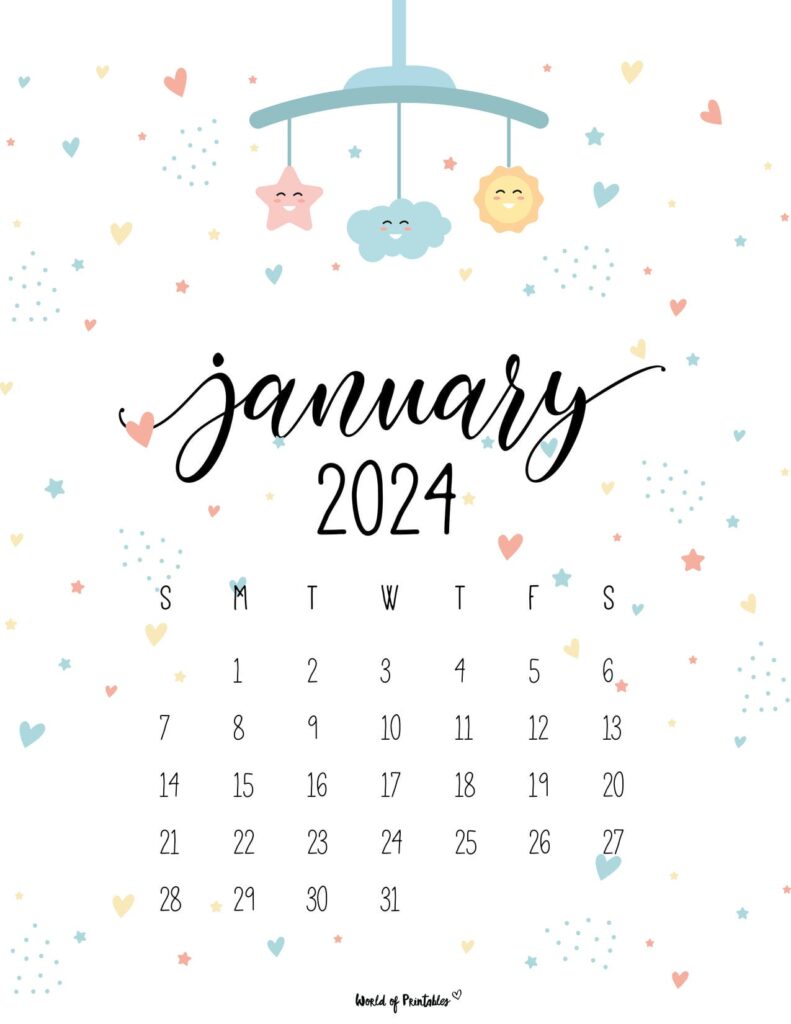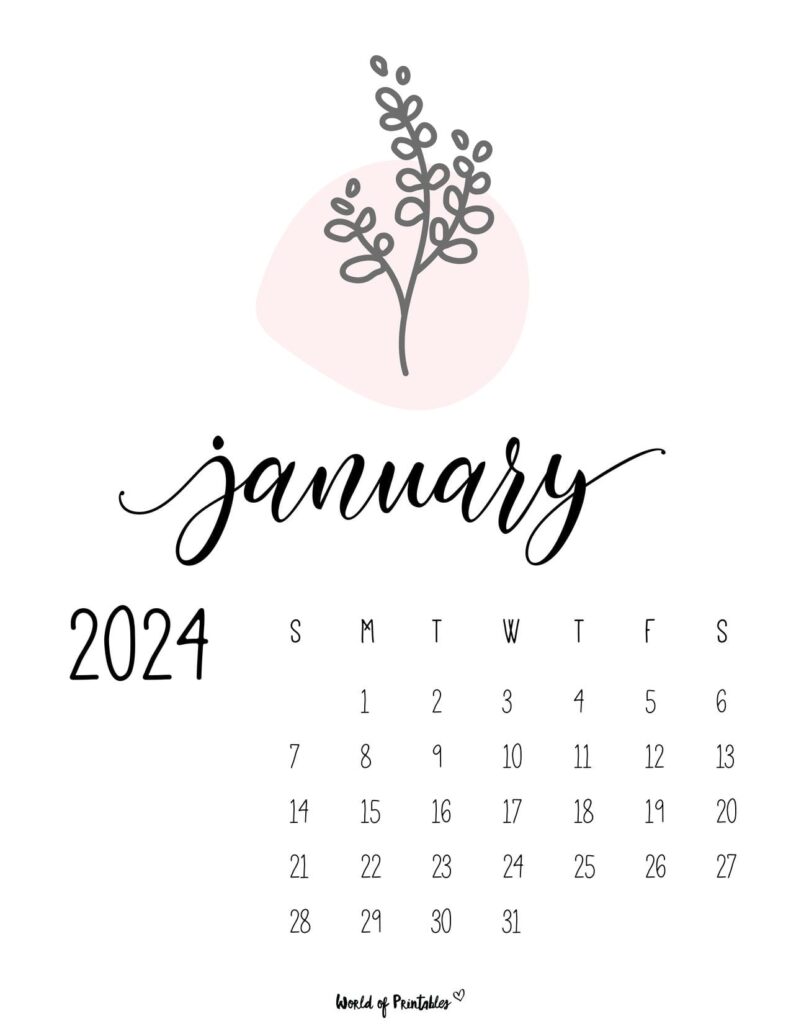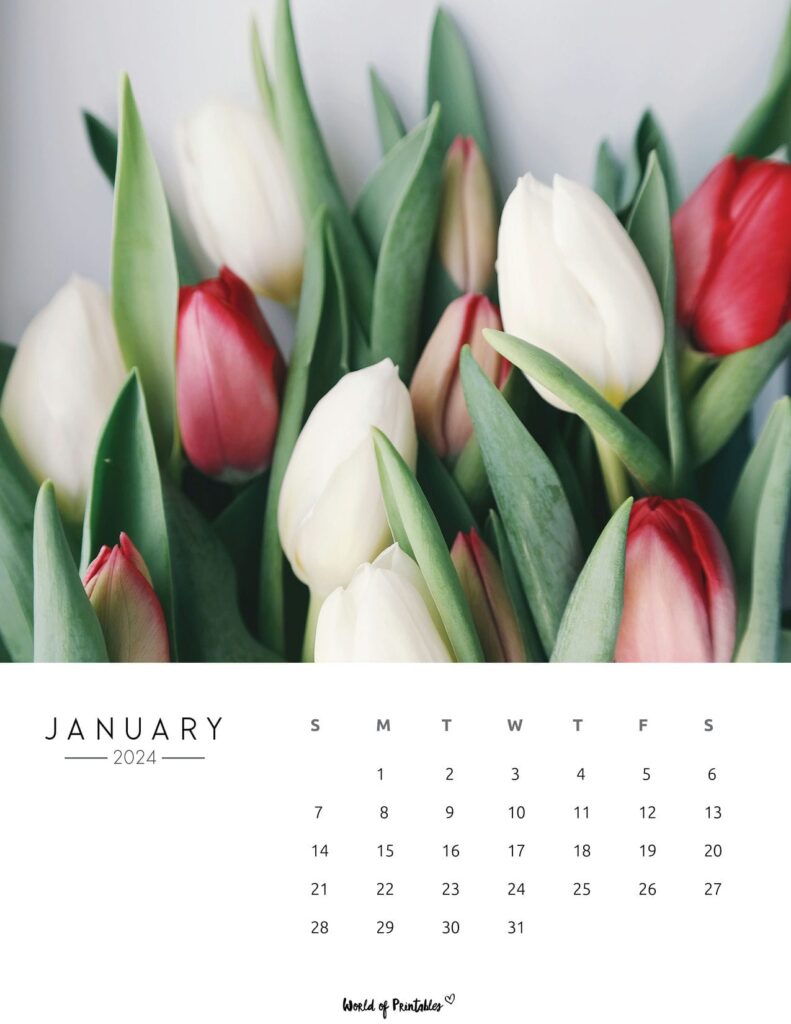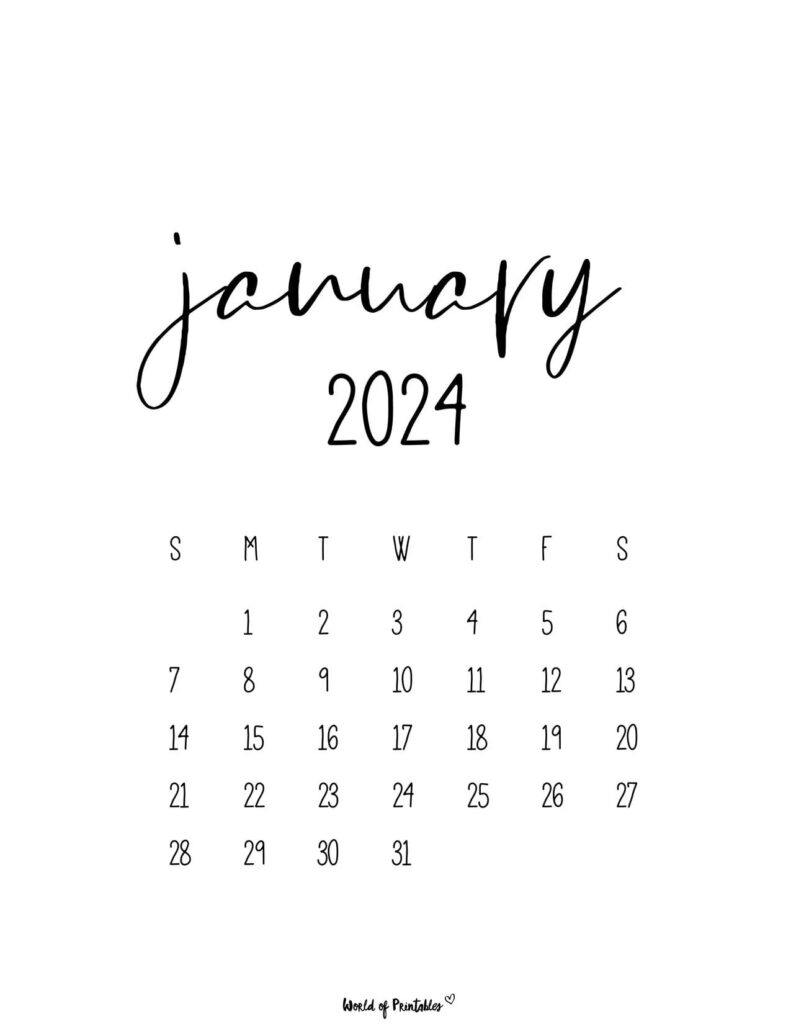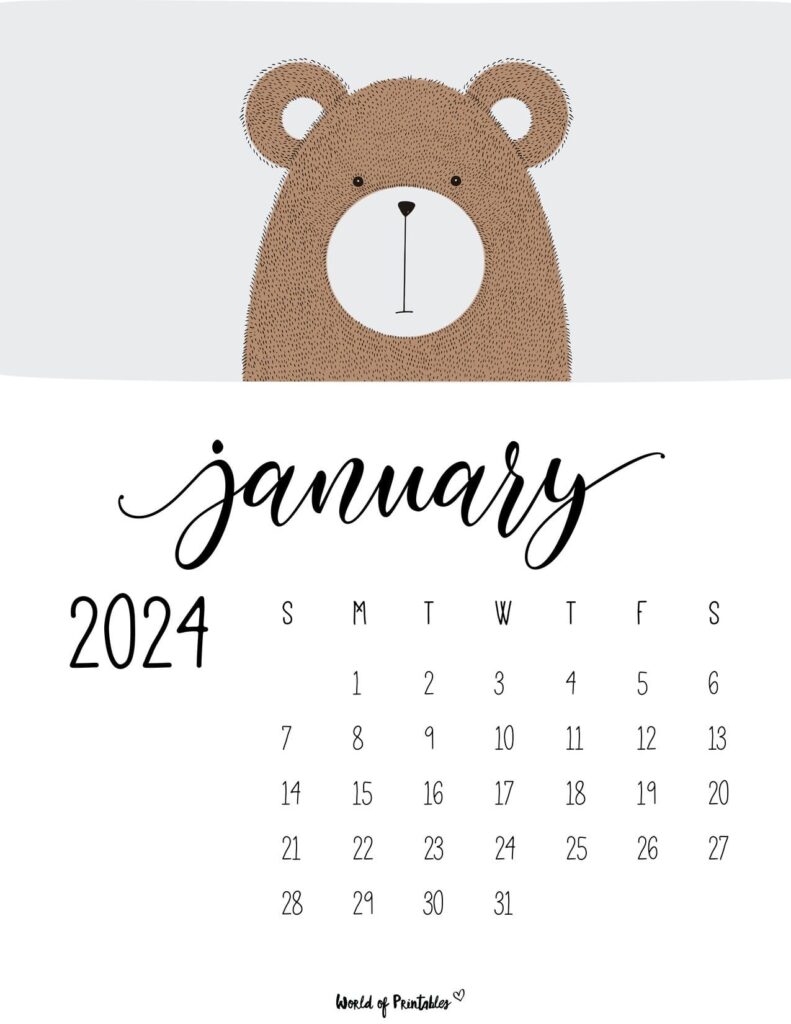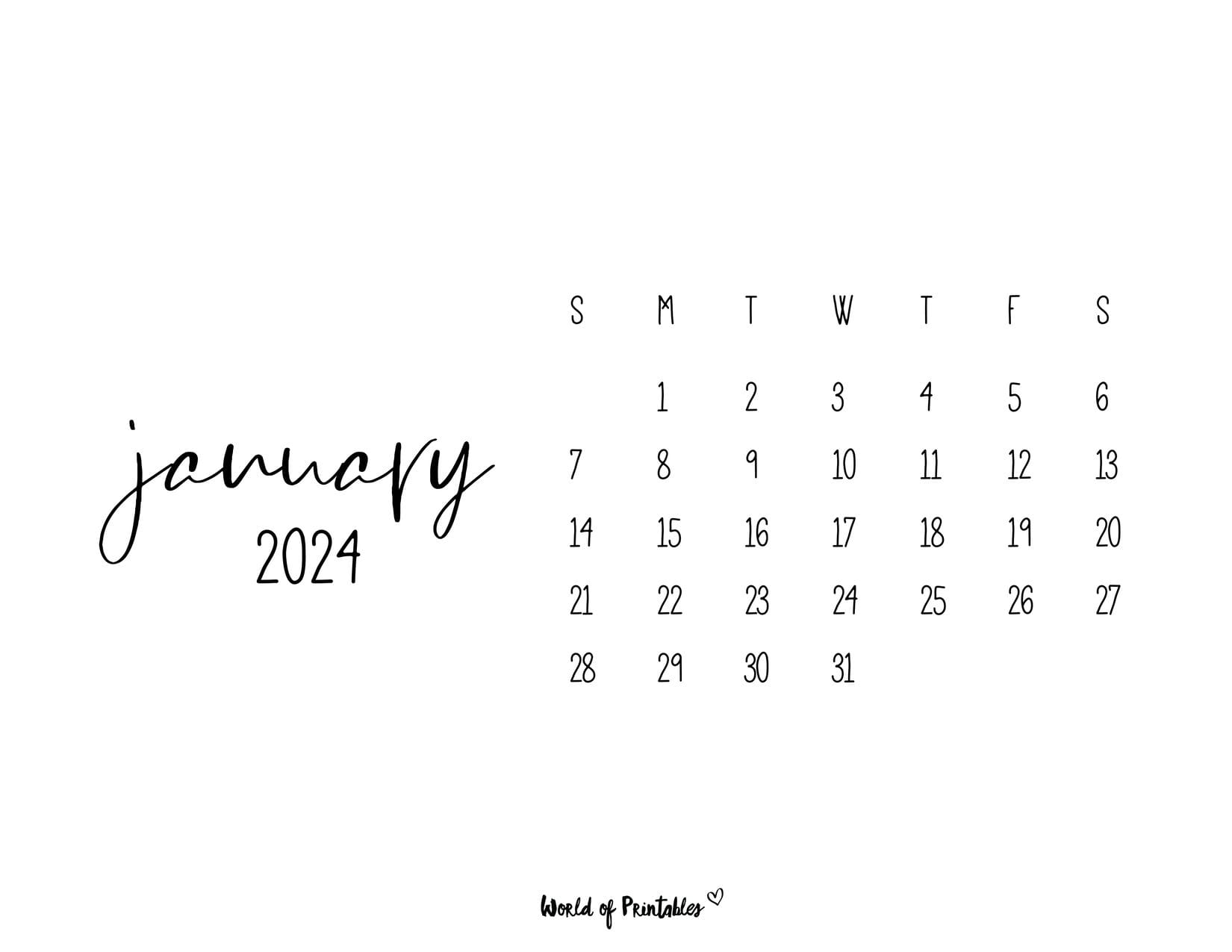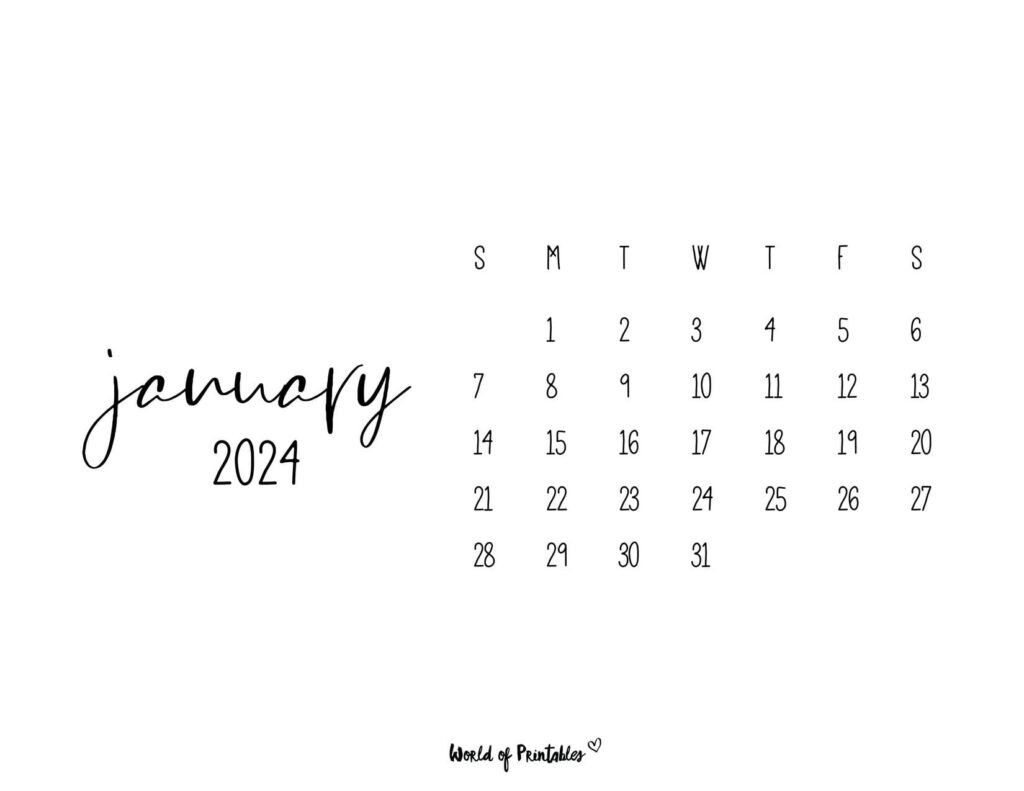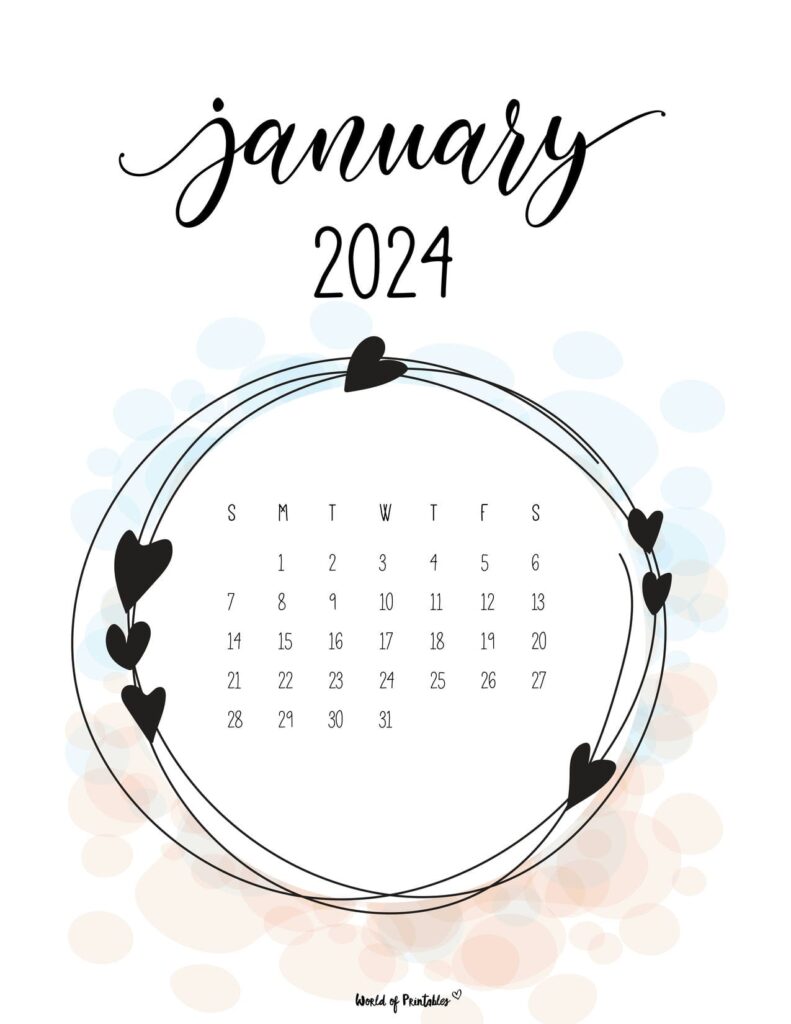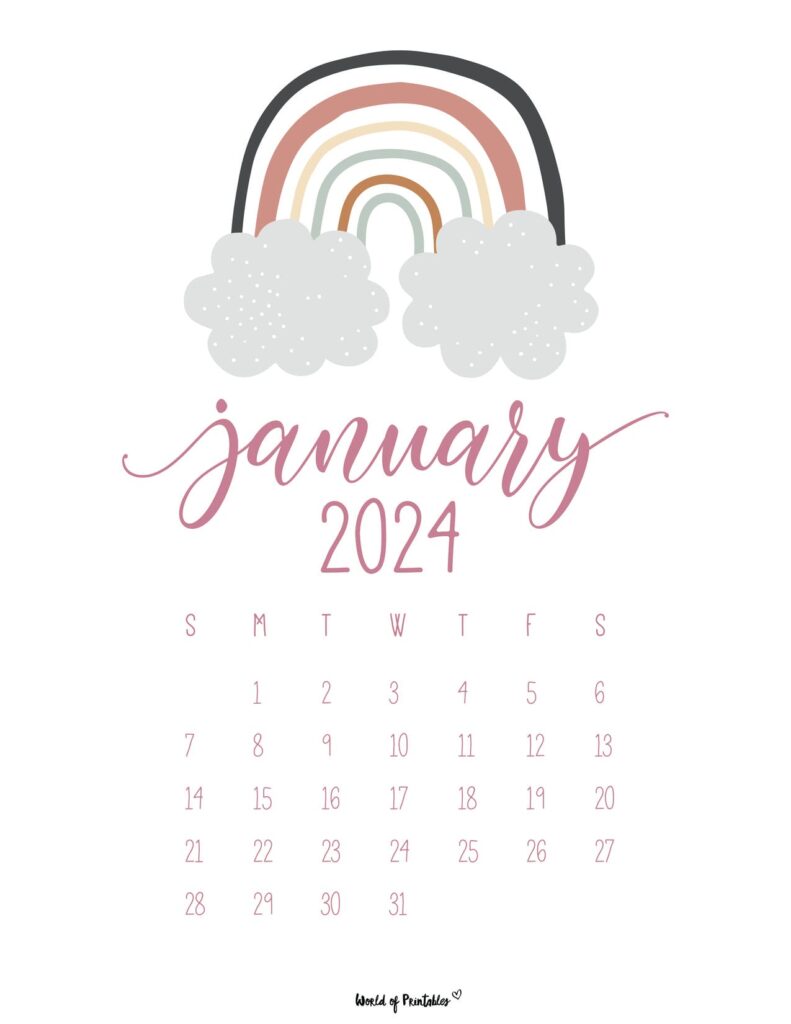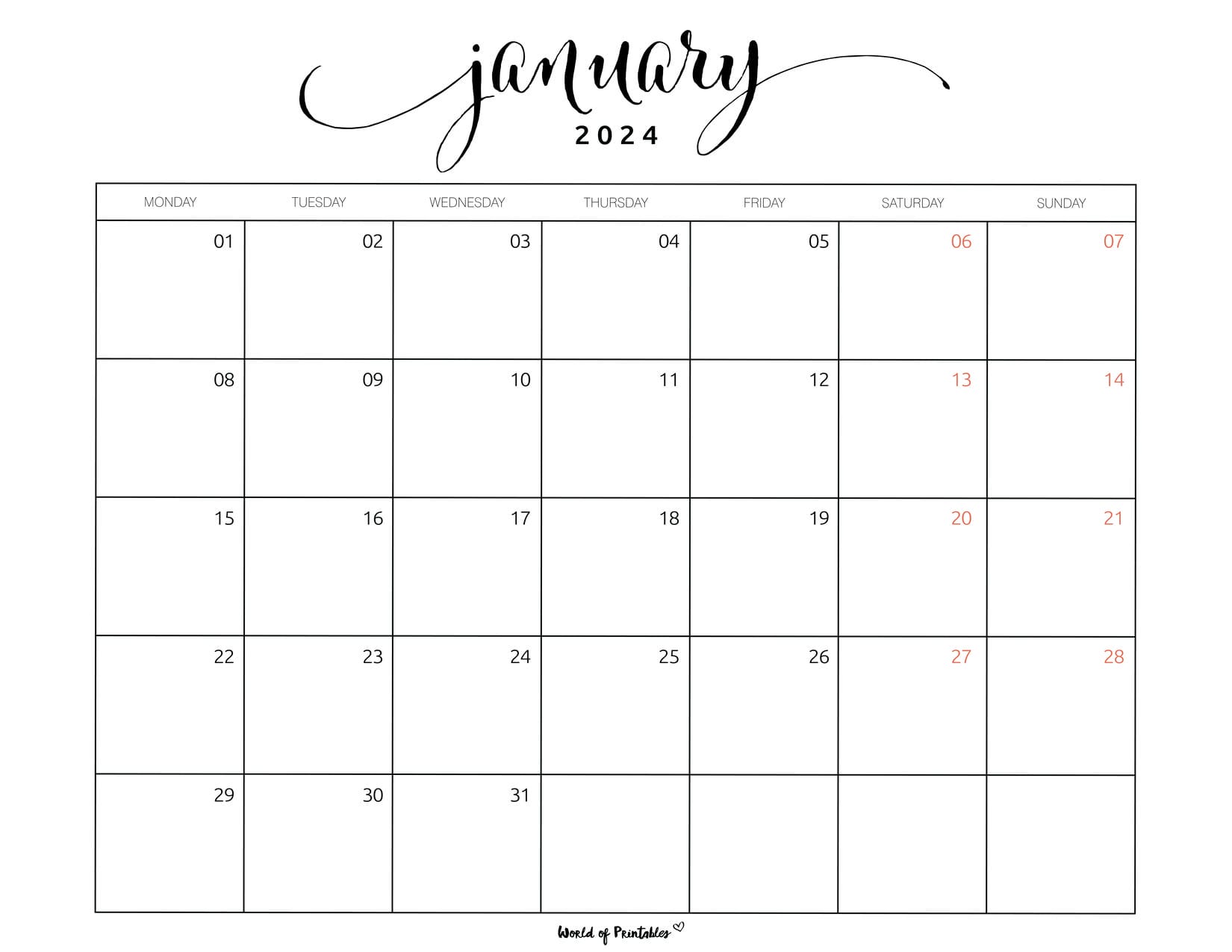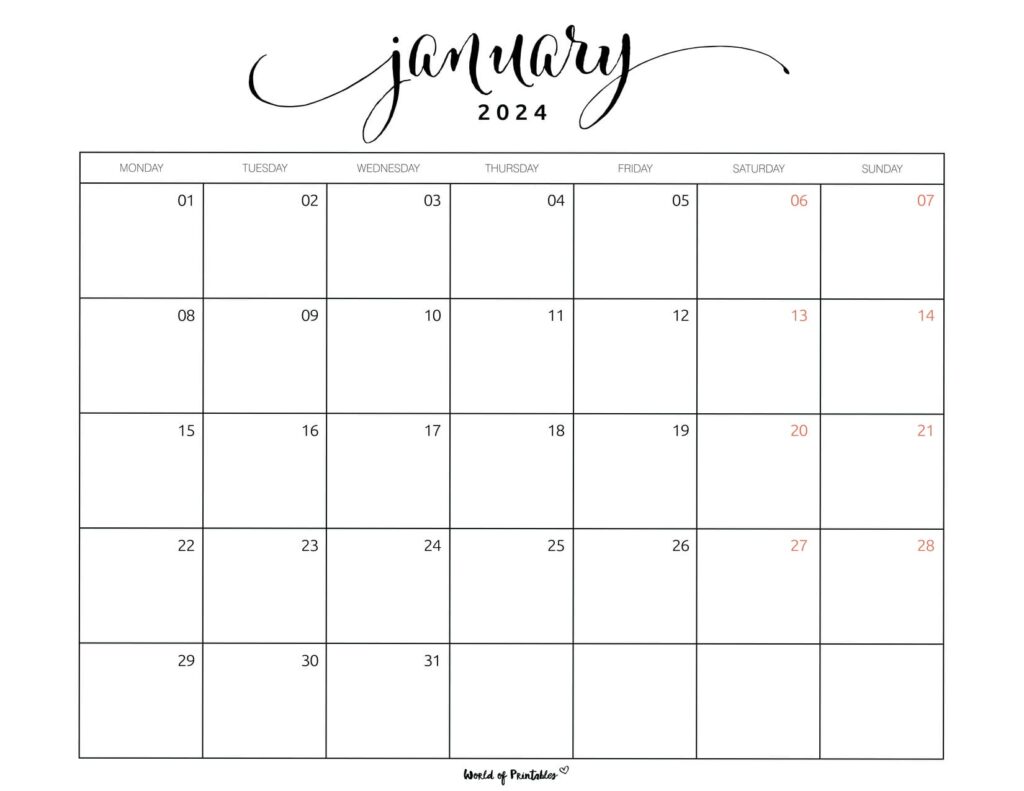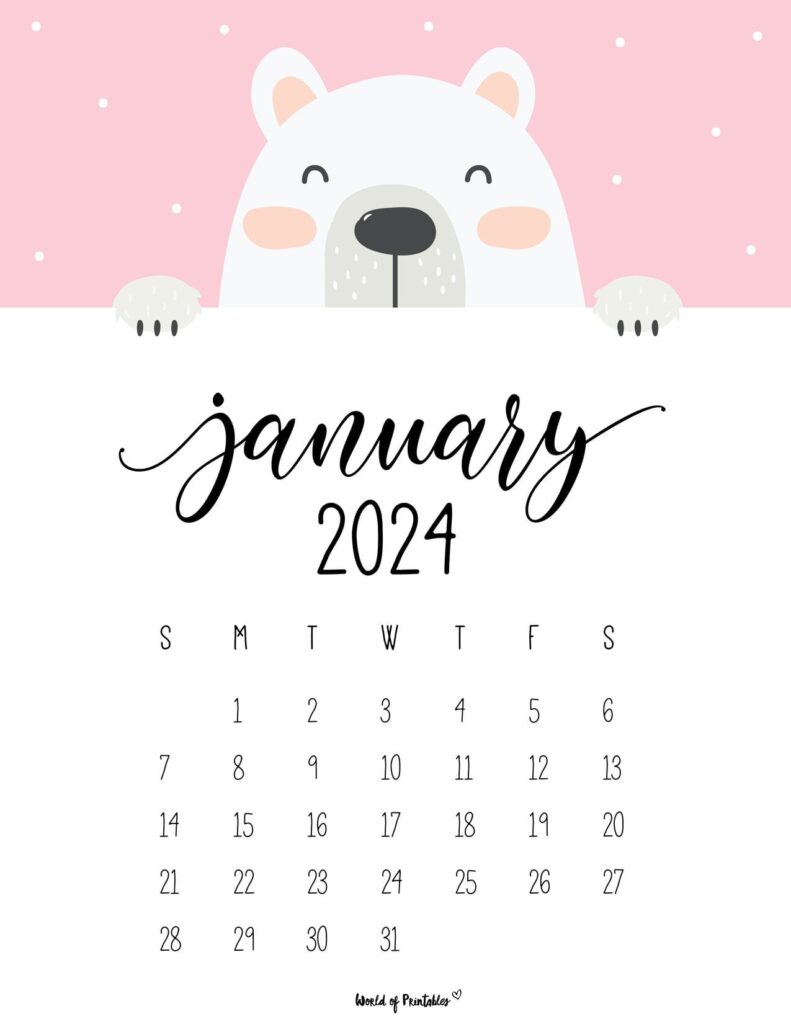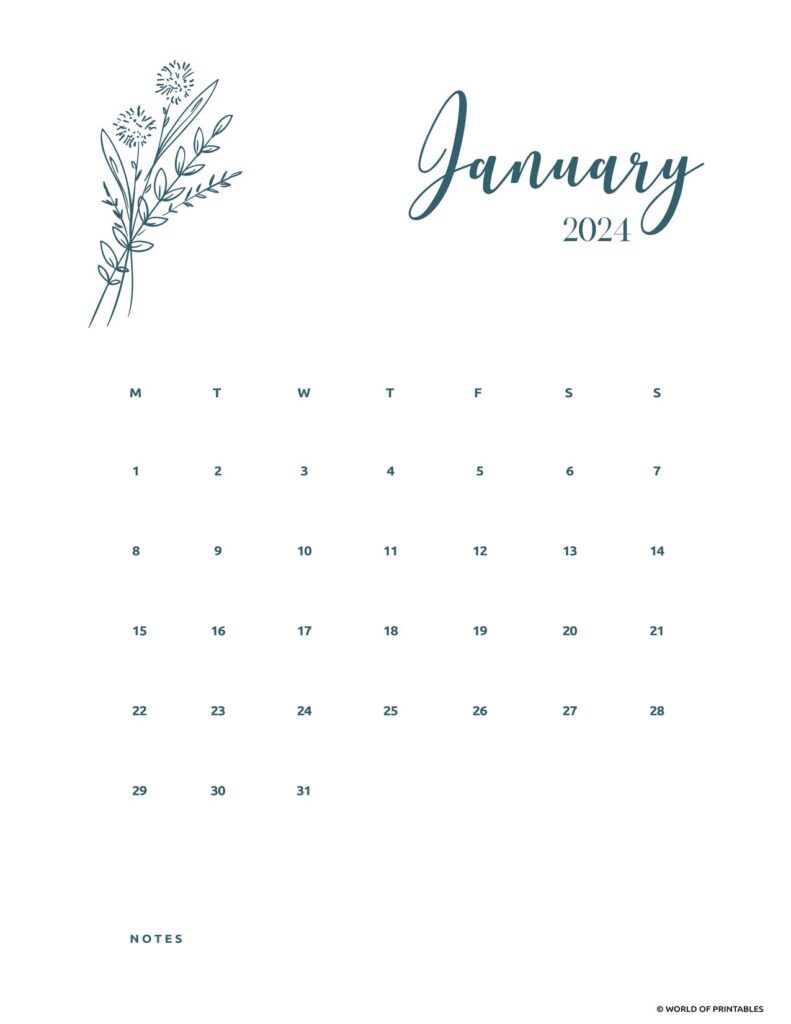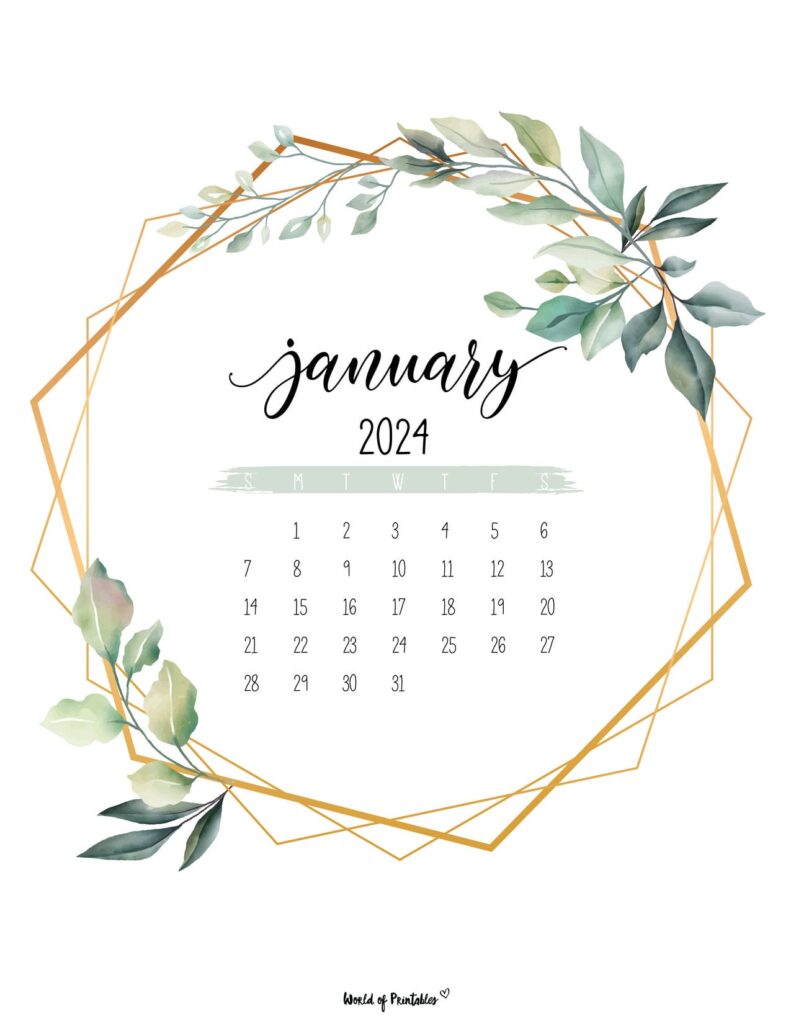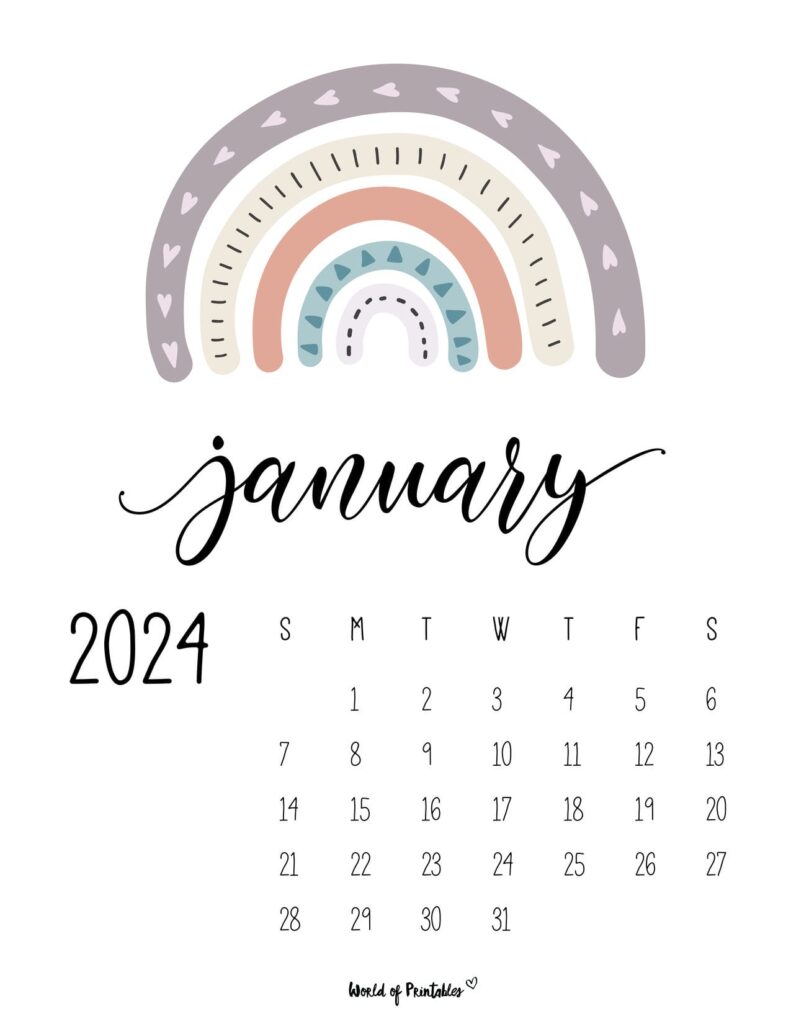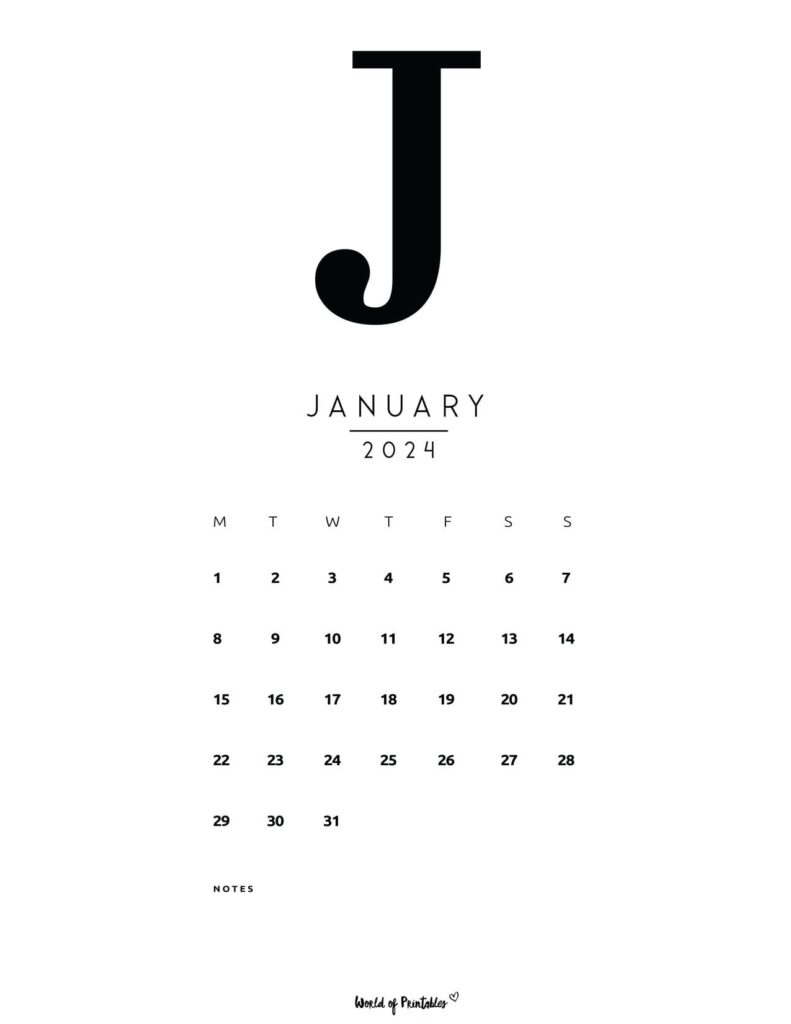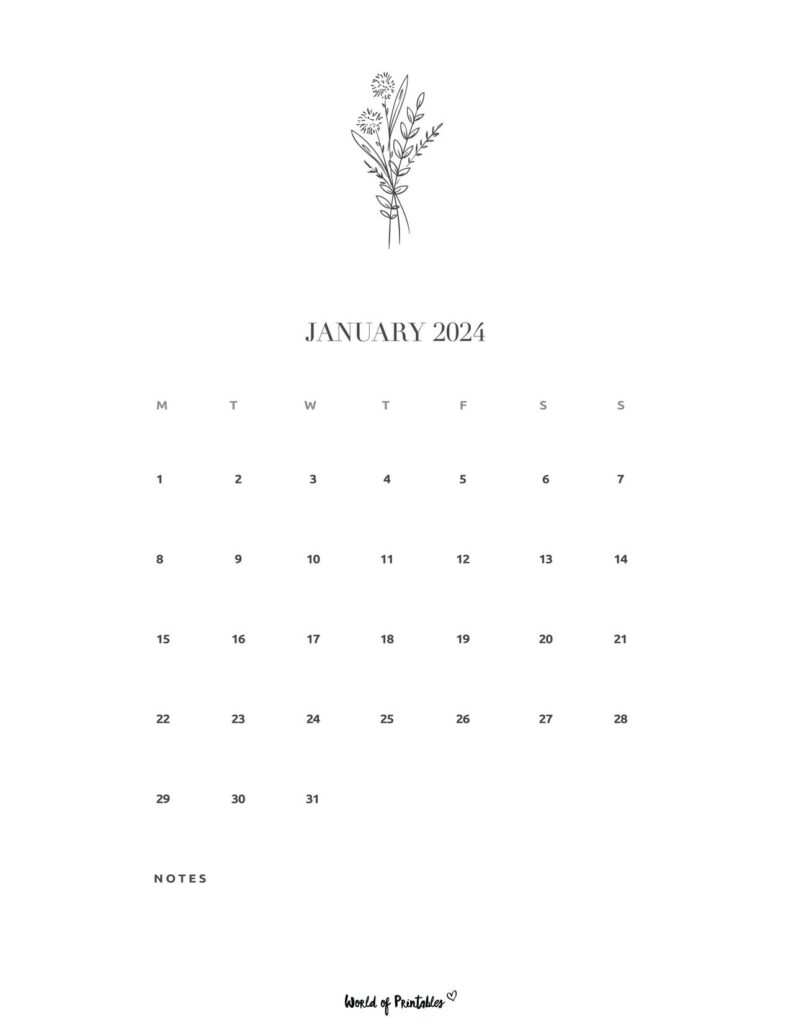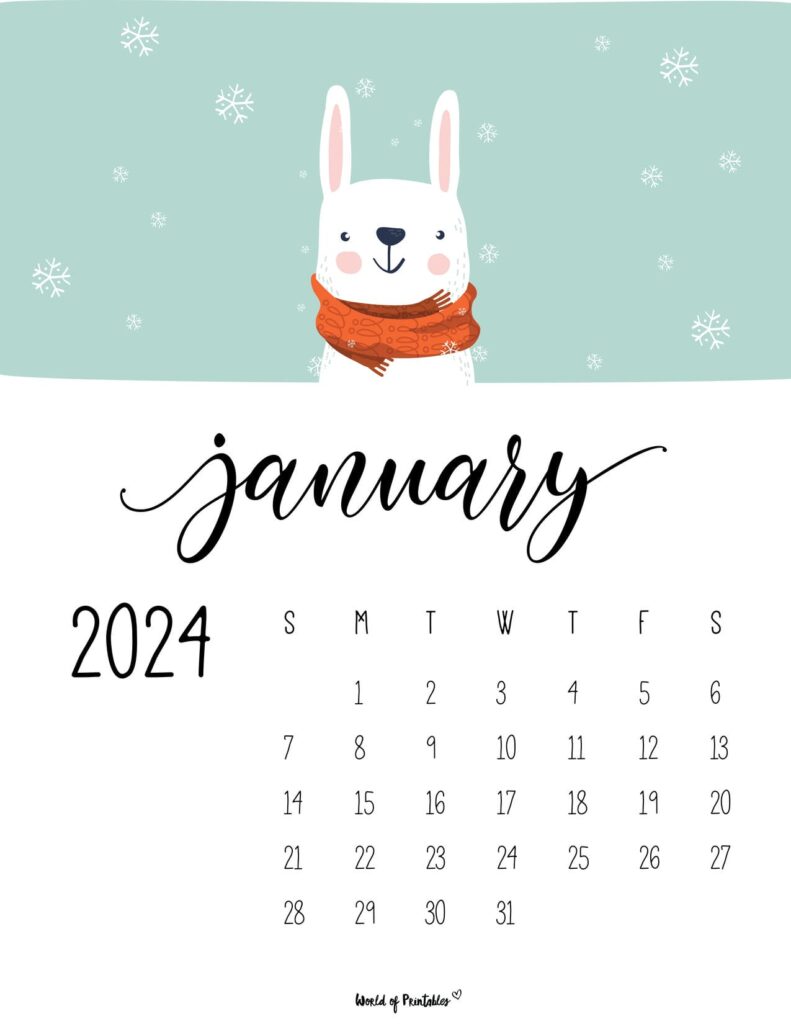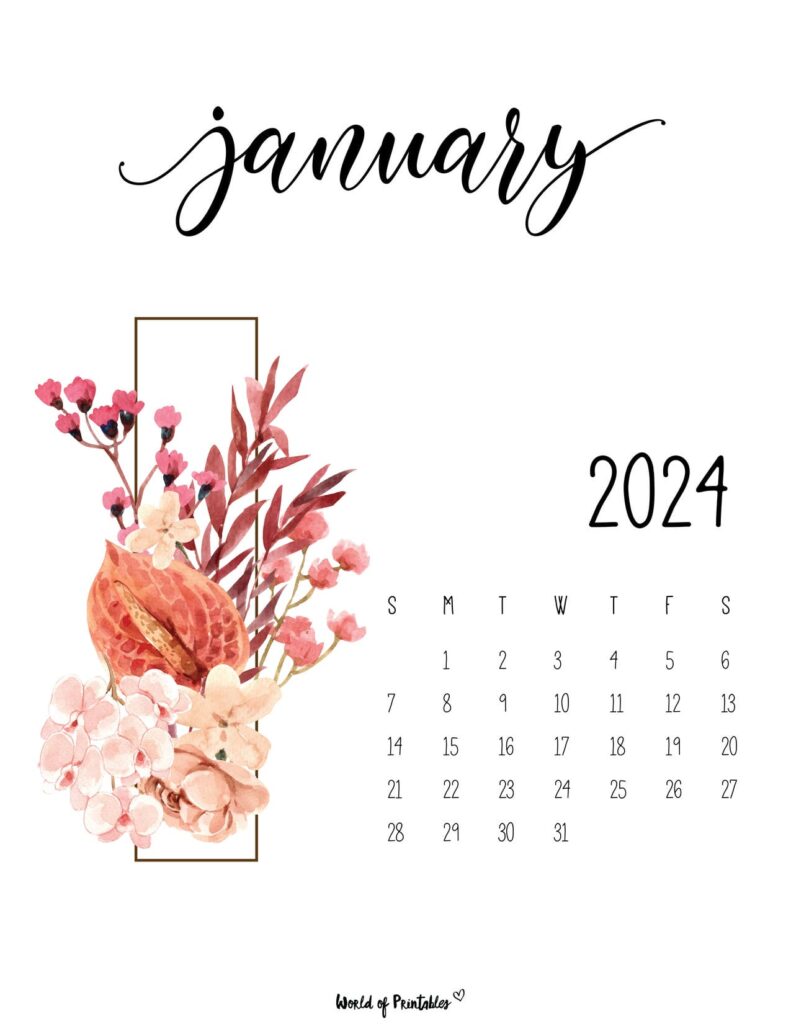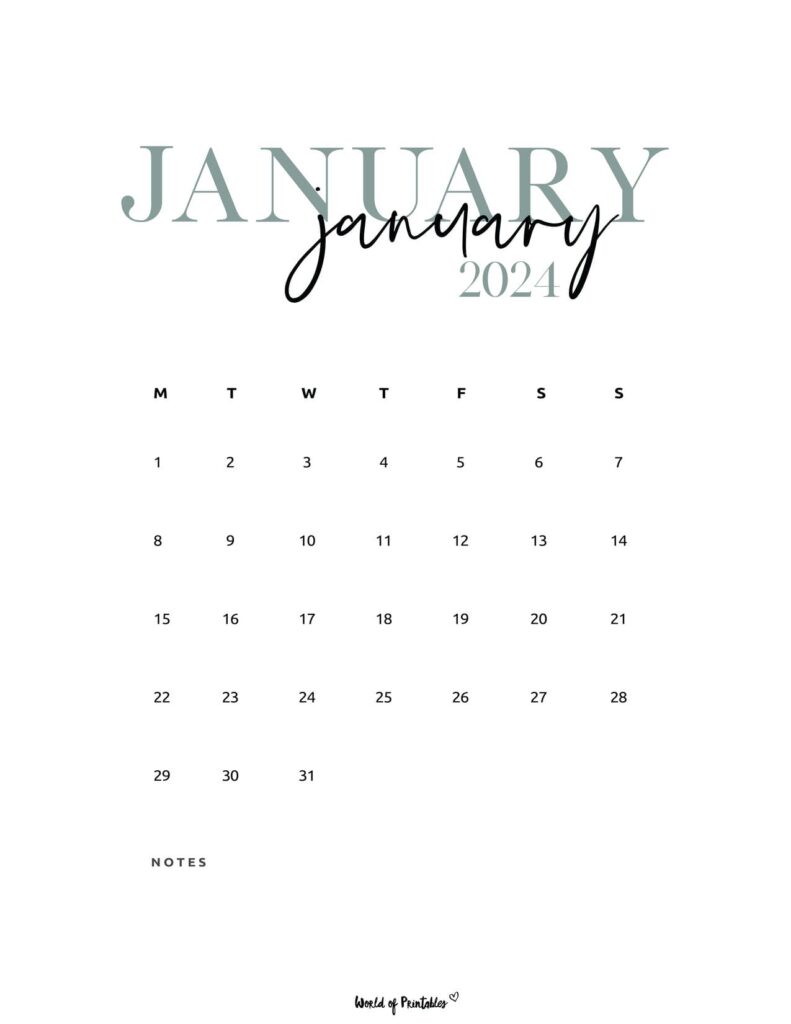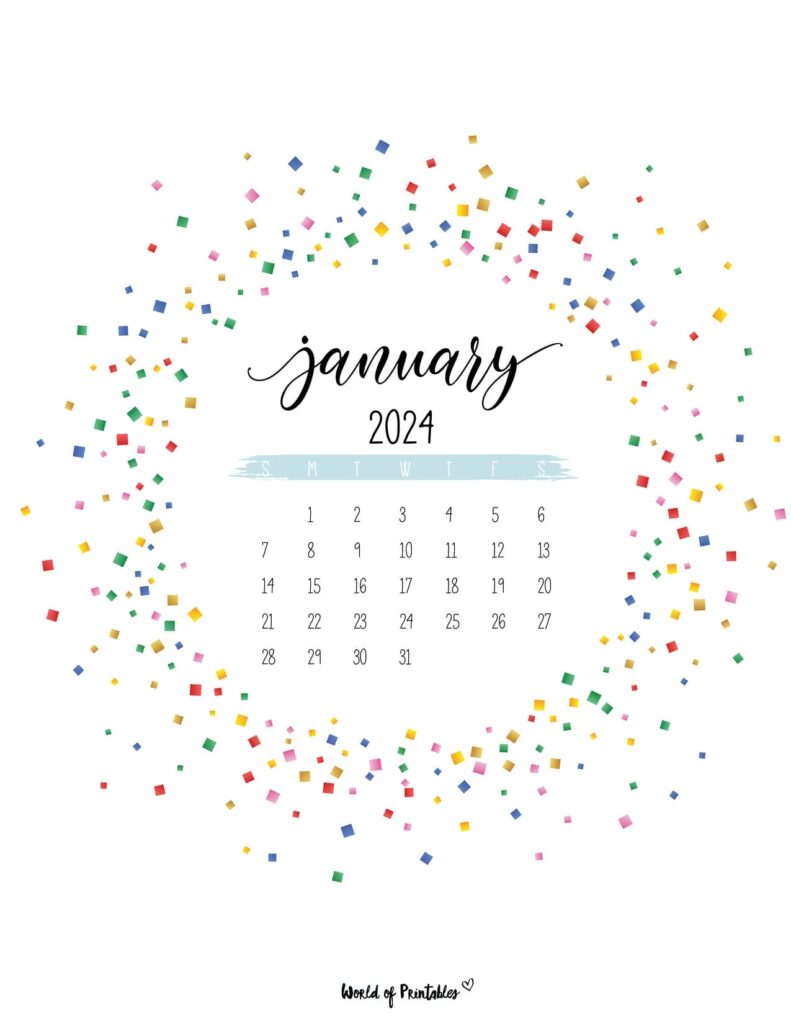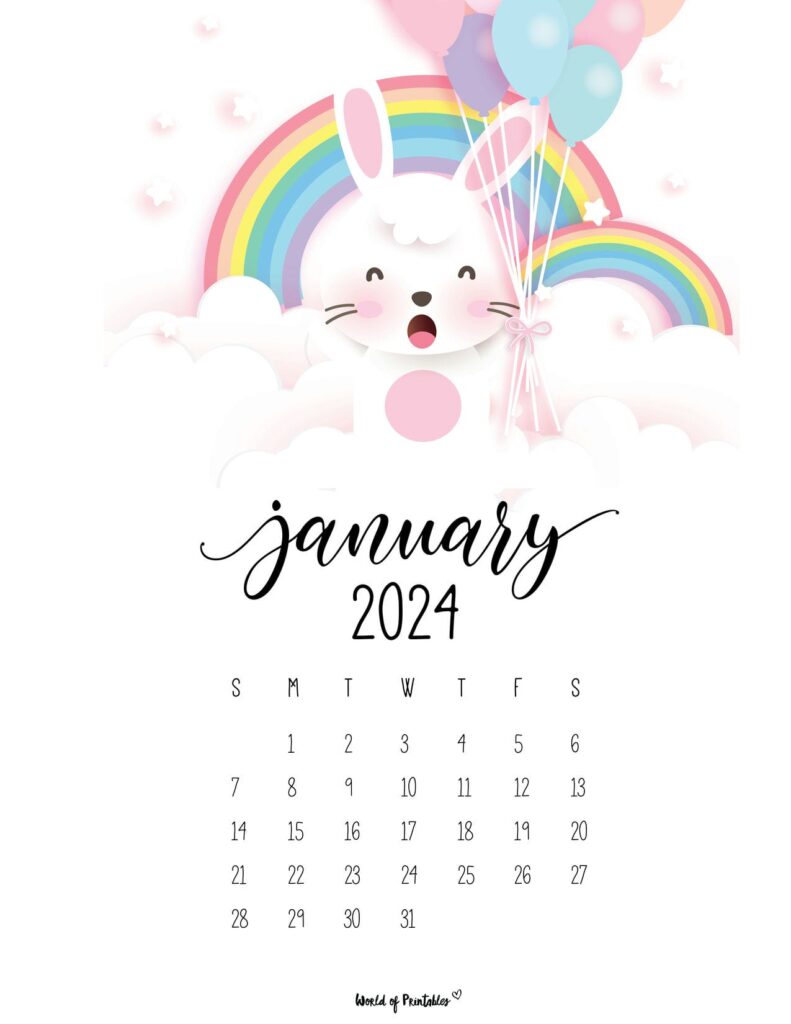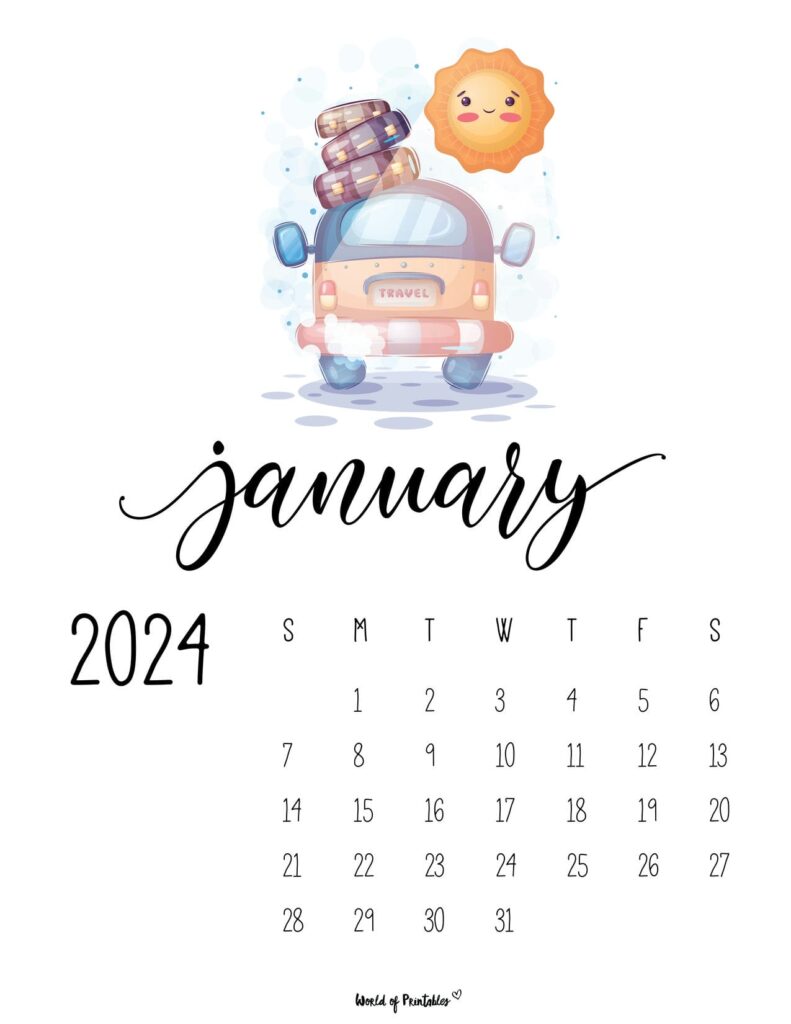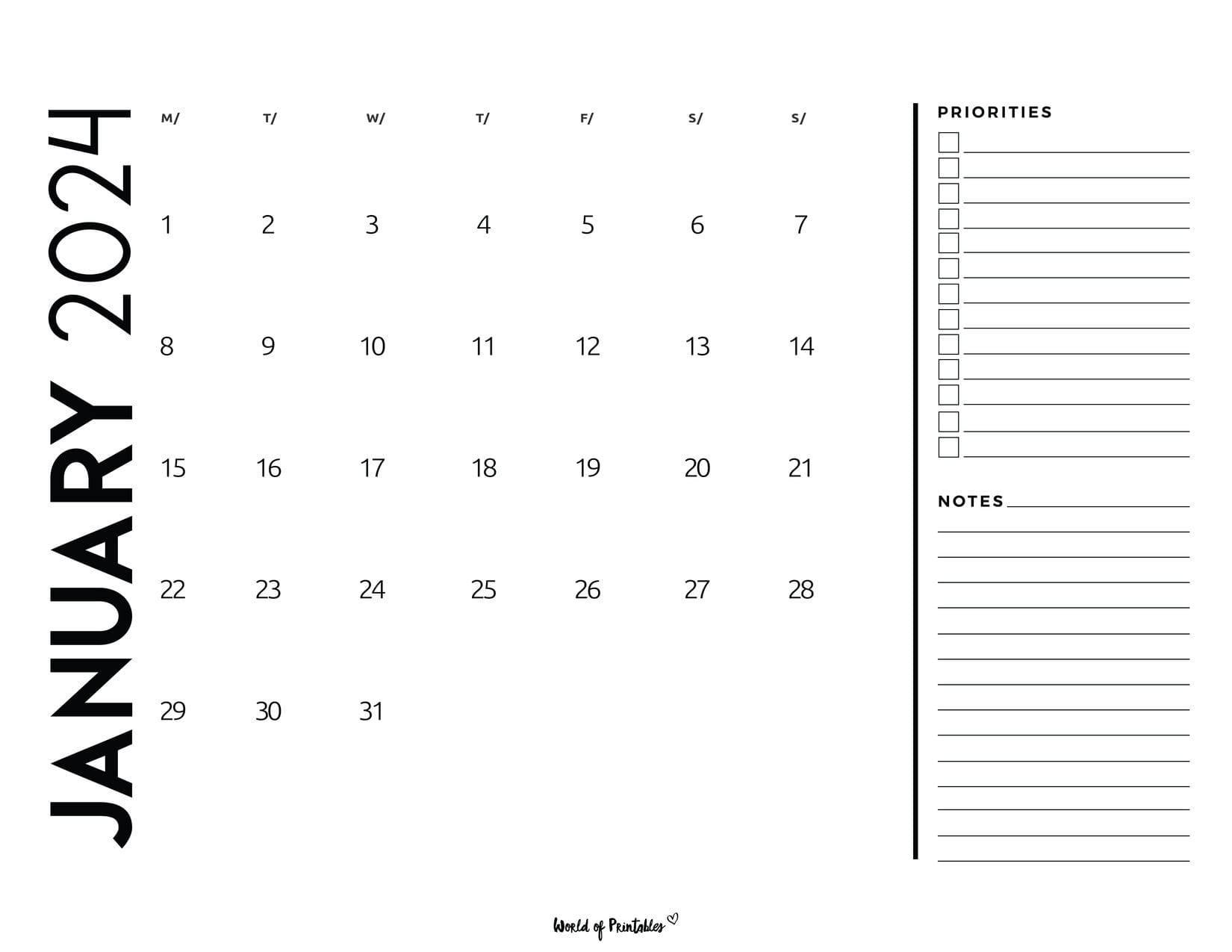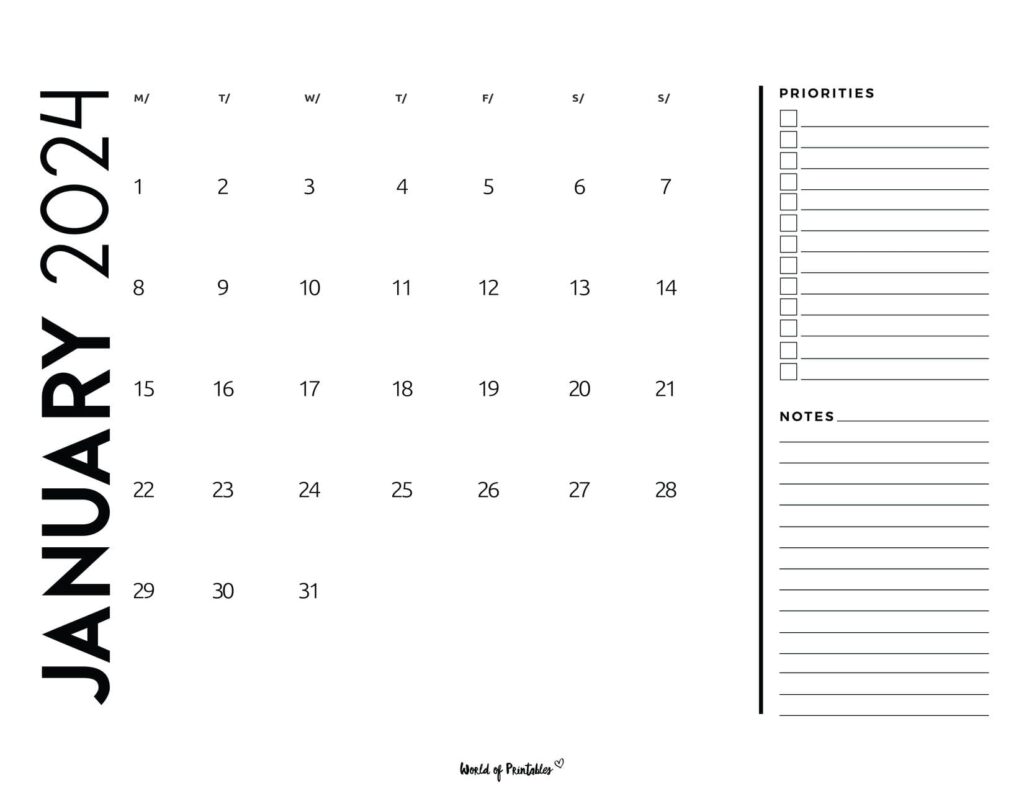 I really like simple, classic style calendars, which is why we've designed a range of free simple calendar templates for you.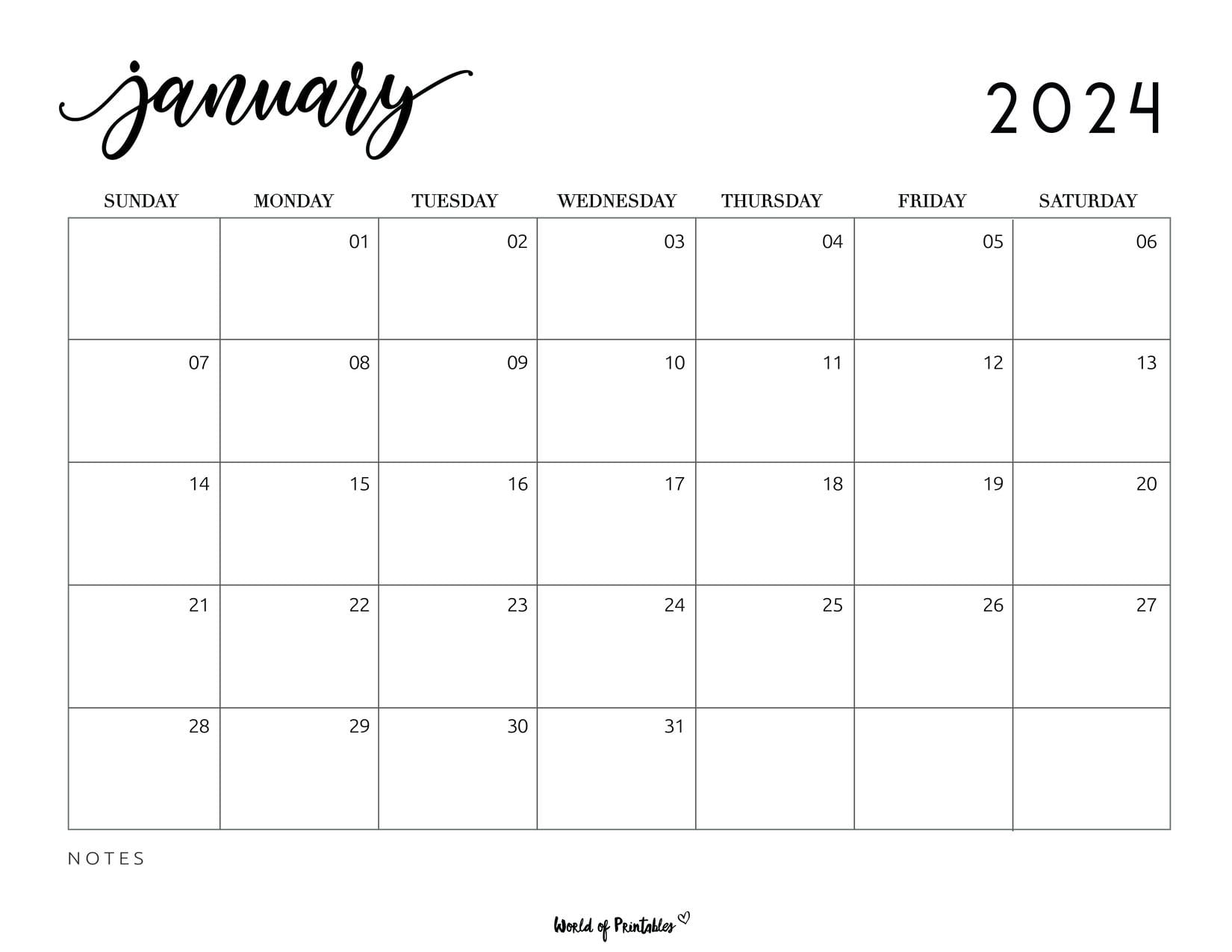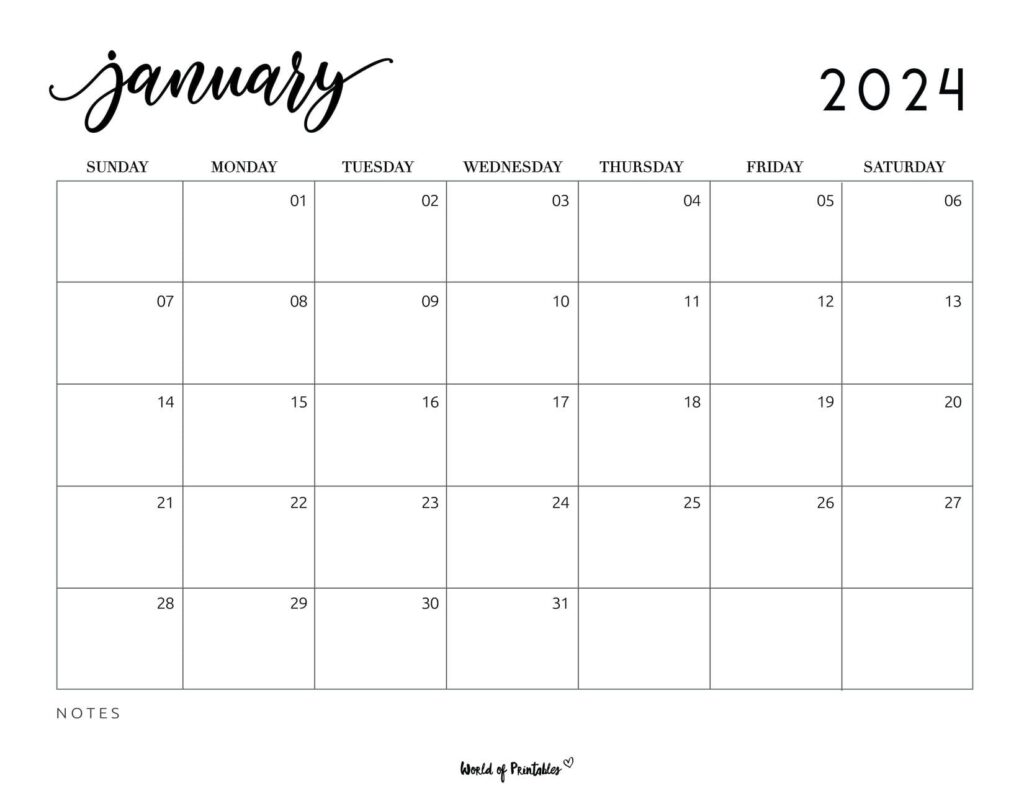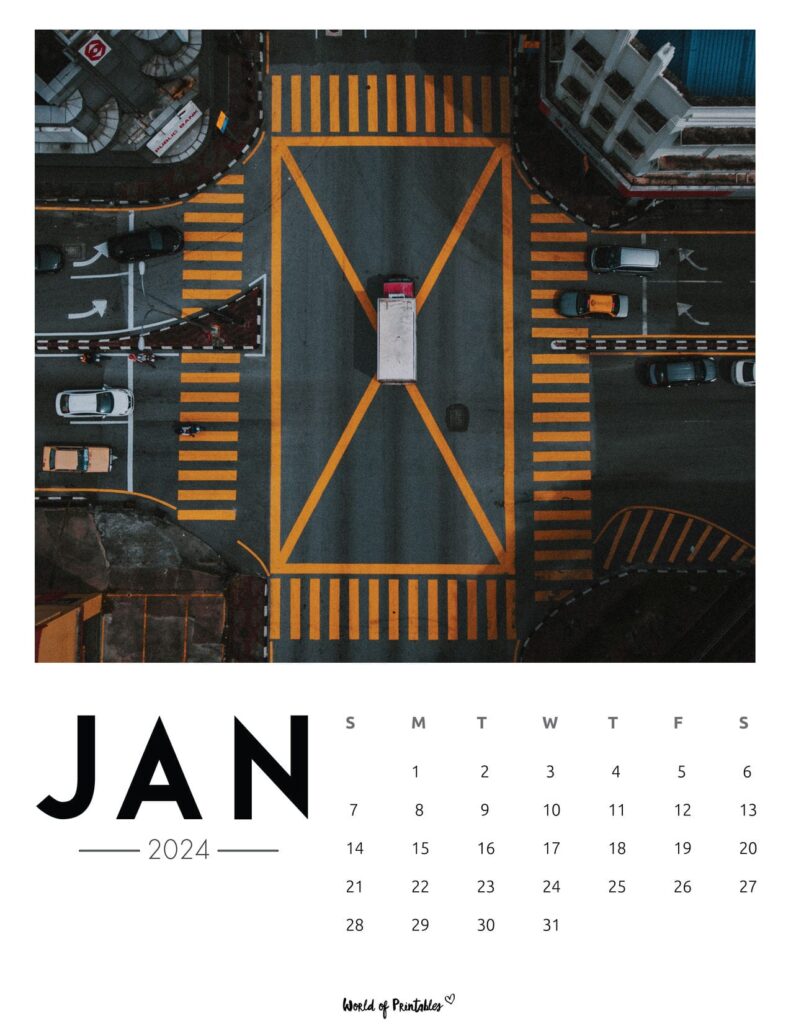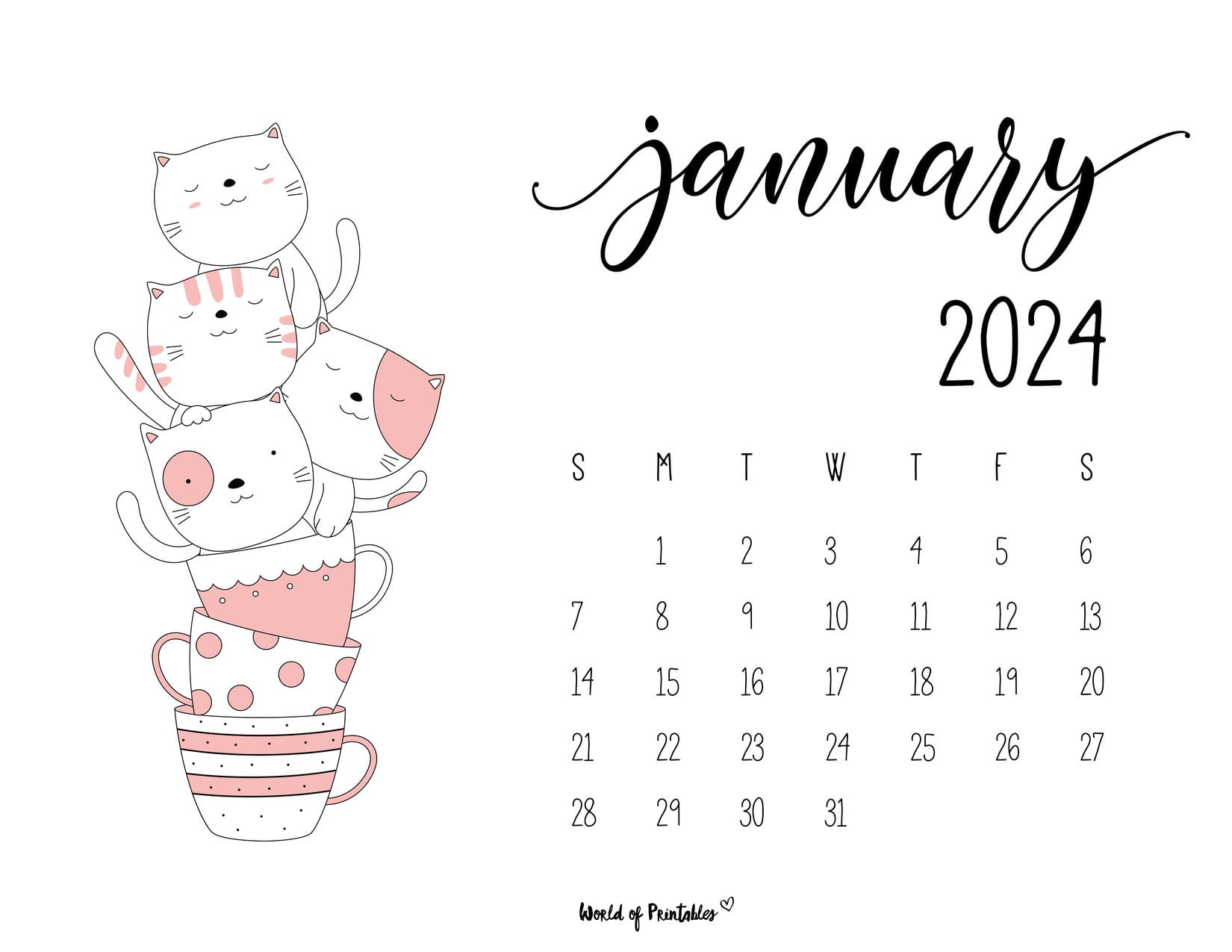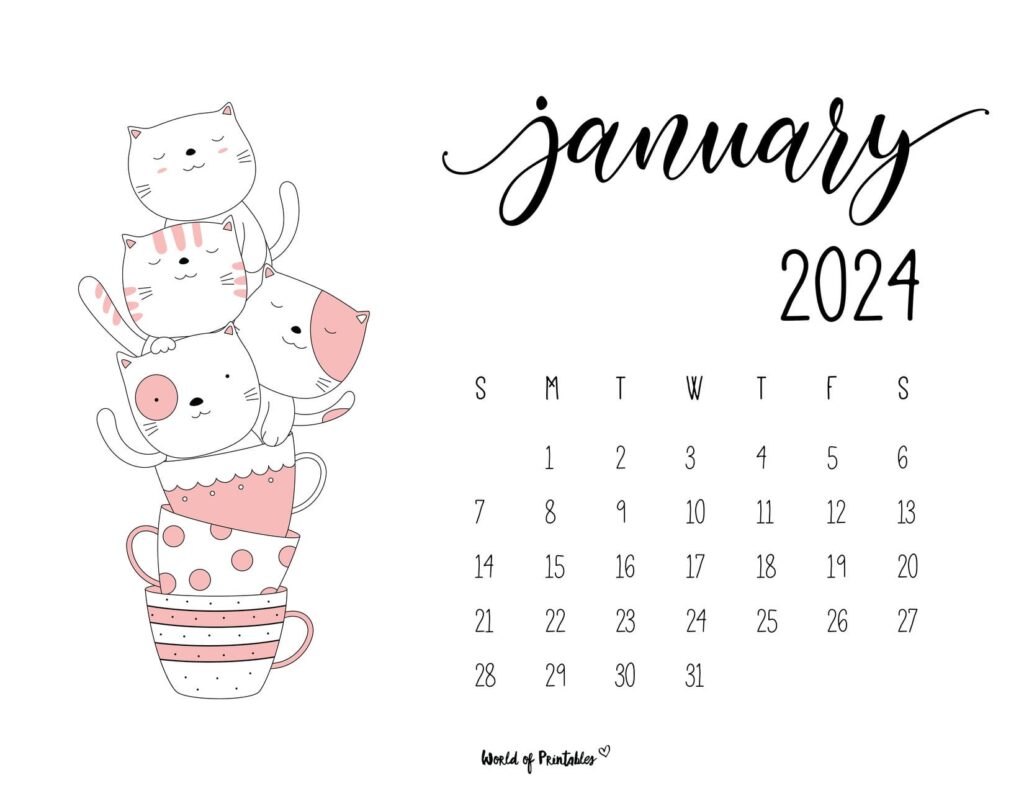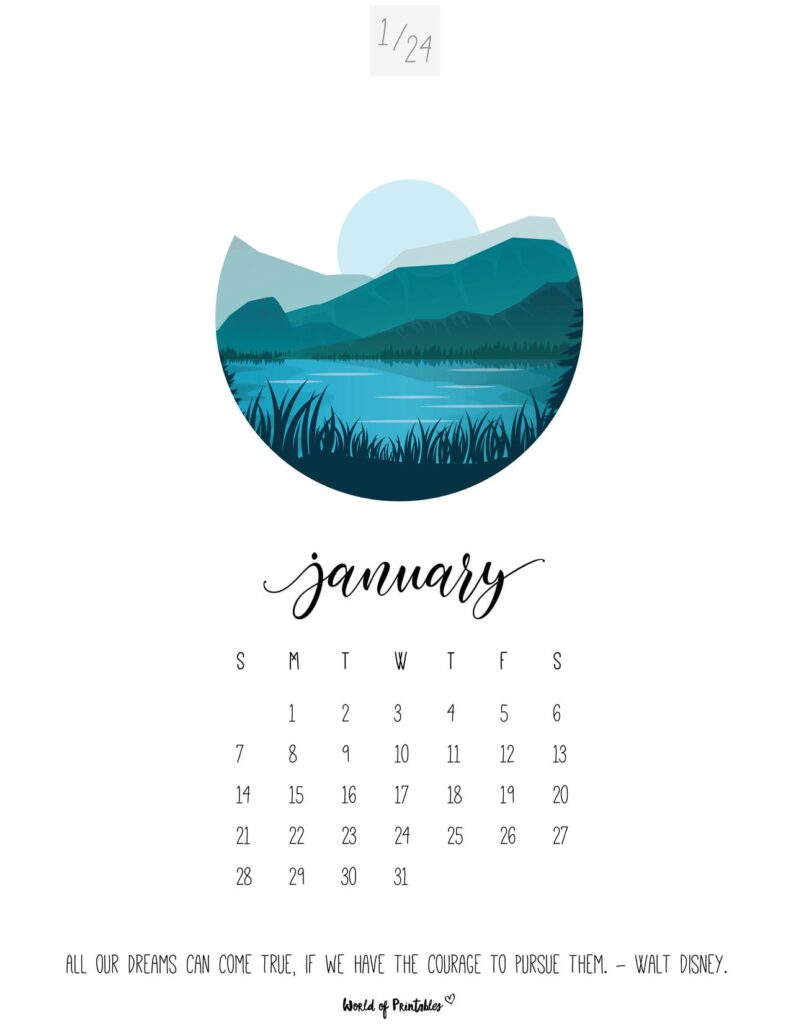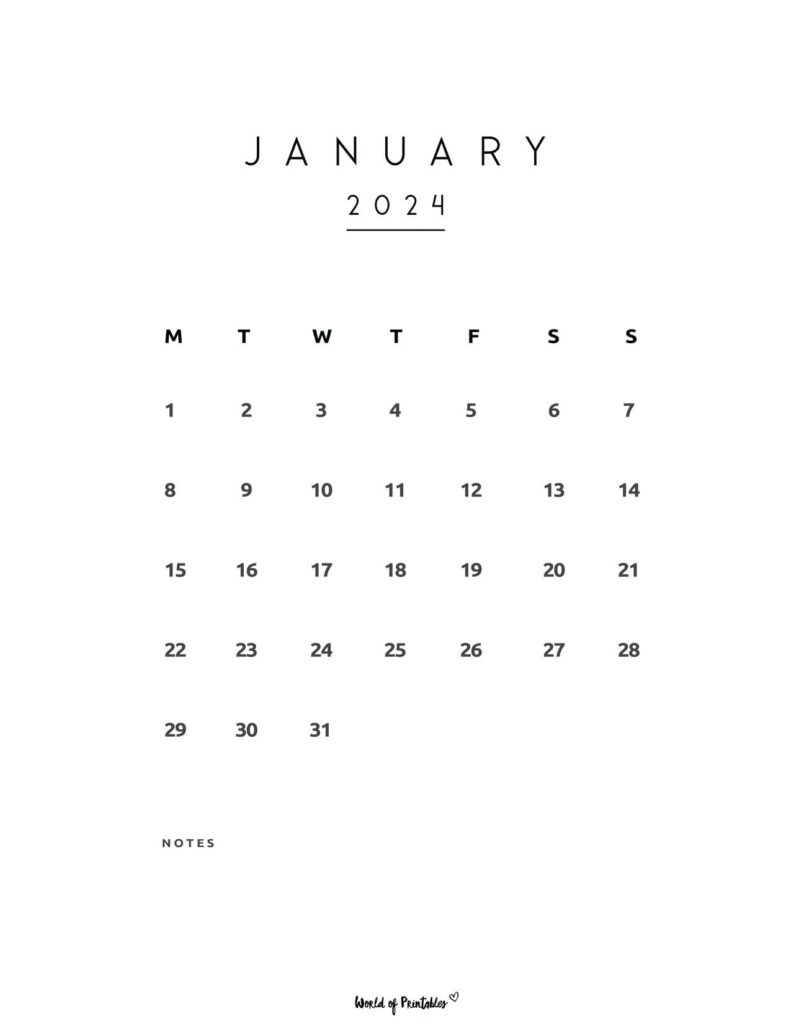 What you can use a January Calendar for?
You can use any of these January 2024 calendar templates for many different things such as a simple calendar, a schedule, or a tracker.
As you look through our website you will see that we have so many amazing calendars for every month of the year covering a range of beautiful styles from floral and botanical to minimalist.
All of our calendars are ready to print in US Letter size (8.5 x 11"), or A4 size paper, but they can be easily resized to fit your needs.
If you use a different paper size, then see our easy guide on how to resize an image.
How to make printable calendars look stunning
Print it! – Our calendars look so good when printed on this bright paper.
The paper is a good weight and works great with inkjet and laser printers, making the ink look crisp and clear. If you want something a little more heavy-duty then this card stock is a great option that's used a lot in the printable community.
Add some style!
Resize it – Resize our calendars easily, make them bigger or smaller to fit into your planner, frame or hanger – find out how here.
We think you will like these!
More free printable 2024 calendars
Our recent printable calendars are available for you to print for free.
Since you're here, why not follow us on Pinterest or Insta, we like to create new wallpapers and printables all the time, so follow us to get notified on what we've been up to!