About the February calendar template
We are guaranteed to have a free printable February 2023 calendar that you will love! Our collection of free printable February calendars is so vast that there is a style and design to suit everyone.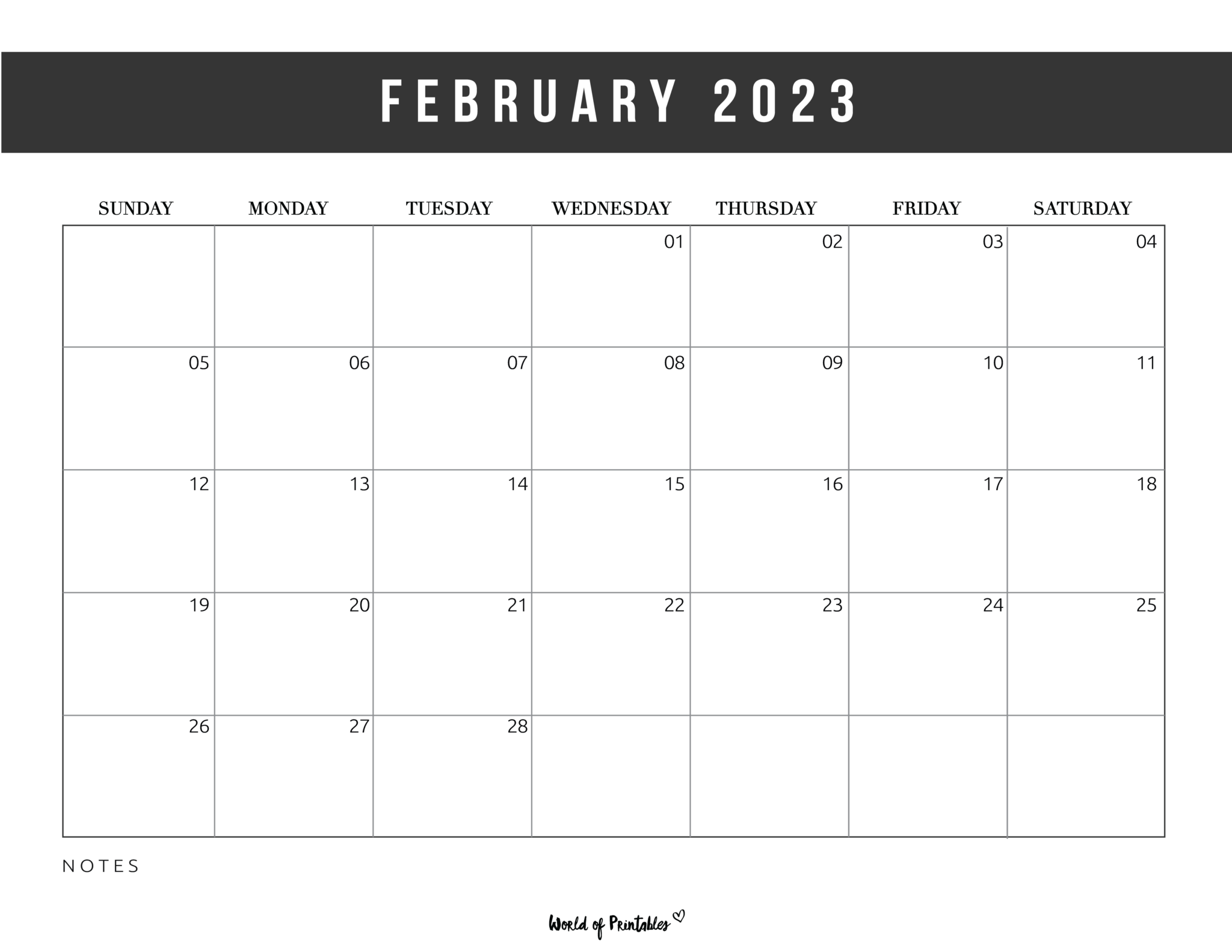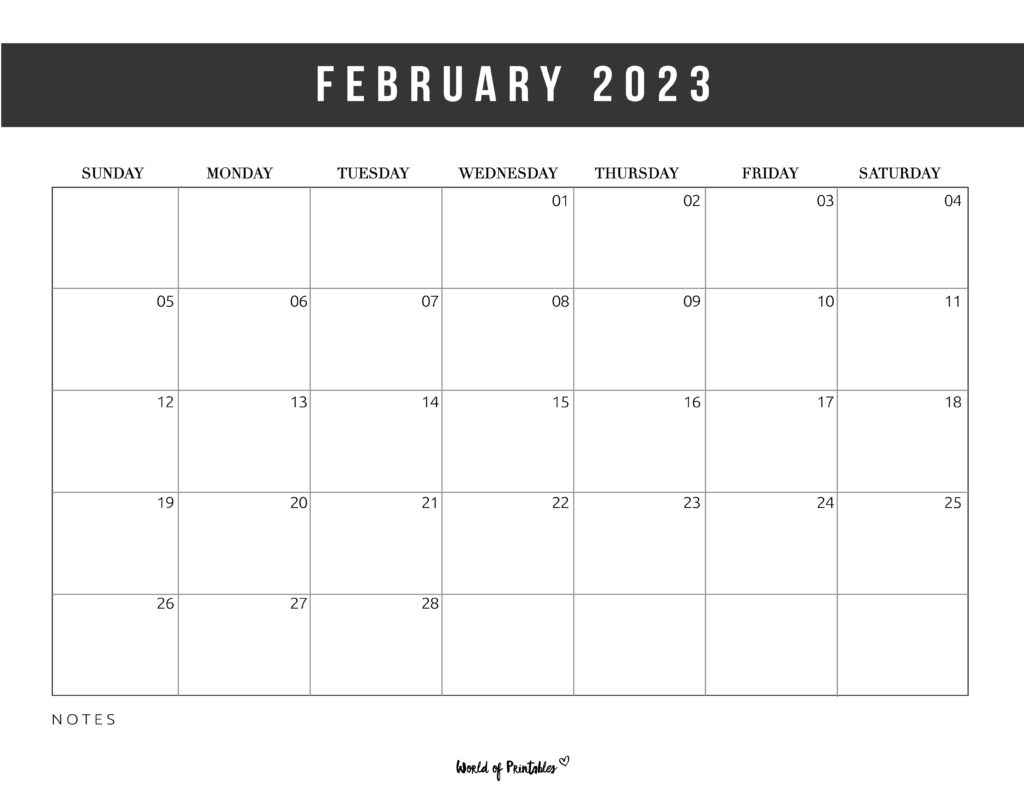 You can use our free printable February 2023 Calendars for your home, office, desk, or planner and they are free to download for personal use.
Once you download your free printable February 2023 calendar, you can save it and print it as often as needed. You just need Adobe reader or a similar pdf reader to print our pdf calendar templates.
Otherwise, simply click to open a full-size image version of any of the calendars to download and print.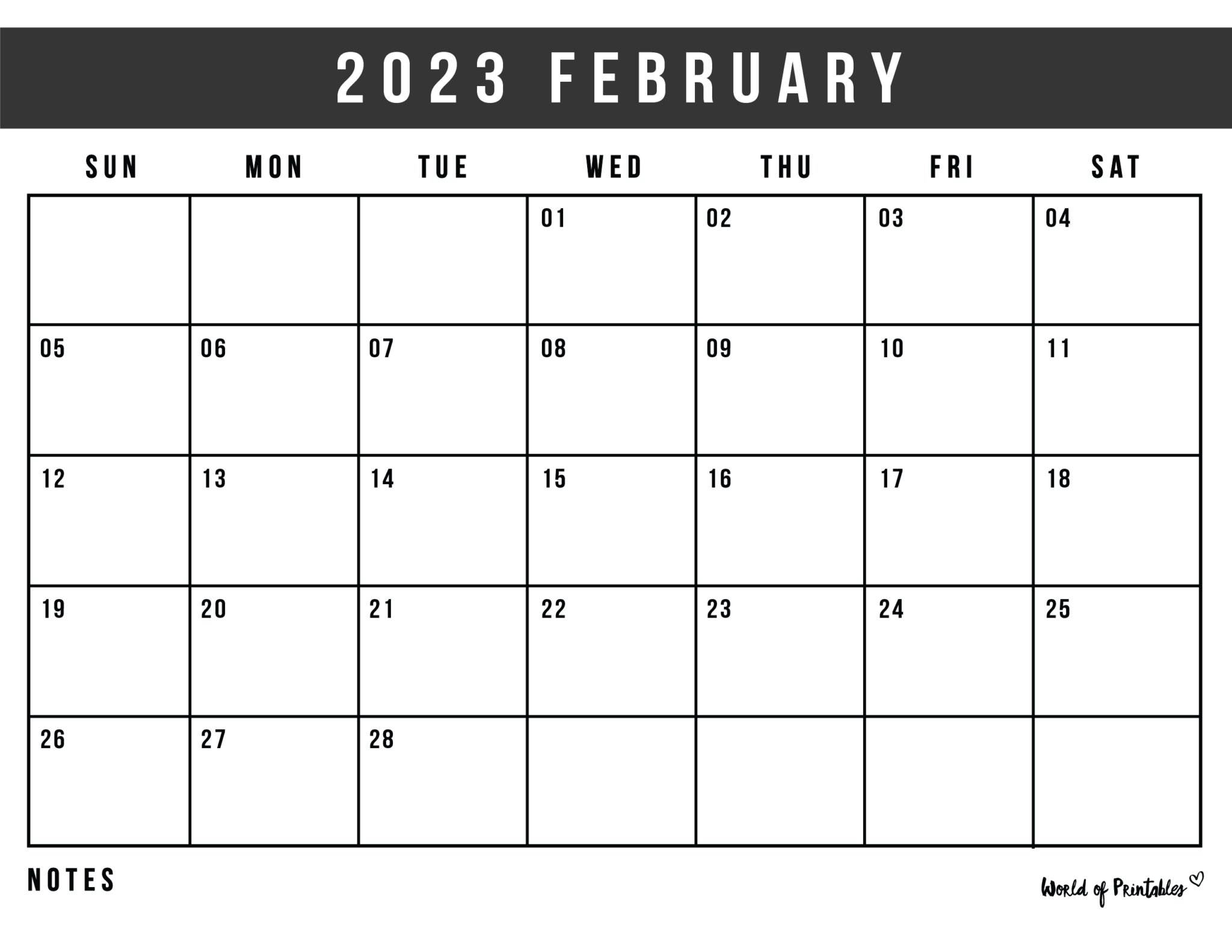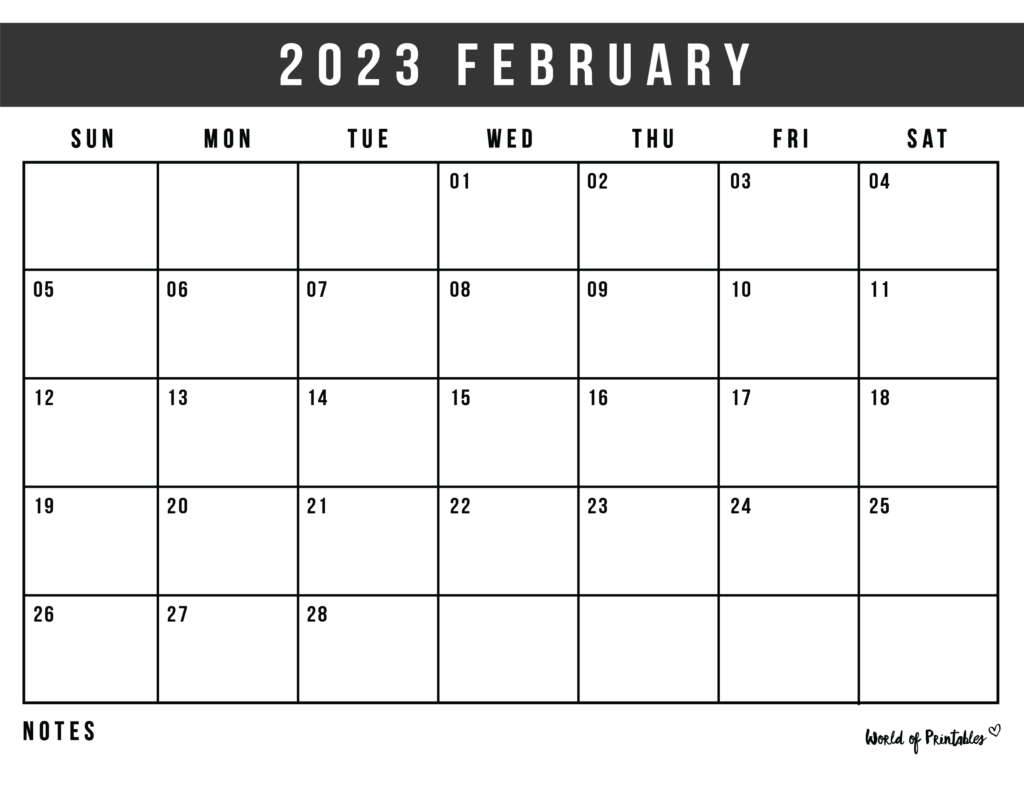 You can use many of these February calendars for various purposes. Such as a simple calendar, a schedule, or a tracker.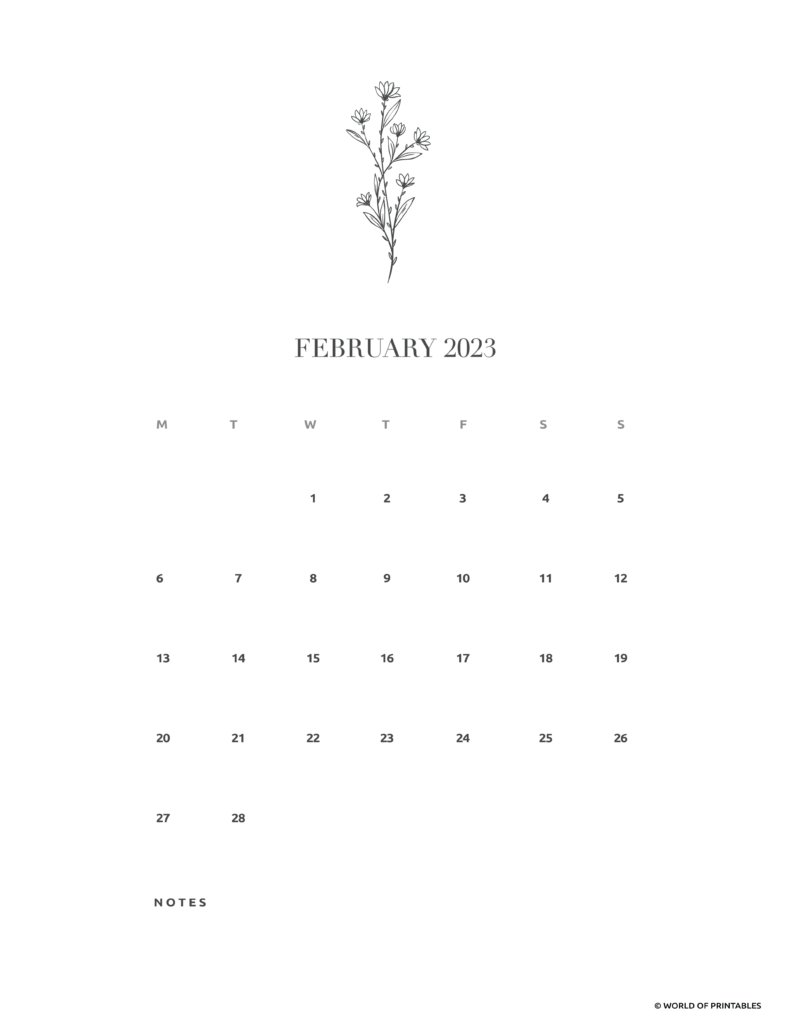 As you look through our website you will see that we have so many amazing calendars for every month of the year covering a range of beautiful styles from floral and botanical to minimalist.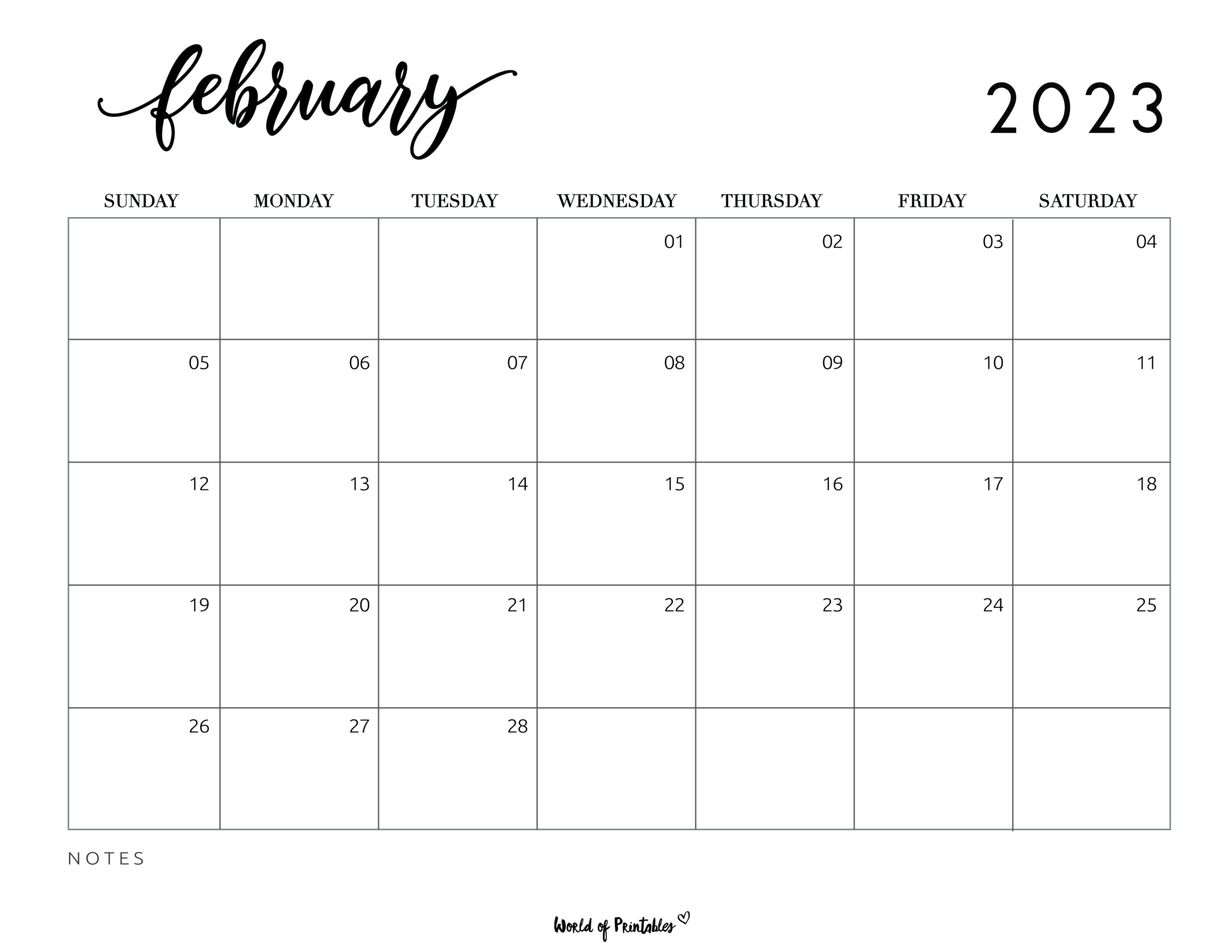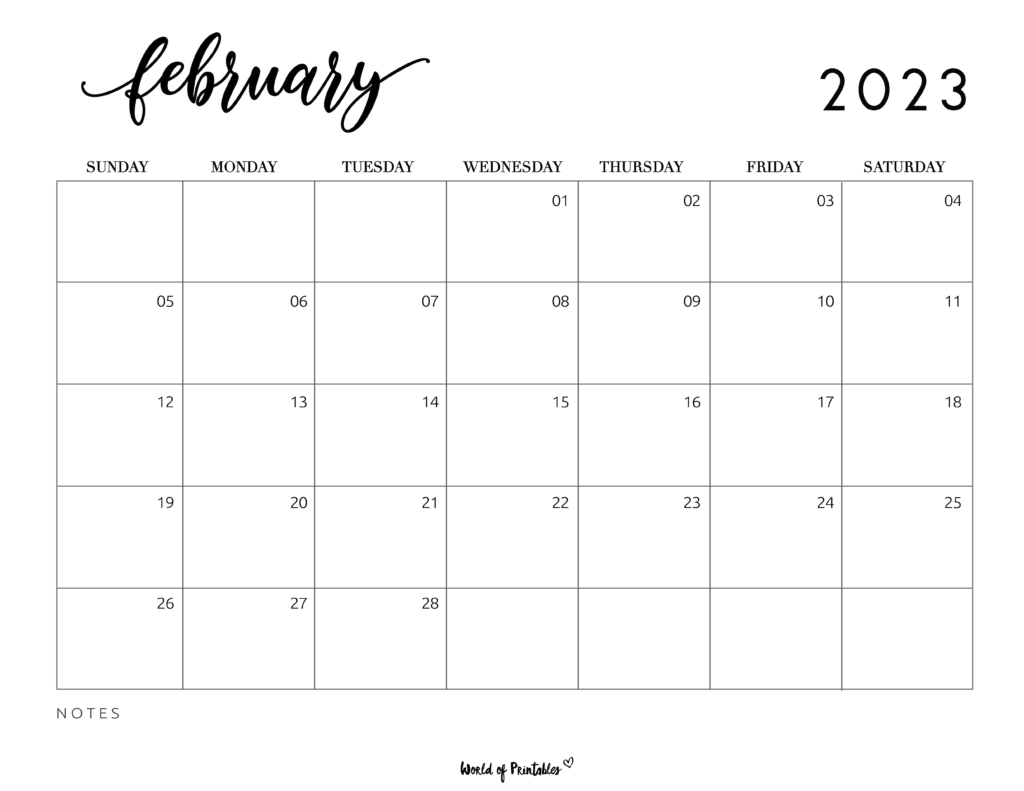 If you are looking for a calendar for 2023 then check out our huge range of free printable 2023 calendar templates.
All of our calendars are ready to print in US Letter size (8.5 x 11") and will also print on A4 size paper, but they can be easily resized to fit any of your paper size needs.
If you need to print at a different size, you can learn how to resize an image easily for free.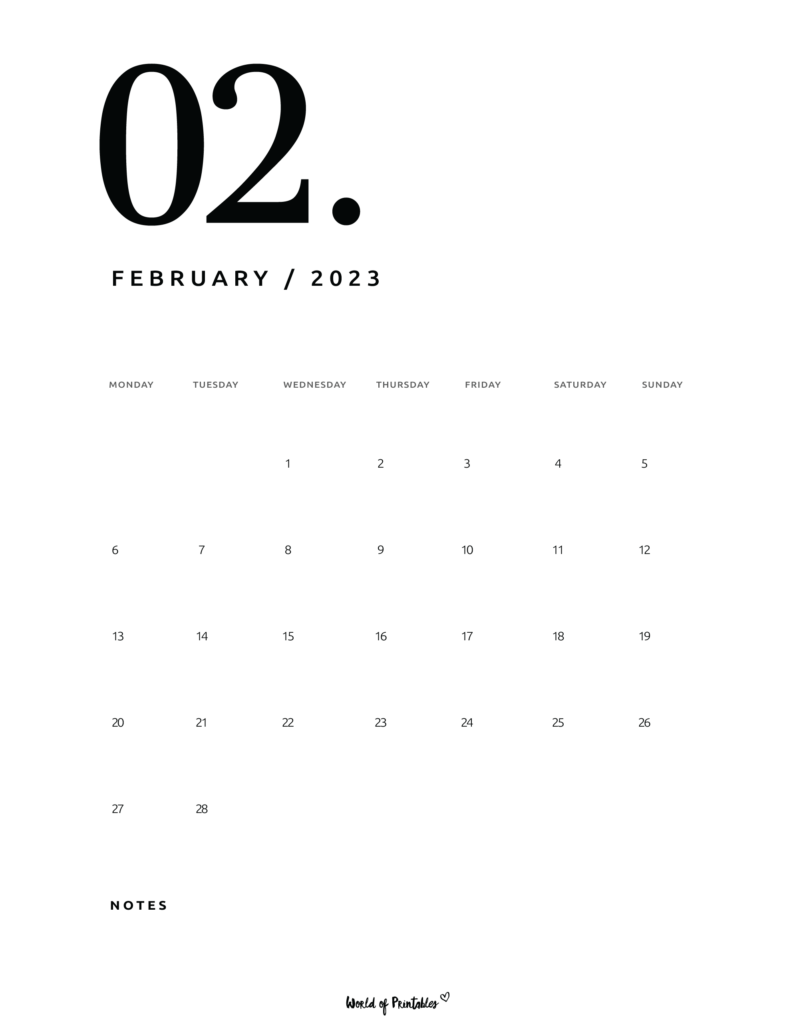 If you want a full year one page 2023 year calendar then we also have a selection of them available.
February 2023 Calendars
Choose your favorite from over 100 February 2023 calendars that you can print at home for February planning.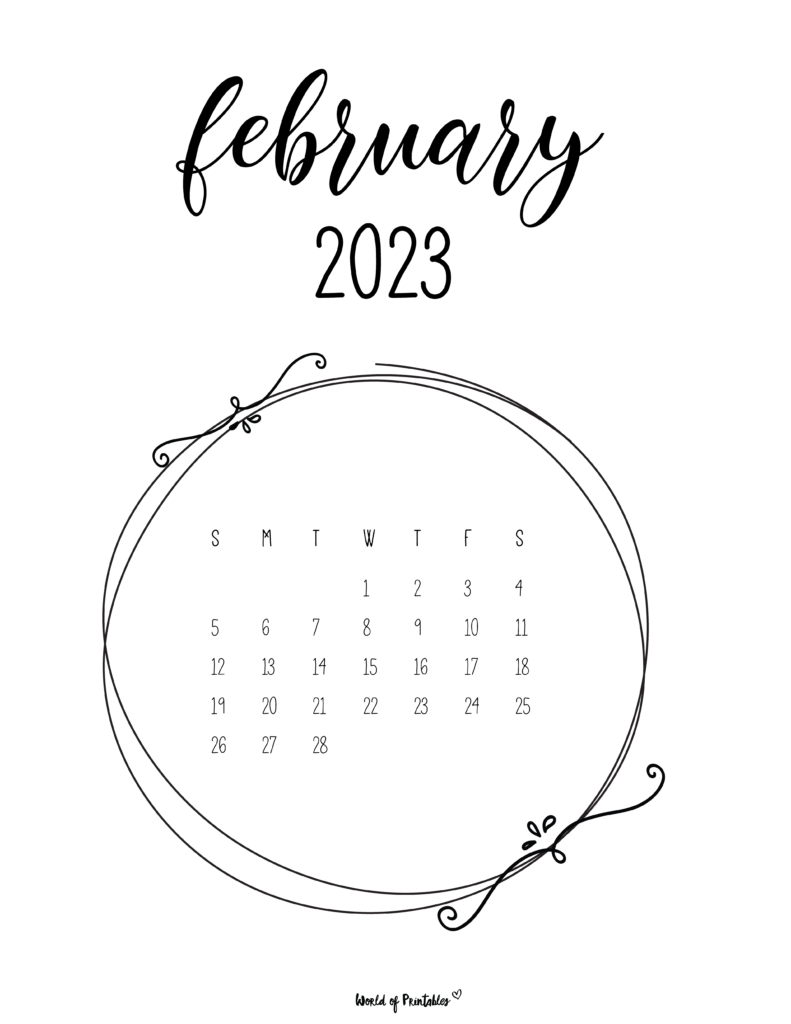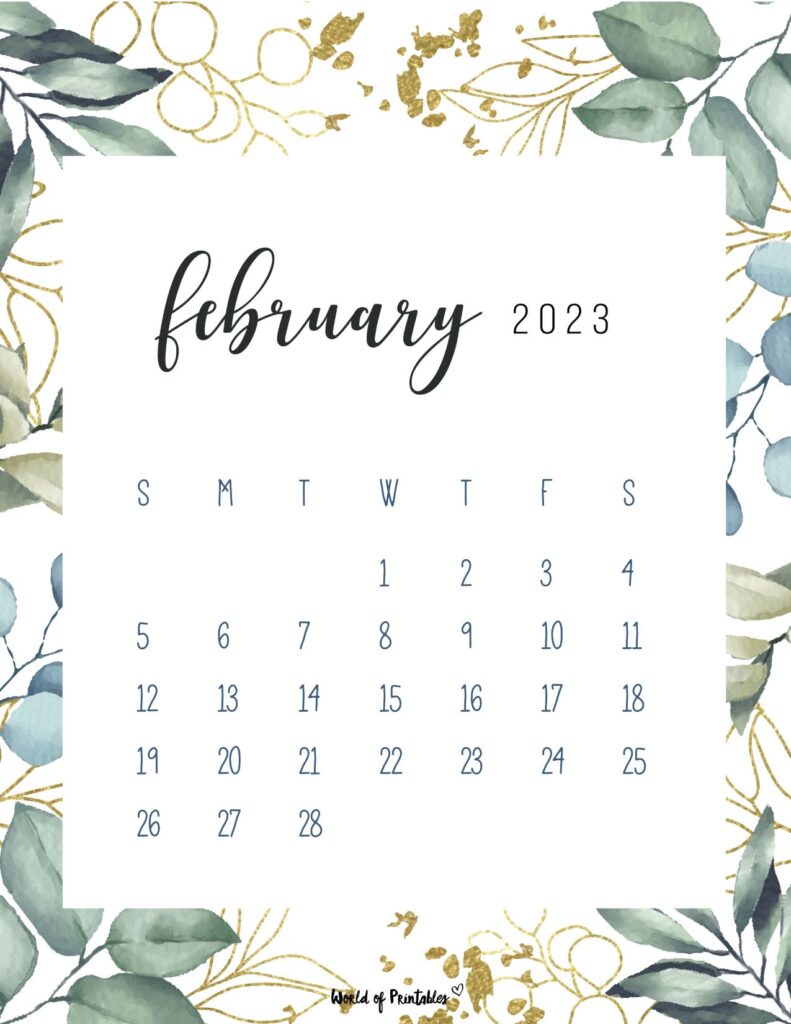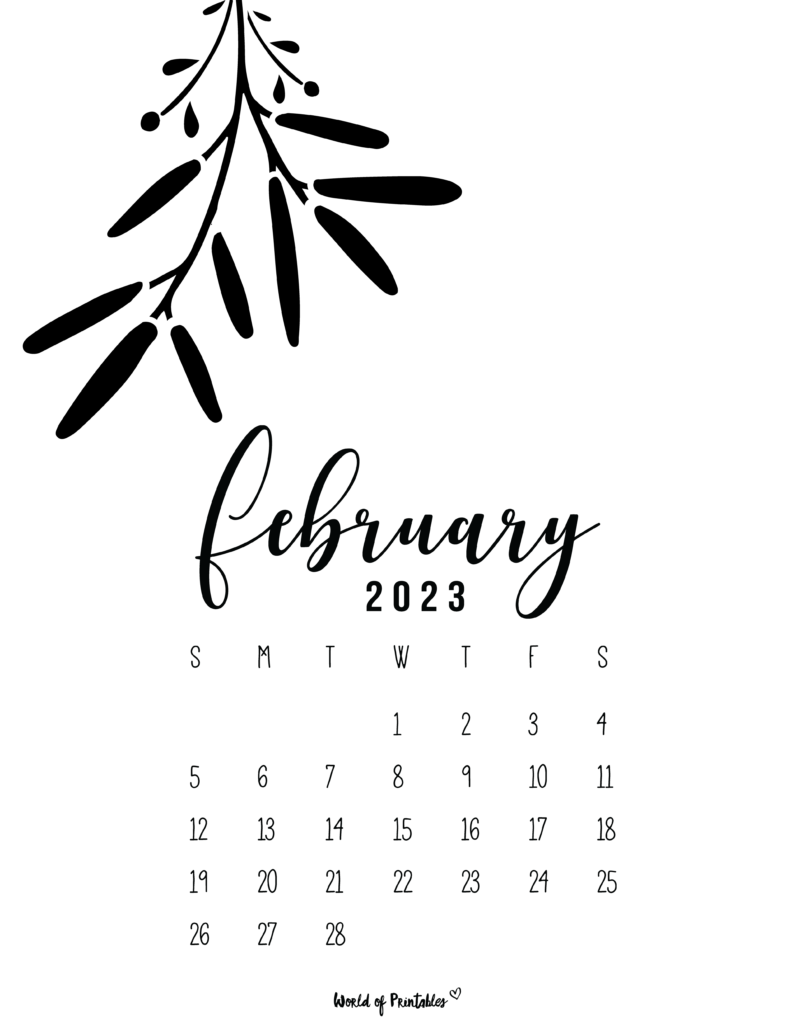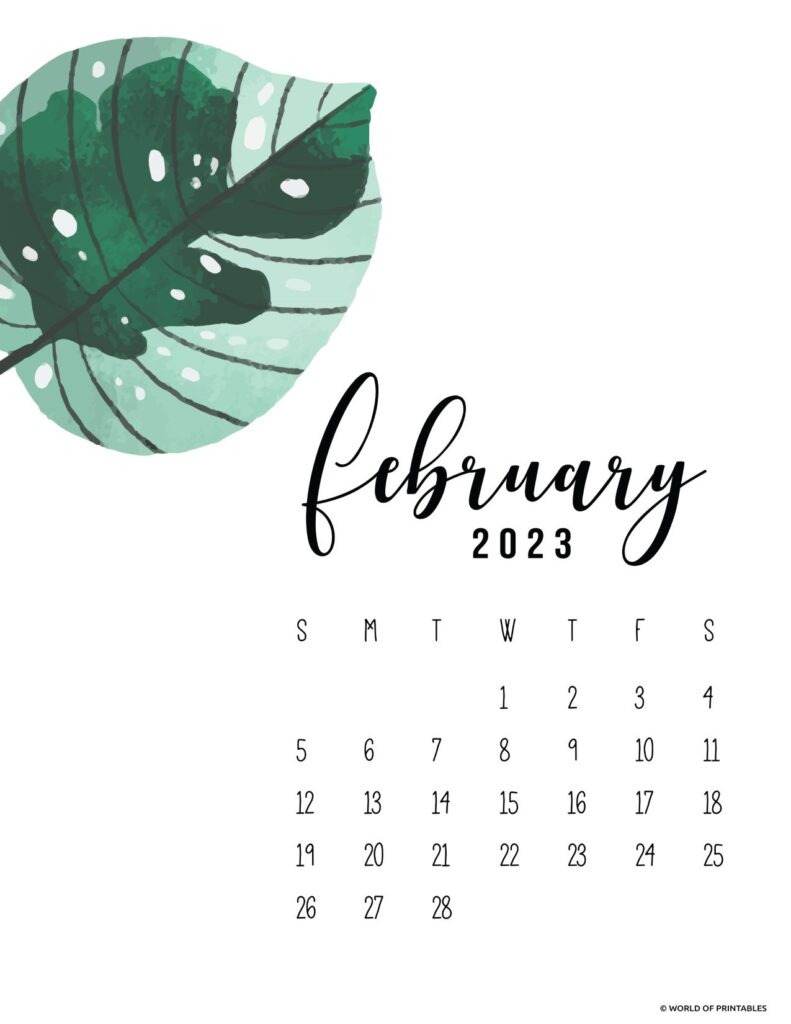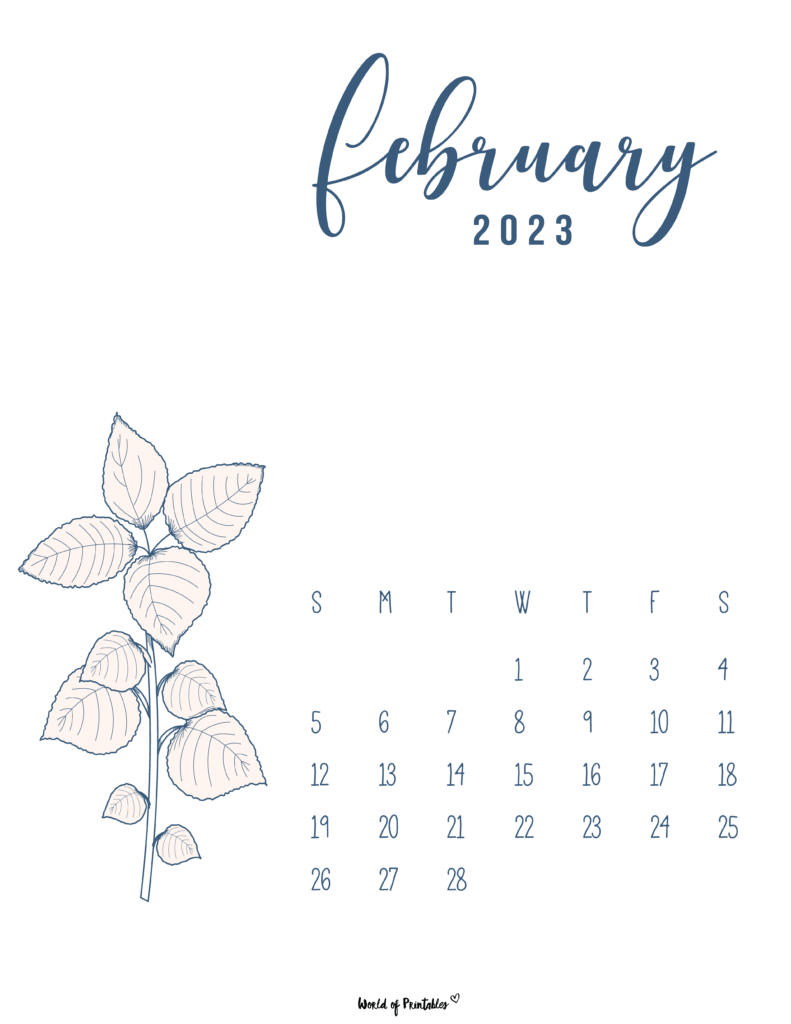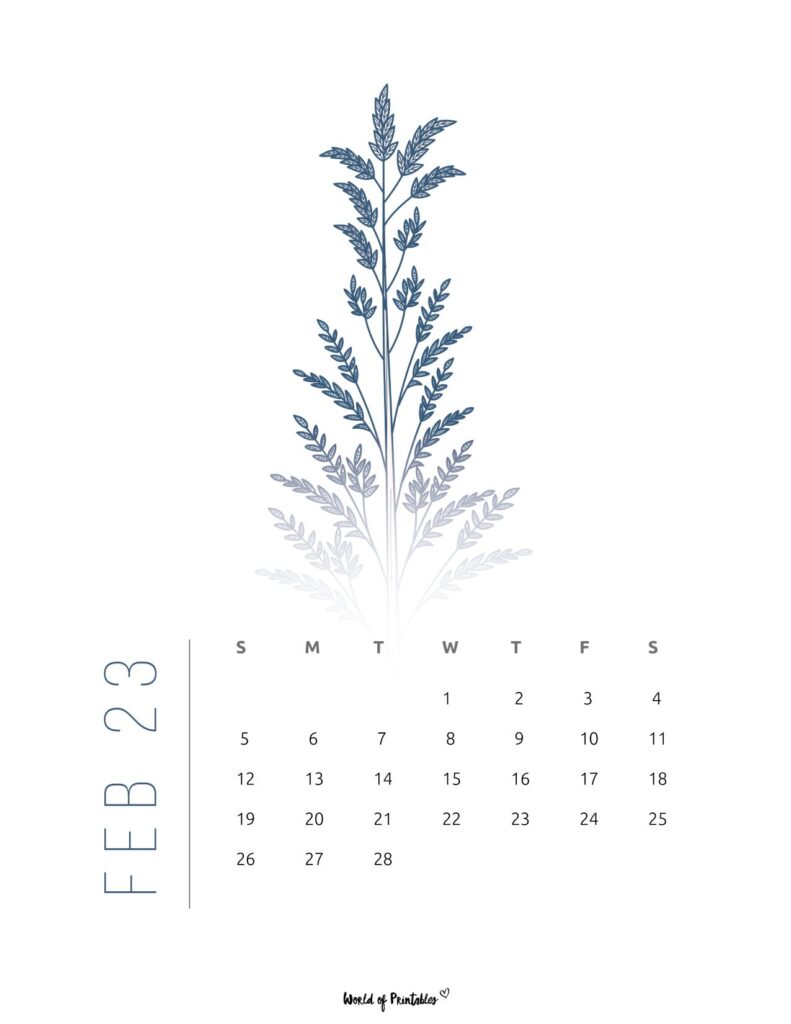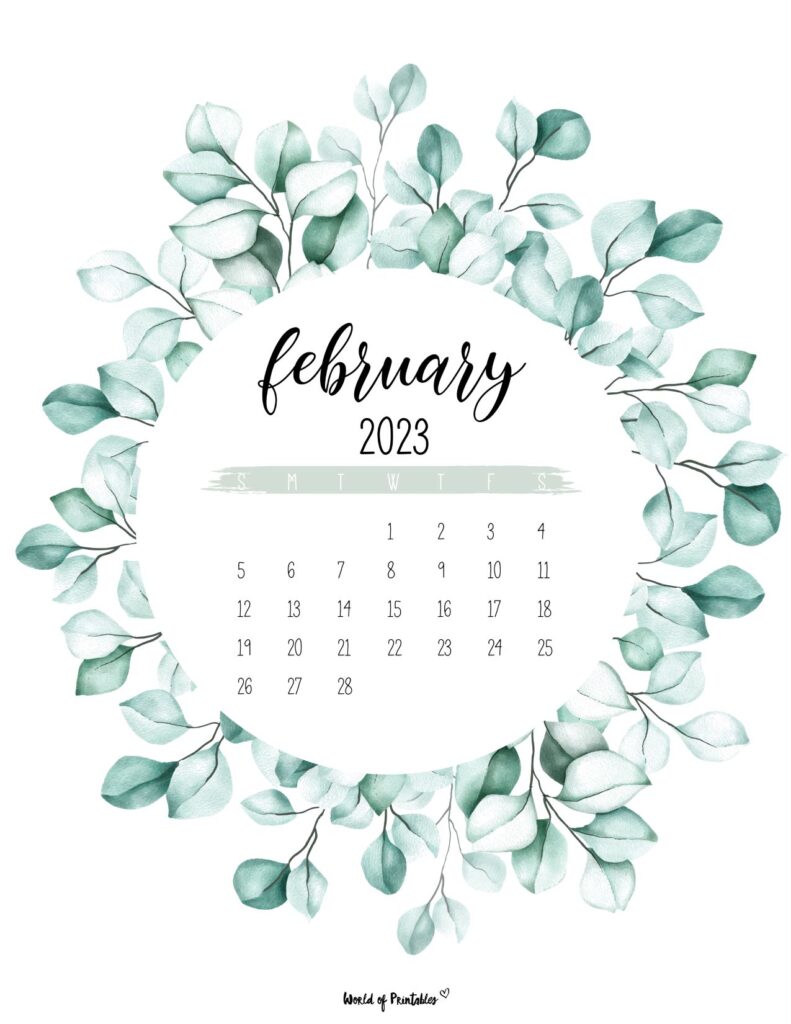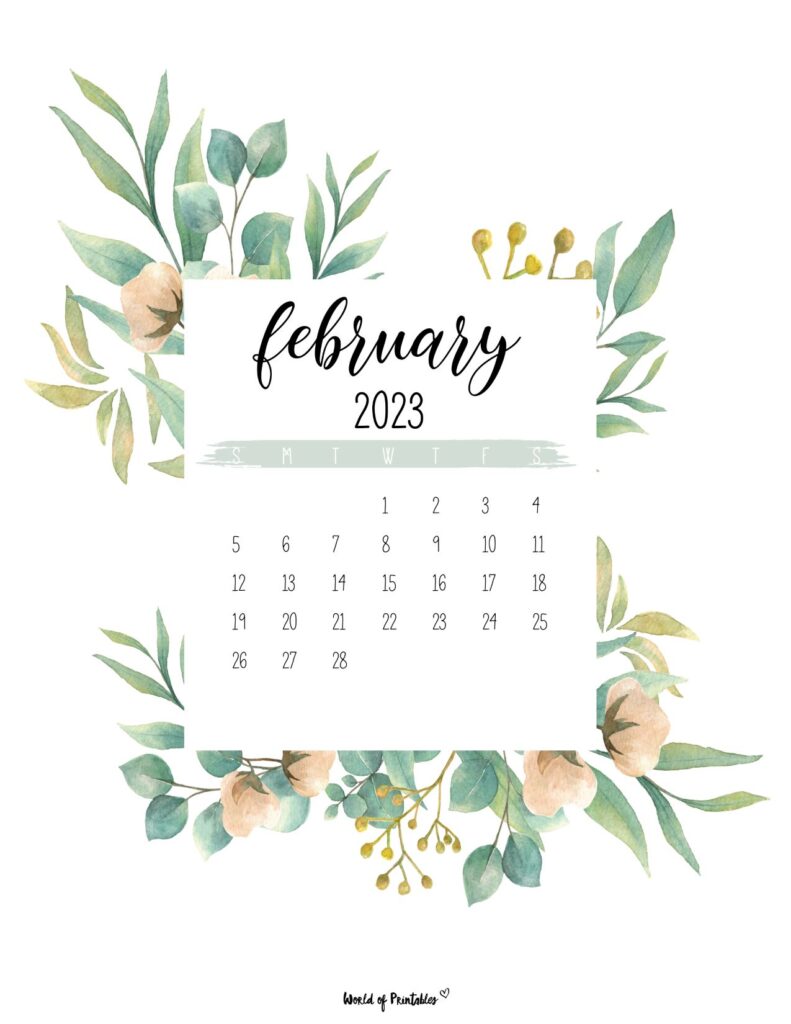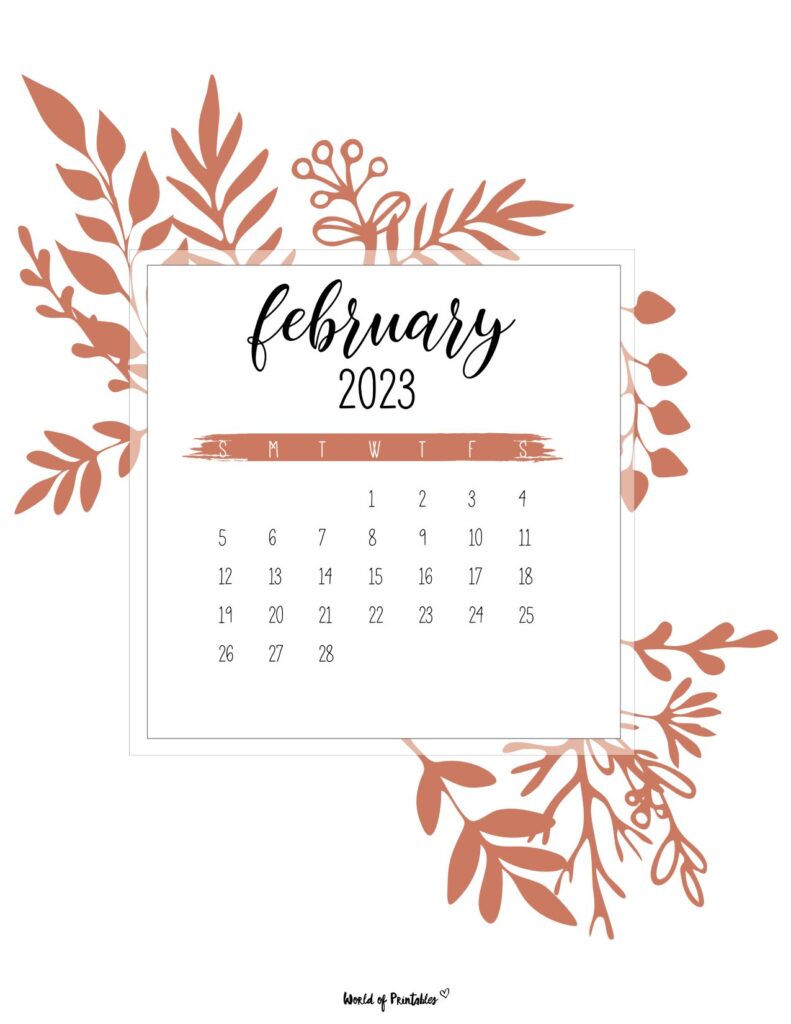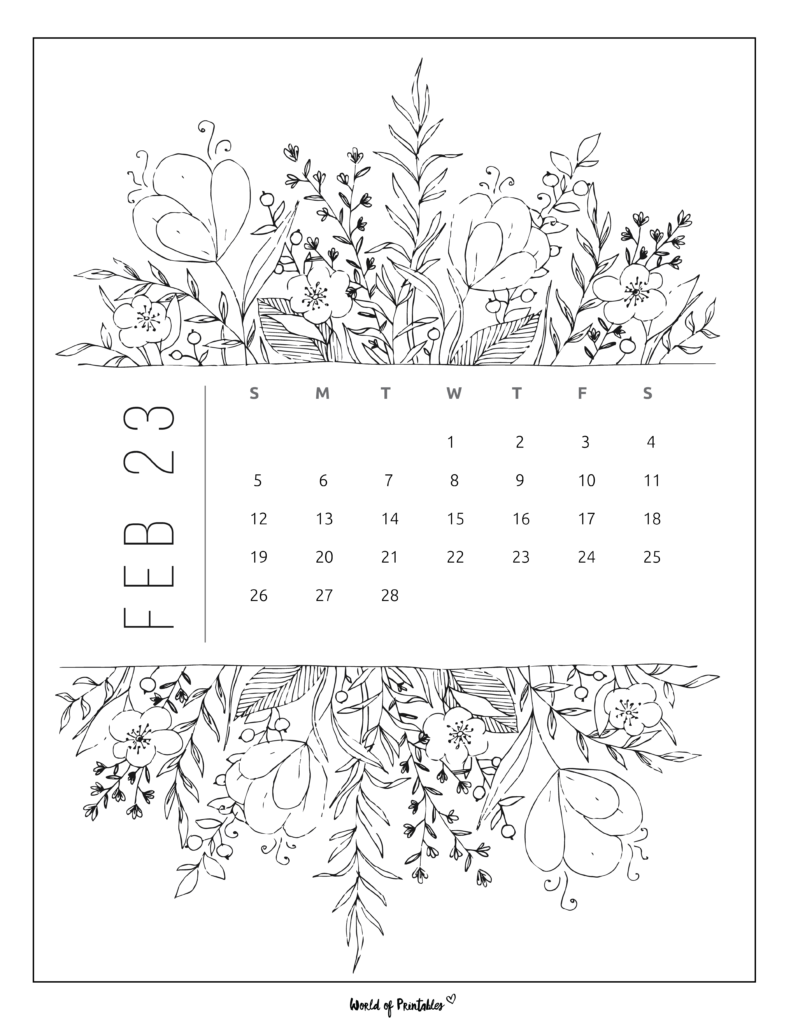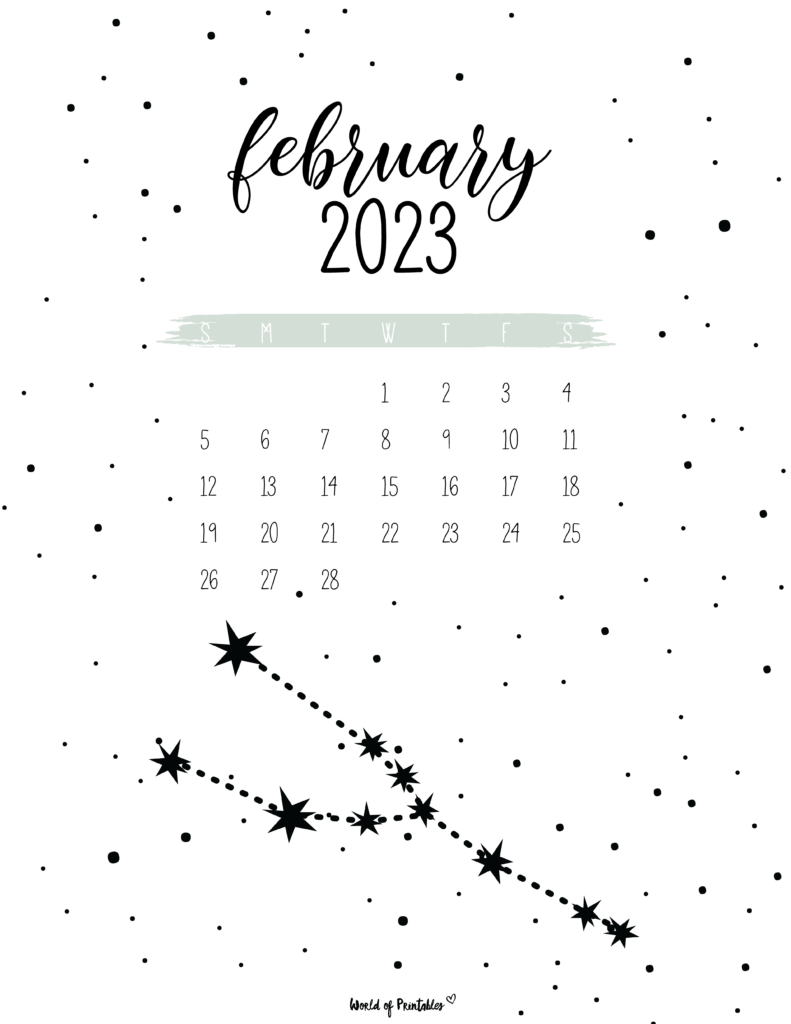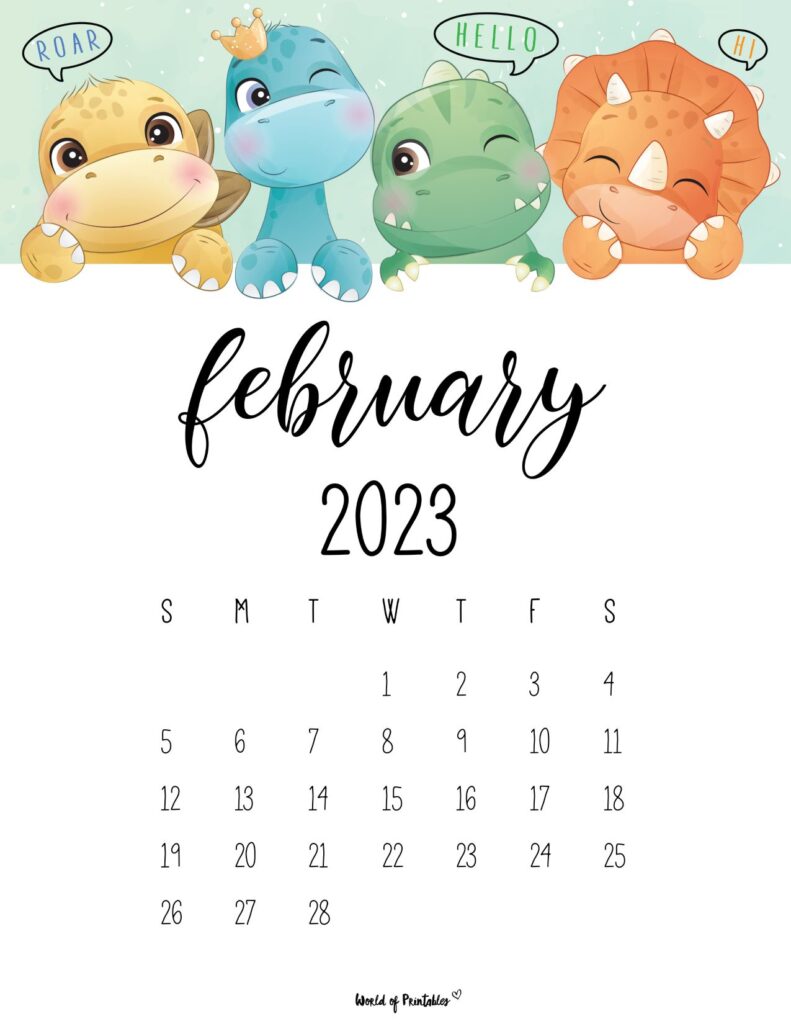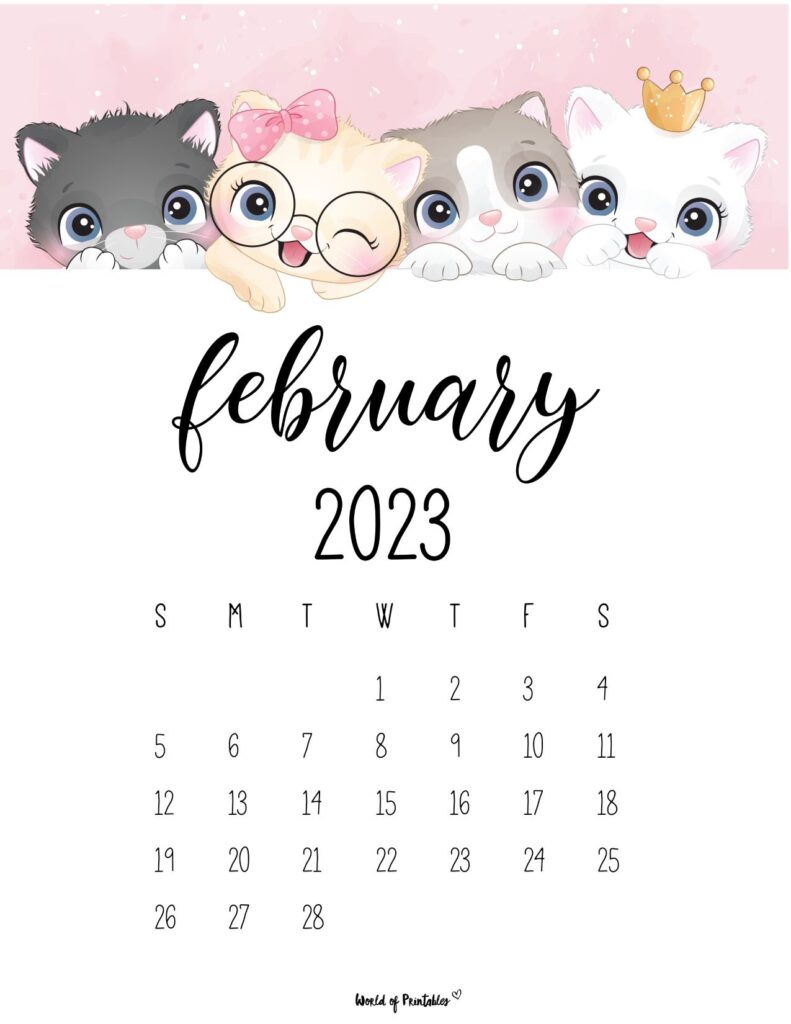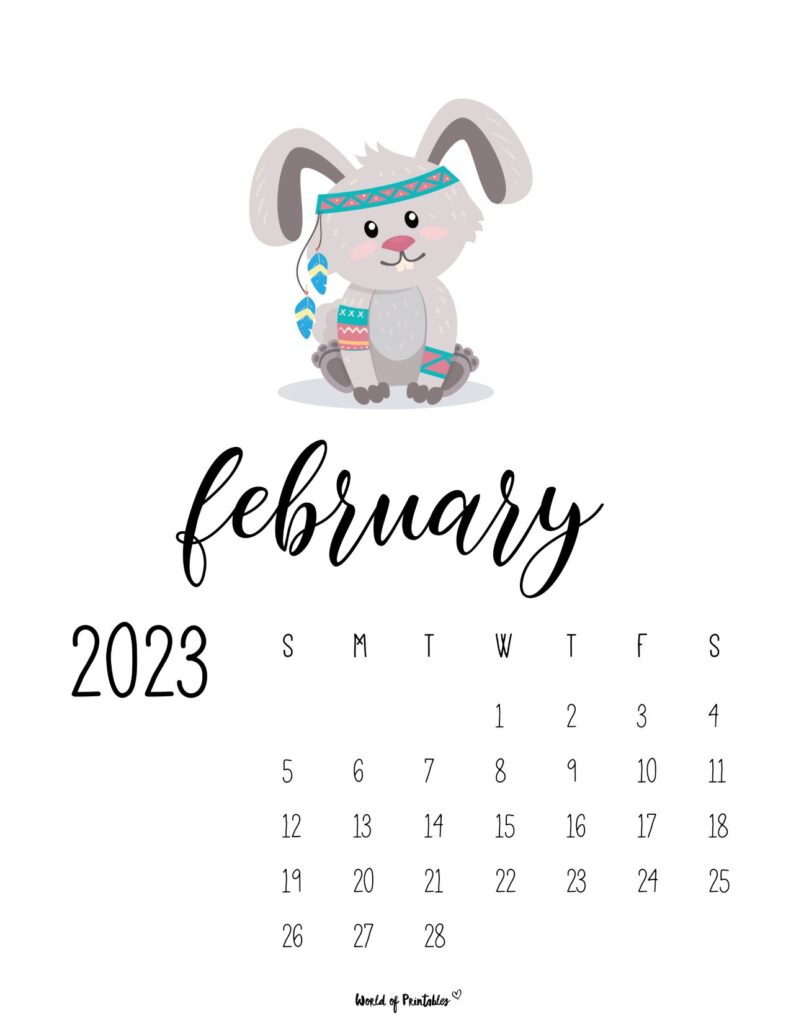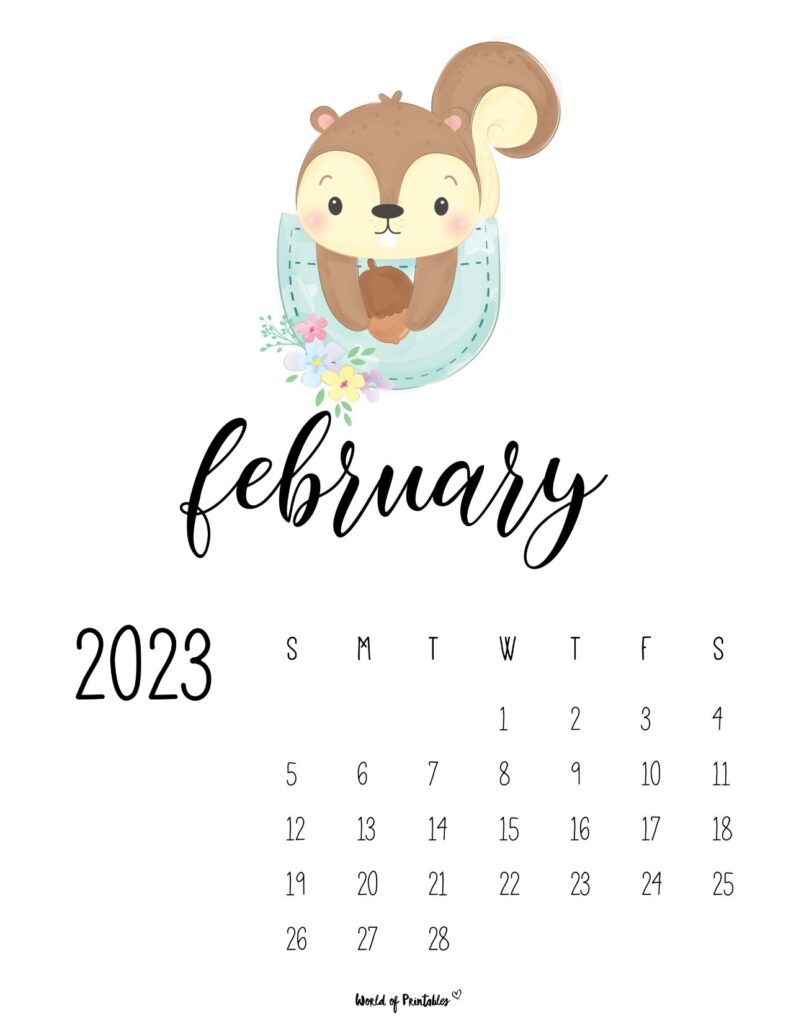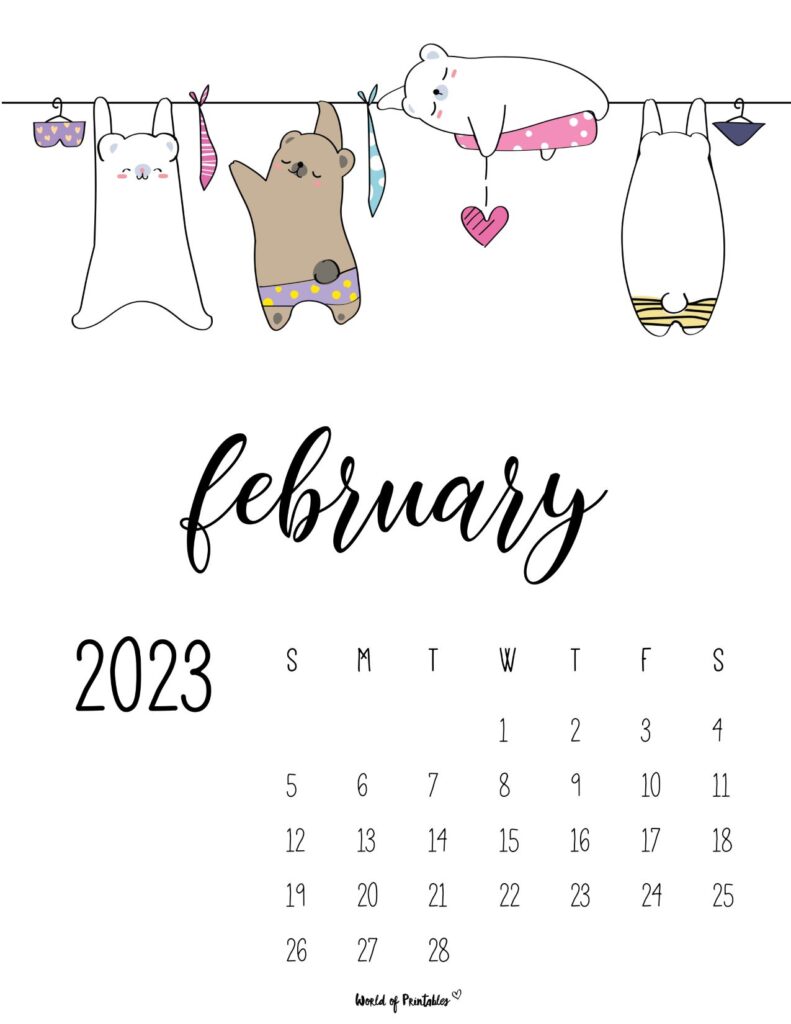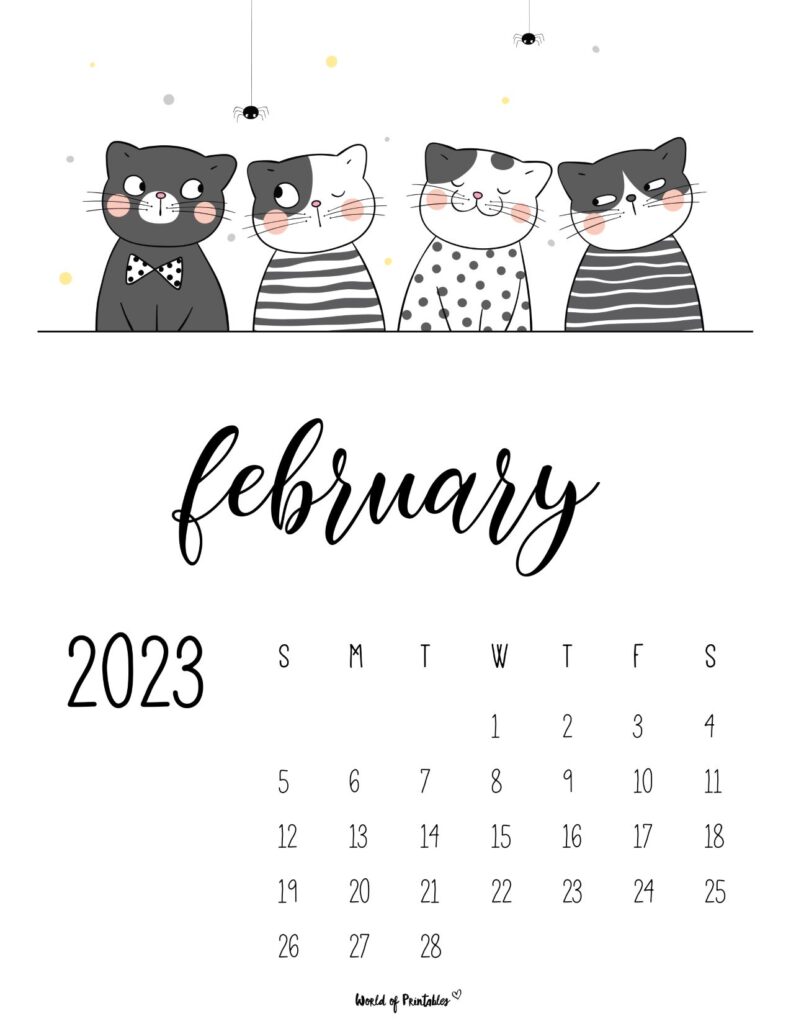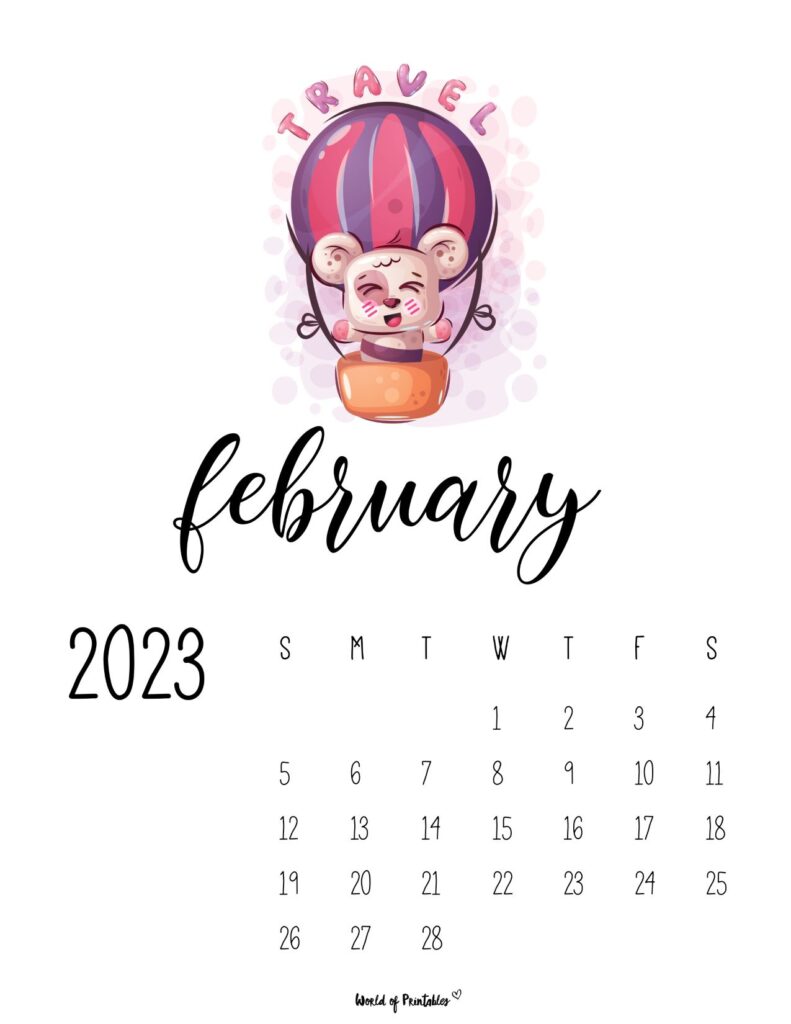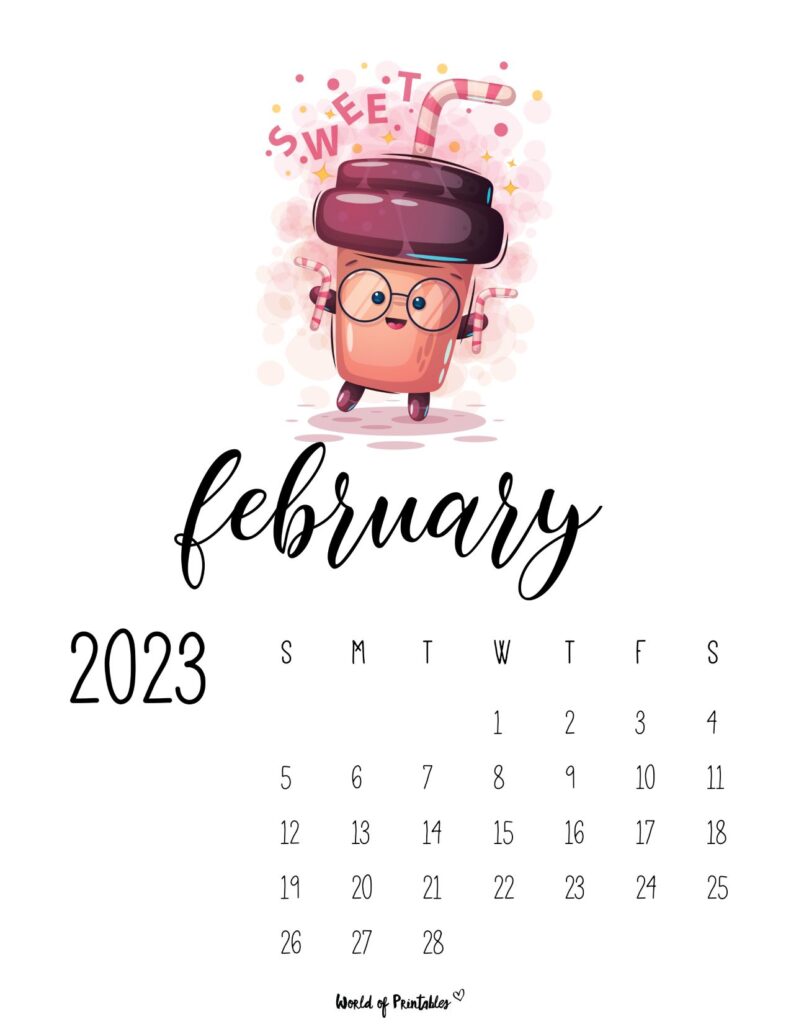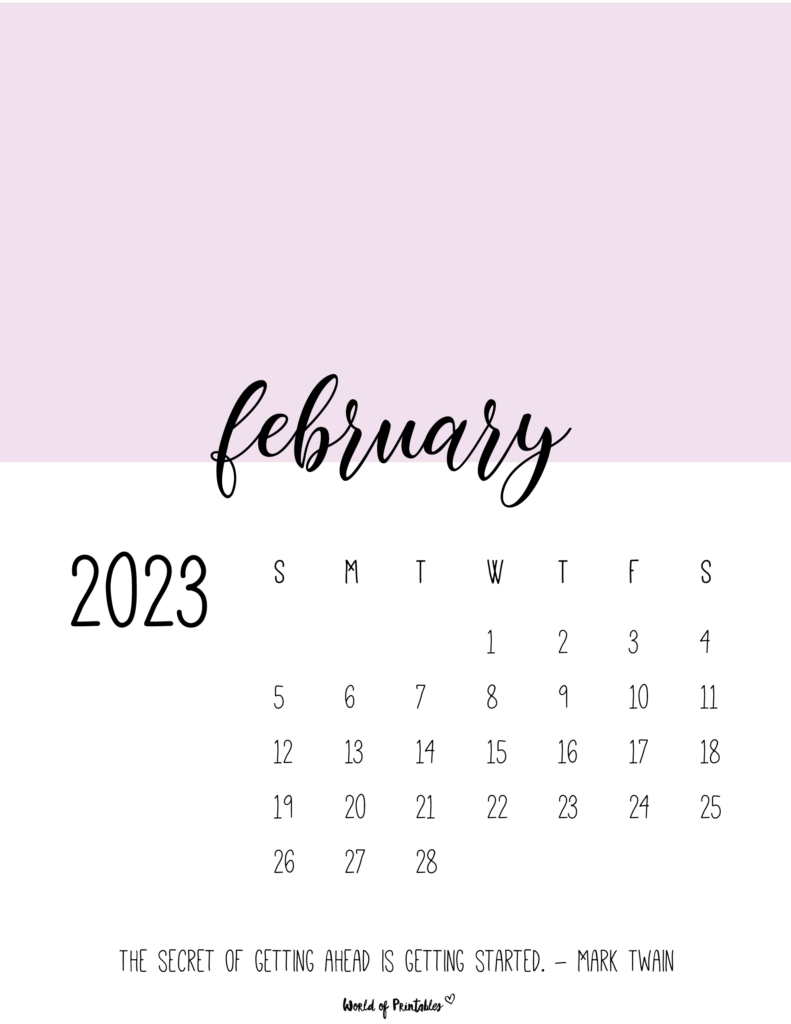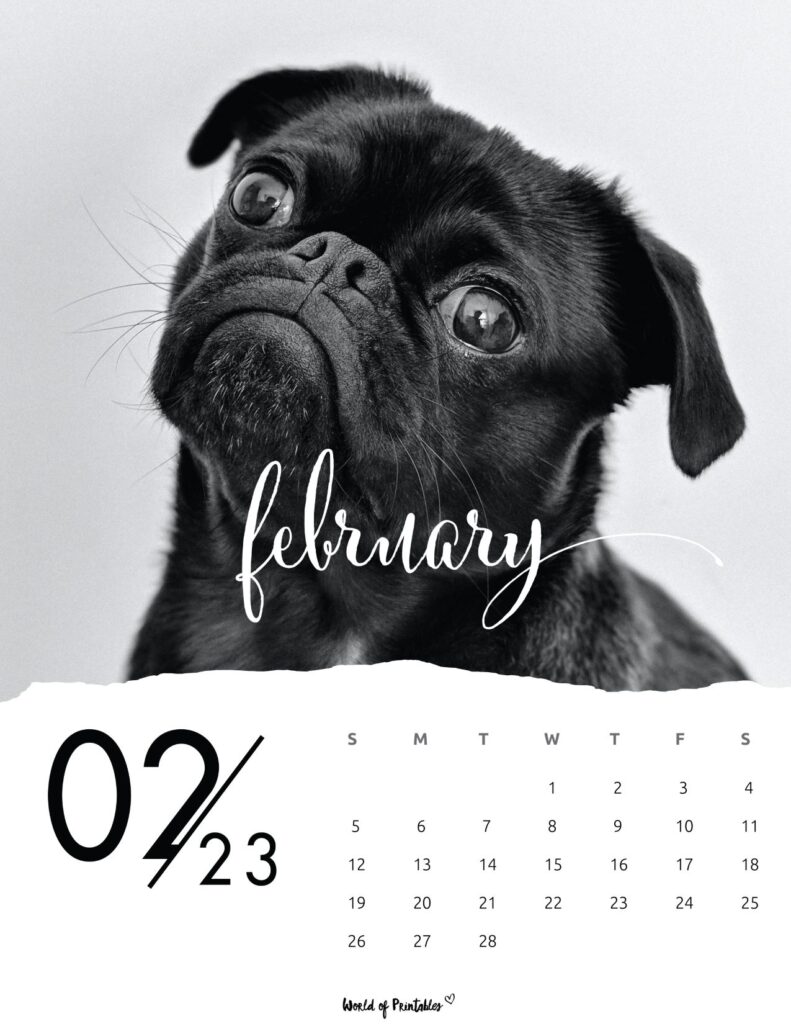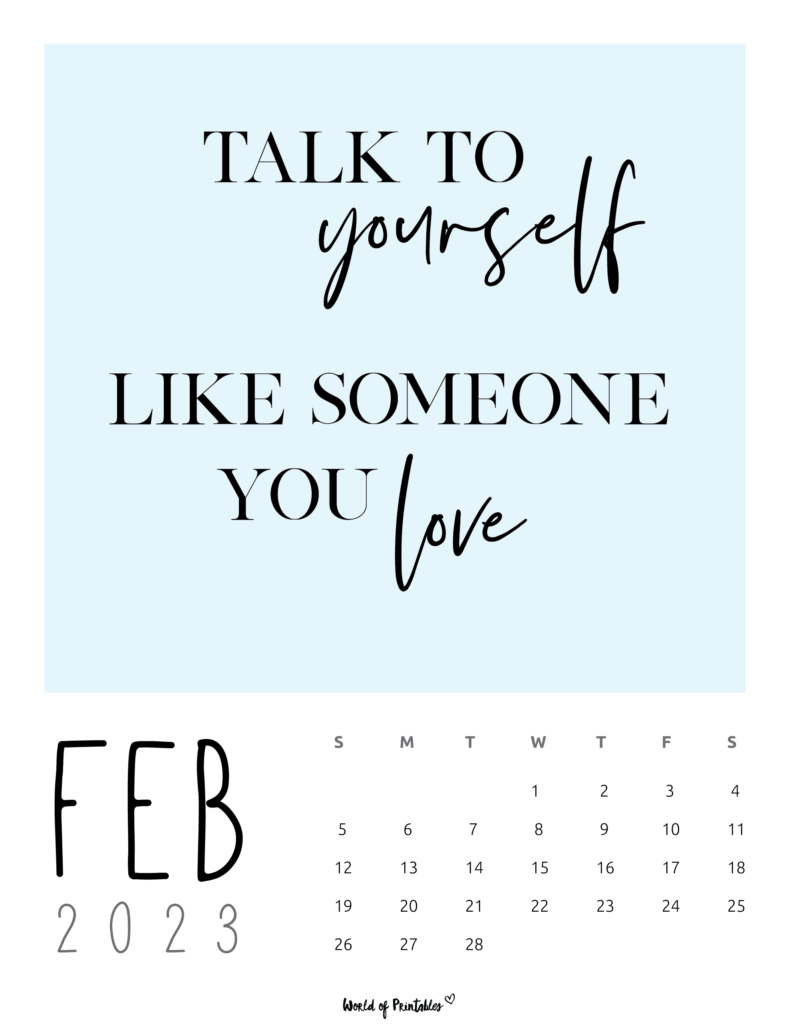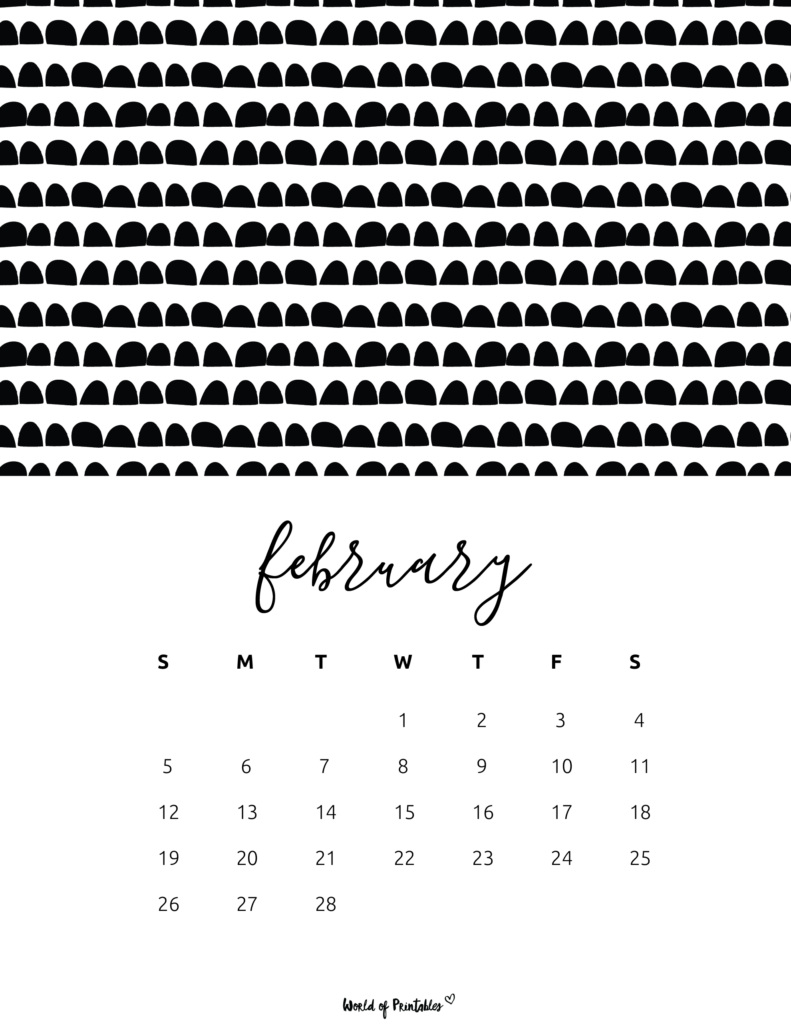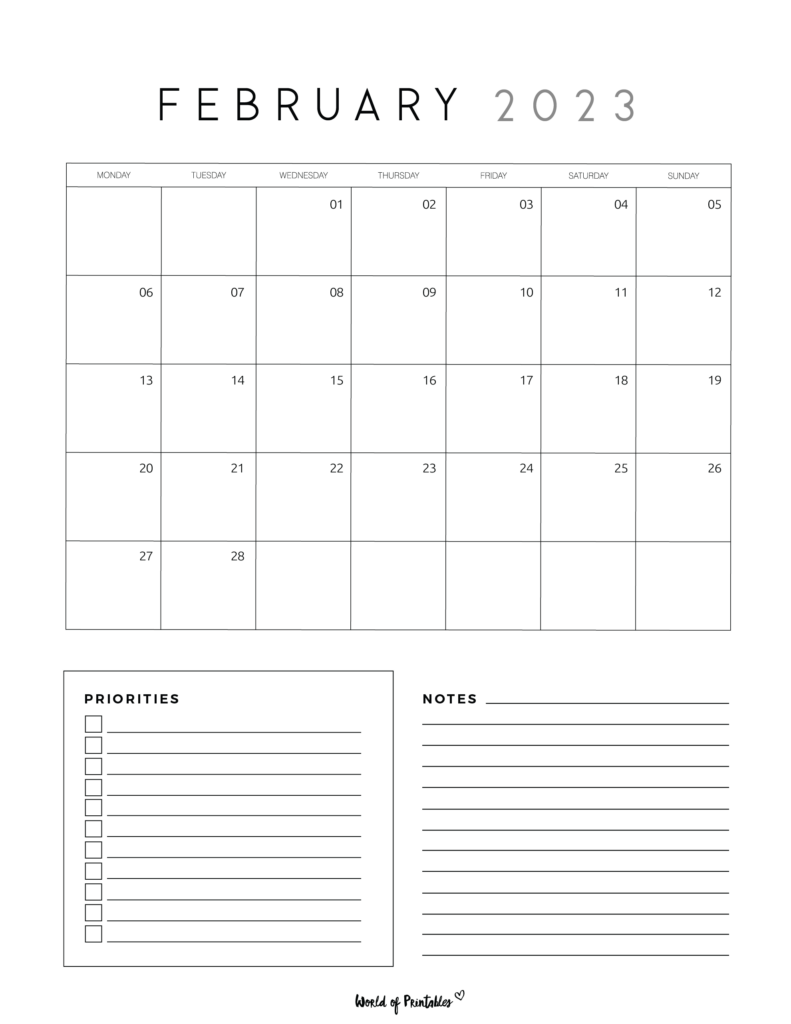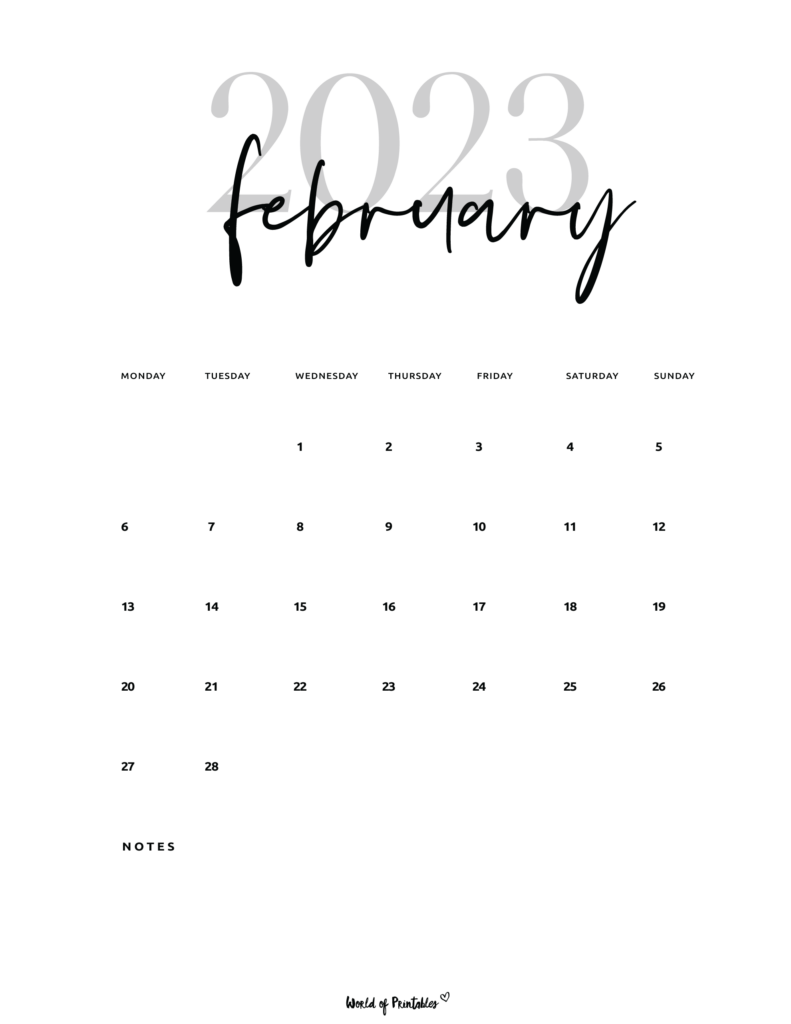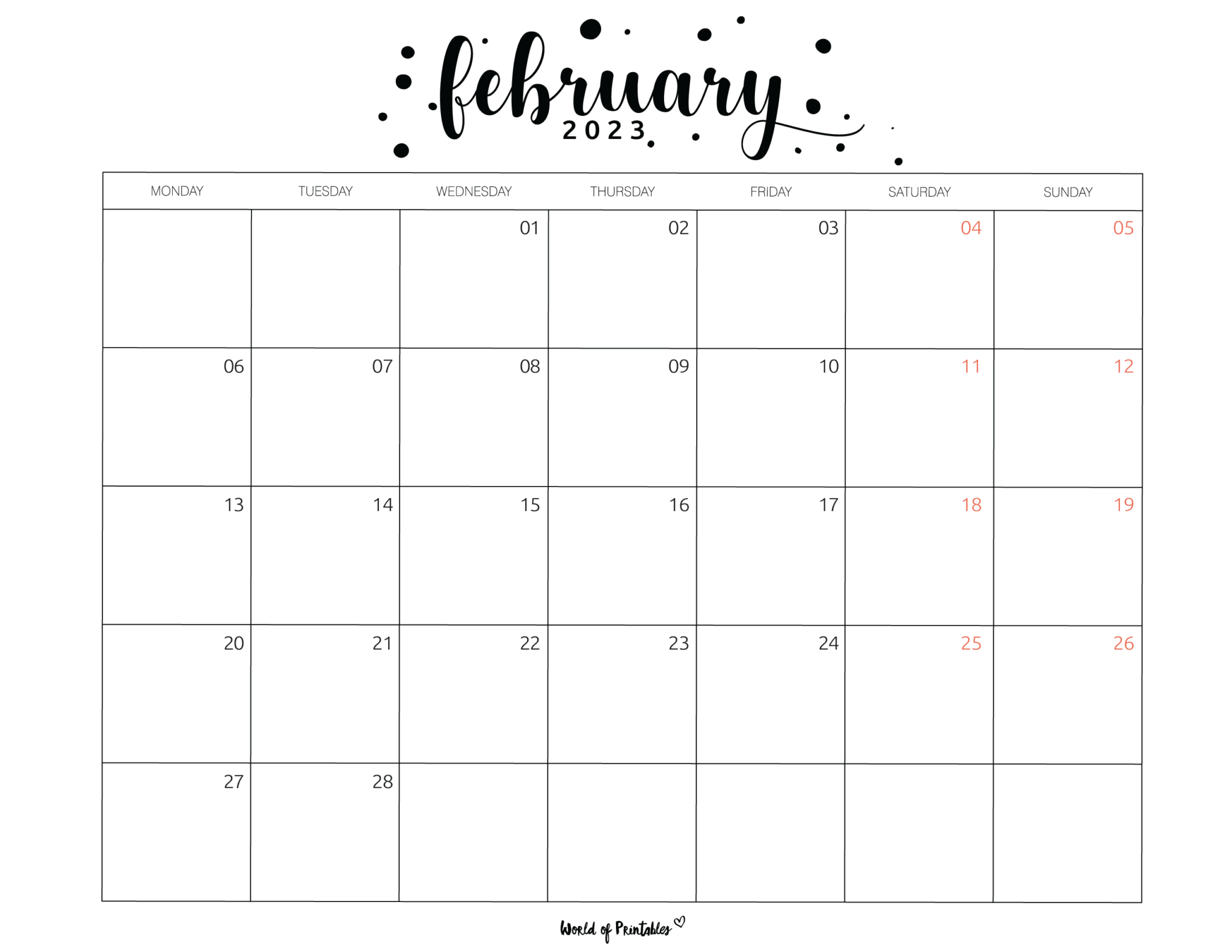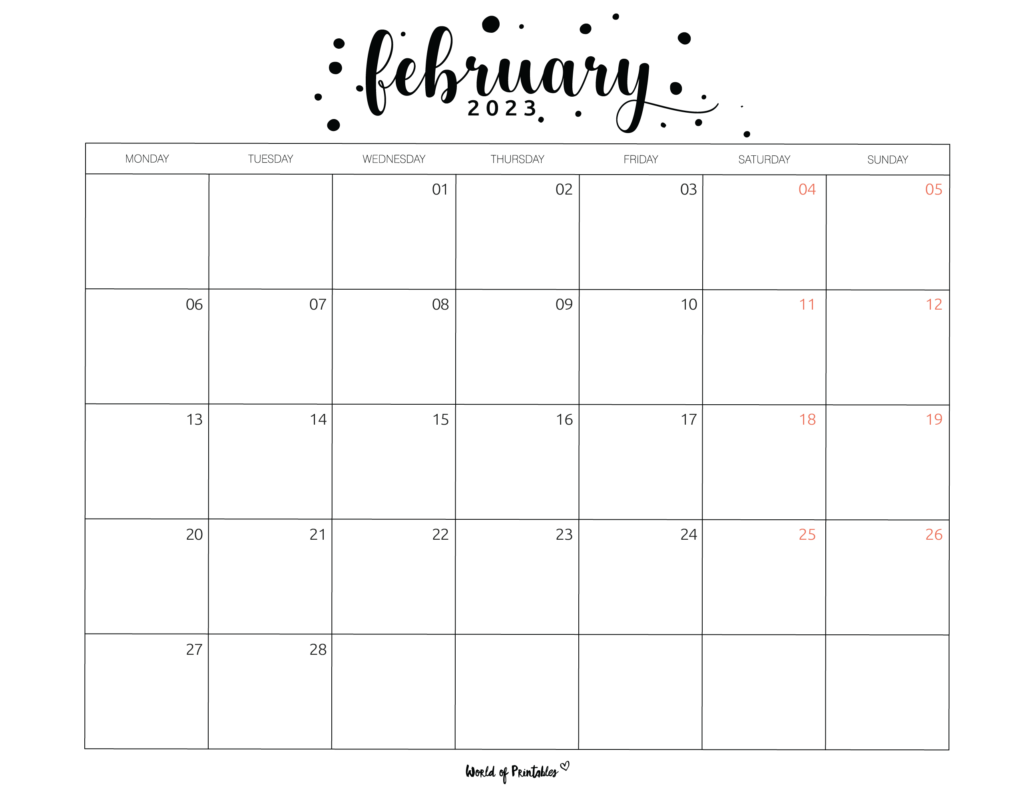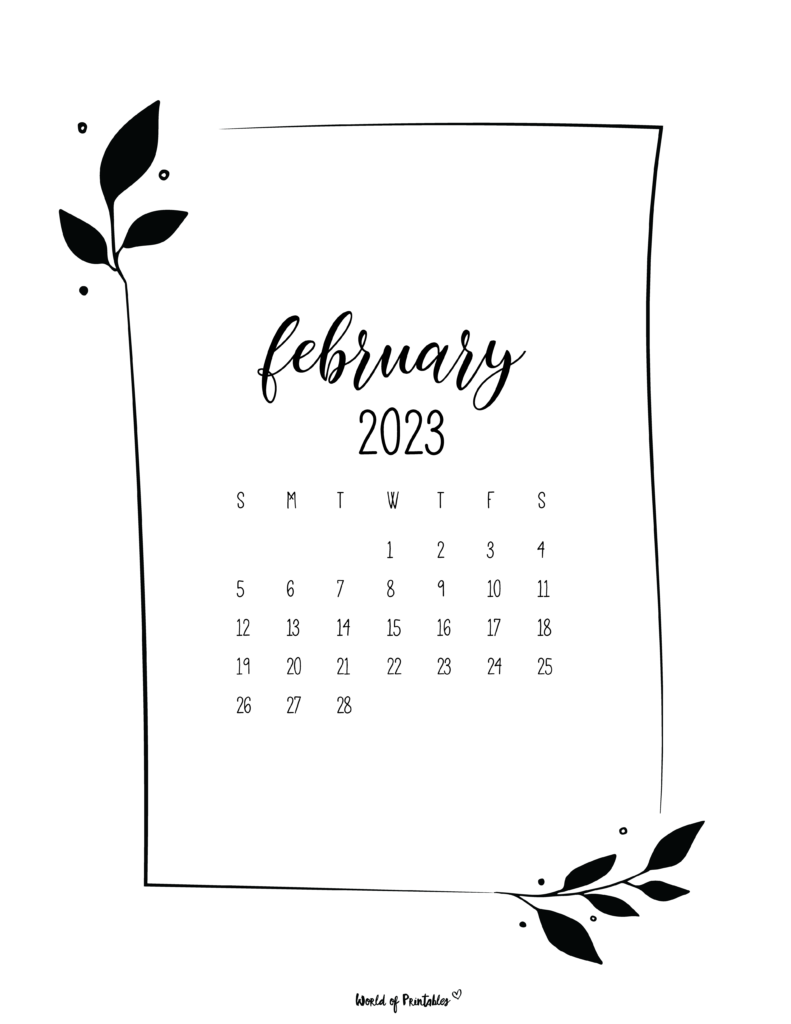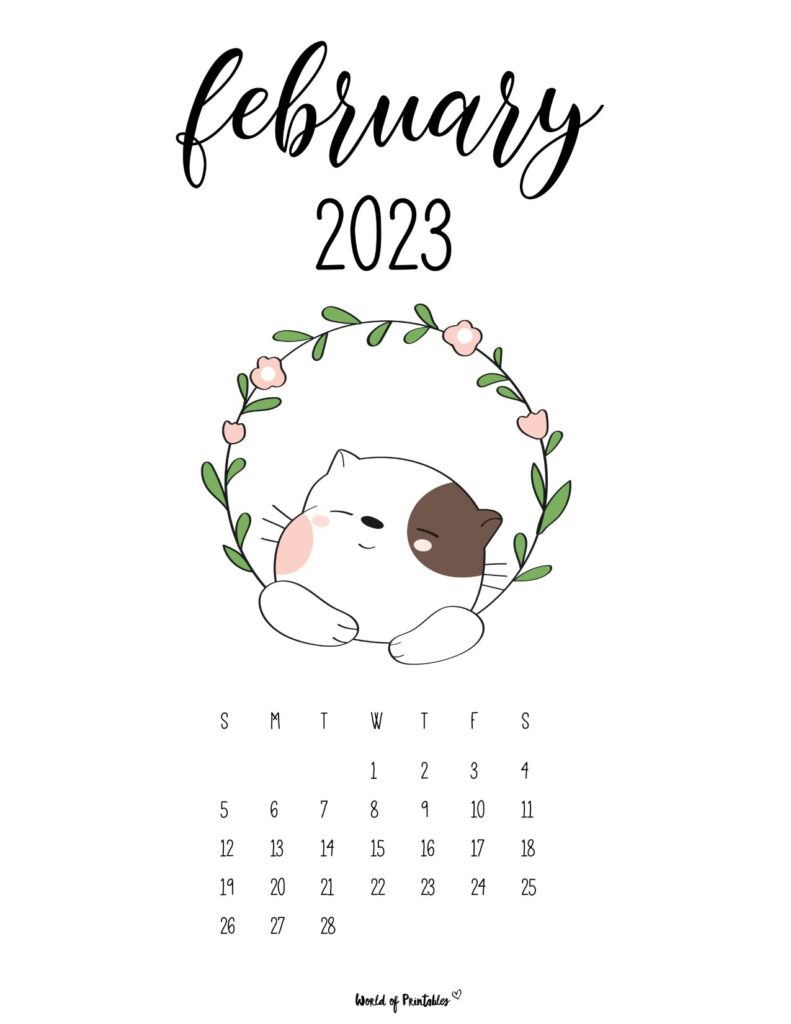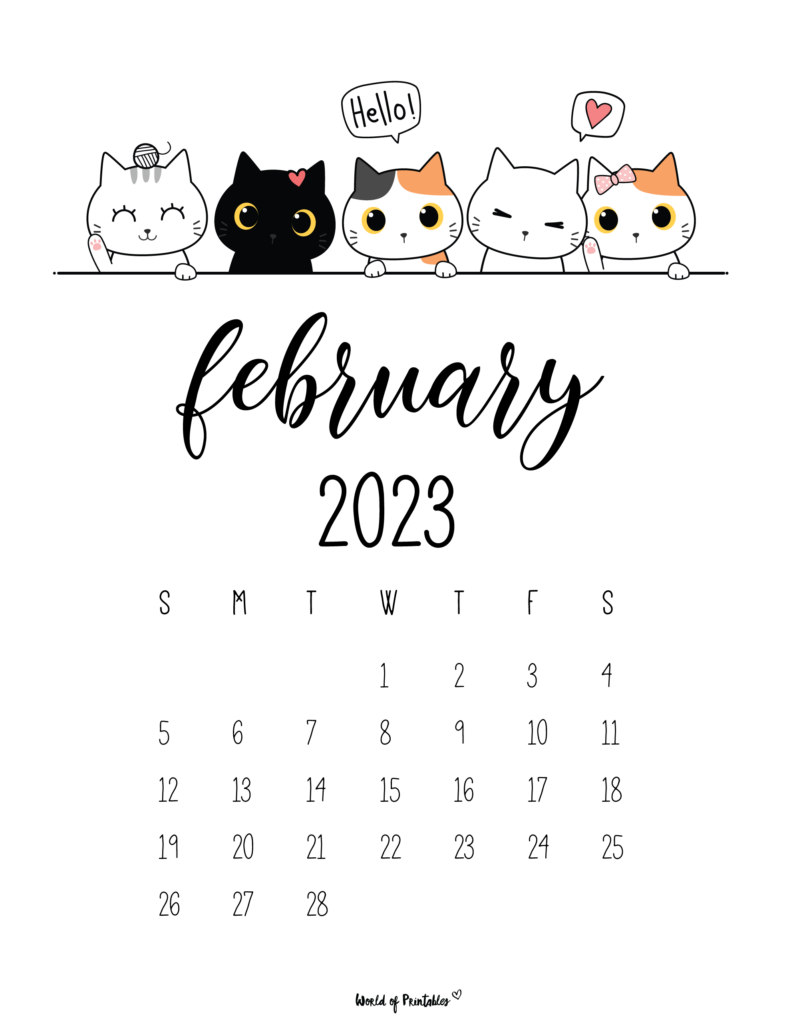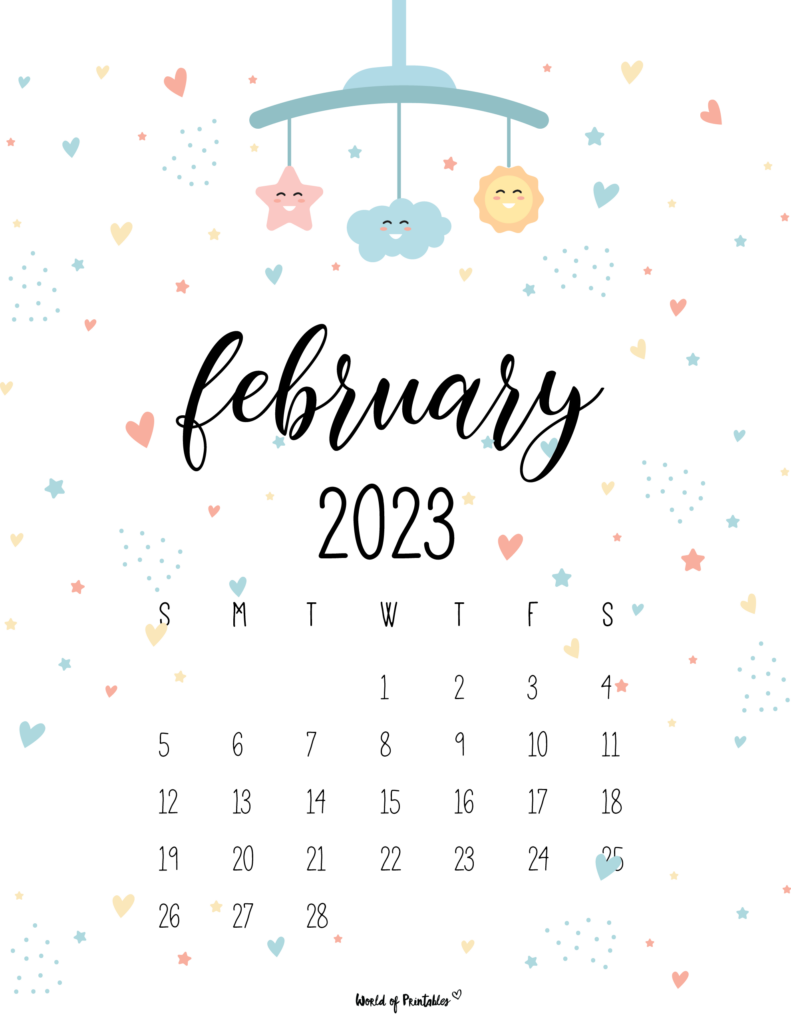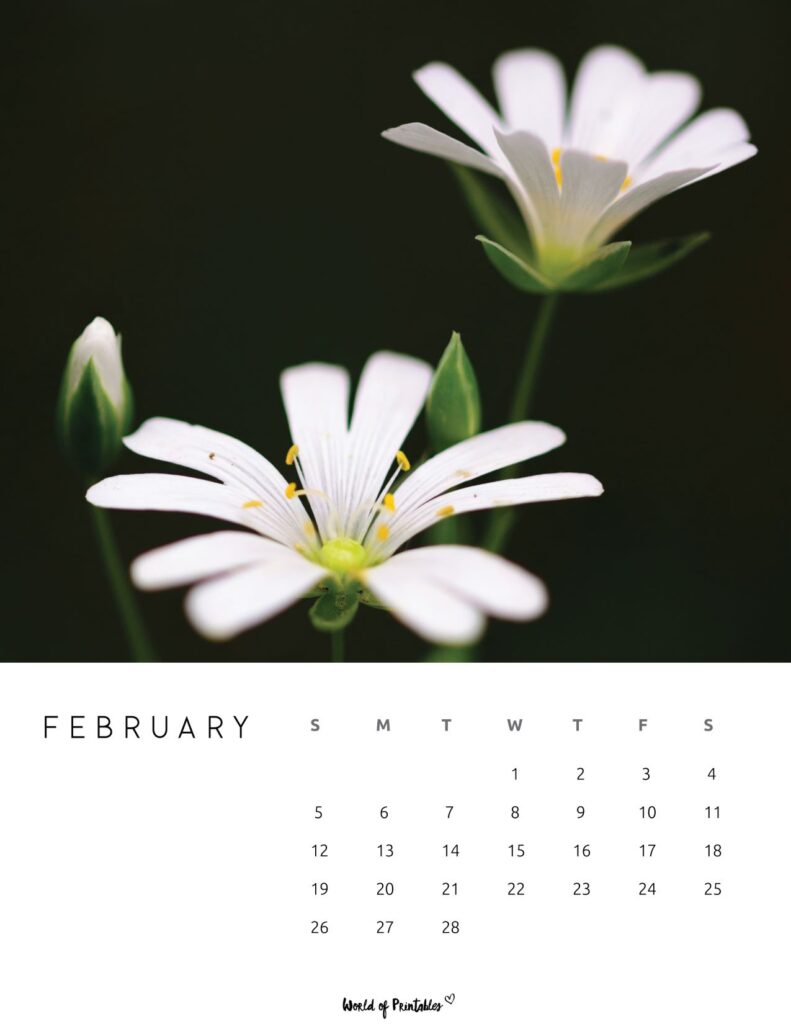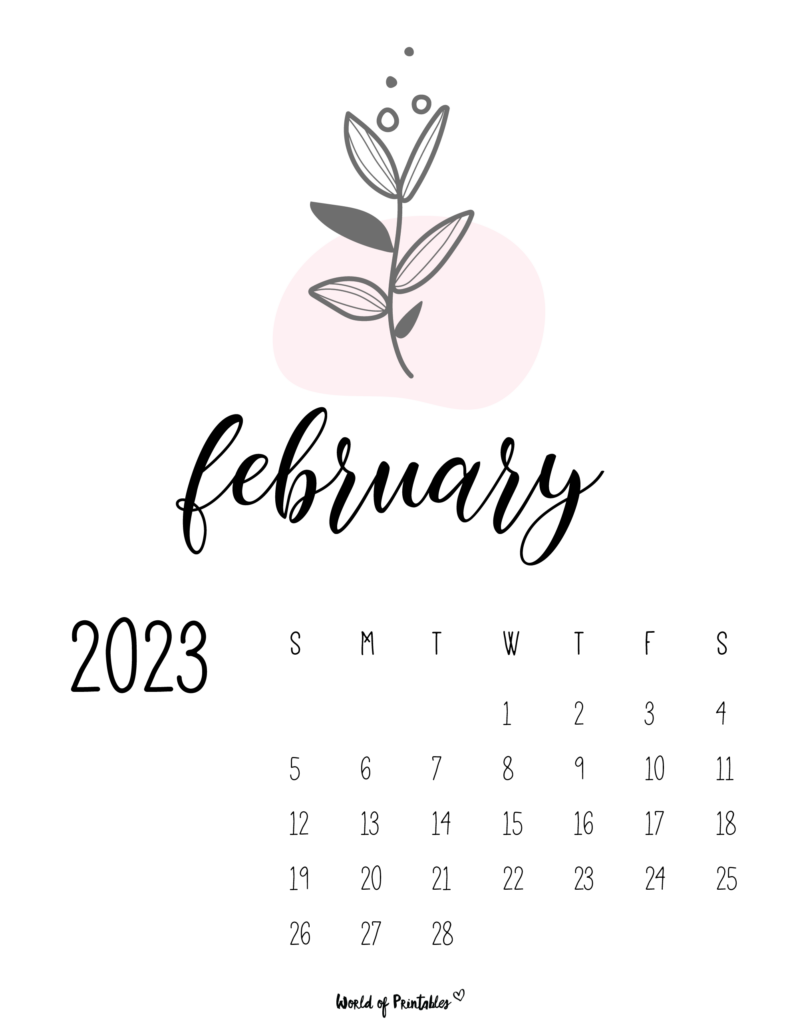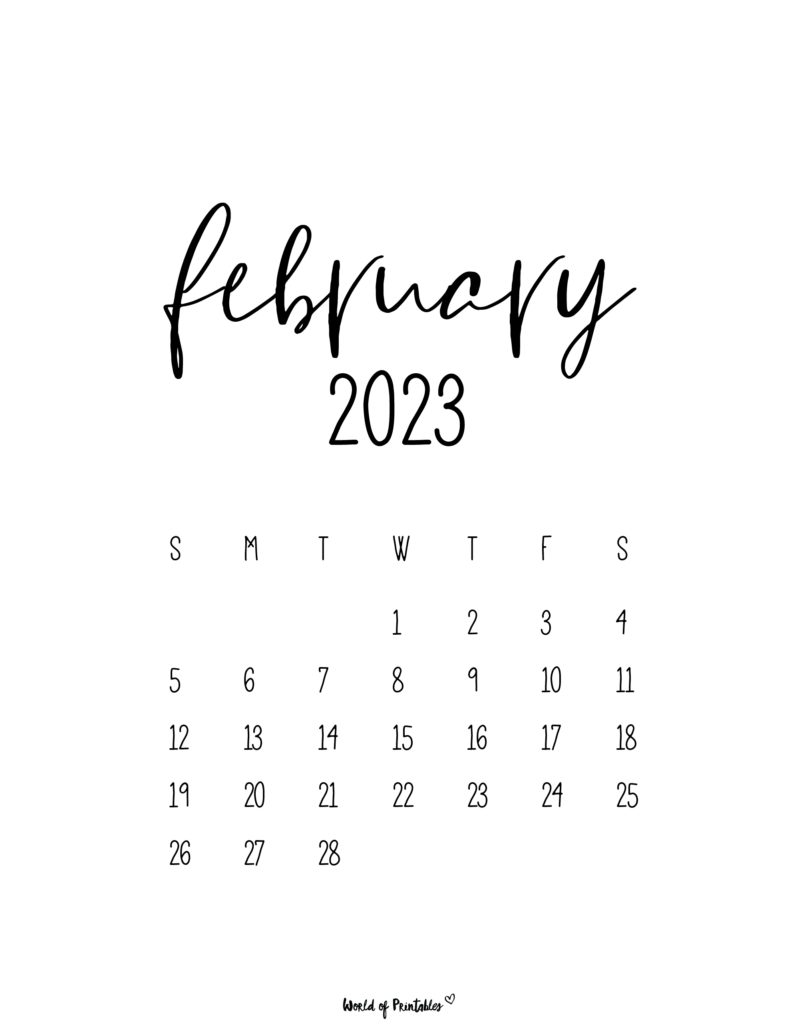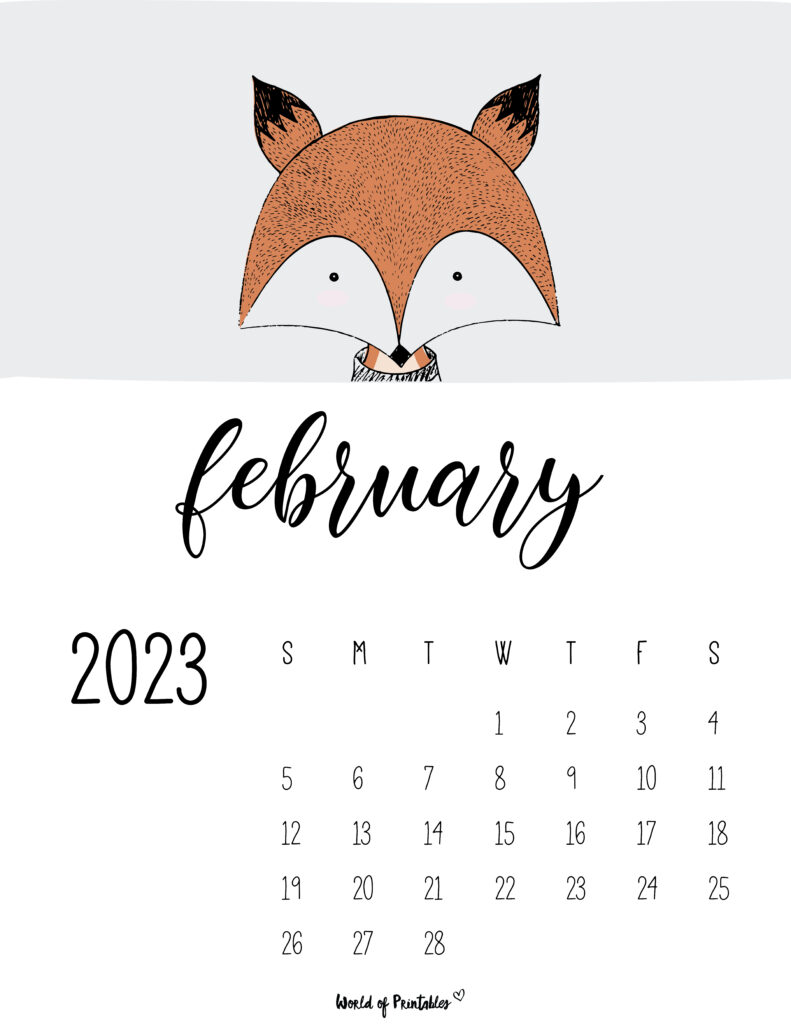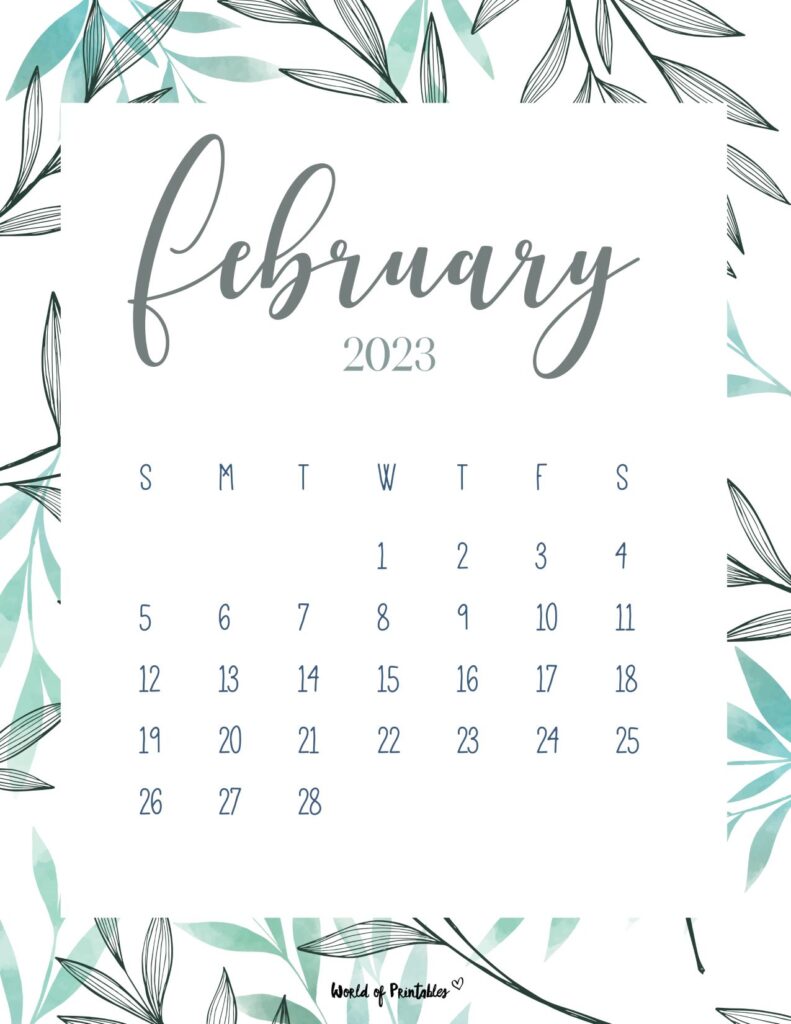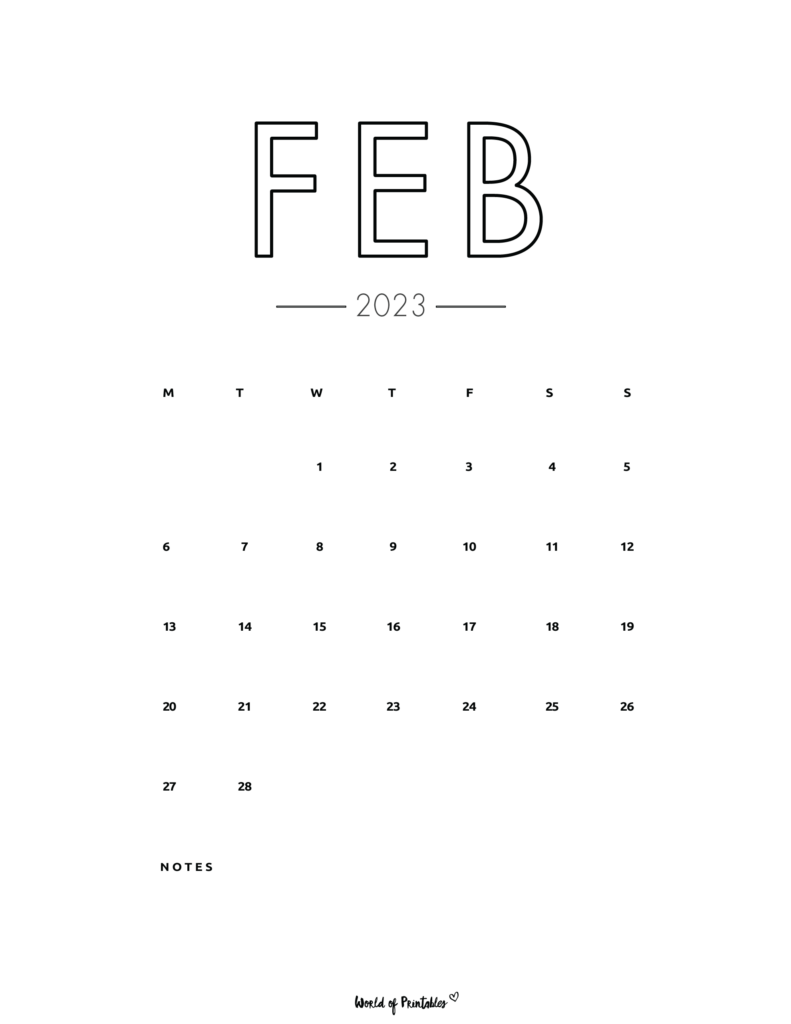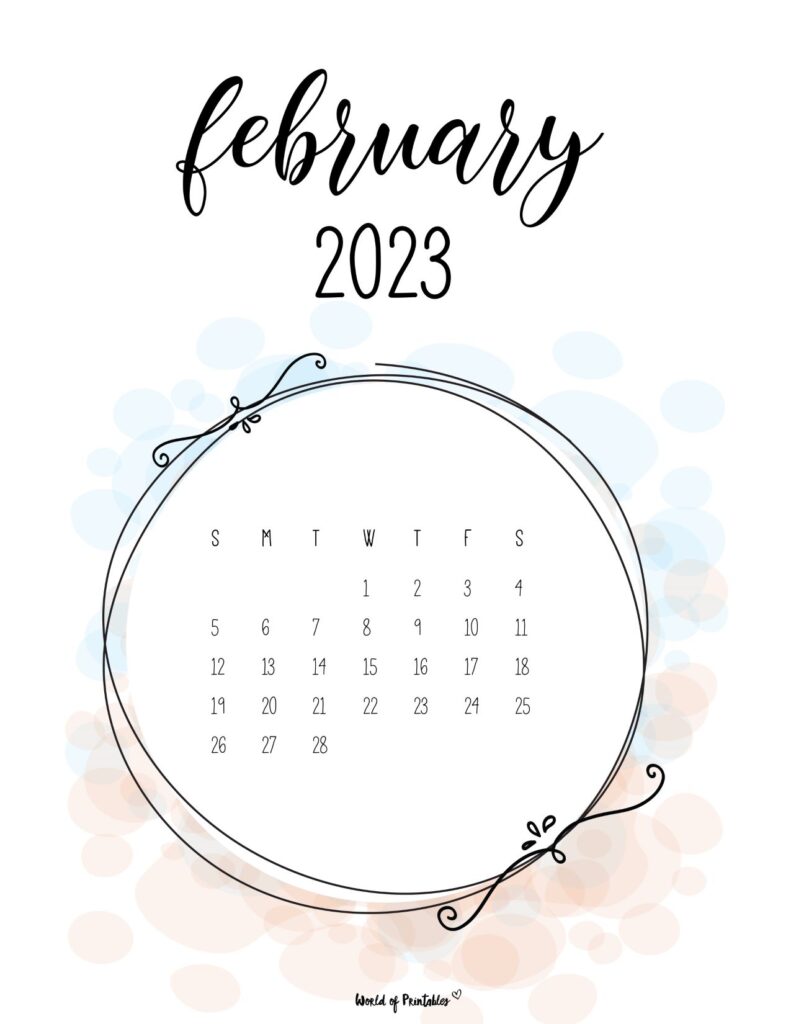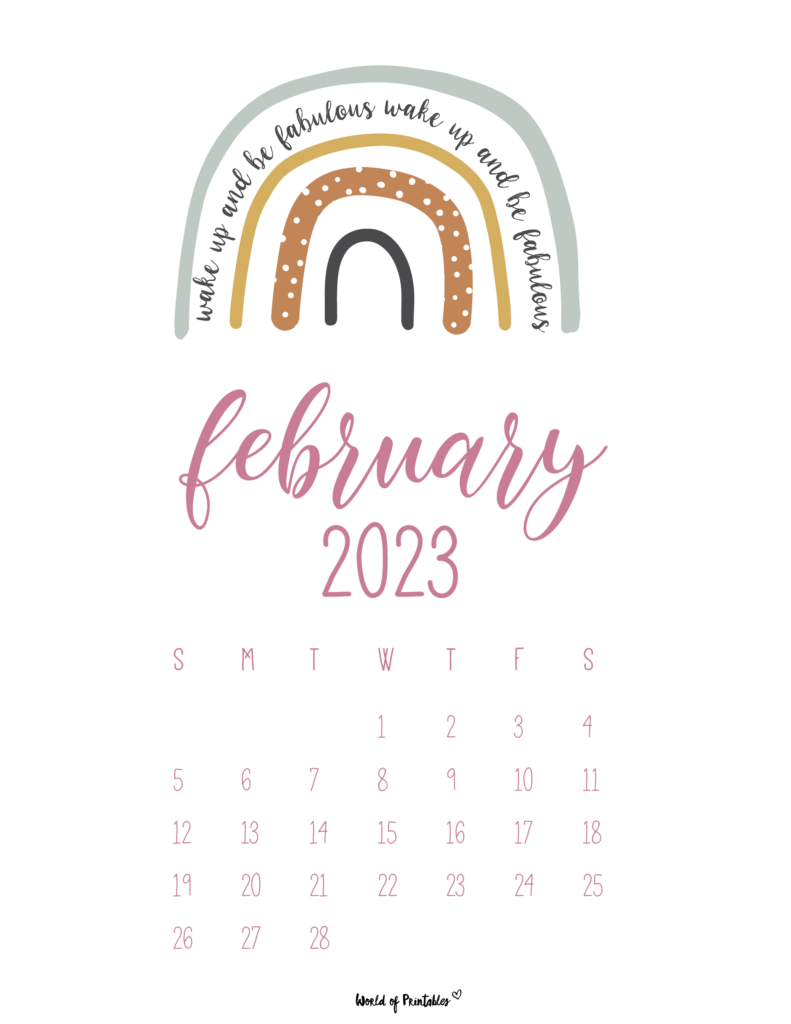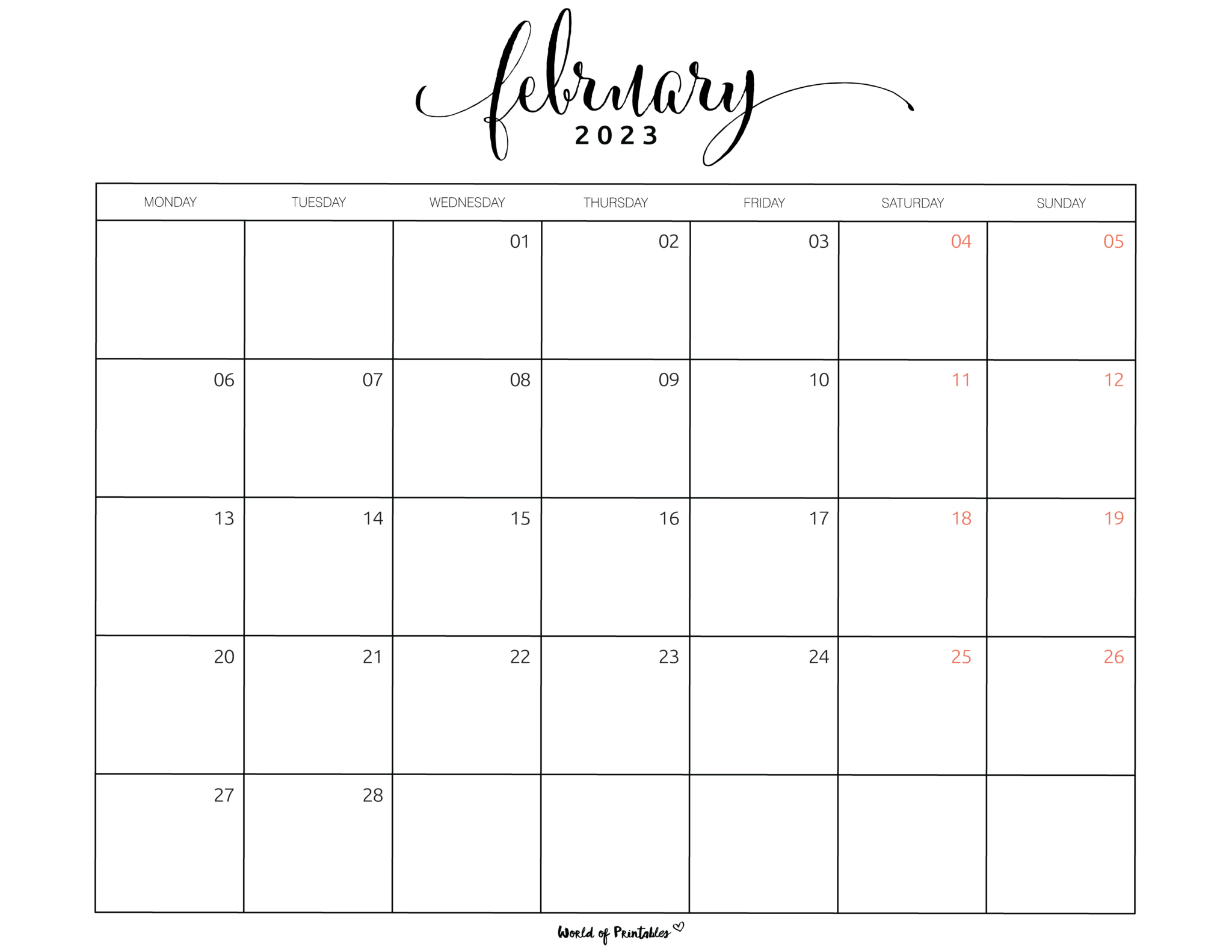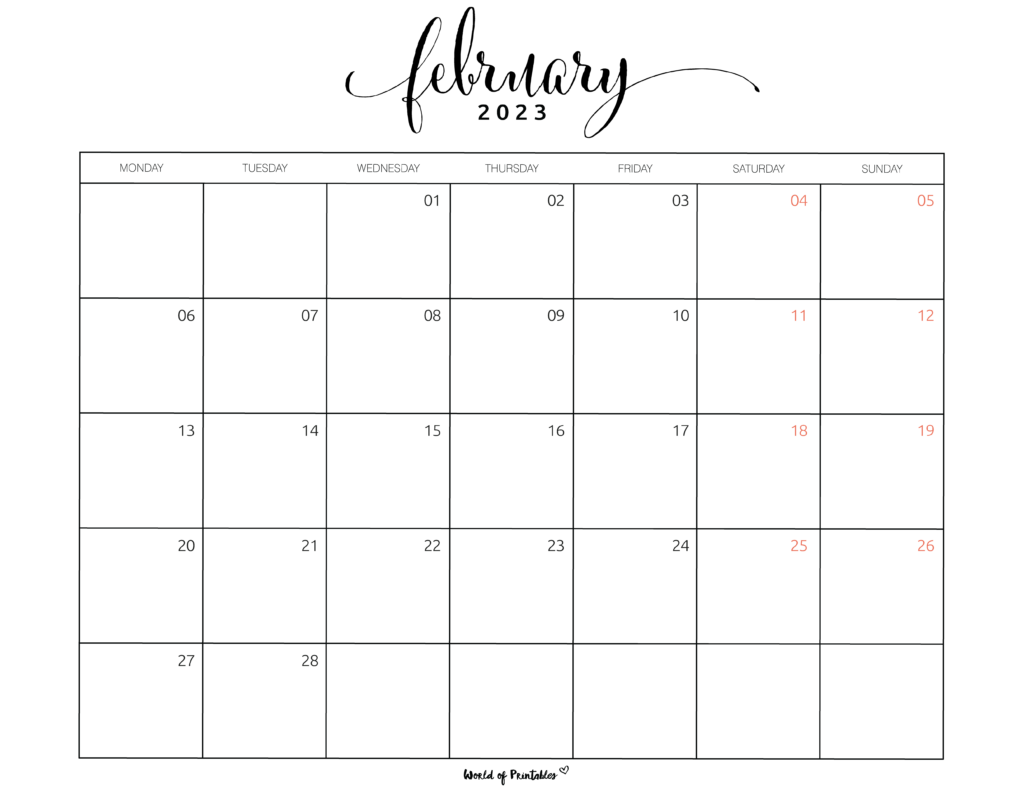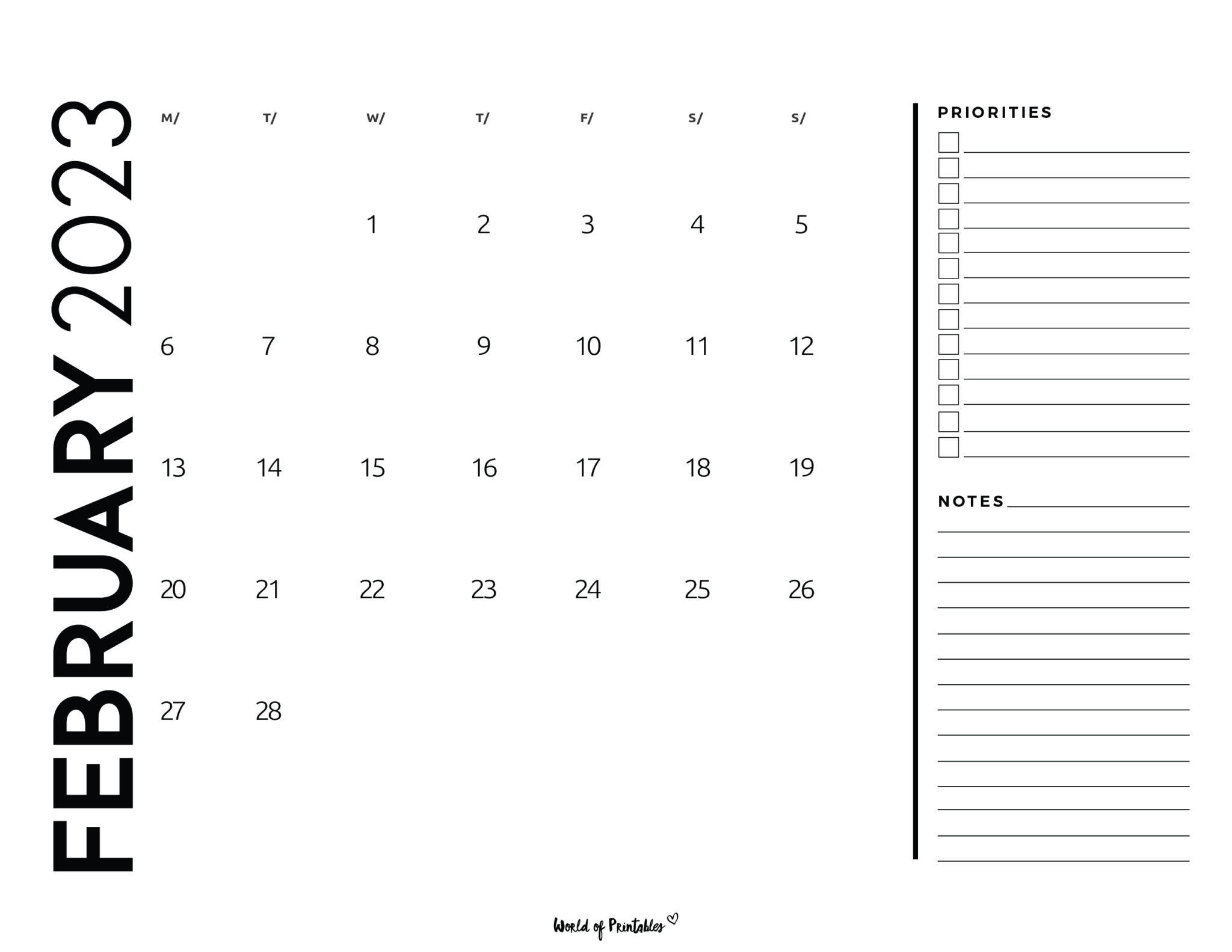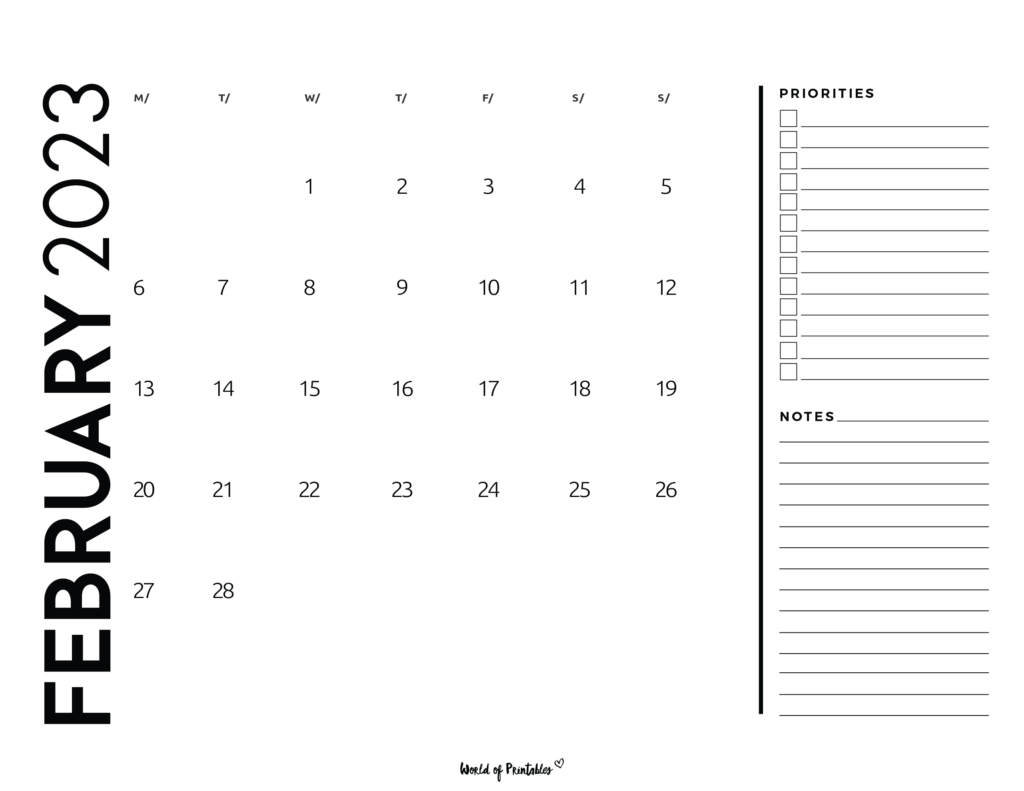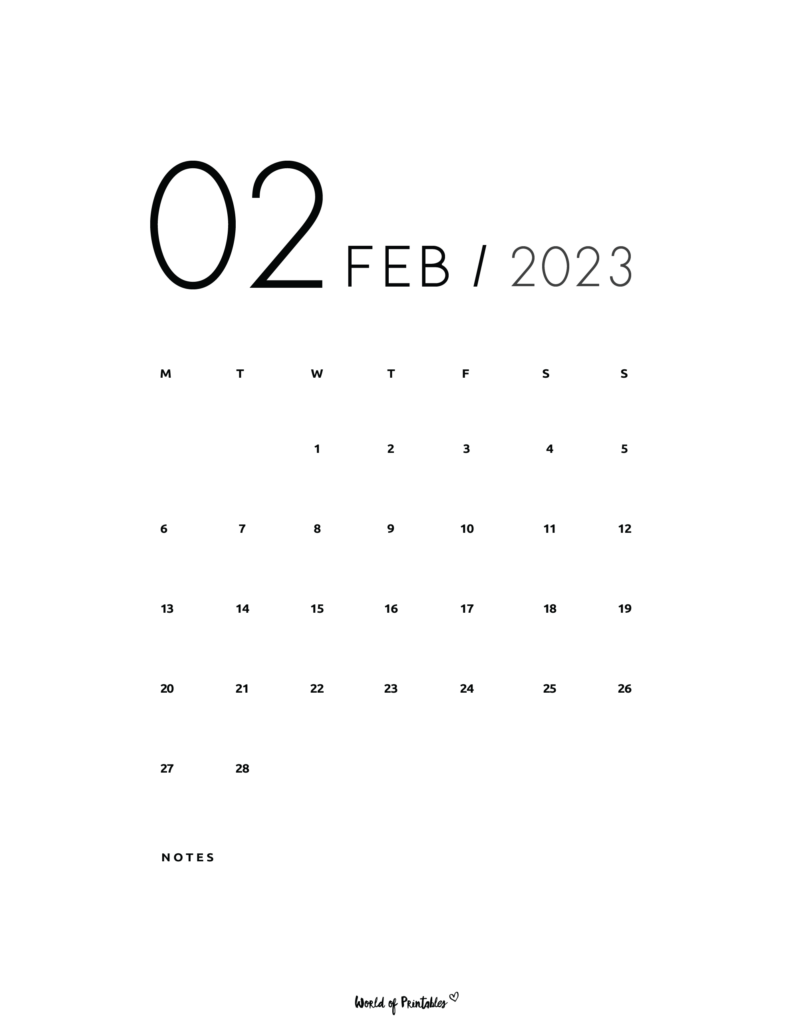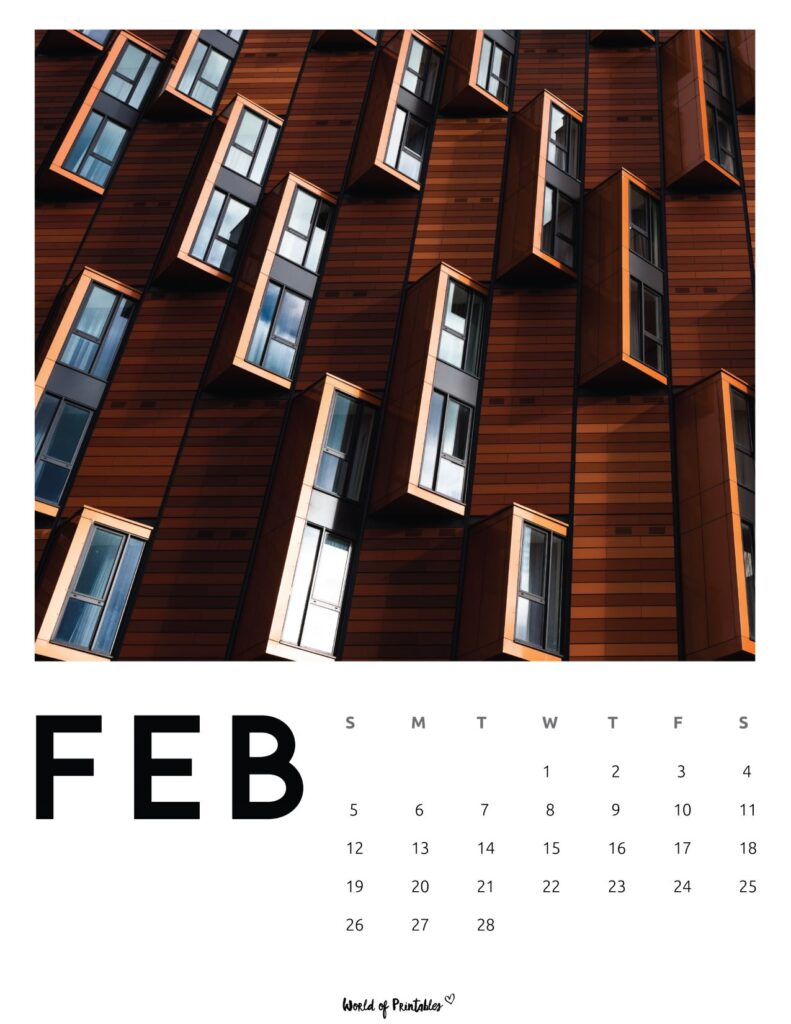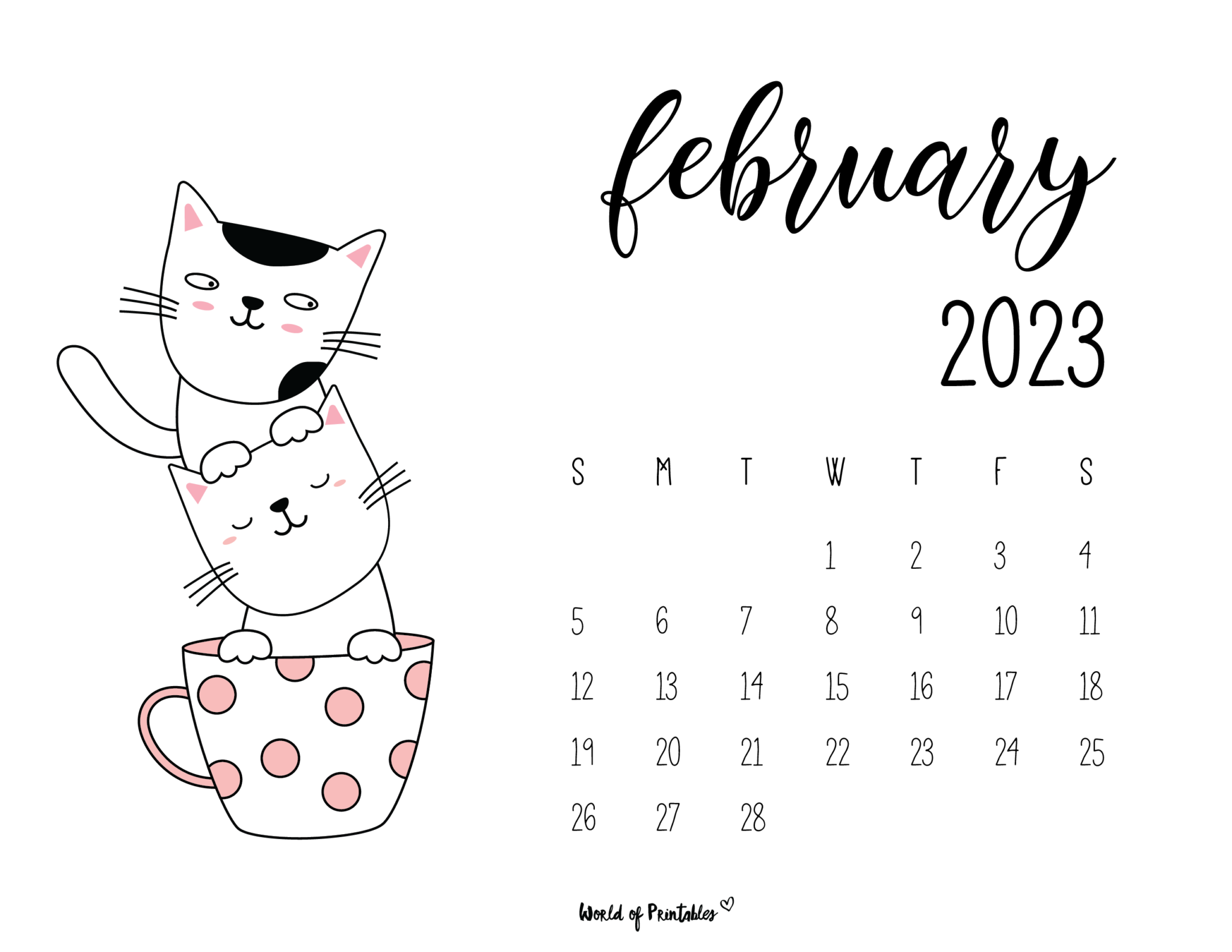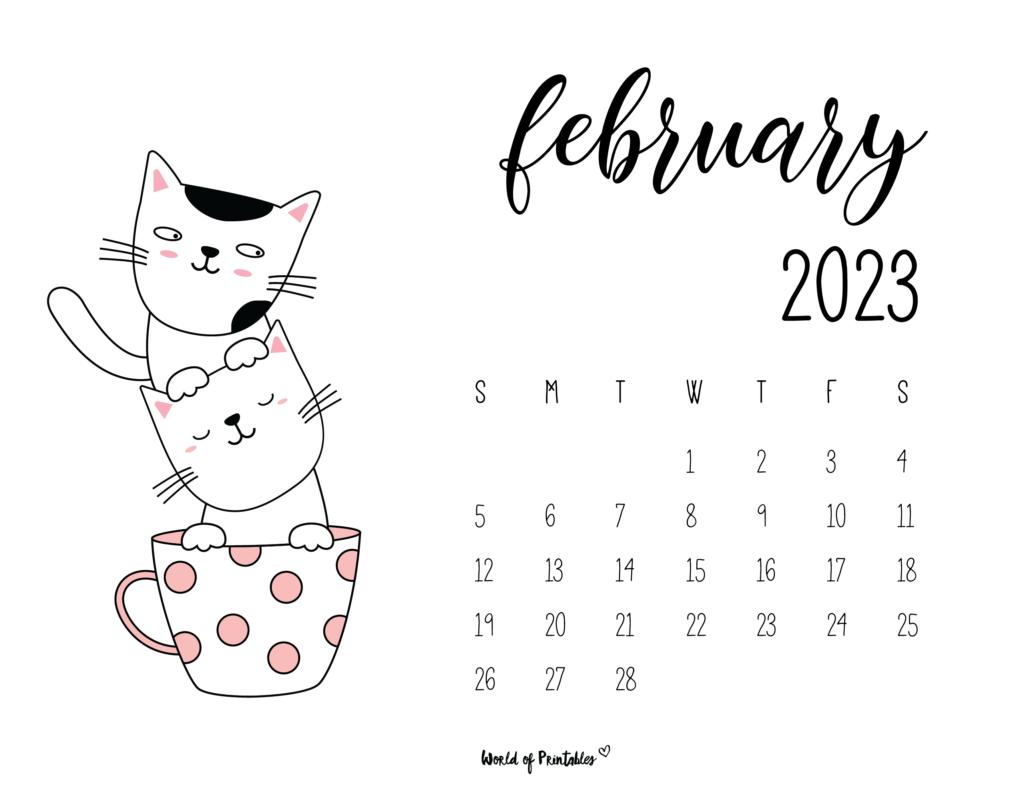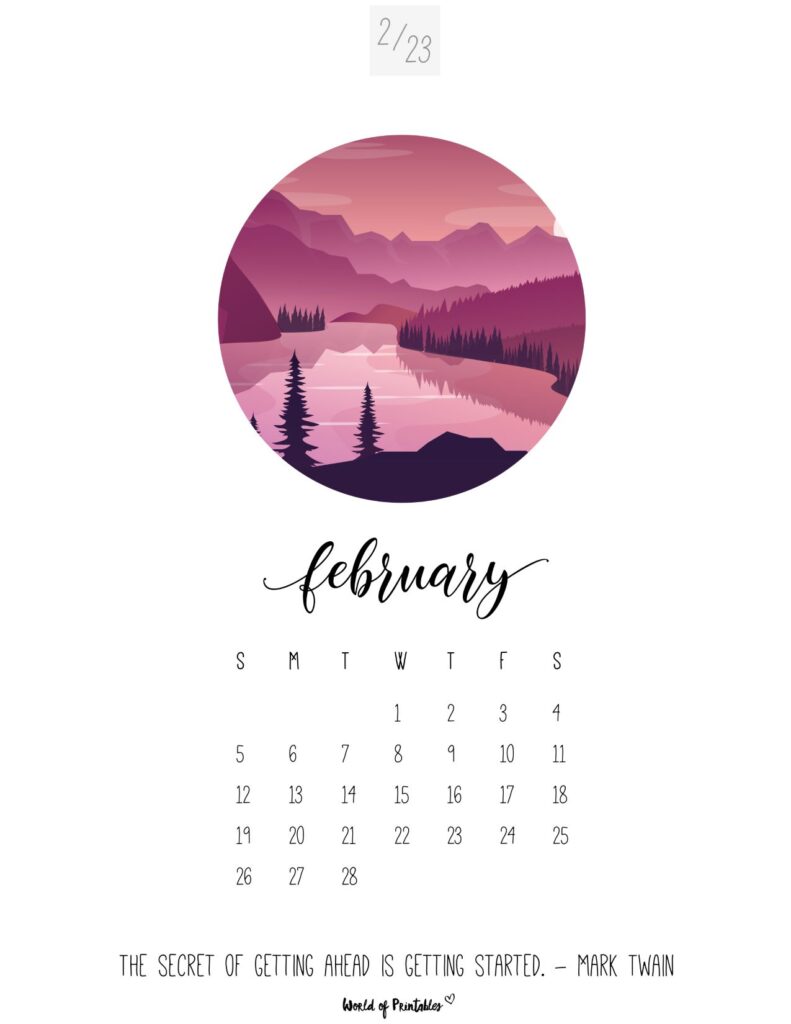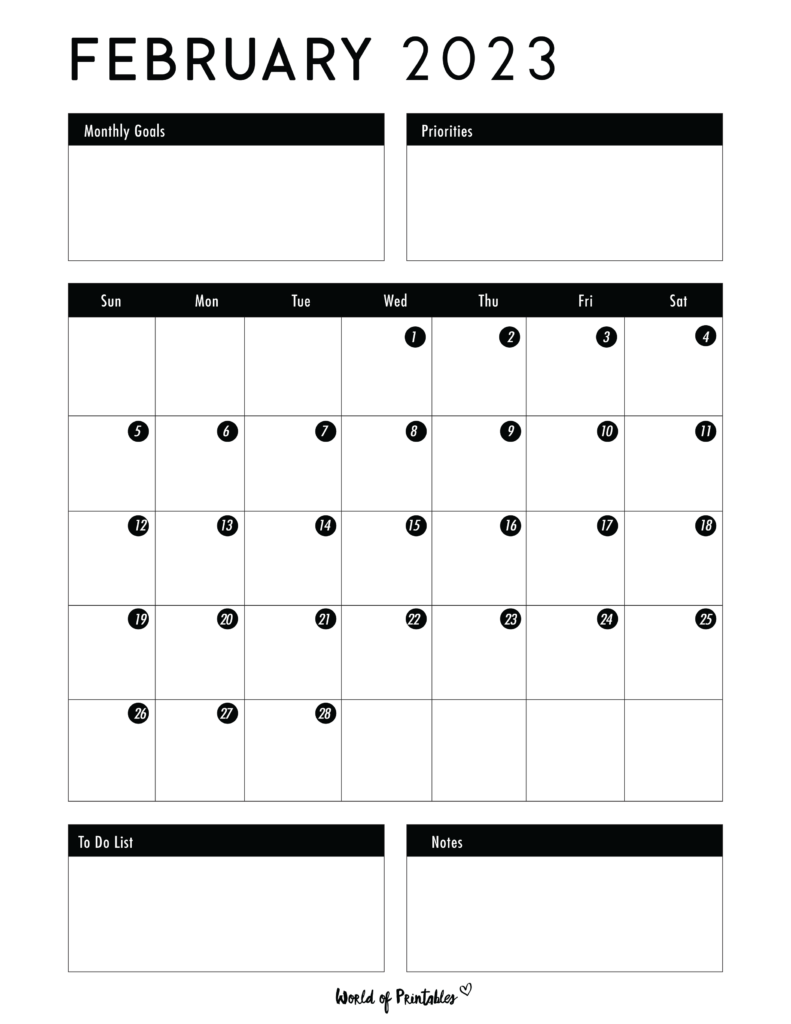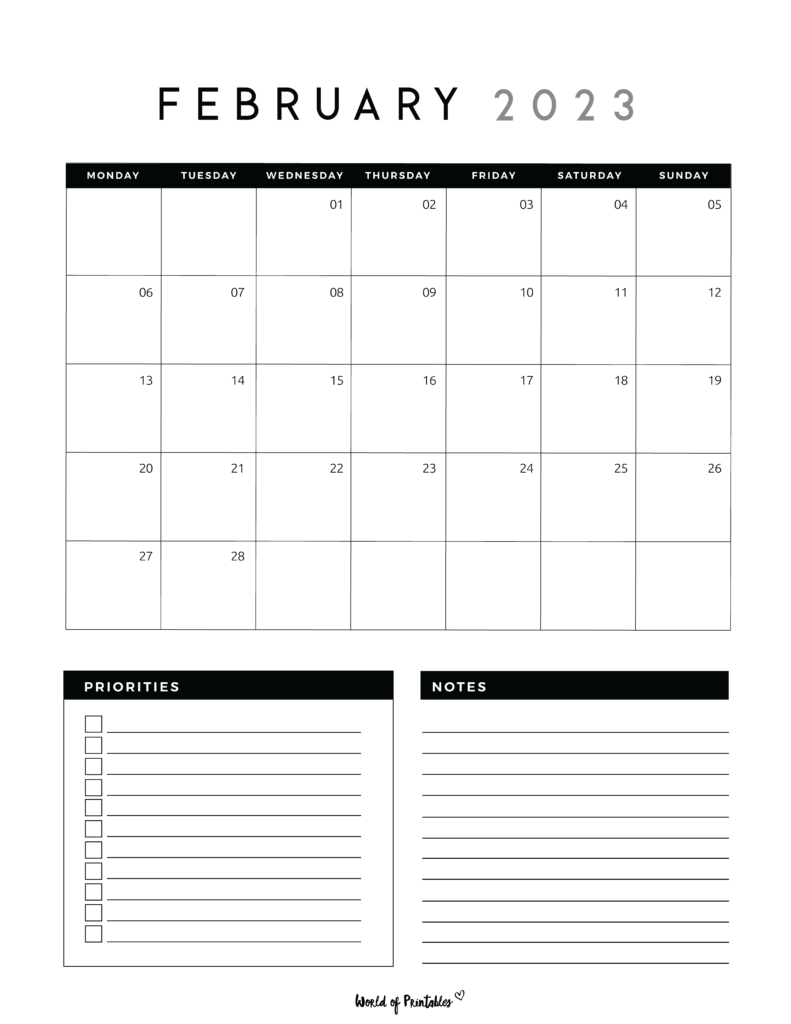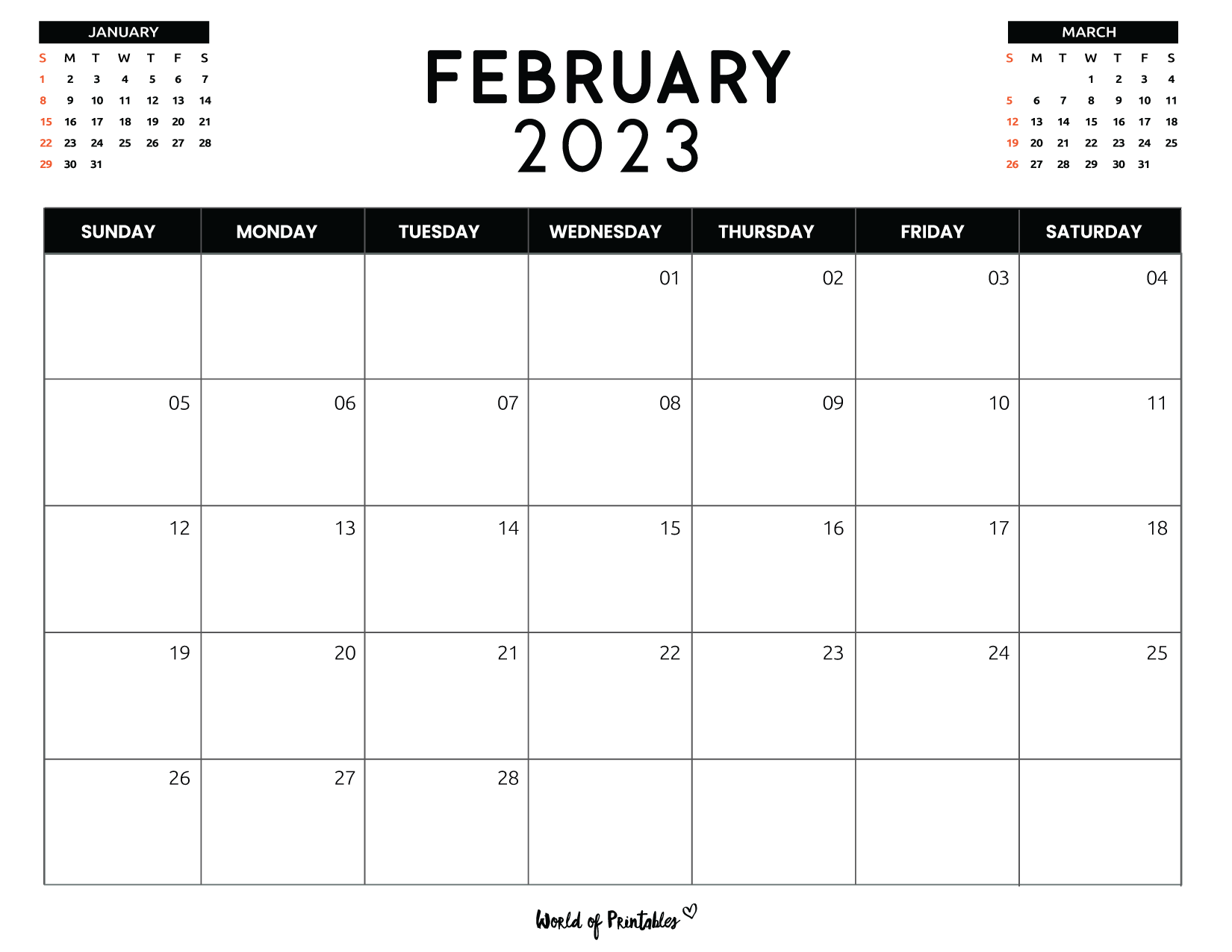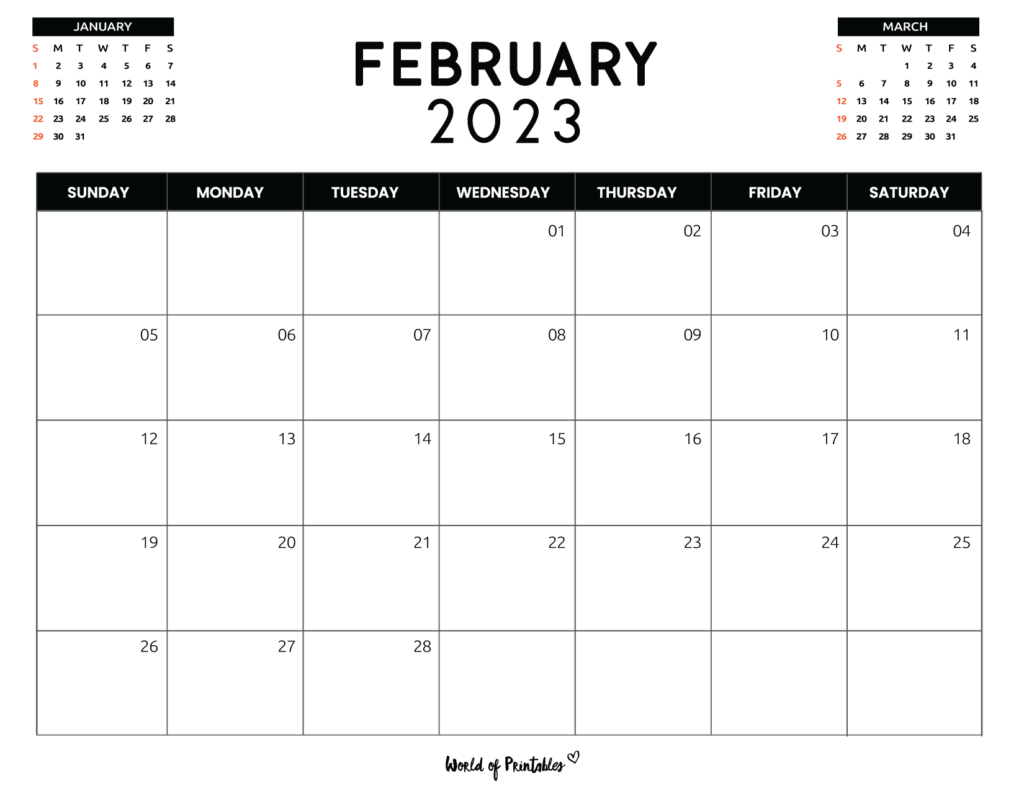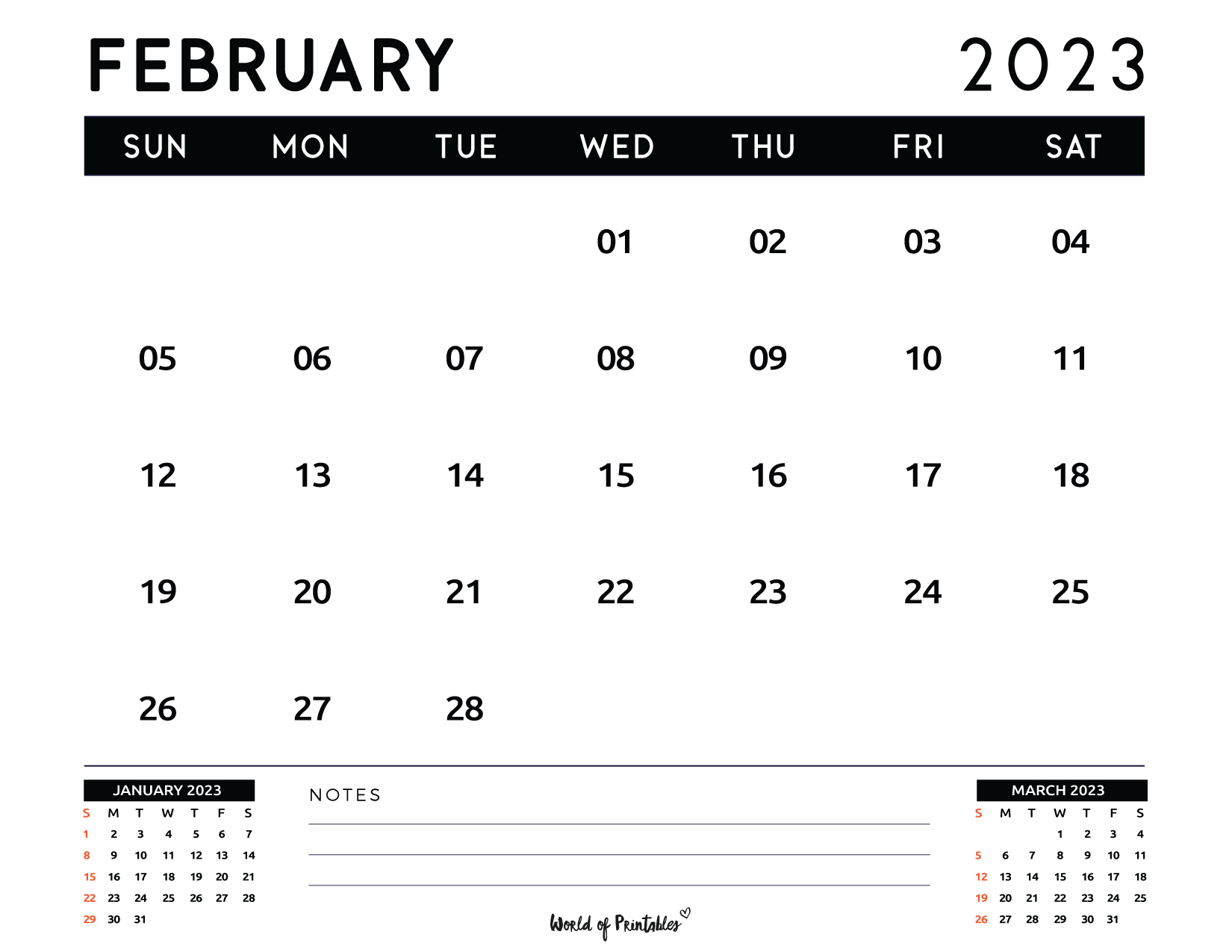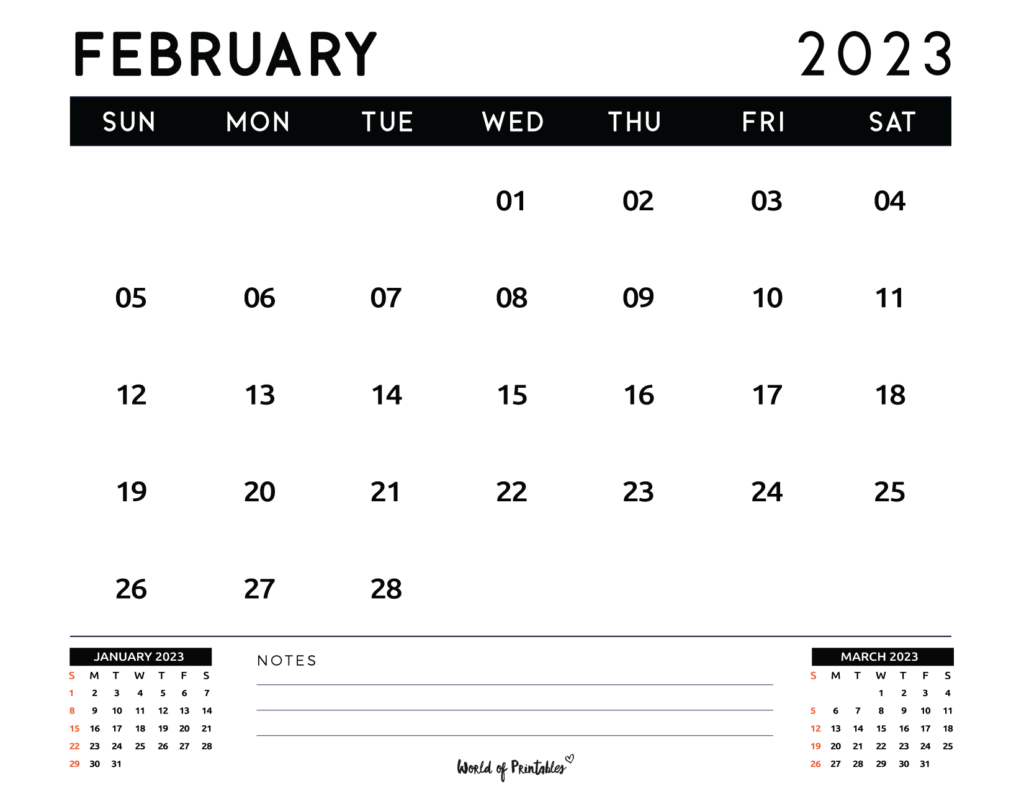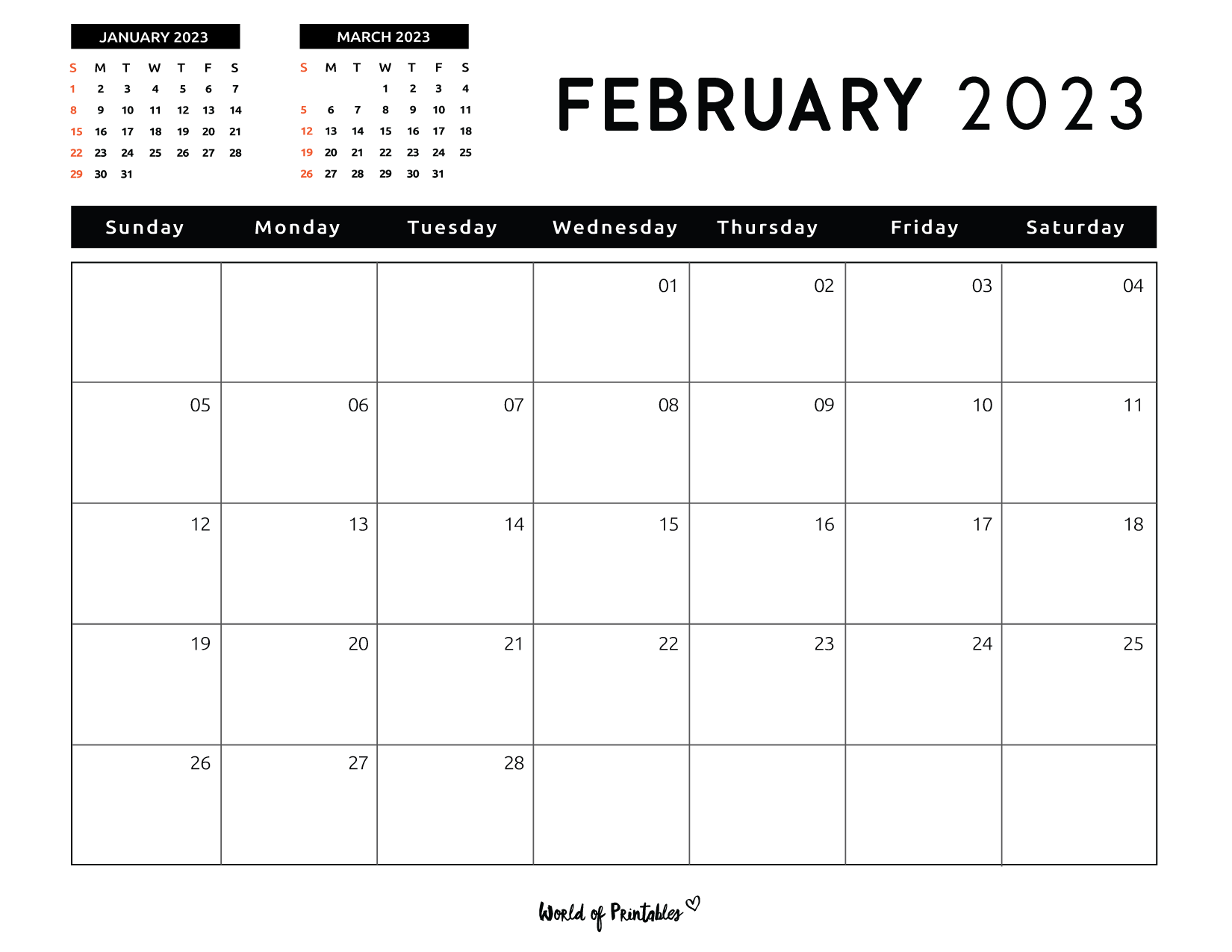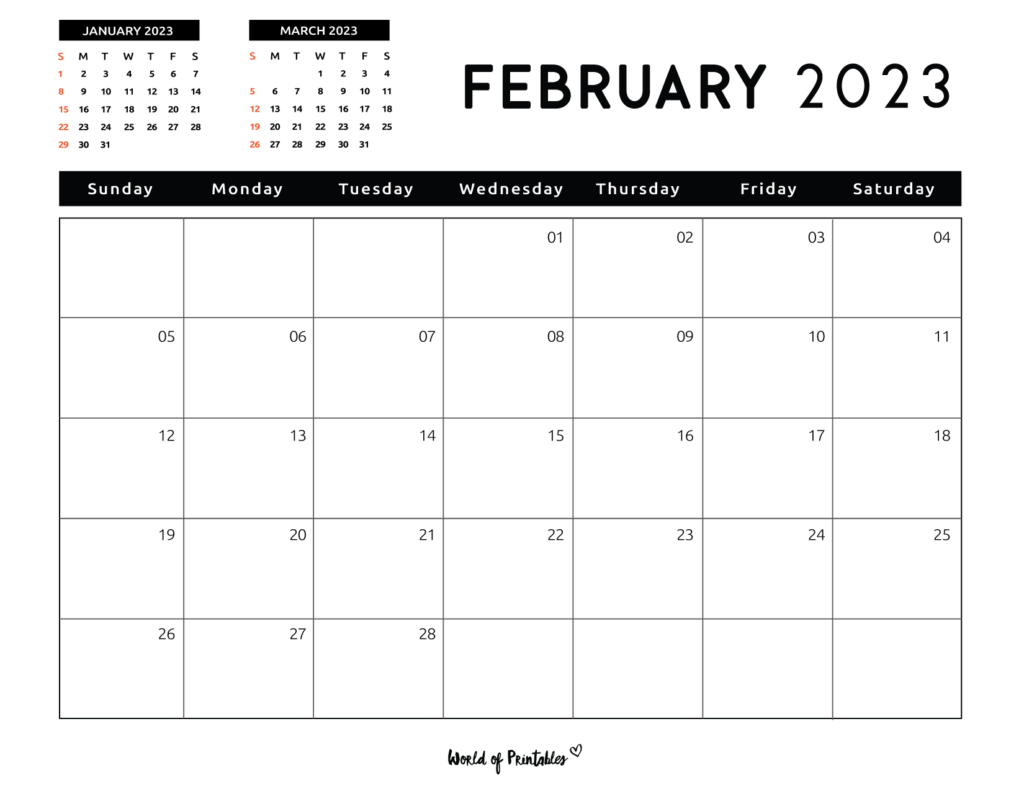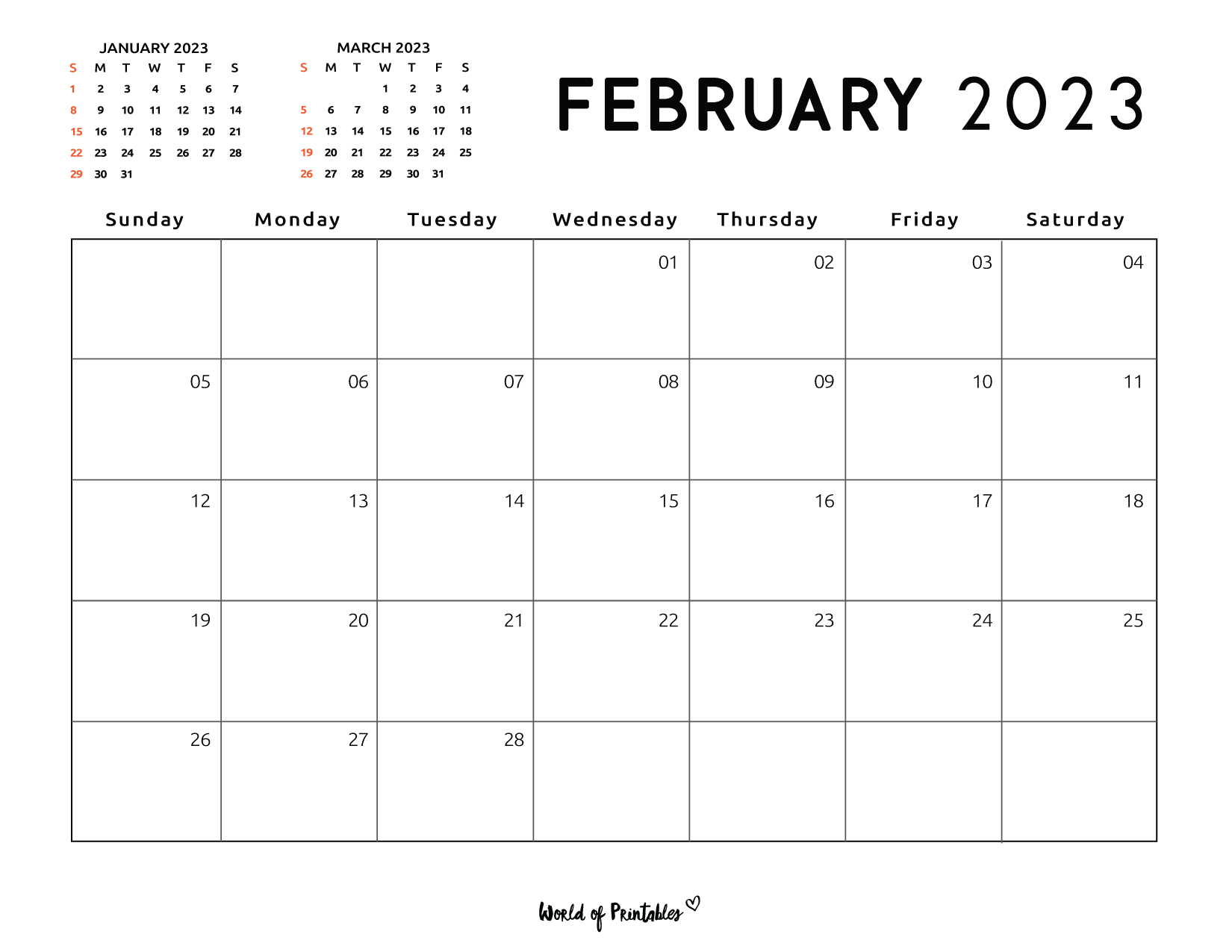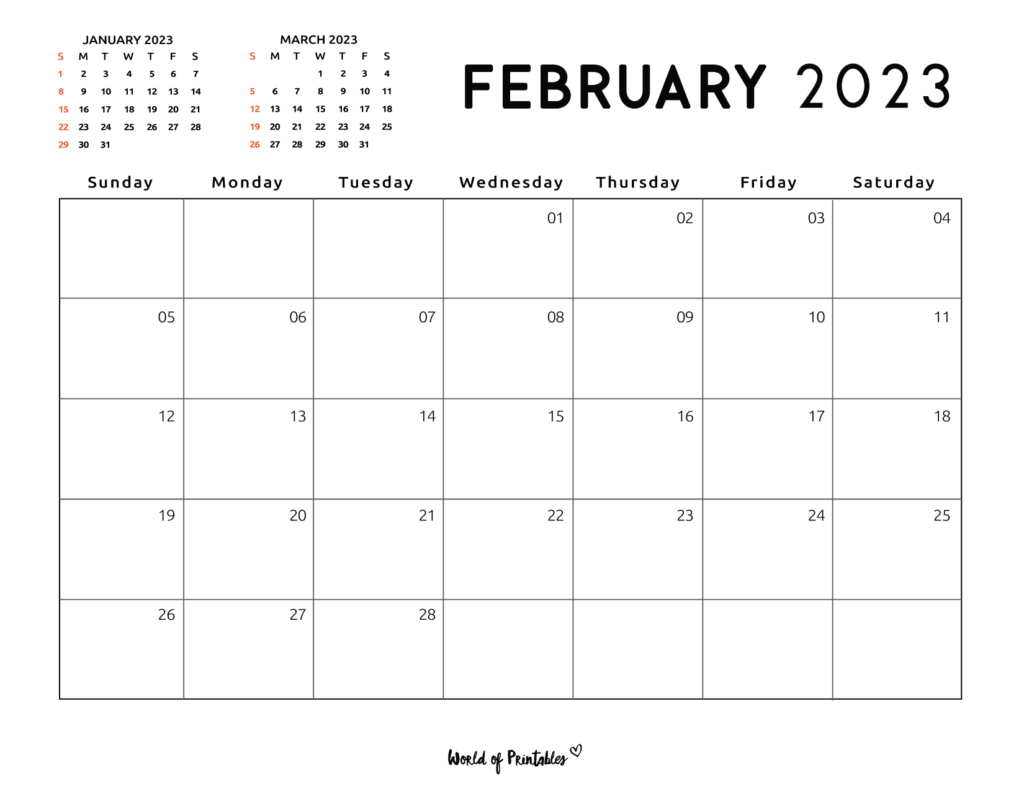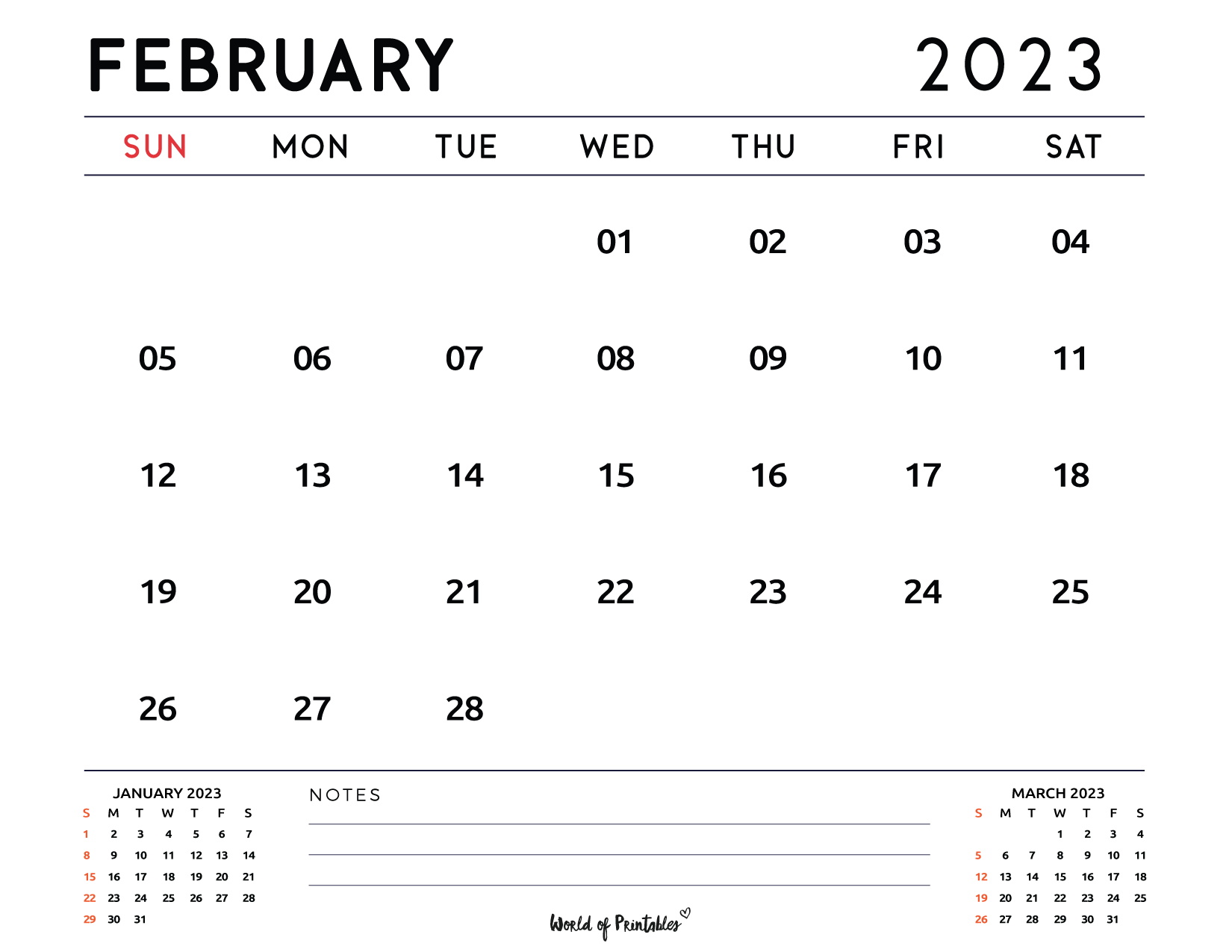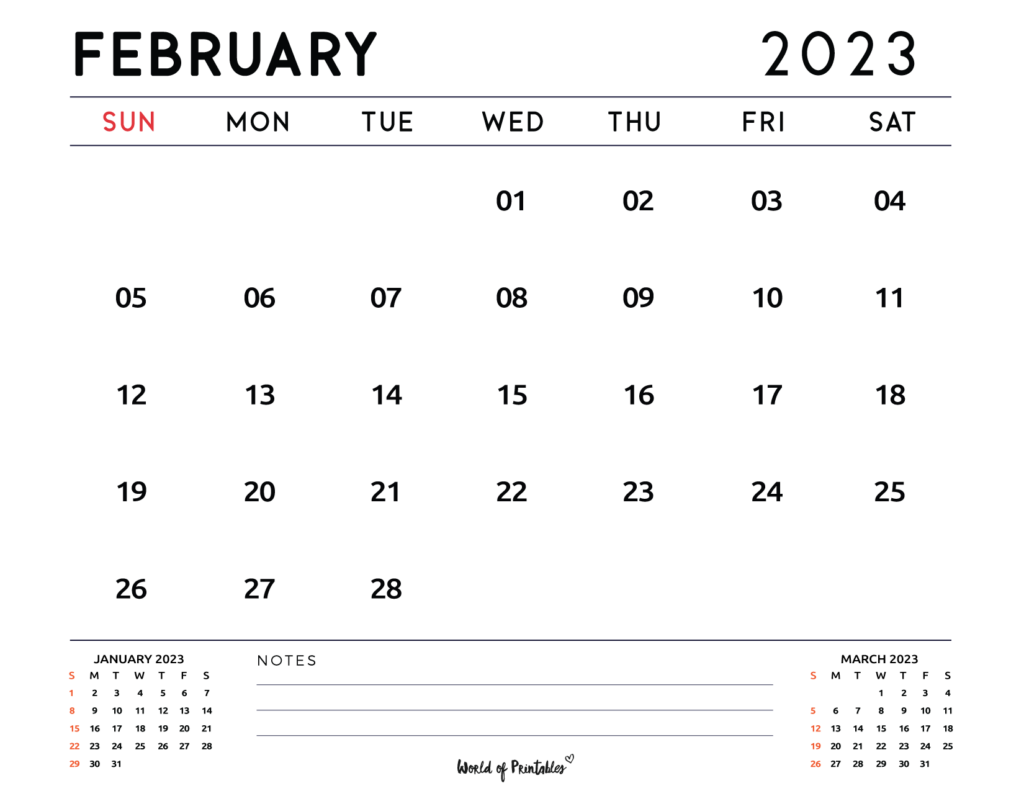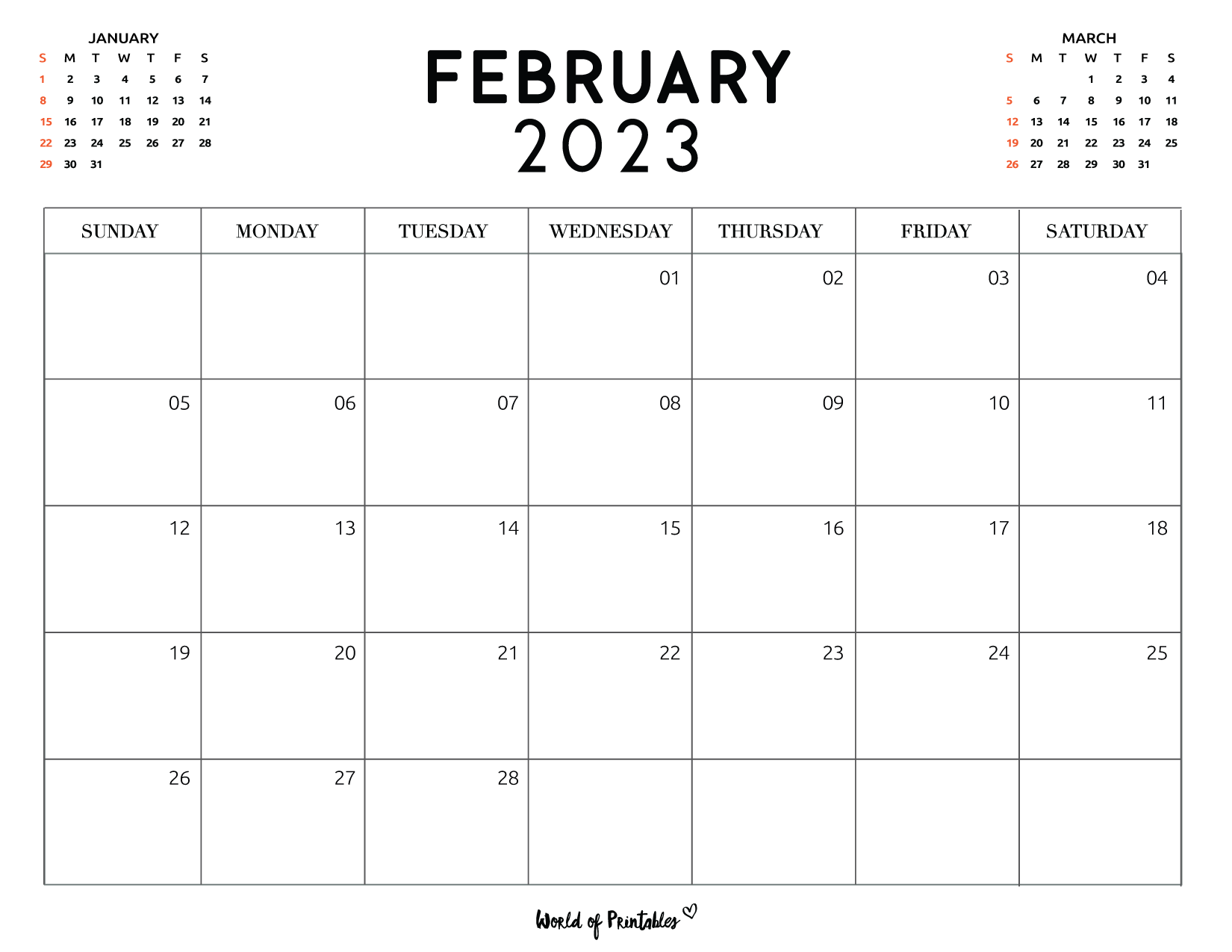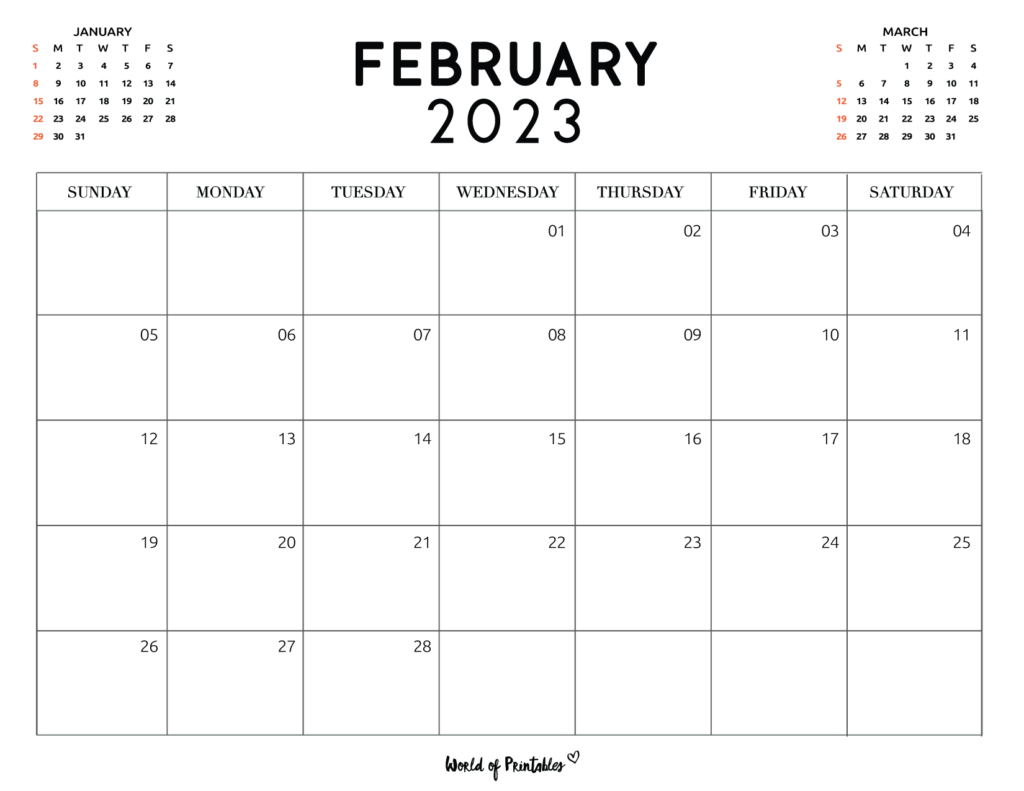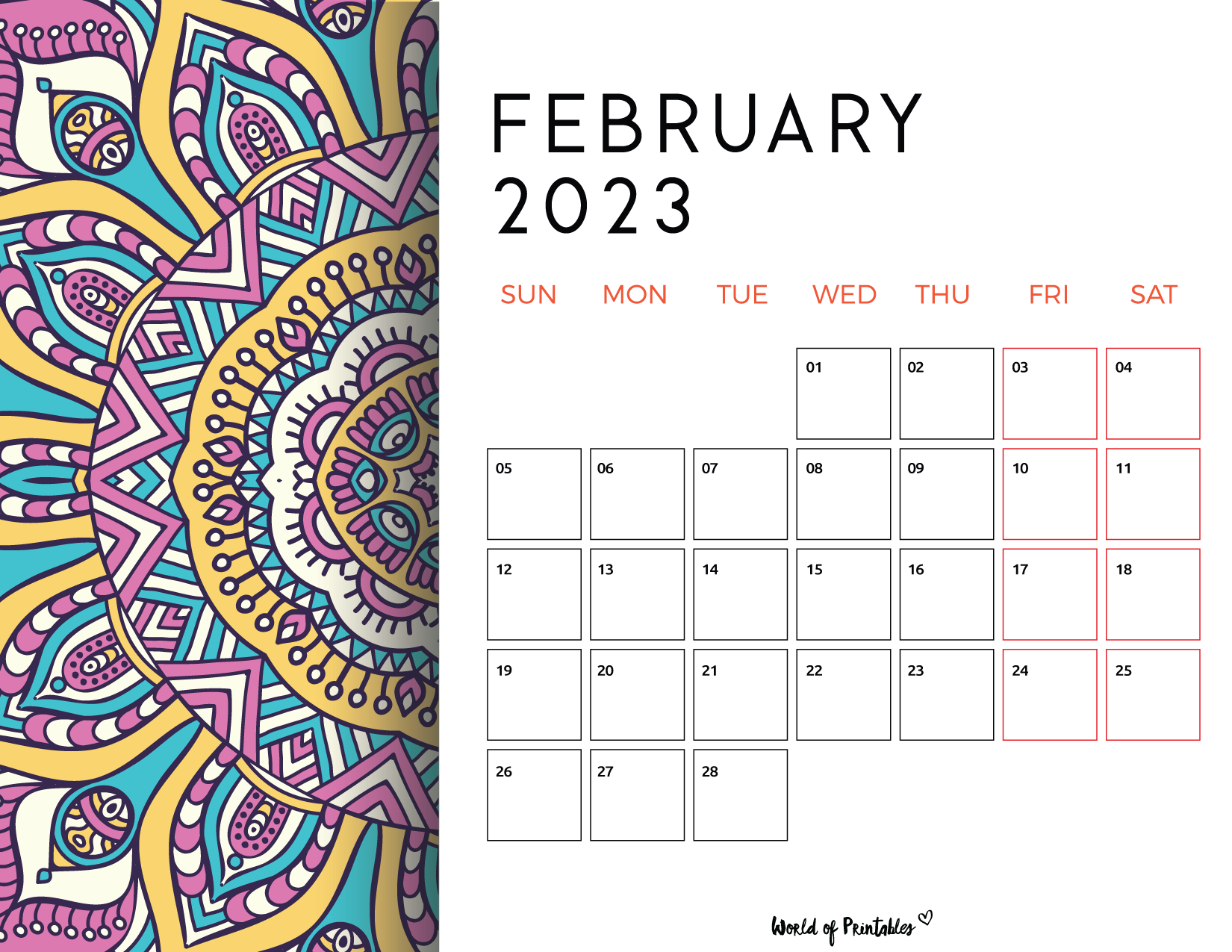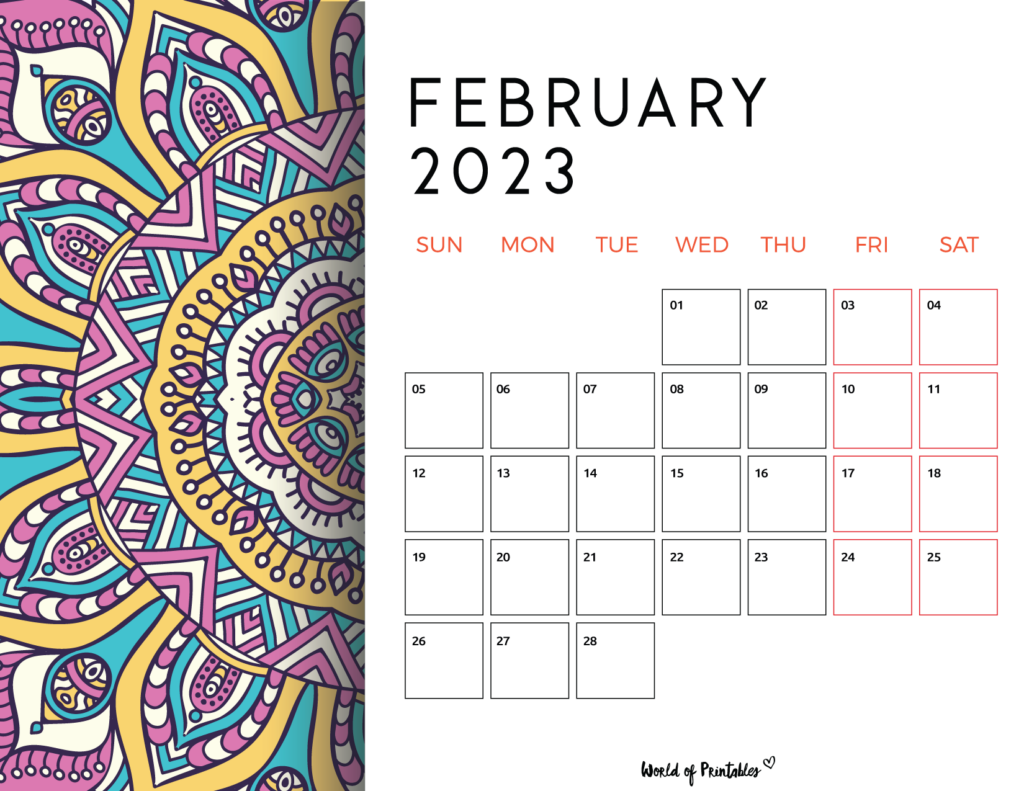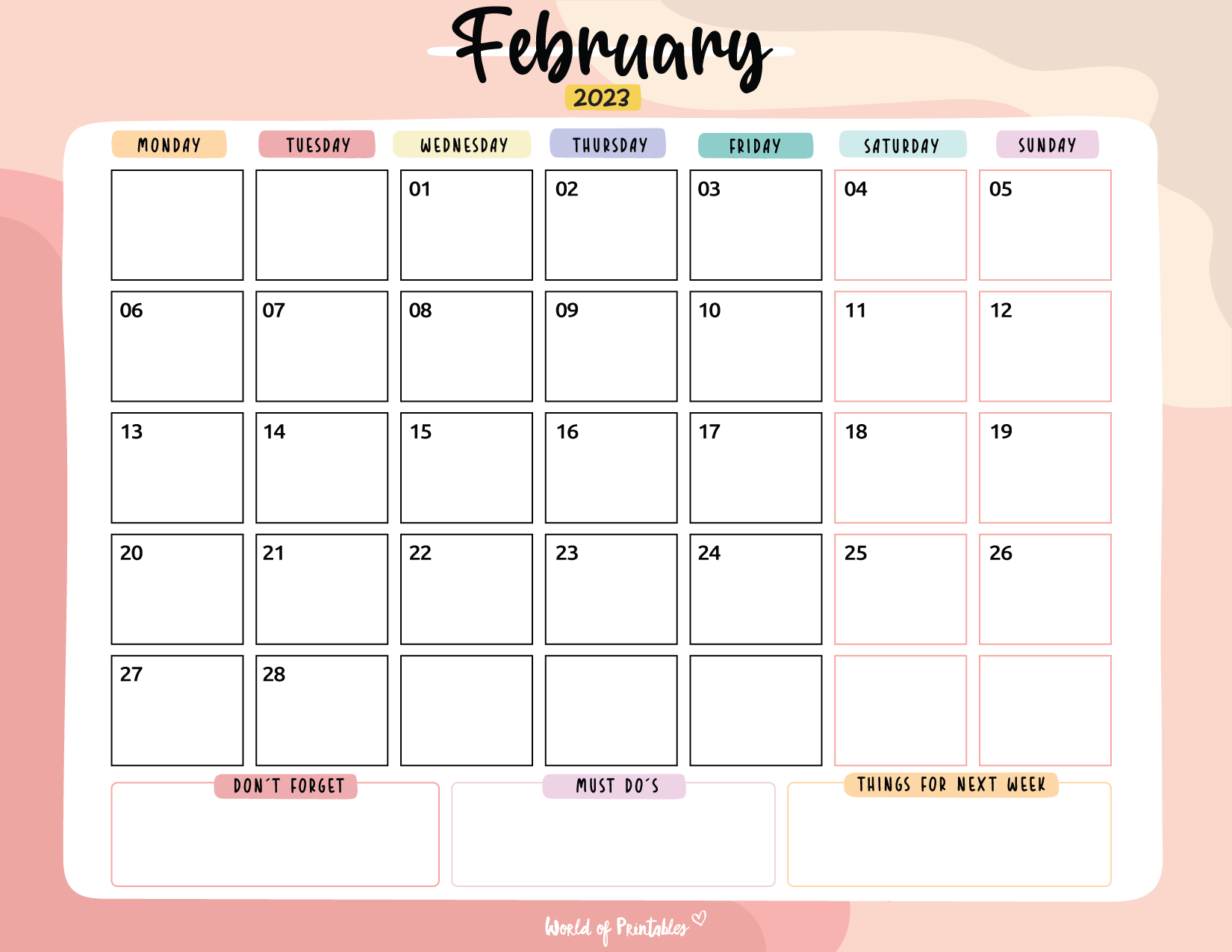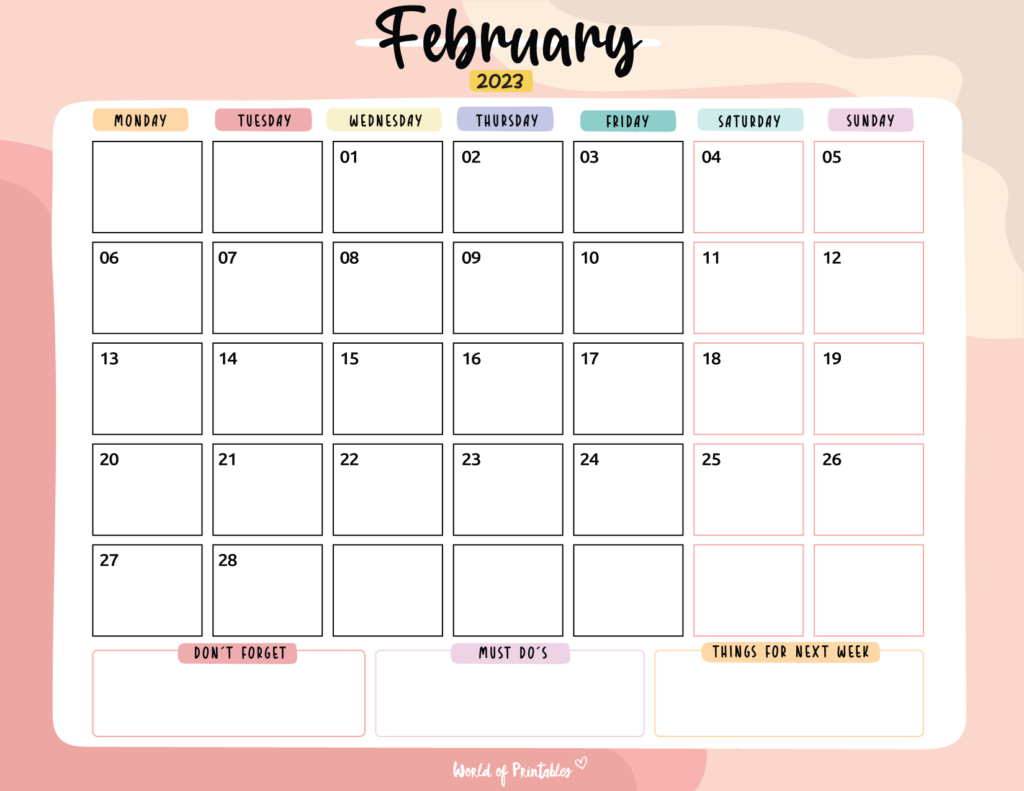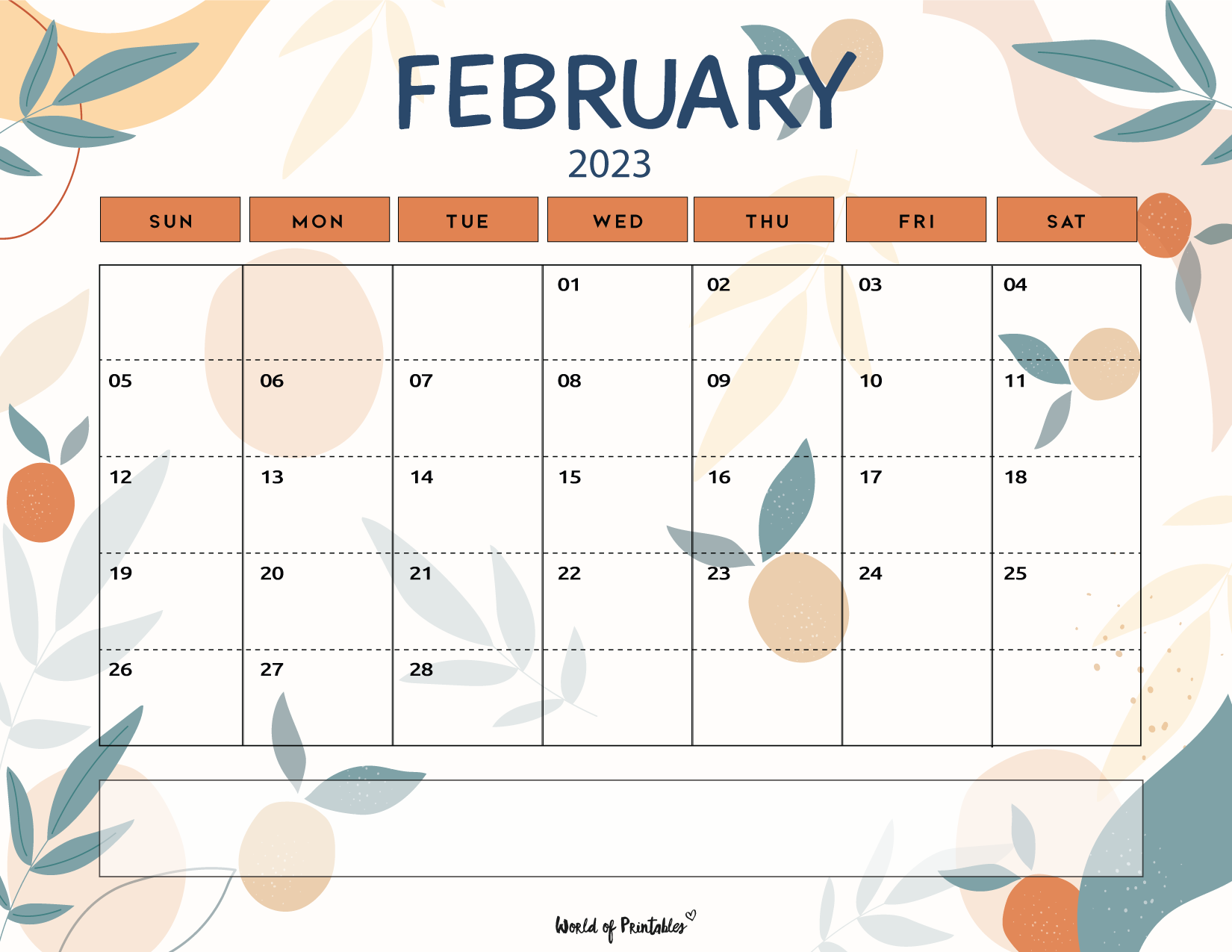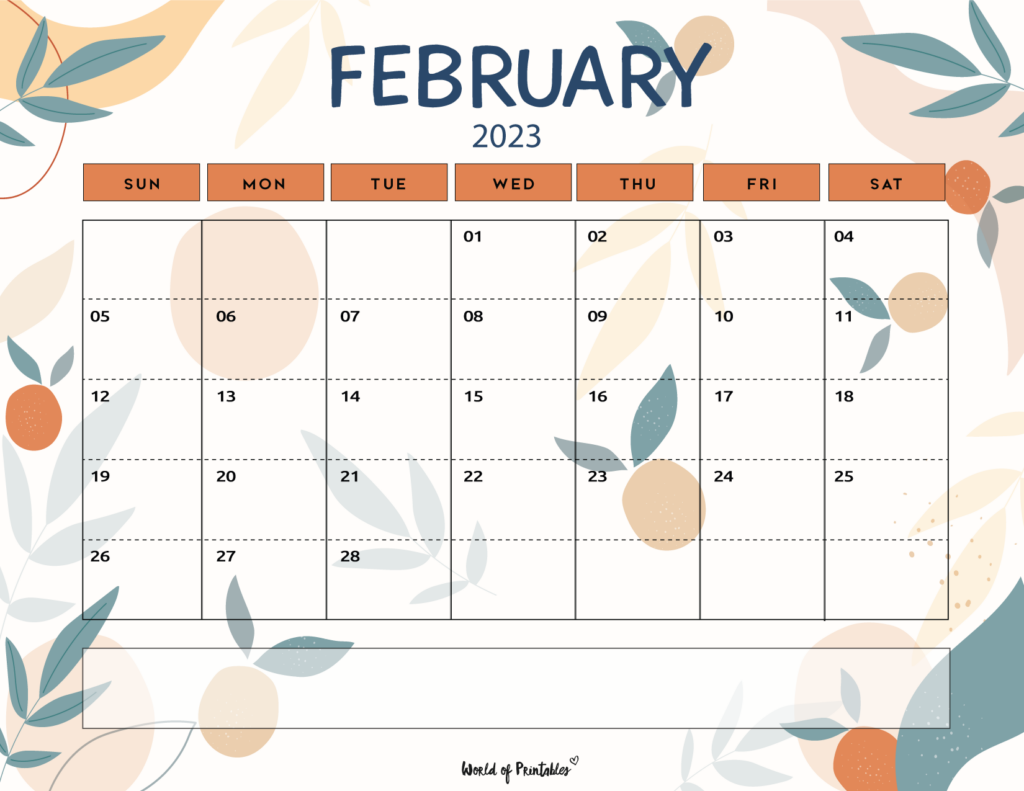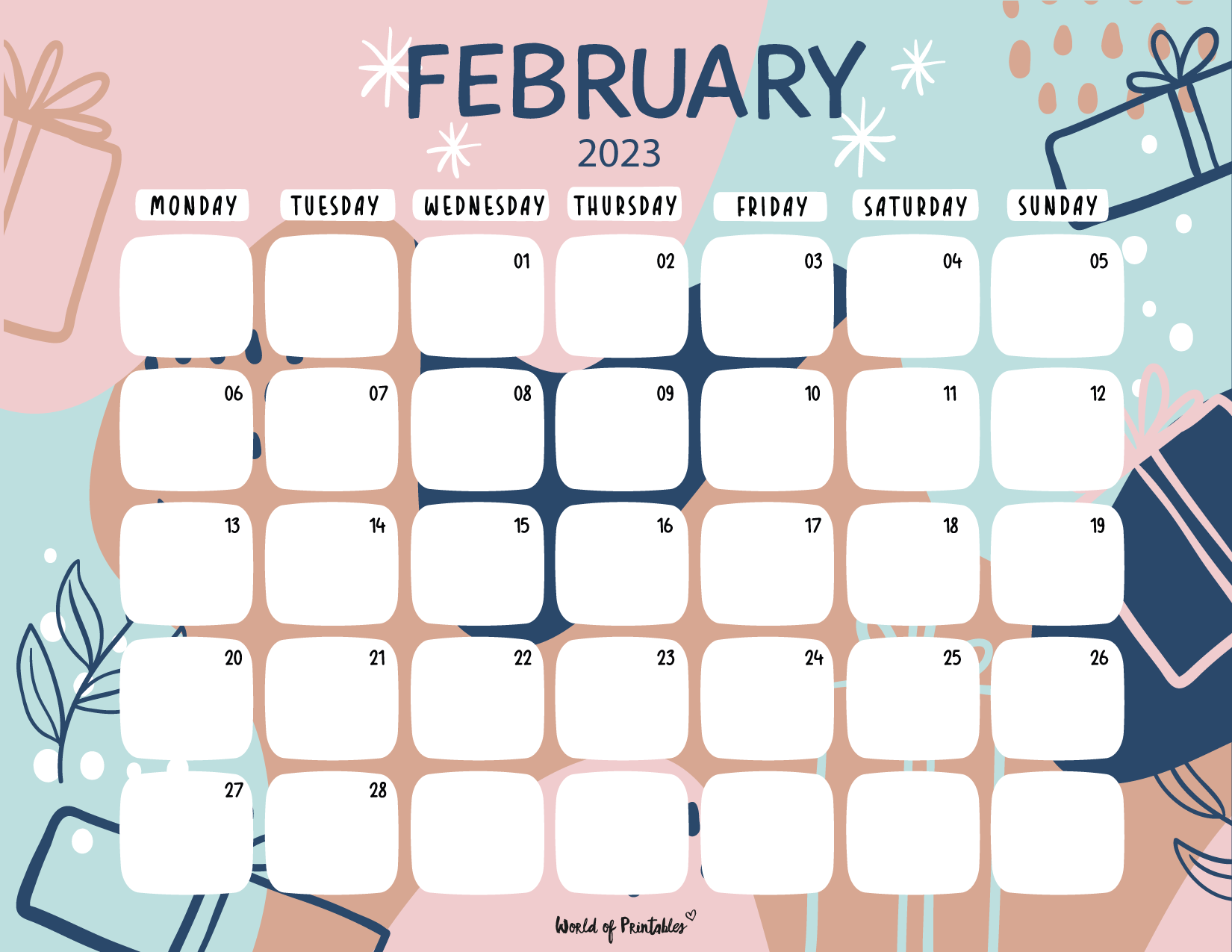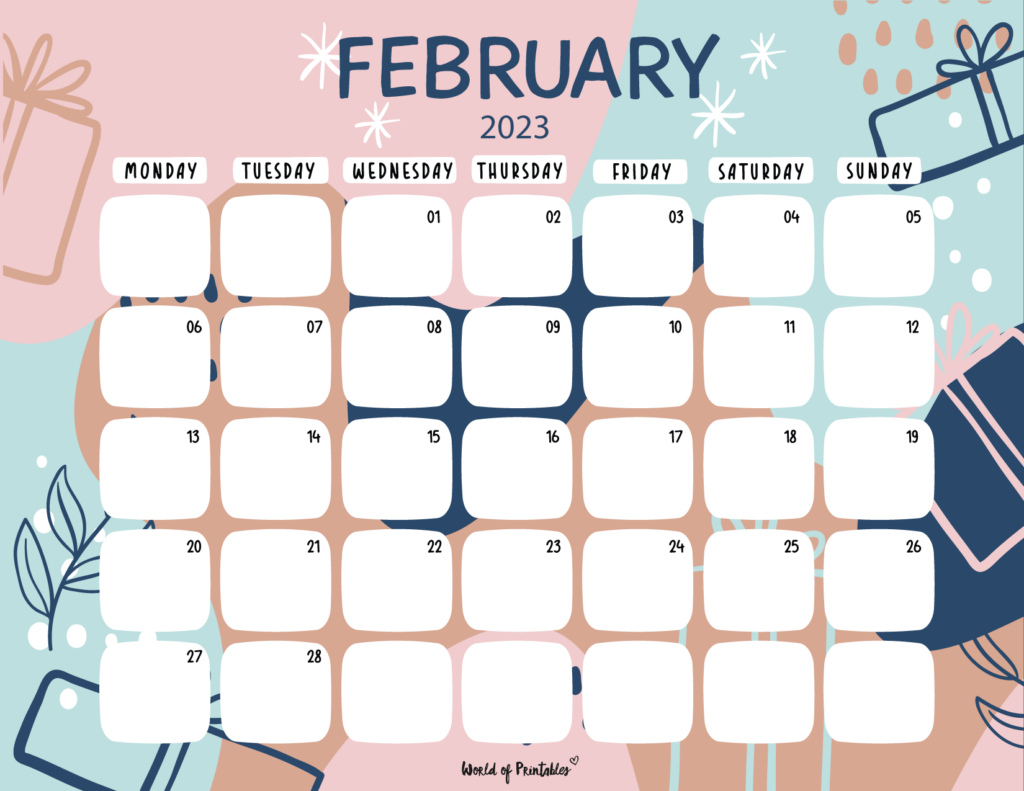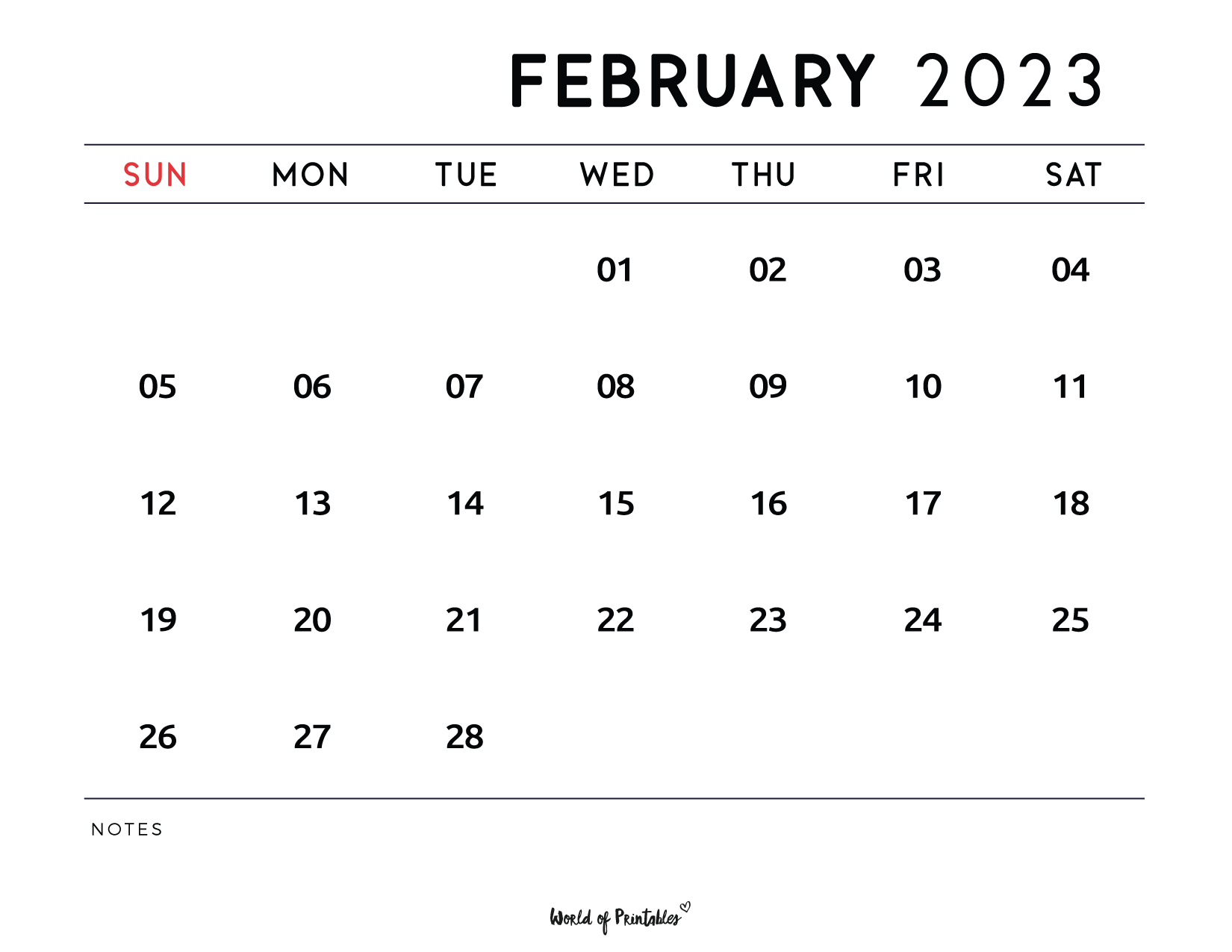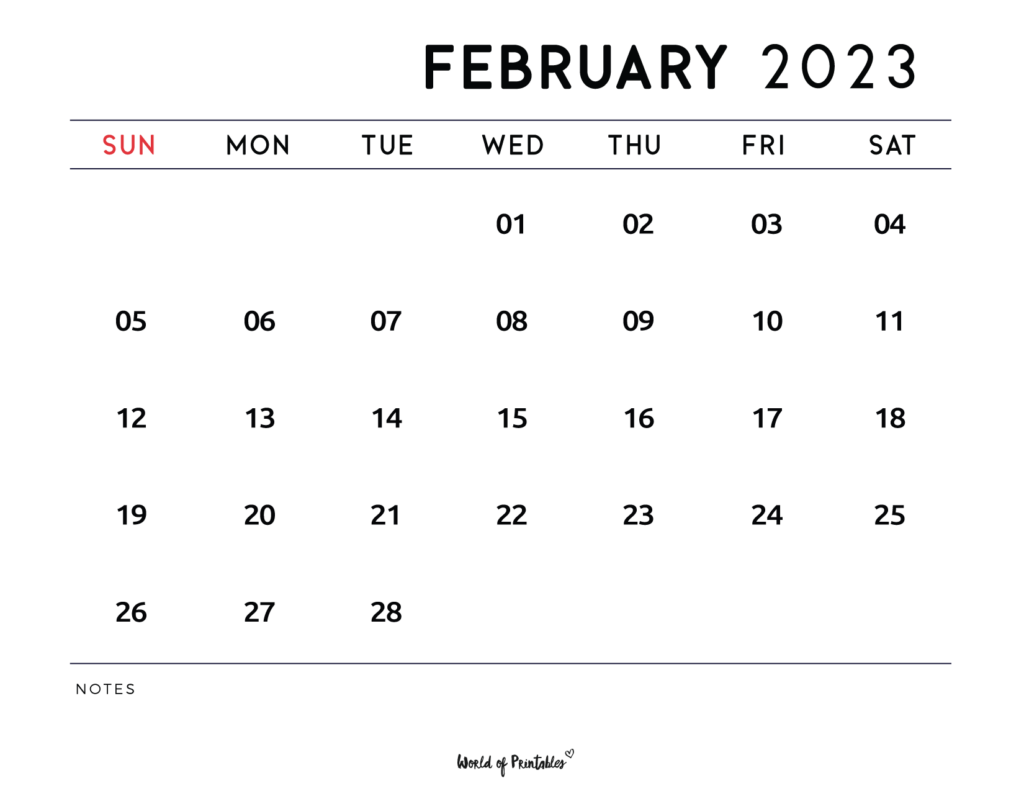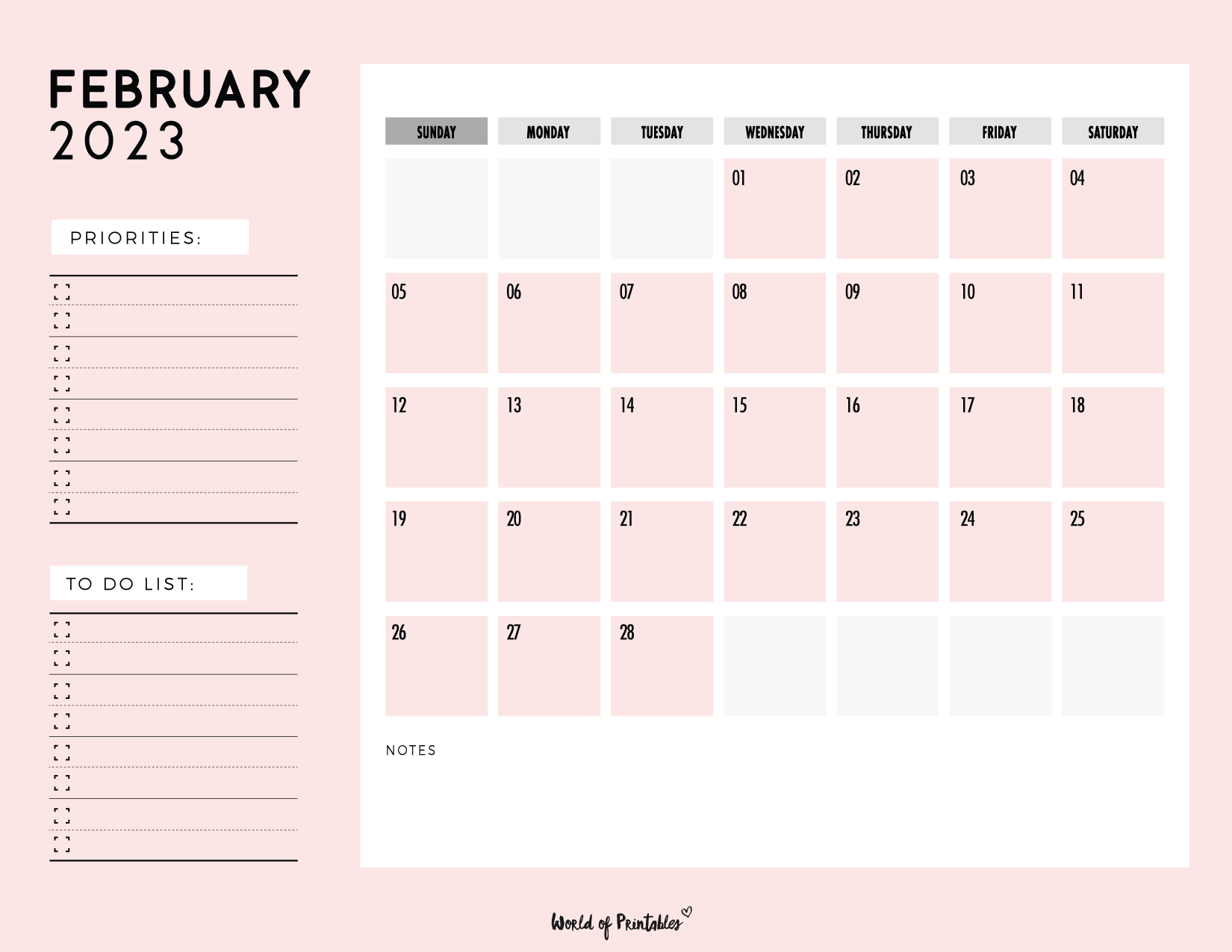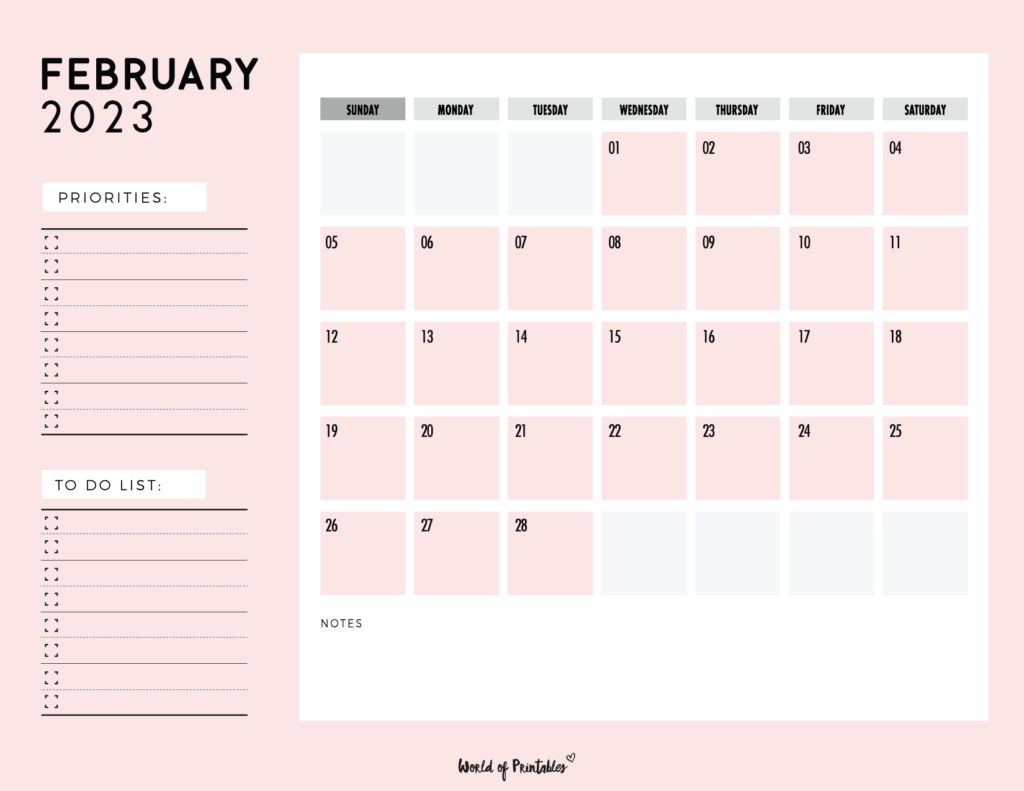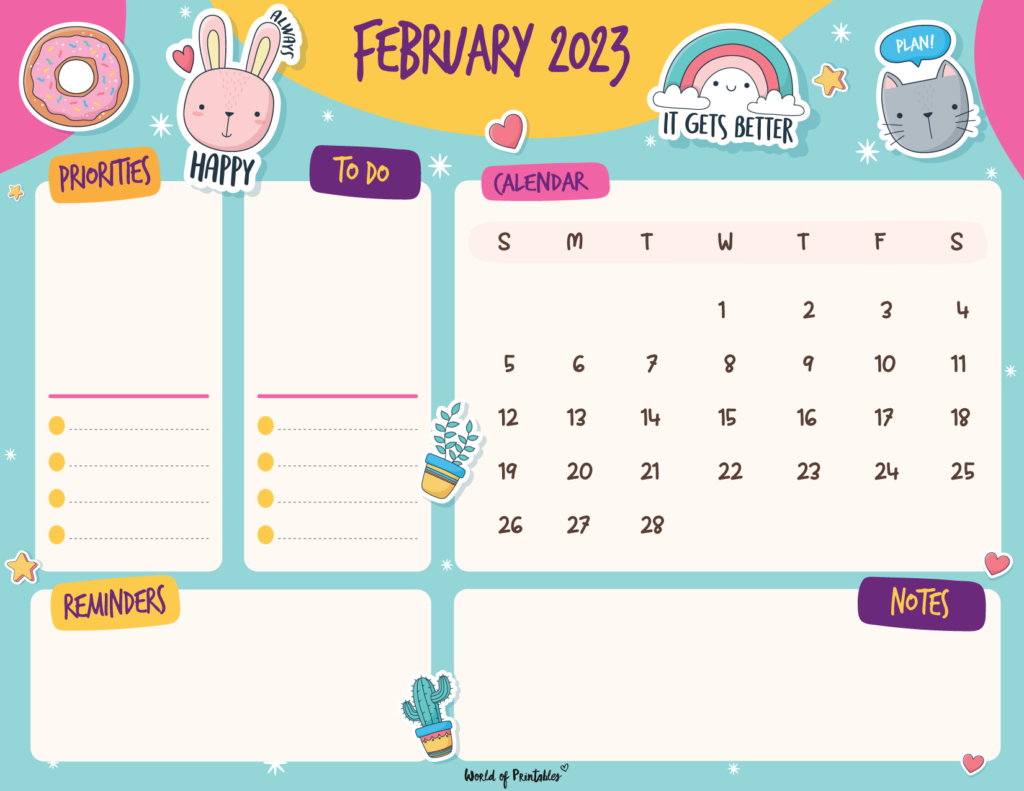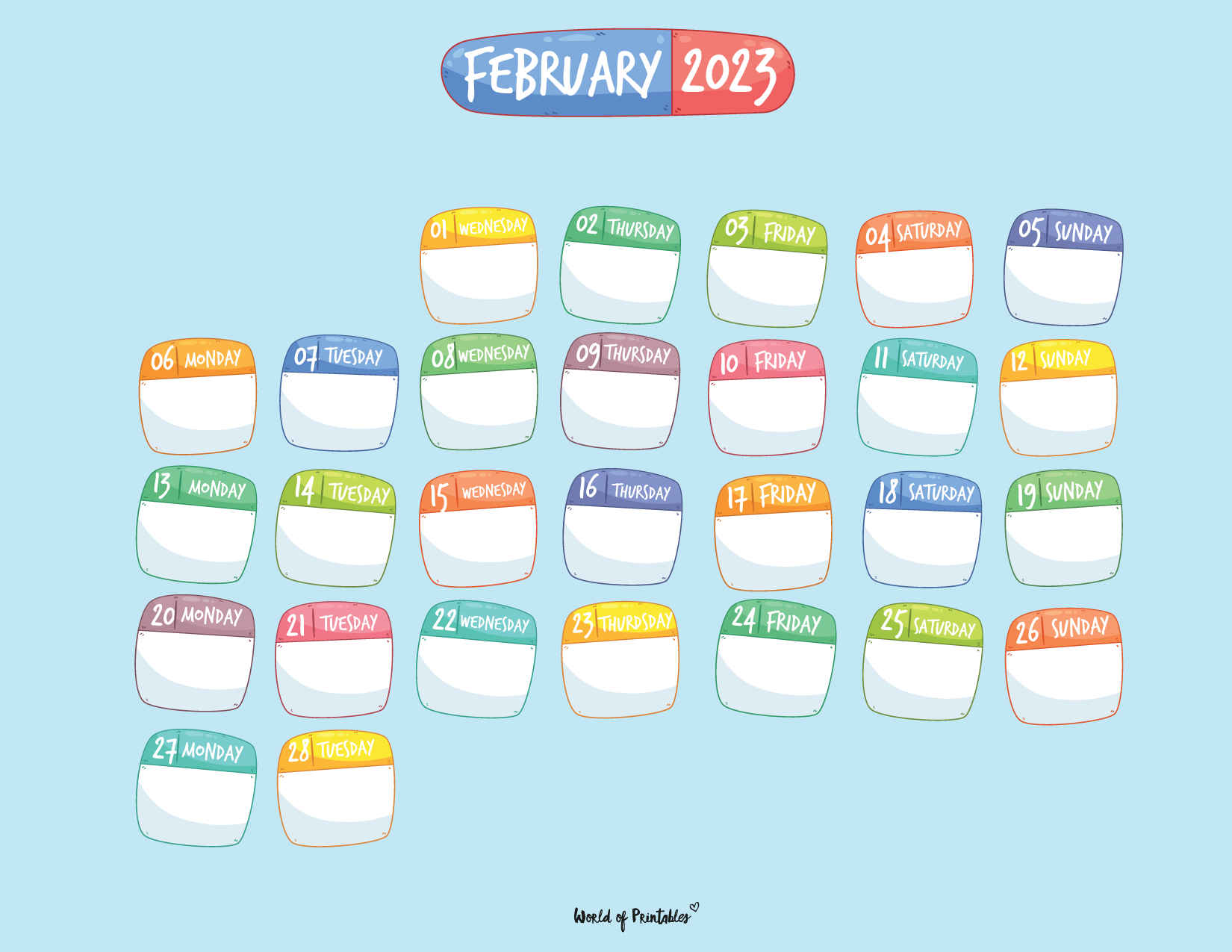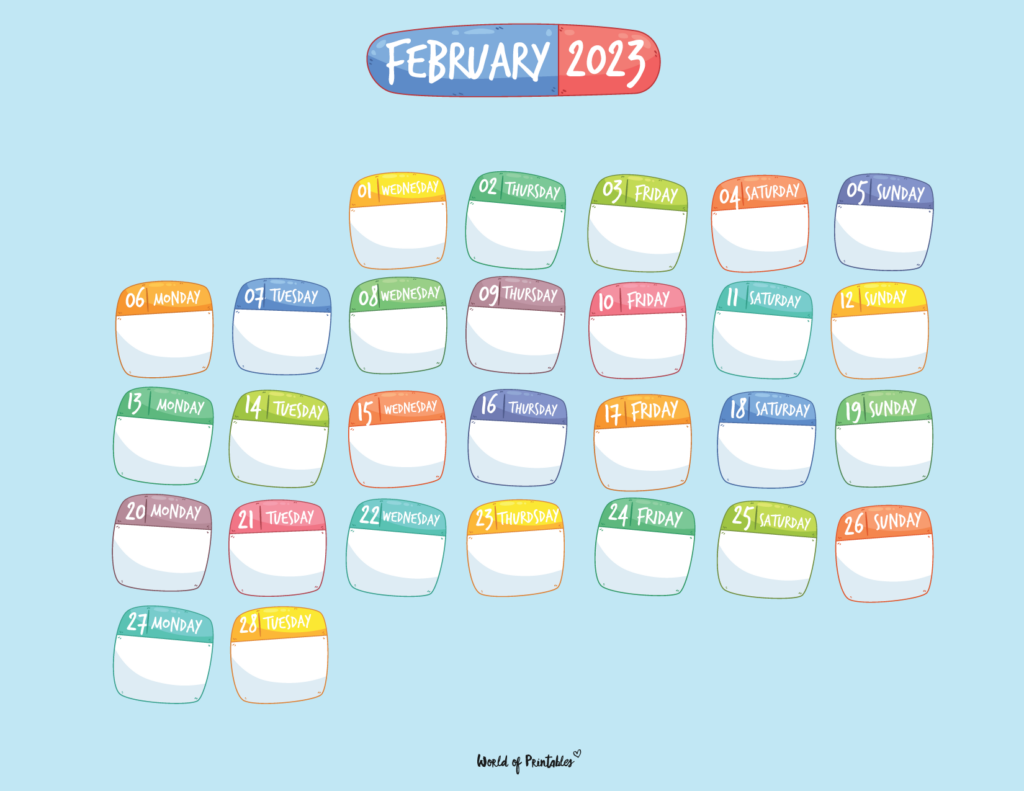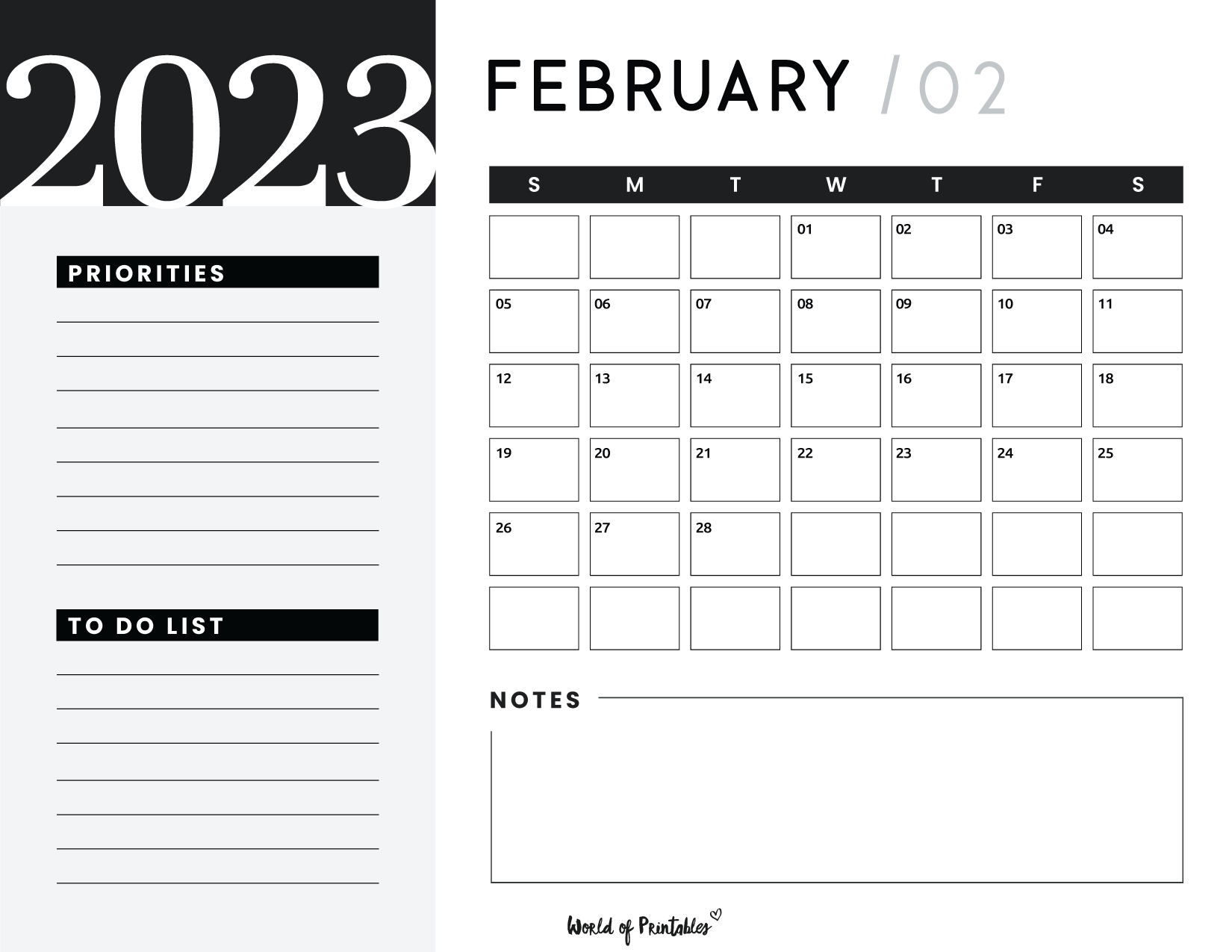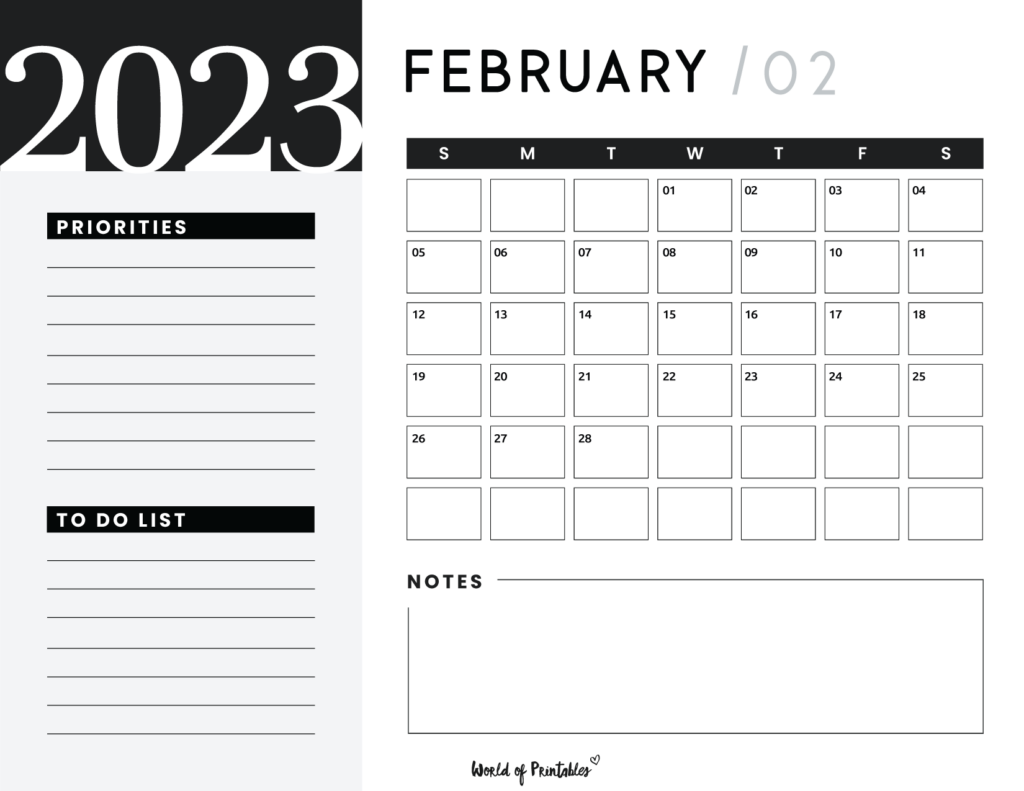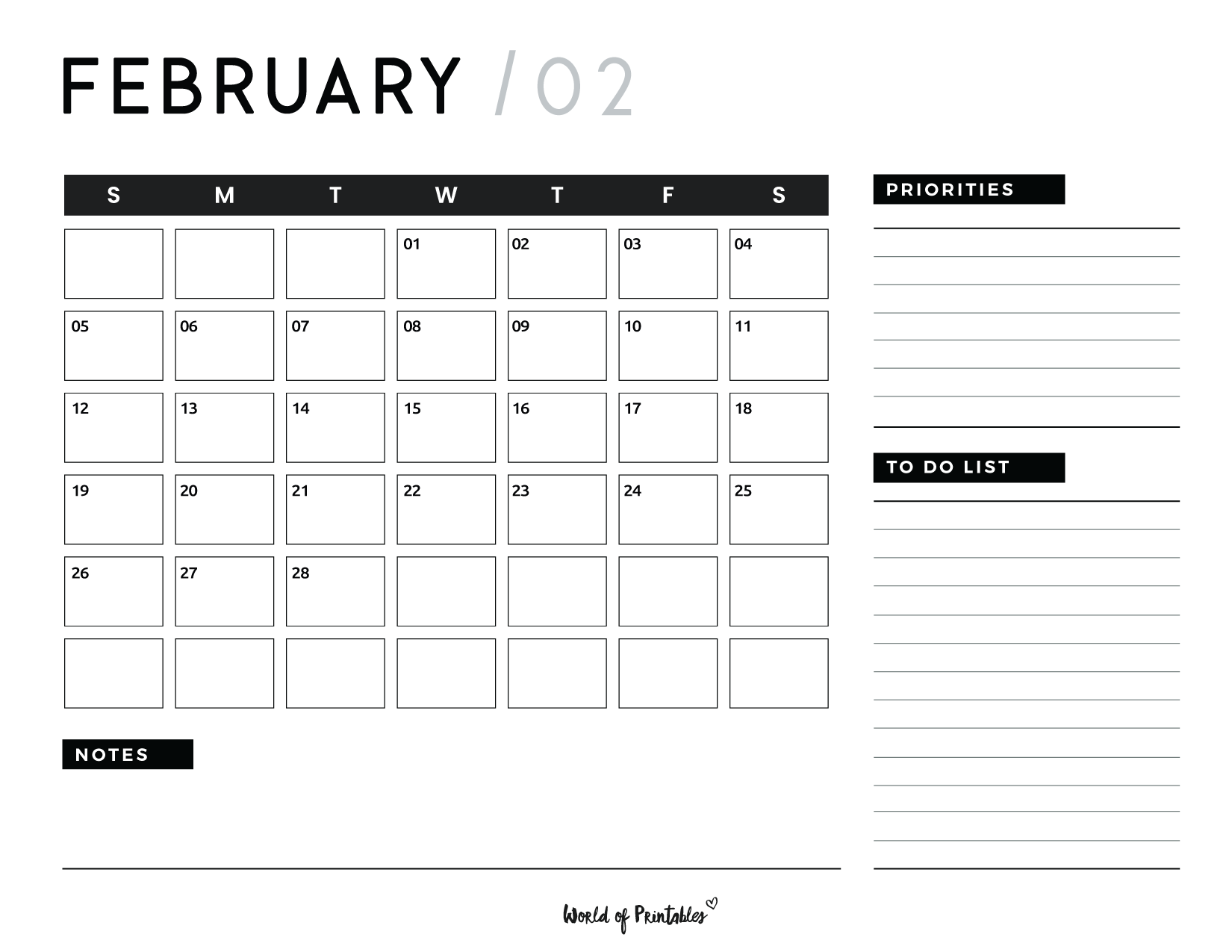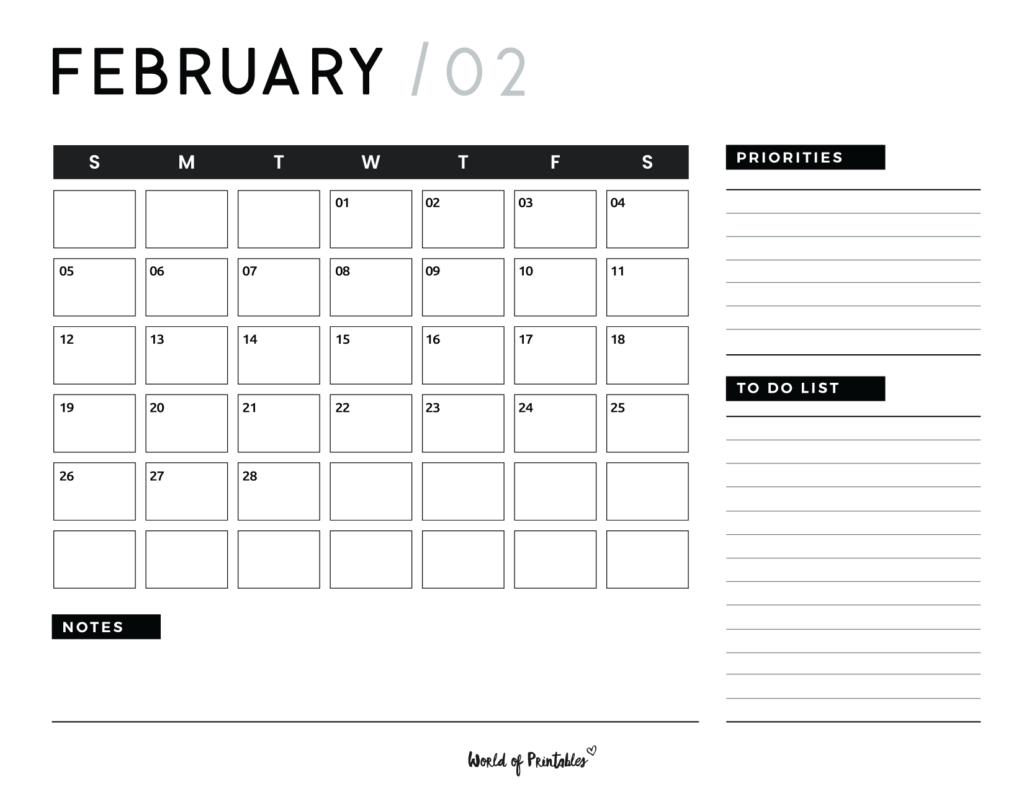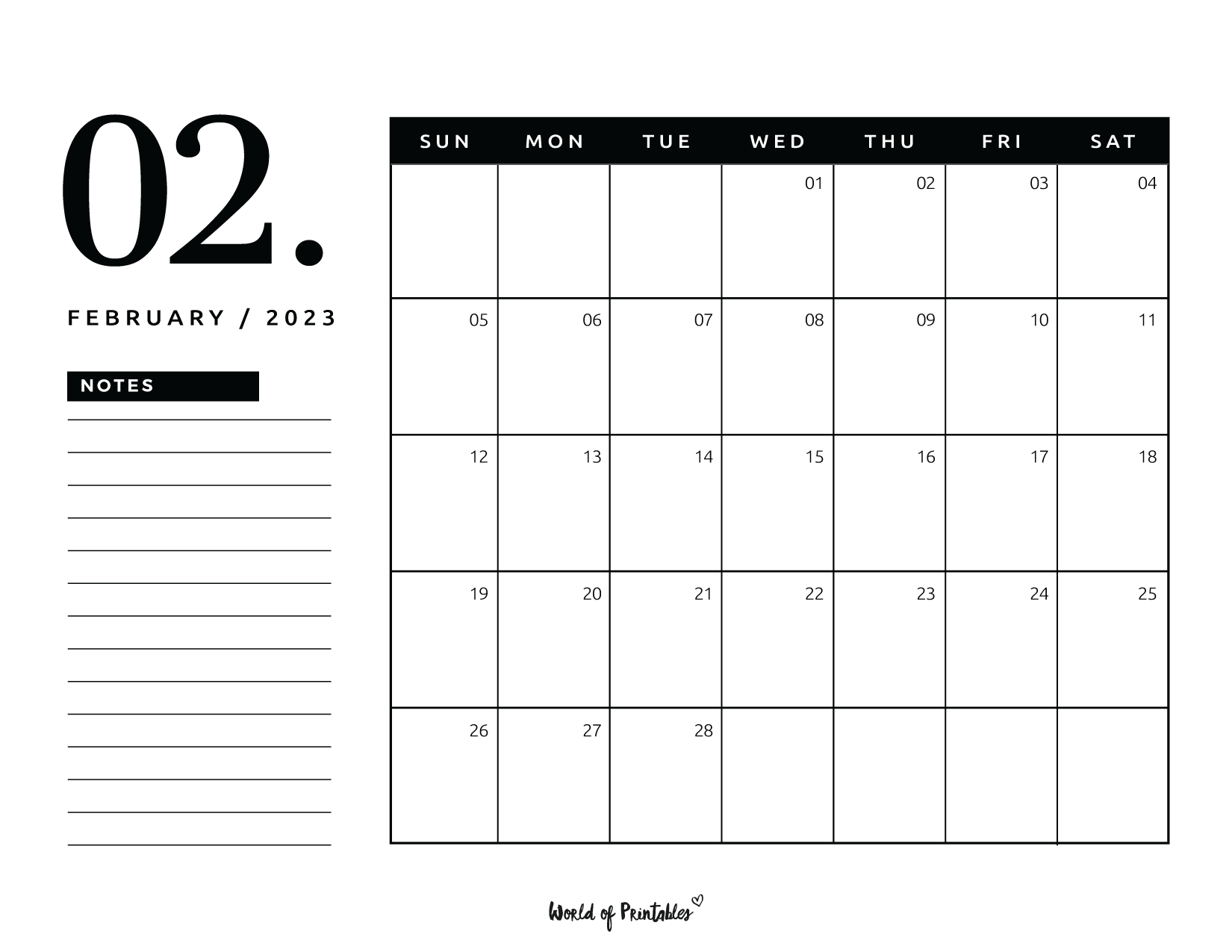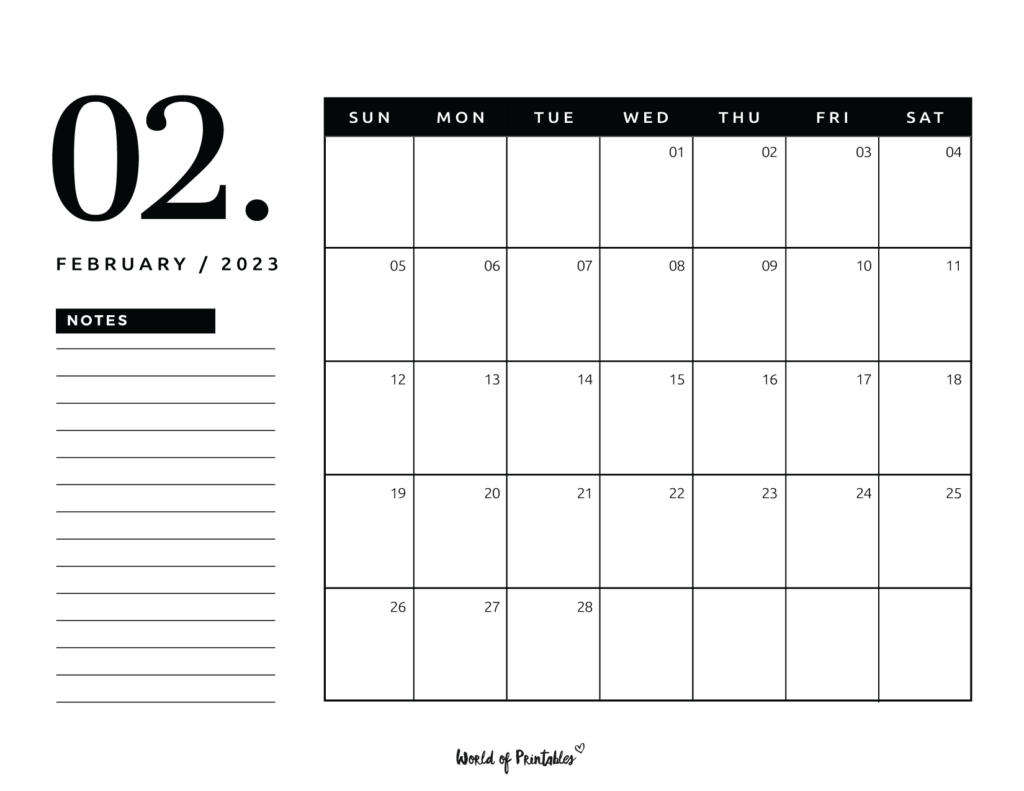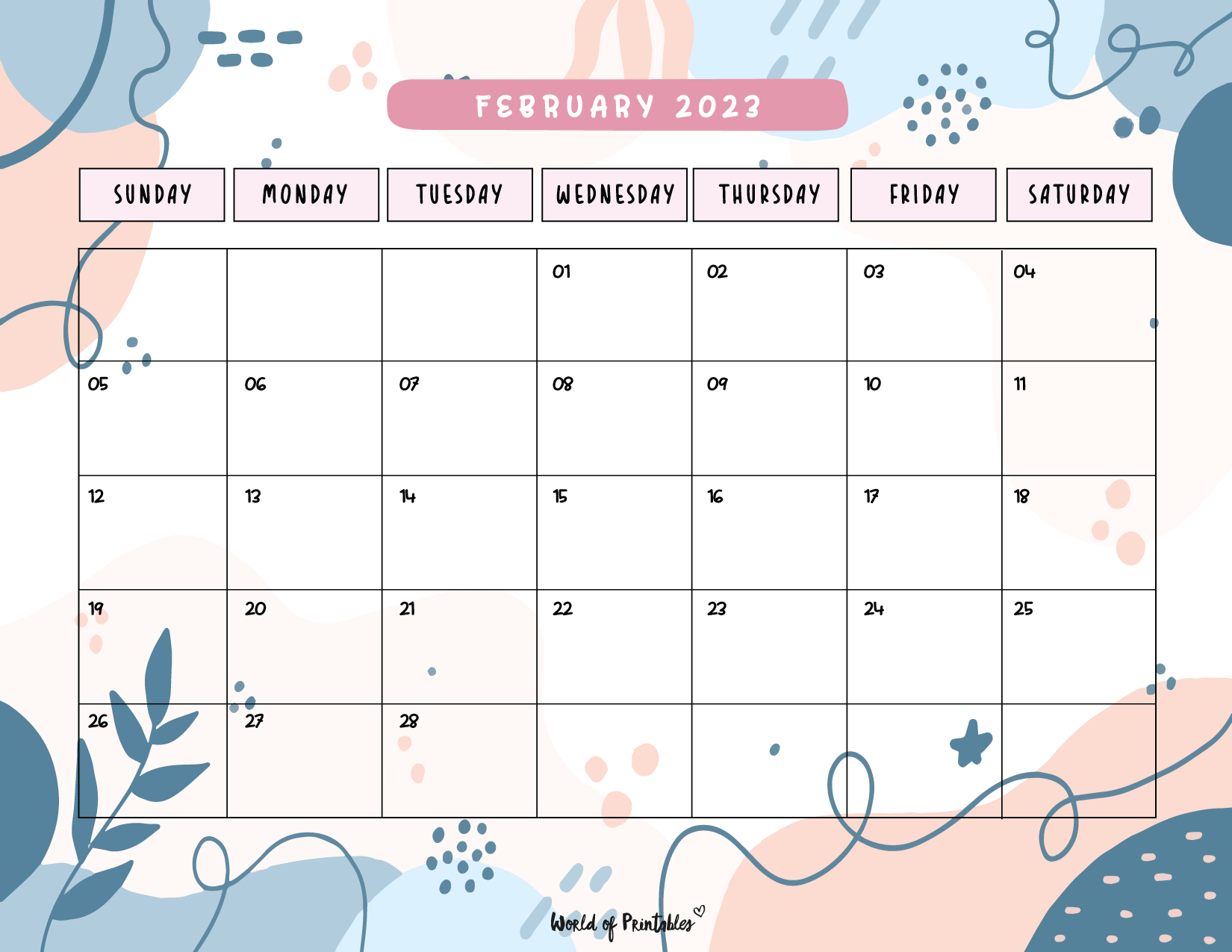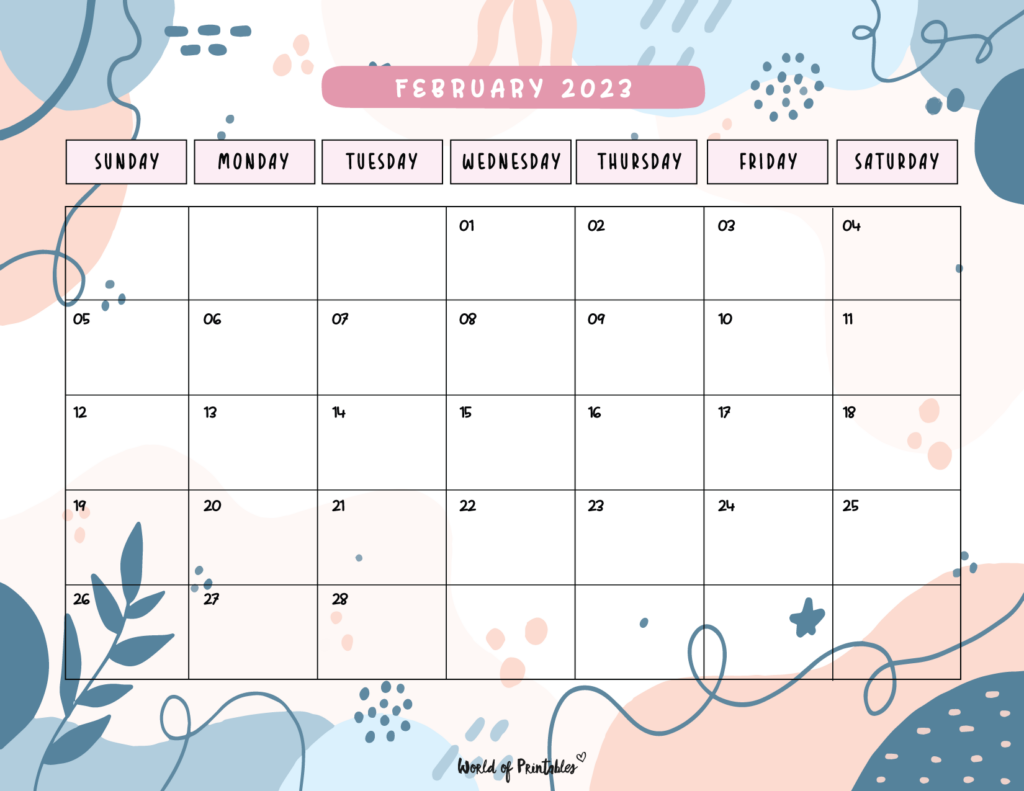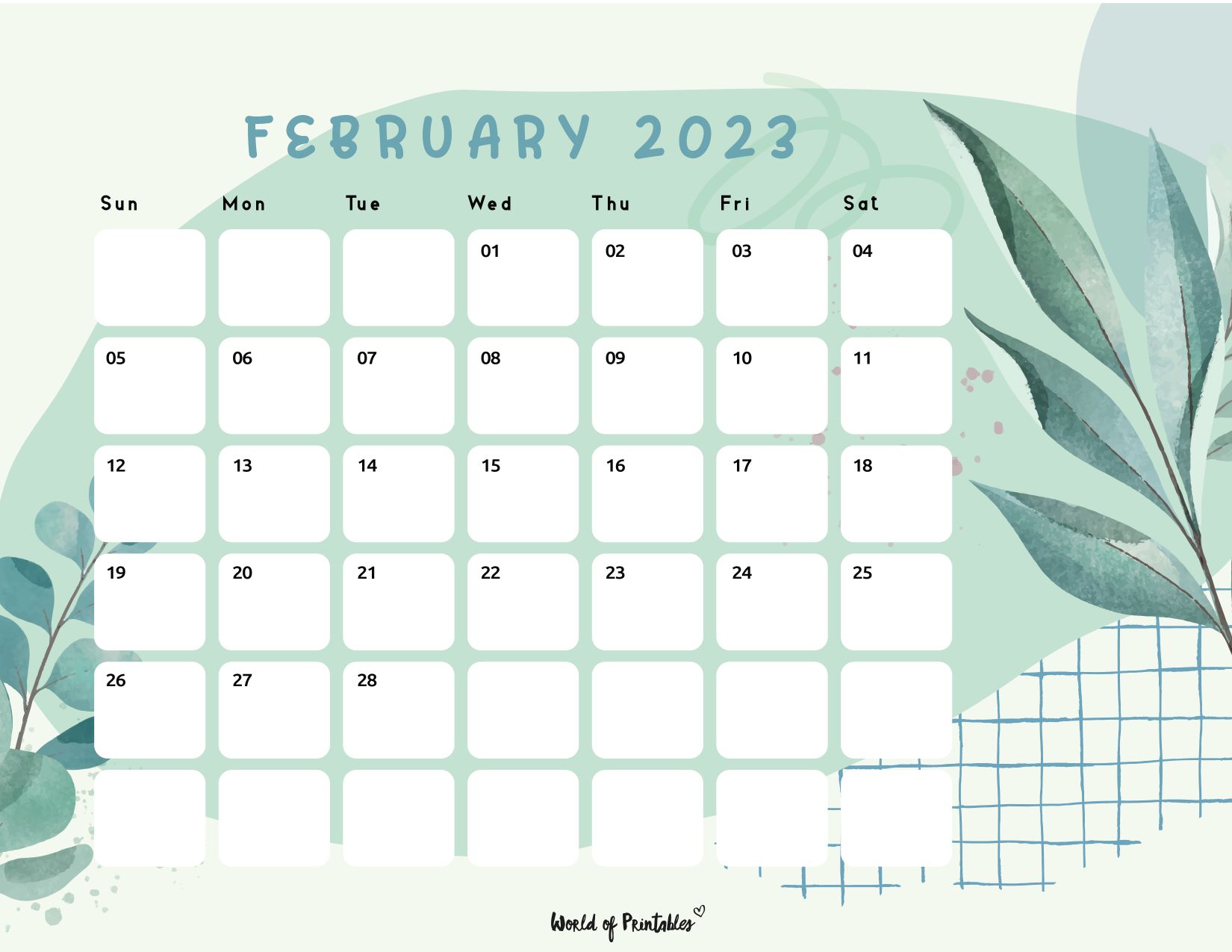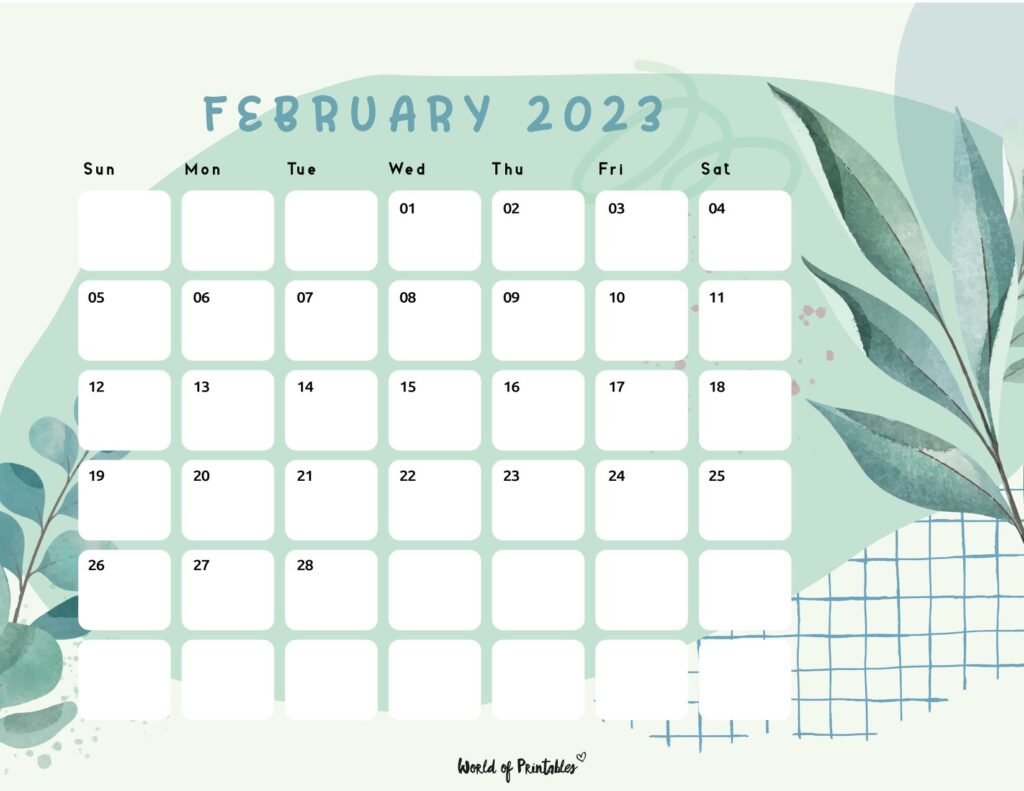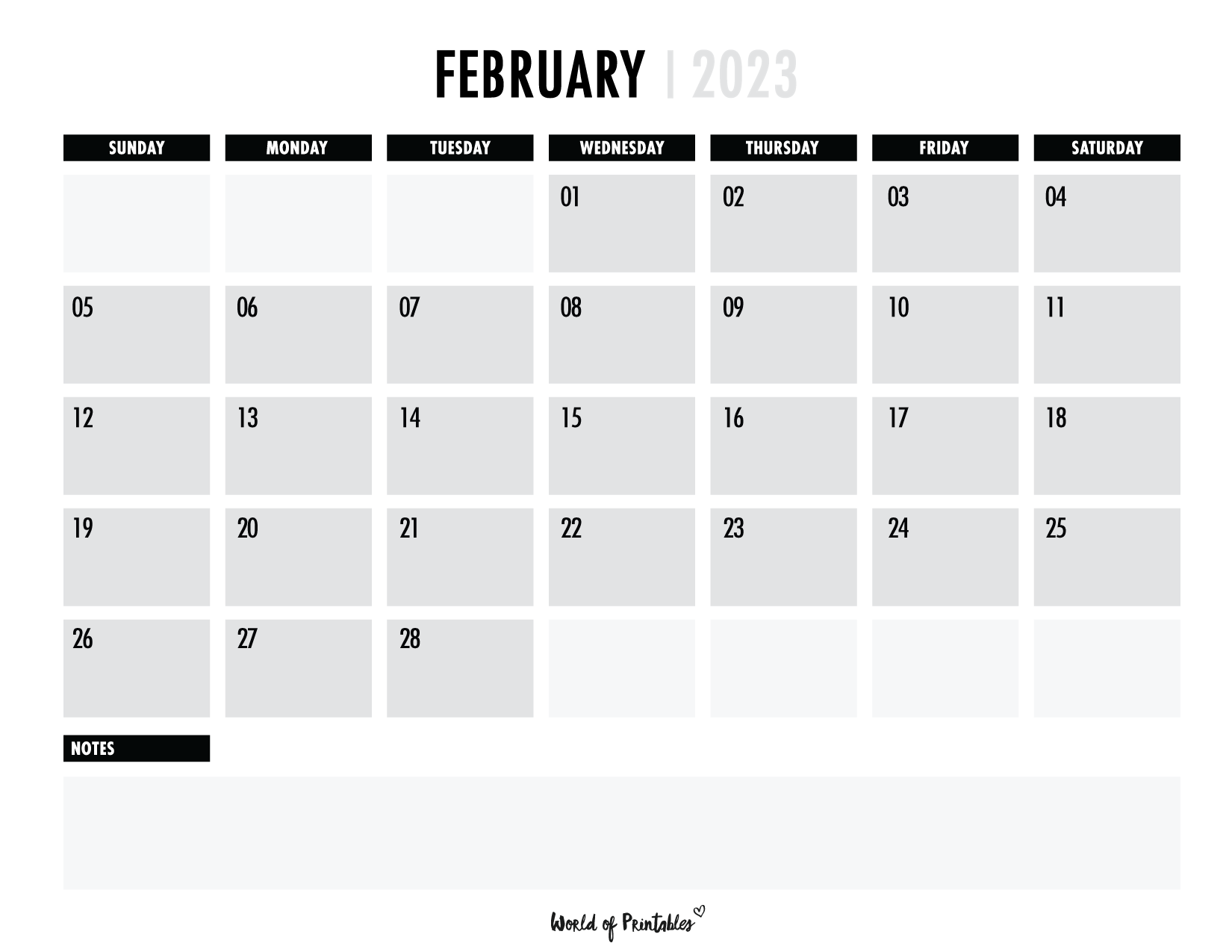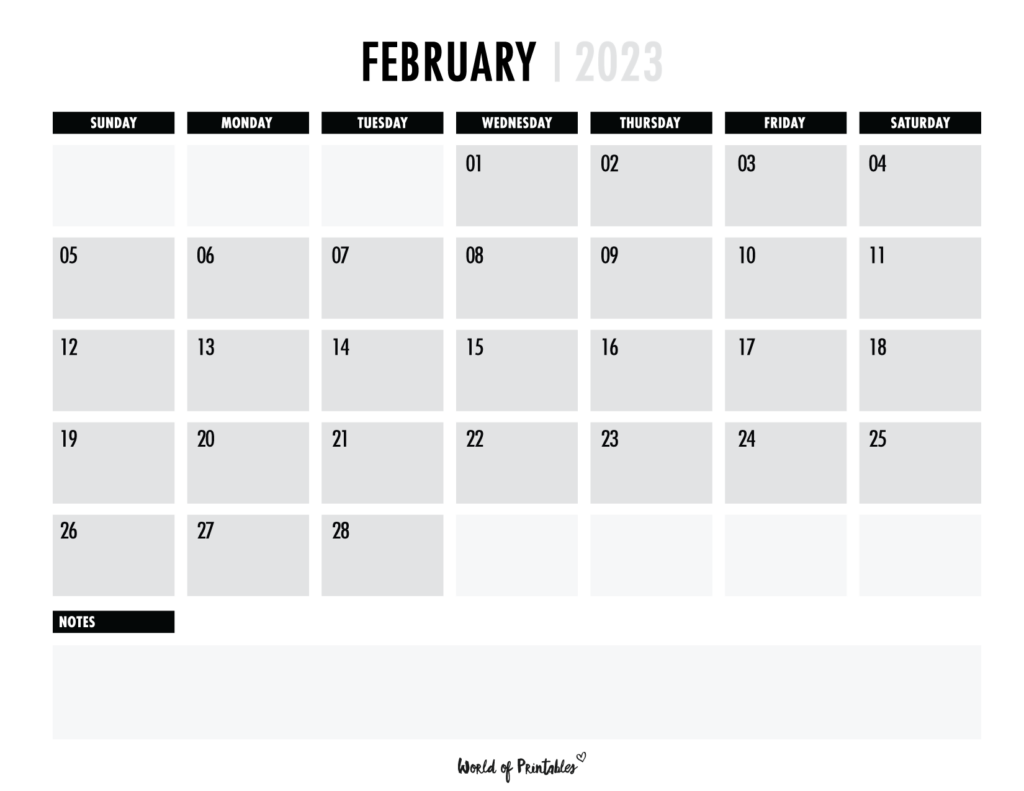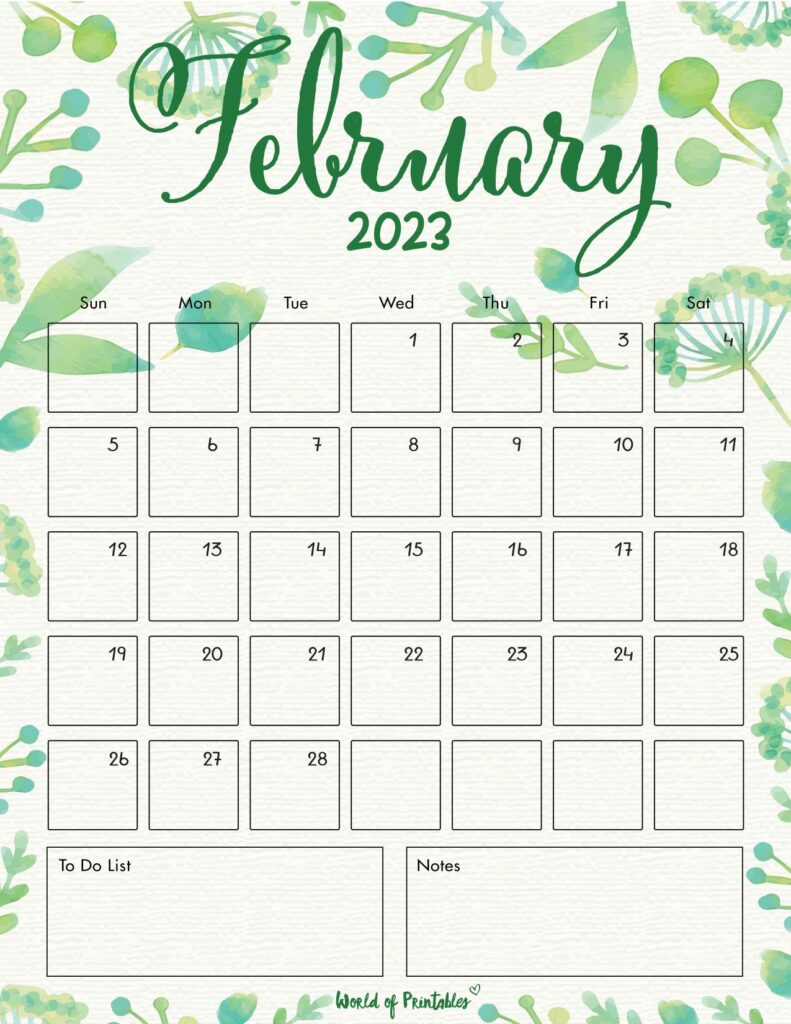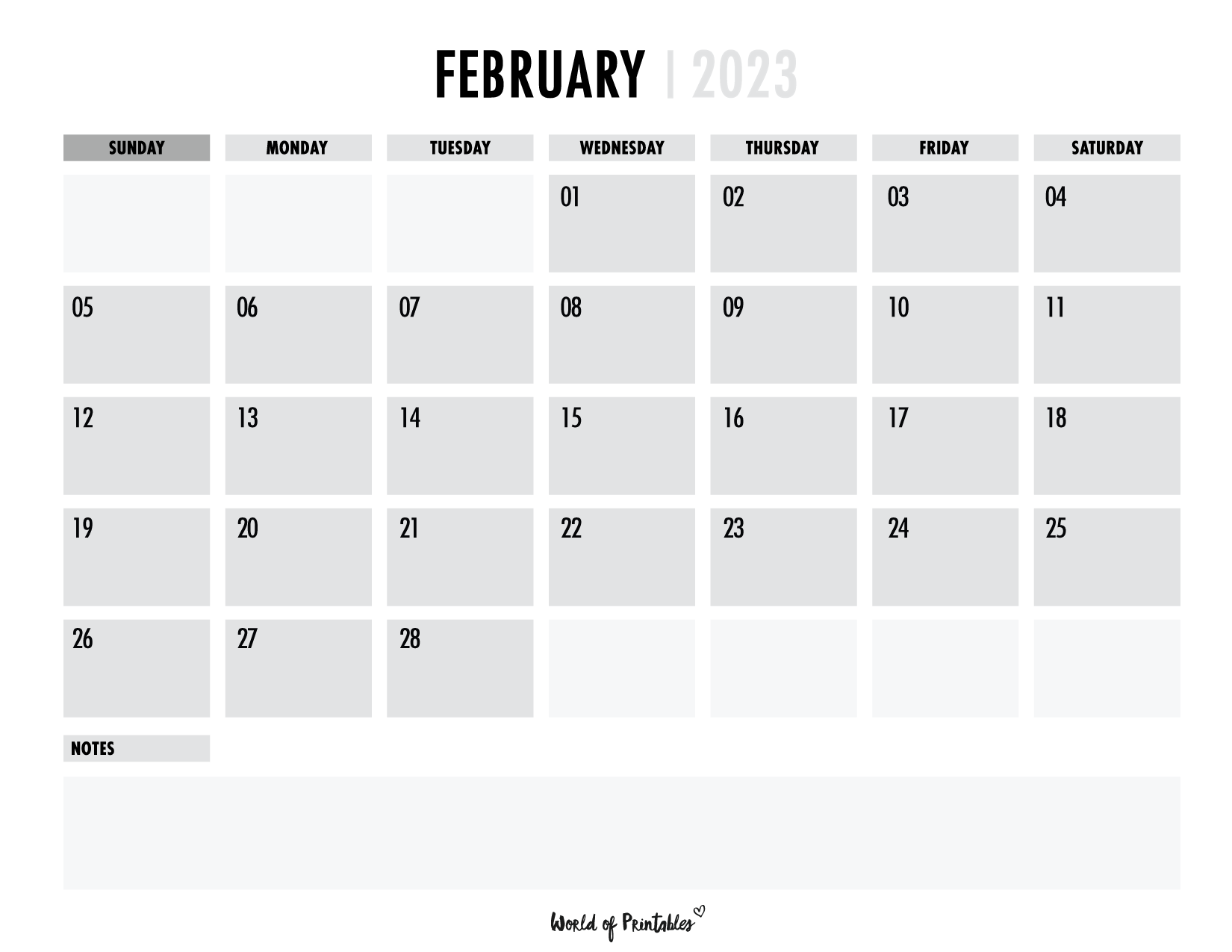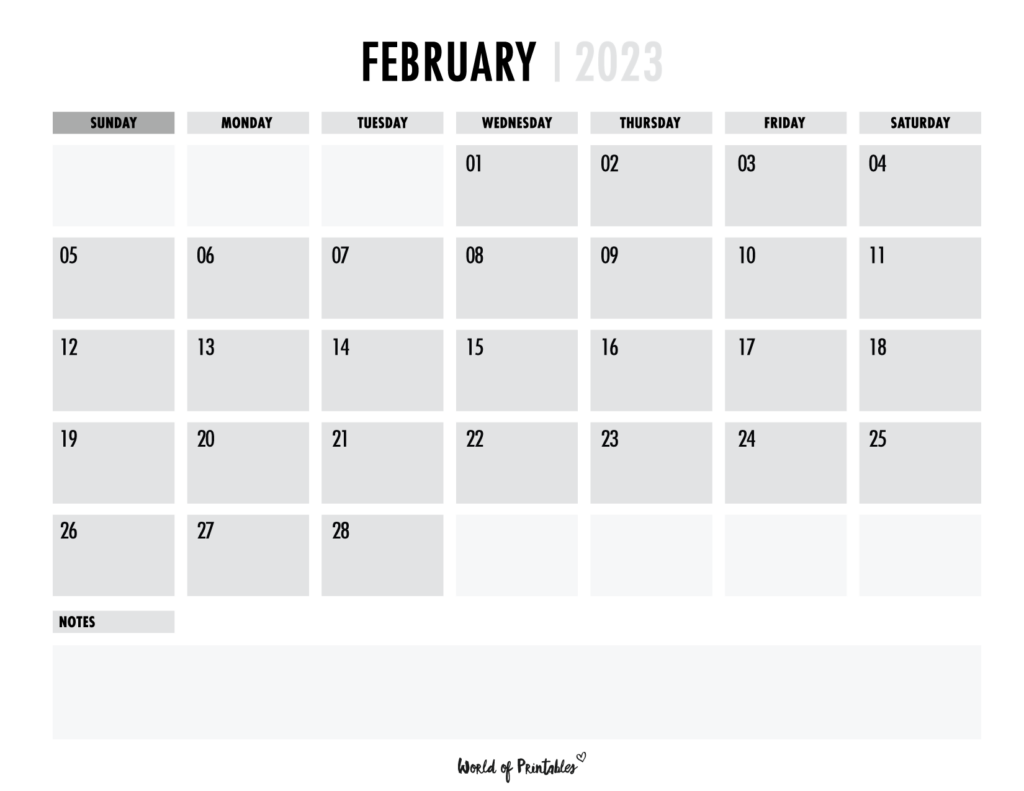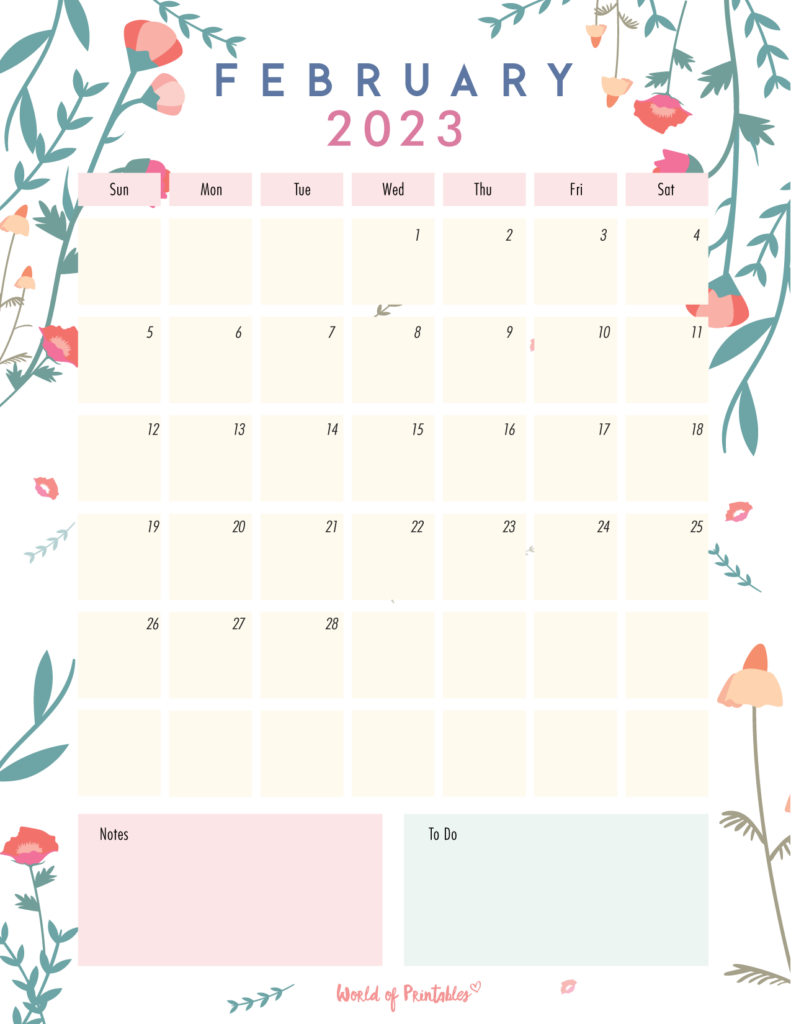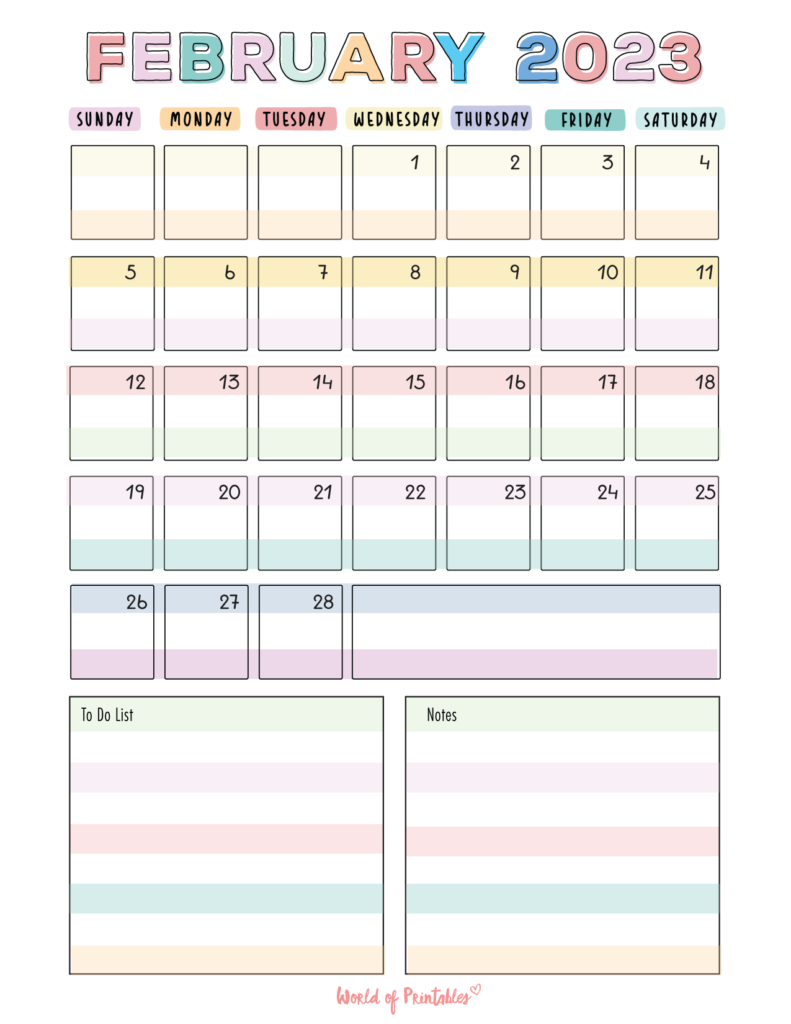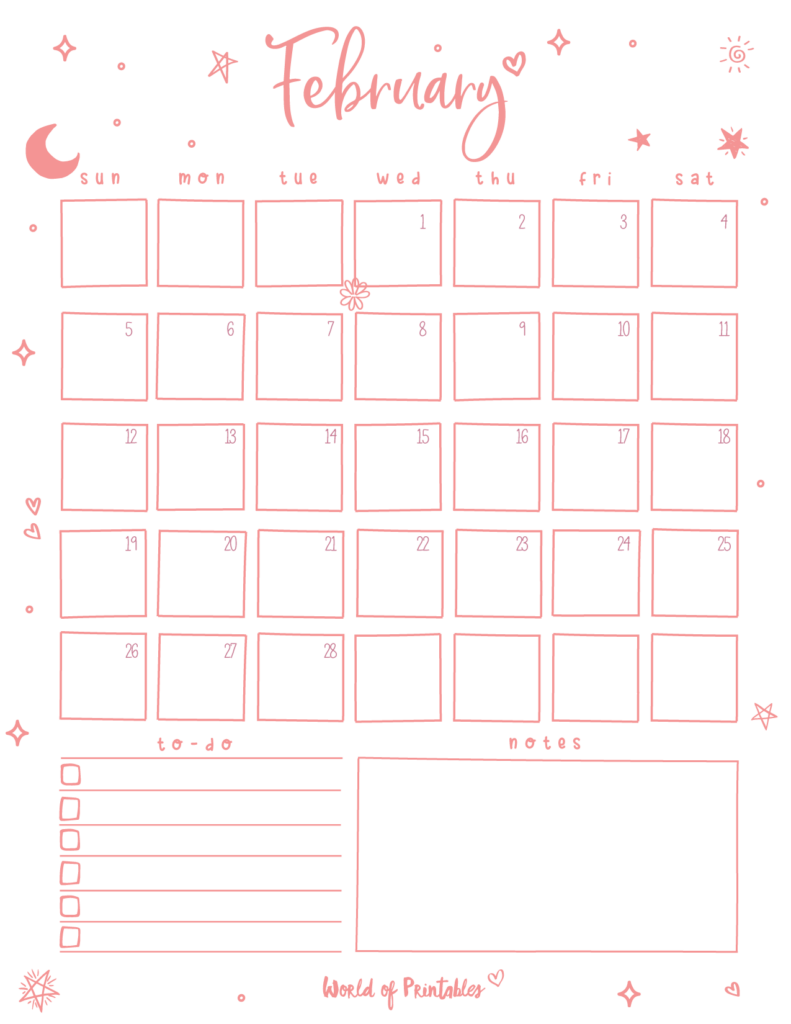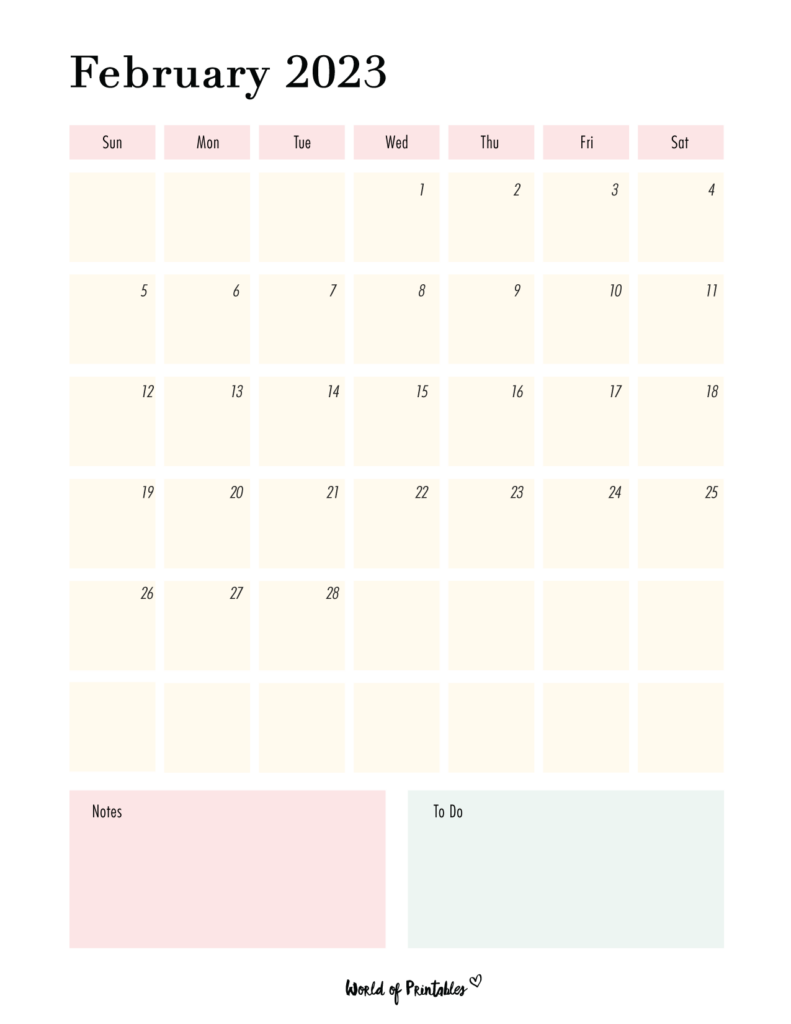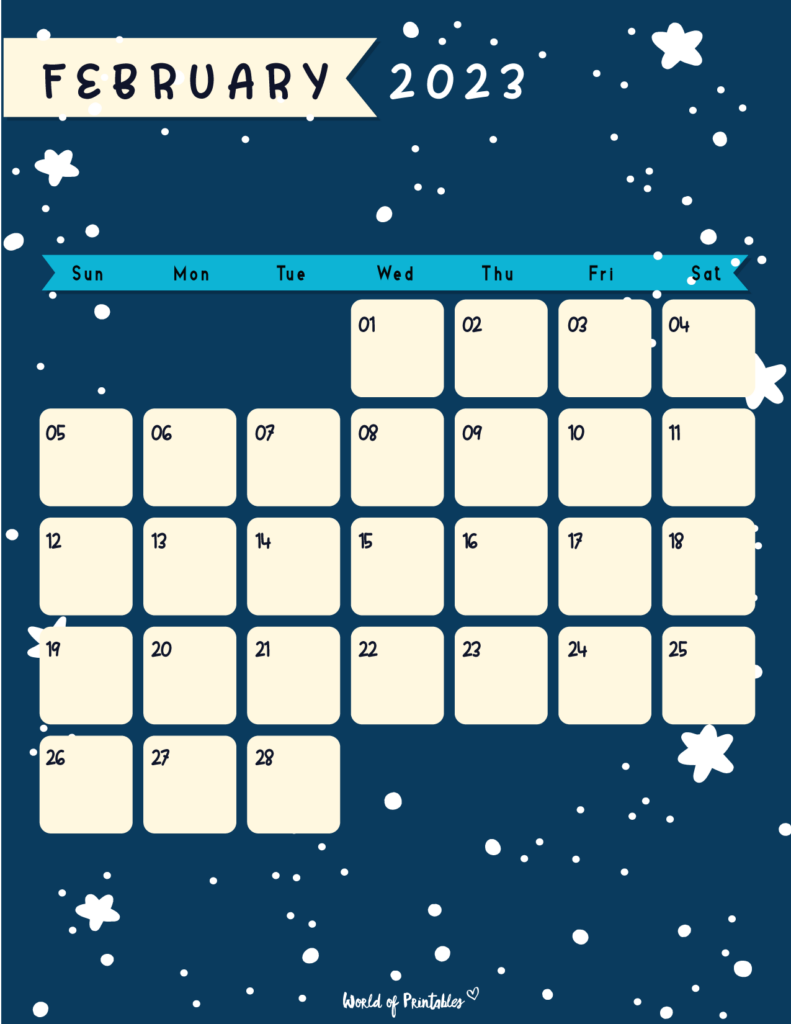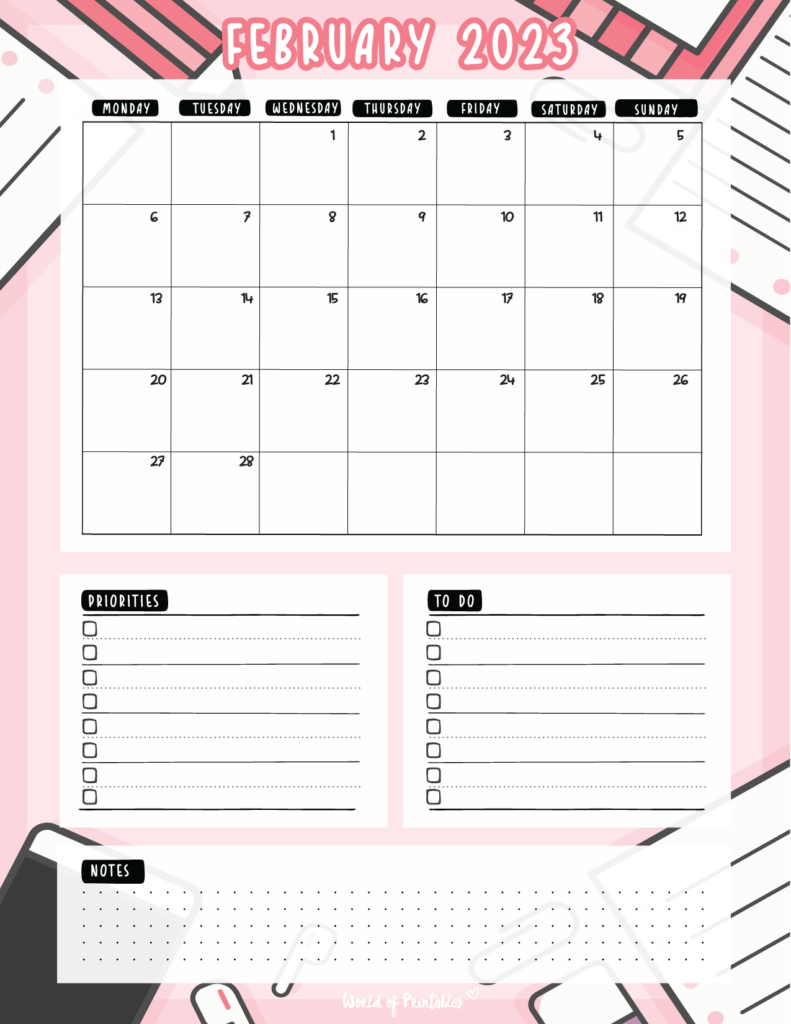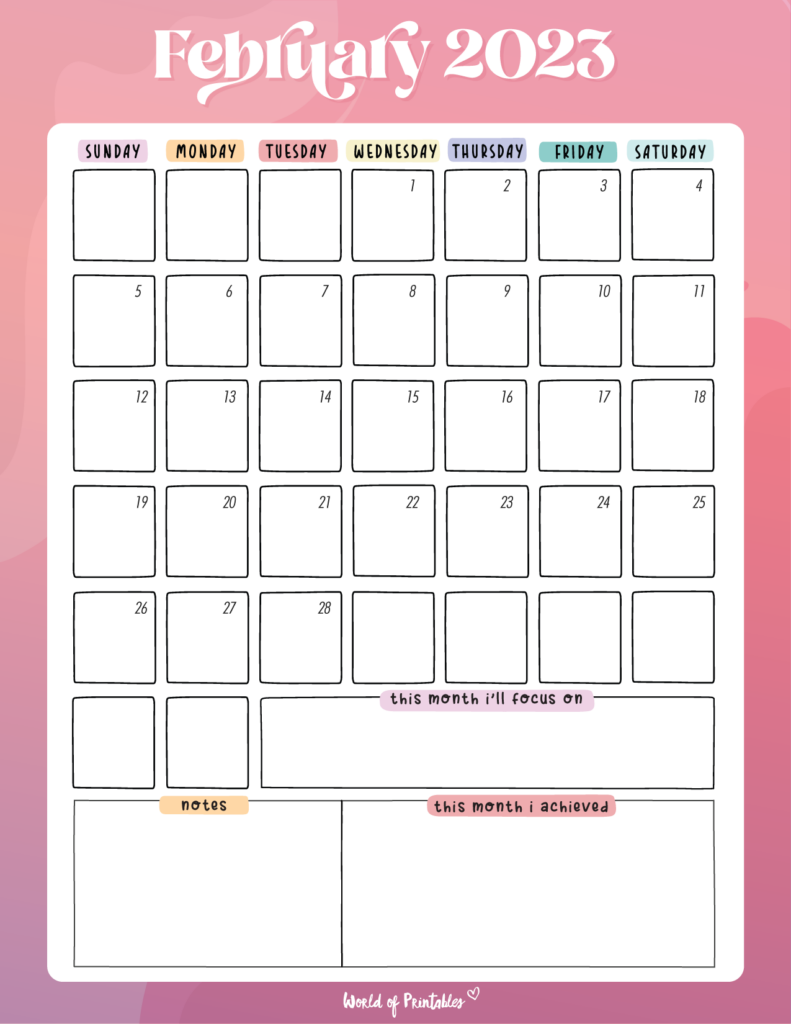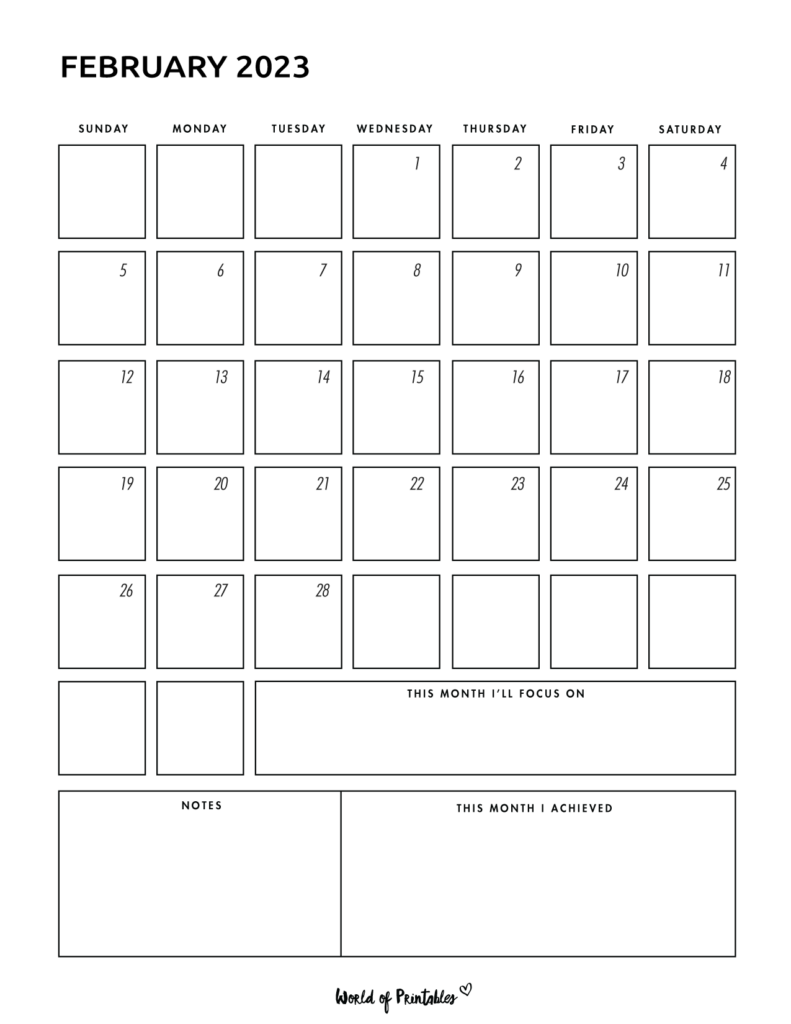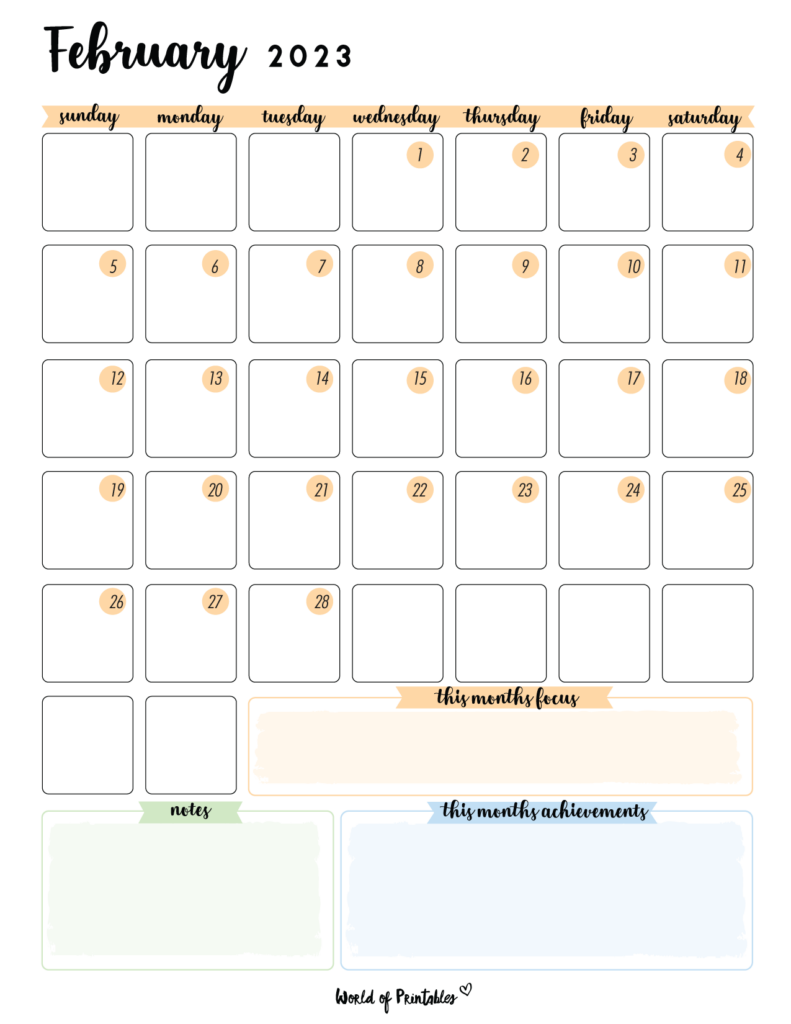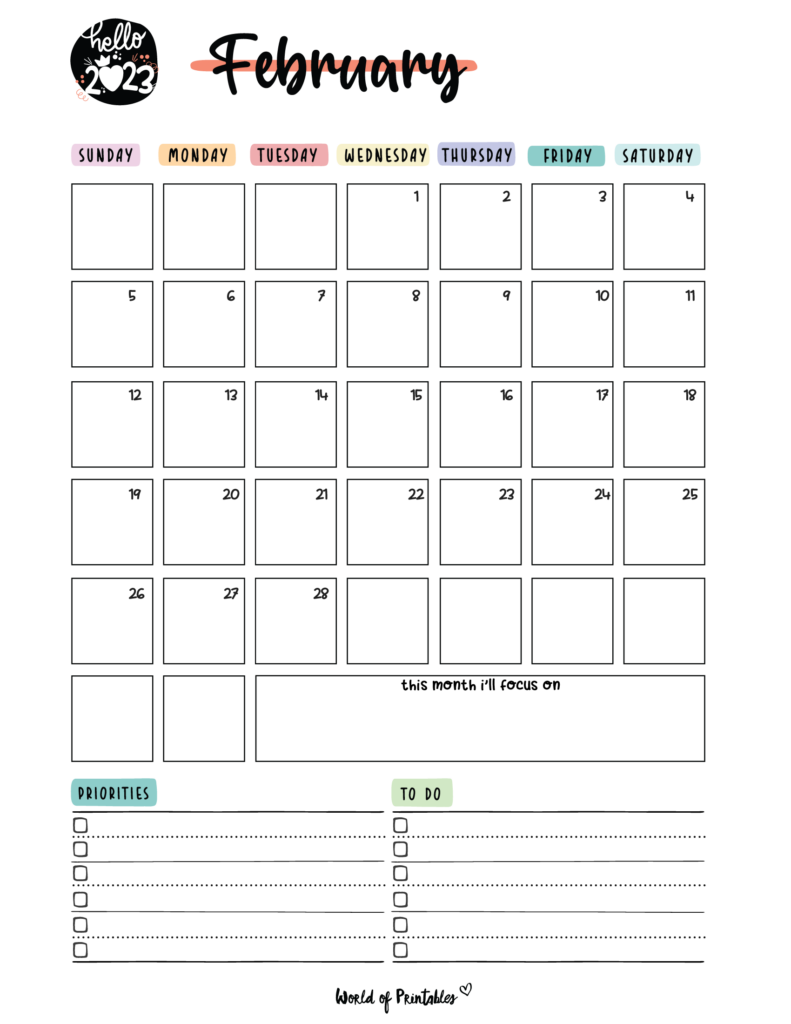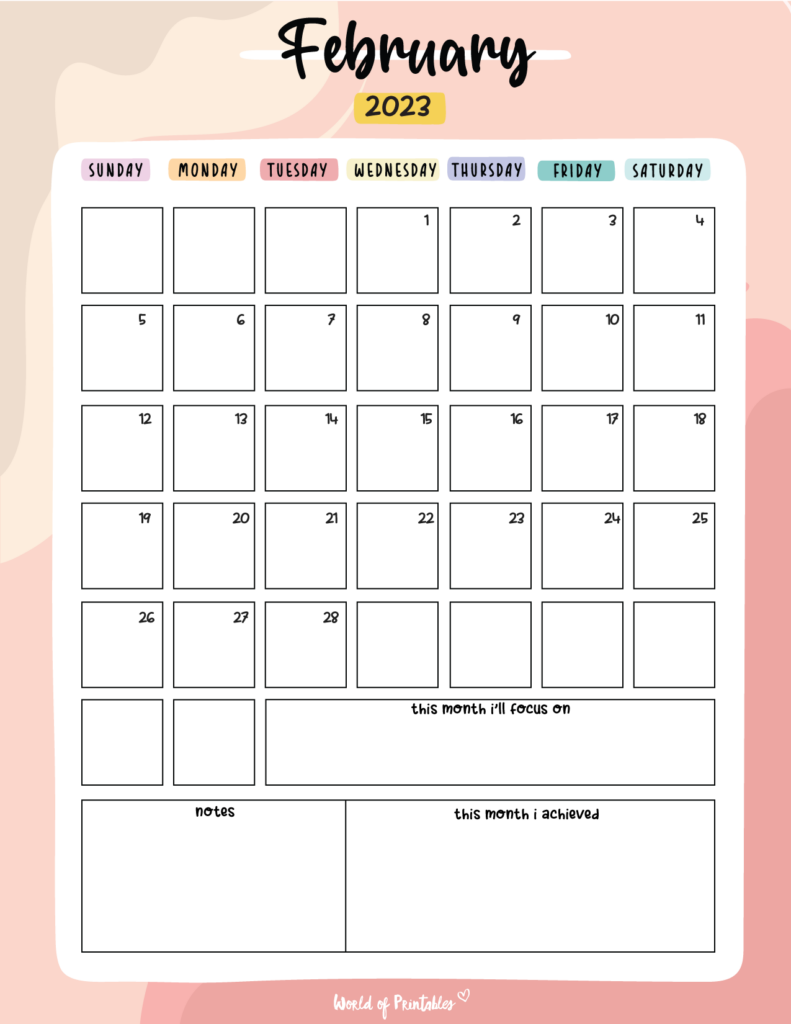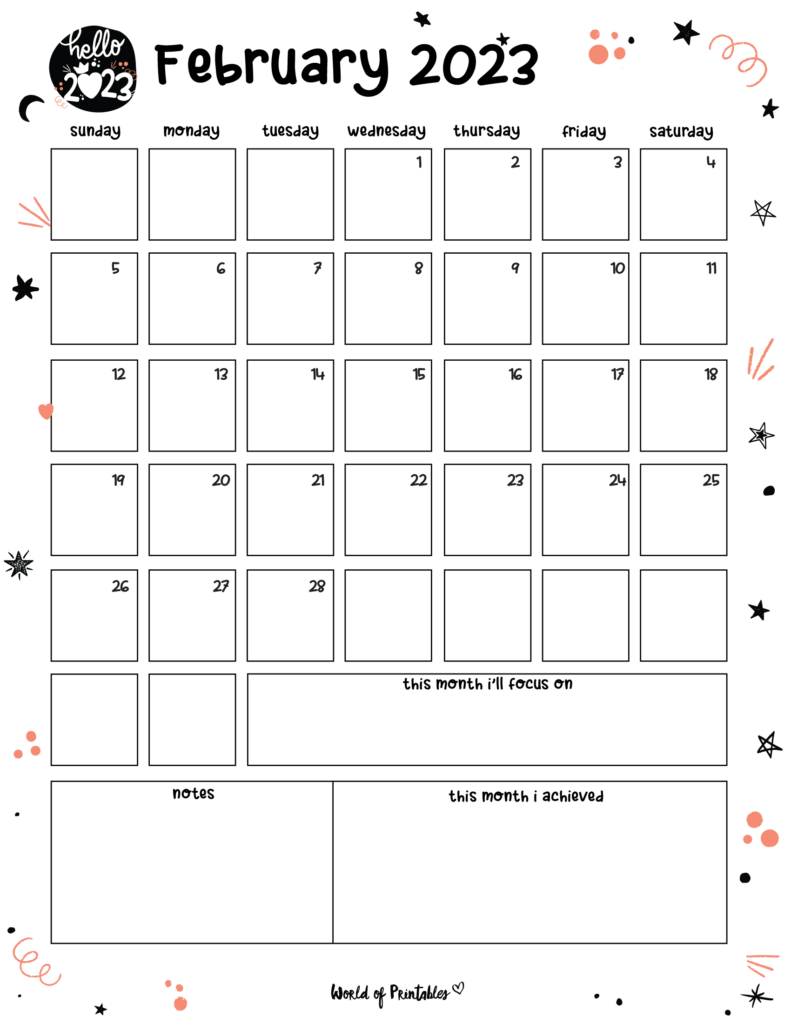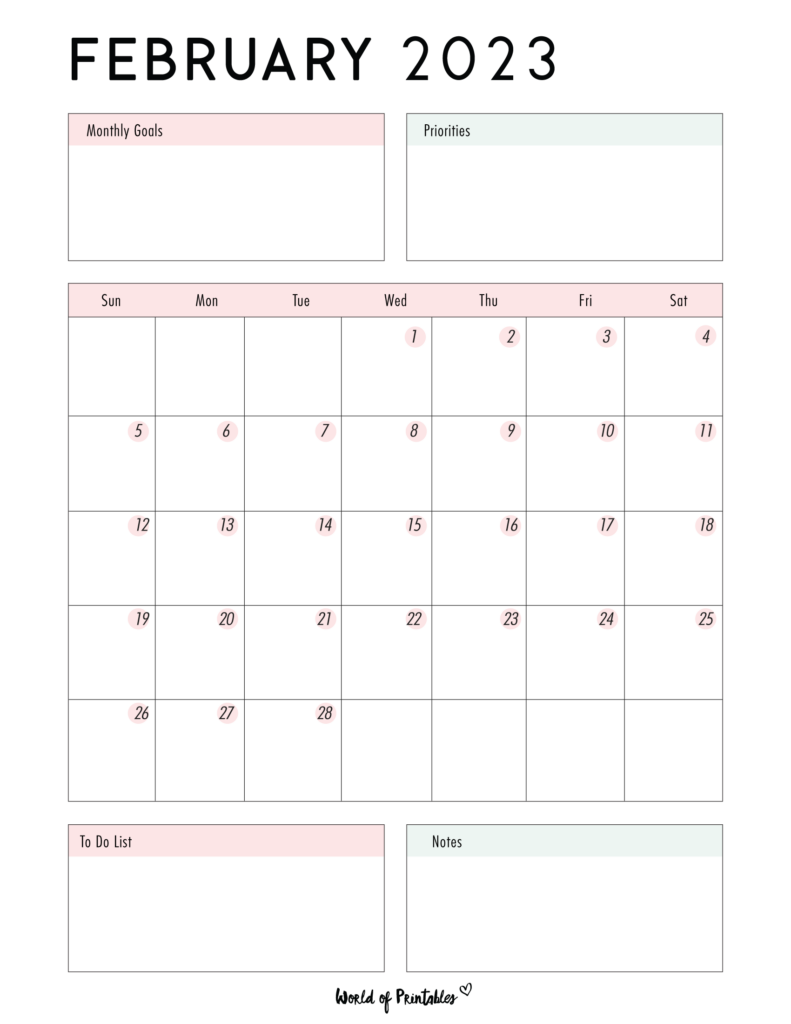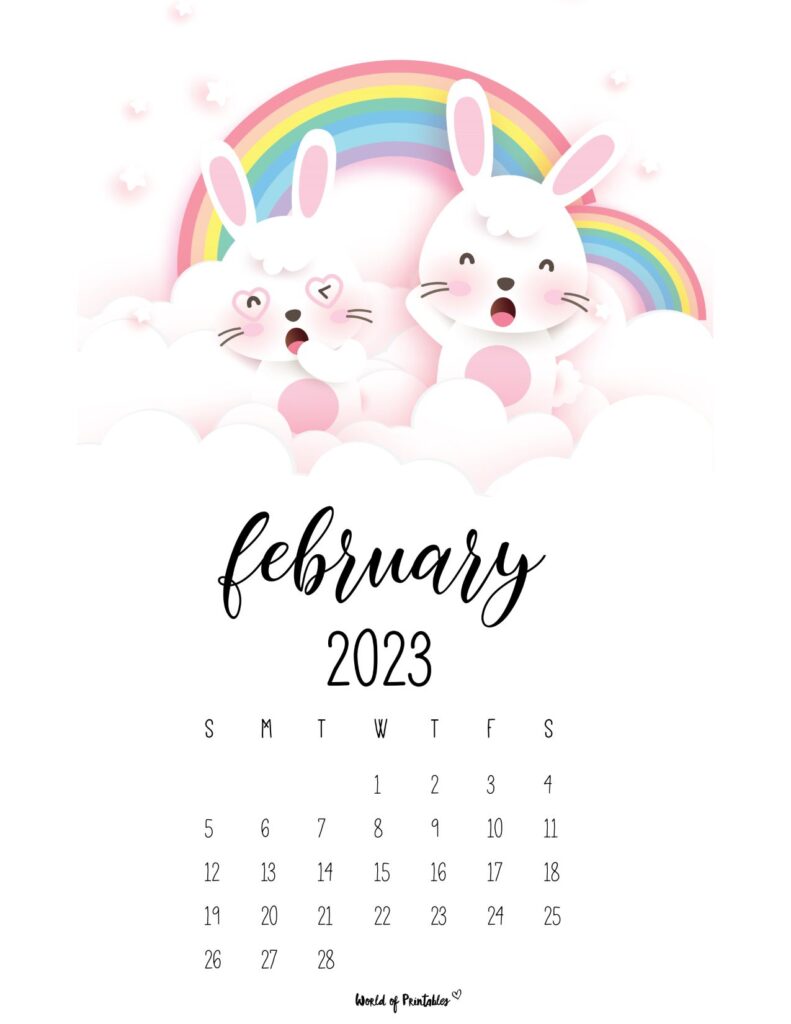 If you like these cute and fun calendars, then you'll be happy to know that we've got a range of fun calendar templates for you.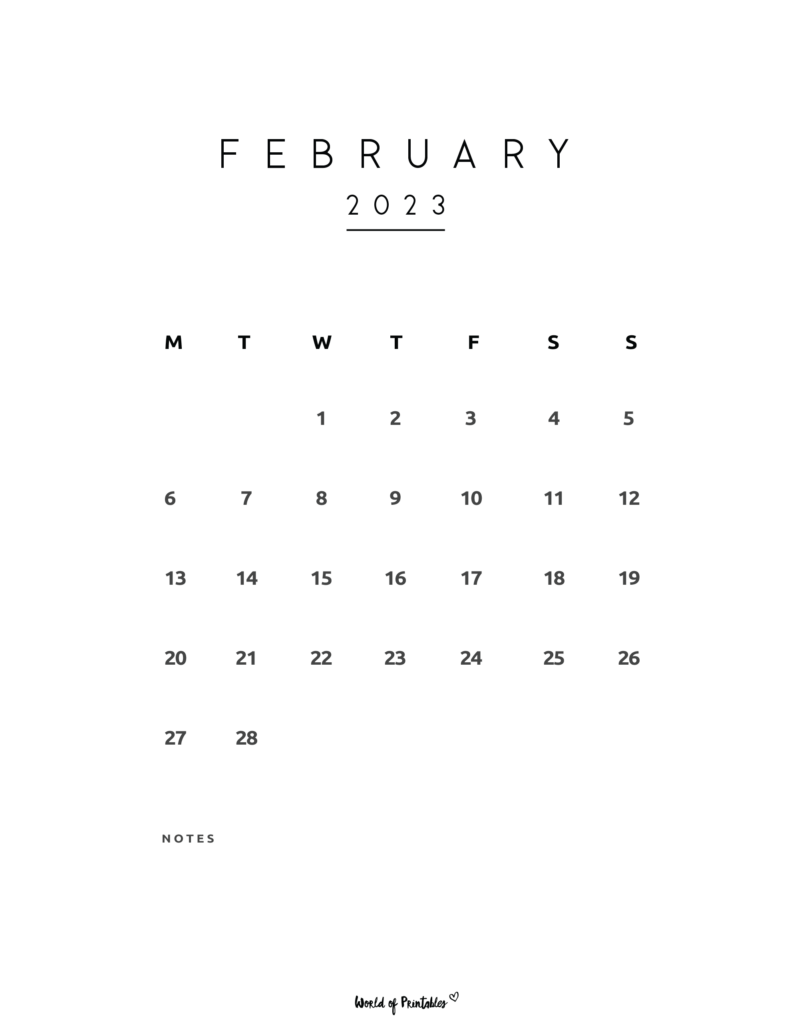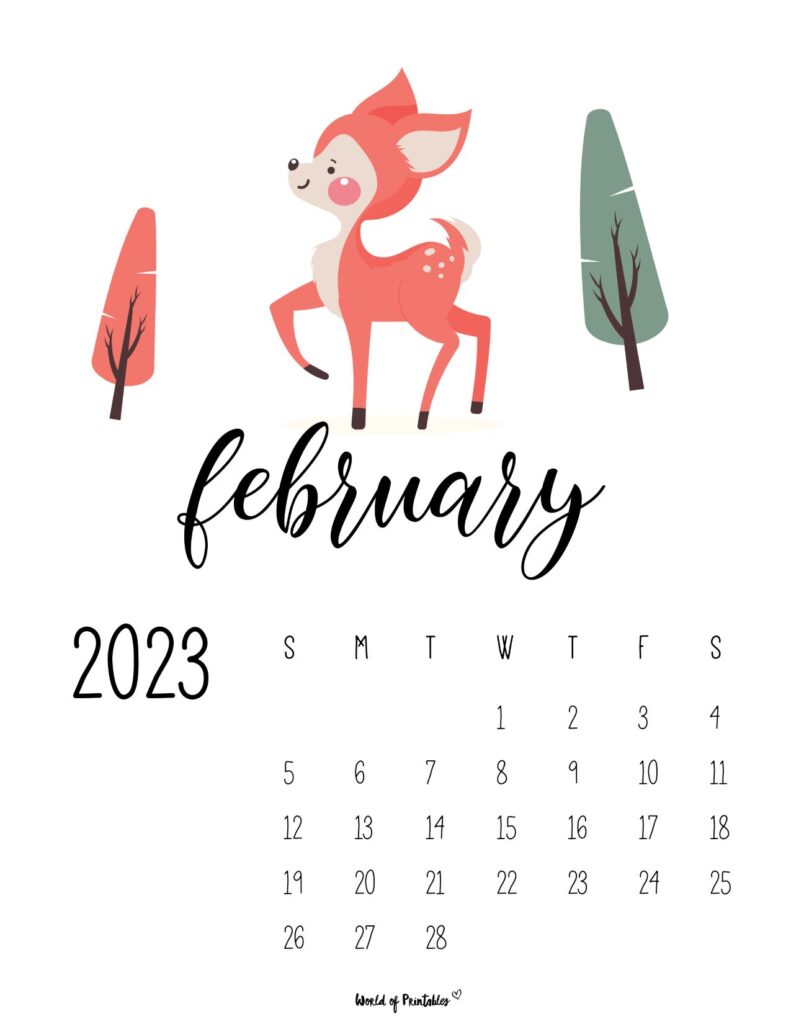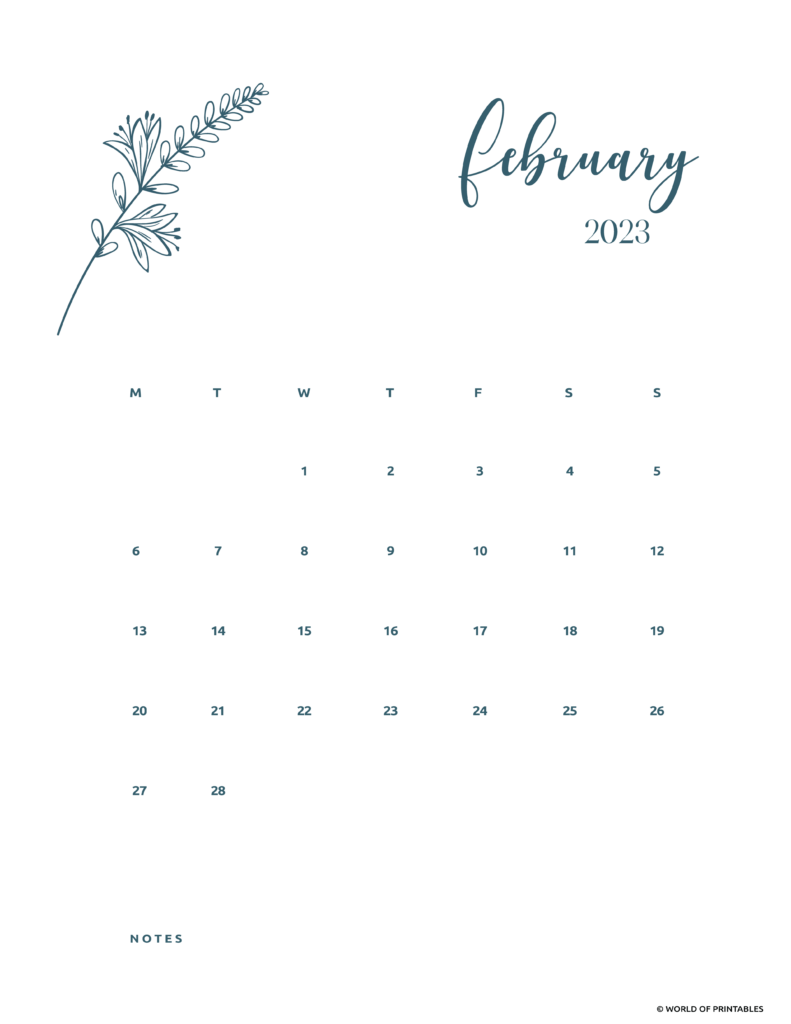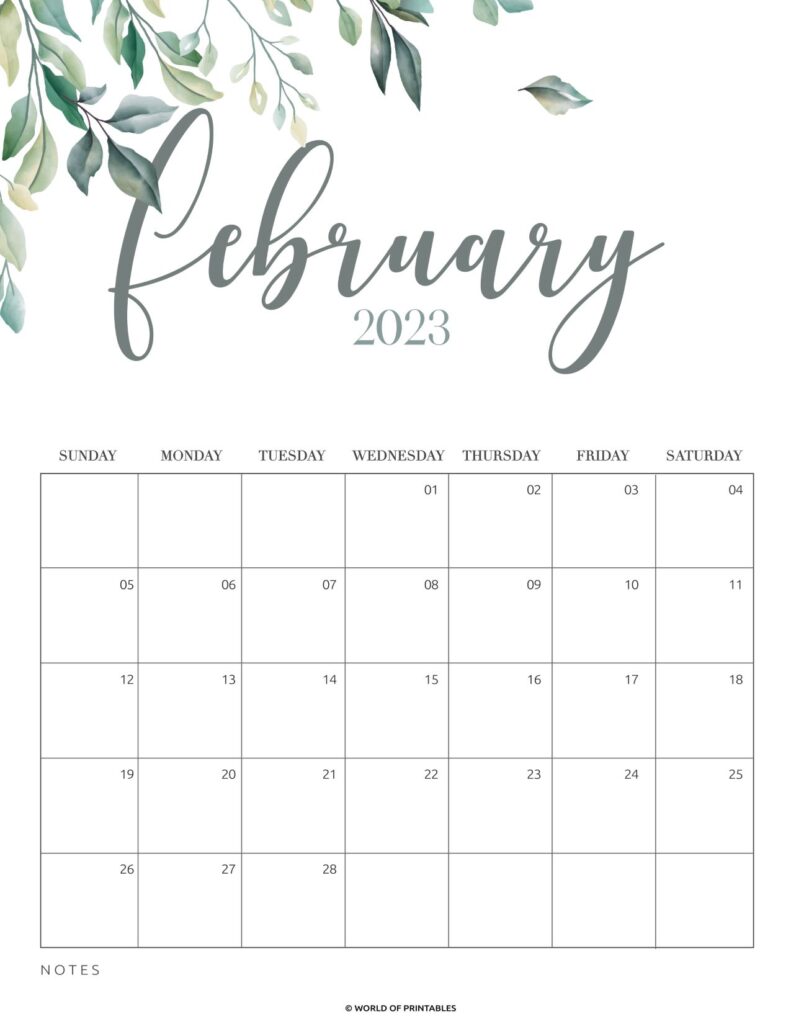 If you like these floral calendars, then check out our full range of floral calendar templates and print the one you need.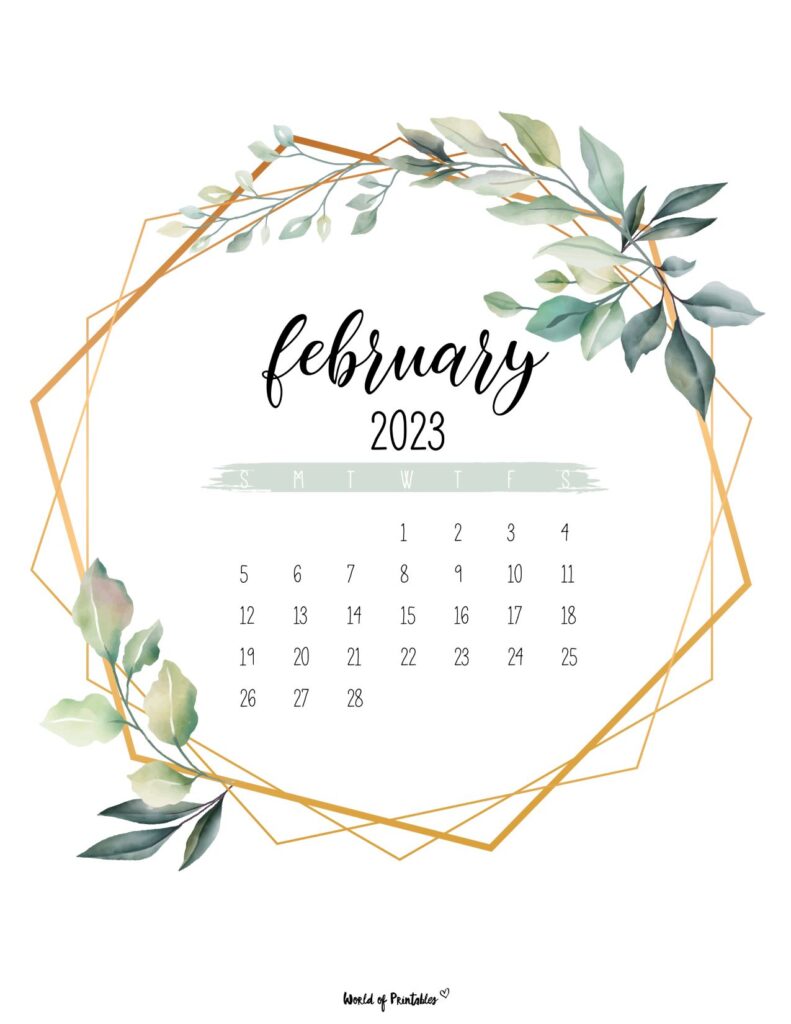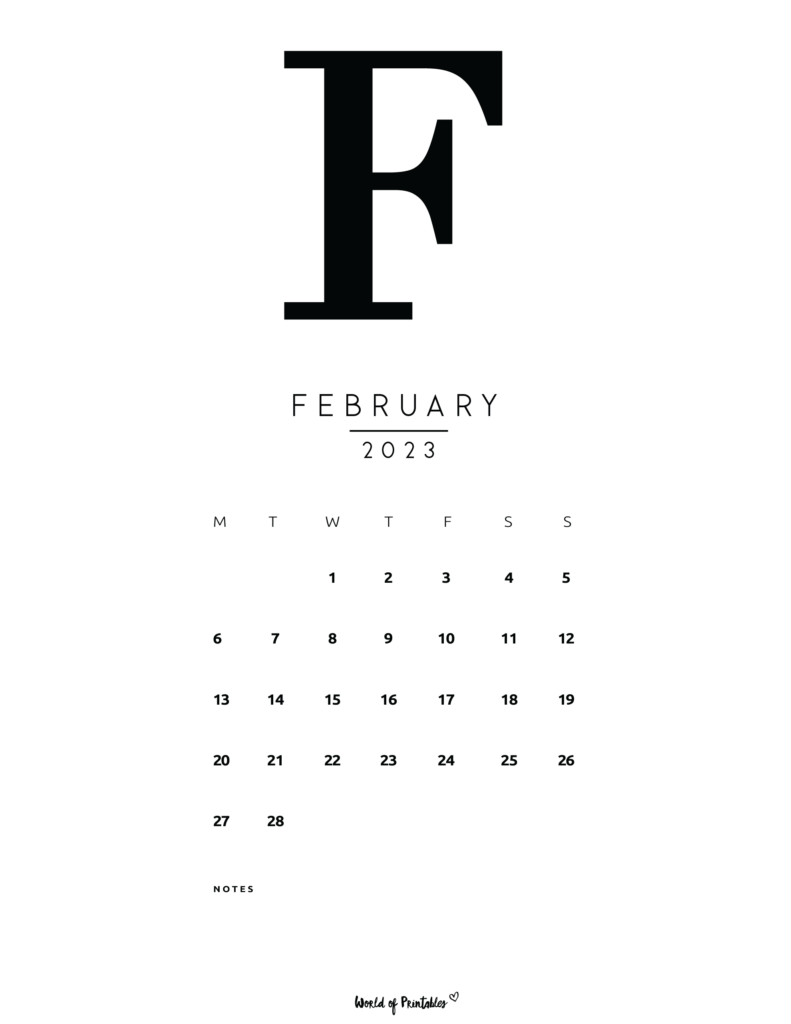 I really like simple, classic-style calendars, which is why we've designed a range of free simple calendar templates for you.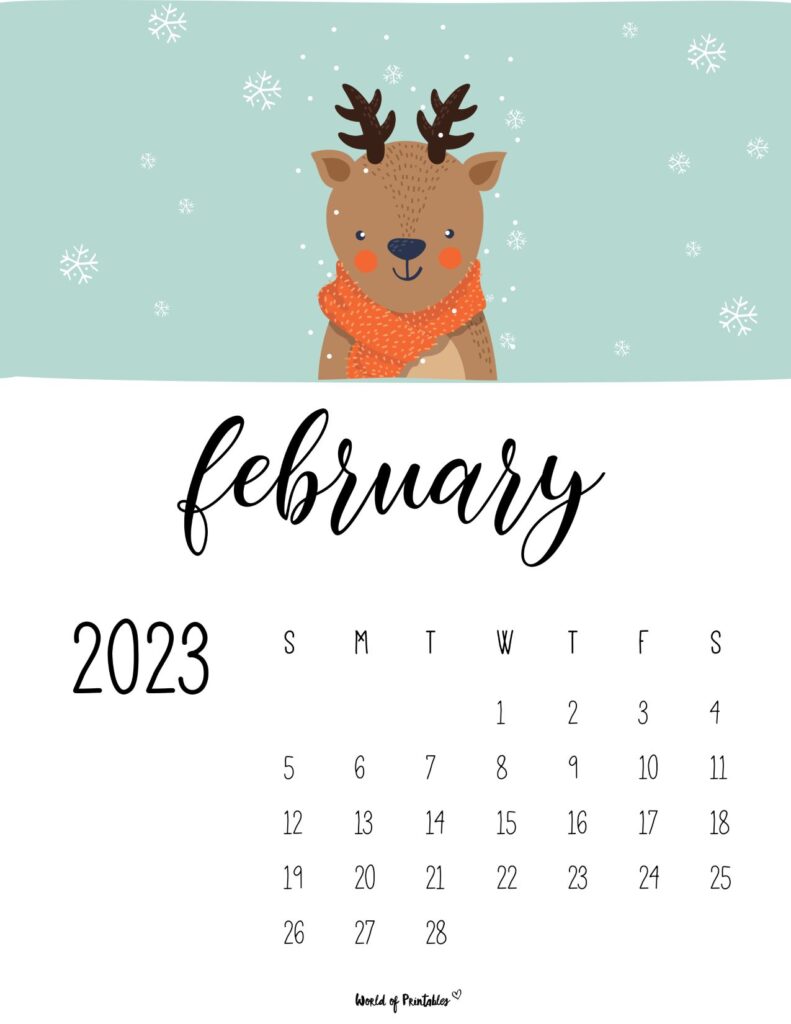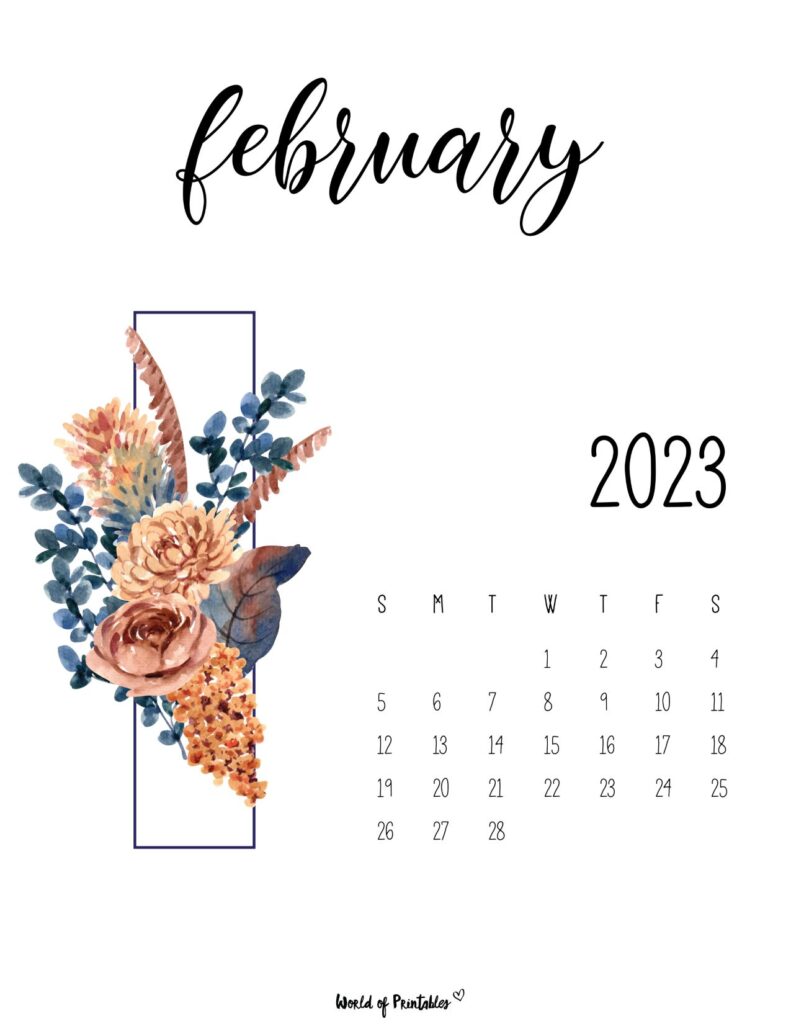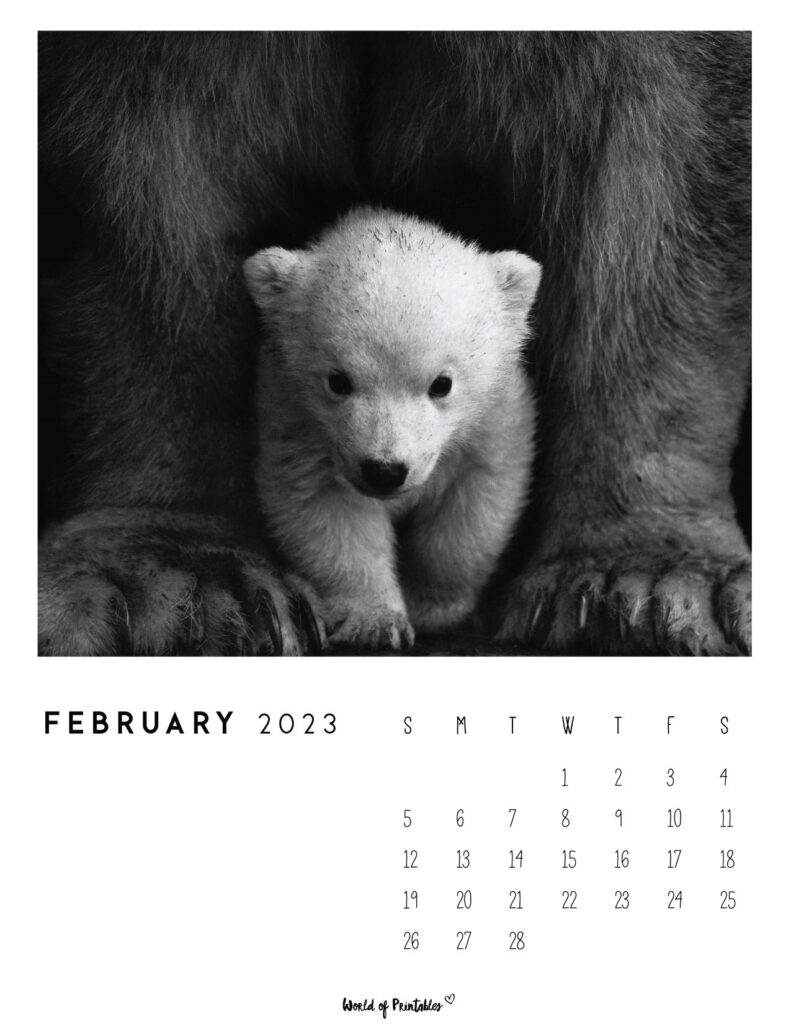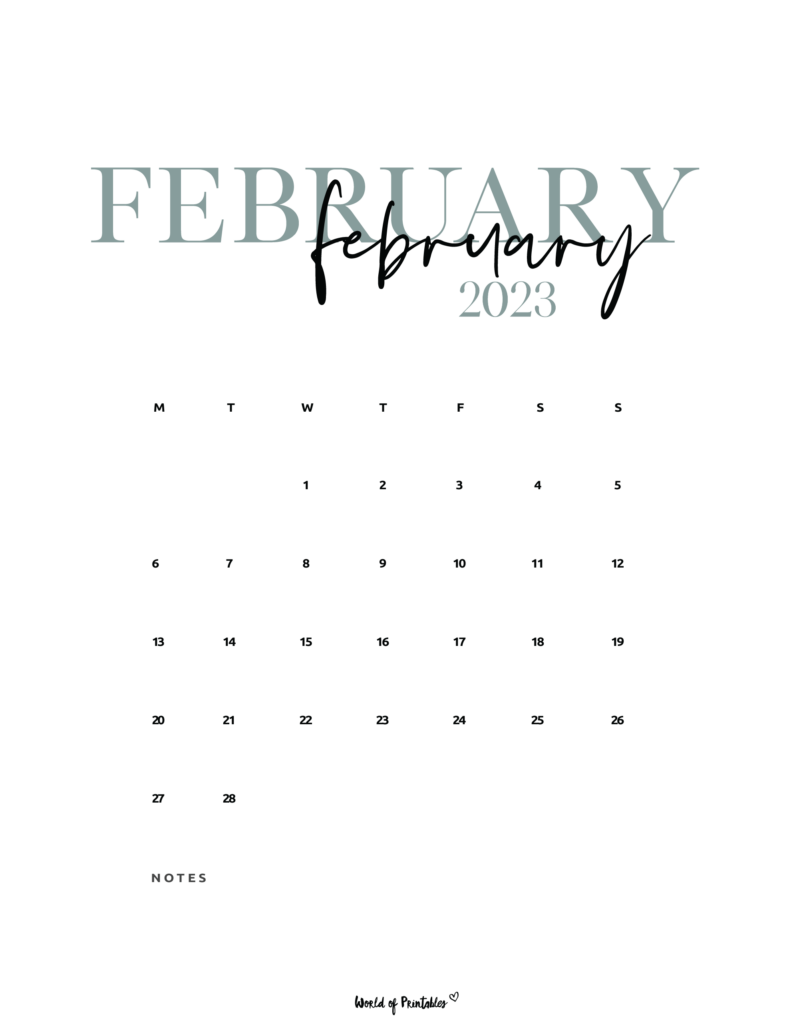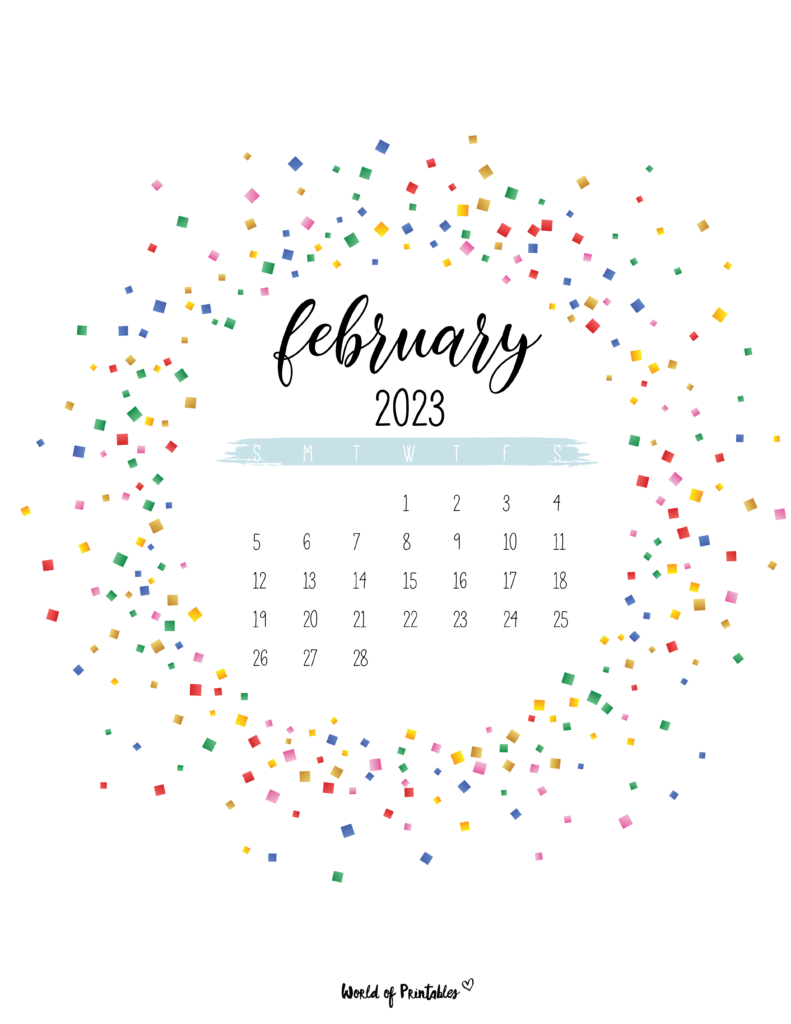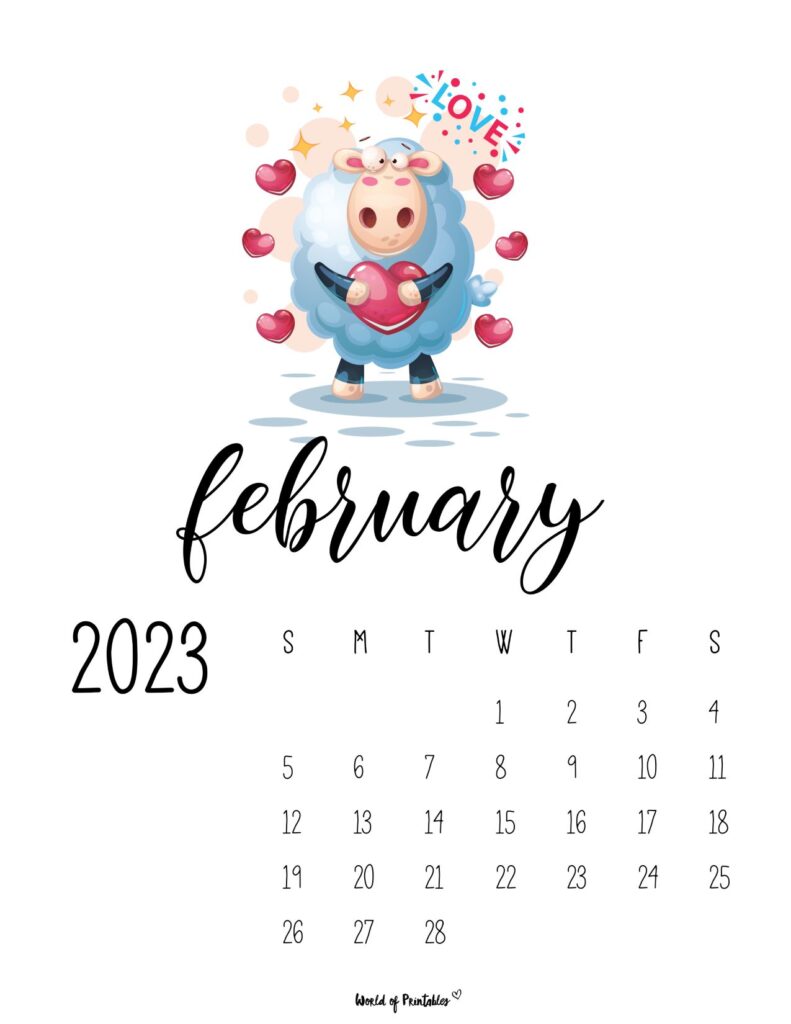 We think you will like these!
More free printable 2023 calendars
Our recent printable calendars are available for you to print for free.
You can also download our free printable blank calendar templates if you want something quick and easy that you can print at any time with minimal fuss.
What is the February Month Meaning?
February is the last month of winter in the Northern Hemisphere and is named after the Roman festival Februa. Februa is the festival of purification where people are ritually washed and the Roman God Februus was actually named after this festival.
What is the February birthstone?
The February birthstone is the beautiful purple Amethyst. As well as being the February birthstone, Amethyst is also believed to be a spiritual stone with natural healing powers such as helping with insomnia, nightmares, and feelings of guilt and self-deception.
What is the February zodiac sign?
There are two zodiac signs for people whose birthday falls in February. Depending on the date you were born you will be either an Aquarius (Water Bearer) or a Pisces (Fish). An Aquarius' birthday falls between January 20th and February 18th whereas a Pisces' birthday falls between February 19th and March 20th.
How many days are in February?
There are 28 days in February but 29 days in a leap year.
What day does February start in 2023, 2024, and 2025?
Want to know what day February starts this year? Below you will find the February start days for the next three years:
2023 – Wednesday February 1st
2024 – Thursday February 1st
2025 – Saturday February 1st
You might notice that every year the date changes by one.
February holidays
Let's take a look at some of the amazing February holidays you can look forward to celebrating!
These holidays are listed as Federal Holidays:
February 14 – Valentine's Day
February 20 – President's Day
Valentine's Day is a popular day not just in the USA but also around the world.
You can also download our free printable 2023 Calendar with holidays templates.
If you like weird holidays then there are so many unique and wonderful holidays to celebrate in February along with some well-known national holidays. Let's look at a few of them and see what we can look forward to in February.
What is celebrated in February on the following dates:
February 1
National Freedom Day
National Signing Day
National Get Up Day
February 2
Groundhog Day
Candlemas Day
National Hedgehog Day
National Tater Tot Day
February 3
National Wear Red Day
National Golden Retriever Day
National Women Physicians Day
National Carrot Cake Day
Feed the Birds Day
Give Kids A Smile Day
February 4
International Day of Human Fraternity
Rosa Parks Day
Thank Your Mailman Day
World Cancer Day
February 5
National Weatherperson's Day
World Nutella Day
February 6
National Frozen Yogurt Day
February 7
National Send a Card to a Friend Day
e-Day
February 8
National Boy Scout Day
National Kite-Flying Day
February 9
February 10
February 11
Safer Internet Day
National Inventors' Day
Thomas Edison's Birthday
International Day of Women and Girls in Science
February 12
Lincoln's Birthday
Darwin Day
Super Bowl Sunday
February 13
Galentine's Day (check out our printable Galentine and Valentine cards)
International Epilepsy Day
World Radio Day
February 14
National Donor Day
International Book Giving Day
February 15
Singles Awareness Day
International Childhood Cancer Day
February 16
National Almond Day
World Anthropology Day
February 17
Random Acts of Kindness Day
February 18
February 19
International Tug of War Day
February 20
Presidents' Day
National Love Your Pet Day
World Day of Social Justice
February 21
Mardi Gras
International Mother Language Day
National Sticky Bun Day
February 22
National Walking the Dog Day
National Margarita Day
World Thinking Day
February 23
February 24
National Peanut Butter Day
February 25
February 26
February 27
February 28
World Spay Day
Rare Disease Day
How to make printable calendars look stunning
Print it! – Our calendars look so good when printed on this bright paper.
The paper is a good weight and works great with inkjet and laser printers, making the ink look crisp and clear. If you want something a little more heavy-duty then this card stock is a great option that's used a lot in the printable community.
Add some style!
Resize it – Resize our calendars easily, make them bigger or smaller to fit into your planner, frame or hanger – find out how here.
Style it – Style your calendar! Add them to showcase frames for a stunning display, poster hangers for a boho look, or even bind up your own for a shop-bought look! See more ideas on how to style printable calendar templates to match your home decor!
Snap it – Take a photo of your calendar and tag us on Instagram! We love to see how you use our calendars and may even feature your photo on our blog!
Since you're here, why not follow us on Pinterest or Insta, we like to create new wallpapers and printables all the time, so follow us to get notified on what we've been up to!