To help you stay on track in 2025 and make the most of the year ahead, we're excited to introduce our collection of 2025 year calendars. With 70 unique designs to choose from, there's something for everyone!
We believe that organization printables should be accessible to everyone. That's why all of our 2025 year calendars are free to download and print. Don't spend a penny buying a calendar to print – our amazing printables will always be free.
Our 2025 year calendar printables offer a versatile and stylish way to stay organized and make the most of the year ahead. Whether you're a planner enthusiast or simply looking to streamline your life, these calendars provide a valuable tool for achieving your goals and managing your time effectively.
Imagine having the entire year of 2025 right at your fingertips with just one glance! That's the magic of a 2025 year calendar, also known as a full year calendar. It condenses all 12 months into a single sheet, offering you a bird's-eye view of the entire year, and we've brought this convenience to life with style!
Exploring 70 Unique Calendar Designs
At our virtual design studio, we've been hard at work crafting a dazzling array of yearly calendars. Our collection spans the spectrum from minimalist designs for simplicity, to vibrant styles with bursts of color. Whether you crave a calendar that whispers simplicity, screams boldness, or embraces the elegance of a landscape or portrait layout – we've got you covered.
With 70 different designs to choose from, you can find a 2025 year calendar that suits your unique personality and needs. Whether you prefer minimalistic elegance or vibrant colors, we've got you covered.
So, if you're ready to transform your year into a masterpiece of organization and style, dive into our selection of 2025 yearly calendar printables. Your path to a well-planned and unforgettable year starts here! Download your favorite 2025 one page calendar today and embrace the journey that 2025 has in store for you!
These 2025 year calendars are also great for use in your favorite planner and can help you plan your year easily. 
2025 Year Calendars
Fall in love with these stunning 2025 year calendars and choose your favorite. There are so many different designs to suit all ages and they can easily be resized to fit your planner, journal, or place inside a locker at school.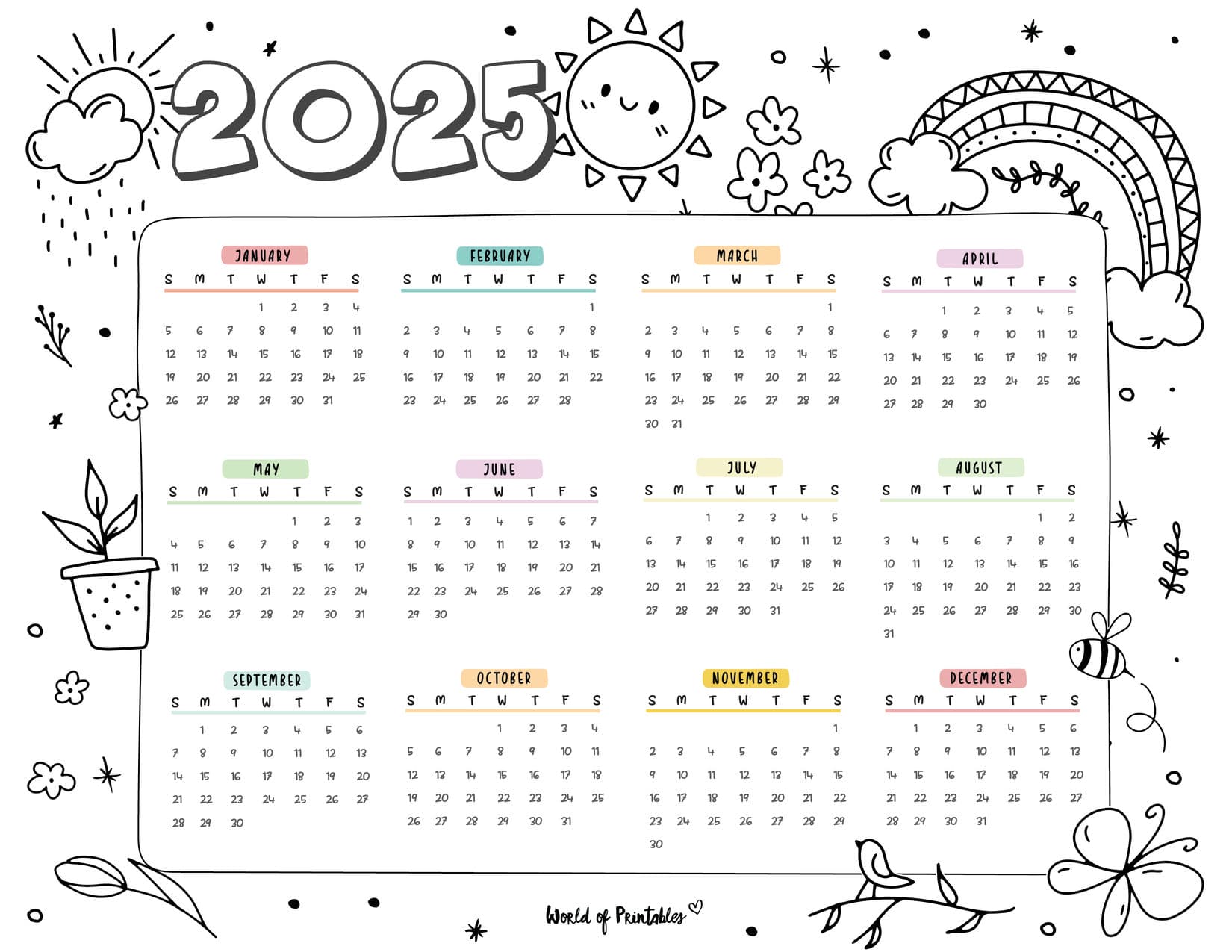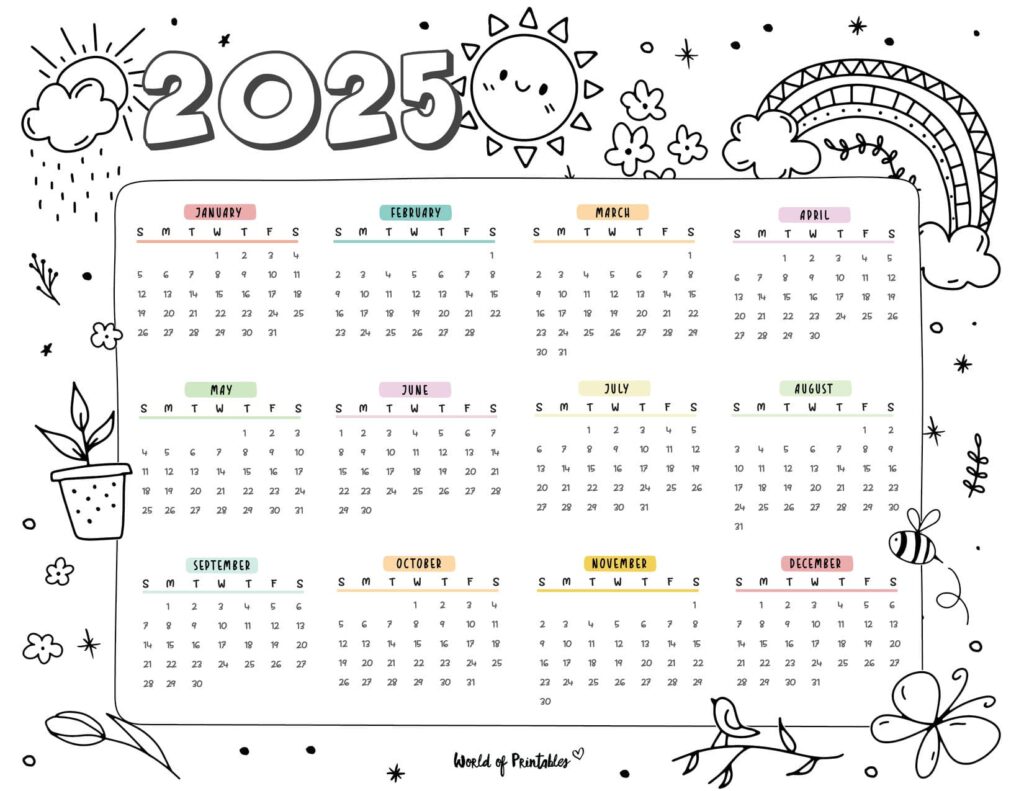 These 2025 year calendars provide a quick and comprehensive overview of the entire year to help you with long-term planning, tracking holidays, identifying weekends and workdays, and gaining a holistic view of the year's schedule.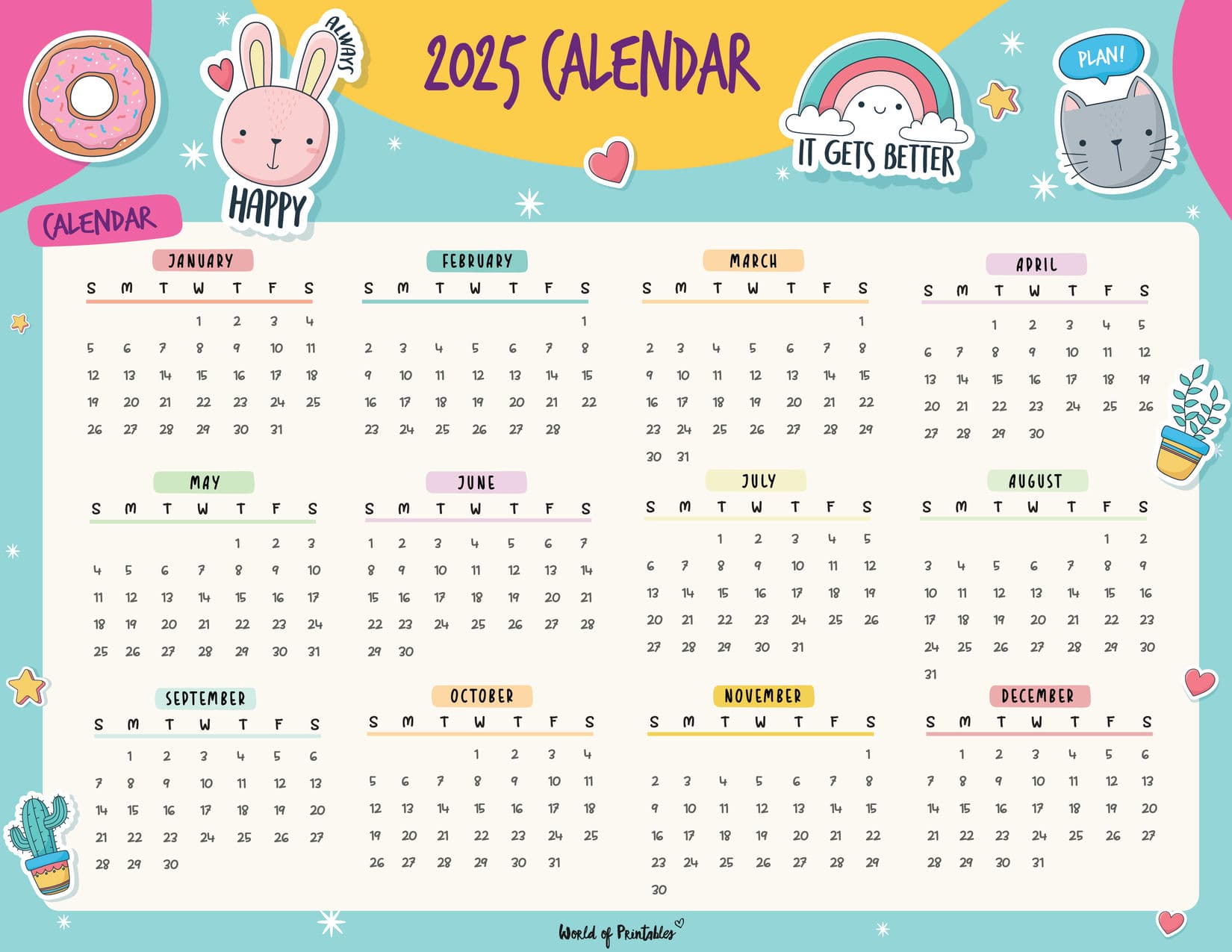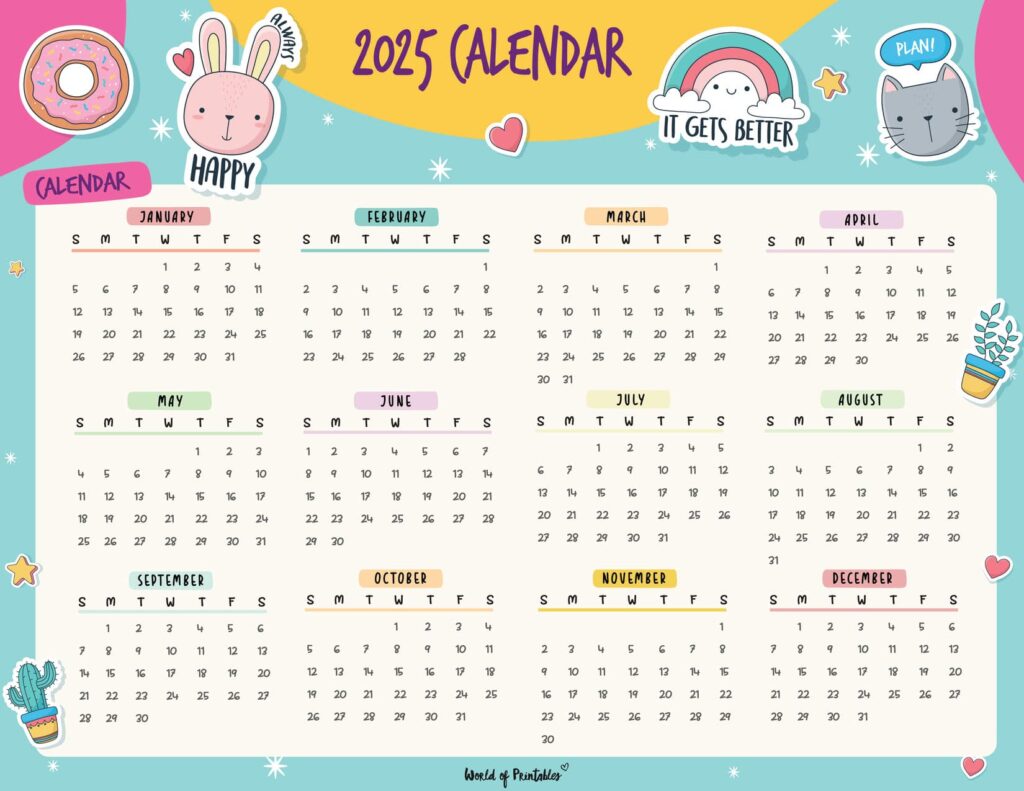 For best results when printing, choose your favorite style of 2025 calendar from the selection on this page and save it before printing.
If you would prefer a monthly calendar, then we have hundreds of different styles to choose from. See our full range of calendars here.
Yearly Calendar 2025
Whether you're the kind of person who color-codes their tasks with military precision or someone who dreams big and bold, our yearly 2025 calendar printables are more than just tools; they're your trusted companions on a year-long journey to success.
Transform a simple piece of paper into a dynamic hub of productivity. With our calendars by your side, you're not just planning; you're crafting a roadmap for the adventure of a lifetime.
2025 Printable Calendar One Page
Say goodbye to flipping through calendar months and say hello to a vibrant snapshot of the year ahead. Explore these printable 2025 one page calendar gems and bring a whole new level of fun and functionality to your planning game. Let's turn your dreams into plans, one page at a time!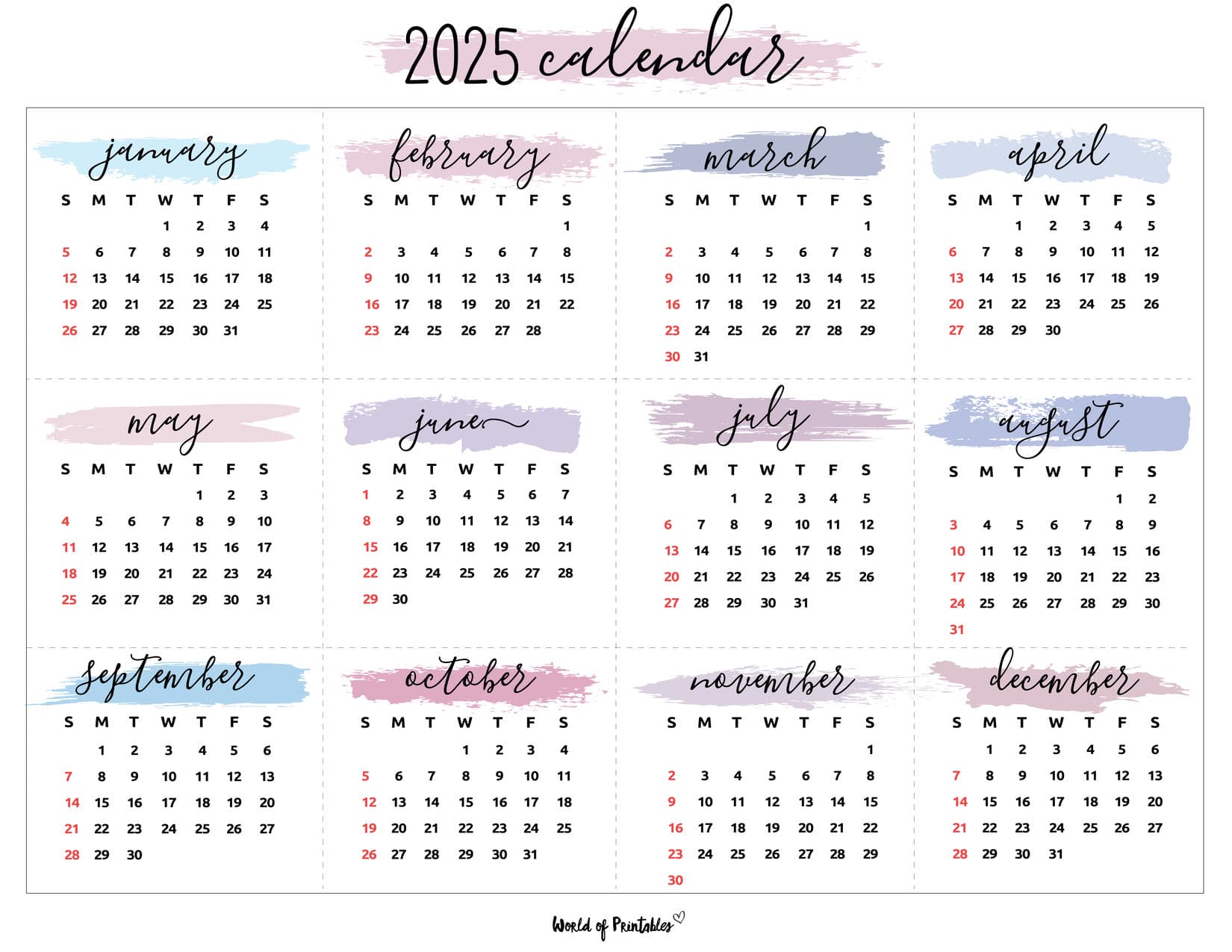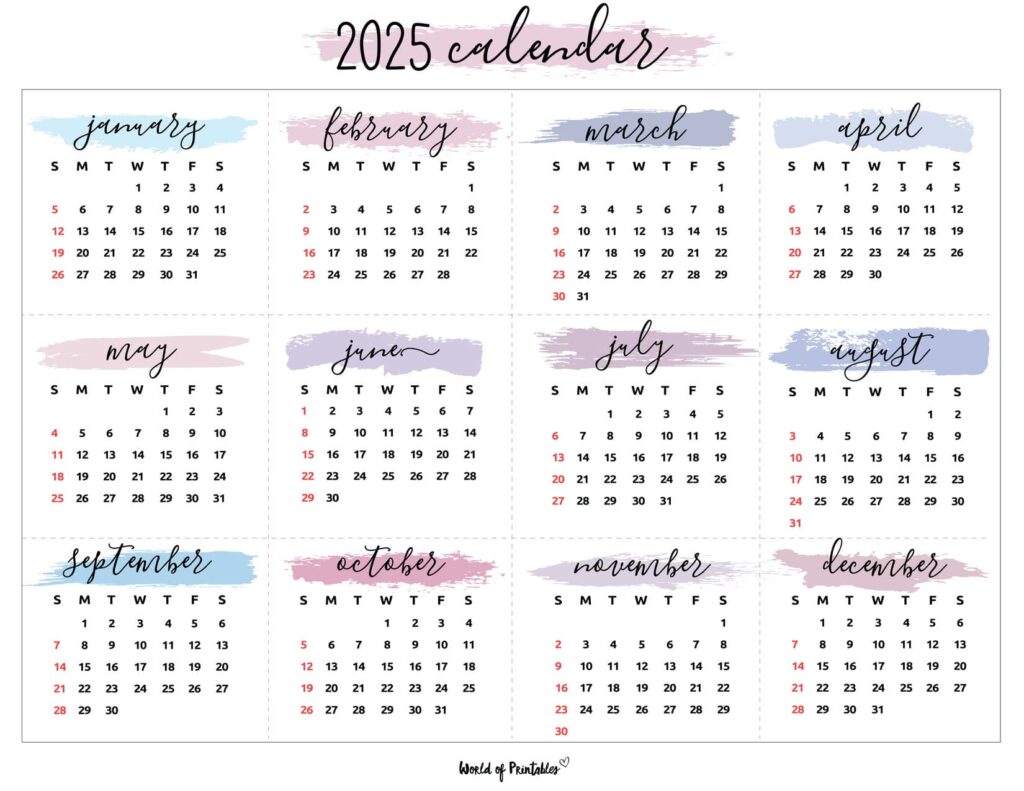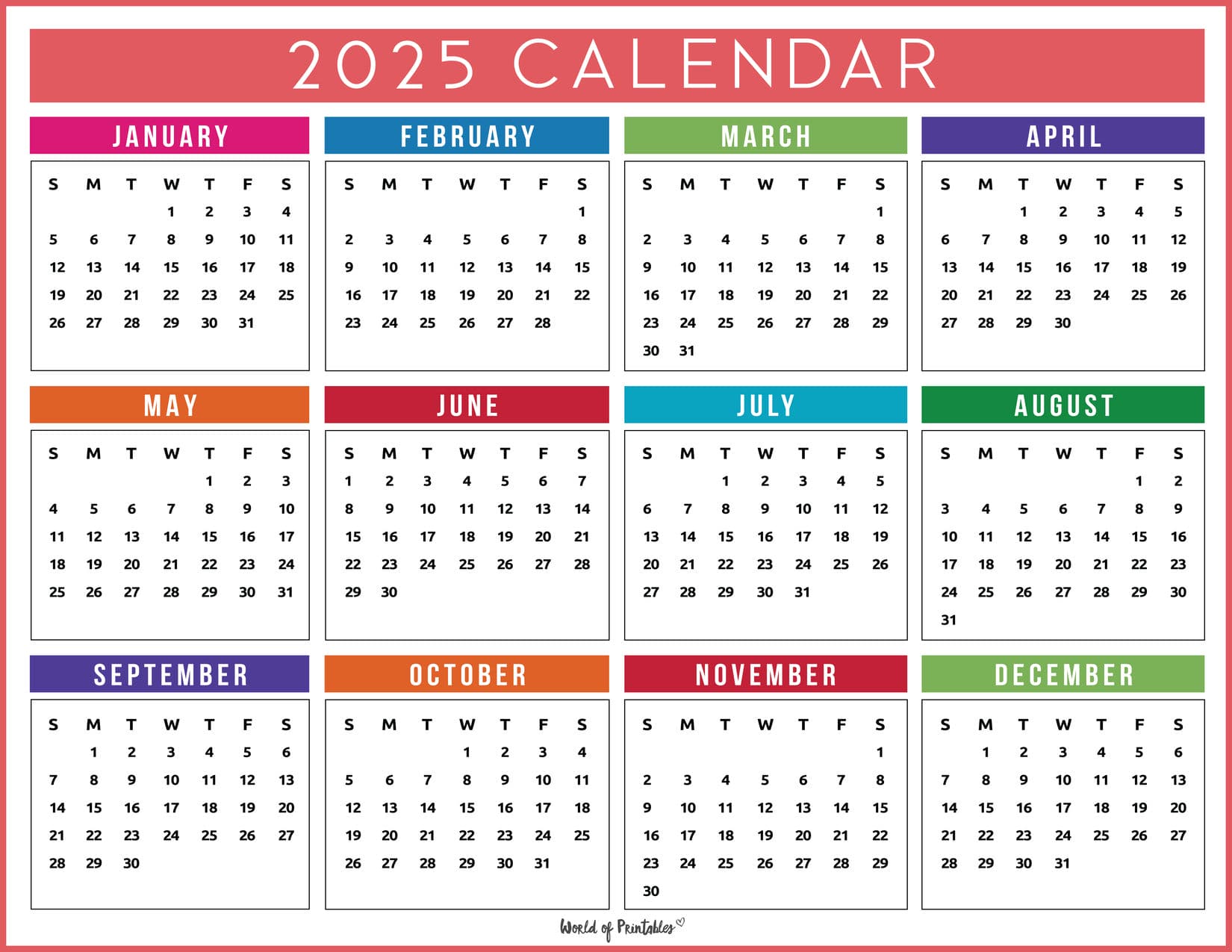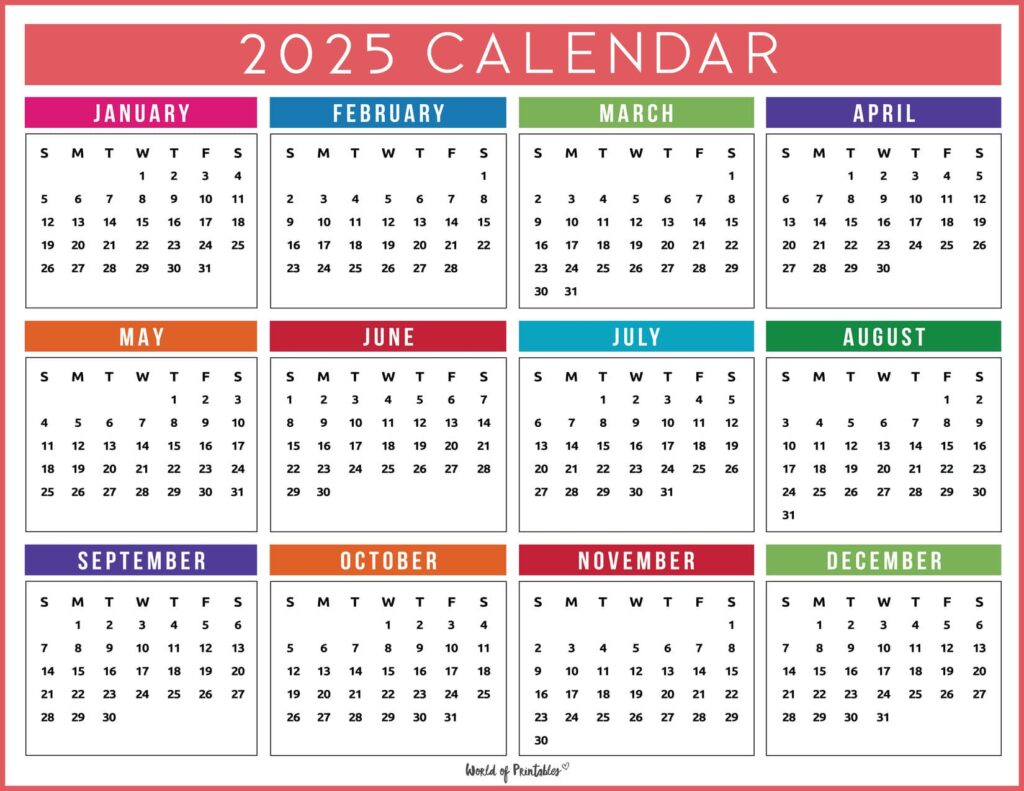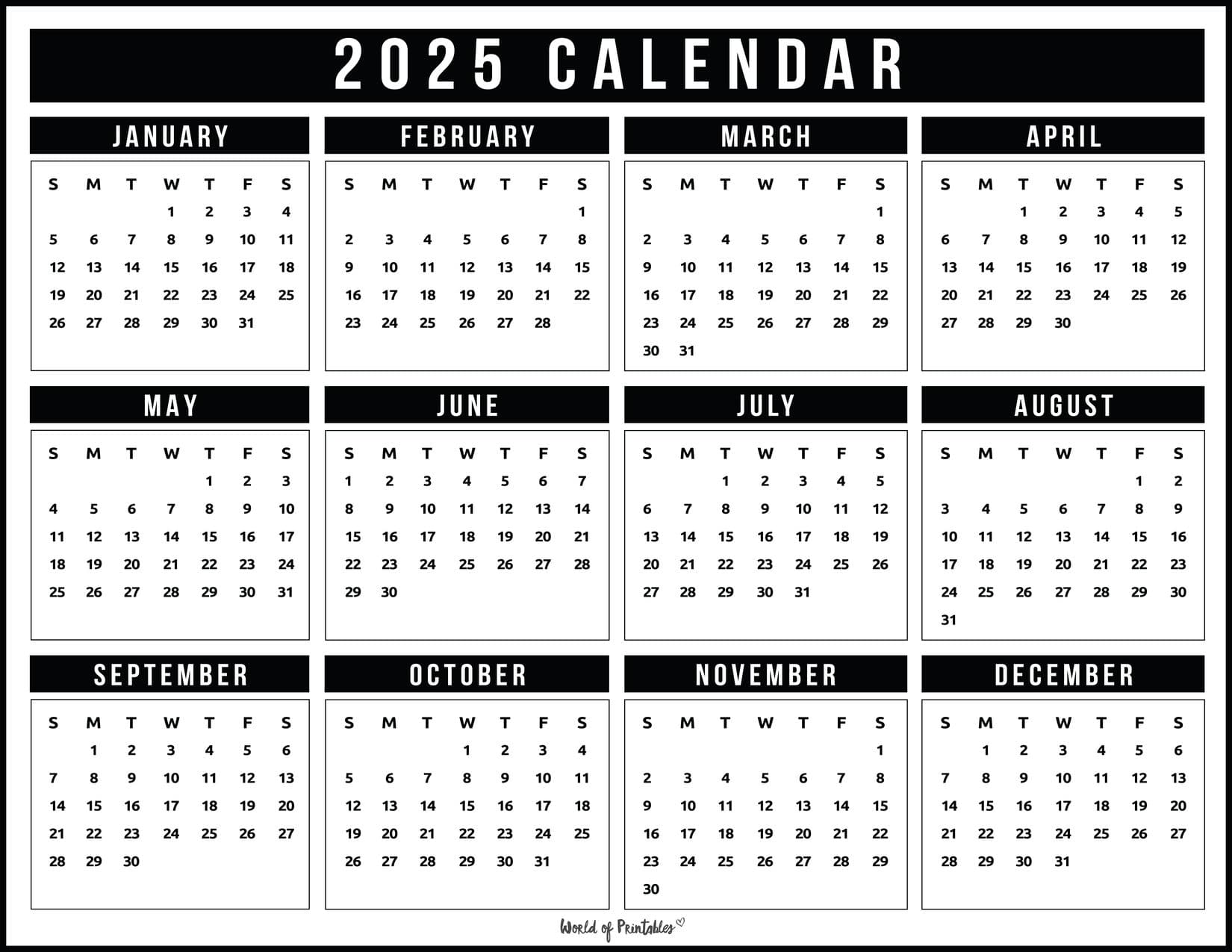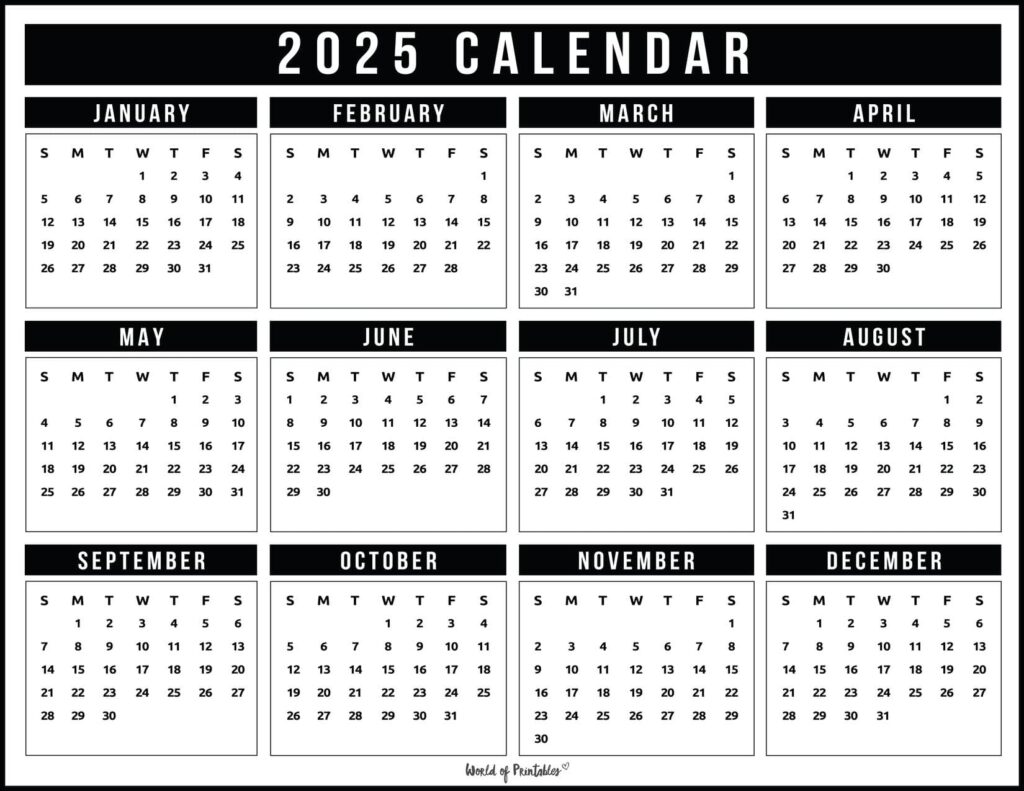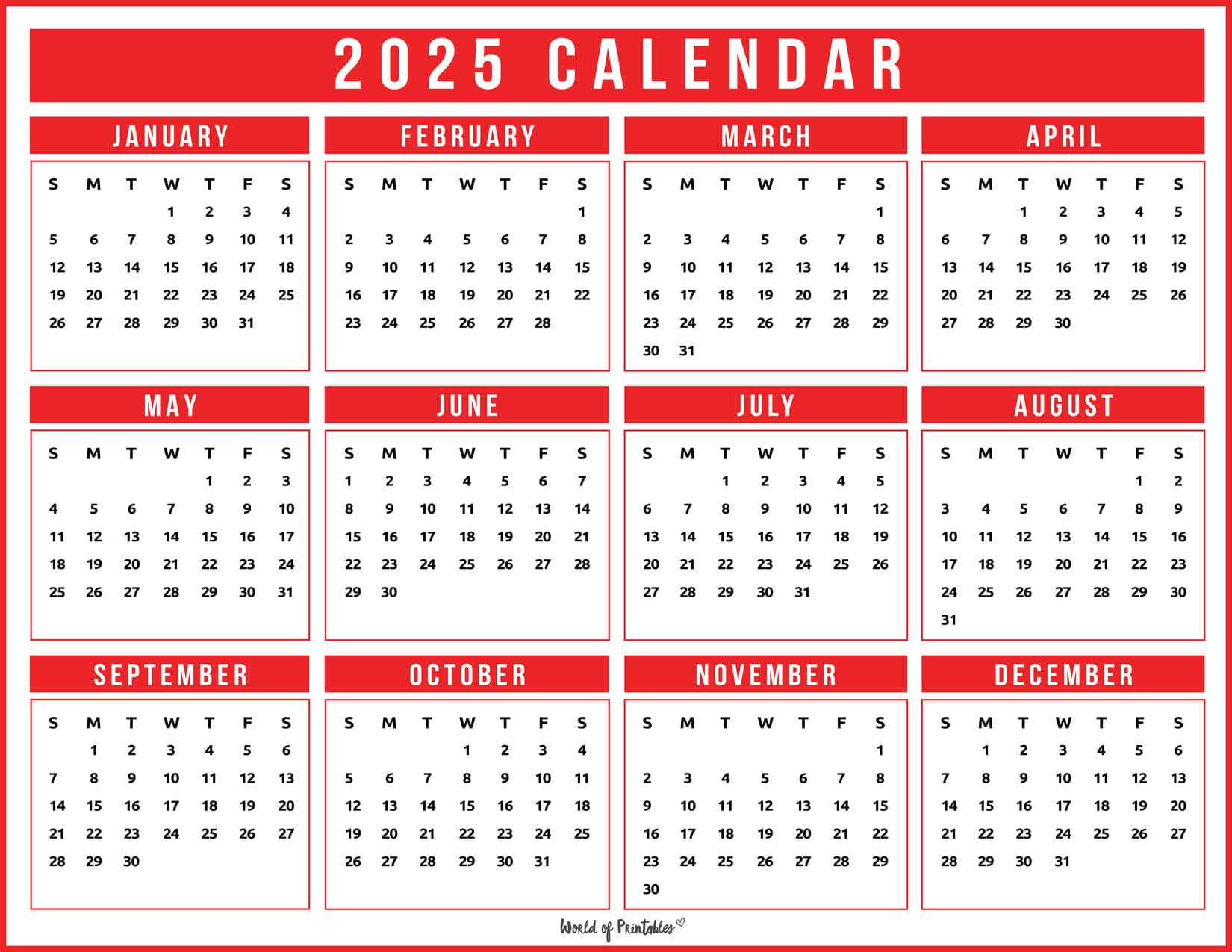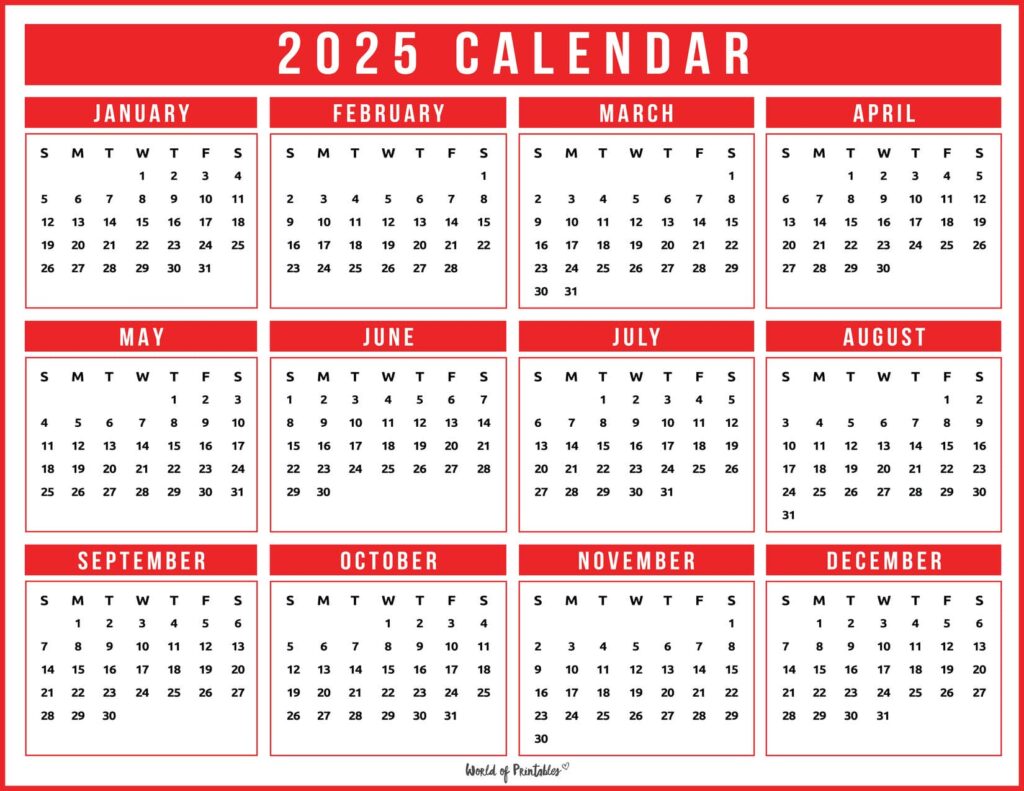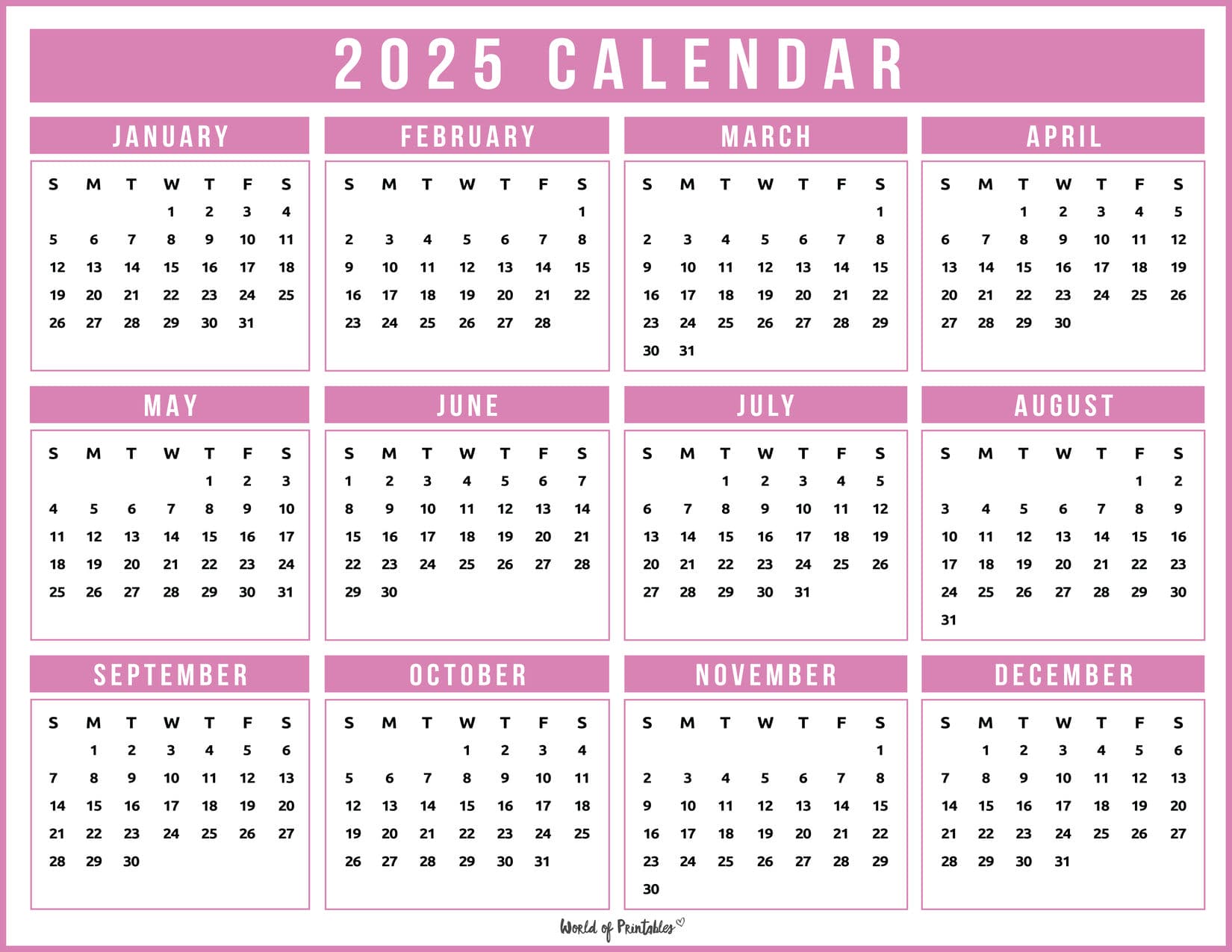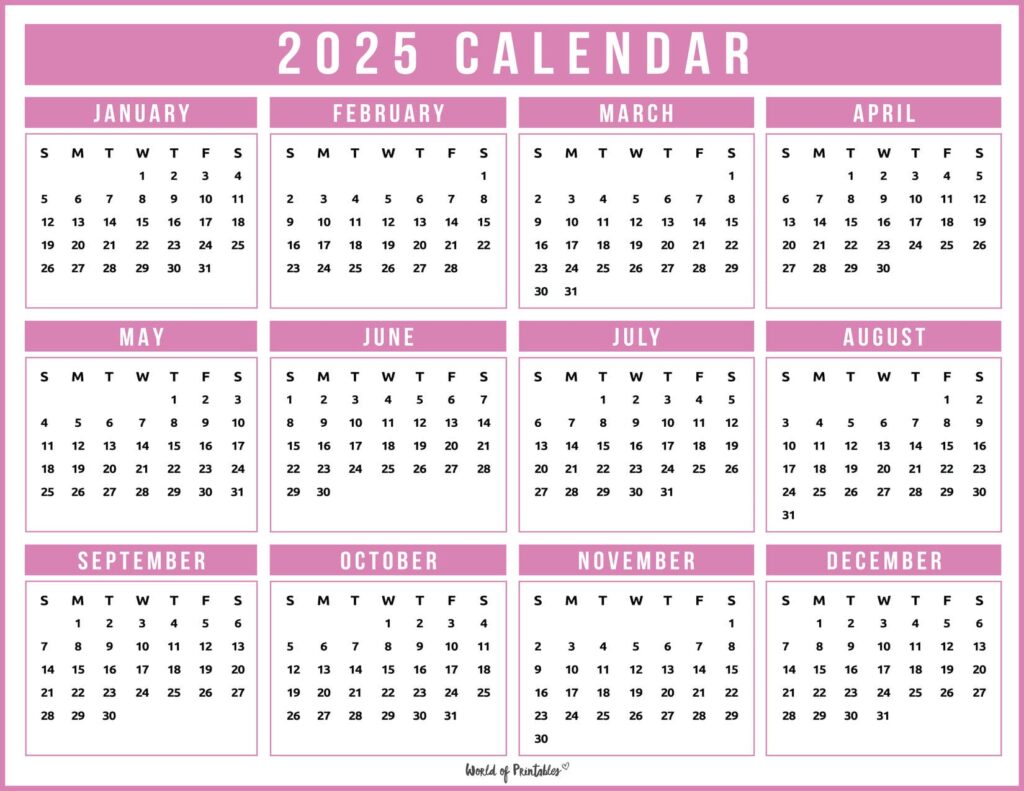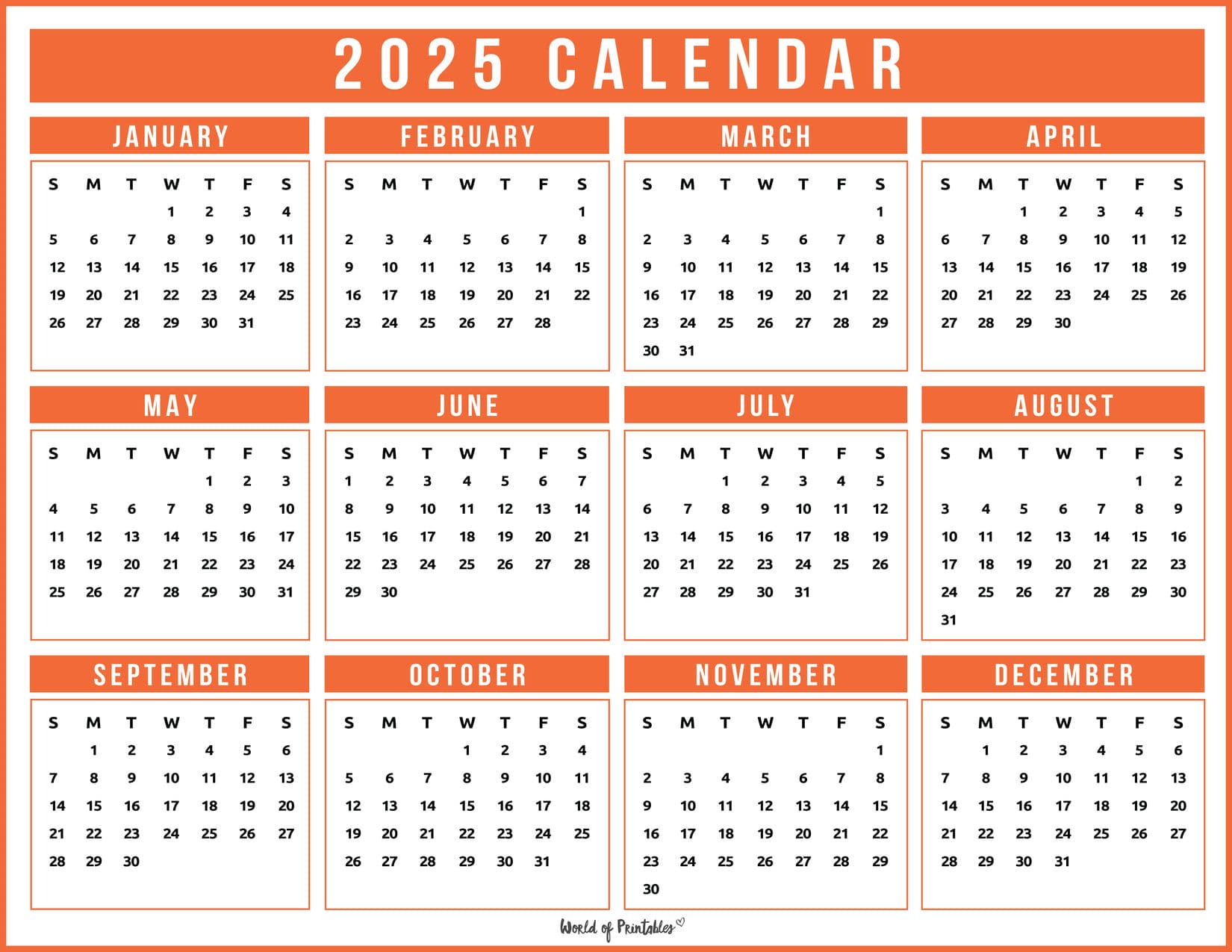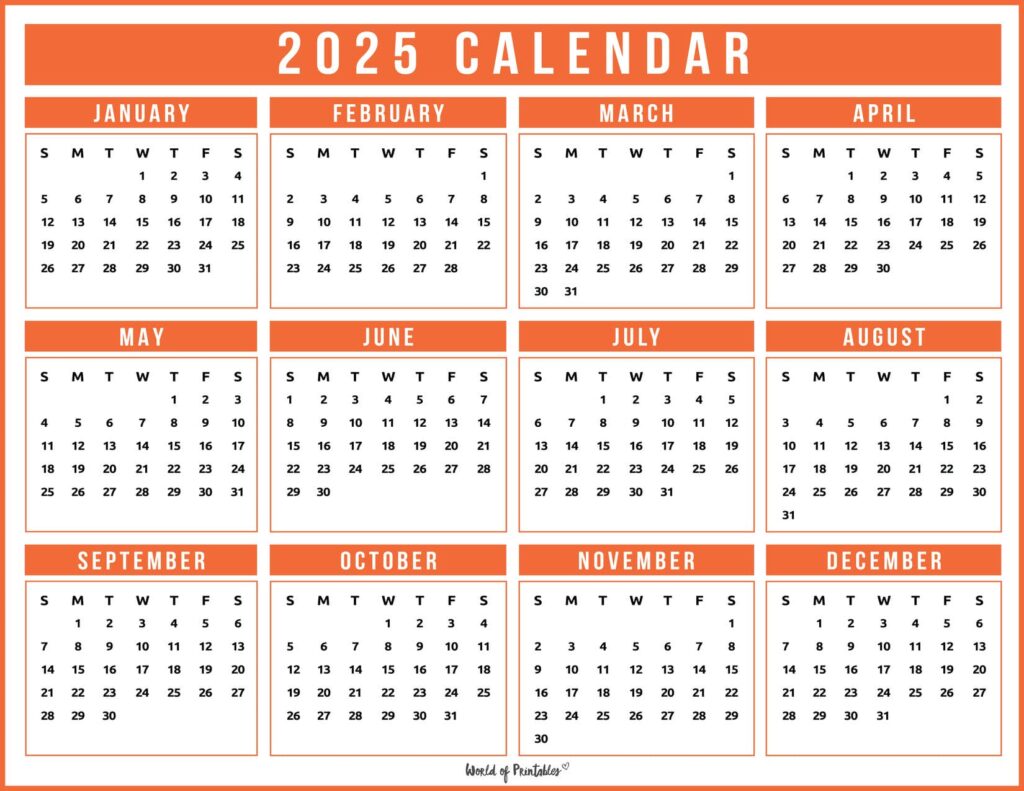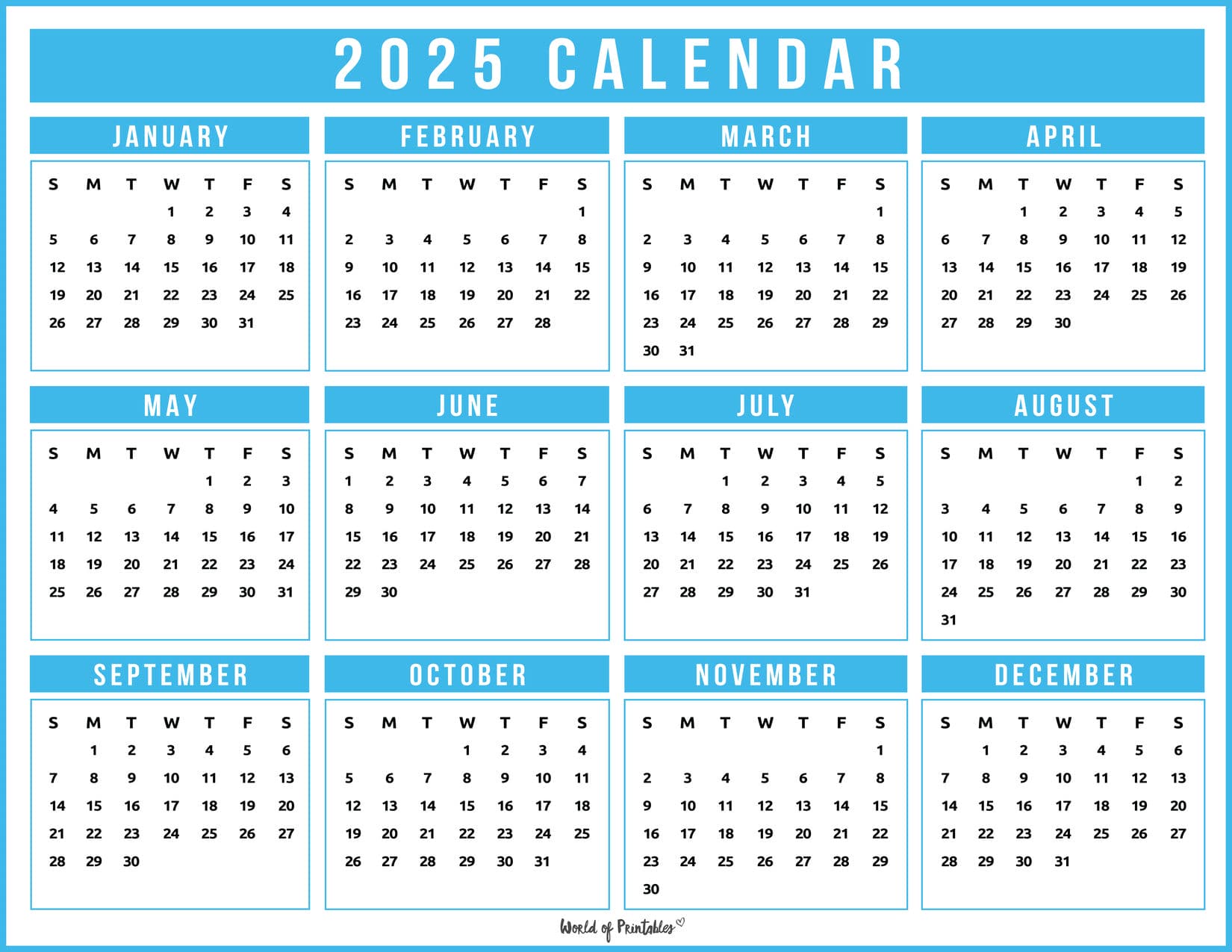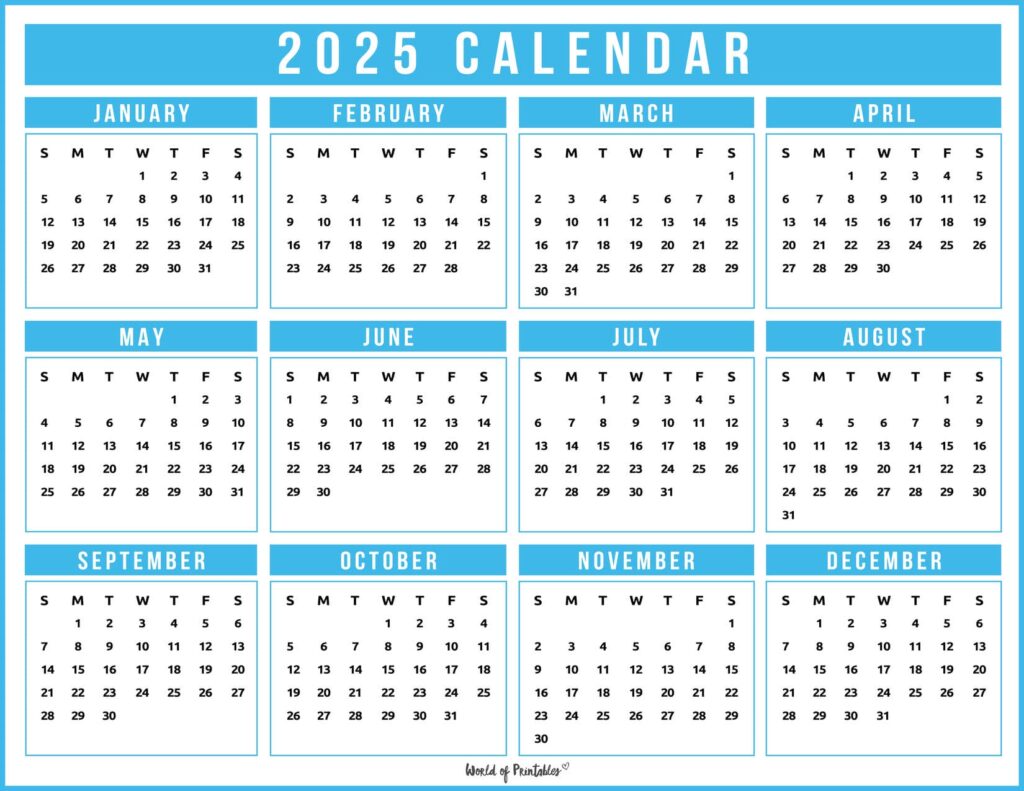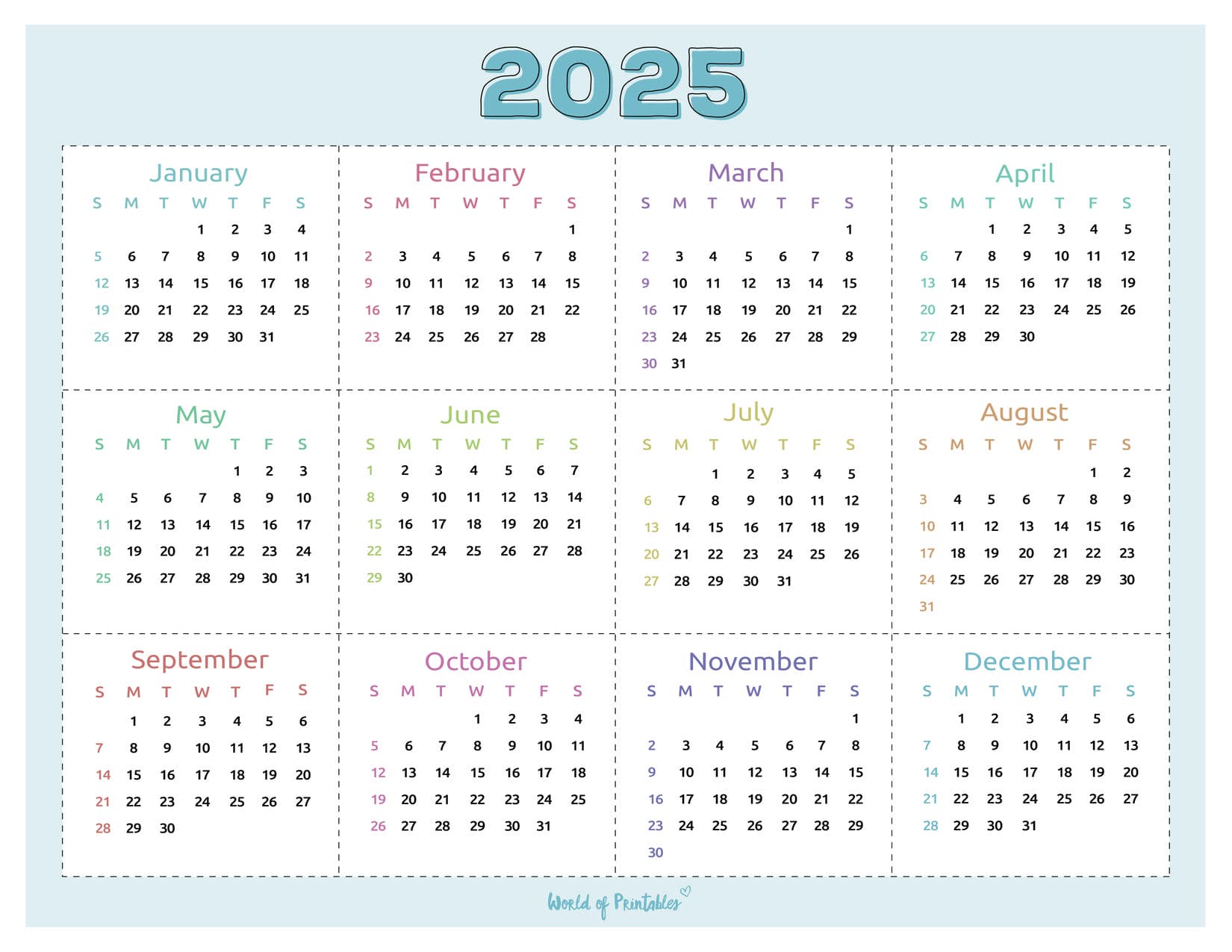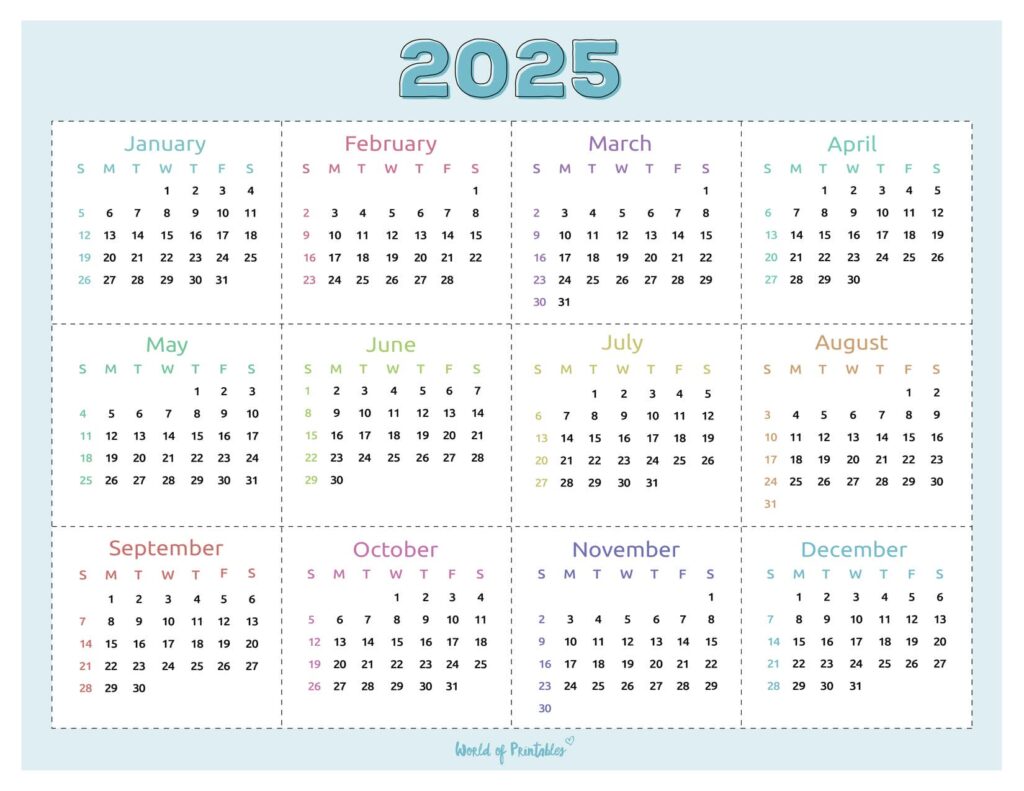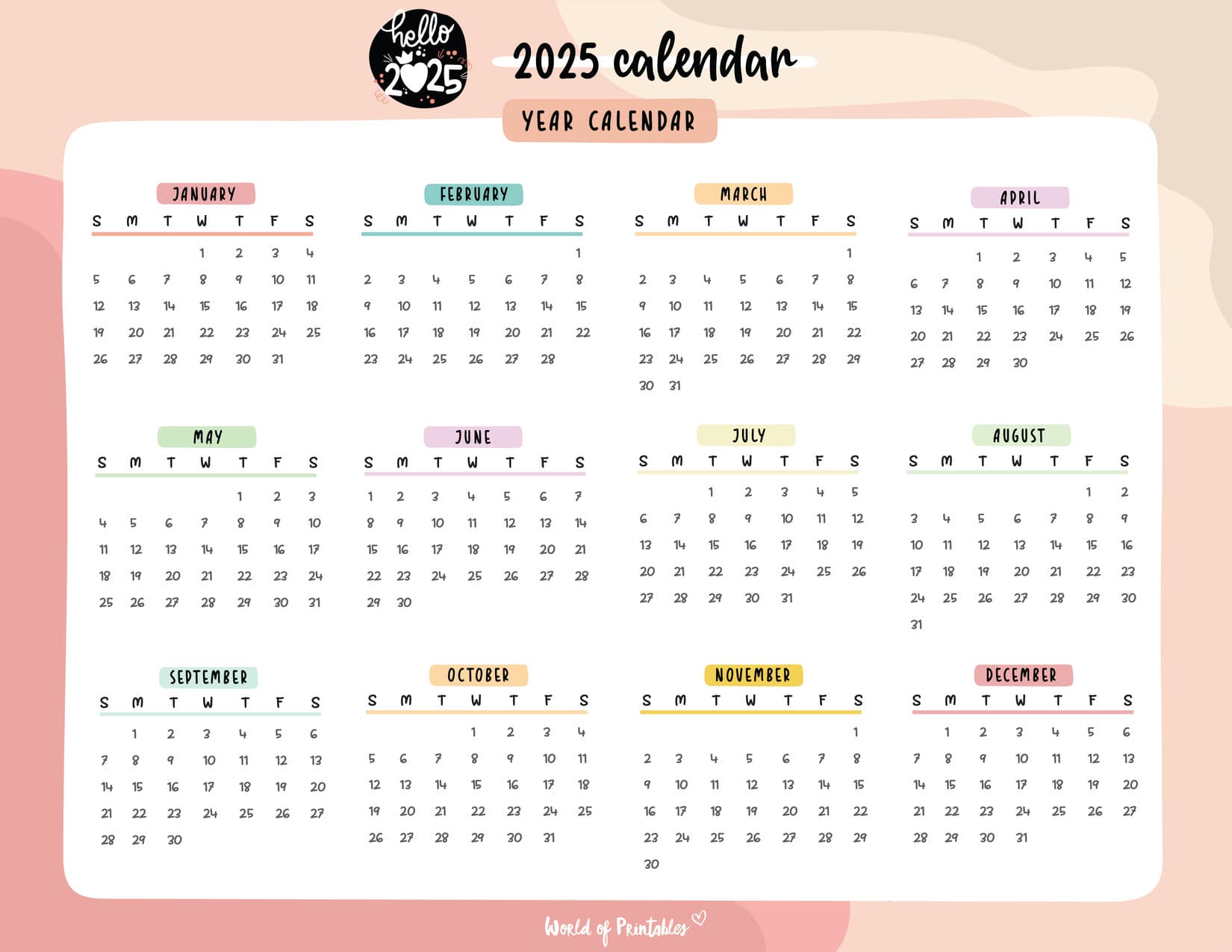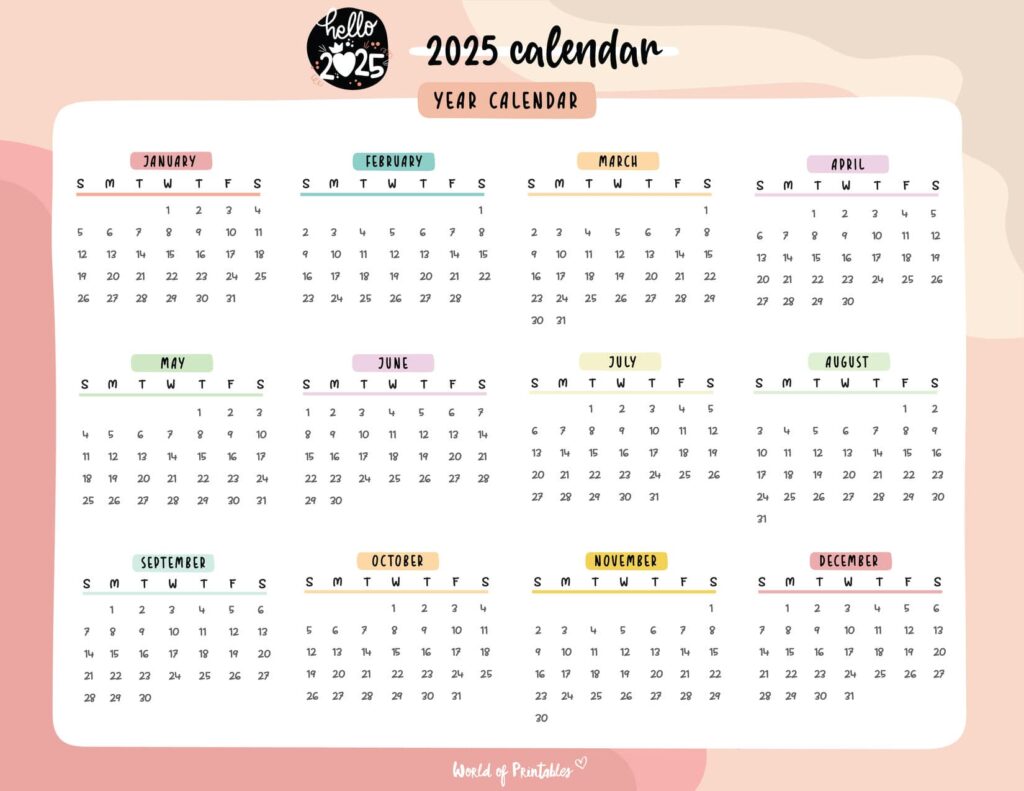 Remember, the design of your 2025 year calendar should align with your personal style and goals for the year. It's not only a functional printable but also a creative expression of your aspirations and plans for the year ahead.
As we wrap up this exploration of the best 2025 year calendars, we hope you're feeling inspired and ready to take on the year 2025 with confidence and organization. Our free 2025 year calendar printables are here to support you every step of the way. Remember, a well-organized year begins with a single step, and that step could be downloading your favorite calendar design from the selection here.
Whether you're planning personal adventures, professional achievements, or simply aiming for a more balanced and structured life, our calendars are your trusty companions. Don't forget to share this resource with friends and family, as we believe that everyone deserves a chance to make their year count.
Thank you for choosing our 2025 year calendar printables, and we wish you a year filled with success, joy, and memorable moments. Embrace the journey, set your goals high, and let your beautifully designed calendar be your guide to a fantastic year ahead!
More Free Calendars
More awesome freebies from World of Printables
We've created a huge amount of stylish printables, from blank calendars to stylish calendars, planner templates, and much more.
Here are our recent calendars. You'll find many more printable calendars available to print for free.
If you're looking to decorate your phone, tablet, or desktop, check out our calendar wallpapers – you'll find amazing photographic wallpaper, with monthly calendars.
Free printable planner templates
You'll also find a huge amount of our free printable planners and templates to help you plan and organize all aspects of your life.
Be sure to grab as many freebies as you can while you're here.
We think you'll find these very useful:
Some of our recent printable planner templates. Many more planner templates are available to print for free.
COPYRIGHT
These printables are for personal use only and are the copyright of World of Printables – you cannot redistribute, reproduce, or resell, although you can link back to our website.