Use this digital recipe book to organize all of your favorite recipes, in one convenient place for free.
If you love a good recipe, and who doesn't, then this digital recipe book is for you. You can save your favorite recipes from the best-loved food blogs and websites.
Featuring 628 useful pages, with space for 600 recipes (and thousands more using our tips below), you'll have plenty of space to store and organize all of your favorite recipes.
You'll not find a better way to gather and access your favorite recipes, and best of all, it's totally free!!
With this recipe book, you can have all of your recipes at your fingertips so that you can create the perfect menu for social gatherings, celebrations, or just the weekly family meals.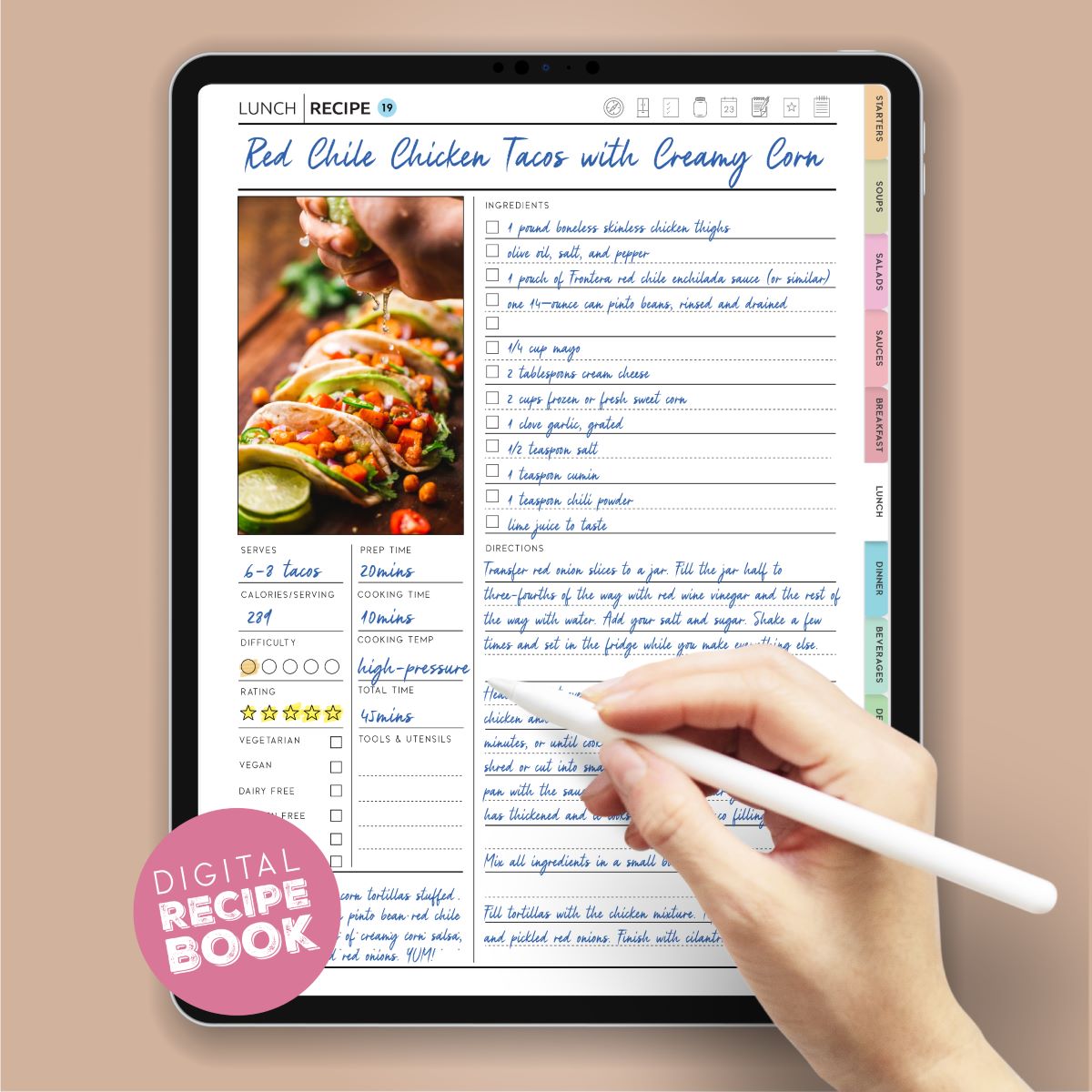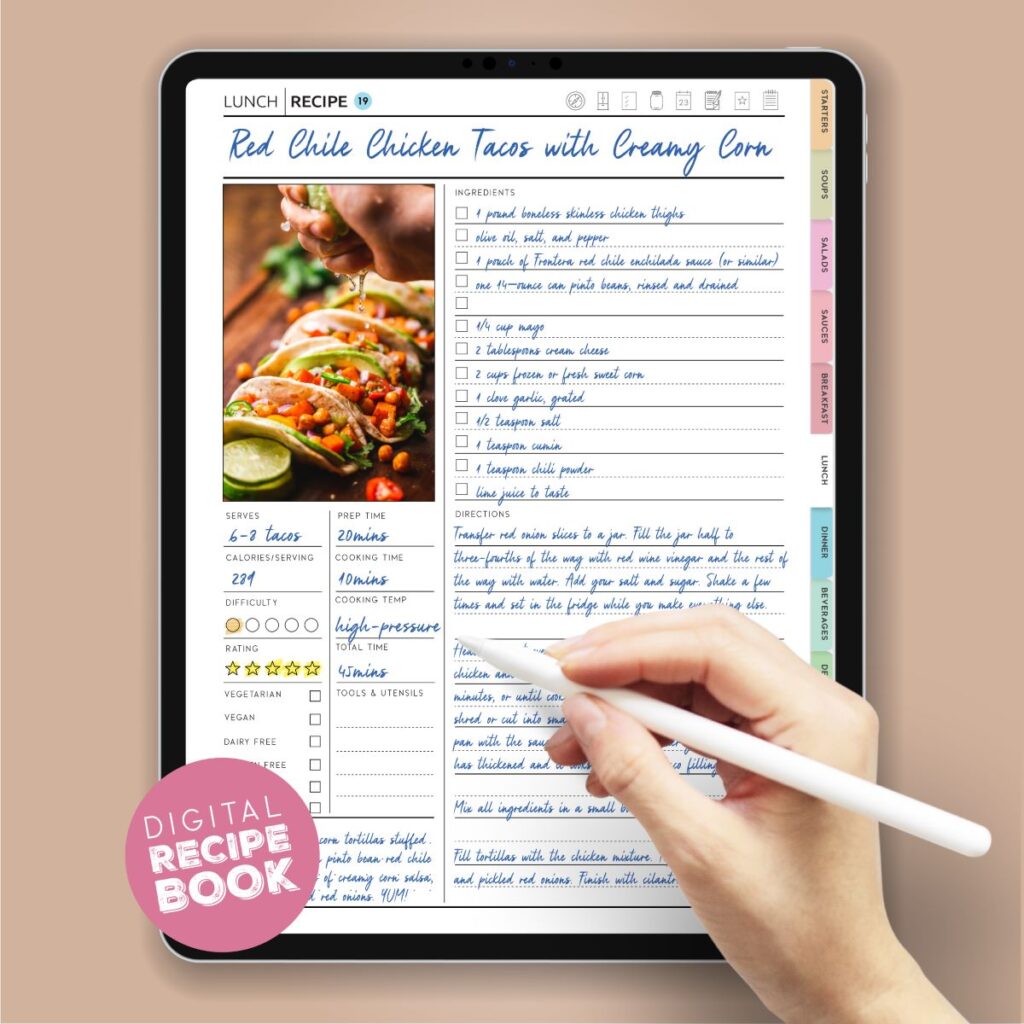 The ultimate electronic recipe book
Like many people, I used to use a recipe box full of recipe cards. It's like the traditional way of doing things but I found it hard to find recipes when I needed them.
Now in this modern age, we're able to use our iPad in the kitchen, to watch cooking videos, view recipes online, see reviews, tips, and more.
This digital recipe book is like a mix of the two. I can use it as a recipe box full of my favorite recipes plus it's so much easier to quickly search and find the right recipe that I've saved, rather than ruffling through a box full of mucky recipe cards!
You can take recipes from blogs, and cookbooks, or even create your own.
Suitable for different devices, such as iPad and Android tablets.
I love using this on my iPad with GoodNotes, as it stays in sync with my devices, so I can quickly pull up the grocery list on my iPhone while shopping, meaning I don't need to have my tablet with me when I'm out and about.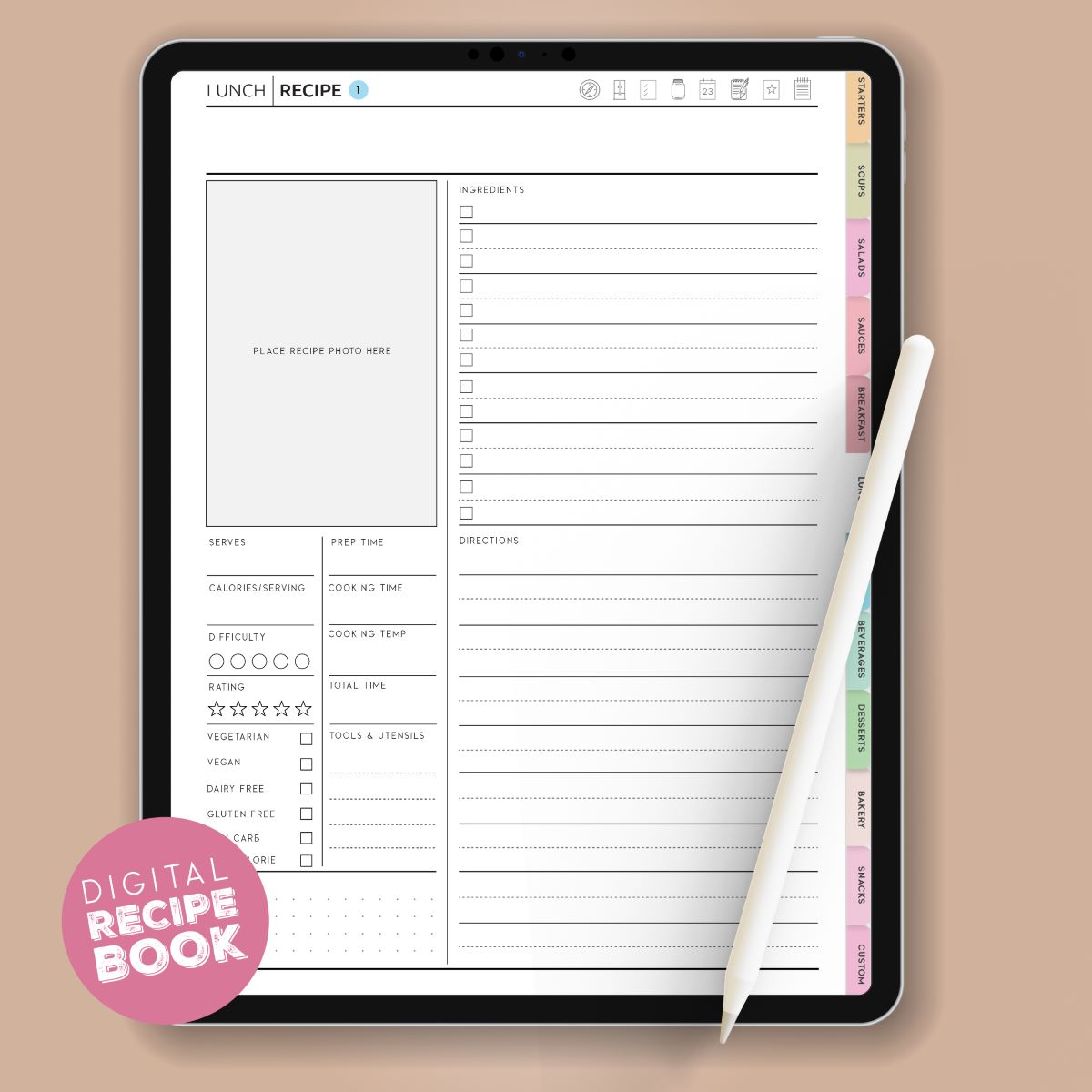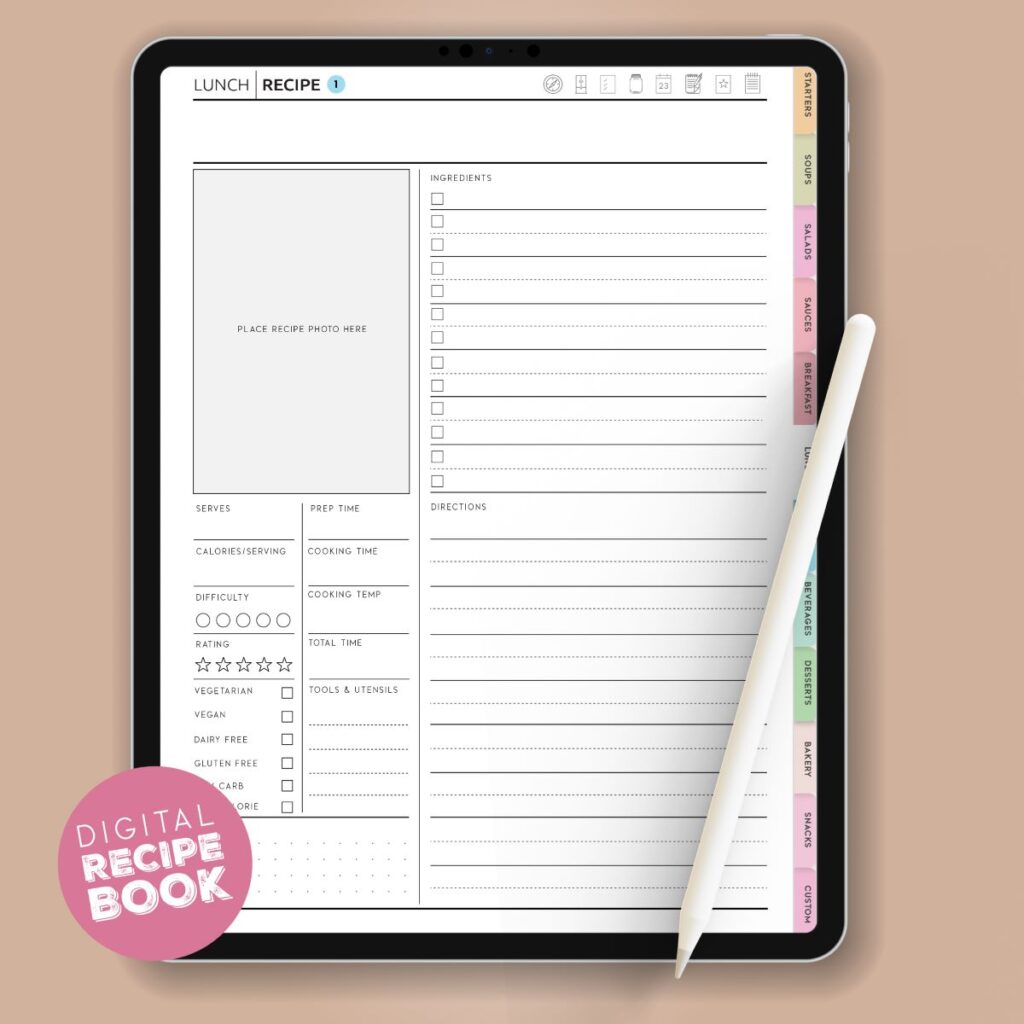 What you can use a digital recipe book for
You can use this digital recipe book to organize your favorite recipes. Here are some of the things that you can do with this digital recipe book:
Write down your favorite recipes, with 600 recipe card pages.
Use the 12 sections to categorize your favorite recipes by type.
Plan your meals with the meal planner.
Write your grocery list.
Keep track of your food with the kitchen inventory.
Write down your family's favorite meals to help with your meal planning.
Use the food journal to track what you eat and drink each day.
Use the kitchen conversions to help make adapting a recipe a breeze!
Use the blank paper pages to write down notes and ideas.
Use the search feature to quickly find a recipe or ingredient.
It's like having your own recipe box in one convenient place!
Just choose your favorite recipes from your favorite recipe blogs or cookbooks and copy them into this recipe book.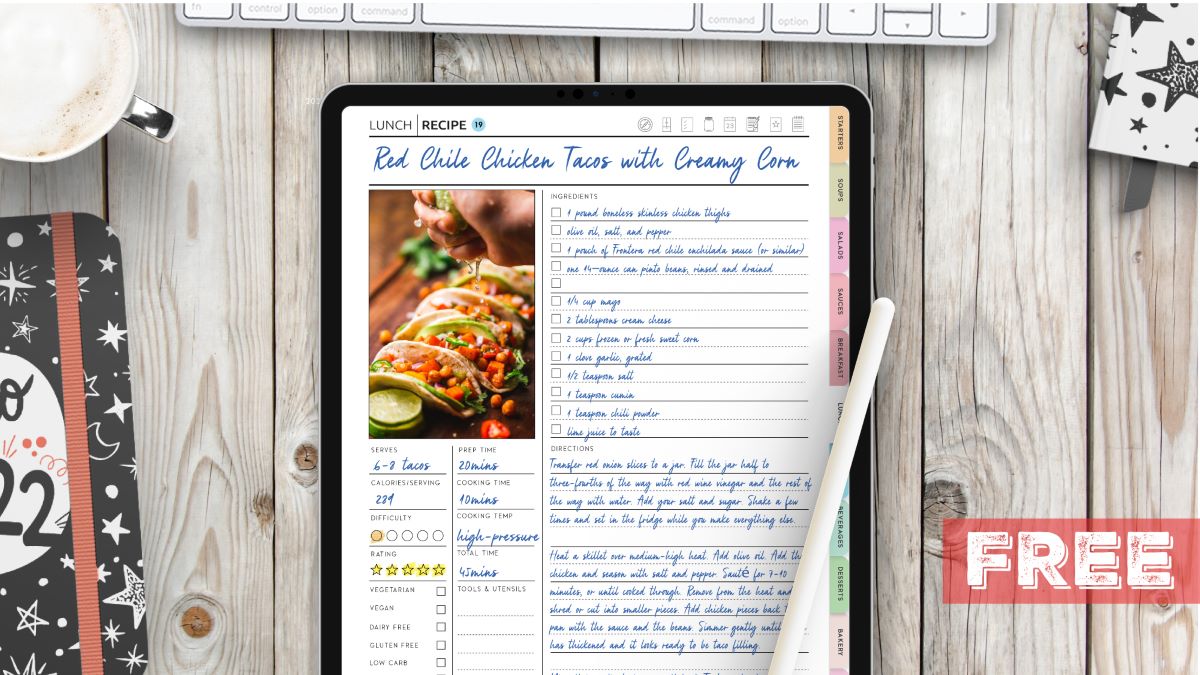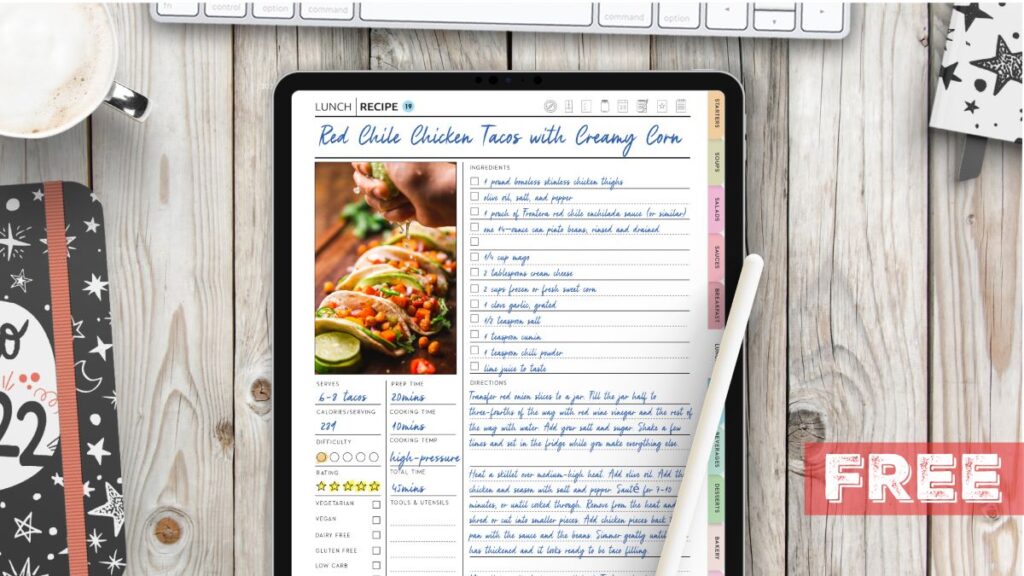 Is there an app for organizing recipes?
If you're used to using recipe apps such as Big Oven, Paprika App, Cheftap, or Pepperplate then you'll know that they're often filled with ads, or paid for by subscription.
You'll also find that you often need an internet connection simply just to access your stored recipes.
So if you're wondering if there is an app for writing recipes then why not ask yourself if an app is really what is needed.
If you're looking for a free version of similar apps, then this digital recipe book has all of the same features, but is completely free and doesn't need an internet connection!
What is the best app for storing recipes? The answer to that is simple – the best recipe app is no app at all!
See what's included in this digital recipe book
This hyperlinked digital recipe book has been designed to work on any PDF annotation app such as GoodNotes and is great for those who love digital planning.
This digital recipe book includes:
Hyperlinked tabs for easy navigation.
Clickable index to quickly jump to different sections and pages.
Visible buttons on every page to quickly jump to different sections.
600 Recipe Card Pages.
12 Sections by Meal Type with 50 recipes per section.
Grocery List
Shopping List
Kitchen Inventory
Family Favorites
Kitchen Conversions Chart
Food Journal
Daily Meal Planner
Weekly Meal Planner
Blank dot grid pages, blank lined pages, checklist pages, and more.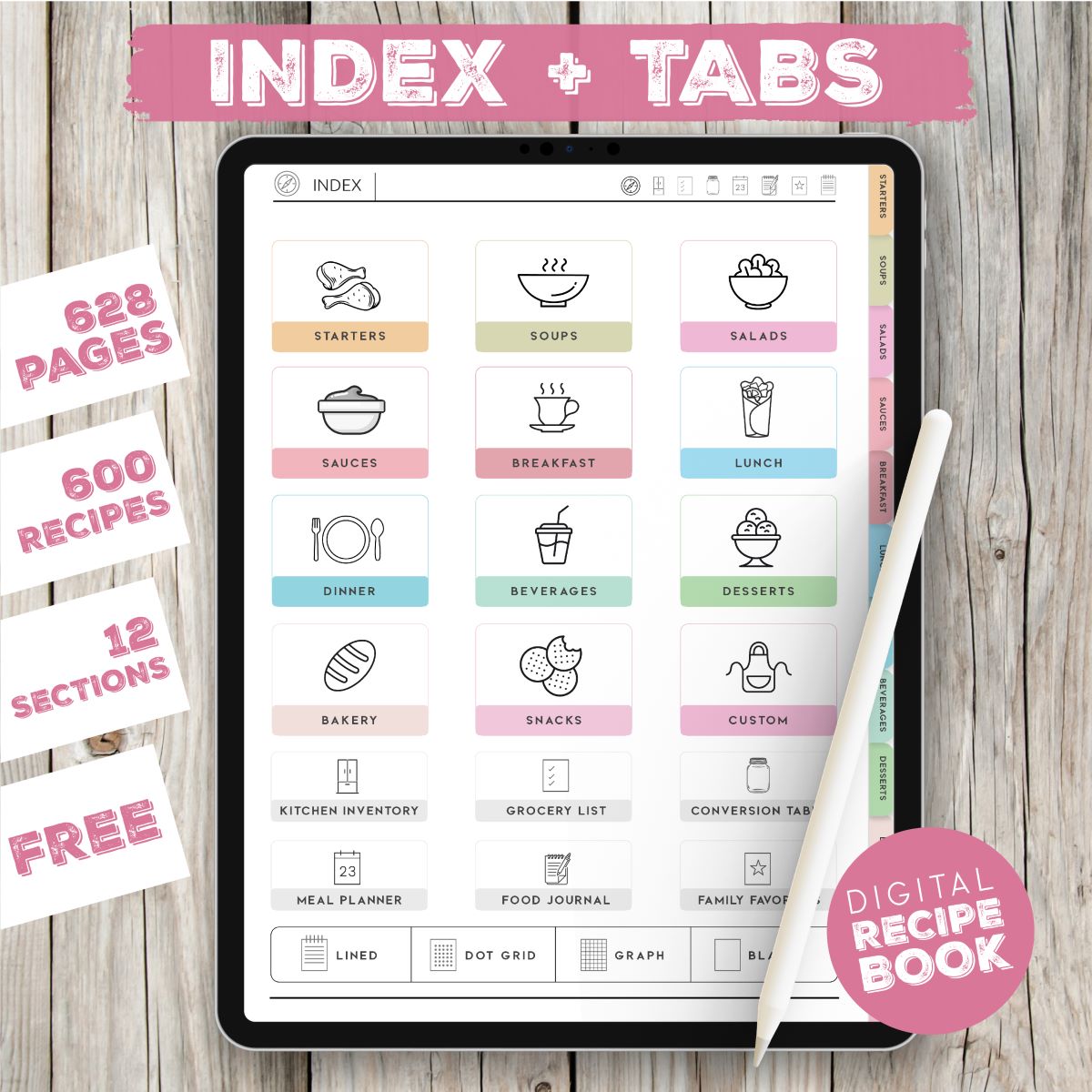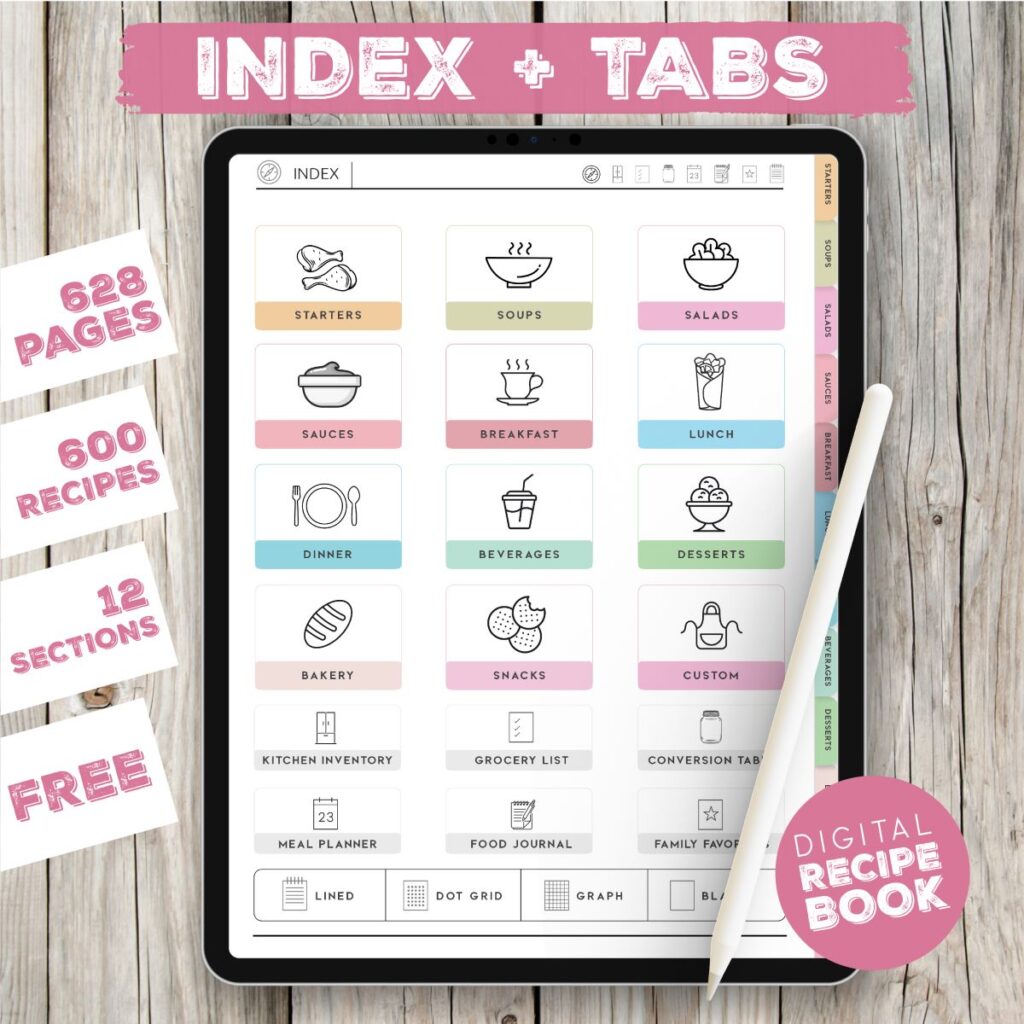 It's a great digital planner for anyone who likes to meal plan, with daily and weekly meal planners built right in.
Just plan your meals and jump to the recipes!
How to use a digital recipe book
To use a digital recipe book you will need a tablet such as an iPad, with a planner app such as Goodnotes, Notability, or a similar PDF annotation app such as CollaNote (free). For Android, you can use apps such as Noteshelf, or Xodo.
To use the digital recipe book simply import the PDF into your GoodNotes or similar app.
Then start saving your favorite recipes! It's easy to navigate and use.
Start organizing your recipes into the sections available, with 12 sections for different meal types.
You'll find sections for:
Starters
Soups
Salads
Sauces
Breakfast
Lunch
Dinner
Snacks
Beverages
Desserts
Bakery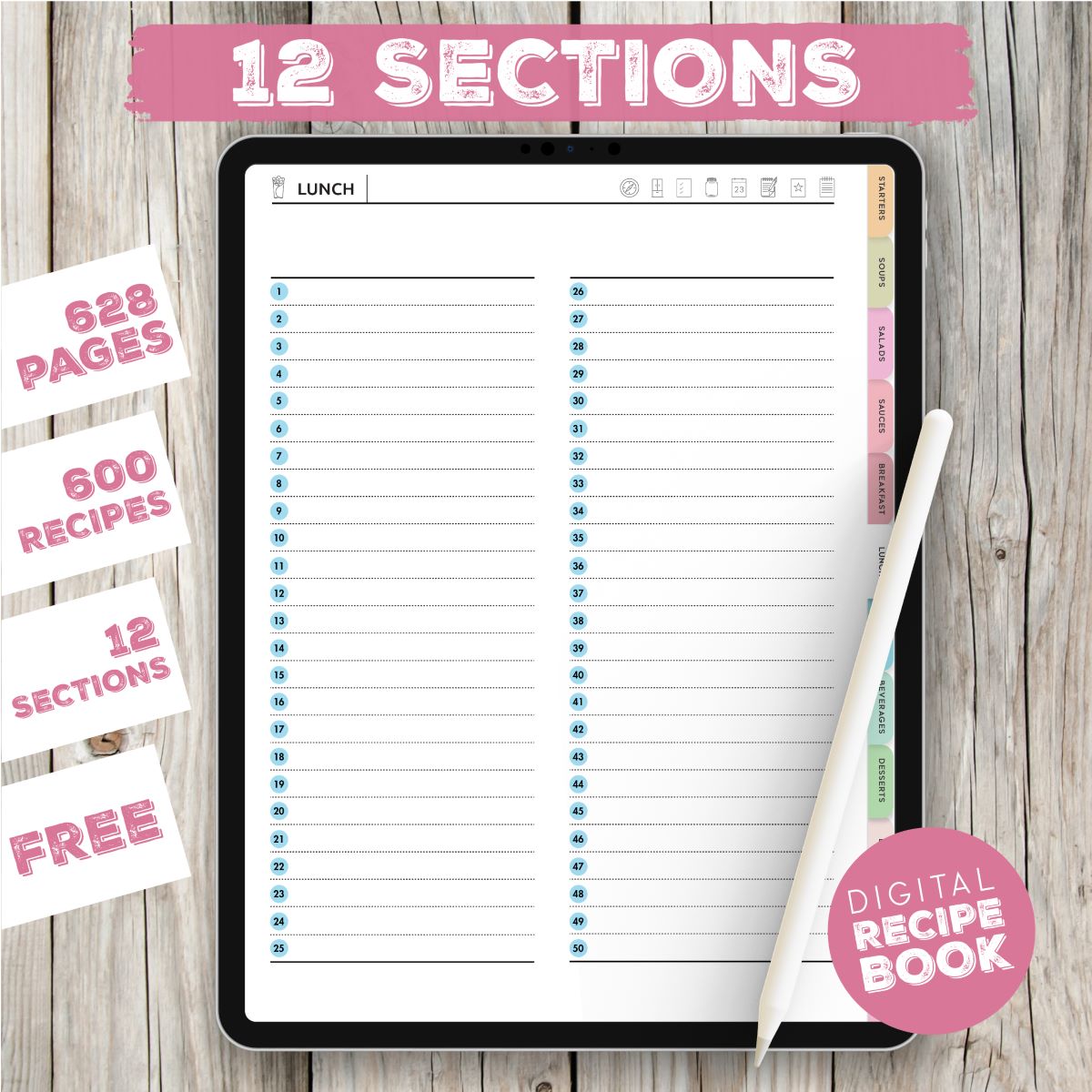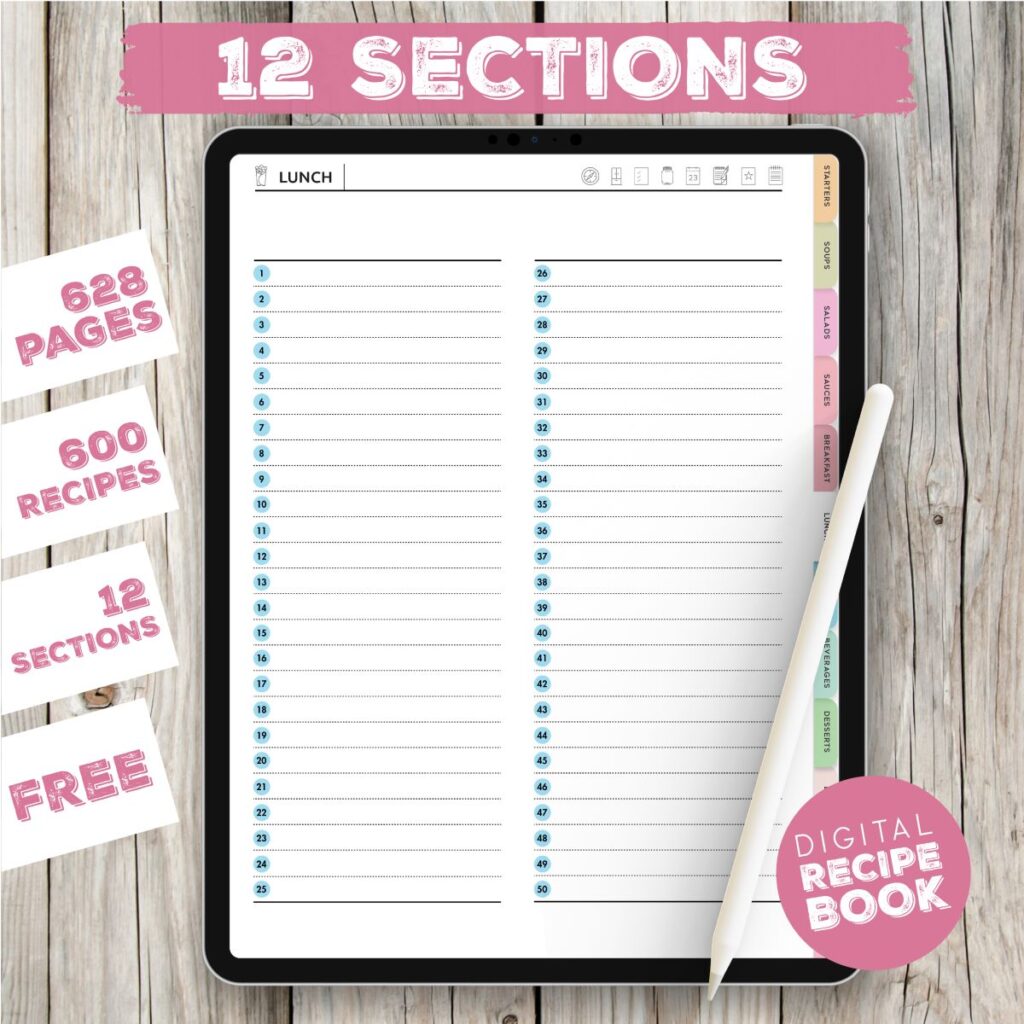 There's also a custom section, that you can use for pretty much any recipe type.
Each section has room for 50 recipes, or more if you follow our tips below.
How do I save recipes?
To save recipes, simply use the digital recipe cards, where you'll find 600 card pages in total, which gives you space for 600 recipes in this digital recipe book.
It's so quick and so simple. With our digital recipe book, saving recipes on an iPad has never been easier!
To save a recipe on each page, simply write down all of the details that you'll find on any recipe page online or in your favorite cookbook.
Start by writing the recipe title.
Next, list all of the ingredients.
You'll move on to writing the directions, being as detailed as you need to be, that makes sense to you.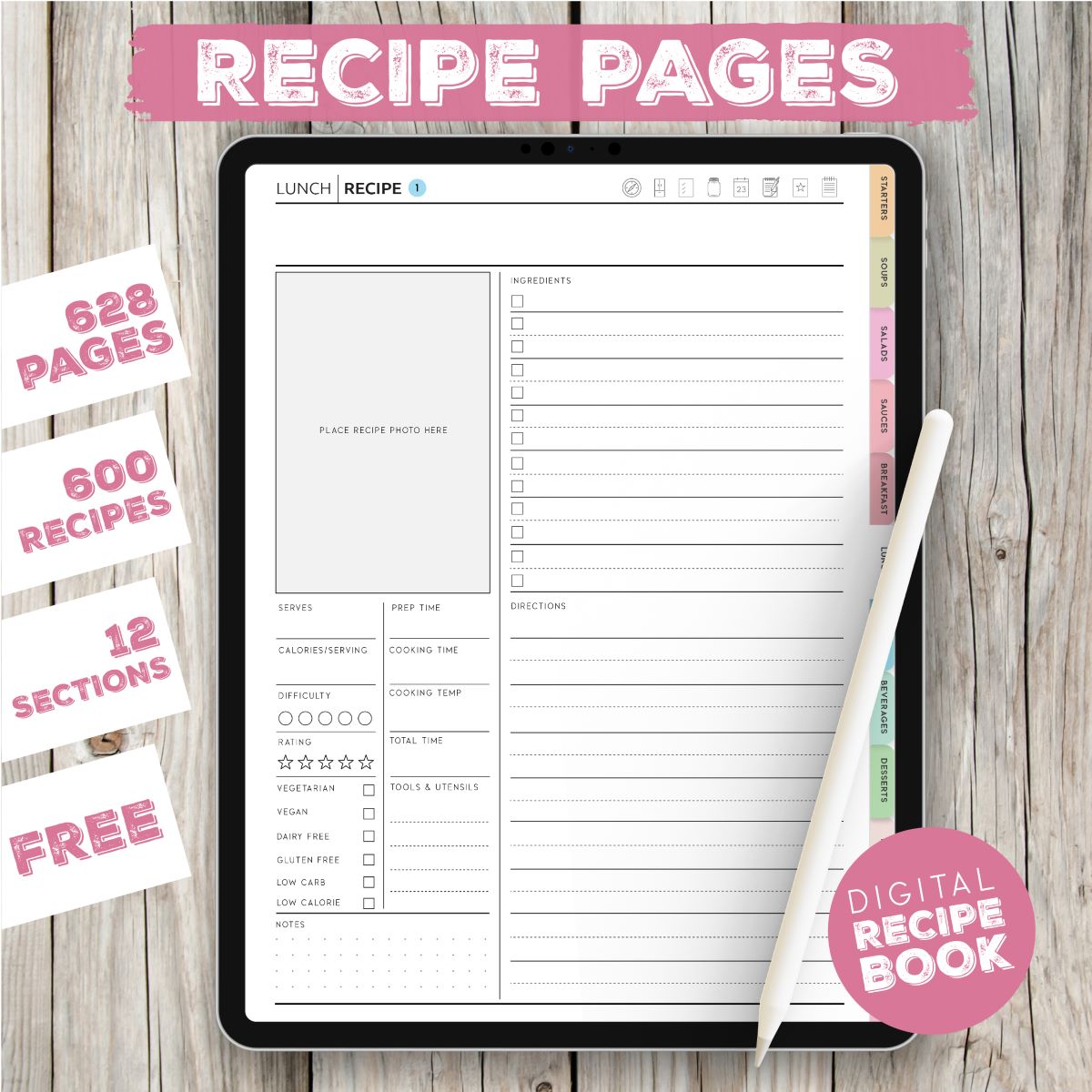 You can add a picture of the recipe. Most food blogs show pictures in a portrait format, as they're great for Pinterest. So we've added a picture placeholder in portrait format so that it's perfect for them.
You can also add a link to the recipe page online so that you can jump there should you ever want to see more details or watch their recipe-making video if they have one.
There's space for writing prep time, cooking time, and total time.
We've also made space for you to write the serving amount and calories per serving.
Many online recipes have ratings, and difficulty, so you can copy them from the recipe post to the recipe card.
You can even tag each recipe based on diet type, such as vegetarian, vegan, dairy-free, low calorie, gluten-free, and low-carb.
Finally, there's space for notes, which is always handy, as you can write where you found the recipe, such as the food blog name, or anything at all that you think is notable.
Favorite Meal List
The favorite meals section is great for keeping track of the meals that your family loves, so you'll never be stuck for ideas for what to make. You know how hard it can be to make meals that your kids love!
Now you can keep track of the family's favorite meals and recipes. It's like a digital family cookbook customized for your own family.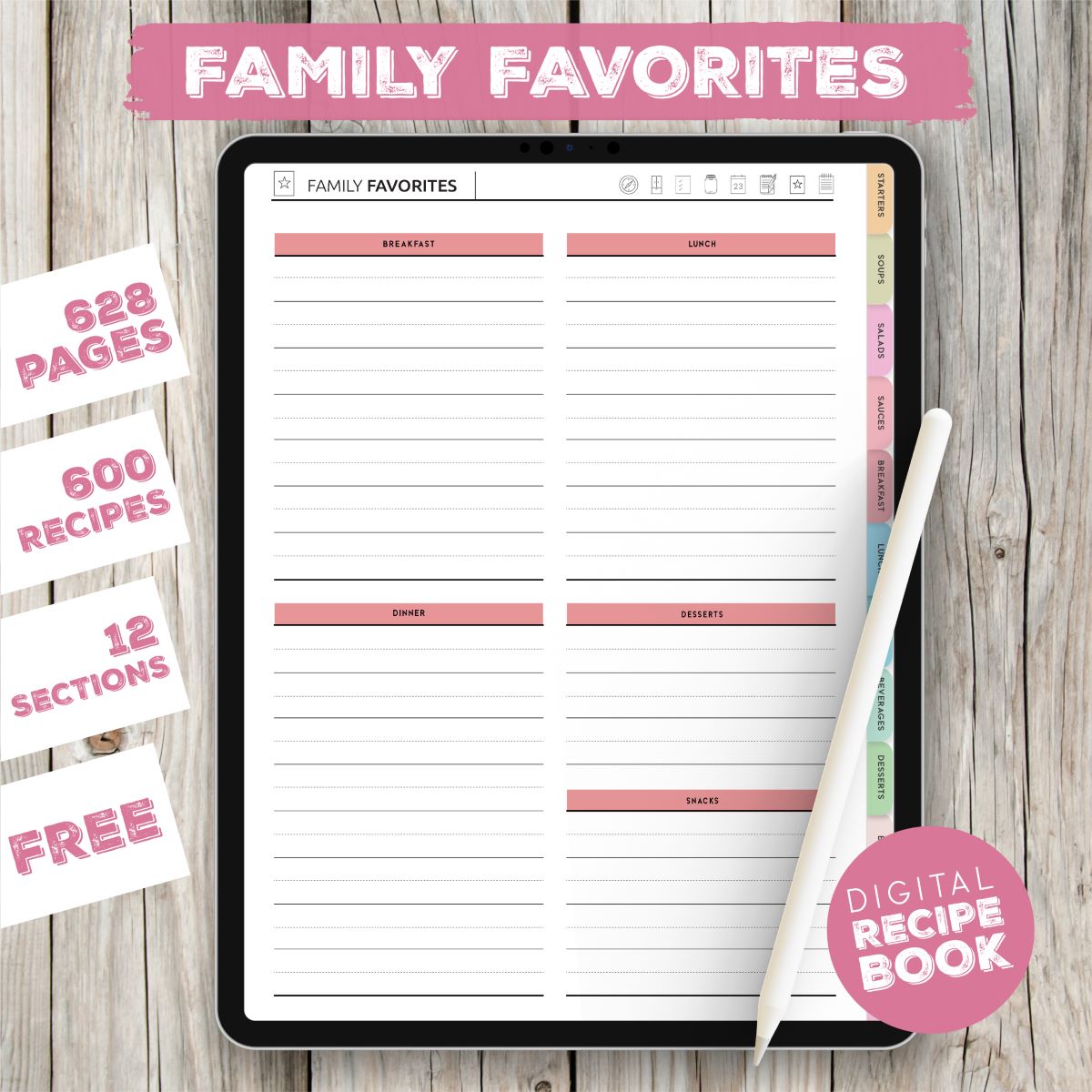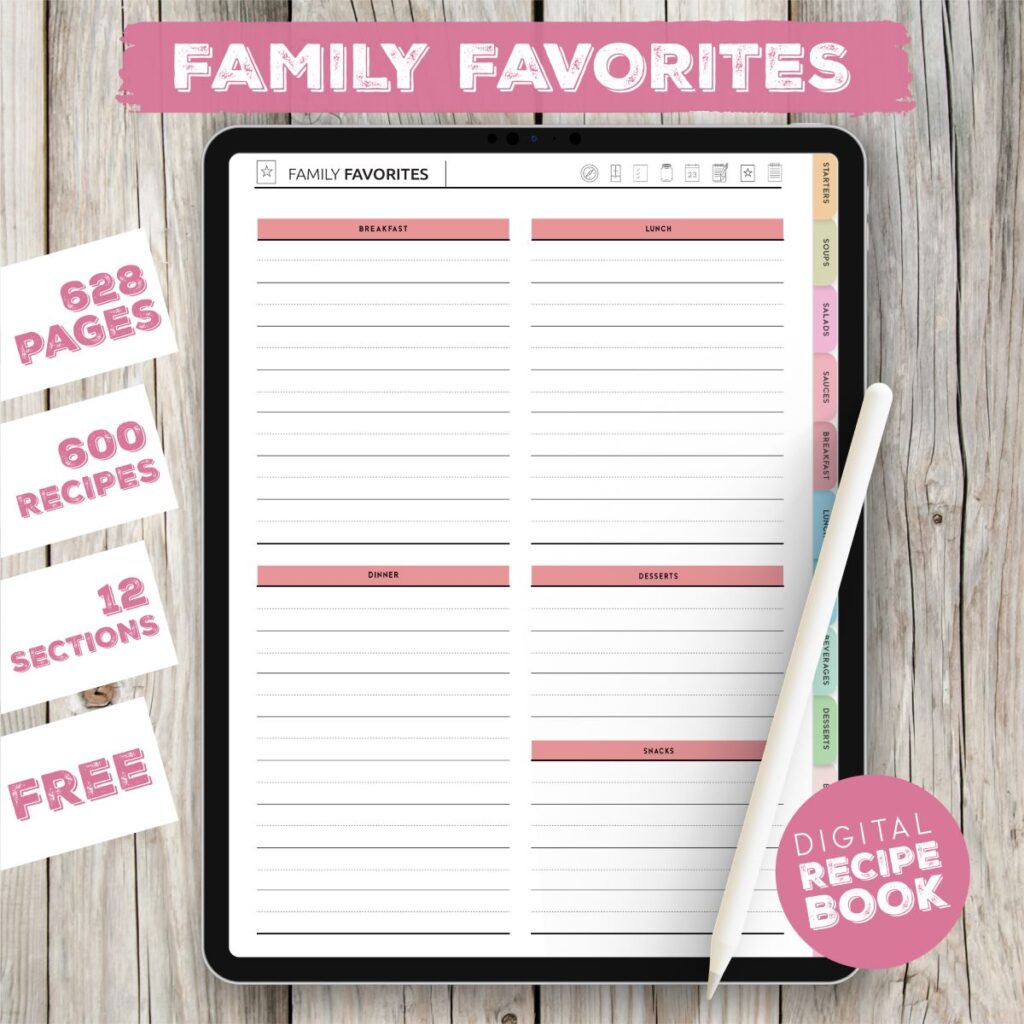 Kitchen Inventory
Kitchen inventory helps you keep track of the foods that you've got in your fridge, freezer, and pantry.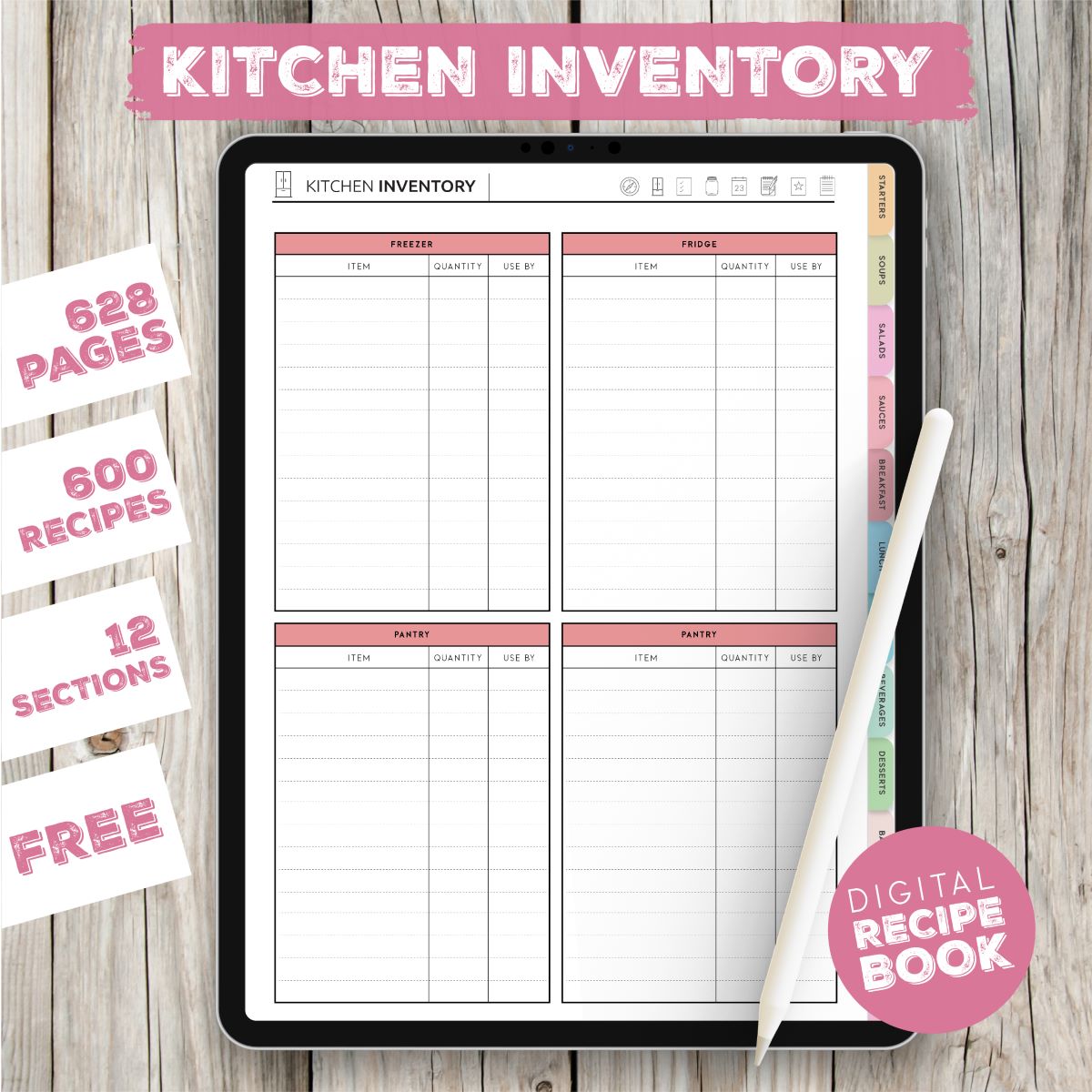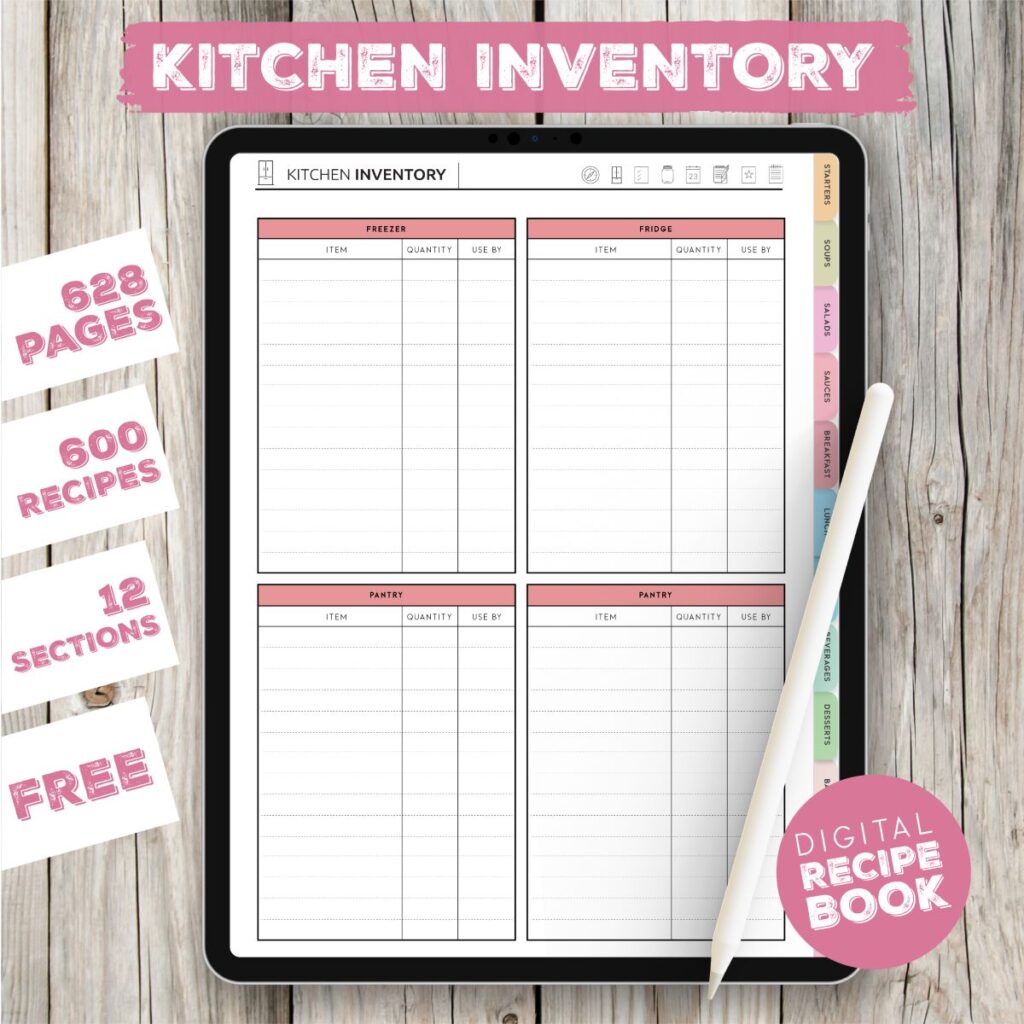 Grocery List
What recipe planner would be without a grocery list? A grocery list is an essential part of any organized kitchen.
You can use the built-in grocery lists in conjunction with the kitchen inventory and meal planner, to make planning your grocery shop much easier.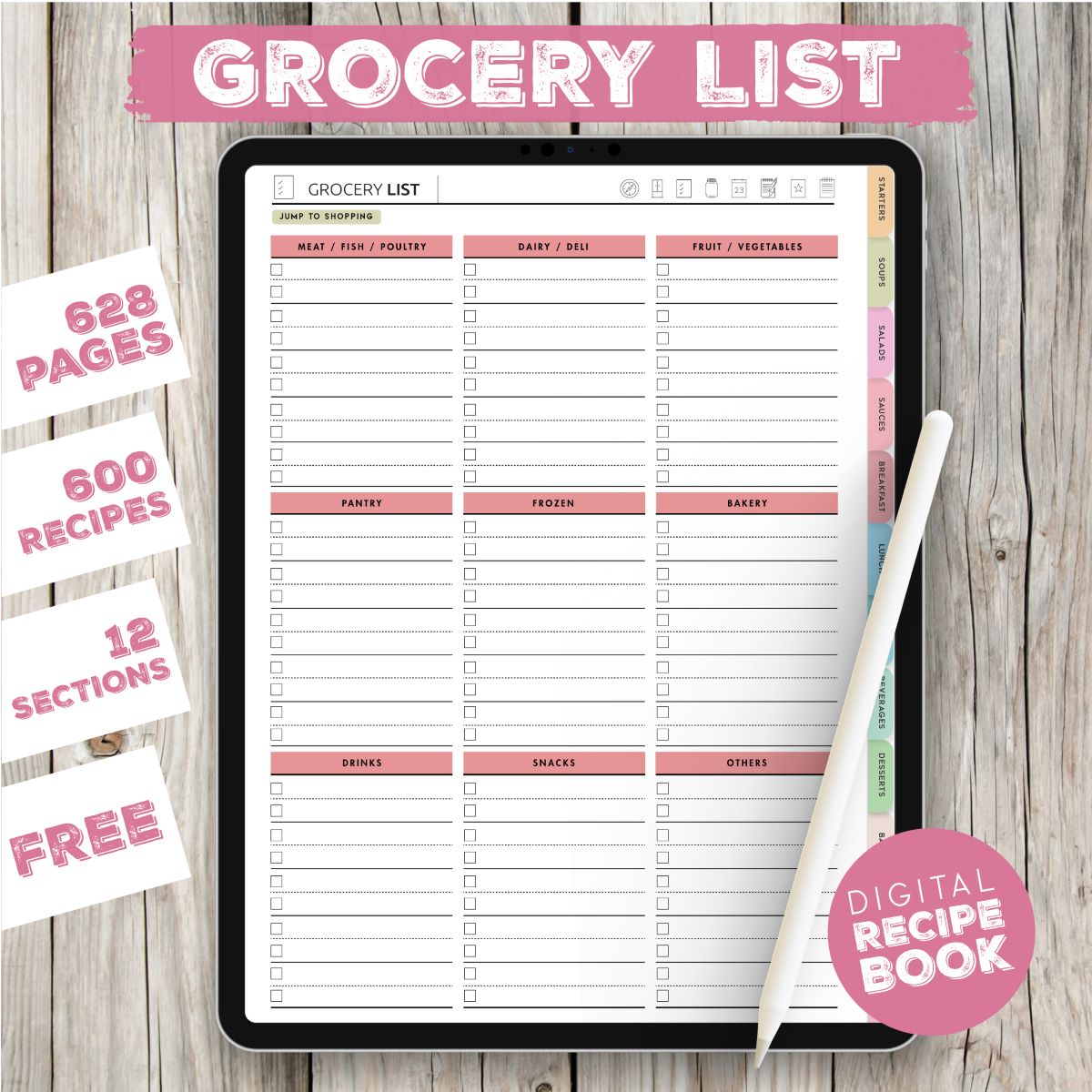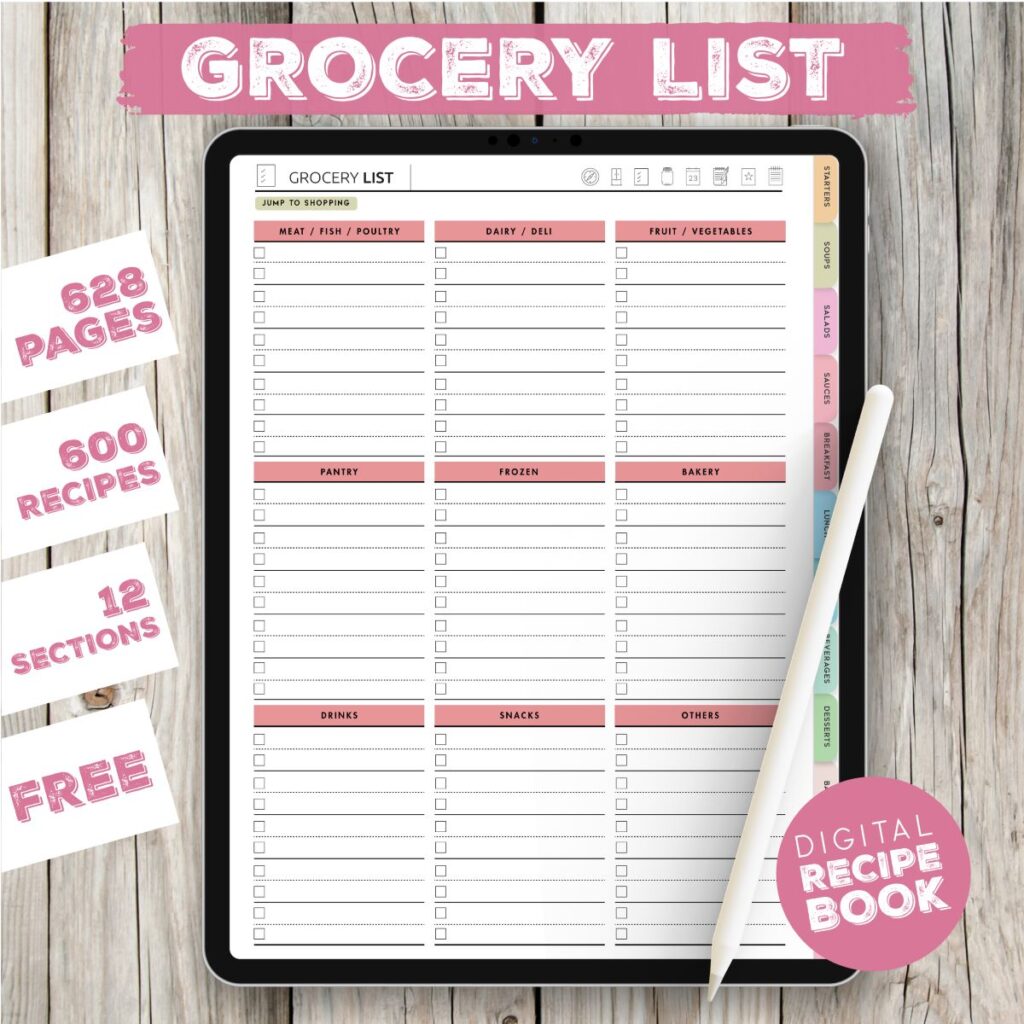 Blank Pages
Use the blank pages for things like keeping tabs on leftover ingredients, so you can quickly see what's around for future meals.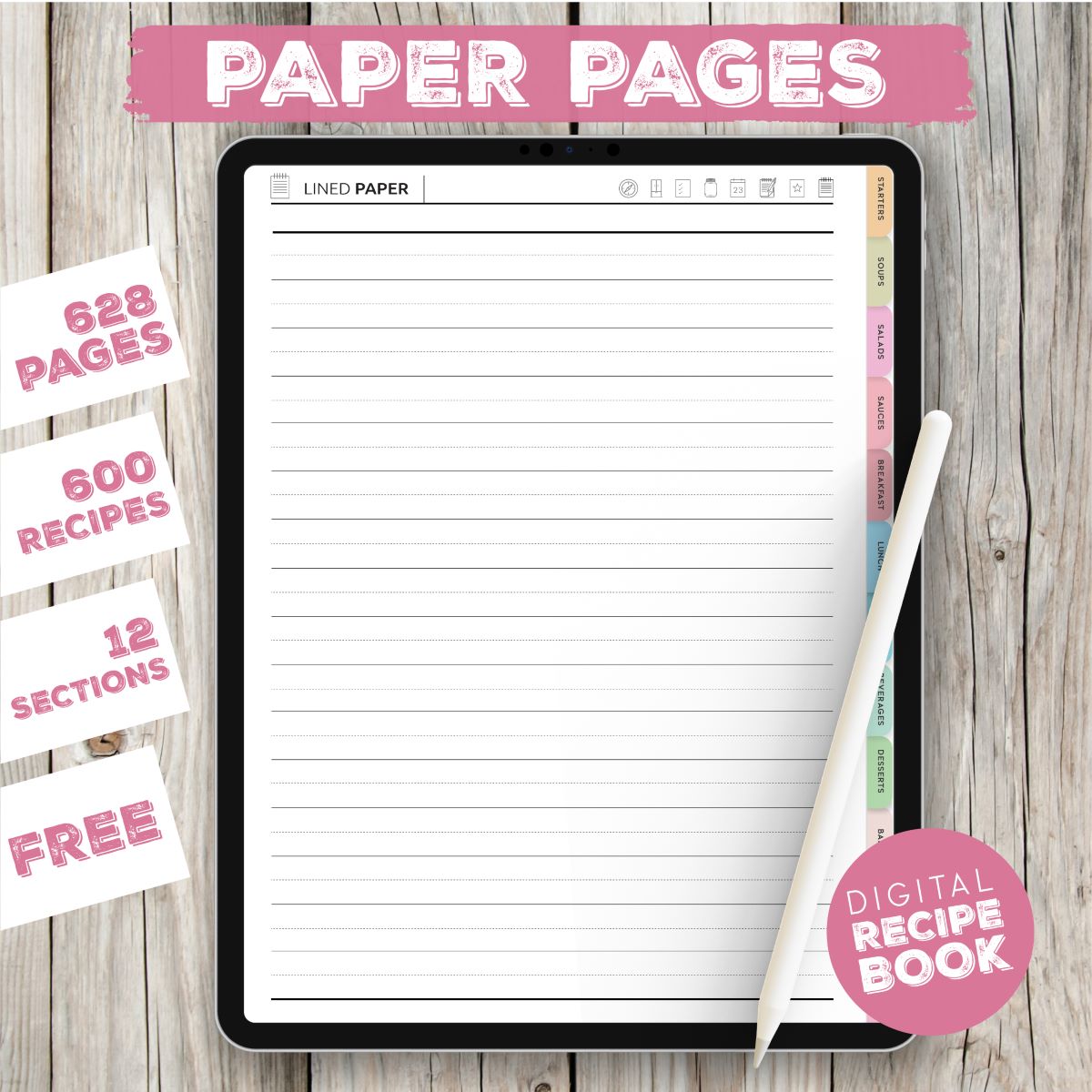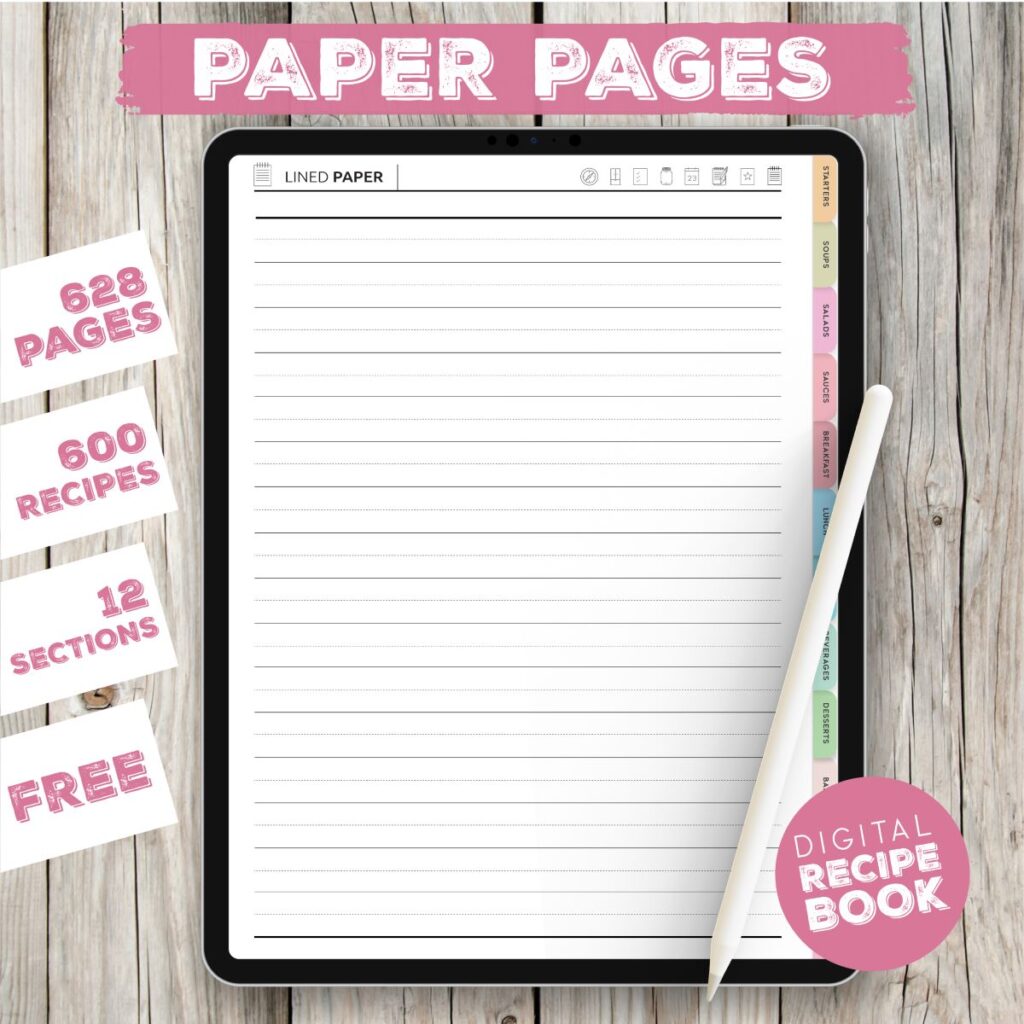 Recipe Meal Planner
Meal planning is an essential part of any good cook's toolbox. Planning meals in advance and organizing the recipes and ingredients helps you plan everything from your grocery shopping to timings. You'll find recipe meal planners designed to help you plan any meal in advance.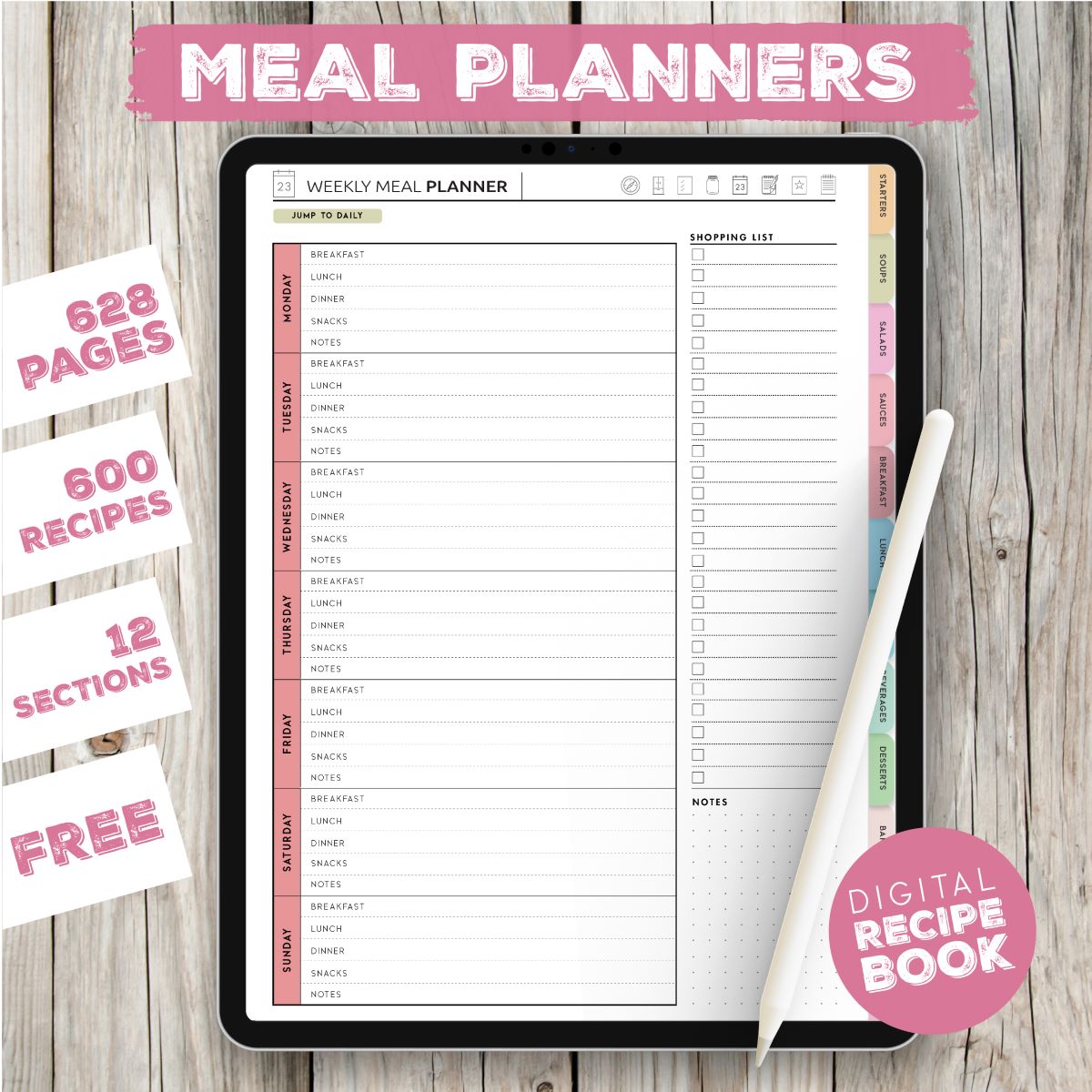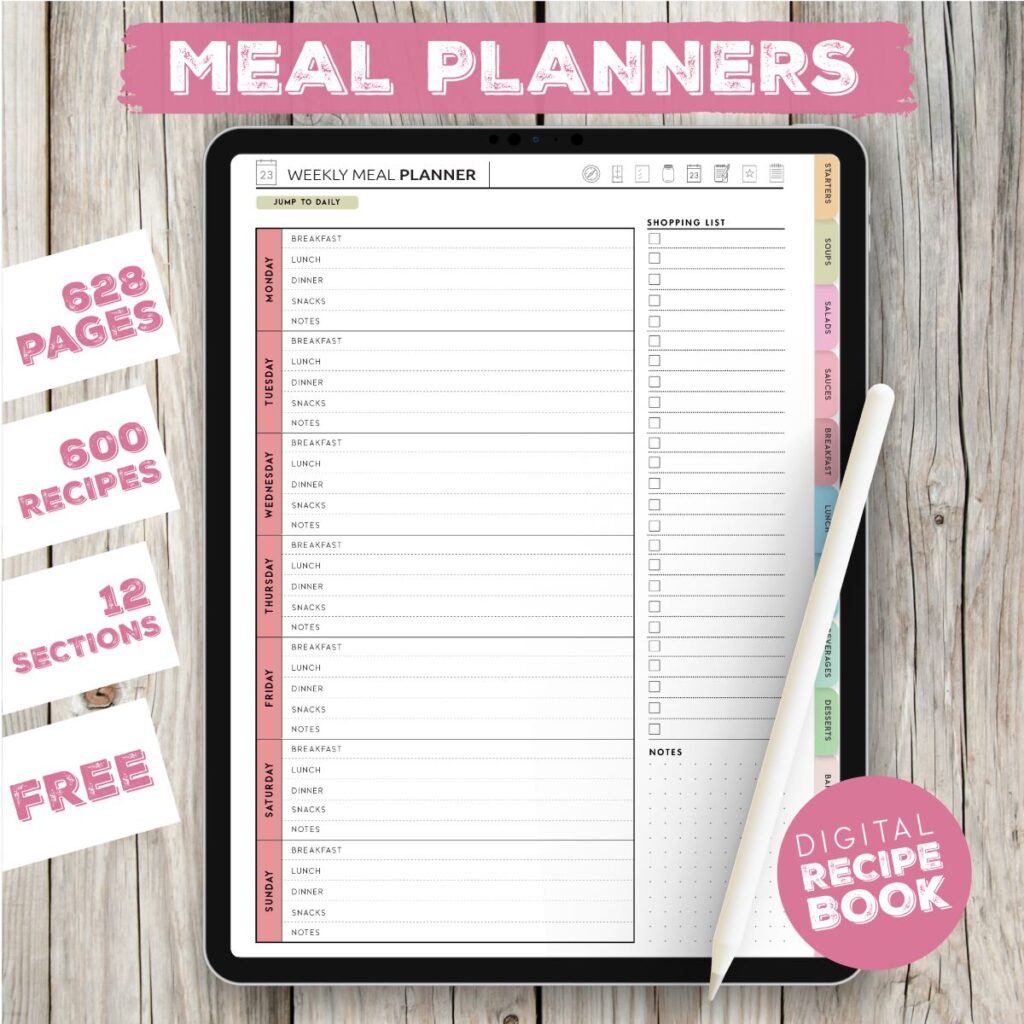 Food Journal
The food journal is a great way to keep track of the things you eat and drink each day. You can log anything, from the amount you consumed, the time, and even if you ate alone or in the company of others.
Logging your food with a food journal can also help you or a doctor understand your eating habits.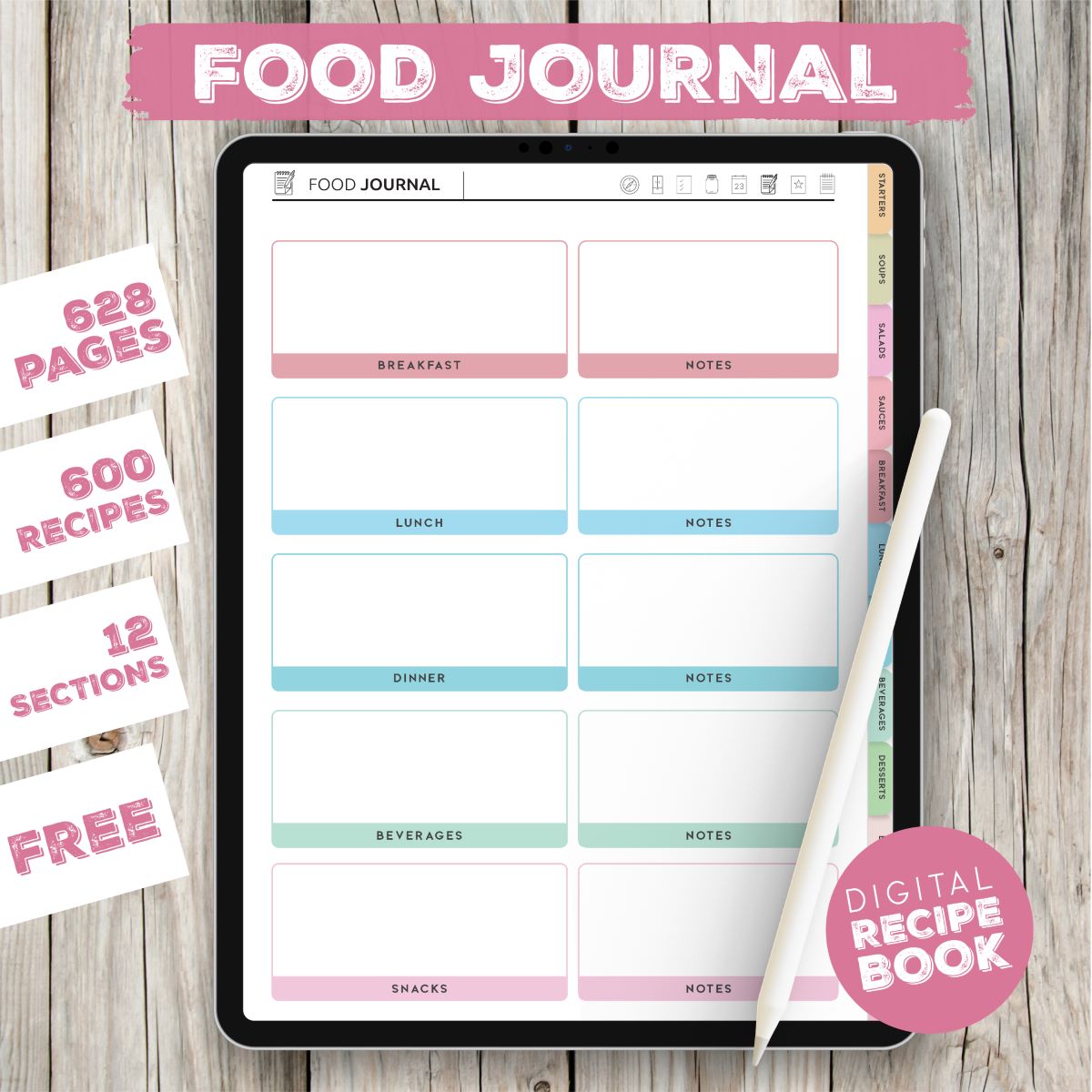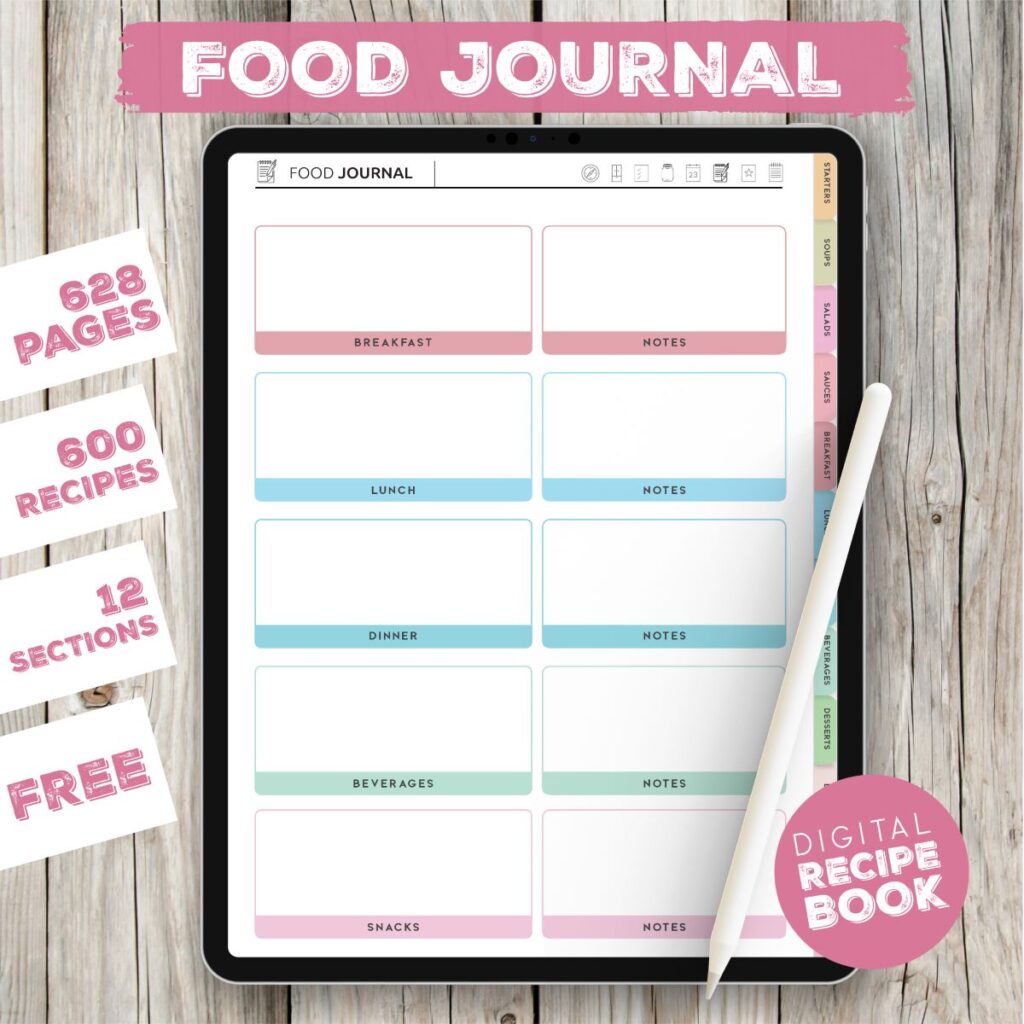 Kitchen Conversion Chart
The kitchen conversion chart helps make adapting any recipe a breeze! You'll no longer risk ruining a recipe due to getting the amounts wrong when trying to switch ingredient amounts, or even using alternative ingredients when you've run out of the ones that you need.
It's the perfect handy cheat sheet that helps you be sure of success every time!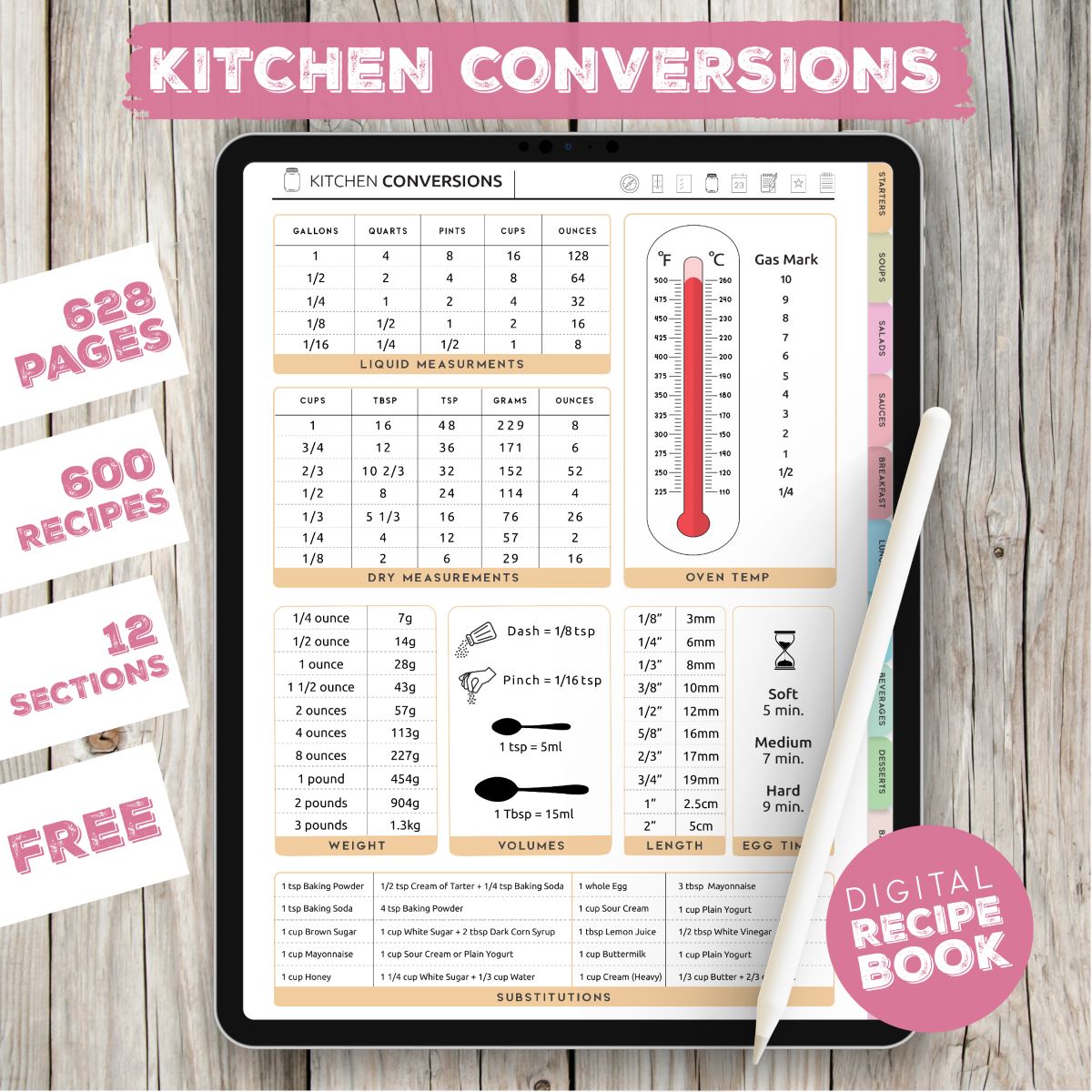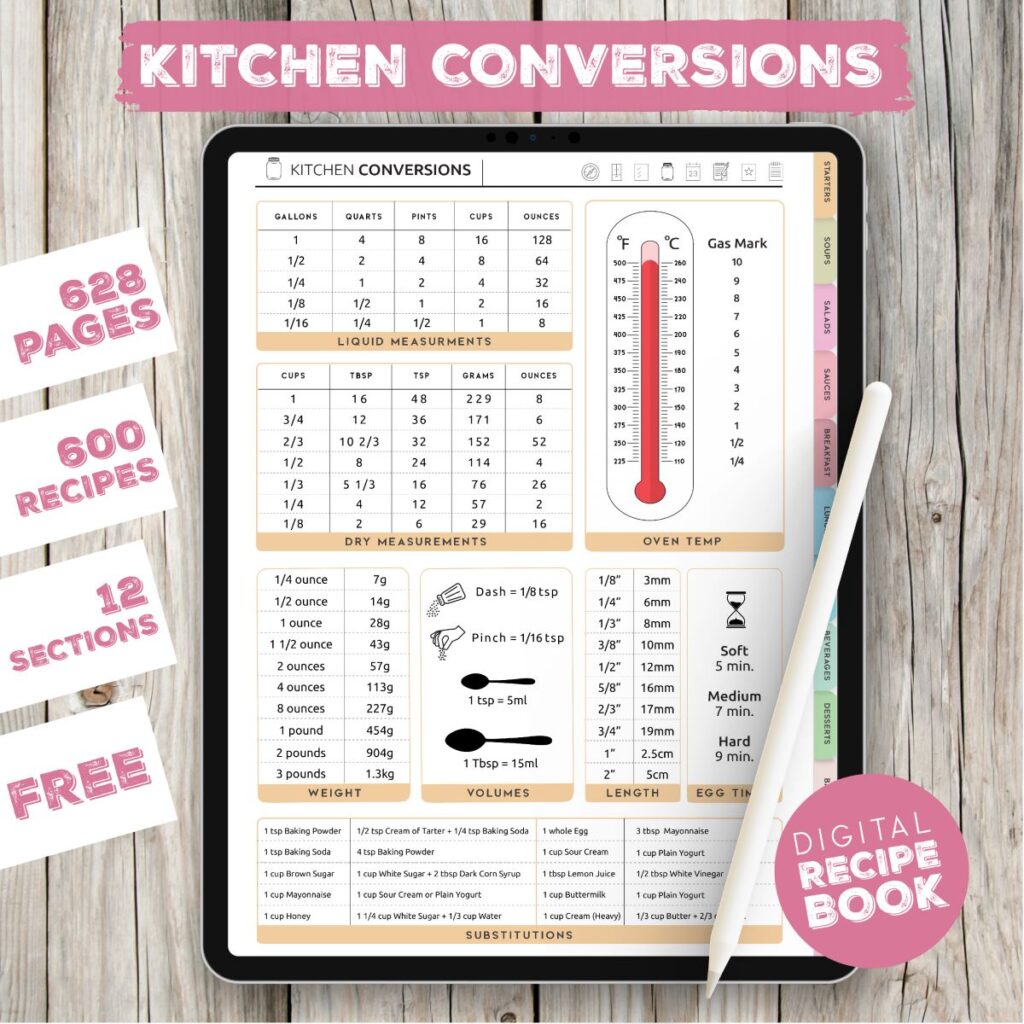 Top Tips on using the Digital Recipe Planner
Favorite Tip: Did you know that you can simply save your favorite recipes direct from any recipe blog and then paste or import them onto the pages within the recipe book?
Doing this is a great time saver as you don't need to write the recipe out again. To do this, just choose the Print option when viewing a recipe online and save it as a PDF. Then within the digital recipe planner choose the import option, then import the recipe pdf and add it to a page in the recipe book.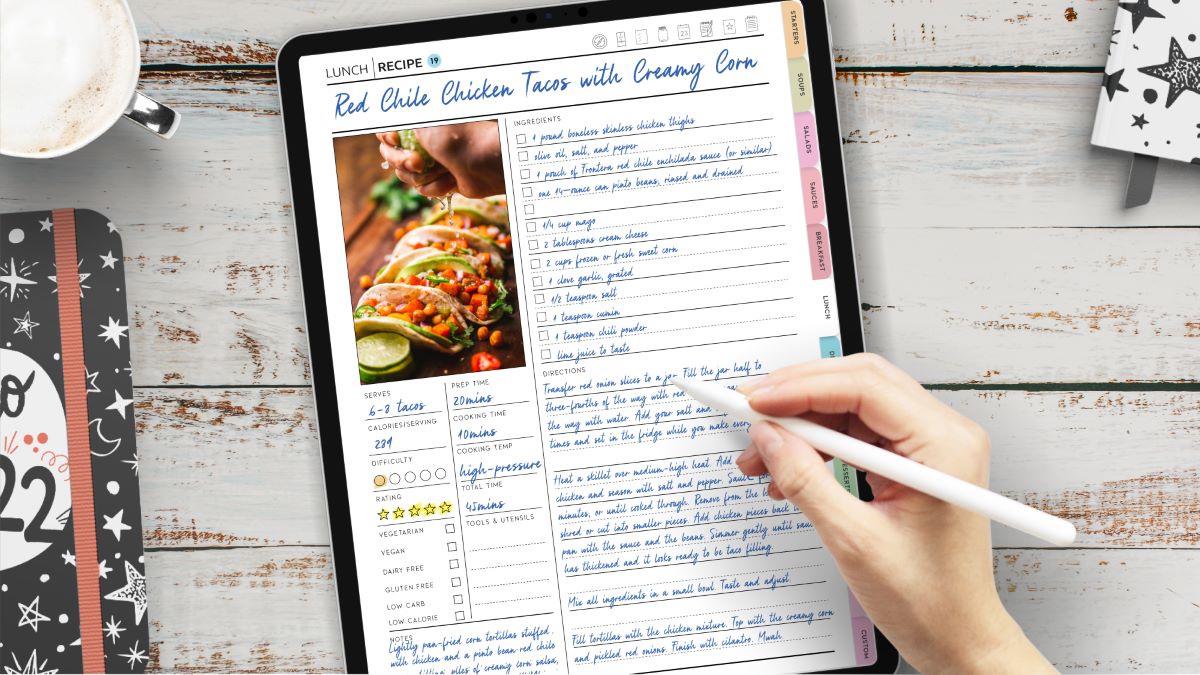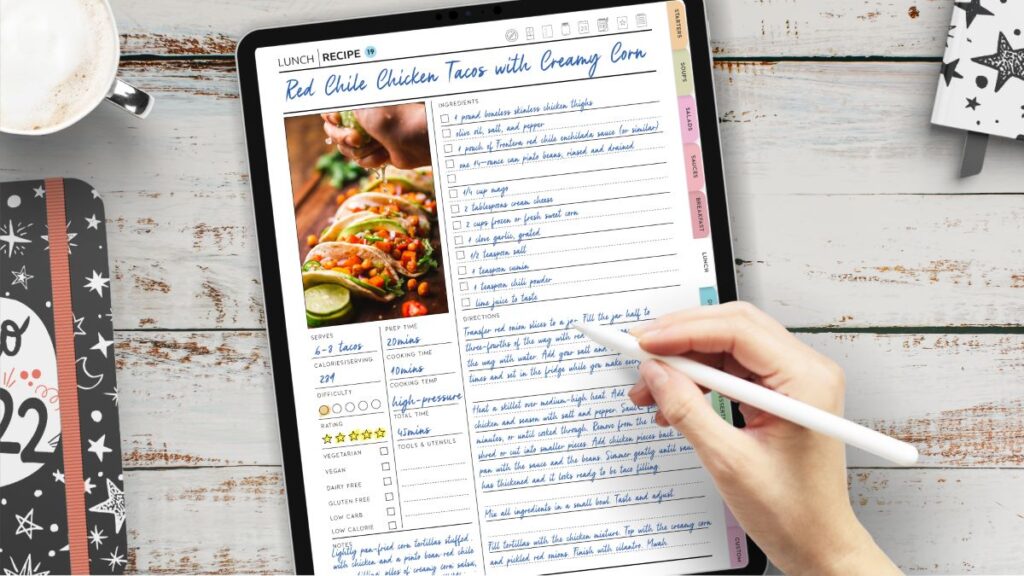 The digital recipe book features 12 sections for different meal types, each section has an index of 50 recipe pages, for a total of 600 pages and recipes.
What is the best way to organize a recipe?
To organize recipes, use the various sections of the planner to list your recipes by meal type. You'll find 12 sections for the various meal types such as breakfast, lunch, dinner, snacks, desserts, and so on.
Within each section, you'll find a list of up to 50 recipes, numbered 1 to 50, for 50 recipes in total for that specific meal type.
It's the ultimate recipe manager!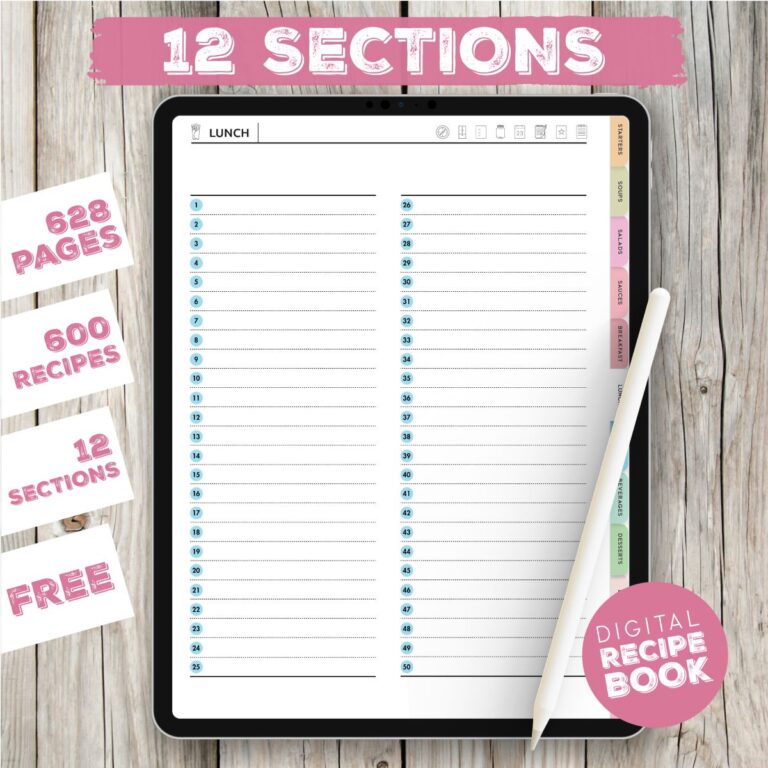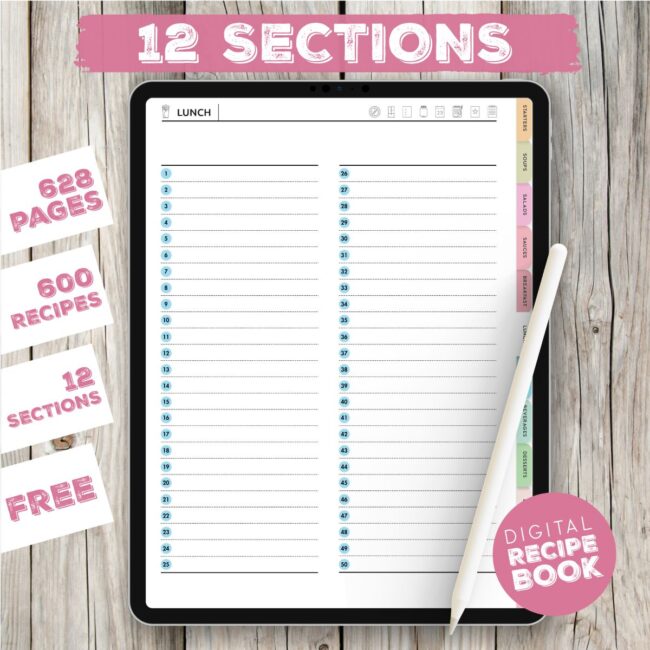 Tip: You can make an unlimited amount of pages and recipes! – see how:
If you need to save more than 600 recipes, then you can easily expand on this by changing the sections from lists of recipes to lists of cuisines.
Create sub-sections for each of your favorite cuisines
Simply use the section index page but rather than writing a recipe, write a meal cuisine type, such as Mexican, Thai, Slow Cooker, Vegan, etc.
This way you're creating sub-sections. So if you're in the Dinner section, you'll see a list with 50 pages. Just simply use the list for each cuisine type instead of a recipe. For example, number 1 could be Mexican, number 2 could be Thai, and so on.
Then when it jumps to the recipe page, in this case, number 1, write down a Mexican recipe, such as Red Chili Chicken Tacos.
Then copy that page within GoodNotes to create a duplicate recipe number 1, and write a different Mexican recipe.
So this means you've created a Mexican cuisine type within the Dinner section for number 1 on the list. When you click it it'll jump to recipe page number 1 within the dinner section, now Mexican.
When you copy that page within GoodNotes, it'll create a duplicate number 1 page that you can get to just by sliding over to the next page after jumping to number 1. This way you'll have lots of Mexican recipes within the new sub-section you've just created.
If you like this digital planner, be sure to see our huge range of popular Digital Planners for many more different styles of planners that you can use digitally for free.
What I use for digital planning
Why you need a digital recipe book
Do you find it hard to keep track of your favorite recipes? This digital recipe book makes it so much easier to organize your favorite recipes in one convenient place. Plus it's so cute and easy to use.
You can look around online to try to find a good digital recipe book, but you'll not find one that looks this good, and certainly not for free!
It is such an adorable digital planner that's well designed and very easy to use, and the perfect place to store all of your favorite recipes.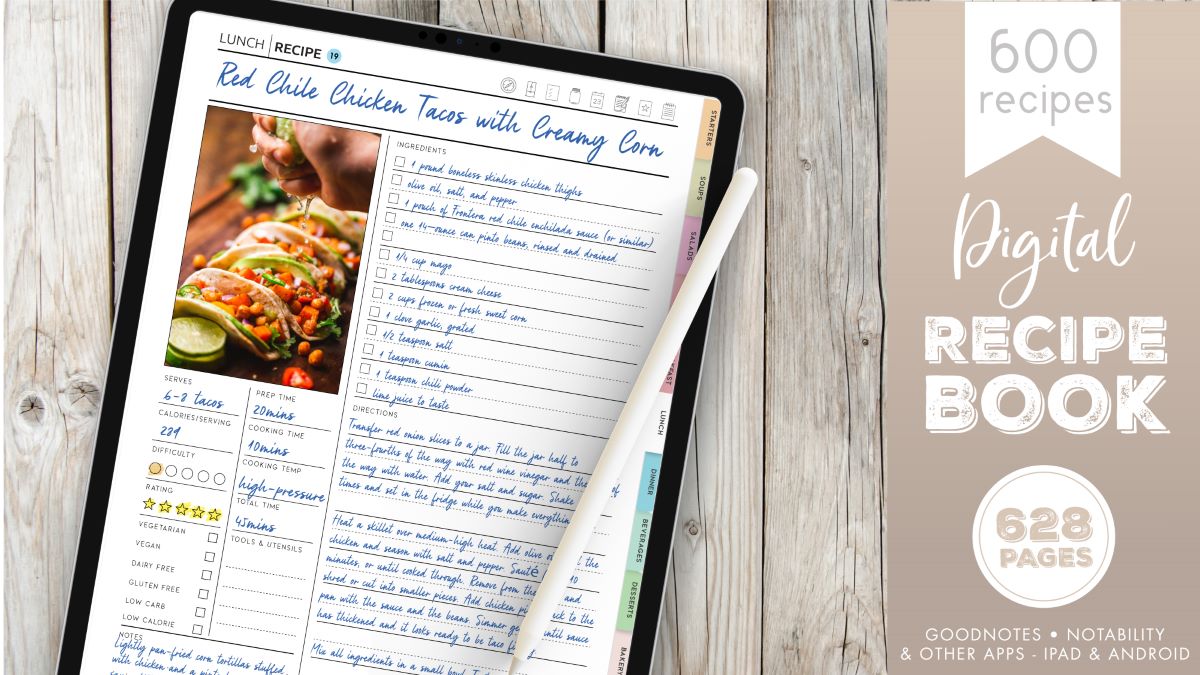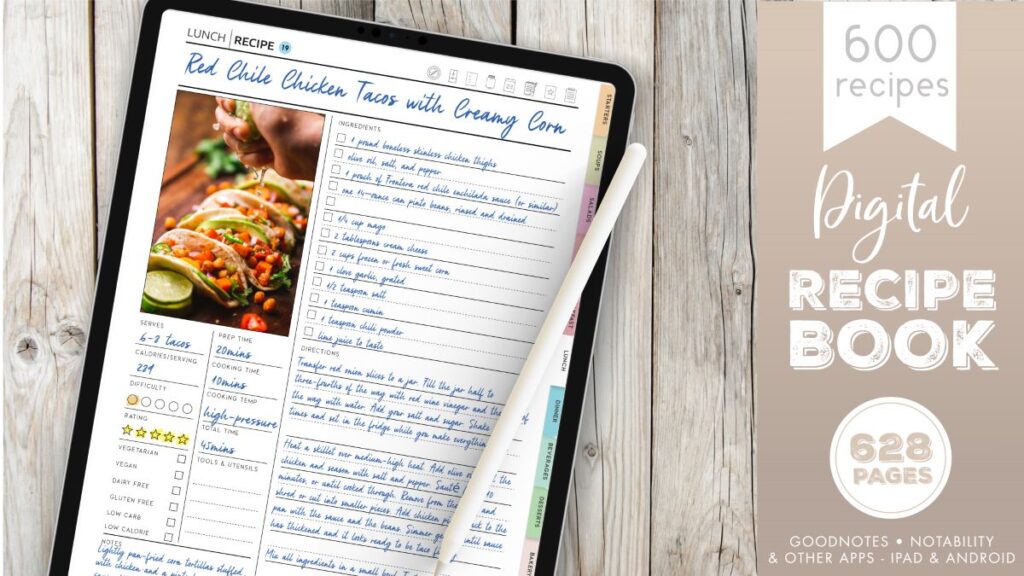 Why get this digital planner? The answer is simple. We put a lot of time into our digital planners and make sure our creations provide everything you need, with a perfect blend of features and aesthetics.
Learn how to make a digital cookbook from scratch
If you're a food blogger, then why not create your own cookbook? We've created a cookbook template based on this recipe book. Just add your own recipes and pictures and sell them on your website.
To learn how to make a digital cookbook from scratch, that you can share with others, or even sell, see our post on how to make your own recipe book, where you'll also find our recipe book template.
We've created a digital cookbook template that you can customize with your own recipes, add your images, design a cover, and more.
The template features linked pages. All you have to do is save it as a pdf and you can sell it on your own website. It's great for food bloggers who want to create a digital cookbook or ebook.
See how to make a cookbook and get our cookbook template.
Printable recipe card binder
If you're someone who prefers paper, or printables, then why not get this in a printable format?
We've created a printable recipe card binder, that you can use with a recipe box. Featuring many of the same pages that you'll find in our digital recipe book.
Never buy another digital planner again
Why not check out our full range of calendars, planner inserts, coloring pages, how to draw pages, and more, all great for adding to your digital planner.
Never buy another planner! We've created a huge range of amazing premium digital planners and they're all totally free!
How to get this free digital recipe book
You can get the digital recipe book right here, just pop your email address in the box below and you'll be sent a code and link directly to your inbox.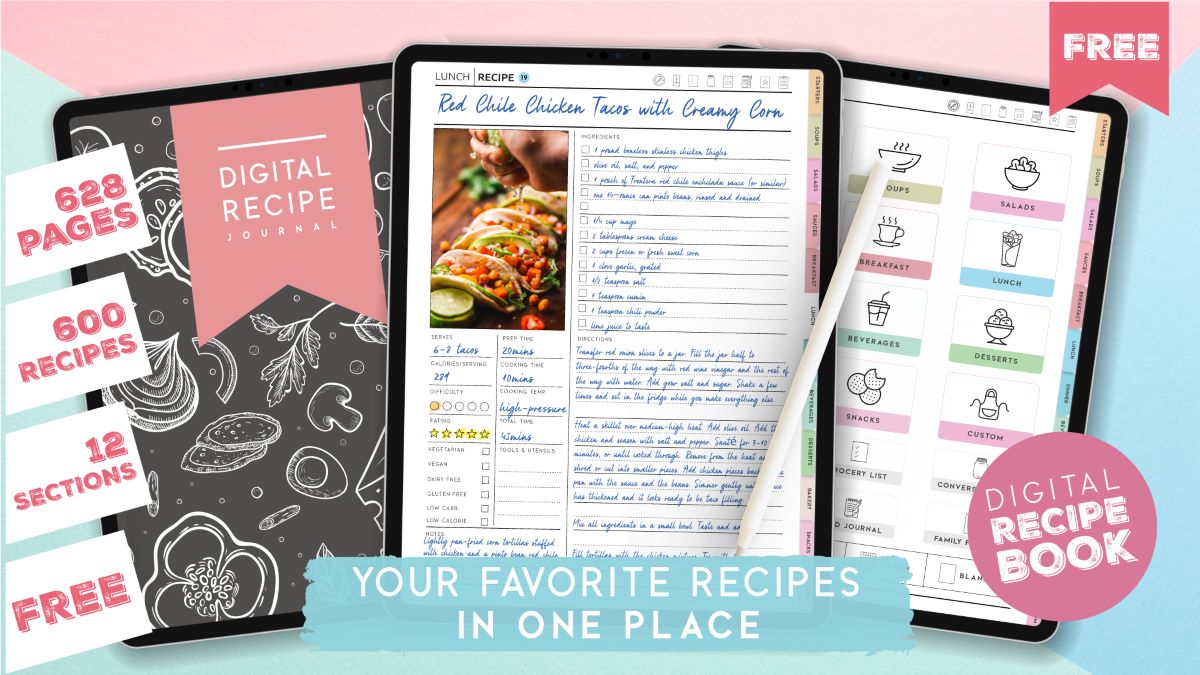 We'll also keep you updated from time to time whenever we release an updated version or have more awesome free digital planners, stickers, and more for you to enjoy.
This free digital recipe book has been made with lots of love for you to enjoy.
Every week we create a cute set of printables, planners, and digital freebies, all designed to help you make the most of the things that matter to you and to help you get things done in style while keeping you busy and motivated.
You'll also like…
Did you know we also have free planner stickers that you can use in your planner?
They're so cute you'll love them!
More free digital planners
If you like this free digital recipe book and you're looking for more awesome freebies for your iPad or Android tablet, then take a look at our collection of best free digital planners or the recommendations below.
We have an amazing collection of fully hyperlinked digital planners that are full of pages to help you streamline your year.
We think you'll really enjoy using these free digital planners:
Why not get one of these free digital planners?
We've got many more free digital planners for you to start using right now. Here's our latest:
Fall in love with our new digital recipe book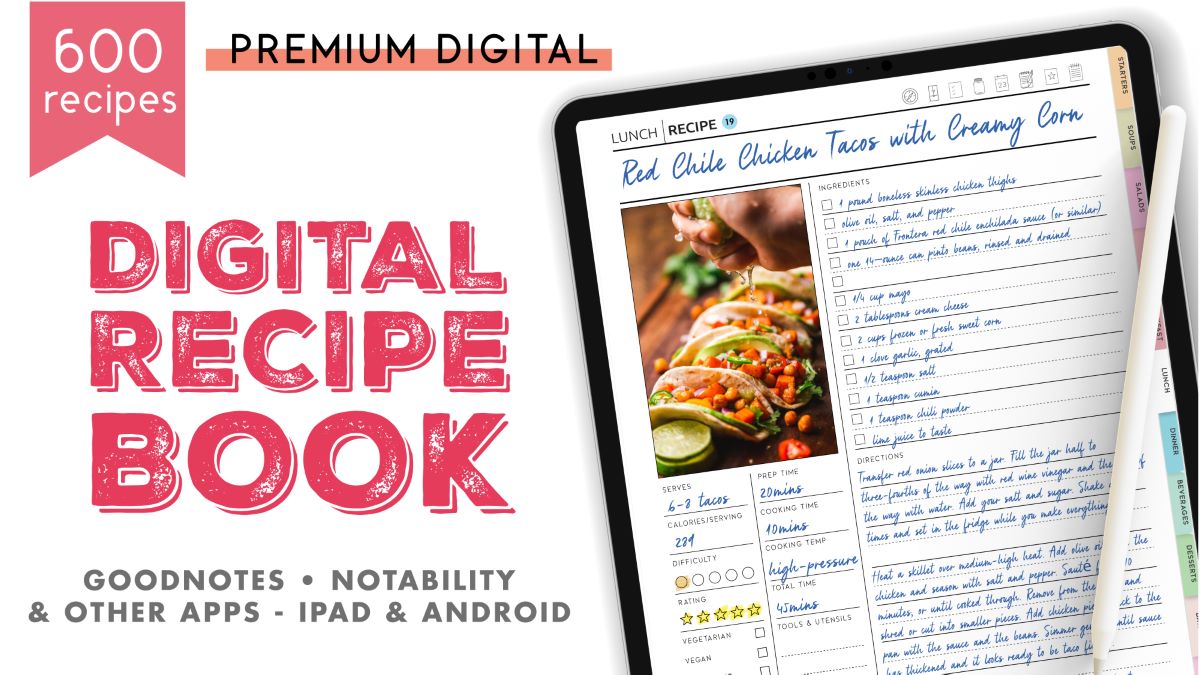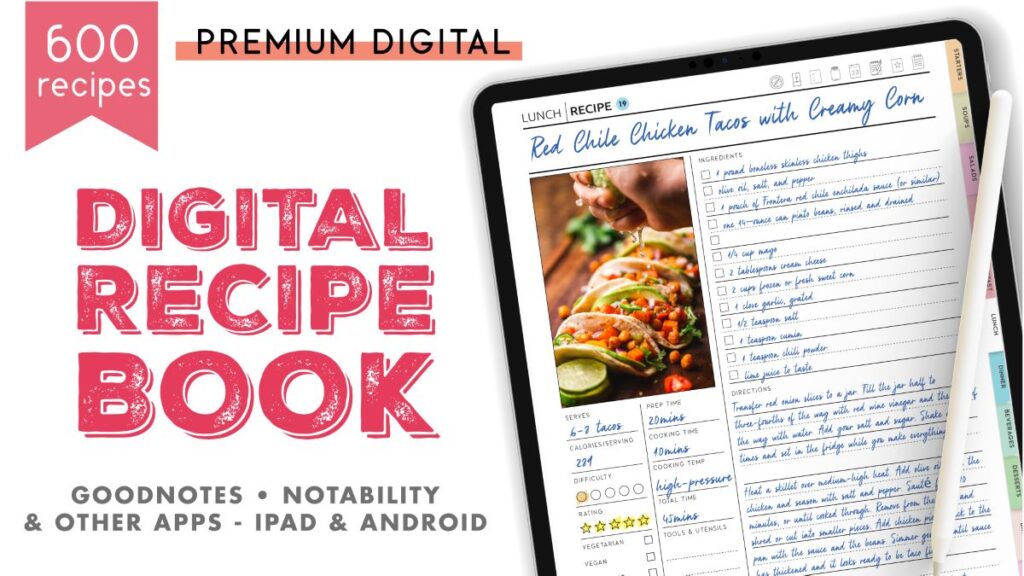 Make the most of your new digital recipe book!
I really hope you use and enjoy our free digital recipe book. Be sure to recommend it to your friends! Follow us on Instagram or Pinterest, as it's a great way for you to keep updated with our latest freebies.
If you have a comment that you would like to share, then please reach out to us on Pinterest, Instagram, or TikTok! We'd love to hear how you're using our creations!
Follow World of Printables on Pinterest
COPYRIGHT
This digital planner is for personal use only and is the copyright of World of Printables – you cannot redistribute, reproduce, or resell, although you can link back to our website.
What do other people do after viewing this?