Start planning your month ahead by downloading and printing a printable blank calendar in PDF or JPG image formats. It's totally free to print any of our downloadable blank calendar pages!
Are you tired of feeling overwhelmed by a hectic schedule? Do you find it challenging to keep track of your appointments, deadlines, and important dates? If so, you're not alone. Many of us struggle to maintain control of our busy lives, but there's a simple solution that can make a world of difference: blank calendars.
To stay organized, it's best to start planning ahead if you want to be successful. This is why the blank calendars that you'll find here are designed to be practical and flexible for your specific needs.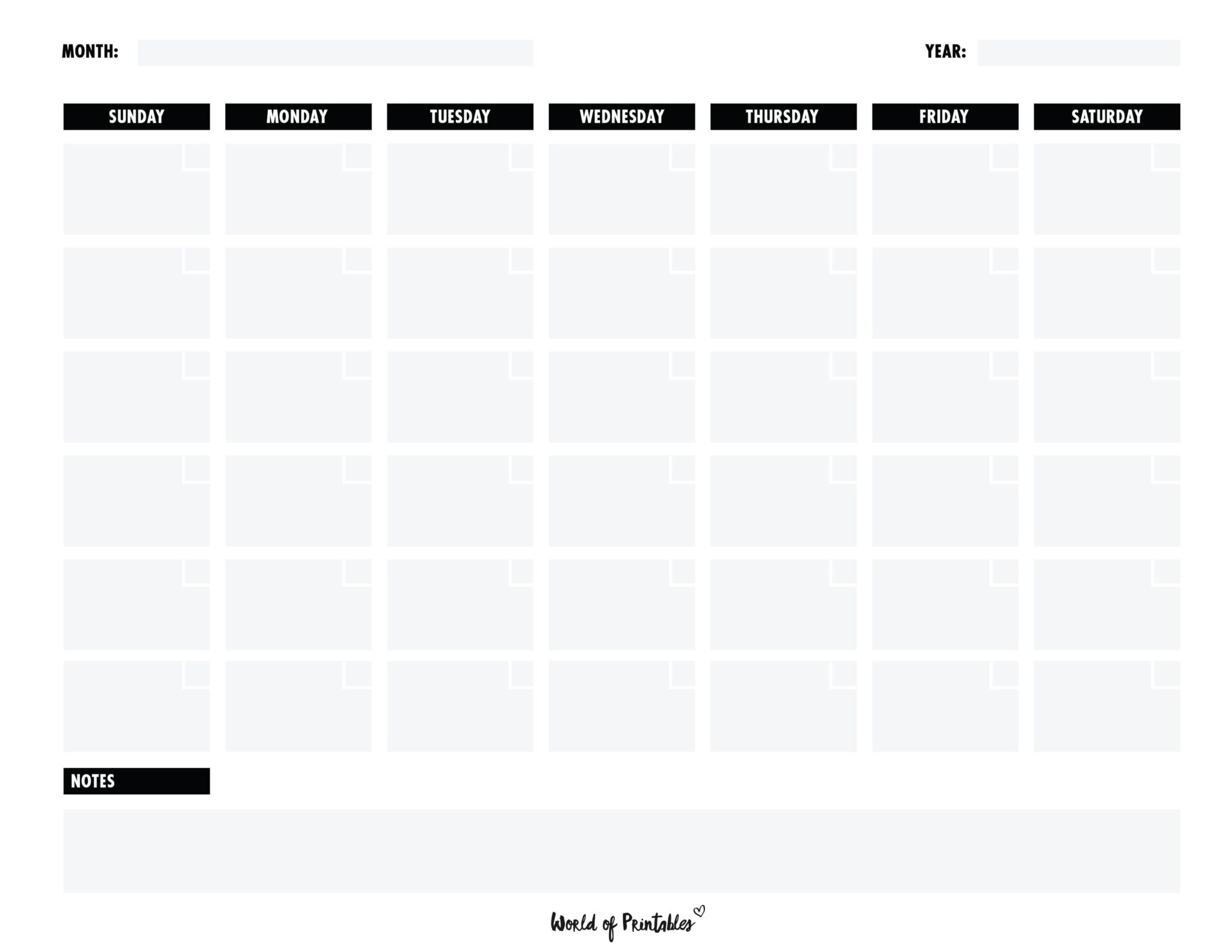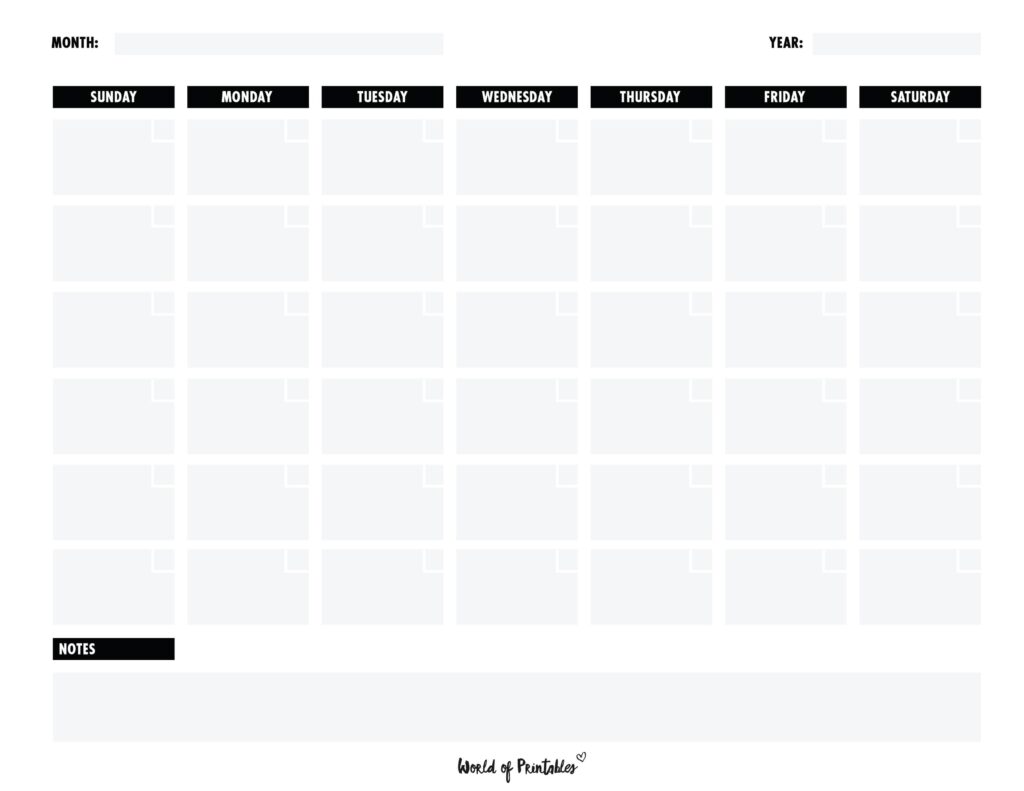 At World of Printables, we understand the importance of efficient time management. That's why we've created over 50 stylish blank calendar templates that are not only aesthetically pleasing but also incredibly functional. In this blog post, we'll dive into the world of blank calendars, exploring what they are, what they can be used for, and the benefits of incorporating them into your life. Plus, we'll share why our blank calendars stand out from the crowd and how they can help you take charge of your time.
You'll find a large collection of free printable blank calendar template pages here, simply just click to download the one that you like, each calendar is available in both jpg and pdf file formats.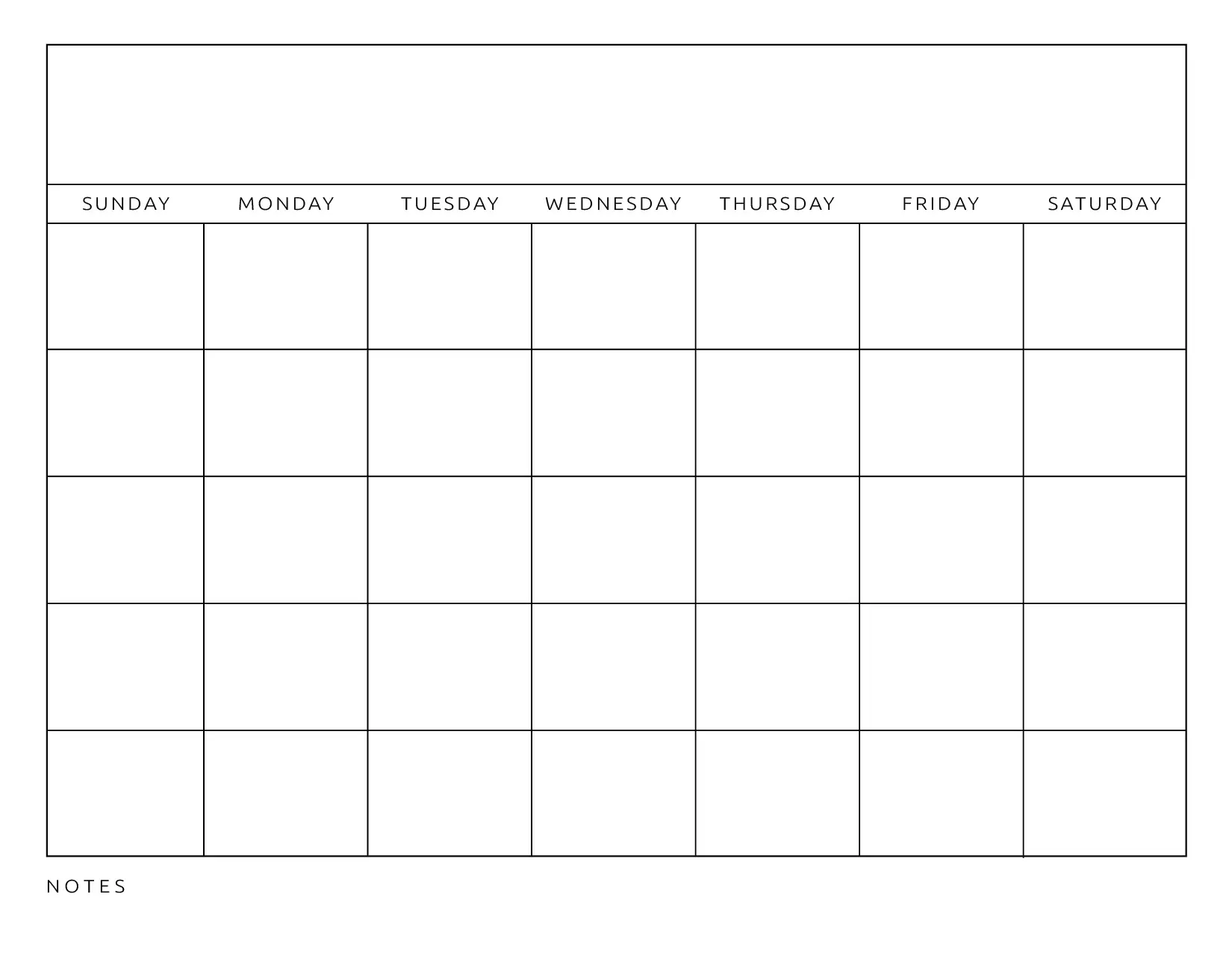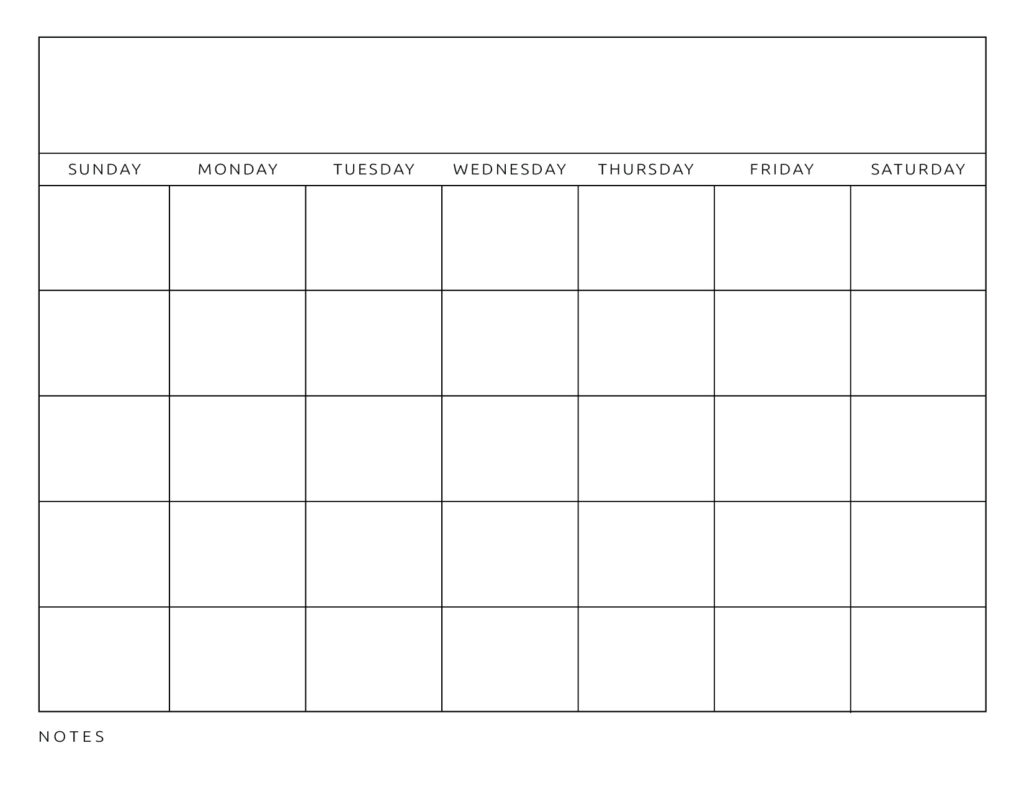 You can either print a blank calendar directly from your browser or download and print it later. Simply choose the style that works best for you and click the download button and you're good to go.
Why do we need a blank calendar?
A calendar is a perfect way to plan out your month so that you can quickly see important dates at a glance.
Even though we often plan our lives on computers, phones, or even in our day planner, a calendar is something so simple and quickly accessible that it will always be important.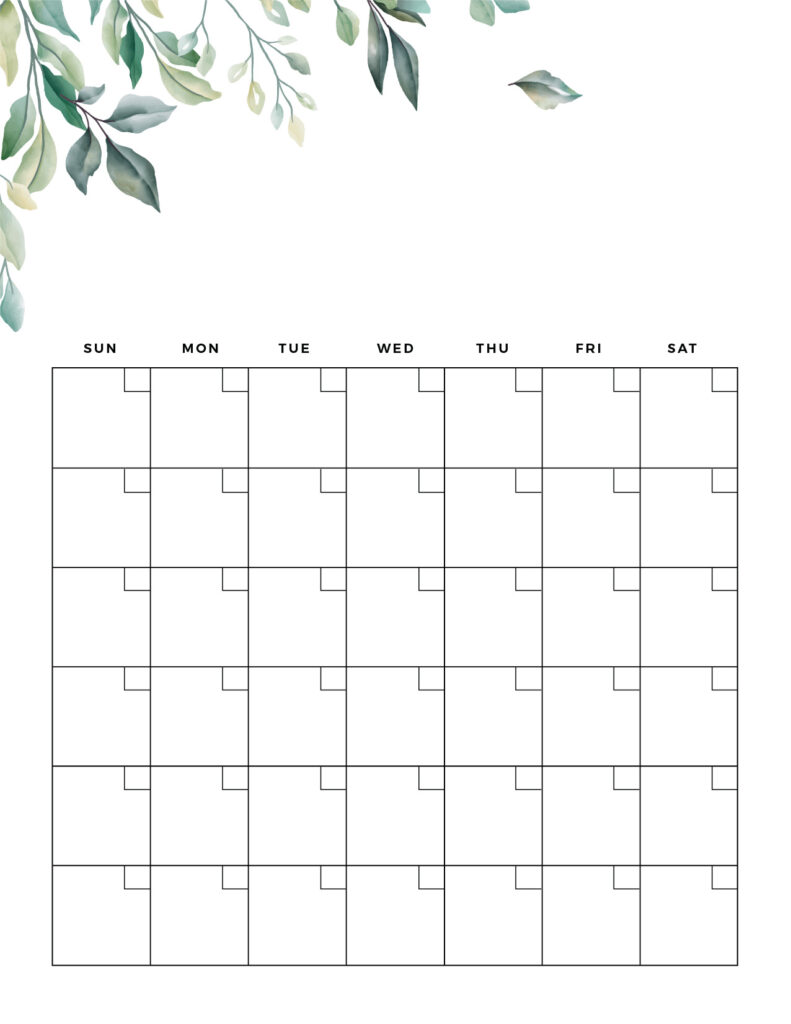 The days of our months are important, there's always an important event, birthday, meeting, or appointment, and having a place to jot these down so that you can stay organized is why we simply can't live without calendars even with so much technology around us.
A blank calendar is similar to a planner, in that it's easy to use and helps you stay organized, no matter what your profession.
It's easy to personalize blank calendar pages with your important dates and events, so you can use it similar to a planner to help you stay organized.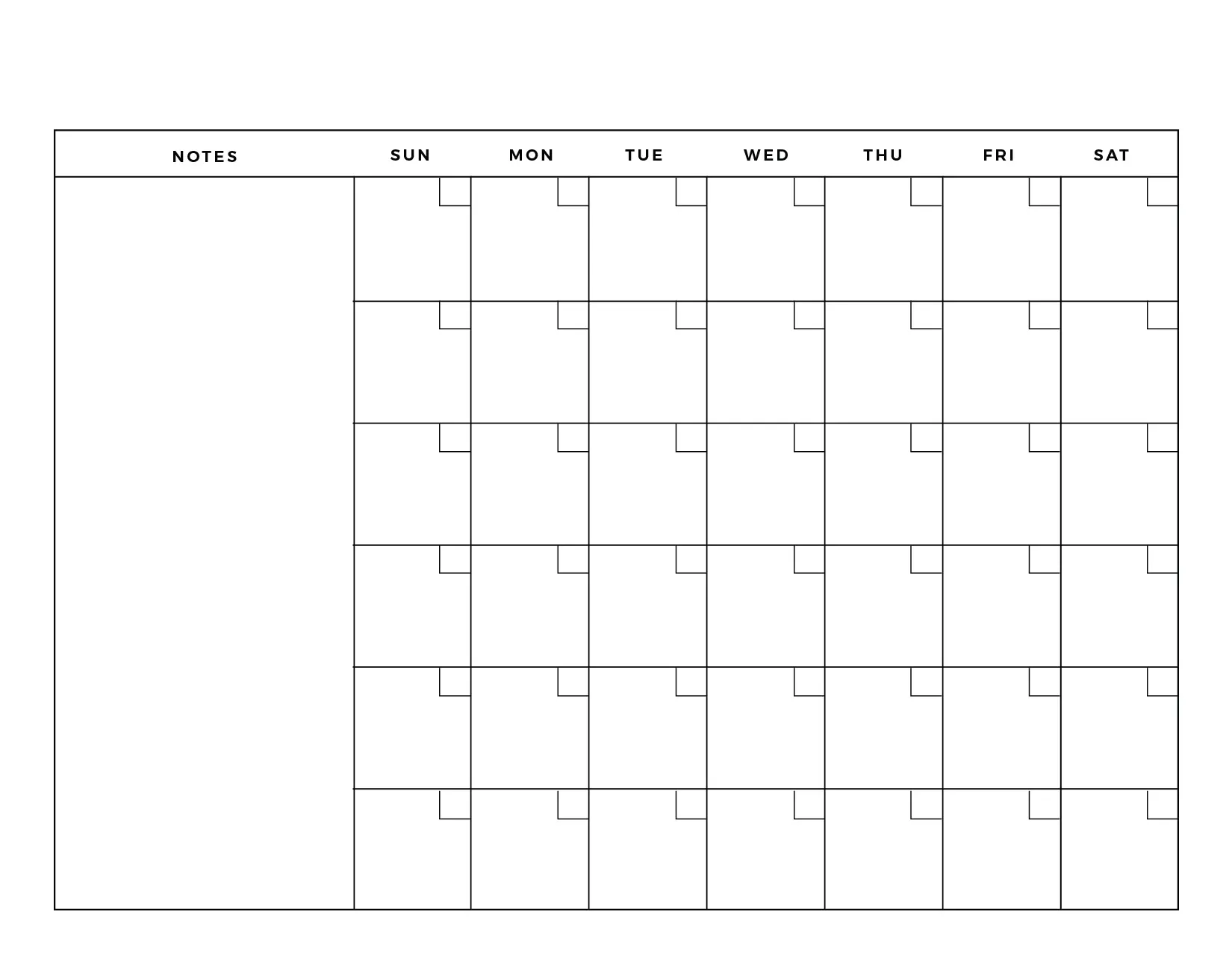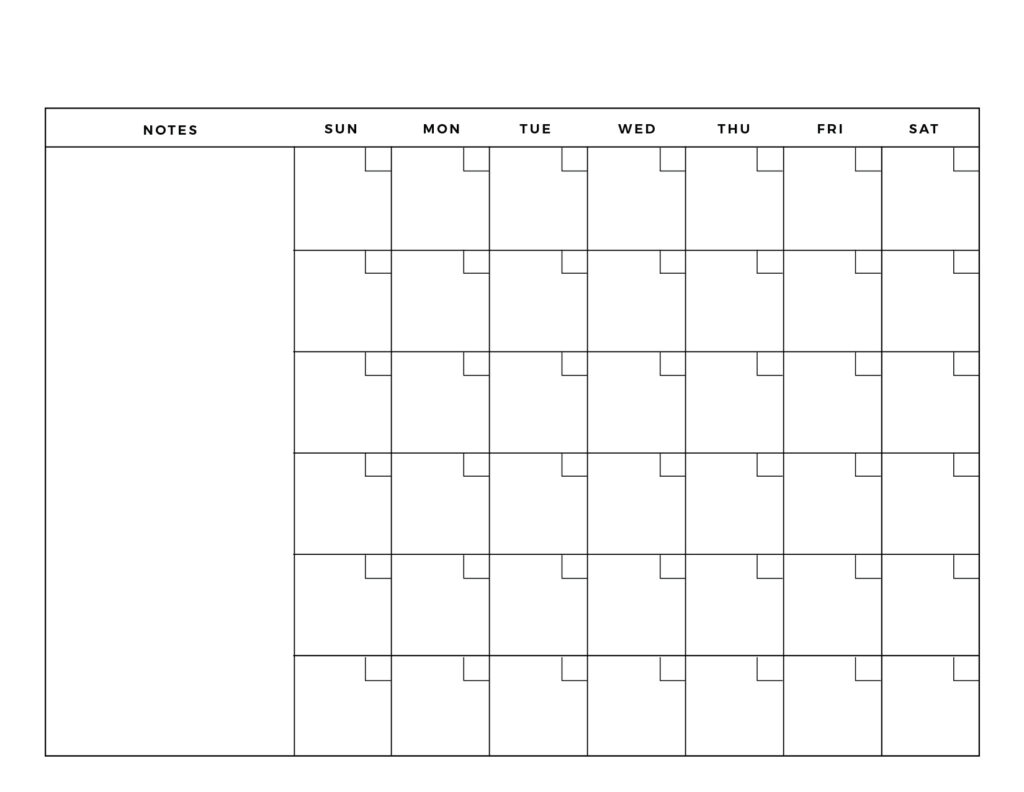 Printable blank calendar Templates
Are looking for a blank calendar that's flexible and practical? Then you're at the right place. You can find a great variety of templates here, simply choose and download a printable blank calendar and print.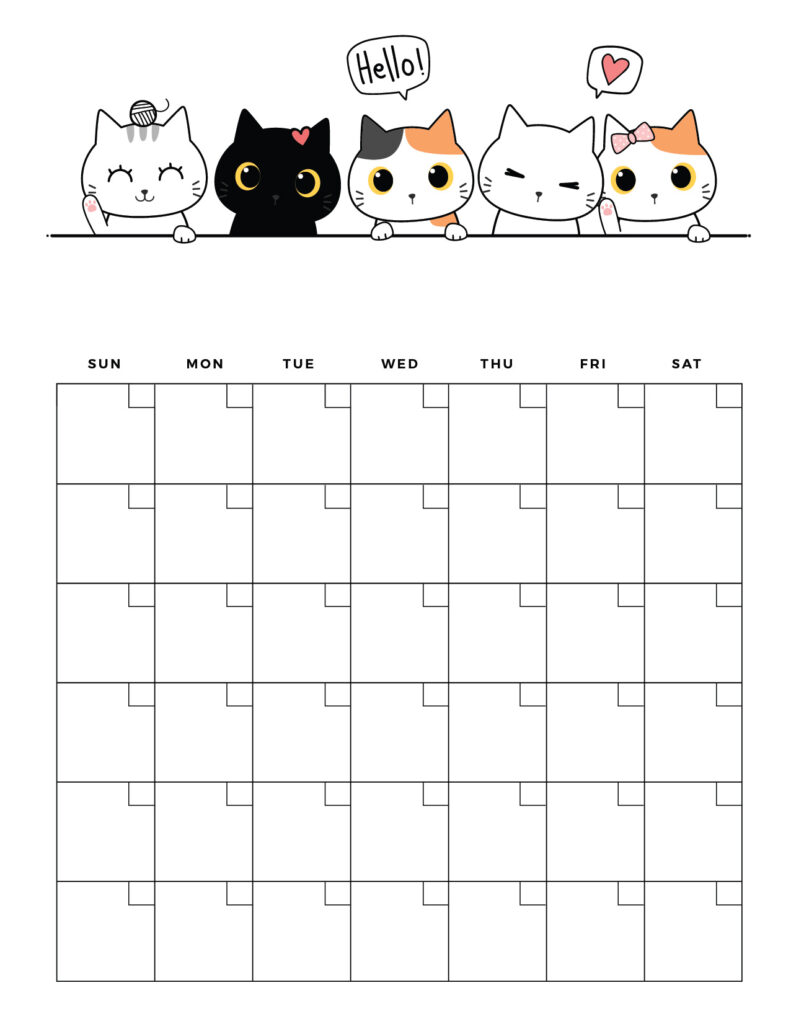 There are different styles and formats of blank calendar PDF or image files here for you. Each of these calendars is blank, without dates or month titles. This way you have complete flexibility to use any style for different months of any year.
However, if you are looking to download and print a calendar with days of the year and months prefilled, then see our full range of blank calendar and year calendar styles. This format is ideal if you need a quick at a glance calendar that will help you stay organized.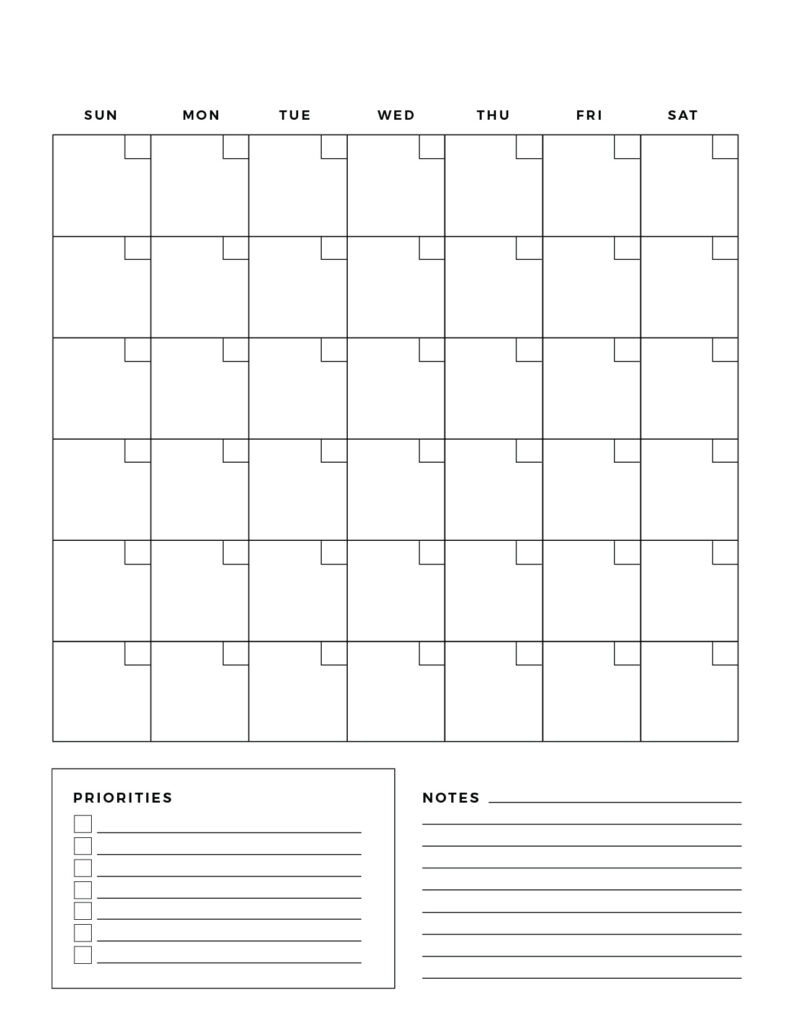 With a printable blank calendar it's perfect for printing as and when you need to plan your days and months ahead, without having to keep buying prefilled versions. This way you can add your dates and holidays that are specific to you.
You can choose from a blank calendar page that has either the month or year included, or with the year and month included, or simply a completely blank calendar without the year, month, or days. The latter gives you complete flexibility to use in any month of any year.
It's so important to note important dates and events, such as a loved one's birthday, an anniversary, or anything important to you as it's so easy to forget these things. With a blank calendar in your planner, on your desk, or stuck to your fridge, you'll be constantly reminded of those special or important dates.
Why use a blank calendar?
Doesn't it annoy you when you forget important dates, or miss your monthly goals? This is why having a blank calendar is such a useful thing to have and use, like a simpler planner that you can print. Just fill in your important dates and holidays to take the stress out of your month.
You can even get and print free blank calendar printable pages to use separately for different things, such as home, work, events, and more. This is perfect for seeing everything at a glance more easily.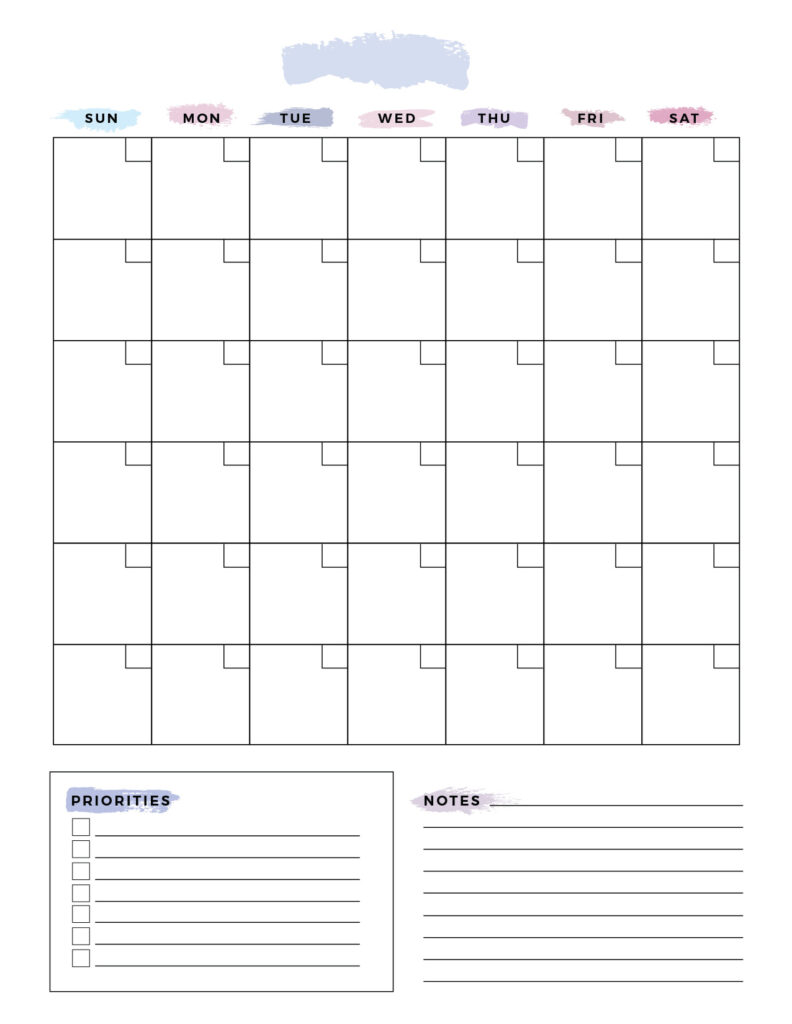 Print or download blank calendar template pages
If you need to print calendars in PDF format or JPG image then you'll find the perfect calendars for you in both PDF and JPG formats.
World of Printables features a huge amount of customized calendar styles, from blank calendars to pre-formatted calendar templates.
Best of all, no matter what custom calendar you choose, they are all completely free so you can download and print any free printable calendar you find here on World of Printables at no cost to you!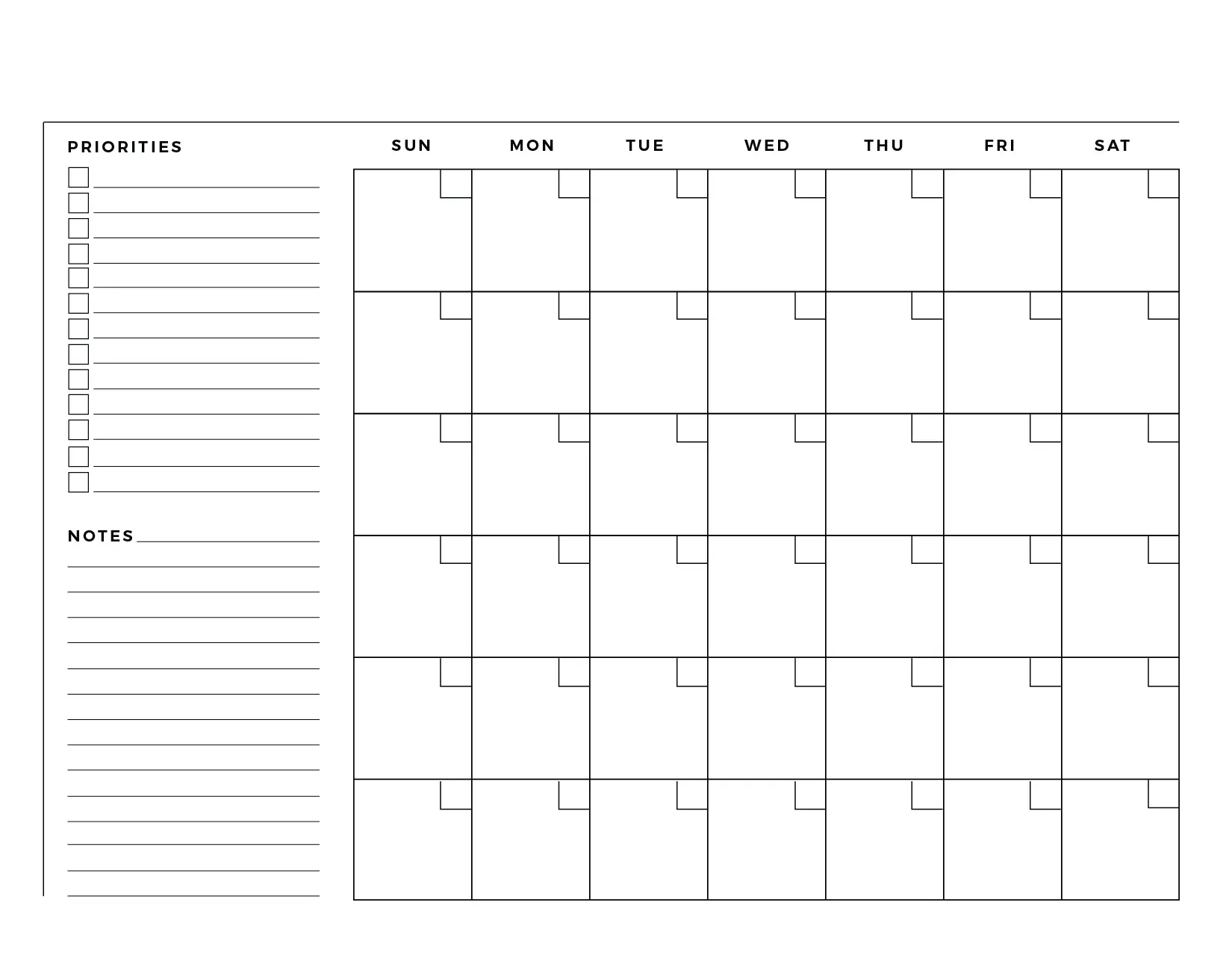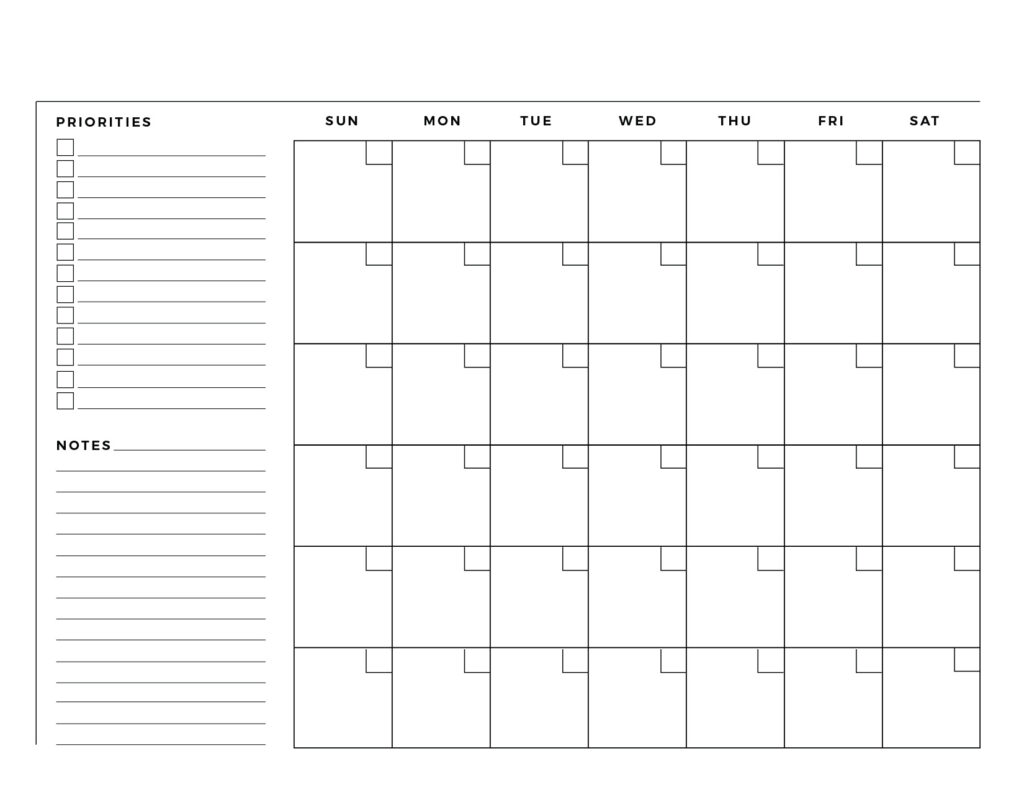 Simply just browse, download, and print a blank calendar in either JPG image or PDF format from the selection below on this page.
There are different formats to choose from, so you can print a blank calendar in either landscape or portrait format, Sunday start, or Monday start, the choice is yours and comes down to your specific needs.
Once you have selected your format of either portrait or landscape orientation, just go ahead and download the customized blank calendar to start organizing your month right away.
Choose any template such as:
A one page blank calendar.
Blank monthly calendar with each months on different a page.
A blank calendar with notes area, for planning purposes.
The month is featured on each blank monthly calendar page.
Blank floral calendar and fun calendars
There are so many options to choose from, so choose a calendar that works best for you.  For example, most of these calendars are simple and can be used by anyone. But if you have a busy month ahead then print a calendar with notes for writing your priorities, tasks, and reminders.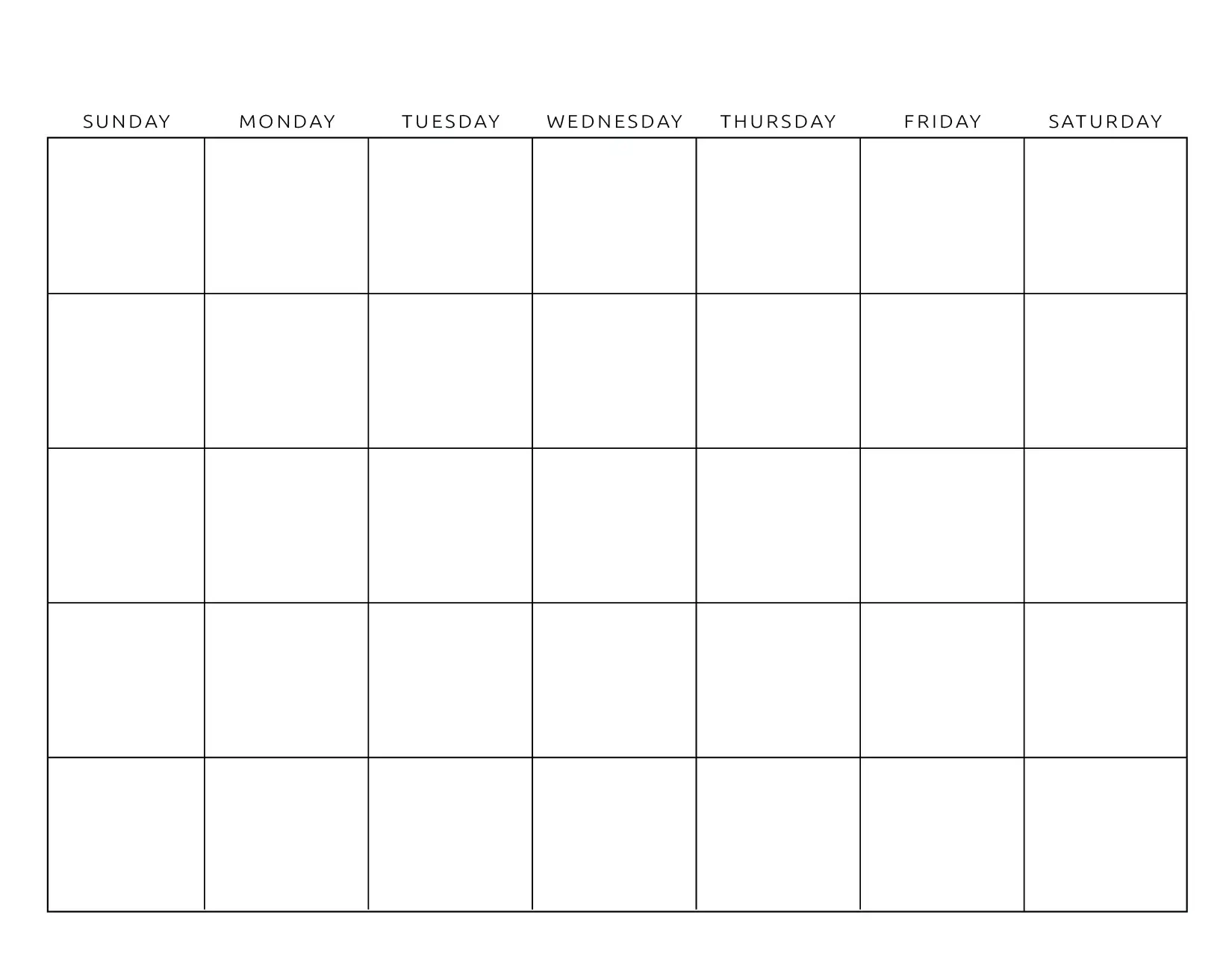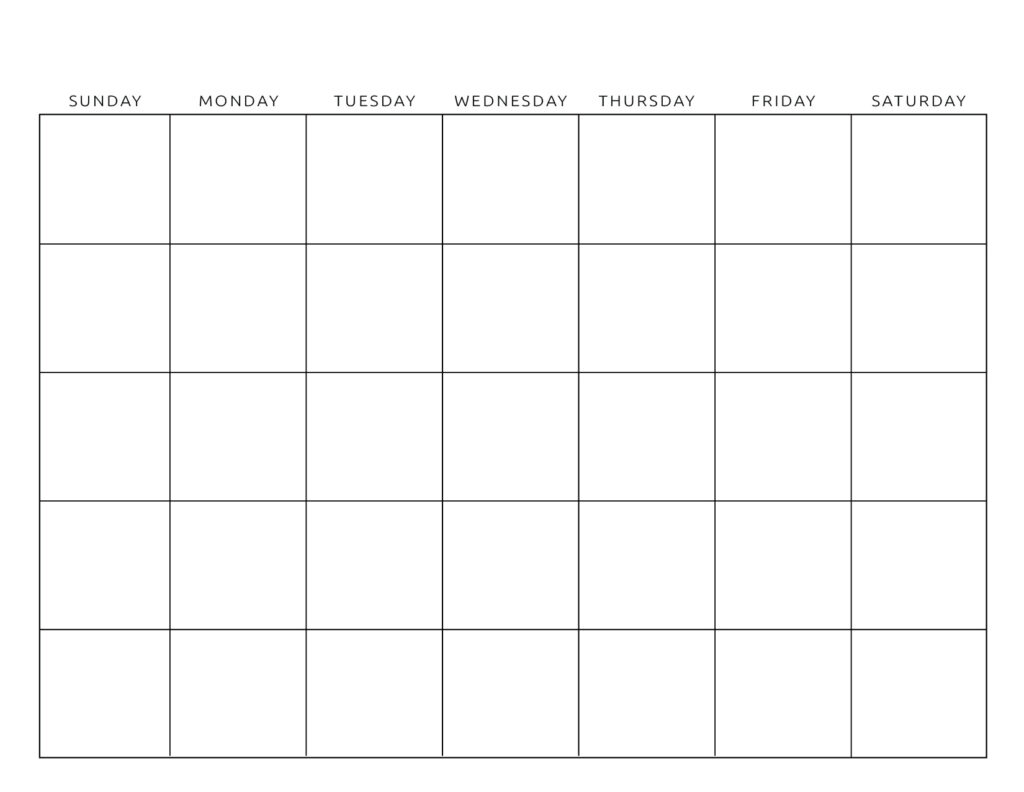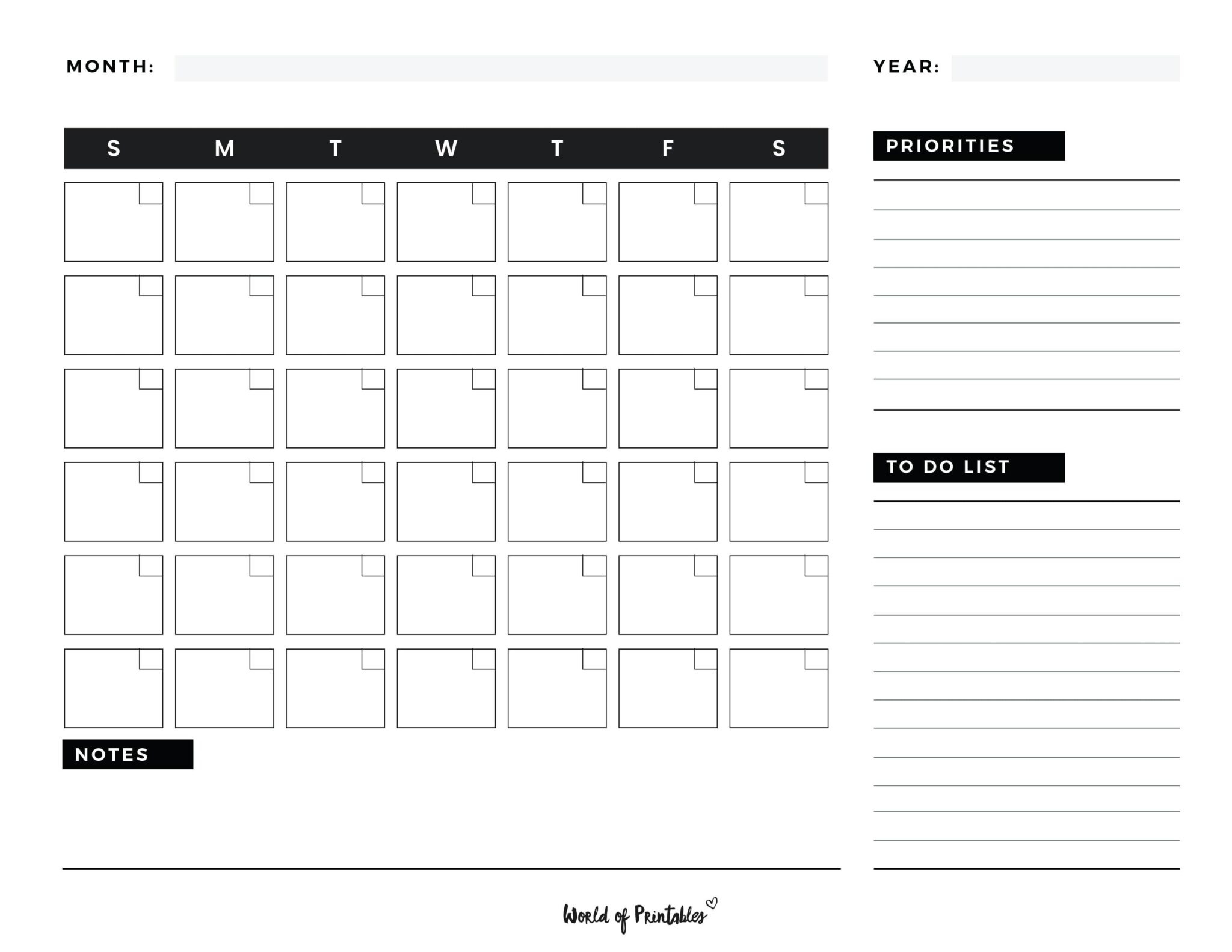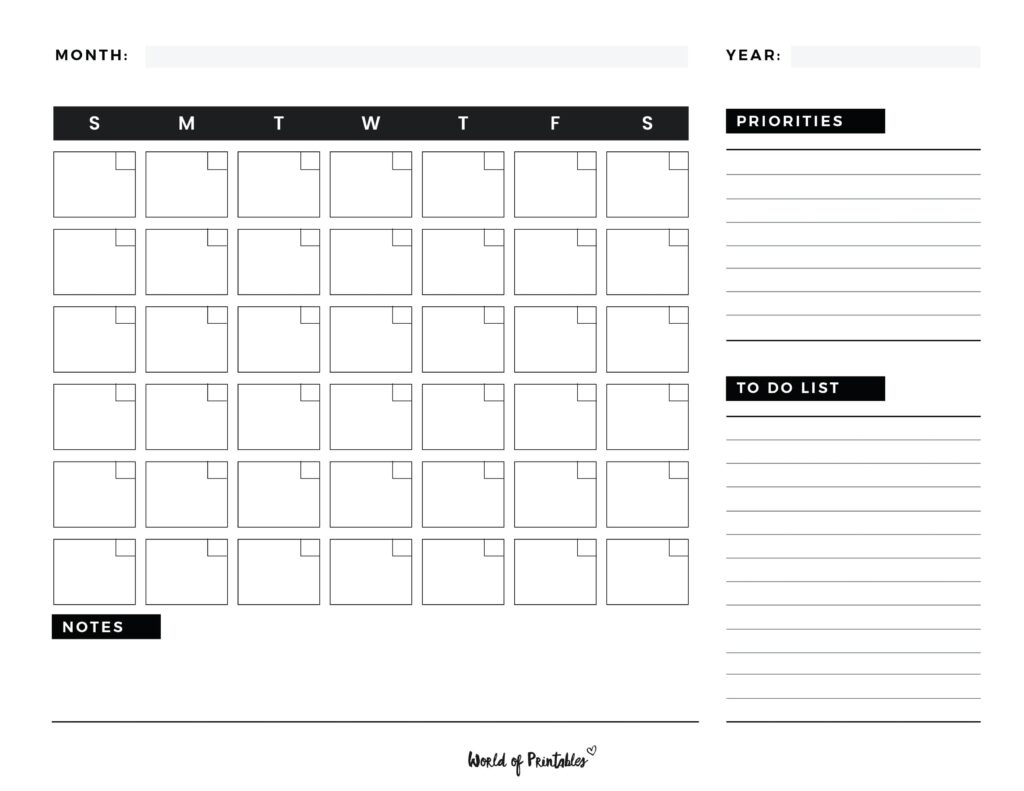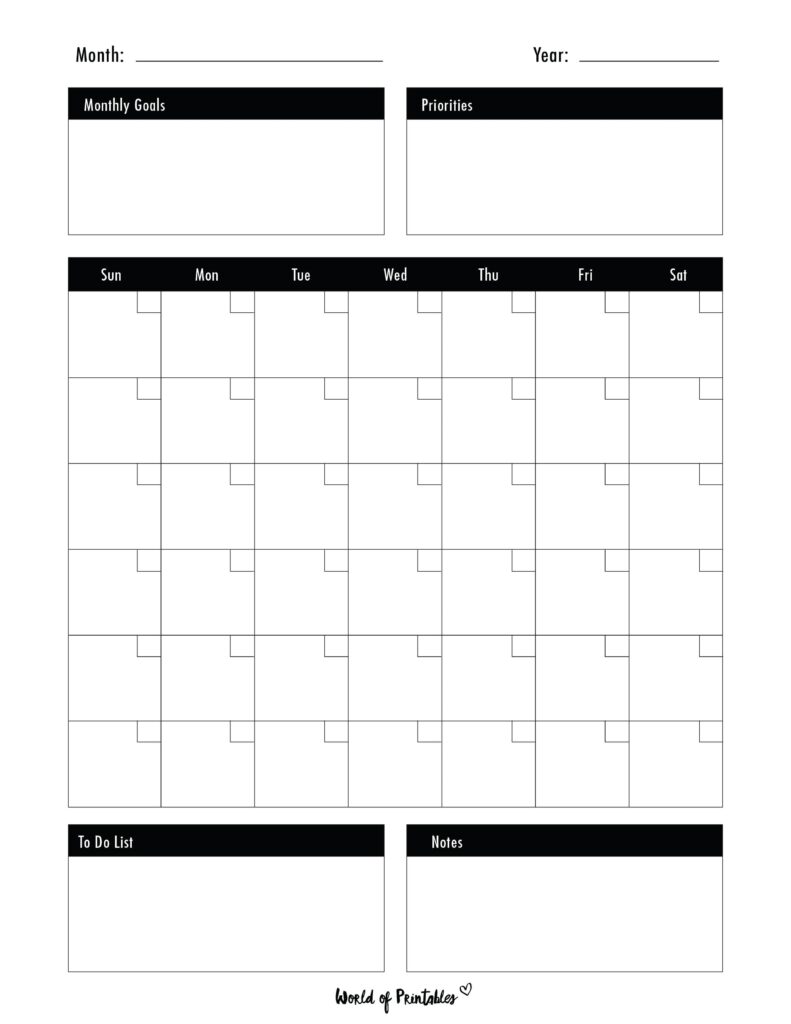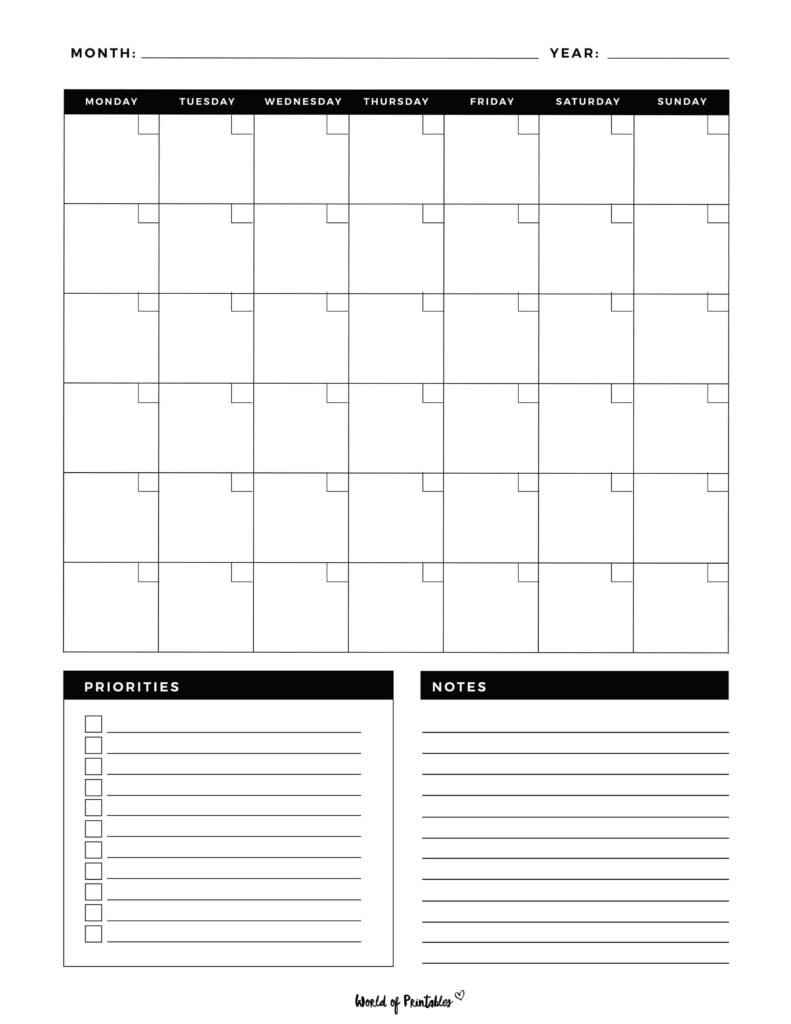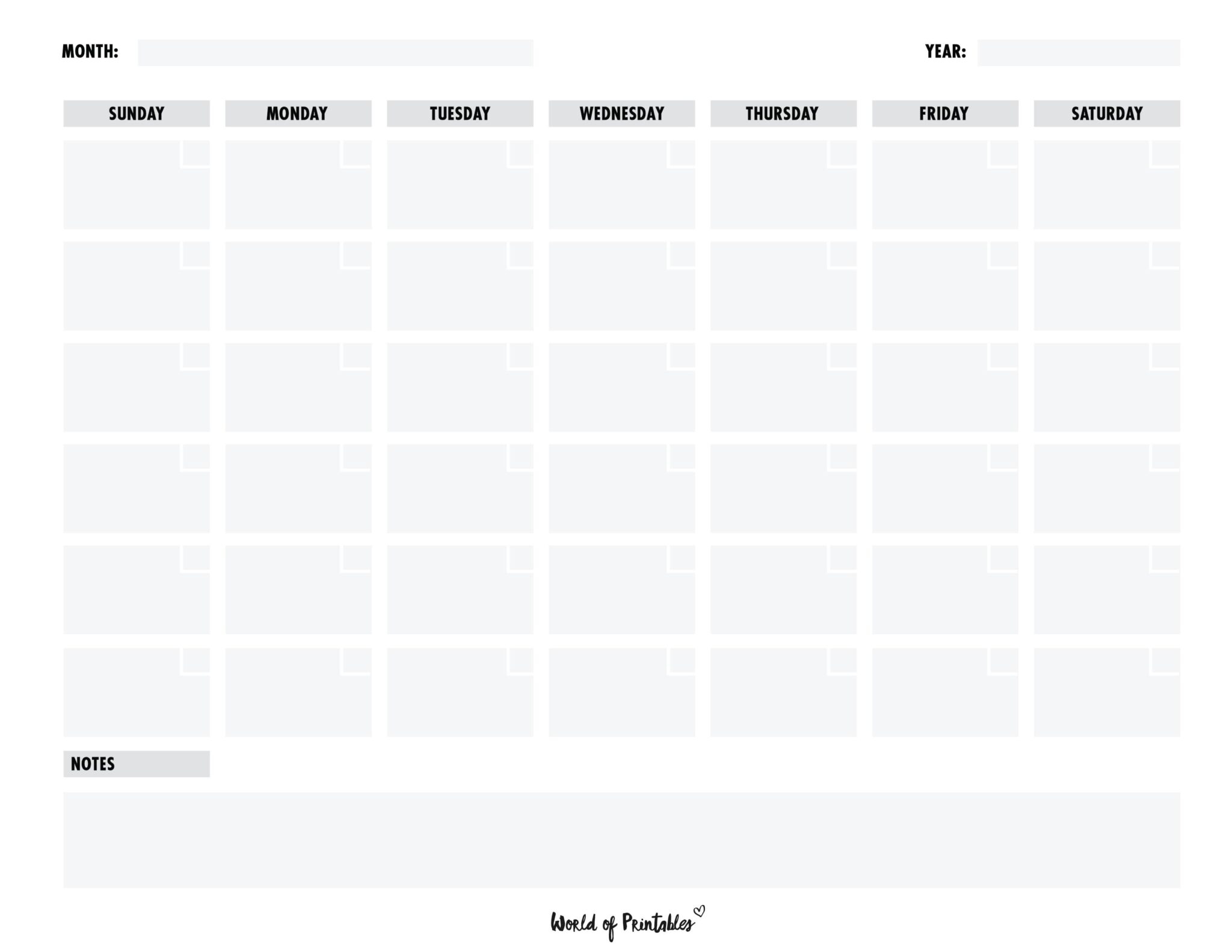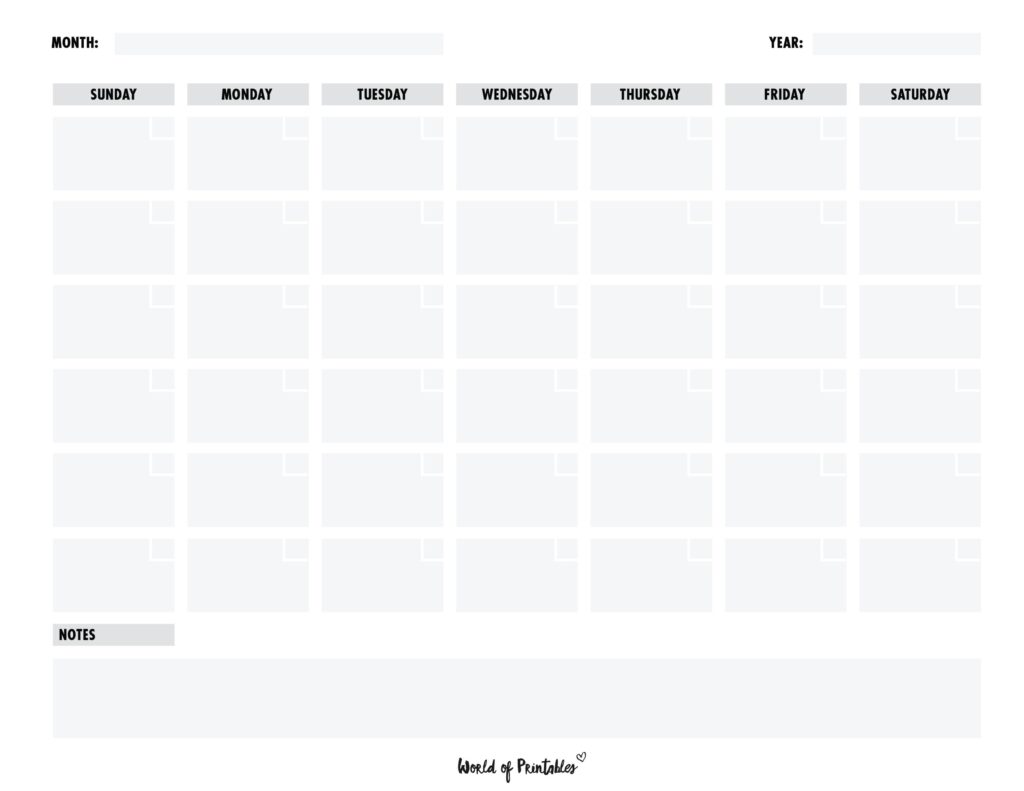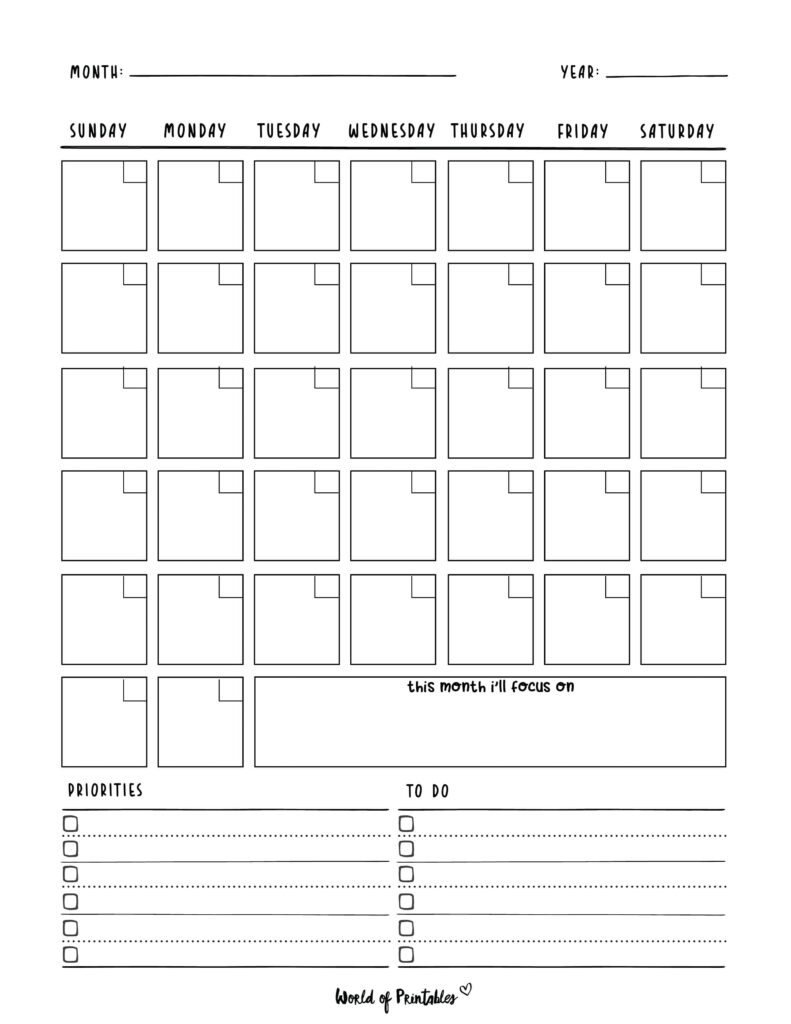 How to use a blank calendar effectively
Here you will find some tips on how to personalize your calendar effectively which will make your months ahead more organized and your life easier. A blank 2021 calendar is something that you'll print onto paper, which features blank boxes for days of the month, weeks, and an area where you can write the title of the month.
It is self-explanatory, but if you know how to use it effectively you'll be much less likely to miss important dates and events.
So try to follow these steps so you can be organized.
Firstly, print a blank calendar
Write down any events, special days like birthdays or anniversaries, and any official holidays.
Next, add targets for any goals that you have set for the month ahead. These can be habits, activities, or anything that you wish to achieve.
Add in any daily, weekly, or monthly routines that will help you organize your time ahead. Such as family, work, hobbies, business, etc. You'll then find gaps on your blank calendar pdf where you can see any free time at a glance and plan your other activities into these days if you desire.
Because of the limited space available, try to add only simple short notes or abbreviations. You don't need to add full details of everything, just enough so that you will know what they refer to.
So download your calendar of choice by clicking on the one you want and start planning your month today.
Color Blank Calendar Templates
We also have a selection of color blank calendar templates, in grey, red, pink, orange, blue, and green. Click on the button below to download the pack and print the color that you need, or choose an individual color and download and print the image directly.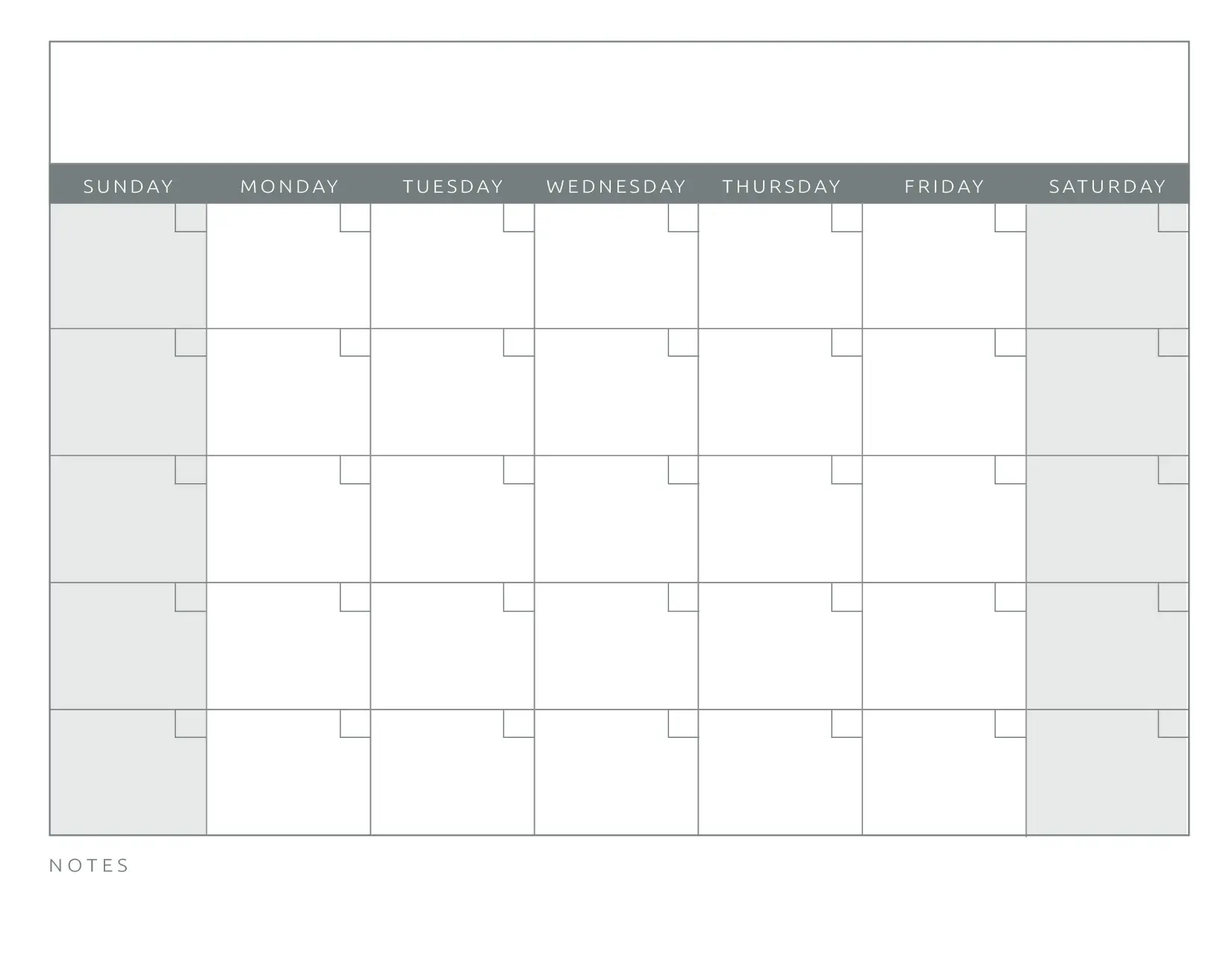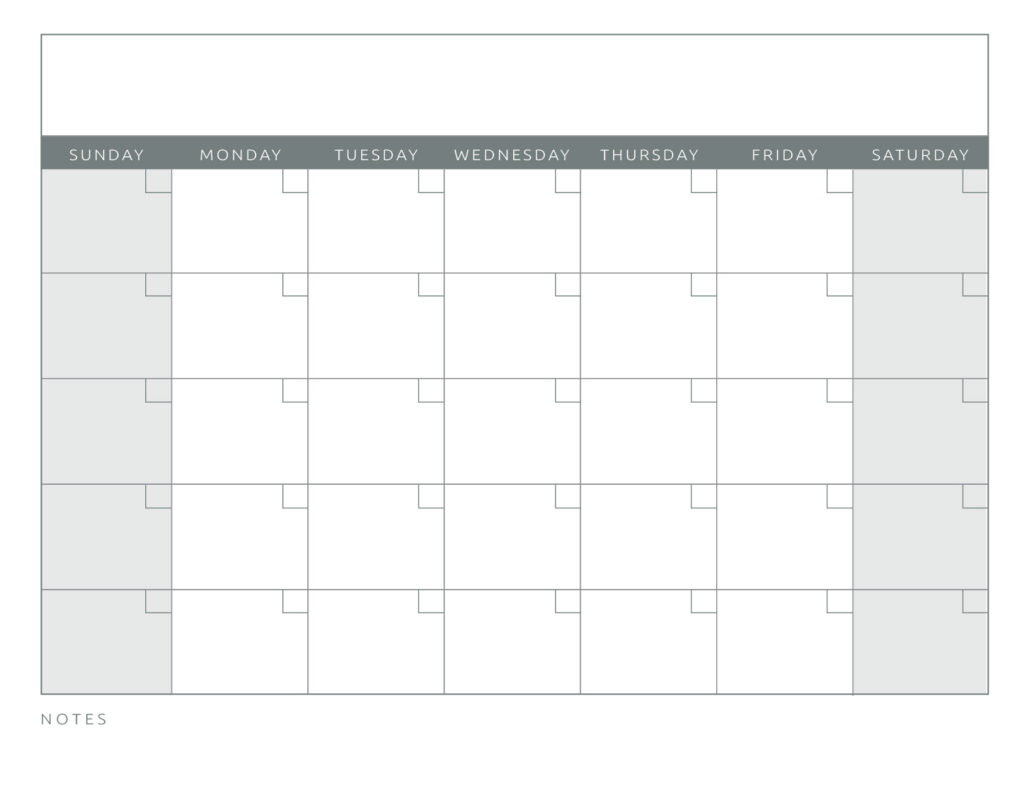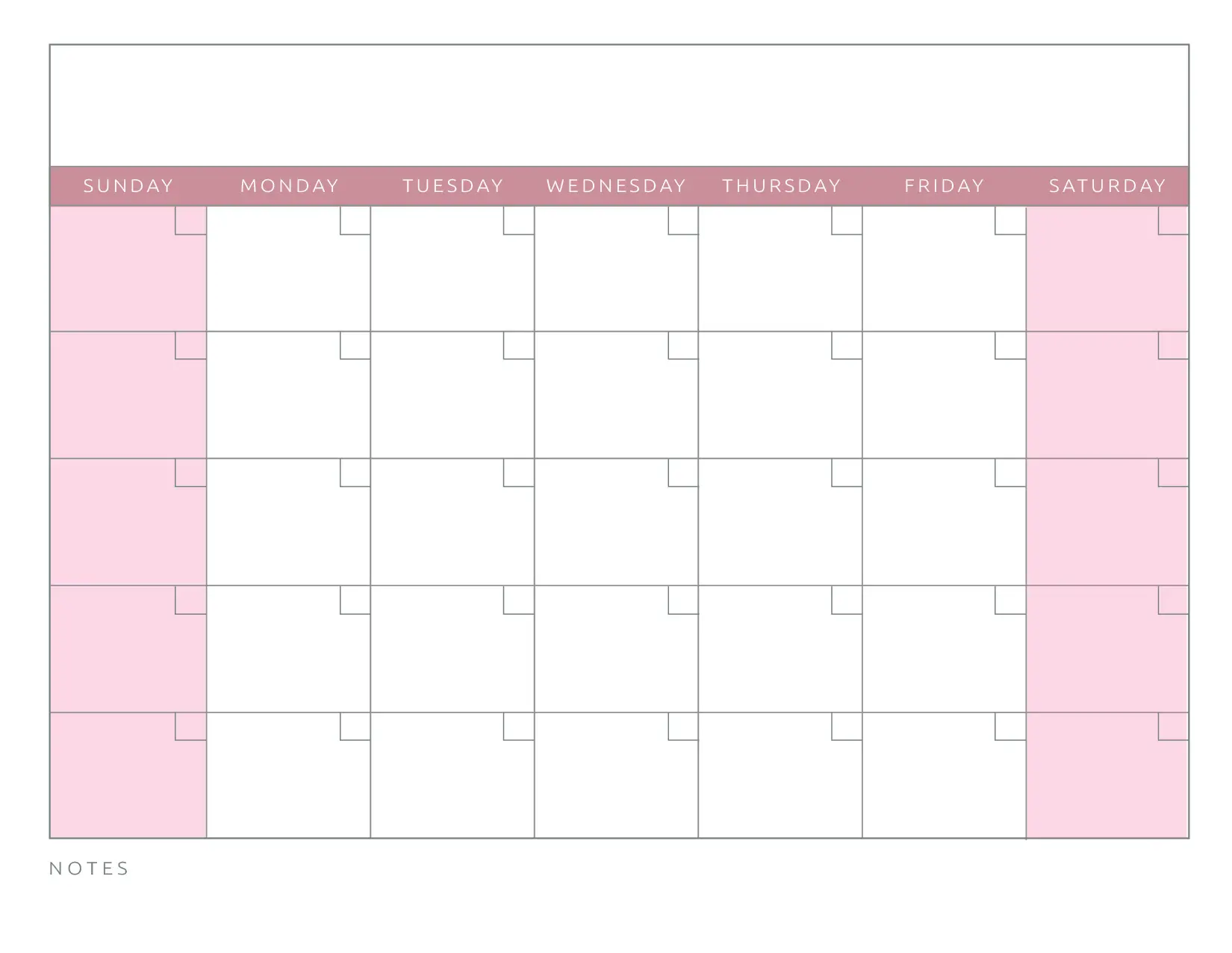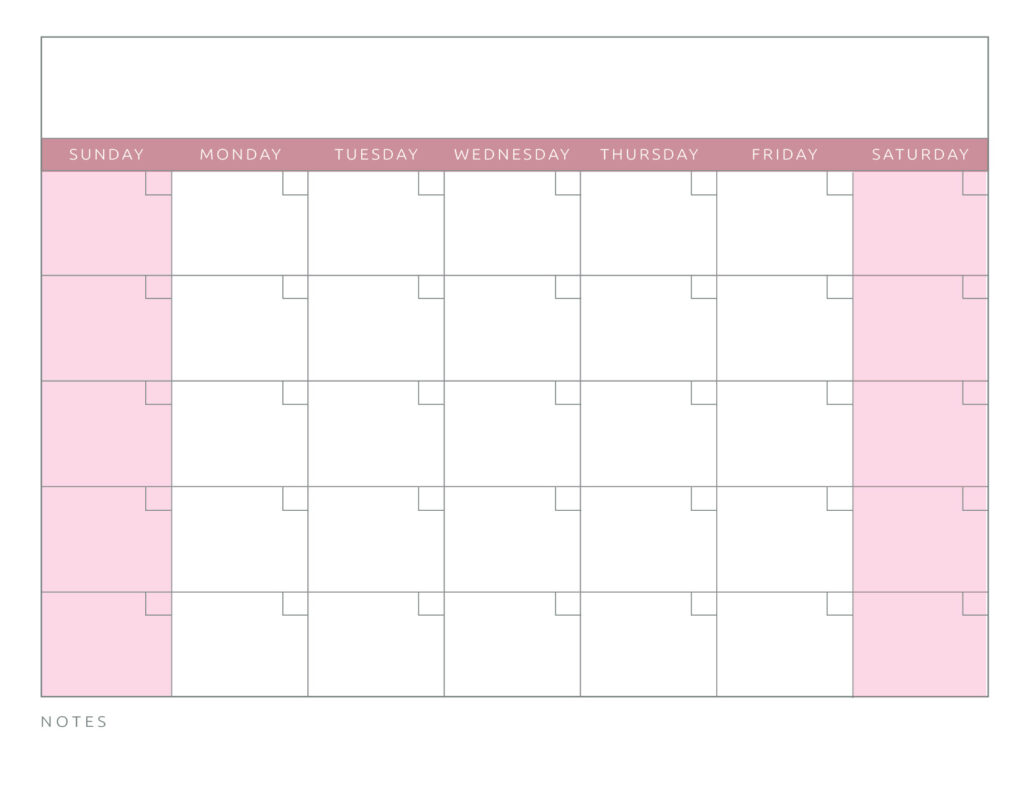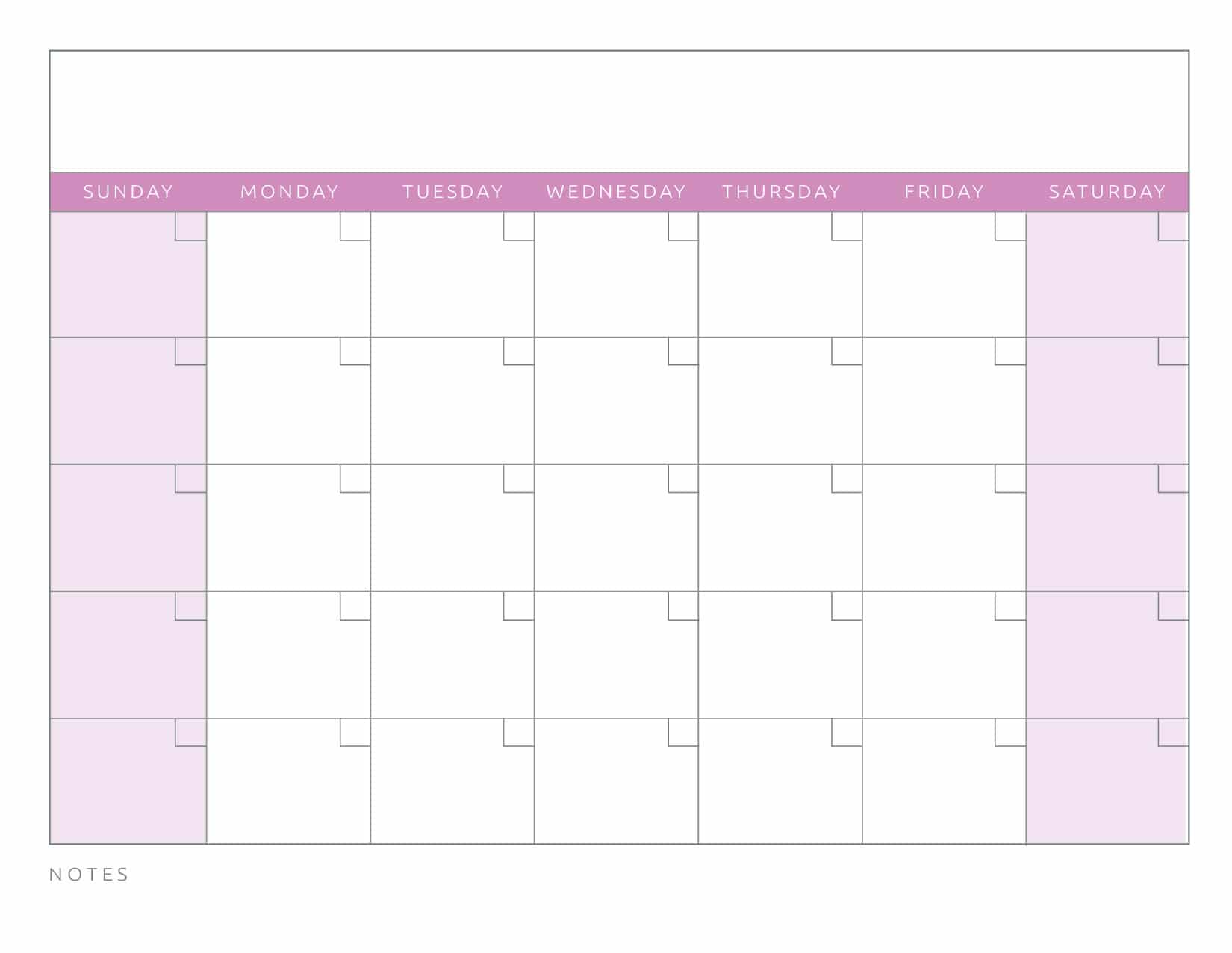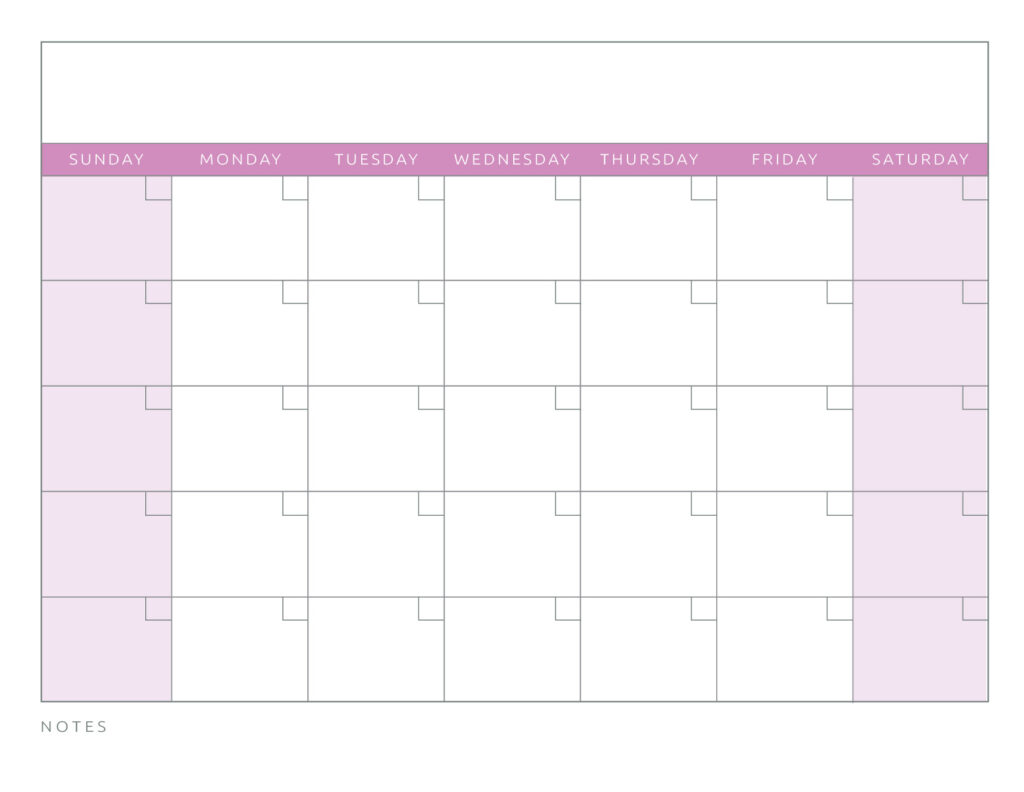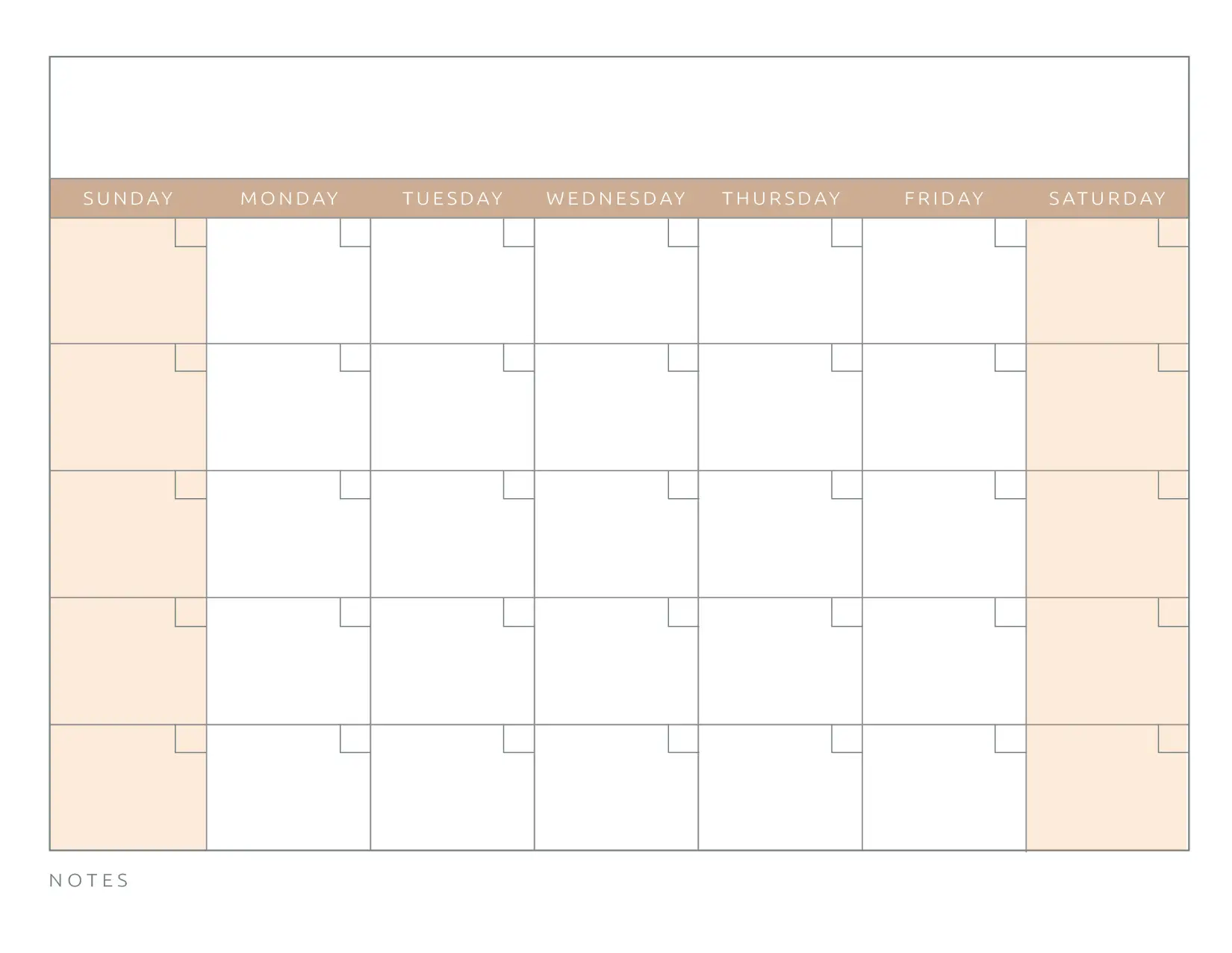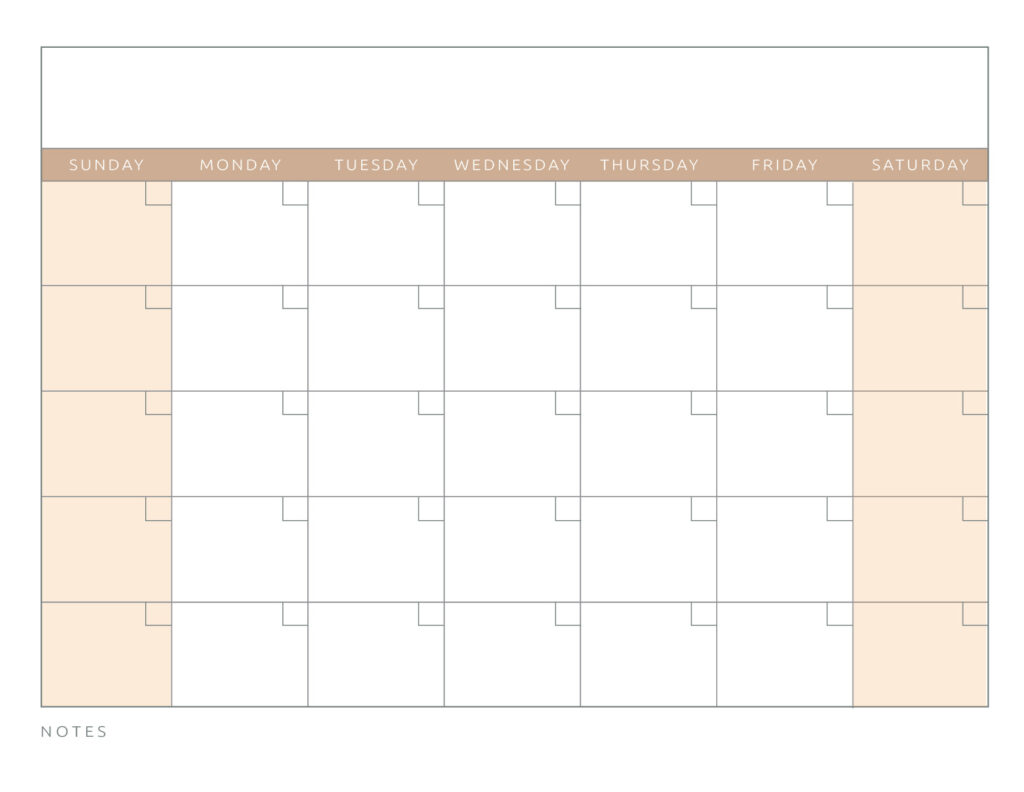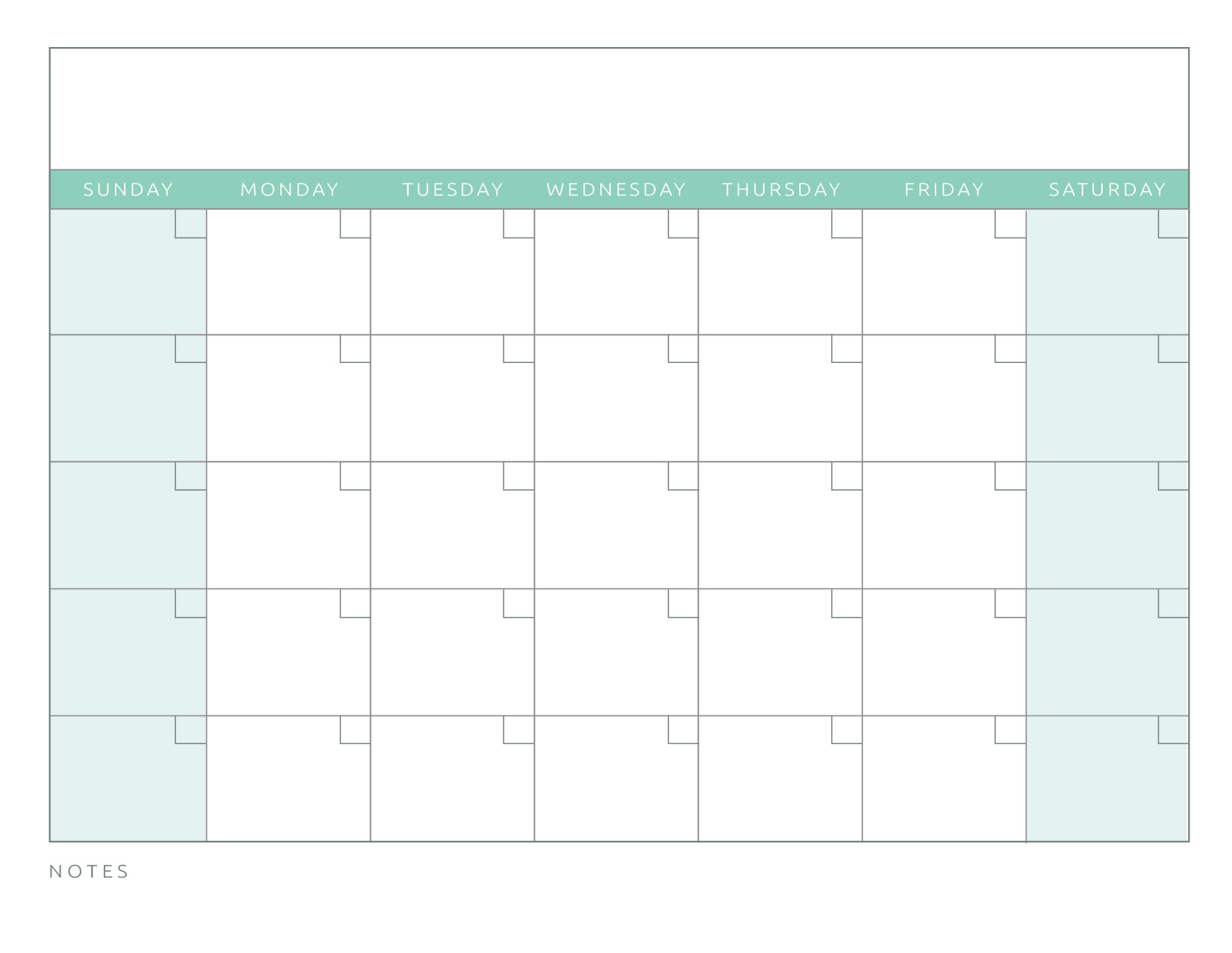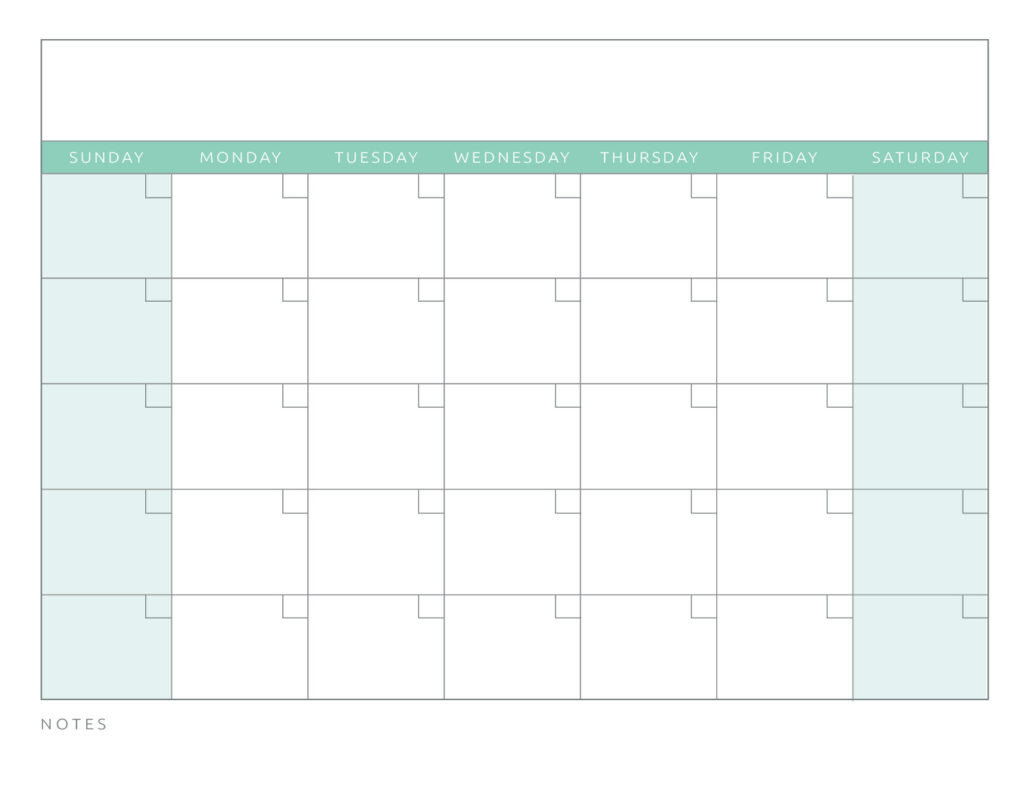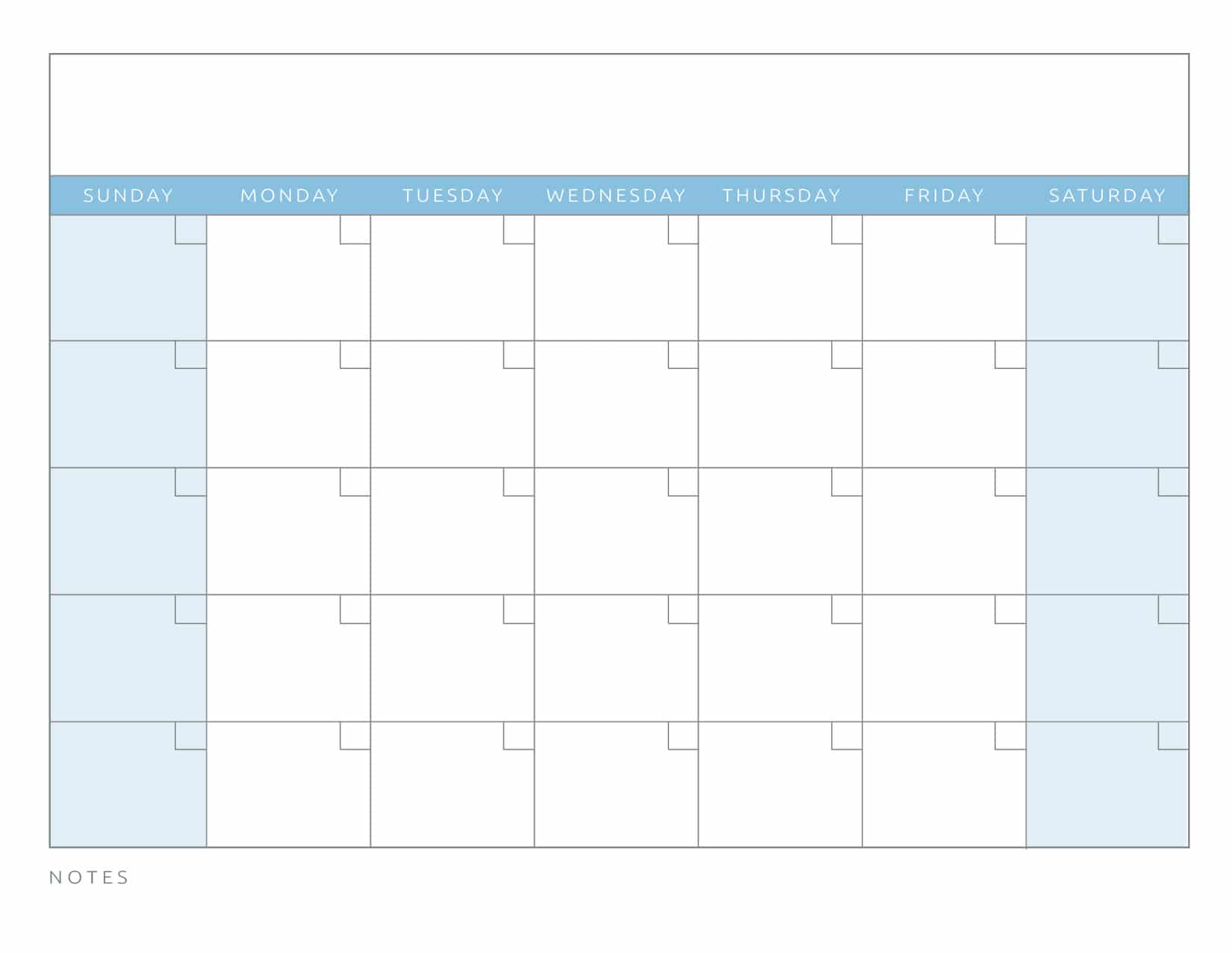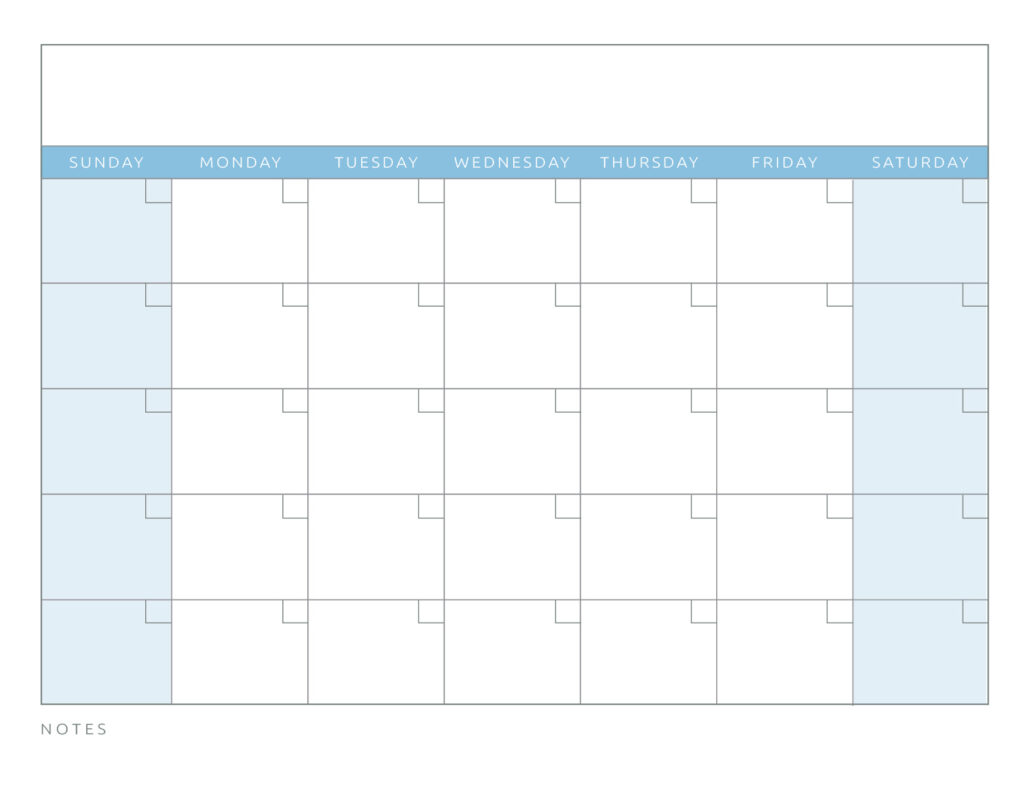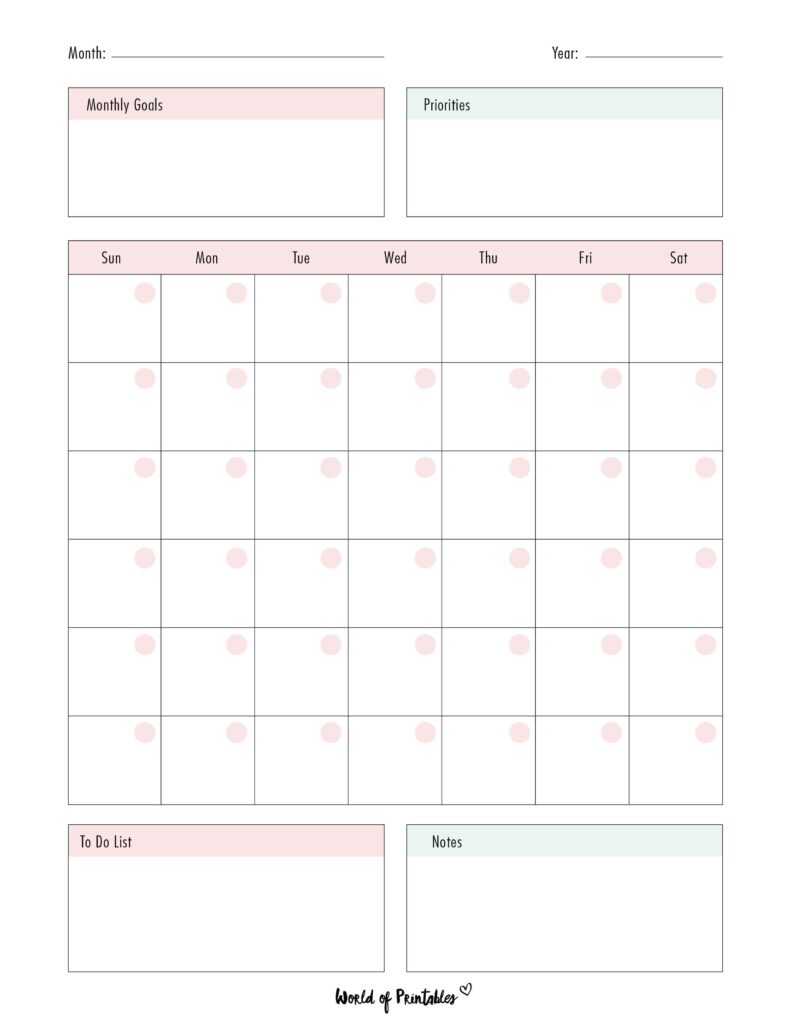 Cute Blank Calendars
Here you can also find a large selection of cute blank calendars.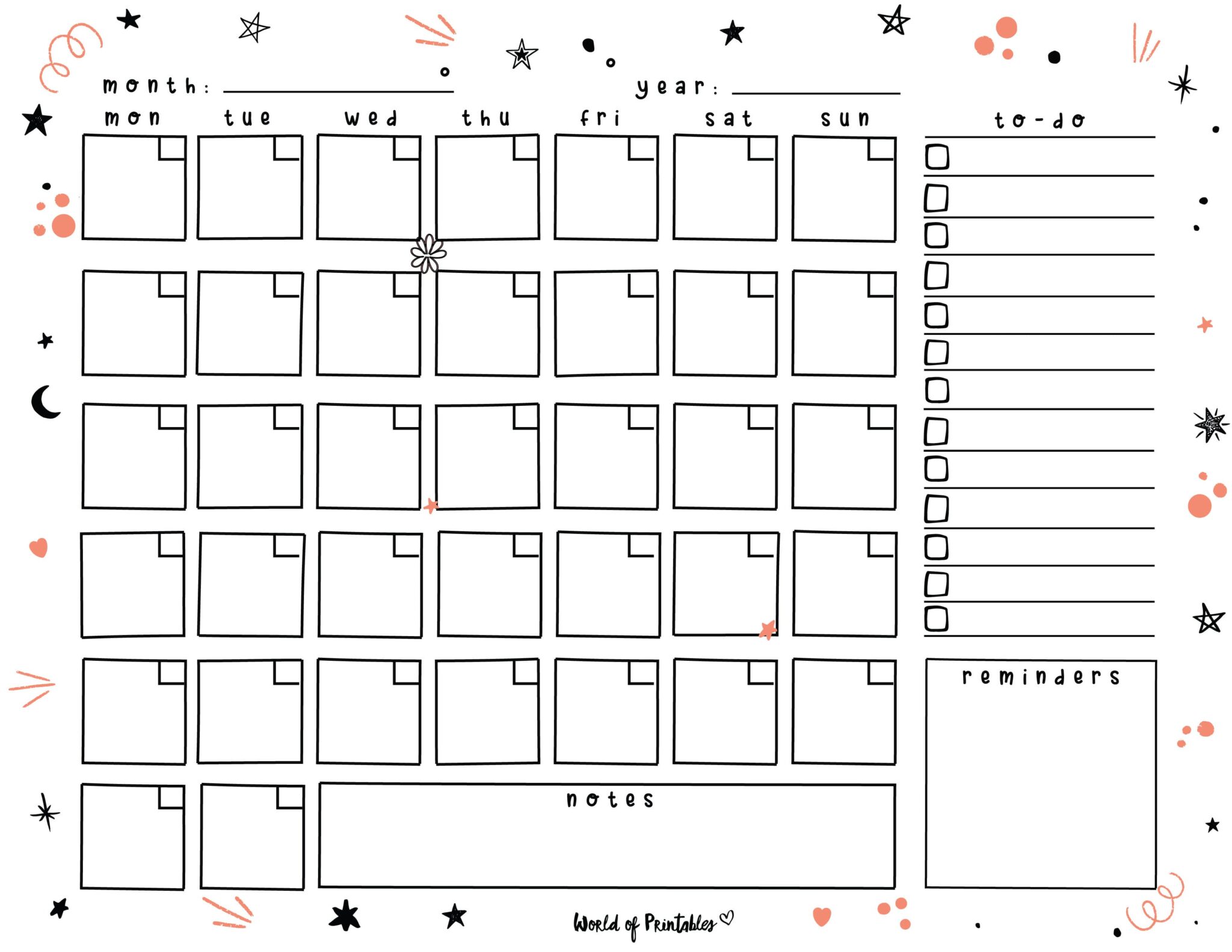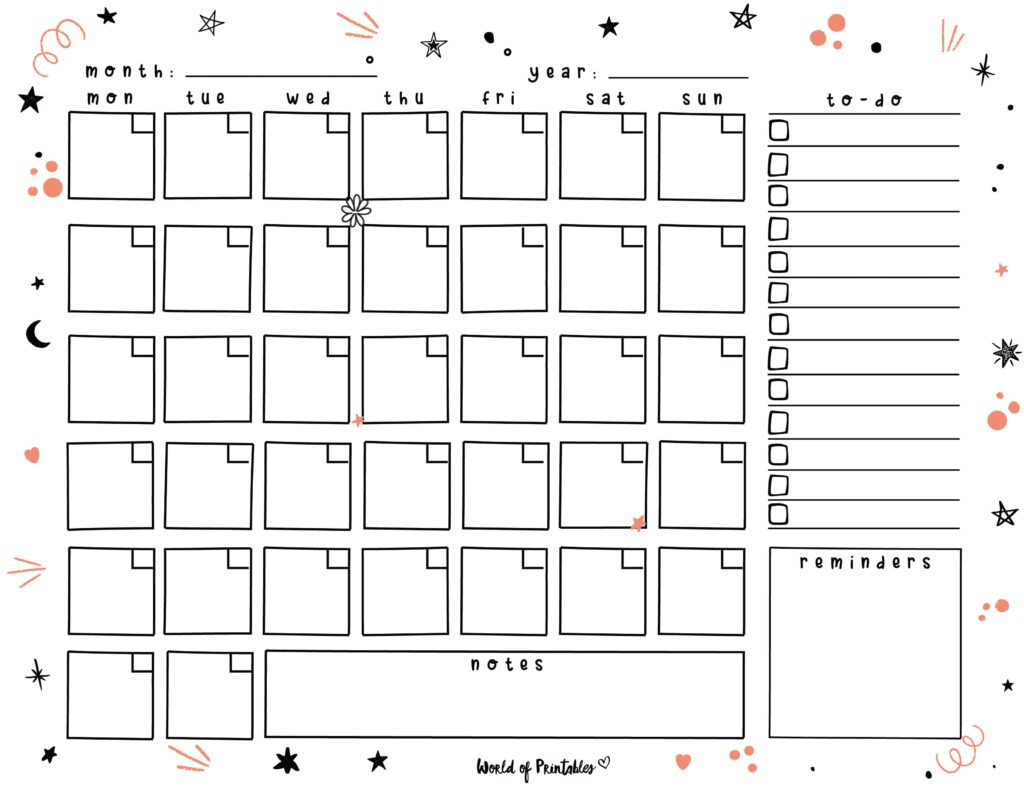 Cute blank calendar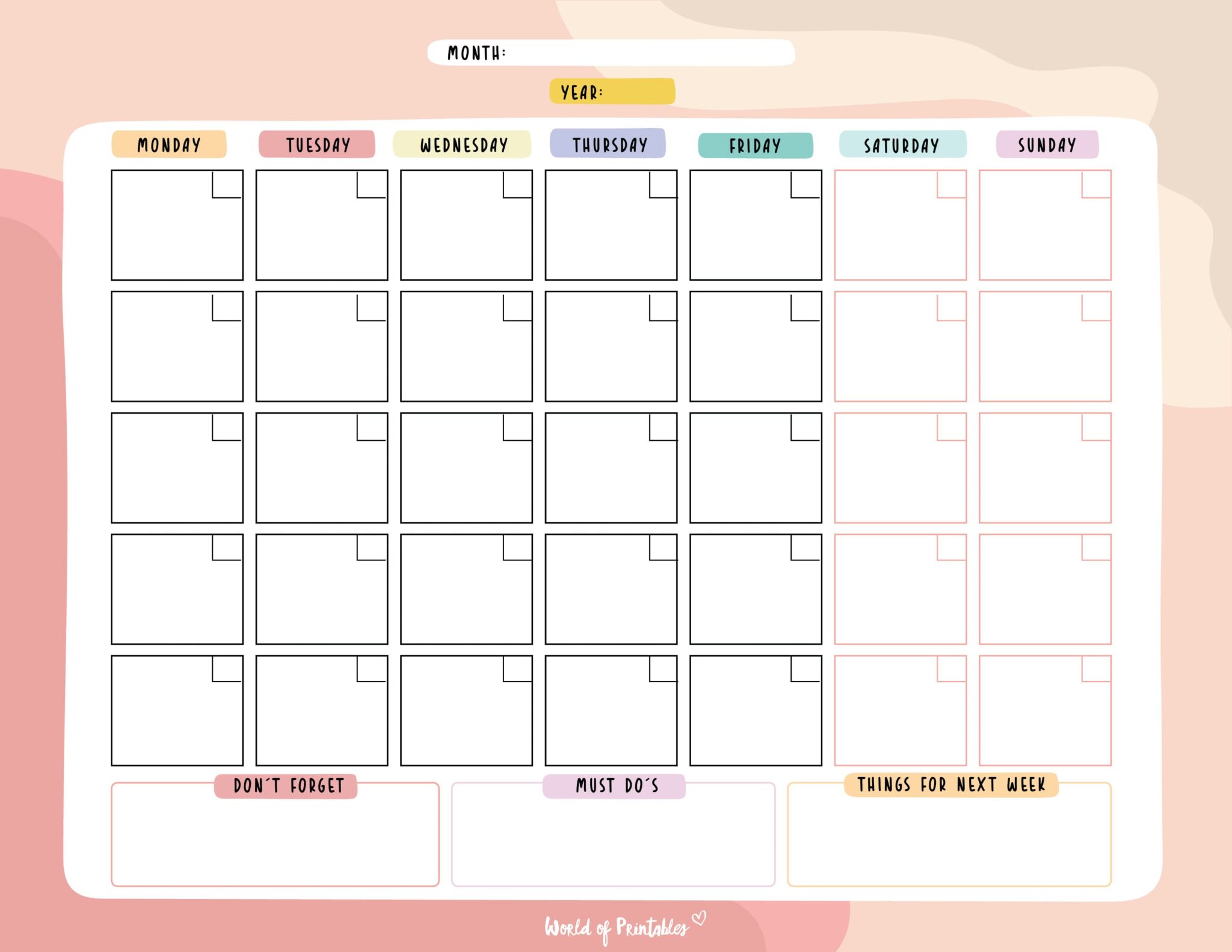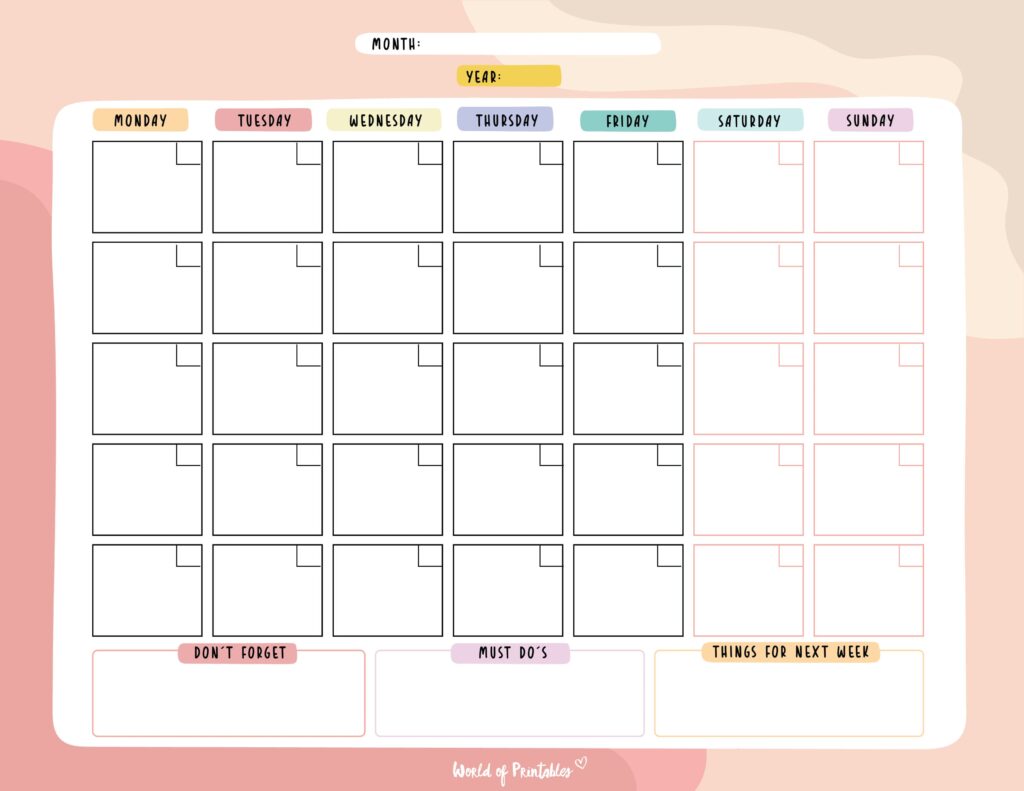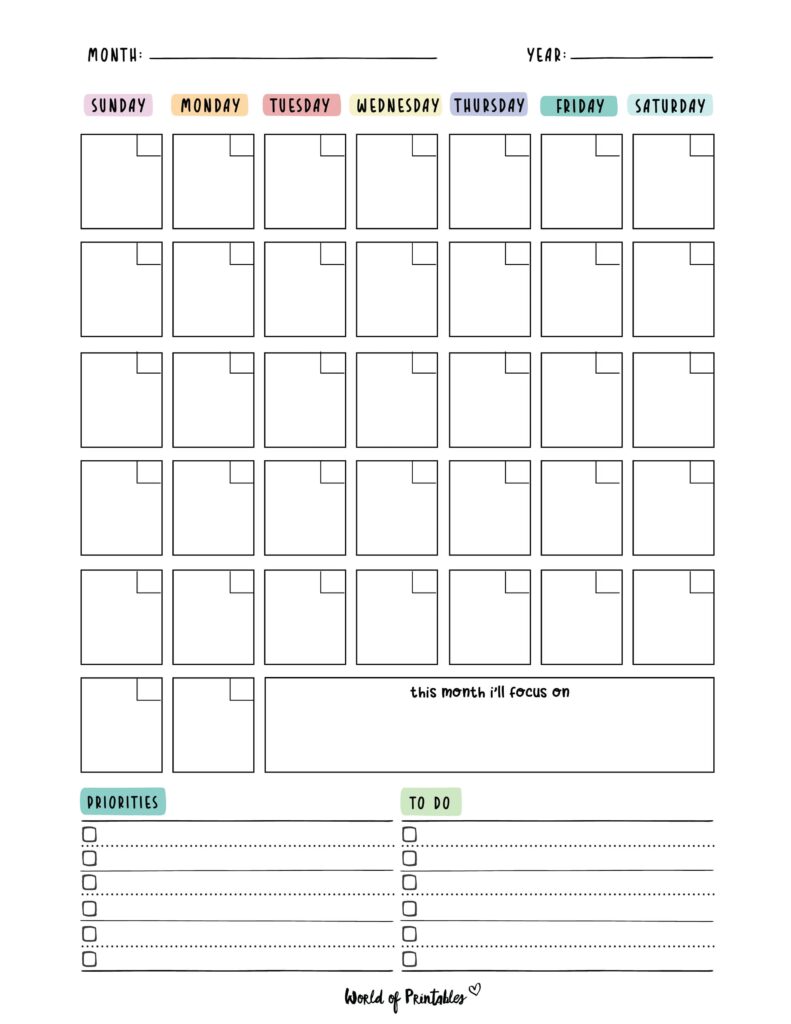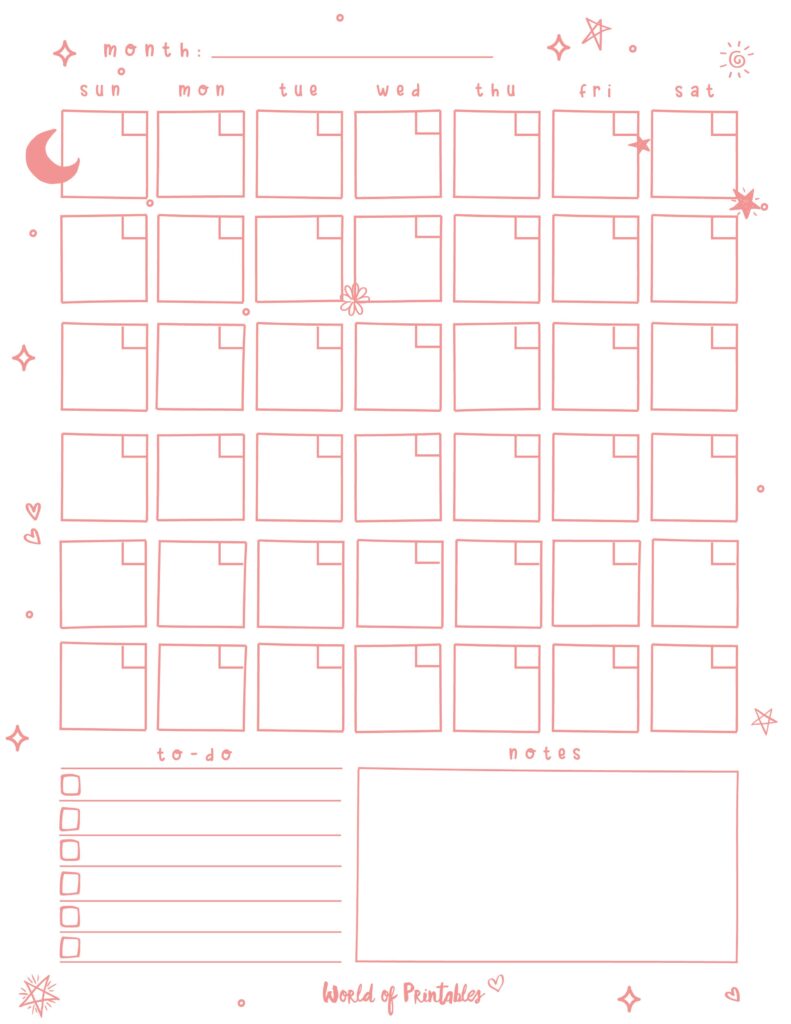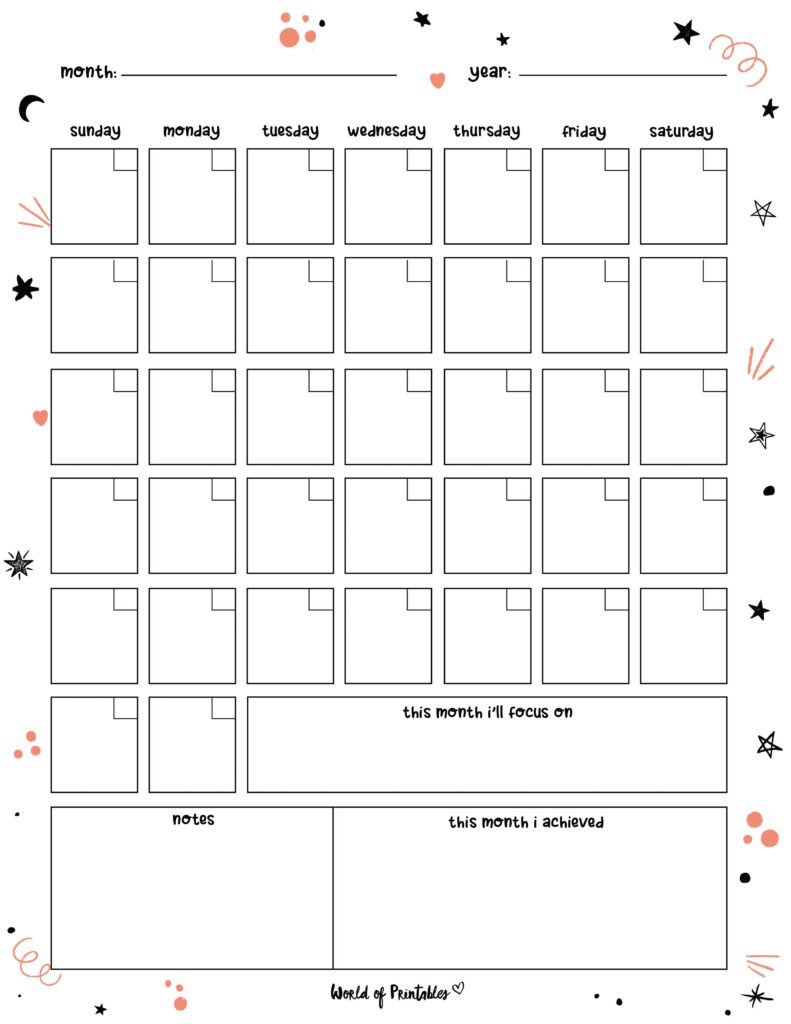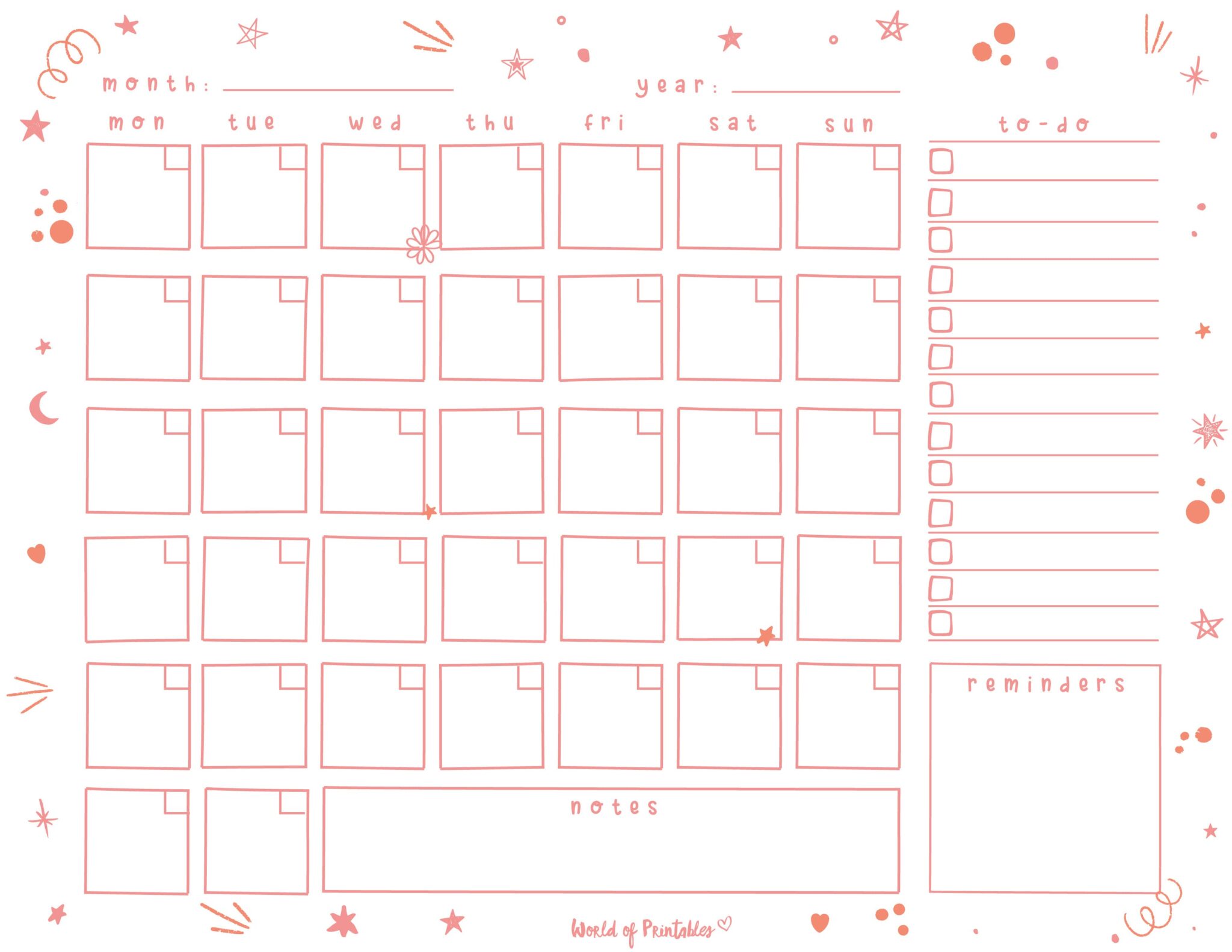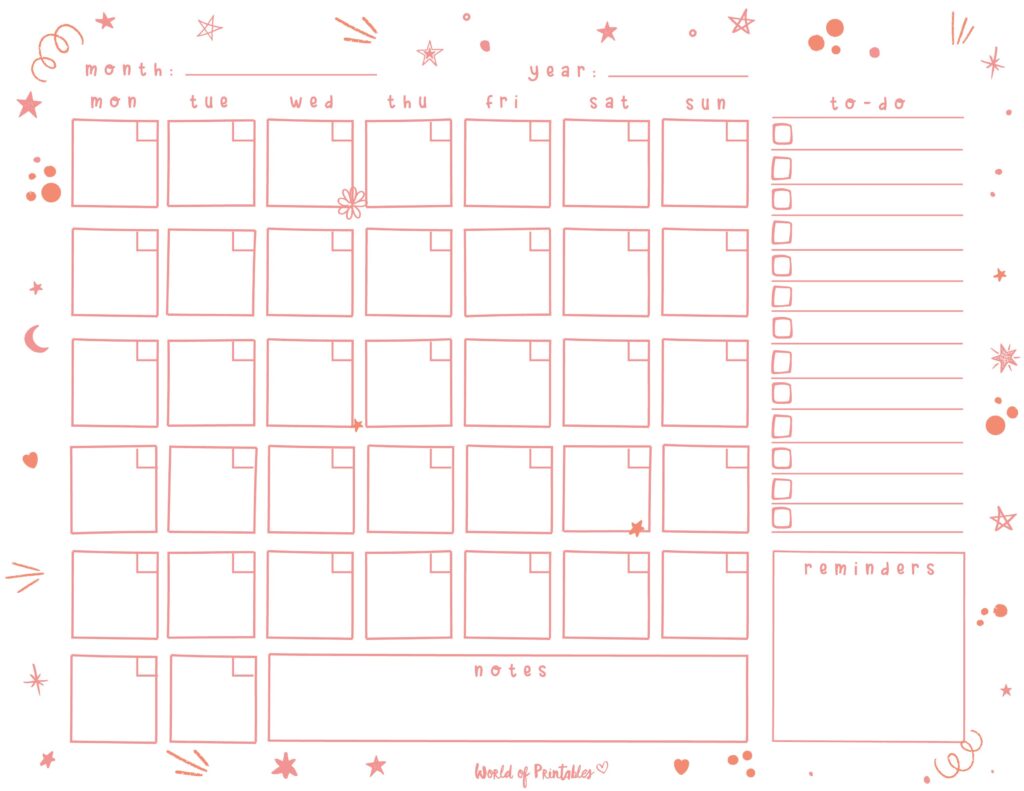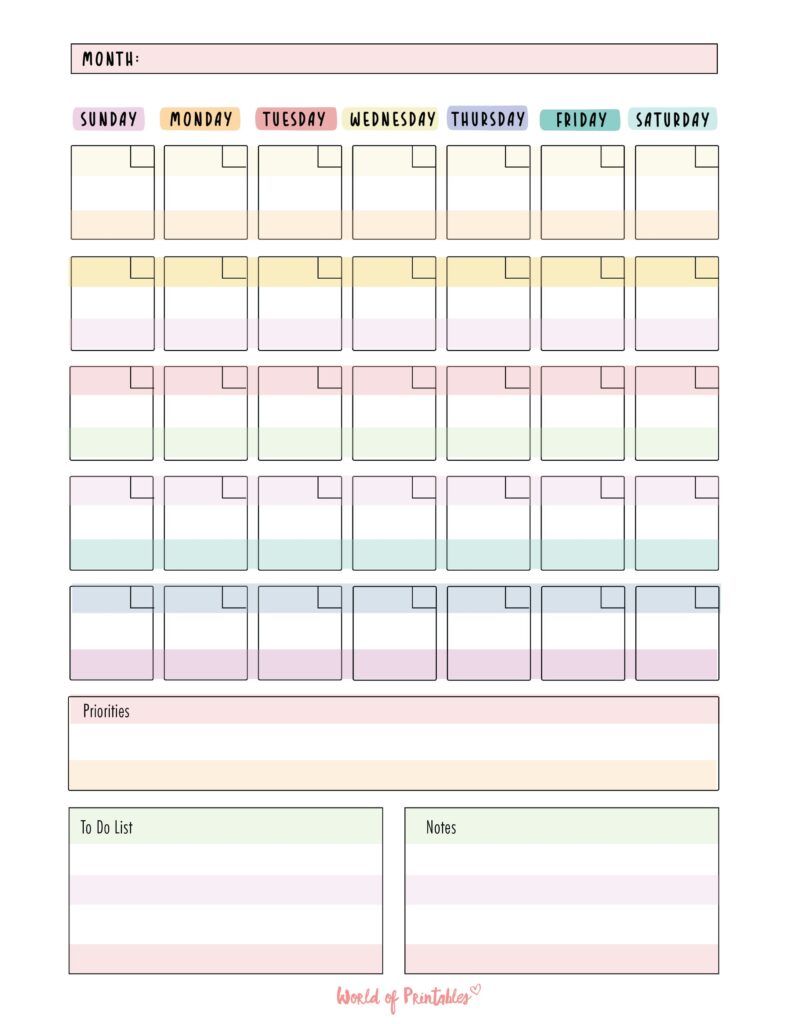 What Is a Blank Calendar?
A blank calendar is a simple and versatile tool that provides a clear, organized view of an entire month. Unlike pre-filled calendars, which come with predefined dates and events, blank calendars are, as the name suggests, blank slates waiting for your input. They offer a visual representation of time, allowing you to customize them to suit your unique needs and preferences.
What Can You Use a Blank Calendar For?
The beauty of blank calendars lies in their adaptability. They can be used for a wide range of purposes, making them an essential tool for anyone looking to streamline their life:
Scheduling: Keep track of appointments, meetings, and social engagements.
Goal Setting: Break down your long-term goals into manageable tasks and allocate time for each.
Fitness Tracking: Plan your workouts and track your progress.
Meal Planning: Organize your meals, create shopping lists, and track your dietary habits.
Project Management: Stay on top of project deadlines and milestones.
Family Planning: Manage family schedules and activities in one central place.
Hobby and Interest Tracking: Dedicate time to your hobbies, whether it's reading, painting, or learning a new skill.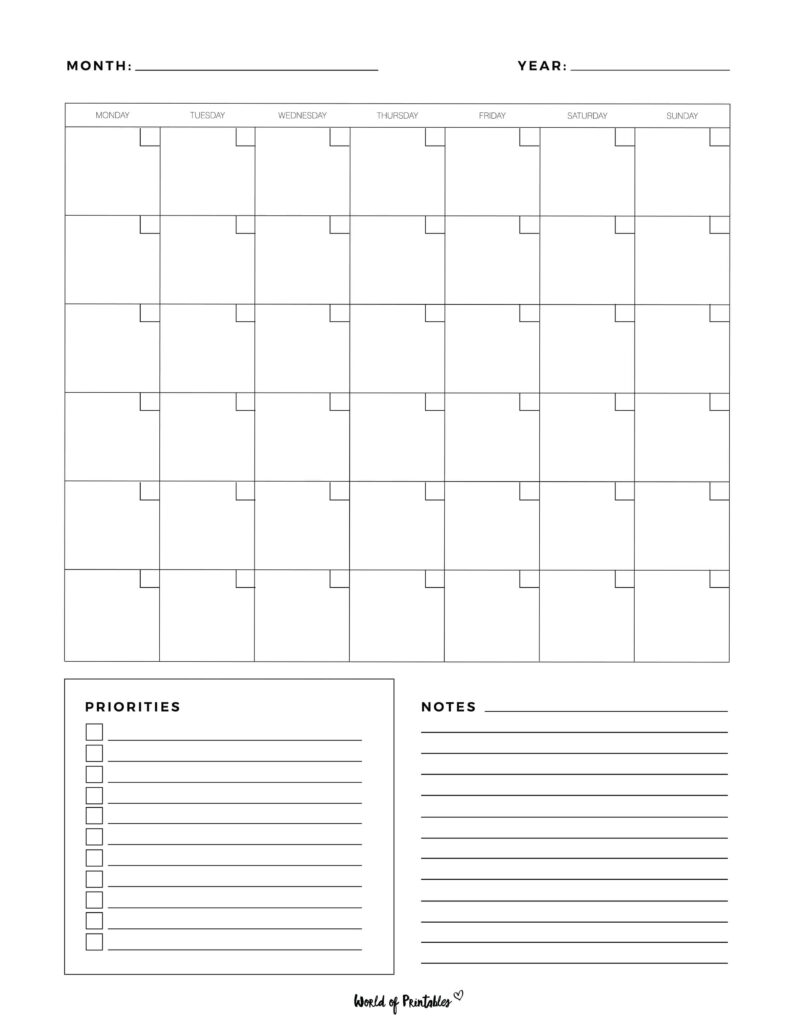 Why Choose Our Blank Calendars?
While there are countless blank monthly calendar templates available online, here's why you should opt for World of Printables calendars:
Stylish Designs: Our calendars aren't just practical; they're visually appealing too. We believe that organization can be beautiful, and our templates reflect that.
Variety: With 50 unique blank calendar templates to choose from, you'll find a design that suits your taste and fits your needs perfectly.
User-Friendly: Our calendars are easy to download and print, ensuring a hassle-free experience.
Free of Charge: We understand the value of accessible tools for time management. That's why all our calendars and printables are free to download and use.
Community Support: Join our Facebook community of users who share tips, tricks, and inspiration for making the most of your blank calendars.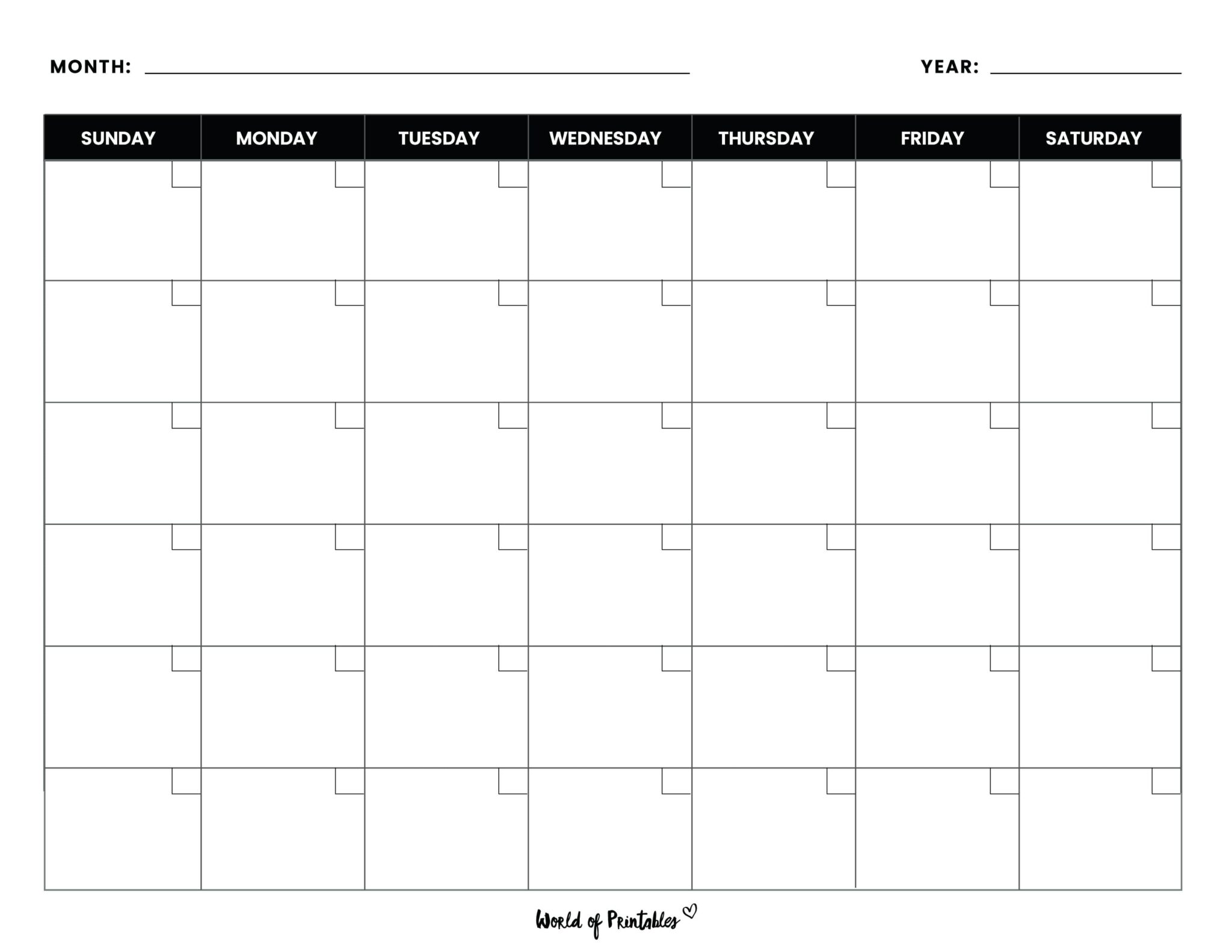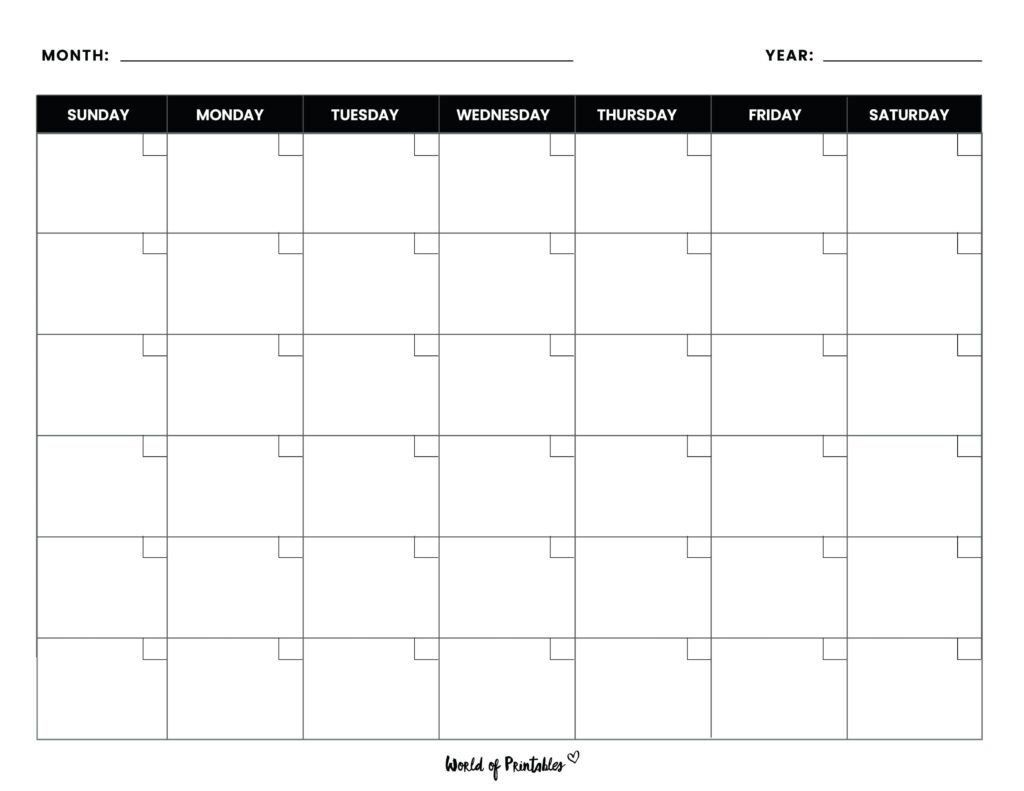 How to make printable calendars look stunning
Print it! – Our calendars look so good when printed on this bright paper.
The paper is a good weight and works great with inkjet and laser printers, making the ink look crisp and clear. If you want something a little more heavy duty for a shop bought look then this card stock is a great option that's used a lot in the printable community.
Resize it – Resize our calendars easily, make them bigger or smaller to fit into your planner, frame, or hanger – find out how here.
Conclusion: Take Control of Your Time
As we step into a new year, it's the perfect time to reassess our goals and priorities. While long-term planning is crucial, it's often the shorter-term, day-to-day organization that truly impacts our daily life. This is where our free blank calendars shine. With a variety of styles to choose from, you can customize your calendar to reflect your unique personality and needs. Whether you're aiming to boost productivity, track your fitness journey, or simply maintain a more balanced daily routine, our blank calendars offer the flexibility and creativity to help you achieve your daily life goals efficiently.
In a world where time is one of our most precious resources, it's essential to manage your time wisely. Blank calendars empower you to take control of your schedule, reduce stress, and achieve your goals. At World of Printables, we're committed to helping you better manage your time.
More awesome free printables
Plus we've also created some very stylish calendars that you'll find very useful:
Don't stop at blank calendars. Explore our vast collection of printable calendars, planners, and other free printables designed to enhance every aspect of your life. Whether you need a weekly planner, a budget tracker, or a fitness log, we have you covered. Browse our website today to unlock a world of organization and productivity.
We think you'll find these very useful:
Be sure to grab as many printable freebies as you can while you're here.
Our recent printable planner templates. Many more planner templates are available to use and print for free.
---
Like these freebies?
Get notified of our next monthly free printables – you're gonna love them!
Follow World of Printables on Pinterest