Start planning your month ahead by downloading and printing a printable blank calendar in PDF or JPG image formats. It's totally free to print any of our downloadable blank calendar pages!
To stay organized, it's best to start planning ahead if you want to be successful. This is why the blank calendars that you'll find here are designed to be practical and flexible for your specific needs.
You might also like: Monthly Planner printables
You'll find a large collection of blank calendar template pages here, simply just click to download the one that you like, each is calendar available in both jpg and pdf formats.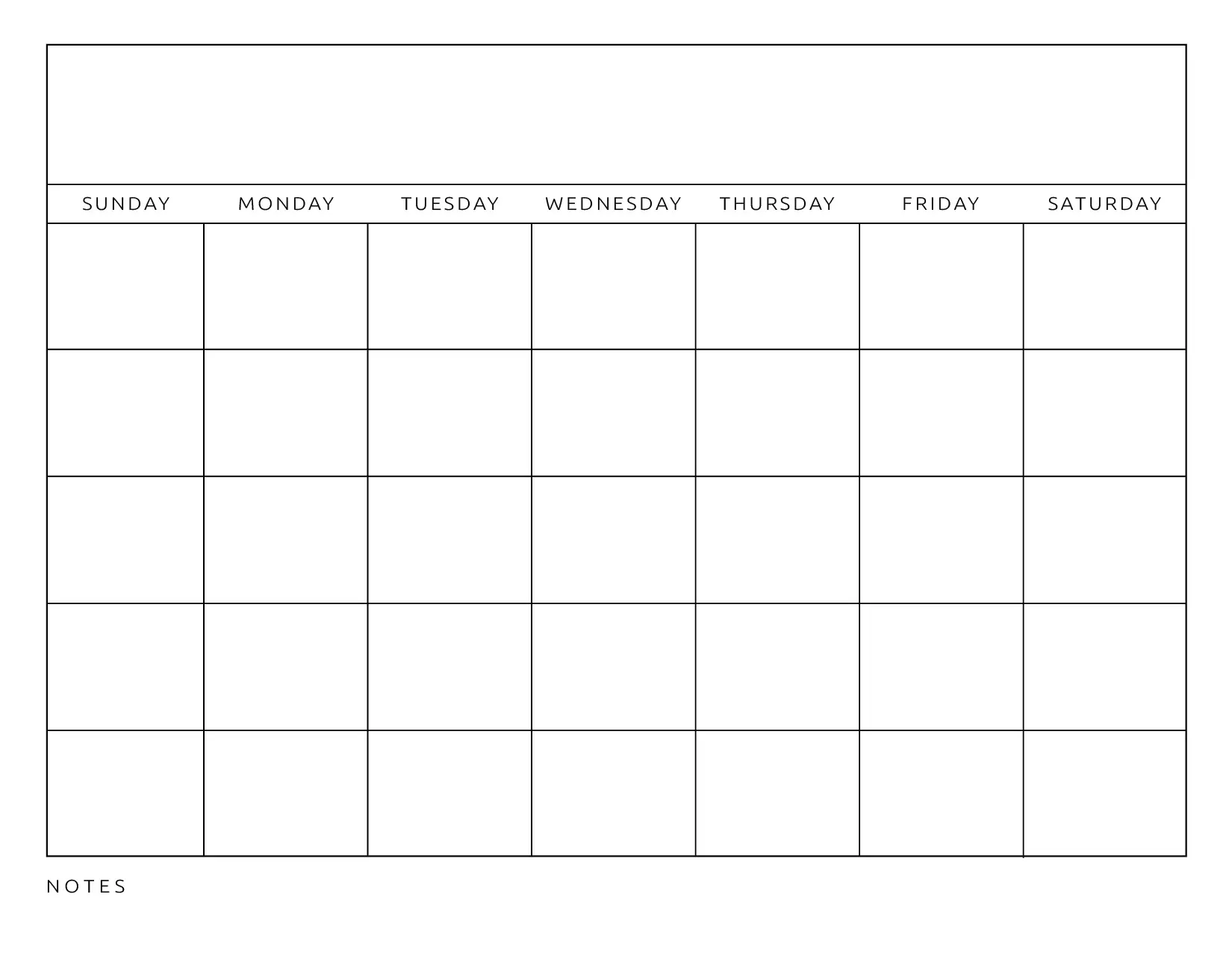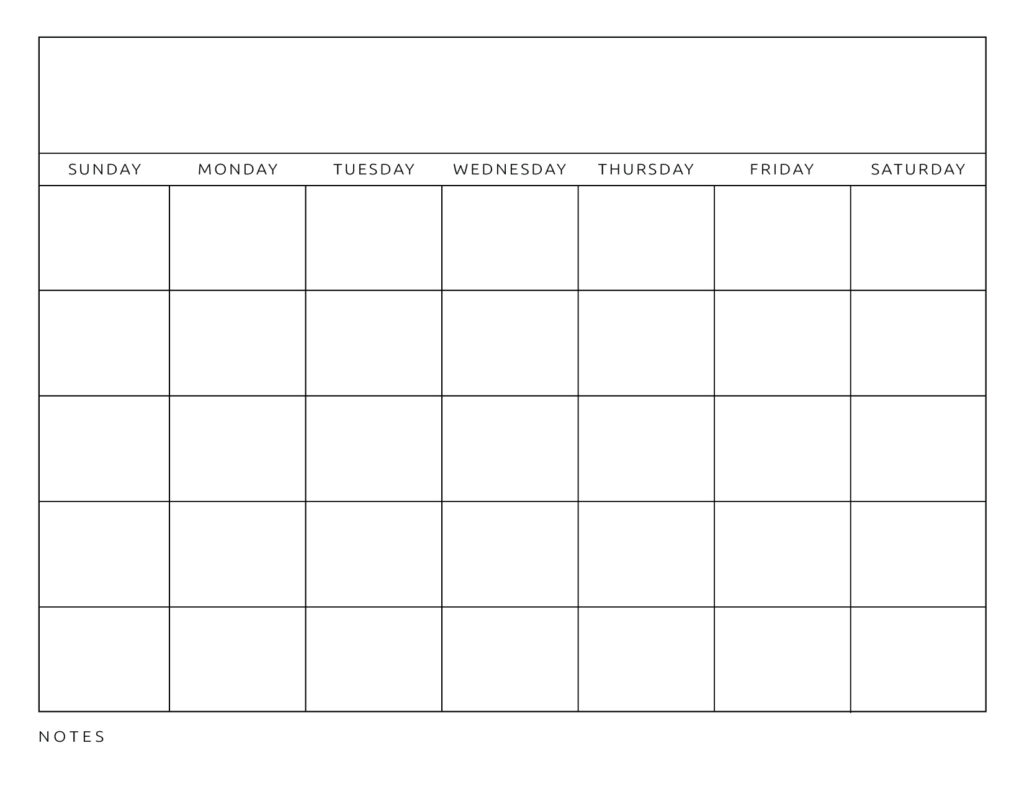 You can either print a blank calendar directly from your browser or download and print it later. Simply choose the style that works best for you and click the download button and you're good to go.
Why do we need a blank calendar?
A calendar is a perfect way to plan out your month so that you can quickly see important dates at a glance.
Even though we often plan our lives on computers, phones, or even in our day planner, a calendar is something that's so simple and quickly accessible that it will always be important.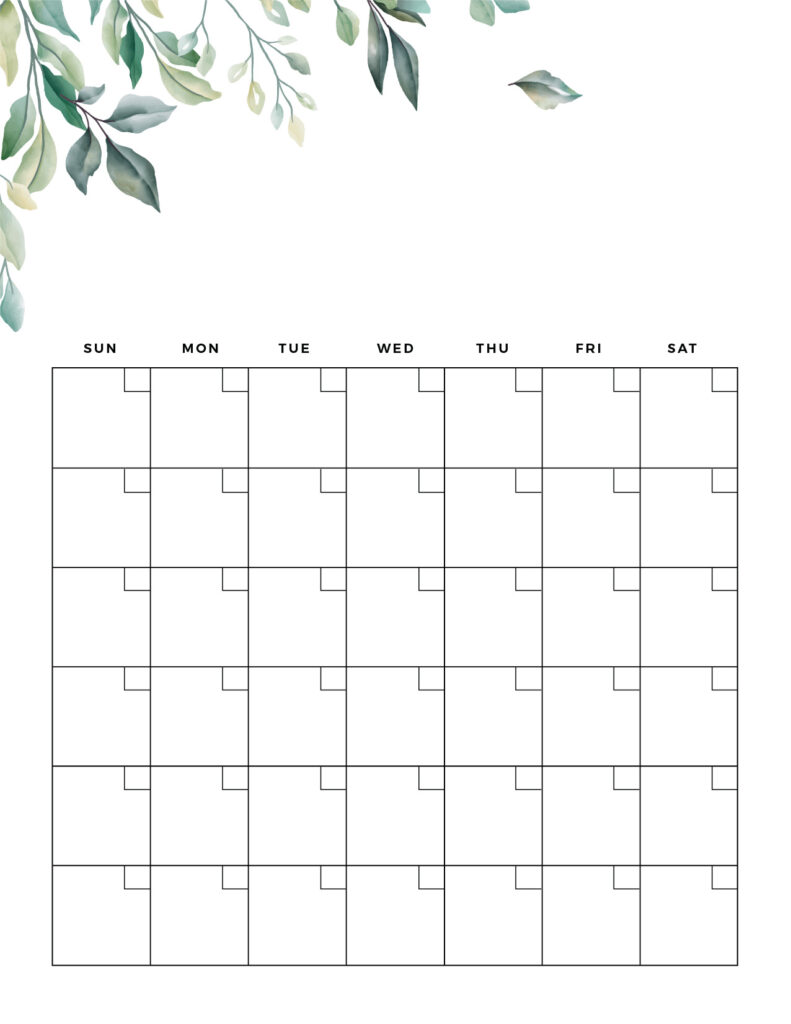 The days of our months are important, there's always an important event, birthday, meeting or appointment and having a place to jot these down so that you can stay organized is why we simply can't live without calendars even with so much technology around us.
A blank calendar is similar to a planner, in that it's easy to use and helps you stay organized, no matter what your profession.
It's easy to personalize blank calendar pages with your own important dates and events, so you can use it similar to a planner to help you stay organized.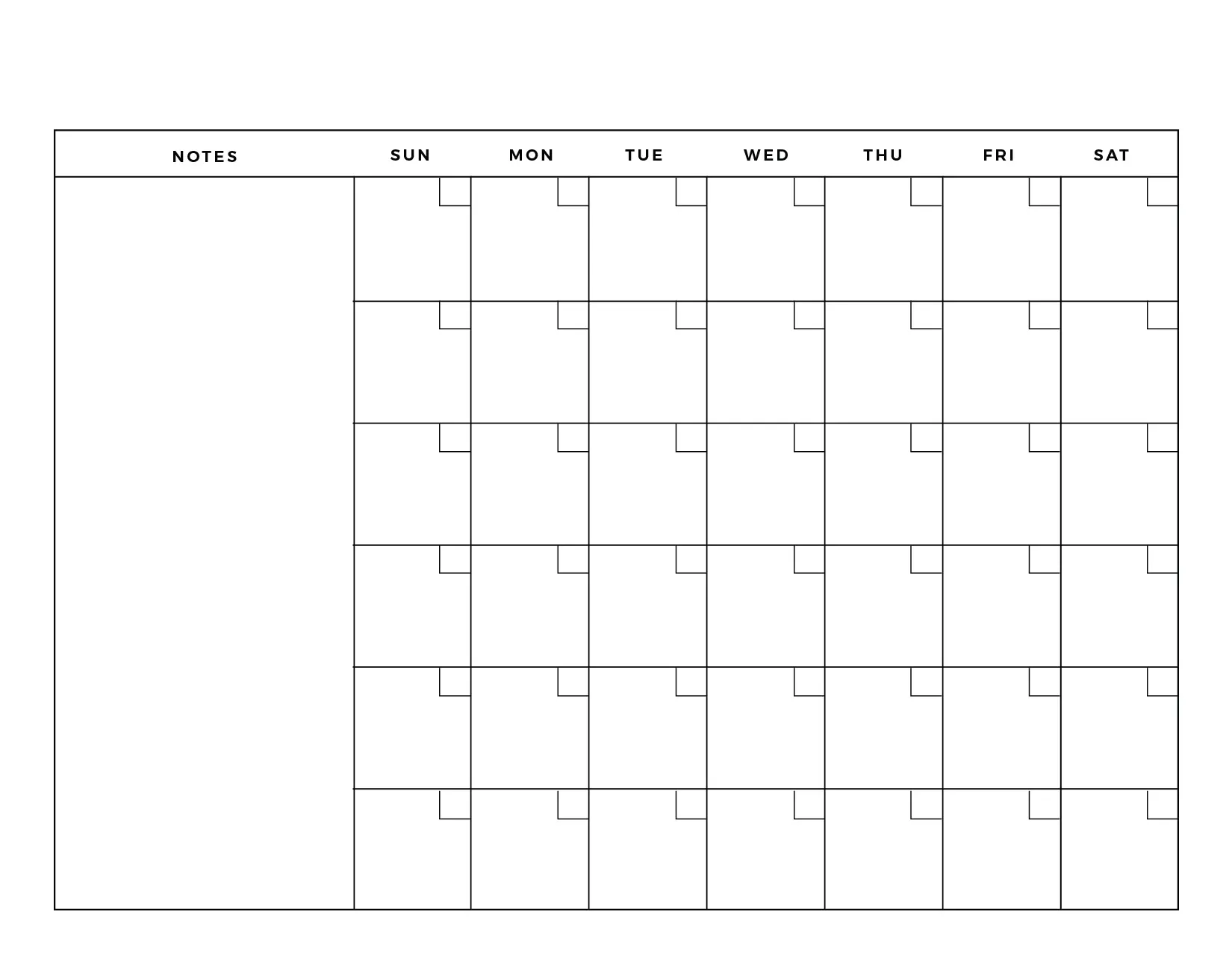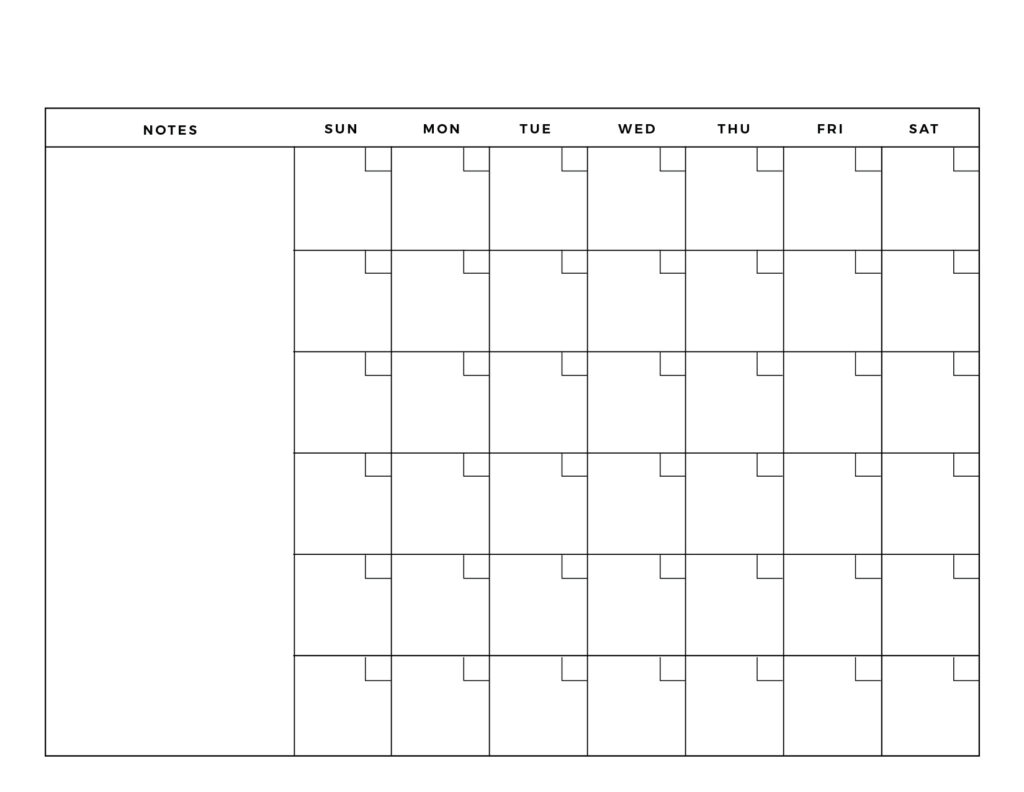 Printable blank calendar Templates
Are looking for a blank calendar that's flexible and practical? Then you're at the right place. You can find a great variety of templates here, simply choose and download a printable blank calendar and print.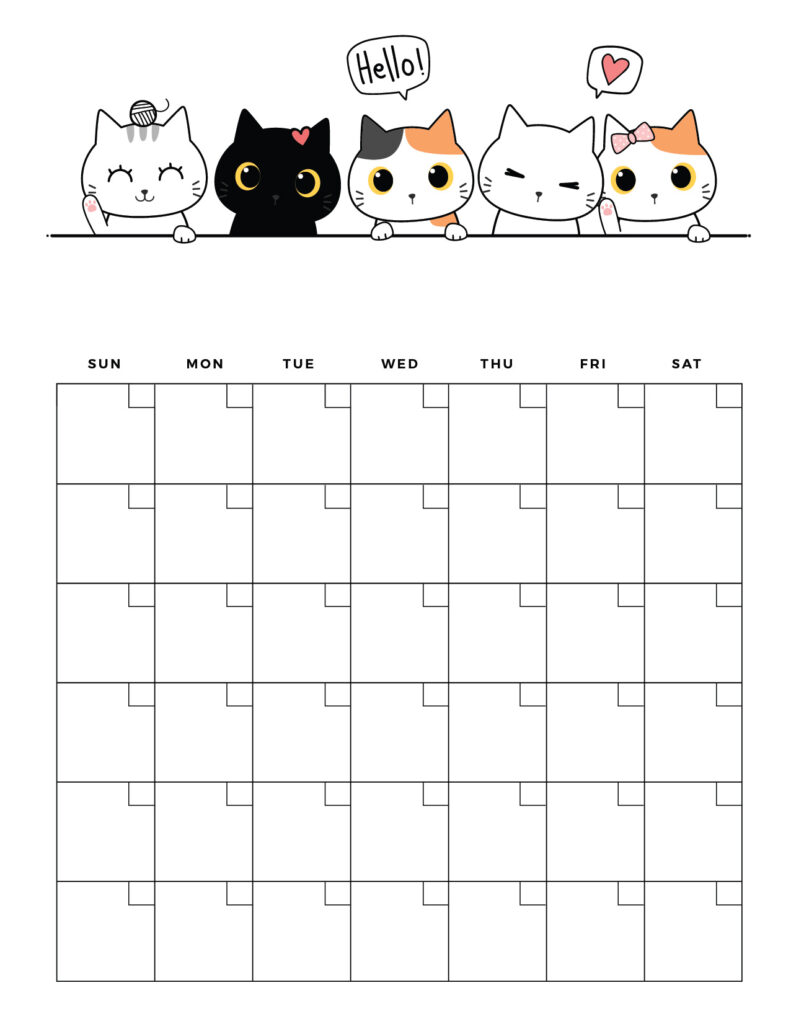 There are different styles and formats of blank calendar pdf or image files here for you. Each of these calendars are blank, without dates or month titles. This way you have complete flexibility to use any style for different months of any year.
However, if you are looking to download and print a calendar with days of the year and months prefilled, then see our full range of blank calendar and year calendar styles. This format is ideal if you need a quick at a glance calendar that will help you stay organized.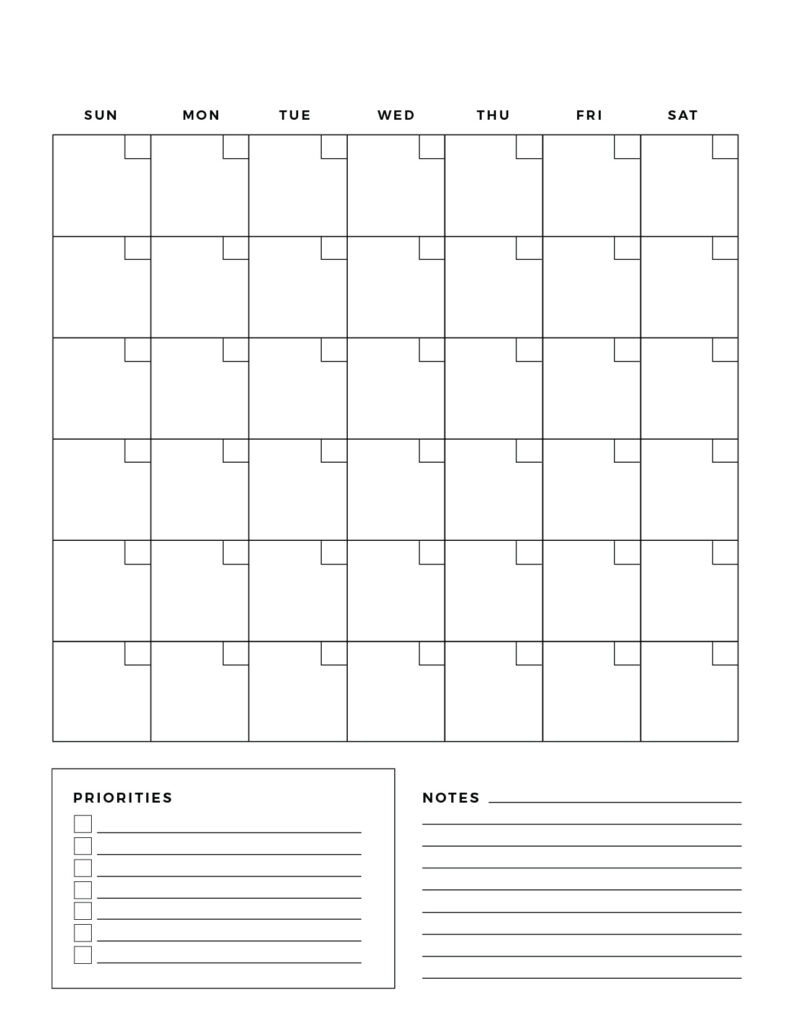 With a printable blank calendar it's perfect for printing as and when you need to plan your days and months ahead, without having to keep buying prefilled versions. This way you can add your own dates and holidays that are specific to you.
You can choose from a blank calendar that has either the month or year included, or with both the year and month included, or simply a completely blank calendar without the year, month or days. The latter gives you complete flexibility to use in any month of any year.
It's so important to note important dates and events, such as a loved ones birthday, an anniversary or anything that is important to you as it's so easy to forget these things. With a blank calendar in your planner, on your desk or stuck to your fridge, you'll be constantly reminded of those special or important dates.
Why use a blank calendar?
Doesn't it annoy you when you forget important dates, or miss your monthly goals? This is why having a blank calendar is such a useful thing to have and use, like a simpler planner that you can print. Just fill in with your important dates and holidays to take the stress out of your month.
You can even get and print free blank calendar printable pages to use separately for different things, such as home, work, events, and more. This is perfect for seeing everything at a glance more easily.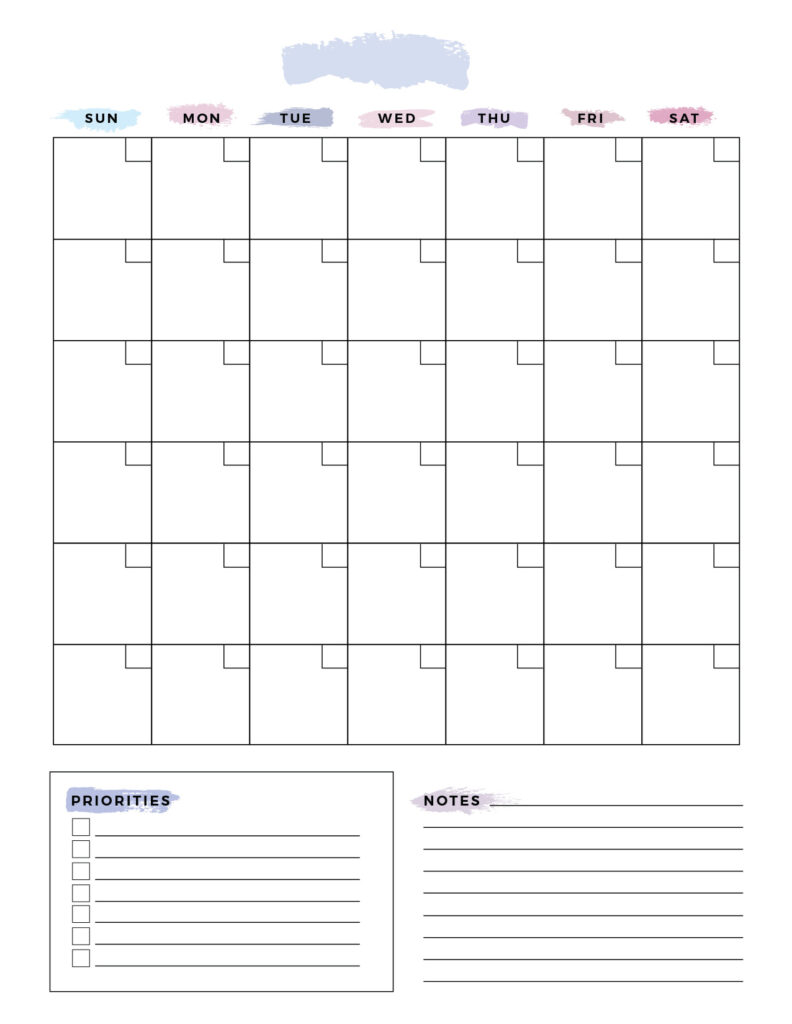 Print or download blank calendar template pages
If you need to print calendars in PDF format or JPG image then you'll find the perfect calendars for you in both PDF and JPG formats.
World of Printables features a huge amount of customized calendar styles, from blank calendars to pre-formatted calendar templates.
Best of all, no matter what custom calendar you choose, they are all completely free so you can download and print any free printable calendar you find here on World of Printables at no cost to you!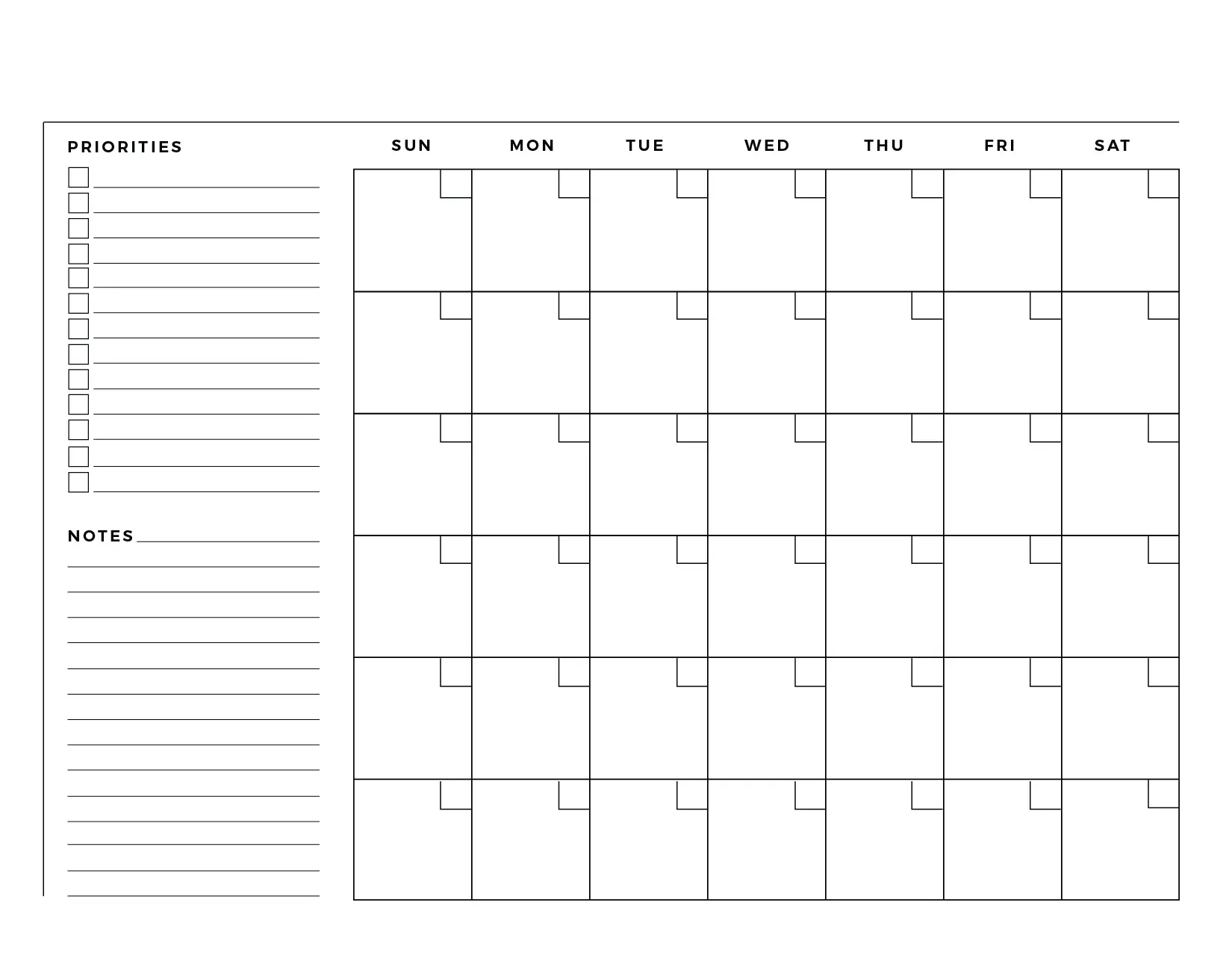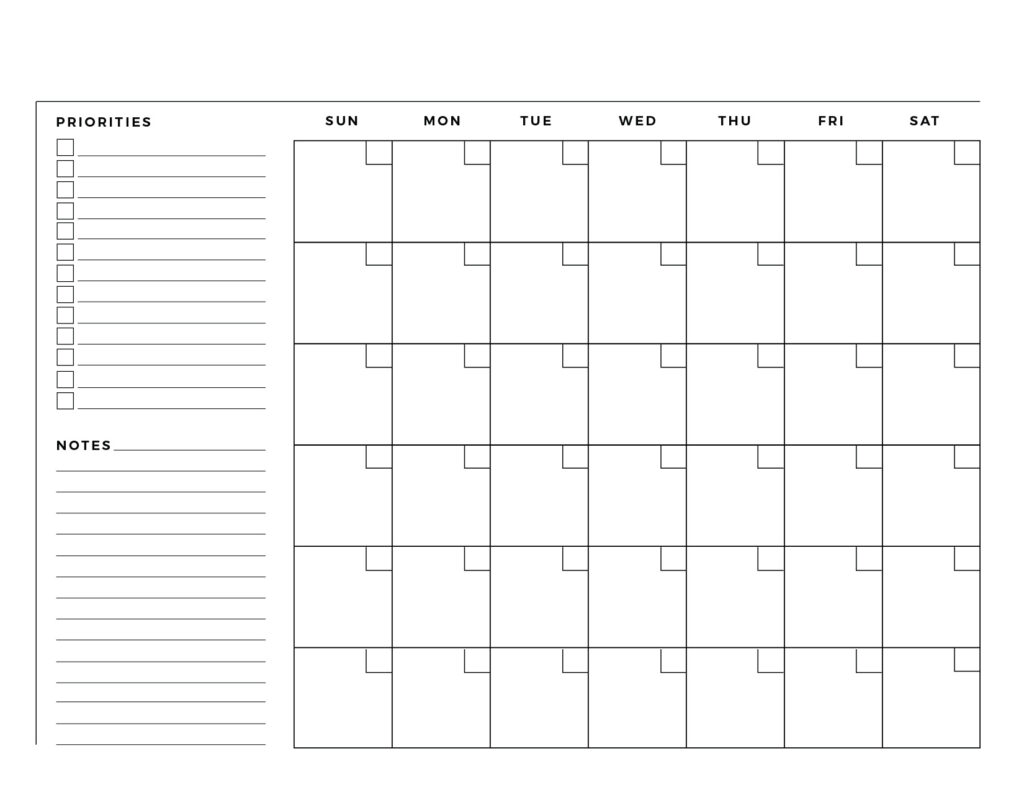 Simply just browse, download and print a blank calendar in either JPG image or PDF format from the selection below on this page.
There are different formats to choose from, so you can print a blank calendar in either landscape or portrait format, the choice is yours and comes down to your specific needs.
Once you have selected your format of either portrait or landscape orientation, just go ahead and download the customized blank calendar to start organizing your month right away.
Choose any template such as:
A one page blank calendar.
Blank monthly calendar with each months on different a page.
A blank calendar with notes area, for planning purposes.
The month featured on each blank monthly calendar page.
Blank floral calendar and fun calendars
There are so many options to choose from, so choose a calendar that works best for you. For example, most of these calendars are simple and can be used by anyone. But if you have a busy month ahead then print a calendar with notes for writing your priorities, tasks and reminders.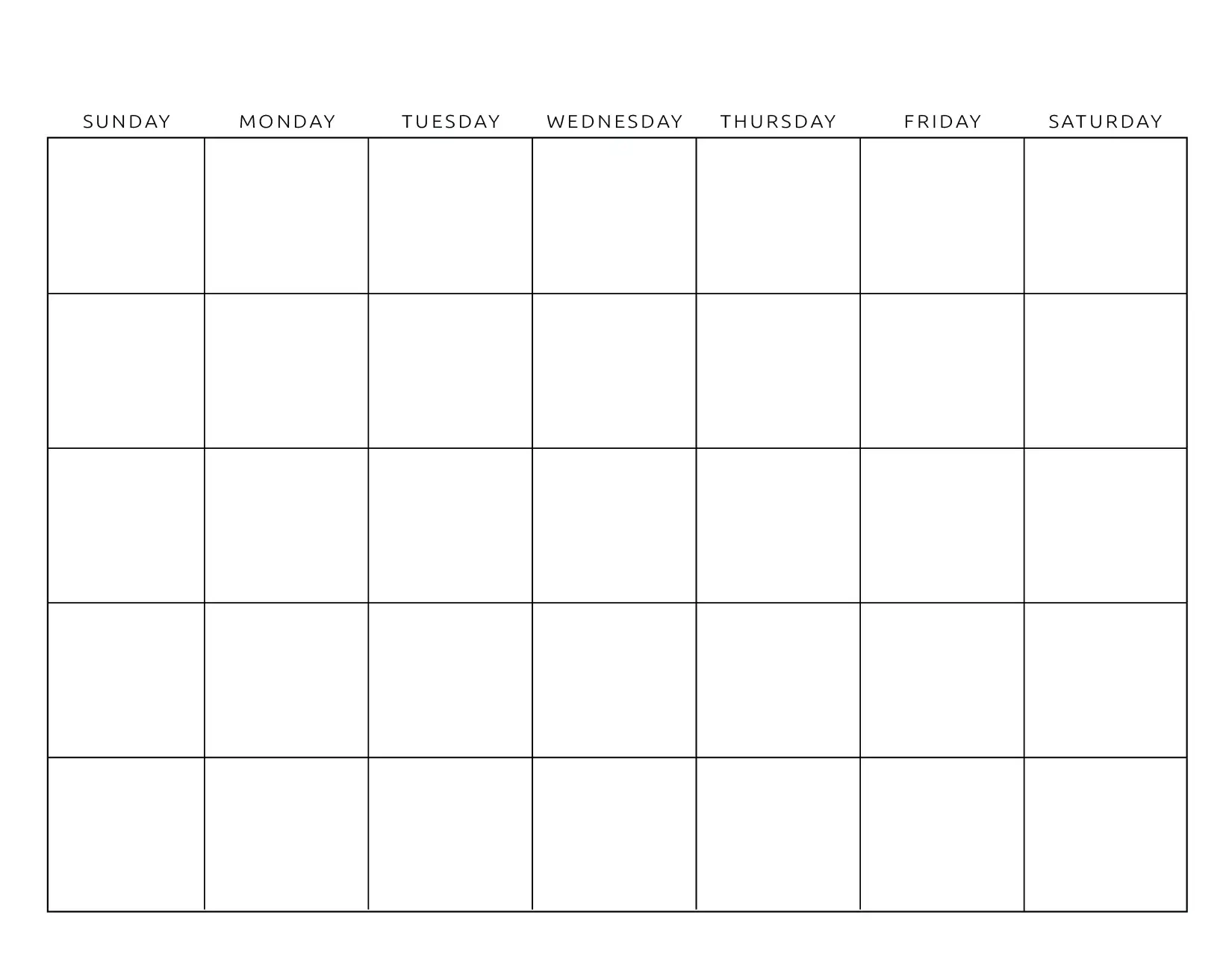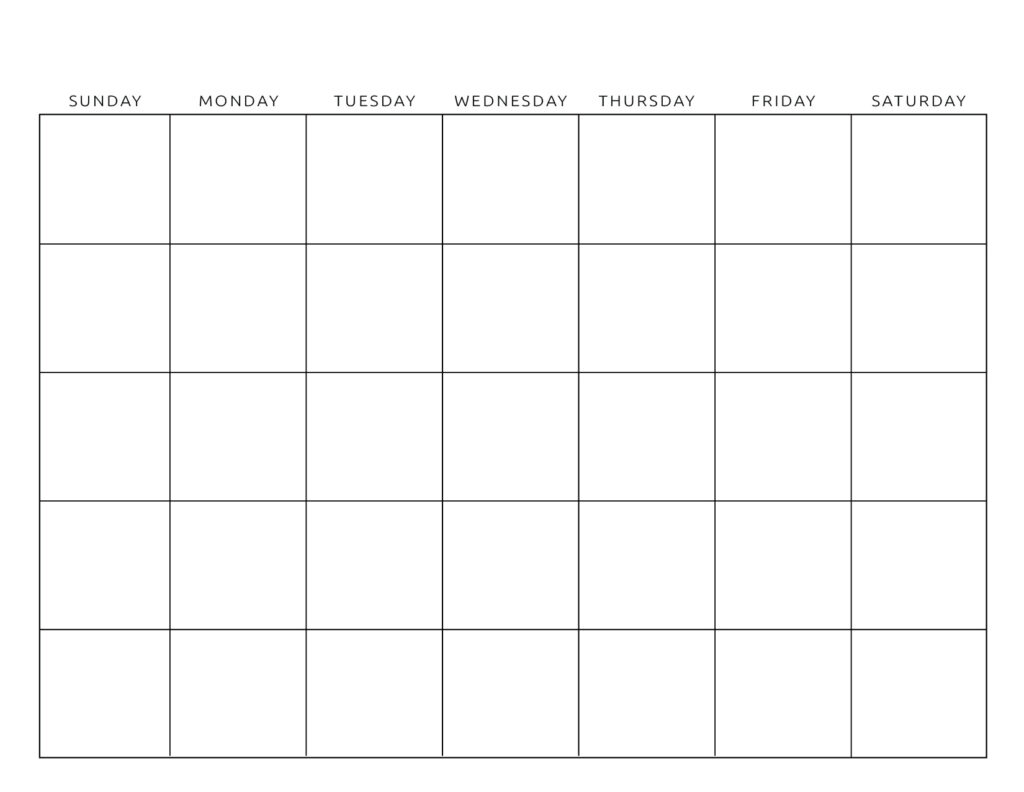 How to use a blank calendar effectively
Here you will find some tips on how to personalize your calendar effectively which will make your months ahead more organized and your life easier. A blank 2021 calendar is something that you'll print onto paper, which features blank boxes for days of the month, weeks and an area where you can write the title of the month.
It is self-explanatory, but if you know how to use it effectively you'll be much less likely to miss important dates and events.
So try to follow these steps so you can be organized.
Firstly, print a blank calendar
Write down any events, special days like birthdays or anniversaries and any official holidays.
Next, add targets for any goals that you have set for the month ahead. These can be habits, activities, or anything that you wish to achieve.
Add in any daily, weekly or monthly routines which will help you organize your time ahead. Such as family, work, hobbies, business etc. You'll then find gaps on your blank calendar pdf where you can see any free time at a glance and plan your other activities into these days if you desire.
Because of the limited space available, try to add only simple short notes or abbreviations. You don't need to add full details of everything, just enough so that you will know what they refer to.
So download your calendar of choice by clicking on the one you want and start planning your month today.
Color Blank Calendar Templates
We also have a selection of color blank calendar templates, in grey, red, pink, orange, blue and green. Click on the botton below to download the pack and print the colour that you need, or choose an individual color and download and print the image directly.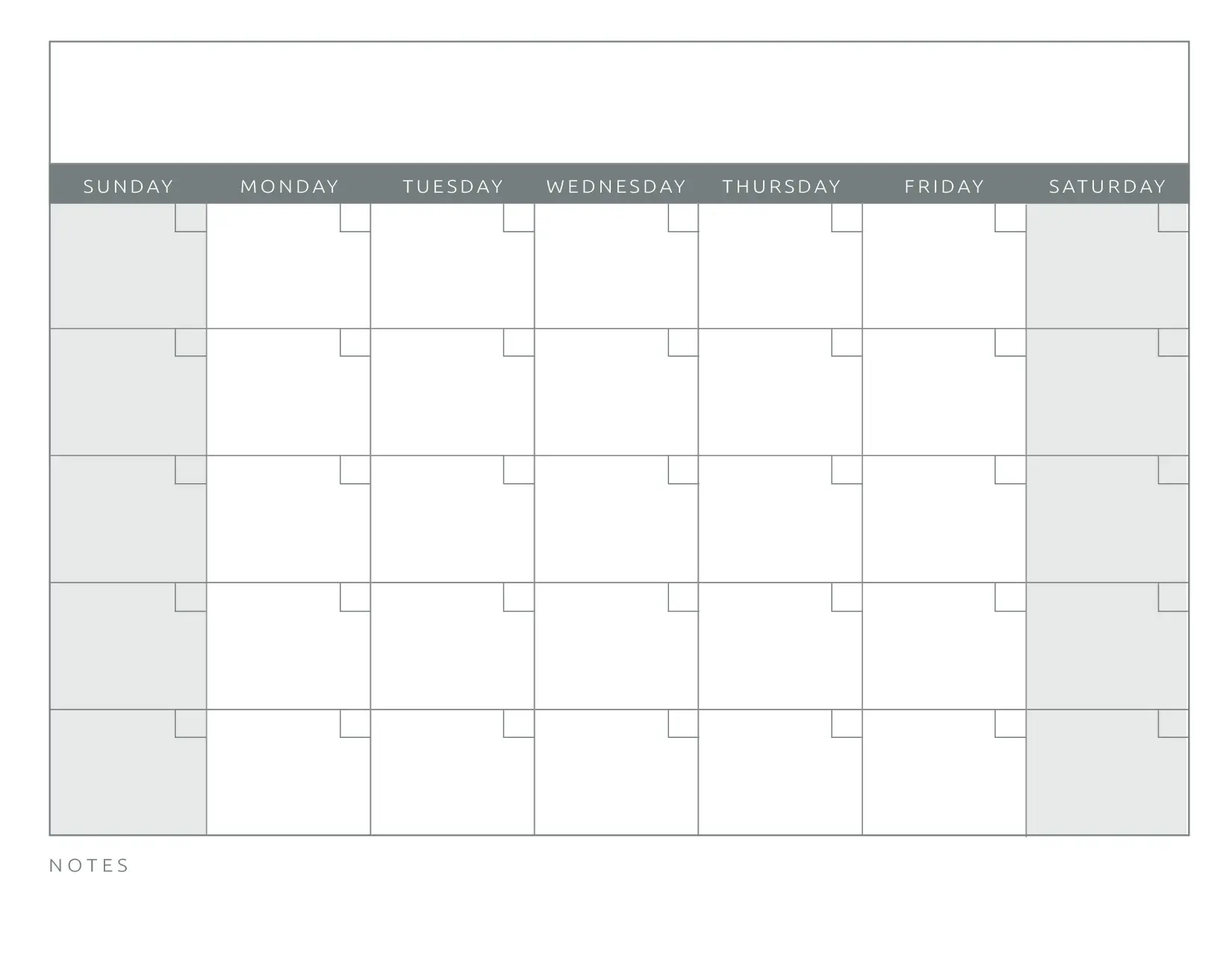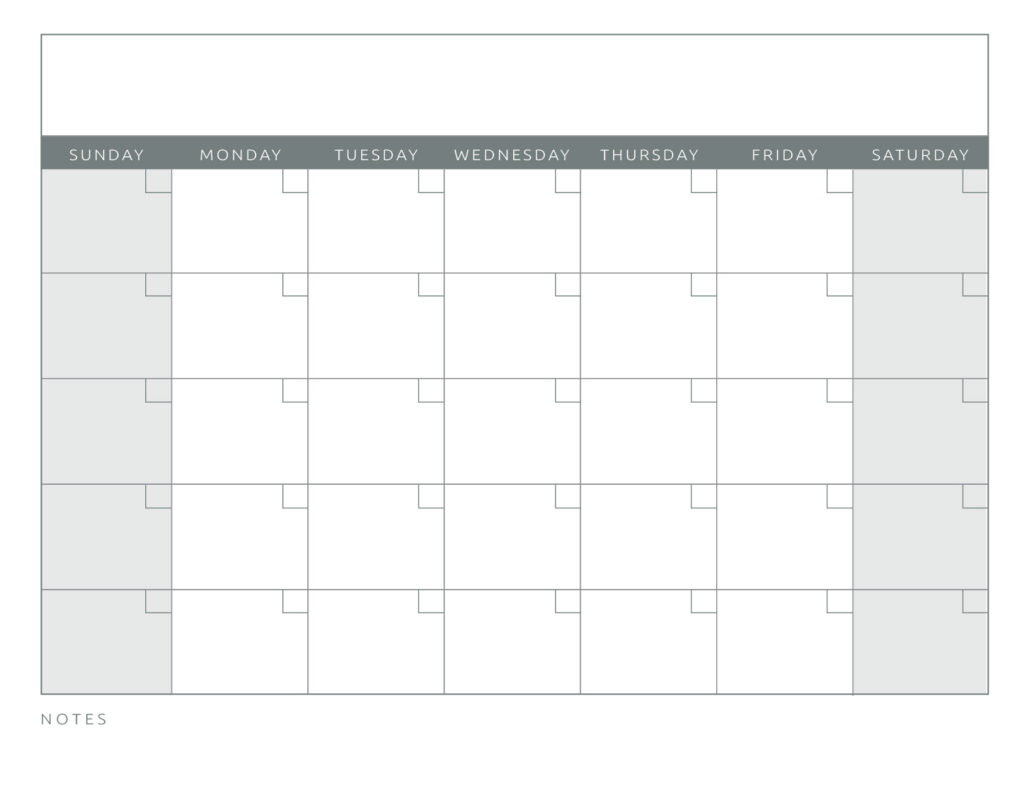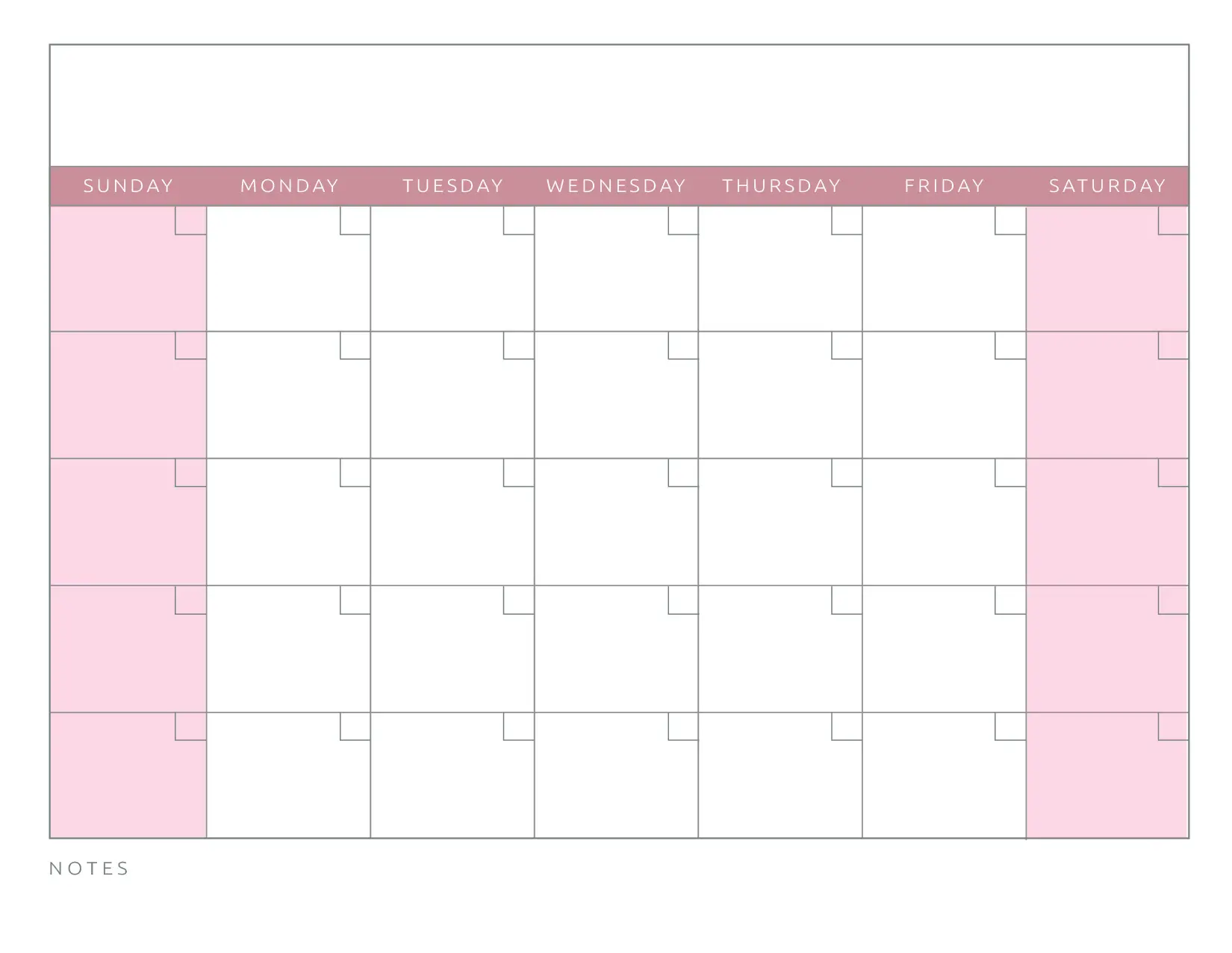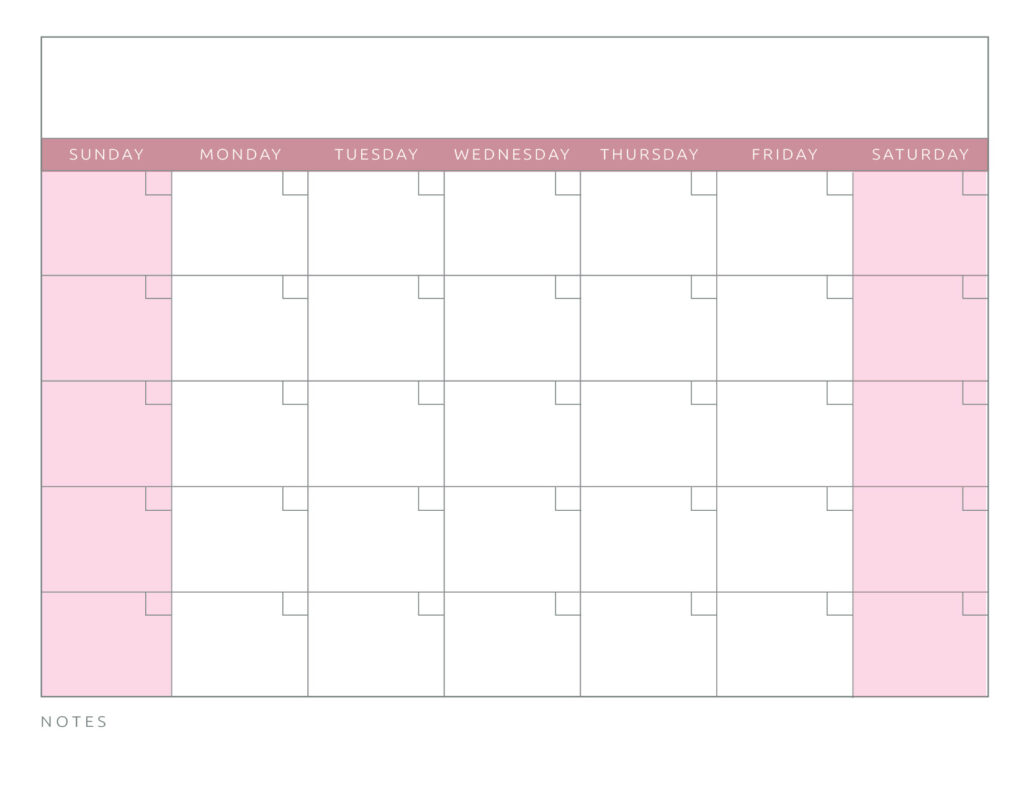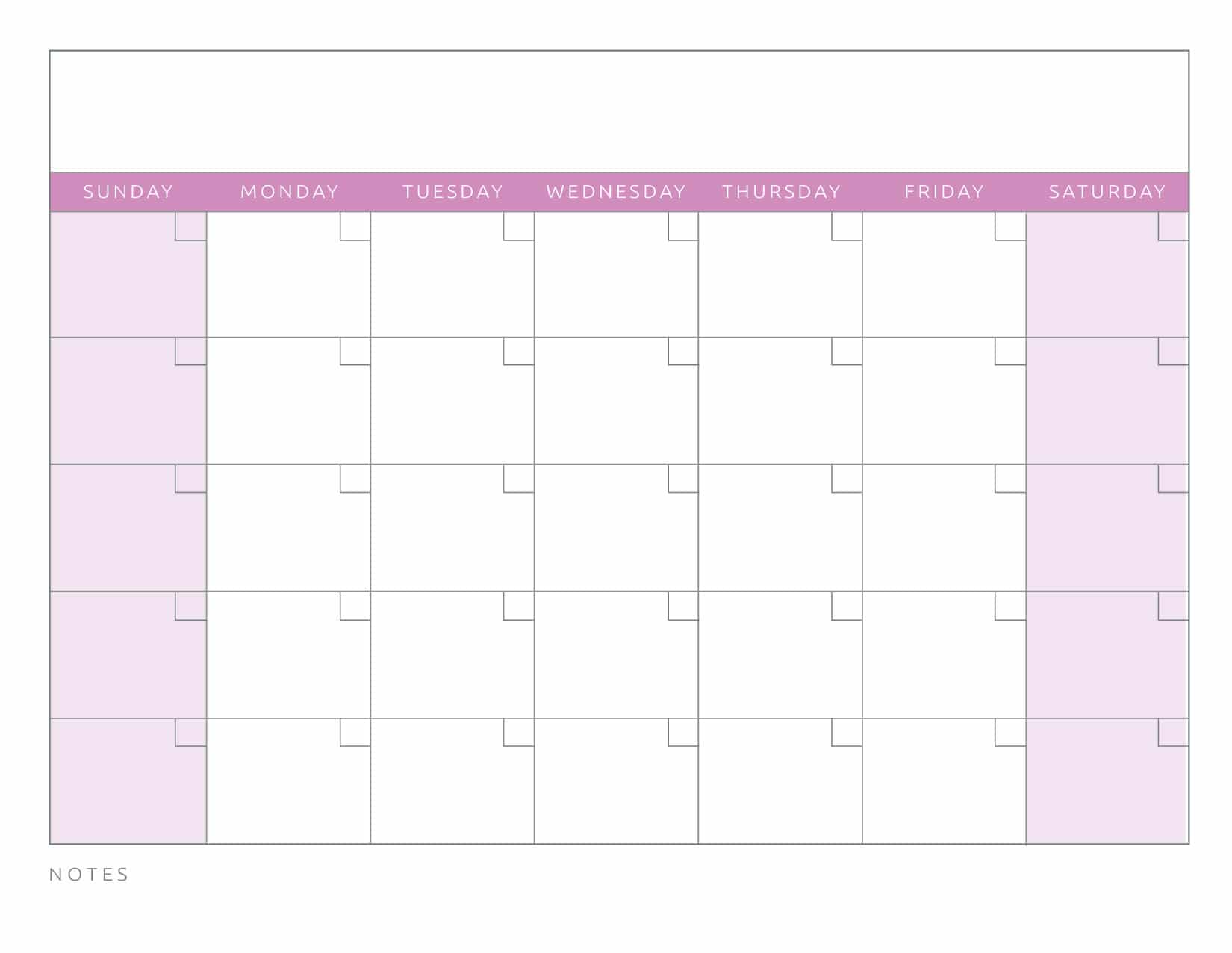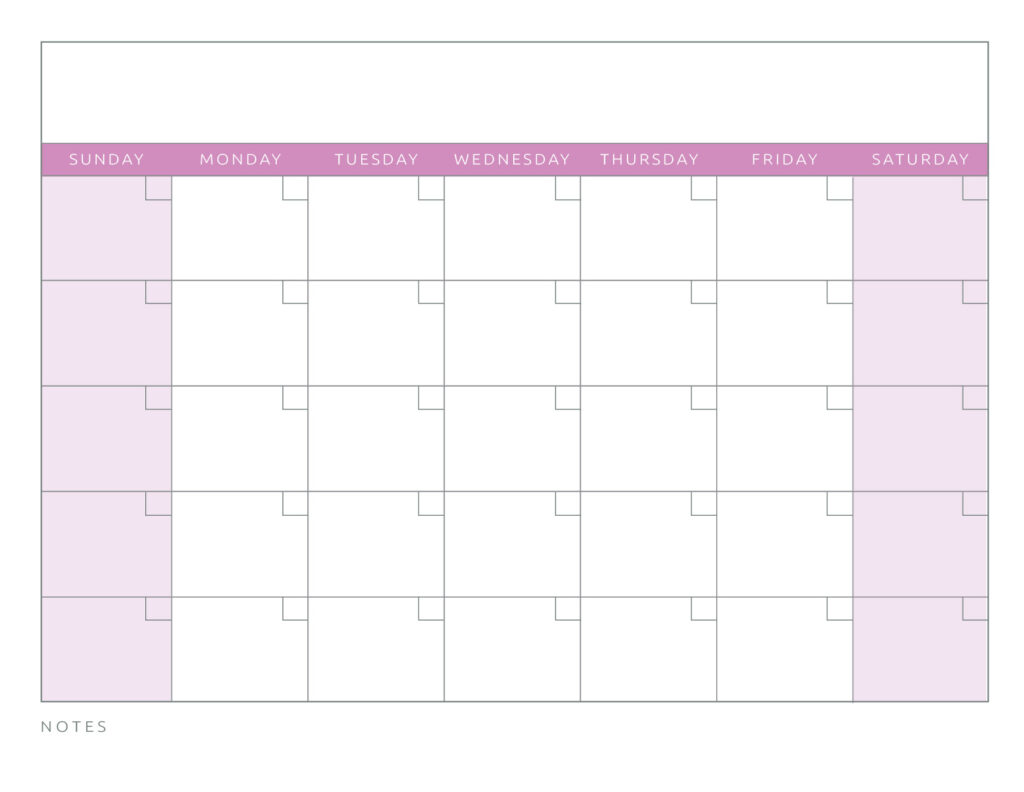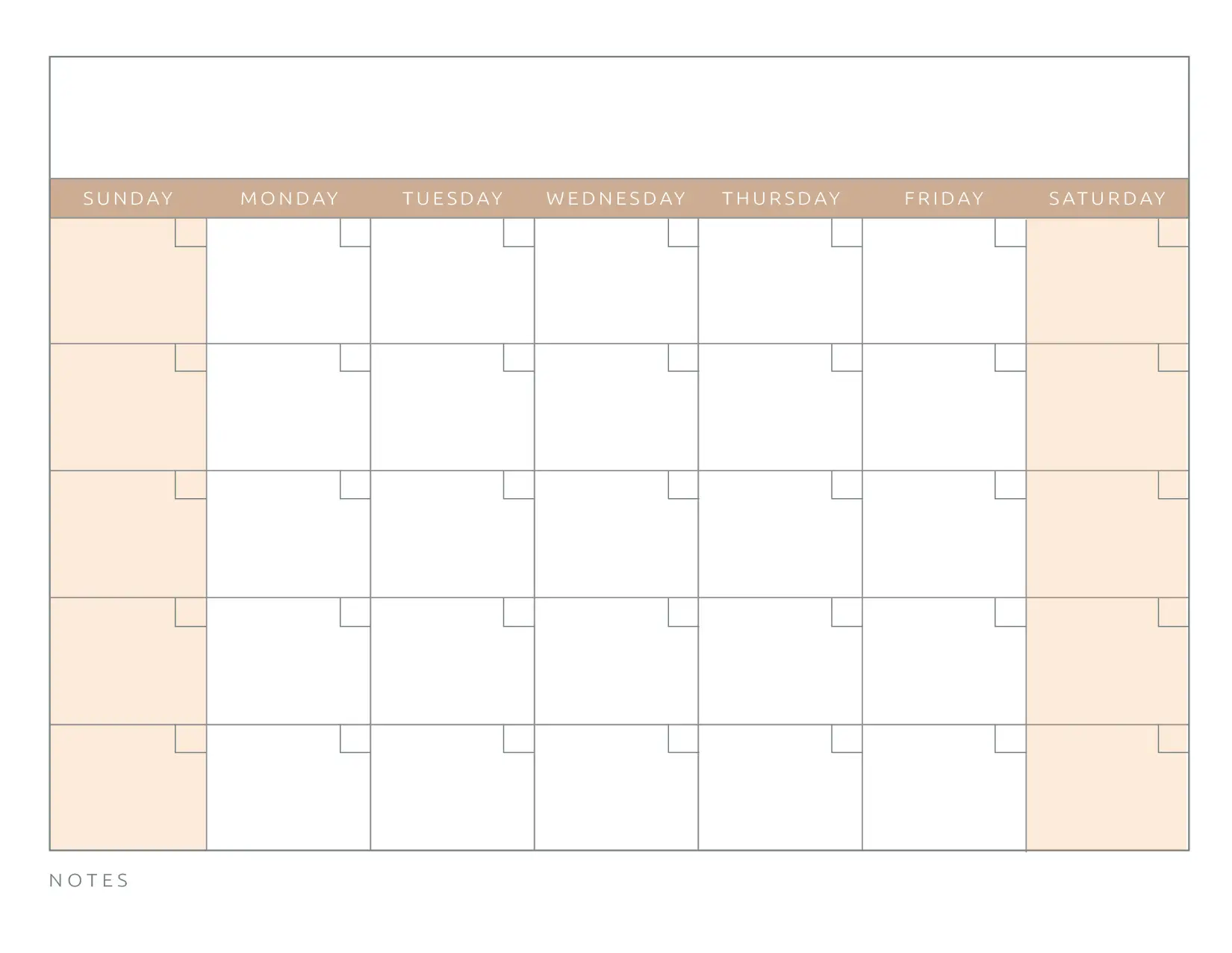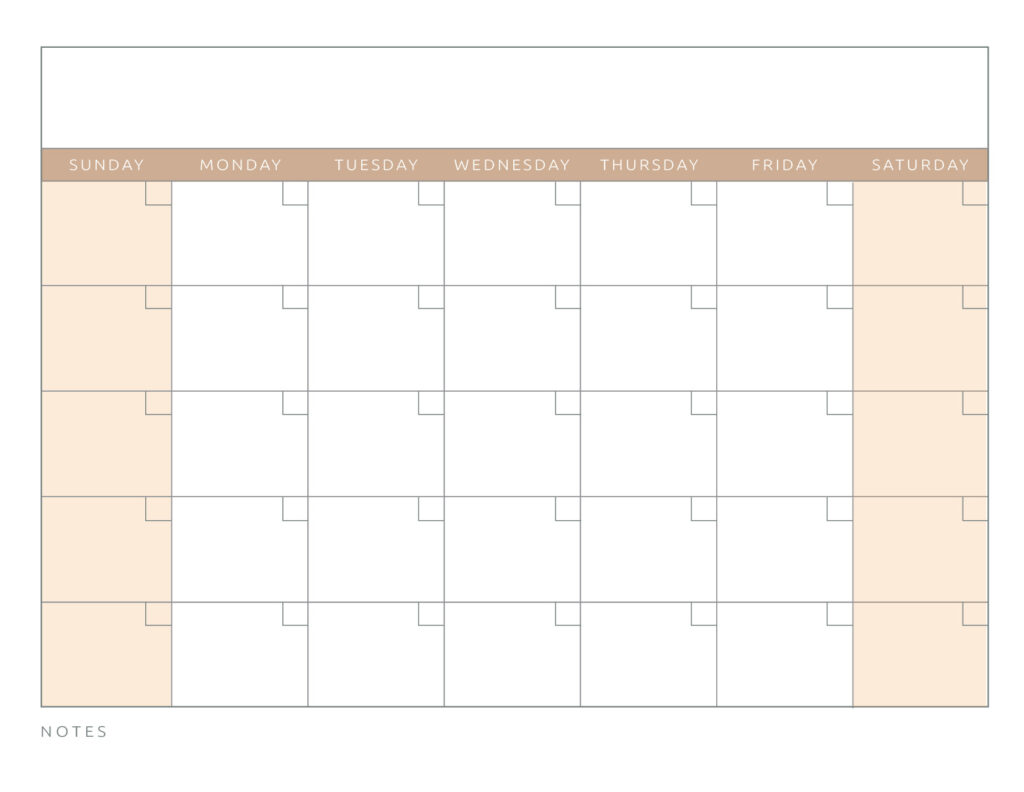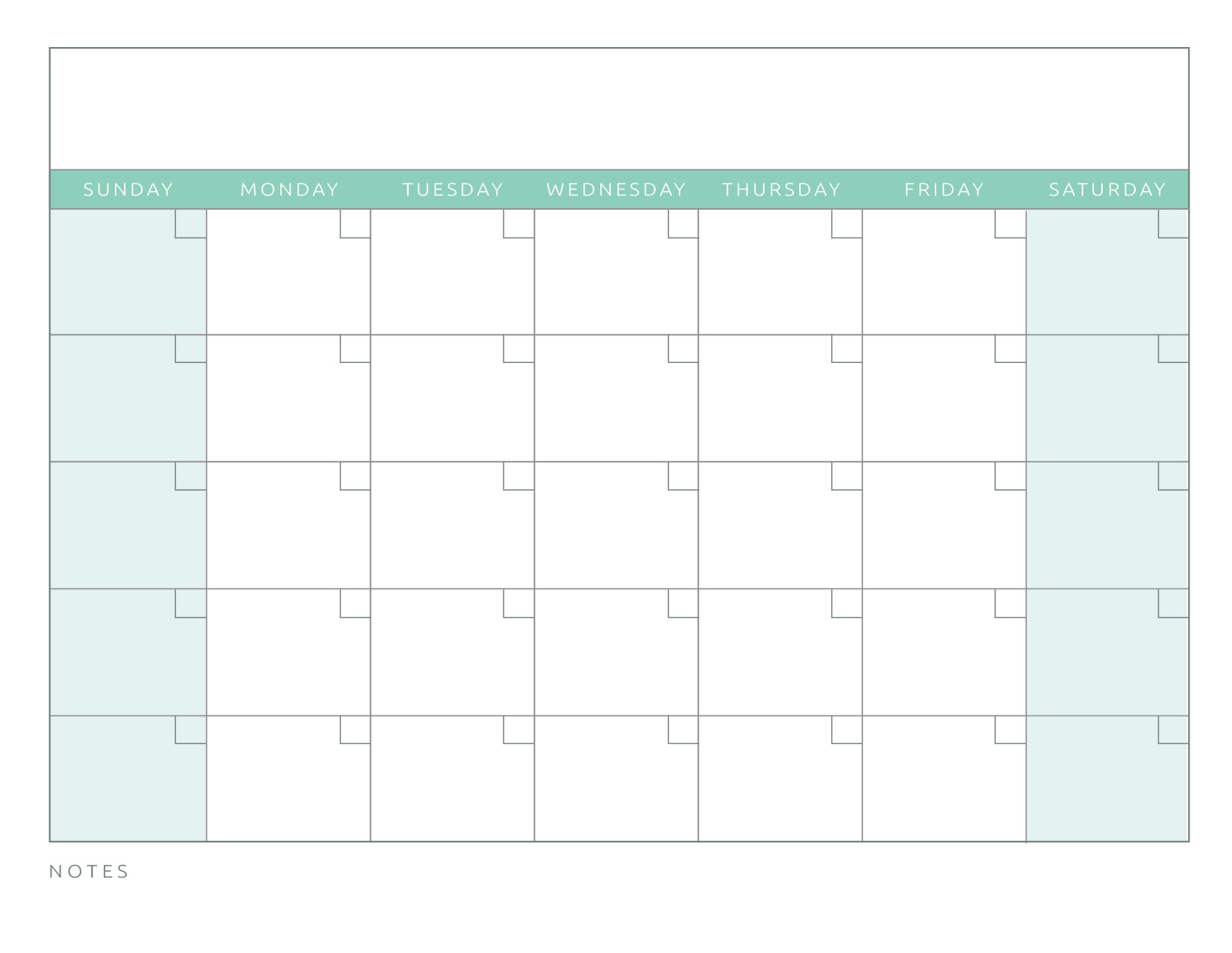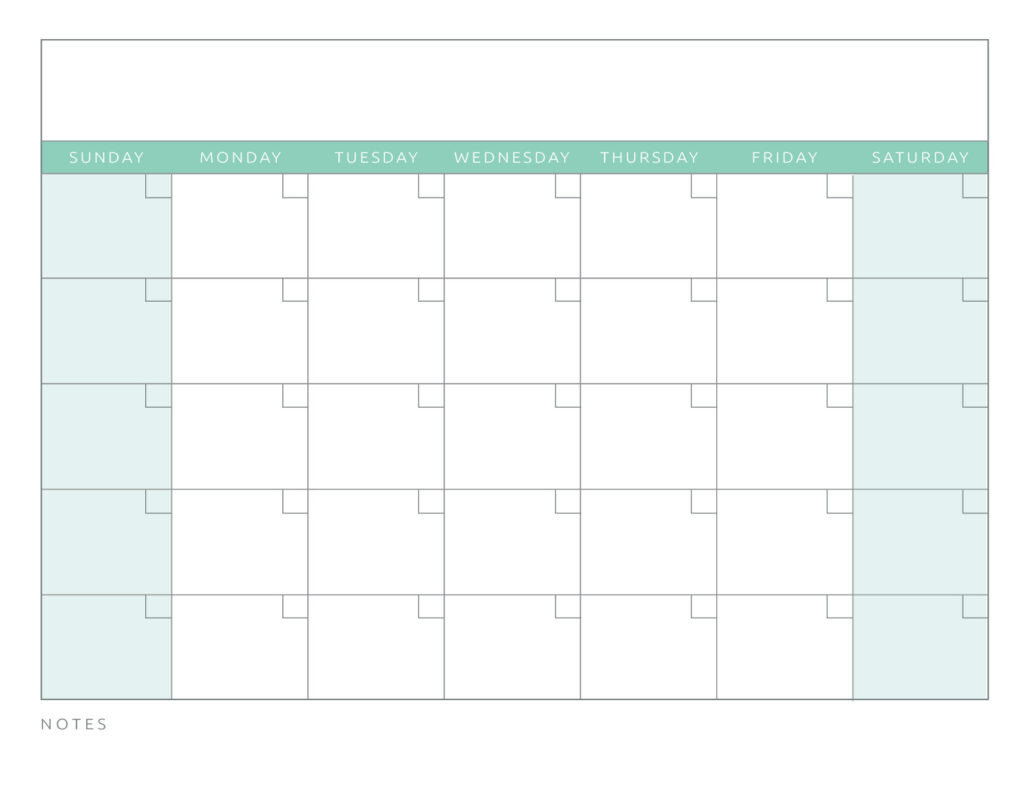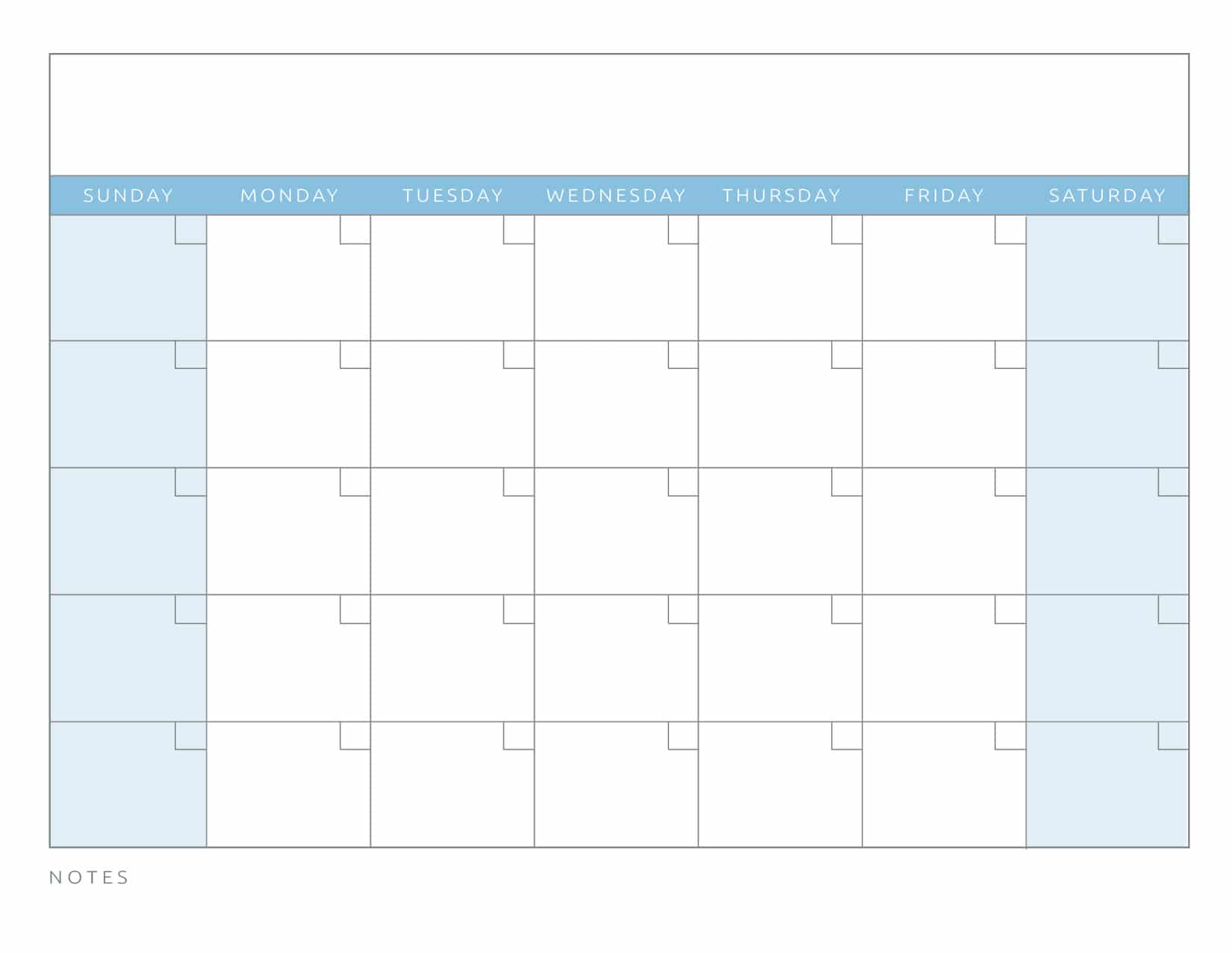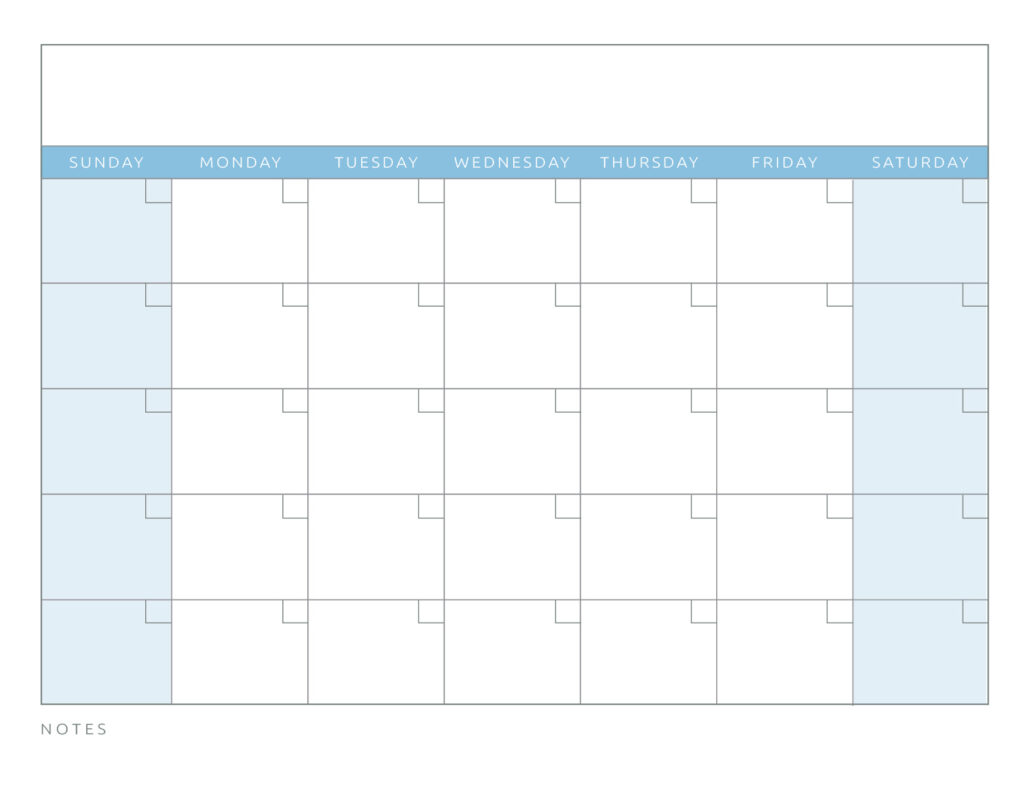 We also have a variety of one page 2021 year calendar templates, some which also have the most popular and federal holidays.
If you liked these blank calendars then please follow us on Pinterest or Instagram, also sign up to our newsletter to get the latest news of our free printables right to your inbox.
How to make printable calendars look stunning
Print it! – Our calendars look so good when printed on this bright paper.
The paper is a good weight and works great with inkjet and laser printers, making the ink look crisp and clear. If you want something a little more heavy duty for a shop bought look then this card stock is a great option that's used a lot in the printable community.
Add some style!
Resize it – Resize our calendars easily, make them bigger or smaller to fit into your planner, frame or hanger – find out how here.
Style it – Style your calendar! Add them to showcase frames for a stunning display, poster hangers for a boho look, or even bind up your own for a shop bought look! See more ideas on how to style printable calendar templates to match your home decor!
Snap it – Take a photo of your calendar and tag us on Instagram! We love to see how you use our calendars and may even feature your photo on our blog!