About the June calendar templates
The summer season is officially here and it's also time for a free printable June calendar! Our June calendars are perfect for helping you stay organized this month and there are so many choices!
You can use our free printable June 2024 Calendars for your home, office, desk, or planner and they are free to download for personal use.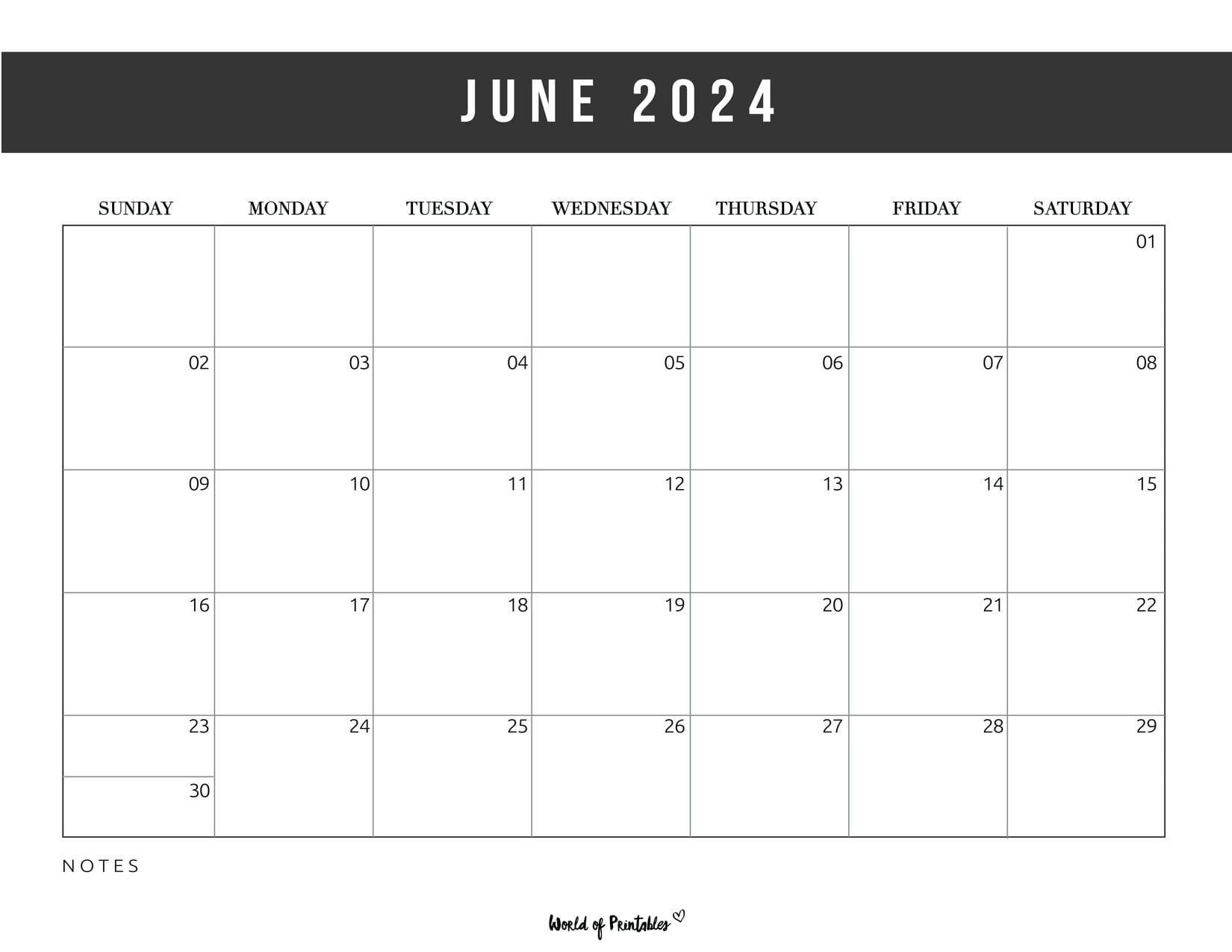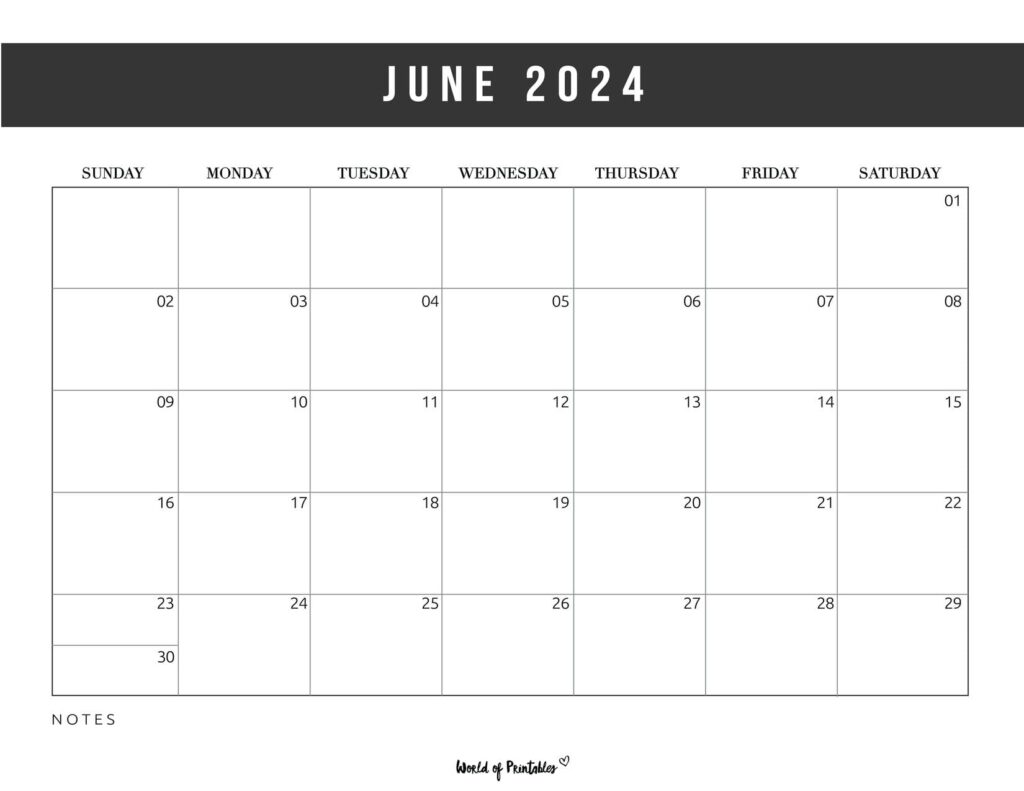 Once you download your free printable June 2024 calendar, you can save it and print it as often as needed.
You can use it for many different things such as a calendar, a schedule, or a tracker.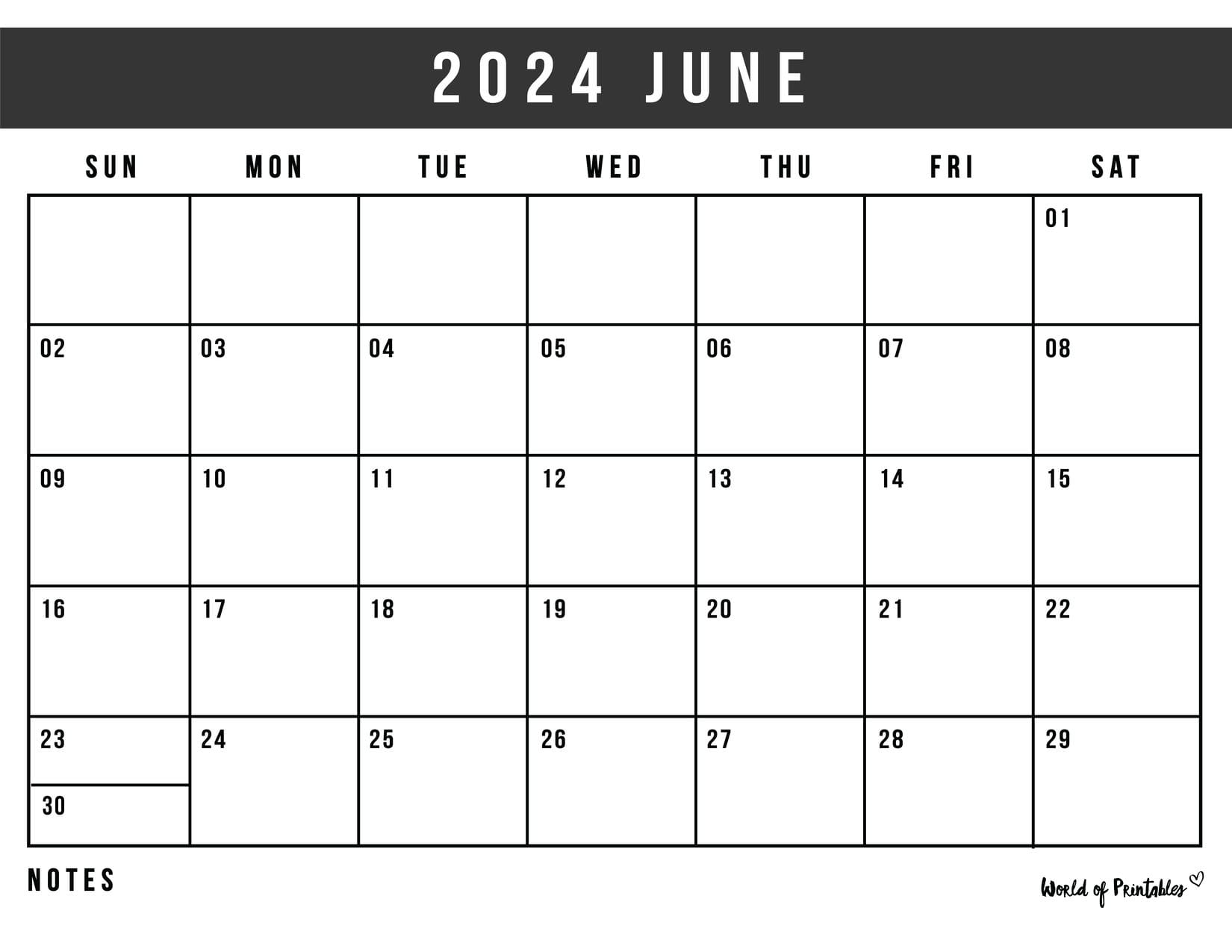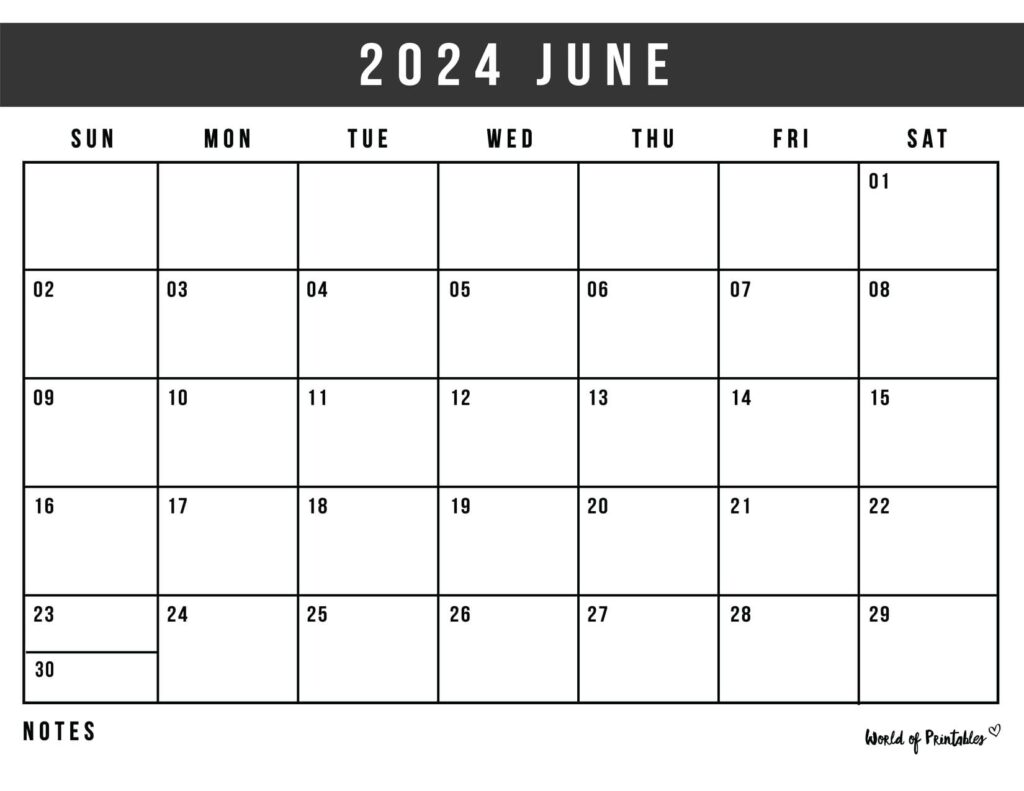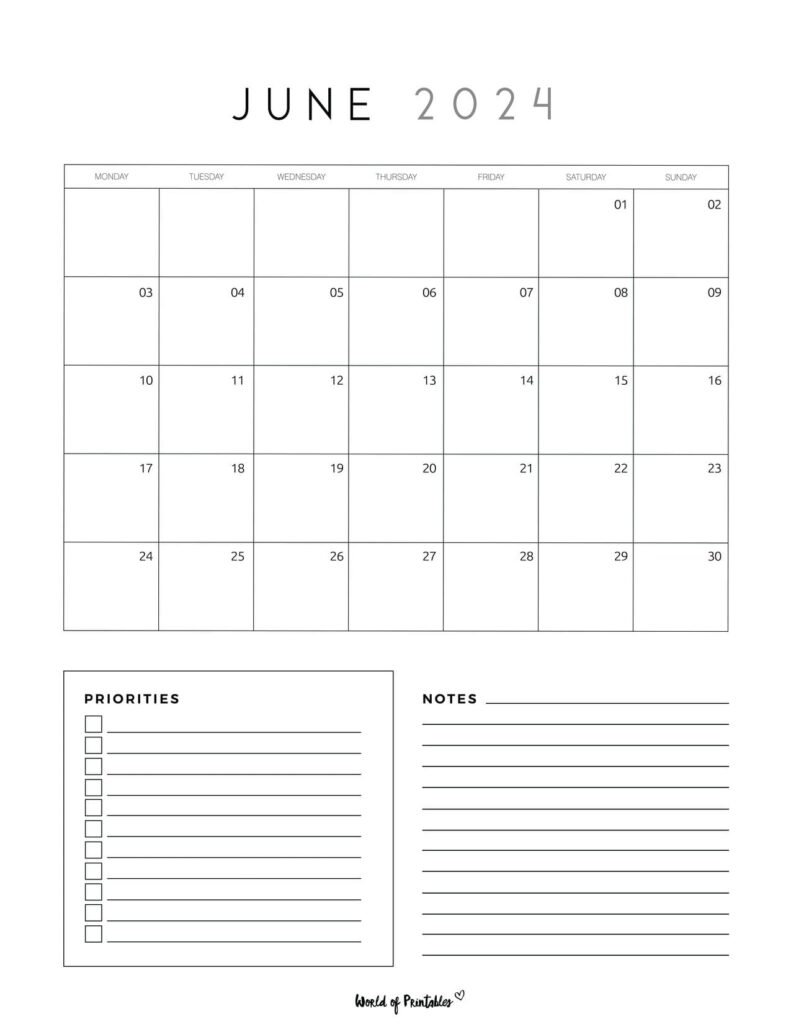 As you look through our website you will see that we have so many amazing calendars for every month of the year covering a range of beautiful styles from floral and botanical to minimalist.
All of our calendars are ready to print in US Letter size (8.5 x 11") or A4 size paper, but they can be easily resized to fit your needs. You can learn how to easily resize an image in our guide.
The PDF calendar templates can be printed with Adobe Reader, alternatively, click any calendar to download and print the one you like best as these are available in jpg images.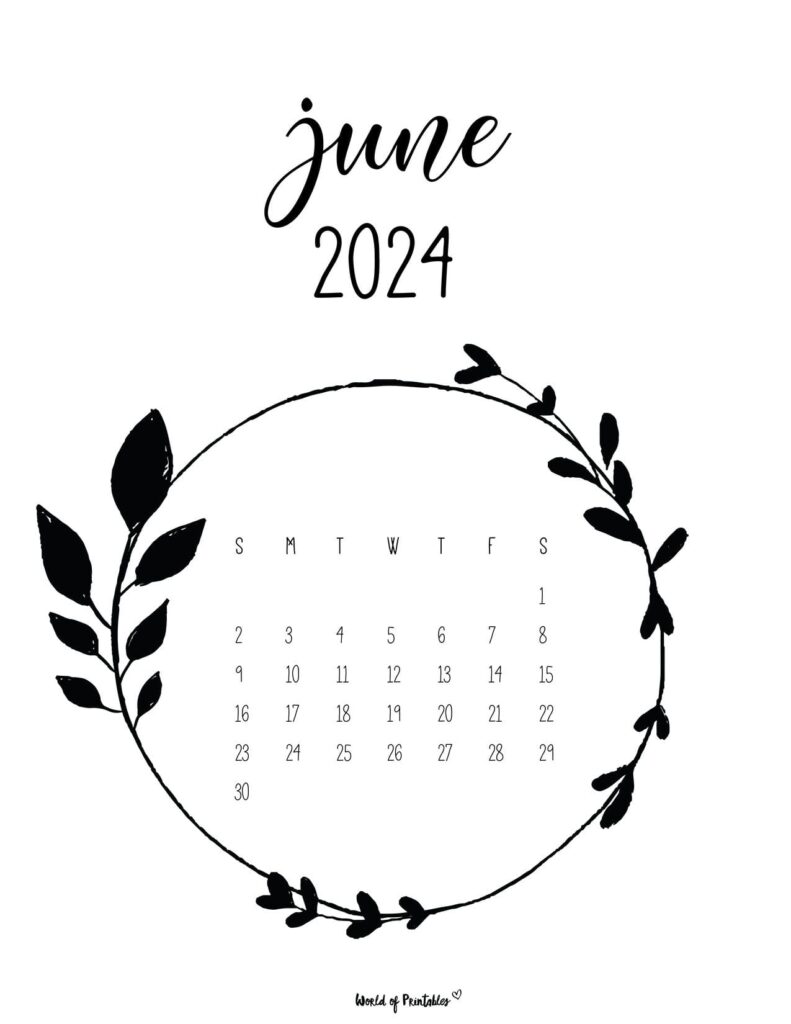 If you are looking for a calendar for 2024 then check out our huge range of free printable 2024 calendar templates.
You can also download our free printable blank calendar templates if you want something quick and easy that you can print at any time with minimal fuss.
You can also download our free printable 2024 Calendar with holidays templates.
If you want a full 2024 year calendar then we also have a selection of them available.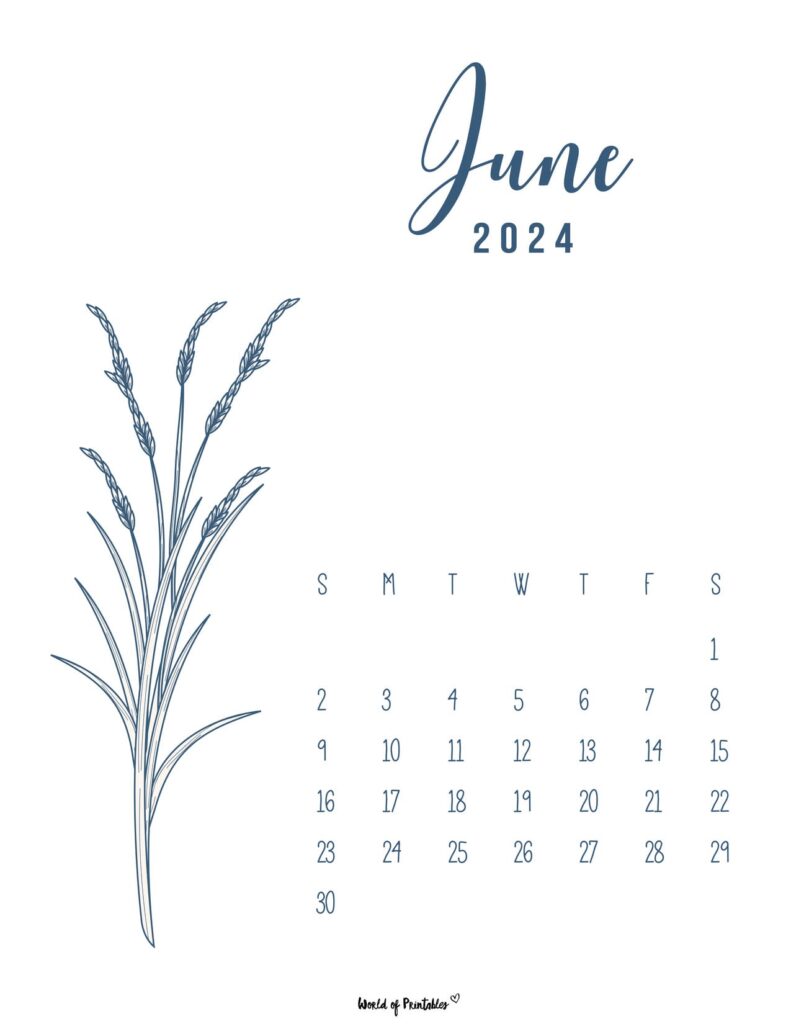 What is the June month meaning?
June is named for the Juno, the queen of Gods and Roman Goddess of marriage, fertility, and childbirth.
What is the June birthstone?
June has three birthstones – Pearl, Alexandrite, and Moonstone. Because Alexandrite is so rare, June has two other birthstones for consumer interest. Natural Pearl is also rare, so the most common option is the beautiful Moonstone.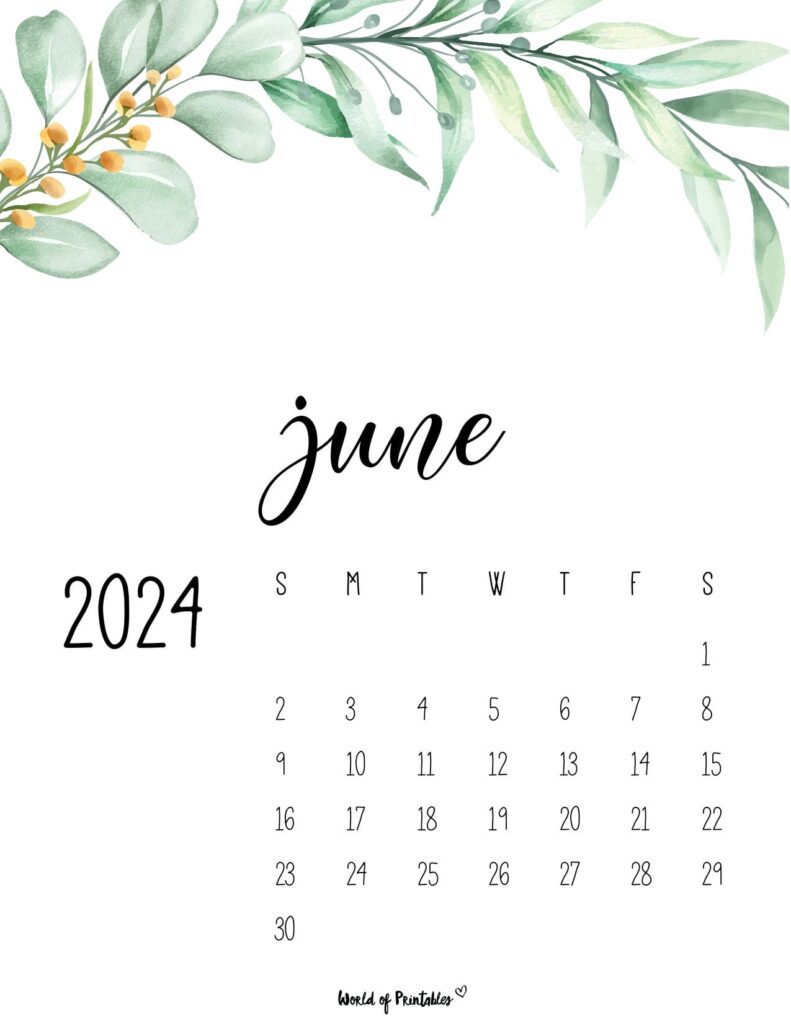 What is the June zodiac sign?
There are two zodiac signs for people whose birthday falls in June. Depending on the date you were born you will be either a Gemini (Twins) or a Cancer (Crab). A Gemini's birthday falls between May 21st and June 20th and a Cancer's birthday falls between June 21st and July 22nd.
How many days are in June?
There are 30 days in June.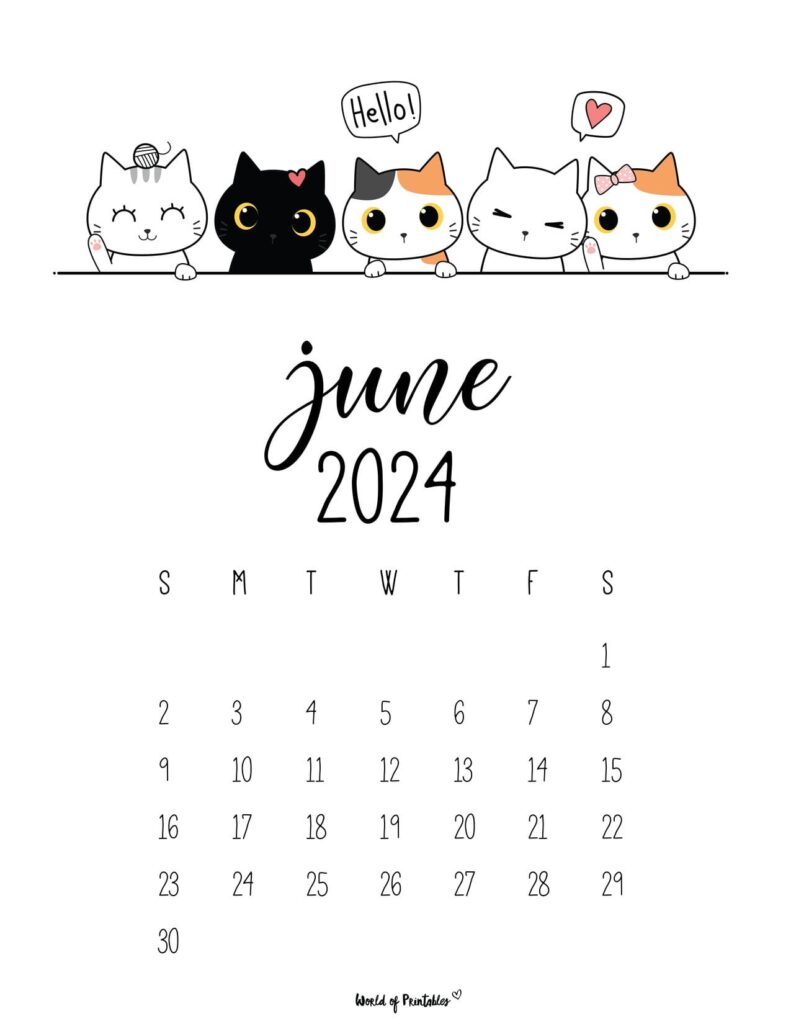 What day does June start in 2024, 2025, 2026?
Want to know what day June starts this year? Below you will find the June start days for the next three years:
2024 – Saturday June 1st
2025 – Sunday June 1st
2026 – Monday June 1st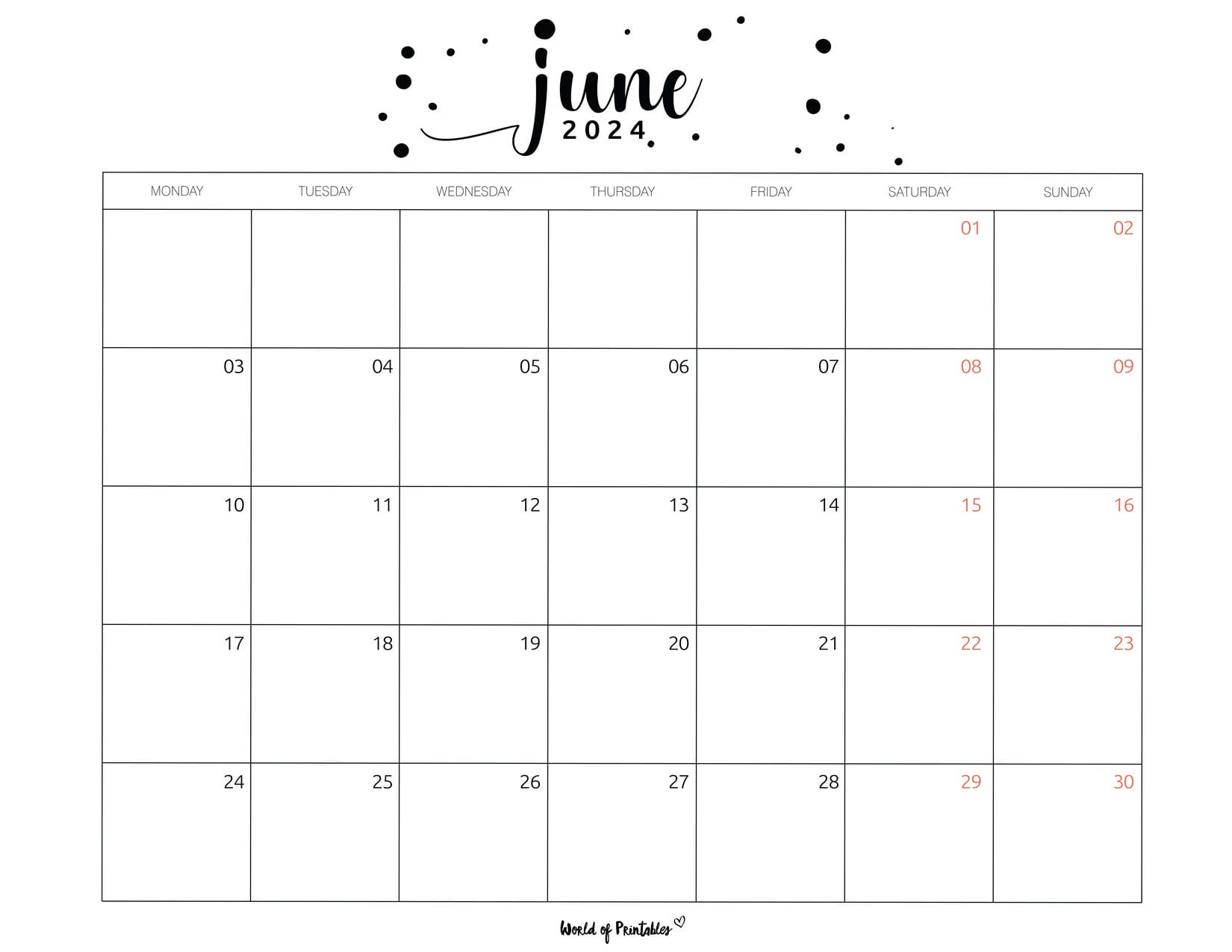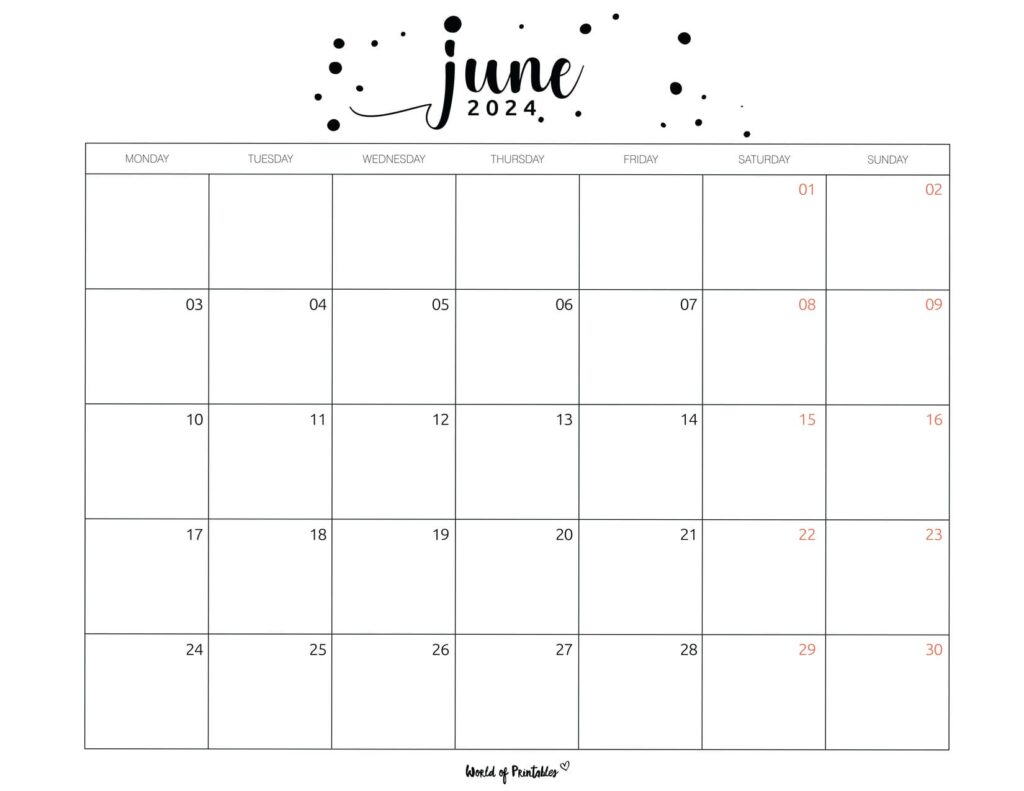 What are the June holidays?
Let's take a look at some of the amazing June holidays you can look forward to celebrating!
June 19th – Juneteenth
Father's Day is observed in over 100 countries and the date which is celebrated varies by country.
There are so many cool, interesting, and important holidays and events to celebrate throughout June. These days can give you something to look forward to in the month of June.
June 2024 Calendars
June is here, and it's time to infuse your days with style and organization. Here we're excited to present a collection of the best June 2024 calendars, featuring 125 stylish designs, all available for free printing. Whether your aesthetic leans towards contemporary design, floral charm, or artistic expression, you'll discover a calendar that perfectly resonates with your unique taste.
Choose your favorite June 2024 calendar from any of them here.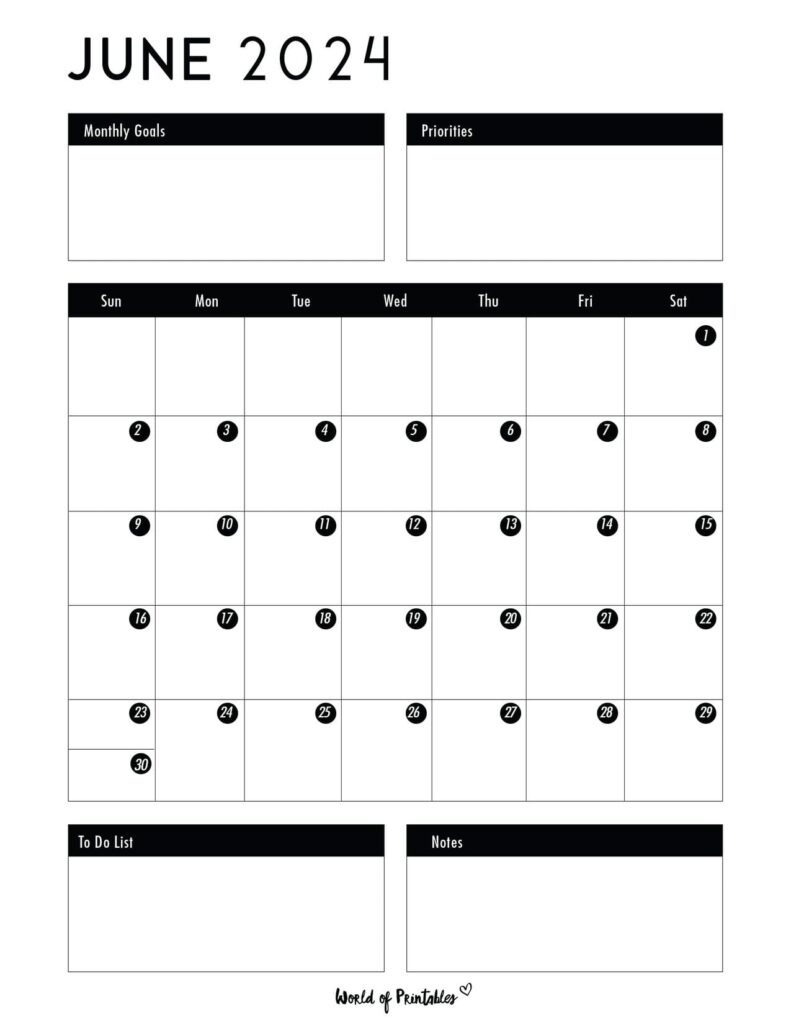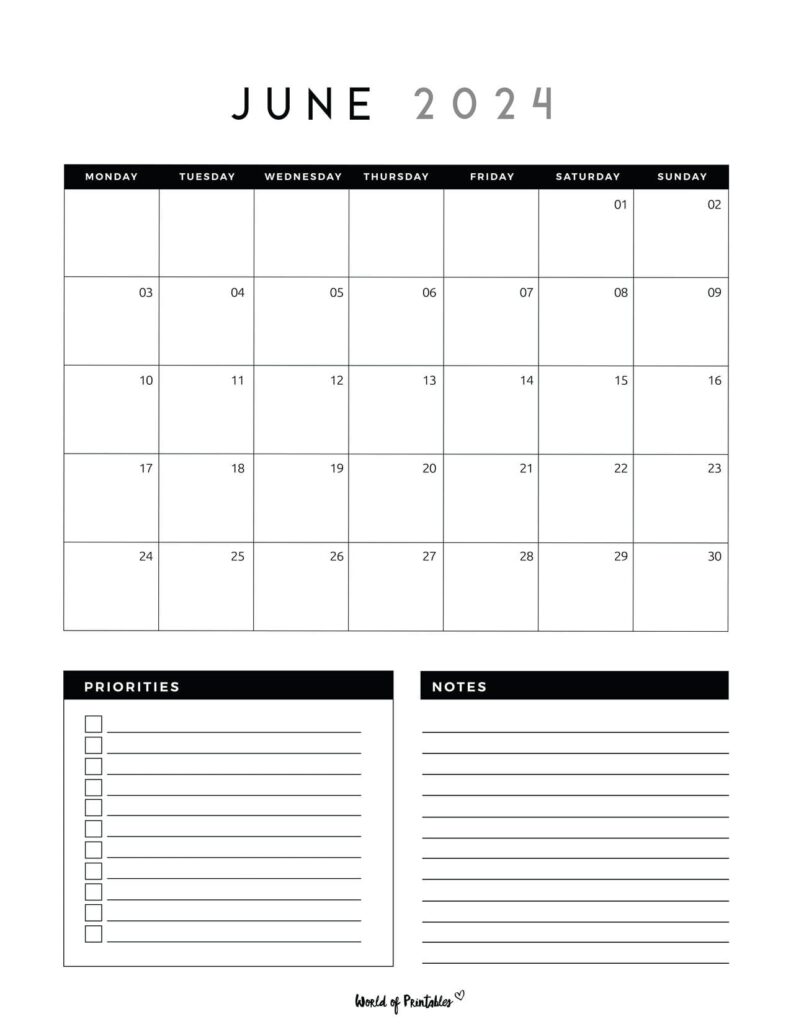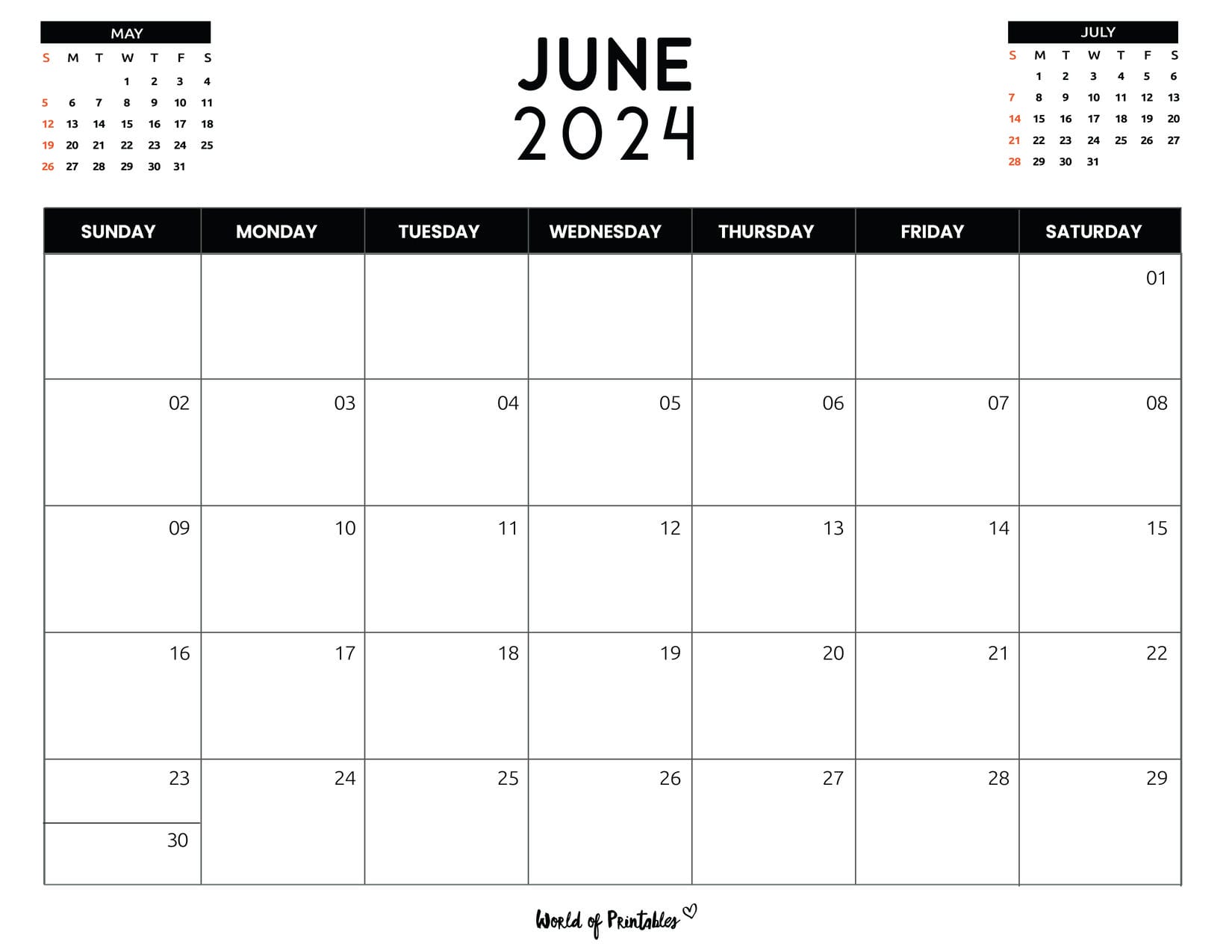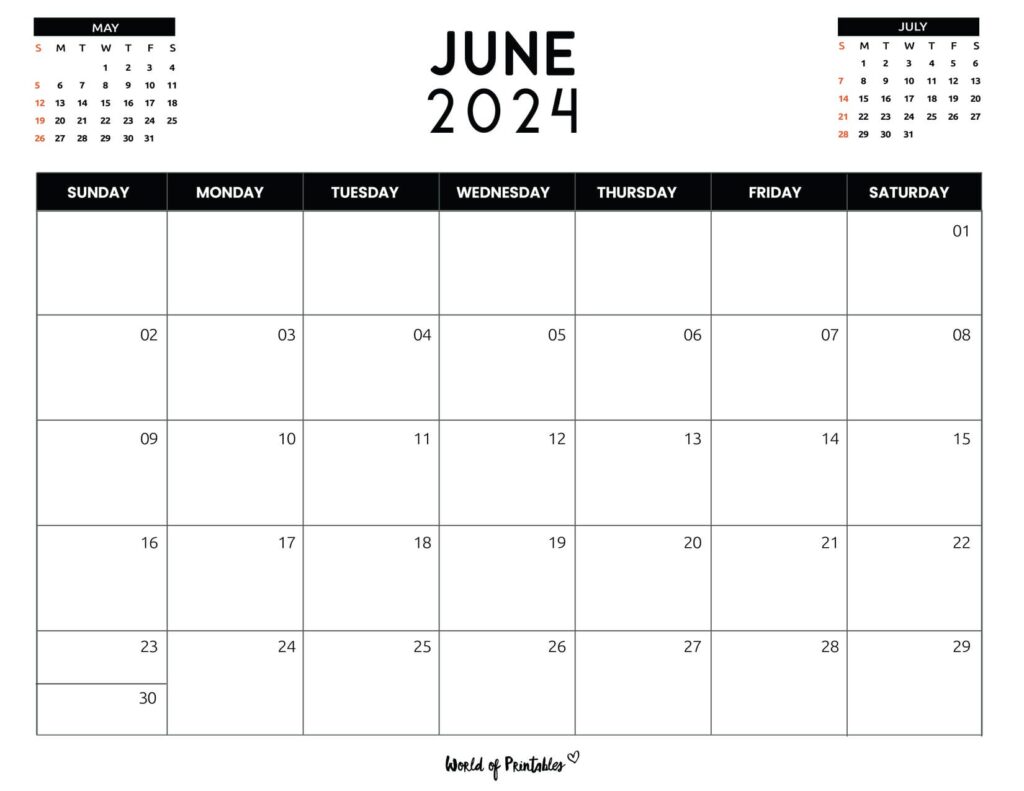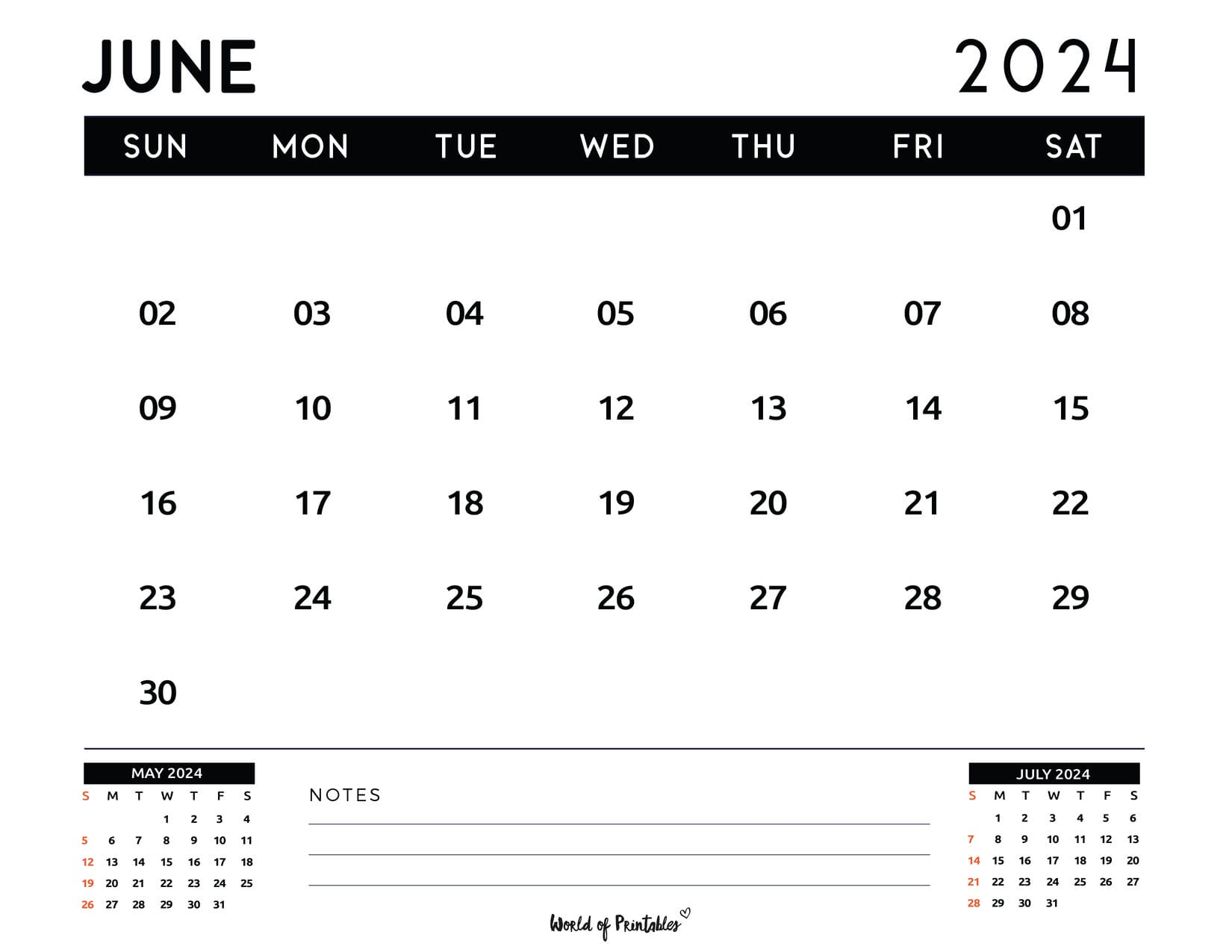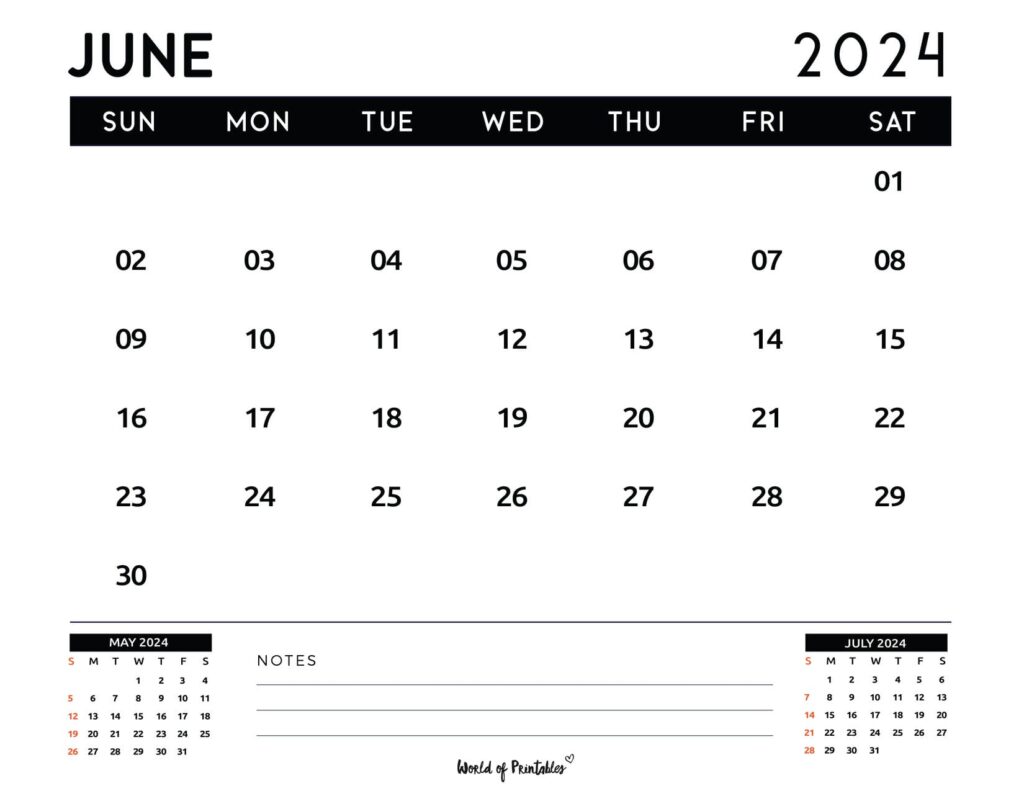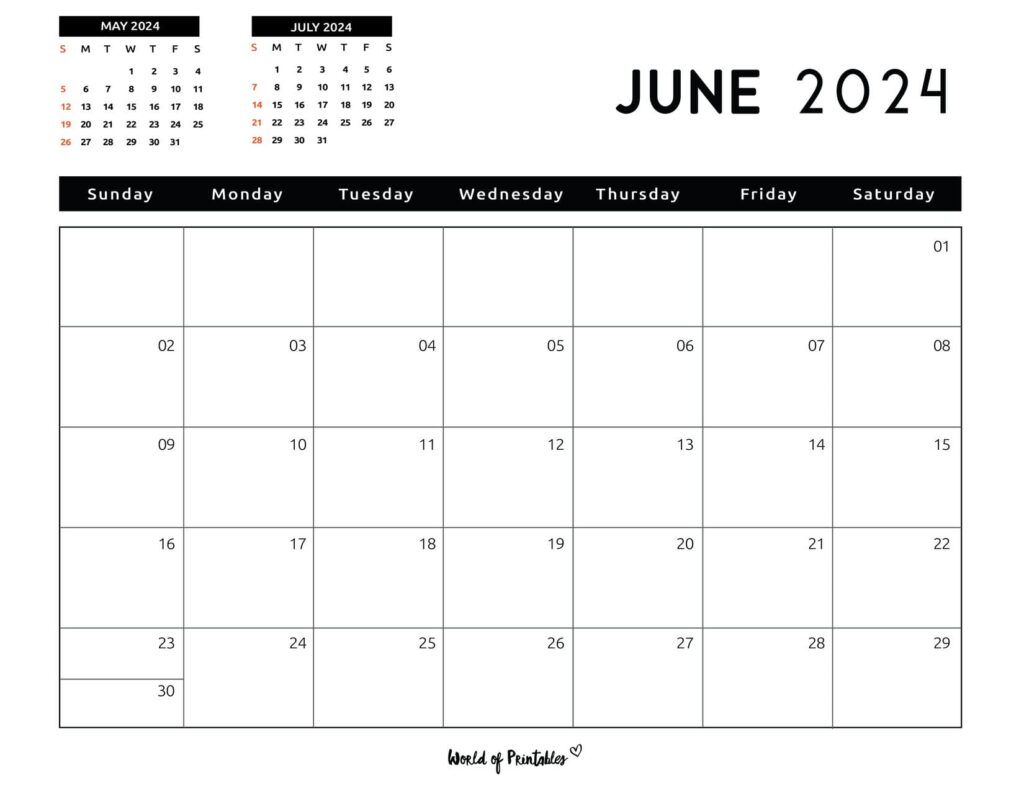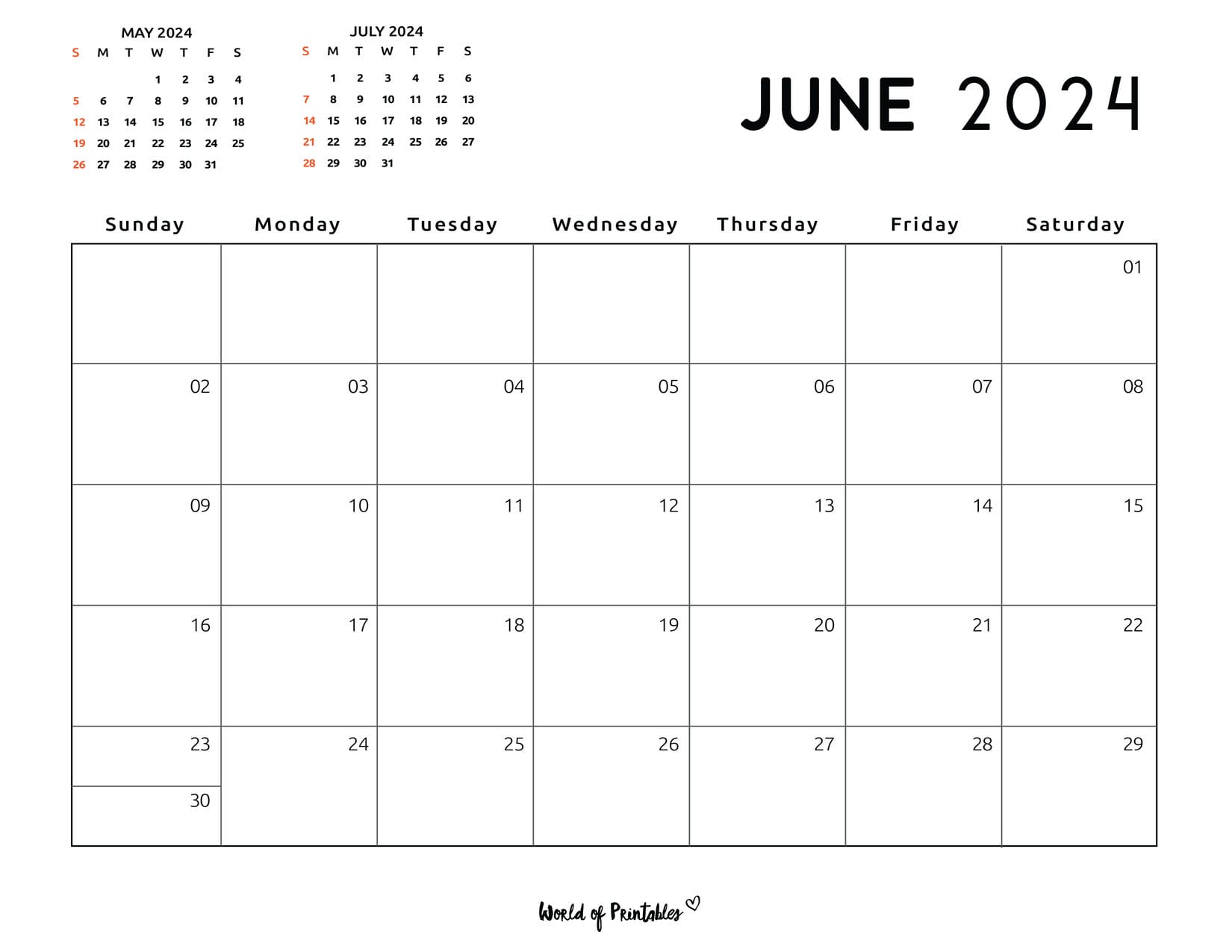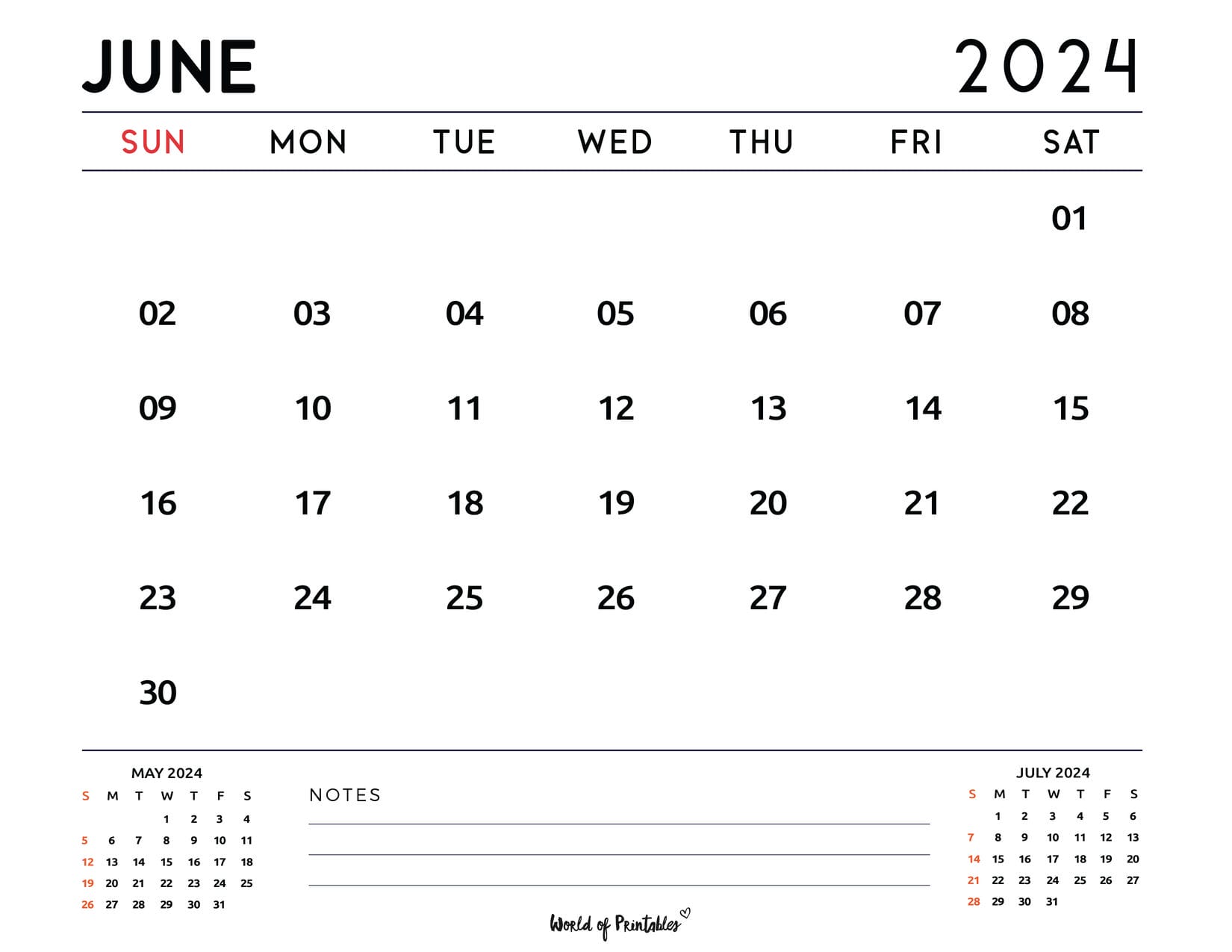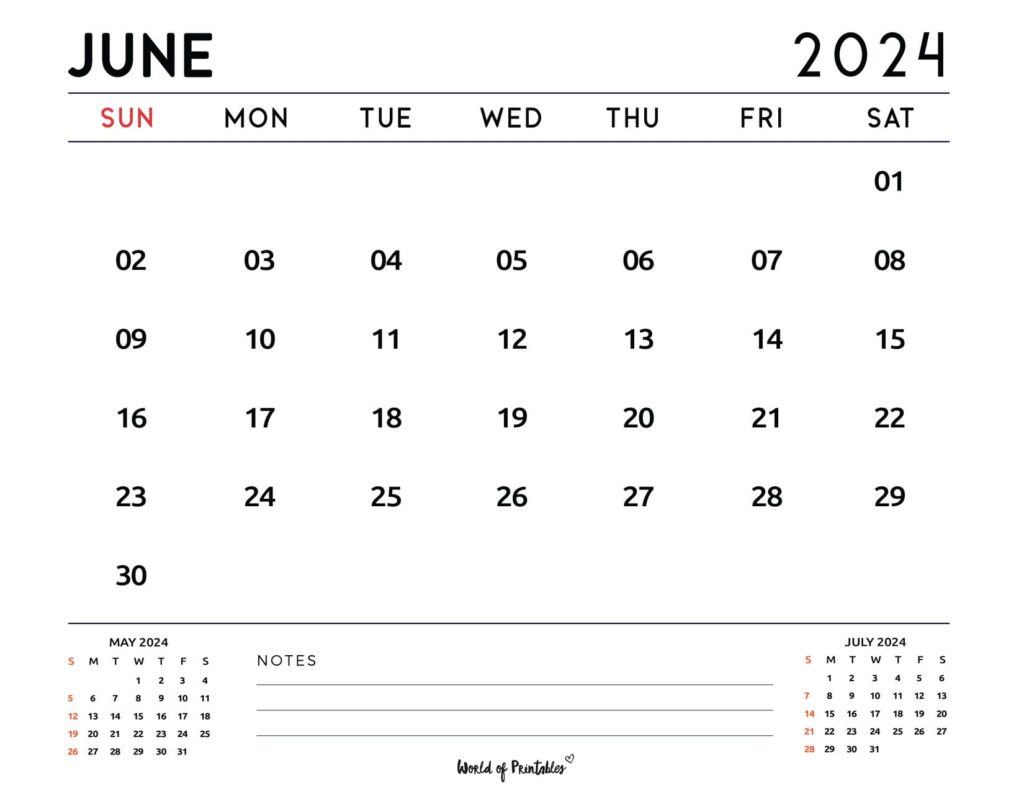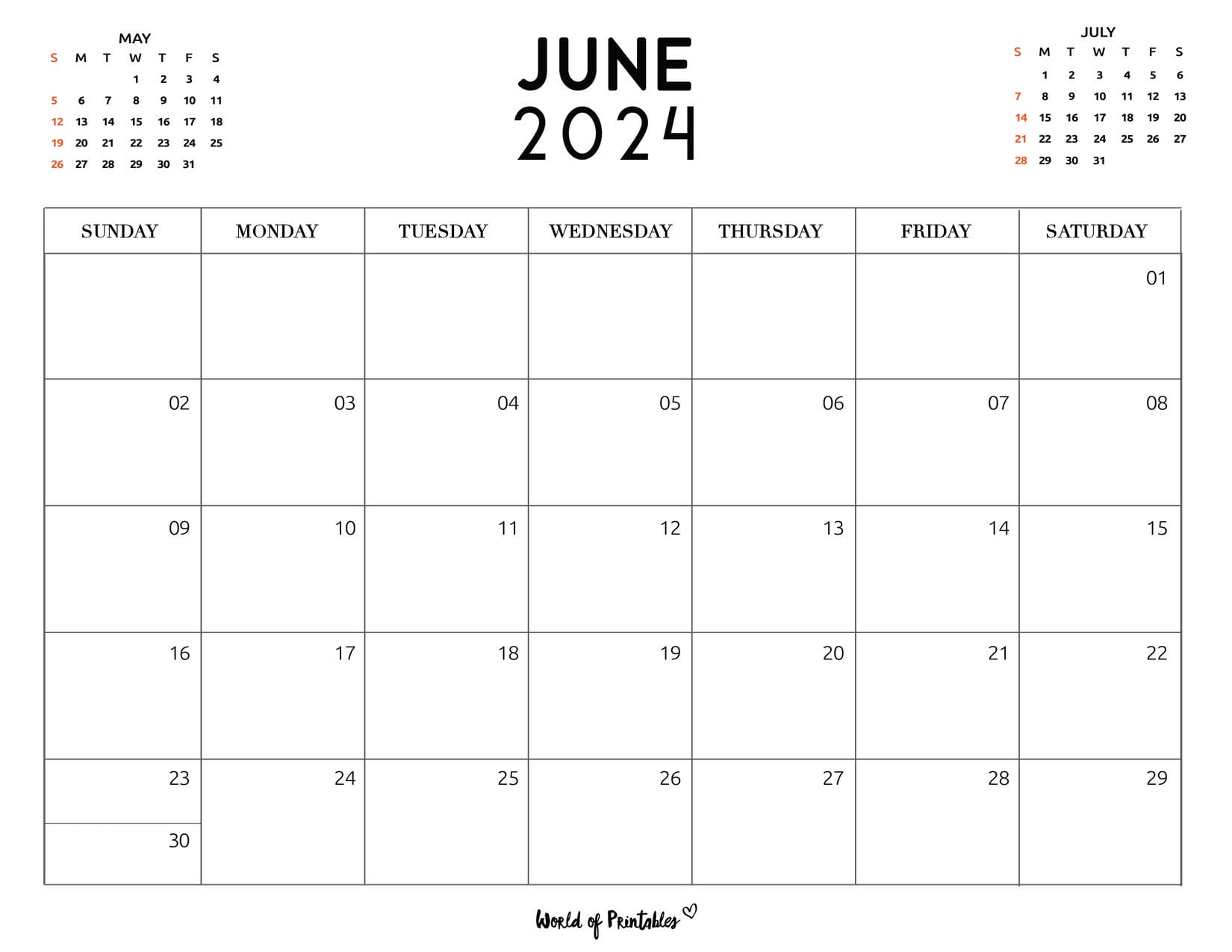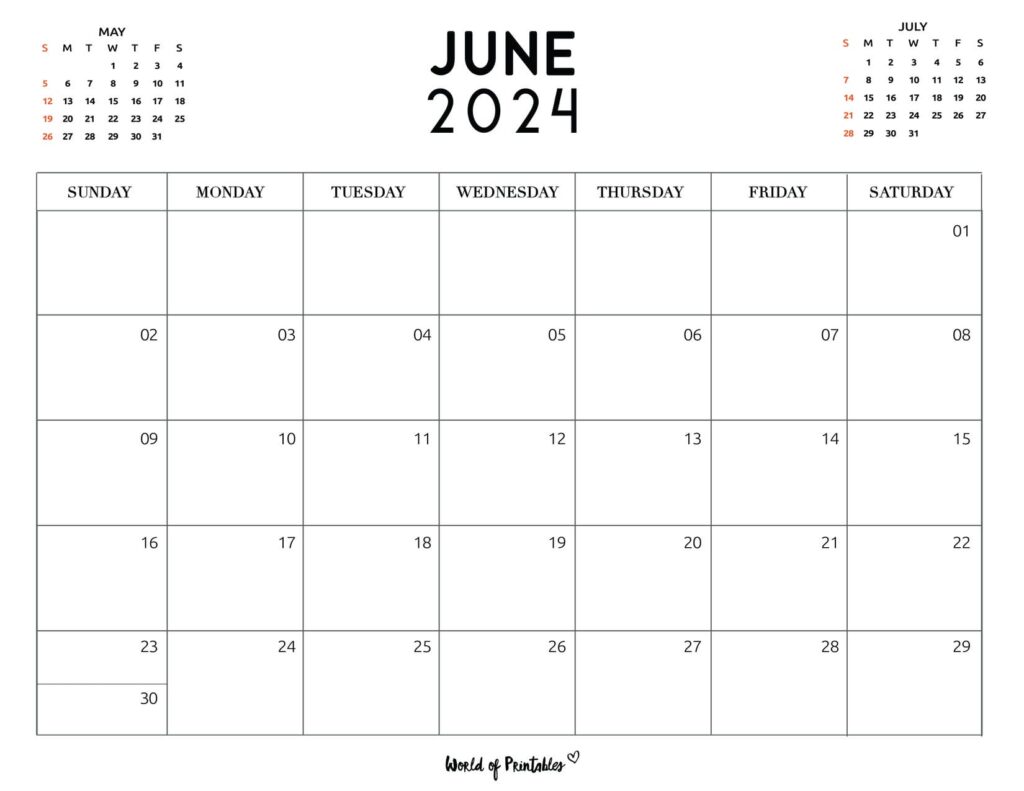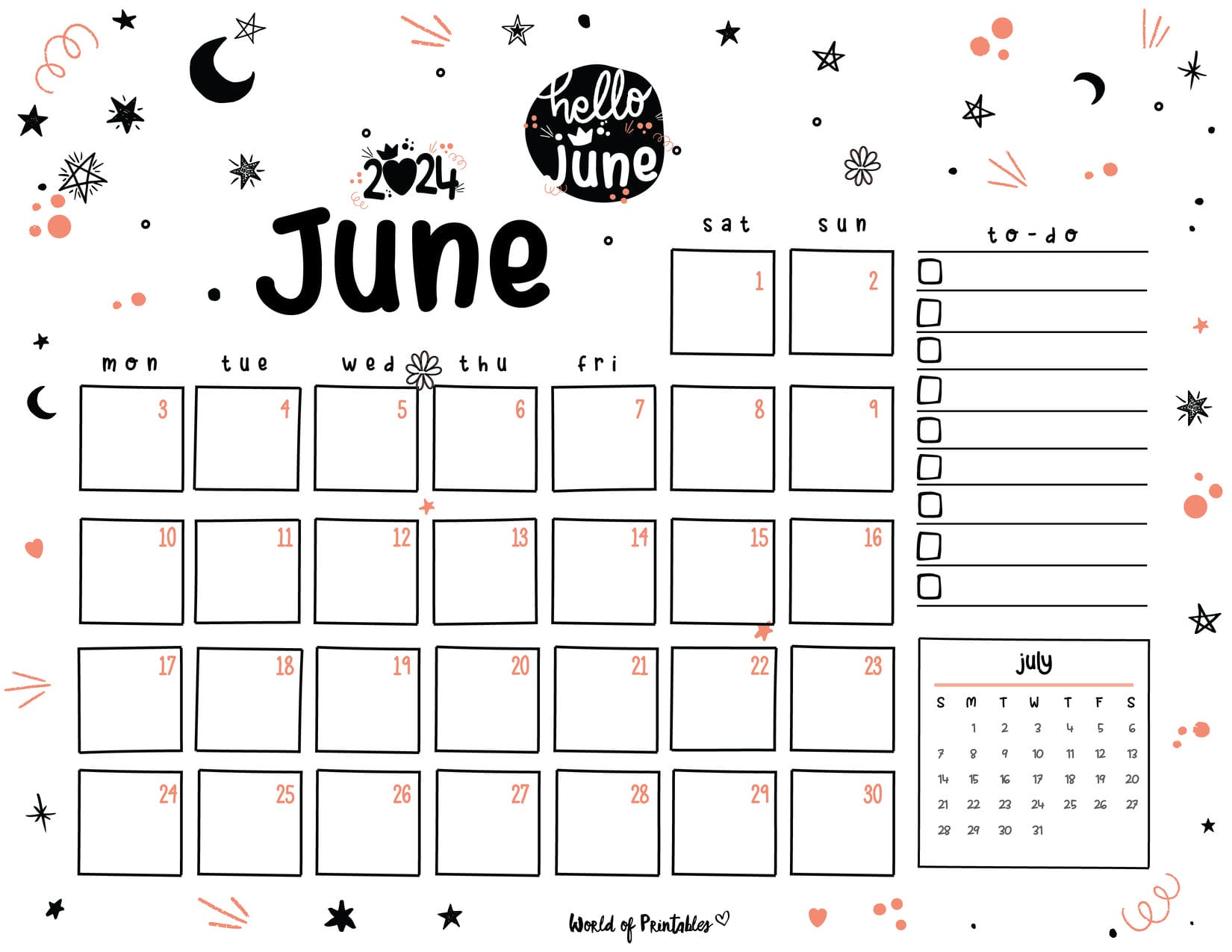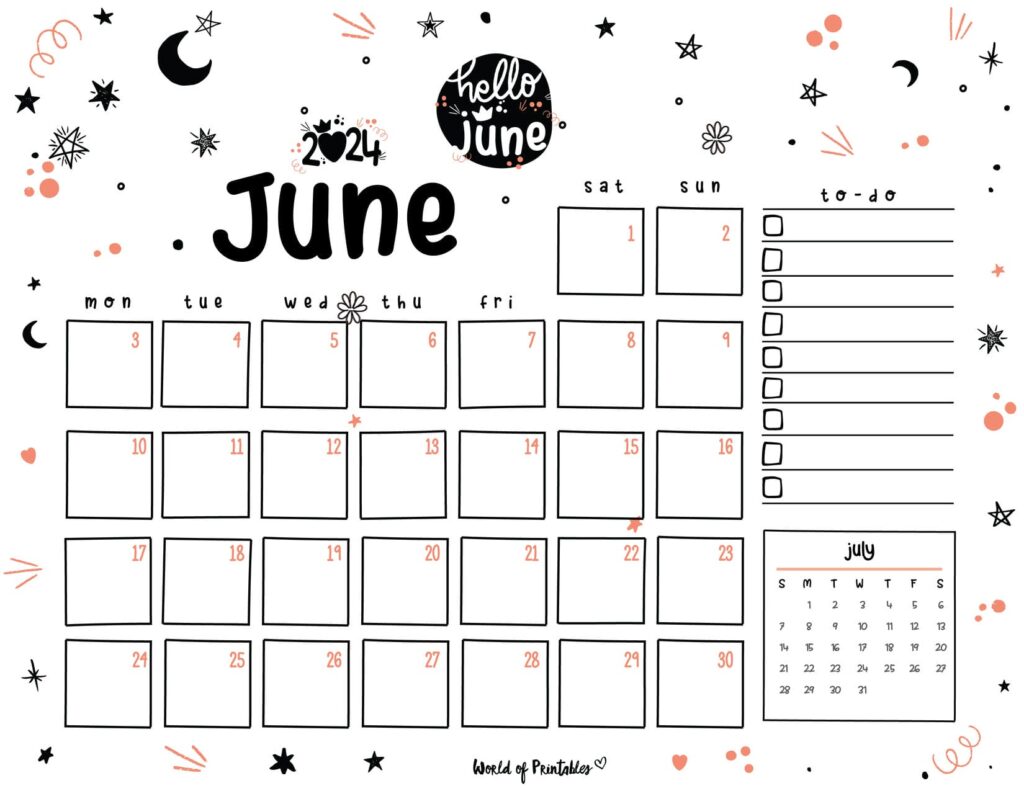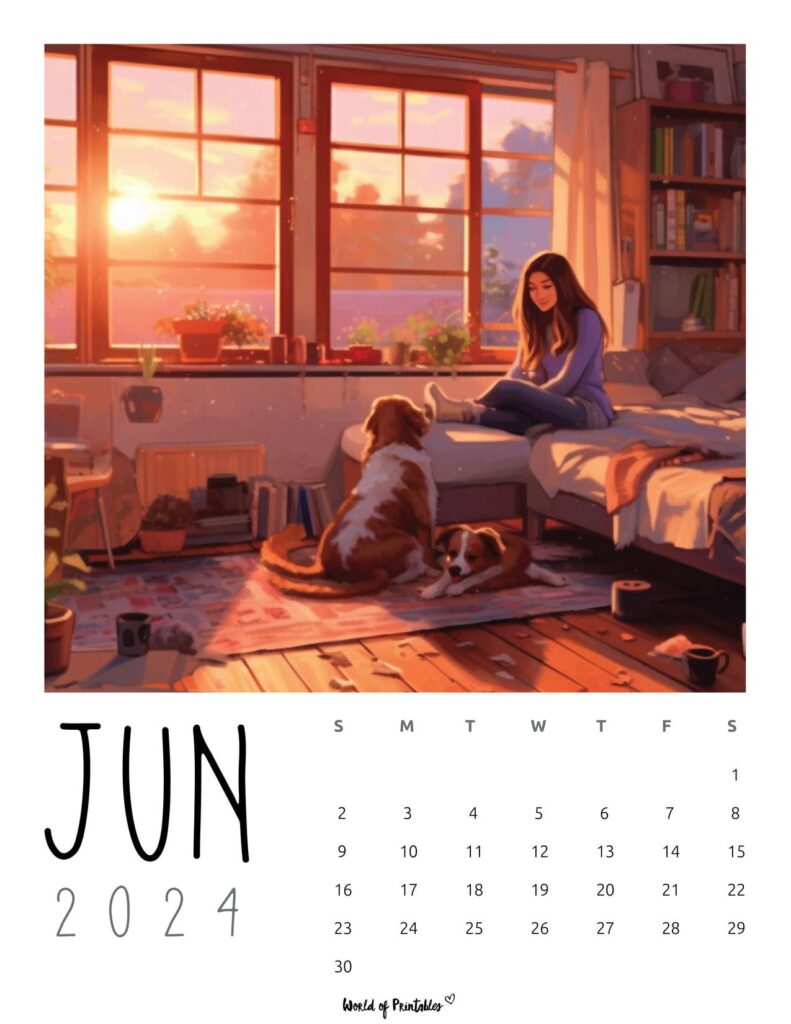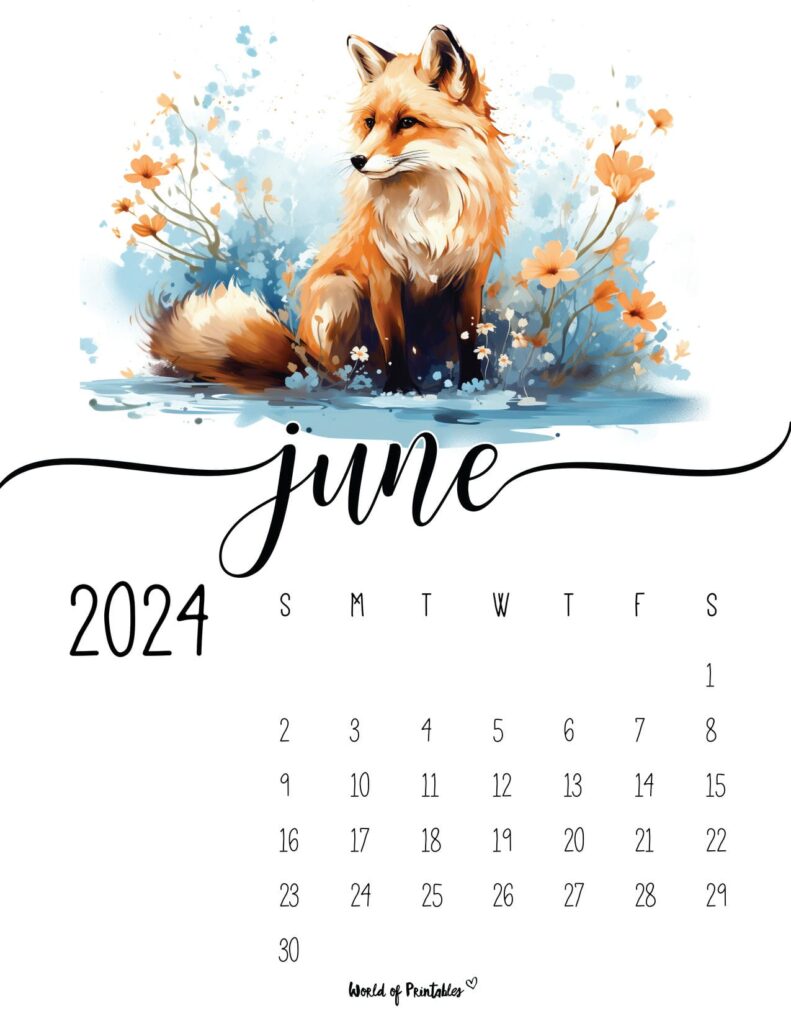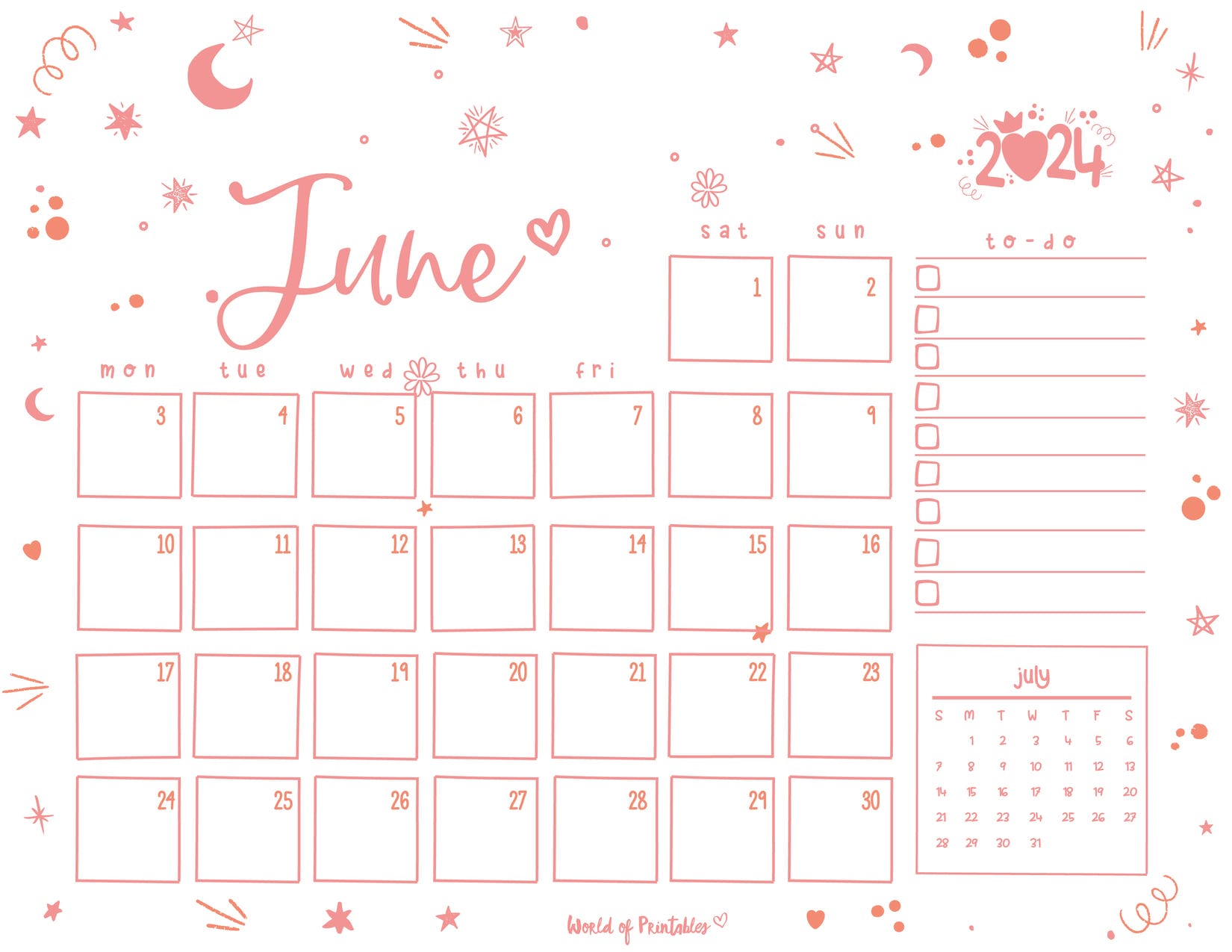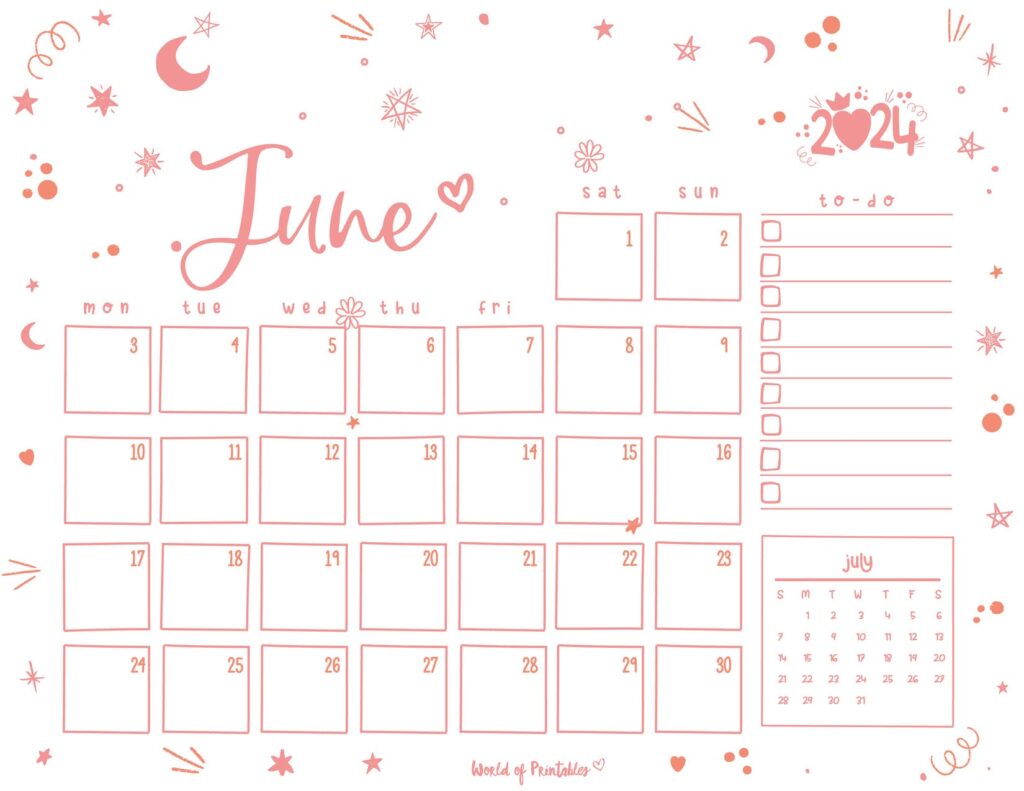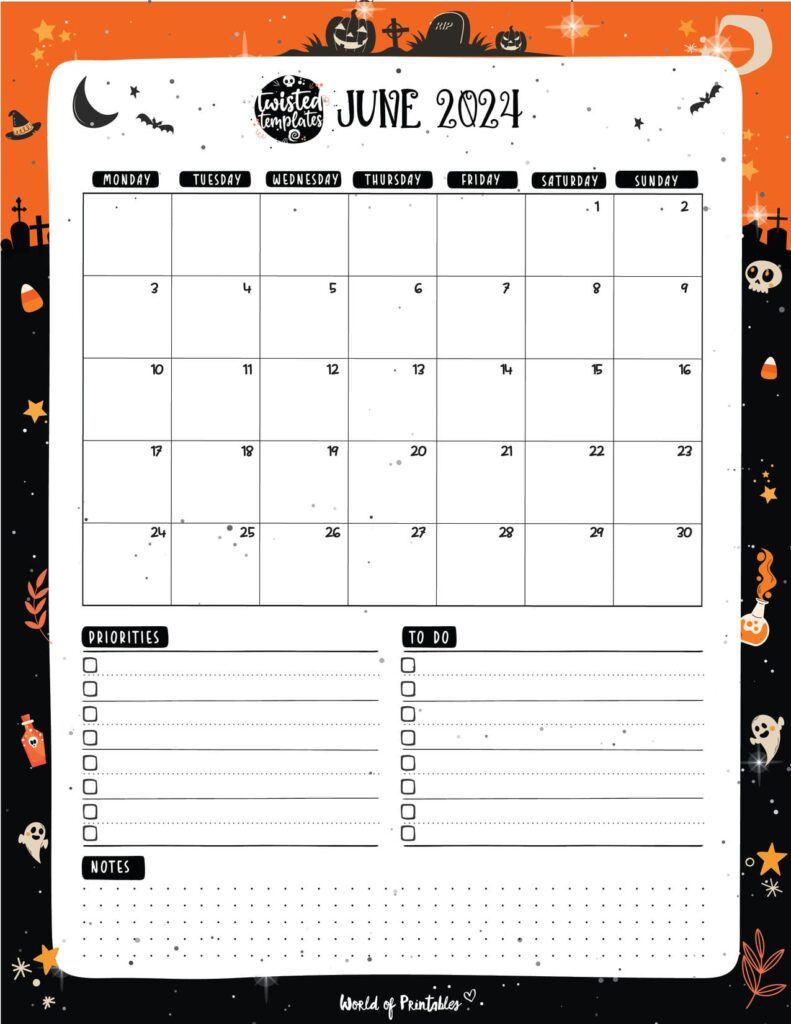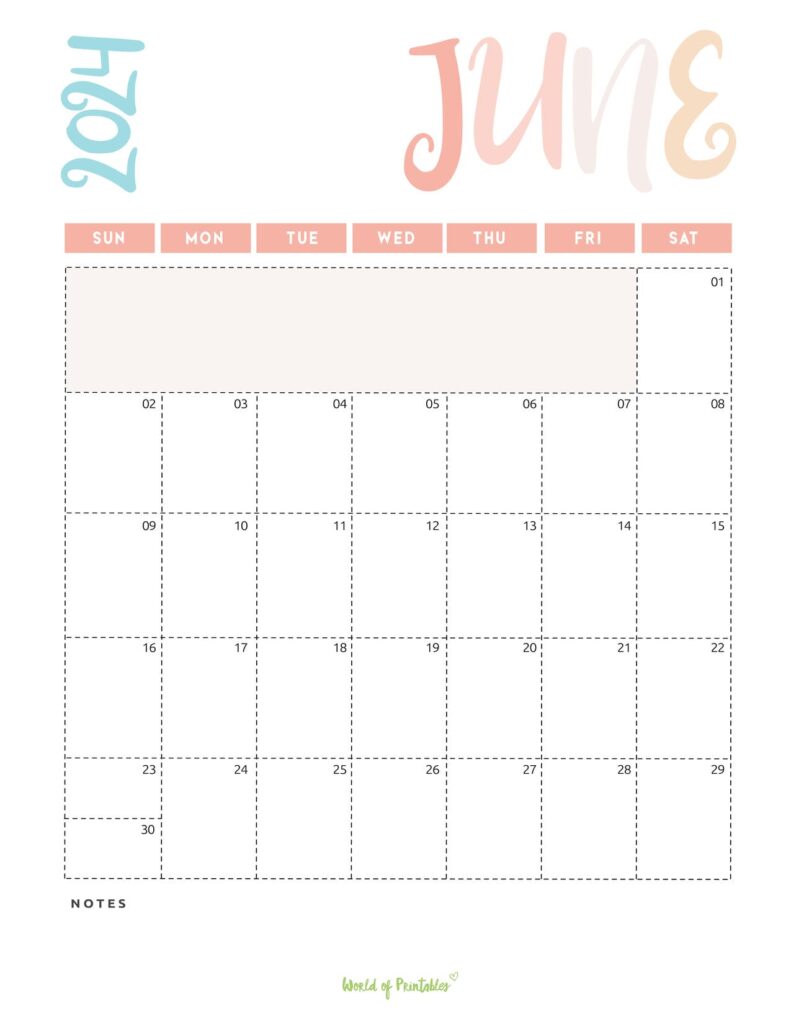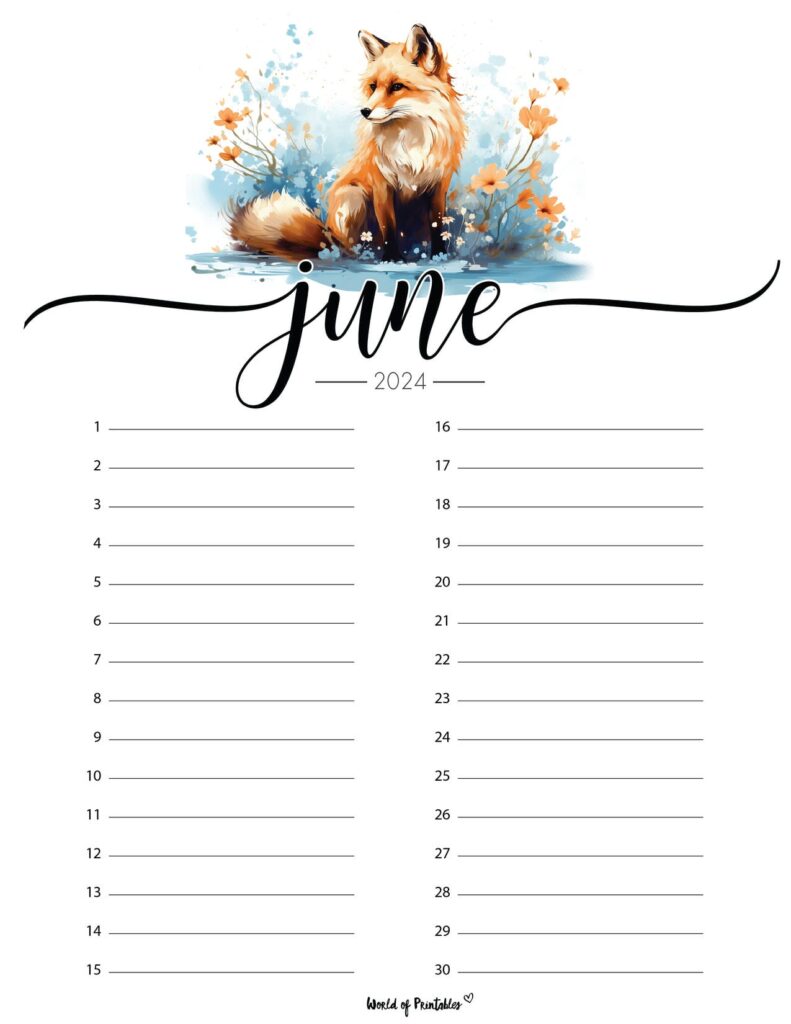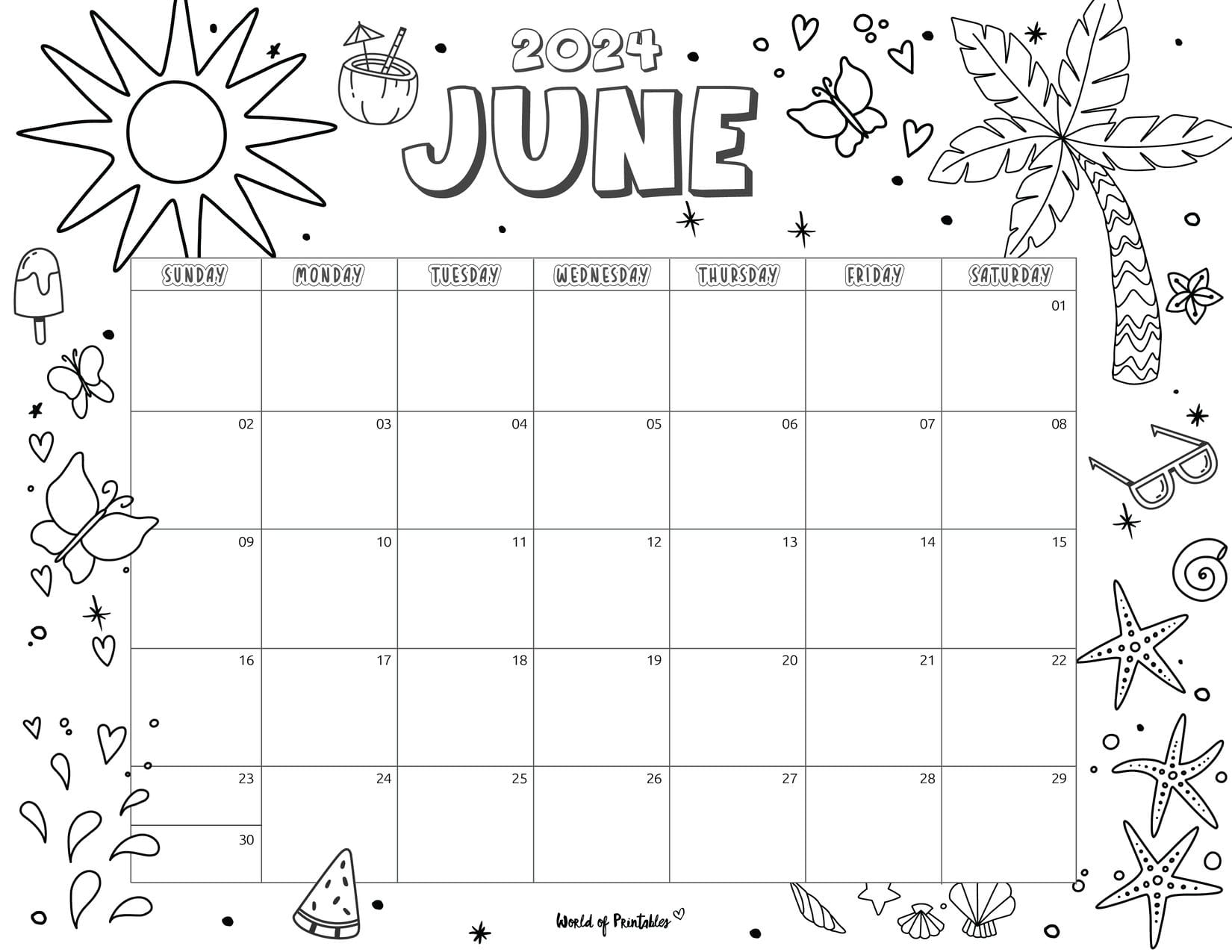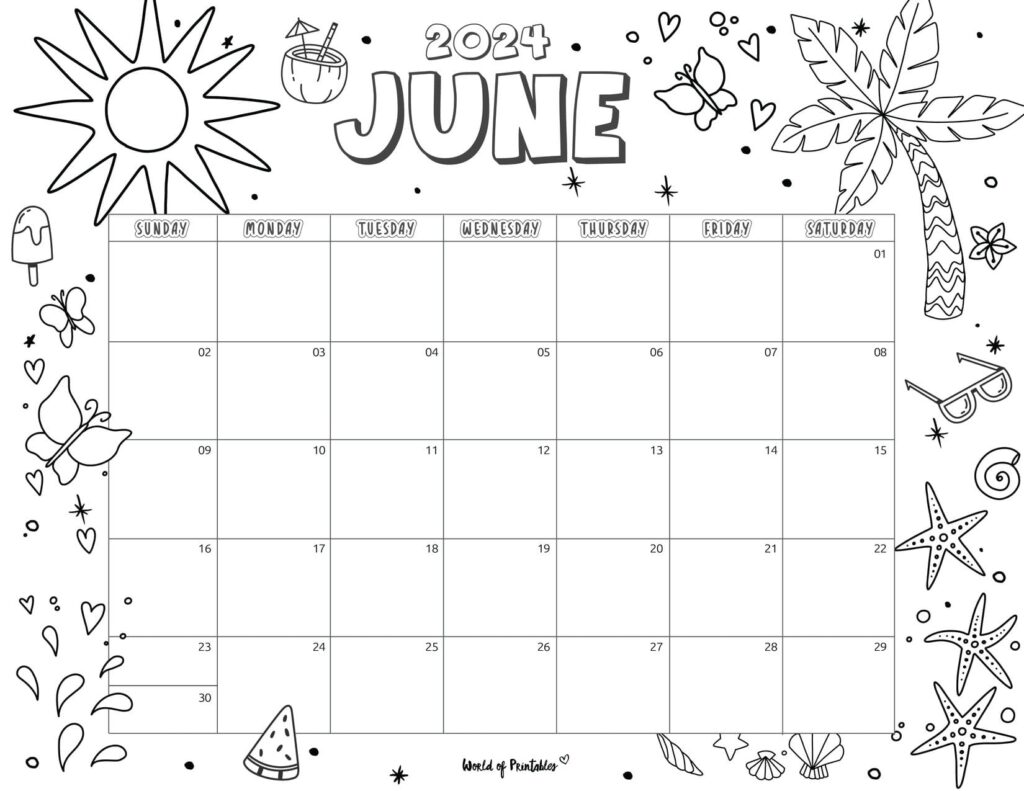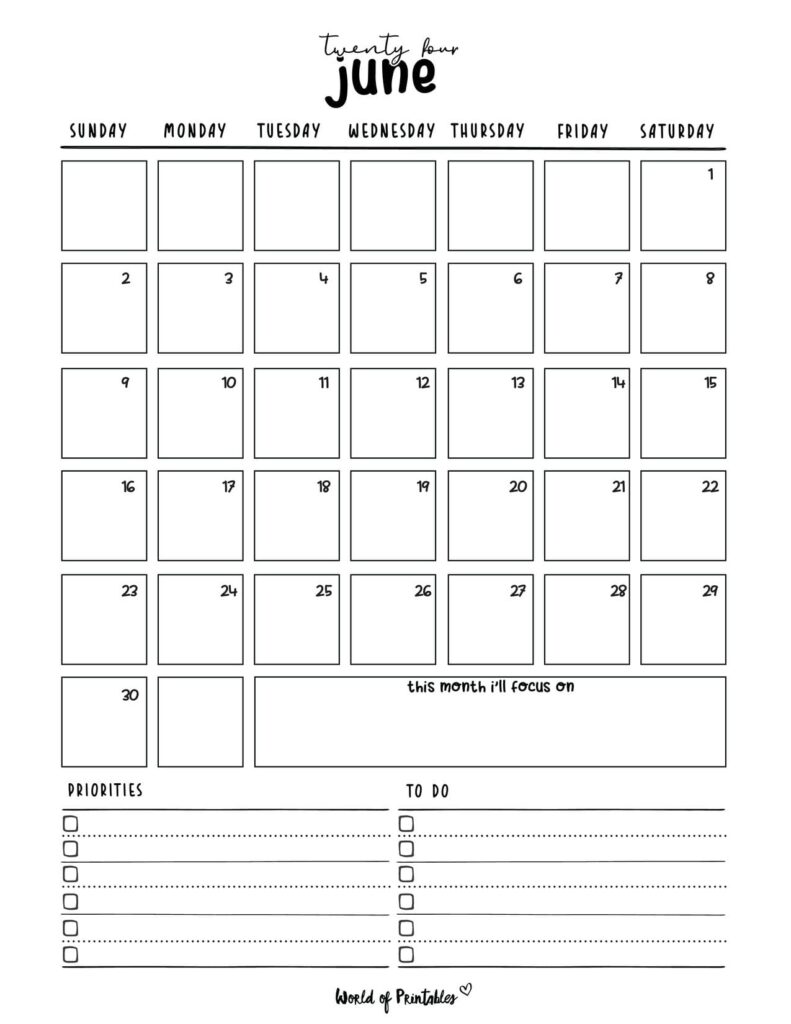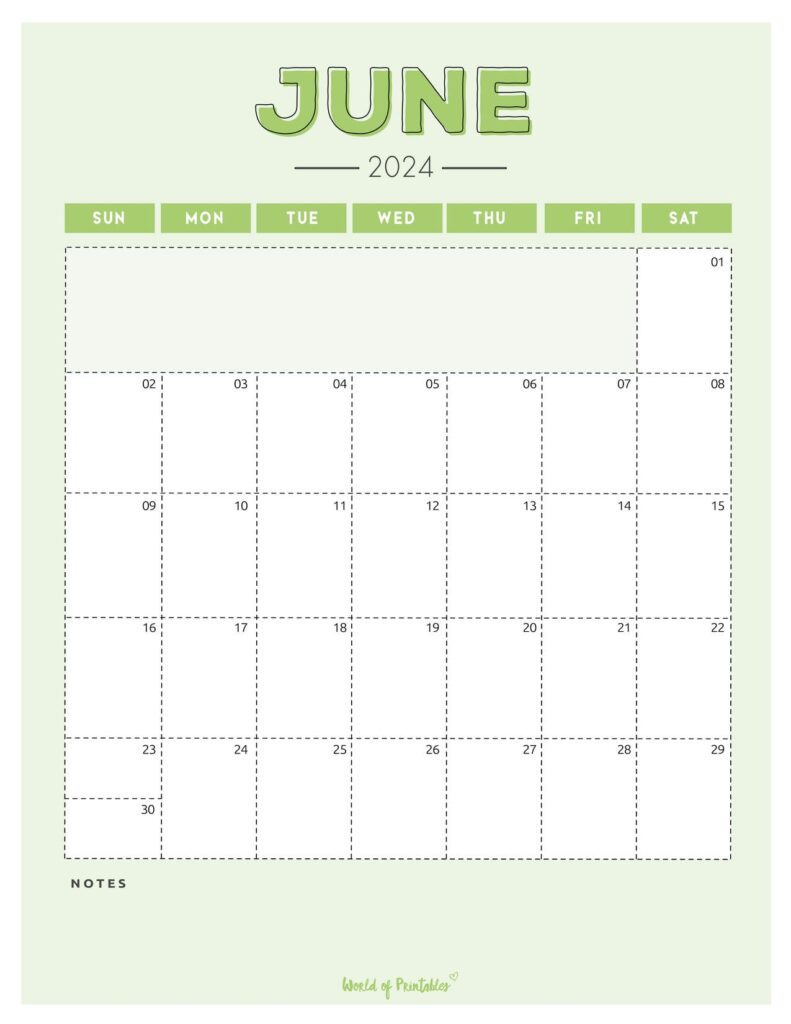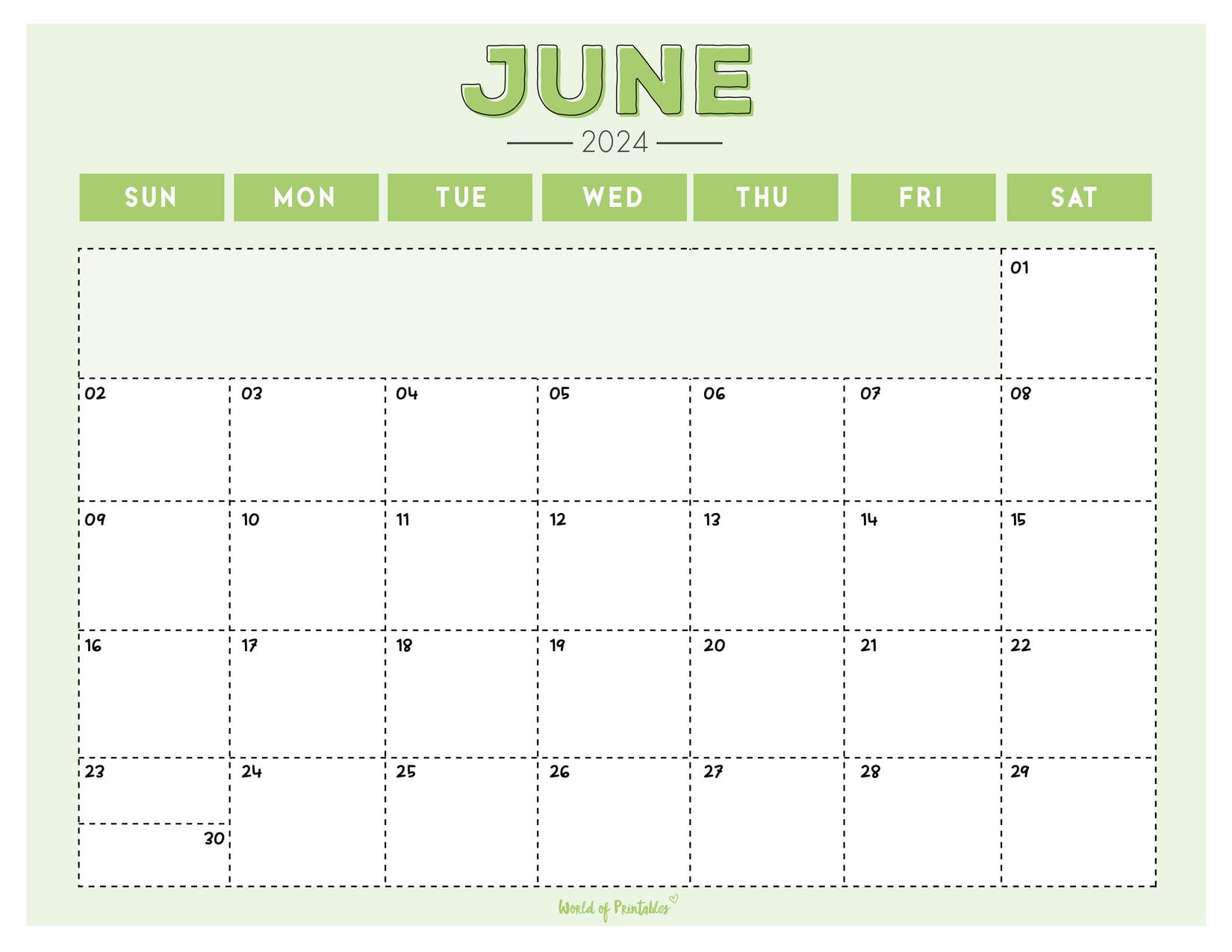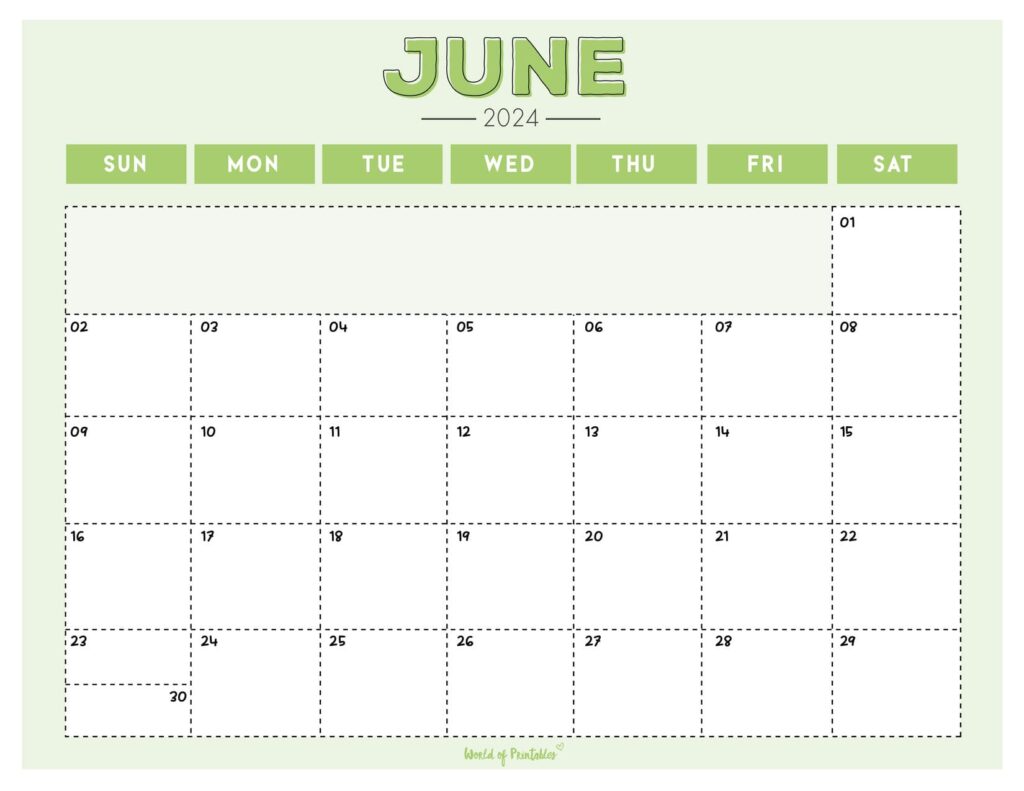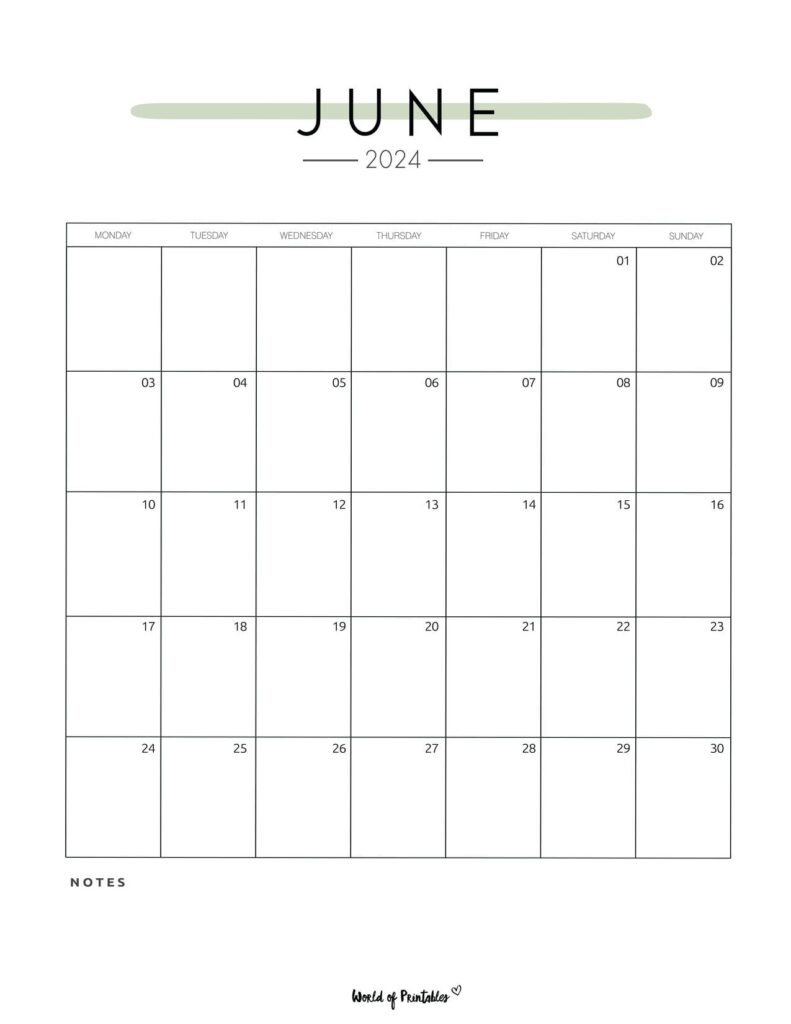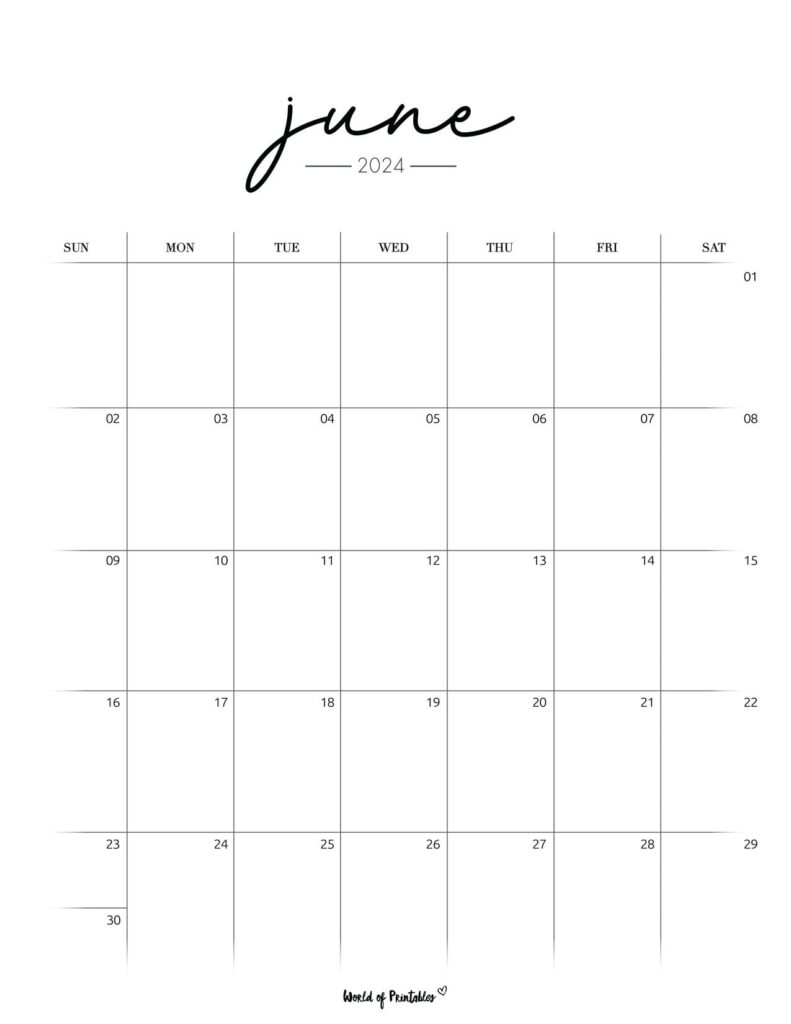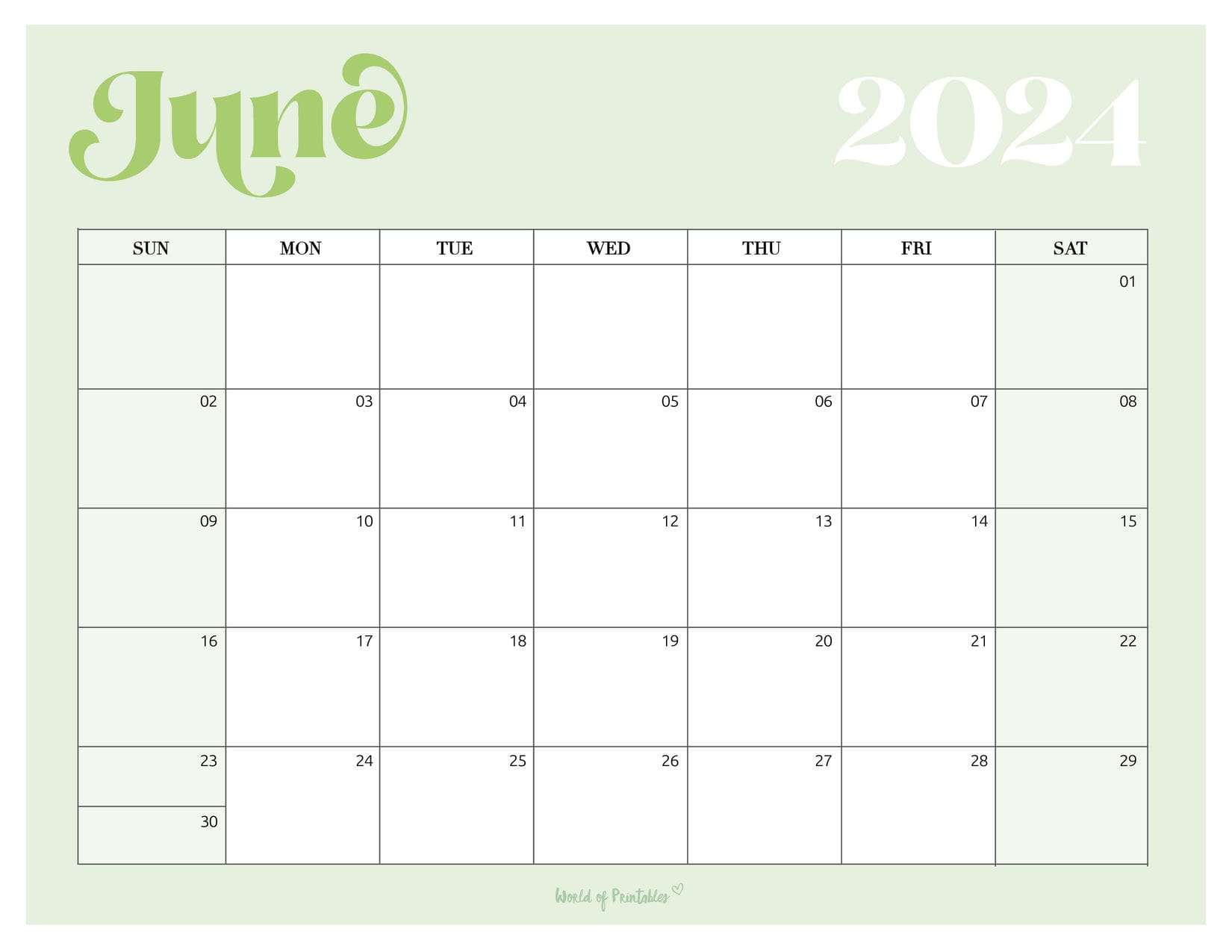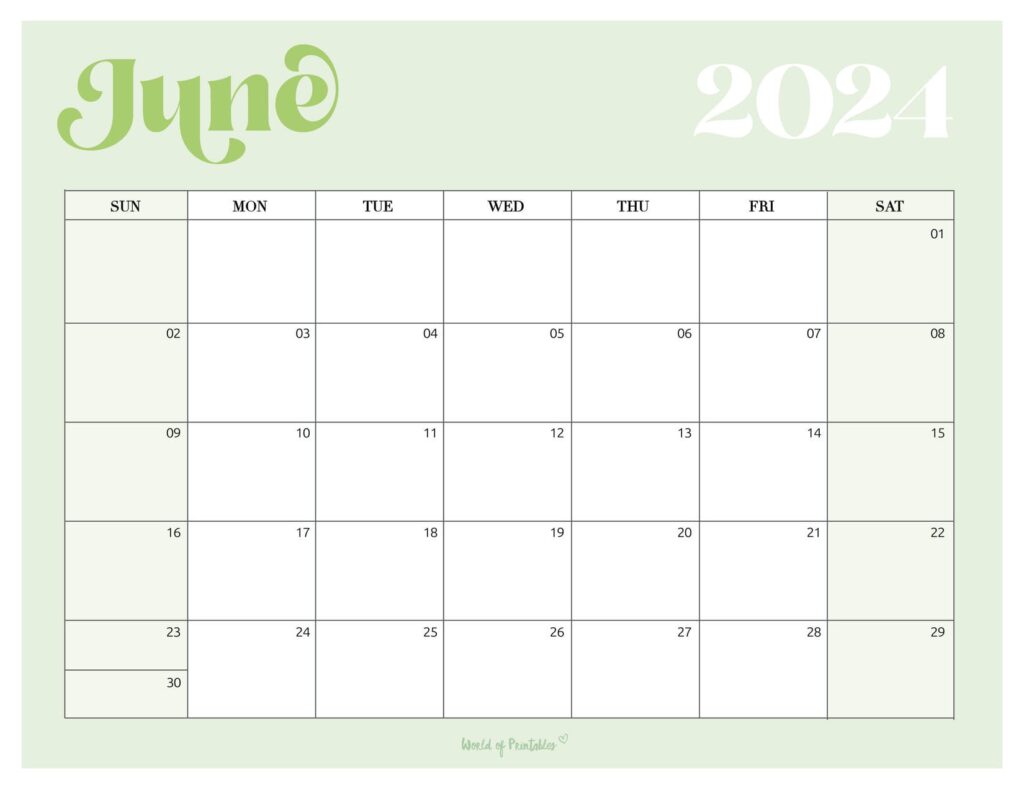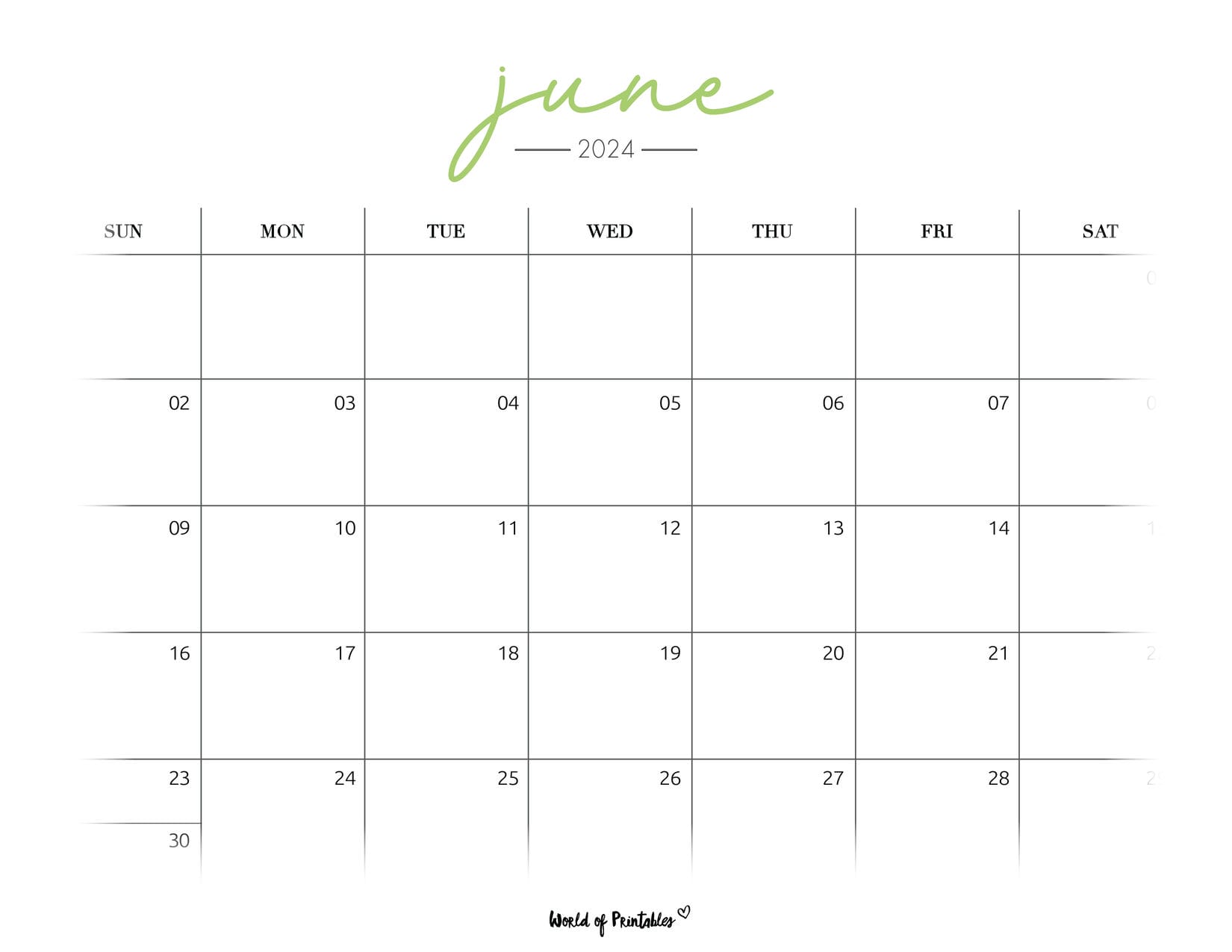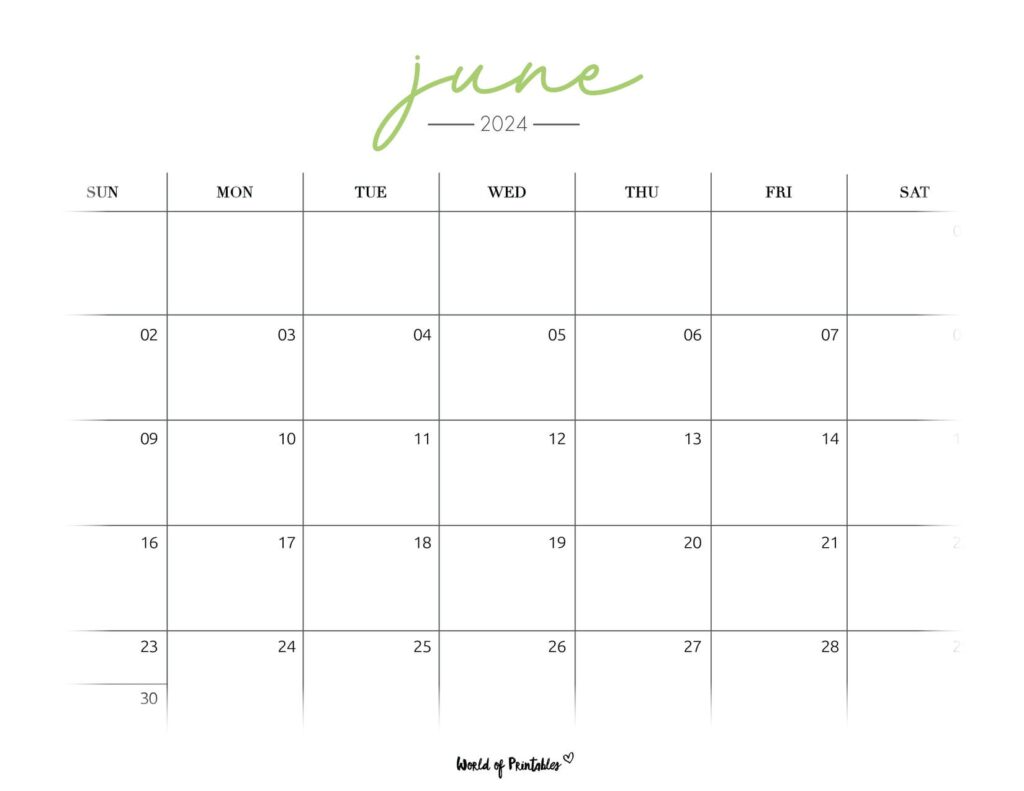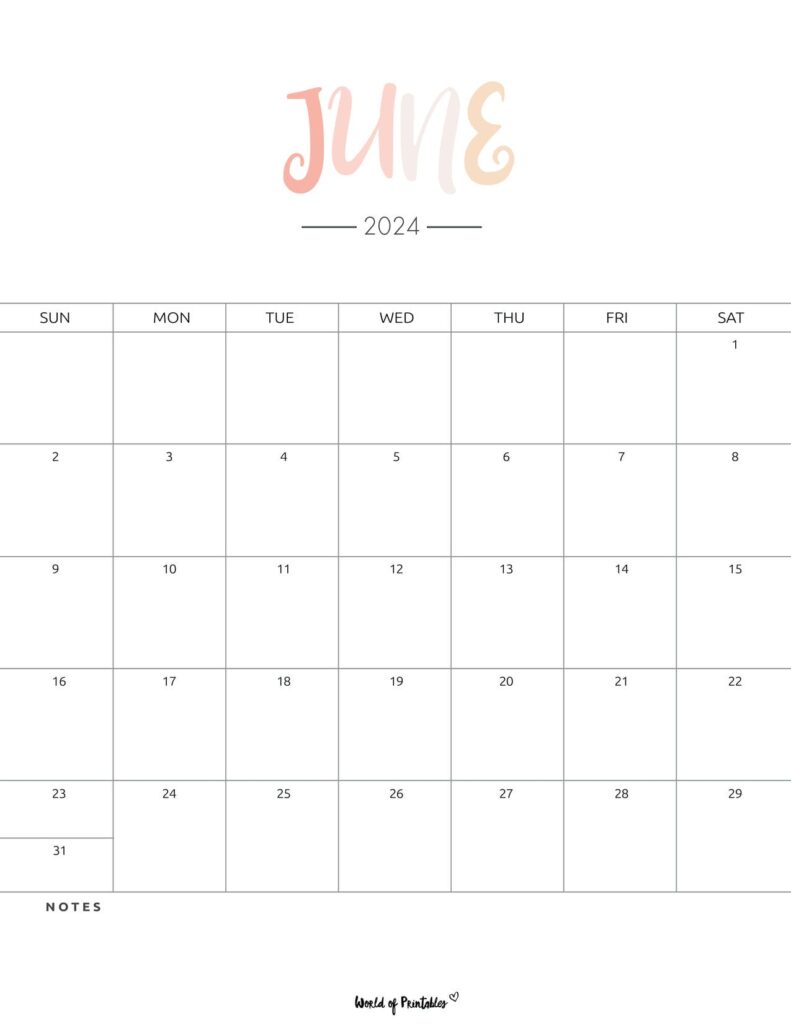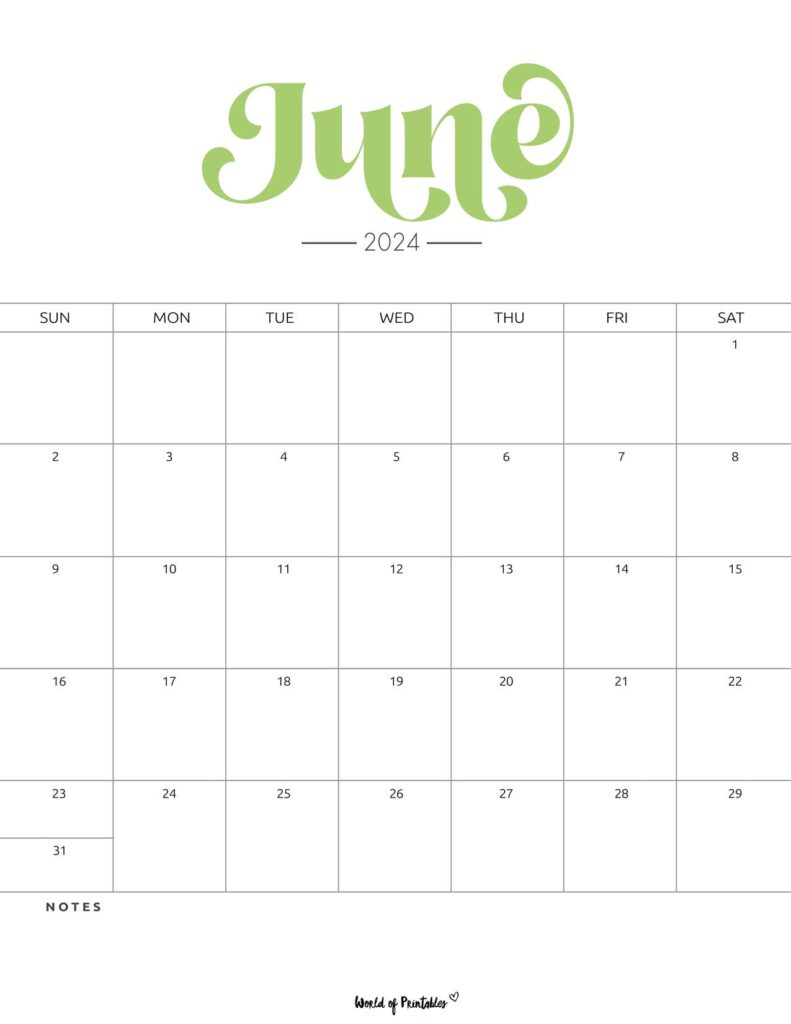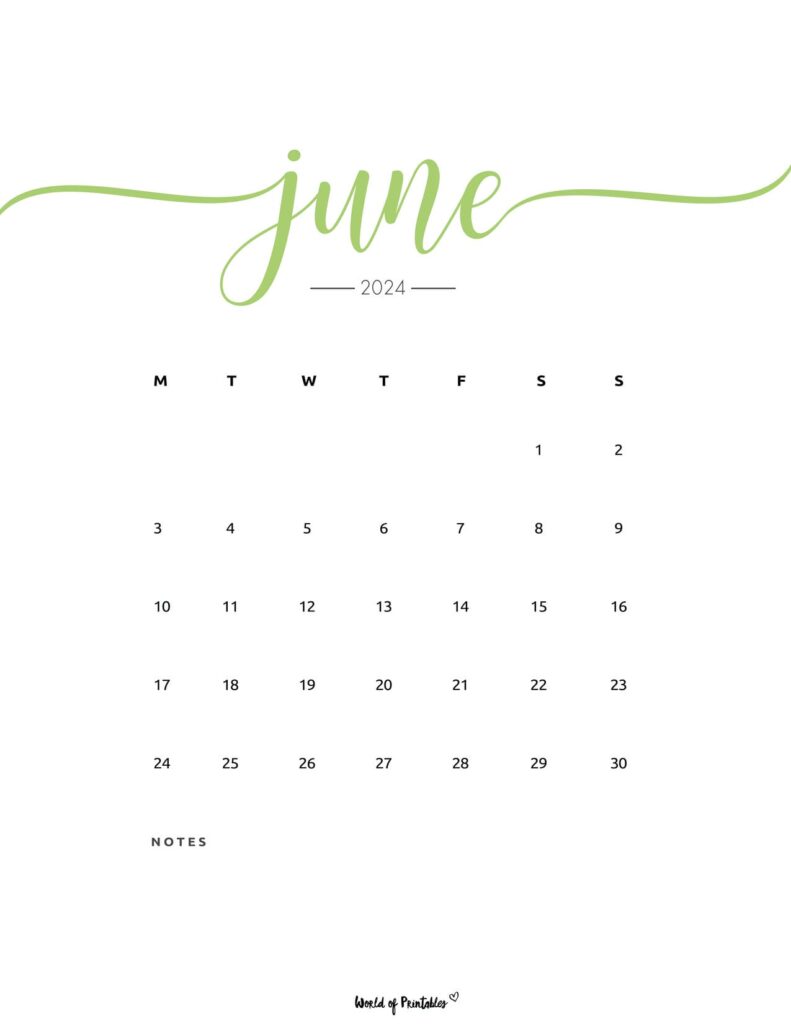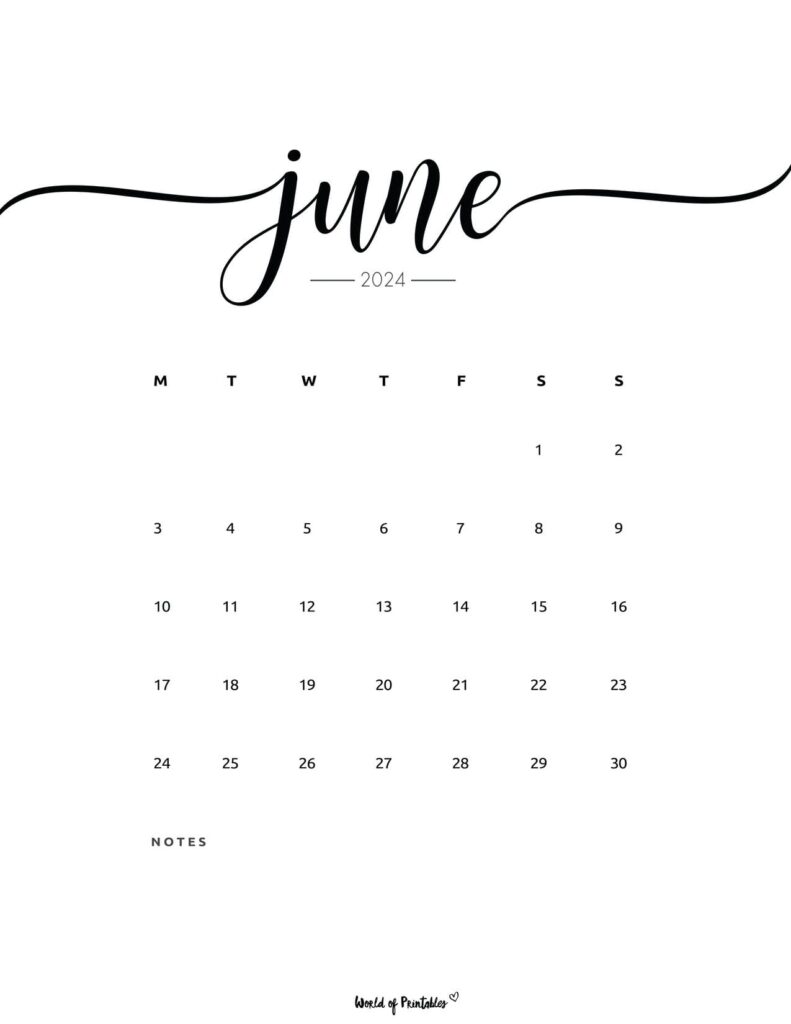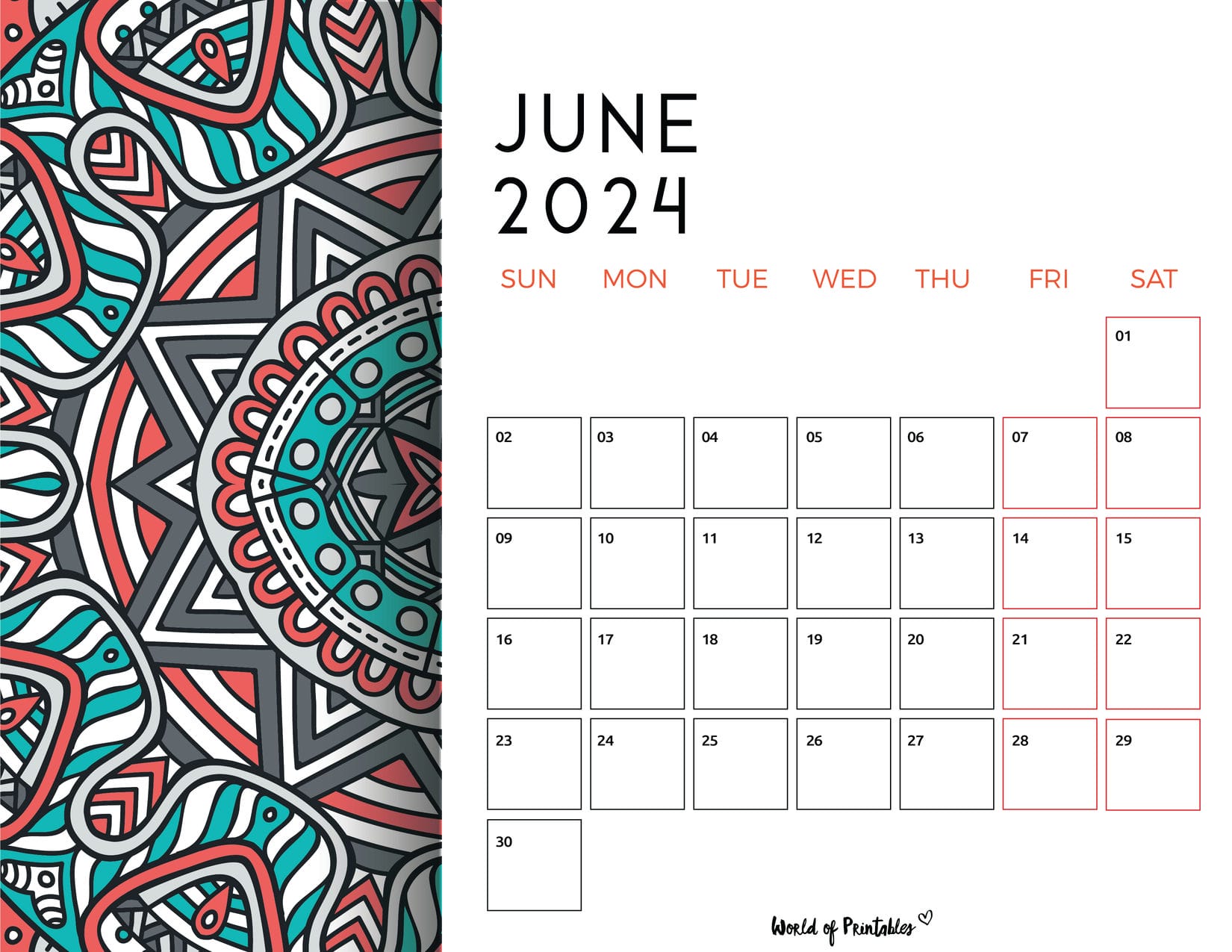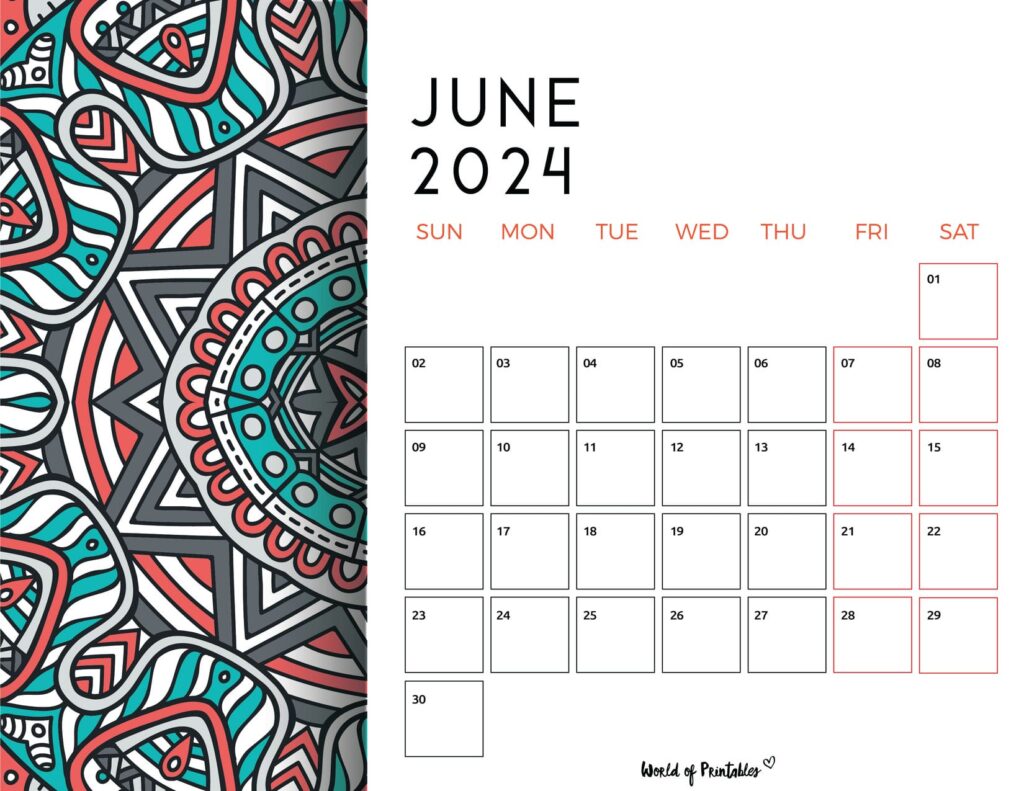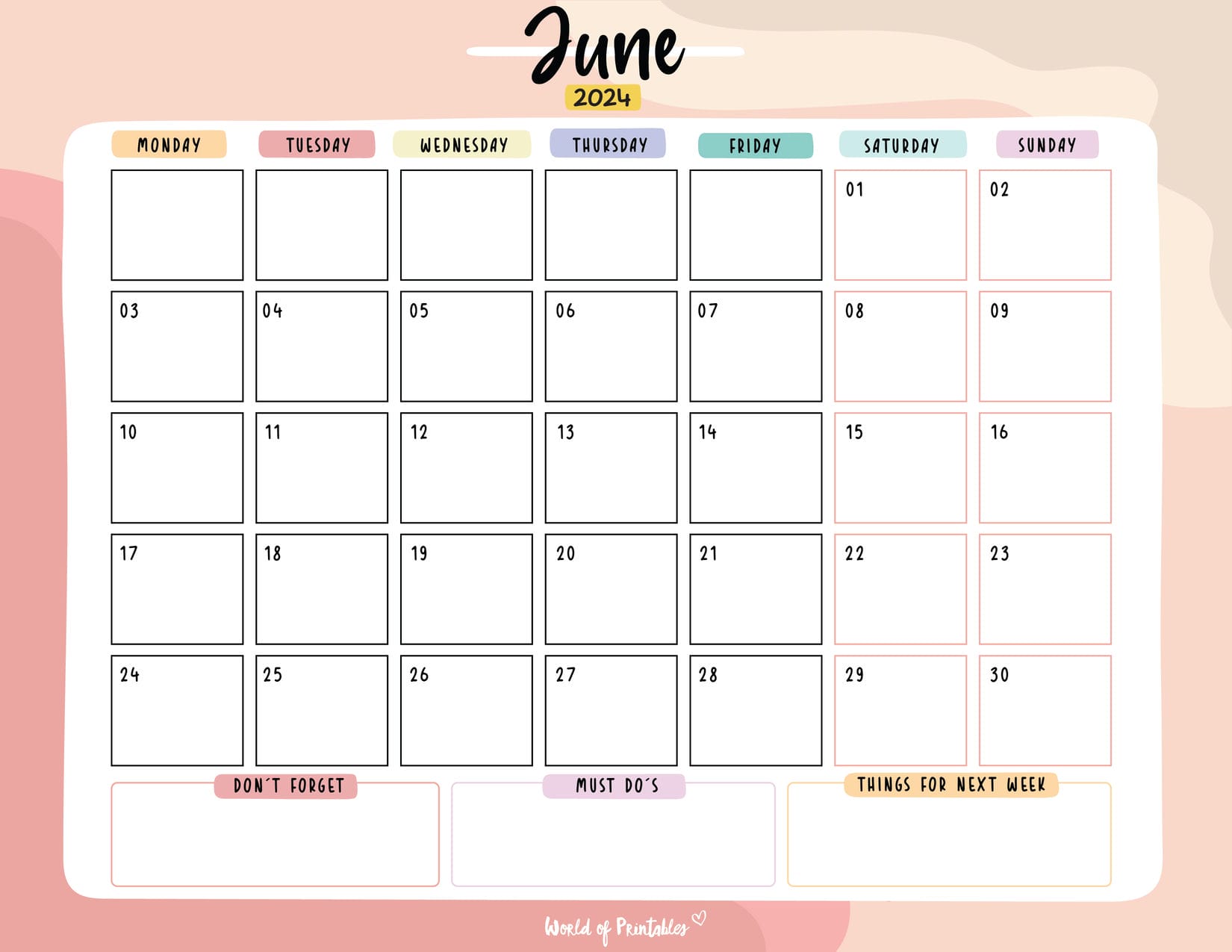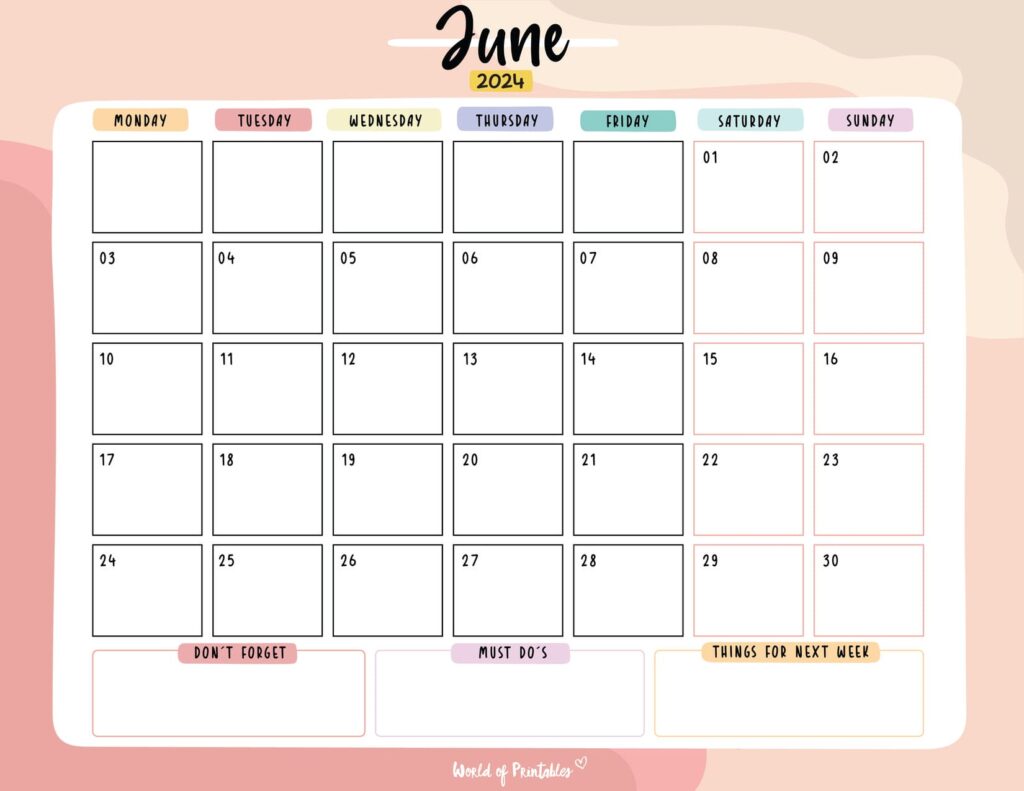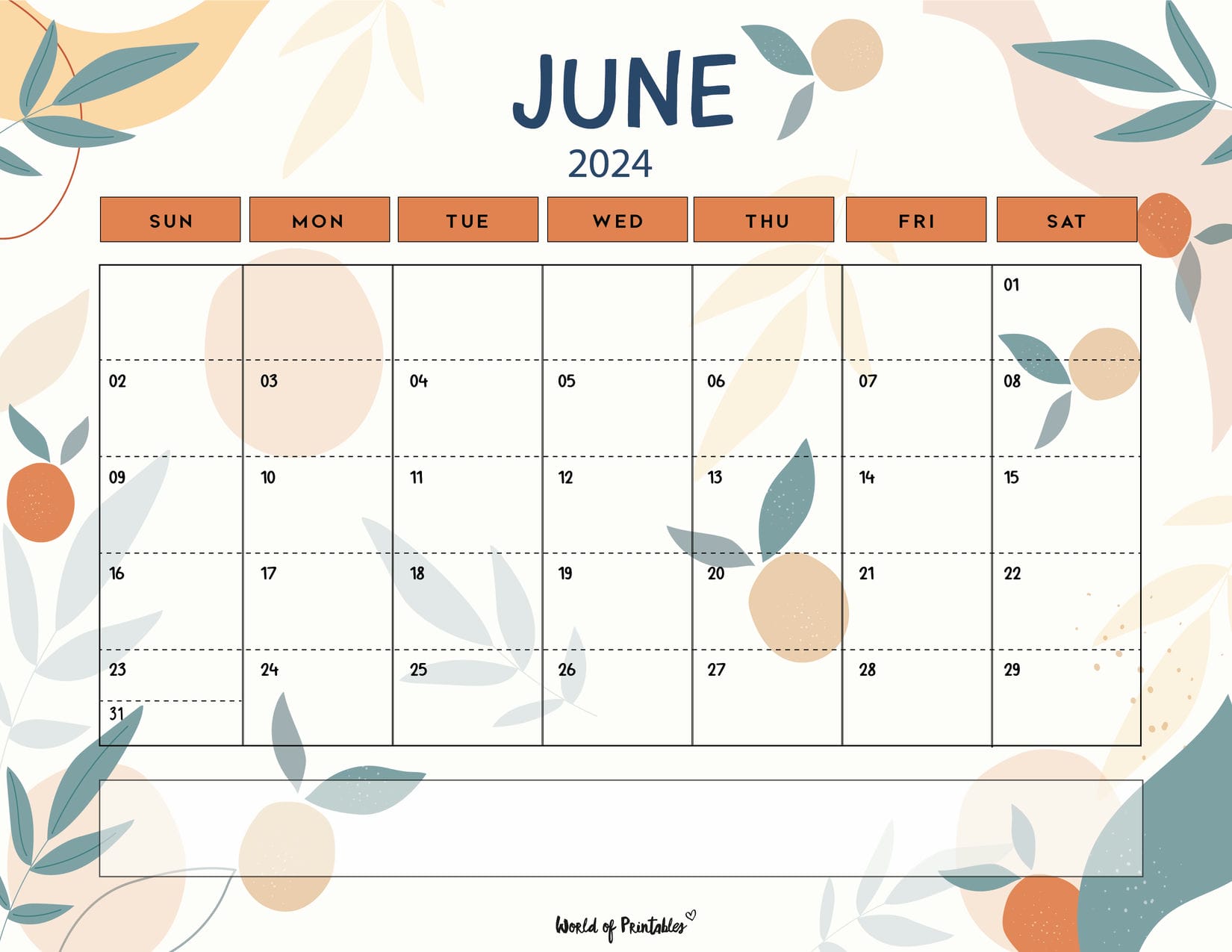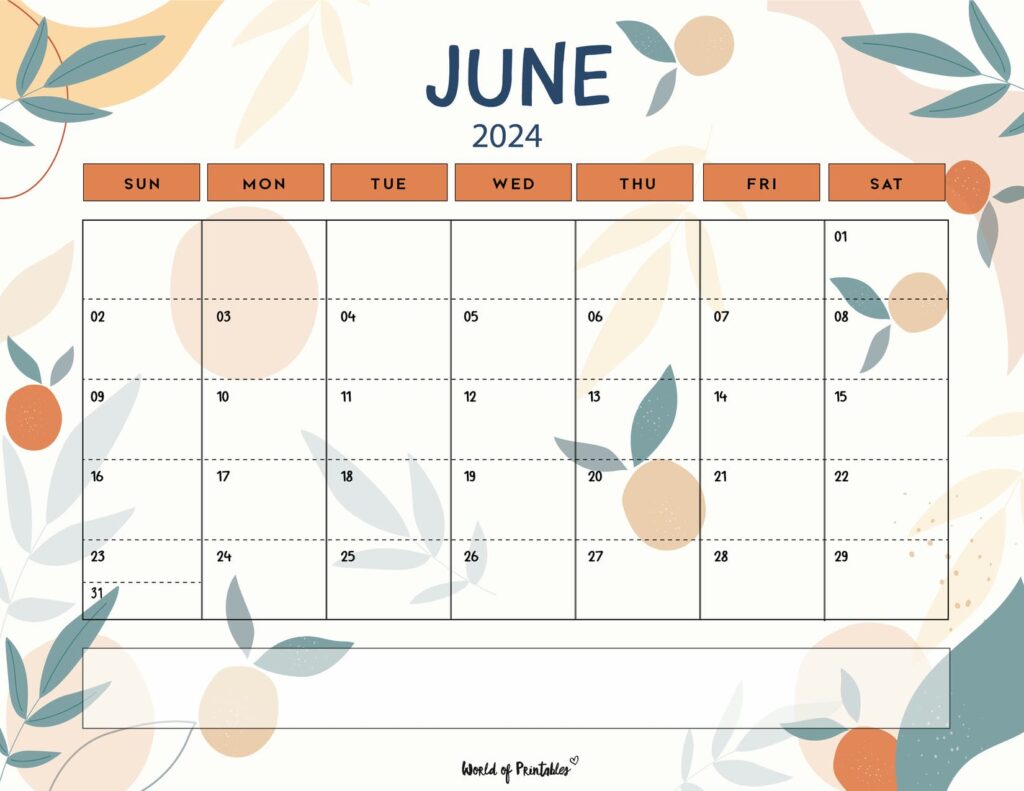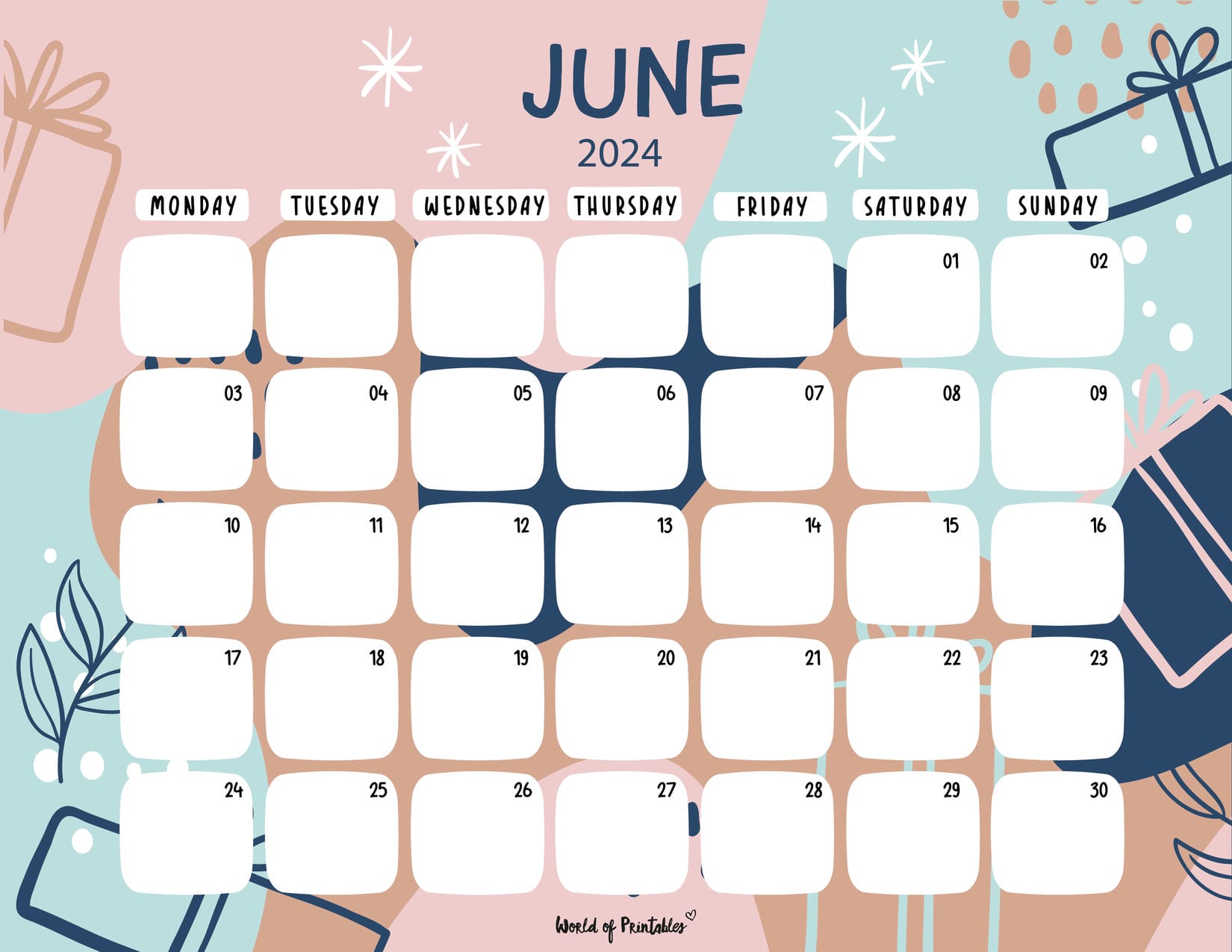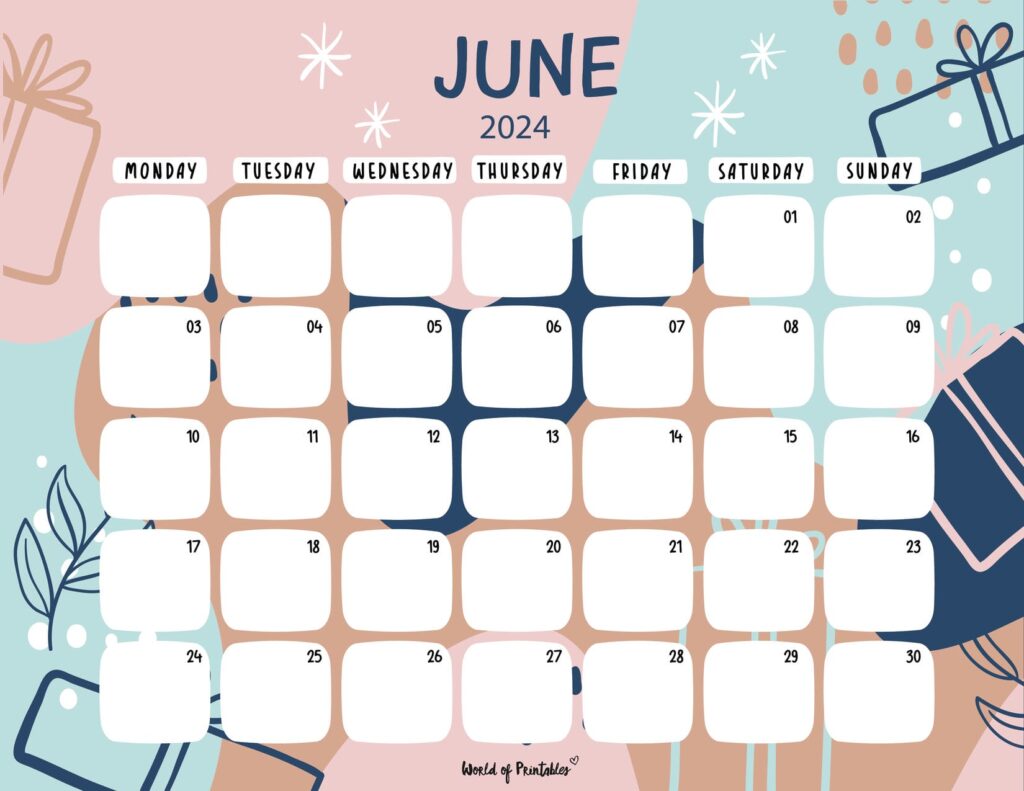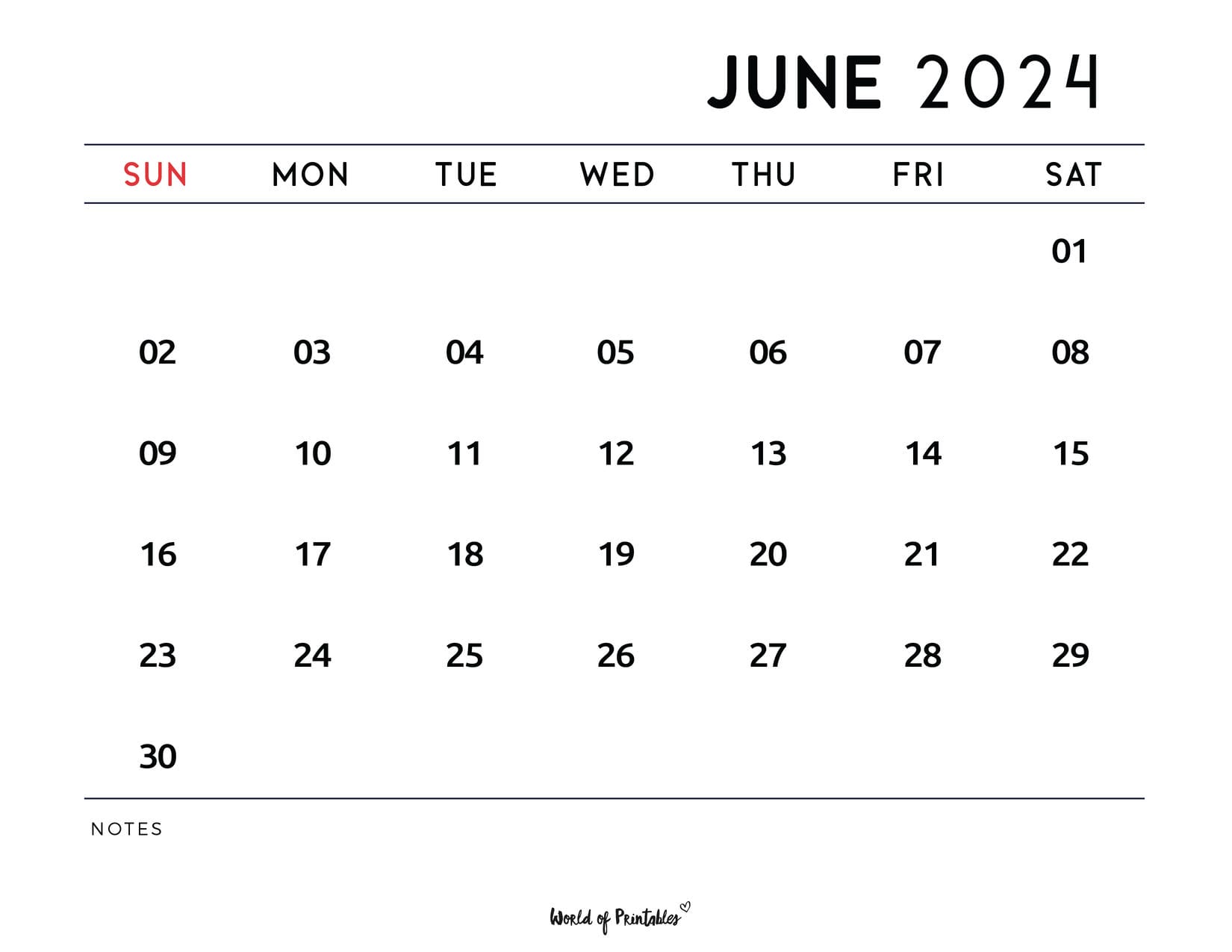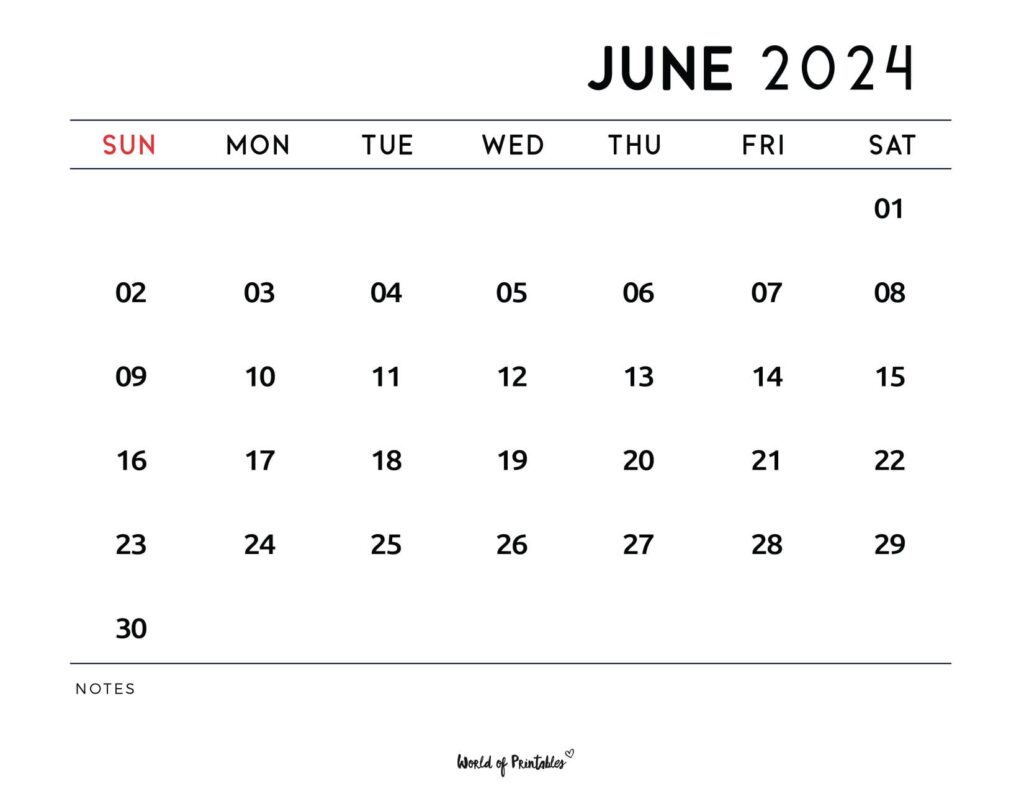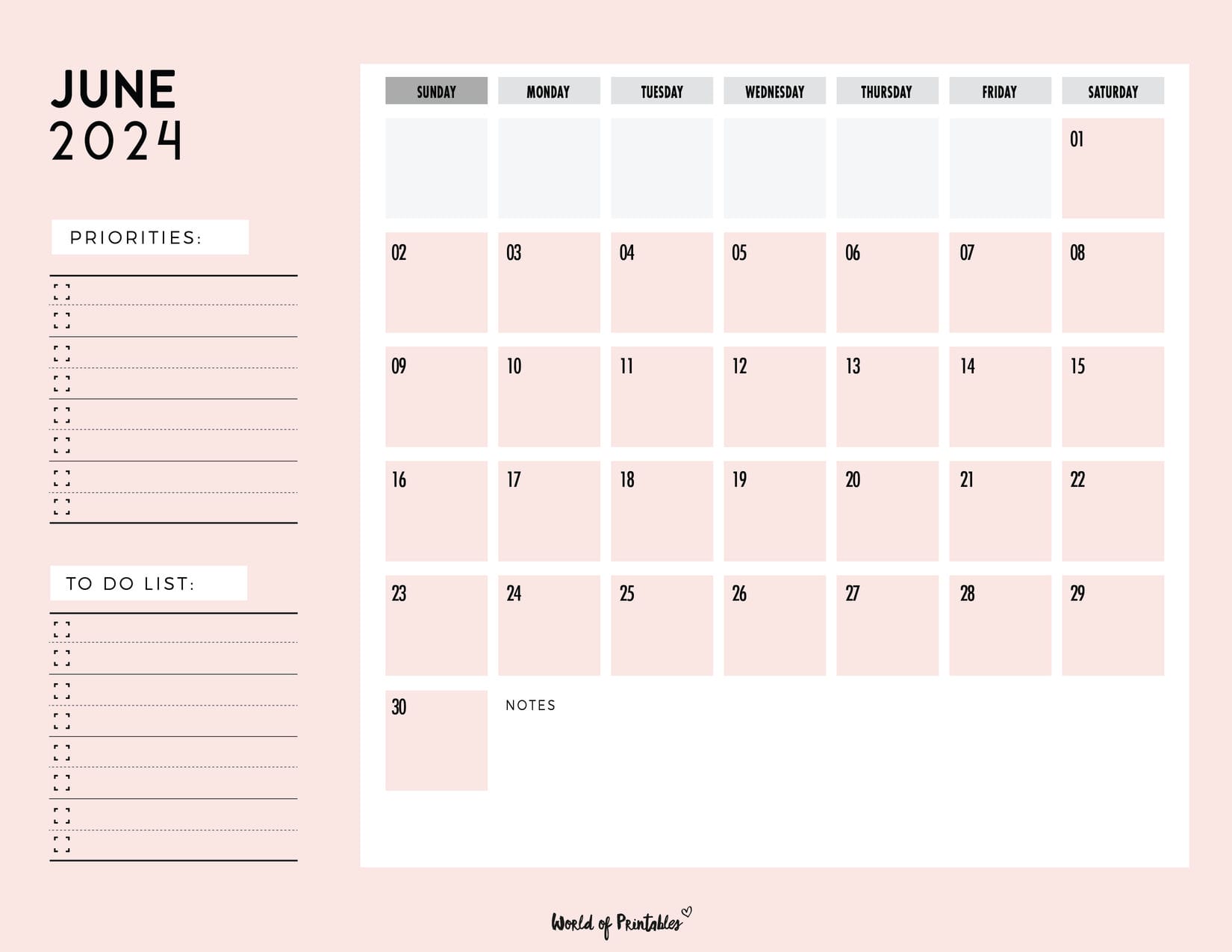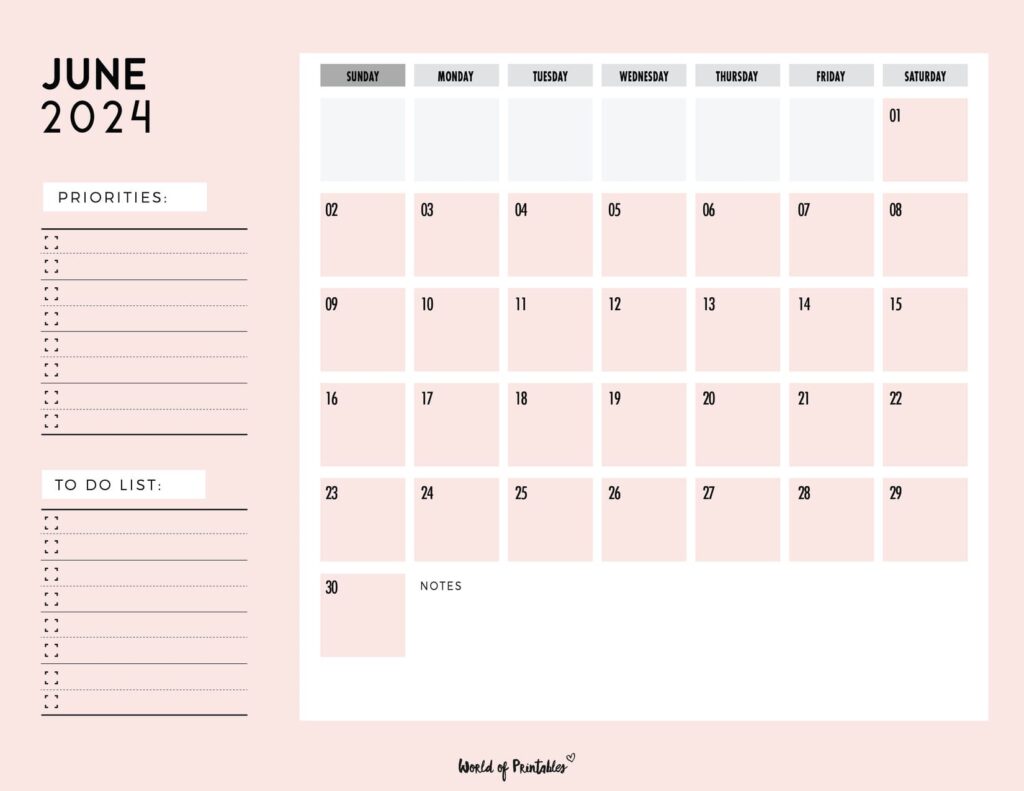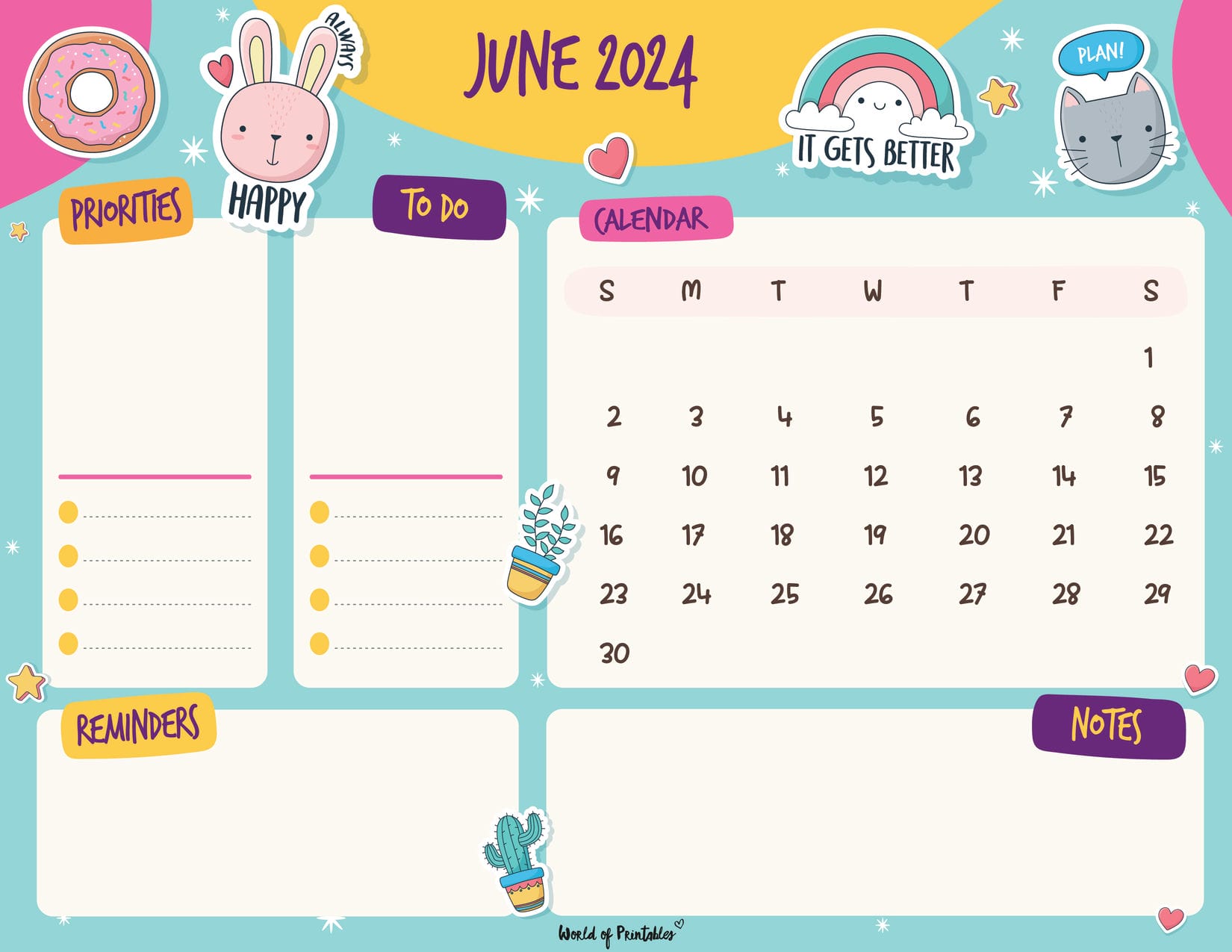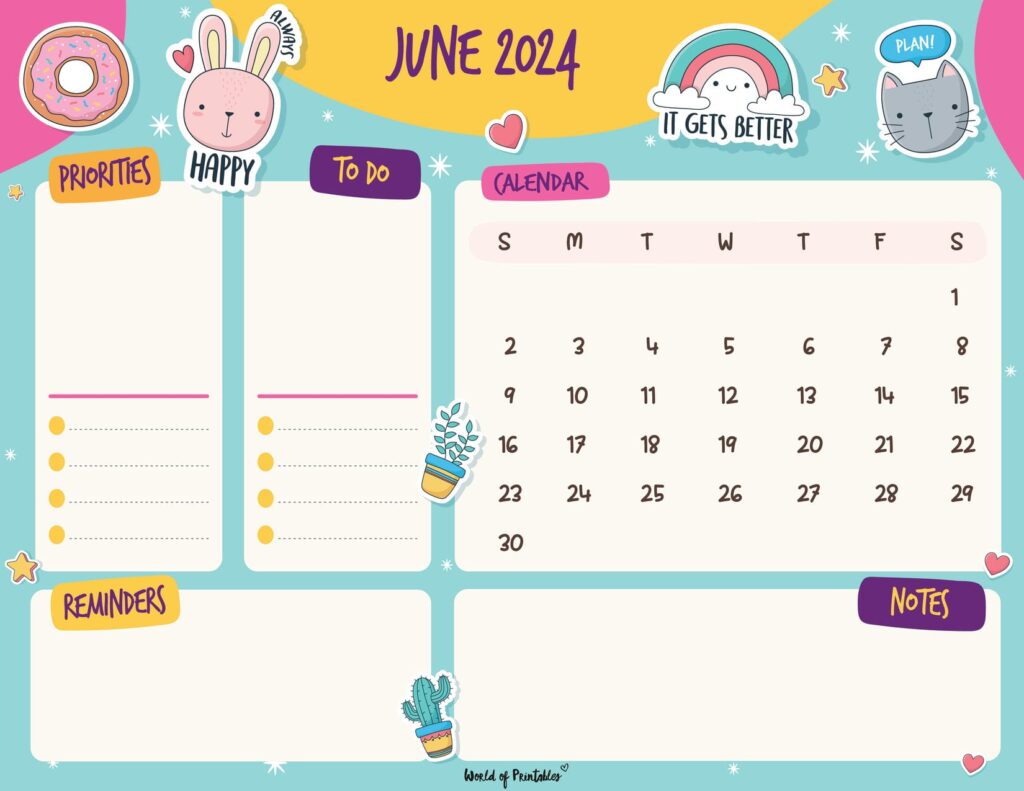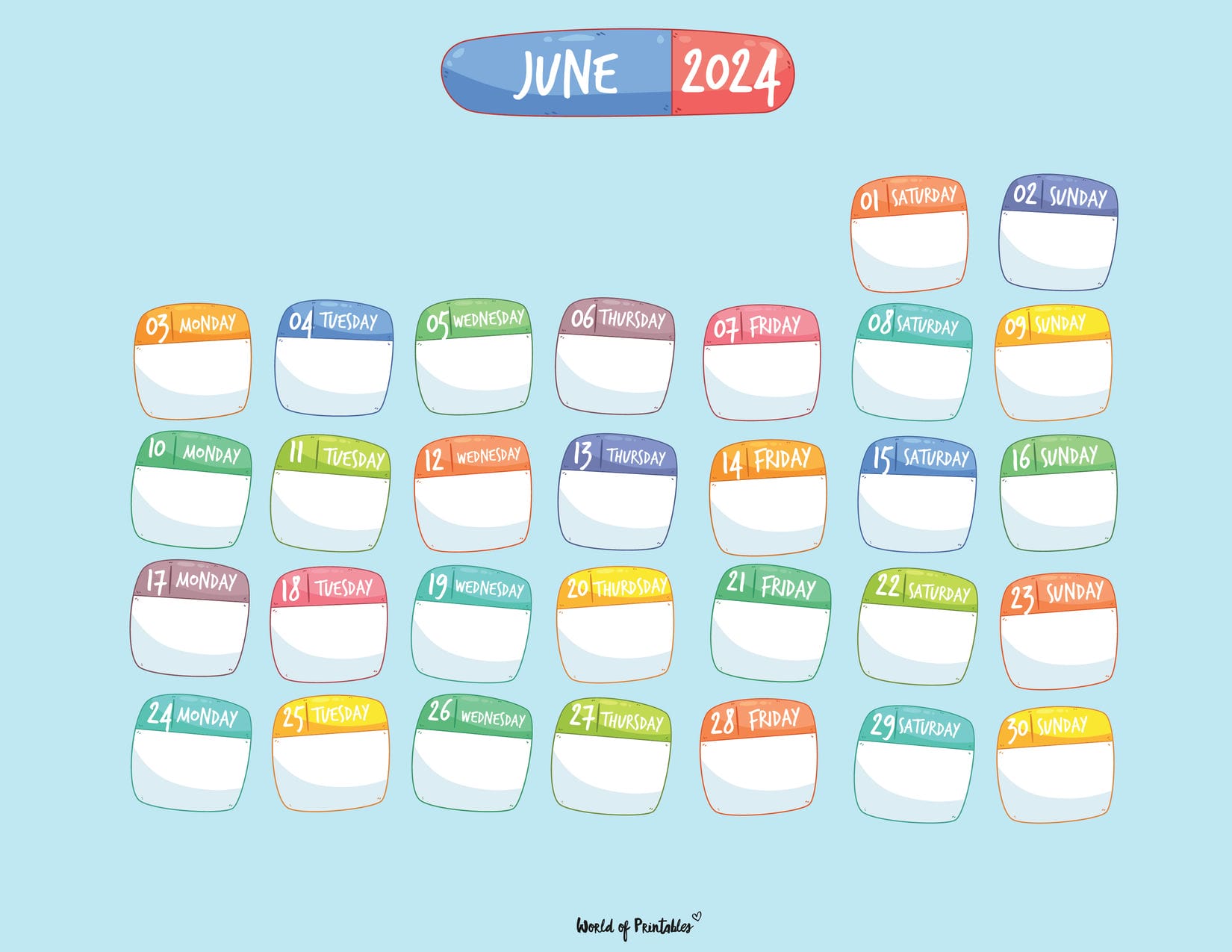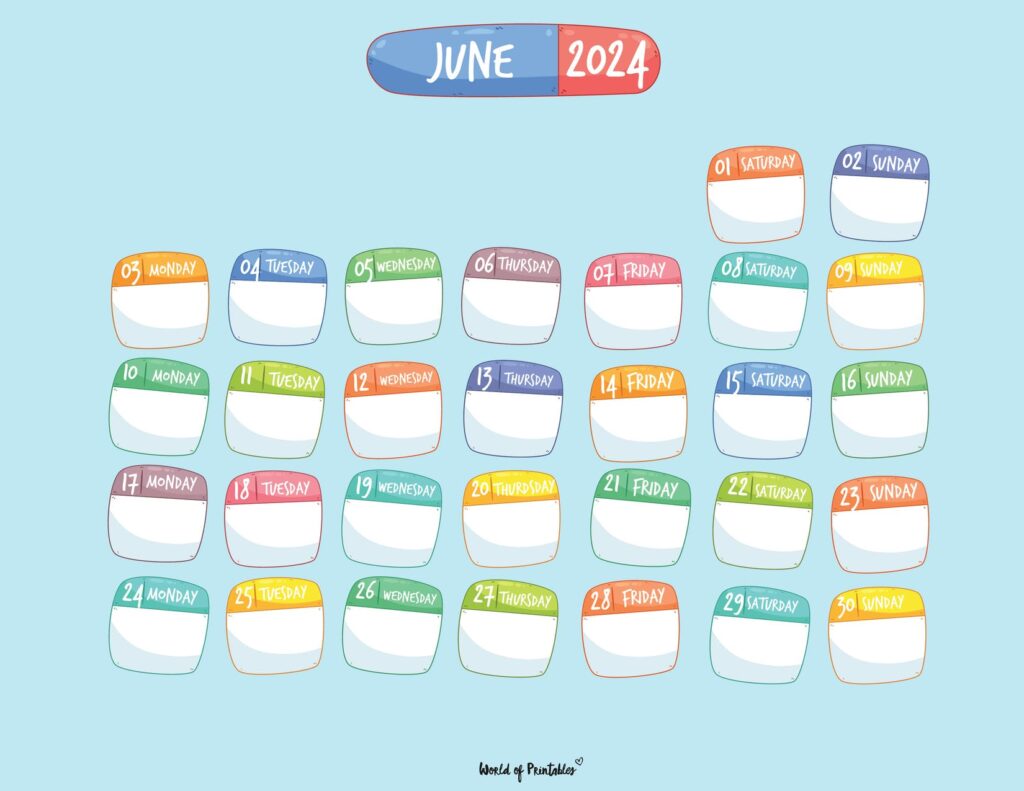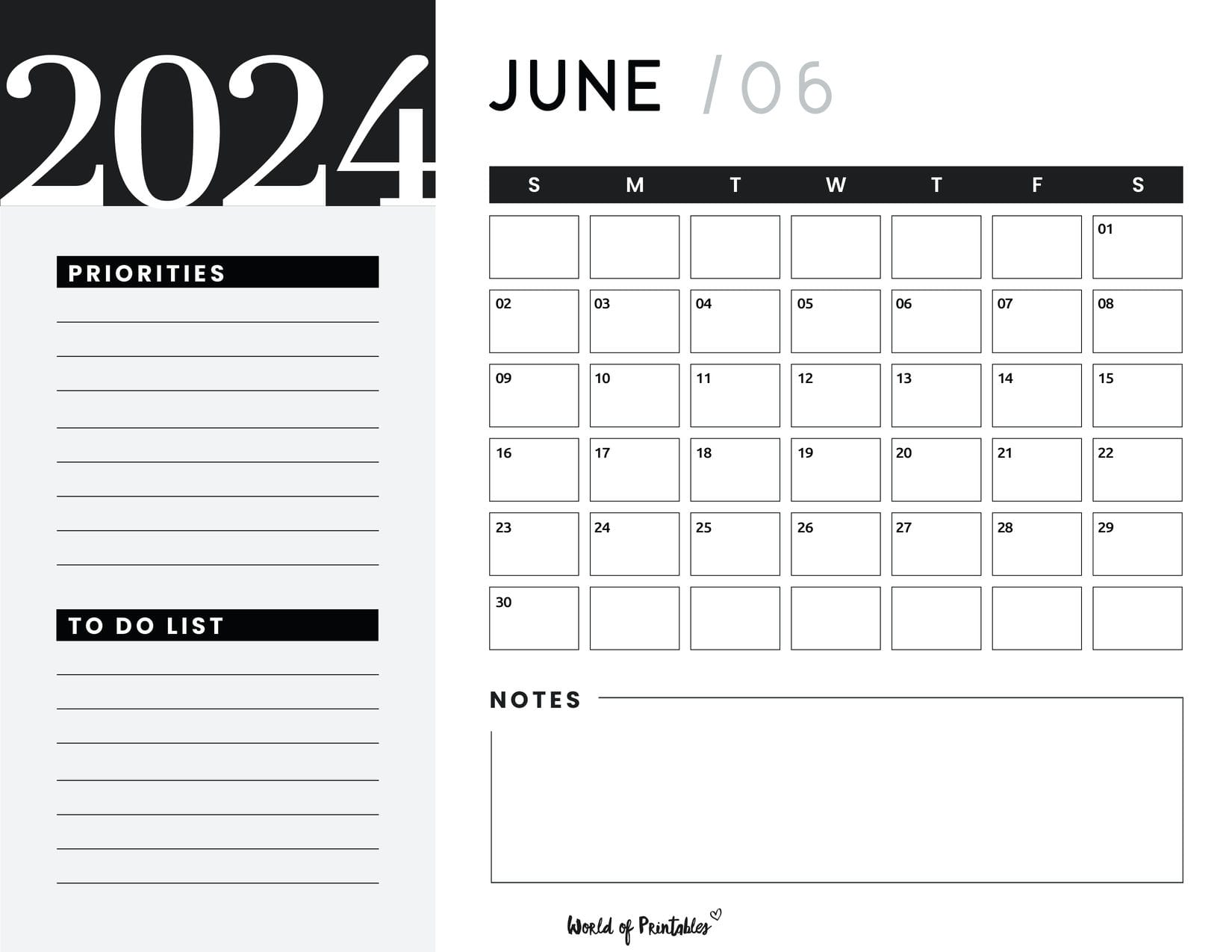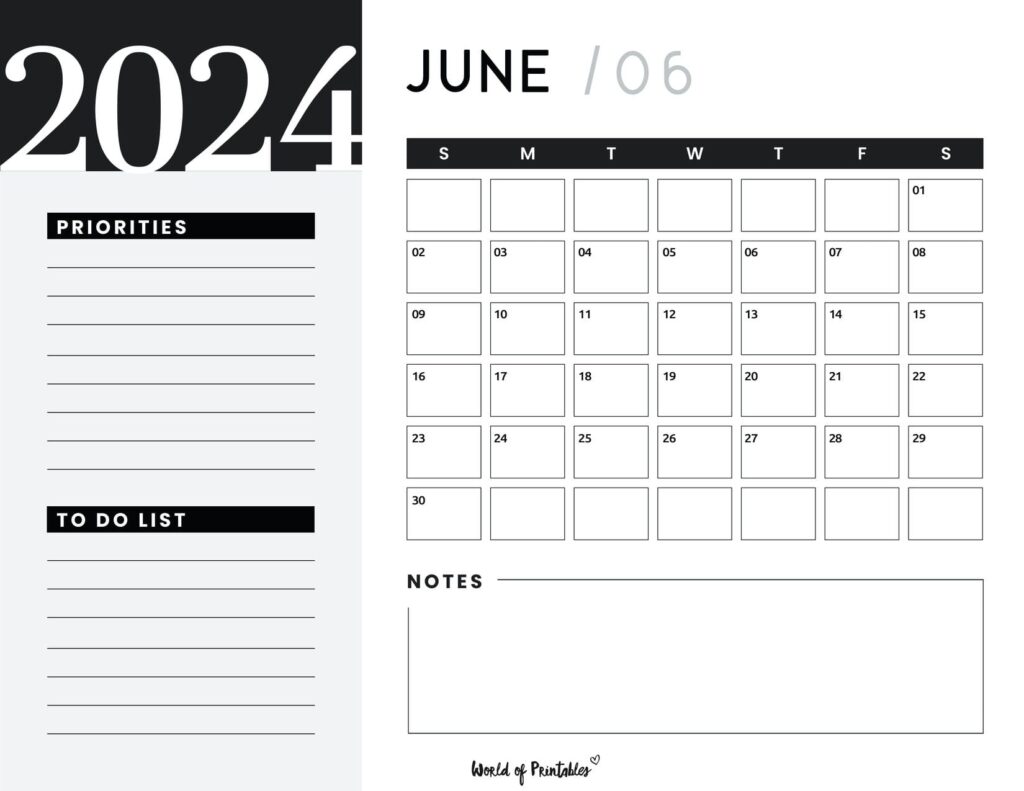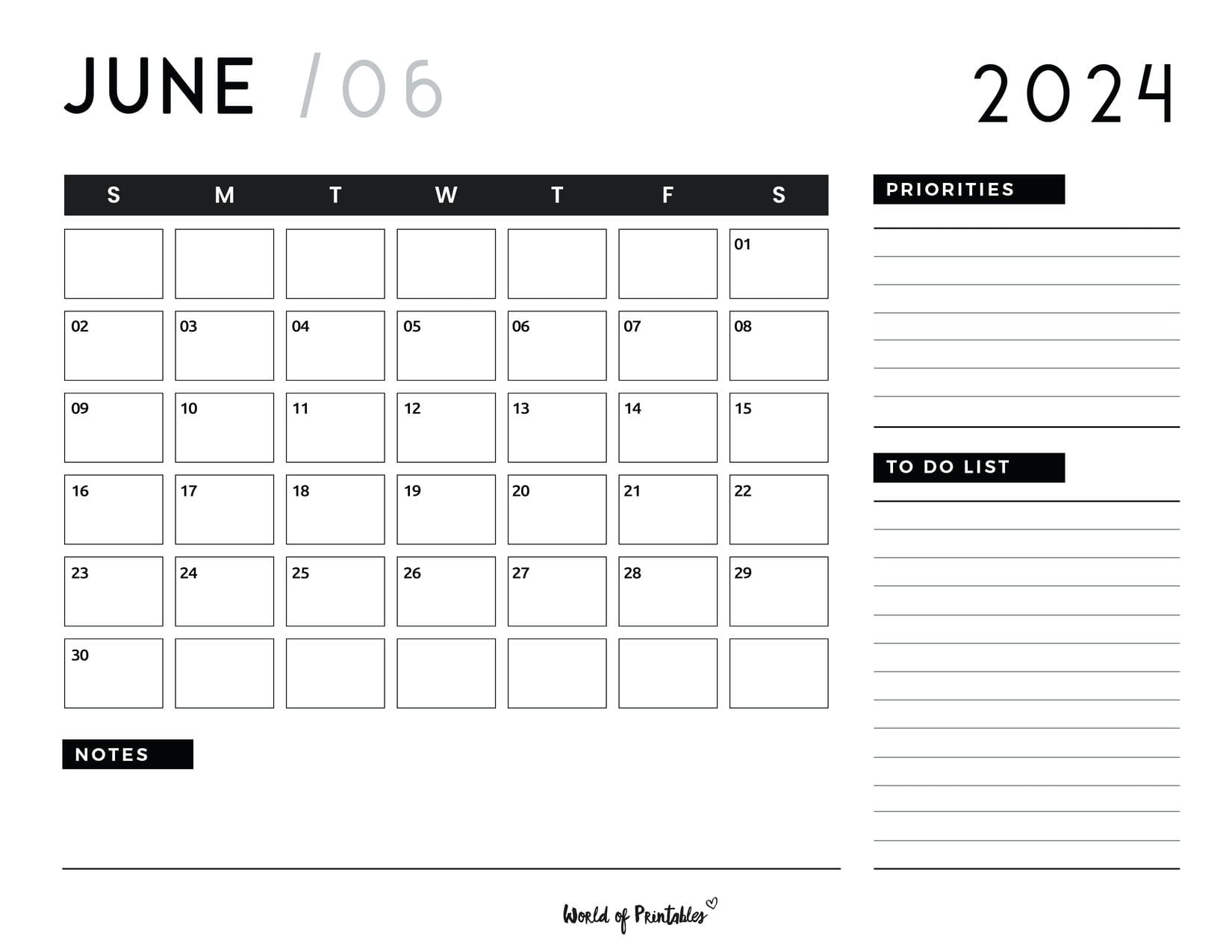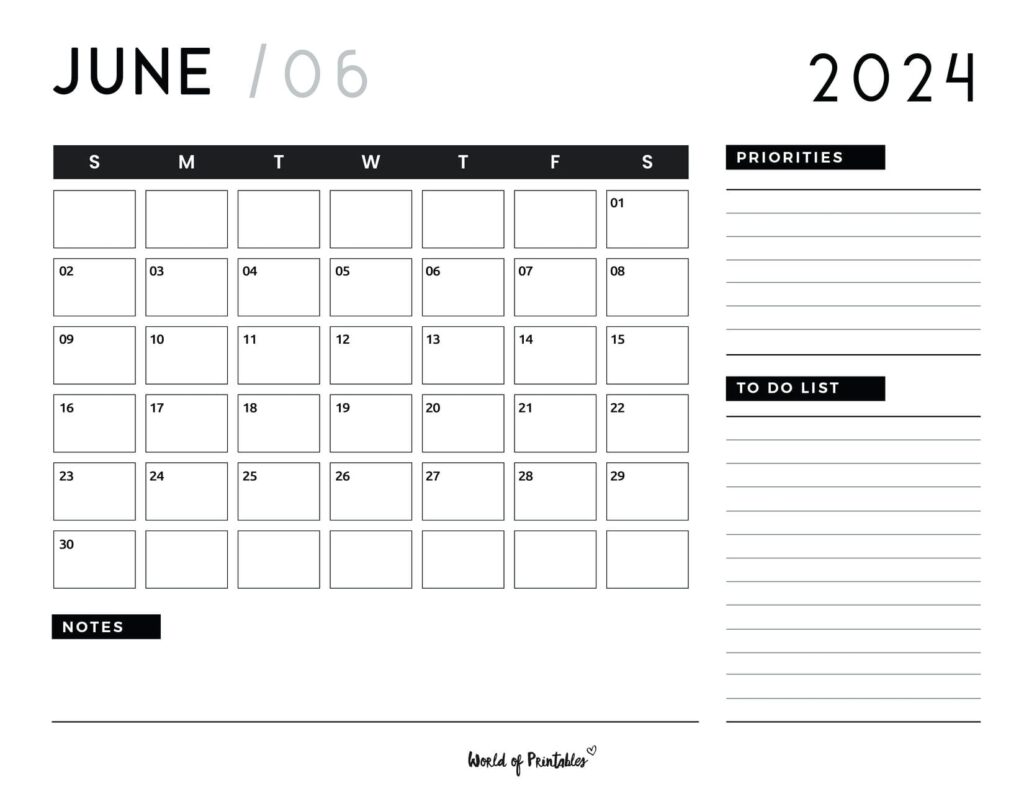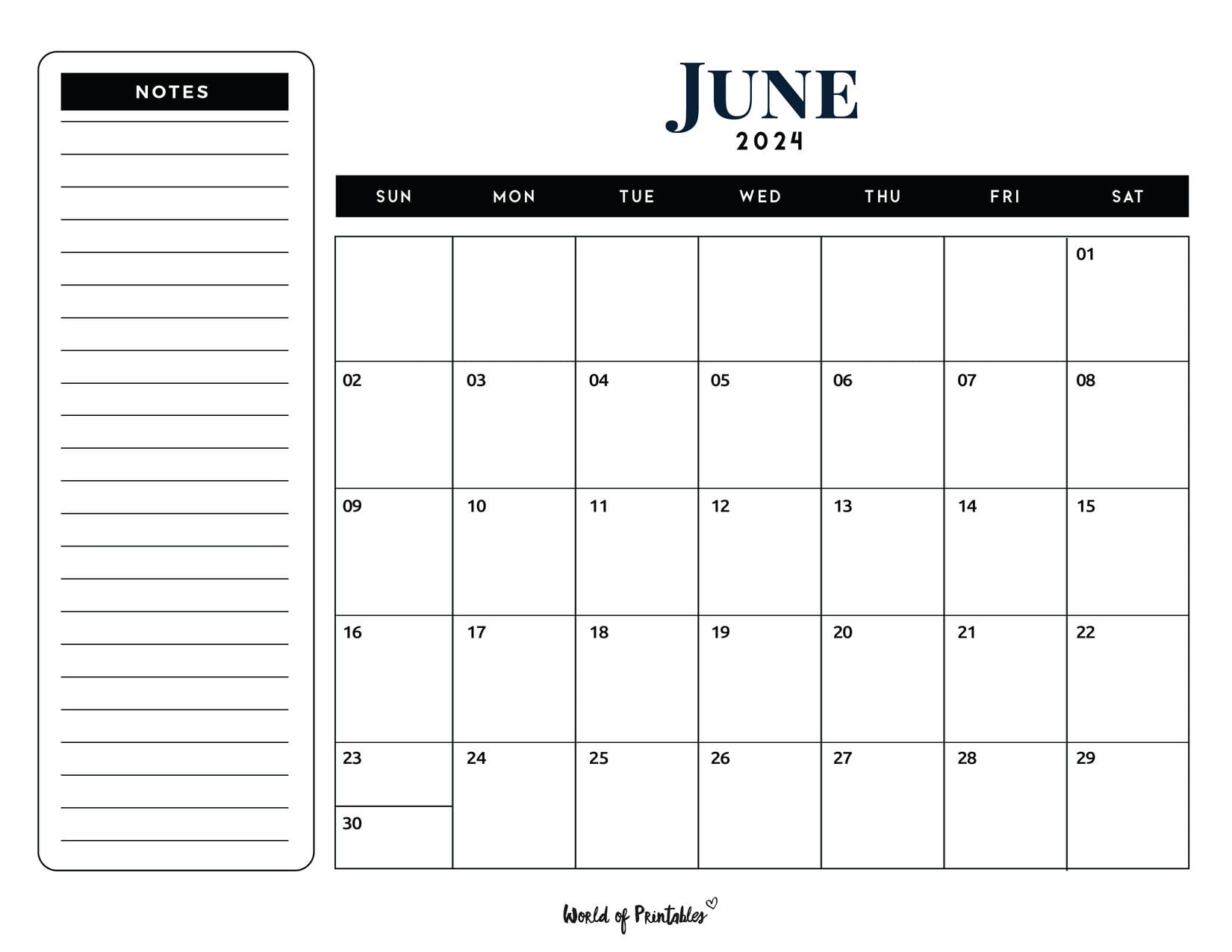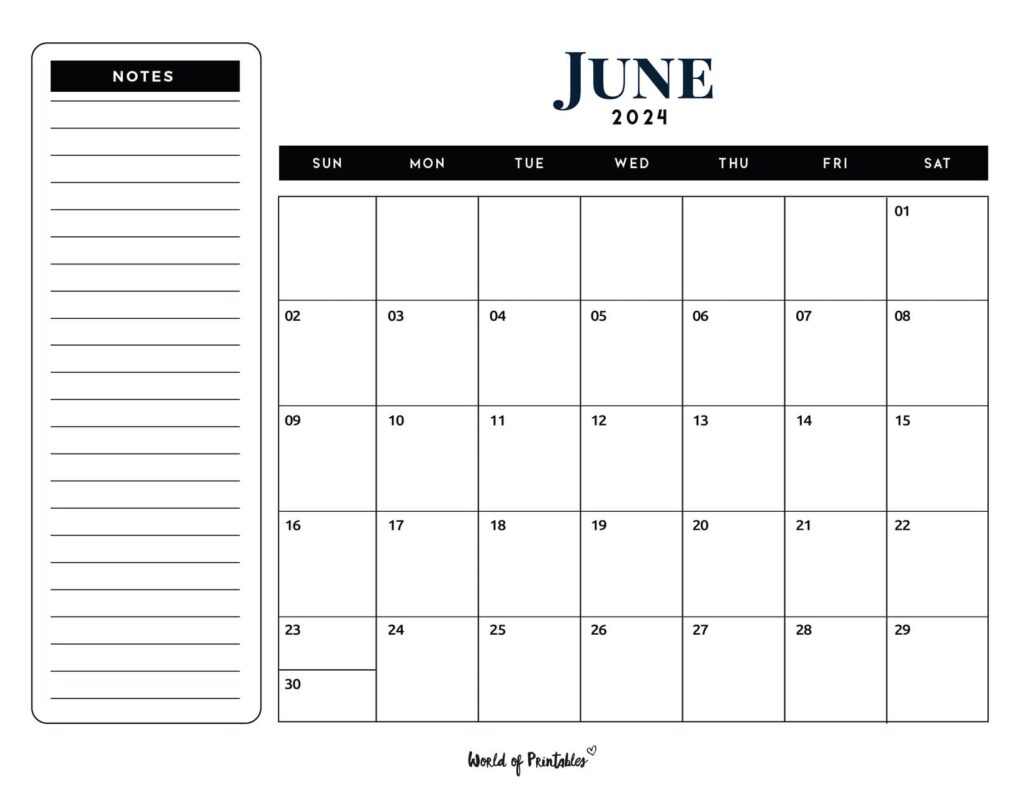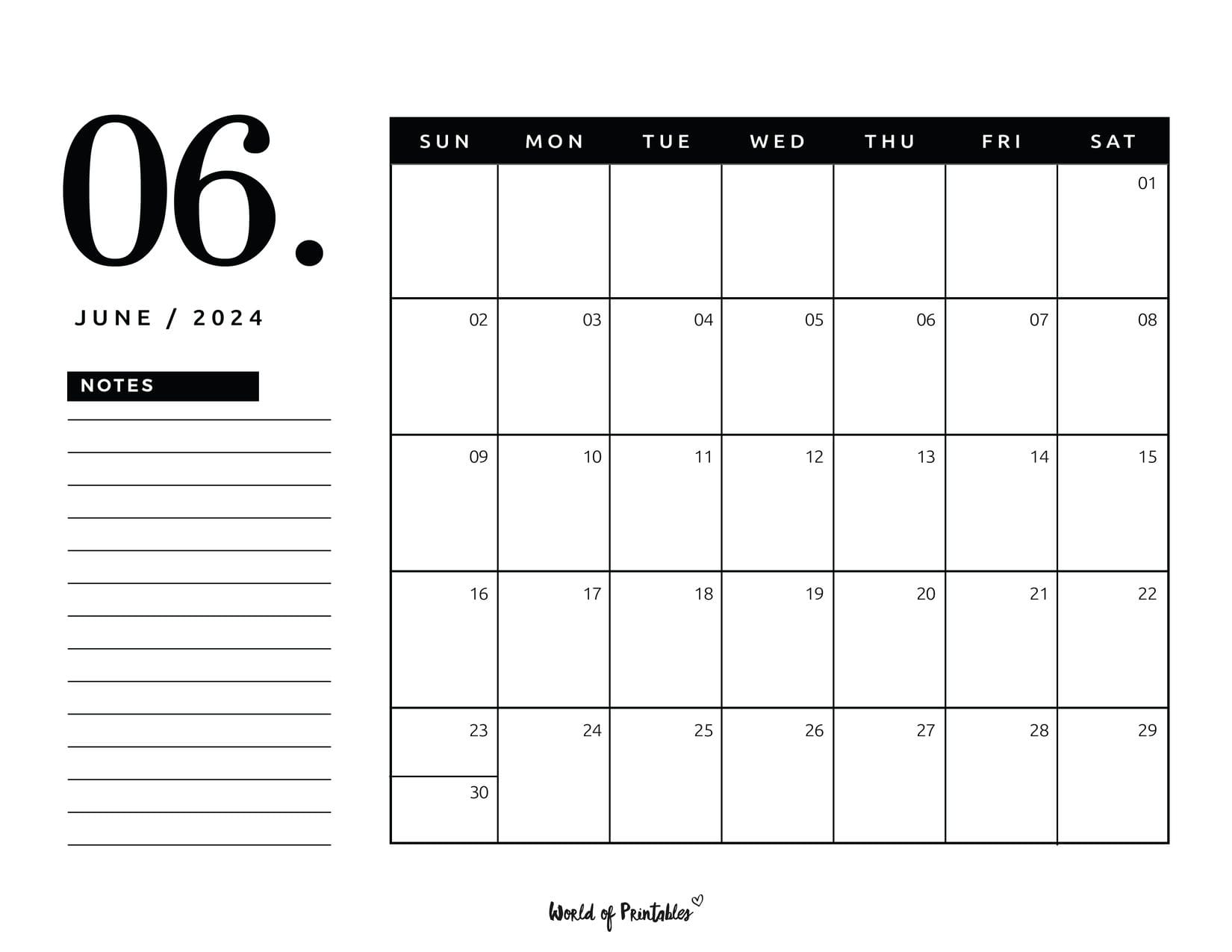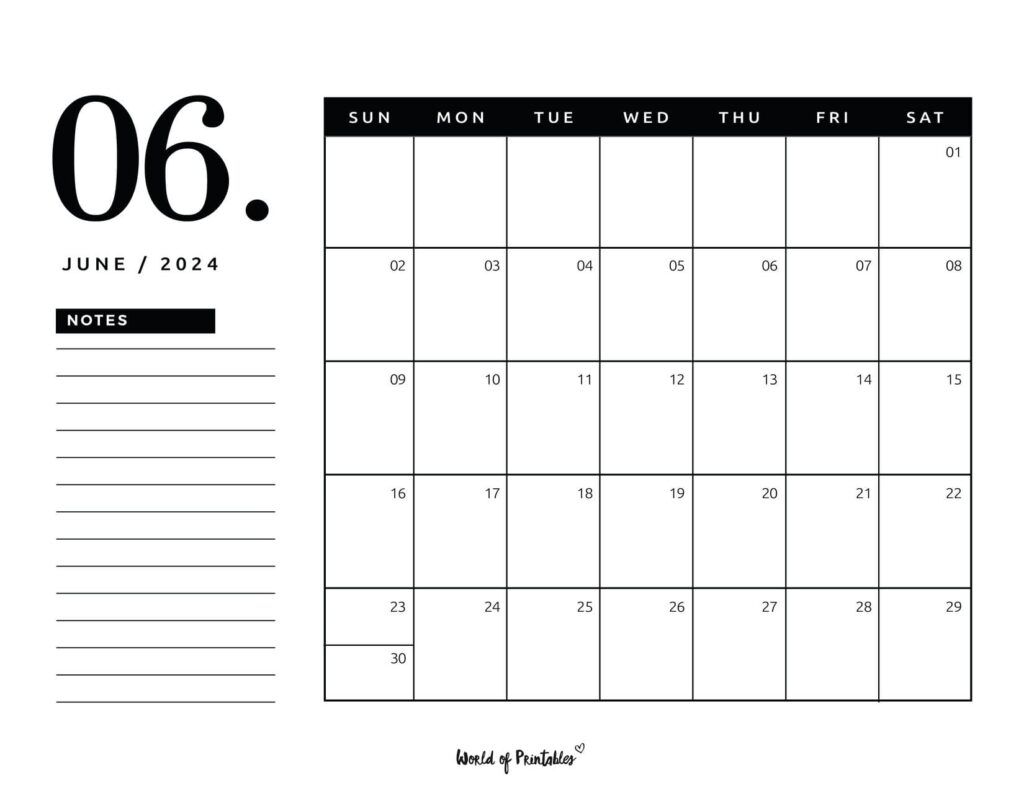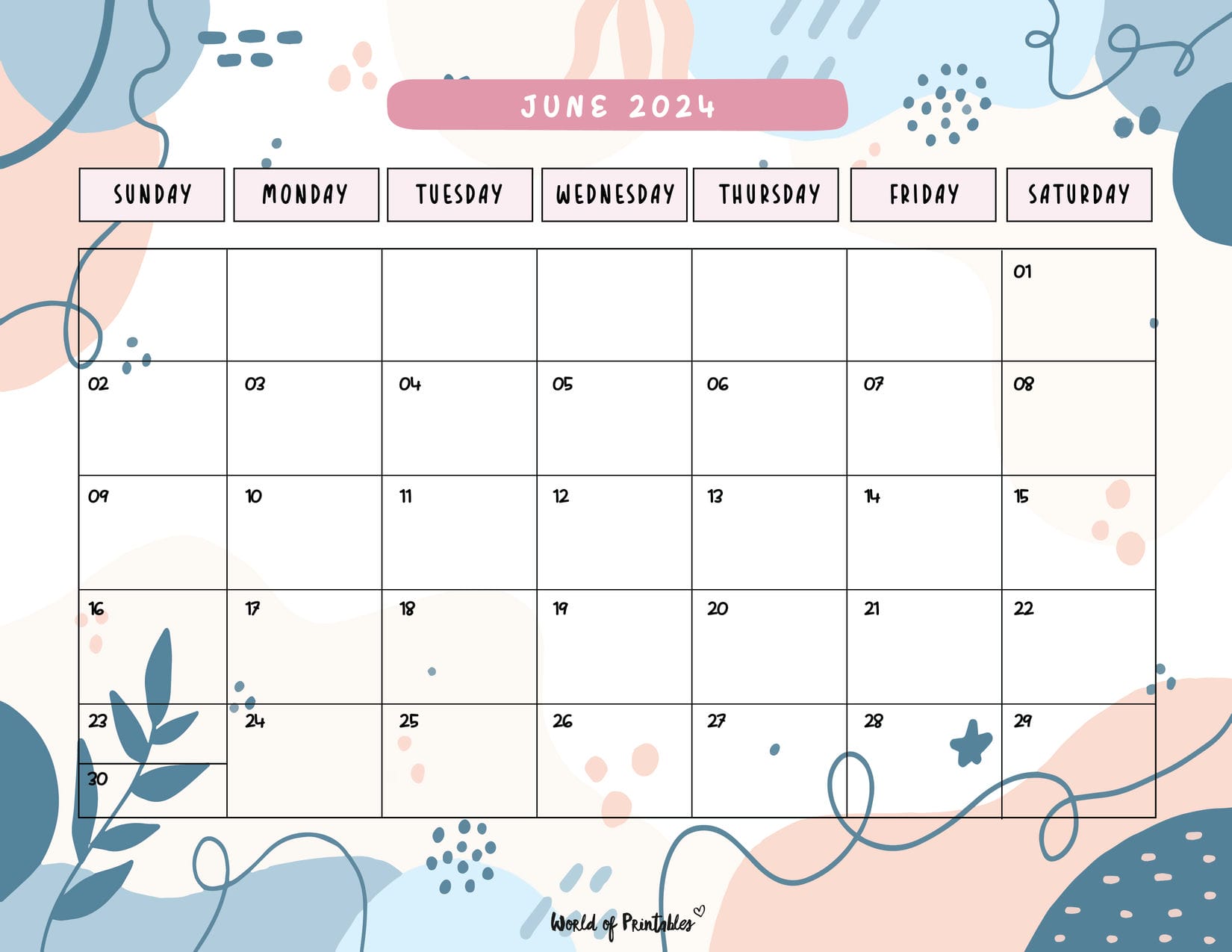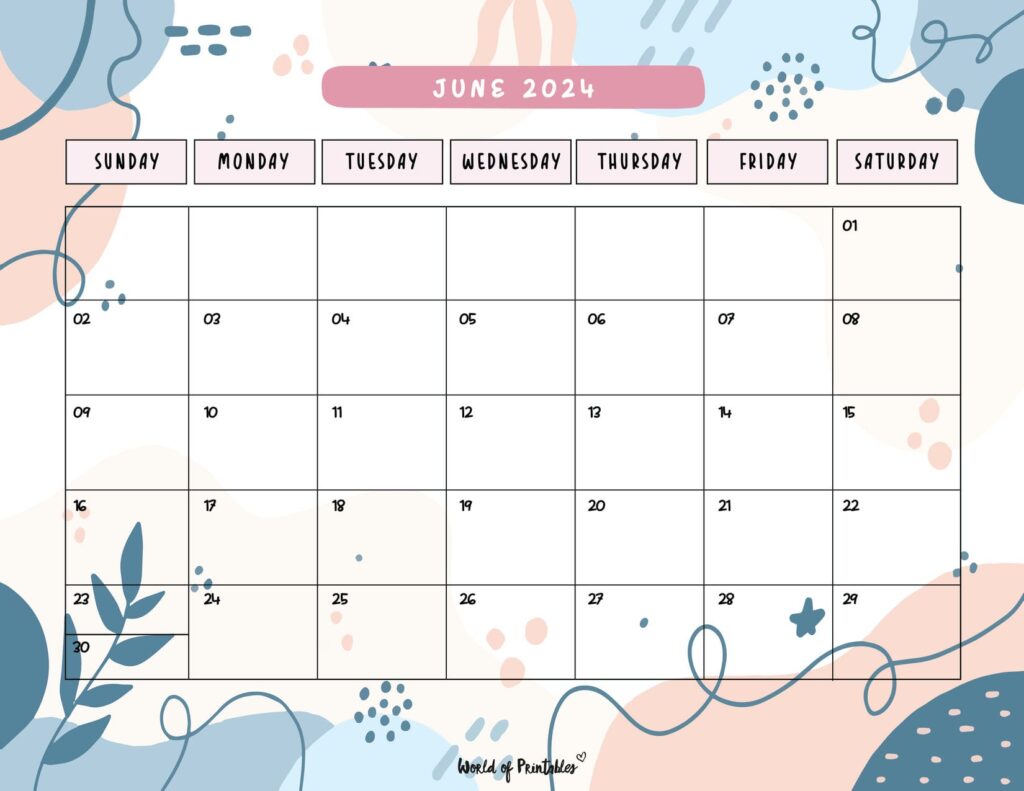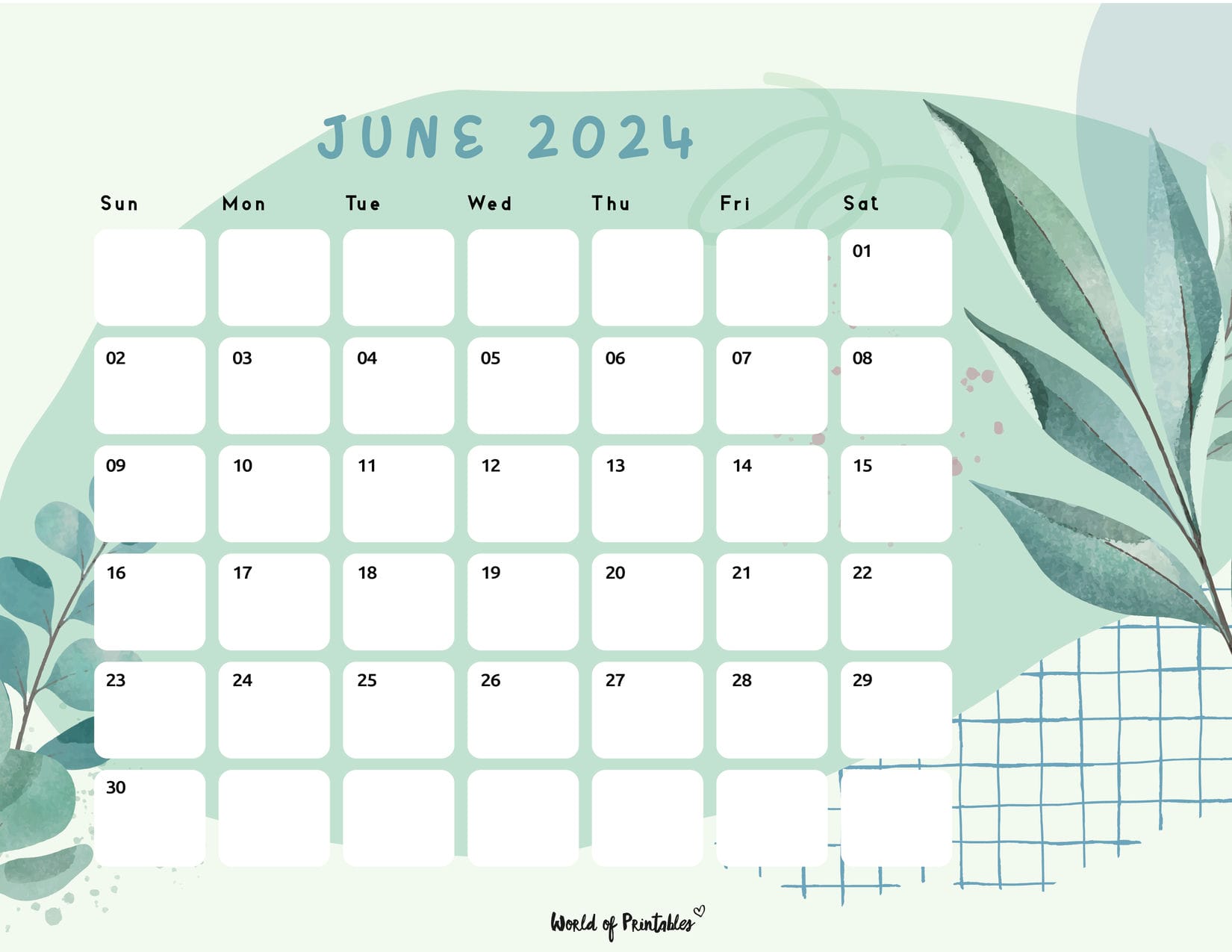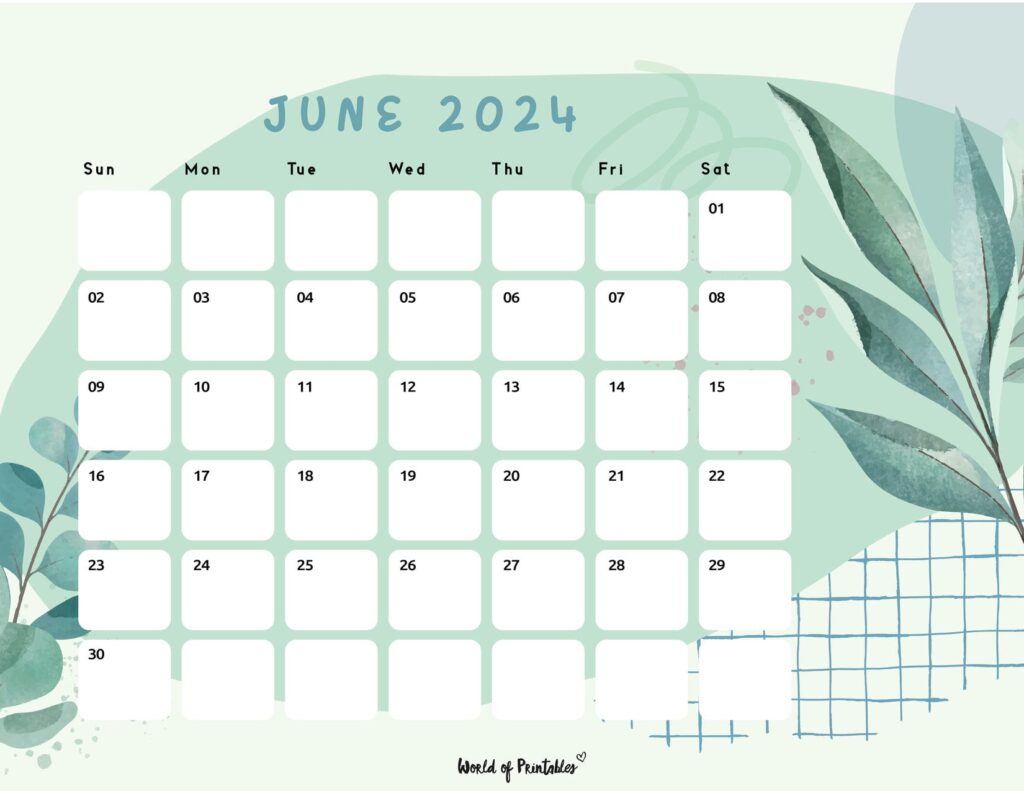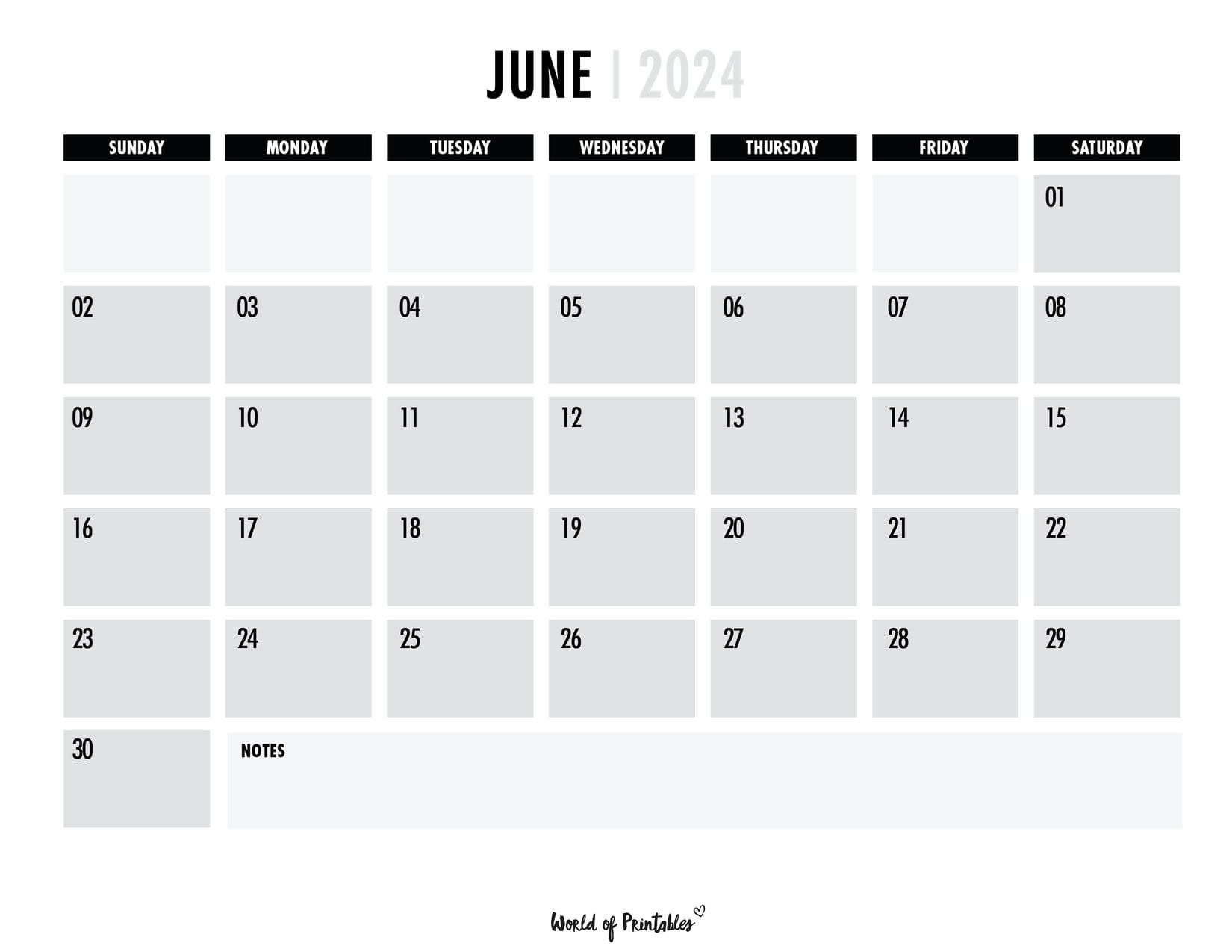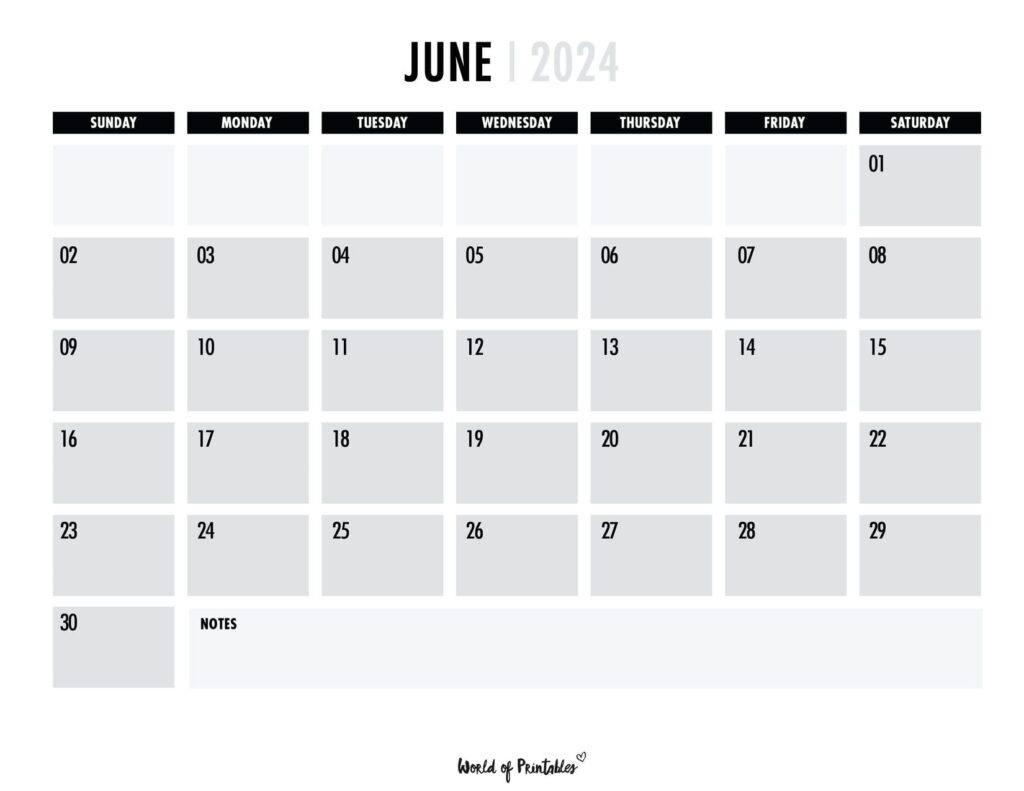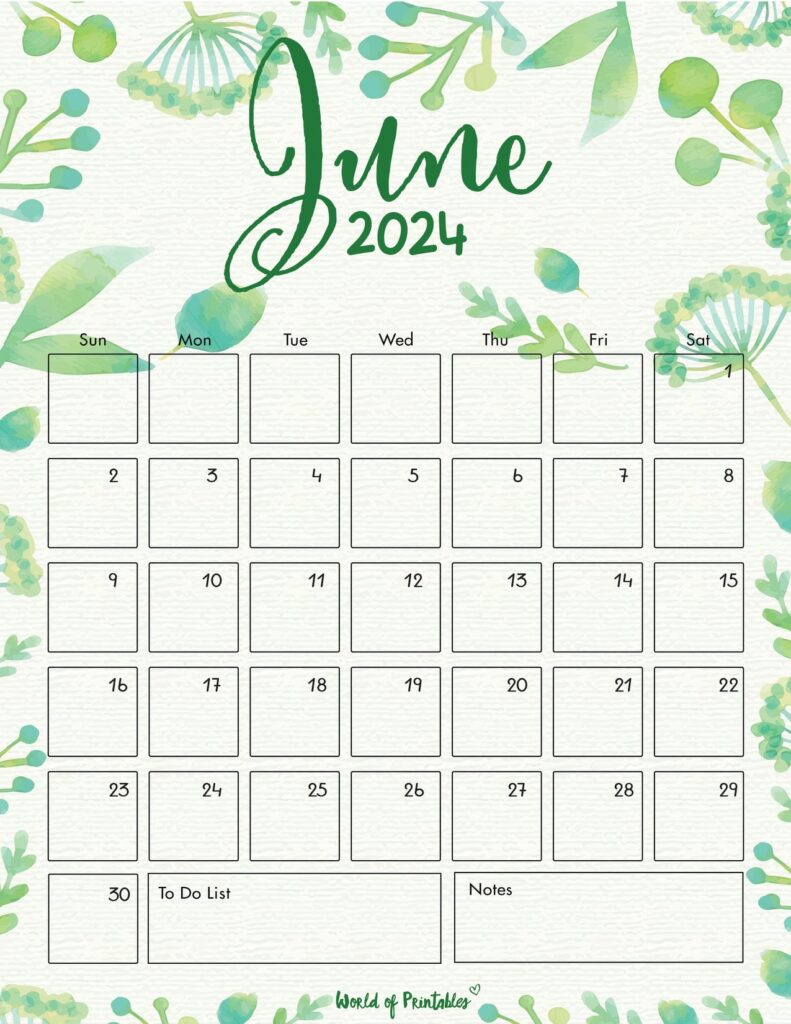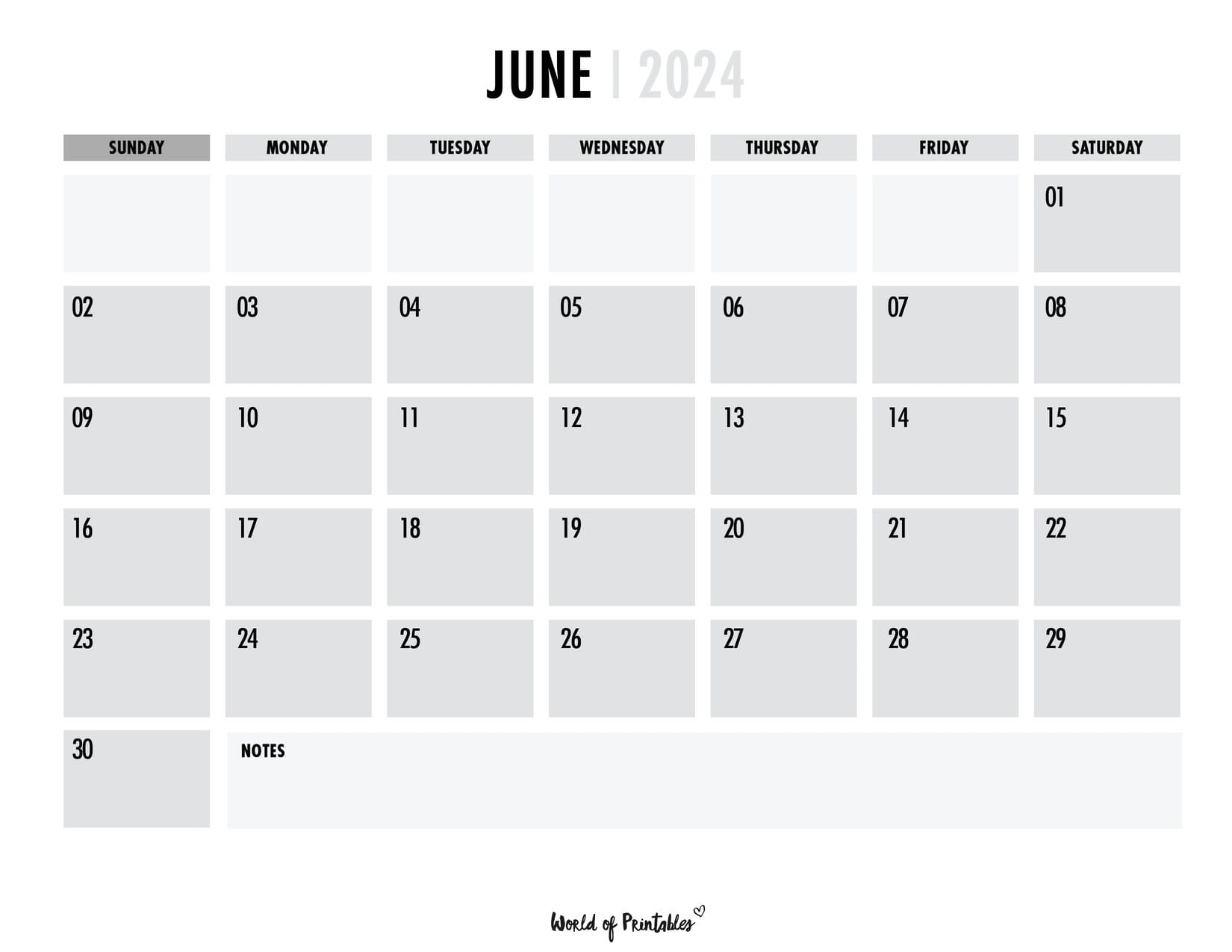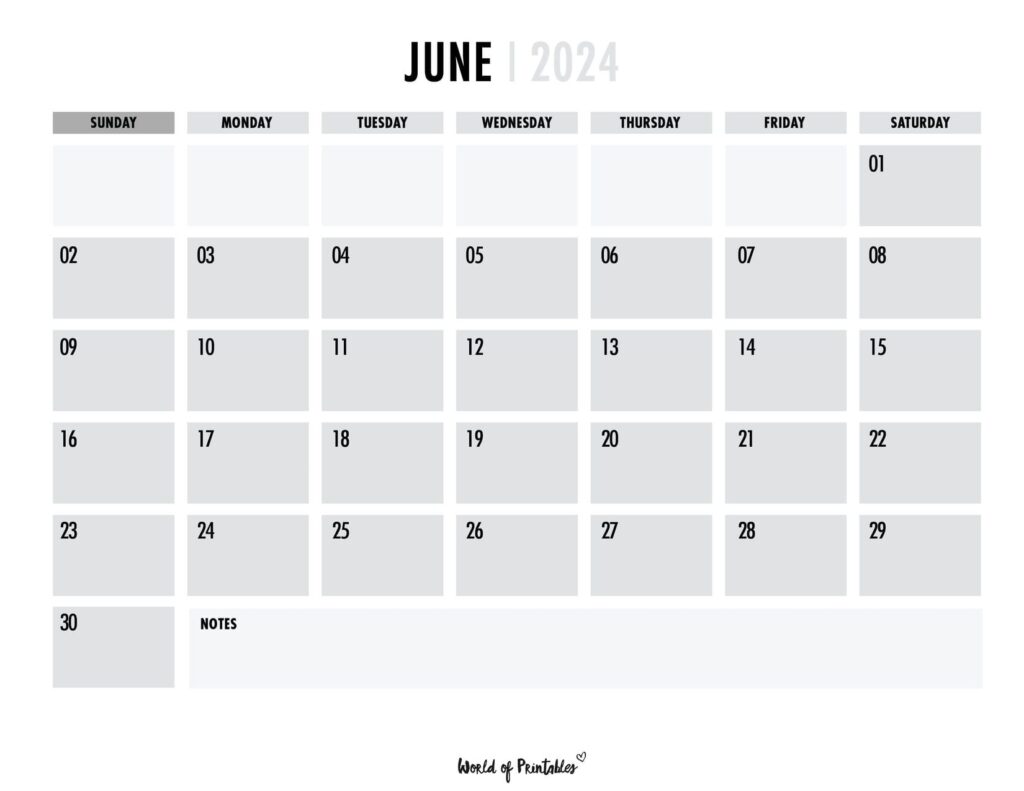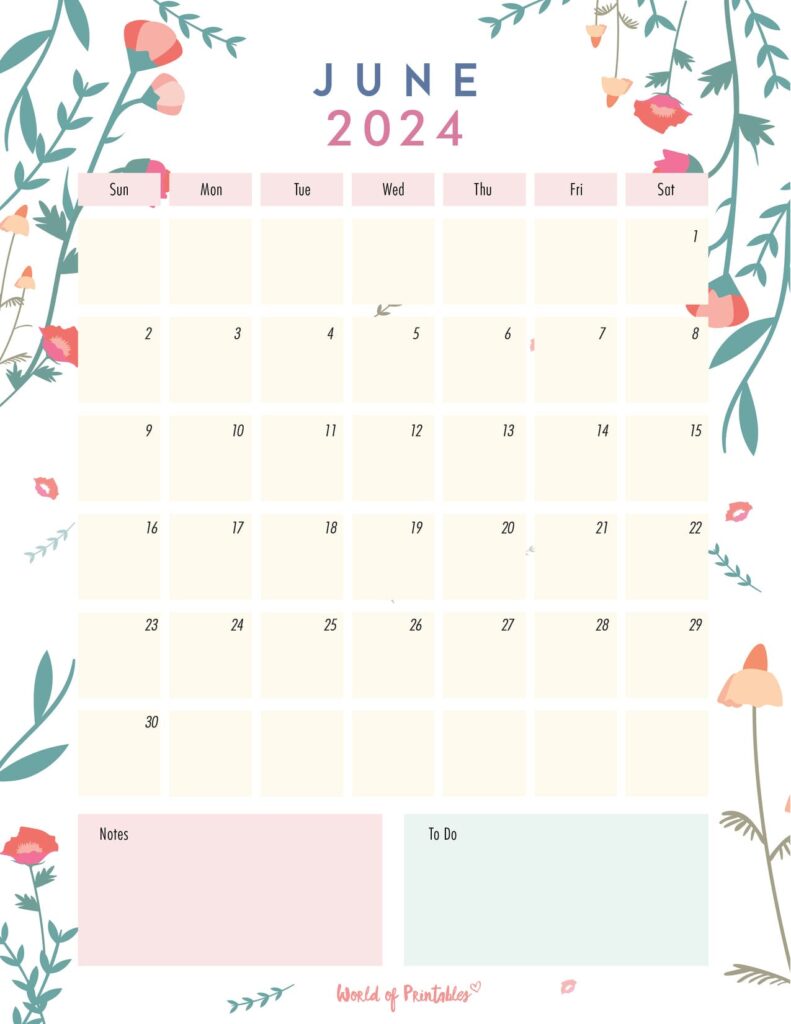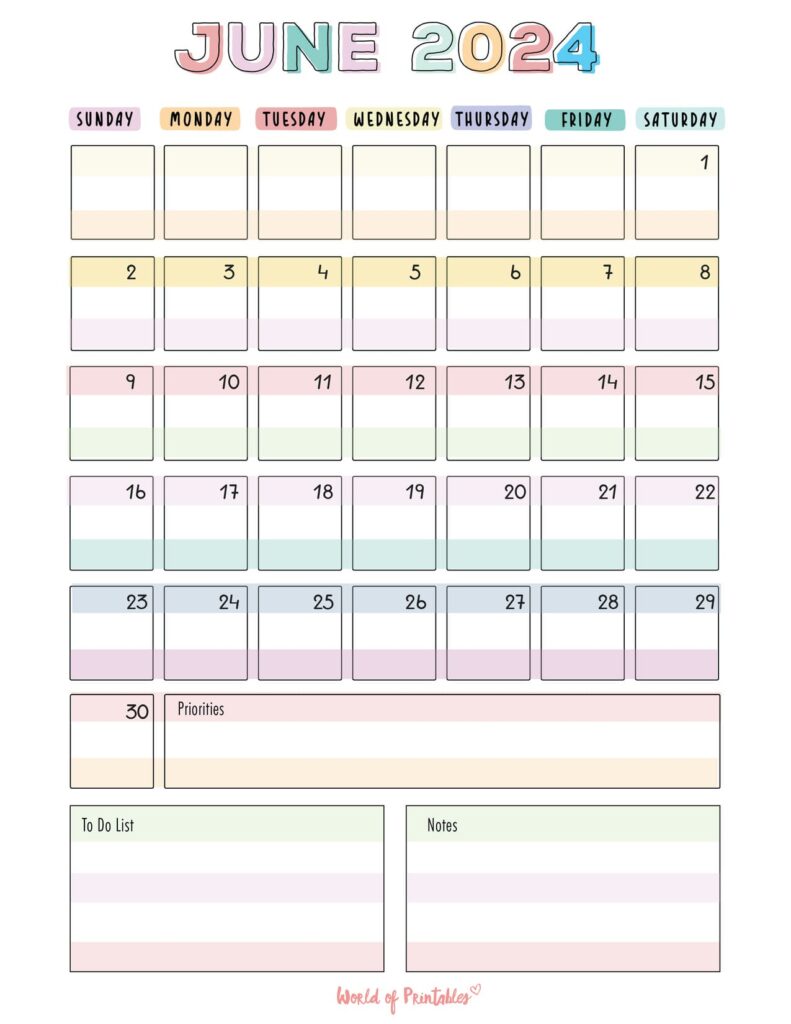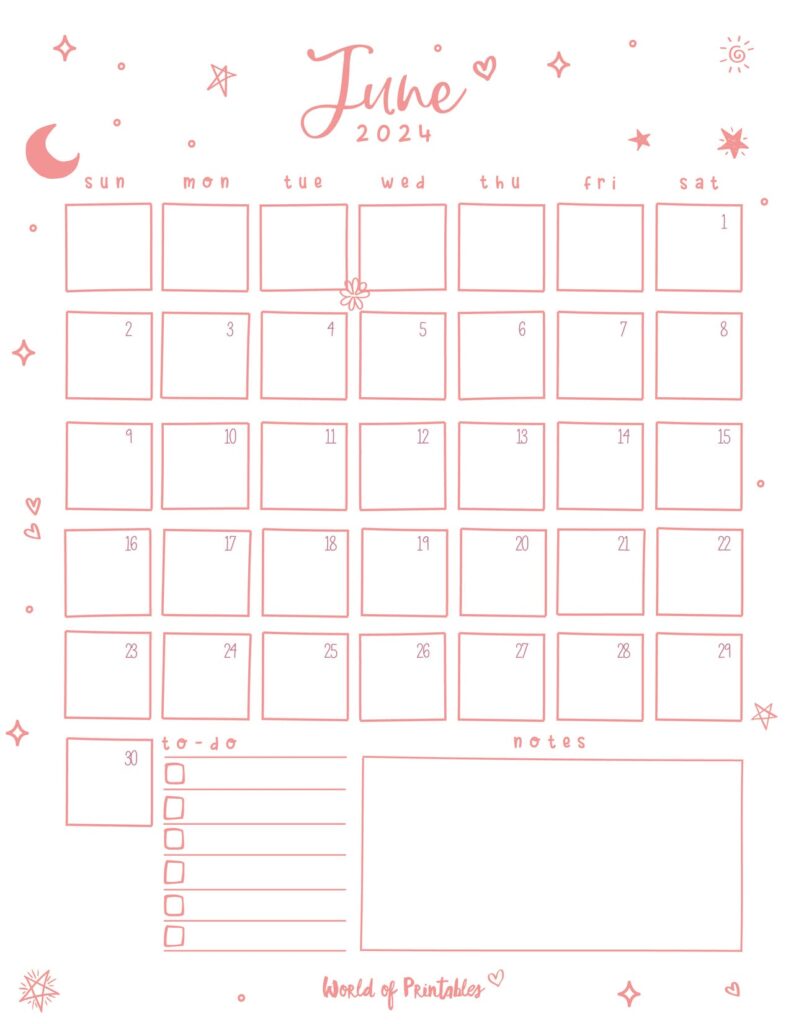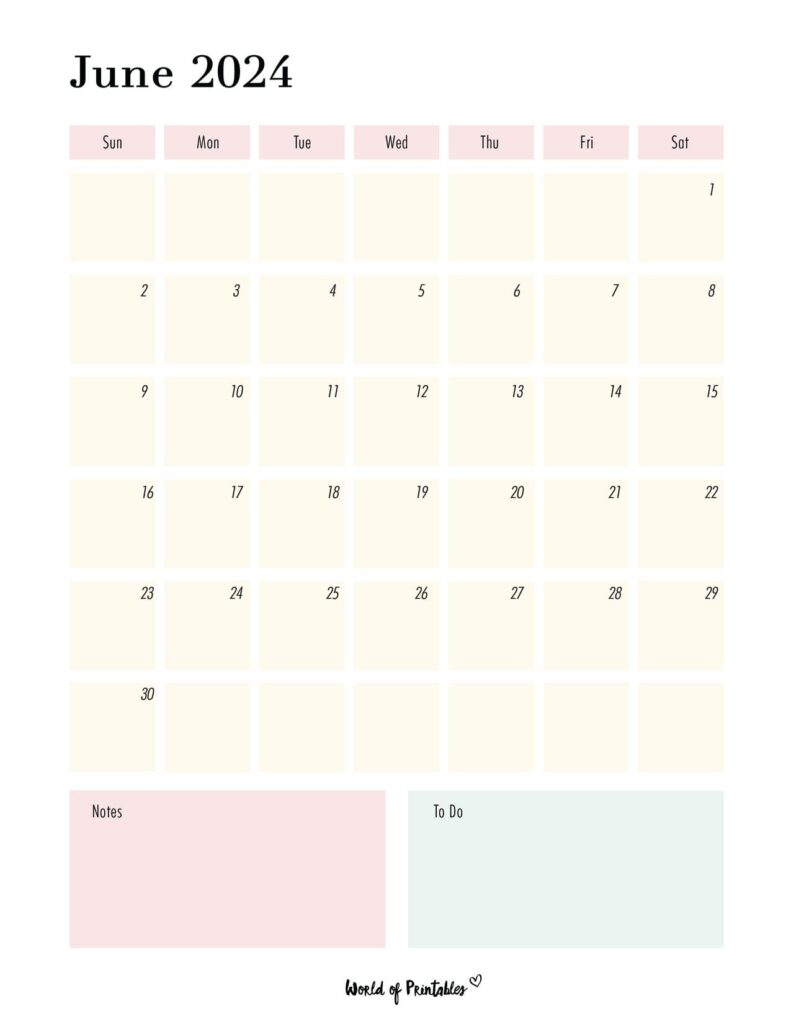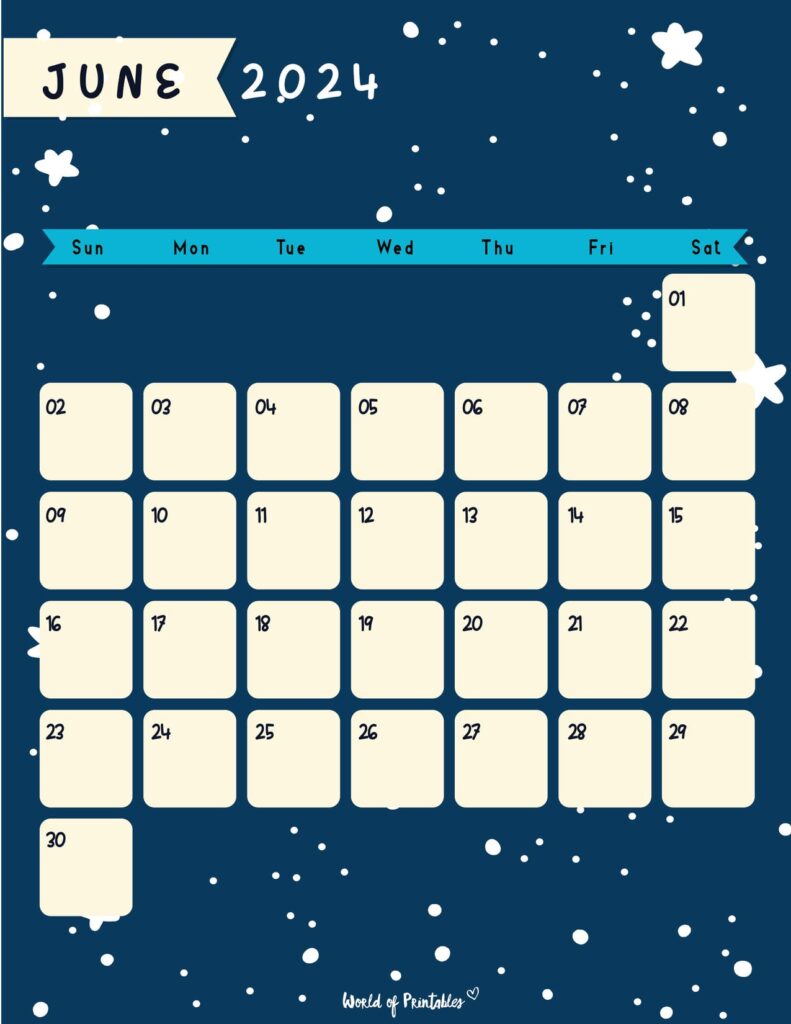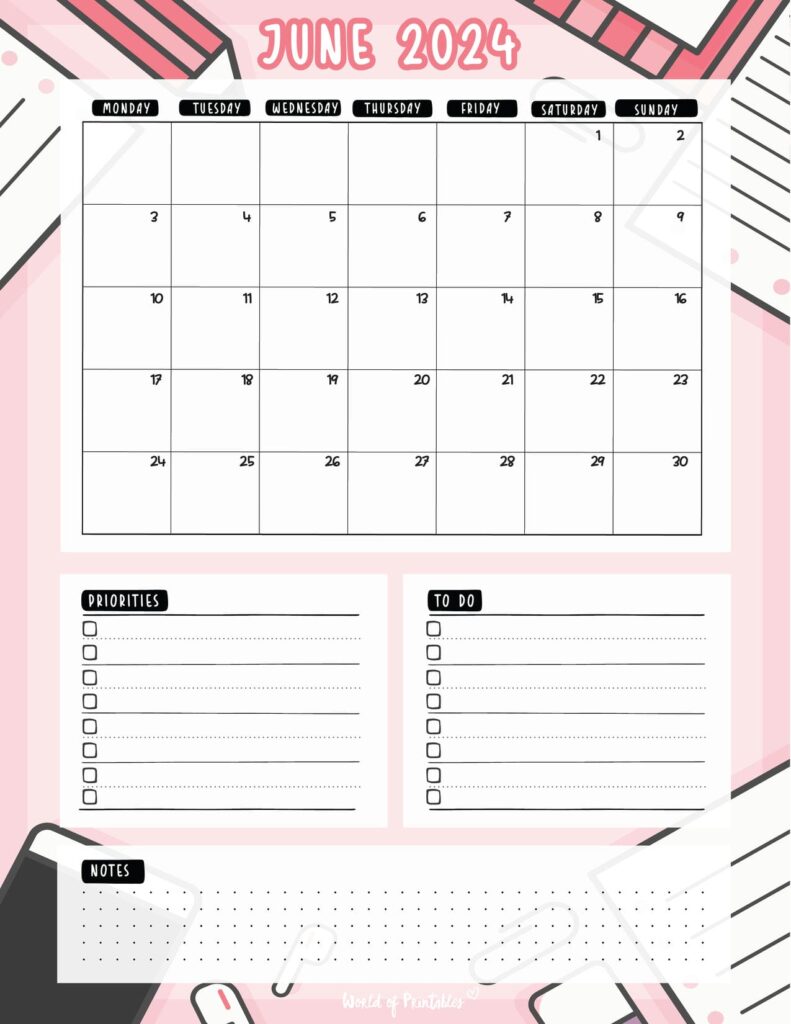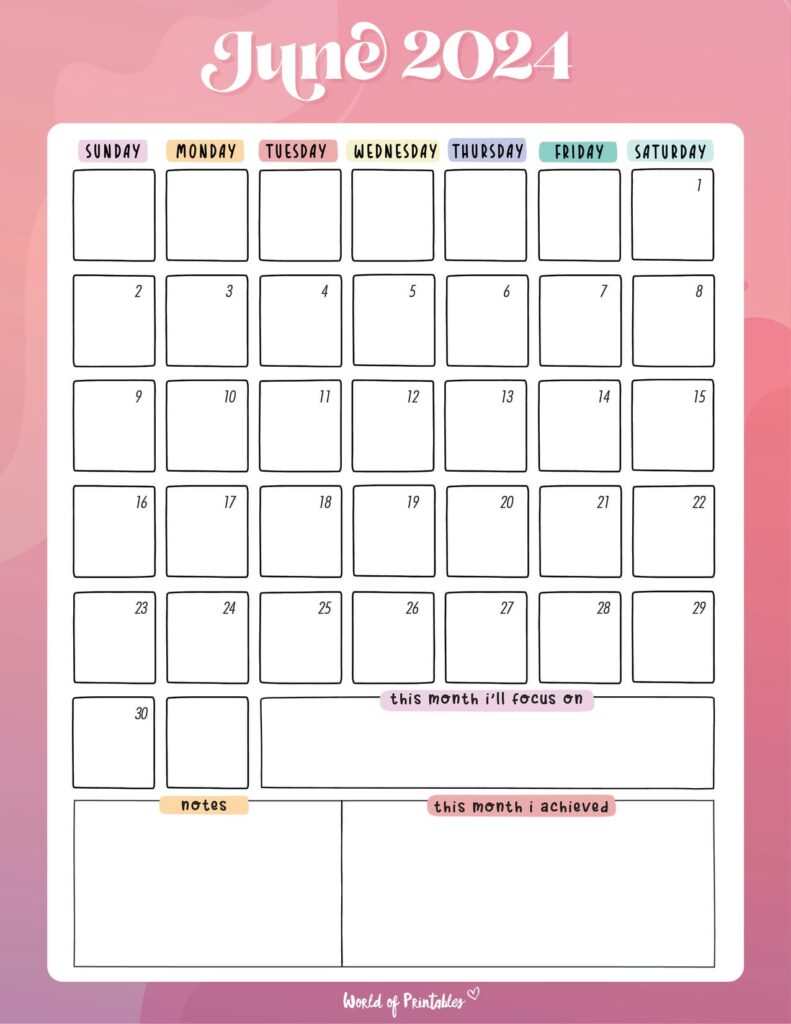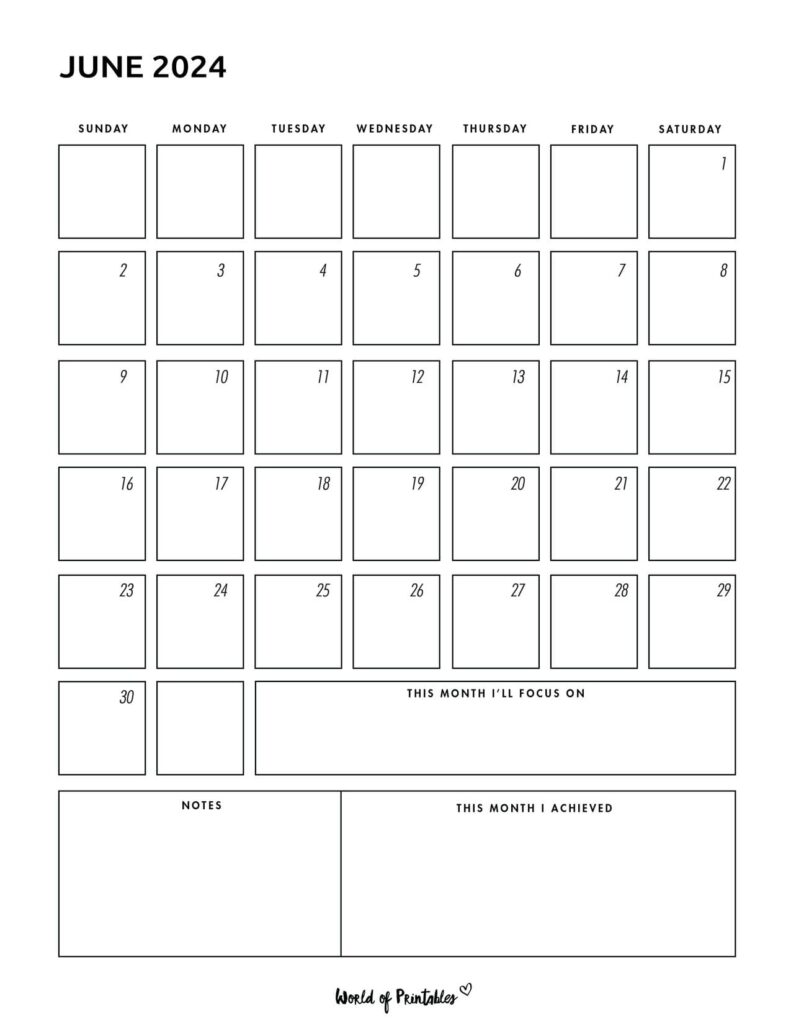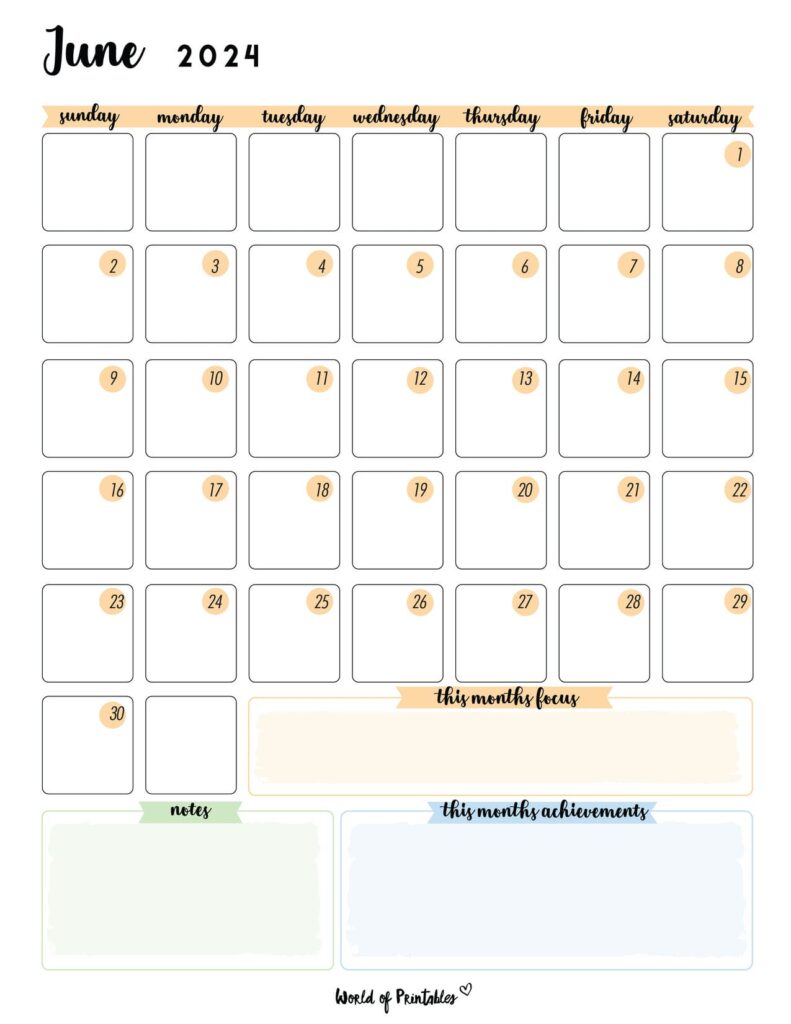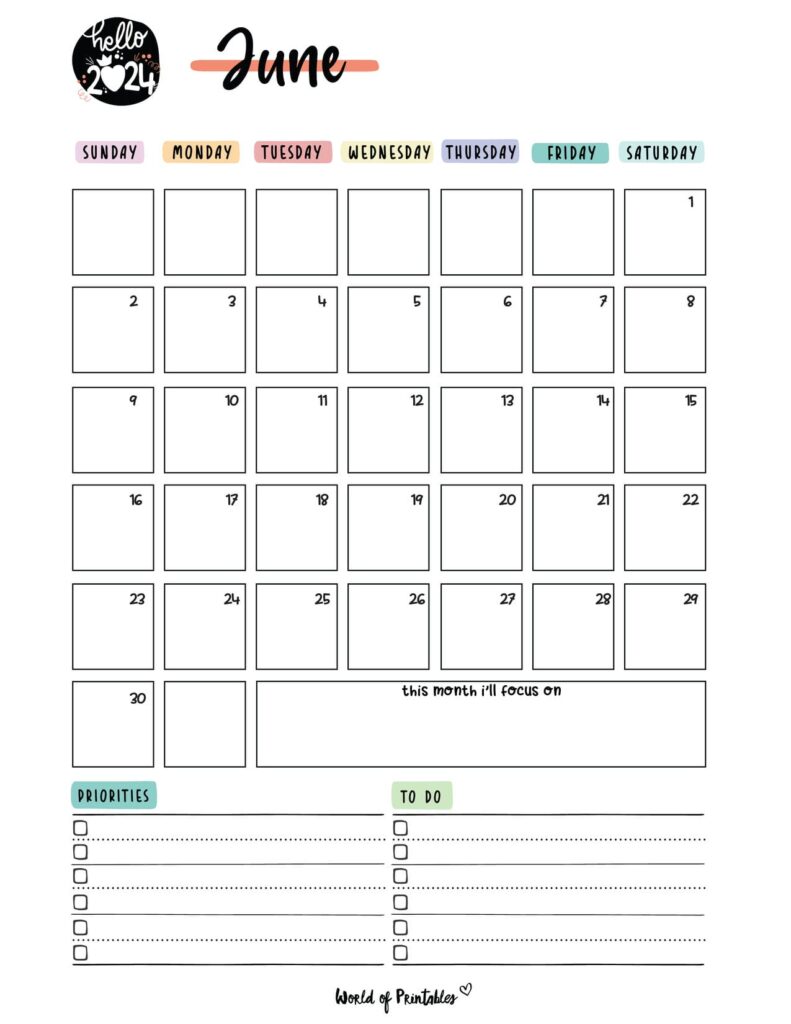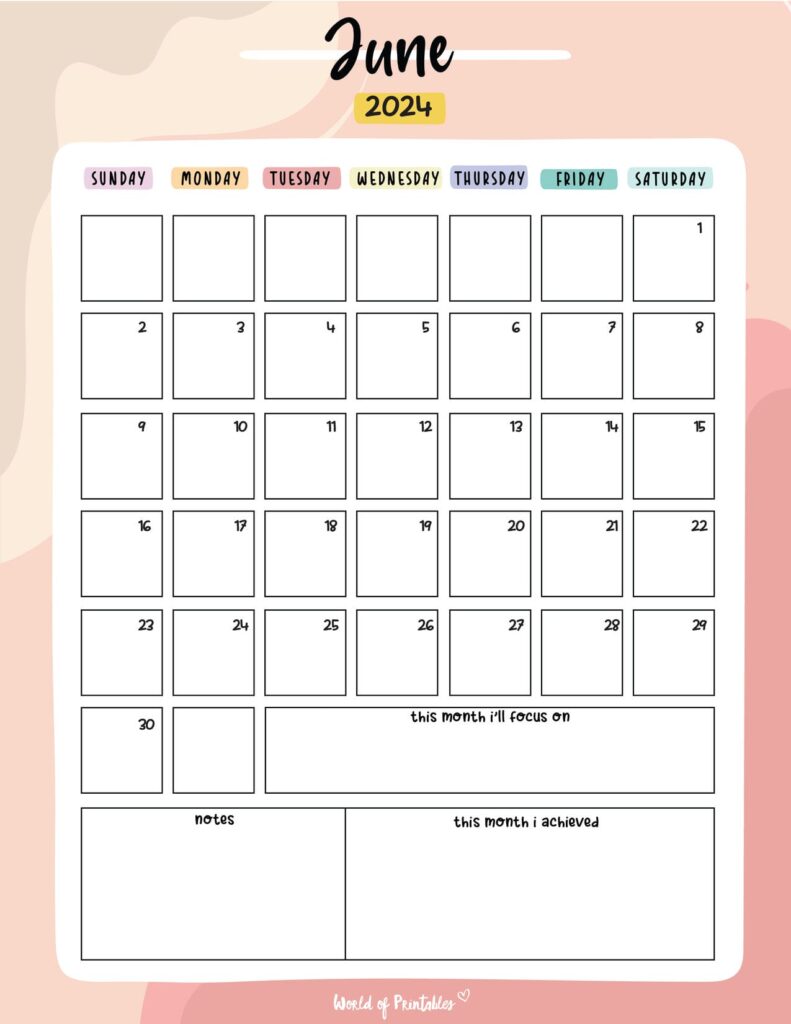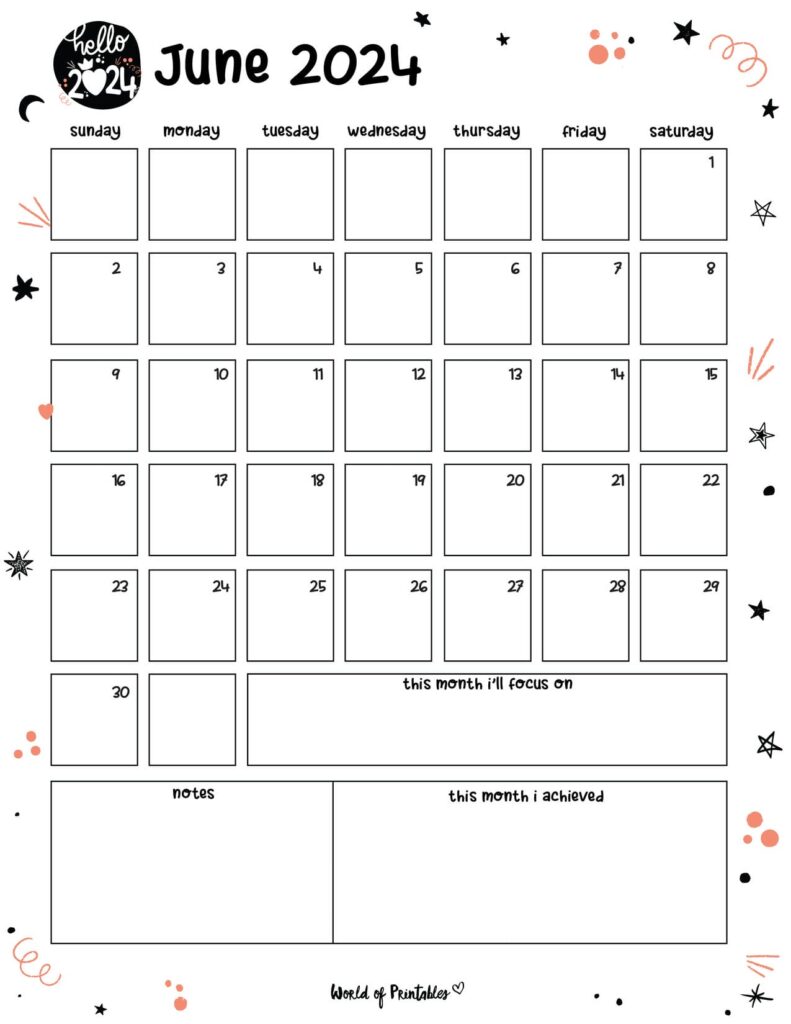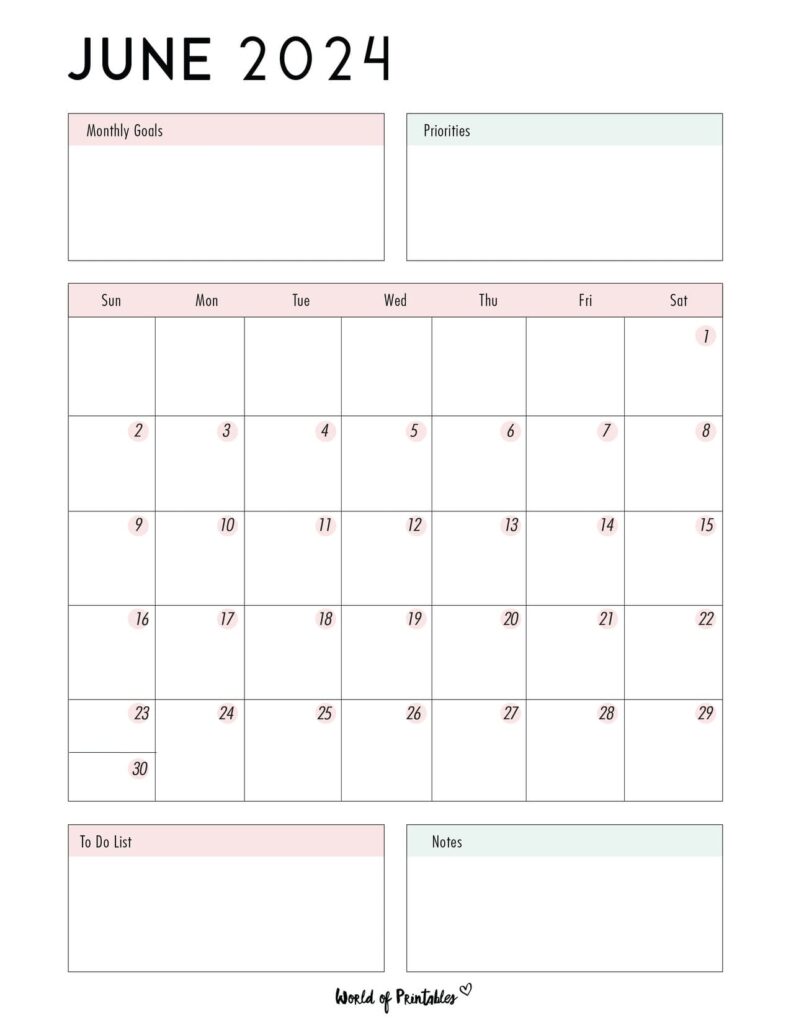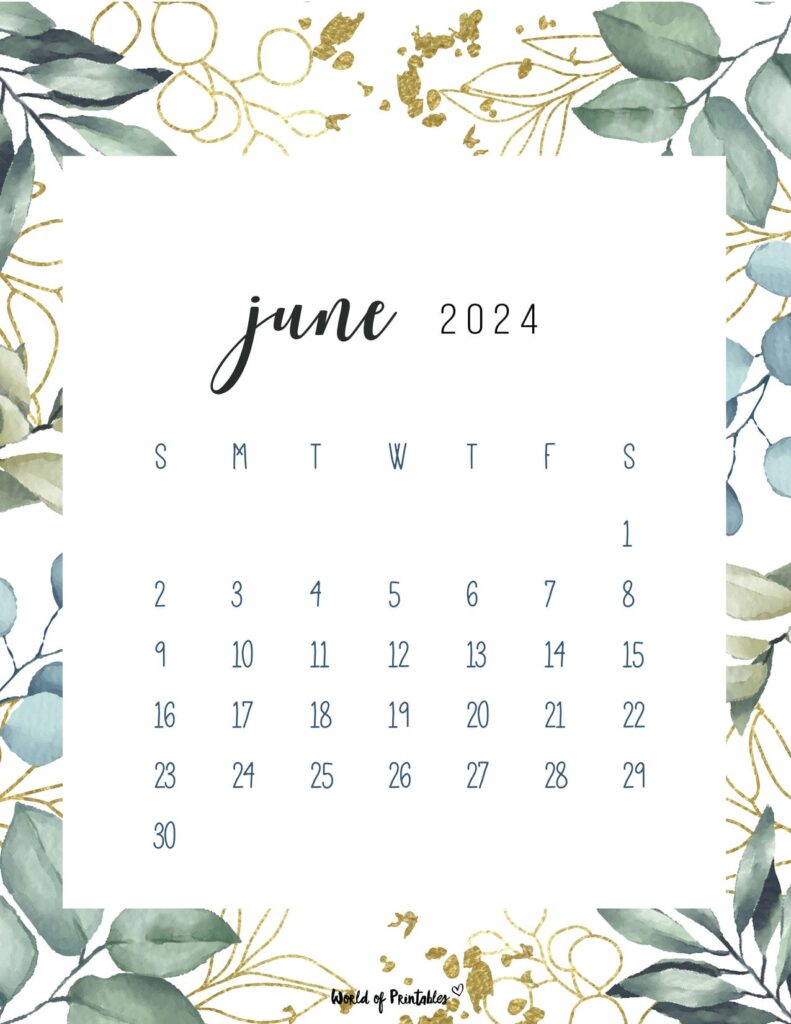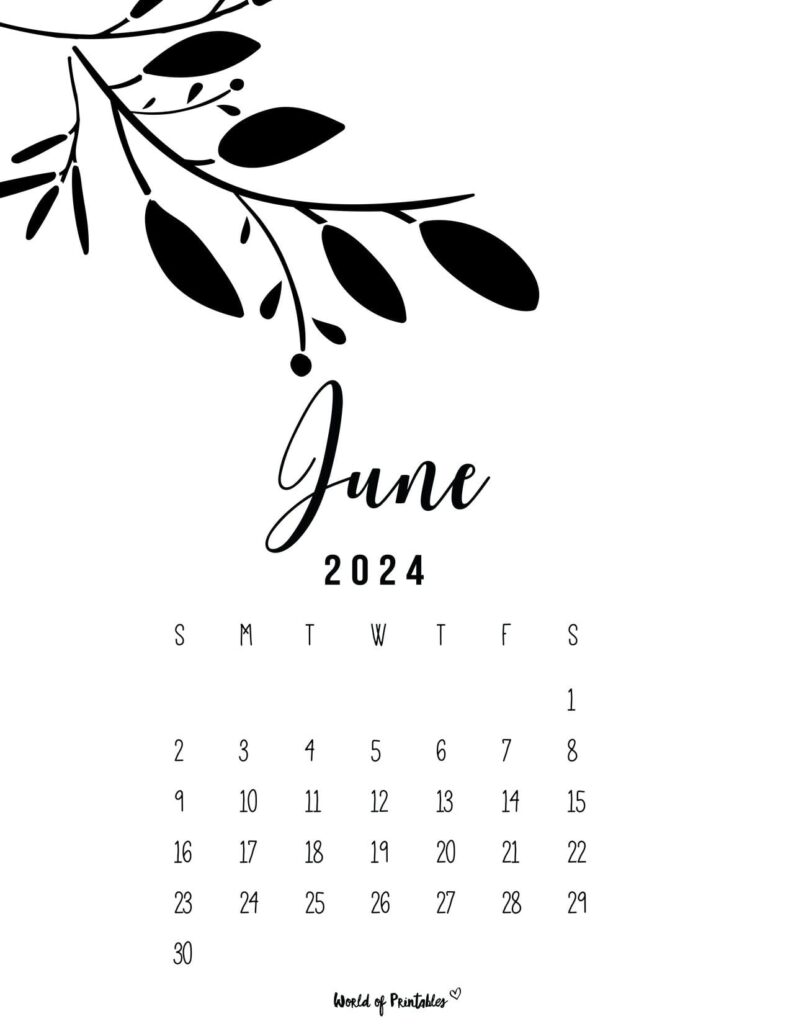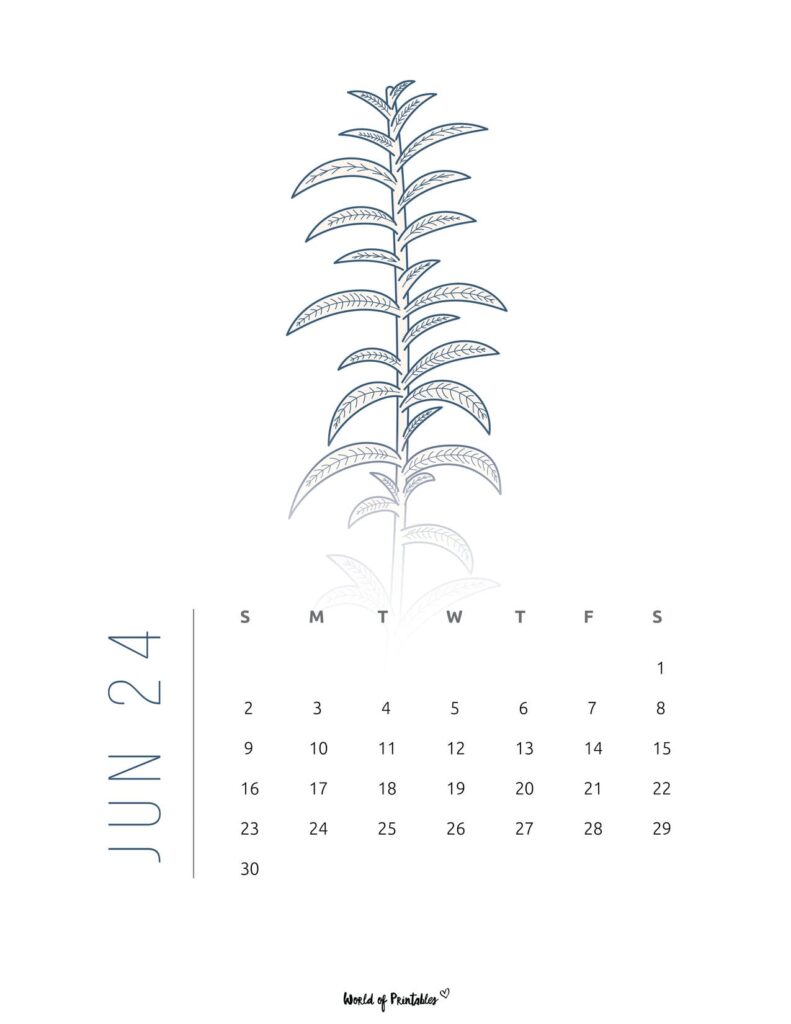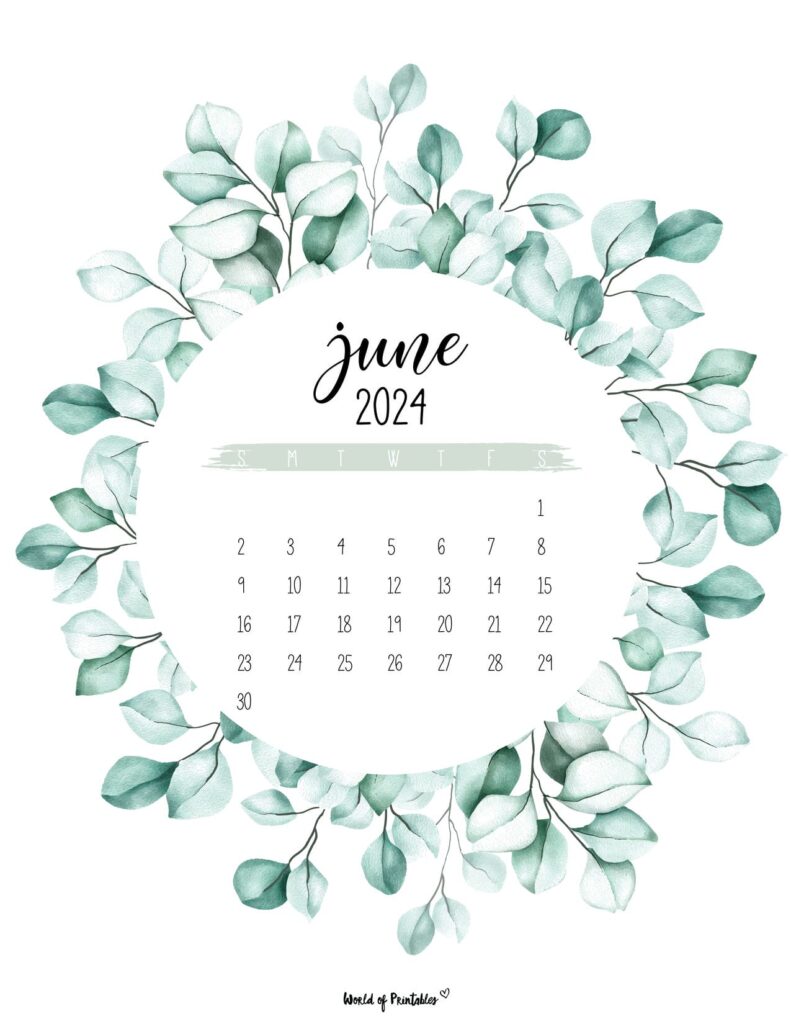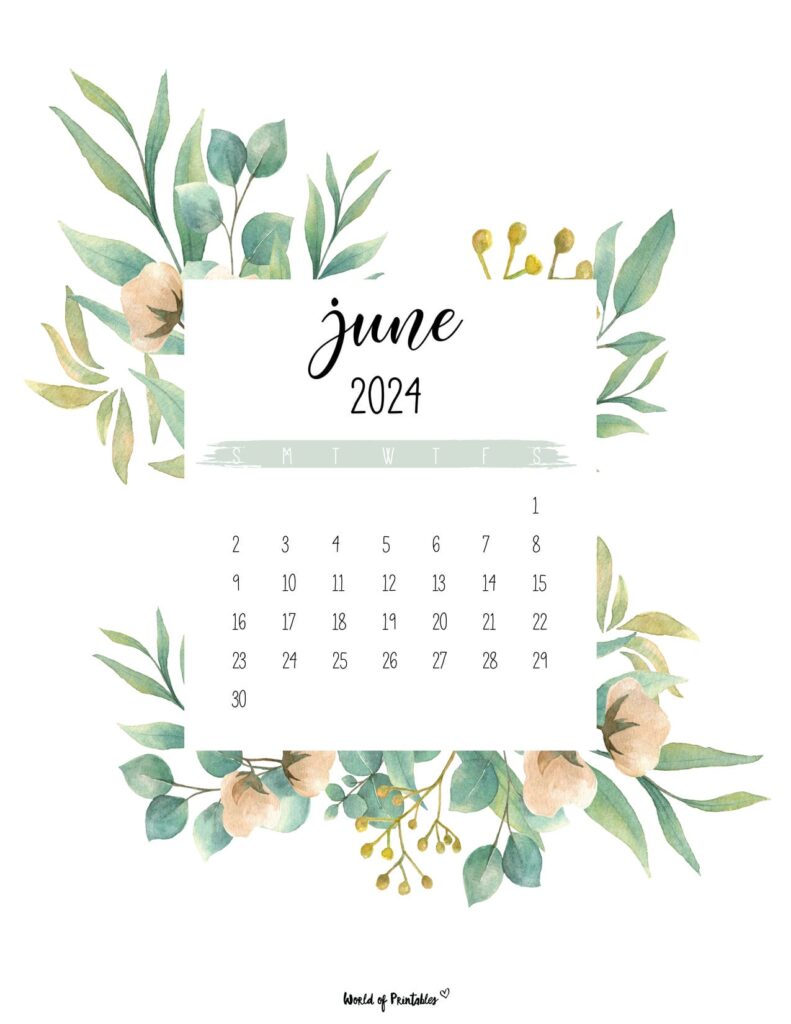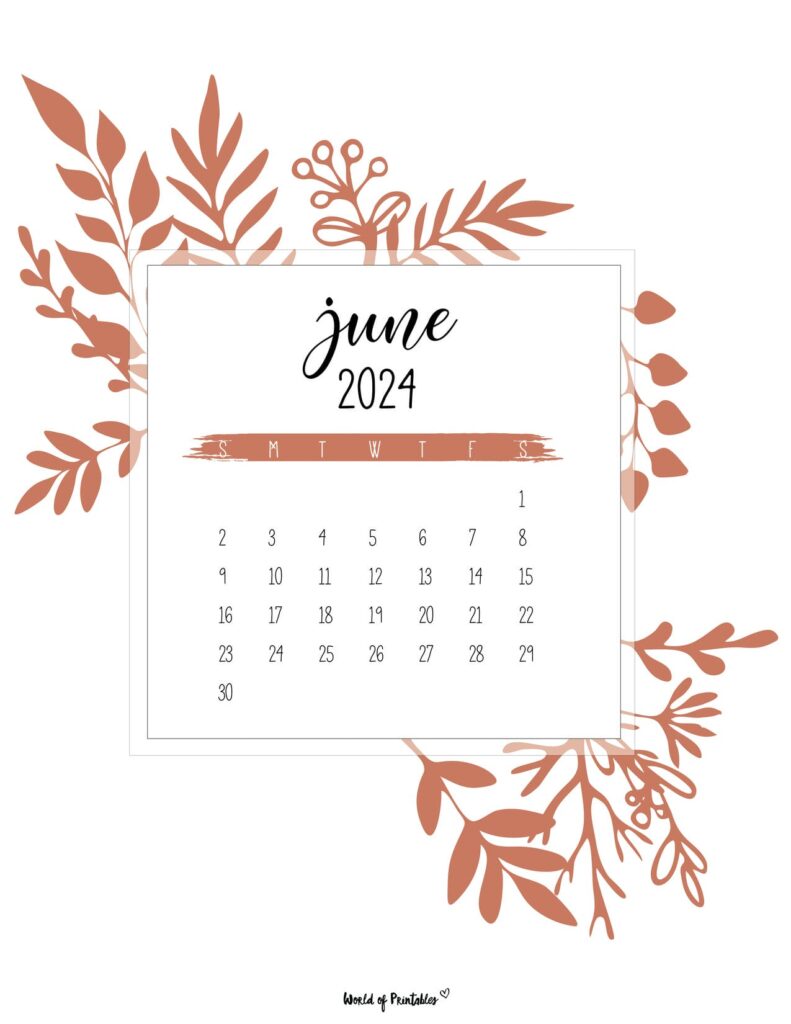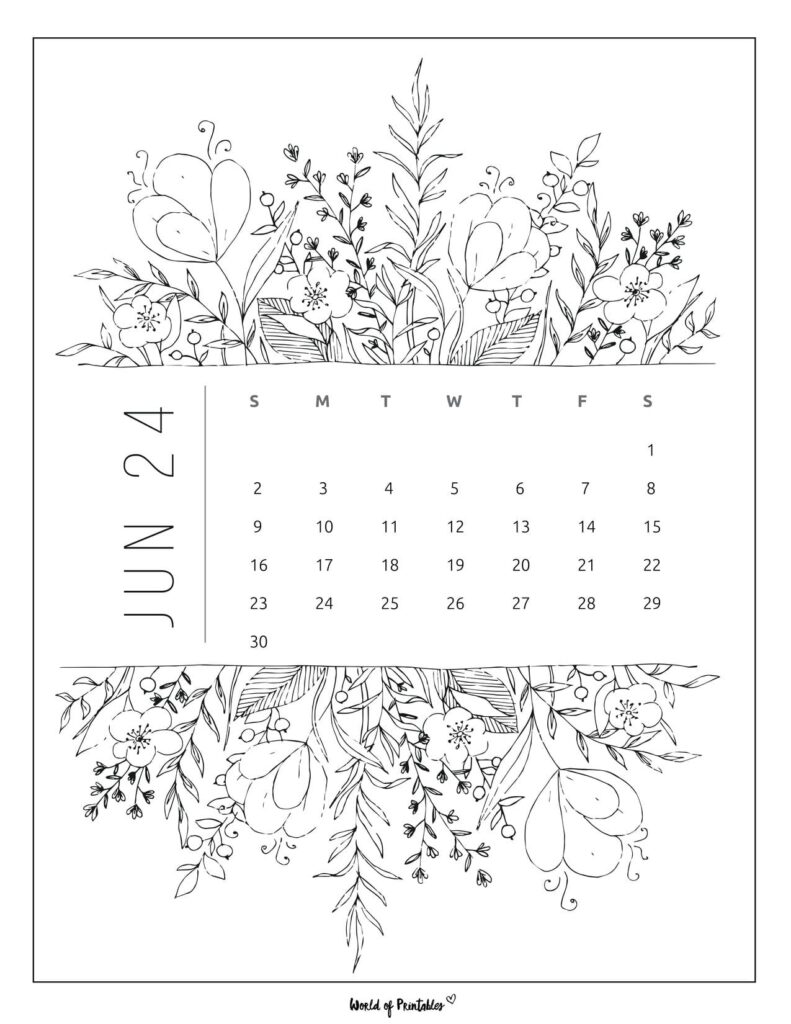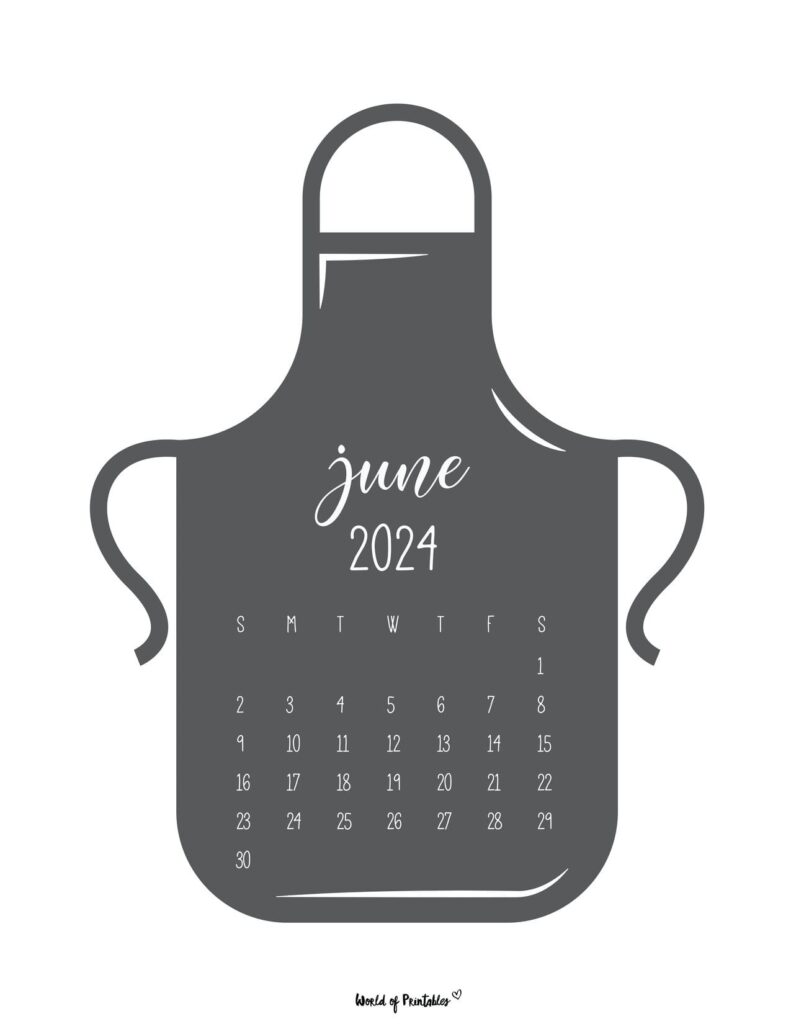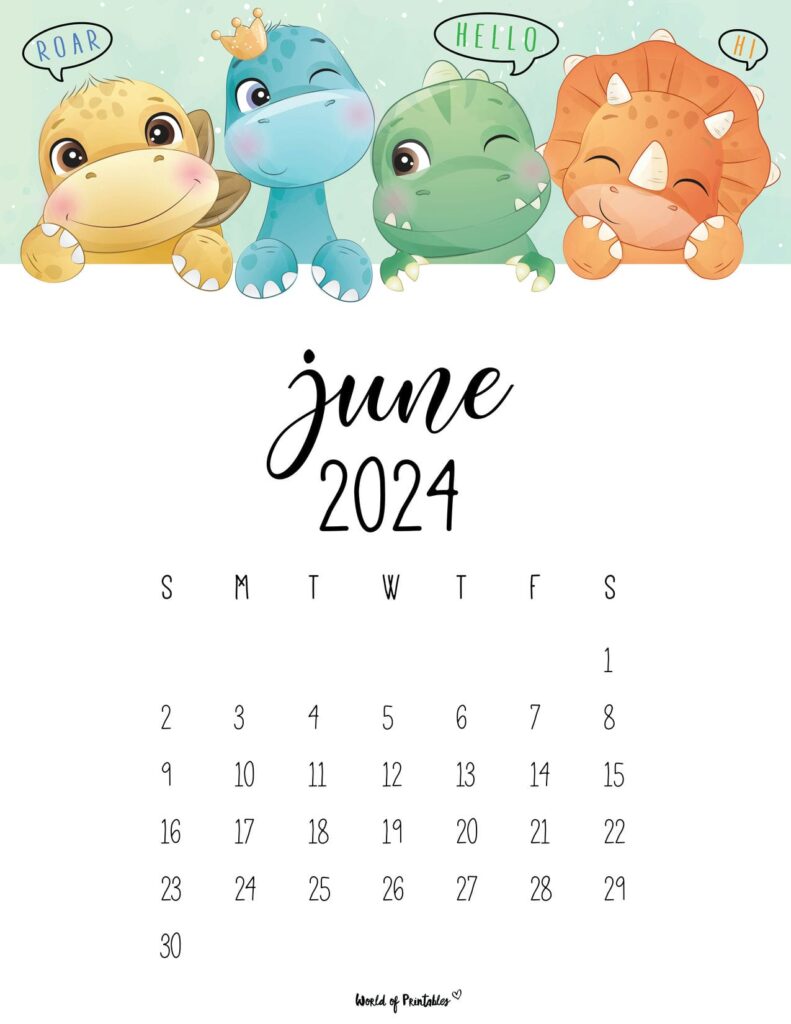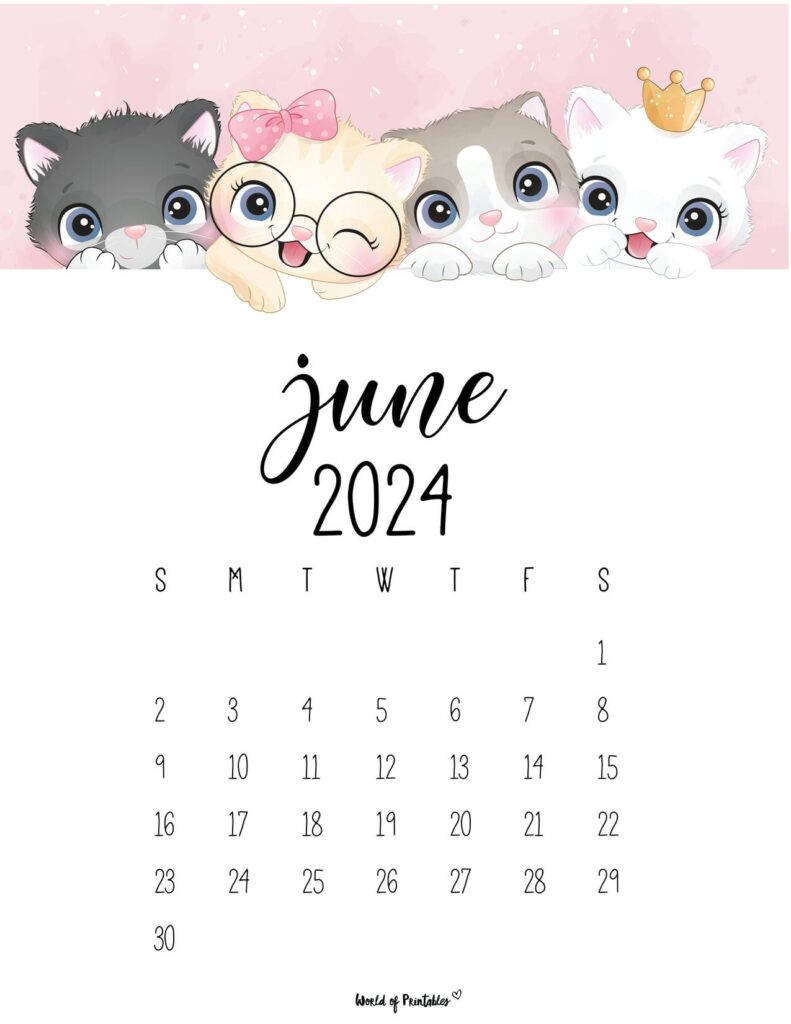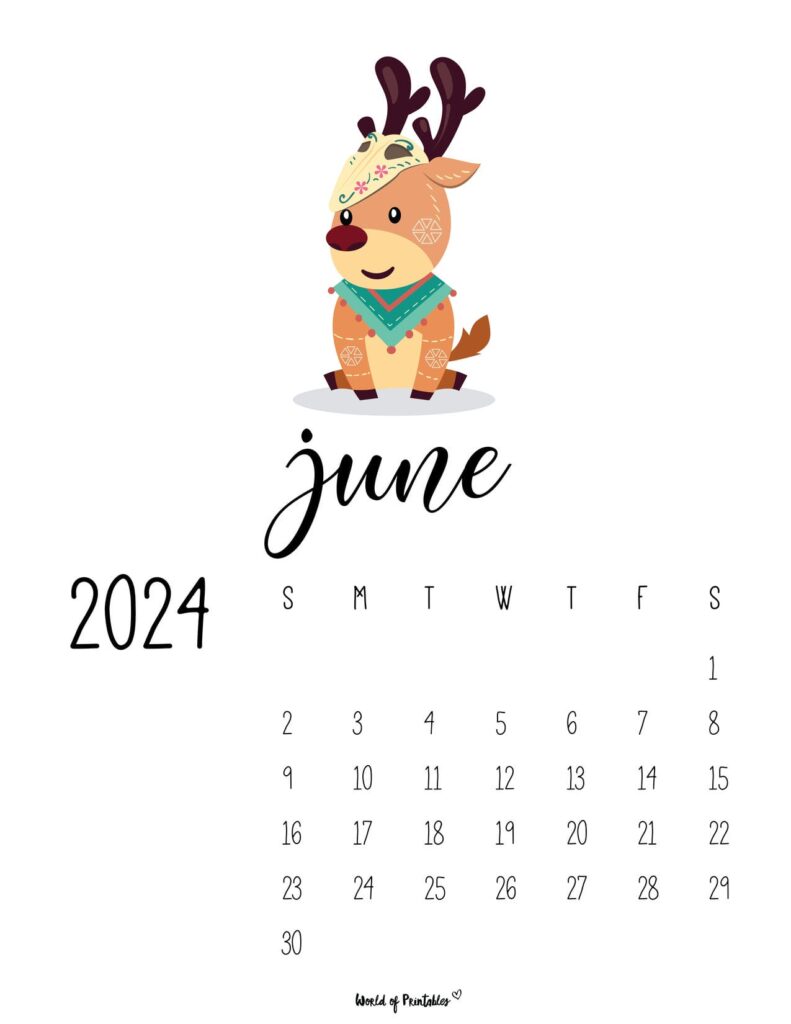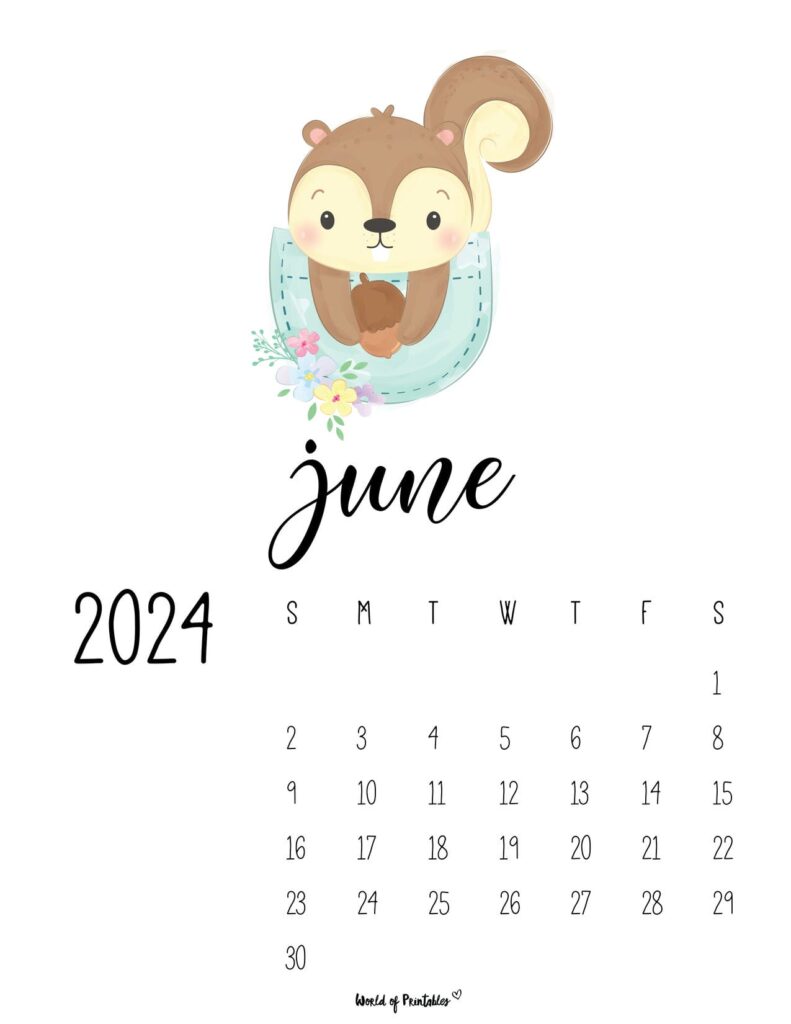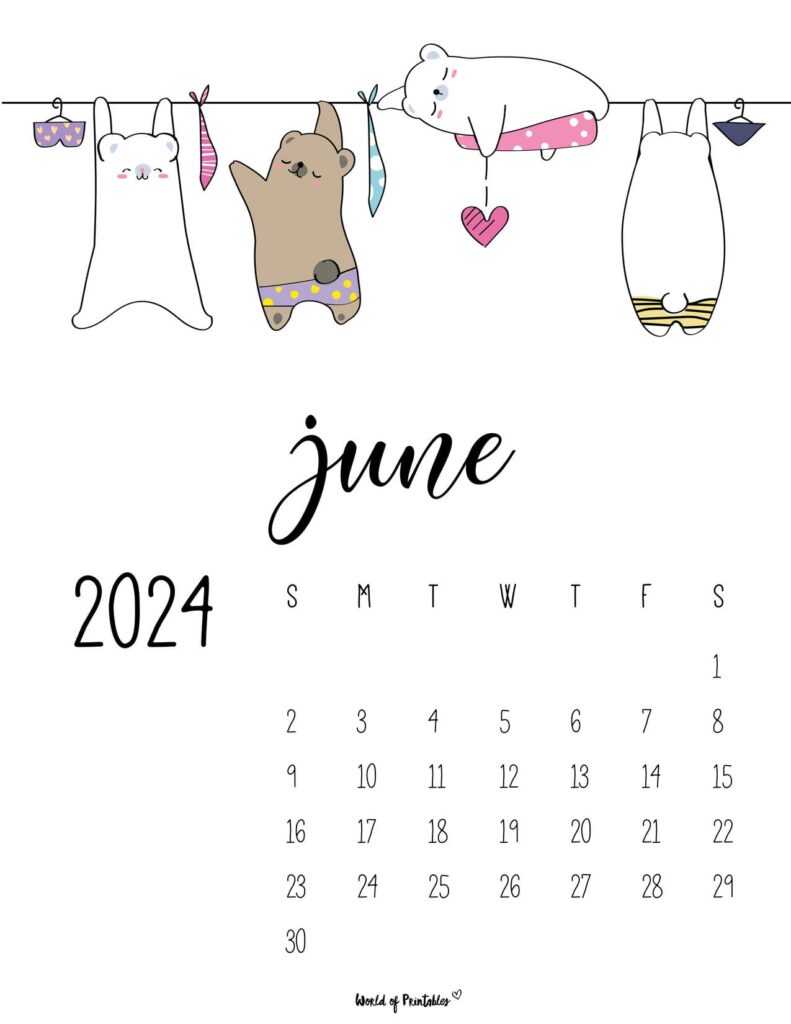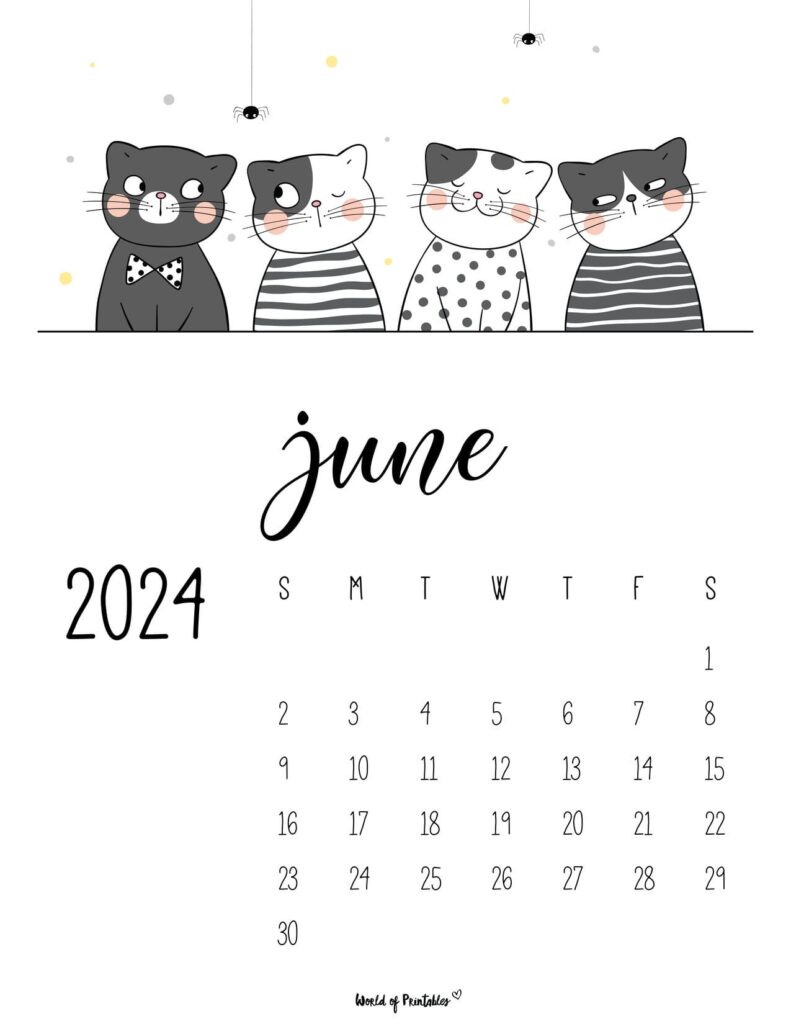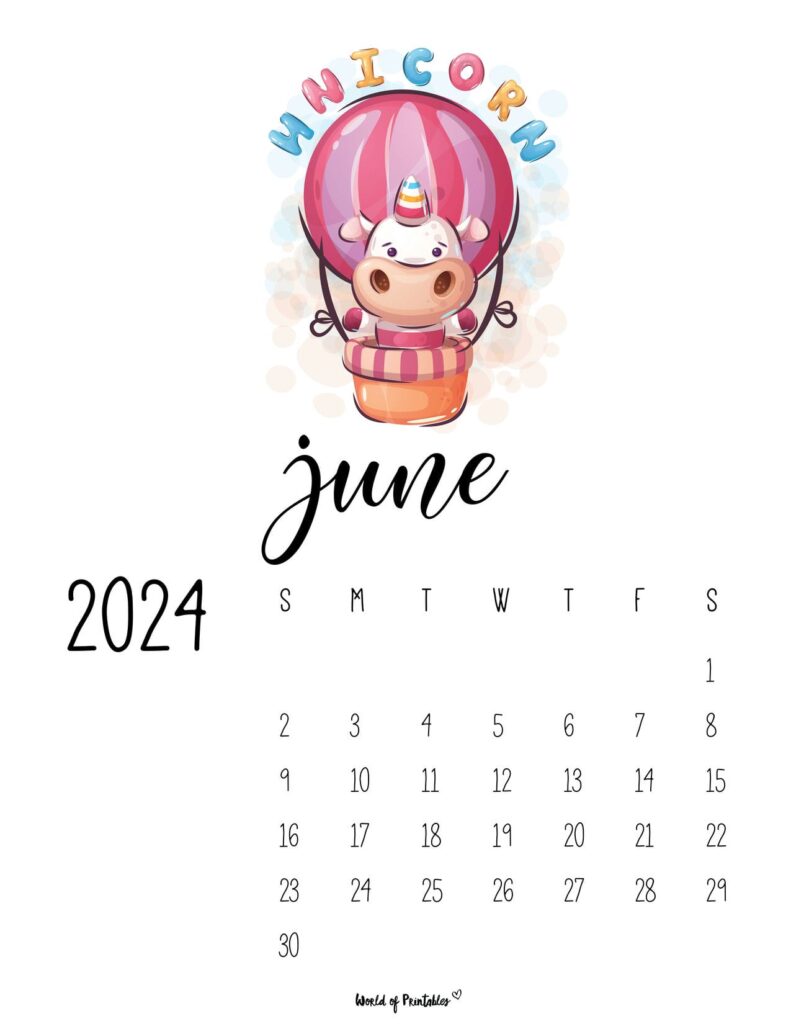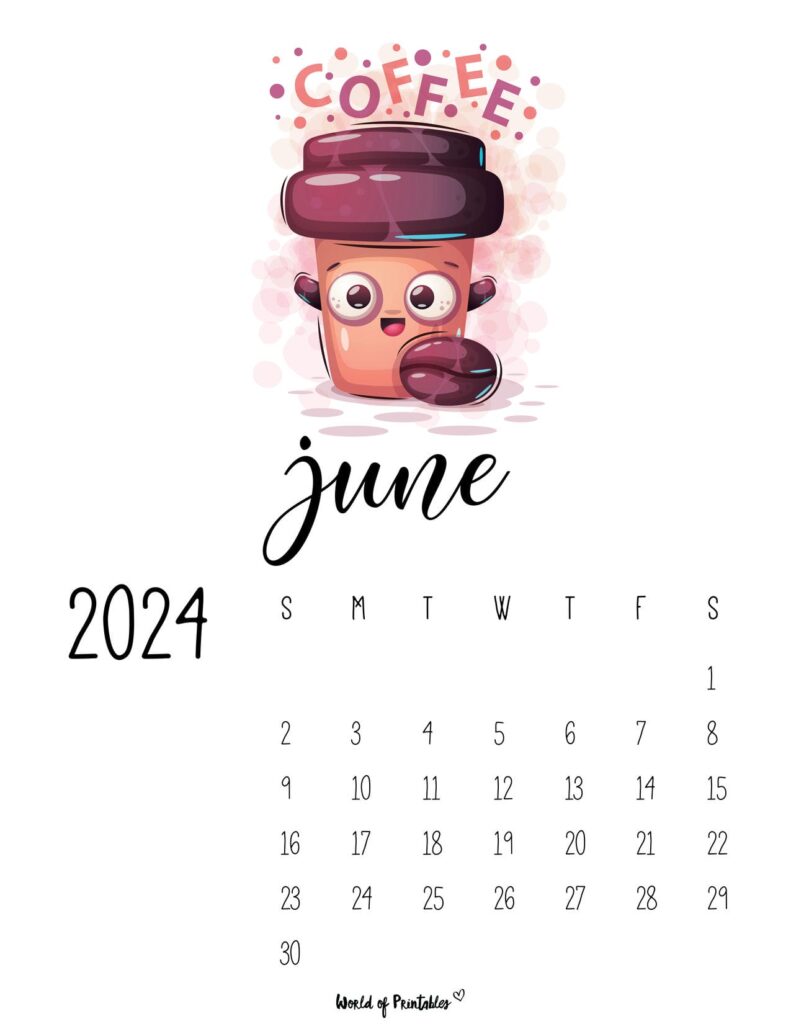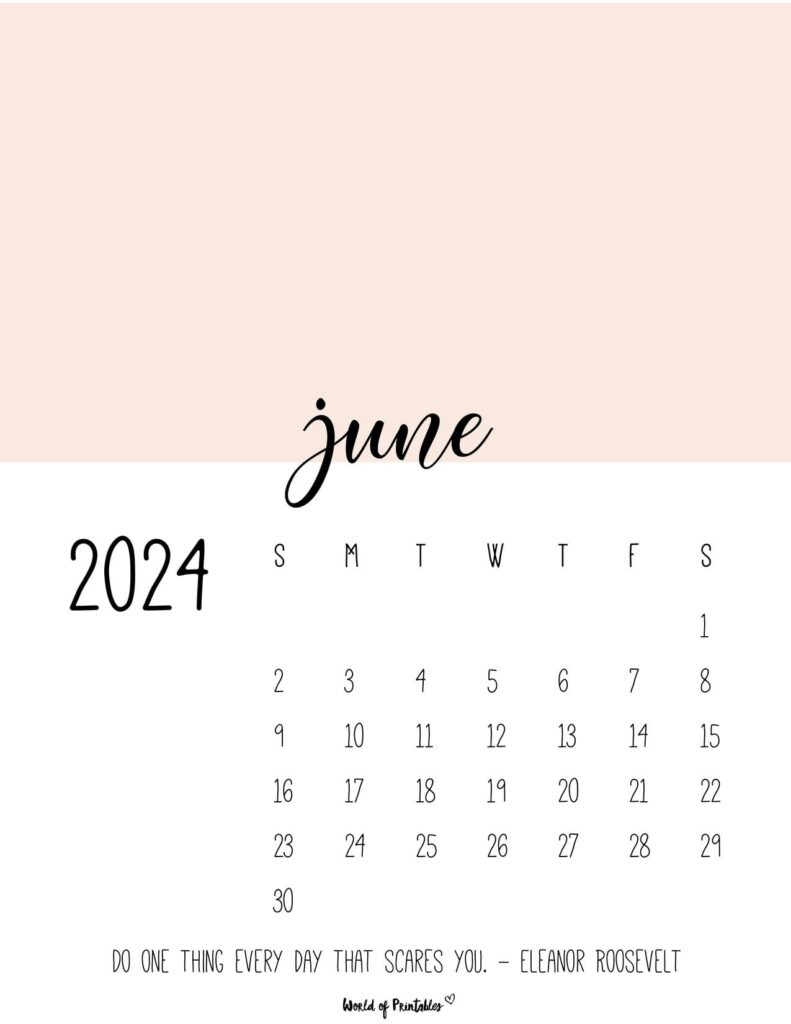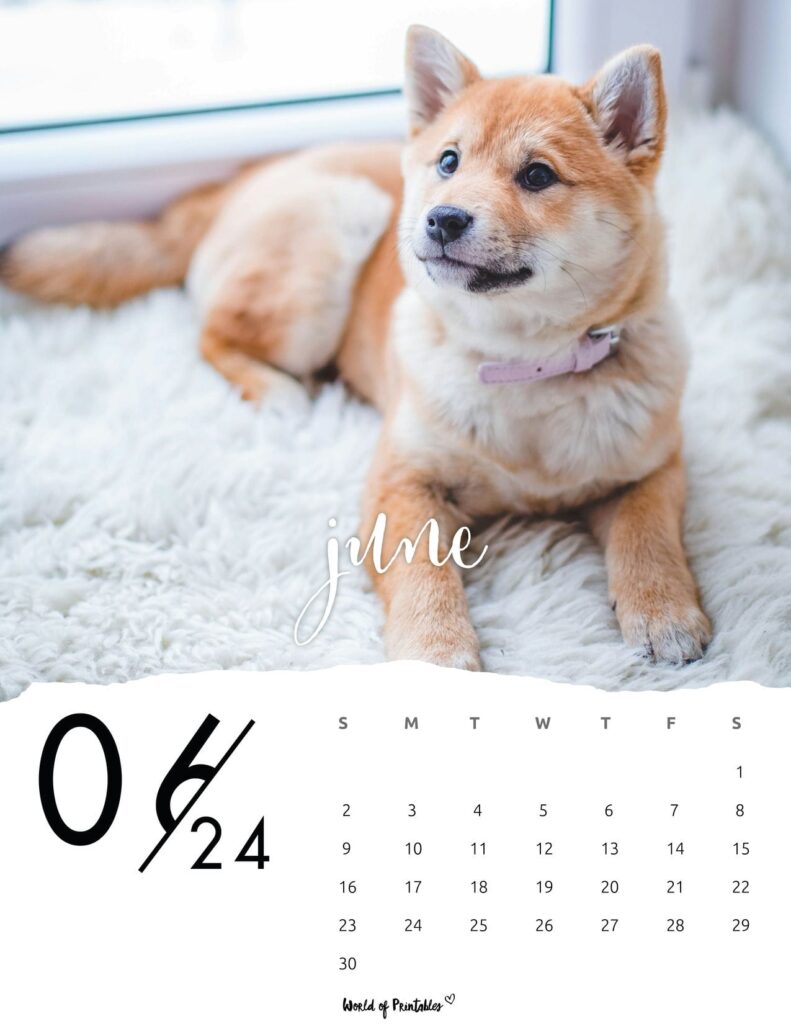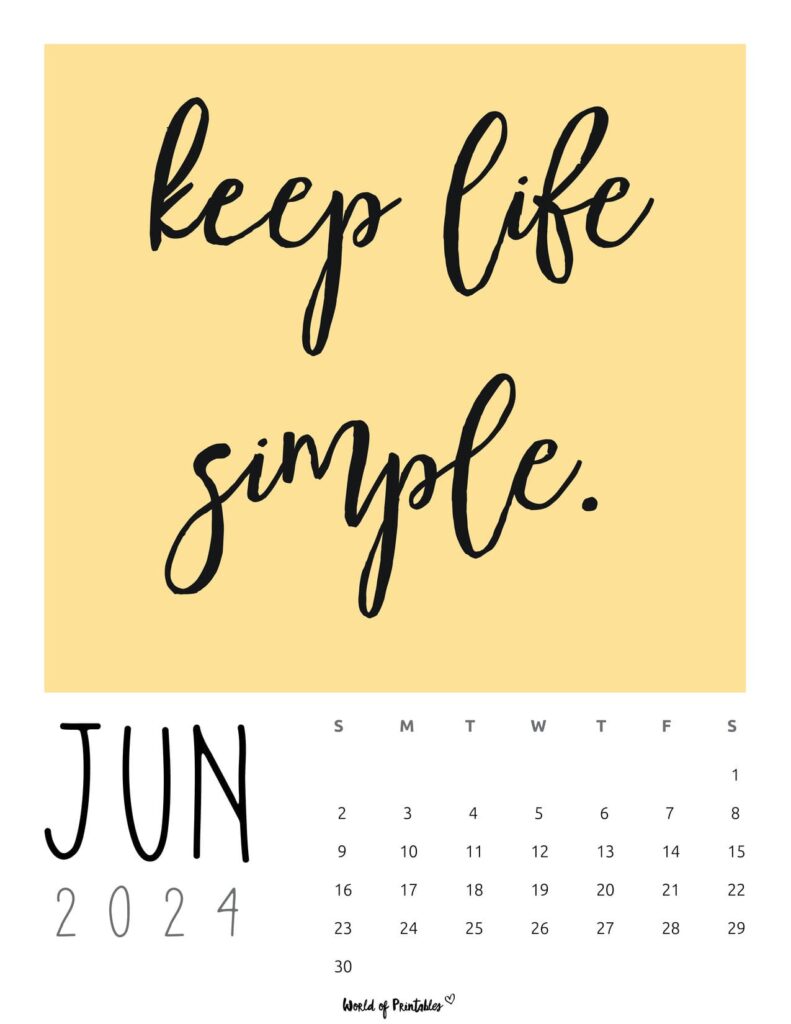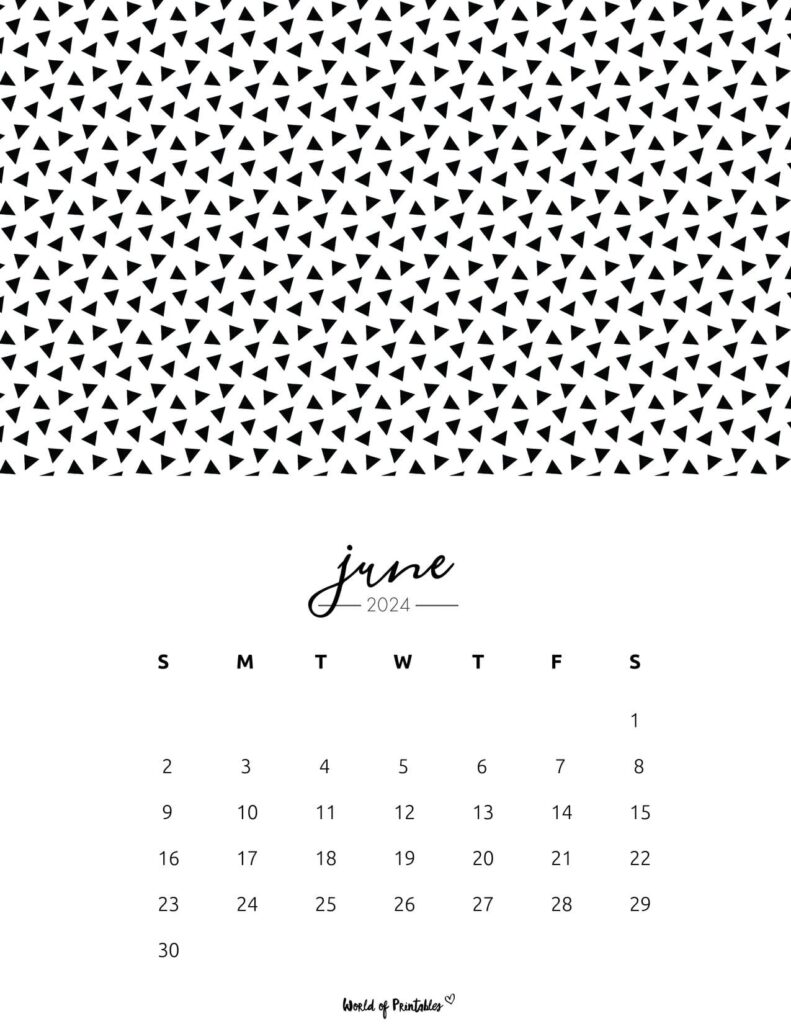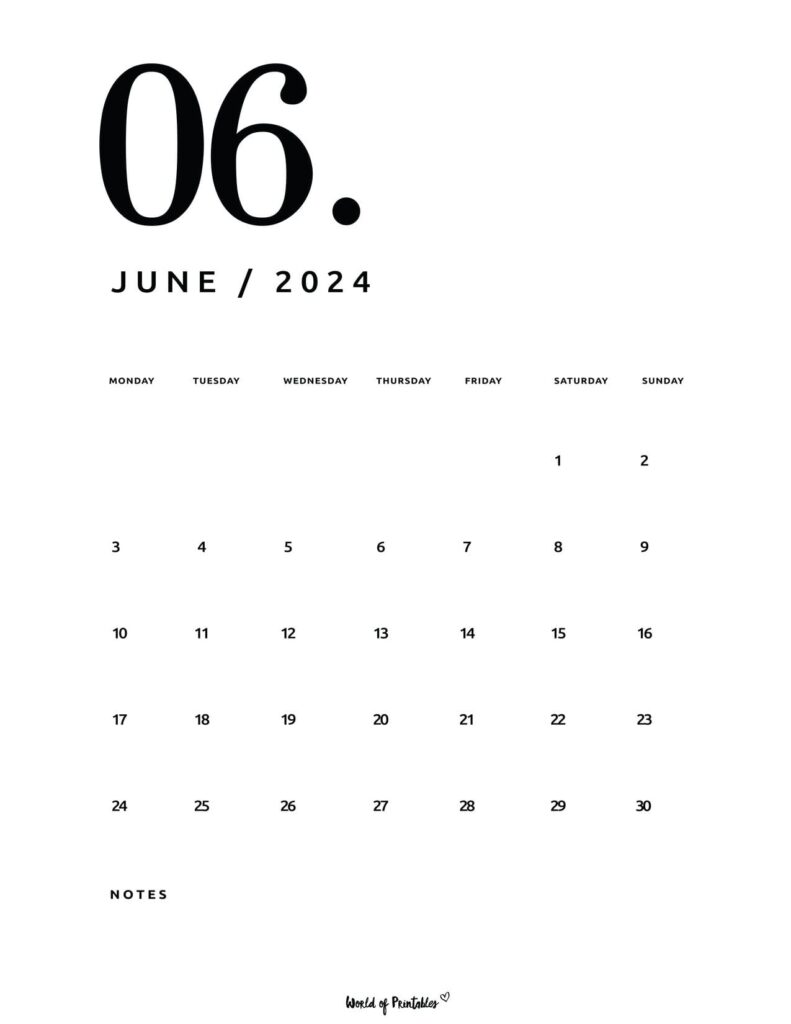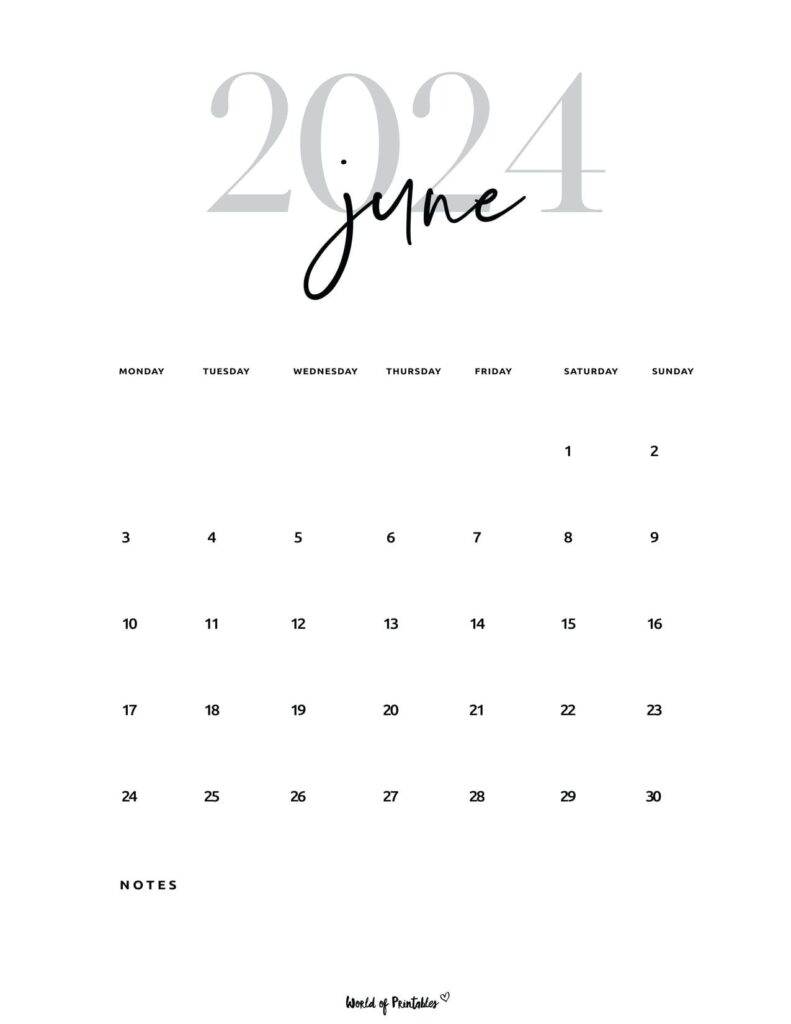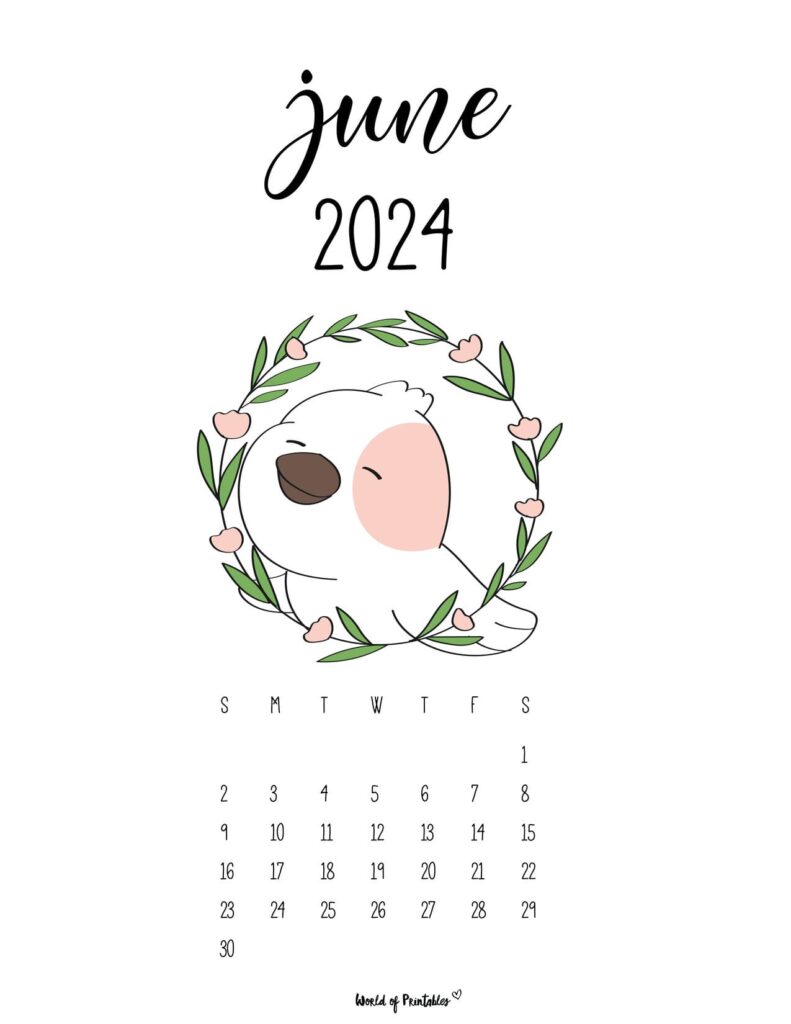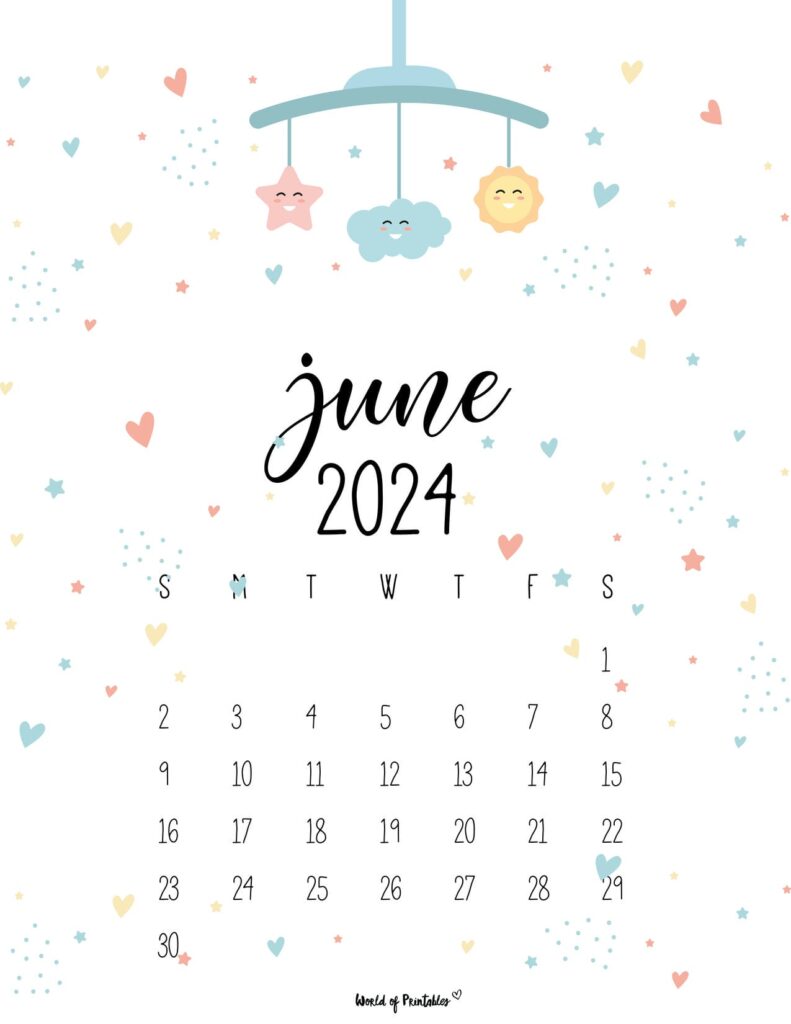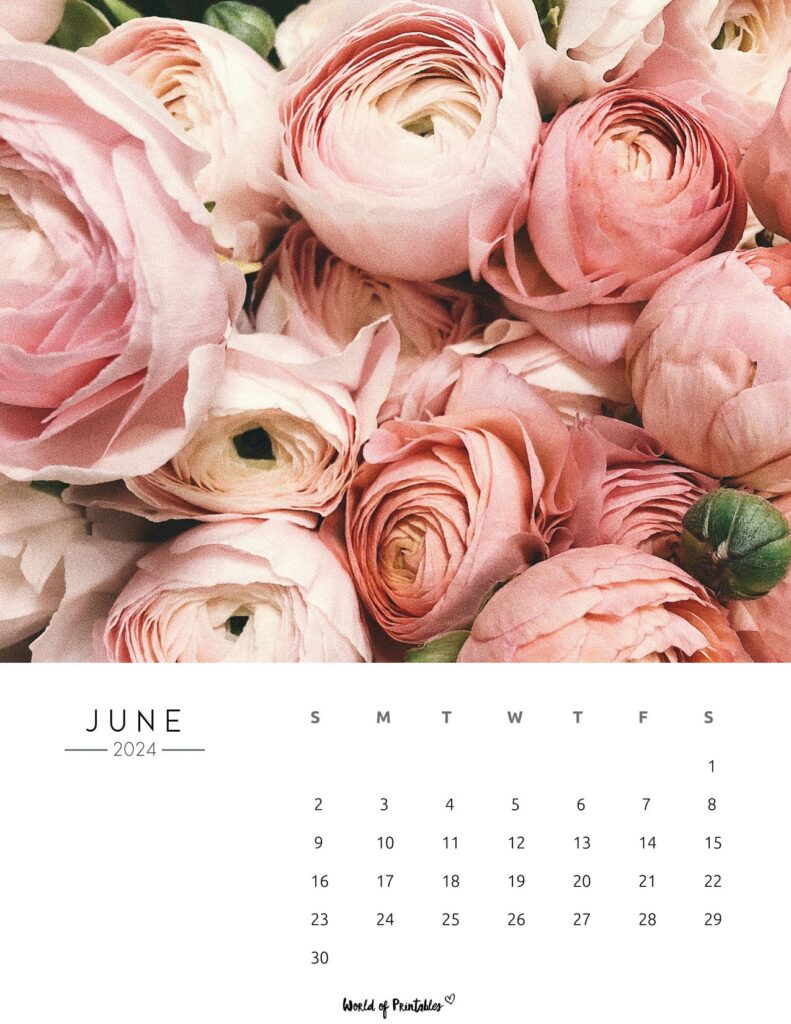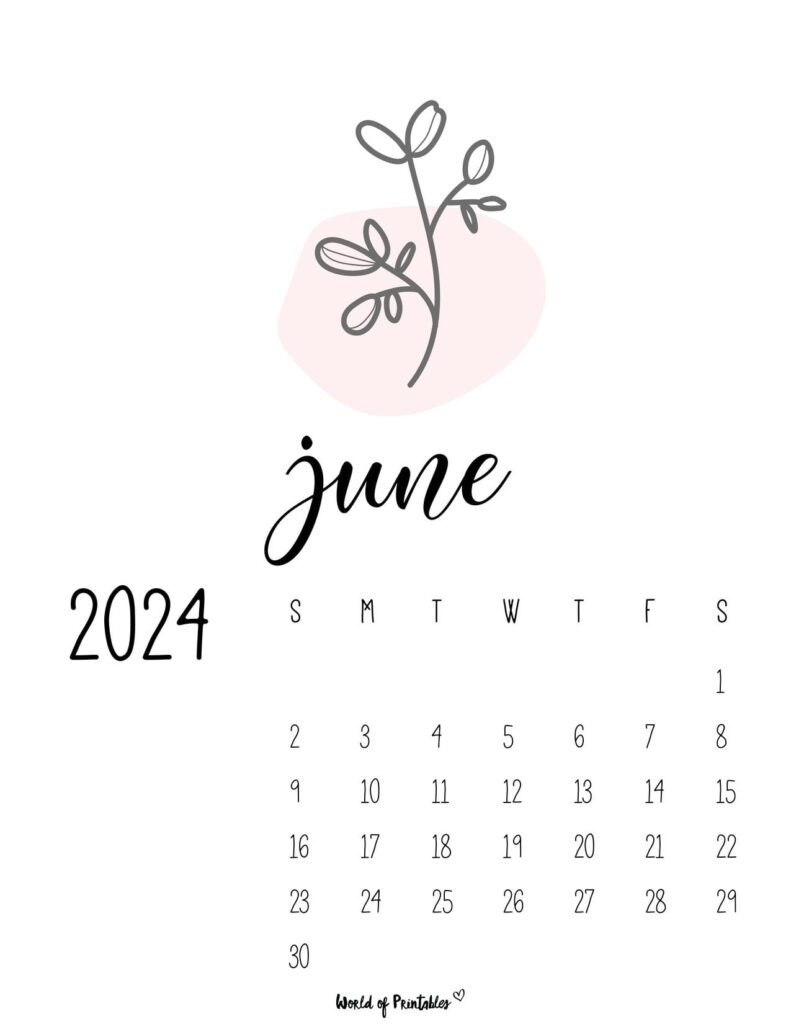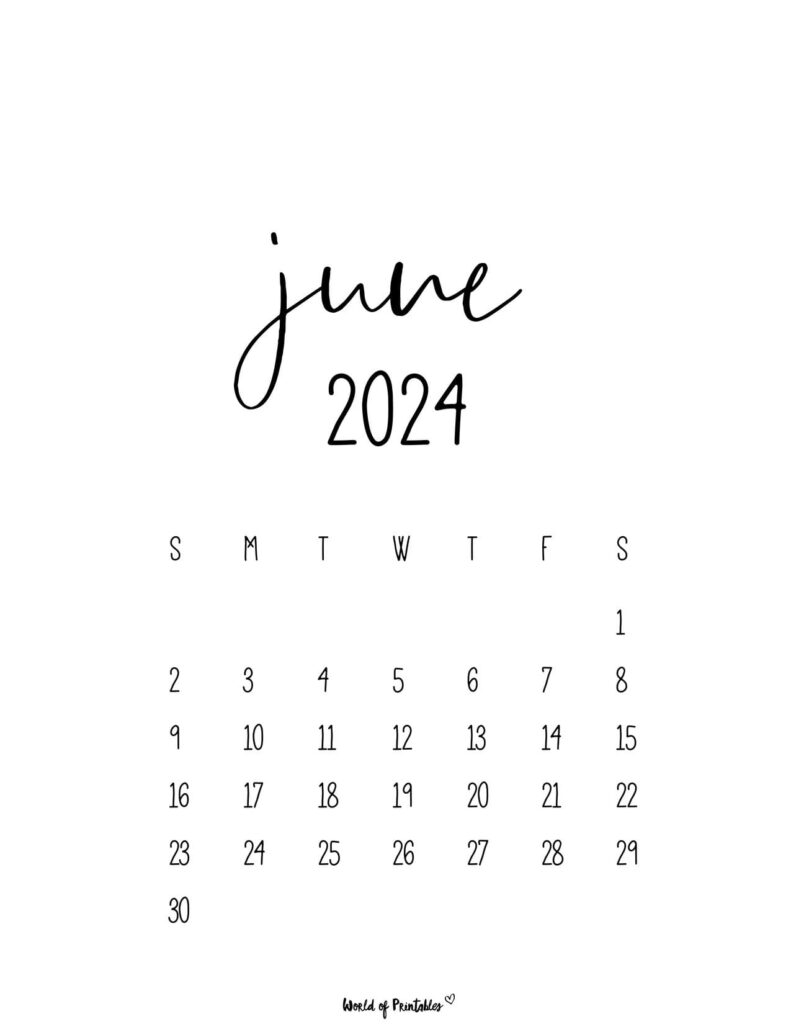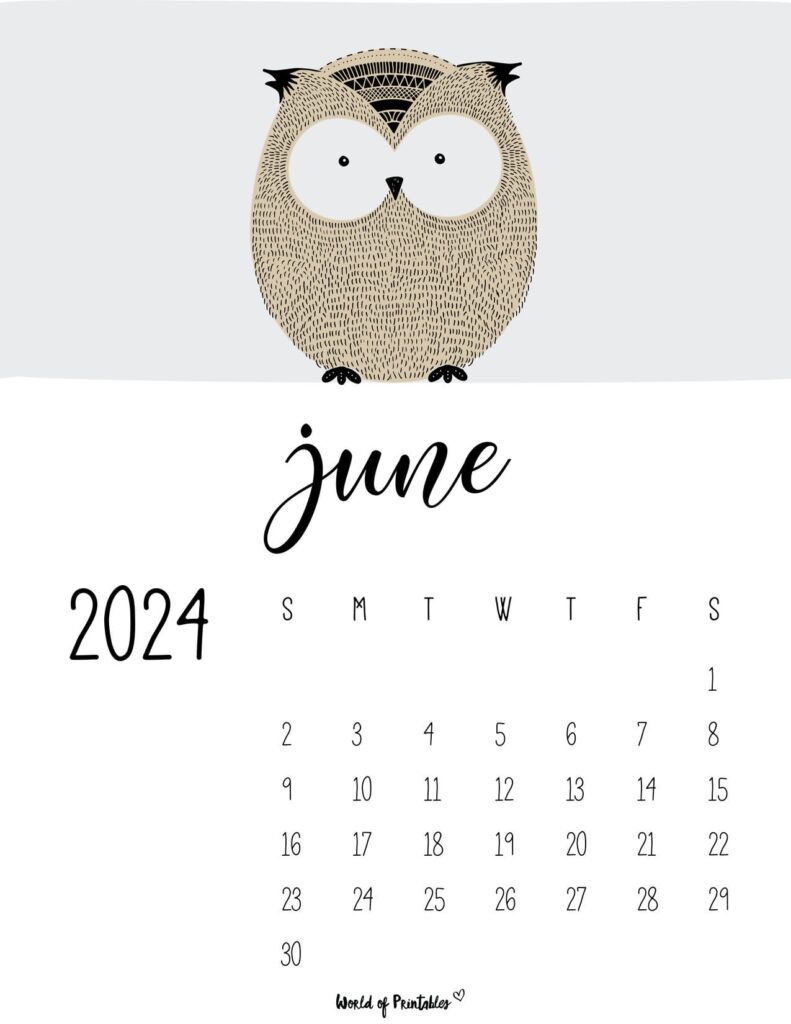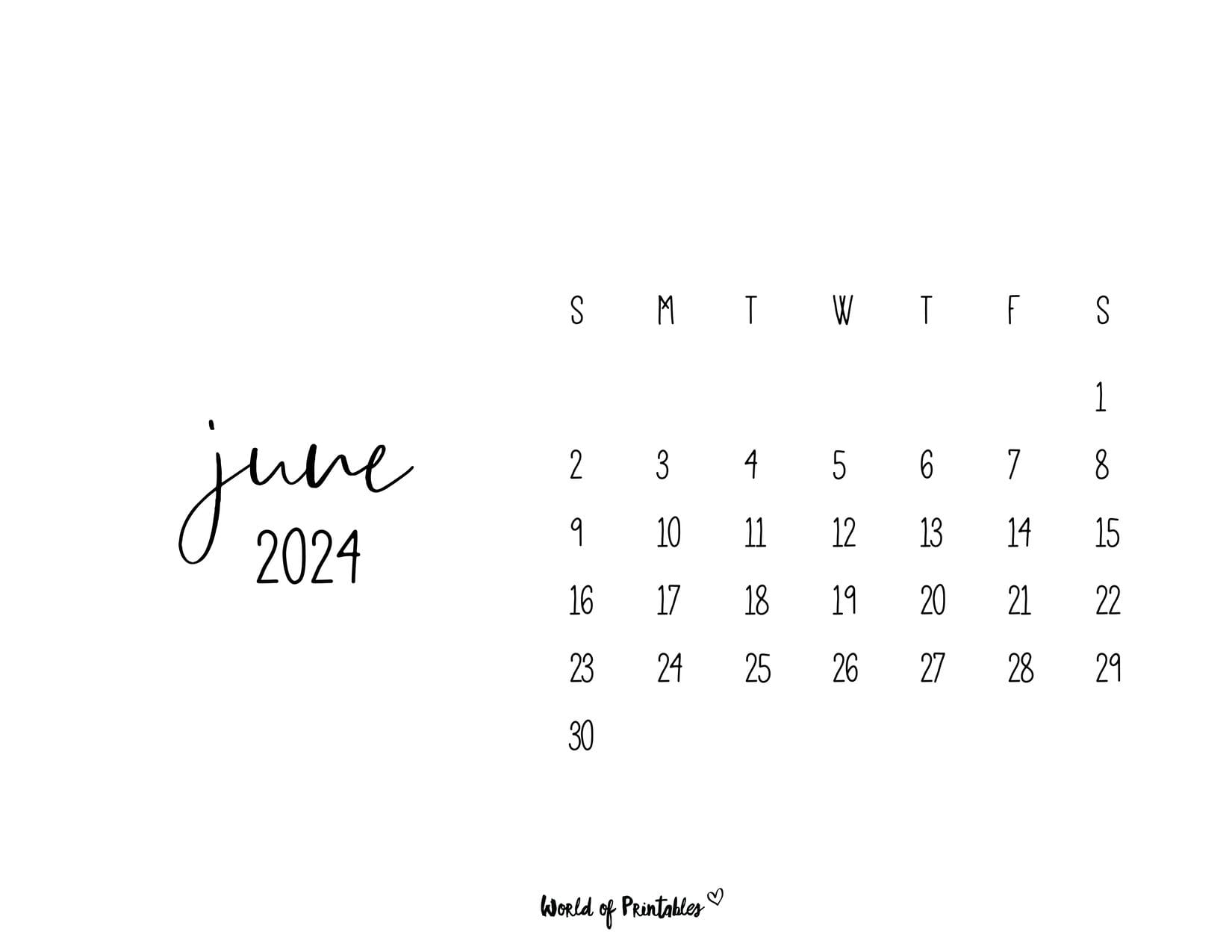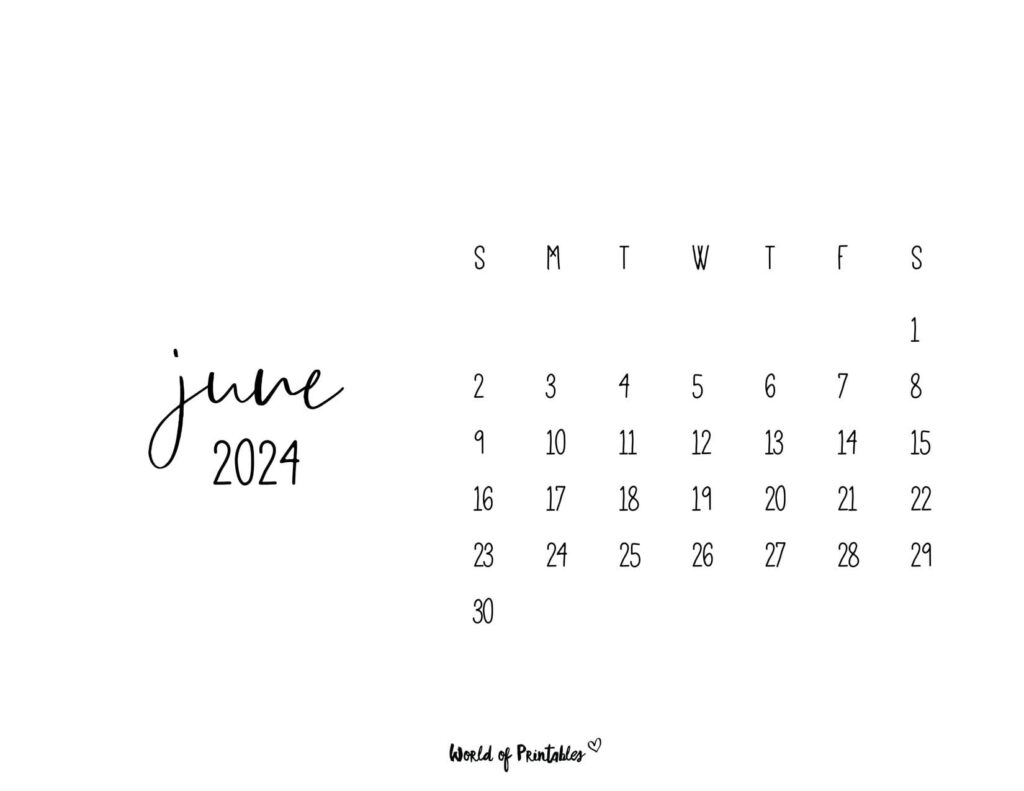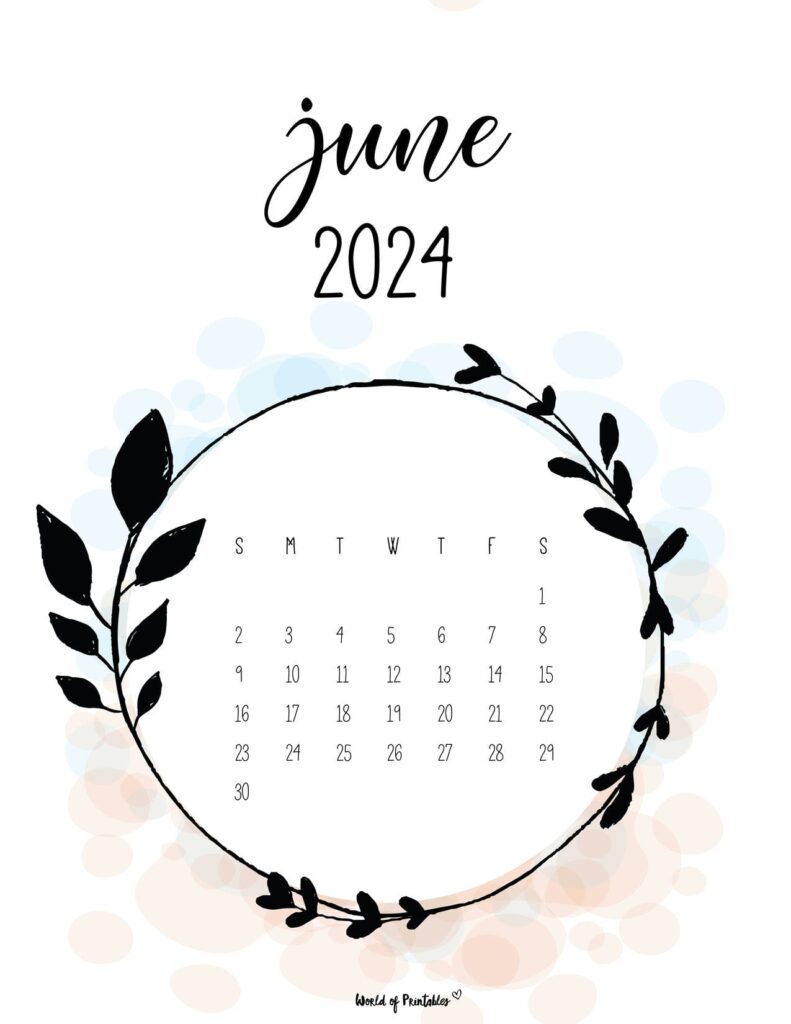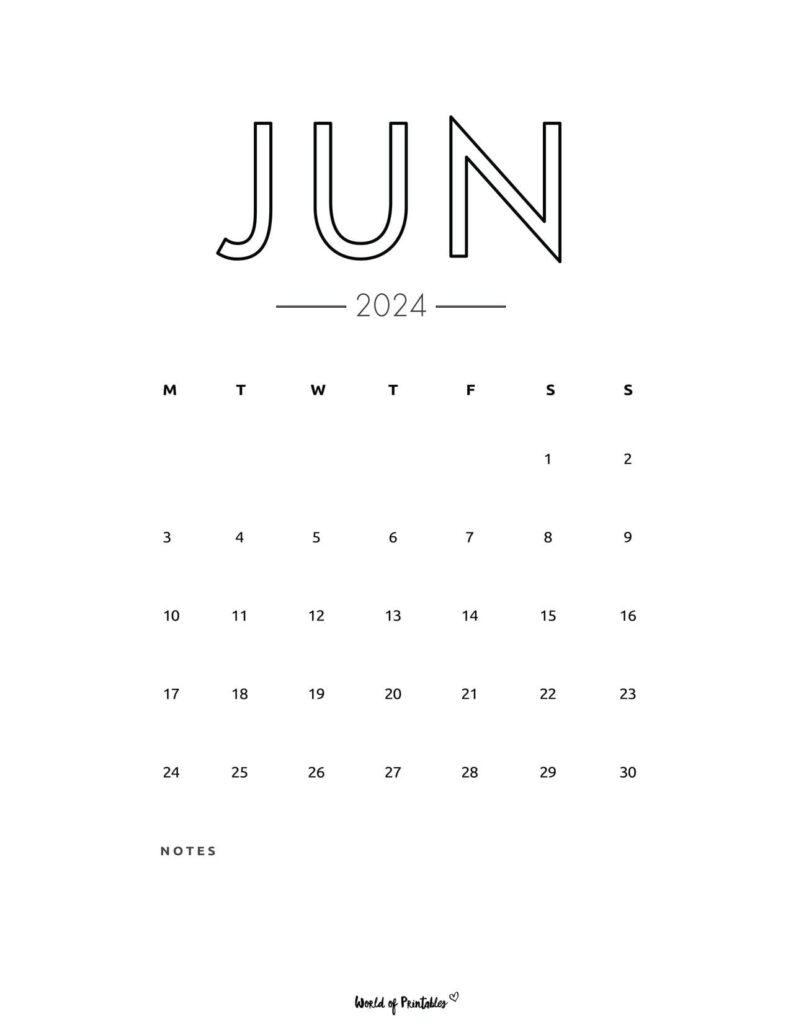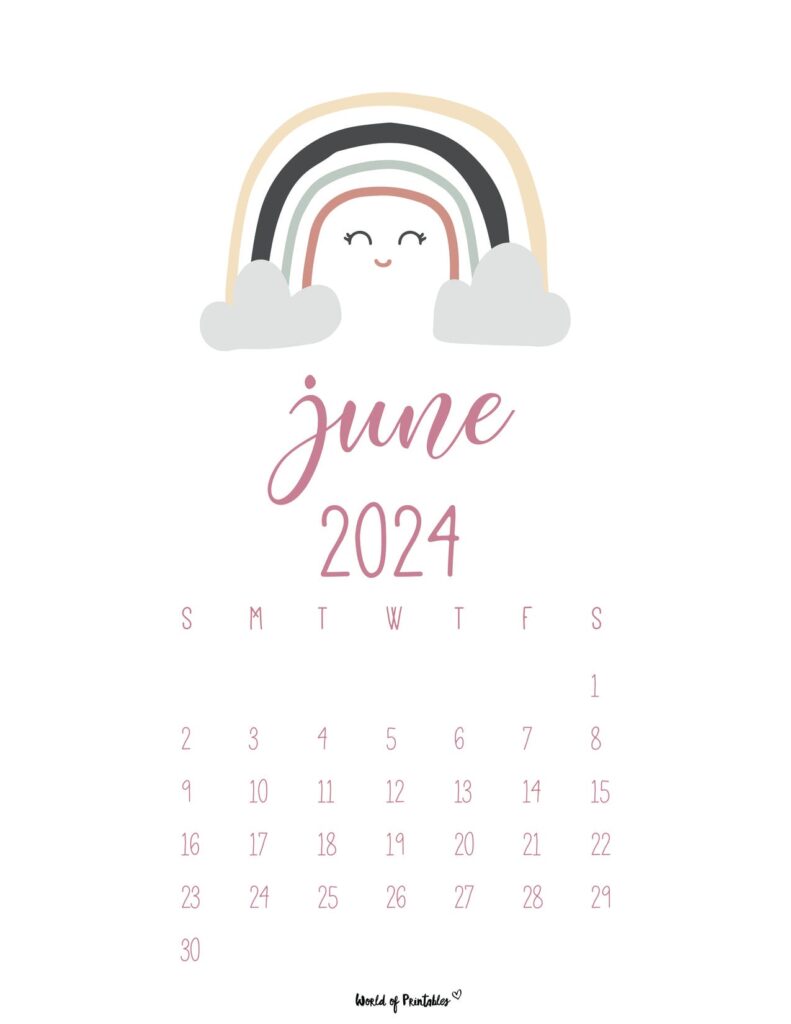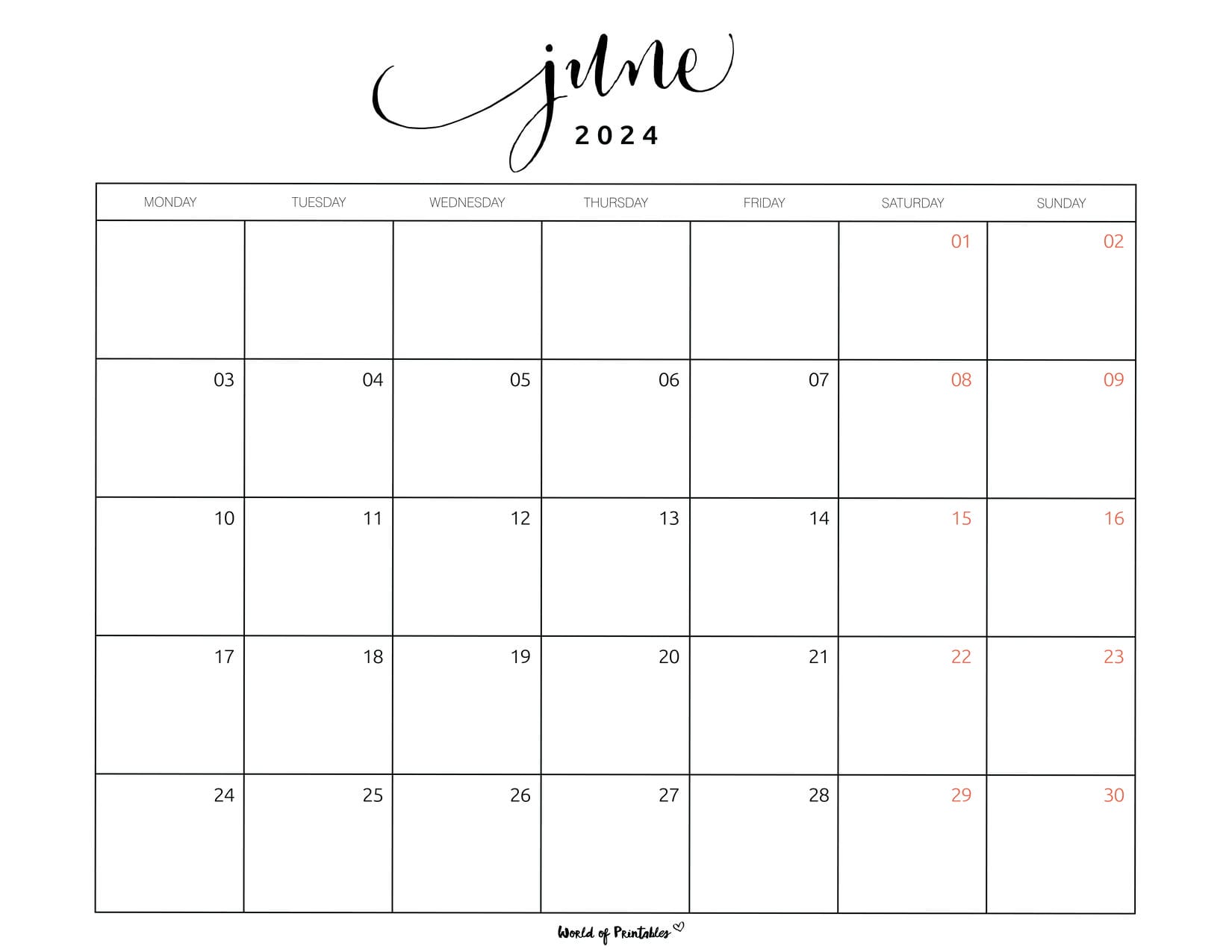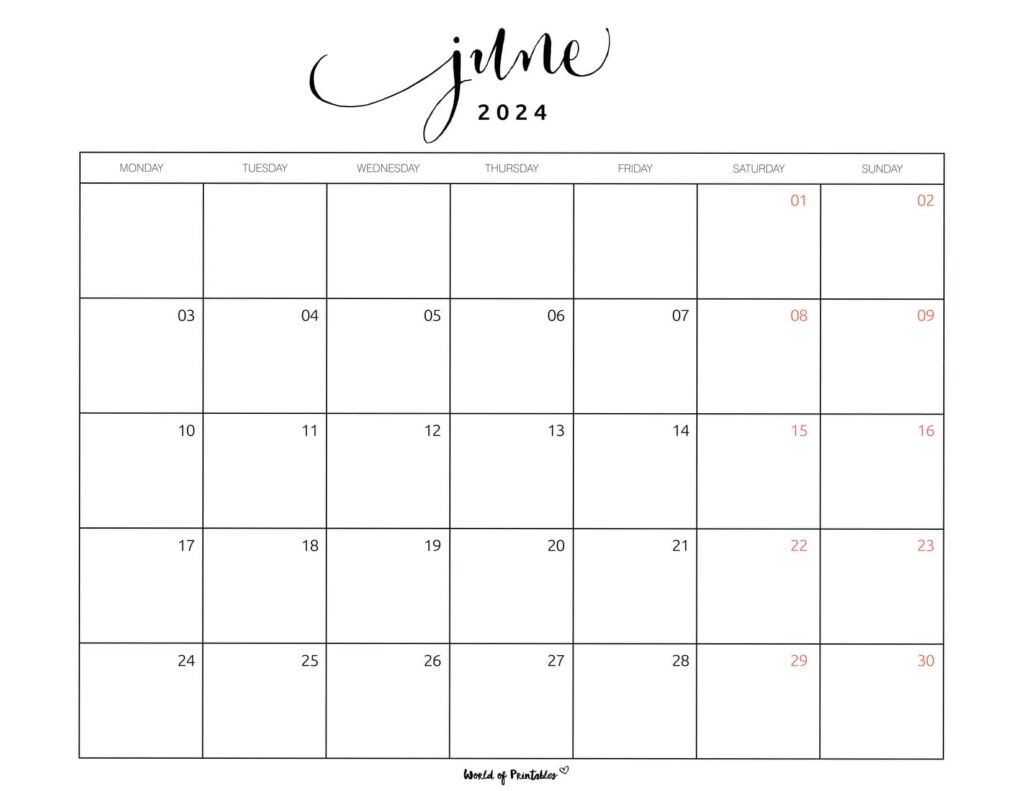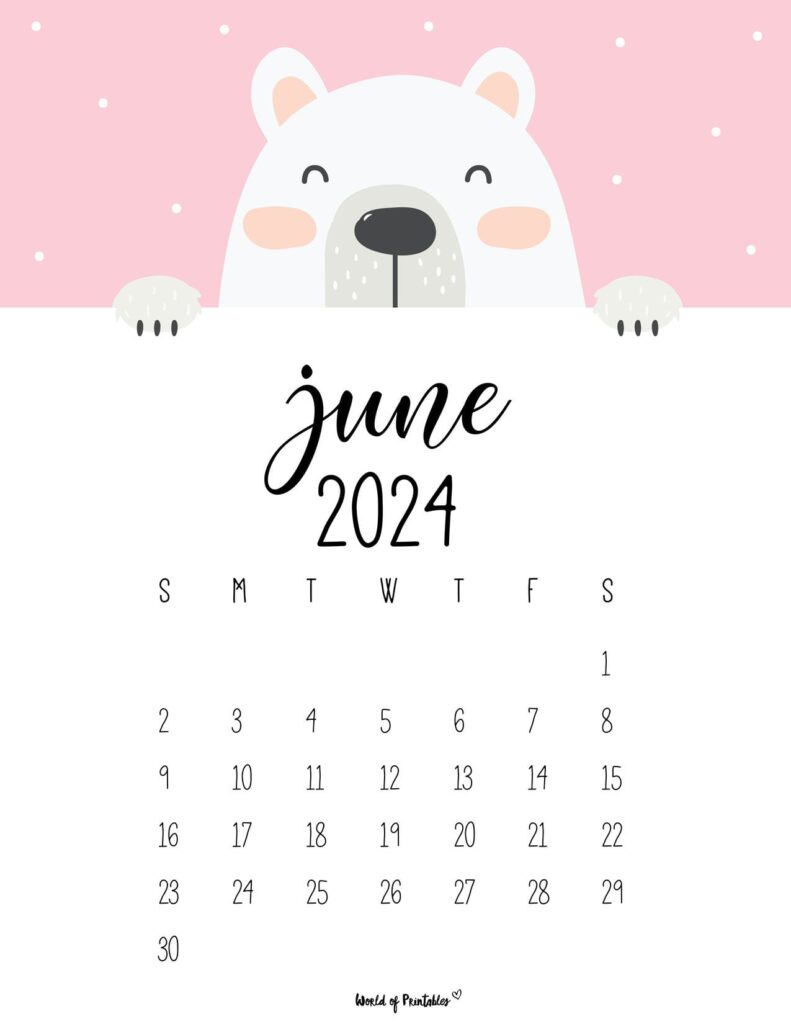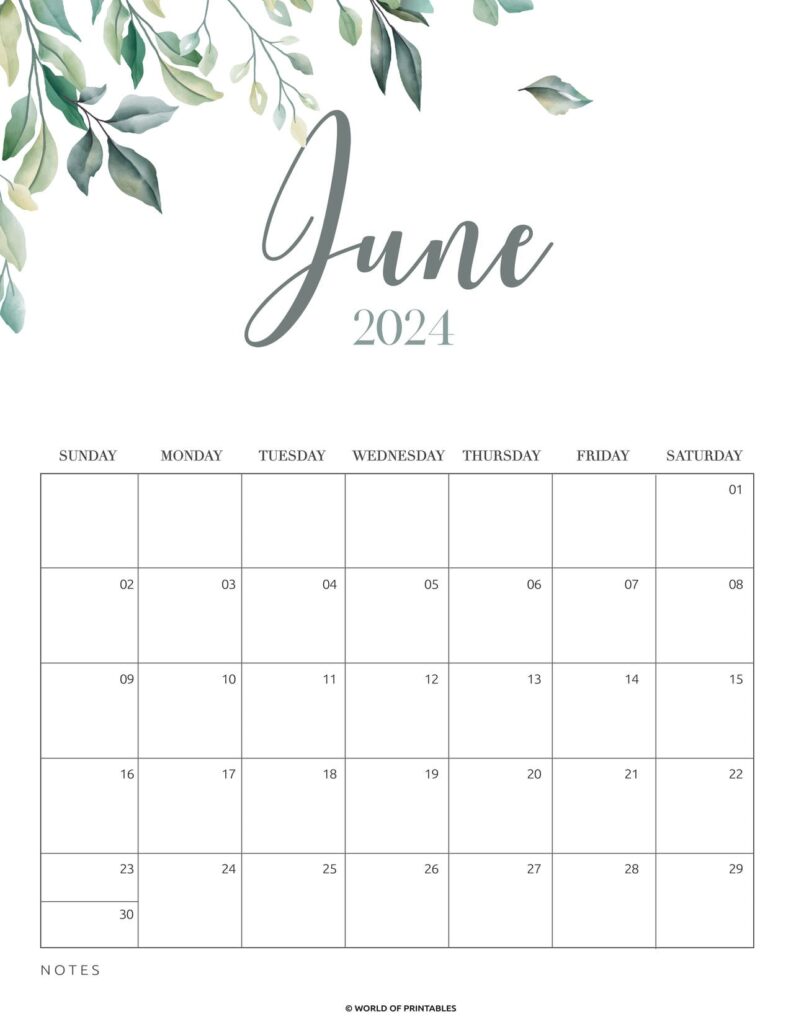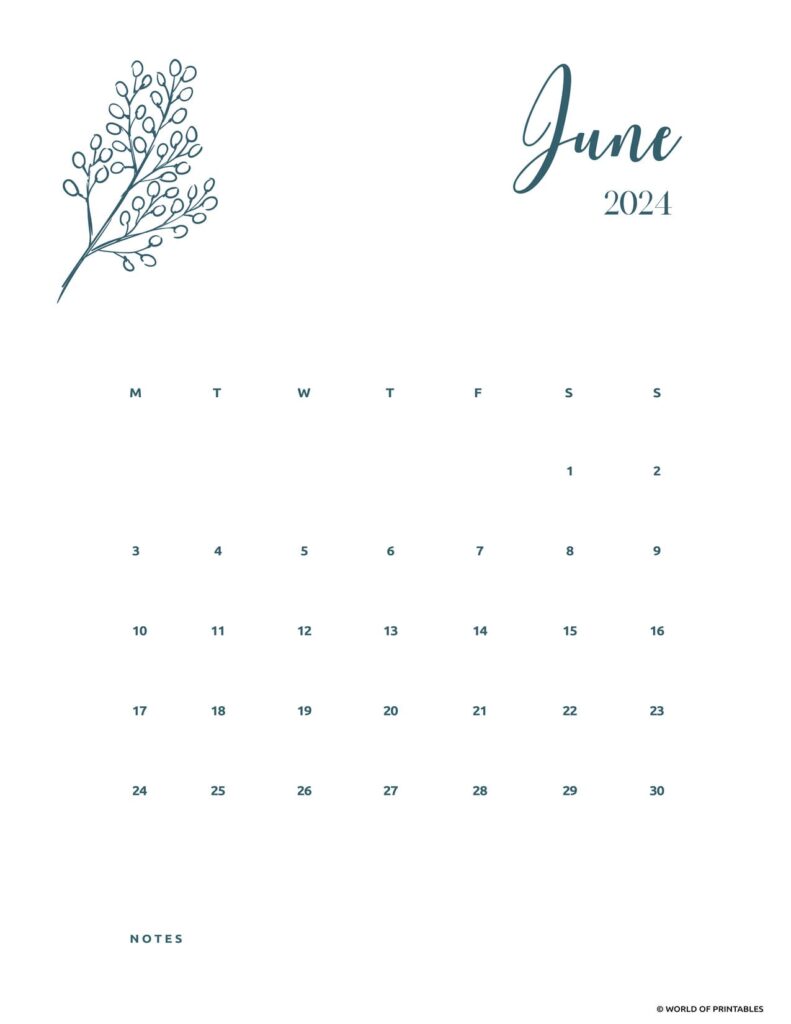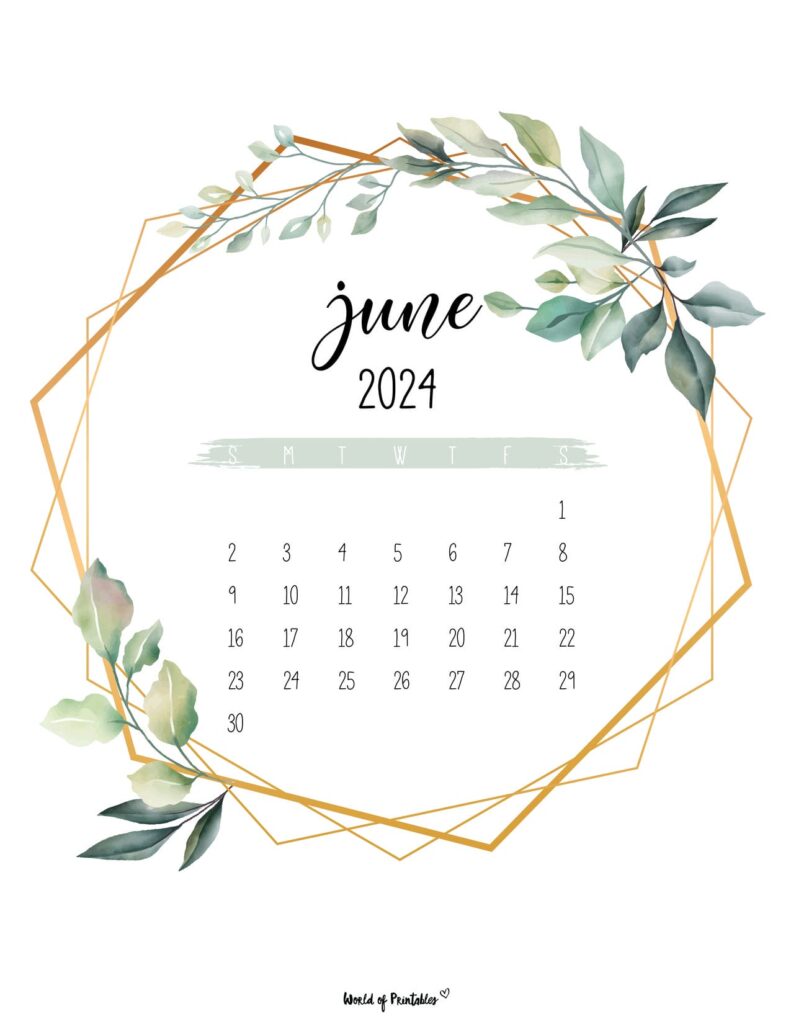 If you like these cute and fun calendars, then you'll be happy to know that we've got a range of fun calendar templates for you.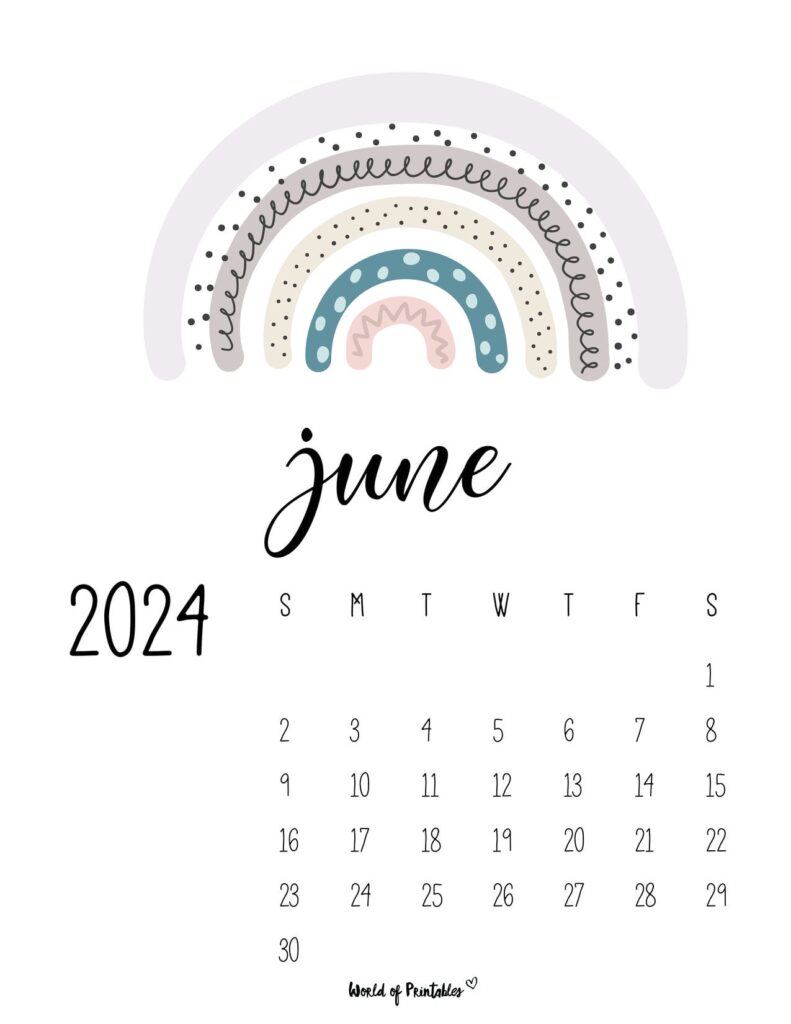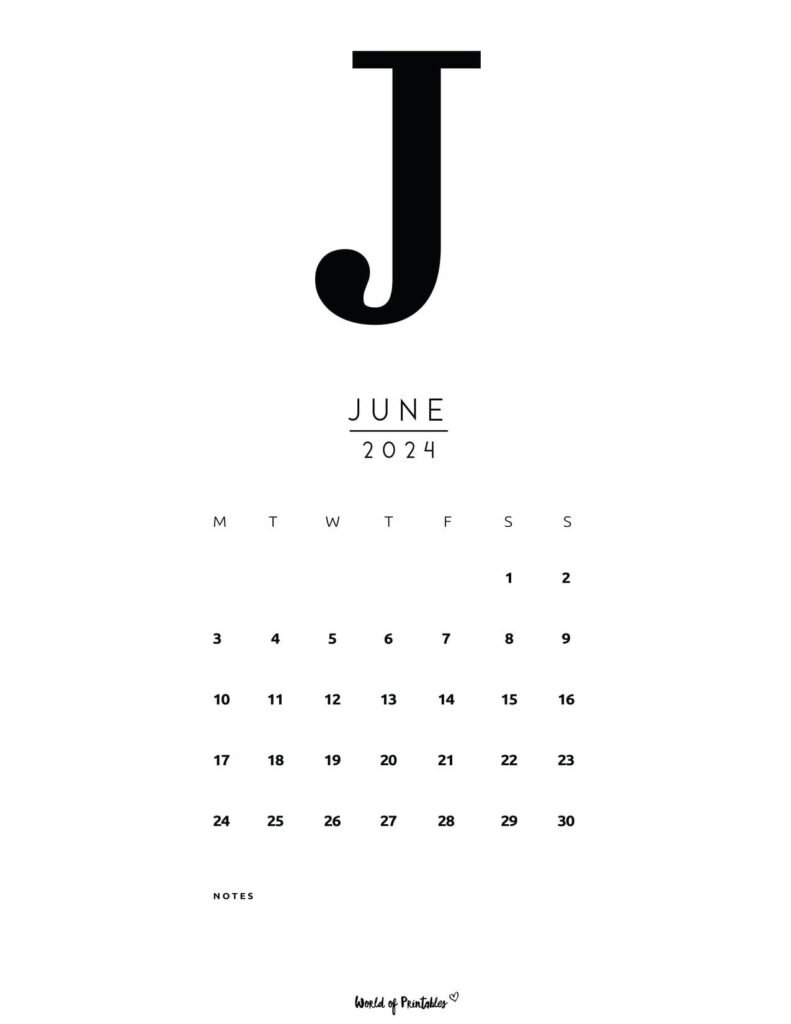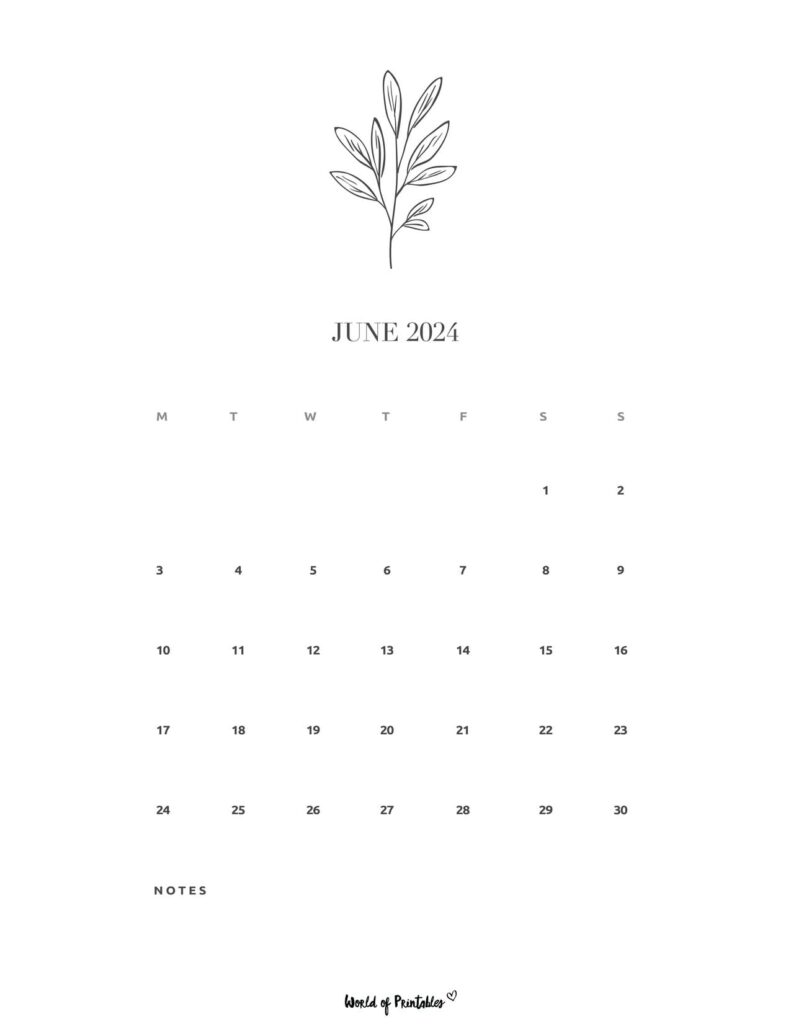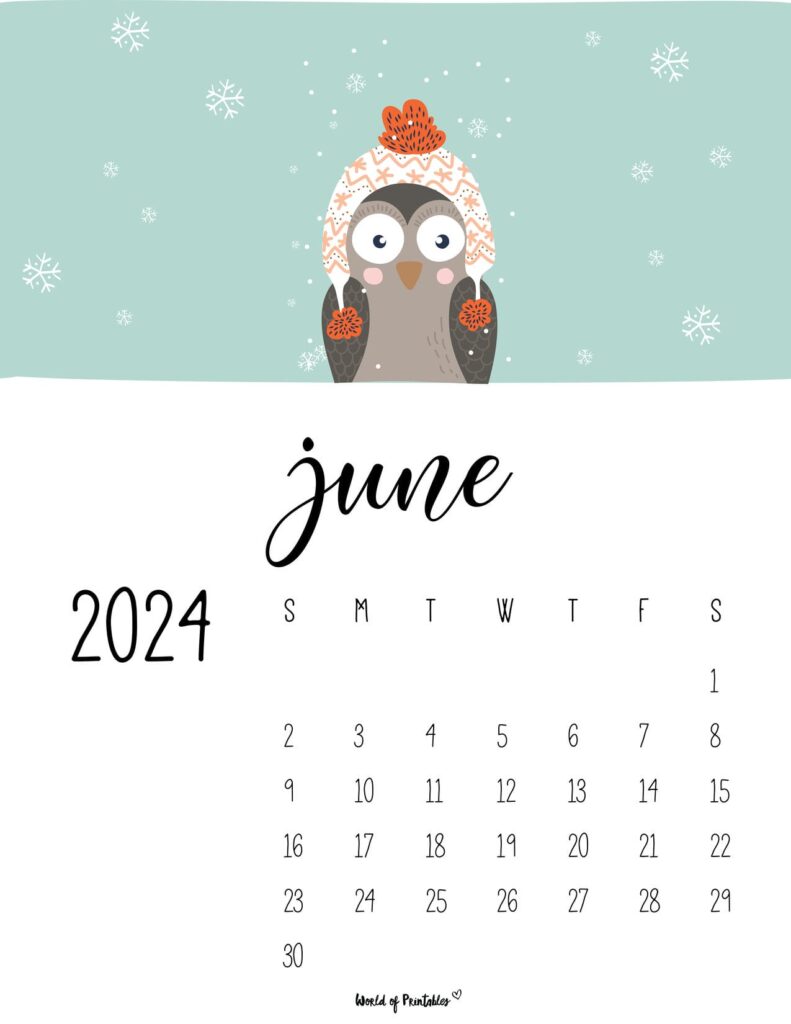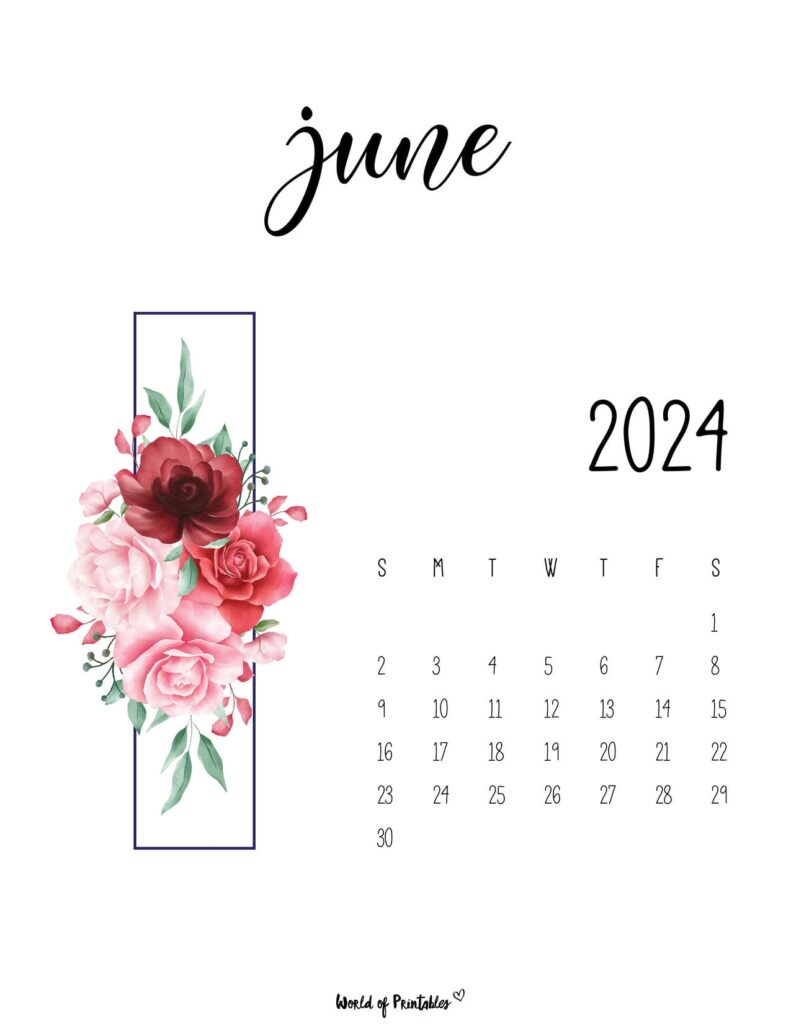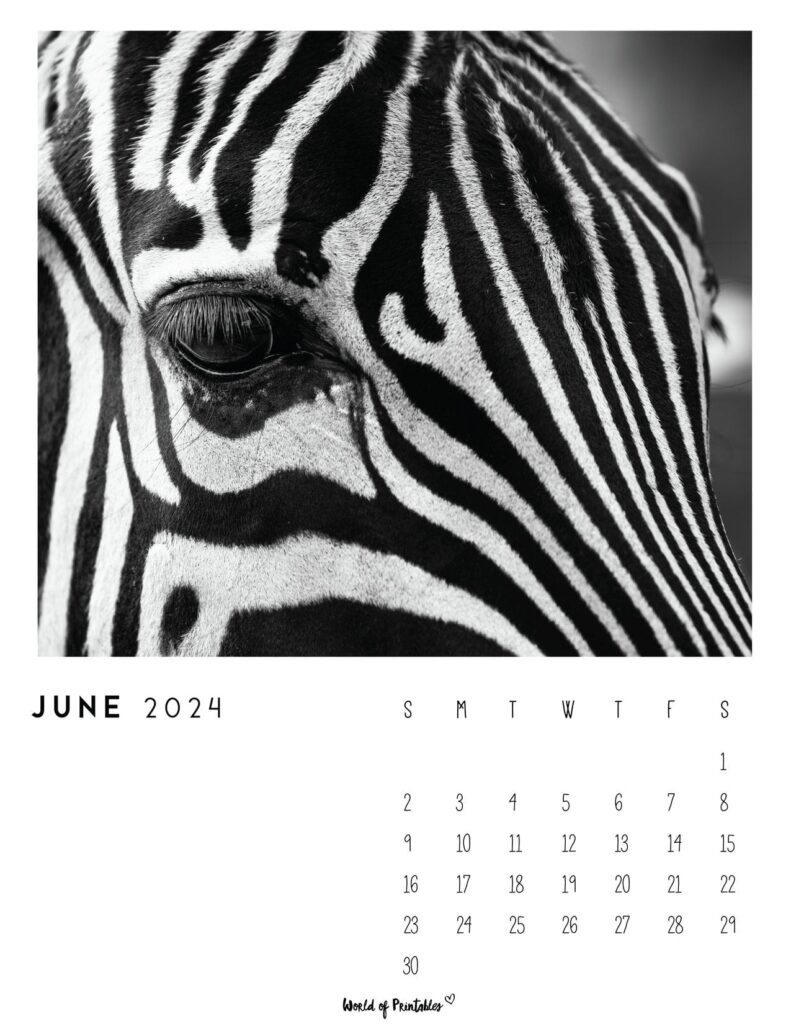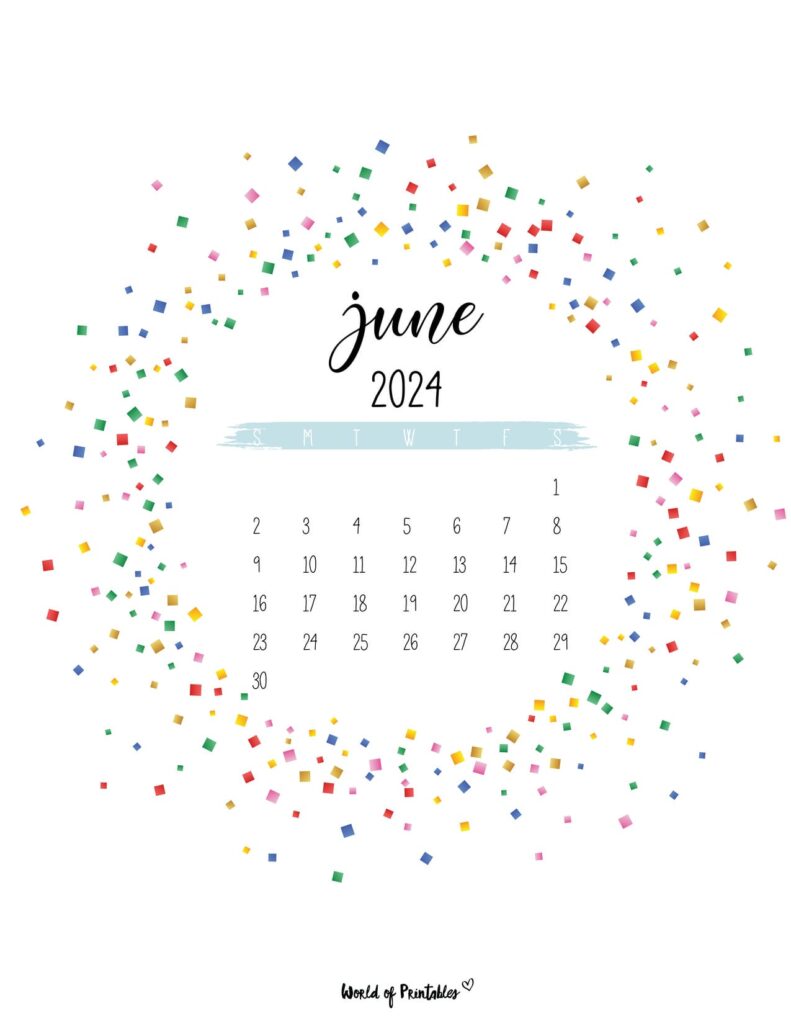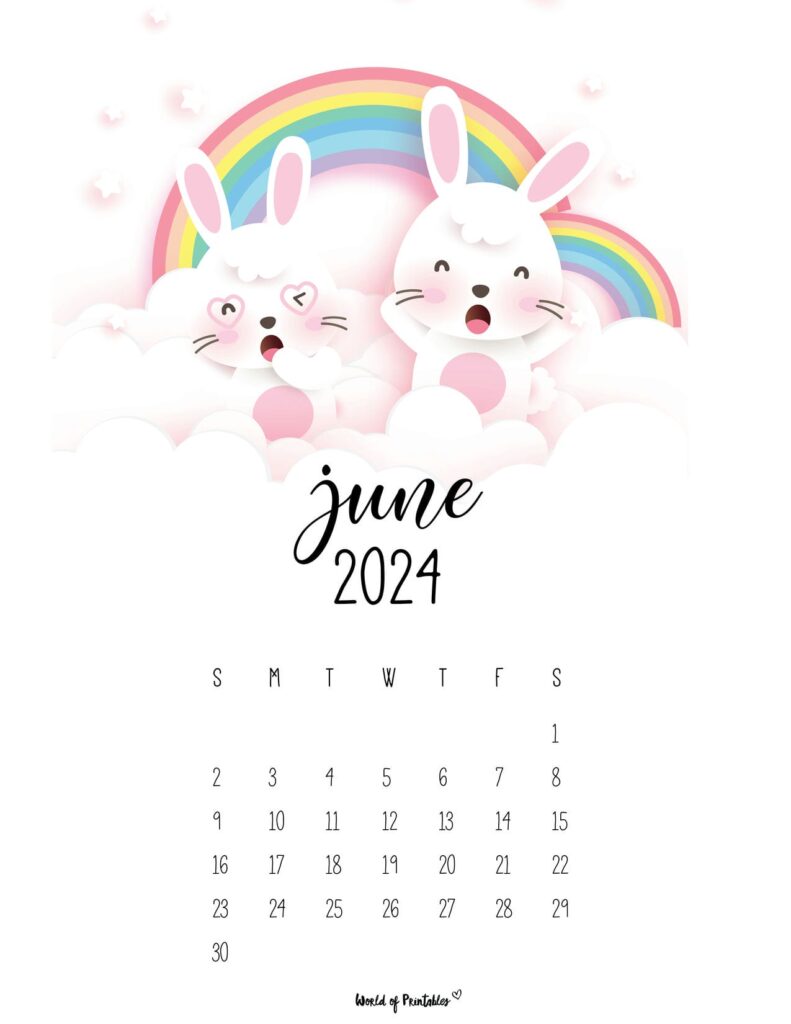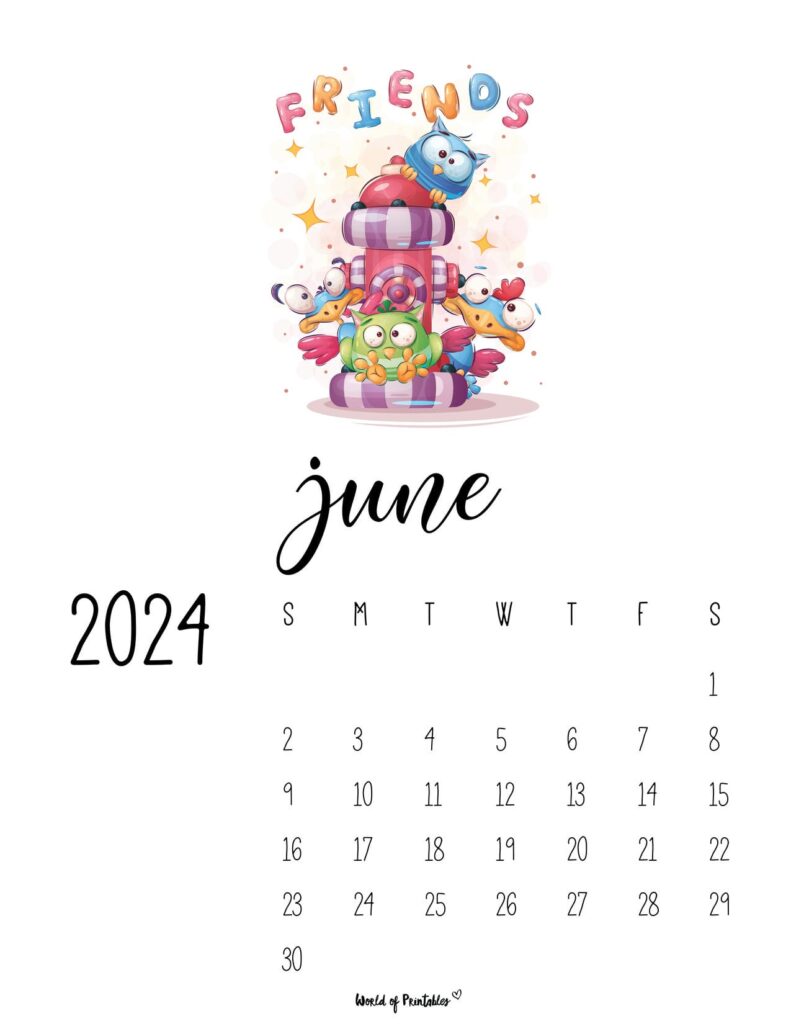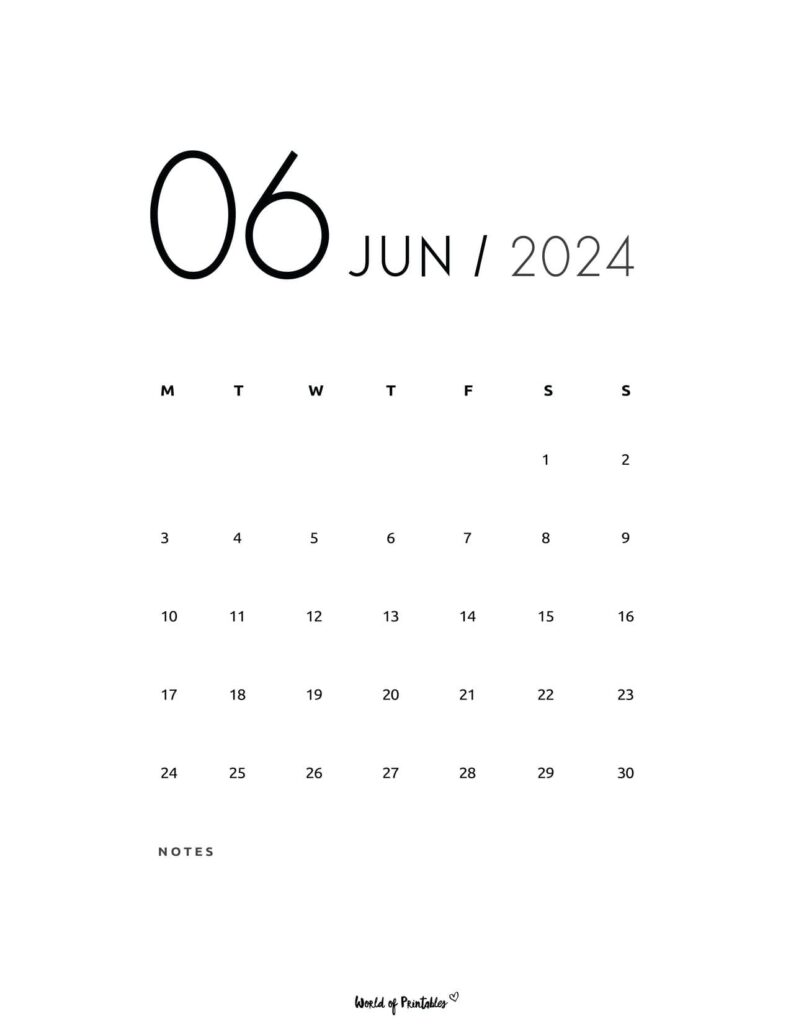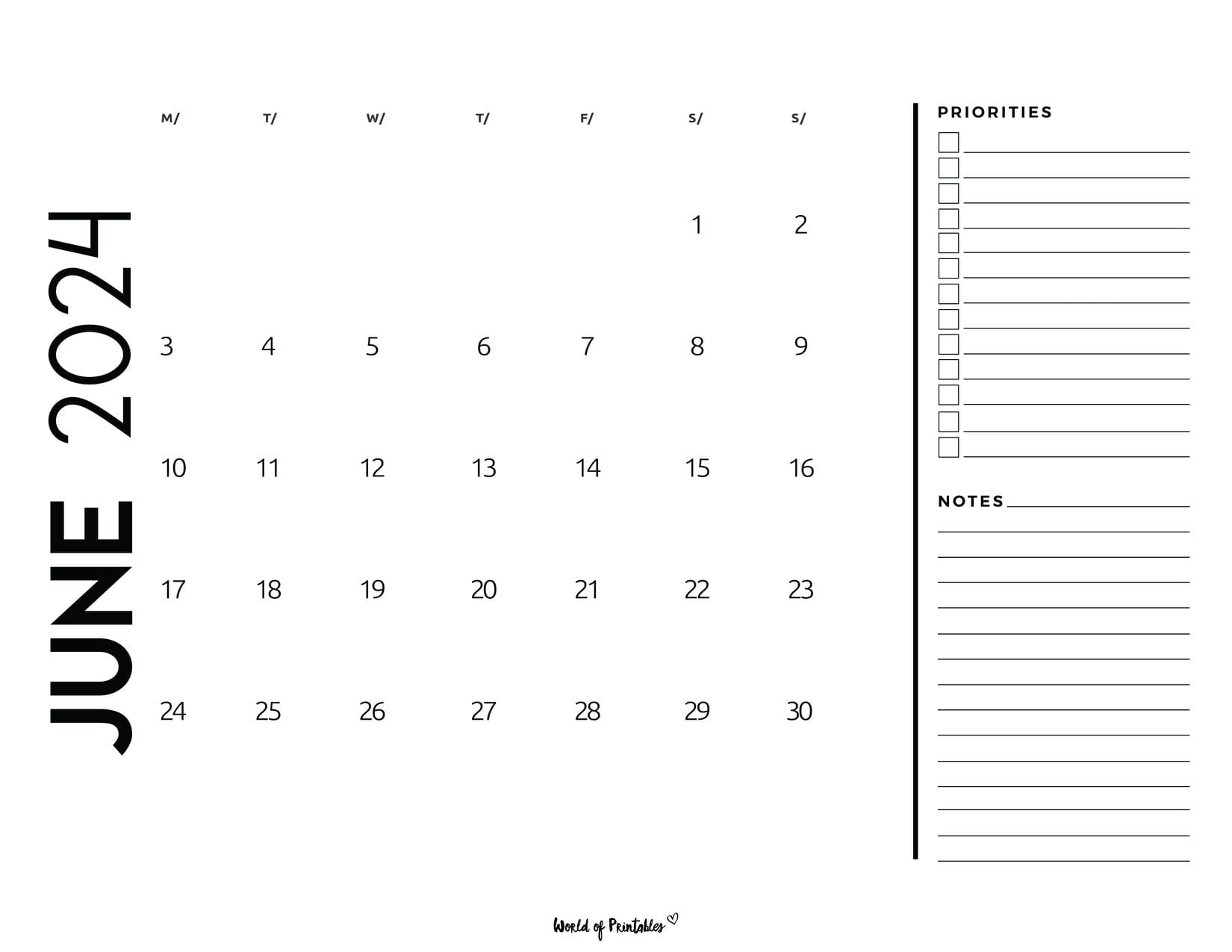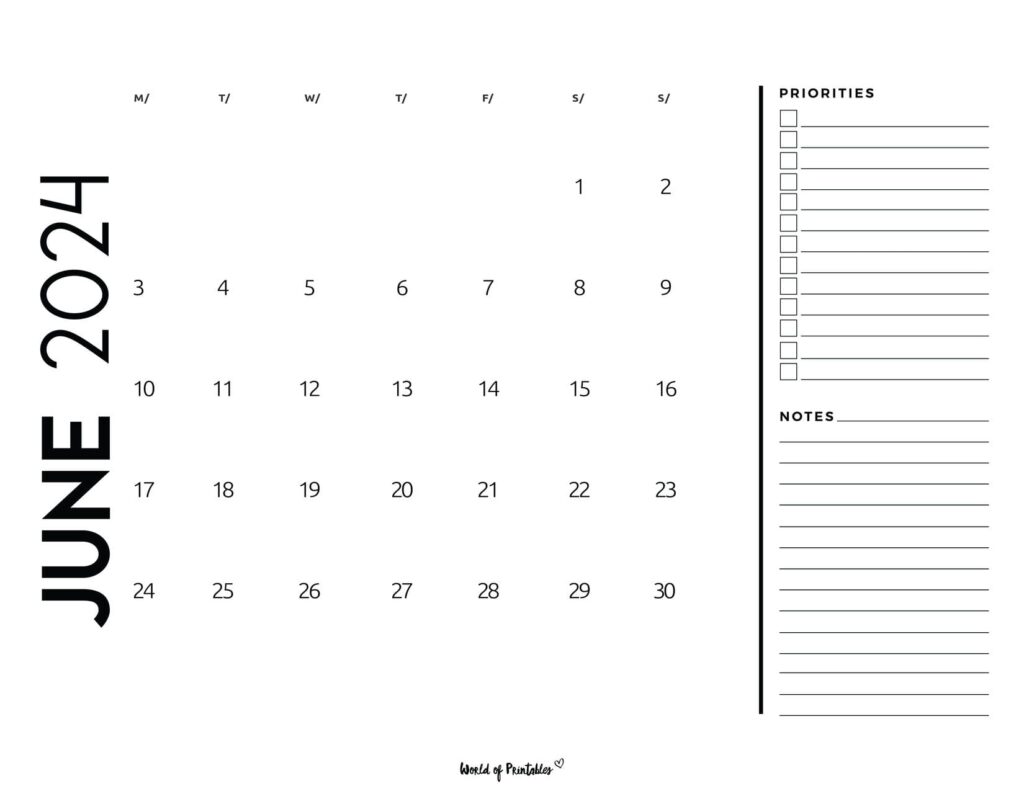 I really like simple, classic-style calendars, which is why we've designed a range of free simple calendar templates for you.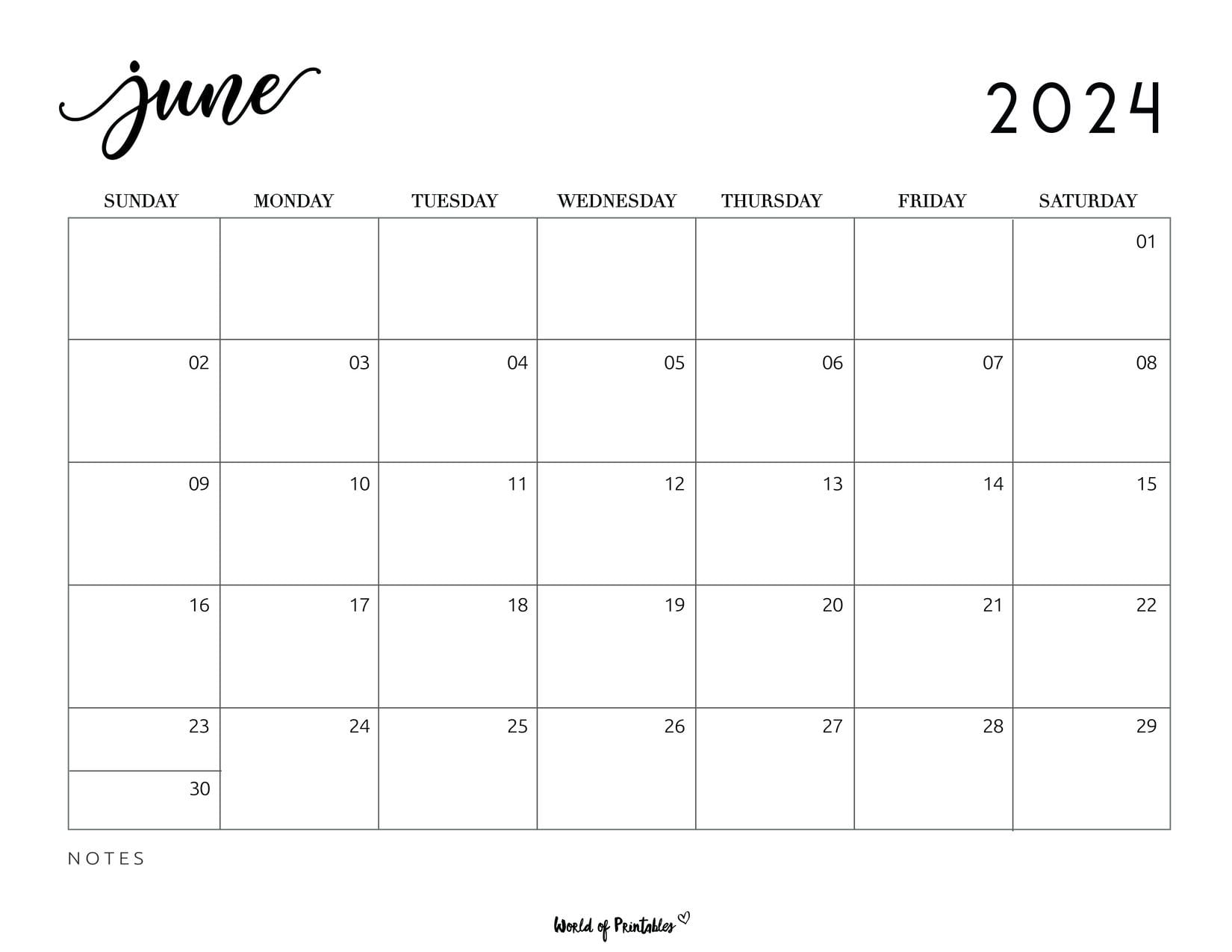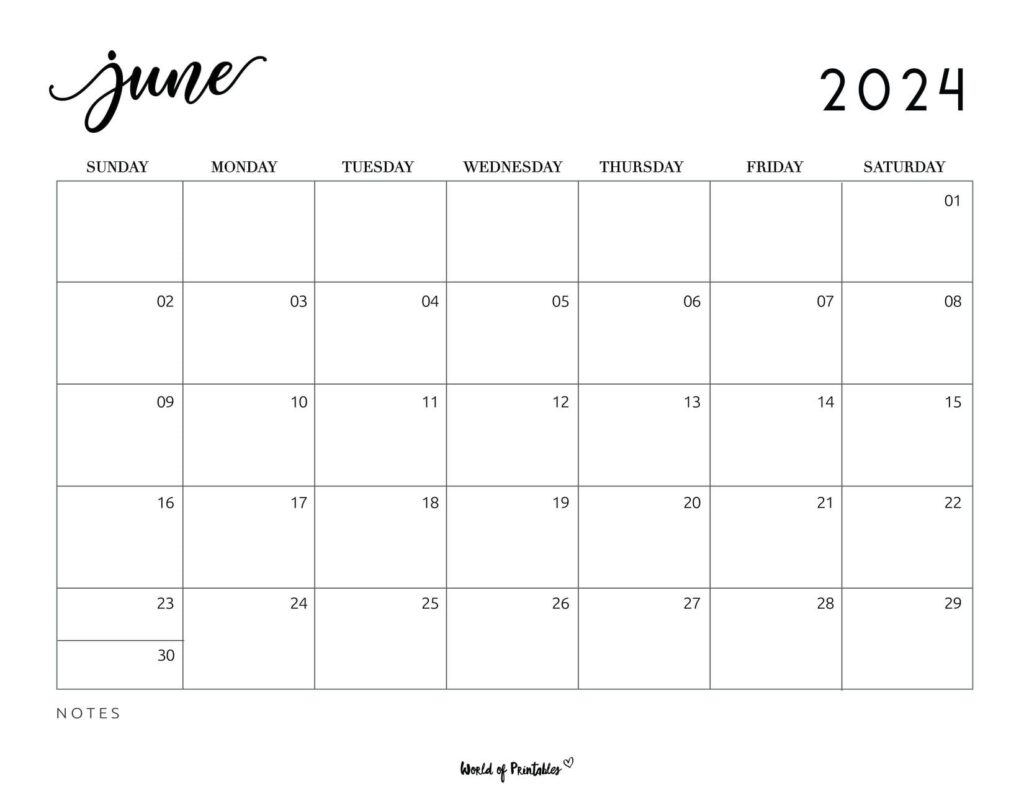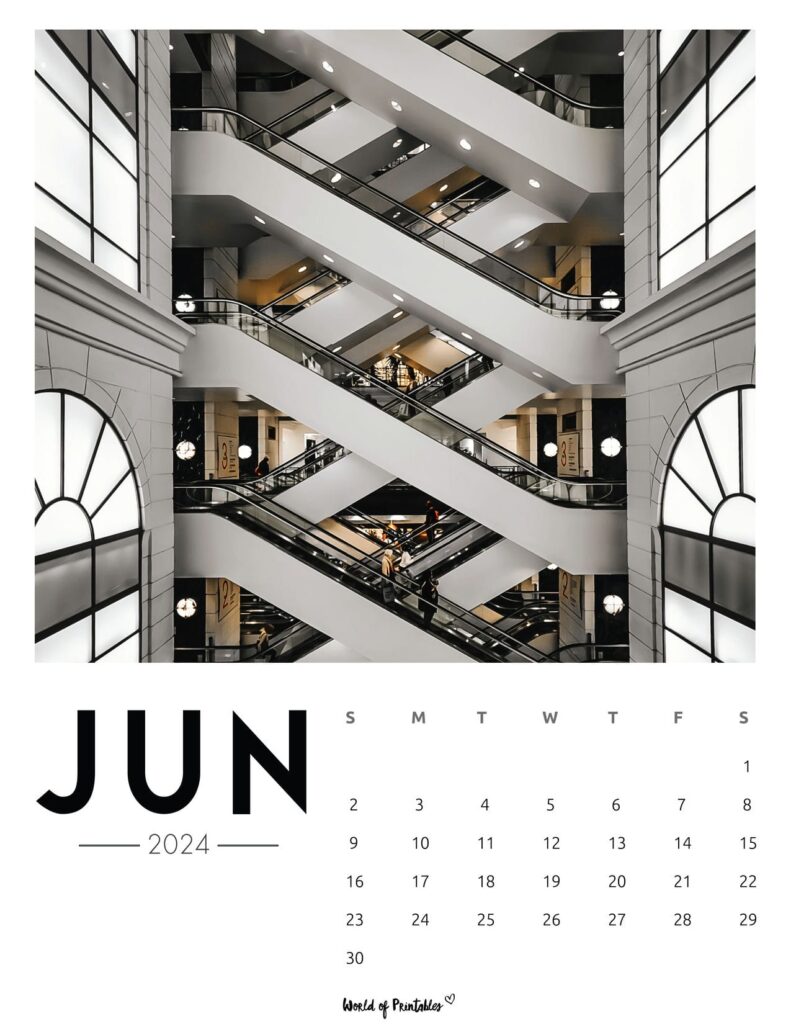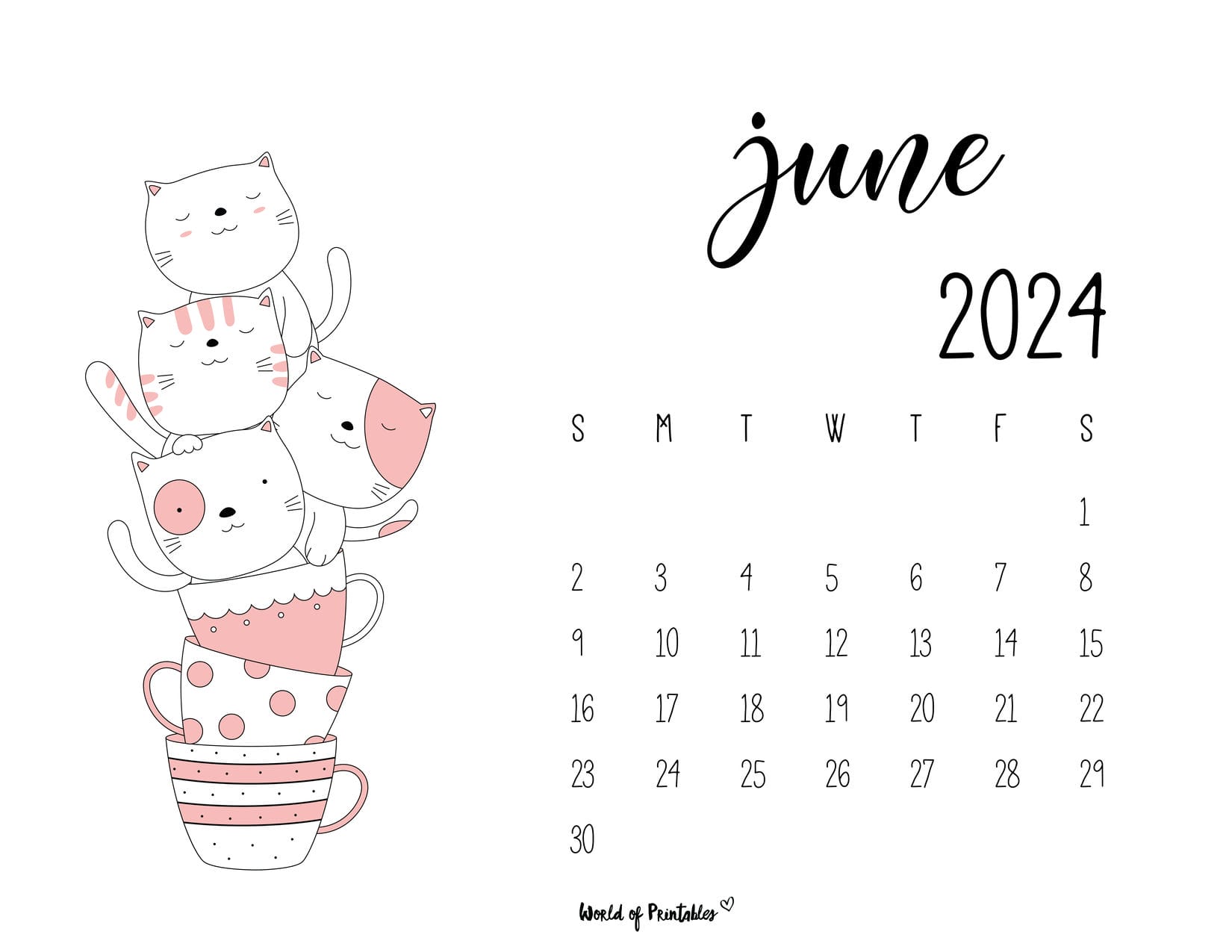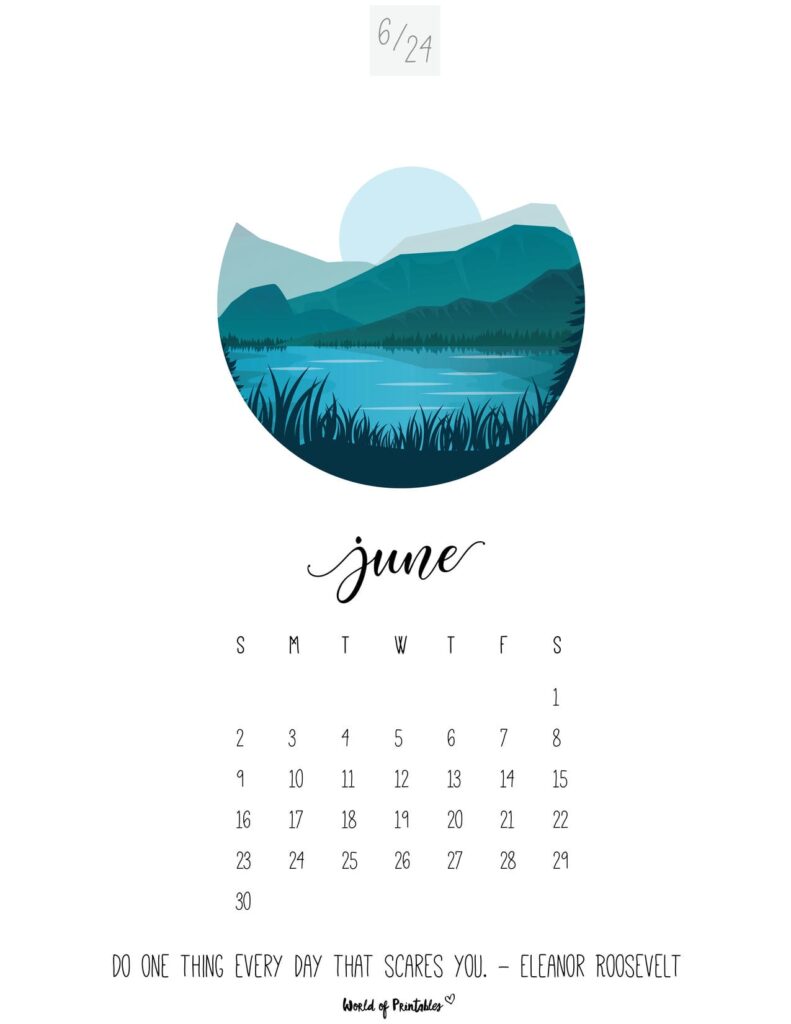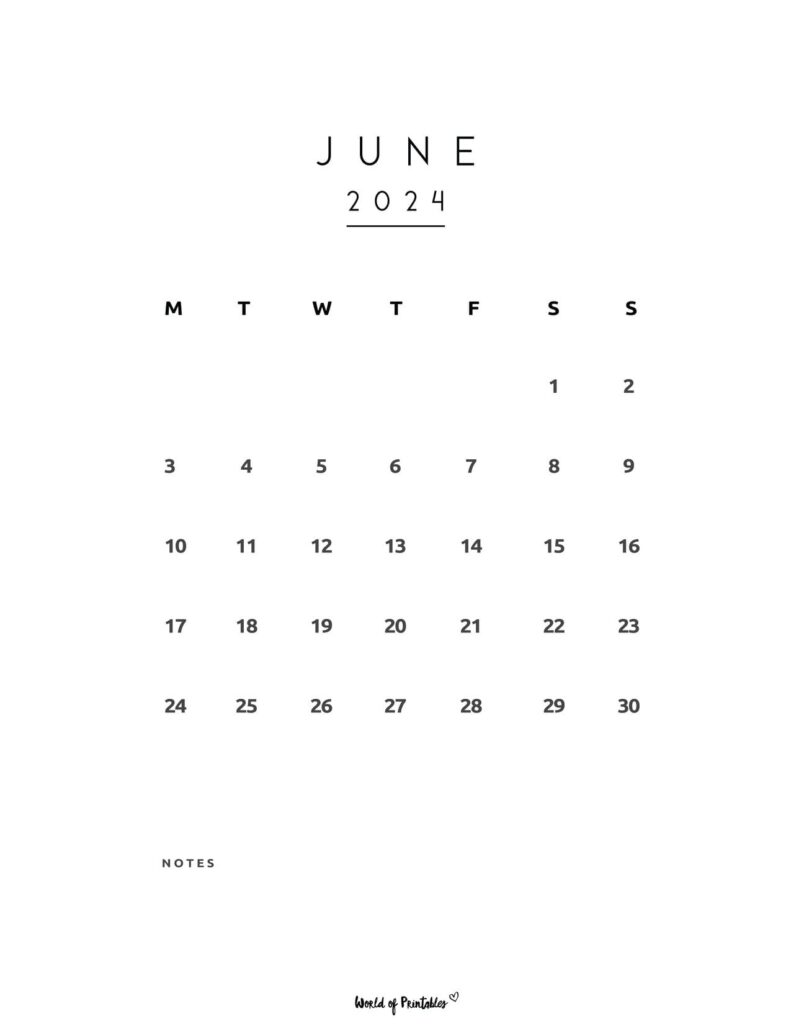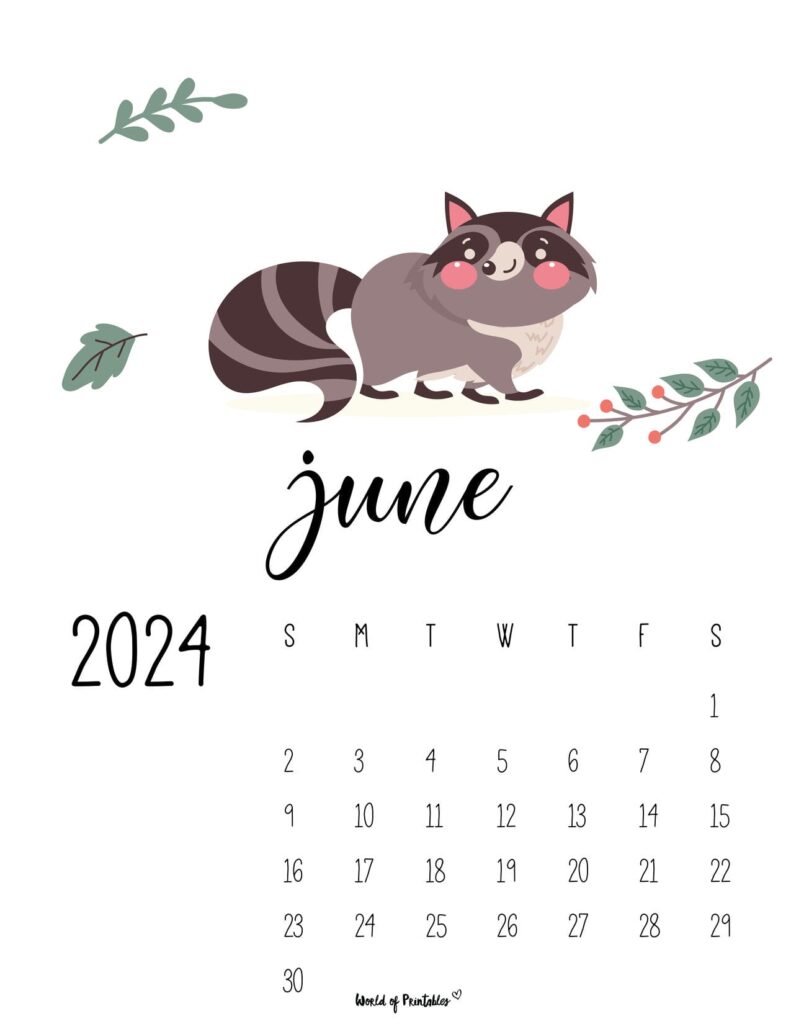 Our selection of June 2024 calendars encompasses a diverse range of designs. Each calendar isn't just a tool for tracking dates; it's a piece of art that elevates your living or workspace.
Why settle for an ordinary calendar when you can have one that reflects your individual style and brightens your daily life? With our free printable June 2024 calendars, you can welcome the warmth of summer while staying impeccably organized and inspired. Dive into our collection, choose your favorites, and prepare to make the most of this radiant month. Download and print your selected calendars today, and let June 2024 shine with elegance in your life.
We think you will like these!
More free printable 2024 calendars
Our recent printable calendars are available for you to print for free.
If you liked these June calendars, please follow us on Pinterest or Instagram and sign up for our free newsletter to get the news of our latest printables direct to your inbox.
How to make printable calendars look stunning
Print it! – Our calendars look so good when printed on this bright paper.
The paper is a good weight and works great with inkjet and laser printers, making the ink look crisp and clear. If you want something a little more heavy-duty for a shop-bought look then this card stock is a great option that's used a lot in the printable community.
Add some style!
Resize it – Resize our calendars easily, make them bigger or smaller to fit into your planner, frame, or hanger – find out how here.
We also think you'll love these!
More free printable 2024 calendars
Our recent printable calendars are available for you to print for free.
Since you're here, why not follow us on Pinterest or Insta, we like to create new wallpapers and printables all the time, so follow us to get notified on what we've been up to!