About the October calendar templates
If you're looking for an October Calendar then you've come to the right place, we have the best collection of calendars for you to use.
We've got 80 calendar styles that are perfect for any need. You'll find the perfect calendar for you.
You can use our free printable October 2023 Calendar templates for your home, office, desk, or planner and they are free to use for personal use.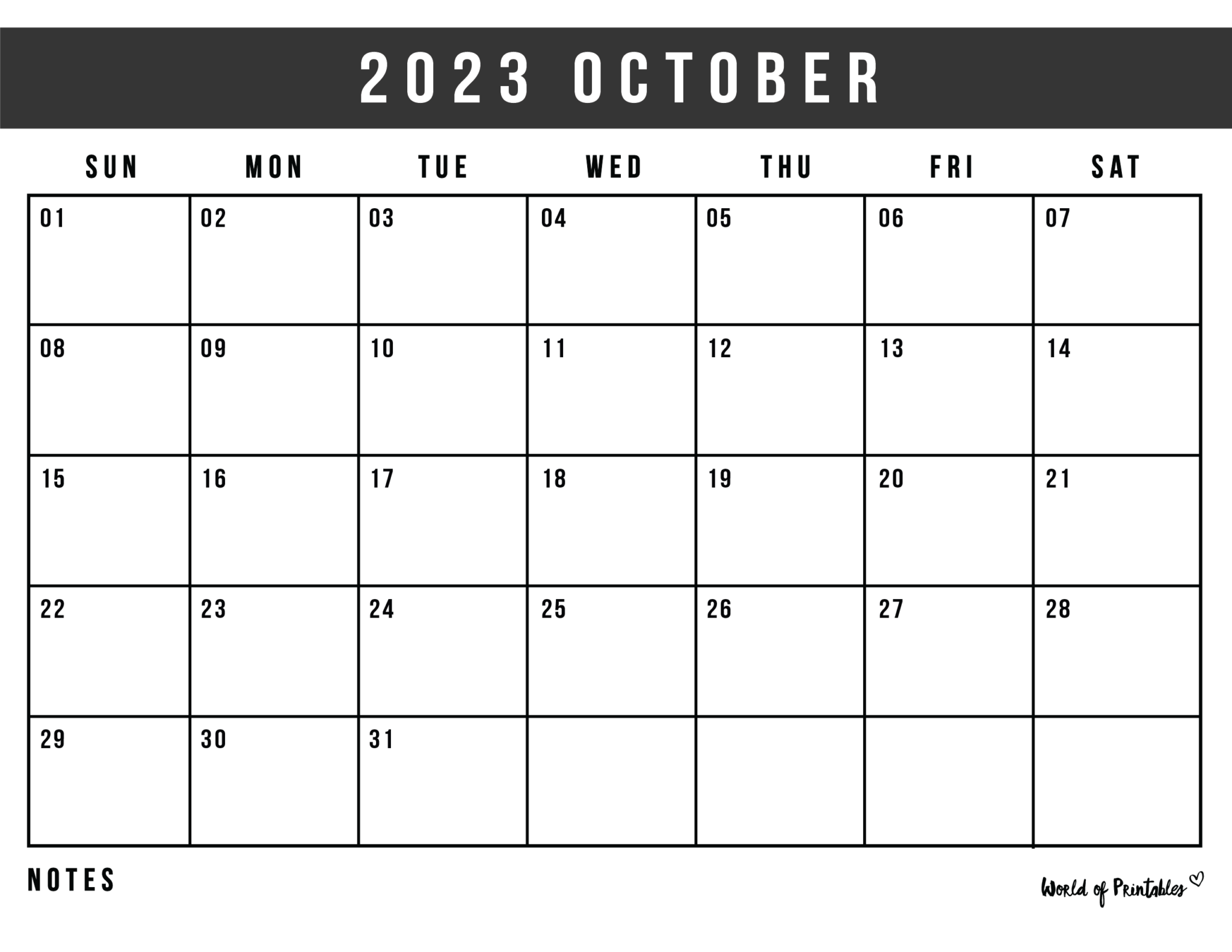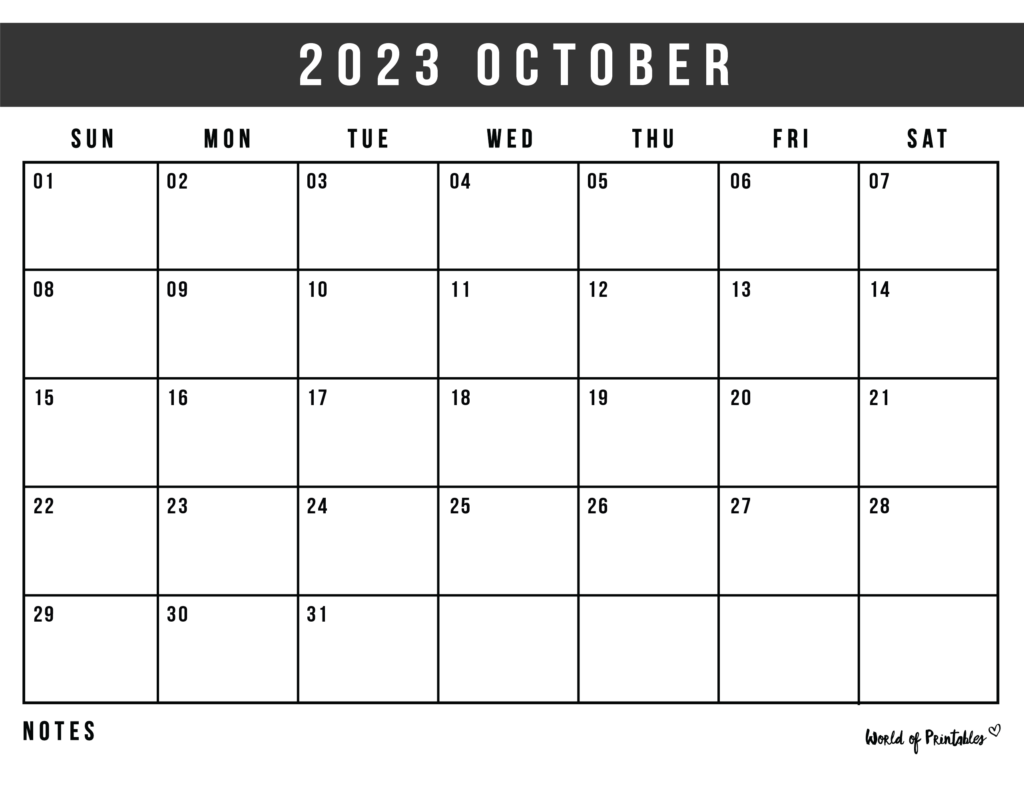 Print the October 2023 calendar and use it to write your appointments, holidays, and events. You can also add notes for important dates in October, such as birthdays, wedding anniversaries, holidays, etc.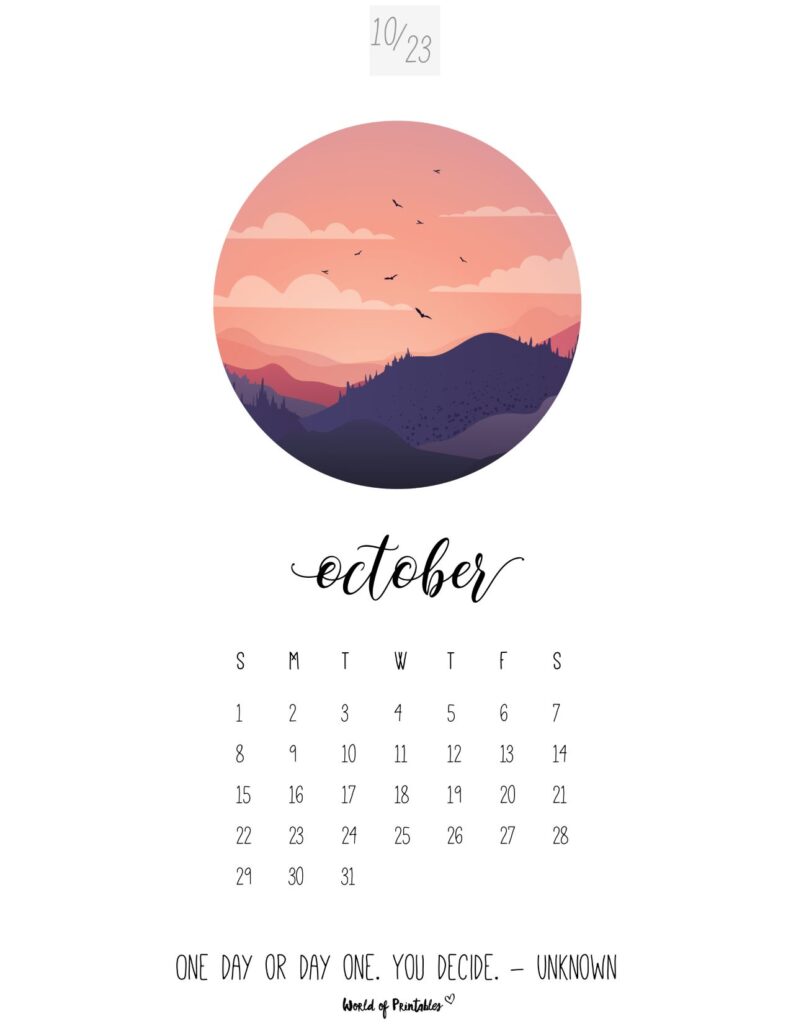 Once you get your free printable October 2023 calendar, you can save it and print it as often as needed. You can use it for many different things such as a calendar, a schedule, or a tracker.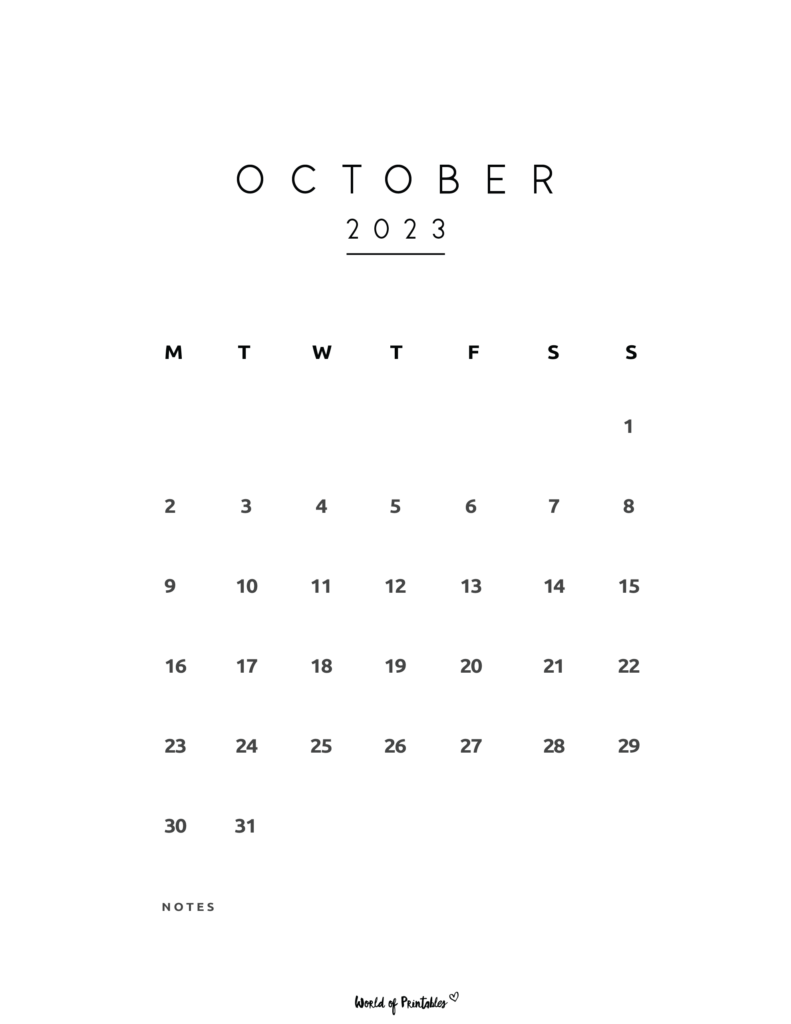 As you look through our website you will see that we have so many amazing calendars for every month of the year covering a range of beautiful styles from floral and botanical to minimalist.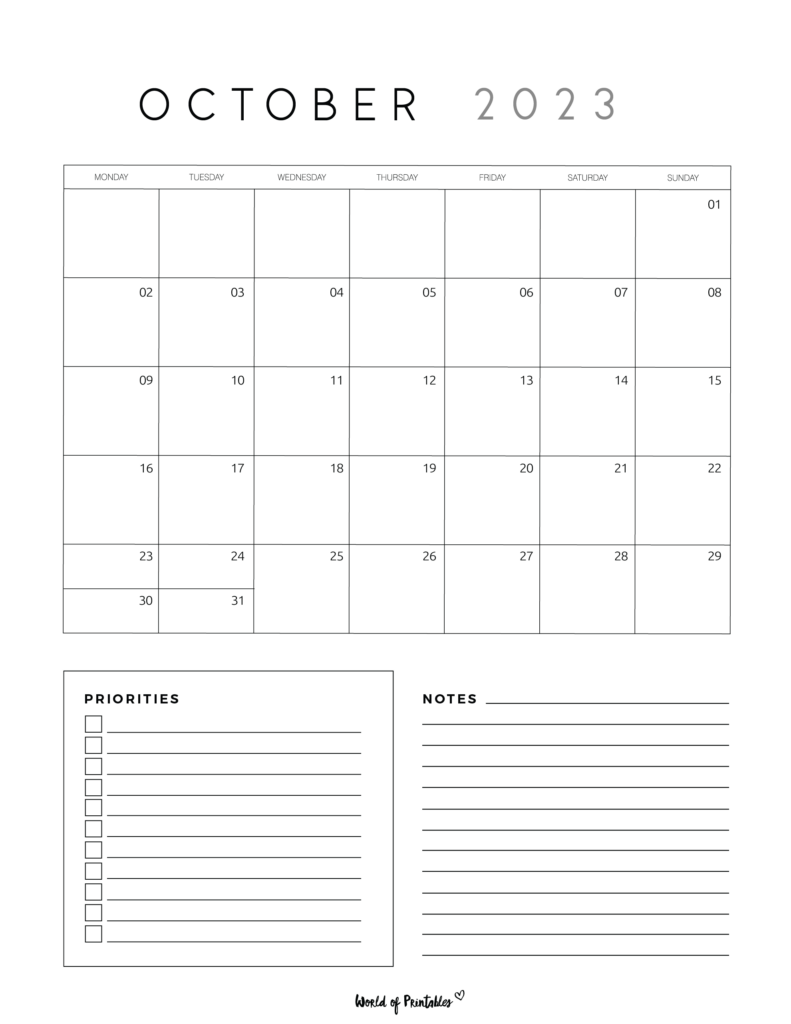 All of our calendars are ready to print in US Letter size (8.5 x 11") but they can be easily resized to fit your needs. You can learn how to easily resize of any kind with this image resize guide.
If you are looking for a calendar for 2023 then see our huge range of free printable 2023 calendar templates.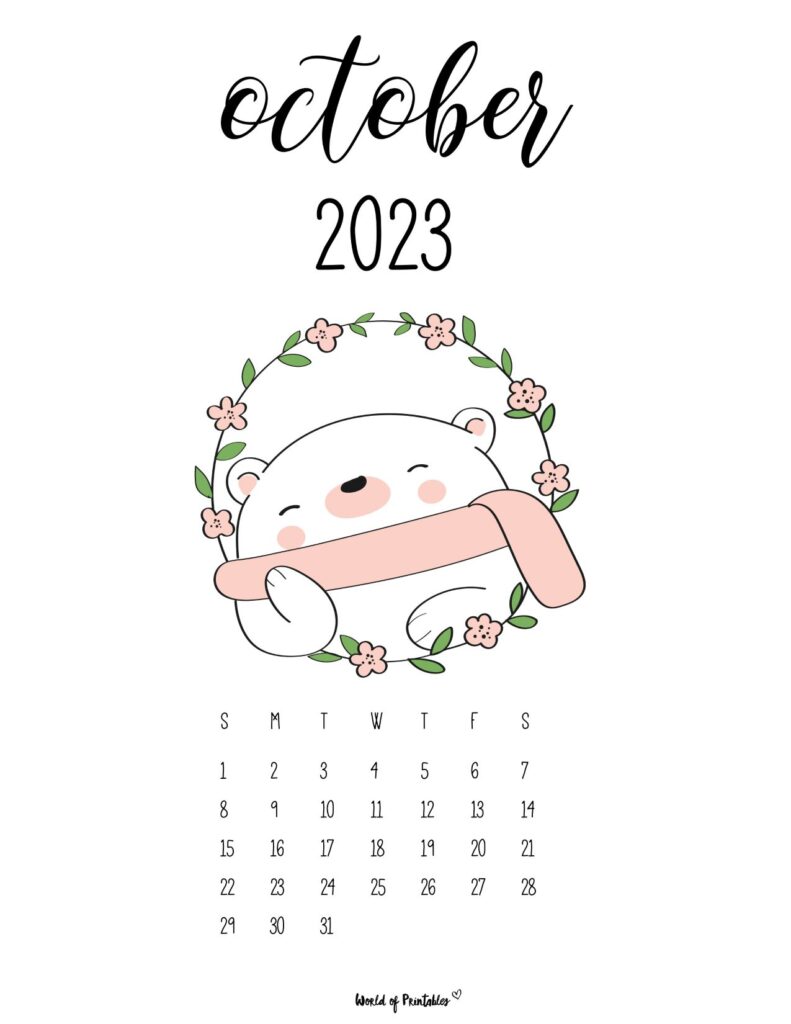 You can also use our free printable blank calendar templates if you want something quick and easy that you can print at any time with minimal fuss.
All of our calendar templates are available in jpg or pdf, the latter will require Adobe reader or equivalent to print.
You can also get our free printable 2023 Calendar with holidays templates.
If you want a full year one page 2023 calendar then we also have a selection of them available.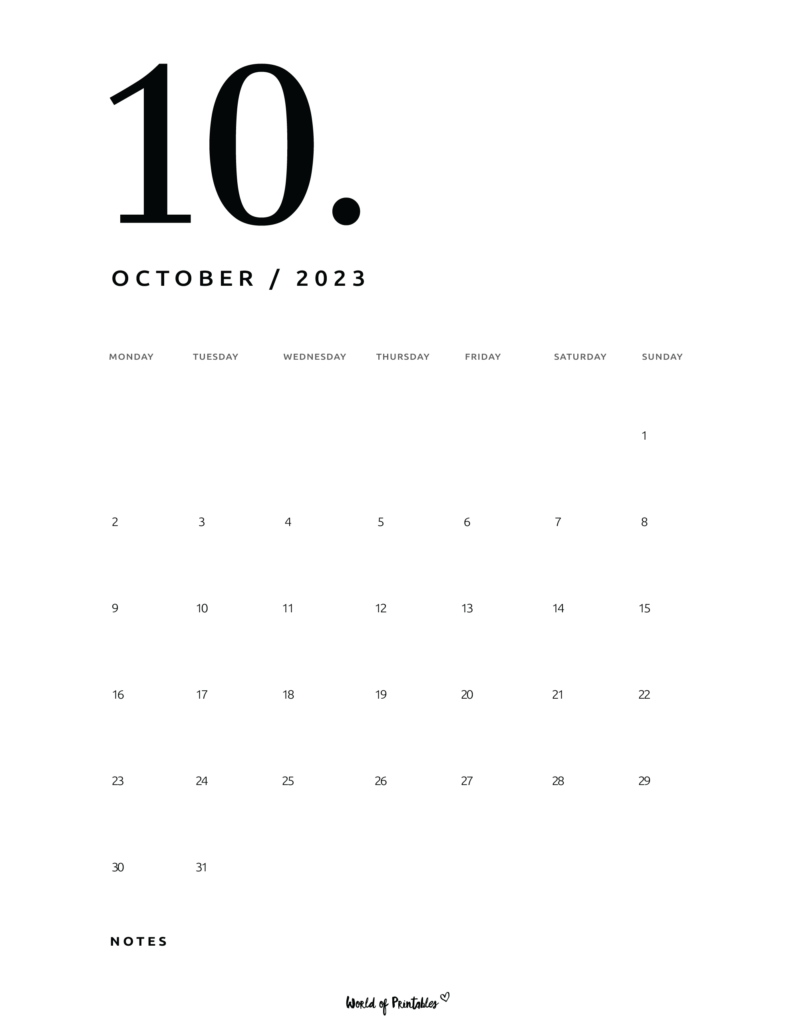 What is the October month meaning?
October comes from the Latin word octo (eight) and was originally the 8th month in the original 10 month Roman Calendar.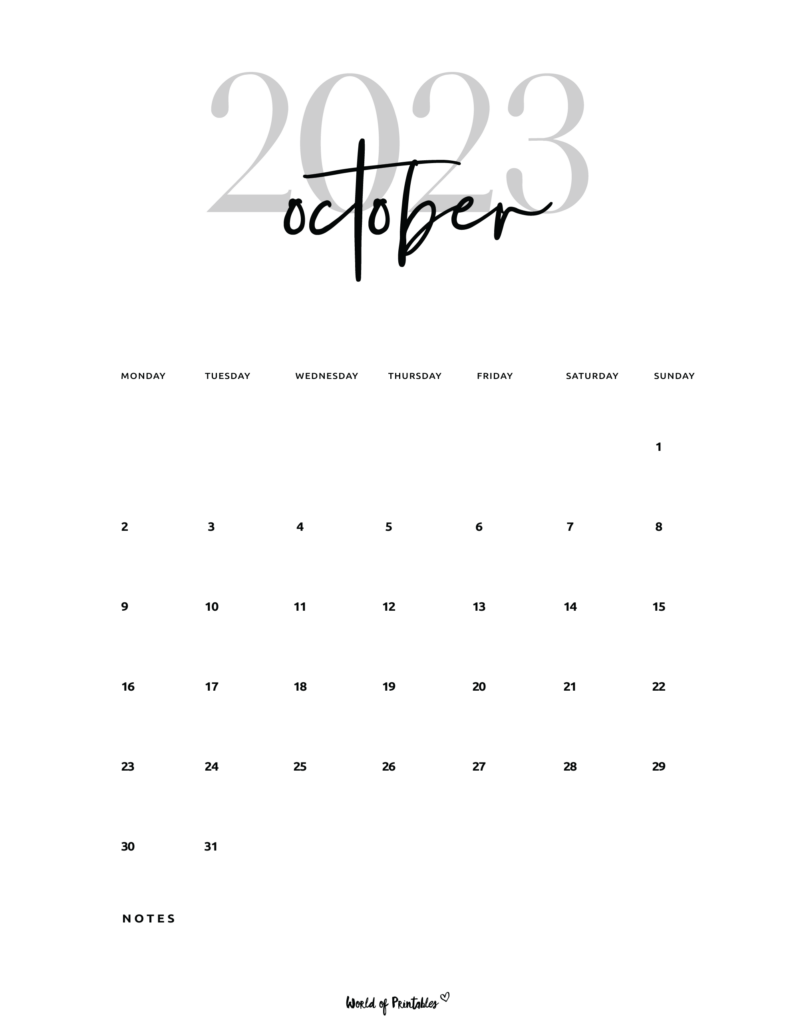 What is the October birthstone?
There are two birthstones for October – Opal, and Tourmaline. Opal is the traditional birthstone and is still the most popular option over its more modern counterpart Tourmaline. Opal is such a delicate and unique stone and can be found in a variety of colors.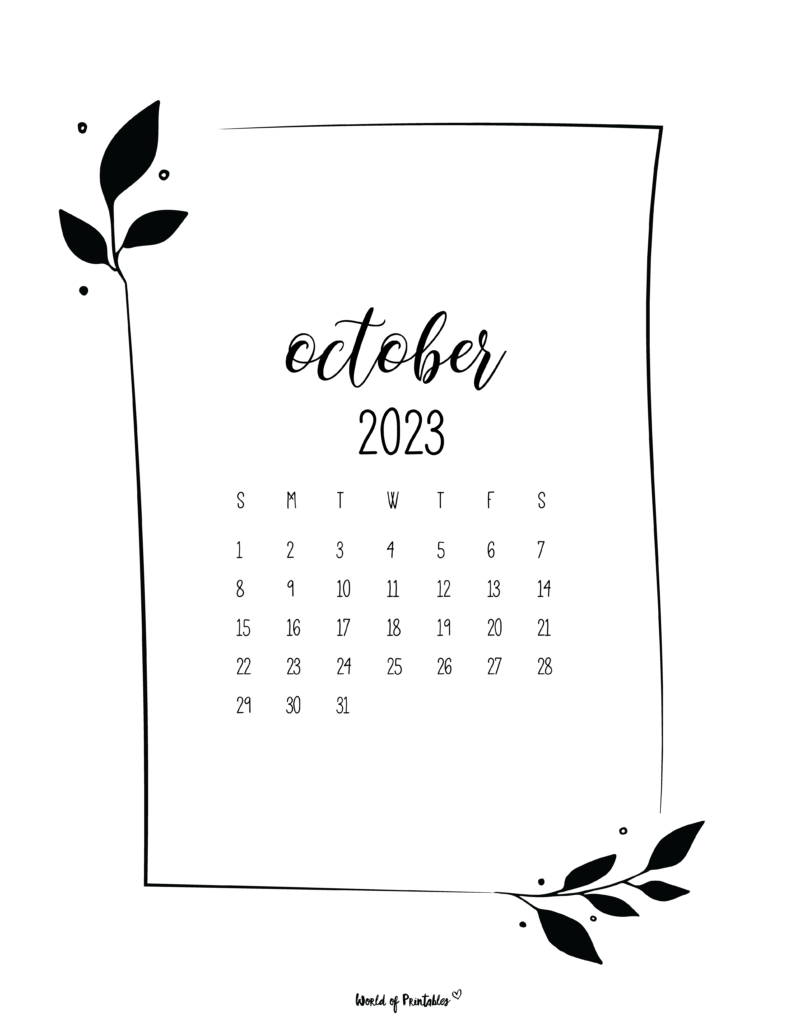 What is the October zodiac sign?
There are two zodiac signs for people whose birthday falls in October. Depending on the date you were born you will be either a Libra (Balance) or a Scorpio (Scorpion). A Libra's birthday falls between September 23rd to October 22nd and a Scorpio's birthday falls between October 23rd and November 21st.
How many days are in October?
There are 31 days in October.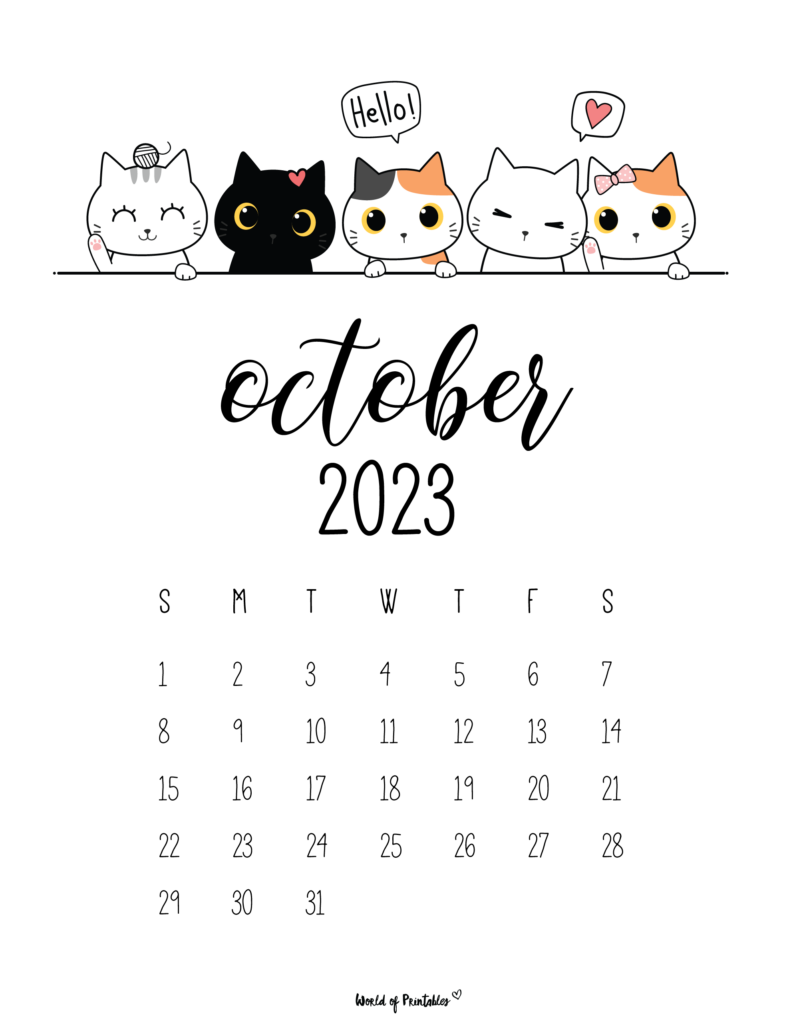 What day does October start in 2023, 2024, and 2025?
Want to know what day October starts each year? Below you will find the October start days for the next three years:
2023 – Sunday October 1st
2024 – Tuesday October 1st
2025 – Wednesday October 1st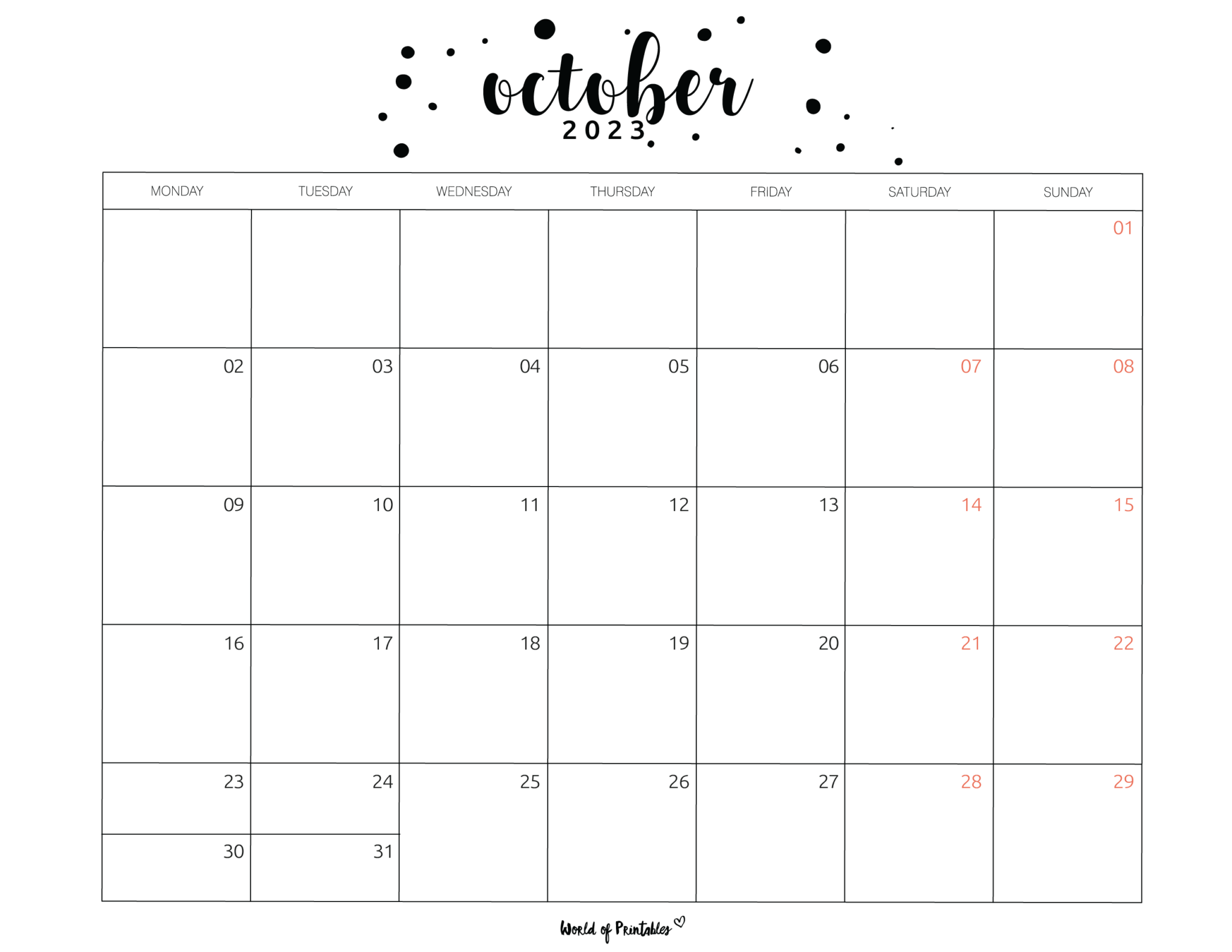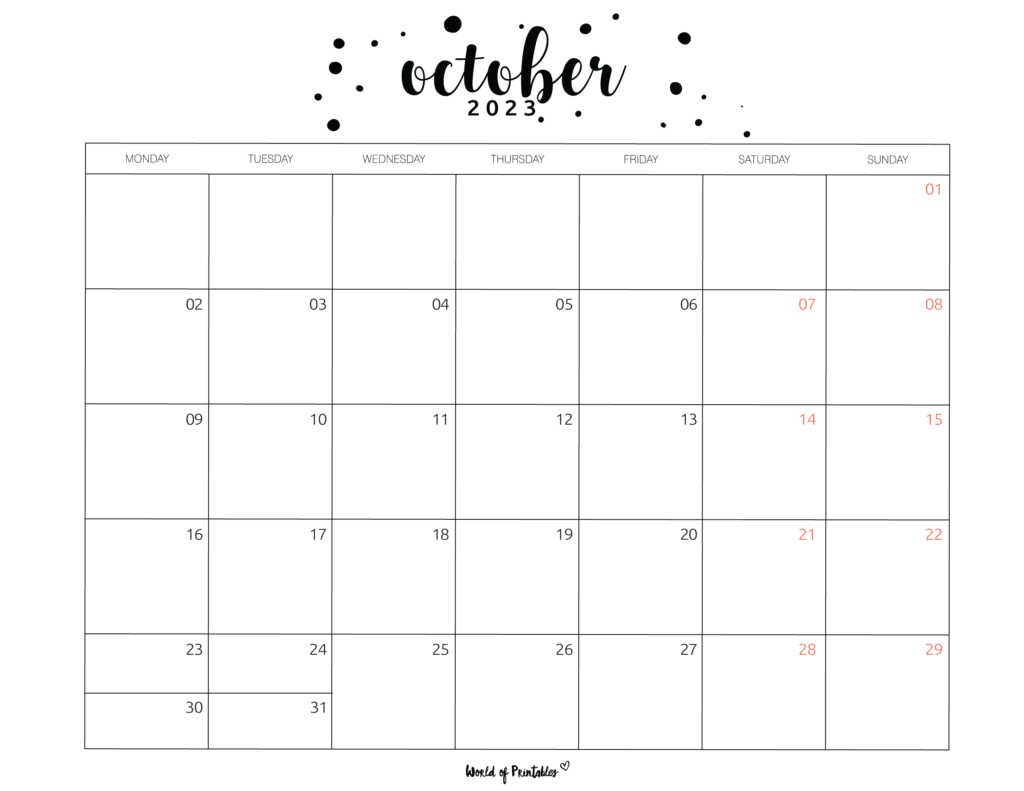 What are the October holidays?
Let's take a look at some of the amazing October holidays you can look forward to celebrating!
These holidays are listed as Federal Holidays:
October 9th – Columbus Day
October 31st – Halloween
Halloween is a day that is celebrated in many countries around the world on October 31st.
There are also some other official and unofficial holidays to celebrate this October.
What is celebrated in October on the following dates:
October 1
Balloons Around the World Day
Frugal Fun Day
National Homemade Cookies Day
October 2
International Day of Non-Violence
National Police Memorial Day
World Farm Animals Day
October 3
Mean Girls Day
National Boyfriend Day
National Child Health Day
October 4
​National Cinnamon Roll Day
National Taco Day
National Truckers Appreciation Day
World Dyslexia Day
October 5
Coffee with a Cop Day
International Walk to School Day
World Meningitis Day
October 6
National Depression Screening Day
National Noodle Day
National Plus Size Appreciation Day
World Cerebral Palsy Day
October 7
Kids Music Day
National Forgiveness & Happiness Day
​National Frappe Day
You Matter To Me Day
October 8
National Heroes' Day
World Octopus Day
October 9
October 10
World Homeless Day
World Mental Health Day
October 11
National Sausage Pizza Day
National Spread Joy Day
October 12
Emergency Nurses Day
Farmers Day
National Savings Day (check out our savings printables)
World Arthritis Day
October 13
Metastatic Breast Cancer Awareness Day
National M&M Day
World Thrombosis Day
October 14
October 15
Global Handwashing Day
National Pregnancy and Infant Loss Remembrance Day
Sweetest Day
October 16
World Food Day
Anti Poverty Week
October 17
Child Poverty Day
National Pasta Day
World Trauma Day
October 18
National Chocolate Cupcake Day
World Menopause Day
October 19
LGBT Center Awareness Day
National BRA Day
October 20
International Chefs Day
National Youth Confidence Day
October 21
International Day of the Nacho
National Apple Day
National Pumpkin Cheesecake Day
October 22
International Stammering Awareness Day
Make a Difference Day
Smart is Cool Day
October 23
National Boston Cream Pie Day
October 24
National Food Day
World Polio Day
October 25
National Mother-in-Law Day
Punk For A Day Day
October 26
Lung Health Day
National Pumpkin Day
October 27
Navy Day
National Black Cat Day
October 28
Frankenstein Friday
National First Responders Day
World Lemur Day
October 29
National Oatmeal Day
National Pit Bull Awareness Day
World Psoriasis Day
World Stroke Day
October 30
October 31
National Caramel Apple Day
Halloween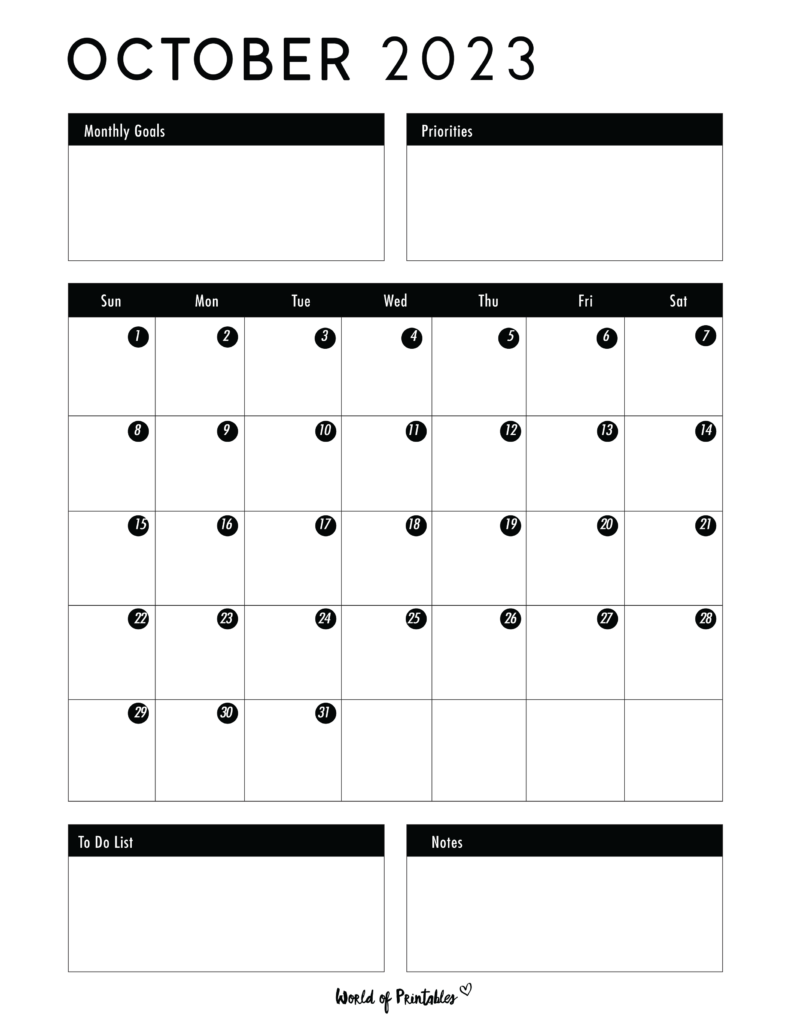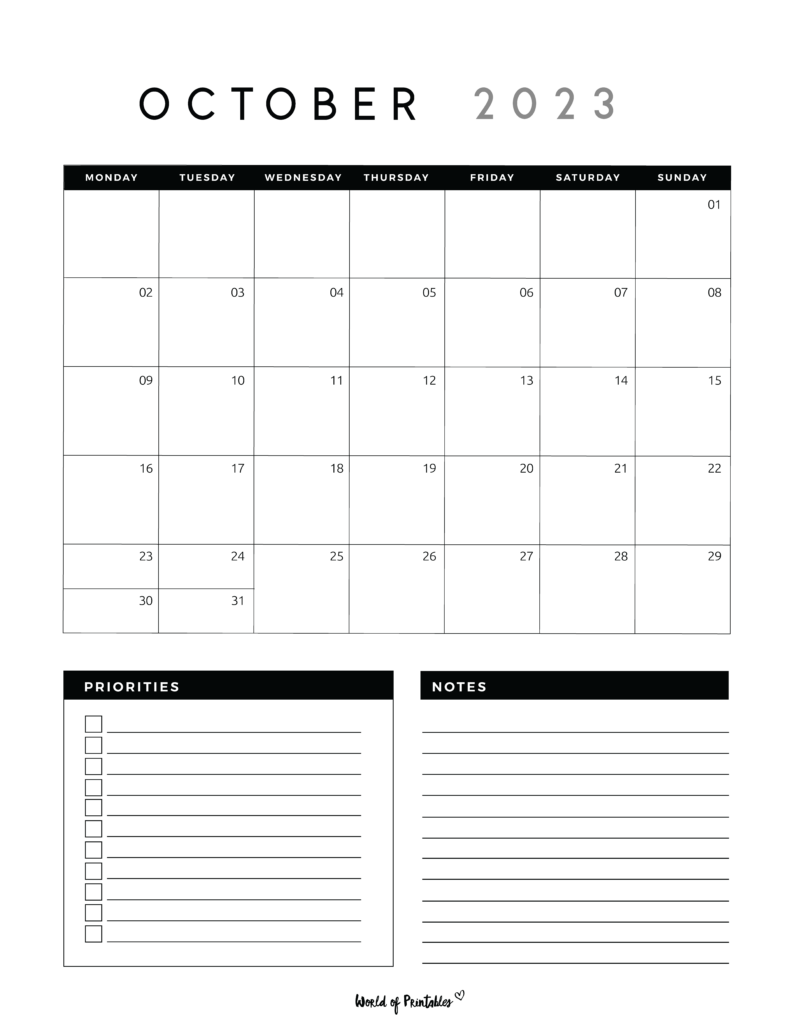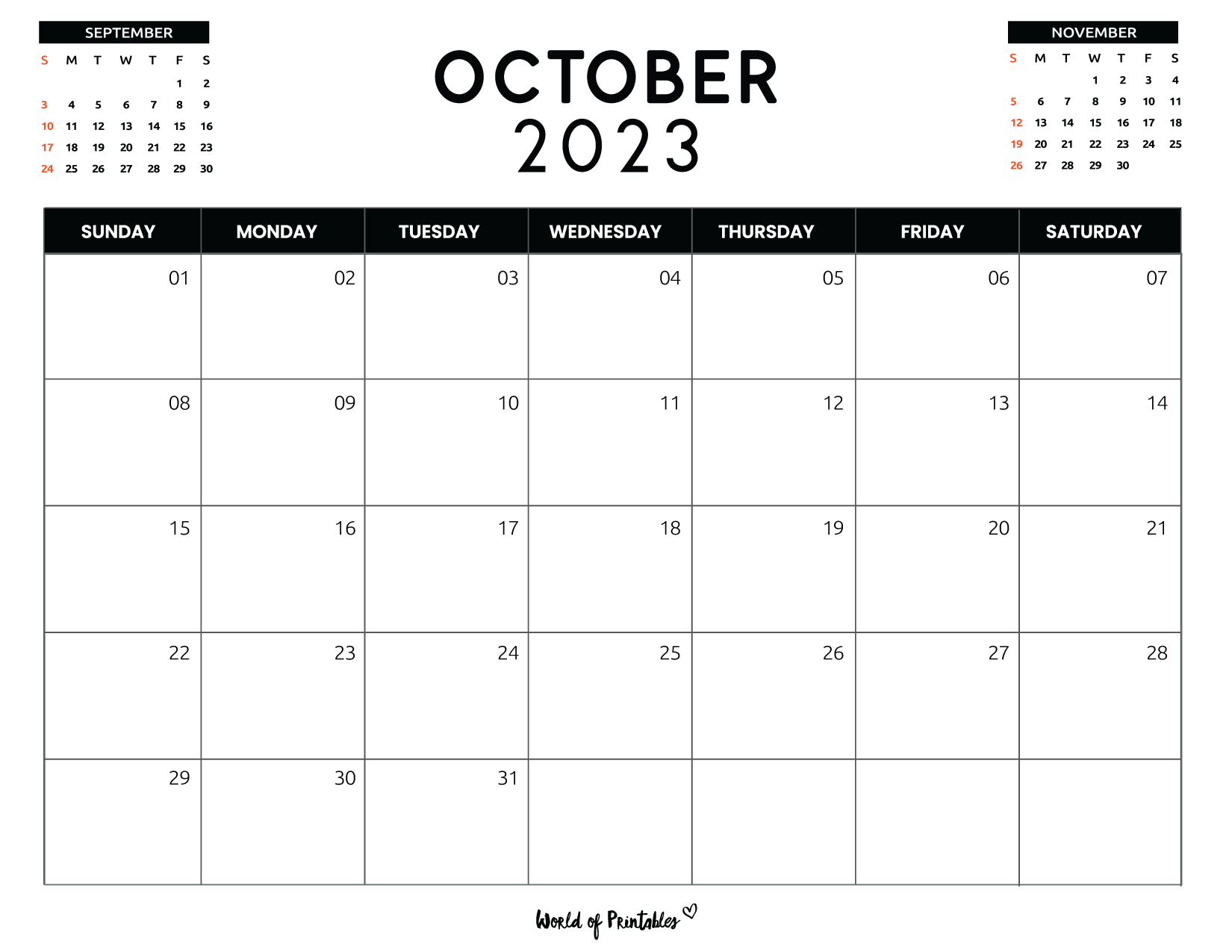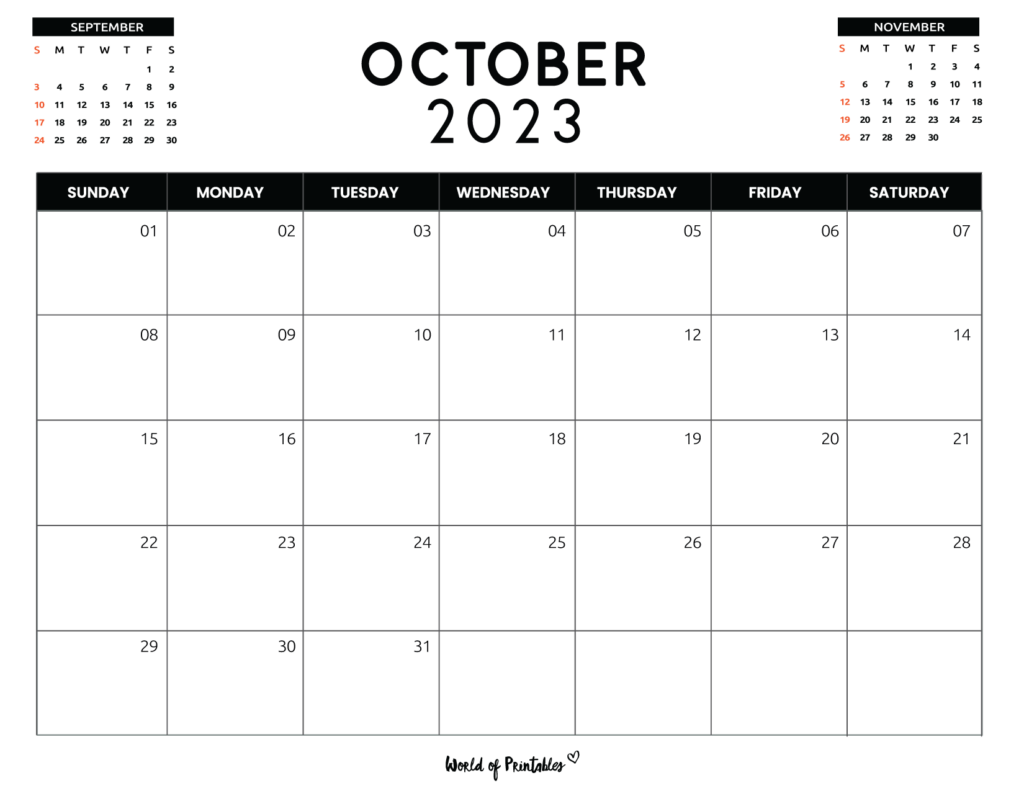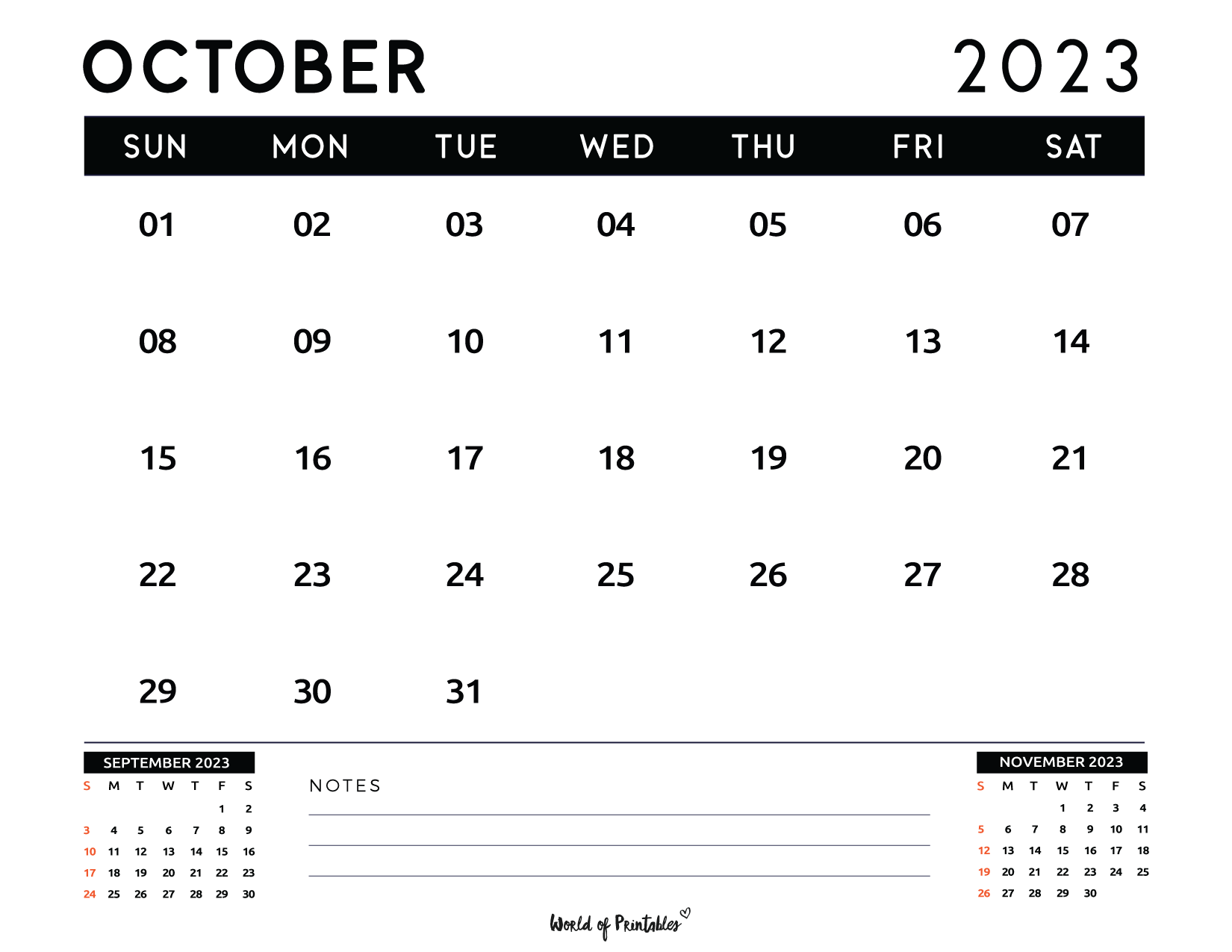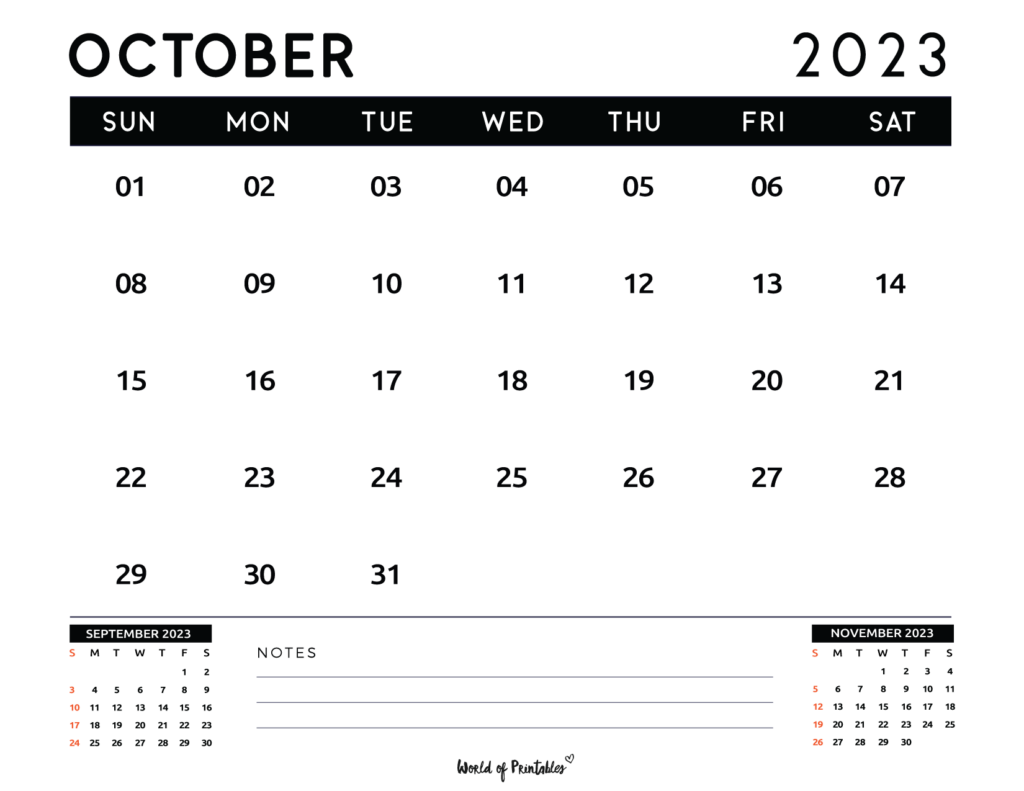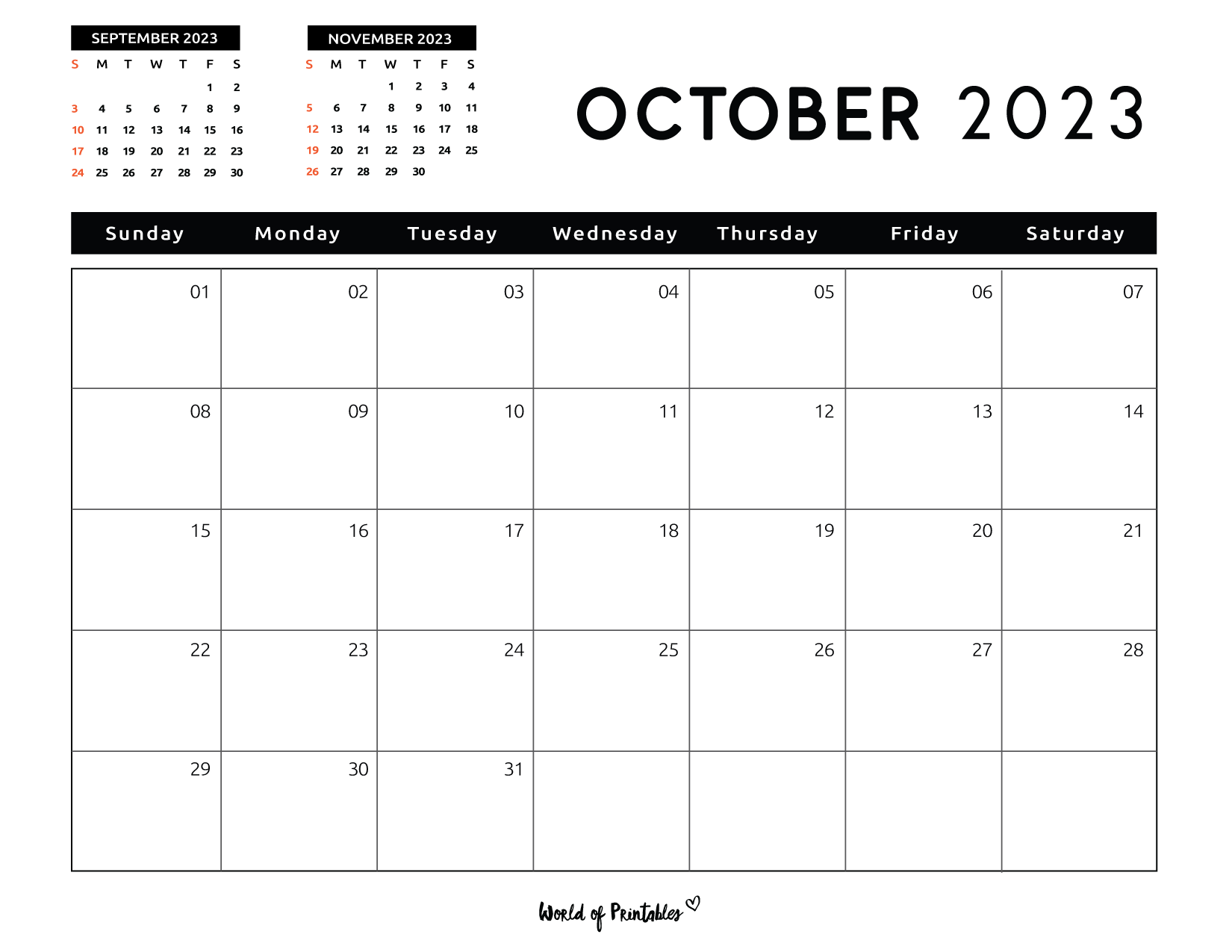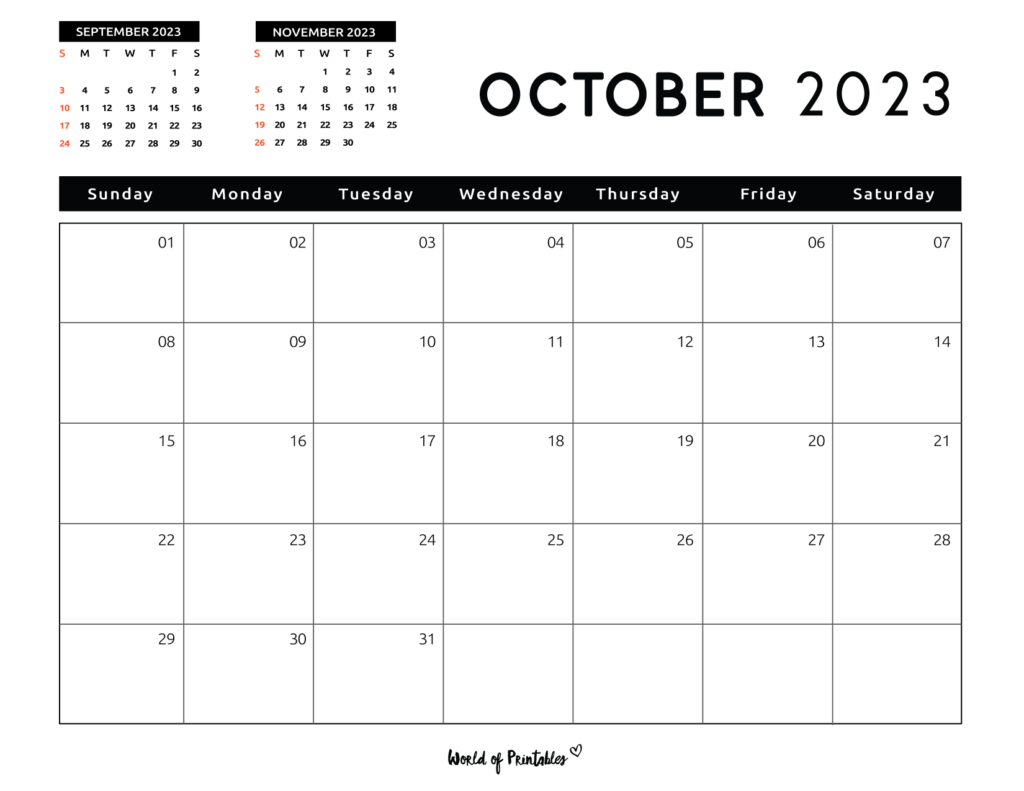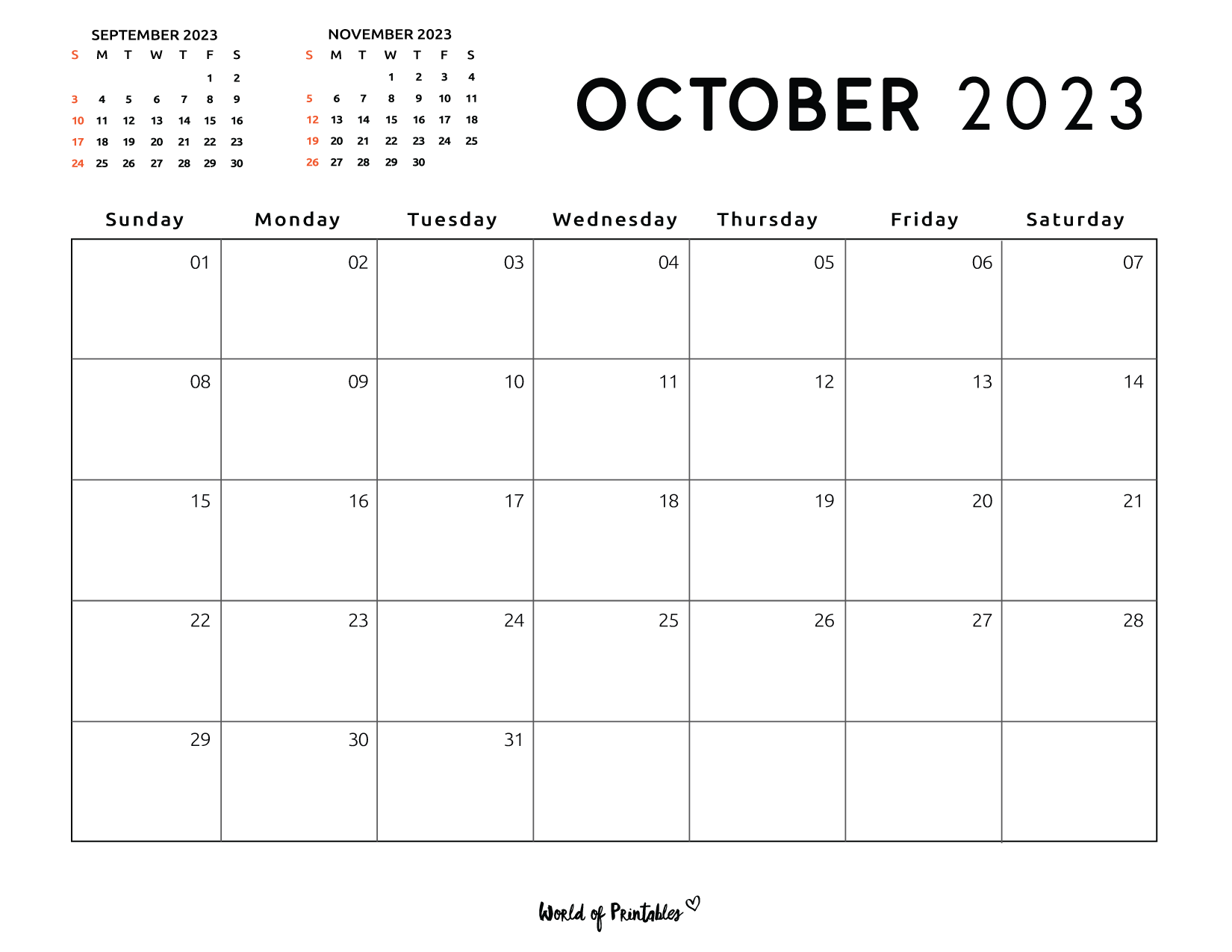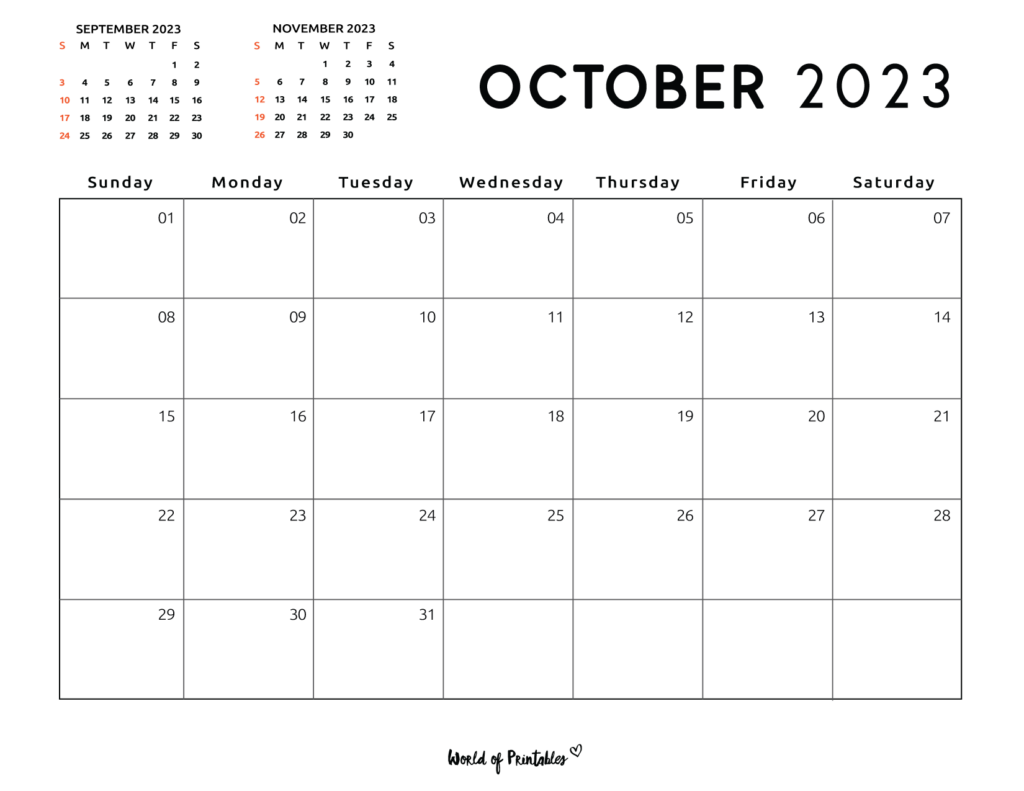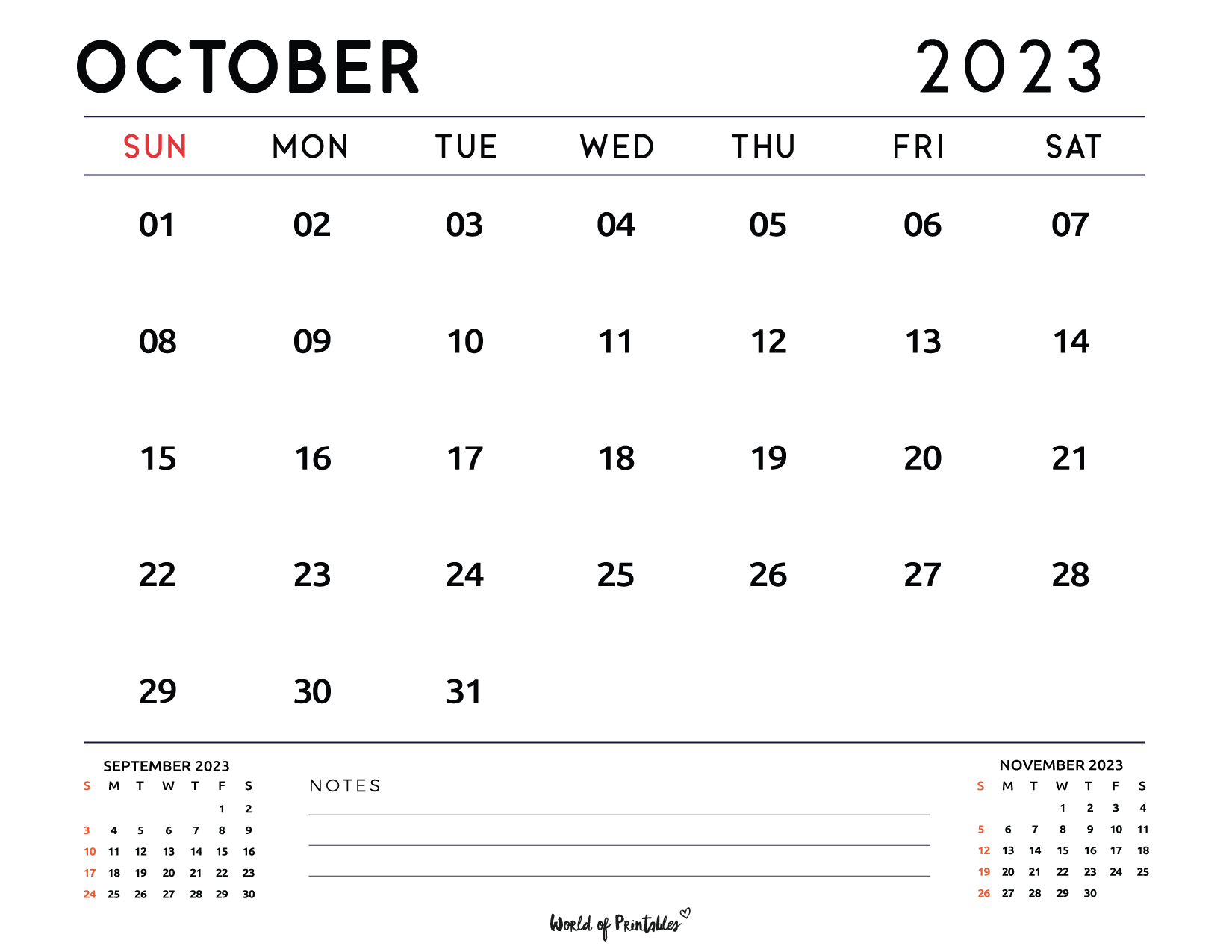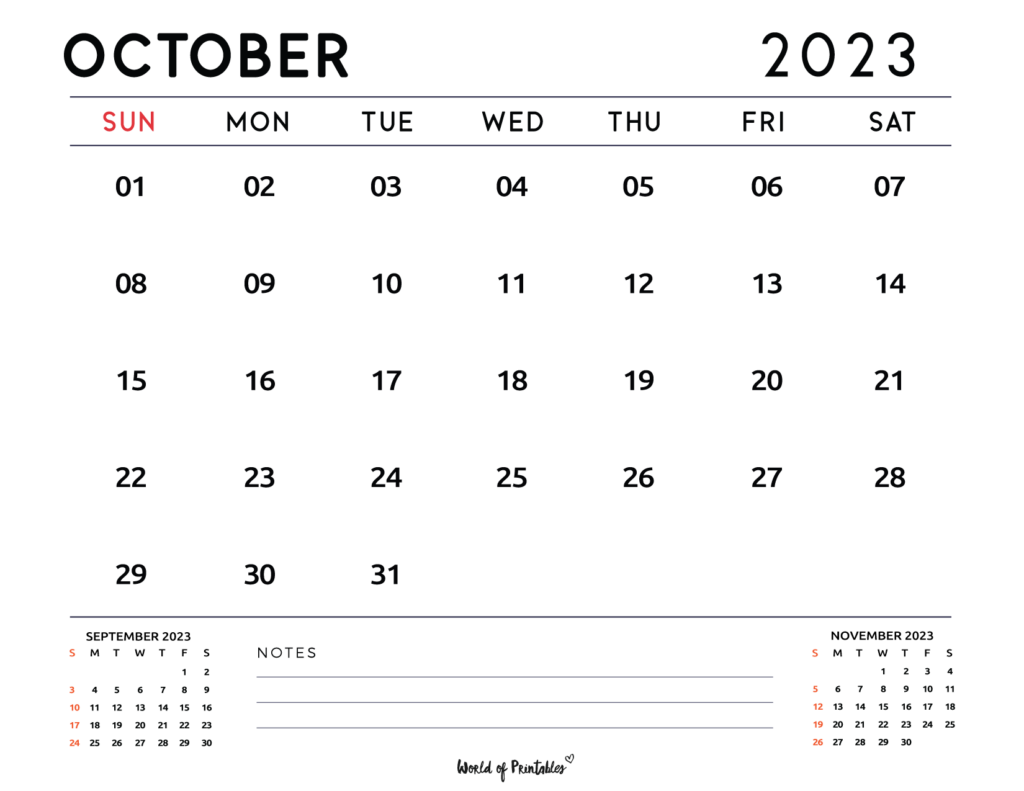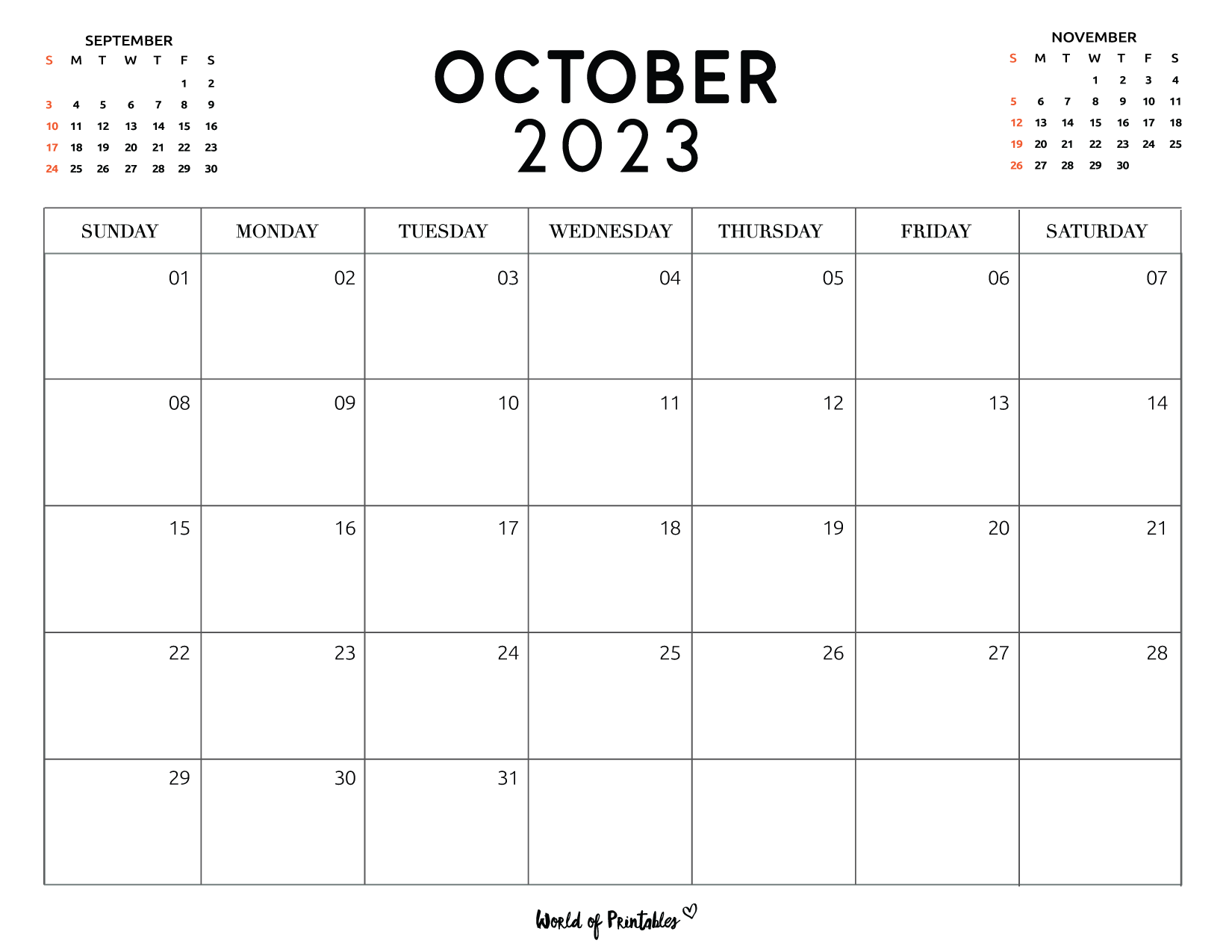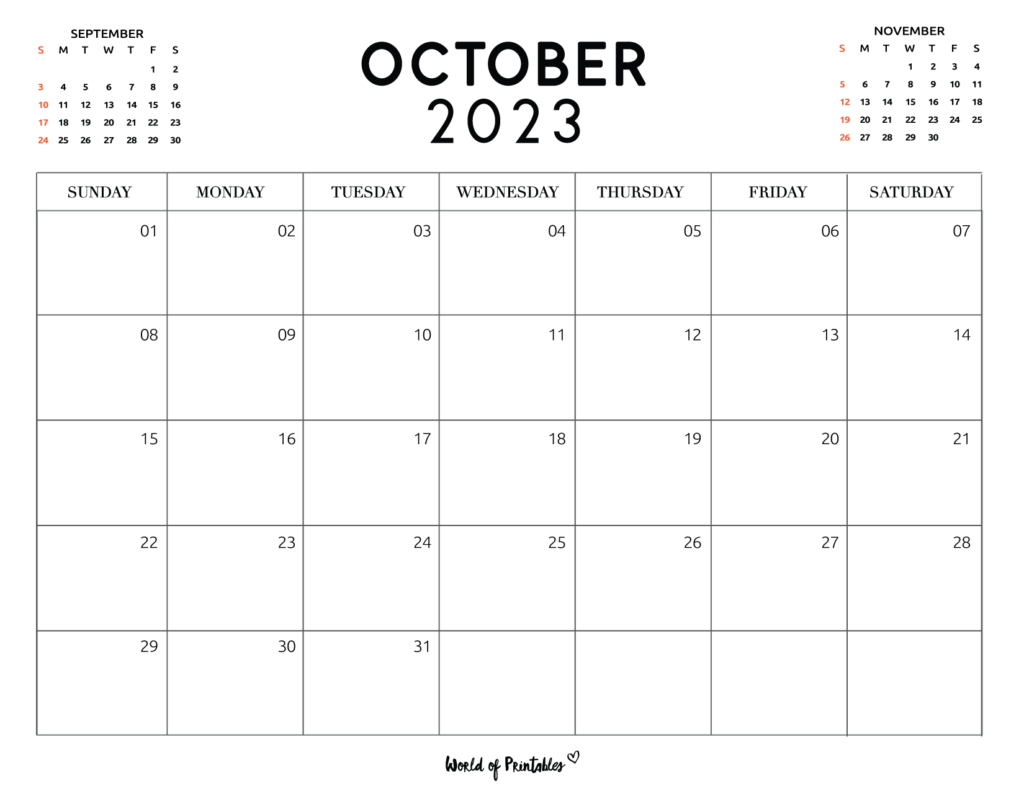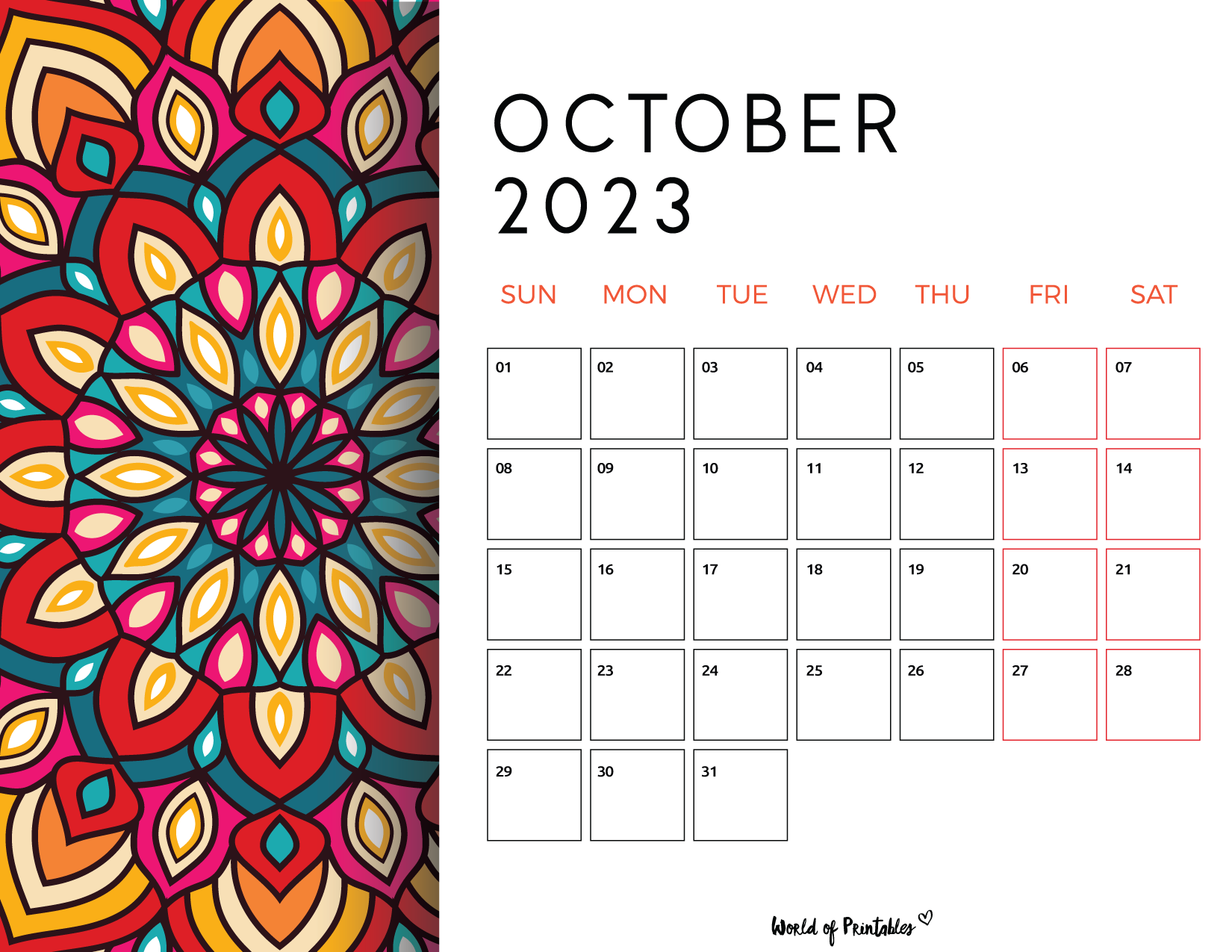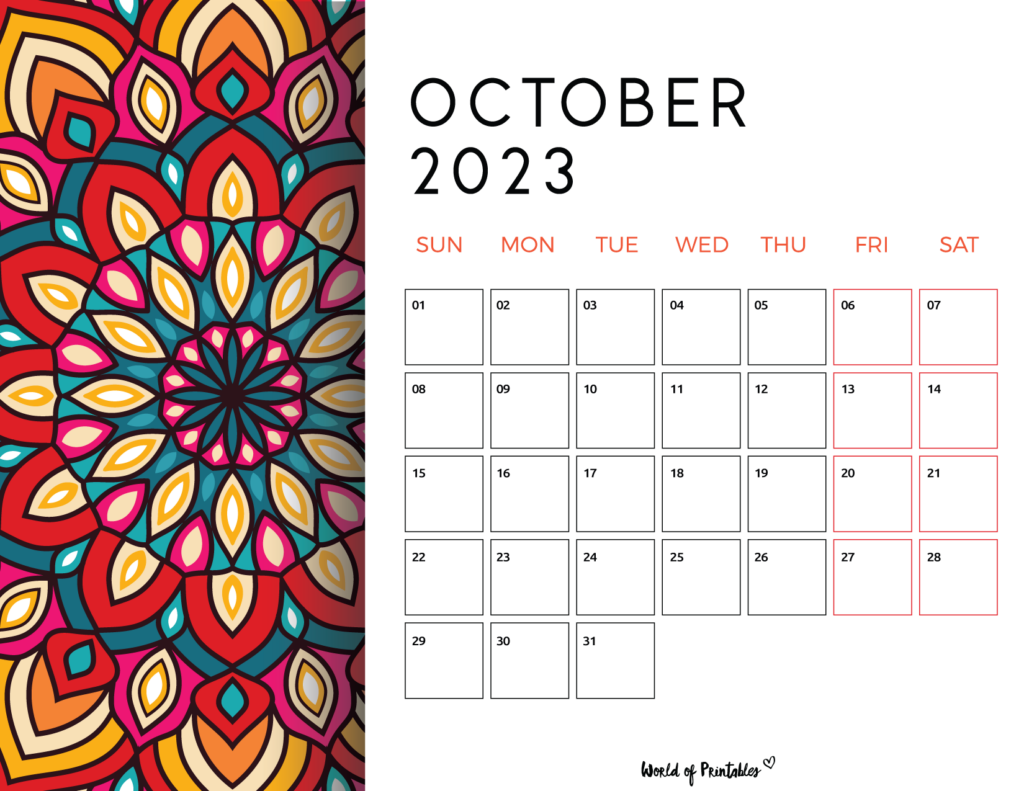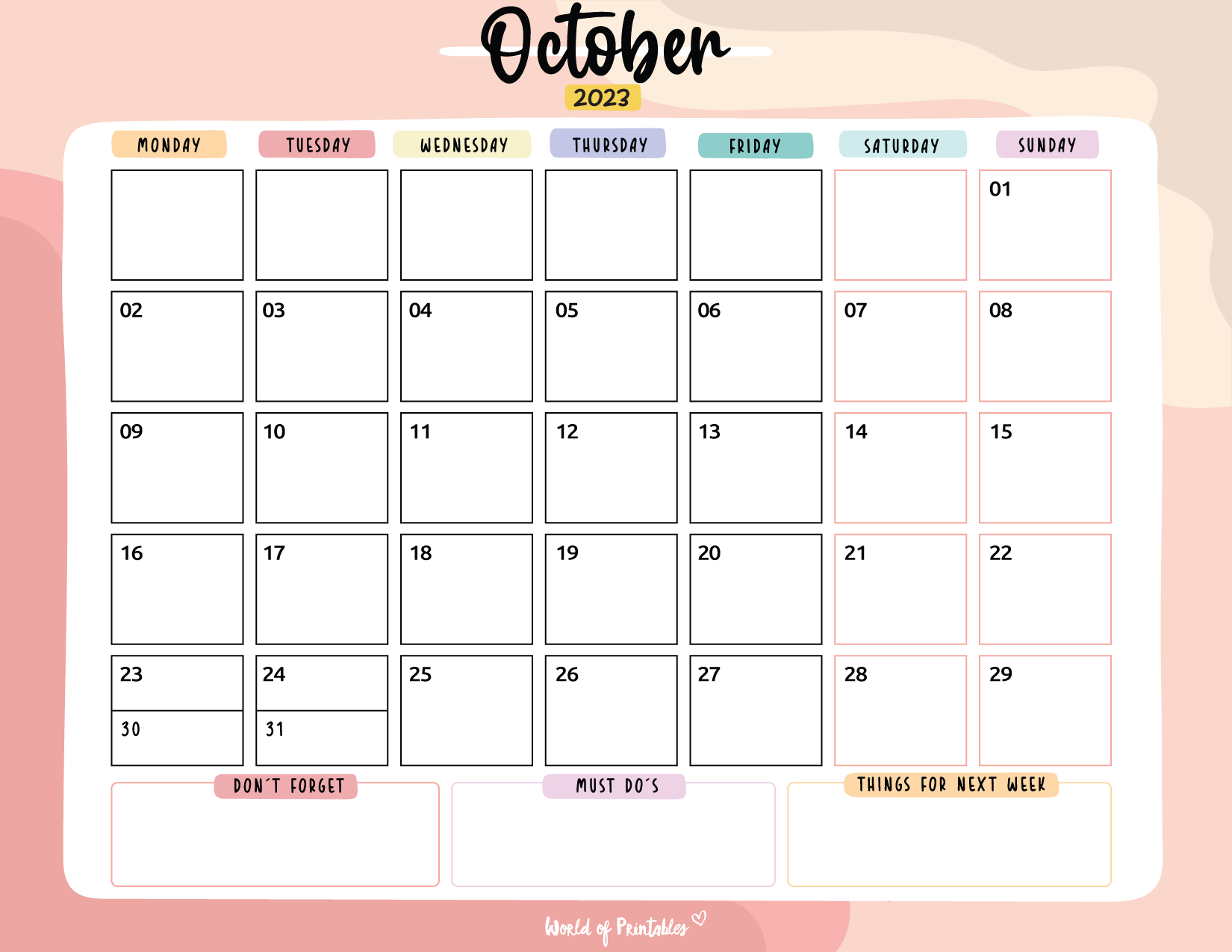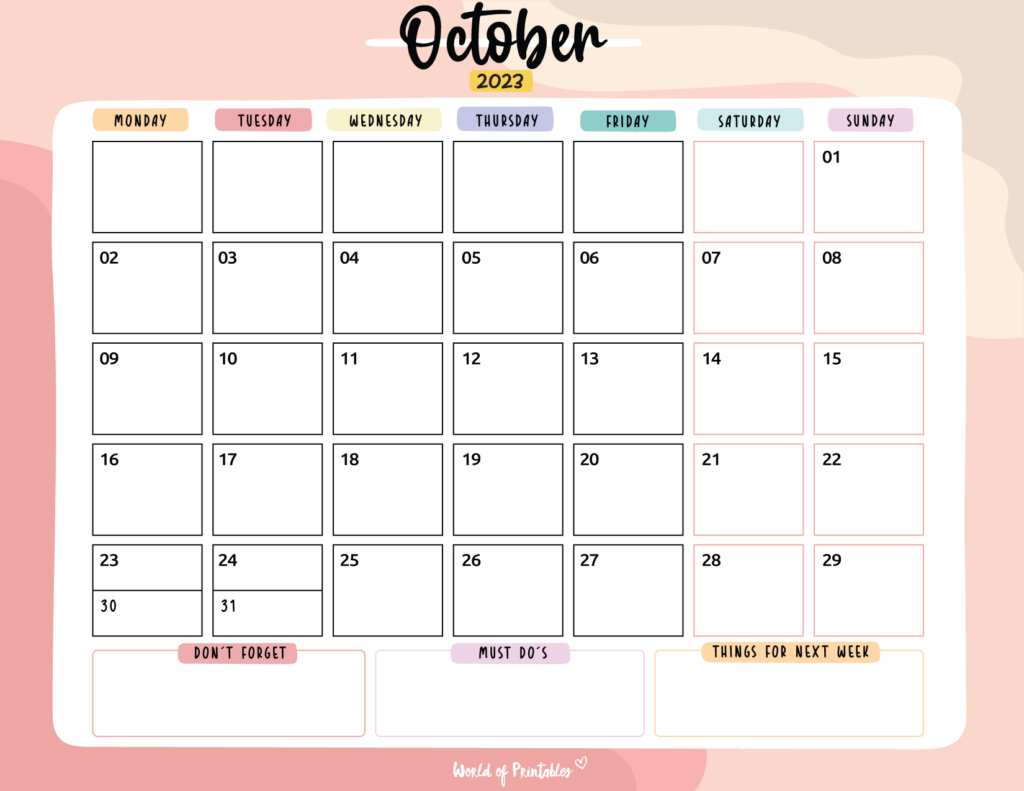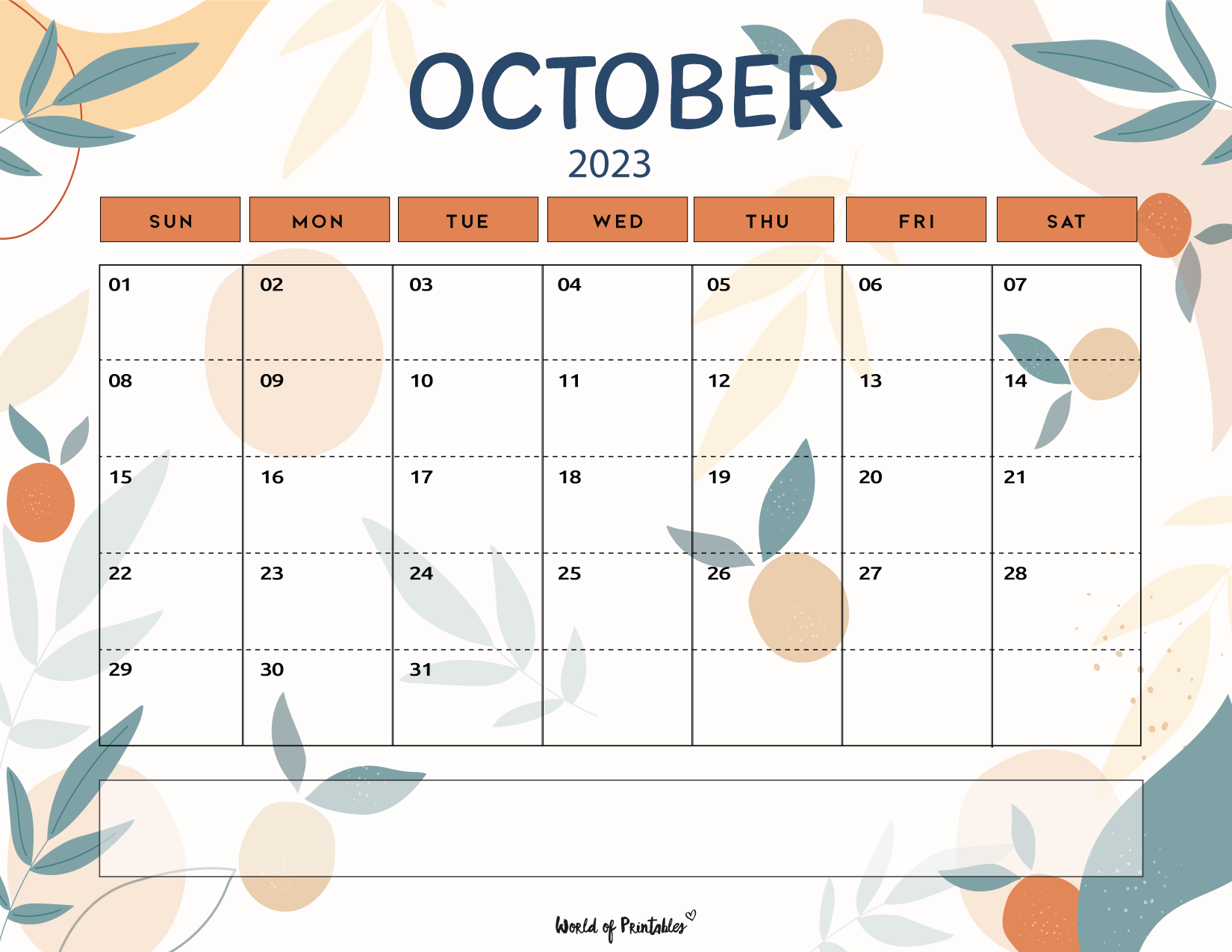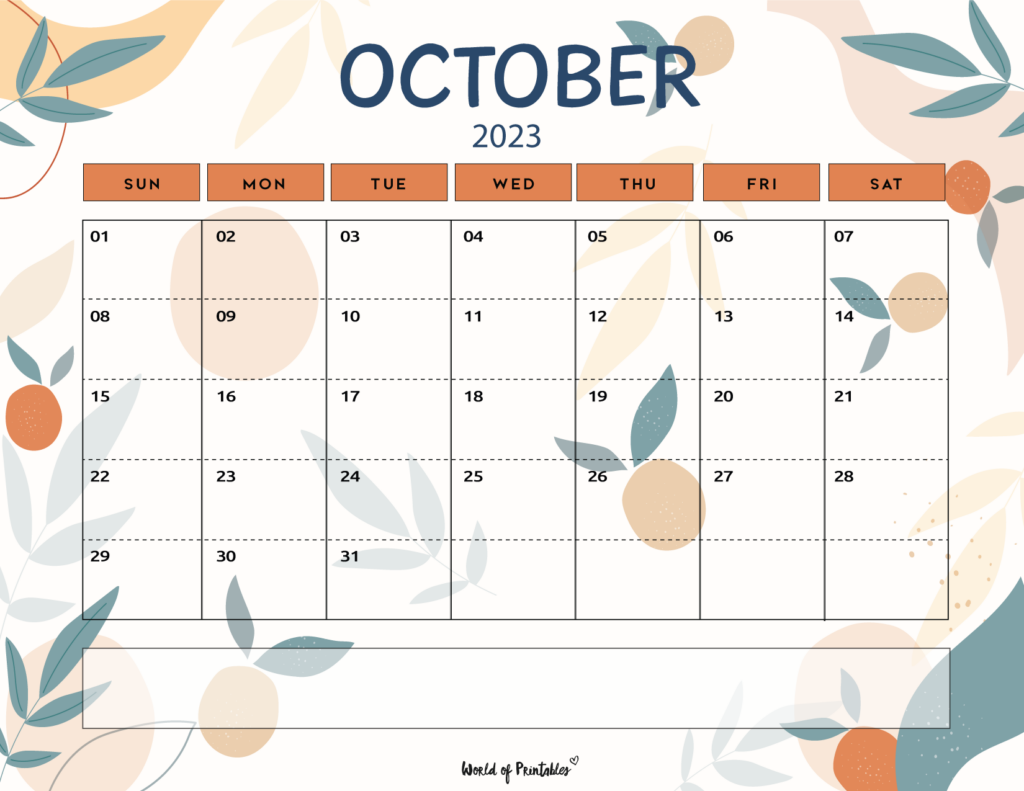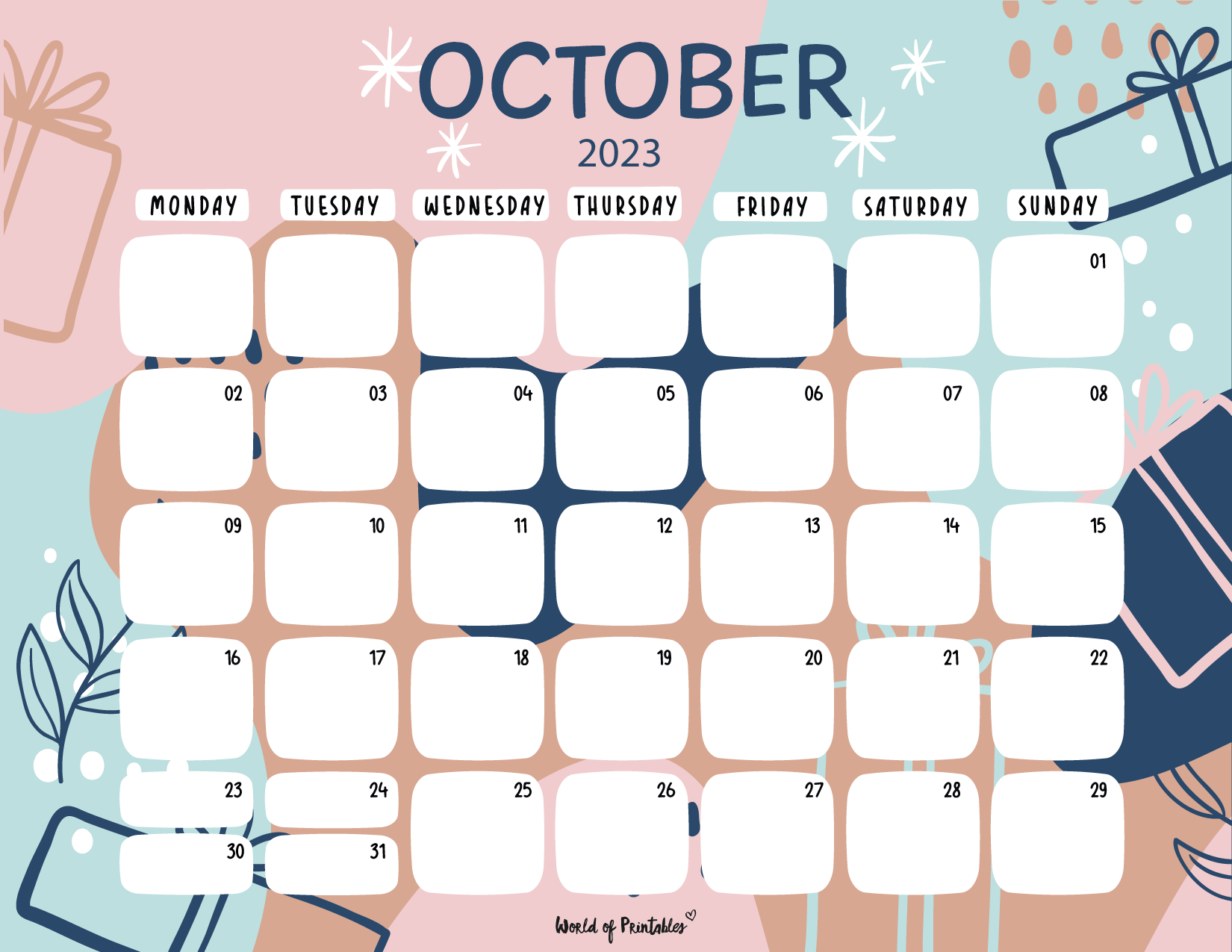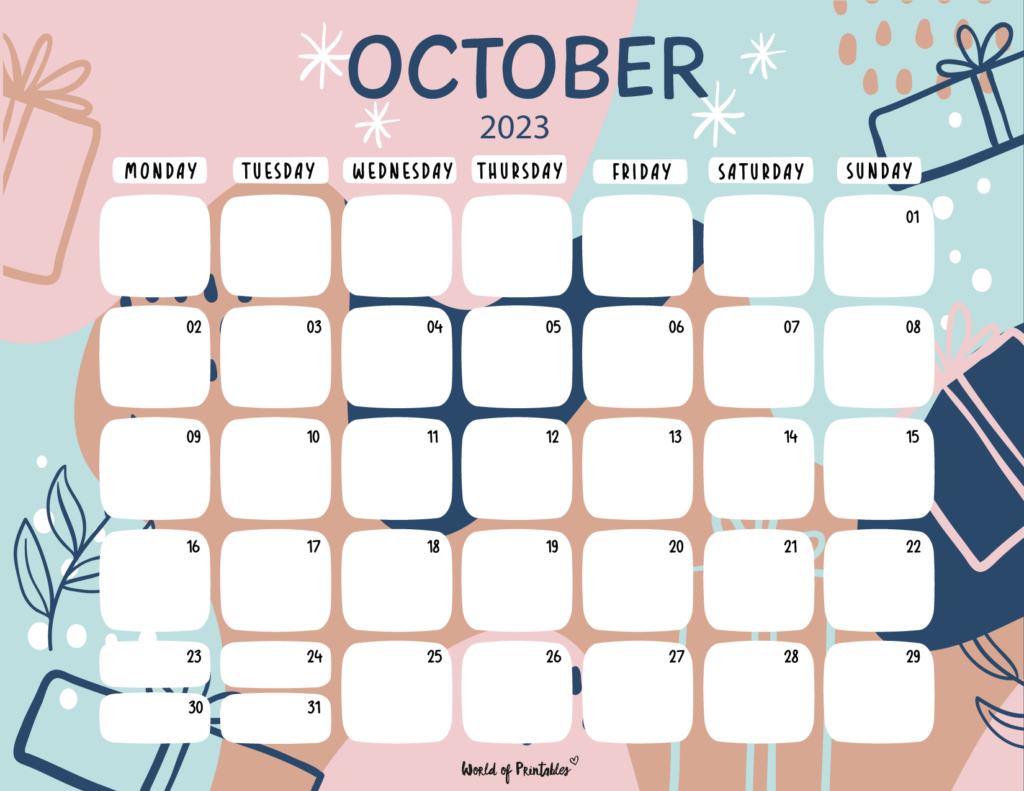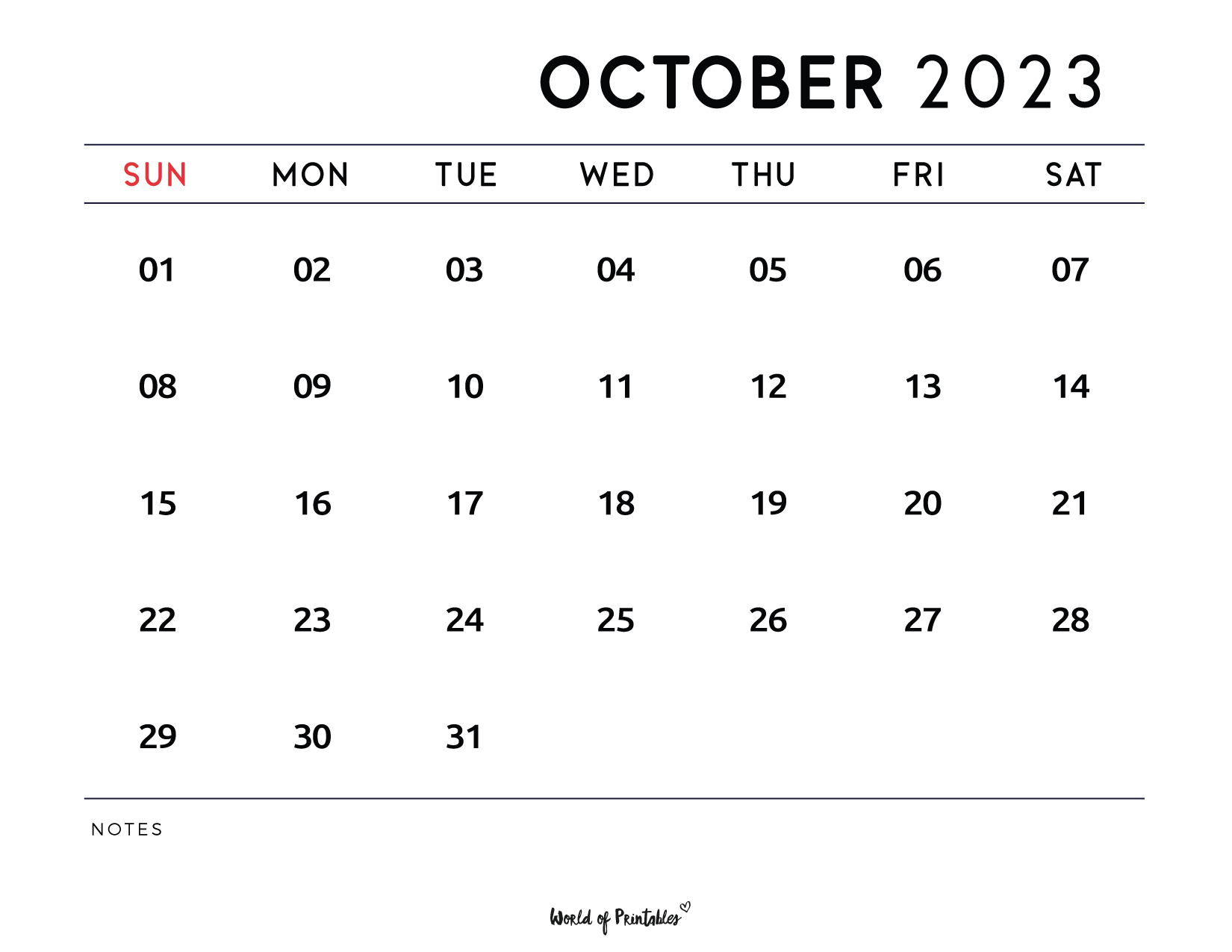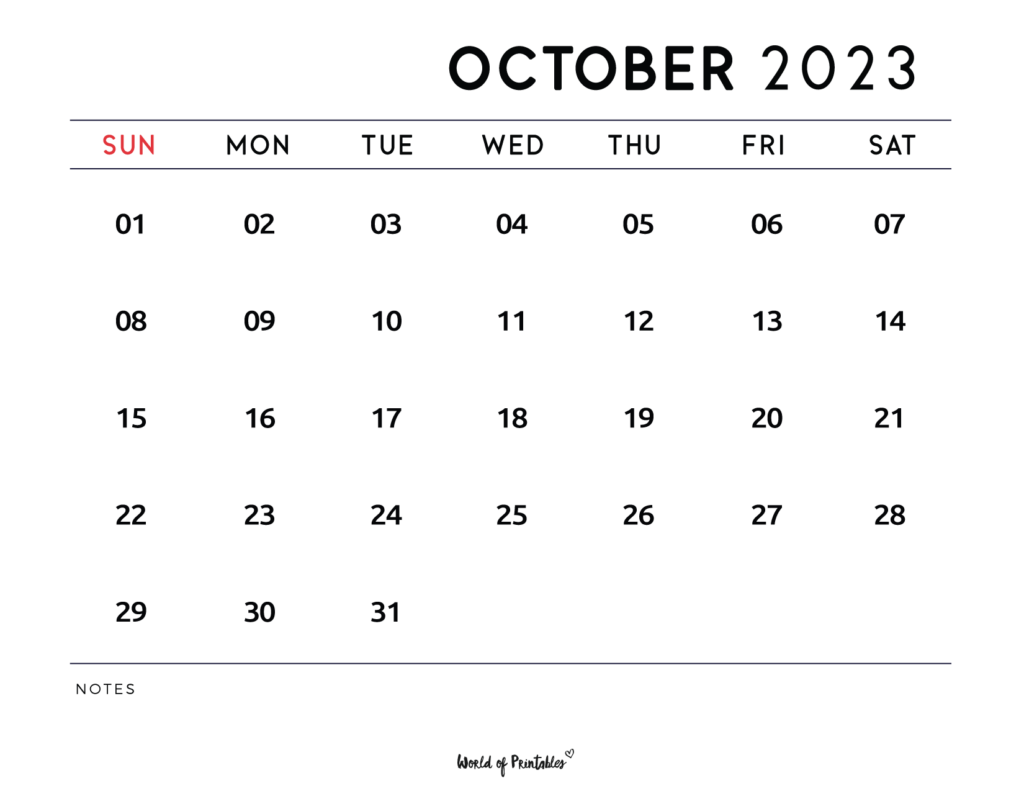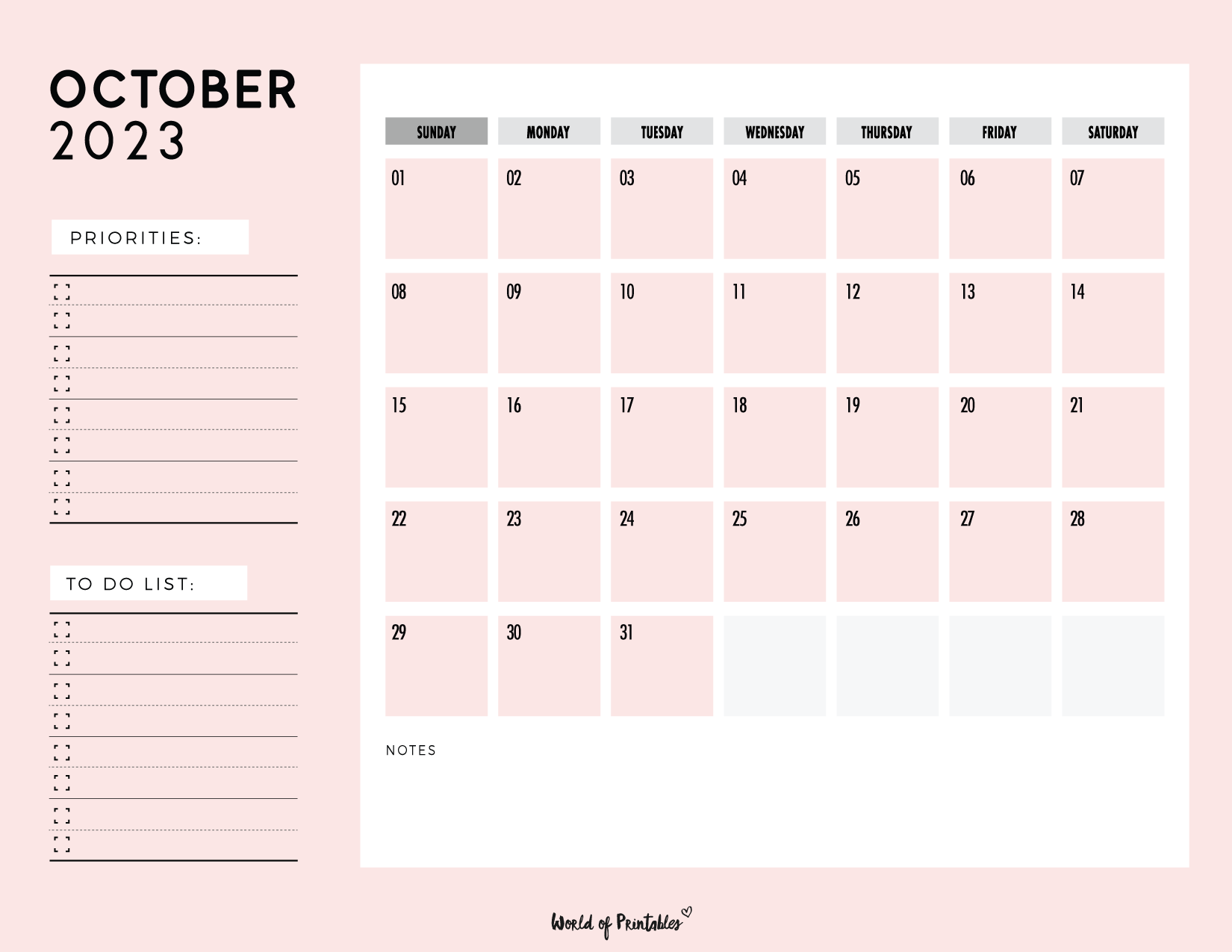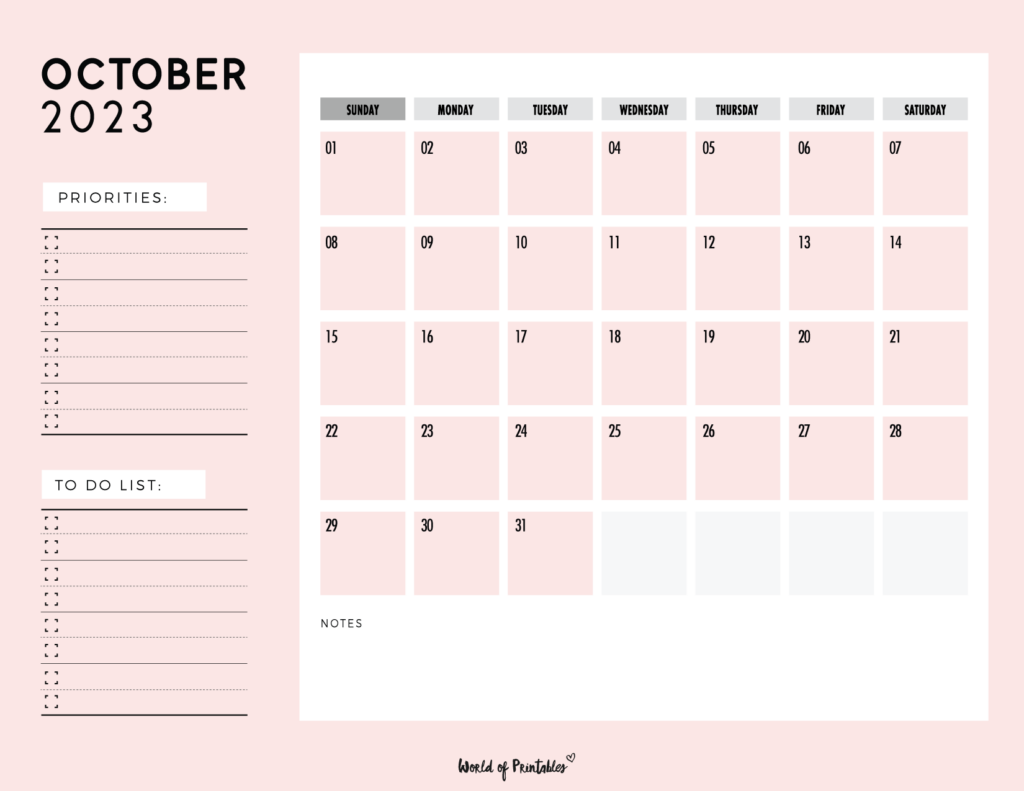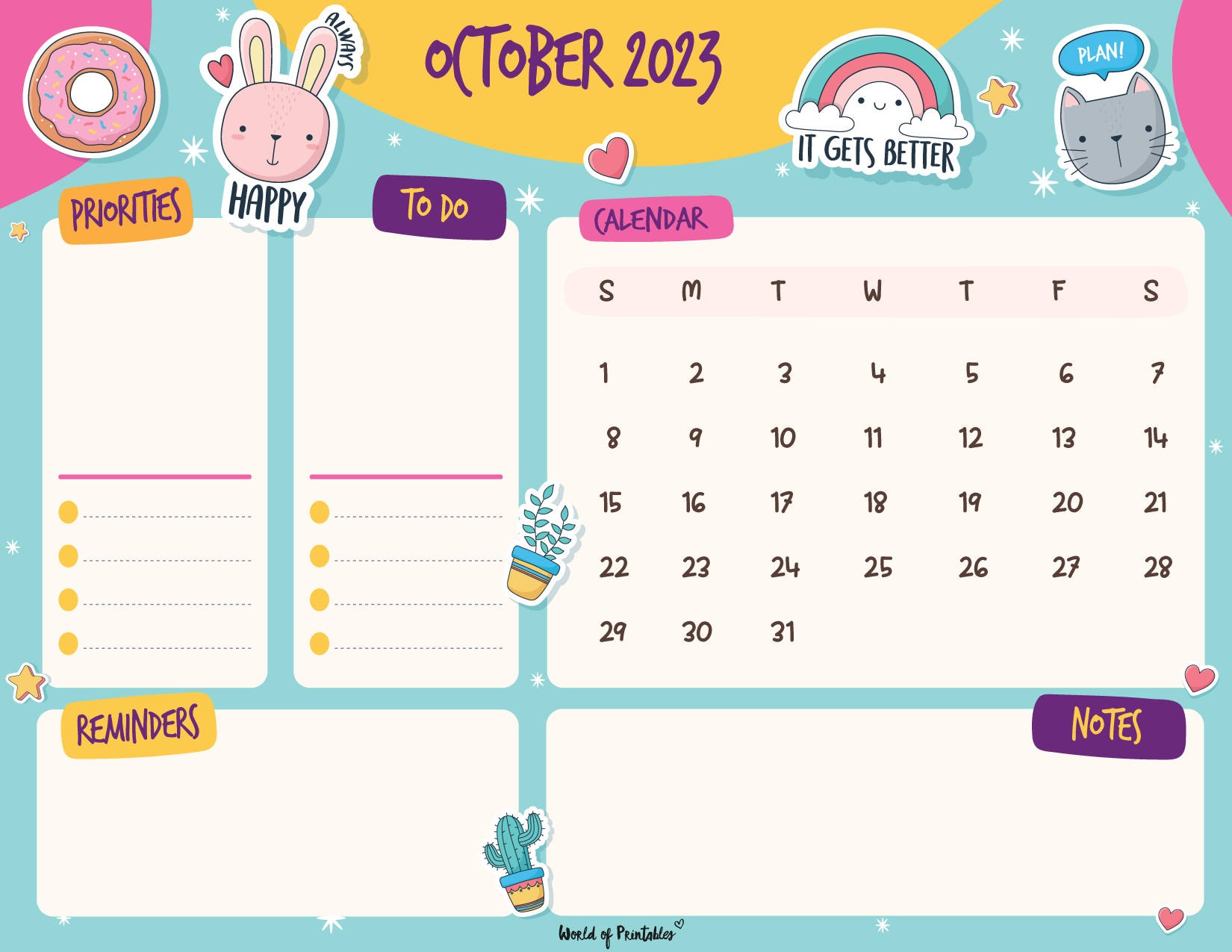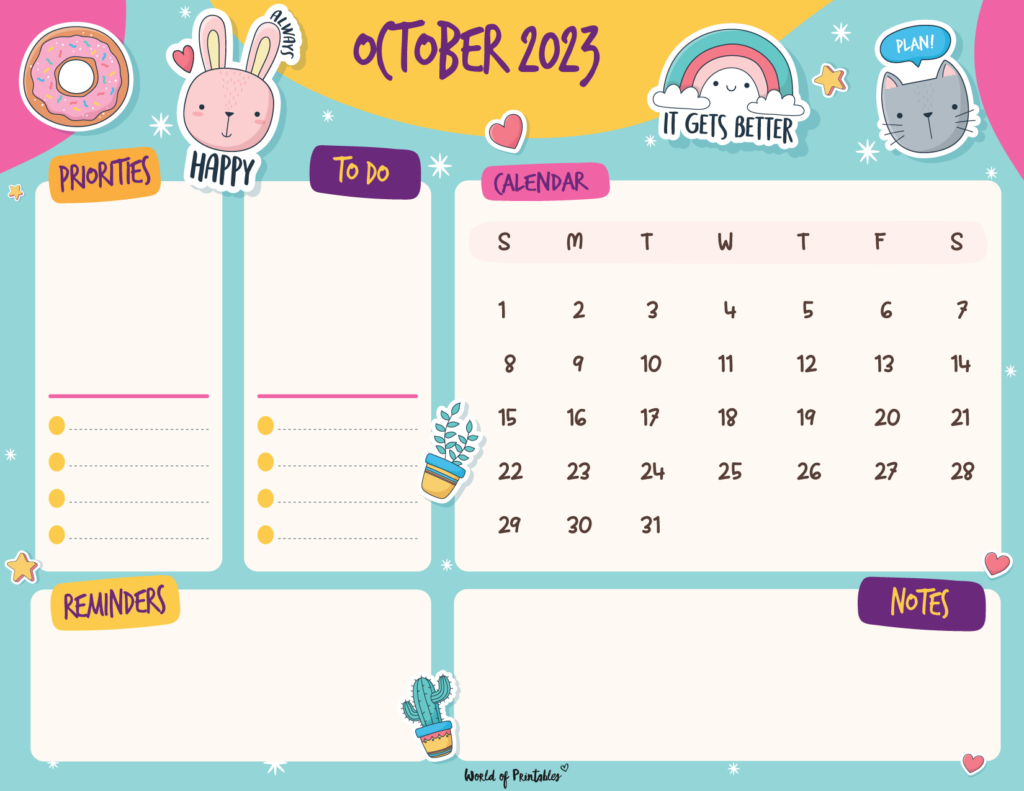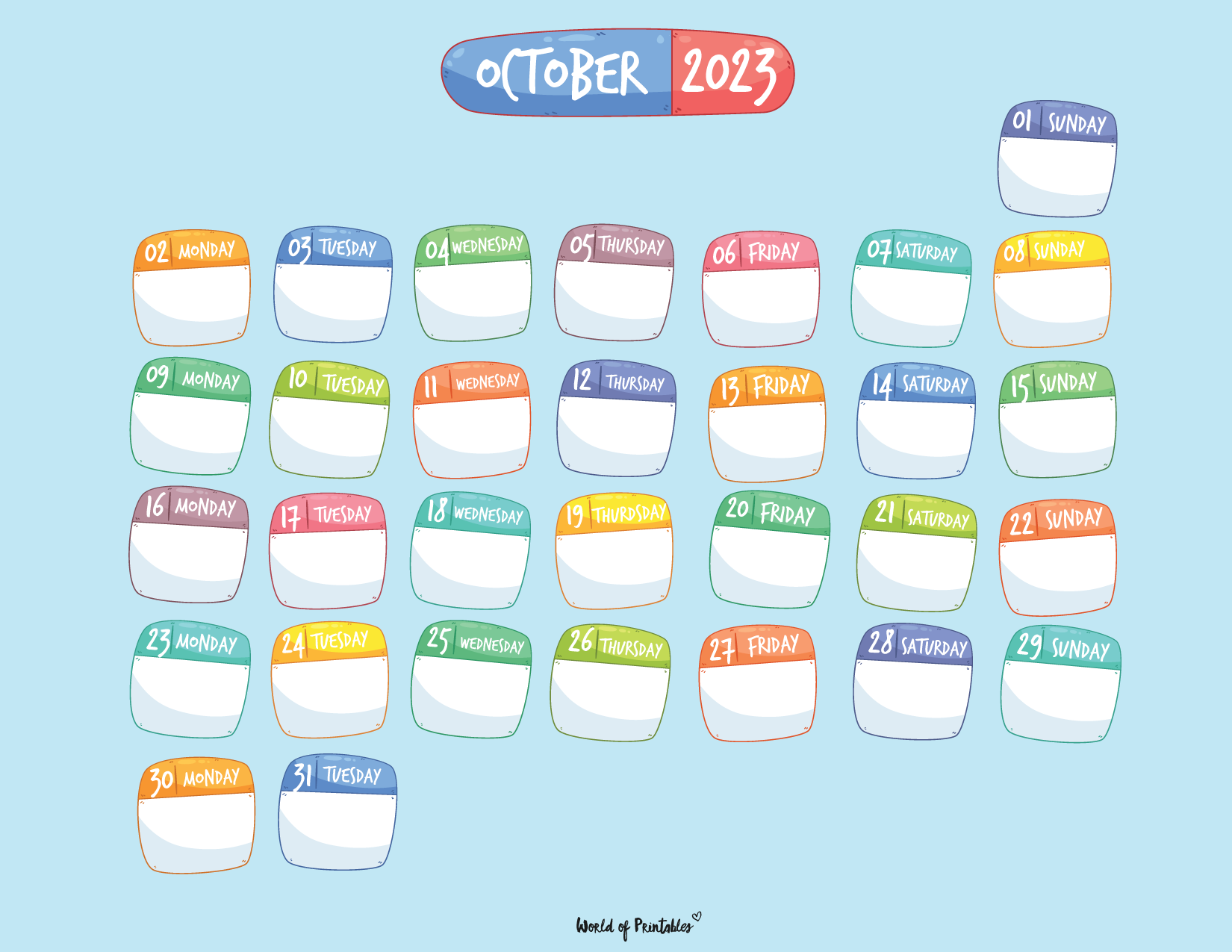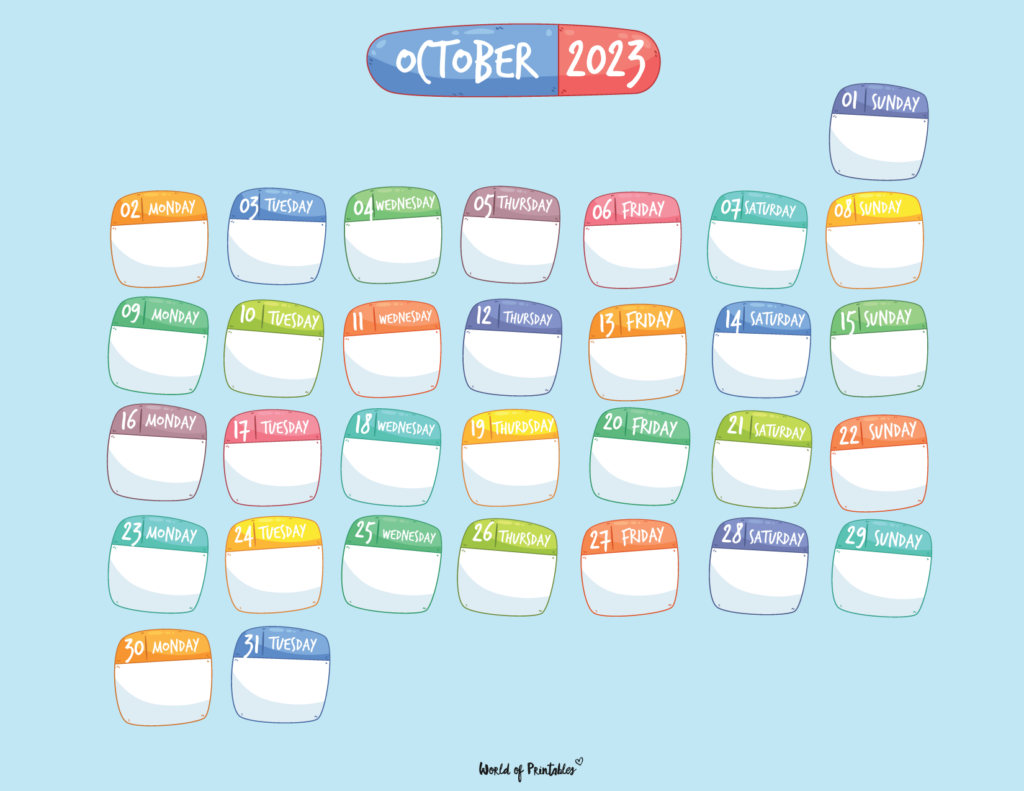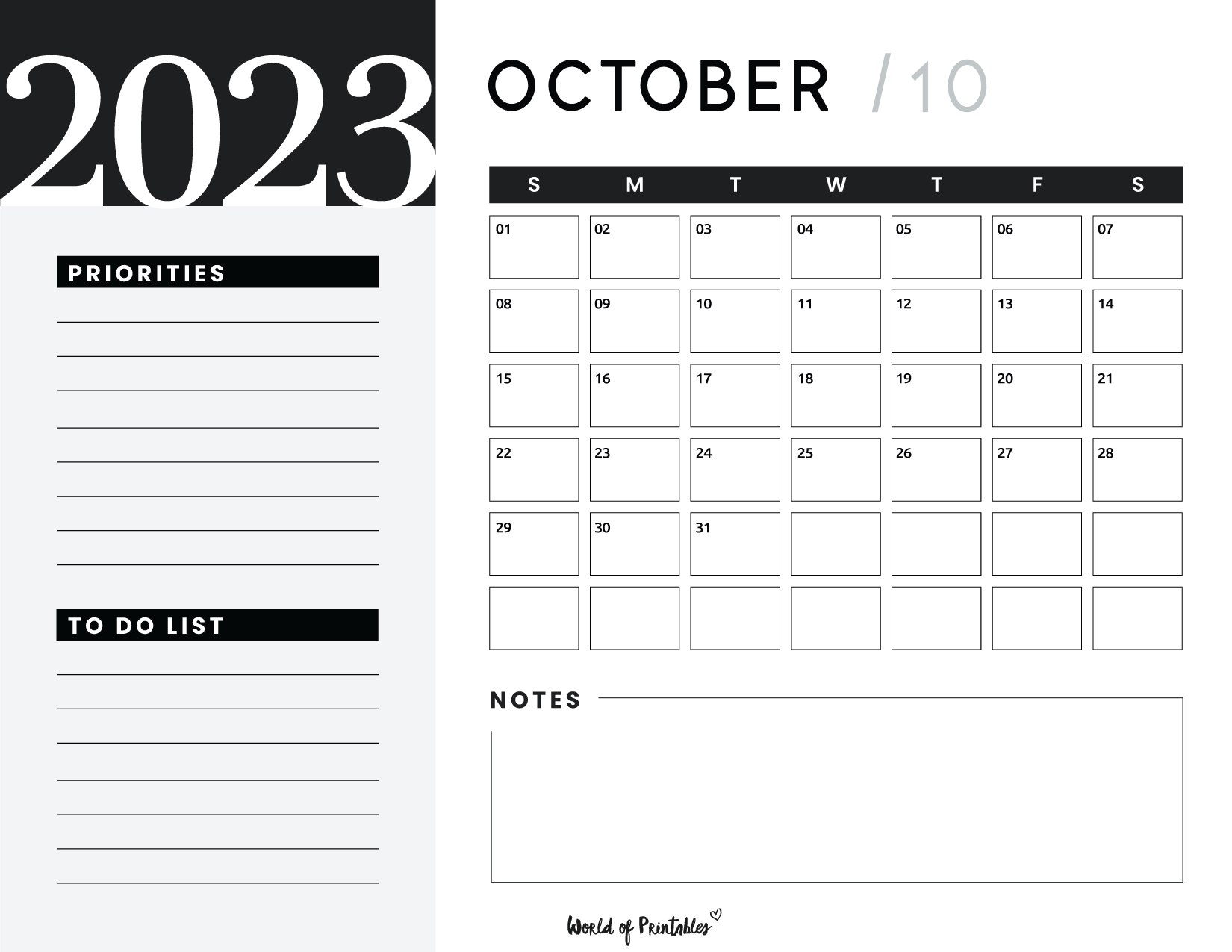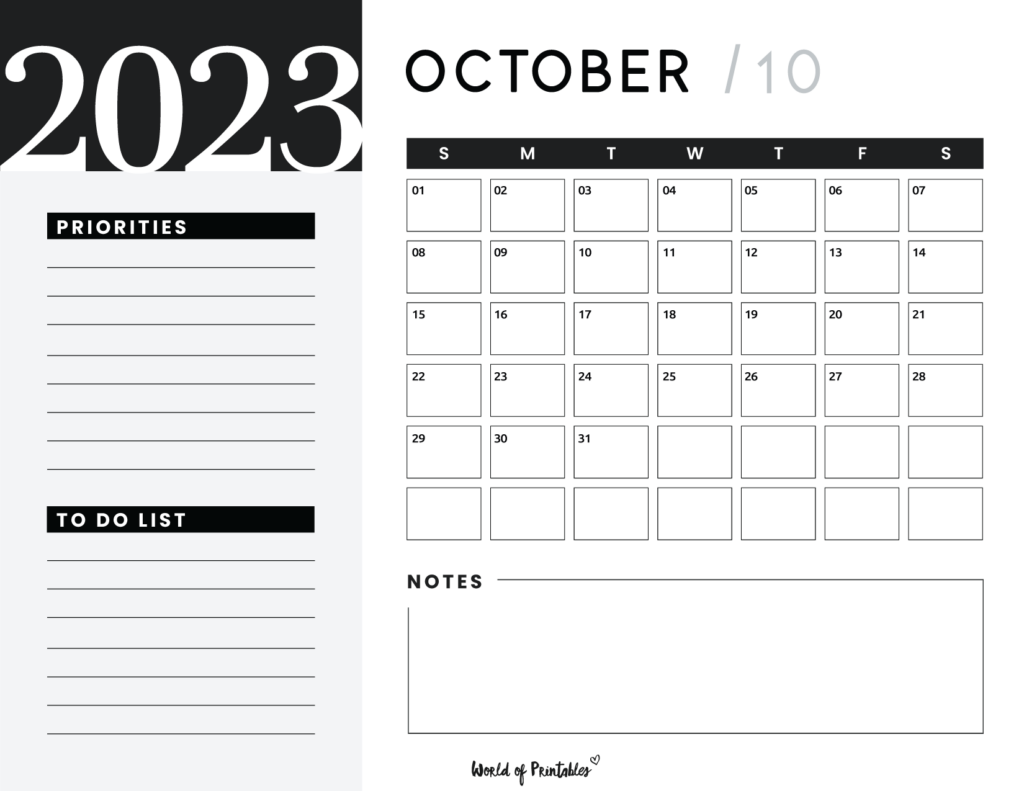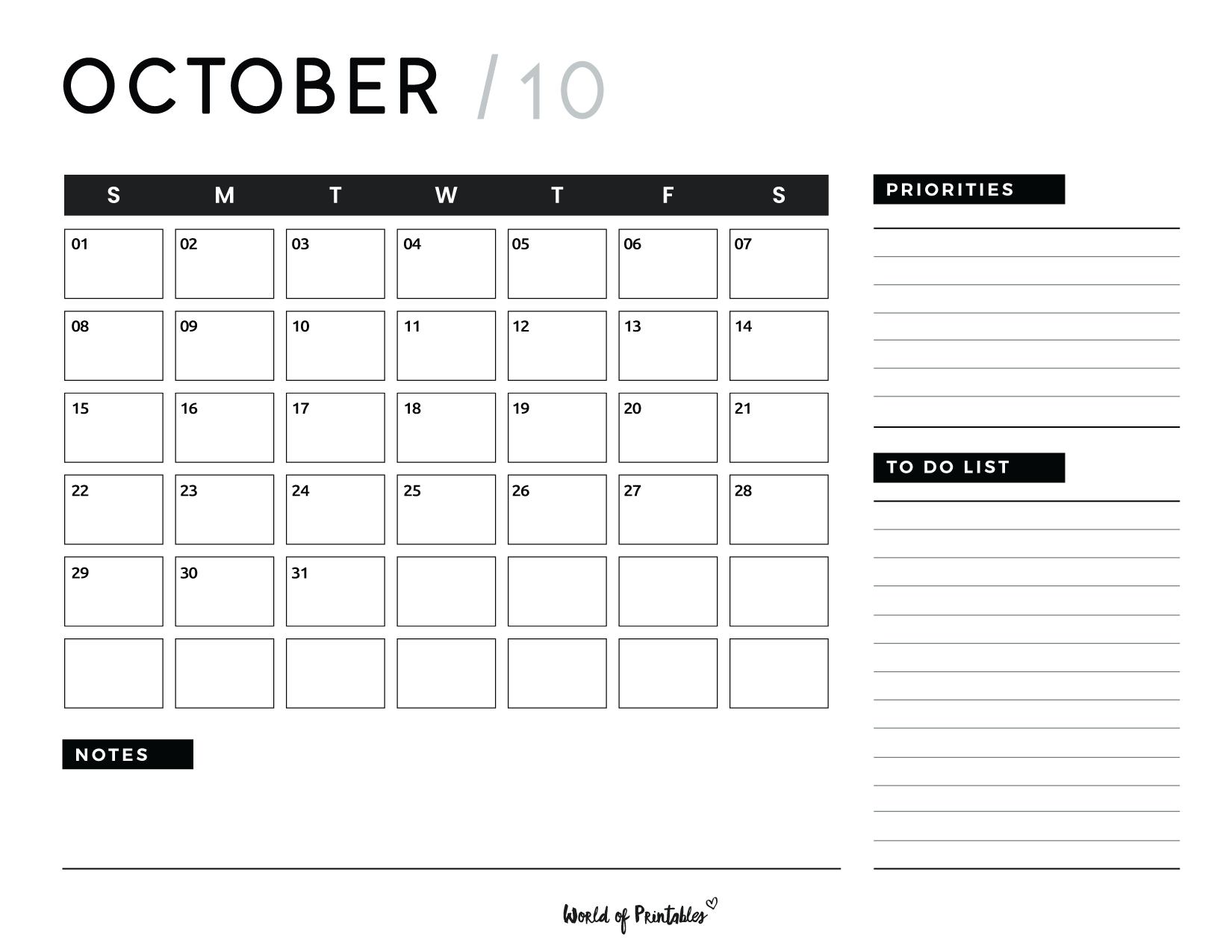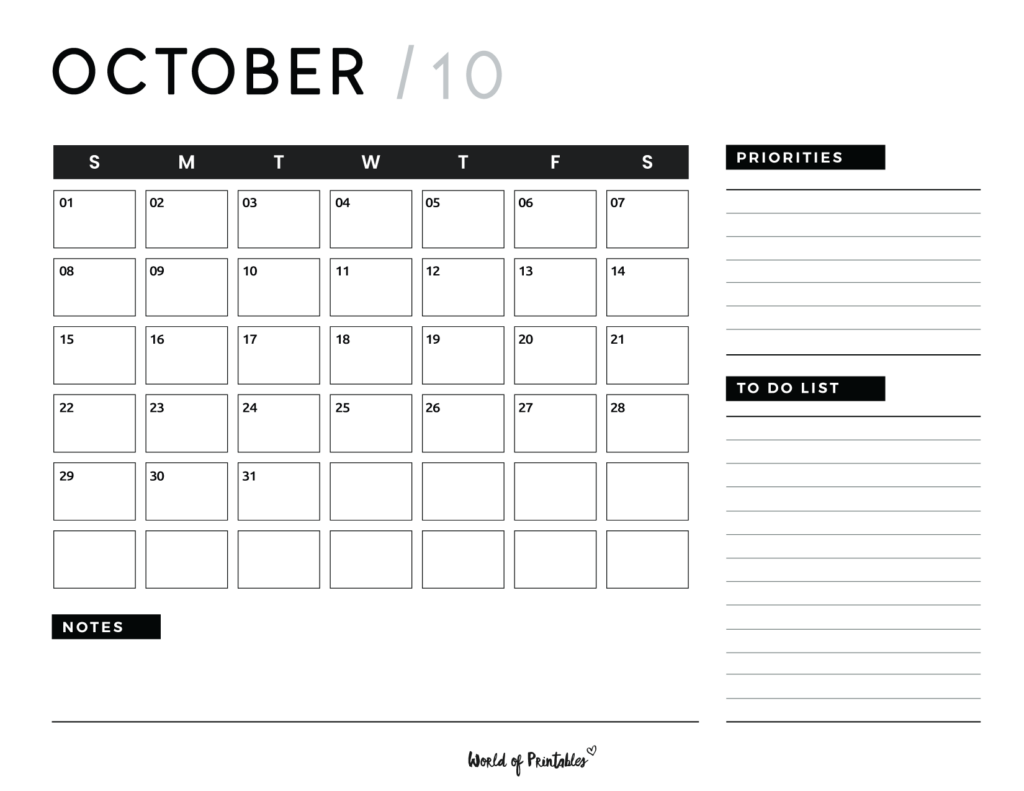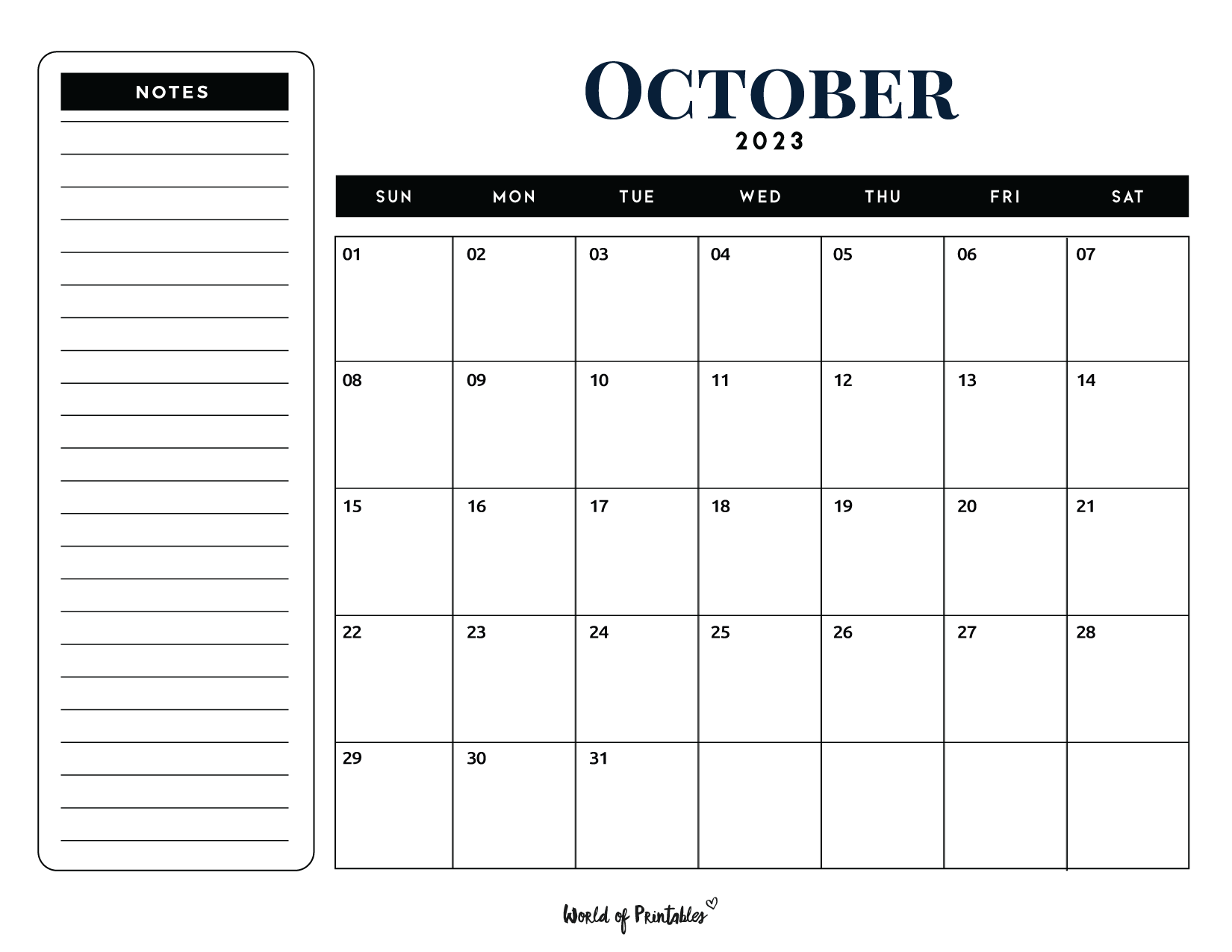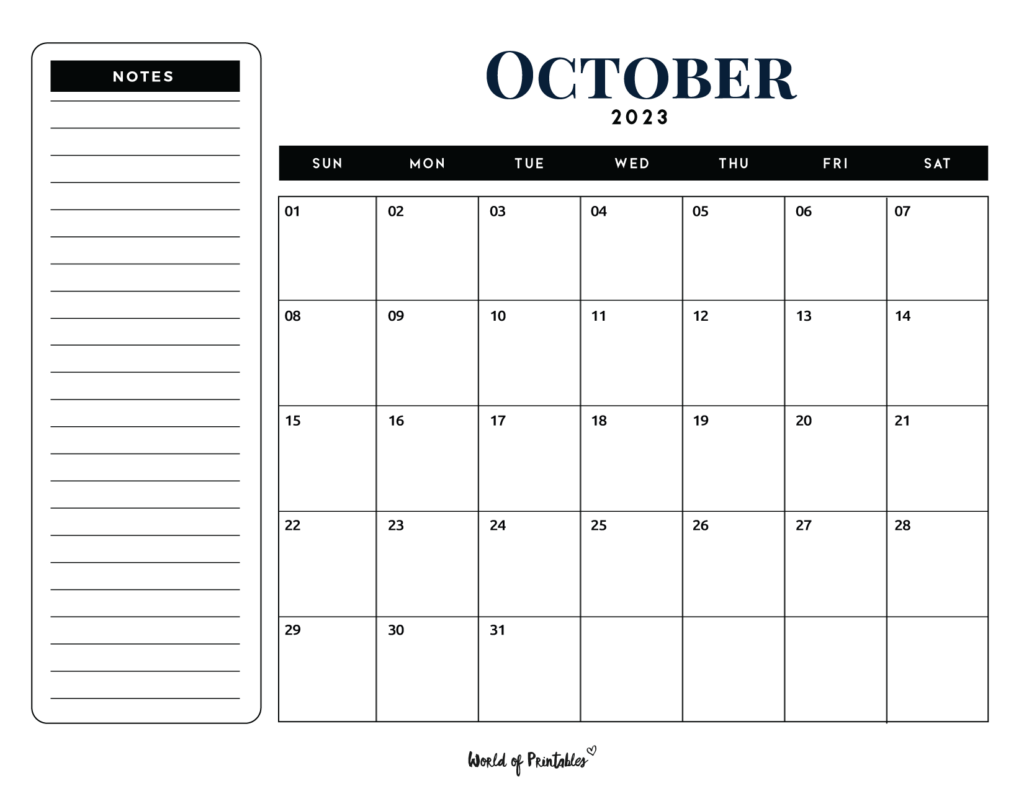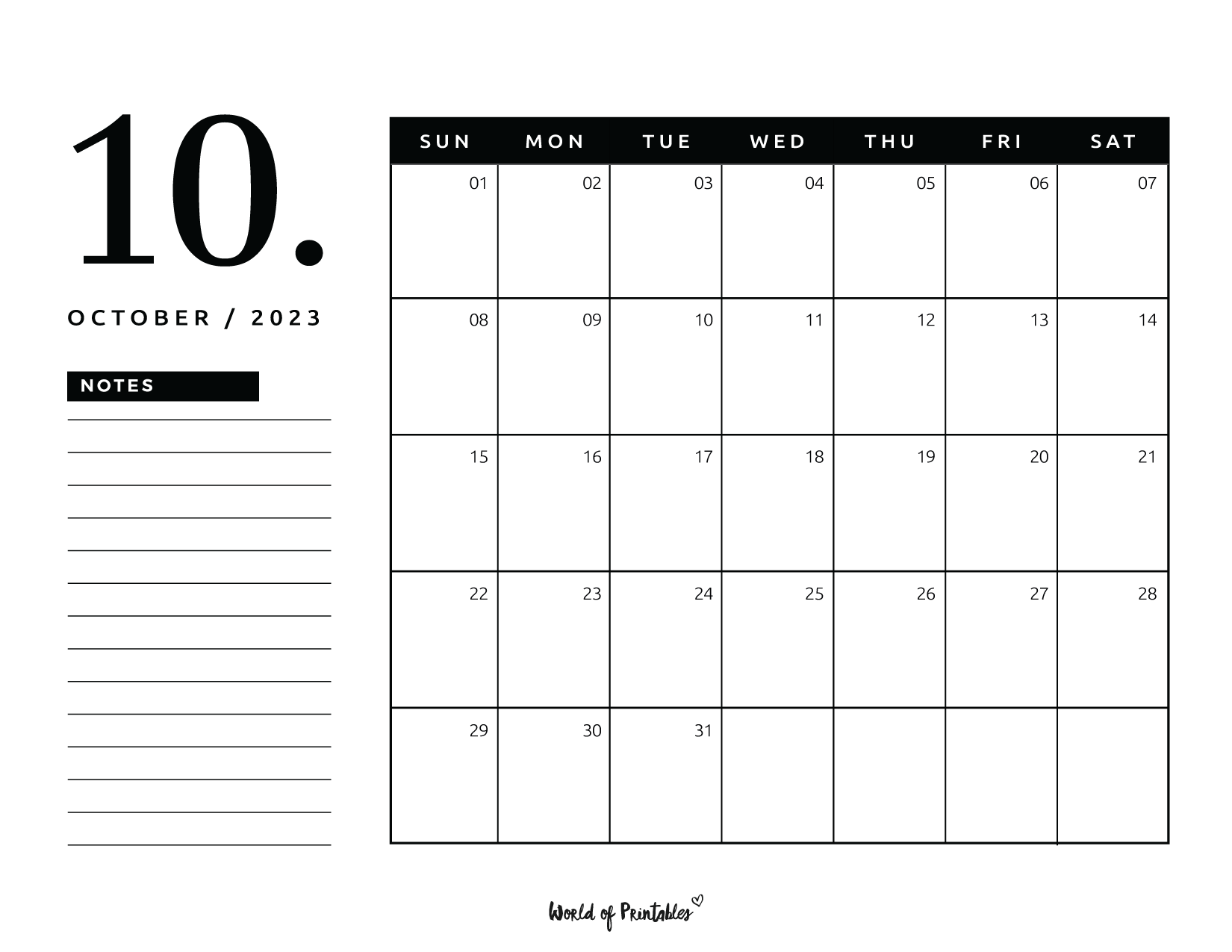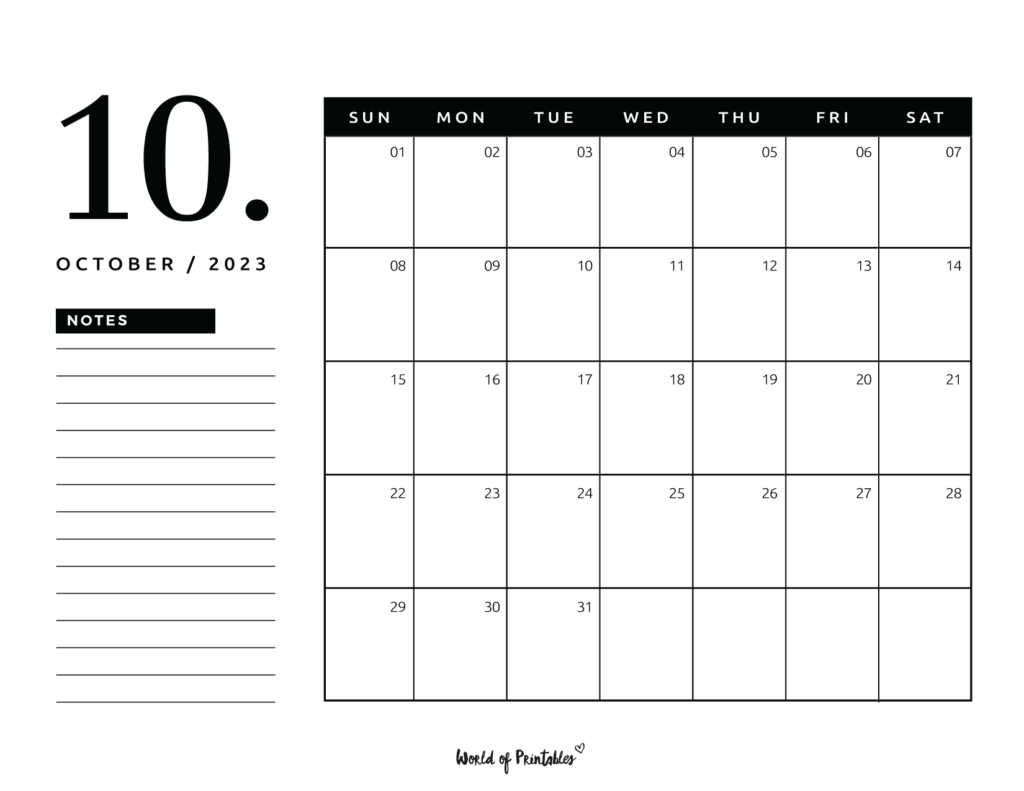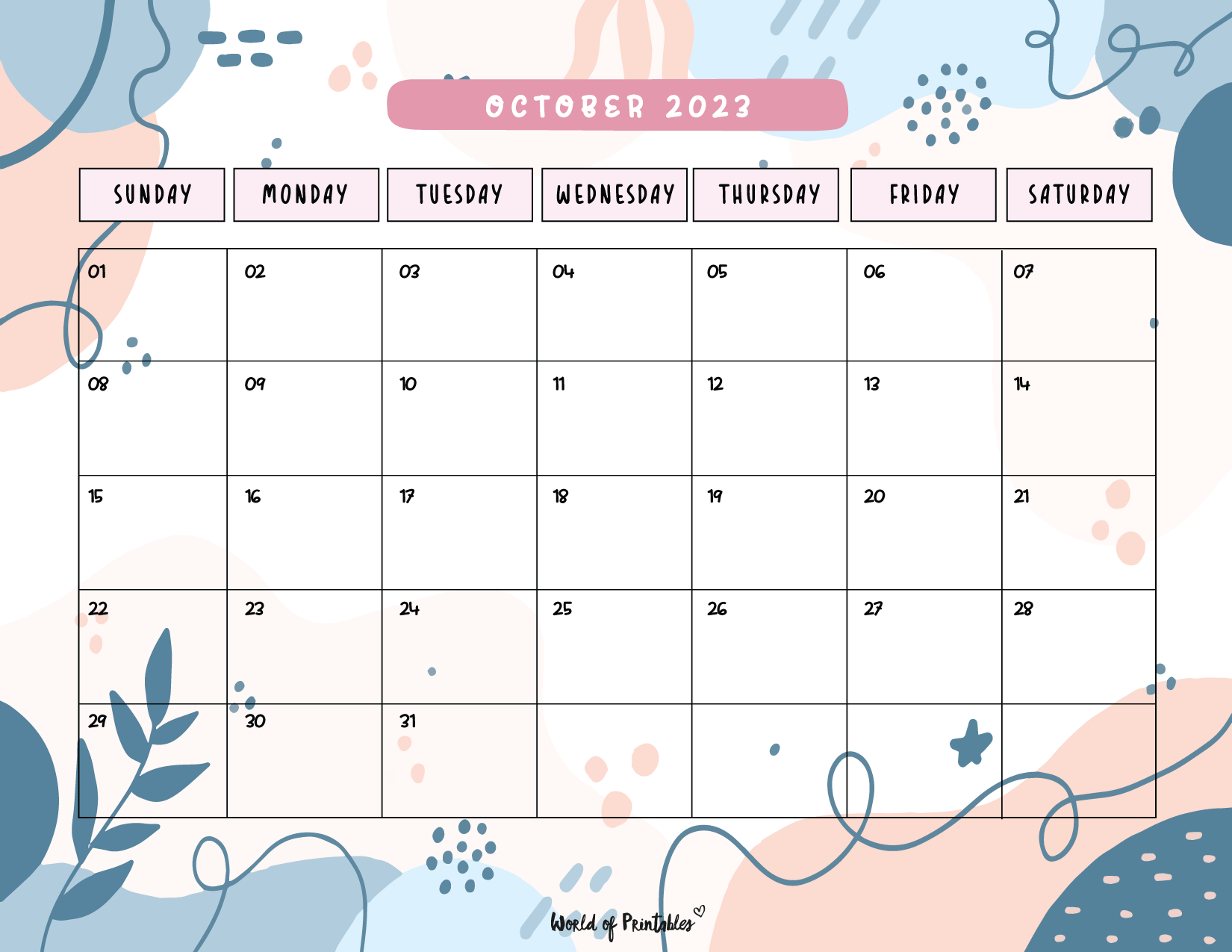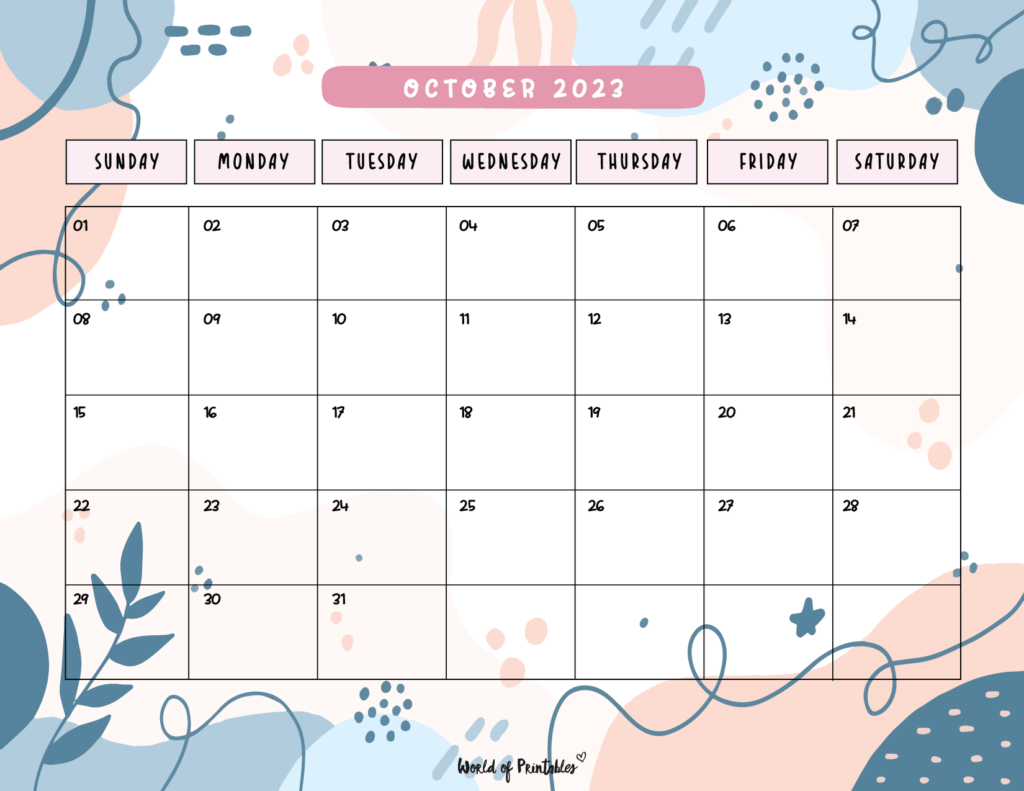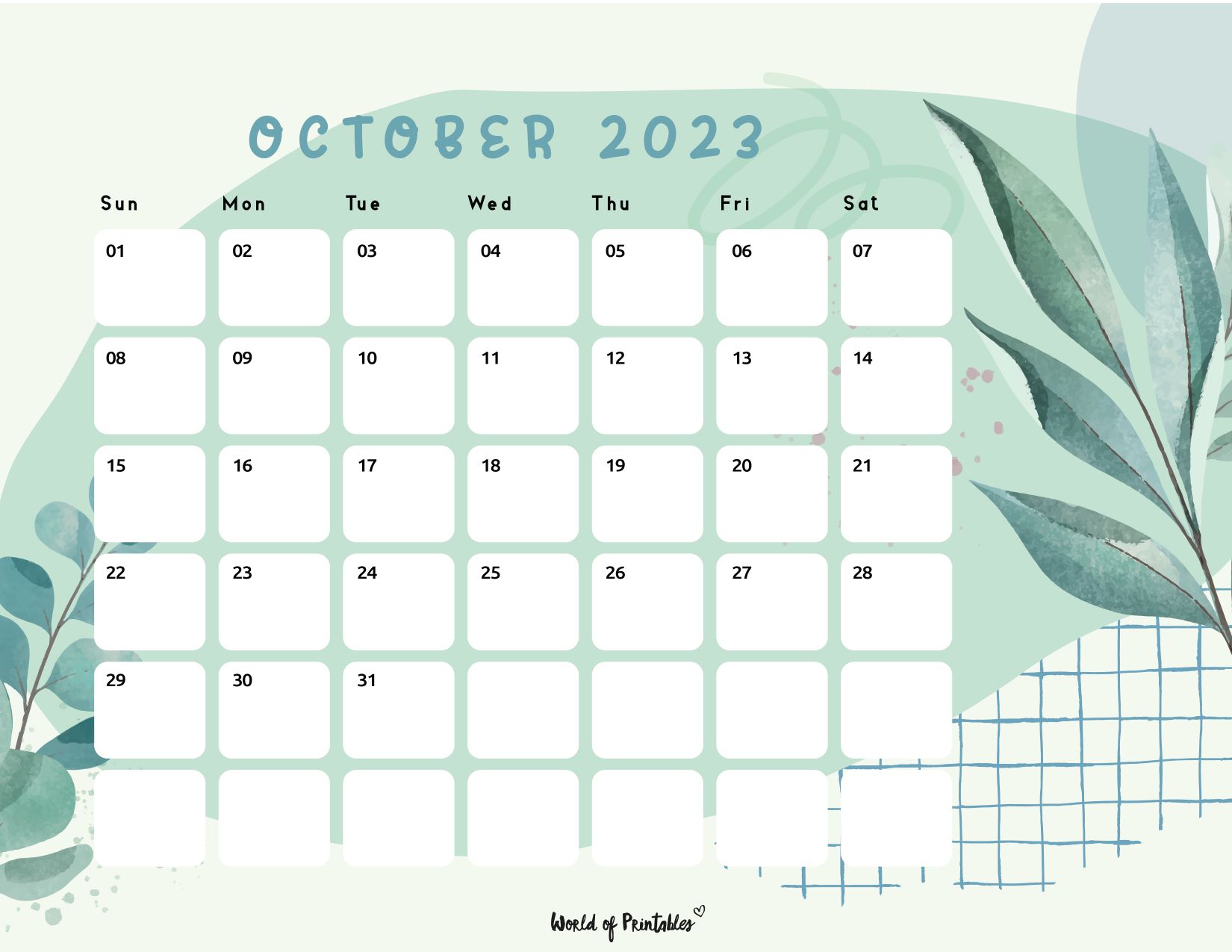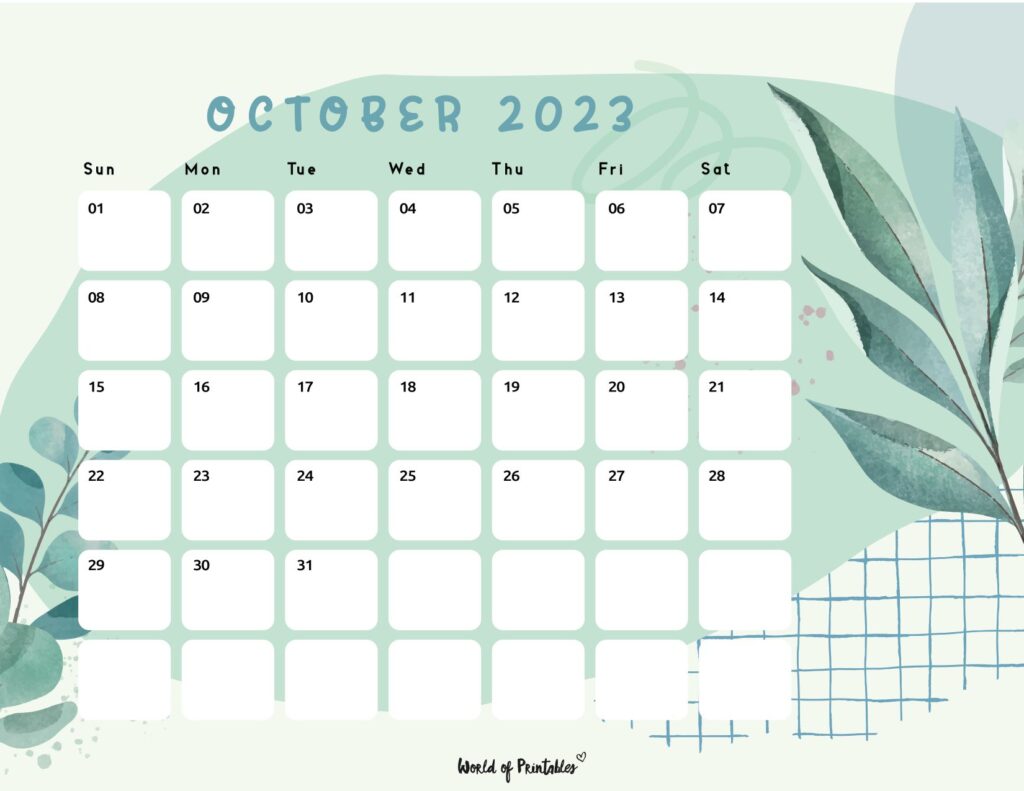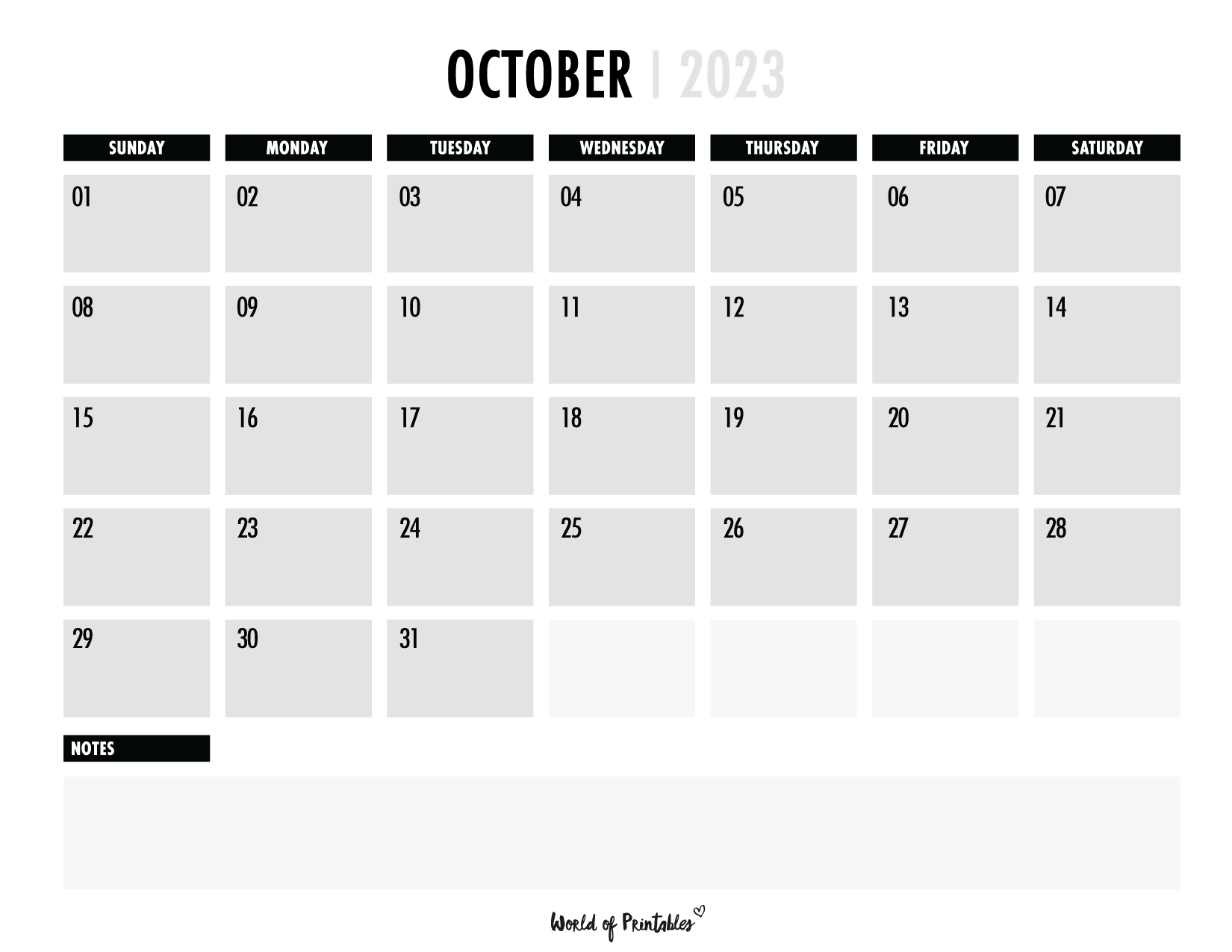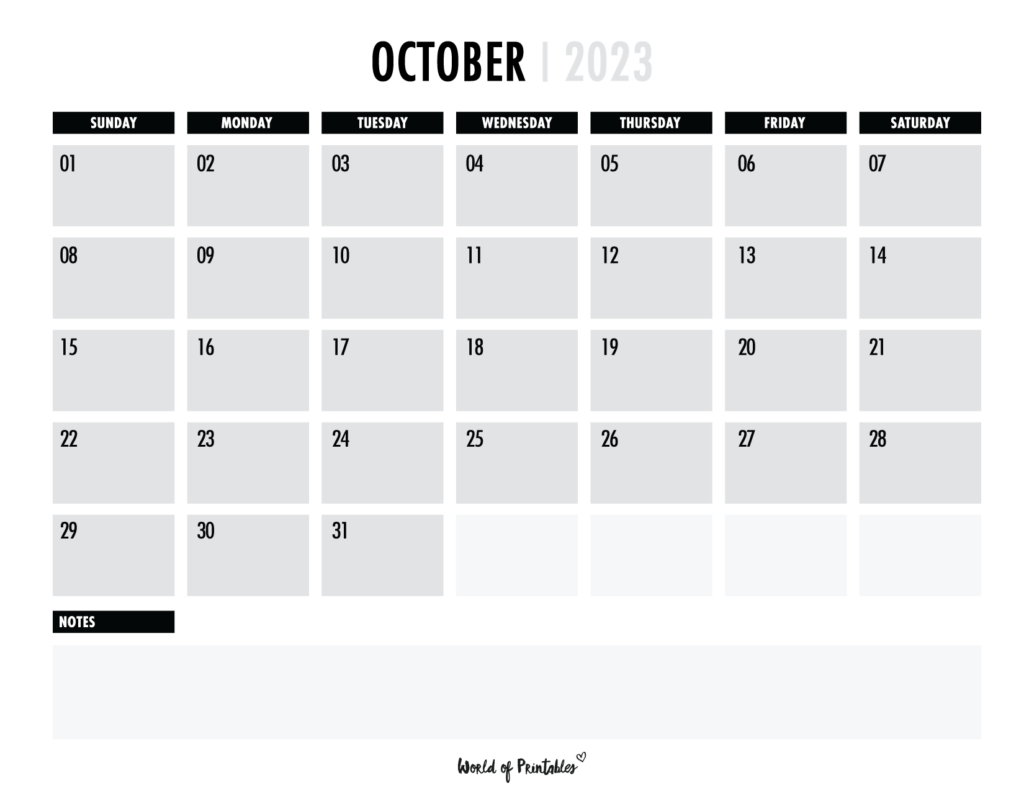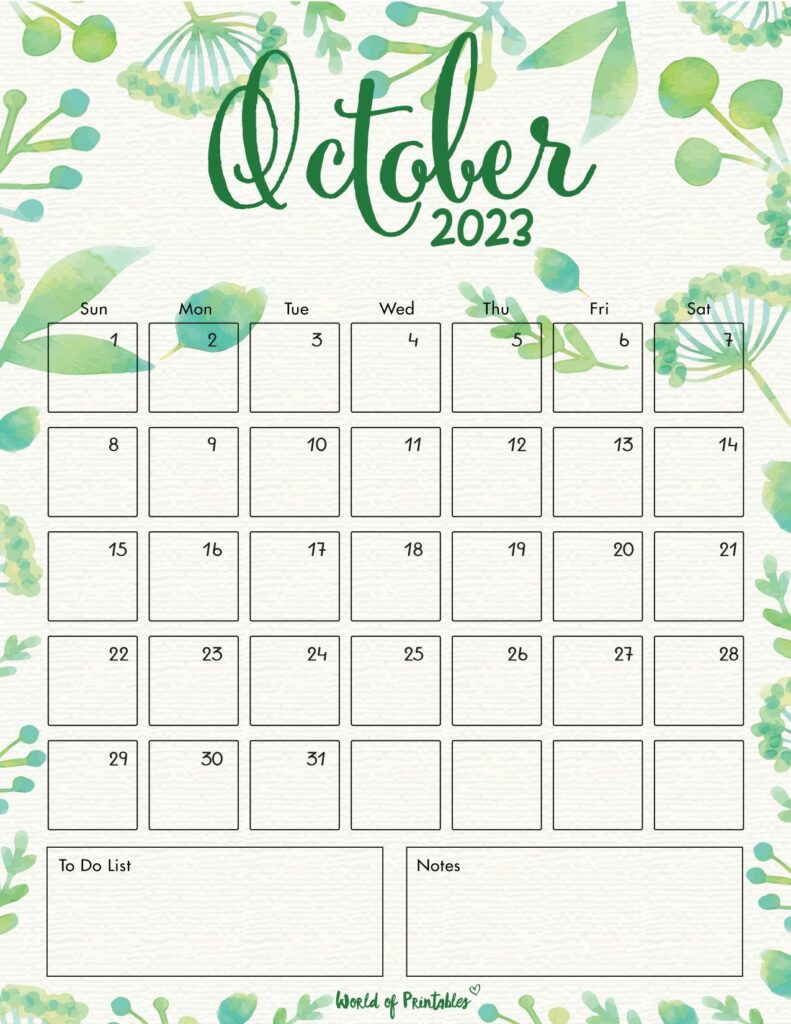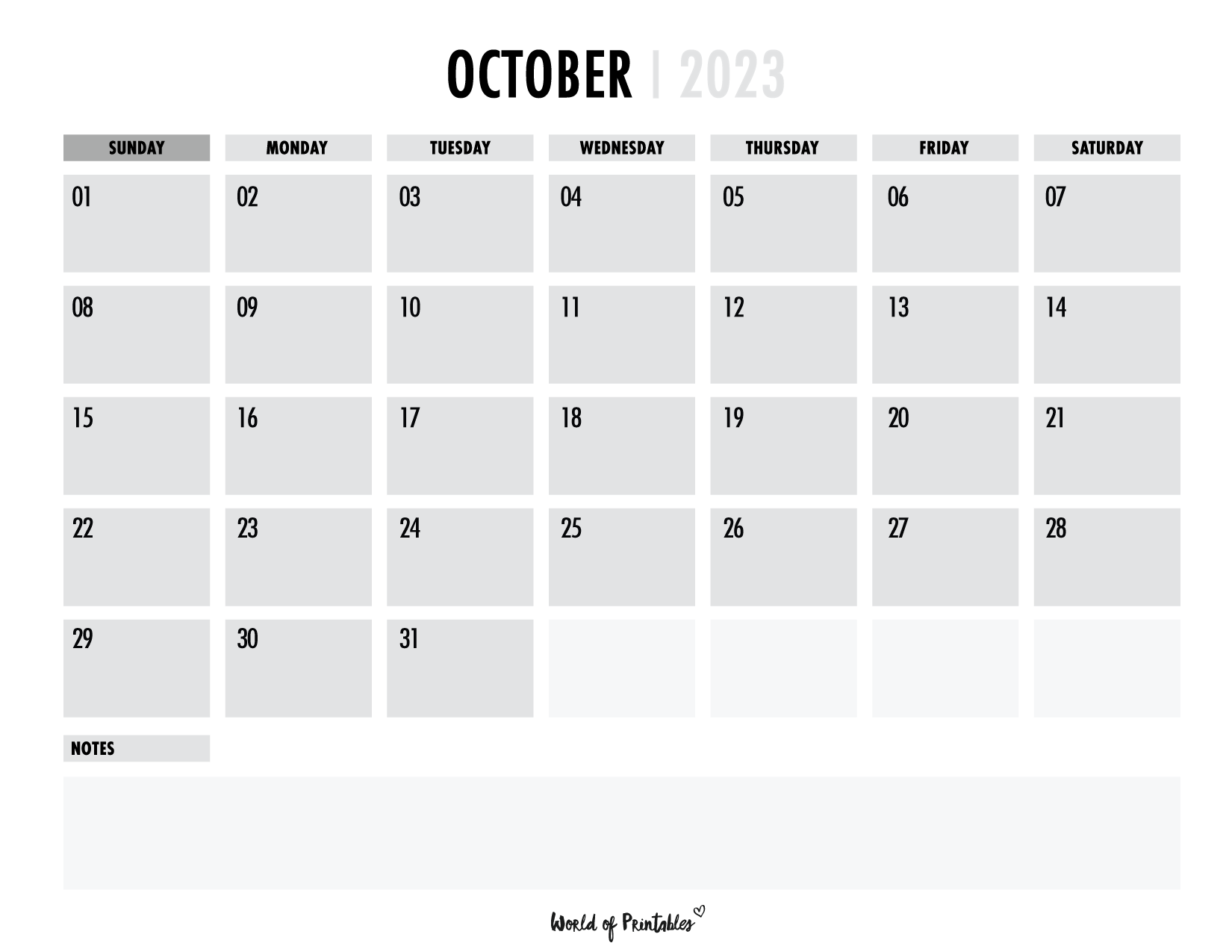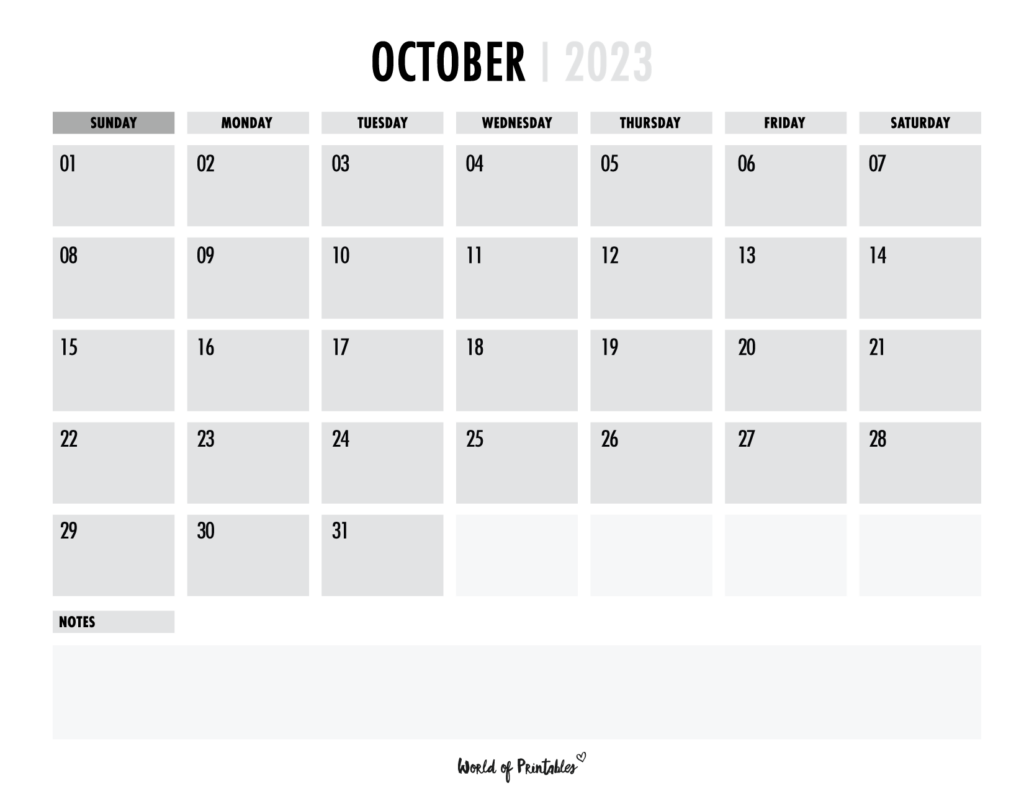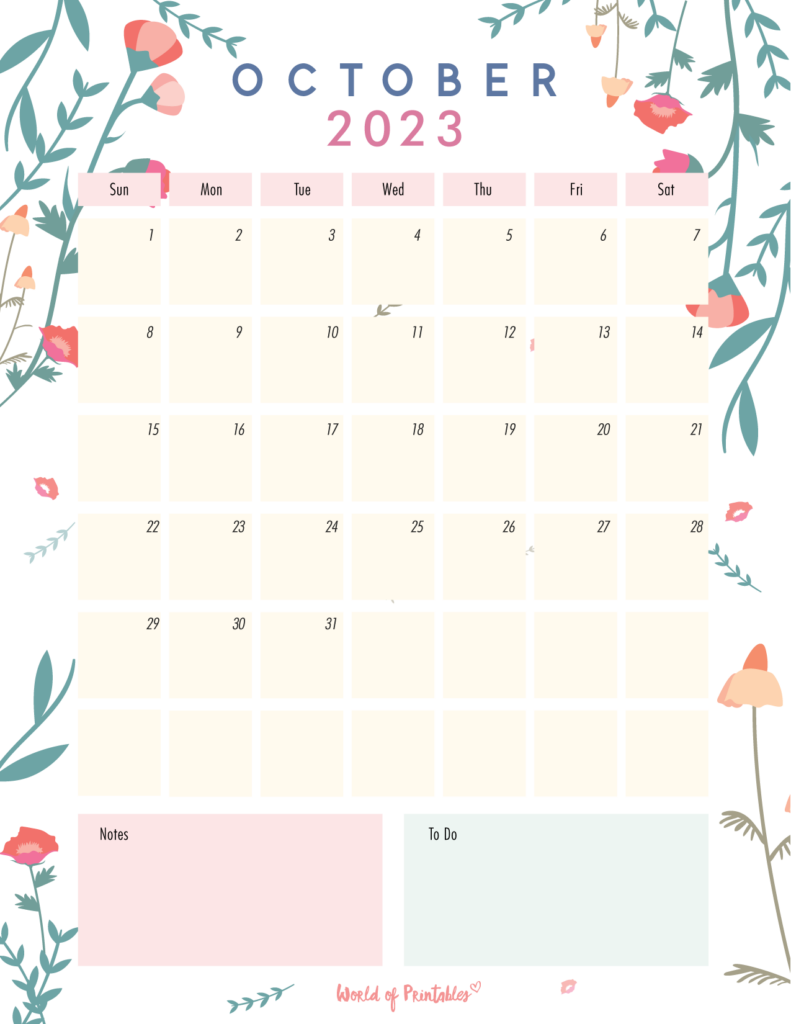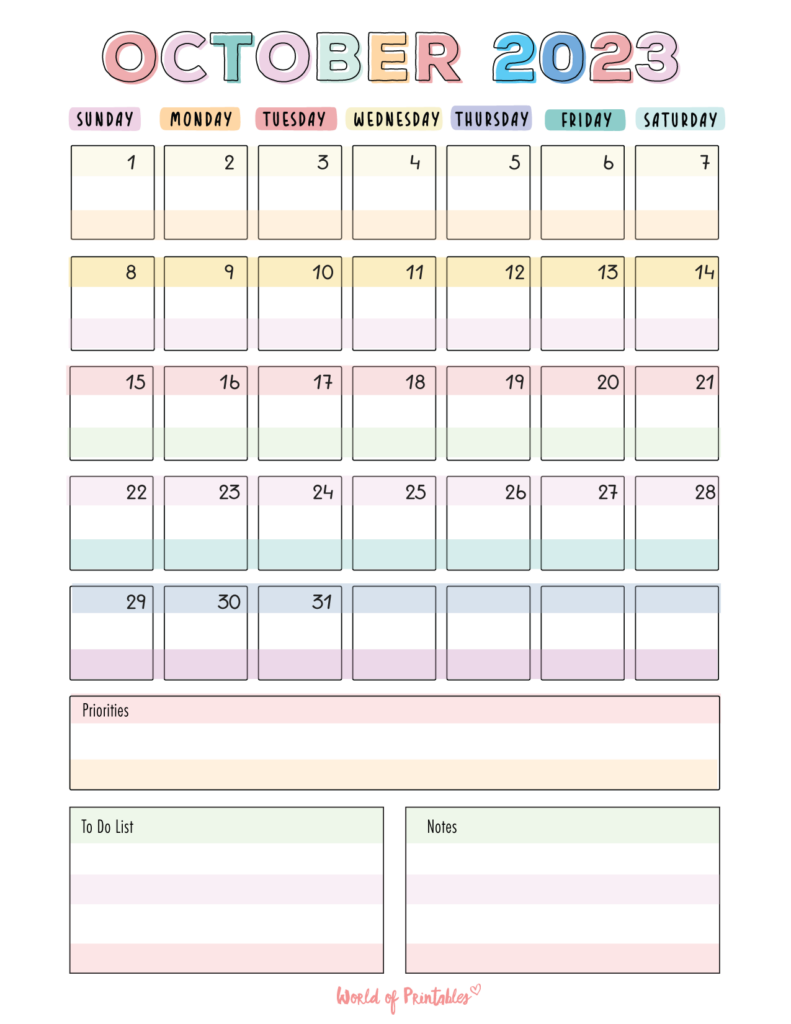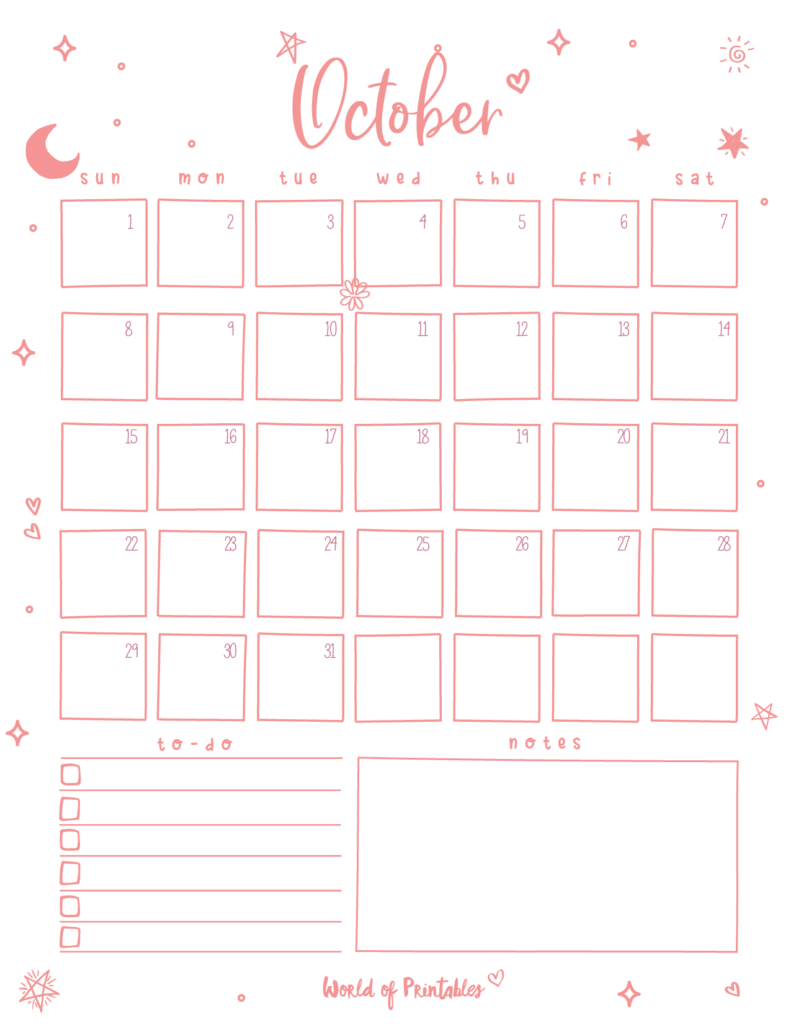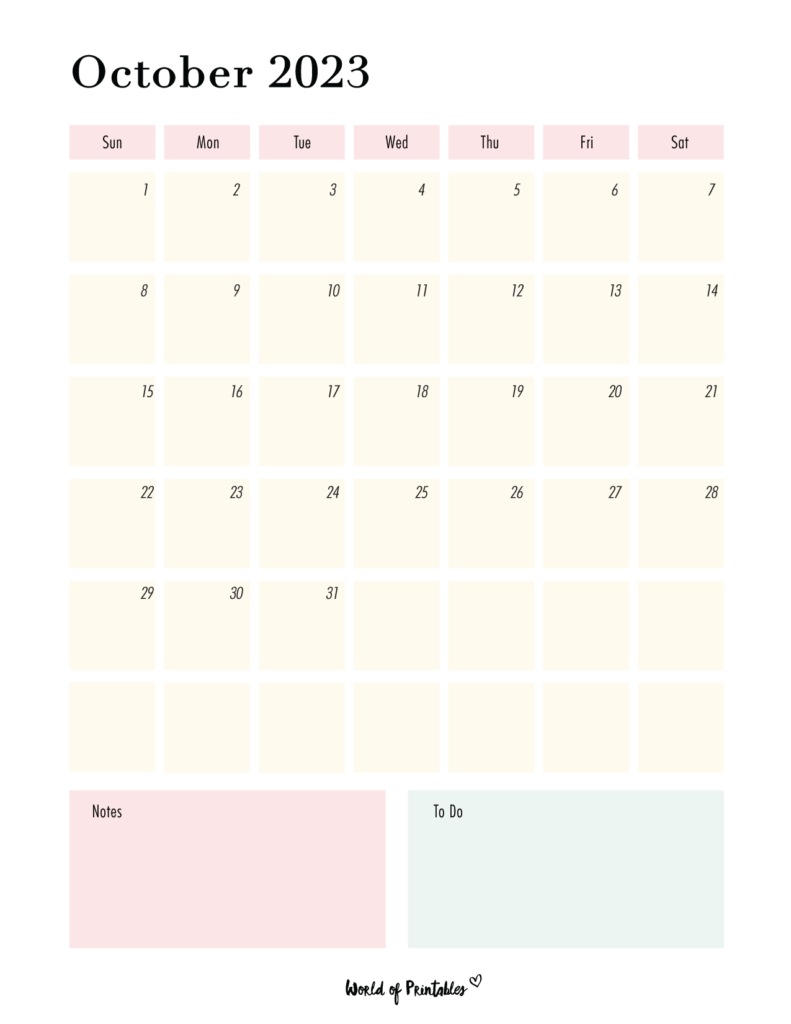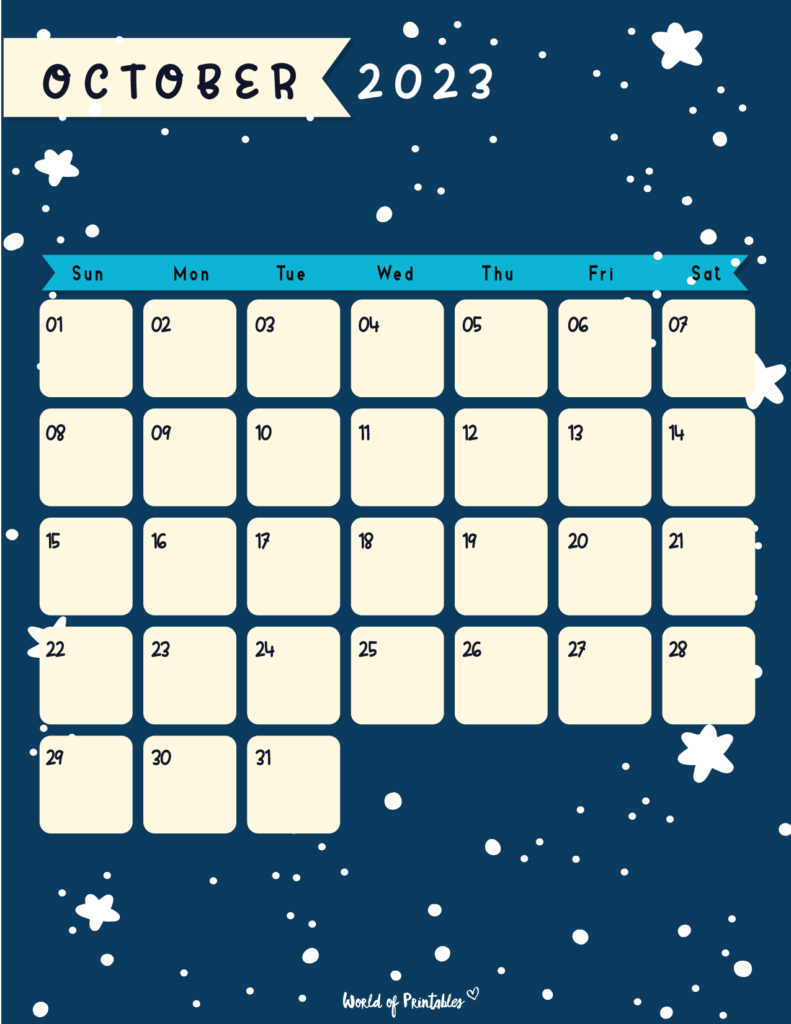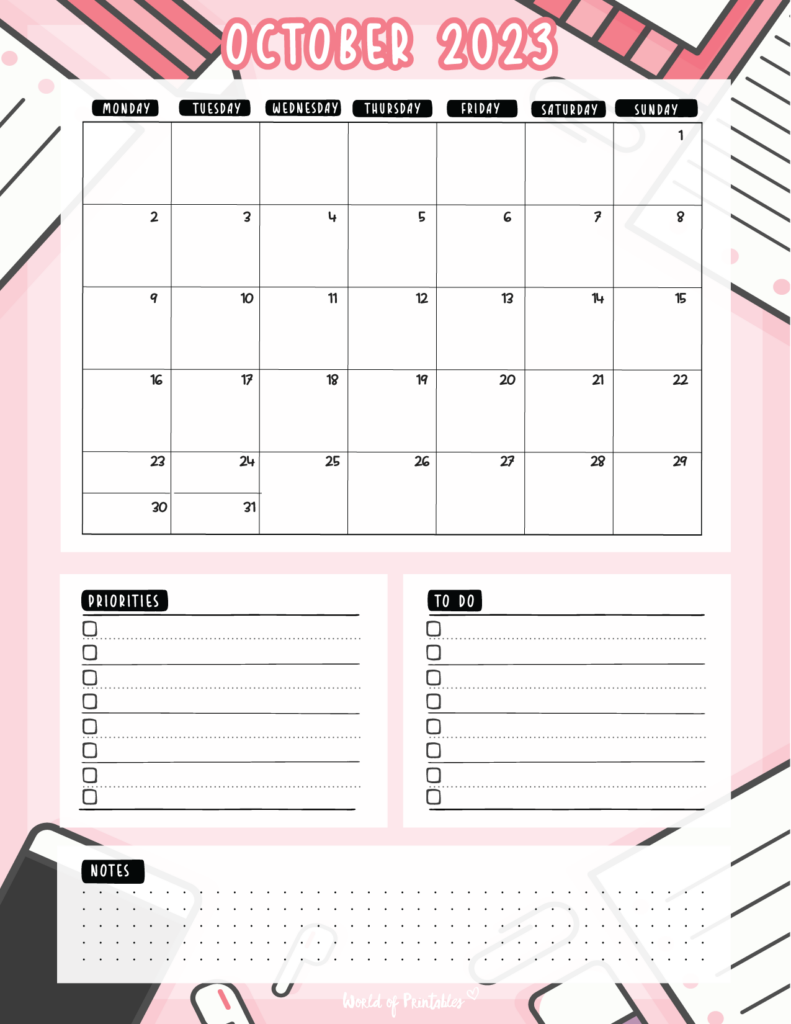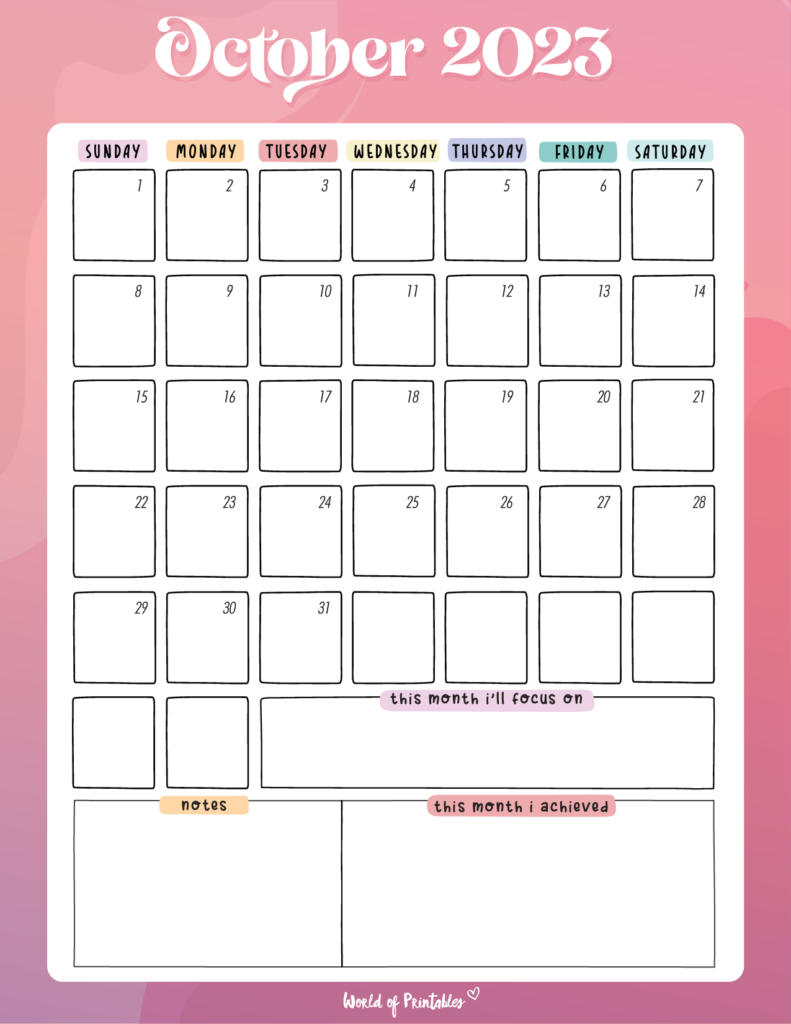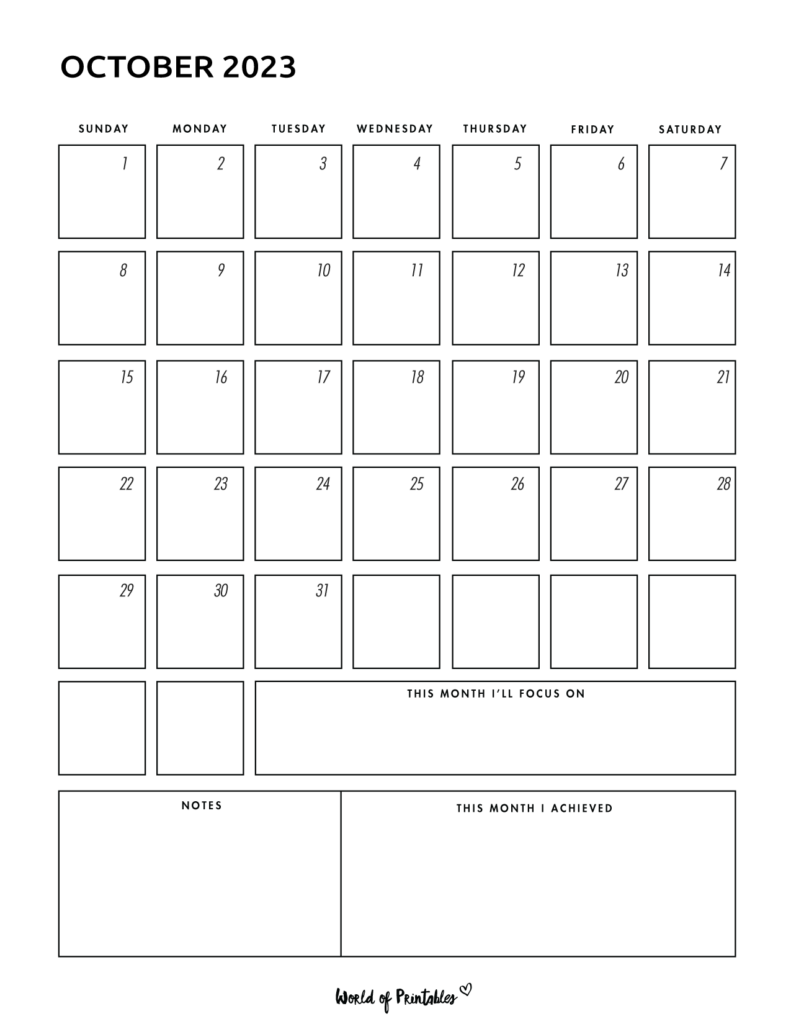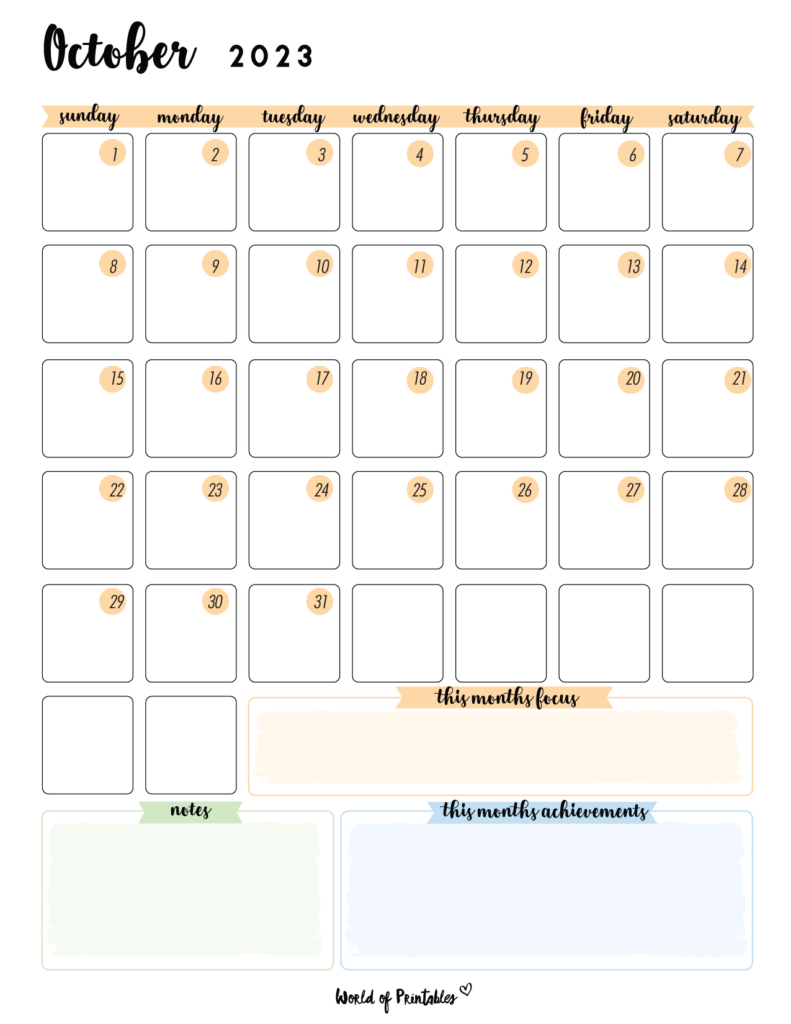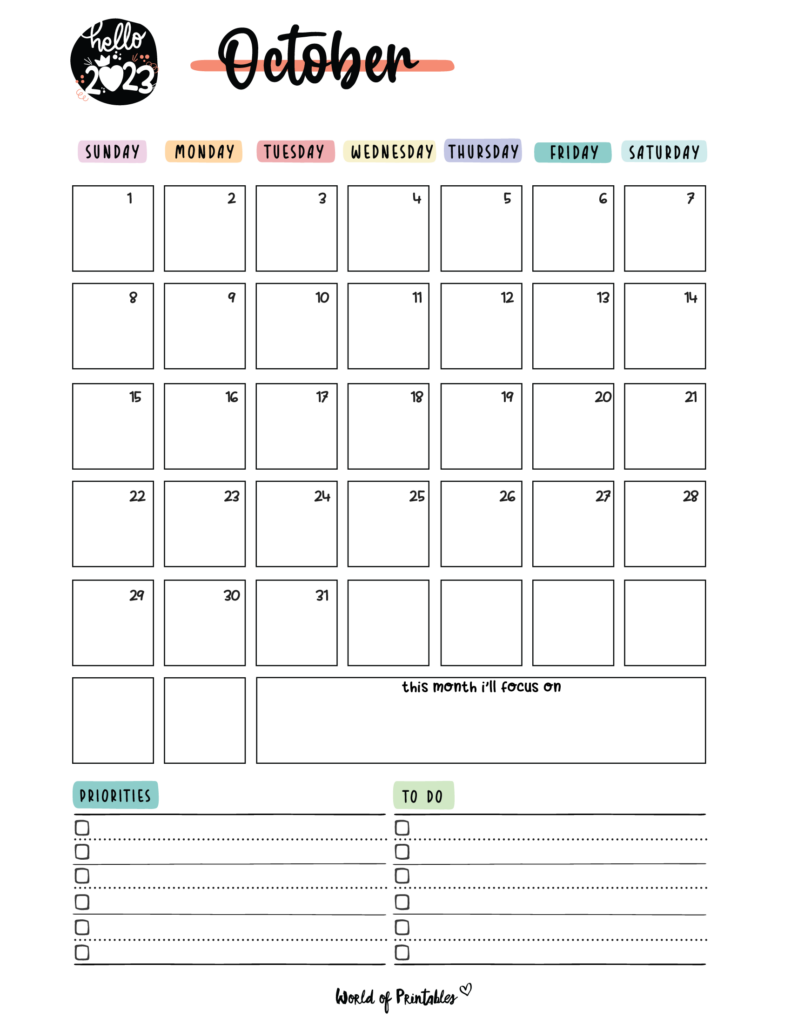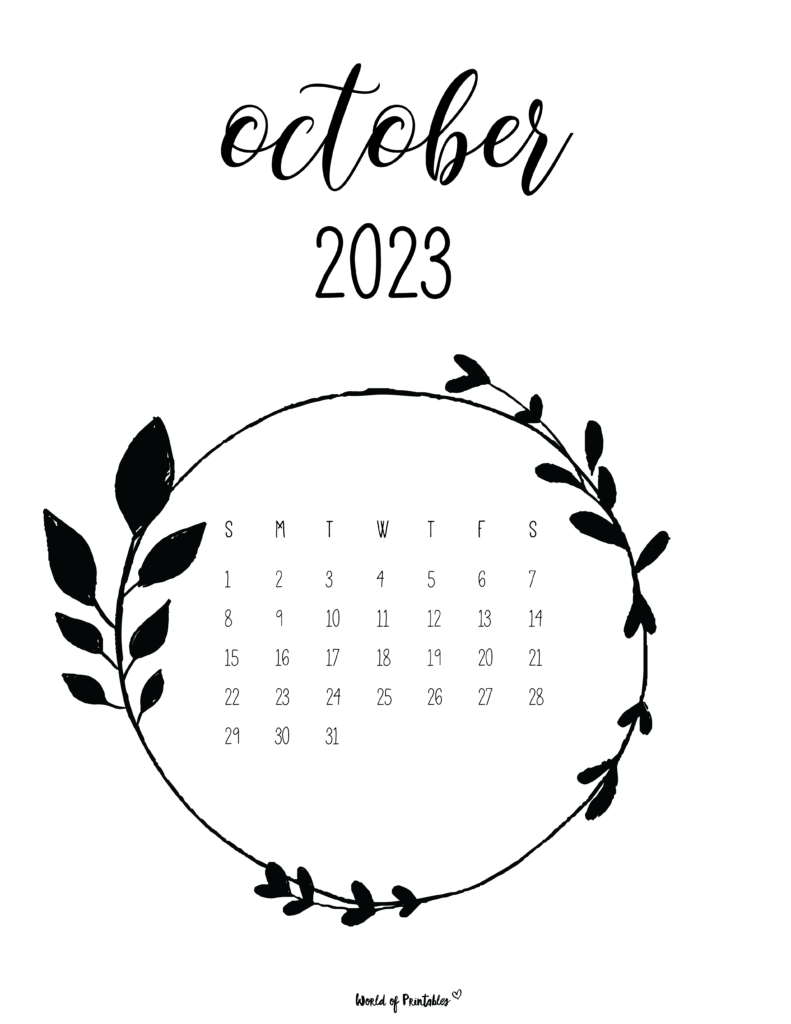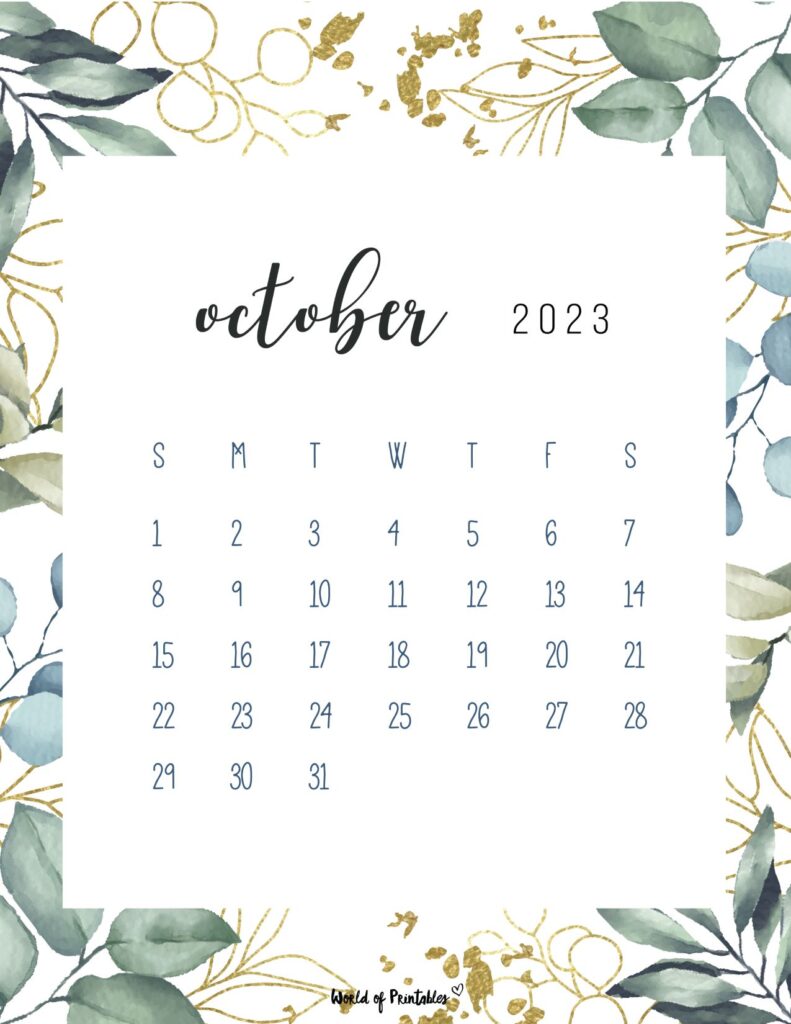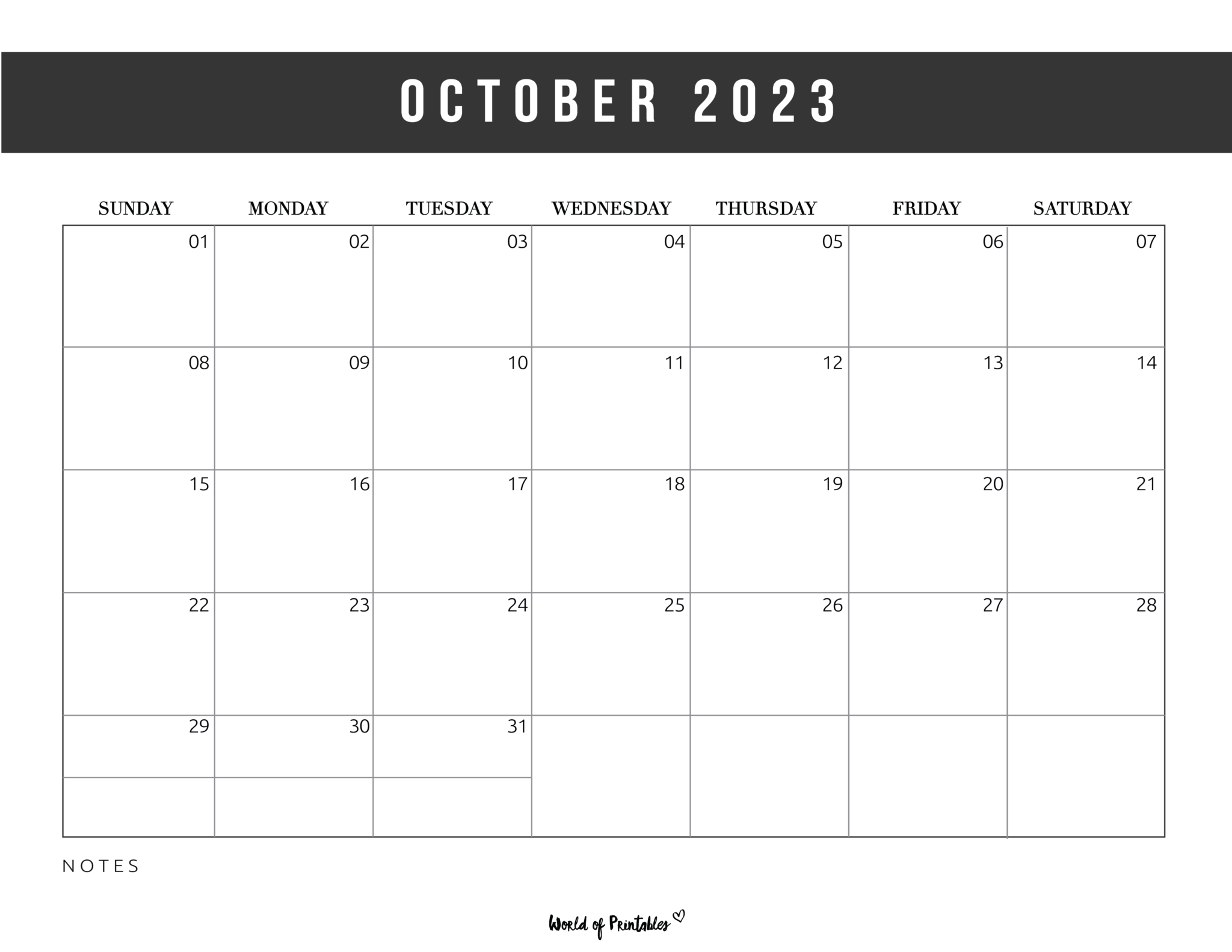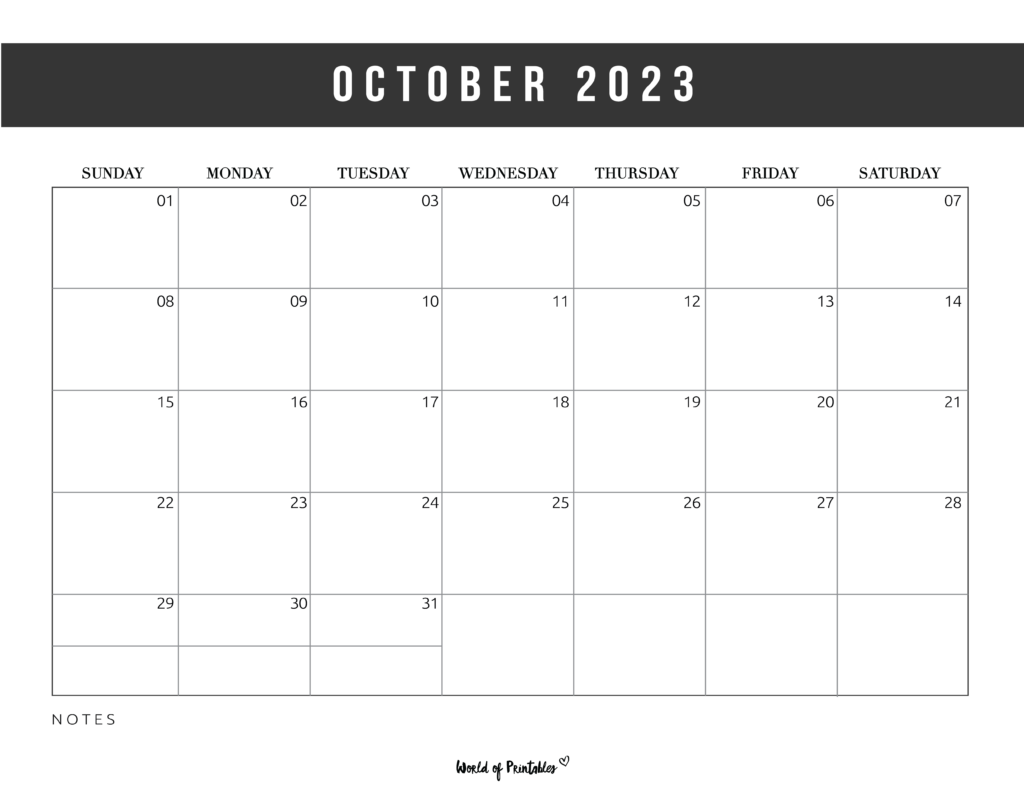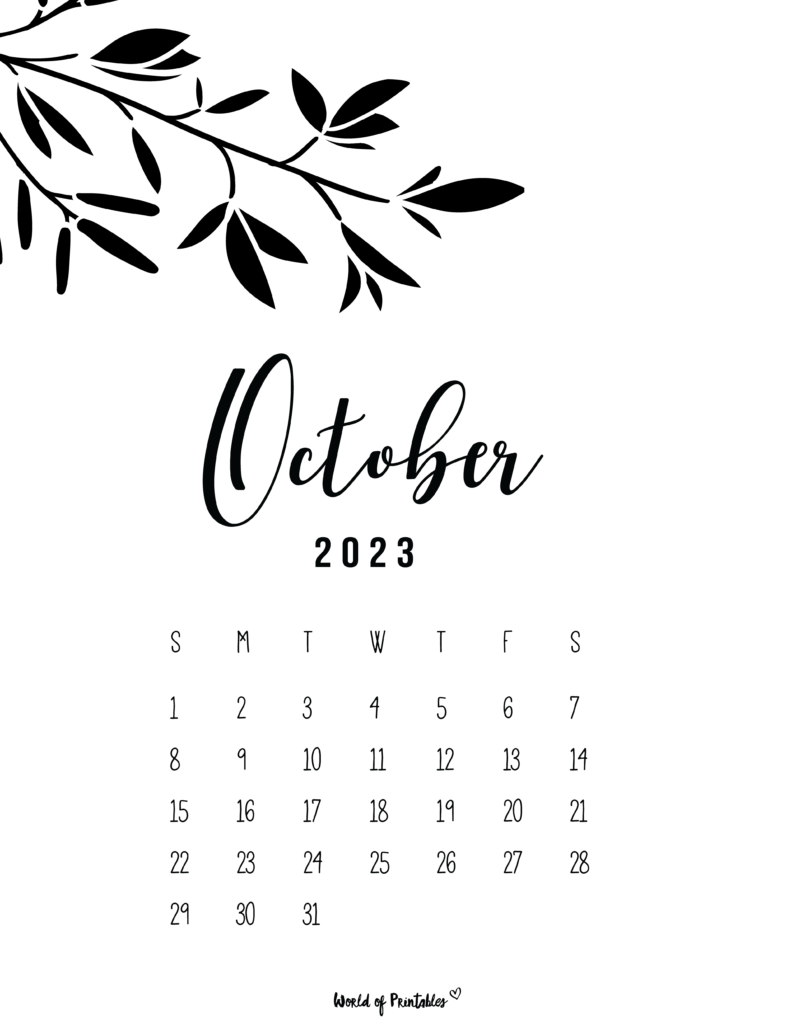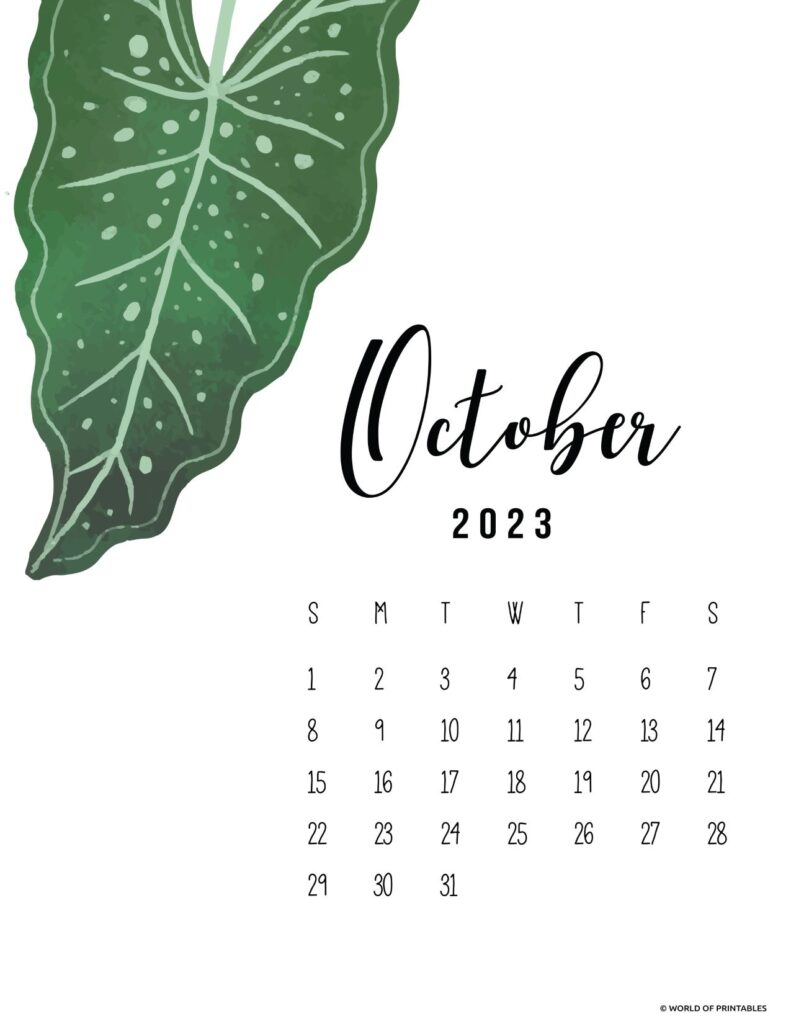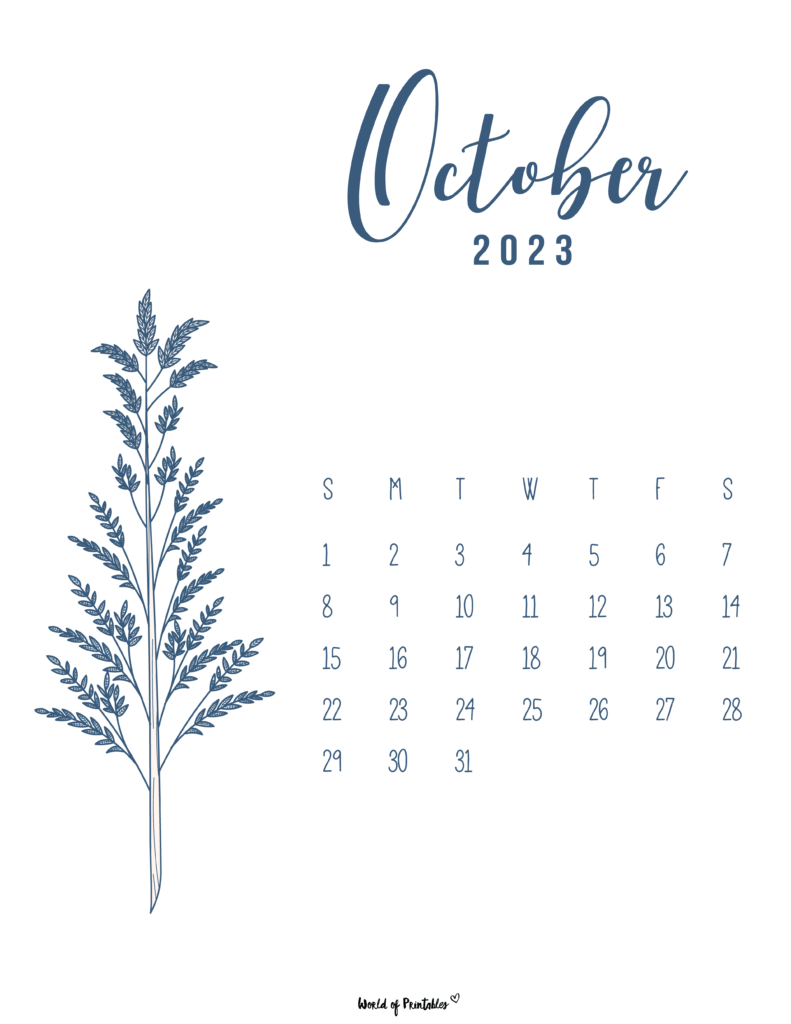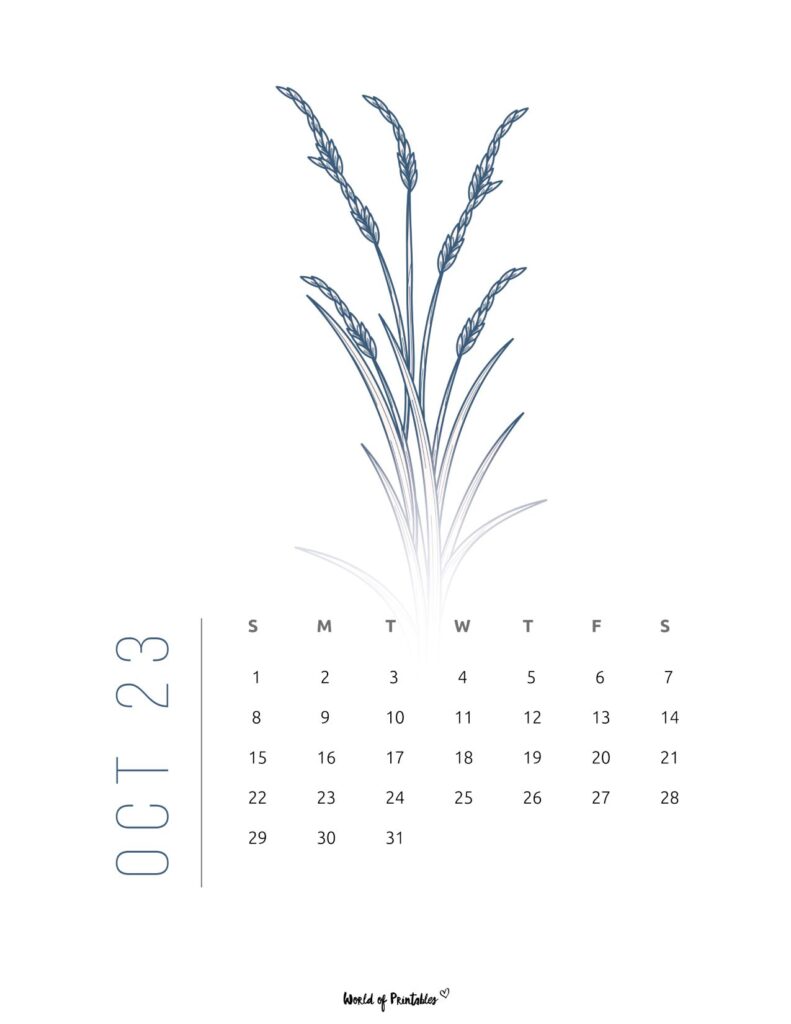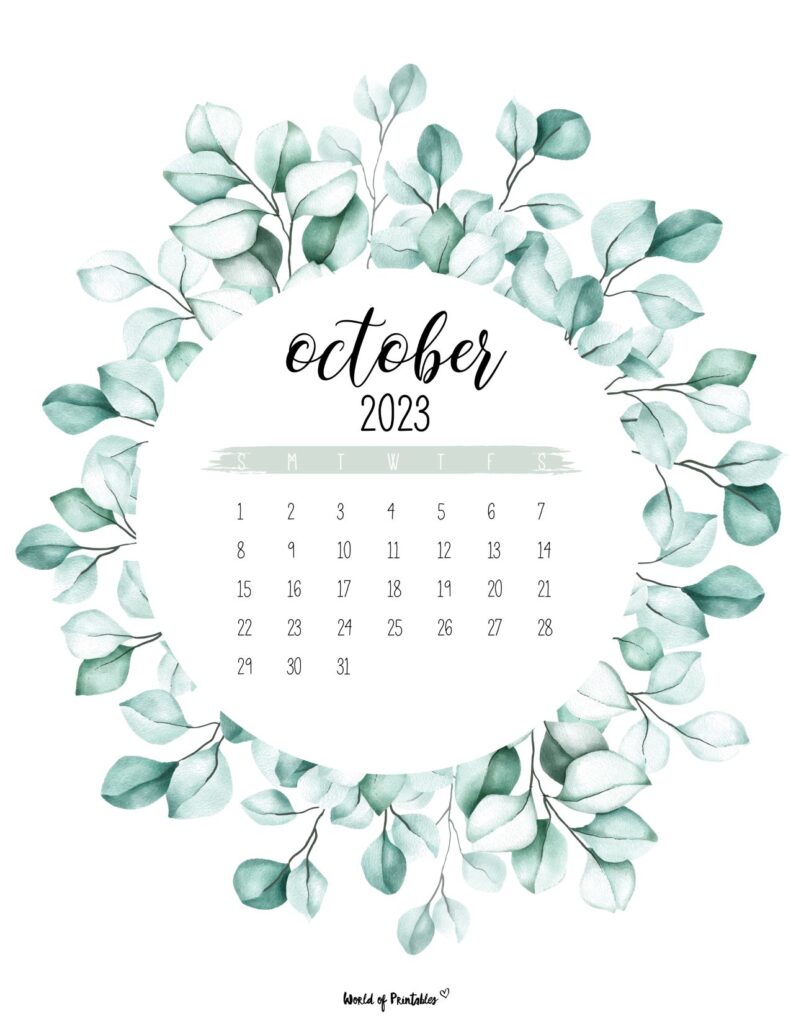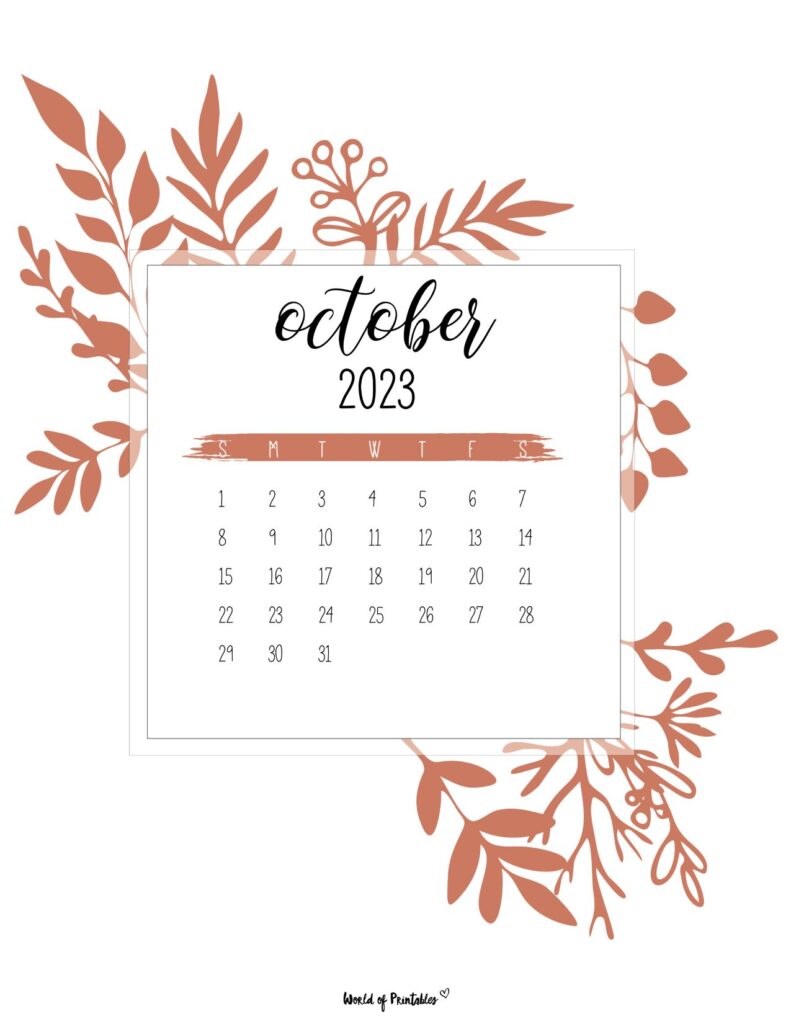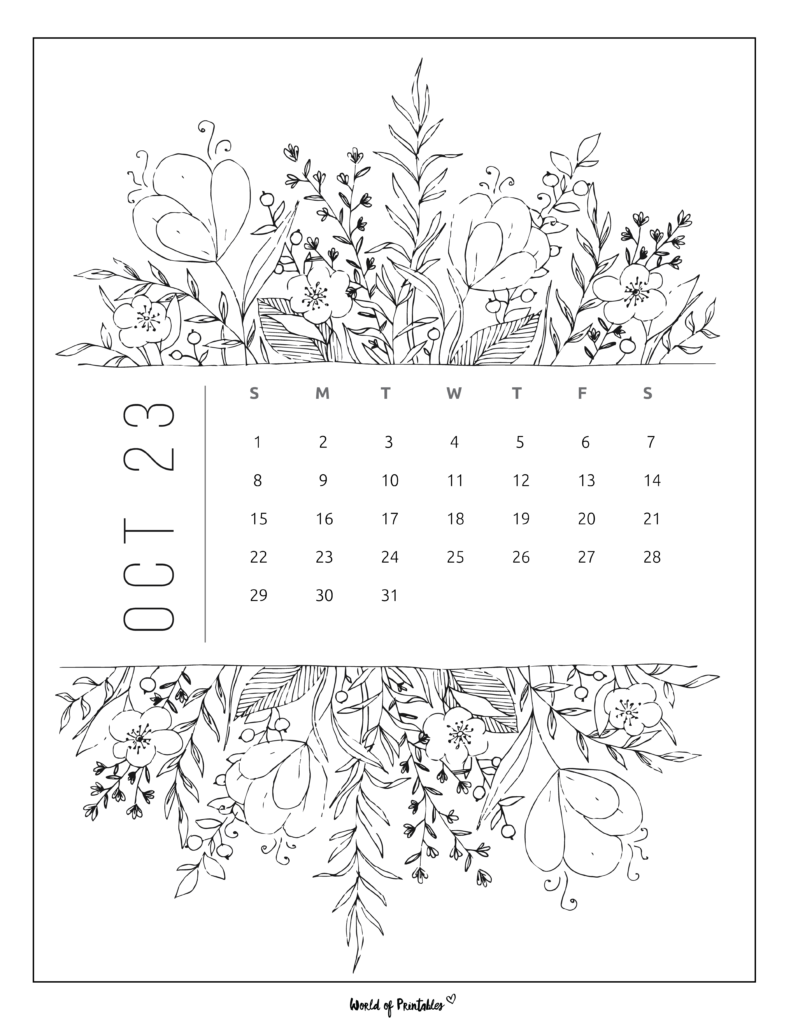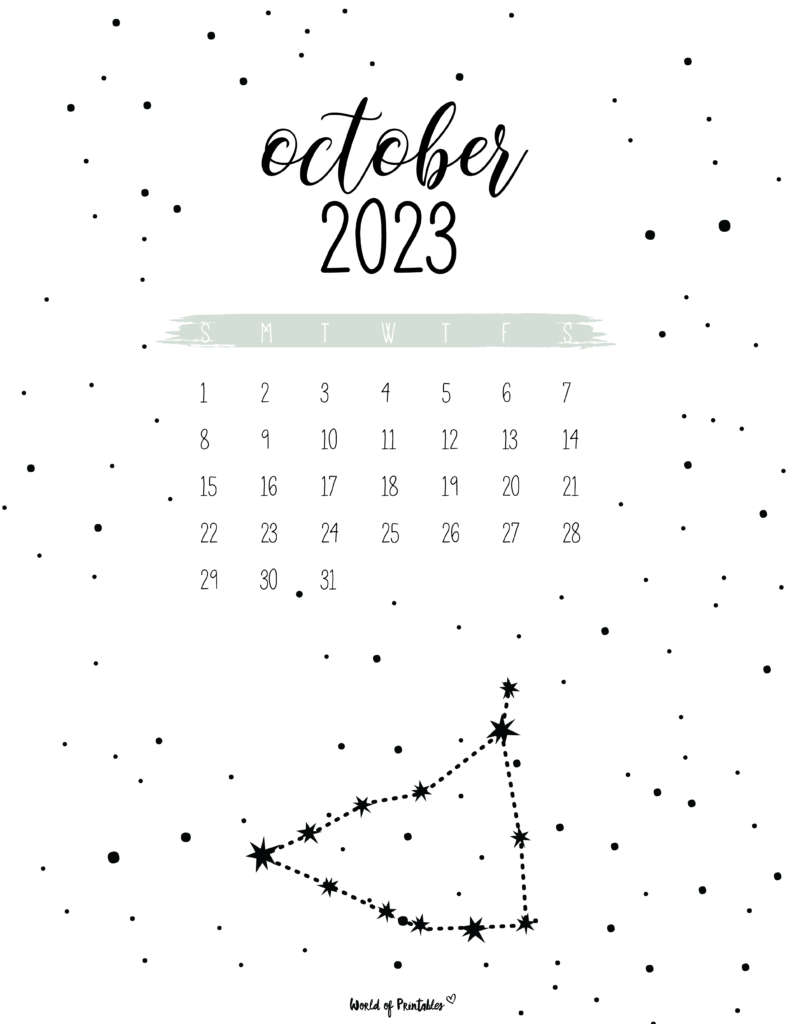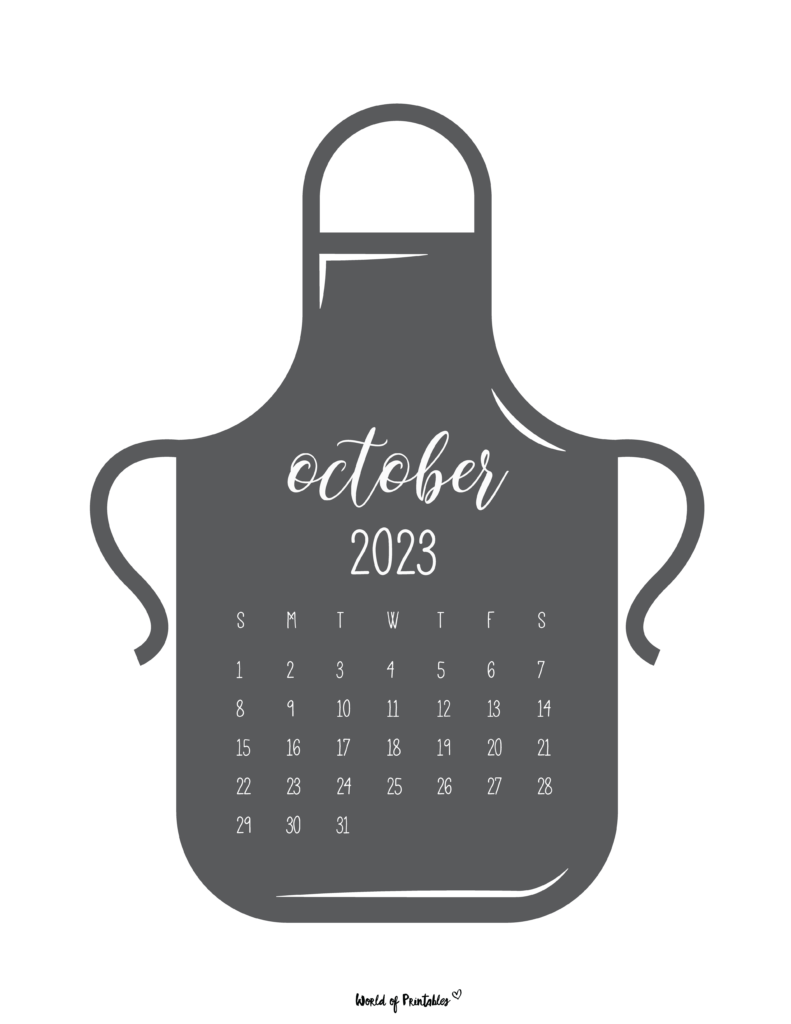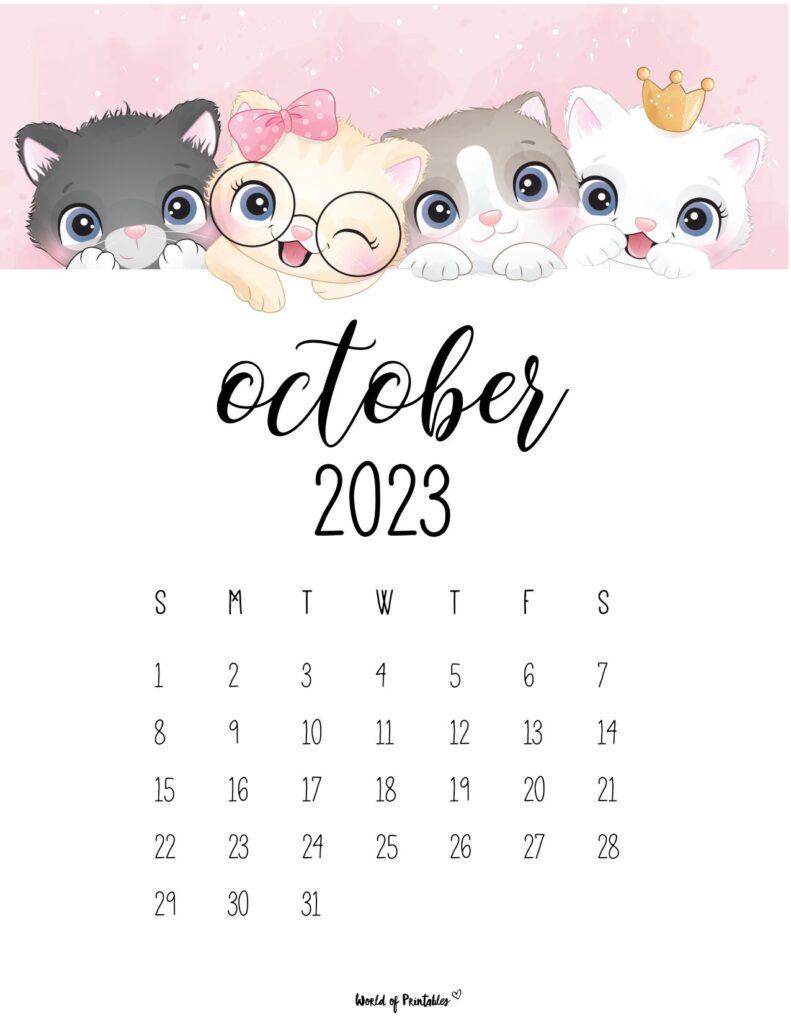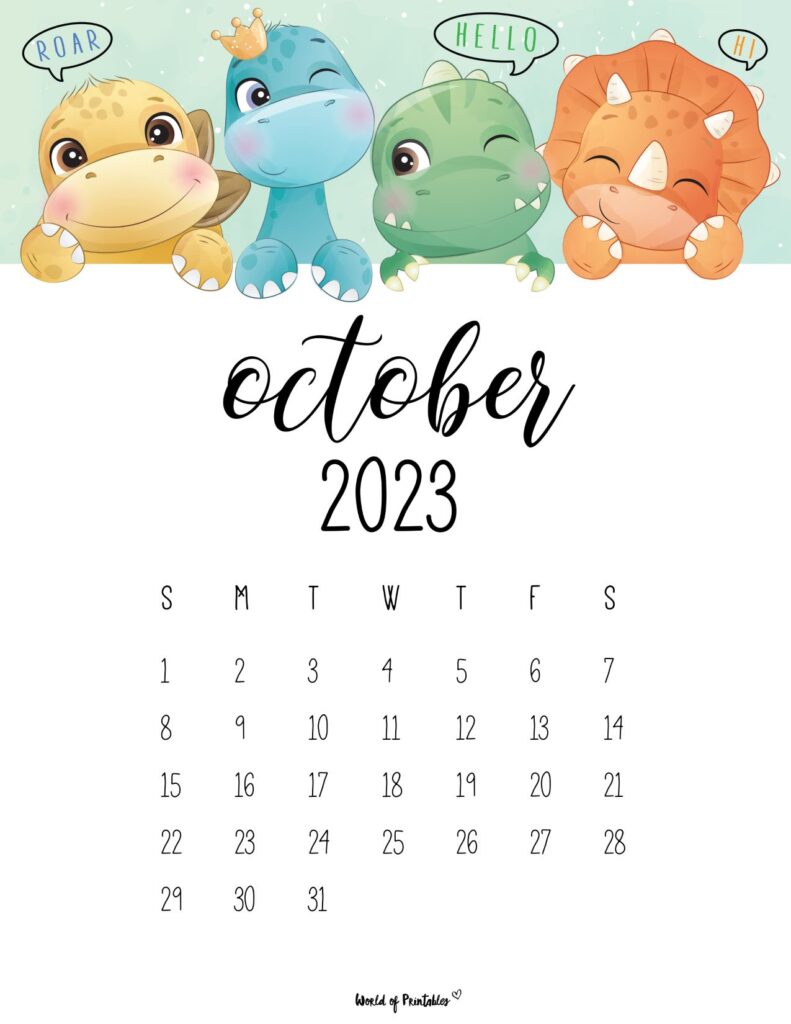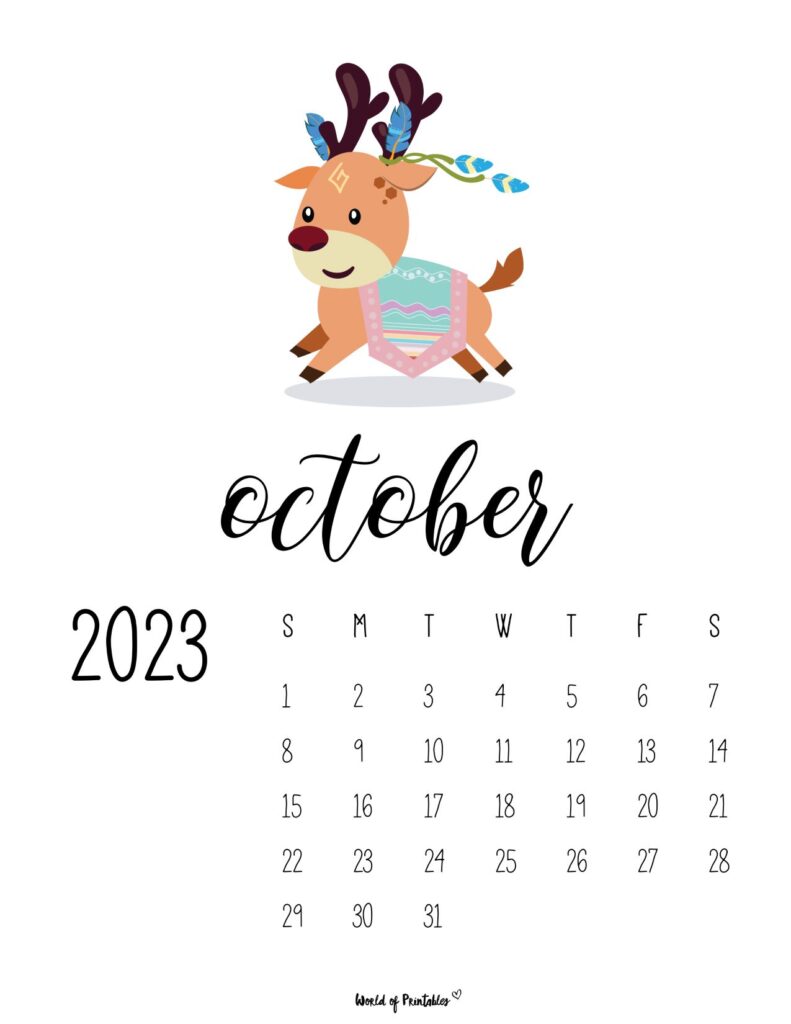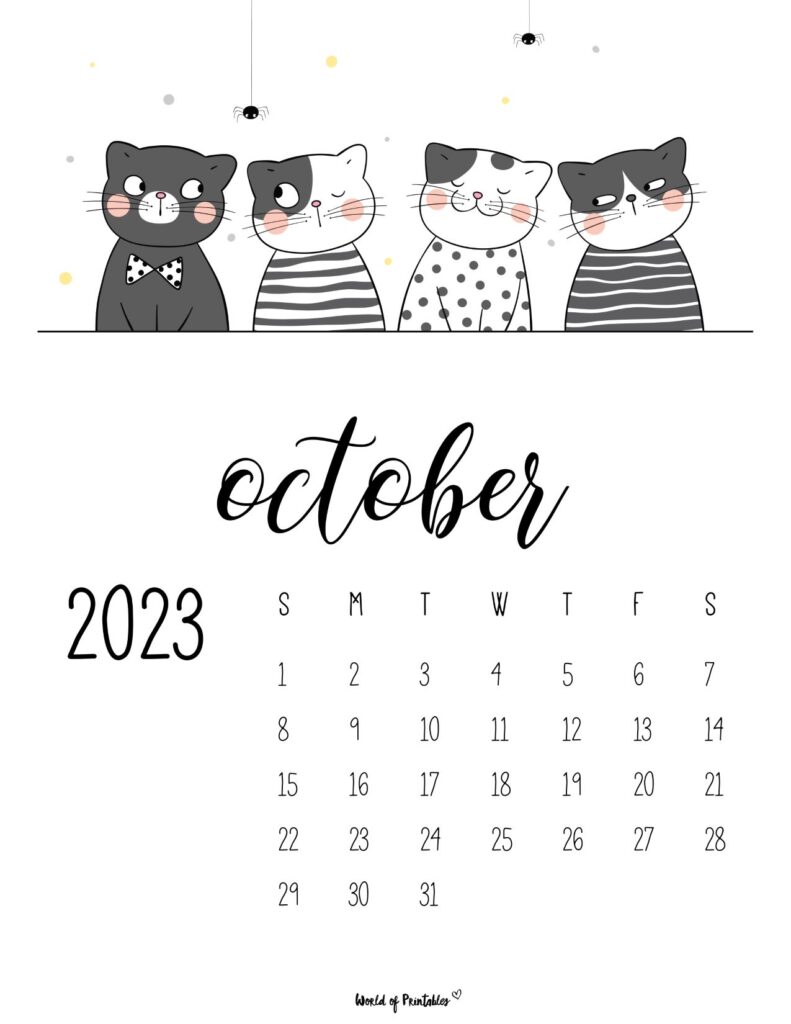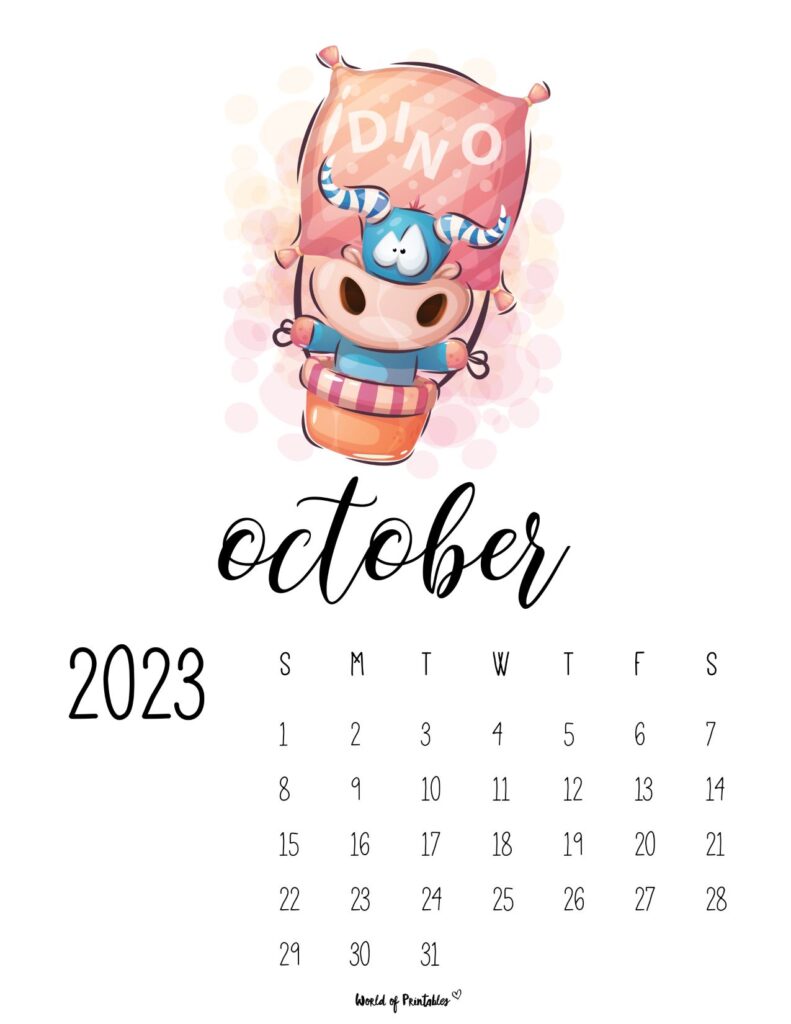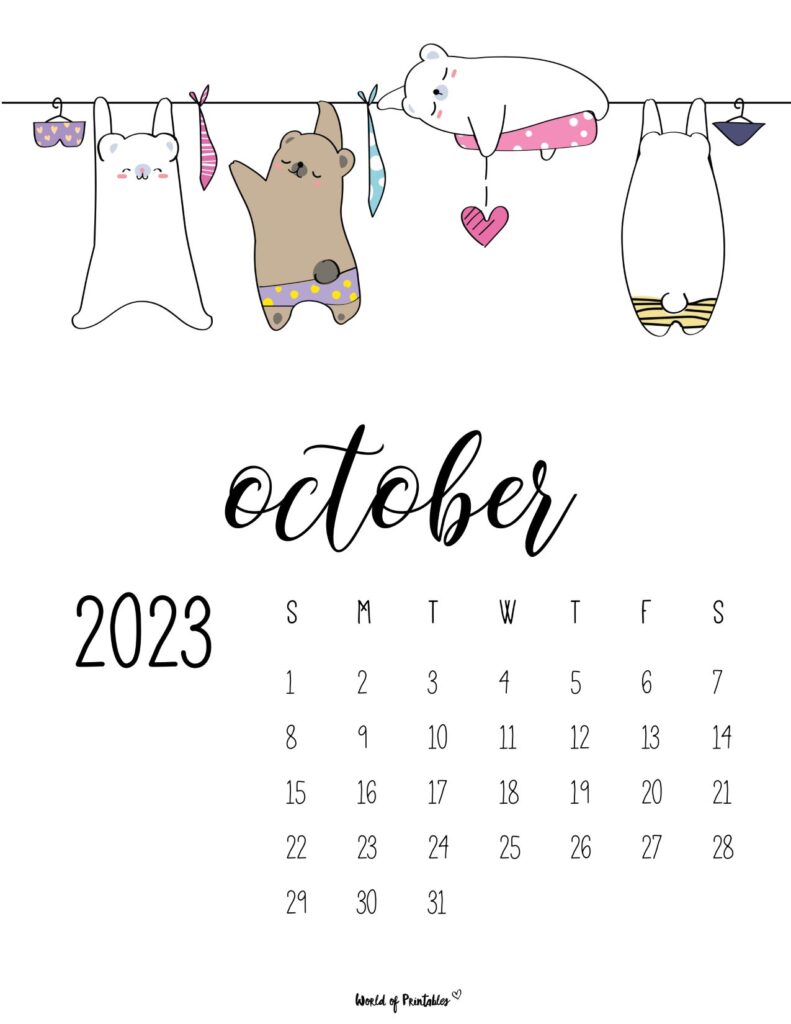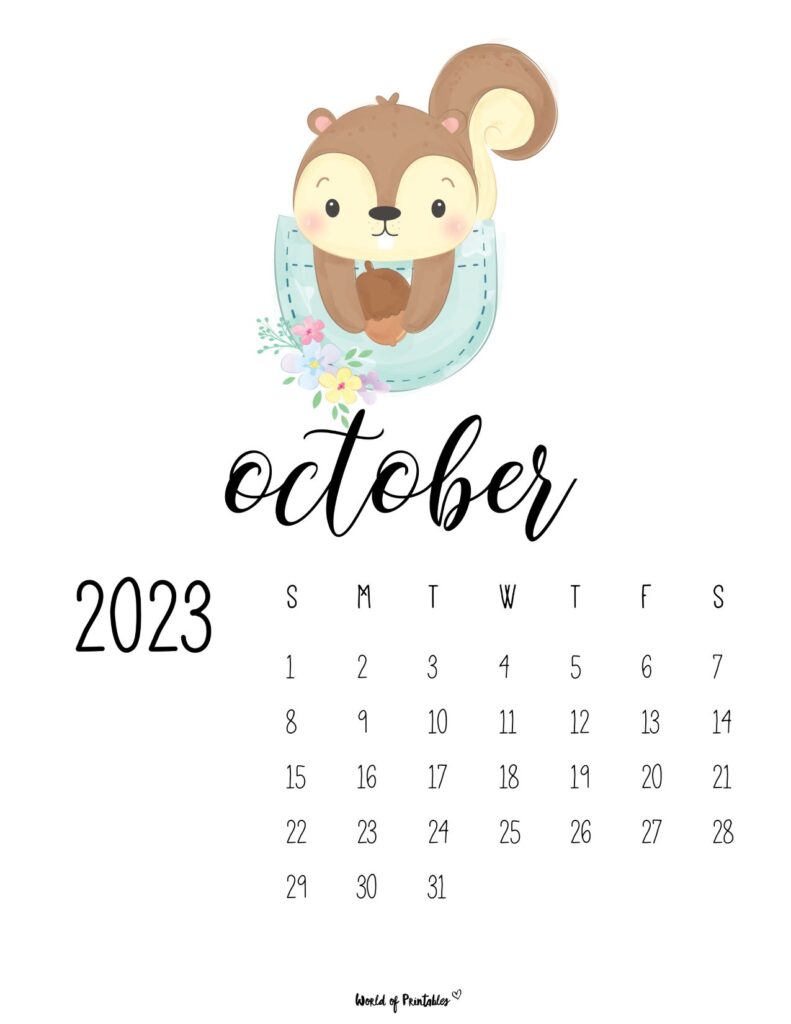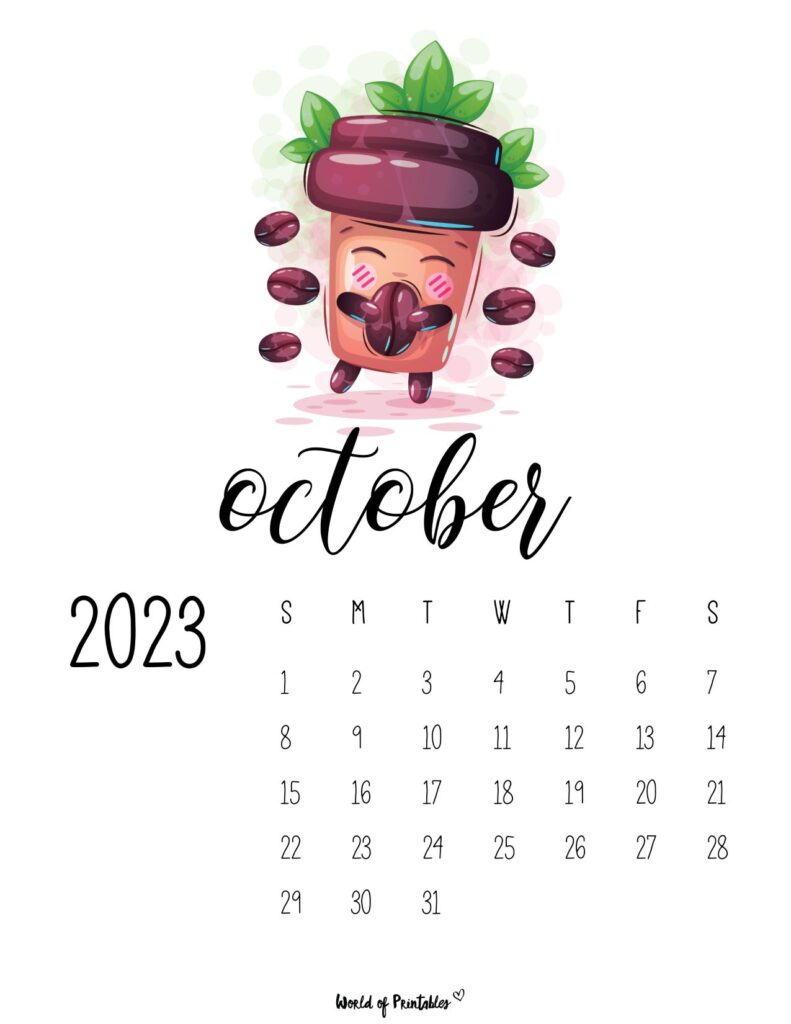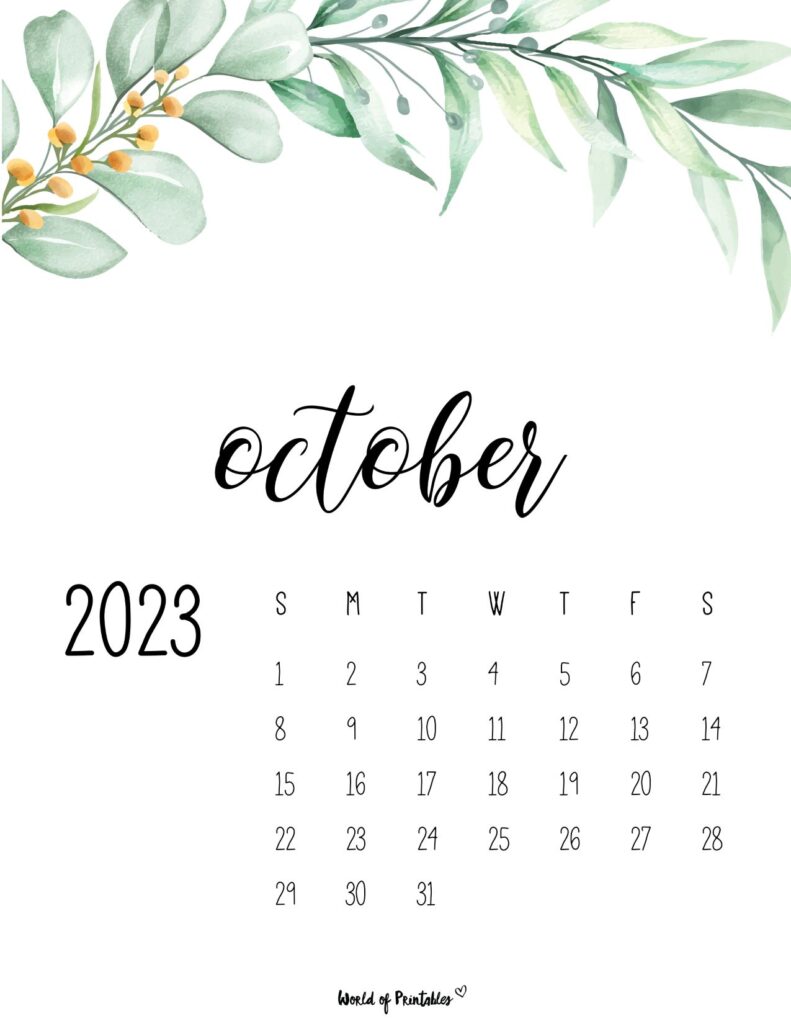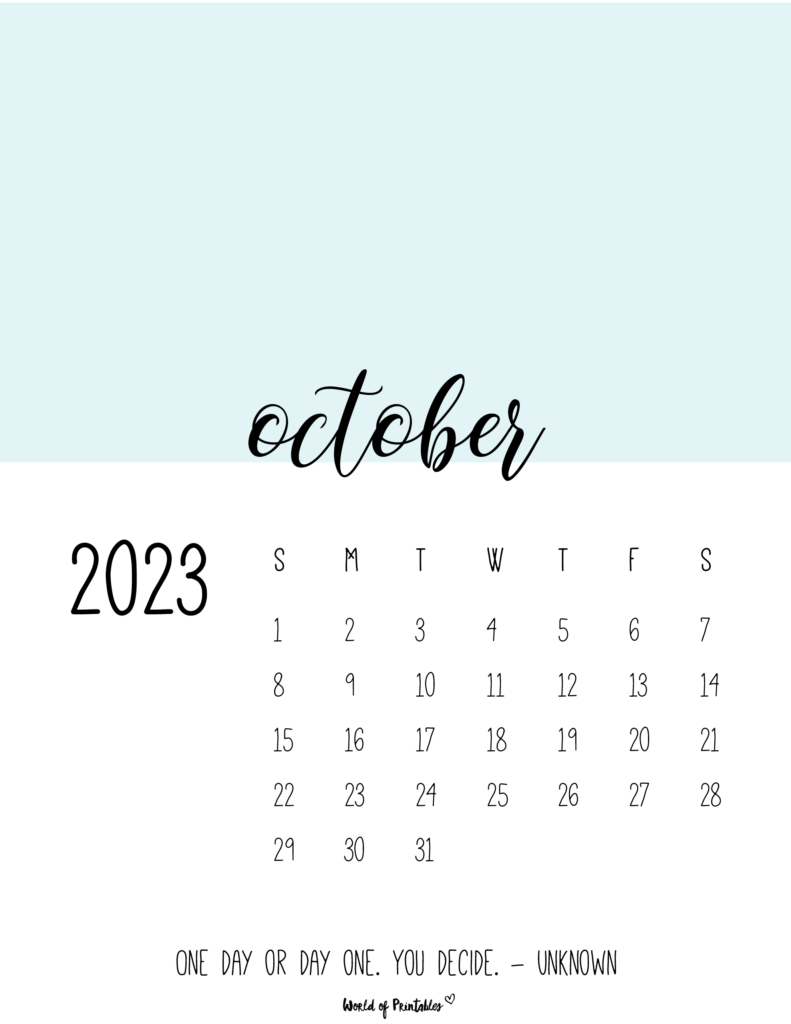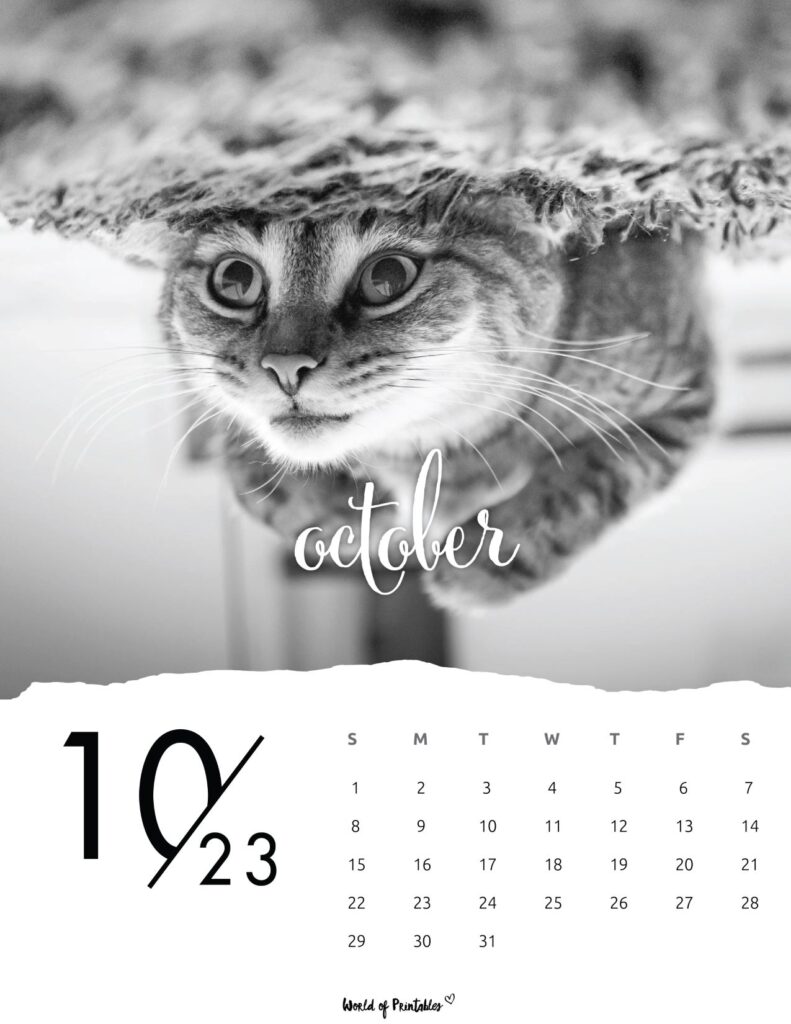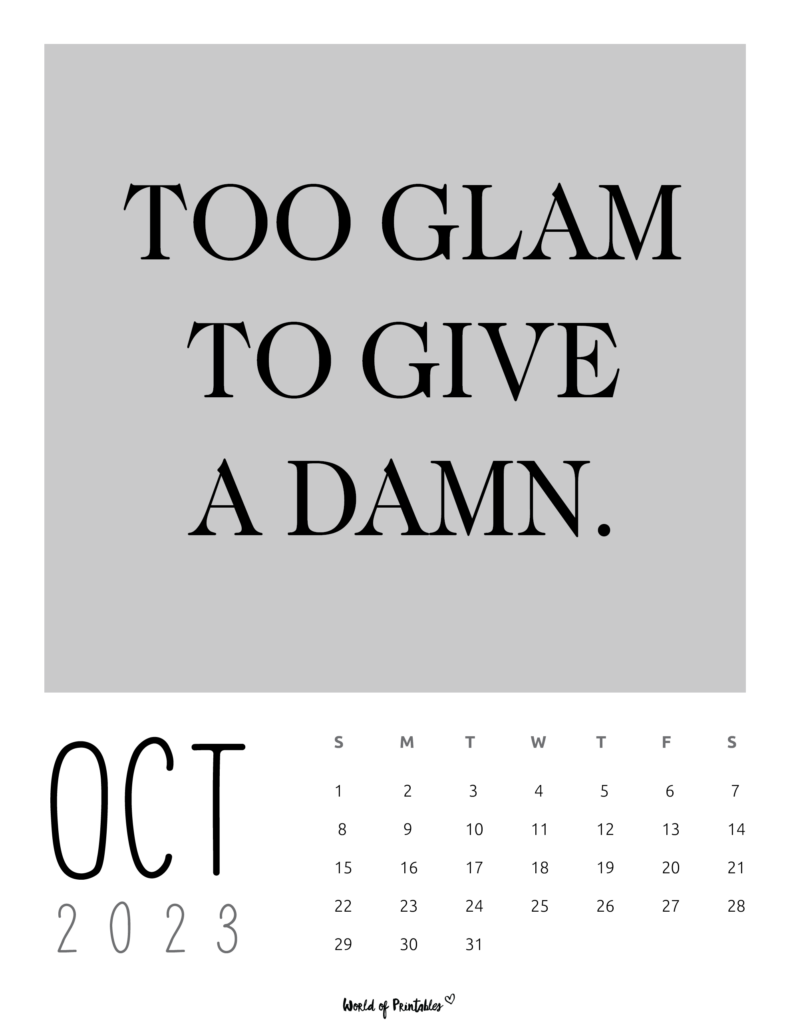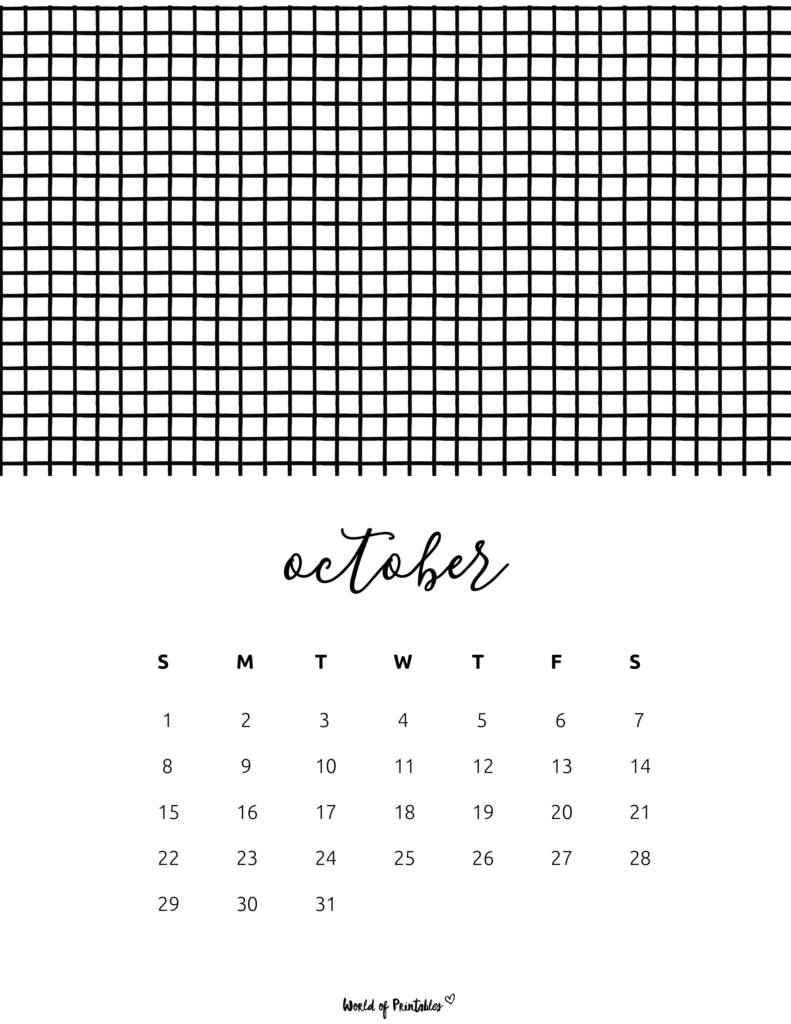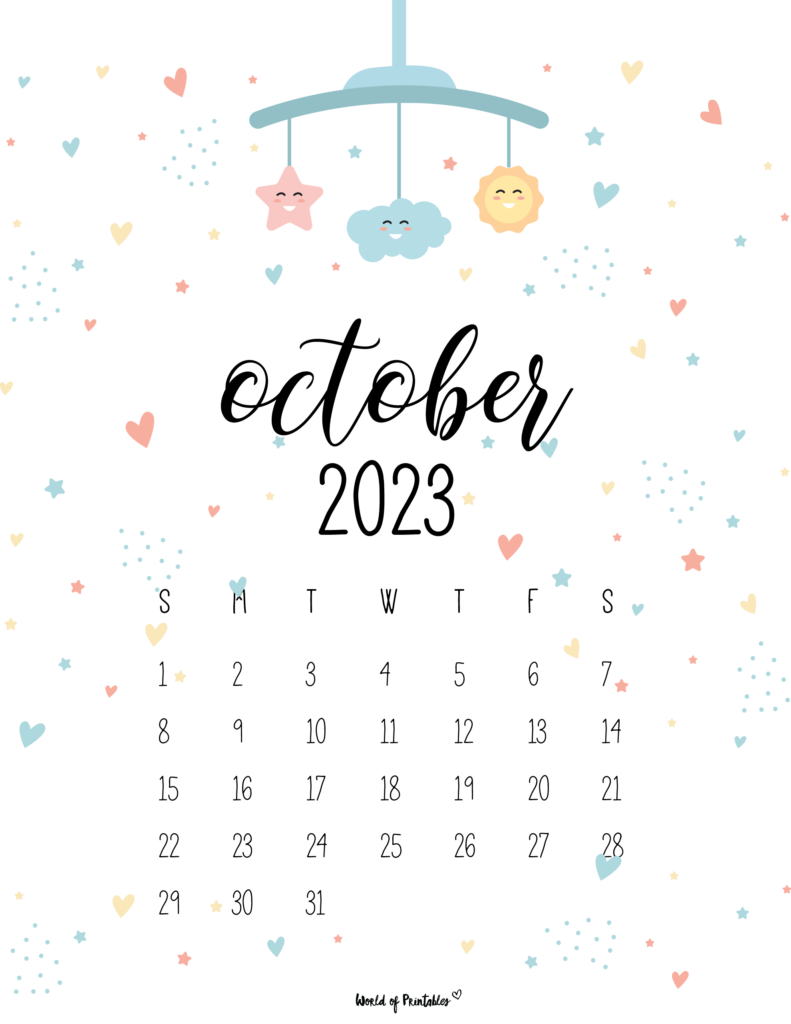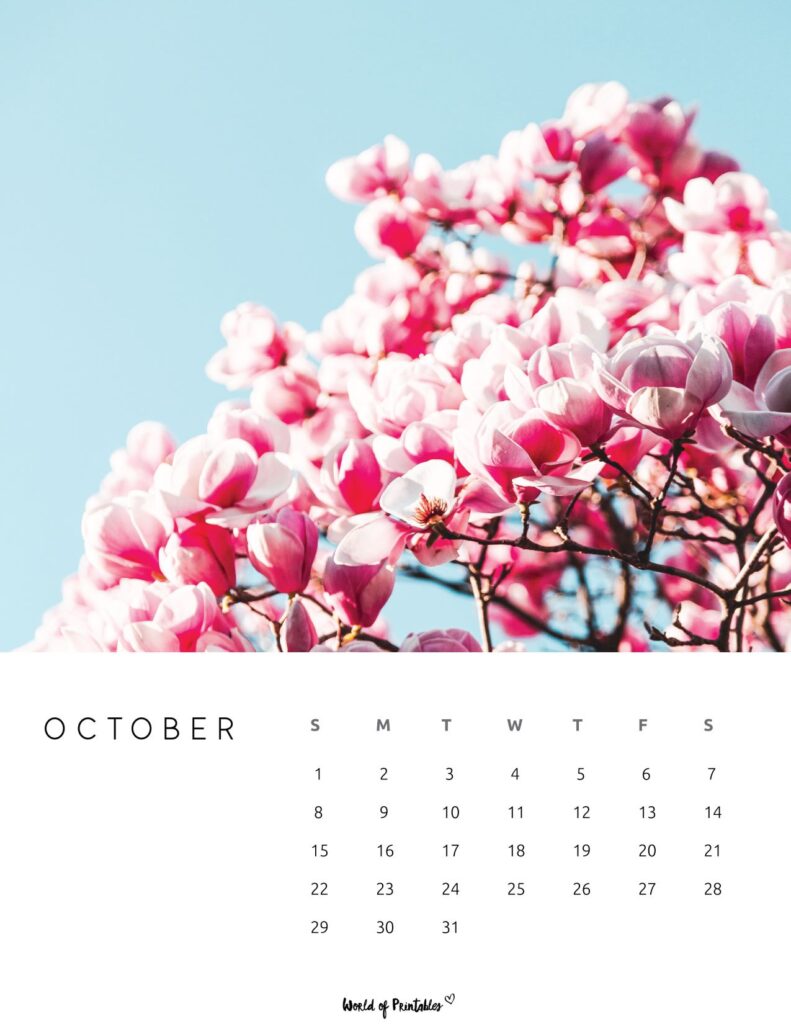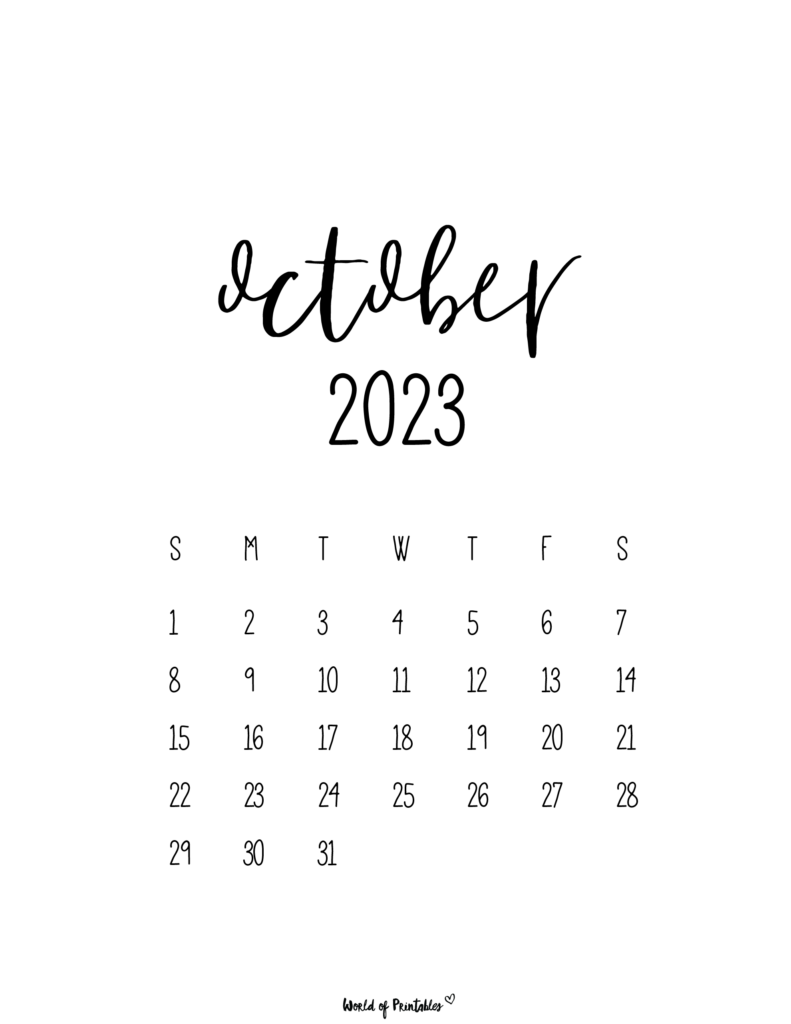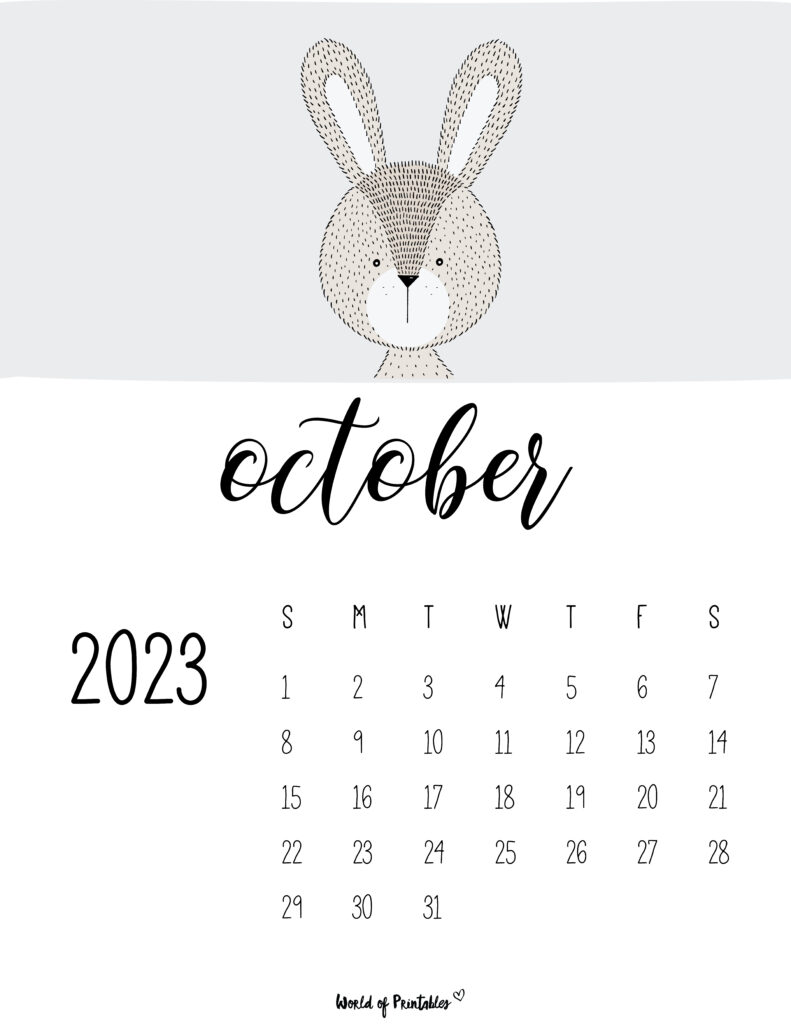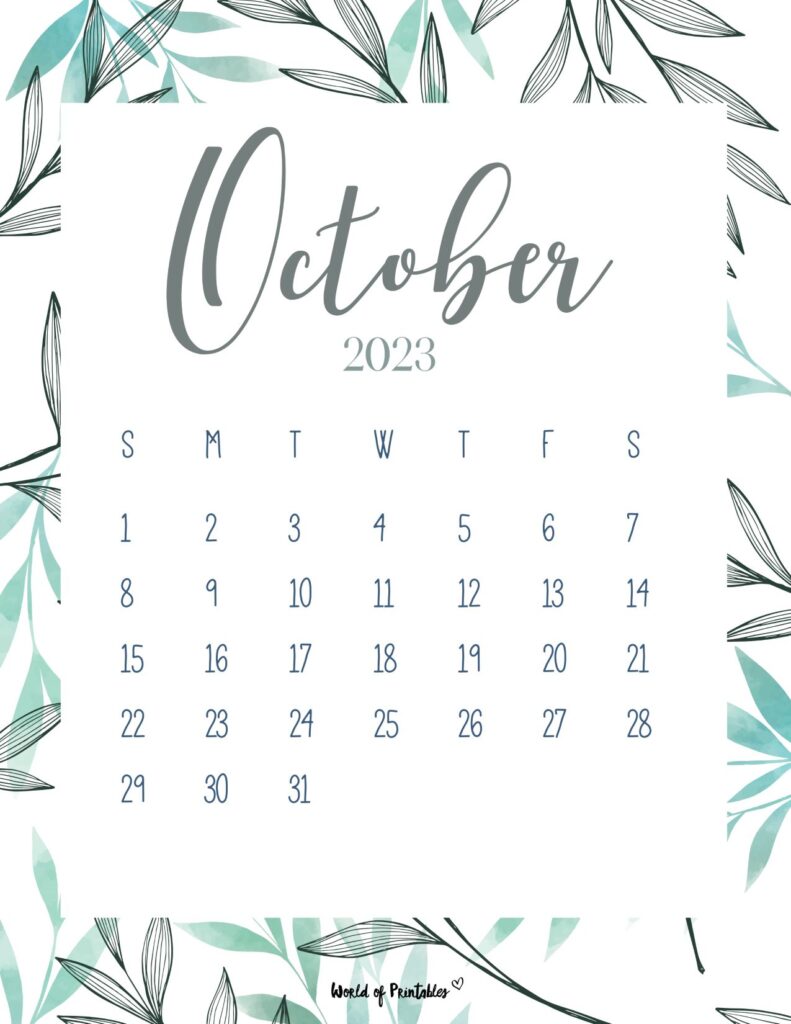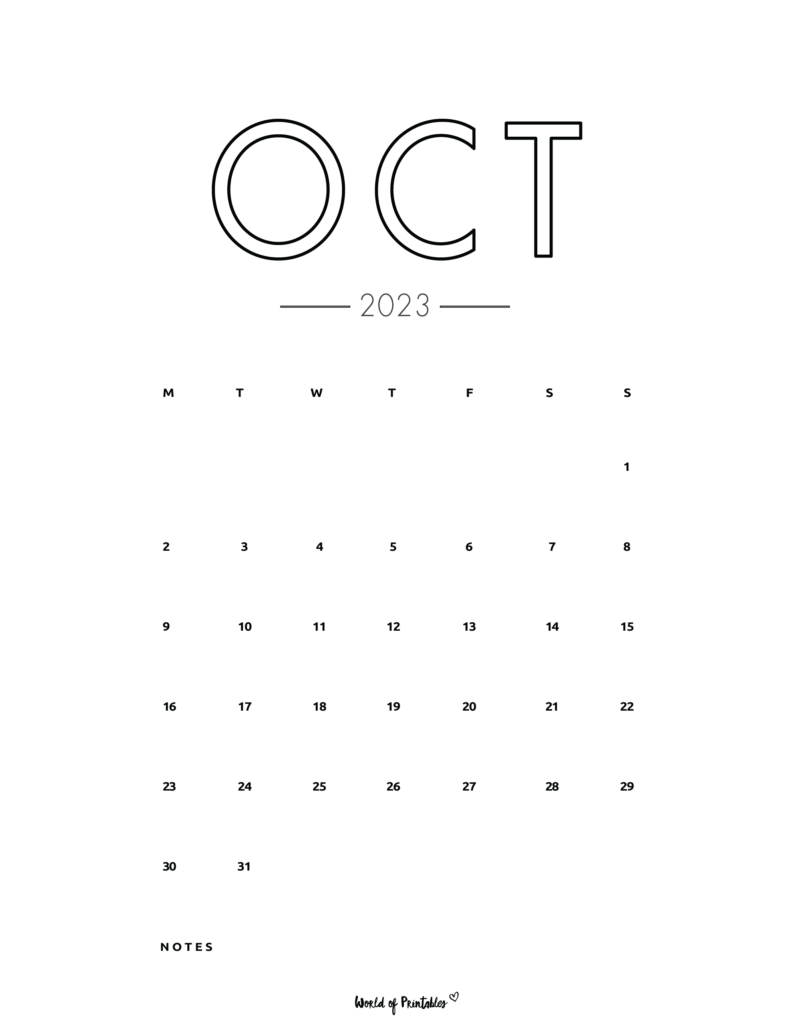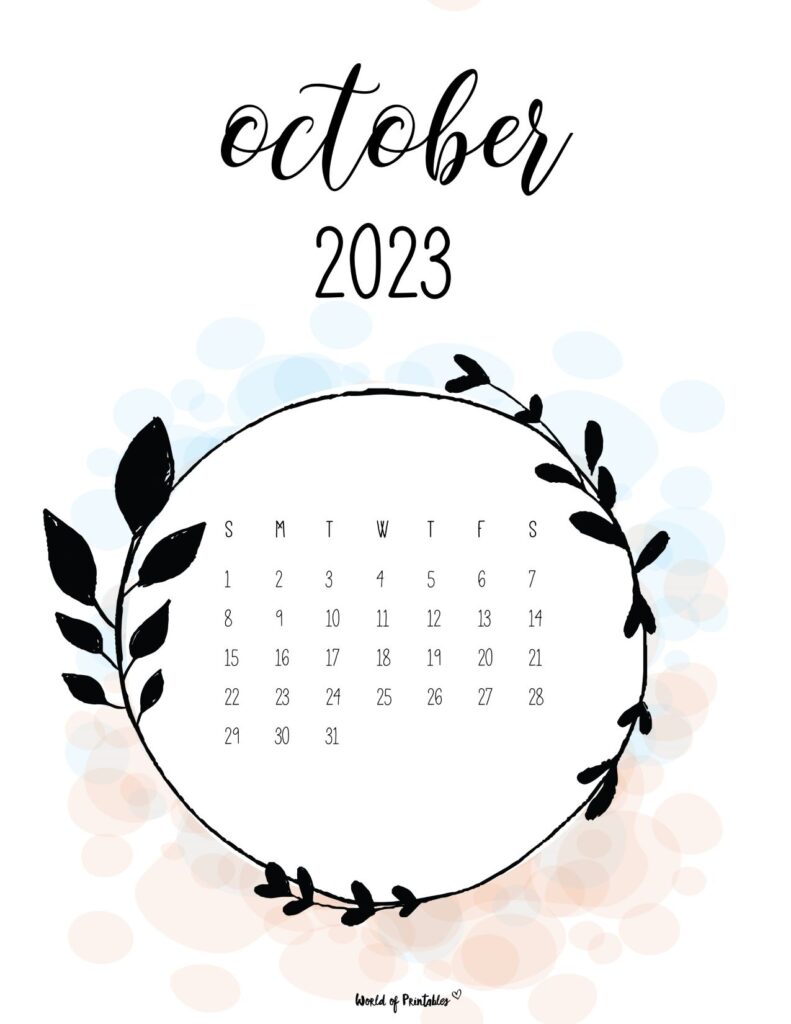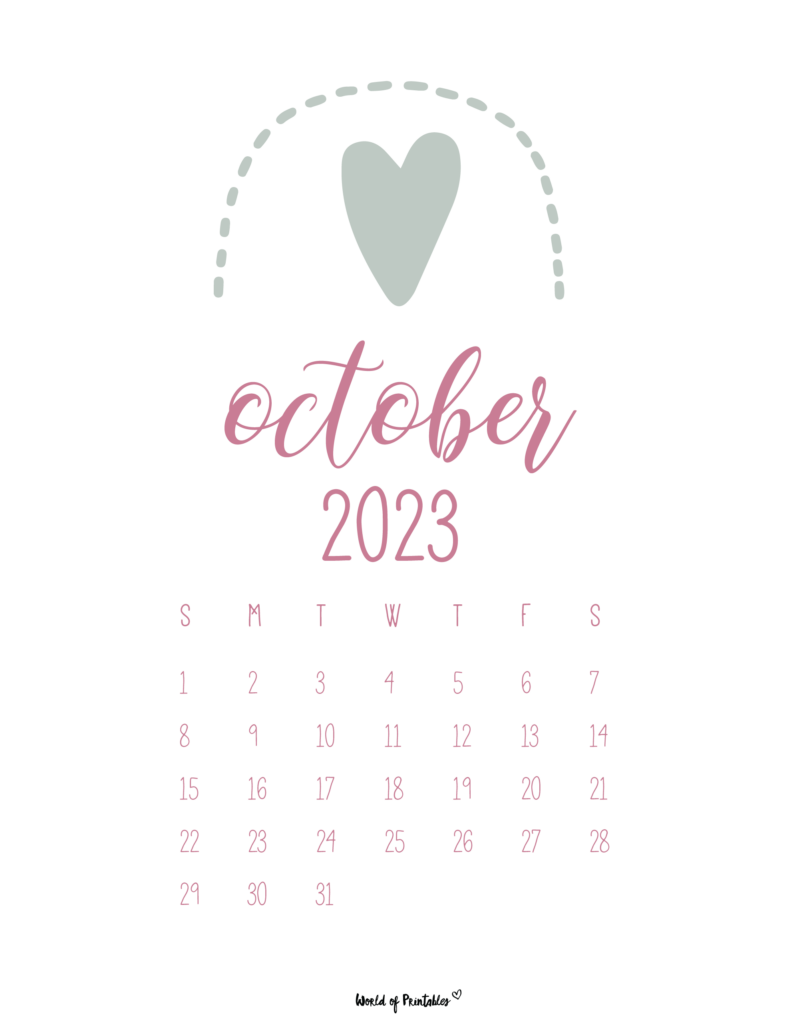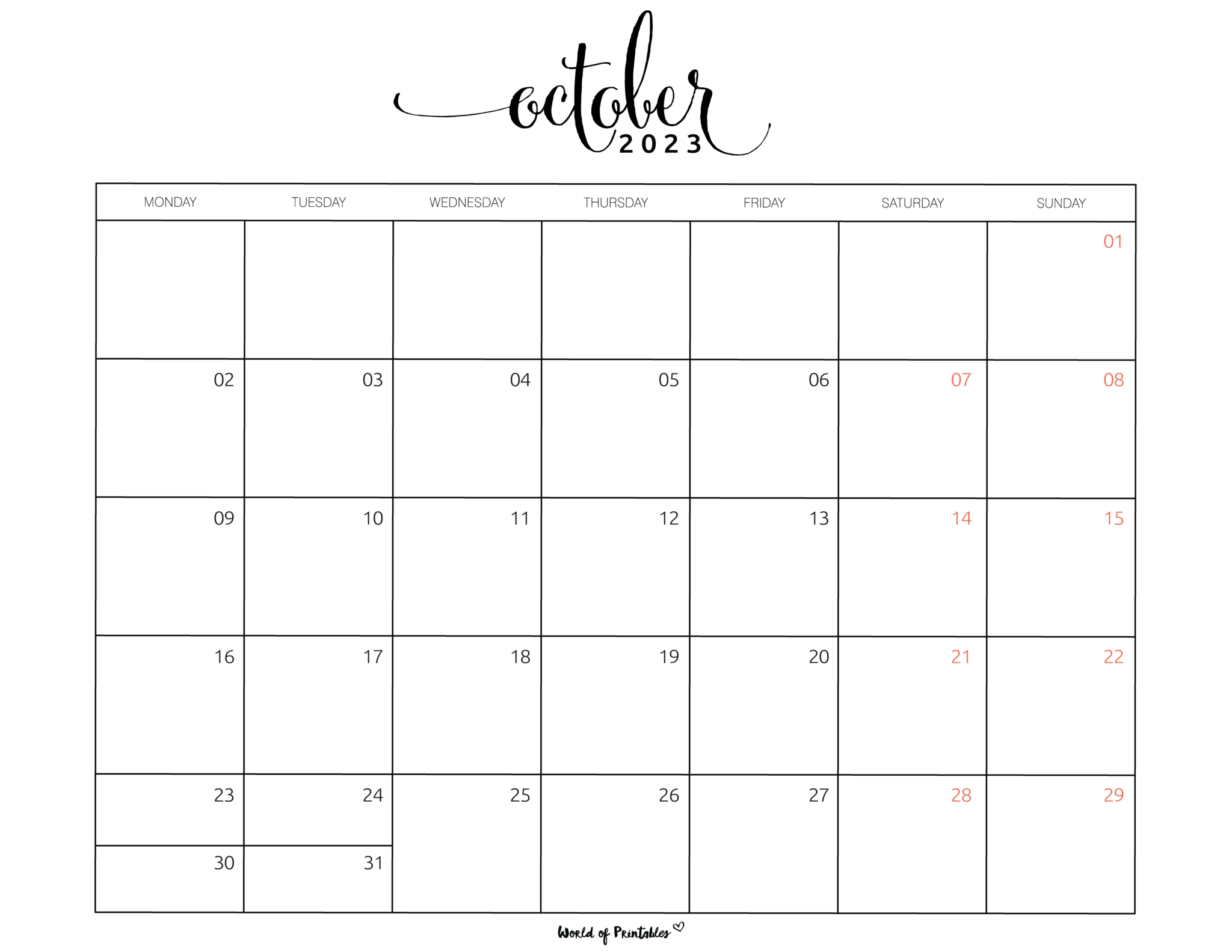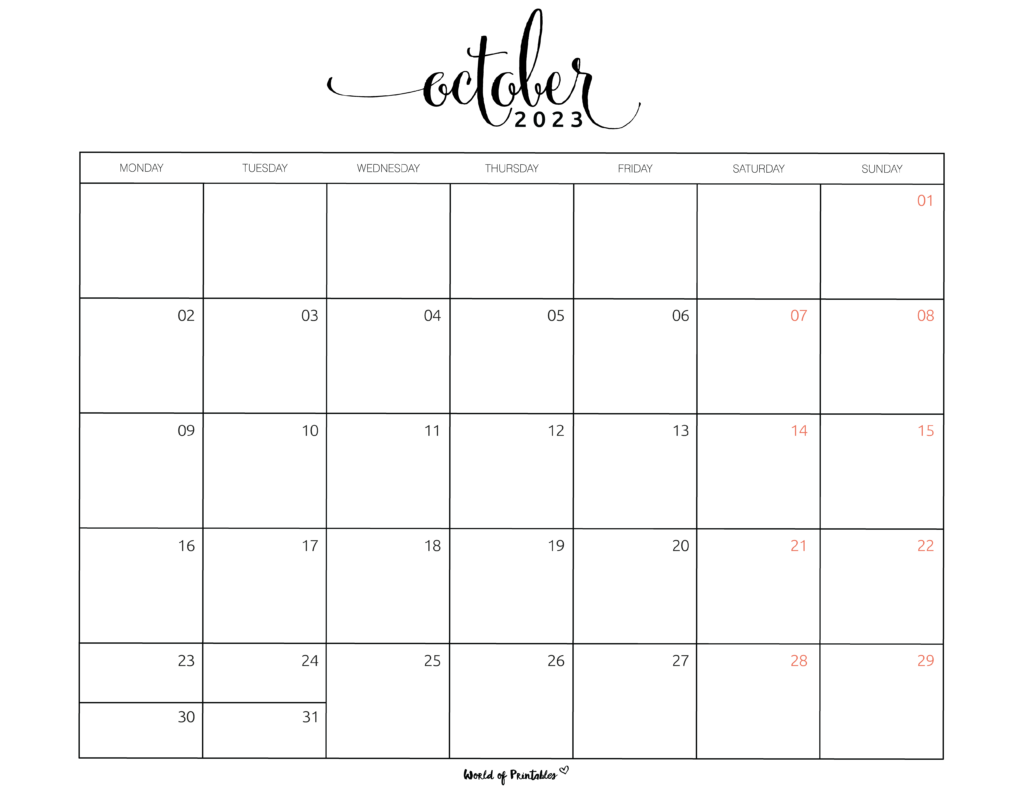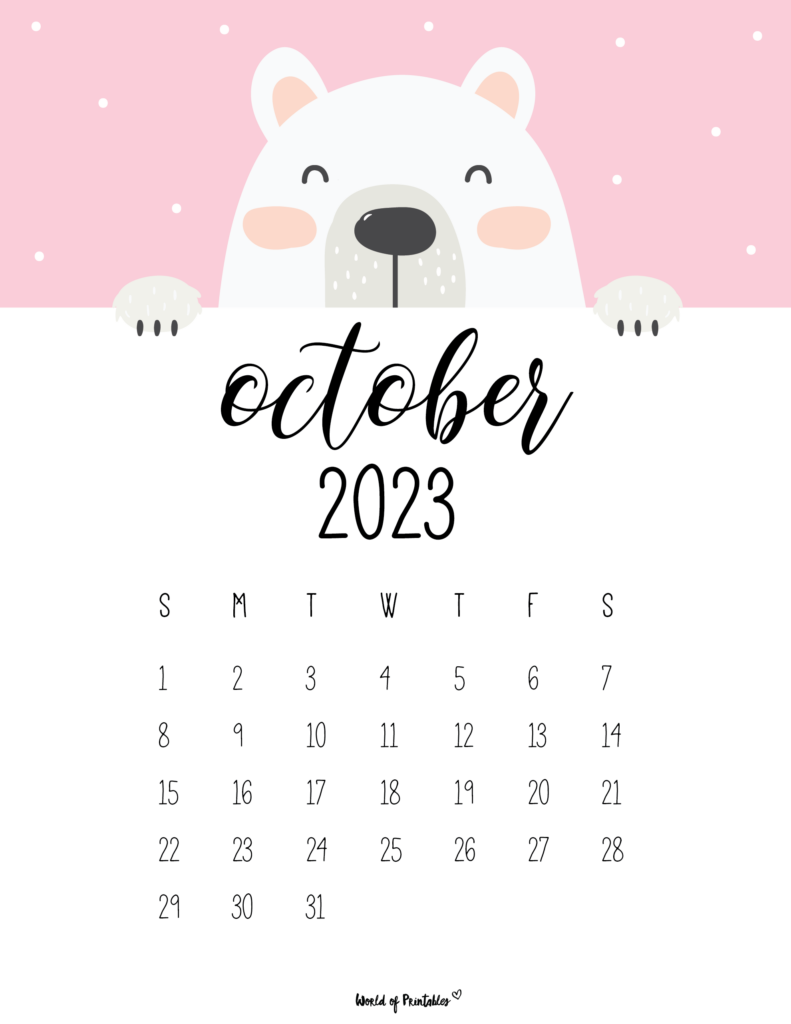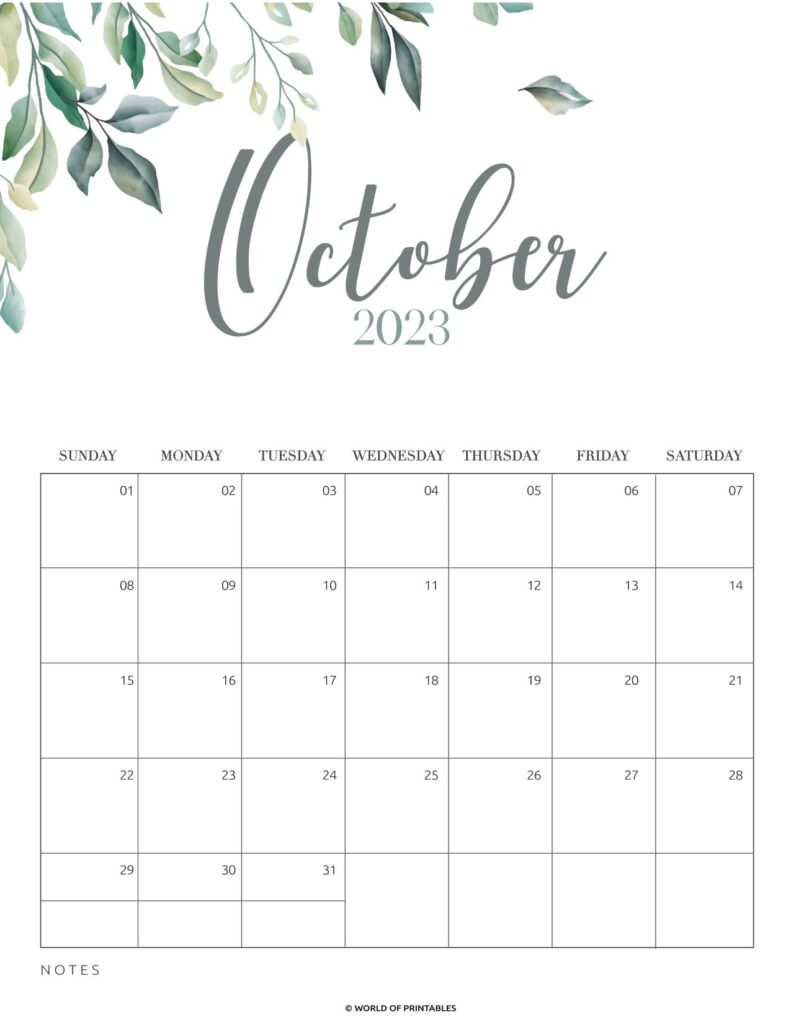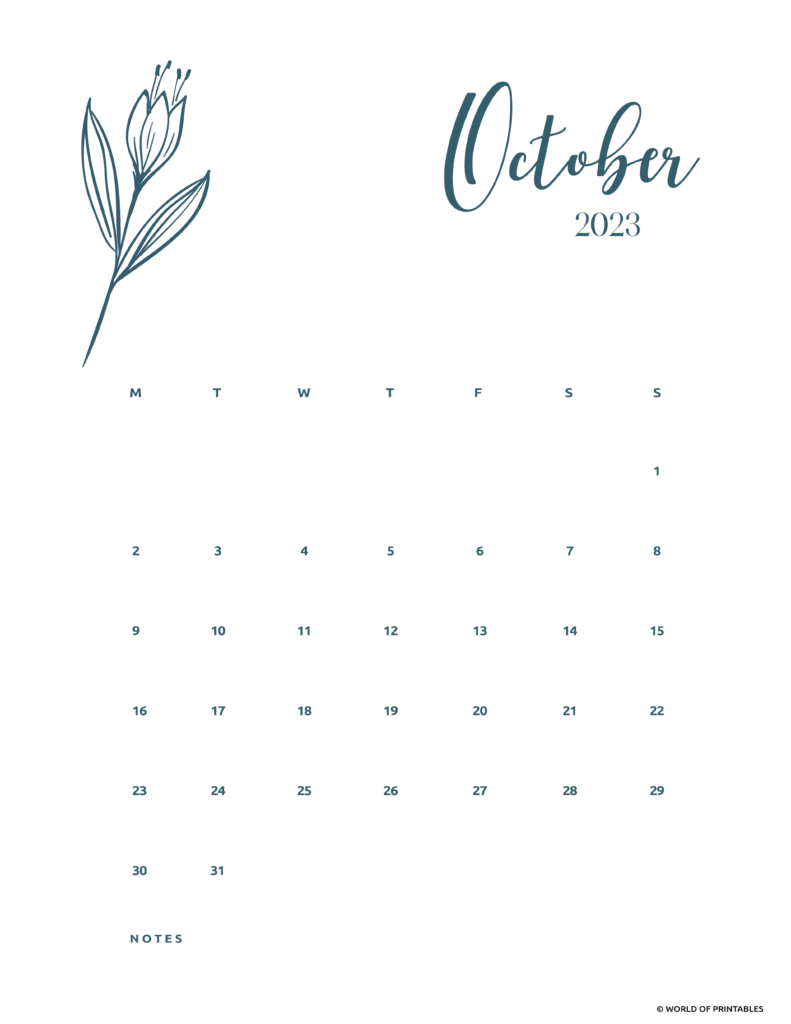 I really like simple, classic-style calendars, which is why we've designed a range of free simple calendar templates for you.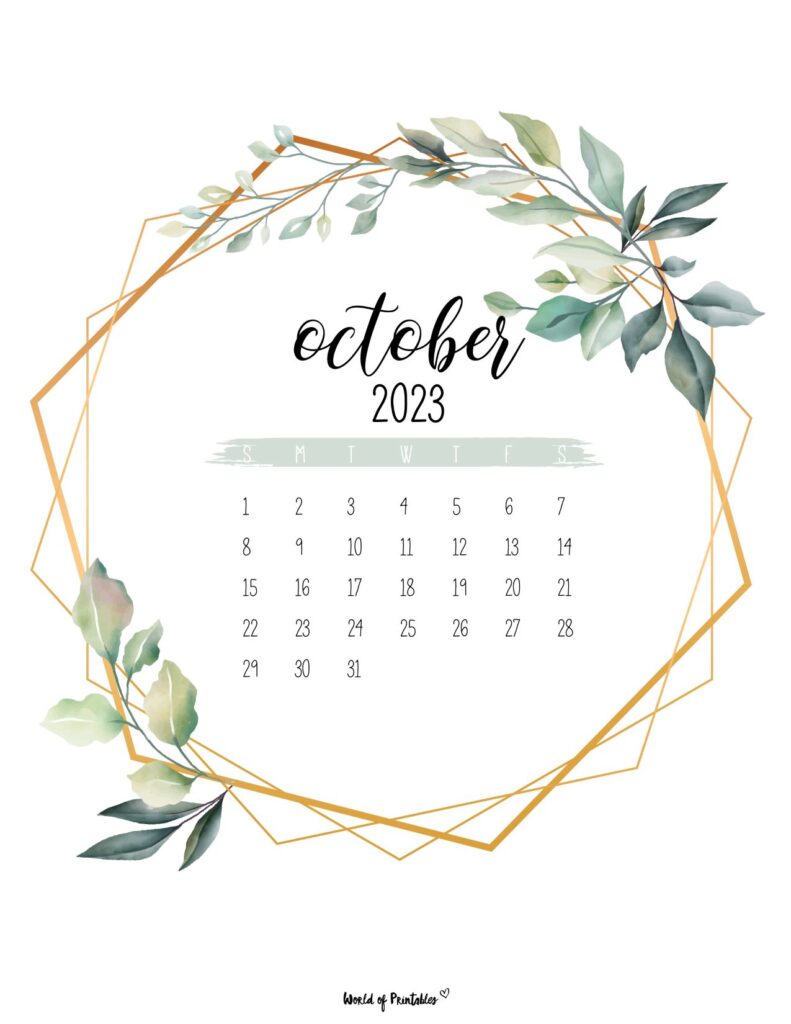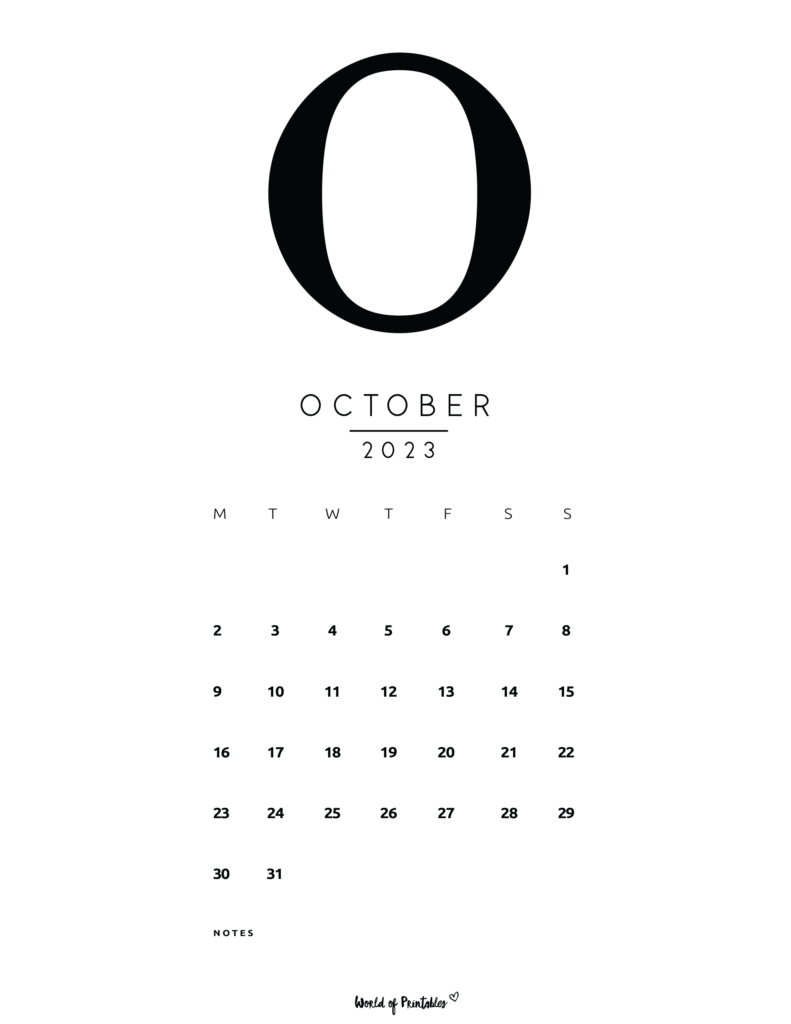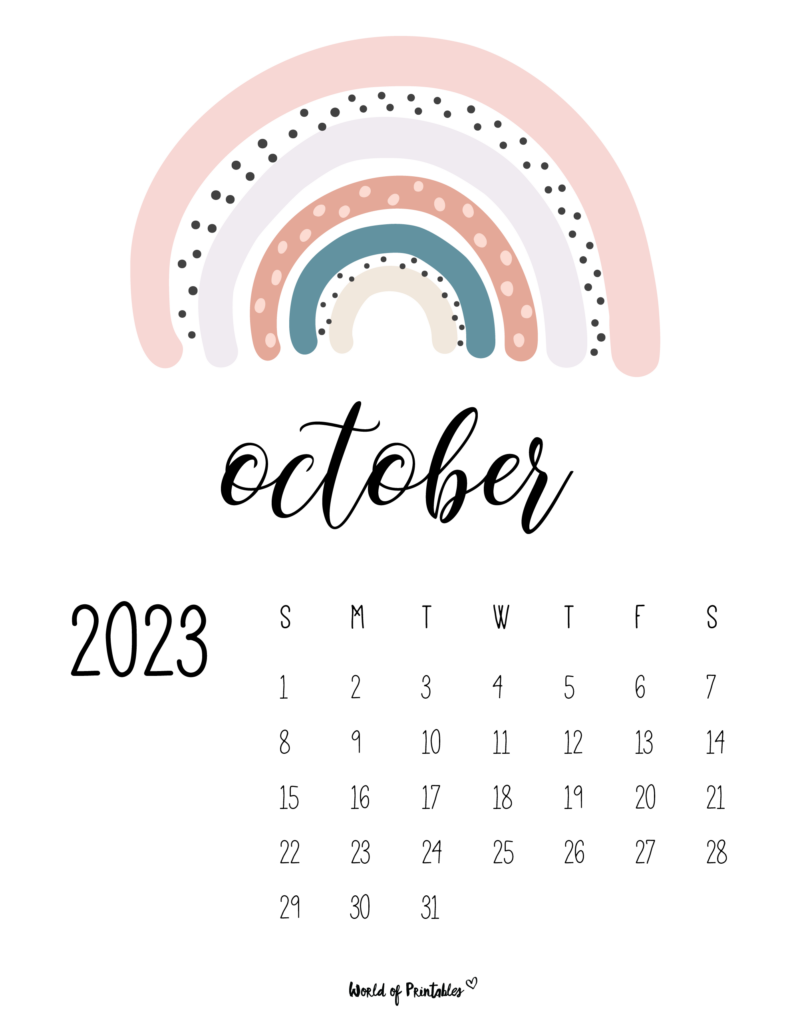 If you like these cute and fun calendars, then you'll be happy to know that we've got a range of fun calendar templates for you.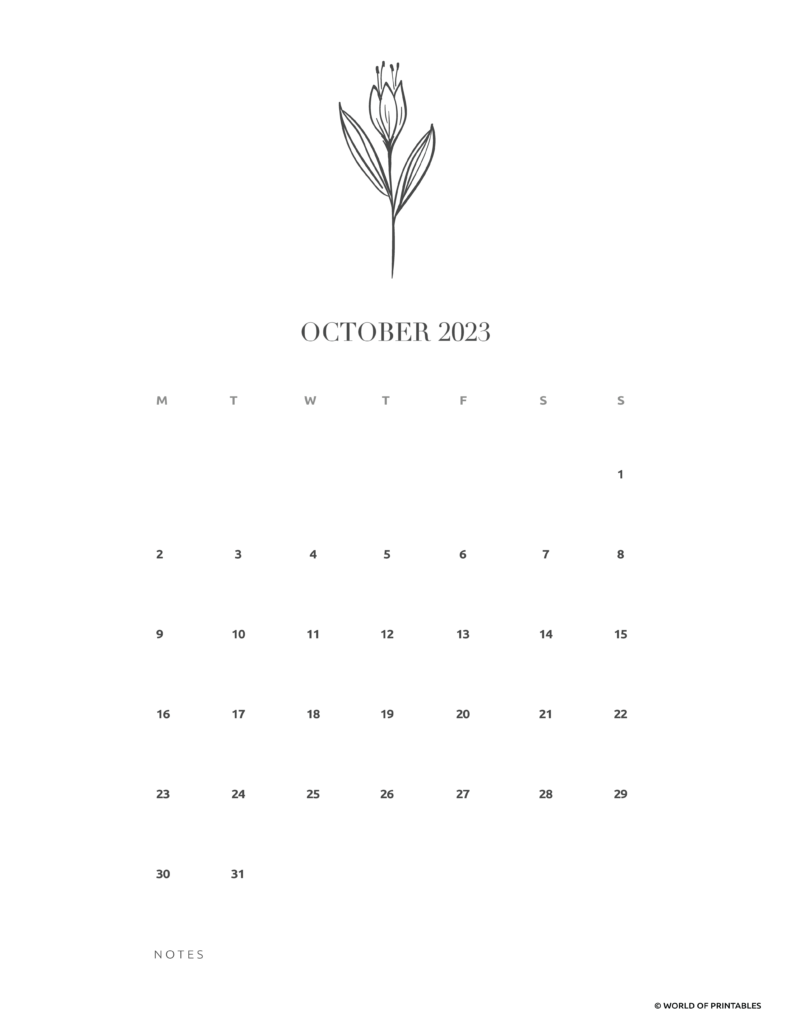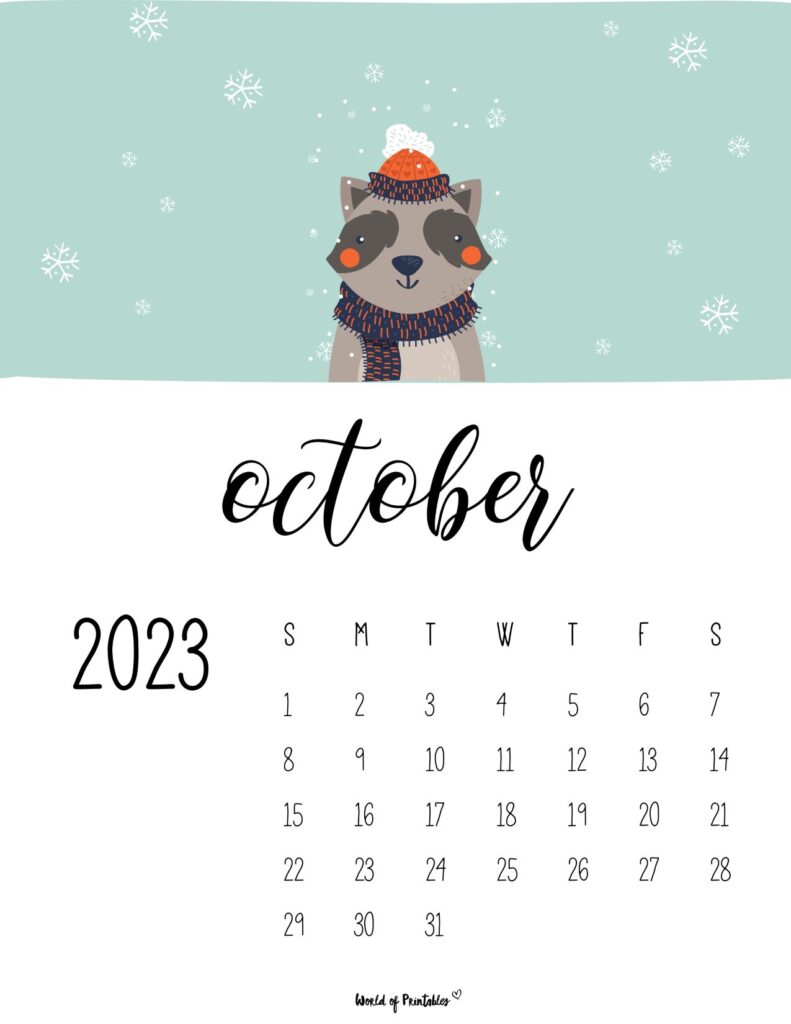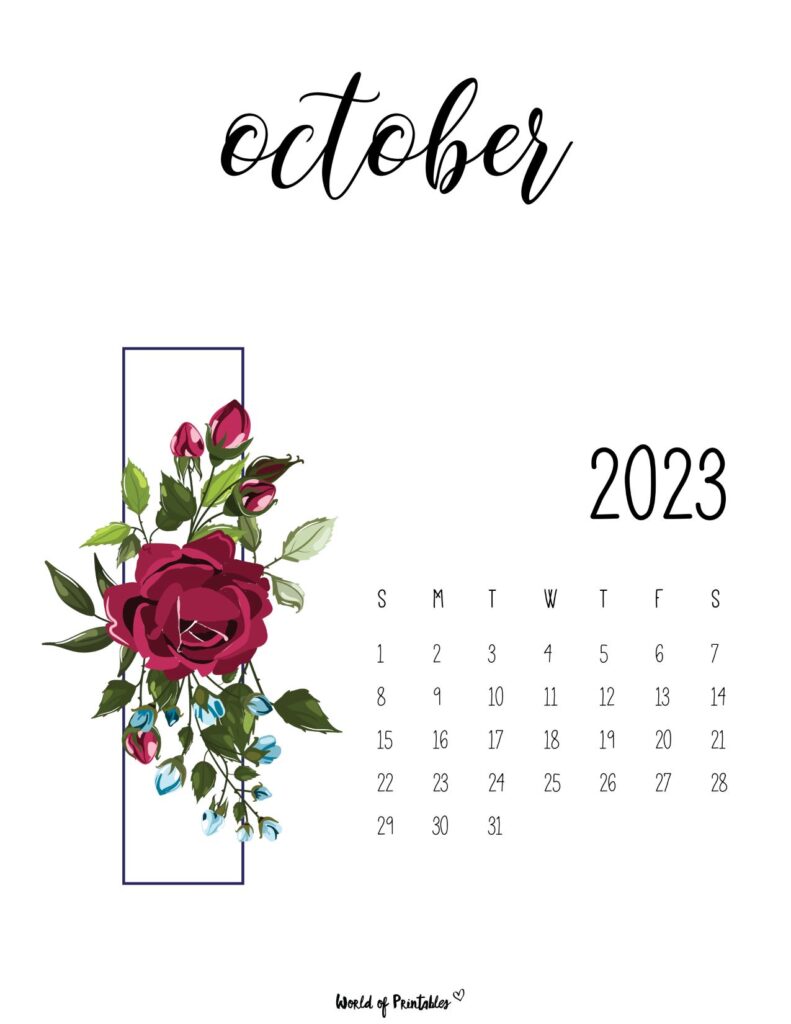 If you like these floral calendars, then check out our full range of floral calendar templates and print the one you need.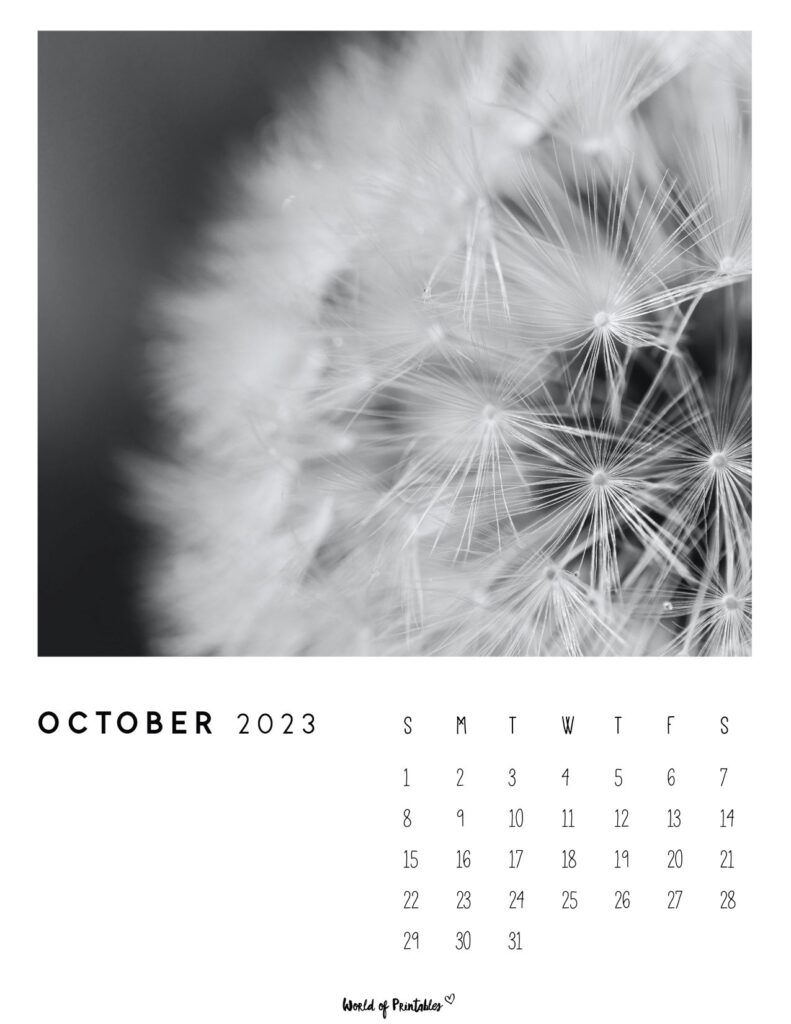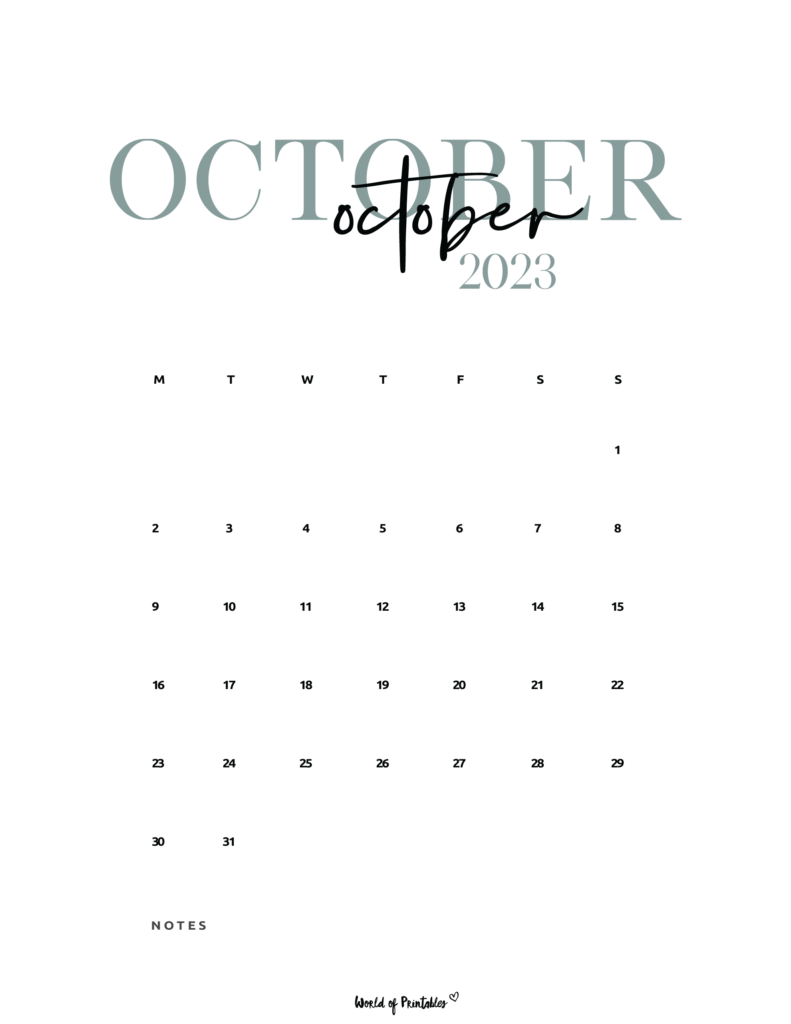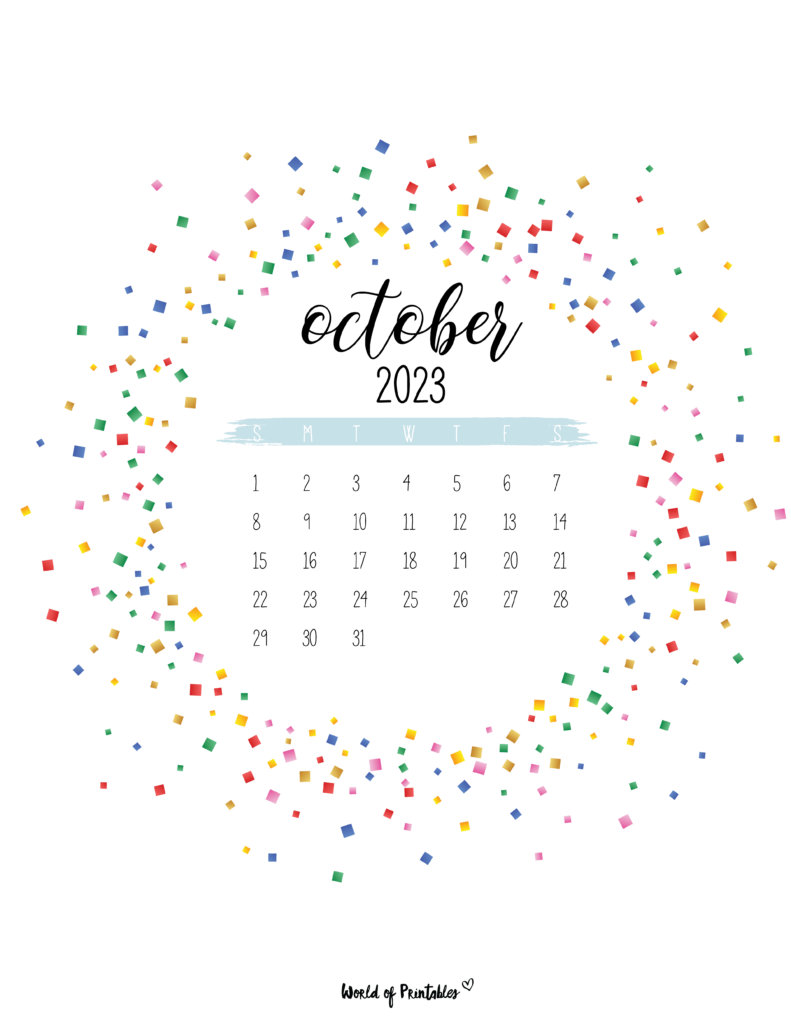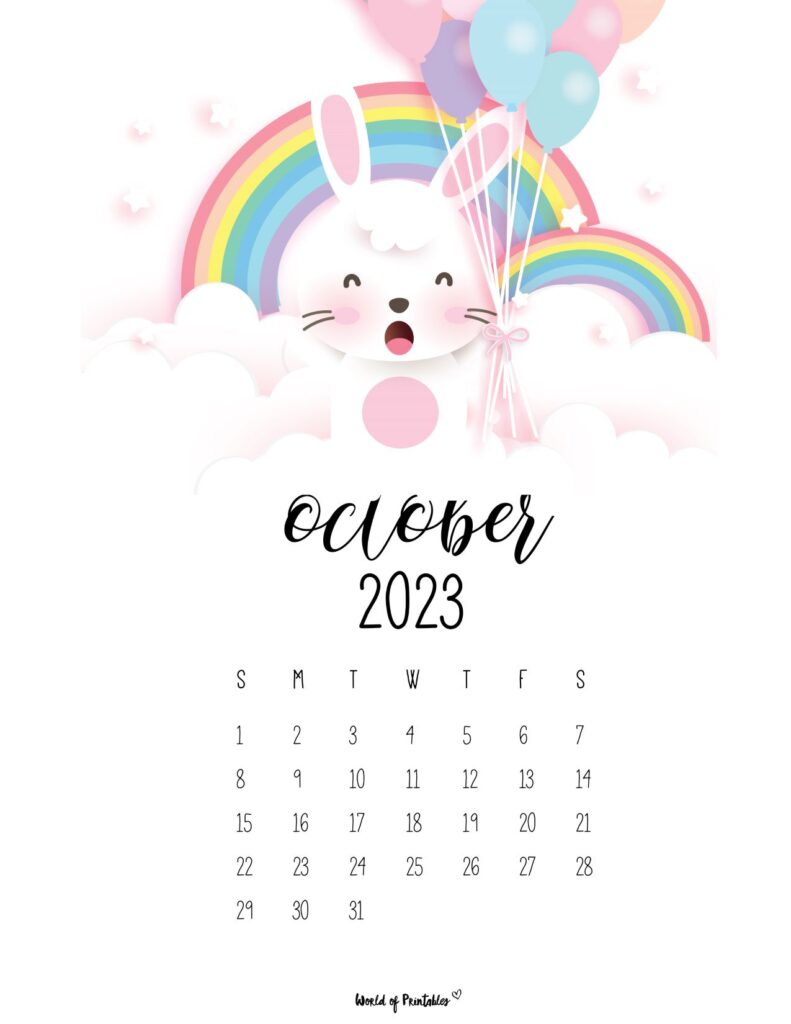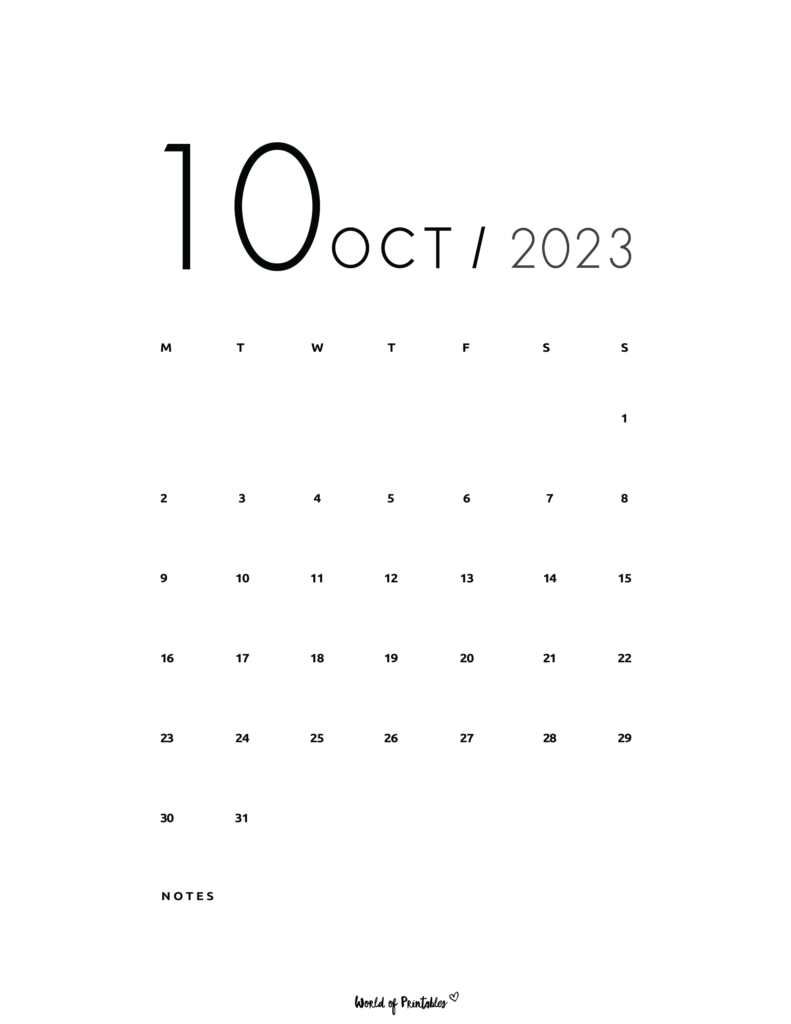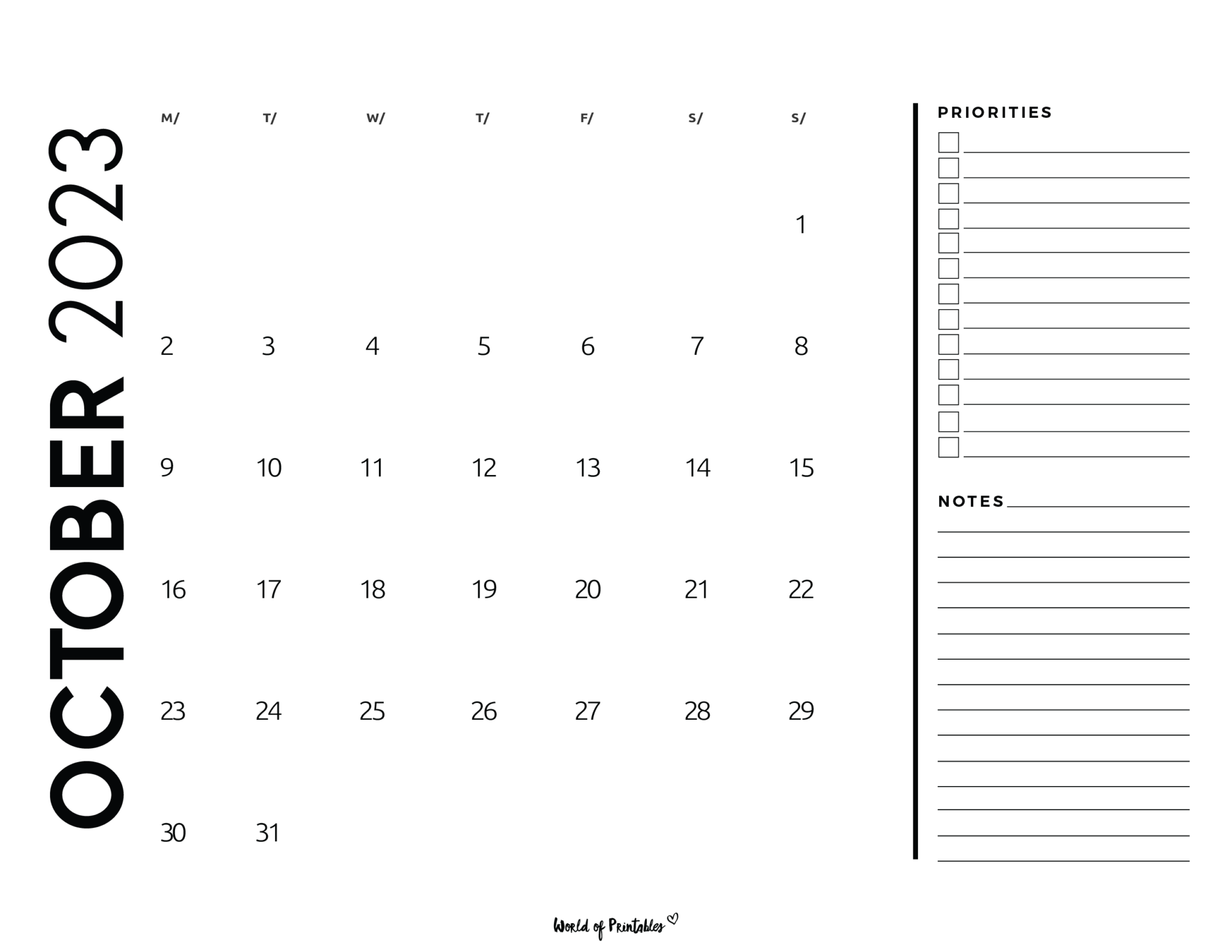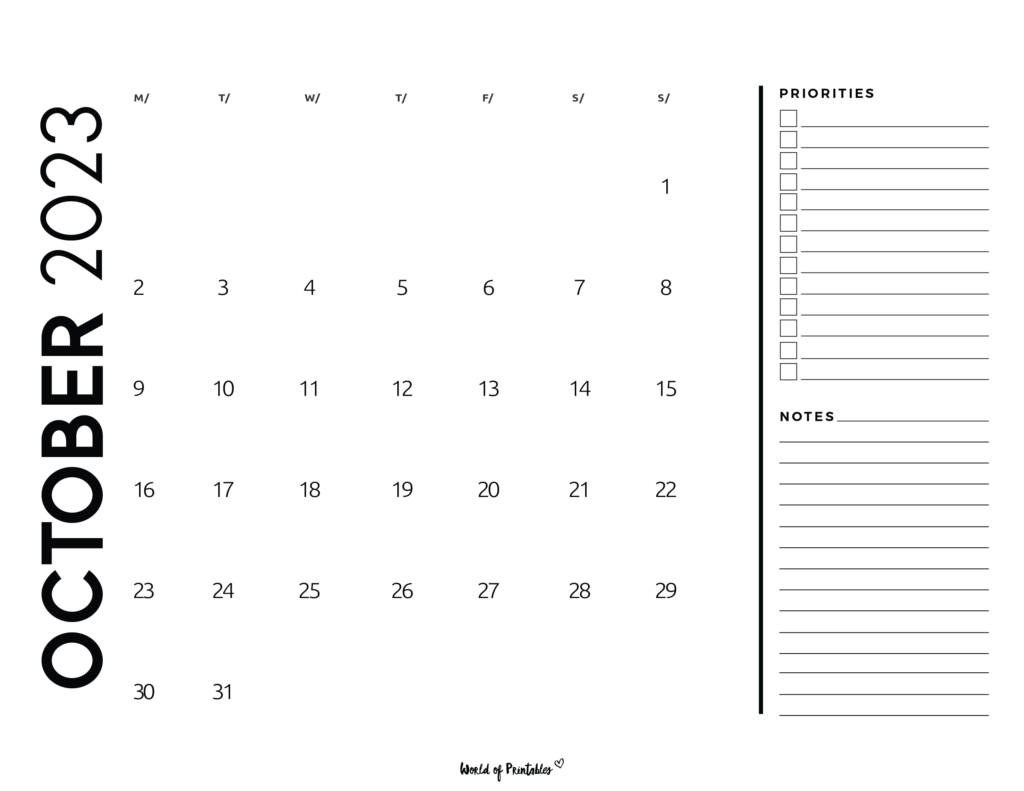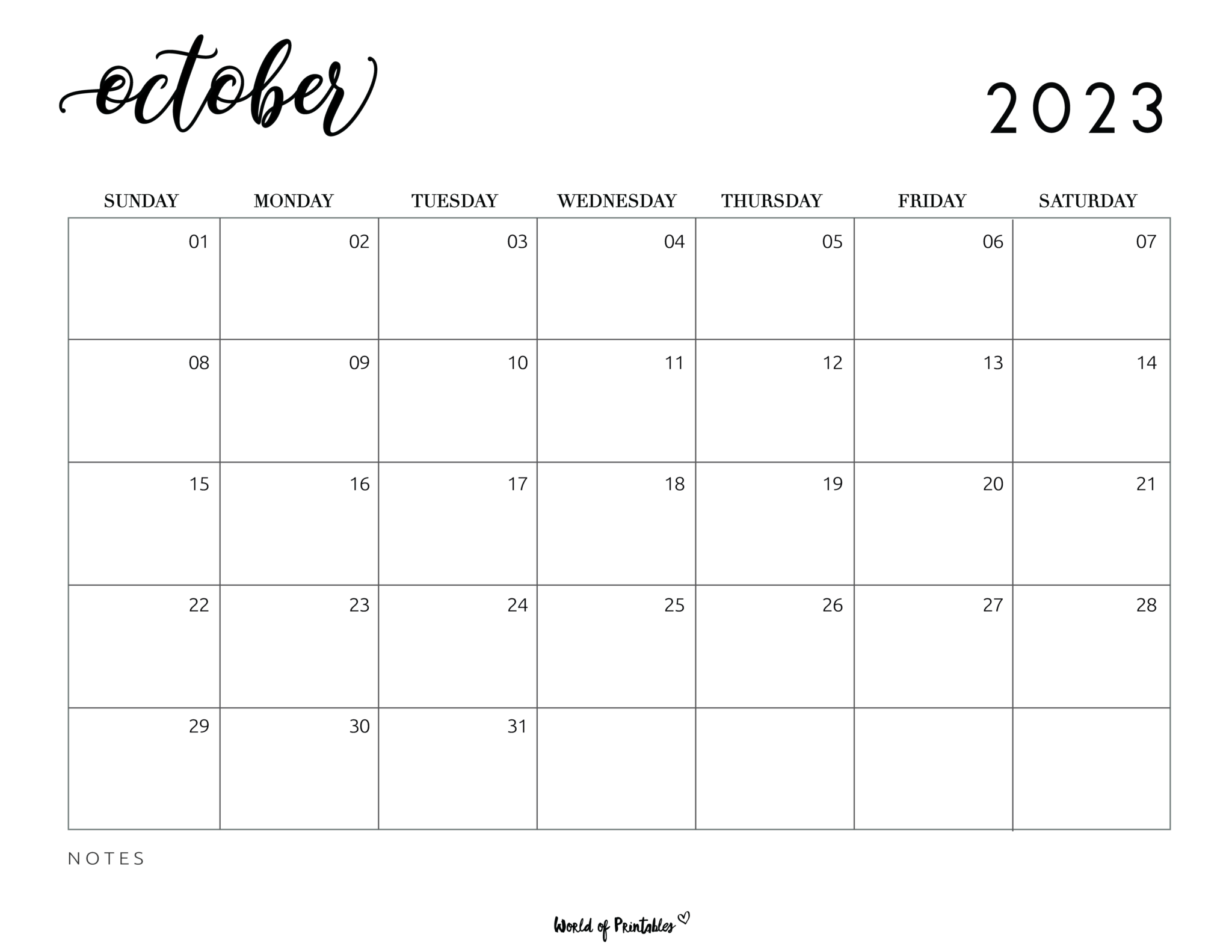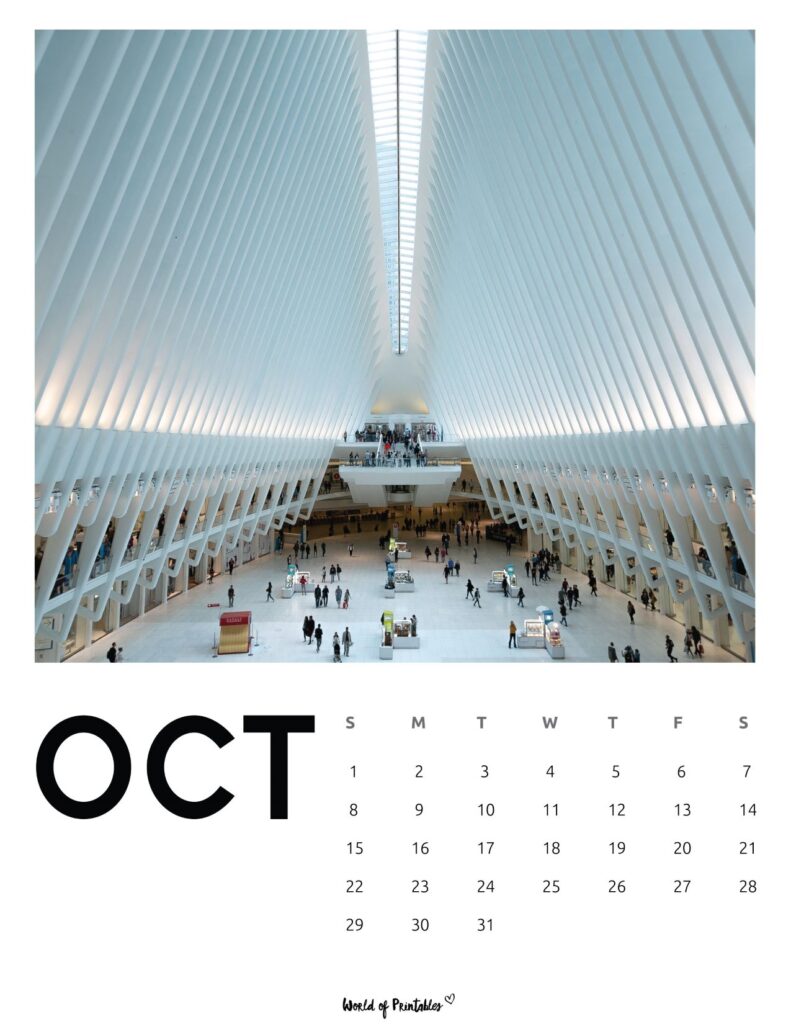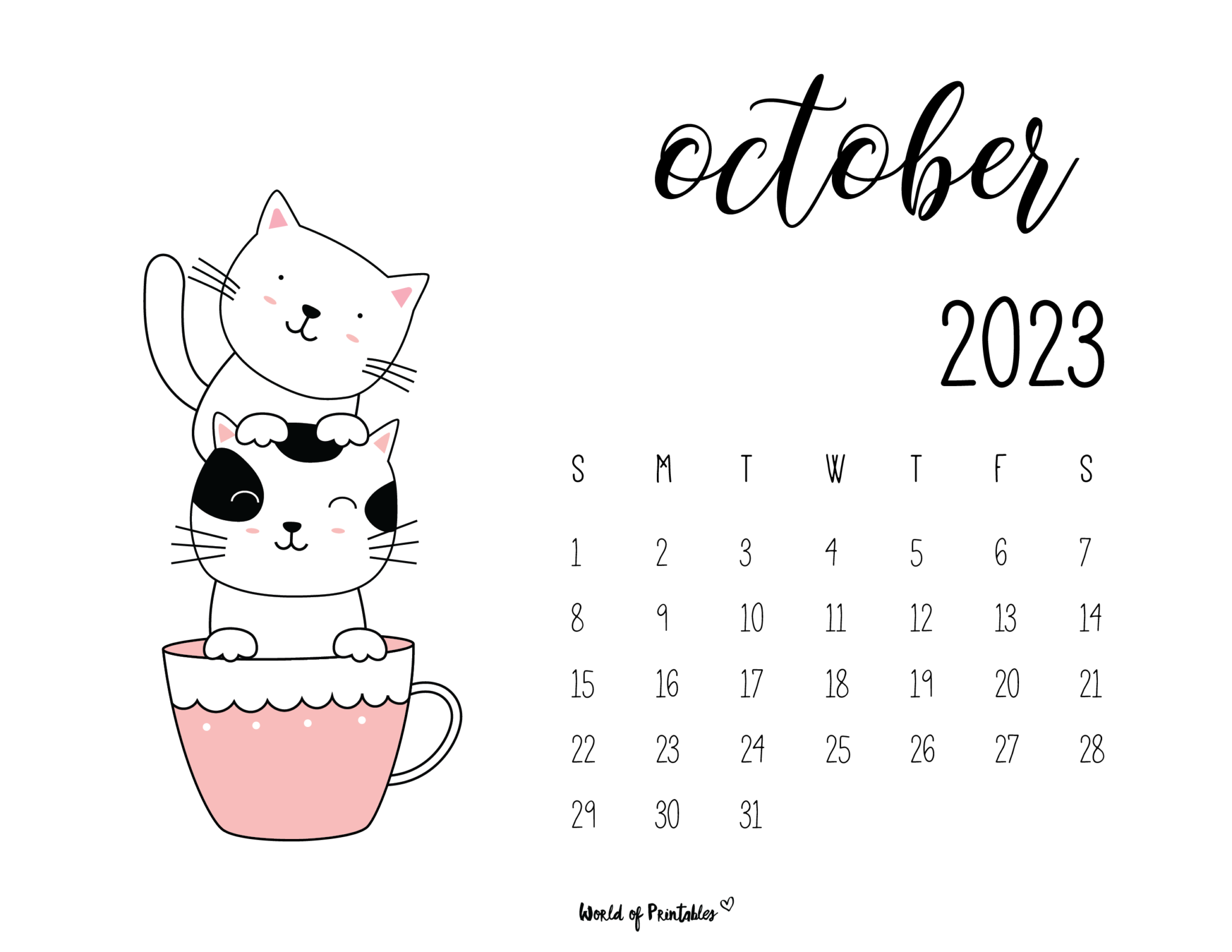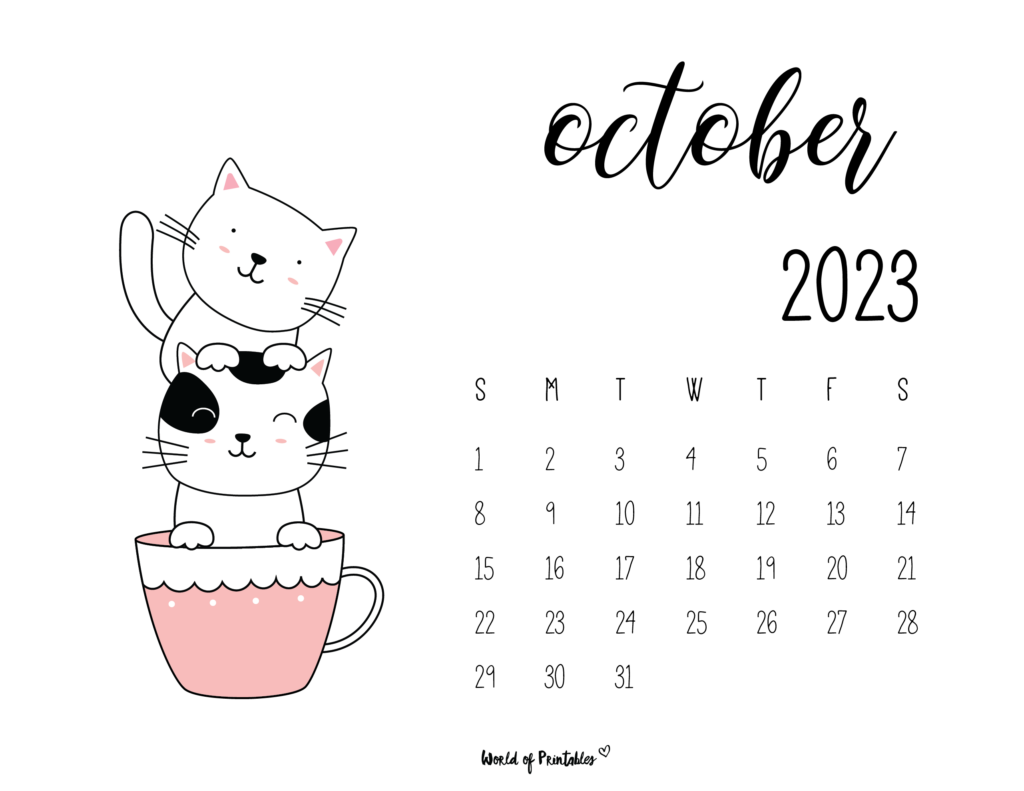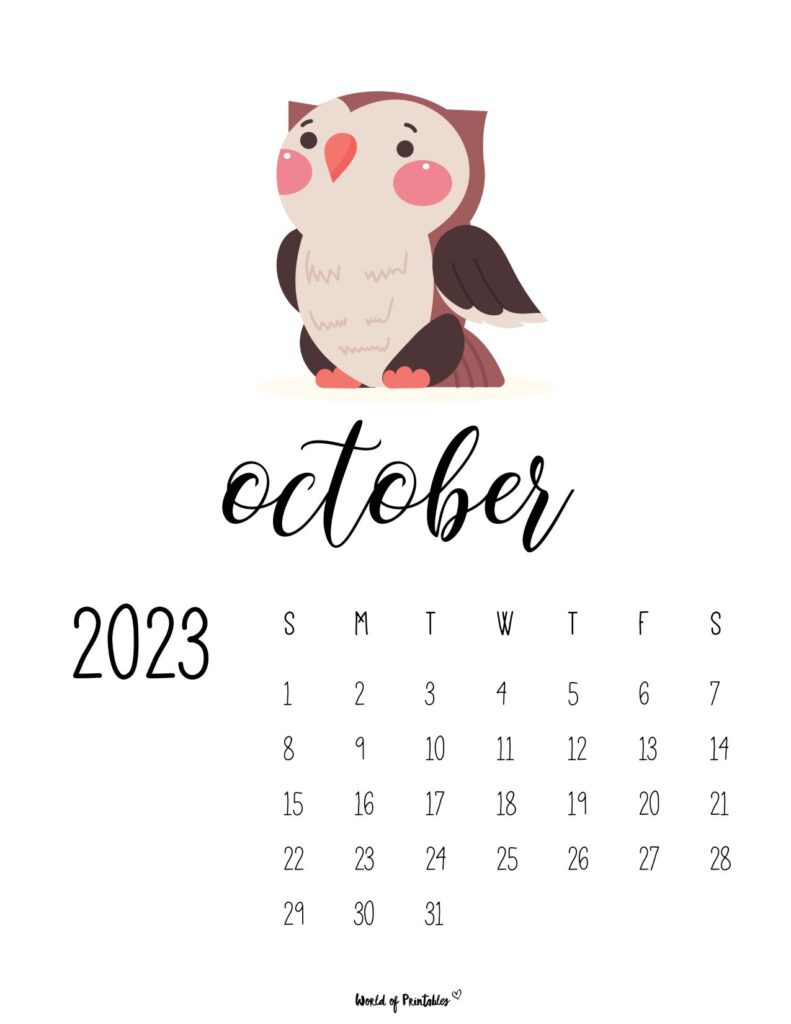 The October 2023 calendar, that you get from www.worldofprintables.com is free and editable. Our free printable calendars are available in PDF, JPG, and PNG formats.
Choose your favorite and save the calendar to your computer. Once printed you can edit by adding your notes and important dates before you print the October 2023 calendar.
If you liked these October calendars, please follow us on Pinterest or Instagram and sign up for our free newsletter to get the news of our latest printables direct to your inbox.
We think you will like these!
More free printable 2023 calendars
Our recent printable calendars are available for you to print for free.
Get set for October with this set of cute printables.
This is a hugely popular cute calendar that we create every month. It comes with a set of day and week planners in the same cute theme, all designed to help you plan your days ahead this October. You can get the October Calendar and Planner Set printables all for free.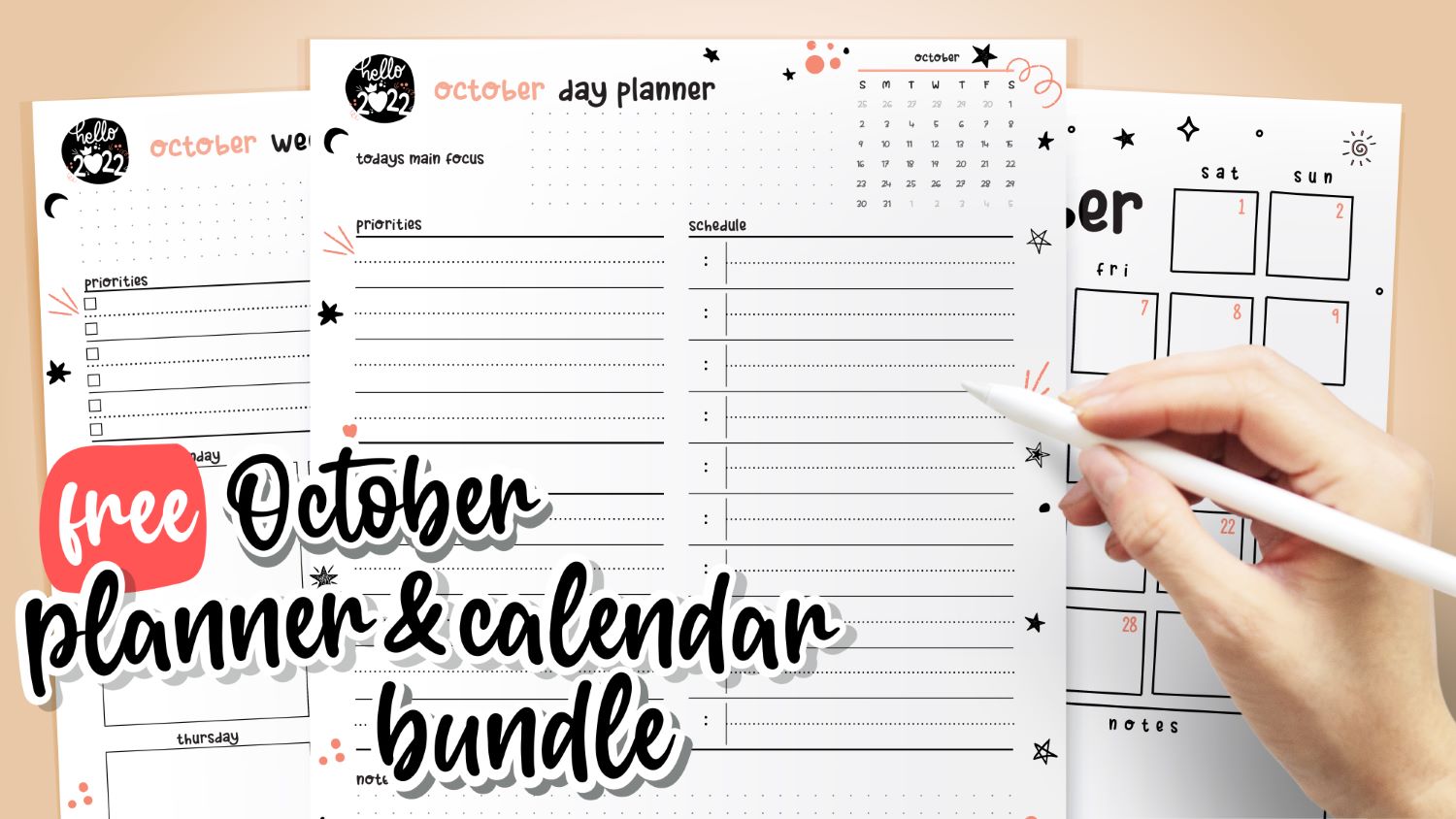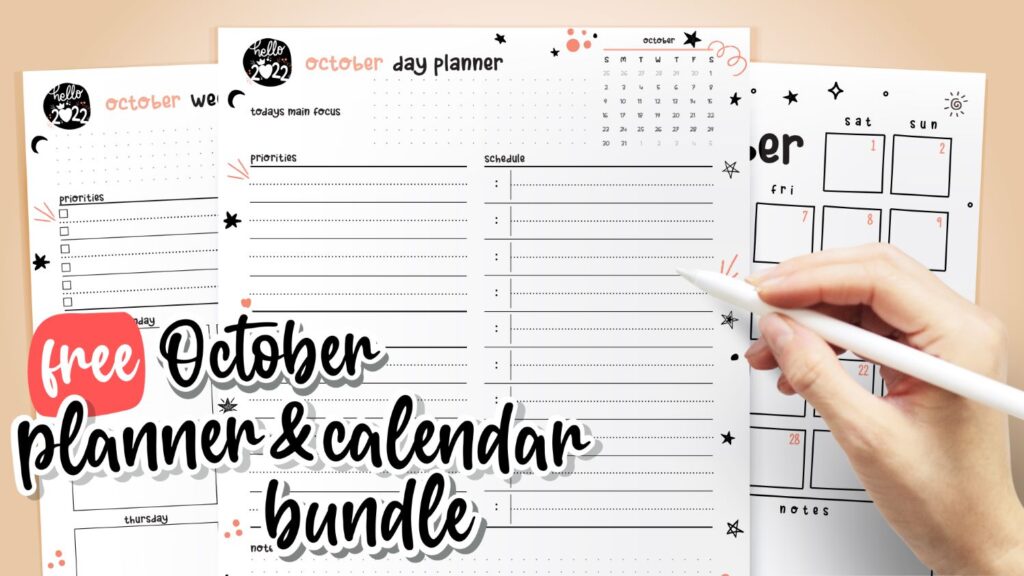 Free October witchy planners.
Plus see our October witchy planner set, they're so dark and stylish, you'll love them.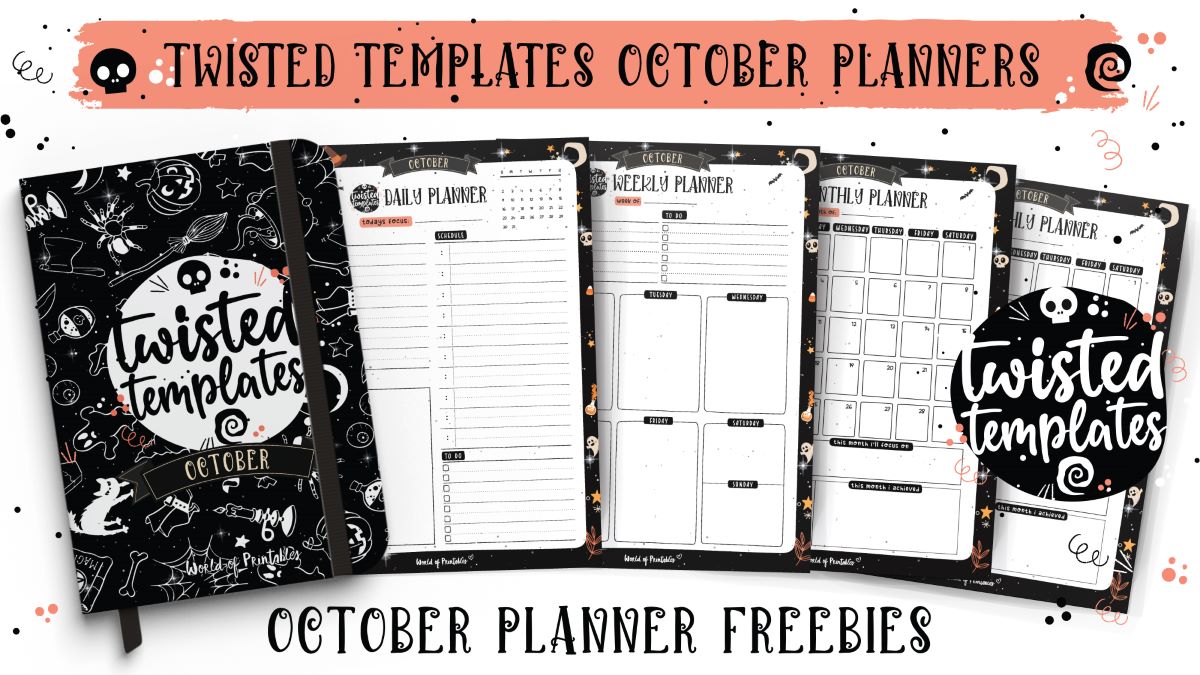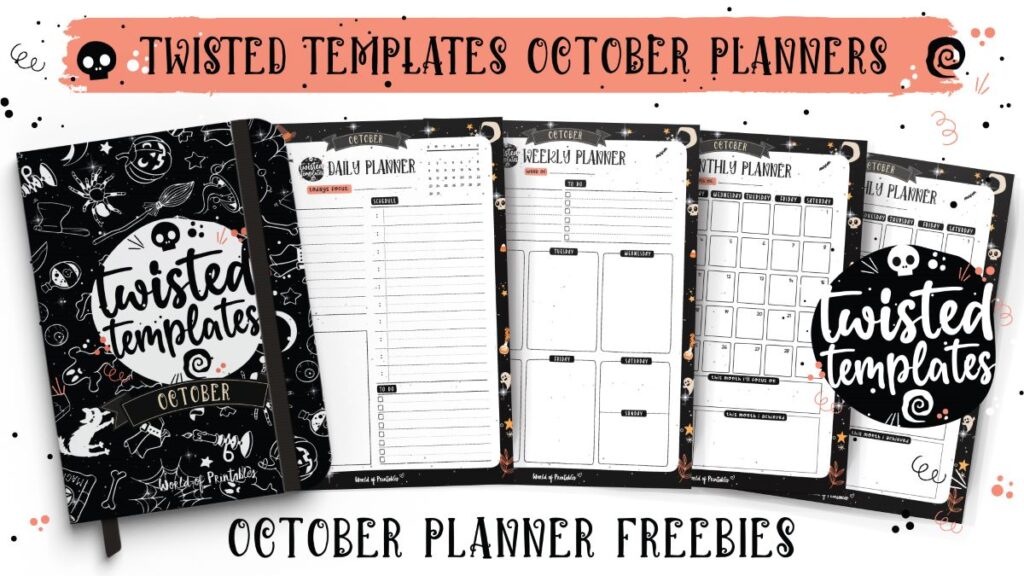 More awesome free printables from World of Printables
We've created a huge amount of calendars, printables, and templates. You'll find printables and templates to help you plan and organize all aspects of your life.
Be sure to grab as many freebies as you can while you're here.
We think you'll find these very useful:
Free printable calendars
Our recent printable 2023 calendars. Many more printable calendars are available to get and print for free.
Popular calendars
Free printable planner templates
Our recent printable planner templates. Many more planner templates are available to use and print for free.
---
Like these freebies?
Get notified of our next monthly free printables – you're gonna love them!
Follow World of Printables on Pinterest