Looking for a teacher planner for the new term? Then look no further!
We've created this 64-page teacher planner 2023 binder, that's full of useful pages to help you make the most of your year. With calendars for 2023 and 2024 included.
You'll find useful pages such as lesson plan templates, class rosters, class schedules, assessment trackers, assignment trackers, behavior logs, inventory, projects, and much more.
You'll also find more familiar planner pages to help you with your day to days, such as daily and weekly planners, to-do lists, and many other pages to help you stay organized. You'll find a full list of all of the included pages below.
Best of all, it's totally free! Simply print, or import into your favorite digital planner app, and make the most of the school year ahead!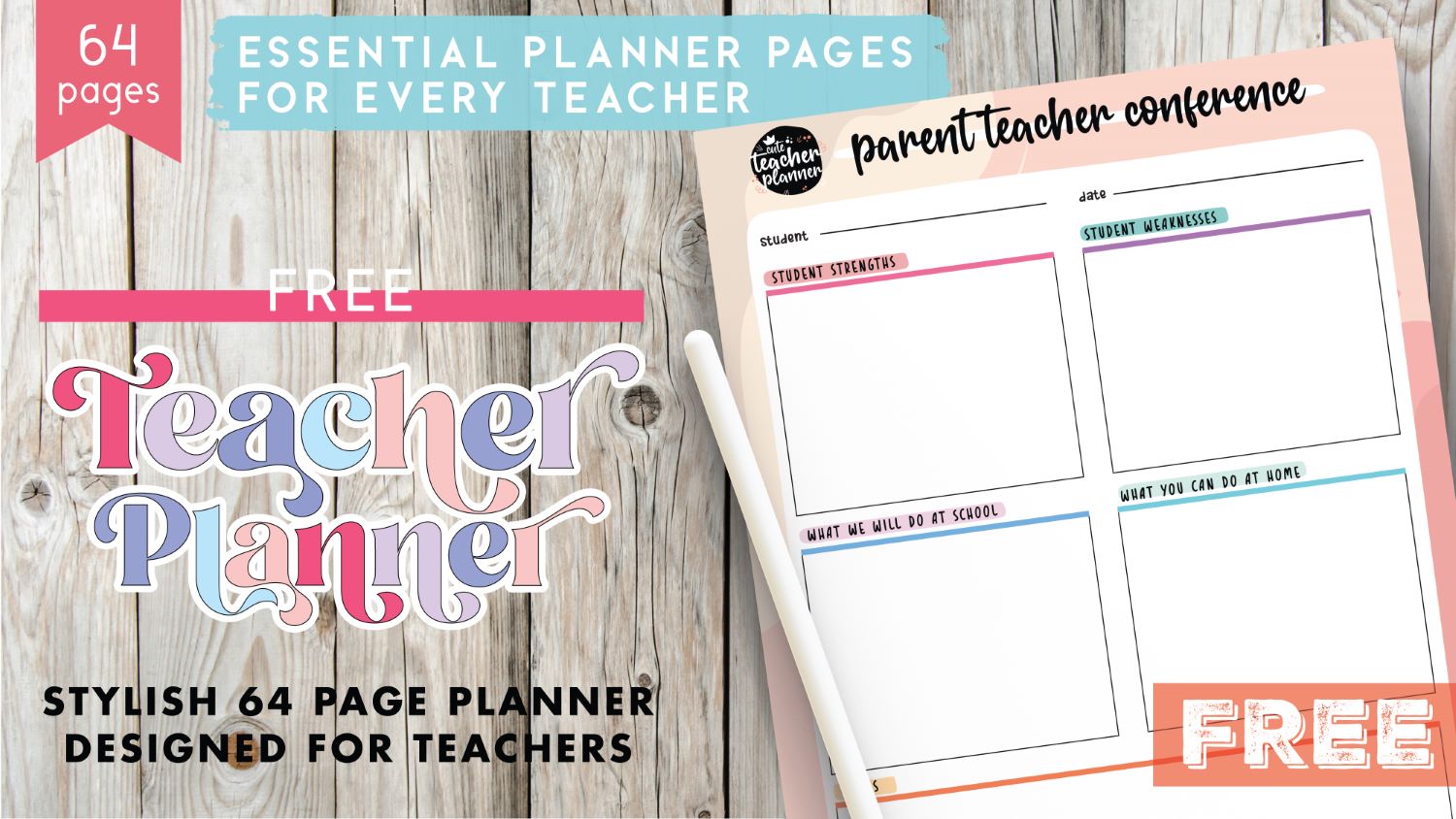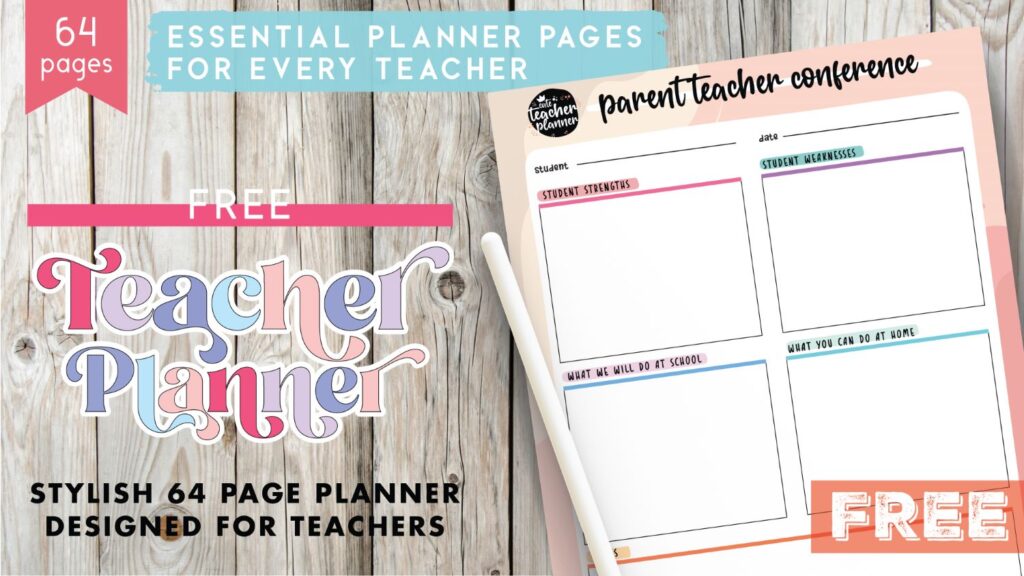 The only teacher planner that you'll need
Our stylish teacher planners are not only packed full of pages that you'll find very useful, but they're also professionally designed in two optional styles.
You can choose from a simple stylish version, that features subtle colors and a classic layout. Or if you prefer something more fun, then there's a totally cute version that's full of colors and great for anyone who wants something a little more quirky.
Start planning and stay organized
Our teacher plan book will help you with your lesson planning and organization.
Your lessons might run from Monday to Friday but we know as a teacher that your work doesn't end with the work week.
This teacher planner is packed full of useful pages, lesson planning templates, and tools to help you make the most out of teaching, planning, and creating a confident learning schedule for yourself and your pupils.
Read on to learn about our teacher planner, why it is important to use one, and how to get it as a printable planner or as a digital planner!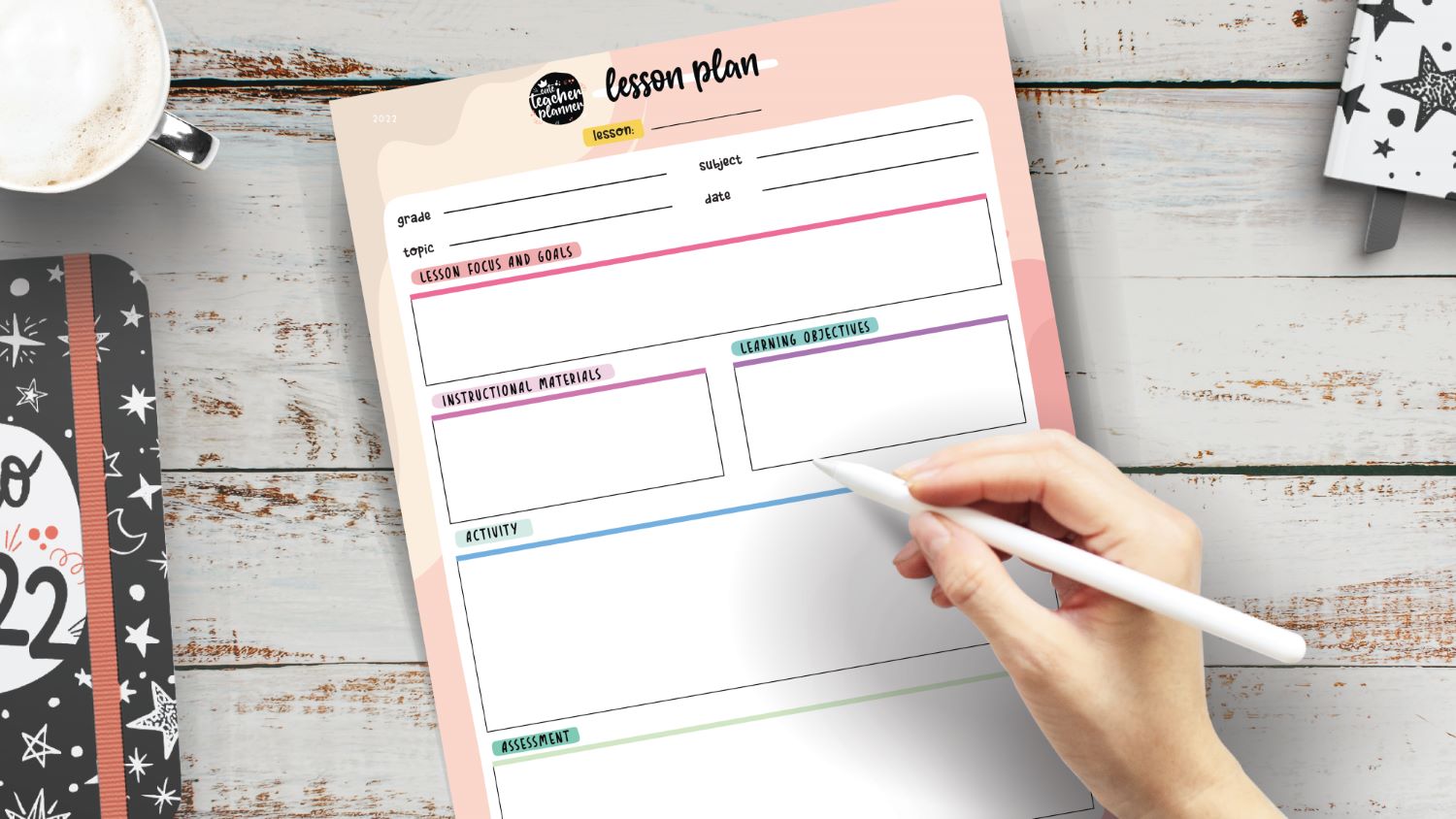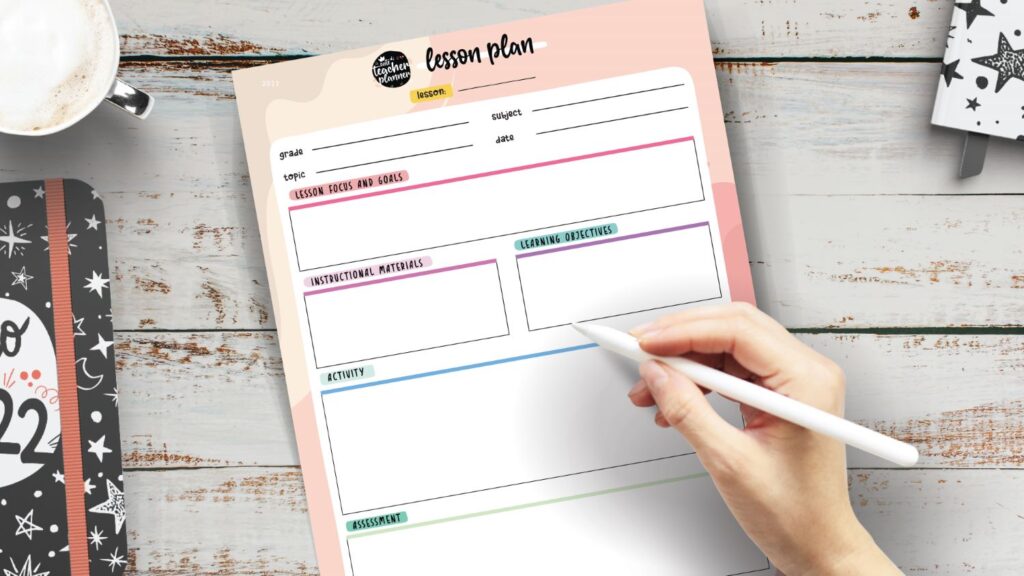 What is a Teacher Planner?
A teacher planner is a great organizational tool that helps teachers, tutors, mentors, or homeschooling parents manage their time and workload. It's an ideal tool to have that will help you plan lessons, inspire your class, understand your class better and create an educational experience that will ensure success.
This planner is perfect for all stages of education. It's flexible and versatile enough to use from early years, through school, and into adult education. Whether you are a kindergarten teacher, a high school teacher, a special education teacher, or a college professor, the teacher planner will benefit you.
Do I need a teacher planner?
If you want to be at your best from the start of the academic year then I strongly recommend a teacher planner.
A teacher planner will allow you to plan and schedule everything that is important to your teaching and learning experience, and having it all together in a teacher planner will allow you to stay on track.
What should a teacher planner have?
A good teacher planner should be well thought out, genuinely useful, and have a focus on both the teacher and the pupils throughout the school year.
There are many different pages and elements that can be incorporated into a teacher planner to offer the best experience and with a planner like ours, you can add additional and custom pages to make it the planner perfect for you.
Before you spend $40+ on a teacher lesson planner, give our free teacher lesson planner a try – I promise you will love it!
Best Teacher Planner
Our teacher planner has been designed with a focus on both the teacher and the student and will help you streamline the classroom experience.
Our teacher binder is ideal if you love to rearrange your pages, remove pages or add more pages to suit your own needs and teaching style. Using our printable teacher planner allows you to consistently change your planner around, adding more when you need more rather than worrying about running out of space.
Teacher planners tend to have space for August to the following July, so you can use a new teacher planner for every new term for free!
We think it is one of the best planners available, so give it a try and see for yourself!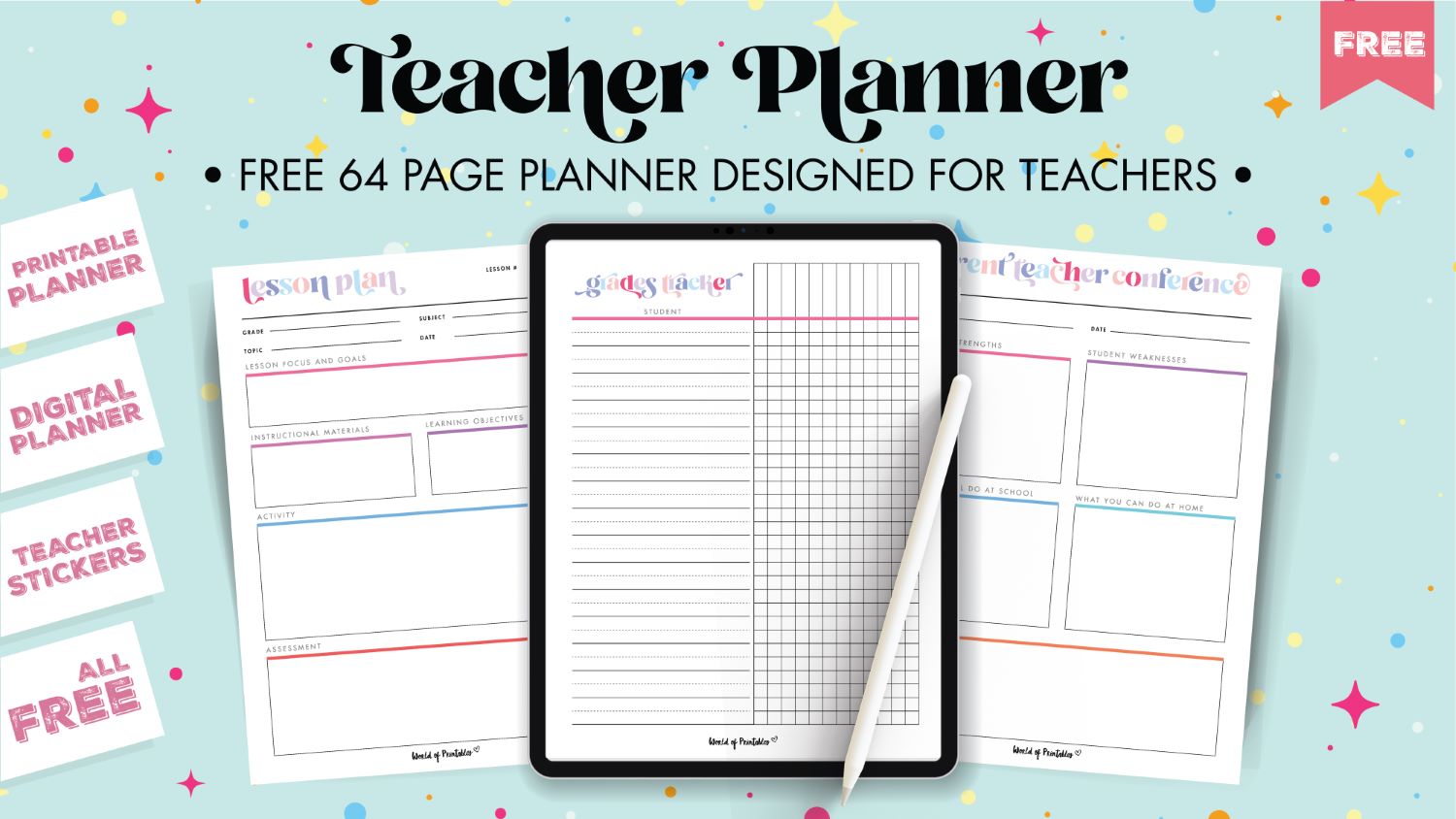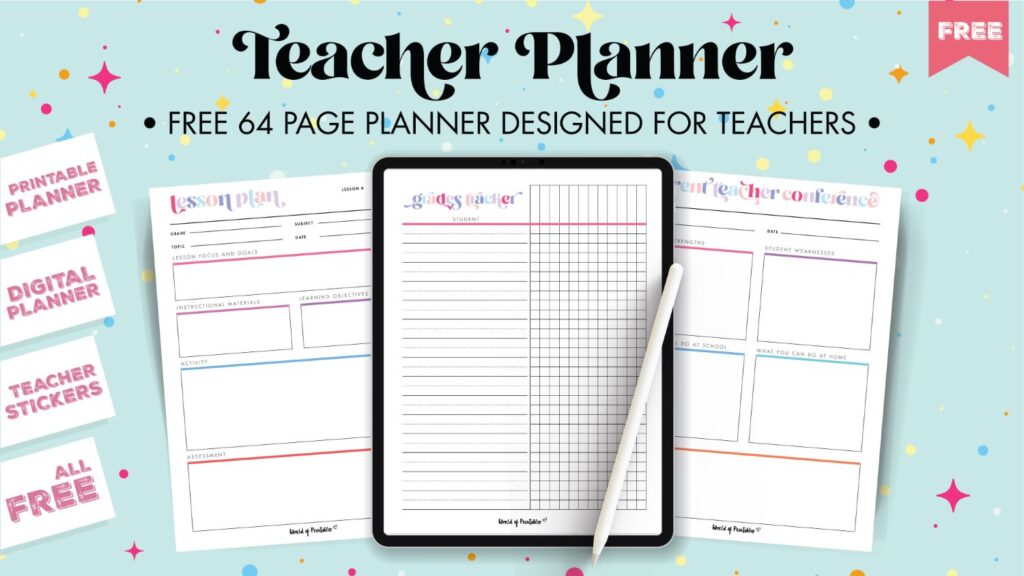 See what's included in this free teacher planner
The teacher planner comes with 64 useful pages, designed to help you make the most of your time as a teacher.
The pages include:
Cover page
The Teacher planner comes with a beautiful cover page, so no matter how you decide to bind your printable planner, you will have a cover page for the front.
2023 year calendar + 2024 year calendar
The yearly calendars are extremely useful for planning the academic year and the year ahead. There are two annual calendars – one for 2023 and one for 2024.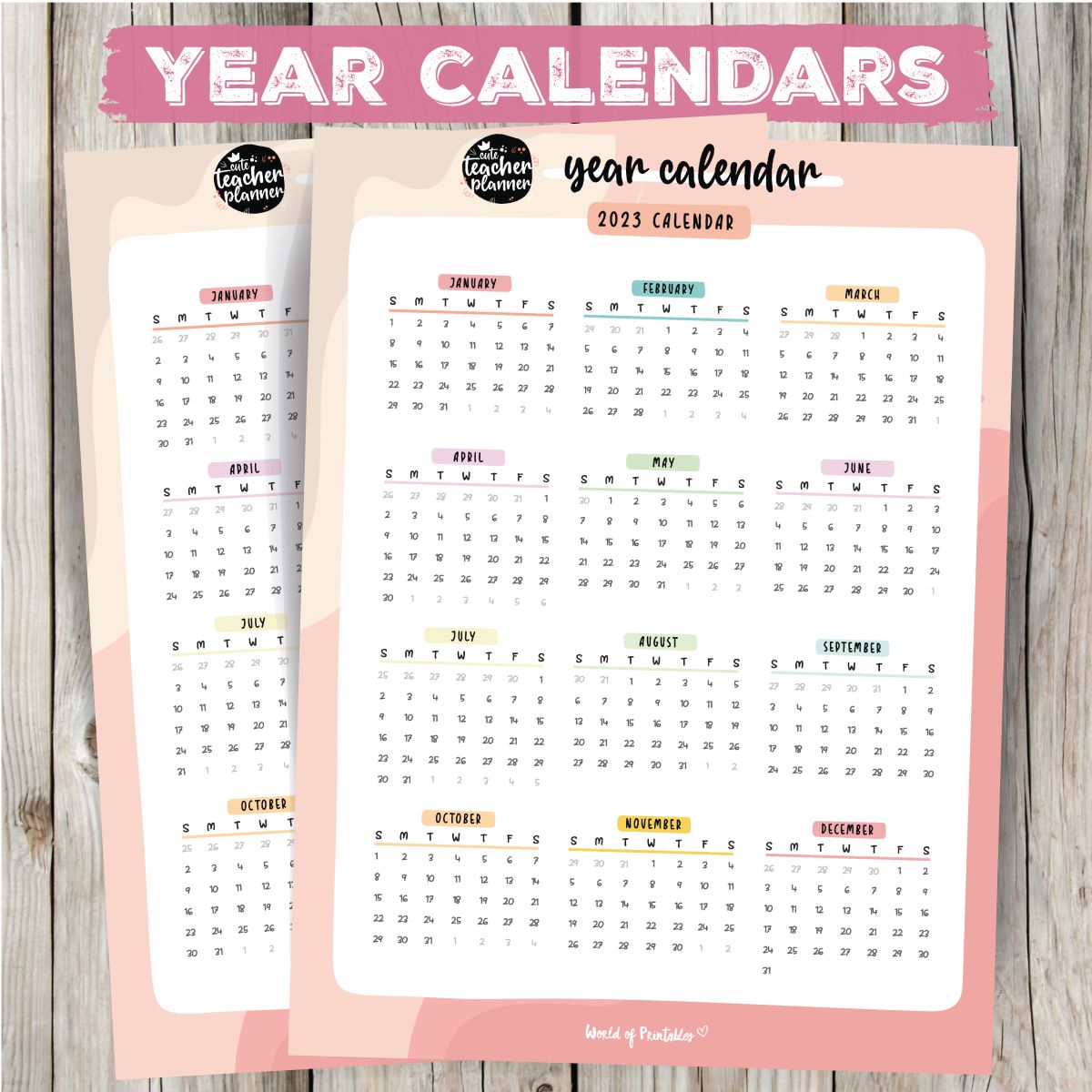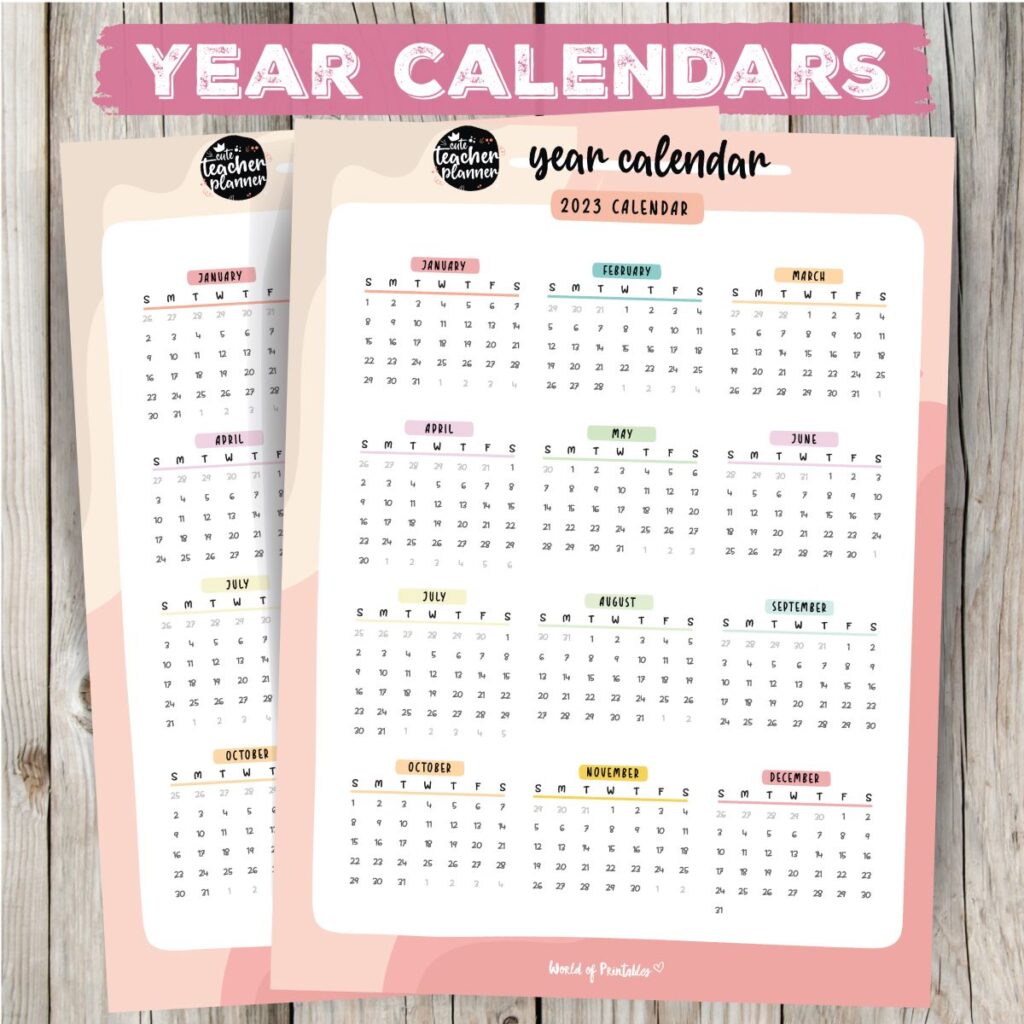 To Do List
Teachers are extremely busy and outwith the teaching periods, they still have 101 other things to be doing. Let this to do list help you prioritize your daily tasks.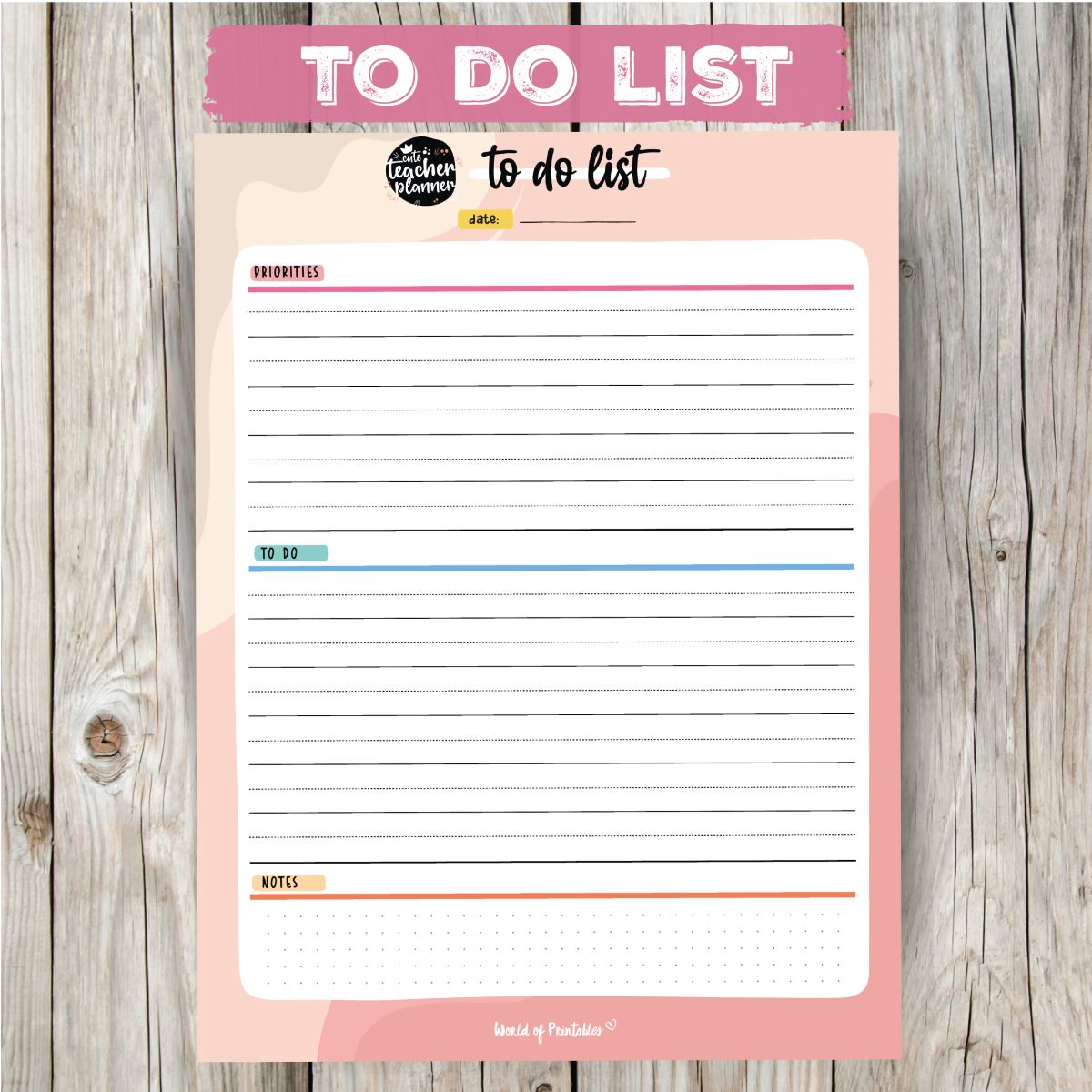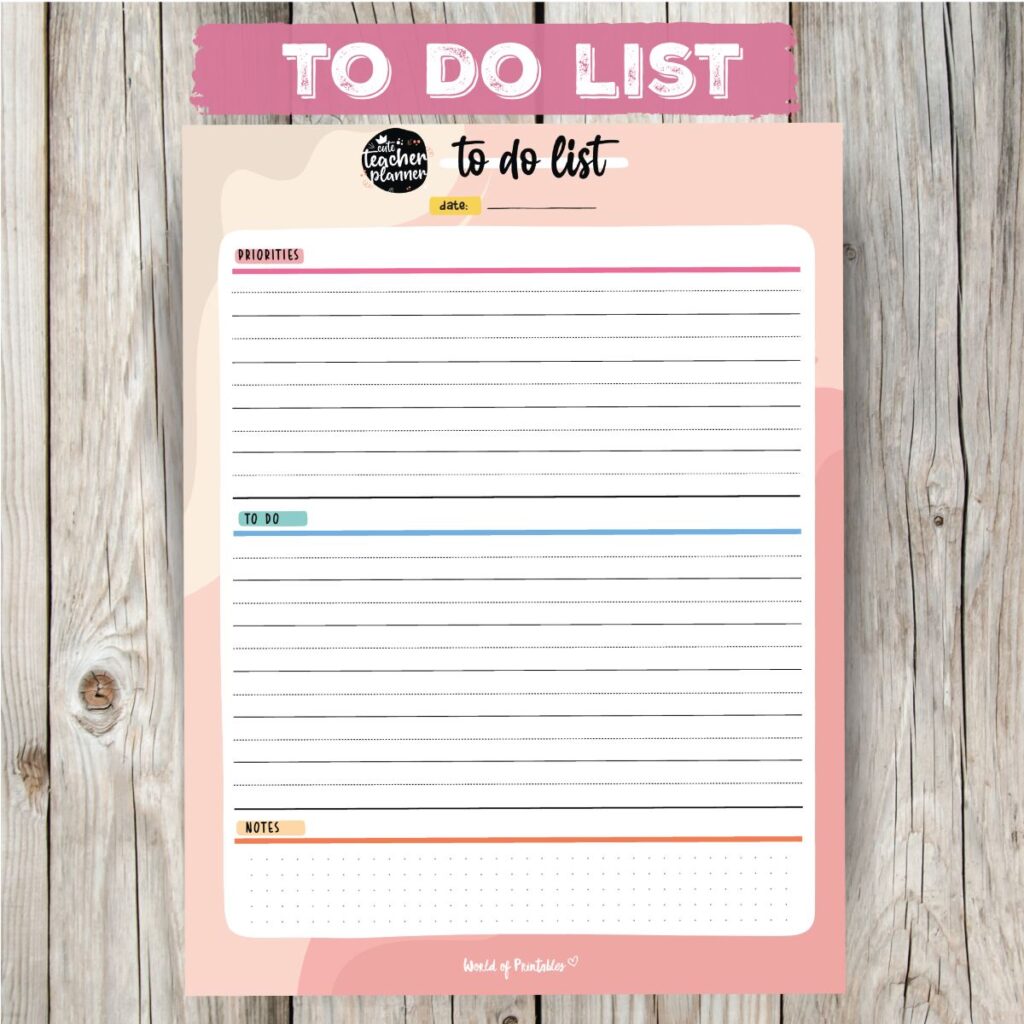 Weekly To Do List
Make sense of your weekly tasks with this weekly to do list. From marking homework to requesting new supplies, this weekly to do list will help you see your tasks at a glance.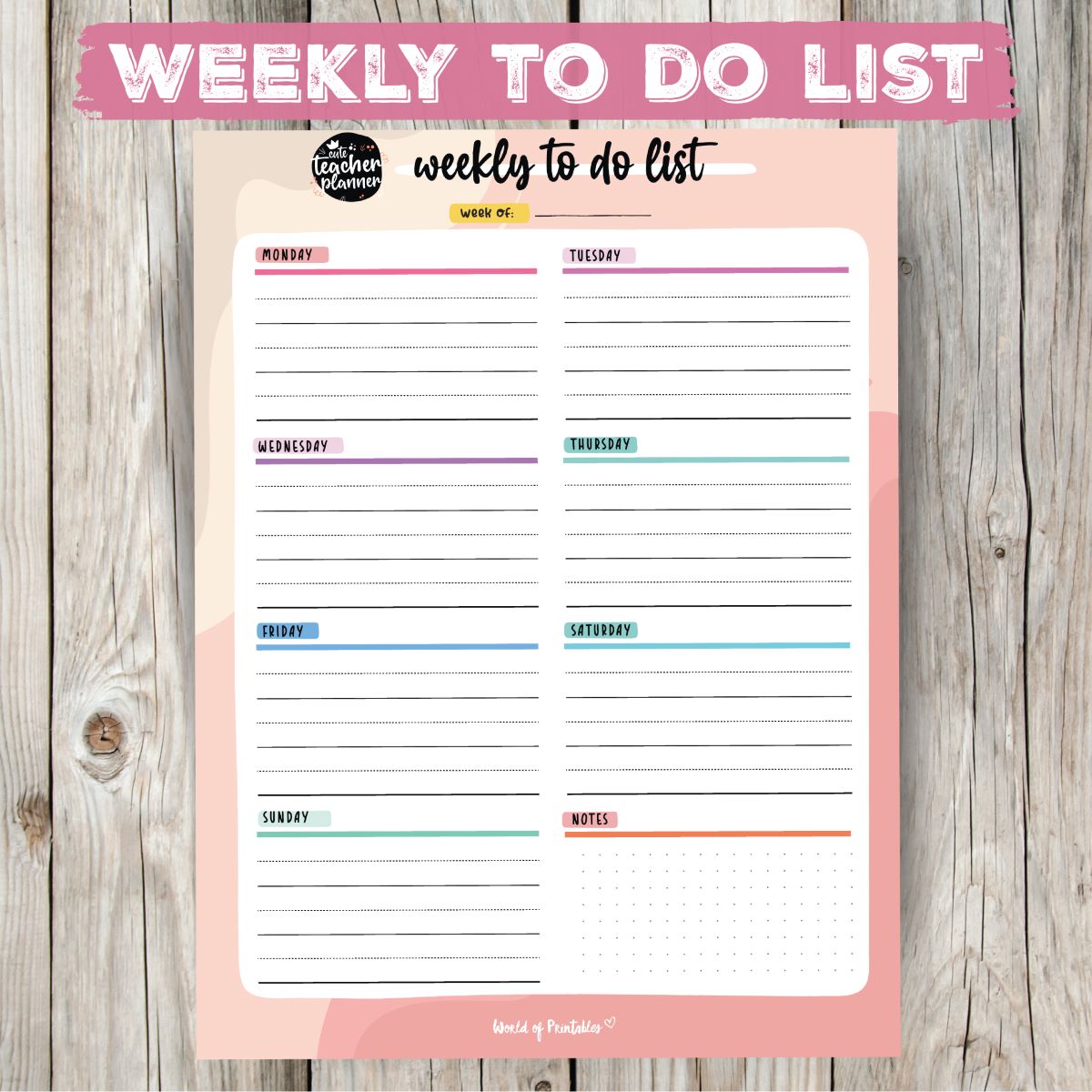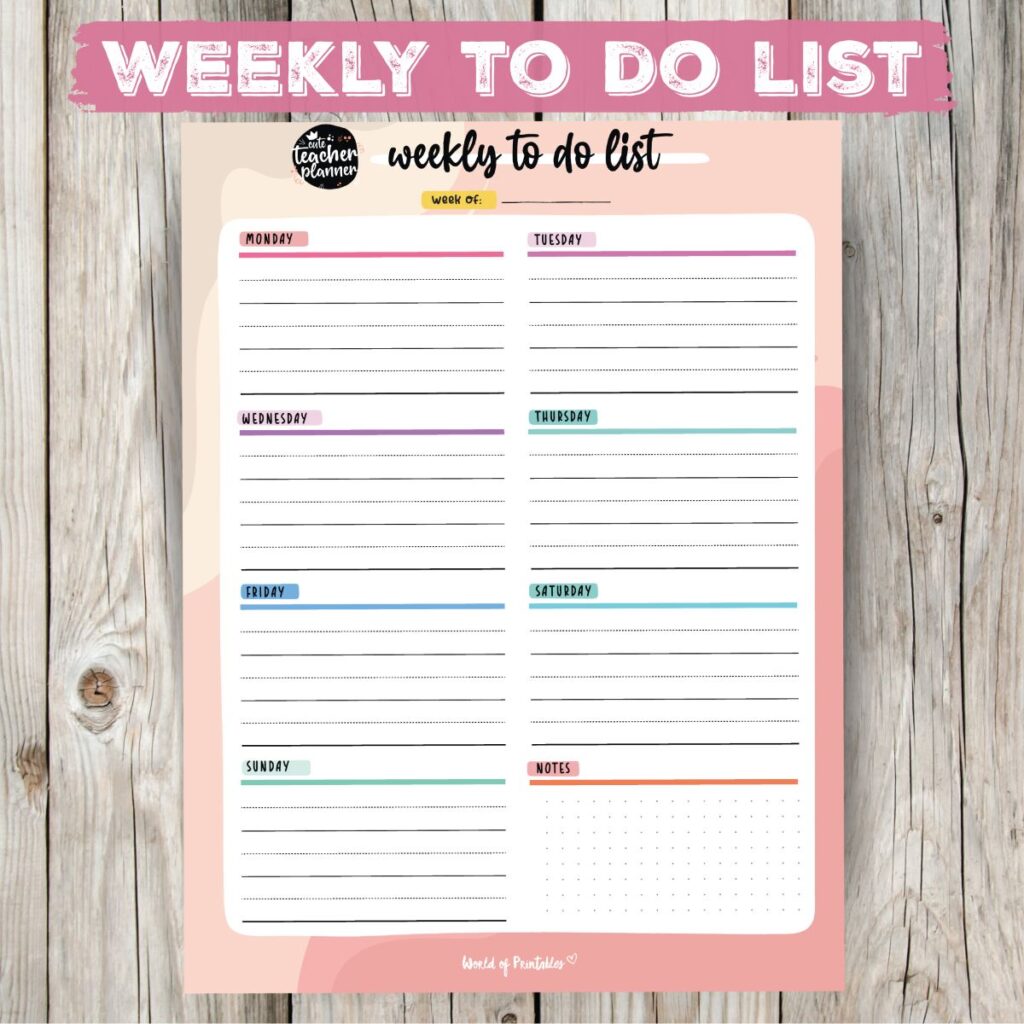 Daily Planner
Use the daily schedule to plan your lessons down to a tee. Having a daily schedule allows you to keep structure to your day and with our daily planning pages, you can add or remove them as you see fit.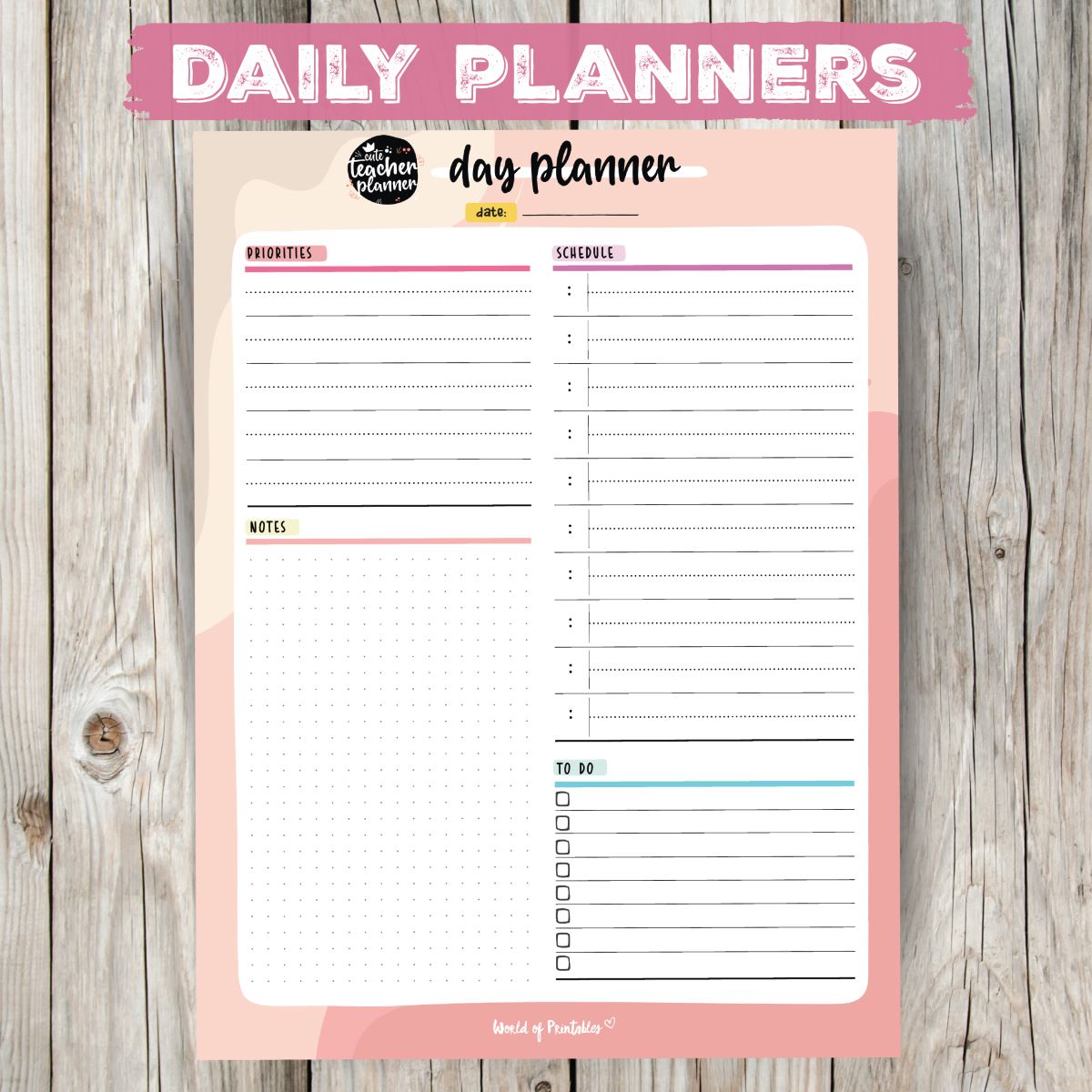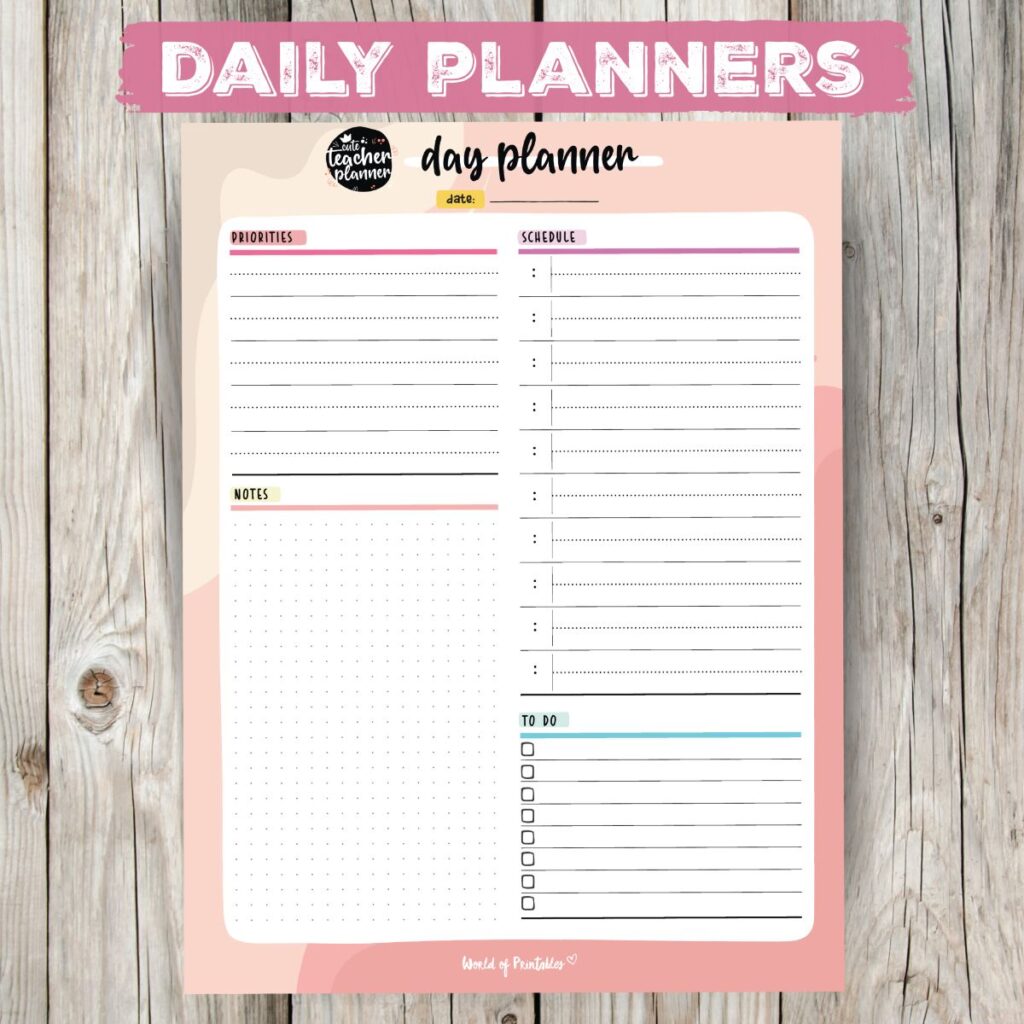 Class Schedule
Plan your class schedule to a tee with our handy class schedule pages. Print as many as you need whenever you need them.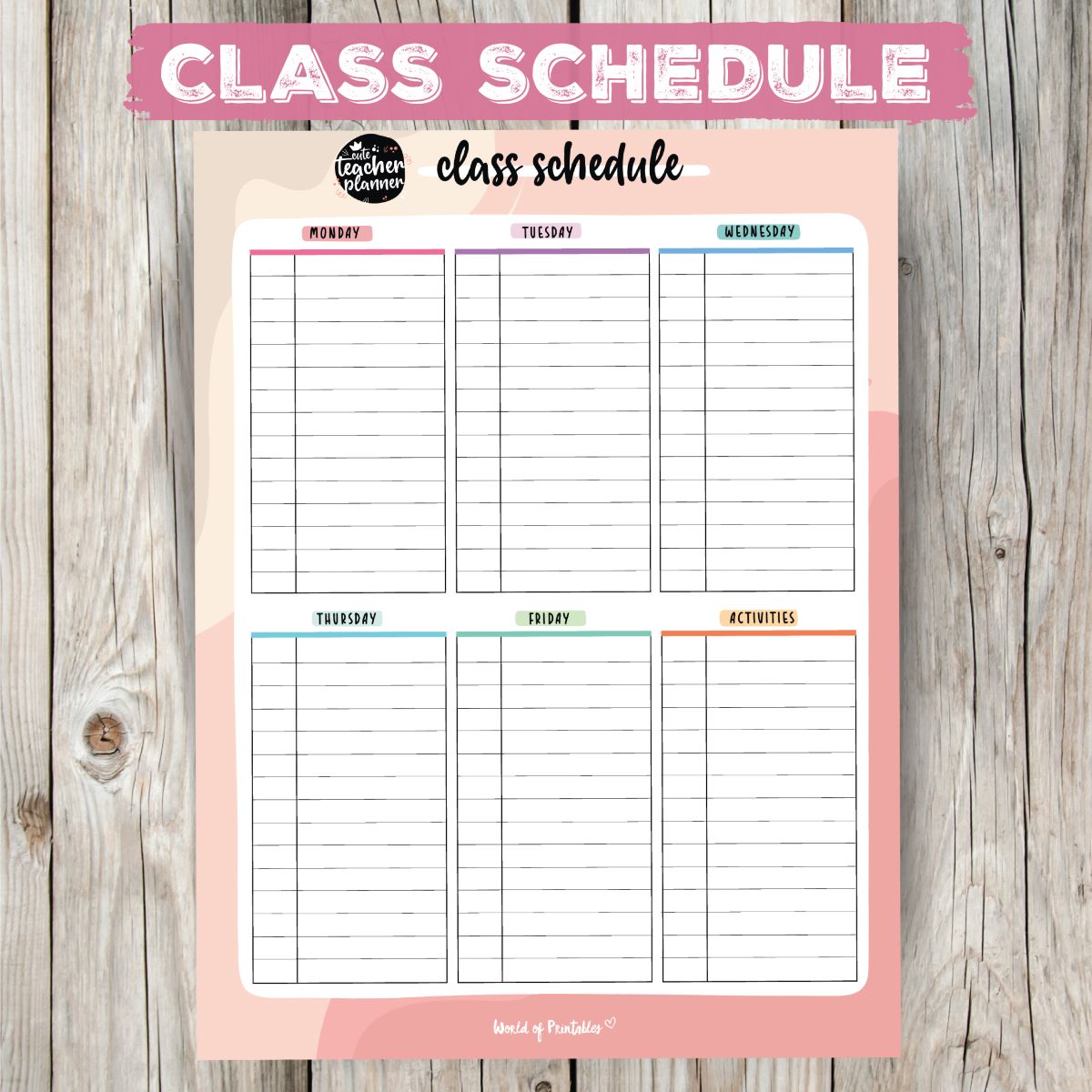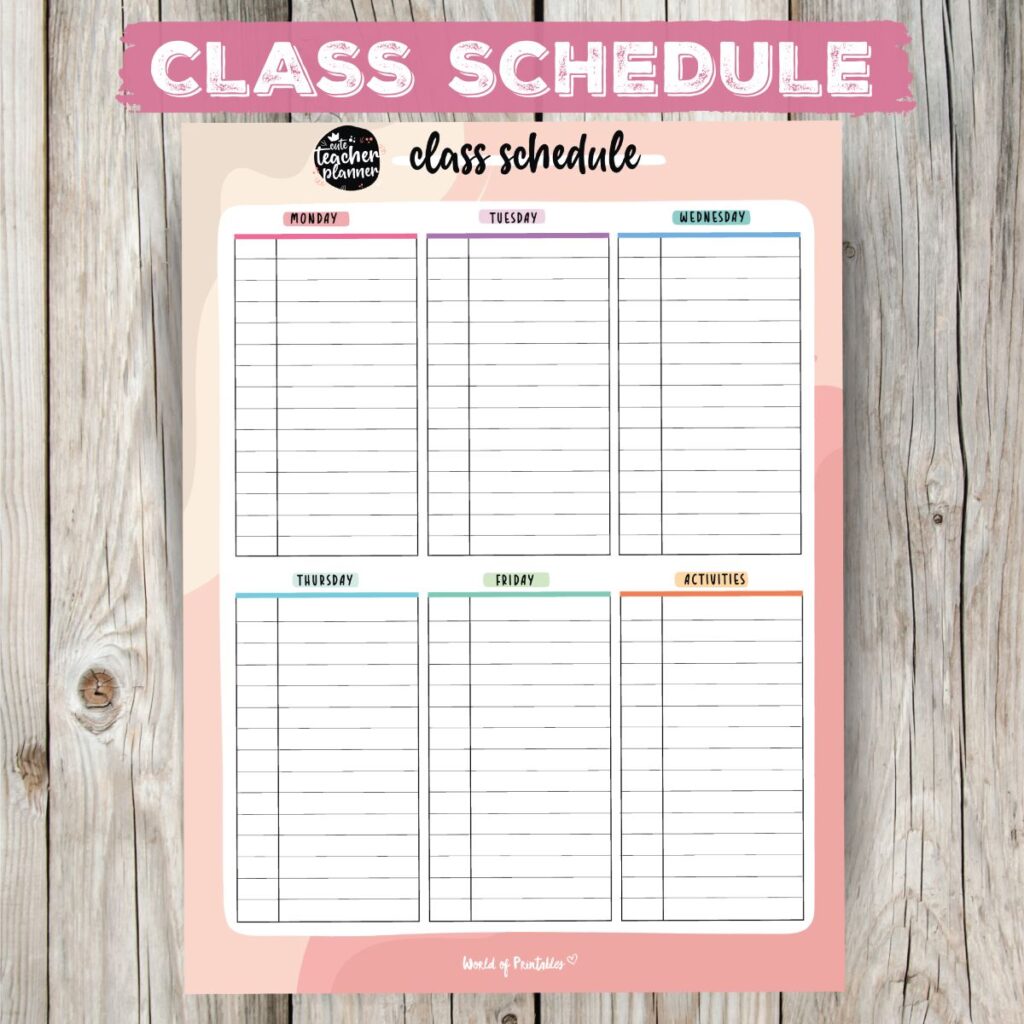 Weekly Planner
The weekly pages are ideal for lesson planning, keeping a note of projects or homework, and other weekly activities.
Monthly Planner
The monthly planner is amazing for helping you see what's coming up at a glance. Whether it's a month of meetings and parent's evenings or if a field trip is due, you will see it all with the monthly planner.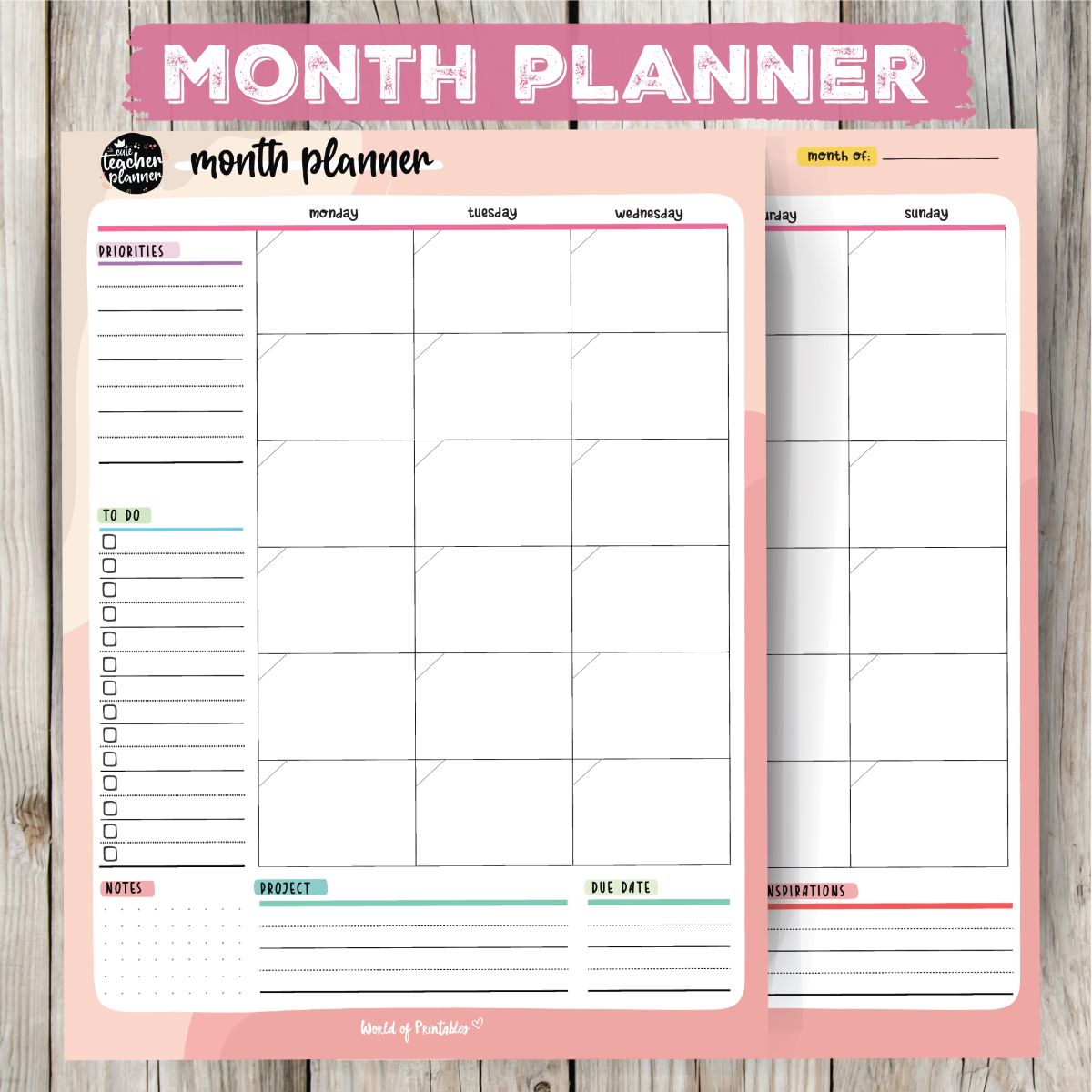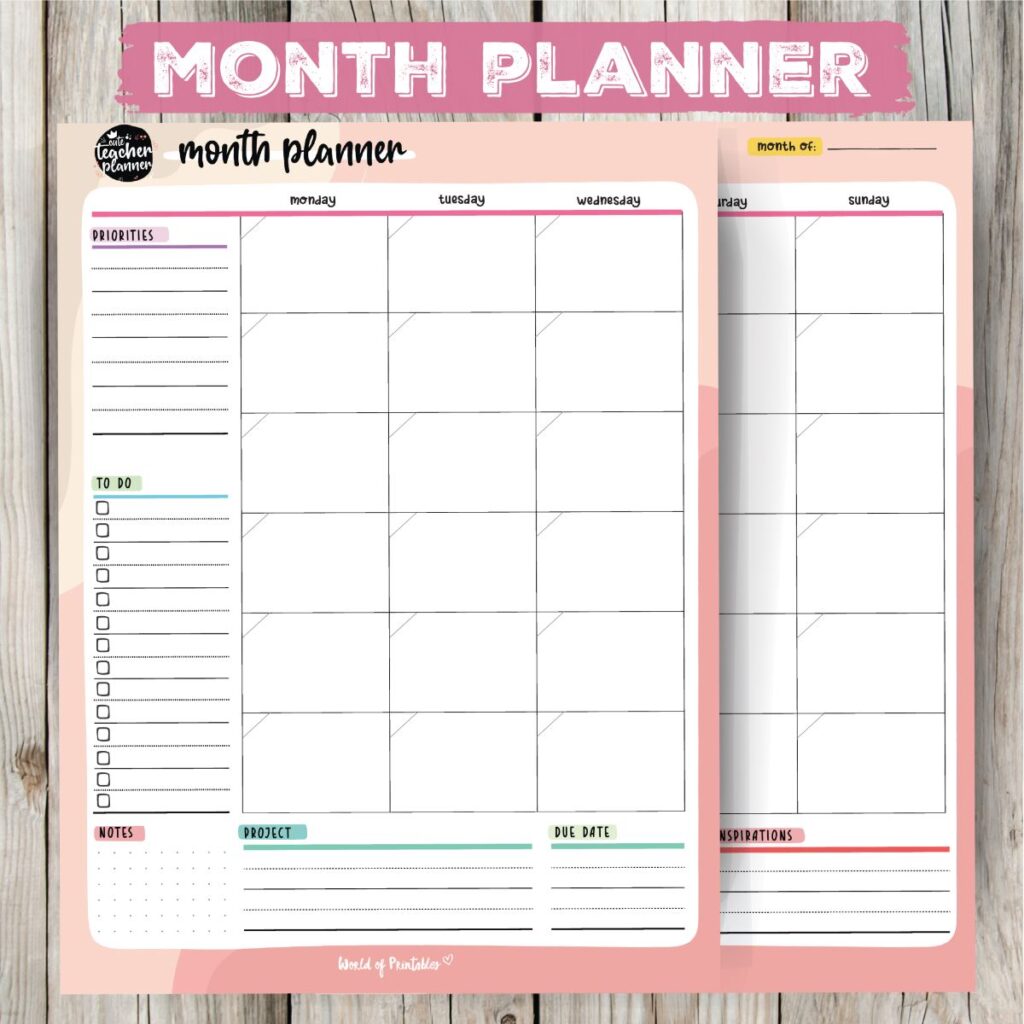 Monthly To Do list
When planning your month, take the tasks that need to be done and list them on the monthly to do list pages. From there you can allocate them to different weekly to do list pages.
Checklist pages
Use these pages to create checklists for anything end everything you need.
Month in review
The month in review page is a great tool for helping you reflect on the month. This is super handy for a teacher as you can see what worked in your lessons and what didn't quite reach the mark.
Year Overview
Focus on long-term plans with curriculum maps, yearly overviews, goals planners, and monthly schedules. Our teacher planner offers space for planning field trips and any other activities that might be on the horizon.
Next year at a glance
Pencil in some long-term goals and plan ahead with the next year at a glance page.
Improvement planner
The improvement planner pages are great for both teacher and student! Print one out for every pupil and let them fill it in. They will learn to recognize and understand any difficulties they have and what they need to improve with. This allows you to understand the child's needs better.
Goal Planner
Plan your goals with the goal planner. What do you want to achieve this term? What do you want to work on and what steps will you take to get there?
Class Project Planner
Use this page to plan your class projects. Planning any projects will make sure you have everything ready from the start, making sure you are prepared and leaving less room for error.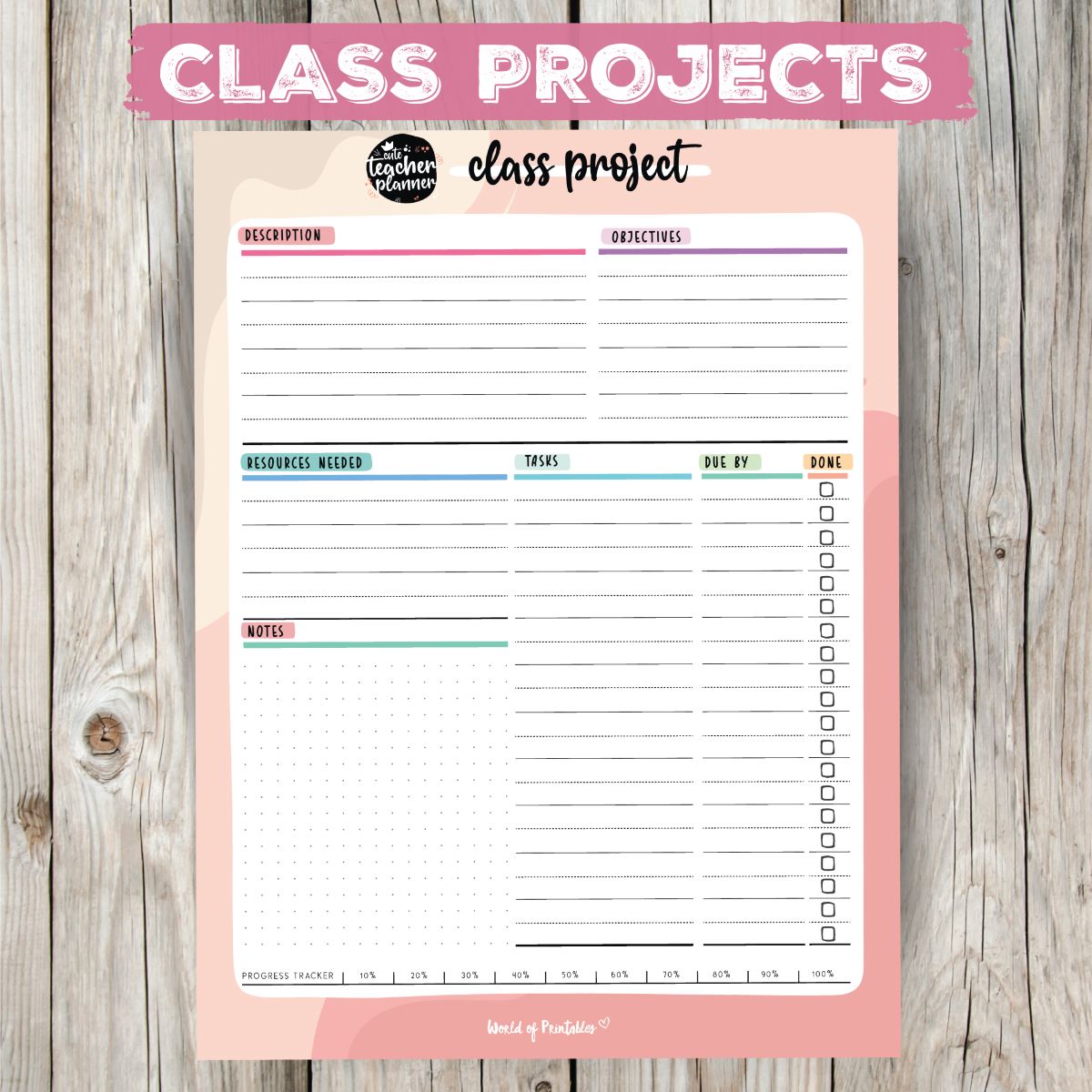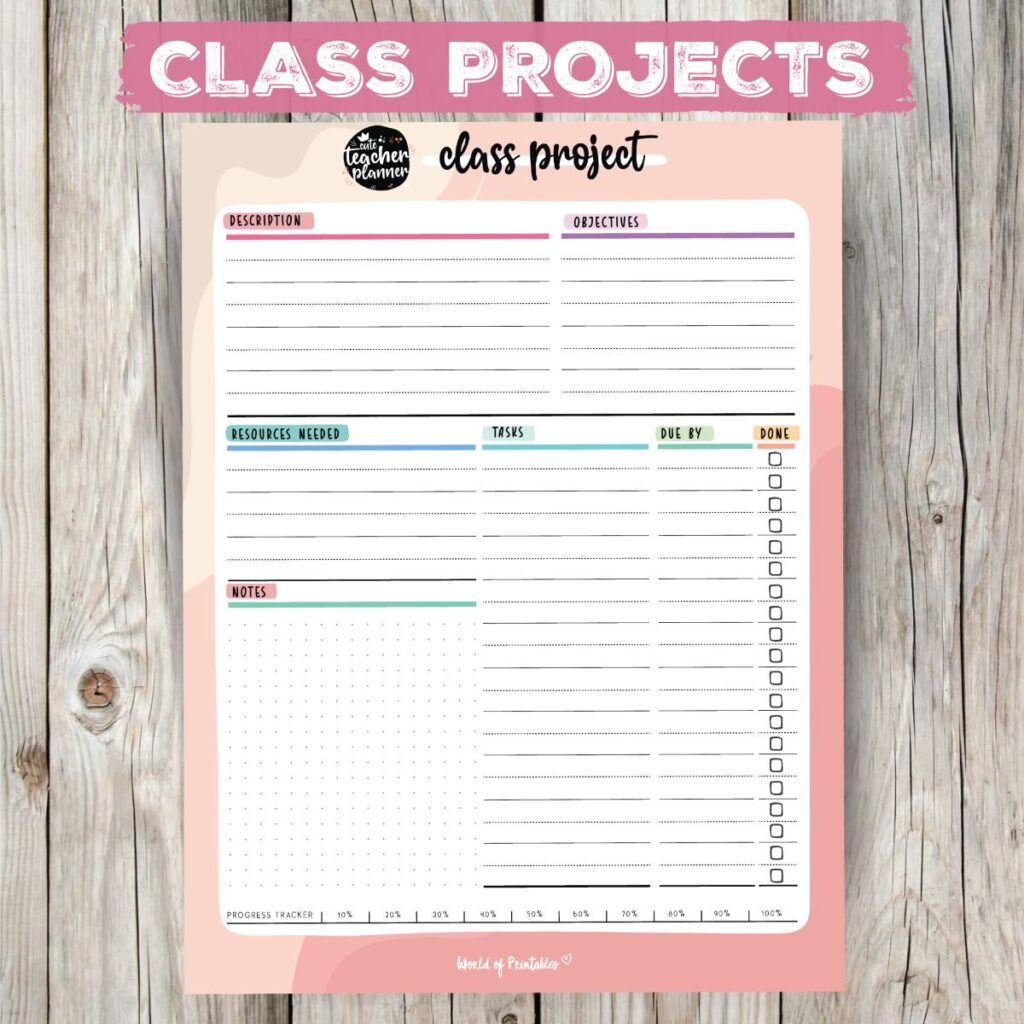 Notes page
Make notes with the notes page. Add as many note pages as you like.
Blank lined paper
Use the blank lined paper to make additional notes, drawings, brainstorming, or anything else you might need it for. You can also choose from a selection of blank lined paper in various styles to add to your planner.
Blank dot grid paper
Use the different page layouts for different needs. You will find blank dot grid pages included in the teacher planner, along with additional note pages. There are also graph pages in different formats if you would like to add these to your planner.
Contact list
Use the contact list to keep important contact information for your students.
Password tracker
A password tracker is a great way of keeping the password for shared devices in the classroom, whether that's online learning websites or something the students can access for fun during breaks.
Daily work log
Use this page to keep a log of your daily workflow and stay on track.
Weekly work log
Keep a record of your weekly work log so you can see what you have worked on throughout the week.
Timesheet
Use the timesheet to log the days you worked and whether they were half days or full days.
Student list
The student checklist is perfect for helping you keep a record of students and can be used for your needs in and outside the classroom.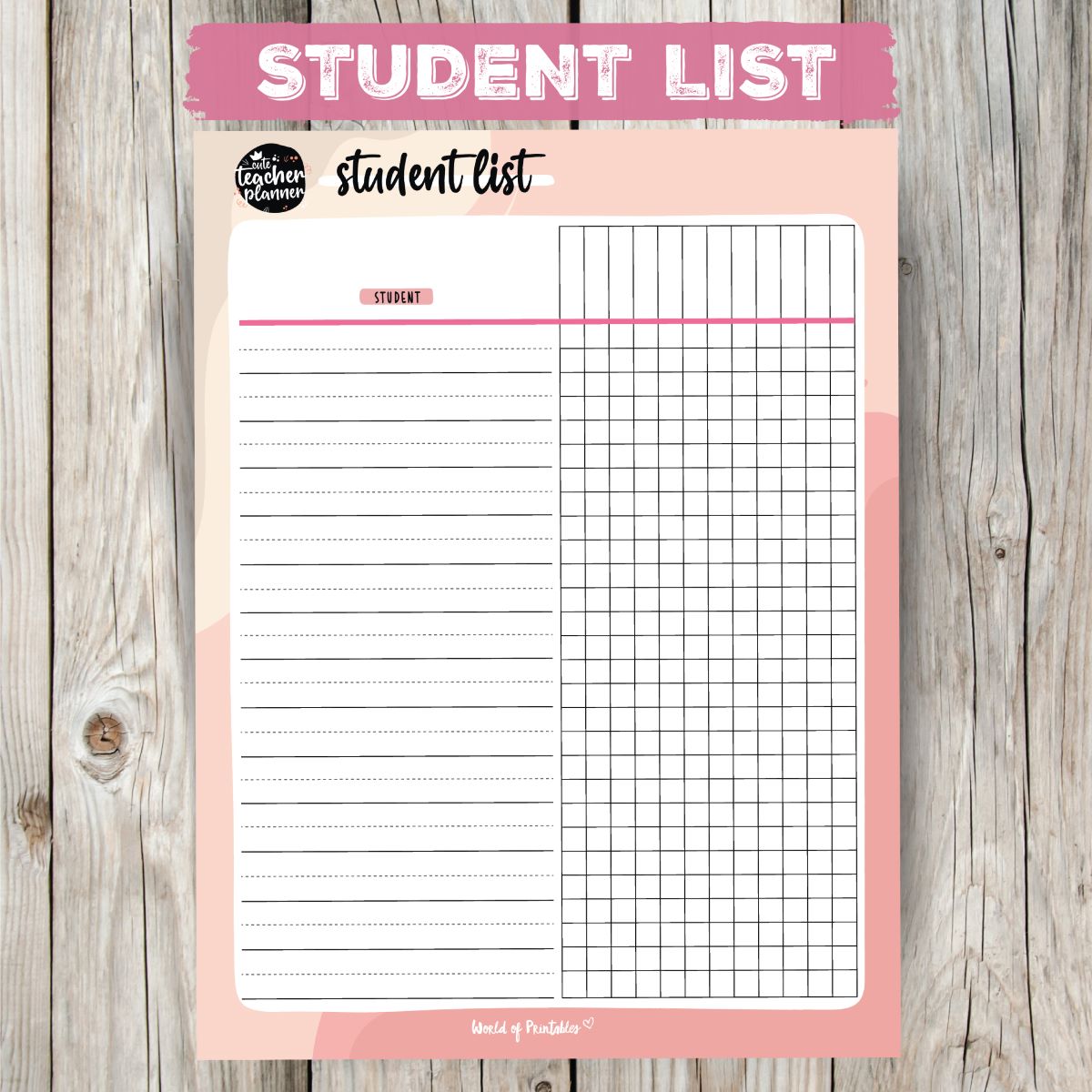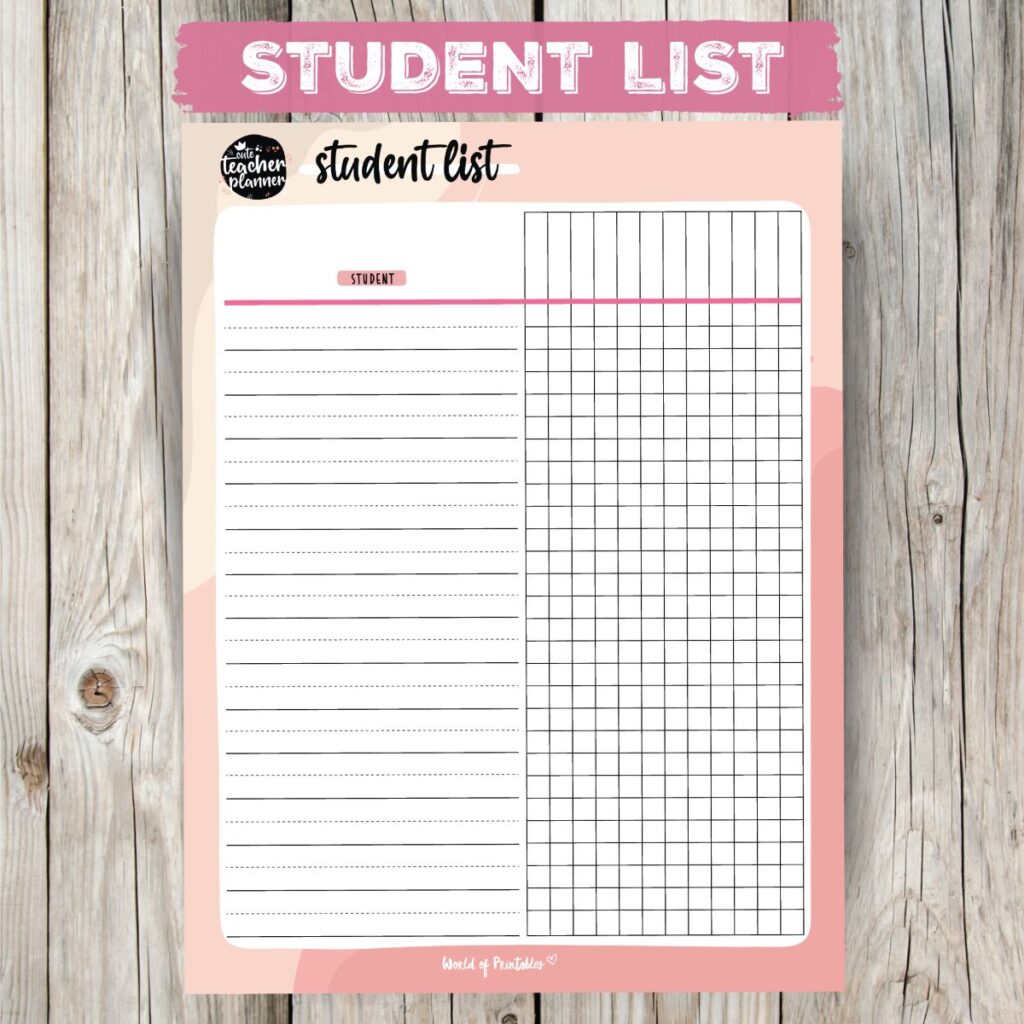 Class roster / attendance
Keep track of your pupil's attendance with this class roster. Use it daily and then figure out their attendance percentage out of 100% at the end of each term.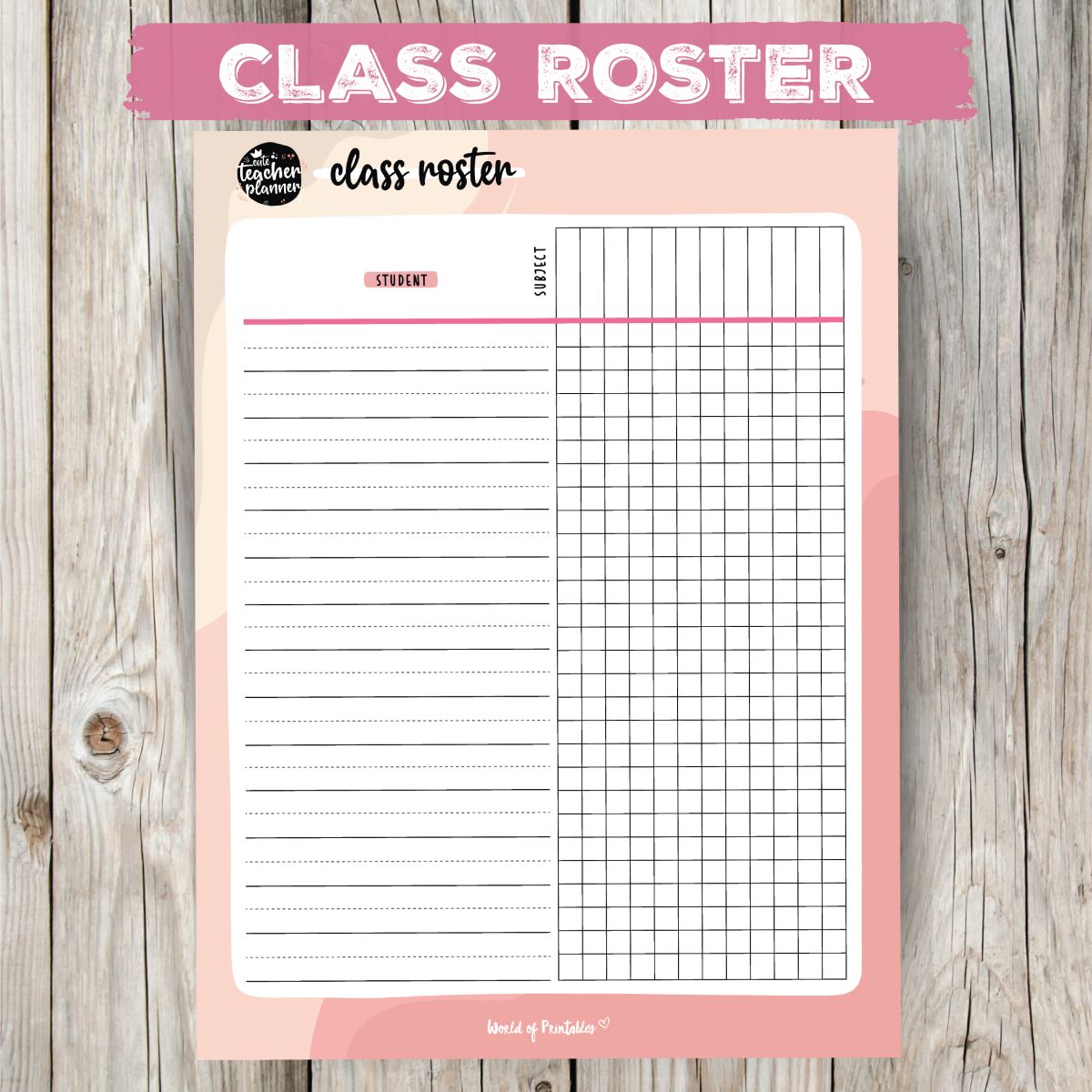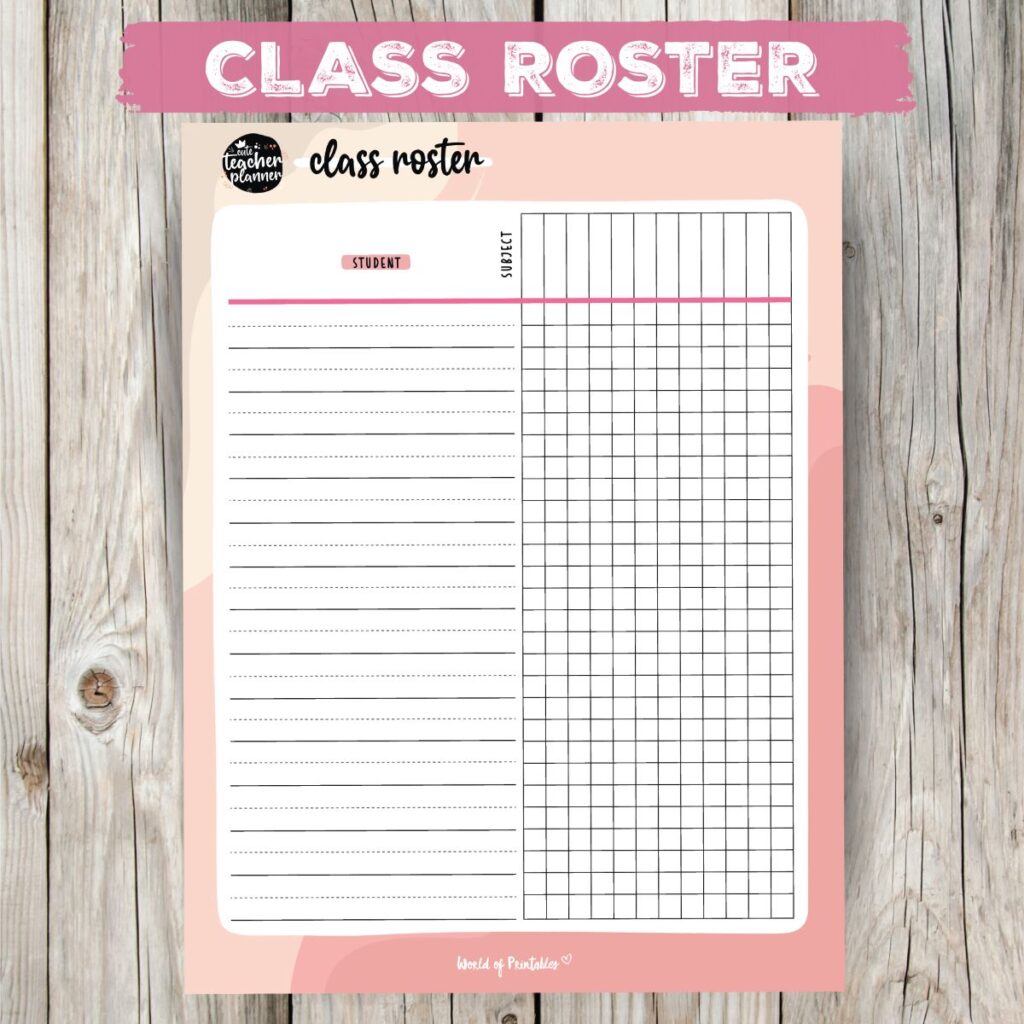 Expenses tracker
Keep a log of any expenses you might have before filing them with the admin team. This could be for classroom supplies, or any business expenses covered by the school.
Things to do planner
Got ideas for things you need to do or what you can do with your class? Keep a note of them here.
Class inventory list
Use the class inventory list to keep a track of the things your need to help your classroom run smoothly.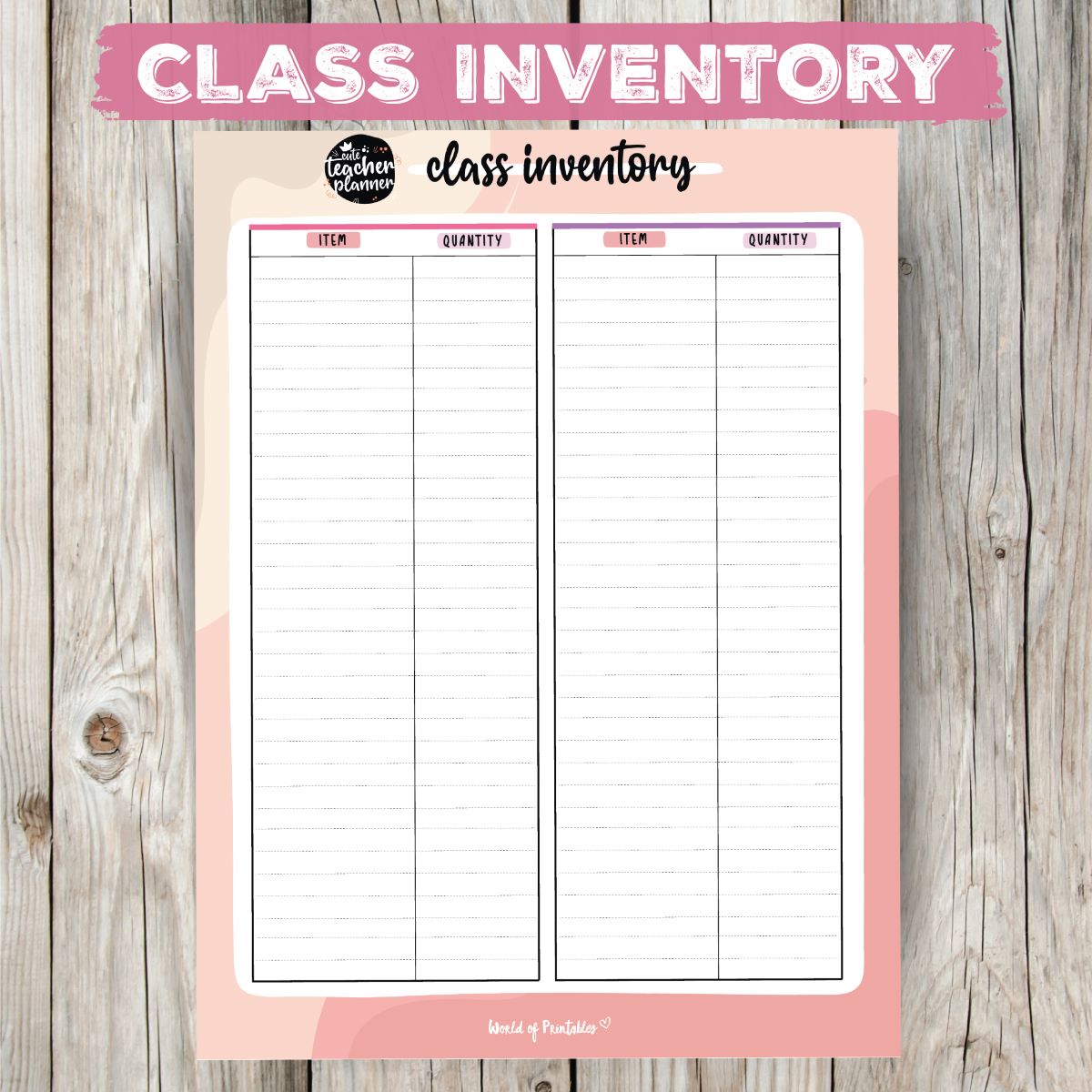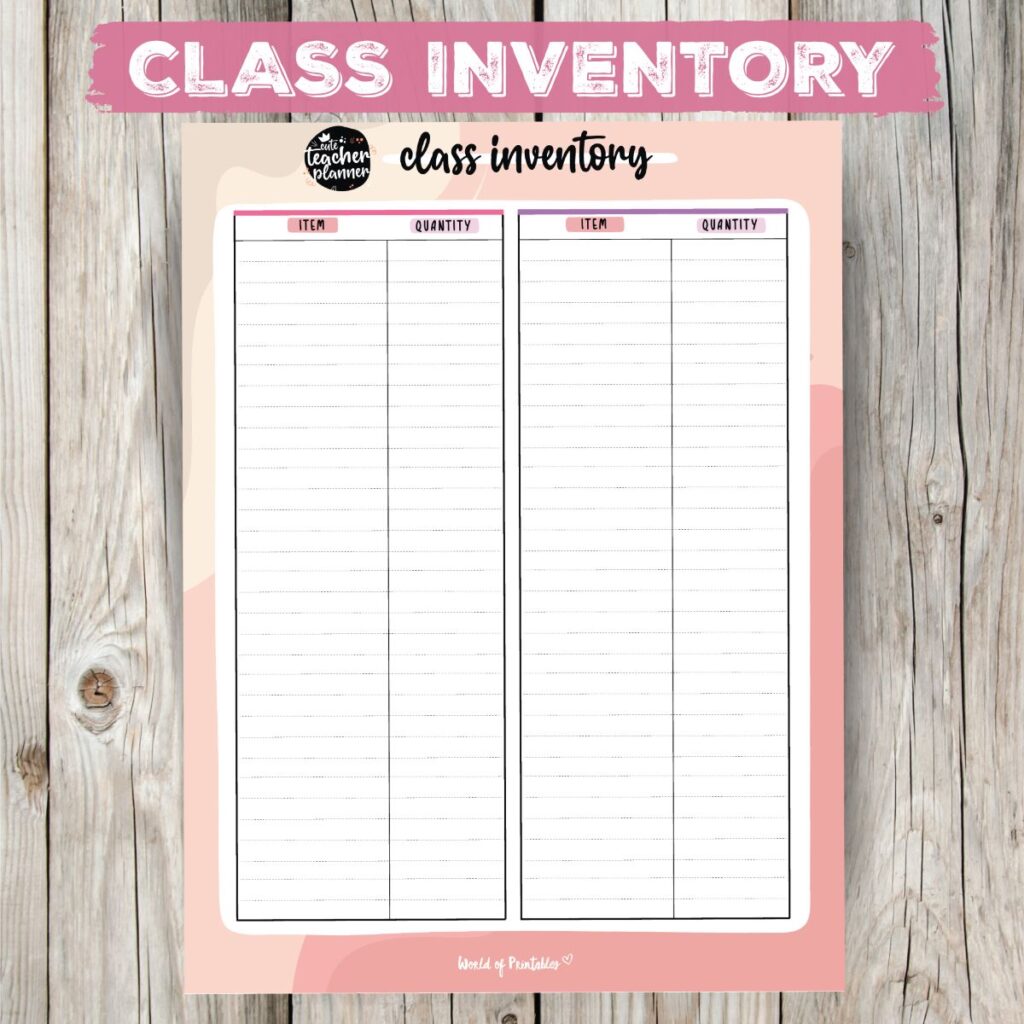 Class schedule
The class schedule will help you plan the week of lessons and activities down to the hour.
Assessment tracker
Use the assessment tracker as a template for carrying out any relevant assessments throughout the school year.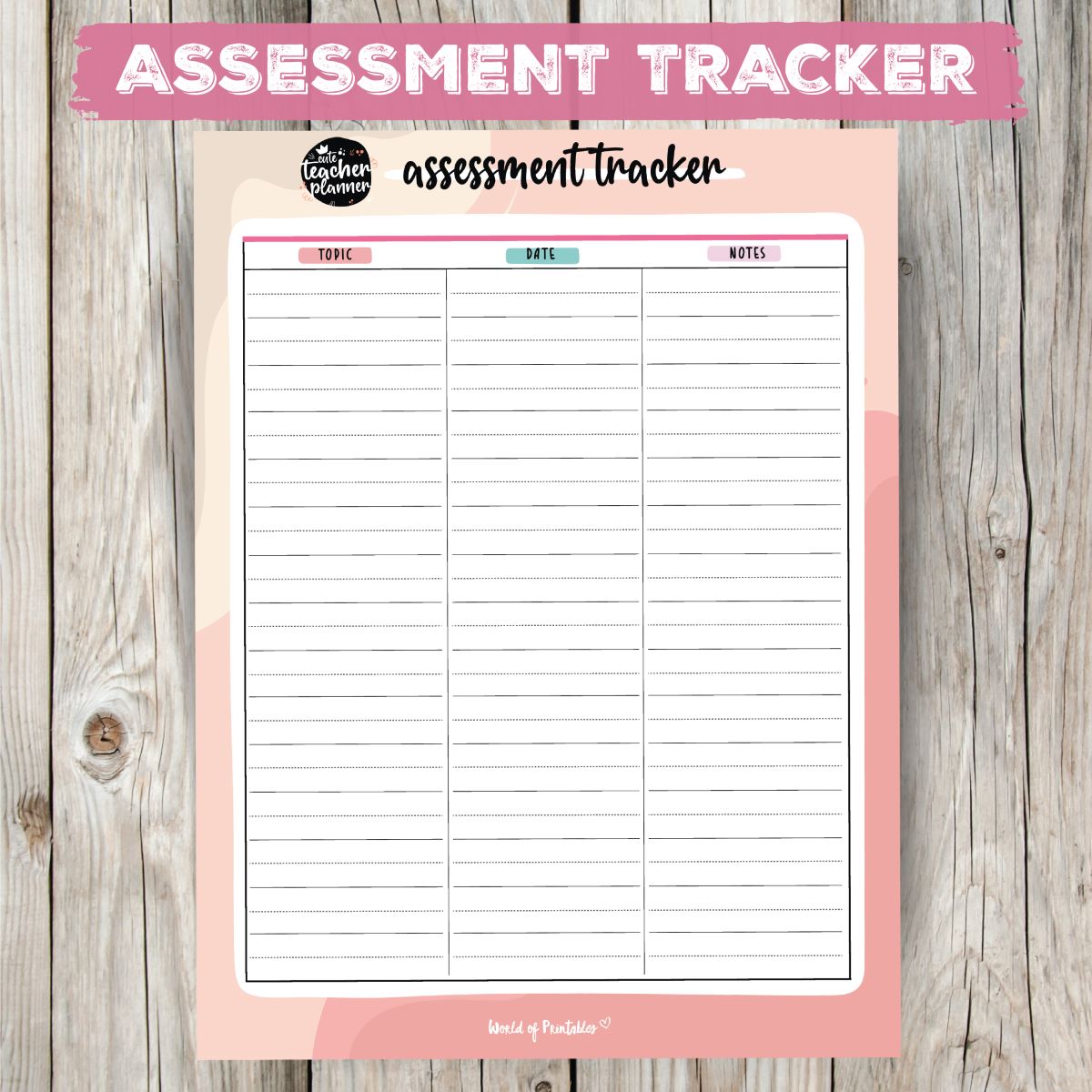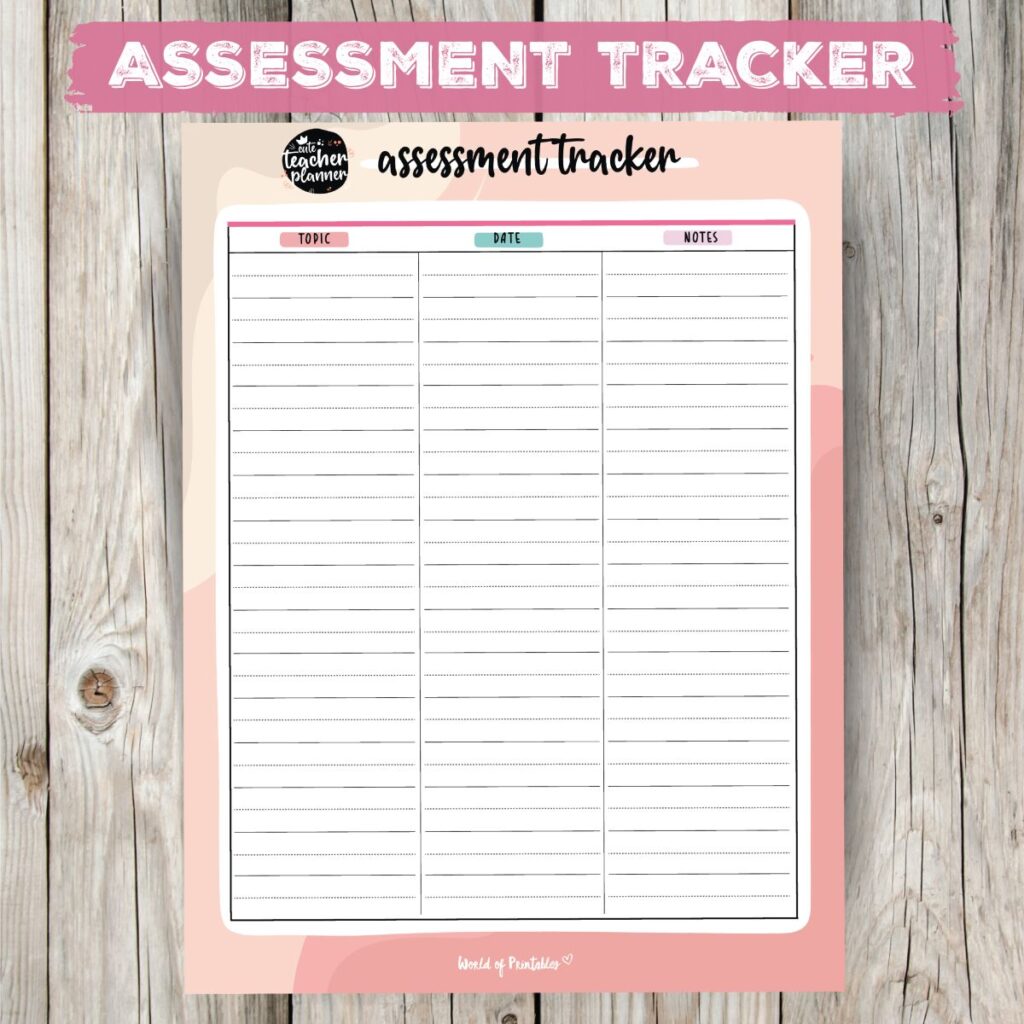 Seating chart
One thing that adds structure to a classroom is a seating chart. Use the seating chart at the start of the term and reevaluate it based on pupil performance and concentration.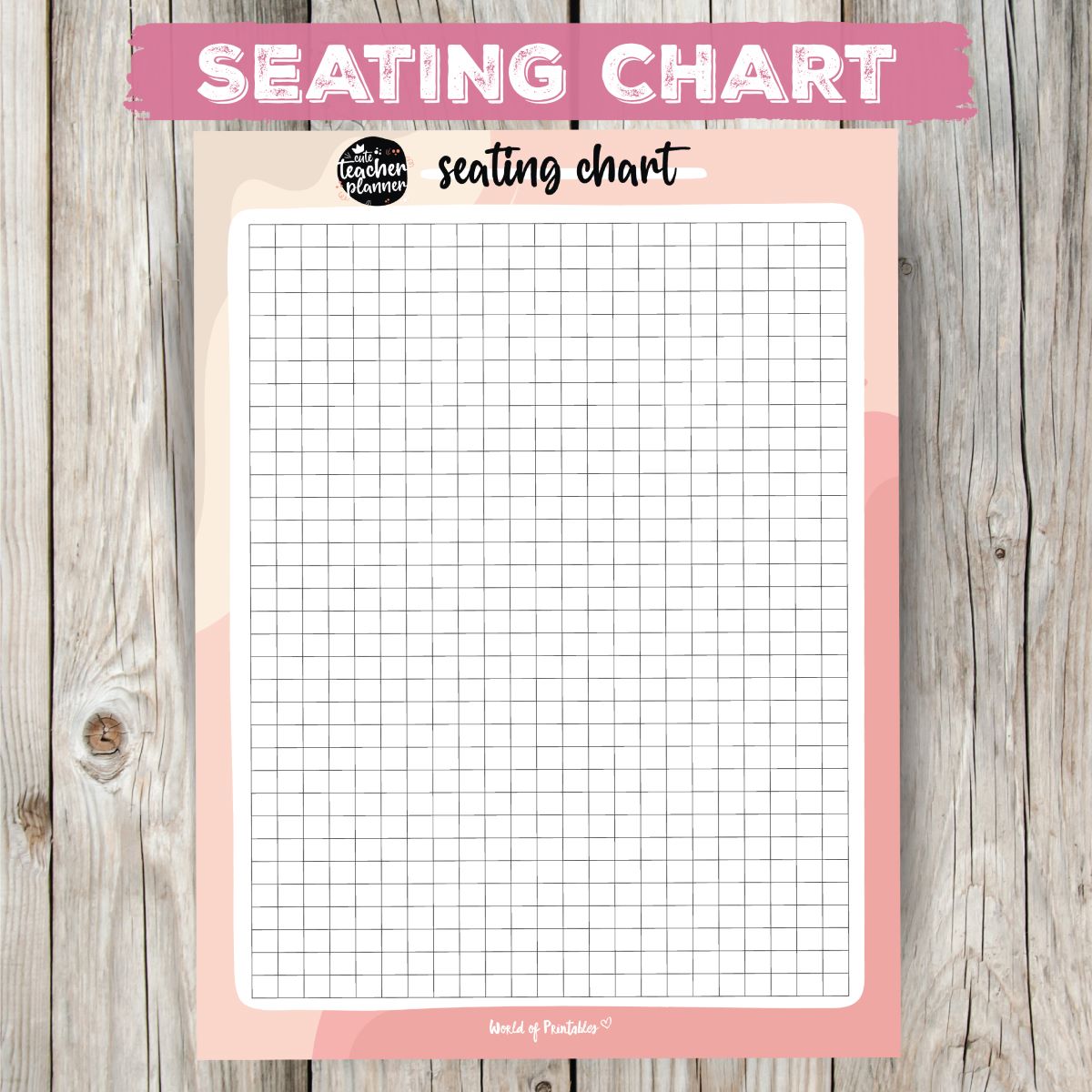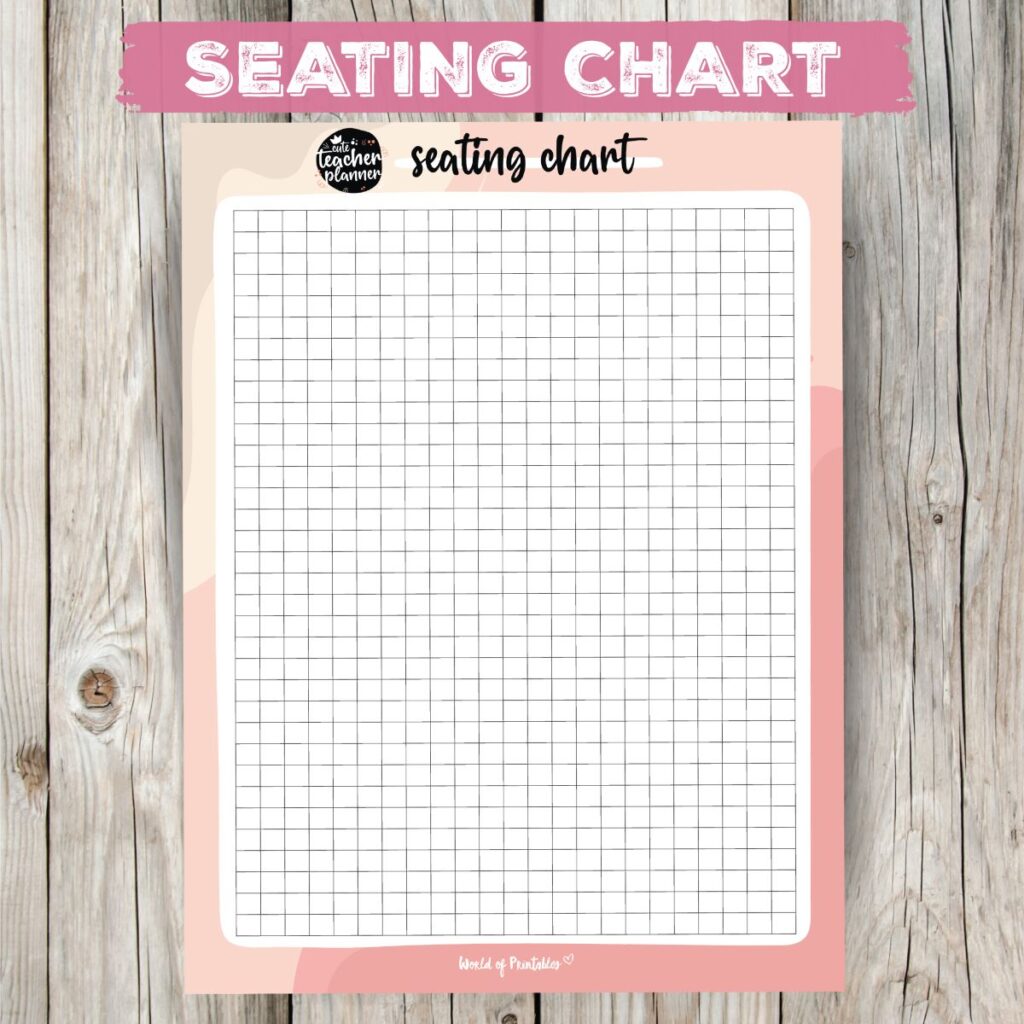 Volunteers
Whether it is a school fete, school sports day, or someone to help in the classroom, keep a note of any volunteers with this page.
Behavior log
A behavior log can be very beneficial to a teacher. It's not about a naughty or well-behaved child, it's about noticing patterns of behavior that could hint at something that needs to be addressed or might be happening outside of school.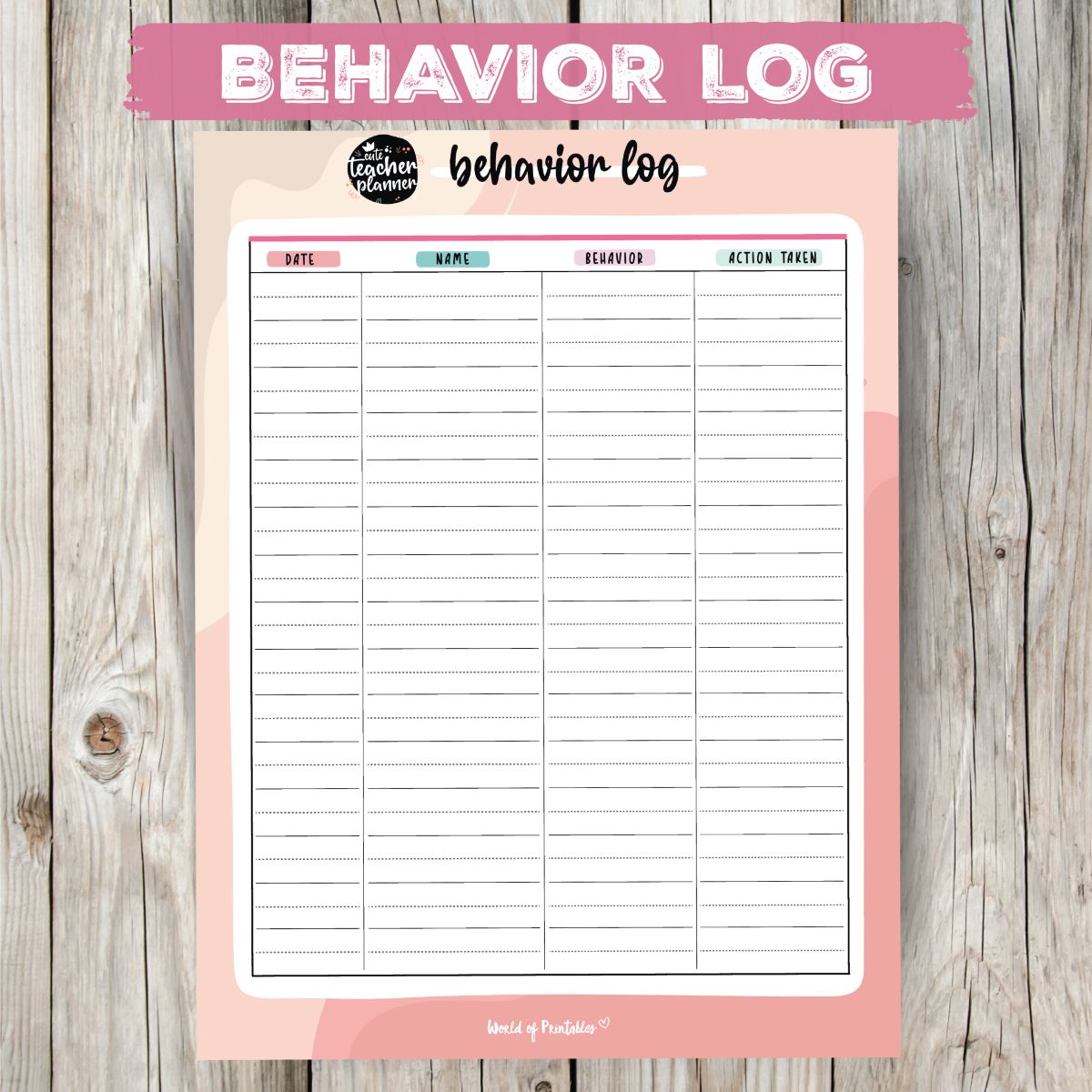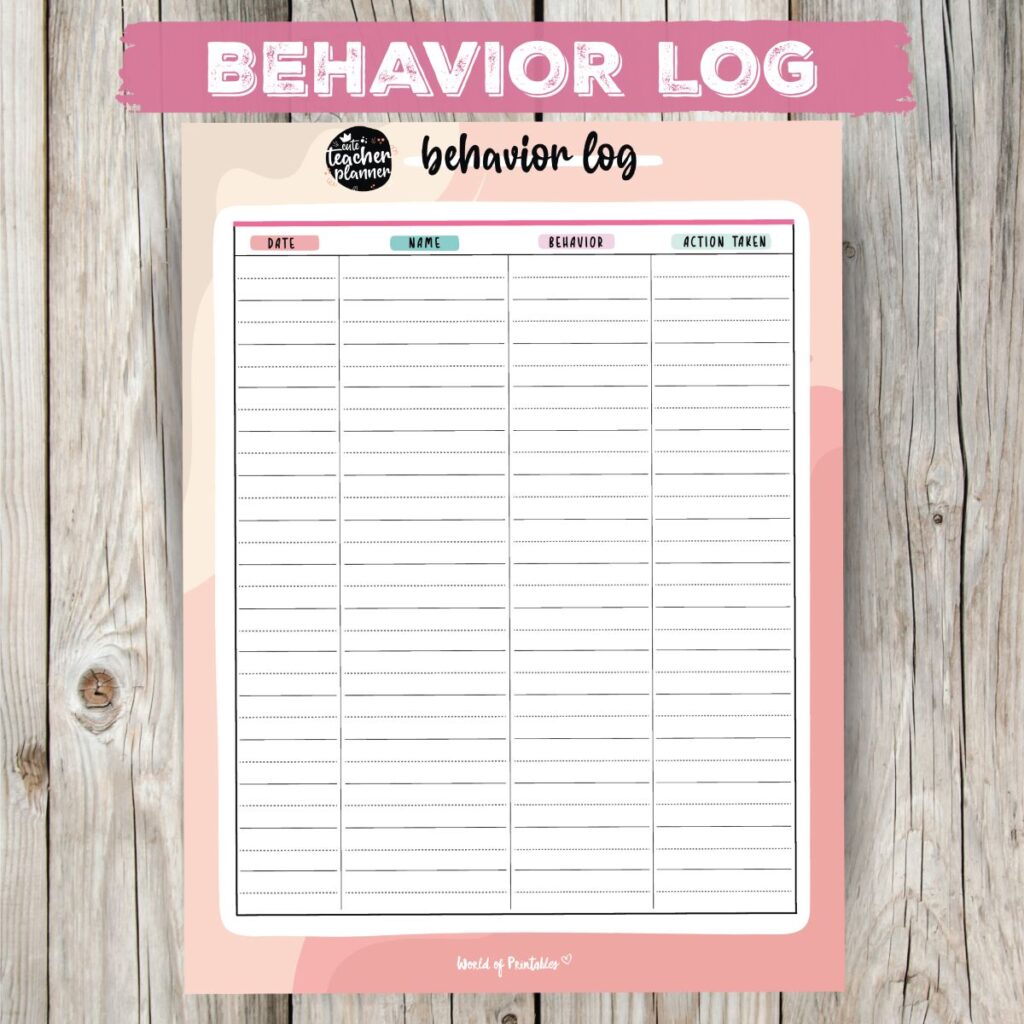 Communication logs
Communication logs are an essential part of any teacher planner and you can use this page to log communications with co-workers, parents, and others.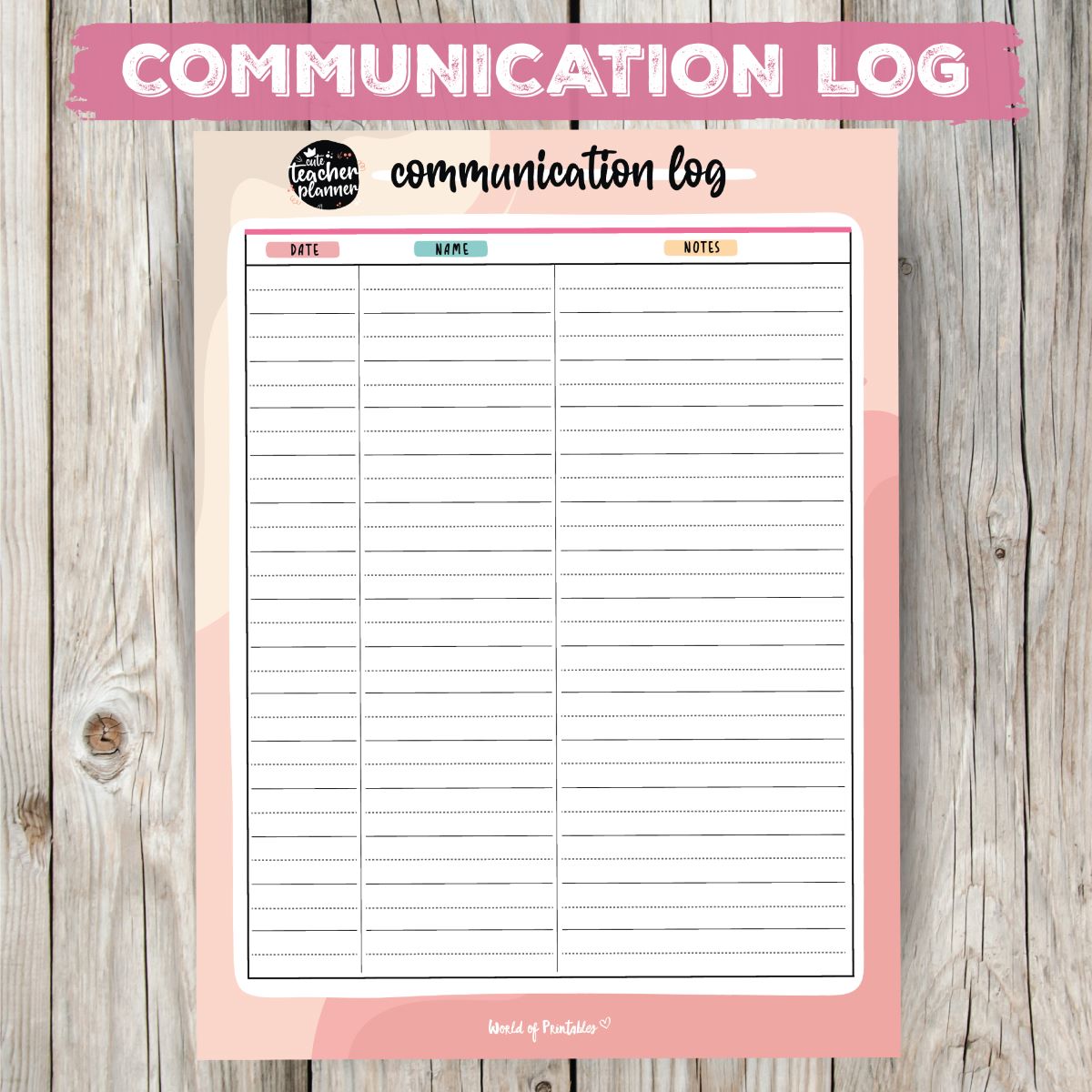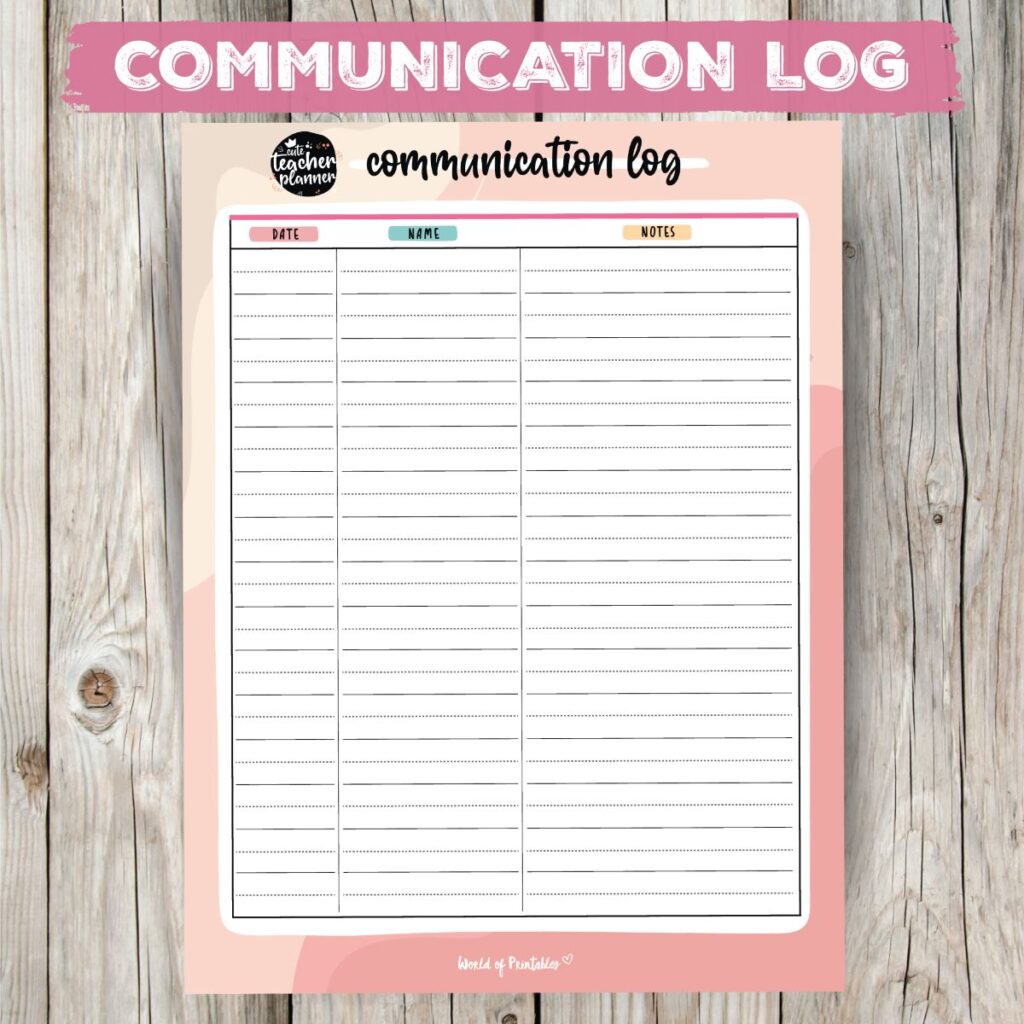 Class groupings
Use the class groupings list for developing lessons for small groups or intervention documentation.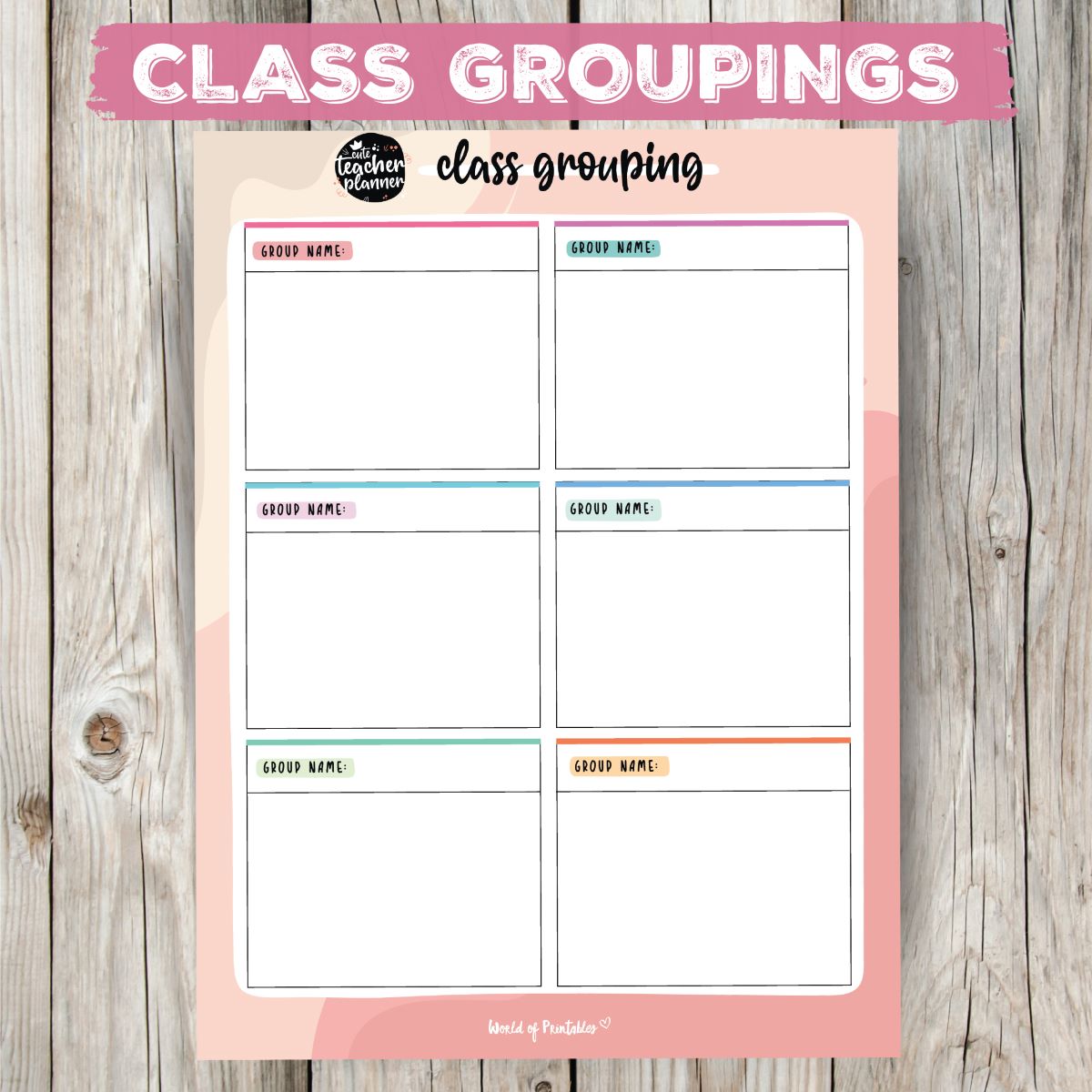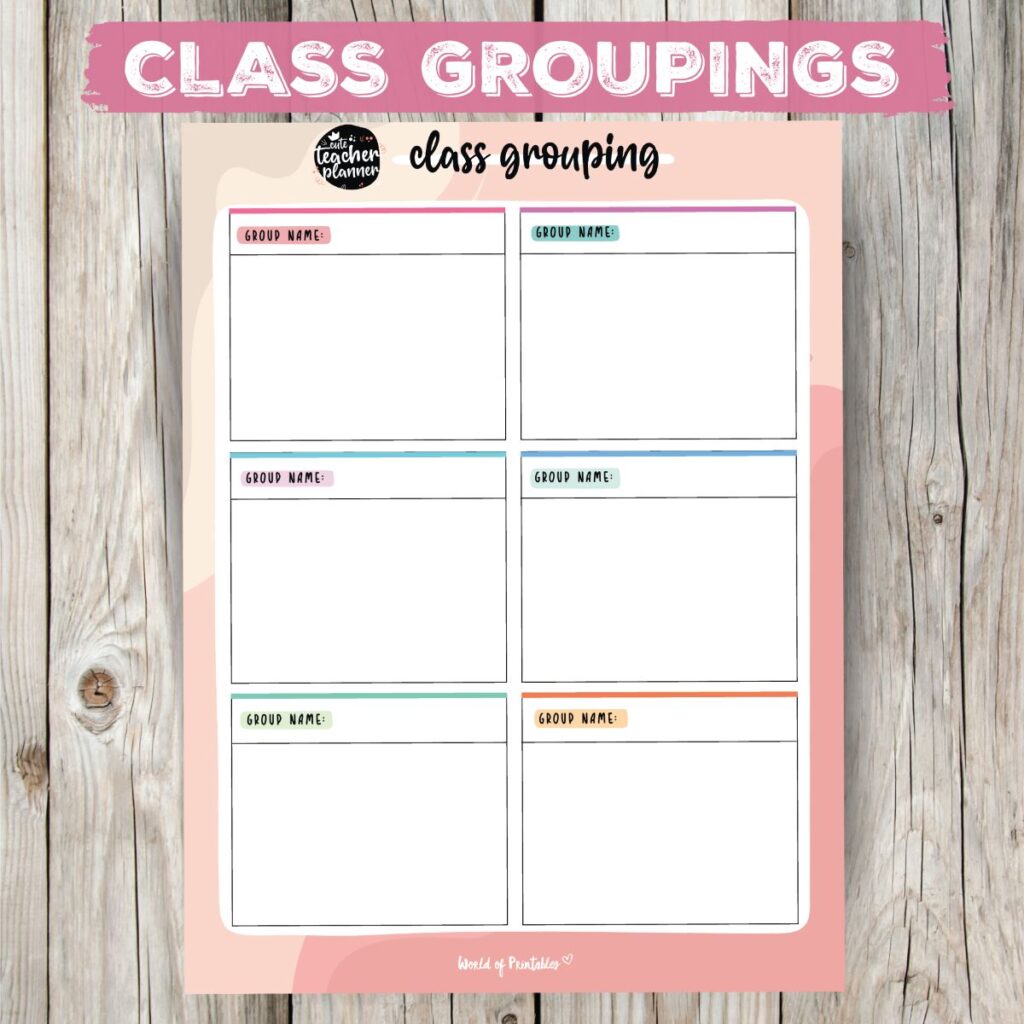 Assigned reading tracker/list
Keep a note of any assigned reading throughout the term and make a note as to whether the students enjoyed the book and how they understood it.
Assignment tracker
Keep a log of any assignments allocated to pupils or even yourself.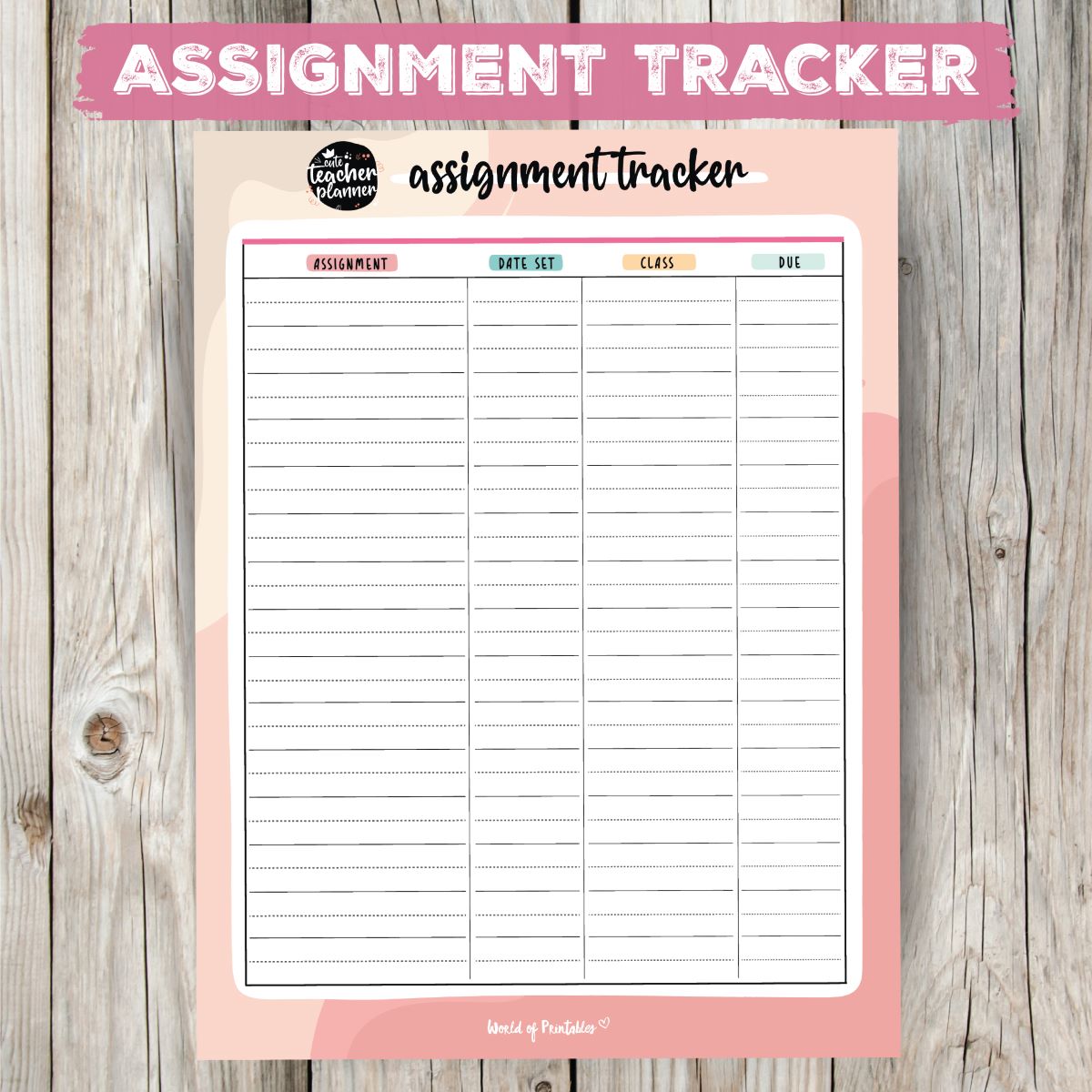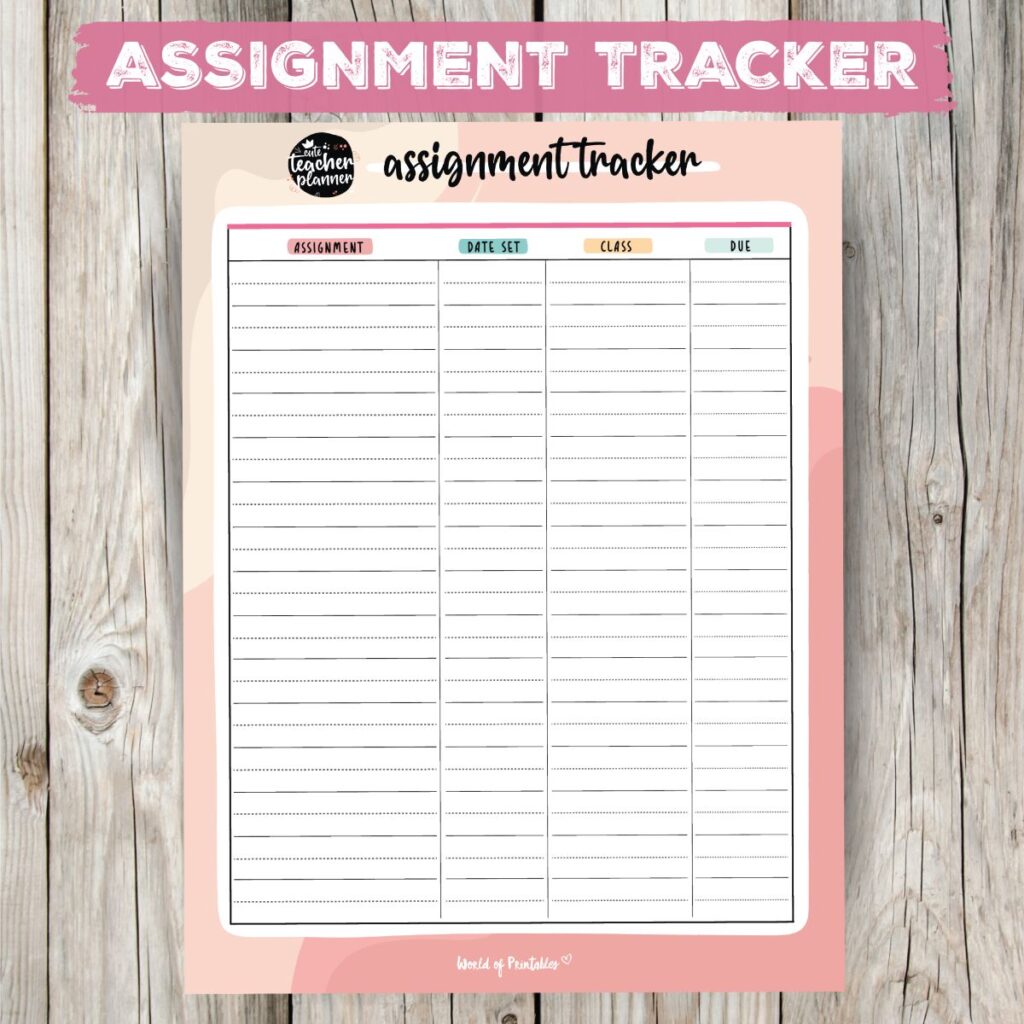 Grades tracker/grade book
There is also a space for keeping a log of any student grades, so you can see their progress at a glance and reflect on how far they have come or recognize any students that might need a little extra help.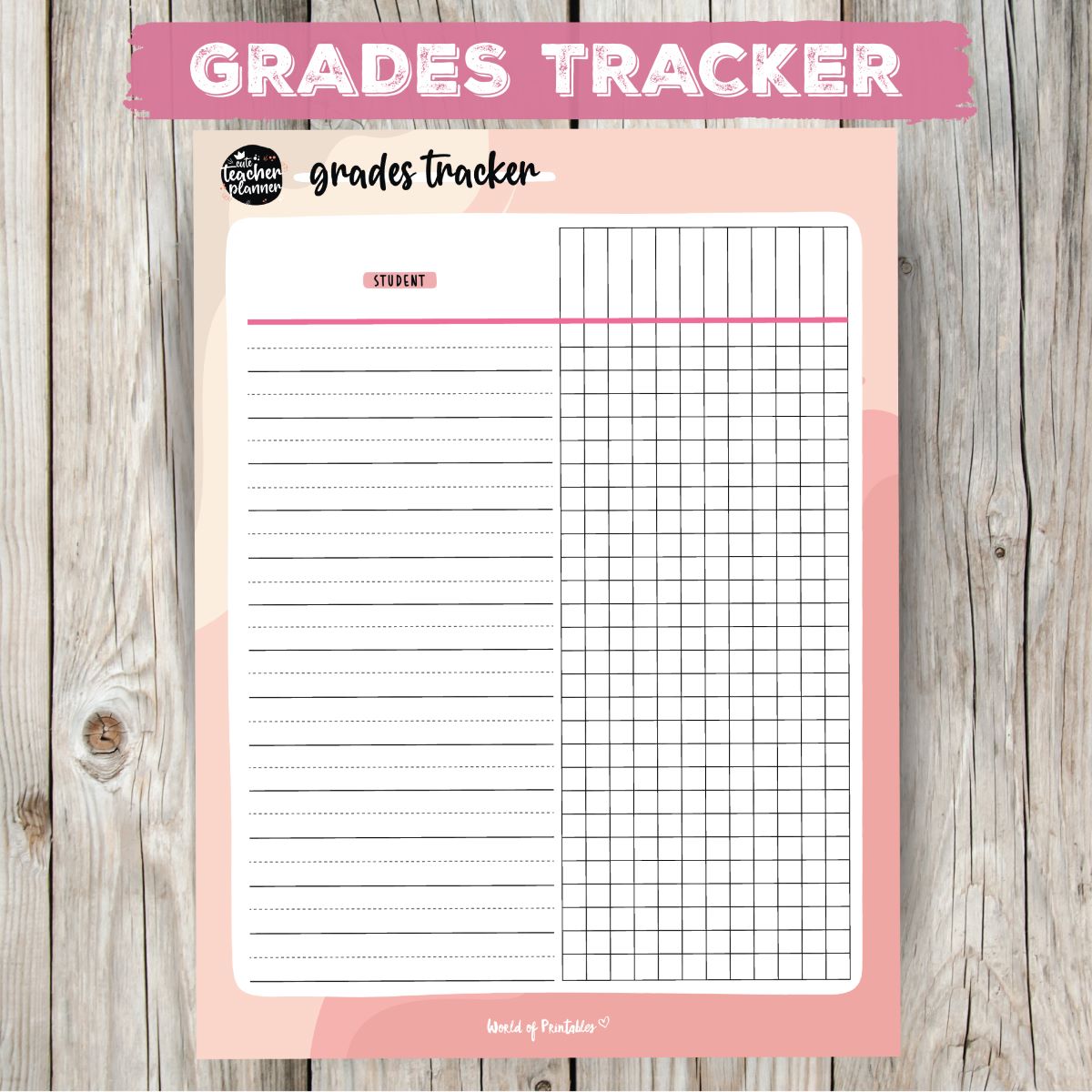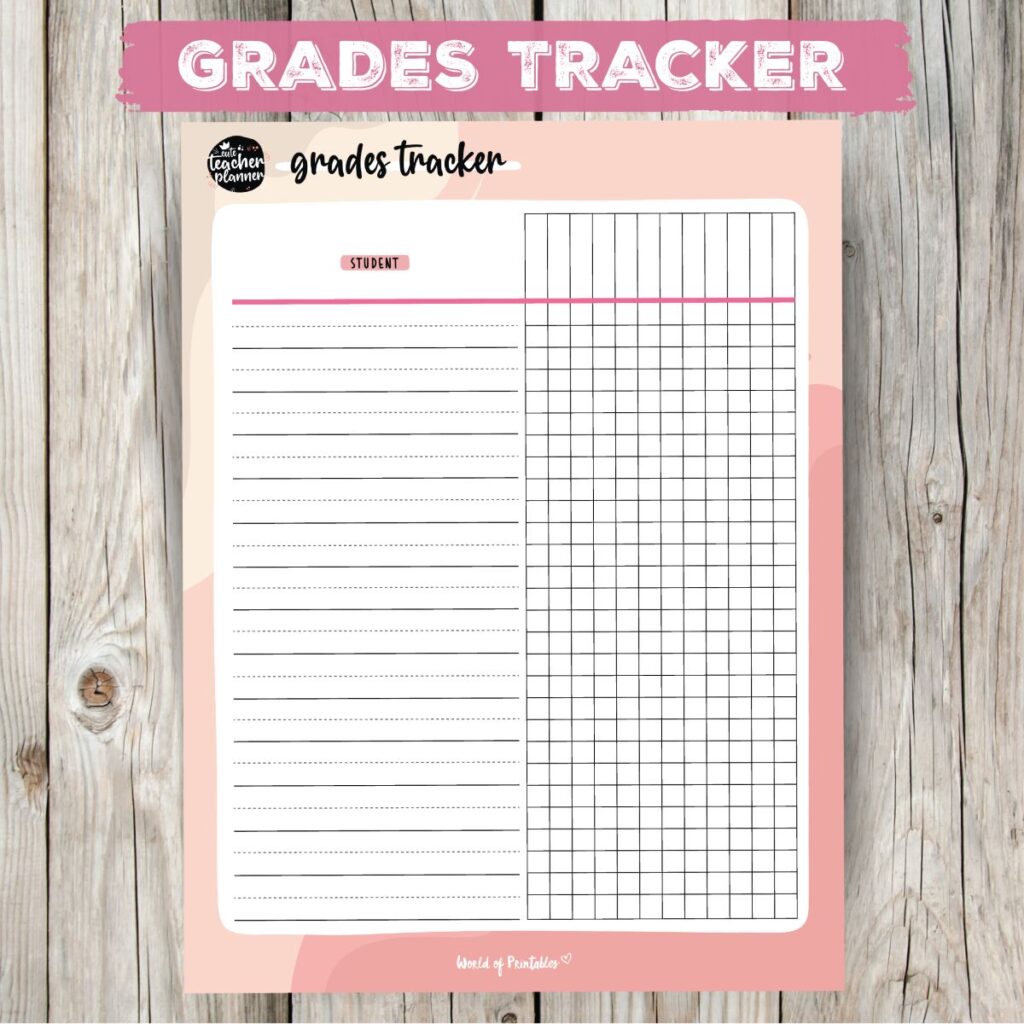 Lesson plan
Use the lesson plan to really hone down on what you need for a successful lesson such as the standards and objections, the materials and procedure to use, and how to approach the lesson for different levels.
There's a lesson plan template to help you plan the lesson, along with materials required, learning objectives and any assessment details.
You'll also find a weekly lesson plan template to help you see all of the lessons that you plan on teaching for the week ahead.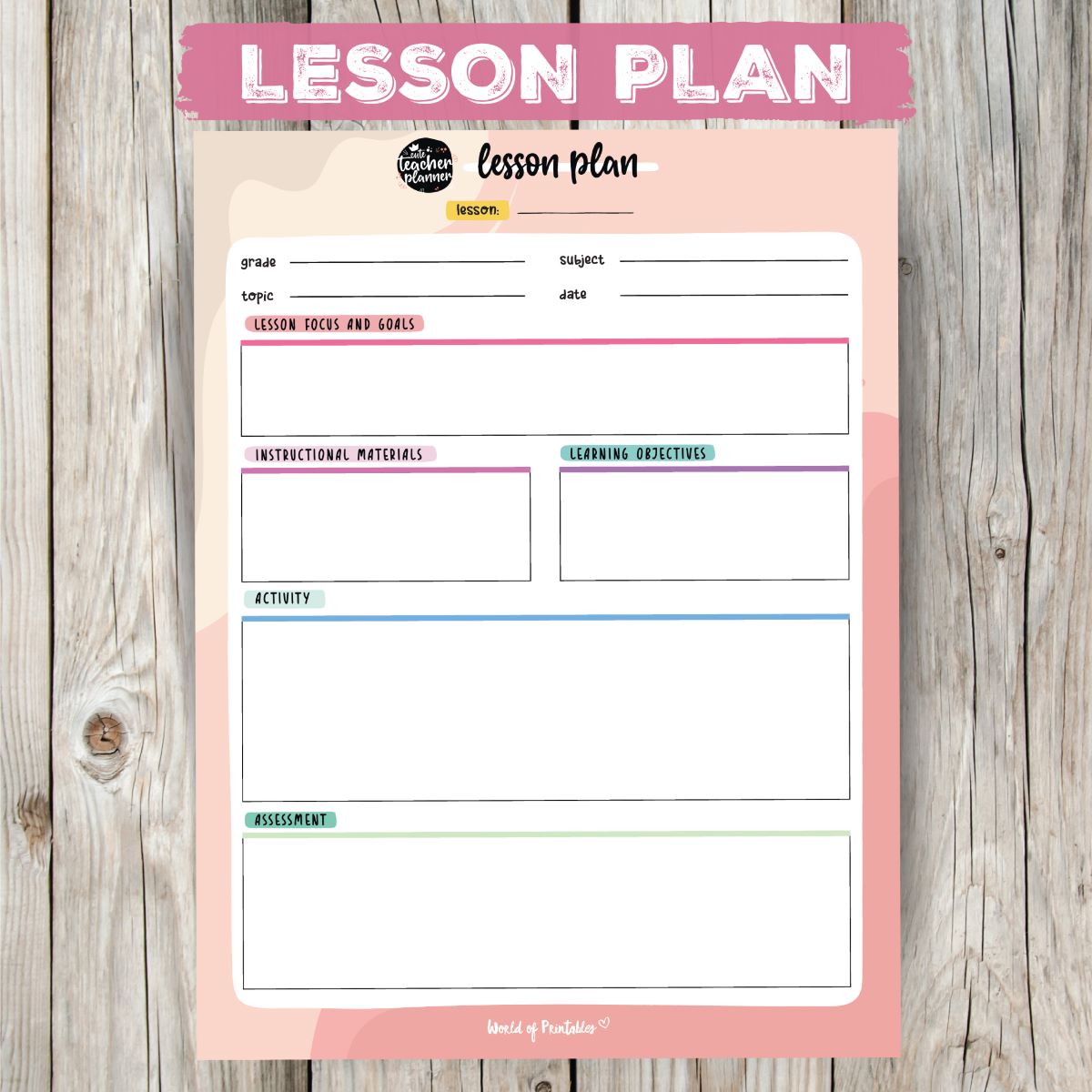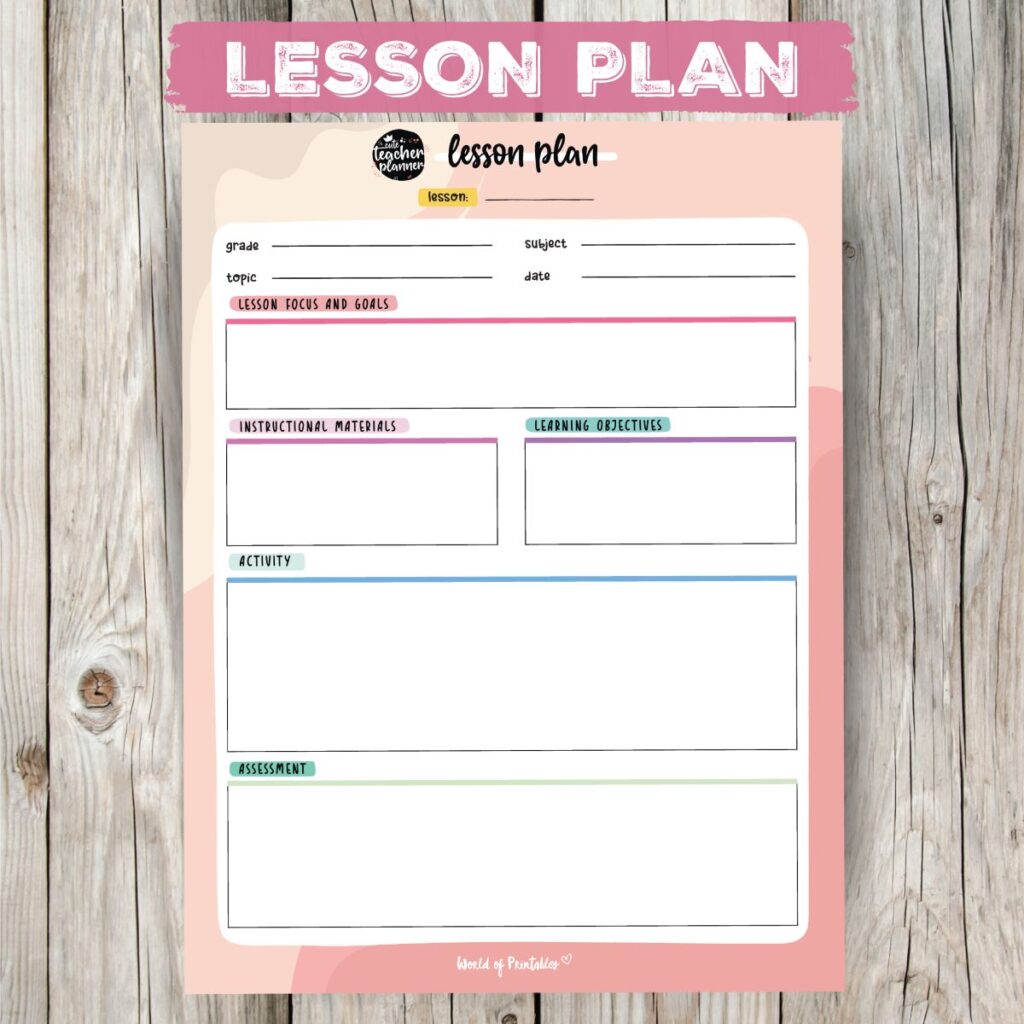 Conference schedule
Teachers are always learning too and have opportunities to go to conferences and other educational gatherings. Use the conference schedule to keep all of these important opportunities in check.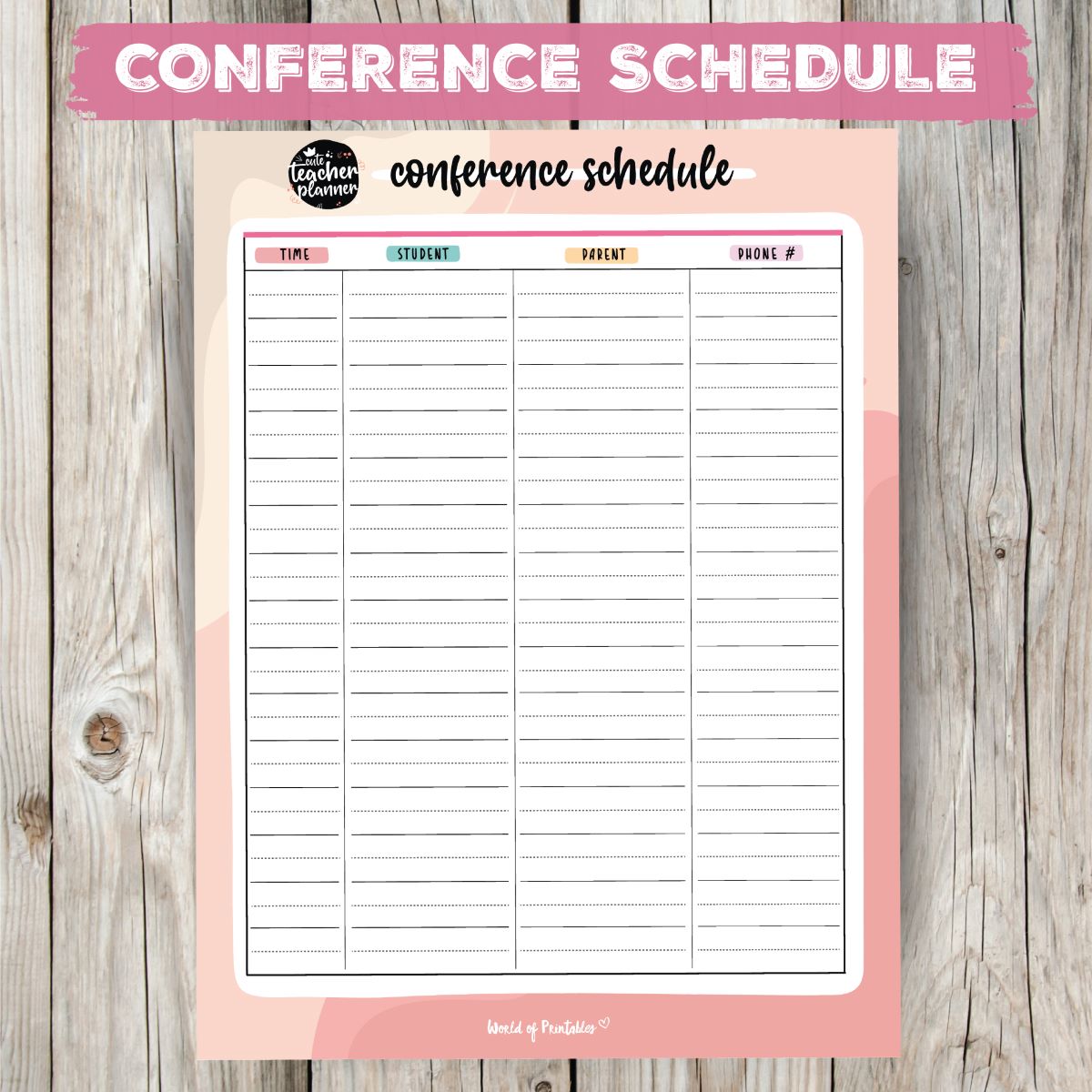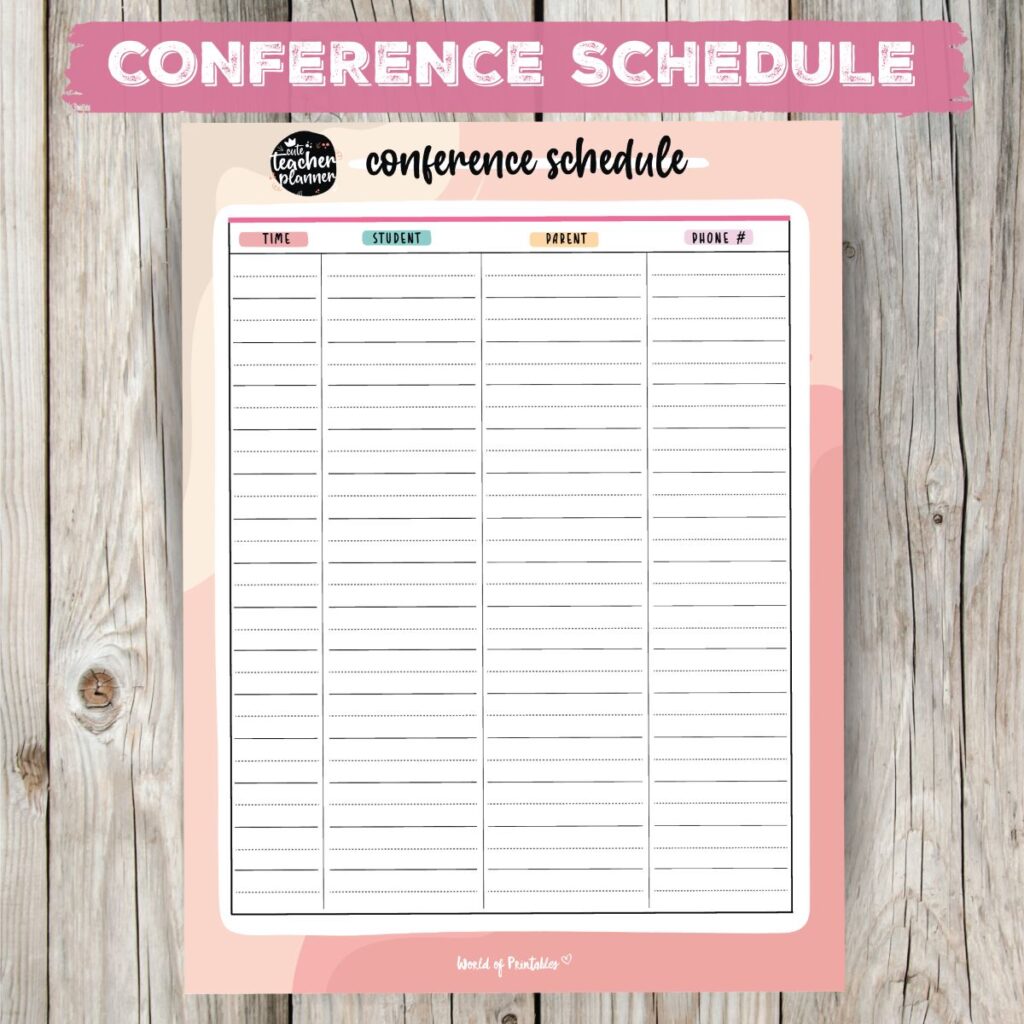 Student Birthday Log
There is plenty of room for keeping a record of class birthdays, medical information on students, and other important info.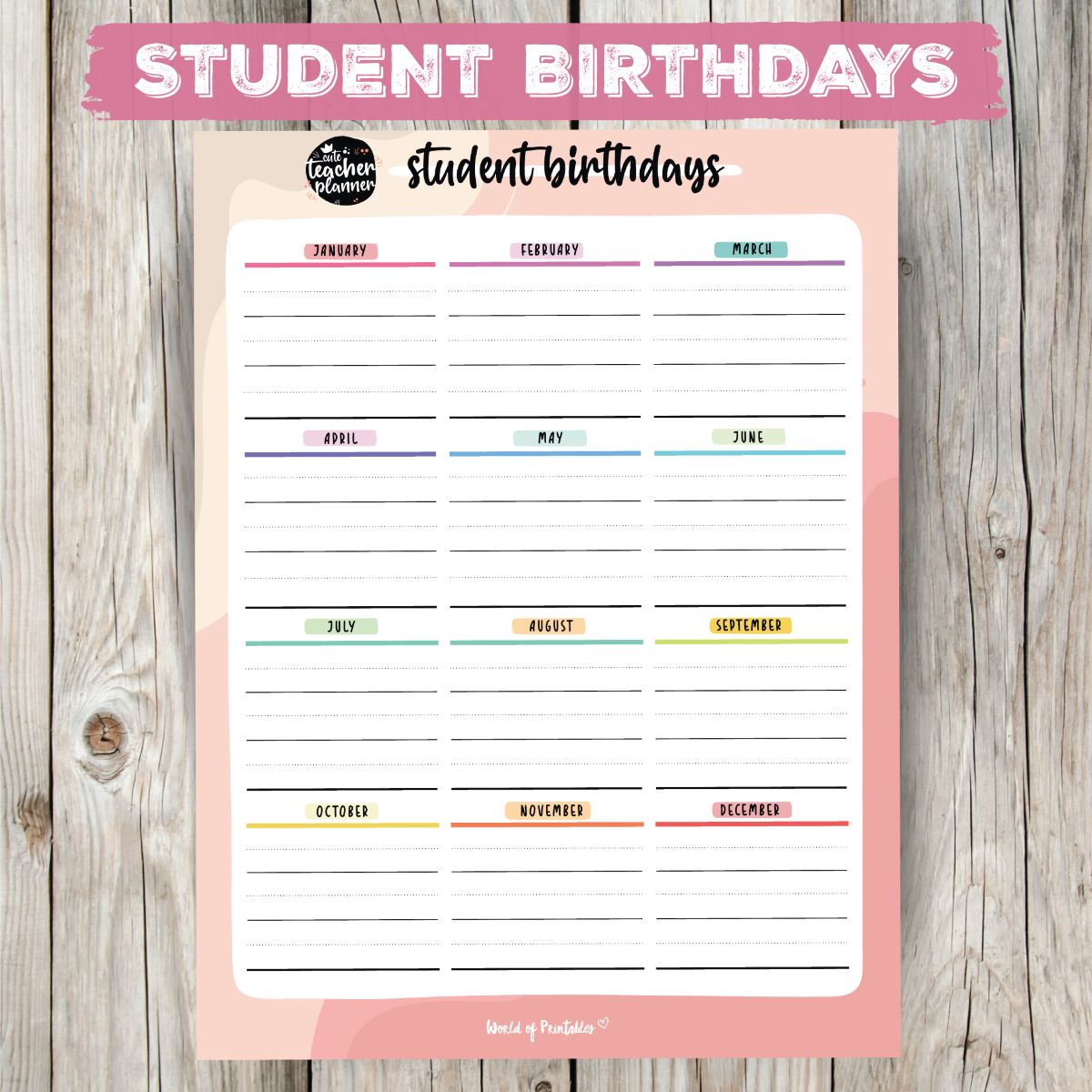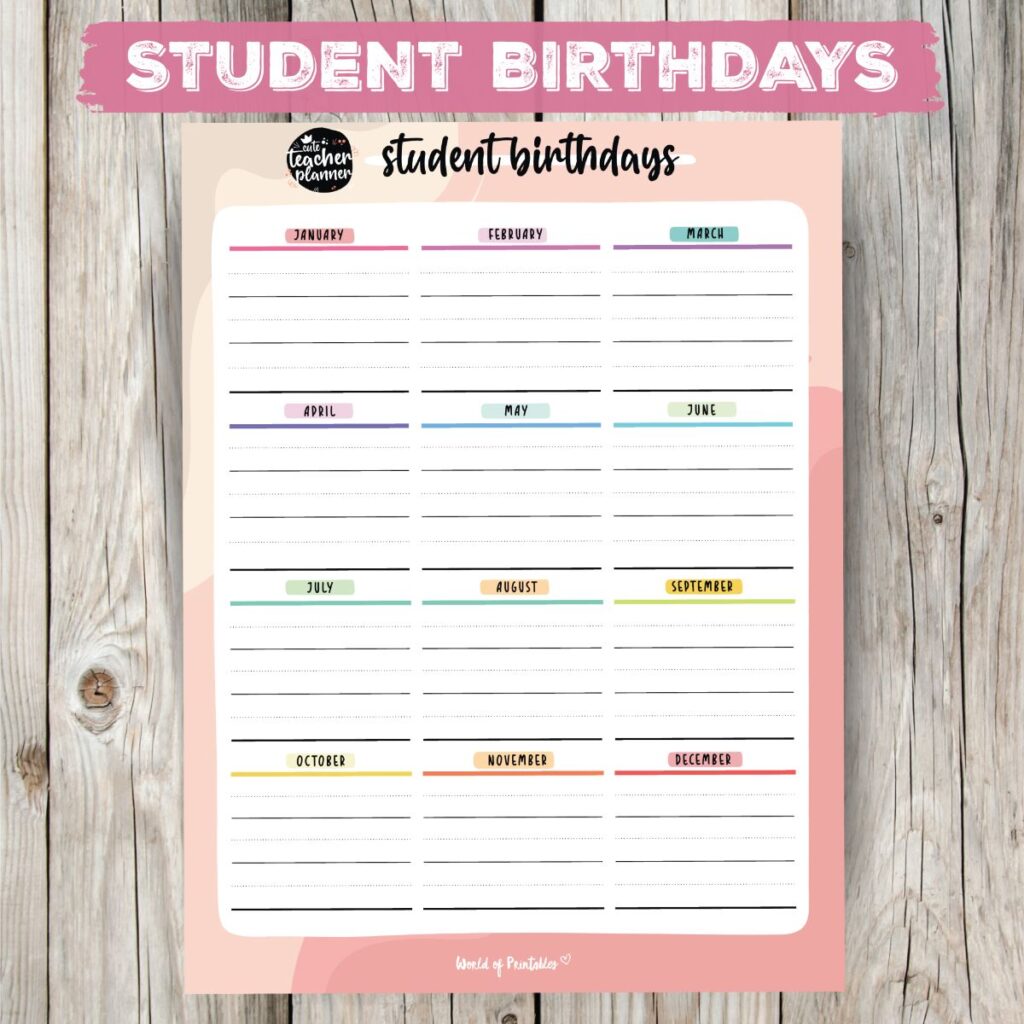 Teacher Planner Stickers
You will also get free teacher planner sticker sheets included, and better yet, we have tons of free planner stickers available for you to use too. Just take a look around and get your favorites.
How to get this free teacher planner
The teacher planner is available in two styles, and you can get them right here. Simply pop your email address in the box below to get a code directly to your inbox. Then choose the one that you want below and enter the code you received.
Printable Teacher Planner
To get the teacher planner, add your email below.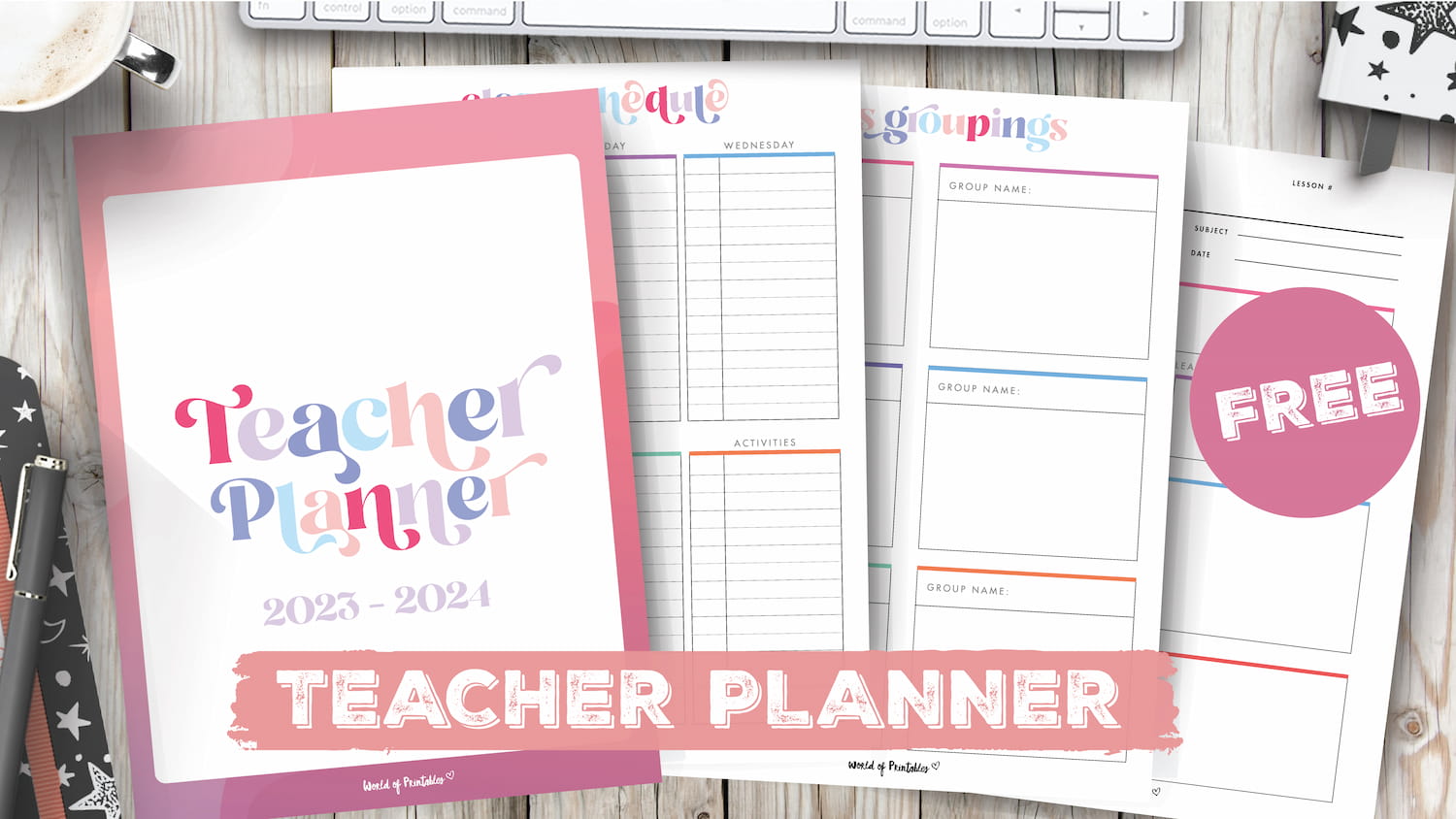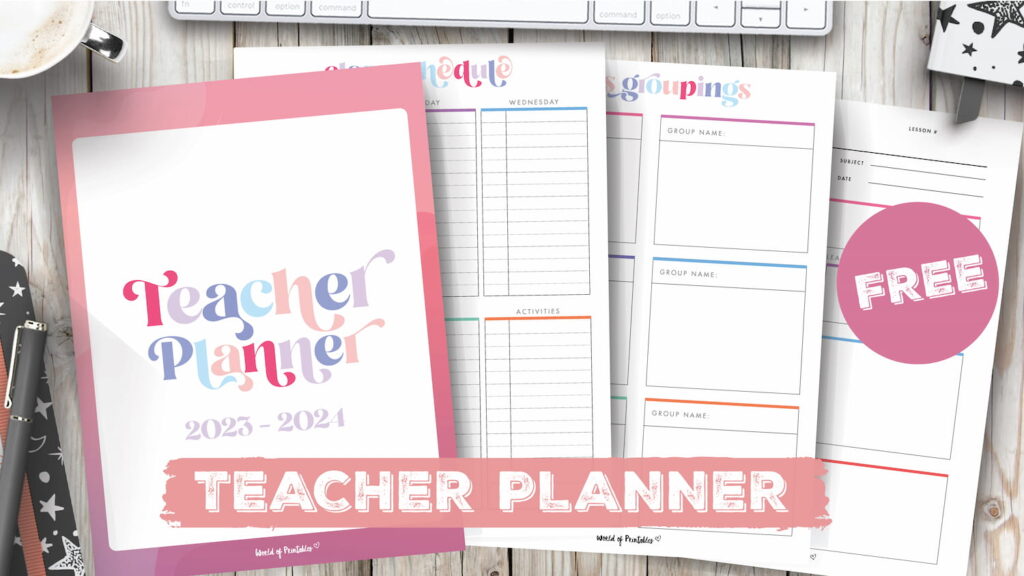 Cute Teacher Planner
To get the cute style teacher planner, enter the code below.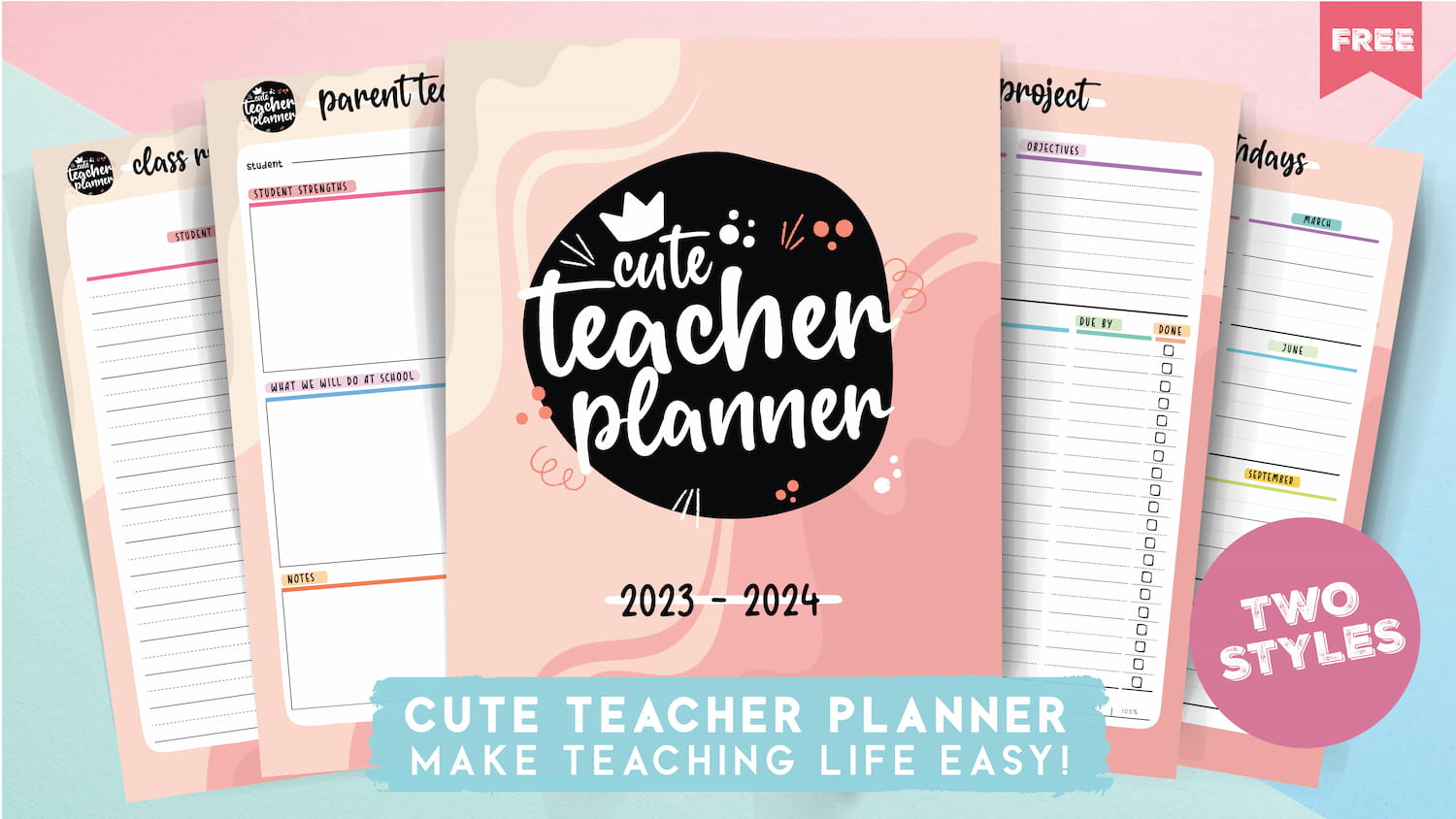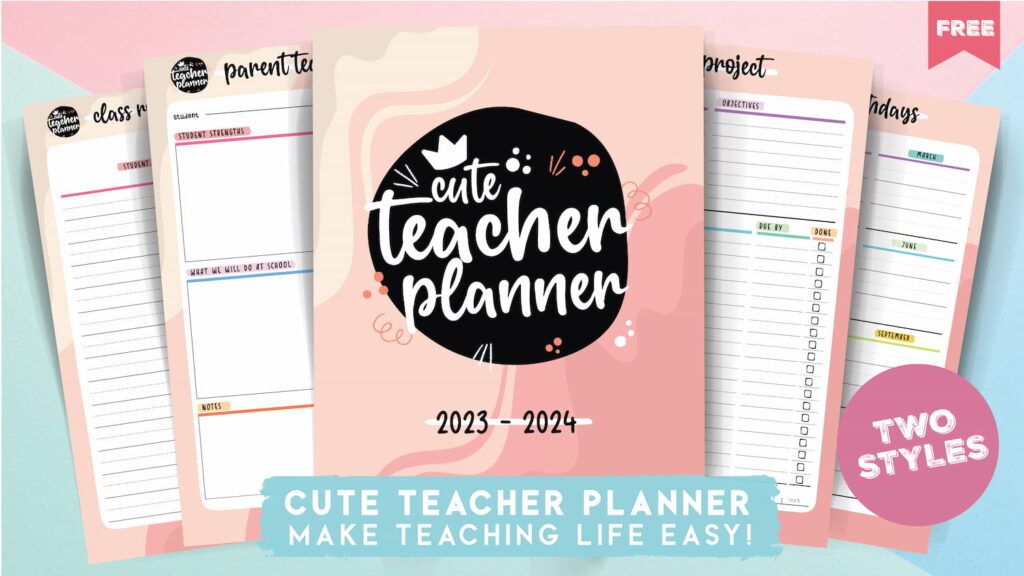 We'll also keep you updated from time to time whenever we release an updated version or have more awesome planners, stickers, and more for you to enjoy.
You'll also like…
Did you know we also have free planner stickers that you can use in your planner?
They're so cute you'll love them!
More awesome planners for you to enjoy
Every week we create a cute set of printables, planners, and digital freebies to help you make the most of the things that matter. Our creations are loved by many and are free for you to enjoy.
If you love this teacher planner and would like more awesome planners, then check out our latest creations that you can use right now for free.
We think you'll love these:
Make the most of your new planner!
I really hope you use and enjoy our free teacher planner. Be sure to recommend it to your friends! Follow us on Instagram or Pinterest as it's a great way to show your support and to keep updated with all of our latest freebies.
Follow World of Printables on Pinterest
COPYRIGHT
Our creations are for personal use only and are the copyright of World of Printables. You cannot redistribute, reproduce, or resell, although you can link back to our website.