With a quarter of the new year almost gone, you might find yourself in need of motivation to reach your 2021 goals. Whether you're trying to balance your life, stick to your budget, or kick start a new side hustle, a 30-day challenge can help motivate you and keep you accountable for achieving your goals. Use these monthly challenge ideas and free printables to help you get in the routine of good habits.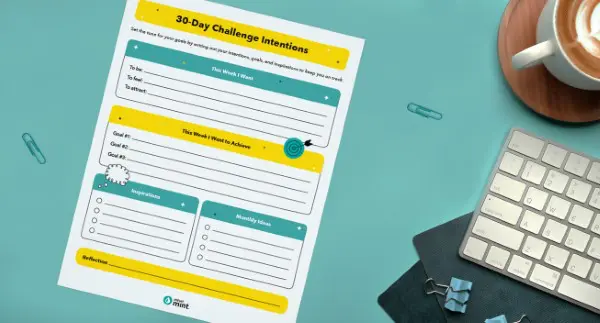 Download the 30-Day Challenge Intentions tracker.
Challenges For Leveling Up Your Life
1. 10,000 Steps Challenge
In a time when remote work promotes a sedentary lifestyle, it's important to remember to get moving. Challenge yourself to be more active and take 10,000 steps every day for a month. Whether you go for a long walk in the evening or take brisk walking breaks throughout the day, do whatever it takes to get your steps in!
2. 30 Minute Meditation Challenge
Another great challenge to help improve your life is to meditate for 30 minutes daily for 30 days. Like the 10,000 steps challenge, you can get this in all at once or break it up into multiple meditations throughout the day. Use an app to help guide you or try meditating technology free! You'll benefit from more mindfulness in your life, and you might just find your new favorite way to recharge or unwind.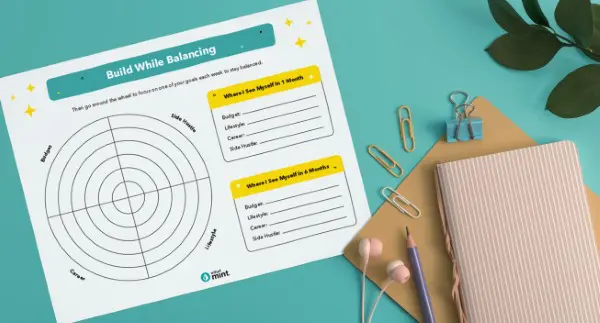 Download the Life Balancing Wheel.
Challenges For Balancing Your Budget
3. No-Spend Month
Need help reeling in your spending habits? Try a no-spend month! For 30-days resolve to not spend on anything outside of your basic needs like food, shelter, utilities, and water. Try cooking meals at home and avoid any shopping triggers like social media or online browsing.
4. Cash Only Challenge
Not ready to quit spending cold turkey? Test out only paying in cash. Your spending will be limited by whatever you have on hand at the time. If you are mindful about the cash you carry beforehand, you can stick to your budget by only putting what you planned to spend in your wallet.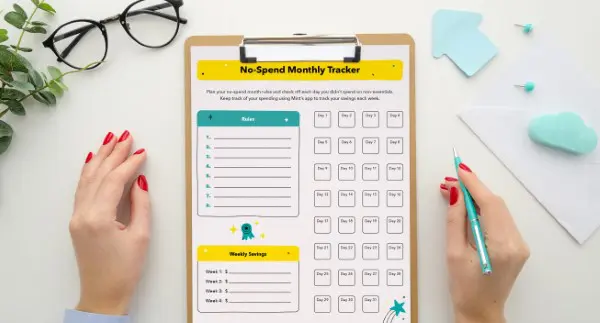 Download the Monthly No-Spend Tracker. Try using fun planner stickers to track each no-spend day instead of your usual checkmark!
Challenges For Launching Your Side Hustle
5. YouTube Channel Challenge
Try something new and start your own YouTube channel! You can film and post videos about your hobbies and interests, and make a 30-day plan to work on it every day. Schedule out a task for each day of the week to keep you on track. For example, planning can happen on Mondays, setup on Tuesdays, filming on Wednesdays, and editing on Thursdays. After 30 days, you will have created your own work routine.
6. Declutter and Sell Your Clothes
Clear out your closet and earn extra money doing it. Challenge yourself to purge 30 items of clothing, shoes, and accessories. Upload one item to a clothing resale app like Poshmark or Depop every day for a month. By breaking this challenge down into a little bit of work everyday, you'll have your very own curated collection to sell online in no time.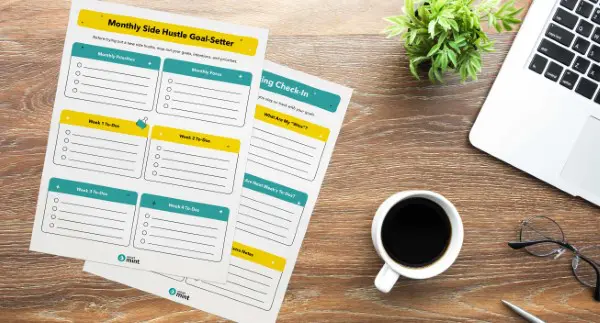 Download the Side Hustle Goal-Setter.
Feel free to try out one or do a combination of challenges! Once you've decided on your monthly challenge, track your progress with these free printables from Mint. In just 30 days, you'll reach your goals and level up your life.