Dividers are a staple for a bullet journal. They are a great way to separate space and areas and can be both simple and minimalist or creative and extravagant. When it comes to dividers we like to have a selection of different designs that we can use to match our themes, styles or even just our mood.
In this post we will share with you our favorite bullet journal dividers that we have created and hand drawn ourselves for you to get inspired by and copy. These dividers are simple to create and look great in black and white and also with color.
There are over 100 individual bullet journal dividers here to give you inspiration and some ideas for your own bullet journal along with free printable bullet journal divider practice sheets!
If you love this post you might also like: Best Bullet Journal Fonts with Free Printable Practice Sheets
Best Bullet Journal Dividers
So check out our list of the very best bullet journal deviders to get inspired for your bujo!
–
Winter dividers
Winter is such a magical and pretty time of the year especially because it holds all the charm of Christmas too. One thing I love about winter is the colors. I love the dark shades of blue, the bright white and the obvious Christmas colors of green, golds and reds. These lovely winter dividers offer a real feel of winter and are so gorgeous. They look amazing in a simple black and white or filled with the colors of winter.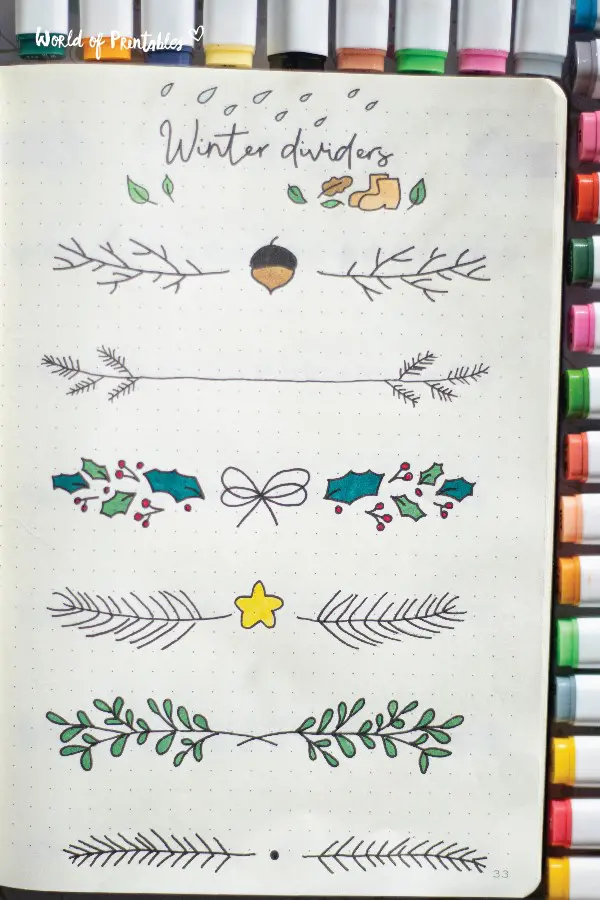 –
Space dividers
More space dividers! I can't get enough! These cute space dividers are so pretty and look amazing in black and white and color. You can easily recreate these space dividers, they are so simple, straightforward and make a great addition to any space themed bullet journal.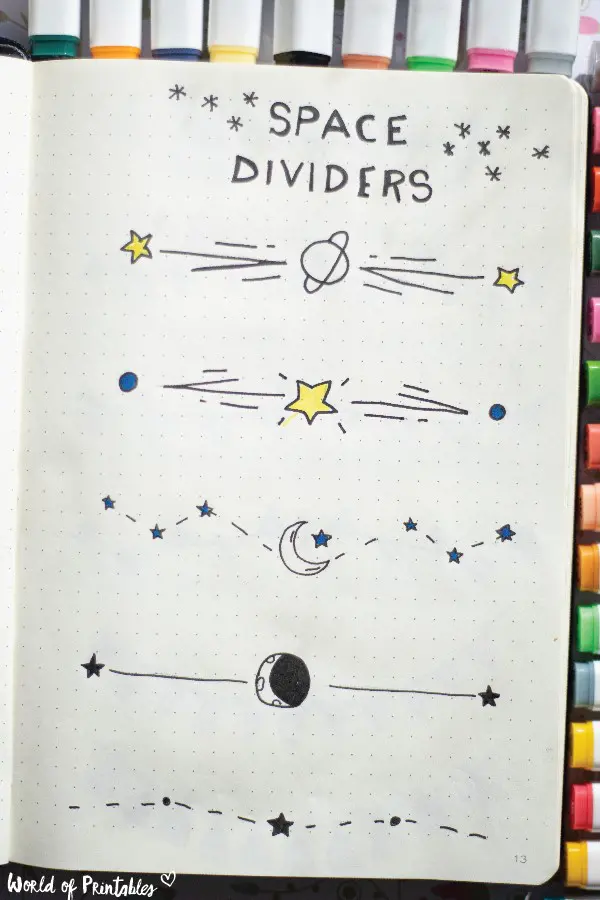 –
Space dividers
I'm an absolute sucker for space themed things so these dividers are right up my street. Let these dividers inspire you to add a celestial touch to your bullet journal. If you love planets, stars and the moon then you will definitely love these dividers and there are some really pretty lunar cycle dividers here too.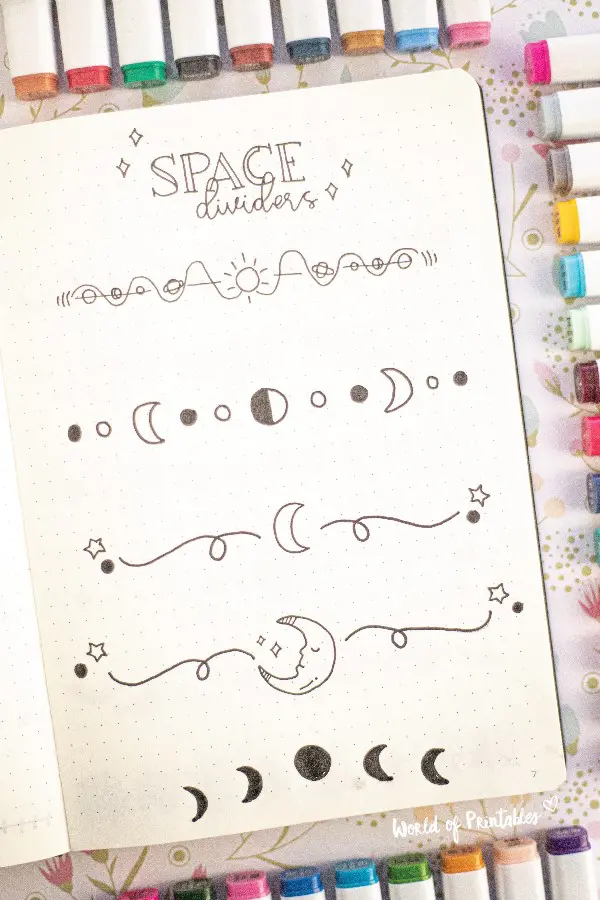 –
Cute dividers
I love cute things and these dividers are no different. I wanted to keep these dividers really straightforward but super pretty so you can easily copy them. I used a mixture of lines and dots to create dividers that will suit any bullet journal theme and I personally love the cluster of dots the most.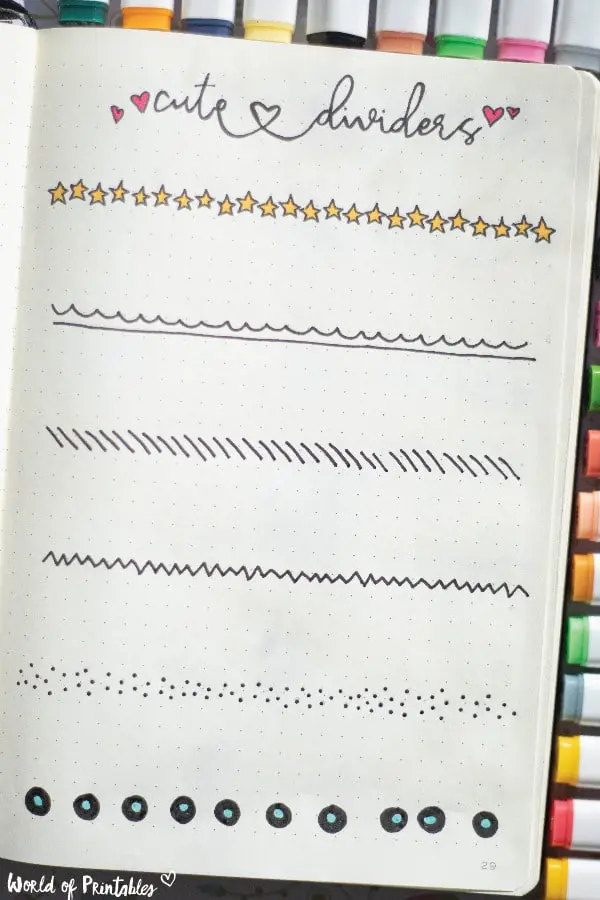 Simple dividers
These dividers are so simple and look amazing. Use cute, simple shapes to create a quick and easy divider for your bullet journal whether that's dots, chevron, dashes or arrows! These dividers look great in black and white but you could easily add a splash of color by using your favorite markers.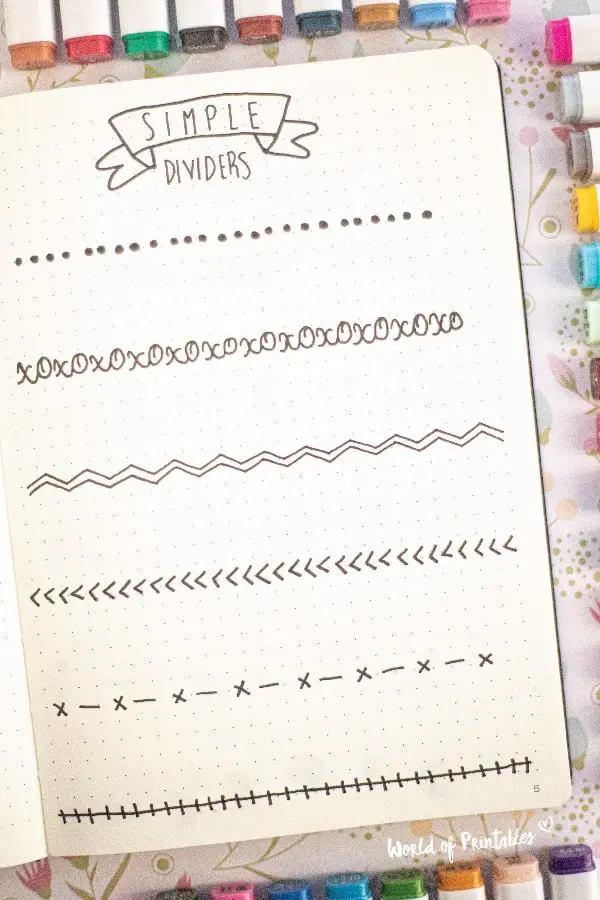 –
Pretty Dividers
How gorgeous are these dividers? These pretty dividers were so fun to create and super easy. They look amazing in black and white and in color too. I particularly love these dividers and think they would make a fun option for any bullet journal.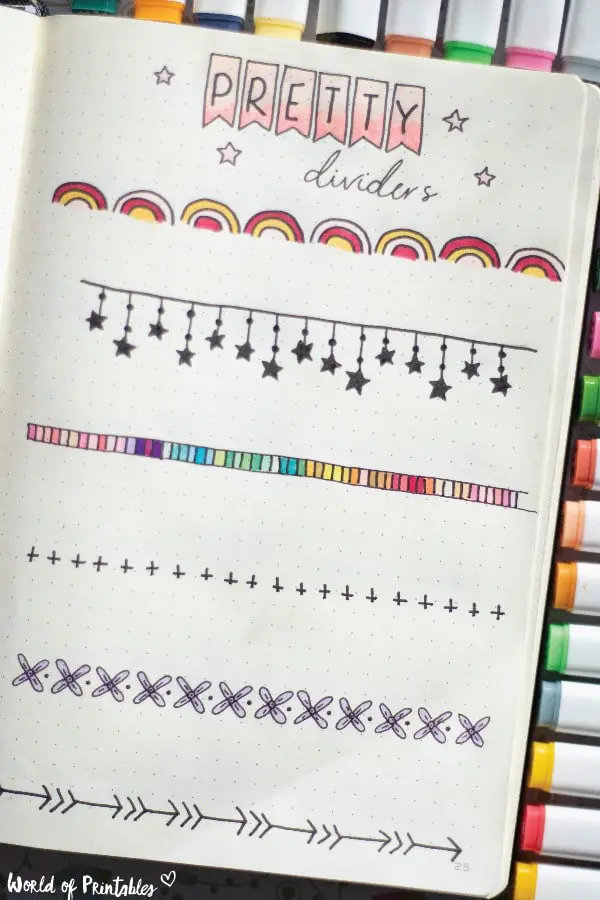 –
Insect dividers
These beautiful insect dividers balance both intricate illustrations and simple lines to create gorgeous dividers. I personally think insects such as bees and butterflies can really add a beautiful touch to any bullet journal and are perfect for the warmer weather. These insect dividers look elegant and beautiful but also fun.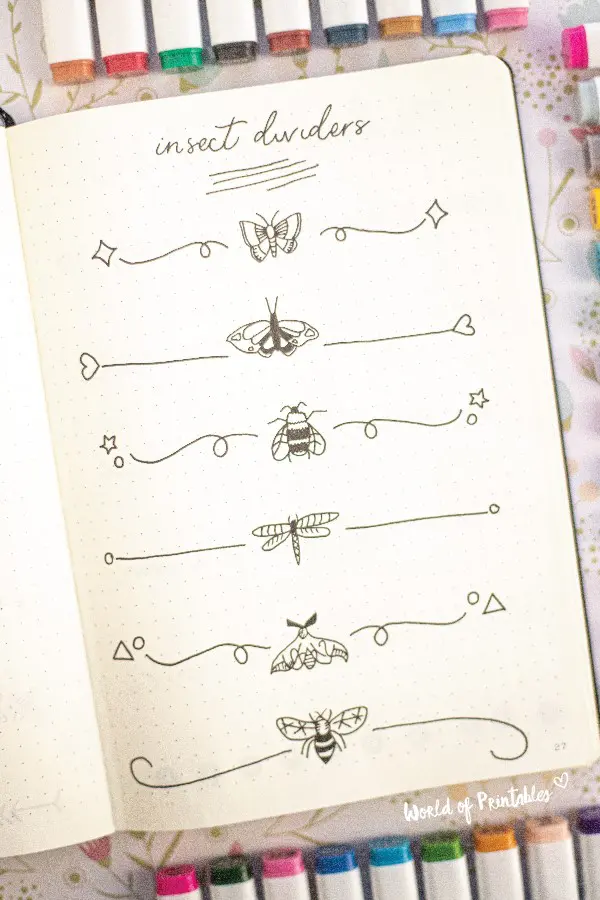 –
Halloween dividers
Halloween is such a fun time of the year and can be both spooky and sophisticated. These Halloween dividers are such a great way of adding some spooky vibes to your bullet journal this October. Whether it's cats, bats or pretty cobwebs there are some cute options here that look really great.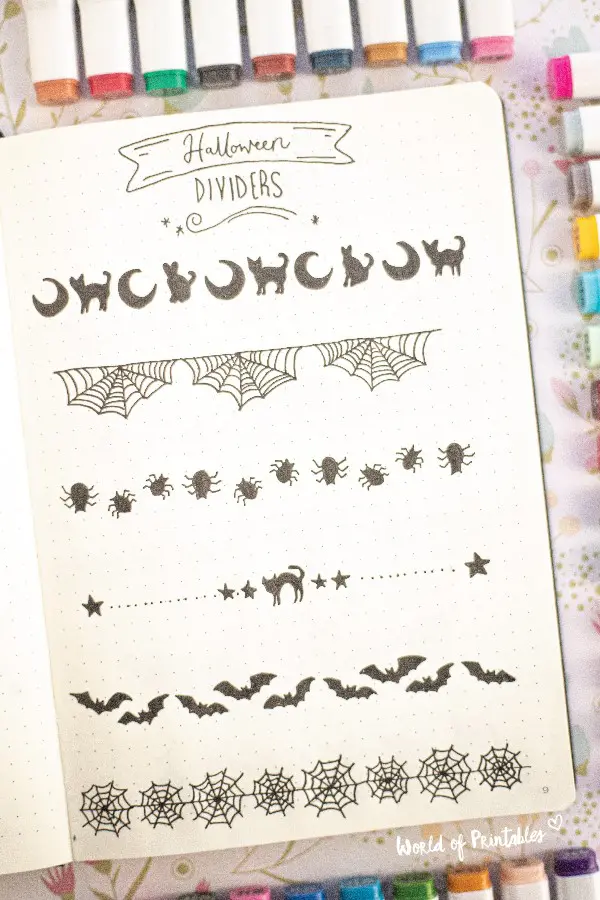 Floral dividers
These floral dividers are so cute and ridiculously easy to create. If you can draw the most basic leaf or petal shape then you can draw these so quickly and they look amazing. Floral and botanical dividers are so popular as these elements can really add to your botanical or floral bullet journal theme. You can also use these pretty dividers as borders for your bujo pages too!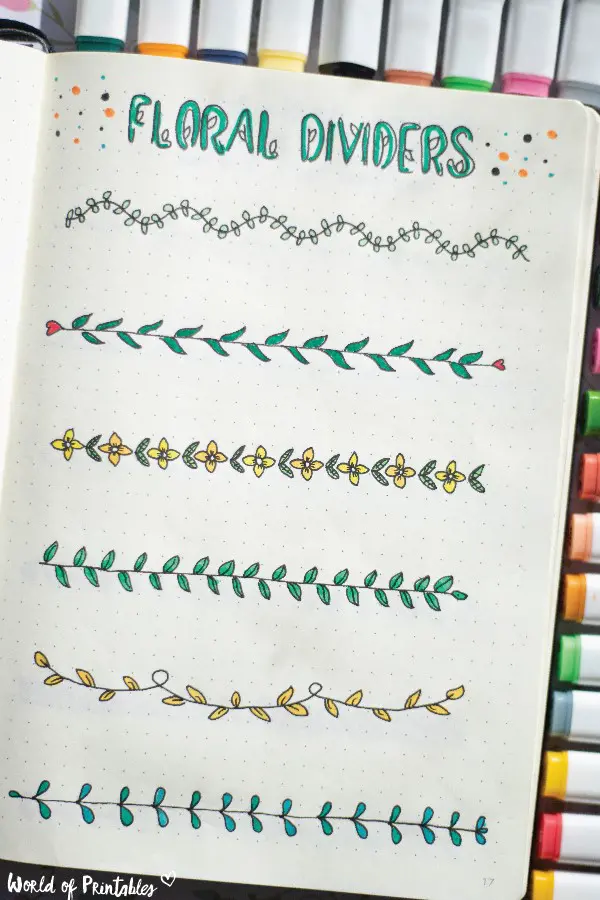 –
Esoteric dividers
When looking at bullet journal inspiration I was seeing esoteric stuff everywhere and I totally fell in love. I'm gonna be honest here, I didn't even know what this unique and mystical style was even called but yeah, it's Esoteric if you want to know! I designed a few Esoteric dividers that incorporate gems, vials, moons and crystal balls to really add that mystical and spiritual vibe to any bujo.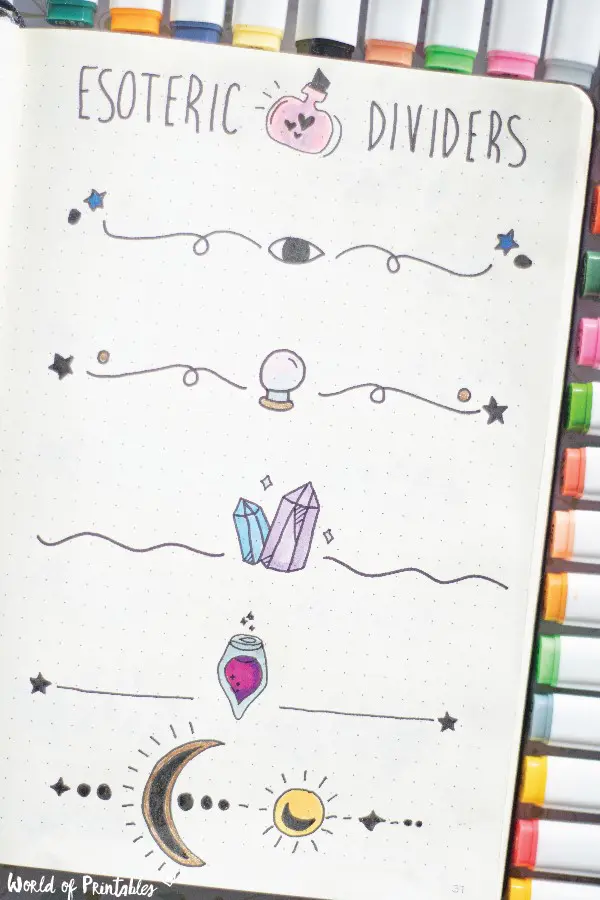 –
Easy Dividers
I really love how these dividers turned out. They look so nice and pretty but also quite classy. These dividers were pretty easy to create but if you want to get the look just right I would recommend lightly drawing dividers three and four first because the lines could get a little confusing. These pretty dividers would look great with any bullet journal theme.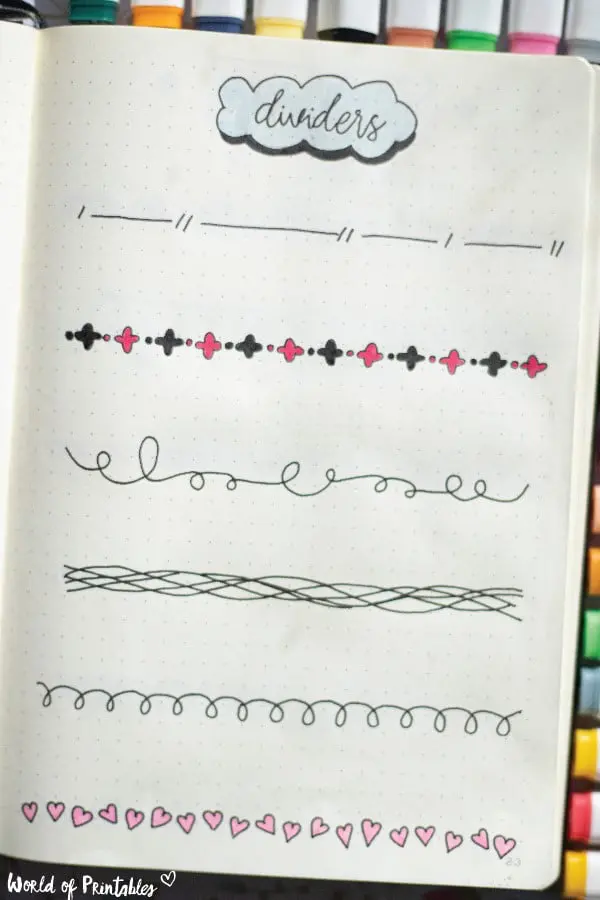 –
Summer dividers
Hands up if you love summer! These super sweet summer dividers will instantly add a fun, summer feel to your bullet journal pages. I tried to pick different elements that represent summer such as watermelon and lemons, paper airplanes to represent getting away, fairy lights for the warm summer nights, seaside themes, pretty botanicals and fun bunting for summer parties. These all feel like summer to me and I hope they can mean something to you too!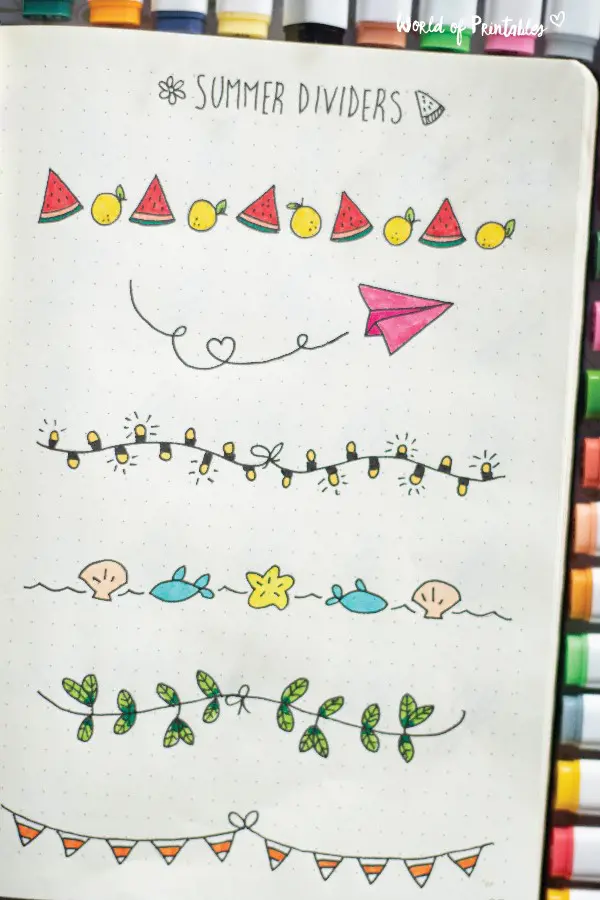 –
Super Easy dividers
The name says it all! These beautiful dividers are so easy to draw and will take only a few minutes to create. These super easy dividers focus on lines and simple shapes to create beautiful, fun options for you to choose. You can keep these dividers black and white or use color to add contrast.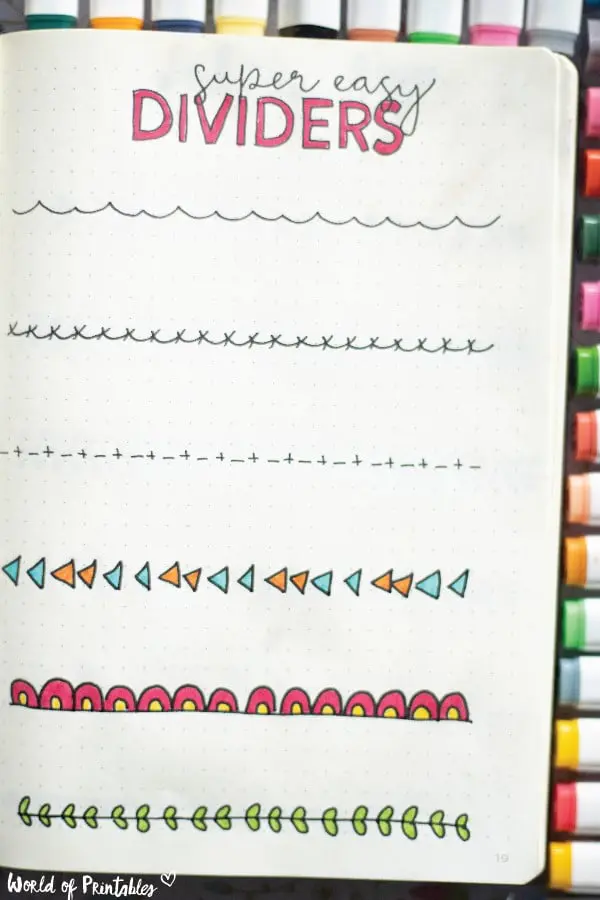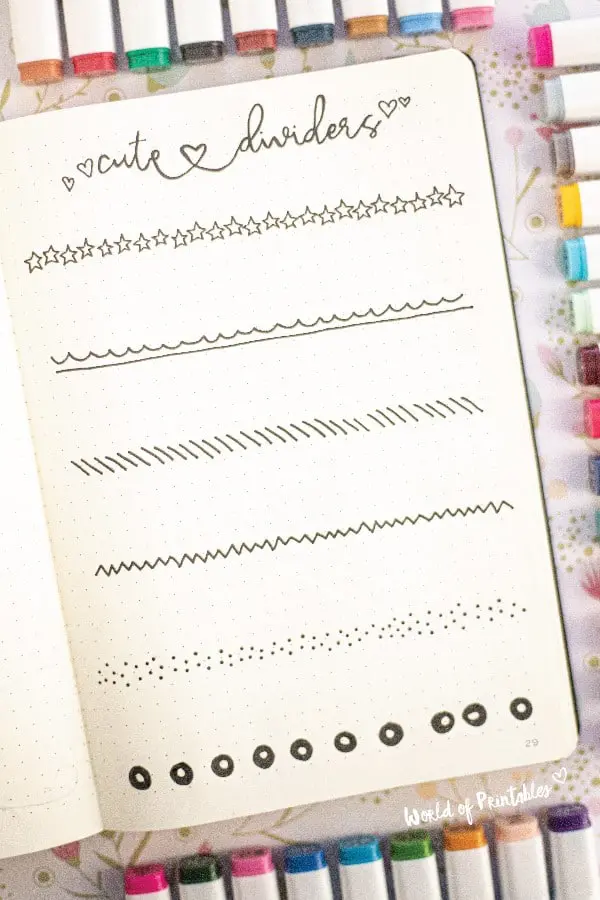 –
Bunting dividers
Bunting is always such a popular divider option because they are so fun! These bunting divider options feature lights, shapes and tassels! I totally love the tassel ones and they are so easy to create. Add these bunting dividers to your bullet journal for a fun and easy way to separate your space.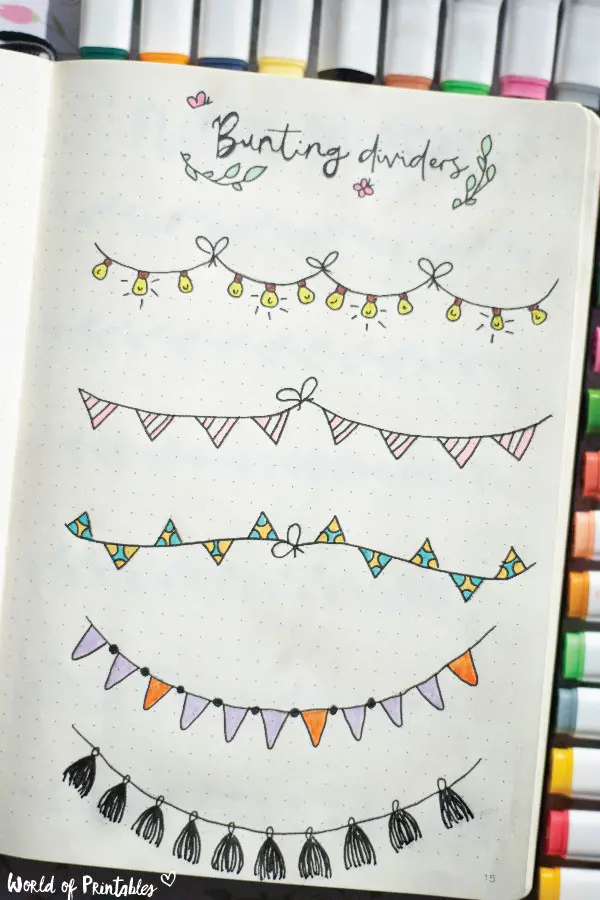 Black and white dividers
If you are looking for something minimal and attractive then these black and white dividers are a perfect option. These dividers are so easy to draw and literally take seconds to create. You can keep these cute dividers black and white or use a colored pen to match your theme!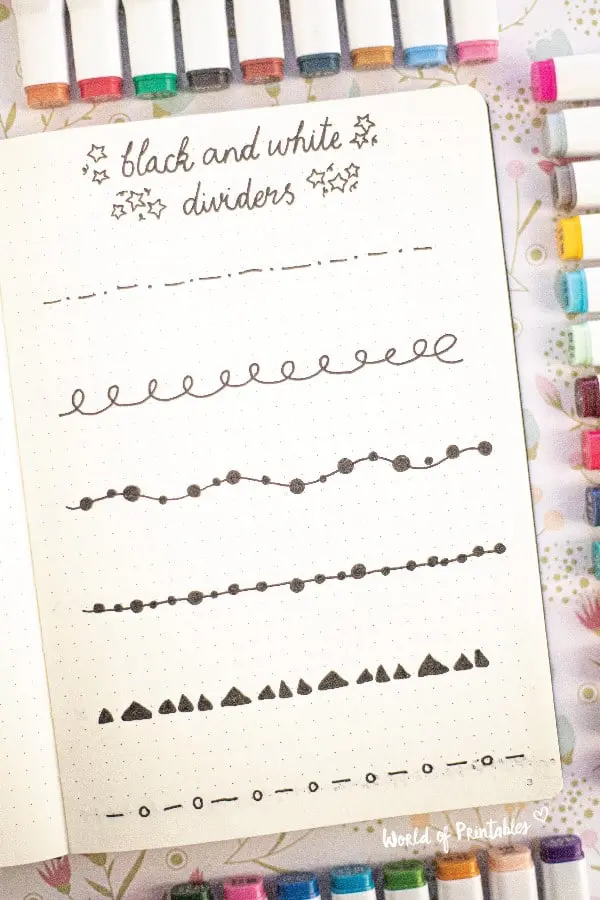 –
Botanical dividers
You will find that many people love to use botanical themes in their bullet journals because they are gorgeous and can be easy to create. Each of these botanical dividers will literally take you seconds to draw because they are so easy to do and they look great and professional. Each of these dividers pretty much use the same leaf shape too. If you look closely at the fourth divider you will see that I went back and used a white gel pen to create leaf lines and finish it off.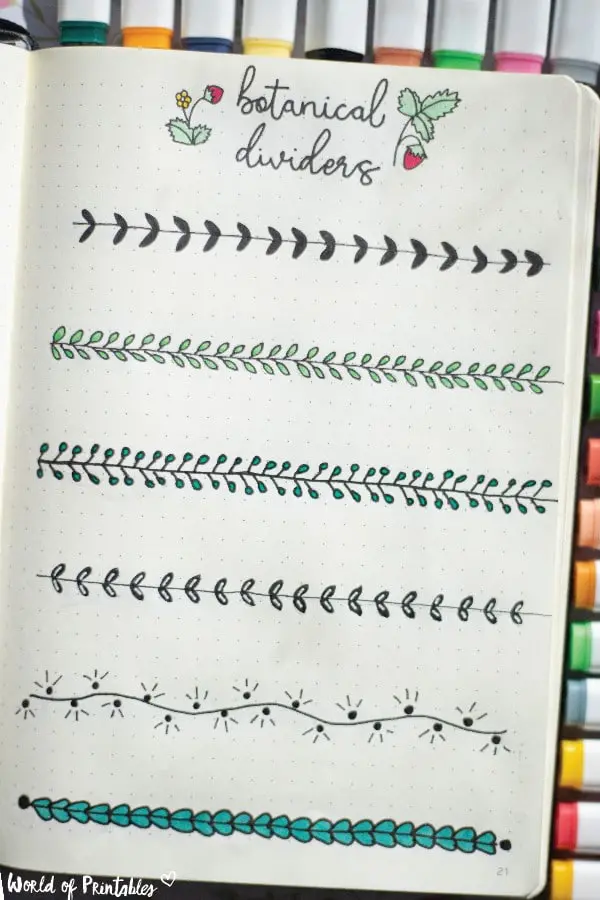 –
Cute dividers
If you want simple and cute dividers then you are looking at them! These dividers really are so easy to draw and will take you seconds to do. You can use these dividers to easily separate your space in your bullet journal, underline a title or as a border for your pages. Use different weights of pen to create a different feel or texture to your dividers. I used a thicker nib for the last divider and think it looks great. It probably wouldn't have had the same feel about it if I used a fine pen.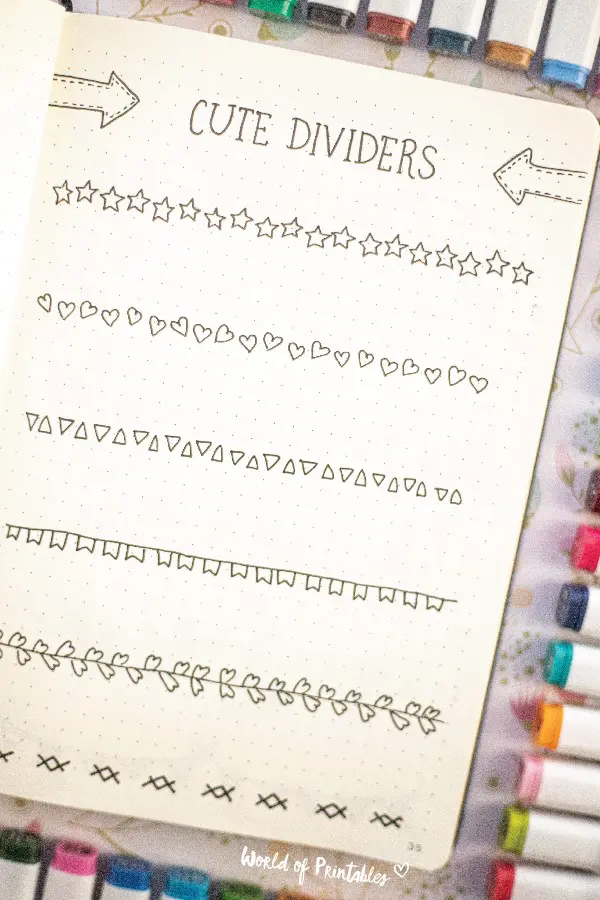 Fall dividers
I love fall, it's such a gorgeous time of the year. These fall dividers are so stunning and incorporate all the different elements of the fall season. Create beautiful dividers using pumpkins, mixed leaves, acorns and even pumpkin spiced lattes! I totally love these dividers and they are so fun to create and color in.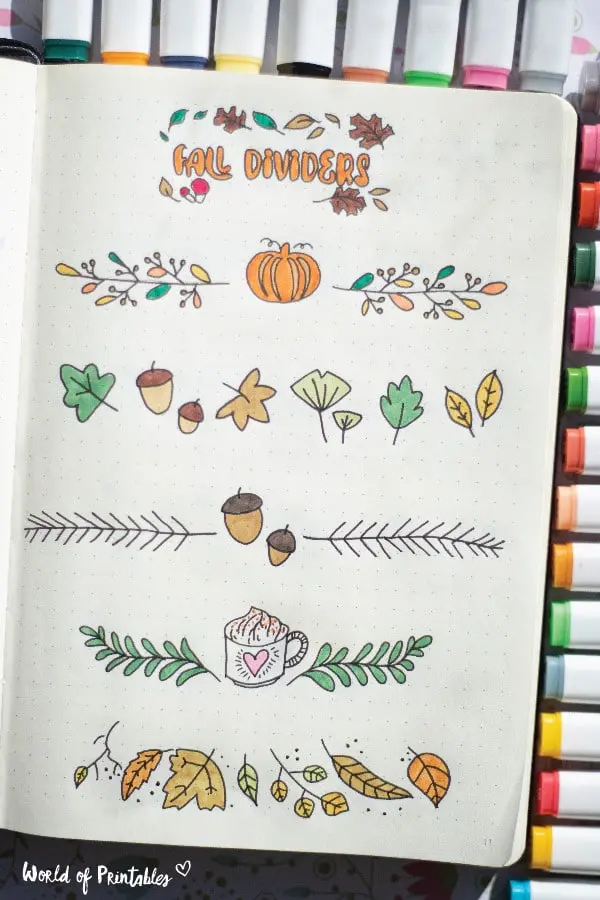 –
Hopefully you found some divider inspiration from our collection here and we hope you like them. We always aim to bring you the best content, free printables and inspiration to help you add creativity to your life.
If you found this post and our dividers useful please share this page or pin it! It really lets us know you care!
Free Printable Divider Practice Sheets
We love our community and always love to reward you with freebies so don't forget to download these free printable divider practice sheets. You will get a PDF containing ALL of the dividers you see above so you can practice drawing them or simply be able to reference them easily.
If you download and use these free printable divider practice sheets, please tag us on Instagram as we would love to see how you use them in your bujo. If you use Pinterest, please pin your favorite dividers to save for later and to show your support by following us.
If you love this post you might also like: Best Bullet Journal Font Ideas with Free Printable Practice Sheets