I have always had a love for typography especially during my uni days and that hasn't changed. When it comes to working on my bullet journal I know that lettering can be so important for style and aesthetic but also for being creative. So I've compiled the best bullet journal fonts for your inspiration and also made free printable practice sheets for you to learn and copy these awesome fonts.
I wanted to try some different styles of lettering other than simply cursive and script fonts (although there are plenty here) and try fonts a little more creative or decorative. So I spent days, like literally, sketching and penning beautiful fonts to share with you guys in hope that you are inspired and get some ideas for your own bullet journal.
If you love this post you might also like: Best Bullet Journal Dividers with Free Printable Practice Sheets
Best Bullet Journal Font Ideas
Let's take a look at some fonts together and don't forget to print the free bullet journal font printable so you can practice and make your bujo's perfect!
Here are the bujo fonts:
–
Detailed Floral Bullet Journal Font
I am so proud of this one and it took me ages to do but turned out amazing. You have to figure this one out before you simply go ahead and draw it. Sketch it out lightly with pencil first, starting with the letters and then adding the flowers and leaves after so you can see your design in full. When it comes to using ink, I'd recommend using your finest pen and drawing the flowers first and then the letter.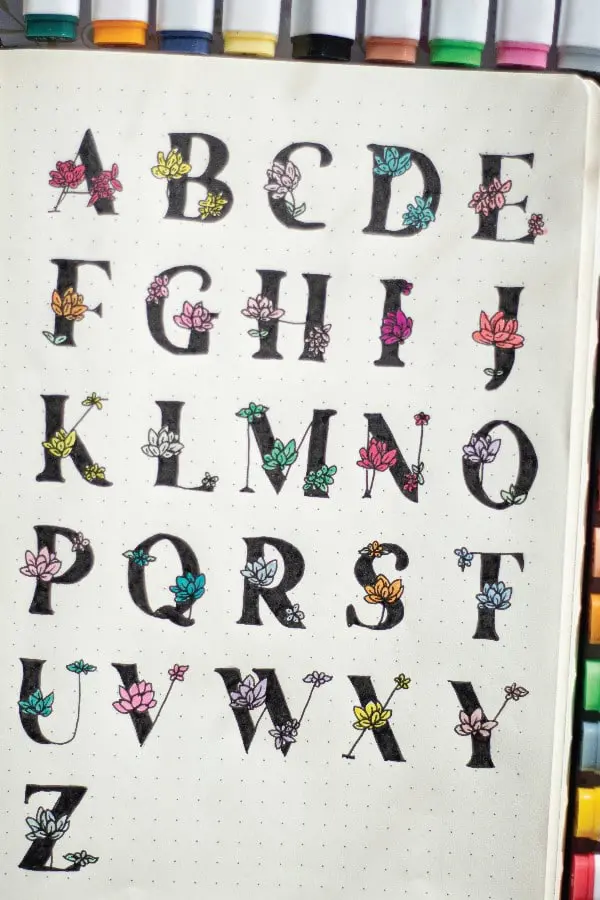 –
Cursive Alphabet Inspiration
A beautiful cursive font to use in your bullet journal. This font looks really pretty and has more of a curve to it than the others. Use a 0.05 pen to create the letter and then go back and add your thickness. I find it easiest to draw the letter and the swash all in one line to keep it consistent.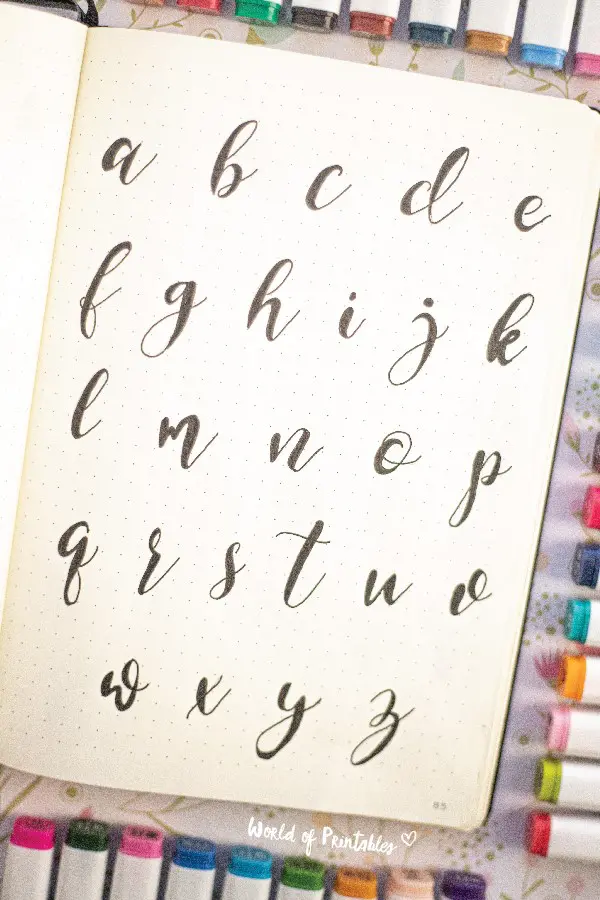 –
Handwritten Script Font
This beautiful handwritten script font shows you the style in both uppercase and lowercase letters. This is such a pretty font and really is easy to create. You don't need fancy pens, just draw the basic letter with a fine pen like a 0.05 and then go back and add any swashes or thickness.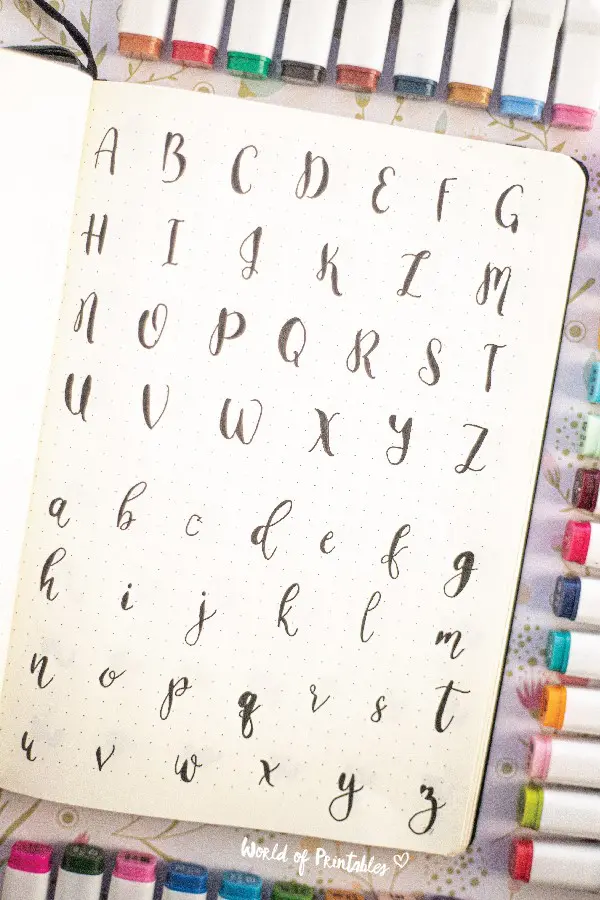 –
Handwritten Bold Font
If you're looking for a chunky but still cute font then this font is ideal! It shows both uppercase and lowercase letters so you can use them as it suits you. Simply draw the outline first then go back and add the chunkiness with a thicker pen.
–
Pink Shadow font
This font is so cute and looks great with the soft pink color. The pink and the black shadow look great together and the font has some cute but simple swishes. This font is both fun and pretty and will make a great bullet journal header or title.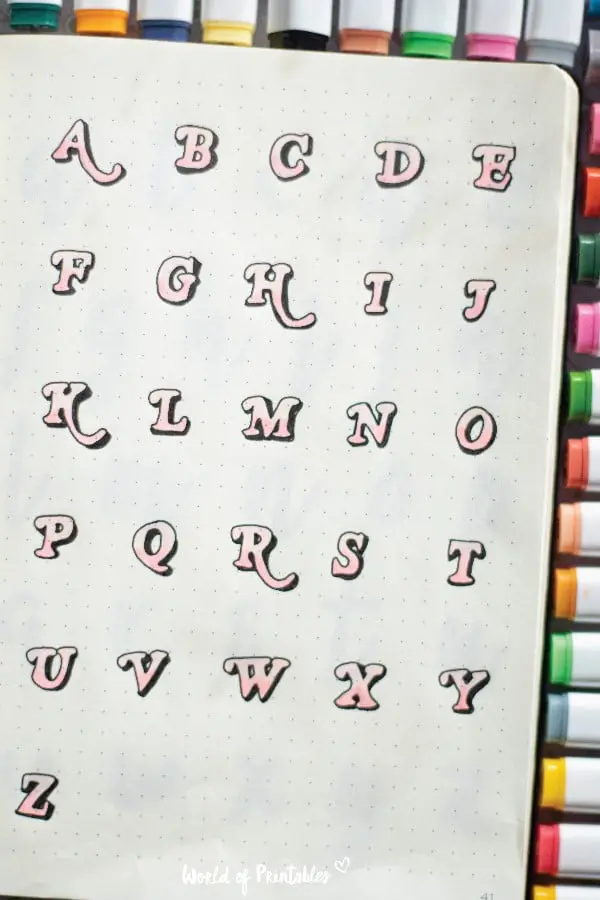 –
Chunky Shadow font
I love this chunky shadow font. It's bold but also relaxed and looks really fun. This font looks great in black and white but I was really happy with how it turned out when I colored it. I used a soft pastel blue marker and added a bit of texture to it by letting it dry then going over certain bits again. The final outcome makes me think of clouds and sky.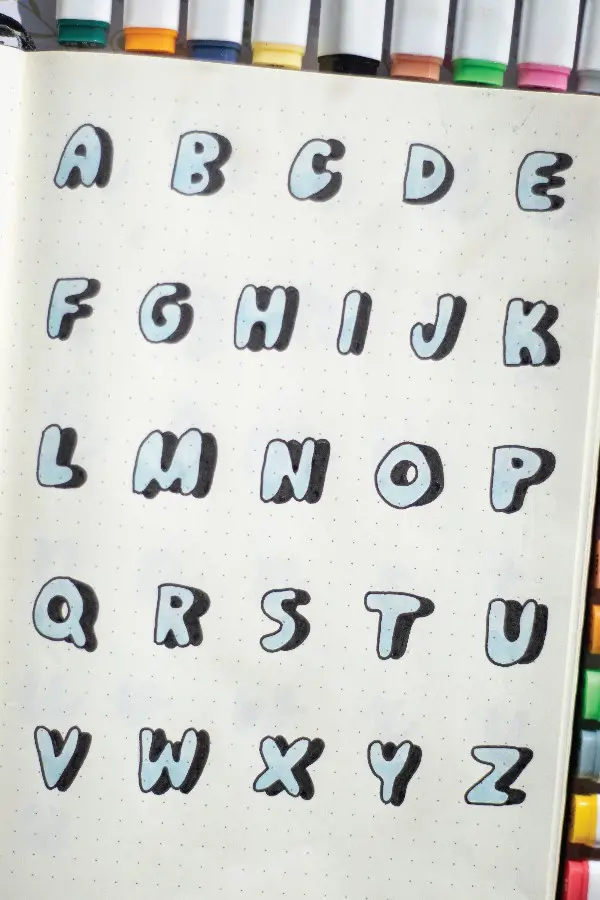 –
Simple Botanical Font
This beautiful botanical font is so easy to draw and looks amazing! I drew this font with simple leaves which could be colored in any color. I think purple would be a great option making this an amazing font for a lavender bullet journal theme.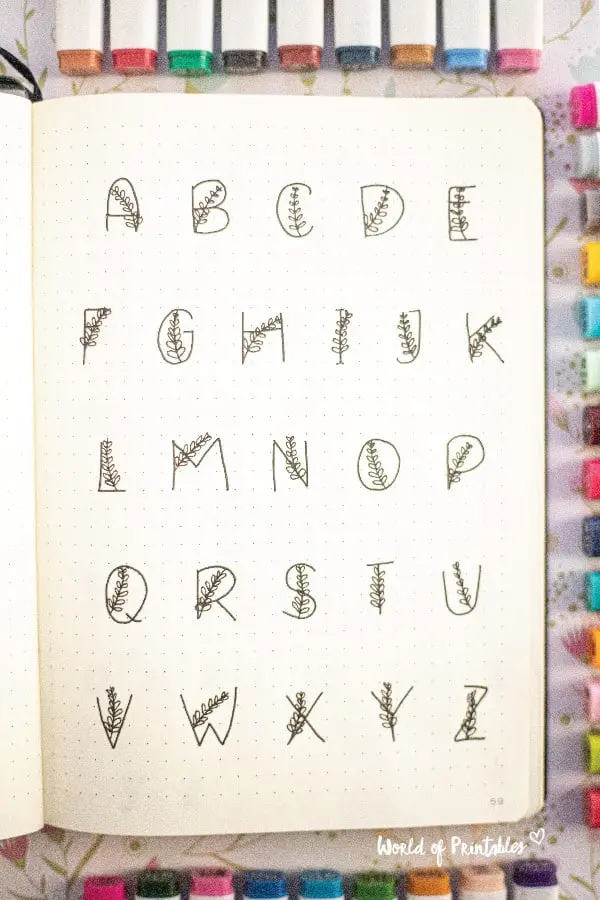 –
Pretty Script font
I love this pretty script font. The swashes are long and slim and the whole alphabet has a beautiful, elegant look about it. This is such a pretty and easy font to replicate.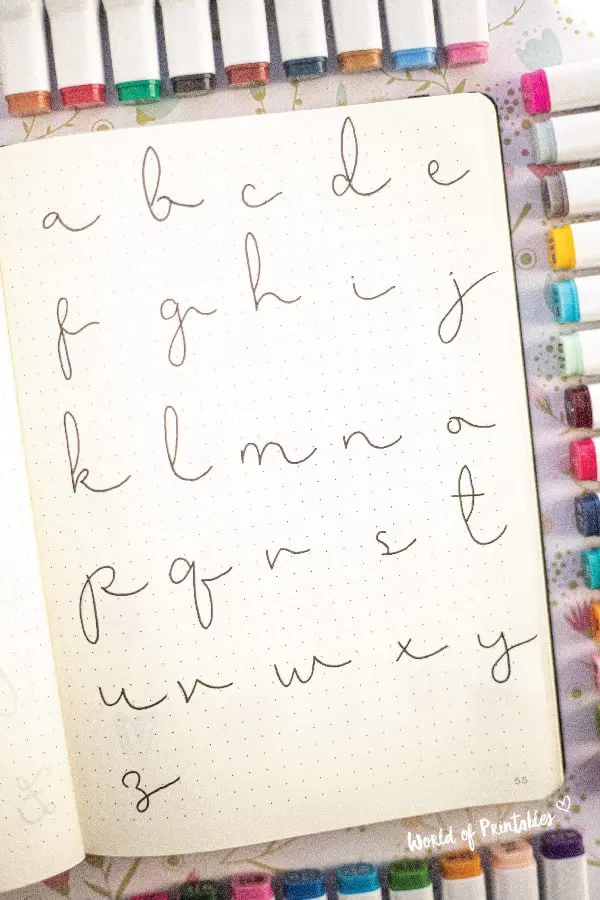 –
Bold Cursive font
Who says cursive fonts have to be dainty? Check out this gorgeous bold cursive font! I really love the thickness of this font as it packs quite a punch but still looks cute. I used a thicker pen at about 0.5 to draw the letters and then filled it in with a 0.8 pen. Using a 0.5 pen allows for the flicks to be thicker than if I used a finer pen.
–
Bold Pretty font
I love this pretty font because it is so cute! If you are looking for a girly font that is a little wispy and bold then this cute font is such a lovely option. This font would look nice with any bullet journal theme and would make a great title.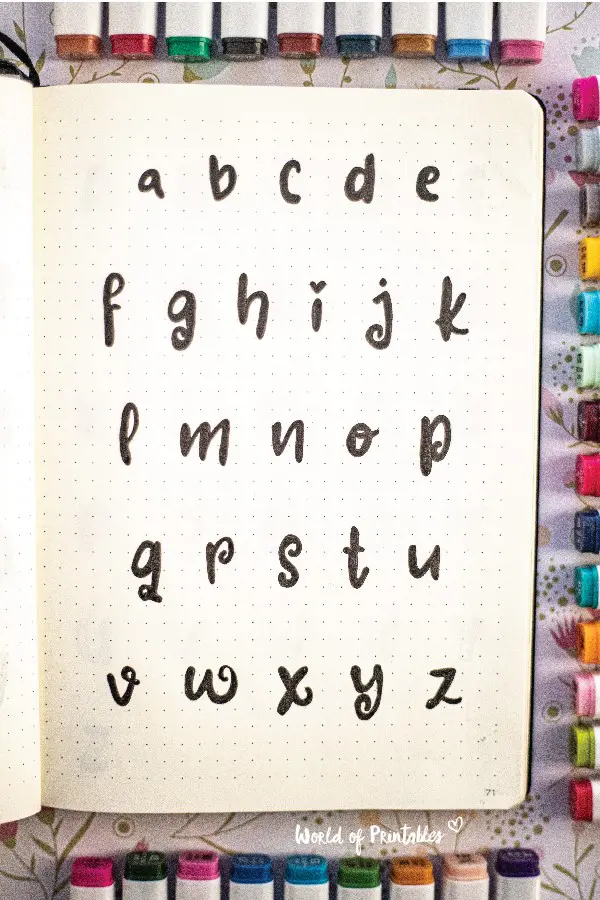 –
Colorful Drop Shadow Bullet Journal Font
Add color to your bullet journal with this gorgeous colorful drop shadow font idea. This is pretty much a drop shadow font but in reverse with the black on top rather than behind. I chose five of my favorite colors and popped them in randomly to get this result! Why not! It's all about having fun.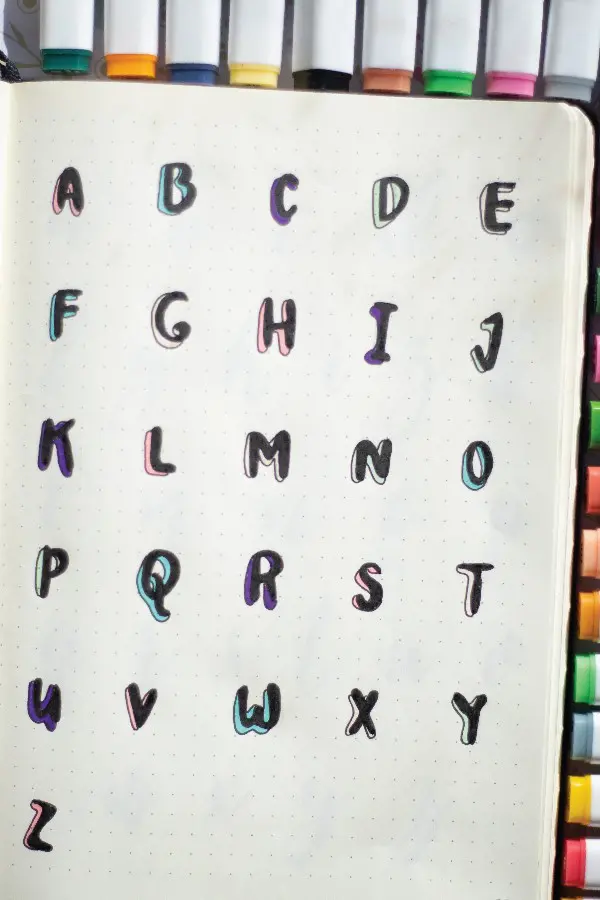 –
Bold Serif font
Have a bold serif header for your bullet journal that looks beautiful and striking! This would make a great font for a minimalist or black and white themed bullet journal and it is so easy to create.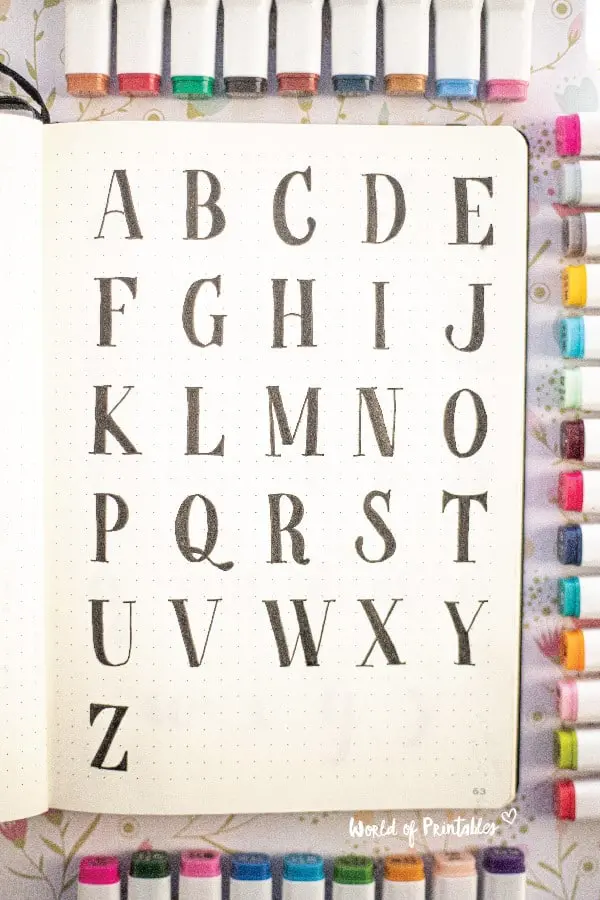 –
Brush font
This black brush font is so fun! It was so fun to create and pretty easy too. I love the style of this bullet journal font as it feels slightly grungy but neat to me. To draw this font, I simply outlined first, then filled in black ink then once that was dry I went back with my white gel pen and added some quick marks to give it some style.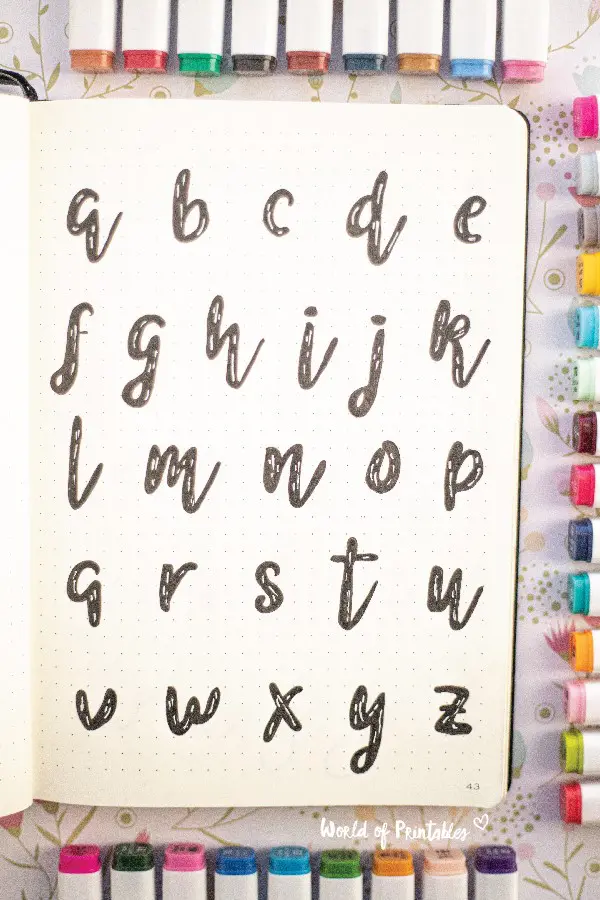 –
Script font
This beautiful script font is all uppercase and features a ton of pretty swashes. The swashes are pretty easy to do but i'd give it a few practice runs first. The 'G' is probably the trickiest one here. This script font would look great in any bullet journal.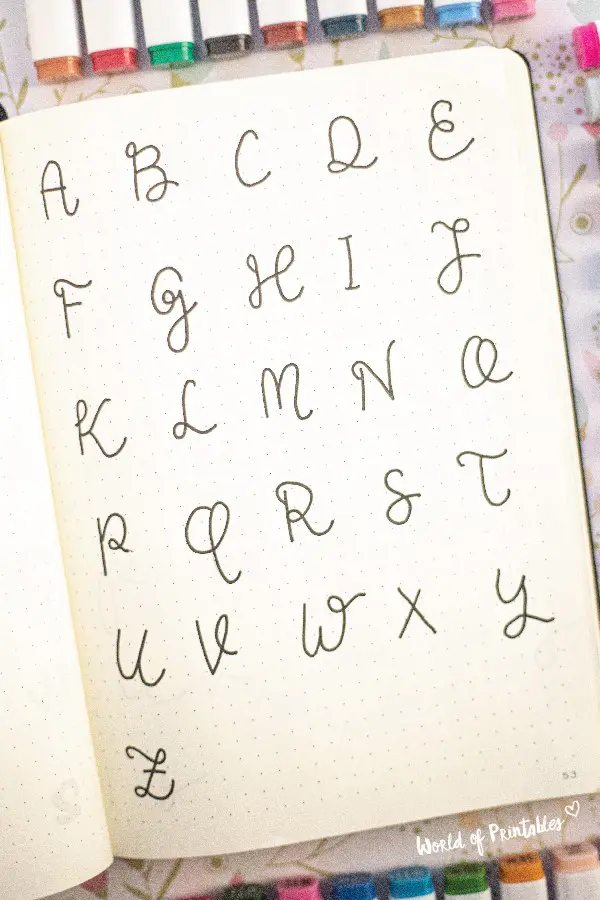 –
Fun 3D font
This 3D font is so fun and looks great. I love the creative look this font has. I actually struggle with drawing 3D fonts so this was a little tricky for me but I'm sure some people will find it easy to draw.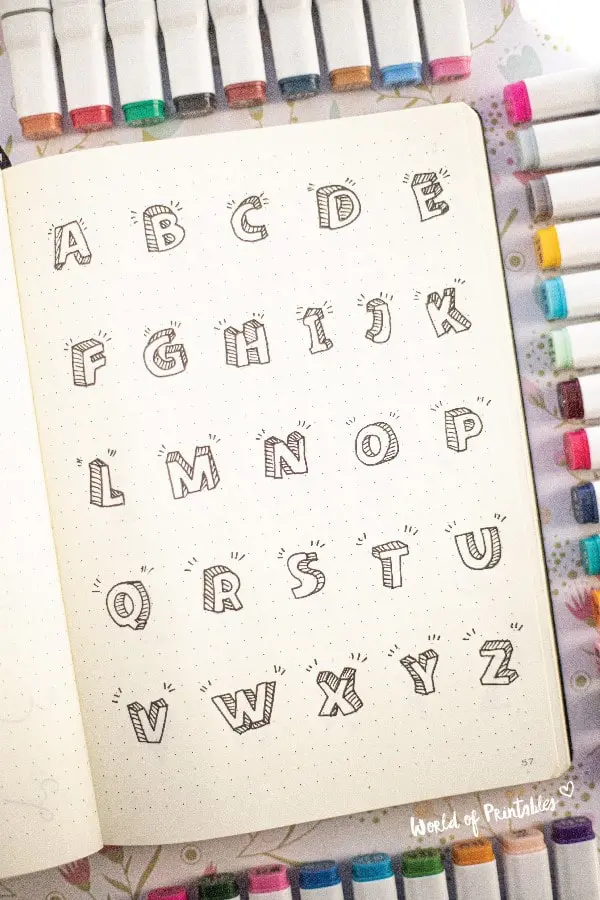 –
Simple Cursive bullet journal font
Keep it simple and elegant with this lowercase cursive font. You can use this font to create beautiful headers or to even write your content with. Bullet journals and cursive fonts were made to be together and this one is so simple to create. Practice a few times and you will get the hang of the little swishes really quickly.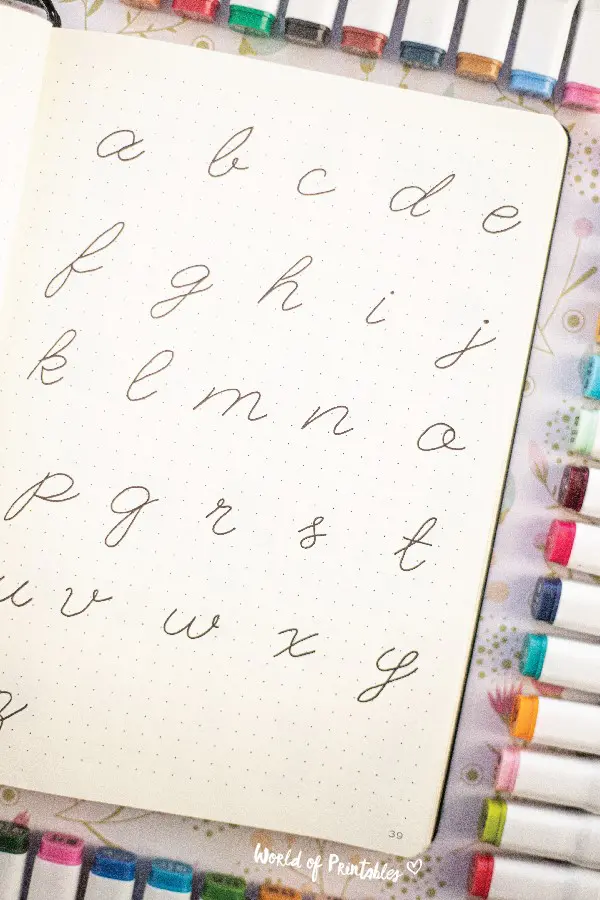 –
Cute Outline Cursive font
How cute is this font? It looks so pretty and you can see it in both all caps and lower case to make it easier when writing any headings or titles. This outline cursive font looks great with just black pen but can also be colored in to match your theme or style.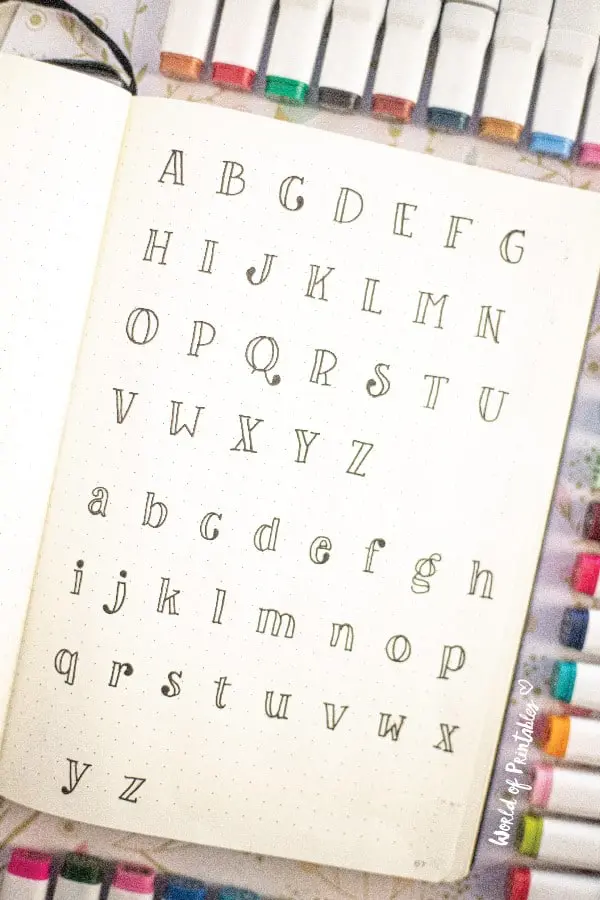 –
Modern Outline font
This style of font is by far one of my favorites and has been since I was at school. It's such an easy font to create but has such a beautiful and elegant look. This bullet journal font looks great simply in pen or colored in.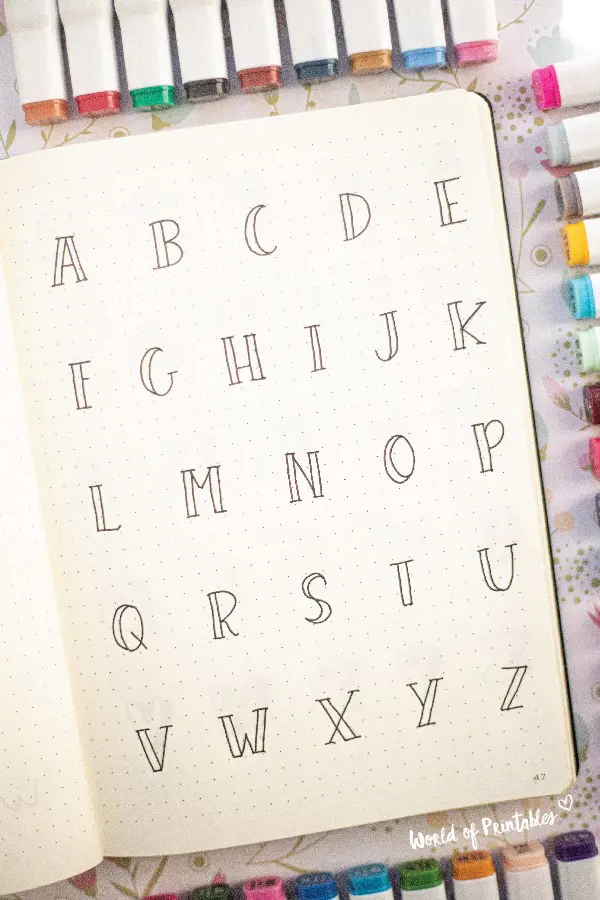 –
Bold Chunky font
This is such a fun and bold font. If you love chunky fonts then this is such a great option as it has such a quirky look but is still pretty. I decided to keep mine bold and in black but it would look amazing in any color.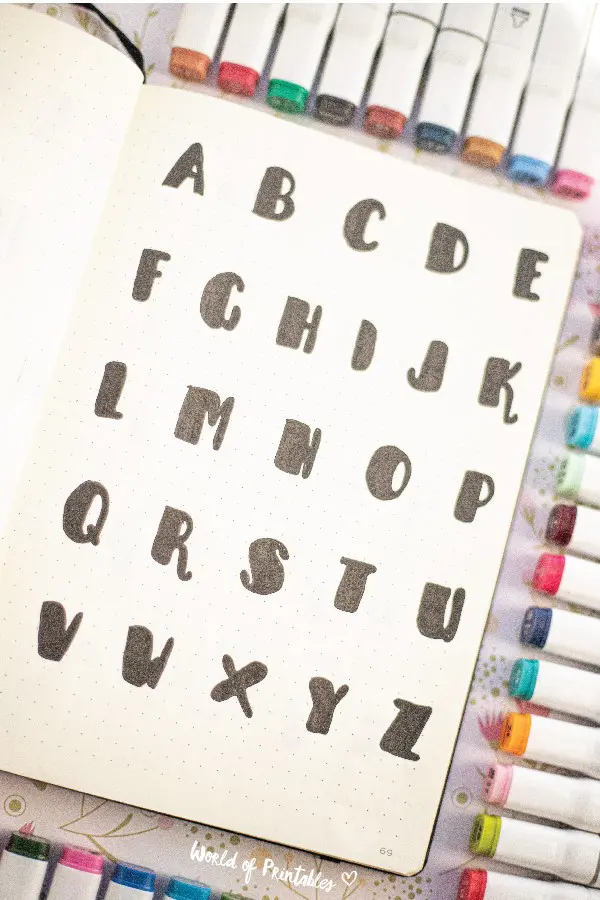 –
Fine Cursive font
This bullet journal font was created using a 0.05 fine liner pen giving it a very delicate and pretty feel. This font is perfect for any bullet journal and looks really sweet. The swashes are pretty easy on this one too and my top tip is to let your hand be fluid so it doesn't drag as you move with the pen.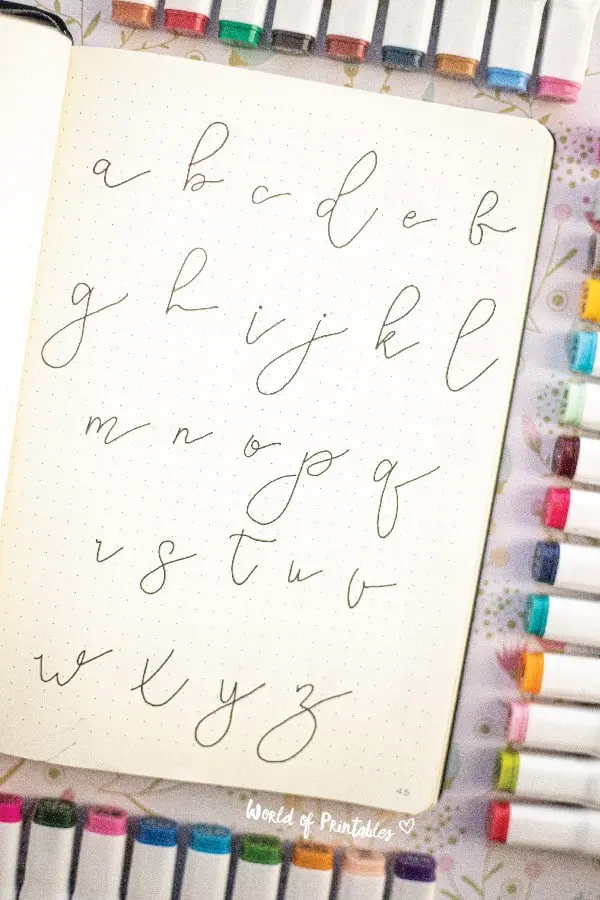 –
Drop Shadow Bullet Journal Font
I love this font because it looks great but I love the color of the blue markers I've used. The blue gradient really makes this font stand out and I totally love how it looks. This blue font is a perfect match for your bujo this month.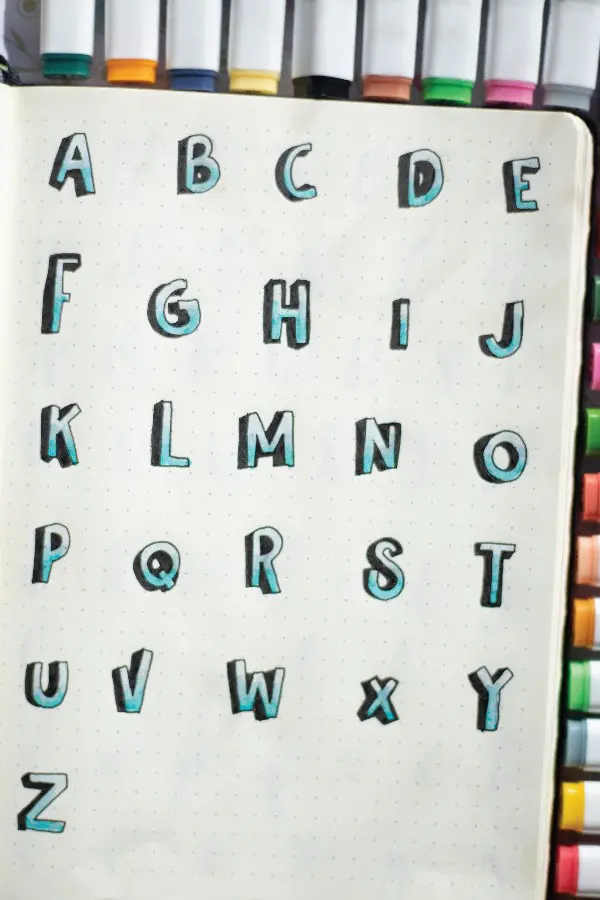 –
Pretty Cursive font
I really love this pretty cursive font. The balance of the thicker pen with the delicate swashes make this font work really well. I think this font would look amazing in any bullet journal and would also look great in color too.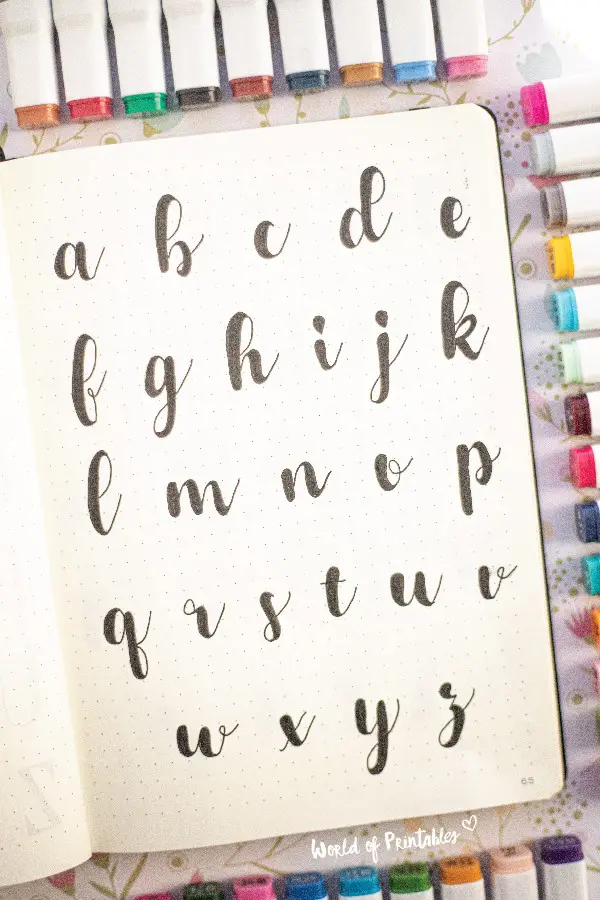 –
Bold Floral font
This beautiful bold floral font is so easy to create and looks amazing. It's the perfect option for a bullet journal with a botanical or floral theme or even if you just want something super pretty. Write the letters first then add the floral touches. After you have colored the letters in black (if you use black) go back and add a white line with a white gel pen once the ink has dried.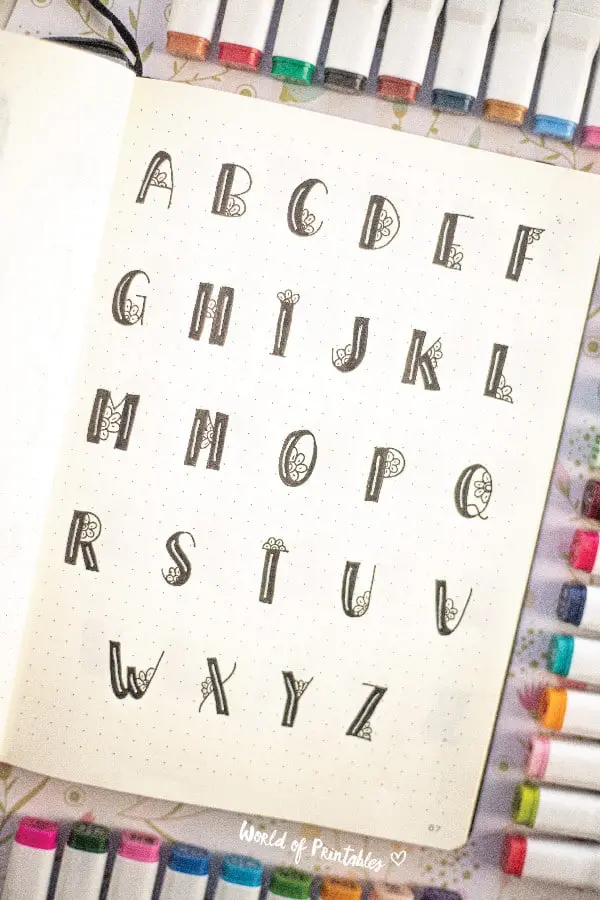 –
Floral Illustration Font
This font is so pretty and I swear it is so easy to create. Simply start by writing the letter with a fine pen and adding the space to give your letters the outline look. Then go back and simply freehand some leaves in the space. I used a 0.05 pen to draw little stems from one corner and added the most basic leaf shape. I also added a few dashes to give it a little something.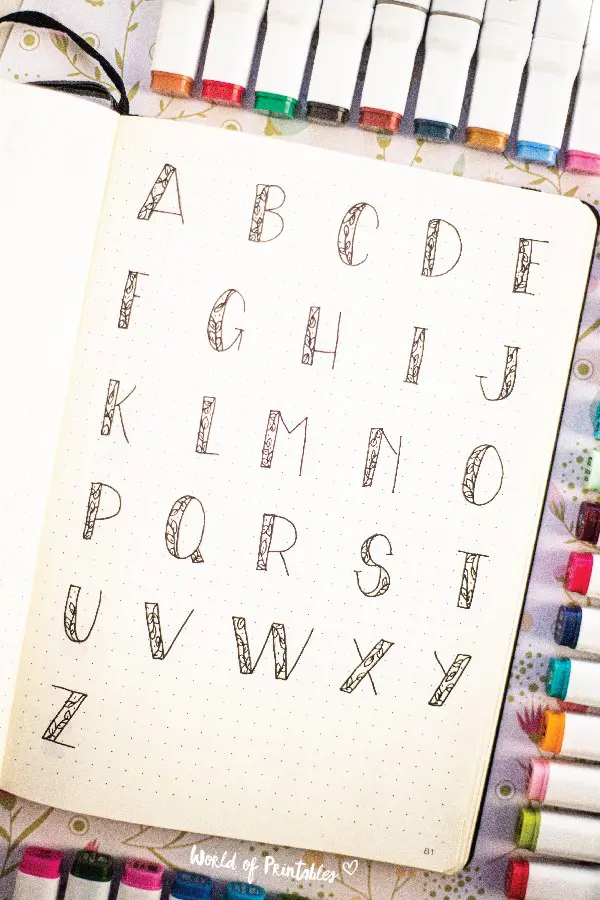 –
Dotted font
This dotted font has such a unique feel about it and is half solid and a half dotted design. This font would look great colored in with a color that contrasts the black but I've kept it black and white for now.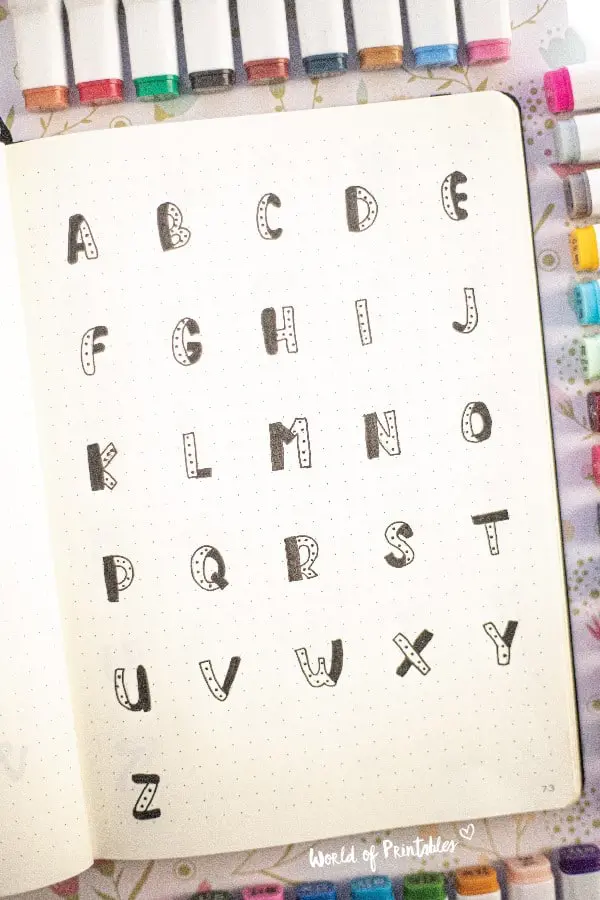 Free Printable Lettering Practice Sheets
You know when you visit our blog that we don't let you go away empty handed! If you love these best bullet journal fonts and would love to try them for yourself then download our free printable hand lettering practice sheets! These sheets are greyed out so you can easily draw over them and you can print out extra pages as you progress.
Simply print and practice!
It has been such a joy to draw all of these fonts out for my bullet journal and I really hope these give you some amazing ideas to try. If you need any advice or help with drawing these then get in touch on here or on Instagram, I'm always around. Also remember to tag us on Instagram if you try these out and if you liked this best bullet journal fonts post then I would love it if you would share it or pin it!
If you love this post you might also like: Best Bullet Journal Divider Ideas with Free Printable Practice Sheets