If you're a regular visitor to World of Printables, you most likely use our popular calendars to plan your months. So why not go one step further and use our hugely popular and free monthly planner printable to help plan and organize your months more effectively.
With this monthly planner, you can see everything at a glance for the coming month. This is a two-page printable that also comes blank, so you can enter the dates and use it for every month of the year.
It's the ideal monthly planner page for adding to your planner.
The Monthly Planner Printable is packed with features including:
Blank Calendar – Write in the dates and use it every month.
Priorities – Use for writing down the important priorities for the month ahead.
To Do List – Write the things you need to do this month.
Project & Due Date – Use for any projects that you're working on.
Goals This Month – Write the goals you want to achieve this month.
Ideas & Inspiration – Write any ideas and inspiration you have over the month.
Notes – Use the notes section to jot down bits and bobs.
Like many of our printable planner templates, you'll find everything you need to plan and organize the things that matter to you.
As well as being used for the month ahead, the monthly planner printable is also perfect for logging key moments throughout your month and reviewing them at the end of each month.
Either way, it's the perfect personal monthly planner to help you stay organized.
You can use these monthly planner sheets for different areas of your life. Use it to note key events in your personal life, use it for your business to schedule and plan your work-related activities, or use it for everything for an all-in-one blank monthly planner.
How to use the free printable monthly planner
To start planning your month ahead, download and print this monthly planner template pdf.
Then add the dates for the month ahead into the empty boxes. Next, write in any appointments, meetings, events, or anything that you have planned into the dated boxes.
Write all of the things you want or need to do into the to do section. Then write any priorities into the priorities section.
If you have any projects that you're going to be working on, add them to the Project section, along with any due dates if necessary.
If you have any goals for things that you would like to achieve then add these to the goals section.
You can use the ideas and inspiration section as and when you need it over the month. The same goes for the notes section which can be used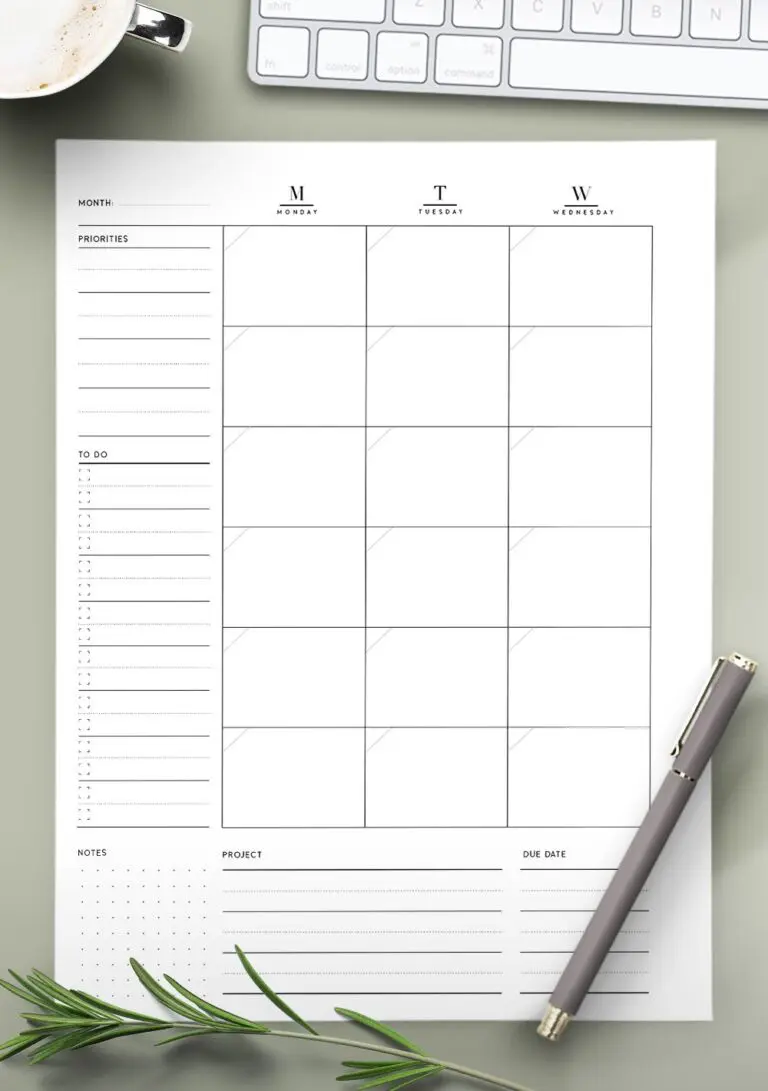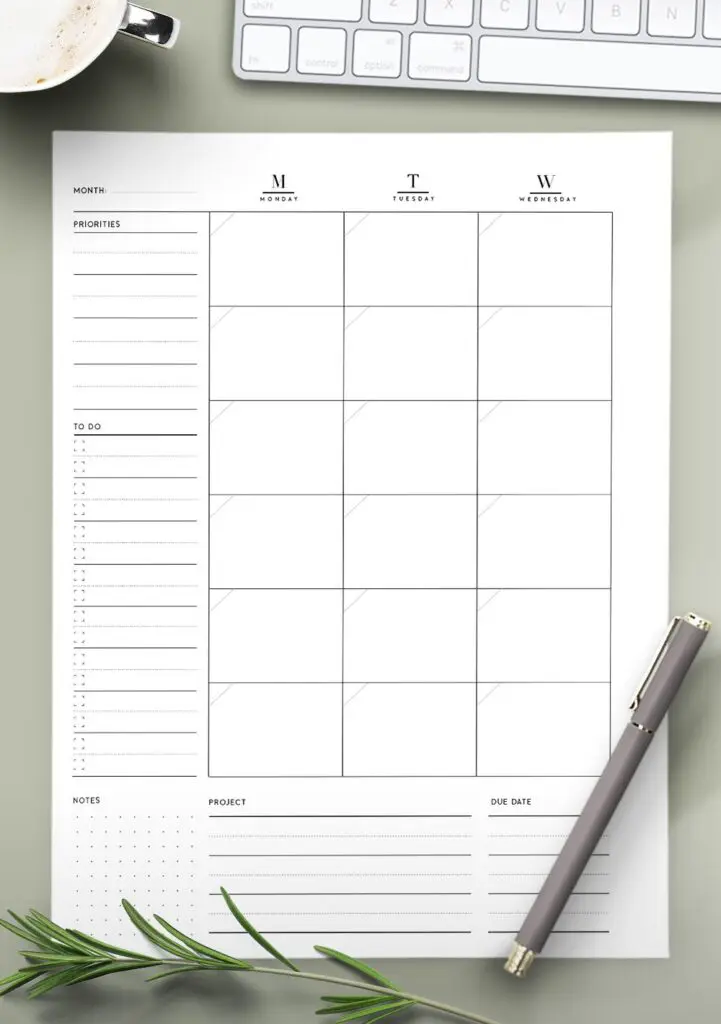 This monthly planner printable was originally designed for our Small Business Planner but it can really be used for whatever you need. It also would work great with our personal planner printables.
When you download the monthly planner printable you will get it in three different versions – Classic, Soft, and Botanical.
It is a great planner page to have and will fit in with any specialized planner you might already use!
How to use our planners for the best finish
Resize it – Our printable planner inserts are made for US Letter sized paper. But you can easily resize our planners to fit any paper size and binder. It's so easy to make them bigger or smaller to fit into your choice of binder – find out how here.
Print it – We recommend using nice quality paper for printing our planners and planner pages. This paper is a good weight and works with inkjet and laser printers, the ink looks crisp and clear giving your printed planners that shop-bought look. The paper also holds up well as you use your planner throughout your daily life.
Style it – Style your planner! Put them in your favorite ring binder, notebook binder, or even bind your own with a paper punch binder. Accessorize your planner with stunning stickers, unique paper clips, and stylish dividers and tabs. Find out how to make printable planners match your style right here!
Snap it – Take a photo of your planners and tag us on Instagram! We love to see how you use our planner pages!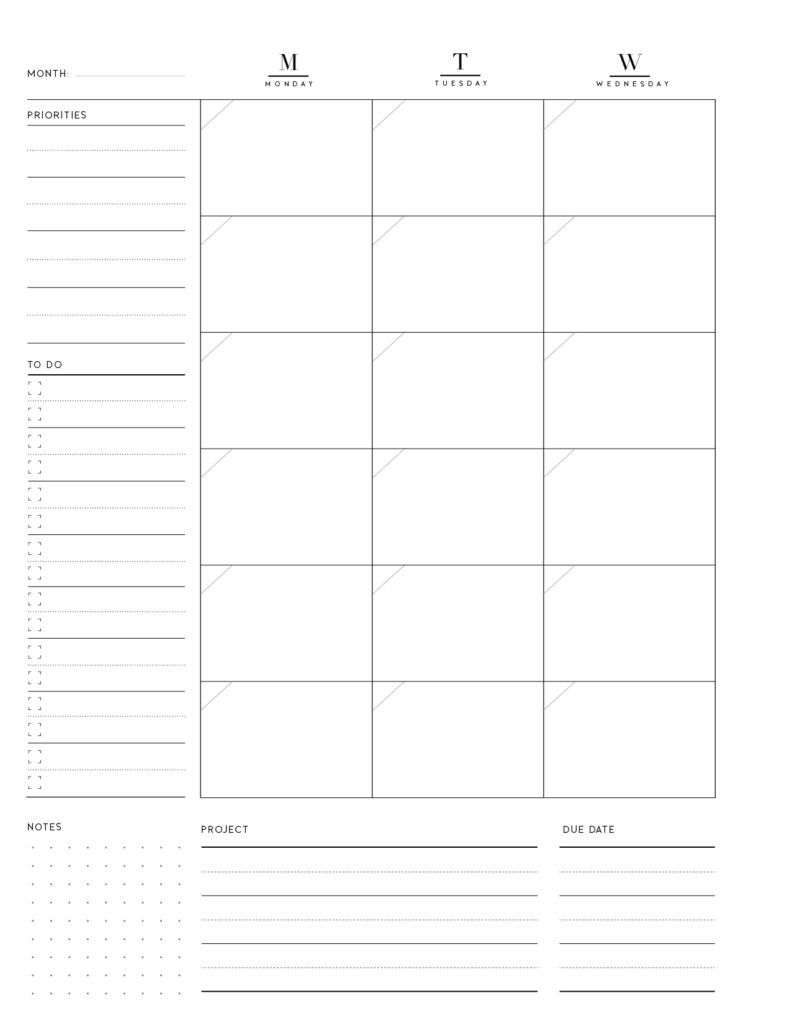 Download the free Monthly Planner Printable Template
To get the pdf monthly planner printable for free and in high quality, click the button below to visit our product page. Use the coupon code displayed to get it for free.
Remember to look through the rest of our planner printables, we've got printables for every aspect of your life!