Throw an amazing Easter egg hunt! Get these free printable easter egg hunt clues with over 64 to choose from for lots of fun this Easter.
Easter egg hunts are one of those amazing traditions that never get old! The anticipation and excitement of finding Easter eggs and treats are one for the whole family and it's such a fun activity for everyone to get involved with.
Watch your children's faces light up with joy when you tell them the Easter bunny has been and stashed eggs for everyone!
Free Printable Easter Egg Hunt Clues
I've created fun easter egg hunt clue printables to help you throw an easy egg hunt. There are indoor easter egg hunt clues, outdoor clues, easter egg hunt signs, and cute tokens.
So grab your free Easter egg hunt printables and create an Easter your kids will remember! Don't forget, we also have other free Easter printables to keep the fun going that you can find at the bottom of the page!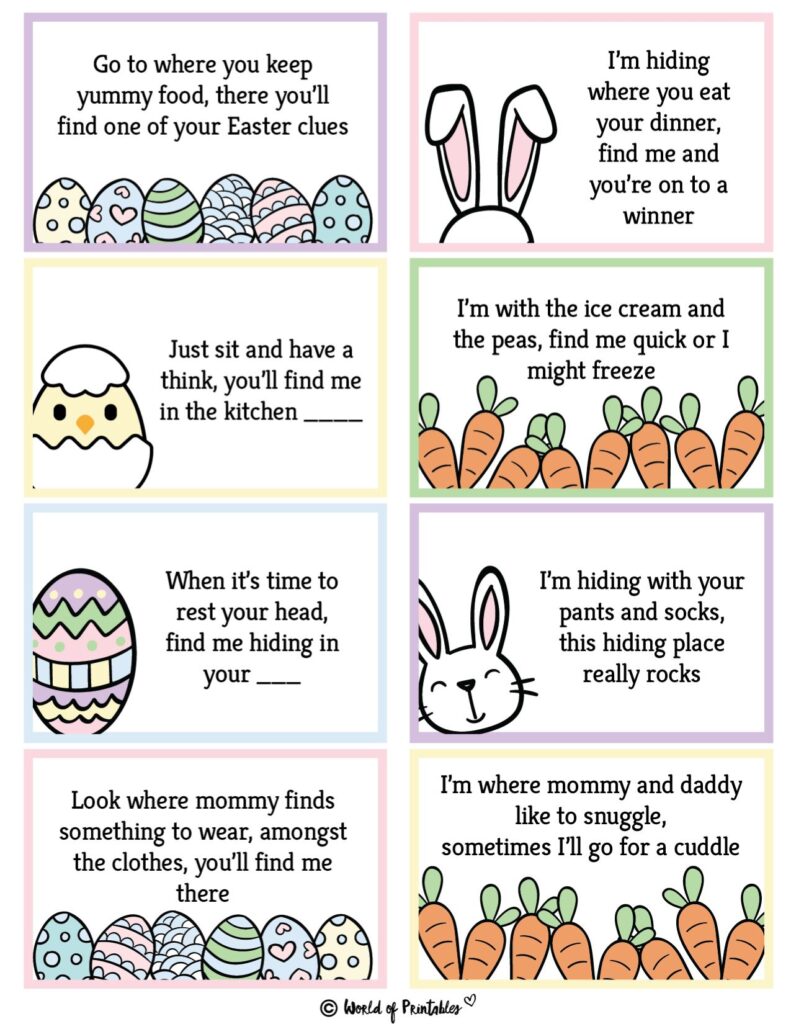 How do you do the Easter egg treasure hunt?
There are a couple of different ways to tackle an Easter egg hunt and they are both fun for younger and older children.
The first option is to simply hide Easter eggs around the garden for children to find. You can hide multicolored plastic eggs with small treats inside them or even small easter eggs.
This is a good option for kids who may get frustrated easily and just want some simple fun. I've created some cute tokens that you can hide inside the eggs that children will love.
There are pre-written tokens and blank ones for you to use.
Easter egg hunt clue
Another option is to use clues to lead the participants around the home or garden to find the eggs.
You can print the clues out and follow them to the surprise at the end or put the clues in small plastic eggs with a treat. You will follow the clues to find the next egg until the end.
Depending on how many children are playing, I would recommend having an equal amount of eggs to find per child.
It would be a good idea to choose one egg color for each child or if you are hiding chocolate easter eggs, you could add a colored sticker or name tag on the egg.
This makes the game fair for every child and avoids any tears and tantrums if one child collects more eggs than another. Just make the kids aware that they must only take their own eggs.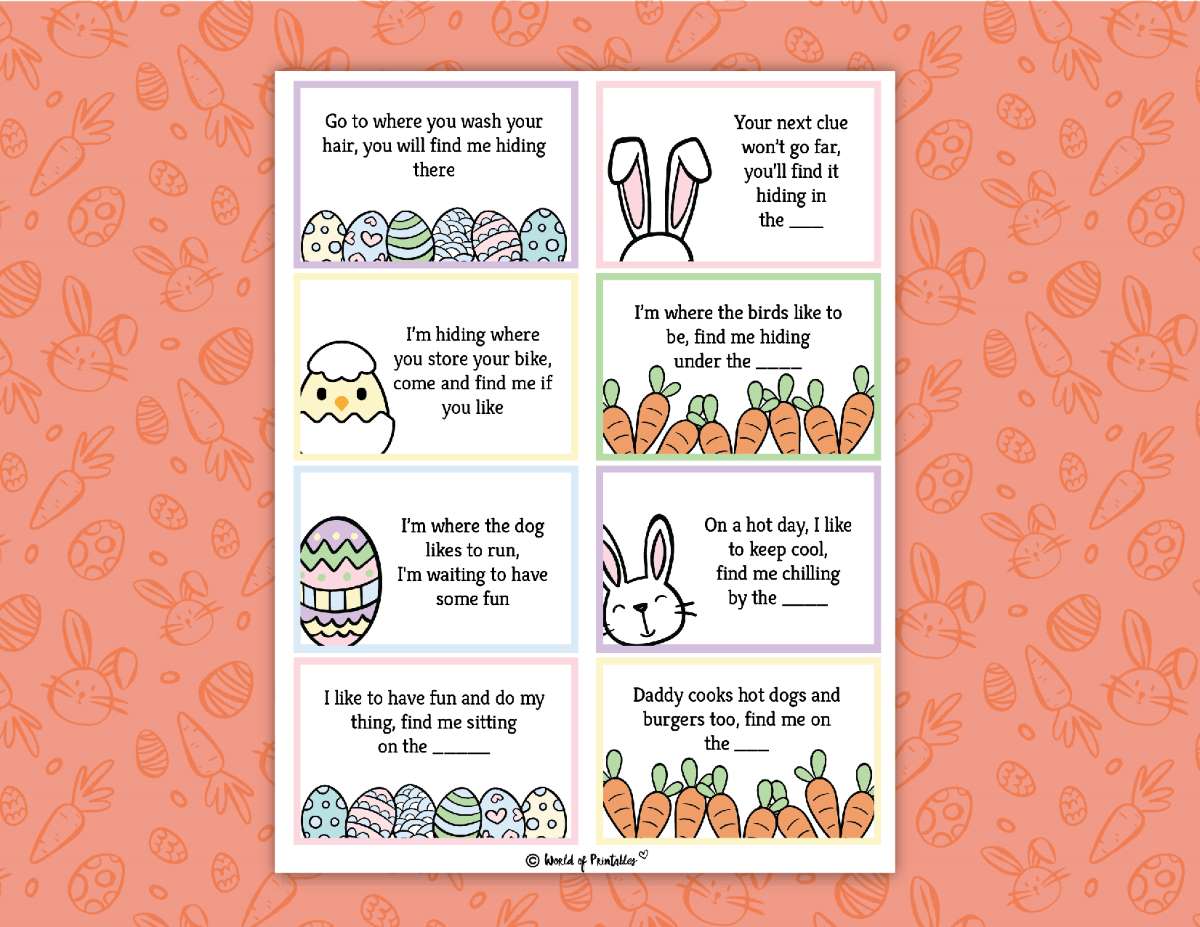 Setting up your egg hunt
It's easy to set up an Easter egg hunt and it's also fun! You can use our free Easter egg printables to help make the setup so much easier too.
Our clues can be used in any order, so it's up to you whether the children go room to room or you randomize the clues so the kids have to run around and get tons of exercise!
Either way, use our free printable easter egg hunt signs to help direct children the right way. There are two sizes, large and small with a written set and a blank set.
You can simply cut out the signs and stick them around the house or create signs for the garden! I think the smaller ones look cute stuck in a flower pot or attached to a bird feeder.
Easter egg hunt signs
Why not make some cute baskets for the children to collect their eggs. You can make an easter basket beforehand with the children as a fun easter activity or simply buy some.
Dollar Tree has so many cute Easter baskets that are really affordable and there are so many different styles. You can actually get all sorts of Easter goodies from Dollar Tree, including super cute speckled eggs.
If you're from the UK, check out your local Home Bargains! You'll most likely get all you need for next to nothing!
Printable Easter Scavenger Hunt Clues
Want to get straight to it and print our free printable clues? You will find three different sets of clues – written clues, visual clues, and blank clue templates.
You can hide the clues inside a small plastic egg or simply cut them out and place them down.
Pre-written Easter egg clues
The written easter egg clues are perfect for children who can read and understand rhymes to figure out and follow the clues.
Visual Easter egg clues
These visual clues follow the same structure as the written clues but are perfect for kids who are younger or can't read. Rather than a rhyme or riddle, the clue simply has a picture of where the clue is hidden. Little kids might need some guidance with their hunt.
Blank Easter egg clue templates
If you need more clues for your egg hunt then you can use our blank easter egg clue templates to write your own!
How do you make Easter egg hunt clues?
We have 32 original clues for you to use for your Easter egg hunt! You can use our free printable Easter egg hunt clues below, or you can use our clues along with other clues you might already have.
The clues have been split into areas of the house including the garden. These clues are perfect for indoor egg hunts and there are a few outdoor egg hunt clues too. There is also a first clue to start off the hunt and a couple of last clues to end the game.
Easter egg hunt clues
FIRST CLUE
It's time to start the egg hunt – hooray! Find me where you put the toys away. (toy box)
LAST CLUE
Your special treat is hiding well, you'll find it next to the doorbell. (front door)
Your special treat is hiding there, ask your mom to find out where!
OTHER
I'm hiding somewhere really cool, you use me when you go to school (school bag)
You put me in a bowl in the early morning, I'm something you eat when you're still yawning (cereal)
I'm where the baby likes to sleep, but be quiet when you take a peek (baby nursery)
I'm good for the planet and useful too, I turn paper into something new (paper recycling bin)
Go ahead and take a look, you'll find me in your favorite ____ (book / book shelf)
You put me on when you go out to play, I like to keep the cold at bay (jacket)
Easter egg hunt riddles for around the house
LIVINGROOM
I'm where you watch your favorite cartoon, I really hope you find me soon. (TV)
I like to sit here after a long day, find me quick, don't stay away (sofa)
KITCHEN / DINING
I make your clothes nice and clean, you can find me in the washing _______ (washing machine)
Go to where you keep yummy food, there you'll find one of your Easter clues (fridge)
I'm hiding where you eat your dinner, find me and you're on to a winner (dining table)
Just sit and have a think, you'll find me in the kitchen ____ (kitchen sink)
I'm with the ice cream and the peas, find me quick or I might freeze (freezer)
I'm sitting with a pot and a pan, come and find me, if you can (cupboard)
This clue is way ahead, it's hiding where you toast your bread (toaster)
BEDROOM
When it's time to rest your head, find me hiding in your ___ (bed / on the pillow)
I'm hiding with your pants and socks, this hiding place really rocks (drawer)
Look where mommy finds something to wear, amongst the clothes, you'll find me there. (mommys wardrobe)
I'm where mommy and daddy (alternative) like to snuggle, sometimes I'll go for a cuddle (parents bed)
You hold me tight when you get a scare, i'm snuggled with your teddy ____ (teddy bear)
BATHROOM
Go to where you wash your hair, you will find me hiding there (bath)
I keep your teeth clean and bright, you use me in the morning and night (toothbrush / toothbrush pot)
Easter egg hunt clues outside
GARAGE / DRIVE
Your next clue won't go far, you'll find it hiding in the ___ (car)
I'm hiding where you store your bike, come and find me if you like (garage / garage door)
GARDEN
I'm where the birds like to be, find me hiding under the ___ (tree)
I'm where the dog likes to run, I'm waiting to have some fun (garden / next to fence)
On a hot day, I like to keep cool, find me chilling by the ____ (pool)
I like to have fun and do my thing, find me sitting on the ___ (swing)
Daddy cooks hot dogs and burgers too, find me on the ___ (BBQ)
Easter Egg Hunt Printables
Our Easter Egg Hunt Printables are US Letter size printables and will also print on A4 paper. To get your Easter goodies, simply click the images and save them to your computer!
What do you fill Easter eggs with for older kids?
There are so many different things to put inside eggs for older kids. I've got some options here for things that are affordable but obviously, you know your teens better than anyone so you might have specific things in mind.
You can find all of these things on Amazon but I'd recommend checking your local dollar store first – it's probably much cheaper!
Money
Favorite candy
Gift cards
Key chains
Mini hand sanitizer
Gaming gift cards
Bouncy ball
Guitar pick
Cable bite
Keychain multi-tool
USB drive
Nail stickers
Lip balm
Temporoary tattoos
Jewelry (costume is cheap and fun)
Hair clips
Scrunchies
Make up sponge
What to put in Easter eggs that is not candy?
If you're looking for things to put in an easter egg that isn't candy but aimed towards little kids then here are a few options!
Both of my children are young and although they would love to find lots of chocolate, it's not really ideal. Here are a few ideas of things your children might love, I know mine would!
Tokens (check out our printable tokens)
Play doh
Small toy car
Hair clips and hair bands
Small figurines
Whistle
Mini nail polish
Stickers
Small toys
If you opt for small toys, make sure your child has passed the stage of putting things in their mouth!
Easter Egg Scavenger Hunt
Hopefully, these printables will help you have a fun Easter! I will definitely be using them with my two little ones this Easter and I can't wait!
If you're looking for more fun Easter activities then check these out:
You can also find much more free kid's printables for lots of educational fun.
What do other people print after viewing this?
Get notified of our upcoming free printables – you're gonna love them!
If you love this post then please share it with your friends and family, pin it to Pinterest and show us your creations on Instagram.
Follow World of Printables on Pinterest
COPYRIGHT
The printables that you find here are the copyright of World of Printables – you cannot redistribute or sell any of these printables or templates, although you can link back to our website.