It's that time again, where we need to start planning the month ahead. When it comes to planning January and the new year, it all starts with a January 2021 calendar.
So we've put together this collection of January 2021 calendar printables that we've designed, so that you can quickly find the one that works best for you and download it for free.
You can either print the January calendar individually, or download the complete 2021 calendar in the design of your choosing.
Better yet, why not download different styles for different months of 2021? that way you can mix and match designs for the whole year and keep things fun and fresh!
Download your free January 2021 Printable Calendar today
Start by taking a look through the January 2021 calendar designs below and download and start planing. With our range of calendars we hope that it helps make planning January easier, although with this large collection of designs, the hard part might be choosing the design you like best!
So much to choose from!! Have fun!
Use this post to learn how to resize your calendars to fit your planner or bullet journal!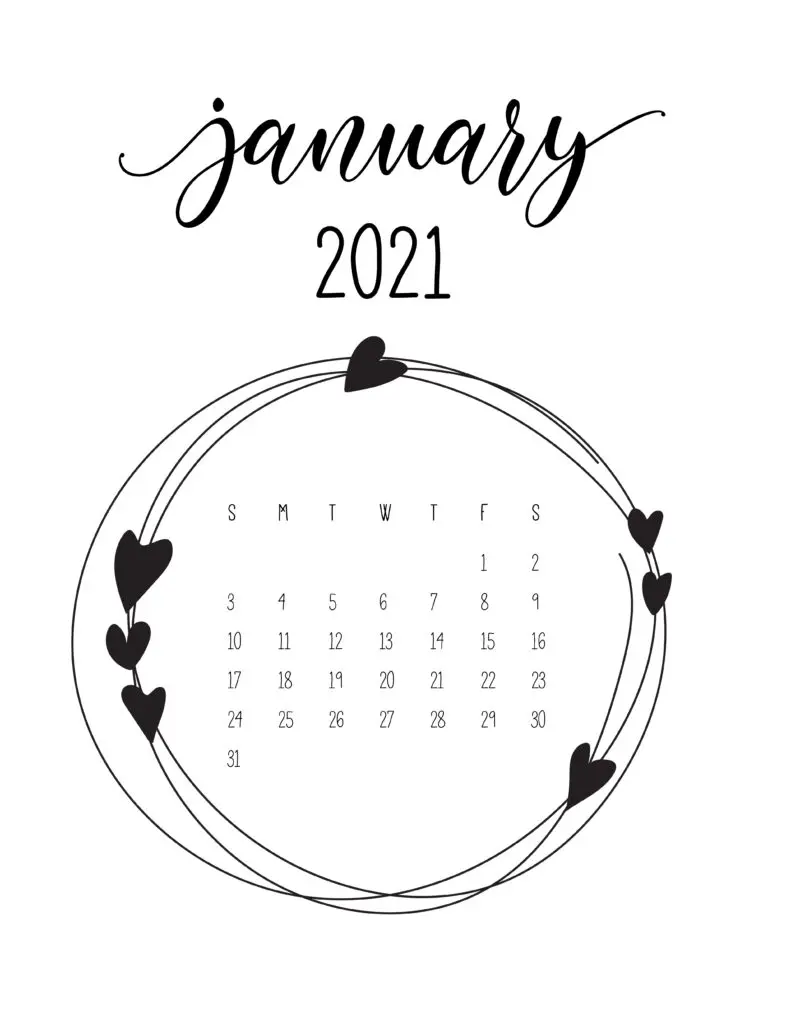 This design features a circular floral frame around the days of the month with a cursive text overlay.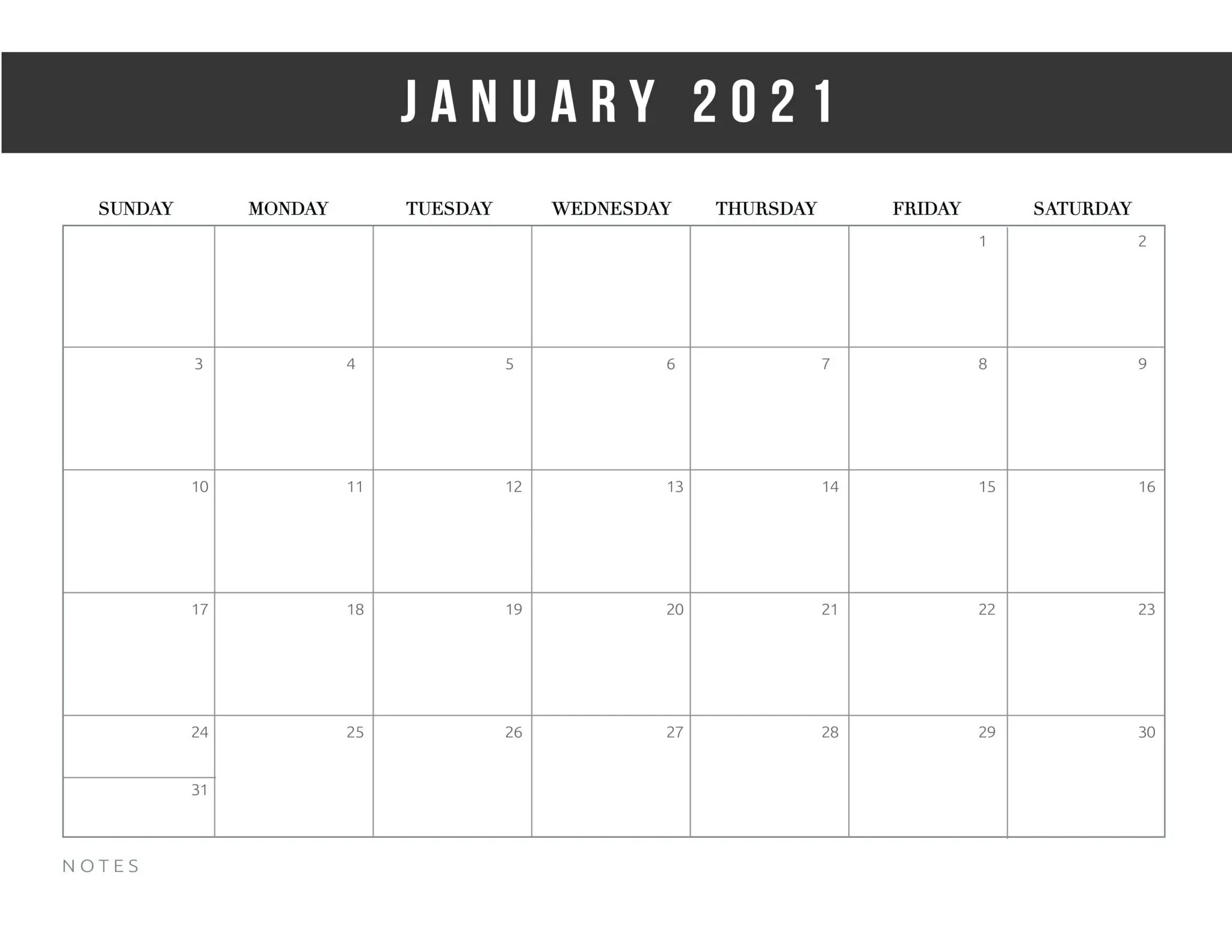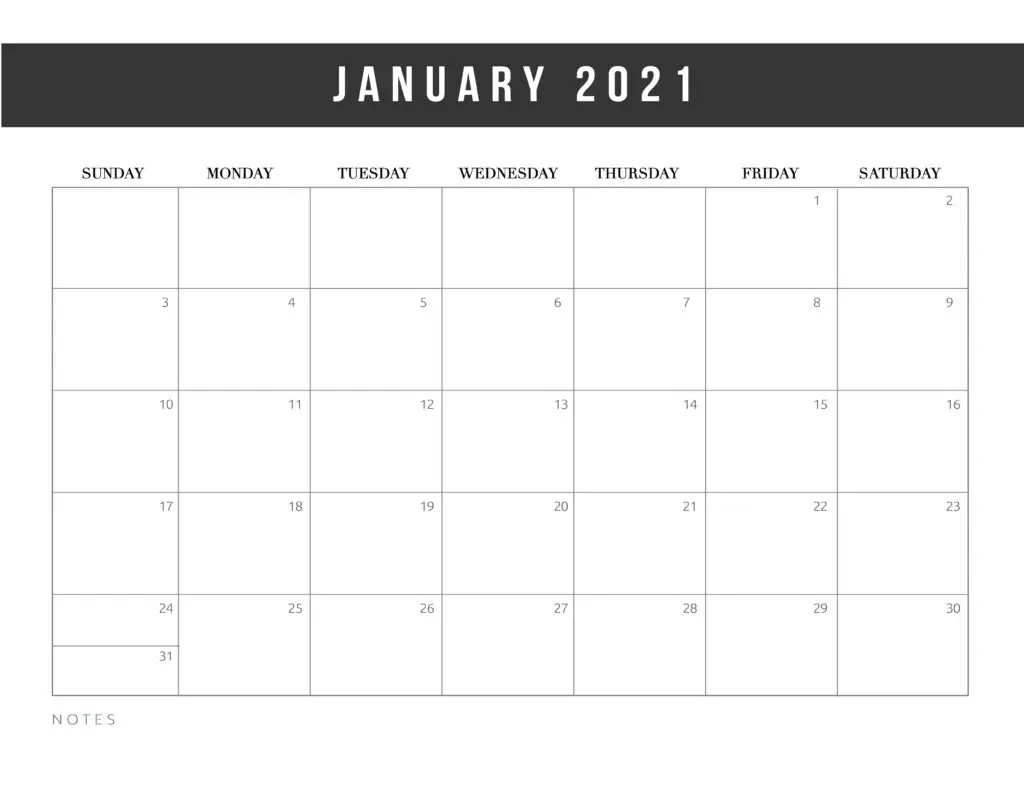 A standard and functional design with empty boxes where you can write the activities you have planned for each day.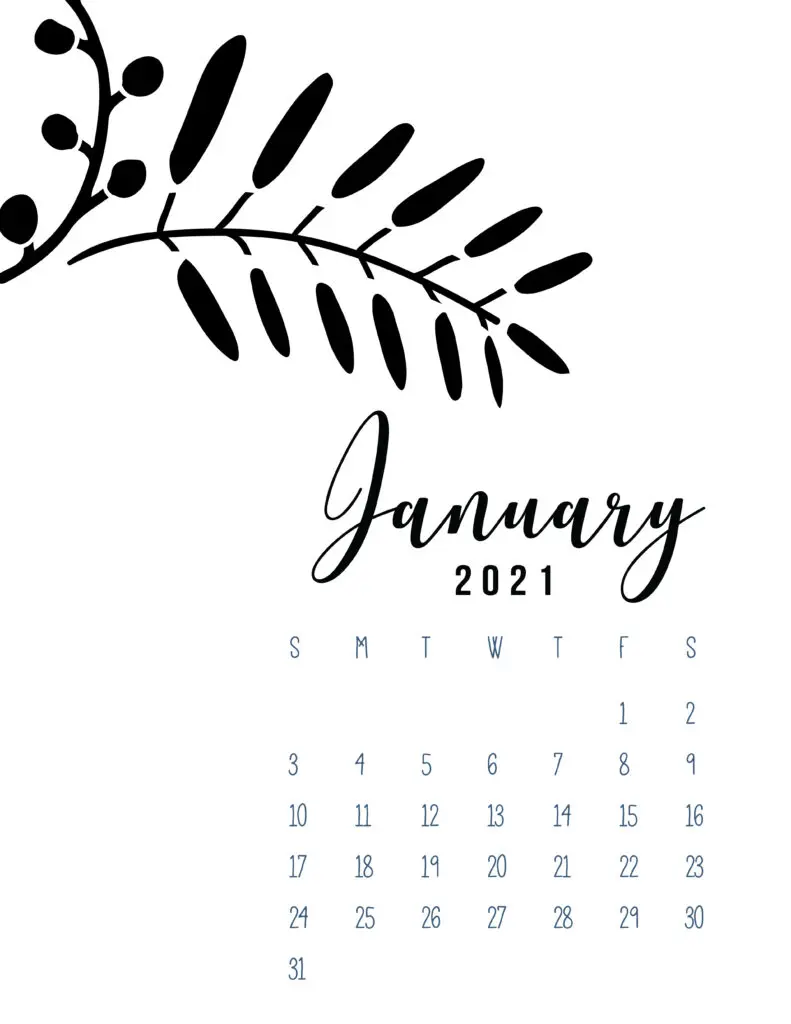 A great looking botanical design which features the month at a glance.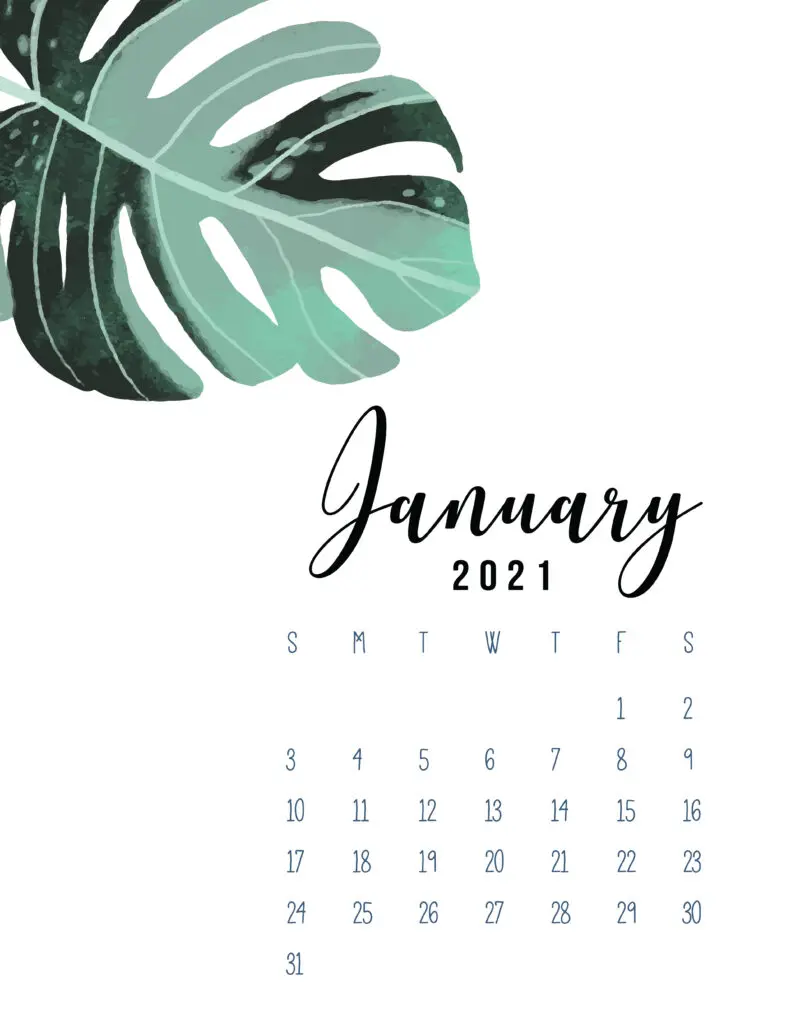 Another botanical design, this time in color with the days of the month at a glance.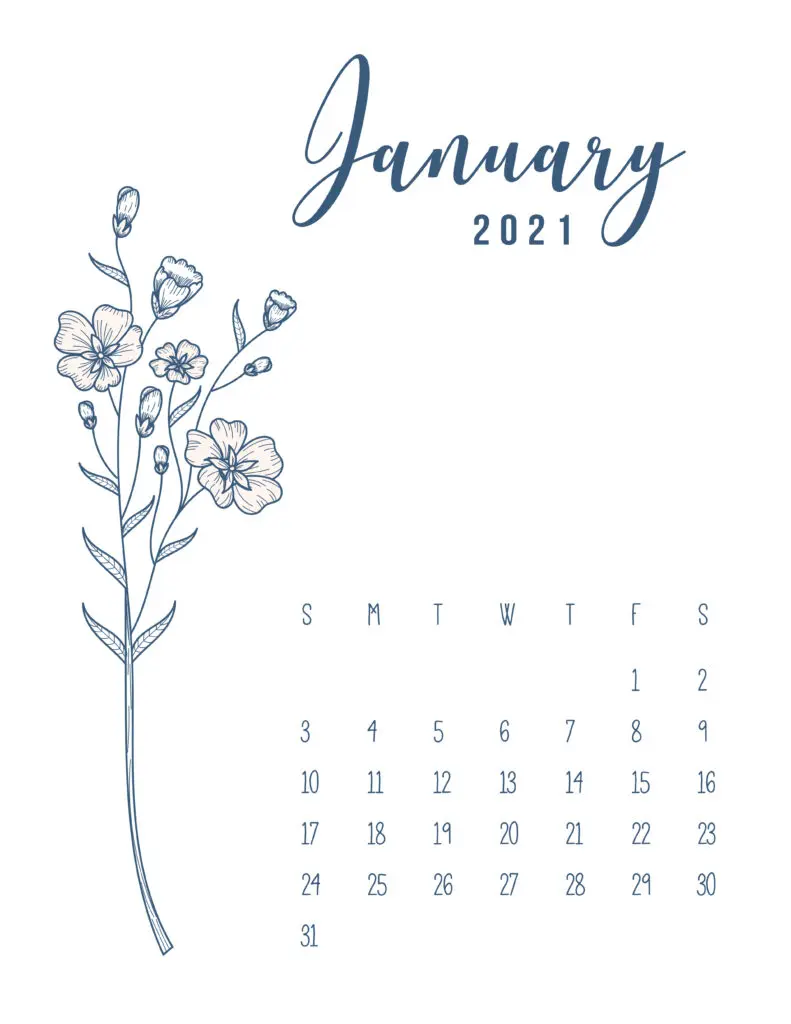 This two tone floral calendar is very simple but also very effective.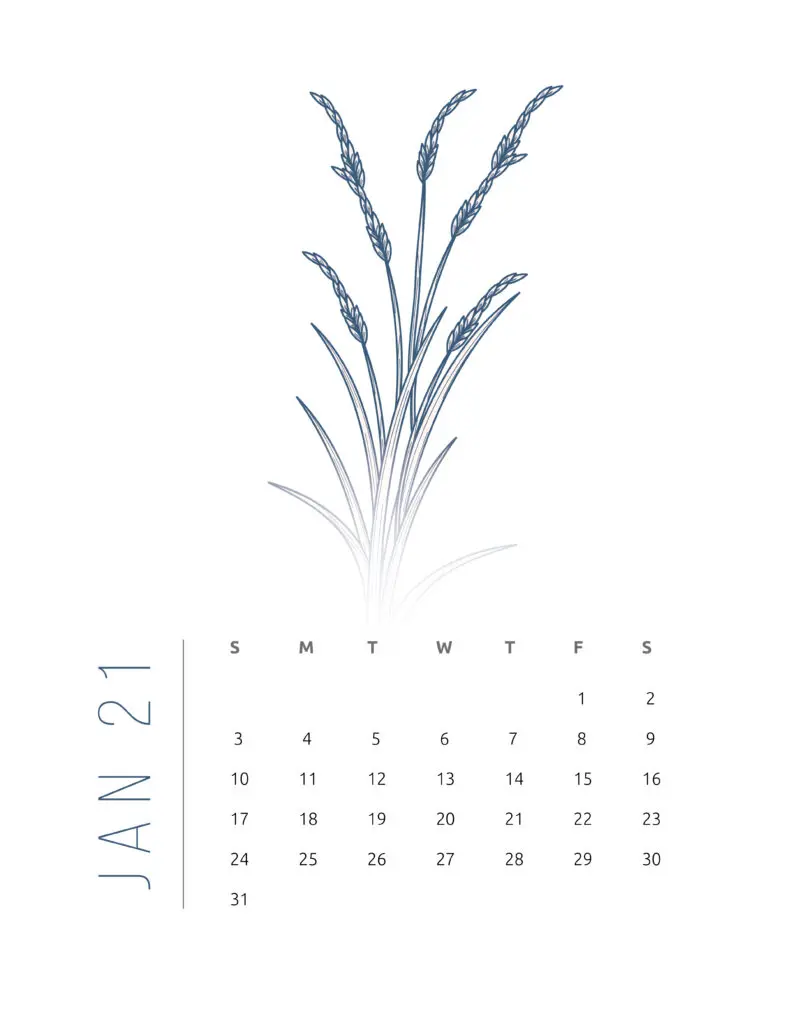 Another one of our simple floral calendar designs.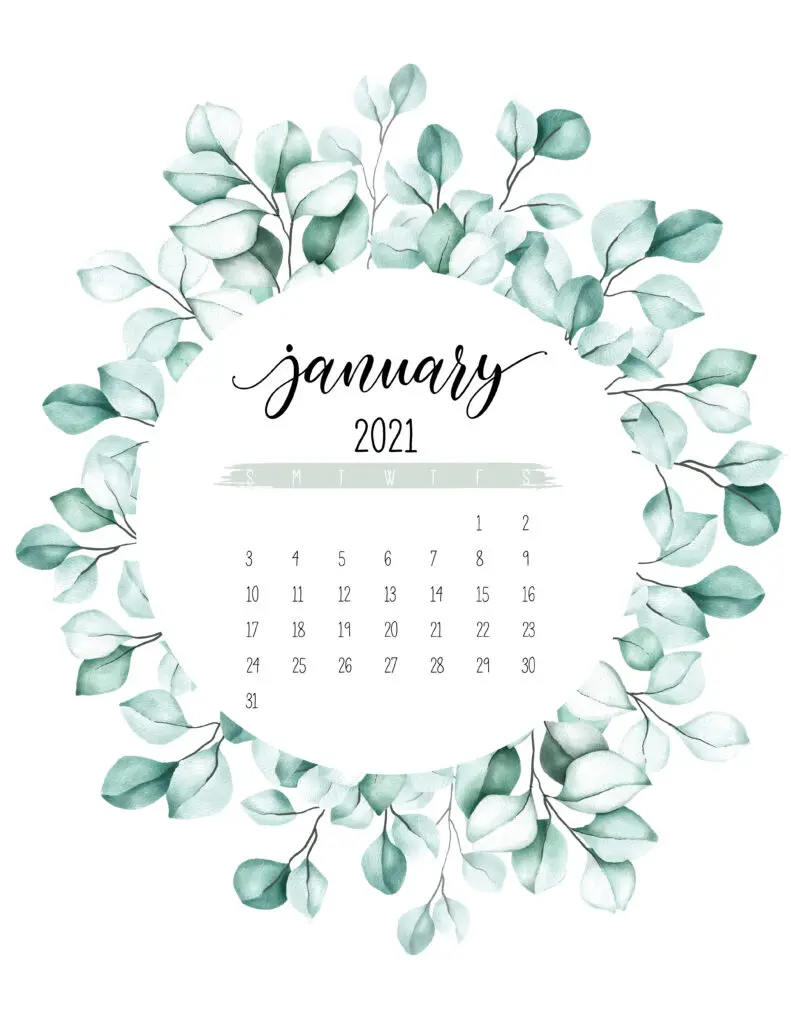 This calendar features a circular floral frame which is one of our favorites.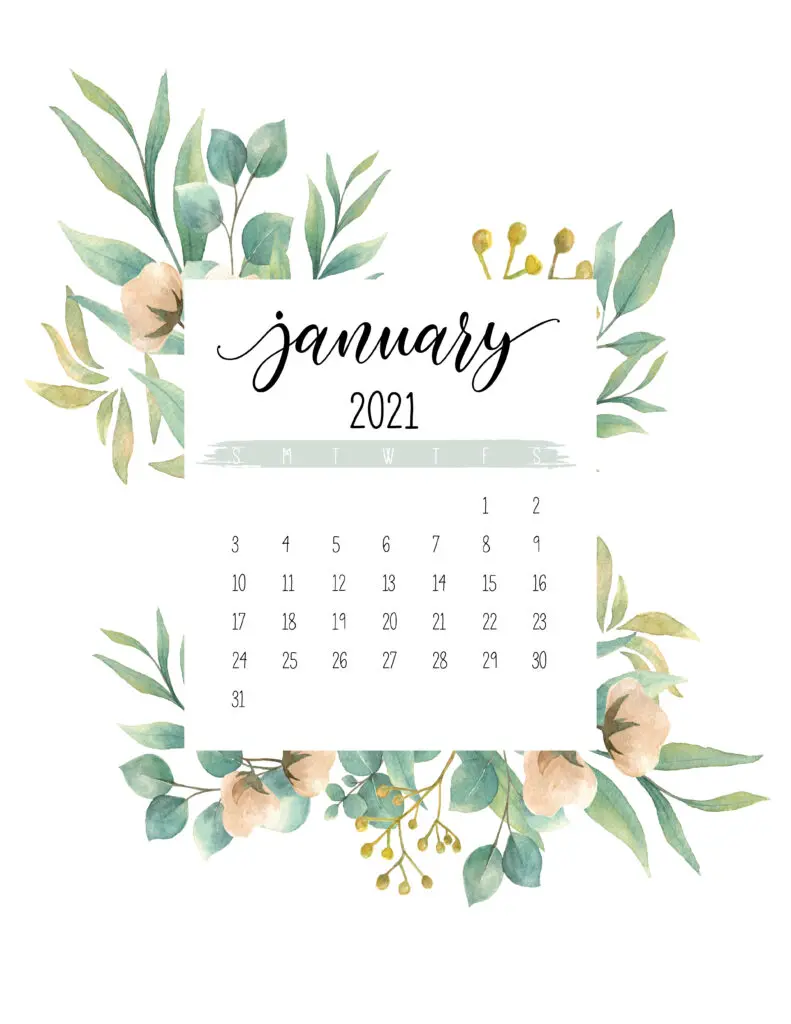 Another great looking botanical calendar design, which features the days of the month at a glance with the floral effect behind.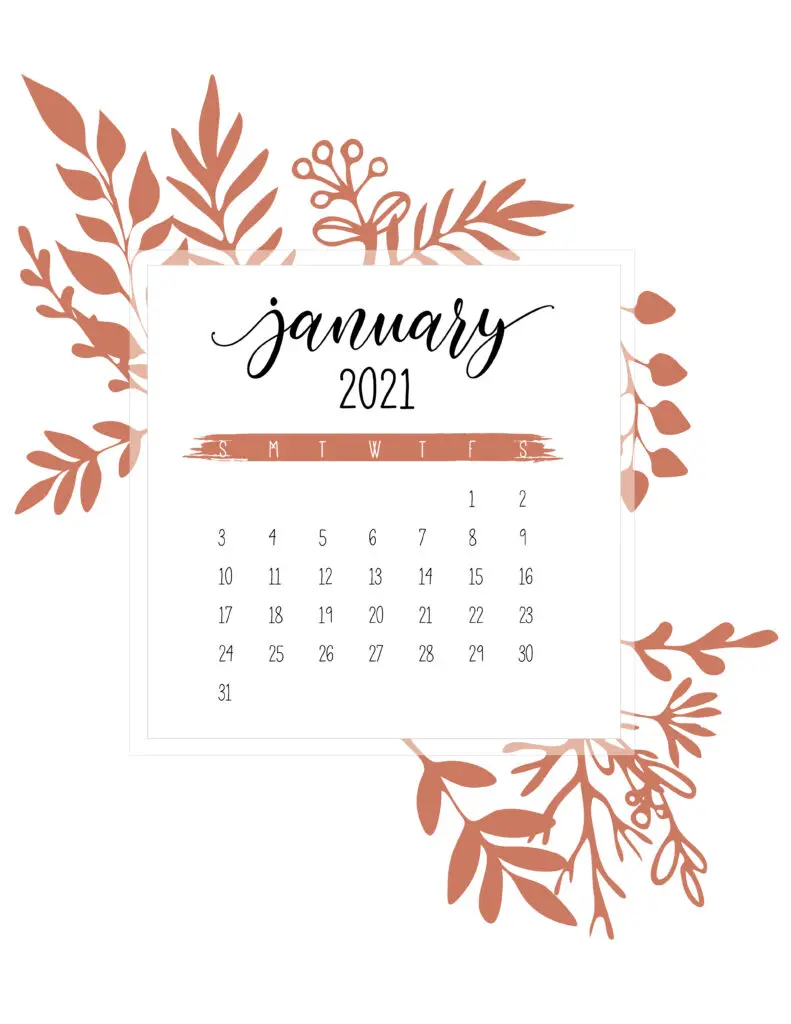 A simple floral black and white calendar, with a hand-drawn effect. Who wouldn't want to decorate with this calendar?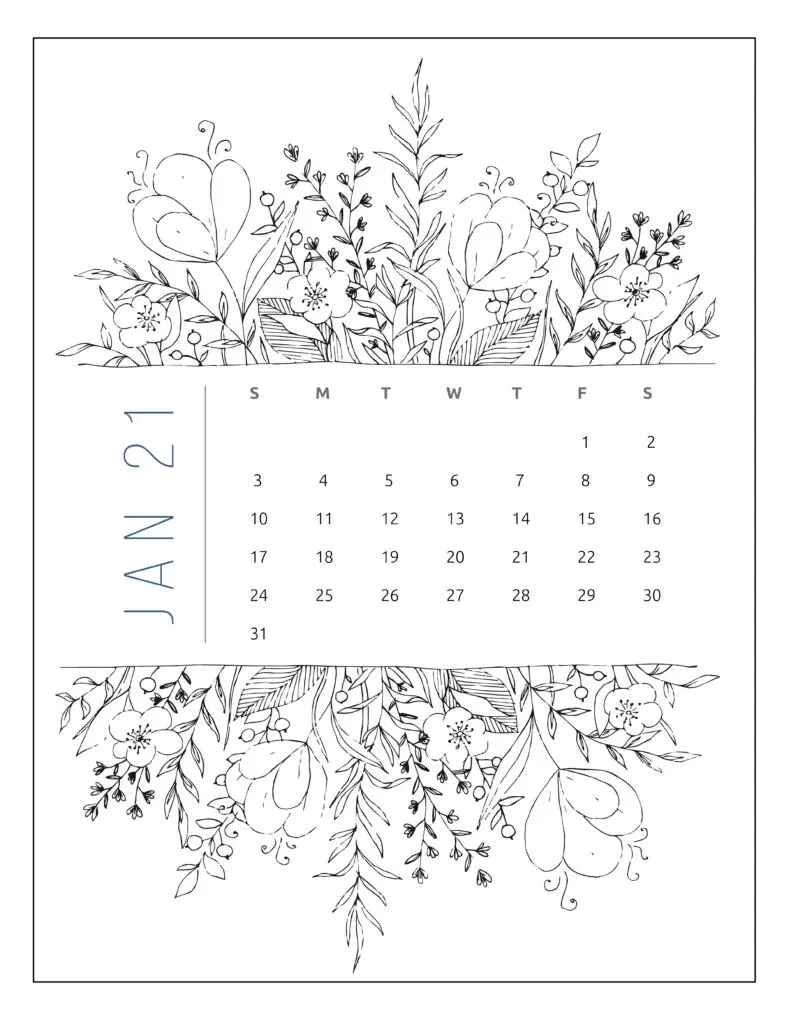 For those of you who love to look to the skies, this calendar is perfect for those celestial lovers. Can you make out the constellation from each calendar page?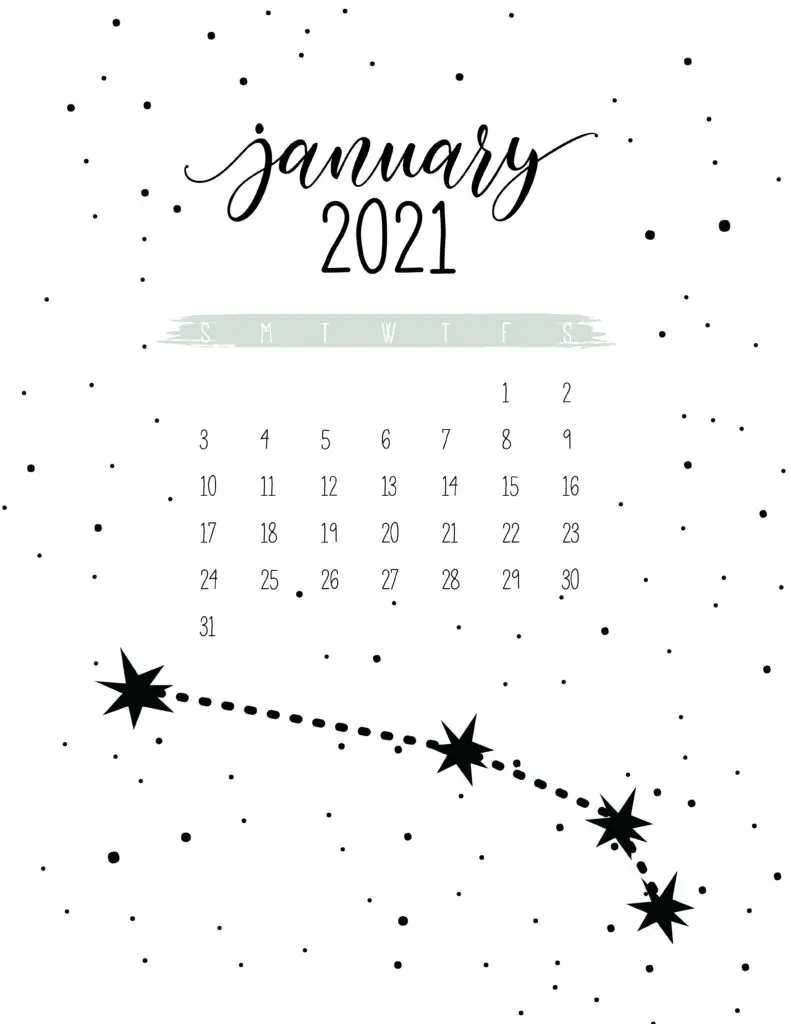 When you need a calendar to decorate your kitchen, we've got just the one for you. This kitchen calendar design is perfect for at a glance date reference and keeps the kitchen theme perfectly in place. Just grab your apron and you're done!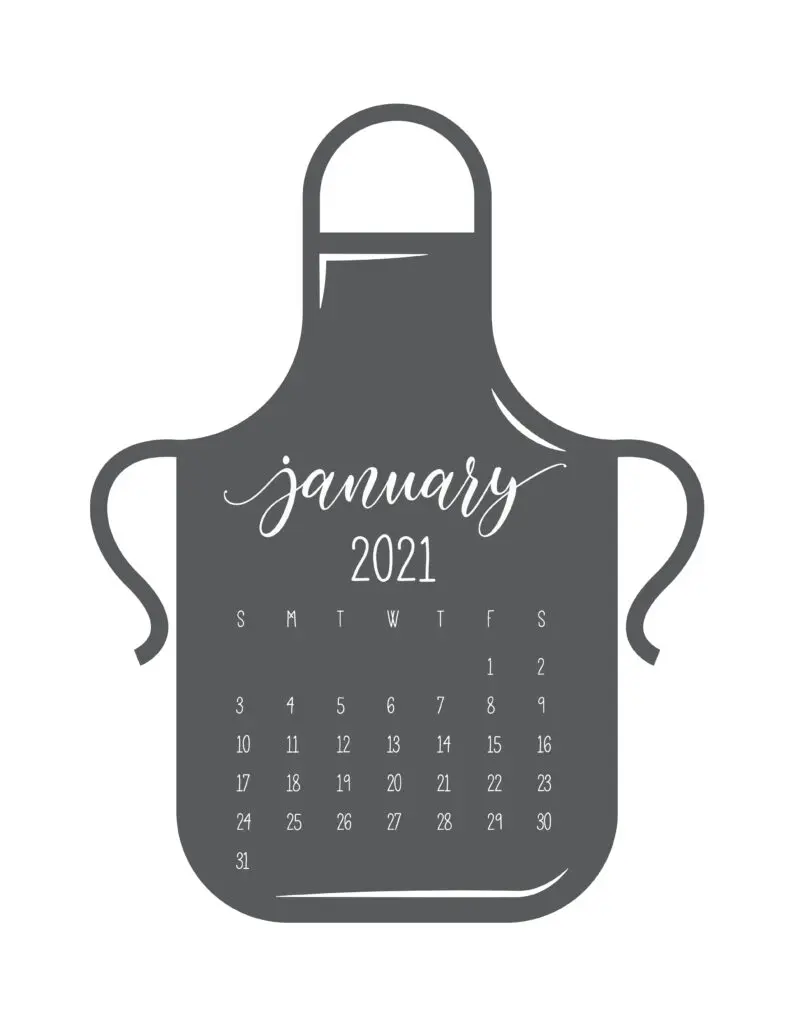 Who doesn't love cats?! Especially when they're kittens, they're just so cute and adorable. So we've created these cute kitten calendars for those of you who love those squishy adorable furballs!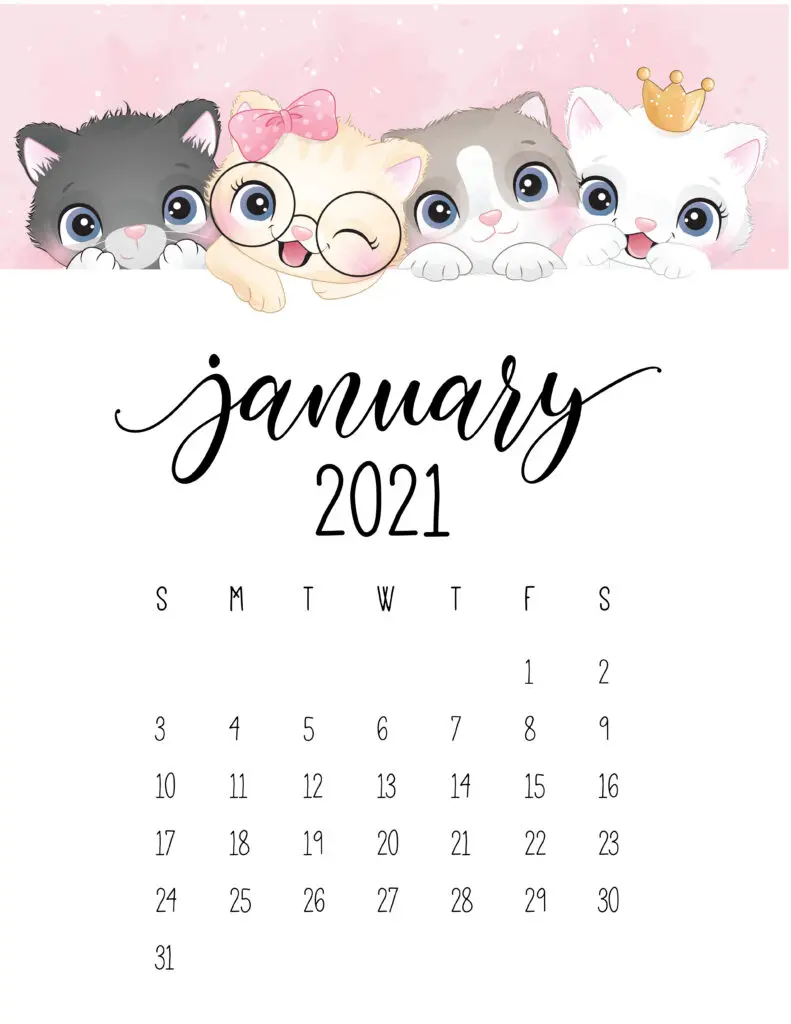 Little kiddies love dinosaurs, so we've created this cute dinosaur themed calendar which you can download and print and decorate your home with. It'll attract your little ones who will surely be more interested in calendars now!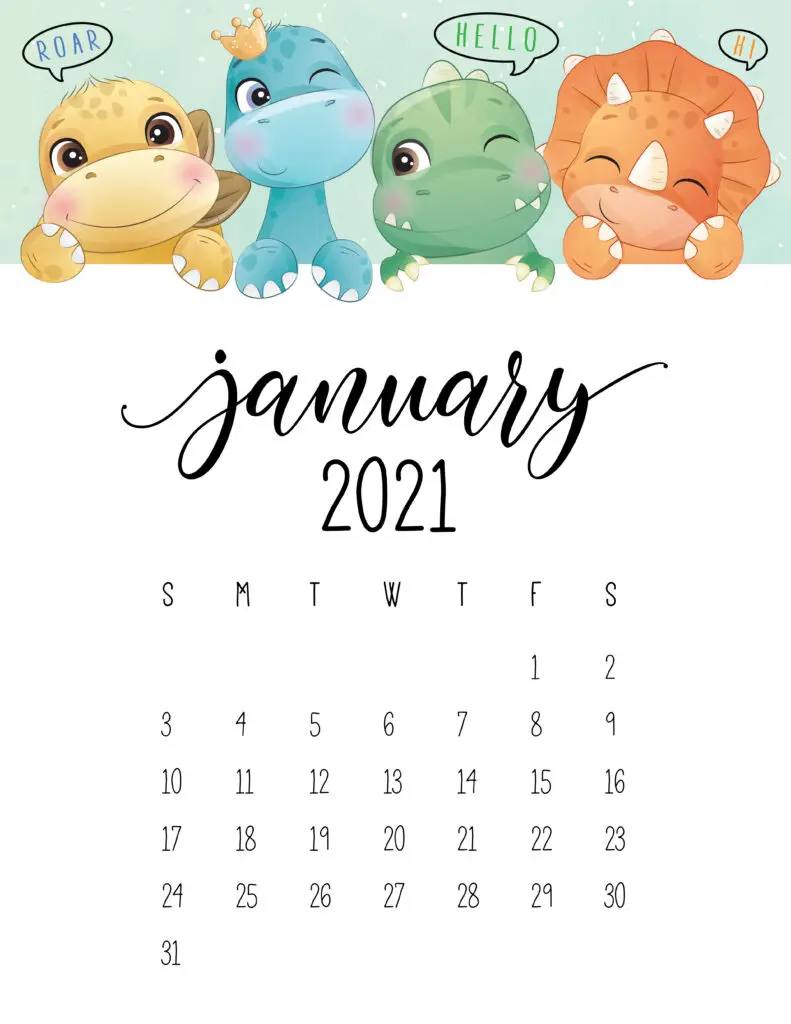 Or what about these cute little wild animals? We've added a selection of cute animals to this calendar which adds a touch of fun to what might be an otherwise simple calendar.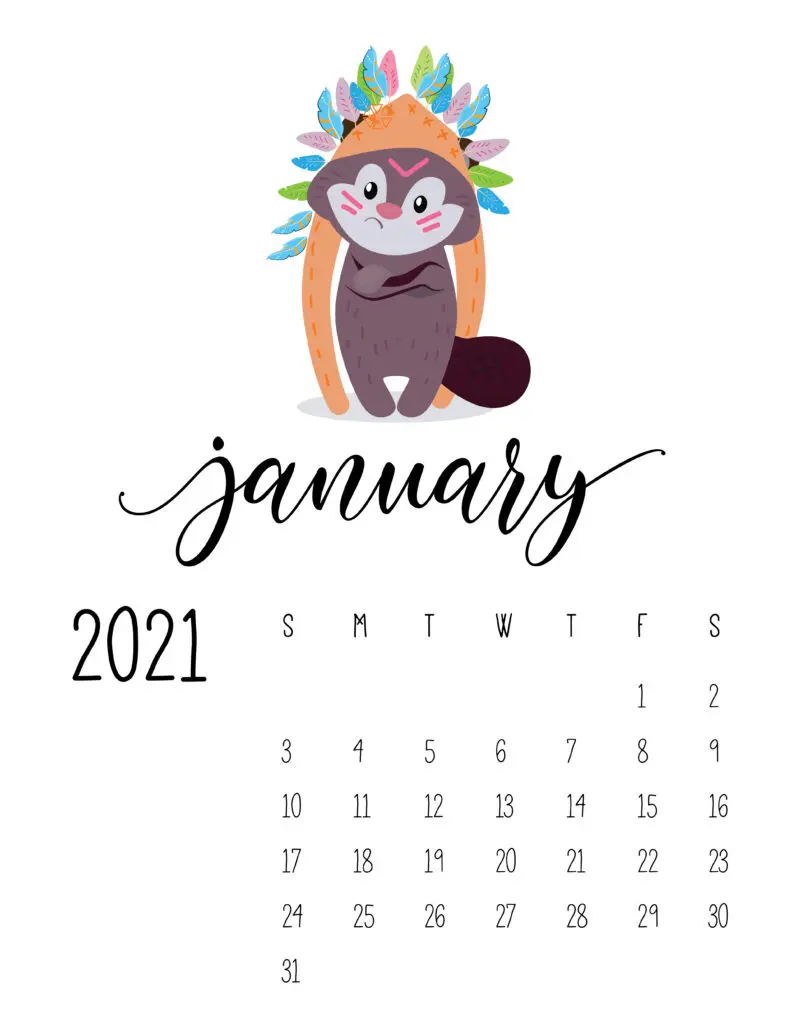 These cute sleep time animals adorn this calendar, which features a selection of the most cutest sleepy animals.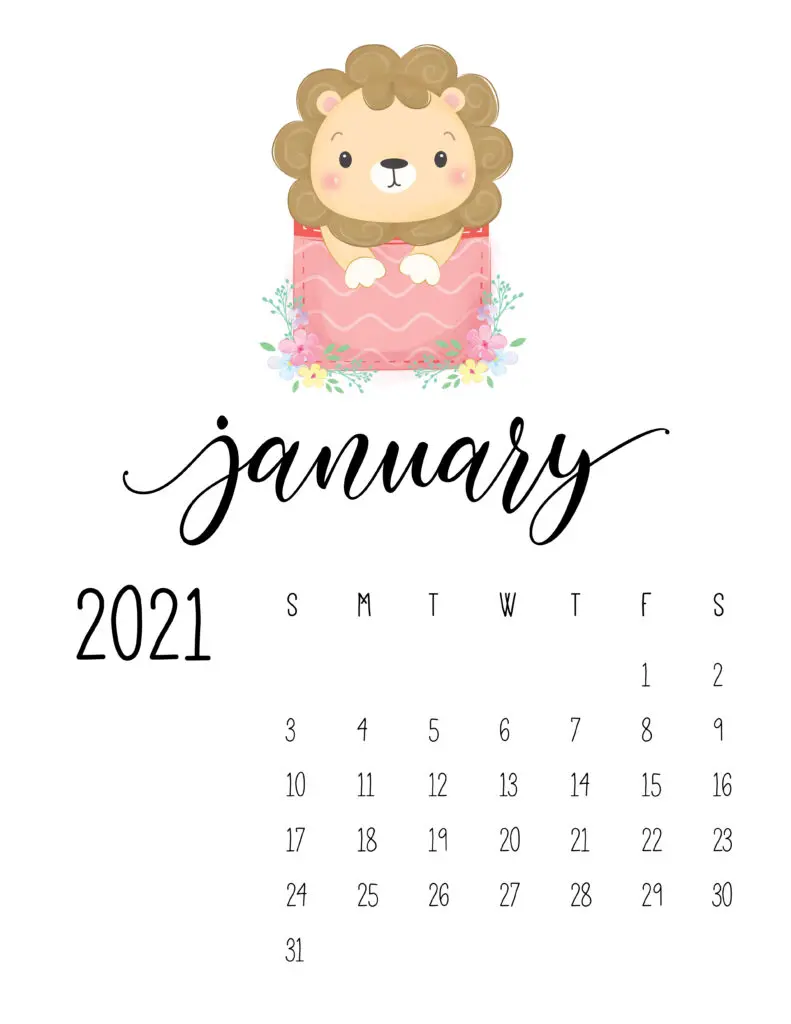 These cute animals on a washing line adorn this January 2021 calendar. They have a mischievous look about them wouldn't you say?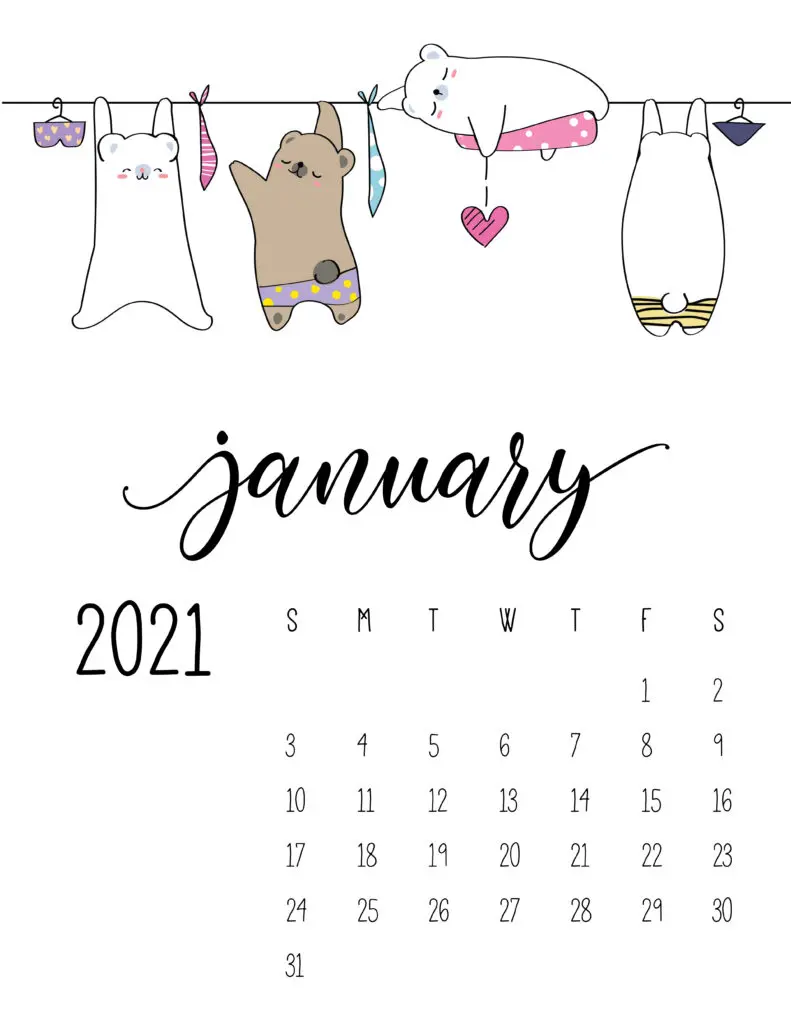 Another January 2021 calendar featuring cats, these are pretty cute too wouldn't you say?
These cute little animals are off on their travels, so if you're thinking of planning your travels and counting down the days, then this is the perfect calendar for you.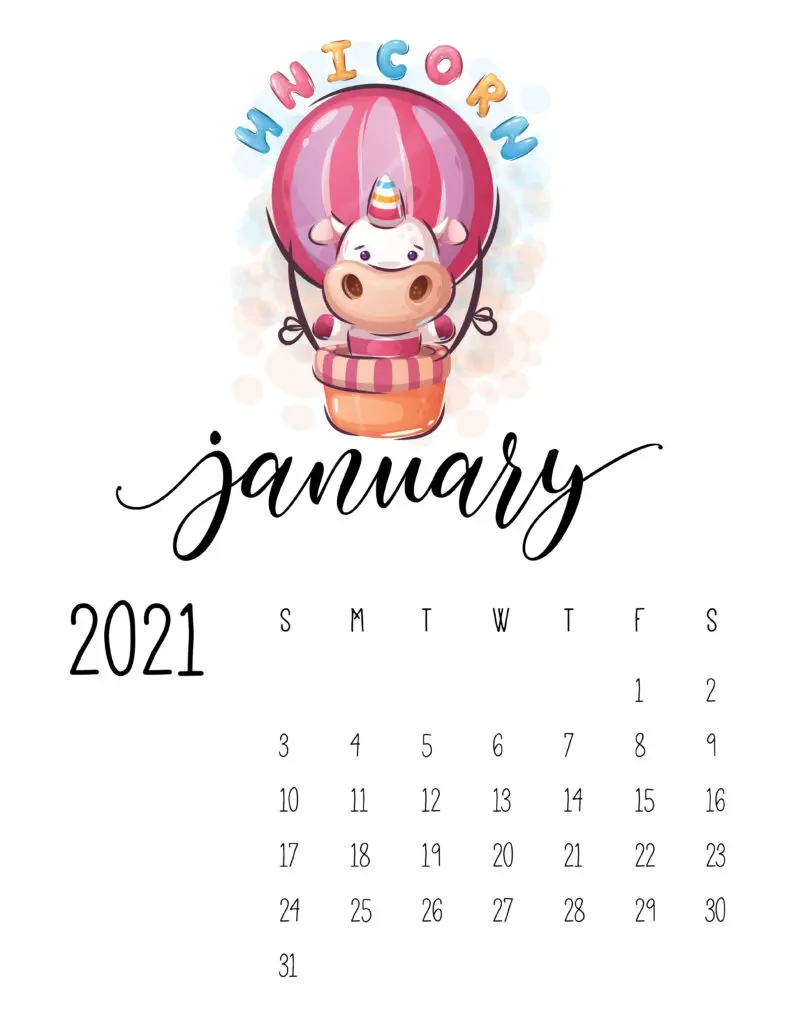 Who doesn't need coffee in the morning? So if you're a person who plans your days in the morning with a nice cup of coffee, then this might just be the calendar for you.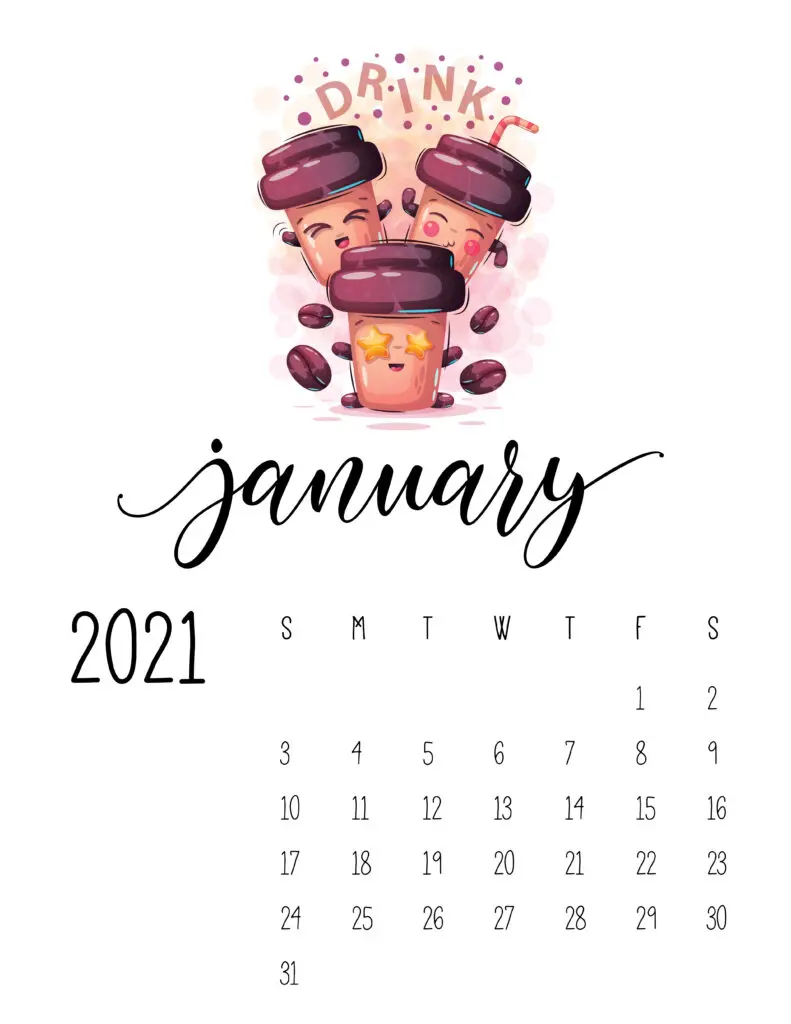 Our range of floral and botanical calendars are certainly the most popular with people. Here's another which has a subtle but elegant touch that you might just love too.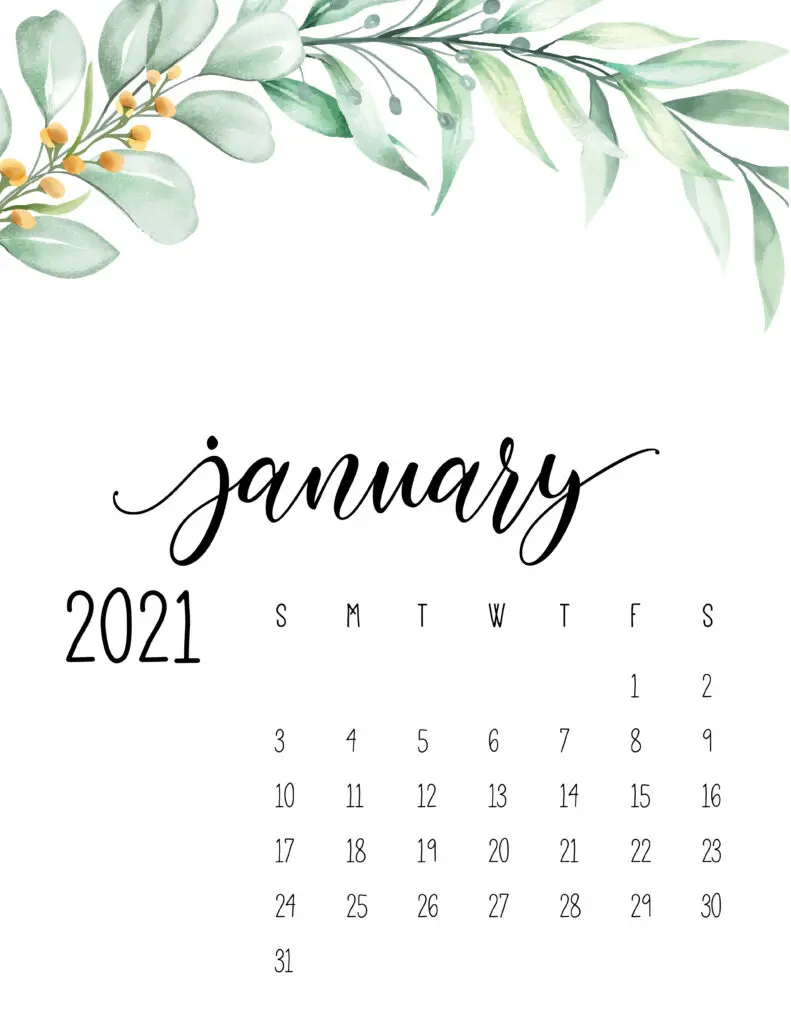 Simplicity is always attractive, so when you don't want something over the top and are looking for a simple January calendar, then see this range of simple colored calendars. Each month features a nice inspiring quote at the bottom. Perfect for reminding us to be strong and focused each month.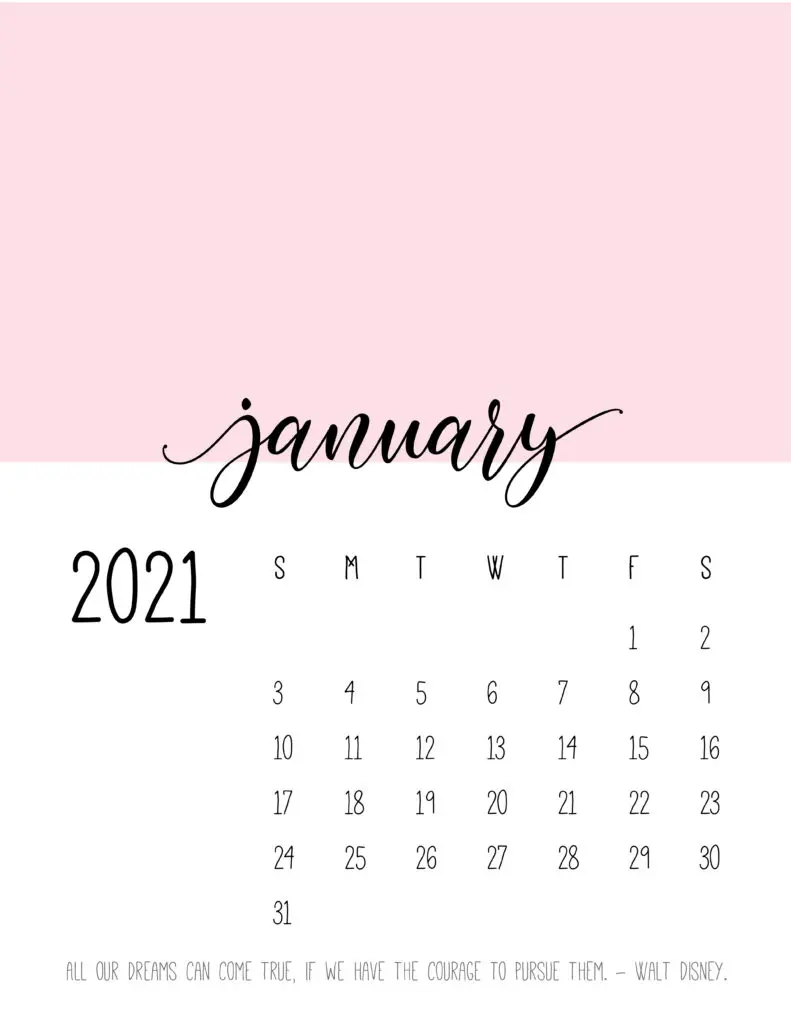 Sometimes you need a touch of photography to add the perfect finishing touch, which is what we've done with this January calendar. If this appeals to you then check out the pages from the rest of the year, you'll find some stunning animal photography for each and every month of the year.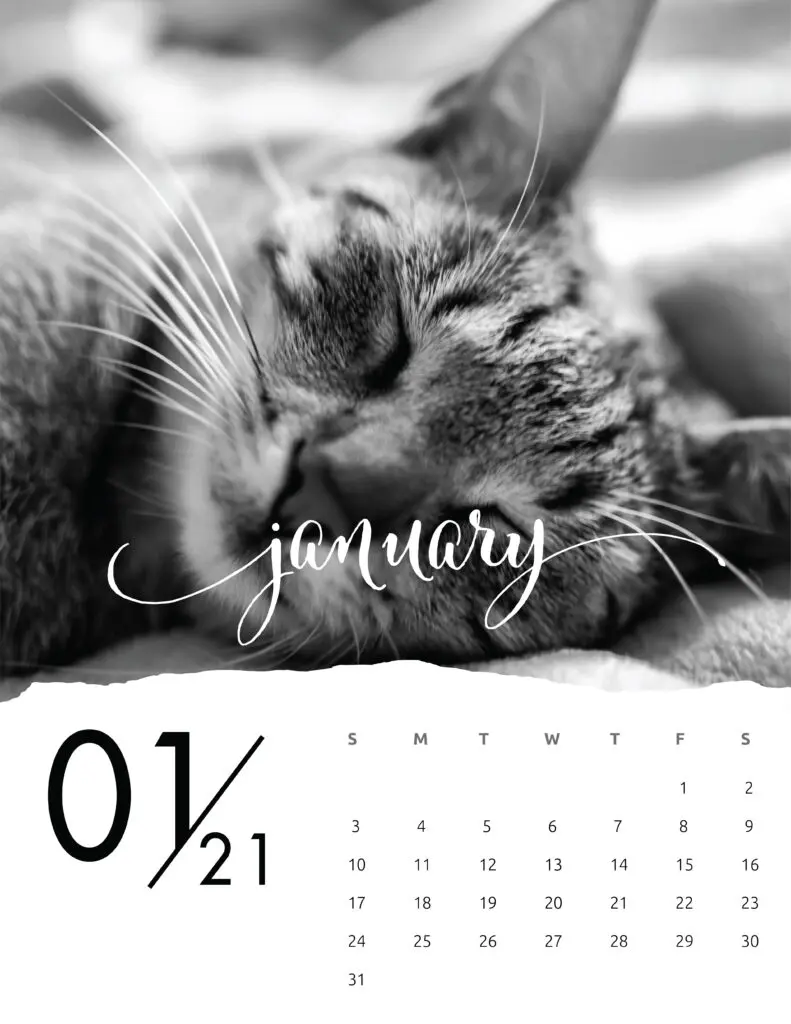 A January calendar with an inspirational quote, yes, please. This calendar featured inspirational quotes for each and every month of 2021.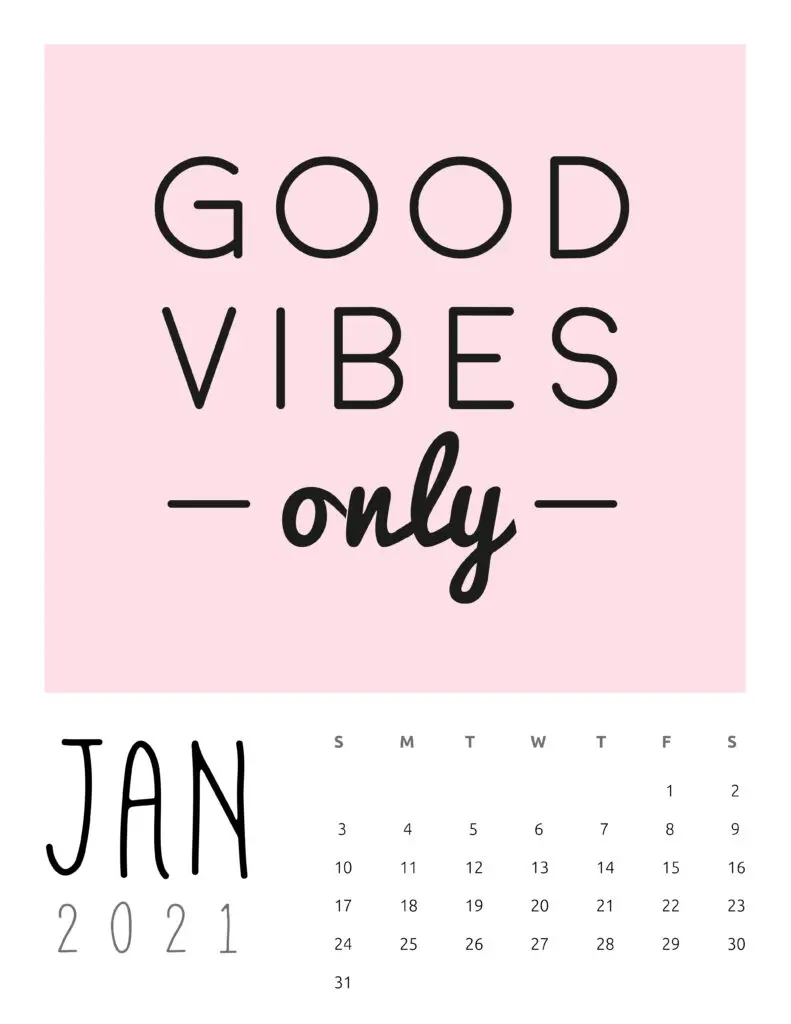 A simple pattern is featured on this January calendar page. If you want a calendar for the whole of 2021 that features simple patterns, then this is the one for you!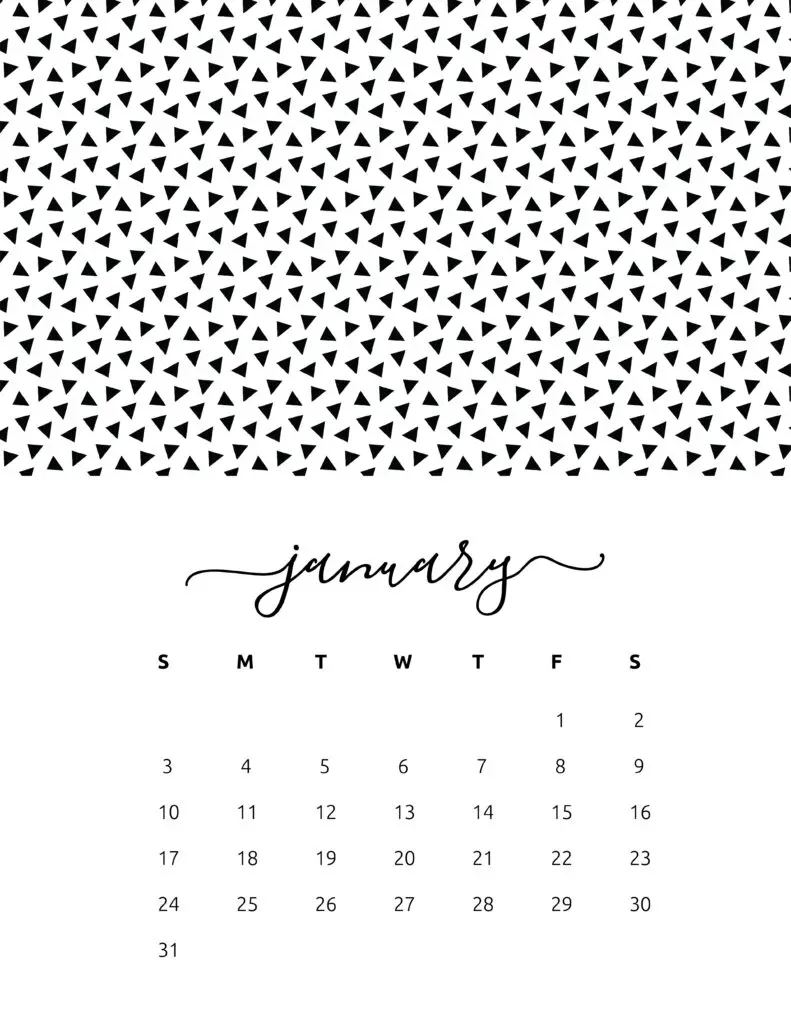 Sometimes simple is best, and this simple January 2021 calendar is one of our most popular ones available. Featuring a section for notes and priorities, this January template will help easily you plan the month ahead.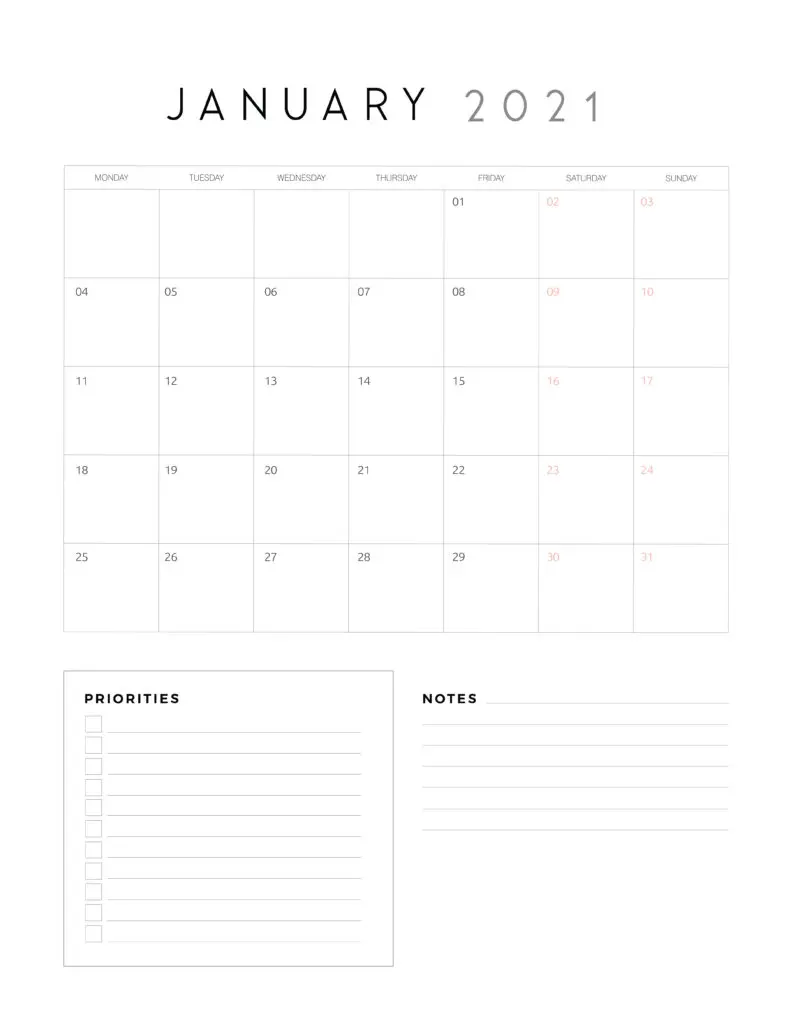 Another simple January template that's popular with our readers. This one is simple and contemporary for a modern and functional design.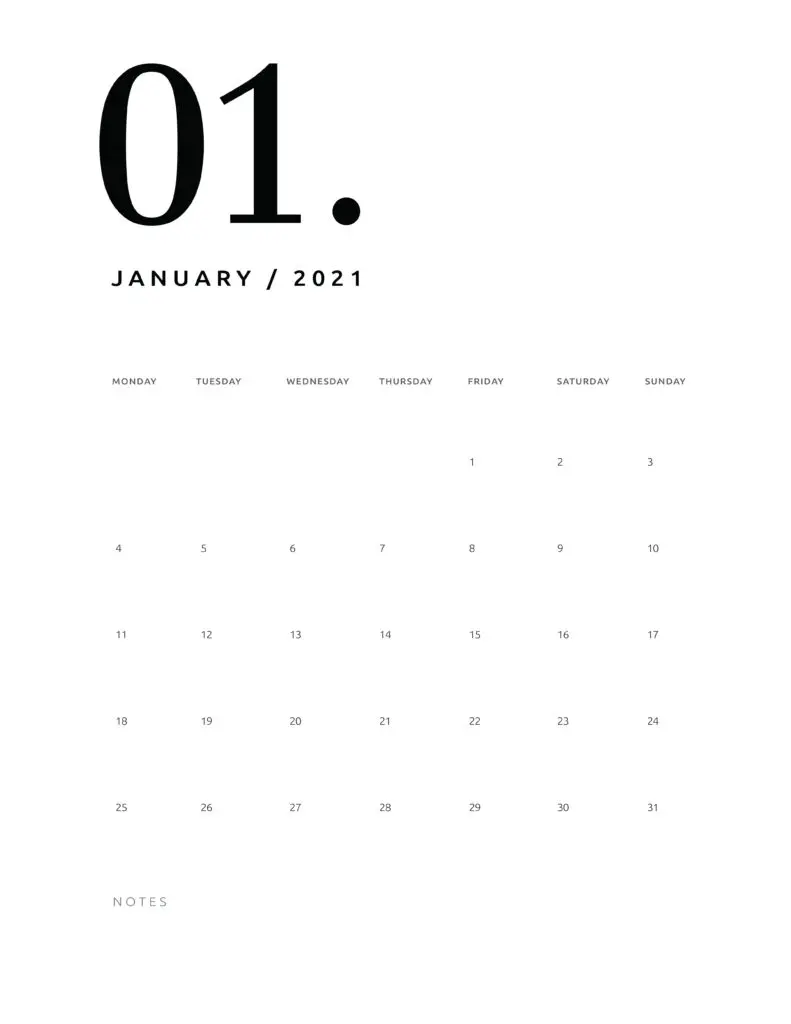 This calendar template features a cursive overlay of January over the 2021 text for a nice creative look, that's simple but effective.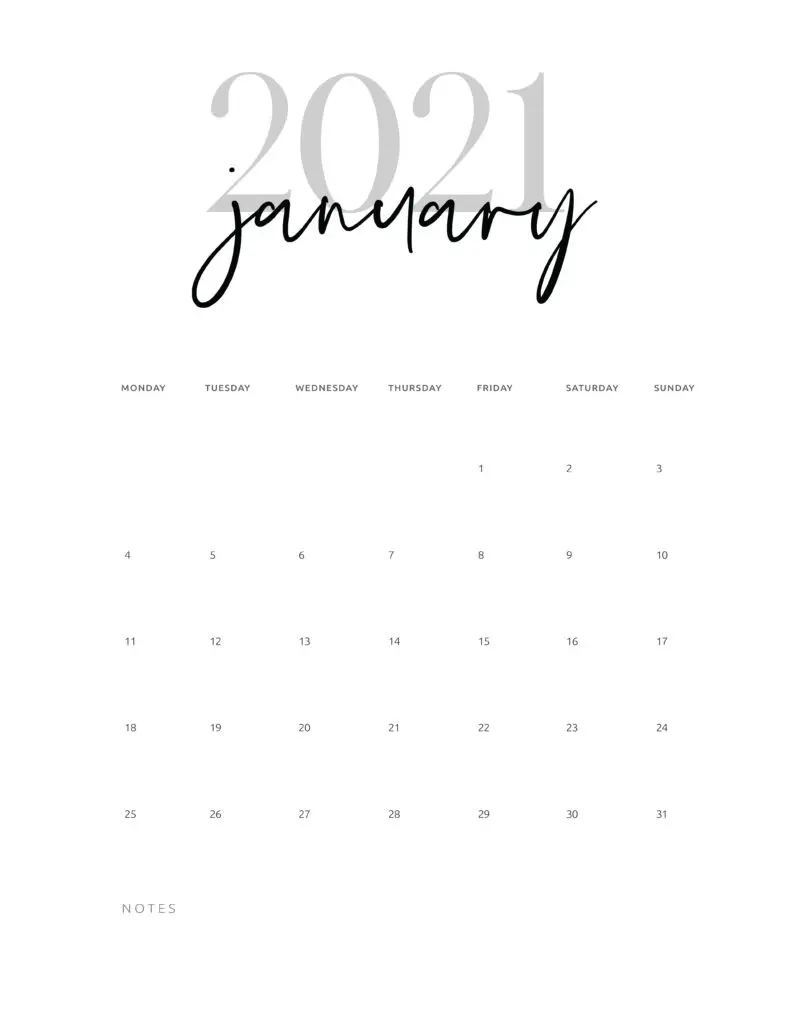 Personally, I'm a lover of brush lettering, so it was fun to design this January page. It was also fun to design the rest of the year in this brush art design, so be sure to grab the set too while it's free!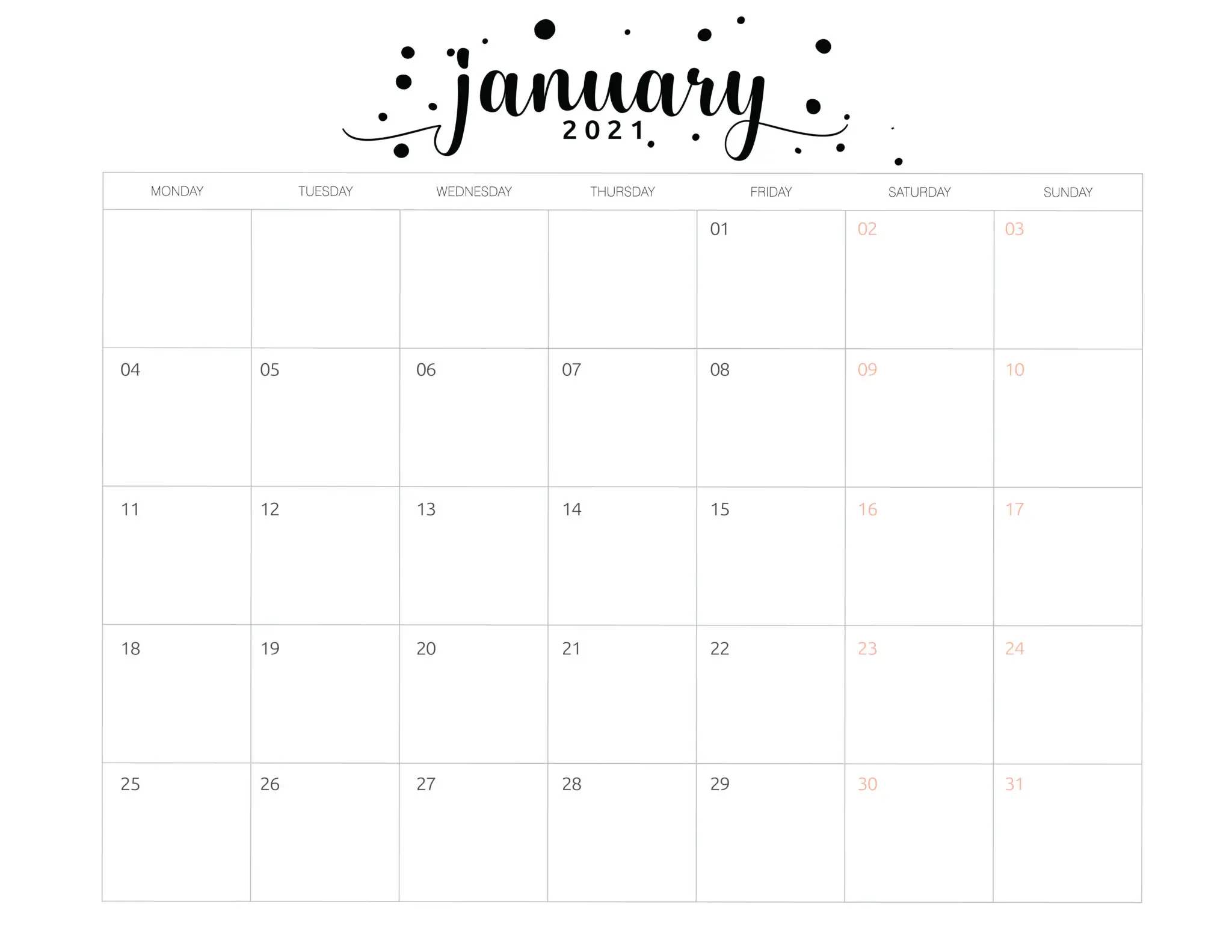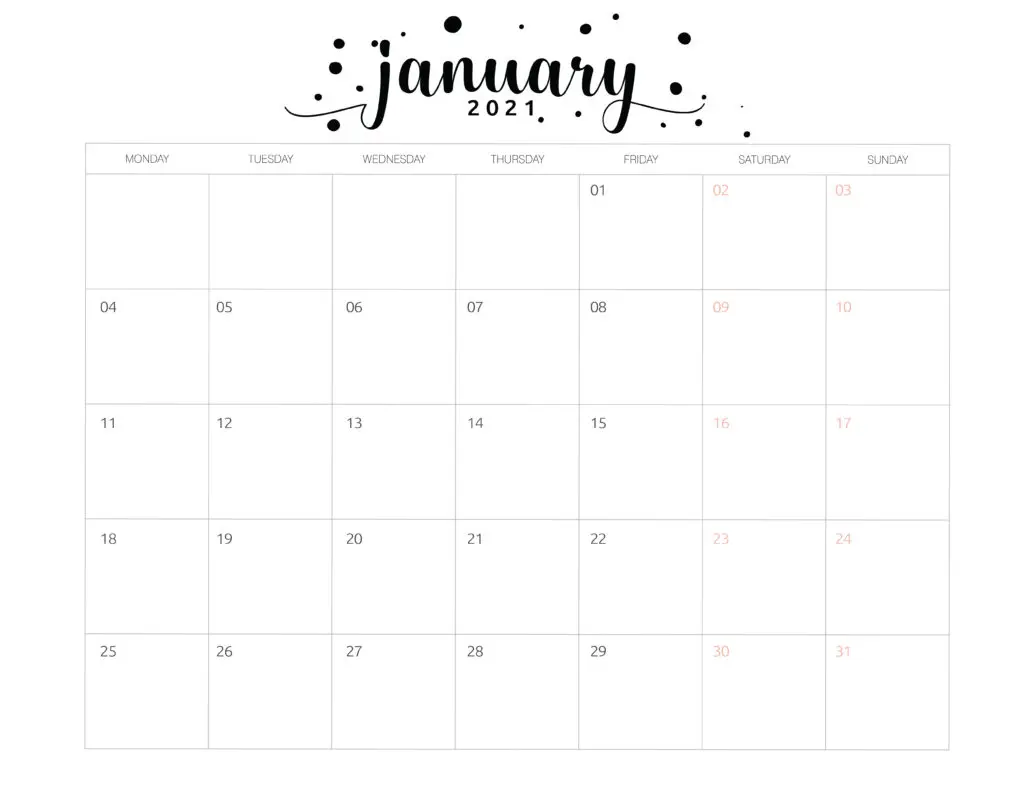 A simple botanical floral January page that is a perfect fit for those who like a more traditional design.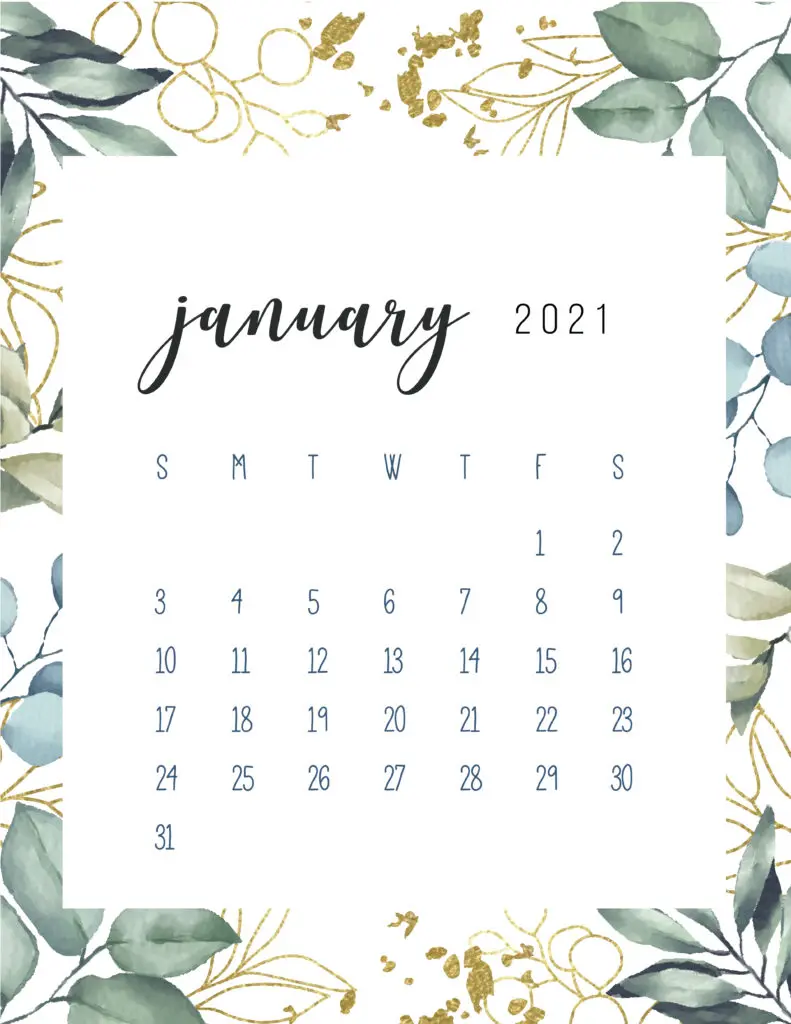 This January page features a creative floral framed design that is both simple, but very effective.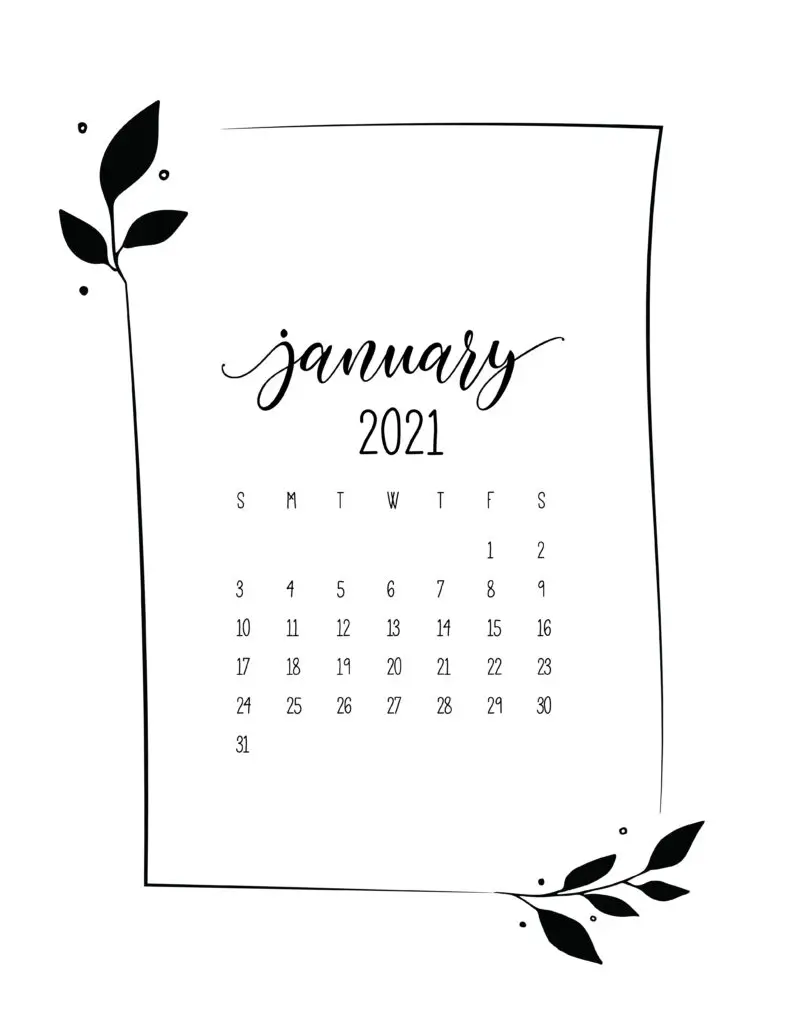 Such a cute calendar template, this is sure to help make your 2021 a better year already.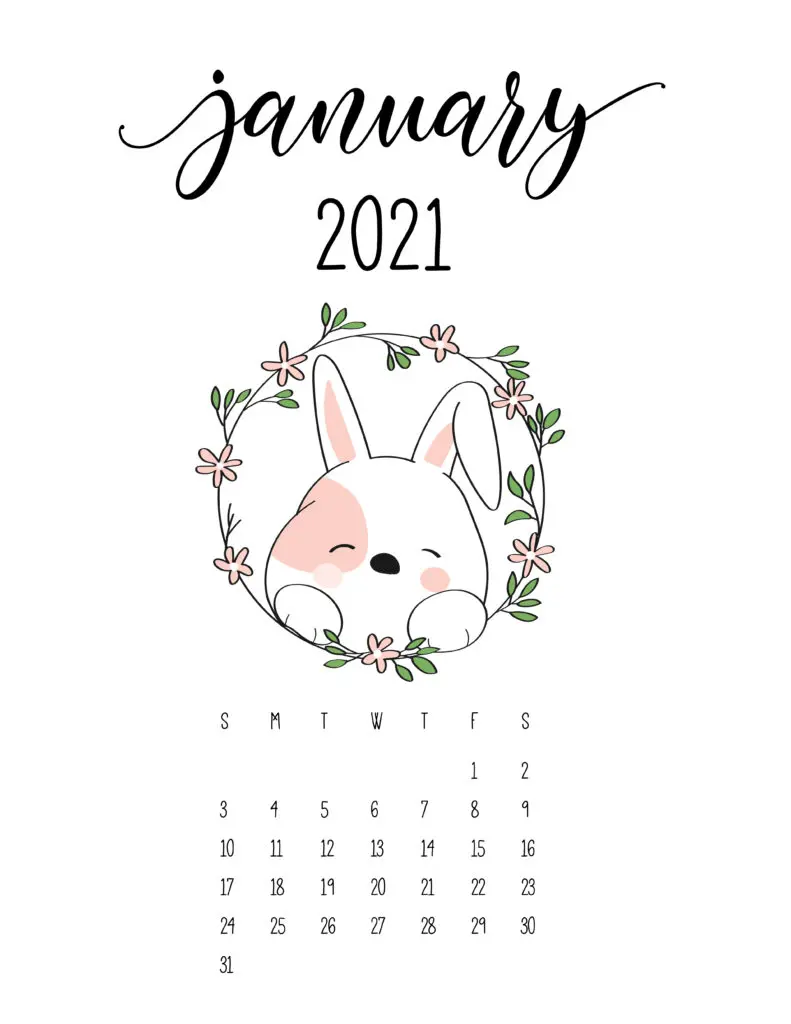 Another one of our cute cat calendar pages, this January page features the cutest kittens peeking over the month ahead.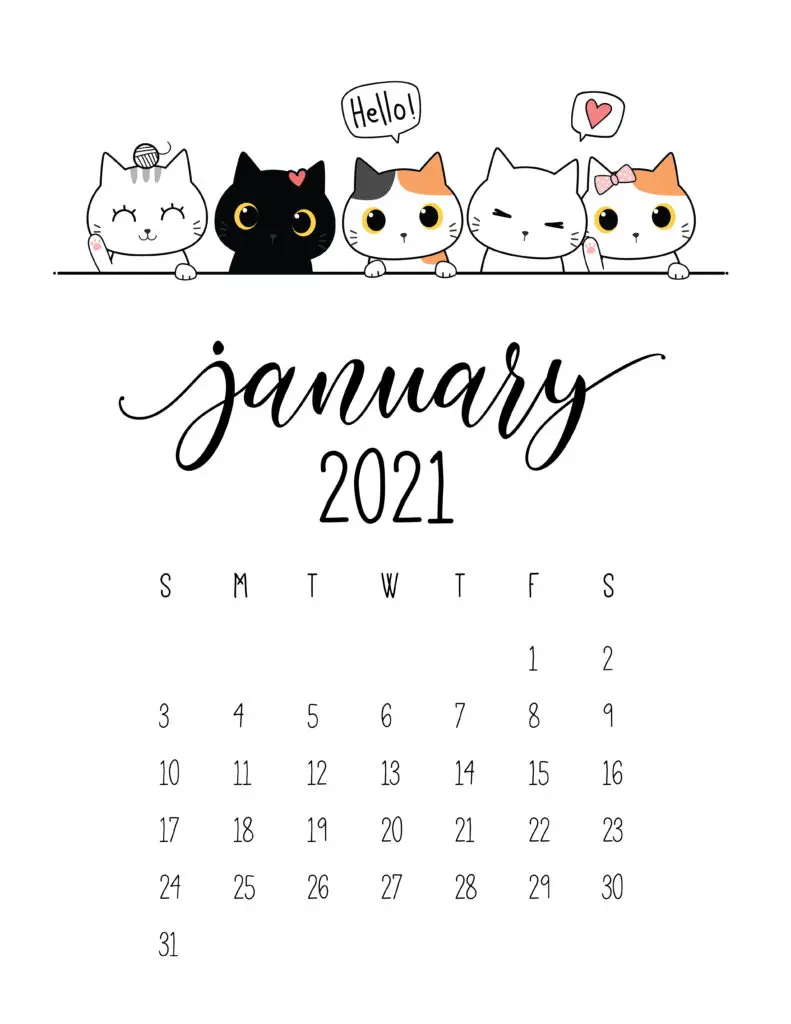 If you're expecting a baby this January, then why not decorate your nursery with this adorable calendar.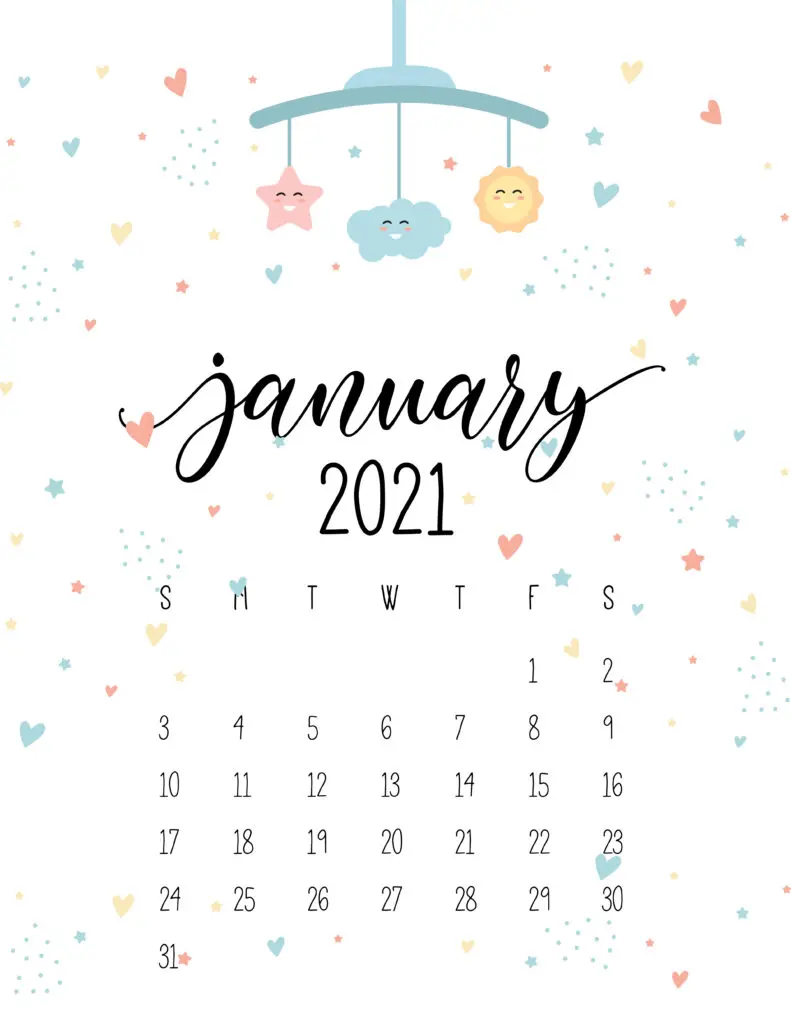 Another one of our floral January pages, this one features photography of flowers and is simply beautiful.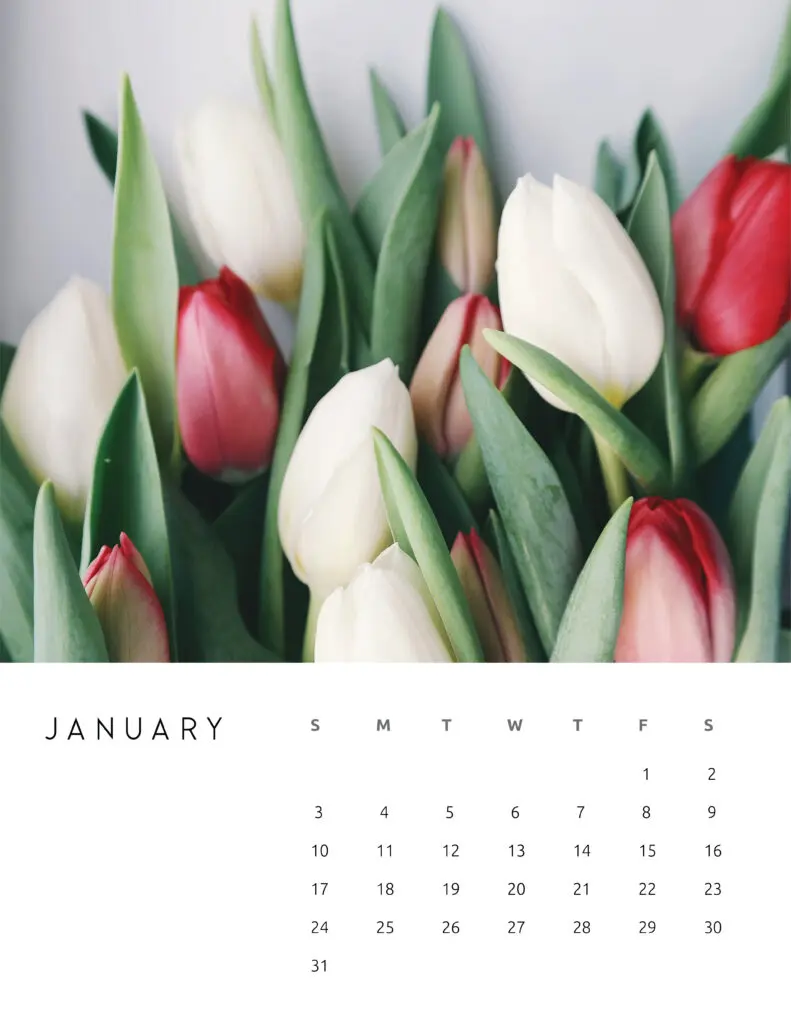 The little finishing touches are what makes this floral January template so attractive. All of our 2021 calendars are free, so why not start your year with this elegant page.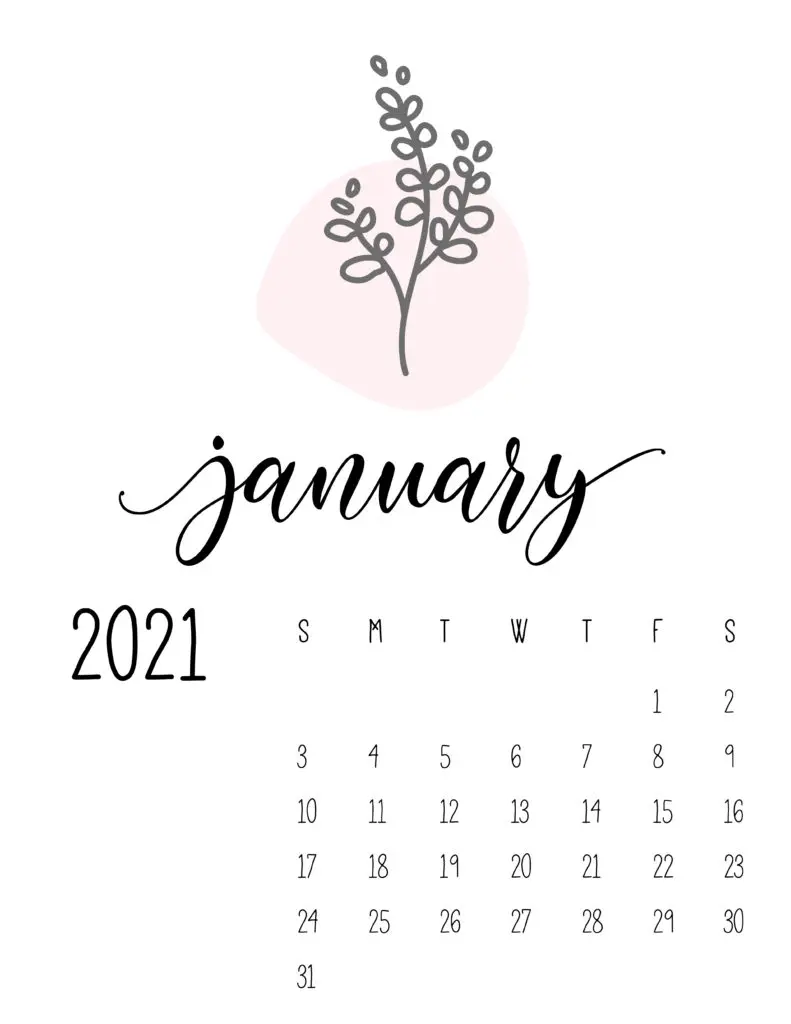 Another simple calendar design, which features January in cursive overlay, above the month at a glance. Simple, effective and very functional.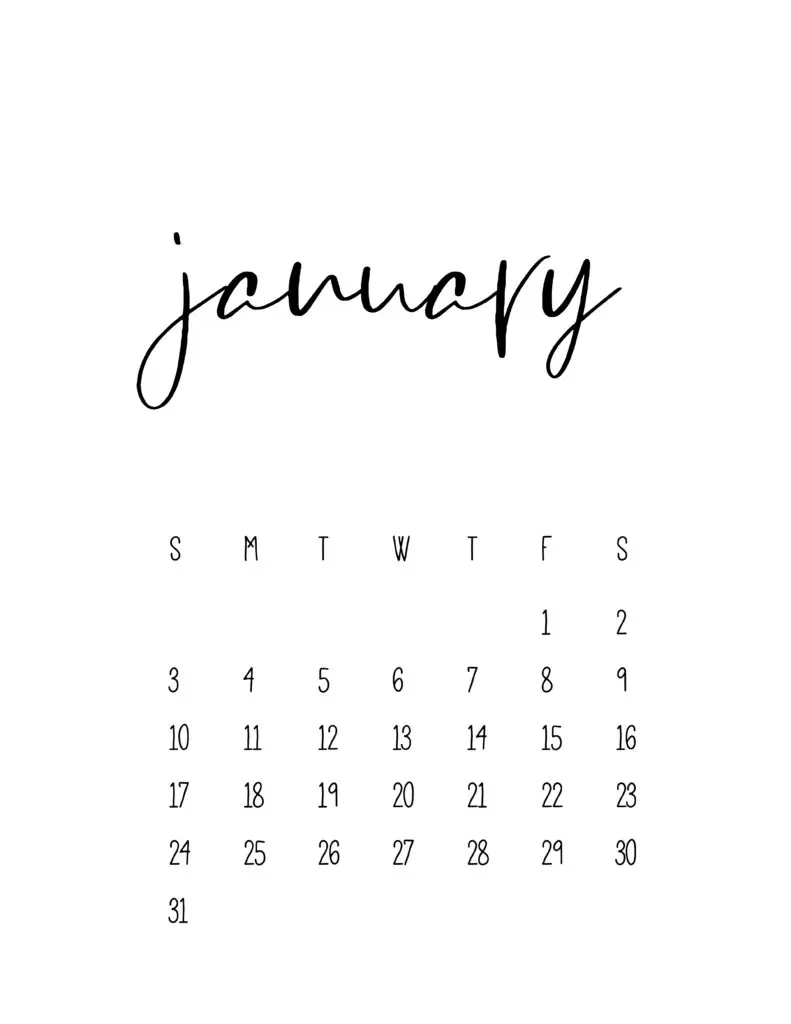 This range of 2021 pages features a cute bear peeking over the month of January. The complete set features cute animals peeking over each month. So adorable wouldn't you agree?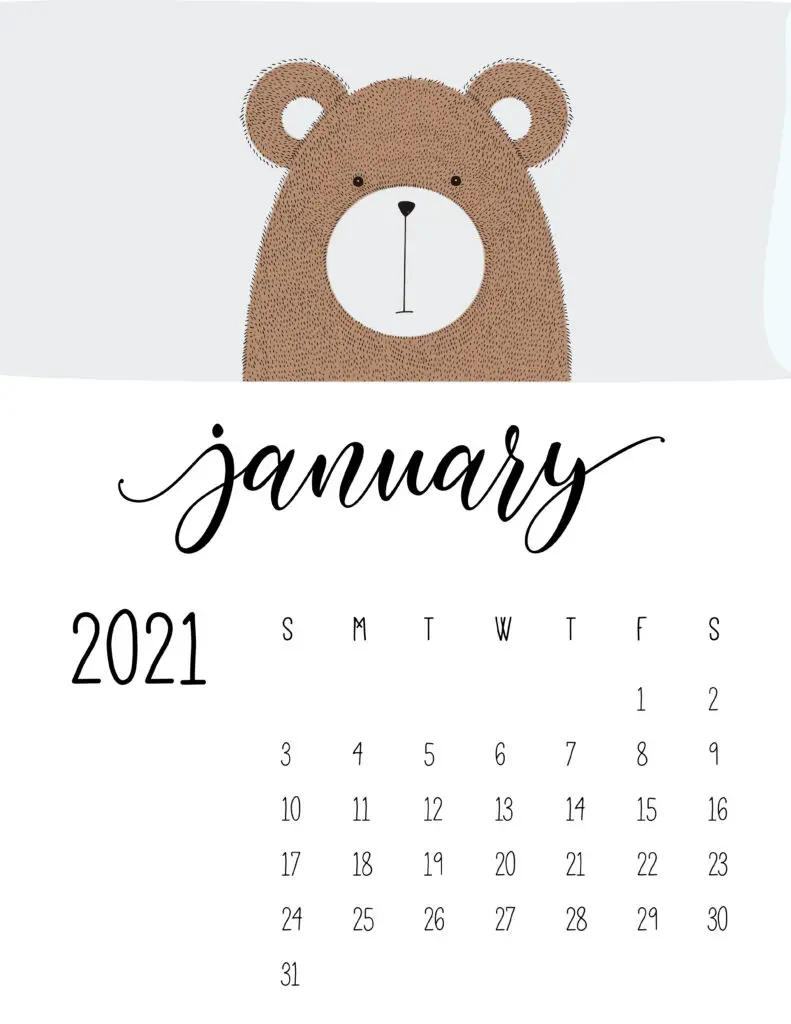 This simple landscape January calendar page is so popular, it makes we wonder if we should stick to designing basic calendar pages. But often the most simple designs can be the hardest to design.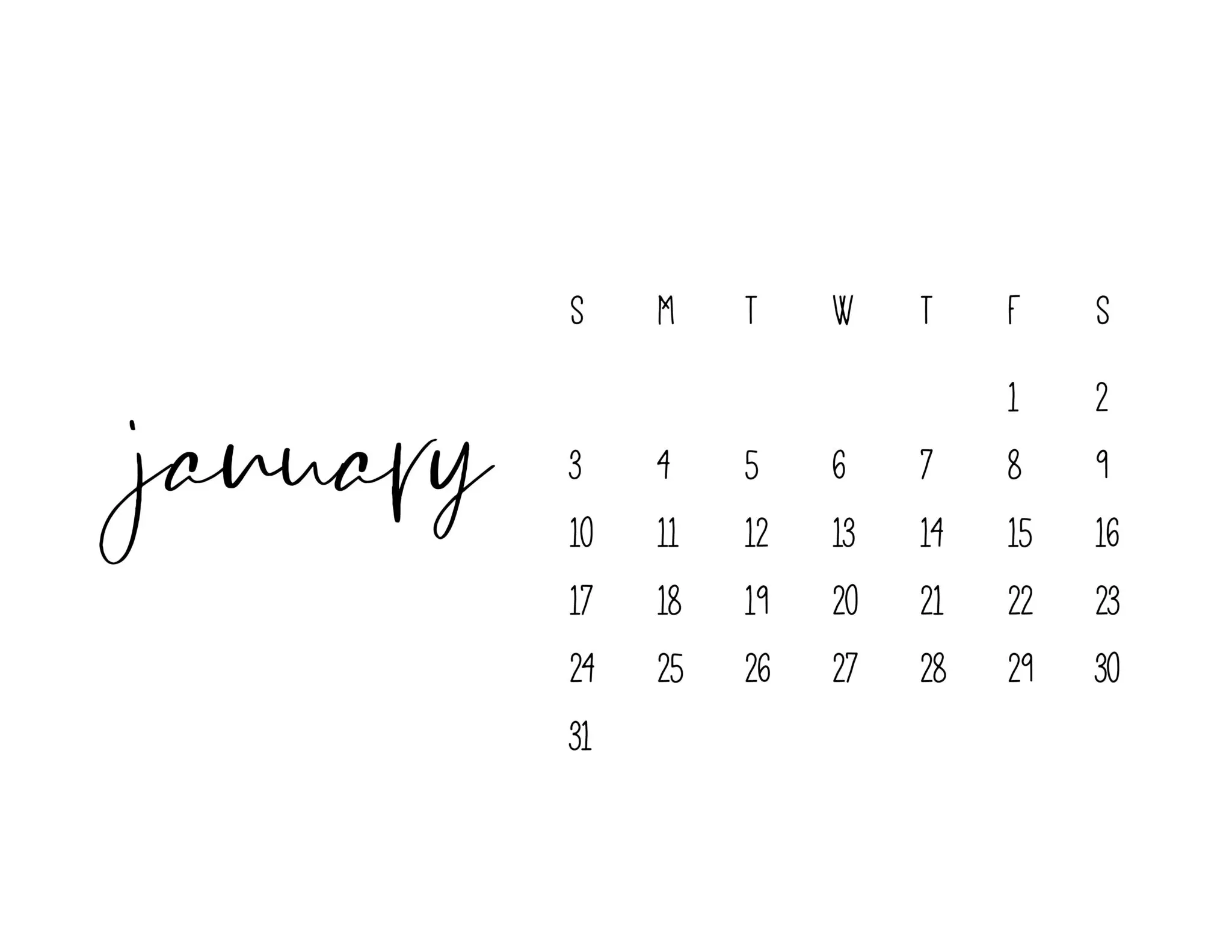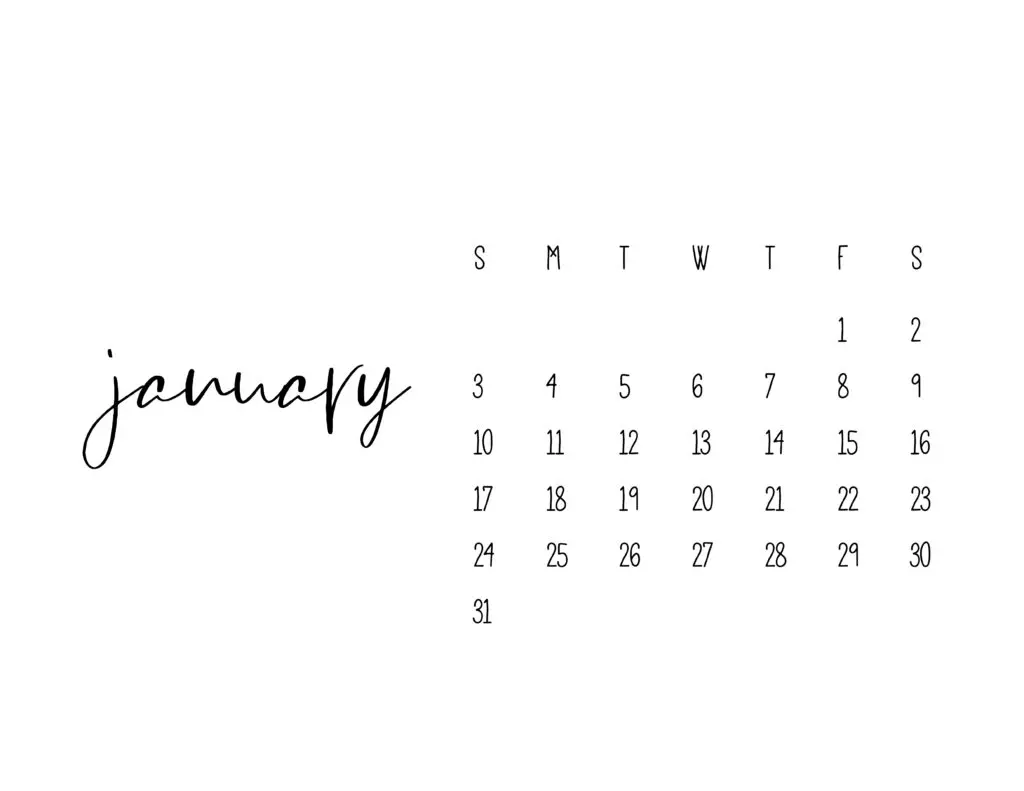 Another January page which features an elegant botanical design. Spoilt for choice!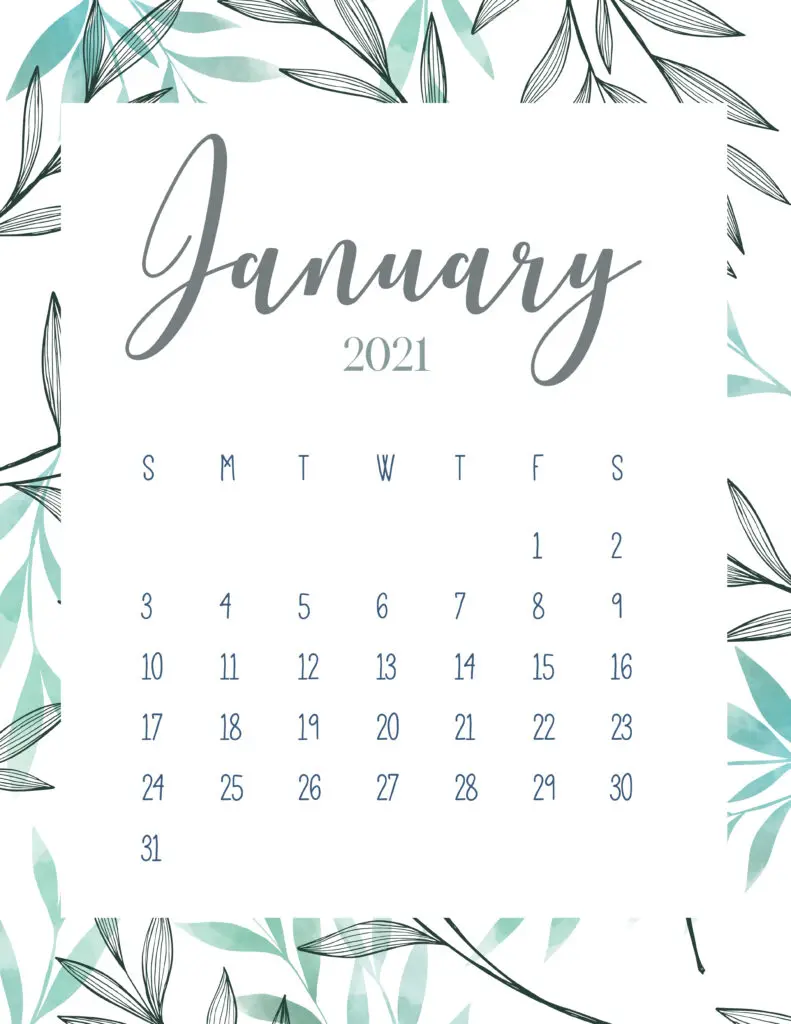 This calendar page is what I'm personally using for the month of January 2021. It's simple, effective and has space for some notes at the bottom so I can see those important reminders for the month at a glance.
Oh, so cute, so colorful and so elegant. Maybe I'll use this one instead! What about you?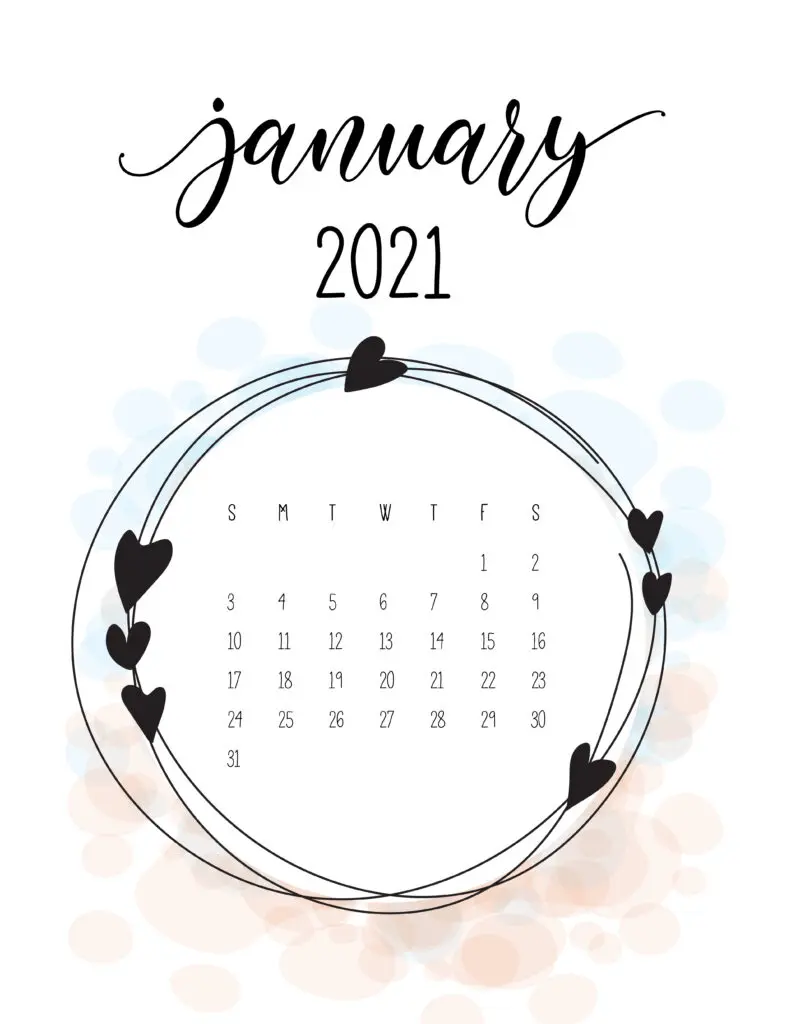 A calendar with rainbows, after the last year I think we all need some rainbows in our life, don't you?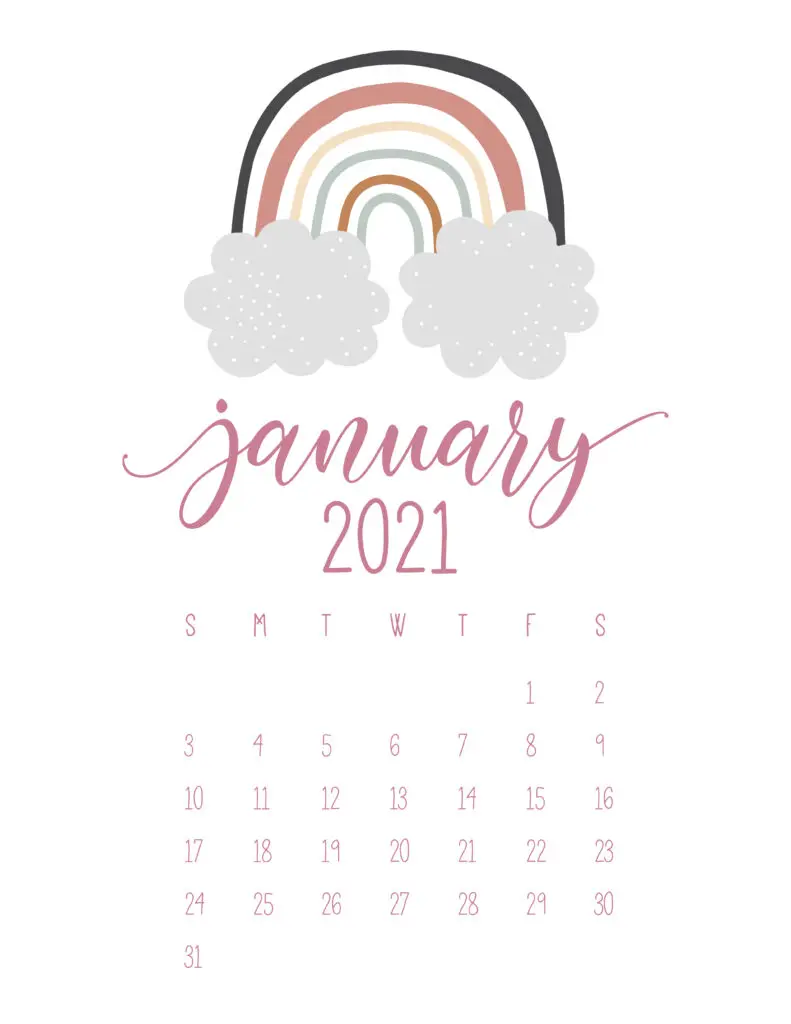 This January page features empty boxes that you can use to write in important reminders for the month ahead. If you want to be organized in 2021, this might be the calendar for you.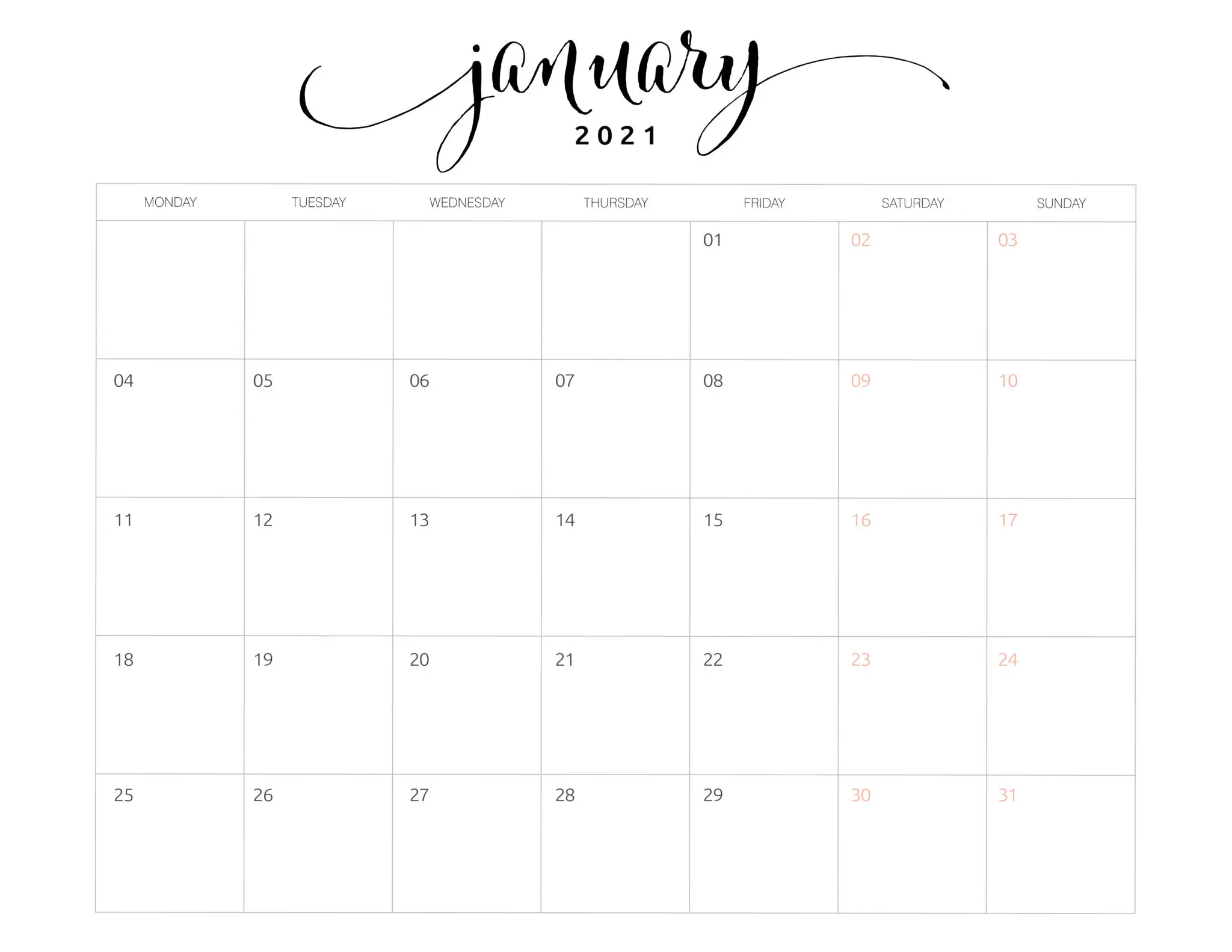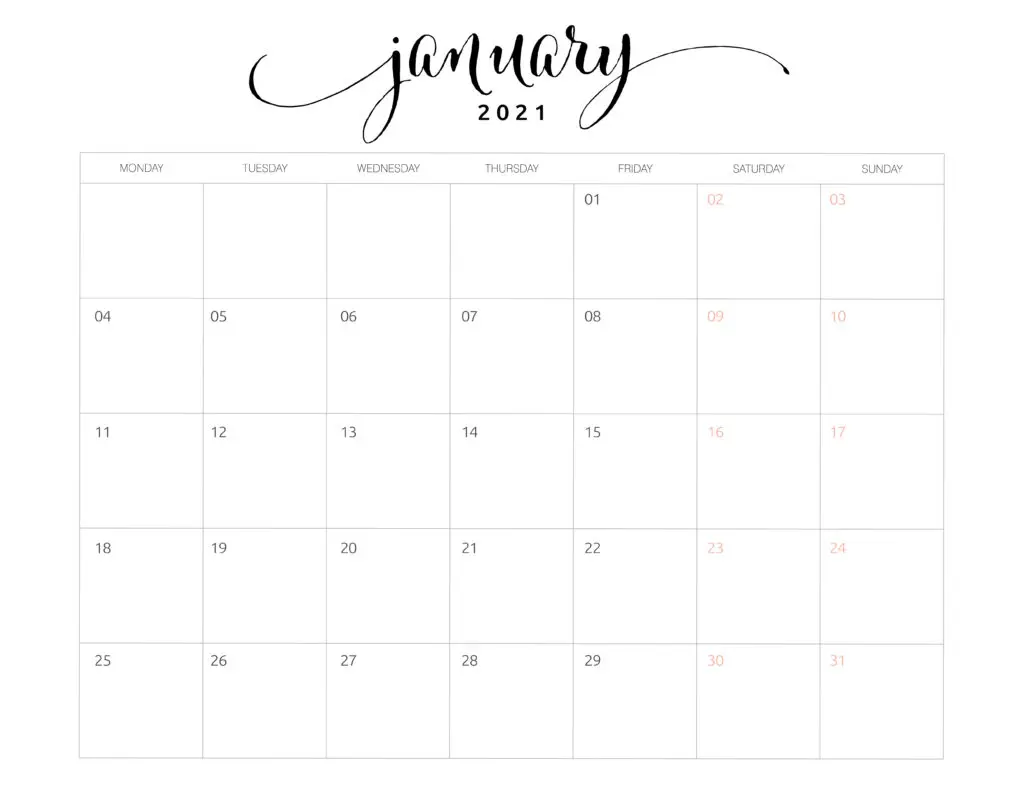 Another one from our range of cute peeking animals, this January page features the cutest bear looking over the month ahead.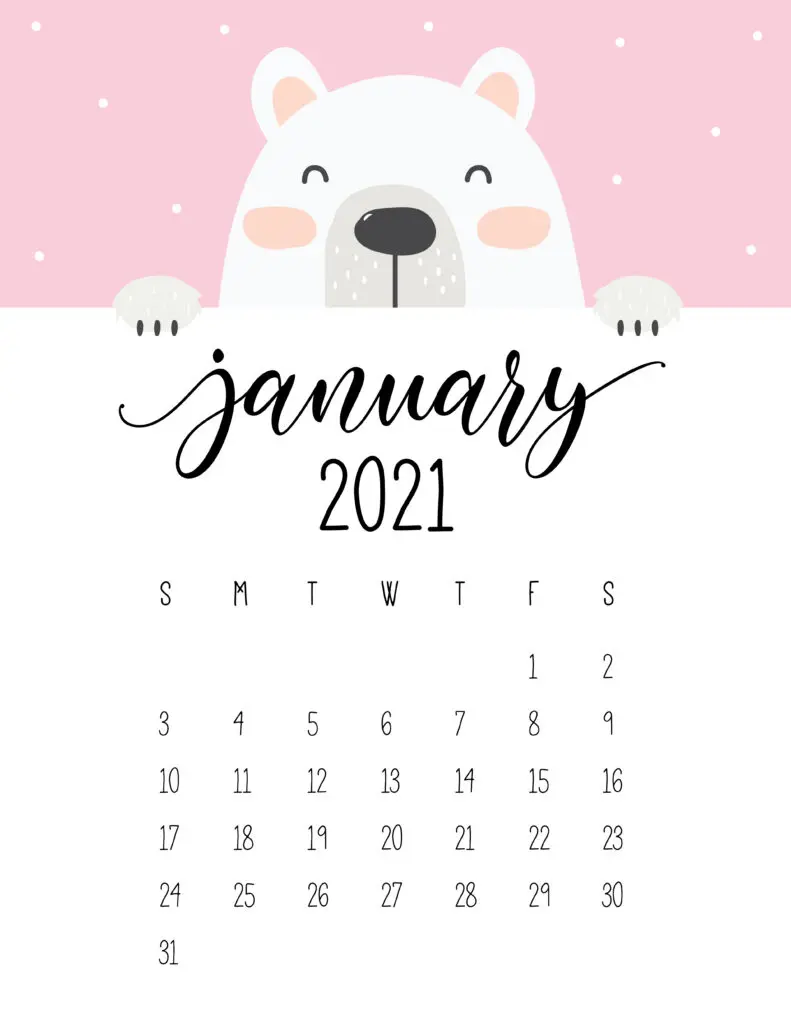 If you want a floral January page that has space for writing notes and reminders, this is sure to be the calendar for you!
Then again, have you seen this floral design? This January page also features space for notes, so you can easily stay organized for the month ahead.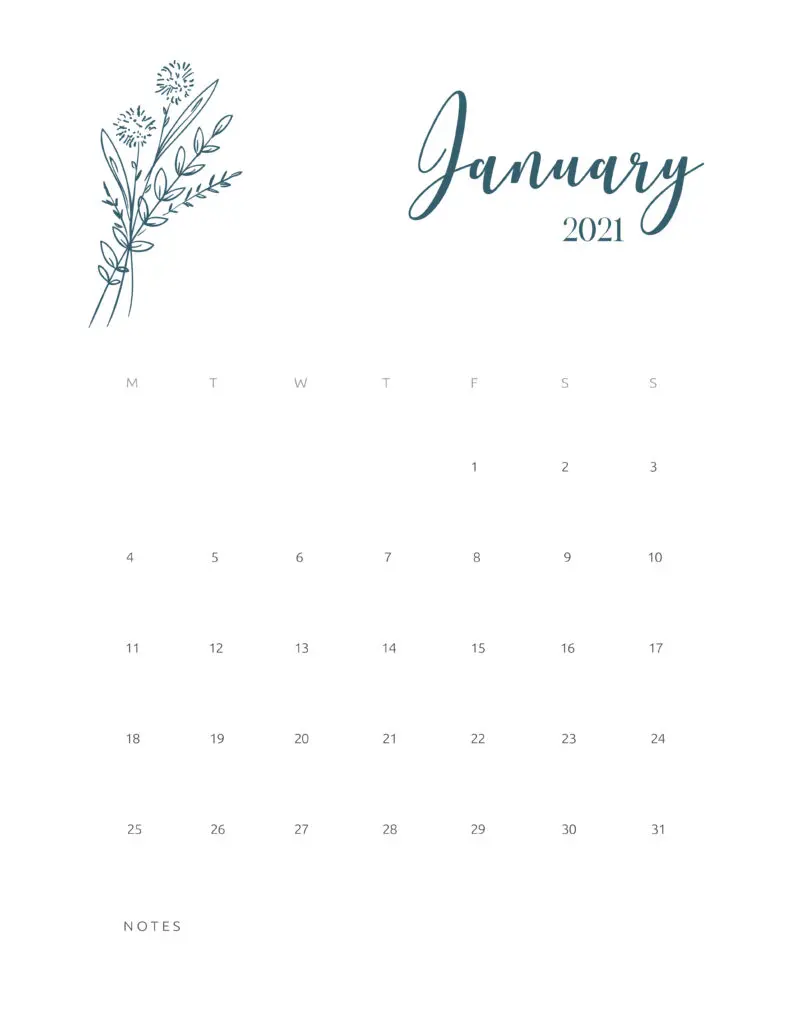 Who doesn't love a floral calendar? This page includes a gold frame around the month, with a botanical feature, which is sure to please the eye.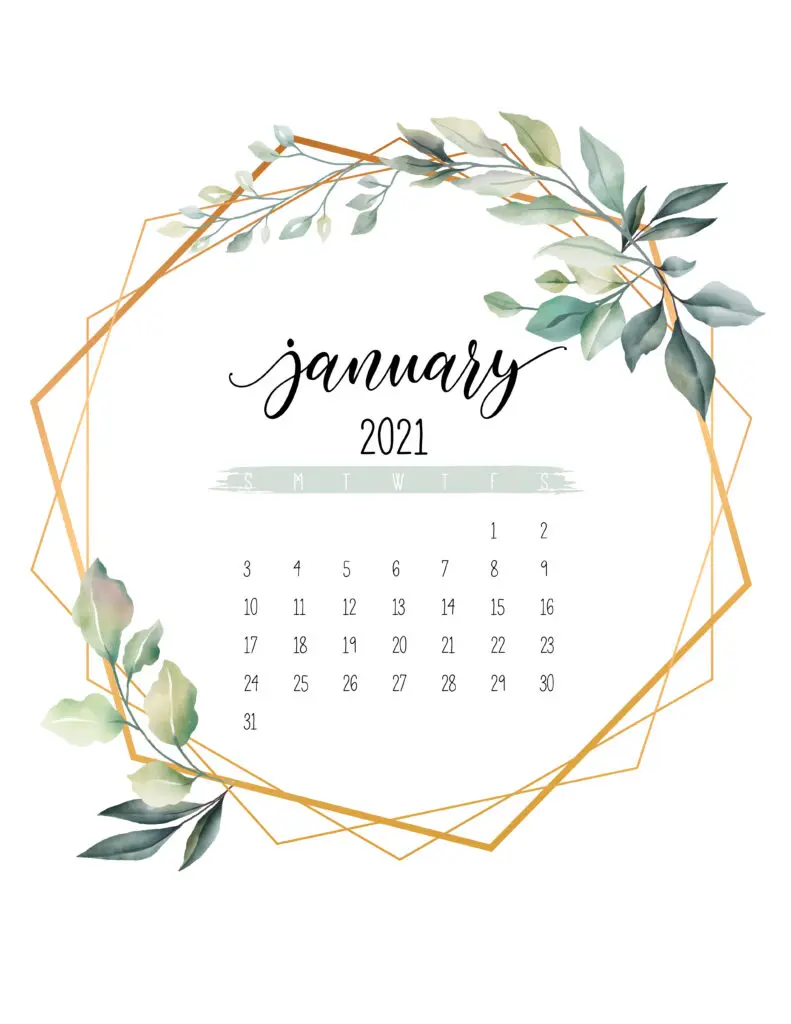 Another January page with rainbows, this time in pastel colors. I just love tones that are so subtle as they are often the most effective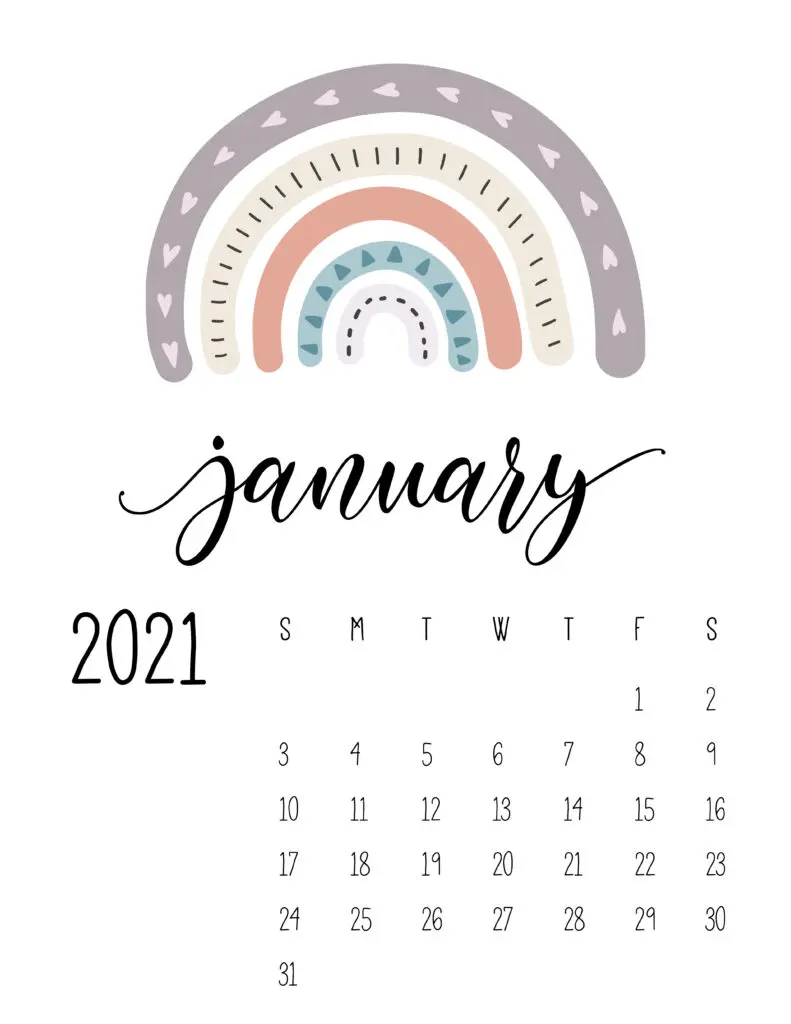 An elegant design with simple floral images above each calendar month. Check out the page below and if you like this design then you'll find pages for the whole year included in the pack.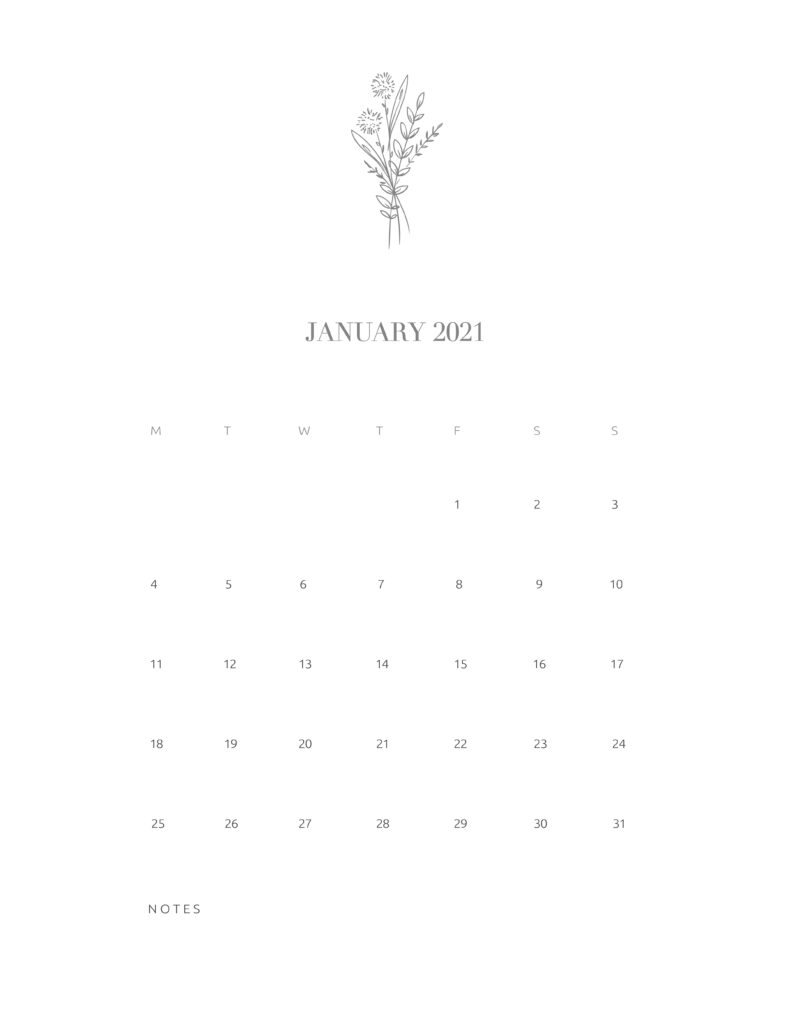 January is the middle of winter, so what better way to highlight the month than with this calendar of cute winter animals.
This calendar features a font duo combination, which as you can see from the January page is very simple and effective and features empty space for notes and a section at the bottom for further notes.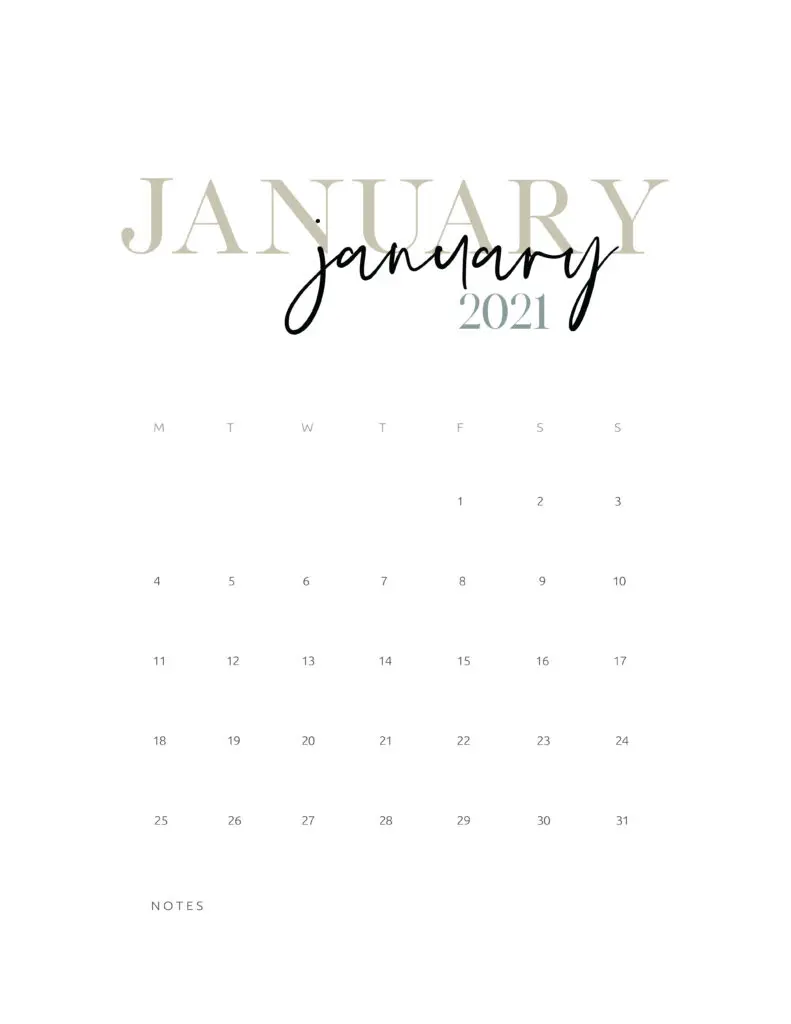 The monochrome photography that we've added to this range of calendars gives them a modern style as you can see from the January page featured here. Photos of flowers in black and white can be very striking, but also very beautiful.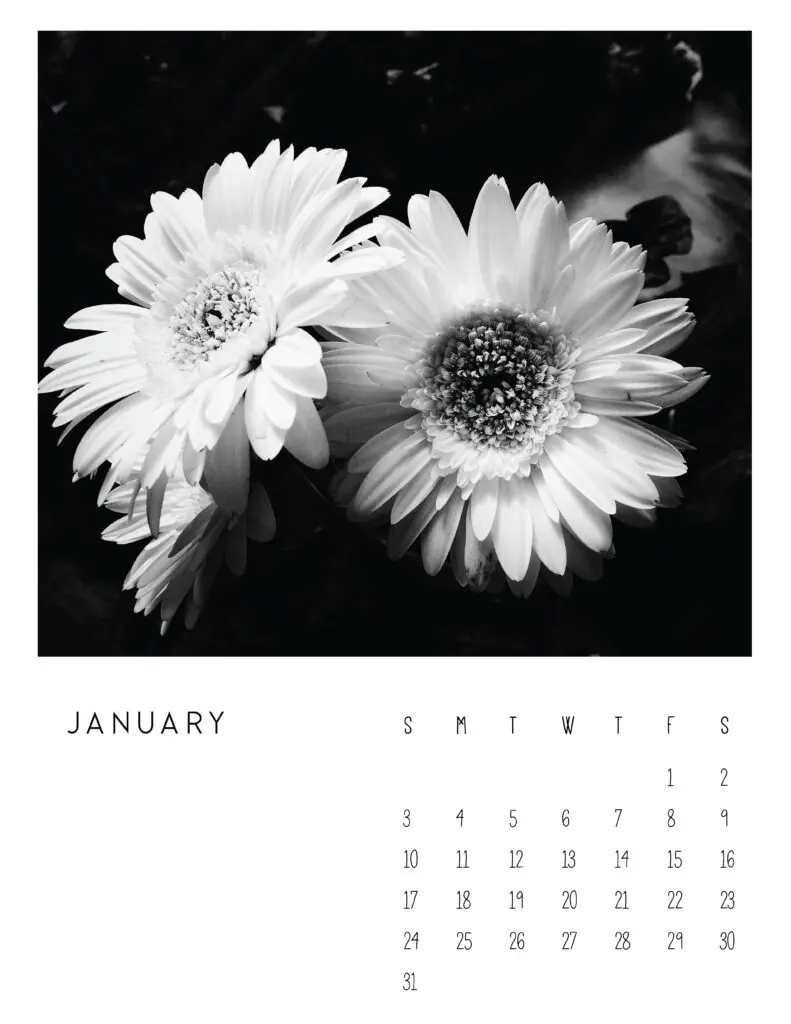 If you're looking for a colorful January template, then check out this design, which features a scattering of colors around.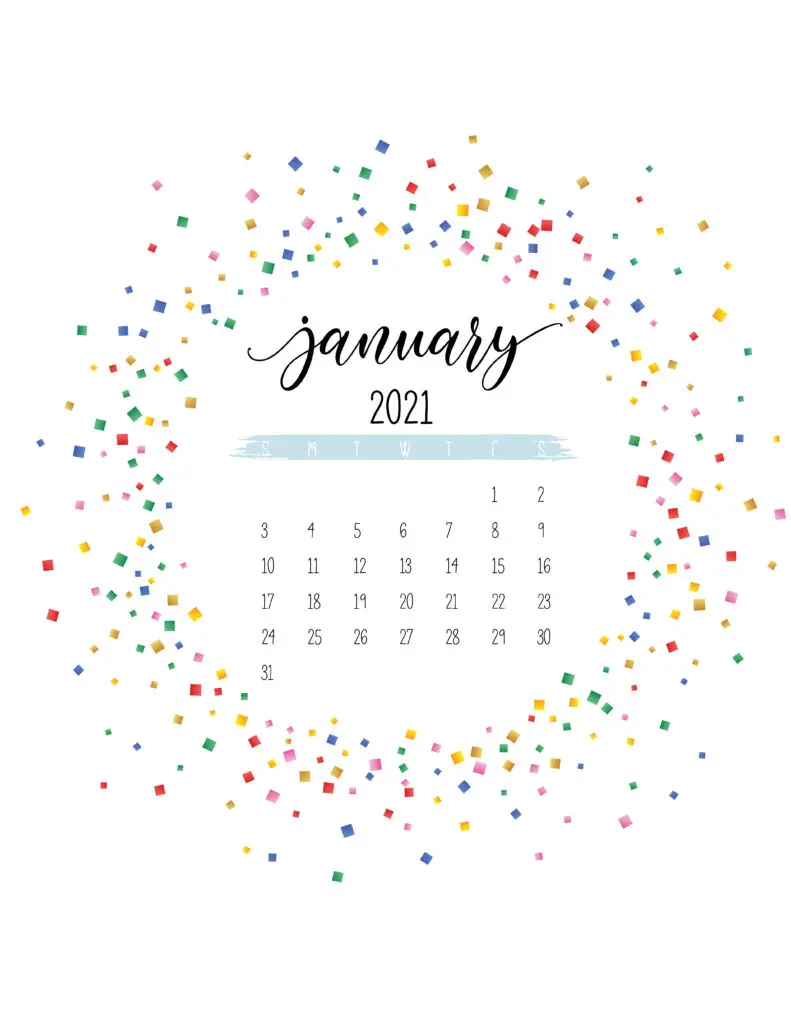 Rabbits and rainbows! So so cute huh? This has to be the cutest January calendar you'll be able to find. Best of all, it's completely free!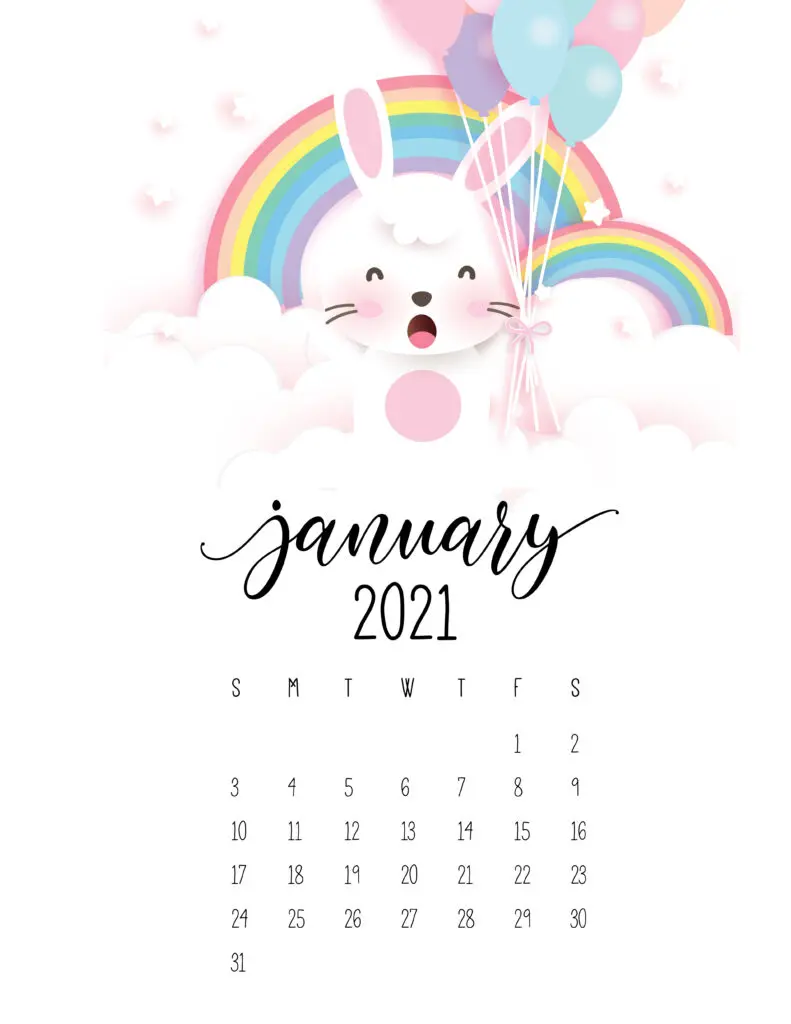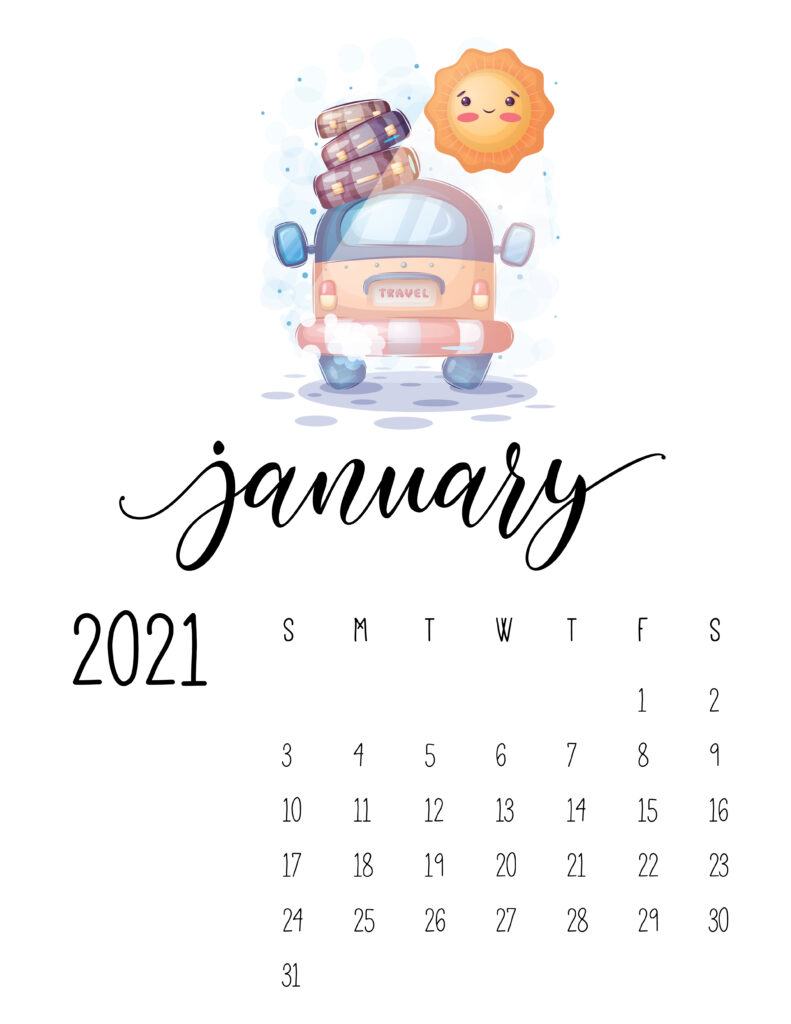 A simple January 2021 temlate page. Perfect.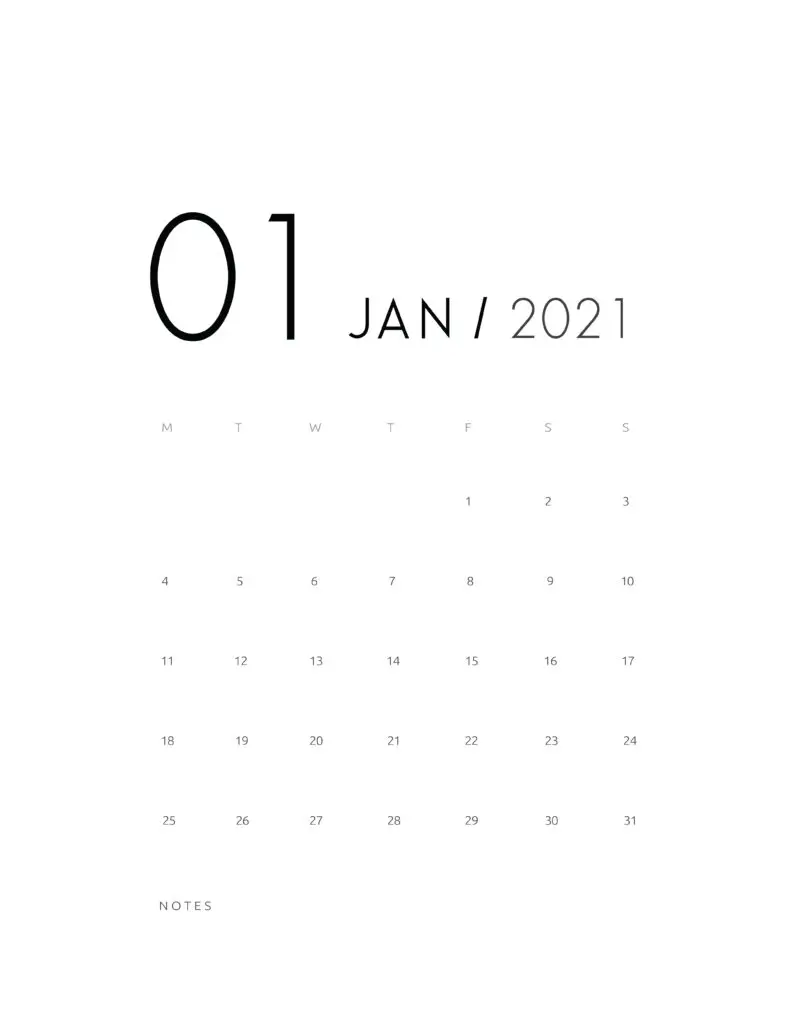 This printable January calendar is perfect for organizing your month ahead, with space for date notes, plus check box list for priorities. This printable also features a notes box, with plenty of space. Definitely our recommended January calendar for staying organized.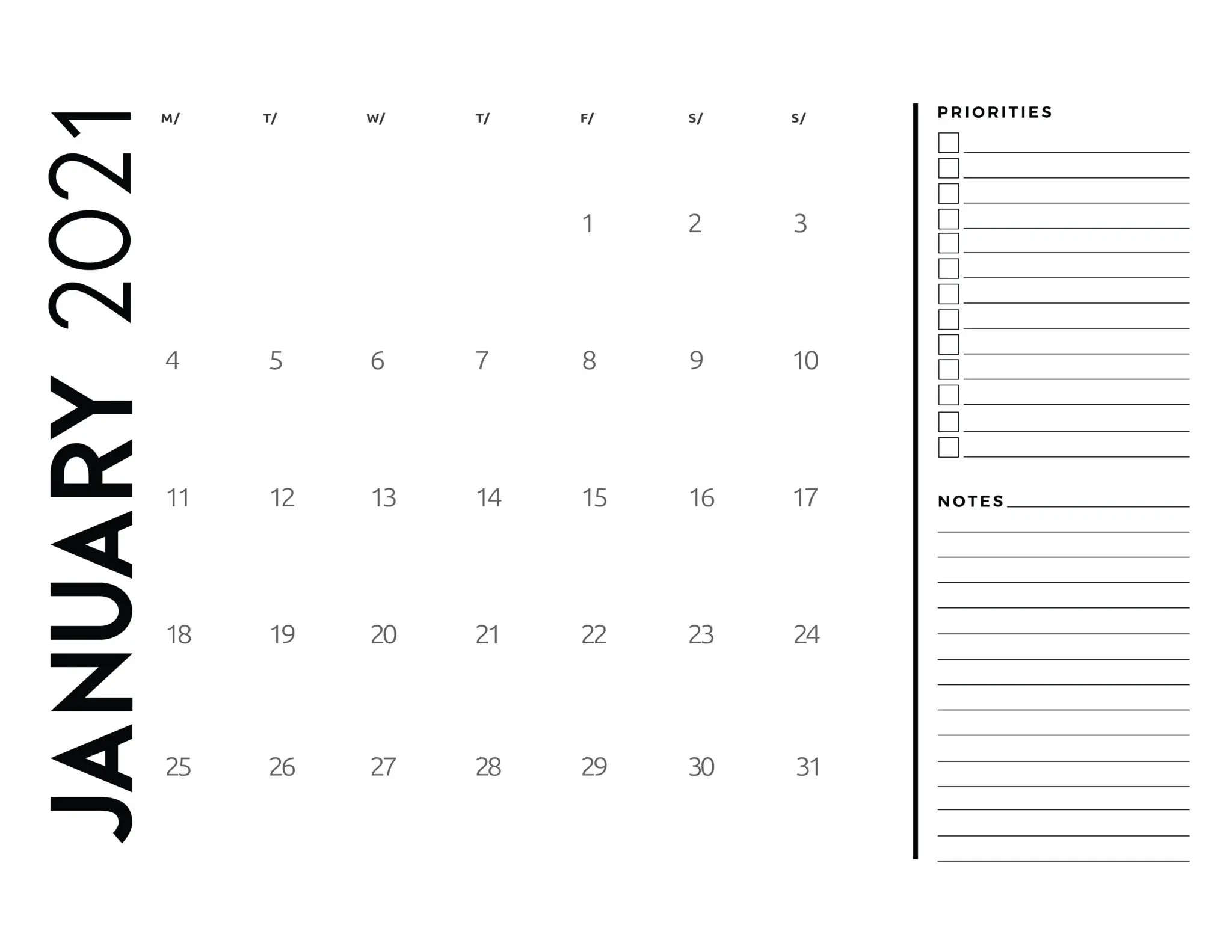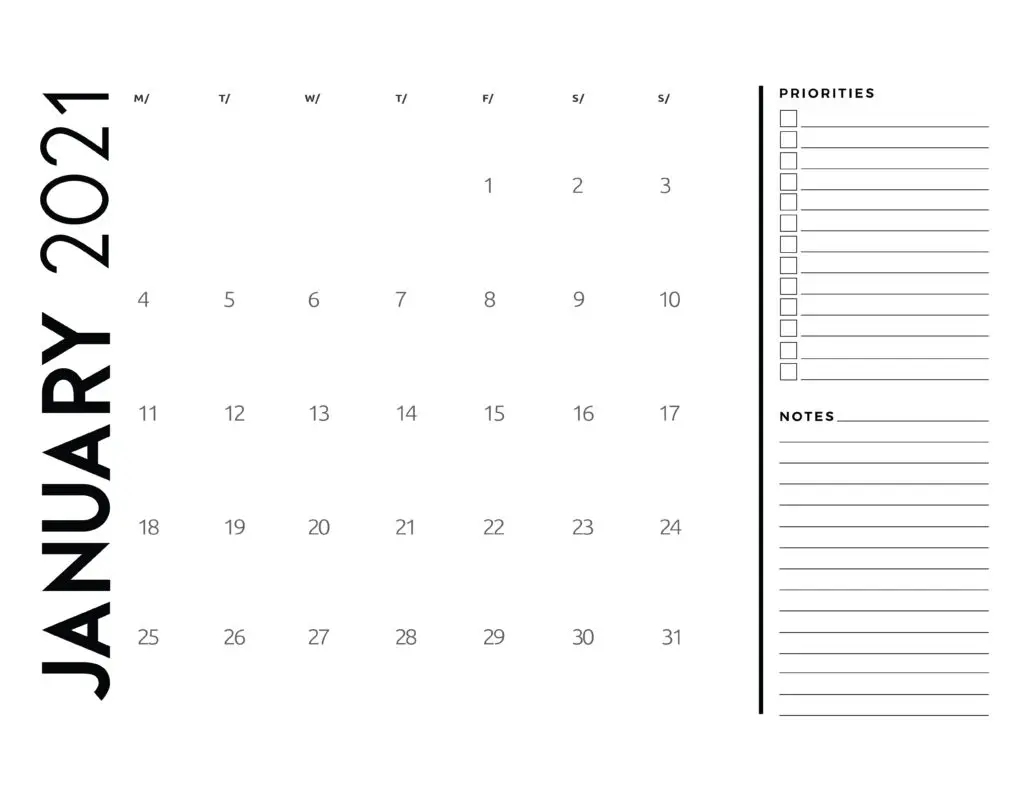 A standard January calendar with boxes for your notes. Simple and functional.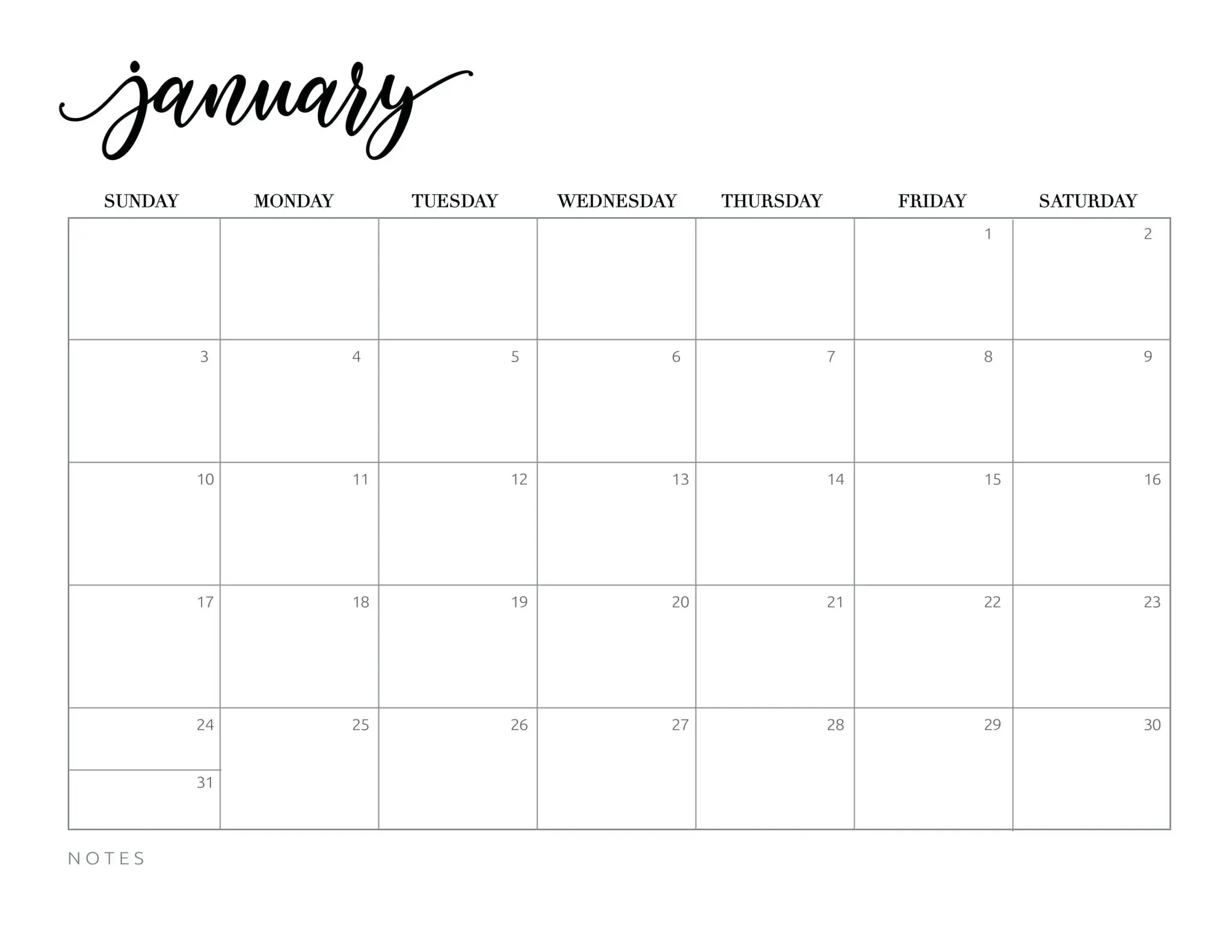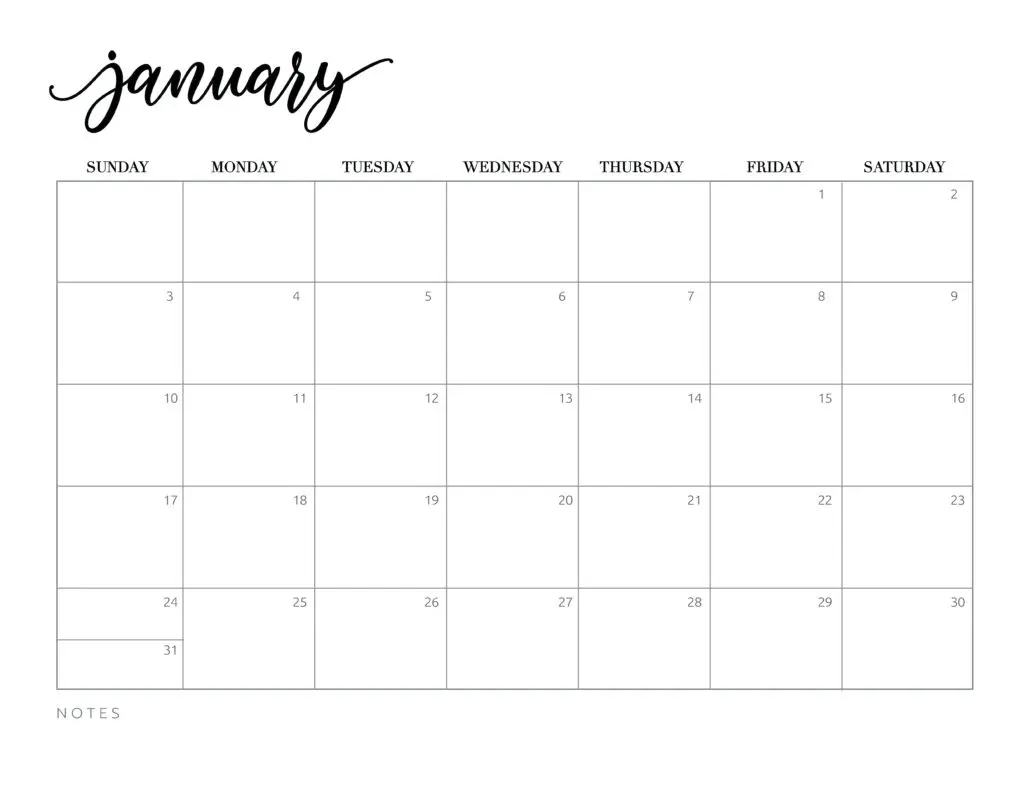 Stunning abstract photos are placed above the each monthly page. There's different photos for each month, so if you love abstract photography then check out this 2021 calendar.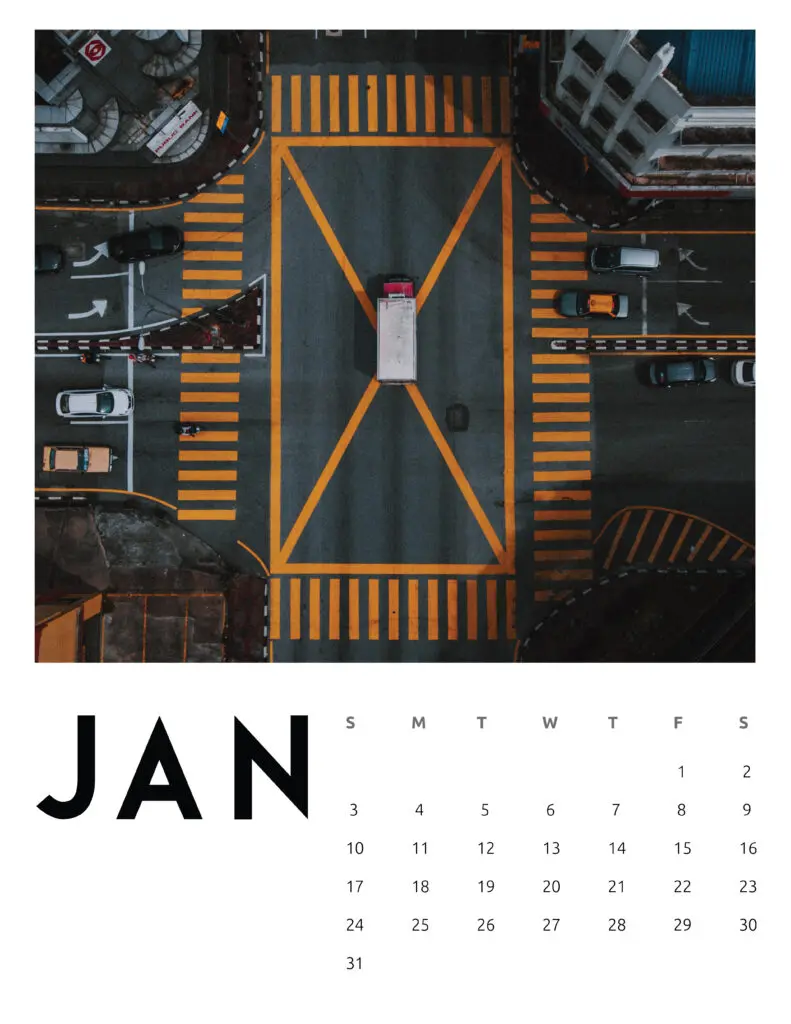 Cute kittens in a stack of tea cups, who wouldn't want one, especially when they're free!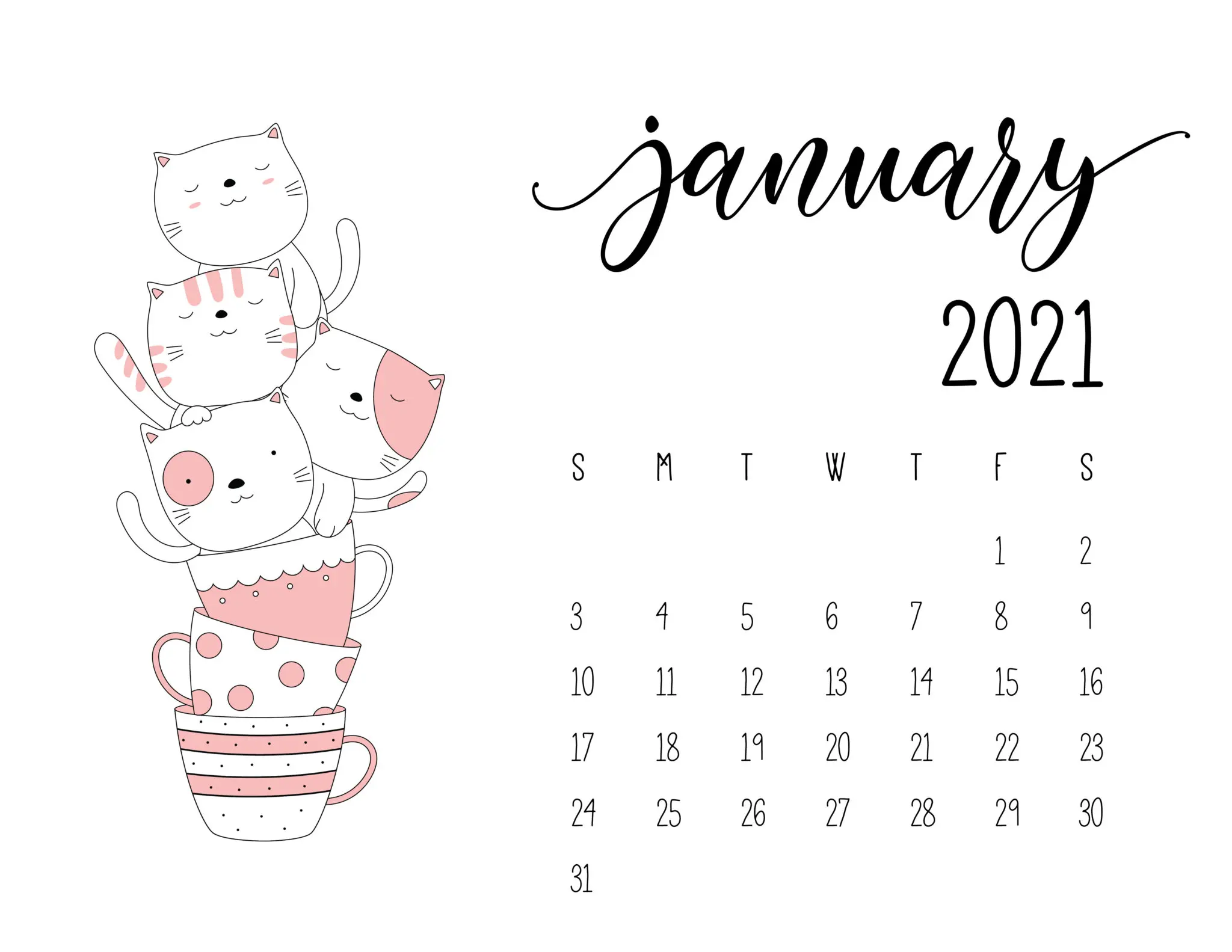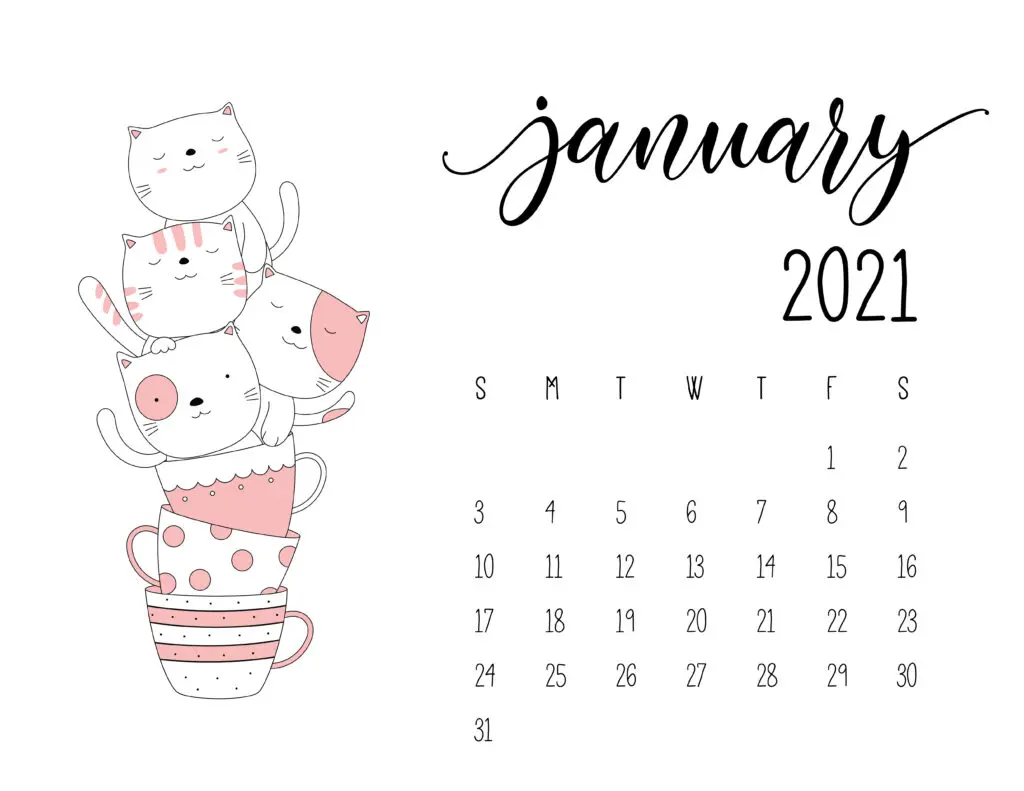 This design features a scenic image each month above the days of the month. You'll also have an inspirational quote gracing the bottom of the monthly pages.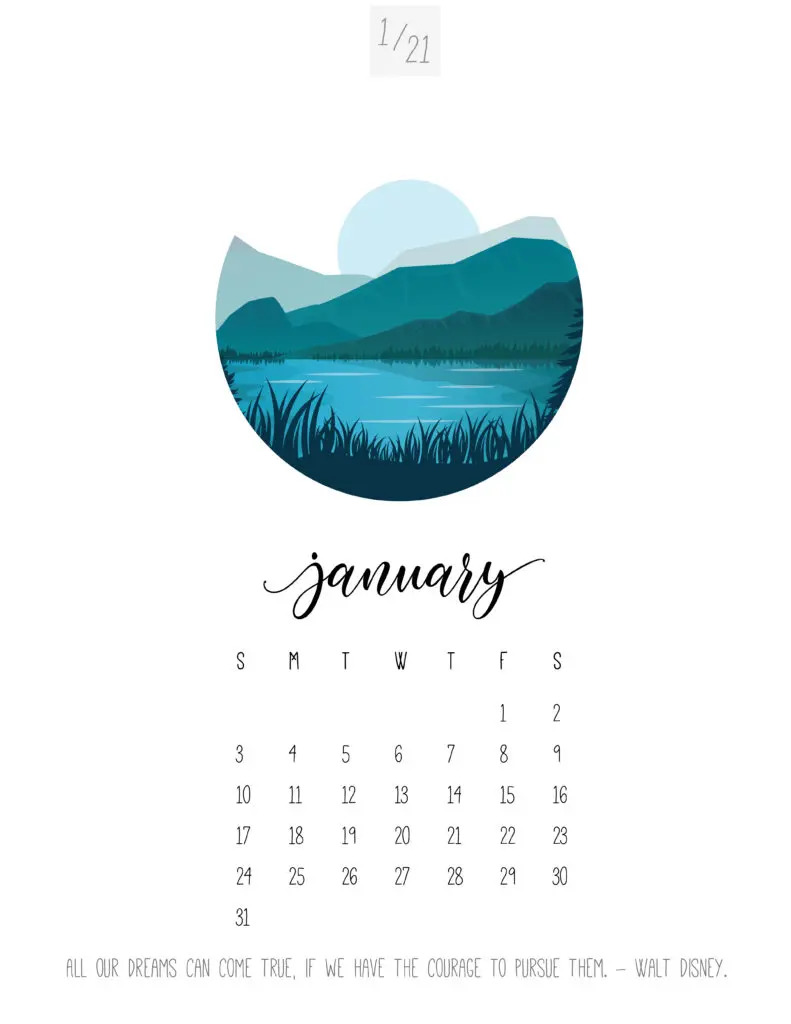 This is a contemporary style January calendar page with notes box below the days of the month.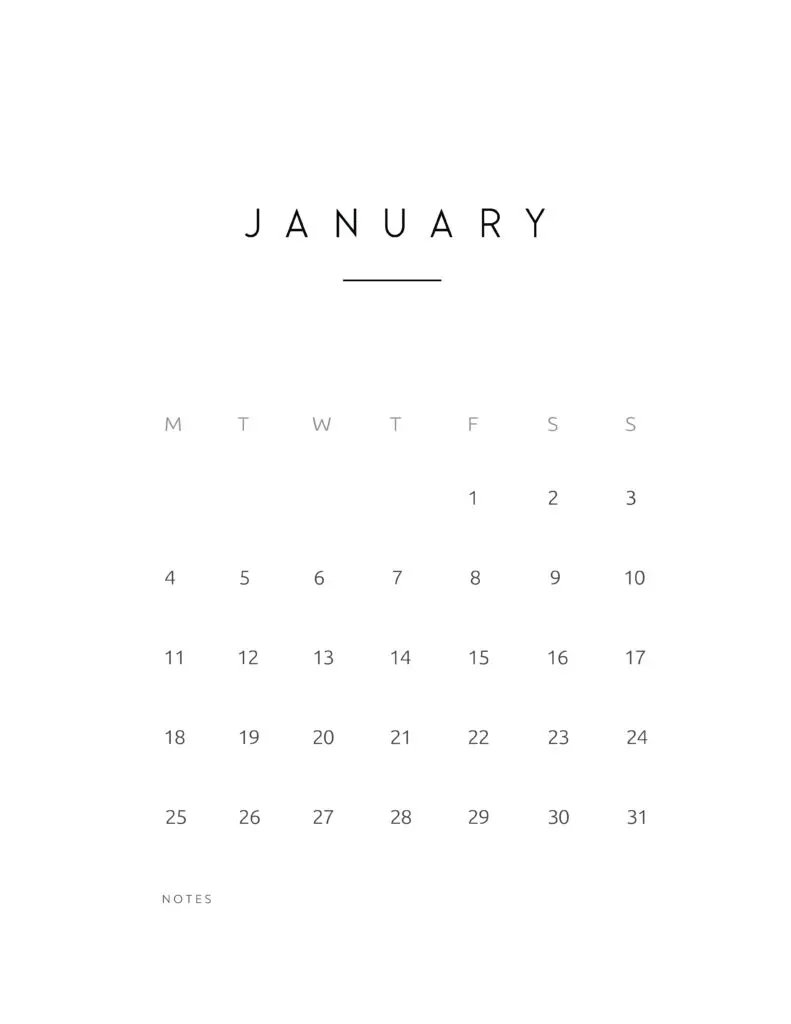 To wrap up our range of 2021 calendars, we end with this cute forest woodland animals range of monthly pages. The January calendar features a cute bear above the days of the month. So cute and wonderful, you are so spoilt for choice!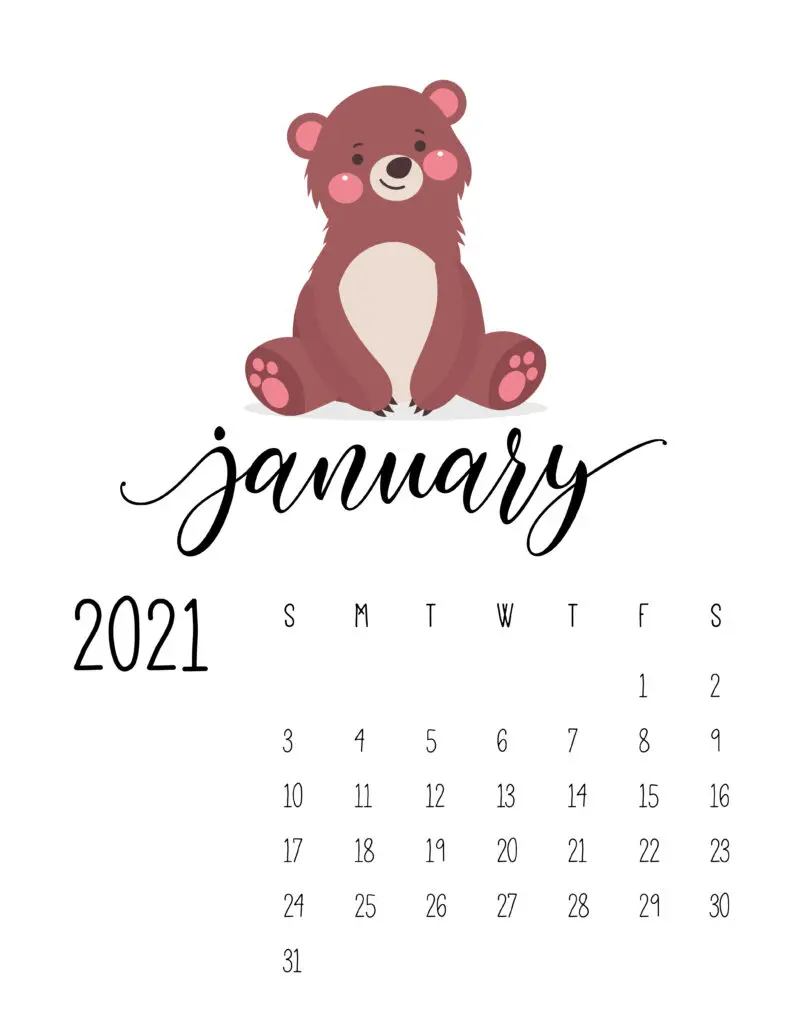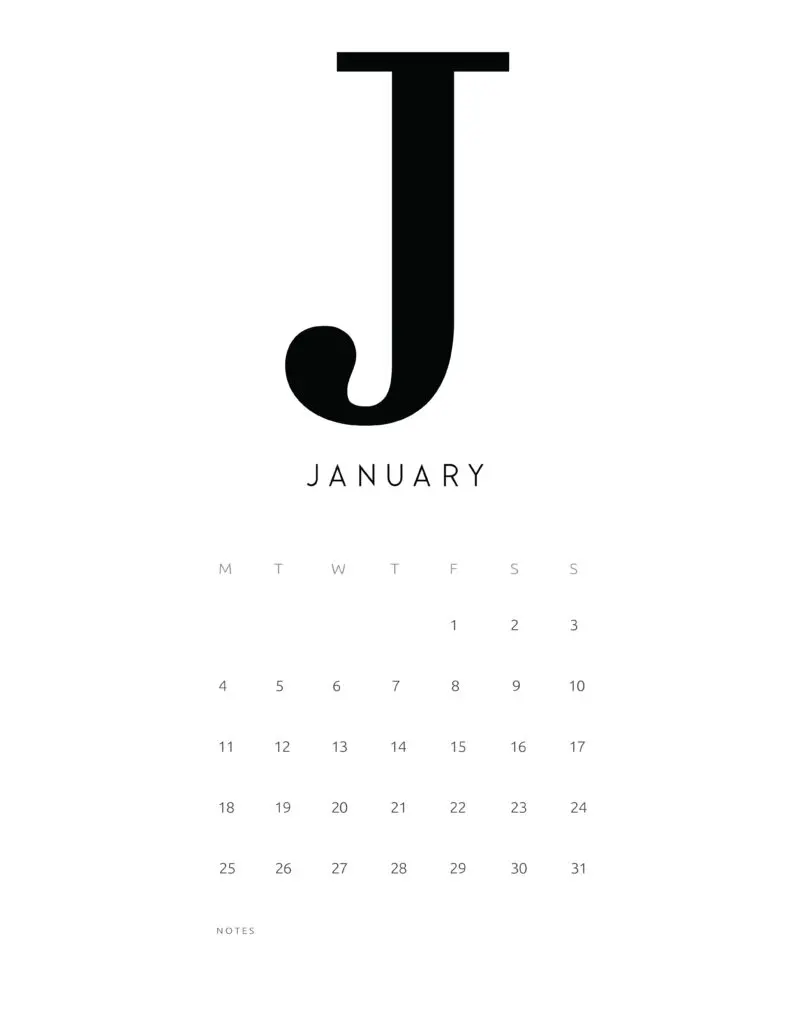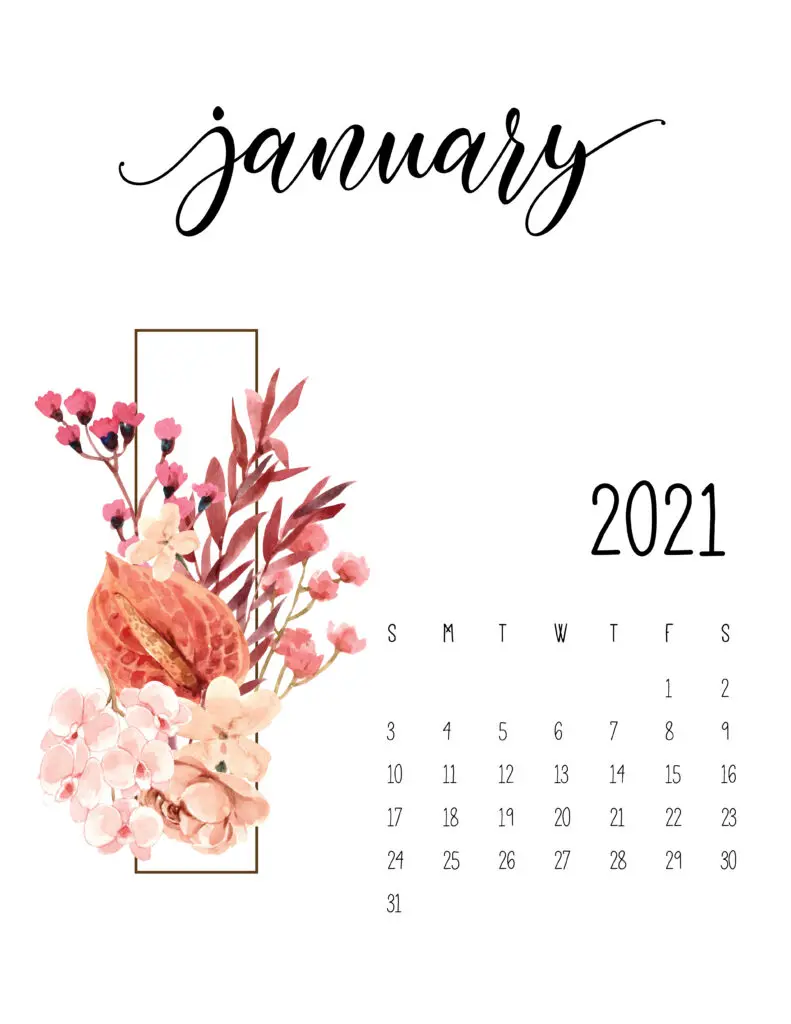 This floral frame calendar is our most popular calendar this year. I guess there's something traditional and modern about it. If you guys like it, then that's all that matters
Simply the best free January 2021 Calendars
We hope you liked our compilation of the best January 2021 calendars. If you do decide to download one, please follow us as it really helps us out and we'll be able to continue making more free printables for you to enjoy in the future.
Use this post to learn how to resize your calendars to fit your planner or bullet journal!
If you like our designs, remember to sign up to our newsletter, where we keep our readers notified from time to time of our latest and best free printables.
Also, remember to follow us on Pinterest or Instagram and show your support. Better yet, if you use any of our printables then take a picture and tag us in it, we love to see what people do with our designs!