Looking for a monthly planner template that will help you not only plan your month but also prioritize your tasks, note your projects and create goals? This is the monthly planner for you.
At the start of every month, it's always good to think ahead about the things that need to be done, including attending events, appointments, or things that include work or home tasks.
If you're someone who likes to plan ahead then starting your month with a planner will help you stay organized and you'll likely achieve more throughout the month than you would if you just went with the flow.
This monthly planner is a great way of giving you an overview of what you need to achieve over the course of the month ahead and has various sections:
Monthly calendar
Priority list
To do list
Project list
Notes Box
Goals Section
Inspiration and Ideas section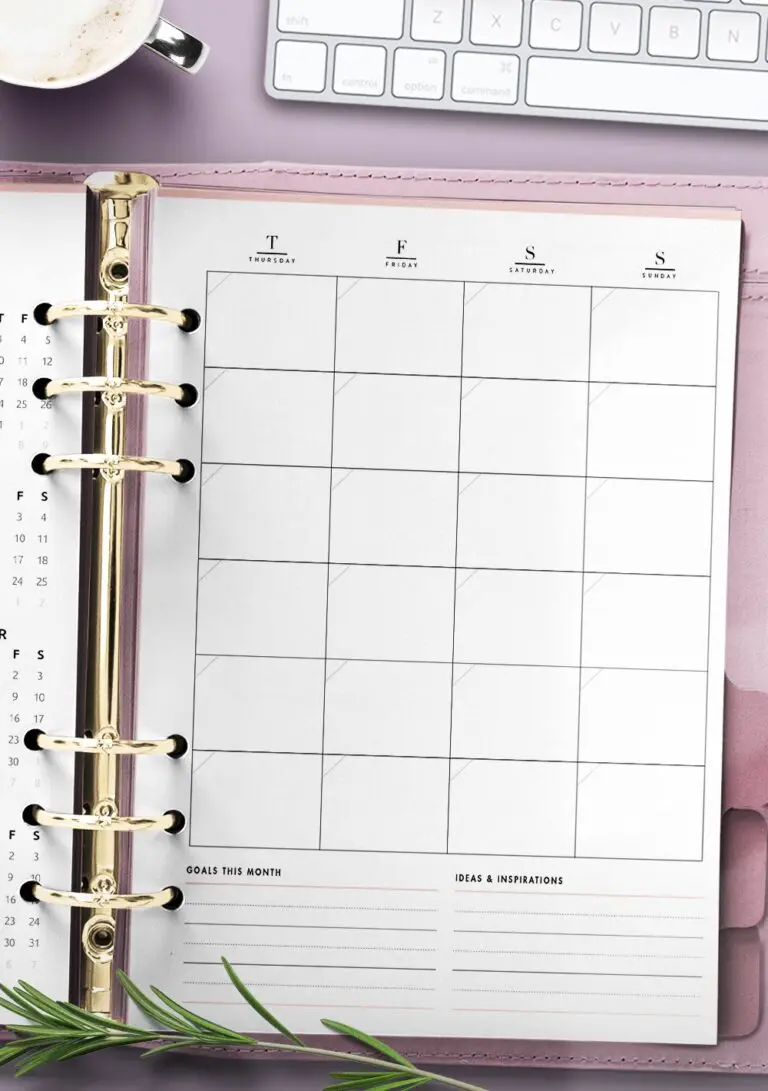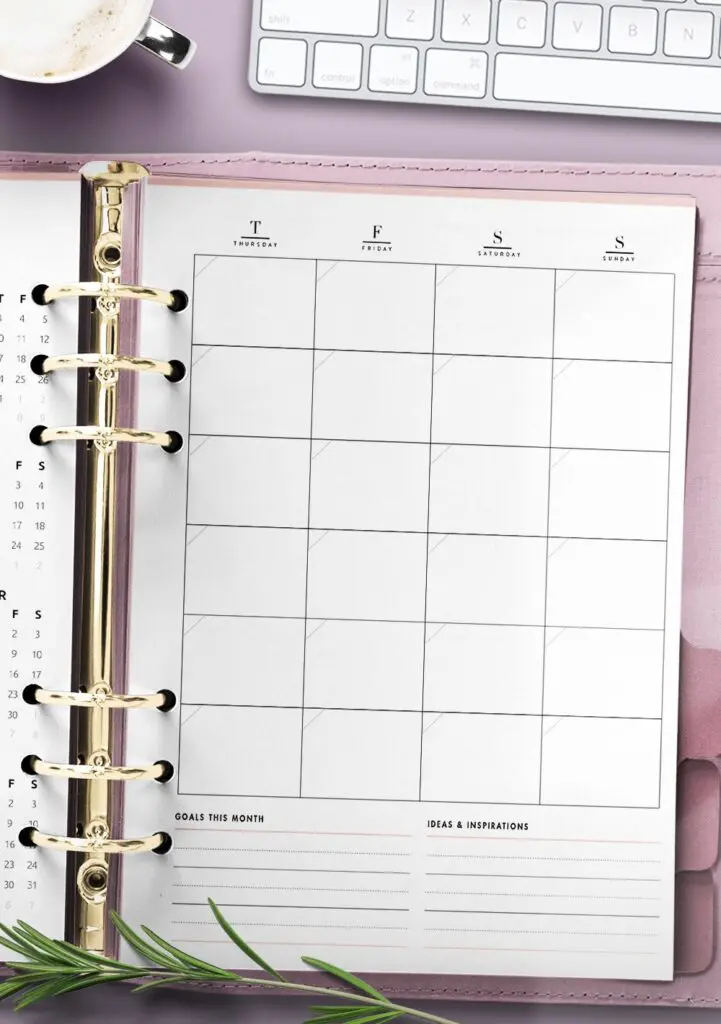 Having all of these sections on one planner gives you an insight into how your month will turn out in terms of being organized, doing things, and completing tasks.
It's a great monthly planner page to have at the front of every monthly section in your planner.
Many people print our hugely popular calendars, but this monthly planner template combines a calendar and a planner into one.
This makes it ideal for helping you plan and organize your month ahead, each and every month.
What should I write in my monthly planner?
use a monthly planner to write:
Important dates & events
Work schedule
Goals
Daily challenges
Budgets
Appointments / Health appointments
Ideas and Inspirations
Follow Ups
Phone numbers / Email Addresses
Motivational quotes
You can simply pop these in your planner or binder, or whatever you use.
Print as many as you need, as often as you need.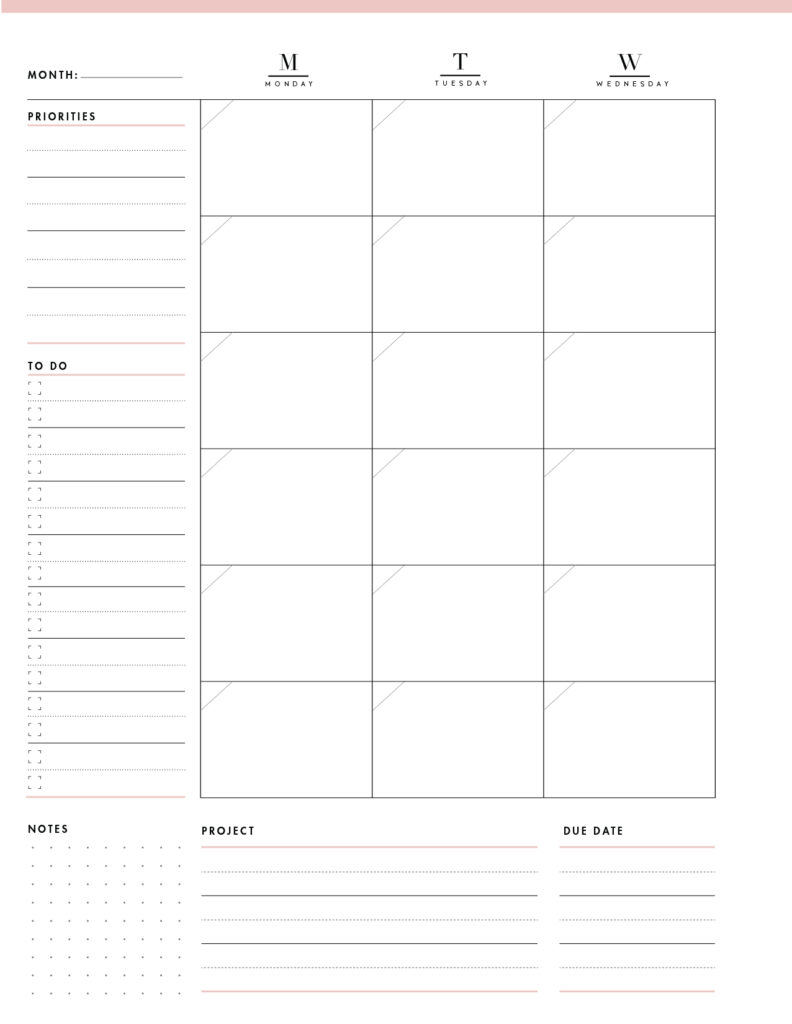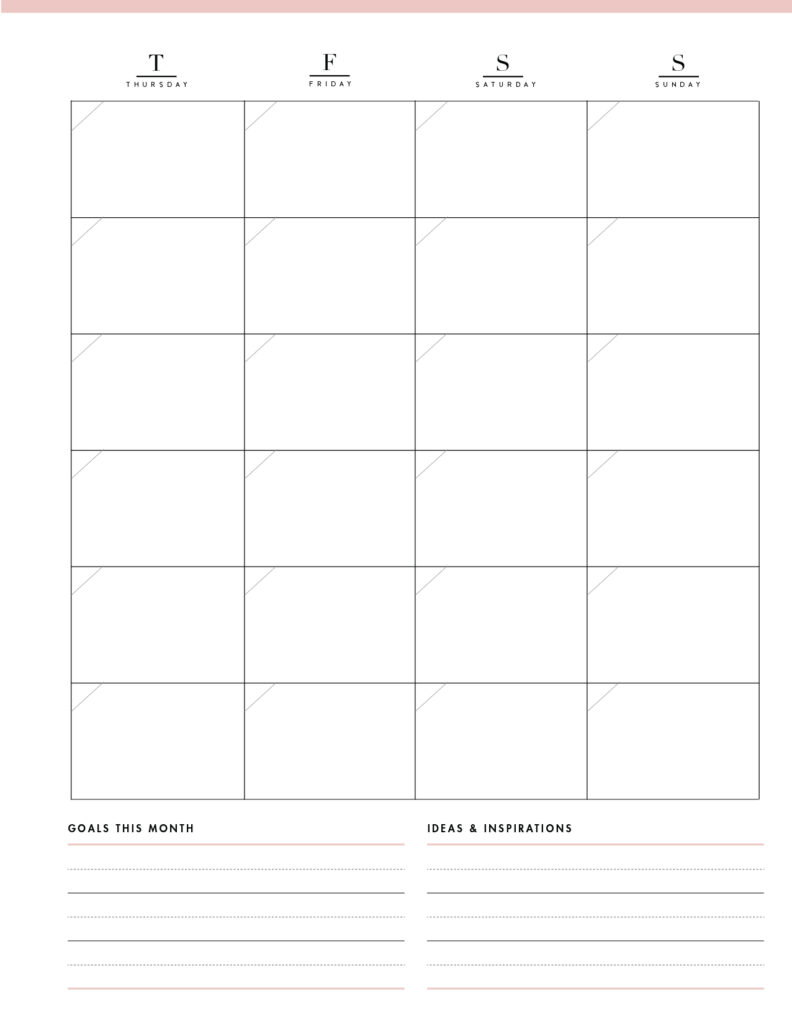 This monthly planner is a two-page spread, which gives you plenty of space to cover the whole month and looks great in your planner.
If you love this monthly planner template then print it today and start using it immediately. You will receive it in different styles so you can use the one that suits you best.
You can find the monthly planner included in our amazing Household Planner Bundle which also includes many more amazing planner pages that cover everything from meal planning, health, organization, cleaning, and more.
Our low-cost bundles make it so easy and convenient for you to get lots of high-quality printable templates, perfect for planners, without having to find and print them separately.
Get the free printable monthly planner template
To get the printable monthly planner for free, open the template images above and save them to your computer.
Alternatively, for the highest-quality version which comes in four different themes, use the button below to visit our product page. Use the coupon code displayed to get it for free.
How to make printables look awesome
Print it! – Our templates look so good when printed on this bright paper.
Resize it – These printable templates are designed as 8.5 x 11 pages.
TIP: If you want to print using different size paper then just insert this printable into Canva, set your dimensions to any size you want, then save and print, easy! Full steps in this guide.
Remember to check out the rest of our printables, we've got 100's to help you organize your life.
If you are looking for more awesome free templates then check out our huge range of printable templates we've got printables for every aspect of your life!
More awesome printables and templates from World of Printables
We've created a huge amount of daily planner templates and weekly planner templates that will help you manage your days and weeks better than ever. Be sure to grab as many as you can along with our many other schedule templates while you're here.
Remember to look through the rest of our planner printables, we've got printables to help you manage every aspect of your and your life!
We think you'll find these very useful:
More schedule planner templates
Some of our recent schedule planner templates. These will help you organize your week ahead.
---
Find 100's more stylish planner templates that you'll love
Some of our recent planner templates. Find many more Printable Planner Templates that will help you get on top of your life with ease. You'll love them.
Follow World of Printables on Pinterest for more