I know it's not easy to get your kids to help out with the chores, especially when half of the time you ask them it goes in one ear and out of the other!
It can be very difficult to motivate kids to do their chores. Many parents provide rewards for their children when they complete their chores.
It also teaches them a life lesson, in that by working hard they will be rewarded with the things that they work towards.
That's why we've created and compiled the best Printable Chore Chart Templates for kids to help you out.
What are Chore Chart Templates?
Chore charts are designed to be fun and visual and are a great way for your kids to see their chores and get involved.
These are normally printed and can have the chores written on them, which child is supposed to complete them and on which day.
How do Chore Chart Templates work?
Start by writing your childs name on the chore chart. Next you will list all of the chores that need completing by the kids.
You can also set the days you would like the chores completed along with any rewards that the children can receive.
You should take some time to talk to the kids about the chores and any rewards and set goals. Then simply hang it on your refrigerator or notice board for the children too see.
Download these free Printable Chore Chart Templates
So without further ado, let's take a look at our compilation of the best free printable chore chart templates to find the one that works best for you and keeps your kids motivated.
We have also included a couple of chore charts for older kids too.
This Free Printable Super Duper Kids Chore Chart is beautiful and easy to use along with being visually appealing. There is space for two children to see their chore list for the week.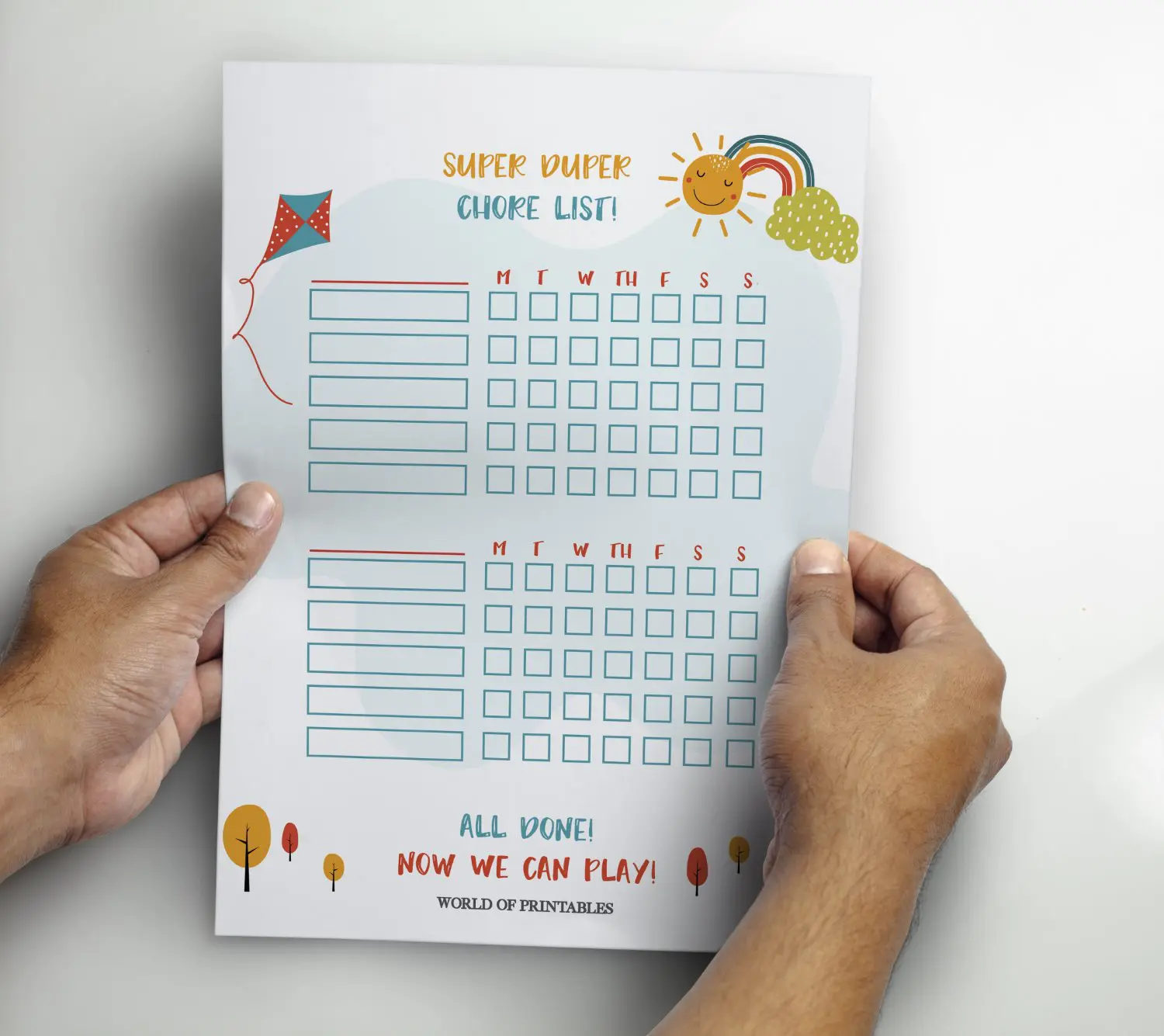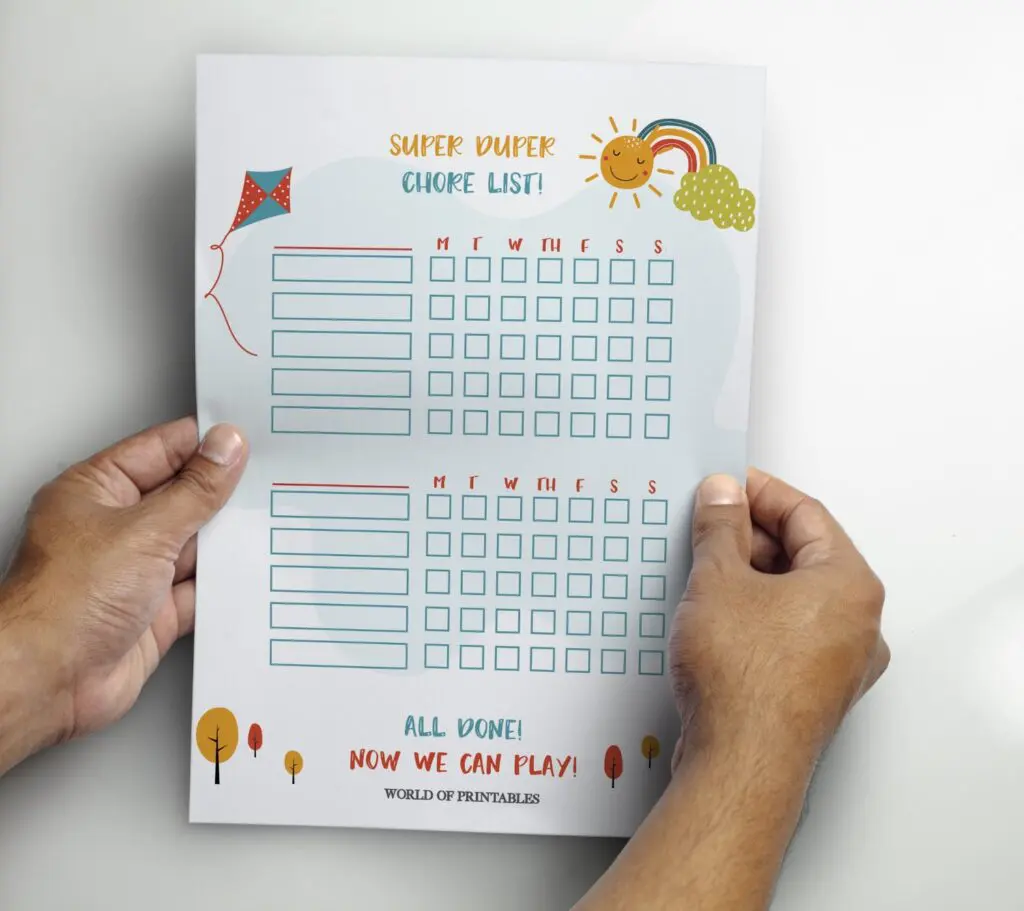 –
This Free Printable Our Responsibilities Kids Chore Chart is a great way of getting your children involved with chores and understanding their responsibilities. This free chore chart looks fun and cool and inviting to any child.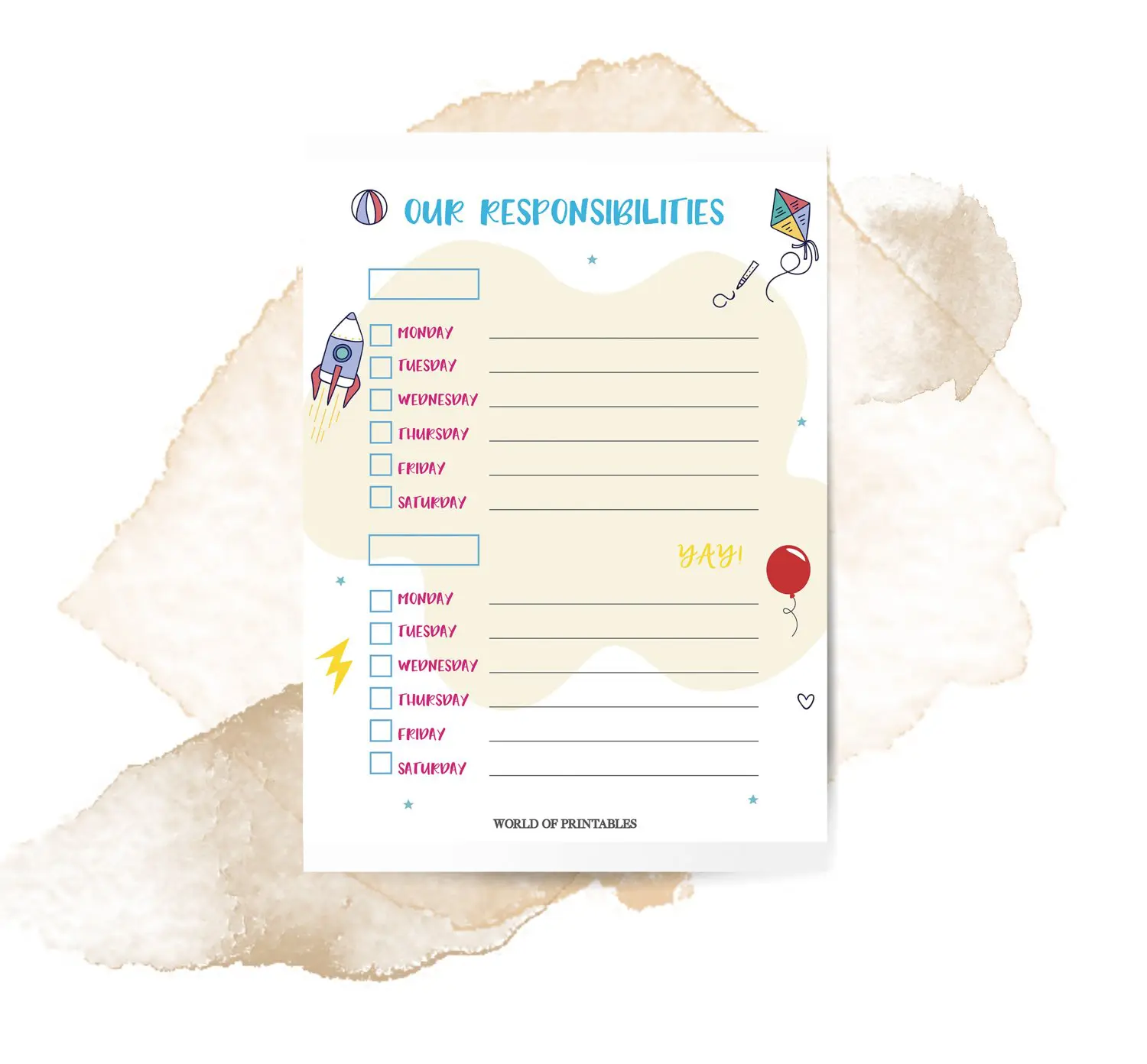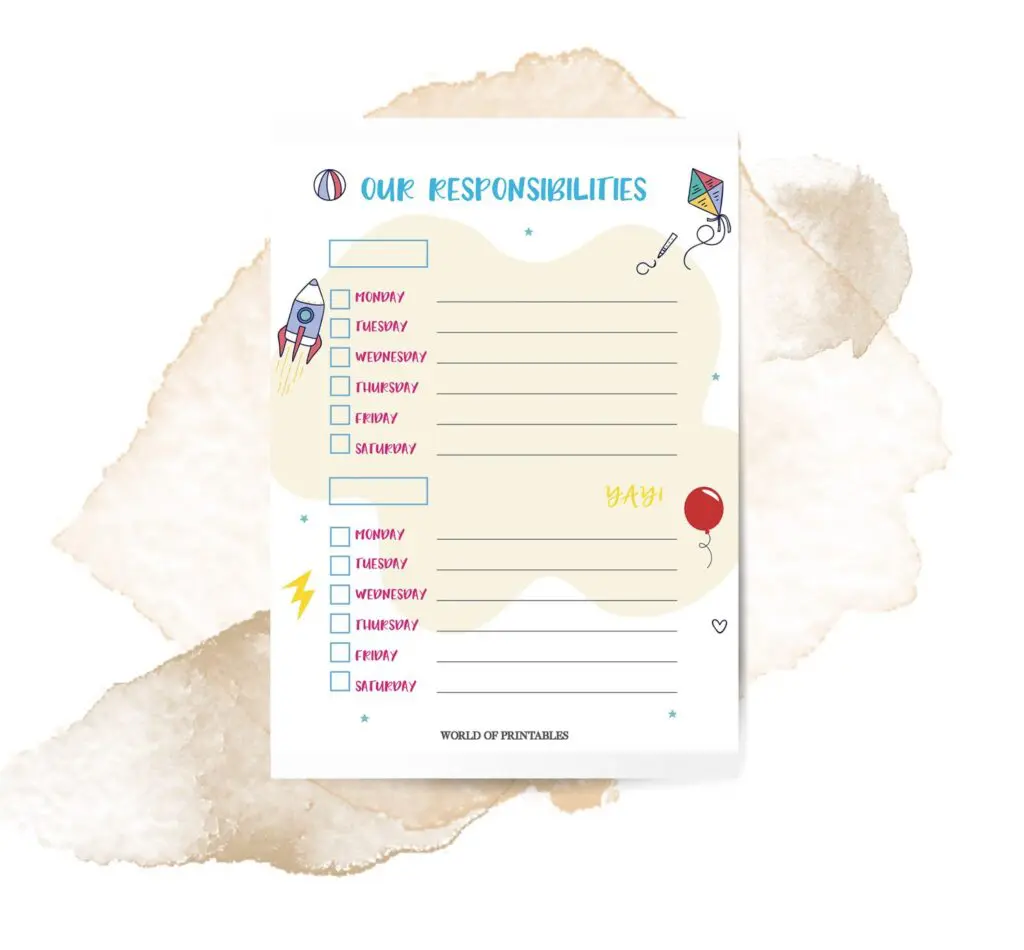 –
This Free Printable Giant Stars Kids Chore Chart focuses on the child completing their chores to be the first to color in the star! There is space for three children to write their chores and a place for them to write their own name.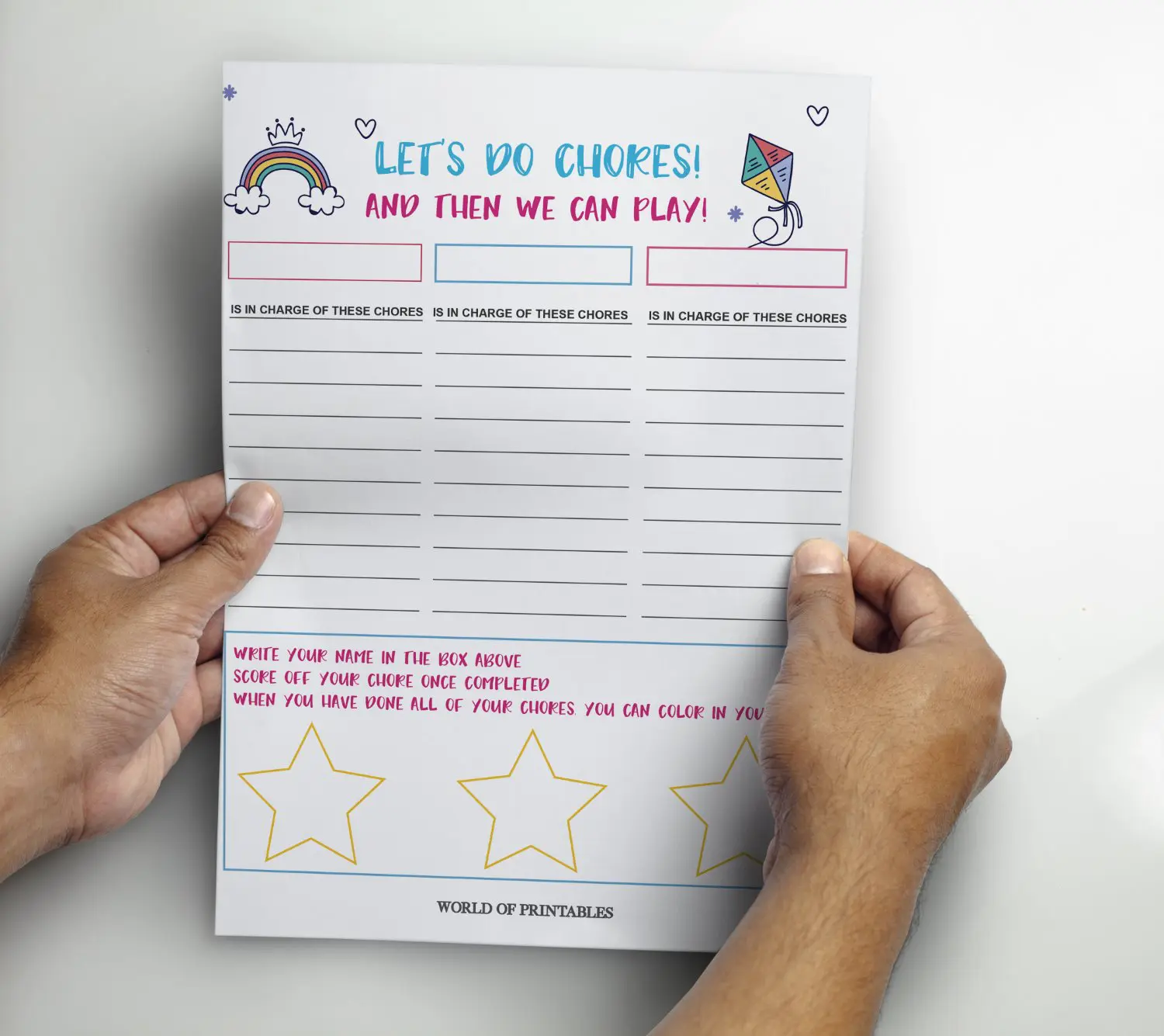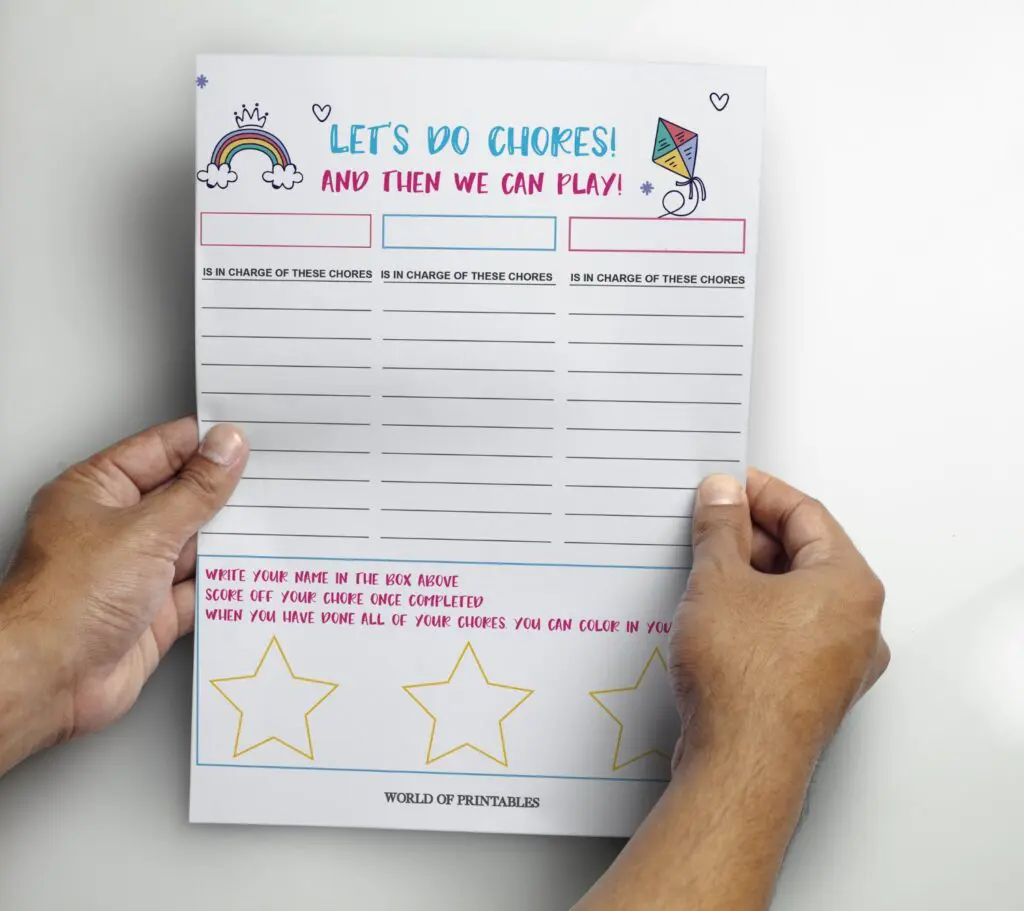 –
Here's one for the teens! Use this Free Printable Teen Emoji Kids Chore Chart to get your teen involved with the house chores. This free chore chart is simple and looks cool. It totally speaks to any teen.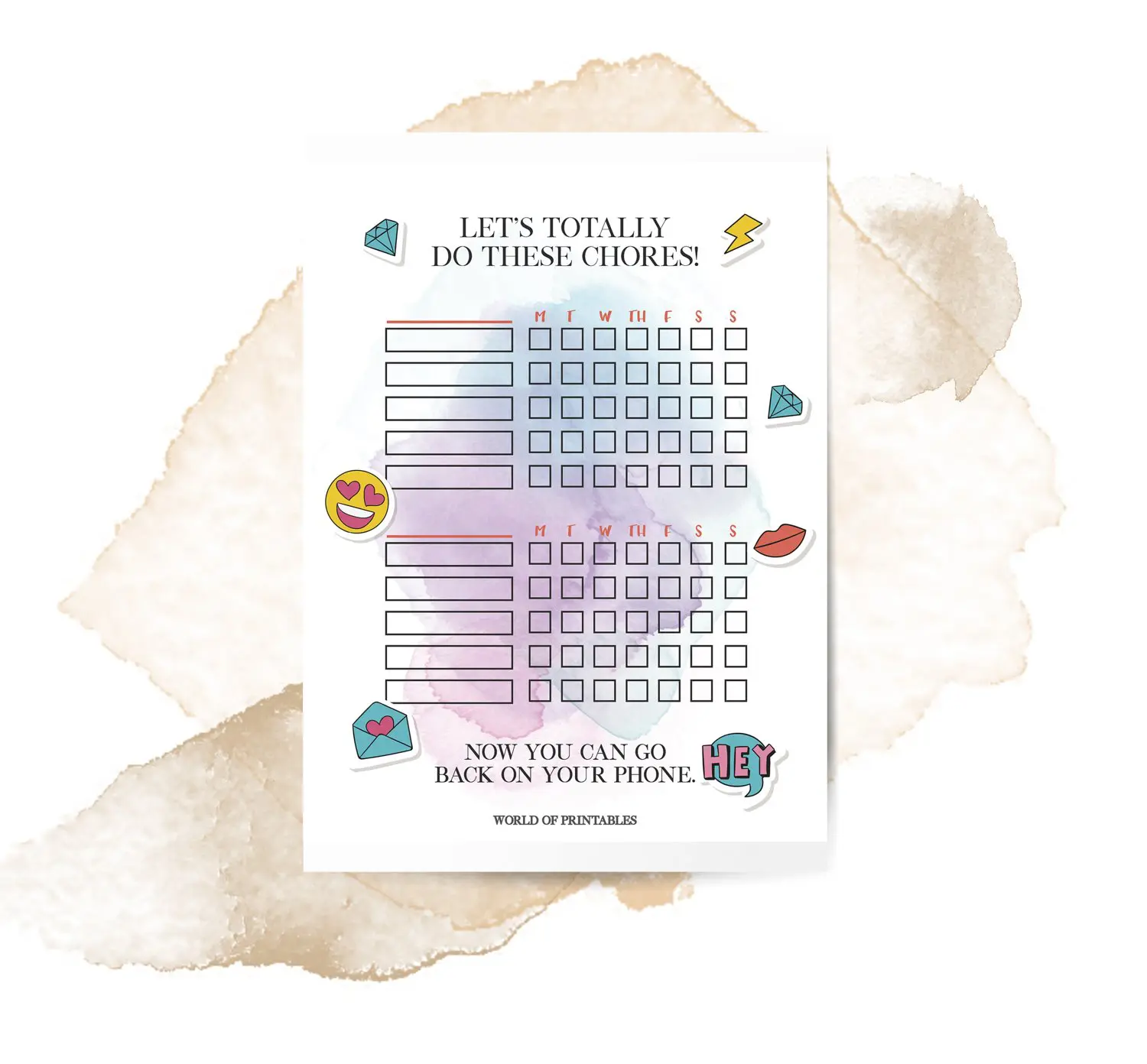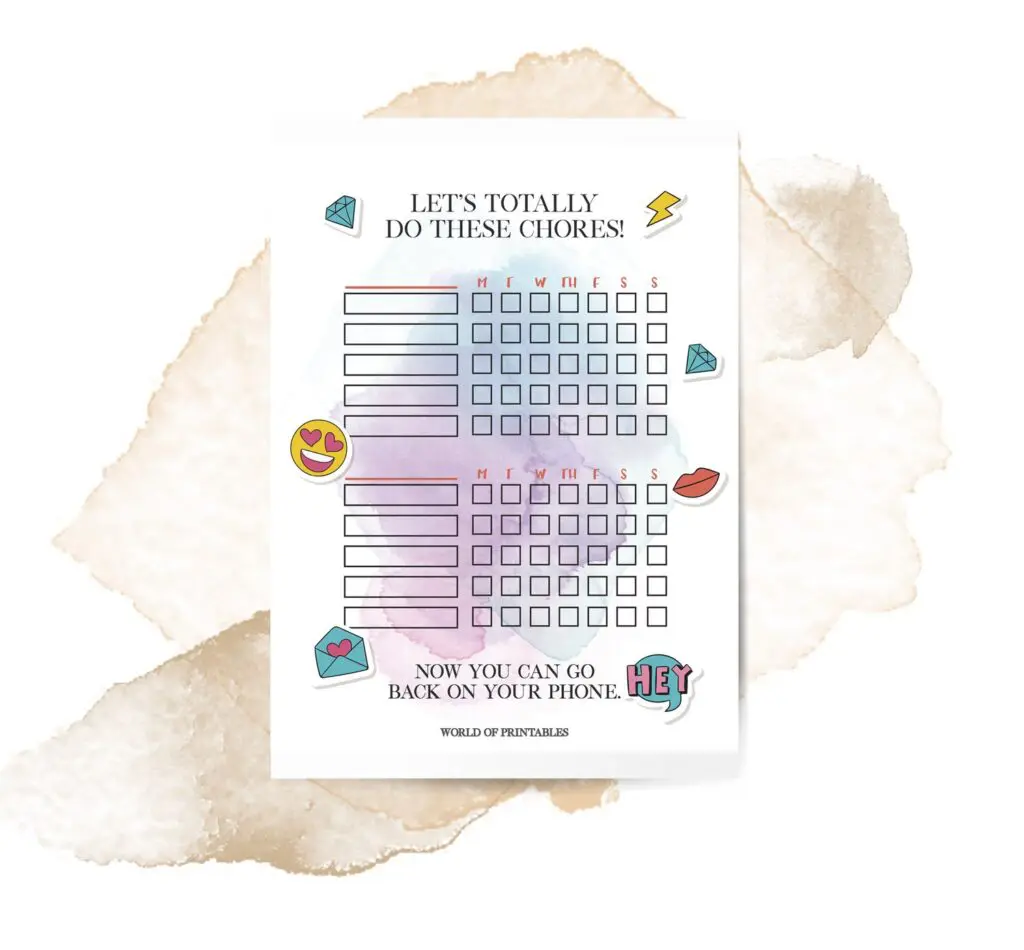 –
This super cool Free Printable Teen 90s Inspired Kids Chore Chart looks great and fits in with the aesthetic teens are going for these days! This cool chore chart has space for two teens but you can use it to fit your needs.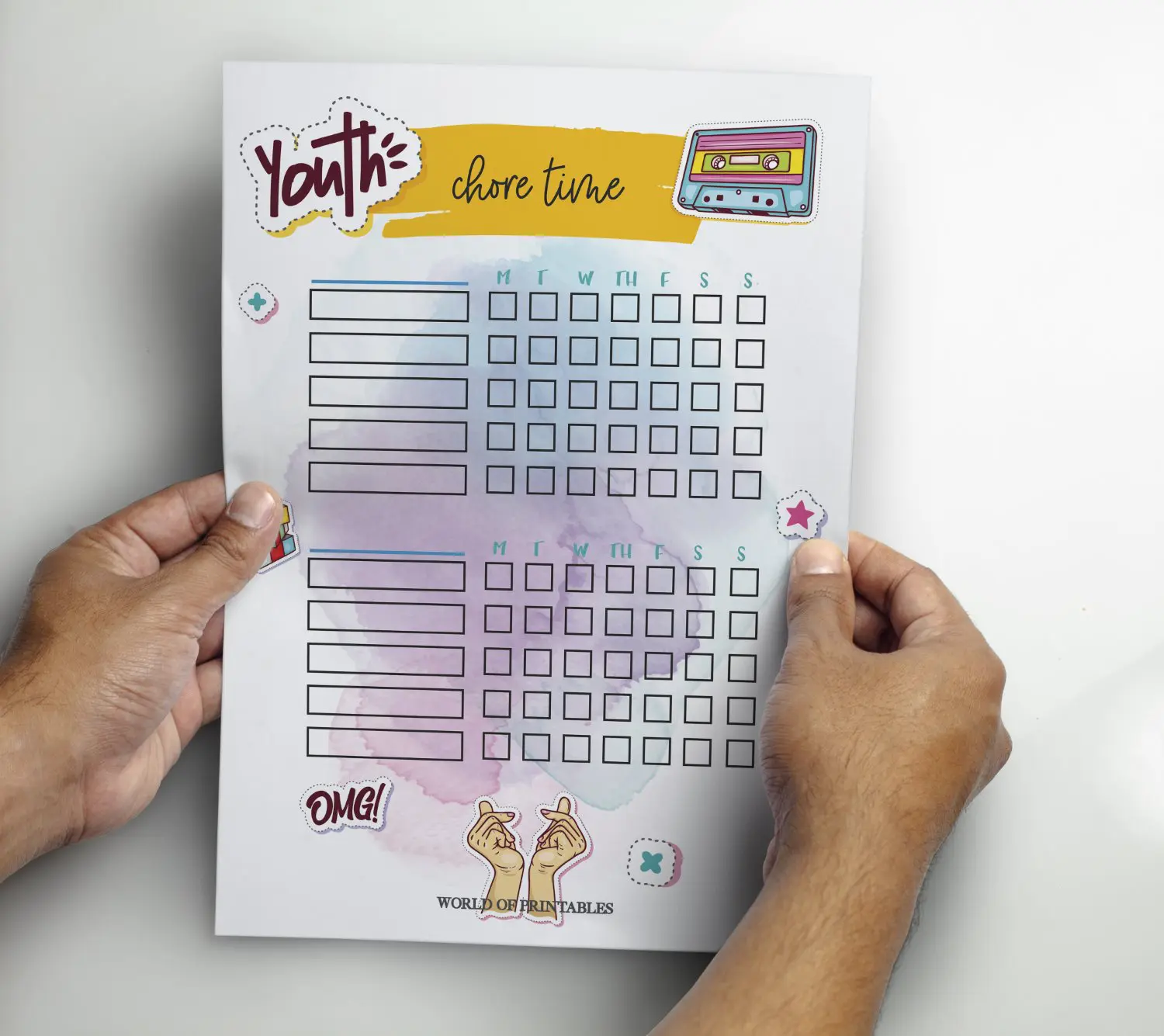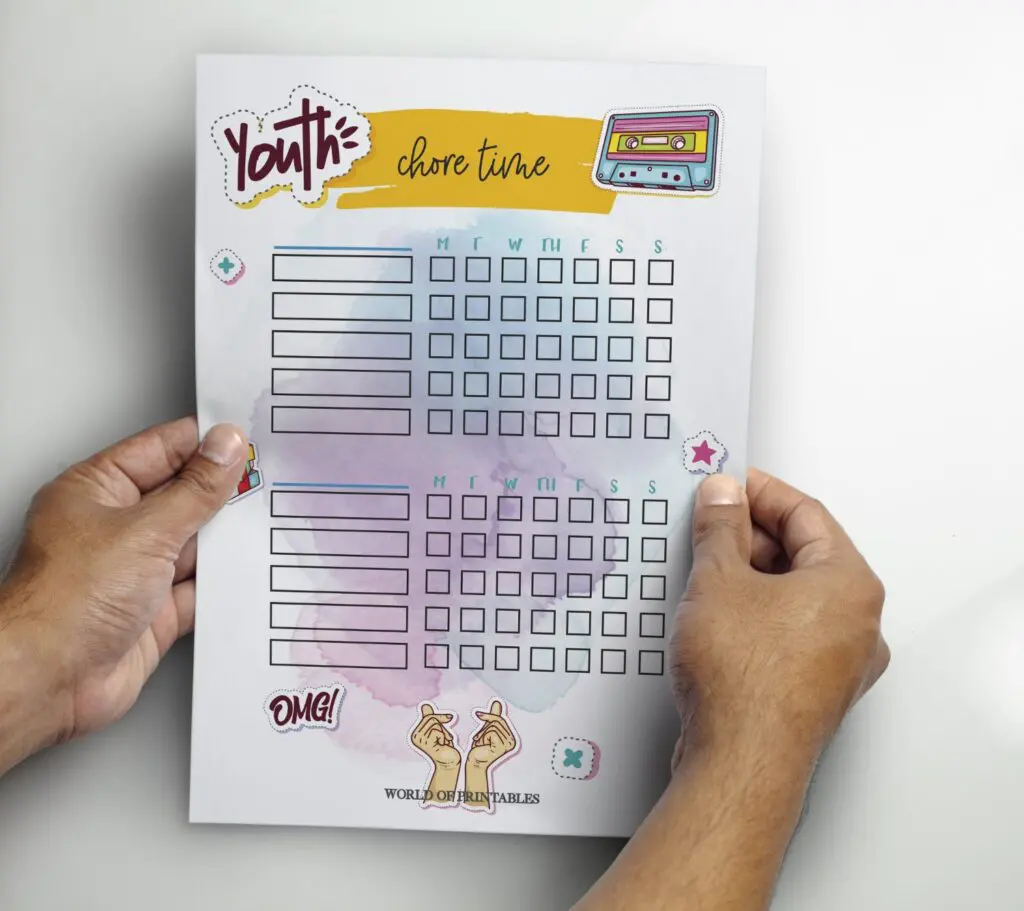 –
This Free Printable Chore Chart for Kids of All Ages is such a great option! It is so easy to use, has plenty of space and comes in two colors – pink or blue. It also focuses on the child earning money as a reward and has a space to write their commission and the total at the end.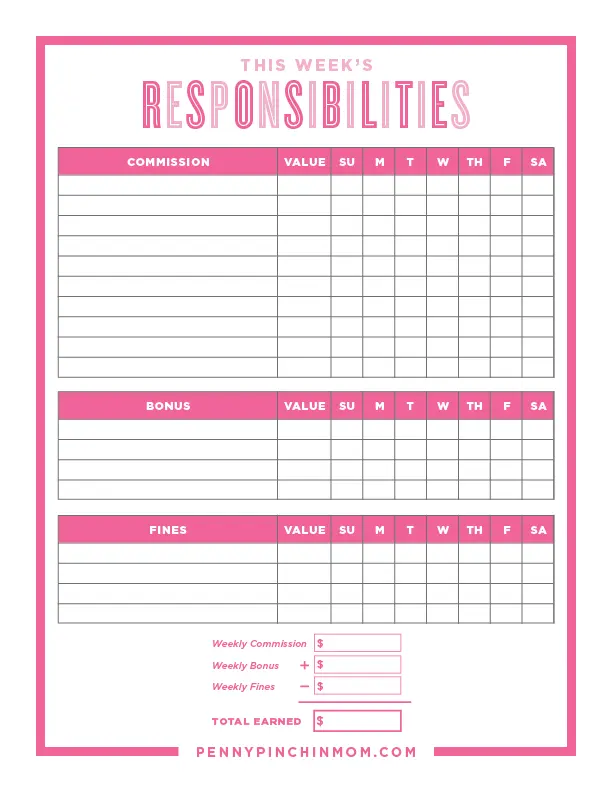 –
Use this Summer Chore Chart for Teens and Tweens to get your children involved and to stay on top of their responsibilities during the summer holidays! Kids just want to have fun during their time off school but they also need to stay on top of things like study, homework and chores. This free chore chart will help make that happen.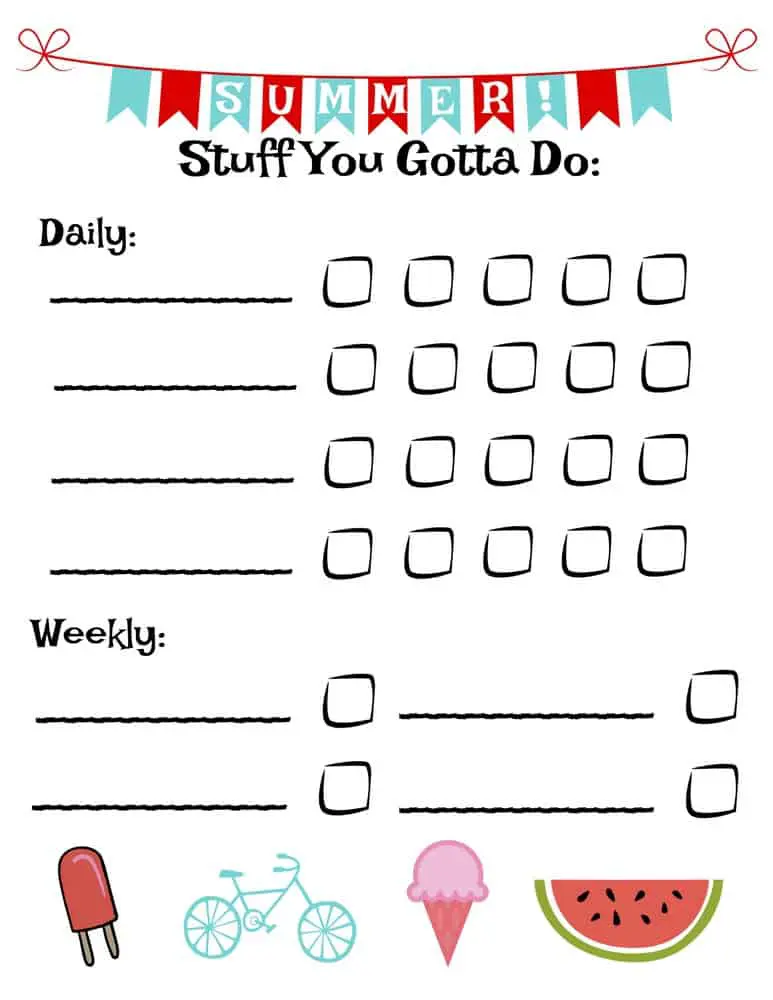 –
These colorful Free Printable Chore Charts For Kids come in two different options – dinosaurs and mermaids – making it perfect for boys and girls! Simply write your childs name and chores down one side and let them put a tick or cross in the box when they've done it. They will feel responsible being able to do this themselves.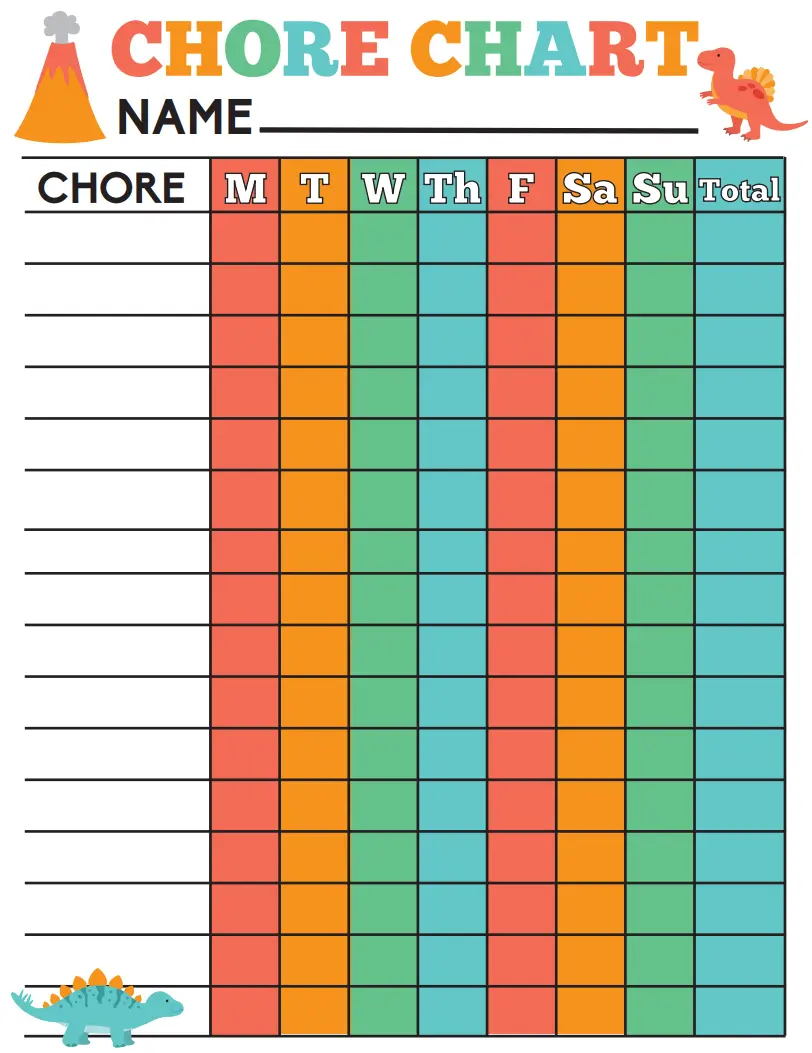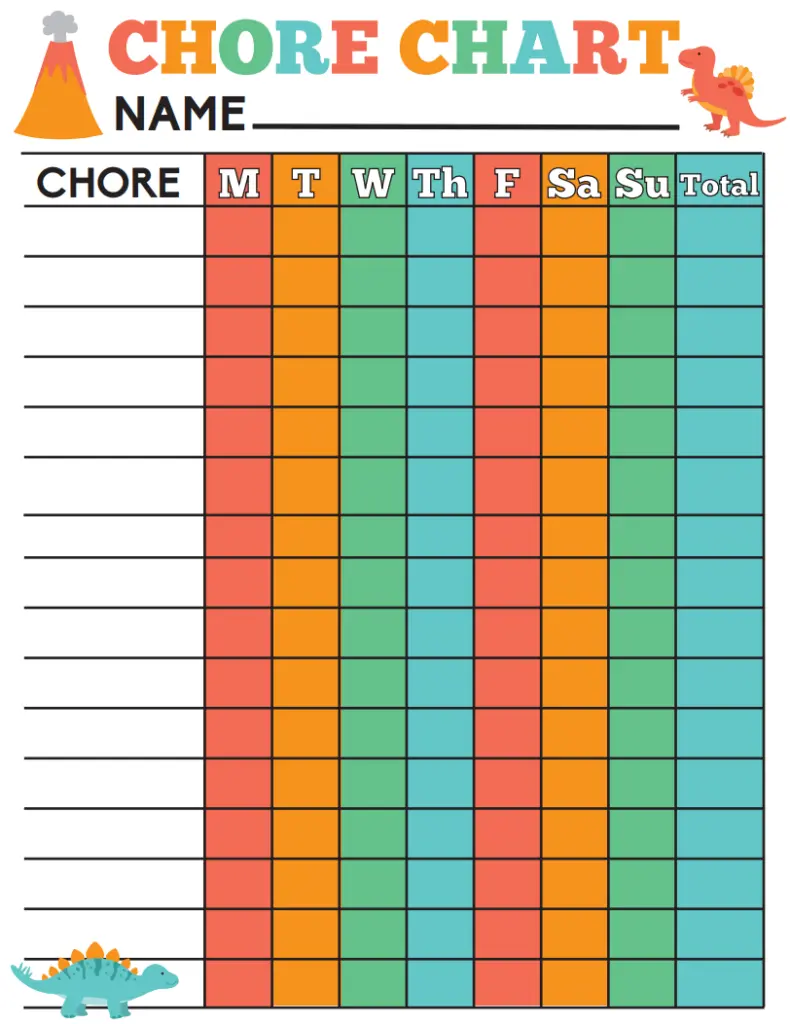 –
This Free Weekly Chore Chart For Kids is colorful, fun and has big chunky writing making it easy for kids to read. This chart uses a reward and goal system which is really handy for keeping kids motivated.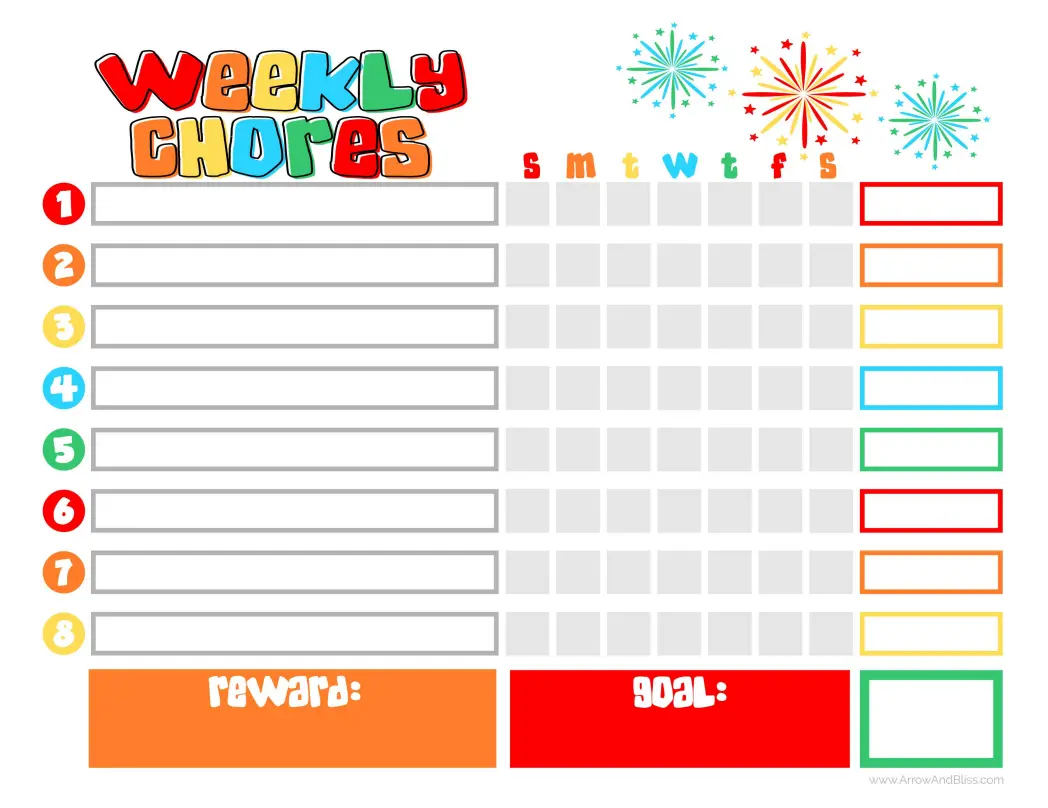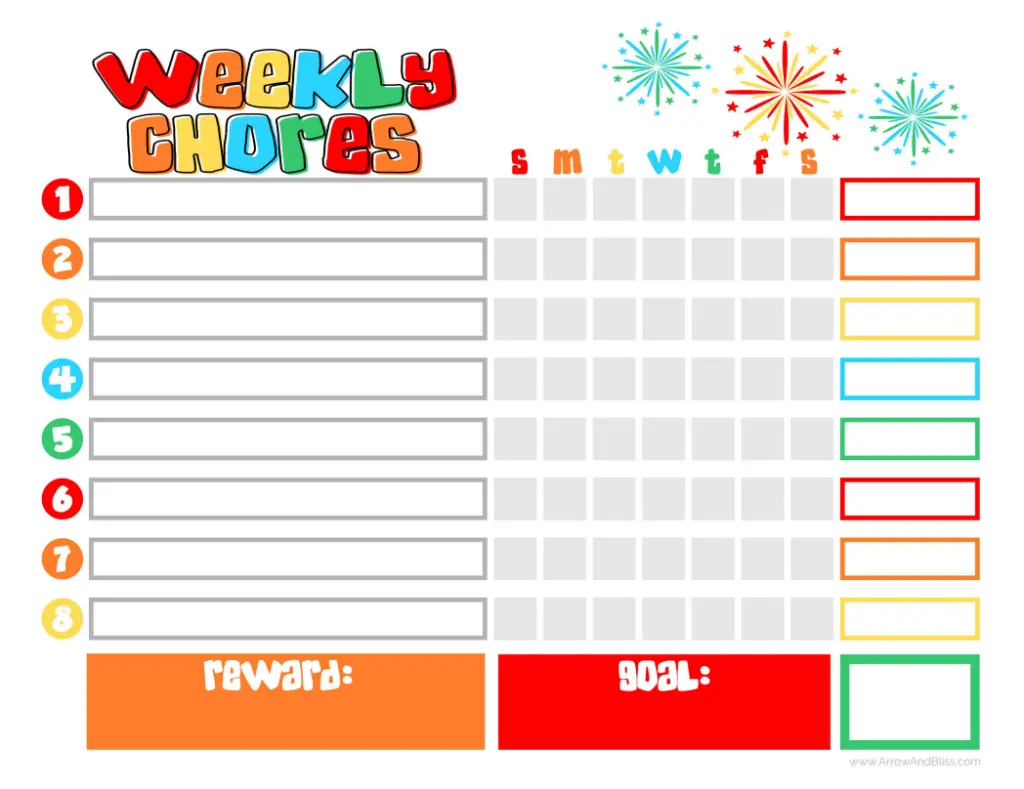 –
I love this Free Chore Chart for Kids as it focuses on using pictures to help and teach kids what they need to do or focus on. This free chore chart is great for pre-school children or kids who can't yet read!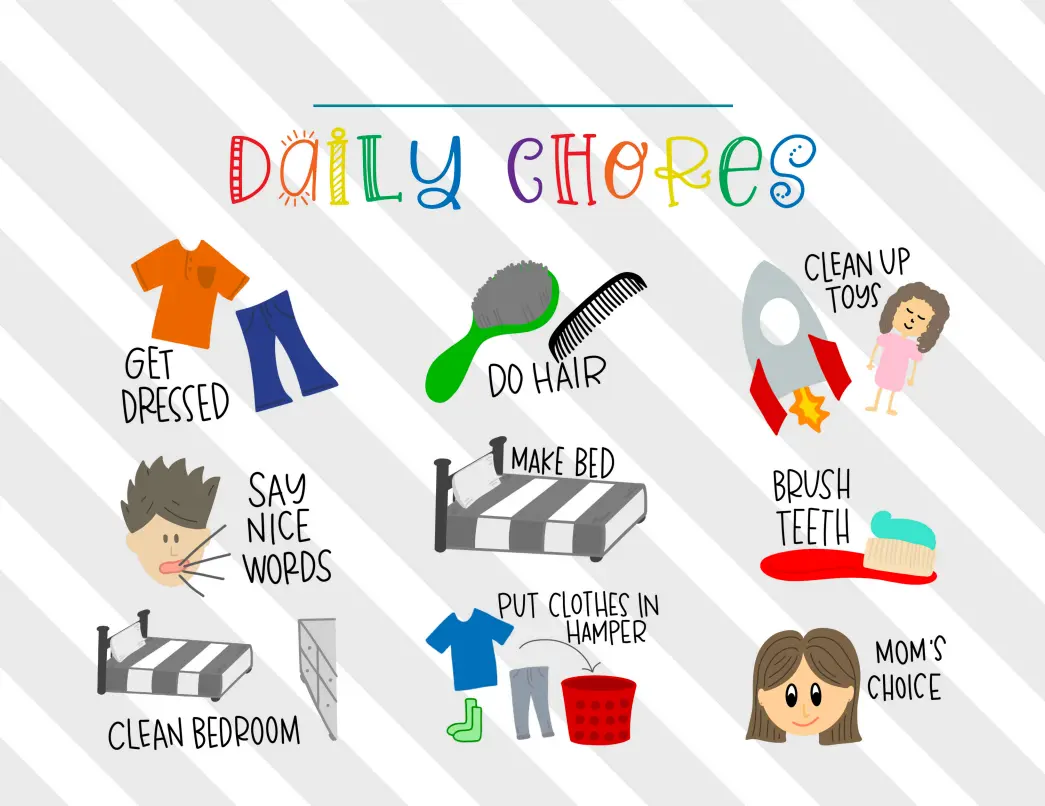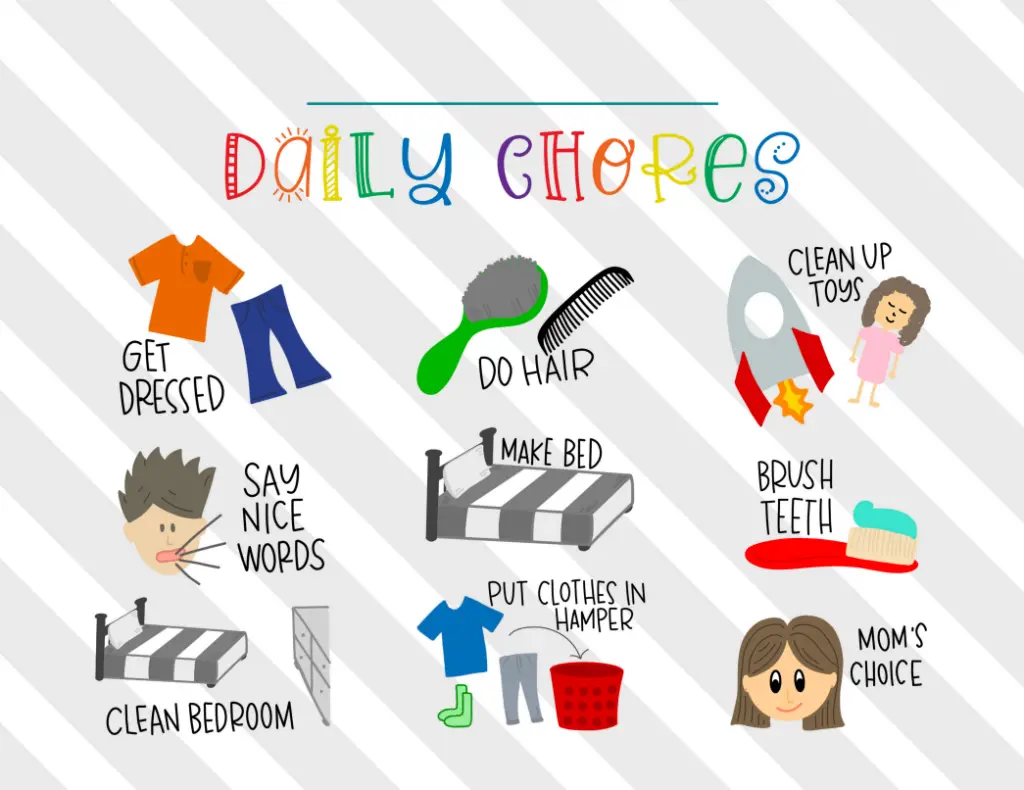 Chores for kids made easy
So when you have chores for kids then using any one of these chore charts will make things so much easier!
If you liked this post, feel free to share it as it would really help us out. Also leave us a comment below and let us know if you plan to use any of these free chore charts and what else you would like to see!
Remember you can Pin this post to save for later or to share!