If you are looking to learn how to draw a dragon then this printable drawing activity is exactly what you need.
This activity will help you easily draw and replicate a dragon with just a little practice. These printable drawing activities are a great way to learn how to draw for beginners.
You don't need to learn how to draw a dragon step by step, or read lengthy tutorials, as this grid method helps you learn to draw one by replicating the lines in each grid square.
Simply use the included practice sheets below and with a little practice, you'll be able to draw a dragon without the need for the practice sheets.
When you're finished drawing the dragon you can add a touch of color to the page.
Children love coloring pages, and this is also a fun activity for children to do as they can draw and color while learning new skills at the same time. So much fun in something quick to print and simple to do.
You'll learn how to draw a dragon easily with this free drawing activity.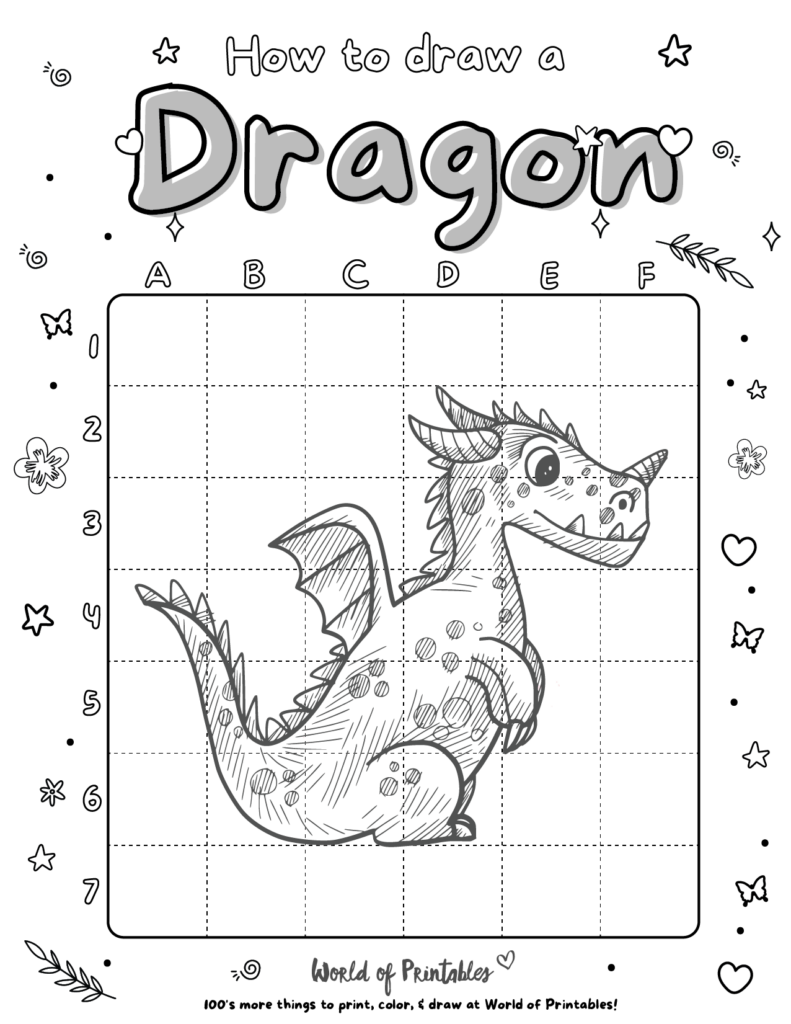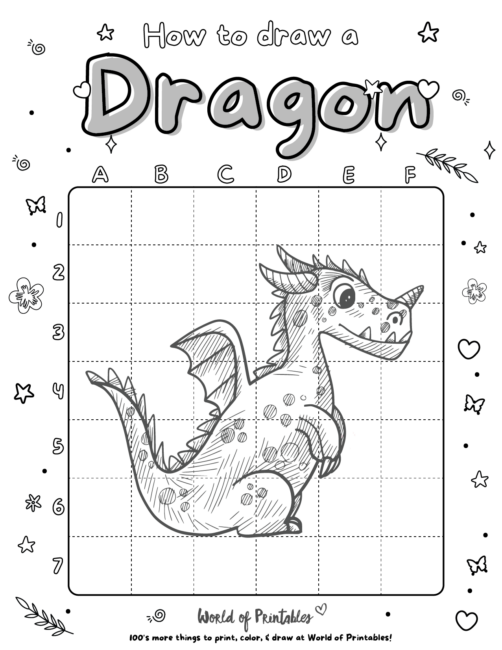 So print these drawing activities, look out some pencils and start practicing drawing a dragon. It's a relaxing activity and one that helps you develop a new skill.
How Do You Draw A Dragon Step By Step
So how do you draw a dragon? Well to learn how to sketch dragons easily, simply copy the dragon from the printable activity, replicating it on the practice grid sheets.
This isn't a tutorial on how to draw a dragon, but instead, you'll learn by practicing which is a far better way to learn how to do things.
Grid method drawing is a popular way of learning how to draw. Many artists have used the technique, including famous artists.
Make sure you get the practice sheets at the bottom of this page as you'll need to print a few of these for this dragon drawing activity and our other how to draw activities.
To draw a dragon you simply use the empty practice sheet and copy the dragon from the grid guide onto the practice sheet. It's best if you use a pencil to sketch the dragon faintly and then use an eraser to rub out any mistakes. When you're happy with the dragon outline, start doing the details by replicating the lines in each grid square.
When you've finished the dragon drawing you can go over it with a pen to finalize and erase any remaining pencil marks.
Lastly, you can even add color to the dragon with your favorite coloring pencils or pens.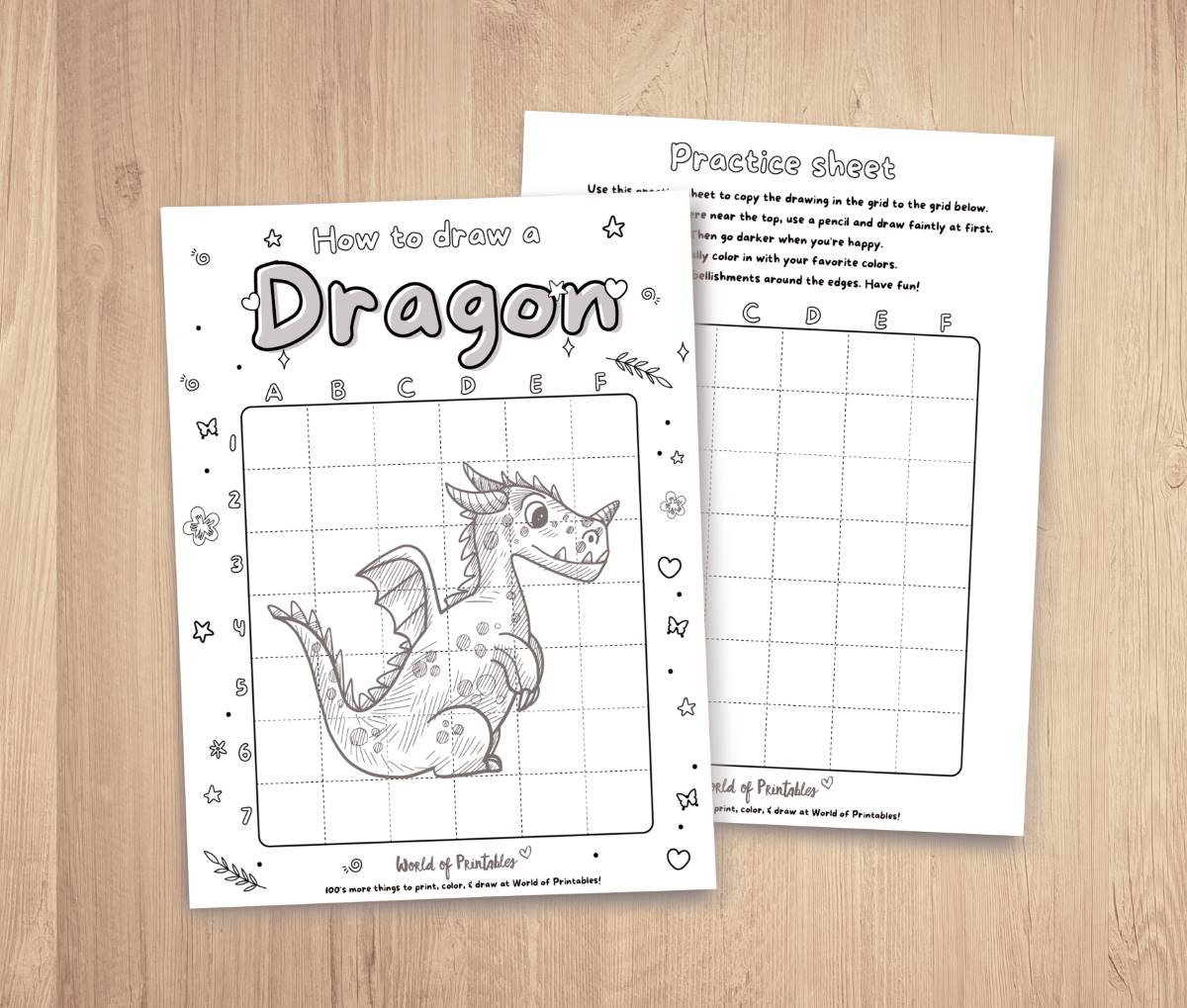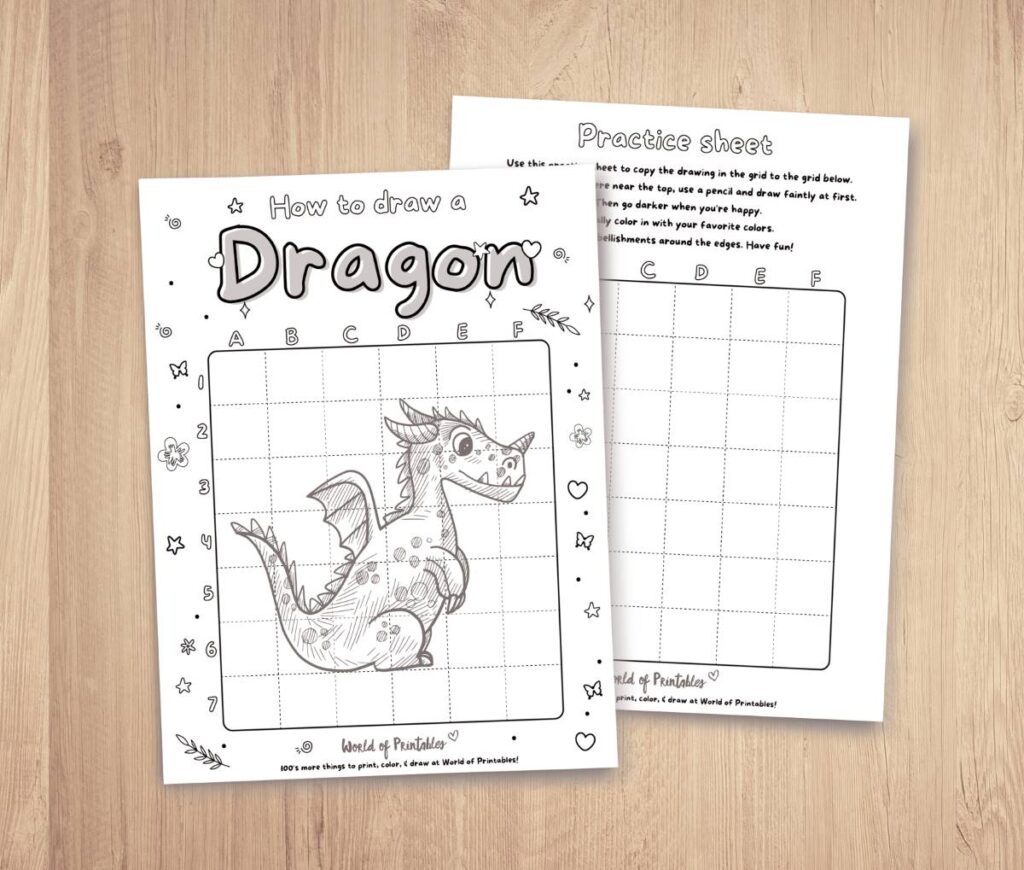 How To Draw A Dragon Step By Step Activity Printables
Simply click the printable dragon image below to enlarge it and then save it to your computer before printing.
You can also then drag it to your desktop which many people find easiest.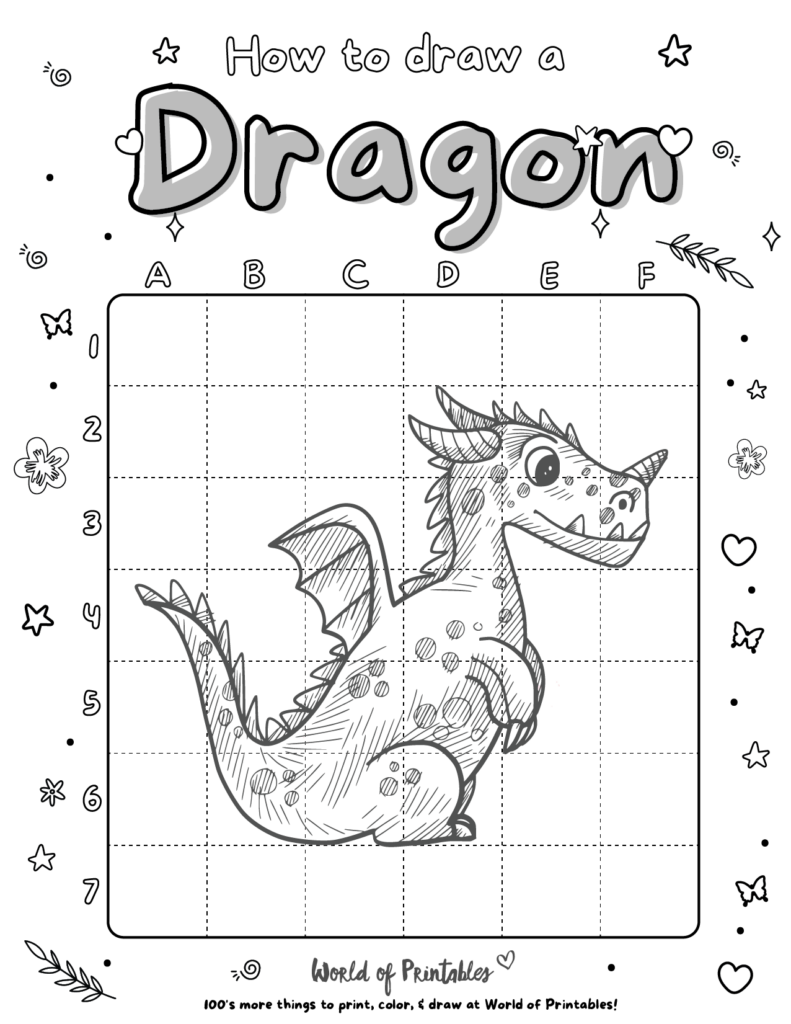 Printable Practice Sheets – Use these worksheets to practice drawing
Use these practice sheets to practice drawing dragons. You can use the full-size practice sheet or the set of 4 grids worksheet to practice drawing.
If you print off several of these practice sheets, you can use them to practice drawing these dragons and any of our other How To Draw activities. We've got 100's of things for you to learn how to draw and the best way to learn how to draw is simply by practicing!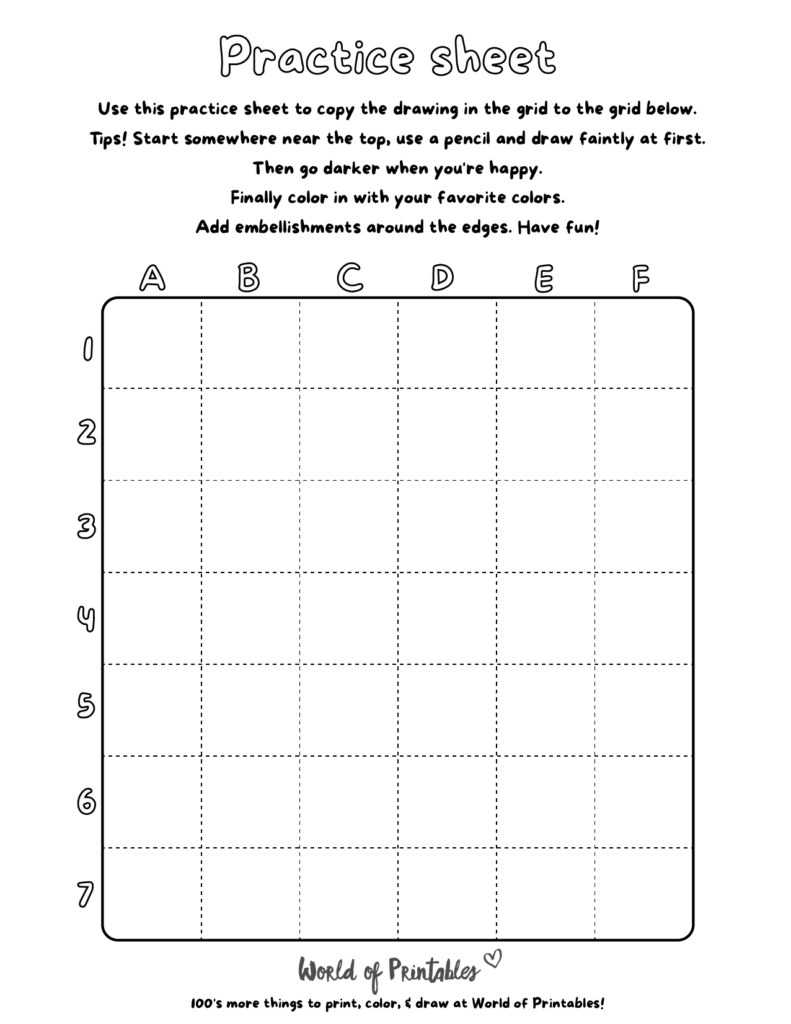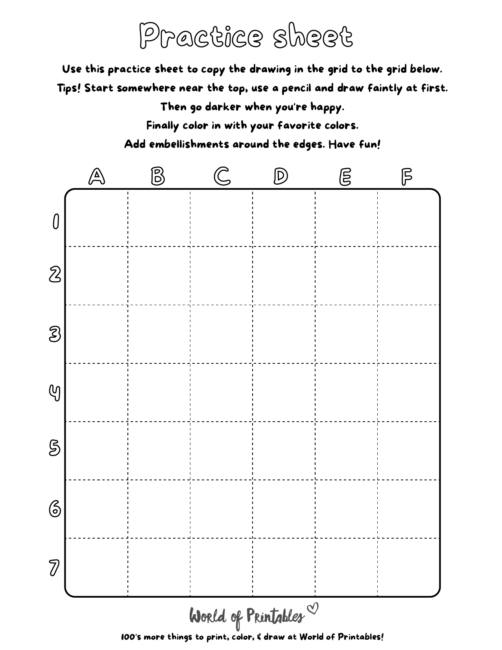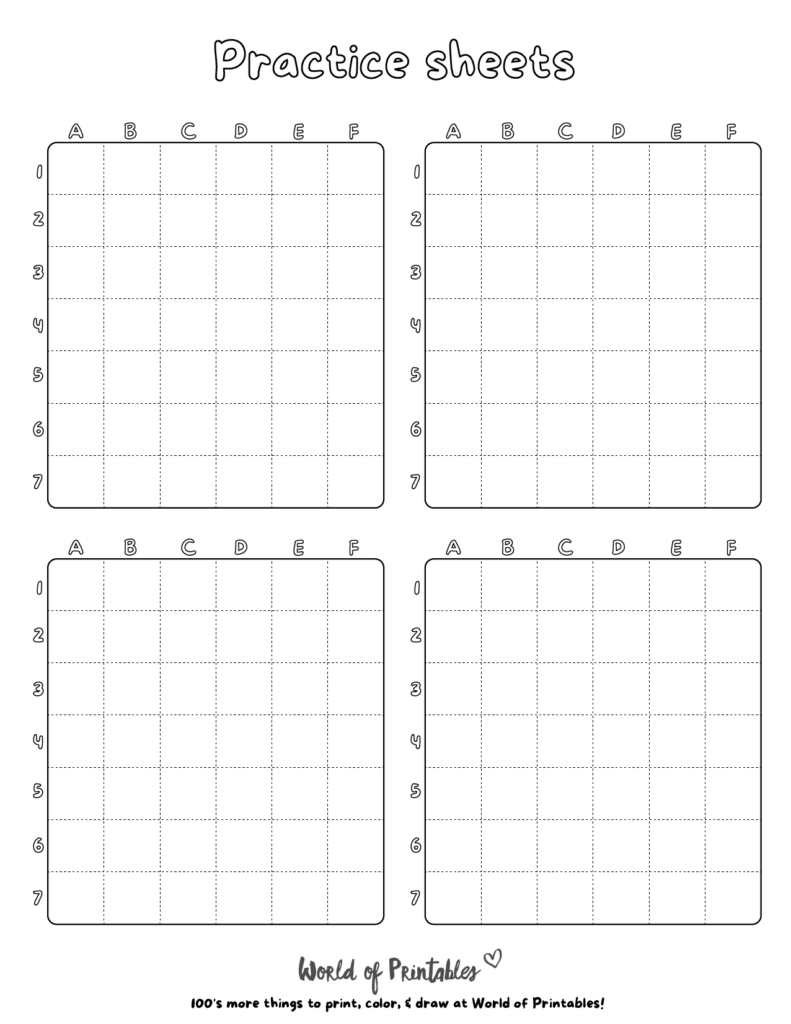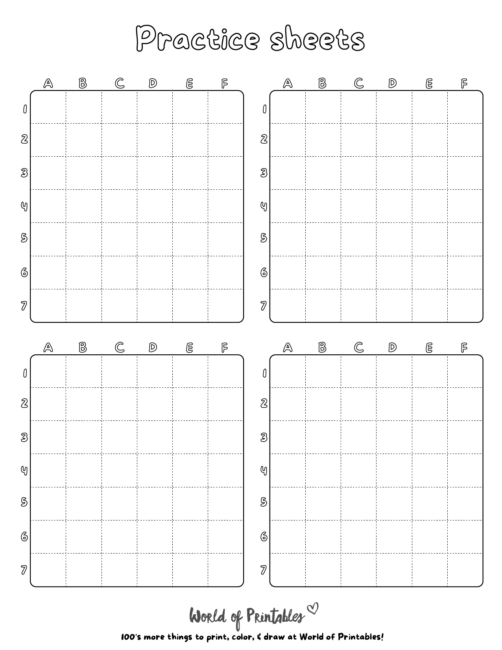 How To Draw Set of 4 Practice Sheets
More printables from World of Printables
We've created a huge amount of these how to draw activities. Be sure to grab as many printables as you can while you're here.
We also have a huge range of printables for adults too here on World of Printables. You'll find printables and templates to help you plan and organize all aspects of your life.
We think you'll love these:
How To Draw Printable Activities
Our recent How To Draw activities. Find many more How To Draw printables that you'll love for free.
I Spy Coloring Pages
Our recent I Spy coloring page activities. Find many more I Spy Printables to get and print for free.
---
Coloring Pages
Our recent coloring pages. Many more printable coloring pages to print and color for free.
---
Printable Games
Our recent printable games. Many more printable games to print and play for free.
The world's most popular printables
Thank you for browsing our How To Draw Dragons activity.
I really hope you love our How To Draw activities and if you like this printable dragon drawing activity then please hit the share button of your choice below as it lets us know you care and helps us create many more awesome free printables for you to enjoy.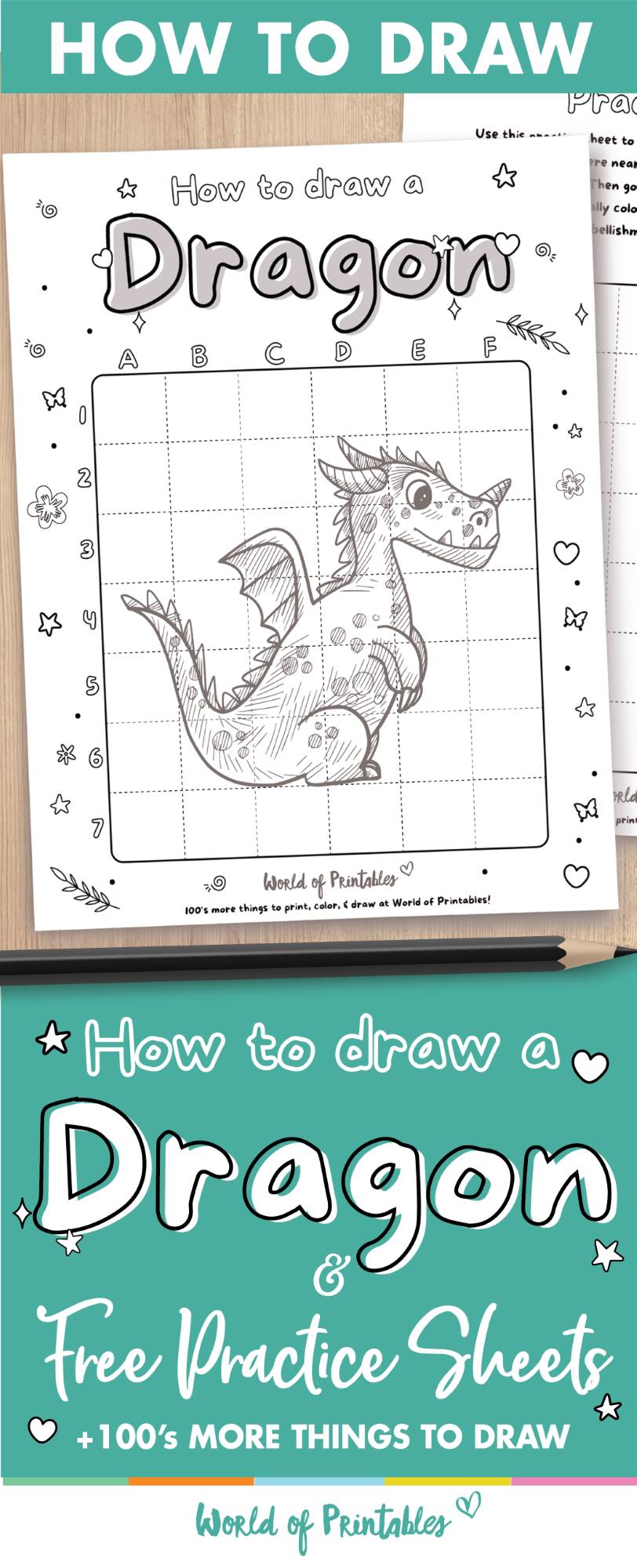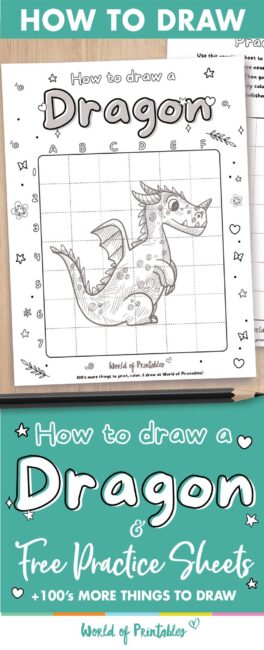 Follow World of Printables on Pinterest