Use these free printable kids chore charts and get tips on age-appropriate chores for kids to encourage your children to help you around the house.
Keeping your kids motivated with chores
I read a really good article about how to how to motivate your children to do chores and what it means for their development.
I know you might be thinking "yeah, kids do chores and it makes them better adults…" but it's not just about how chores set them up for adult life.
In fact, when you read the article you learn that there is something more important than chores, and doing chores isn't simply about getting your kid to do the dishes.
If I'm being honest, the article really hit home with me because it made me think about my setup at home and what more I could be doing to bring my family closer together.
I genuinely feel like I have learned something and that's why I'm telling you about it.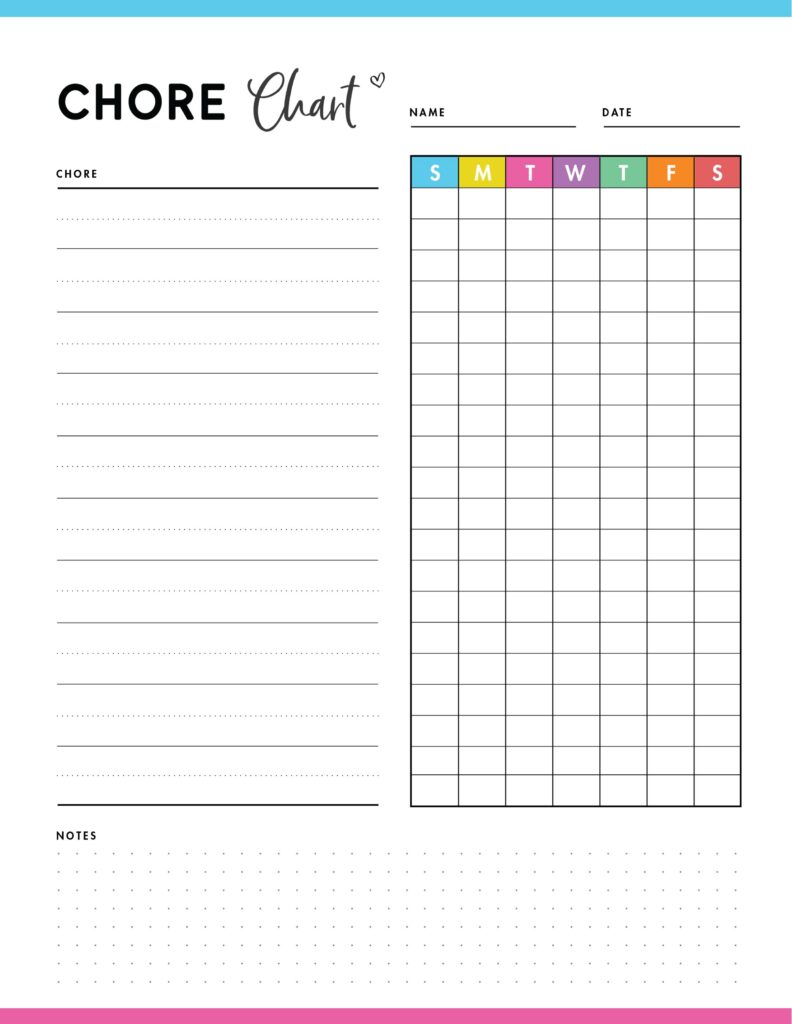 What chores should be done daily?
Everyone has a different set of chores that they think should be done daily. It all depends on your lifestyle as everyone interacts with their home differently.
If you work from home or have younger children, you might find that you do certain chores every day whereas someone else wouldn't.
There isn't a set of rules that determine what chores should be completed and when but there are plenty of lives that give you guidance on what you could do to make your home cleaner and more organized.
Make the bed
Wash dishes
Sweep the floor
Put things away
Clean kitchen counter tops
Wipe up spills and messes straight away (including toothpaste blobs in the sink!)
Take out the trash
What chores should my child do?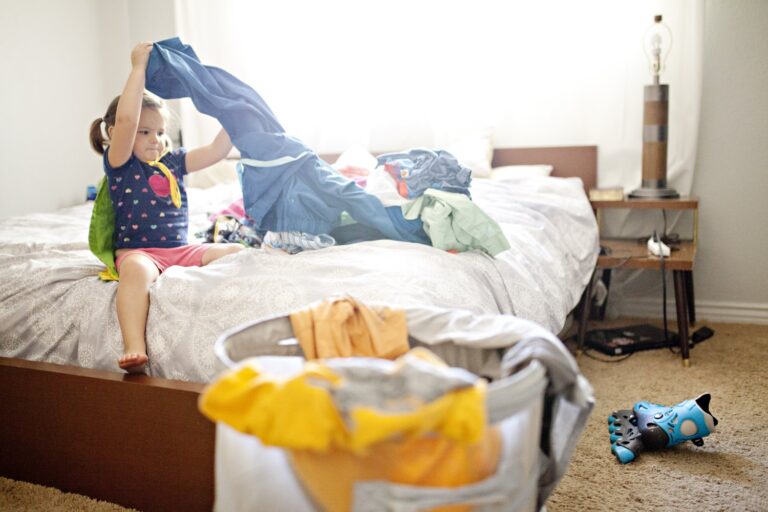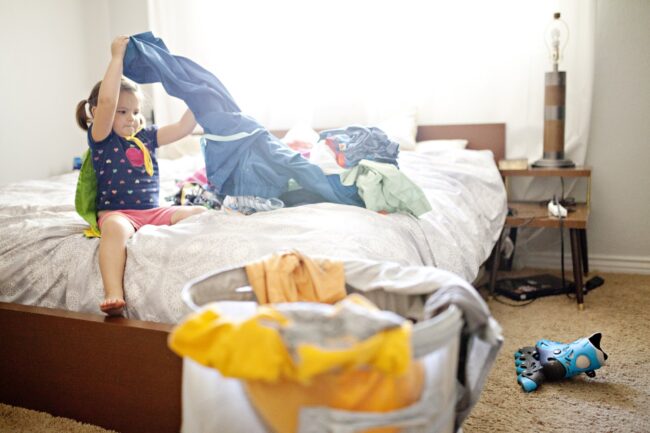 When it comes to encouraging your child to help with the chores, don't expect miracles. Your child might be willing to help sometimes and not so bothered other times, just keep persevering and make it fun for them.
You will know as a parent what chores your child is capable of helping with and what they will enjoy doing but here is a little list of some chores for kids that they're likely to find fun!
Putting toys and books away
Making their bed
Choosing the clothes they want to wear
Helping with meals
Wiping the table
Sweeping the floor
Help with the washing machine (my kids love taking clean clothes out of the machine and putting dirty clothes in)
Try and make chores fun for your child and help them do the chores too. Praise them and let them know you appreciate their help. Try and get your kid into a routine of 10-20 minutes of chores per day (not all at once).
What chores can a 4 year old do?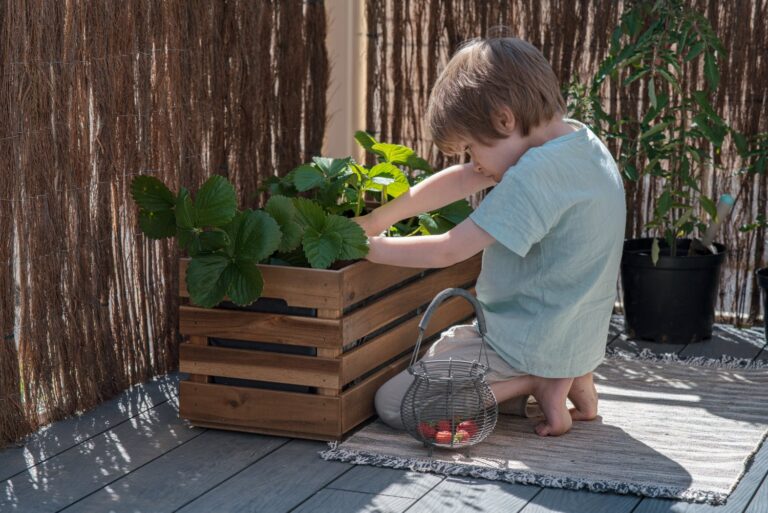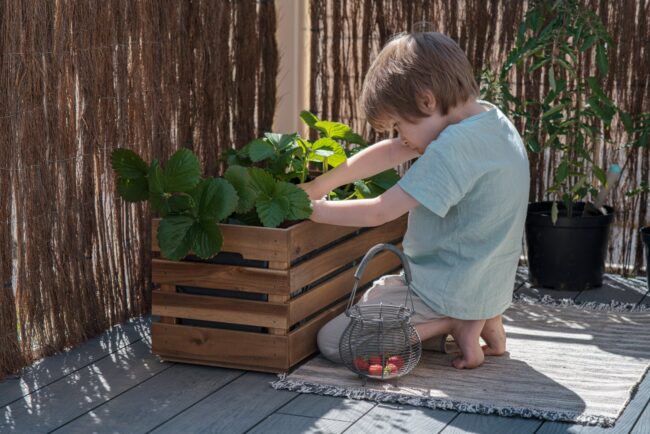 My daughter will be four in three months (wow, I can't believe it!) and she likes to be involved with the chores most of the time. I've put together a little list of some of the things my daughter likes to do to help out.
Make the bed (just pull the duvet up and straighten the pillow)
Put toys away
Help with getting dressed
Choose clothes to wear
Help with gardening
Help wash vegetables
Put clothes in the washing machine
Hang clothes up
Clean up their spills or messes
Brush teeth, brush hair, wash face
Help put the shopping away
Help with nappy changes
This is just a snapshot of the chores you could ask your child to get involved with. There will be more out there that are more specific to you and your family.
Get started with a couple of things first, and then build it up the more your child likes to participate. Also, your child doesn't have to do these chores every day, just when it's appropriate.
Sometimes my daughter jumps at my request for help. She loves to be the big girl unless she's "too busy" (her favorite phrase right now).
What chores should a 9 year old do?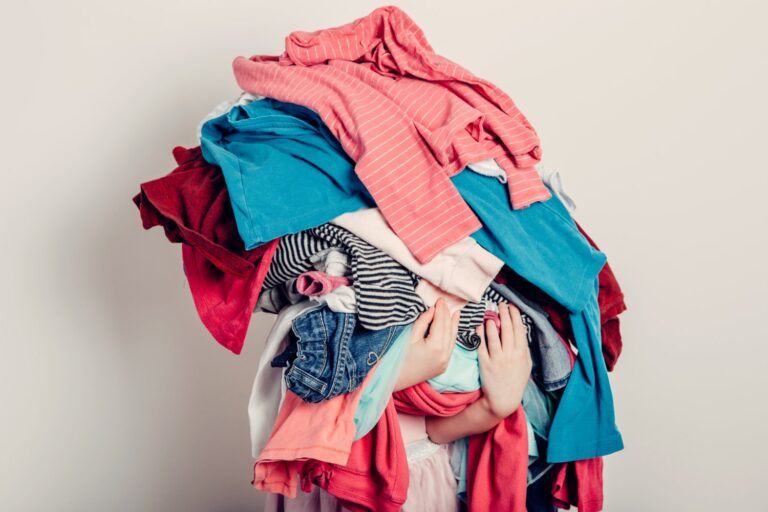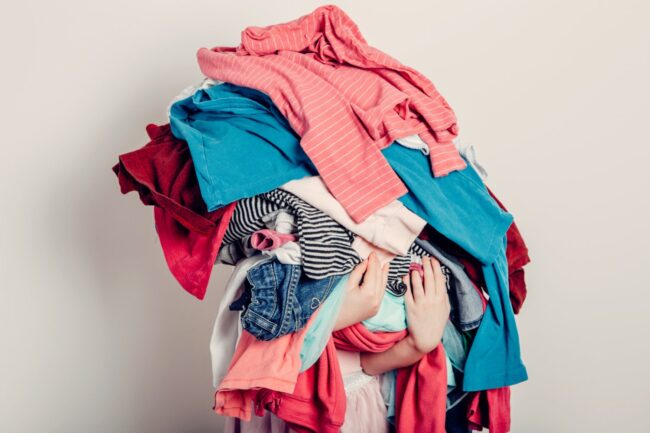 At age 9, children are much more developed and ready to take on fresh challenges. The chores that your child did as a toddler or young child are pretty much mastered now, so what's next?
Allow your child to continue doing the chores they know but kick it up a notch and add more responsibility.
Look after pets
Wash dishes
Do laundry
Help prepare meals (with guidance)
Selfcare
help put groceries away
Sweep the floor
Tidy their room
Water plants
Clean the bathroom
Take out the trash
Be responsible for their homework
What chores should a 12 year old do?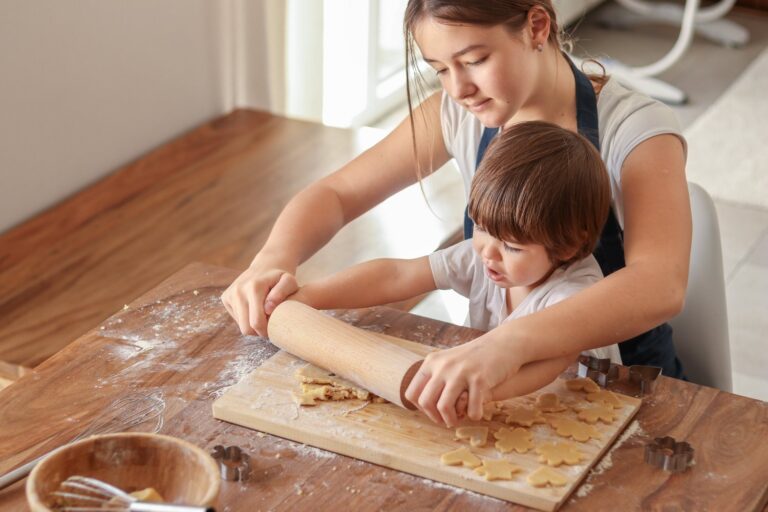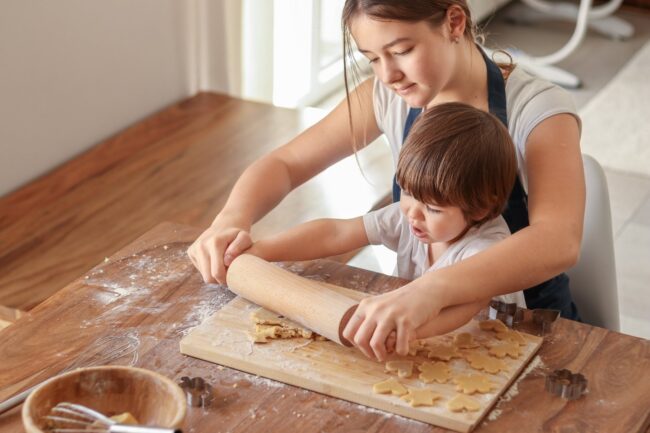 At 12 years+, you could consider adding a reward for completing chores such as an allowance. Tweens and teenagers tend to have a lot more responsibility with chores and with their lives.
At this age, kids are going off on their own to play with friends, hang out at the arcade, and go to the cinema, so they are keen to earn money.
Tween or teen chores can be bigger jobs with more responsibility.
Selfcare (without help or encouragement)
Tidy bedroom
Make their own snacks and simple meals
Help with younger siblings
Pet care
Wash the car
Pay for things at the till
Wash the windows
Empty trash and add a fresh bag
Help with the gardening
Do their laundry
Clean the dishes and put them away
Bring in groceries and put them away
Be responsible for their homework
Recharge their personal belongings
Sweep / vacuum / mop
Lawn chores
Babysitting (as a tween, I'd suggest babysitting be limited to something like an hour during the day while you nip to the shop, or waiting in the car with the baby while you nip into the shop)
You might be surprised at how well your tween handles things, especially these days. I honestly think kids are more switched on these days and have matured so quickly.
I look at my own (step)daughter and can't believe she is only thirteen. She looks and acts much older, it's scary really, but she is so capable!
How do I make a chore chart for my child?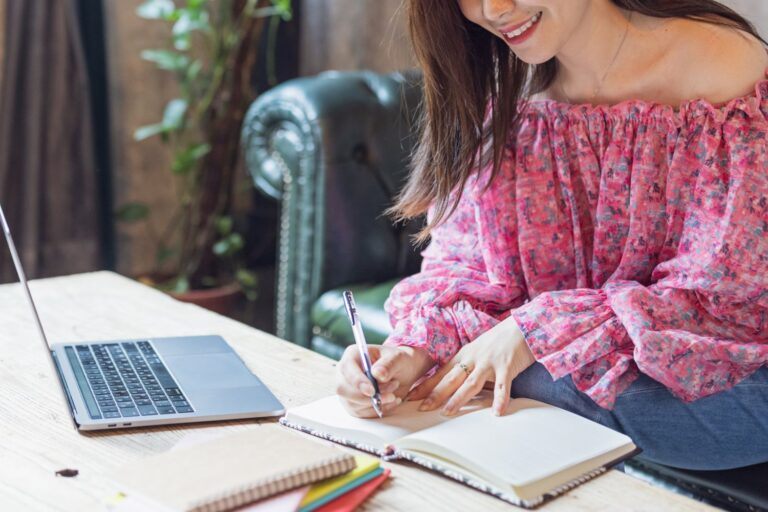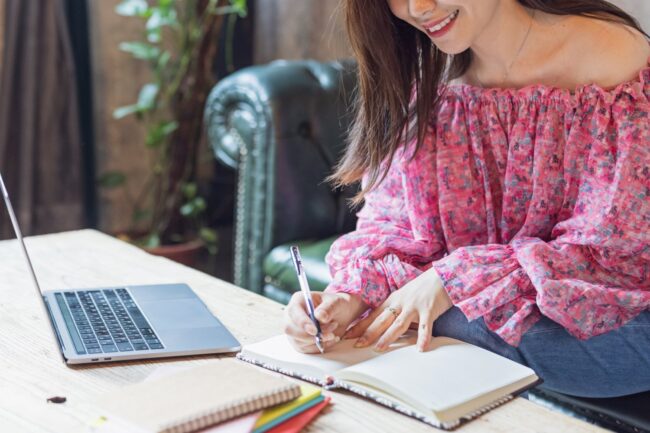 Creating a chore chart for your child and setting chores for kids is easy and can be created fairly quickly.
First, you need to write down what needs to be done around the house.
Then you need to put these into age-appropriate sections based on the age of the children you have.
Divide the chores for each child. Just because a four year old is capable of doing 10 things on your list doesn't mean that's 'their job'.
Give them set chores they can do daily by themselves and help them with others.
Find inspiration and draw your own chore chart. Let your child help decorate it to get them excited about doing chores.
Or, get this free chore chart template
Quick tip!
If you want to reuse your chore chart time after time, then consider laminating it. Laminating your chore chart means you can save on ink and paper and simply use dry erase markers that easily wipe off.
I personally like this Scotch Thermal Laminator. It's easy to use, doesn't jam, and will fit on your desk perfectly. It's so compact you can store it anywhere. This laminator is Amazon's choice with over 30,000 reviews!
Chore chart ideas
If you're looking for some great chore chart ideas to help with your family then look no further. We've got some amazing free printable chore charts for children of all ages that you can grab and print whenever you need them!
Free Printable Super Duper Fall Kids Chore Chart
This super-duper kids chore chart looks fun and has the space to log chores for two children. There is space to write up to five chores per child. If you need more space simply use the space below and print an additional chart for another child.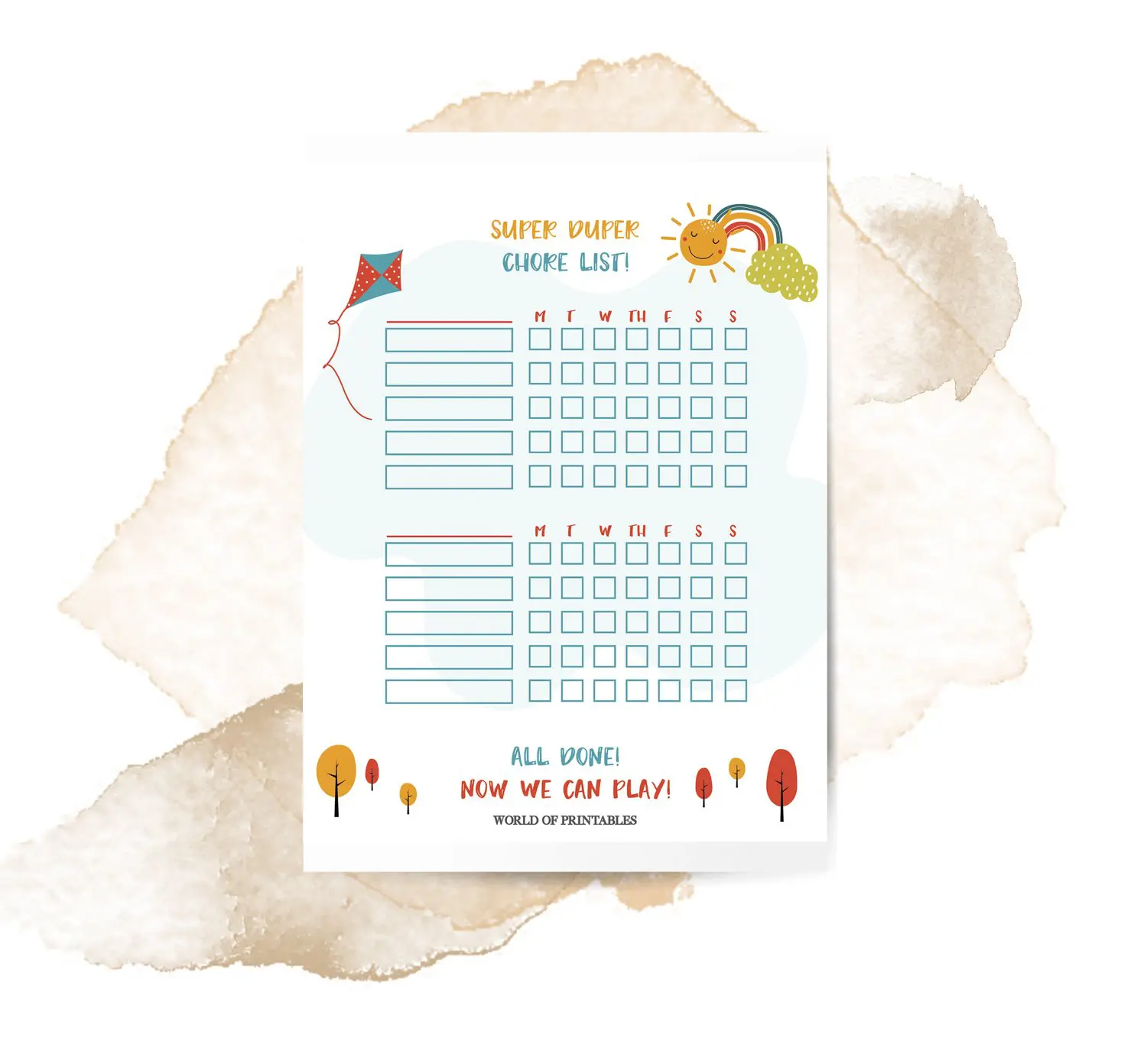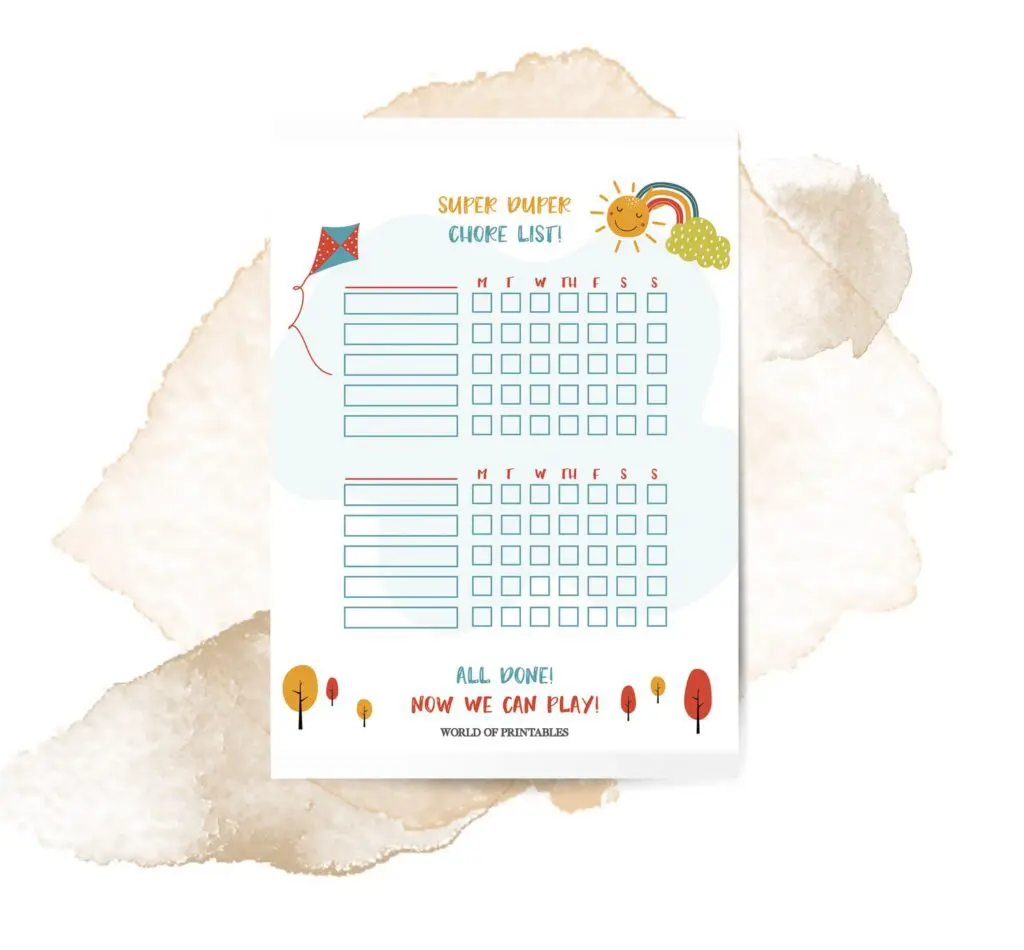 ---
Free Printable Our Responsibilities Kids Chore Chart
This responsibilities kids chore chart refers to the tasks as responsibilities rather than chores for kids, which hopefully makes children feel a little bit more grown-up and trusted. It's a bright and colorful chart with fun images and has space for two children.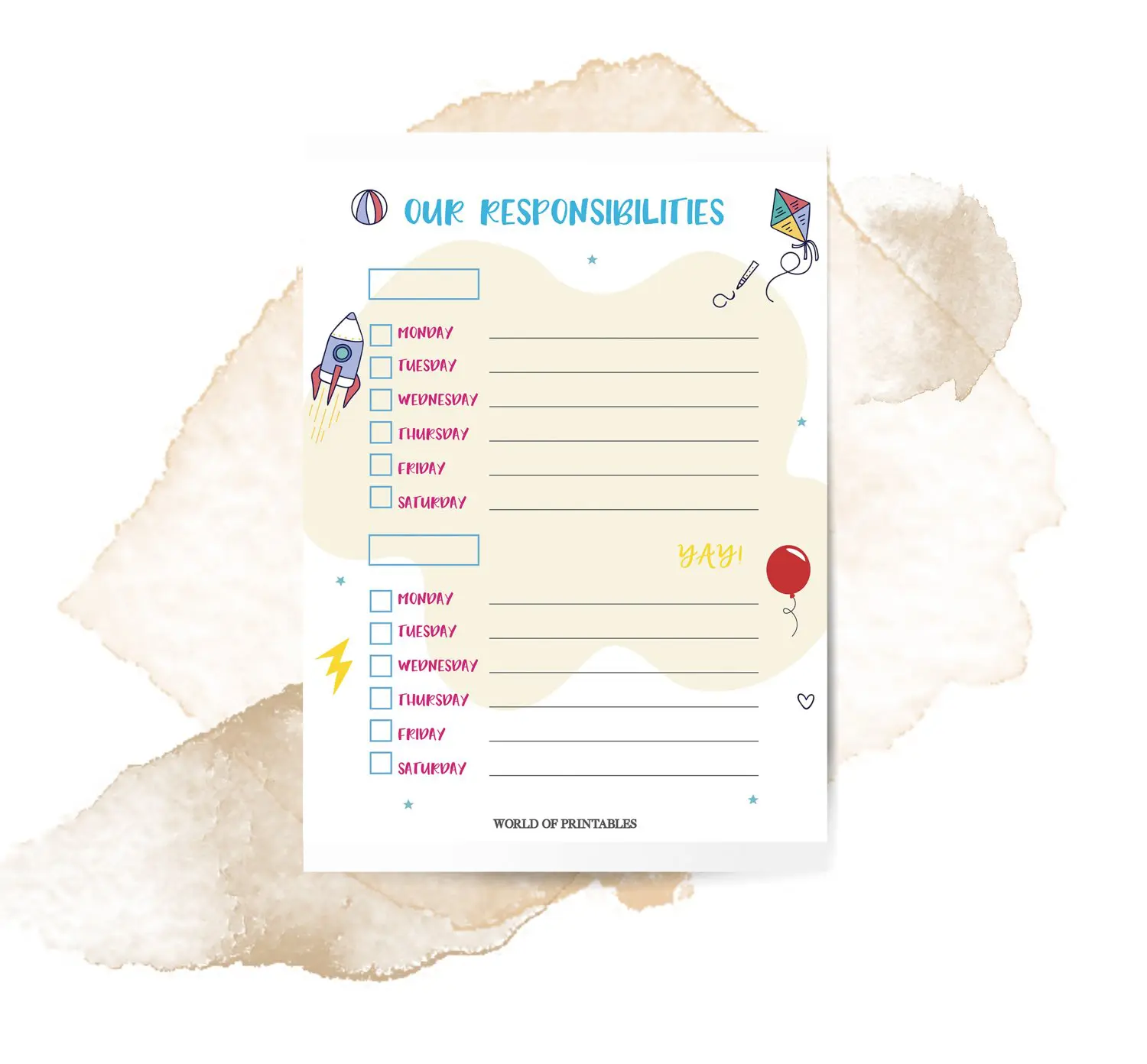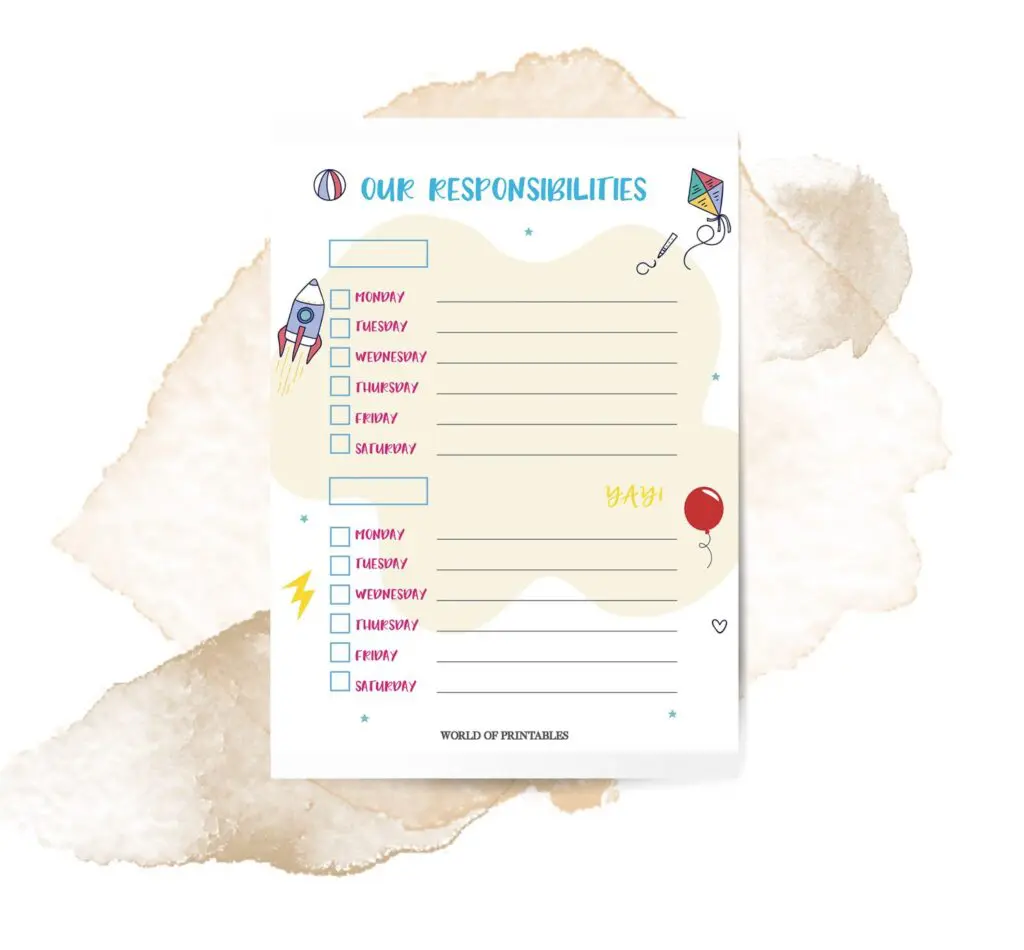 ---
Free Printable Giant Stars Kids Chore Chart
The free printable kids chore chart with giant stars is such a bright and fun chart. It has space to log the chores for three children and even has a star for each child to color in when they finish their chores.
The star is used as an incentive, so let your child color it or write a reward inside the start or even stick candy or some money inside. Whatever works for you.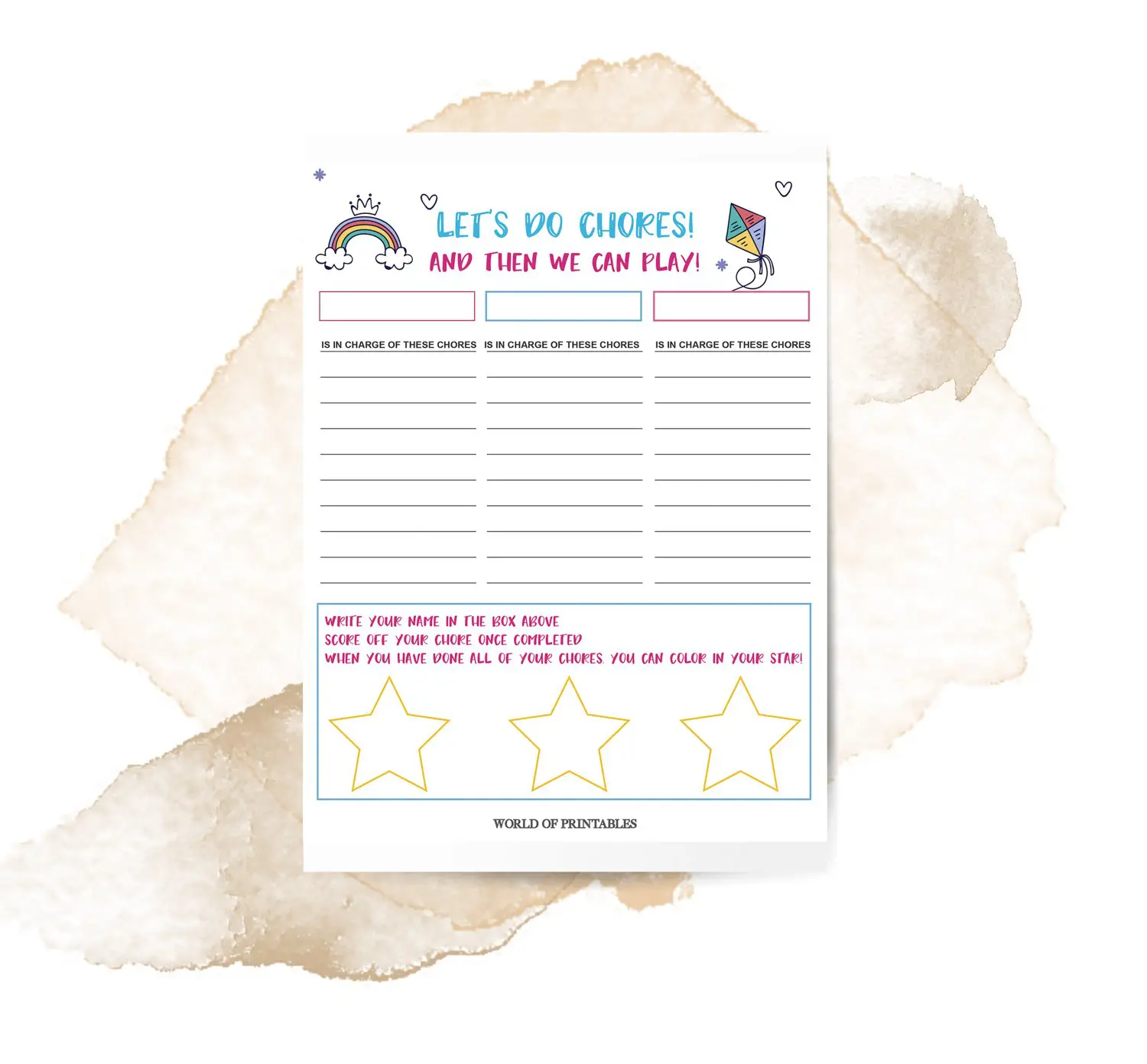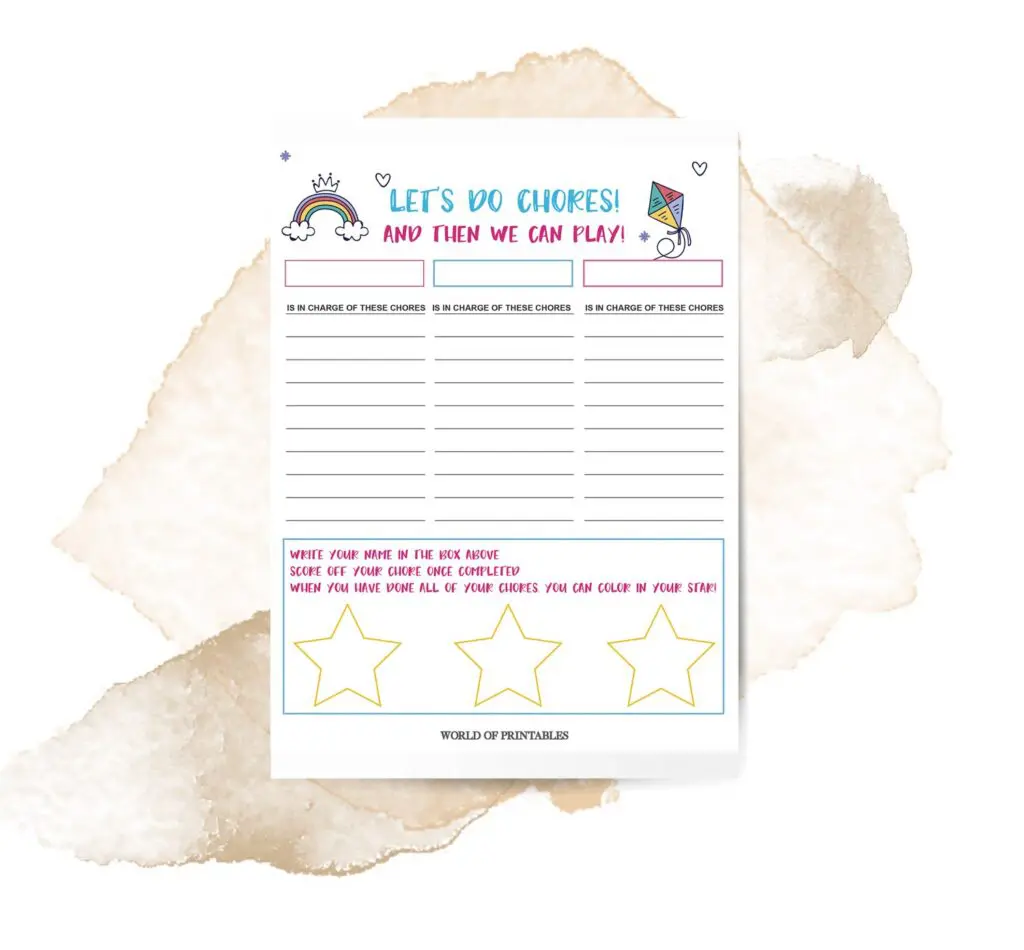 ---
Free Printable Teen Emoji Kids Chore Chart
This emoji-inspired teen chore chart has been designed with tweens and teens in mind. Using cool stickers and fun colors, this chore chart is perfect for noting the chores for two teens.
We all know that teens live on their phones, and this chore chart lets them know that once they've done their chores, they can go back on their phones.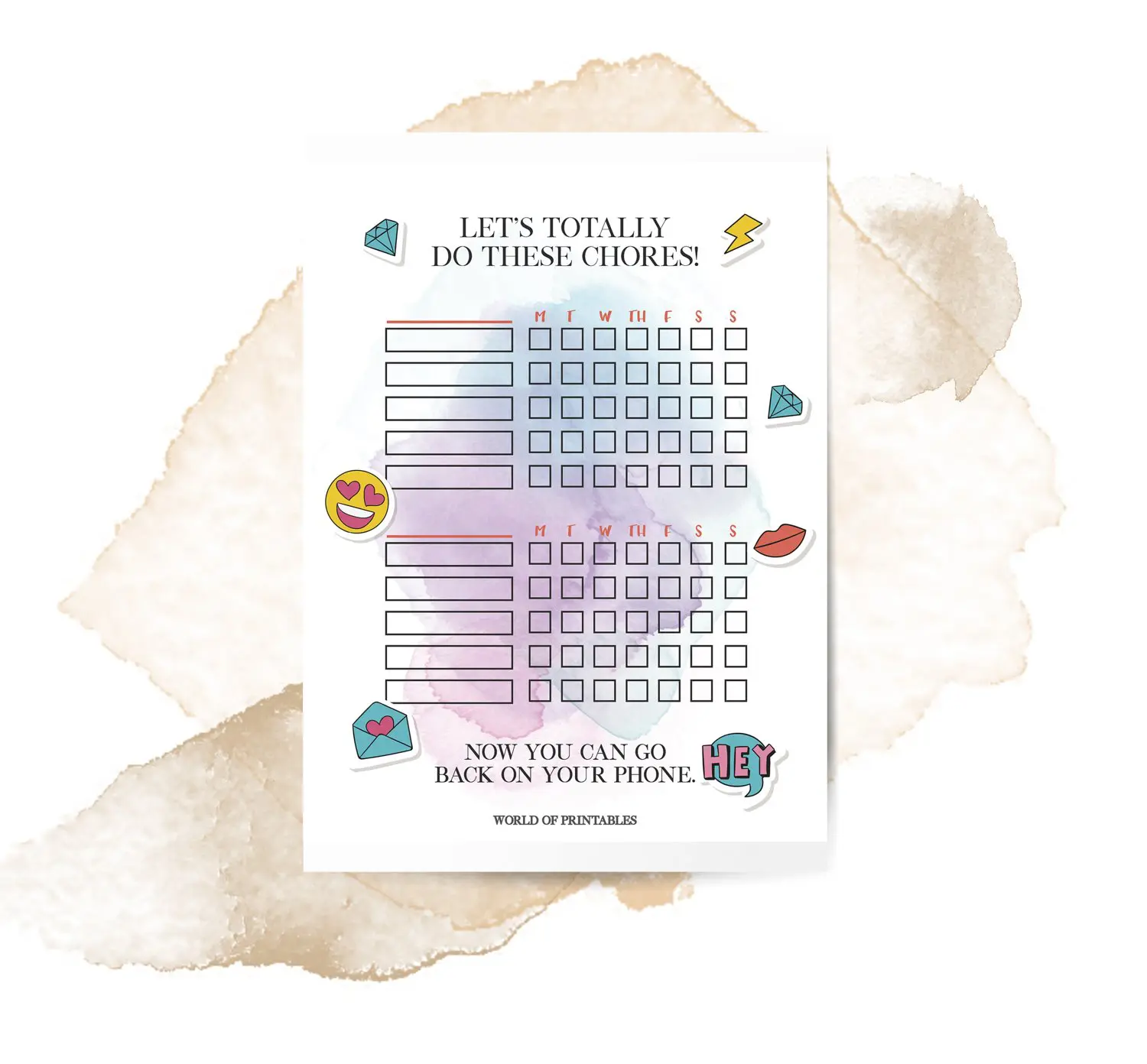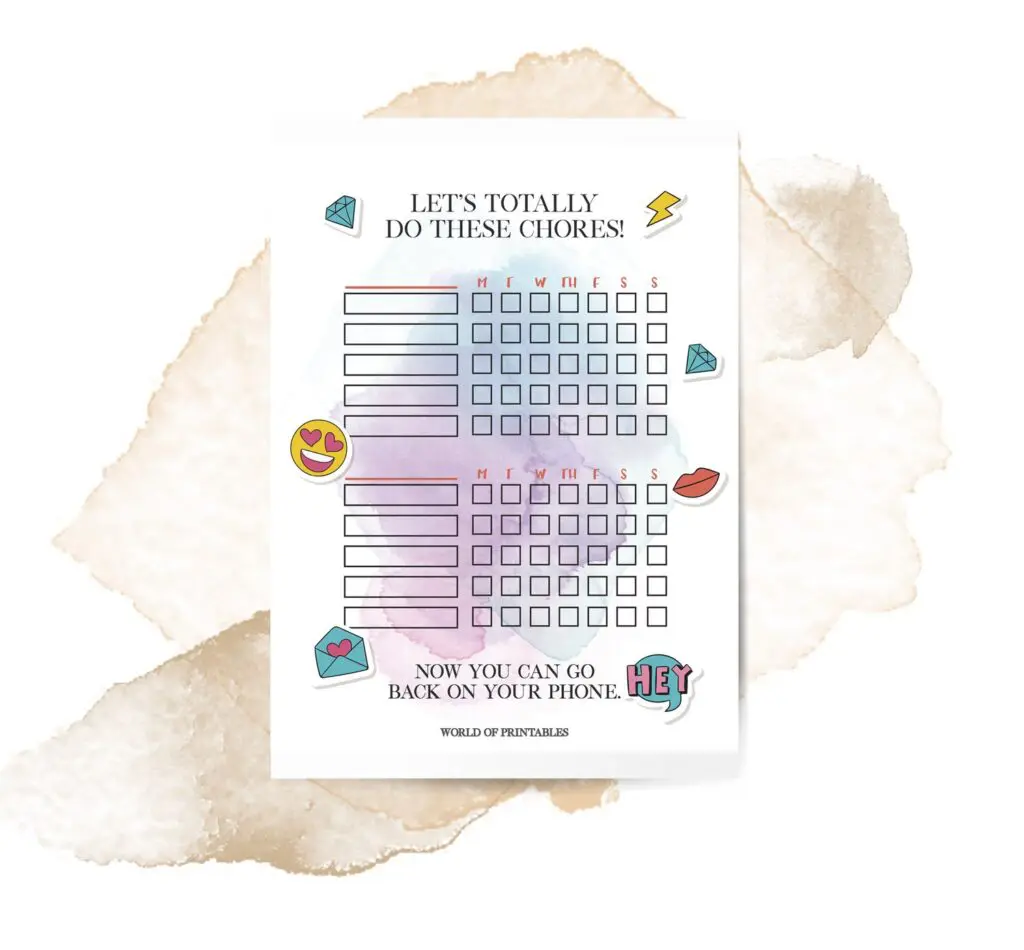 ---
Free Printable Teen 90s Inspired Kids Chore Chart
This free printable 90s Inspired Teen chore chart is one of my favorites. I love the cool graphics and fun style of this chart and think it will resonate well with teens today. The 90s is making a comeback, don't ask me why! Impress your teen by using a chore chart that actually matches their aesthetic!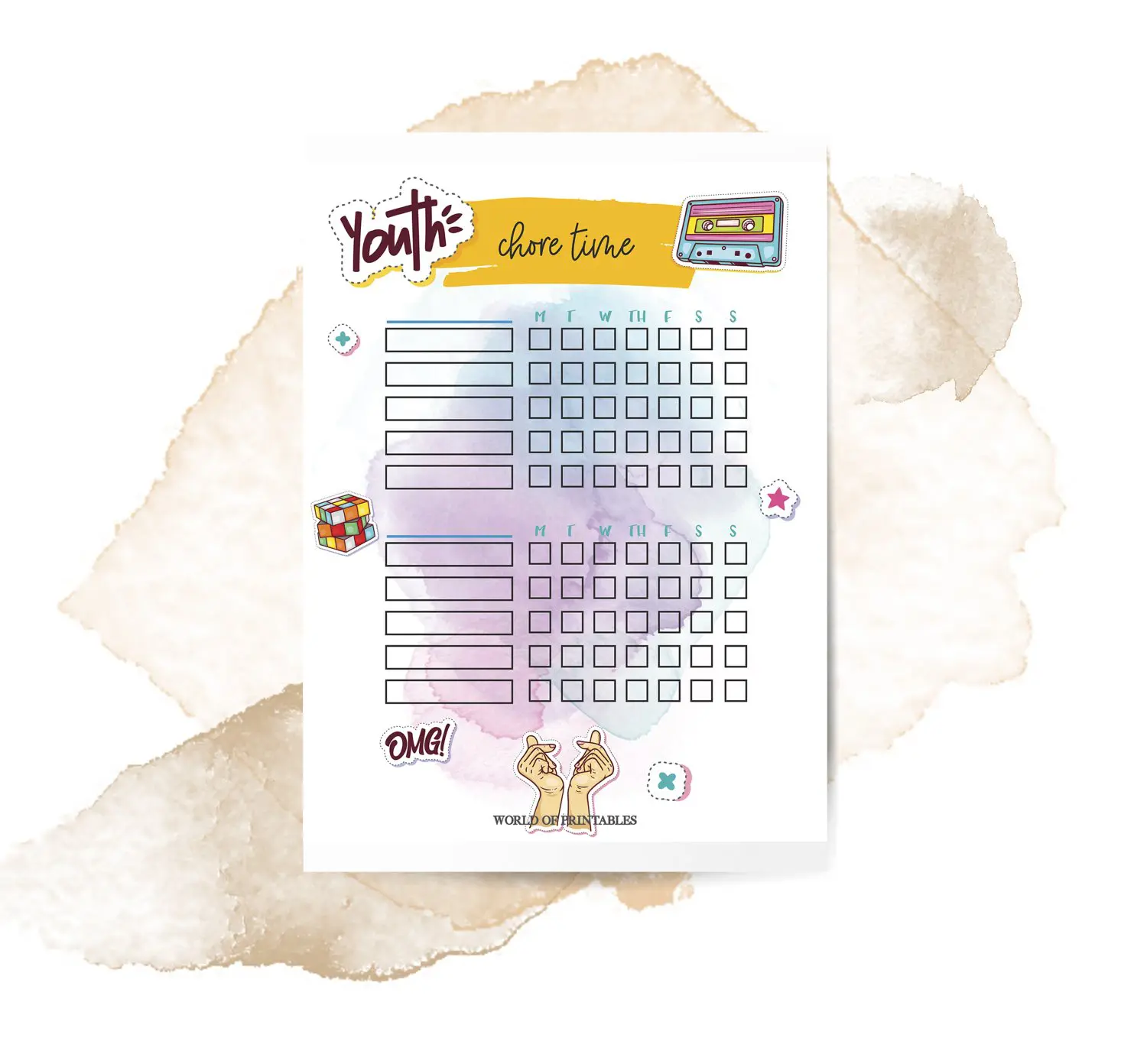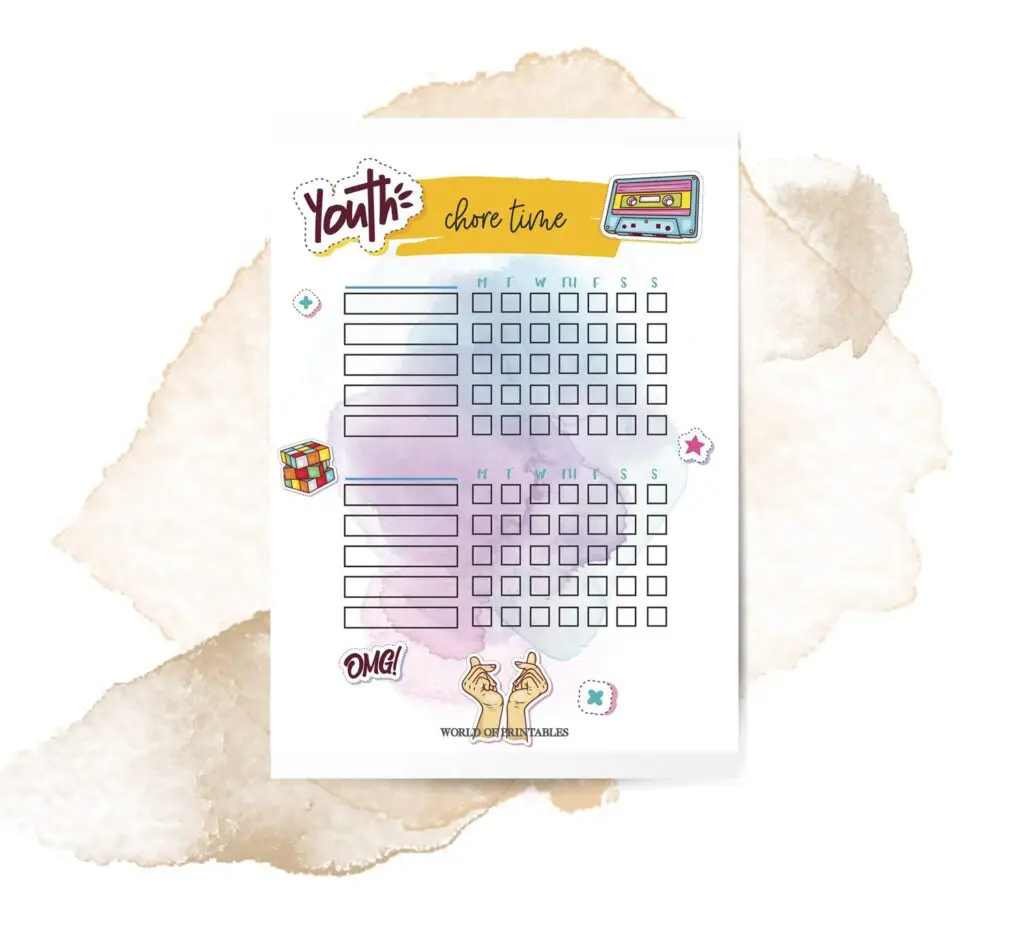 ---
Putting the fun into chores for kids
Chore charts are a great way to encourage a child to get involved with housework and general house duties. They can help a family bond, teach valuable lessons and reduce stress (for the parents at least)!
I hope you found this post on chores for kids and free printable chore charts useful and that it has given you some insight into how to and why you should incorporate chores into your child's life.
Do you use a chore chart at home and how does your child respond? Let me know in the comments!
More free printable kids activities
We've created a huge amount of these kid's printable activities for you to print and give to your children. Be sure to grab as many of our fun and educational printables as you can while you're here.
We think you're going to love these:
We also have a huge range of printables for adults too here on World of Printables. You'll find printables and templates to help you plan and organize all aspects of your life.
Coloring Pages
Our recent coloring pages. Many more printable coloring pages to print and color for free.
---
How To Draw Printable Activities
Our recent How To Draw activities. Find many more How To Draw printables that you'll love for free.
I Spy Coloring Pages
Our recent I Spy coloring page activities. Find many more I Spy Printables to get and print for free.
---
Printable Games
Our recent printable games. Many more printable games to print for free.
Like these freebies?
Get notified of our next set of freebies – you're gonna love them!
The world's most popular printables
Thank you for browsing our kid's chore charts. If you liked this post, please share it as it helps us a lot, and consider following us on Pinterest or Instagram!
We share all of our latest printables on Pinterest, so be sure to follow us to stay up to date with our latest freebies.
Follow World of Printables on Pinterest