Choose your favorite from this collection of the best 2022 Year Calendar printables that you'll find on the web and you can print right now.
We've compiled this collection of stunning calendar of 2022 printables that you'll find in a range of styles, colors, and formats.
UPDATE: We've updated these calendars for the new year. See our collection of the best 2023 Year Calendars and choose your favorites.
We've got classic style calendars and stylish calendars, all of which display the full year on one page.
These gorgeous 2022 yearly calendars are popular and look amazing. There is definitely a style for everyone and our readers love our printables because of their beautiful designs and flexibility.
Our 2022 annual calendars can be used in a variety of ways: as a simple year calendar, planner, yearly overview, office planner, desktop or school calendar, holiday calendar, and much more.
These calendar of 2022 printables have been designed as US letter sizes and can also be printed on A4 size paper, but you can easily scale these to suit your preferred paper sizes.
So let's take a look at these 2022 calendars that you can print and use right now. Choose your favorite from the collection below and get the calendar of 2002 template that you like best.
For our latest calendars, check out our collection of the best 2023 year calendars, where you'll find updated versions of these calendars and many more.
Our readers adore this watercolor 2022 calendar and it was also highly popular last year. This lovely watercolor 2022 year calendar features brush strokes in soft colors and pretty writing.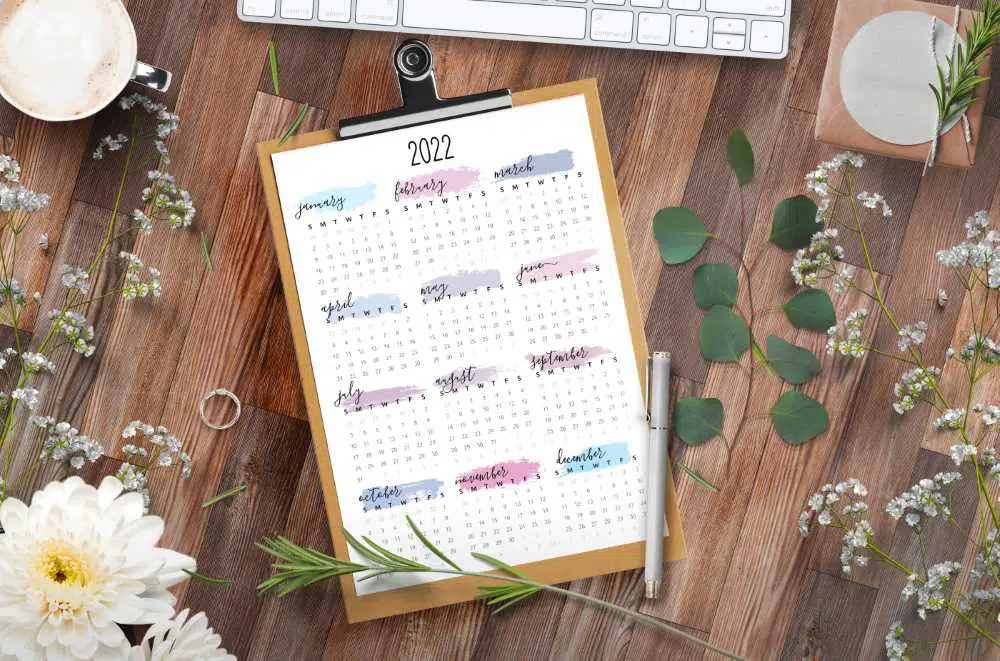 You'll also find this watercolor calendar of 2022 in a slightly different color variation, this one featuring more pastel tones.
–
We've designed these printable 2022 yearly calendars in a range of various colors. They're attractive, functional, and look great in any office or home. There's a color for everyone, or you could just print the black one for simplicity!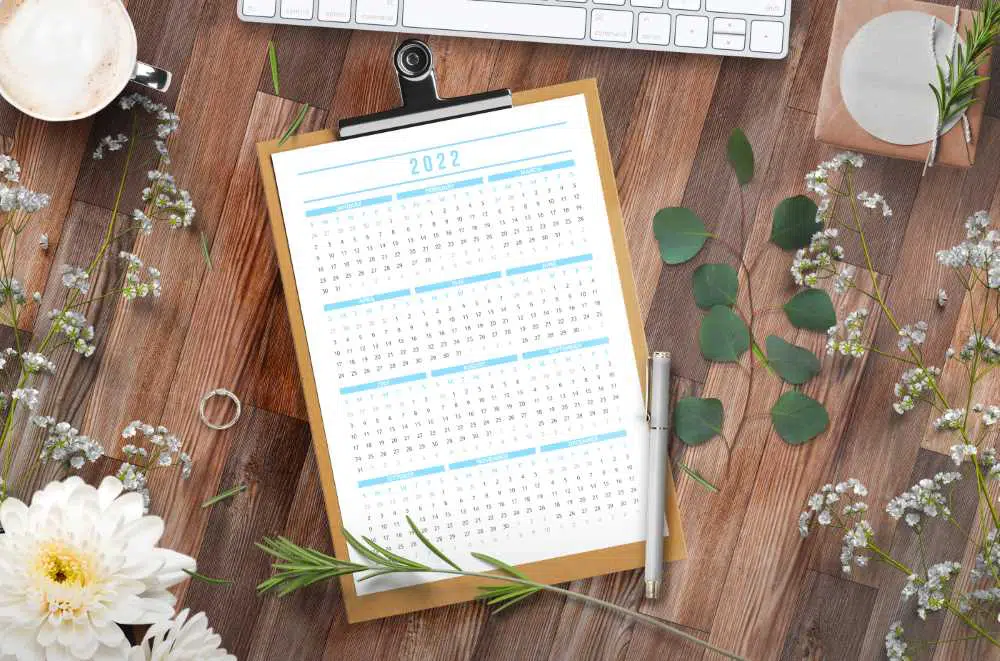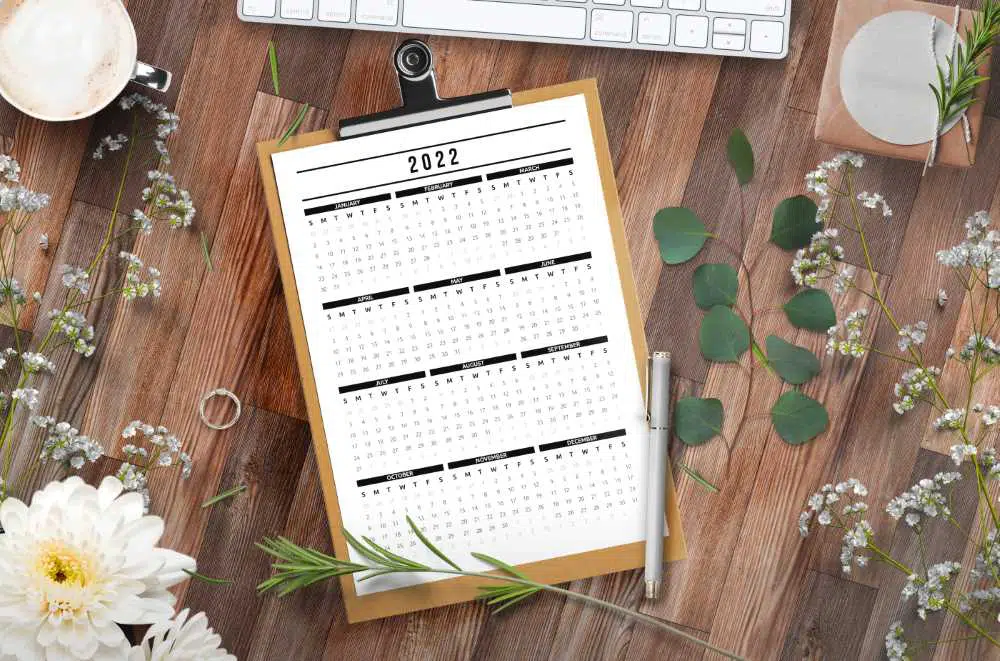 Be sure to check out the complete collection of Year Calendars In Various Colors to see the range and get the color that you like best.
–
This beautiful watercolor 2022 one-page year calendar features a lovely mix of colors and is pretty without being too feminine. This popular 2022 yearly calendar looks amazing in any home and comes in a selection of different colors.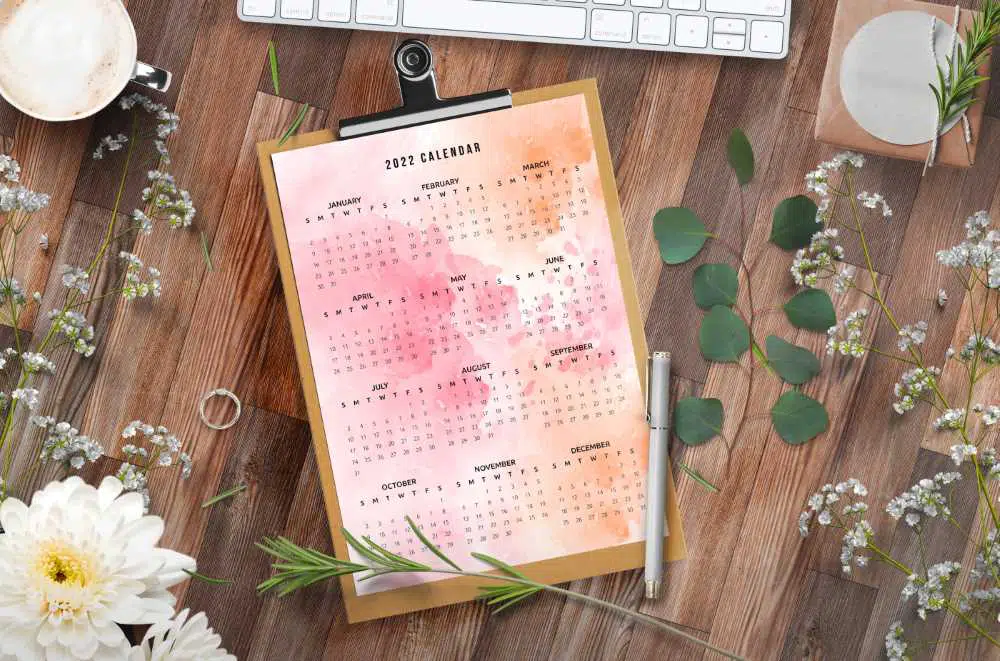 –
This simple and attractive 2022 yearly calendar is great for any use, such as in your home, office, or any workspace. This 2022 one page year calendar is perfect if you want something professional and clean.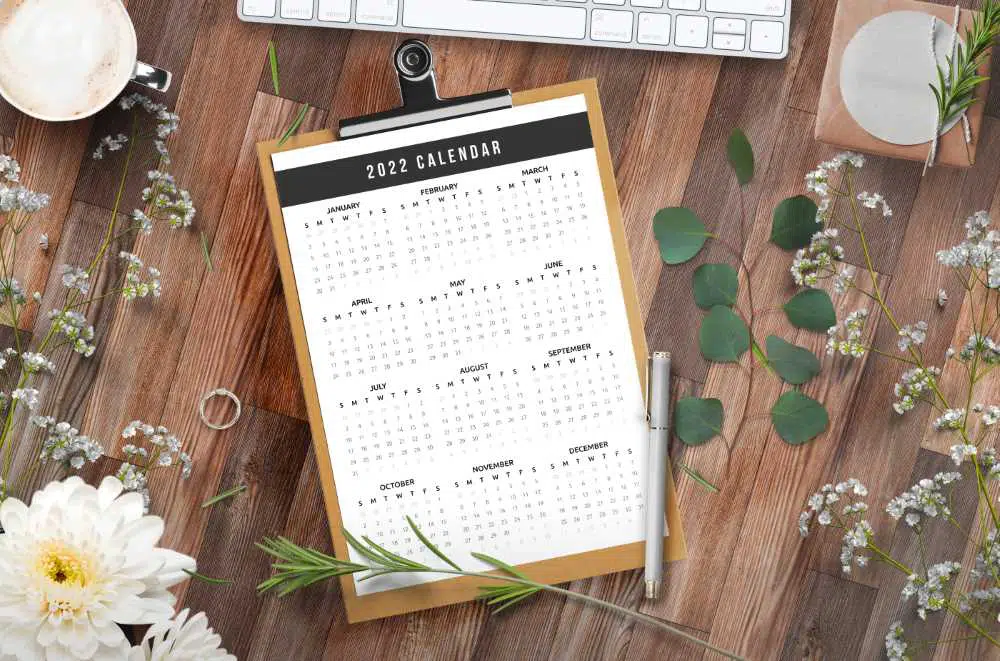 –
I love this 2023 year calendar with holidays! This updated 2023 calendar is colorful, attractive and so handy! Being able to see important 2023 holidays at a glance makes this a must-have for planning the year ahead.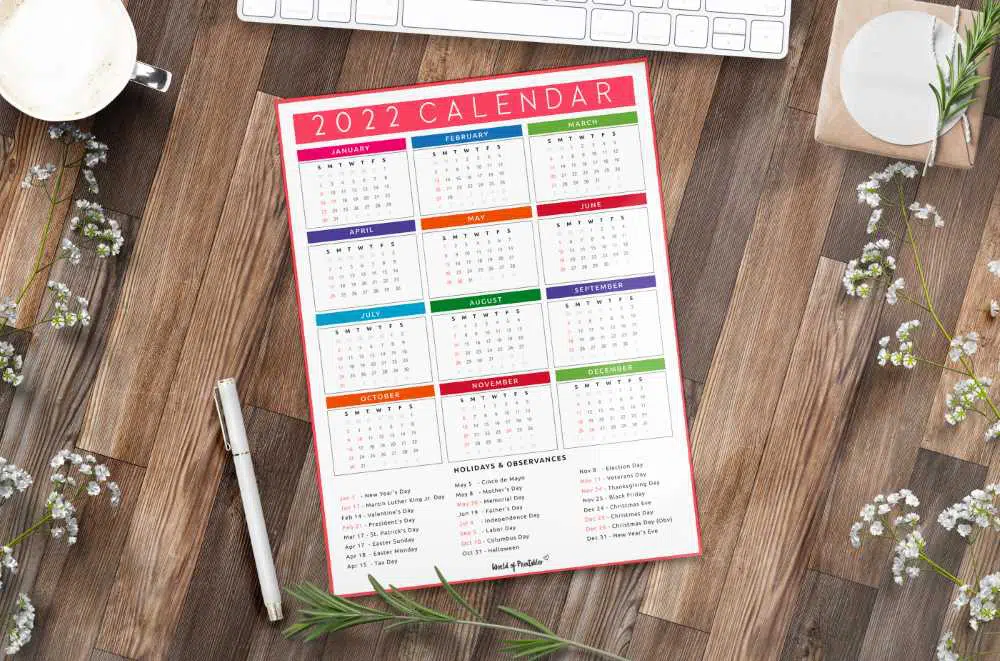 –
Looking for a perfect botanical one-page 2022 year calendar? This just might be the one! This beautiful botanical yearly calendar makes a perfect addition to any home and looks incredible in a planner. This was a huge favorite with our readers last year, so we had to update it for 2022.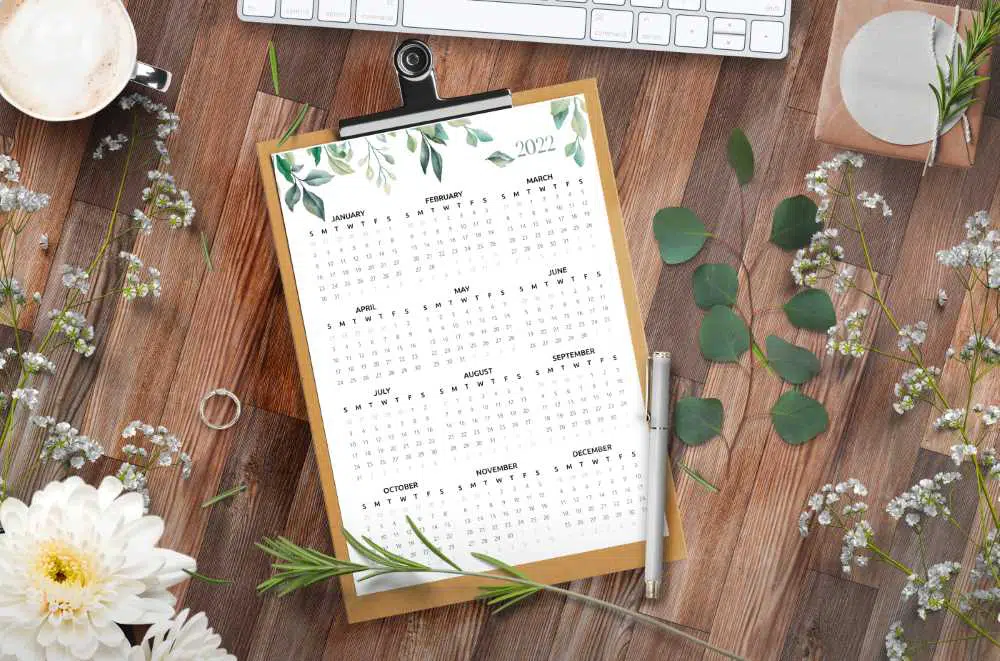 –
This free printable 2022 yearly calendar comes in a landscape format and comes in a variety of different colors. You can use this printable as it is or cut around the individual months to make a miniature monthly calendar that you can stick to things, such as a planner, bullet journal, or anything at all.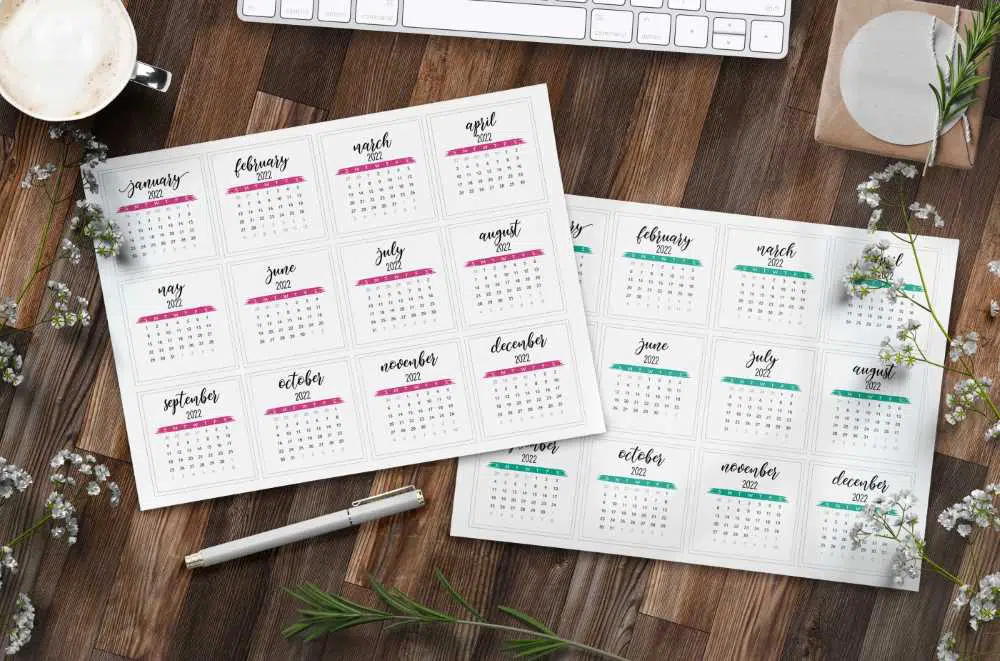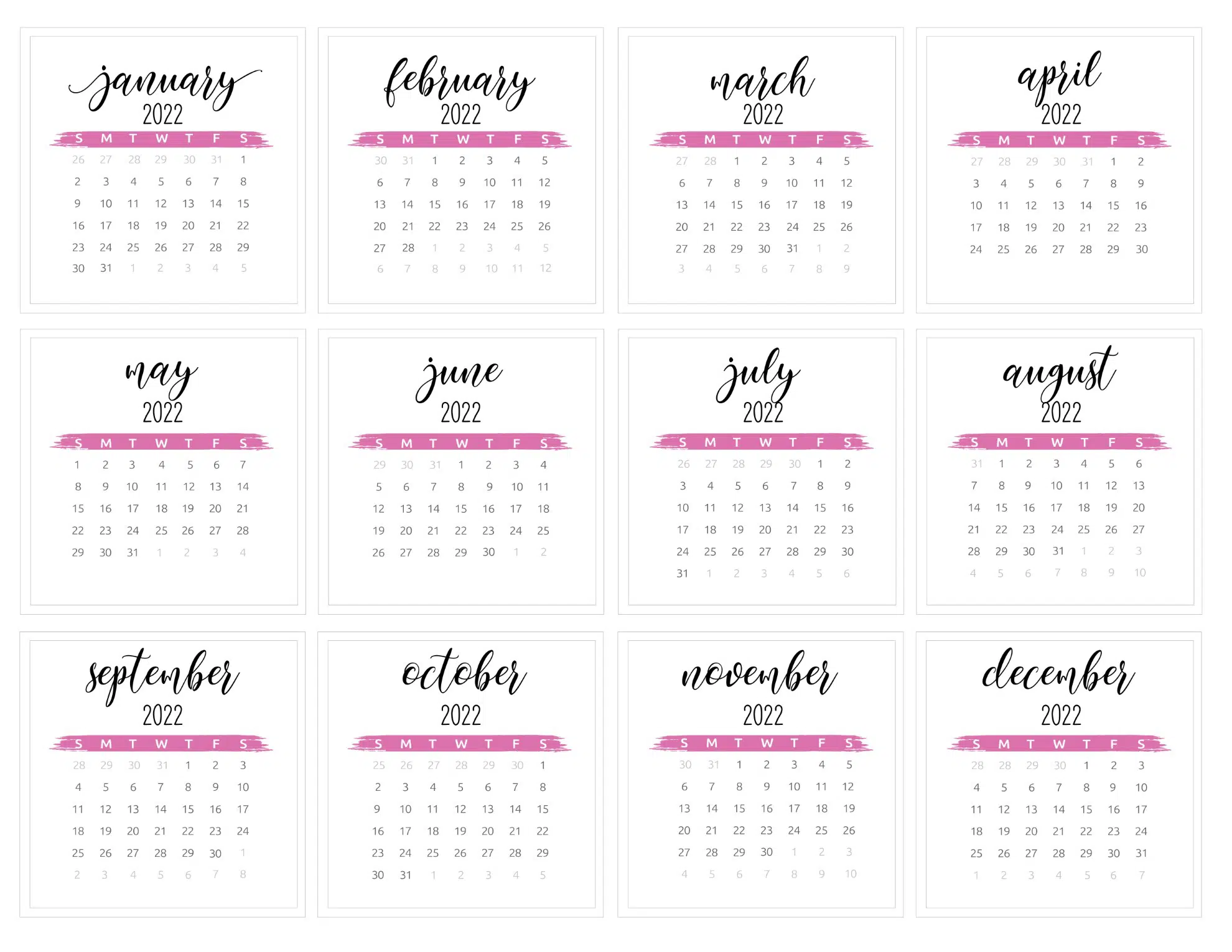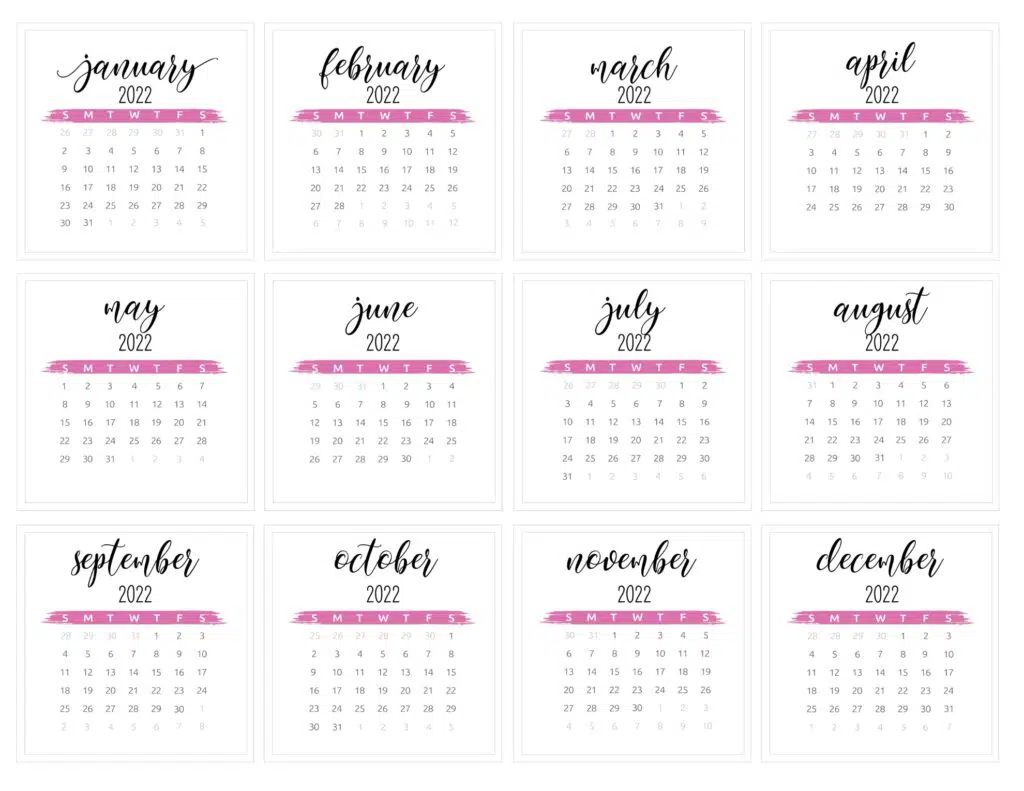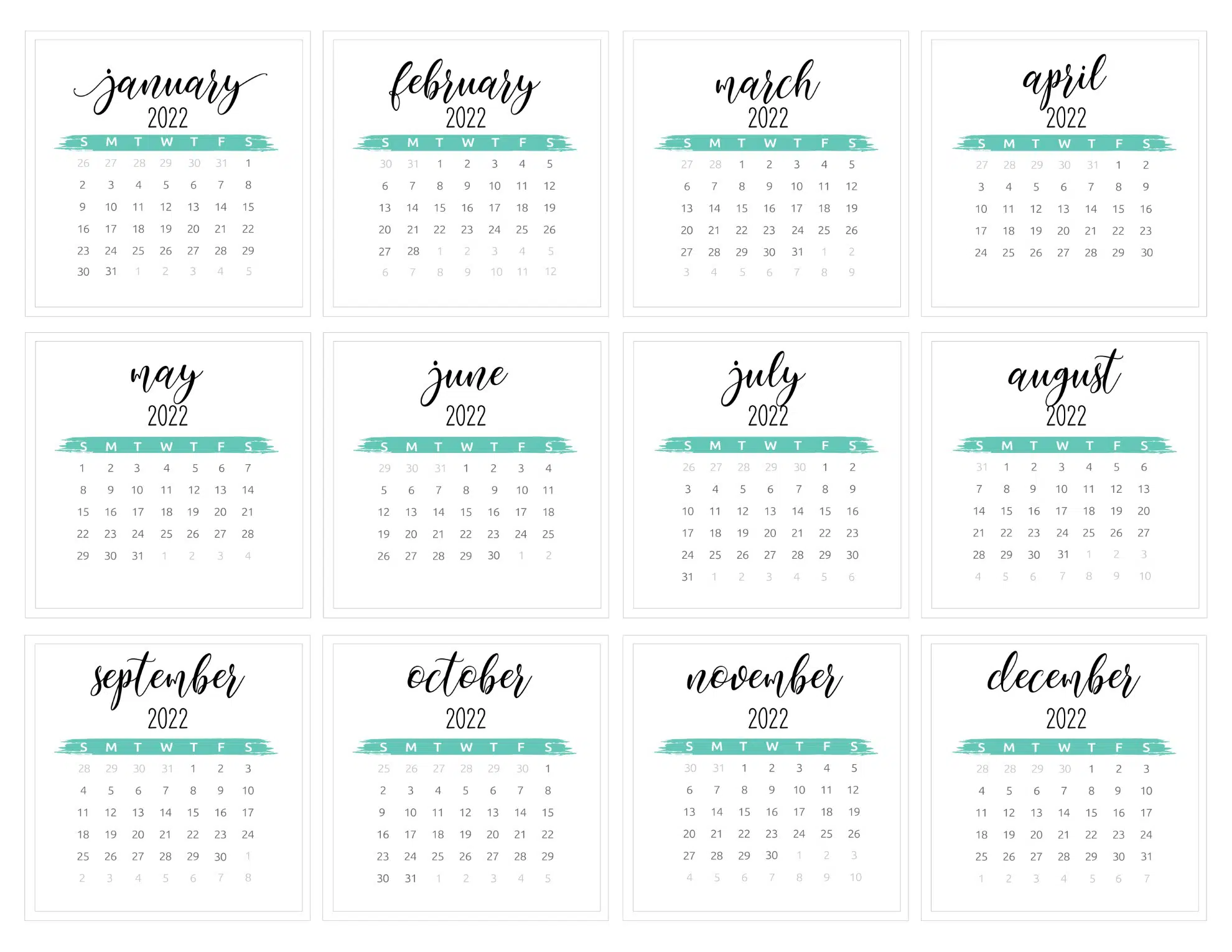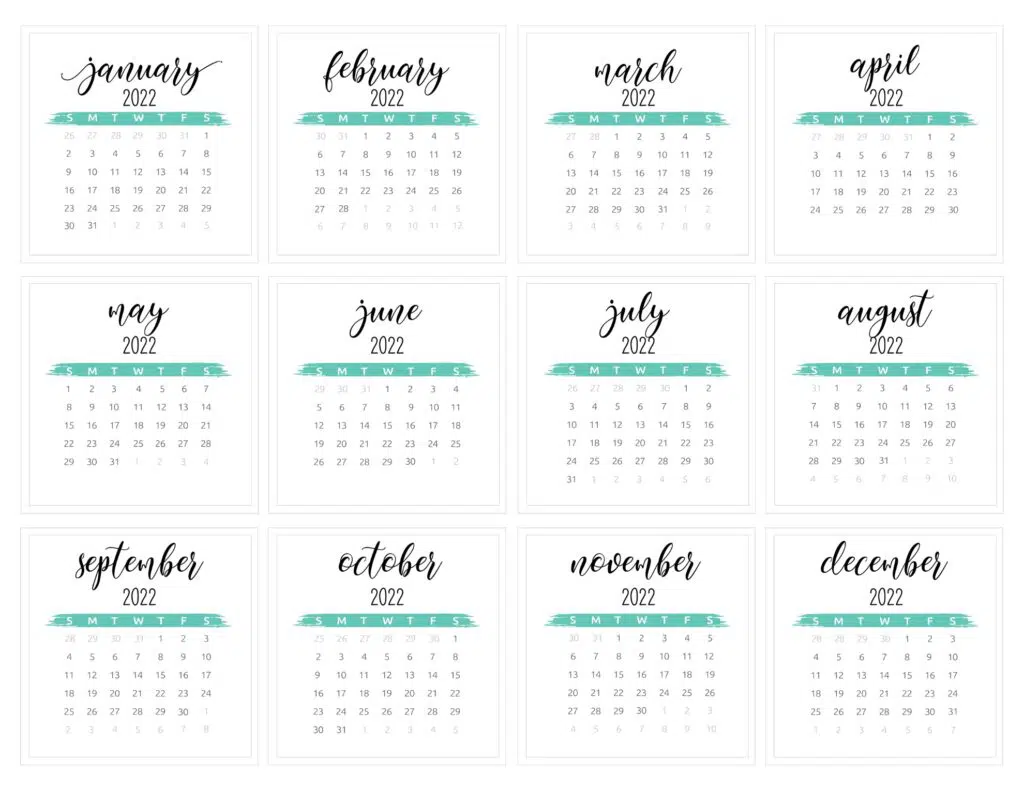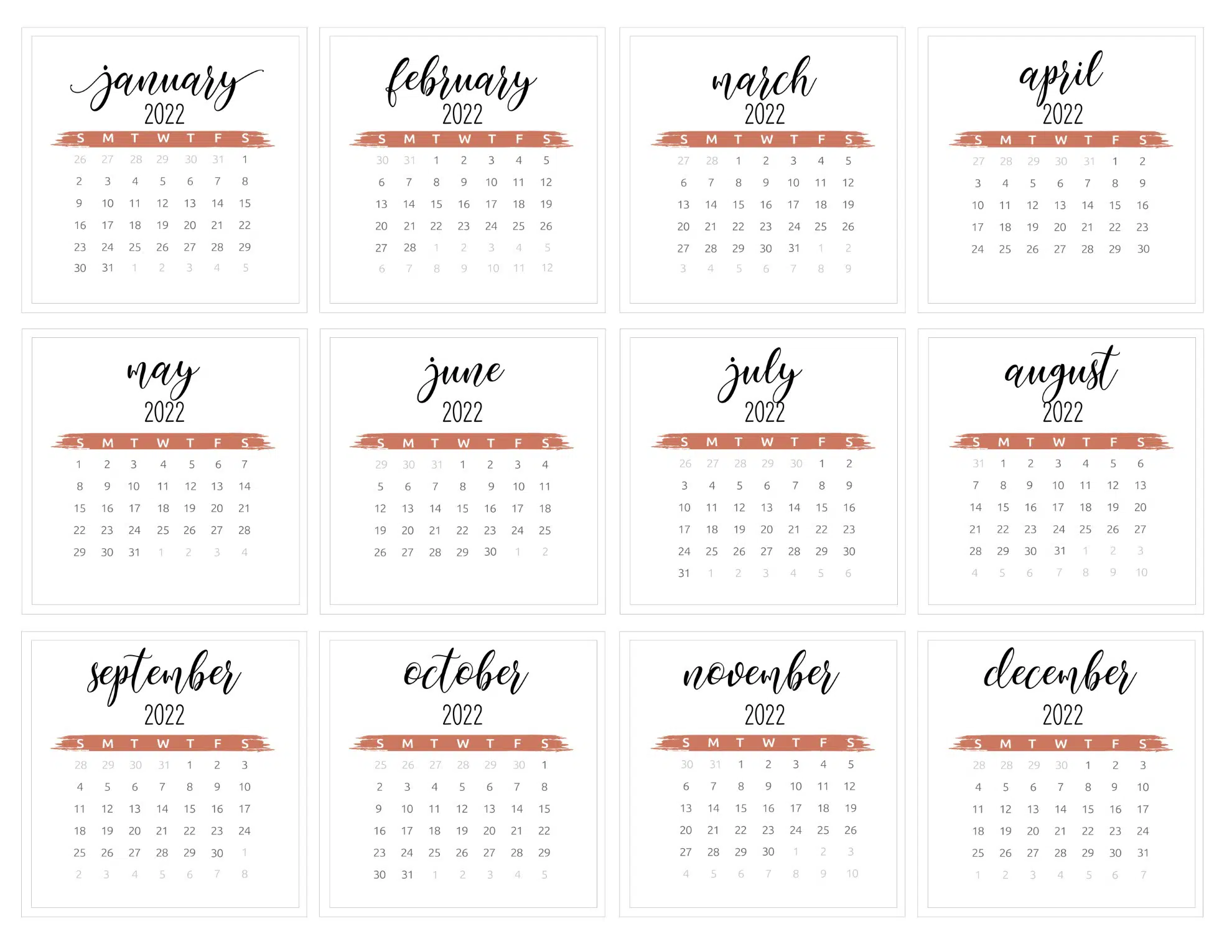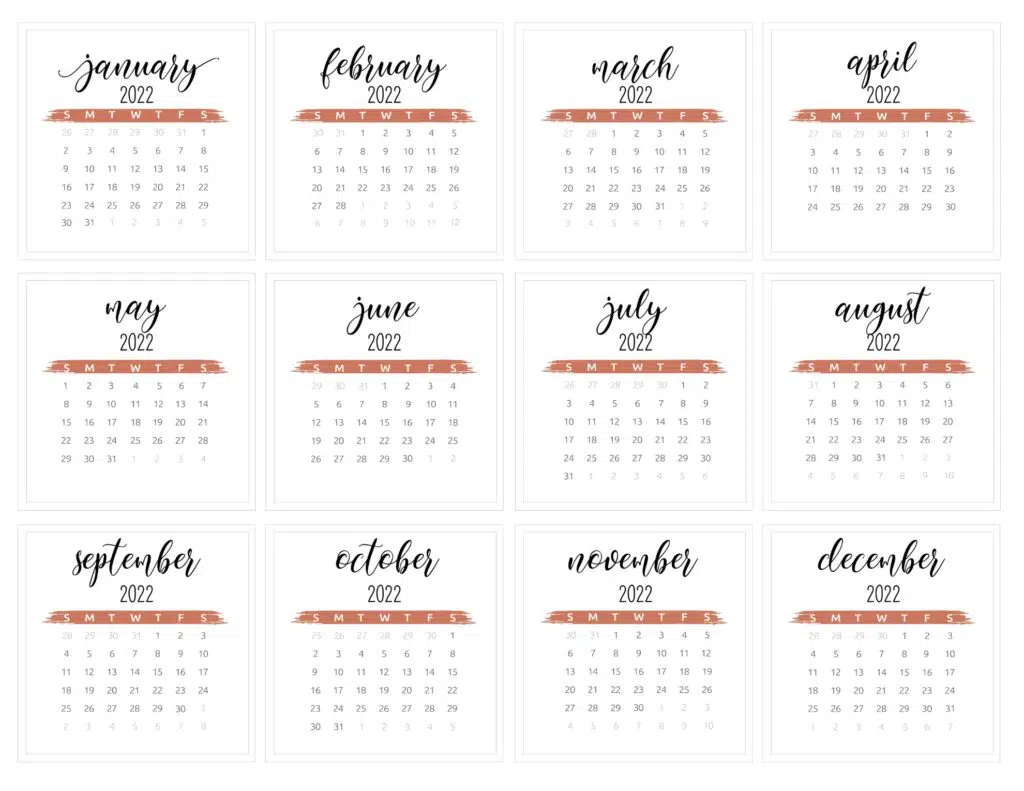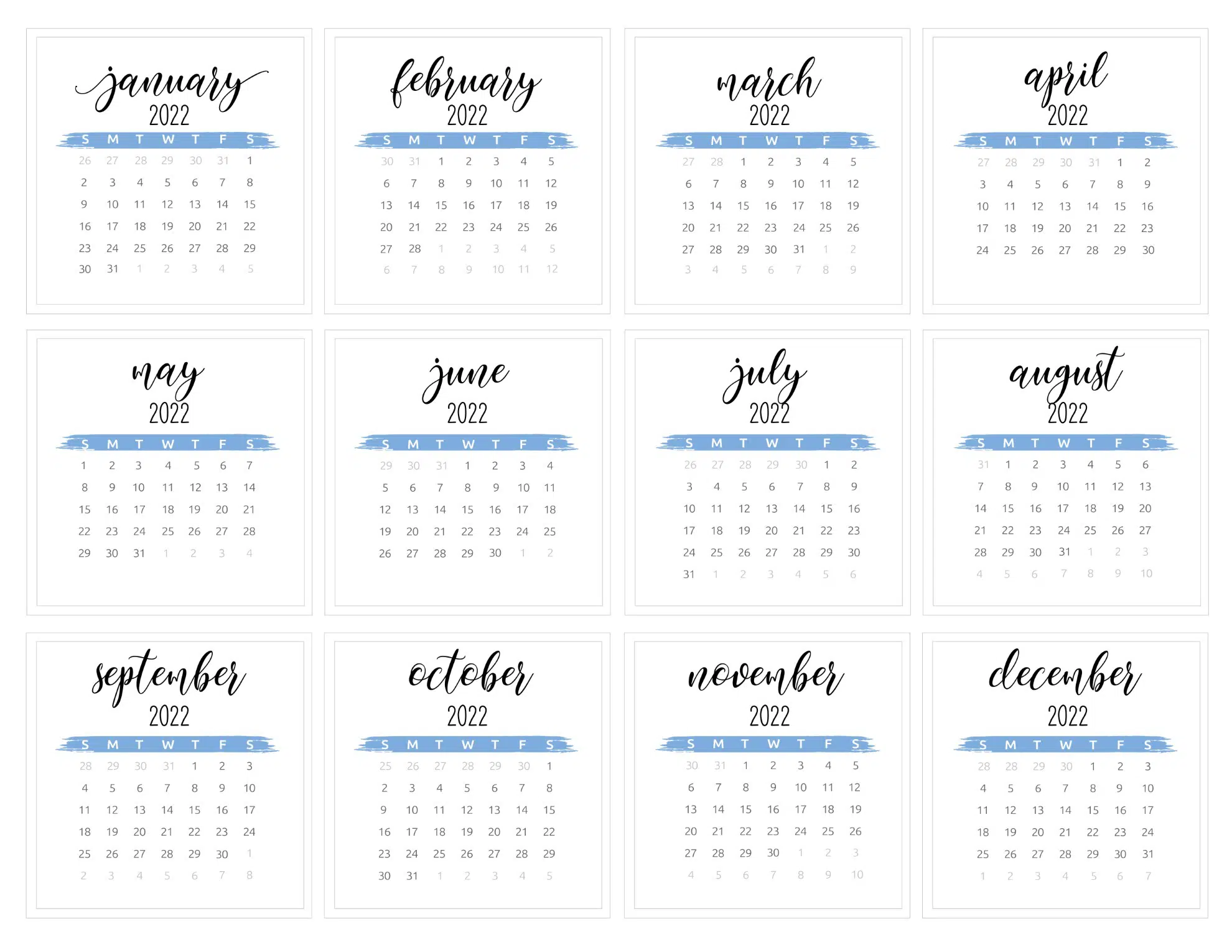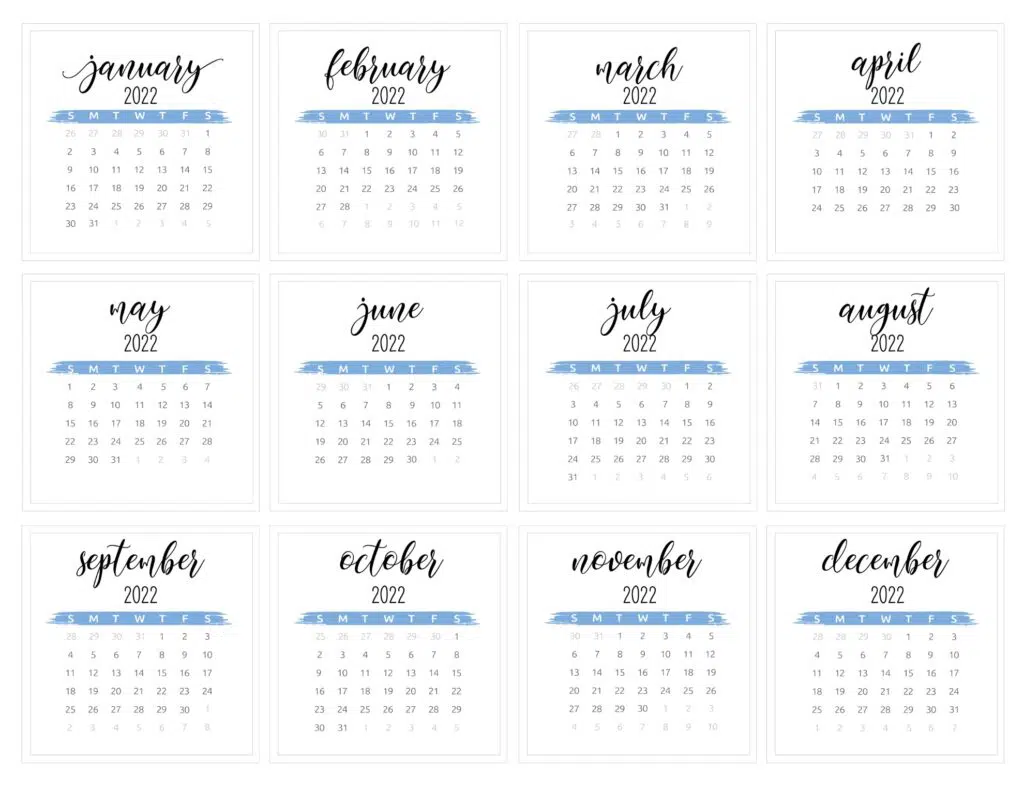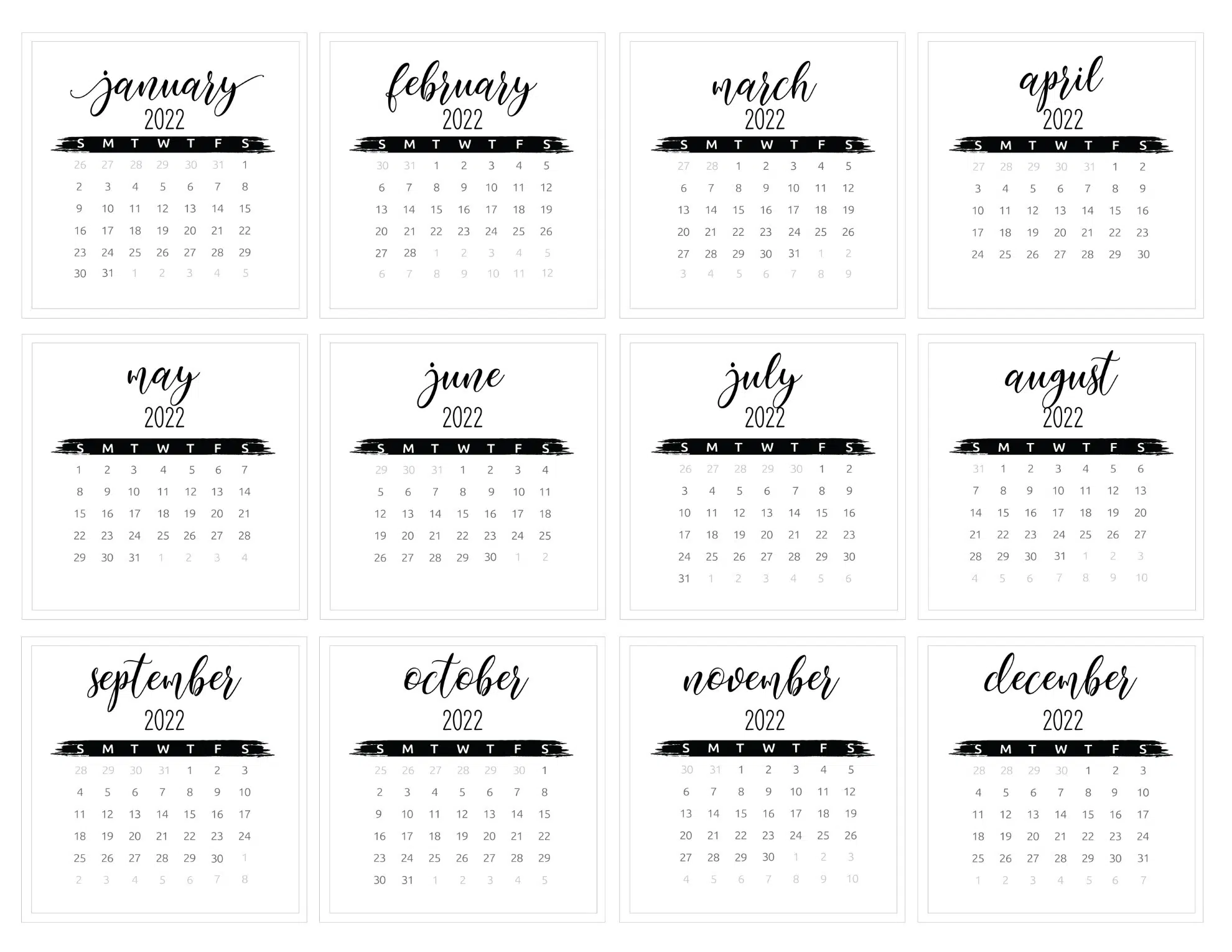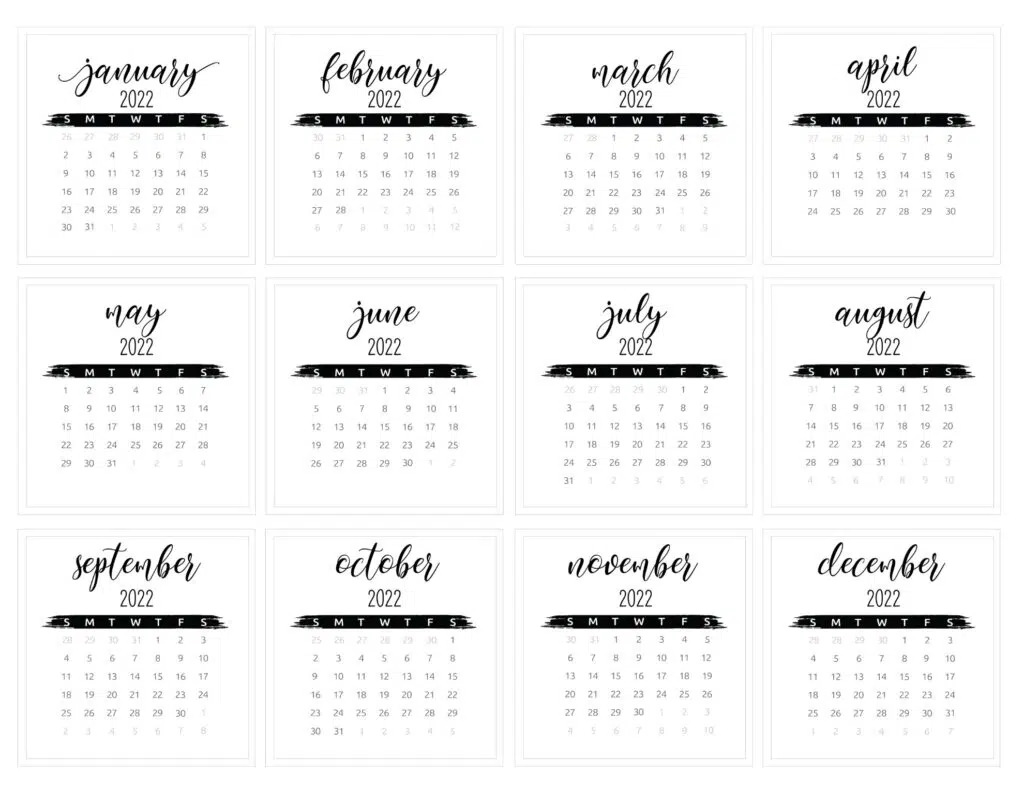 –
This bold and contemporary 2022 one page year calendar can create a real focal point on any wall. I like to print this at a much larger size and frame it. It's a very stylish printable that you can use right now and we've also created a similar version that matches well that you'll find below.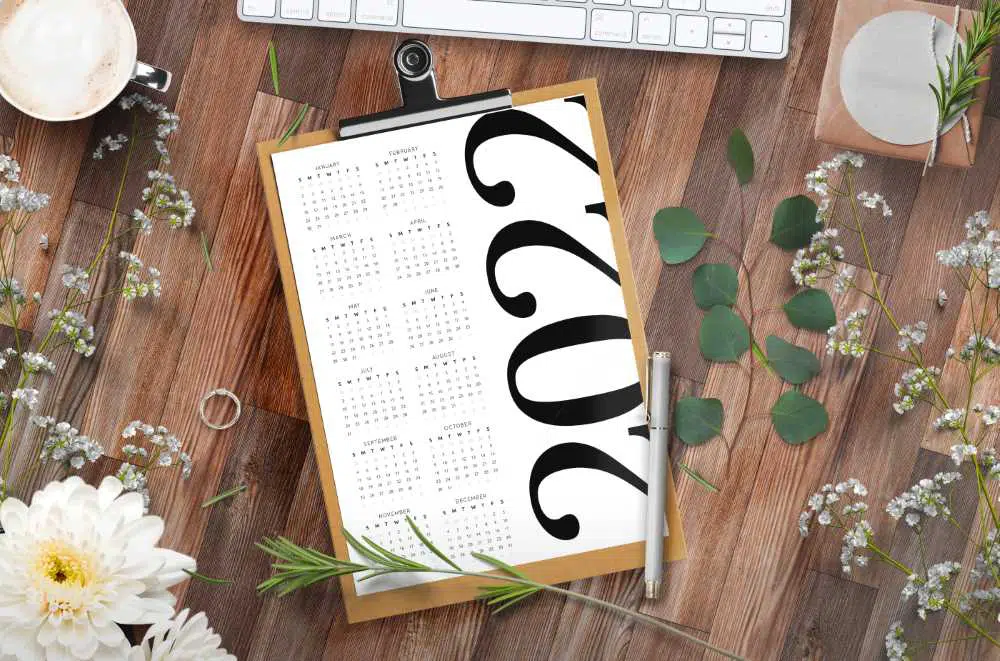 –
This 2021 yearly calendar is bold and striking. It's great for using at home for its modern and contemporary style but would look amazing in a modern office too. Also, it looks incredible at a larger size. You can also add this to your digital planner too.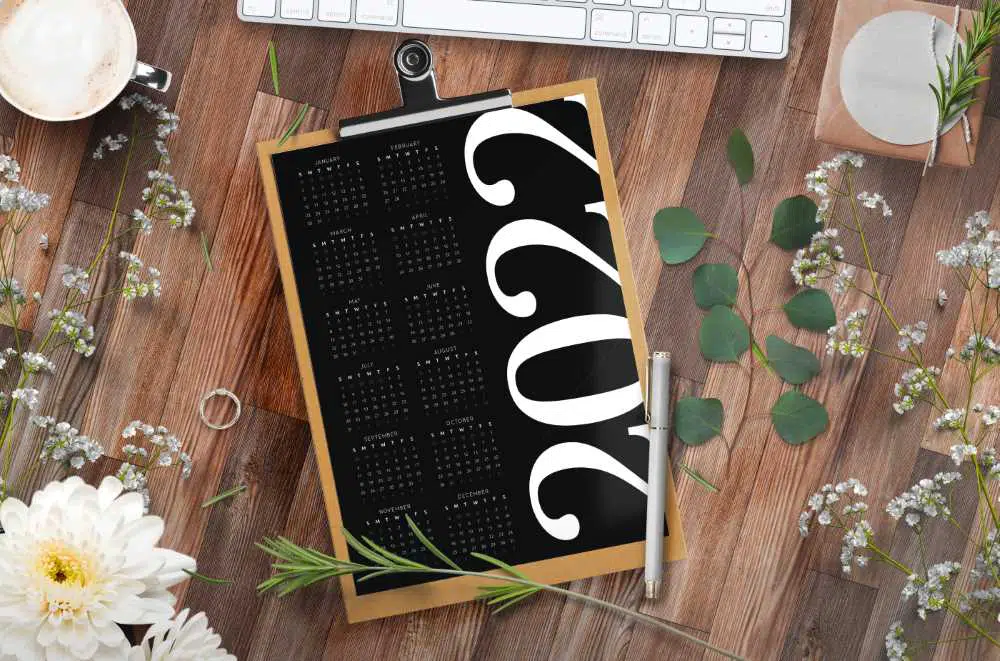 –
If you are looking for a stylish and pretty 2022 yearly calendar then this is a great choice. This 2022 calendar is simple in design but features beautiful cursive writing that makes it beautifully feminine while keeping a modern touch.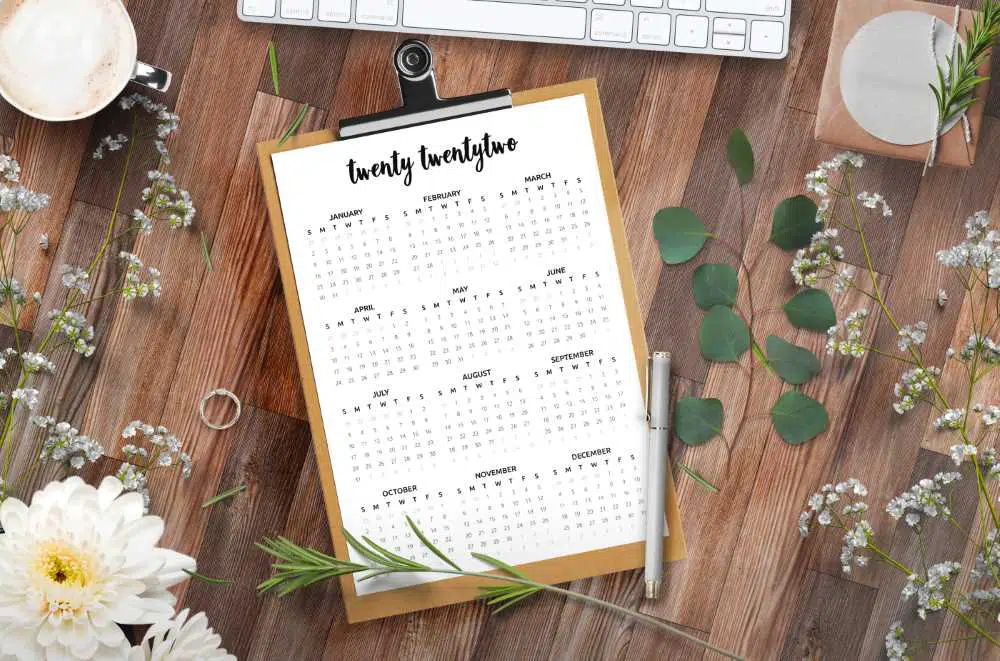 –
This unique and pretty 2022 yearly calendar features beautiful brushstrokes, soft colors and looks incredible in any home or planner. This was a popular calendar last year and so many of our readers loved it.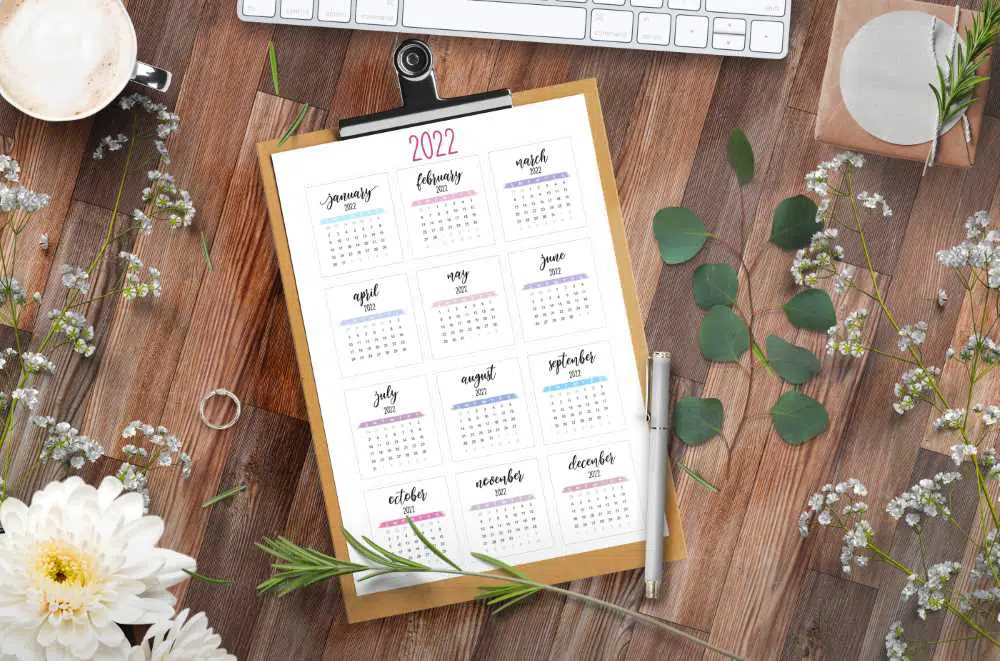 –
One Page 2022 Year Calendar Watercolor Printable
If you're looking for a pretty and feminine 2022 year calendar then this watercolor 2022 calendar is a great option. This printable looks great at any size but is particularly nice resized to fit into a planner.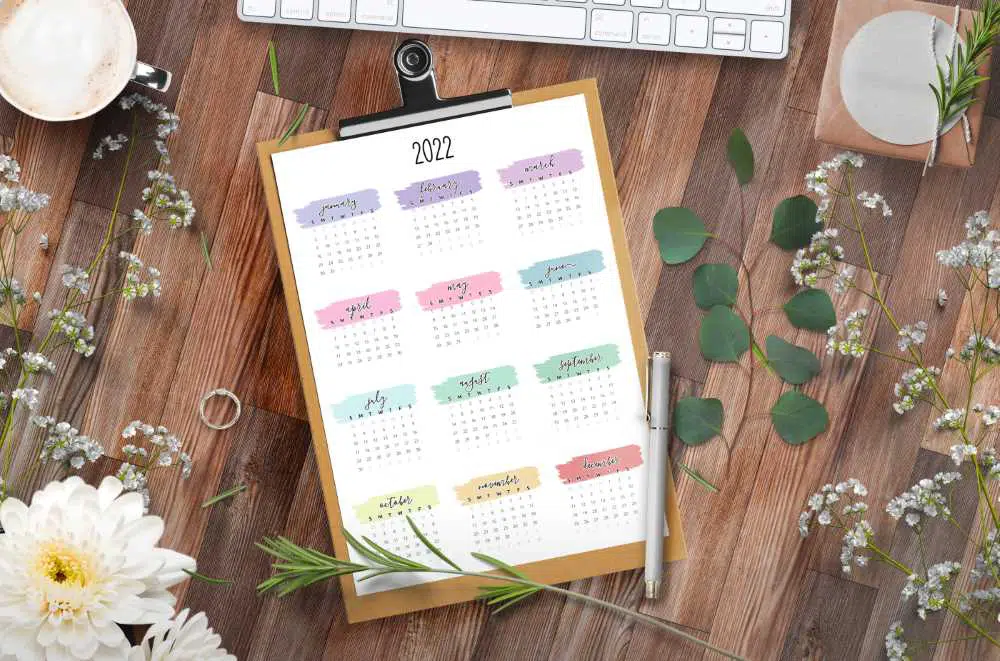 –
If you love rainbows, you will love this beautiful rainbow 2022 one page calendar. This pretty year calendar 2022 printable features a different rainbow for every month and is perfect for adults and teens and would look great in any family home. If you like printables with a bit of fun, or something cute, then you'll love this.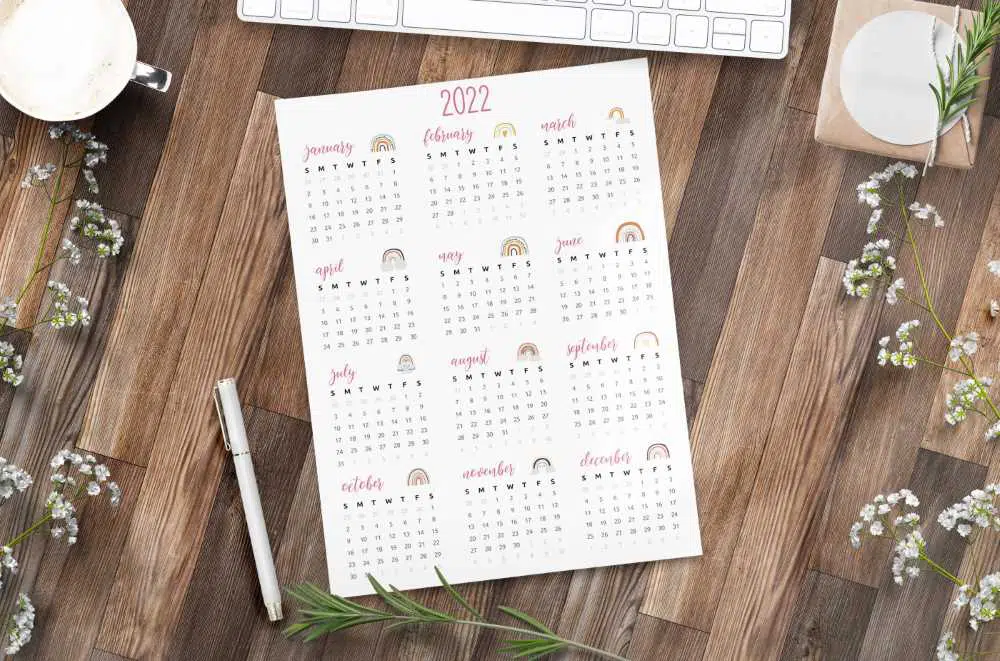 –
If you want a pretty one page 2022 calendar then check out this 2022 yearly floral calendar, that features pretty lettering with a subtle flower background. It's feminine but not over the top and is simply elegant.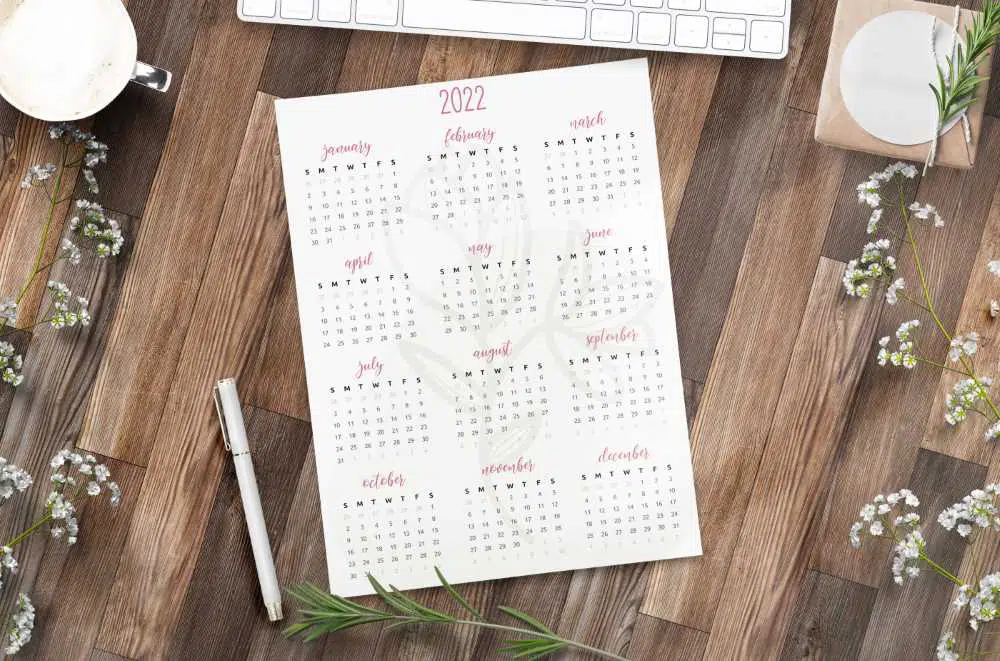 –
If you love flowers, you will love this beautiful floral 2022 year calendar. This amazing 2022 calendar features the most beautiful and bold bouquet of flowers and has an easy layout. It has been hugely popular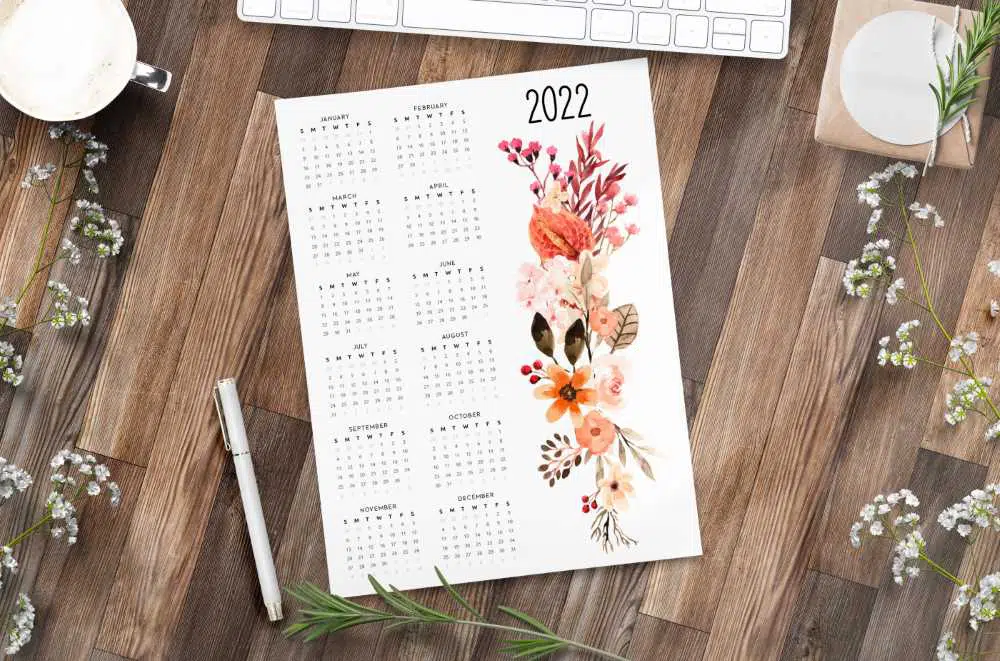 –
If you love our little botanical 2022 monthly calendar then you will also love this 2022 yearly calendar. This printable is perfect if you want to see all of the dates at a glance but still have the beautiful botanical elements of our popular monthly calendars.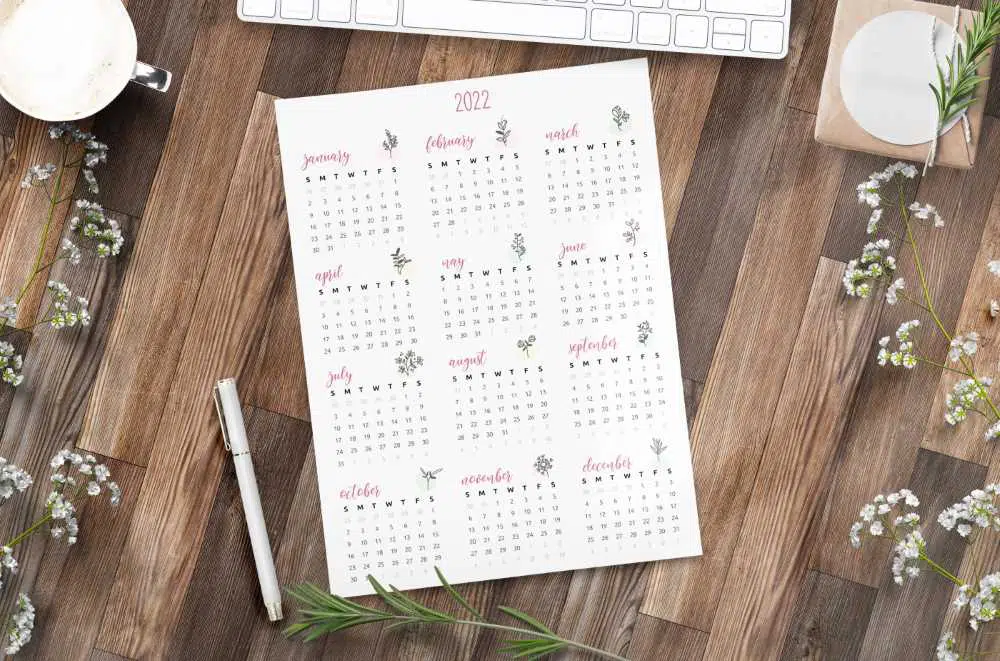 –
This 2022 year calendar is so stylish and modern. Featuring a stunning font combination, this 2022 yearly calendar is pretty and professional with a combination of cursive and classic font styles and color options.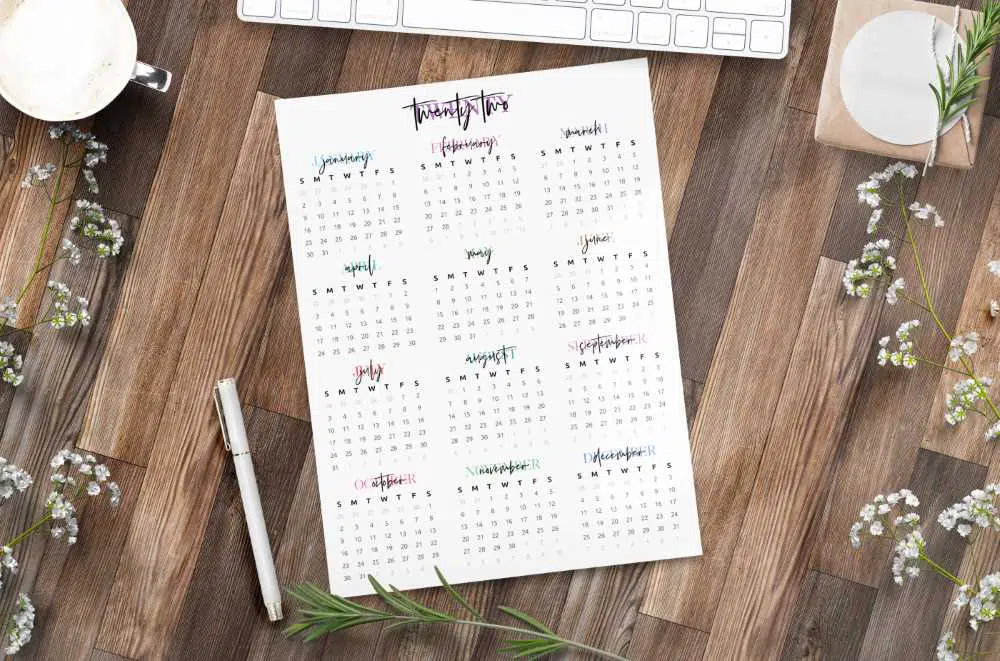 –
If you're looking for something simple with a splatter of detail then this cursive 2022 printable calendar is the one. This free printable 2022 one page calendar has cute lettering and delicate and pretty black splatters for an artistic effect that's stylish.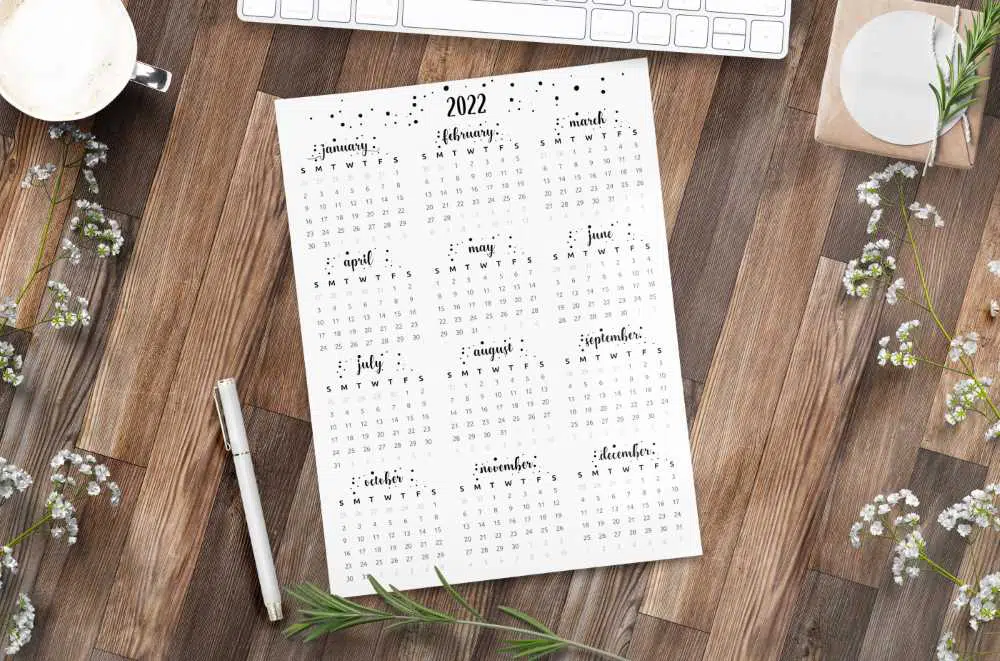 –
This full year 2022 printable calendar is perfect if you're looking for something stylish, smart, and professional. I personally love this printable and think it looks amazing printed at a larger size, framed, and placed in my office. It has a formal style but is very modern too.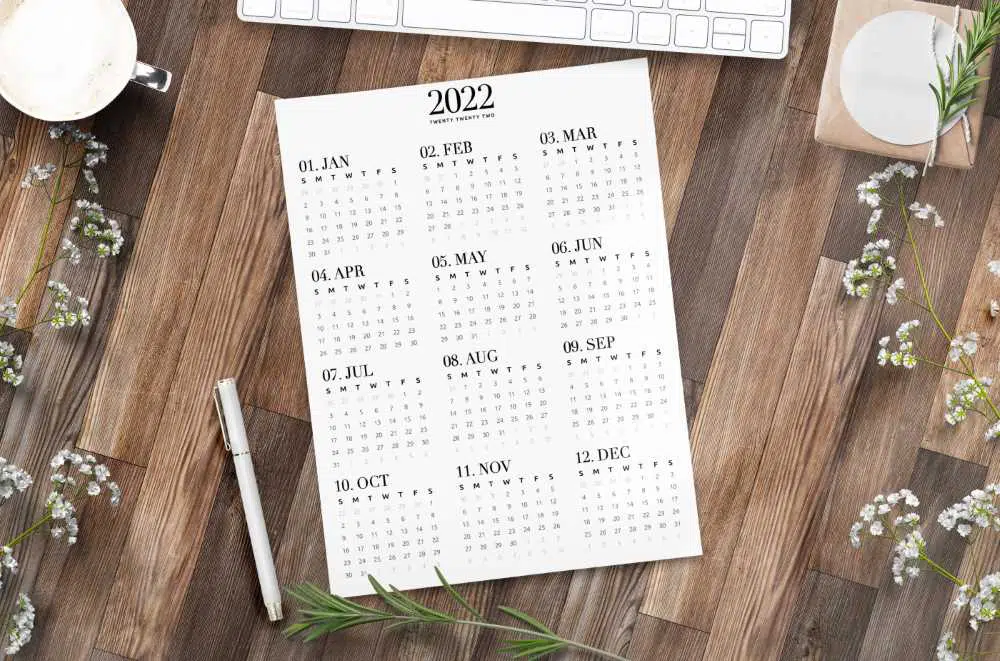 –
This pretty one page floral 2022 year calendar is a great way of adding botanical and floral elements to your home or office. Each month features floral flourishes and it comes in different color options so you'll find the perfect match for your planner or home.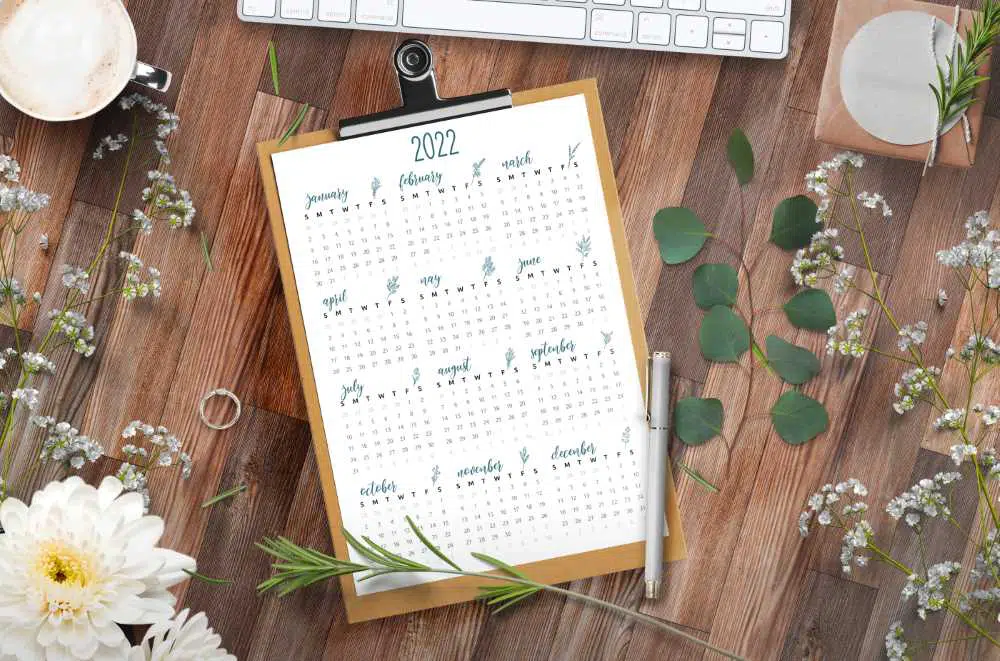 –
This pretty 2022 yearly calendar is perfect for any girl or woman! It's cute, delicate, pretty, and looks amazing. Use this in your home, office, studio, or even in your planner. Better yet, why not cut each month out and stick them in your bullet journal! The perfect calendar for bujo lovers.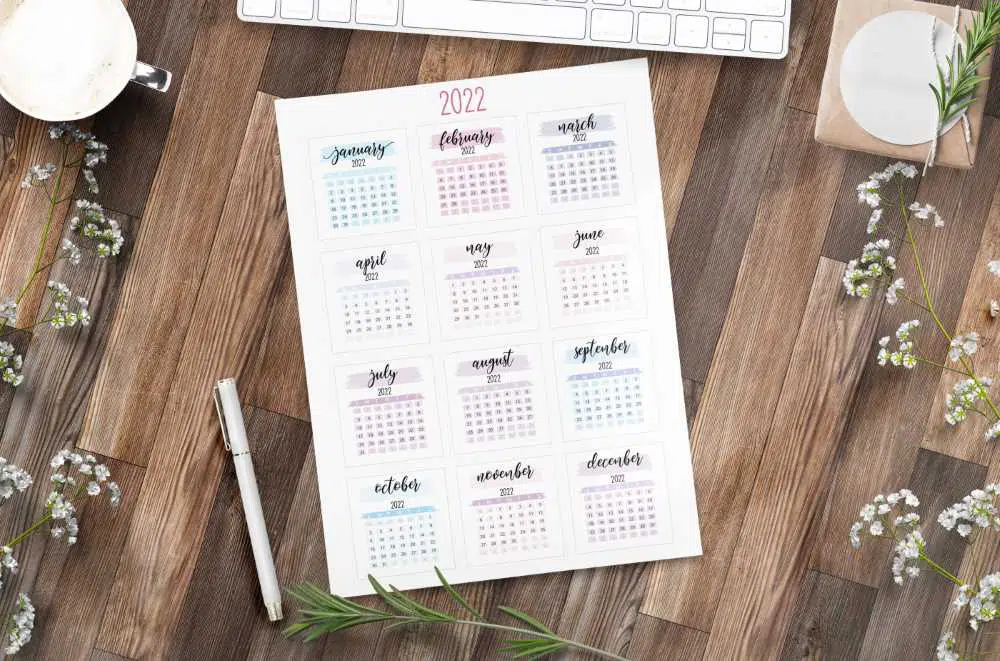 –
These 2022 year calendar templates are amazing. They're unique, beautiful and there is a style to suit everyone and we're constantly adding new calendars to our collection for this year and the year ahead.
All of our calendars are flexible and can be printed in different sizes to suit your needs. Get creative with your free printable 2022 calendars and frame them or put them in your planner.
These yearly calendars are the perfect way to start planning 2022. Combine them with any of our amazing planners and you will be off to a great start for the year ahead.
Looking for more calendar of 2022 printables?
We also have a great selection of blank calendars which you can print and use at any time of the year along with an amazing range of monthly calendars too.
Looking for a specific style calendar of 2022? Check out these:
Floral 2022 calendars
Cute 2022 calendars
Simple 2022 calendars
Landscape 2022 calendars
If you have a favorite please let us know. It helps us to make sure we create more of what you love!
If you liked any of these year calendars, remember to follow us on Pinterest or Instagram, as we release even more calendars for 2022 and beyond!
More Free Printable Calendars from World of Printables
Our recent calendars. Many more printable calendars are available to get and print for free.
If you are new here please subscribe below as we make new printables often and we'll keep you notified from time to time with our best new free printables.
Like these freebies?
Get notified of our upcoming free printables – you're gonna love them!
Follow World of Printables on Pinterest