We've designed over 20 goal planner templates to help you plan and set goals for anything you want to achieve in the future.
I love setting goals. It's a great way to encourage, motivate and strive for more. I always feel satisfied and accomplished when I complete a goal and it feels amazing to make progress.
Goal setting is a practice that will help you learn how to focus, commit and manage your time, ambition, and determination. Goal setting is great for everyone including kids.
Goal Planner Templates
You can use our goal planner templates to help you plan for any kind of goal. Whether that's career goals, financial goals, long-term goals, or short-term goals. If you have a specific goal then our goal-setting worksheet will help you reach your destination.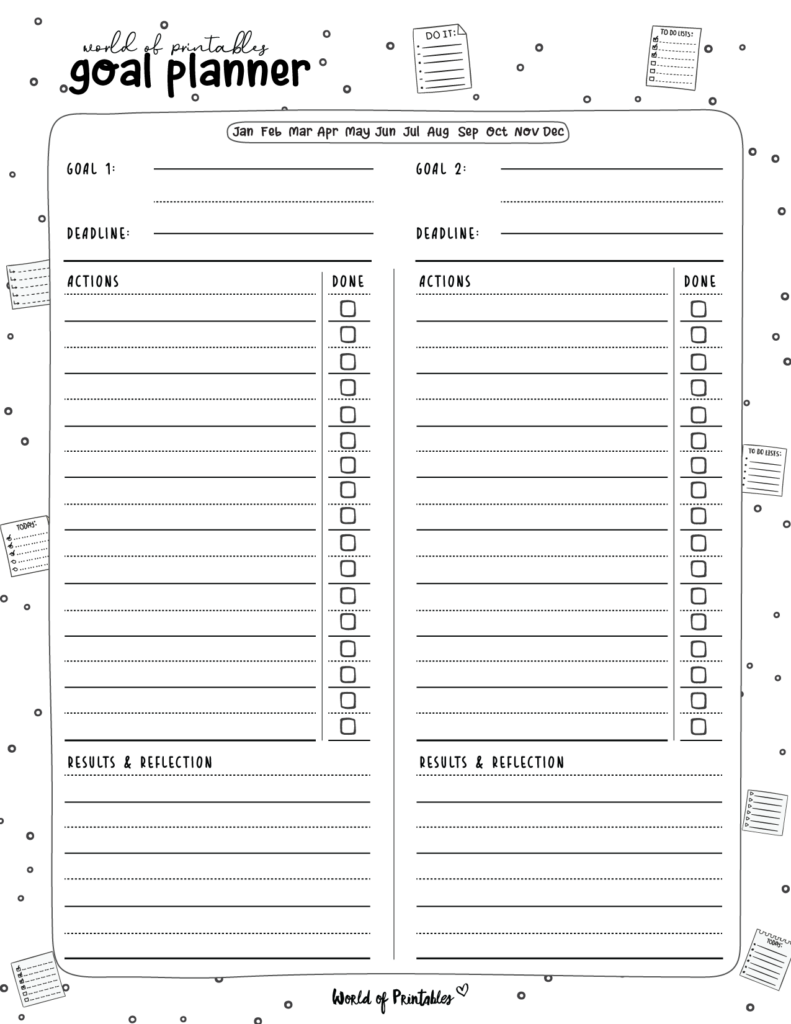 To use our free goal planner templates, simply click and save them to your computer before printing.
These goal templates are flexible and can be used as weekly goals templates and monthly goals templates. You can also use them alongside our printable monthly calendars to help you figure out a timeline and steps before filling in your goal planner template.
You can also get these goal-setting worksheet templates in pdf format from our Love & Pixels hub.
What are the 5 elements of a good goal?
If you want to make sure you are setting goals that will actually be achievable and benefit you in the long term then you will want to create smart goals.
Smart goals consist of five elements. These five elements help you make the most out of planning and achieving your goals within a certain timeframe.
Let's take a look at the S.M.A.R.T in smart goals:
S – Specific
Be specific with your goals! The more details you write down will make it much easier to create the right steps to reach that goal. It also gives you a clearer idea of what your goal is.
What is your goal? Why? When? How much? Who? Think about the answers to these questions as you plan your goal.
M – Measurable
Creating measurable goals will help you stay motivated and on track. To make your goal measurable be sure to track the progress you are making toward your goal. Also, try to make smaller goals that you can complete along the way.
A – Attainable
Remember, you're not going to reach your goal overnight so it's a good idea to be aware of what you can actually do. Creating a goal that isn't attainable will set you up for a difficult journey. Choose a goal that is within your power to make happen.
R – Realistic
Before you start working towards your goal, ask yourself if it is actually achievable. Creating a goal that might be unrealistic or unachievable within your time frame might set you up for failure and disappointment. Remember your goal can change as you work towards it, nothing is set in stone, it's just a guide.
T – Time-Bound
Giving your goal an end date is a sure way of helping you stay on track and make progress. If you leave your goal open-ended, you're more likely to procrastinate or become easily distracted. You might also lack focus when it comes to working towards your goals.
Using the smart method is a great way to practice effective goal setting for all of your goals going forward.
More awesome templates for you to enjoy
Every week we create many useful printables, planners, and digital freebies to help you make the most of your life. Our creations are loved by many and are free for you to enjoy.
If you love these goal planner templates and would like more awesome templates, then check out our latest creations.
We think you'll love these:
Make the most of your new goal planner templates!
I really hope you use and enjoy our free goal planner templates. Be sure to recommend them to your friends! Follow us on Instagram or Pinterest. It's a great way to show your support and keep updated with our latest freebies.
Follow World of Printables on Pinterest
COPYRIGHT
Our creations are for personal use only and are the copyright of World of Printables. You cannot redistribute, reproduce, or resell, although you can link back to our website.