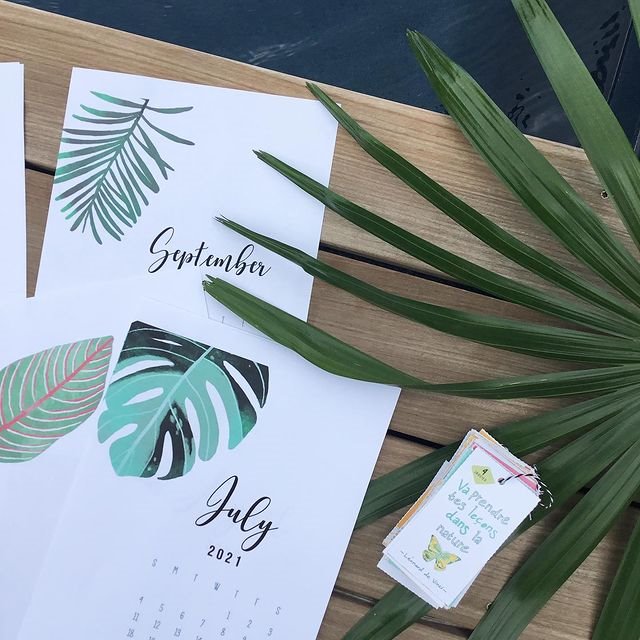 Calendars are something that we all need and use each and every month. Whether you have a calendar in your planner, on your computer, or a printable calendar hanging on your wall, you're most definitely going to look at it often over the course of the month.
So with that in mind, why not choose a calendar that looks great and why not style it too? After all, many of us have calendars decorating the desks, or walls in our homes or offices.
You'll find the very best free printable calendar templates right here on World of Printables, in so many different styles, you'll definitely find one that's perfect for you.
So simply printing a calendar and sticking it on your wall isn't exactly the way to make the most of it.
This is why we recommend you style up how you display your calendar, for that perfect finish!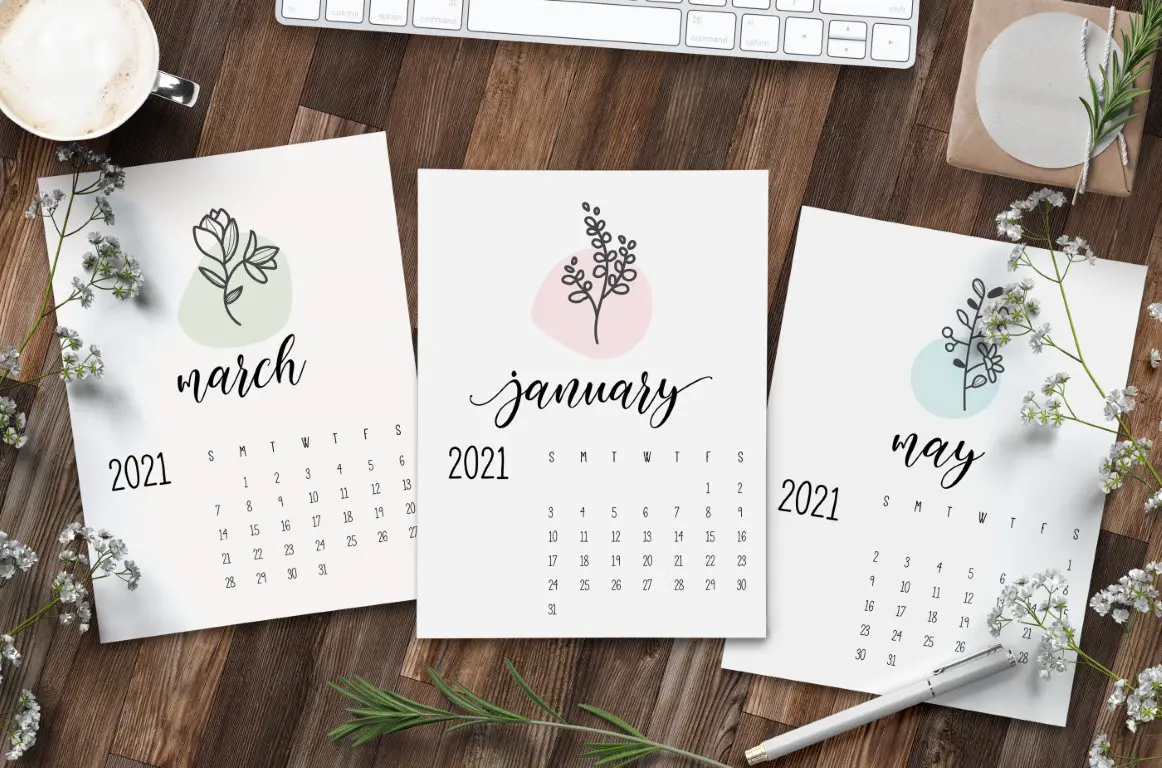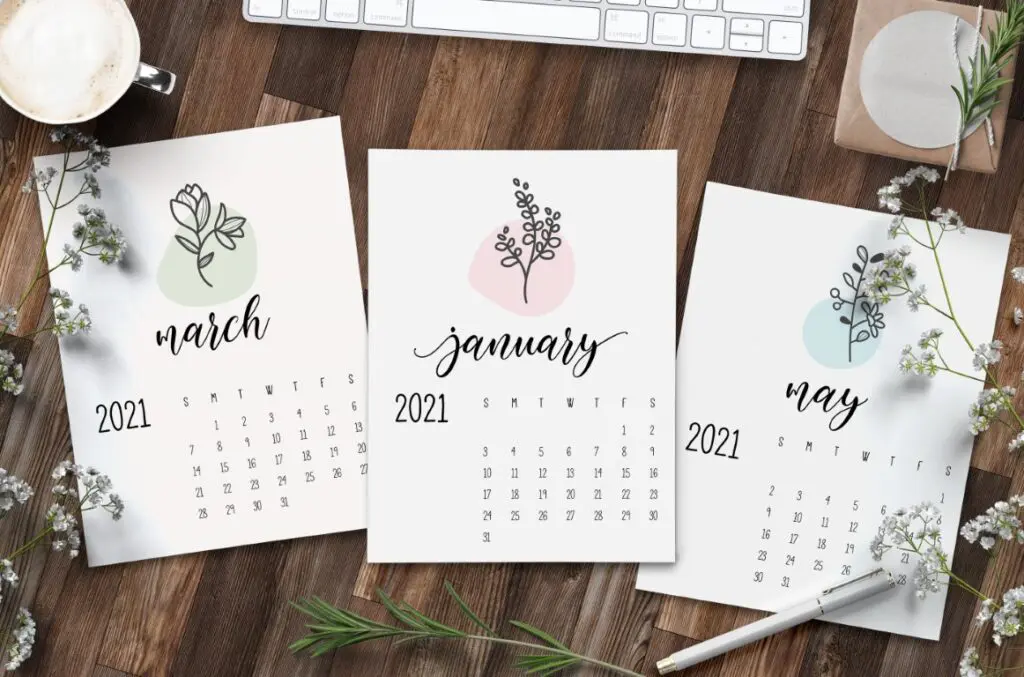 How to print a calendar
There are so many different ways to print, style, and use printable calendar templates.
If you are using our monthly calendars as a throwaway calendar, meaning you will print it monthly and recycle it once finished, then we would suggest using some good low-cost paper to print them on.
We love this regular copy paper from Amazon because it's low cost, good quality, and is the perfect paper for use for simple projects.
Use this paper if you are simply looking to stick your calendar to the fridge or want to print a quick calendar for the month.
It's a more affordable option for creating a calendar, especially when the paper is low cost and the calendars are free!
Best paper for printable calendars
When it comes to actually putting an effort into your calendar then I recommend using better paper.
I personally love this nice quality paper when printing projects because it's affordable, holds the ink well, and is thicker than normal paper so looks especially great when displayed.
How to resize a printable calendar
Did you know you can also resize printable calendars to suit your needs?
You can easily make any printable calendar larger or smaller to fit any size of paper, frame, or planner you require.
A great way of using our calendars is by adding them to your planner. If you use a small planner, such as an A5 size, then resizing calendars to fit your planner is easy.
Follow our guide on how to resize printables to see how.
Our free printable calendars will look amazing in any planner and many of our designs actually match our own range of printable planners too!
How To Display a Printable Calendar
If you want to use one of our calendars as a focal point in your home or office then we have tons of ideas for you to try!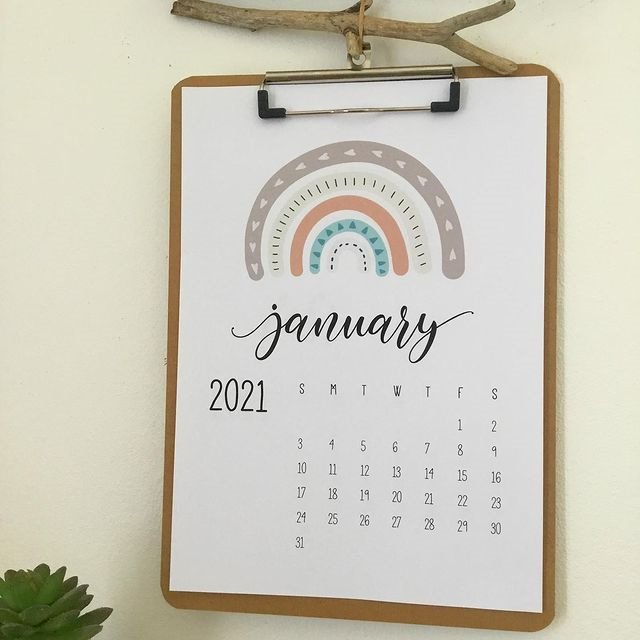 There are a ton of cool ways to display a calendar and there are so many different styles to suit you as an individual!
You can keep your calendar together as a paper printable or you can even frame it as a piece of art.
Let's look at some simple but stylish calendar display ideas.
Stylish Bulldog Clip
If you have found a calendar and want to print all 12 months but keep it together in a simple way then using a bulldog clip is a really affordable and pretty idea.
You can find some really nice bulldog clips online and I personally have these bulldog clips. The set includes multiple colors including gold and rose gold which I just love.
Bulldog clips will help you keep your printable calendar clipped together and then put a tack in your wall to balance the bulldog clip-on.
Alternatively, these bulldog clips have built-in tacks! That's so cool and you can also get them in different colors too.
How to hang up a calendar
Our calendars are so pretty that they deserve to be framed and put on display! Why not invest in a cute frame that matches your style to showcase your monthly calendar?
I think these simple wooden frames are so nice if you want a natural-looking frame or a more boho look or even choose the black frame for a more minimalist style.
The wooden frames would definitely look great with our nature-themed calendars.
Wooden Poster Hanger
These wooden poster hangers are so cute and add a boho vibe to any room. They are so simple but unique and beautiful.
You can use these poster hangers for anything but they look great with our pretty calendars!
Large Frame – the perfect calendar decor
We have a really beautiful collection of year-at-a-glance calendars and these look amazing when blown up to a larger size and framed.
Why not use a large A3 size frame for one of our year-at-a-glance calendars and display it on your wall?
This is such a great way of displaying this calendar because it looks amazing but you also don't have to change it out month after month.
Our popular watercolor yearly calendar would look great in a natural colored frame and our bold minimalist yearly calendars would look great in a black frame.
I think this frame (available in wood and black) would be a perfect match for our calendars.
Clear frames – make a gallery
If you have wall space that you need to spruce up then have you considered using a full calendar as a wall gallery?
Find your favorite free calendar for the year and print out each individual page then place them all in a clear frame and display them all on your wall! It's unique, and striking and makes a great feature wall.
It's a great idea for an office space! These simple clear frames are so affordable and will work really well.
Bind your own calendar for a traditional style
Maybe you just want to print a calendar and use it in the traditional way. There's no shame in that, why change something that works?
If you want to use one of our free calendars as a traditional calendar then you'll need a piece of equipment first.
This binding machine is such an easy way to bind your calendars together so they flip over like a traditional calendar.
The binding machine is such a great deal as it includes a full beginner's kit so you can start binding straight away! Use it for calendars, planners and so much more.
There are so many different ways to display your calendar and you can choose an option that really relates to you, your style, and your home!
Make your own calendar
If you love the ideas that we've given you here but want to make your own printable calendar, then that's really easy to do too.
To make your own calendar you can use online tools such as Canva which lets you design pretty much anything you can think of. We love Canva and use it for many of our designs.
You can use Canva to make your own calendars and it's so easy to use, that you don't need any design experience. It's simple to learn in just a few minutes and is capable of highly professional staff.
With Canva, you'll be amazed at what you can do!
So as you can see, it's so easy to make your own calendar in your own style, from printable calendar templates and some style options that I've shown you here.
I really hope this post has given you some insight on how to style your free printable calendar!
There are so many ways of hanging and displaying a calendar that you might not have even considered some of our ideas! It's always great to be offered unique inspiration, you never know what might work for you.
If you have found this post useful, please leave us a comment or share this post! It lets us know you care and shows your support.
If you use any of our printable calendars then tag us in your Instagram posts, we love to see what people do with our printables!