We've created a handful of incredibly popular and well loved 2021 year calendar templates.
Our readers love them because of their stunning designs, how well they work and how easy they are to resize to fit as a large piece of calendar artwork or to resize as small as a planner insert.
These annual calendars can be used for a variety of things: yearly planner, yearly overview, office planner, desktop calendar, school calendar, holiday calendar and much more.
These PDF calendar templates feature a yearly calendar 2021 on a single page in US letter size, but can be scaled to print at A4 size. All calendar templates can be used free of charge for non-commercial use.
These year calendars are available in jpg and pdf formats. PDF calendars will require Adobe reader or equivalent.
This light blue free printable one page calendar is a great option if you want something straight forward and not too feminine.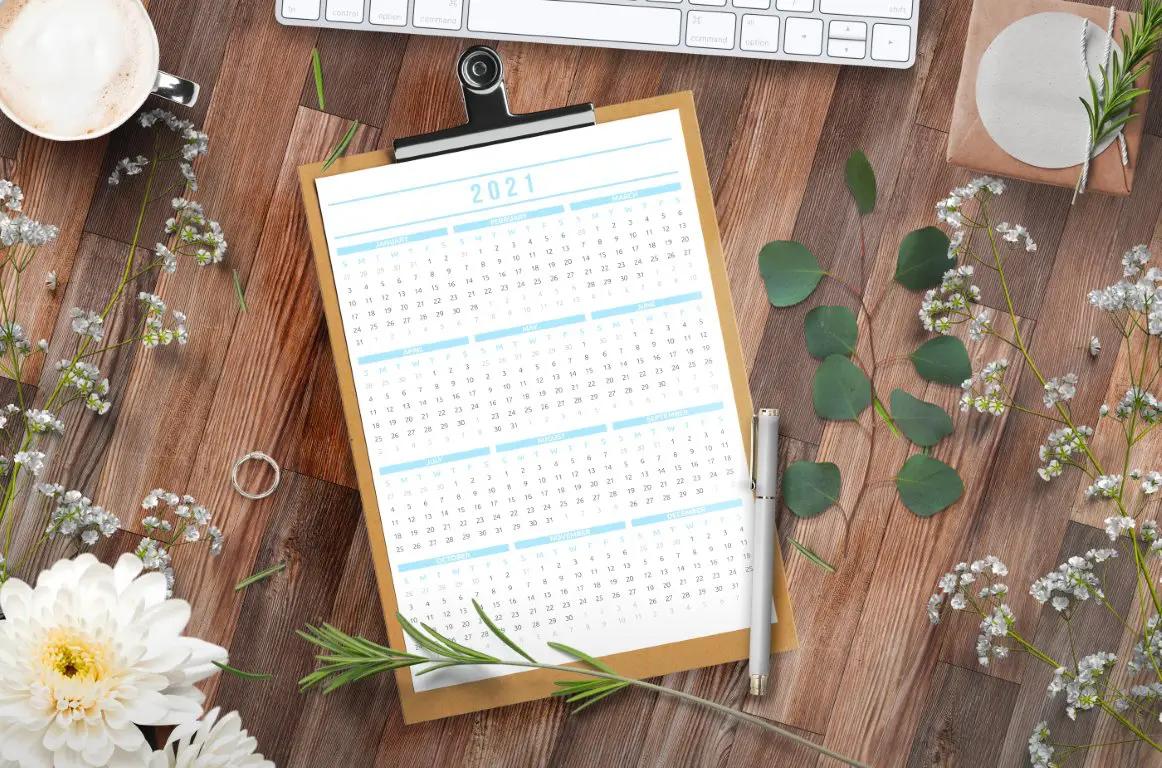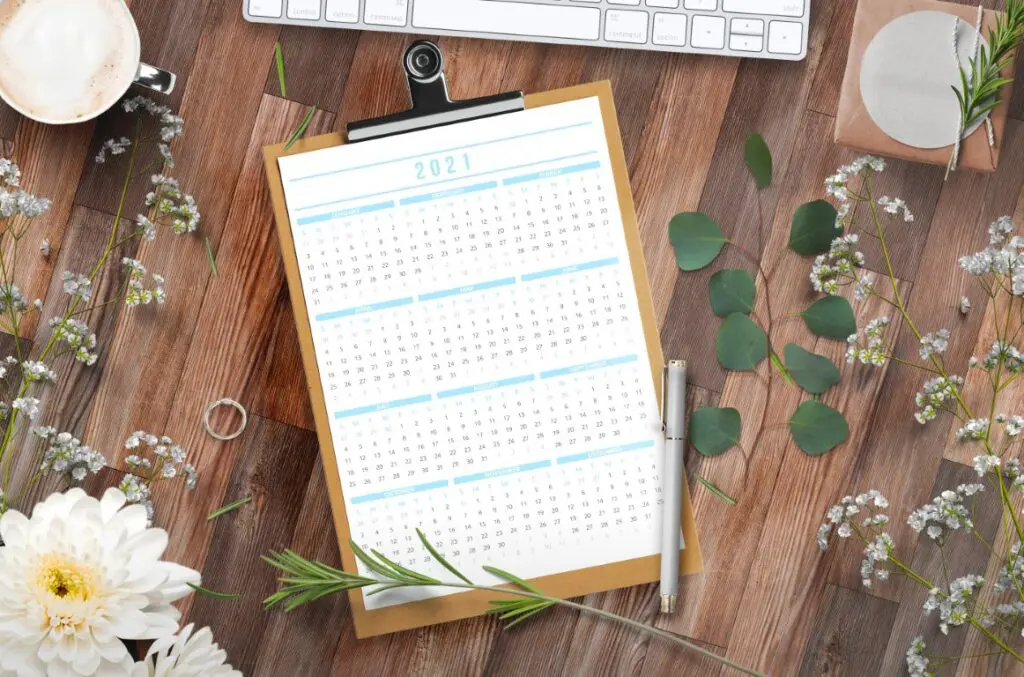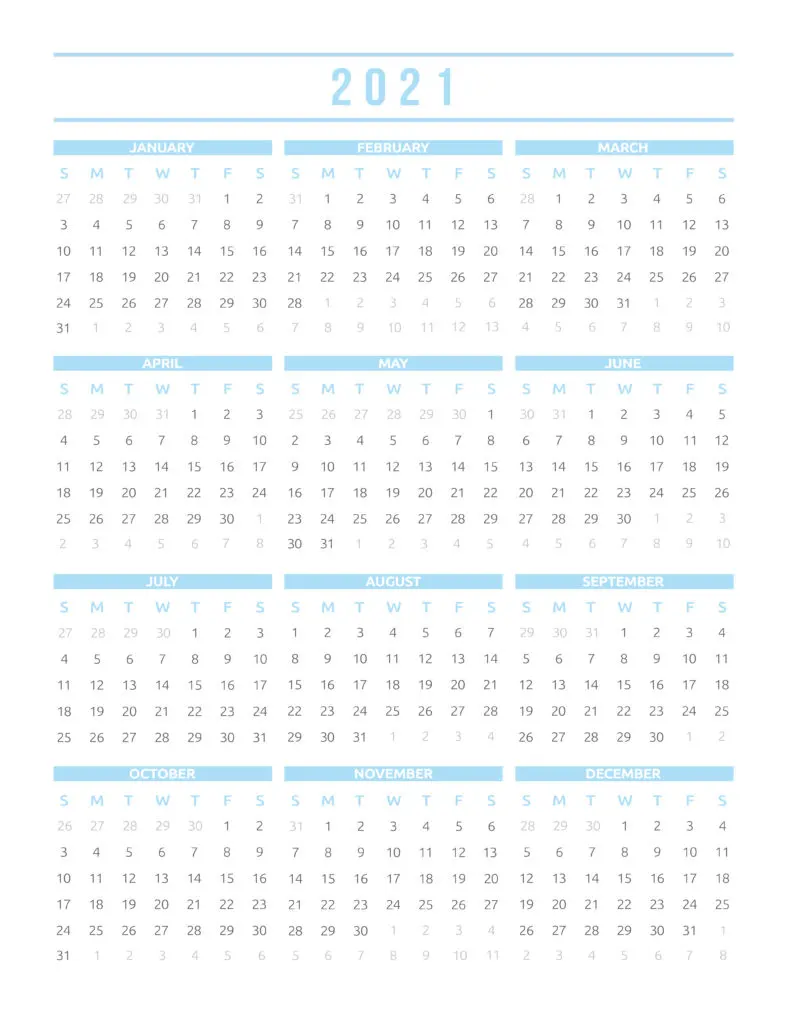 –
This pretty watercolor 2021 One Page Calendar is so lovely and features a blend of beautiful colors.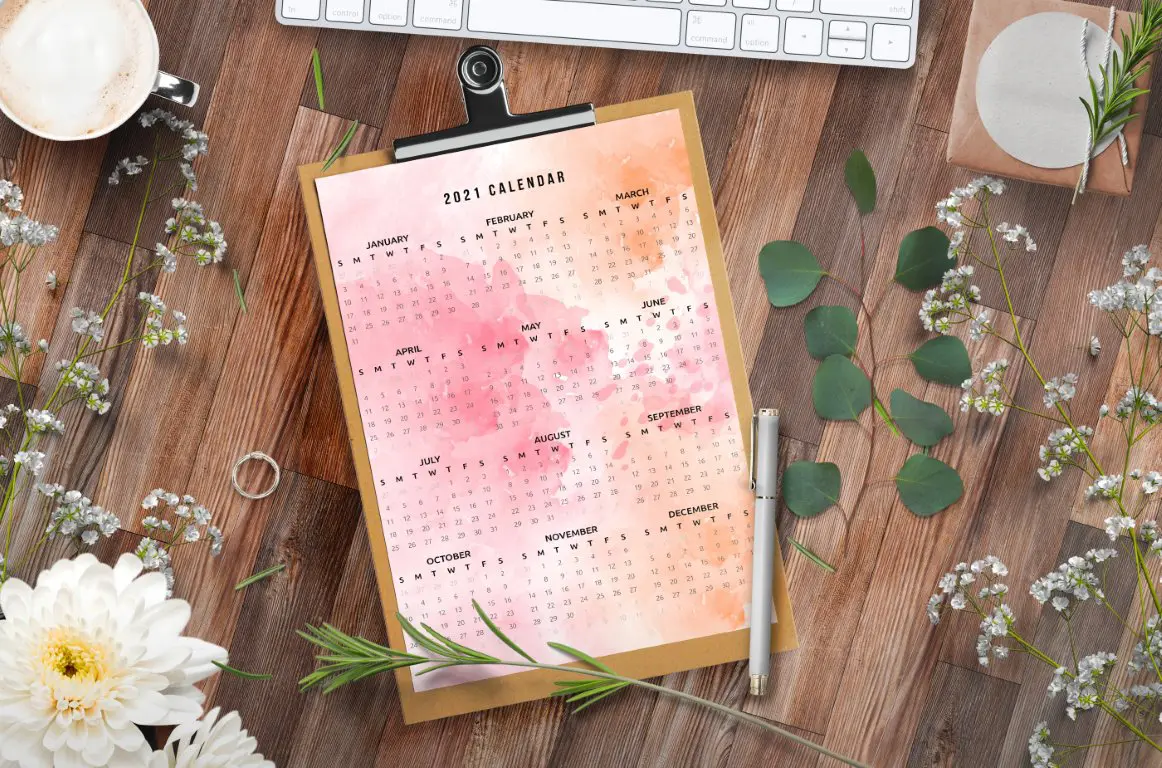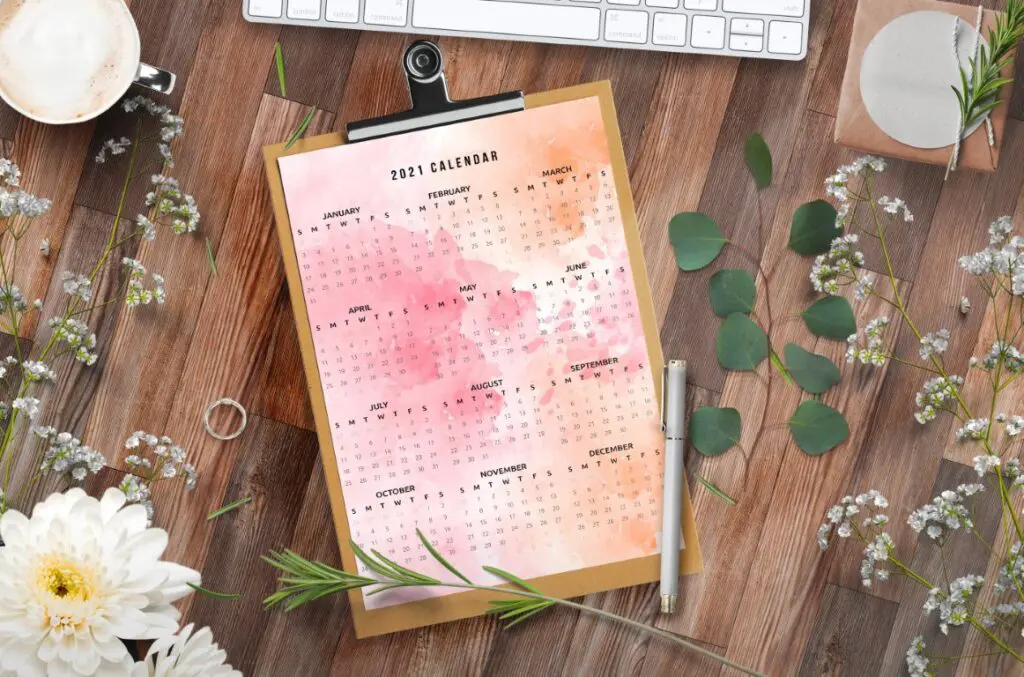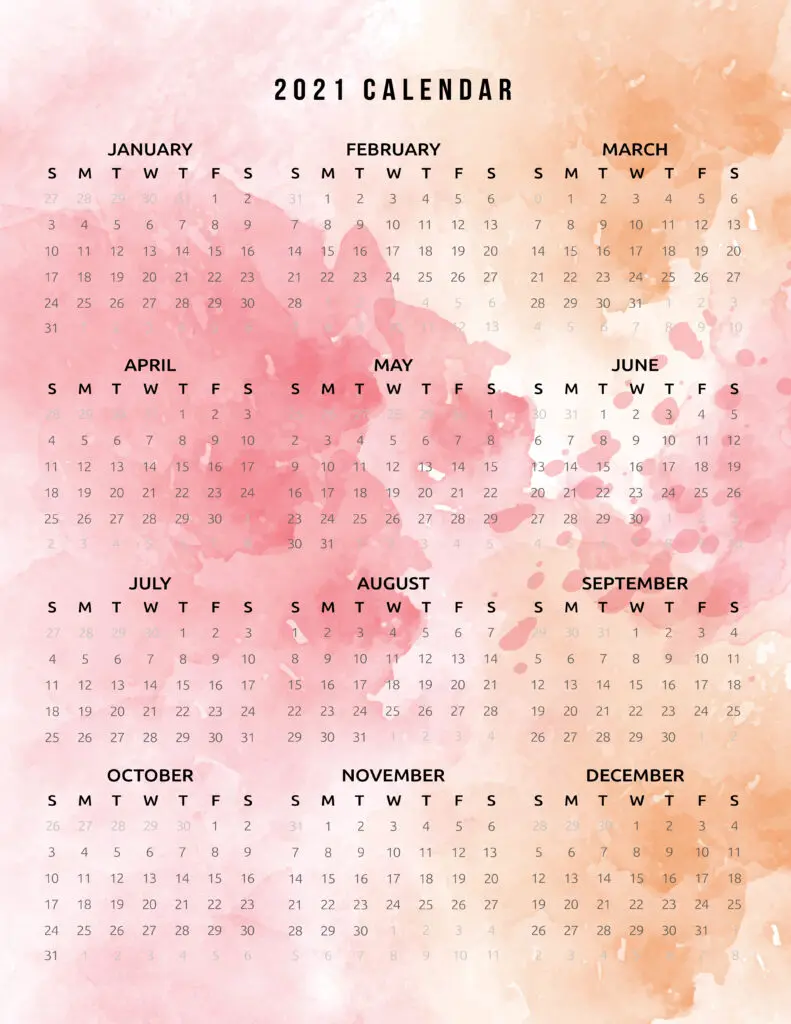 –
This simple calendar is the perfect calendar for anyone and would look amazing in any space. It would also look great resized to a bigger size.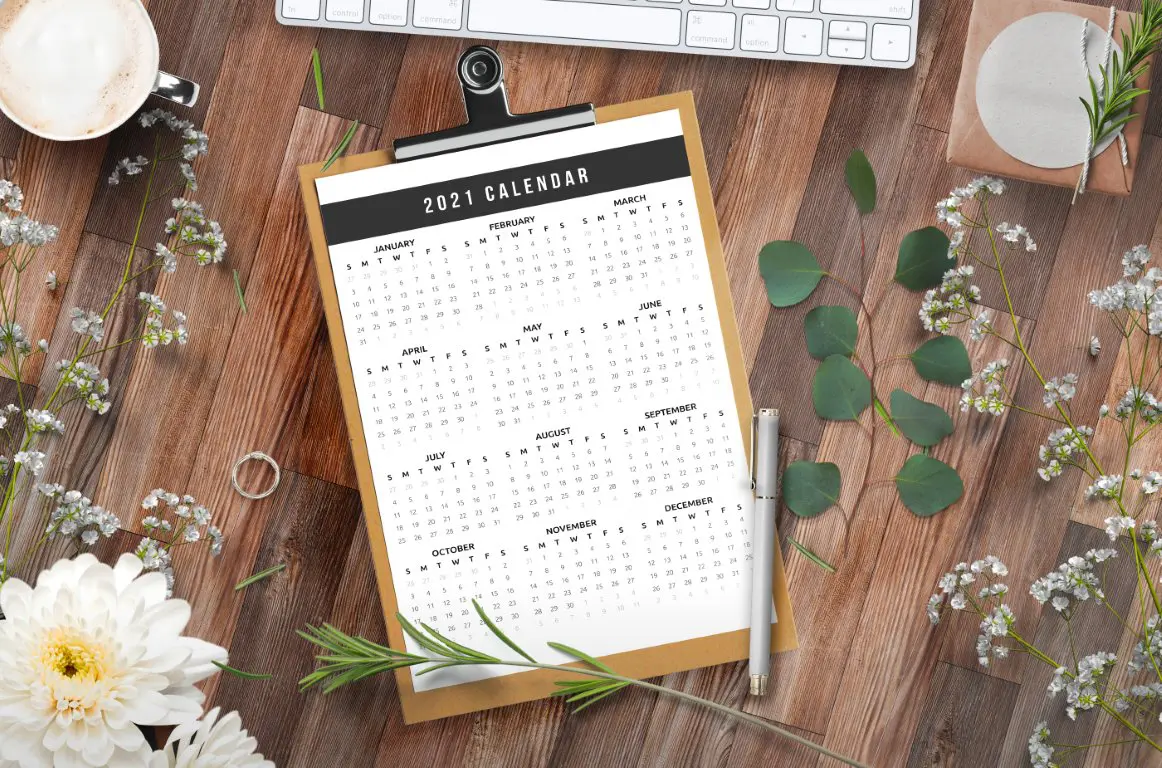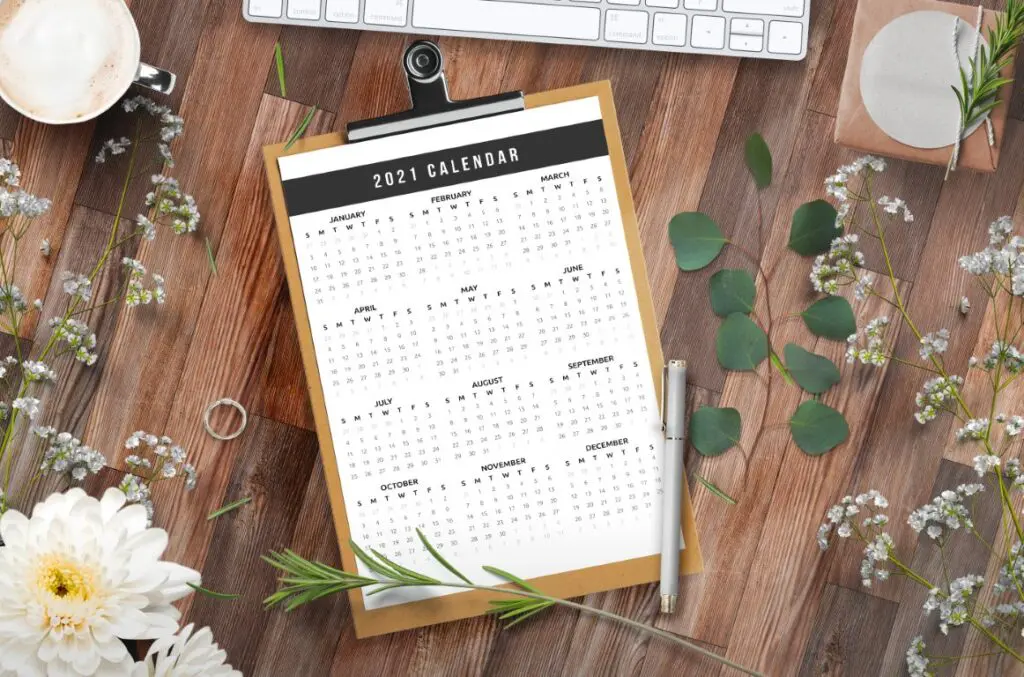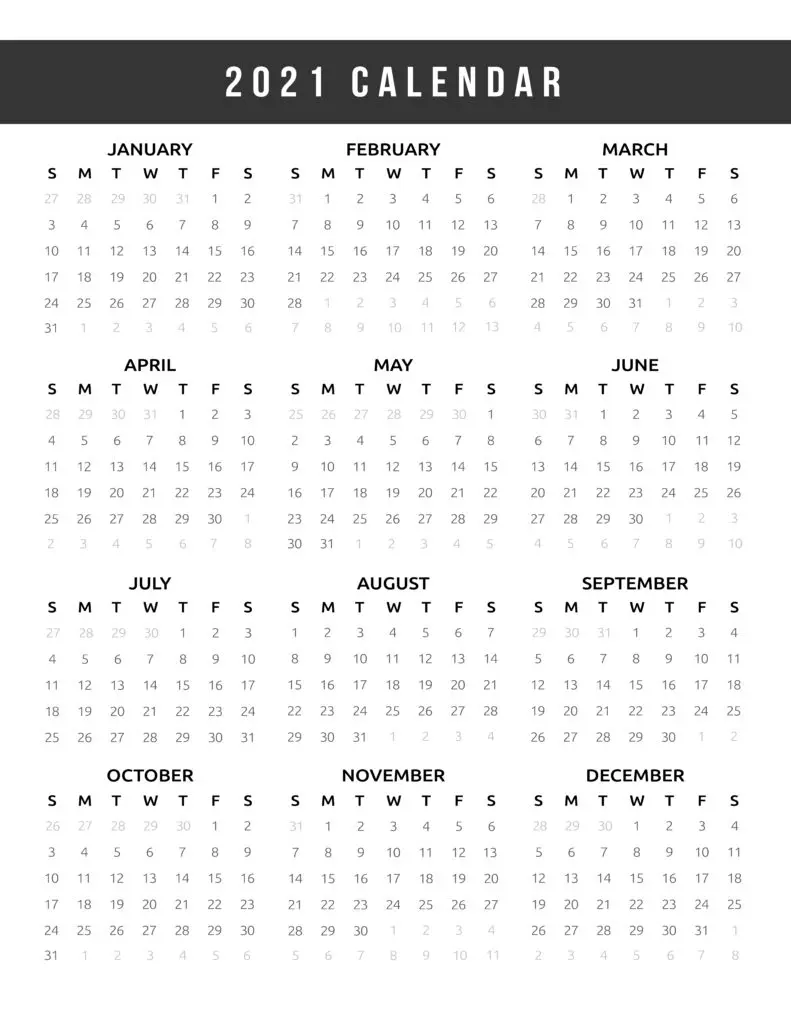 A very popular 2021 year calendar with holidays that has the complete year at a glace along with federal holidays and popular holidays. We also have a variety of different styles of calendars with holidays, so you're sure to find one that is perfect for you.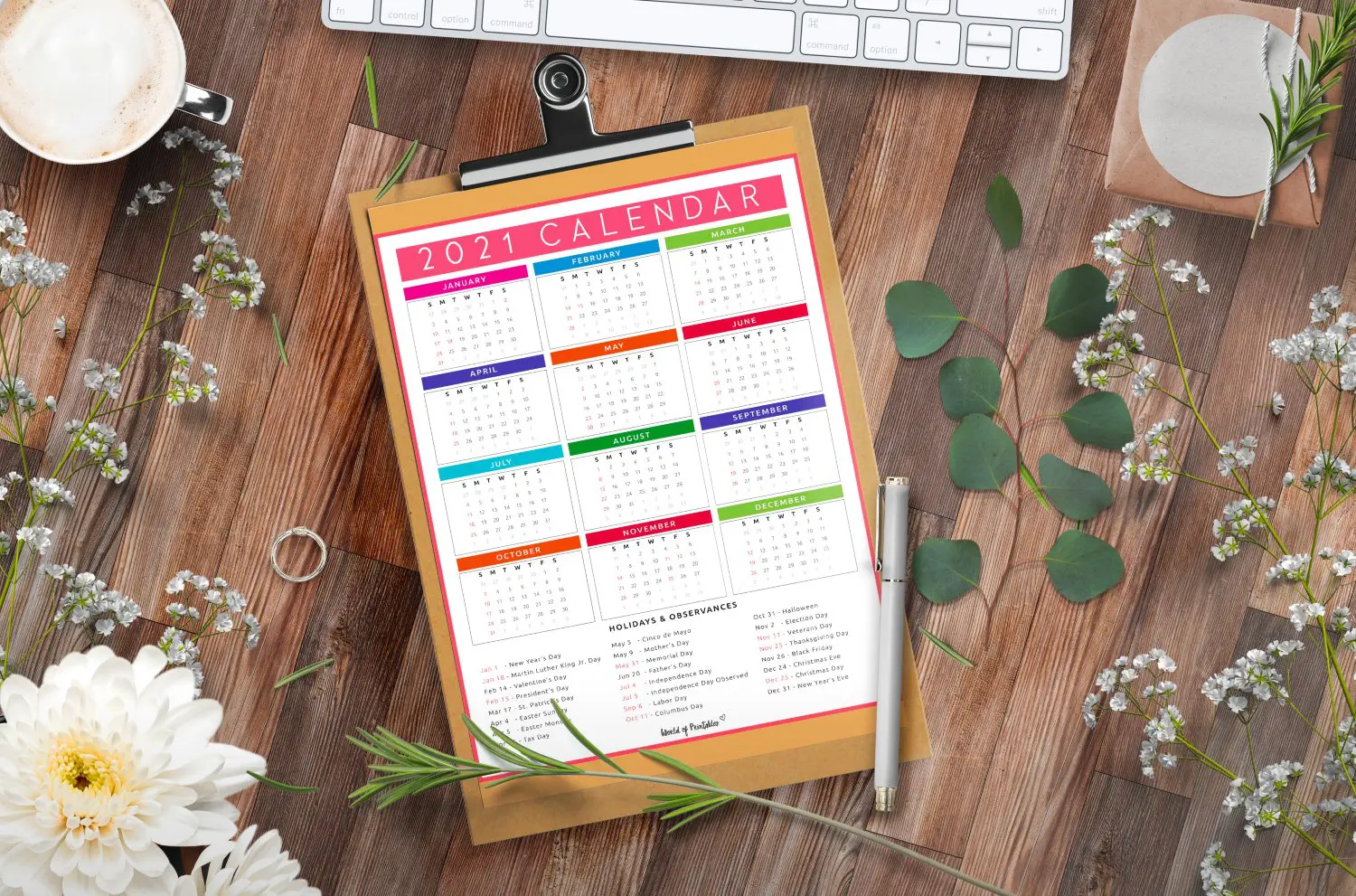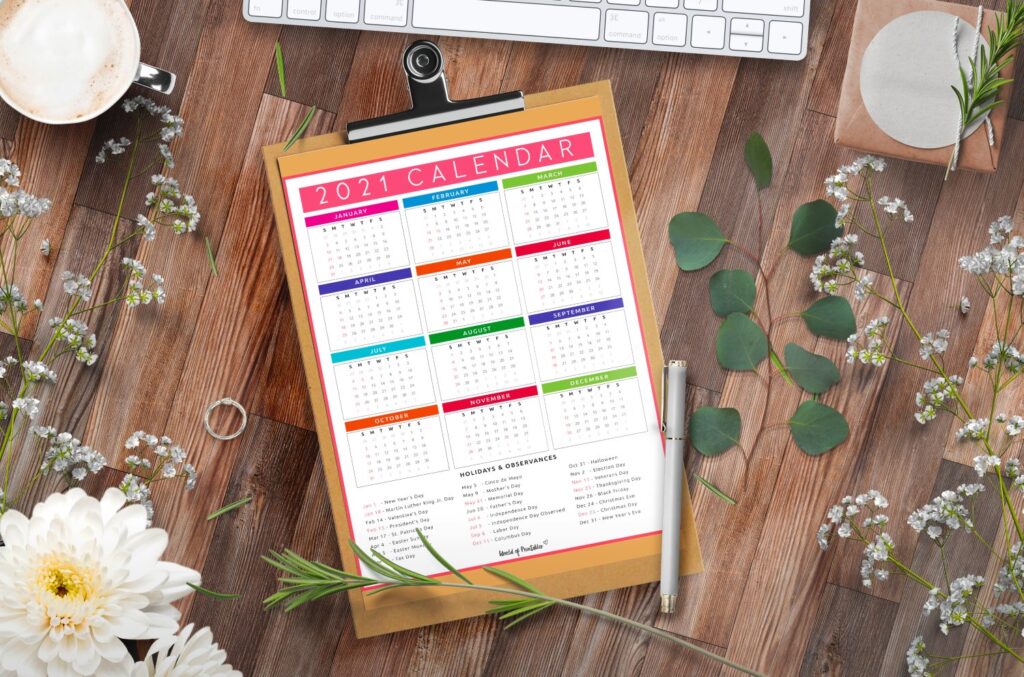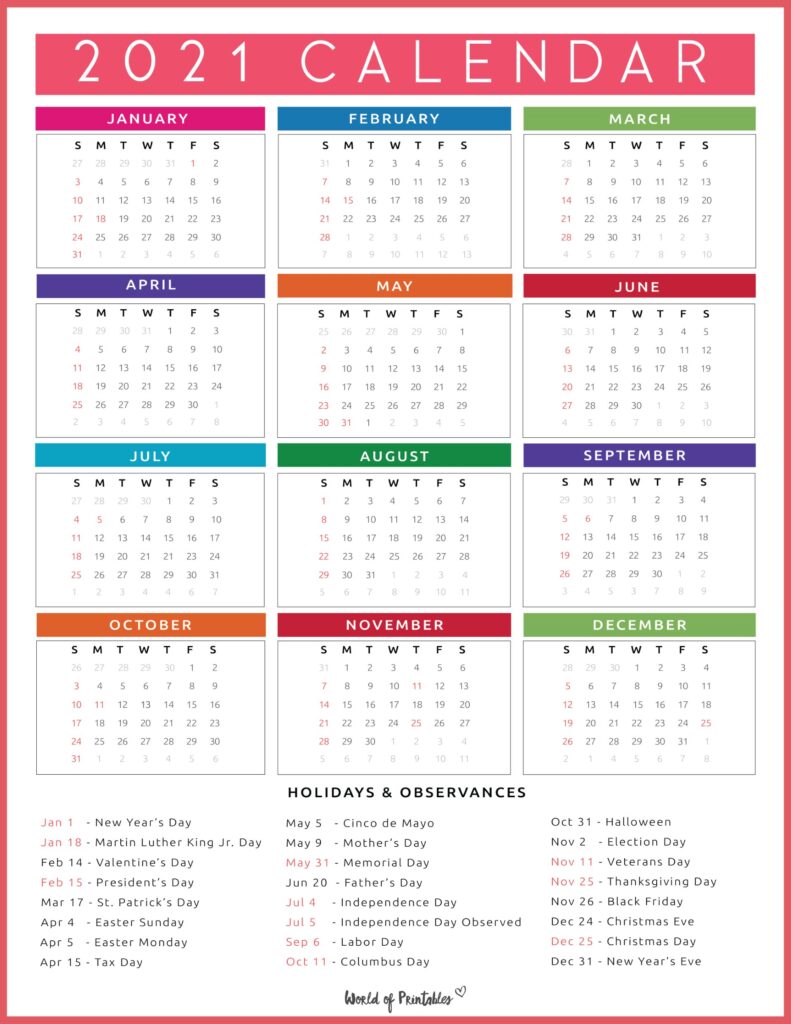 –
This stunning botanical 2021 year calendar features beautiful botanical elements with simple and attractive typography making this a great calendar for any home. It also looks amazing in a planner.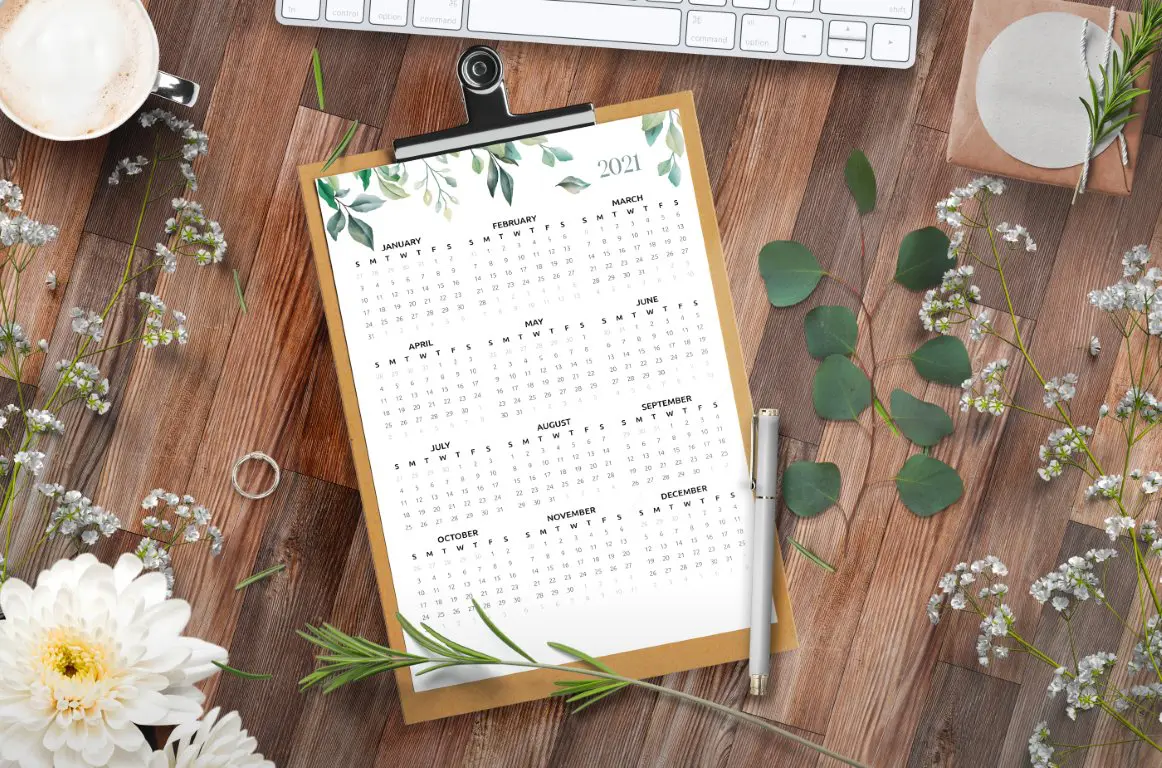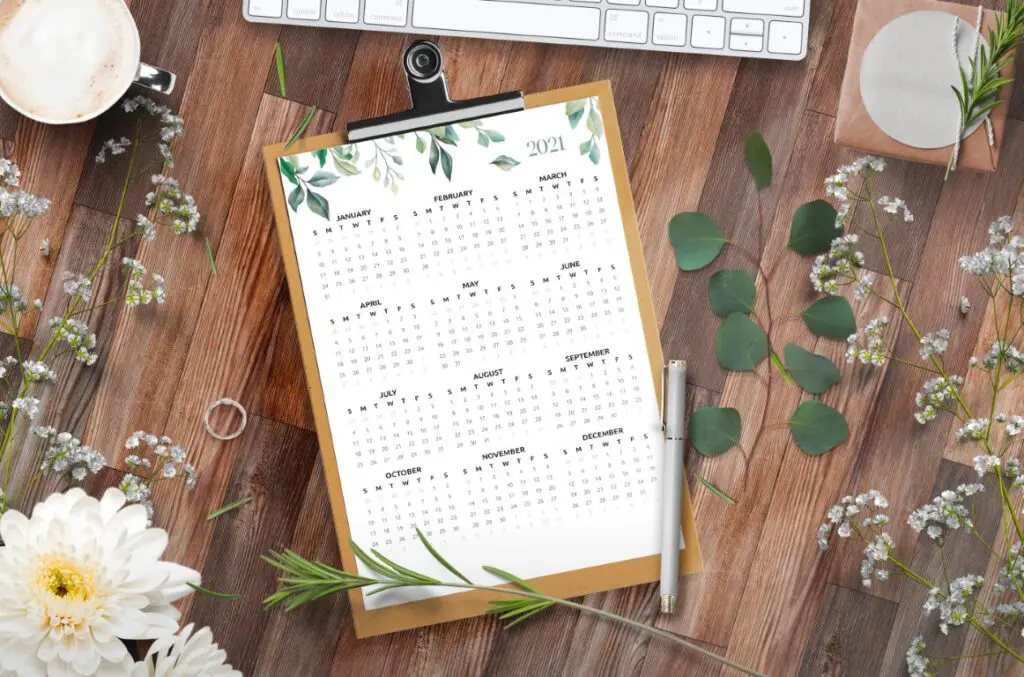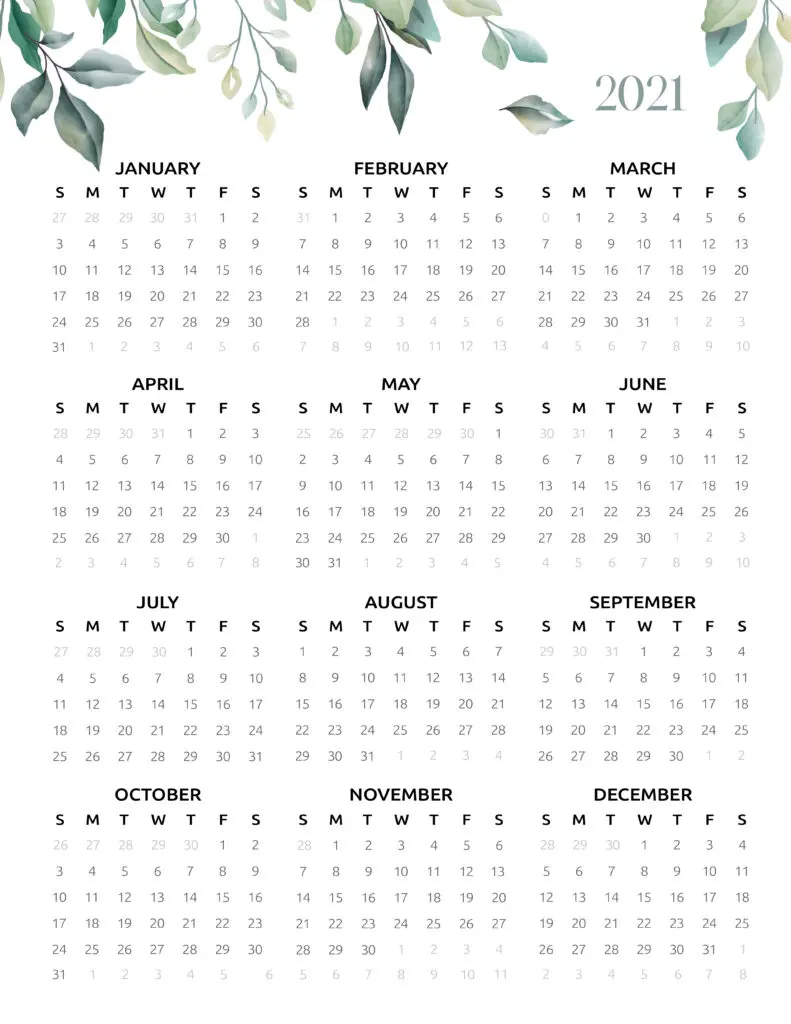 –
This attractive 2021 one page calendar features the 12 months divided into 12 lovely square sections. This calendar works both as a one page calendar and can also be cut out to make a mini monthly calendar.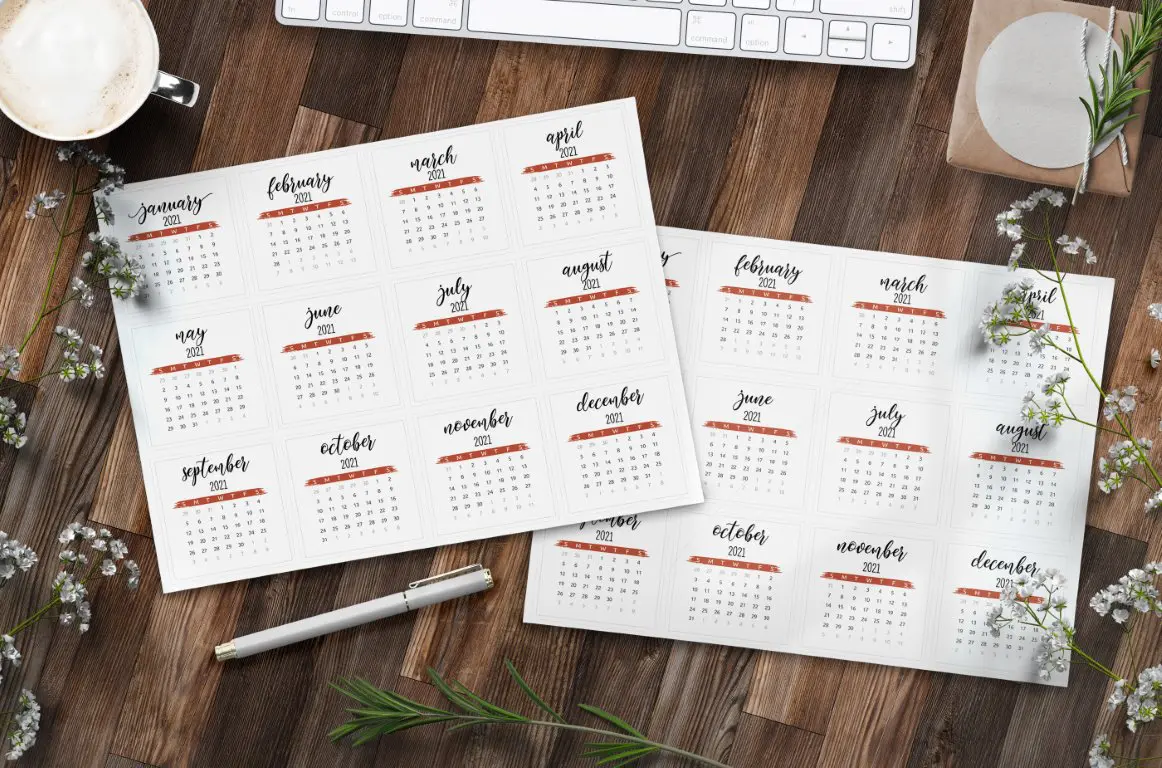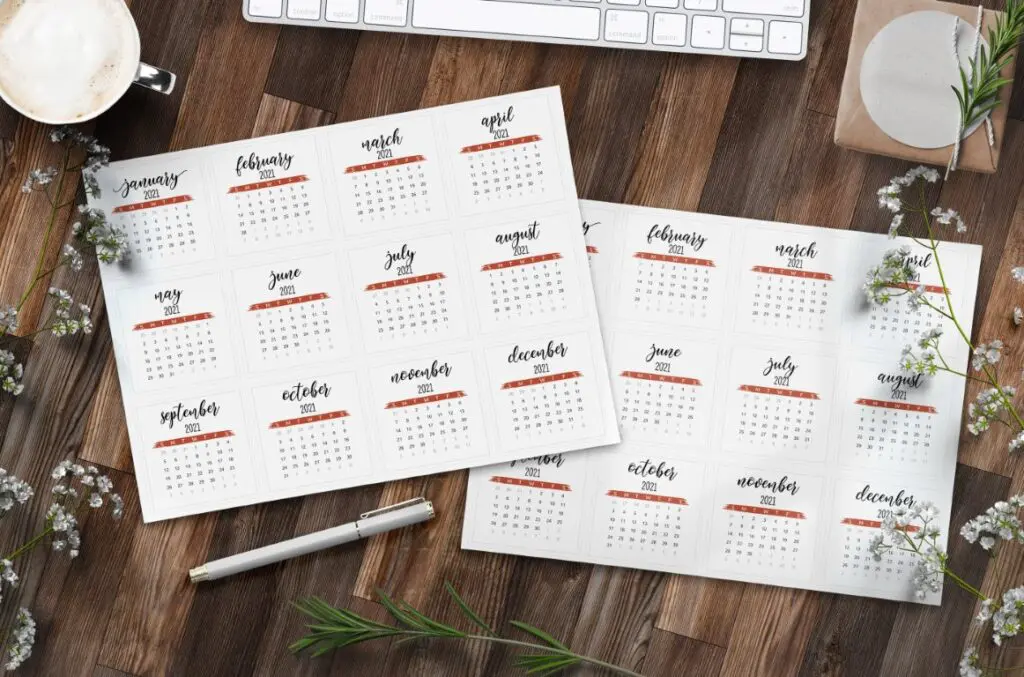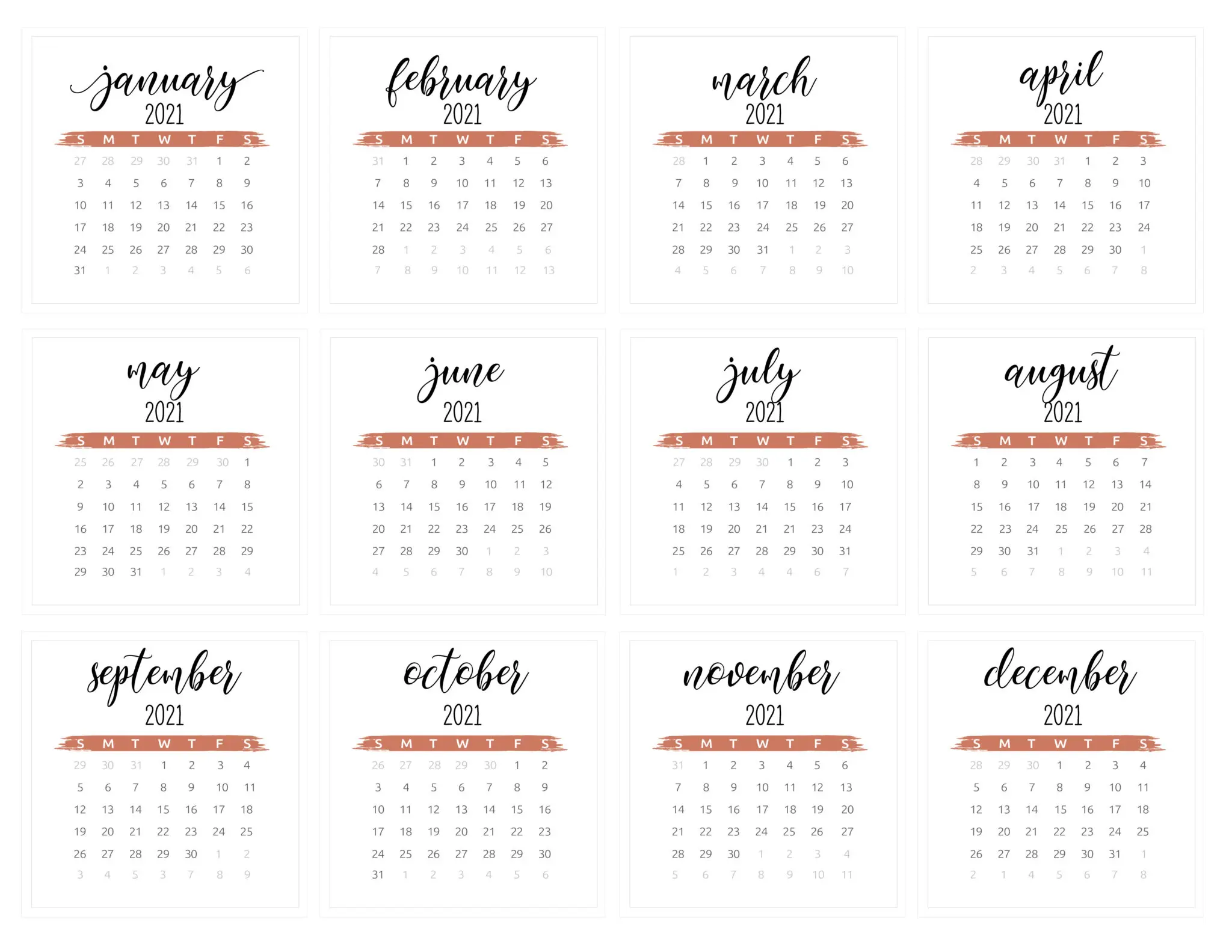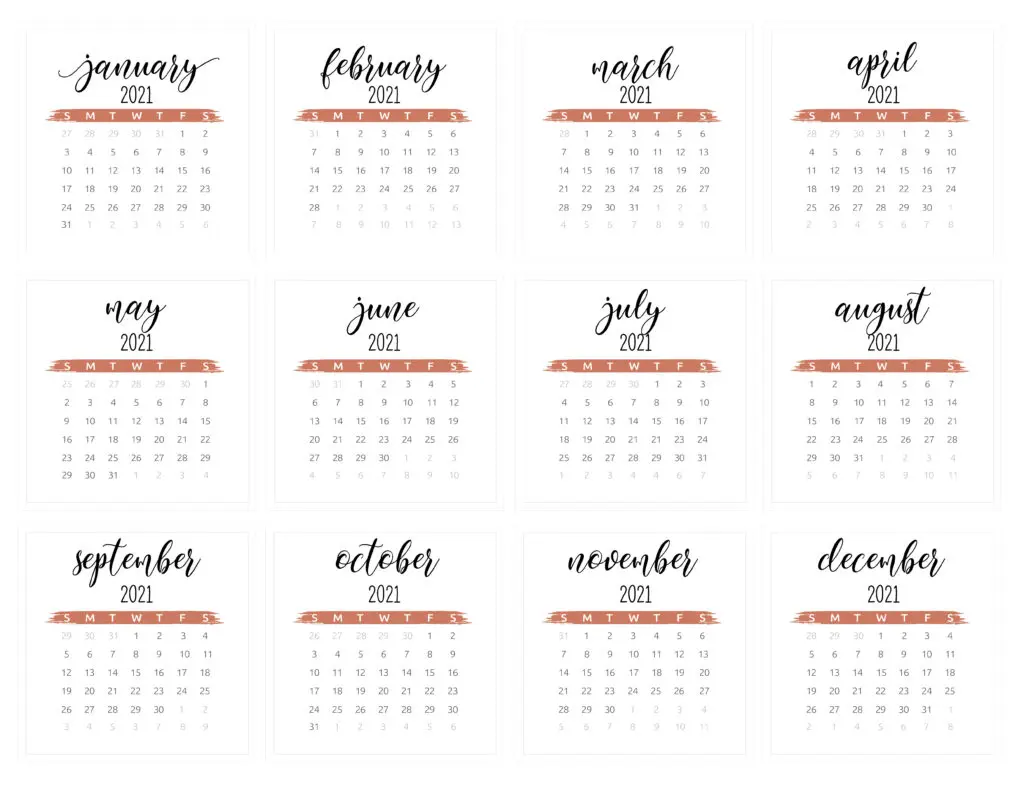 –
This is our most popular calendar on the site. Our readers absolutely adore it. This calendar is colorful, pretty and looks amazing both large and small – perfect for a planner or bullet journal.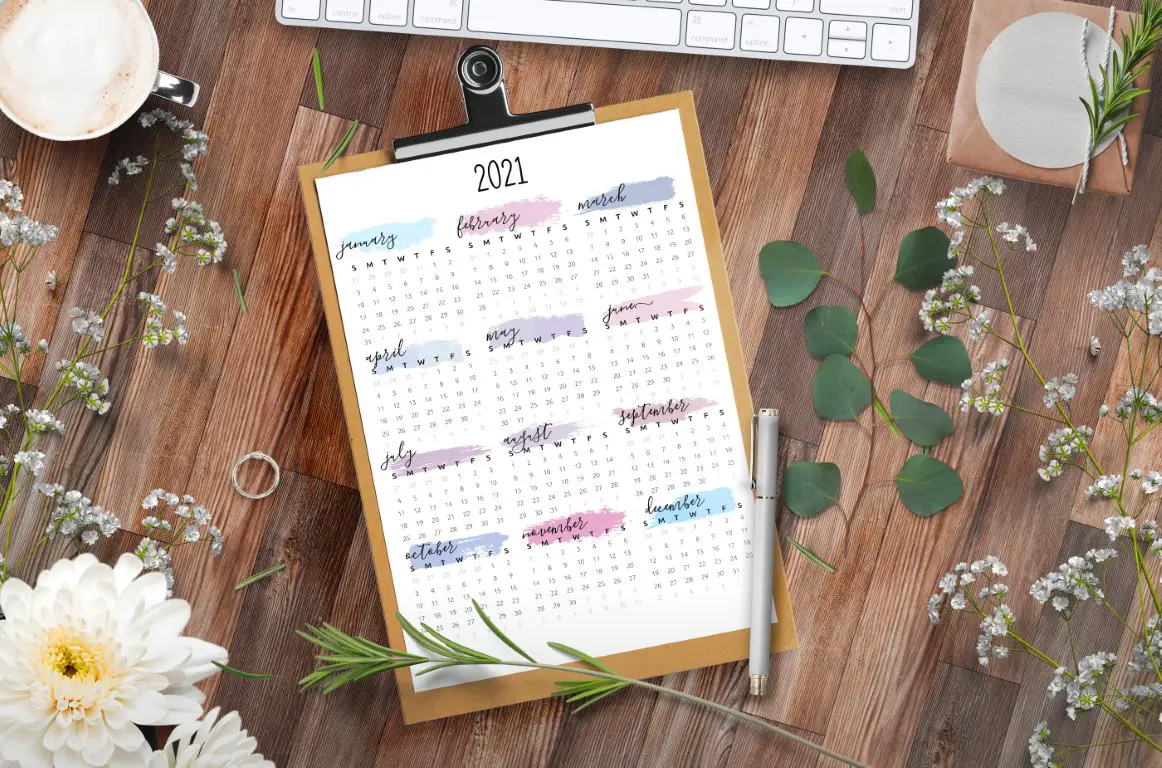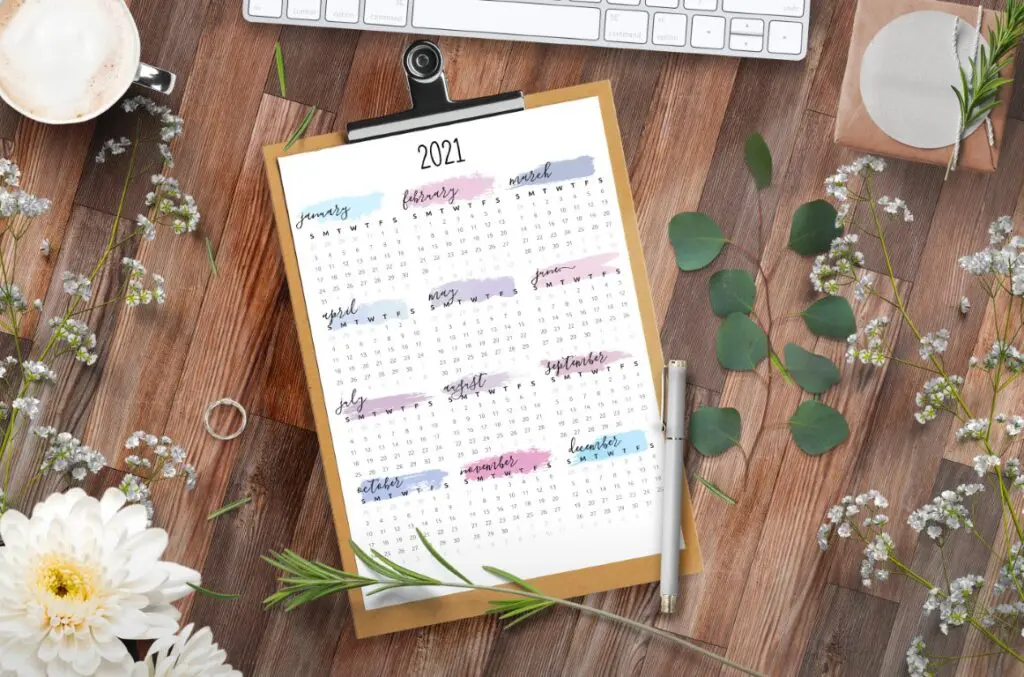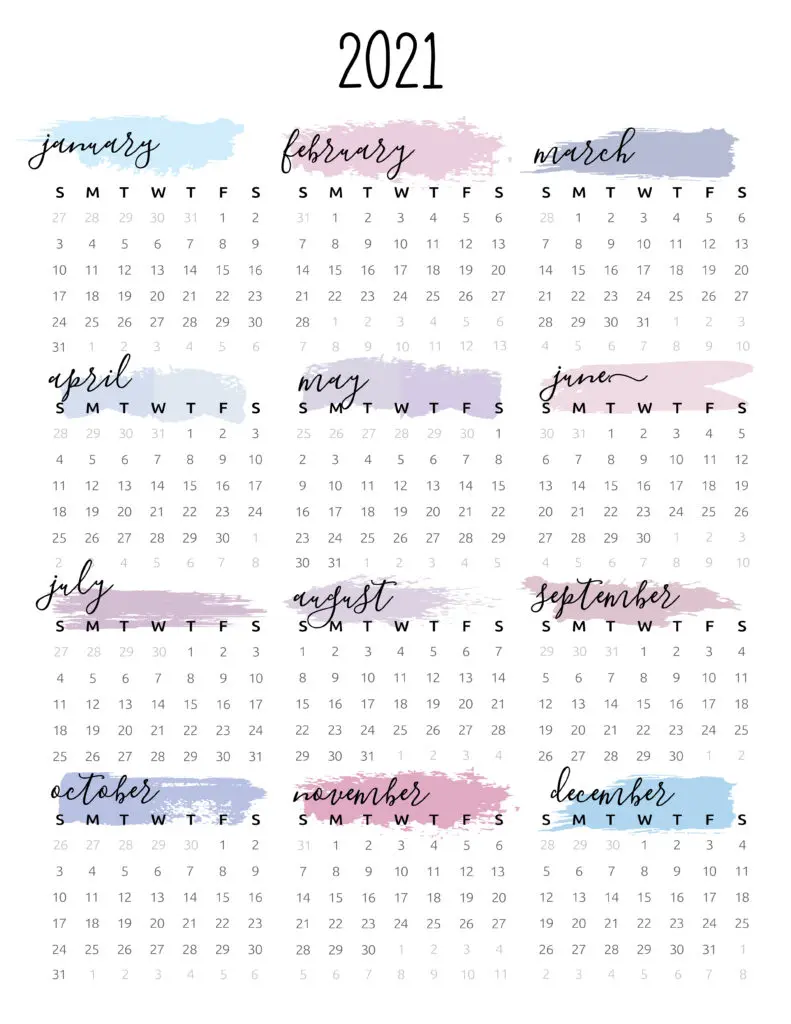 –
This stunning contemporary one page 2021 calendar looks incredible and is the perfect option for those who like modern and clean elements.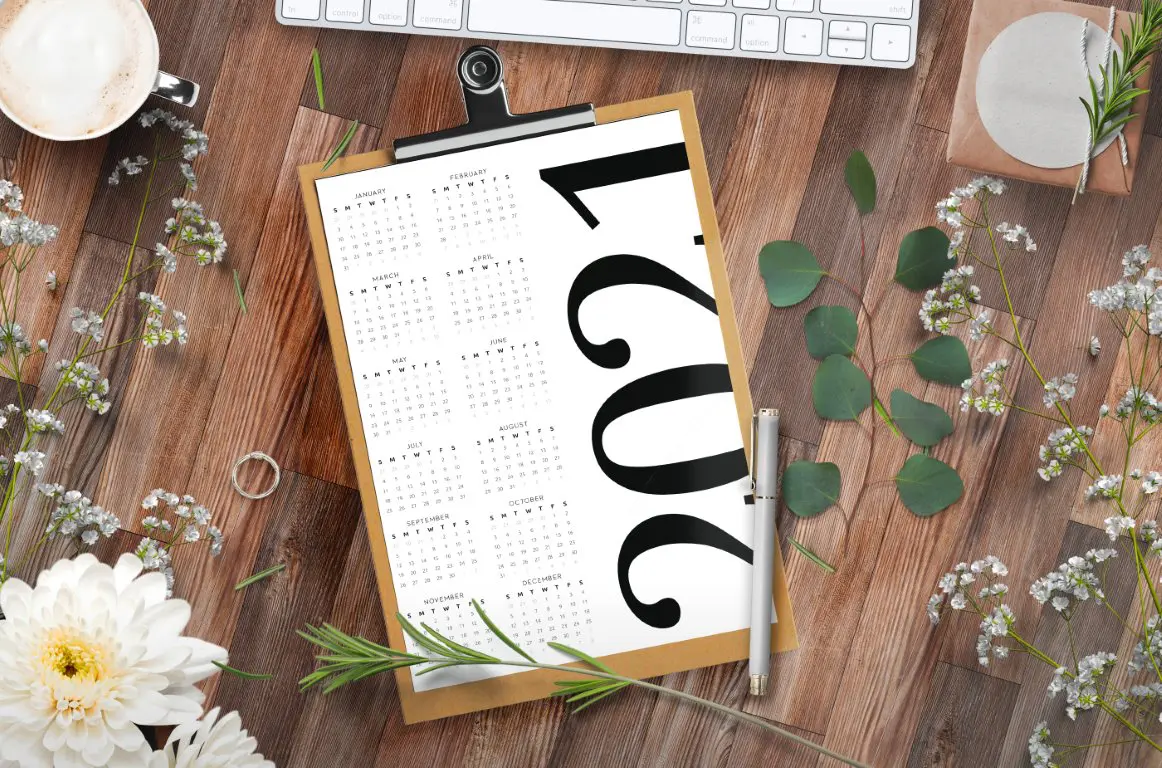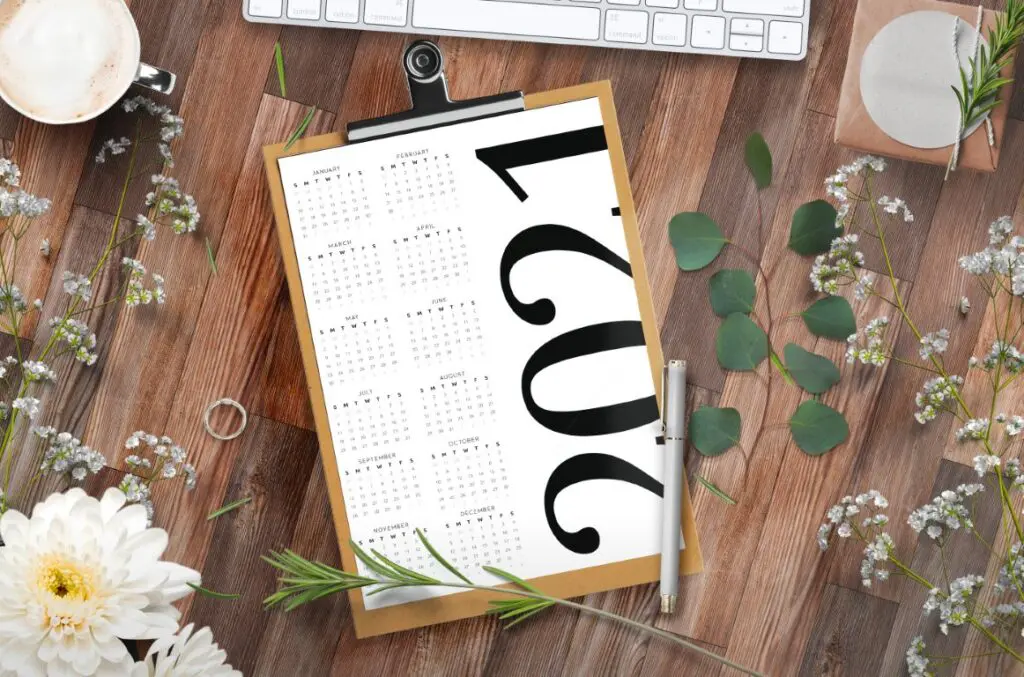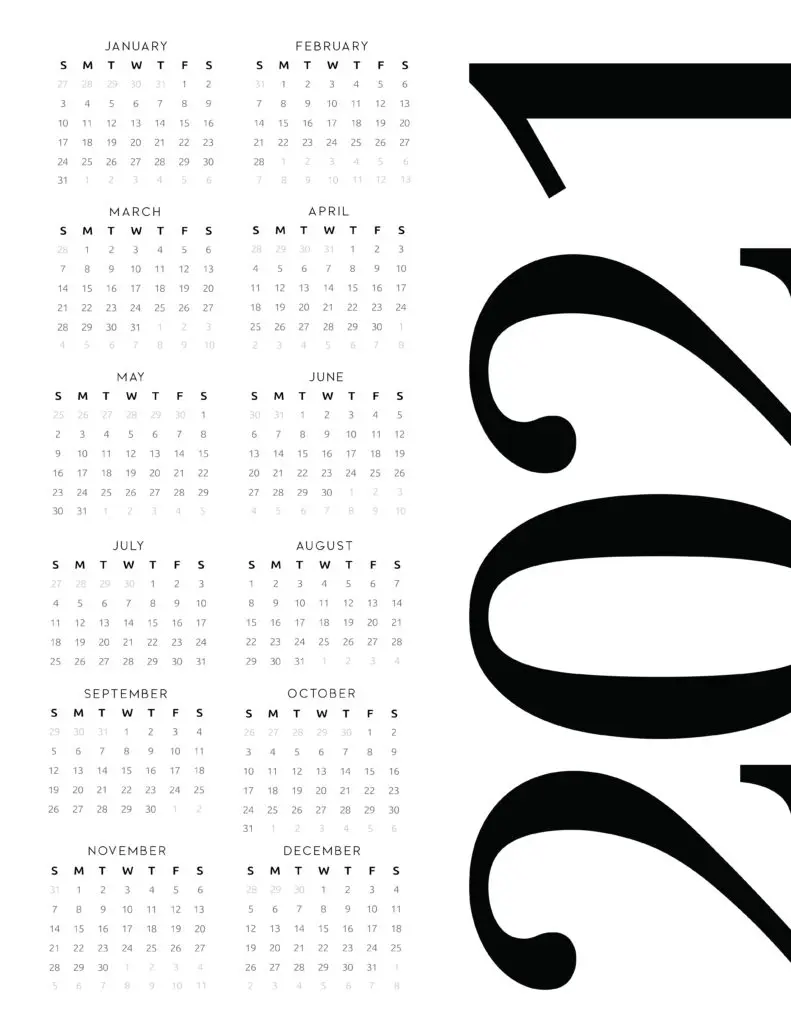 –
Looking for a striking one page calendar? This bold and contemporary black edition of our popular 2021 calendar is a perfect option. This isn't just a calendar, it's also a piece of art.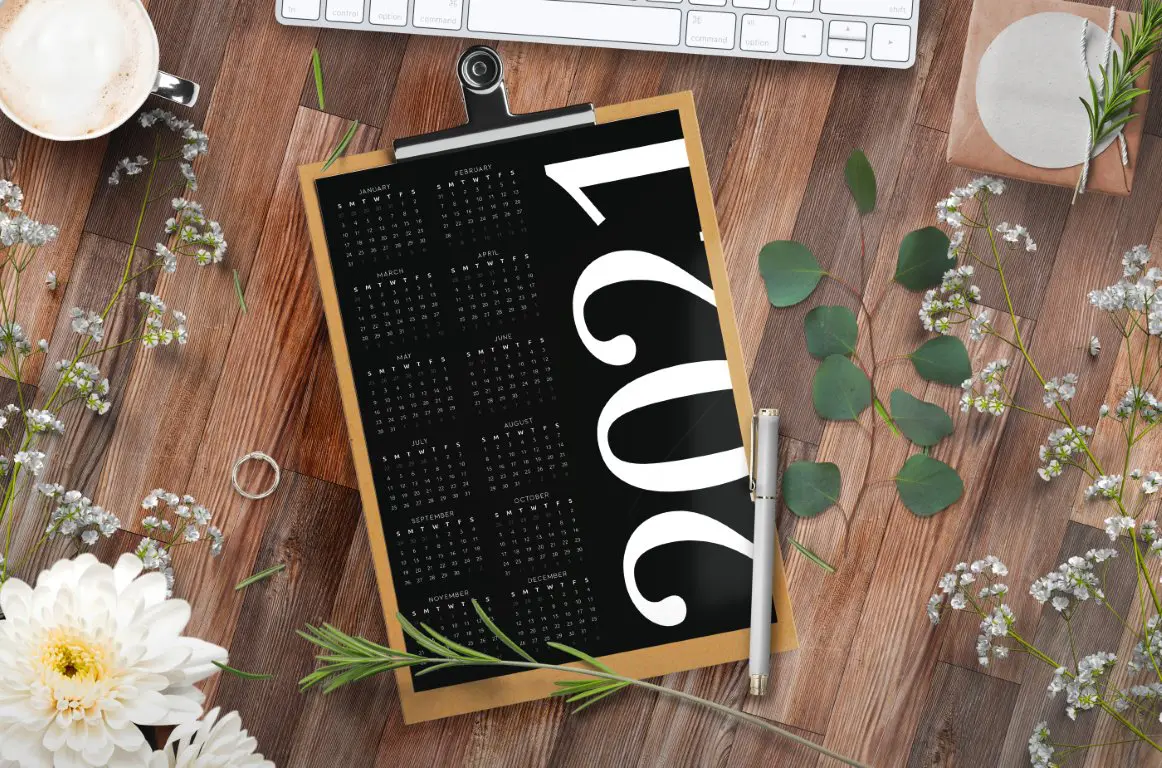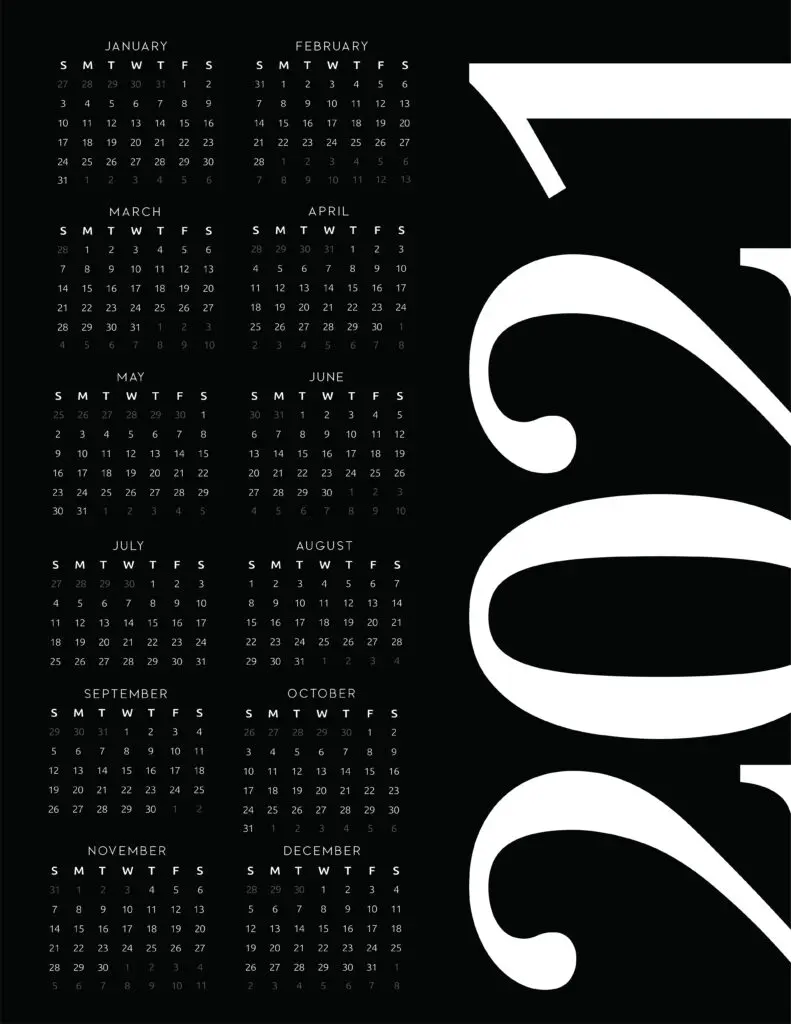 –
This beautiful one page 2021 calendar printable features lovely typography with a beautiful simplistic design. This is a perfect minimalist and stylish yearly calendar. It also looks amazing in a planner.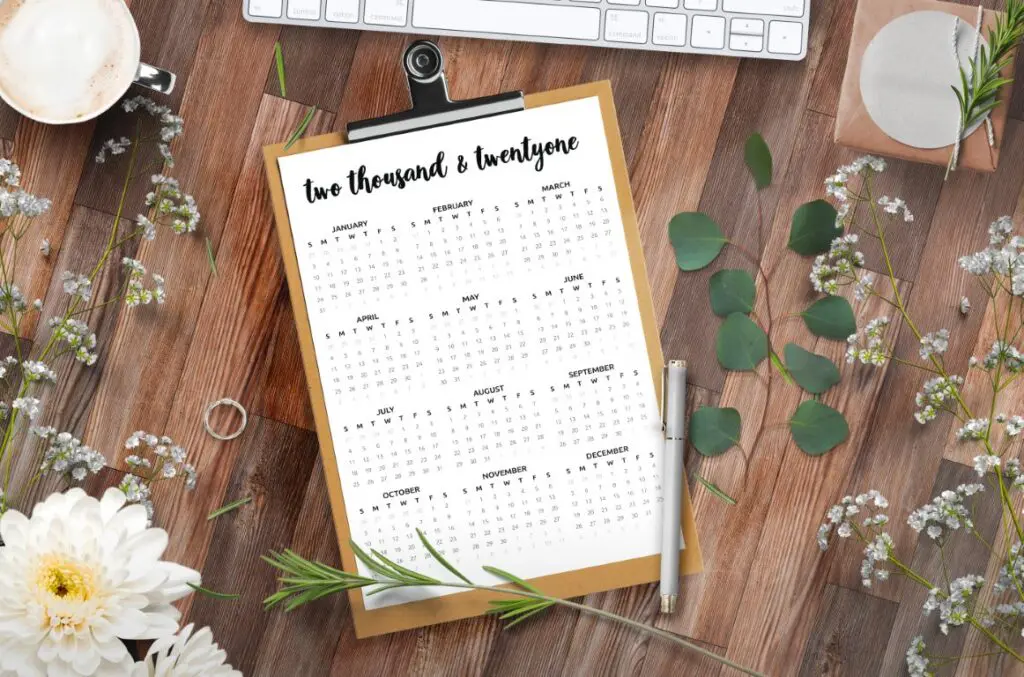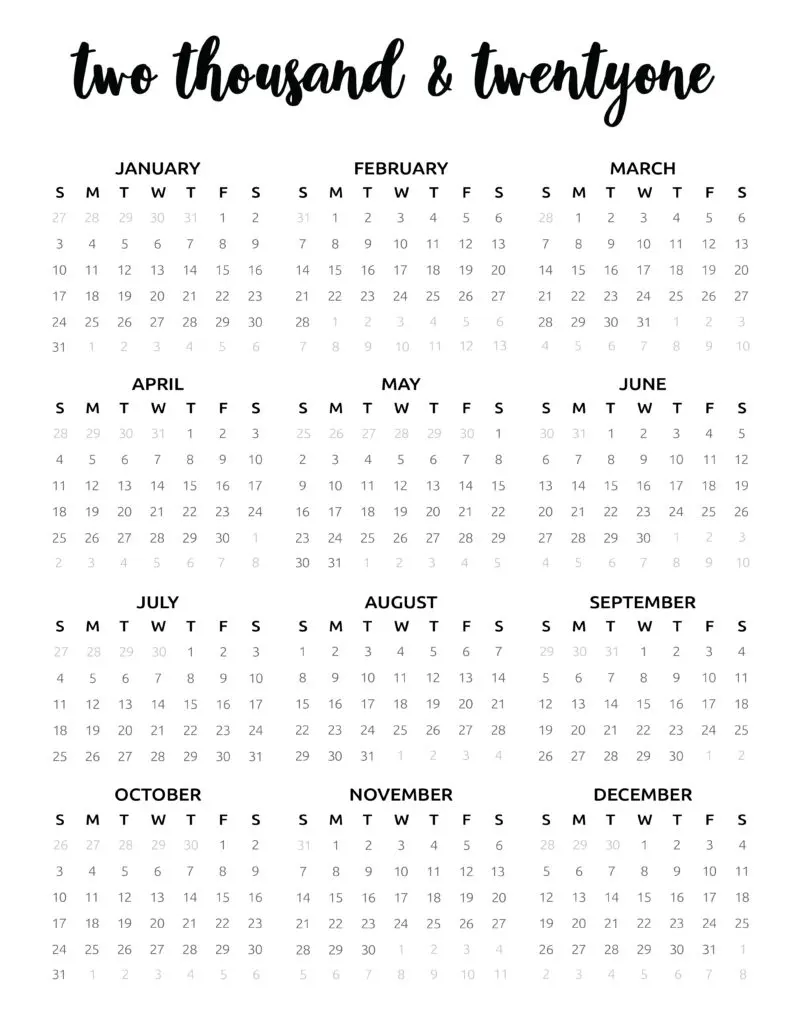 –
This stunning free full year calendar features soft brush strokes and a beautiful feminine layout making this a perfect calendar for pretty home or planner.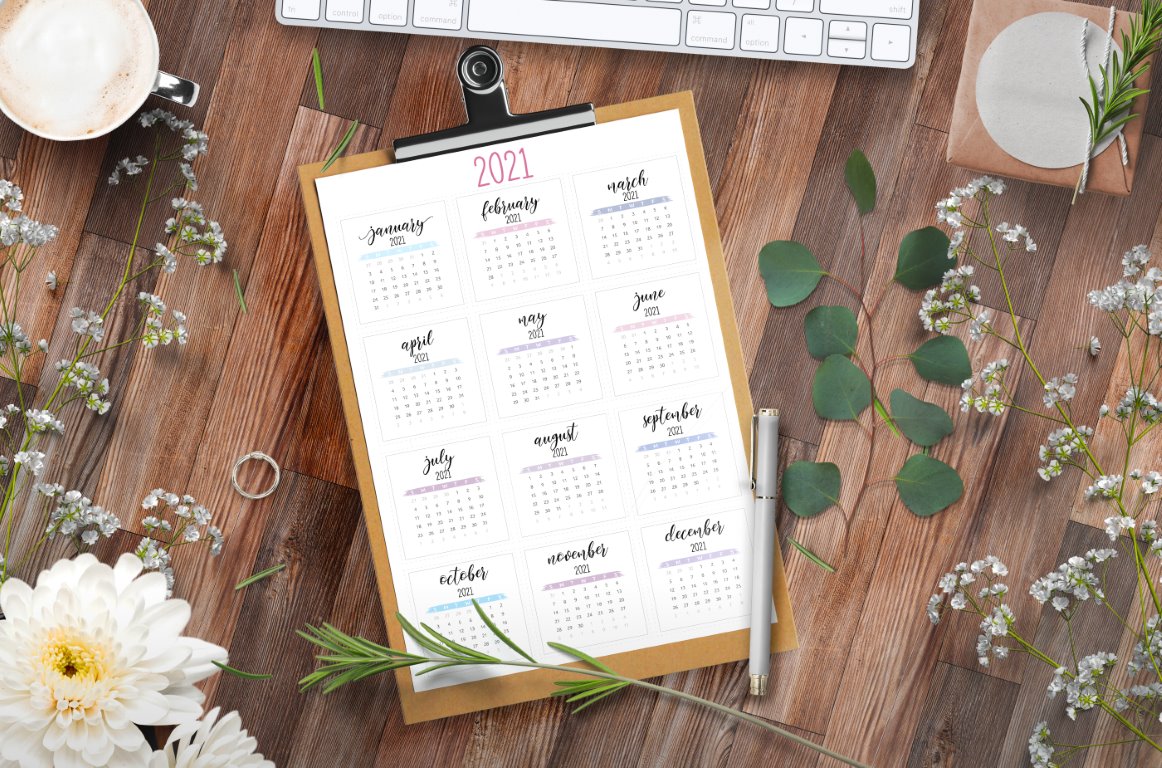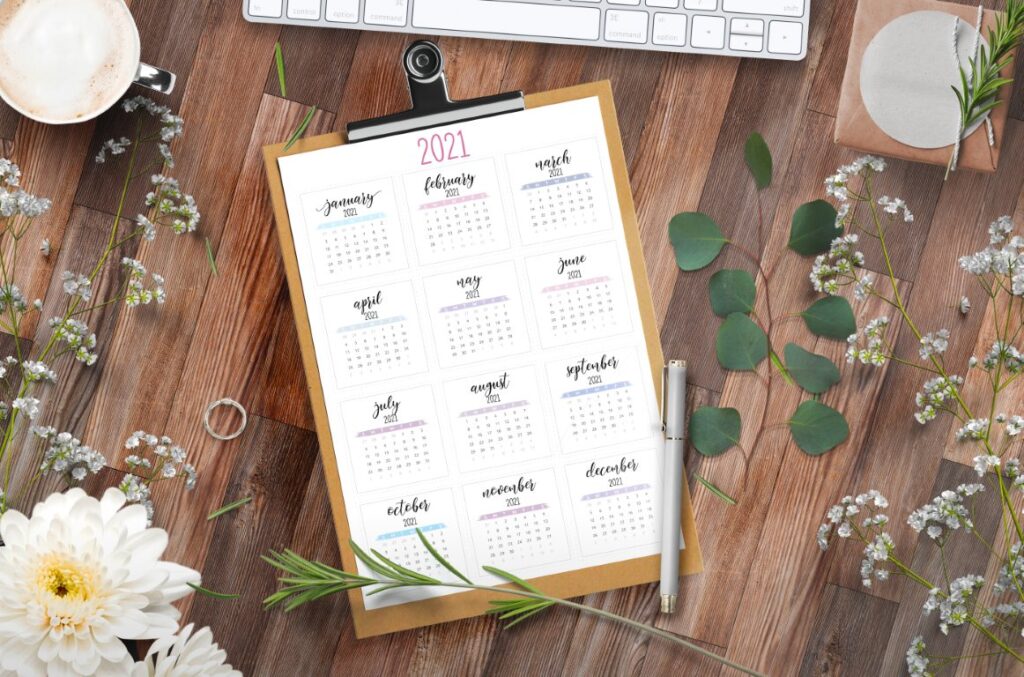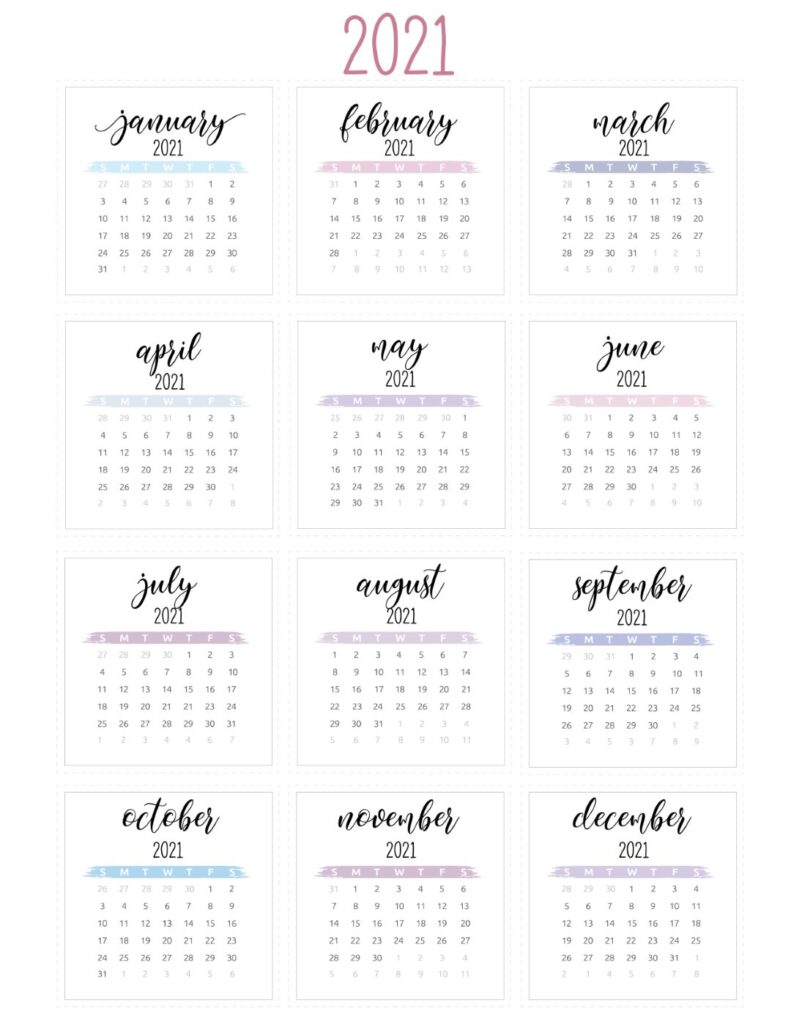 –
This gorgeous brushstroke calendar features colorful headers and cute type making this a beautifully feminine and fun calendar.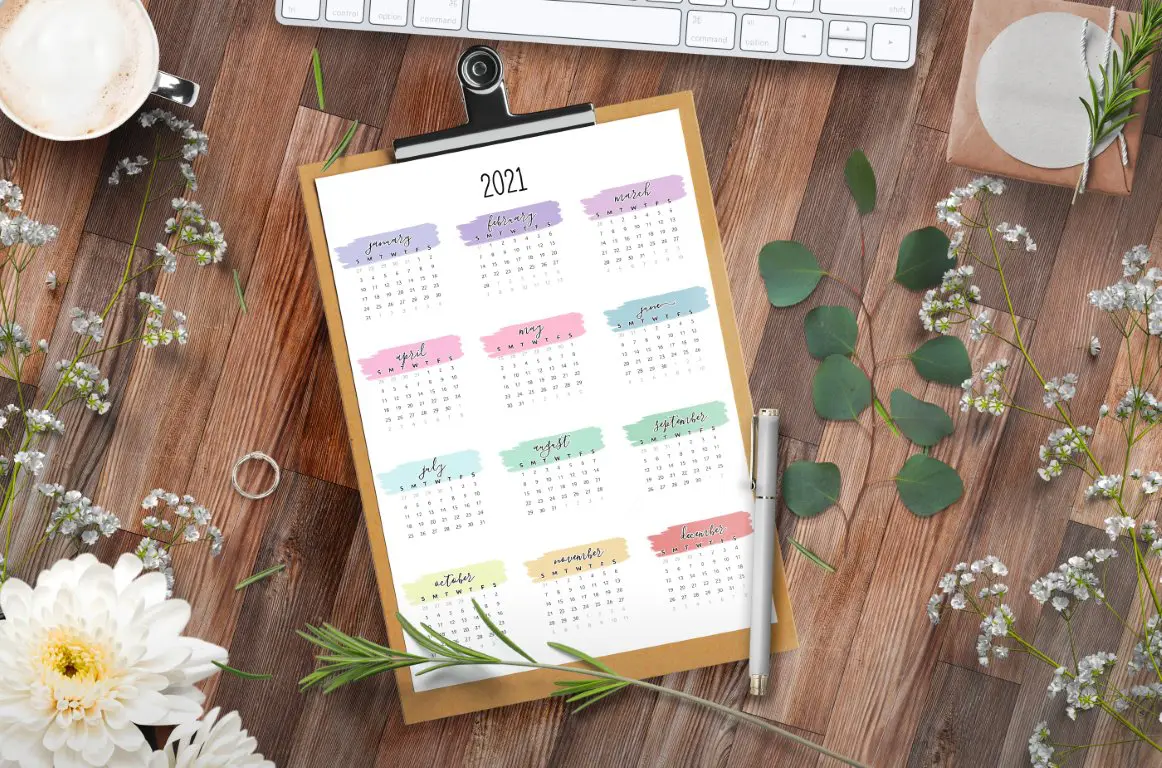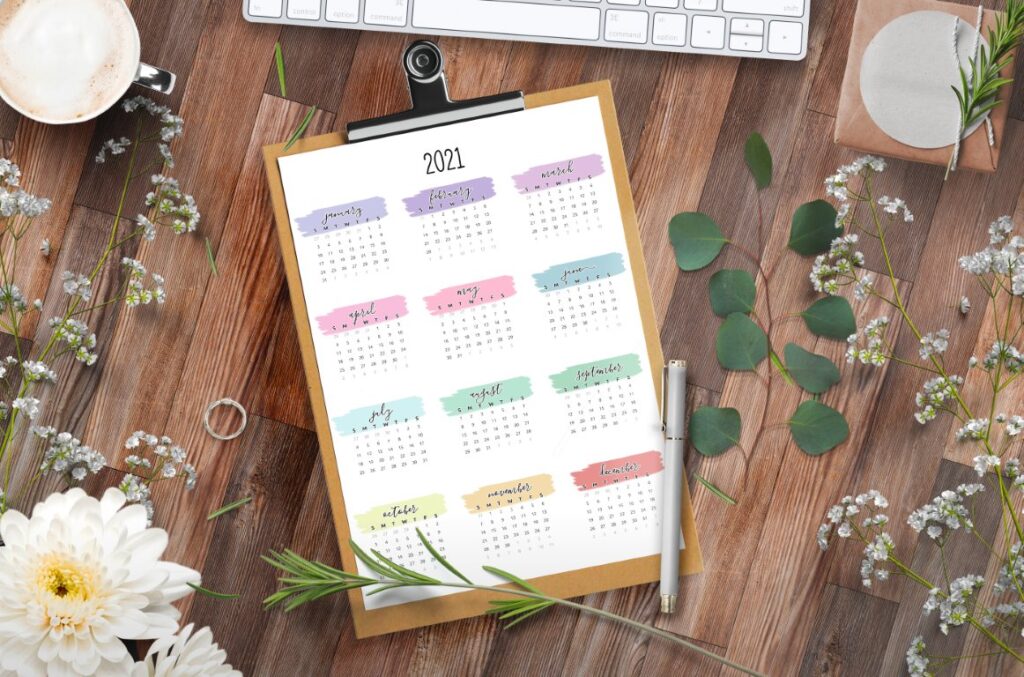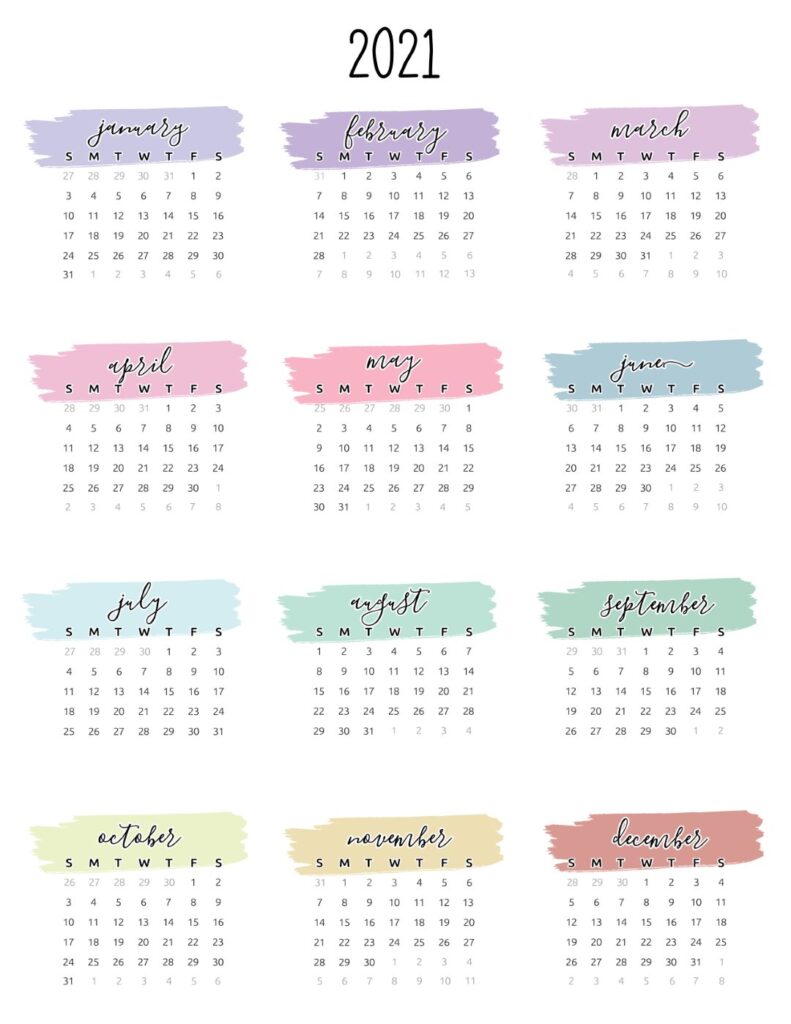 –
If you love rainbows then this beautiful one page rainbow calendar is such a great option for adding joy to your walls!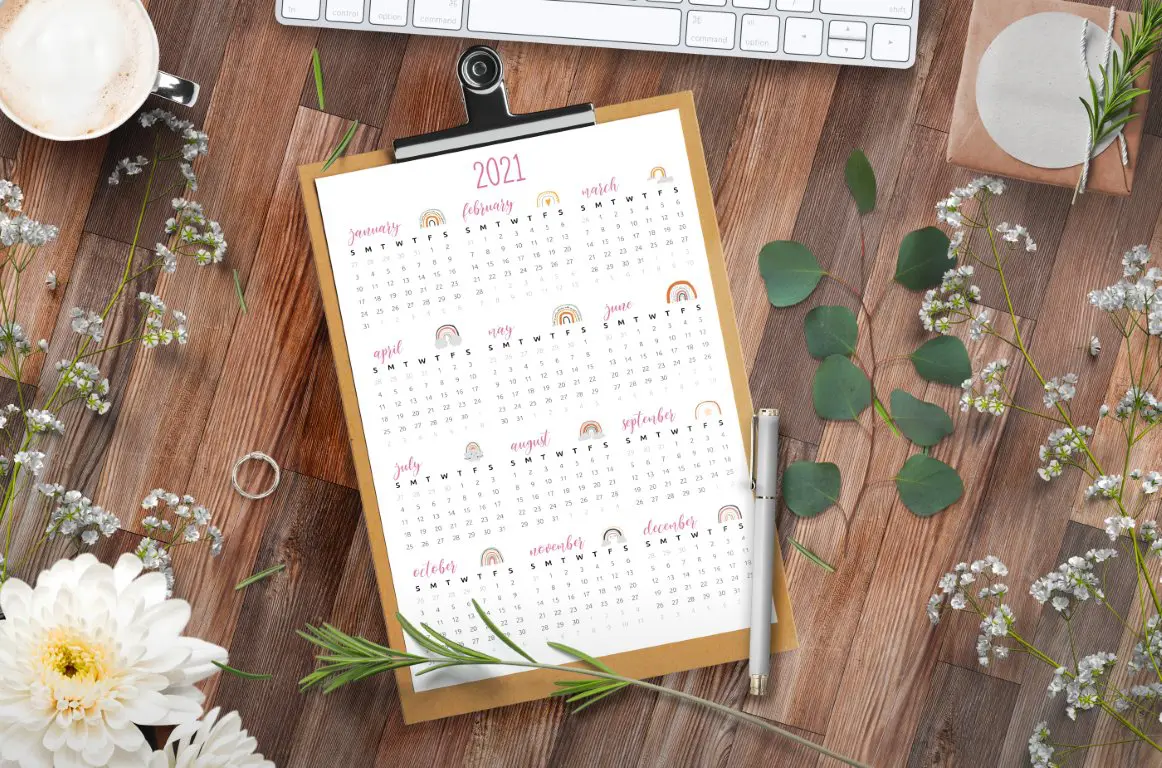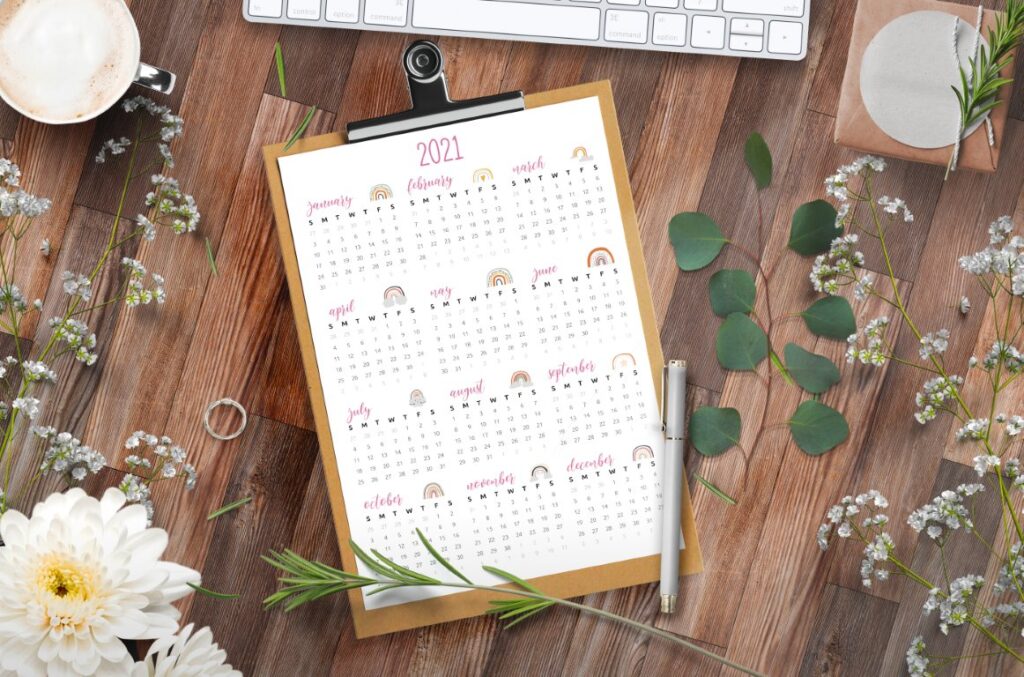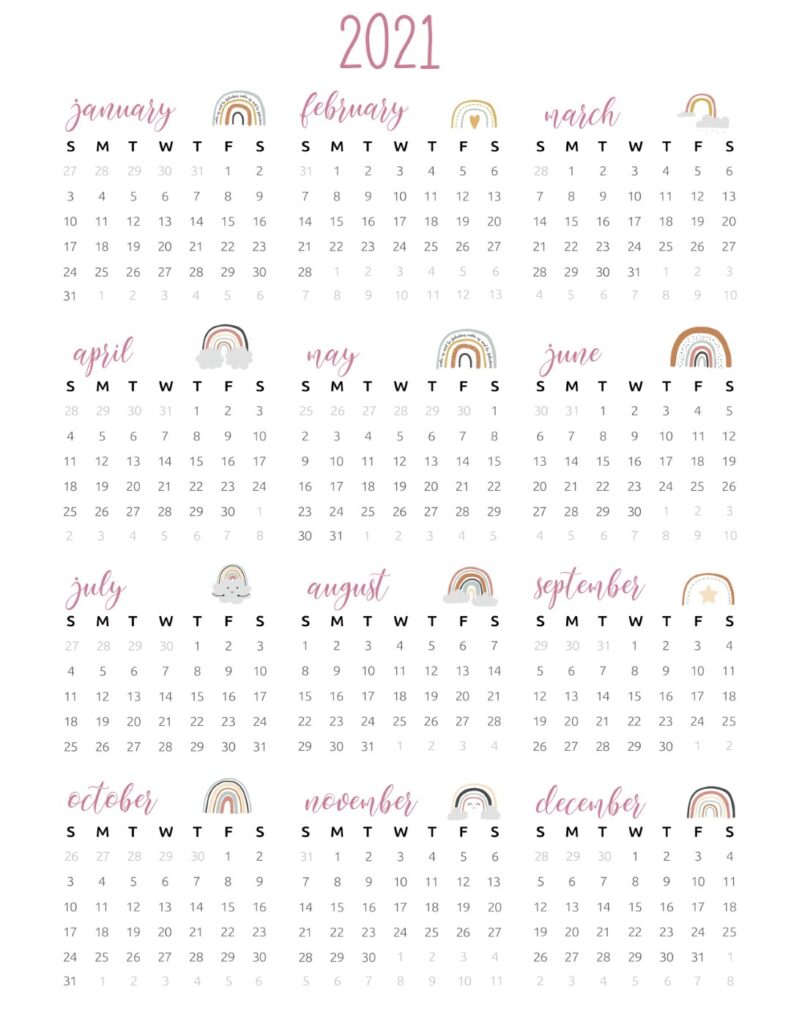 –
This subtle botanical calendar is such a delicate and simple calendar. It looks great on any wall and is also a great calendar for a planner.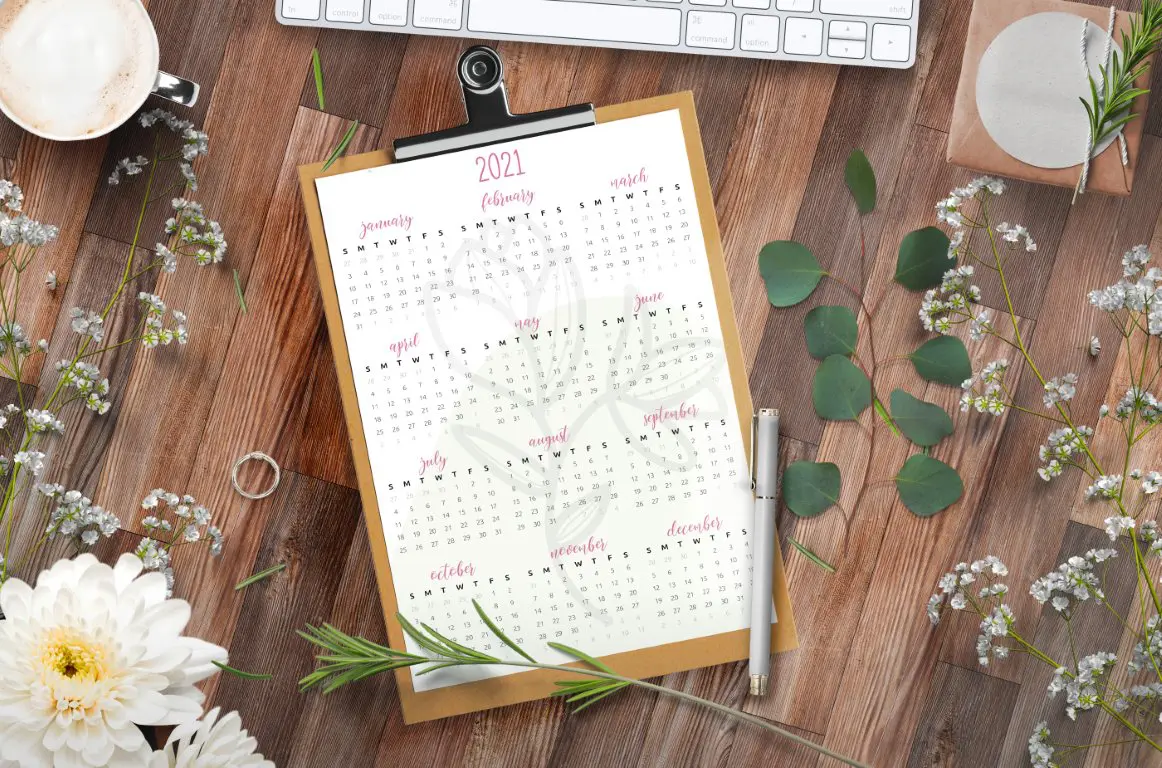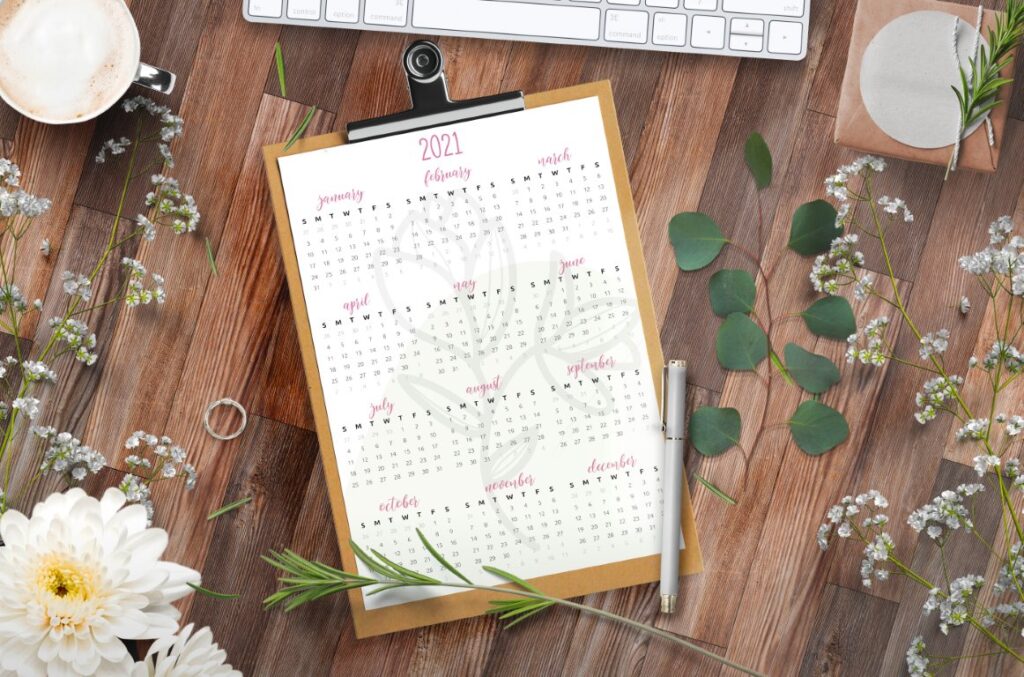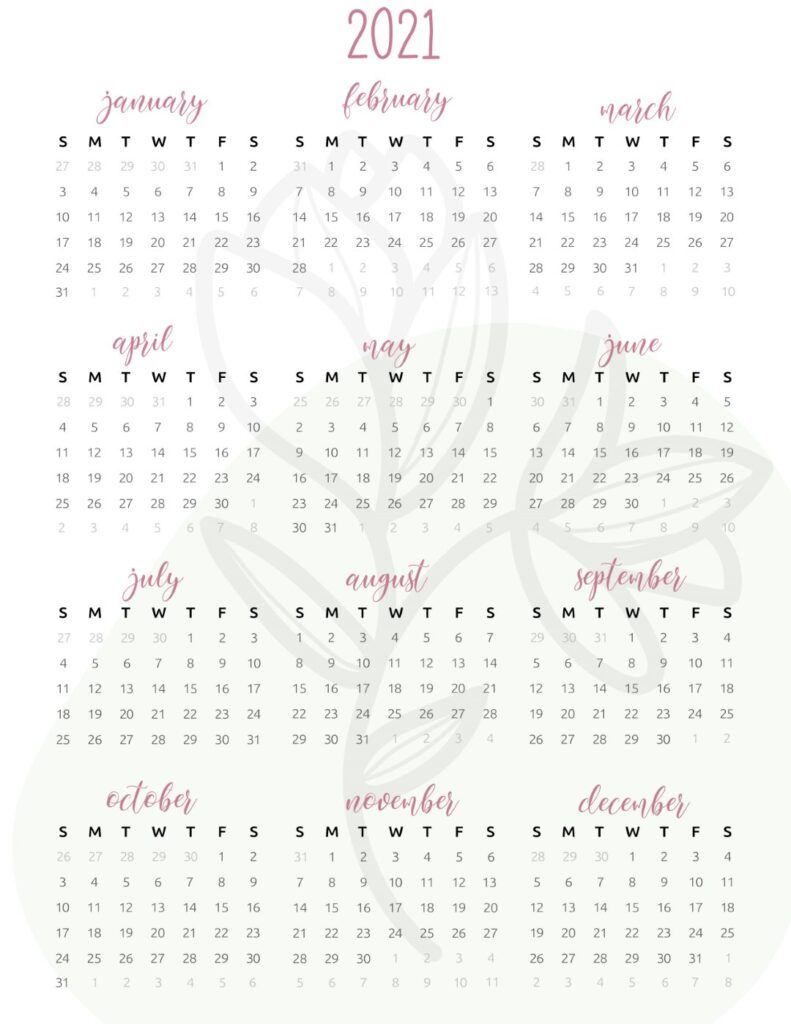 –
This stunning floral calendar features a striking bouquet and a beautiful layout. It's the perfect elegant calendar.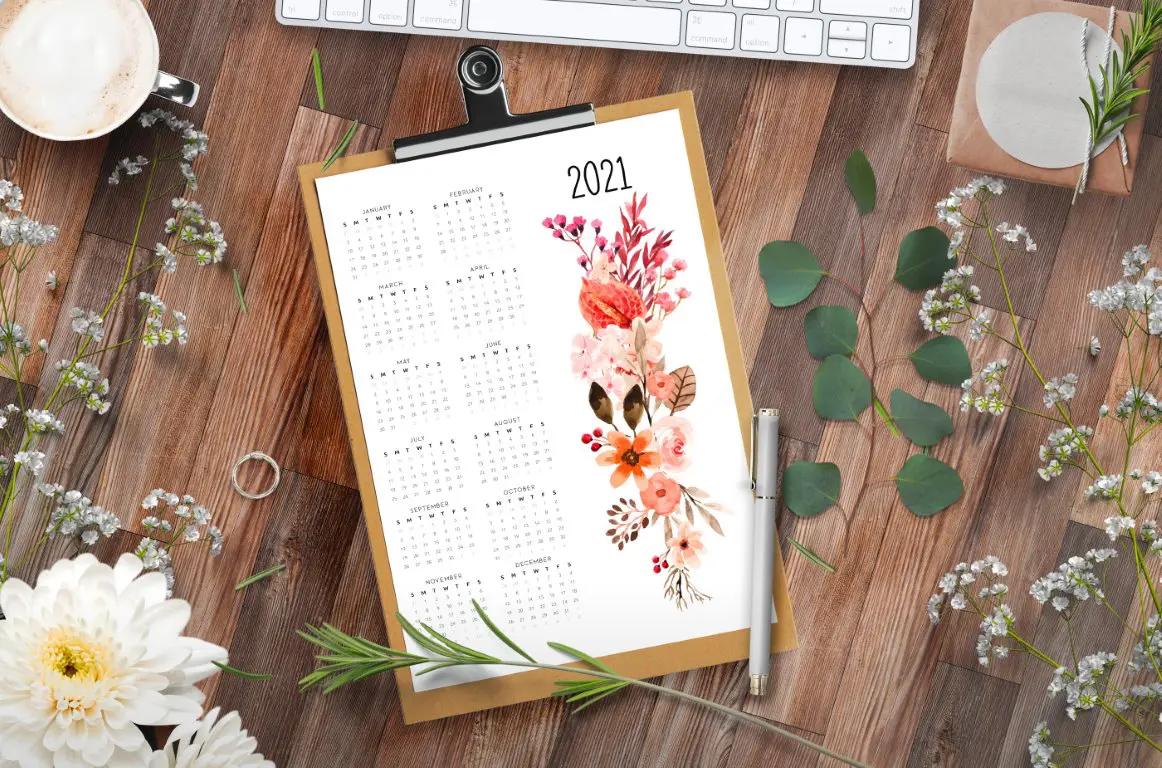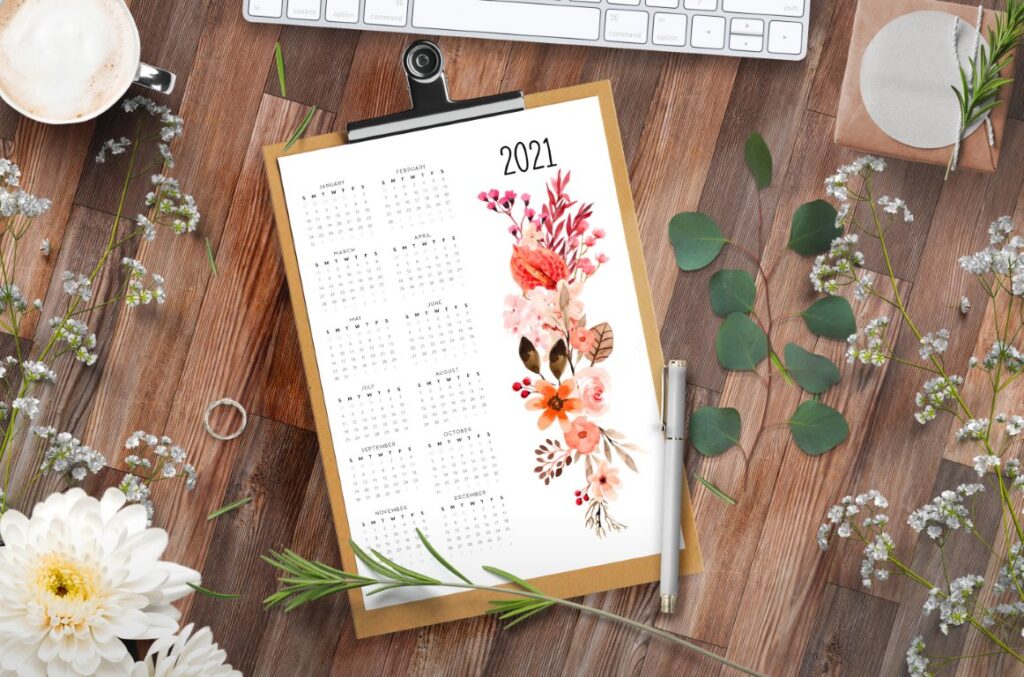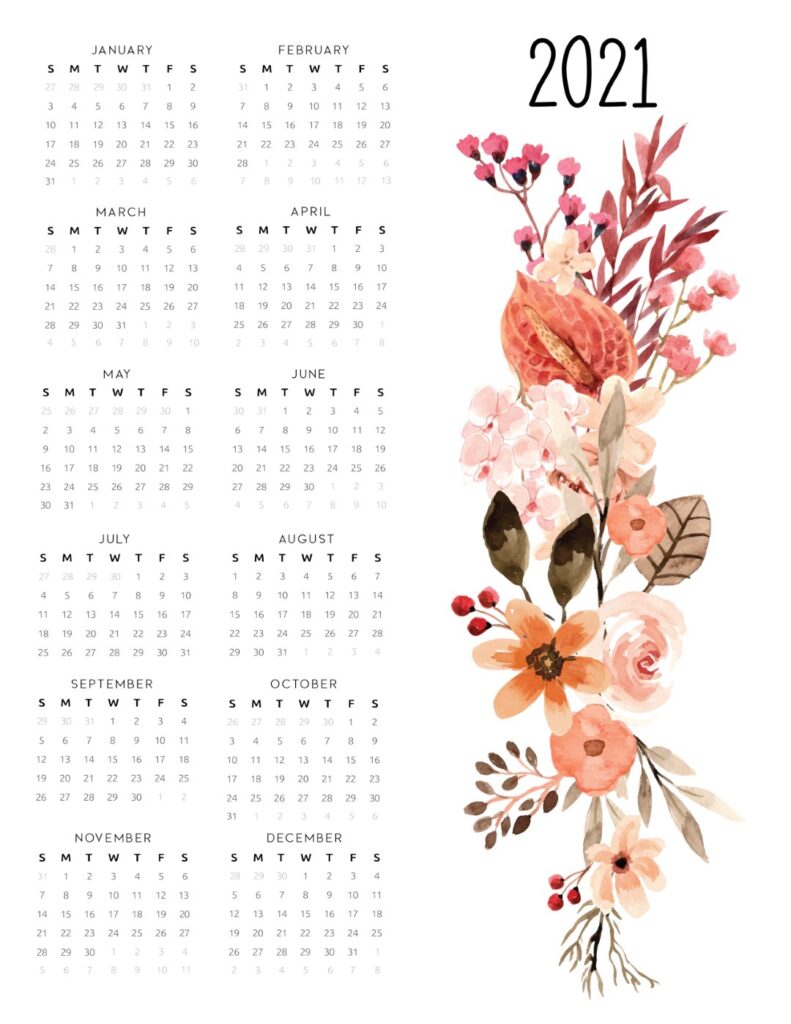 –
This gorgeous floral one page calendar features the cutest little illustrations and delicate colors. It's such a popular and lovely calendar.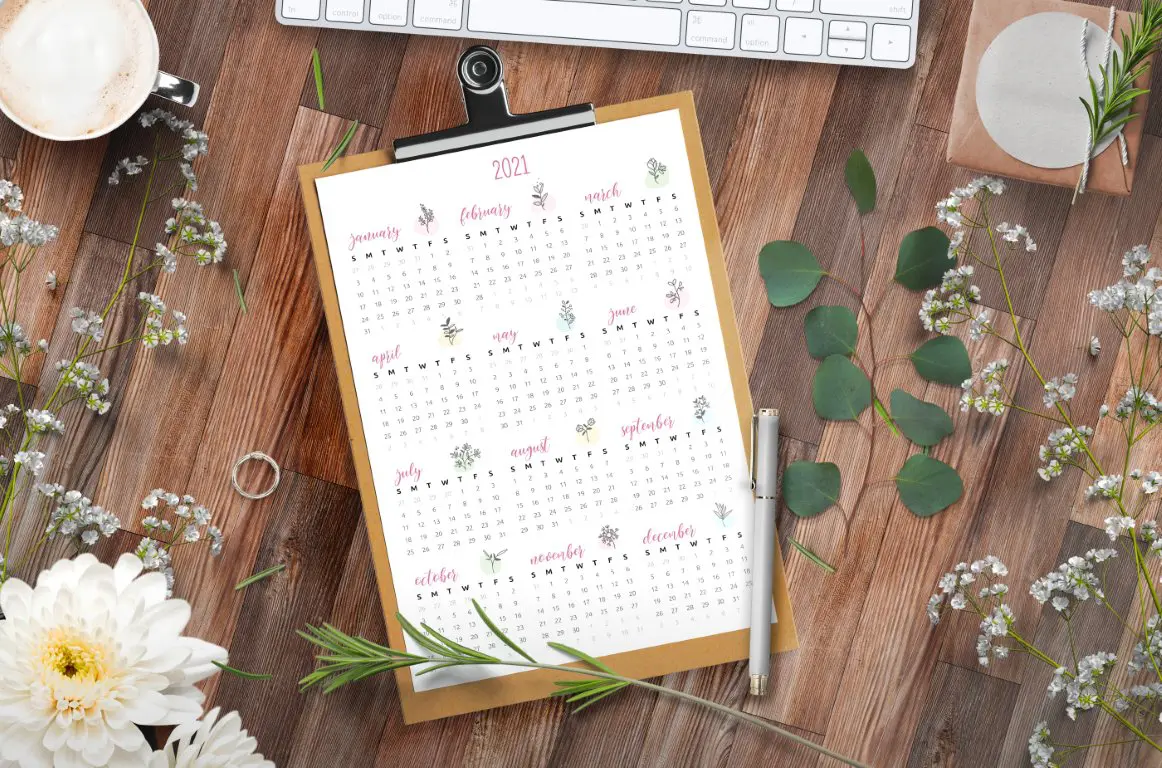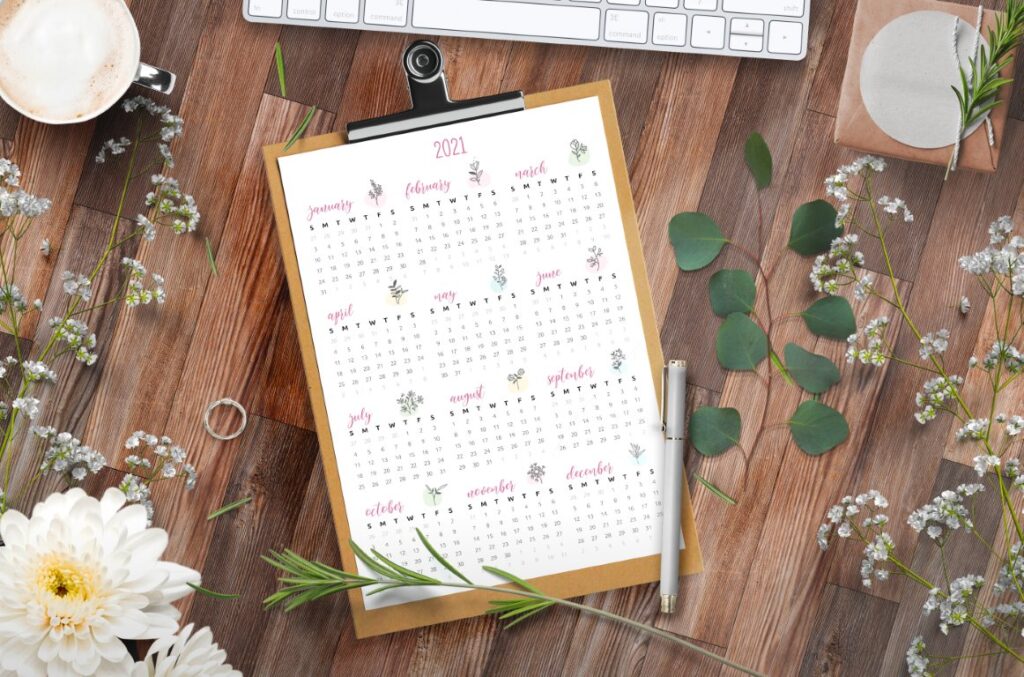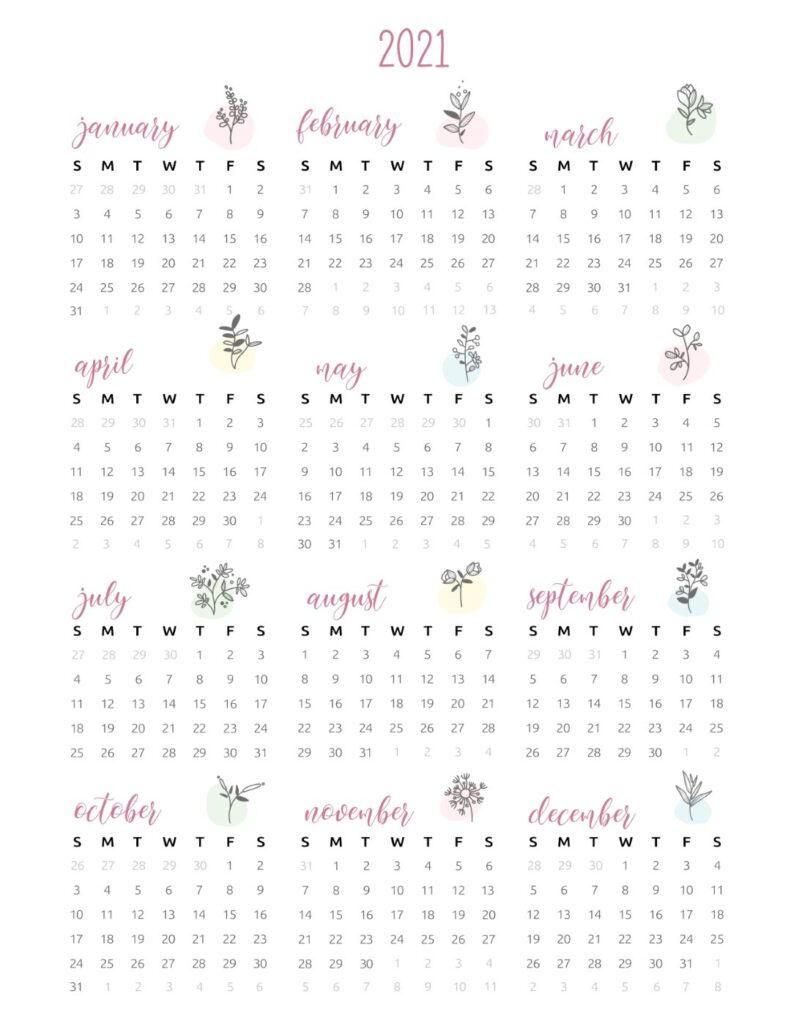 –
This stunning minimalist and stylish calendar is such a popular option. Use this calendar in your favorite space and even in your planner.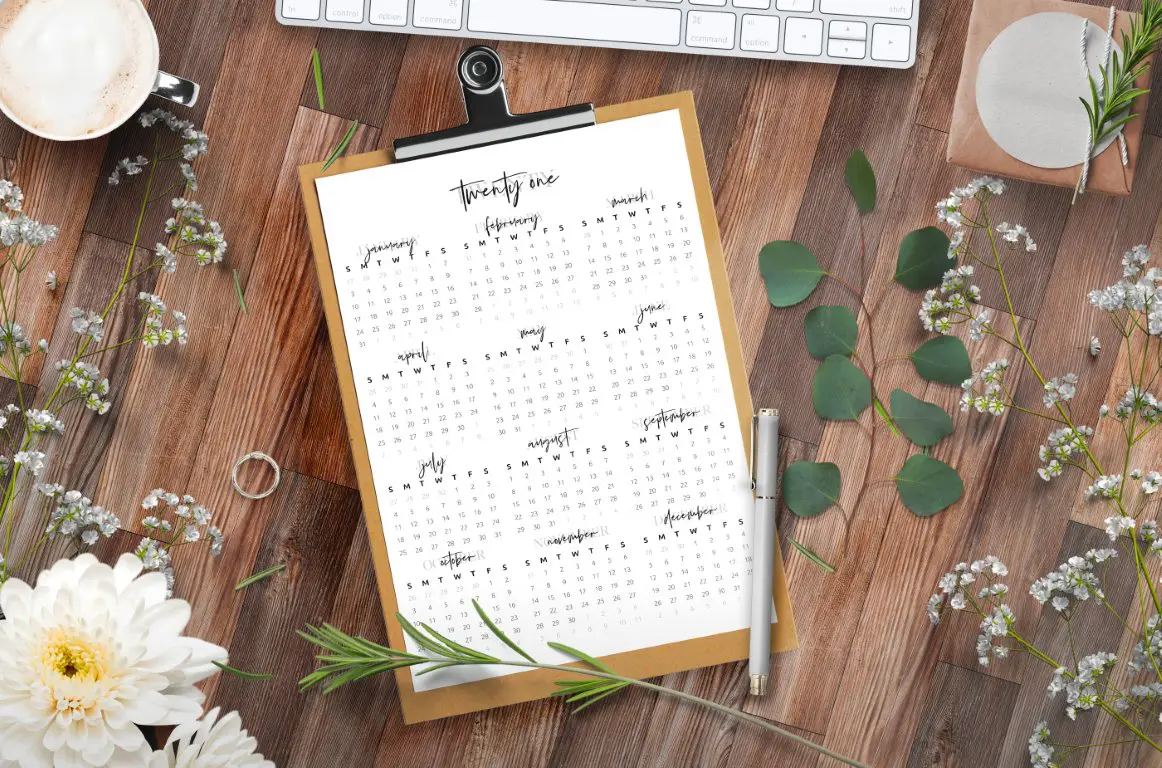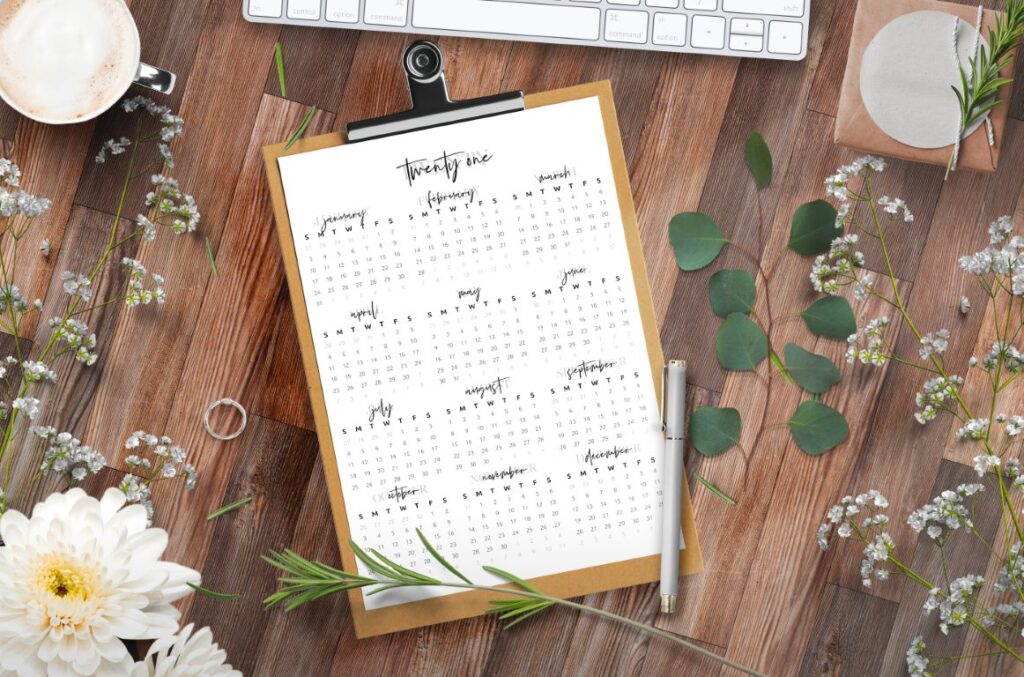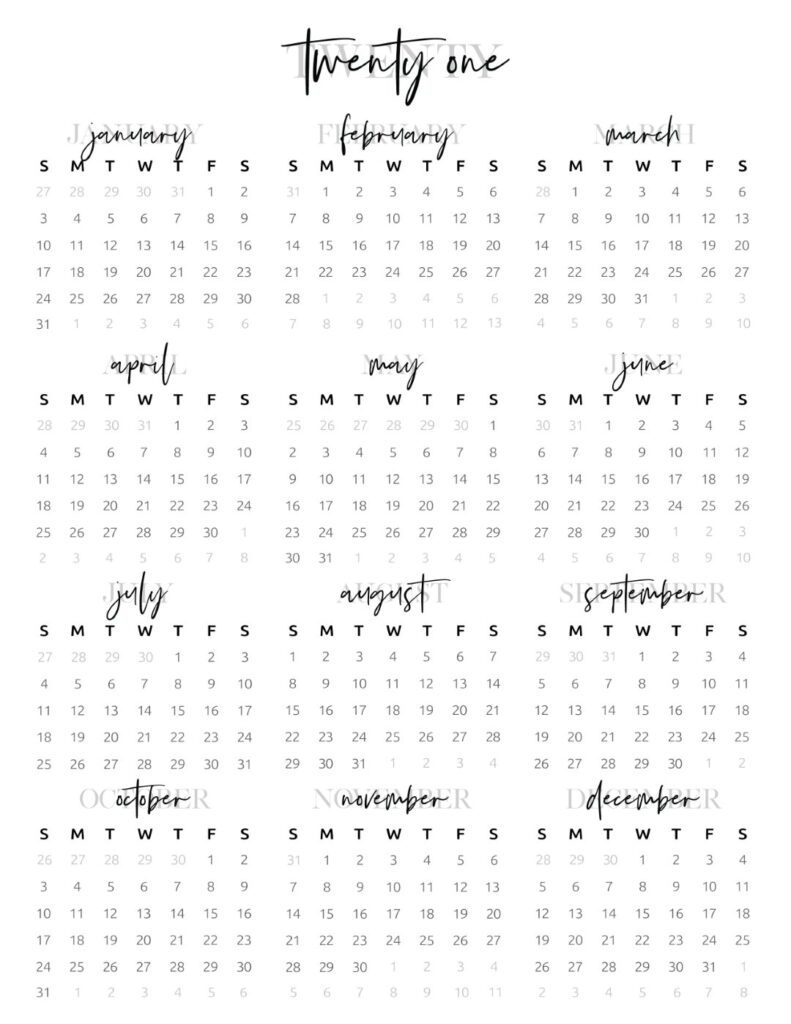 –
This lovely simple calendar features beautiful cursive writing and pretty ink splatter elements. Its a cool and chic calendar.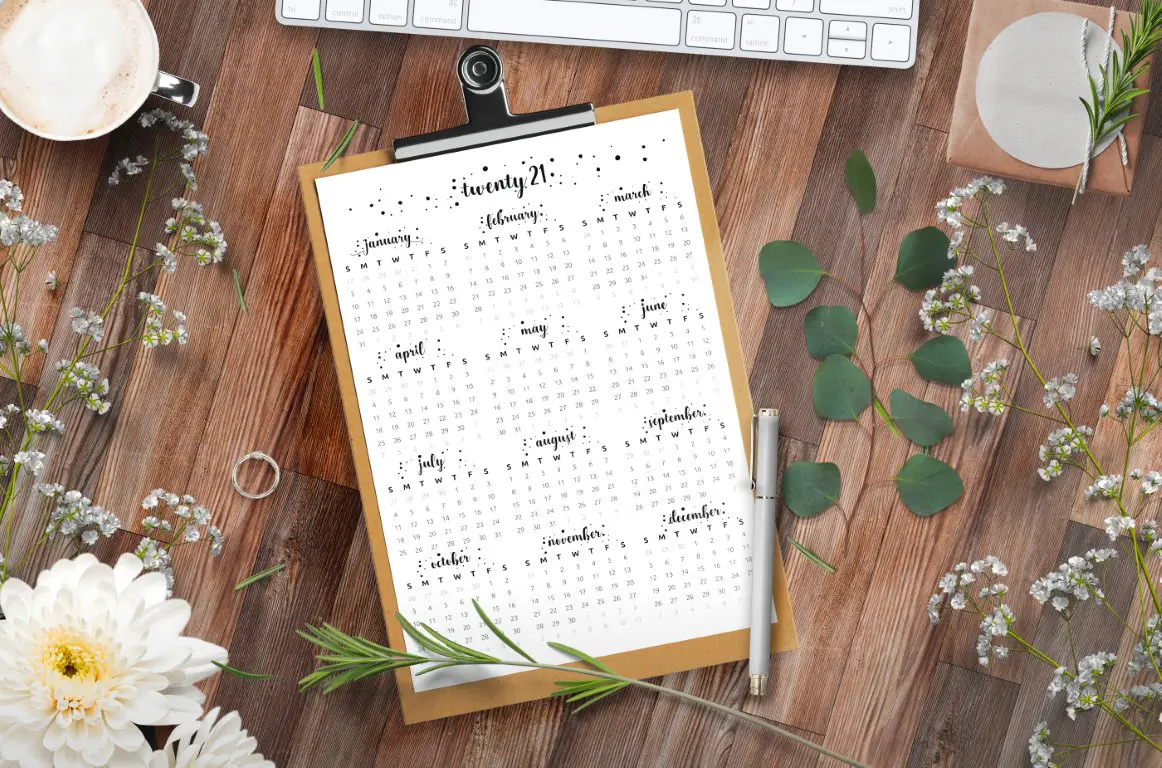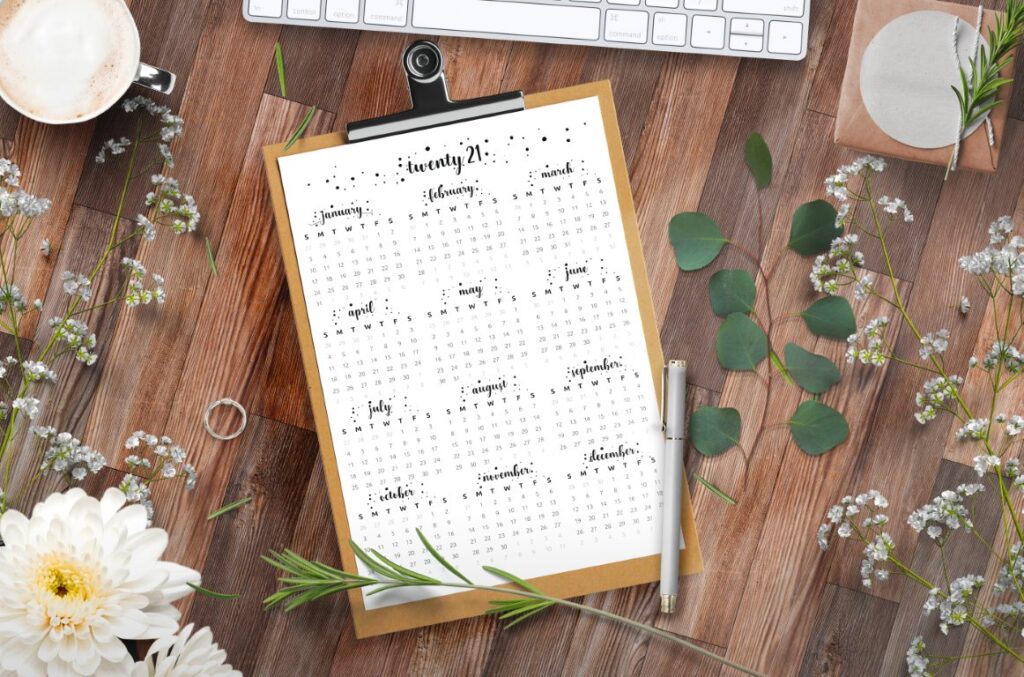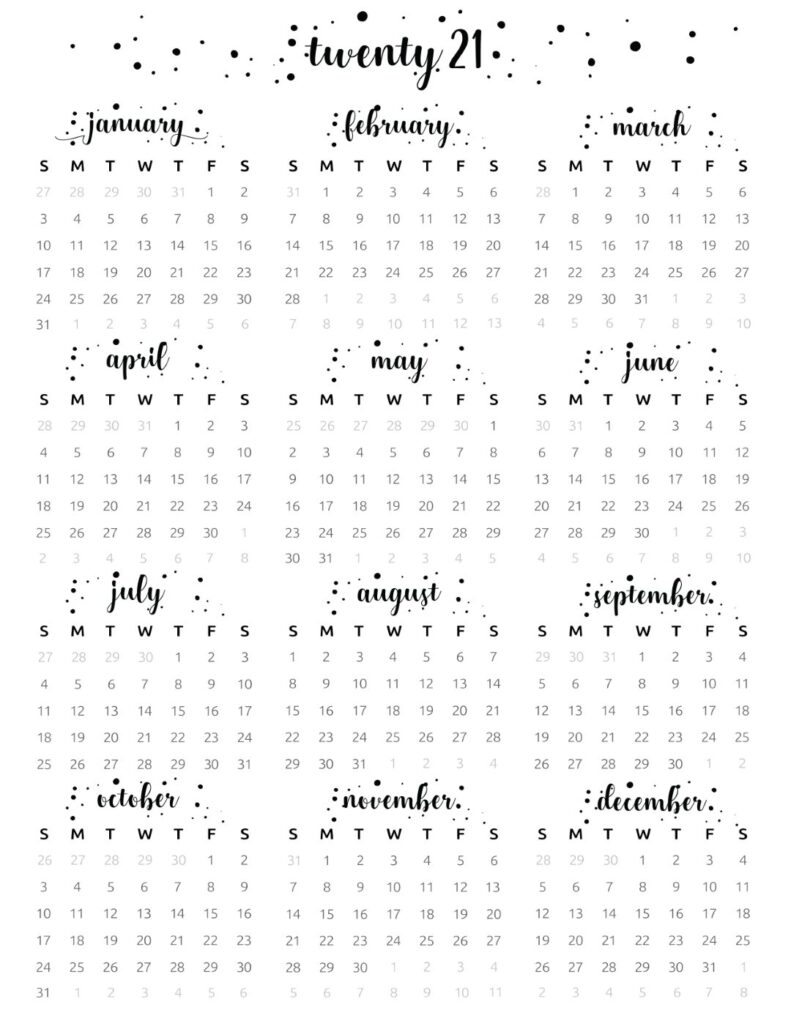 –
This gorgeous calendar is minimalist, stylish and perfect for those who like a clean and contemporary style.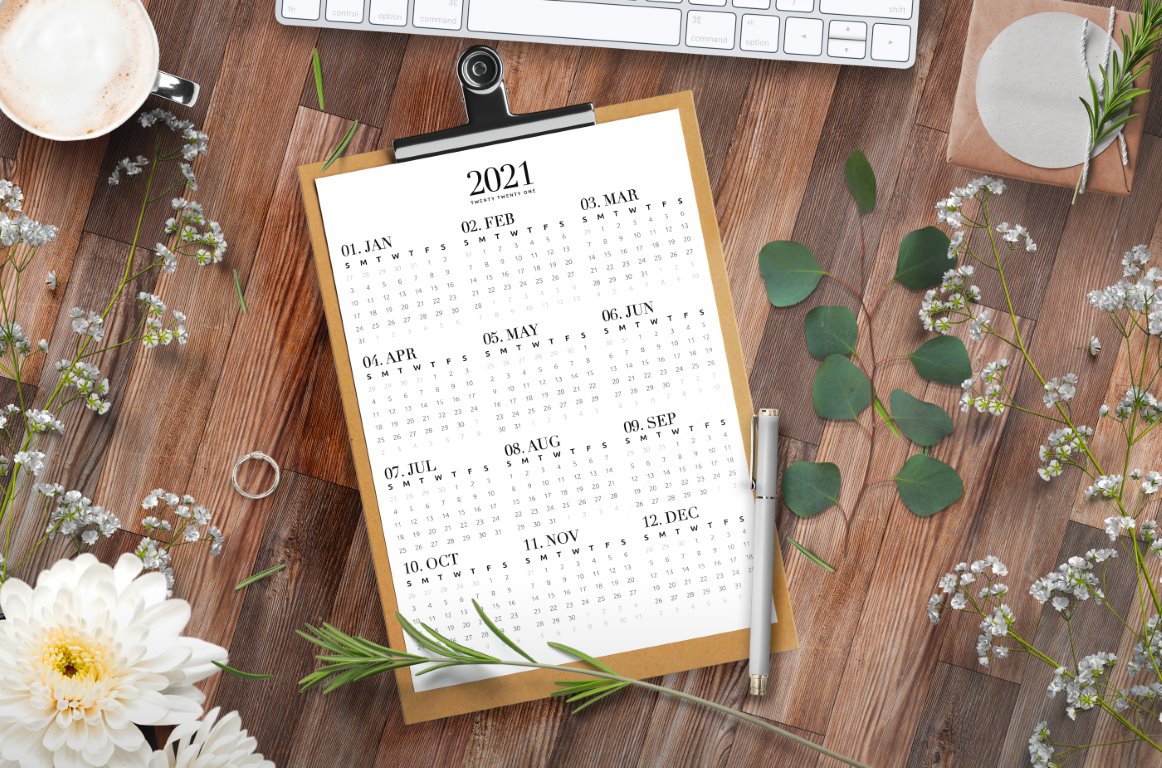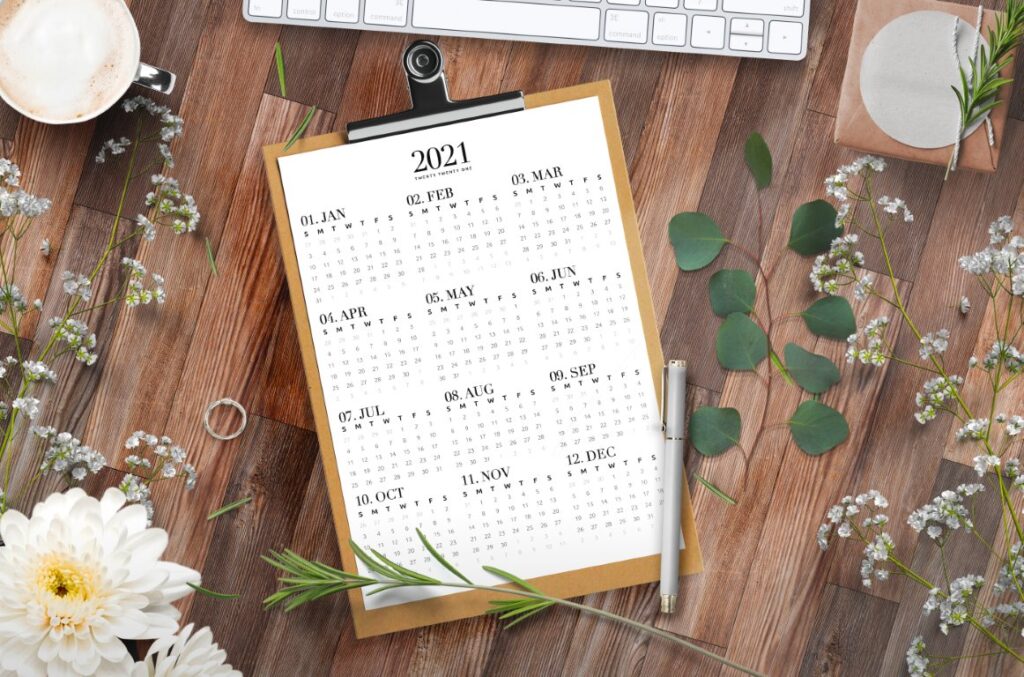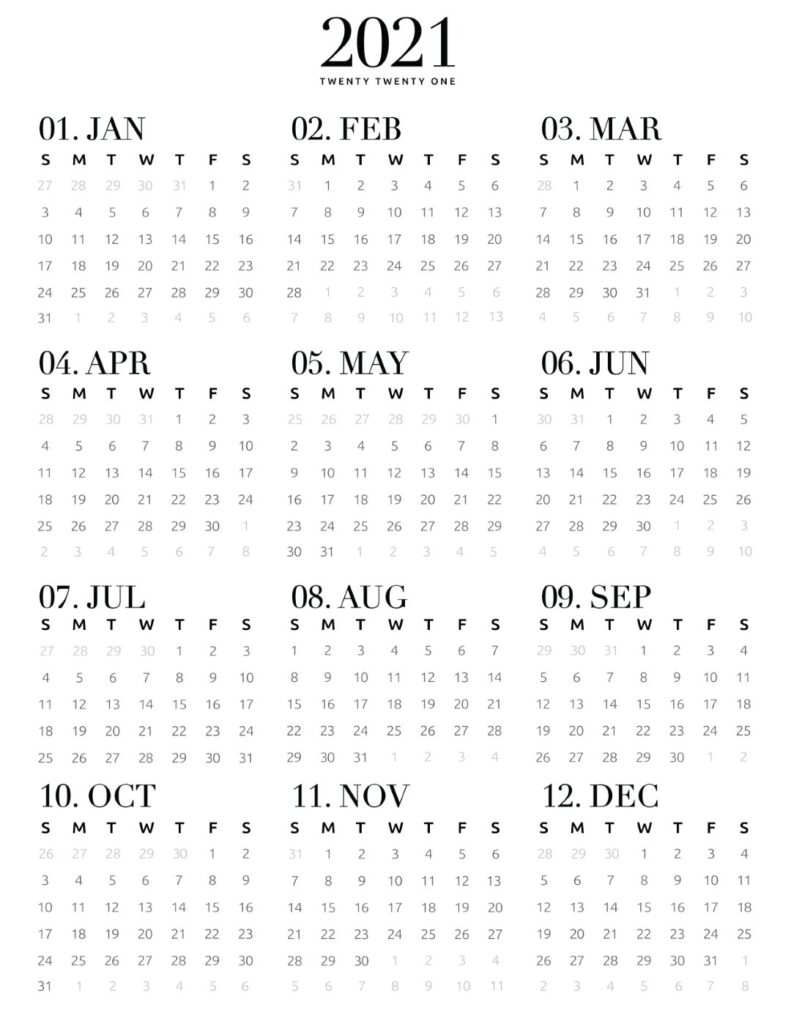 –
This gorgeous calendar features pretty botanicals and lovely writing making this a truly pretty and elegant calendar for any home.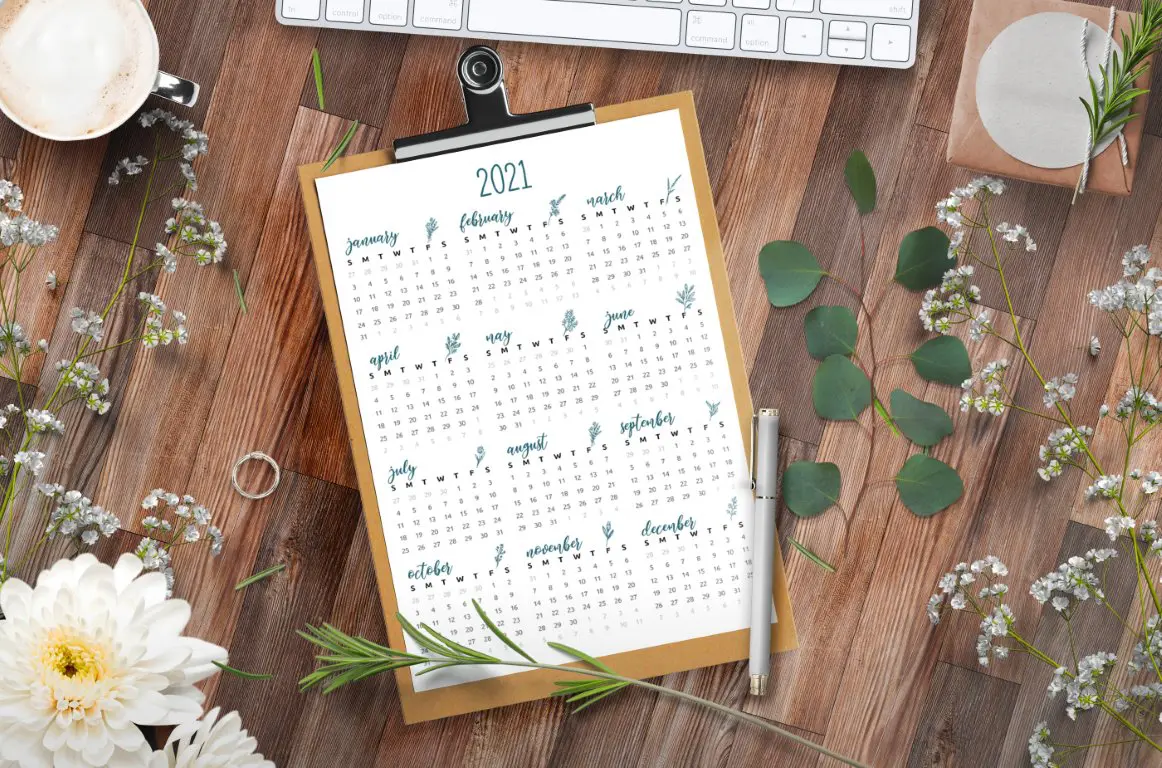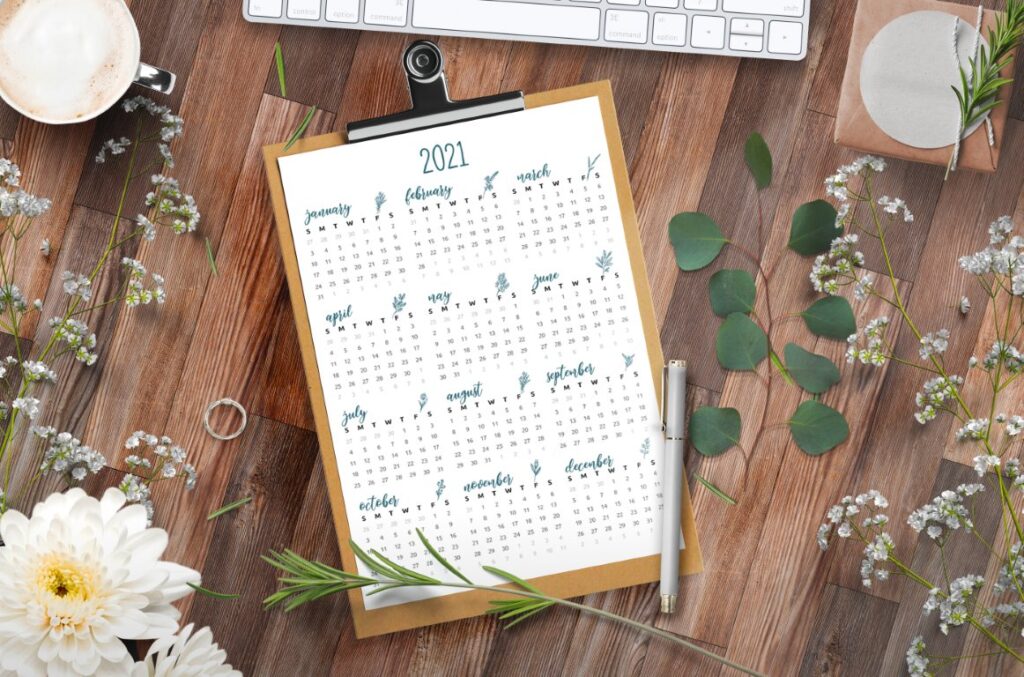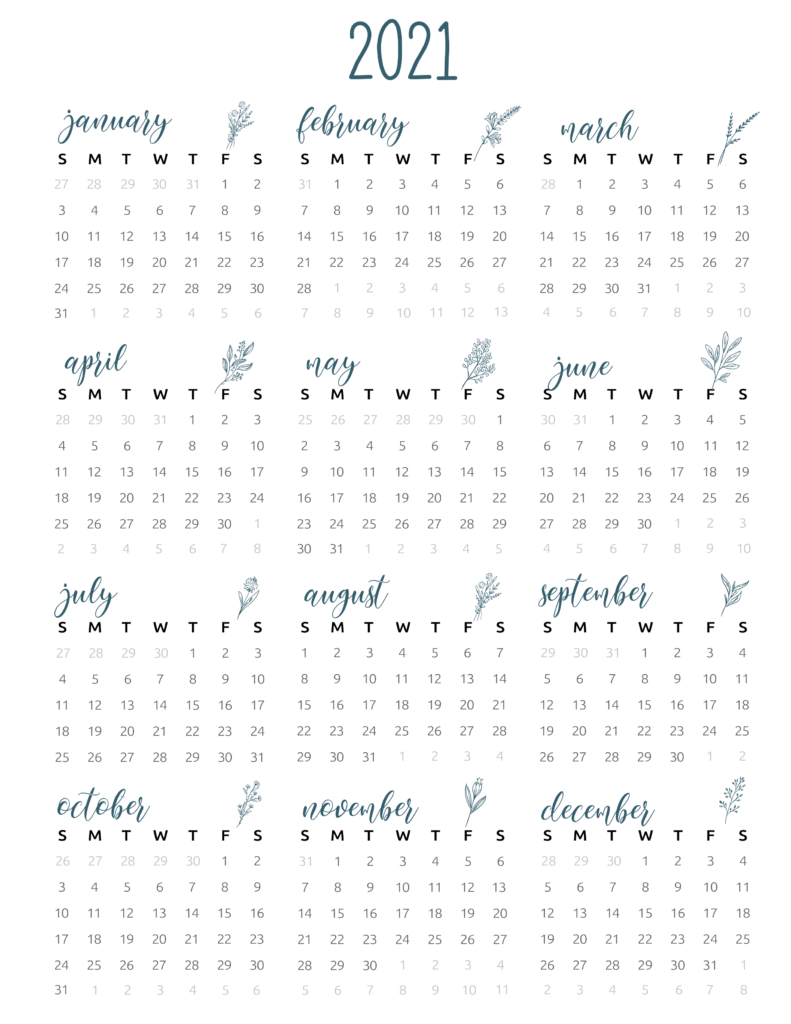 –
This stunning calendar features beautiful brush strokes and soft pastel colors making this a pretty and feminine calendar perfect for the home, planner or bullet journal.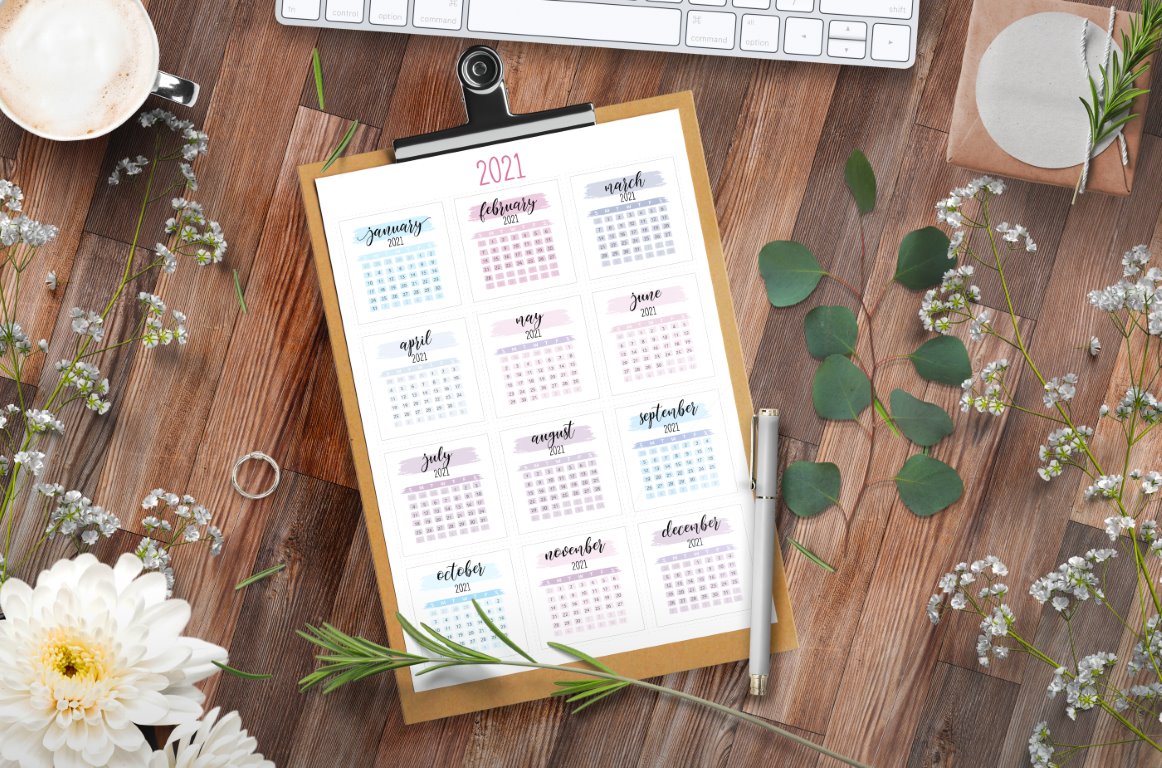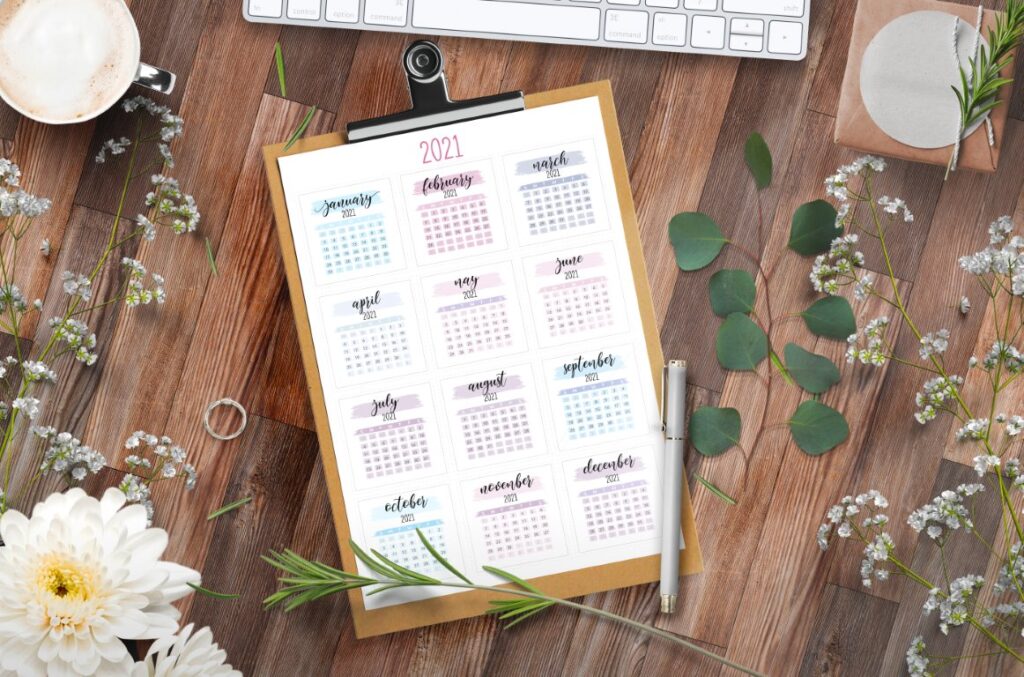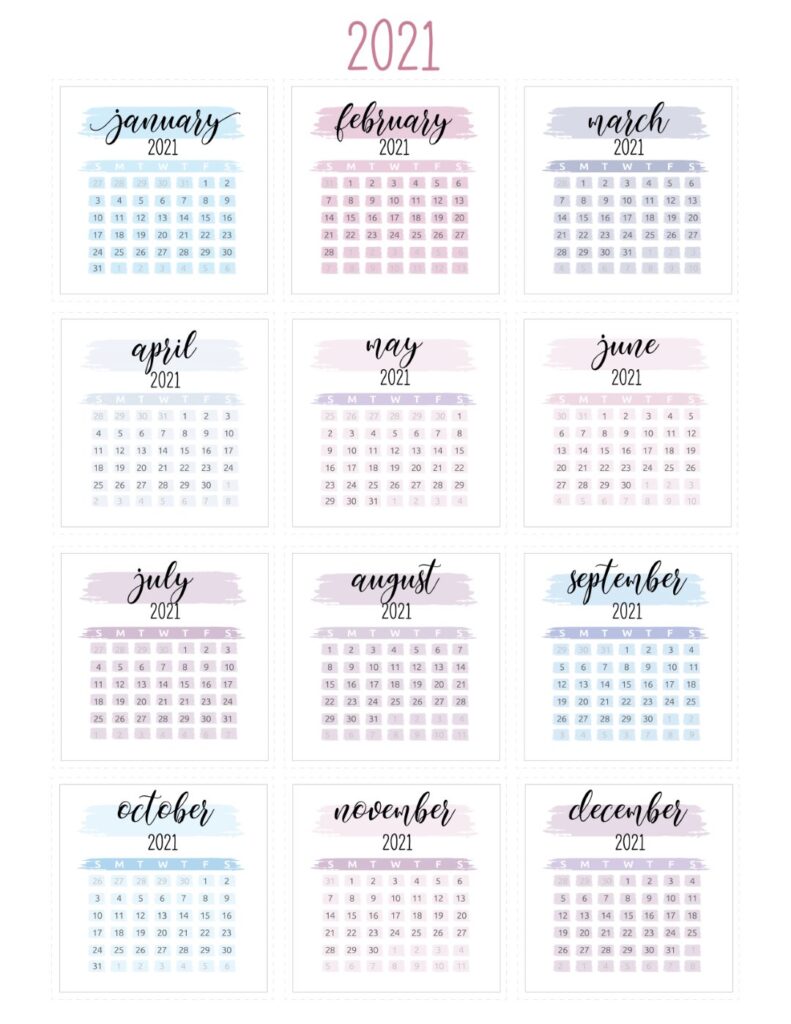 –
I love all of these year calendar templates. They are all beautiful and amazing in their own way whether they are simple and straightforward or bold and striking. All of these calendars work wonderfully and look amazing in a large format or a smaller size for your planner.
It's the perfect way to start planning your 2021 and make plans for the year ahead.
We also have a great selection of blank calendars which you can print and use at any time of the year.
If you have a favorite please let us know. It helps us to make sure we create more of what you love!
If you liked any of these year calendars, remember to follow us on Pinterest or Instagram, as we release even more calendars for 2021 and beyond!
More Free Printable Calendars from World of Printables
Our recent calendars. Many more printable calendars are available to get and print for free.
If you are new here please subscribe below as we make new printables often and we'll keep you notified from time to time with our best new free printables.
Like these freebies?
Get notified of our upcoming free printables – you're gonna love them!
Follow World of Printables on Pinterest