Who doesn't want a clean home? If you do, then take the stress out of cleaning your home with one of these free printable cleaning schedule templates.
I'm being honest here but when it comes to maintaining a clean home I suck! I don't know why. Is it my kids? Is it that I'm always too busy doing other things? Or is it because I don't even know where to start?
My friends and family have spotless homes for the most part and I wanted to know how they managed it. The secret? Having a schedule and a checklist.
Using cleaning schedules help to keep you on track with your cleaning habits. There are different tasks to do on a daily basis such as loading washing and taking out the trash but there are also tasks to do on a monthly basis like deep cleaning the oven *cringe* to keep your home in top shape.
If you're like me, you're gonna need all the help you can get. That's why I've compiled different printable cleaning schedule templates, checklists, and decluttering challenges to help you on your way to a cleaner home.
If you want to resize any of these cleaning schedules to fit your planner, you can learn how to do so here.
–
Weekly Cleaning Schedule
Sometimes you need to do just a little bit every day of the week to make big changes in the cleanliness of your house. A weekly cleaning schedule can help you figure out what tasks you need to do in a way that keeps it simple and easy to stick to.
Let's look at some free weekly cleaning schedules that are sure to get you on track with your cleaning priorities!
–
Weekly Cleaning Schedule Printable
This weekly cleaning schedule focuses on a different room every day and is easy to stay on top of. There are also tasks to complete daily, bi-weekly and monthly to help you keep your home in top shape.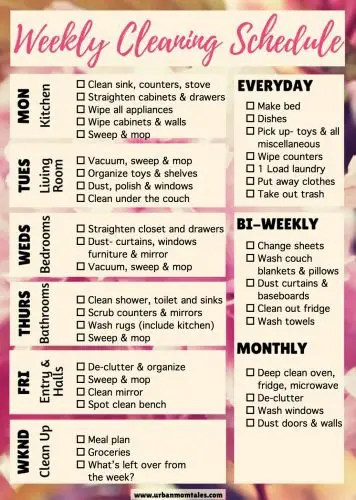 Found on: Urban Mom Tales
–
Printable Daily and Monthly Cleaning Schedule
This cleaning schedule is spread over a month giving you important cleaning tasks to do every day. You also get free daily checklists to complete and this helps makes it easier to stay on track.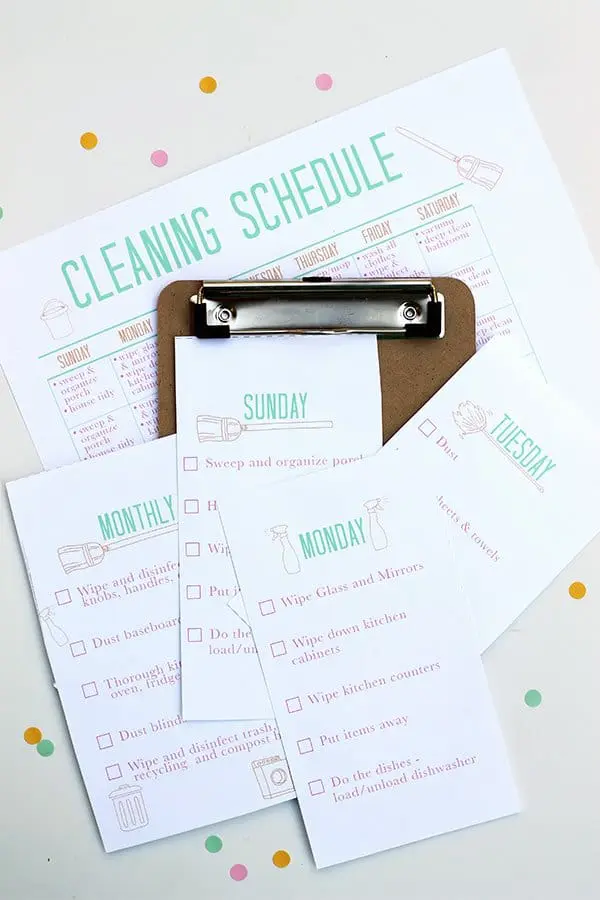 Found on: Squirrelly Minds
–
How To Keep A Clean Home
This cleaning checklist is so easy to follow and looks so manageable. It is separated into different sections to help you stay on top of your home.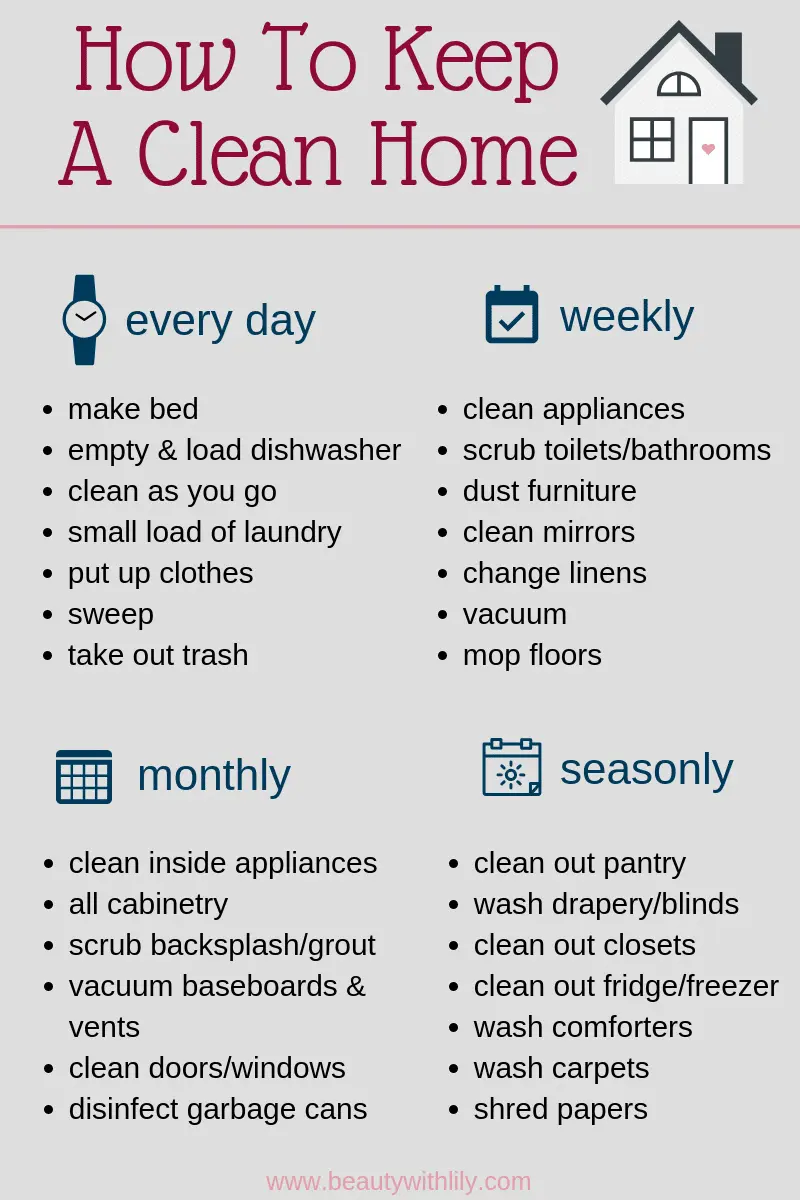 Found on: Beauty with Lily
–
Weekly Cleaning Schedule – 6 Day Planner Printable
This cleaning schedule focuses on turning your home around in 6 days. It combines both cleaning and decluttering to give your home the boost that it needs.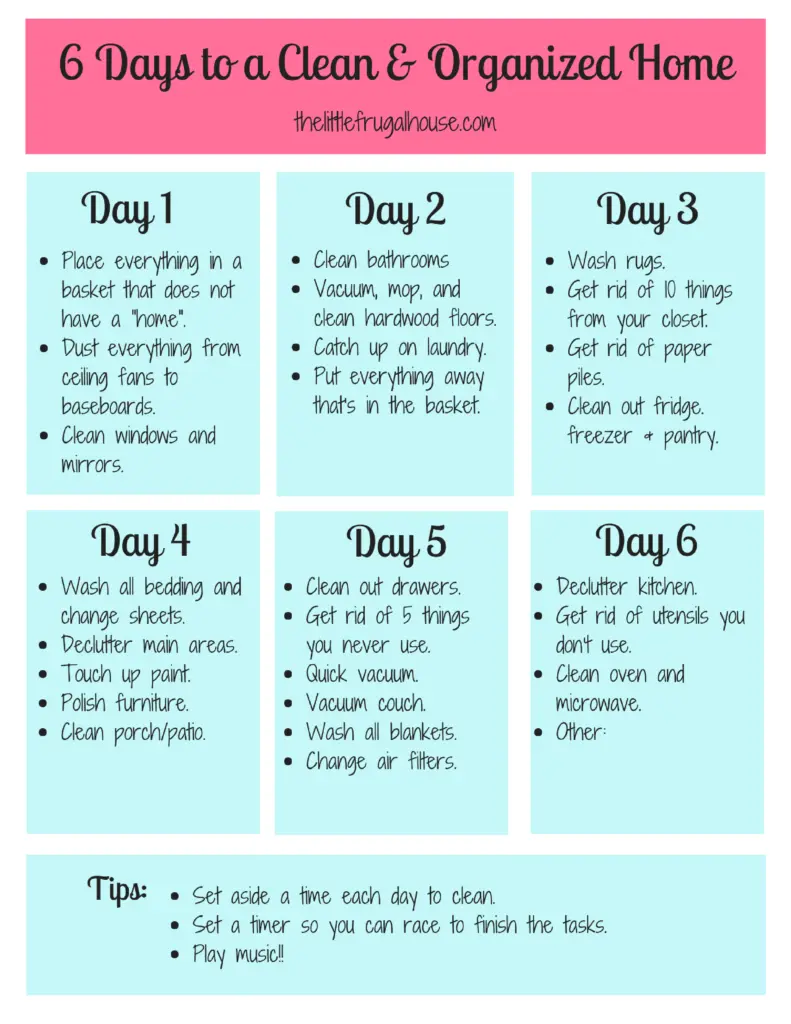 Found on: The Little Frugal House
–
Declutter and Organize
When it comes to creating a clean home, it's not always just about cleaning, it's about organizing and decluttering too. Many people only tend to have a messy home because they hold on to too much clutter and that takes up space and gets EVERYWHERE!
Let's take a look at some schedules that are designed to help you get rid of the clutter and get organized!
–
30 Day Declutter Challenge
This 30 day declutter challenge is a great way of making you aware of what clutter is and what you can easily do to make a dent in it. This free printable focuses on getting organized over a 30 day period and looks easy enough.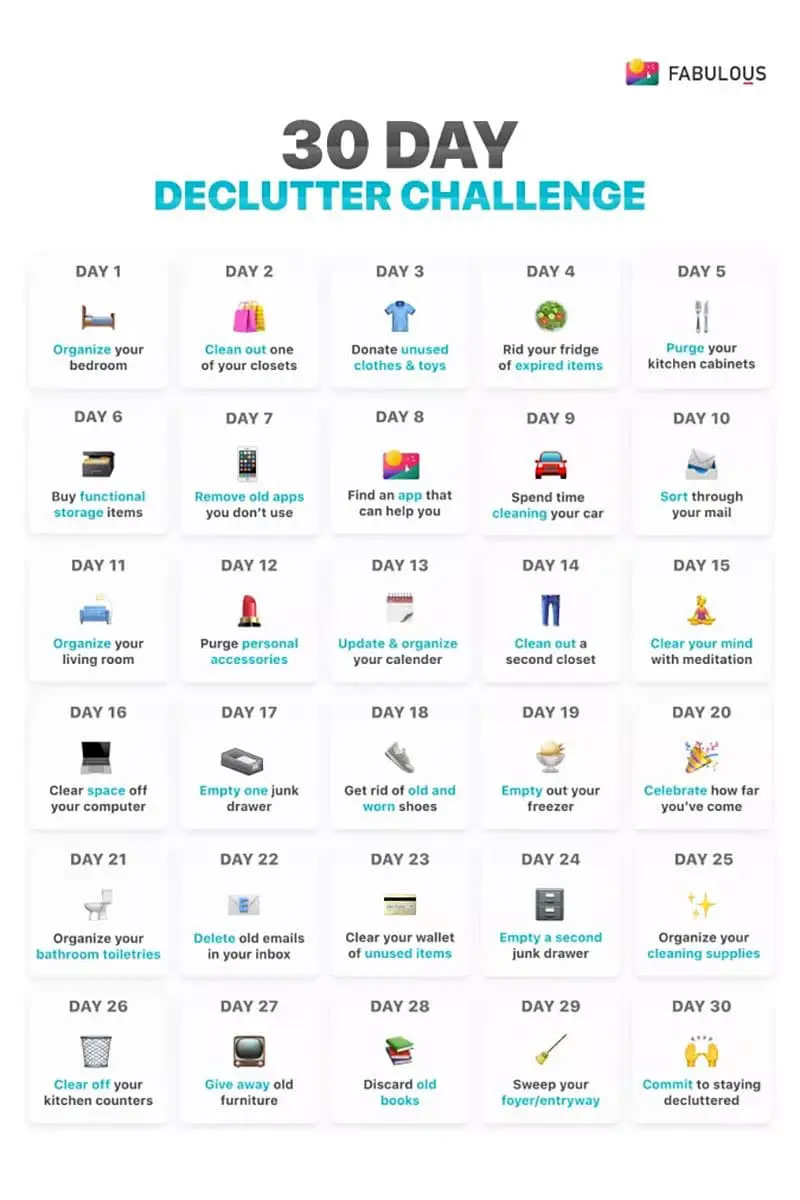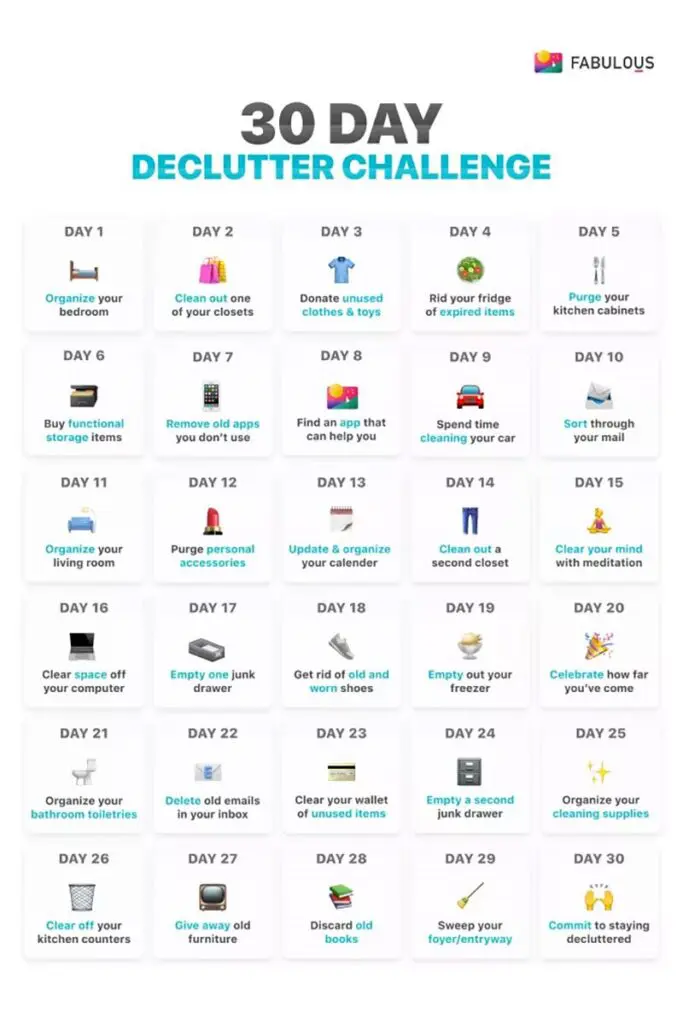 Found on: Kelly Golightly
–
30 Days of Cleaning and Organizing Challenge
This 30 days of cleaning and organizing challenge seems pretty straightforward. If you take this day by day and declutter each item on the list, you are definitely going to get rid of some unwanted clutter from around the house.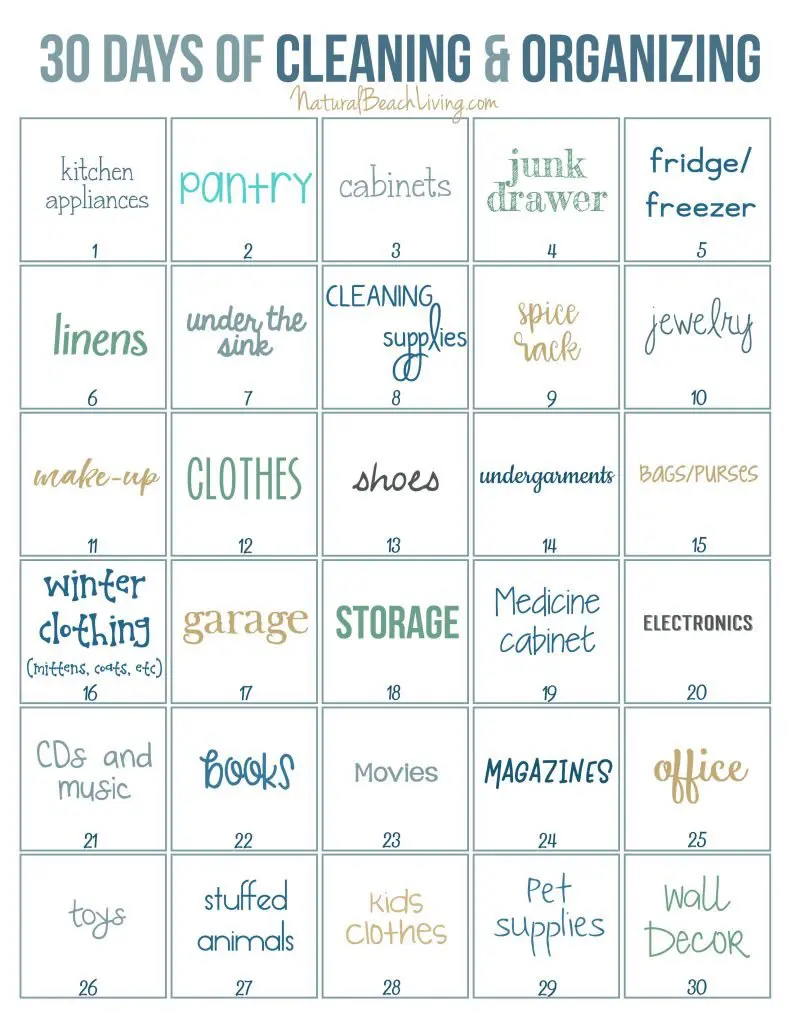 Found on: Natural Beach Living
–
Spring Cleaning: 30 Jobs 30 Mins 30 Days
This The Dirty 30 free printable focuses on completing one job each day over the course of 30 days. Each job is straightforward and should only take about 30 minutes to complete. Dedicate half an hour a day and you could have a much cleaner home in a month.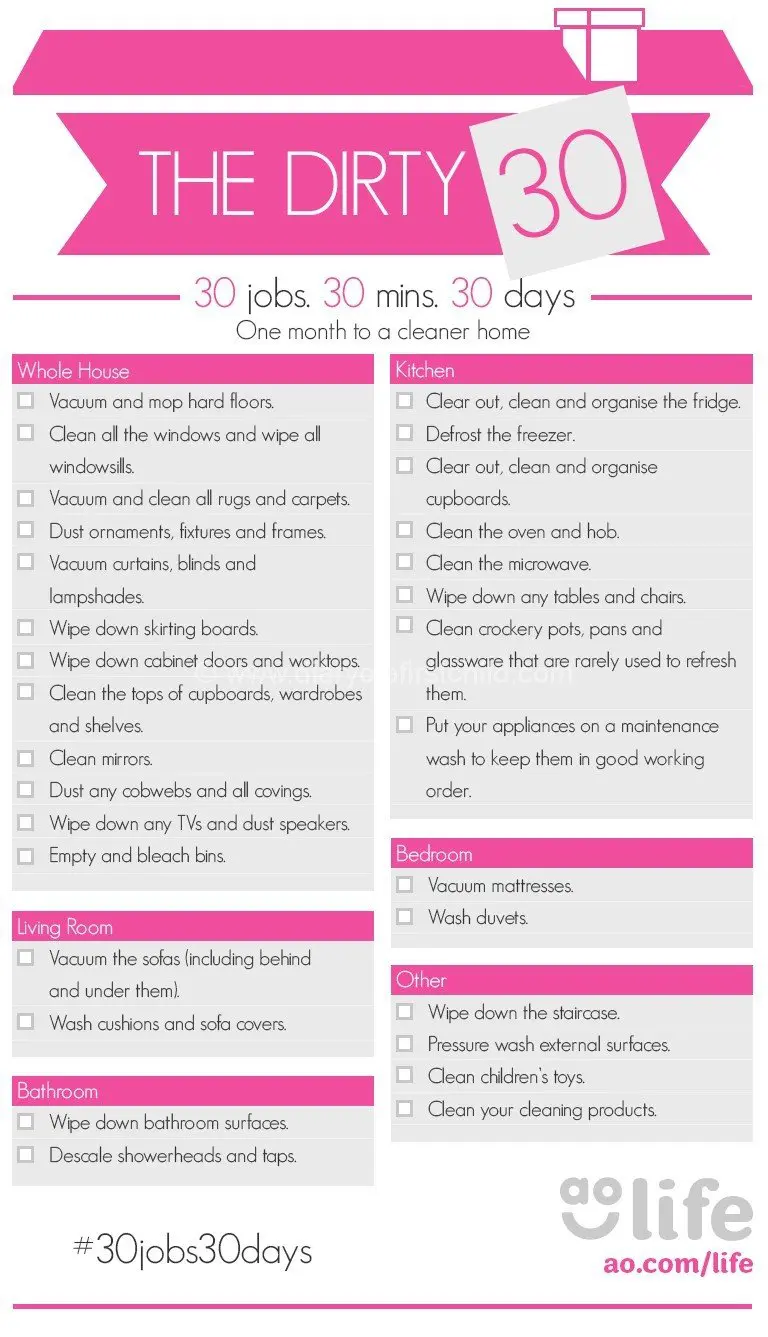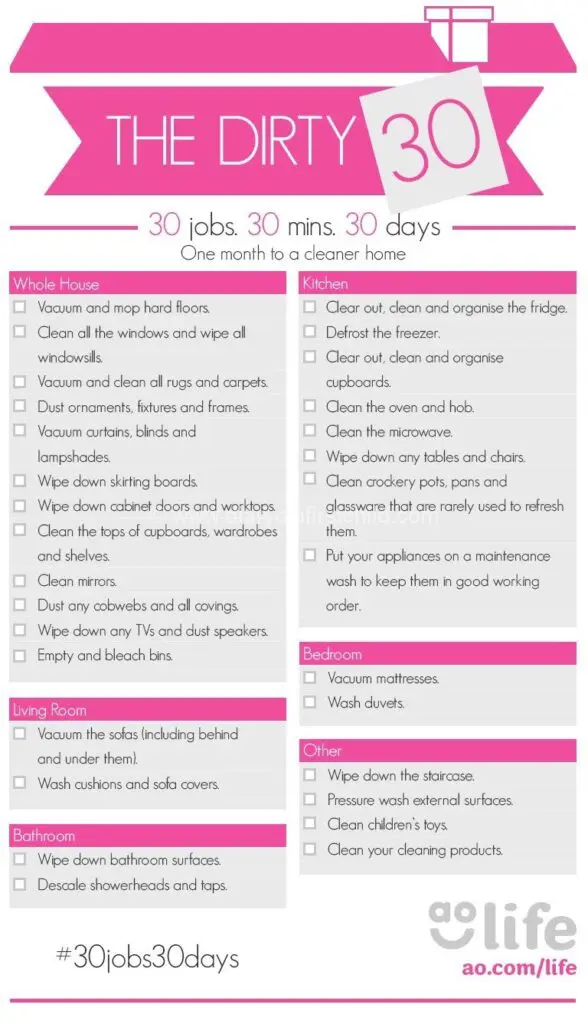 Found on: Diary Of A First Child
–
Deep Cleaning
Deep cleaning is something I would love to do because I really think our house needs it, but with two very small kids, it's a bit difficult. Deep cleaning allows you to deal with all the problem jobs that you kind of brush over and avoid doing.
–
Deep Cleaning Monthly Schedule
This deep cleaning monthly schedule gives you great insight into those areas that need to be cleaned that sometimes we don't even think about! It focuses on a different room or aspect of cleaning each month and it is a great schedule to follow.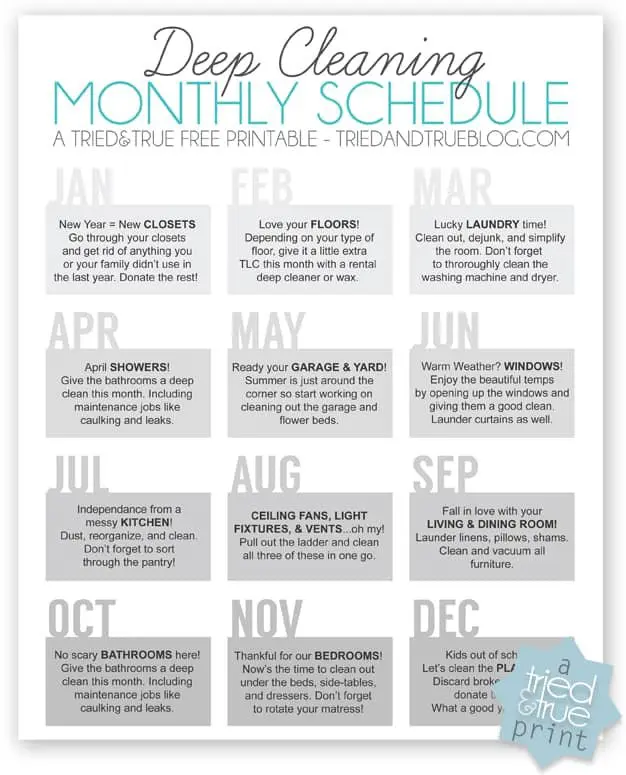 Found on: Tried & True
–
Genius House Cleaning Checklist
These cleaning checklists are so thorough and amazing to use. There is a checklist for each section of the house that is separated into weekly cleaning tasks, deep cleaning, and spring cleaning.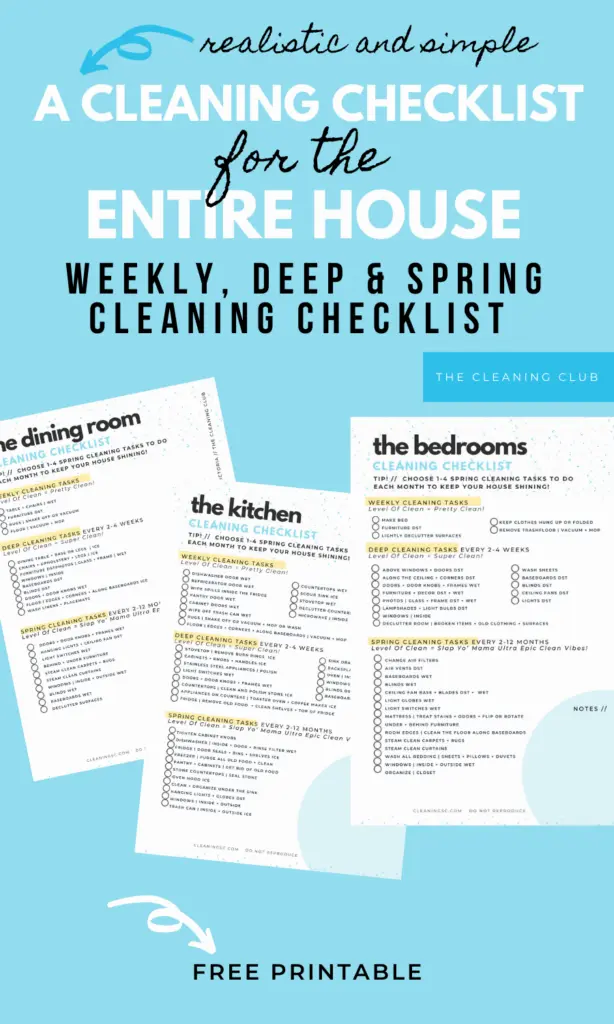 Found on: The Cleaning Club
–
How to Enjoy Deep Cleaning Your House
This whole house deep cleaning checklist is straightforward and easy to use. It is also really thorough and will really transform the cleanliness of your home.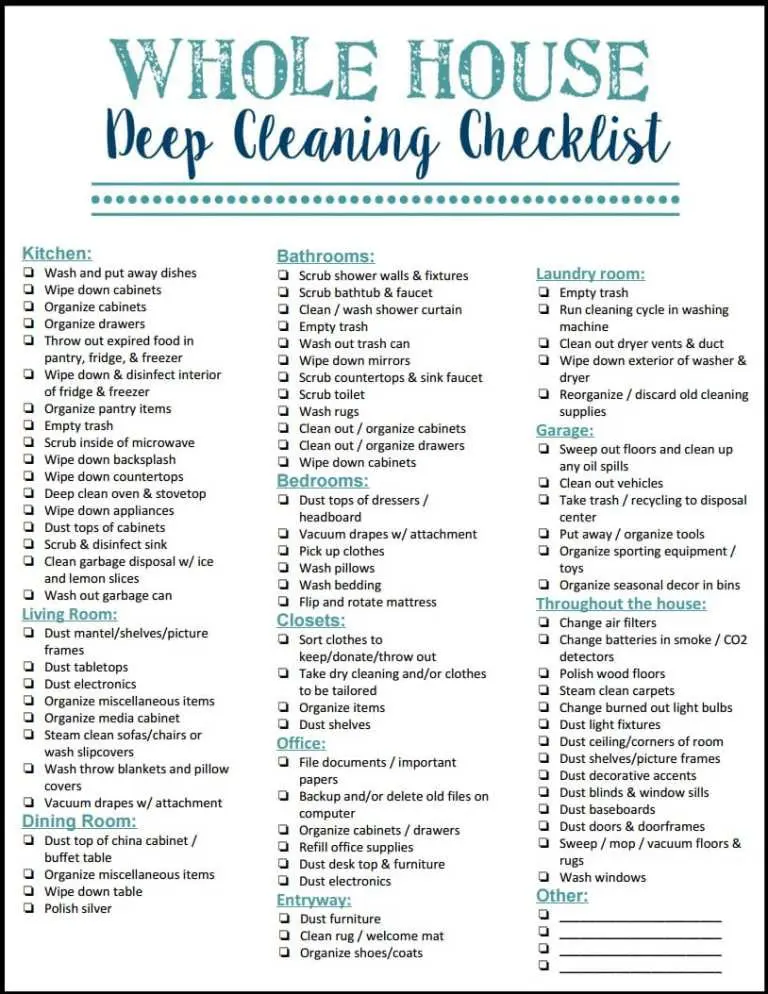 Found on: Bless'er House
–
Remember when it comes to cleaning, just take it one step at a time and tackle it piece by piece (unless you want to go hard then GO HARD). Hopefully, these free printable cleaning schedules help you to get on track with your cleaning tasks and chores.
If you liked this post then please share it or pin it for later!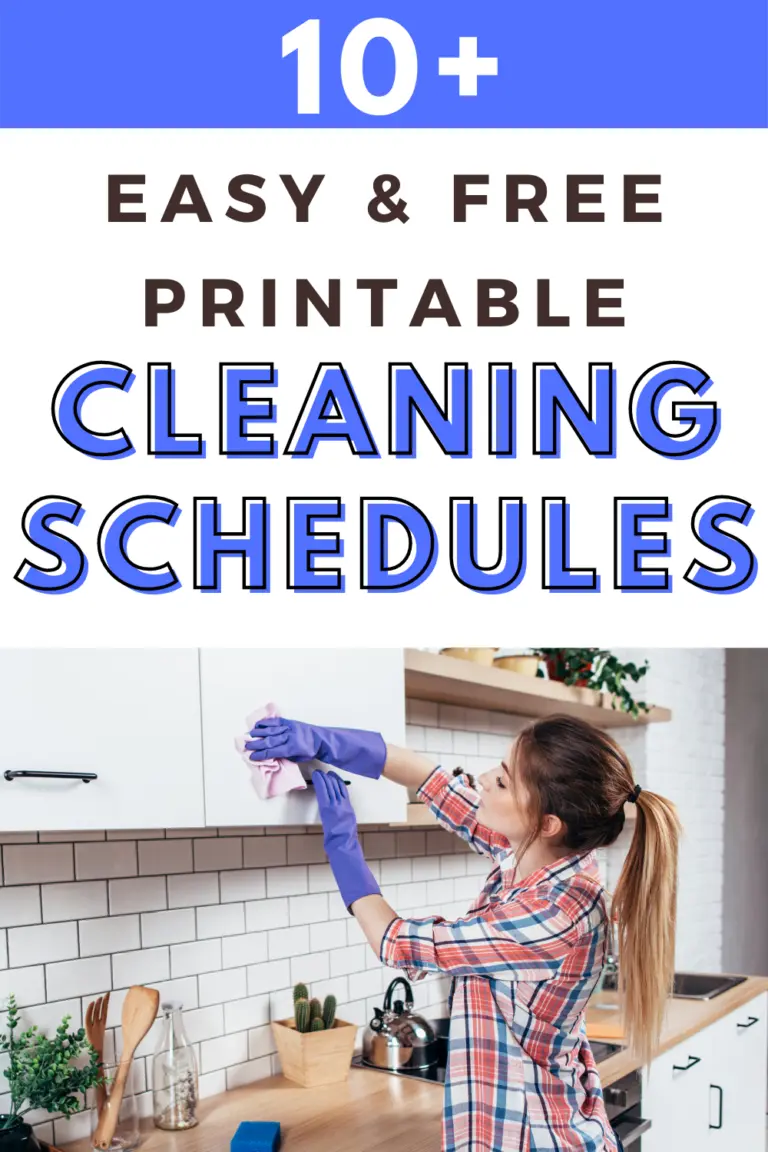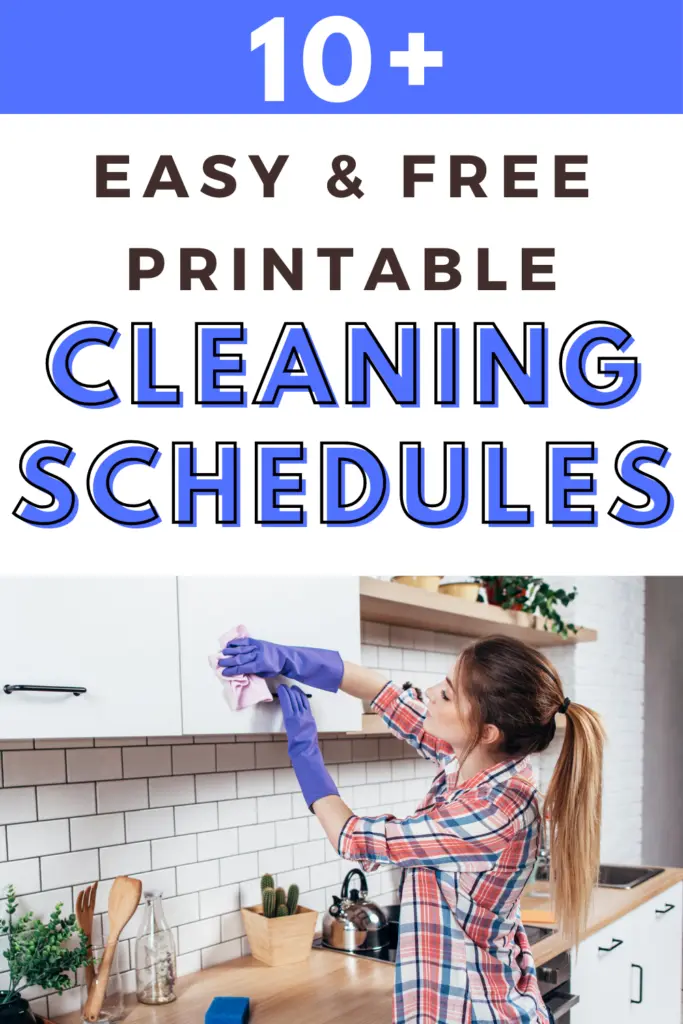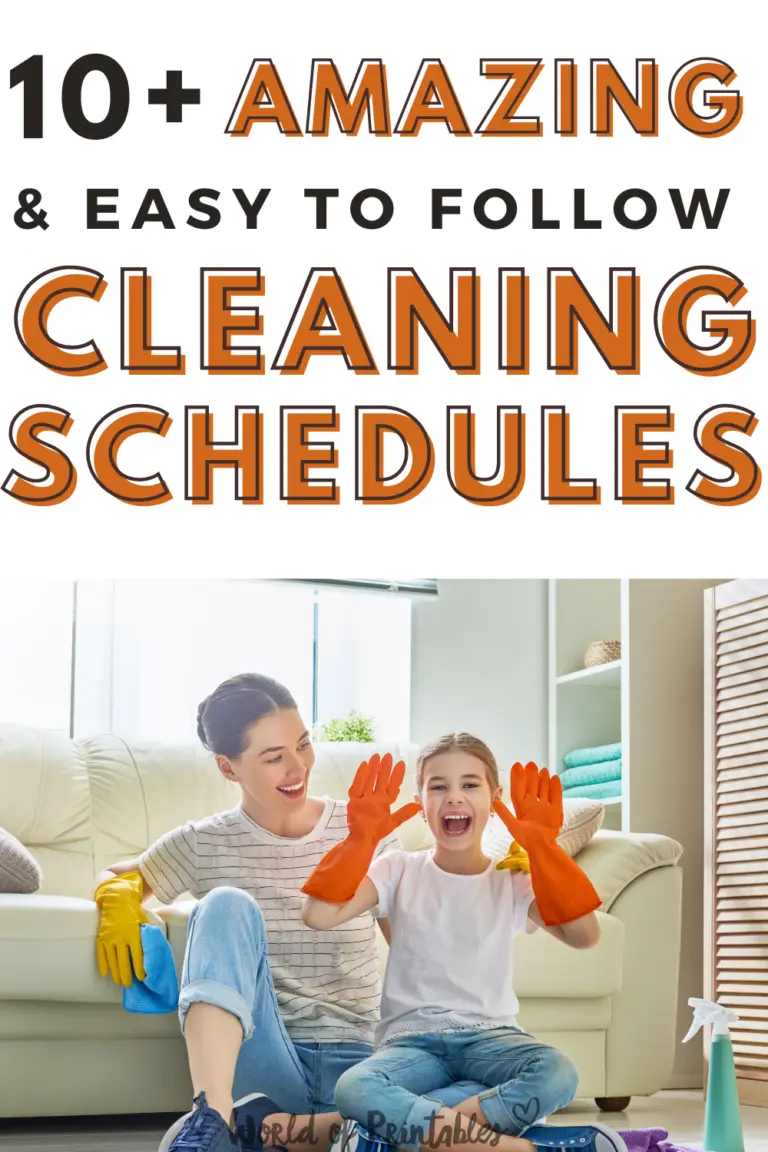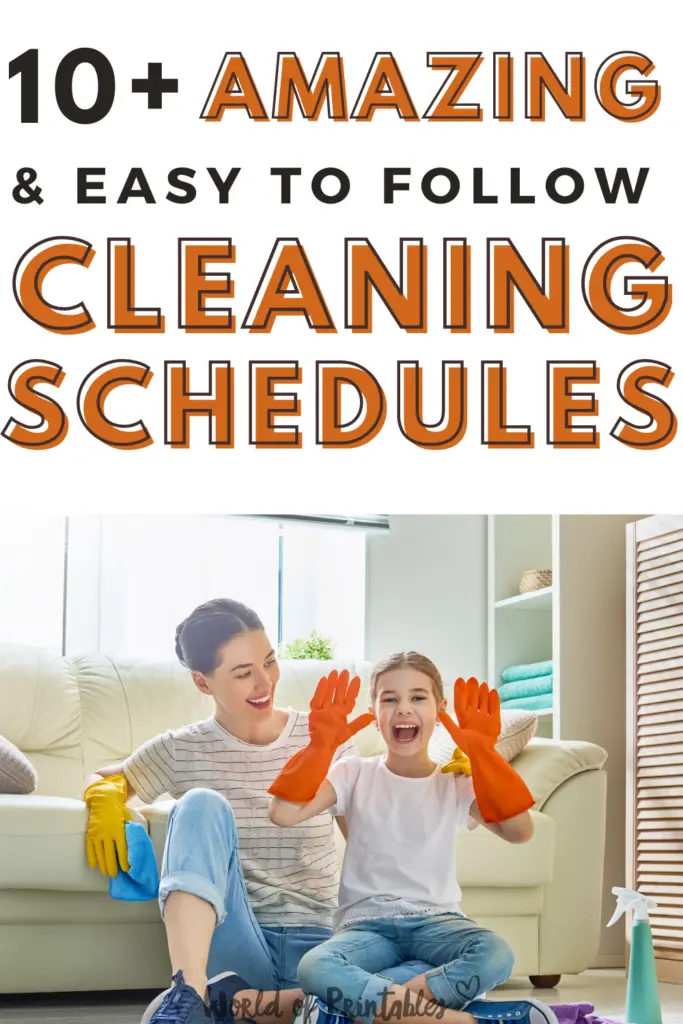 –