Create your own professional resume by choosing from over 200 free resume templates. You'll find a variety of resumes in many different eye-catching and professional styles. Pick your favorite and use the resume builder to personalize it to make it perfect for you and stand out from the competition.
If you're just starting your job search and looking for a professional template to help you get a job interview or internship, then you'll find many resume examples that you can use as a starting point for creating your own perfect resume.
We've compiled the 200 best resume templates that you'll find on Canva to help you find your dream job.
Choose your favorite resume template and start customizing!
Here you will find many professional resume templates, perfect for any job seeker, that you can start customizing right now.
These templates make a great starting point for inspiration when customizing your own resume. Just pick any you like and click to customize to create the perfect resume.
Resume Templates
Pick a simple, creative, or professional resume template and make your resume in minutes.
Once you've finished editing your resume, you can download it as a pdf for printing or sending online.
You can go back as often as you need to update it, by changing any aspect of the design, such as font, graphics, or updating your work history, work experience, achievements, and more. Or you can start from scratch.
To find the perfect resume try to choose a template that matches the job that you're applying for. Then just customize, print, or send. See how to customize these resume templates below.
You'll find resumes in many different styles.
Simply browse these resume samples to find the perfect one for you.
It doesn't matter if you're looking for a simple resume template, something more visual if you're looking to work in the creative industries, or a traditional resume template that keeps things formal and professional.
What these resume templates include
Within these templates, you'll find space for each area you should cover, from the experience section where you can list your work history in chronological order or reverse-chronological for all of your years of experience. Plus there's space for your qualifications and a skills section where you can talk about the skills that you've gained.
Lastly, you'll also find space for your resume summary where you can sum it all up for a perfect finish.
You can get descriptive and write things out or you could keep things simple by using bullet points.
The builder will help you create a great resume, whether that's a one-page resume or one that has multiple pages.
Haven't found what you're looking for?
If you haven't yet found the perfect resume template and you want to see more, then by visiting Canva you are just a single click away from finding thousands more.
How to customize these resume templates
Create your own professional resume with these templates.
Anything in the layout can be customized. Just change the words, add a photo or use the built-in image browser to add pictures from their massive library.
These resume templates can be customized with Canva, the hugely popular design tool used by millions of people around the world. Just choose your favorite design and start editing.
There's really no need to pay for a premium resume template, as you'll find hundreds here for free, and many more (thousands) on Canva, all free. You may need Canva pro for some of these templates as some of them may contain premium elements, but remember you can get a free 30-day trial which you can cancel at any time before your trial is up and it won't cost you a penny.
As well as a huge selection of creative resumes that you can use, you can also find many cover letter templates that you can use too, that can be customized and printed or saved as a pdf.
Introducing Canva
Canva is the world's favorite design tool, template editor, and photo editor used by millions of people around the world. It's used for creating designs with ease and it's a great way to edit templates like these resumes.
It's my favorite design tool and what I use to create many of the designs that you'll find on this website.
It is not only a design tool, but a massive resource featuring thousands of templates for things like planners, posters, flyers, cards, invitations, resumes, menus, and more.
You simply choose a template for what you want to create and use it as a starting point to help you quickly create new designs of your own in minutes.
Best of all, it's so easy to use. You don't need to be an experienced designer to create or edit designs. Canva keeps it simple, with stunning results that you'll love.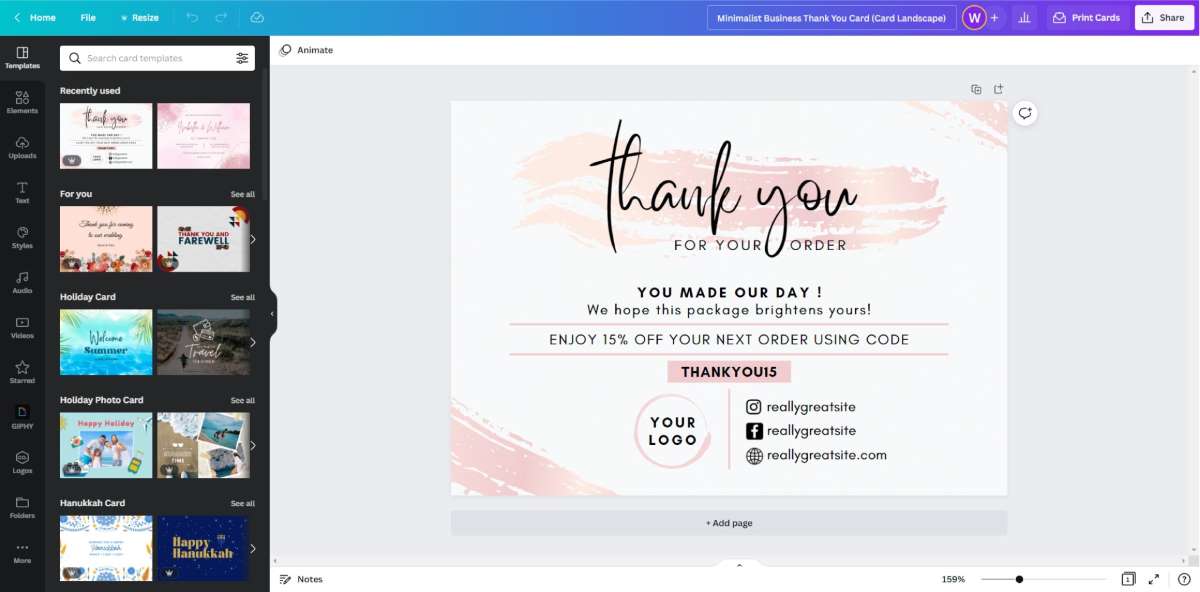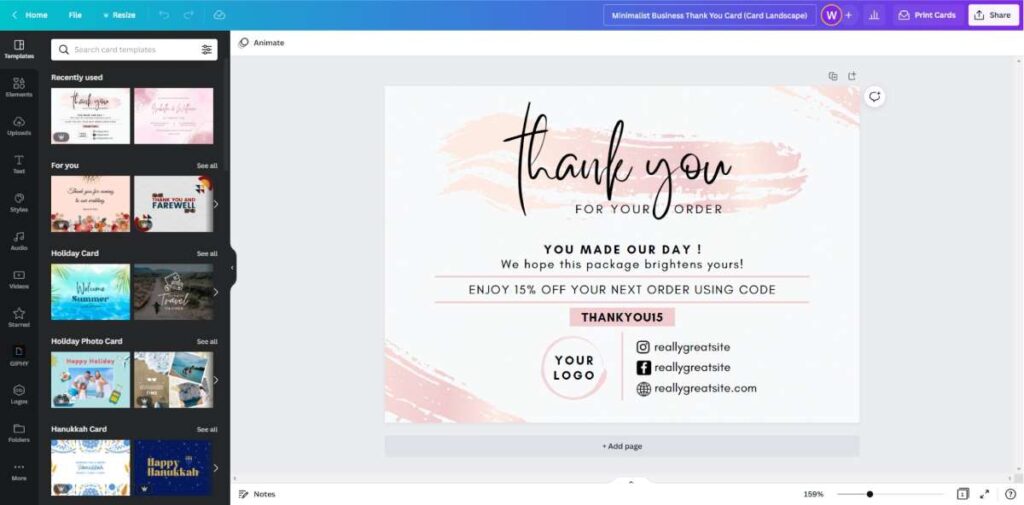 It comes in a free option that lets you create designs and a pro option that also has thousands of templates. Plus you can get a 30-day free trial that unlocks all of the premium features and thousands of templates, so you can start designing amazing things right now.
The great thing about Canva is that you don't need to have any graphic design experience to use it. It's as easy as using Microsoft Word, but with lots of design features to help you create amazing designs for everything, from creating the perfect resume to even writing cover letters.
How to print these resume templates
When you've finished editing your resume, simply download it straight from Canva by choosing the PDF print option. Once it has been downloaded to your computer you can open it with any PDF application or even with modern browsers such as Google Chrome, as most modern browsers have PDF support.
It's recommended to use good quality paper rather than regular printer paper, for a more professional feel.
What to put on a resume?
Most people generally tailor a resume for each job that they apply for, rather than having a generic one size fits all resume. Tailoring a resume by trying to incorporate some of the keywords from the job description or job title for each job that you're applying for can help you see how your skills and experience fit that particular job and can help the employer or hiring manager see how you fit the position also.
Is it ok to use a template for a resume?
Of course! There's nothing wrong with using a template, in fact, it's preferred. This way your resume will be well structured and visibly eye-catching. The days of creating a resume in Microsoft Word are over!
How can I download a free resume template?
There is no need to download a free resume template, as most of them are customizable and can be done online using various resume builders. You only need to download your resume as a pdf after you've finished editing, where you can either print it or send it online via email.
Which format do most employers prefer for resumes?
The most common format that employers prefer resumes to be in is the chronological order starting with your work history, listing your current and any previous employment in reverse chronological order.
Other resume formats are functional, and combination.
Where can I find a good resume template?
There are many places where you can find a good resume template, some of which are free and some of which are premium. You may find resume templates on various recruitment websites.
We find that the popular online design tool Canva has thousands of free resume templates that are professional and eye-catching where you will find a resume template that fits your needs.
Where is the best place to get free resume templates?
Without a doubt, the best place to get free resume templates is Canva, where you will find thousands of modern professional resume templates that you can edit and use for free.
Do I need Microsoft Word to make a resume?
You do not need Microsoft Word to make a resume and the same applies to any other word processor such as google docs. You can make a resume with various online resume builders, or tools like Canva that have many resume templates that you can use as a starting point, and have wordprocessor features that you use to write and edit your text.
Microsoft Word is the old way of creating resumes, but they generally look basic and are certainly not eye-catching. The same applies to Google docs or any other word processor. They're great for writing text, but not much else, especially when it comes to creating a professional resume layout.
Canva is the perfect tool if you're looking for resume builders due to its huge feature set, ease of use, and a sheer massive amount of templates to use as a starting point.
Conclusion
I hope you've found the perfect resume for you. Good luck in your job hunting!
You might also like…
Did you know we also have many more Canva Templates that you can use for free!
Get notified of our next set of freebies – you're gonna love them!
Follow World of Printables on Pinterest