Personalize a letter from Santa template and bring some excitement to your home this Christmas. Choose from these 10 free letter templates and customize or print and write on for some festive fun.
What could be more exciting at Christmas than getting a personalized letter from Santa!? Add to the excitement this Christmas by printing a letter from Santa just for your child.
Children love Santa. They love the idea of Santa and any chance of interaction with Santa. Why do you think children get so excited when they see that Santa has eaten the mince pie they left out for him?
You can quickly ramp up the Christmas excitement by using our free printables and making your children feel special.
With our free printable letter from Santa template, you can easily personalize the letter on Canva or save it directly to your computer to print and personalize by hand.
Don't forget to check out our printable letters to Santa too!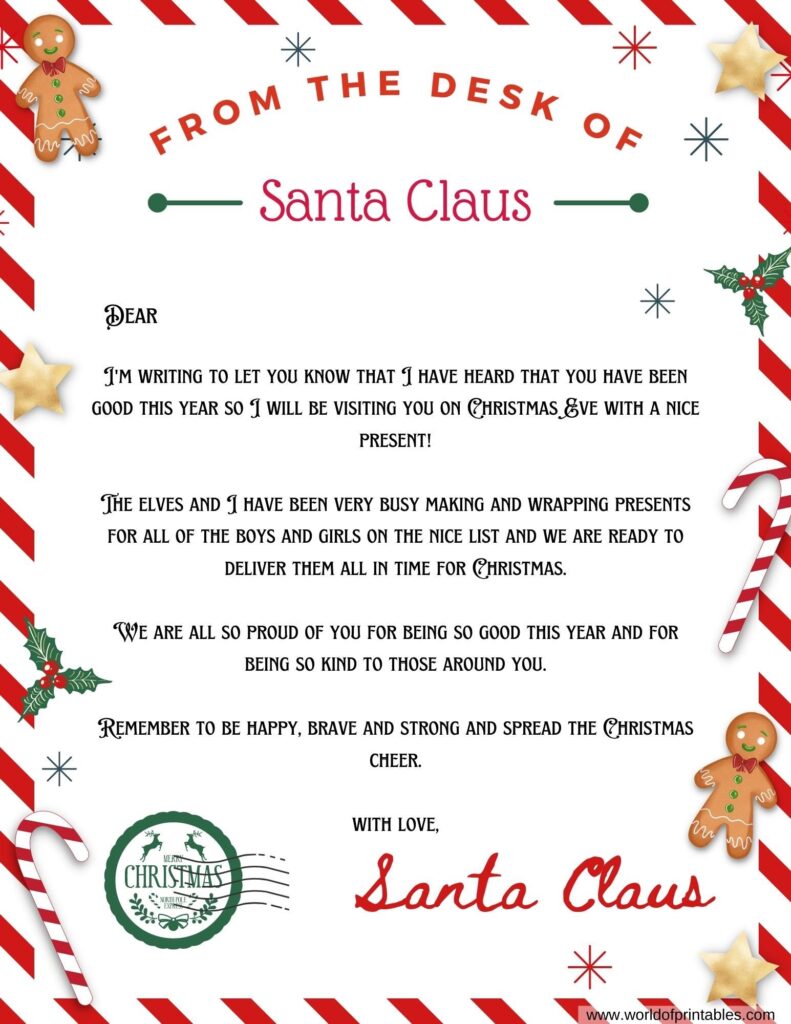 How do you get a letter from Santa?
Choose from our collection of free printable letters from Santa templates to personalize for your own children.
Simply edit, print, and put it in an envelope for your child to open this Christmas season. We also have matching Nice List Certificates for you to print too.
Letter From Santa Template
You can use our letter from Santa templates for personal use and there are many designs to choose from.
If you would like to personalize the letter from Santa template digitally then open the link below to edit before printing.
Editing the template digitally will allow you to add the name in the font and change the message to suit you.
Alternatively, you can simply open your favorite letter from Santa template below and save it to your device. From there, print it out and write the name by hand.
Personalization options:
Either open your favorite letter from Santa by choosing your favorite from the selection here and then print, writing directly on the page.
Alternatively, open the links below each Santa letter to open in Canva and personalize your letter before printing.
Free Printable Letter From Santa Templates
It has never been easier to give your children a letter from Santa and they will love it. A quick task for you will bring your child days of happiness and will also encourage them to be good over the following year.
Remember to combine your favorite letter from Santa template with the matching free printable Christmas certificate!
If you don't have time to create your letter from Santa right now then pin this post for later! And please share with your friends and family so everyone can enjoy our letter from Santa templates.
What do other people print after viewing this?
More Christmas printables for your family to enjoy
Take some of the stress and cost out of Christmas with our free Christmas printables. They are a free and simple option for everyone and you can even combine them with many of our other free Christmas decorations!
We've got tons more Christmas Printables for you to print and enjoy for free.
We've created many more useful printables for you for the fun up to Christmas and you can get them all for free right here.
Printables to help you plan for a great Christmas
Free 60 Page Christmas Planner that's packed full of everything you need to plan and organize Christmas, from gifts to buy, things to do, to decorations, meal planning, and more.
Printables to help you decorate this Christmas
Get into the festive spirit with our huge collection of over 100 Christmas wallpaper backgrounds that you can add to your phone this holiday season. You can also use our free printable Christmas wall art prints to help create a perfect festive look this year.
Decorate any room with our Merry Christmas banners, with 18 styles to choose from to decorate for free.
Start planning the gifts you need to buy for Christmas with these free printable gift list templates to help you make sure you get everything you need on time for the people you love. When you wrap the Christmas gifts be sure to use our free printable Christmas gift tags for a fun festive touch.
Christmas printables for kids to enjoy
Give your kids some fun activities this holiday season with this free printable I Spy Christmas coloring page game or check out our huge collection of Christmas coloring pages for kids and adults.
Lots more printables for you to enjoy this Christmas
Plus see this list of 18 stunning Christmas freebies that you can use to get prepared for the festive season as we come closer to Christmas.
Be sure to grab as many printables as you can while you're here and print them off whenever you need activities for your kids.
Have a happy Christmas!
If you loved this post and our free letter from Santa templates then please share and pin it for later! If you use any of our free printables this Christmas then tag please us on Instagram! We would love to see how you used our freebies!
We also have a huge range of printables for adults too here on World of Printables. You'll find printables and templates to help you plan and organize all aspects of your life.