I love all kinds of bullet journal ideas whether they're busy, colorful, scrapbook style, or minimalist. I especially love minimalist bullet journal ideas and the unique creativity people use.
This post covers stunning minimalist bullet journal ideas that are both easy to create and look incredible. Minimalist bullet journals are perfect for those who are too busy to indulge in decorations and embellishments and prefer things clean and easy.
There is no right or wrong way to designing a bullet journal, it all comes down to personal preference and what makes it work for you.
Beautiful Minimalist Bullet Journal Ideas
I have some seriously good looking minimalist bullet journal inspiration to share with you, I can't wait. Although these examples are minimalist, they are anything but boring!
These are some of the most beautiful and amazing examples going. Let's get inspired!
Free Monthly Calendar Planner Divider Pages
This beautiful monthly calendar divider page is a great way of organizing your bullet journal or planner into sections. It's bold, contrasting and features 12 inserts for every month of the year.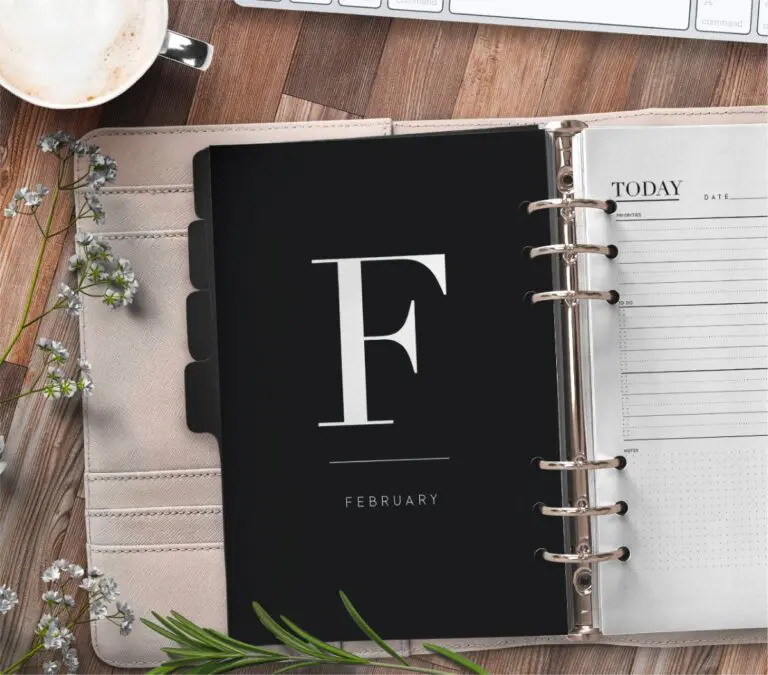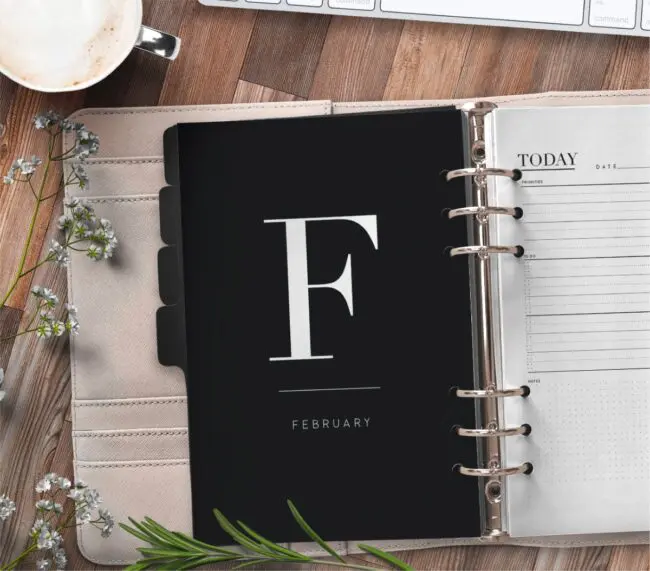 –
Free Year At A Glance Planner Page
These year at a glance calendar inserts are so beautiful and striking and they would look amazing at the start of a bullet journal or planner.
Such an easy and beautiful way of seeing the dates of the year quickly.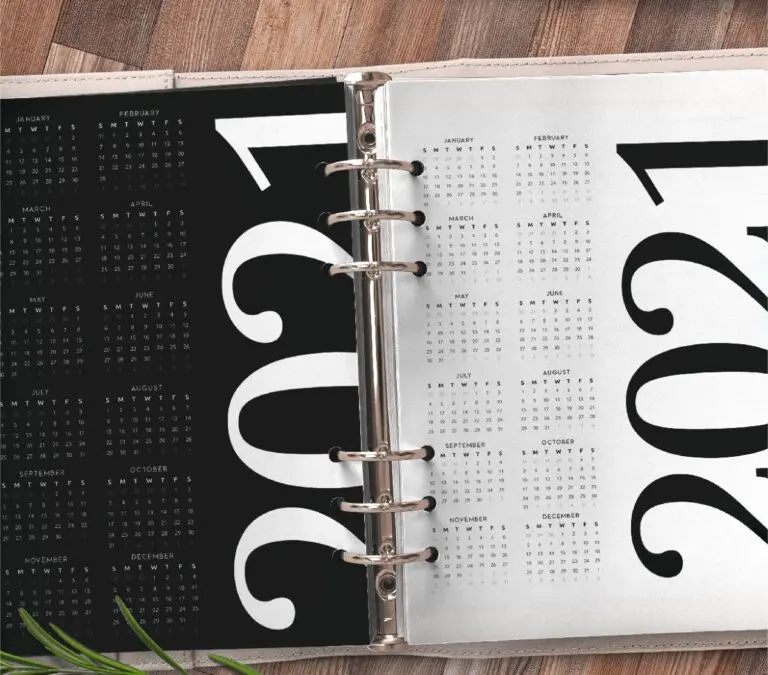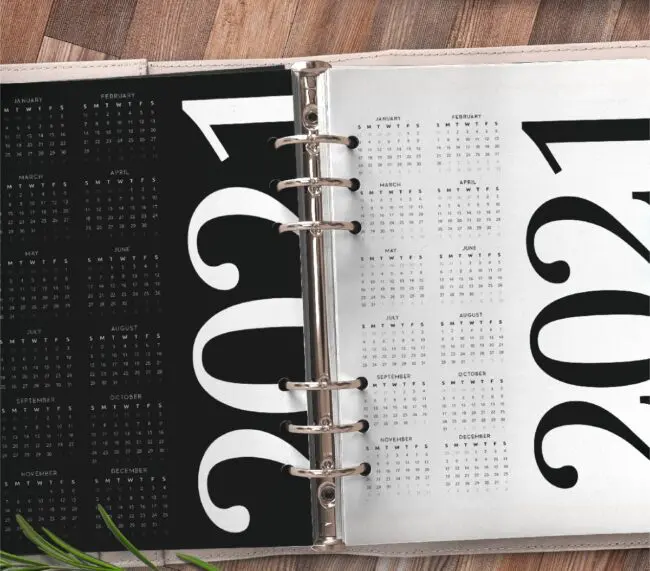 –
Free Calendar Planner Page Insert
This beautiful and simple insert features a monthly calendar in monochrome and it looks so good. You can get one for every month of the year.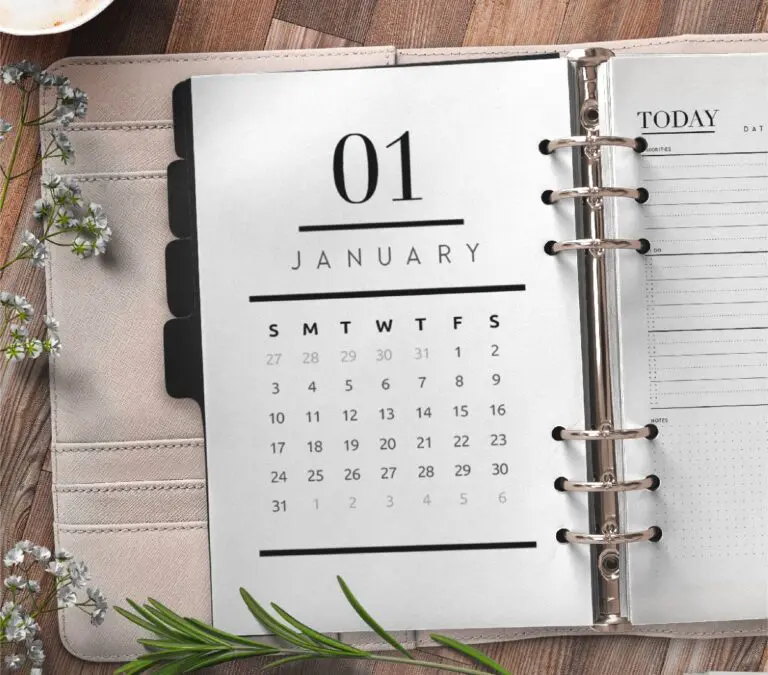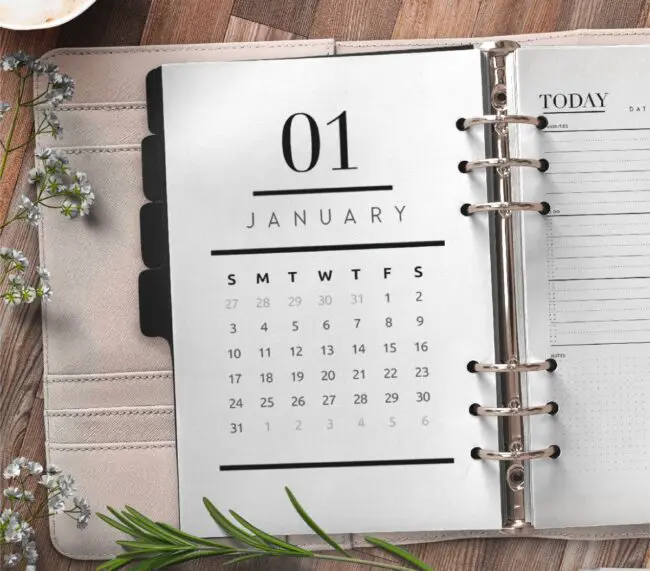 –
Minimalist Bullet Journal Inspiration
I totally love this minimalist spread by Maria. It has the perfect balance of bold and delicate that helps to make this visually striking but still simple and clean.
Her dainty writing matches perfectly with the larger bold letters and initials drawing your attention to key places.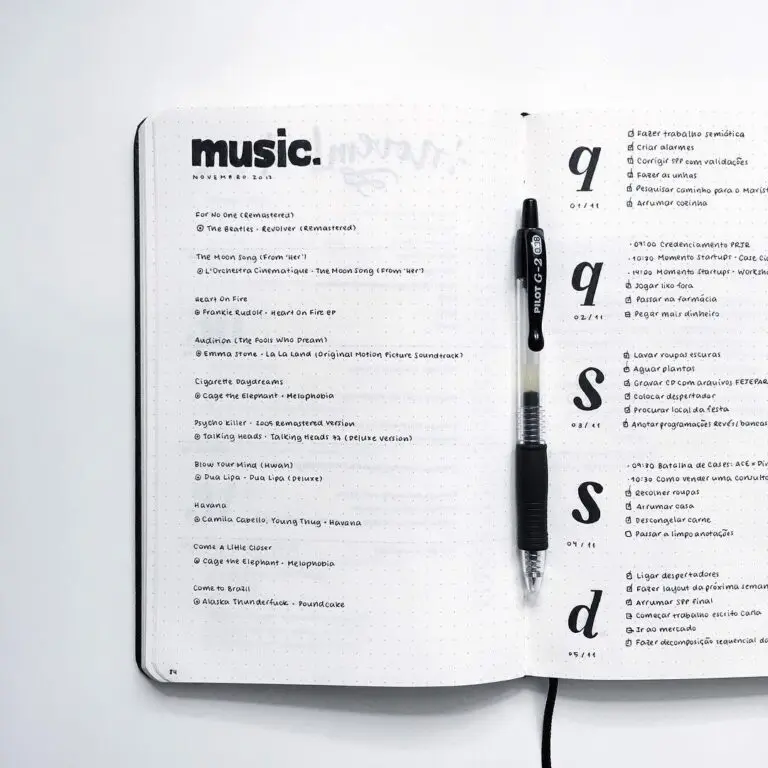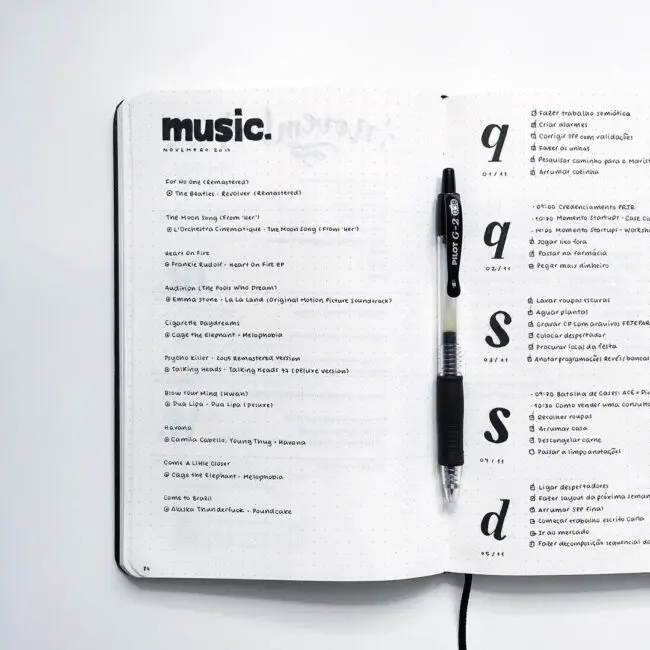 Pen used in this image: PILOT G2 Rolling Ball Gel Pens
–
Minimalist Daily Page Bullet Inspiration
This gorgeous page by Tangled Bliss has the perfect balance of black and white. This is such a cool example of monochrome minimalism, I totally love it. It's so stunning to look at and works really well. I'd recommend checking out her Instagram for more amazing inspiration.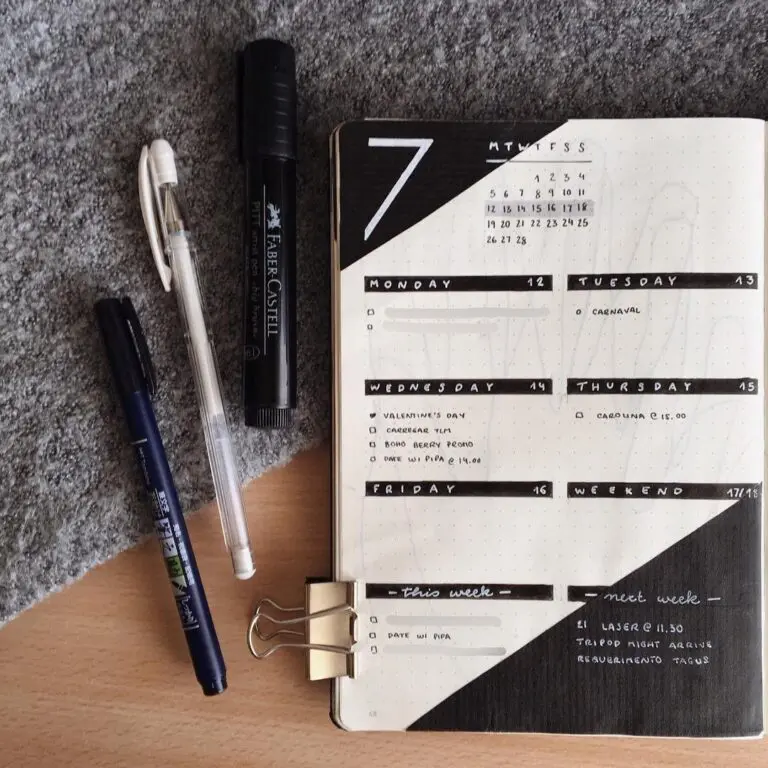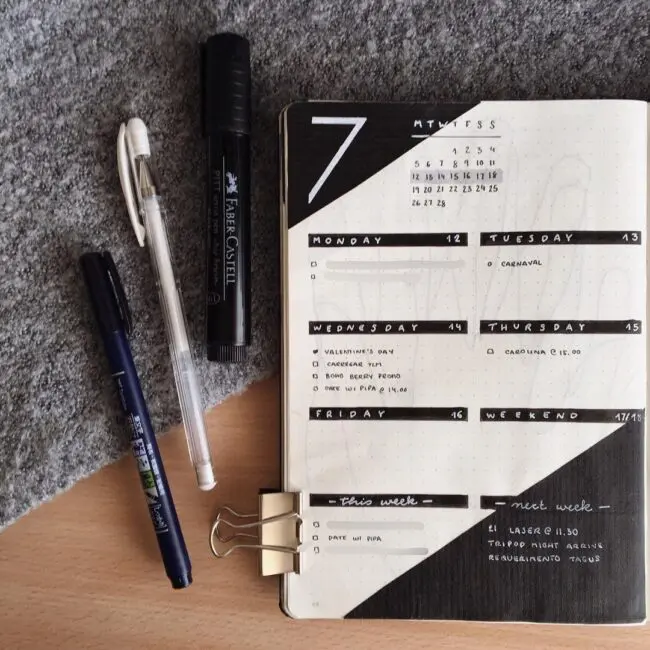 Materials used to create this design: Leuchtturm1917 + Faber-Castell Pitt Big Brush Artist Pen + Tombow 62039 Fudenosuke Brush Pens + Uni-Ball UM 153 Signo Broad Point Gel Pen
–
Minimalist Period & Weight Tracker
These tracker designs are so gorgeous and look amazing in this simple black and white format. I love the bold heading contrasting with the neat, small writing. The period grid is so well spaced out too, it's so pleasing to look at. If you love this style then check out Julia's Instagram, you wont' be disappointed.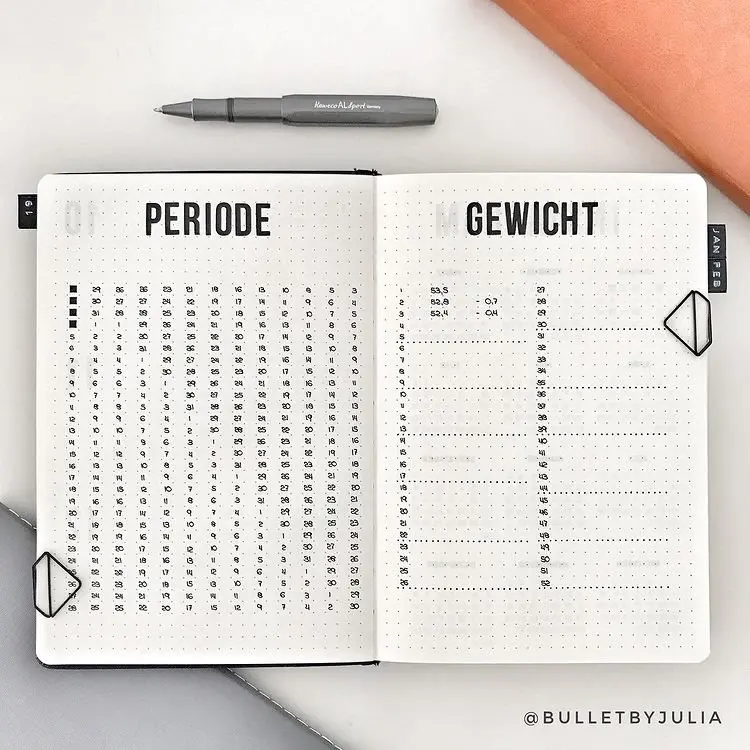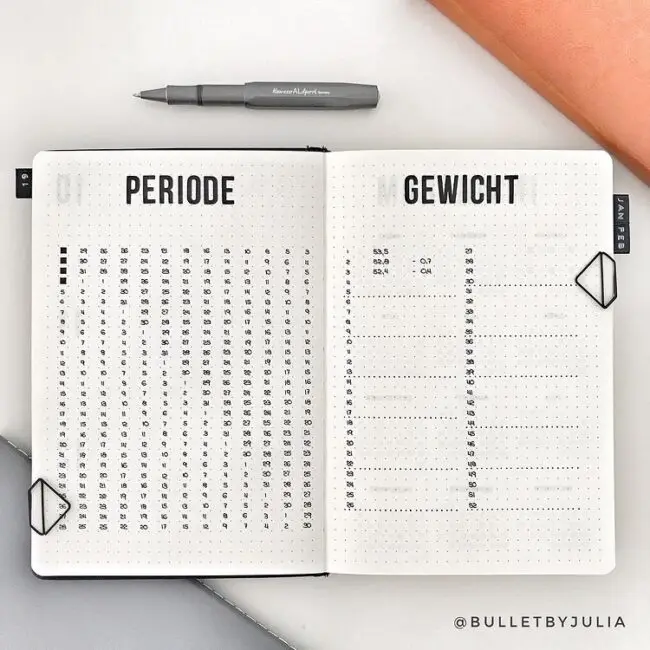 –
Minimalist Monthly Reflection Page & Monthly Cover Page
Not only does this stunning reflection page look great, but it is so useful too. Olivia uses this page to reflect on key issues of her life over the month and this helps her to see what she needs to improve on. It's such a lovely way of giving yourself a reality check. Looking for more smart ideas? Check out Olivia's Instagram.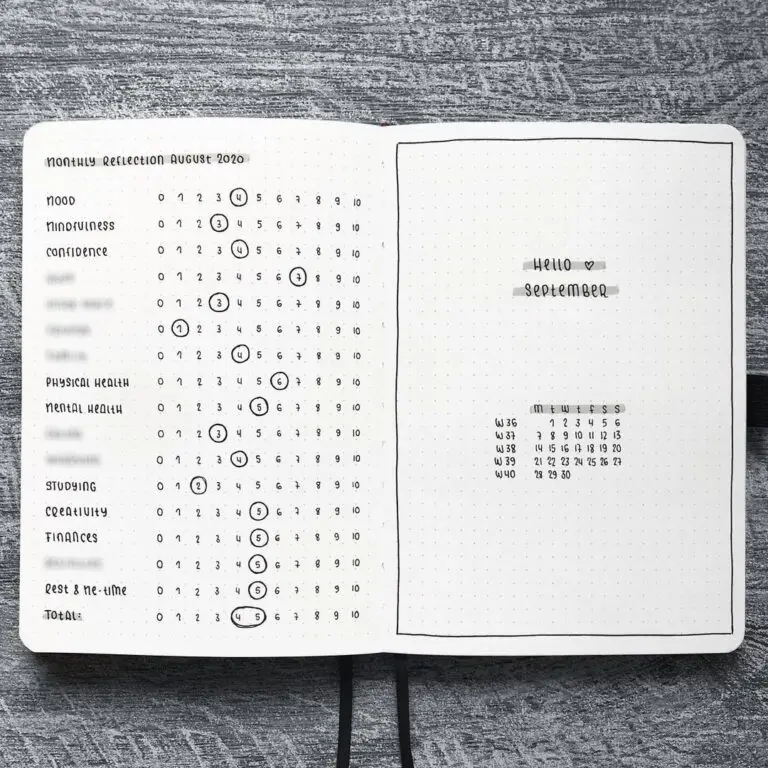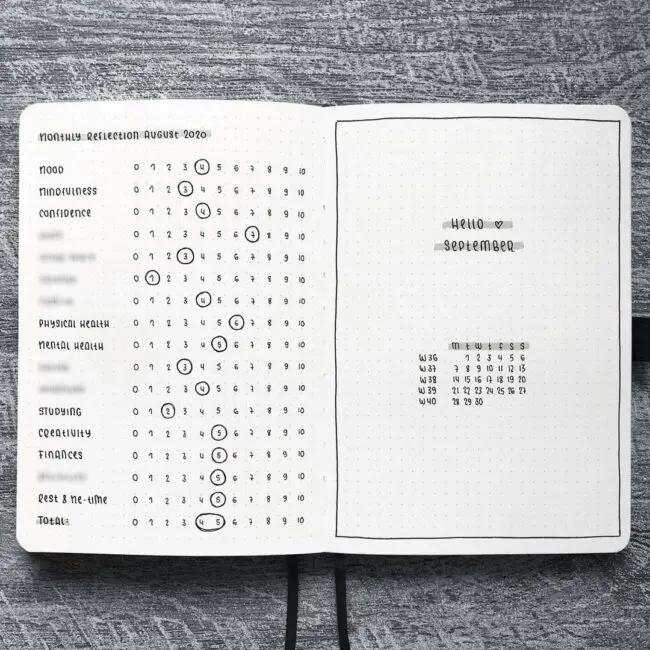 –
Minimalist Weekly Spread
How gorgeous is this weekly plan? It's so neat, organized and has so many different sections. You can see she has a trackers section, one line a day, home, every day of the week – so much stuff on one spread! And it all looks beautiful and has its place. Jen is a teacher who knows how to work a spread to her advantage. Check out her Instagram for more inspiration!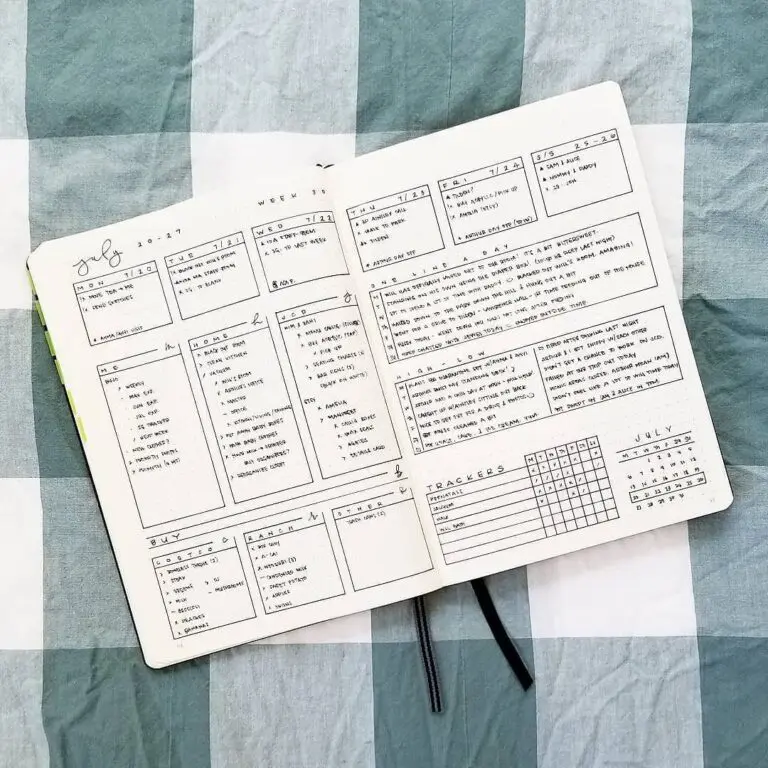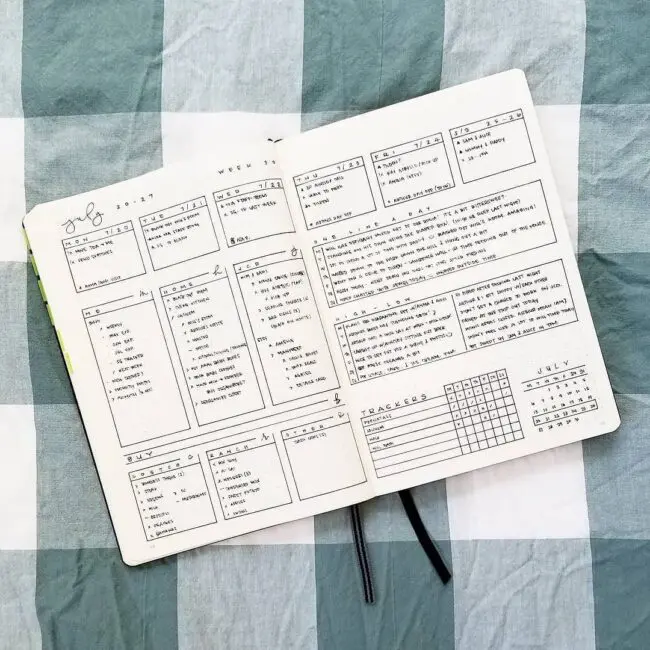 Materials used in this image: Leuchtturm1917
–
Minimalist Habits Tracker
I really like this page. I love how the habits are spaced out and how their grids are designed. I love the cute handwriting and the cool title. I love the vertical line banner across the top. There is such a nice balance with this page! Rosana has such a varied style and so many beautiful bullet journal pages. Be sure to check her out on Instagram.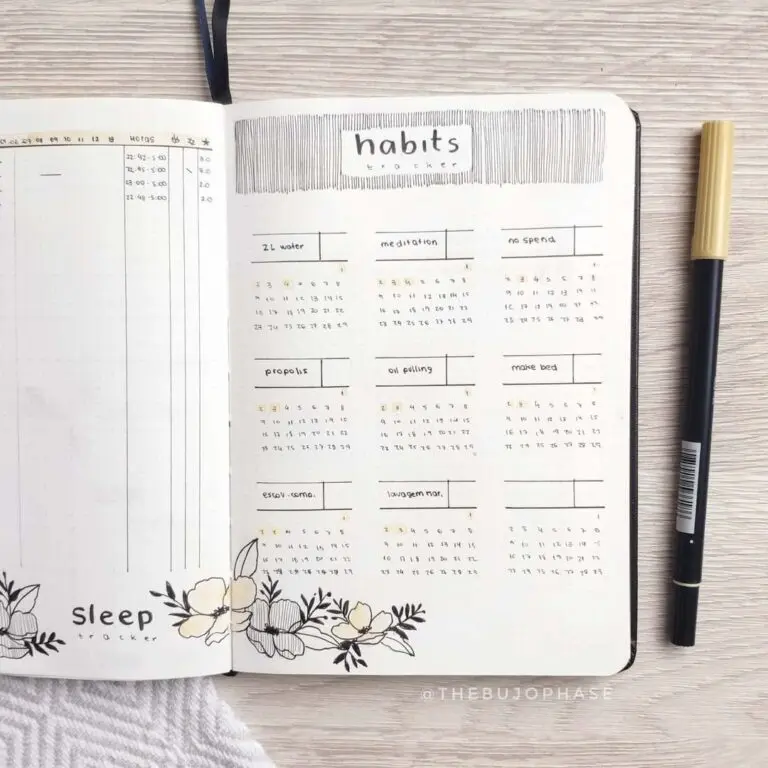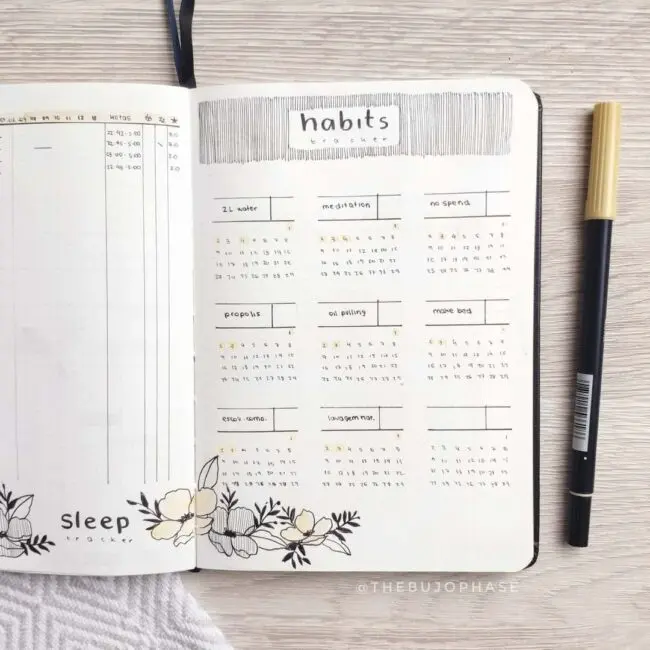 Pen used in this image: Tombow 56149 Dual Brush Pen Art Markers
–
Minimalist Yearly Cover
Simple. Striking. Straight to the point. I am a sucker for minimalism like this. Look at how well she has drawn the year! It looks so great. If you love bold monochrome bullet journal pages then Stina's Instagram is one to follow. She has incredible style, you will not be disappointed.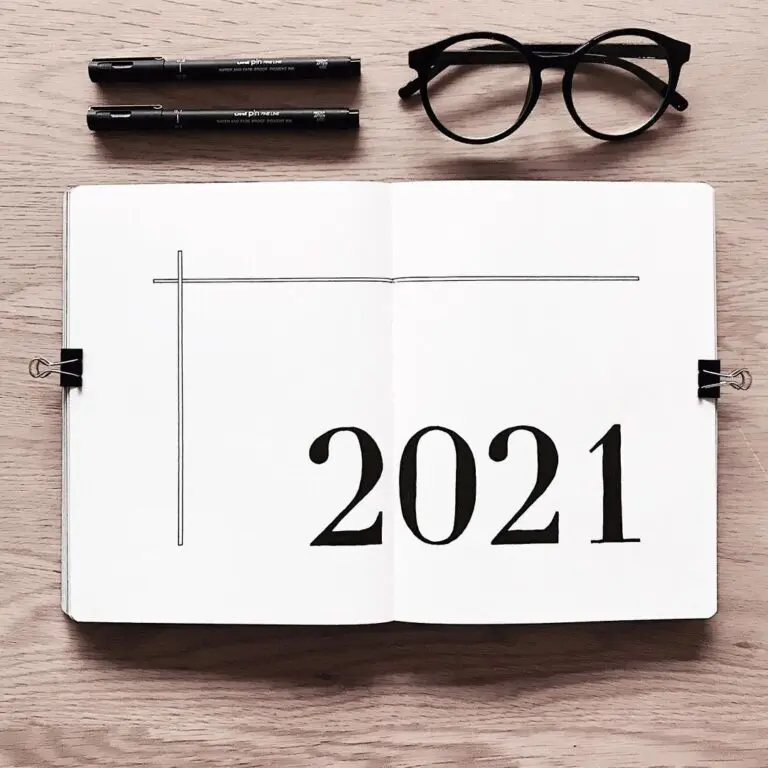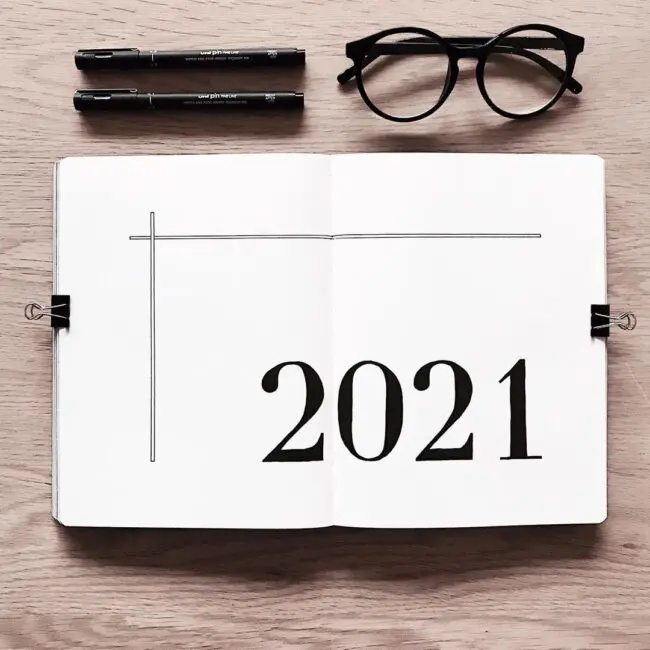 –
Minimalist Illustration Habit Tracker
This spread is so unusual and amazing! There is something about this that just captures me. I am in love with it. The beautiful eye illustration is so trendy and a great way of adding a minimalist style to any bullet journal. Check out Karen's Instagram, she has some super cute minimalist bullet journal pages.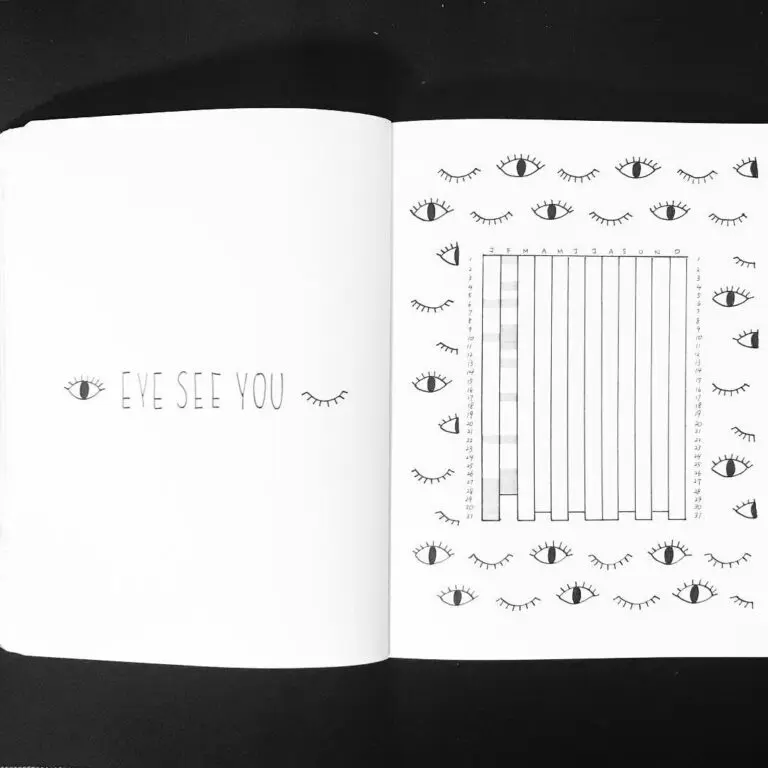 –
Minimalist Monthly Cover and goals
I love this spread. The J looks so cool with the circles and the January goals page is so neat and clean. I like how simple and effective this spread looks and the touch of grey is really nice. This is another great design from Olivia.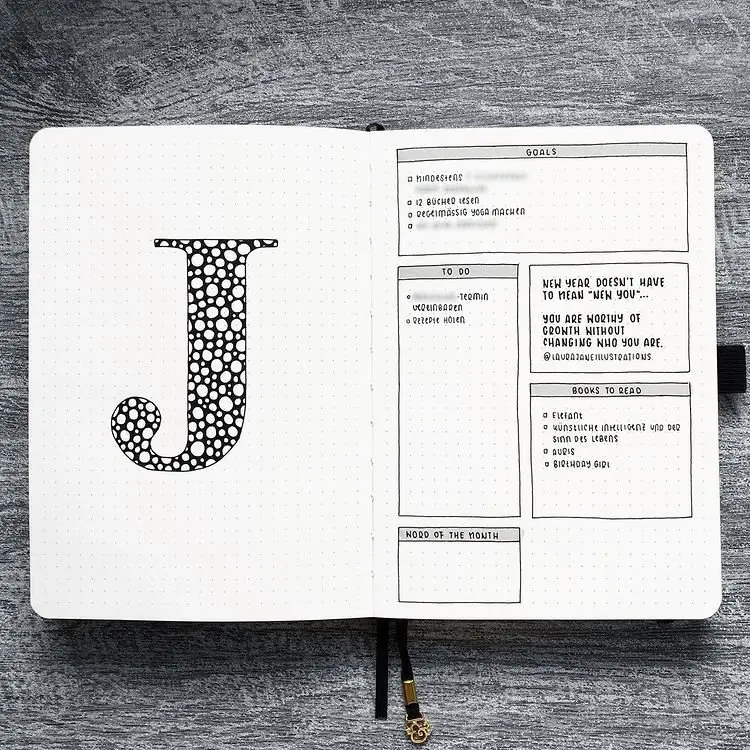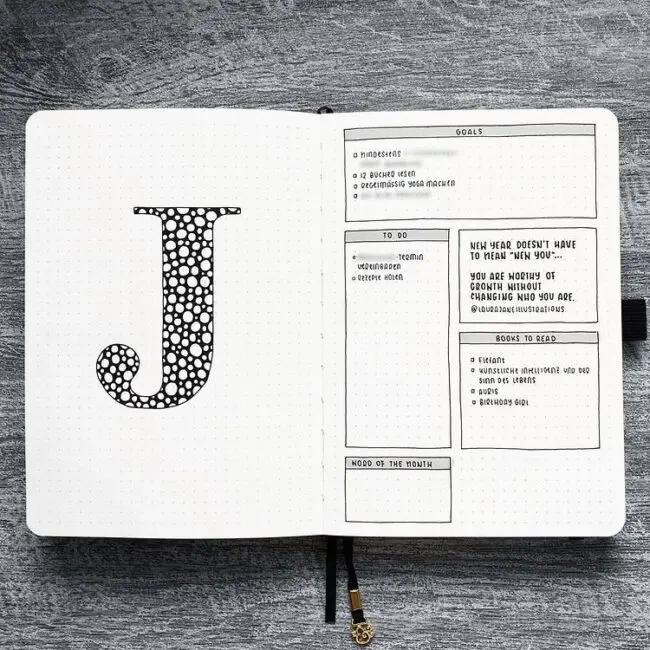 –
Minimalist January Cover With Botanicals
How lovely is this cover page? I love the use of black and white here especially with the white overlapping the black and the use of white in the title. There is just something so pleasing about this beautiful, elegant page. If you want to see a mix of really cool bullet journal pages then I definitely recommend her Instagram.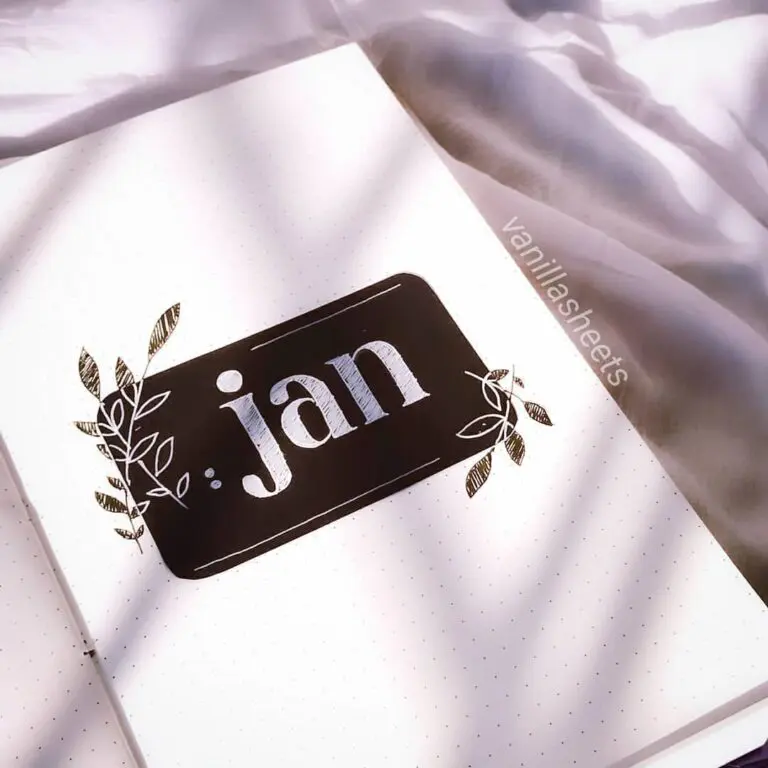 –
Minimalist Bullet Journal Calendar Cover Page
I am in love with this is a beautiful, minimalist page. I love everything about this page from the delicate flowers, and the beautiful writing to the pretty washi tape. I think the washi tape finishes this off with its neutral color and soft pattern. If you love this and want to see more then seriously check out her Instagram, you will fall in love.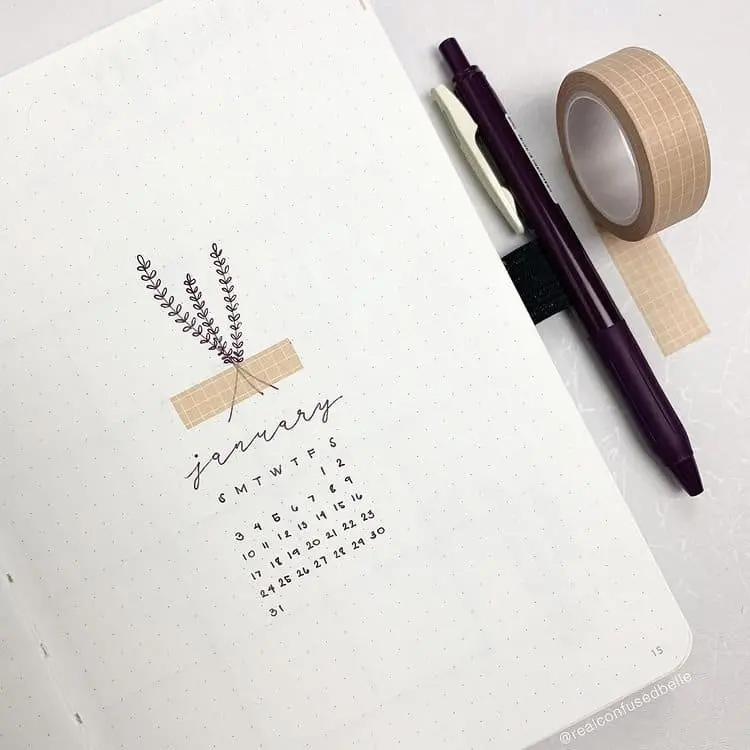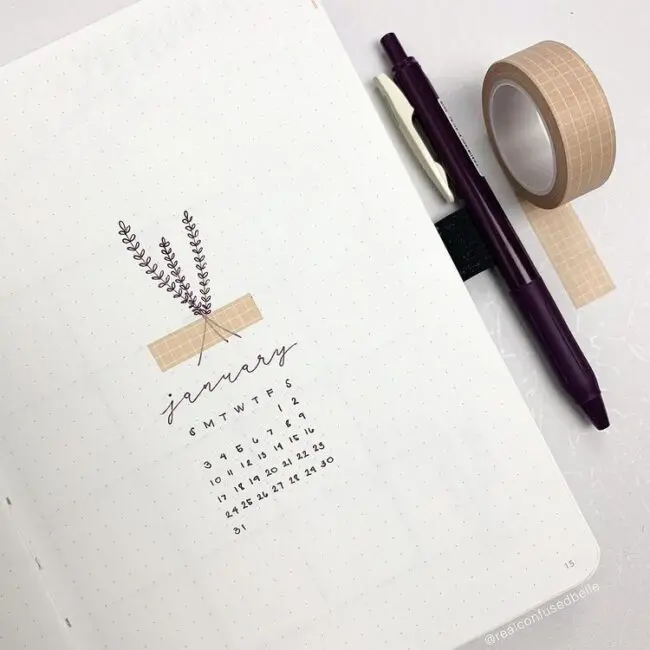 Materials used to create this image: BUKE A5 Hardcover Dotted Notebook + Zebra Gel Ballpoint Pen – Bordeaux Purple + Grid Washi Tape Set
–
Flower Illustrational Yearly Cover
I absolutely adore this floral yearly cover. It's so delicate, pretty and simple. This beautiful illustration and color scheme makes the start to an amazing theme. If you love this delicate cover and want to see more then check out Anouk's Instagram. She has some really lovely illustrations.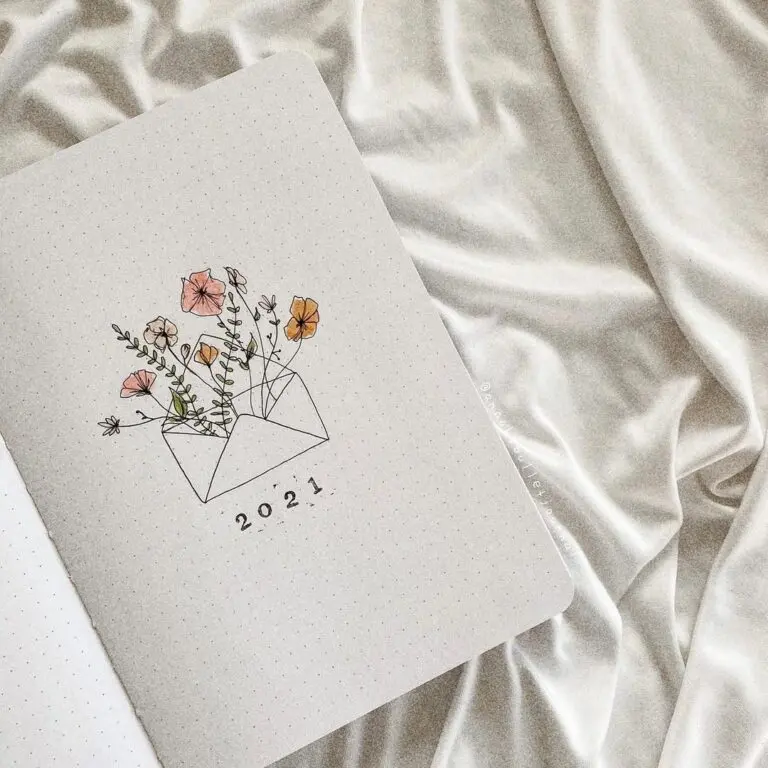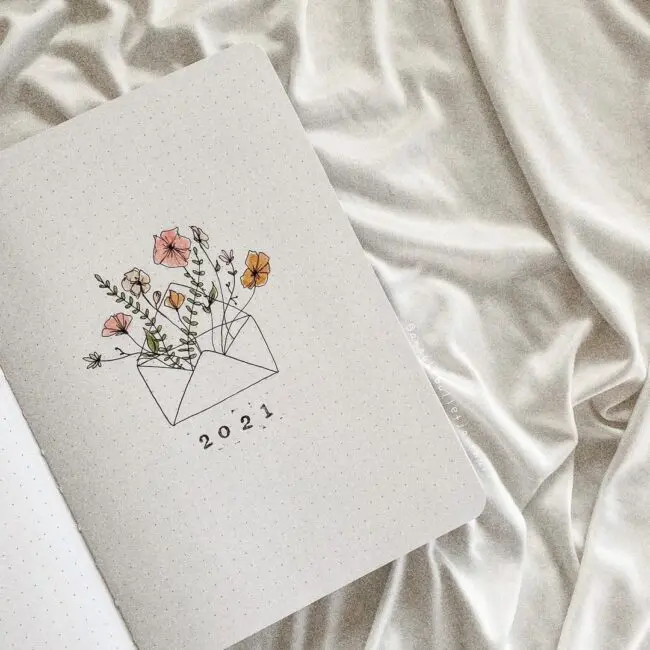 –
Minimalist Quote With Botanicals
I adore this page. It has beautiful writing, a beautiful quote, stunning botanical touches and a soft, muted color palette. This page just comes together so beautifully. Regina has the most amazing collection of delicate bullet journal pages on her Instagram. You will fall in love.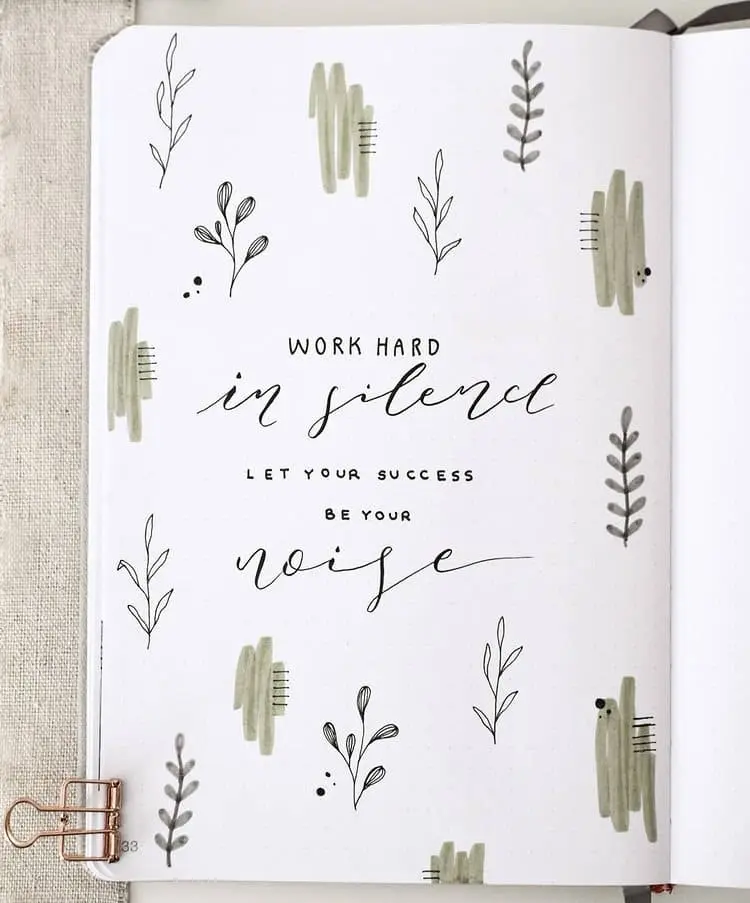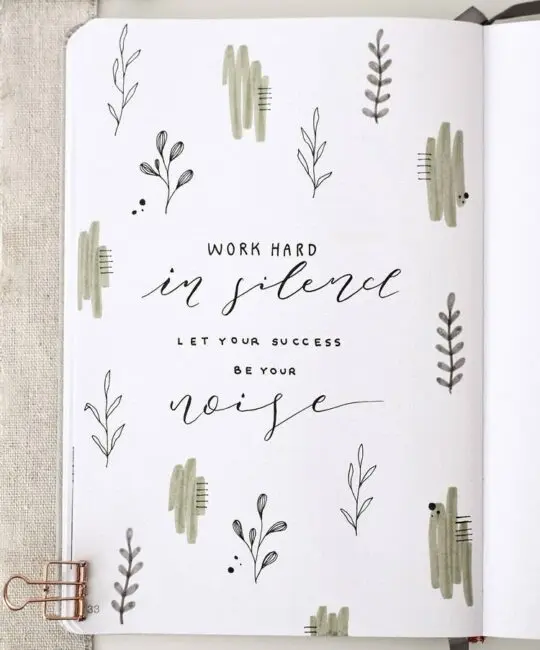 Pen used to create this design: Tombow 62039 Fudenosuke Brush Pens
–
Minimalist Period Tracker With Flower Illustration
This beautiful period tracker page is both minimalist and elegant. I love the clean simplicity of the tracker with the single line flower illustration. They both work so beautifully together. Bhavya has such a delicate style, check out her Instagram for more inspiration.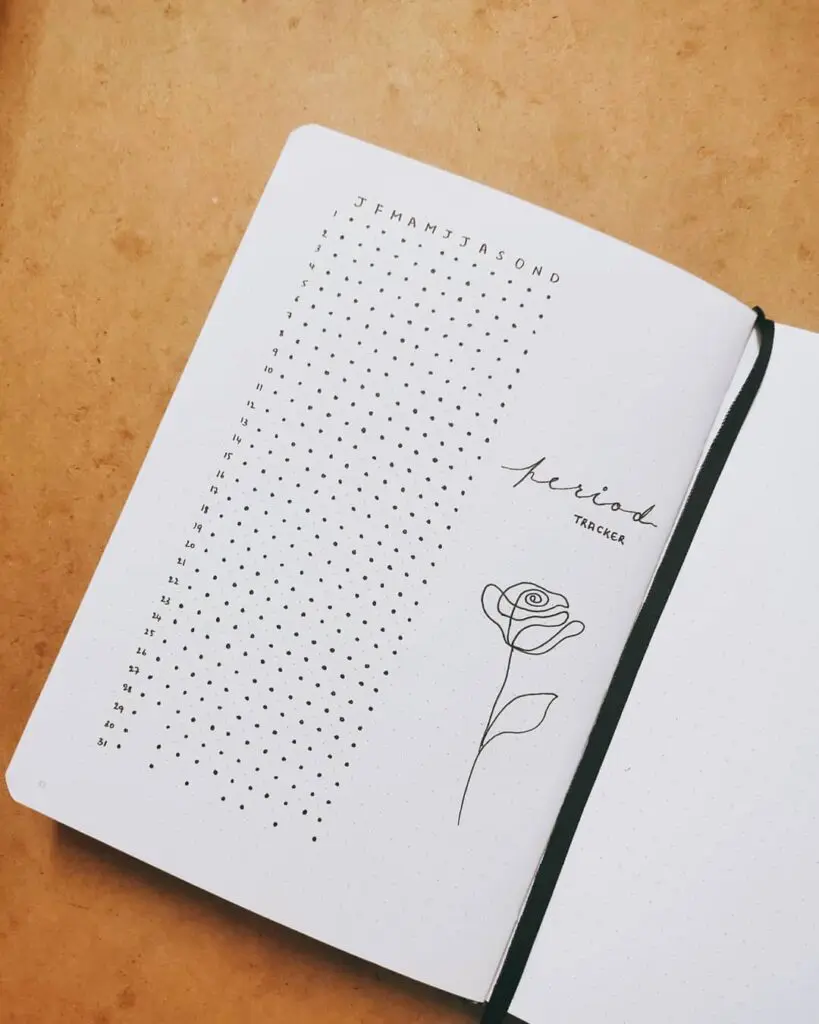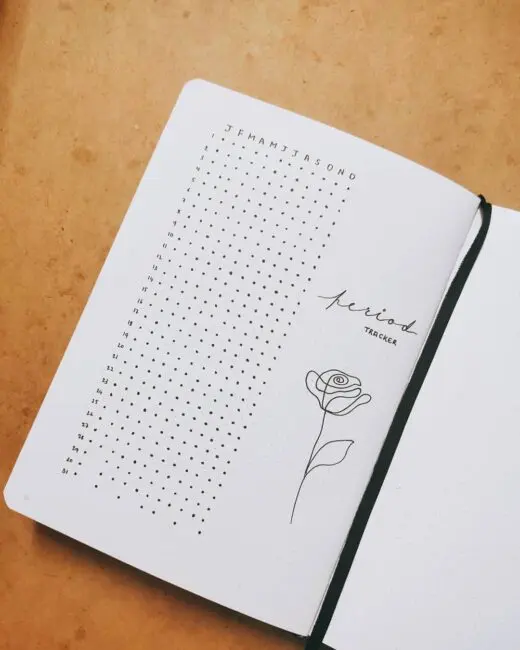 –
Minimalist Terrazzo Quote Page
This is such a great page and is so delicate. I love the writing and the beautiful quote along with the Terrazzo style (or confetti) background. It's nice to see something different when looking for minimalist bullet journal pages and this is definitely one of my favorites. If you want to explore more of this theme then check out Amiza's Instagram.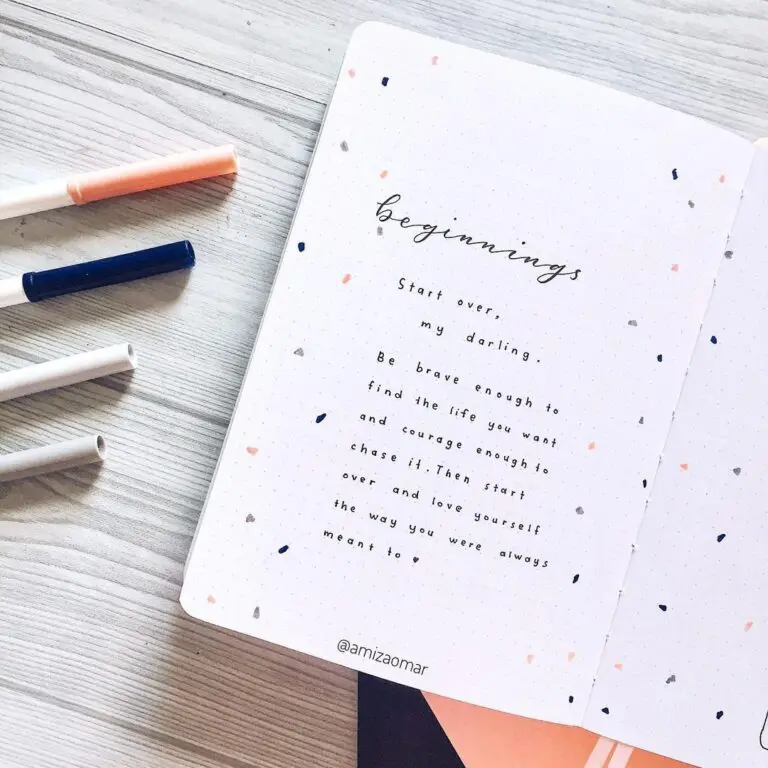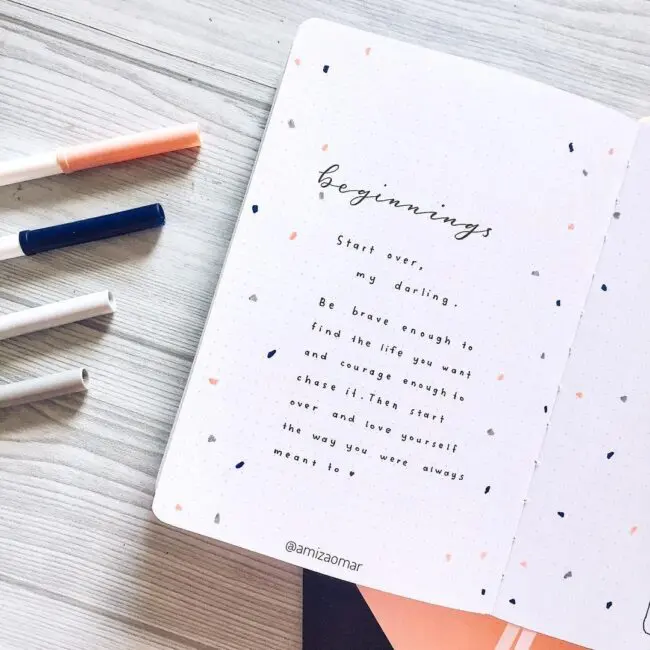 Materials used to create this design: Journal +  Crayola Super Tips Marker Set
–
Phases Of The Moon Spread
I love everything space and celestial so when I saw this spread I had to feature it. This gorgeous spread focuses on the phases of the moon and it looks amazing. Maggie has done a great job at keeping the focus on her illustration by keeping her writing small and neat and that helps complete this design. It all works beautifully. If you love this, you will love Maggie's Instagram. She has such an amazing style.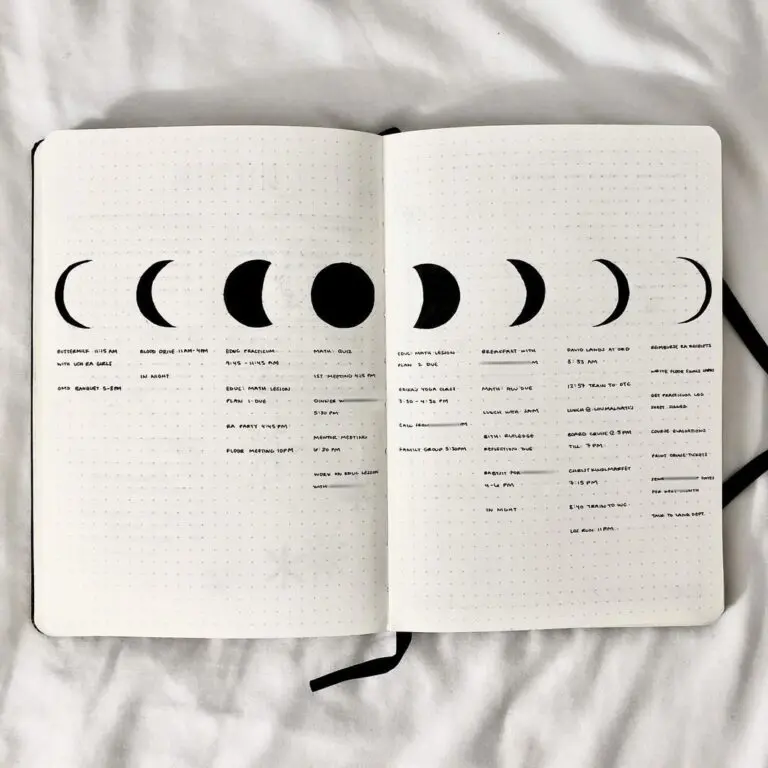 –
Black and White Minimalist Spread
This spread is so gorgeous! I love the contrast between the checked page and the minimal floral page and all the space that it gives. The polaroid design clipped on to the page is also very pleasing to see and just looks great. What is not to like about this stunning design? It's definitely one of my favorites. Lory has such impeccable style and her Instagram is amazing.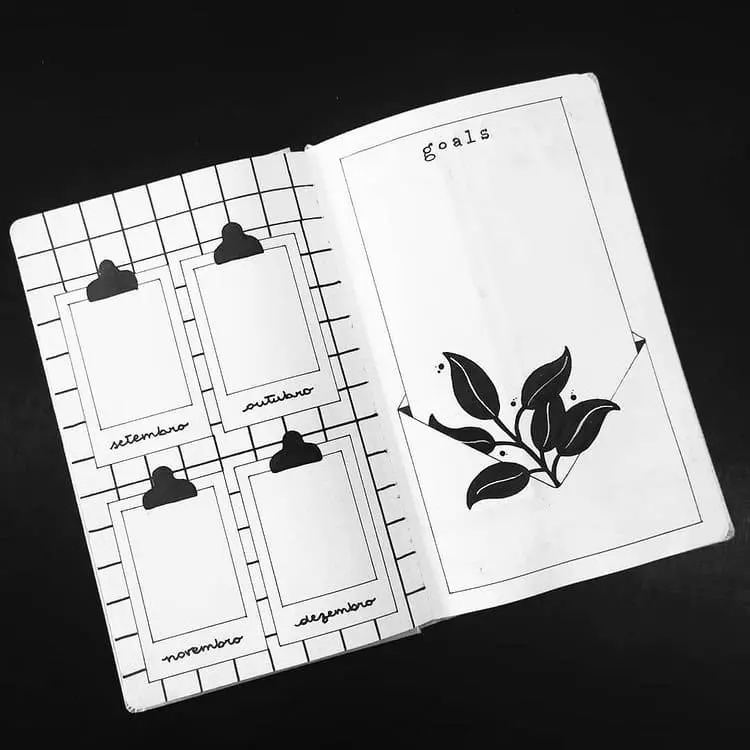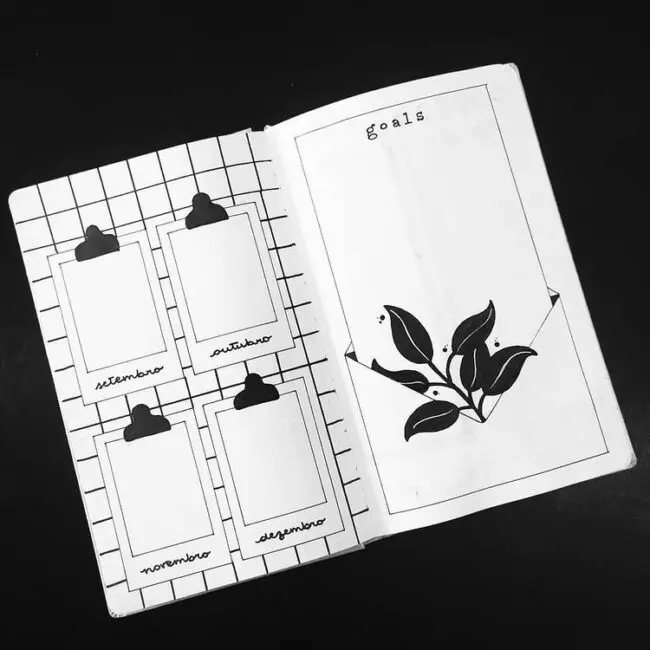 –
All the best minimalist bullet journal ideas for your inspiration
Each of these minimalist bullet journal ideas give me so much inspiration! They are all so stunning and so impressive. I'd totally recommend checking all of these girls Instagram pages out, they are all amazing artists.
If you liked this post, please share it as it helps us out a lot and let's us know you like our content!
–
Want bullet journal and planner freebies?
You can get our amazing free bullet journal and planner stickers here.
Access our free printable bullet journal and planner inserts here
Learn how to start a bullet journal in 2021 here