If you're here, it's either because you're looking for a printable meal planner, or because you're ready to make a change when it comes to being organized at meal times.
So let us help you put a stop to those spontaneous trips to the golden arches, no more grabbing unhealthy snacks to munch in the queue of the supermarket because you went shopping whilst you were starving – we all know that's a no-no!
Today we are taking a look at meal planning but more importantly meal planners! You don't even have to draw up one yourself when we have 15 incredible options for you right here.
All of these meal planners are designed differently to give you options to suit your style and needs but they all have one thing in common – they are great for helping you prepare your weekly meals easily.
Meal Planning For Beginners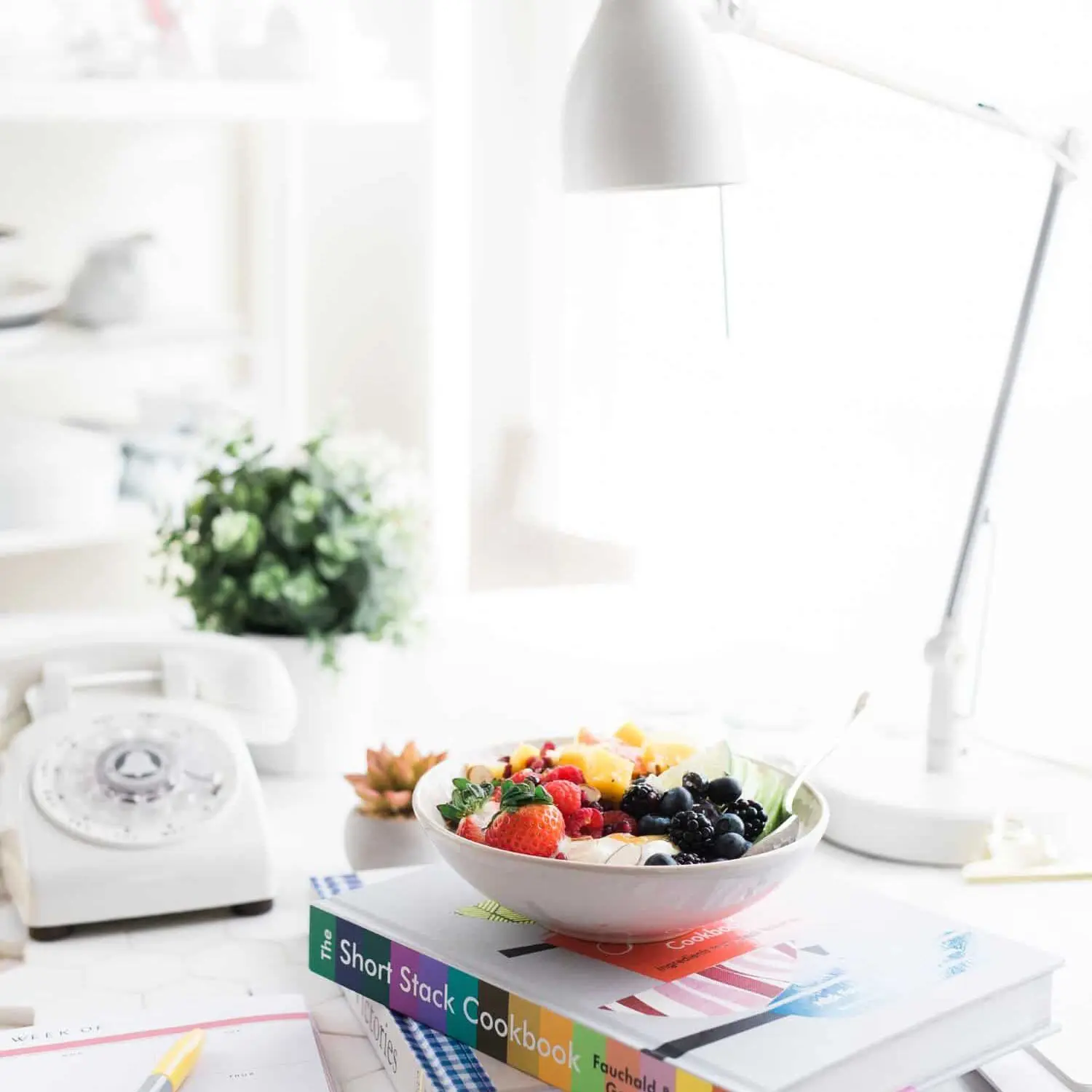 Many people are put off by the idea of meal planning because they think it takes too much time and they don't know where to start.
I was one of them and really, I feel so silly for putting it off for so long, especially when I was so busy. Meal planning can help save you a ton of time without taking a ton of time to do.
Meal planning isn't hard either! Sure you need to sit down and do some thinking and planning things out but it can actually be fun!
Thinking about what you want to eat gives you the opportunity to try new things, saves you money at the supermarket, and allows you to fit in those sneaky take-out meals you like every now and then.
Let's take a look at some meal planning tips to get this journey started!
Meal Planning Tips
Check the fridge, freezer and pantry.
I think the first thing to do when it comes to meal planning is to check what you already have and utilizing it. Check your cupboards, fridge and freezer and incorporate those ingredients into a meal you could have.

Go through each ingredient and write them down so you have them at hand when it comes to planning your meals. I'd also write the best before date of the fridge items if they are going to start to expire in the next couple of days. This will help when you plan your meals as you can plan it so the more perishable items are used at the start of the week.

Get inspired
Look at meal planning as a fun thing to do. This is where you get to sit and actually think about what you want to eat rather than cooking on a whim or hitting the closest fast-food chain. One of my favorite parts of meal planning is this stage. At this stage, I'm not limited to anything and I don't rule anything out.

I love looking online to see new meals we can try, especially since I have children. I'm always looking to get them involved in trying new foods but always have a safe option as back up. I've always been creative in the kitchen but I like to limit my meals to just a few ingredients. When I see a recipe with a ton of ingredients it puts me off. Maybe because it looks like more work, or I worry about how much it's going to cost as the ingredients stack up. So for me, I like to keep it simple.

Why not sit down with the laptop or a few of your favorite cookbooks and start to get an idea of what you would like to try going forward.

Get your family involved
If you have a family, partner or kids then it is important to get them involved too seeing as they are also going to eat whatever you cook. Some kids love getting involved in choosing their meals and this helps them when it comes to them actually eating it. Other kids just want chocolate as a main meal – I'm not pointing fingers at my three-year-old daughter!

Getting your household involved can also help with cost and waste. You won't waste money on food they definitely won't eat, and you won't waste the food either.

Have themed meal nights – Mexican, Chinese, Indian
Having themed meal nights is a great way of having a sort of meal routine. If your family loves Mexican food then plan to have it once a week on a Thursday. That way you know that every week you will be having Mexican food on one night that week, all you need to decide on is what. This takes away some of the hassles of trying to figure out what meal to have from scratch.

Having a 'genre' of food definitely helps take away some of the guesswork and allows for you to have your favorite take away meal but home-cooked. In saying that, remember to factor in take out meals too or dining out options. That way you won't have to buy food for those nights and can spend the money you save on your dining out options.

Include leftovers
So many people like to factor in leftovers when they meal plan and this can be a great idea for saving you money and time. It's a bit like Christmas day when you use the leftover turkey to make a pie or sandwiches on Boxing day. If you have a big meal the night before and plan for leftovers the next day then you can cook a bigger quantity and put some aside.

Scribble some draft ideas
Now is a good time to grab some paper and scribble out some draft ideas. No doubt your mind is going to change when it comes to putting ingredients together so before you set anything in stone, try to figure out your end solution.

At this stage, take a look at what you already have (we spoke about this earlier) and jot down the other ingredients you might need to complete the meal. These might be other items you already have in the house or it might be something you need to add to your grocery list.

Download your free printable meal planner
Now is where you get to choose a meal planner to put all your planning in an organized manner. These planners are all free and come in so many different styles. Many come with free grocery lists too which is super helpful.

Prep over the weekend
One of the best ways to start meal planning is by doing it over the weekend. The weekend is where you have more time to spend time on this rather than trying to fit it in after work during the week.

Many people use the weekend to do it all. Spend Saturday morning planning it out and doing the grocery shopping and Sunday can be used to batch cook anything and freeze meals if that's what you want to do.

People love to just take something out of the freezer and pop it in the oven or microwave to save them time but I personally like to cook every night. It takes me away from sitting at my laptop all day working. Even though I like to cook, I like to keep it simple. Knowing what I need to cook makes all the difference.

You can resize any of these meal planners to fit your planner by following this guide.
–
Free Printable Colorful Weekly Meal Planner Template
This colorful weekly meal plan offers space to write your meals for every day of the week along with space for any additional notes and ideas. This bold and colorful meal plan also comes with a matching grocery list with pre-written headers or a blank version.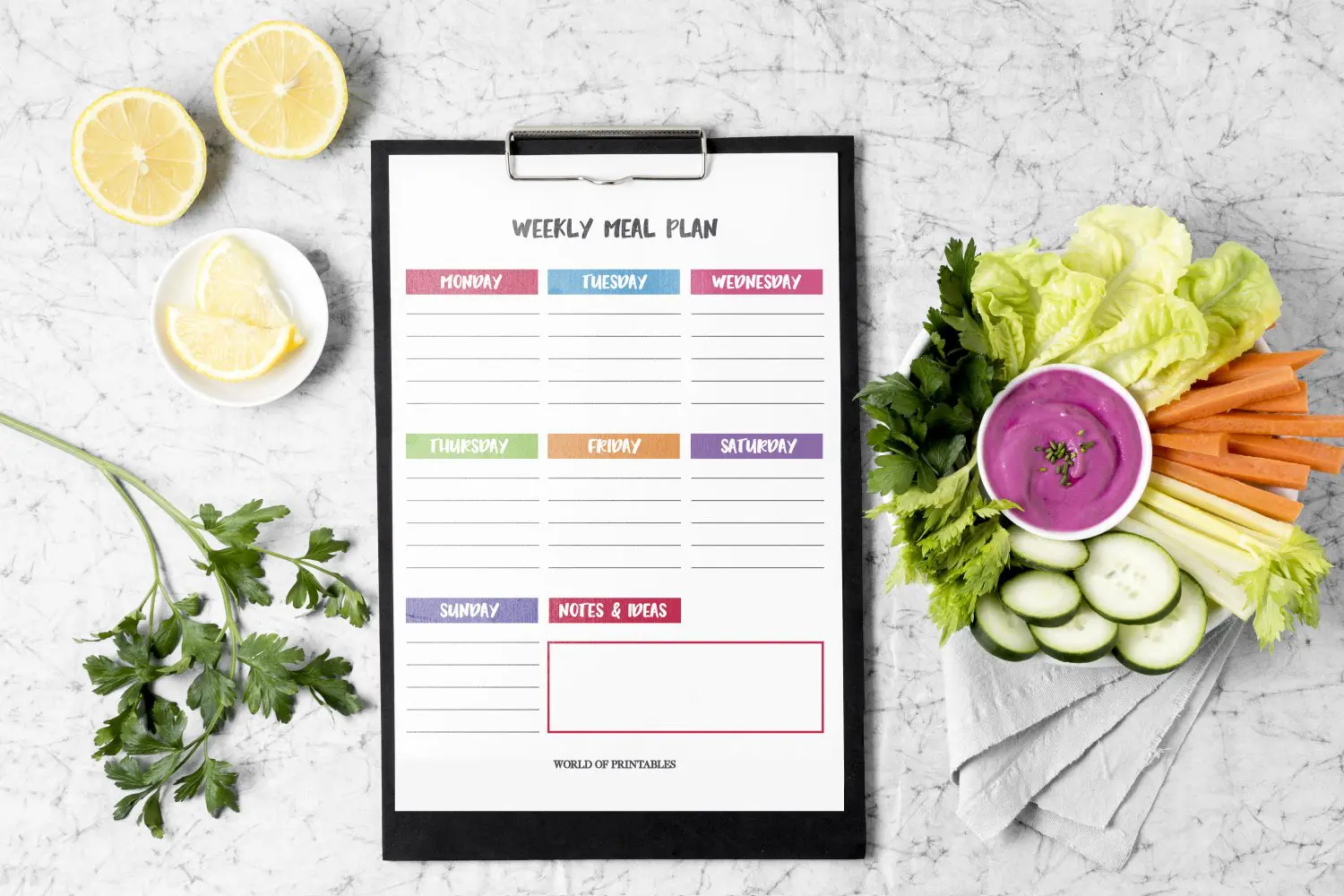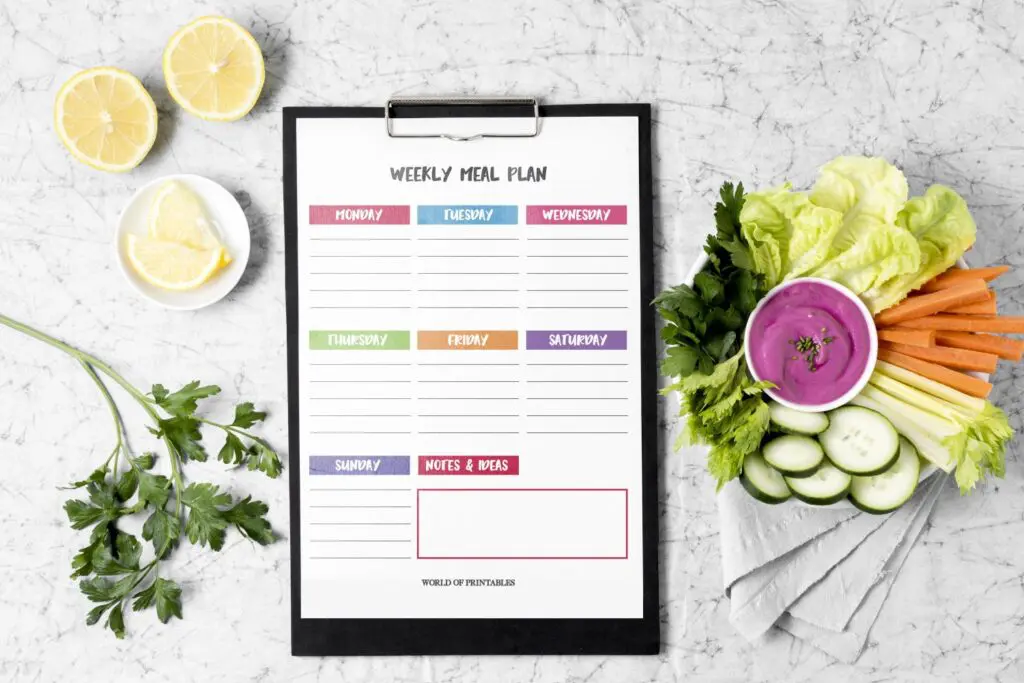 Found on: World of Printables
–
Free Printable Minimalist Weekly Meal Planner
I love this minimalist weekly meal planner! It looks so stylish and clean and looks great in a planner! This meal planner has space for each day of the week and also comes with a super cute matching grocery list with minimalist doodles.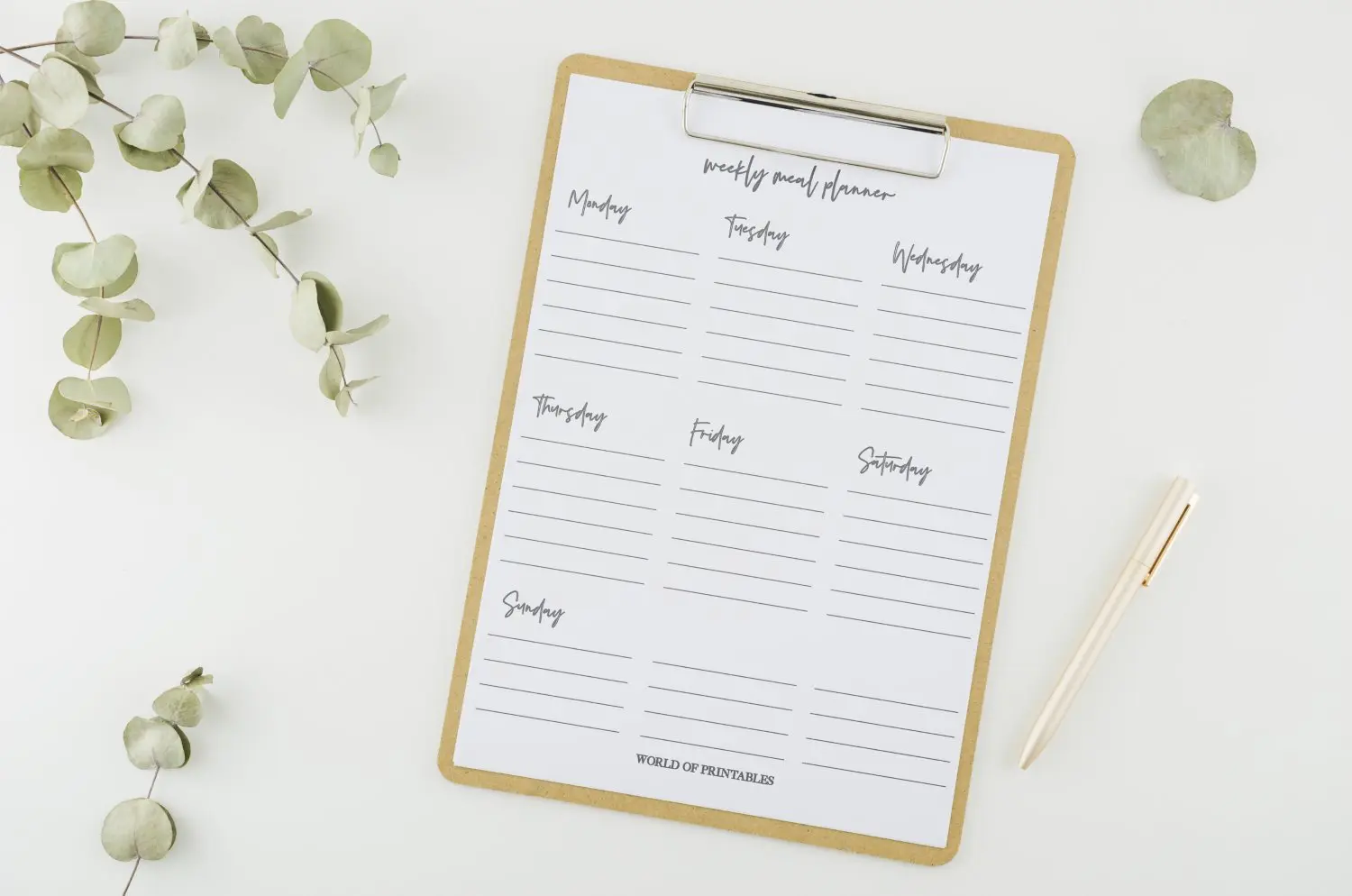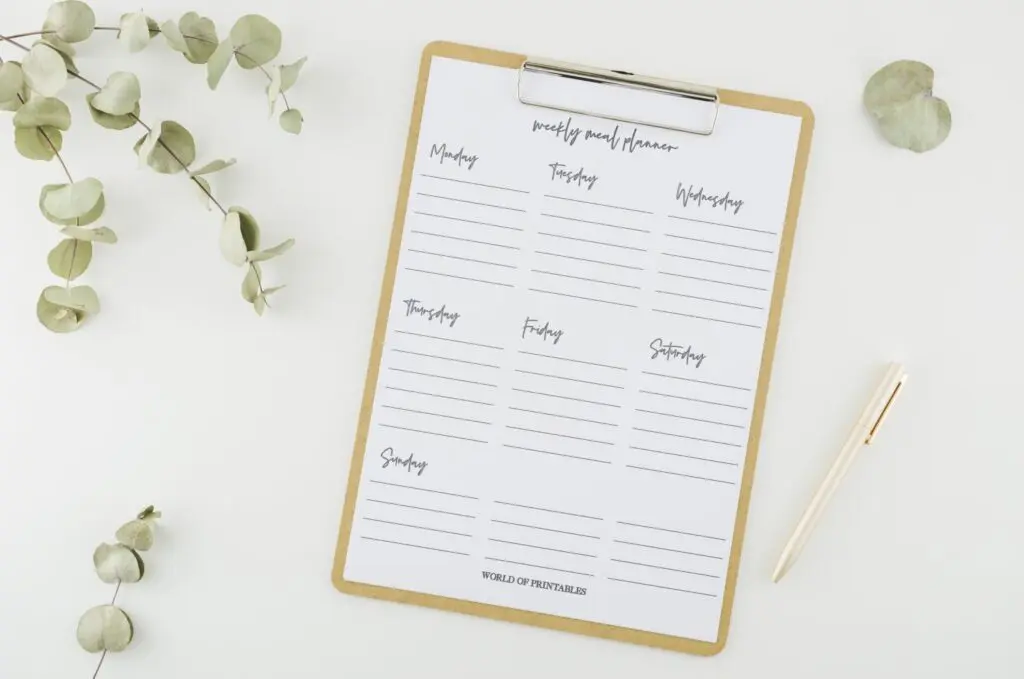 Found on: World of Printables
–
Free Printable Triangle Pattern Weekly Meal Planner
If simple and cute patterns are your thing then this triangle pattern meal planner is a great option. This pretty meal planner is designed in a list format and also comes with a free matching grocery list.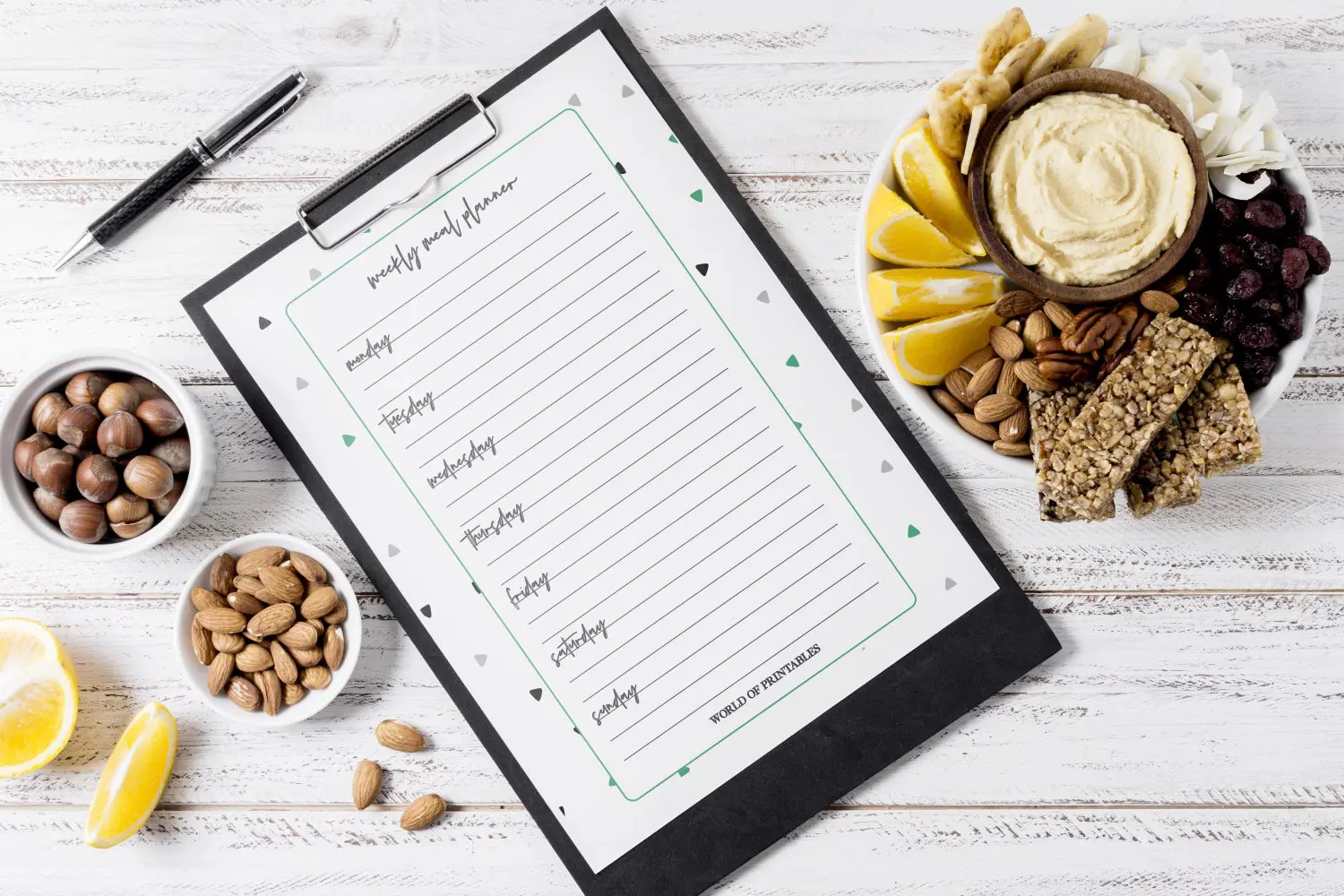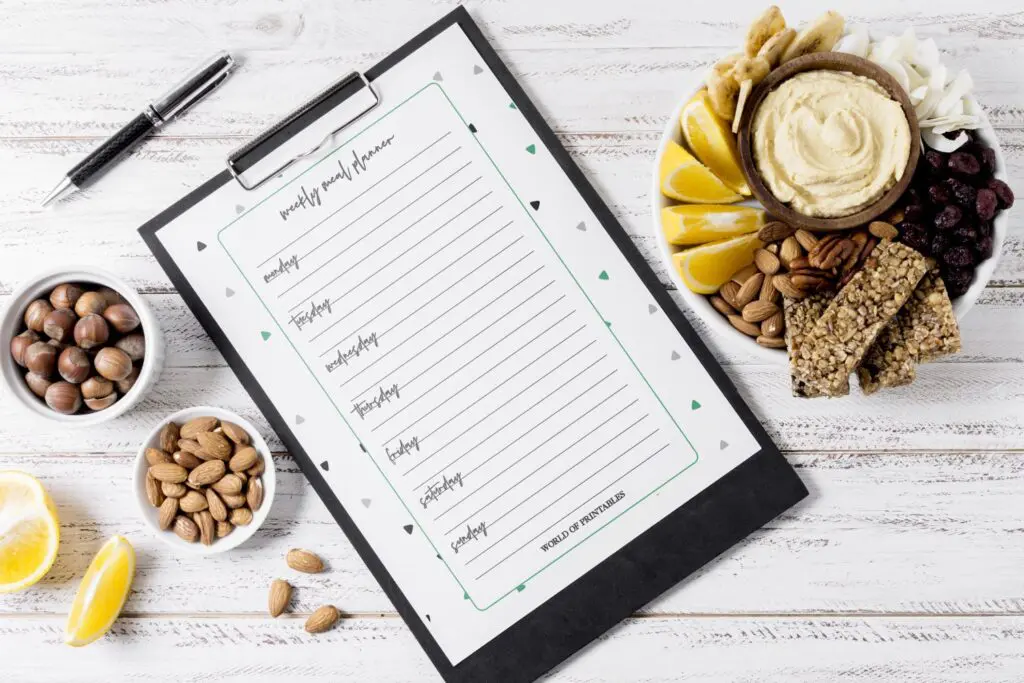 Found on: World of Printables
–
Free Printable Meal Planner
This is such a great idea for a meal planner. The idea here is to write down the weekly dinner meals and have them on display in the kitchen. This way everyone can see what's for dinner without asking you constantly! You can also laminate this so you can easily wipe it clean week after week.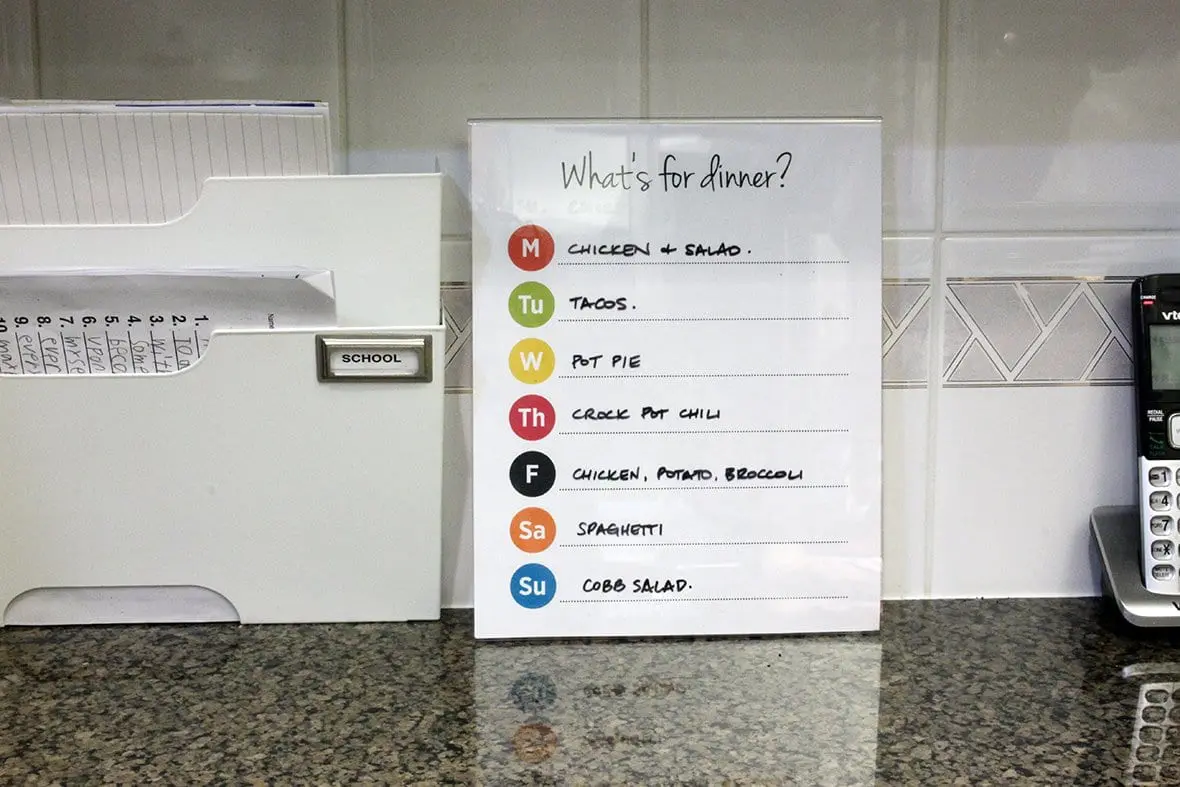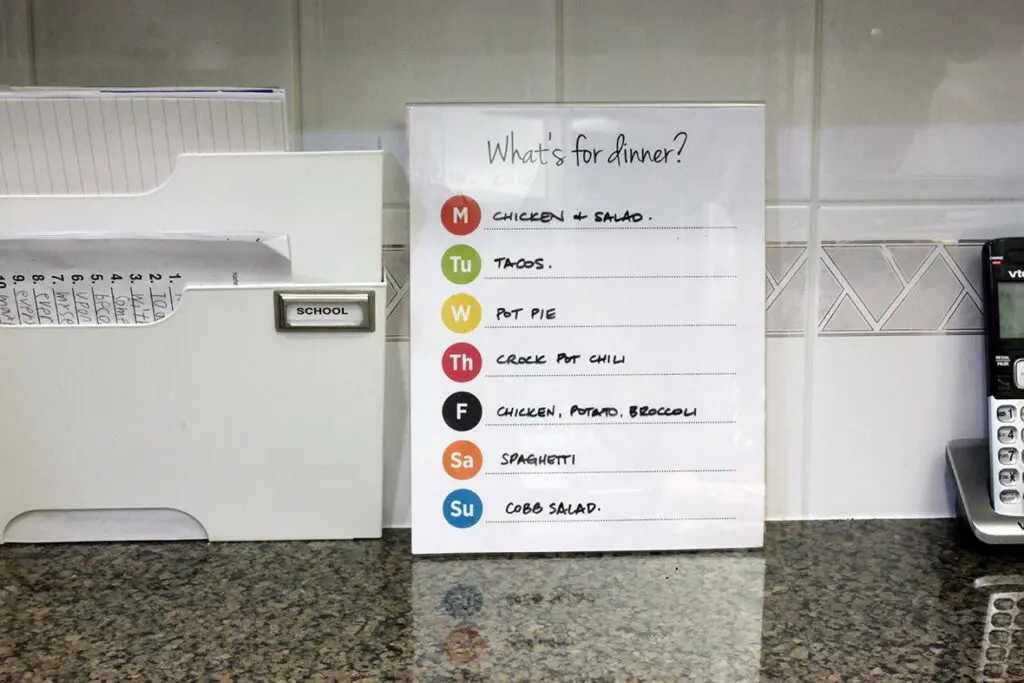 Found on: Visual Meringue
–
Printable Weekly Meal Planner
This cute meal planner starts on a Sunday and has space to write all three meals of the day and snacks! This is a great meal planner if you want to plan every meal of the day. You can also laminate this planner for easy cleaning and reuse.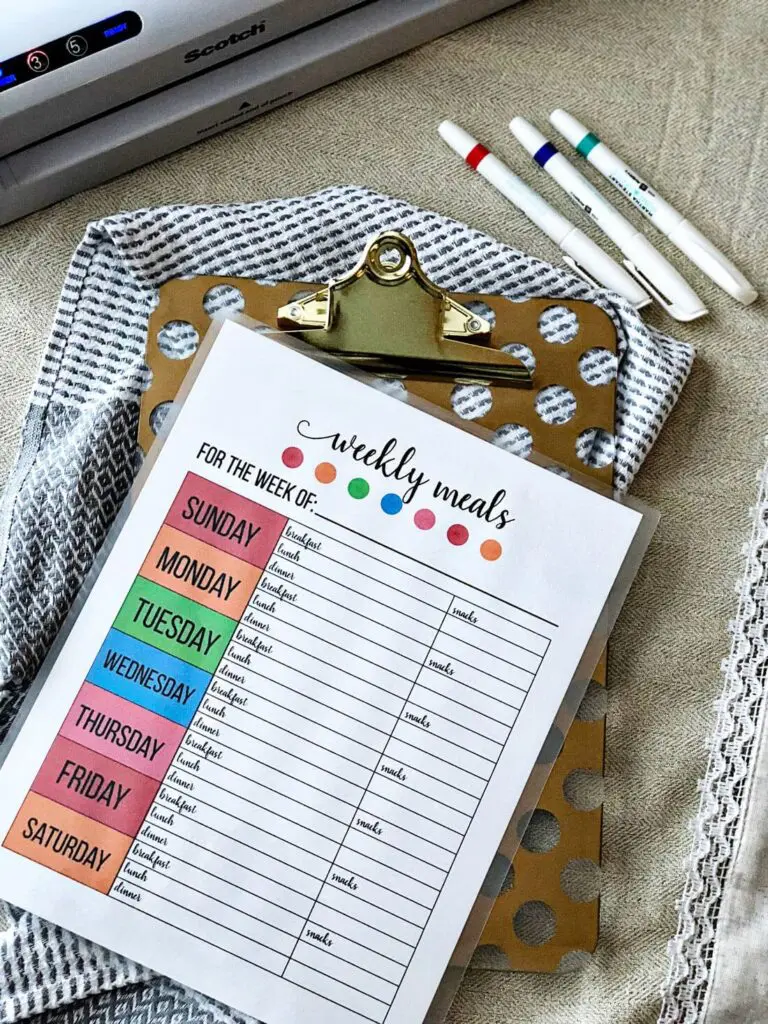 Found on: Thirty Handmade Days
–
Printable Meal Planner
I really like the simplicity of this pretty meal planner. With a Monday start, this meal planner uses feminine colors and a clean layout to give you a meal planner with enough space to write your meals. It would also look great in a planner.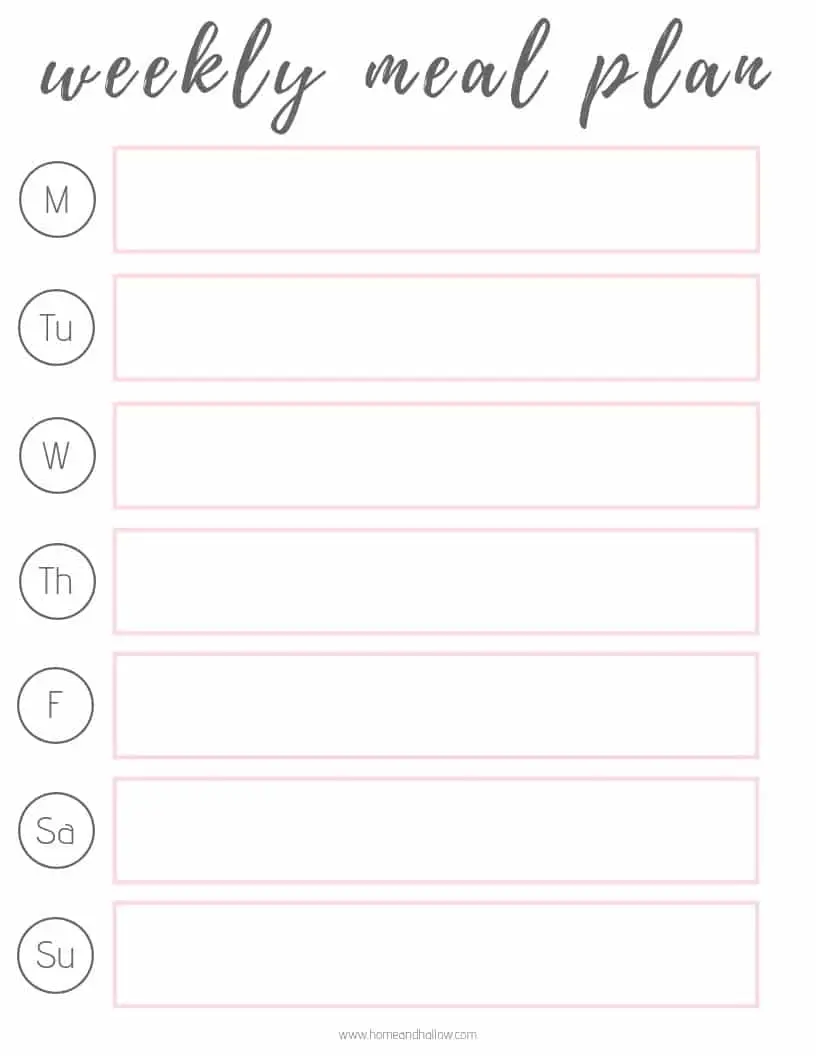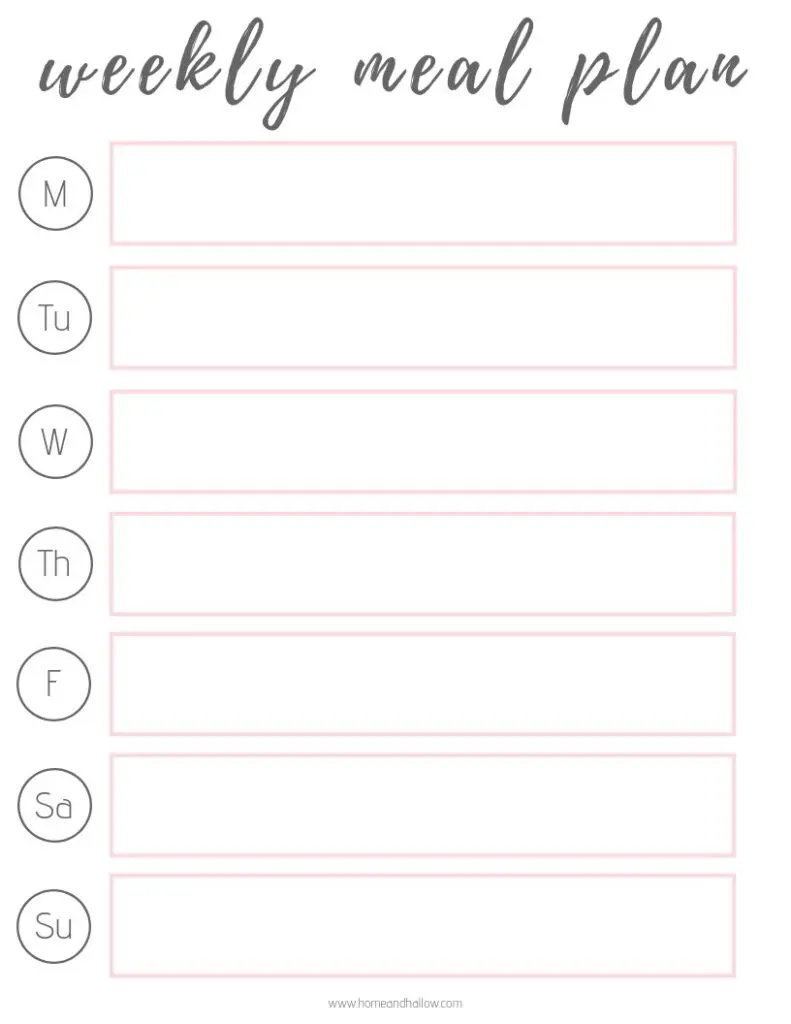 Found on: Home And Hallow
–
Free Printable Meal Planner
I really like the design of this free printable meal planner. It's delicate, clean and uses a simple grid format. There is space to write your meals for breakfast, lunch, dinner and snacks.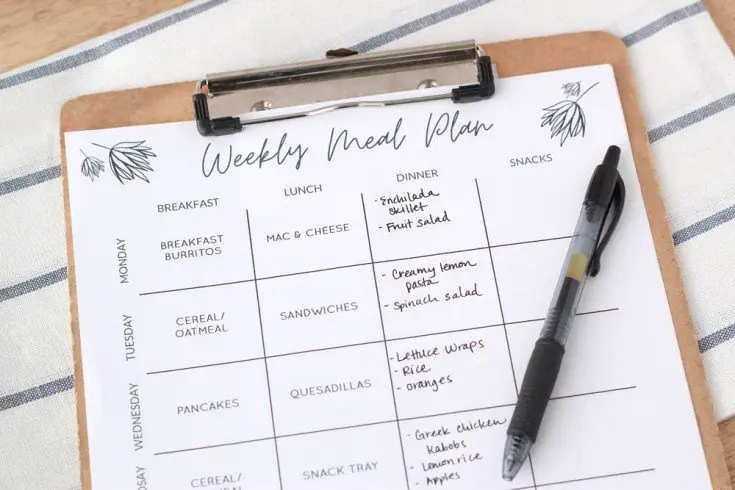 Found on: The Many Little Joys
–
Free Printable Meal Planner Set
This printable meal planner is so useful and offers space to plan your daily meals along with a dedicated notes section. This planner also comes with a matching grocery list and recipe card. You can also download it in pink too.
Found on: The Cottage Market
–
Printable Monthly Meal Planner
This meal planner has space to plan for the whole month and comes in a calendar format. There is also a built-in grocery list at the side. I think rather than planning the whole month, you can plan what you need and fill it in every time you plan.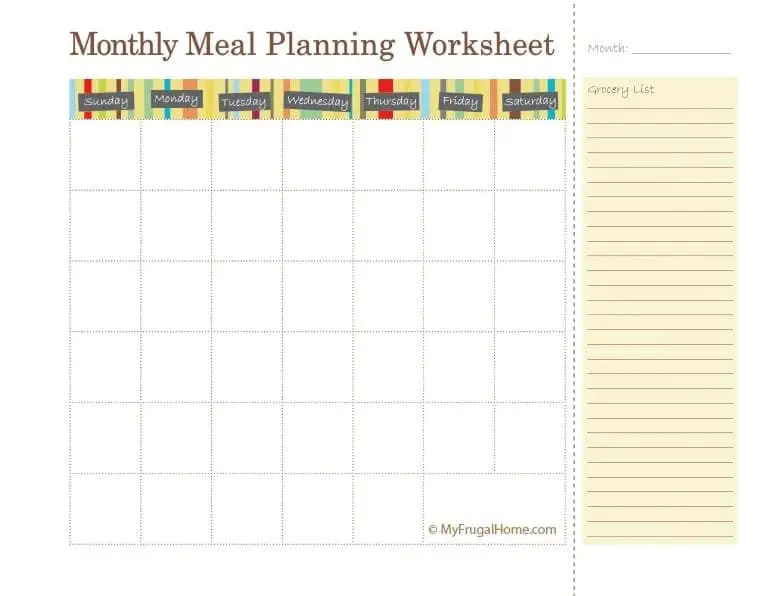 Found on: My Frugal Home
–
Free Printable Weekly Meal Planner
This weekly meal planner features pastel colors and is a fun design for families. There is space for every day of the week along with a built-in shopping list and notes section.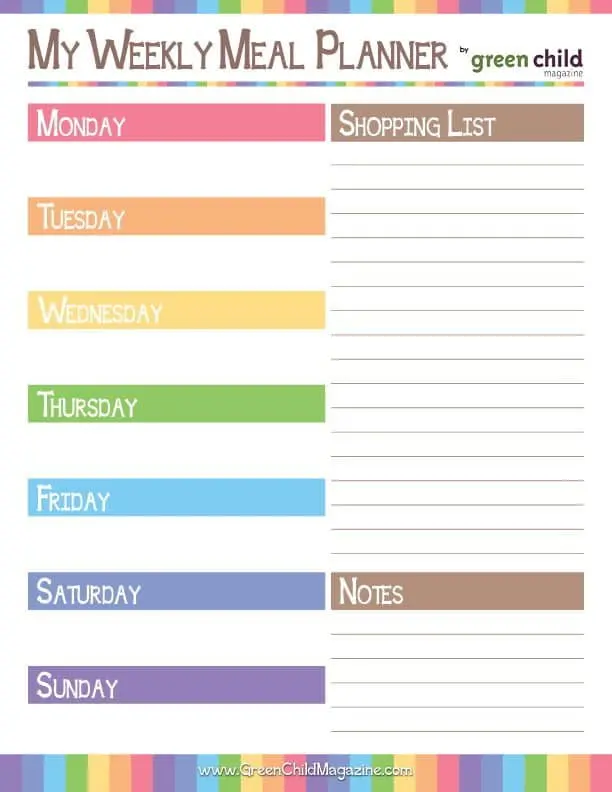 Found on: Green Child Magazine
–
Free Printable Weekly Meal Planning Template
This is a really pretty and clean meal planning template that features a grid format to plan all of your daily meals including snacks. There is also a shopping list at the bottom of the page and a matching separate printable grocery list.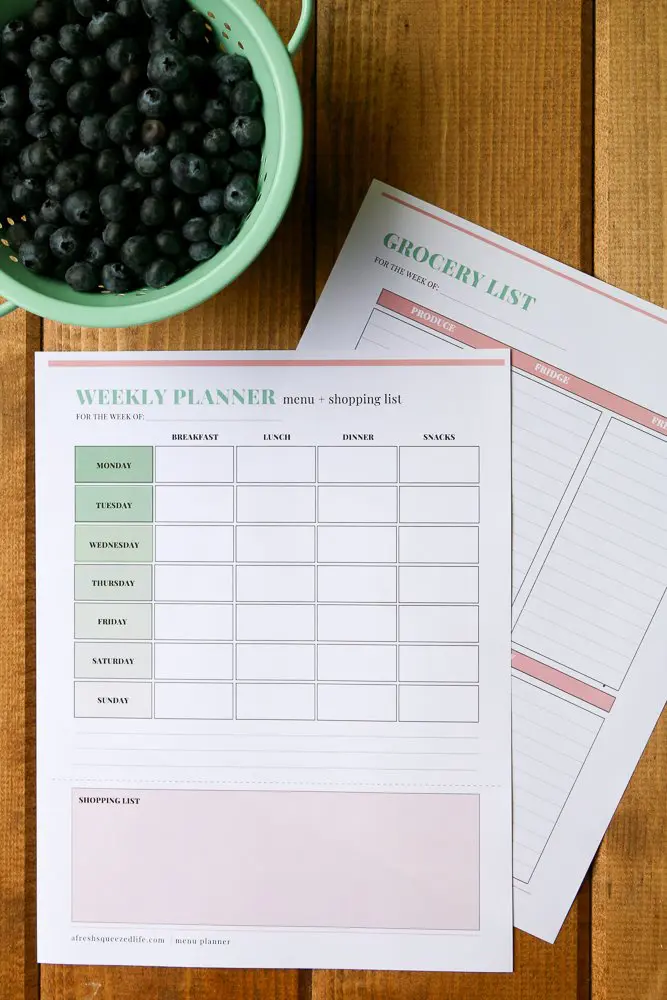 Found on: A Fresh Squeezed Life
–
Free Printable Weekly Meal Planner
This weekly meal plan has so much on one page! There is a Sunday start weekly plan to write all your daily meals, there is also a snack ideas area, daily goals (maybe like eat more fruit or something), and a grocery list. This printable looks fun for the kids to help fill in too.
Found on: The Creative Bite
–
Free Printable Meal Planner
This meal plan focuses on planning out your daily dinner meals for the week and comes in two styles – monochrome and colored. There is also a built-in shopping list too. This is so simple and easy to use.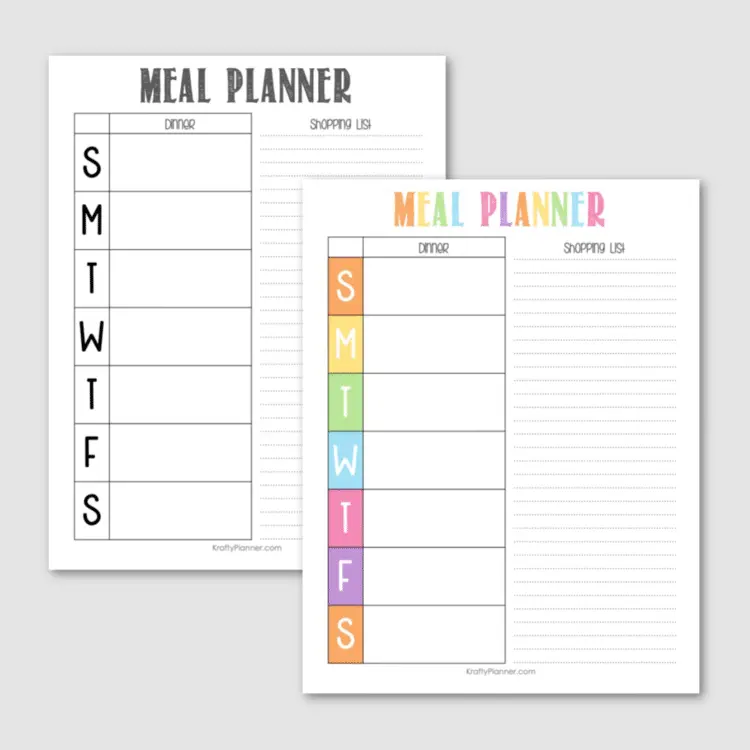 Found on: Krafty Planner
–
Weekly Meal Planner – Free Printable
Wow, how colorful is this meal planner? This meal planner features a fun patterned border, space to write your daily meals and a built-in shopping list.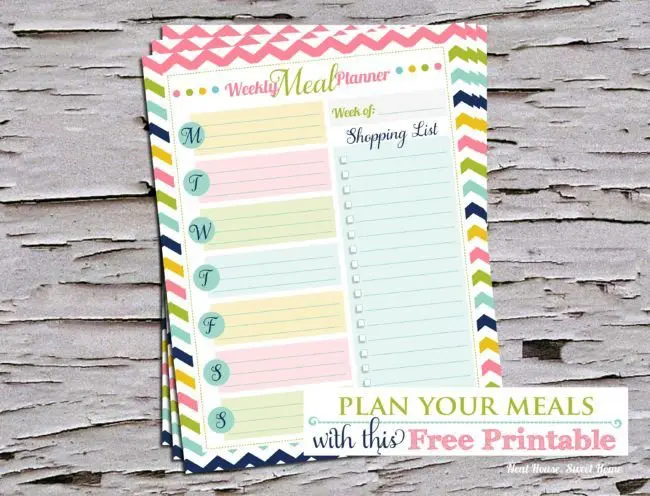 Found on: Neat House Sweet Home
–
FREE Printable Meal Planner
I like the simplicity and colors of this meal planner. This meal planner is effective and easy to use, featuring grids to plan breakfast, lunch, and dinner for every day of the week.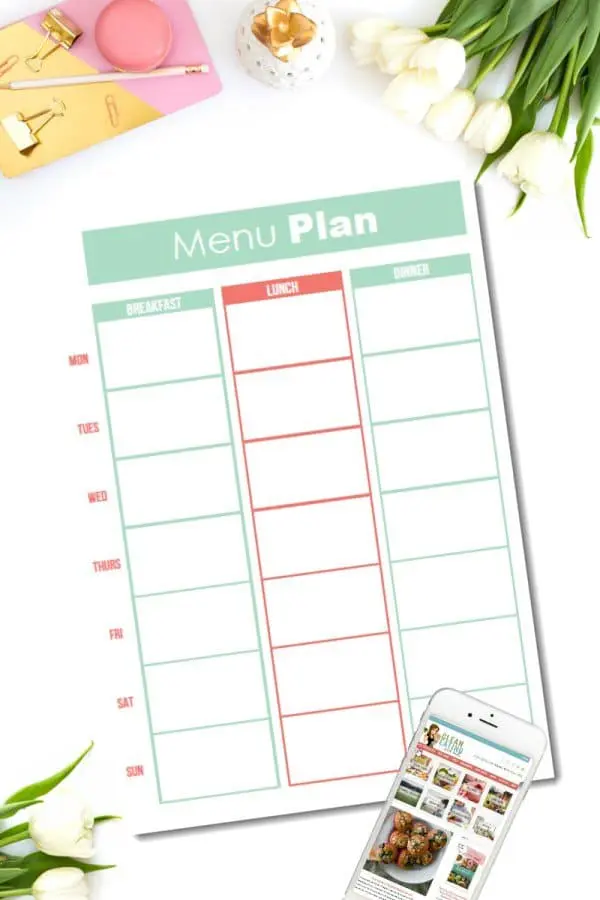 Found on: Clean Eating With Kids
–
So we've taken a look at some really great free printable meal planners and discussed how to get started with meal planning.

Do you have a favorite meal planner or a simple rule that you follow when meal planning? If you have any tips for us and our readers then let us know in the comments below!
Finally, If you liked this post and think it helped you start your meal planning journey, go ahead and hit the Pin button below, as it really does help us in so many different ways and is a great way to save for later.
If you are new here please subscribe as we post amazing content and we'll keep you notified from time to time with our best new free printables.
Thank you so much for visiting!