We all have things to do each and every day. From the moment we wake our day begins with things that need to be done. Some of us go through the day without a plan, but those who are efficient and organized, like to plan their day with a day planner. This is why you'll find this Aesthetic To Do List Template perfect for planning your day.
With this day planner template, you can work out your priorities, plan your schedule, write a to do list, and take any notes.
You'll be super organized and you're very unlikely to miss a deadline or take care of the things you need to do for the day.
Start planning your day
You can use this aesthetic to do list template for your personal life, to help you plan your day at home, or for family planning days out.
If you're a professional who likes to stay organized, you can use this as your daily day planner template to help you stay on track with the things you need to do and achieve.
Either way, using this free printable to do template, you can take the stress out of planning and organizing your day and by the time you reach the end of the day, you'll have achieved everything you set out to do.
It's like the ultimate to do list you've ever seen! Not only a to do list but a daily planner template too! Two in one!
What's included in this aesthetic to do list template
This free printable to do list features:
Priorities – write down the important things that need to be done today
Schedule – write the times of appointments, meetings, events, and more, or use it to plan your work day.
To Do List – write down everything you need to do
Notes – Write down notes for the day or as you go
How to use this daily planner template
You can use this aesthetic to do list template each day and print it as many times as you need.
Most people use these in their planners, but you can use them anywhere – even stick them to your fridge! It's designed so you can see everything you need to do for the day at a glance all on one page.
You can use this free printable to do list for different areas of your life. Use one for work, have a separate one for your personal life or combine everything you do into one to do list. It's completely up to you!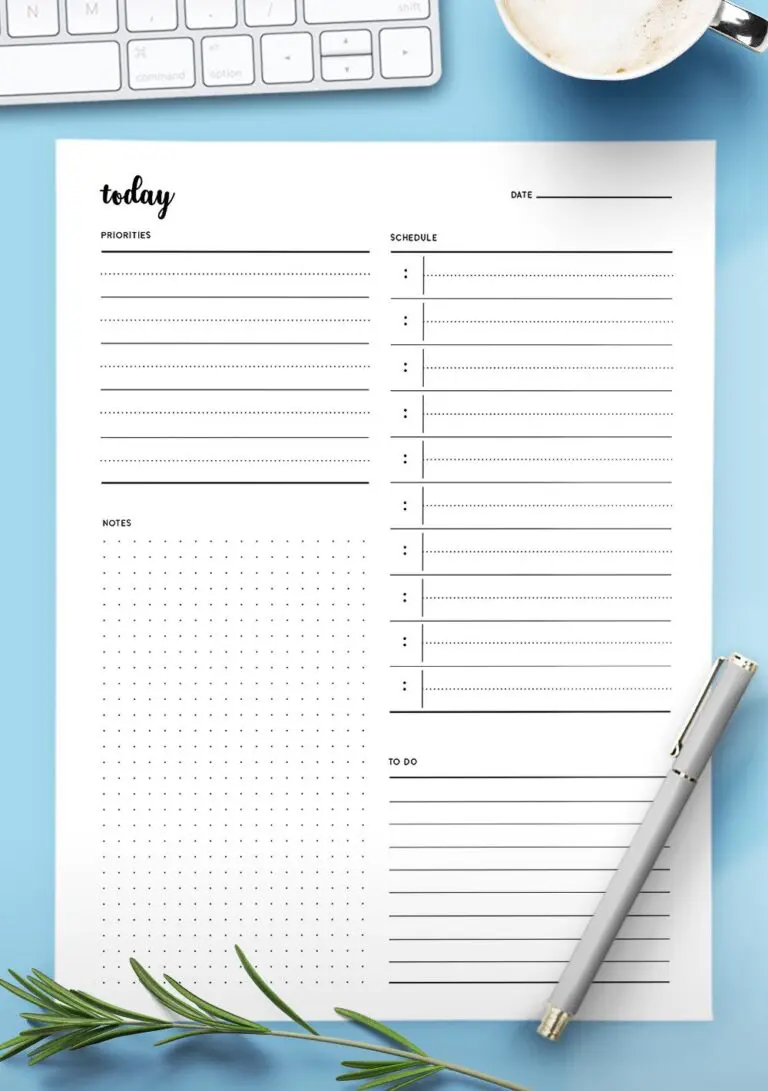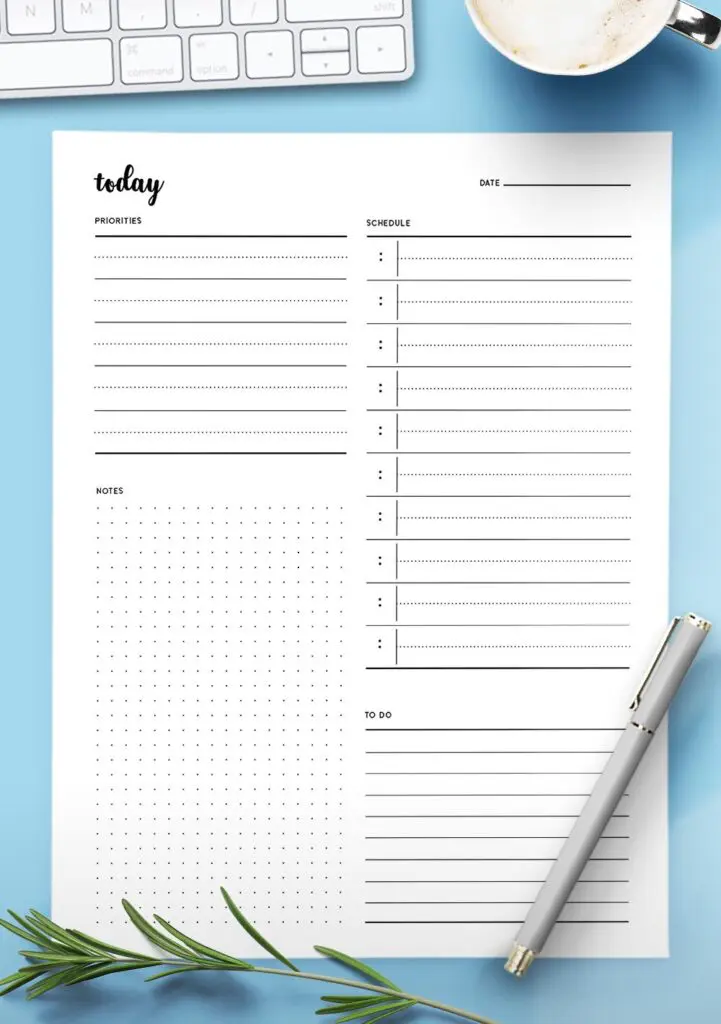 This aesthetic to do list template is included in our Personal Planner bundle but can really be used for whatever you need. It also works great with our small business planner bundle.
With our printable planners, you can plan and organize the things that are important to you.
When you download the aesthetic to do list template you will get it in four different versions – Classic, Cursive, Soft, and Botanical.
It is a great planner page to have and will fit in with any specialized planner you might already use!
How to use our planners for the best finish
Resize it – Our printable planner inserts are made for US Letter sized paper. But you can easily resize our planners to fit any paper size and binder. It's so easy to make them bigger or smaller to fit into your choice of binder – find out how here.
Print it – We recommend using nice quality paper for printing our planners and planner pages. This paper is a good weight and works with inkjet and laser printers, the ink looks crisp and clear giving your printed planners that shop-bought look. The paper also holds up well as you use your planner throughout your daily life.
Style it – Style your planner! Put them in your favorite ring binder, notebook binder, or even bind your own with a paper punch binder. Accessorize your planner with stunning stickers, unique paper clips, and stylish dividers and tabs. Find out how to make printable planners match your style right here!
Snap it – Take a photo of your planners and tag us on Instagram! We love to see how you use our planner pages!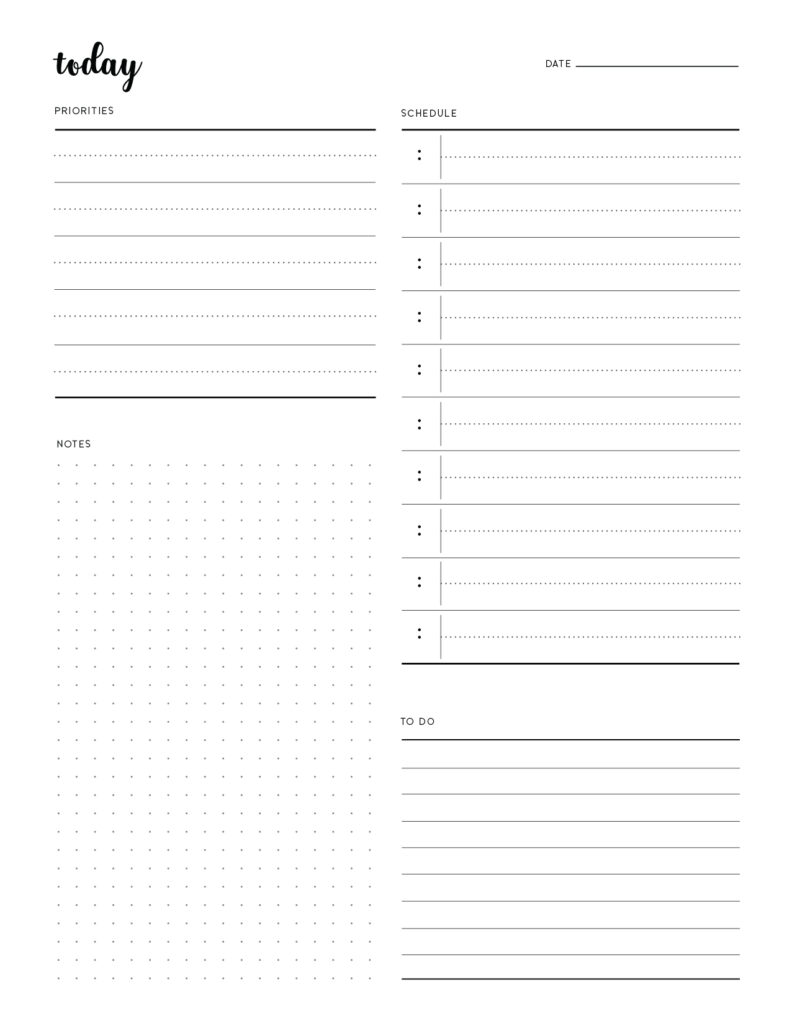 Download the Aesthetic To Do List Template
To get the high-quality printable Aesthetic To Do List Template for free, click the button below to visit our product page. Use the coupon code displayed to get it for free.
Remember to check out our many other printable planner pages. You'll find the things you need to organize your life!