Learn how to print your own planner, start making plans and take the stress out of organizing your life right now!
Planners are the perfect way of planning and organizing the things that are important to you.
While most people typically use planners to organize their days, weeks, months, or even complete year, many people often use planners to organize their homes, meals, health, finances, and business.
You can basically plan and organize every aspect of your life and planners are the key organizing tool you'll benefit most from.
Read on to learn about the types of planners, planner formats, planner accessories, and how to print your own planner.
What type of planner to choose?
There are multiple types of planners available, but choosing the right one isn't simply down to whichever is prettiest.
When deciding on a planner, you need to think about what your needs are.
Do you need a planner to help you organize your days? If so, then you can use almost any regular planner to plan your days and weeks ahead.
But if you want to be more organized, or to be able to plan certain aspects of your life then you're likely going to need a more specialized planner.
Specialized planners are specifically tailored to help get the most out of your planning for the areas that you want to cover.
These can be:
Meal Planners – plan your meals, recipes, grocery shopping, and more.
Business Planners – manage your business, such as ordering, sales, inventory, and schedule.
House Planners – organize your home, from cleaning, chores, kitchen inventories, and more.
Financial Planners – take the stress out of budgeting, saving, managing debts, and making financial goals.
Garden Planners – get the most from your garden and plan your seasonal planting.
Personal Planners – make the most of your time, including scheduling your days, weeks, and months ahead.
Specialized planners are much harder to come by. You often can't pick these up in stores, as they are more tailored for specific needs rather than the general day planners that you'll find almost anywhere.
But best of all, there is such a thing as a life planner that comprises all of these things, in one big bundle.
So you don't need separate planners for each thing that you want to plan or organize. A printable life planner bundle has everything that you need to organize all aspects of your life and generally consists of planner pages such as meal planners, schedule pages, to-do lists, and much more.
What format of planner to choose?
Knowing what type of planner to use is important, but what format the planner comes in is also important too.
There are different formats of planners that you can use. Each of these has pros and cons.
These consist of Physical Planners, Printable Planners, and Digital Planners.
Physical Planners
Physical planners are the planners that you pick up on places such as Amazon. These are great as you can take them anywhere with you and always have them to hand when you need to take notes, check your schedule, or make plans.
However the downside to physical planners is that they aren't often specialized, they don't generally help you plan specific areas of your life, but are designed to help you plan your days and weeks.
Moreover, they can also become more costly. For example, like any type of notebook, you can only use them once. Once you've reached the end of the planner, you'll need to buy another to continue planning.
Printable Planners
Printable planners have the benefits of physical and digital planners, in that you can print your own planner and take it anywhere with you. But they have additional benefits.
For example, printable planners are often more affordable than physical planners, as there are very few overheads involved in their manufacture.
There is no manufacturing, no warehouses, or storage space required for printable planners. They are basically digital items that you can print on your own printer and paper.
This means you will always be able to print more planner pages anytime you need them which makes them everlasting and even more affordable.
Better yet, they are available in different types tailored for your specific needs. So if you need a planner to plan your meals, your workouts, or a planner to help you manage your business, you'll be able to easily get the one you need instantly.
Best of all, with printable planners, you can style your planners to your own unique style preferences.
From storing them in great-looking binders in your choice of color or style. They're also great for adding attractive dividers and tabs, sticking on planner stickers or accessories, and much more.
There are so many styling choices, there are no limits and your own planner will be unique to you, customized by you!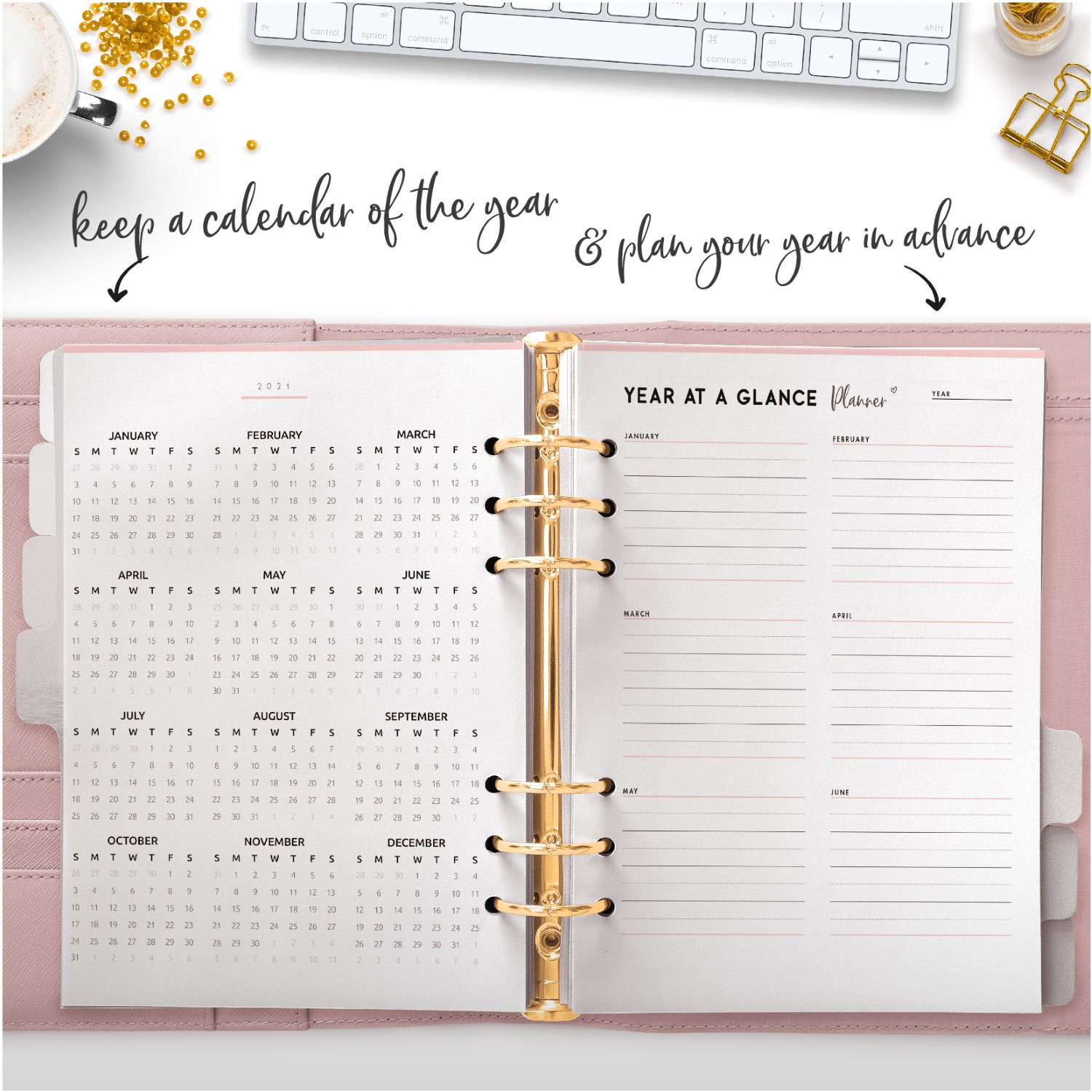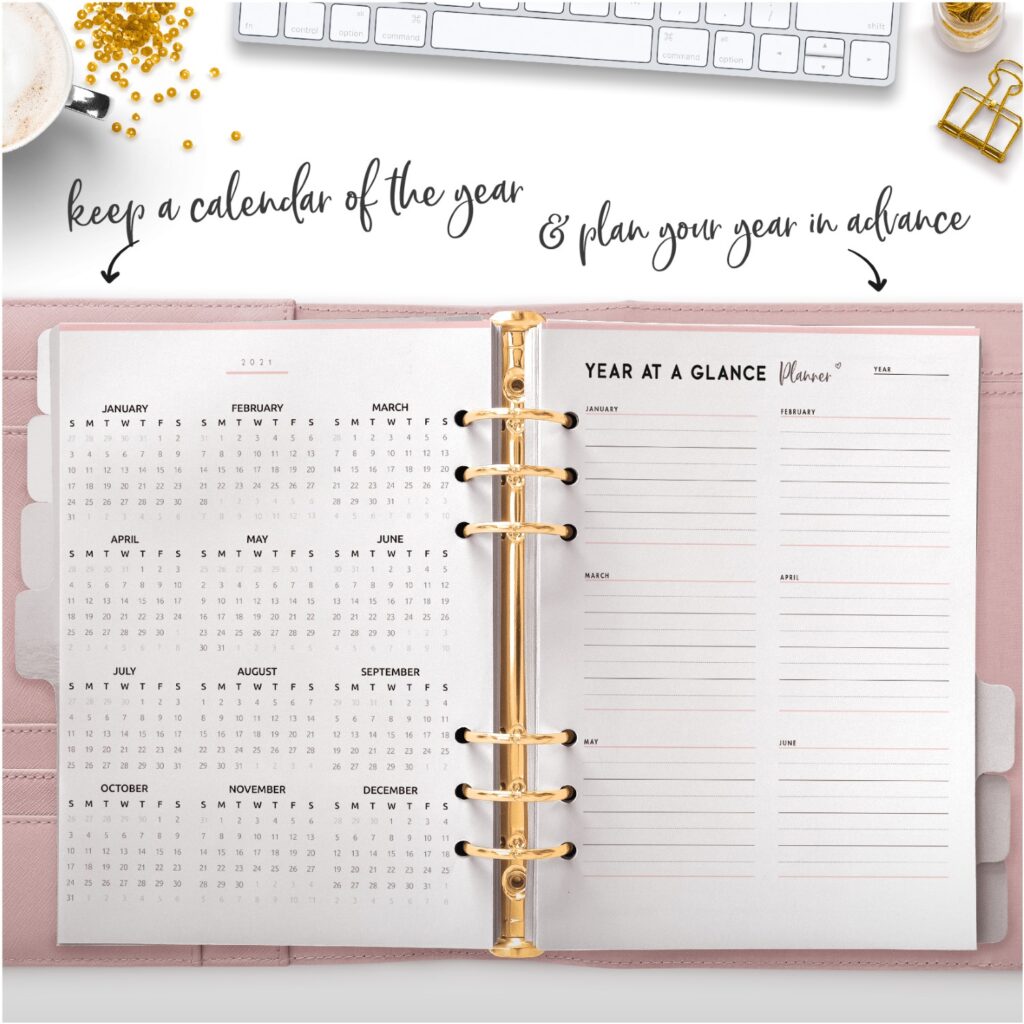 It's clear how amazing and affordable printable planners are which is why we've created a huge selection of printable planners which you can browse and download immediately.
Find the perfect planner inserts and print your own planner instantly.
Digital Planners
Digital planners have the benefits of being able to be reused without requiring you to continually buy replacements. You also don't need to visit a store to buy one, they can be used on devices such as iPads or certain tablets, although they're not ideal for use on phones due to the limited screen size.
However, there are some drawbacks to digital planners.
You'll not be able to use a digital planner if your device is low on battery, which can pose a problem if you need to check your schedule, take notes, or plan your day only to find your device has run out of power.
This is something that is likely to happen often!
But the choice is down to you and your specific needs. Deciding on which type of planner to use and whether it's specific for your needs depends on where, when, and how you will need to use a planner.
Open up your world to printable planners!
We find that being able to print our own planners works best for us.
They're very low cost, in fact, many of them are free and they often have pages specific for whatever we need to plan and organize, such as our schedule, meals, money, and homes.
They're also very convenient, just print and go. When you need a replacement planner page, simply print another!
They can also be stored in any binder and taken with us and are always at hand's reach.
Better yet, they never run out of power like a digital planner!
So if you're like us and love the idea of being able to print your own planner pages as and when you need them then now it's time to think about how you're going to make and style your very own planners.
So once you've decided on the type of printable planner you need, next up is printing it and styling it to make it look awesome!
How to make your own planner pages
If you want to make a perfect planner then you've got to start with the right foundations and that's choosing the right paper for your pages.
We personally love using this nice quality paper to print our planners and planner pages because the ink looks great on it, it's sturdy enough to survive constant use as you go about your life, and is also low cost and high quality.
Once you've printed your printable planner, there are quite a few stylish options for organizing and combining your planner that will suit your different needs.
Some people like to have their personal planner in a handy notebook style, others like to have their kitchen planners in a ring binder.
We cover all of these options and more so you can choose what's best for you!
Bind Your Planner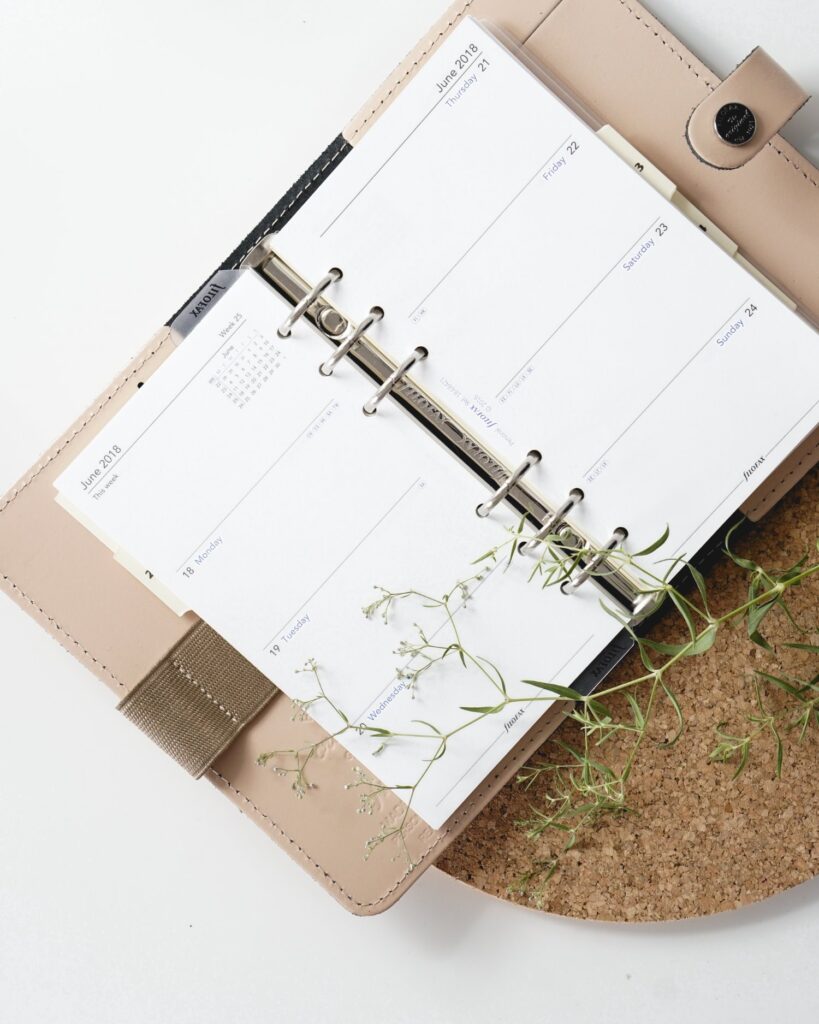 When it comes to binding your planner there are various options to choose from. Don't be put off by the word 'binding', it isn't a complicated thing, it just means how you put your planner together.
We cover options for 'binding' your planner using binders that are ready to go or even binding by yourself.
Hole Punch
You're gonna need a hole punch if you want to place your planner in a ring binder or notebook binder.
Hole punches are pretty easy to come by but you need to make sure you get one that matches your choice of ring binder (punches the same amount of holes as rings).
Ideally, a good hole punch will punch through a decent amount of paper, and also has a guide to help you line up your paper for accurate hole punches.
This hole punch checks all of the boxes above and gets great reviews! Use this hole punch to get your planner ready for binding.
Ring Binders
Ring binders are such a great way of storing your planner and they are very durable. I personally prefer ring binders for planners that I don't tend to carry around with me such as a Household Planner or Financial Budgeting Planner.
Ring Binders are bigger and better for being stored in the places they need to be such as the home or office.
This ring binder is a great option because it is easily affordable, can hold up to 120 sheets of paper, and is fully customizable on the front, back and spine. It is also the perfect size for our planners too – 8.5" x 11".
Notebook Binder
If you want something a little softer and more compact that you can fit in your bag then a notebook binder is a great option.
Notebook binders come in so many different styles from classic styles to girly styles and transparent styles.
There is actually something for everyone when it comes to a notebook binder.
A notebook binder works the same way as a ring binder – mostly. You print your planner pages, hole punch the pages, and combine them in the binder. Simple!
Find a notebook binder that fits your hole punch layout – 3 punch, 6 punch, etc and you're good to go!
As the notebook binders are smaller than ring binders, remember to resize the planner printables to your notebook size. You can learn how to resize printables here. It's so easy to make printables fit any planner.
I love the individuality of notebook binders but this is my favorite.
This one has incredible reviews, and comes in classic black but also a ton of other beautiful colors so you can choose your favorite! It also has space to store cards and a back pocket.
Binder Machine
If you don't want to purchase a binder you could always bind your planner by yourself. If you prefer to bind your paper together with a plastic ring like many booklets you find then using a paper punch binder is a good option.
The great thing about using a punch binder is that you can literally bind anything! When you print your own planner pages you can use a binder machine to bind your planner pages with ease.
You can also use a binder machine for many other useful things, you can bind coloring pages, bind your kid's worksheets, and bind your calendar! 
Binding is actually fun too and a great organizing tool.
I love this binder machine starter kit because it is so affordable and has everything you need to bind your pages. You don't need to look elsewhere for individual items, it's all in the pack!
Style and Accessorize Your Planner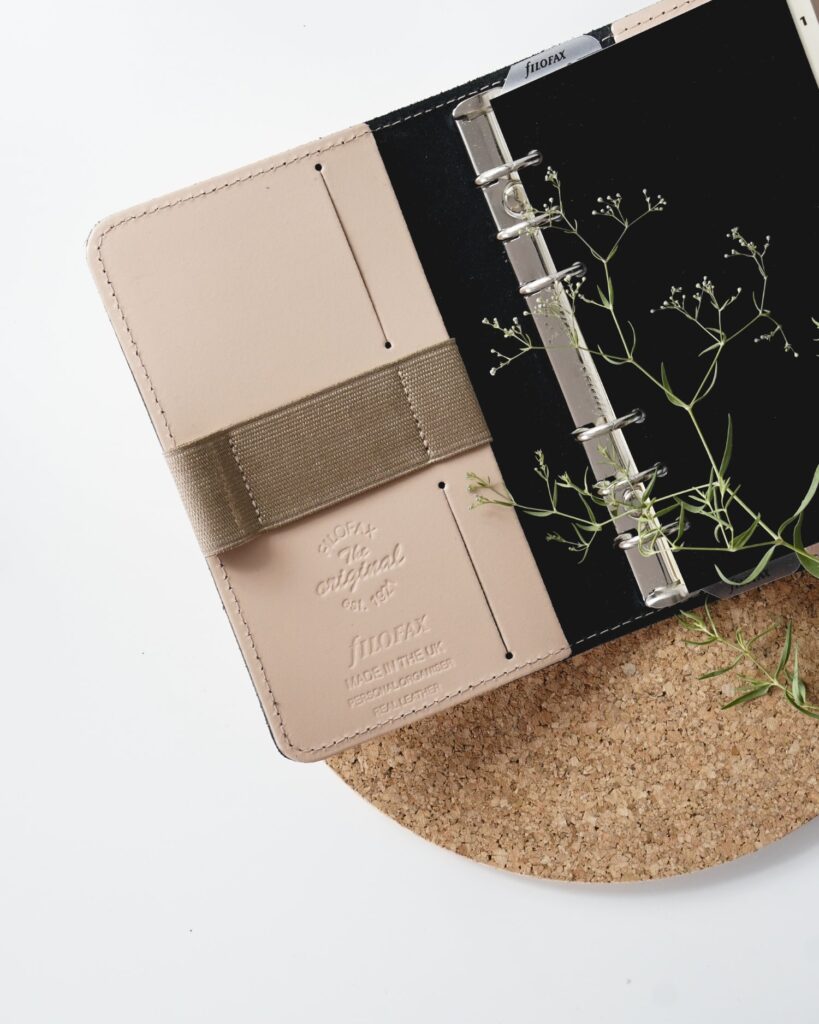 One of my favorite things about planners is being able to style and accessorizing them. There are so many ways to put your own touch on your planner and so many amazing different things to use to make it your own.
Let's take a quick look at how to style and accessorize your planner!
Planner Folio
A planner folio comes in handy if you already have a physical planner that has been purchased already bound and completed in a notebook style.
They work in the same way as a notebook binder apart from you don't add your individual pages to a ring binder, you add the full notebook inside the planner cover.
Most planner covers have a section to place the back page of your planner in so it stays secure and attached. It's great if you want that extra protection for the physical planner you might have purchased. You can also store so much more in it too.
I personally love this planner folio. It's classy, affordable and so popular. It has a fabric cover and a Scandinavian design and comes in four colors. I especially love the grey one.
Planner Stickers
Using planner stickers in your planner can really help you organize it and log things quicker. They are also beautiful too.
There are so many stickers to choose from for your planners such as decorative stickers, informative stickers, cute stickers, and classic stickers. I simply love planner stickers!
Want to see some of my favorite planner stickers? I love a mix of classic with some cute thrown in there. These are some of my top planner stickers:
Divider Pages or Tabs
So you've got a planner to keep you organized, whether that's in life, work, fitness, or meals, but how do you organize your planner?
One of my favorite and easiest ways of organizing a planner is by using divider pages and tabs!
Divider pages simply slot into your planner and work as a cover page for the section you are going into.
For example, you might have a divider page that says finances and then your finance section comes after.
Some divider pages don't even say anything, they just look good and that's enough.
I really like these divider pages because they are pretty, full of botanicals, and also really popular.
Another cute way of organizing your planner is by using tabs. Tabs work by slightly protruding out of your planner so you know where to go even when your planner is closed.
Tabs come in all different styles some are pre-written and others are blank so you write your own section titles.
These tabs are probably my favorite because they come in a pack of pre-written months and a ton of blank tabs for you to create your own titles. They look really beautiful and feminine too and have a great color selection.
Tabs are also so simple to use, you simply peel and stick them to the edge of the page that your new section starts on! It has never been easier!
Planner Accessories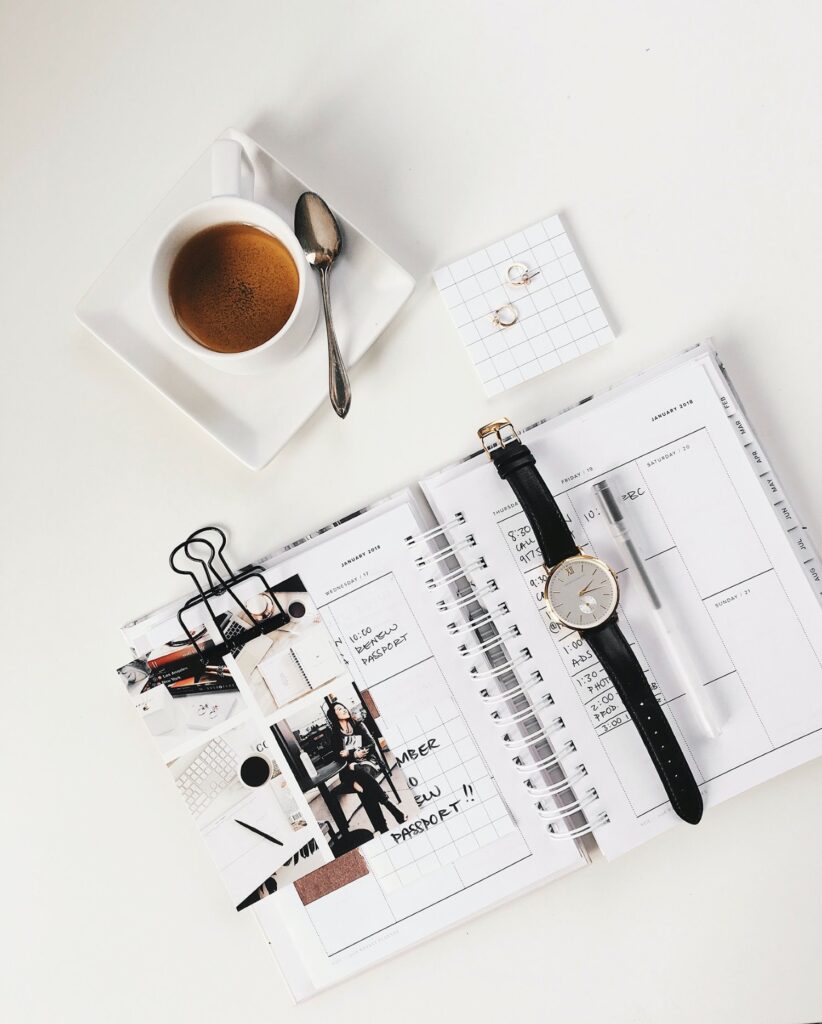 Your new planner is now bound, organized, and styled! What next?
Well, there is so much more you can do with your planner. Let's talk about planner accessories.
There are so many different planner accessories to use that can add additional storage to your planner and that's what I love about them.
Planner Pouches
One of my favorite planner accessories is planner pouches.
Planner pouches are a great way to store loose items in your planners such as your planner stickers, paper clips, or pens and they are so handy.
I like using these pouches because they are well made, the zip is strong and they come in different color zippers so you can even keep your pouches organized!
Paper Clips
Along with storing all of my loose items, I also find it handy if I need to add in the loose paper.
Any notes I take out with my planner I can easily hole punch and add to my planner but what if I'm out and about? I don't carry my hole punch around with me.
One way I like to store additional paper in my planner is by using paper clips.
But not just any paper clips, I'm talking stylish and unique paper clips, oversized paper clips, and gold paper clips! All the paper clips!
Maybe I got carried away there but there are some really cool paper clips. These paper clips have so many options to choose from. It's like every option of paperclip under one roof!
If you want alphabet paper clips, coffee cup paper clips, oversized paper clips, camera paper clips, and animal paper clips, you name it.
This place has all the paper clips. Just click the drop-down menu to check them all out.
It's time to print your own planner
I really hope this post has given you some insight into how to get up and running with your new planner and how to stylize it to make it unique to you!
It's nice to see what options are available to you when it comes to making the most of your planner, and having a guide like this can make it so much easier for finding the things that suit you.
If you have found this post useful, please leave us a comment and hit the share button to share the post! It lets us know you care and shows us your support.
Happy planning!