This free printable I spy Halloween coloring page game is the perfect kid's activity to do while your kids are at home as we're nearing Halloween.
What kid doesn't love Halloween?! It's such a fun time of the year.
Think of all of the fun things you can do when Halloween is approaching. From visiting a pumpkin patch and finding the perfect pumpkin, to gutting the pumpkins and toasting the seeds.
Drinking pumpkin spice lattes is my personal favorite, along with pigging out on all of the Halloween candy!
My husband and I also enjoy making Halloween decorations, such as painting and carving pumpkins and throwing a Halloween party, all with DIY Halloween costumes and printable masks.
Halloween is timed so well to come when fall is at its best. From beautiful autumnal scenery and jumping around in the leaves, to picking apples to take home to bake an apple pie. Halloween is everybody's favorite time of the year, bar Christmas.
The great thing about being stuck in when it's getting colder means we can get all cozy and find things to do at home.
It's also a great time to watch scary Halloween movies and sharing scary stories with the kids!
But when we stay inside we're often looking for things for our kids to do at home. This is why we've created this fun Halloween coloring page game to keep your kids occupied when they're indoors.
So get them ready for Halloween, print this off and grab some coloring pens and let them have Halloween fun!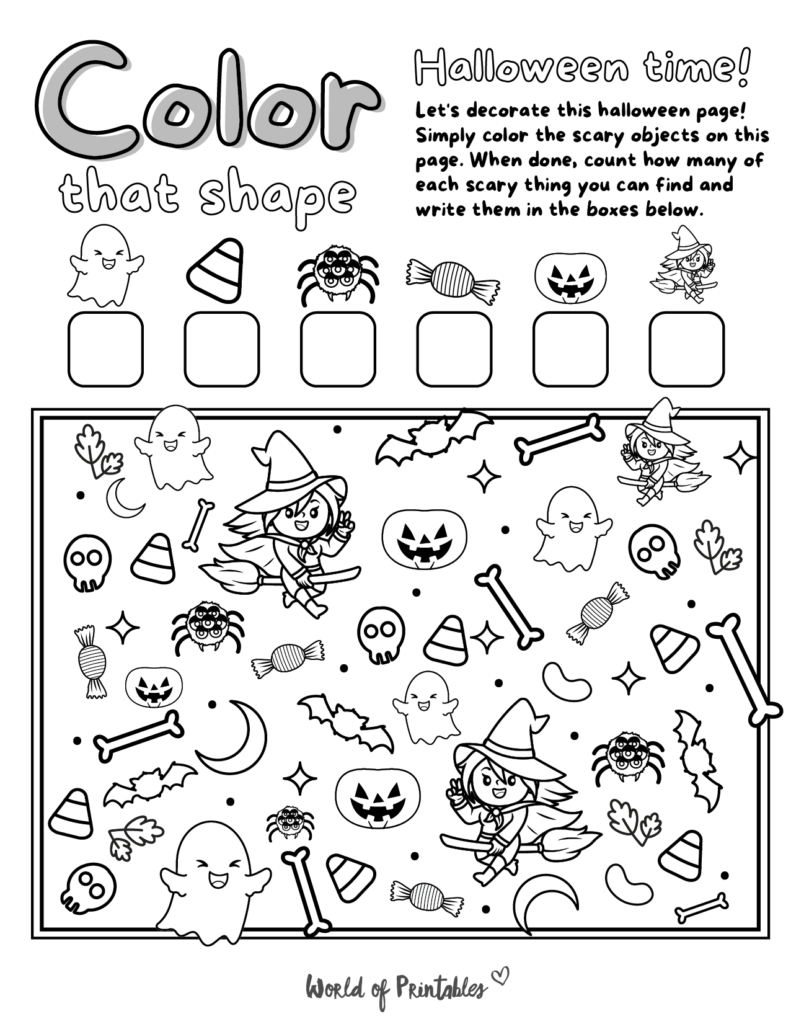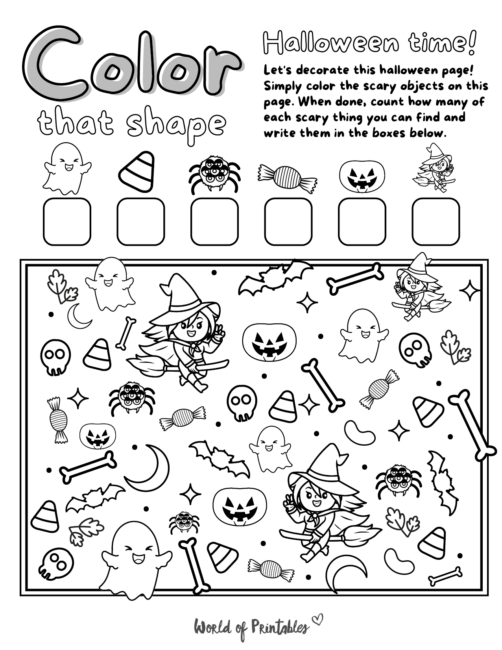 Our I Spy games are a great activity for kids because they can play a game and also color in too. So much fun in something so simple and exactly what kids love.
How to play this Halloween coloring page game
To play this game you simply have to find all the Halloween things that are hidden on the page and count how many of each kind you find and write the amount in the boxes. You can also color in the Halloween things you find to create a colorful picture that your kids can hang up somewhere in their home.
You can even color the background any color you like. By coloring the background your children can create a scary Halloween wall art effect! Kids are so creative and it brings us joy to see their imaginations go wild!
We've created a huge amount of these games and coloring pages so you'll be able to keep your kids entertained over the Halloween season while giving you some much-needed time to yourself. It's a win-win for everyone!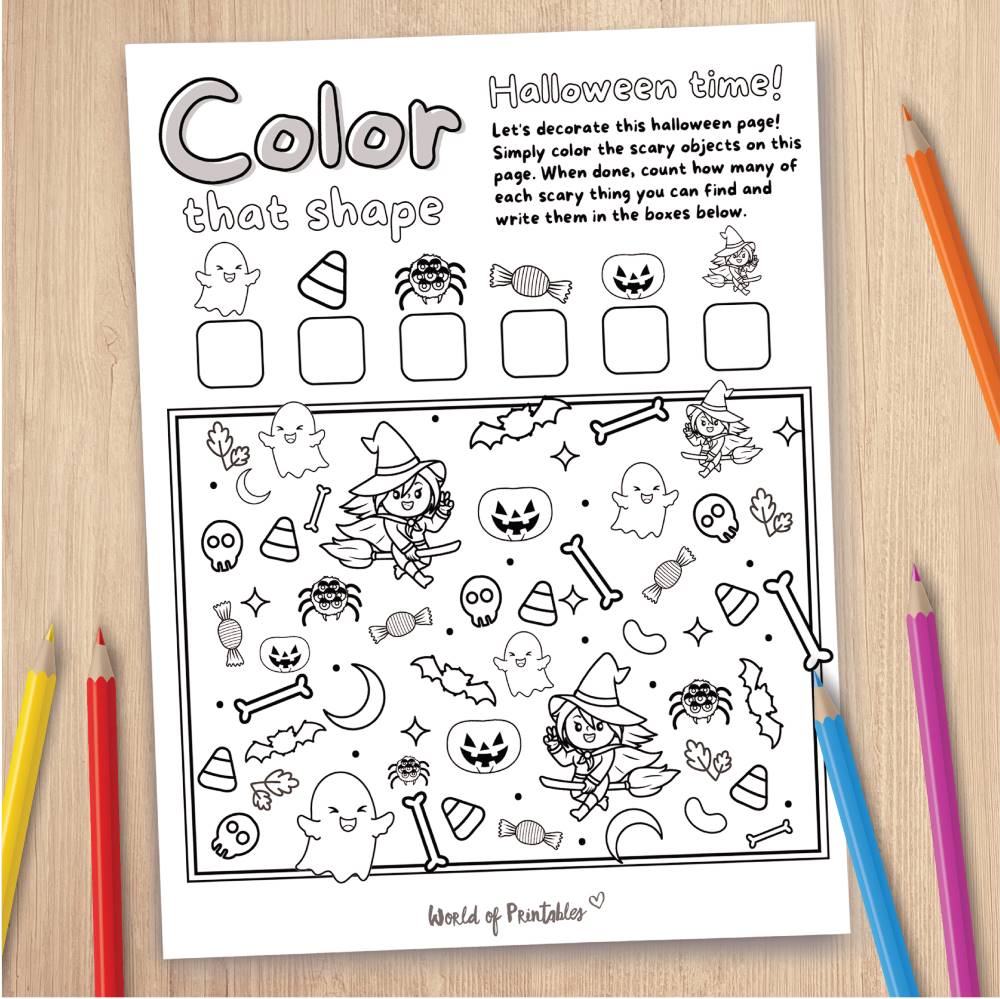 Free Printable I Spy Halloween Coloring Page Game
Our free Halloween-themed I Spy game is a great activity for kids to do to help them enjoy their time indoors while keeping them busy with creative time instead of screen time.
Our I Spy games are very popular with kids of all ages and the games teach them visual discrimination which is the ability to detect differences and similarities in size, shape, and color.
Children love Halloween and coloring these Halloween-themed items and objects is such a fun activity for them to do.
They can even write the names under each of these Halloween objects and each one can be colored separately as they don't have to use the same colors for the same objects that they find.
We've also created tons of Halloween coloring pages that you can print and enjoy for free for hours of fun along with many more awesome coloring pages of all themes that kids love.
About this Halloween coloring page game
We've made a game of this Halloween coloring page, by asking the player to search for each item shown at the top and counting the amount that they find of each item in the boxes below it.
When they're done finding the Halloween objects they can then color the page in. Halloween often has colors of brown, orange, yellow, green, black, and red, but if they prefer they can just go wild and create a colorful picture that's uniquely their own.
The Halloween theme coloring page features six different objects, including witches, ghosts, spiders, candy, pumpkin, and candy corn. When it is completely colored in it creates such a pretty picture of Halloween that your children will love.
If you like this Halloween coloring page game, then be sure to check out all of our awesome Halloween coloring pages for lots more colorful fun. We've also a fun Halloween Word Search Game and Halloween Wall Art and many more Halloween printables and SVG files throughout our website that you can print and use for free.
Fun Halloween Facts For Kids
Did you know that Halloween originated from an ancient Celtic end-of-harvest festival called Samhain? which means summer's end? Over 2,000 years ago during these Samhain festivals, which means summer's end, people would light bonfires and wear scary costumes to ward off evil spirits.
These days kids prefer to wear superhero or princess costumes rather than scary ones! Although the most popular Halloween costume for dogs is a pumpkin!
Trick or treating has existed since medieval times in Scotland and Ireland where it was known as Guising. Youngsters would dress up in costume and went door to door performing songs, poems and tricks in exchange for money or food. These days it has evolved into children dressing up in costumes and asking for candy in return for tricks, but often no performance is given and a simple thank you is given.
Skittles are the most popular candy on Halloween, but candy corn is ranked as the least favorite!
The Irish brought the traditions of Halloween with them when they emigrated to the USA in the 1840s. Since then it has become one of the most popular times of the year in the US, second only to Christmas. Halloween has also become popular all around the world although it is celebrated differently in other countries.
Although we carve pumpkins these days, prior to Halloween in the USA people would carve turnips, potatoes, and beets for their Halloween decorations.
Print the I Spy Halloween Coloring Page game below
Simply click the printable I Spy Halloween Coloring Page Game image to enlarge it and then save it to your computer before printing. Print as many as you want and remember to check out our other I Spy games.
I recommend that you print a few of our I Spy games or coloring pages to give your kids variety and to keep them busy.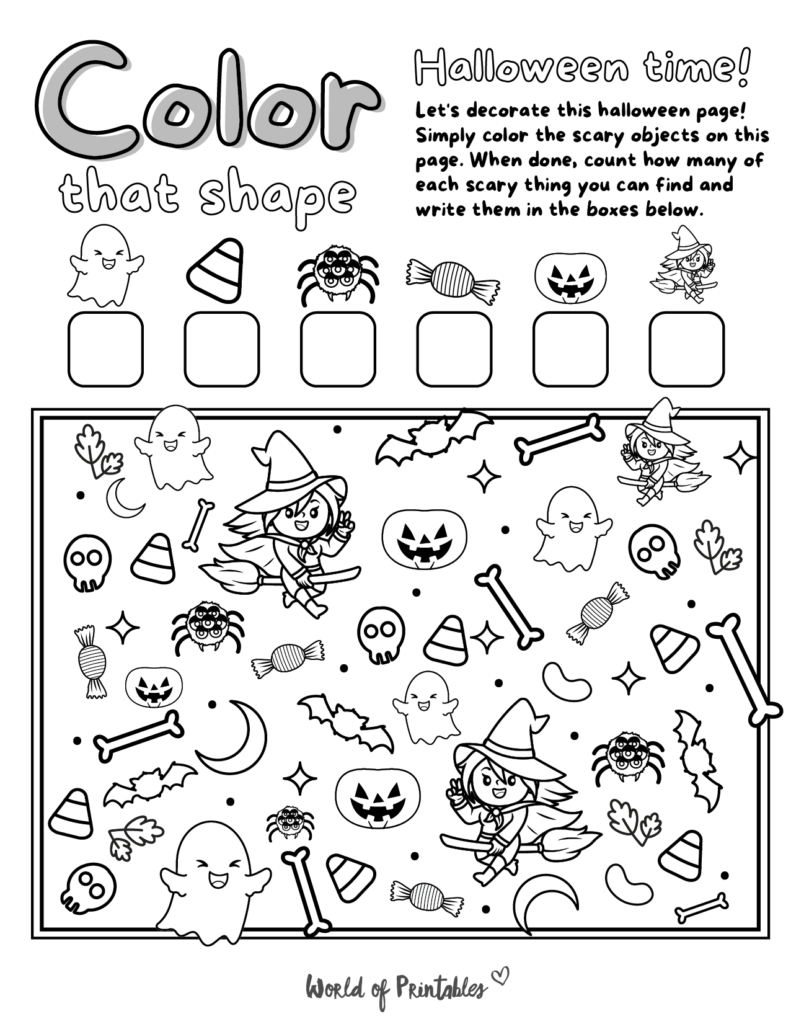 Crayola Ultra Clean Washable Markers
If you're looking to top up your kid's coloring pens collection then this awesome set of coloring pens is what my children use. There's such a huge range of colors and the quality of the pens is amazing. Better yet, they're washable too. So no more pen marks on skin, clothes, or walls. It takes the stress out of kids coloring!
Features 40 Crayola Ultra Clean Washable Markers in assorted colors.
Ultra clean washable pens: Wash from skin, clothing, and painted walls.
Perfect for art projects, classroom activities, and coloring activities!
Safe and nontoxic: Ideal for kids ages 3 & up.
Enjoy your free time, have a coffee!
These Halloween coloring activities are a great way to relax, whether you're giving them to your kids to do to keep them busy when they're indoors so you can have time to yourself, or for you to do to as a way to help you relax and wind down.
It's a good idea to have a nice cup of coffee while you're relaxing. If you want you can buy us a coffee too! Click to Support us on Patreon so we can continue making more awesome free printables.
It's a great way to show your support and helps us continue to create awesome printables to give to our visitors for free.
More printables from World of Printables
We've got loads more of these I Spy activities, printable games, and coloring pages for hours of fun for your little ones and many useful printables for adults too.
Remember to check out our Halloween coloring pages if you want more scary coloring fun!
Also, if you're looking for pumpkin carving ideas, then be sure to check out our pumpkin carving stencils. We've got 50 awesome easy pumpkin carving templates that will help you create amazing pumpkins this Halloween.
Be sure to grab as many printables as you can while you're here and print them off whenever you need activities for your kids.
We think you'll love these:
Free Printable Halloween Banners
Take some of the stress and cost out of Halloween decor with our 200 Best Halloween Banners. They are a free and simple option for everyone and you can even combine them with many of our other free Halloween decorations!
I Spy Coloring Pages
Our recent I Spy coloring page activities. Find many more I Spy Printables to get and print for free.
---
Coloring Pages
Our recent coloring pages. Many more printable coloring pages to print and color for free.
---
Printable Games
Our recent printable games. Many more printable games to print and play for free.
The world's most popular printables
Thank you for browsing our Free Printable I Spy Halloween Coloring Page game.
I really hope you and your kids love our I Spy coloring page activities and if you like this printable halloween activity then please hit the share button of your choice below as it lets us know you care and helps us create many more awesome free printables for you to enjoy.
And if you can, please Support us on Patreon and get access to all of our awesome premium printables as part of your Patreon.