Choose from over 125 free printable Christmas templates that are perfect for festive craft projects, and make great educational and fun activities for the kids.
It's Christmas time! Christmas is the best time of the year to sit with your children and have fun creating Christmas projects and doing crafts.
Our festive designs are guaranteed to bring holiday cheer and get kids excited for the run-up to Christmas. Get them all for free right at your fingertips!
Where can I get a free template for Christmas?
If you're looking for free Christmas templates then look no further. You will find over 125 free printable templates suitable for all ages. Use them at home or in the classroom. They make great quiet time or group activities.
Parents, carers, and teachers can all use our free templates. Don't waste precious time searching the internet trying to find Christmas templates to purchase when you can get all of these fun and high-quality templates for free.
Free Christmas Templates
We've designed over 125 free Christmas templates for you to choose from:
Christmas Stocking Templates
Christmas Star Templates
Angel Templates
Reindeer Templates
Gingerbread Men Templates
Christmas Hat Templates
Christmas Tree Templates
Christmas House Templates
Snowflake Template
Christmas Elf Templates
Christmas Holly Templates
Santa Christmas Face Templates
Christmas Ornament Templates
Sleigh Templates
Snowman Templates
Our Christmas templates are so flexible and there are lots of ways to get creative. Use them to color, create your own designs, turn them into handmade gifts for grandma, make your own Christmas poster templates, but most of all, use them to get into the Christmas spirit.
Our printable templates are US Letter size printables and will also print on A4 paper. To get your favorite templates, simply click the image or link and save them to your computer!
Christmas Stocking Template
Color and create your own unique Christmas stocking! Use your favorite colors, lots of glitters, different materials or simply write a season's greetings on your stocking.
Christmas Star Template printable
Choose from our beautiful star templates to create unique Christmas tree toppers, pretty stars to dangle from your ceiling or any other fun project. Looking for these stars in different sizes? Check out our huge collection of free printable star templates.
Christmas Angel Template
Have fun coloring and creating the cutest Christmas angels this festive season. You can color them, use materials to add texture to their hair and clothes of cut around the templates and write a message on the back to create your own Christmas card templates.
Christmas Reindeer Template
These reindeer are so cute and come in many different styles. Draw Christmas bells and festive items to the reindeer antlers and body. You can even cut out the faces to create a fun reindeer mask! There is a dedicated mask to cute out too!
Gingerbread Man Christmas Template
Nothing gets me in the Christmas mood more than decorating gingerbread men! Use the gingerbread man outlines to create gingerbread versions of you or your family- it's so fun! You can even make a cute gingerbread garland for Christmas.
Christmas Hat Template
Amp up your Christmas style with a fun Christmas hat decorated by you! There are Santa hats, winter hats, elf hats, and top hats! There is a Christmas hat template for every style!
Christmas Tree Template
Decorating the Christmas tree is so much fun and is a perfect excuse for using all of your best colors and sparkles! What decorations will you put on the tree?
Christmas House Template
Use our Christmas house templates to design your most delicious dream home! Choose from a basic house outline or use one of our more structured templates.
Snowflake Christmas Template
Grab your favorite snowflakes and create a winter wonderland! Hang these snowflakes from the ceiling, stick them to the wall or create beautiful art posters!
Christmas Elf Template
We have a great selection of elf templates for you to use and get creative with. Create different facial expressions and learn different emotions. You can even draw yourself as an elf!
Christmas Holly Template
Deck the halls with our attractive Christmas leaf templates. You will find holly templates, mistletoe templates, Christmas flower templates, and a Christmas wreath template.
Santa Christmas Face Template
Our fun Santa Claus templates are perfect for having festive fun. I like to use bold, bright colors and even put glitter in Santa's beard! What will you do?
Christmas Ornament Template For Preschoolers
Add extra flair to your Christmas tree by adding your own unique ornaments! Create funky patterns, use bright colors, write a Christmas message or draw your pet! There are so many ways to decorate a Christmas bauble.
Sleigh Christmas Template
Wow! It's Santa's sleigh! What does Santa's sleigh look like this year? Is it Christmas red? You can decorate Santas's sleigh any way you like! You can even add cute stickers to the sleigh and draw presents and Santa inside the sleigh. Why don't you draw yourself sitting next to Santa?
Snowman Christmas Template
Choose from a simple snowman template to add your own hat and scarf too, or choose one that is a little more stylish! Whatever snowman you choose, add your own unique style!
Christmas Template Printable
This is such an amazing bundle of free printable Christmas templates with so many fun and creative ideas! I hope you save as many templates as you can and have a fun and crafty Christmas!
If you like these Christmas printables, you'll love our cute Christmas Planner Bundle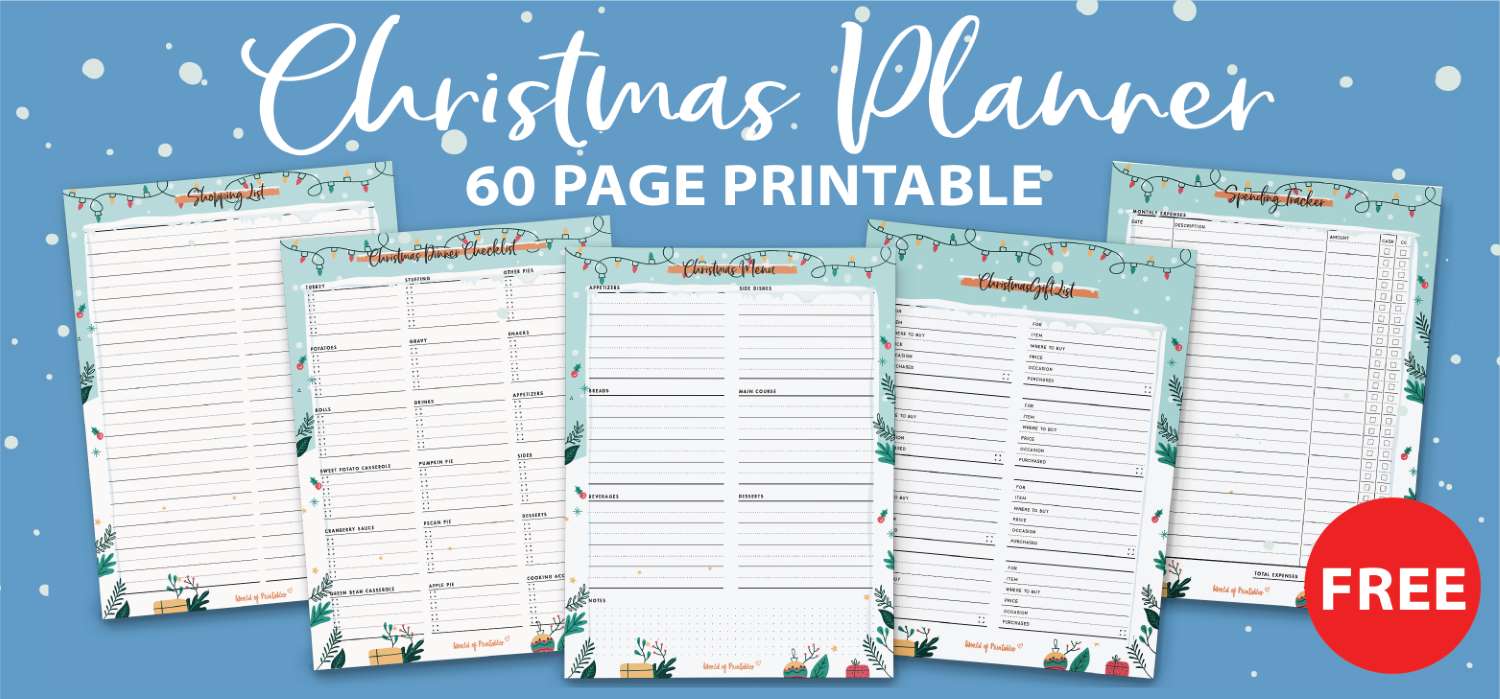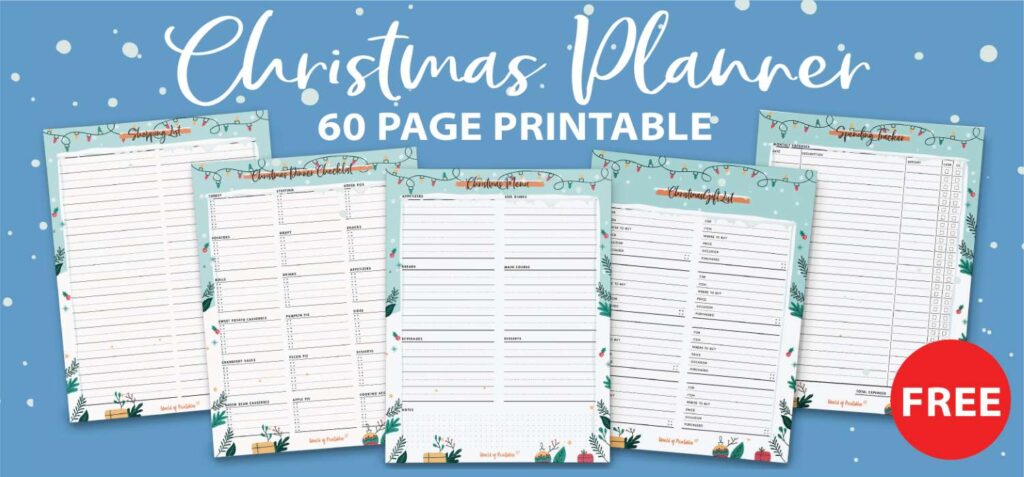 The Christmas planner is the cutest planner you'll ever use this winter.
This free 60 Page Christmas Planner is the cutest planner that you'll ever use this winter. It's packed full of everything you need to plan and organize Christmas, from gifts to buy, things to do, to decorations, meal planning, and more.
You can get this planner for free and print it right now and begin using it in minutes.
Get set for the holiday season with our amazing freebies!
We've got a huge collection of holiday freebies that you can get while you're here. We've got everything you'll need to get prepped for the fall holidays from planning printables to fun activities!
More Christmas printables for your family to enjoy
Take some of the stress and cost out of Christmas with our free Christmas printables. They are a free and simple option for everyone and you can even combine them with many of our other free Christmas decorations!
We've got tons more Christmas Printables for you to print and enjoy for free.
We've created many more useful printables for you for the run-up to Christmas and you can get them all for free right here.
Get notified of our upcoming free printables – you're gonna love them!
If you love this post then please share it with your friends and family, pin it to Pinterest and show us your creations on Instagram.
Follow World of Printables on Pinterest
COPYRIGHT
The printables that you find here are the copyright of World of Printables – you cannot redistribute or sell any of these printables or templates, although you can link back to our website.