This free printable I spy Christmas coloring page game is the perfect kid's activity to do while your kids are at home over the holiday season.
What kid doesn't love Christmas?! There's so much fun and joy to be had over the festive period. These days the buildup to Christmas starts right after Halloween.
Children get so excited when Christmas is nearing. But often it's too cold to go outside. So with that in mind, we've created this fun Christmas game to keep your kids occupied when they're indoors.
Just print this off and grab some coloring pens and let them have fun! Your children can even play this on Christmas day to help keep them occupied and happy while you're preparing Christmas dinner!
Our I Spy games are a great activity for kids because they can play a game and also color in too. So much fun in something so simple and exactly what kids love.
How to play this Christmas game
To play this game you simply have to find all the Christmas things that are hidden on the page and count how many of each kind you find and write the amount in the boxes. You can also color in the Christmas items to create a colorful picture that your kids can hang up somewhere in their home.
You can even color the background any color you like. By coloring the background your children can create a winter wonderland effect! Kids can be so creative!
We've created a huge amount of these games so you'll be able to keep your kids entertained over the festive season while giving you some much-needed time to yourself. It's a win-win for everyone!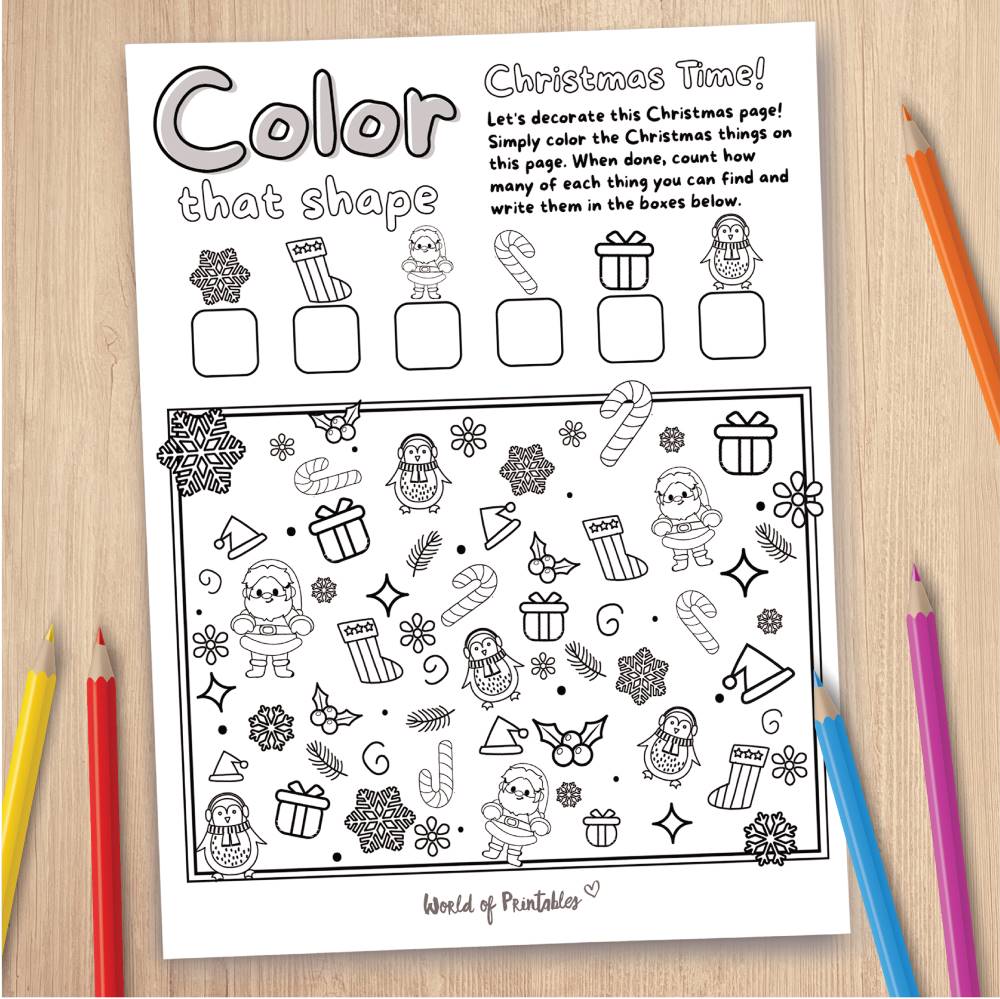 Free Printable I Spy Christmas Coloring Page Game
Our free Christmas-themed I Spy game is a great activity for kids to do to help them enjoy the festivities that excite them while giving them time to be creative and to keep busy.
Our I Spy games are very popular with kids of all ages and are a great way to keep kids busy while indoors and teach them visual discrimination which is the ability to detect differences and similarities in size, shape, and color.
Children love Christmas and coloring these Xmas items and objects is such a fun activity for them to do.
They can even write the names under each of these Christmas objects and each one can be colored separately as they don't have to use the same colors for the same objects that they find.
We've also created tons of Christmas coloring pages that you can print and enjoy for free for hours of fun along with many more awesome coloring pages of all themes that kids love.
About this Christmas coloring page game
We've made a game out of this Christmas coloring page, by asking the player to search for each item shown at the top and counting the amount that they find of each item in the boxes below.
When they're done finding the Christmas objects they can then color the page in. Christmas often has colors of reds and greens, but if they prefer they can just go wild and create a colorful picture that's uniquely their own.
The Christmas theme coloring page features six different objects, including snowflakes, stockings, Santas, candy canes, gifts, and penguins. When it is completely colored in it creates such a pretty picture of Christmas that your children will love.
If you like this Christmas game, then be sure to check out all of our awesome Christmas coloring pages for lots more colorful fun. We've also got printable Christmas decorations that you can print and use for Christmas parties or decorations.
See more of our awesome Christmas printables that you can print and enjoy for free.
Fun Christmas Facts For Kids
Did you know that Jingle Bells was the very first song played in space?
Jingle Bells was also originally a thanksgiving song.
If you want to send Santa a letter at Christmas, he even has his own postal code in Canada. You can send letters to: Santa Claus, North Pole, HOH OHO, Canada.
The statue of liberty was actually a holiday gift given to the USA from France in1886.
These days almost 2 billion Christmas cards are sent in the US alone at Christmas.
The largest-ever gingerbread house ever made was almost as big as a real house.
Did you know that you can donate your used Christmas tree to elephants? Many zoos give evergreens to hungry elephants who enjoy them as a seasonal treat.
See more awesome fun Christmas facts if you love these interesting tidbits
Print the I Spy Christmas Coloring Page below
Simply click the printable I Spy Christmas Coloring Page Game image to enlarge it and then save it to your computer before printing. Print as many as you want and remember to check out our other I Spy games.
I recommend that you print a few of our I Spy games or coloring pages to give your kids variety and to keep them busy.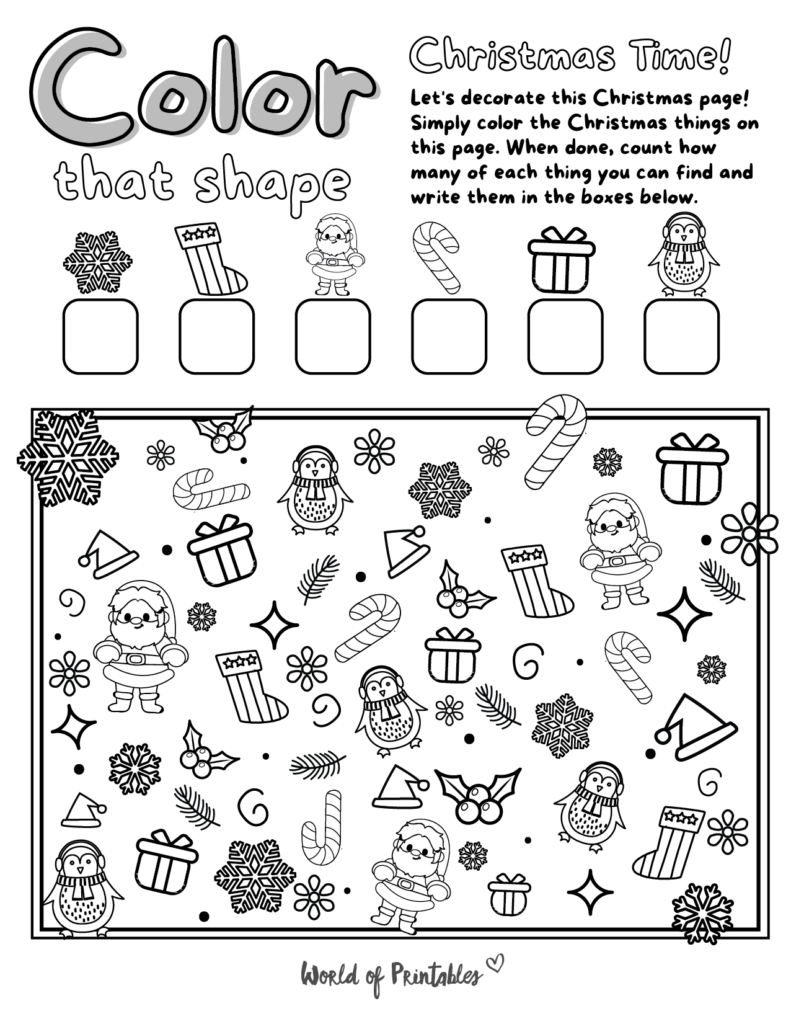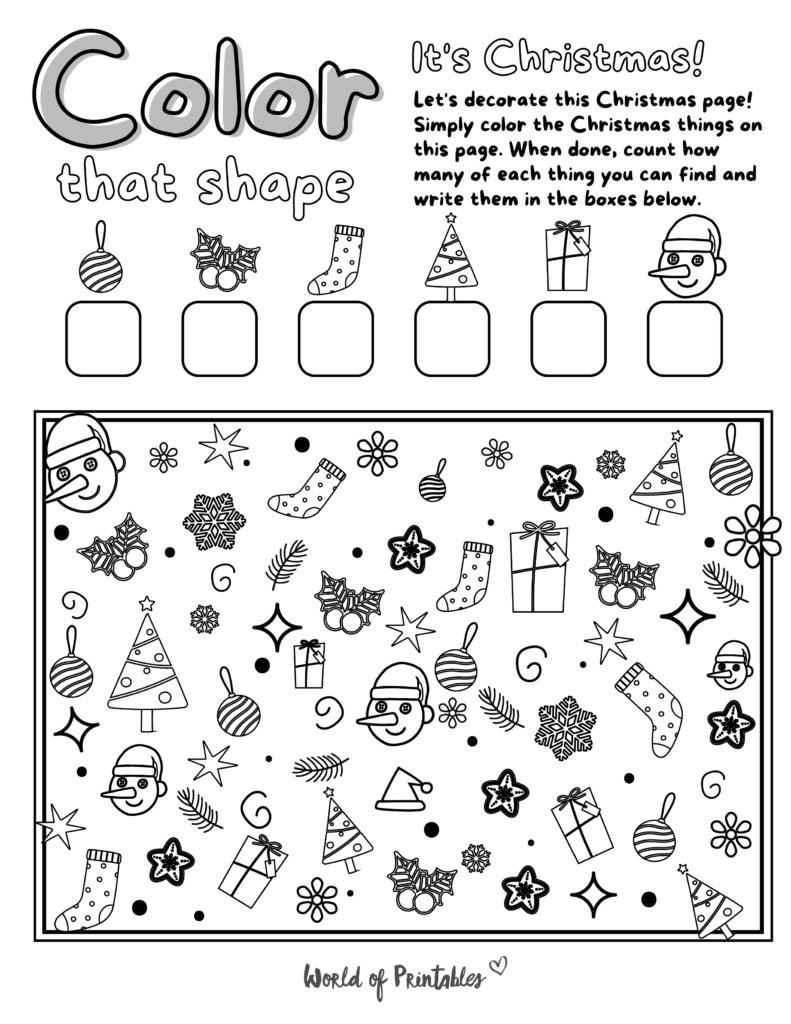 Amazon Gift Card in a Holiday Gift Box
It's always hard to choose Christmas gifts for friends and family these days. I always find that the gifts that I receive are nice but not something that I need and this often leads to unnecessary wastage. But what better gift to give to a loved one than an Amazon gift card! This way they can buy the things that they want and need and everybody's happy!
The gift card is nested inside a specialty gift box and has no fees or expiration date.
The gift card is redeemable towards millions of items storewide at Amazon.com.
The gift card can also be redeemed with a mobile or tablet device via the Amazon App to spend on Amazon digital products.
You can also customize the gift message.
Enjoy your free time, have a coffee!
These Christmas coloring activities are a great way to relax, whether you're giving them to your kids to do to keep them busy over the holidays so you can have time to yourself, or for you to do to help you relax and wind down.
It's a good idea to have a nice cup of coffee while you're relaxing. If you want you can buy us a coffee too! Click to Support us on Patreon so we can continue making more awesome free printables.
It's a great way to show your support and helps us continue to create awesome printables to give to our visitors for free.
More printables from World of Printables
We've got loads more of these I Spy activities, printable games, and coloring pages for hours of fun for your little ones and many useful printables for adults too.
Remember to check out our Christmas coloring pages if you want more festive coloring fun!
Be sure to grab as many printables as you can while you're here and print them off whenever you need activities for your kids.
We think you'll love these:
I Spy Coloring Pages
Our recent I Spy coloring page activities. Find many more I Spy Printables to use and print for free.
---
Coloring Pages
Our recent coloring pages. Many more printable coloring pages to print and color for free.
---
Printable Games
Our recent printable games. Many more printable games to print and play for free.
The world's most popular printables
Thank you for browsing our Free Printable I Spy Christmas Coloring Page game.
I really hope you and your kids love our I Spy coloring page activities and if you like this printable Christmas activity then please hit the share button of your choice below as it lets us know you care and helps us create many more awesome free printables for you to enjoy.
And if you can, please Support us on Patreon and get access to all of our awesome premium printables as part of your Patreon.