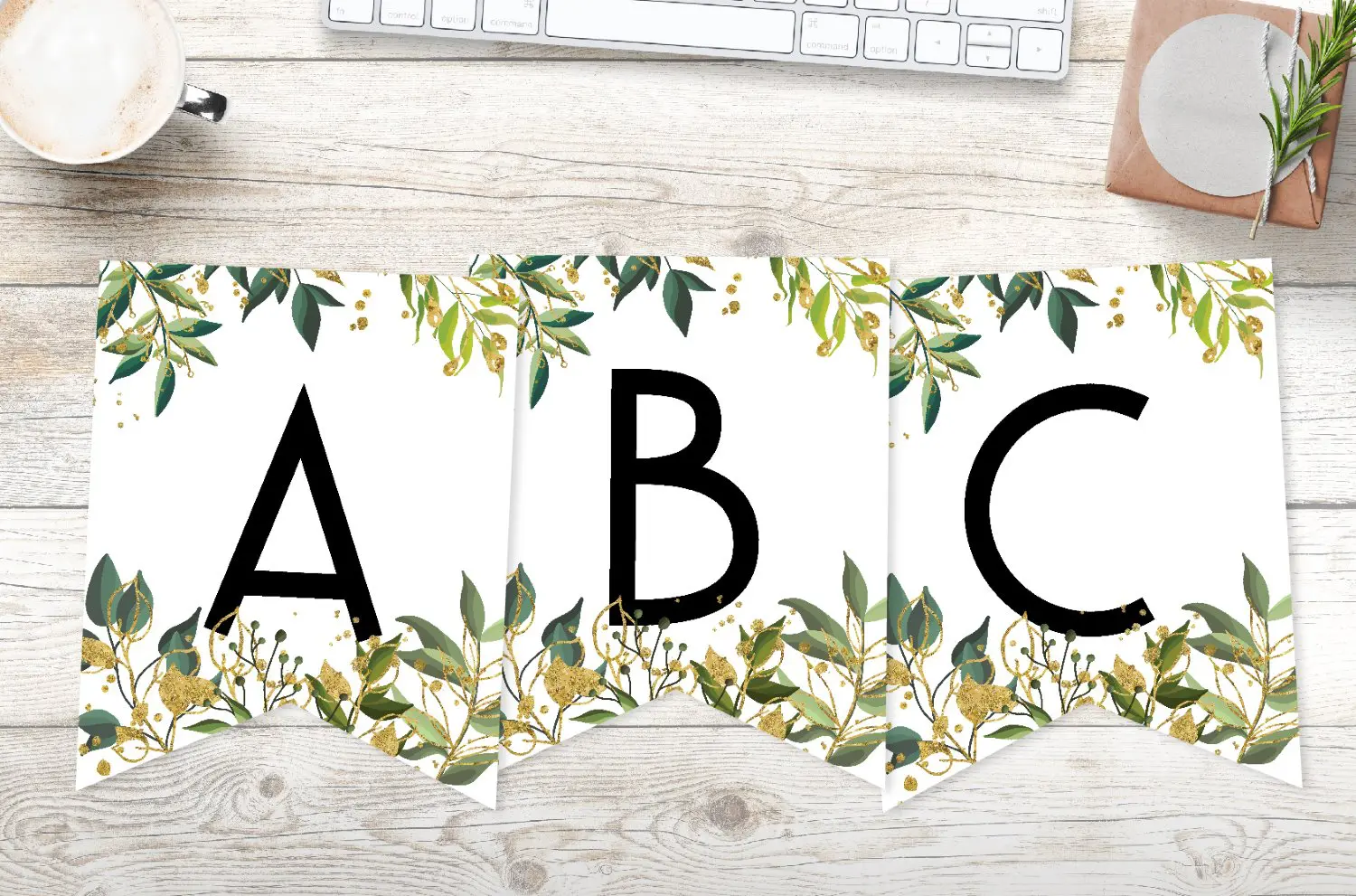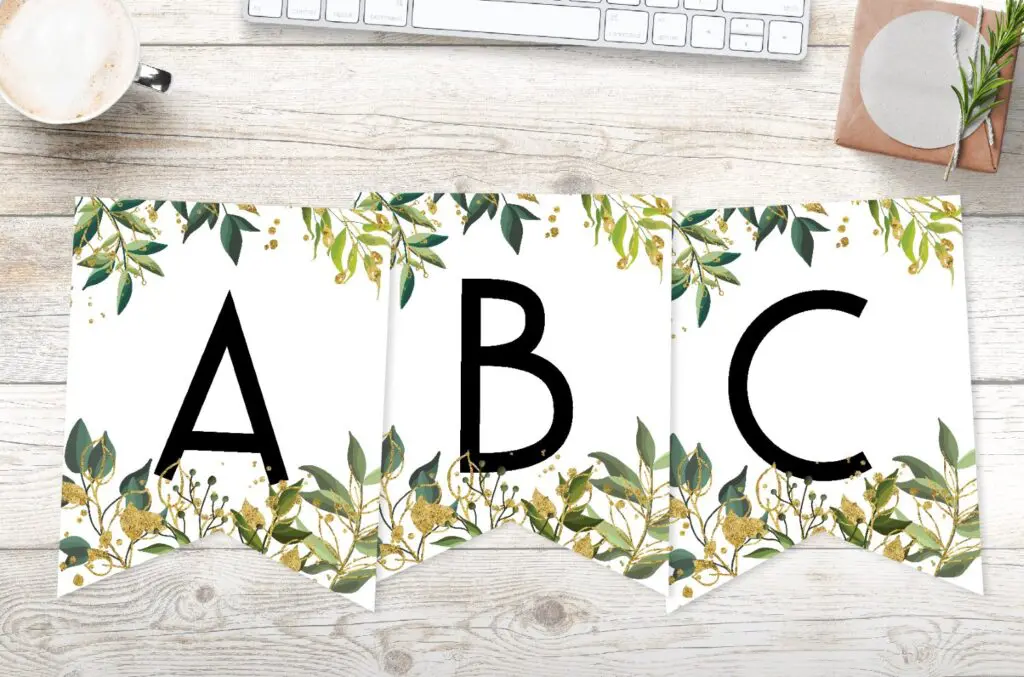 Free Printable Botanical Banner
This stunning Free Printable Botanical Banner features an elegant background of green and gold botanicals with beautiful lettering.
This banner covers the full alphabet meaning you can print out any letters you need to create the message you want to say!
This beautiful Free Printable Botanical Banner would be perfect for any occasion whether that's a birthday, wedding, anniversary, or simply just a family get-together.
To download the botanical banner, simply open the images below and save them to your device.
Personalize the banner for any celebration
You can personalize these botanical banners with any message for any celebration. Just get all of the banner letters below and print the ones that you need to write the celebration message. They're easy to hang up on walls, either using blu-tack, tape, or string them up for a traditional banner effect.
I recommend that you decide on the message that you want to create, then write this down so that you know what banner letters to print. It's best if you get the complete collection while you're here, to save you time and trouble from missing letters and having to come back to get the ones that you need.
Be sure to check out our full range of printable banners and see the bottom of this post for related ideas.
Open the following images to save the free printable botanical banner letters.
Just get your Free Printable Botanical Banner here by opening each banner image, print them out and you're done!
See below for instructions and paper recommendations.
Also, see more of our stunning range of free printable banners below.
The great thing about our free printable banners is that you can mix and match!
You don't need the same style for each event, you can use more than one banner style for each event and come back and download a different banner for each occasion.
Why not use these banner letters to write things like Happy Birthday, or Happy Anniversary. People also use these for writing names too. You can use lots of them to write things like congratulations, or the names of the bride and groom for wedding receptions.
The things that you can do with these banners are unlimited.
INSTRUCTIONS
Get the Free Printable Botanical Banner by opening the images above and saving them to your computer before printing for the best, highest quality finish.
Print the banner. These banner images are designed as 8.5 x 11 US Letter size page printables.
TIP: If you want to print these banners at a different size then simply insert this printable into Canva, set your dimensions to any size you want, then download it to your computer, easy! Full steps in this guide.


Paper Recommendations
For regular paper, I find that Amazon's best-selling paper is such a good deal and has tons of great reviews (over 10,000!).
Cardstock
Cardstock is thicker and more durable than regular paper and is great when you want top-quality prints, especially if you want to frame them. If you want to print on cardstock, I really like Amazon's Choice of cardstock paper, which is great for prints.
More Free Printable Banners from World of Printables
We've created a huge range of printable banners for you to use for parties and celebrations. Here are some of our most recent banners.
Finally, if you liked this post and the Free Printable Botanical Banner, go ahead and hit the Pin button below, as it really does help us in so many different ways and is a great way to save for later.