Love this print? me too. This free printable Girls Name With Dandelion Butterflies Art Print is a set of 50 of the most popular girl names of 2020. Check below to see if yours is there!
This free Girls Name With Dandelion Butterflies Art Print is a truly beautiful art print full of pretty flowers and butterflies. This print would look gorgeous in a pretty pink room or nursery.
Use this free printable Girls Name With Dandelion Butterflies Art Print to add some floral, girly elements to your daughter's room or even print this out and pass it on as a gift!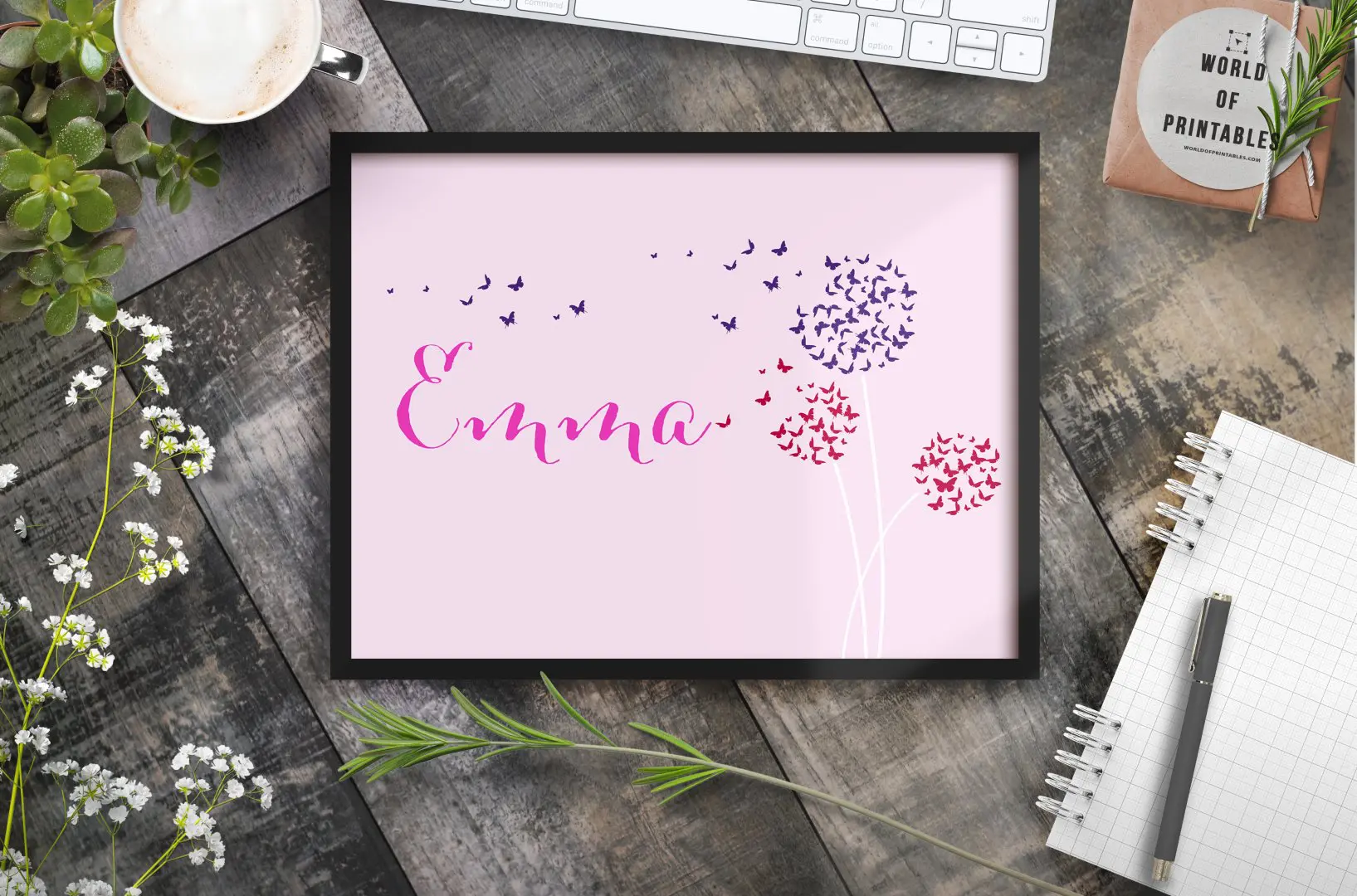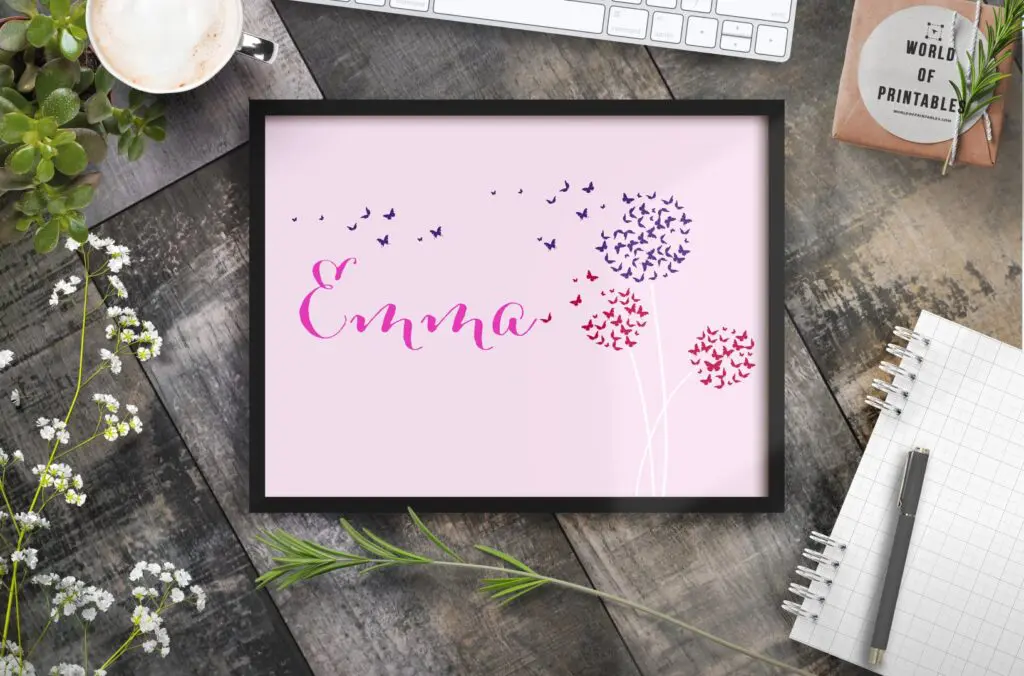 Just download your printable below, print out, add a frame and you're done! Instant and inexpensive wall art for your home!
Click the following links to print the Girls Name With Dandelion Butterflies Art Print for your kid's room. See below for instructions and paper and frame recommendations. Also, see more of our great printable wall art below.


INSTRUCTIONS
Download the free Girls Name With Dandelion Butterflies Art Print
Print the printable. These images are designed as 8.5 x 11 prints. This will translate well to an 8×10 print. TIP: If you want to print and frame at a different size then simply insert this printable into Canva, set your dimensions to any size you want, then download it to your computer, easy! Full steps in this guide.
Names available in this bundle:
Emma
Olivia
Ava
Amelia
Isabella
Sophia
Charlotte
Mia
Mila
Harper
Evelyn
Luna
Abigail
Camila
Aria
Ella
Elizabeth
Avery
Emily
Victoria
Scarlett
Sofia
Penelope
Layla
Grace
Nora
Eleanor
Zoey
Chloe
Nova
Madison
Riley
Everly
Stella
Aurora
Lily
Ellie
Hannah
Lillian
Emilia
Addison
Hazel
Leah
Violet
Zoe
Audrey
Bella
Natalie
Willow
Genesis


We get a lot of questions on what paper and frames we recommend.
Paper, Printing & Framing Recommendations
For regular paper, I find that Amazon's best-selling paper is such a good deal and has tons of great reviews (over 10,000!).
Cardstock
Cardstock is thicker, durable than regular paper and is great when you want top-quality prints, especially if you want to frame them. If you want to print on cardstock, I really like Amazon's Choice of cardstock paper, which is great for prints.
Printer If you are looking for a great printer for making prints at home, this is the printer that we recommend and love.
Frame your prints. To find great looking frames that are ideal for this printable, I recommend Amazon for 8×10 Picture Frames as these look super cute, or frames from Ikea. You can even find Ikeas very popular Ribba frames on Amazon saving you a trip. I also really like wooden poster hangers that have an original boho look.
Buy this as a framed print. You can also buy this as a print or framed print right from our shop.
More Free Printables from World of Printables
Thank you so much for visiting!
If you liked this post and printable, go ahead and hit the Pin button below, as it really does help us in so many different ways and is a great way to save for later.
If you are new here please subscribe as we make new printables often and we'll keep you notified from time to time with our best new free printables.
I love you guys!