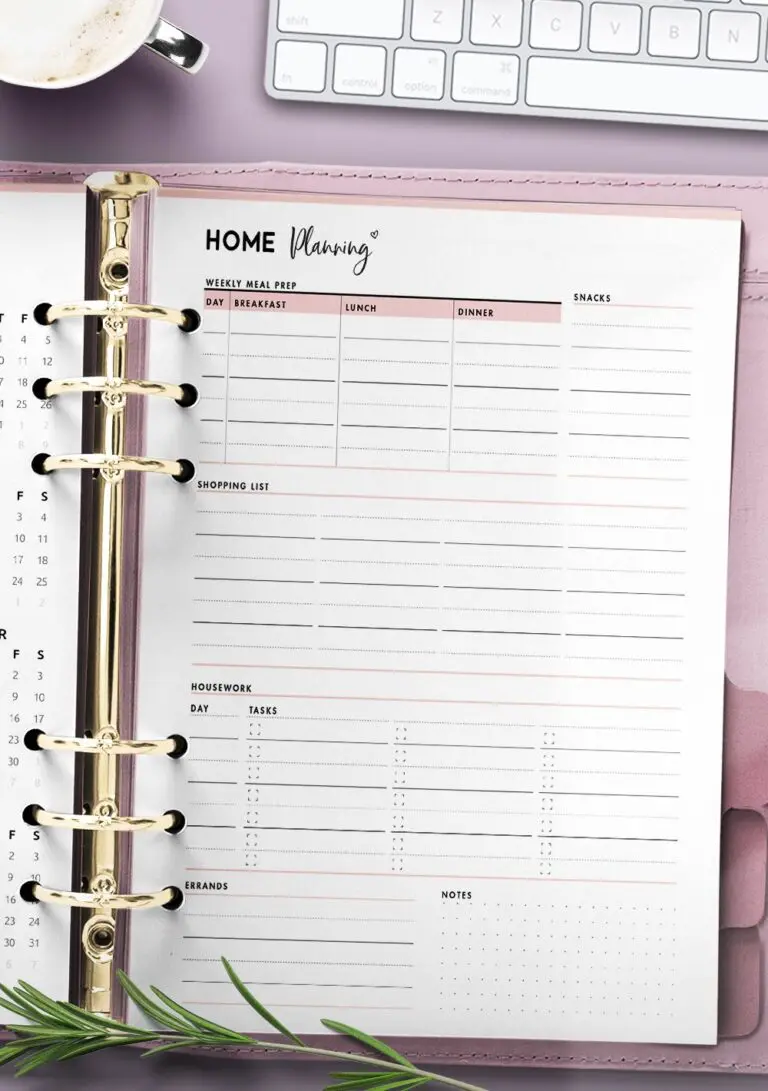 When it comes to making things simple at home, it's good to have the main things you need to do laid out in front of you and thats what makes all of our free printables organization friendly.
This household planning template, features everything you need to organize your home, it really has it all.
Whether it's meal planning, creating the weekly shopping list, writing a housework checklist or running errands, this household planner template will help you tackle your home easily.
You'll be more organized and less stressed! So take control of your home, get this free printable household planner.
How to use a household planner
This home planning printable has the space for you to do everything I've mentioned here, so that you can plan your day when it comes to household chores.
You have space to plan your meals for the week, and along with breakfast, lunch and dinner there's also space for snacks too.
Pre-planned grocery shopping
We've also included a shopping list, so you as well as planning your meals in advance, you can pre-plan your grocery shopping too – how awesome is that?!
Housework chores that are organized
But what home doesn't come with housework? So we've even included an area for that too, so you can write down what needs done and when it needs doing.
Errands that never go forgotten
Lastly, we all have errands to run, especially if you have children or anyone who depends on you. So you'll find an errands section which is great for writing your to-do's.
Take notes of the little things
Lastly, theres an area for writing any notes. Perhaps you've noticed that your childrens sportswear is badly stained, or you've noticed that the sink is leaking – whatever it is you have the space to write those notes too.
Everything you need to organize your home
Altogether this is an amazing planner insert that gives you everything you need all on one page.
This template is so well designed that it's super easy to keep everything well organized.
We've managed to fit so many elements of your household organization planning into one page, without it feeling overcrowded or crammed full.
We really think we've done a great job in achieving a formidable planner for your home, don't you think?
It's a great home planning page for keeping at the front of your planner and works well with the rest of our household planner templates.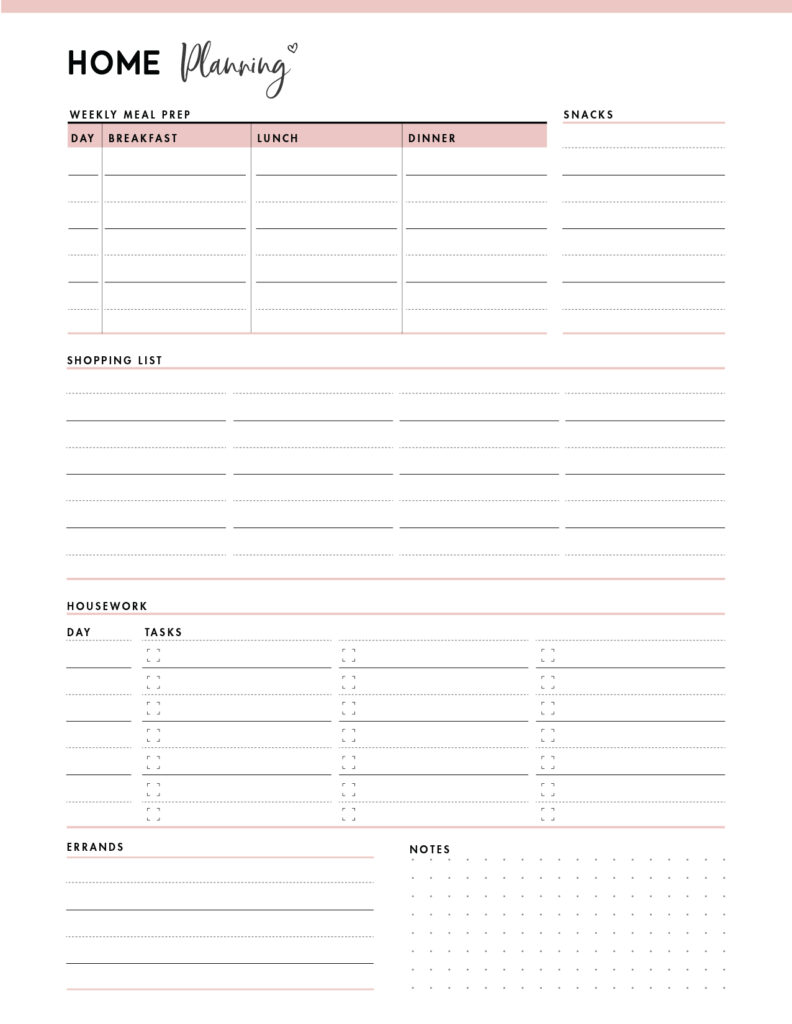 You can also find this home planning page included in our amazing Personal Planner Bundle. It's simply the best planner bundle for focusing on yourself and your own goals.
We've got so many more awesome printables in our bundles, all high quality so look amazing when printed.
Better yet, our hugely popular Ultimate Planner Super Bundle has all of our templates, combined in one amazing low cost bundle. If you want to be more organized, then this is exactly what you need.
Download the free printables organization template
To get the home planning template for free, click the image above and save to your computer.
If you are looking for more, then check out our huge range of awesome printable templates and find the ones you need.
Alternatively, for the highest quality version of these free printables organization templates, which comes in four different themes, click the button below to visit our product page. Use the coupon code displayed to get it for free.
Print it! – Our templates look so good when printed on this bright paper. If you like keeping a planner, especially one you print at home, then make your pages look amazing by using the best paper for planner pages.
The most popular printables you'll find anywhere
If you like this printable, then remember to look through the rest of our popular printable templates, we've got everything you need for every aspect of your life!
Our printables are downloaded over 100,000 every month and people keep coming back.
So Pin this page or Bookmark our website and remember to return, come back often whenever you need a printable to help you get things done!