In this post, we are looking at beautiful spring bullet journal ideas to inspire you to add some sunshine, flowers, and light to your journal! The creators featured on this list offer some great ideas!
Spring is such a nice time of year. It's such a great change from the cold, darkness of winter, and a great time to add some light and color to your bullet journal.
I'm always on the lookout for some fresh bullet journal inspiration. It's time to start designing our bullet journal pages for spring!
Let's check them out.
An Elegant Floral Line Drawing
Your Spring bullet journal doesn't have to be full of color and bold. Why not try simple floral illustrations or a single line drawing?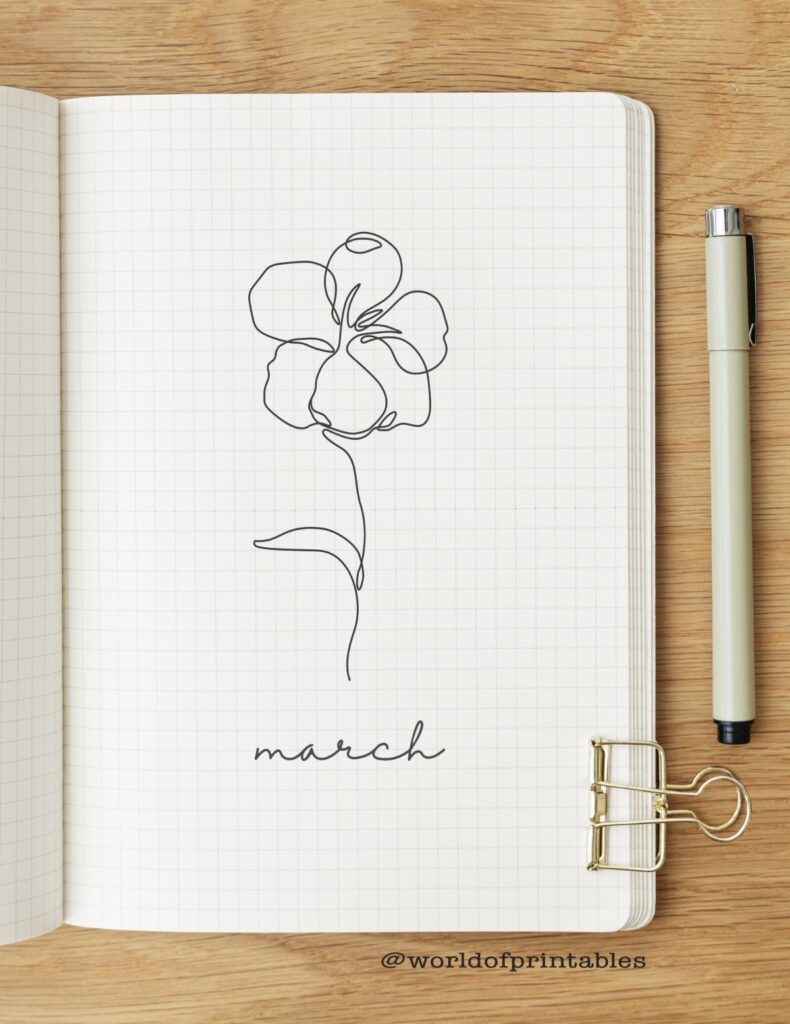 –
Spring Bullet Journal Cover Page
I am totally loving this spring is here bullet journal page. It features so many cute elements that all make sense together. I particularly love the bike. It's very European.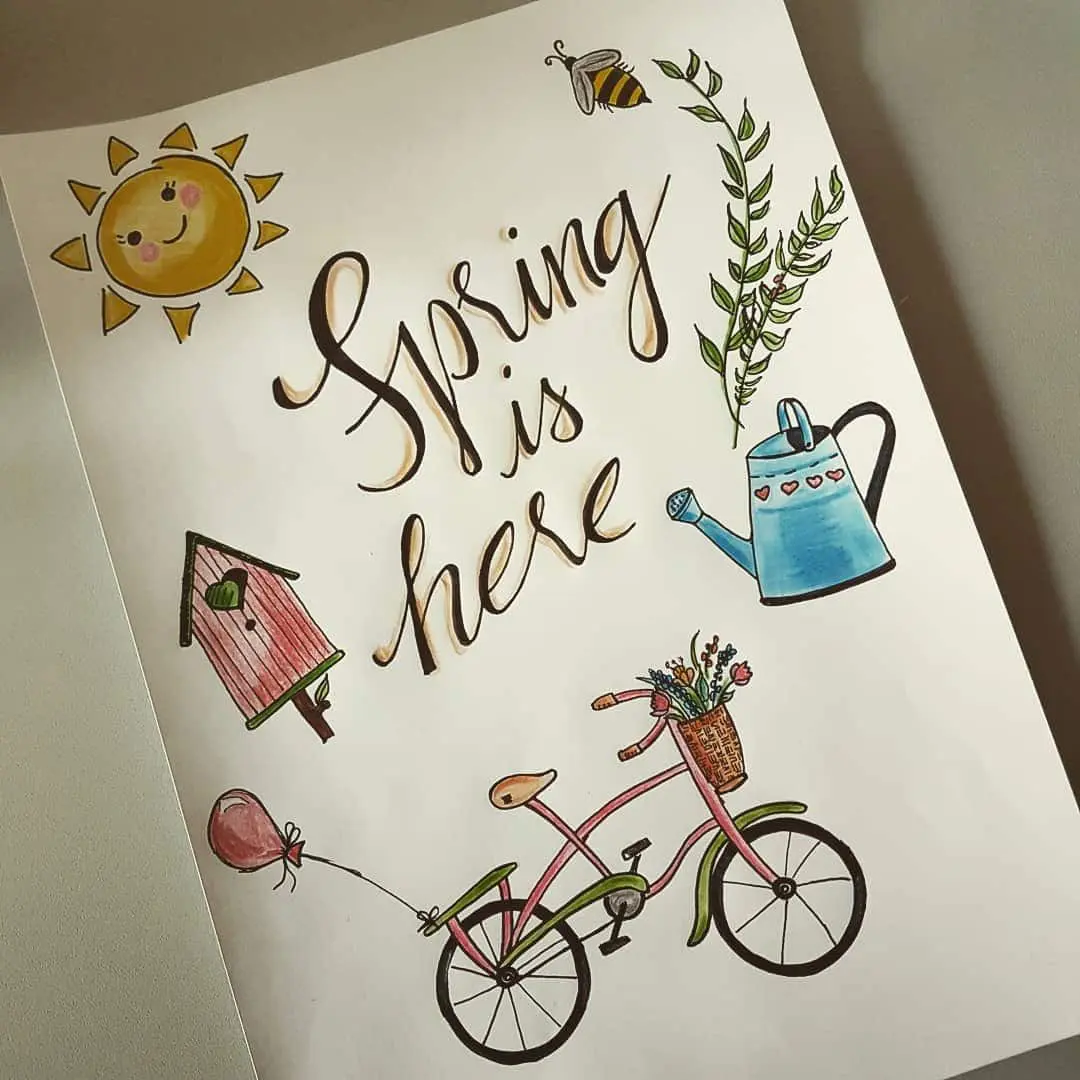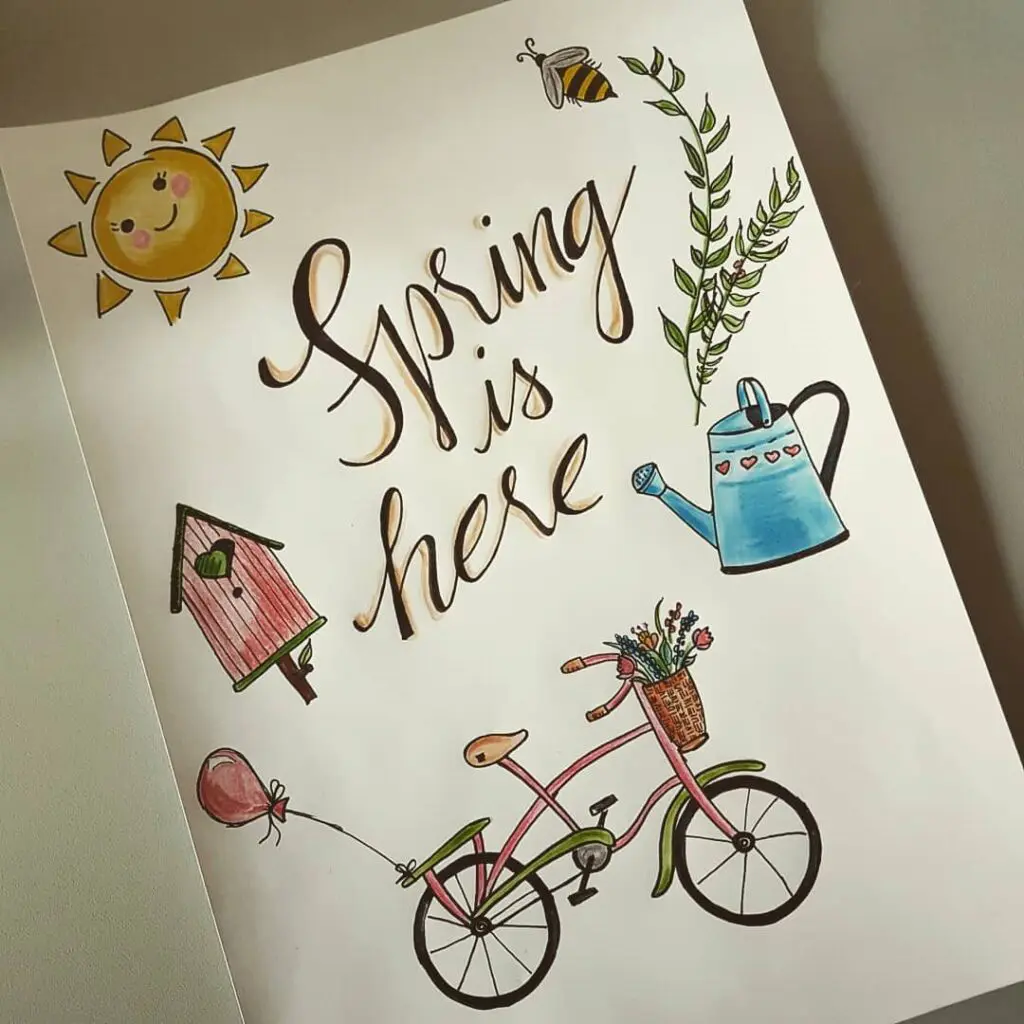 –
Cute Easter Bullet Journal Idea
Here is a cute bullet journal idea for Easter. It features pretty writing and a few decorative Easter eggs.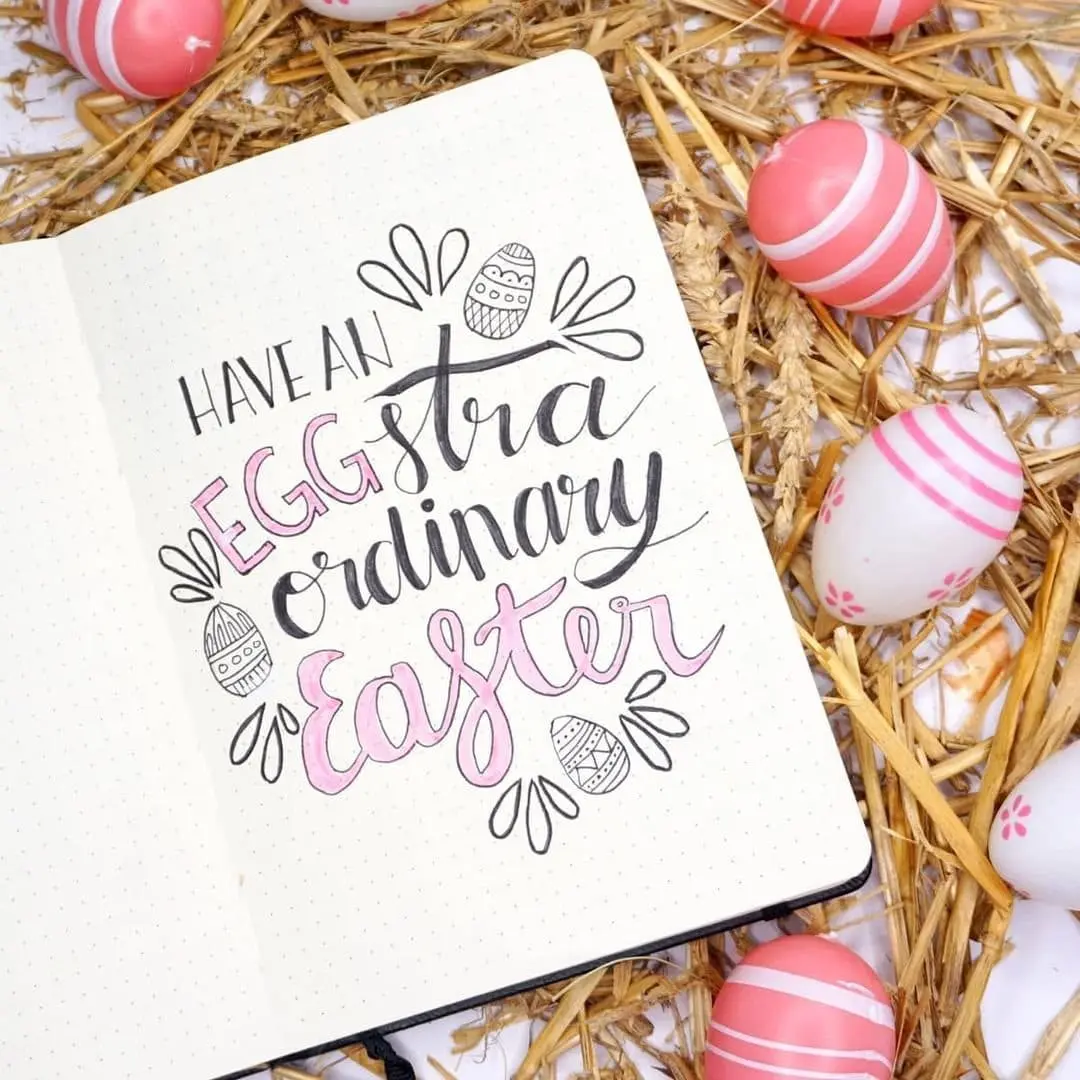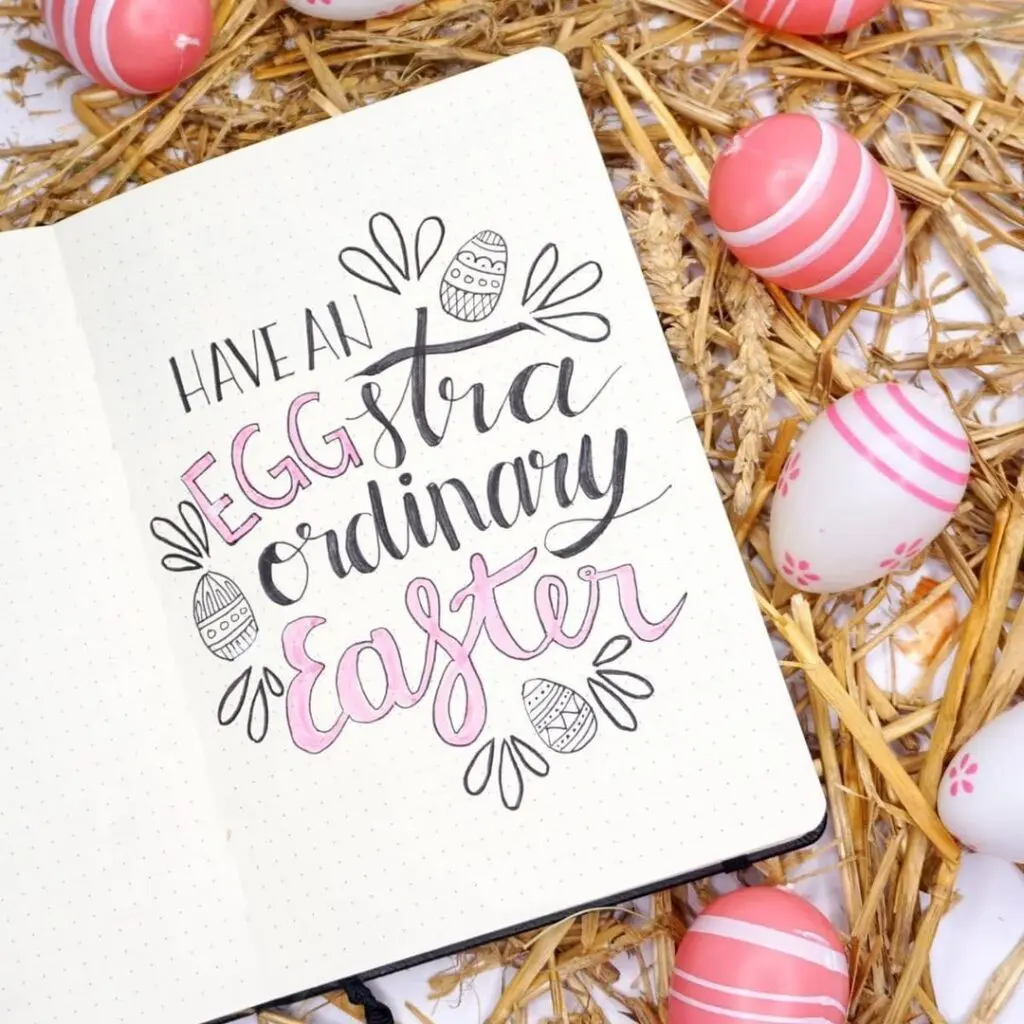 –
Spring Bambi Bullet Journal Monthly Spread
How cute is this Bambi bullet journal spread? This is so pretty and the flowers are such a pretty touch for spring too.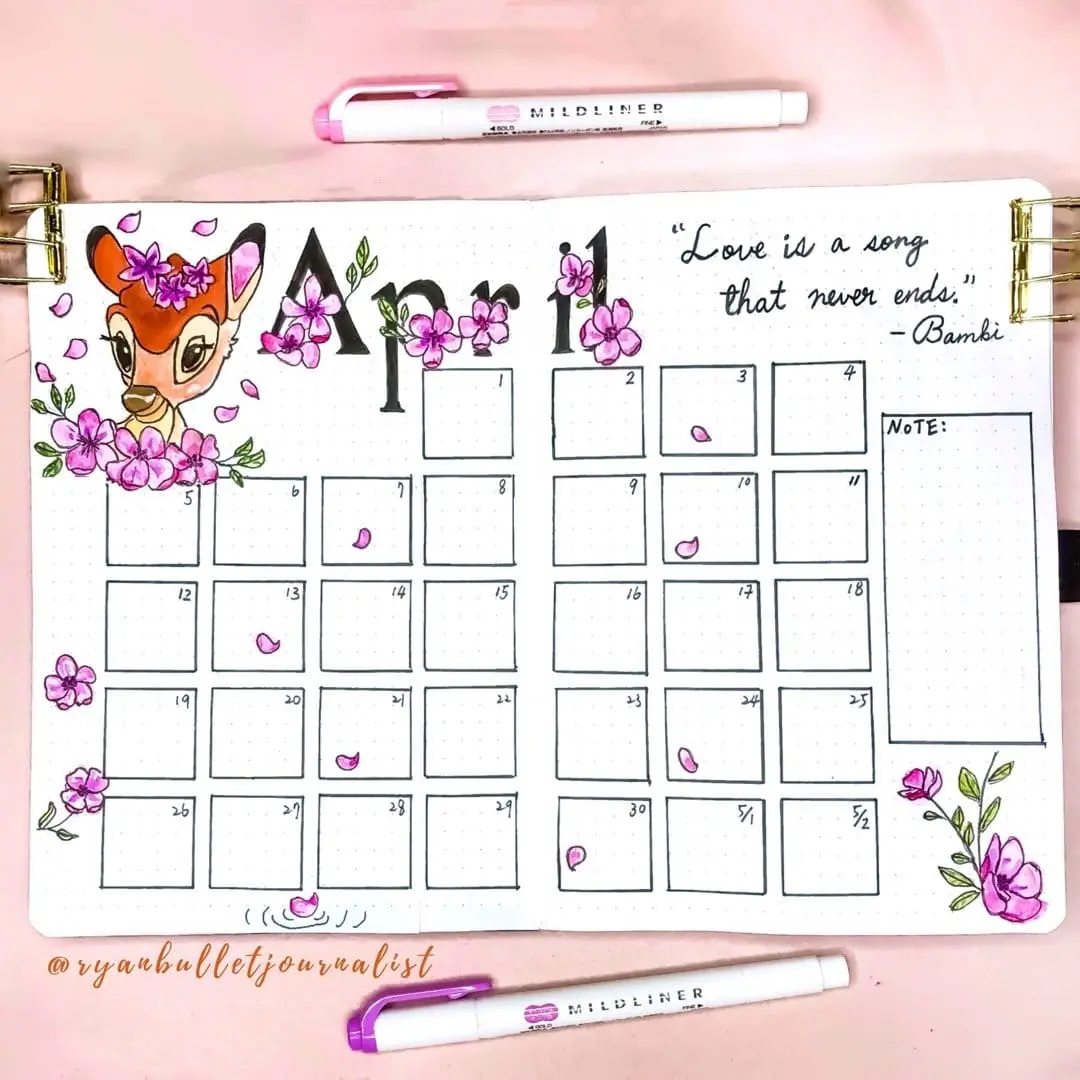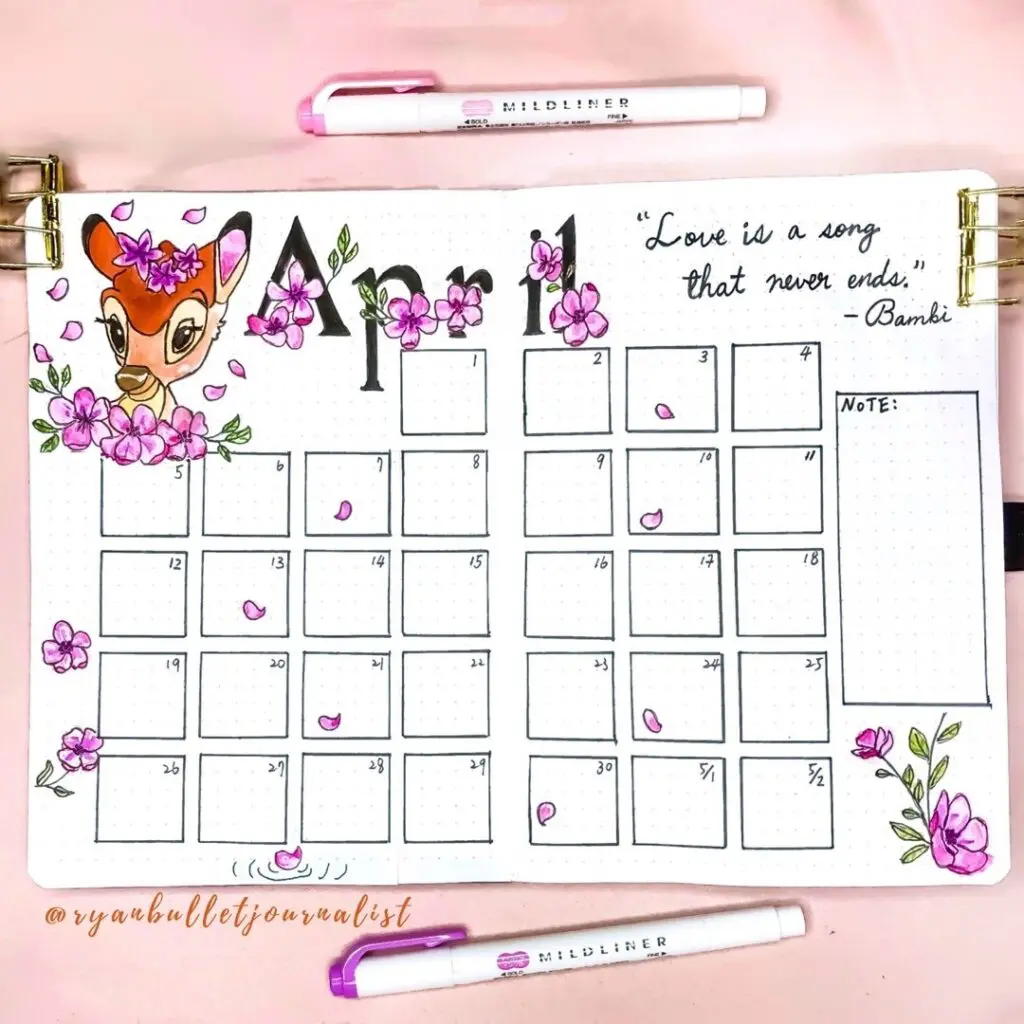 Pens featured in this image: Zebra Pen Mildliner Double Ended Brush and Fine Tip Pen
–
Free Printable Plant Bullet Journal Doodle Sheet
If you want to add some really cute botanical touches to your bullet journal this spring then this free plant doodle sheet pack is perfect for teaching you how to draw cute plants through tracing. There are 5 pages per pack and they all look amazing!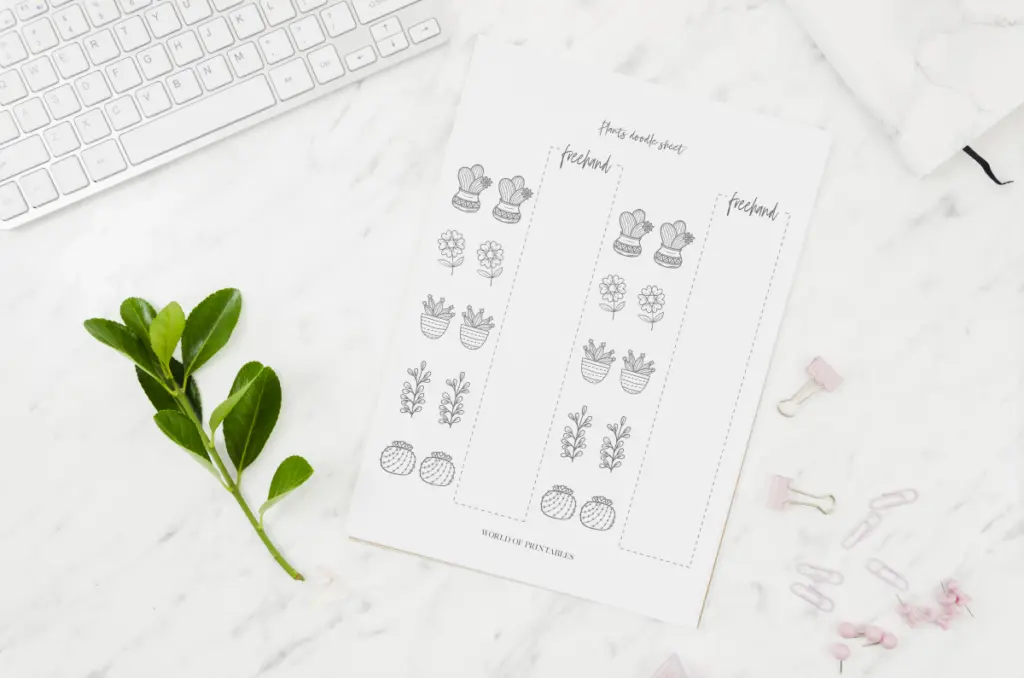 –
Spring Lettering For Bullet Journal
This hand-lettered creation would look amazing as a bullet journal cover for the Spring season. I love the contrast of bold writing with the delicate botanicals.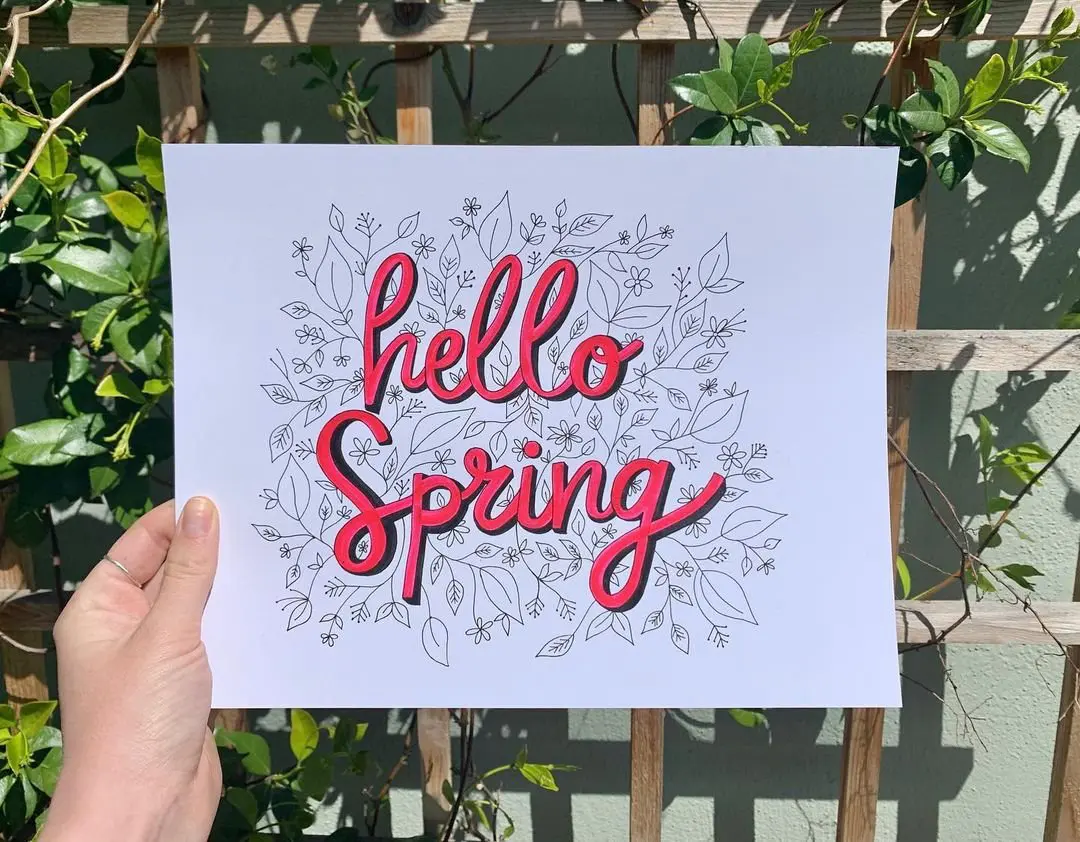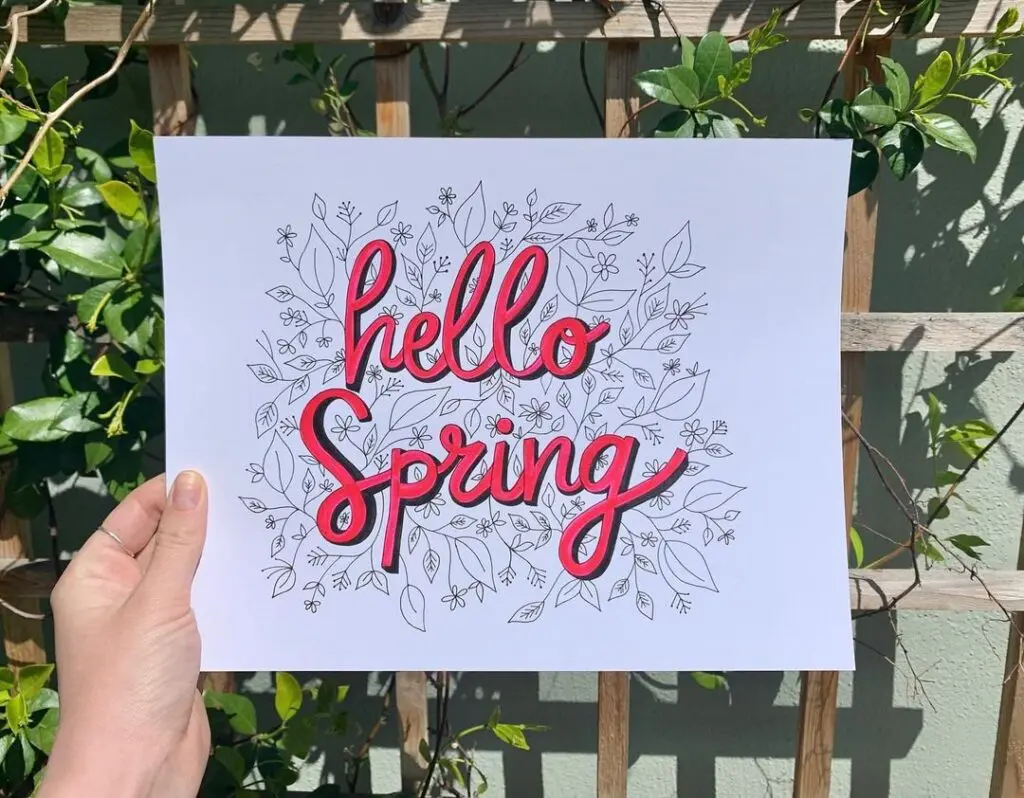 –
Spring Easter Bullet Journal Inspiration
This is such a fun spread. One side features a religious quote with soft, neutral flowers and the other side features the name of the month with colorful and beautifully decorated eggs.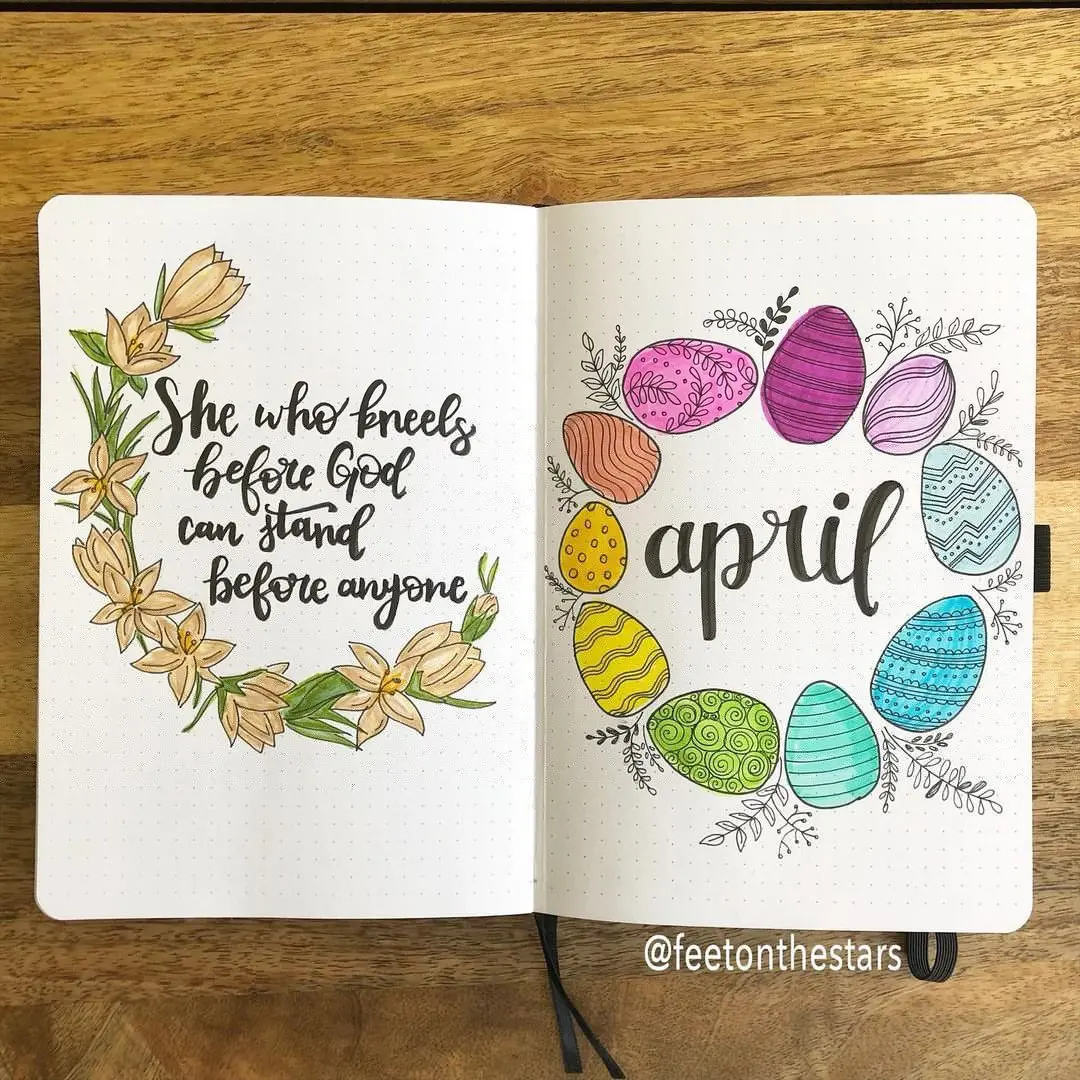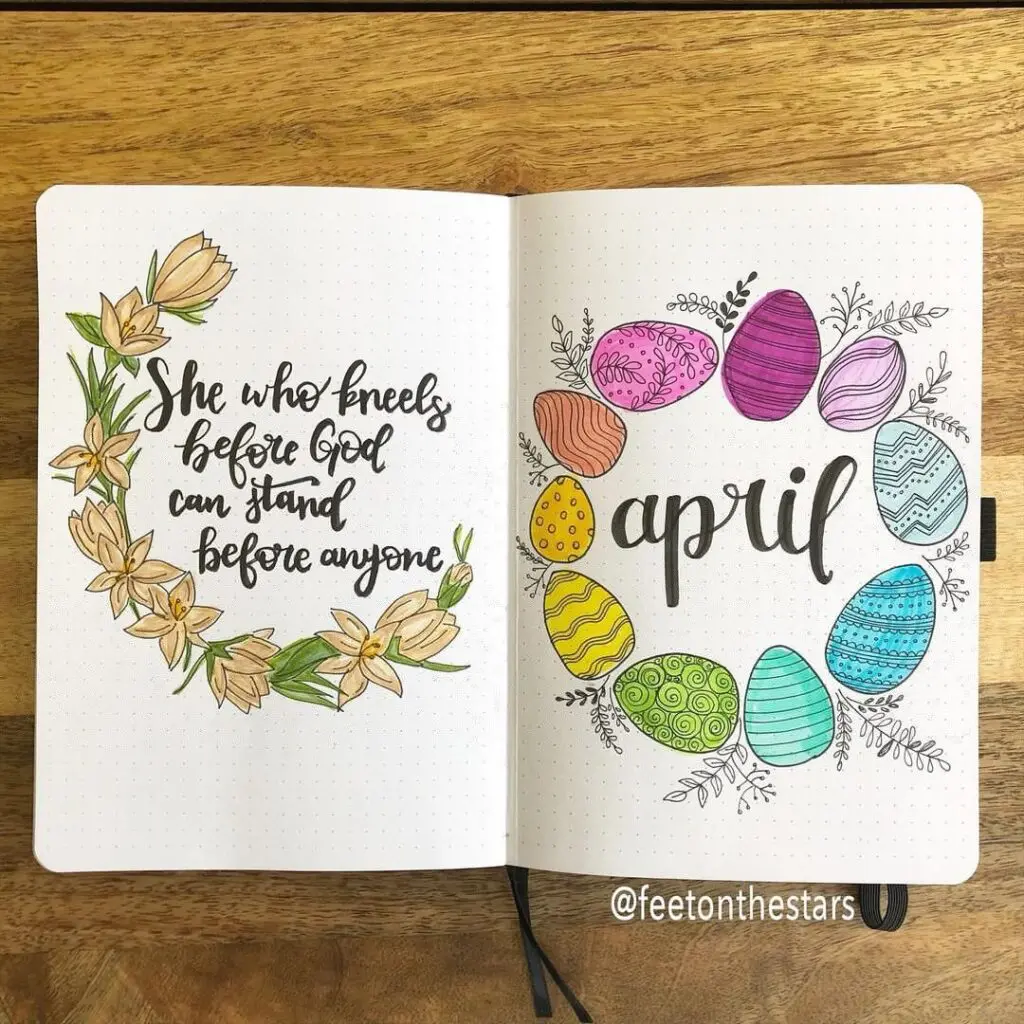 –
Simple Spring Lettering Bullet Journal Idea
@worldofprintables
Use simple lettering to create a bullet journal header page this spring.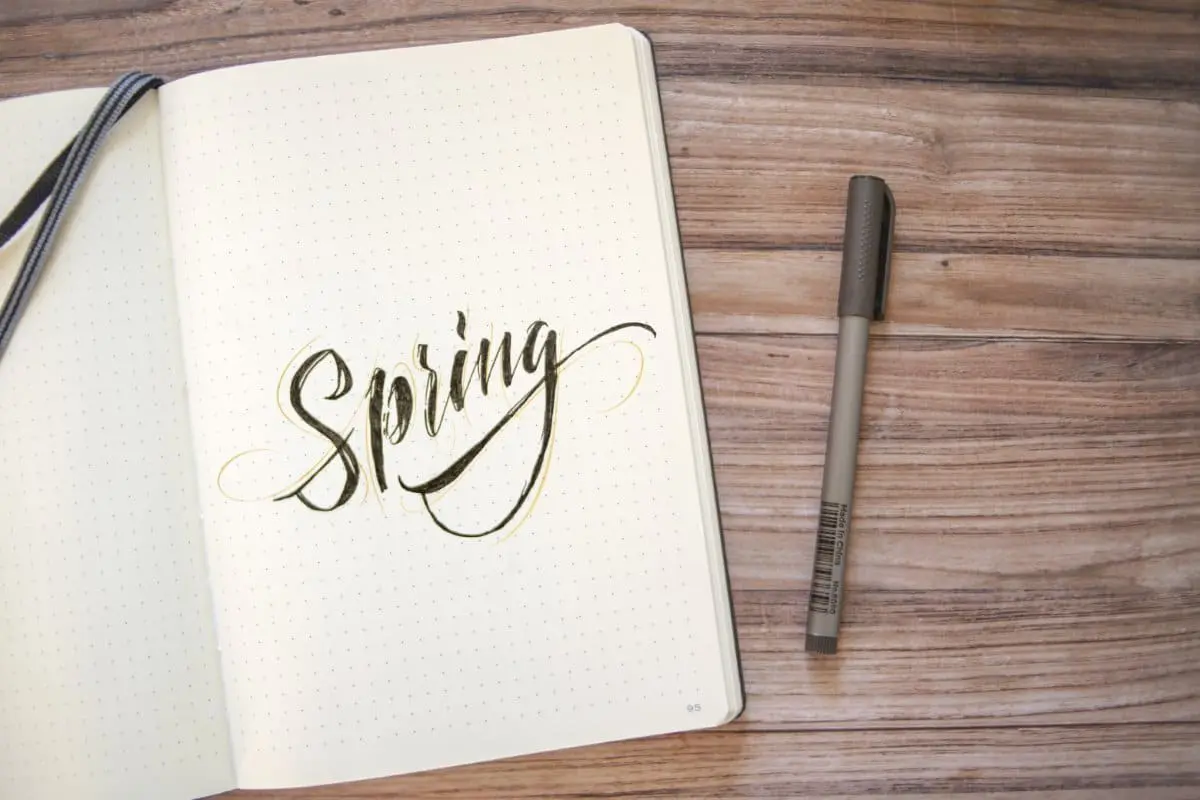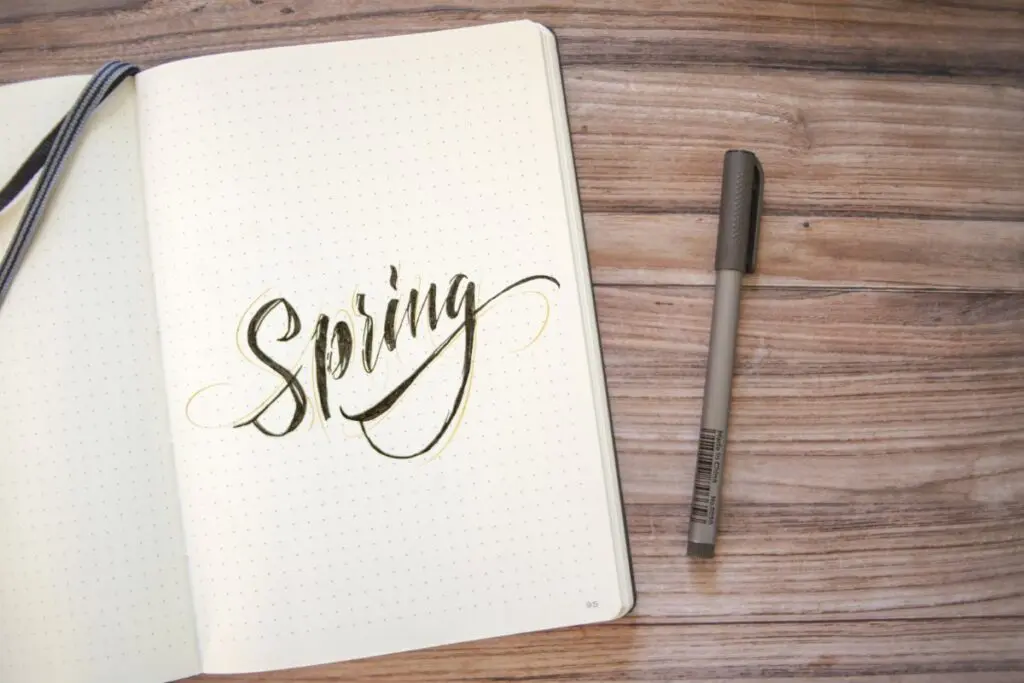 –
Spring Bullet Journal Weekly Page
I totally adore this beautiful design. The little flowers and the colors are the perfect combinations for spring and the whole layout of this page just works so well together.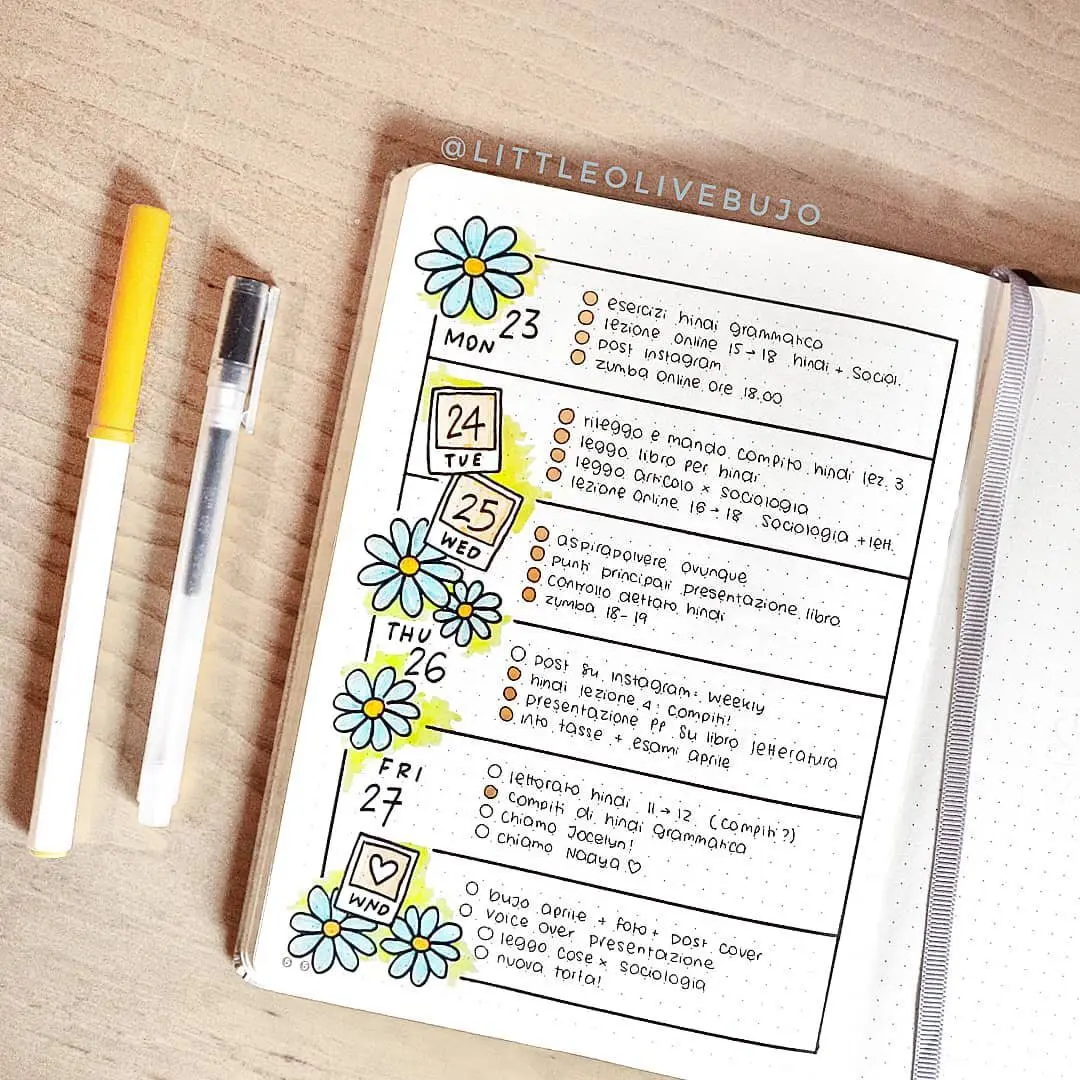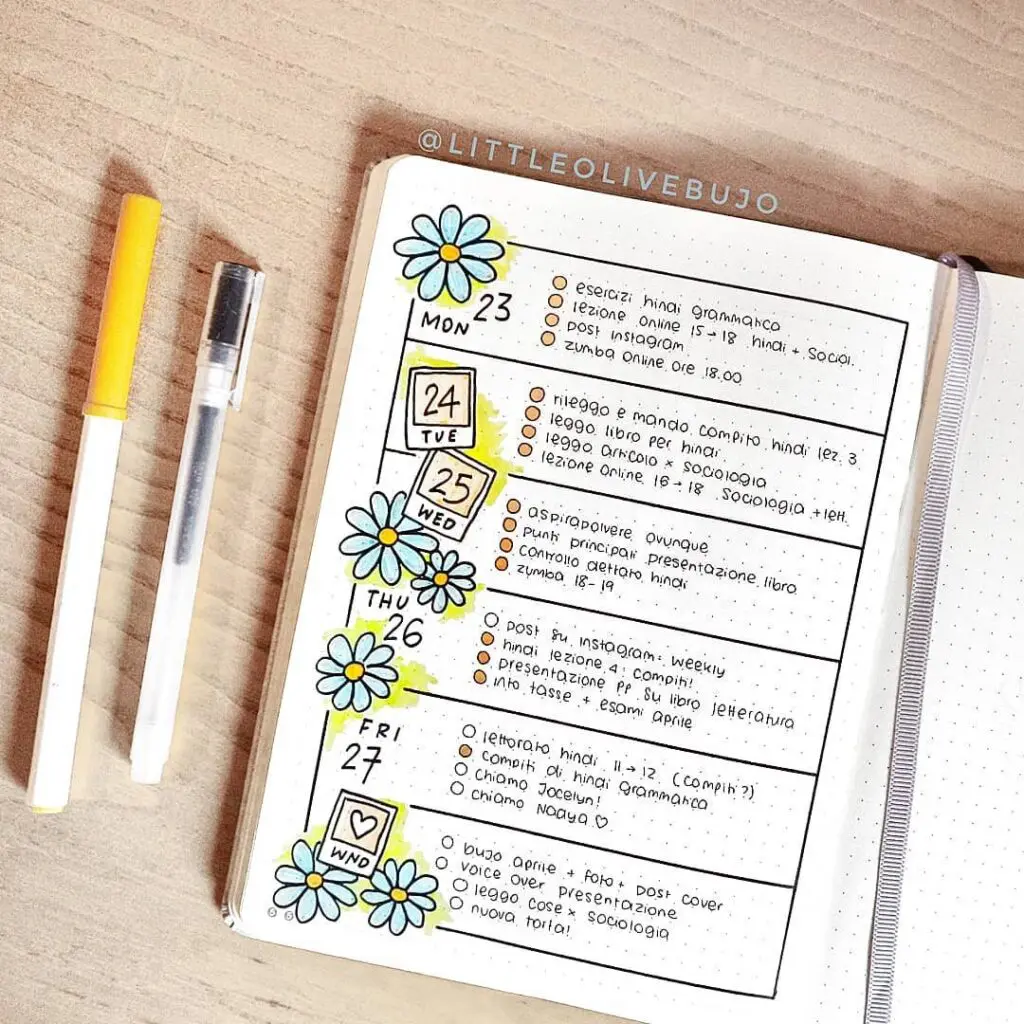 Pens used in this image: Muji Gel Ink Ball Point Pen + Crayola Super Tips Marker Set
–
Spring Bullet Journal Habit Tracker
To complement the above layout there is also this gorgeous habits tracker that features the same flowers and design elements. I love how the habits are divided into separate sections.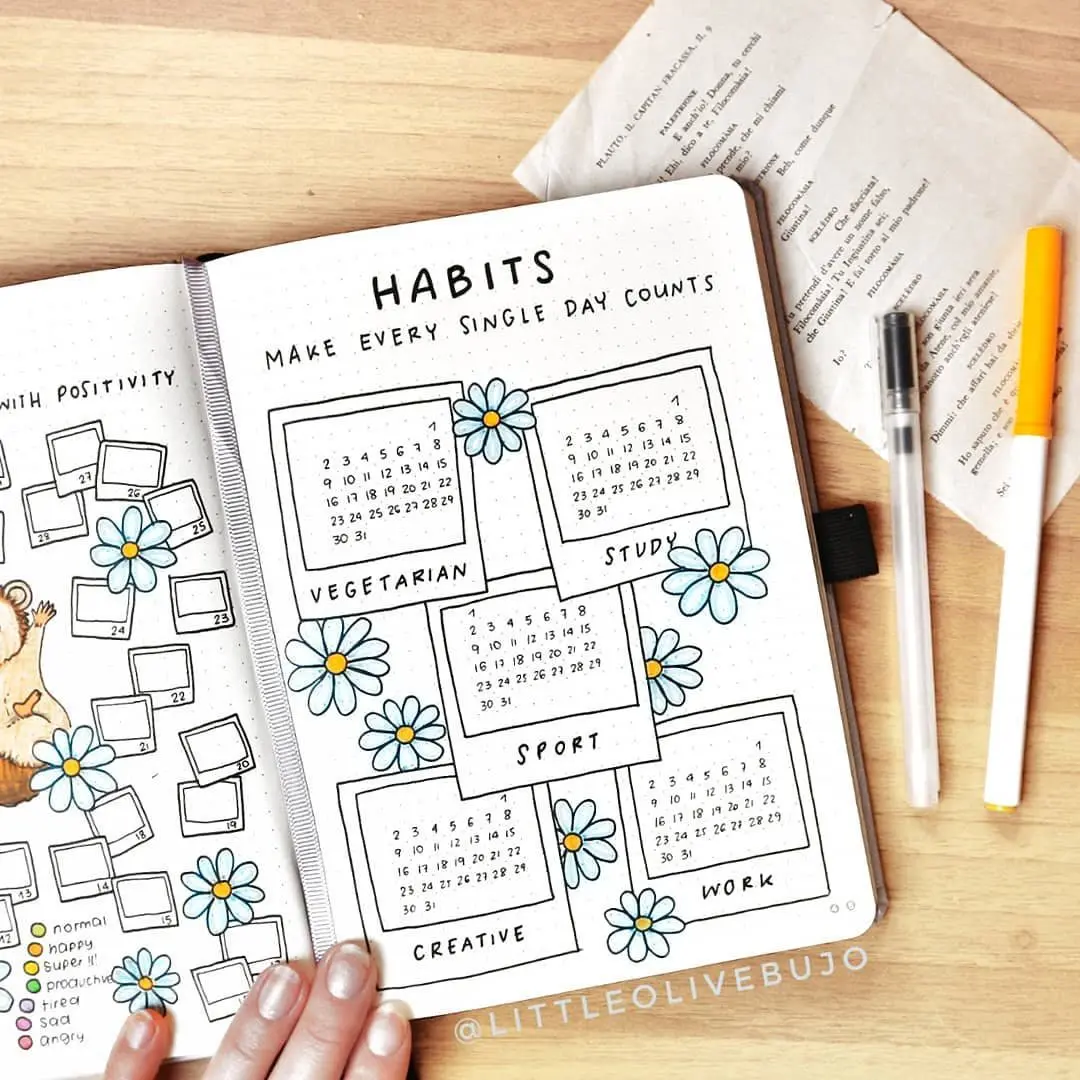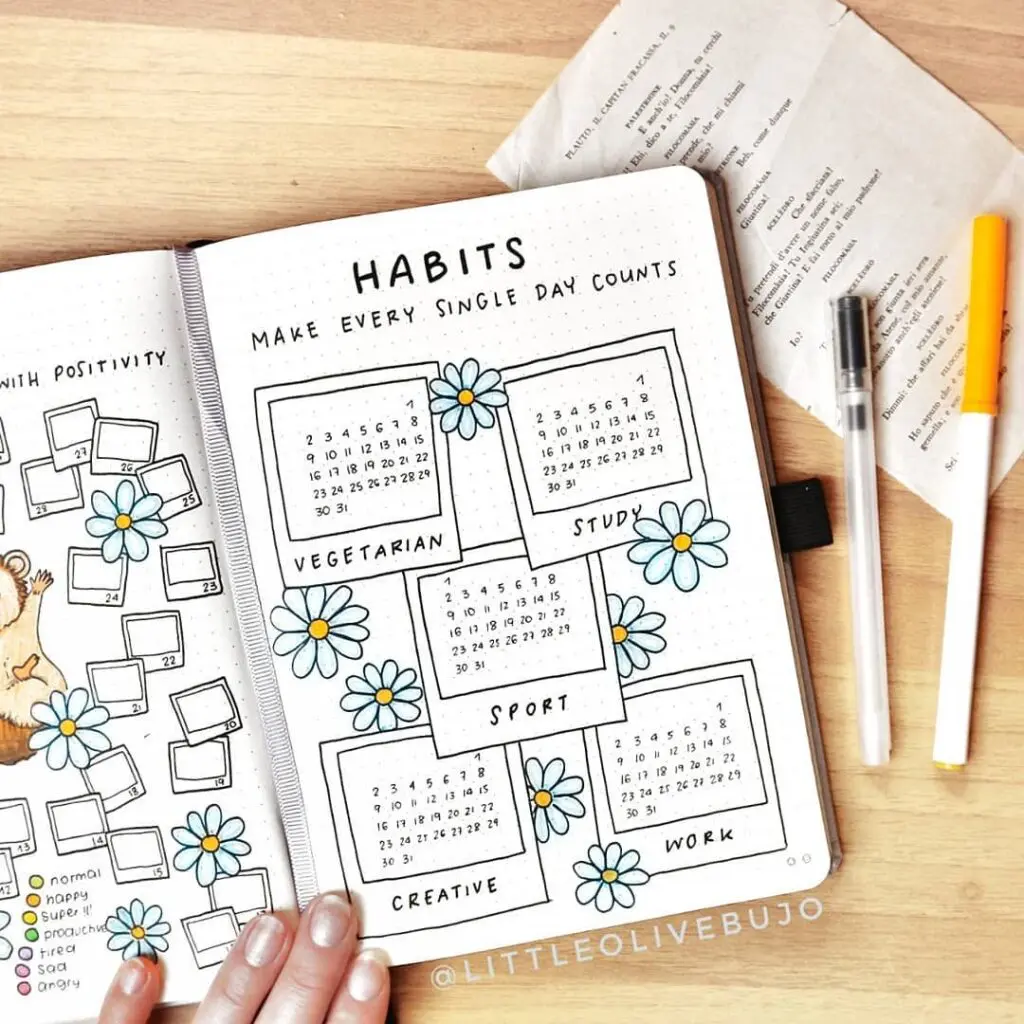 Pens used in this image: Muji Gel Ink Ball Point Pen + Crayola Super Tips Marker Set
–
Pretty Watercolor Birds Bullet Journal Idea
@worldofprintables
Add a lovely quote and pretty birds to make a beautiful spring bullet journal.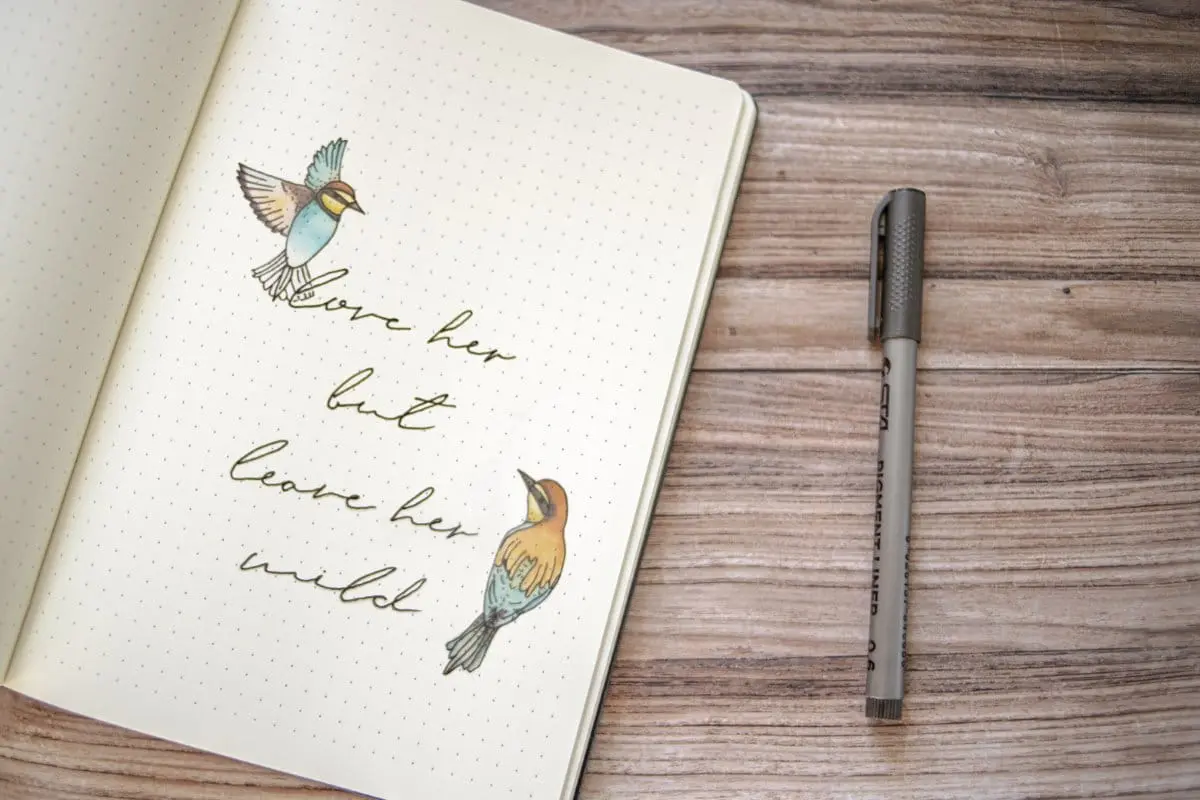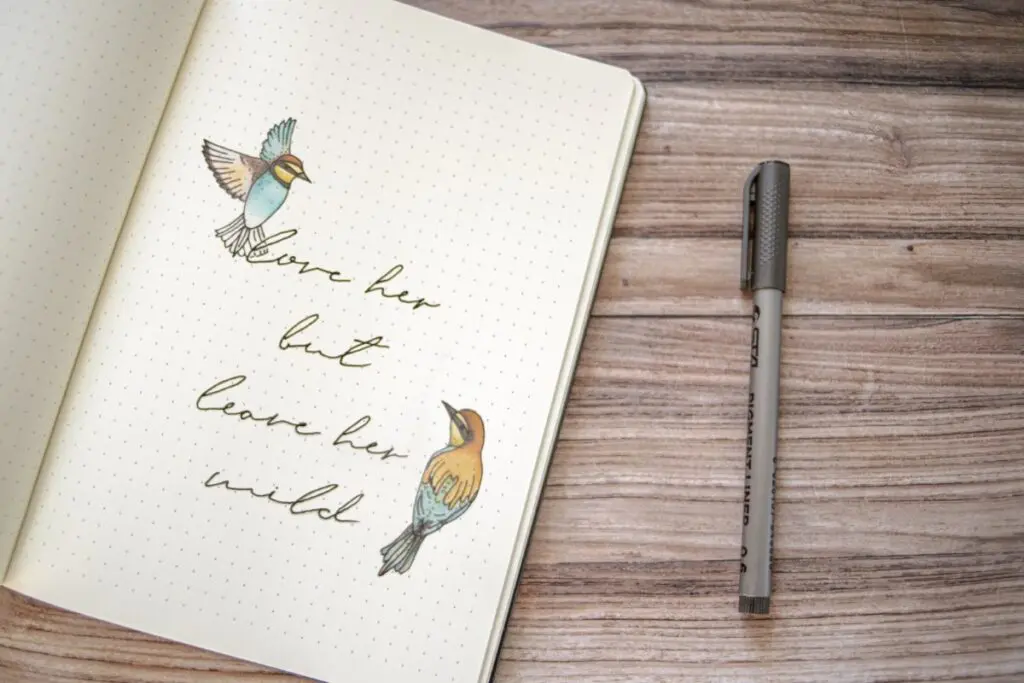 –
Minimalist Spring Bullet Journal Spread Idea
This is such a nice way to welcome spring into your bullet journal. This pretty spread features hanging botanicals and a pretty lettered quote. This is minimalist and works so well.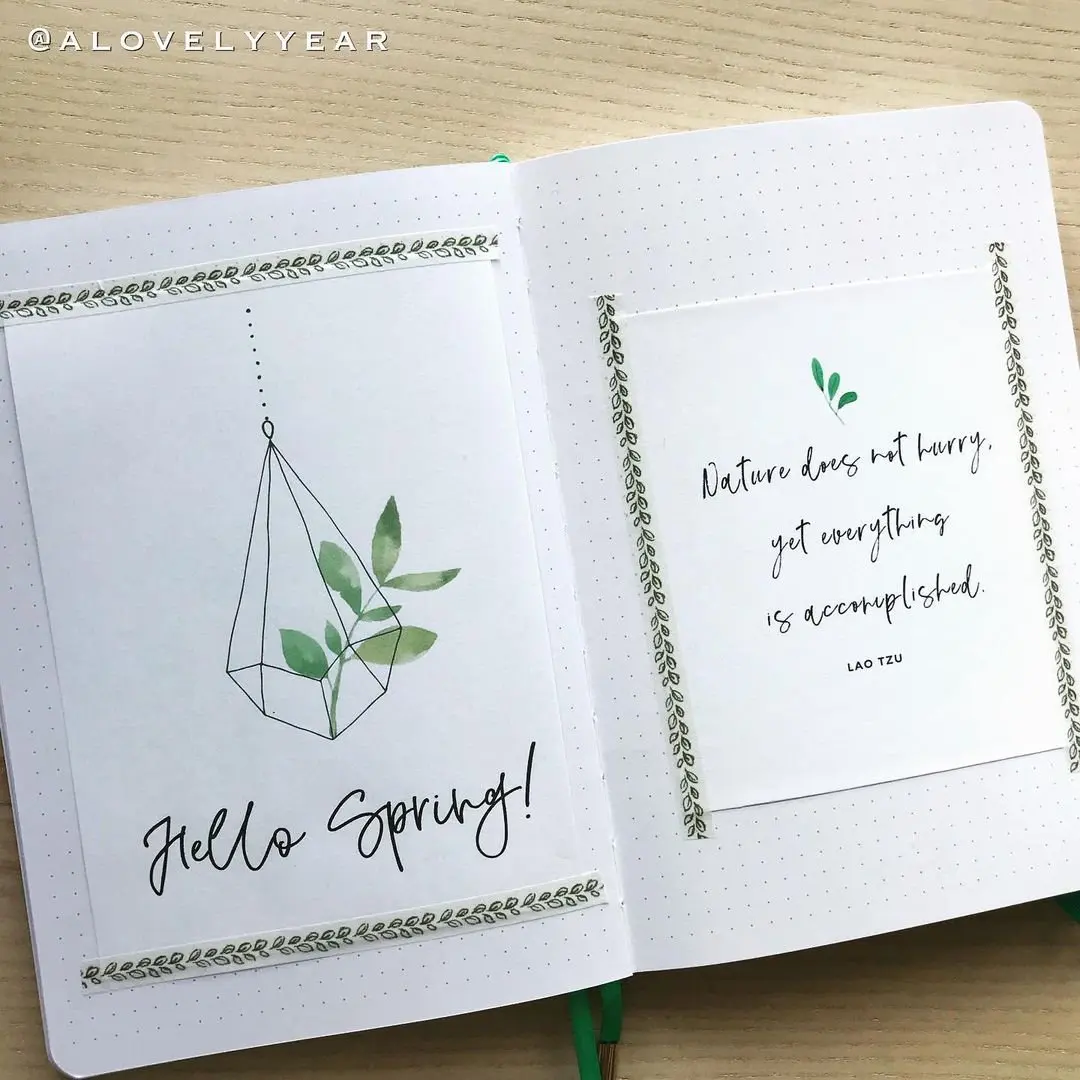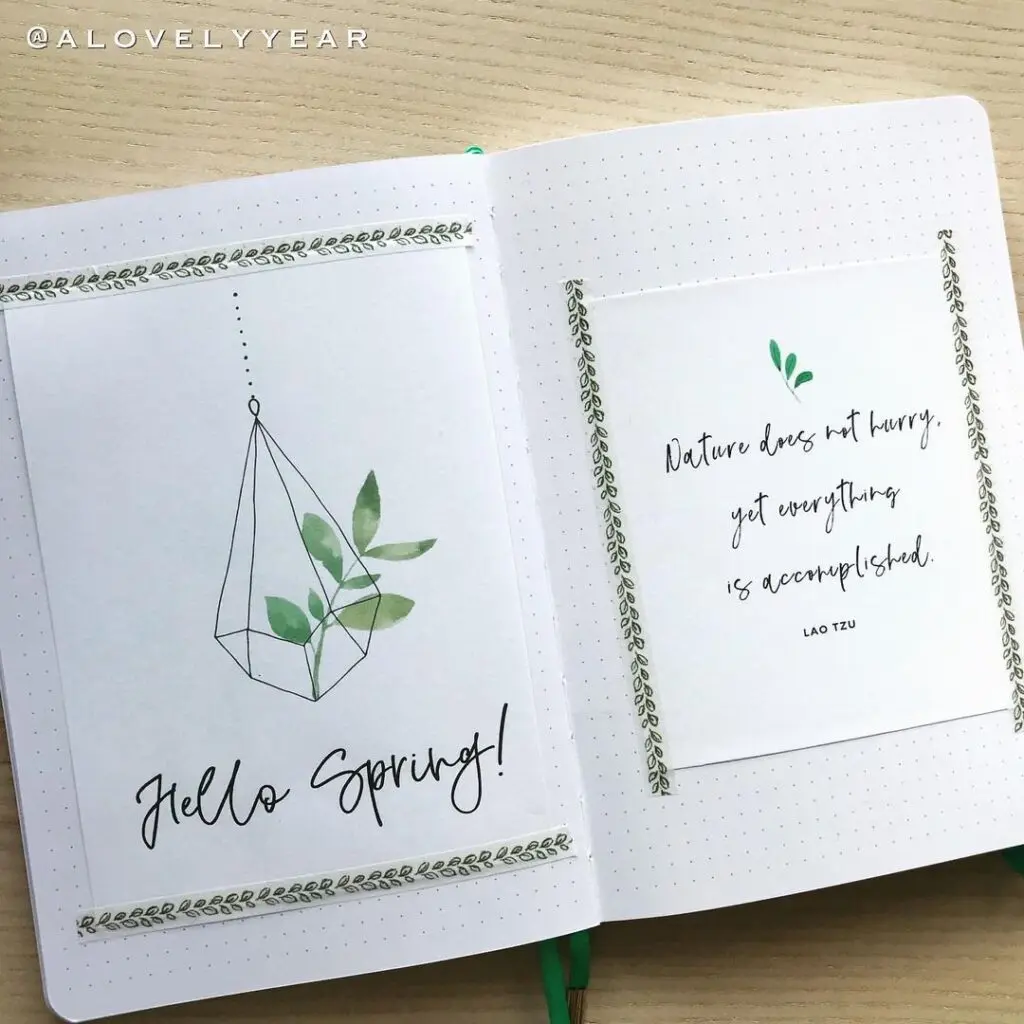 –
Spring Bullet Journal Inspiration
I love that this page is a contrast to all of the bright flowery designs we normally see with Spring. This page is almost like a real look at what spring features – rain, rain, and more rain – depending on where you are. It looks great and I love seeing the little rain splatters on the lettering.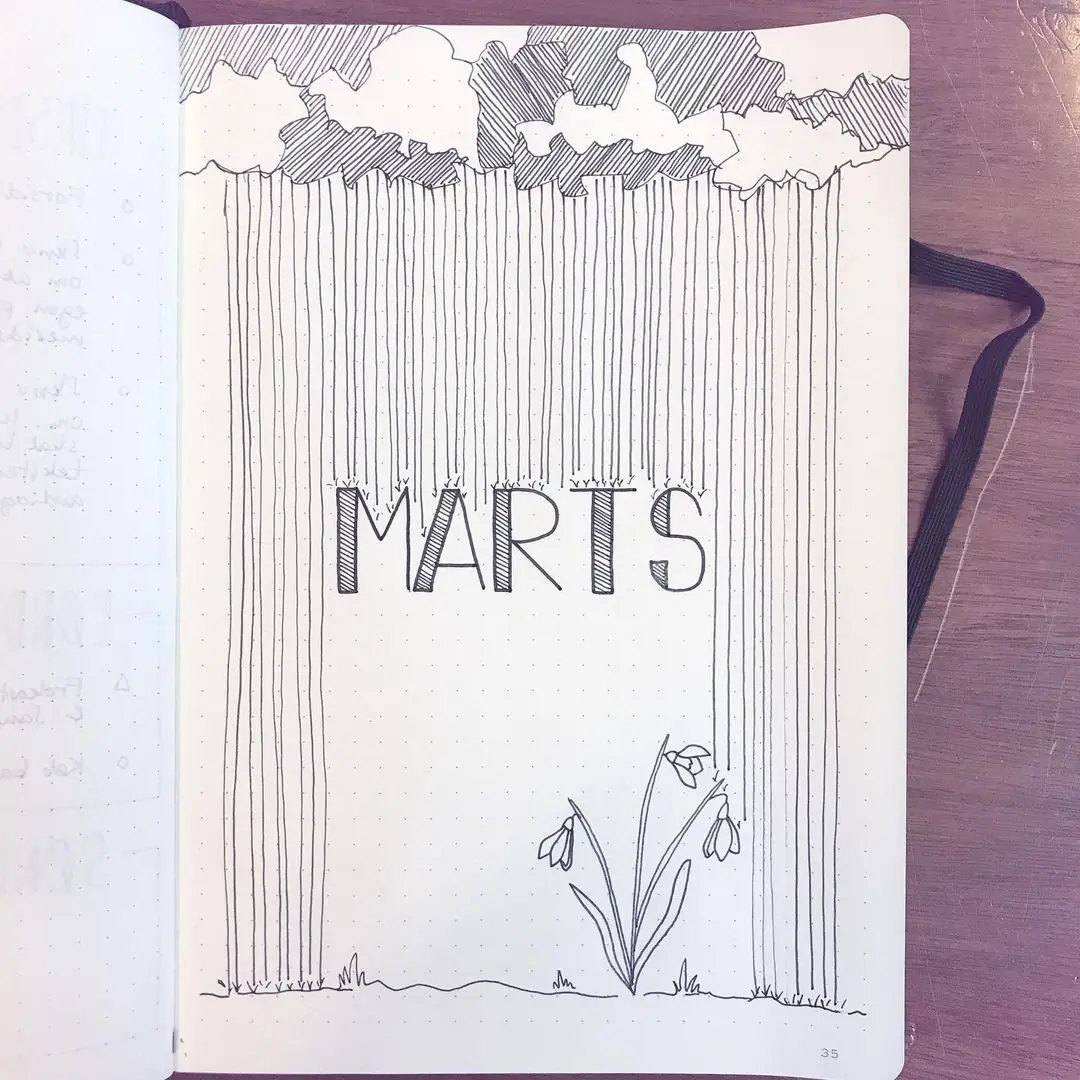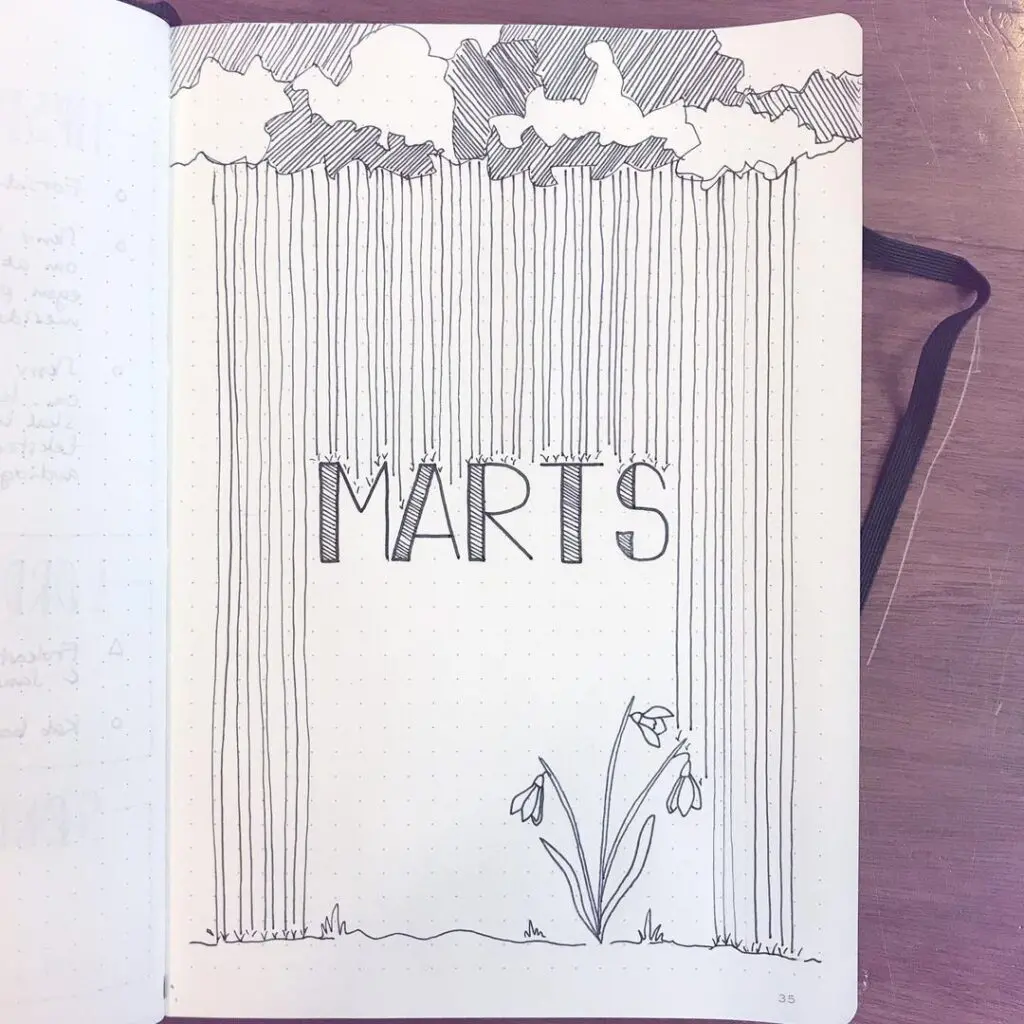 Items used to create this design: Leuchtturm1917 + Faber-Castell Pitt Artist Pen
–
Bullet Journal Easter Doodles
Here are some really cute Easter doodles for when the time comes! These simple doodles are so pretty and I think they look great in black and white.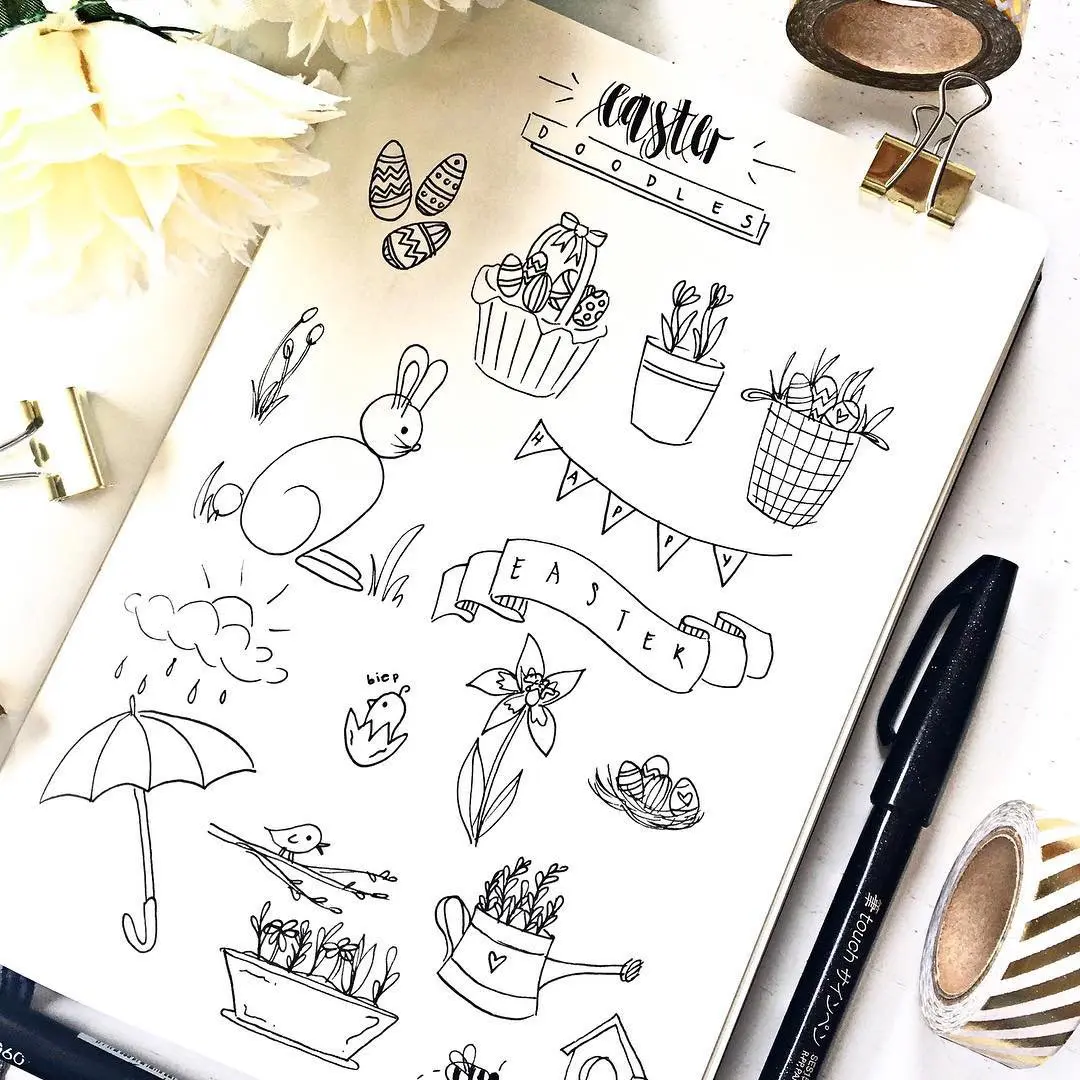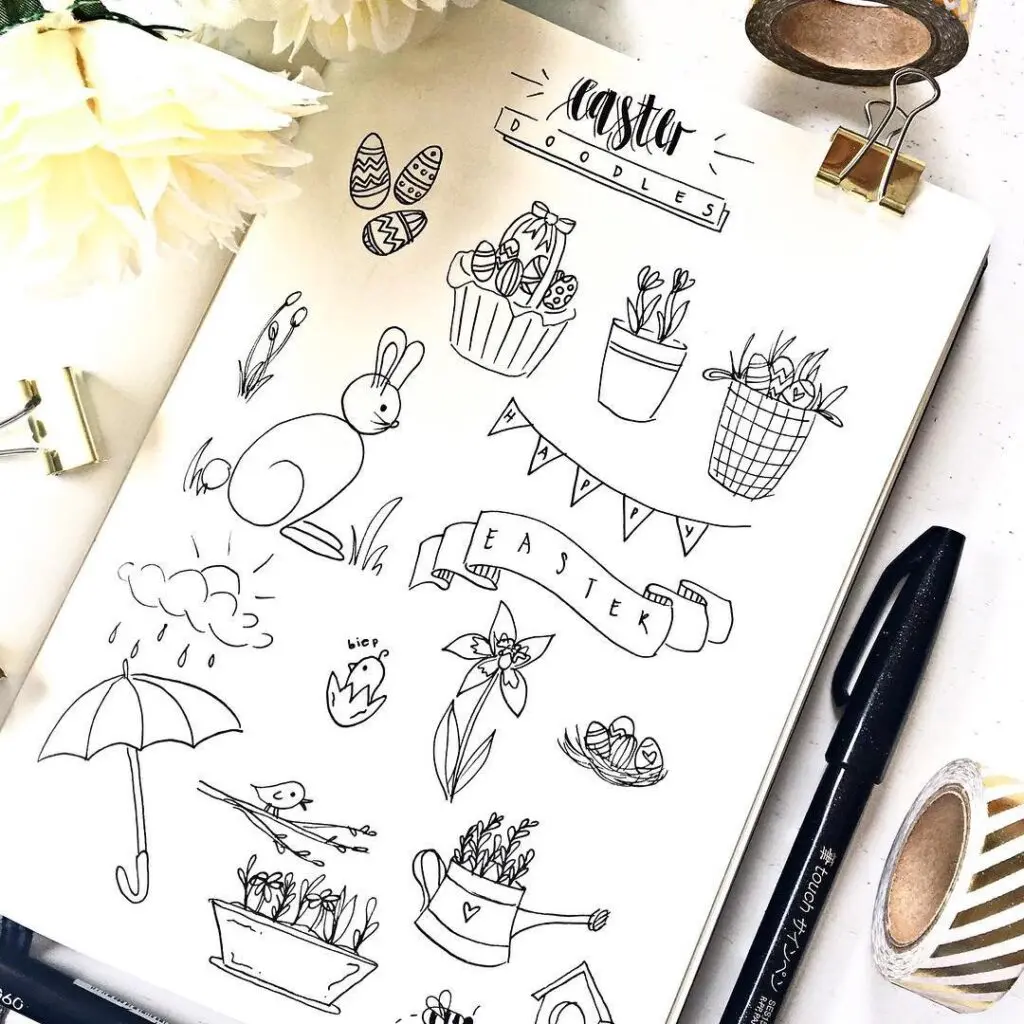 Pens used in this image: Pentel Fude Touch Brush Sign Pen
–
Floral April Bullet Journal Spread
This is a really pretty spread featuring simple flowers for the month of April. I like how elegant this page looks and the colors are so delicate and pretty.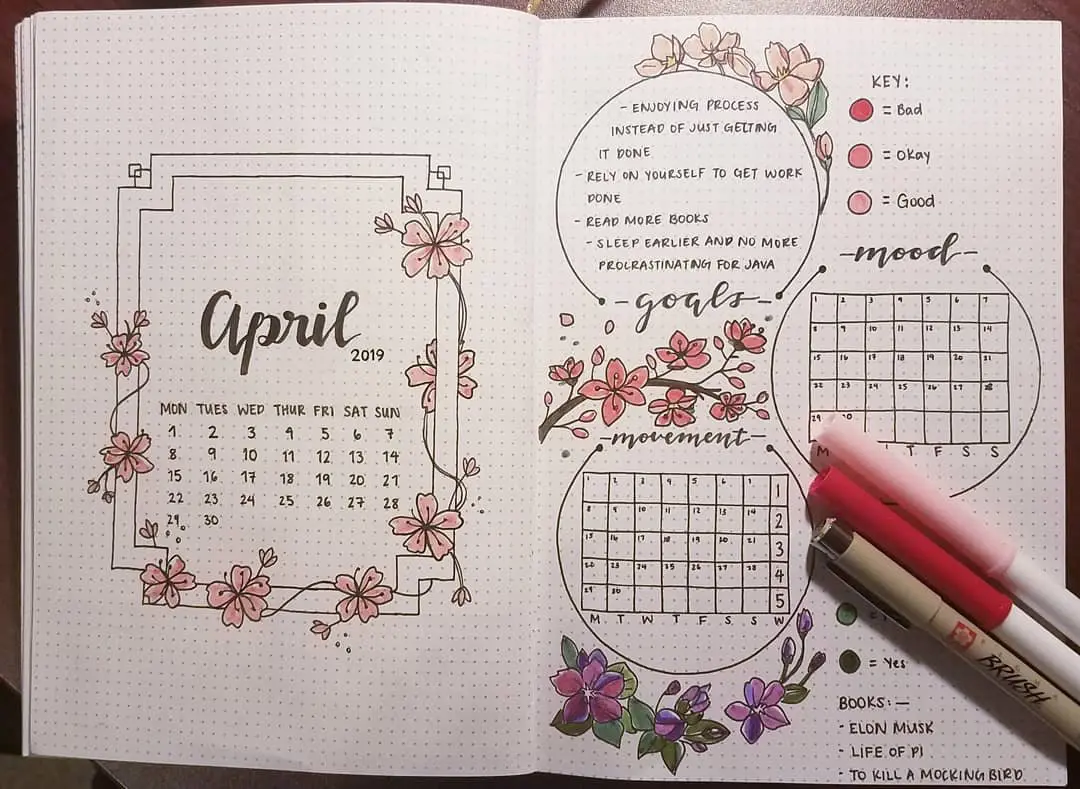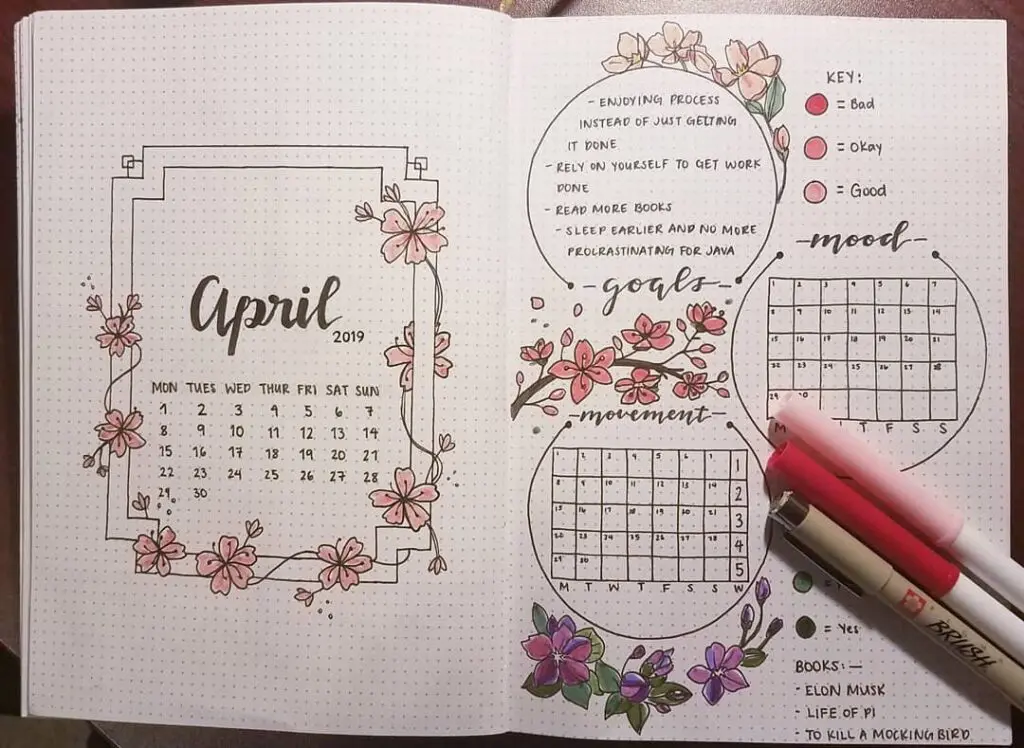 Pens used in this image: Crayola Super Tips Marker Set + Sakura Pigma 30062 Micron Pen Set
–
Spring Essentials Bullet Journal Doodles
Need some spring essential doodles? These doodles are so simple, pretty and there are a ton of great doodles for gardeners too. I love all the little details too, like the onion!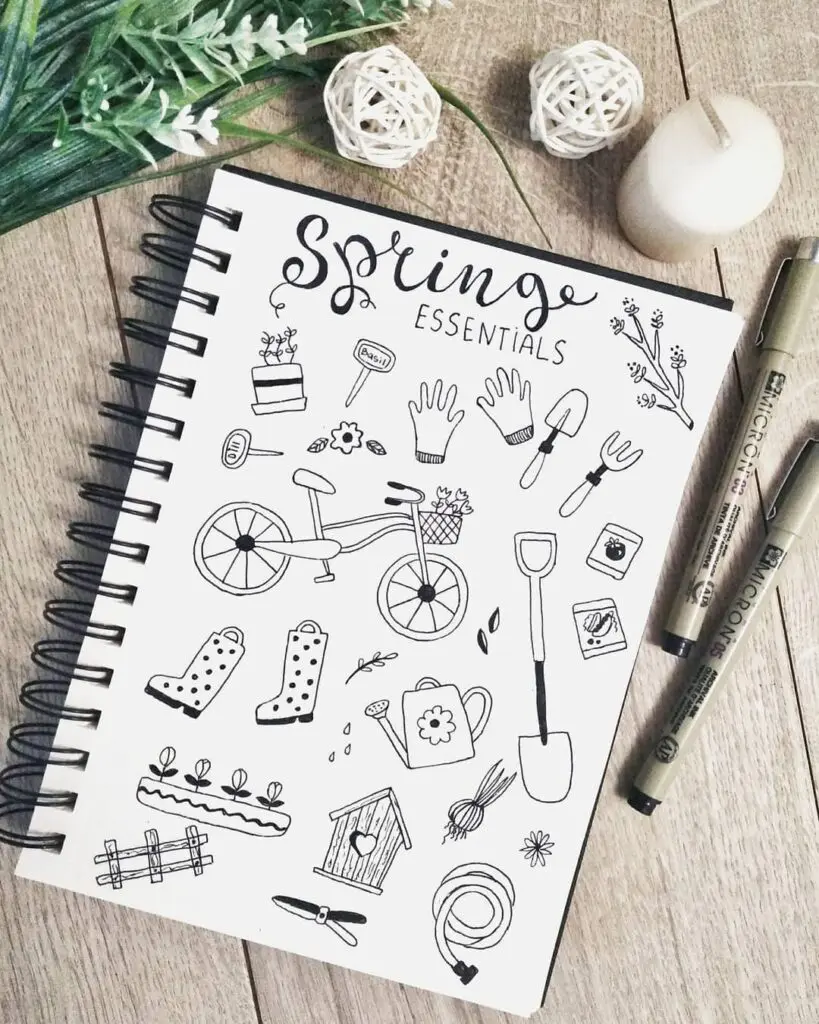 Pens used in this image: Sakura Pigma 30062 Micron Pen Set
–
Simple Spring Doodles For Bullet Journal
These spring doodles are so cute and simple. I love the fine lines and minimalist feel these doodles have.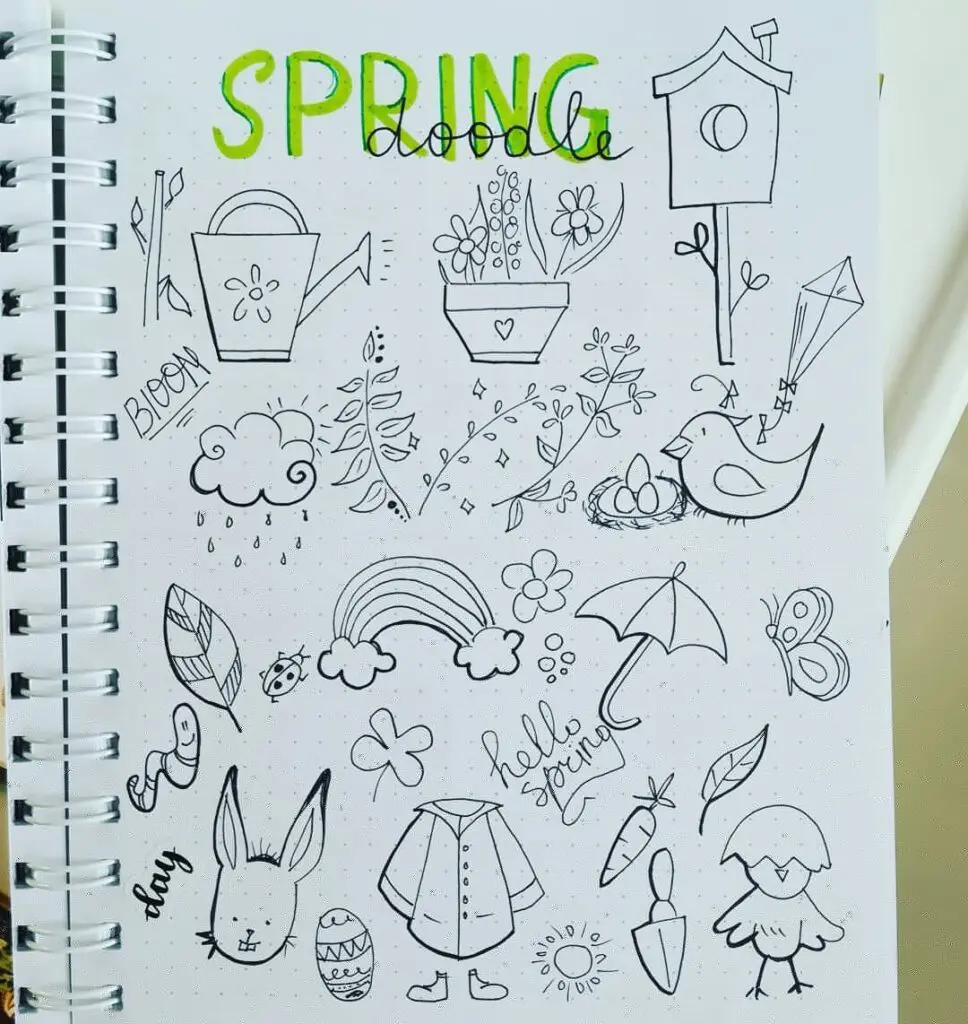 –
Spring Floral Bullet Journal Ideas
Here are some great floral ideas for adding to your spring bujo. Get inspired by these different designs and use each to represent a different theme or style in your bullet journal.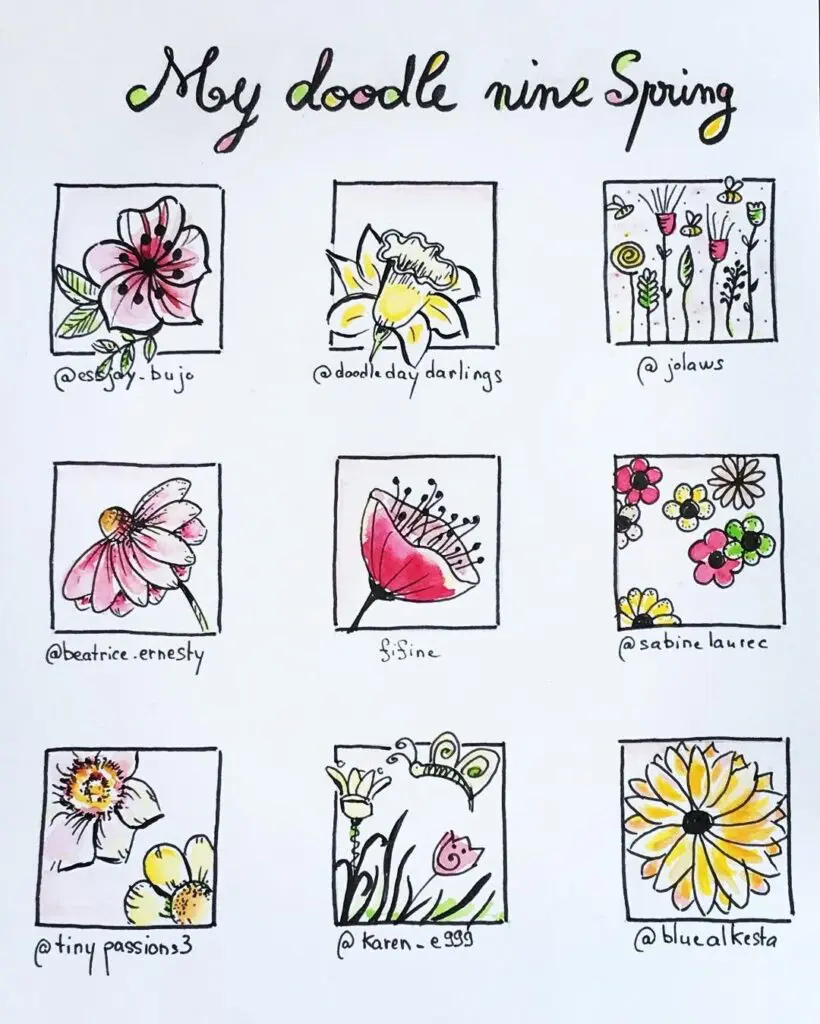 –
Spring Flower Bullet Journal March Cover Page
This would make an amazing march cover page in your bullet journal. It's so bold and stunning!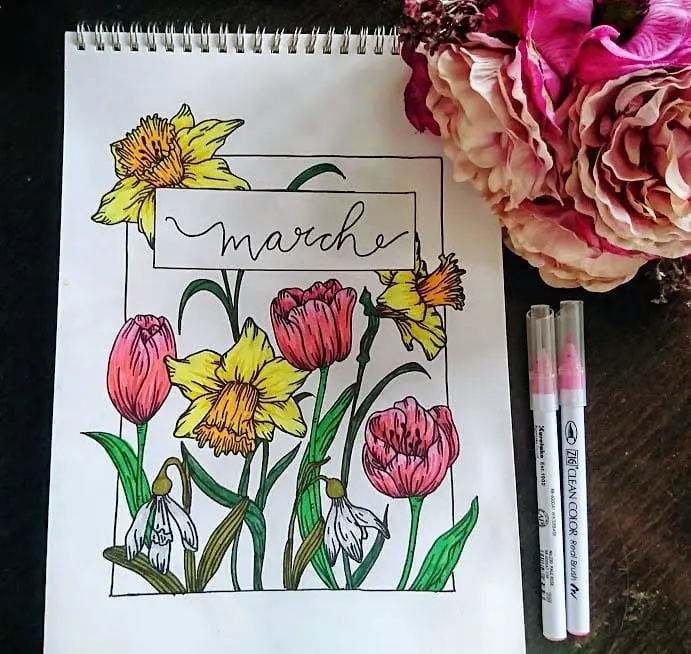 Pens used in this image: Zig Clean Color Real Brush Markers
–
Fruit Bullet Journal Double Page Spread
Spring isn't just about flowers and sunshine! Why not mix it up a little with a colorful fruit design!? This design just works so well and really gets you in the mood to eat healthily.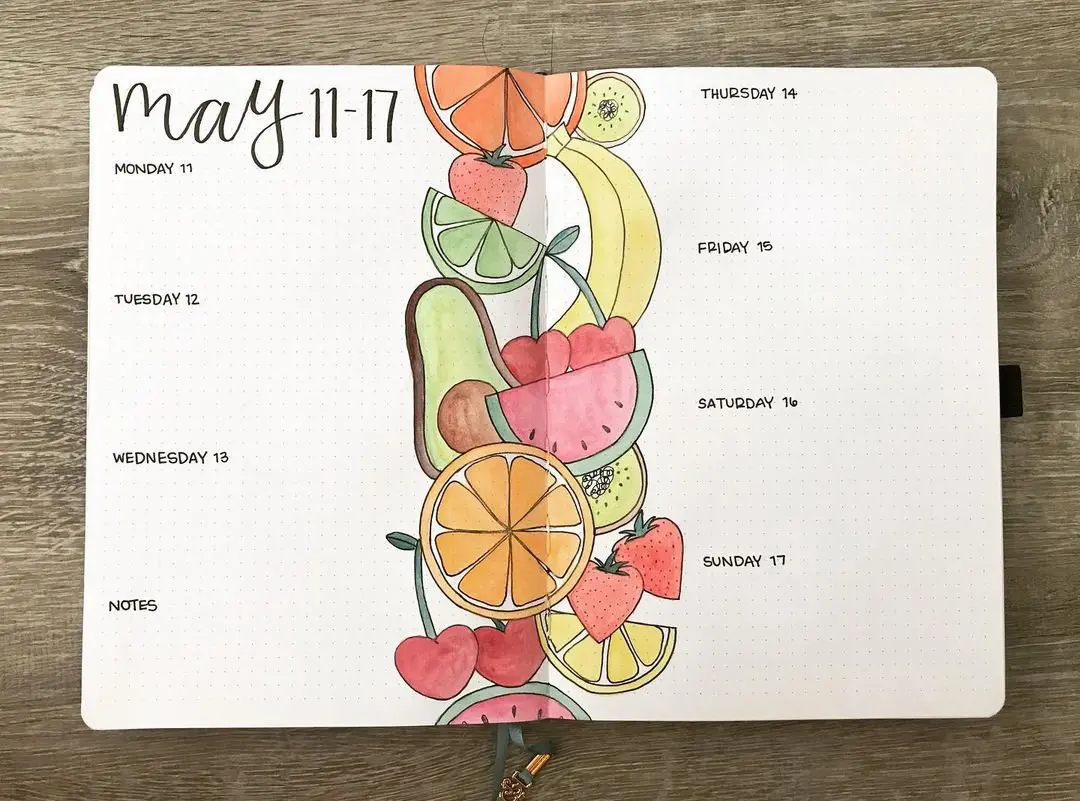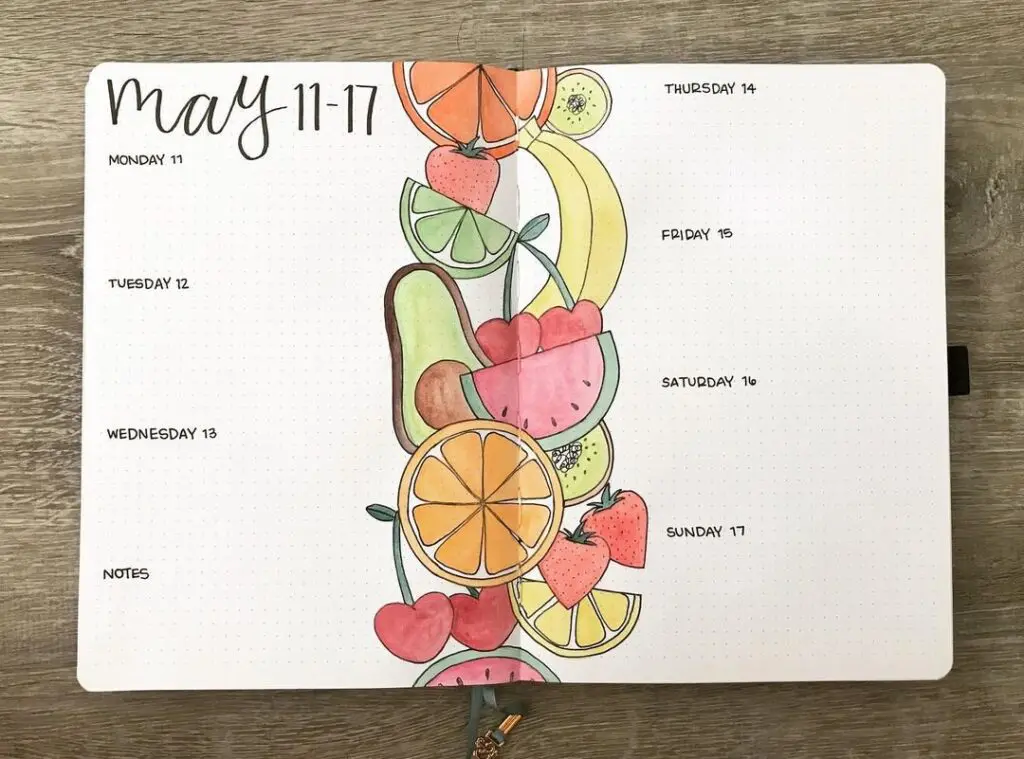 –
Fruit Bullet Journal Habit Tracker
The fruit elements also works well on other pages too. You can use them as borders, peeking out of the corner of pages or just dotted about the pages. I think these beautiful fruit elements are such a nice change.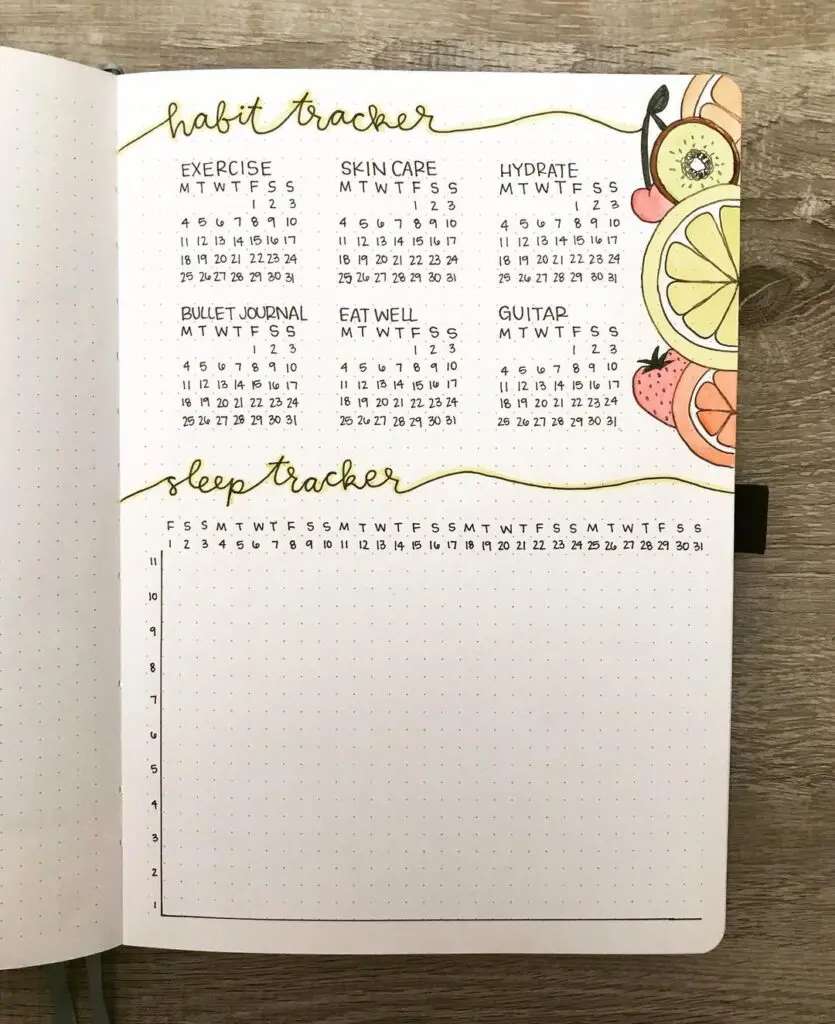 –
Star Wars Bullet Journal Inspiration
Ok, I know it's not what you would typically associate with Spring but if you are a Star Wars fan then you wouldn't want to miss out on using the month of May in your favor! I would legit love to do this for May.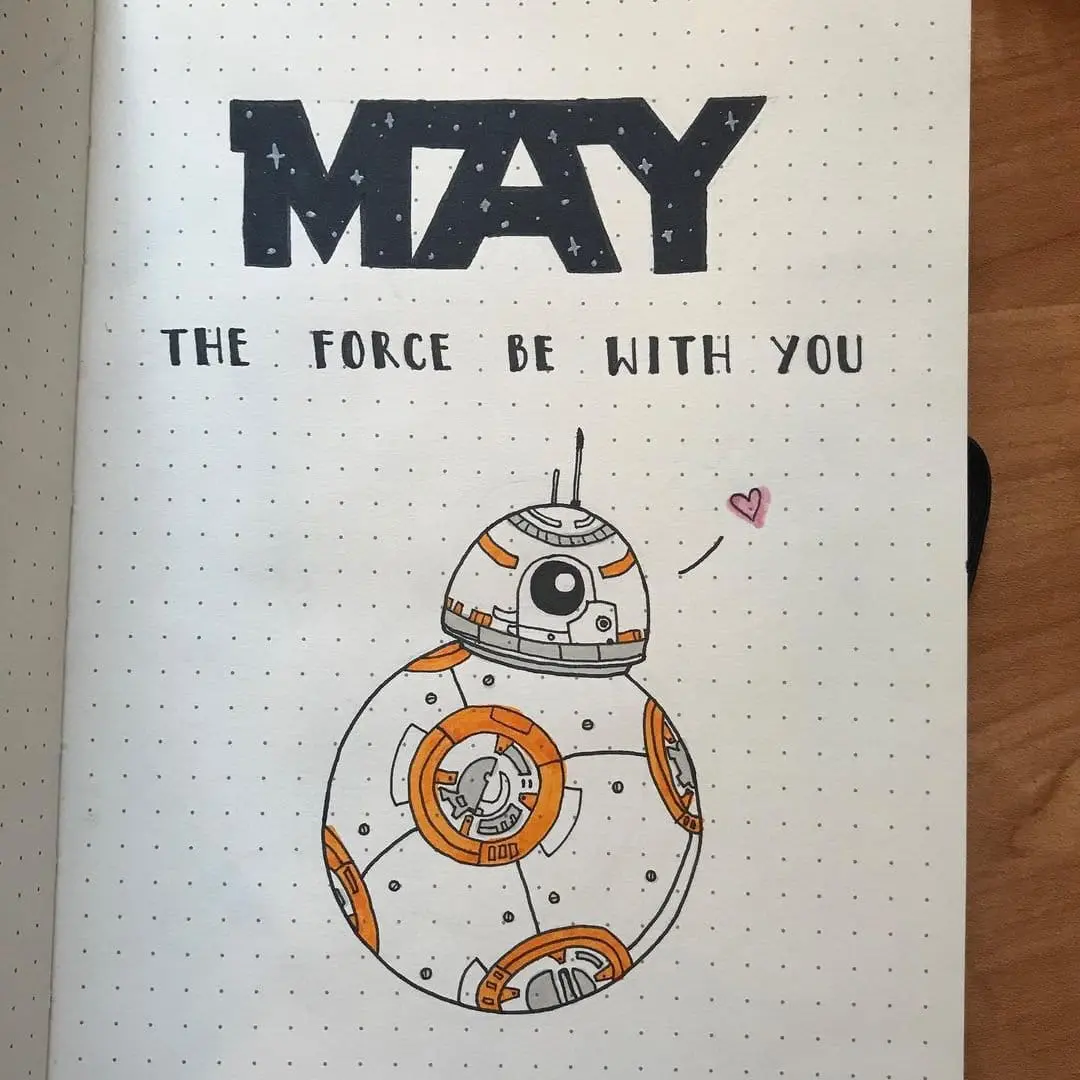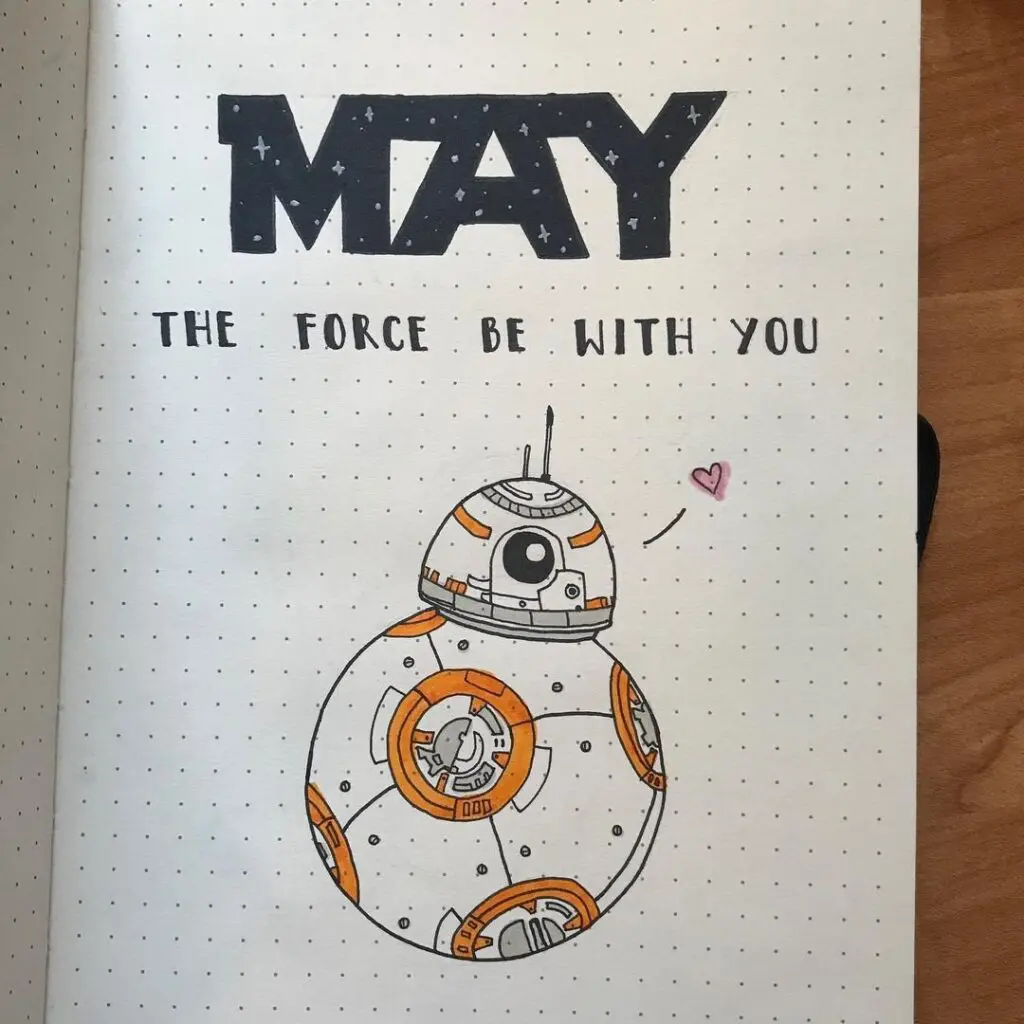 –
Spring Egg Dutch Door Bullet Journal Inspiration
Away from sunshine, flowers, and fruit and in with the eggs. What do eggs have to do with Spring? I dunno, but one bullet journal created this for her spring feature and it looks so cool. I've featured this one because the eggy edging on the dutch door looks so fun!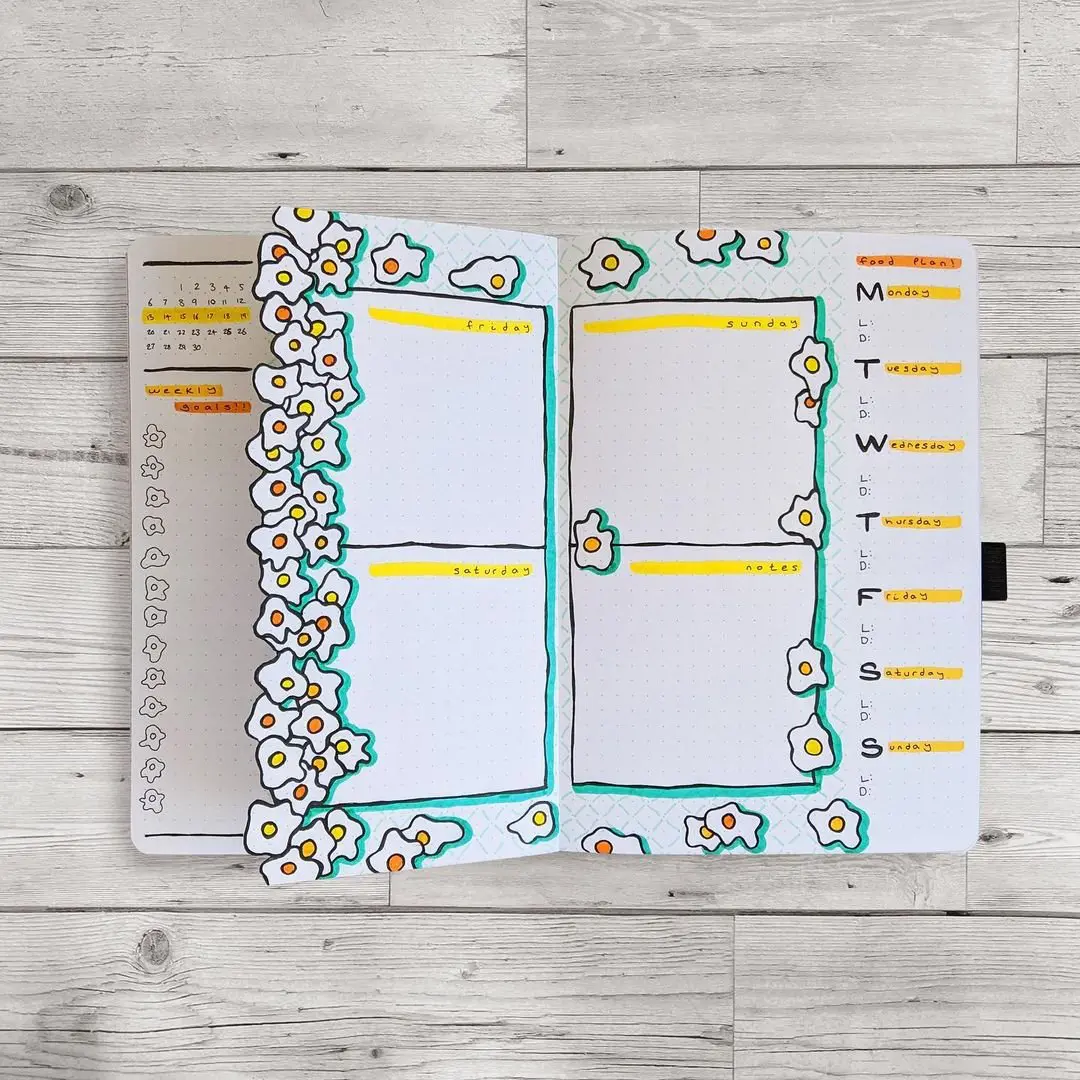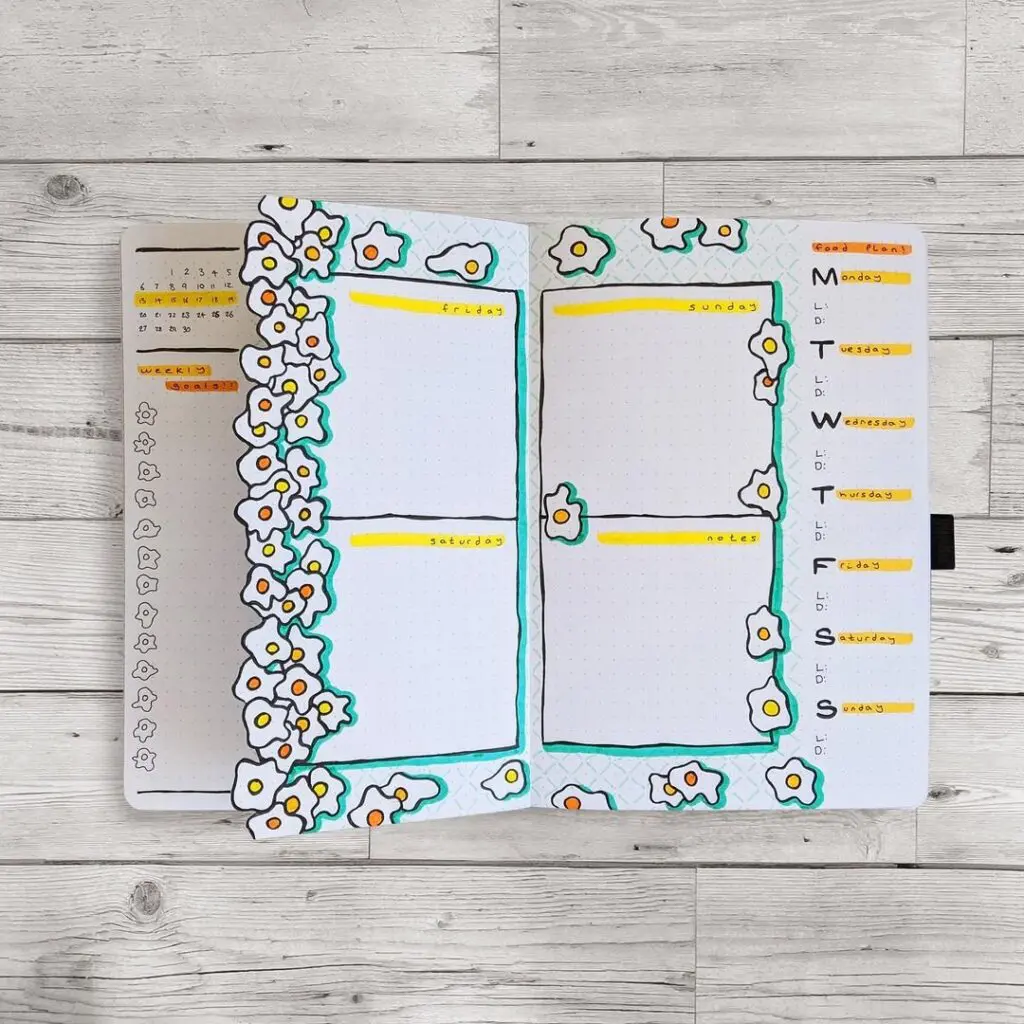 –
Easter Illustration Bullet Journal inspiration
Let's finish this post with a huge pop of color! This double page spread is so colorful and fun! It makes me so excited for April and looks like it was so fun to create and color.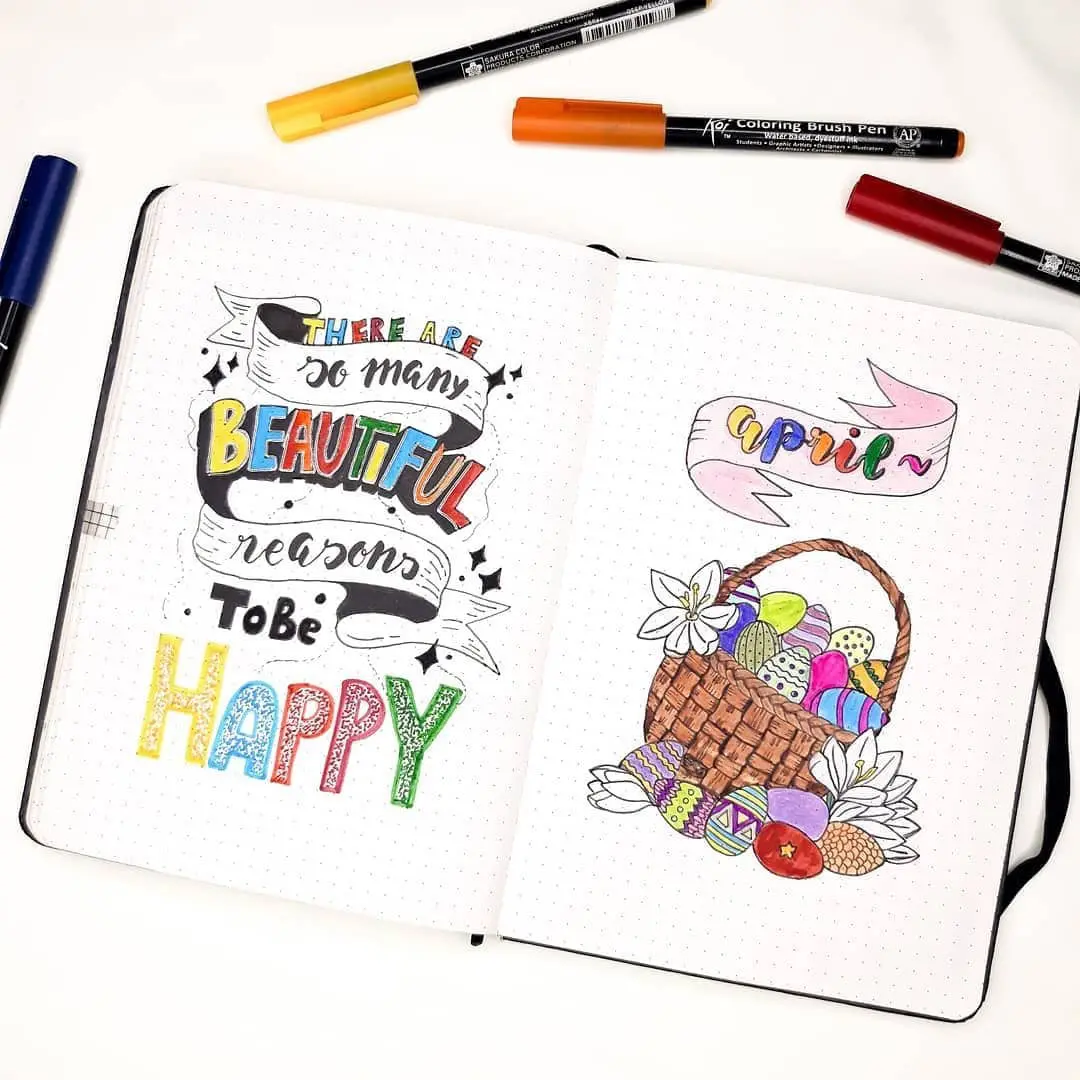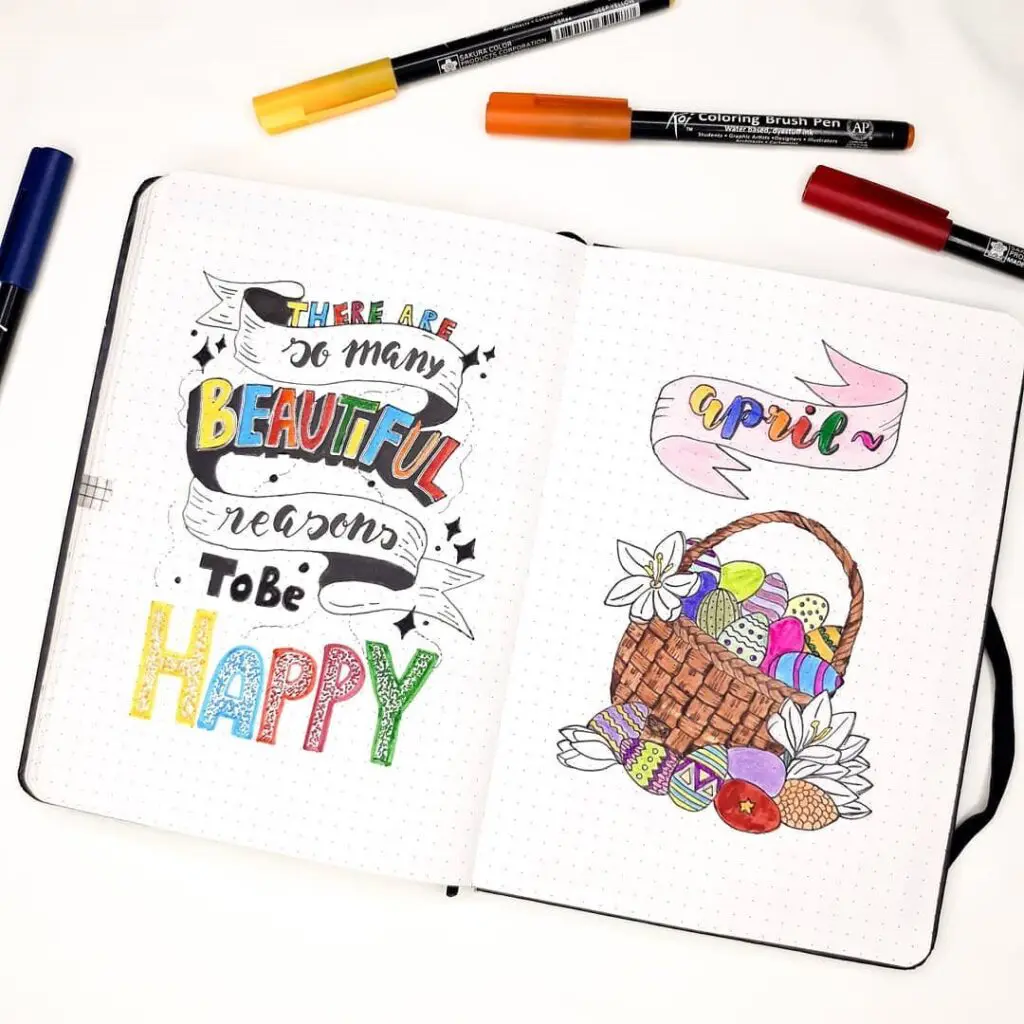 Pens used in this image: Sakura Koi Colouring Brush Pen Set
–
Have you been inspired by any of these stunning, creative spring bullet journal ideas? There are so many different styles here and unique ways of looking at Spring and what the symbolizes to us. I'd love to see what you come up with so tag us on Instagram with #worldofprintables and let's hang out.
If you liked this post and want to save it for later then feel free to pin it!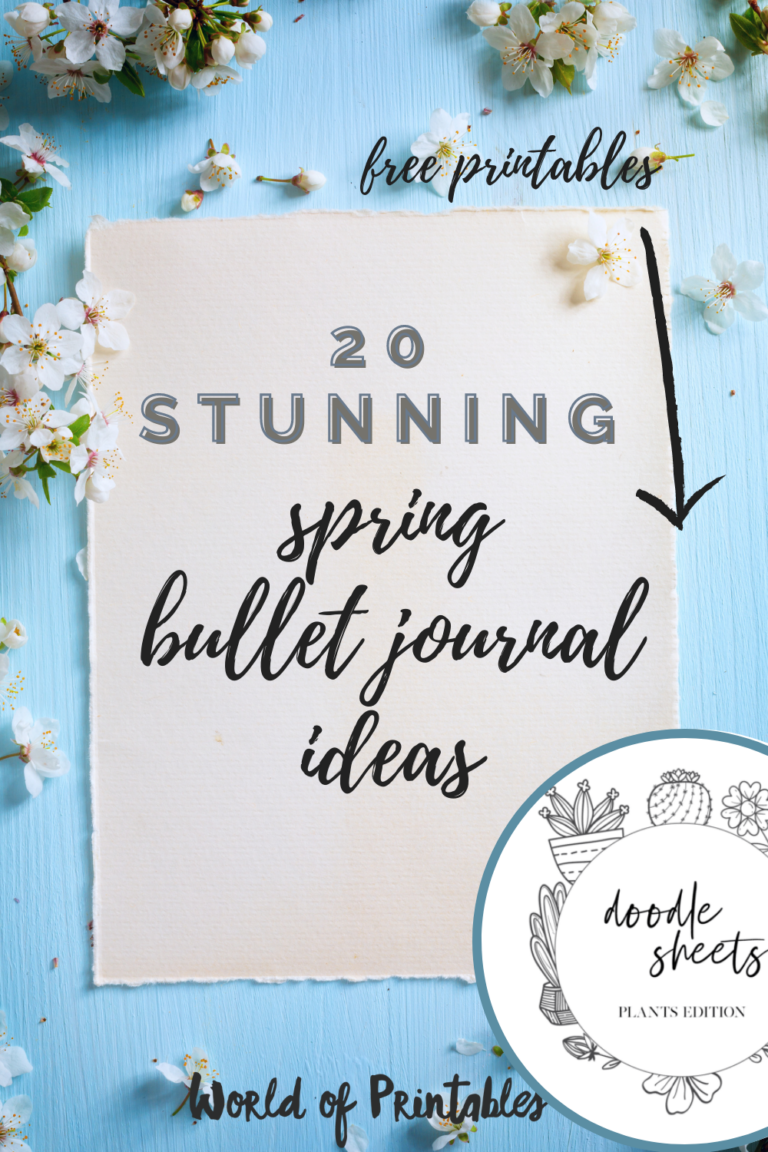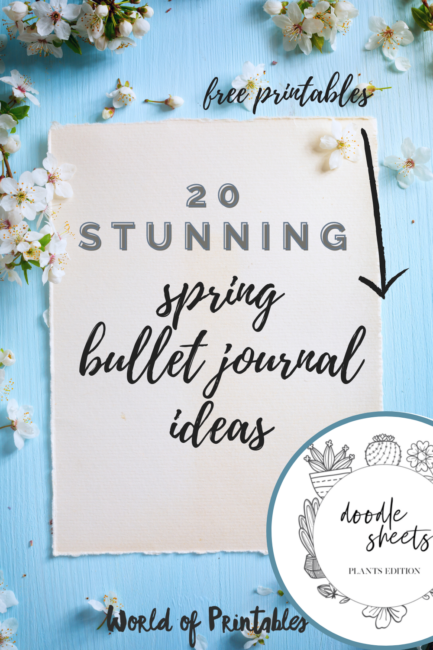 –
Want more bullet journal ideas?