Use this massive collection of printable and digital square stickers for planning, journaling, or fun crafts or decorations.
You'll find these in a huge range of cute colors, including popular pastel colors, and subtle muted shades.
These stickers are great for planners and bullet journals as you can use them to create layouts and different areas on your pages.
I love square stickers mostly for this reason but you can also use them as sticky notes in your planner, as a way of sticking things into your planner, or for any other creative way you can think of.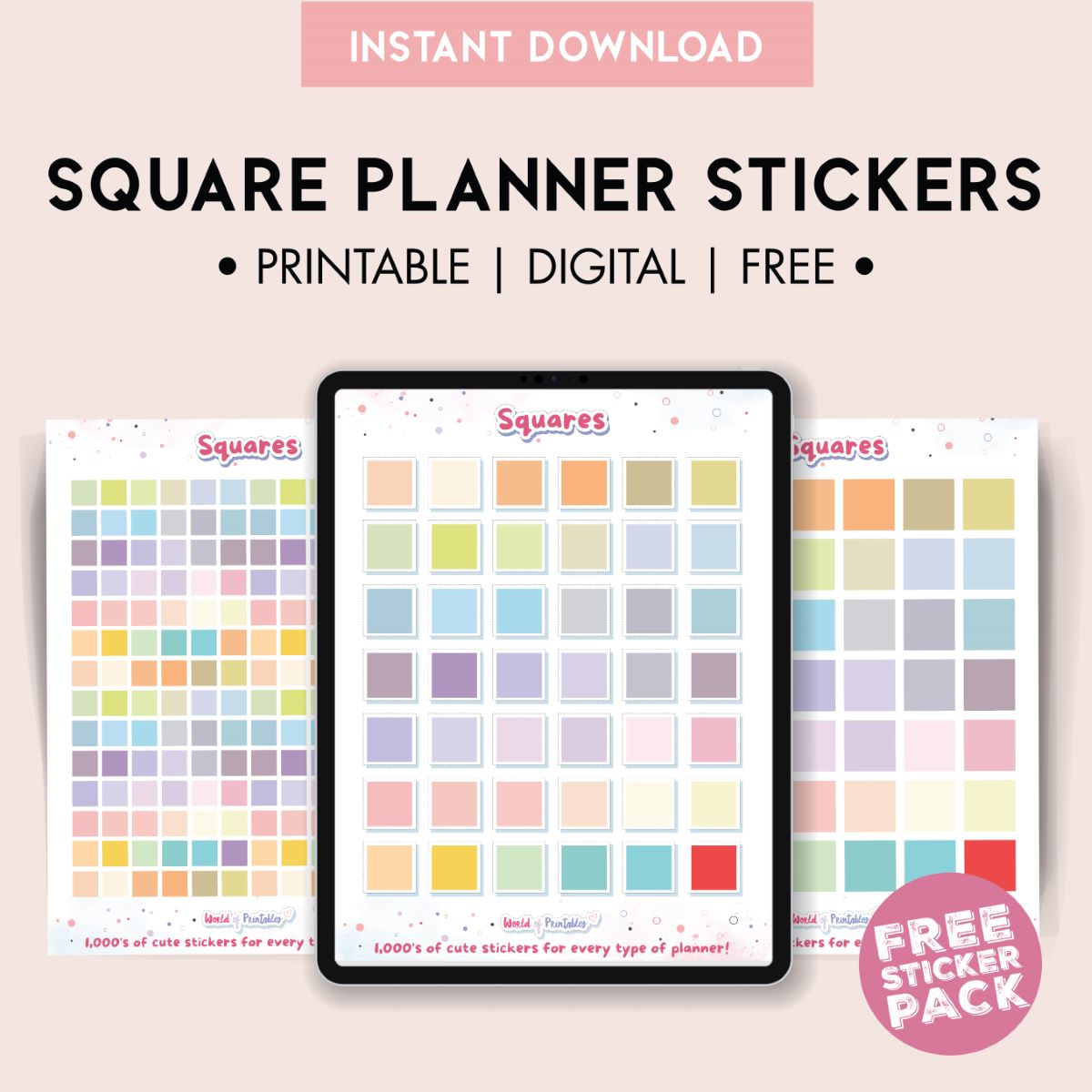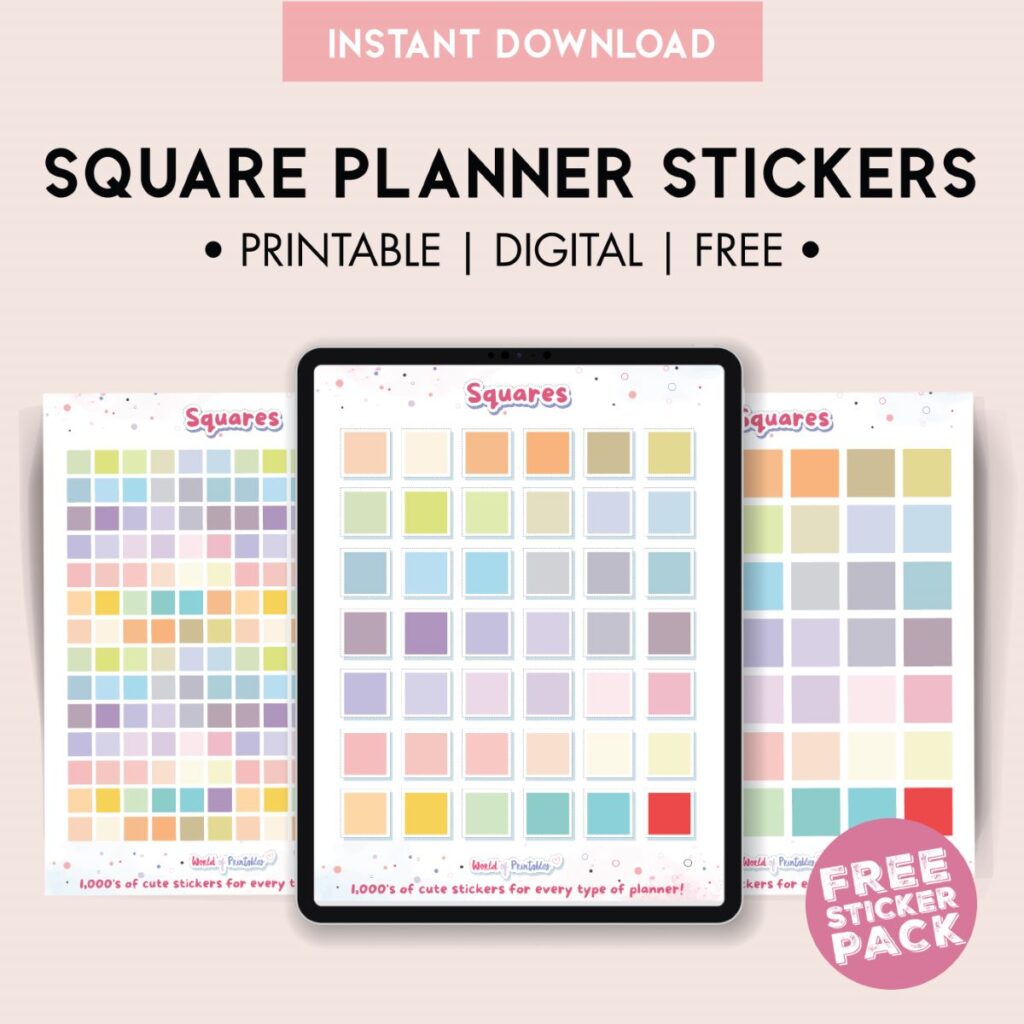 100 Free Printable & Digital Square Stickers
These square stickers come in different colors and sizes, and are such simple and useful stickers for any fun purpose! Whether you get them as printable stickers or digital stickers, you will find many uses for them.
Most people use our stickers with their planners, and you'll find a huge collection of printable and digital planners right here on our website.
These stickers are available as a printable pdf pack, a pre-cropped Goodnotes file, or transparent PNGs to use with other journaling apps.
If you would like these square stickers as a digital version for your iPad or tablet then check those out below!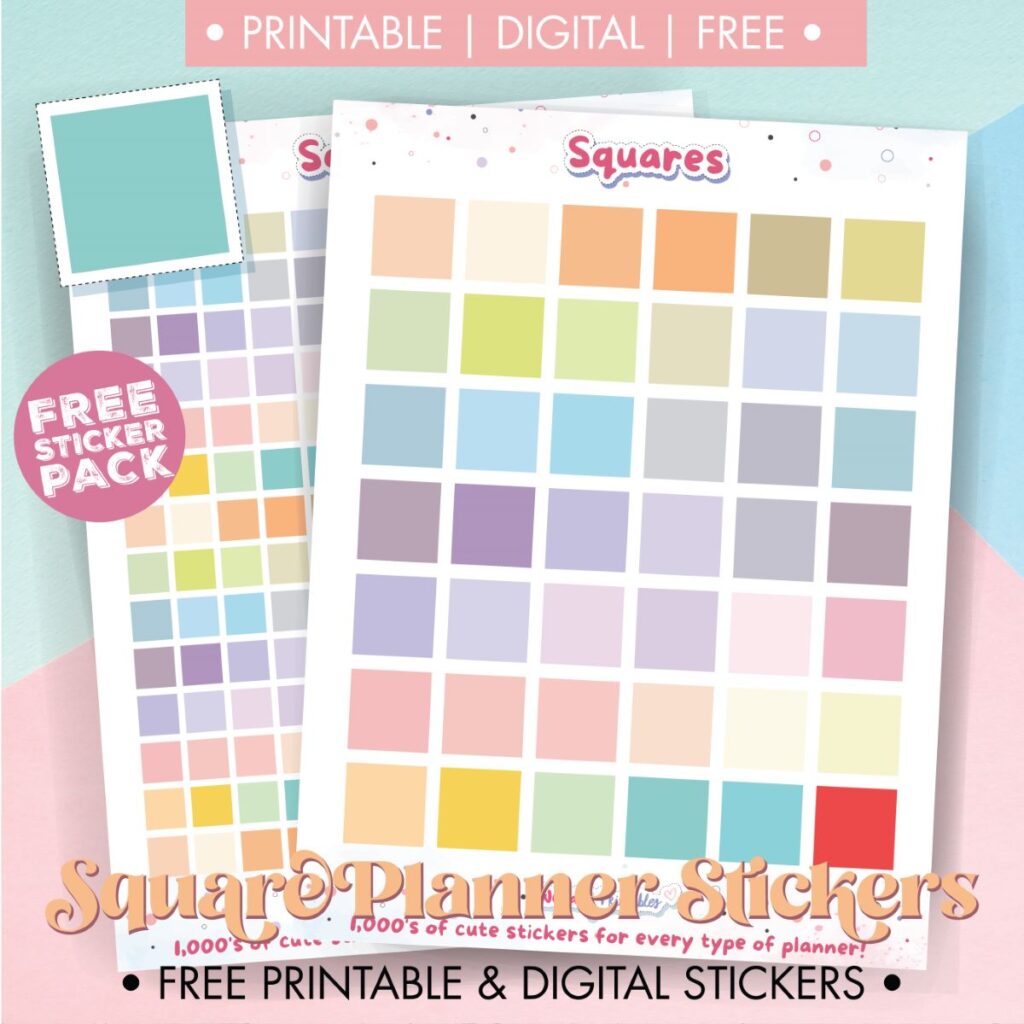 Transparent PNG Square Stickers for Digital Planners
Use these stickers with your favorite digital planner app. Just open the transparent PNG images below and save them to your tablet.
When you import these transparent PNG images into your journaling app you can crop the ones that you need to use with your favorite digital planner.
If you use GoodNotes then save time by getting the pre-cropped GoodNotes planner stickers further down this page.
Otherwise, grab these transparent PNGs right here: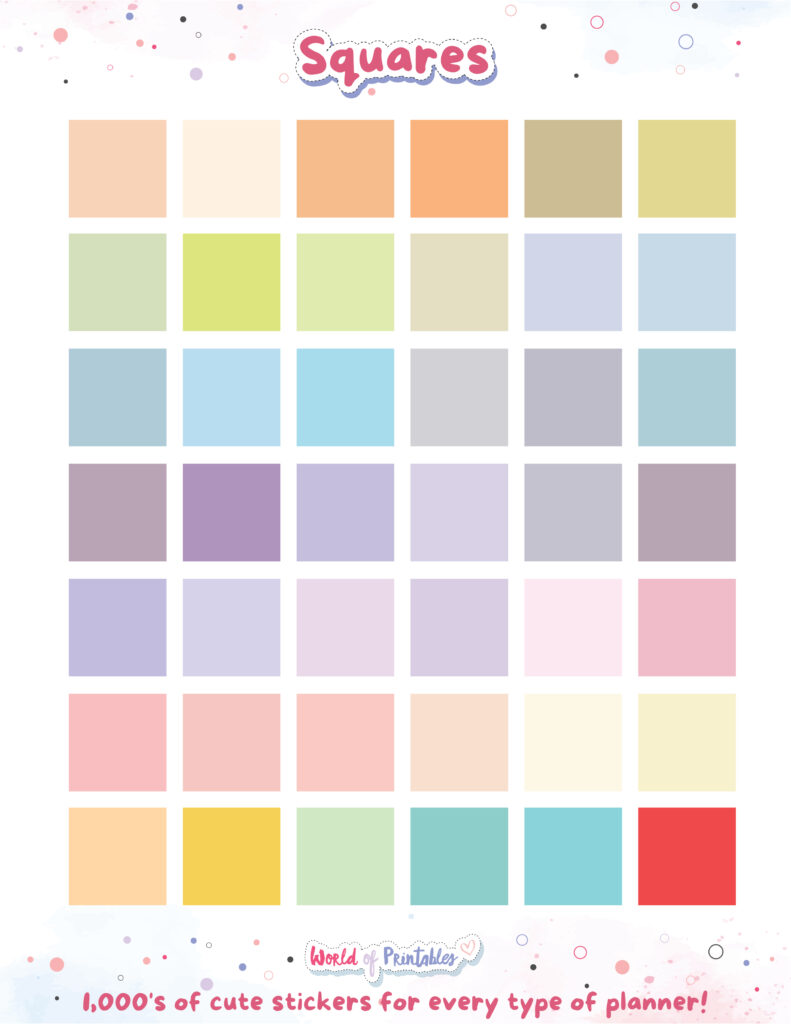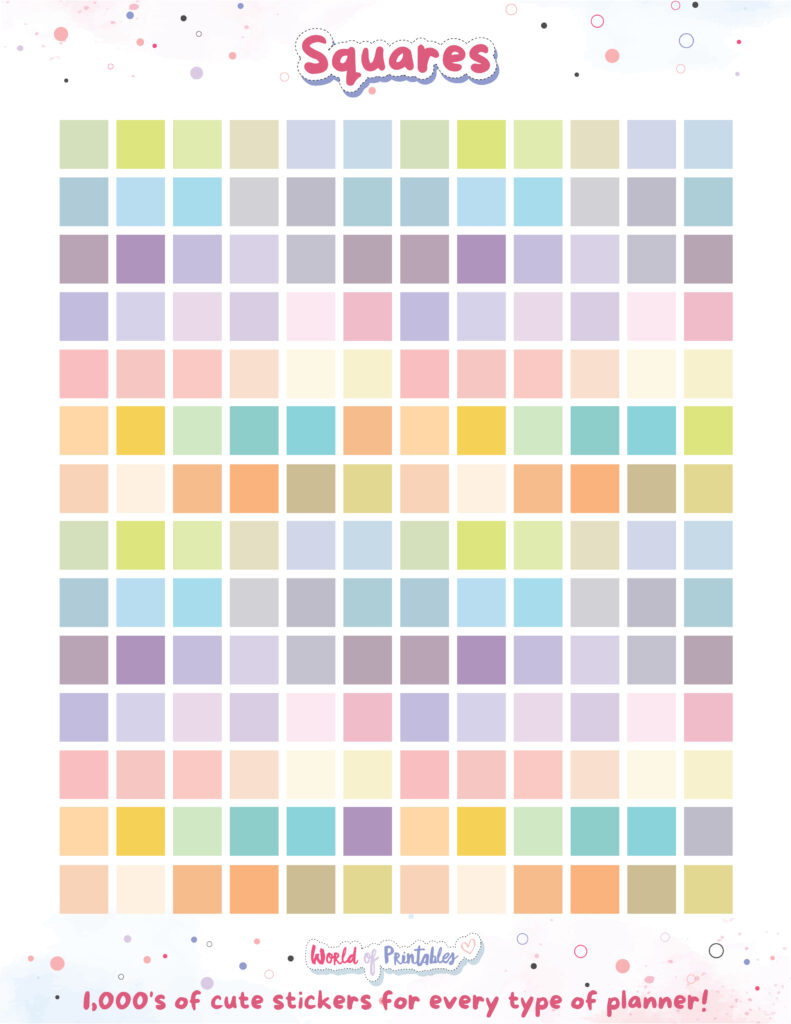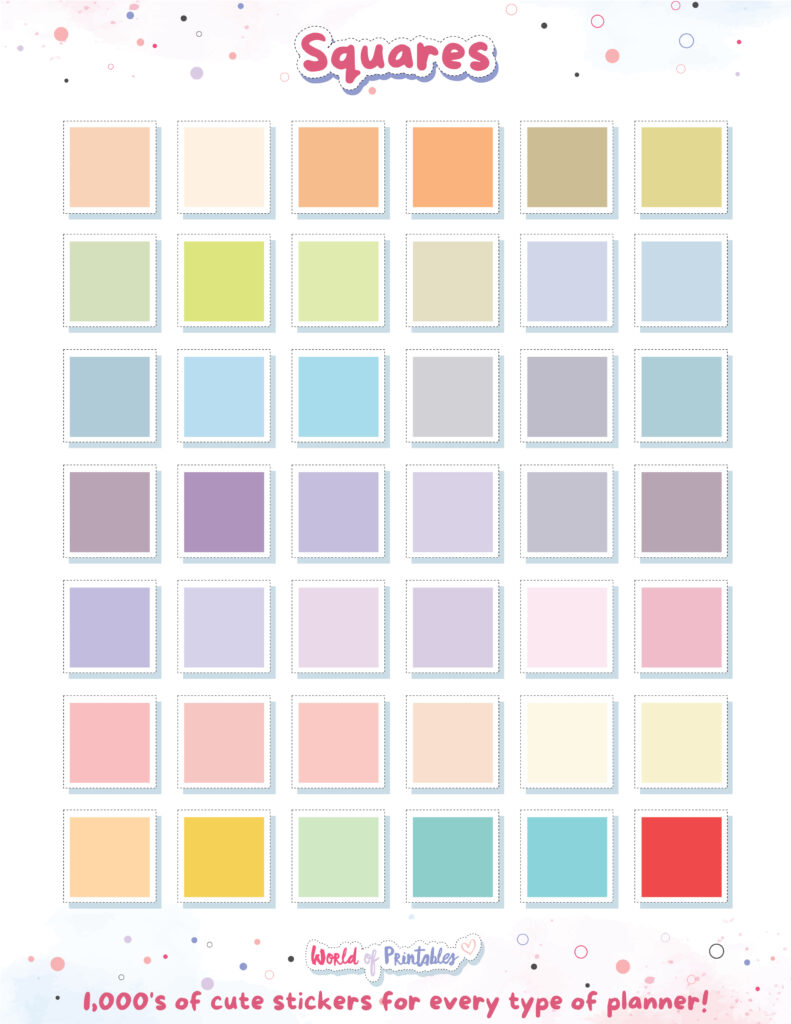 Print and Cut Your Square Stickers
These stickers are so easy to use and you can print and cut them from home! You can use a regular printer or if you own a cutting machine such as a Cricut or Silhouette then you can use that too.
To print these stickers, just grab the pdf version below which contains all of these square stickers in one easy-to-print bundle.
See how to get your code below.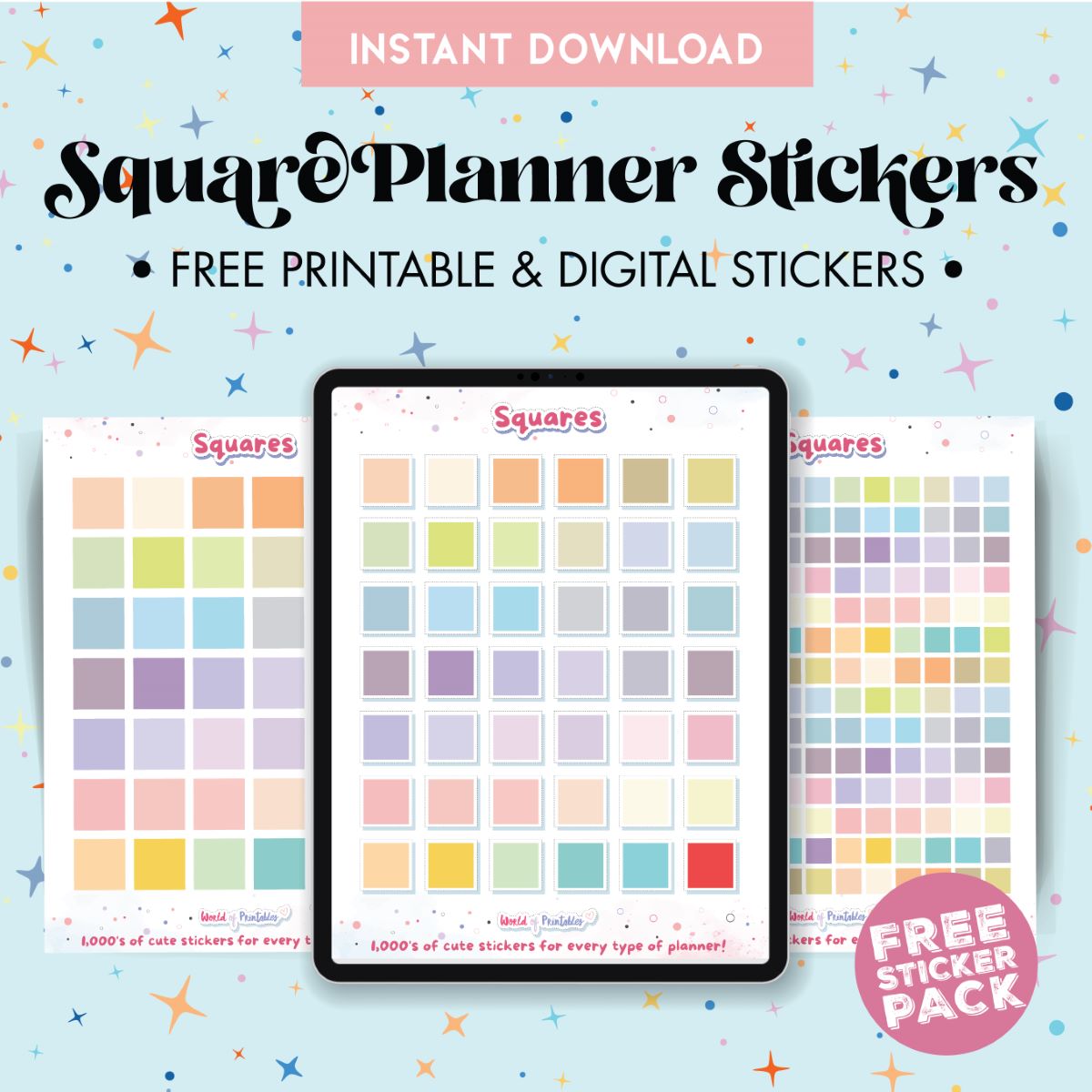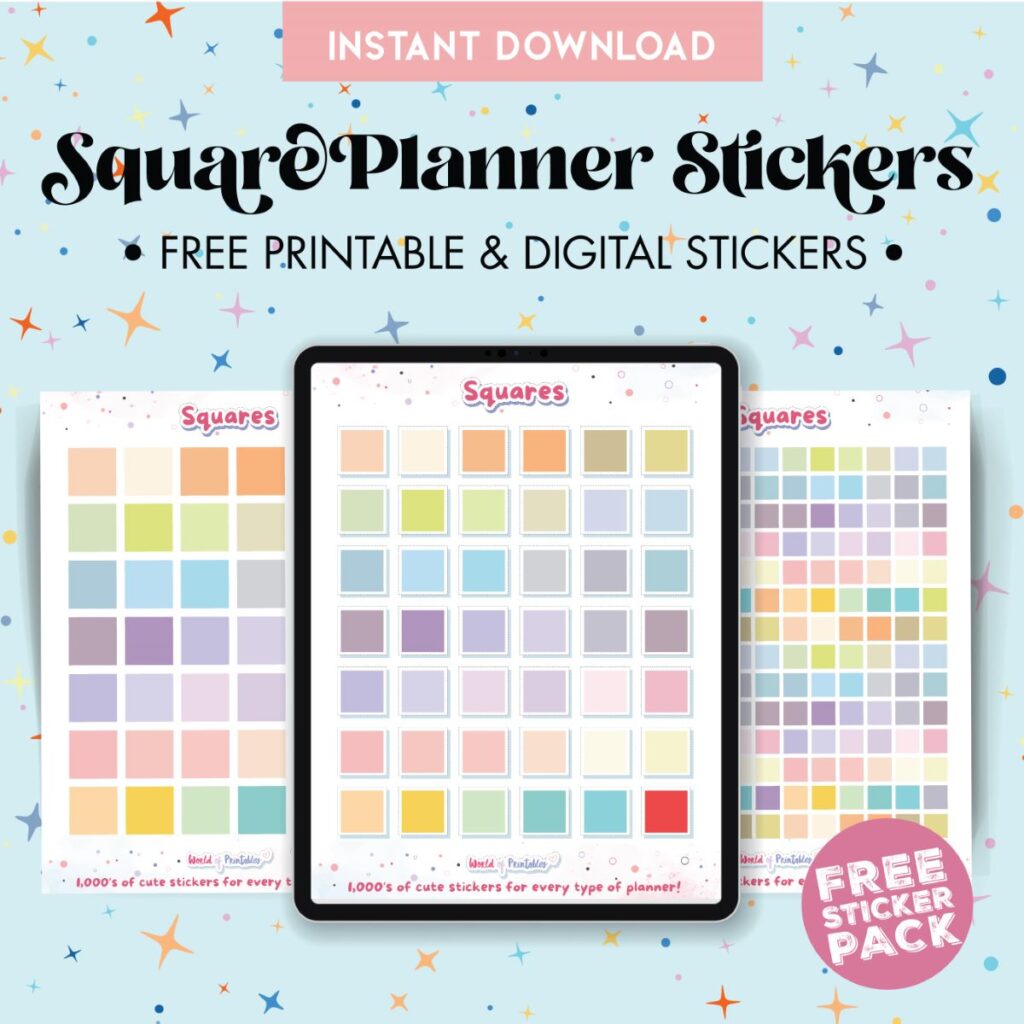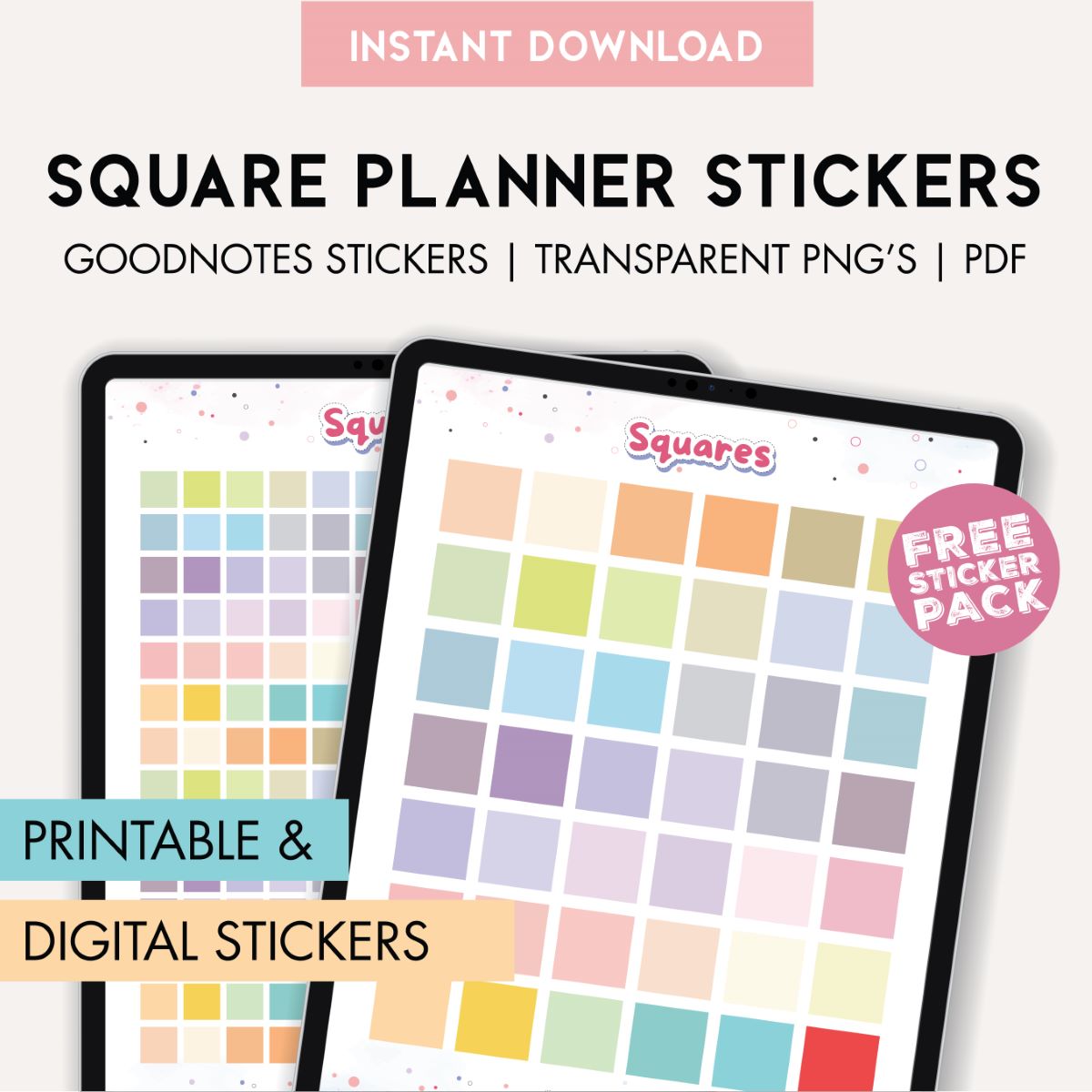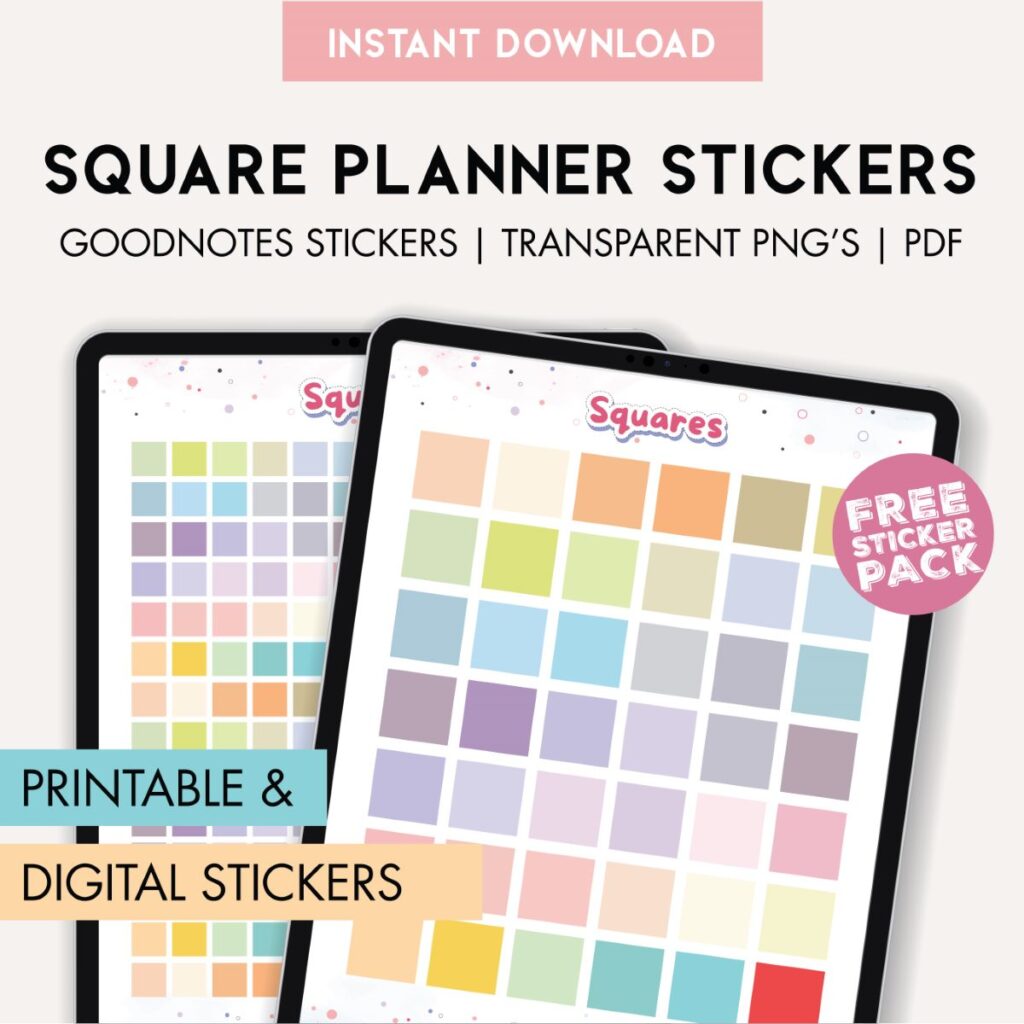 Pre-Cropped Digital Square Stickers
If you love these stickers but want a digital version for GoodNotes then you will love this collection of digital square stickers! These digital stickers are pre-cropped and ready to go and available in a Goodnotes file that includes 3 sticker sheets.
See how to get your code below.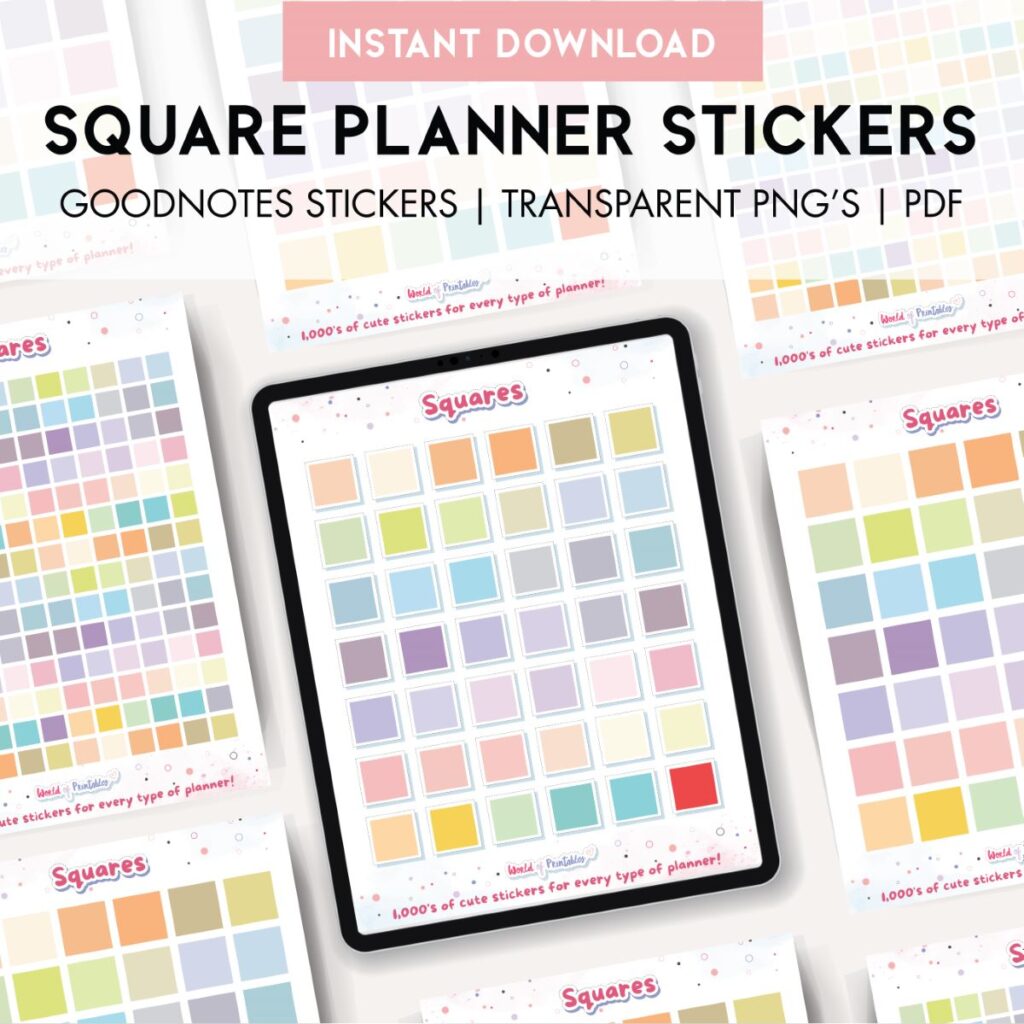 You might also like…
We've also created many beautiful printable planners and digital planners for everyday planning and to help you plan the things that matter.
How to get these free Square stickers
You can get these free square stickers as transparent png files for digital planners (earlier in this post).
If you prefer getting them as a printable PDF bundle or as a Goodnotes pre-cropped stickers pack then you can get them for free right here. Just enter your email address in the box below and you'll be sent a code and link to pack.
Alternatively, watch our website videos to see the code to get these freebies and enter your code above.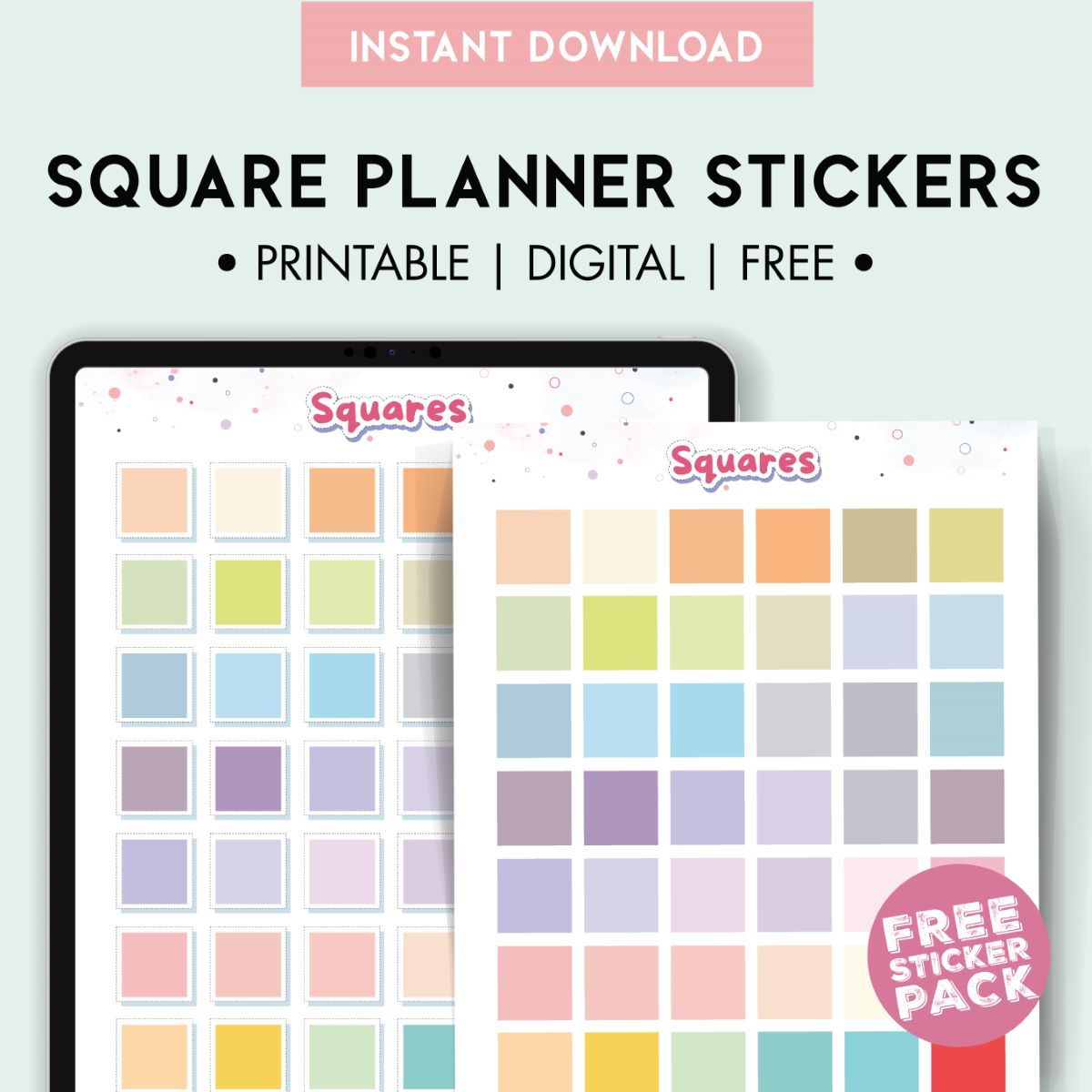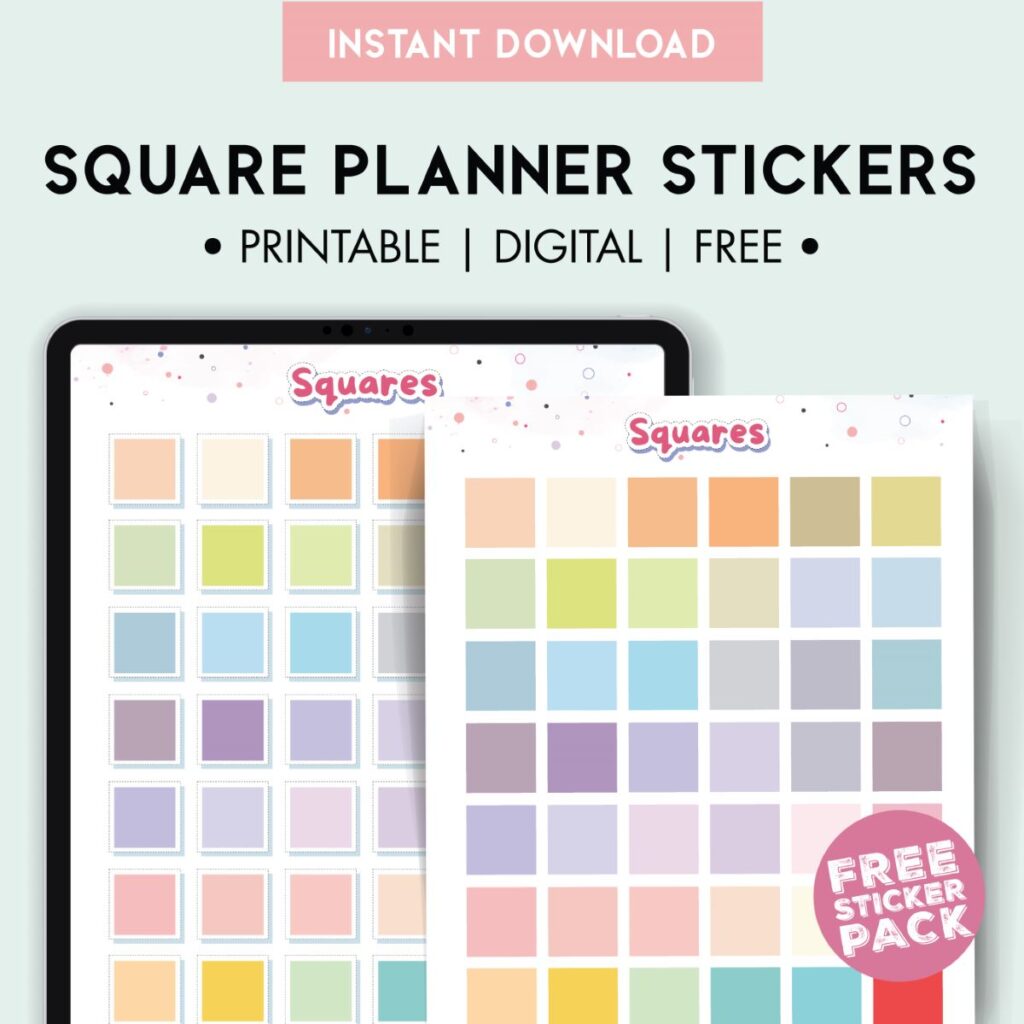 We'll also keep you updated from time to time whenever we release more awesome printable and digital freebies for you to enjoy.
Every week we create a cute set of printables, planners, and digital freebies to help you make the most of the things that matter. Our creations are loved by many and are free for you to enjoy.
More awesome planner stickers for you to enjoy
If you love these square stickers and would like more awesome planner stickers, then check out our latest creations that you can use for free.
We think you'll love these:
Make the most of your new planner stickers!
I really hope you use and enjoy our free planner stickers. Be sure to recommend these to your friends! Follow us on Instagram or Pinterest as it's a great way to show your support and to keep updated with all of our latest freebies.
Follow World of Printables on Pinterest
COPYRIGHT
Our creations are for personal use only and are the copyright of World of Printables. You cannot redistribute, reproduce, or resell, although you can link back to our website.