Create your own Thanksgiving Cards. Choose from these free printable Thanksgiving cards to send a special greeting to someone you love.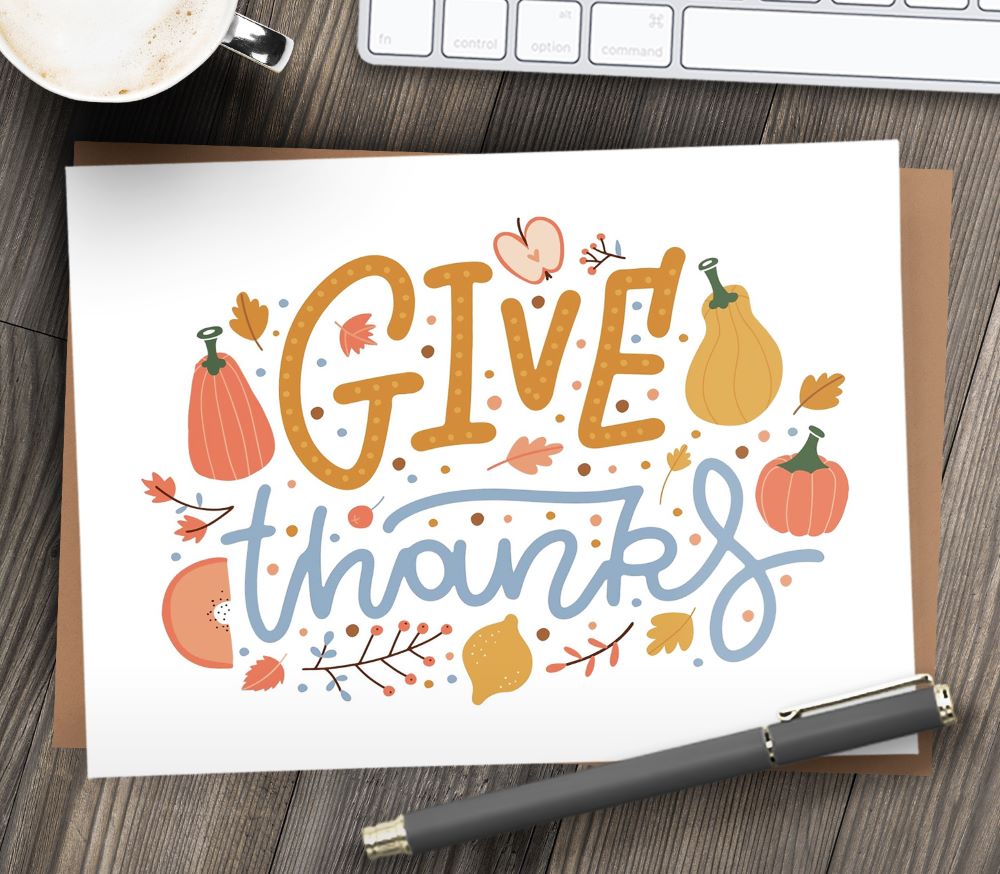 Thanksgiving is the perfect time of the year to send a card that lets someone know how grateful or thankful you are for them.
Our free Thanksgiving cards are perfect for all ages. Simply find your favorite styles to send to family, friends, and neighbors and share the love and gratitude this year.
A Thanksgiving card is a simple way of spreading love, reconnecting, or politely refusing a Thanksgiving invitation. Our Thanksgiving cards are perfect for any outcome.
What do you write in Thanksgiving cards?
Sending a Thanksgiving card is a perfect way of sharing your gratitude and thanks with the people you love.
There are so many amazing and sincere Thanksgiving messages you can write on your card, or simply choose a card with the relevant message on the front.
Here are some of my favorite Thanksgiving messages:
We are so thankful for you and your family. Have a happy Thanksgiving with lots of love and pie.

We are wishing you peace and warmth this Thanksgiving

Happy Thanksgiving. To my awesome friend, sending warm wishes your way and hoping you and your family have a fantastic Thanksgiving Day!

Sending you lots of love, laughter, and stuffing this Thanksgiving!

Thinking of you this Thanksgiving season and wishing you all peace and love.

Thank you for always supporting me and having my back. Happy Thanksgiving!

Wishing you and your family lots of good eats and gratitude this season!

You bring the turkey, I'll bring the side dishes… By which I mean booze and lots of it. Happy Thanksgiving!

Thanksgiving. Bringing out the best in family dysfunction since 1863.

Happy Thanksgiving to the people who make me thankful to be me.
Free Printable Thanksgiving Cards
There is an amazing selection of Thanksgiving cards to choose from and they are available in different formats too. You can print our Thanksgiving cards in portrait or landscape, and if you don't want to print and send them, you can easily send them digitally.
All of our cards are designed to fit 5×7" or 7×5" depending on whether you choose a portrait or landscape card. These cards lay flat for you to write your message on the back and send.
We recommend printing our Thanksgiving cards on nice card stock and matching them with pretty envelopes!
Our Thanksgiving cards come in many different styles and there are so many options. Choose from pies, pumpkins, turkeys, fall landscapes, and floral elements.
I'm sure you will find something suitable to help you send your love this Thanksgiving holiday.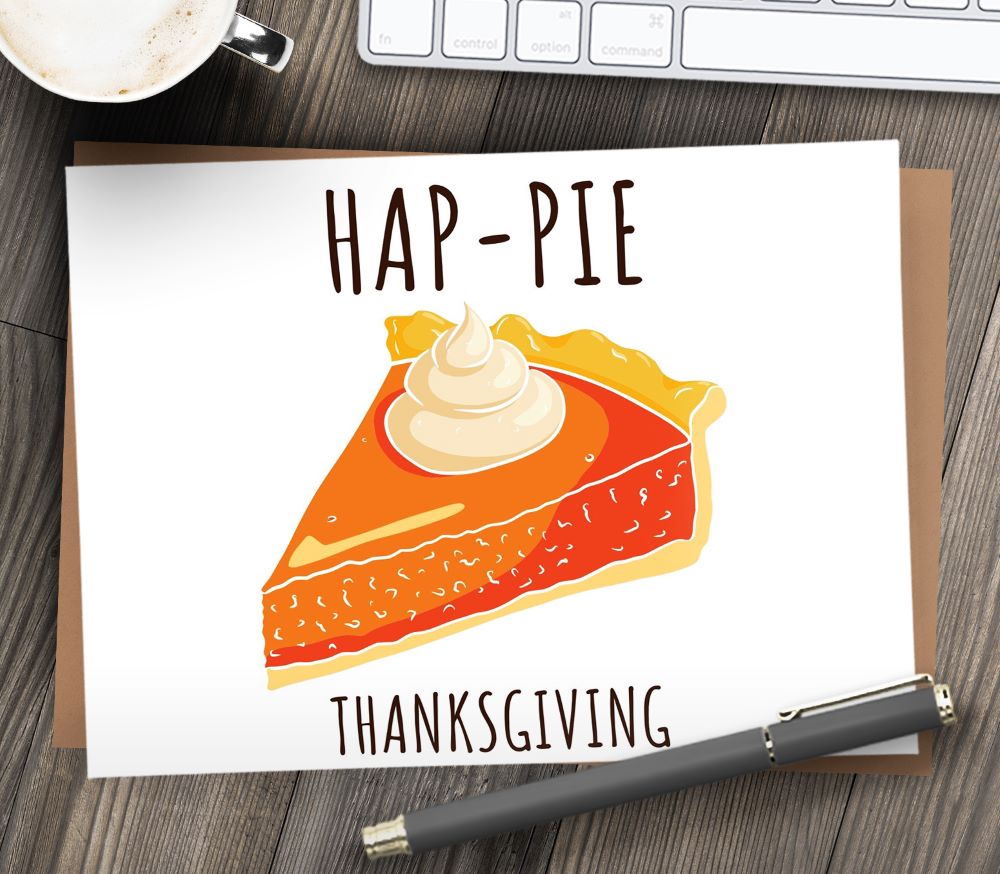 Thanksgiving Cards
Choose your favorite from this selection of Thanksgiving cards and print out at home. Just write your personal message on the reverse, or inside depending on how you print it and send it to your loved one.
Thanksgiving Regret Cards
Sometimes you have to refuse a Thanksgiving invitation because you simply can't please everyone. If this is the case for you, then refusing an invite with a regret card is a polite and sincere way of doing it.
We have a lovely collection of Thanksgiving regret cards for you to choose from and they will be lovingly welcomed by the receiver.
Thanksgiving Condolence Cards
Many people across America and Canada will be experiencing their first Thanksgiving without a loved one and it will be a very difficult time for them. If you know someone who is going through a difficult time this Thanksgiving, why not consider sending them a Thanksgiving condolence card to let them know you are thinking of them and sending your love?
*Please Note: All printables and templates are designed by World of Printables and are for PERSONAL USE ONLY. These Thanksgiving Place Card printables are not intended for resale, nor are the printed versions of these templates.
While it might be a little early, but wishing you a Happy Thanksgiving!
Become a World of Printables insider
Get notified of our upcoming free printables – you're gonna love them!
Join our insider group to get our awesome printables as soon as they're released so that you can start planning and stay organized ahead of the rest.
Join our insider group and get special printables each month before anyone else.
YOU MIGHT ALSO LIKE:
Check out our Thanksgiving Invitations, easy to customize templates for printing and sending, or emailing to anyone you want to invite to your Thanksgiving dinner this year.
We've also created a huge 60 page Thanksgiving planner that will help you plan and organize everything related to Thanksgiving, from planning, organizing, and even decorating.
Best of all, it's totally free and will help you make this Thanksgiving the best one yet.
Free Printable 60 Page Thanksgiving Planner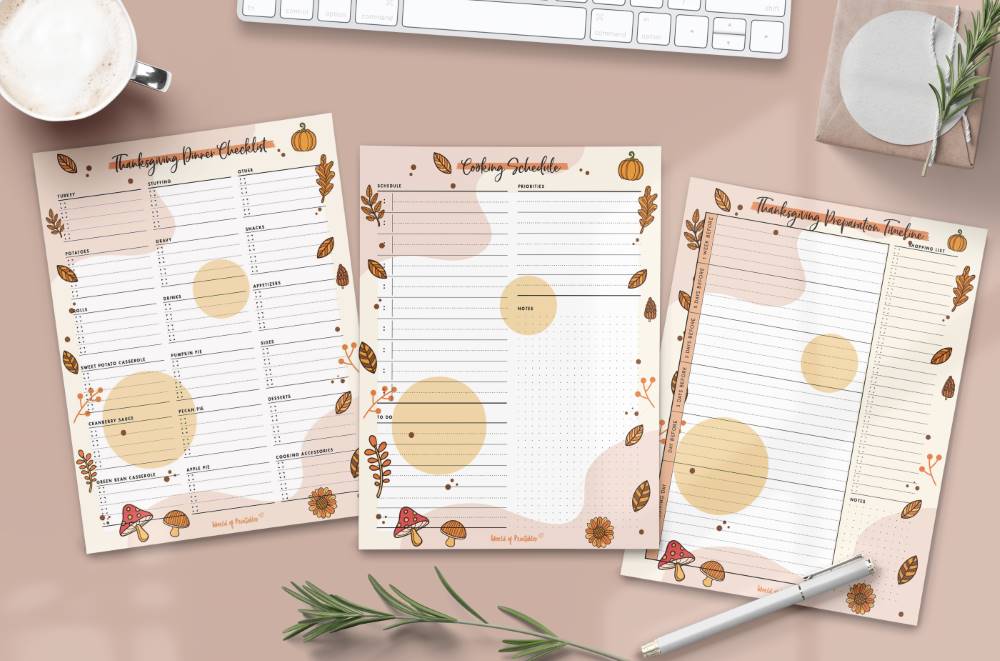 Be sure to check out our Thanksgiving coloring pages and our Thanksgiving Food Checklist that has lots of thanksgiving food ideas.
Bonus: Check our Thanksgiving activity pages for kids, Wordsearch, decoration ideas, and more to make this a fun Thanksgiving and to keep your family entertained.
Thank you so much for visiting!
If you liked this post and these free printable Thanksgiving Card, then go ahead and hit the Pin button below, as it really does help us in so many different ways and is a great way to save for later.
Follow World of Printables on Pinterest