Create your own Thanksgiving menu. Choose from these free Thanksgiving menu templates to customize. Then print for your Thanksgiving dinner table.
You've planned your Thanksgiving to perfection, and now it's time to set the table. One of my favorite ways of adding to the Thanksgiving table decor is by printing my Thanksgiving menu and using it as a decoration for the plate.
Printing your Thanksgiving menu is a great way of reminding your guests of what the Thanksgiving feast entails and with our customizable Thanksgiving menu templates, you can do it easily and in style!
Pro Tip: We've also created a huge 60 page Thanksgiving planner to help you plan and organize everything Thanksgiving. From planning, organizing, and even decorating. Best of all, it's totally free and will help you make this Thanksgiving the best one yet. **
Customizable Thanksgiving Menu
Our free customizable Thanksgiving menu printables are the perfect way of letting your guests know what's in store. We've created a beautiful collection of free customizable Thanksgiving menu templates to choose from, each in a different style to suit your needs.
Be sure to check out our free printable Thanksgiving Invitation templates too and use them to invite your guests either by post or email. They look amazing!
Our Thanksgiving menu templates are simply stunning, I don't know how you are going to choose just one style! Each Thanksgiving menu features beautiful lettering, lovely visuals, and a simple, easy-to-view layout.
Choose from pumpkins, fall scenery, leaves, wreaths, and autumnal florals. There is something for everyone. But the best thing about them? They are completely customizable! You can change everything if you want to.
You can easily customize our Thanksgiving menu templates in a matter of minutes. Customizing them has never been easier with the simple yet powerful drag and drop free online software.
How to make a Thanksgiving Menu
You can create a Thanksgiving menu so quickly with our free Thanksgiving Menu printables and it is so easy to put your own unique touch on them.
When you choose the Thanksgiving menu template you like the most, you will be directed to Canva (which is free and amazing) to edit our original template. You can then simply use the drag and drop editor to create your own amazing Thanksgiving menu.
What you can customize
Background color – simply click the background and edit the color in the little square in the top bar
Position elements – click and drag images, text, or anything else to rearrange your layout.
Replace elements – replace any elements by deleting them and then clicking the elements tab on the sidebar and searching for whatever you need. Click the element to place it on your menu
Text – Click the text to edit it. You can even change the font from the top bar, the color, and the size.
Size – Want your menu to be a certain size? Click the resize button and put in your custom dimensions! Our menu templates are automatically sized to 4×9".
Once you are happy with your final design you can simply save it in the format that is best. Canva will automatically suggest the best format depending on your design but there are options for you to choose from. Your custom Thanksgiving menu will then save to your device, and from there you can print it out.
For printing your Thanksgiving menu, we really recommend using nice card stock, pretty napkins, and maybe a few decorations to tie it all together for a truly stunning finish.
These Thanksgiving menus are designed as 4 inches by 9 inches, so you can print several on one sheet of paper and then cut them to size so that they look like the examples below for an elegant style that you simply won't find anywhere else.
The Best Thanksgiving Menu Templates
So let's take a look at this collection of Thanksgiving menu templates that you can customize and print right now. Just choose your favorite from the selection below and start customizing.
You can choose more than one, so if you are serving different Thanksgiving meals to different guests then you can easily customize more than one, in the same or different styles. It's up completely up to you!
Choose your favorite and start customizing now!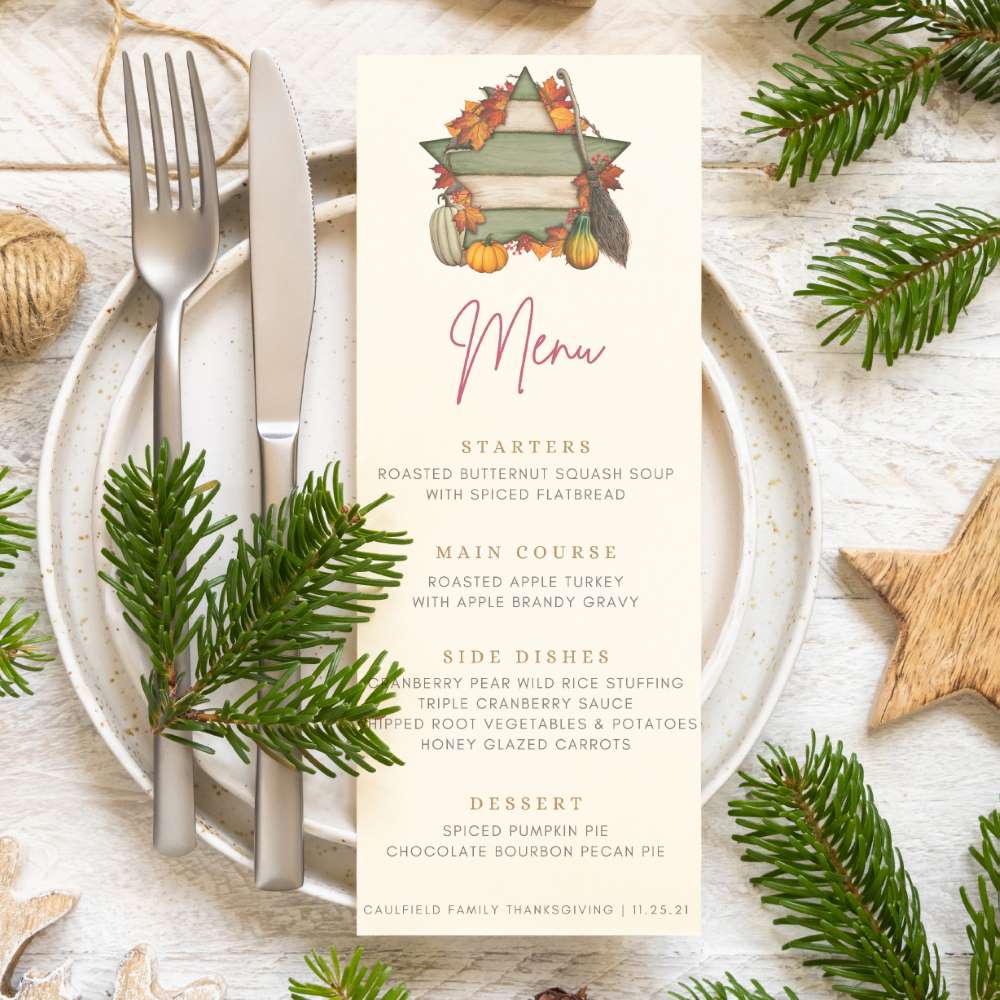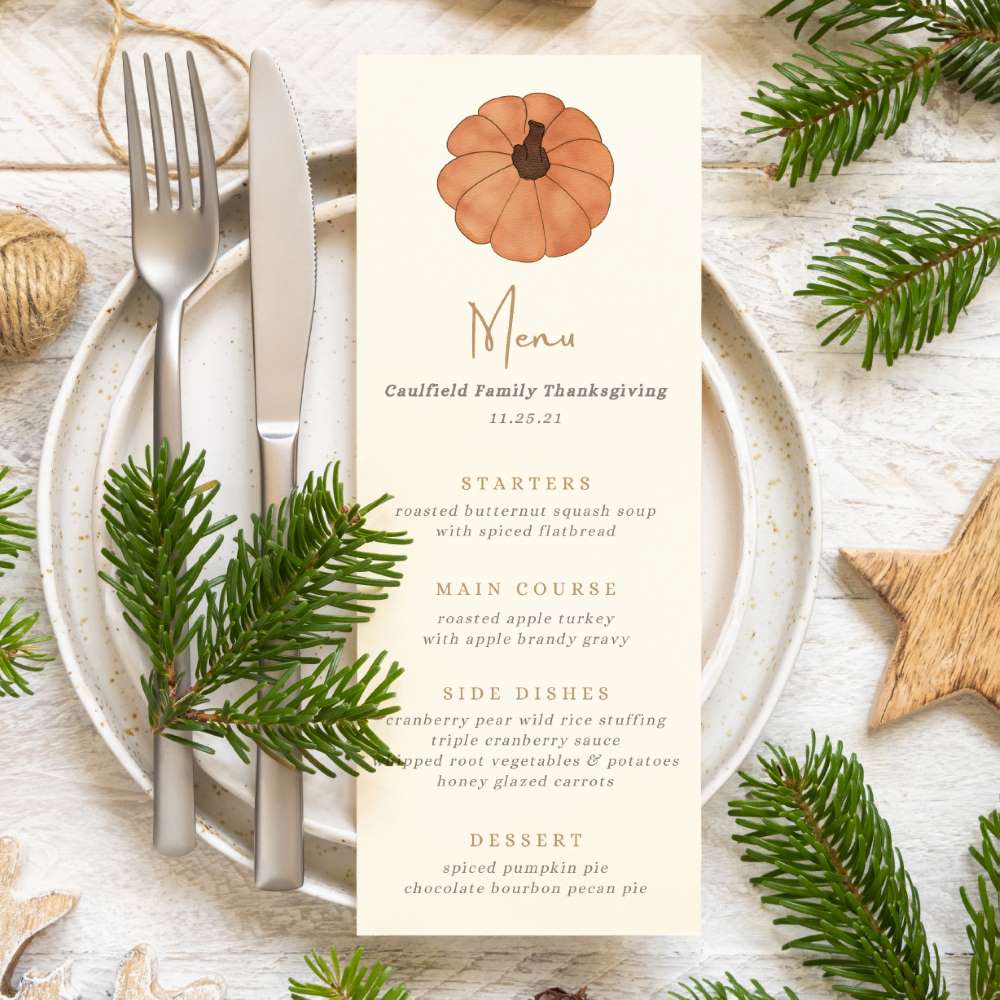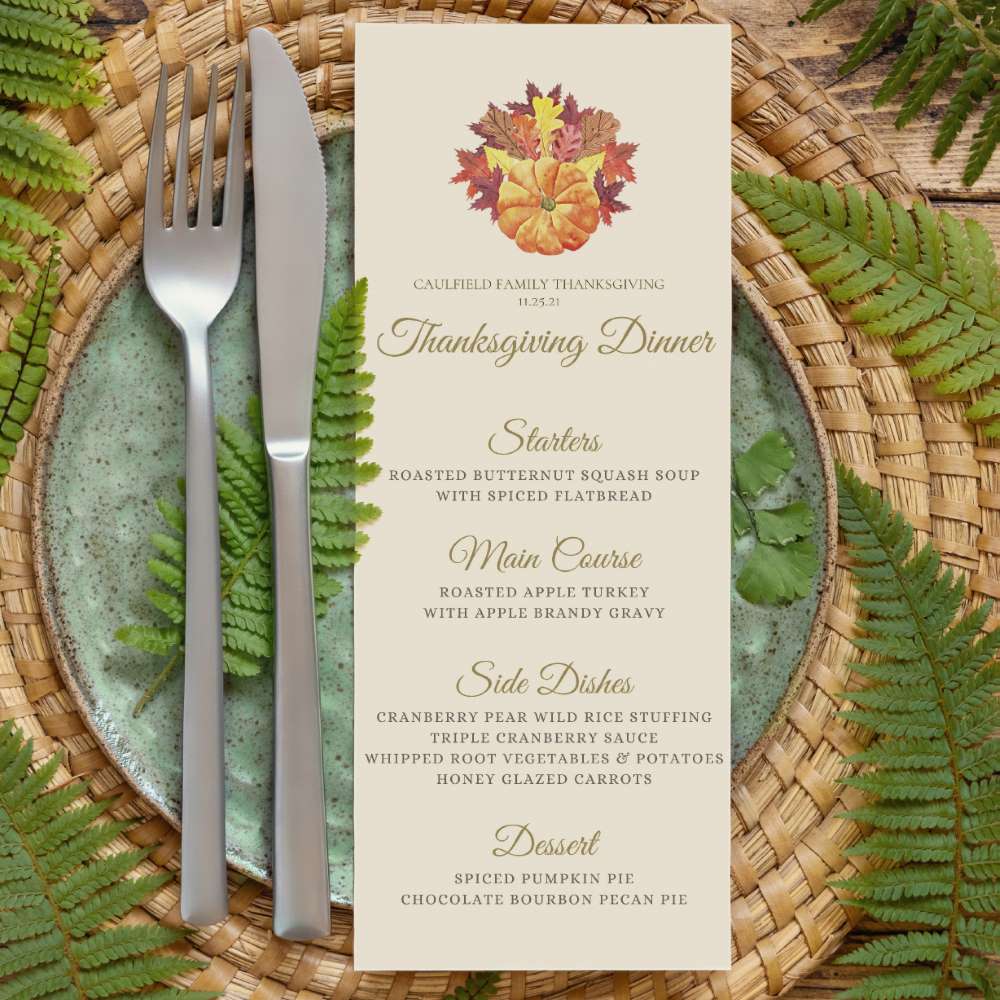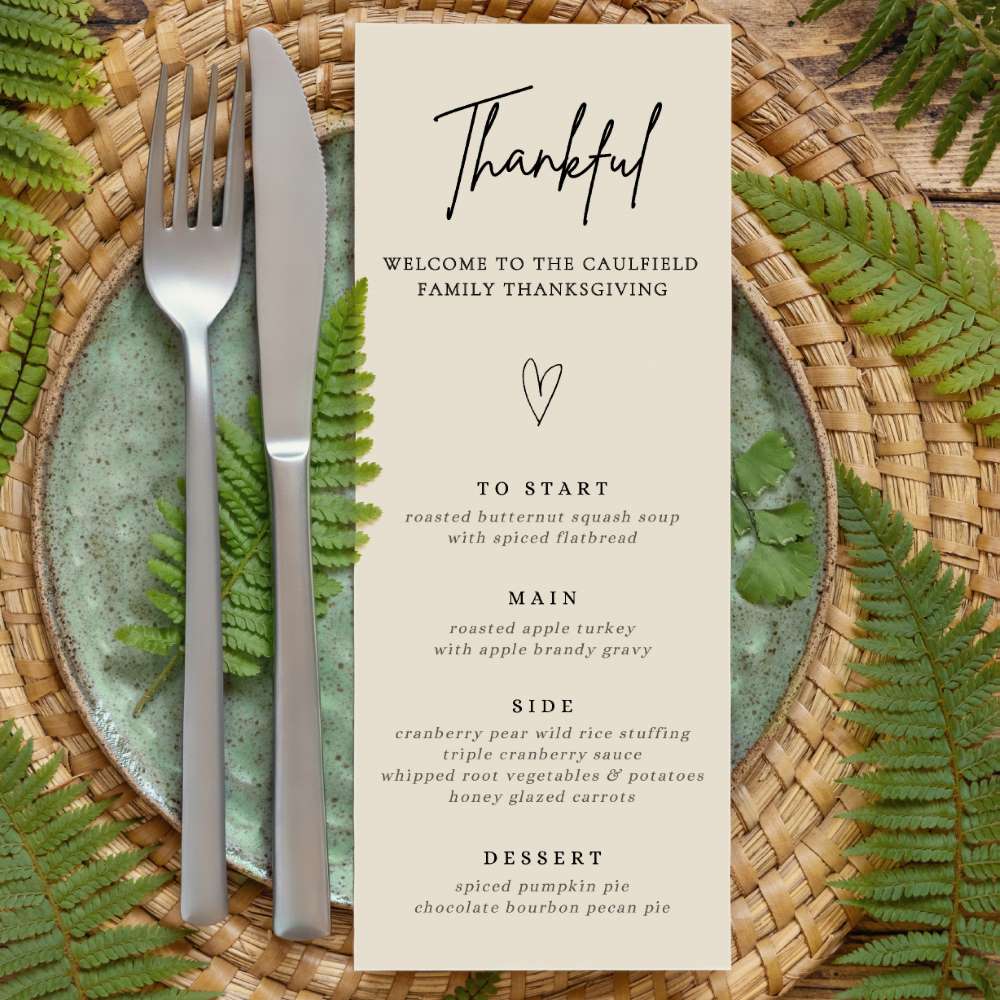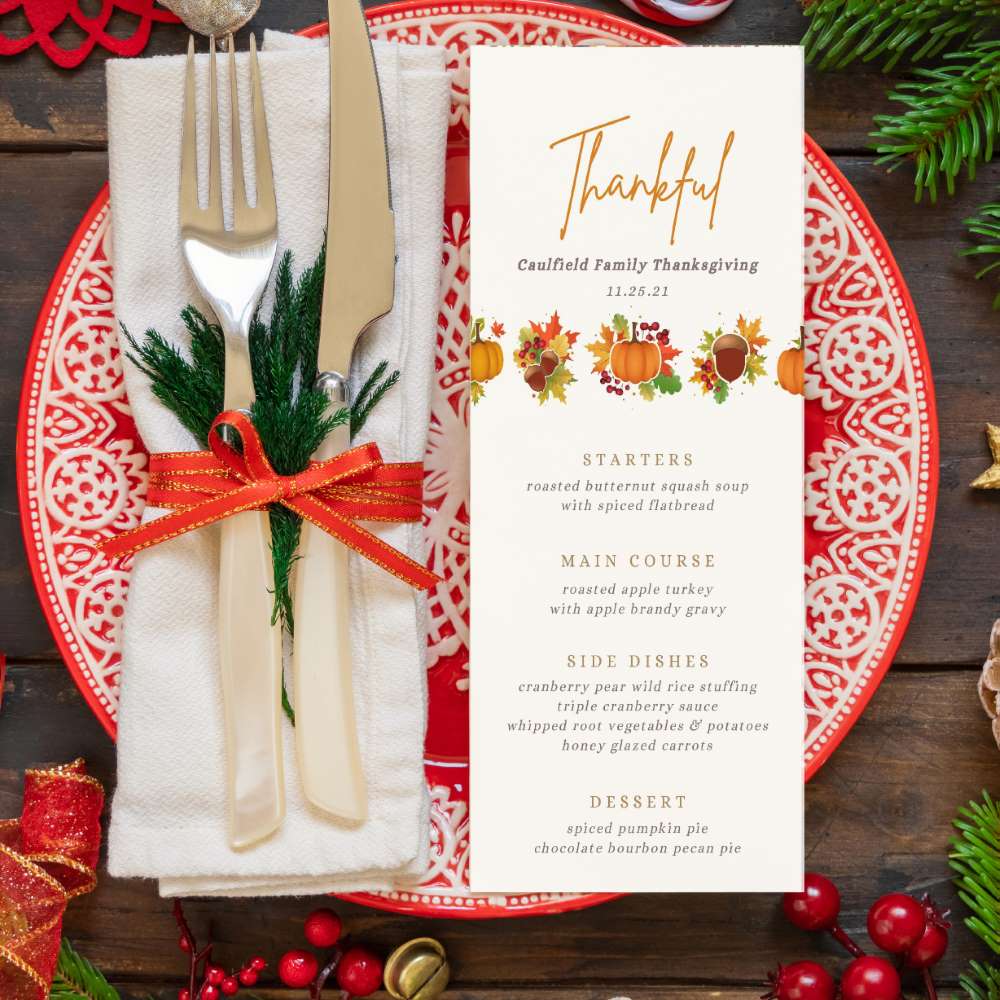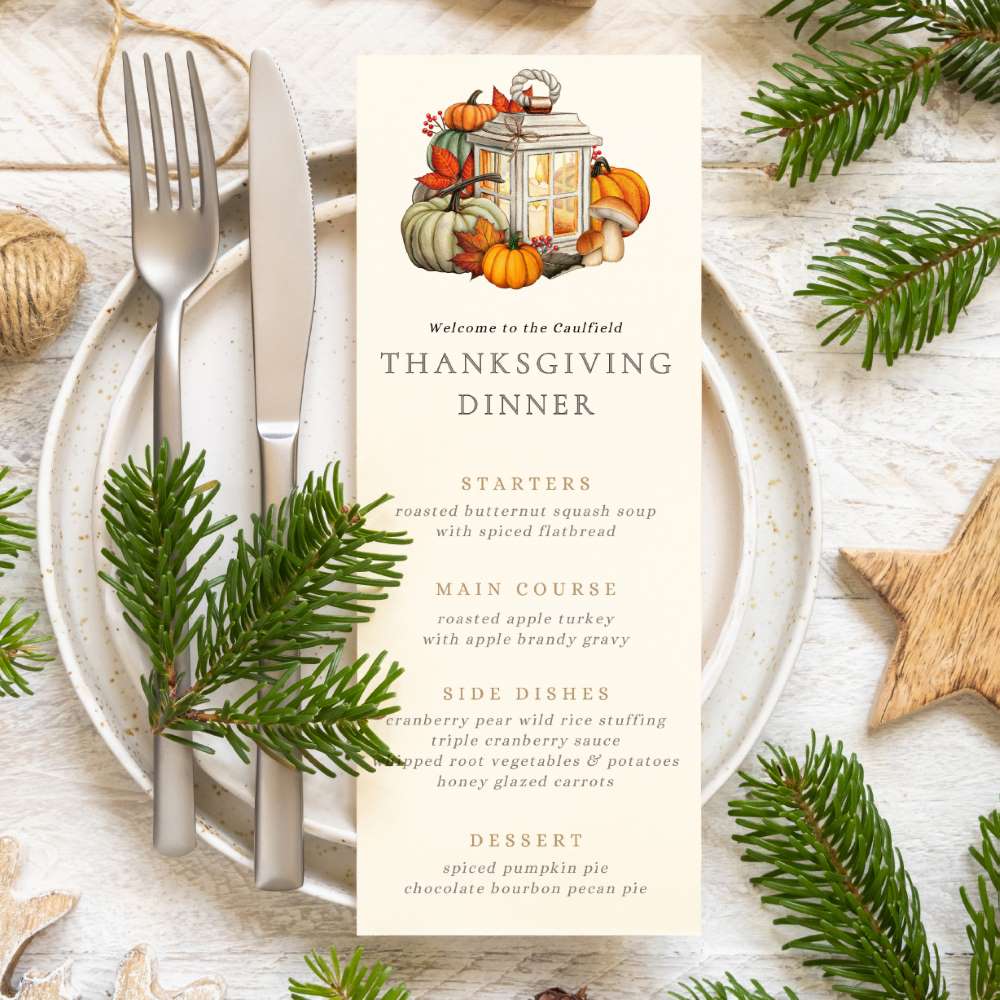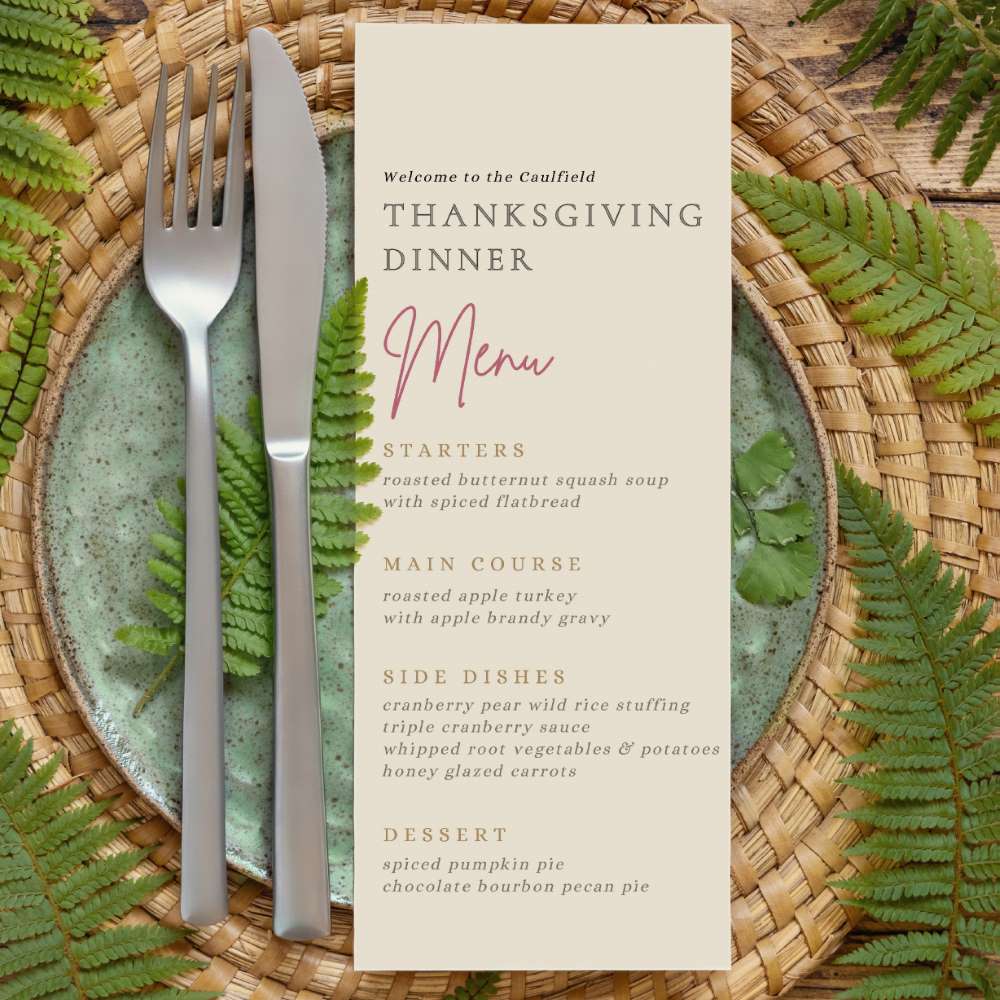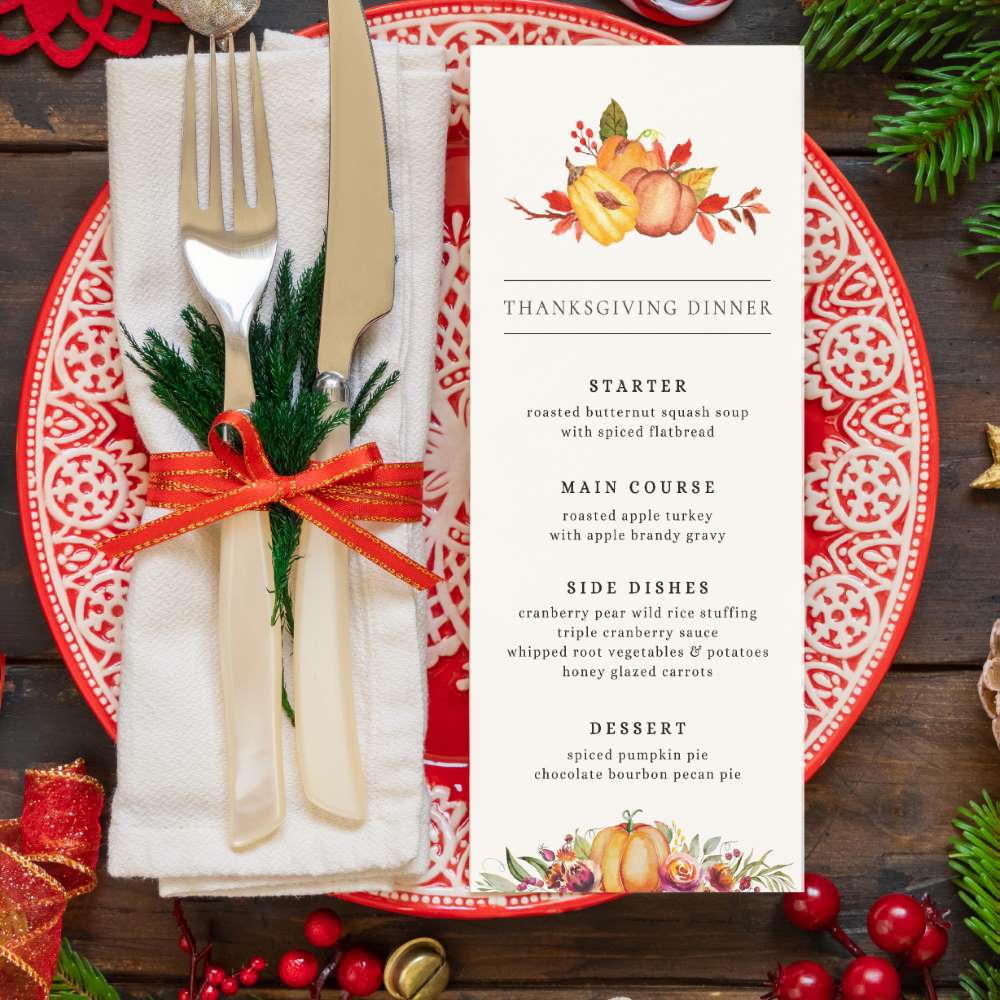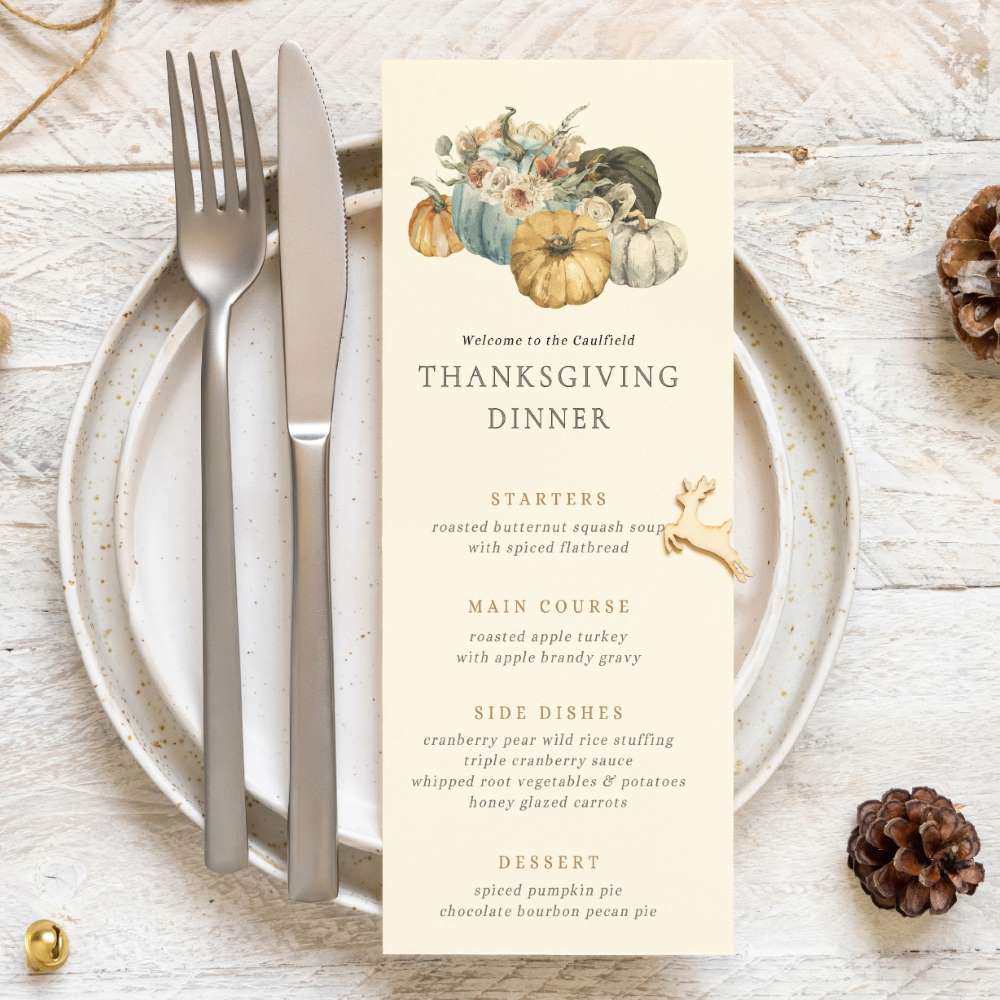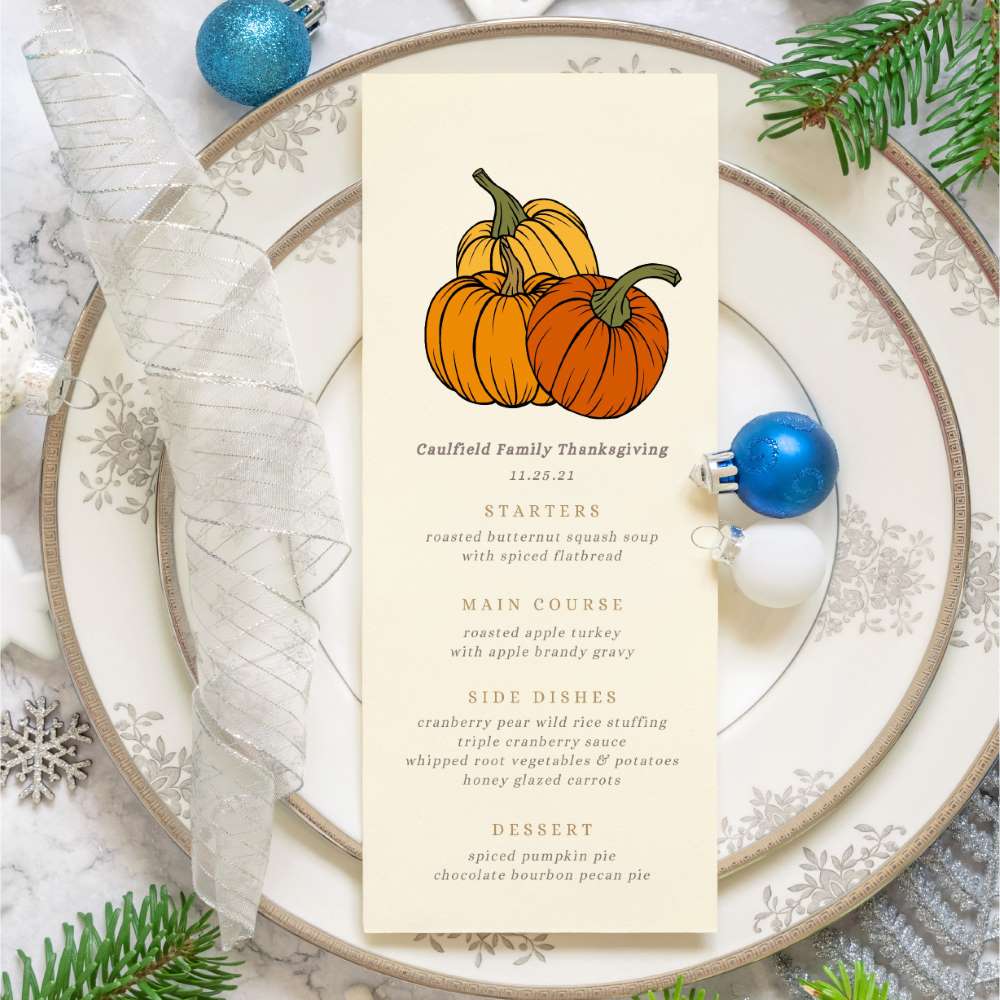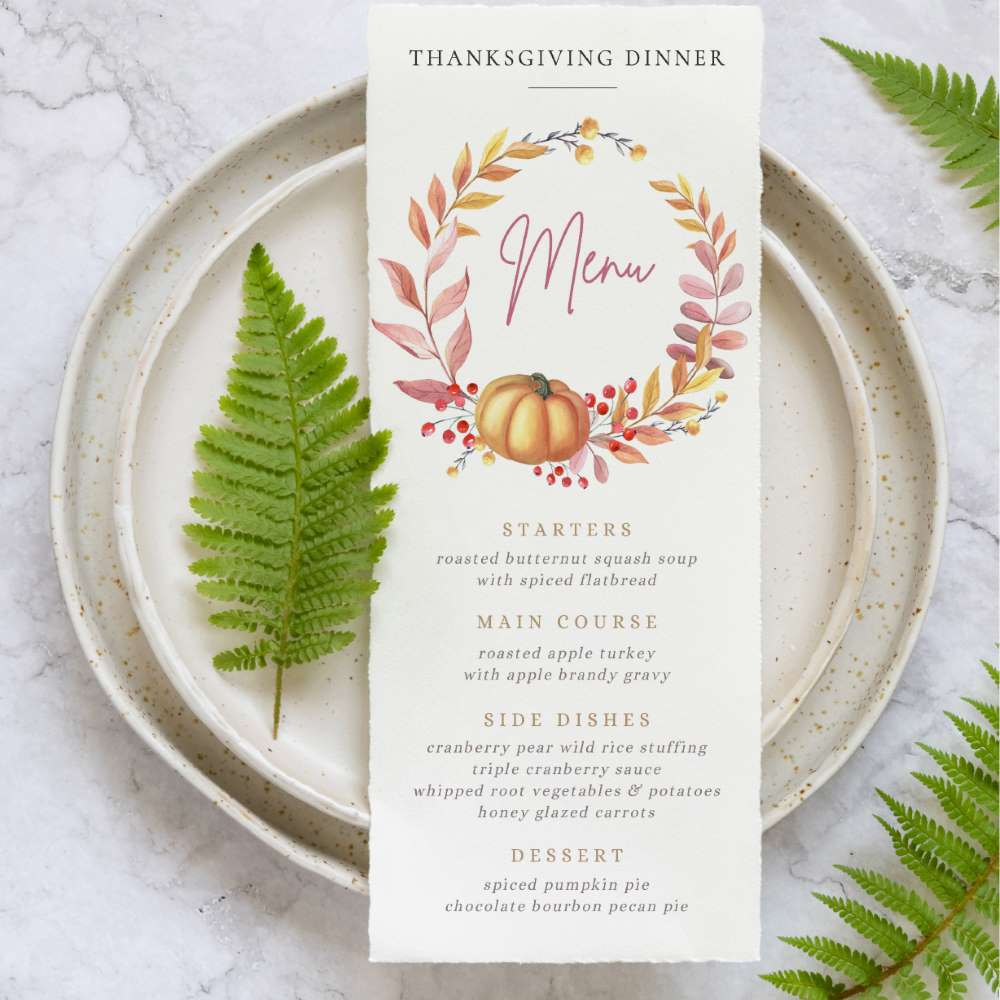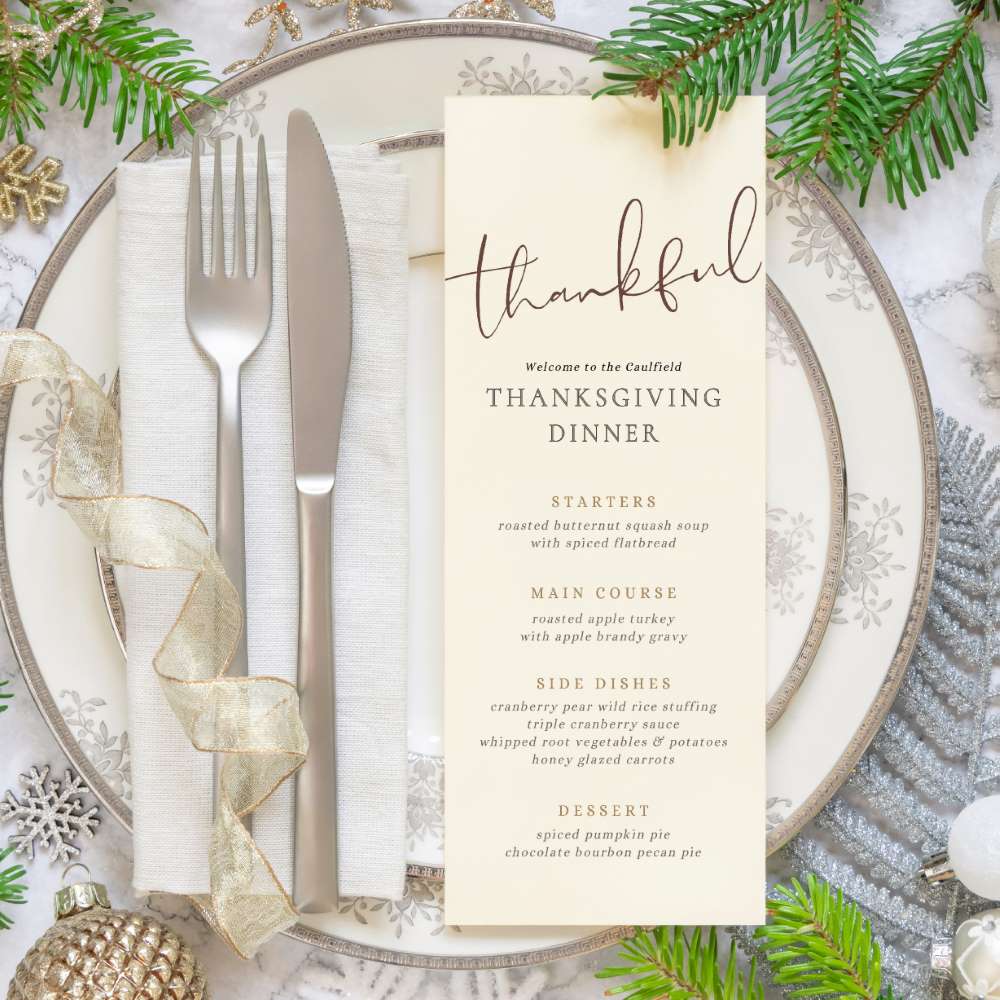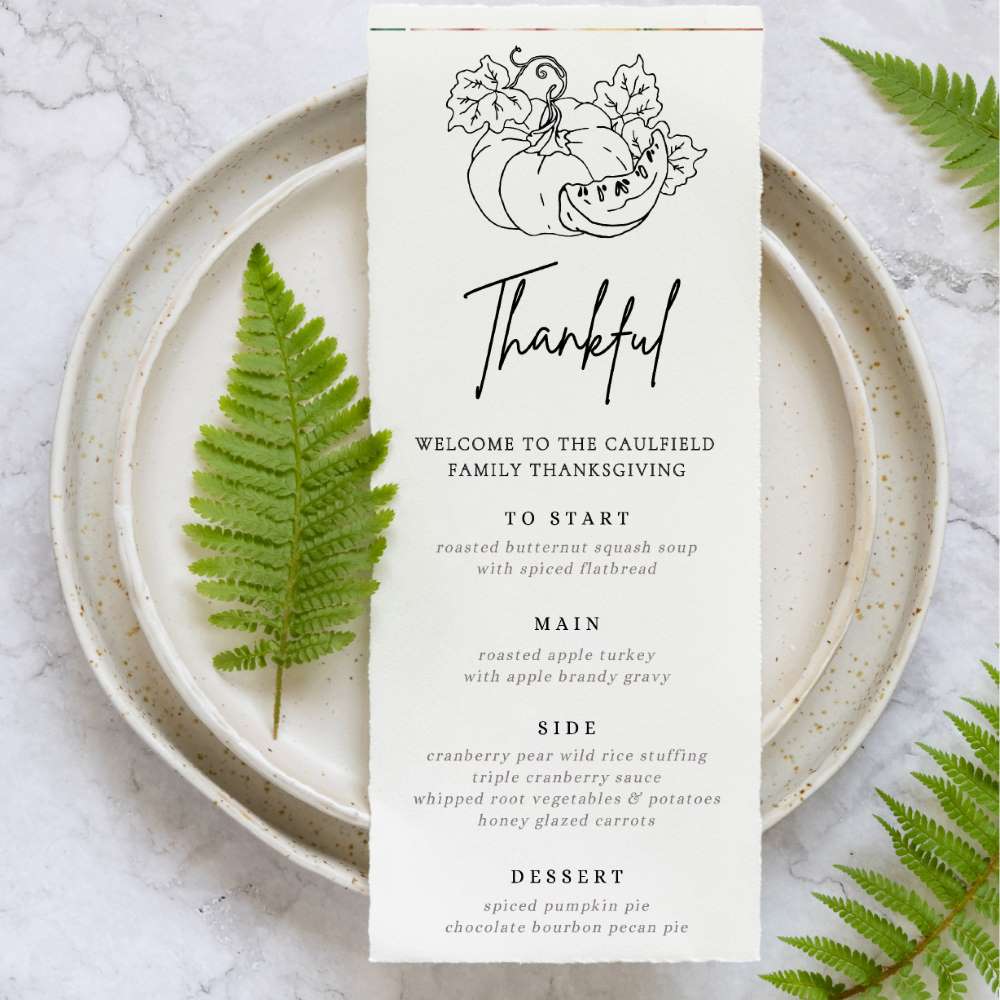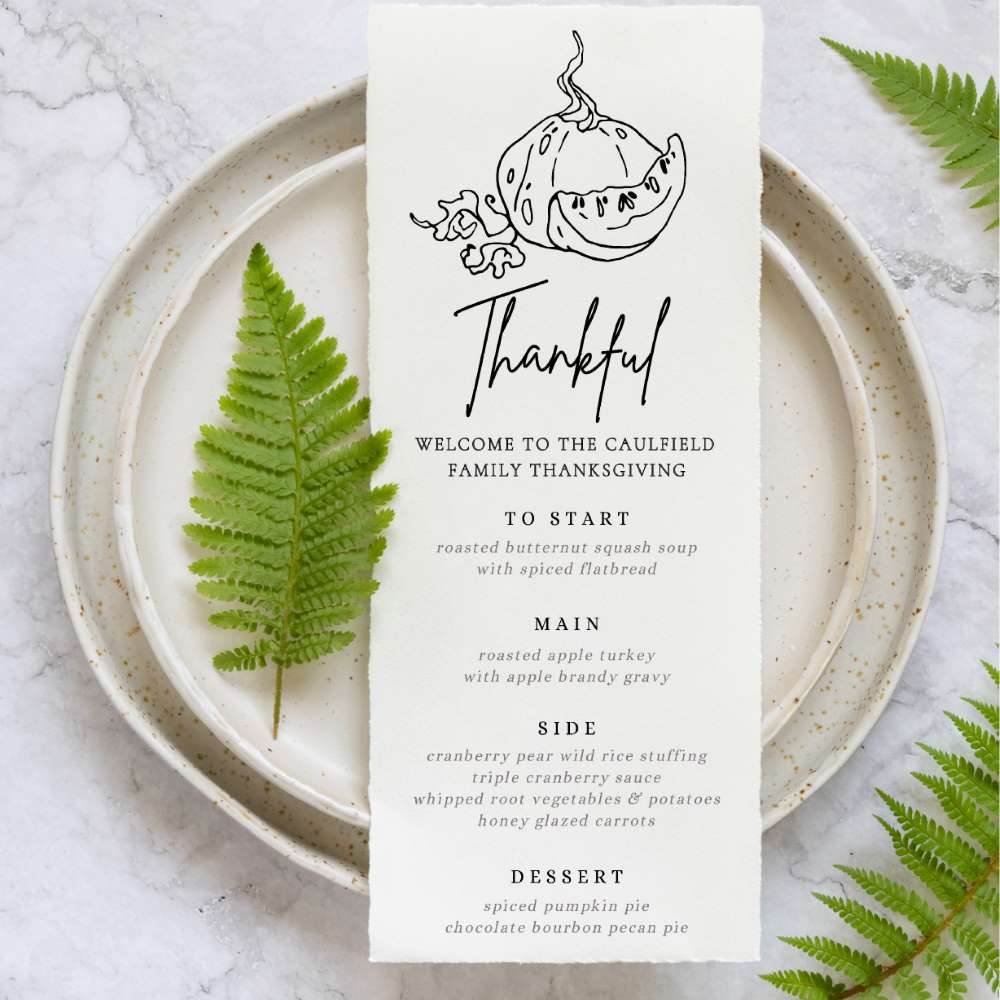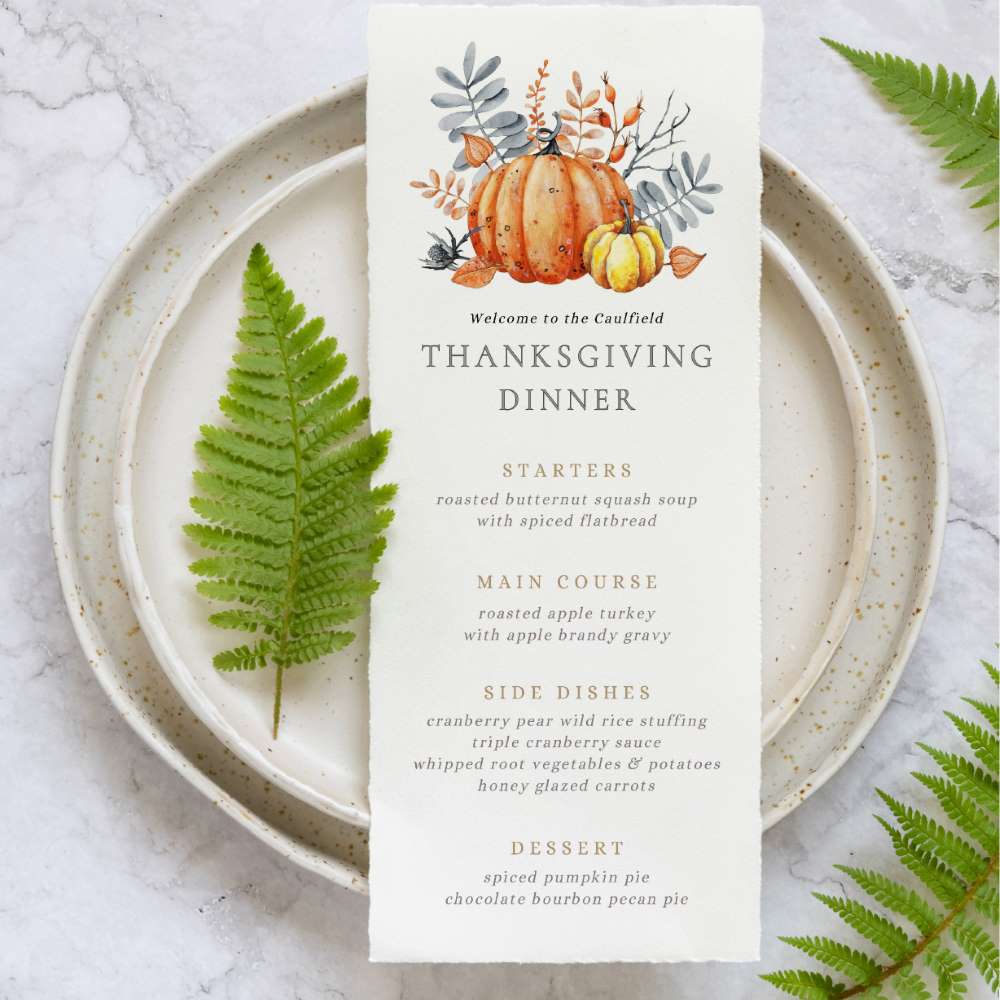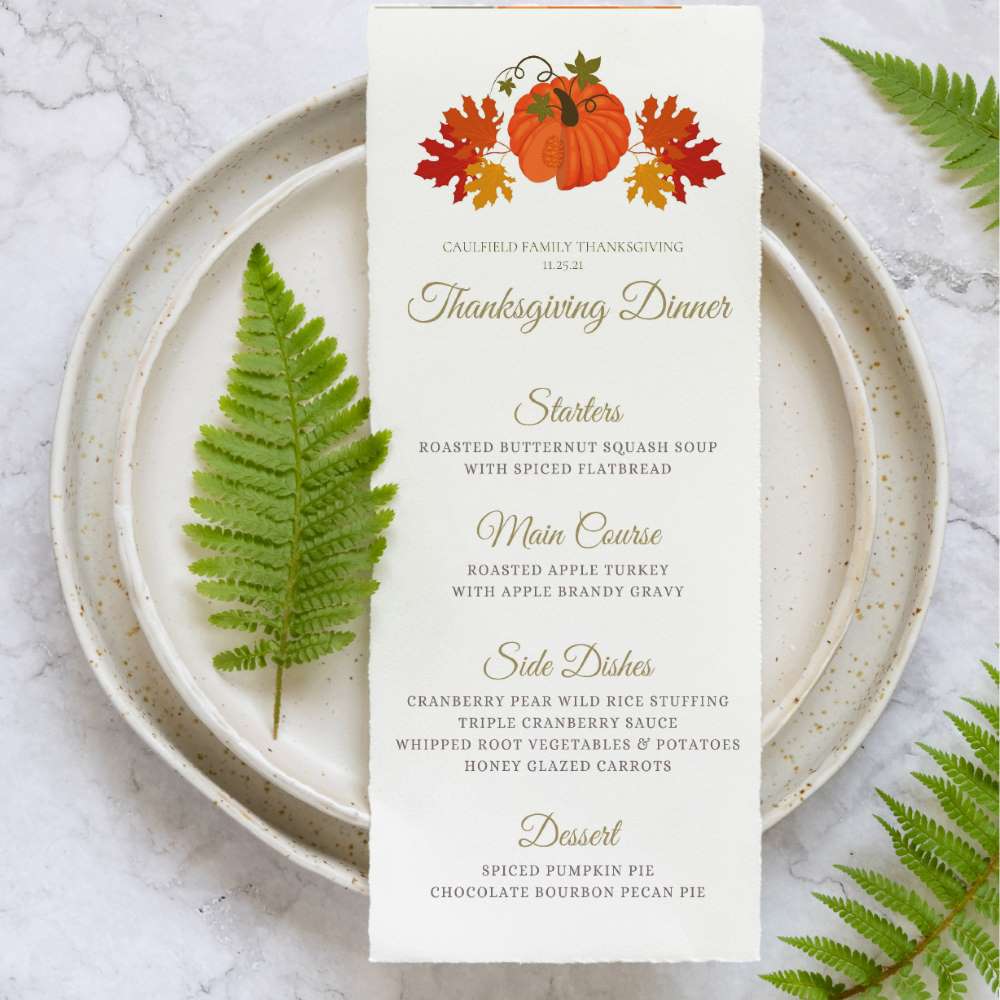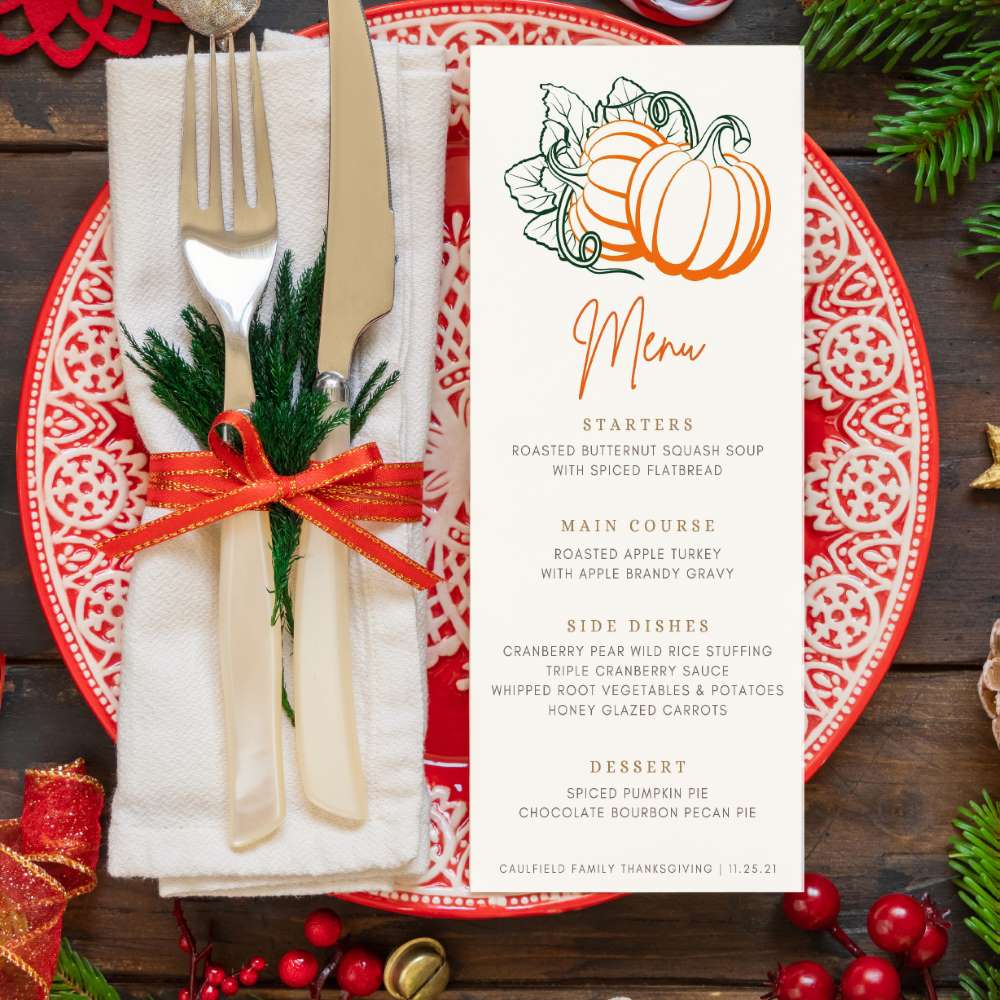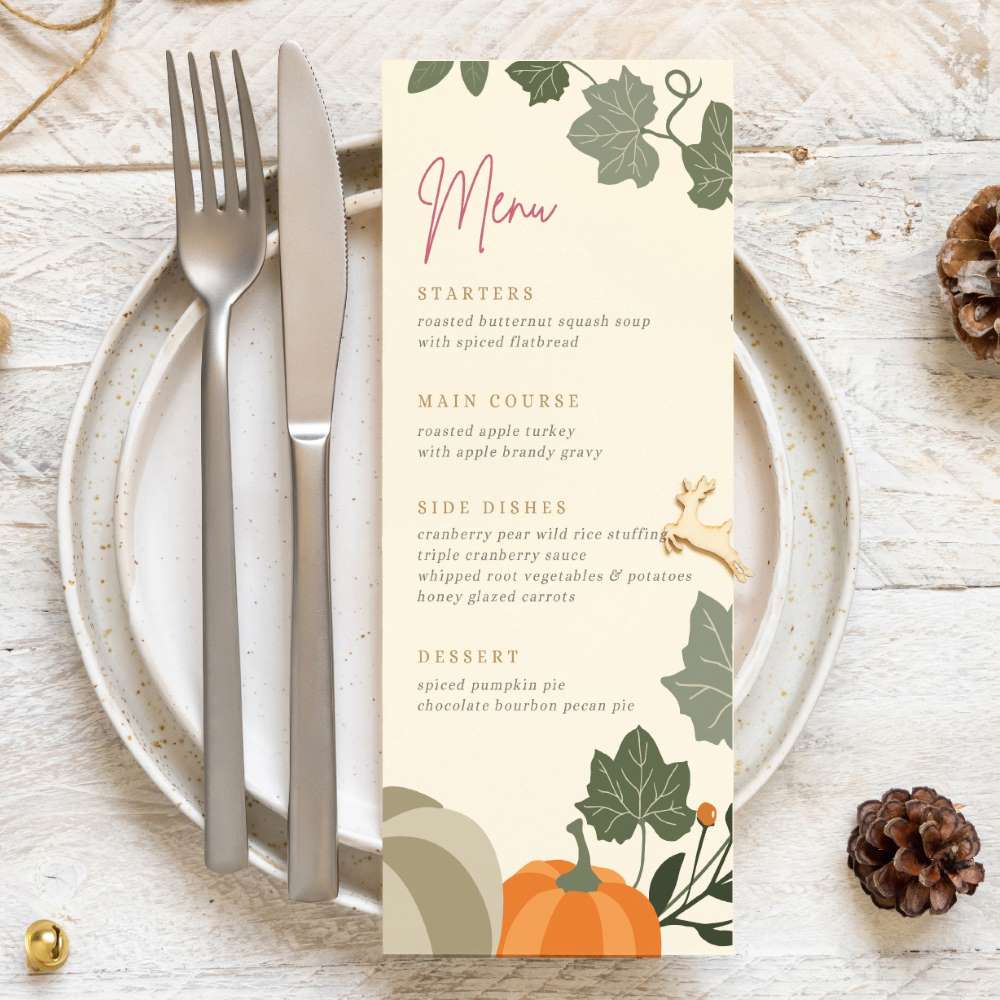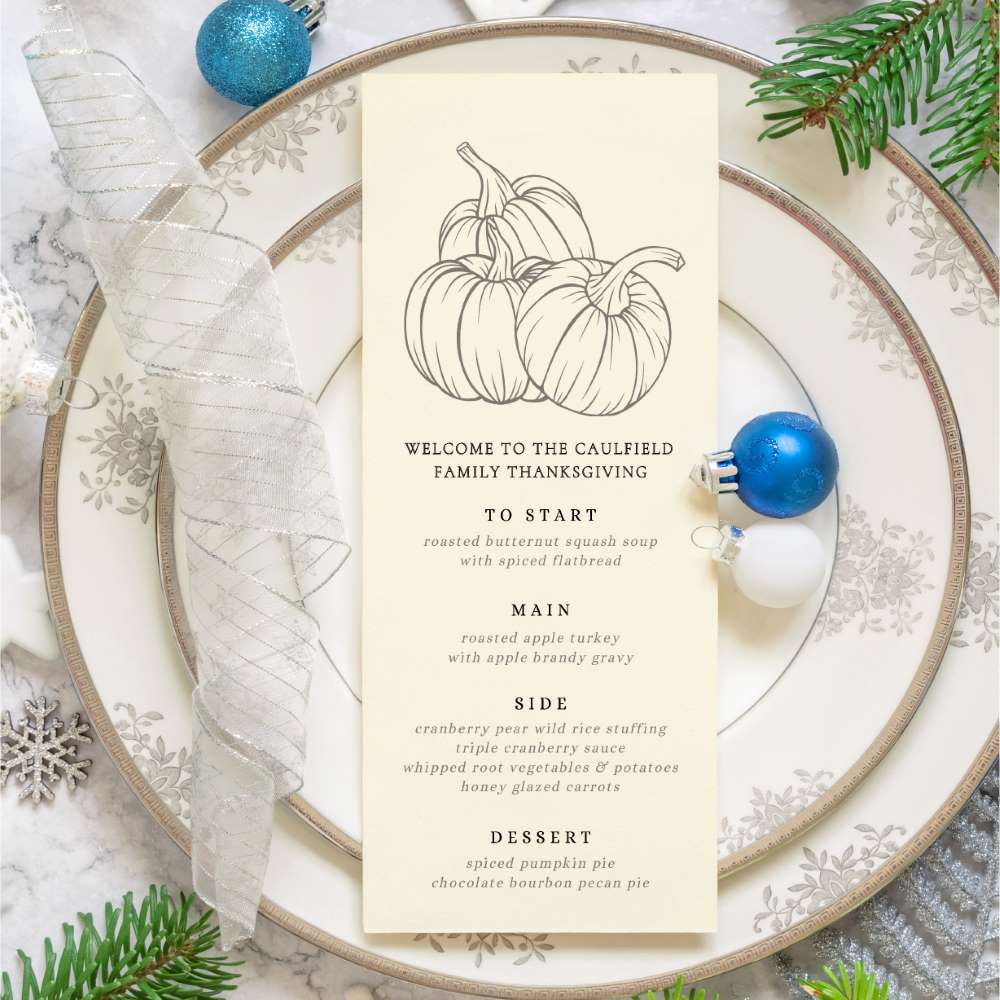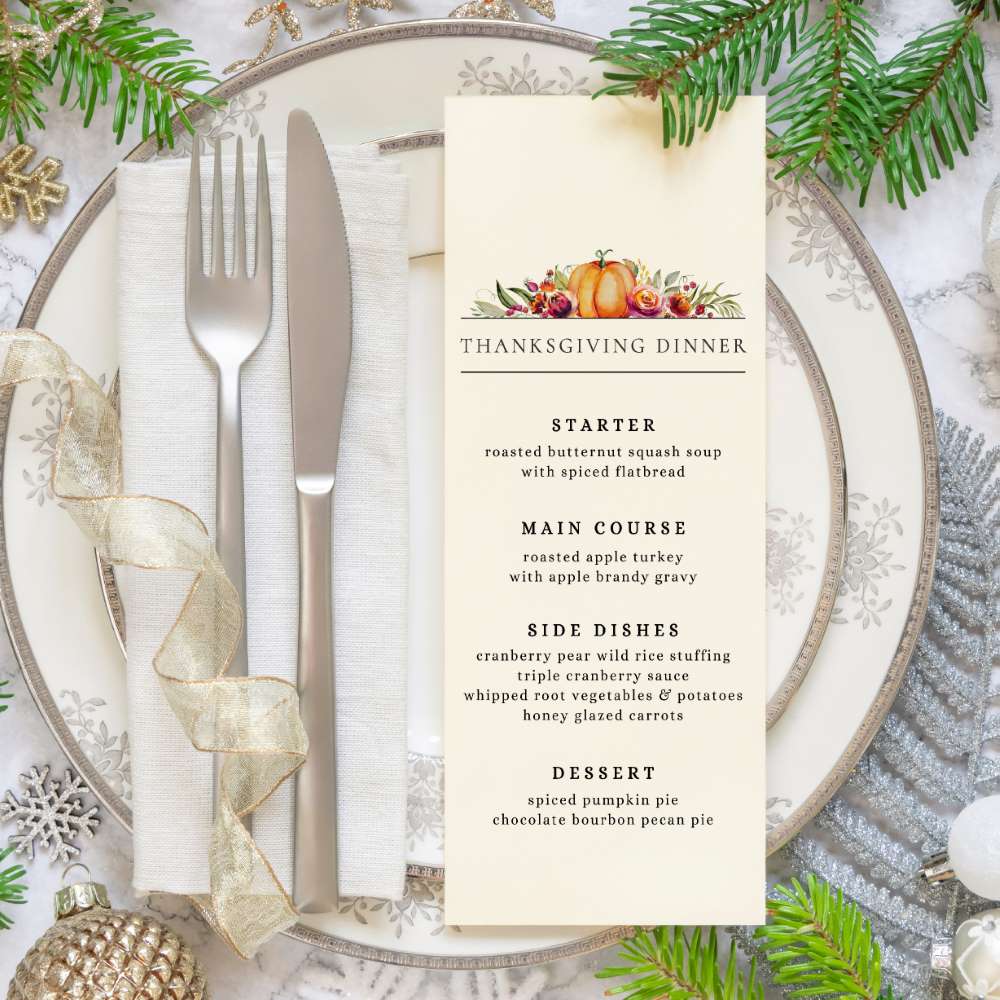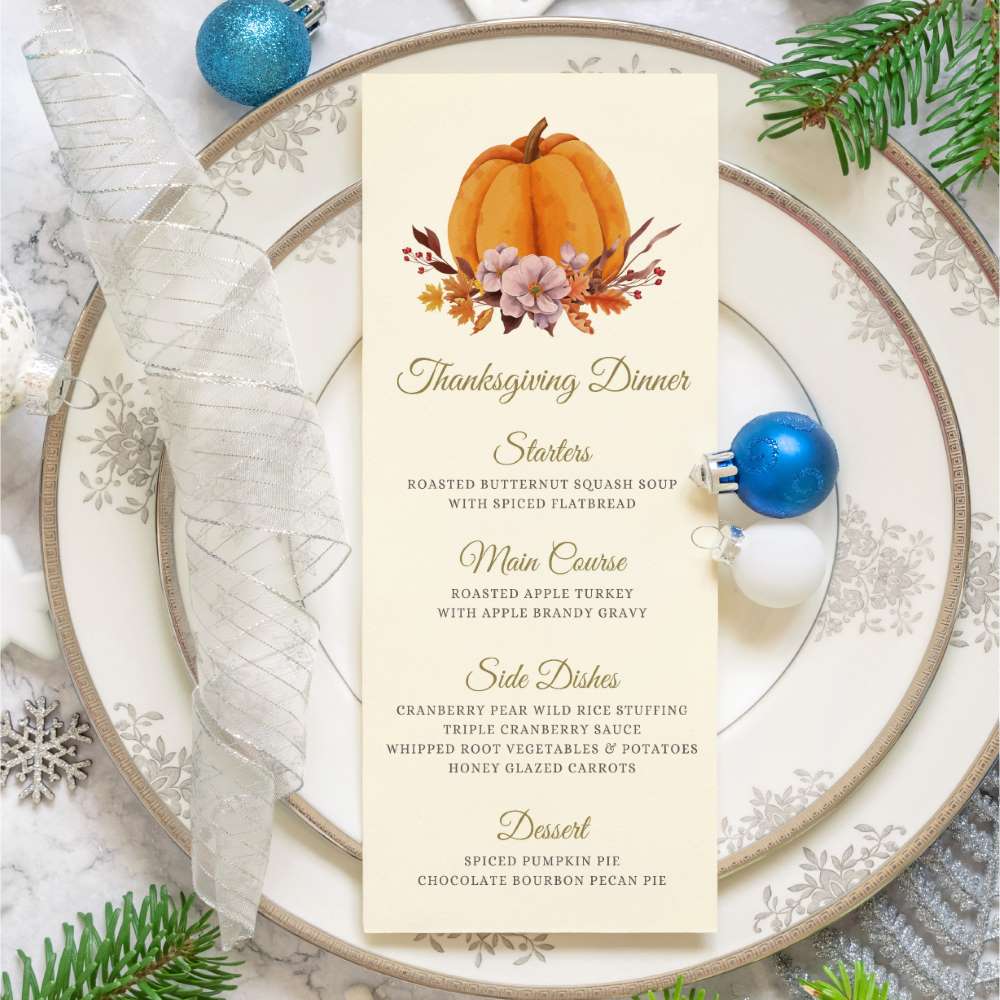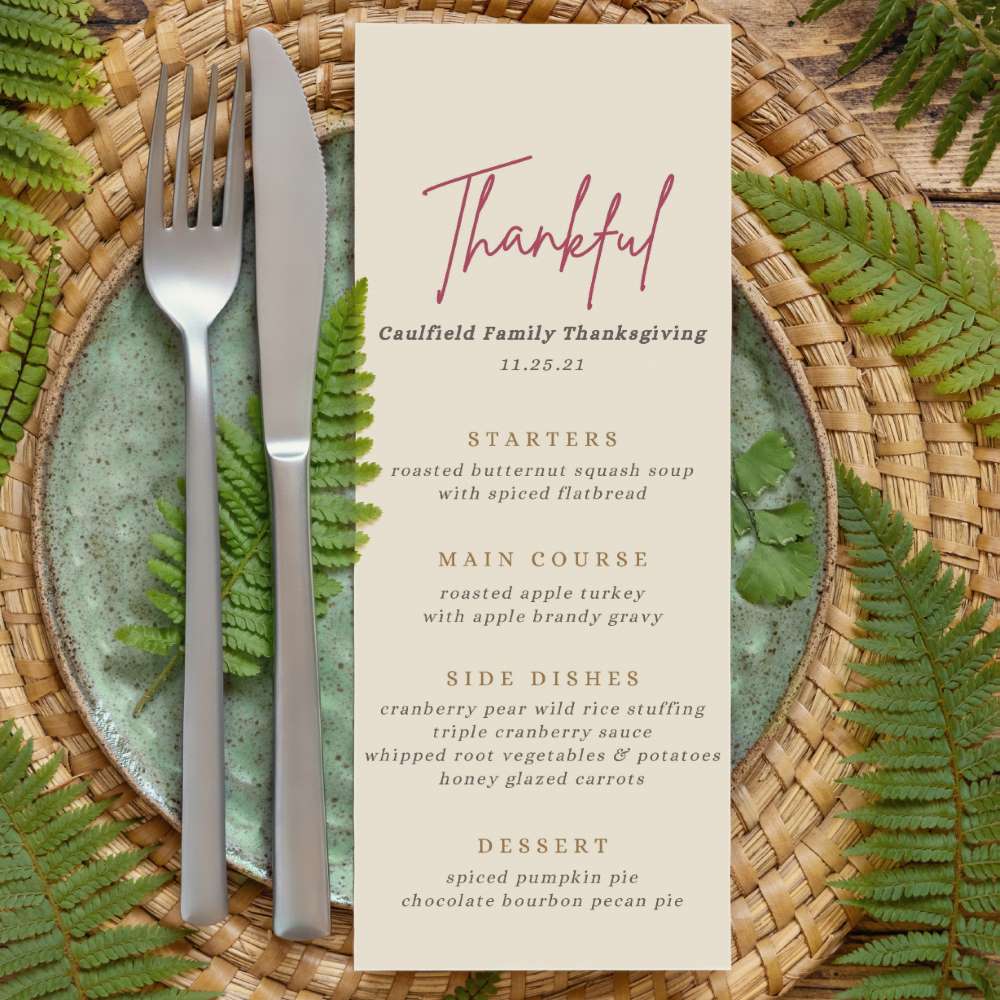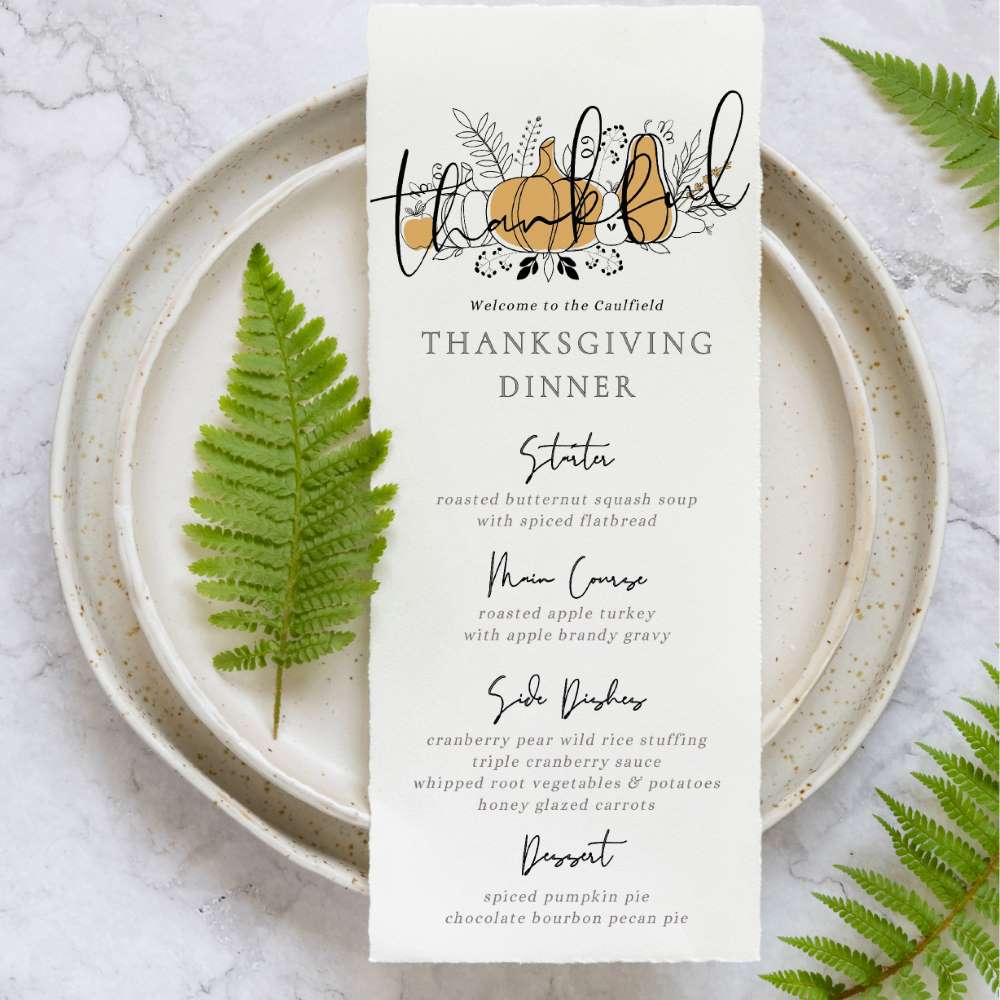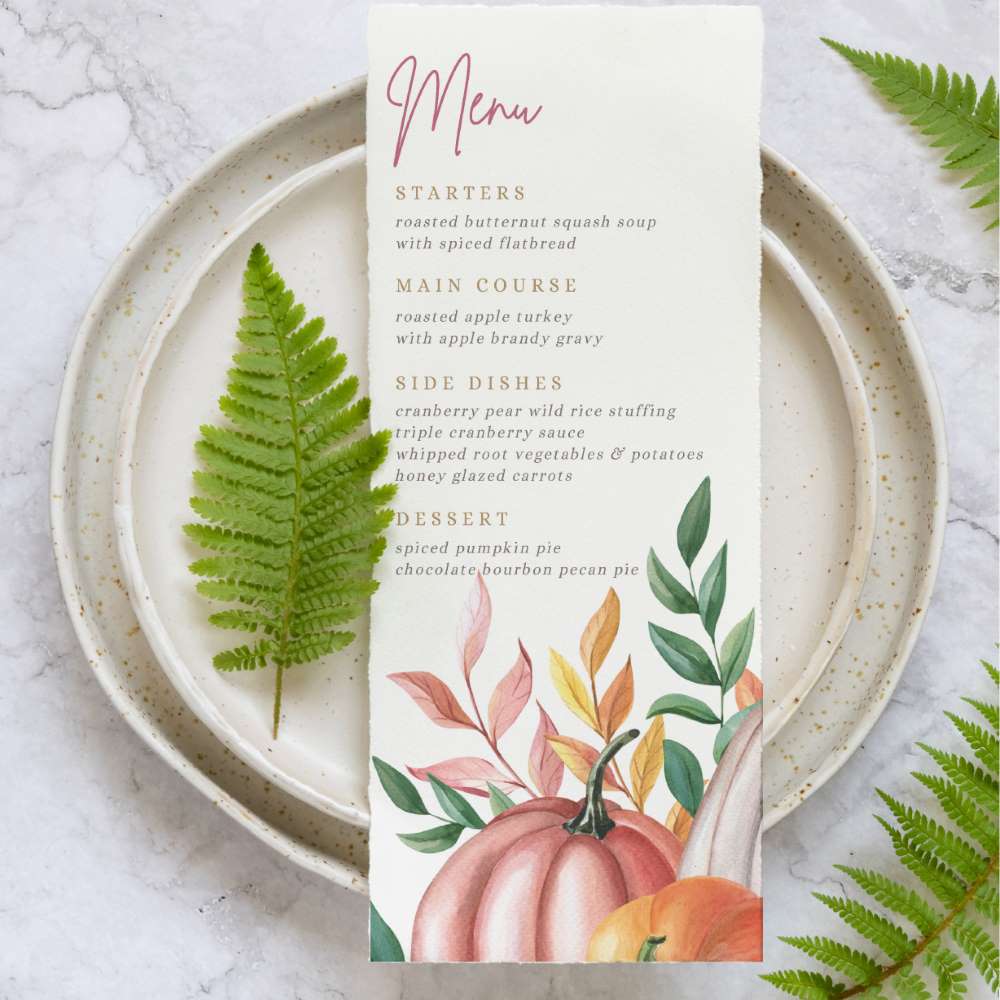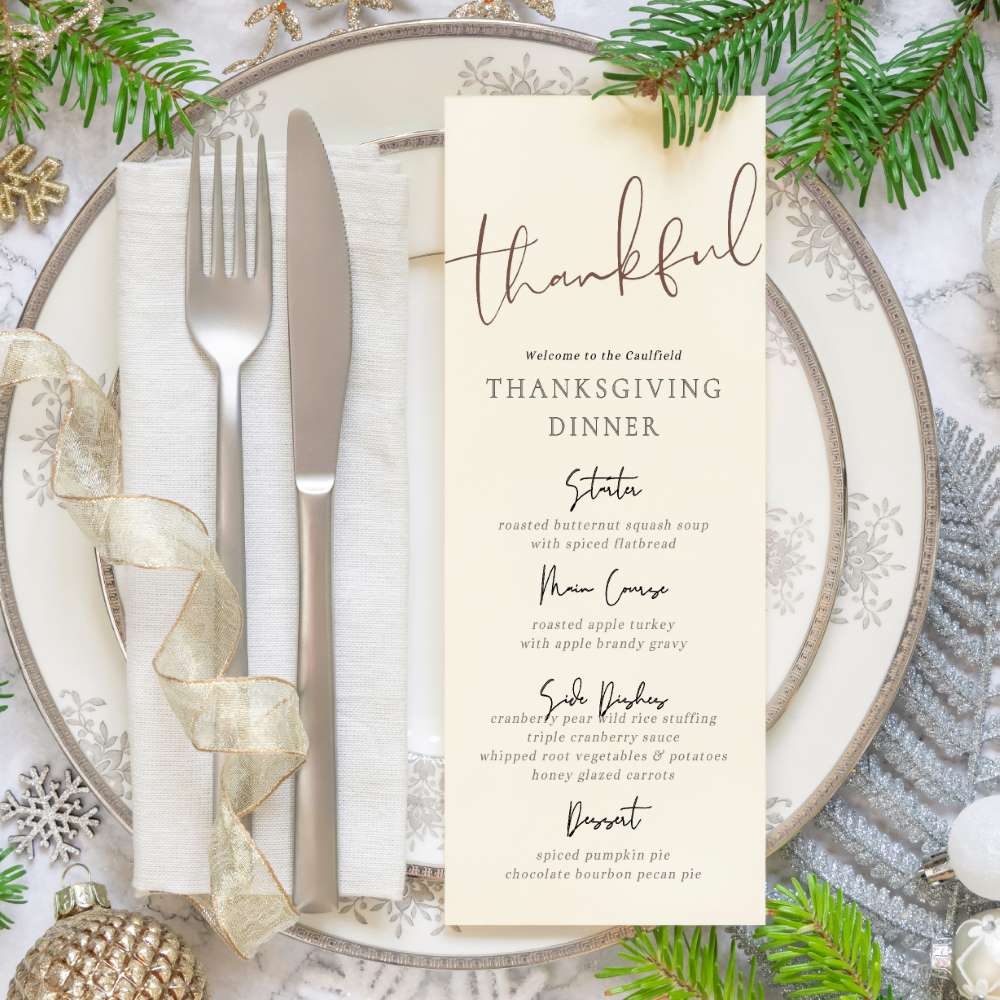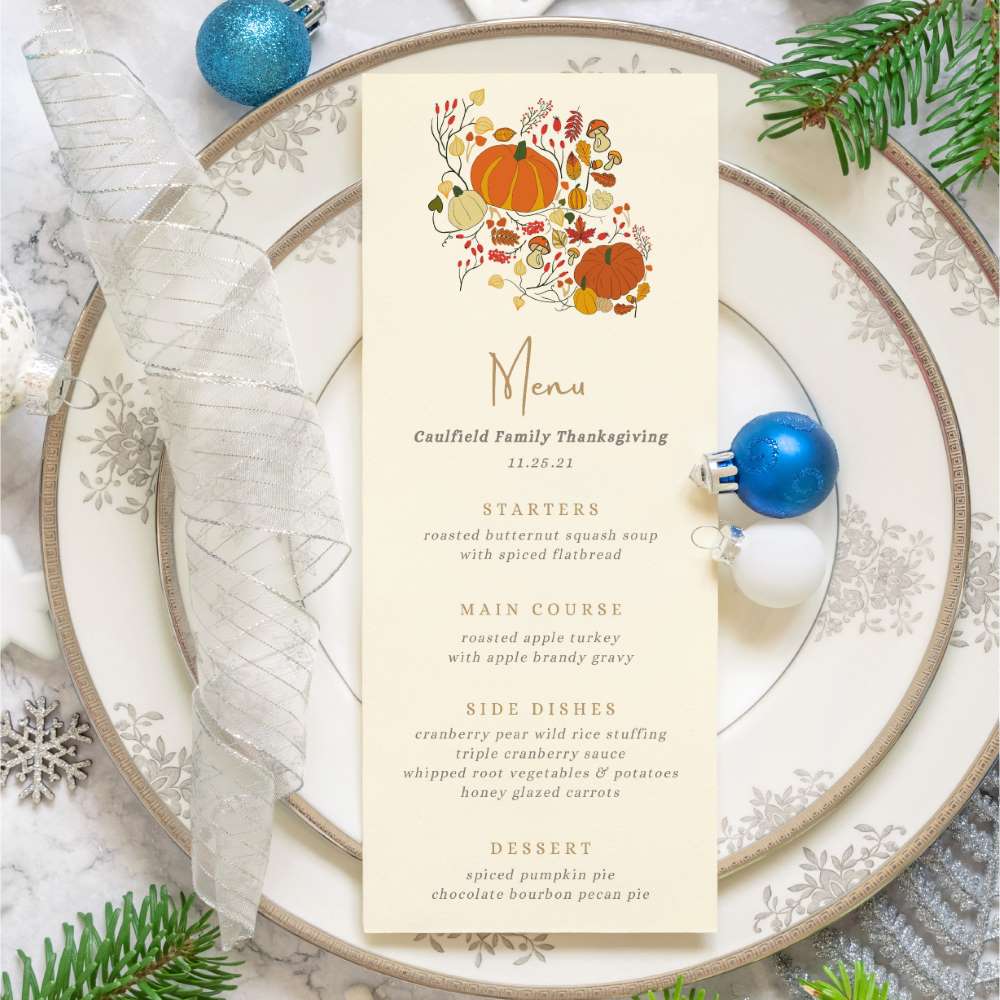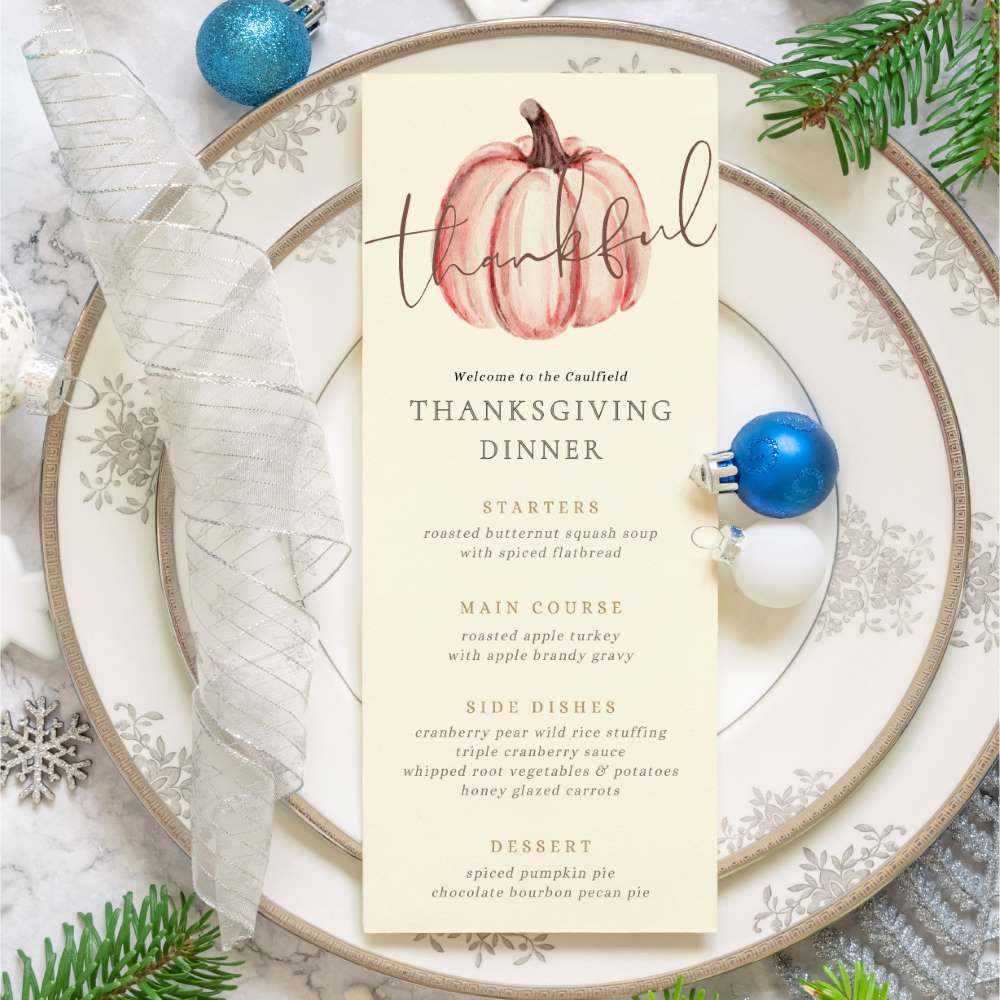 Remember, you can print these Thanksgiving menus on US Letter or A4 paper, with several on each sheet.
Again, I really recommend cardstock for these menus due to it being a stronger, firmer paper perfect for menus, rather than regular copy paper.
Become a World of Printables insider
Get notified of our upcoming free printables – you're gonna love them!
Join our insider group to get our awesome printables as soon as they're released so that you can start planning and stay organized ahead of the rest.
Join our insider group and get special printables each month before anyone else.
YOU MIGHT ALSO LIKE:
Check out our Thanksgiving Invitations, easy to customize templates for printing and sending, or emailing to anyone you want to invite to your Thanksgiving dinner this year.
Also, check out our printable Thanksgiving place cards – just add your names and print for great Thanksgiving dinner table decorations.
We've also created a huge 60 page Thanksgiving planner that will help you plan and organize everything related to Thanksgiving, from planning, organizing, and even decorating.
Best of all, it's totally free and will help you make this Thanksgiving the best one yet.
Free Printable 60 Page Thanksgiving Planner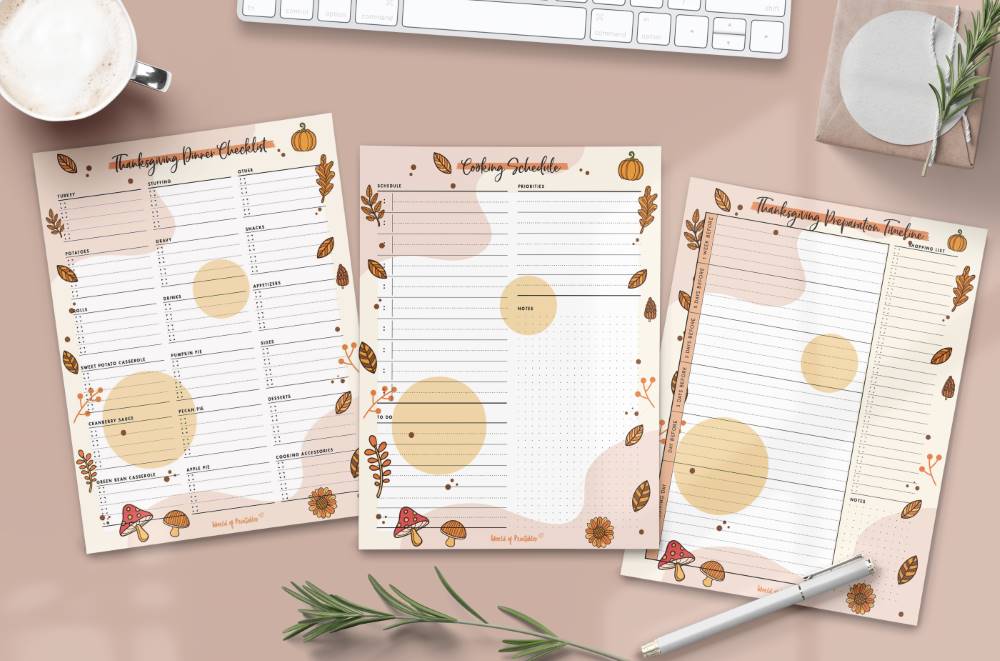 Be sure to check out our Thanksgiving coloring pages and our Thanksgiving Food Checklist that has lots of thanksgiving food ideas.
Bonus: Check our Thanksgiving activity pages for kids, Wordsearch, decoration ideas, and more to make this a fun Thanksgiving and to keep your family entertained.
Thank you so much for visiting!
If you liked this post and these printable Thanksgiving Invitation templates, then go ahead and hit the Pin button below, as it really does help us in so many different ways and is a great way to save for later.
Follow World of Printables on Pinterest