Many of us keep tabs on our weight from time to time. Whether it's for health or aesthetics. But It's important to track your weight more closely such as for unexplained weight loss or if you've been losing weight while pregnant. This is why you should use a blank weekly weight loss tracker template to help you keep a log of your weight over time.
The majority of people like to use a blank weekly weight loss tracker to plan and track their weight loss goals. Writing things down really does help you stay motivated and on track towards your goals.
And if your goal is a faster way to fat loss, then you should definitely get our free template.
I personally feel like I have needed to get on top of my weight, especially after having children and getting older, not to mention the past year or two with everything that's been happening in the world.
Seeing the Rebel Wilson weight loss that she's had when most of us have been going the opposite direction is something that really gives me that boost.
So I often track my weight and specifically use my planner for this as it's just such an easy go-to, and always visible when I'm flicking through my planner, which helps me stay focused.
The ultimate weight loss tracker for your planner
We've designed hundreds of printable planner inserts and have recently added a range of weight trackers and charts to our collection.
Here you'll find our blank weekly weight loss tracker template which is perfect for those of you who want to track your weight for whatever reason.
This planner insert is perfect for logging your weight each week and over time so you can quickly see at a glance where you are currently at and any progress that you've made.
This blank weekly weight loss tracker template features space for:
Starting weight
Goal weight
Milestones
Current date and weight
Weight loss
Weight gain
Progress tracker – so you can keep an eye on the progress you are making towards your weight goal.
Notes – for writing down whatever may have caused the weight change since your last logged weight.
You can use this template in your planner, stick it to your fridge or keep it in the areas where it'll motivate you.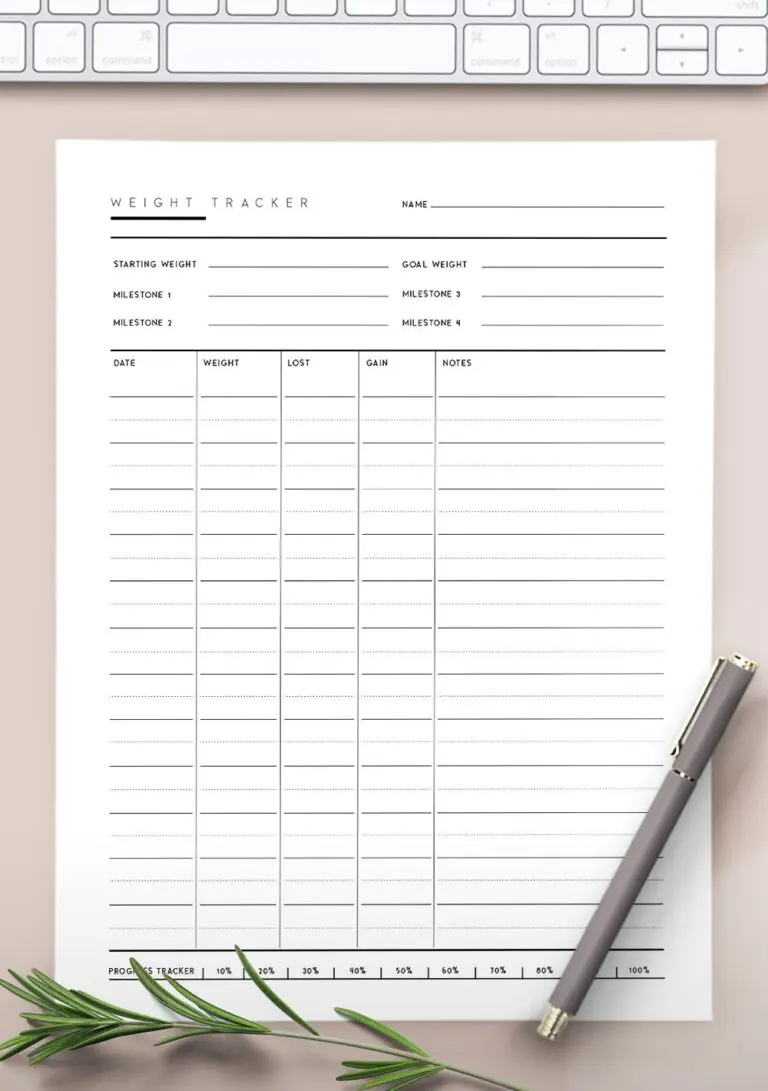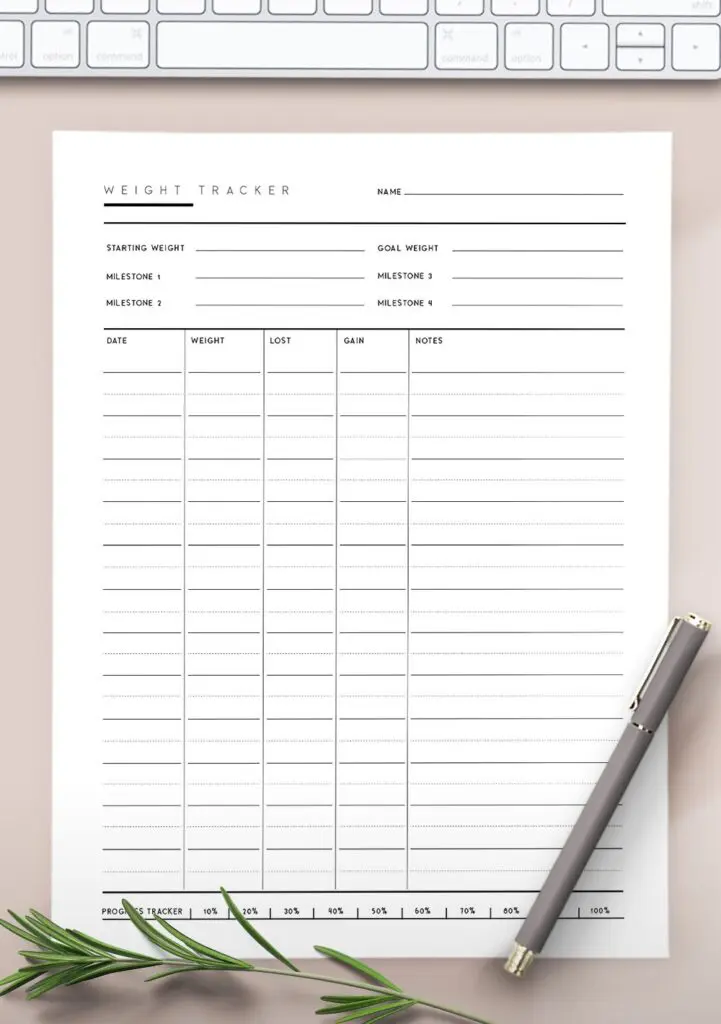 This blank weekly weight loss tracker template is also available in our household bundle, which includes many more useful planner pages including weight charts, trackers, and challenges to help you reach your ideal weight goals.
We also have a meal planner bundle which is perfect for planning meals, recipes, grocery shopping, and much more.
When you download the blank weekly weight loss tracker template you will get it in four different versions – Classic, Cursive, Soft, and Botanical.
It is a great planner page to have and will fit in with any specialized planner you might already use!
How to use our planners for the best finish
Resize it – Our printable planner inserts are made for US Letter sized paper. But you can easily resize our planners to fit any paper size and binder. It's so easy to make them bigger or smaller to fit into your choice of binder – find out how here.
Print it – We recommend using nice quality paper for printing our planners and planner pages. This paper is a good weight and works with inkjet and laser printers, the ink looks crisp and clear giving your printed planners that shop-bought look. The paper also holds up well as you use your planner throughout your daily life.
Style it – Style your planner! Put them in your favorite ring binder, notebook binder, or even bind your own with a paper punch binder. Accessorize your planner with stunning stickers, unique paper clips, and stylish dividers and tabs. Find out how to make printable planners match your style right here!
Snap it – Take a photo of your planners and tag us on Instagram! We love to see how you use our planner pages!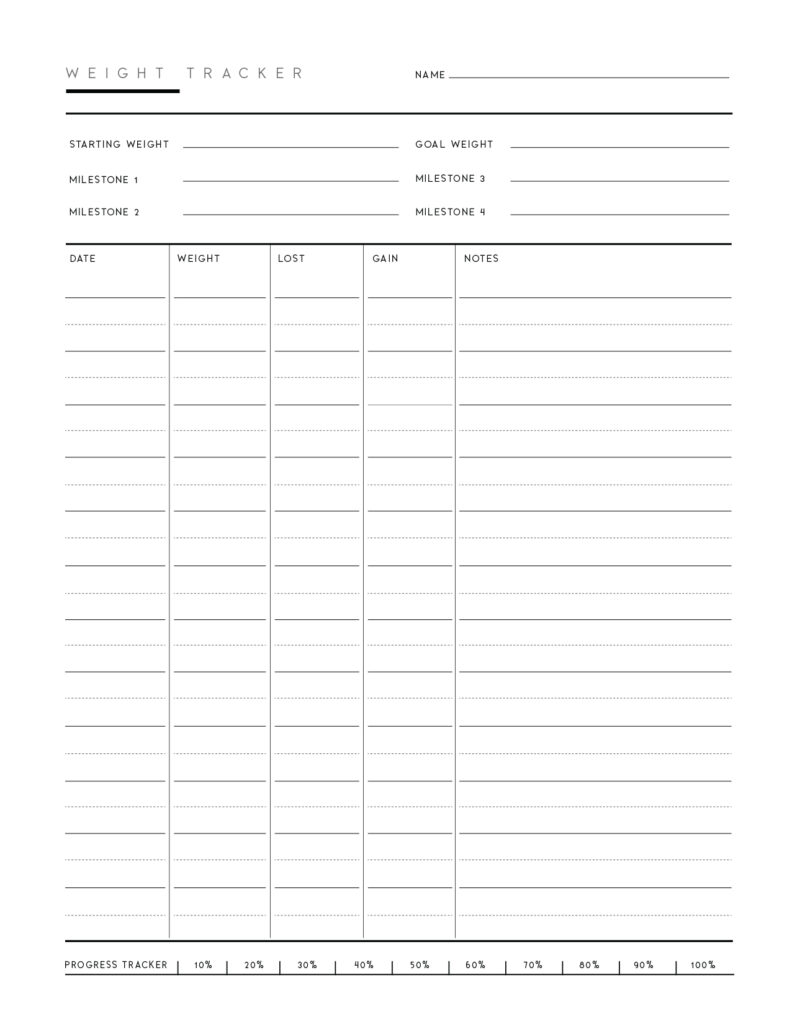 Download free blank weekly weight loss tracker template
To get your printable blank weekly weight loss tracker template for free and in the highest quality, click the button below to visit our product page. Use the coupon code displayed to get it for free.
Remember to check out our many other weight loss, calorie counting, and meal planning templates to help you succeed with your goals.