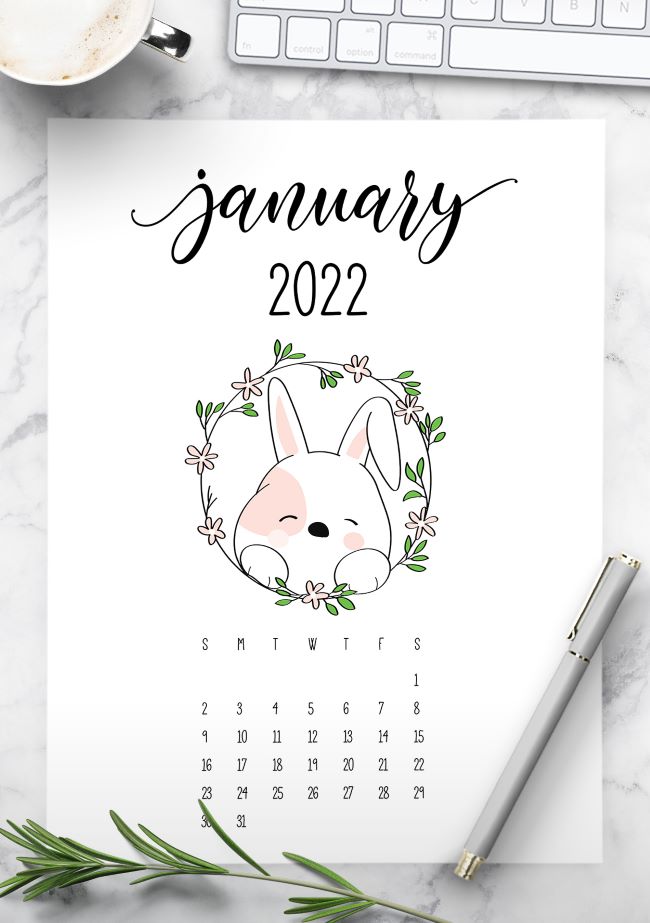 These cute calendar 2022 printables are so pretty that they'll make such an amazing piece of decor for any kid's room or even someone who just loves cute, fluffy animals.
How cute is this calendar!? It's definitely one for those who are looking for something sweet, delicate, and family-friendly.
This calendar features a cute animal snuggling inside a pretty floral wreath with simple typography and it looks great! It's a gentle calendar with soft colors, so is perfect for a child's room or a family home with young kids.
My daughter thinks this calendar is really sweet and always comments on the cute animals. These calendars have always been so popular, which is why we've decided to update them for 2022.
These cute calendars feature cute rabbits, cats, dogs, bears, birds, and more cute animals. Each month is unique and the whole collection looks amazing. You can also get the complete cute calendar collection by getting the calendar PDF below.
To save the calendar, simply open the images below and save them to your device.
If you are looking for a 2023 calendar in this style, don't worry, we've updated all of our calendars and you can get them and many more right here on World of Printables.
Open the following calendar images to print these Cute Calendar 2022 printables.
See below for instructions and paper recommendations.
Also, see more of our stunning range of free calendar designs below.
The great thing about our free printable calendars is that you can mix and match! You don't need the same style all year round, you can simply come back and choose a different calendar each month.
If you like these calendars, then be sure to check out our other cute printables and get as many as you can while you're here. We have kid's activities, games, coloring pages, and much more.
How to make these cute calendar 2022 printables look amazing
INSTRUCTIONS
Save the calendars to your computer by choosing the months that you need above. Open each image to get the full-size high-quality version that looks best when printed.
Print the calendar. These calendars are designed as 8.5 x 11 US Letter size pages but you can print them on other paper sizes easily using our guide below.
Our calendars look so good when printed on this bright paper which is one of the best deals I've found and makes the print look crisp and clear. This card stock is also a great option that's used a lot in the printable community and even cheaper than I've found in stores.
TIP: It's easy to resize our calendars to fit any paper size. Simply insert this printable into Canva, set your dimensions to any size you want, then save it to your computer, easy! Full steps in this guide.
See more ideas on how to style printable calendar templates to match your home decor!
Create your own printables
Would you like to learn how to create printables? We show you how easy it is to create hundreds of different things that you'll love to use and that others will love to use too.
More Free Printable Calendars from World of Printables
We've created a massive amount of calendars that you'll love from blank calendars to stylish calendars.
Our recent 2022 calendars. Many more printable calendars are available to use and print for free.
Free printable planner templates
You'll also find lots of our free printable planners and templates to help you plan and organize all aspects of your life.
Be sure to grab as many freebies as you can while you're here.
We think you'll find these very useful:
Here are some of our recent printable planner templates. Many more planner templates are available to save and print for free.
Thank you so much for visiting!
If you liked this post and cute calendar 2022 printables, go ahead and hit the Pin button below, as it really does help us in so many different ways and is a great way to save for later.
If you are new here please subscribe below as we make new printables often and we'll keep you notified from time to time with our best new free printables.
Like these freebies?
Get notified of our upcoming free printables – you're gonna love them!
Follow World of Printables on Pinterest