This free printable I spy dinosaur coloring page game activity is the perfect kid's activity to do while your kids are at home or anywhere indoors.
Kids love dinosaurs. They're captivated by the thought that these ancient creatures of all shapes and sizes used to roam the earth.
This is why we've created this hugely fun dinosaur game to keep your kids occupied. Just print this off and grab some coloring pens and let them have fun!
Our I Spy games are a great activity for kids because they can play a game, learn more about dinosaurs, and also color in too. So much fun in something so simple and exactly what kids love.
To play this game you simply have to find all the dinosaurs that are hidden on the page and count how many of each kind you find and write the amount in the boxes. You can also color the dinosaurs in to create a colorful picture of the prehistoric world that your kids can hang up somewhere in their home.
We've created a huge amount of these games so you'll be able to keep your kids entertained while giving you some time to yourself. It's a win-win for everyone!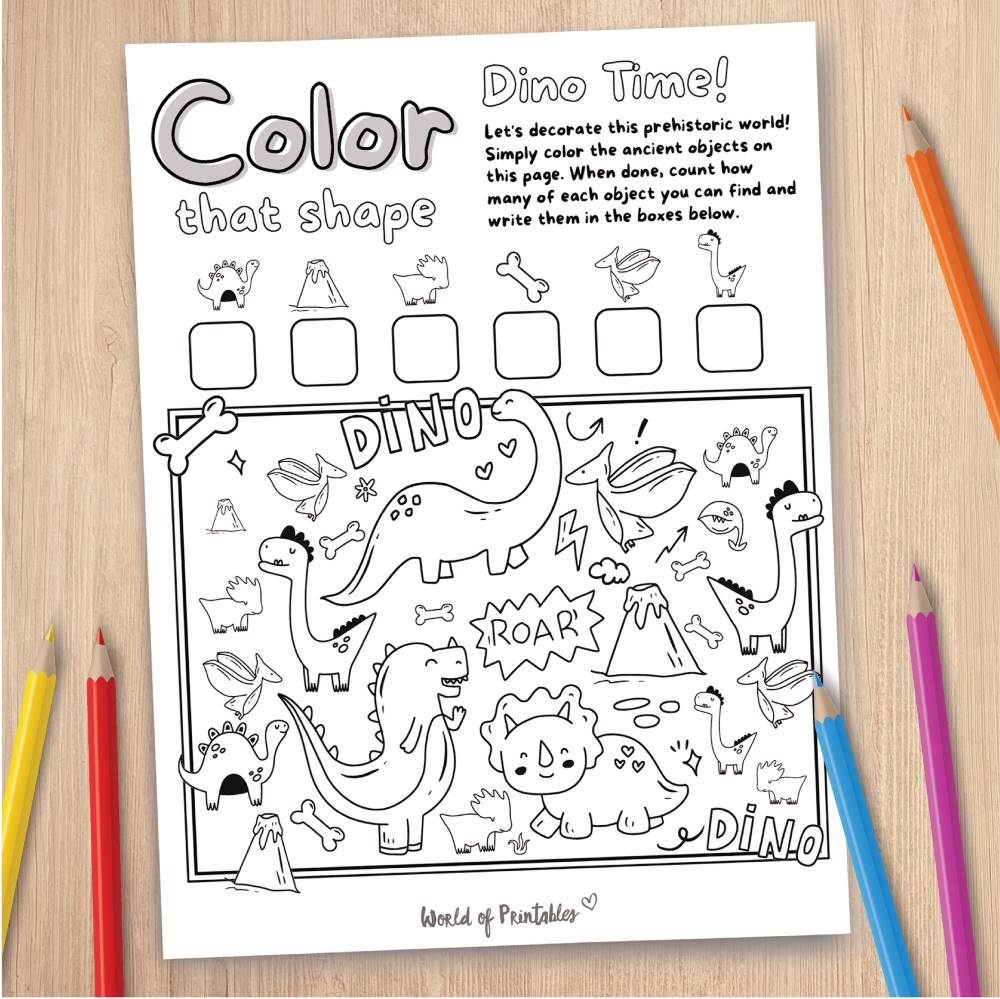 Free Printable I Spy Dinosaur Coloring Page Game
Our free dinosaur-themed I Spy game is a great activity for kids to do to help them learn about the dinosaurs that roamed our planet while giving them creative time to keep them busy.
Our I Spy games are very popular with kids of all ages and are a great way to keep kids busy while indoors and teach them visual discrimination which is the ability to detect differences and similarities in size, shape, and color.
Kids love dinosaurs and coloring these creatures is such a fun activity for them to do. They can learn the names of the most popular dinosaurs that lived long ago. We make a game out of it, by asking them to search for each dinosaur and counting the amount that they find, and writing the amount in the boxes.
When they're done finding the dinosaurs they can then color the page in. It's best if they try to color the dinosaurs using their imagination, so they can just go wild and create a colorful picture of their own.
The dinosaur theme features different dinosaurs, volcanoes, bones, and much more prehistoric objects. They can create their own ancient world with their imagination.
Fun Dinosaur Facts For Kids
Did you know that there were over 700 species of dinosaurs that roamed the earth? Some were big, some small, and some even flew.
Lizards, snakes, turtles, and crocodiles all descend from dinosaurs.
An asteroid hit the earth 66 million years ago which caused such a massive impact that debris went into the atmosphere and blocked out the sun, which prevented plants from growing and also made the world very cold. This is what made the dinosaurs extinct.
Print the I Spy Dinosaur Coloring Page below
Simply open the printable I Spy Dinosaur Coloring Page Game image to enlarge it and then save it to your computer before printing. Print as many as you want and remember to check out our other I Spy games. 
I recommend that you get and print a few of our I Spy games or coloring pages to give your kids variety and to keep them busy.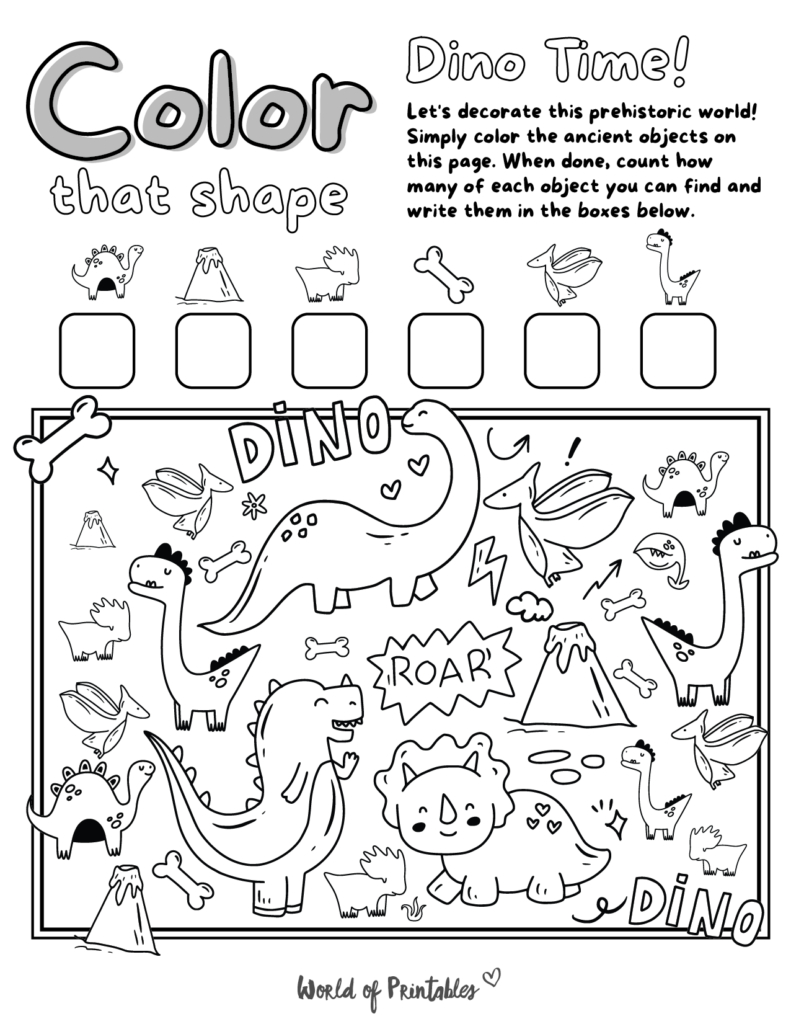 Dinosaur Themed Dig a Dozen Dino Egg Dig Kit
If your children love dinosaurs, then they're gonna love this awesome dinosaur egg kit that I found on Amazon.
This is such a great item for any kid's room. Your children can dig up 12 dinosaur eggs which will help them discover 12 unique dinosaur models within them.
This will make them feel like a real paleontologist, by excavating these unique toy dinosaurs from the dinosaur eggs.
They'll find a T-rex, Dilophosaurus, Ankylosaurus and much more! Once dug up, they can find the appropriate card which describes the history and characteristics of each dinosaur. This will really educate them in prehistoric history and motivate them to learn more.
It's definitely a great idea if you're looking for a gift for your little paleontologist!
Enjoy your free time, have a coffee!
These activities are a great way to relax, whether you're giving them to your kids to do to keep them busy and to give you time to yourself, or for you to do to help you relax and wind down.
It's a good idea to have a nice cup of coffee while you're relaxing. If you want you can buy us a coffee too! Please Support us on Patreon so we can continue making more awesome free printables.
It's a great way to show your support and helps us continue to create awesome printables to give to our visitors for free.
More printables from World of Printables
We've got loads more of these I Spy activities, printable games, and coloring pages for hours of fun for your little ones and many useful printables for adults too.
Be sure to grab as many as you can while you're here and print them off whenever you need activities for your kids.
We think you'll love these:
I Spy Coloring Pages
Our recent I Spy coloring page activities. Find many more I Spy Printables to use and print for free.
---
Coloring Pages
Our recent coloring pages. Many more printable coloring pages to print and play for free.
---
Printable Games
Our recent printable games. Many more printable games to print and color for free.
The world's most popular printables
Thank you for browsing our Free Printable I Spy Dinosaur Coloring Pages.
I really hope you and your kids love our I Spy coloring page activities and if you like this printable dinosaur activity then please hit the share button of your choice below as it lets us know you care and helps us create many more awesome free printables for you to enjoy.
And if you can, please Support us on Patreon and get access to all of our awesome premium printables as part of your Patreon.