This free printable I spy space coloring page game is the perfect kid's activity to do while your kids are at home or anywhere indoors.
What kid isn't fascinated with space?! This fun space game will keep your kids occupied. Just print this off and grab some coloring pens and let them have fun!
Our I Spy games are a great activity for kids because they can play a space game and also color in too. So much fun in something so simple and exactly what young kids love.
To play this game you simply have to find the space items that are hidden on the page and count how many of each one you find and write the amount in the boxes. You can also color them in to create a colorful picture of space that your kids can hang up somewhere in their home.
We've created a huge amount of these games so you'll be able to keep your kids entertained and you'll even have some time to yourself. It's a win-win for everyone!
Free Printable I Spy Space Coloring Page Game
Our free space-themed I Spy game is a great activity for kids to do to help them learn about the things that are out in space while giving them creative time to keep them busy.
Our I Spy games are very popular with kids of all ages and are a great way to keep kids busy while indoors and teach them visual discrimination which is the ability to detect differences and similarities in size, shape, and color.
Kids love space and coloring space objects is such a fun activity for them to do. They can learn about the things that we send up to space or some of the things that can be found there. We make a game out of it, by asking them to search for each space object and counting the amount that they find, and writing the amount in the boxes.
When they're done finding the space objects they can then color the page in. They can just go wild and create a colorful picture of space of their own.
The space theme features astronauts, planets, rockets, asteroids, stars, alien spaceships, satellites, and much more.
Fun Space Facts For Kids
Did you know that space is silent? There is no atmosphere in space, so sound isn't able to travel through space.
Also, our Sun is so large that it can fit over 1.3 million of our planet Earths inside it. Our Sun isn't even a large star, it's just an average size star, and there are stars that are much bigger.
Also, there are more stars in the universe than there are grains of sand on our planet Earth. How amazing is that?!
There are so many interesting things to learn about space and so much is unknown about it too. This is why children are so fascinated by it, as it's so different from the things that we have here on earth.
Perhaps one day your little one will get the opportunity to go to space, wouldn't that be amazing?!
Print the I Spy Space Coloring Page below
Simply click the printable I Spy Space Coloring Page Game image to enlarge it and then save it to your computer before printing. Print as many as you want and remember to check out our other I Spy games.
I recommend that you get and print a few of our I Spy games or coloring pages to give your kids variety and to keep them busy.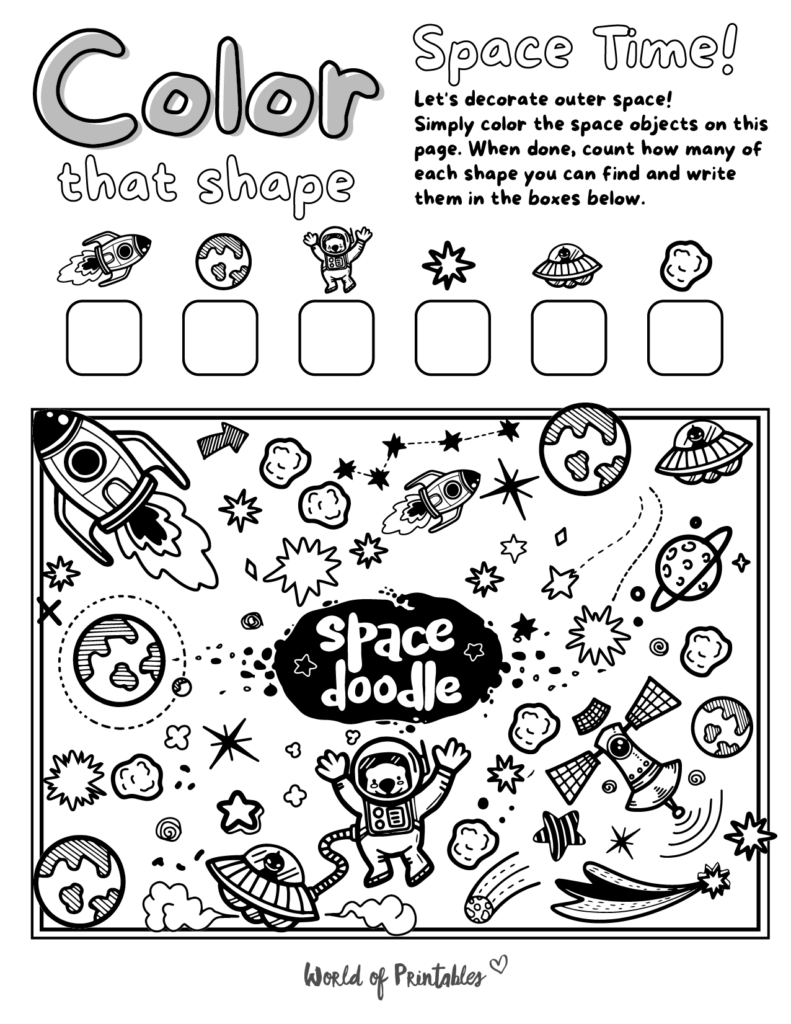 Space Themed Glow In The Dark Solar System
If your children love space, then they're gonna love this awesome space-themed glow in the dark solar system kit that I found on Amazon
This is such a great item for any kid's room. This glow-in-the-dark planets and stars set features all of the planets in the solar system, which hang from the ceiling along with 200 glow-in-the-dark stickers to create an amazing space effect in their room.
There's also a planetary educational guide that teaches them about the planets, so they'll know what each one is that's hanging in their room.
It's definitely a great idea if you're looking for a gift for your little space explorer!
Enjoy your free time, have a coffee!
These activities are a great way to relax, whether you're giving them to your kids to do to keep them busy and to give you time to yourself, or for you to do to help you relax and wind down.
It's a good idea to have a nice cup of coffee while you're relaxing. If you want you can buy us a coffee too! Click to Support us on Patreon so we can continue making more awesome free printables.
It's a great way to show your support and helps us continue to create awesome printables to give to our visitors for free.
More printables from World of Printables
We've got loads more of these I Spy activities, printable games, and coloring pages for hours of fun for your little ones and many useful printables for adults too.
Be sure to grab as many as you can while you're here and print them off whenever you need activities for your kids.
We think you'll love these:
I Spy Coloring Pages
Our recent I Spy coloring page activities. Find many more I Spy Printables to use and print for free.
---
Coloring Pages
Our recent coloring pages. Many more printable coloring pages to print and color for free.
---
Printable Games
Our recent printable games. Many more printable games to print and play for free.
The world's most popular printables
Thank you for browsing our Free Printable I Spy Space Coloring Pages.
I really hope you and your kids love our I Spy coloring page activities and if you like this printable space activity then please hit the share button of your choice below as it lets us know you care and helps us create many more awesome free printables for you to enjoy.