Use these habit tracker templates to keep a daily log of the habits that you are forming each day over the course of a month. You'll find over 20 stylish templates that are all free to print.
If you're looking for a way to track habits effectively then you're in the right place. We have the best habit tracker templates to help you create positive change in your daily life.
Using a habit tracker can help give you the inspiration and motivation to make the changes that you want in your life day by day – especially when you create a streak!
Free Printable Habit Tracker Templates
These printable habit tracker templates come in different designs so there is a style to suit everyone!
Each template has various sections to help you track your habits.
Sections available in these habit tracker templates:
Days of the month
Habit tracker (space for up to 12 habits)
Month
Habit / Key
Notes
To use these free habit tracker templates, simply select the template you want from the choices here and save it to your computer before printing.
You can also import any of these into your favorite digital planner and use them on your tablet.
Use these printable habit tracker templates to help you create positive routines, whether that's your daily habits, weekly habits, or even something you do monthly throughout the entire year.
You can use these as a weekly habit tracker or even a monthly habit tracker.
These habit tracker templates are perfect for your bullet journals, favorite planners, and store-bought notebook. If you're looking for mini habit trackers or prefer them in a5 or a4 size then see our guide on how to resize planner inserts.
How to use a habit tracker template
Use these free habit tracker printables to track big and small habits! The habit tracker has a 31-day calendar structure, with a key to track up to 12 habits. There is additional space for taking notes along with the months of the year, making this habit tracker easy to use all year long.
These habit tracker templates have everything you need to make new habits and follow through on them until they are formed.
Continue using the habit tracker until the habit becomes automatic, which takes on average around 2 months to form a habit but can be as low as 18 days.
These habit tracker templates help you track up to 12 habits each month.
Just write the habits you want to track under the Key section, where you will see their relevant number. Be sure to use a different color for each habit, then use the chart on the right to color the habits for each day you're tracking them.
What should we write in a habit tracker?
You can track absolutely anything you want on your habit tracker template. You can use it as an opportunity to develop a new habit, work on your good habits, break bad habits, or focus on a particular habit that you finally want to master.
Here are some habit tracker ideas of what you can track in your habit tracker:
Personal
Take medication
No spending
Self Care – shower, brush teeth, remove makeup, moisturize
Read a book/bible
Be consistent with a new hobby
Bed at a certain time
Wake up at a certain time
Water plants
Pray
Health
Exercise
No smoking
No junk food
Drink water
Stretch/yoga
Period (check out our printable period trackers)
No alcohol
Me time / mental health awareness
Eat the daily amount of fruit and vegetables
Take vitamins
Meditate
Relationships / Friends / Family
Intimacy
Date nights
See friends
Phone family
Kids playgroup
Potty training
family time
Work / School
Study
Finish projects
Do homework
Empty inbox
Write content every day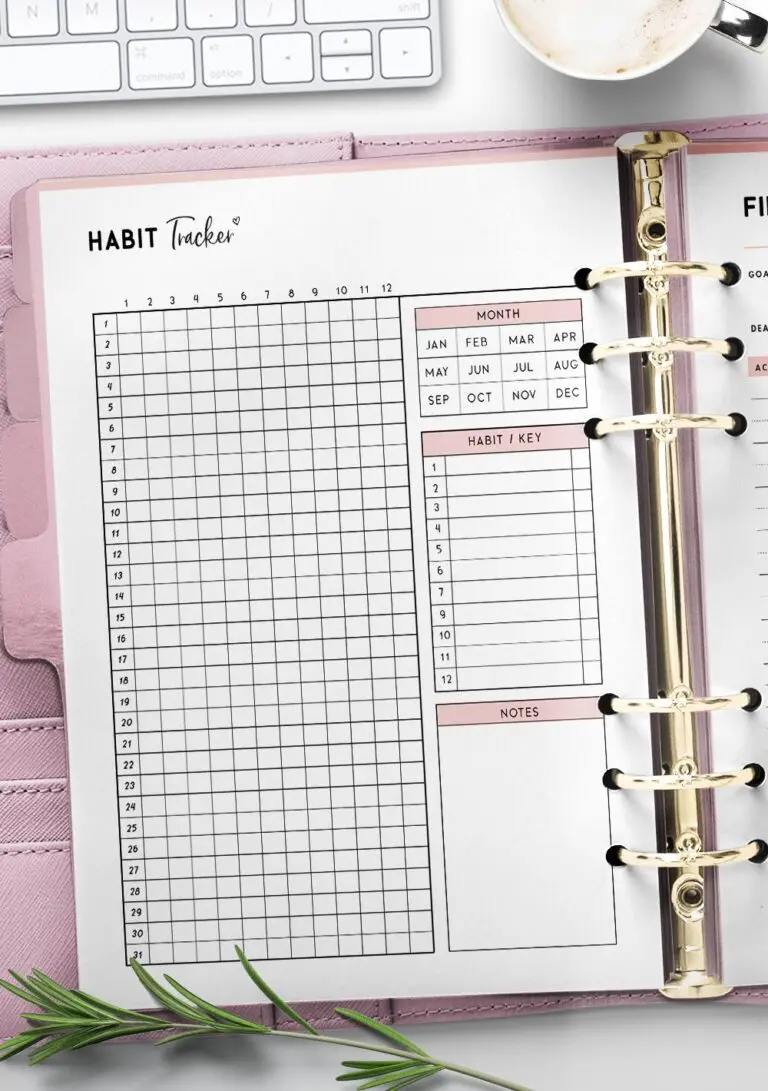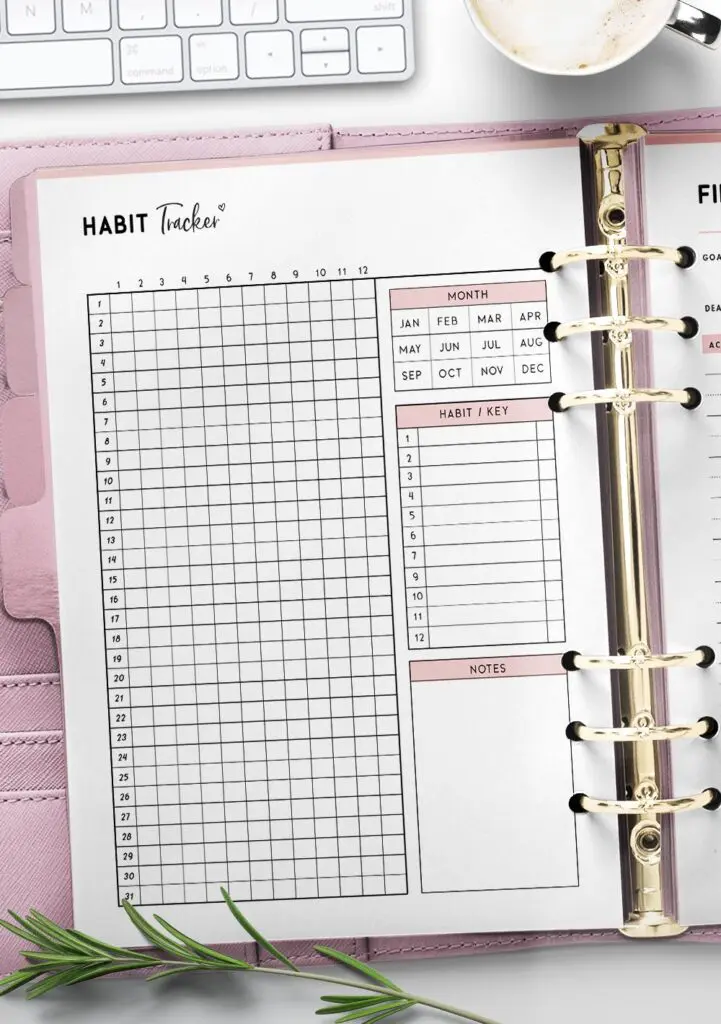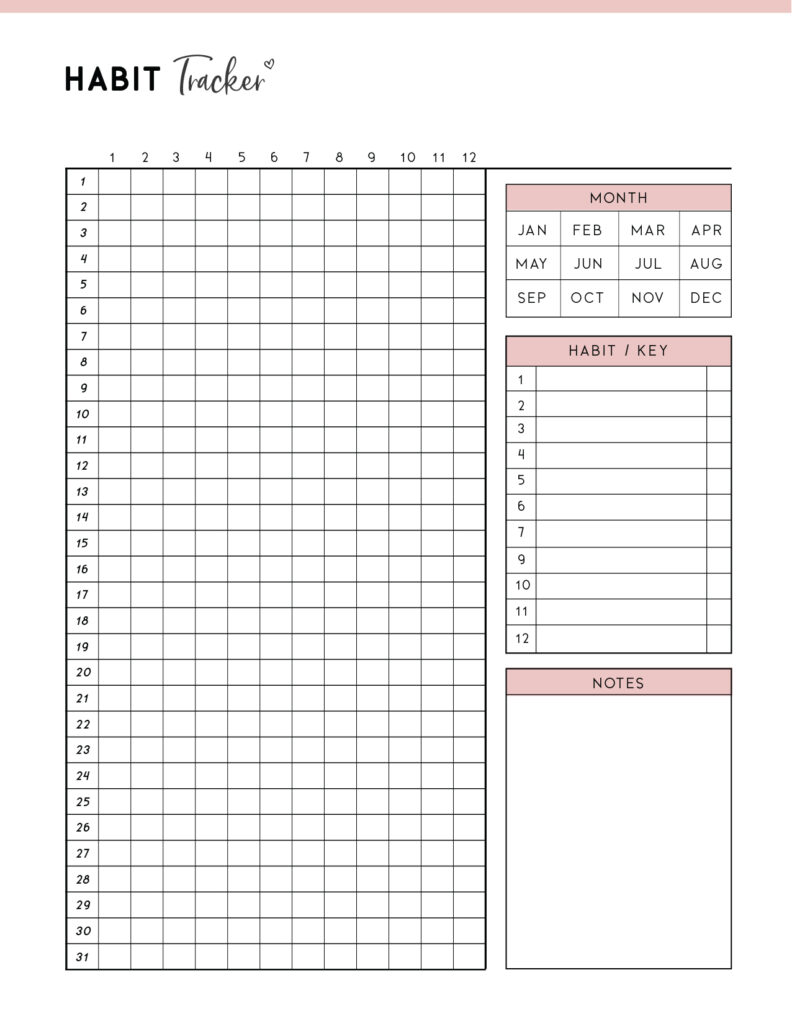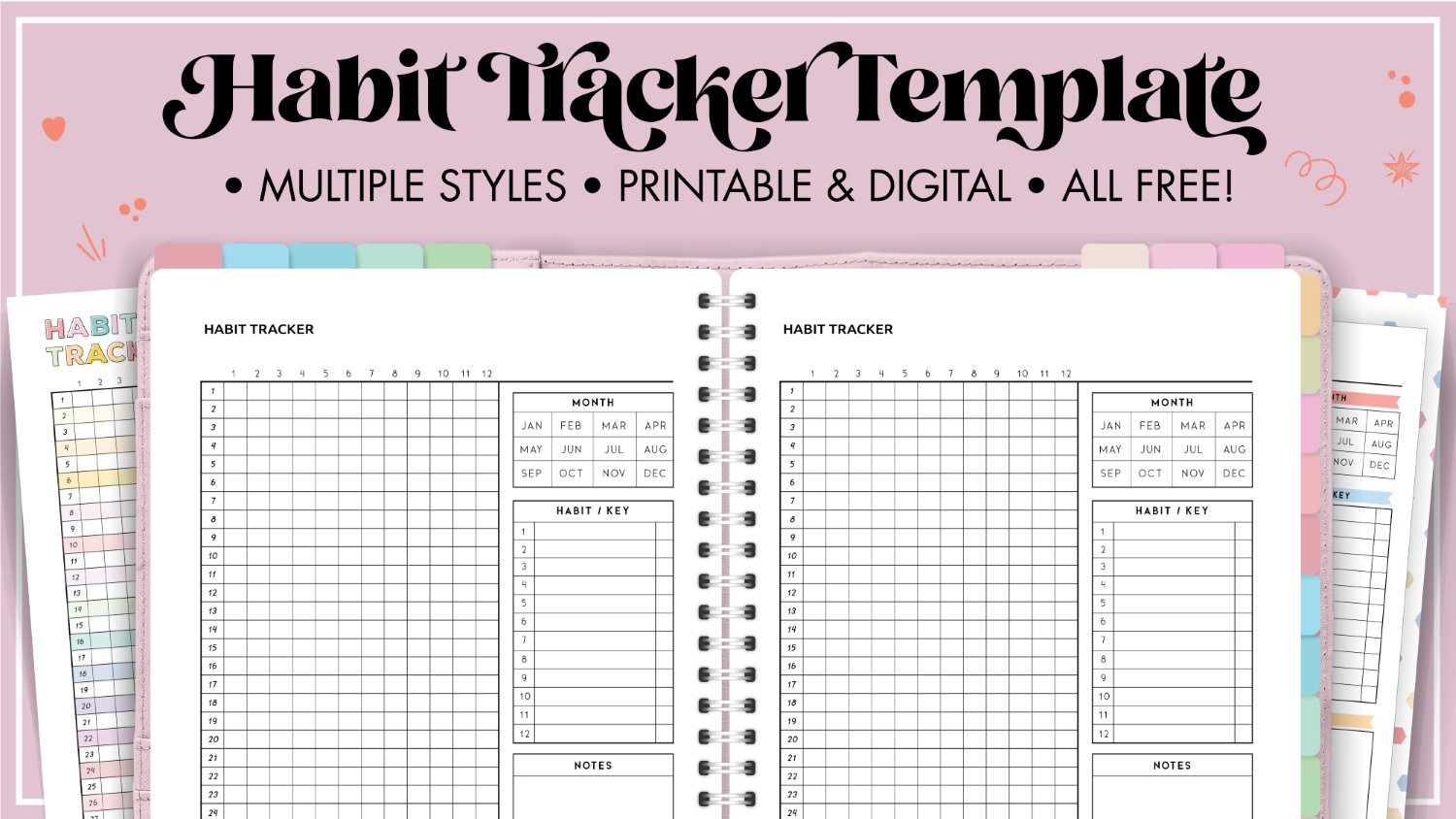 More planner templates
Some of our recent habit tracker templates. These will help you focus on making long-term habits
---
Find 100's more stylish planner templates that you'll love
Some of our recent planner templates. Find many more Printable Planner Templates that will help you get on top of your life with ease. You'll love them.
We've got over 1000 free printables for all aspects of your life, all amazing and totally free.
Follow World of Printables on Pinterest for more