Keep an eye on your bills by using a bill calendar. We've designed over 20 stylish templates that you can print and use to keep track of your bills for the month ahead.
Working on your personal finance is a healthy habit to have and will keep you in good stead for the future.
If you're looking for a bill payment schedule that will give you reminders of what needs to be paid and when, along with helping you log your daily expenses and help you have enough money left for treats, then a bill calendar is what you need.
What is a Bill Calendar?
A bill calendar is a tool that will help you see all of your monthly bills in one place. You can easily keep track of your bills so you can keep your financial situation happy and healthy.
You can use the monthly bill organizer for scheduling all different upcoming bills such as your credit card, rent, car payment, or any subscription you might have such as Netflix or a phone bill.
Bill Calendars
Here you will find a large selection of bill calendar printables. These bill calendars are a great way of seeing your monthly bills at a glance in a visual calendar format.
Some people like to see things in lists and some prefer to see them in a calendar format. If you prefer seeing all your bills in a list, then check out our Bill Payment Checklists.
I think the calendar format makes it easier to plan ahead for bill payments as you can easily see where they fall in relation to the month.
To save your favorite bill calendar, select any image below and save it to your computer before printing.
Choose from this selection of bill calendars:
I love using a bill payment calendar to keep track of my monthly bills. It helps to keep me aware every day and see when my bills come out and how they might be affected by other things that might happen in the month.
You will also be able to see if there will be any extra money at the end of the month to add to your savings goal and avoid having to pay late fees and penalties because of overdue bills and missing your payment dates.
Bill Payment Calendars
Here you will also find a selection of double-page bill payment calendars that are great for inserting into your planners.
I like to keep my personal finance in top shape using a budgeting binder, and you'll find these right here on our website, which includes bill calendars along with many other useful money management templates.
All of our free printable money management templates can be used to help you track and log your finances throughout the entire year and are undated so you can start using them any month of the year.#
How to use our planners for the best finish
Resize it – Our printable planner inserts are made for US Letter sized paper. But you can easily resize our planners to fit any paper size and binder. It's so easy to make them bigger or smaller to fit into your choice of binder – find out how here.
Print it – We recommend using nice quality paper for printing our planners and planner pages. This paper is a good weight and works with inkjet and laser printers, the ink looks crisp and clear giving your printed planners that shop-bought look.
Get the free bill payment checklist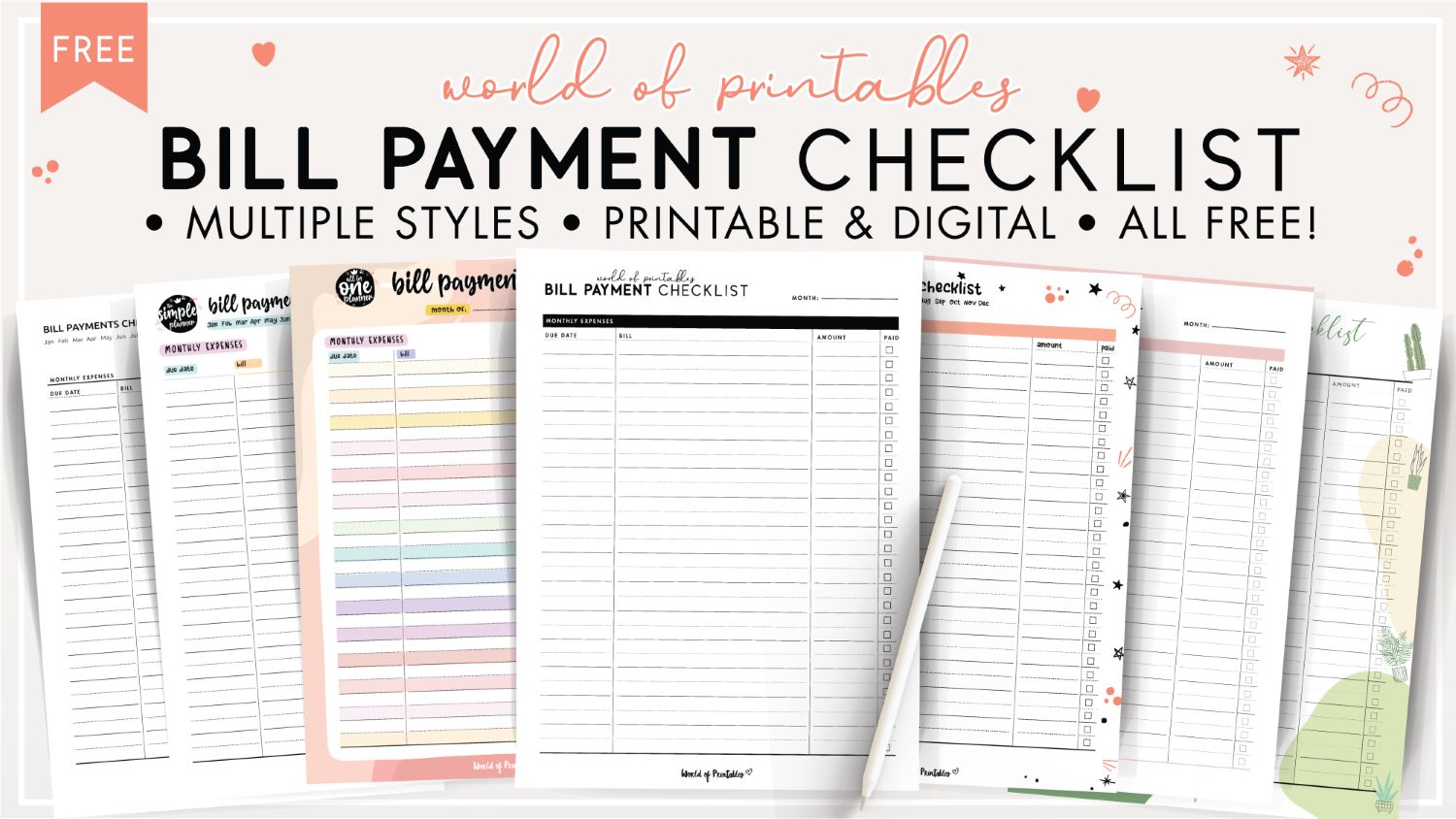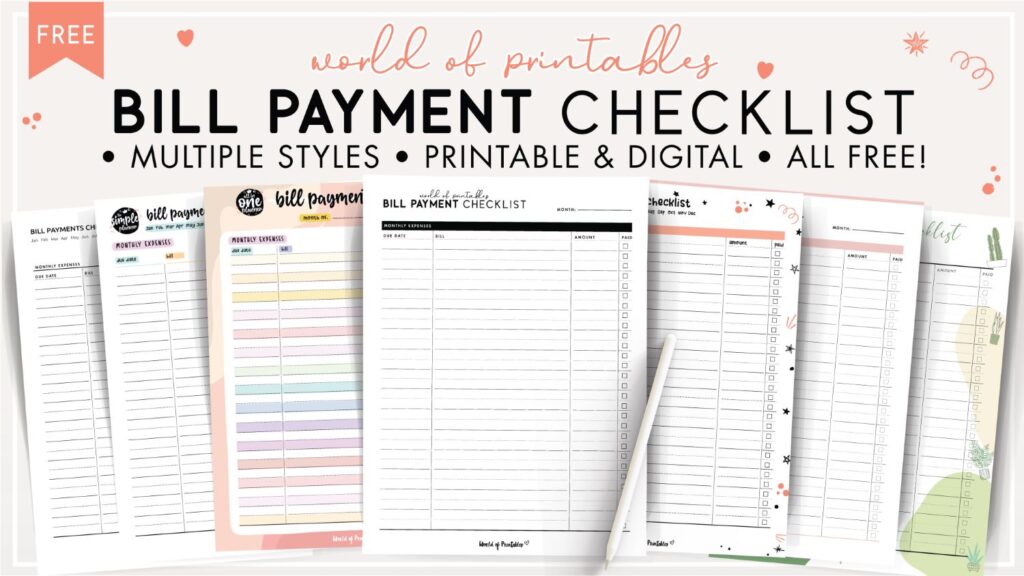 More awesome printables and templates from World of Printables
We've created a huge amount of these budget planner templates that will help you manage your budget better than ever. Be sure to grab as many as you can along with our many other money management printables while you're here.
Remember to look through the rest of our planner printables, we've got printables for every aspect of your money and your life!
We think you'll find these very useful:
More money management templates
Some of our recent money management templates. Find many more Money Management printable templates that you'll love for free.
---
Find 100's more stylish planner templates that you'll love
Some of our recent planner templates. Find many more Printable Planner Templates that will help you get on top of your life with ease. You'll love them.
Follow World of Printables on Pinterest for more