100 inspirational quotes that you can print to use as a daily reminder to pursue your dreams or to help you get up when you are down.
It's crazy really, how inspirational and motivational quotes can change our outlook on life. These kinds of quotes help us to feel more positive, more focused, and more active in creating a life that is positive and encourages us to chase our dreams, take that next step or do more.
I've created a beautiful collection of inspirational and motivational quotes to help you strive for me, dream big, and be more positive! You can save these free printable inspirational quotes and use them as an inspirational art print, or even as an insert in your planner.
Creating these free printable inspirational quotes was actually a therapeutic project to work on. I normally never take the time to read through inspirational or motivational quotes because I simply don't have the time.
Creating these printables really opened my eyes, made me think, encouraged me, and made me want to just go for it. It's amazing how I felt as I worked on this project and I realized that we need to seek positivity to really benefit from it.
You can save these free printable inspirational quotes by selecting the image or images you love and saving them to your device.
If you love these inspirational quotes and know someone who will benefit from them then please share this post with them.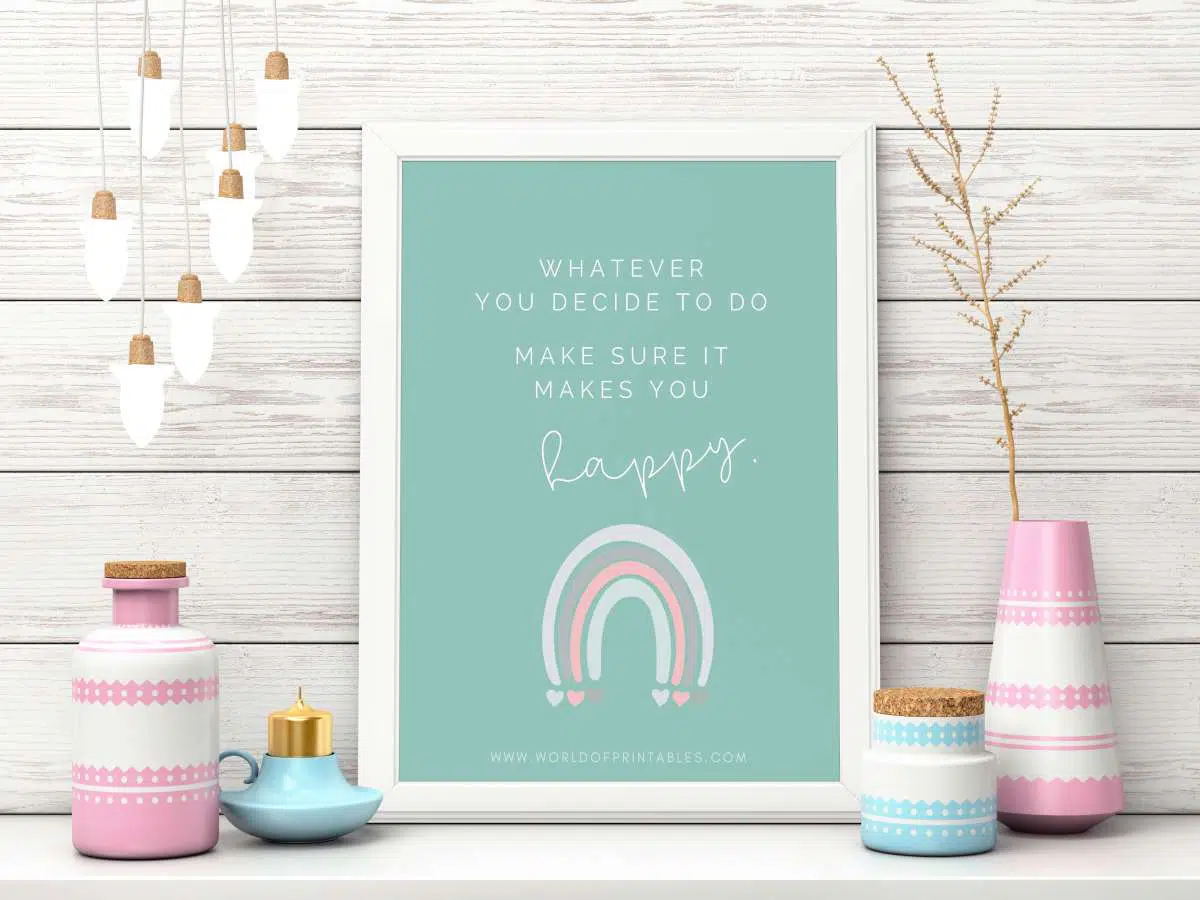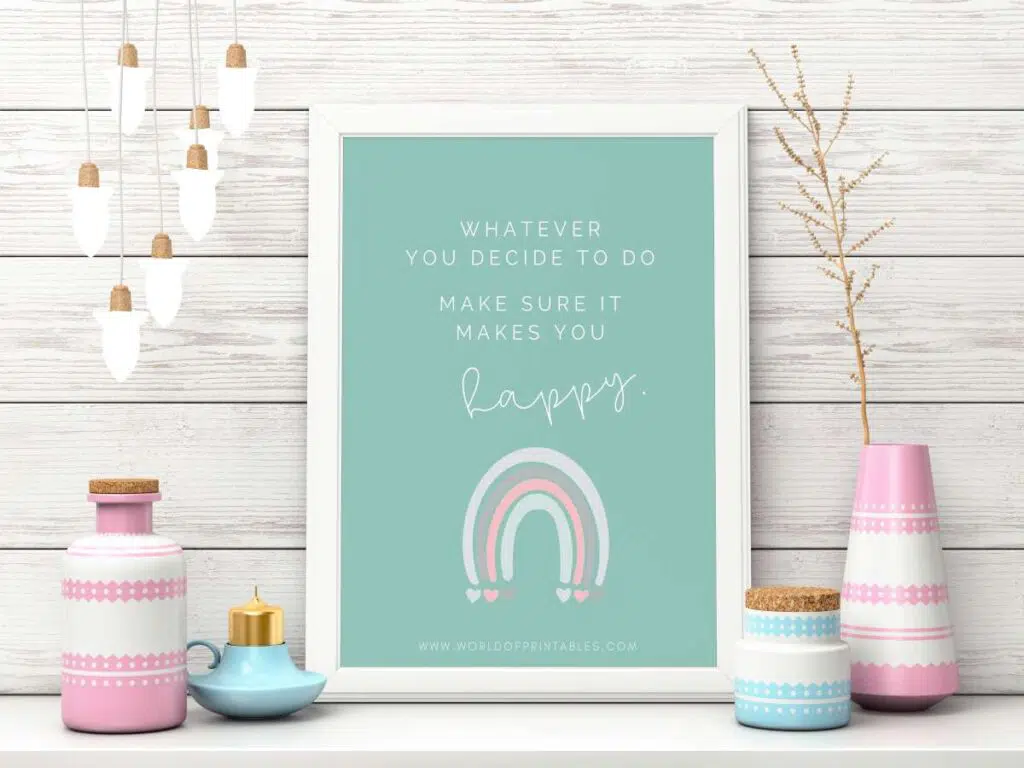 What's your favorite inspirational quote?
There are so many amazing inspirational quotes, and they touch people in different ways. For me, I spent a lot of my time living in the past, dwelling, but also wanting more. I lived in my head a lot rather than living my life. There are a couple of inspirational quotes that resonate with me due to this and I have designed them below:
Your future needs you, your past doesn't
This quote reminds me that I can't change the past and I am wasting the now by dwelling on the past. I need to focus on the present to create a better future.
Remember that you once dreamed of being where you are now.
This is probably my ultimate favorite inspirational quote because it is so true. It's human nature to always want more but we need to realize the good position we are already in.
I never would have thought, six years ago when I was being made redundant at 23 that I would be running my own business from home with my husband, and two beautiful kids. It seemed like a dream, something I would never achieve. Now I am here, and I realize how lucky we all are and that this was my dream once.
Which are the best inspirational quotes ever?
The best inspirational quotes vary for each person but inspirational quotes should inspire, encourage and make you think. We have over 80 inspirational quote images for you to choose from that will inspire you to take the next step, think positively, and make positive changes.
Free printable inspirational quotes
You will find a stunning and varied selection of printable quotes to choose from and they are all positive, encouraging, and loving. If you need some words of wisdom or a little pick me up then go ahead, take a minute to yourself and enjoy the journey.
Inspirational Quotes 1 – 10
Inspirational quotes can help people through difficult times. This page includes 100 inspirational quotes that can be printed, saved as wallpaper, or used as desktop text.
Inspirational Quotes 11 – 20
Print these quotes out and stick them up, or use them as inspirational wallpaper on your computer. They may help you to stay motivated and feel inspired to do new things.
Quotations can help brighten your day and make you feel better. Here are different words of wisdom that you can use to inspire you
Inspirational Quotes 21 – 30
Whether you're feeling low or you just want to find some inspiration, these quotes can get you started.
Inspirational Quotes 31 – 40
Check out this list of quotes by popular authors. Whether you are feeling down or happy, these quotes will make you laugh, make you think, inspire your day, inspire your life, and make you want to read more from these creative authors.
Inspirational Quotes 41 – 50
We've given you 100 great quotes to be inspired by, to motivate you, and to make you think.
Inspirational Quotes 51 – 60
As we all know, looking at inspirational quotes for half an hour in the morning can be a great way to motivate yourself for the rest of the day.
Inspirational Quotes 61 – 70
Inspiration isn't so much about having an idea. It's about sustaining it. Inspiration comes from all over. Try on some of these 100 quotes to get your daily dose.
Inspirational Quotes 71 – 80
These 100 printable Inspirational Quotes are great for you or your friends and family and especially great for anyone who can use a little more inspiration and motivation.
Inspirational Quotes 81 – 90
When you want motivation, you can turn to these inspirational quotes. They may help you to become a happier person and a more positive influence on others.
lnspirational Quotes 91 – 100
These 100 inspiring quotes will help you get through your day and can be printed on beautiful fine art paper that you can hang on your walls or save to use as your computer's desktop wallpaper.
If you find yourself in a general state of apathy, you need a little inspiration. This collection of quotes is just the thing. They were selected from a wide variety of sources to inspire you each day.
What is a positive quote for today?
If you're looking for some positive quotes to help you start your day or to some positive wishes to send to a friend then check out some of these options. Simply write down your favorite quote in your planner, or copy and paste it into an email to send to someone you care about. You could even send them in a text.
Good Inspirational Quotes
"The way I see it, if you want the rainbow, you gotta put up with the rain." – Dolly Parton
"A comfort zone is a beautiful place, but nothing ever grows there."
"Life is like a coin. You can spend it any way you wish, but you only spend it once." – Lillian Dickson
"In three words I can sum up everything I've learned about life: It goes on." – Robert Frost
"Holding onto anger is like drinking poison and expecting the other person to die."
"It always seems impossible until it's done." – Nelson Mandela
"The past does not equal the future." – Tony Robbins
"A person who never made a mistake never tried anything new." – Albert Einstein
"Keep your face always toward the sunshine, and shadows will fall behind you." – Walt Whitman
"Doubt kills more dreams than failure ever will." – Suzy Kassem
"Those who bring sunshine into the lives of others cannot keep it from themselves." – J.M. Barrie
"If the plan doesn't work, change the plan, but never the goal."
"Don't live the same year 75 times and call it a life." – Robin Sharma
"Good things happen to those who hustle." – Anaïs Nin
"The only person you are destined to become is the person you decide to be." – Ralph Waldo Emerson
"Fall seven times, stand up eight." – Japanese proverb
Short inspirational quotes
"No pressure, no diamonds." – Thomas Carlyle
"I like criticism. It makes you strong." – LeBron James
"To live will be an awfully big adventure." – Peter Pan
"He who is brave is free." – Seneca
"Live for each second without hesitation." – Elton John
"The grass is greener where you water it." – Neil Barringham
"Take the risk or lose the chance."
"Whatever you are, be a good one." – Abraham Lincoln
"Life isn't about finding yourself. Life is about creating yourself." – George Bernard Shaw
"Nothing is impossible. The word itself says 'I'm possible!'" – Audrey Hepburn
"If opportunity doesn't knock, build a door." – Milton Berle
"Wake up determined, go to bed satisfied." – Dwayne Johnson
"Die with memories, not dreams."
"Happiness depends upon ourselves." – Aristotle
"Enjoy the little things."
If you read through all of our free printable inspirational quotes then I'm sure you're feeling pretty positive right now! Use these free printable quotes to encourage you to take the next step, to let go of something or someone weighing you down, and to focus on you.
More printable wall art that you'll love
With over 100 inspirational quotes to choose from I hope you found the ones that help inspire you! It was so fun creating these custom quotes, so if you use any, let me know!
If you're looking for more free printables for your home then we have some amazing options.
Check out our free collection of printable wall art and find the perfect prints for your wall decor and be sure to check out our many other freebies and get as many as you can while you're here.
Some of our recent printable wall art that you can get right now for free.
These lovely inspirational quotes can benefit everyone so please share this post with those you love or care about. You can share this post directly or pin any of our free printable inspirational quotes for later!
Why not give us a follow on Pinterest or Instagram and show us how you use our free inspirational printable quotes.
Want more awesome printables?
Get notified of our upcoming free printables – you're gonna love them!
Follow World of Printables on Pinterest