Do you want to know one trick that will make your pantry look organized and pretty? Pantry labels!
Pantry labels are the go to for a reason, they are utilized by millions of people, tons of celebs and beautiful home makers for a reason!
I'm going to be honest here, I never used pantry labels up until about a year ago. My brother in law and his girlfriend moved into their first house together and his girlfriend Anna was determined to make everything perfect from the get go. As she was starting with the kitchen she wanted Pantry labels and as we ran a decal business we decided to make her a collection of pantry labels to use.
This is what we created. 170 beautiful pantry labels to use on every item you might have in your kitchen!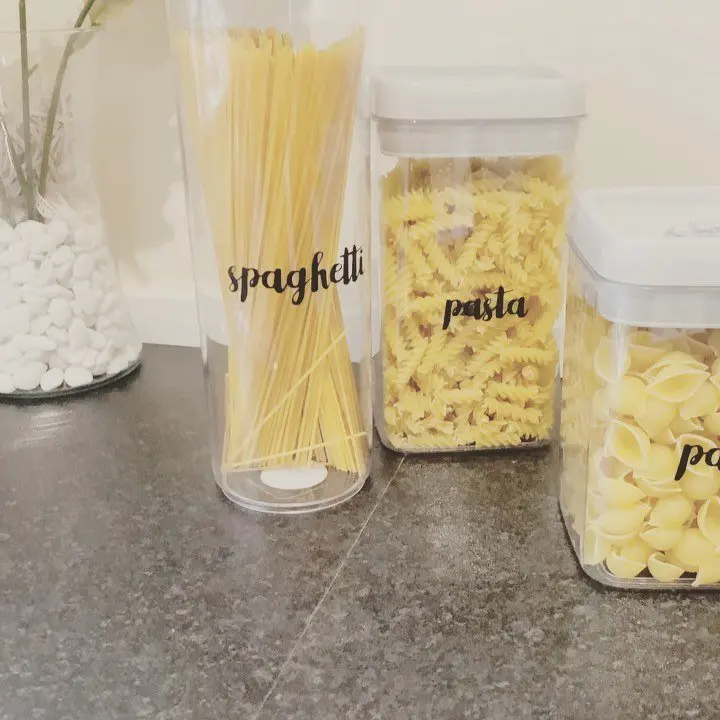 Credit: Ournumber50
Printable Pantry Labels
So we've created these pantry labels with you in mind. We understand that you don't want to pay $10 for pantry stickers, especially if you need a ton of them. That's why these are free.
We also understand that we need to provide pantry labels that are accessible to everyone so that's why we've created these to be printed at home using a printer or a cutting machine.

We've taken the time to provide you with something beautiful to help you organize your kitchen and jars so please support us by only using these personally.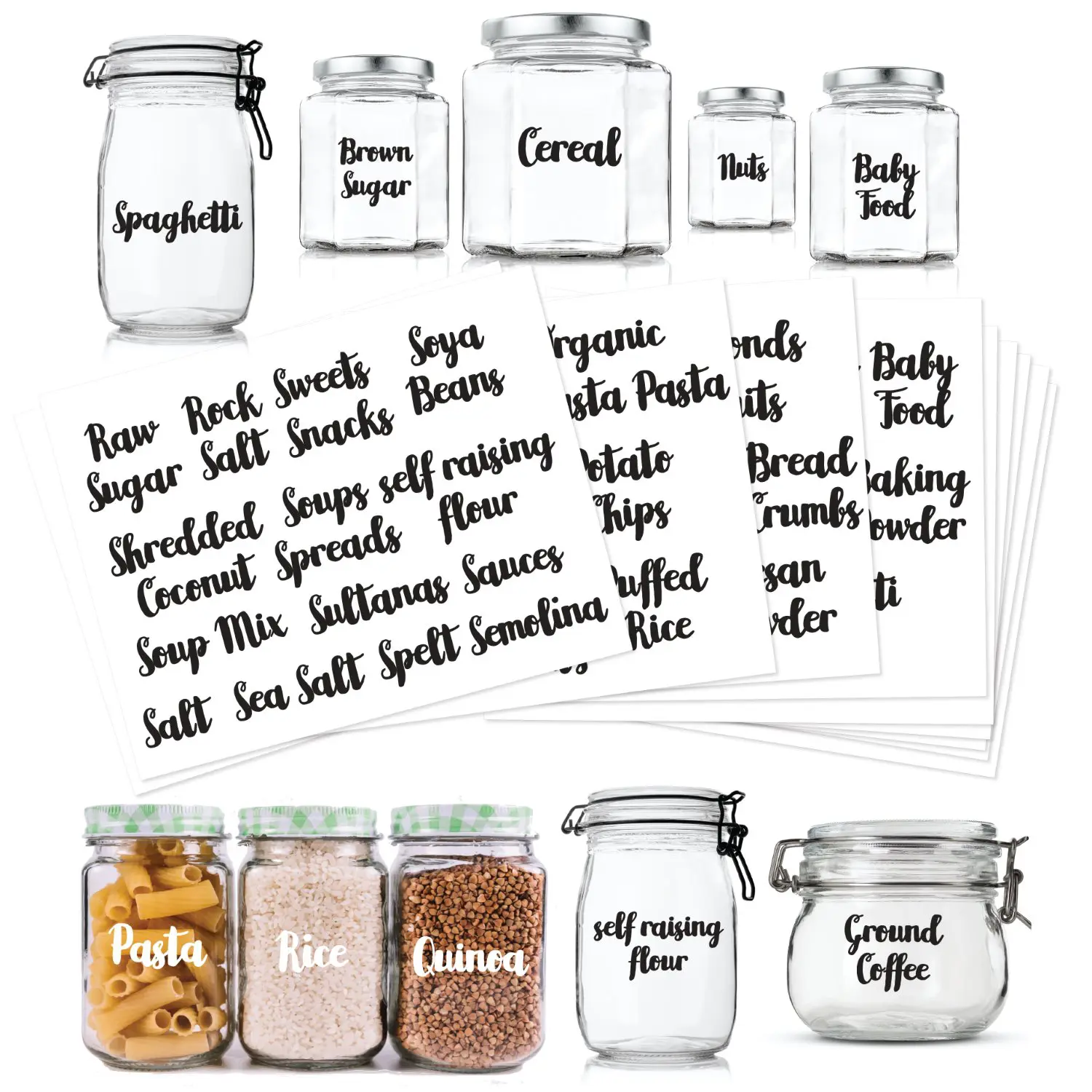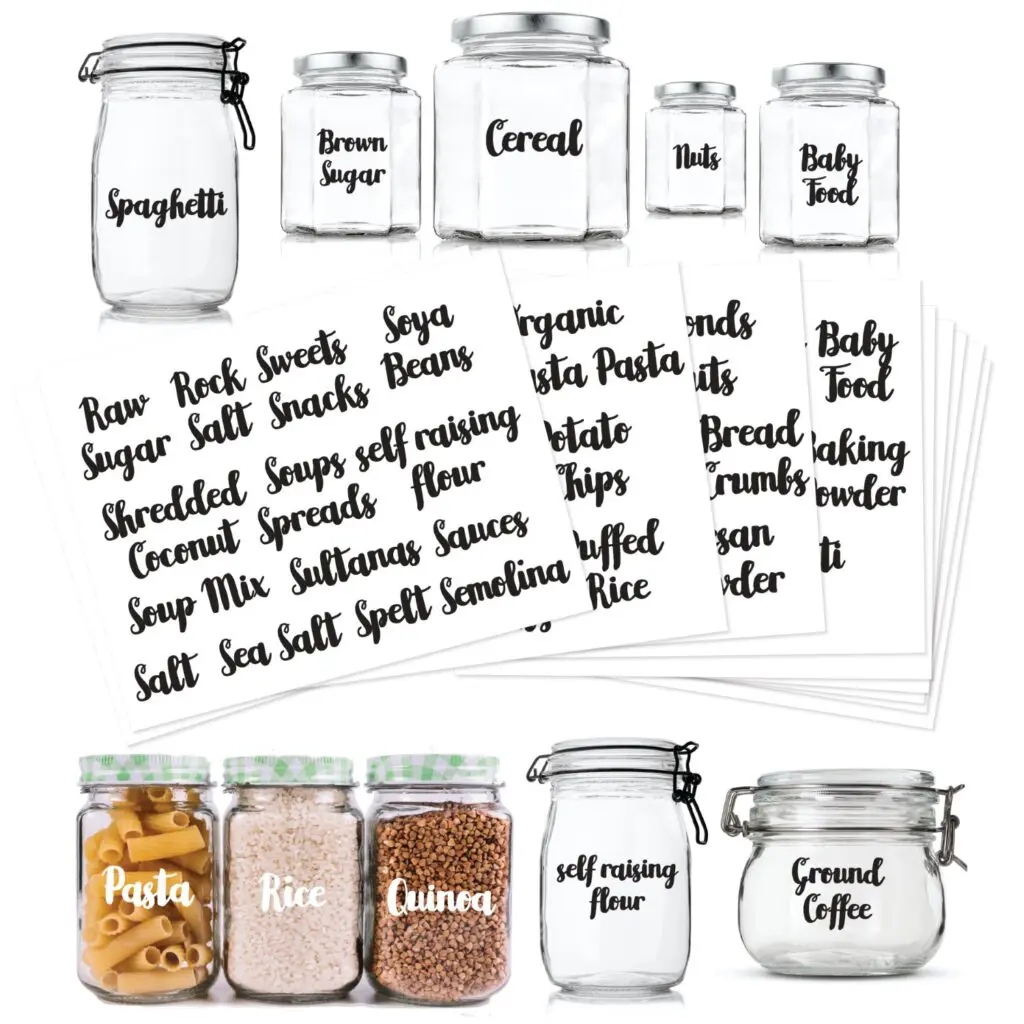 These free pantry labels come in a huge collection of 170 different labels on 10 sheets! You are bound to find what you need with this amazing collection. You might even find something you didn't even know you needed – it happens!
How to use these free pantry labels
We've designed these pantry labels so you can either print them or cut them using a machine.
These labels can be cut using a Cricut, Silhouette or any cutter that you have or simply printed, cut and applied to your pantry items.
If you want to print these stickers, we recommend printing them on a high quality transparent sticker paper like this one. This will give you the same result as a machine (although you will need to cut around them yourself).
These free panty labels have been designed in a cursive written style text for a quirky, hand written look with no background. When these stickers are placed on a jar or container they will look painted on and not like a sticker.
If you need to resize these pantry labels to fit your containers and jars, then this post will show you how to do that.
Pantry Labels List
These Pantry Labels cover the most common pantry ingredients.
Once you've cut these using your Cricut or Silhouette, simply peel off the backing paper, stick to jar or container, rub, then gently peel the clear transfer sheet away leaving the label stick to the jar, done! Looks amazing when applied!

These free pantry labels add an attractive look to your kitchen and turn boring old jars and containers into a wonderful and organized looking experience.
170 labels in various sizes, all designed to work well together. Some labels have two or three lines, i.e. Self Raising Flower (3 lines).










Pantry Labels That Are Perfect for Crafting and Cricut Projects
I really hope you enjoy these free pantry labels and get some good use out of them!
Simply download your free files below for both cutting and printing at home.
Click the following link to download the Pantry Labels Pack Files. See below for important license information and also more of our great free printables.


INSTRUCTIONS
Download the free Pantry Labels Pack File above to your computer.
THIS FREE SVG & PRINTABLE FILE INCLUDES:
SVG file – Works with Cricut Design Space, Silhouette Designer Edition, along with various graphics software and Canva.
DXF file – Works with Silhouette Basic Edition, free software for Silhouette Cameo.
EPS file – Works with vector graphics editors such as Adobe Illustrator, Corel Draw, Inkscape, and more.
PNG file – 300 dpi .png file with a transparent background which can be used by graphics and vector software, Canva, Cricut & Silhouette Design software.
NOTE: These files are for personal use only and not to be resold.
Design your own SVG files
Did you know that you can use Canva to make your own SVG files? There's so much you do with Canva, the possibilites are endless. From creating SVG files and printables, to using thousands of premade templates for literally everything!


Endless crafting possibilities
Have fun using our Pantry Labels Pack Free SVG Files design.
You can create a wide arrange of DIY projects with SVG files. From making custom stickers, home decor, home-made gifts, unique greeting cards, custom-designed apparel, and much more.
We get a lot of questions on what crafting cutting machine we recommend for using with free SVG files.
Best Crafting Cutting Machine
If you're looking for a great cutting machine for crafting at home, this is the cutter that we recommend and love. It's ideal for cutting 100+ different types of materials including premium vinyl, iron-on or heat transfer vinyl, cardstock, faux leather, adhesive foils, specialty paper, poster board and more.
More Free SVG files from World of Printables
Finally, if you liked this post and Pantry Labels Pack Free SVG Files, go ahead and hit the Pin button below, as it really does help us in so many different ways and is a great way to save for later.