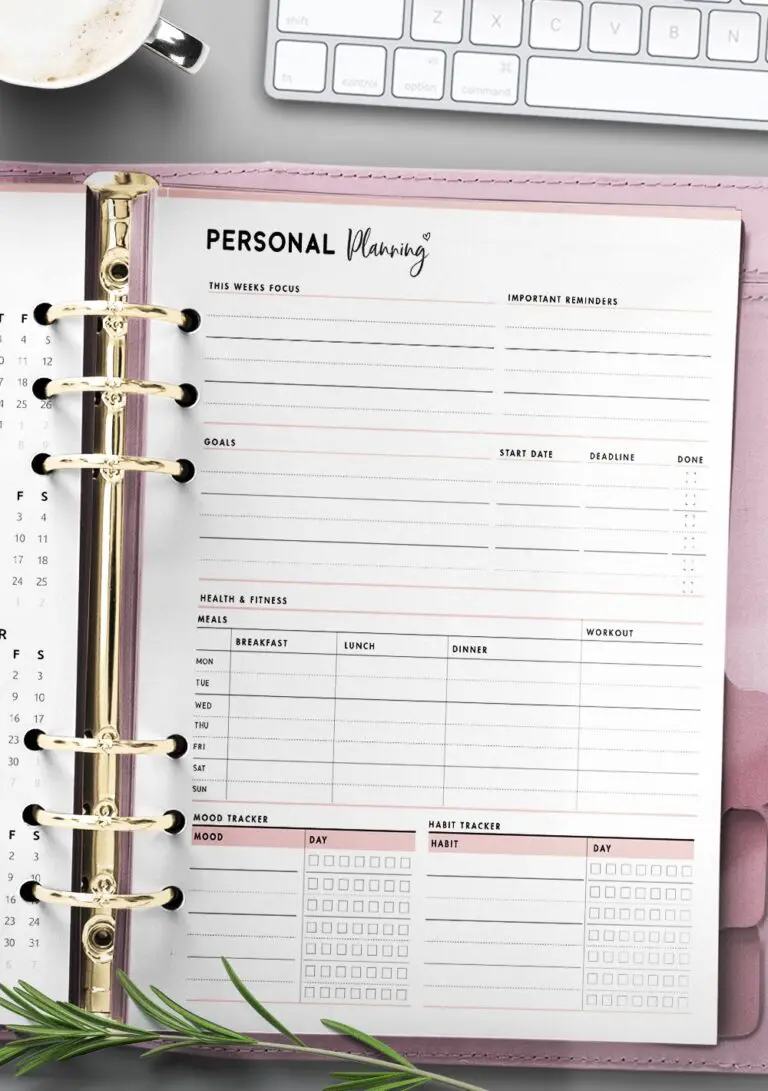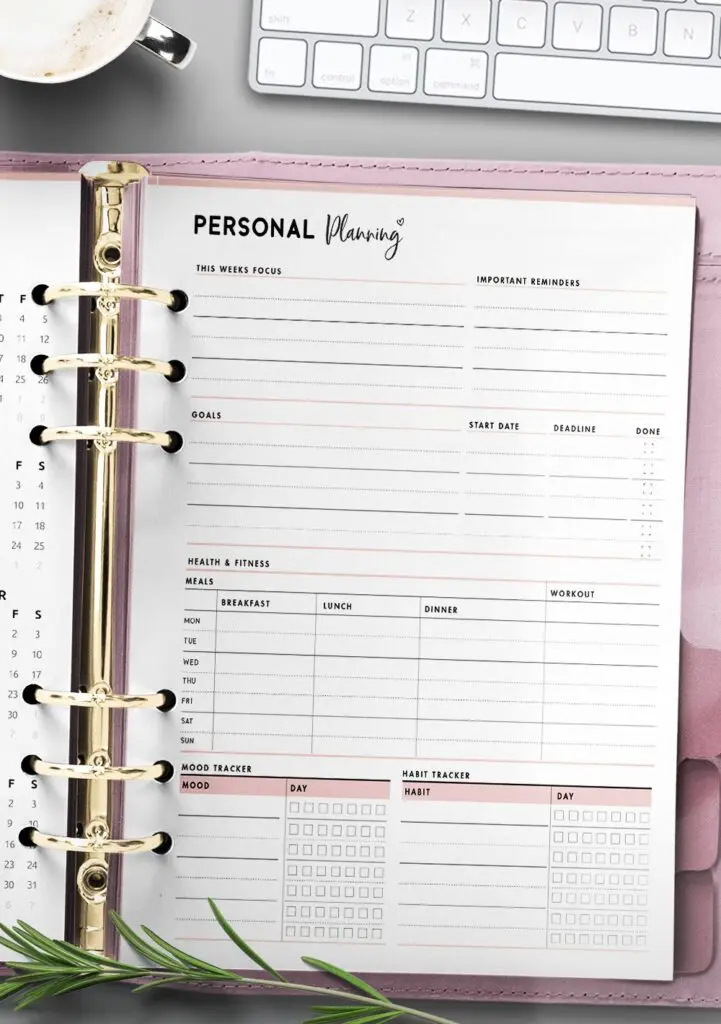 Looking for a personal growth plan template that literally covers everything you need? Look no further!
I am in love with this personal growth planning page. It is everything I need on one single page and is incredible. You can plan and track the most important things with the personal planning page and you can see it quickly at a glance.
The sections featured on the personal planning page:
The week's focus
Important reminders
Goals along with start date, end date, and checkmark boxes
A weekly meal plan
Workout log
Weekly Mood Tracker
Weekly Habit Tracker
Wow, how useful is that? This personal growth planner really is a game-changer and works for both planners and bullet journals. Use it wherever you need it!
The perfect template for planning your goals and the things that matter to YOU
This personal planner page is simply the most perfect template for helping you set goals and plan for success and looks absolutely amazing in your planner.
It really has everything you need to stay focused, and motivated and will definitely contribute to you having a successful week ahead.
You won't find a better template that's designed for you. It's full-featured and looks amazing. Best of all, it's completely free! How awesome is that!
It's like a full planner, but on one page. Simply an example of how amazing our planner pages and templates are.
Free printable personal growth plan template
The personal planning page comes in four styles – Soft, Botanical, Cursive, and Classic and you will receive them all when you get the template pack!
You can also find the personal growth plan template included in the Personal Planner Bundle which also includes pages such as weekly planner pages, personal finance planner, home planning, checklists, and much more.
Our planner bundles make it so quick and easy to get all of our personal planner templates together, without having to find and print them separately. You get all of our templates in the highest quality too.
How to make printables look awesome
INSTRUCTIONS
Get the personal growth plan template. If you are looking for more awesome free templates then check out our huge range of printable templates.
Print it! – Our templates look so good when printed on this bright paper.
These printable templates are designed as 8.5 x 11 pages. TIP: If you want to print using different size paper then insert this printable into Canva, set your dimensions to any size you want, then save and print, easy! Full steps in this guide.
Get the free personal growth plan page
To get the personal growth plan template for free, get the template image above and save it to your computer.
Alternatively, for the highest-quality version which comes in four different themes, use the button below to visit our product page. Use the coupon code displayed to get it for free.
Remember to look through the rest of our printable templates, we've got printables for every aspect of your life!
I hope you like this free giveaway. Remember, we've got so many more amazing free printables.
So bookmark or pin this page to Pinterest, then you'll never get lost finding your way back to our amazing printables!
Find 100's more stylish planner templates that you'll love
Some of our recent planner templates. Find many more Printable Planner Templates that will help you get on top of your life with ease. You'll love them.
Follow World of Printables on Pinterest for more